Signs From God Famous Quotes & Sayings
List of top 54 famous quotes and sayings about signs from god to read and share with friends on your Facebook, Twitter, blogs.
Top 54 Quotes About Signs From God
#1. People do not expect to see signs and wonders today as the disciples saw them of old. Has God changed? Or has our faith waned so that we are not expecting the greater works that Jesus promised? - Author: Samuel Wigglesworth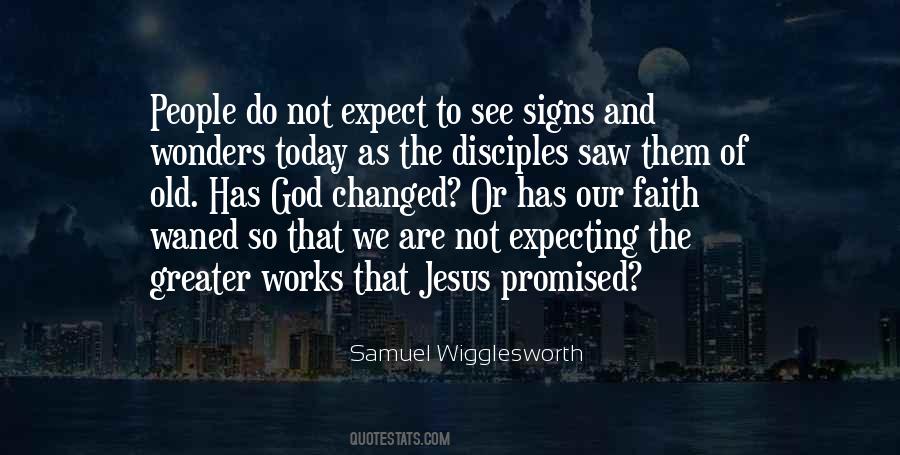 #2. Mankind is notoriously too dense to read the signs that God sends from time to time. We require drums to be beaten into our ears, before we should wake from our trance and hear the warning and see that to lose oneself in all, is the only way to find oneself. - Author: Mahatma Gandhi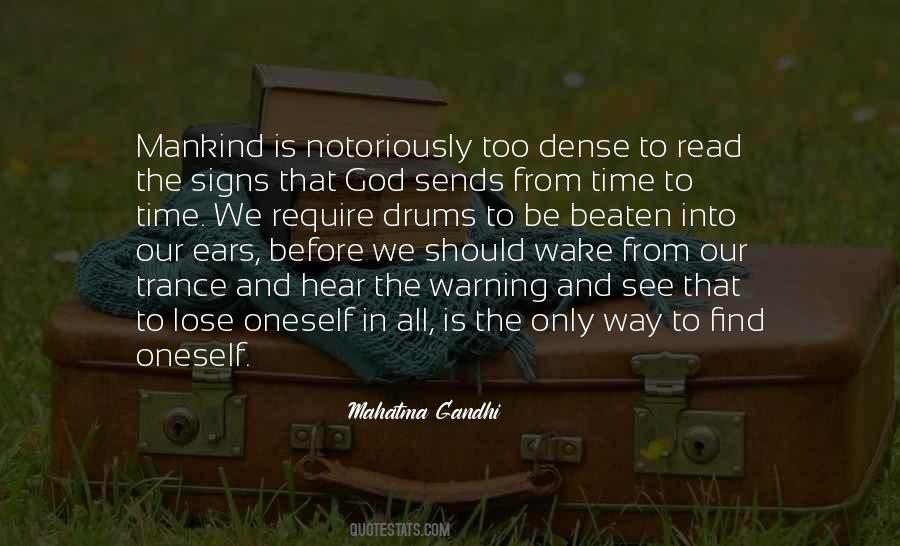 #3. The Kingdom of God can't be detected by visible signs.[*] 21 You won't be able to say, 'Here it is!' or 'It's over there!' For the Kingdom of God is already among you.[*] - Author: Anonymous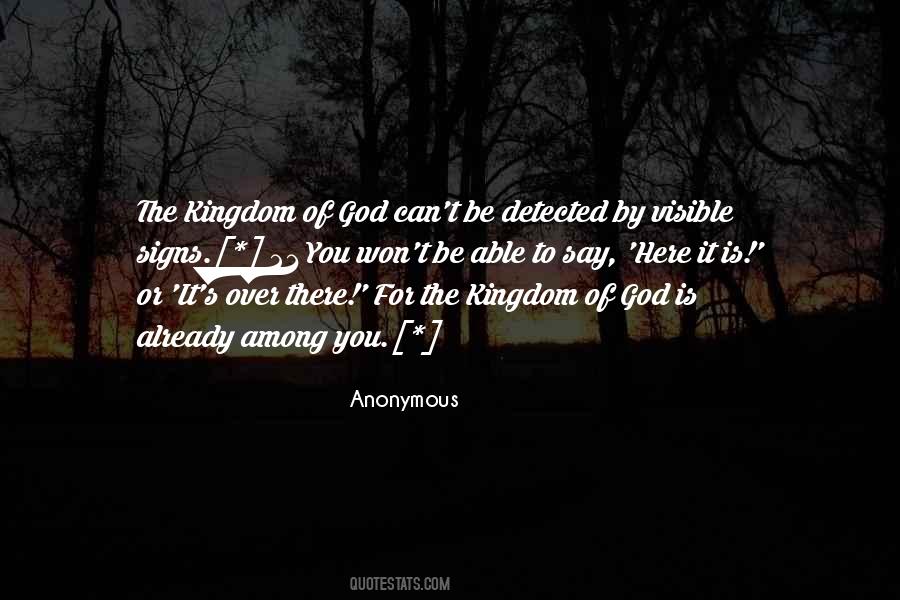 #4. Then, accepting the help of God and of God's signs, he allows his personal legend to guide him toward the tasks that life has reserved for him. - Author: Paulo Coelho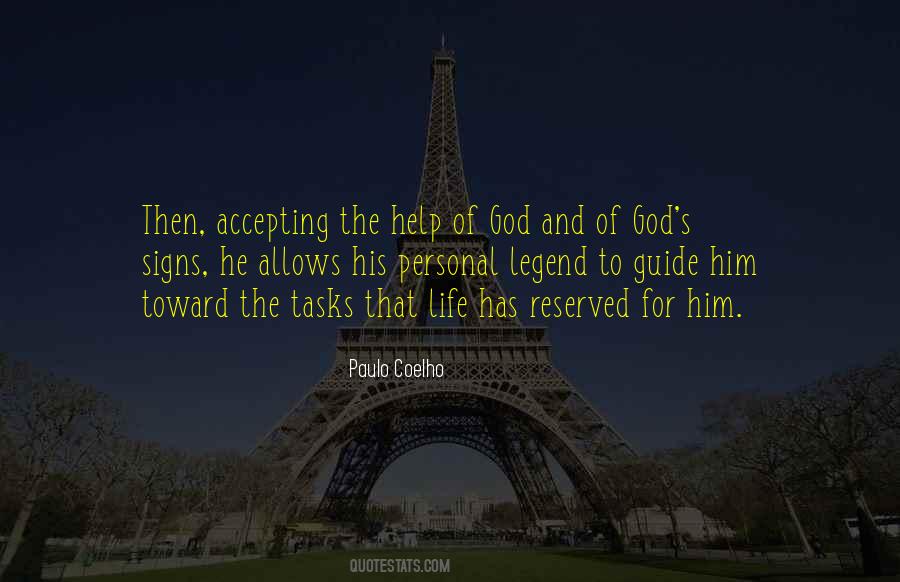 #5. Advent, this powerful liturgical season that we are beginning, invites us to pause in silence to understand a presence. It is an invitation to understand that the individual events of the day are hints that God is giving us, signs of the attention he has for each one of us. - Author: Pope Benedict XVI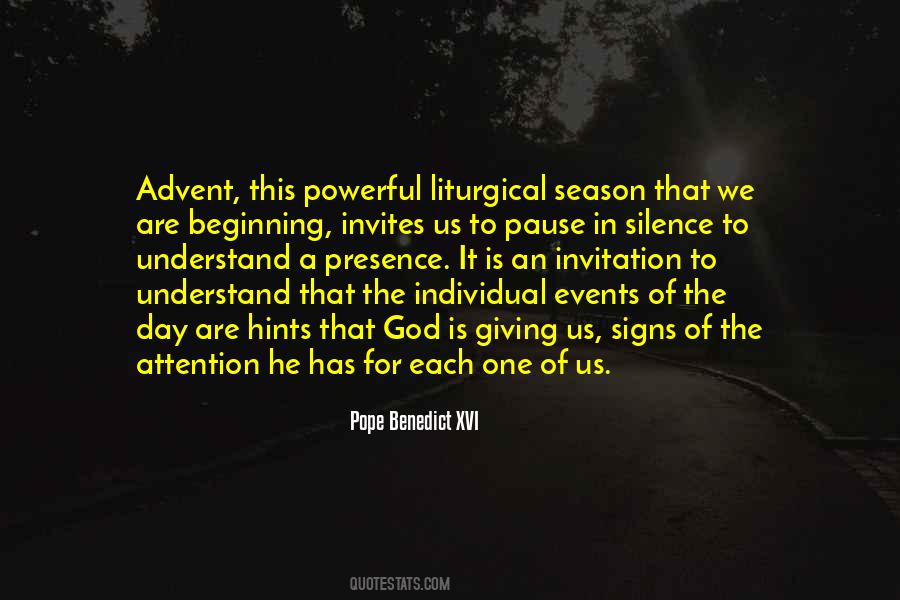 #6. Since God writes history as man writes words, the literal events of history can be signs of other truths just as human words are signs of things other than themselves. - Author: Peter Kreeft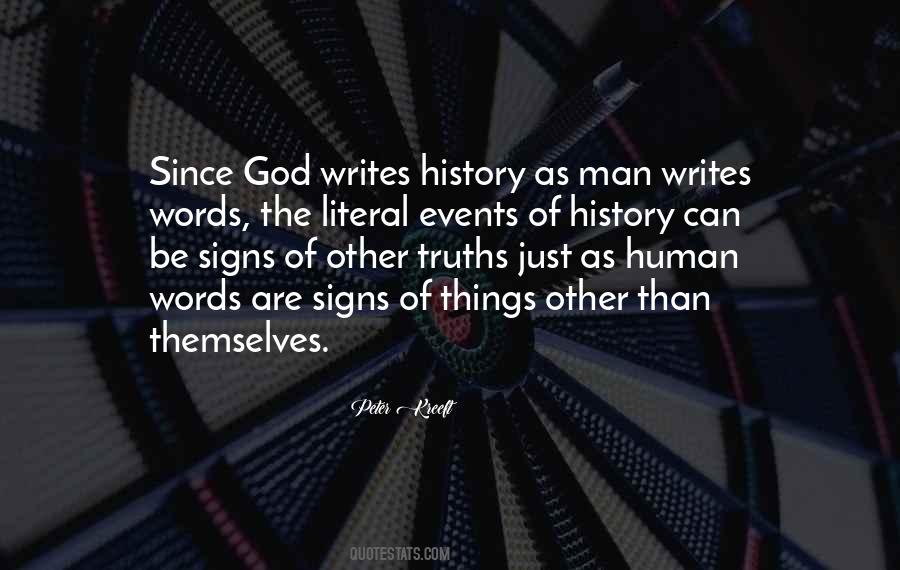 #7. The Christian worldview, contra-postmodernism, understands language not as a Self-referential, merely human and ultimately arbitrary system of signs that is reducible to contingent cultural factors, but it has the gift of a rational God entrusted to beings made in his own image and likeness. - Author: Douglas Groothuis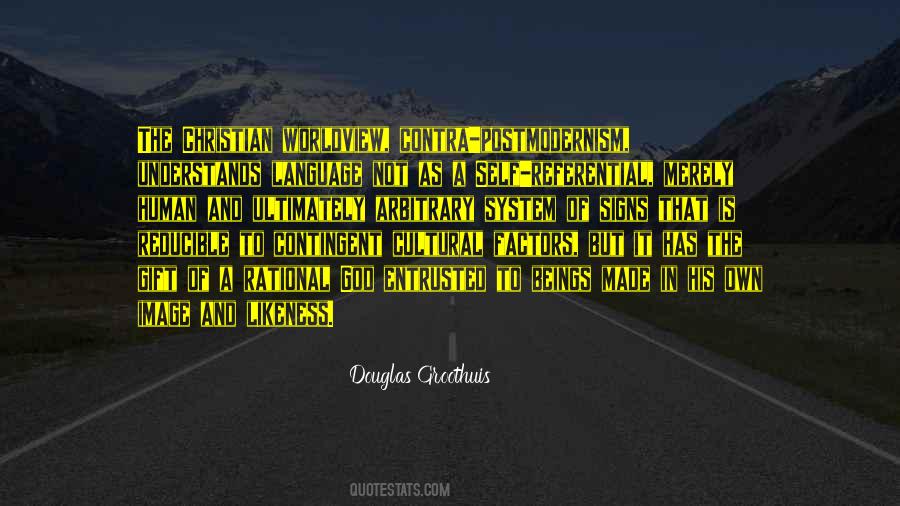 #8. Do not look for evil. Look for the goodness of God all around you. As you look for signs of His Presence, many more opportunities will occur for you to bless people and share God's true nature. - Author: Graham Cooke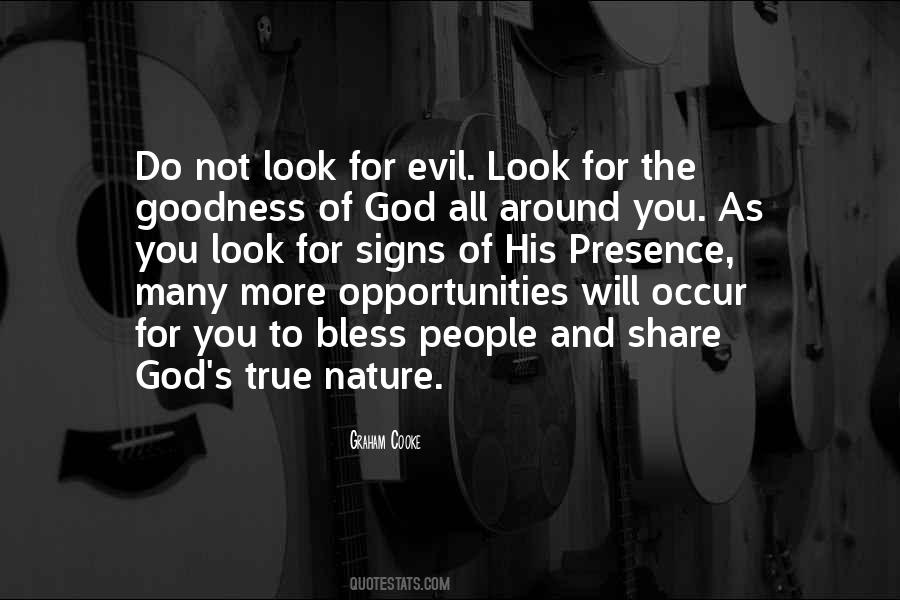 #9. Signs are an extremely personal language that we develop throughout our lives, by trial and error, until we begin to understand that God is guiding us. - Author: Paulo Coelho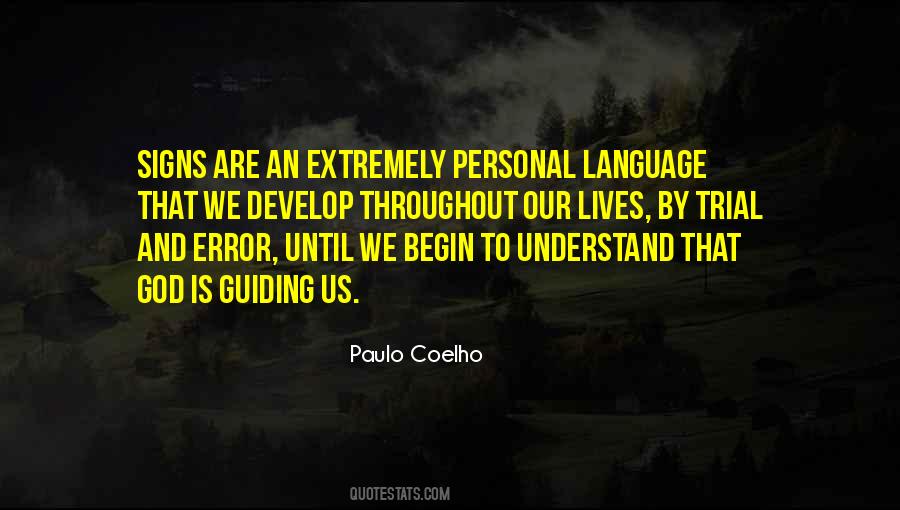 #10. Can you not see the numerous designs made by God as signs, similitudes, or analogies of resurrection? He has placed them in every era, the alteration of day and night, even in the coming and going of clouds. - Author: Said Nursi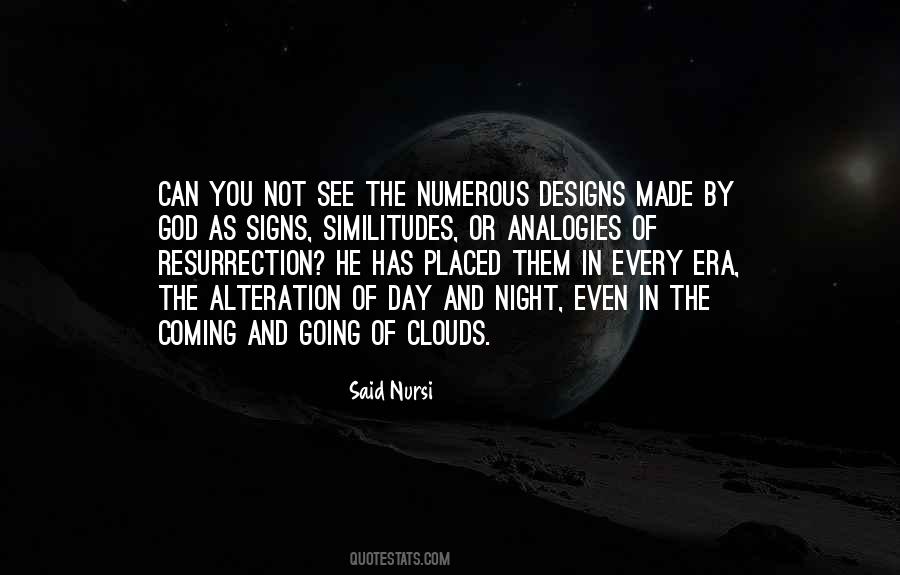 #11. Love and kindness are the basis of my religious beliefs. The rituals and outward signs are not as important as one's actions and deeds. Religion should be a path to God, not something to fight about. - Author: Bernie Siegel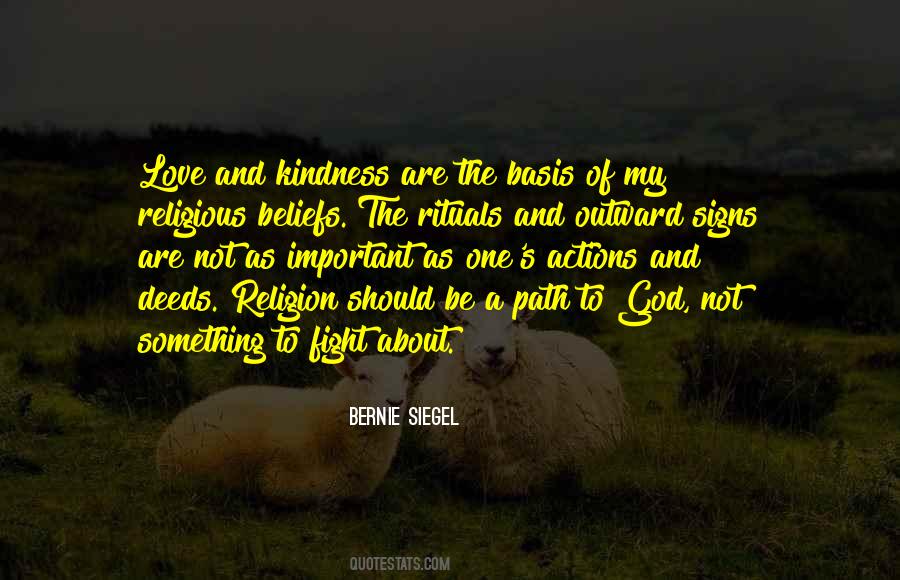 #12. I looked around for God's judgments, but saw no signs of them. - Author: Benjamin Franklin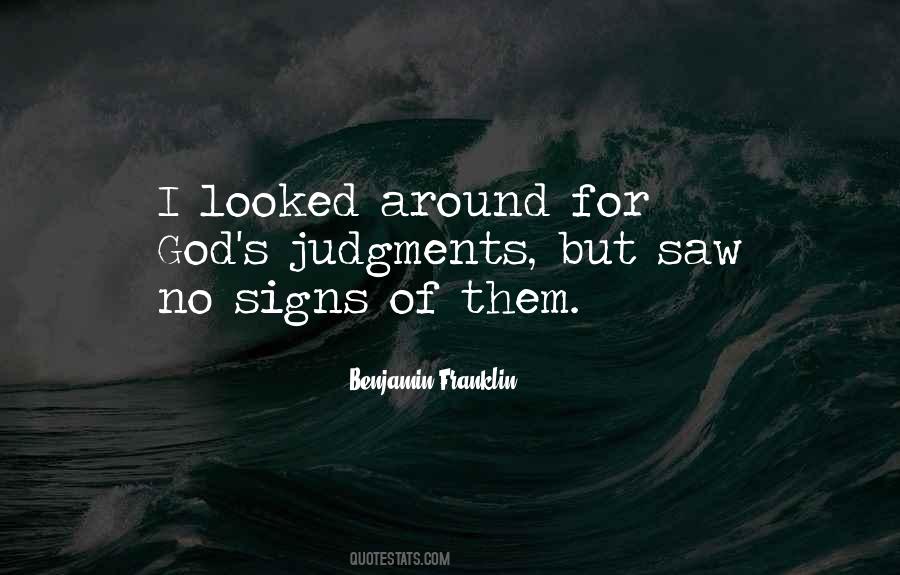 #13. Anger and bitterness are two noticeable signs of being focused on self and not trusting God's sovereignty in your life. When you believe that God causes all things to work together for good to those who belong to Him and love Him, you can respond to trials with joy instead of anger or bitterness. - Author: John C. Broger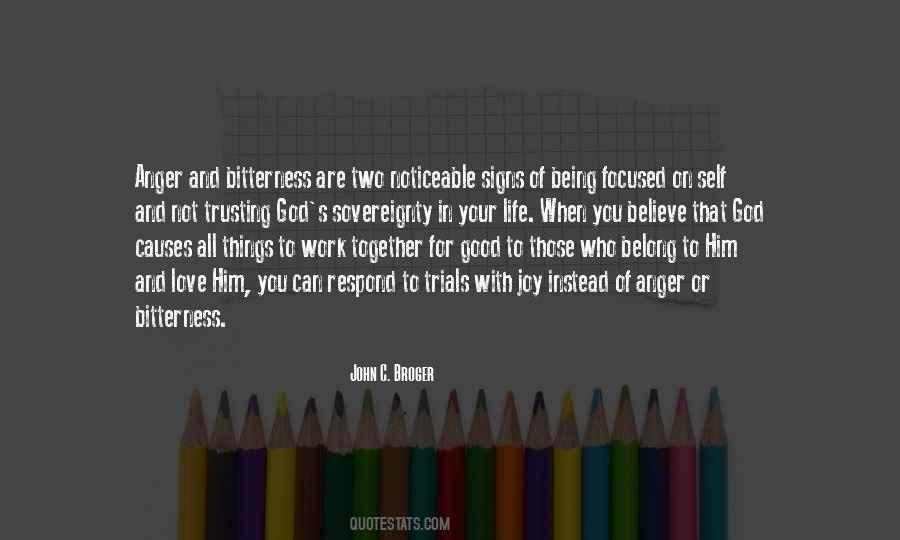 #14. A lonely day is God's way of saying that he wants to spend some quality time with you. - Author: Criss Jami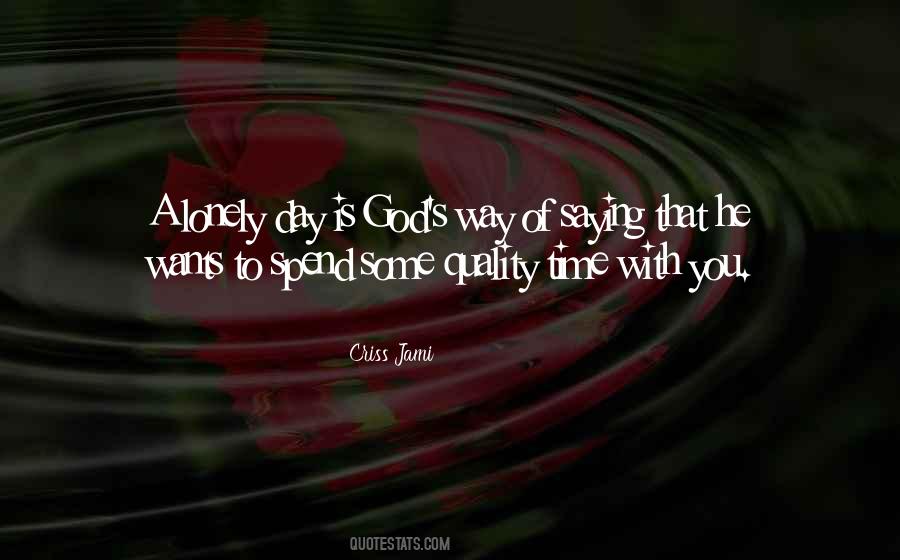 #15. Some people are only "believers" because they want God to give them things; a thrill, money, spiritual gifts etc. but they never think twice about what THEY can give to God. They are Christian parasites, always wanting more, rather than Christian servants, who are always willing to give. - Author: Lisa Bedrick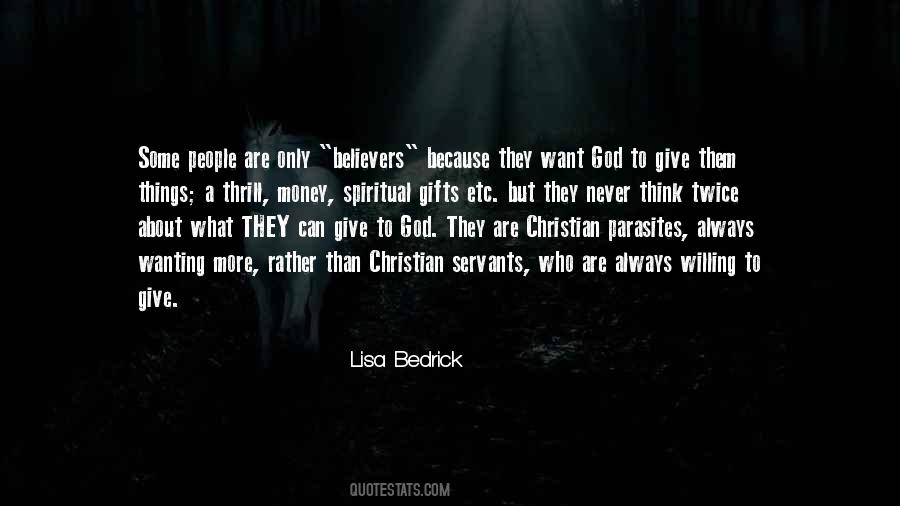 #16. God loves us too much to pretend our sin isn't there. Sin is a cancer and Christ the surgeon. True prayer signs the consent form. - Author: Mark Hart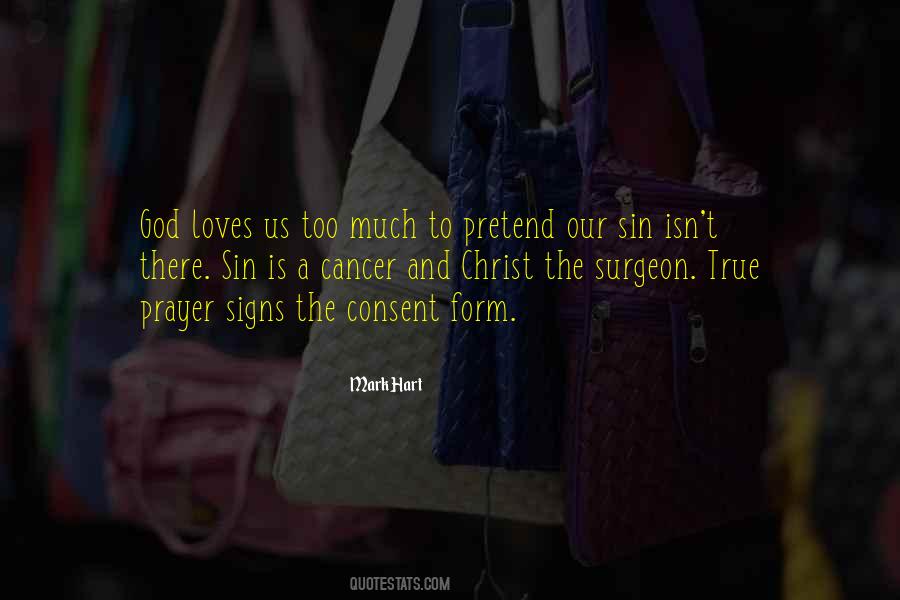 #17. Brilliant ideas are gifts from God, sent to you in answer to your prayers ... and all you need to do is act upon the ideas, one divinely guided step at a time. If you want to validate if an idea is truly heavensent, ask your angels to send you clear signs. - Author: Doreen Virtue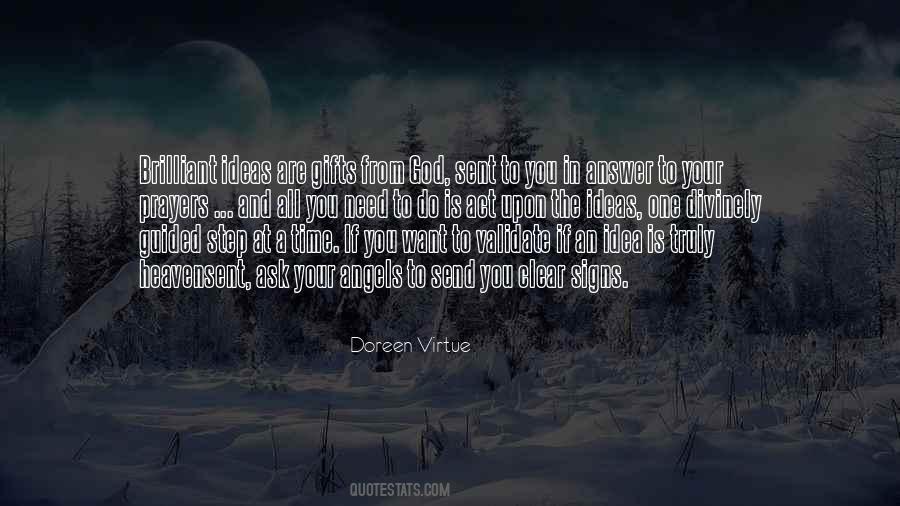 #18. And so people ask God for signs and wonders. Yet when signs are given and wonders are performed, most can't even see them! I therefore believe that it's not signs people should be asking God for; but you should be asking God for Sight! - Author: C. JoyBell C.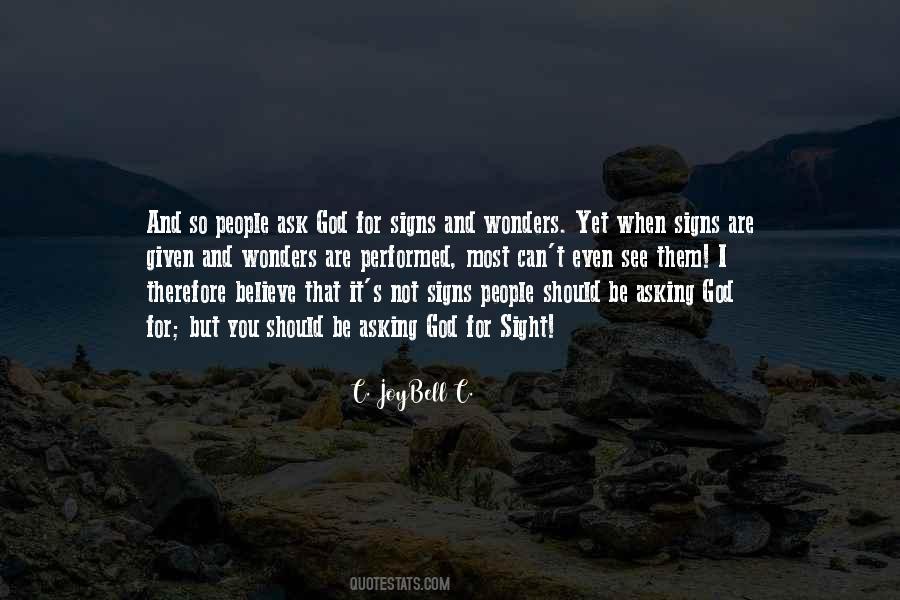 #19. From that time on the parish priest began to show signs of senility that would lead him to say years later that the devil had probably won his rebellion against God, and that he was the one who sat on the heavenly throne, without revealing his true identity in order to trap the unwary. - Author: Gabriel Garcia Marquez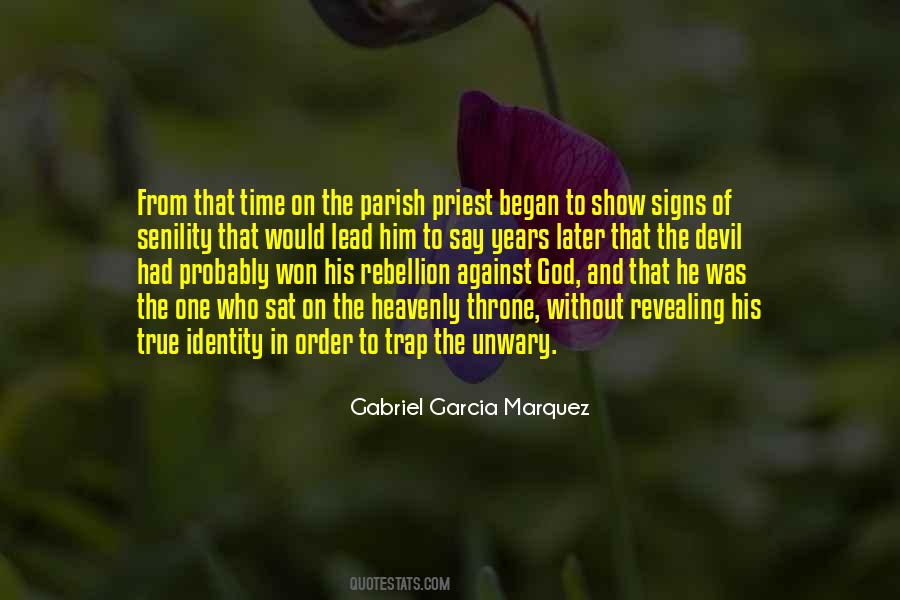 #20. people should be careful of only looking for signs from God." Remember the Devil can put up billboards too. - Author: Stephan Labossiere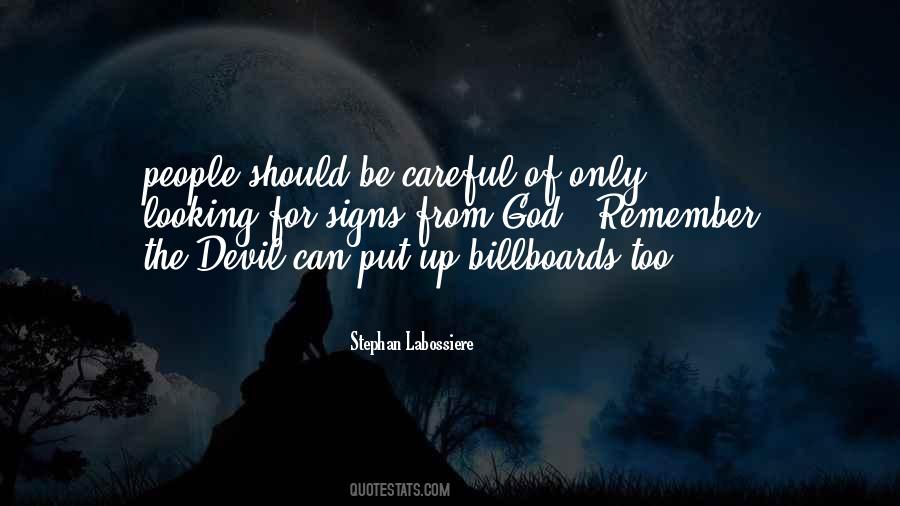 #21. He said they've literally set up a camp across the street from the hotel and they have signs and bullhorns and the kind of Christian attitude that makes God puke. - Author: Robyn Peterman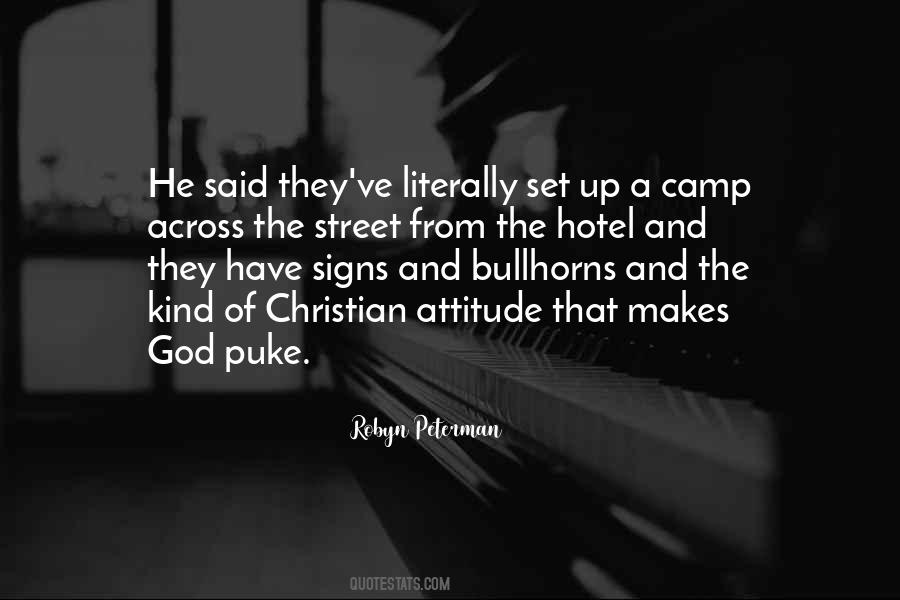 #22. We want big directional signs from God. God just wants us to pay attention. - Author: Lysa TerKeurst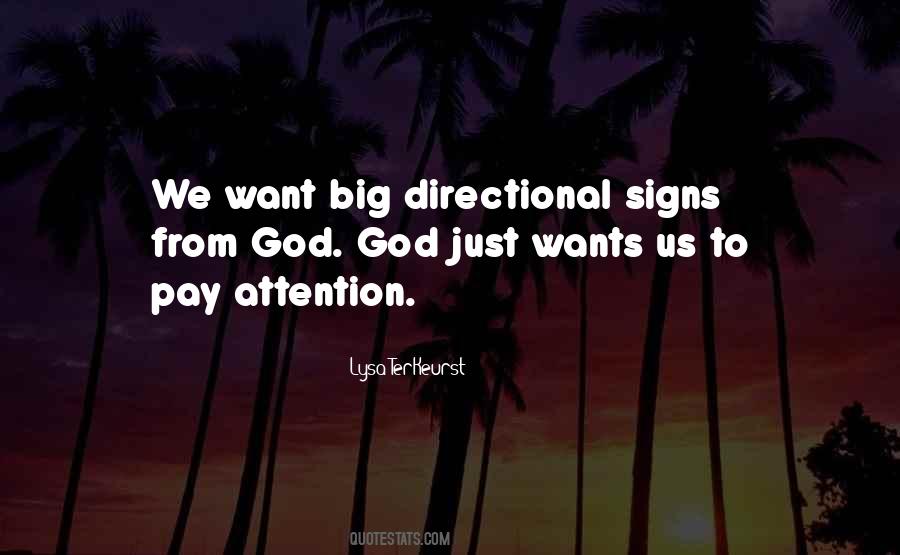 #23. Miracles occur all around us, signs from God show us the way, angels plead to be heard, but we pay little attention to them. - Author: Paulo Coelho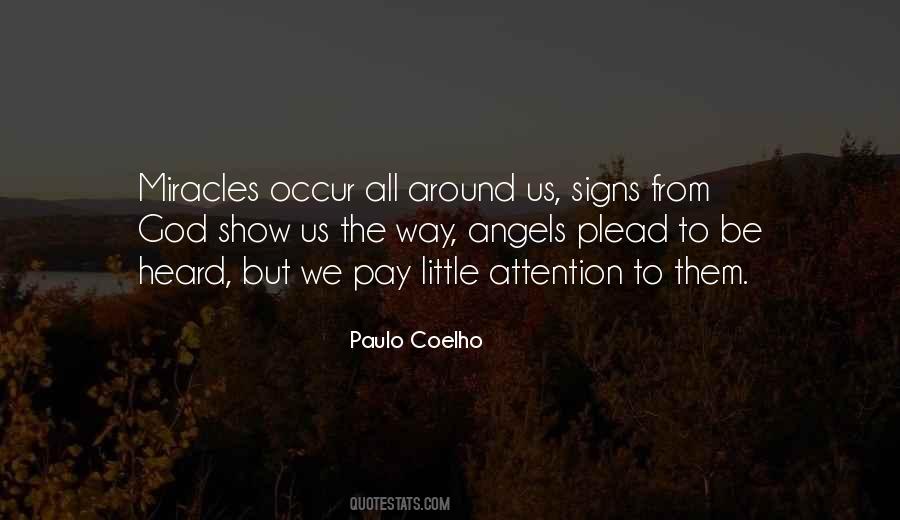 #24. We may be helpless to stop bad things from happening, but perhaps God leaves us signs and road maps to help us recover and reconnect, provided we know where to look. - Author: Jennifer Gardner Trulson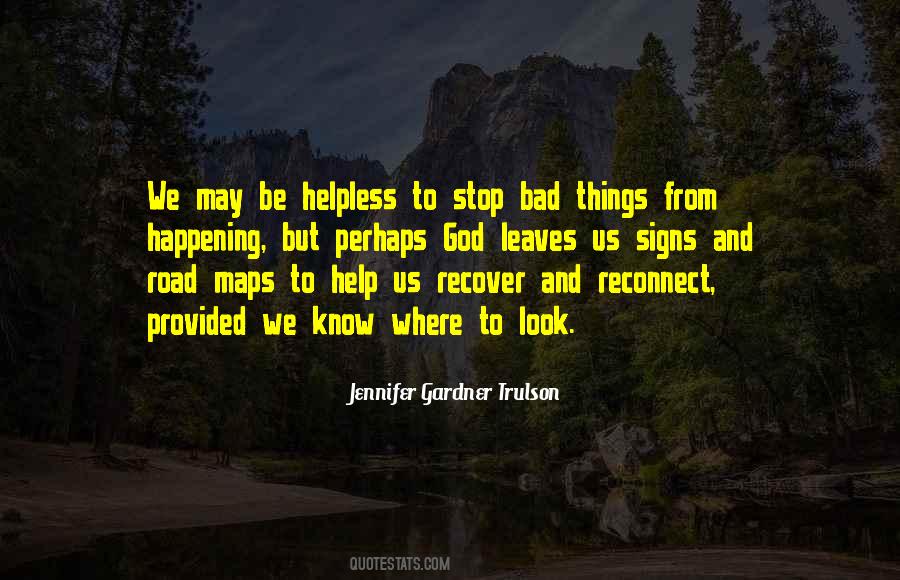 #25. So often, we want big directional signs from God. God just wants us to pay attention. But we need to leave enough space in our days to get up from our prayers and actually look for God in the moment-to-moment things that happen. - Author: Lysa TerKeurst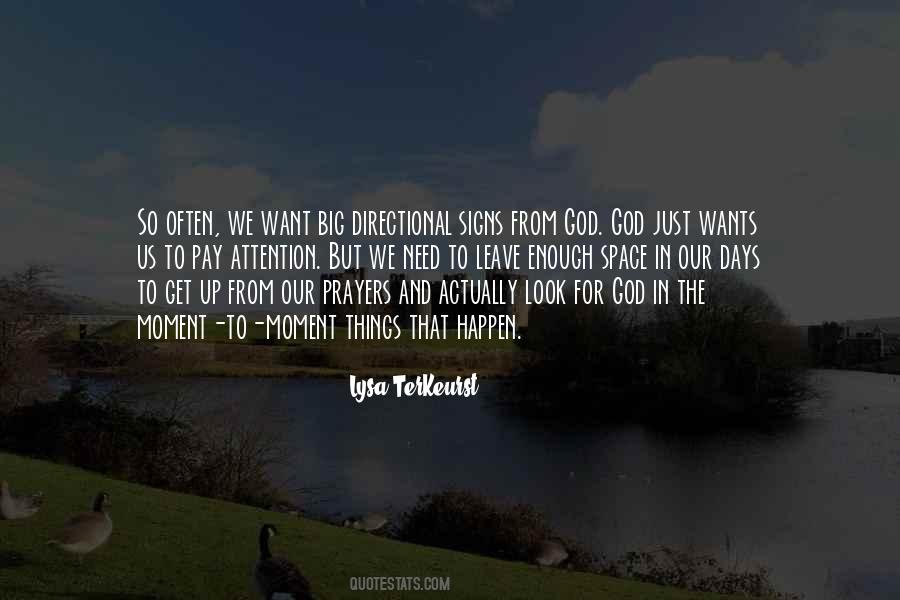 #26. To be entirely safe from the devil's snares the man of God must be completely obedient to the Word of the Lord. The driver on the highway is safe, not when he reads the signs but when he obeys them. - Author: Aiden Wilson Tozer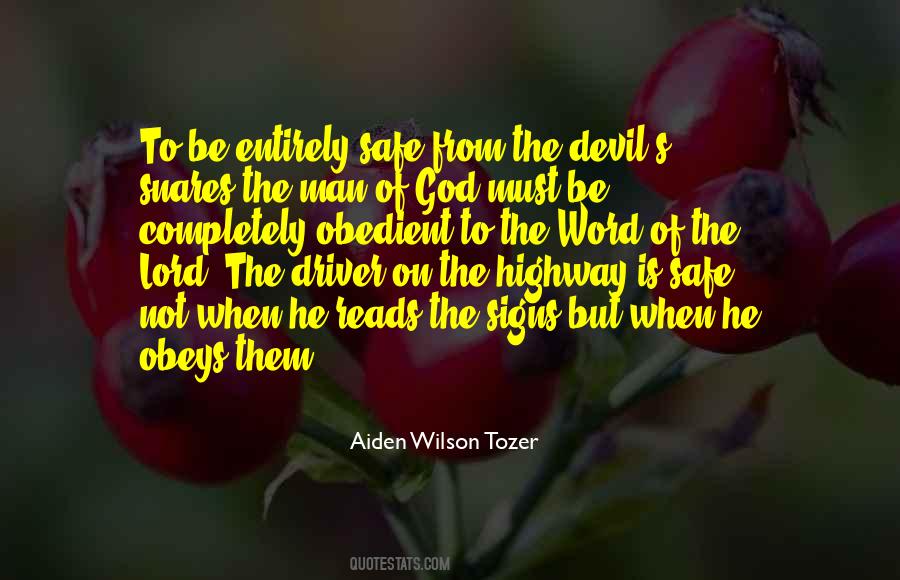 #27. There is always a spark before a drive. Don't expect any miracle to occur in your life if you won't avail yourself to be sparked by the Holy Spirit of God! - Author: Israelmore Ayivor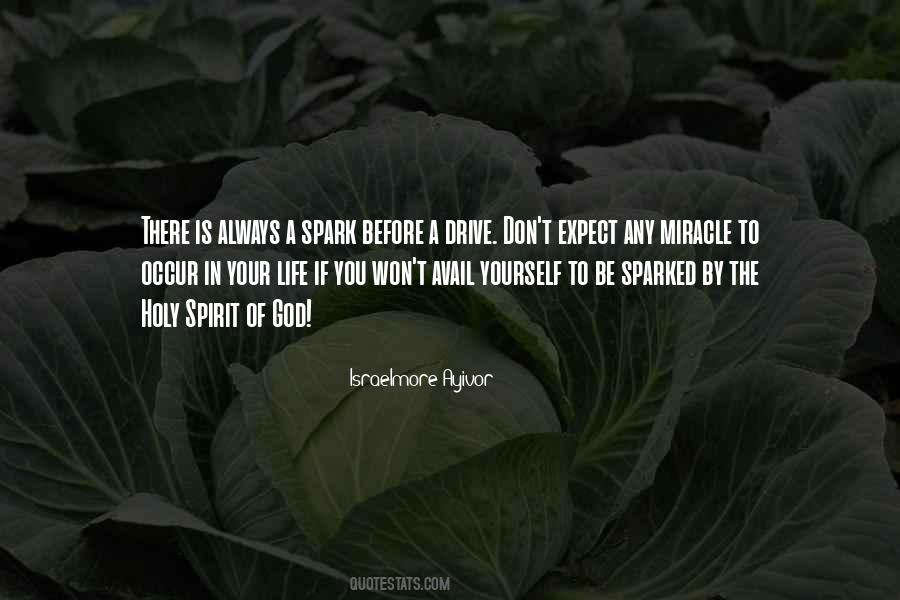 #28. In his pursuit of the dream, he was being constantly subjected to tests of his persistence and courage. So he could not be hasty, nor impatient. If he pushed forward impulsively, he would fail to see the signs and omens left by God along his path.
God placed them along my path. - Author: Paulo Coelho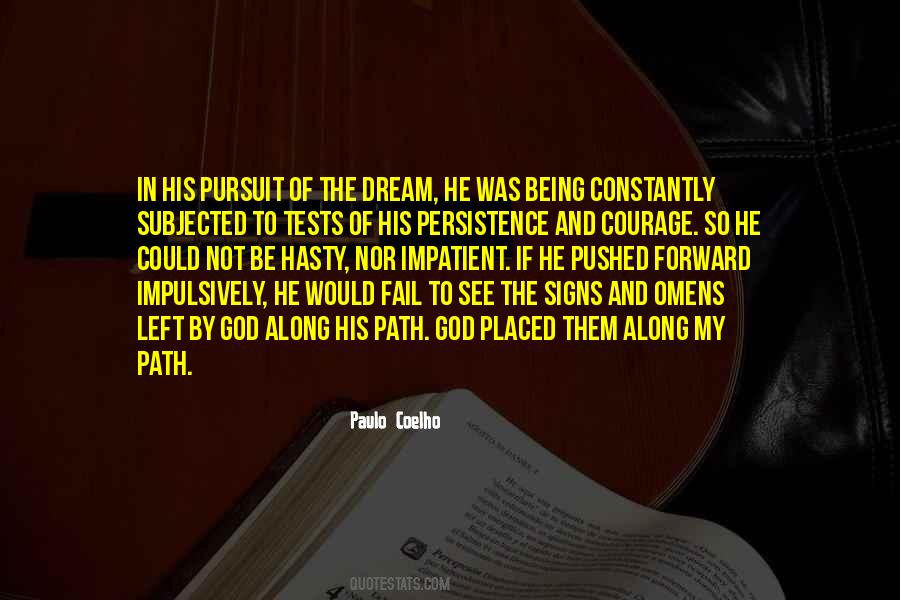 #29. Whoever knows the ways of God can also do the works of God, and lead a nation, manifesting the miracles and signs of God - Author: Sunday Adelaja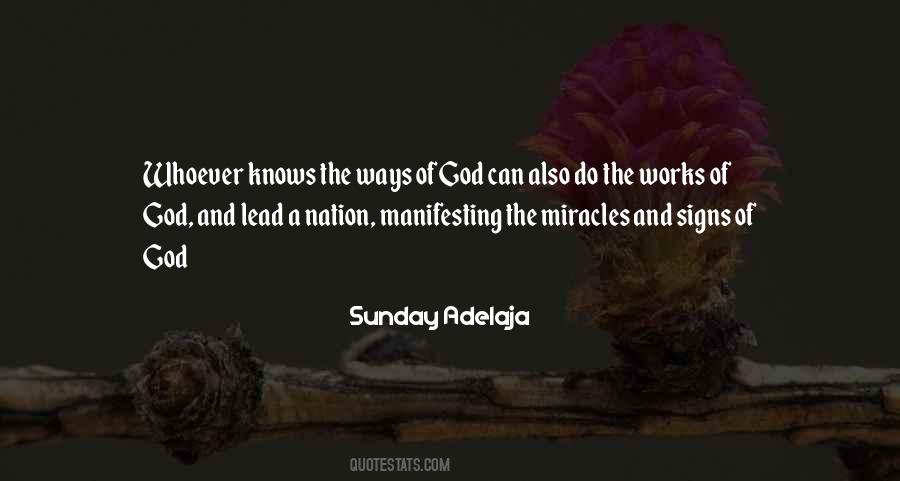 #30. All God's gifts and signs are useless if we do not have His love in ourselves. - Author: Sunday Adelaja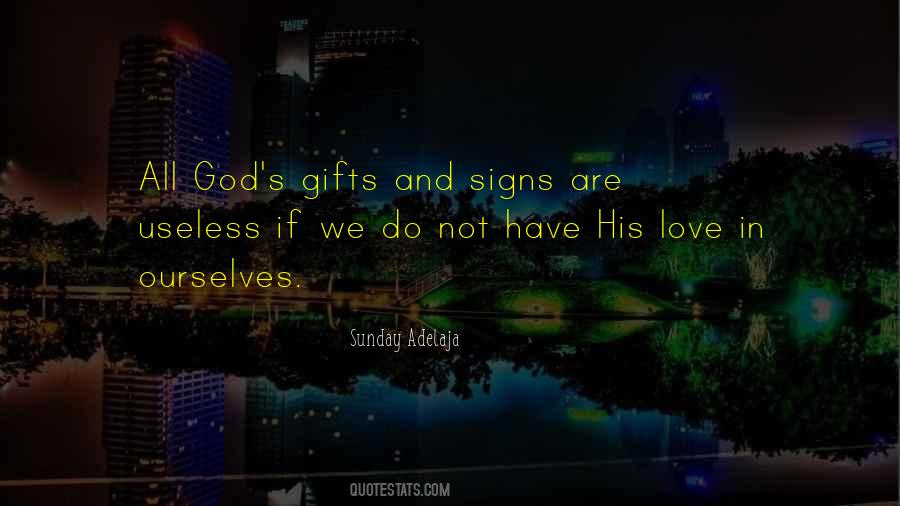 #31. Joy in the Holy spirit is one of the signs of the kingdom of God - Author: Sunday Adelaja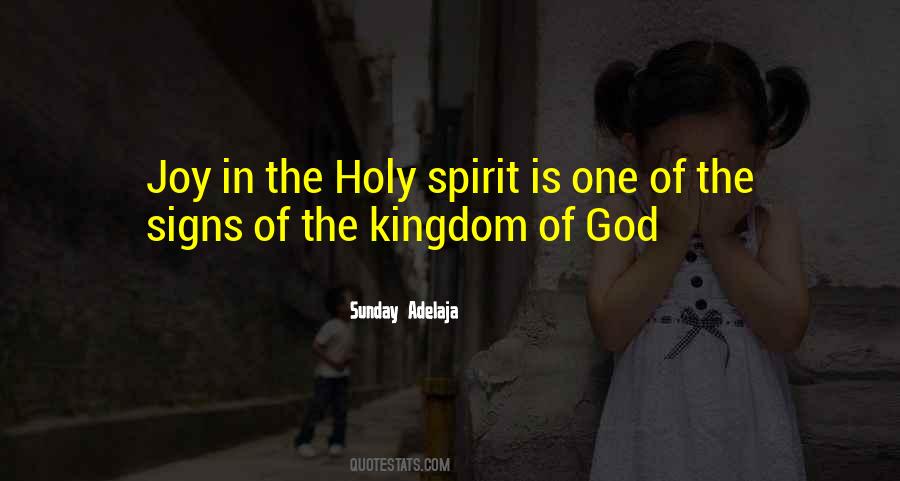 #32. The doctrine stating signs and wonders are no longer needed because we have the Bible was created by people who hadn't seen God's power and needed an explanation to justify their own powerless churches. - Author: Bill Johnson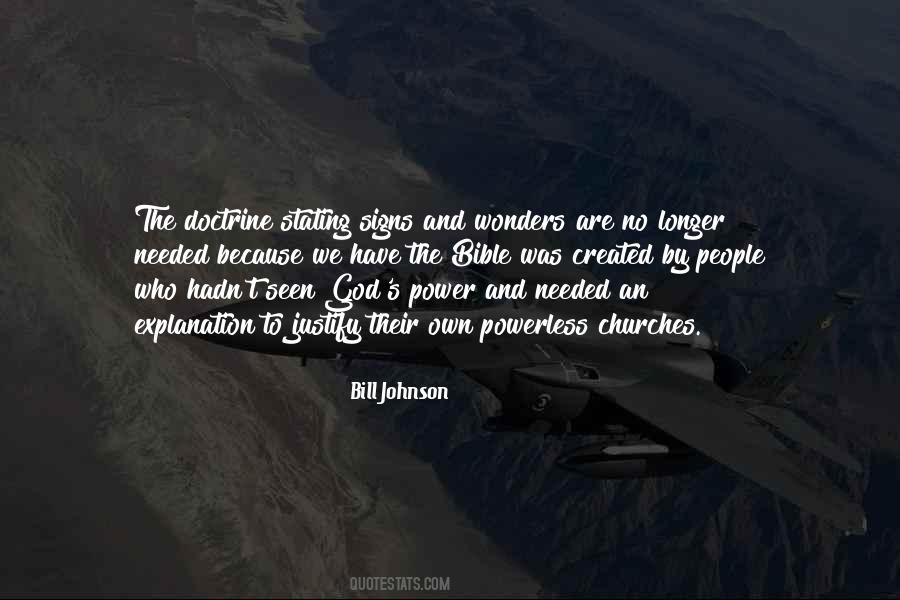 #33. Surviving and thriving in the wake of my mother's loss, I learned to believe in God. He has a plan, if you pay attention to the signs. I am inspired by the absolute proof of miracles. - Author: Mariska Hargitay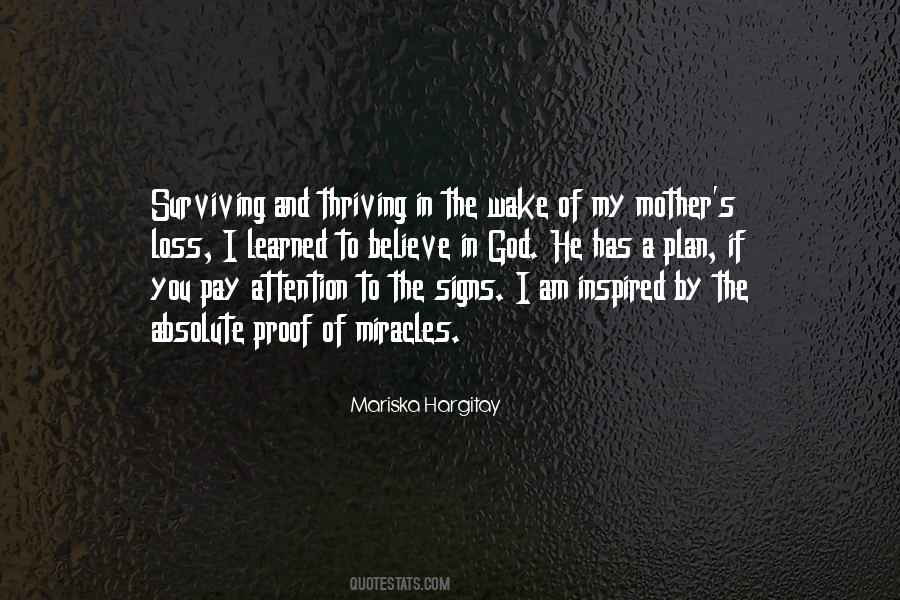 #34. The doctrine of Scripture teaches us about the authority of God's Word. Scripture must be the final rule of faith and practice for our lives. Not our feelings or emotions. Not signs or prophetic words or hunches. - Author: Joshua Harris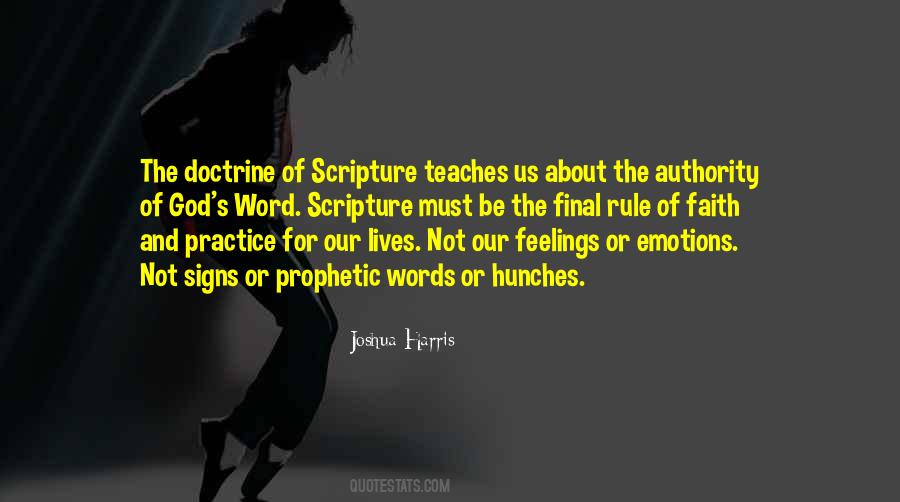 #35. If you're a print shop and you are a gay man, should you be forced to print 'God Hates Fags' for the Westboro Baptist Church because they hold those signs up? Should the government - and this is really the case here - should the government force you to do that? - Author: Rick Santorum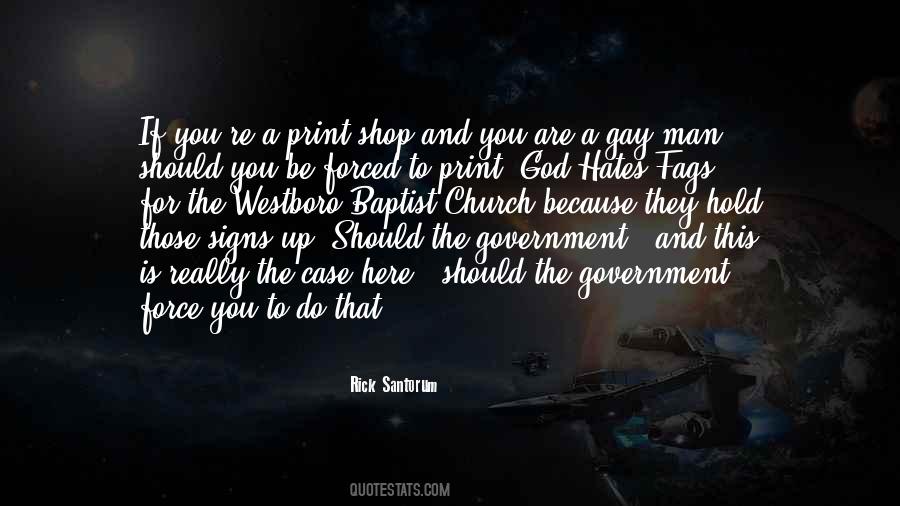 #36. They say there is six degrees of separation between you and another person. However, when people are praying for you there are only two degrees. - Author: Shannon L. Alder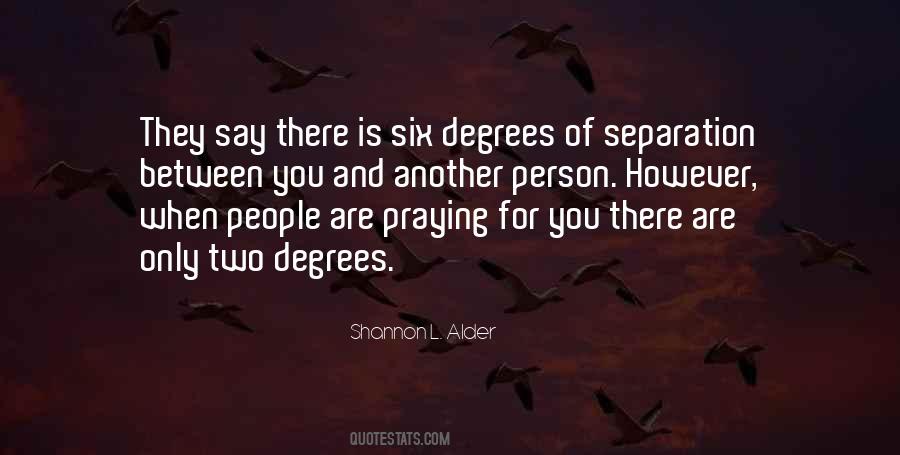 #37. The lord whose is the oracle at Delphoi neither utters nor hides his meaning, but shows it by a sign.
The Sibyl, with raving lips uttering things mirthless, unbedizened, and unperfumed, reaches over a thousand years with her voice, thanks to the god in her. - Author: Heraclitus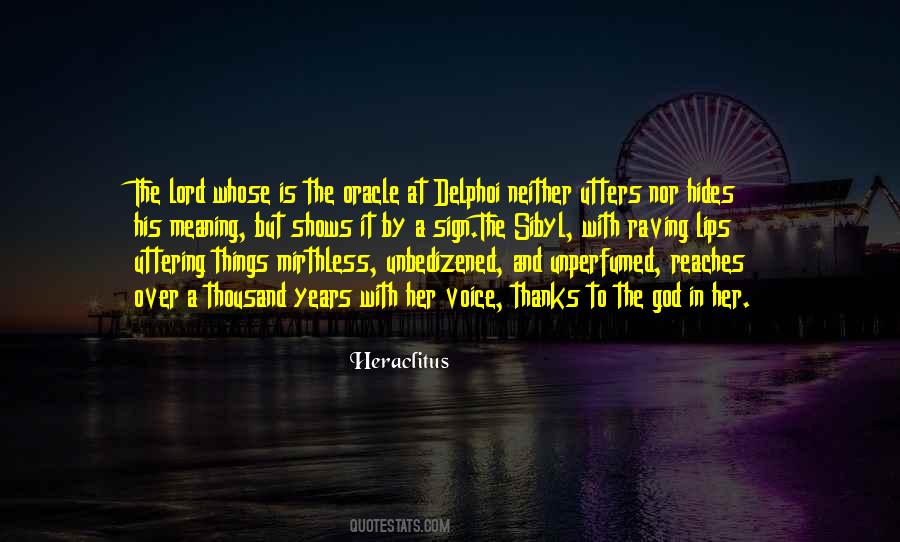 #38. She resented the fact that her veil, which to her was a symbol of her sacred relationship to God, had now become an instrument of power, turning the women who wore them into political signs and symbols. Where do your loyalties lie, Mr. Bahri, with Islam or the state? - Author: Azar Nafisi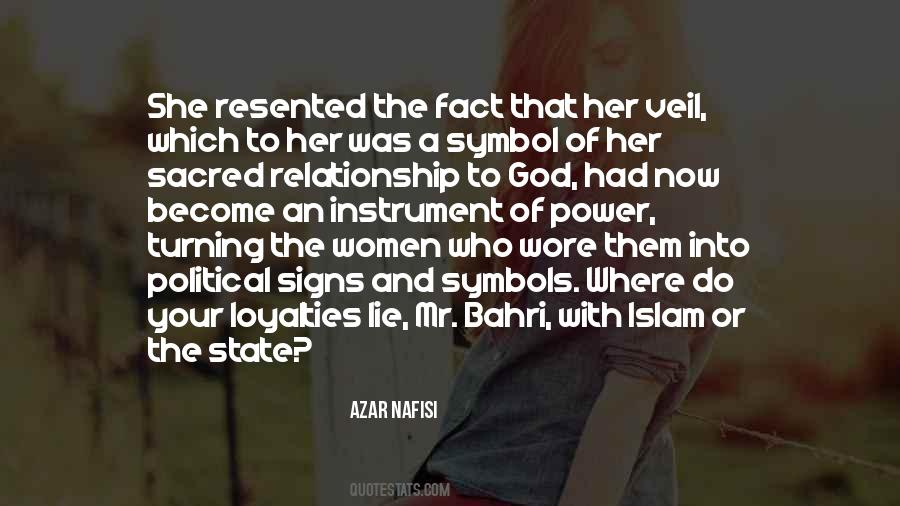 #39. Our heart oft times wakes when we sleep, and God can speak to that, either by words, by proverbs, by signs and similitudes, as well as if one was awake. - Author: John Bunyan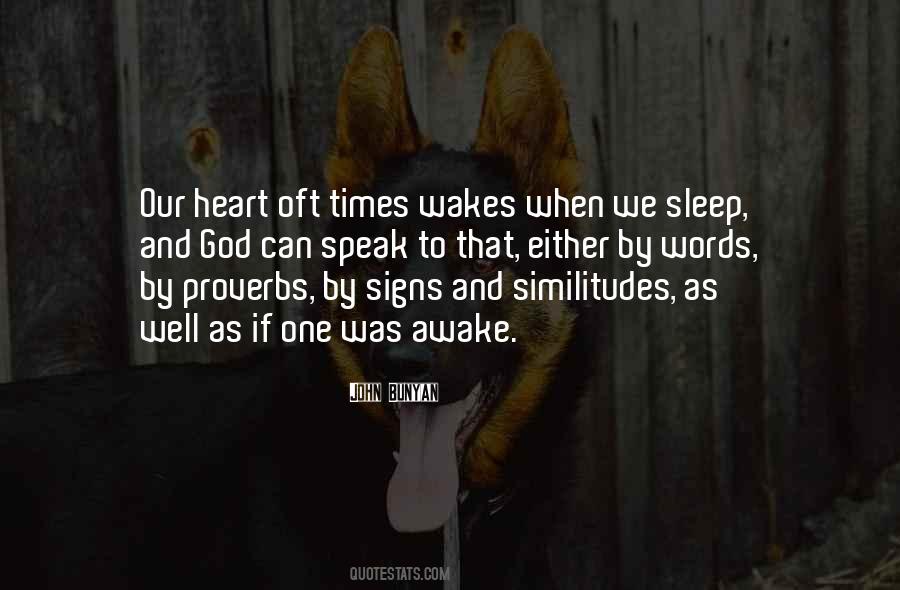 #40. Wonders and signs shall never cease. - Author: Lailah Gifty Akita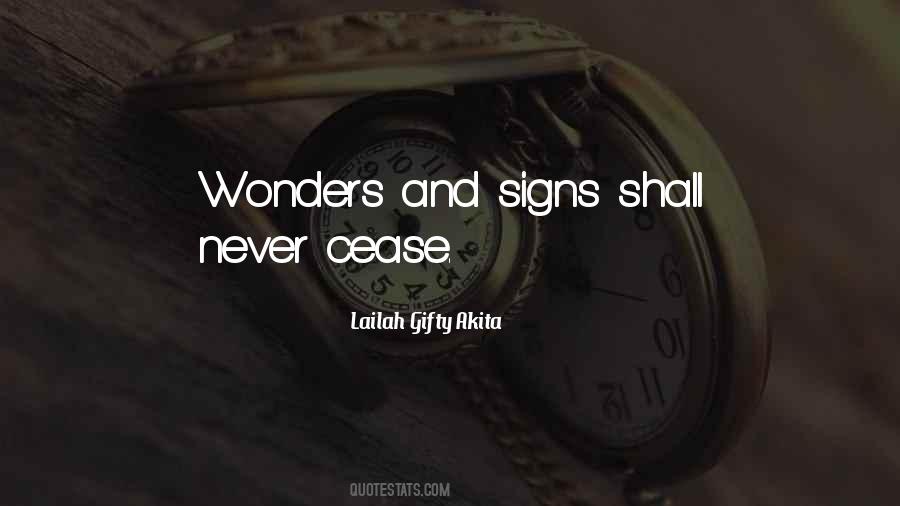 #41. If, as Heraclitus suggests, god, like an oracle, neither "declares nor hides, but sets forth by signs," then clearly I had better be scrying the signs. - Author: Annie Dillard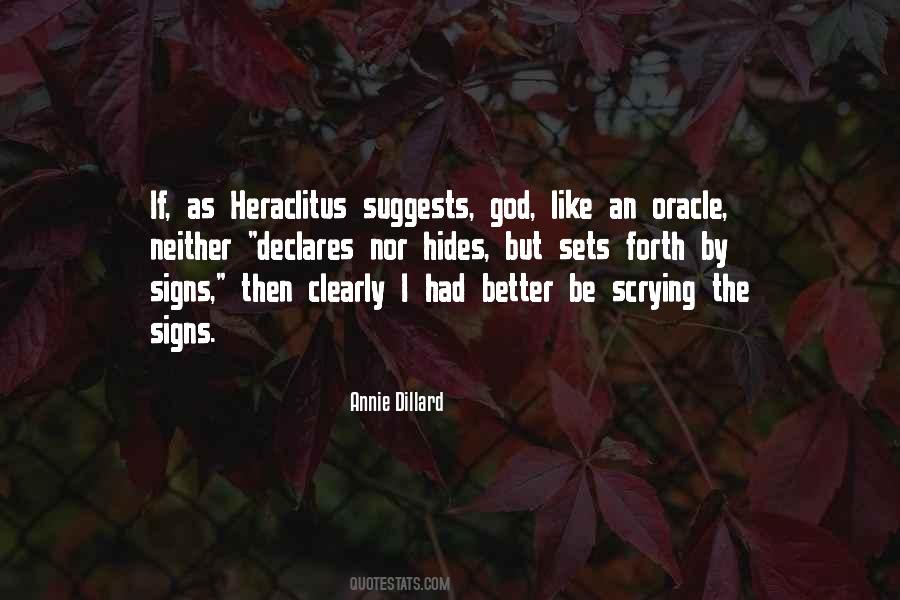 #42. Premature as the question may be, it is hardly possible not to wonder whether we will find any answer to our deepest questions, any signs of the workings of an interested God, in a final theory. I think that we will not. - Author: Steven Weinberg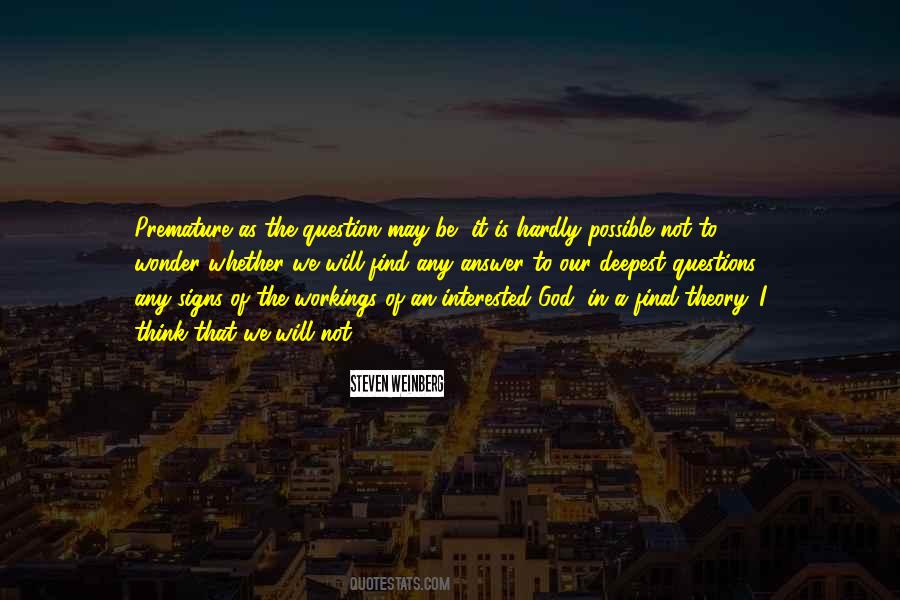 #43. She patted his hand. Gnarled, ropescarred, speckled from the sun and the years of it. The ropy veins that bound them to his heart. There was map enough for men to read. There God's plenty of signs and wonders to make a landscape. To make a world. - Author: Cormac McCarthy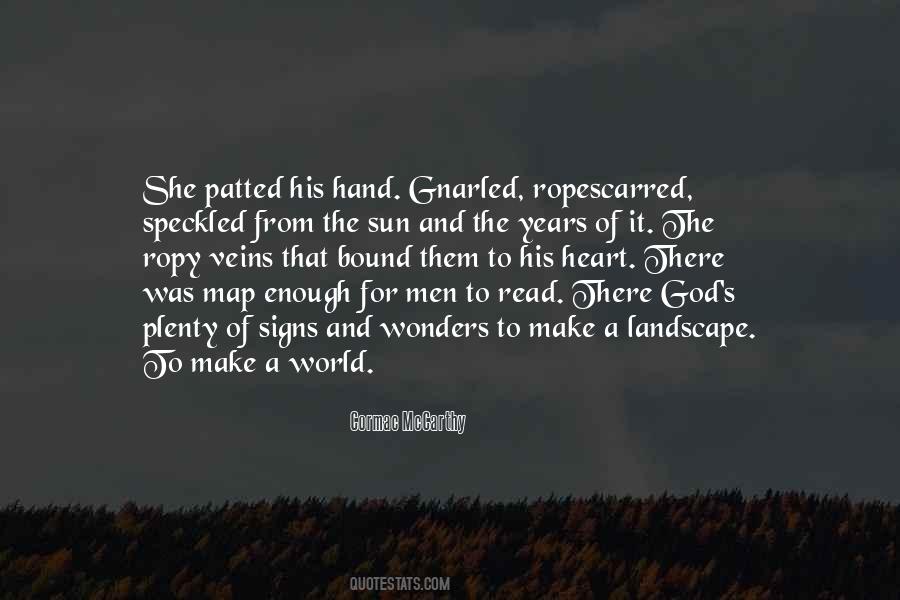 #44. It's been a while and God, you're so sexy I can't even breathe." His voice shook to match the rest of him. "If I f#ck this up, I'll get it right, Ror. I promise. Just bear with me, okay? - Author: Cari Quinn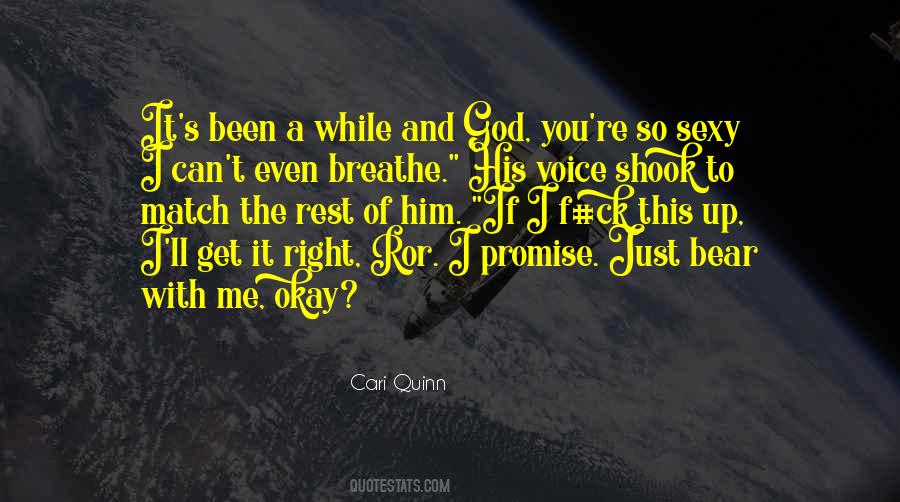 #45. When God signs a check it never bounces. - Author: Matshona Dhliwayo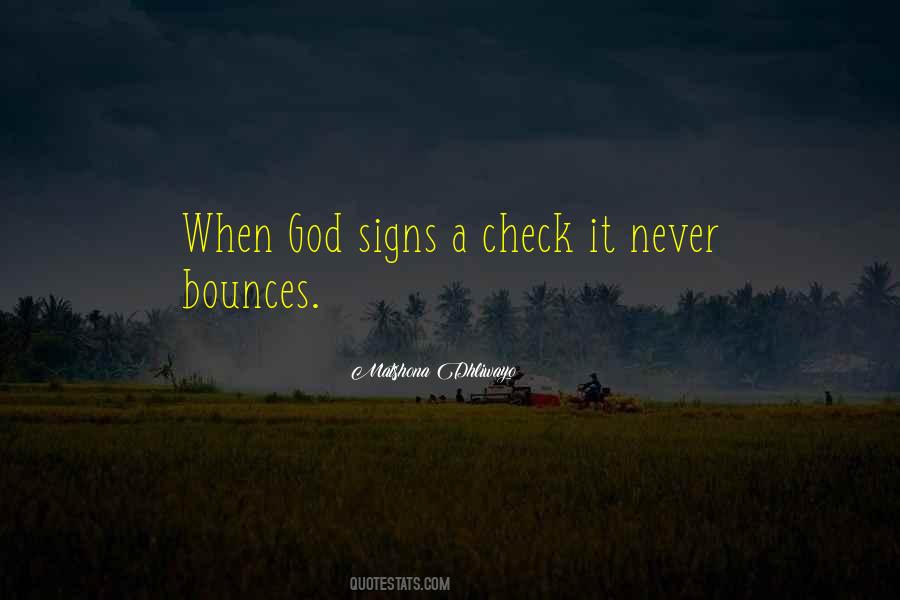 #46. As long as we have deaf people on earth, we will have signs. And as long as we have our films, we can preserve signs in their old purity. It is my hope that we will all love and guard our beautiful sign language as the noblest gift God has given to deaf people. - Author: George Veditz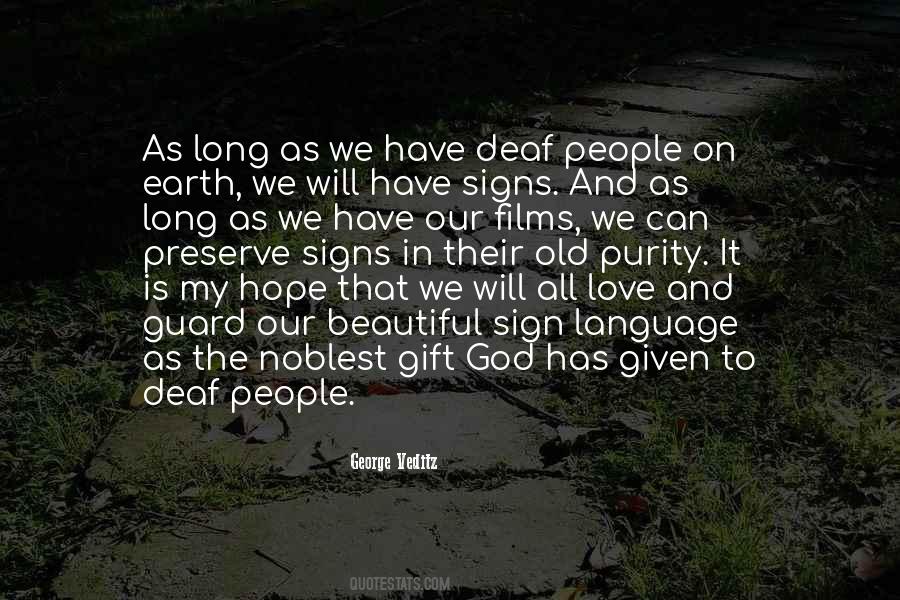 #47. There are folks who burn the Koran and hold signs saying, "God hates fags" and all sorts of sick things - and they often hijack the headlines with hatred. We know that is not what Christ was like. - Author: Shane Claiborne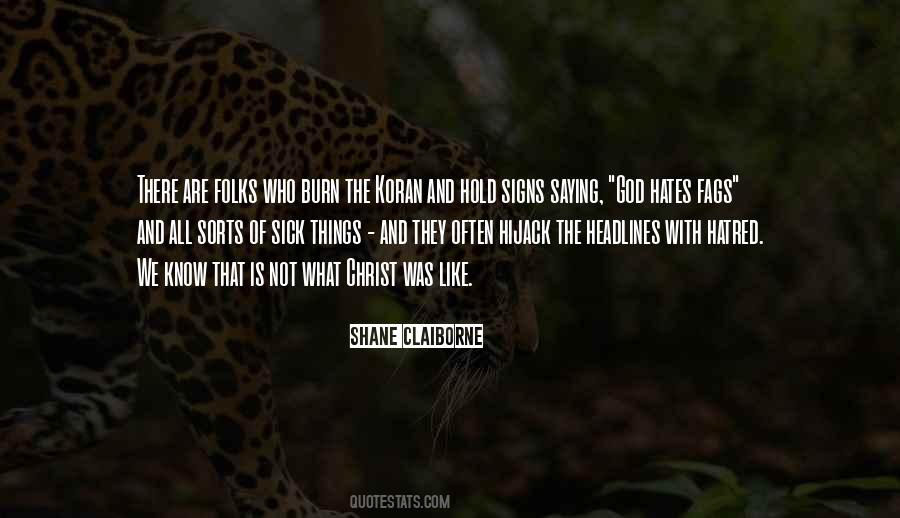 #48. Yes, God wants you to do signs and wonders. But the love of God manifested through you is what people really need. So you first must see His face. You must become so close to His very heartbeat that you can feel what others feel. - Author: Heidi Baker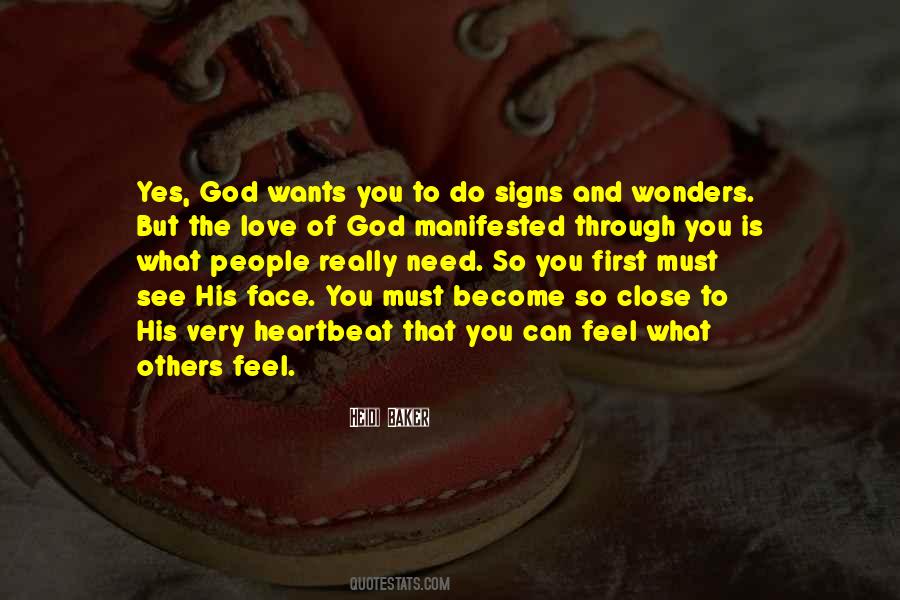 #49. You can pray to God for your dream but you cannot tell Him how to realize it. Just watch for the signs. If you follow the signs you are on your path. Your path is a path of pleasure. - Author: Angelos Ioannis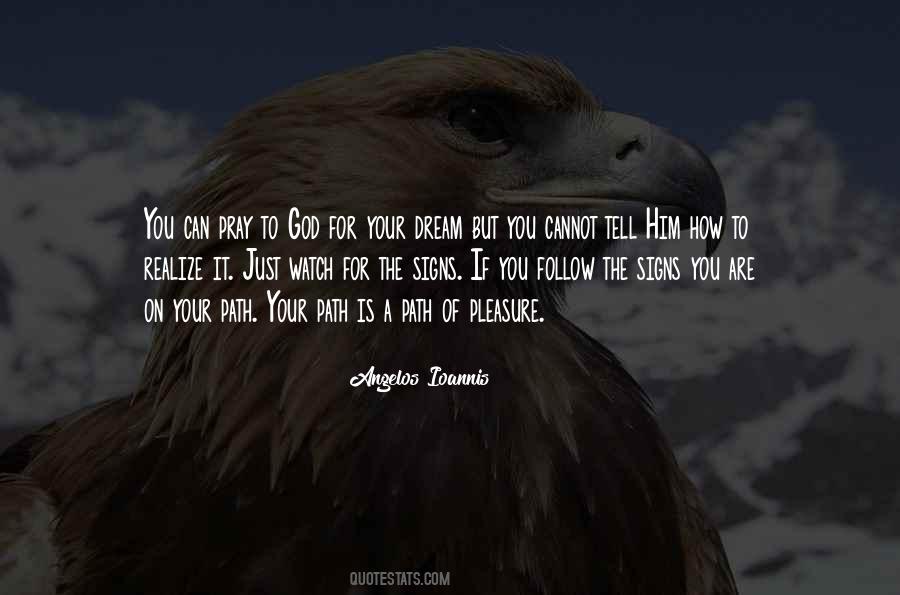 #50. The Christian faith allows us to see further and deeper, to appreciate that nature is studded with signs, radiant with reminders, and emblazoned with symbols of God, our creator and redeemer. - Author: Alister E. McGrath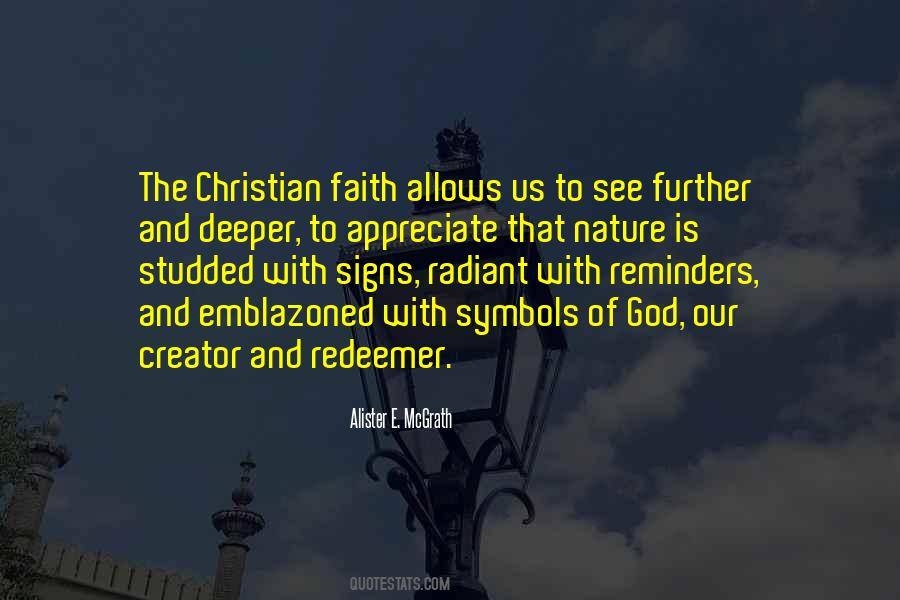 #51. The Imagination that is raised in man (or any other creature imbued with the faculty of imagining) by words, or other voluntary signs, is that we generally call Understanding; and is common to Man and Beasts. - Author: Thomas Hobbes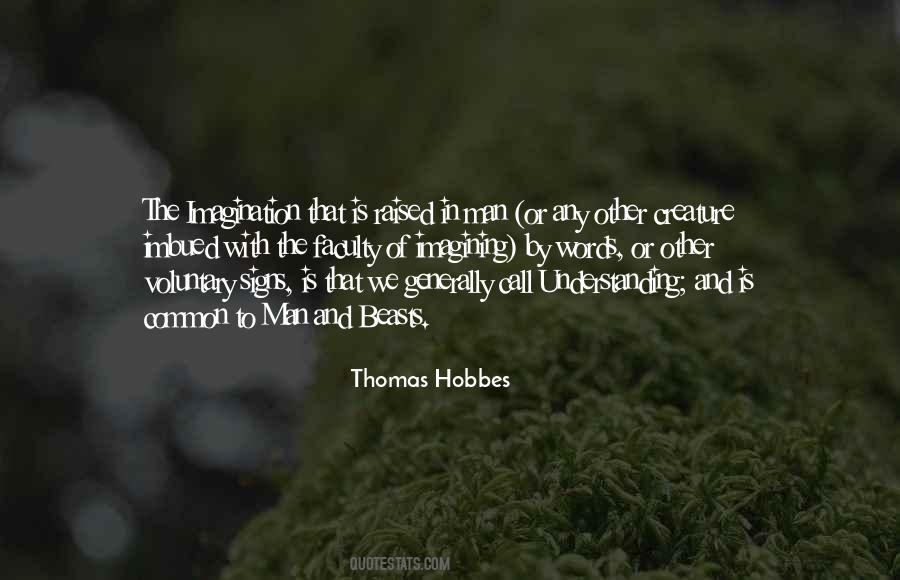 #52. I guess my point is that sometimes we ignore the signs that God gives us. We never know what He has in store for us, but we must always be prepared to hear His words. Who knows what fate he would have had in store for me had I kept on that path. (Max) - Author: Pete Conrad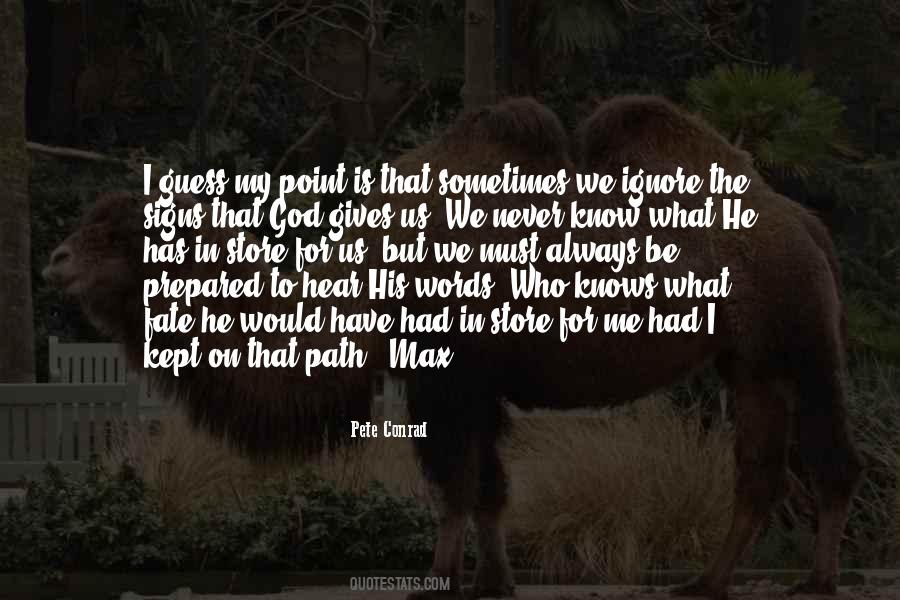 #53. Maybe God posted signs visible only to those with eyes to see. She wasn't one of them, but she could accept that maybe her husband was. - Author: Rae Meadows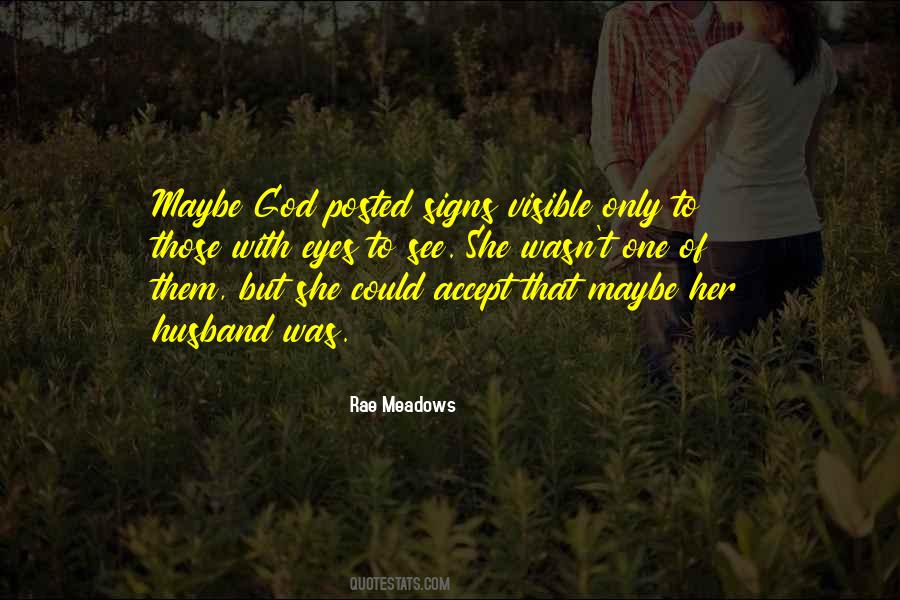 #54. One of the consequences of sin is that it makes the sinner pity himself instead of causing him to turn to God. One of the first signs of new life is that the individual takes sides with God against himself. - Author: Donald Grey Barnhouse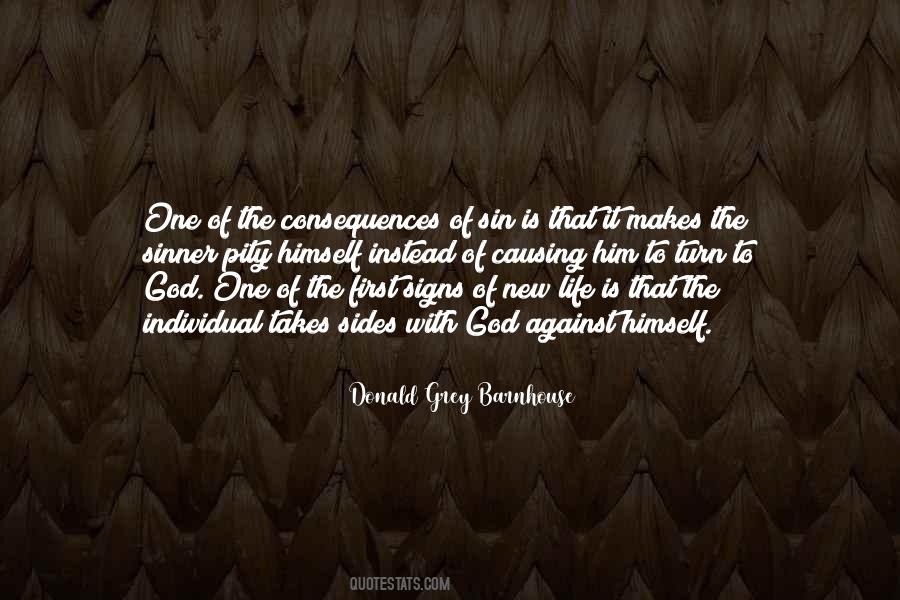 Famous Authors
Popular Topics