Sickness And Death Famous Quotes & Sayings
List of top 82 famous quotes and sayings about sickness and death to read and share with friends on your Facebook, Twitter, blogs.
Top 82 Quotes About Sickness And Death
#1. I know that for me, whenever I'm in a situation where there's death or sickness, my personality is to come in and do whatever I can to ease anything I can, in terms of offering to take care of things. Cooking, organizing, things like that. - Author: Elizabeth Rodriguez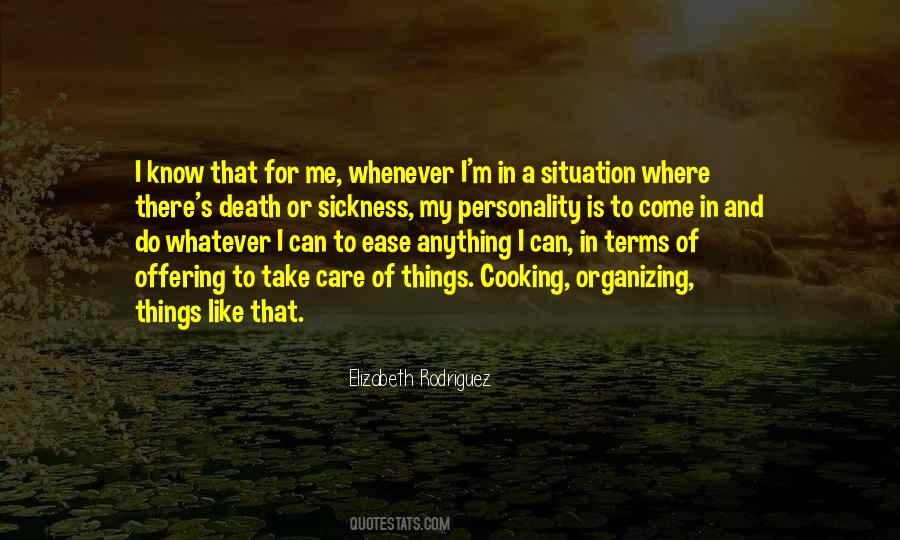 #2. The three touchstones that woke Buddha up - sickness, old age, and death - are a pretty good place to start when crafting a tragic tale. And if we need to get more specific: heartbreak, destruction, miscomprehension, natural disasters, betrayal, and the waste of human potential. - Author: Paul Di Filippo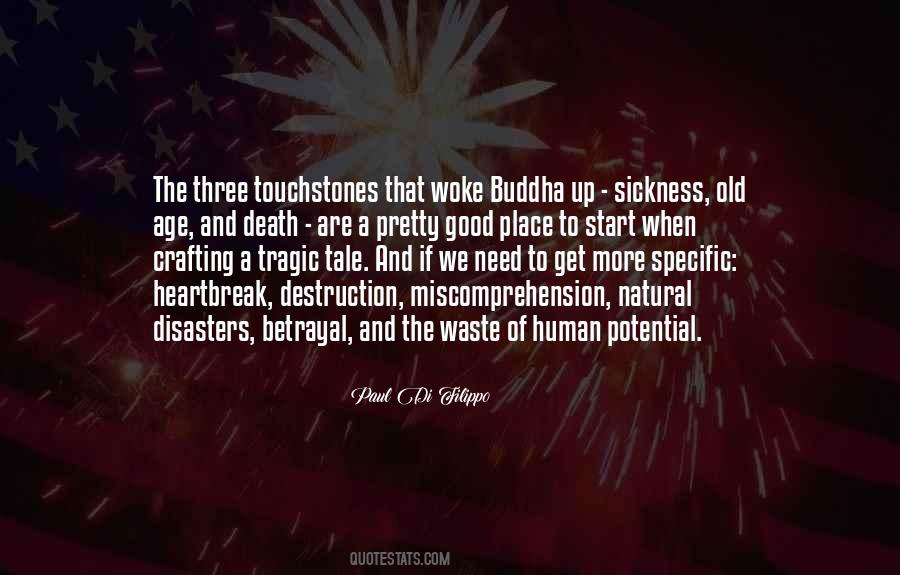 #3. Death was pain and sickness, and terror of the long, blind, last step. - Author: Anne Perry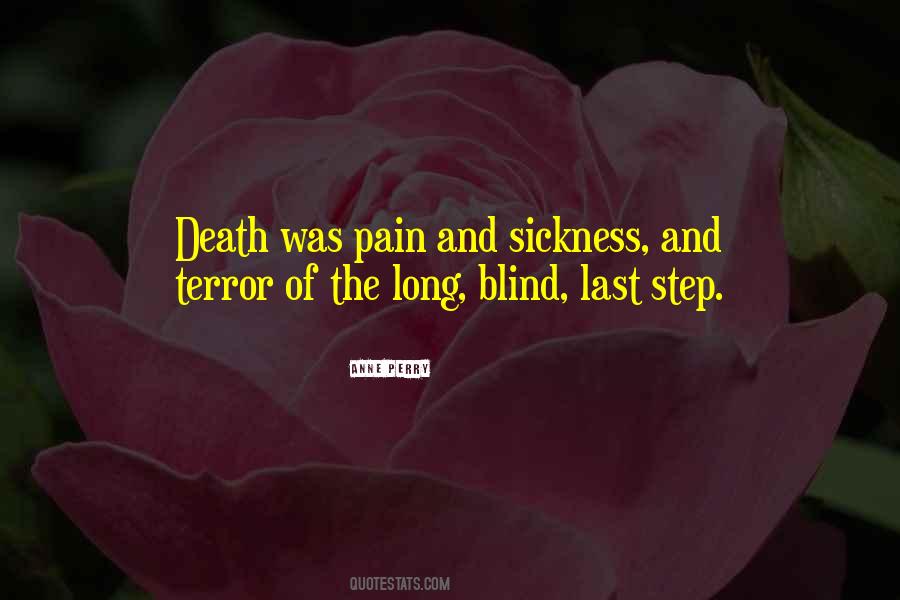 #4. Sometimes I think it's recklessness but at other times the coincidence of it seems almost supernatural because here in the midst of success comes death - Author: Crystal Evans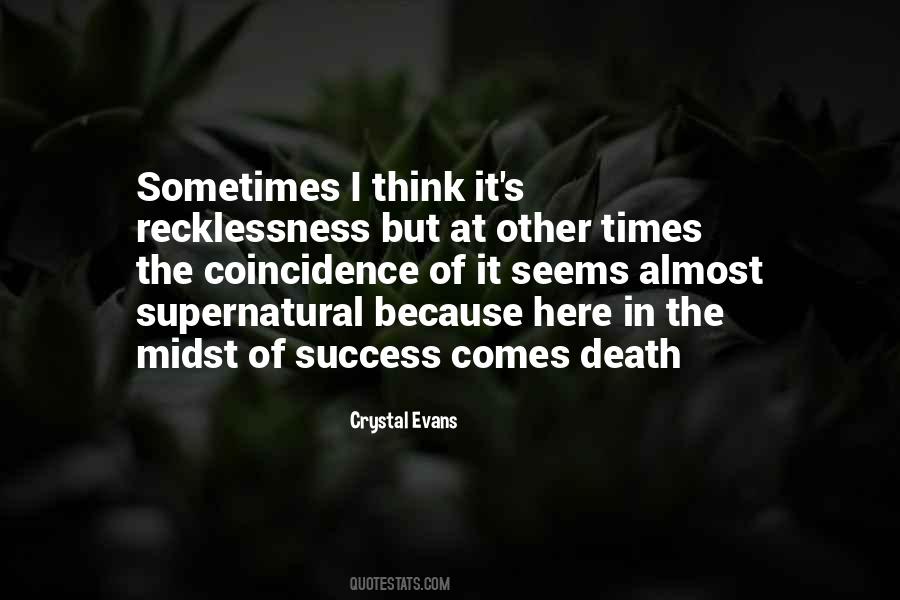 #5. Affliction shows the power of Christ's blood, when it gives peace in an hour of trouble, when it can make happy in sickness, poverty, persecution and death. Do not be surprised if you suffer, but glorify God. - Author: Robert Murray M'Cheyne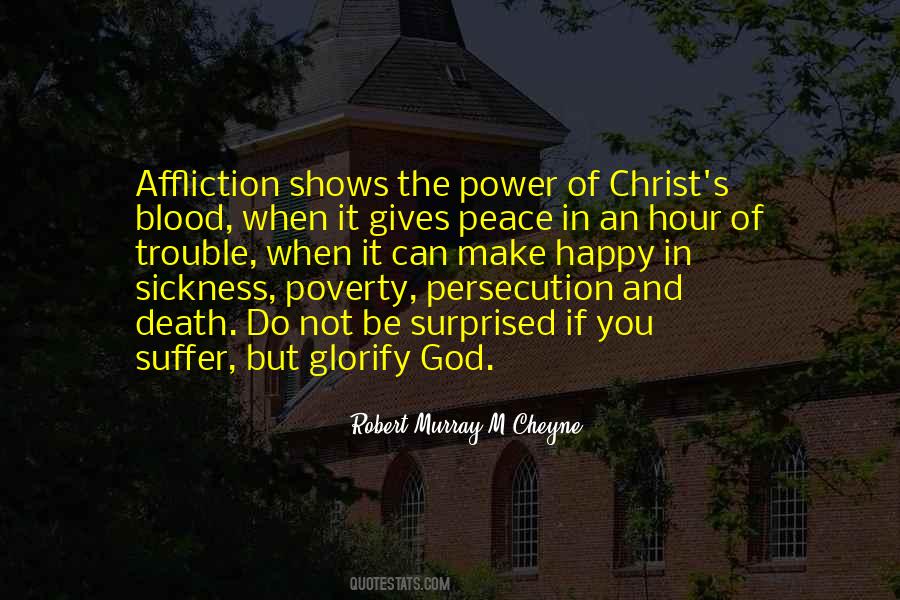 #6. Love is scary! Taking a vow to love someone through sickness and health, for richer for poorer, forsaking all others, until death do us part, is the most terrifying experience a person can have. Why pretend any differently? - Author: Elin Hilderbrand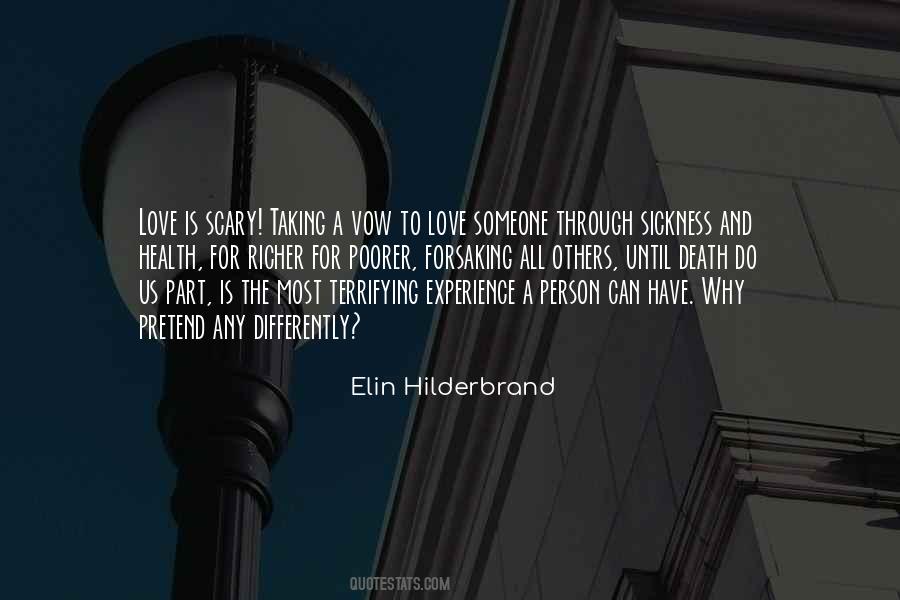 #7. It would be wrong to refuse to face the fact that everything is fundamentally sick and sad. - Author: Thomas Bernhard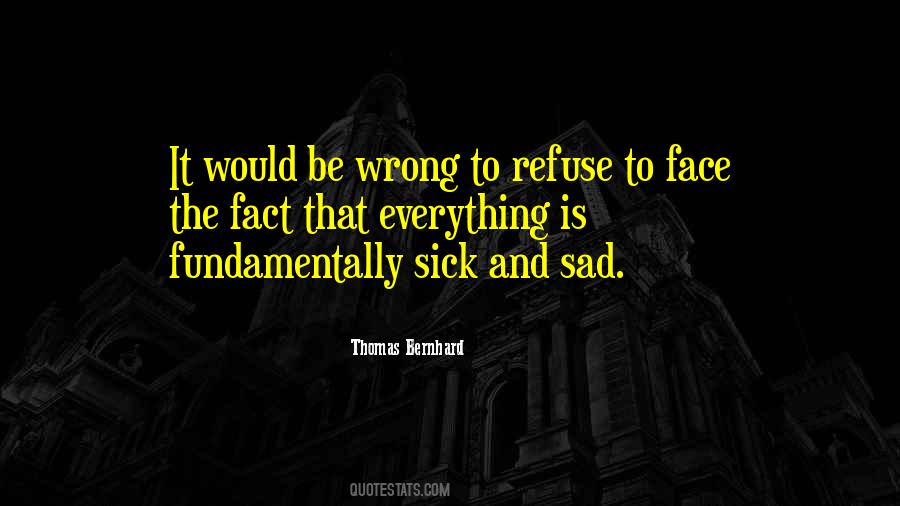 #8. Nature had found the perfect place to hide the yellow fever virus. It seeded itself and grew in the blood, blooming yellow and running red. - Author: Molly Caldwell Crosby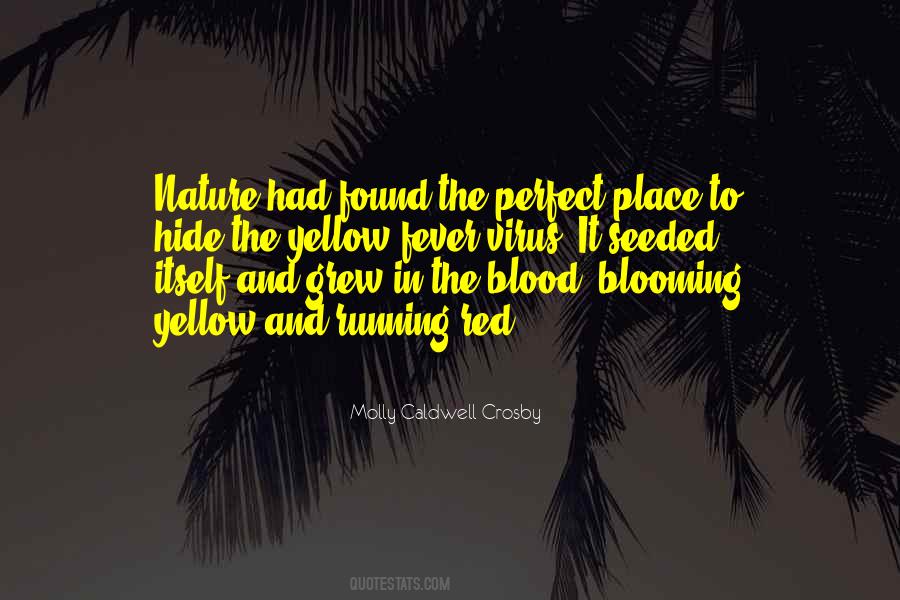 #9. The themes that make one laugh always stem from poverty, hunger, misery, old age, sickness, and death. These are the themes that make Italians laugh, anyway. - Author: Mario Monicelli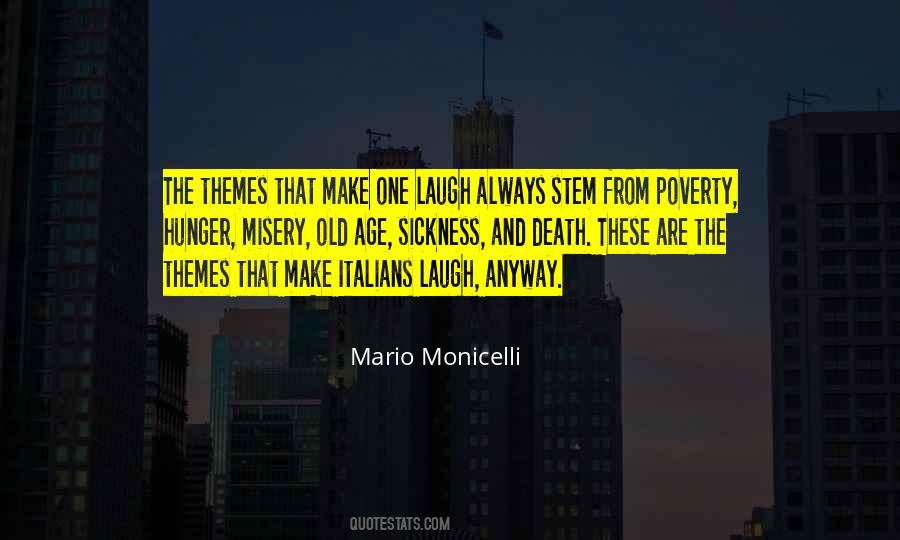 #10. It doesn't seem right that someone like that would get sick and die.'
[He] countered, 'Why shouldn't it be right? It's what happens. - Author: Jan Elizabeth Watson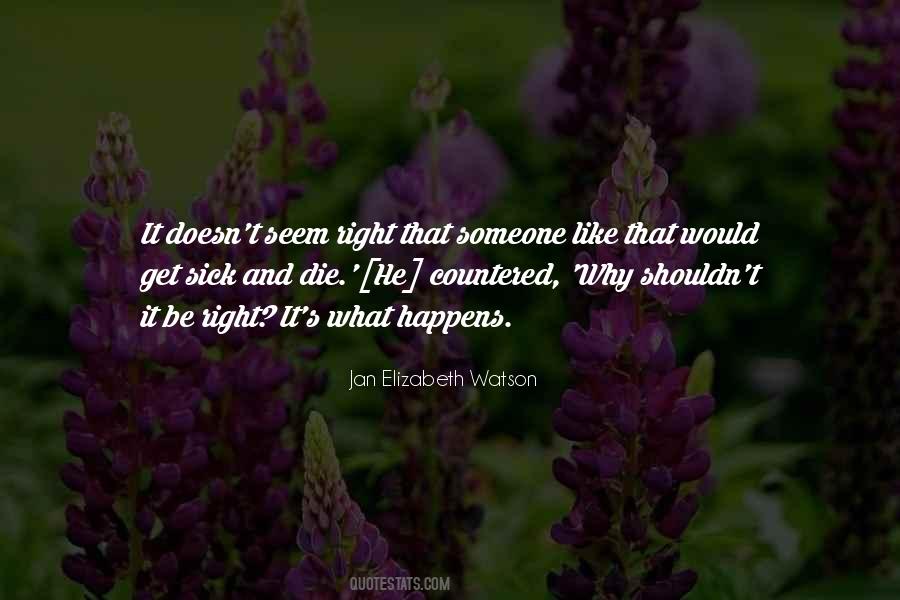 #11. To infinite, ever present Love, all is Love, and there is no error, no sin sickness, nor death. - Author: Mary Baker Eddy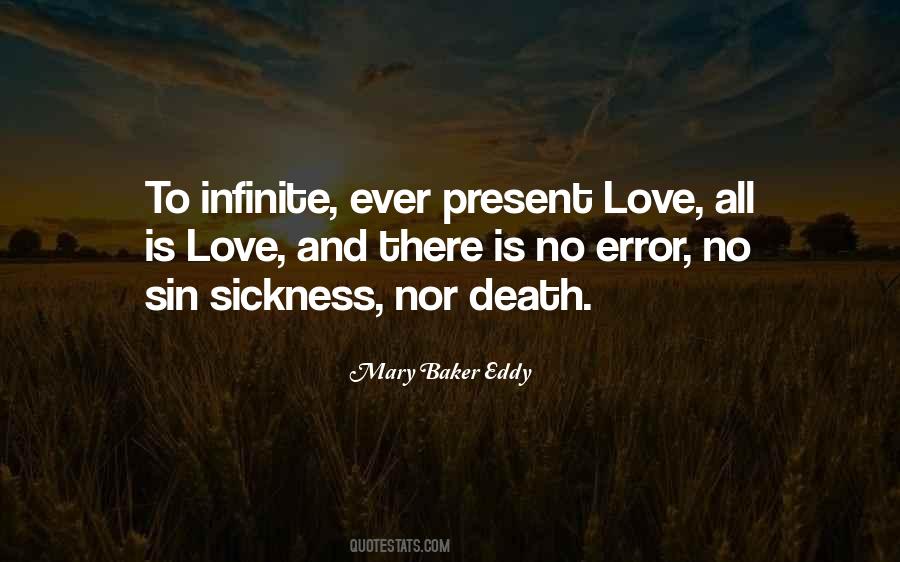 #12. One of the worst things that can happen to a man is for him to work and study hard in order to benefit others and make his own name and then be prevented by sickness, or perhaps death itself, from finally completing what he has begun - Author: Giorgio Vasari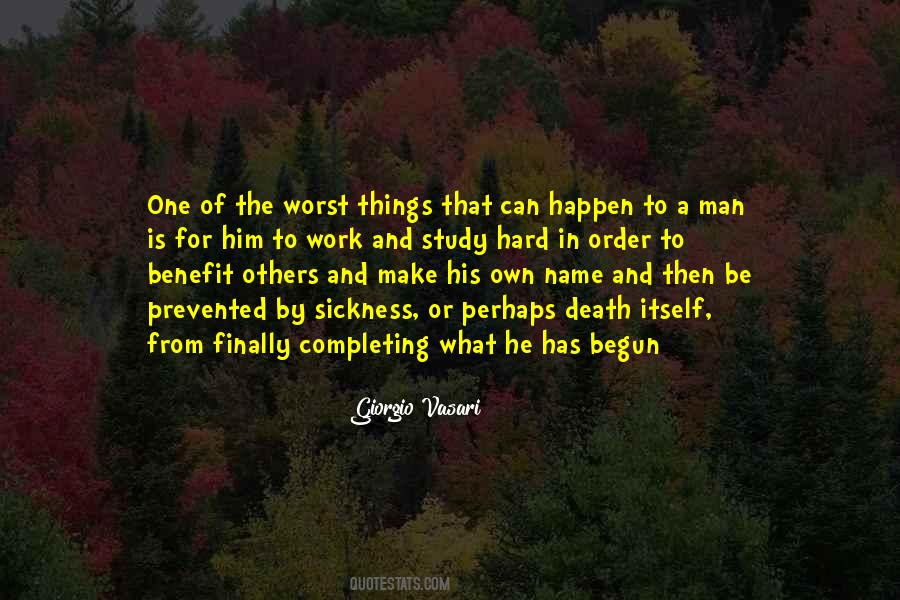 #13. In the latter months of his own long sickness the Master Herbal had taught him much of the healer's lore, and the first lesson and the last of all that lore was this: Heal the wound and cure the illness, but let the dying spirit go. - Author: Ursula K. Le Guin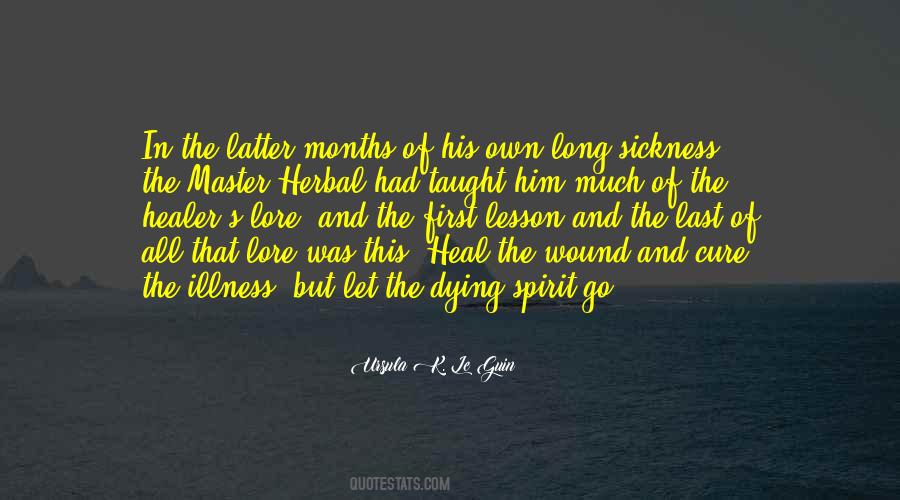 #14. A man begins dying at the moment of his birth. Most People live in denial of Death's patient courtship until, late in life and deep in sickness, they become aware of him sitting bedside. - Author: Dean Koontz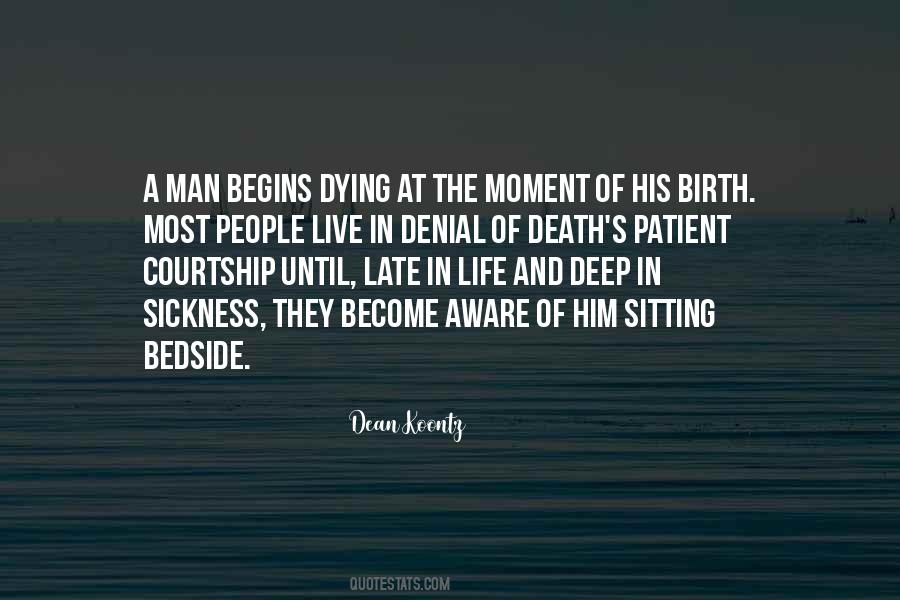 #15. Might not live long but I know I'ma die happy. - Author: Jonathan Anthony Burkett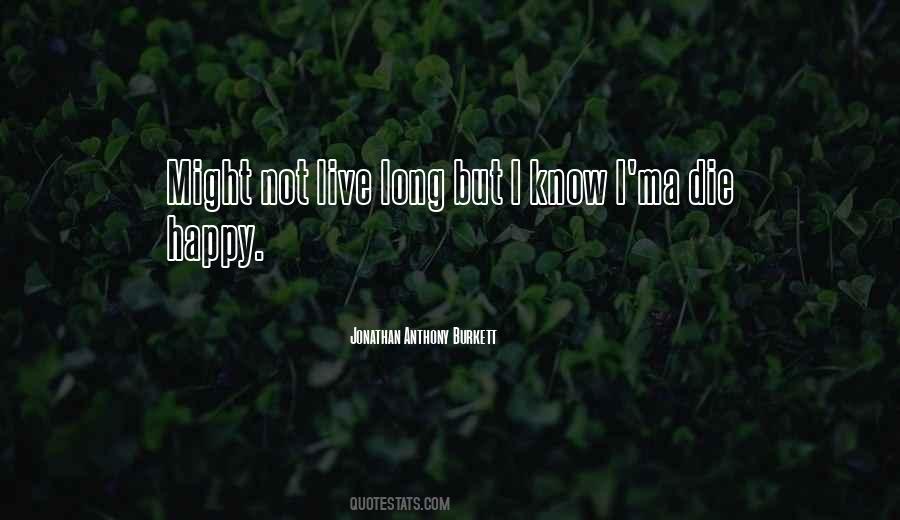 #16. How am I? If we grumble at sickness, God won't grant us death,' replied Platon, and at once resumed the story he had begun. - Author: Leo Tolstoy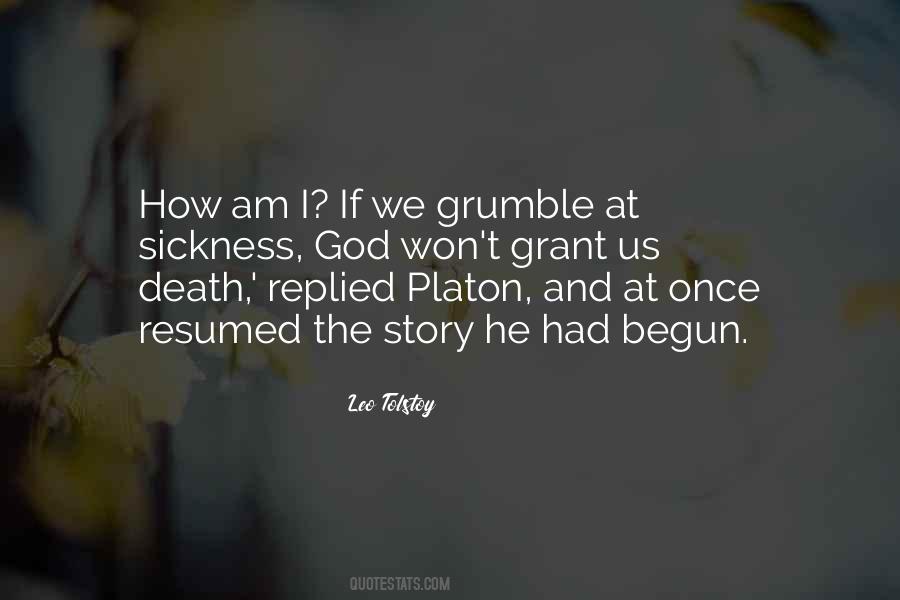 #17. I'll never tire of her warm smile or bright green eyes. She's mine, in sickness and in health, till death do us part-scratch that- even in the afterlife she's mine and I'll fight any spirity-ghost bastard that attempts to fuck this up. - Author: Skyla Madi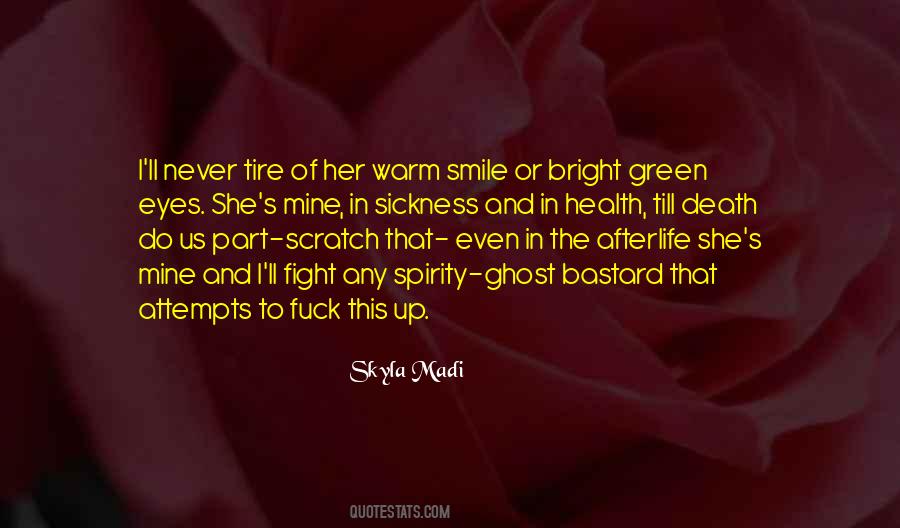 #18. I am sick of death and worst of all this sickness feeds on itself, the more afraid I am the more I am afraid the more I flee the more I am afraid the more I am haunted. - Author: Helene Cixous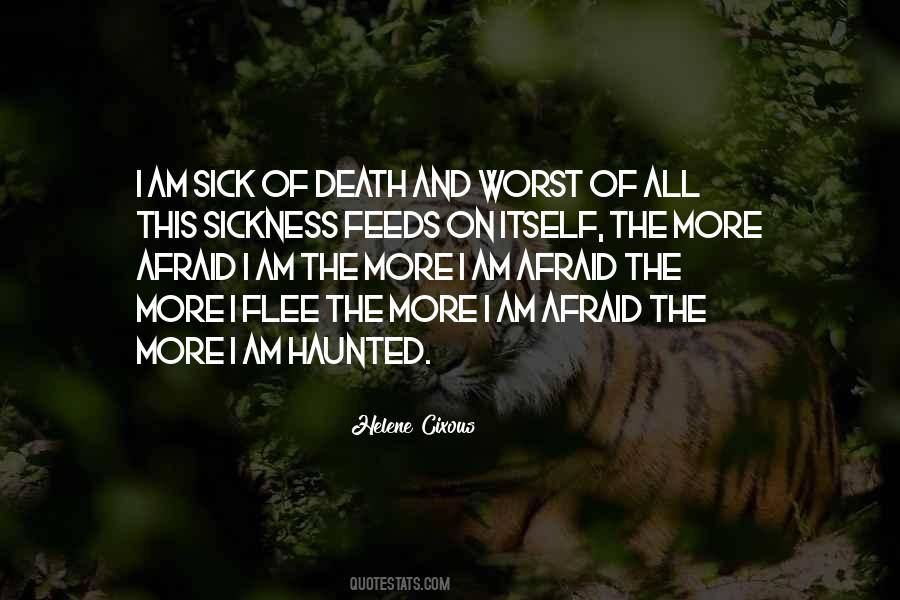 #19. Death, my son, is a good thing for all men; it is the night for this worried day that we call life. It is in the sleep of death that finds rest for eternity the sickness, pain, desperation, and the fears that agitate, without end, we unhappy living souls. - Author: Jacques-Henri Bernardin De Saint-Pierre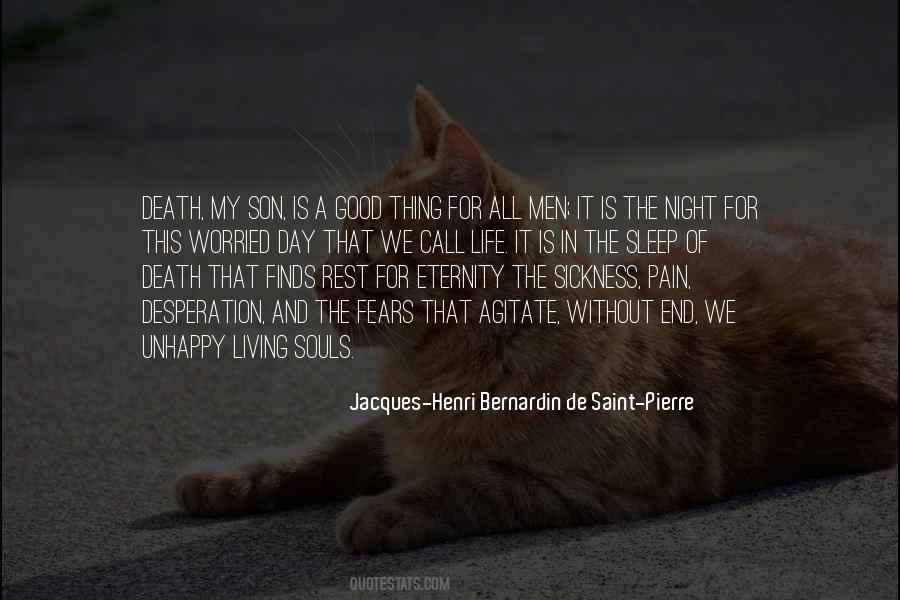 #20. He hated hospitals, hated them. The stench of Domestos and death seemed to linger in his nostrils and on his clothes for weeks, as if to remind him of something bad. It was even rare to find a tasty nurse these days. Most of the ones he'd seen this afternoon had been as ugly as sin. - Author: Dougie Brimson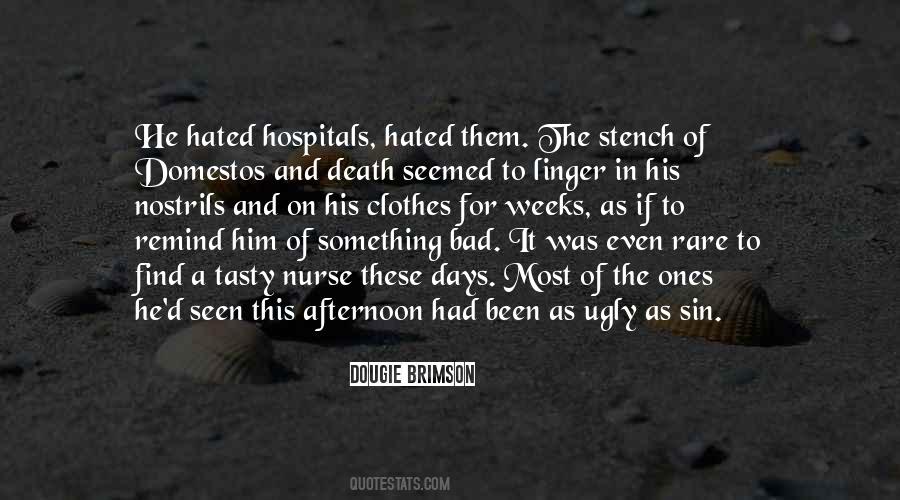 #21. You see, cancer is simply nature's way of making you want to die.'

Tatsu. - Author: Barry Eisler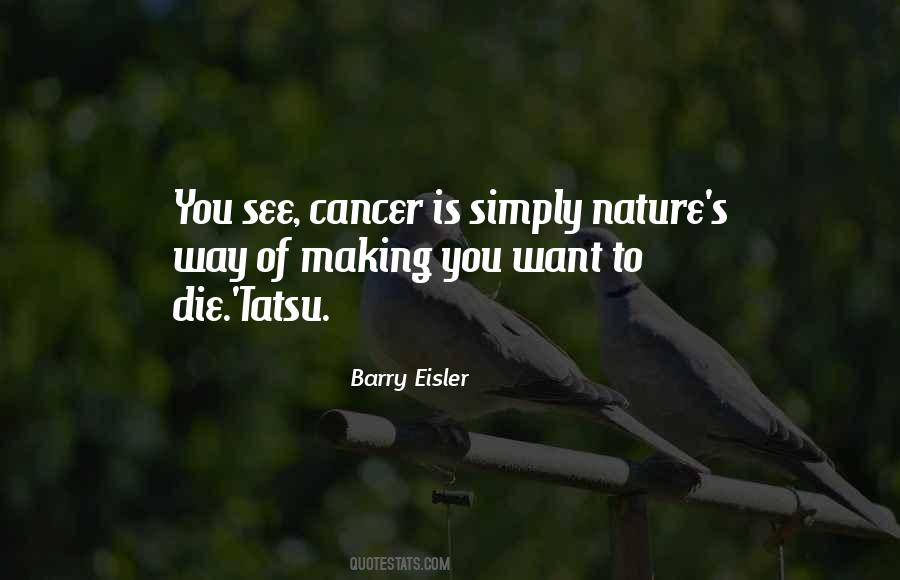 #22. I have loved you with all my life, and you've agreed to be my loving wife. Now I'll forever cherish our vows in my heart,In sickness and in health, till death do us part. - Author: Alon Calinao Dy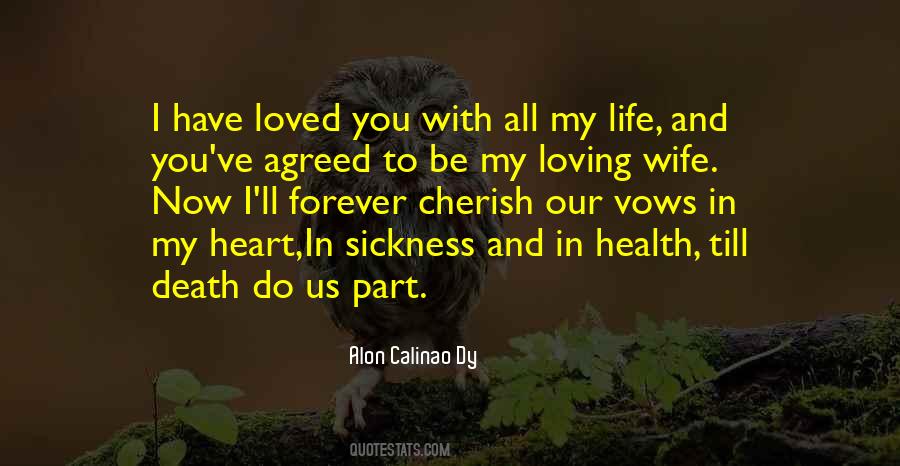 #23. When you live with a potentially life-threatening condition you get used to the thought of dying. You accept it, you push on. The thing that scared me was the picture of dying slowly and painfully, the loss of independence and identity to illness. - Author: Josh Lanyon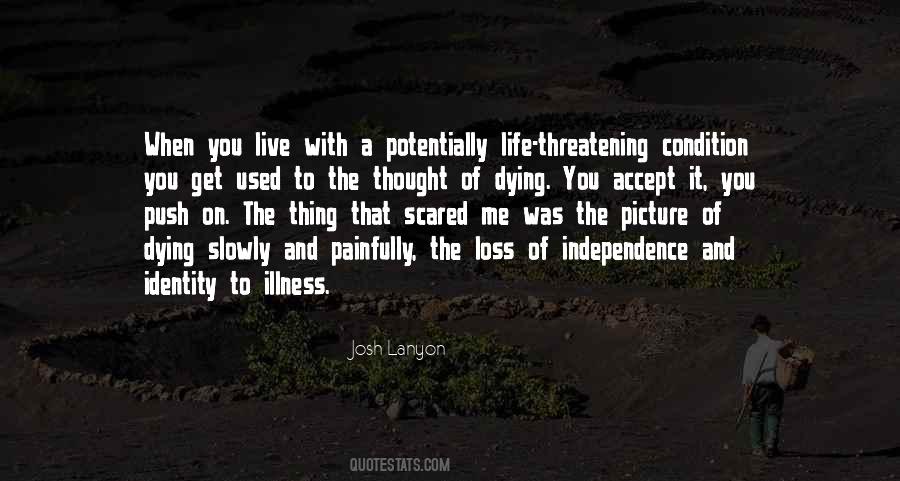 #24. I wish I could fly like that hawk, rising and falling with the still spaces in the air, far above all this sickness and death and evil. - Author: Heather Day Gilbert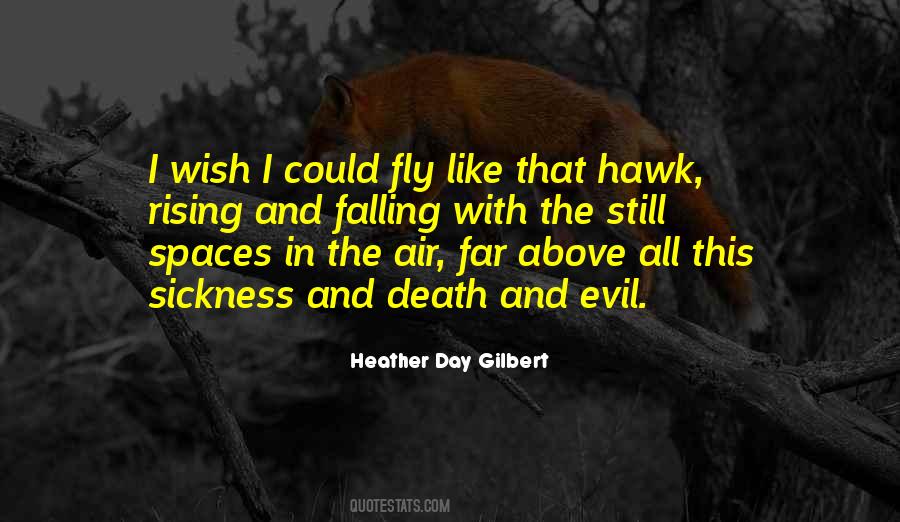 #25. My teacher said once that every man faces seven enemies in his lifetime. Sickness, hunger, betrayal, envy, greed, old age, and then death ... - Author: Osamu Tezuka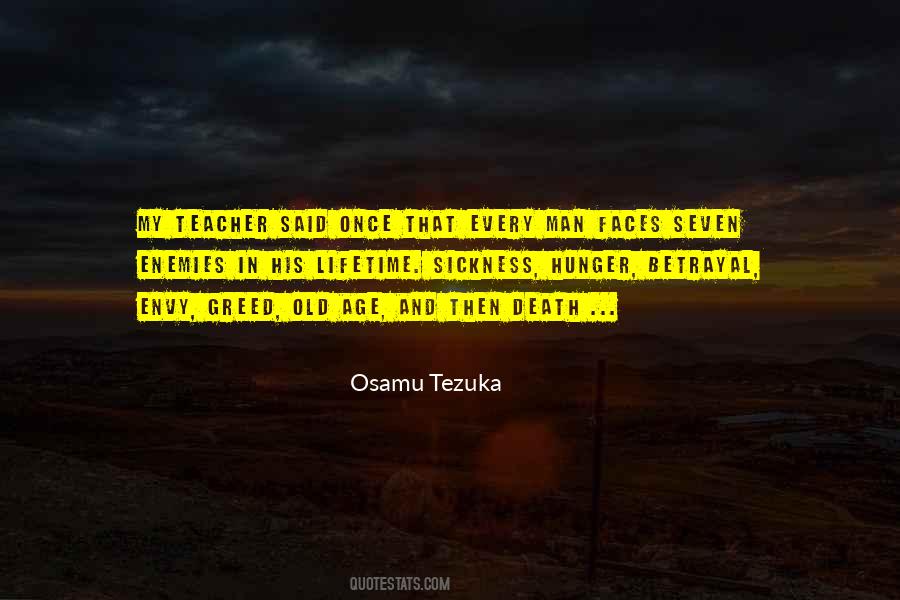 #26. Can you hear me, Father? Can you understand me?" The eyes did not change or move. "I did it,"
Cal cried. "I'm responsible for Aron's death and for your sickness. I took him to Kate's. I showed him
his mother. That's why he went away. I don't want to do bad things - but I do them. - Author: John Steinbeck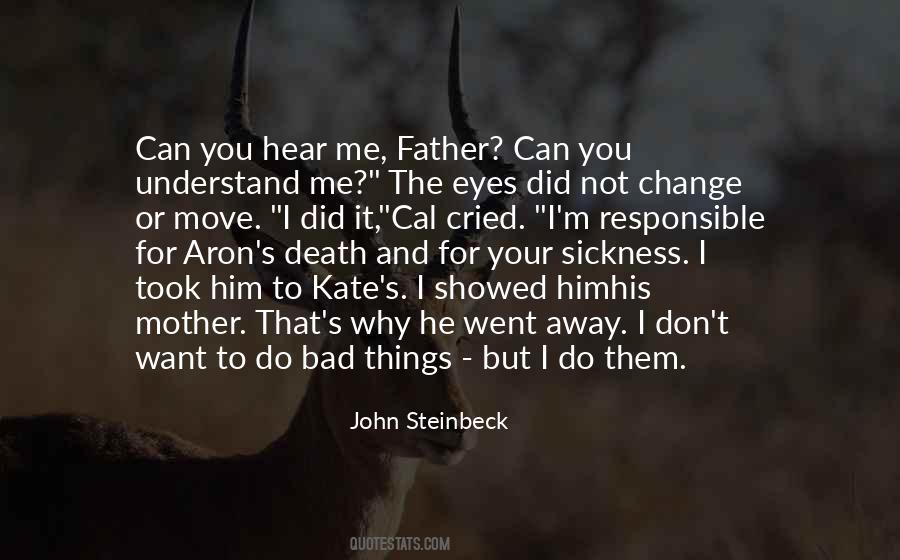 #27. Instead of marrying myself (that's so last
year), I think I'll marry a library instead.
In sickness and in health. Till death us do
part. I do. - Author: Ava Zavora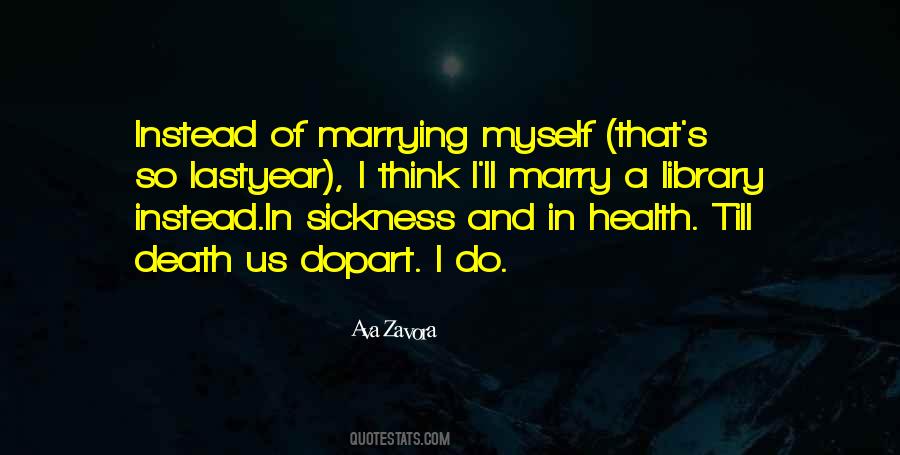 #28. At best you can hold death at bay, you can pretend it isn't there; but to deny it totally is a sickness. And I think that horror fiction is one of the ways to approach these problems, and, perversely perhaps, to enjoy a vicarious confrontation with them. - Author: Clive Barker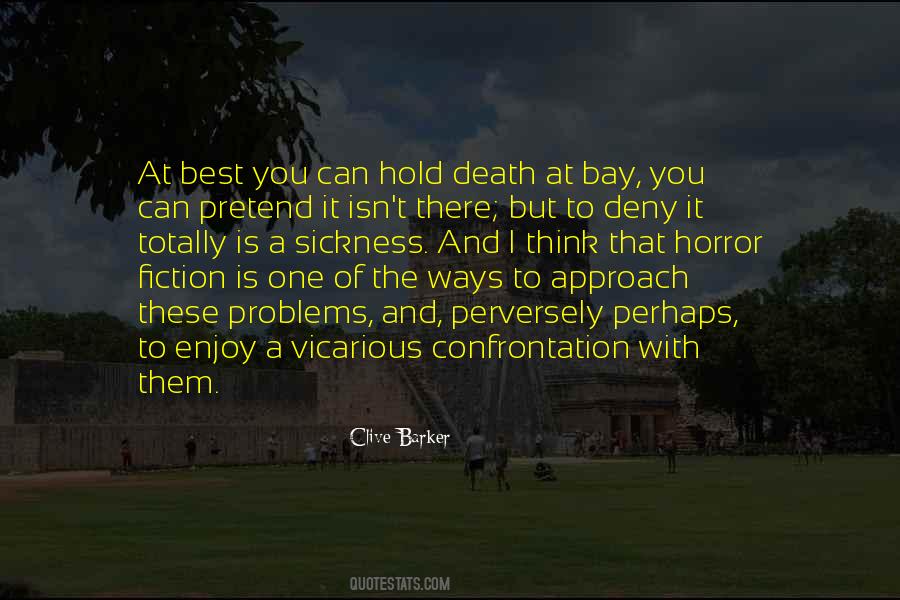 #29. All men and women have passions, natural desires and noble ambitions, and also a conscience; they have sex, hunger, fear, anger, and are subject to sickness, pain, suffering and death. Culture consists of bringing about the expression of these passions and desires in harmony. - Author: Lin Yutang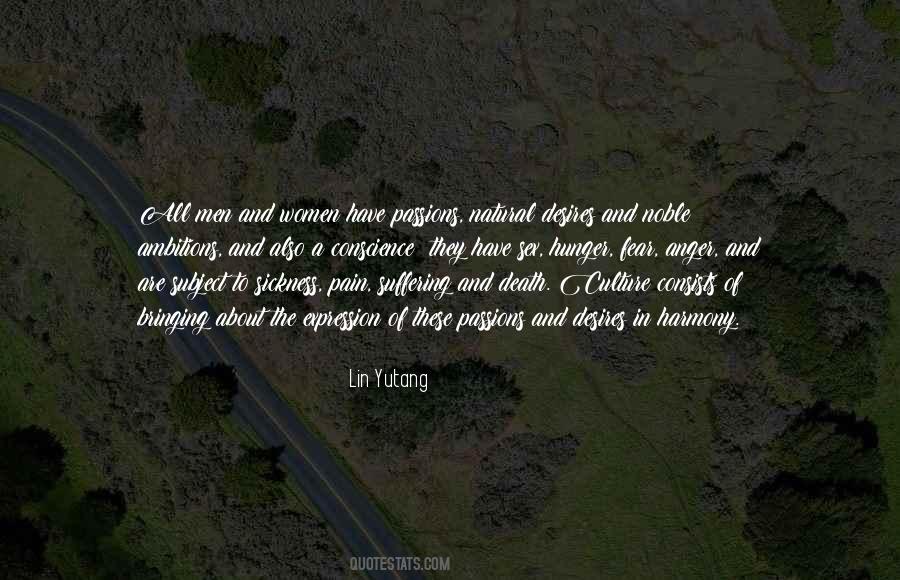 #30. There are all kinds of flight from responsibility. There is a flight into death, a flight into sickness, and finally a flight into stupidity. - Author: Arthur Schnitzler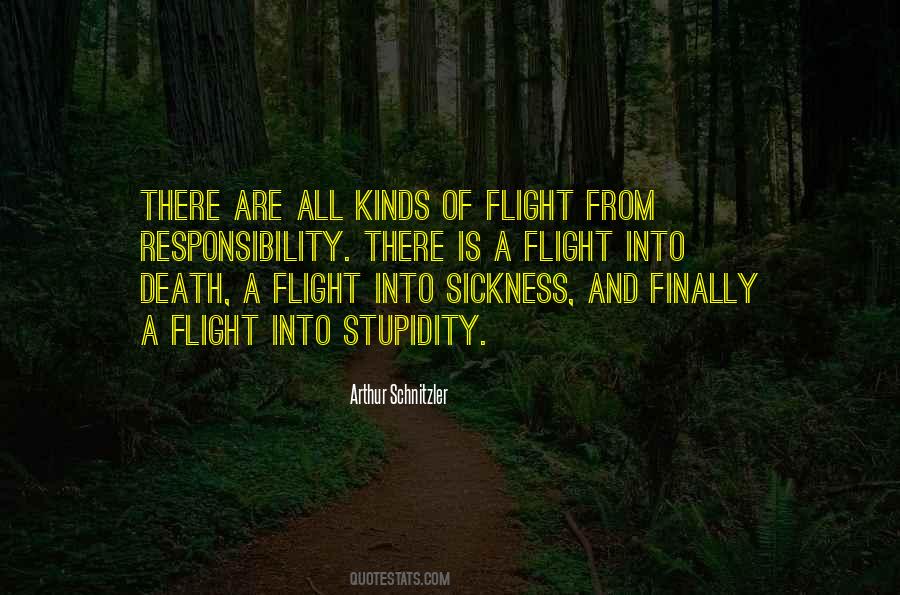 #31. Ultimately a regulation is a signal of design failure ... it is what we call a license to harm: a permit issued by a government to an industry so that it may dispense sickness, destruction, and death at an "acceptable" rate. - Author: William McDonough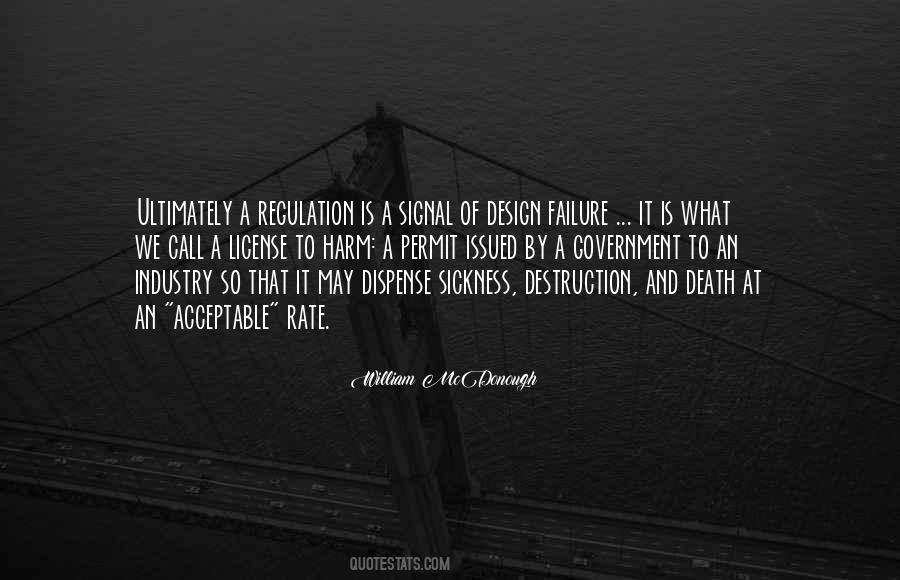 #32. Sickness, sin, and death, being inharmonious, do not originate in God nor belong to His government. - Author: Mary Baker Eddy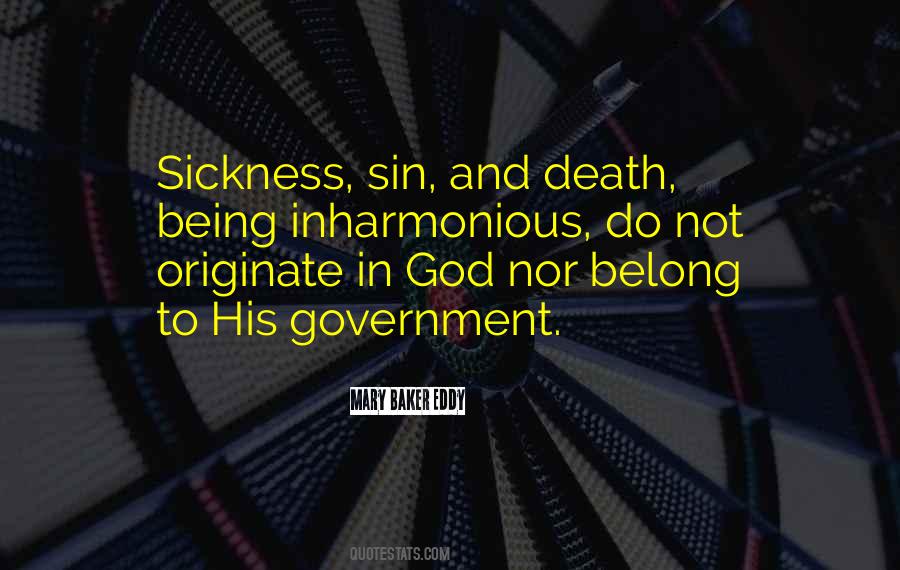 #33. Temptation coaxes us toward sin, and sin leads to sickness and death, and ultimately confinement in the realm of the evil one. - Author: Frederica Mathewes-Green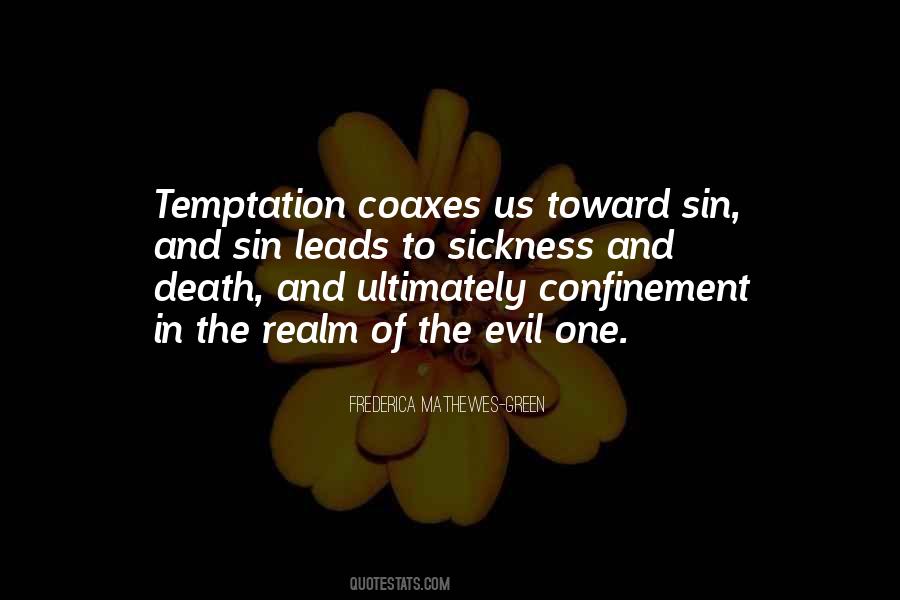 #34. After a child has arrived at the legal age for attending school,-whether he be the child of noble or of peasant,-the only two absolute grounds of exemption from attendance are sickness and death. - Author: Horace Mann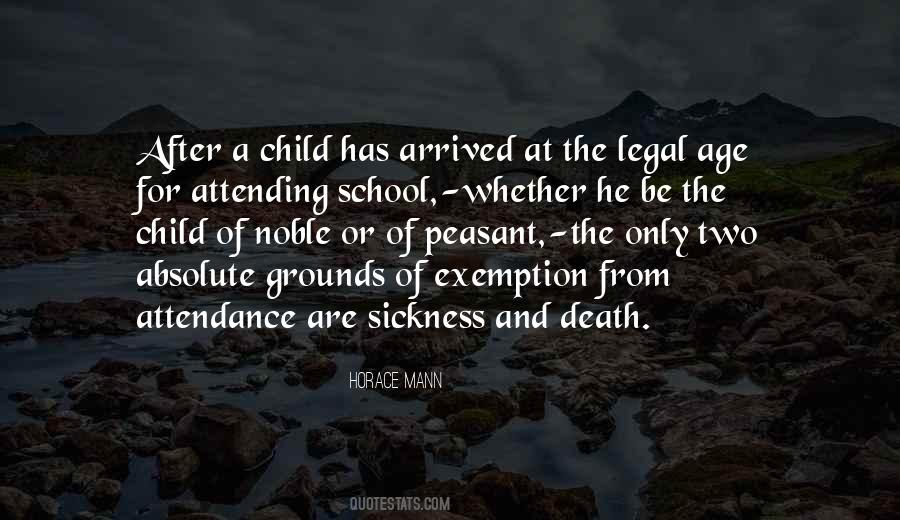 #35. Jesus hates suffering, injustice, evil, and death so much, he came and experienced it to defeat it and, someday, to wipe the world clean of it. Knowing all this, Christians cannot be passive about hunger, sickness, and injustice. - Author: Timothy J. Keller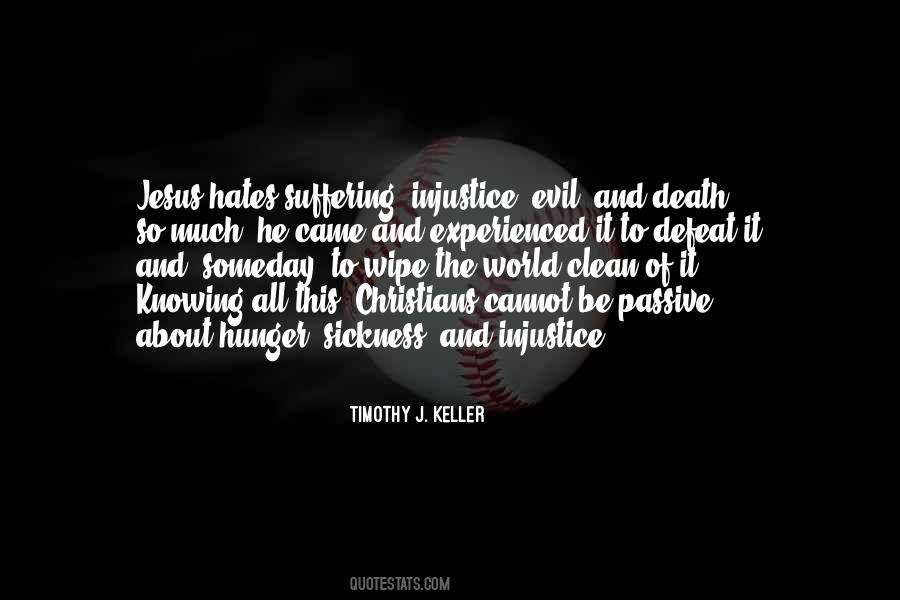 #36. Our existence comes with Death. And it comes with suffering, death alone is not enough and pleasure have consequences. wicked and fucked. love comes with hurting. And having means losing. - Author: Ira N. Barin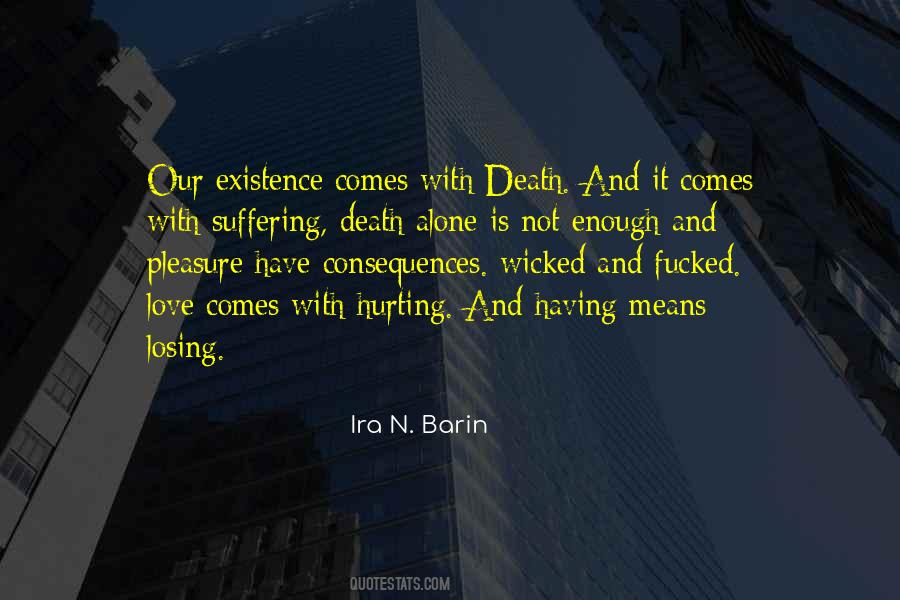 #37. As we witness the death of departed souls, other people will observe our departure from the world. - Author: Lailah Gifty Akita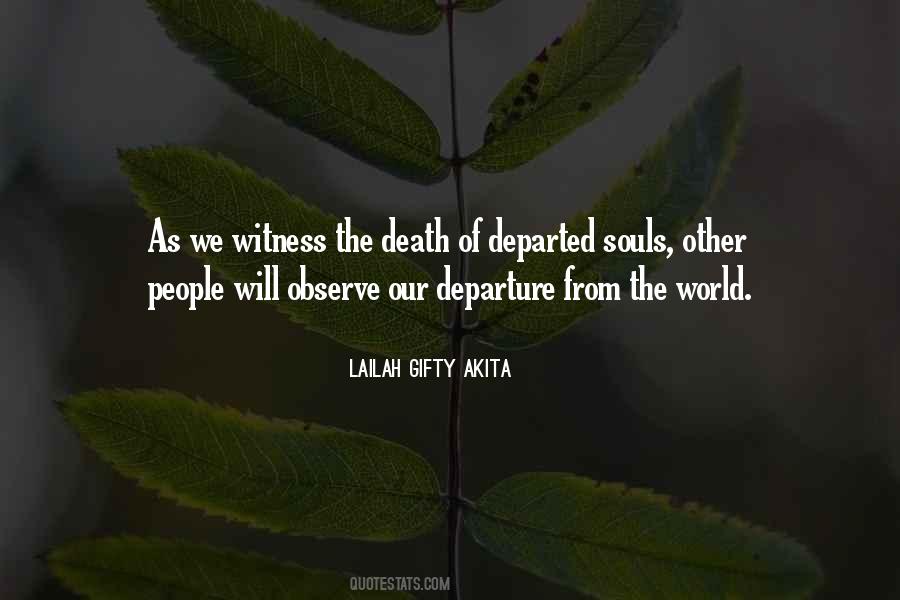 #38. What you do with your eyes in some cases is a matter of life and death. To look at focus on the sickness brings death. To look at focus on God's Word brings life. - Author: Gloria Copeland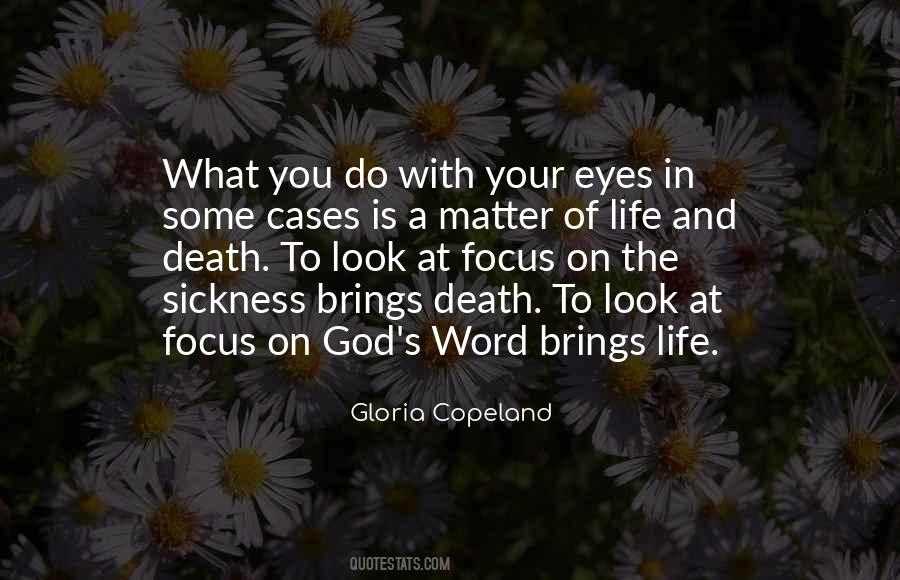 #39. People think celebrities don't have to worry about human things like sickness and death and rent. It's like you've traveled to this Land of Celebrity, this other country. - Author: David Duchovny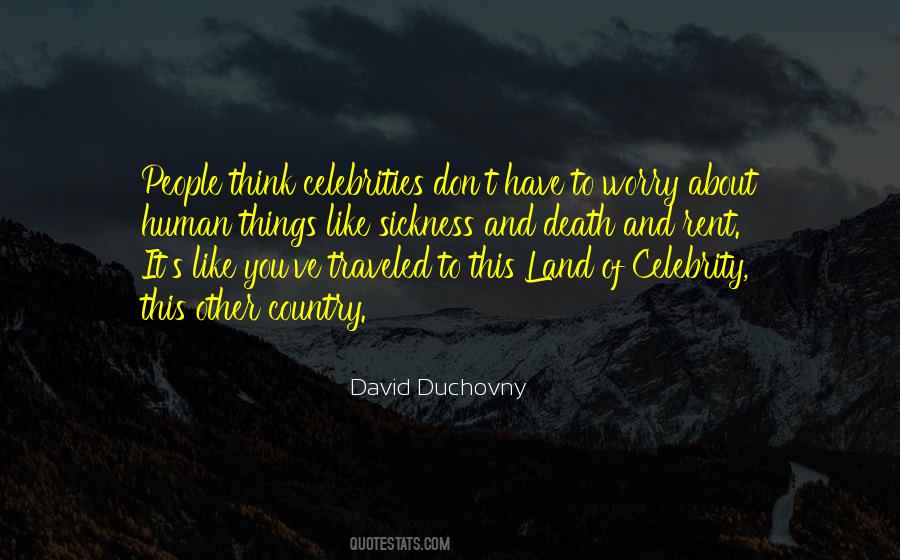 #40. We die every day; every moment deprives us of a portion of life and advances us a step toward the grave; our whole life is only along and painful sickness. - Author: Jean Baptiste Massillon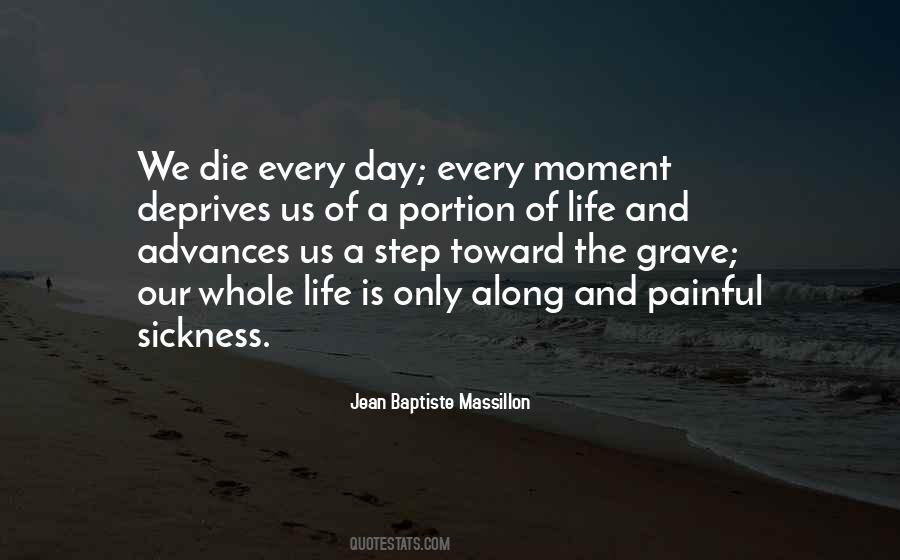 #41. The greatest loss is the lost of life. - Author: Lailah Gifty Akita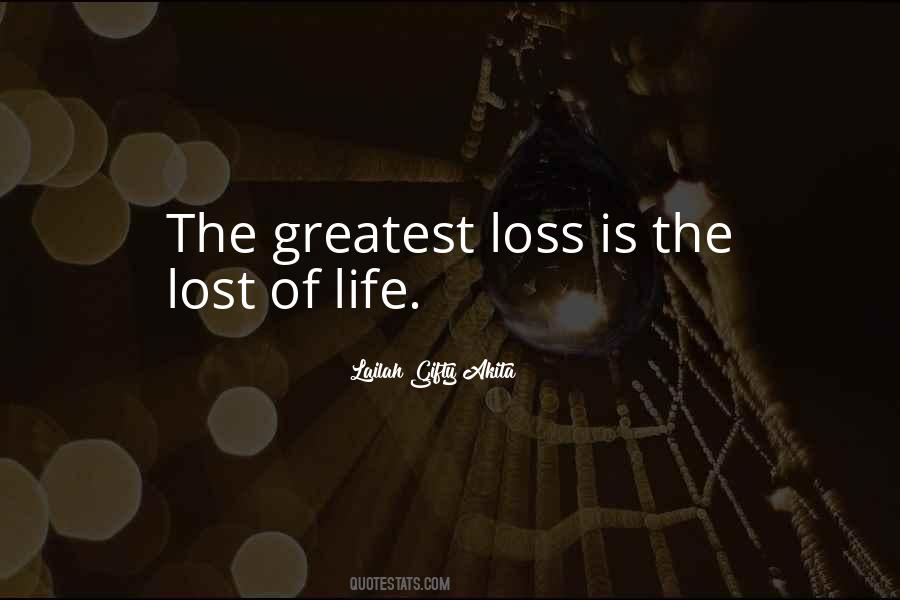 #42. We deal with love by dealing with the ones we love, with sickness by dealing with the sick, and with death by dealing with the dead. And - Author: Thomas Lynch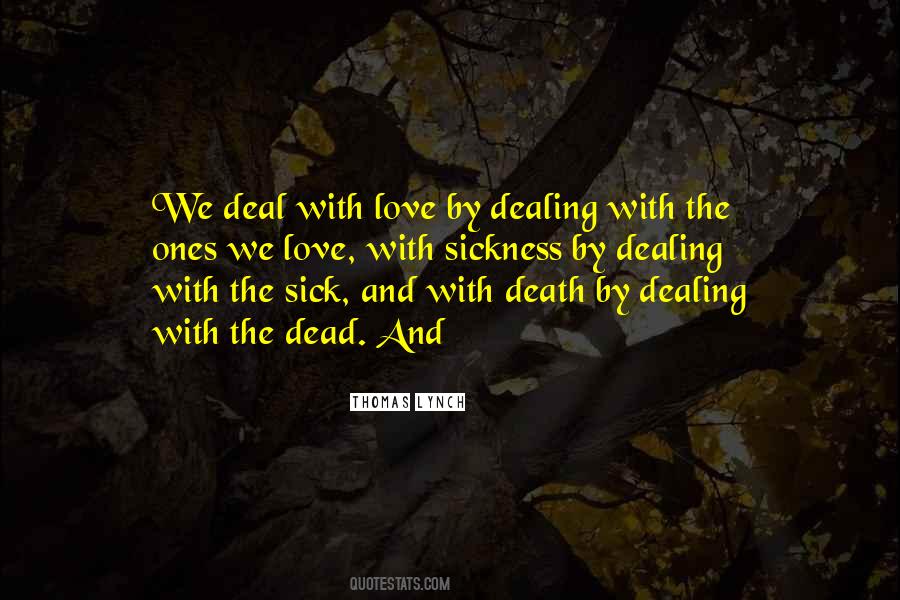 #43. He learned that love is not all pleasure, but can be agony and heartache, martyrdom and sacrifice. He learned what the clergyman was talking about in the marriage service: for better for worse, for richer for poorer, in sickness and in health, to love and to cherish till death do us part. - Author: Upton Sinclair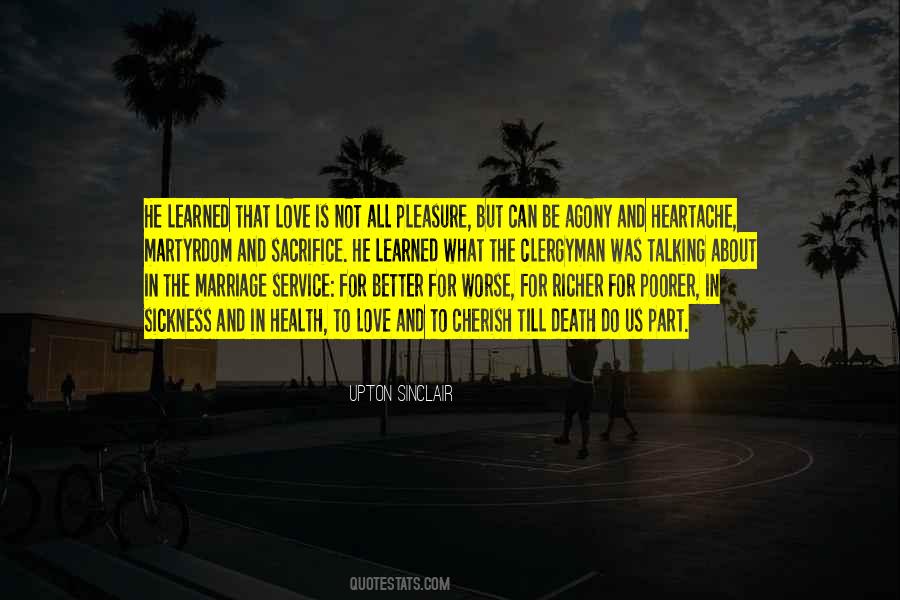 #44. When my father was vigorous and lucid, (my mother) regarded medicine as her wily ally in a lifelong campaign to keep old age, sickness, and death at bay. Now ally and foe exchanged masks. Medicine looked more like the enemy, and death the friend. (p. 184) - Author: Katy Butler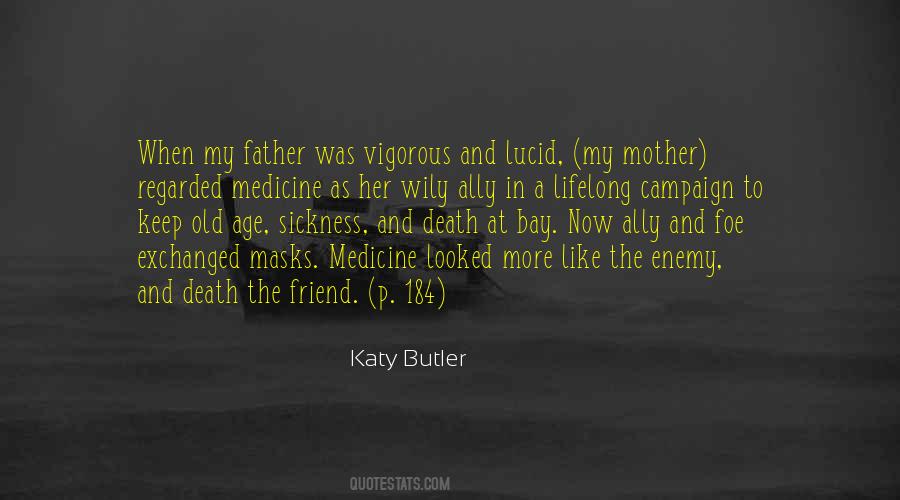 #45. Capitalism, and capitalism alone, has rescued the human race from degrading poverty, rampant sickness and early death. - Author: Llewellyn Rockwell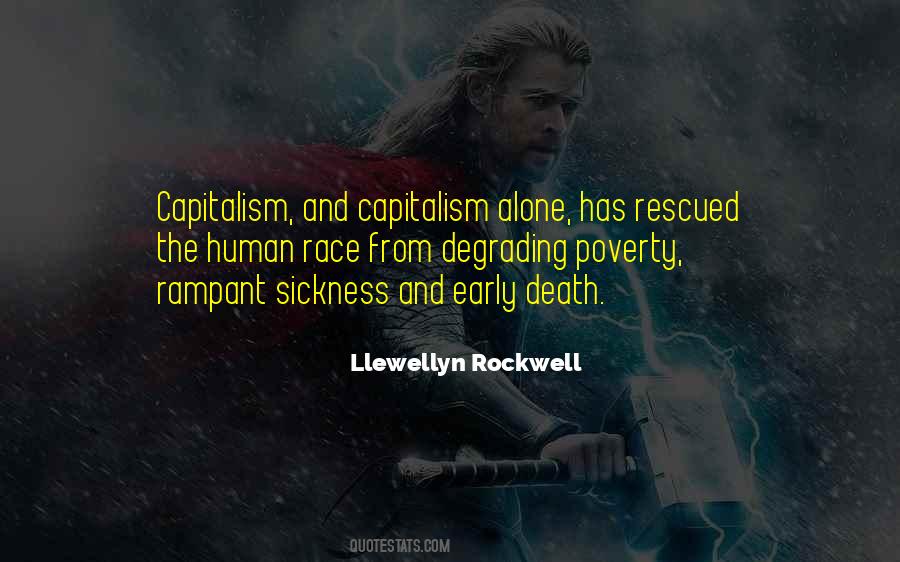 #46. Make poverty, sickness, and death central issues in the contract," he says, "it's no wonder the divorce rate is fifty percent. - Author: Melissa Jensen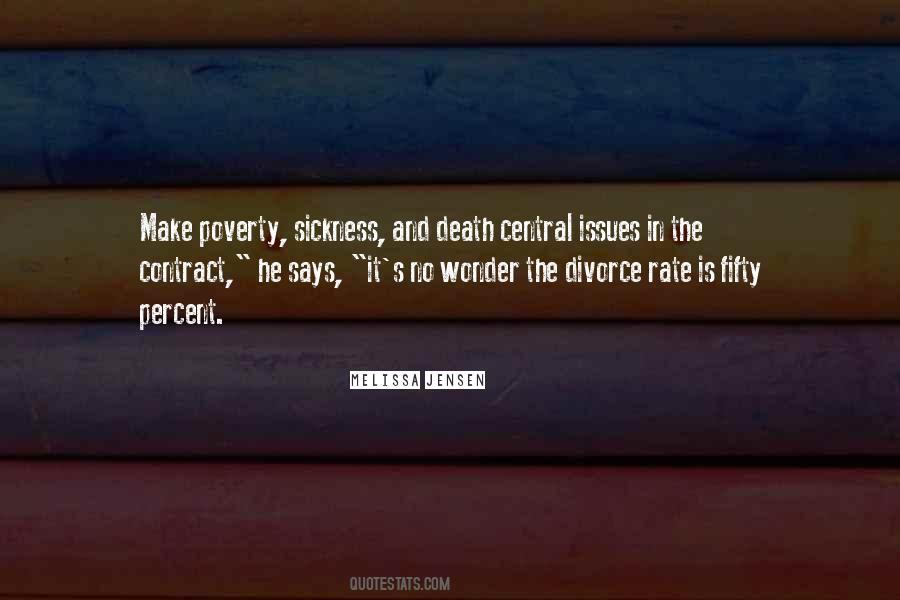 #47. It's not about success and failure. It's not about good days and bad days. It's not about wealth or poverty. It's not about health or sickness. It's not even about life or death. It's about glorifying God in whatever circumstance you find yourself in. - Author: Mark Batterson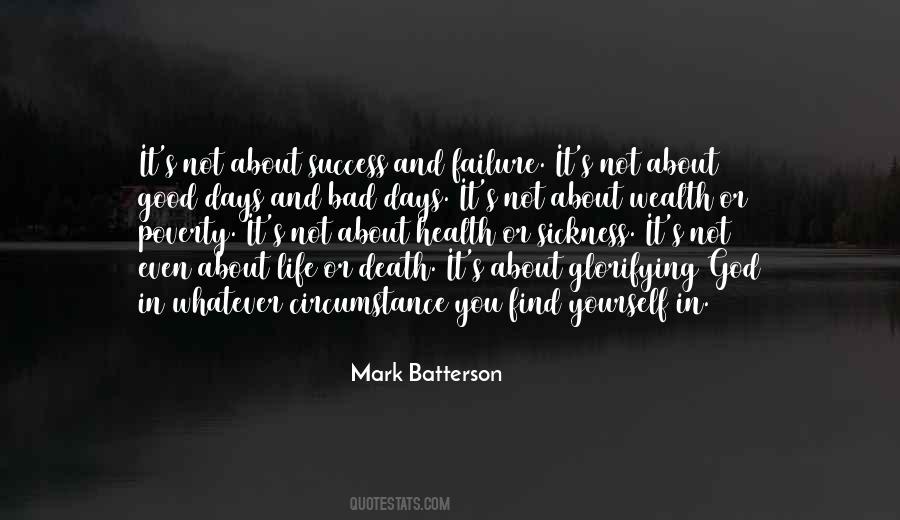 #48. Older Scout: [narrating] Neighbors bring food with death, and flowers with sickness, and little things in between. Boo was our neighbor. He gave us two soap dolls, a broken watch and chain, a knife, and our lives. - Author: Harper Lee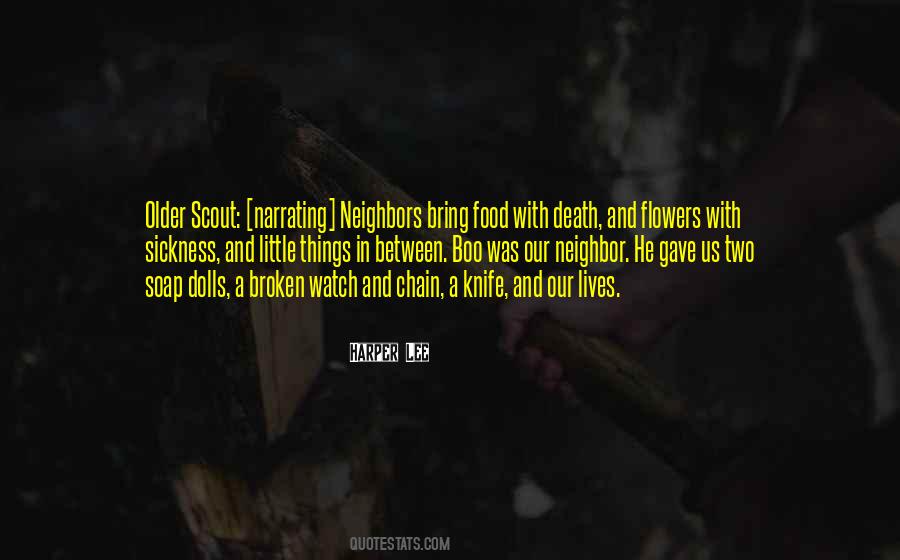 #49. People who were dying: their minds always raced past whatever was being said, and still the pain went faster, leapfrogging ahead. - Author: Ann Beattie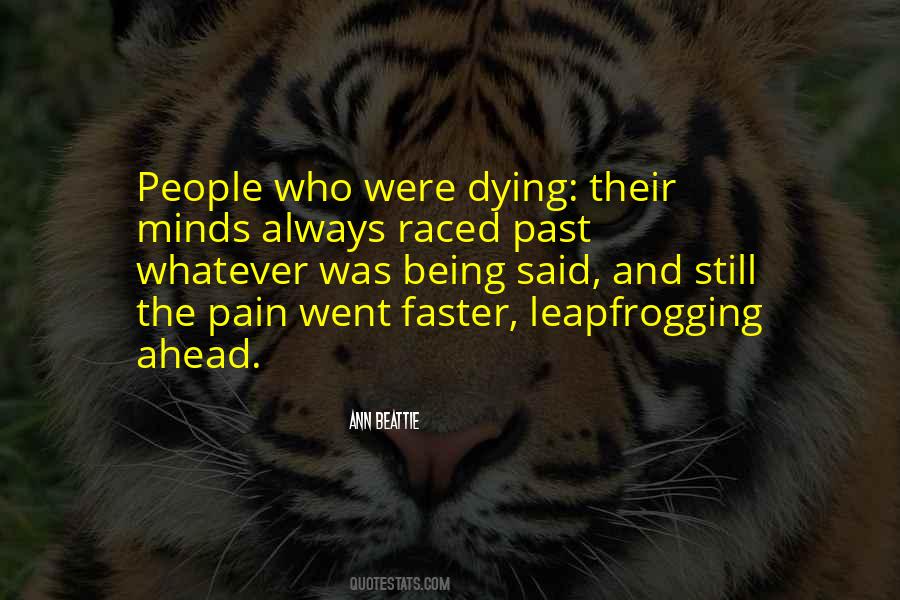 #50. Sickness and healing are in every heart; death and deliverance in every hand. - Author: Orson Scott Card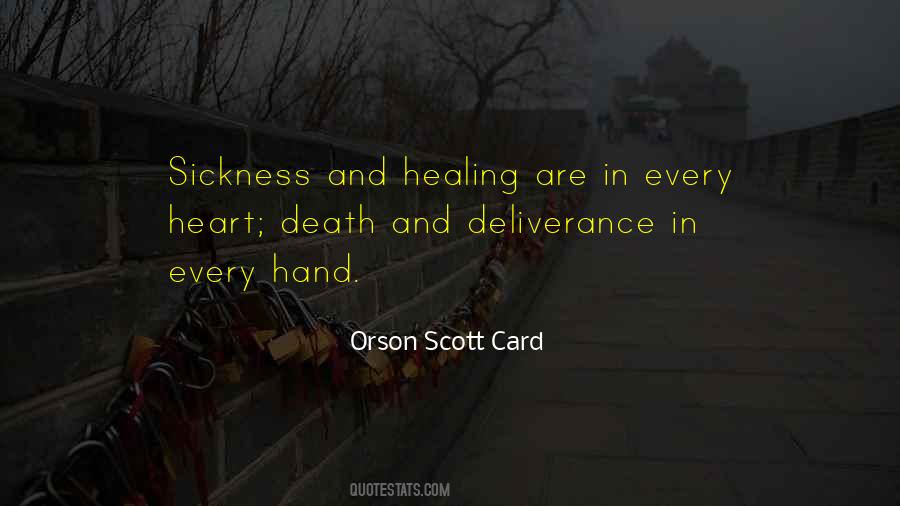 #51. The ancients wrested the secrets from the depths of the earth and from the hearts of the stars, and with those secrets they banished sickness, death, and all forms of discomfort. And sickness, death, and discomfort gathered together and created the demons, and the demons destroyed the ancients. - Author: L.E. Modesitt Jr.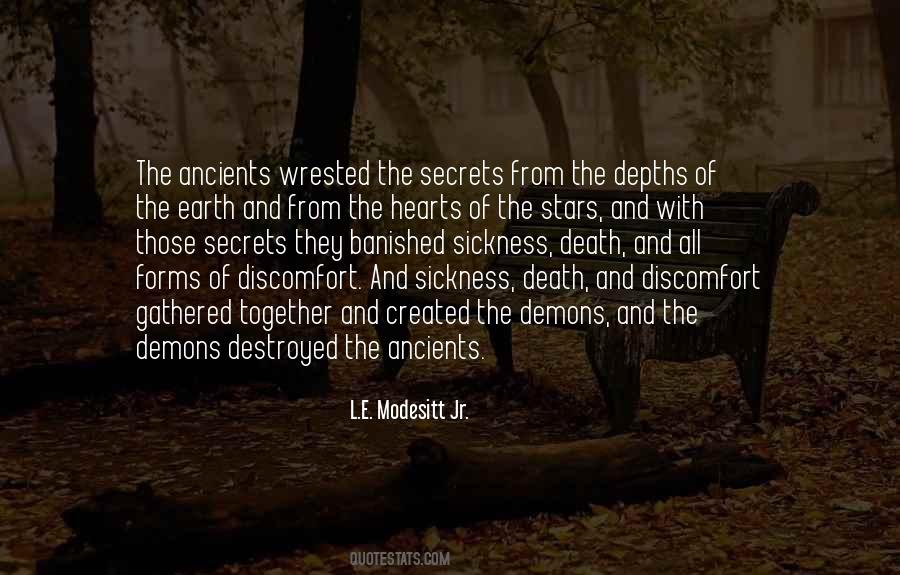 #52. They had a million questions for me, and, far away from Miss Peregrine, I could answer them frankly. What was my world like? What did people eat, drink, wear? When would sickness and death be overcome by science? - Author: Ransom Riggs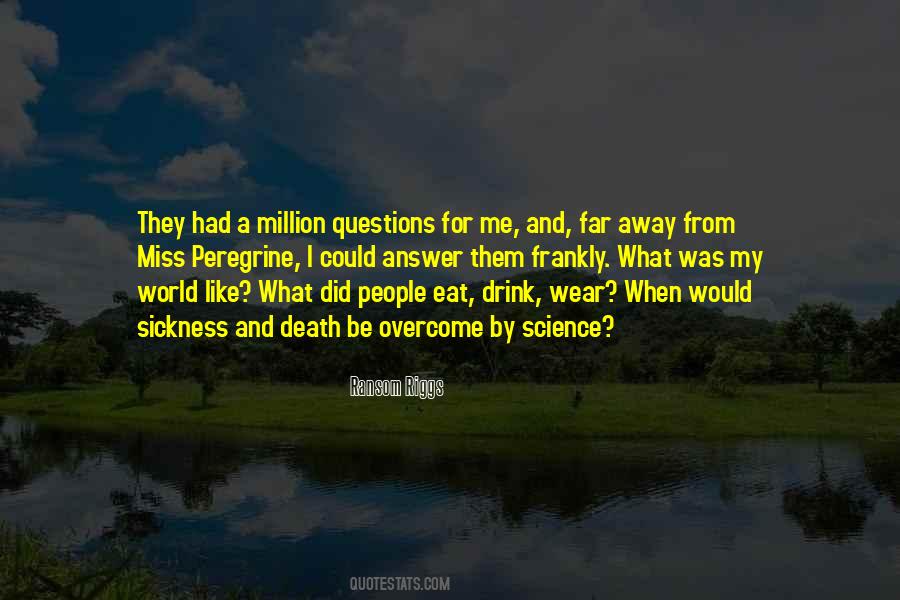 #53. I self-medicate with fat, carbohydrates, and Jane Austen, my number one drug of choice, my constant companion through every breakup, every disappointment, every crisis. Men might come and go, but Jane Austen was always there. In sickness and in health, for richer, for poorer, till death do us part. - Author: Laurie Viera Rigler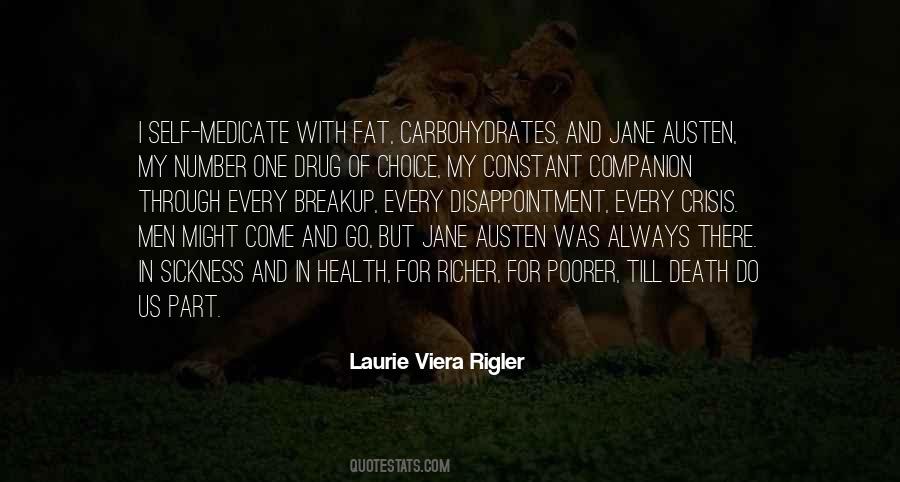 #54. My healthy blood was powerless to cure the sick blood of my beloved. That was beyond understanding. And so is death. - Author: Erich Maria Remarque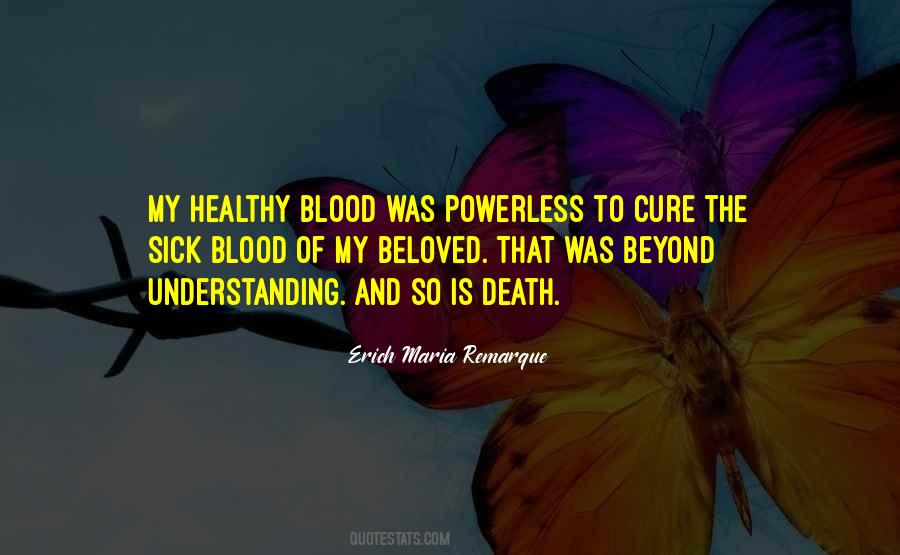 #55. Man is a creature adapted for life under circumstances which are very narrowly limited. A few degrees of temperature more or less, a slight variation in the composition of air, the precise suitability of food, makes all the difference between health and sickness; between life and death. - Author: Robert Stawell Ball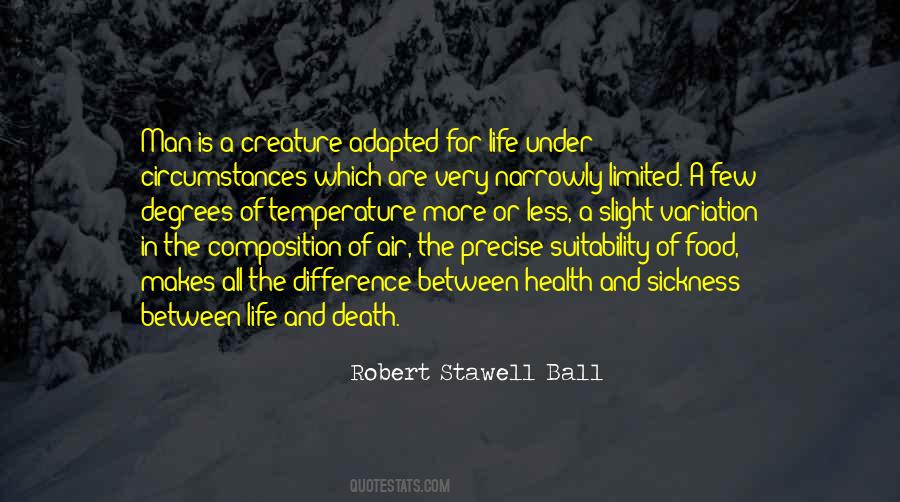 #56. Do we really mean it when we say 'in sickness and in health, for richer or for poorer, until death do us part or do we add a silent clause, 'unless you shame me or disappoint me?' What is the cost of unconditional love and how capable are we of giving that? - Author: Deirdre-Elizabeth Parker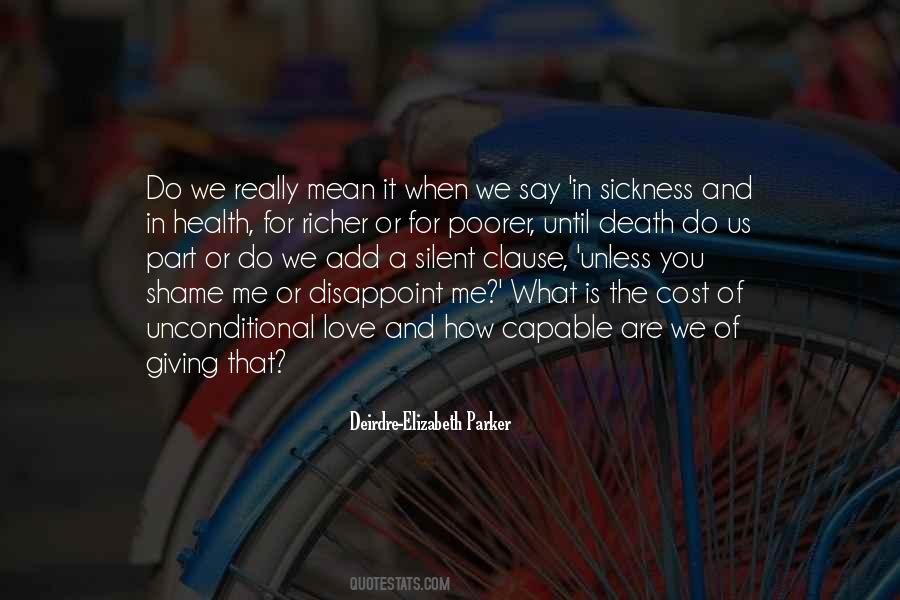 #57. Death is a misery. - Author: Lailah Gifty Akita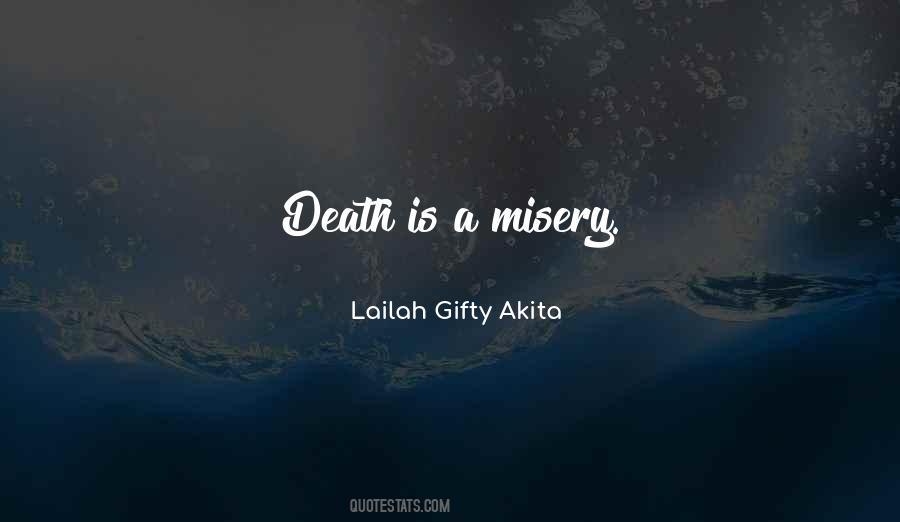 #58. ADAM AND EVE, sitting in Paradise, chatting:
"If we could only open the gate and leave," says Eve.
"To go where, my dearest?"
"If we could only open the gate and leave!"
"Outside is sickness, pain, death!"
"If we could only open the gate and leave! - Author: Nikos Kazantzakis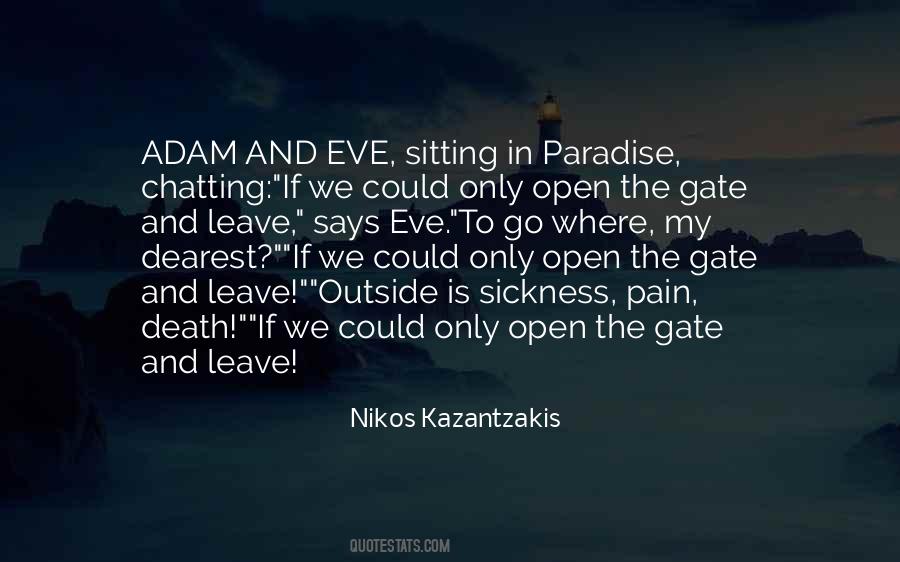 #59. Learning is a friend on the journey; a wife in the house; medicine in sickness; and religious merit is the only friend after death. - Author: Chanakya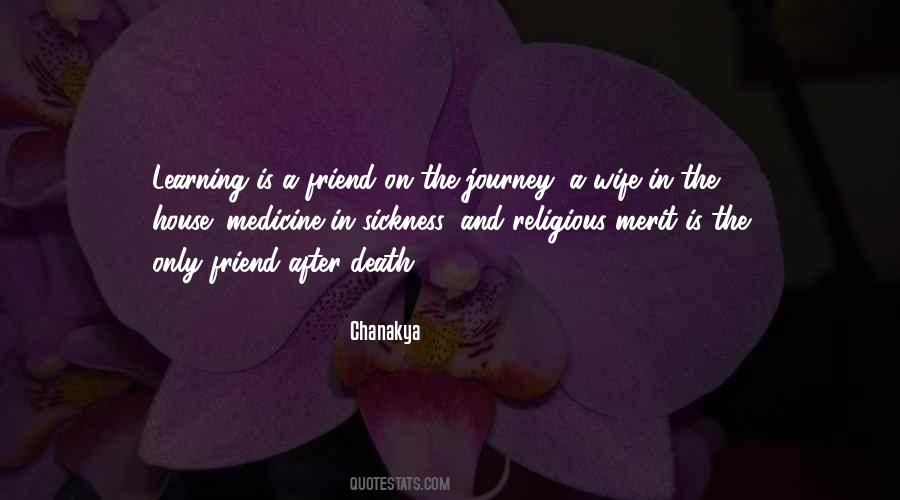 #60. Deep down a broken heart, all the sadness one can bear is misery. - Author: Auliq Ice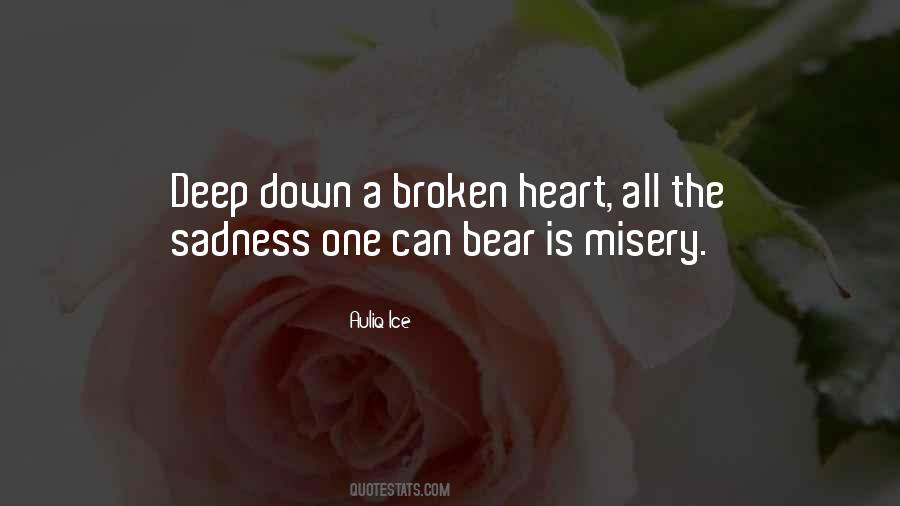 #61. All that comes to pass is as familiar and well known as the rose in spring, and the grape in summer. Of like fashion are sickness, death, calumny, intrigue, and all that gladdens or saddens the foolish. - Author: Marcus Aurelius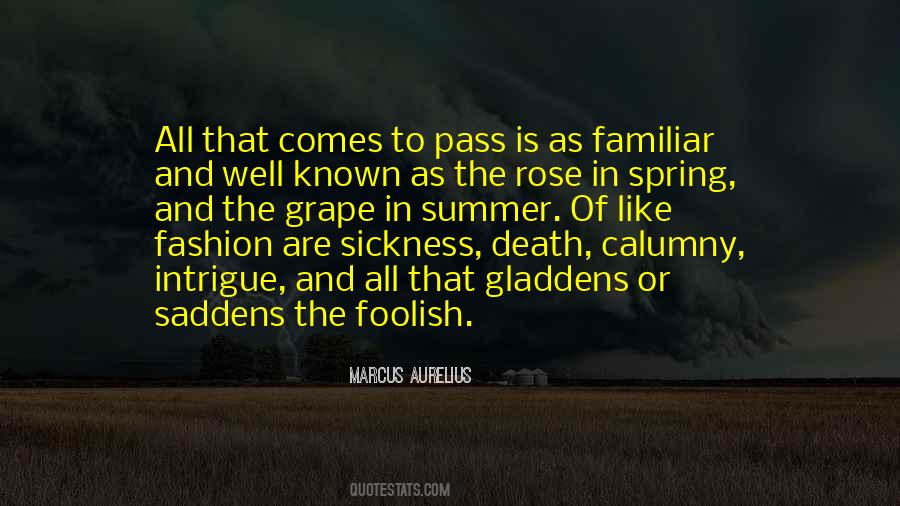 #62. People can act so nice, bringing you food and all, but in the end they are nothing but buzzards. Waiting to pick your bones. - Author: Lee Smith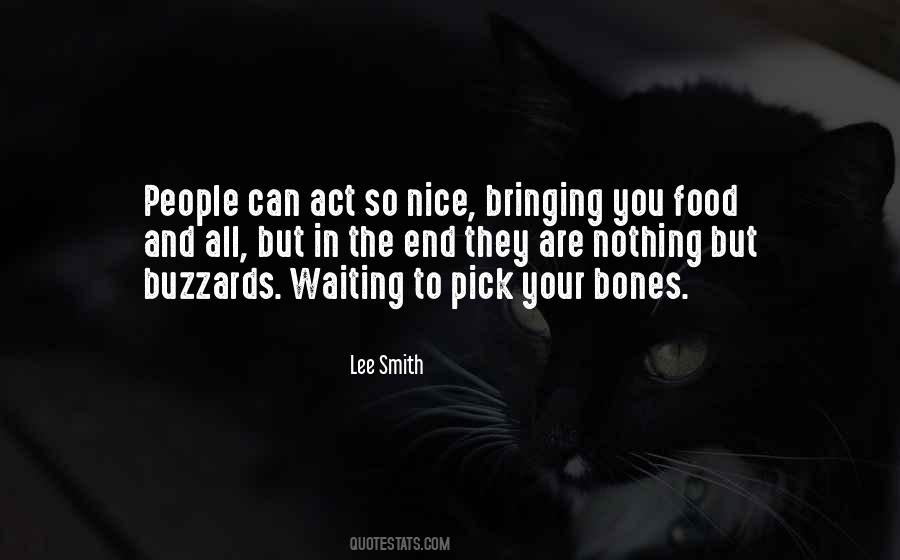 #63. In a sense sickness is a place, more instructive than a long trip to Europe, and it's always a place where there's no company, where nobody can follow. Sickness before death is a very appropriate thing and I think those who don't have it miss one of God's mercies, - Author: Flannery O'Connor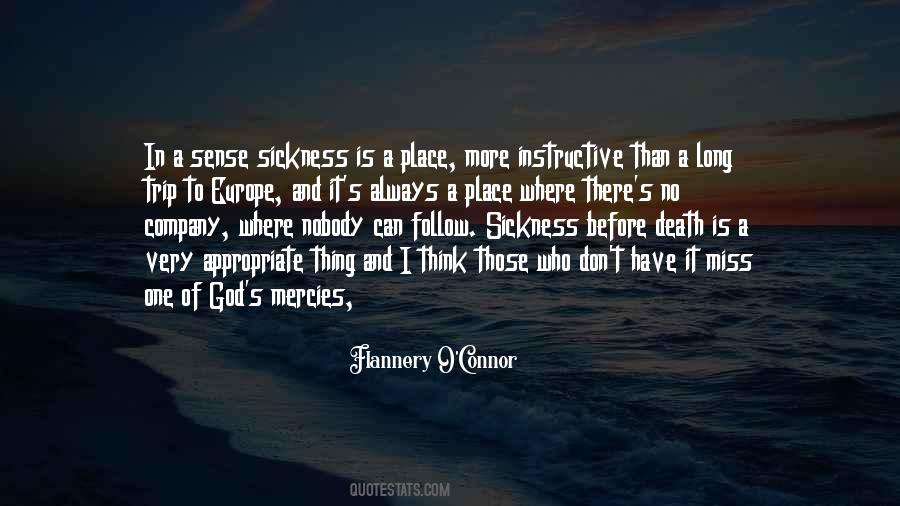 #64. The graveyard is every man final resting place. - Author: Lailah Gifty Akita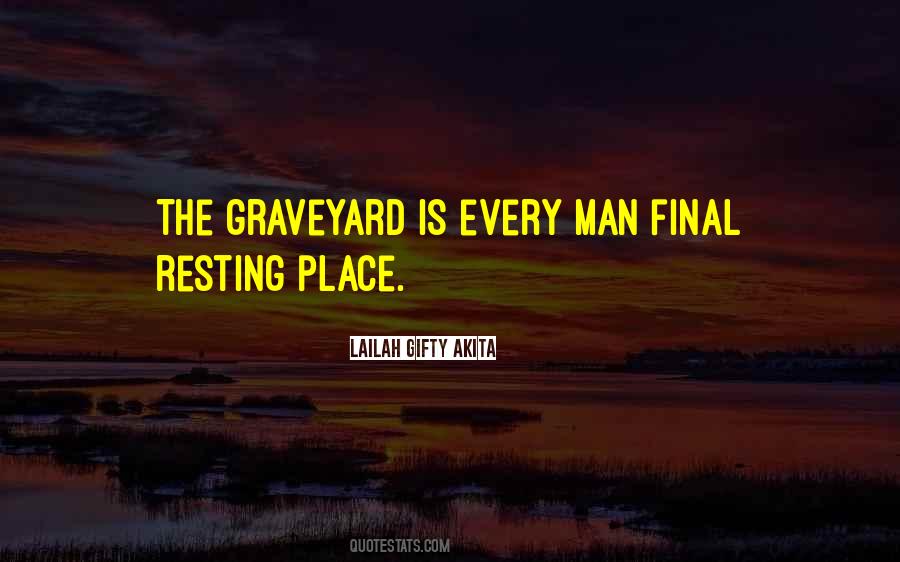 #65. The Americans are clever. They thoroughly understand things that have to do with money, war, death, sickness. And there is also a real tradition of skepticism in this country. - Author: Gore Vidal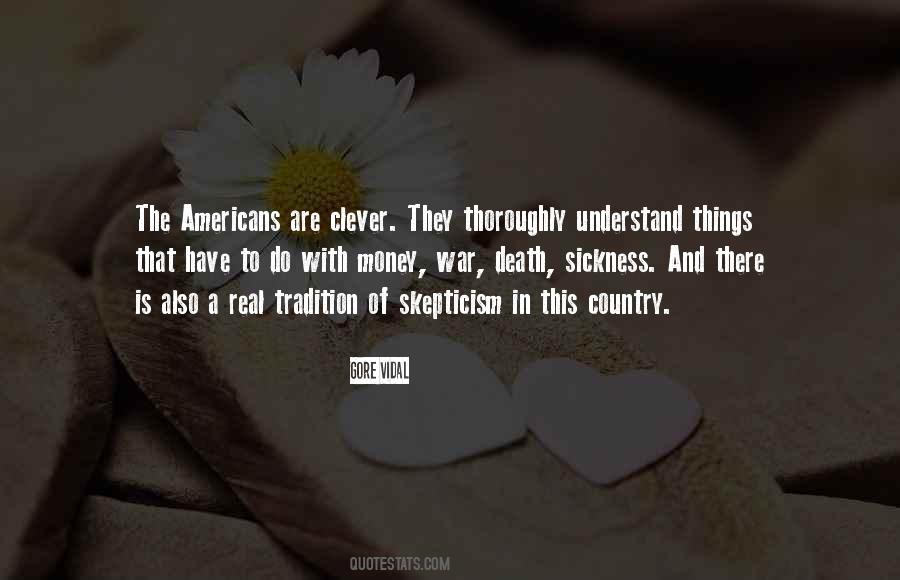 #66. To understand how to be healthy, a person must first comprehend sickness, disease and death. - Author: Steven Magee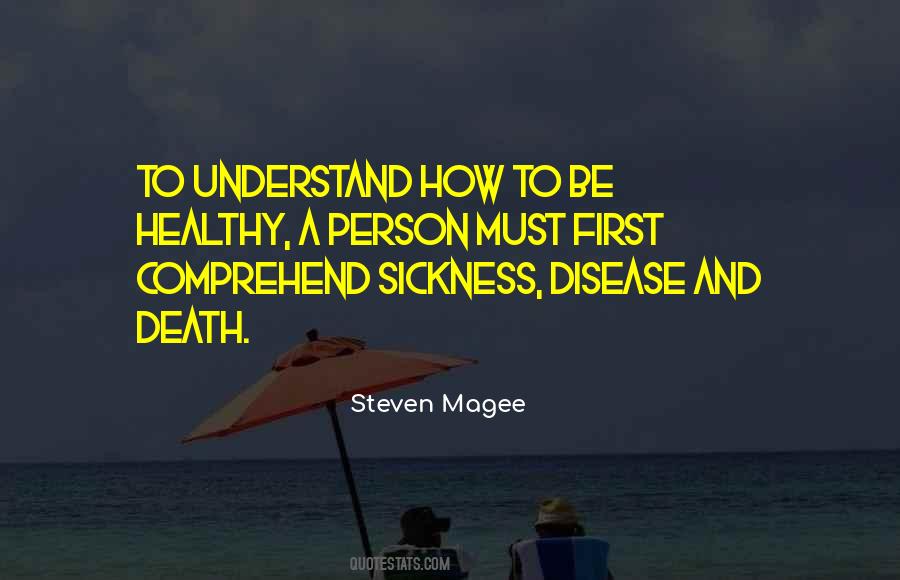 #67. Wisdom, Niko thought as he leaned his cheek against his long-handled rake, cannot be had without price. And that price is blood. The sound of it in your veins. The pound of it in your head. The volume of it in a human body; the sickness when you've spilled it. - Author: Janet Morris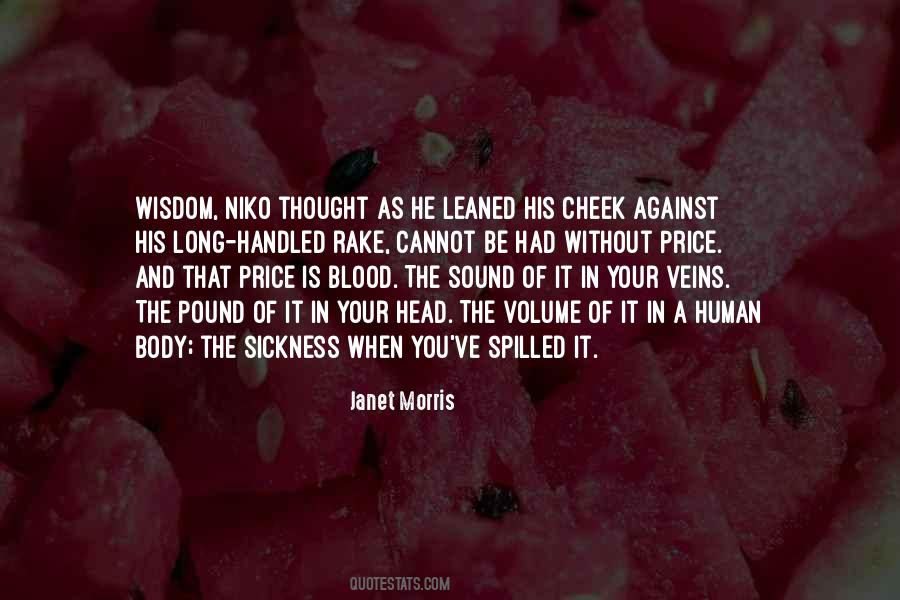 #68. Heaped up on the blankets, our bodies bound by weariness and her deep slumber, surrounded by sickness and hope, death and defiance, I touched the soft surrendered curl of Karla's sleeping fingers to my lips, and I pledged my heart to her forever. - Author: Gregory David Roberts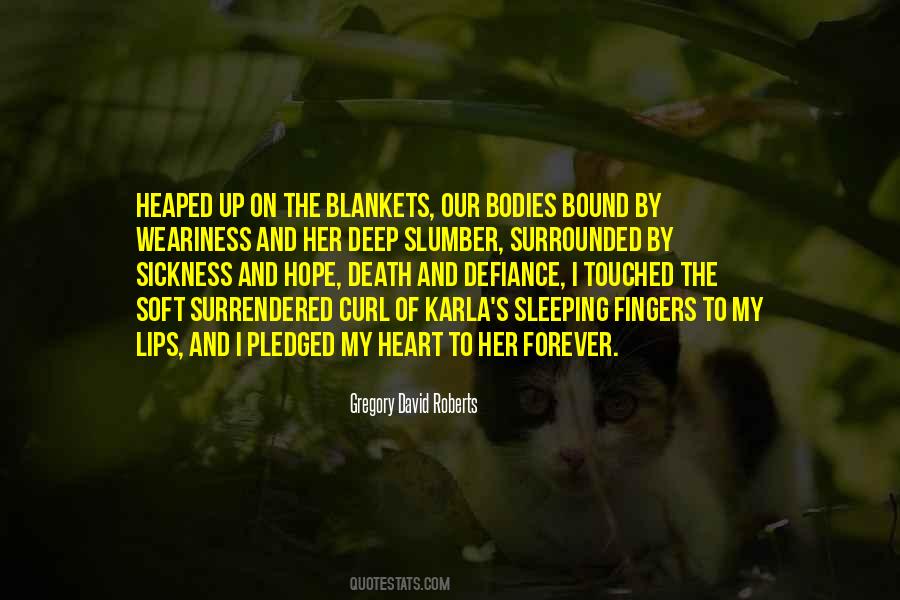 #69. Strong and healthy, who thinks of sickness until it strikes like lightning? Preoccupied with the world, who thinks of death, until it arrives like thunder? - Author: Milarepa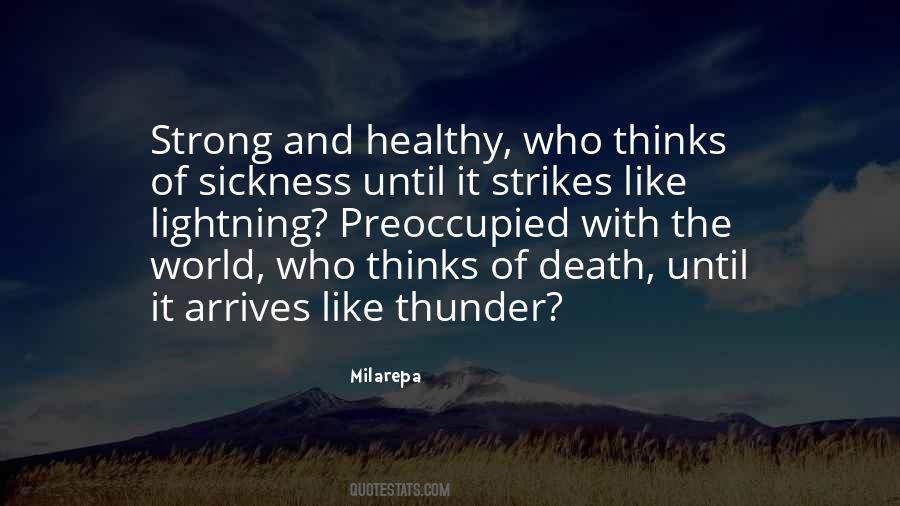 #70. I was trying to put myself in the situation of someone that was going through major loss. Losing someone to death or sickness, and having to go through life on your own afterwords. - Author: Coeur De Pirate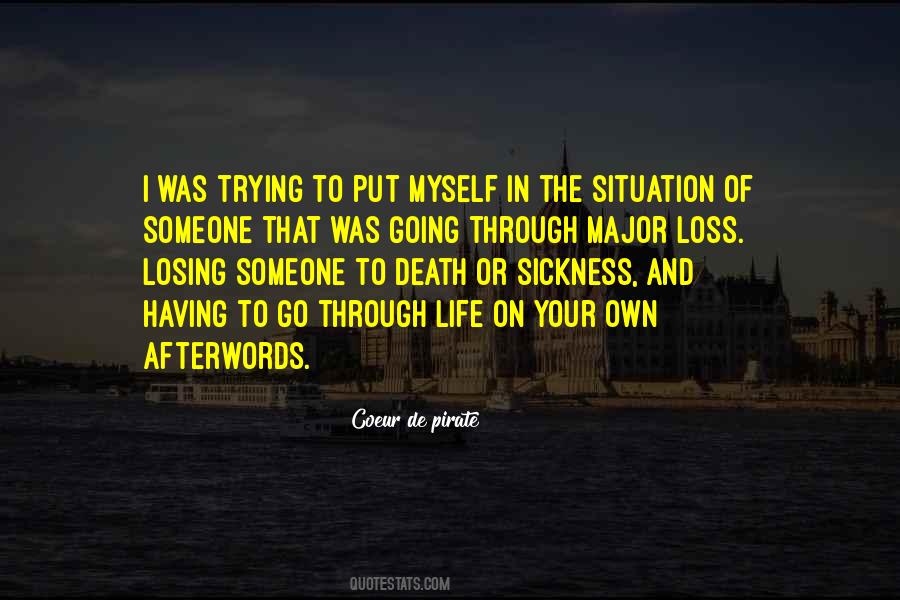 #71. I've heard claims that we can wish our way to perfect, permanent wellness, but I haven't seen any proof of that. Sickness and death are part of life. But you can optimize your life. You can make progress as you strive toward perfection. - Author: Brian Carter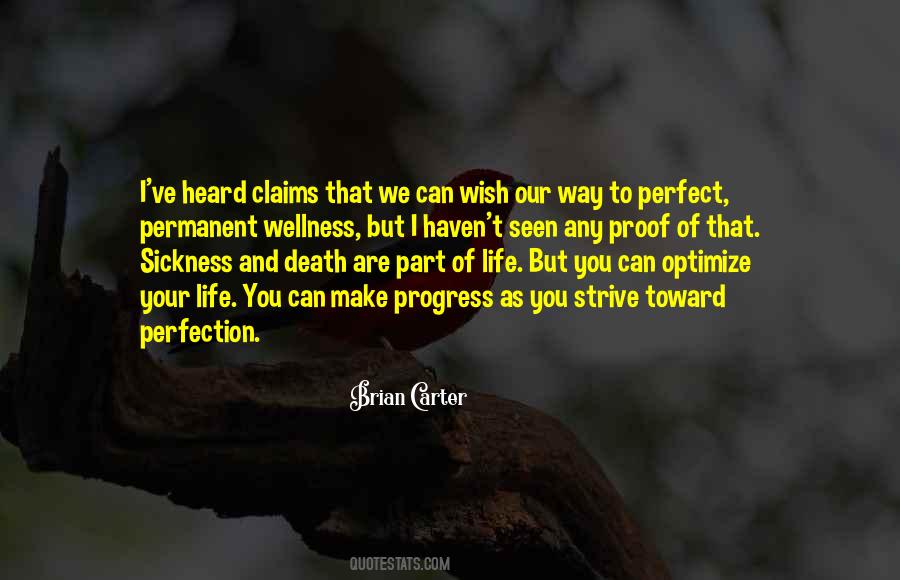 #72. Can you visualize a world with no more death, no more pain, no more hunger, no more fear, no more sorrow, no more crying nor sickness, a world where everything is a joy and a pleasure? - A society where everybody works together in harmony, cooperation and love? That's Heaven! - Author: David Berg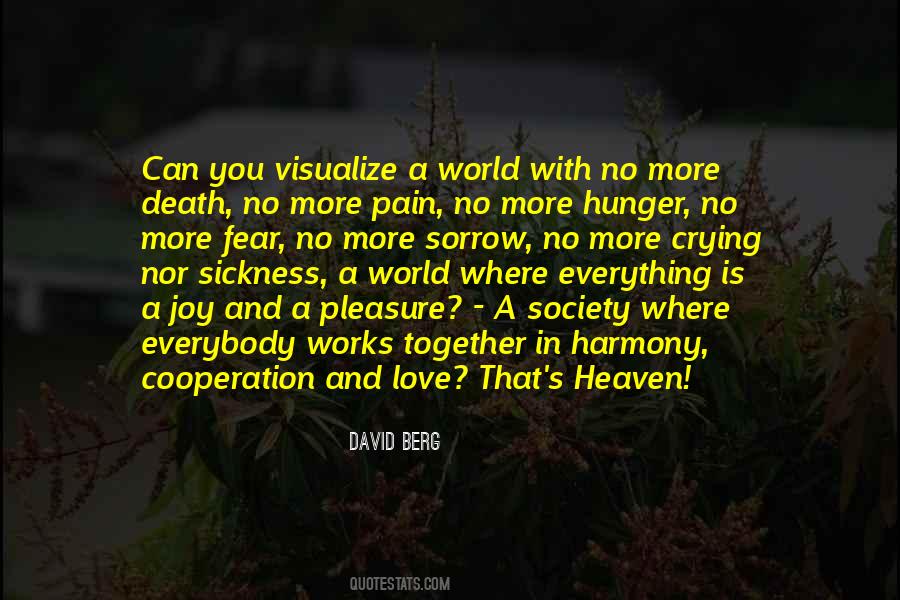 #73. As if when someone close to us dies, we momentarily trade places with them, in the moment right before. And as we get over it, we're really living their life in reverse, from death to life, from sickness to health. - Author: David Levithan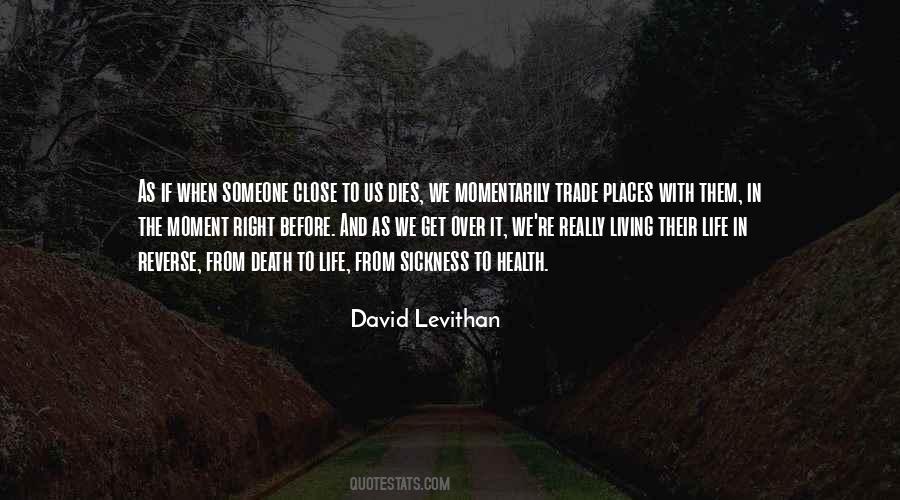 #74. Done to death by slanderous tongue - Author: William Shakespeare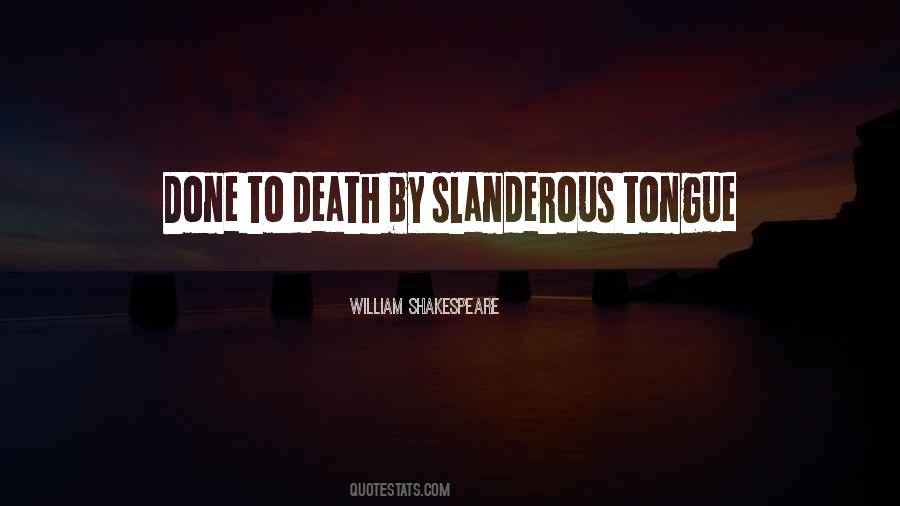 #75. Part of us did die. Literally - that tissue on your face, the part they removed. It died. And you can't recover from any kind of death without mourning it. - Author: Alyssa B. Sheinmel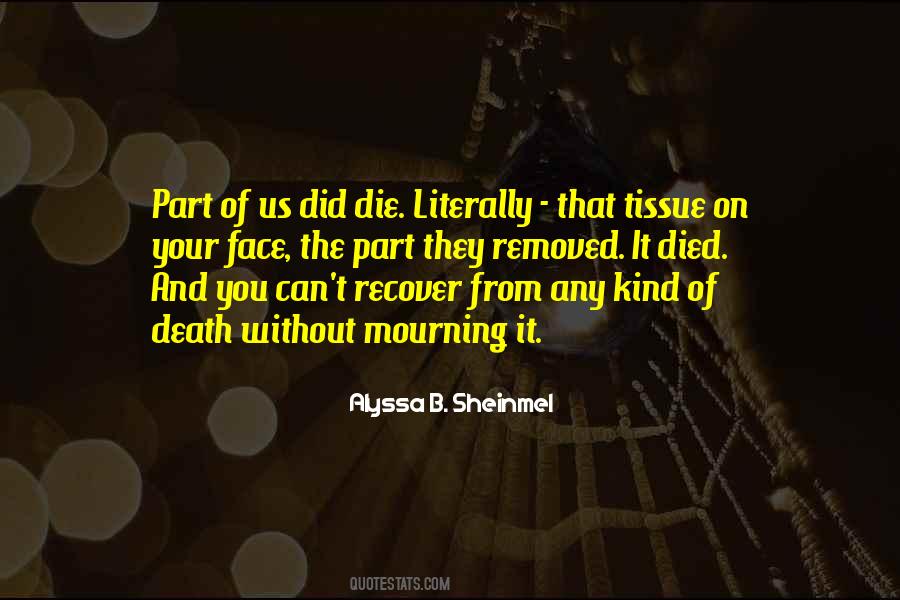 #76. Yes, sin, sickness and disease, spiritual death, poverty and everything else that's of the devil once ruled us. But now, bless God, we rule them - for this is the Day of Dominion! - Author: Kenneth E. Hagin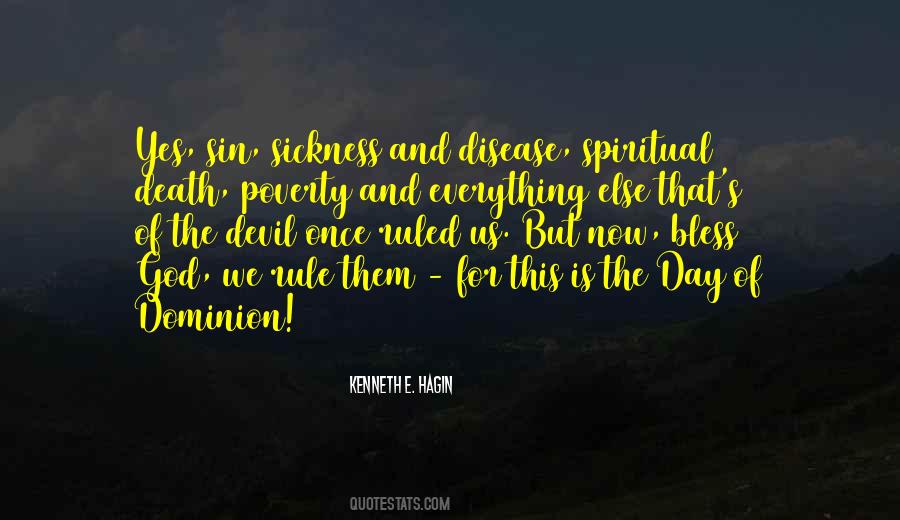 #77. The richness of the world, all artificial pleasures, have the taste of sickness and give off a smell of death in the face of certain spiritual possessions. - Author: Georges Rouault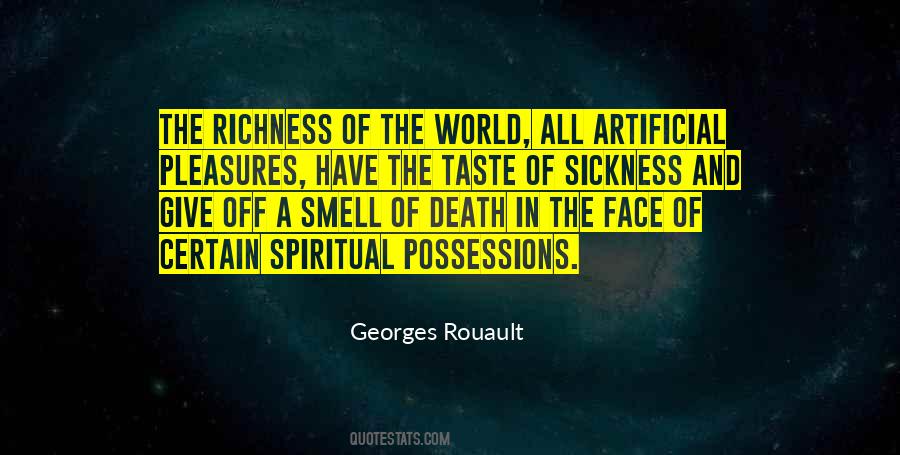 #78. We are not victims of aging, sickness and death. These are part of scenery, not the seer, who is immune to any form of change. This seer is the spirit, the expression of eternal being. - Author: Deepak Chopra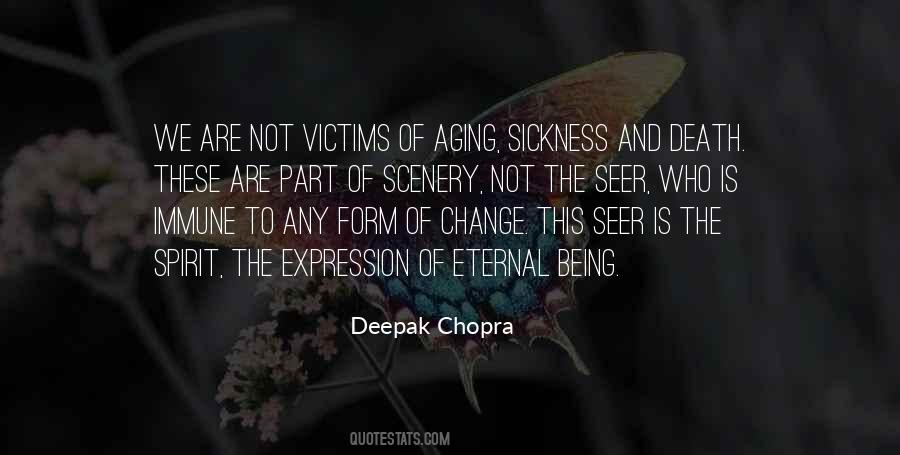 #79. If you have few days to live your life, what will be your passion for last days? - Author: Lailah Gifty Akita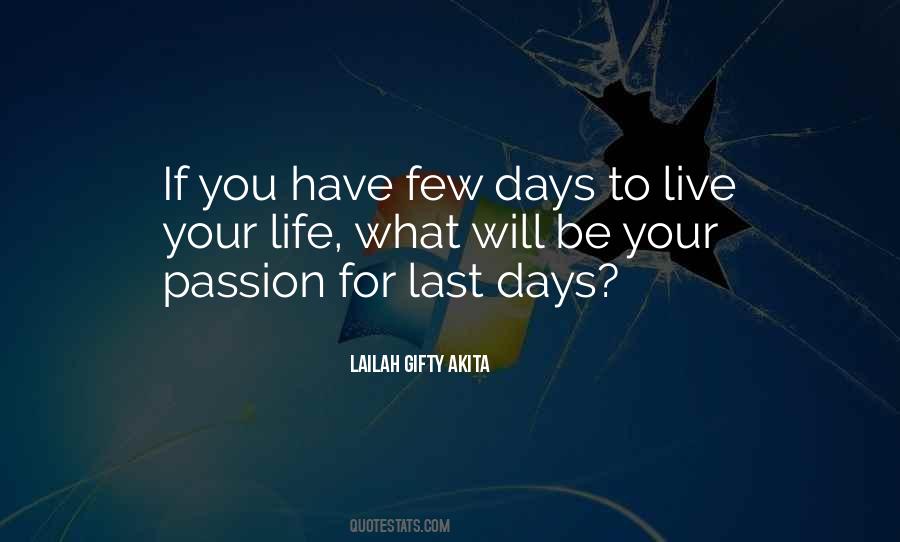 #80. There is no way to escape death, it is just like trying to escape by four great mountains touching sky. There is no escape from these four mountains of birth, old age, sickness and death. - Author: Dalai Lama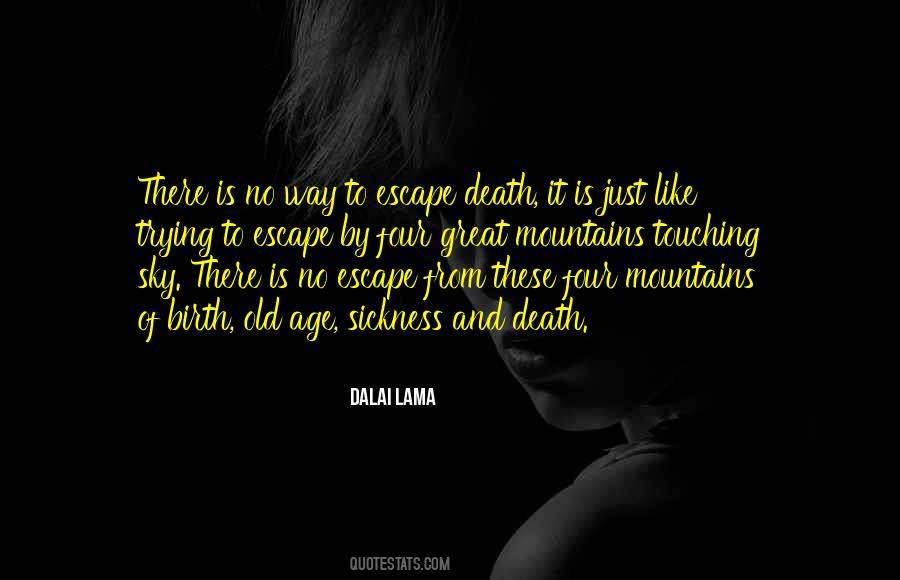 #81. When you are strong and healthy, You never think of sickness coming, But it descends with sudden force, Like a stroke of lightning. When involved in worldly things, You never think of death's approach; Quick it comes like thunder, Crashing round your head. - Author: Milarepa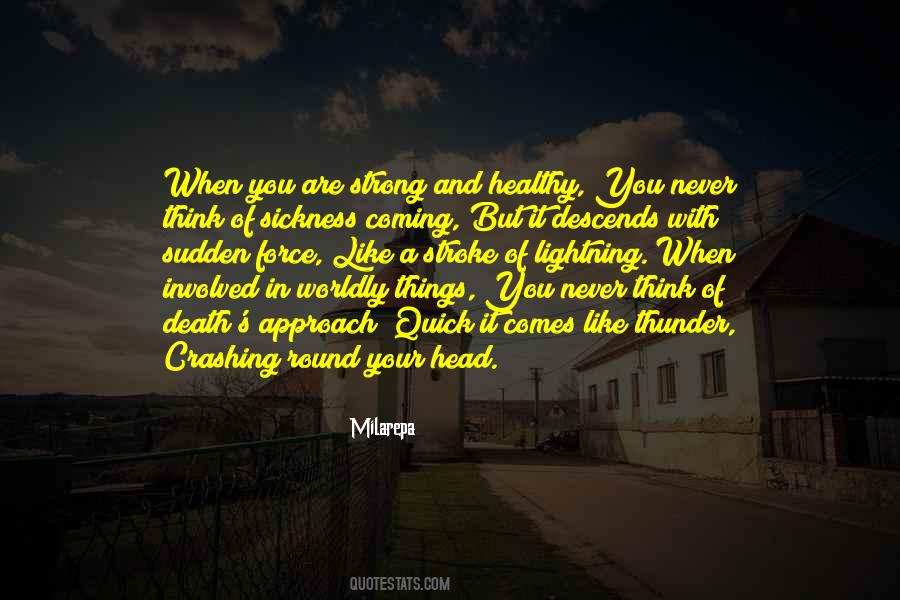 #82. In youth alone, unhappy mortals live; But, ah! the mighty bliss is fugitive: Discolour'd sickness, anxious labour, come, And age, and death's inexorable doom. - Author: Virgil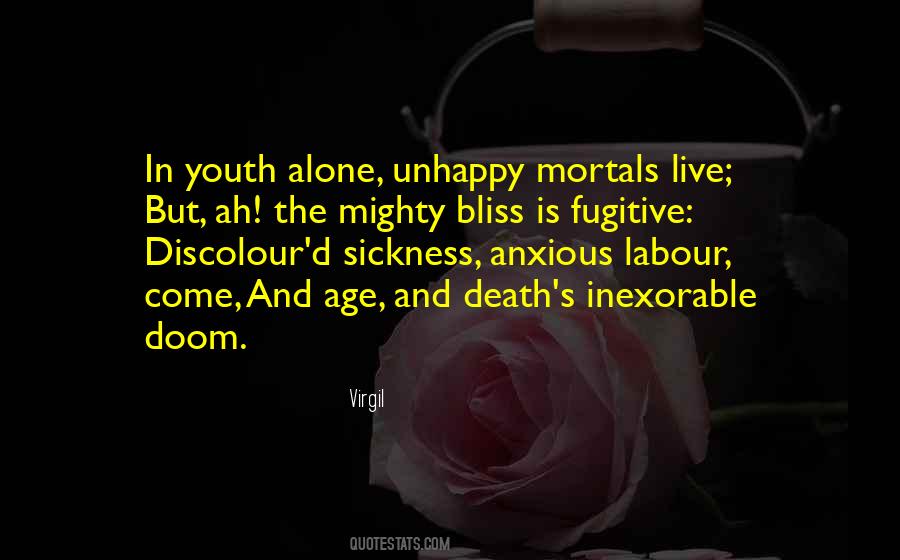 Famous Authors
Popular Topics