Roses Love Famous Quotes & Sayings
List of top 100 famous quotes and sayings about roses love to read and share with friends on your Facebook, Twitter, blogs.
Top 100 Quotes About Roses Love
#1. She cast her fragrance and her radiance over me. I ought never to have run away from her ... I ought to have guessed all the affection that lay behind her poor little stratagems. Flowers are so inconsistent! But I was too young to know how to love her ... - Author: Antoine De Saint-Exupery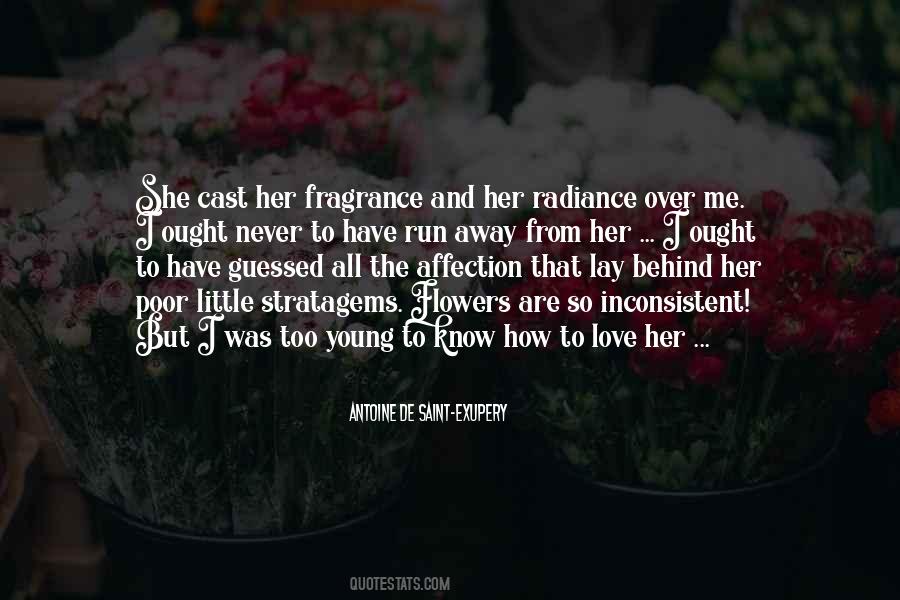 #2. Under the summer roses When the flagrant crimson Lurks in the dusk Of the wild red leaves, Love, with little hands, Comes and touches you With a thousand memories, And asks you Beautiful, unanswerable questions. - Author: Carl Sandburg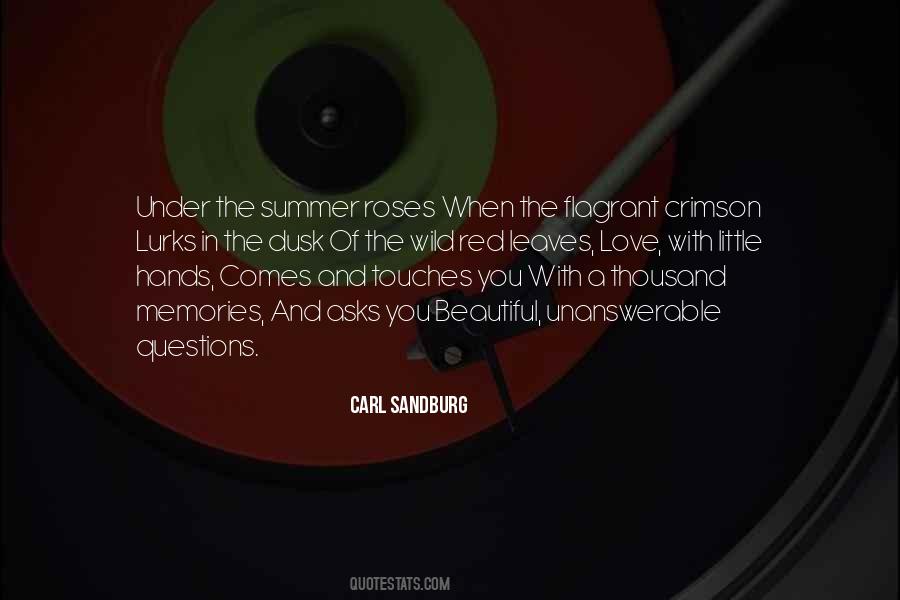 #3. It's just as well," she thought. "If I told them what I really think, they'd shit roses. - Author: K. Ford K.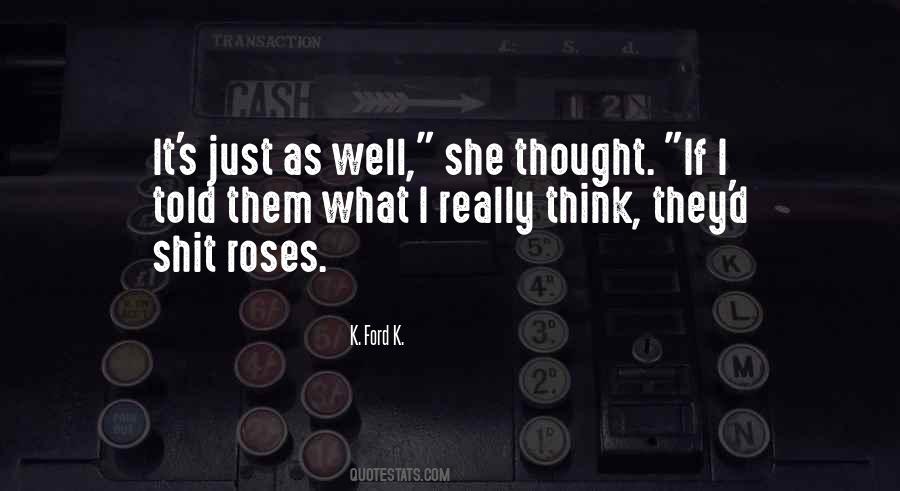 #4. Maybe love isn't just
a bouquet of roses once in a while. Maybe it's just sticking it out, when it's hard, when you're mad, when
you're tired. - Author: Kristan Higgins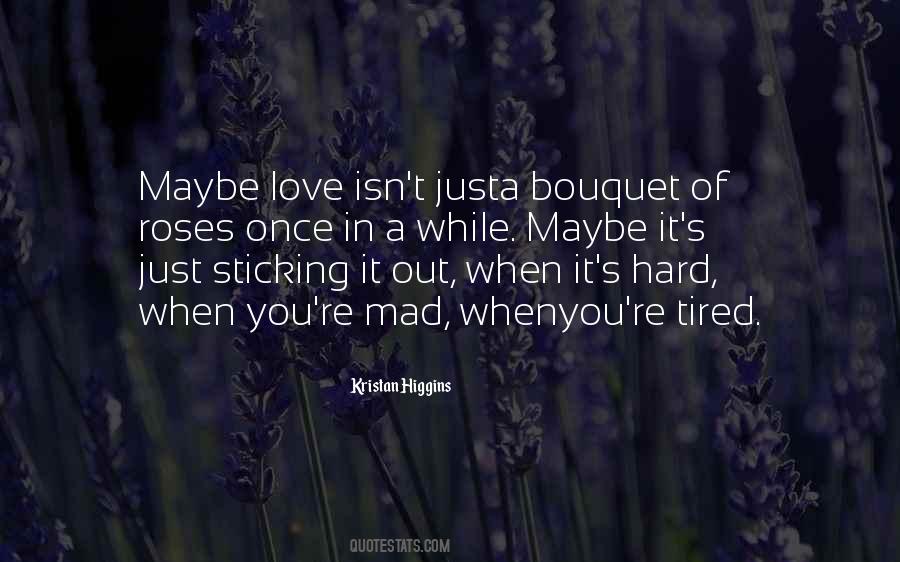 #5. I am not a rock producer. I don't see that. I once turned down Guns N' Roses. I don't like shouting. I'm a melody guy. I love great melody. - Author: Steve Lillywhite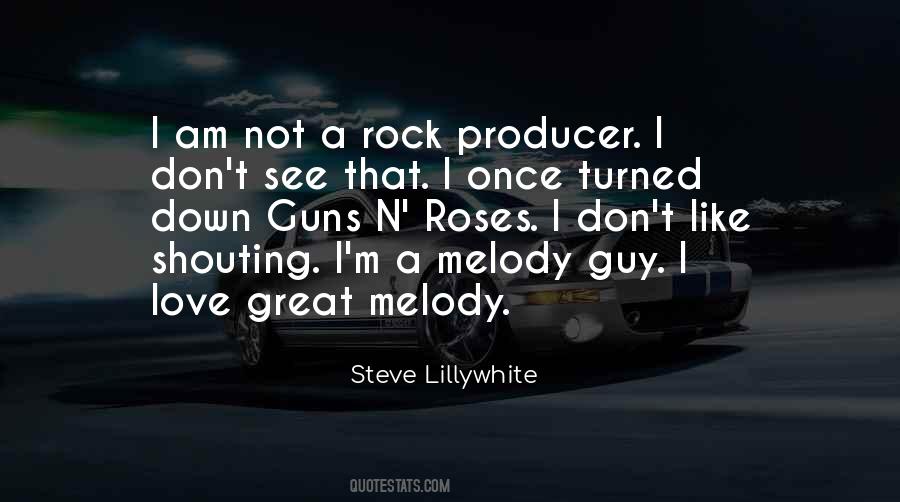 #6. Roses are red and violets are blue, That played-out shit isn't for you. I got your love letter right here in my eyes. If you look deep enough, you'll see through the lies. - Author: Wendy Higgins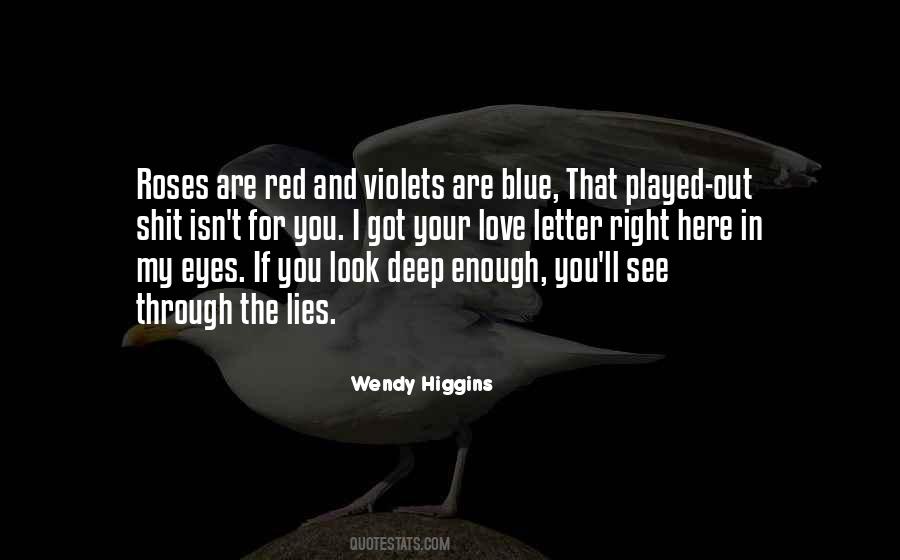 #7. But hurry, let's entwine ourselves as one, our mouth broken, our soul bitten by love, so time discovers us safely destroyed. - Author: Federico Garcia Lorca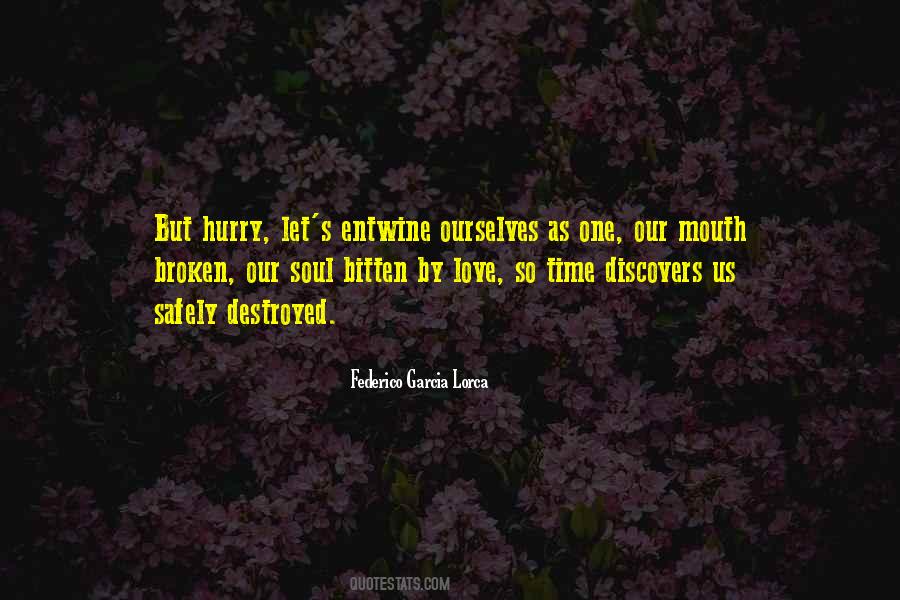 #8. Love was not the point and pity was a poor man's pride. - Author: Holly Lynn Payne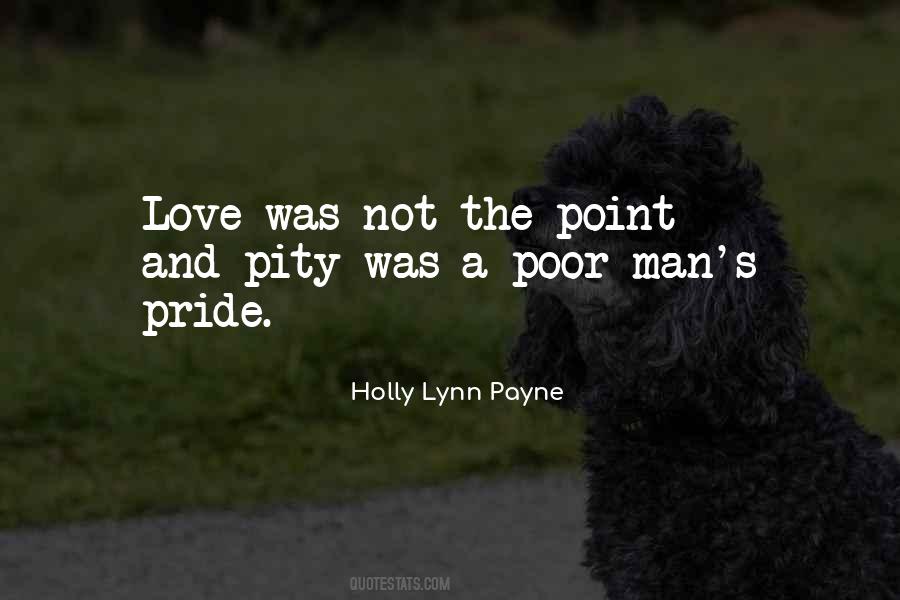 #9. Give your Friends Roses while they are still alive; don't wait until their funeral.
-Robert L. Biehl (my dad) - Author: Bobb Biehl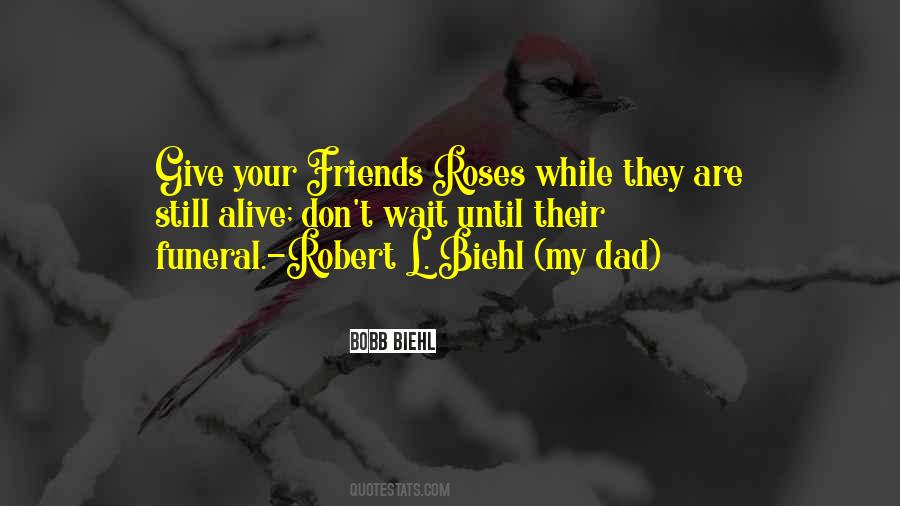 #10. Our two hearts,
they have bloomed in the garden -
there
where our souls;
in red roses originate. - Author: Kristian Goldmund Aumann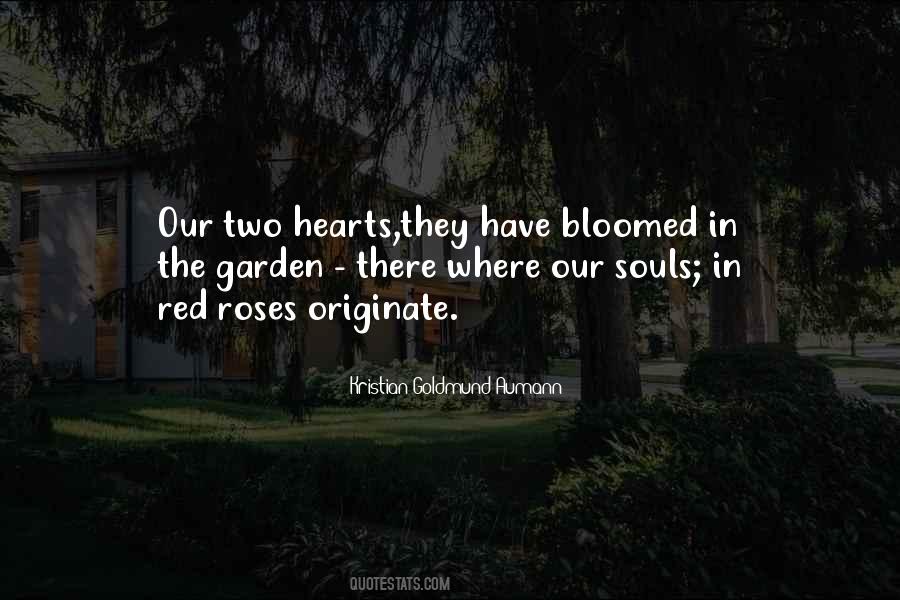 #11. I love the little garden in the back of my family's brownstone in Brooklyn. Digging out there in the dirt is a joy for me, although by the time August rolls around and my roses have black spot, I need the break winter provides. - Author: Siri Hustvedt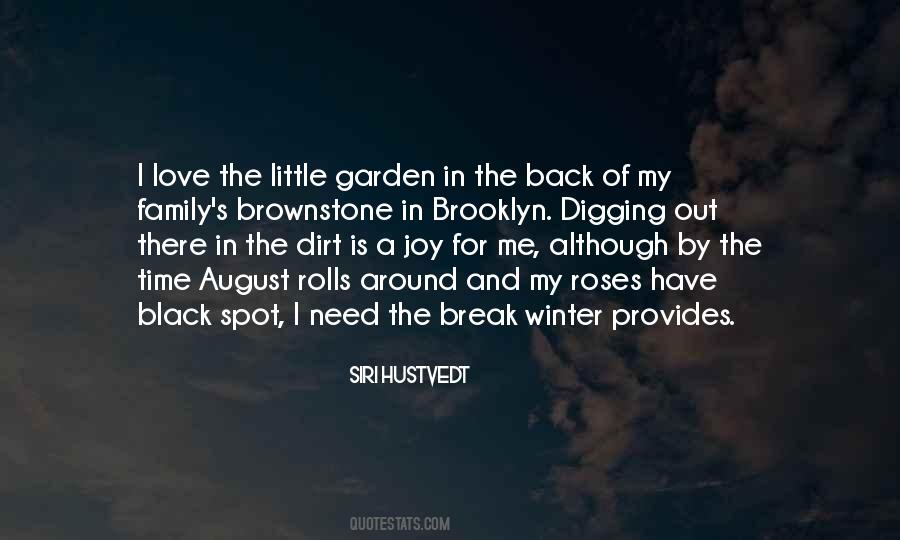 #12. Go and have another look at the roses. And you will understand that yours is indeed unique in all the world. - Author: Antoine De Saint-Exupery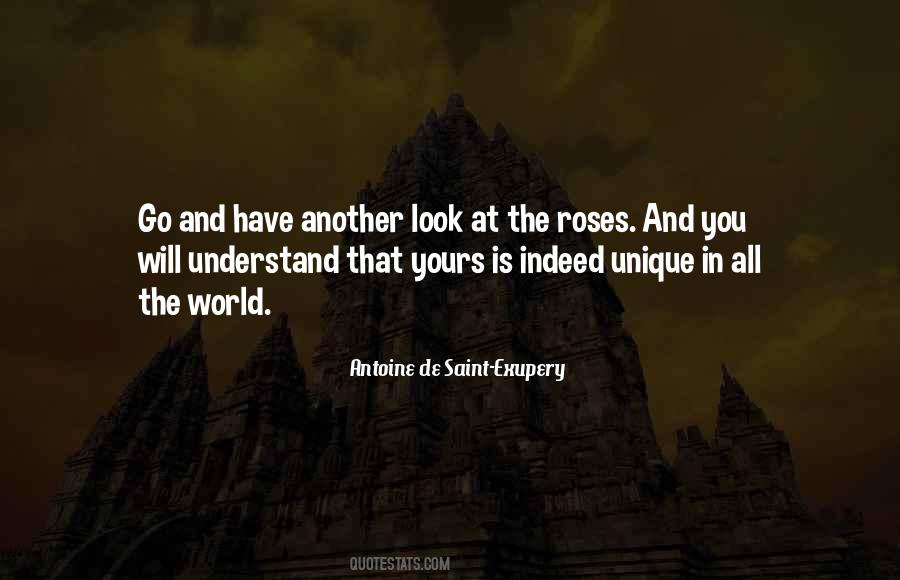 #13. A mother's love is like an everlasting bed of roses, that continues to blossom. A mother's love bears strength, comfort, healing and warmth. Her beauty is compared to a sunny day that shines upon each rose petal and inspires hope. - Author: Ellen J. Barrier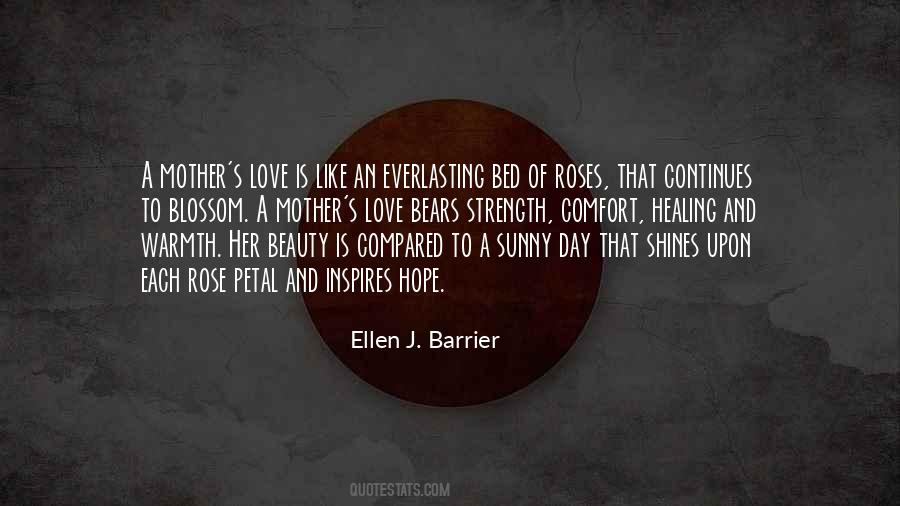 #14. What shall we do, all of us? All of us oassionate girls who fear crushing the boys we love with our mouths like caverns of teeth, our mushrooming brains, our watermelon hearts? - Author: Francesca Lia Block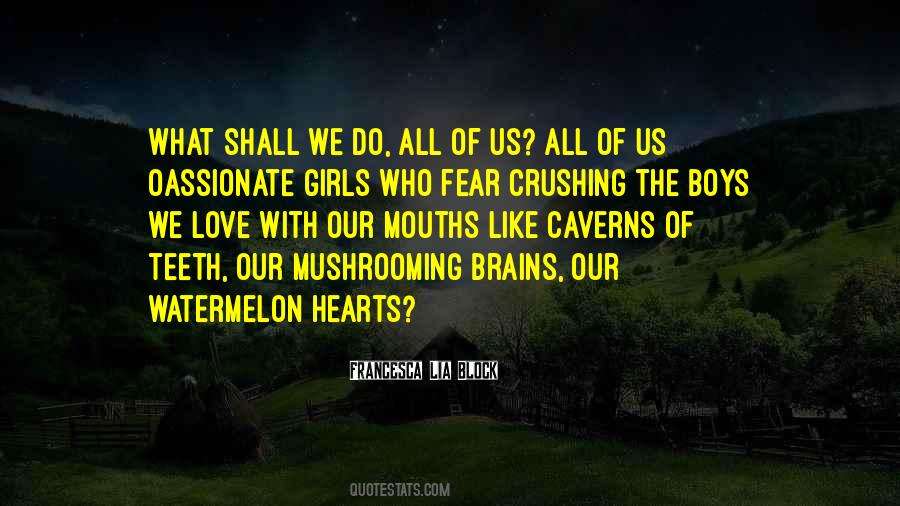 #15. a few words spoken beneath the moon, love
may be, but I write your name
in the celestial dust that lingers
in the air, above
the veilchenblau roses, callow
and pale - Author: John Daniel Thieme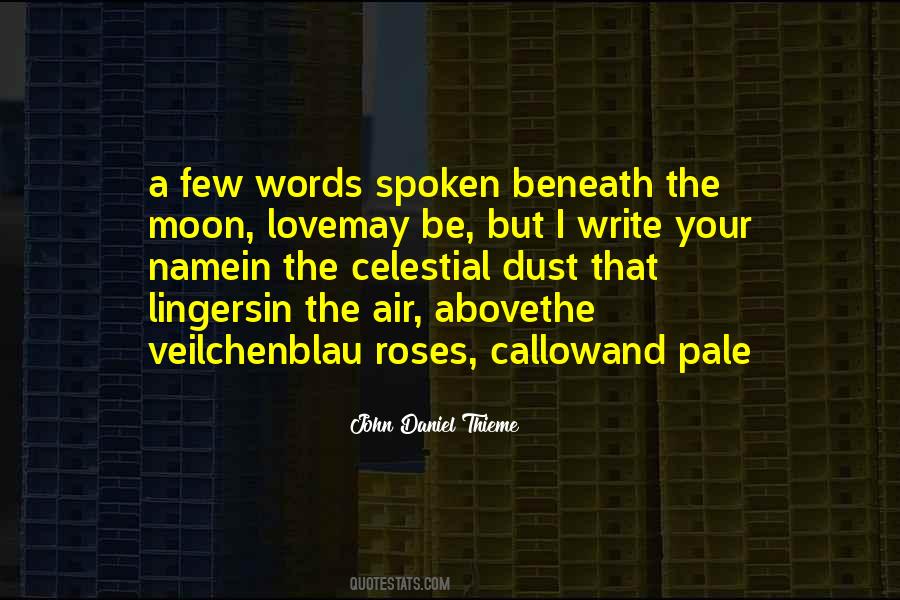 #16. I breathe in...
the fragrance
of love, and moist sand
the one
his roses left
on both my hands

I just keep on breathing
every moment
as much as I can
preserving it, in my body
for the day
it can't. - Author: Sanober Khan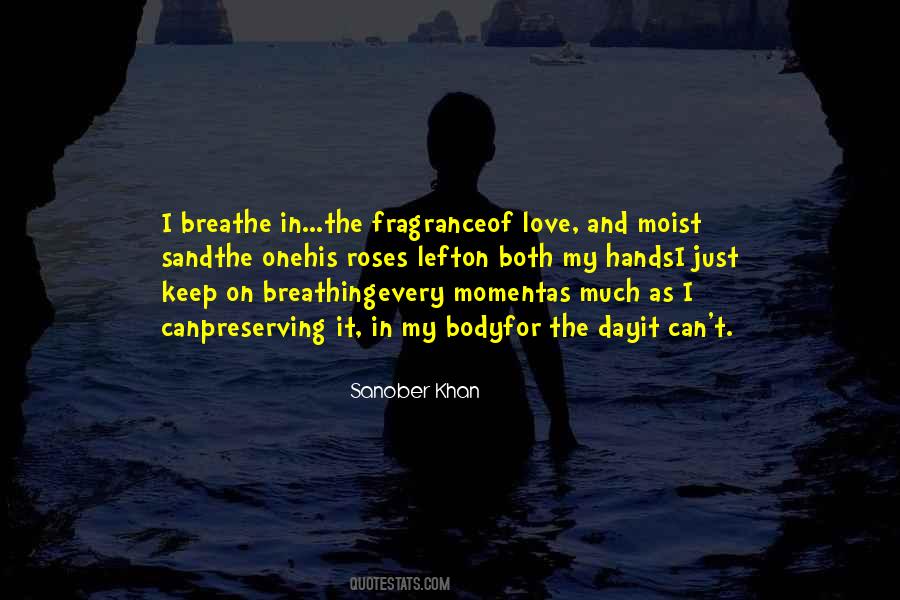 #17. Love is a path lined with roses. - Author: Jessica Khoury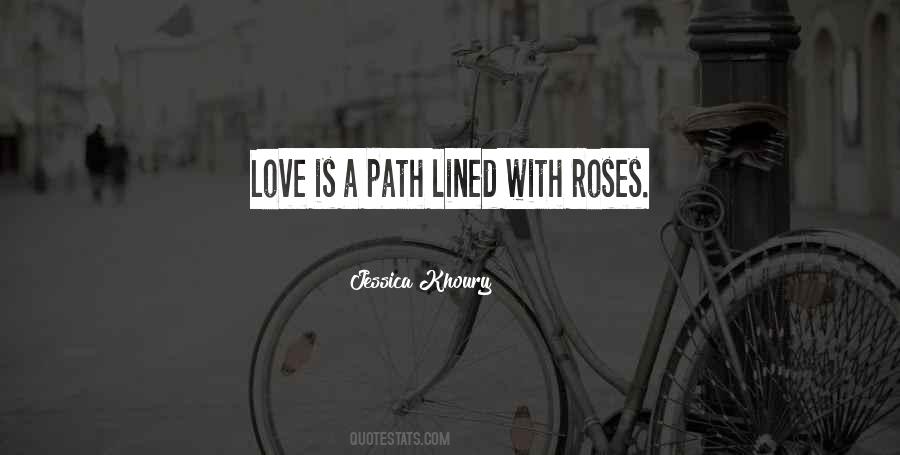 #18. I don't think you tell someone you love them because you expect something. I think you tell them because you have something to give. - Author: Nora Roberts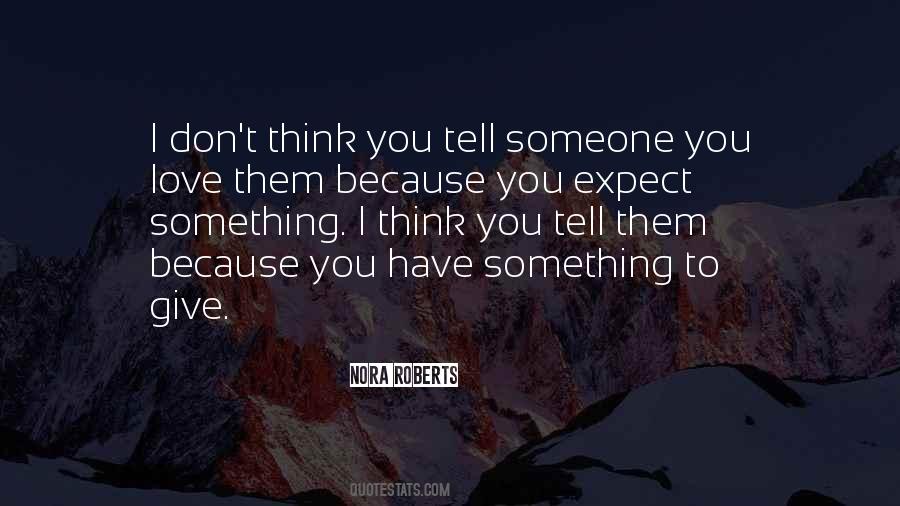 #19. My mother says that pain is hidden in everyone you see. She says try to imagine it like big bunches of flowers that everyone is carrying around with them. Think of your pain like a big bunch of red roses, a beautiful thorn necklace. Everyone has one. - Author: Francesca Lia Block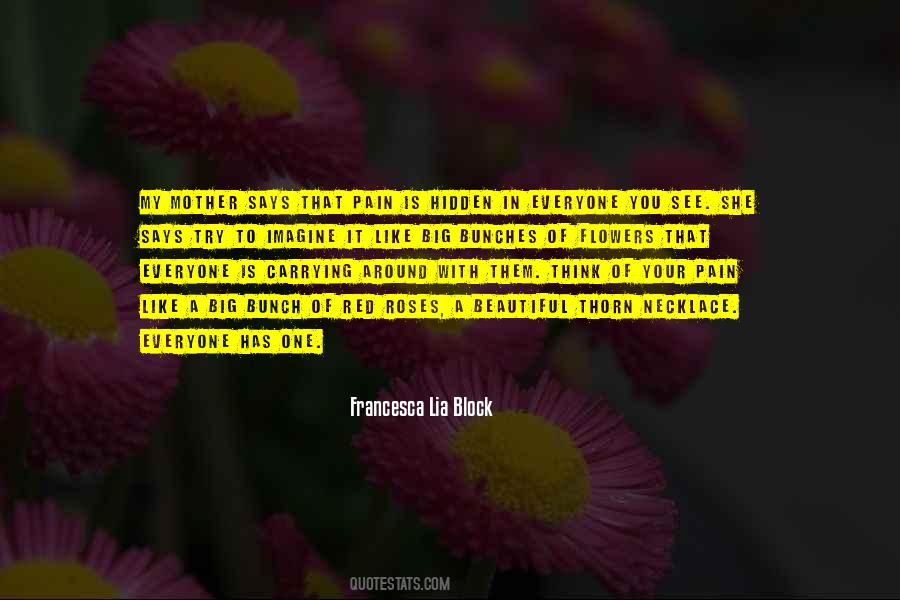 #20. I have loved you from the moment you opened your eyes, and I will continue to love you long after I close mine. I will always be yours Aurora. I don't exist without you. - Author: Nathalie Saade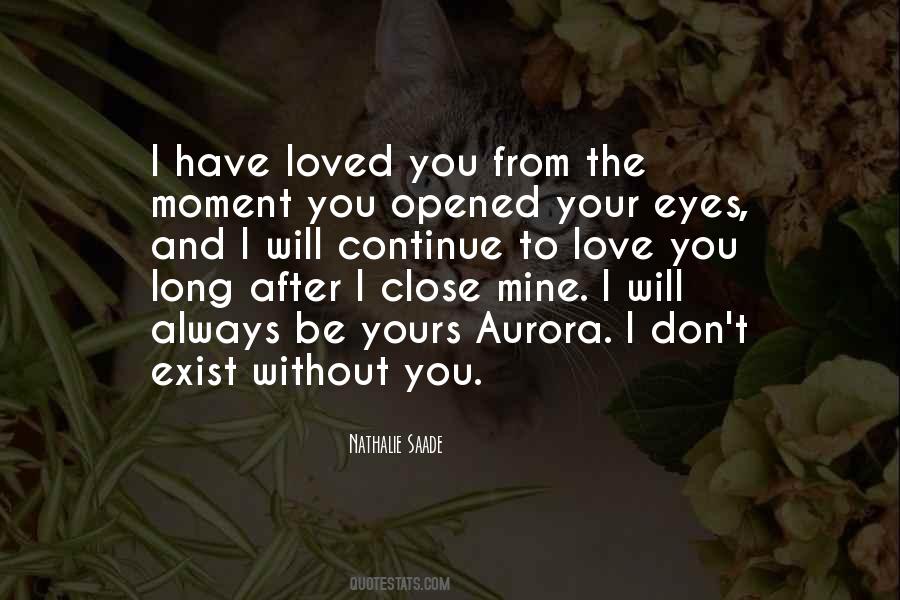 #21. If I die young, bury me in satin.
Lay me down on a bed of roses.
Sink me in the river at dawn.
Send me away with the words of a love song. - Author: The Band Perry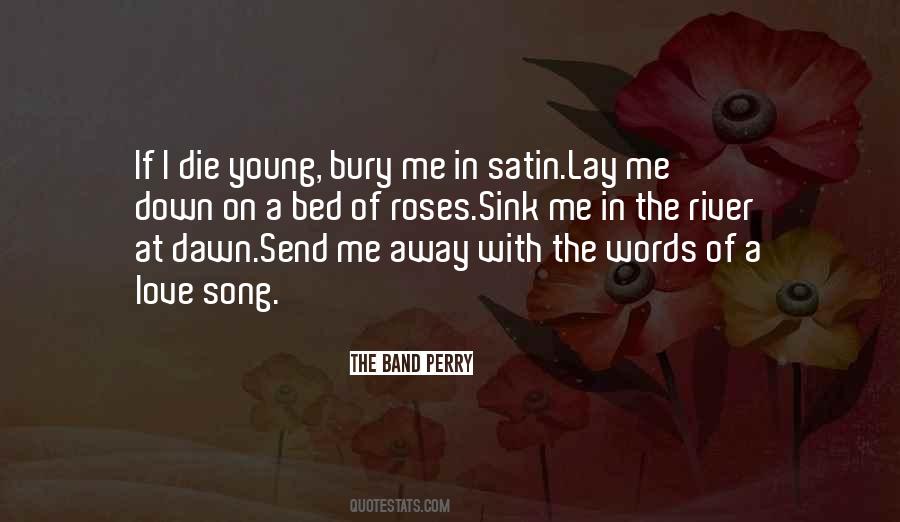 #22. Love lies bleeding in the bed whereover Roses lean with smiling mouths or pleading: Earth lies laughing where the sun's dart clove her: Love lies bleeding. - Author: Algernon Charles Swinburne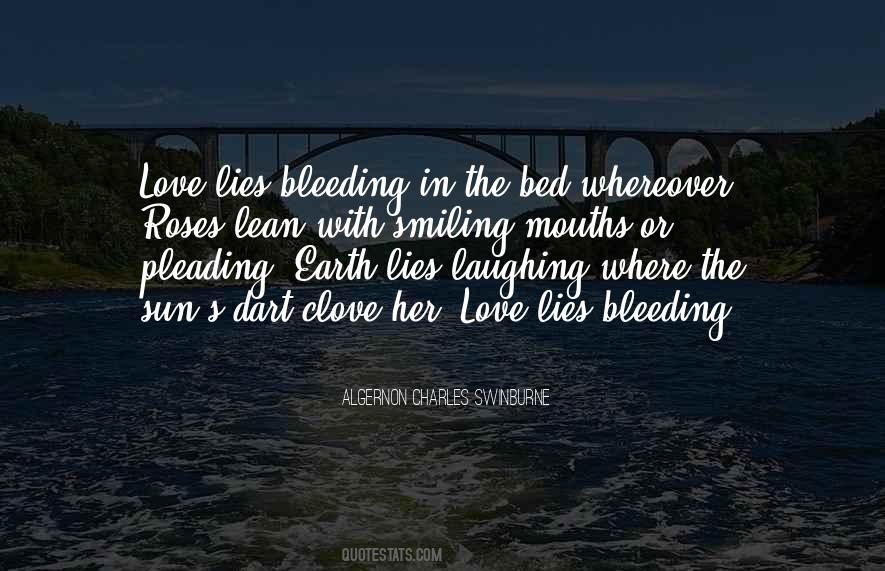 #23. I, love, I am the pure acetylene virgin attended by roses. - Author: Sylvia Plath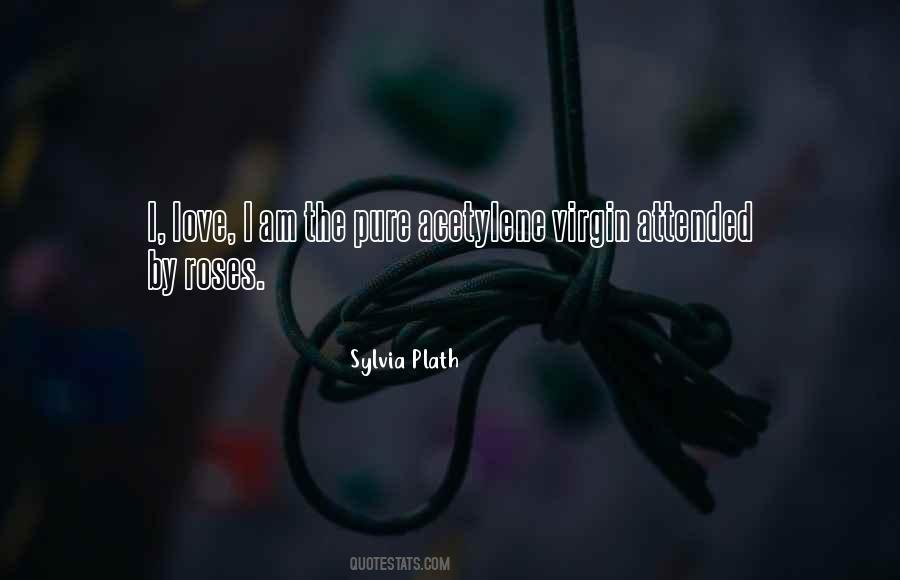 #24. If you can love all who've betrayed you ... you can taste sweetness in everything. - Author: Holly Lynn Payne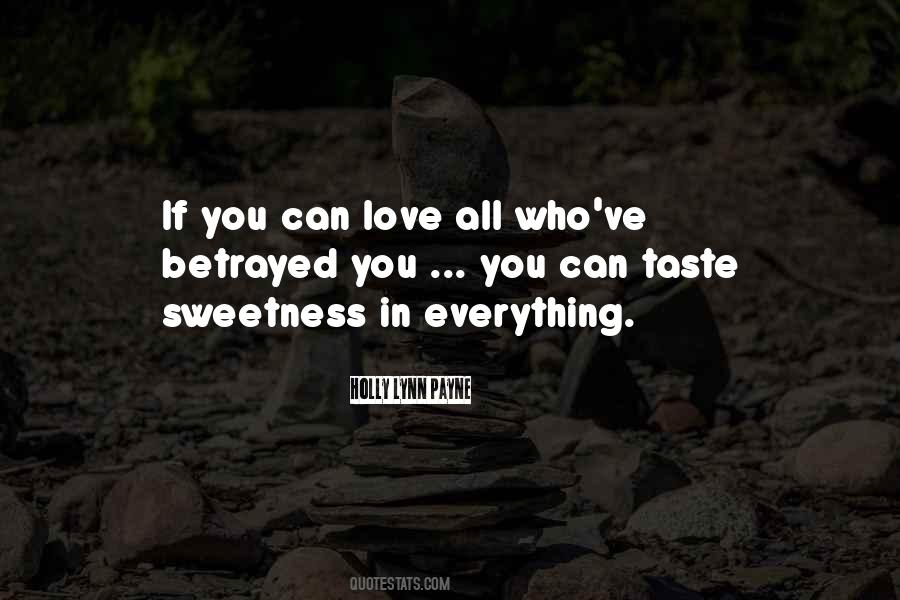 #25. Soft moonlight touches my lips and cheeks,
I feel your soul dance in my heart.
Breeze of the Southern sea blows my hair,
I feel your love touch my flowers of desire,
In my garden roses dance with the kindness of air.
I feel my soul wanting her bliss to share. - Author: Debasish Mridha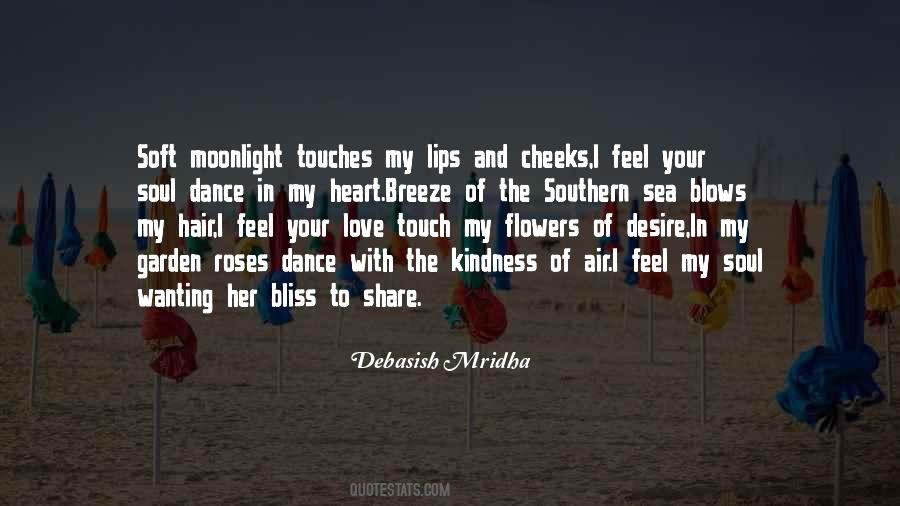 #26. The truth was she did love him. She loved him for the gentle care he gave her roses. For his loving way with animals. For his honesty. For his tender patience with Maggie and, most important, for the joy he brought into her life. - Author: Debbie Macomber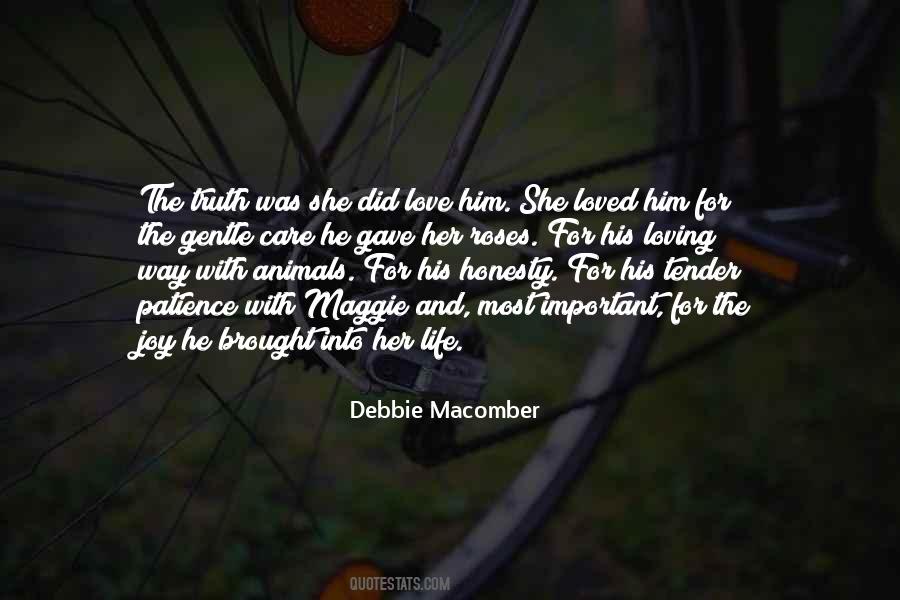 #27. Plant now the roses of Hope, Love, Promise, God Consciousness, and the Glory of your Soul. - Author: Sylvia Browne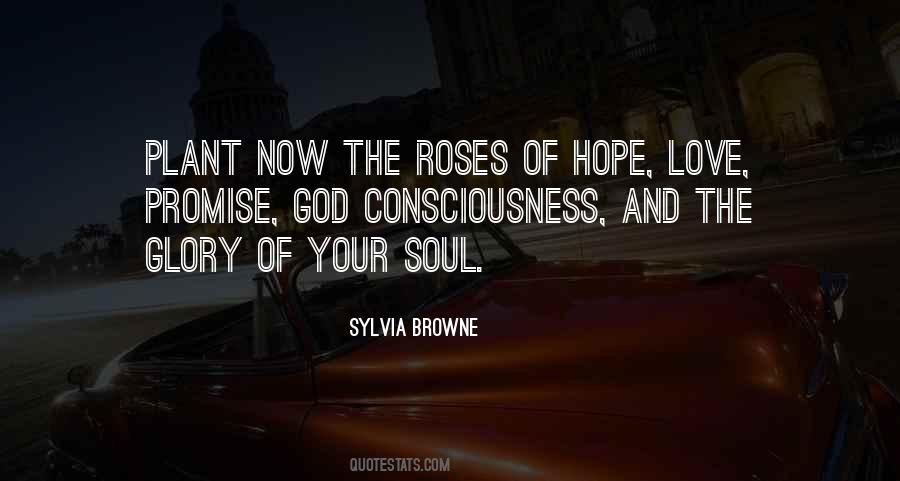 #28. She was chaos and beauty intertwined. A tornado of roses from divine. - Author: Shakieb Orgunwall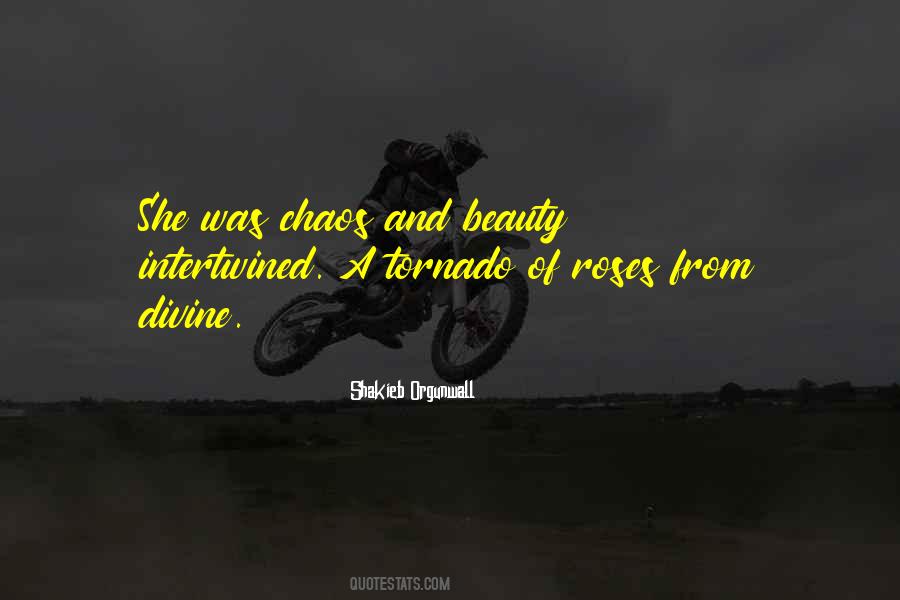 #29. Your scented tears on white roses - Love is crying in a good way. - Author: Kristian Goldmund Aumann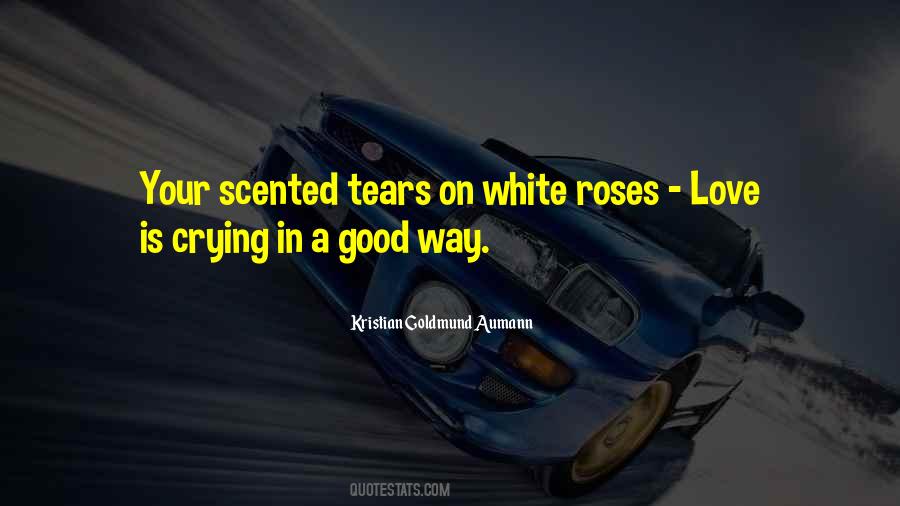 #30. I don't think it's ever changed, whether its Frank Sinatra, Glenn Miller, Zeppelin, Guns n' Roses or anyone today, the reason why you get into music is because you love it, and if you're good at it, that's a plus. - Author: Zakk Wylde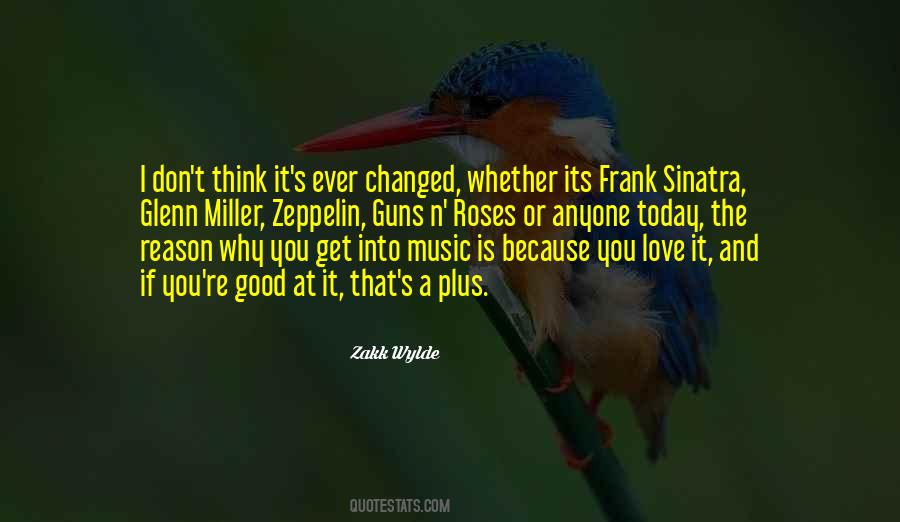 #31. True love is like little roses,
sweet, fragrant in small doses. - Author: Ana Claudia Antunes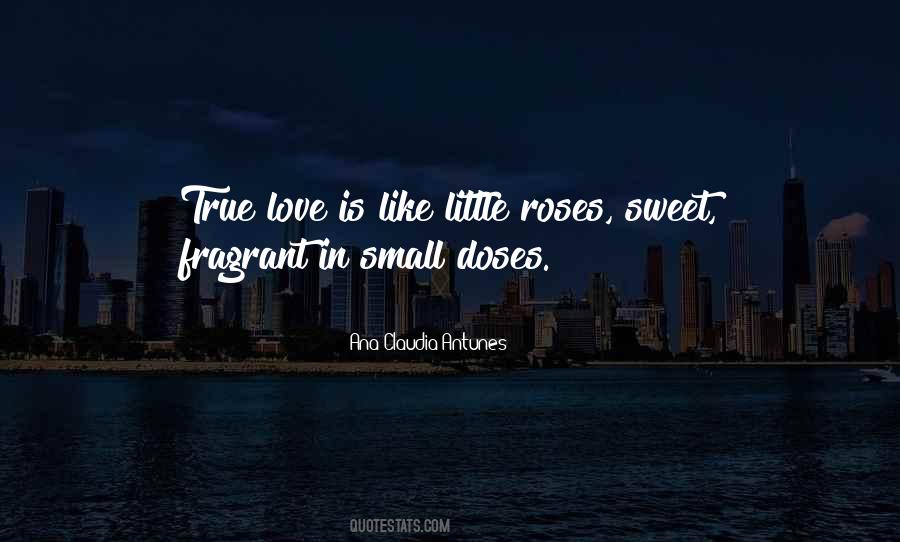 #32. There are some things, after all, that Sally Owens knows for certain: Always throw spilled salt over your left shoulder. Keep rosemary by your garden gate. Add pepper to your mashed potatoes. Plant roses and lavender, for luck. Fall in love whenever you can. - Author: Alice Hoffman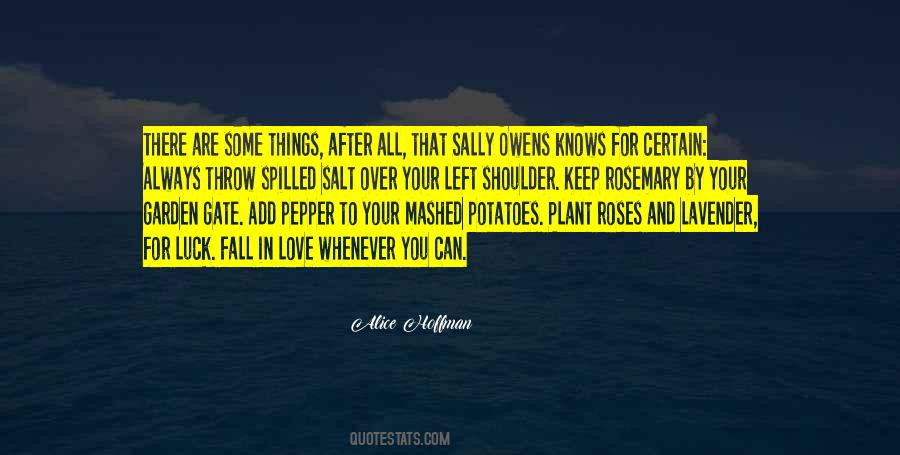 #33. Red roses symbolizes love. Thorns will hurt you and red roses consists of thorns. - Author: Monika Ramzy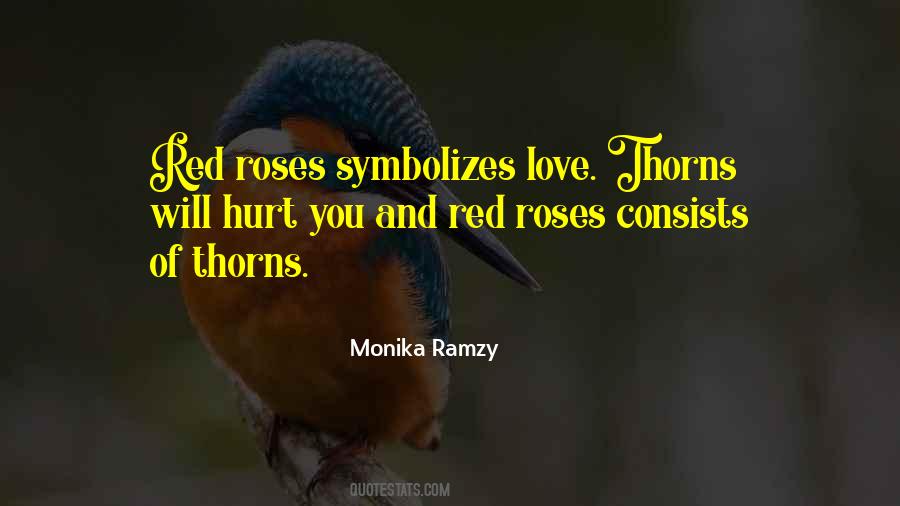 #34. To lovers, I devise their imaginary world, with whatever they may need, as the stars of the sky, the red, red roses by the wall, the snow of the hawthorn, the sweet strains of music, and aught else they may desire to figure to each other the lastingness and beauty of their love. - Author: Williston Fish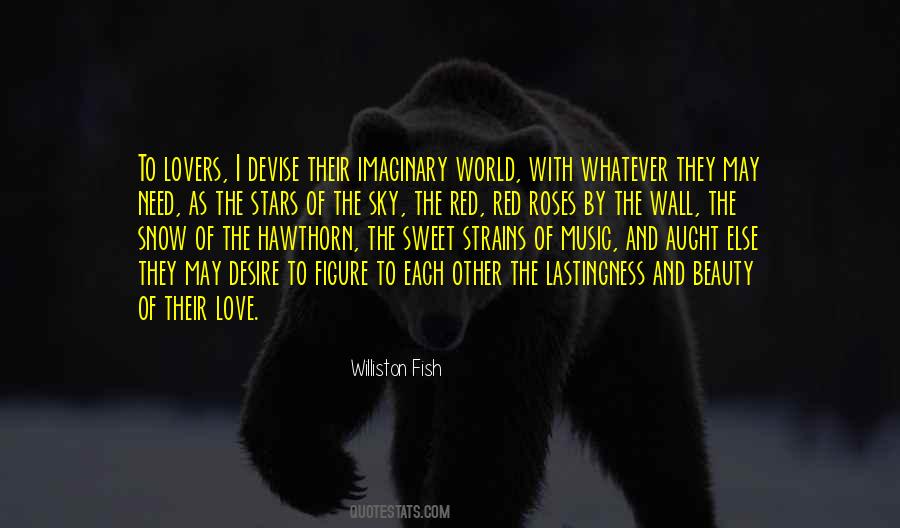 #35. I'll say she looks as clear as morning roses newly washed with dew. - Author: William Shakespeare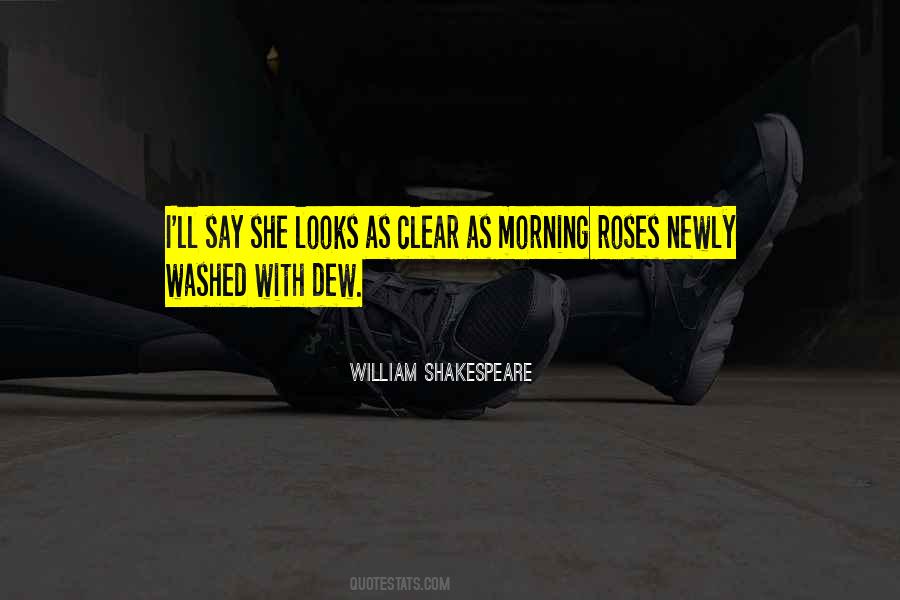 #36. Love is a path lined with roses." I say bitterly. "But it leads to a cliff's edge and all who follow it tumble to their doom. You will not find your happiness there. - Author: Jessica Khoury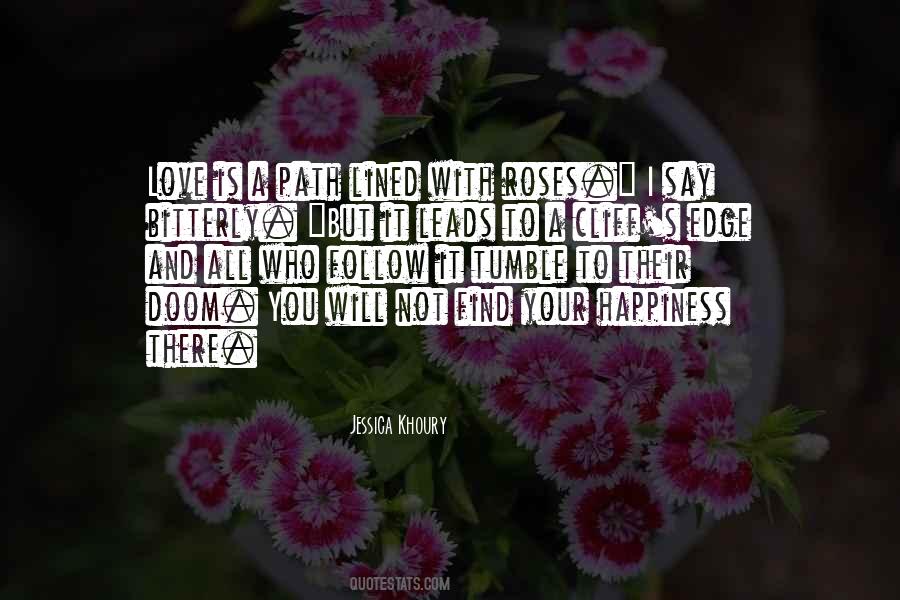 #37. Even if the songs are at times painful - 'cause some of the songs are not all roses and balloons; some of them dig into deep things that I've been going through - there's a joy that I think people feel from my music and, hopefully, from my performance because I am so in love with doing what I do. - Author: Rachel Platten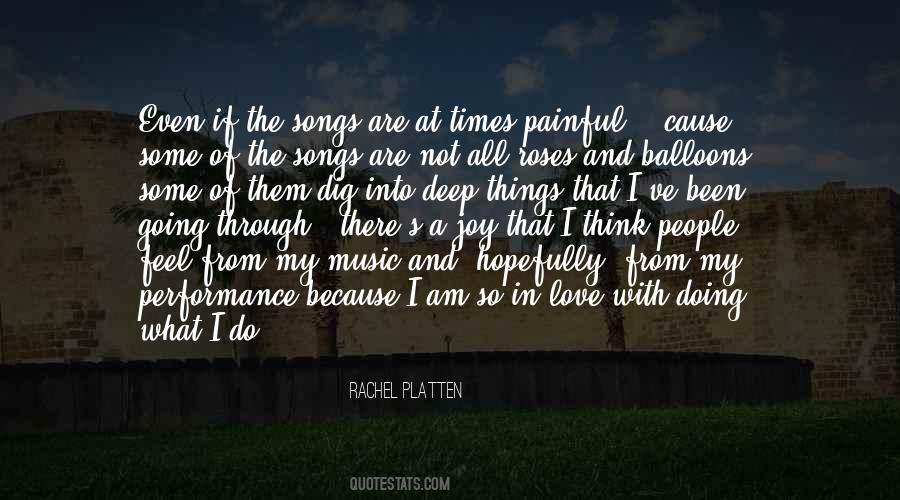 #38. . . .in your light, had I learned to love, here
in your beauty, could I speak
knowing of this space close within
as the breath held inside a garden rose, there -
there is no time. - Author: John Daniel Thieme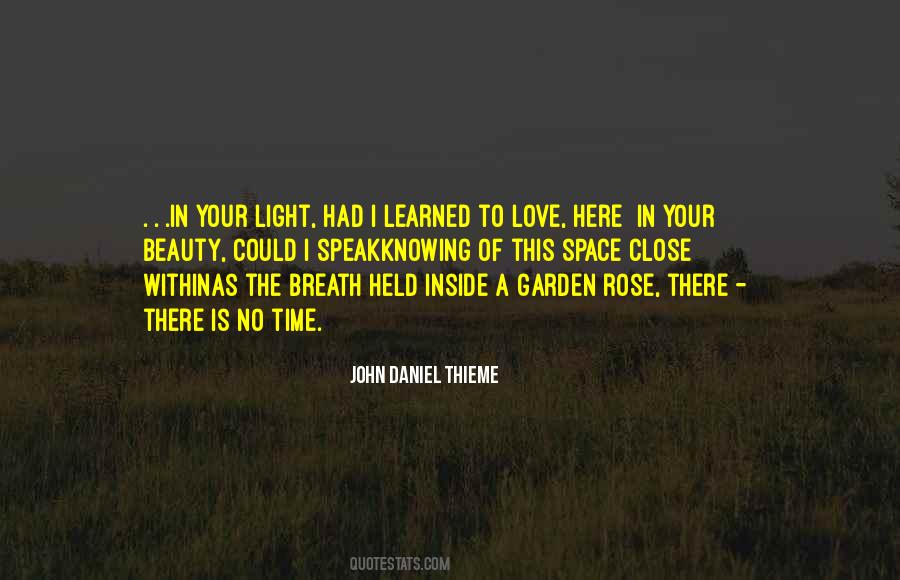 #39. The artist that had the biggest impact on me was Michael Jackson. He was my Elvis and Beatles. When I was 15, I listened to a lot of Sinatra, but my jean jacket didn't have, 'I love Frank' on it, it had, 'I love AC/DC', 'Guns N Roses', 'Pearl Jam'. I thought Eddie Vedder was the second coming. - Author: Michael Buble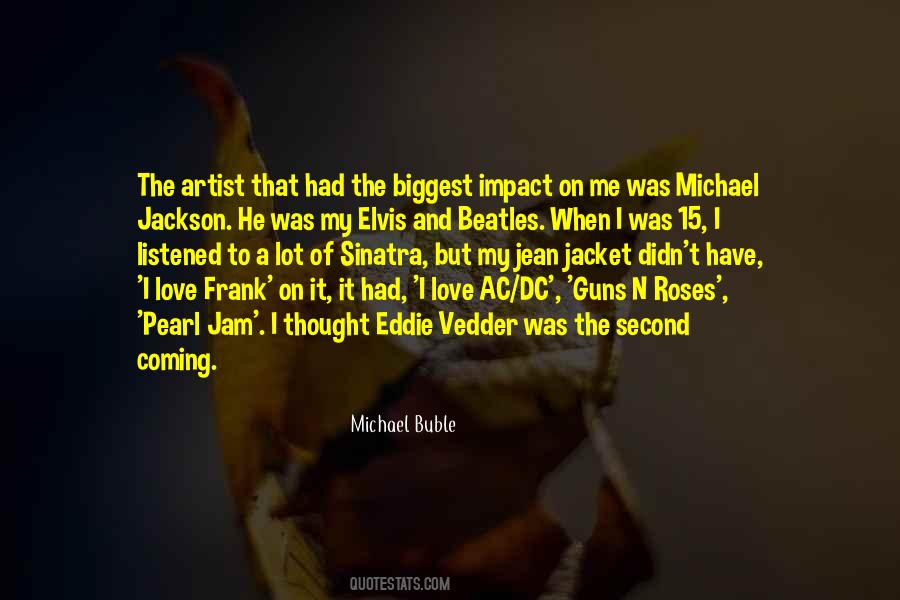 #40. The kiss was flight, the kind of kiss that had magic I hadn't known existed. Or maybe it was the kind of kiss that I had known long before but had all but forgotten, like the scent of roses once they're no longer in bloom. - Author: Ute Carbone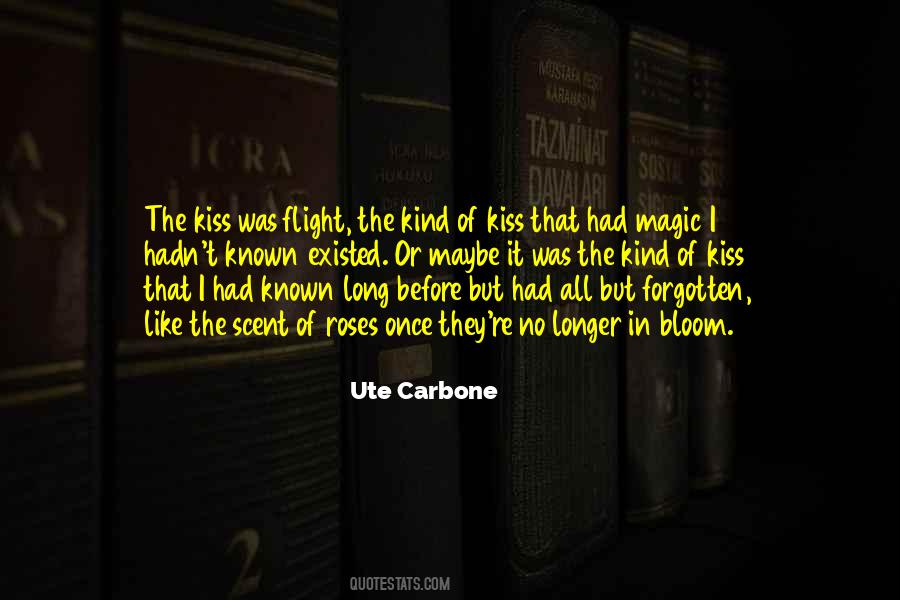 #41. Love is the synthesis of dream and actuality; love is the only matrix of the unprecedented; love is the tree which buds lovers like roses. - Author: Angela Carter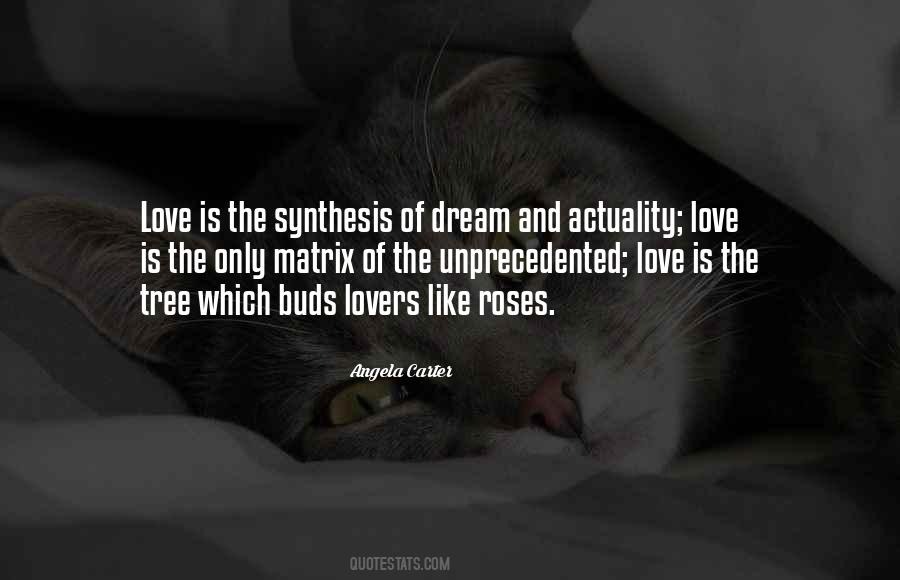 #42. those whom love has held, has held here in time
curious, in this labyrinth of roses - it
will go on holding, though in cruelty - of
stars we could not reach for, but still remembered. - Author: John Daniel Thieme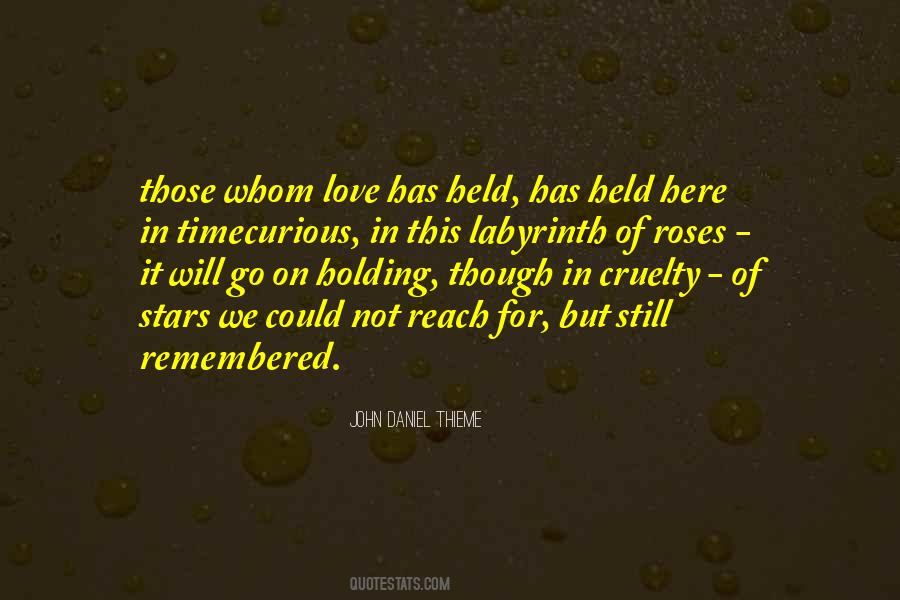 #43. Any mundane activity can become meditative. Digging a hole in the garden, planting new roses in the garden - you can do it with such tremendous love and compassion, you can do it with the hands of a buddha. - Author: Rajneesh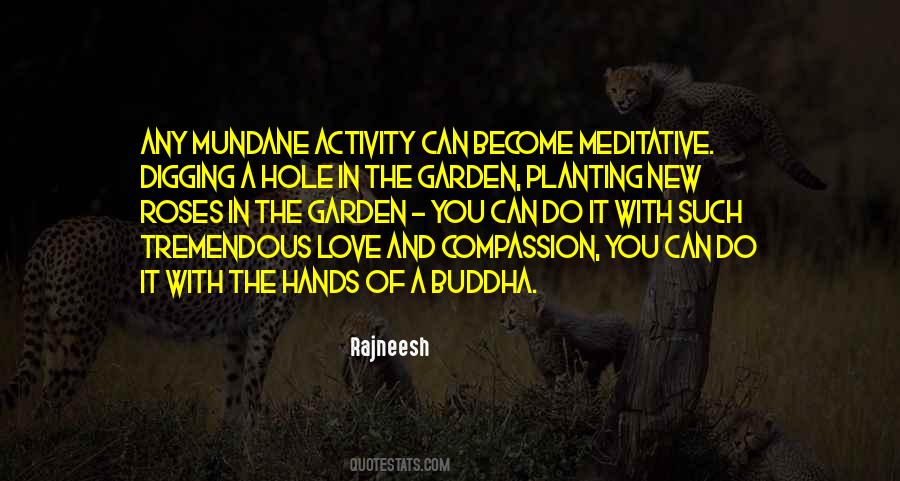 #44. Once you decide to grow out the roses from your heart, and let it spread the roots all over. you should also start to learn to handle the thorns that grow out of their stem. - Author: Akshay Vasu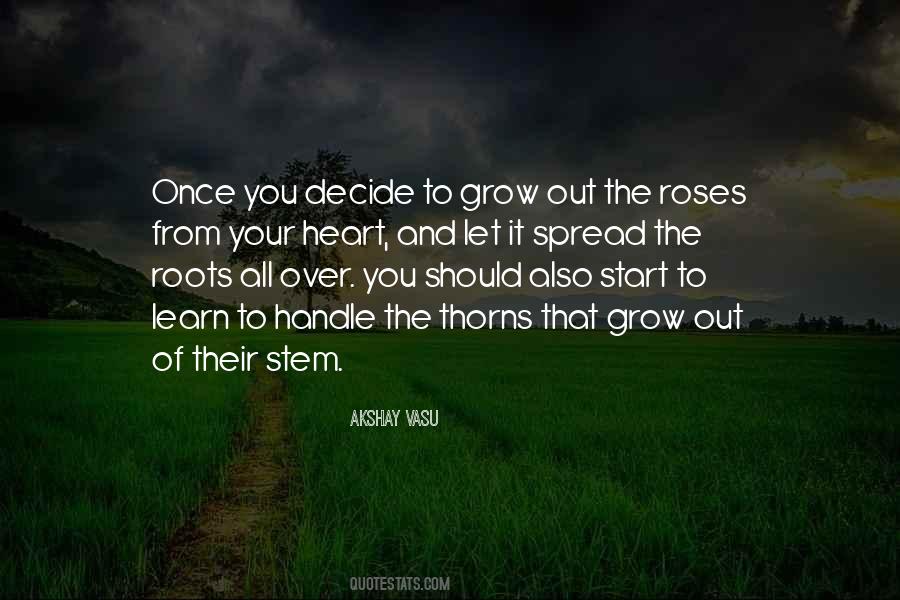 #45. Love for one another is built on the actions we take. Words that are said, are used for short comfort; but little do we know lies can be hidden in the riddle. Tread carefully through the puddle of roses for there, thorns await. - Author: Ochir Napoleoni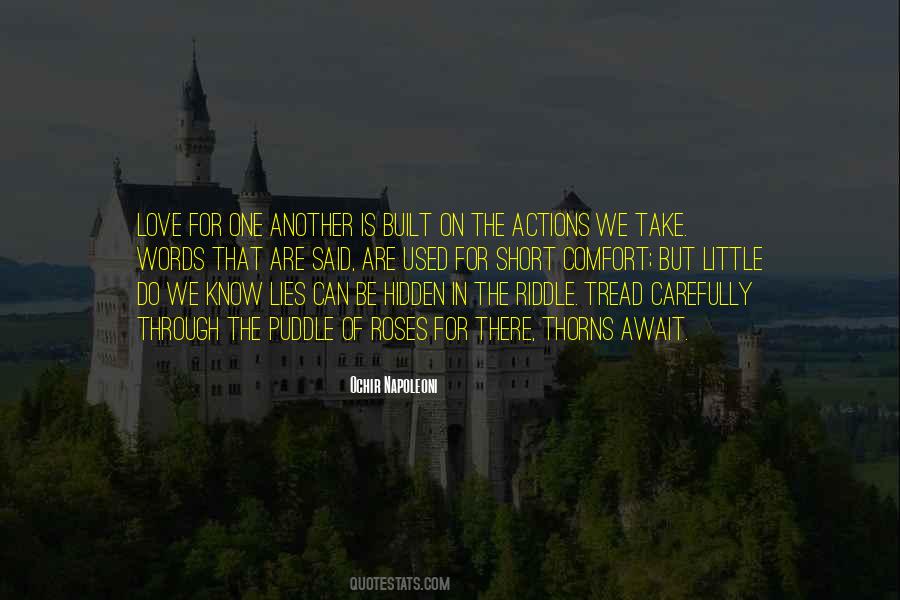 #46. Roses
got thorns.
And words
do lie.

I've seen love
die. - Author: George Elliott Clarke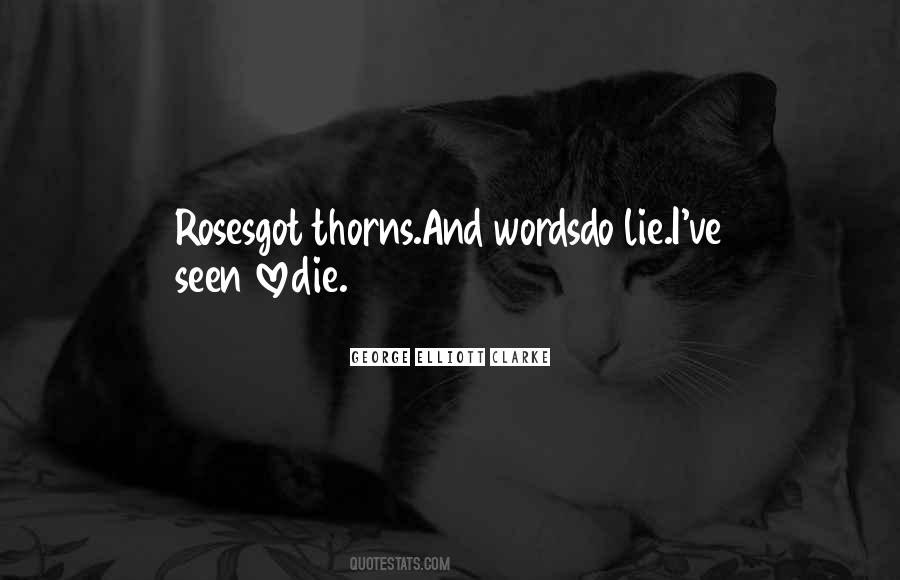 #47. As roses beautify gardens, love beautifies the world. - Author: Matshona Dhliwayo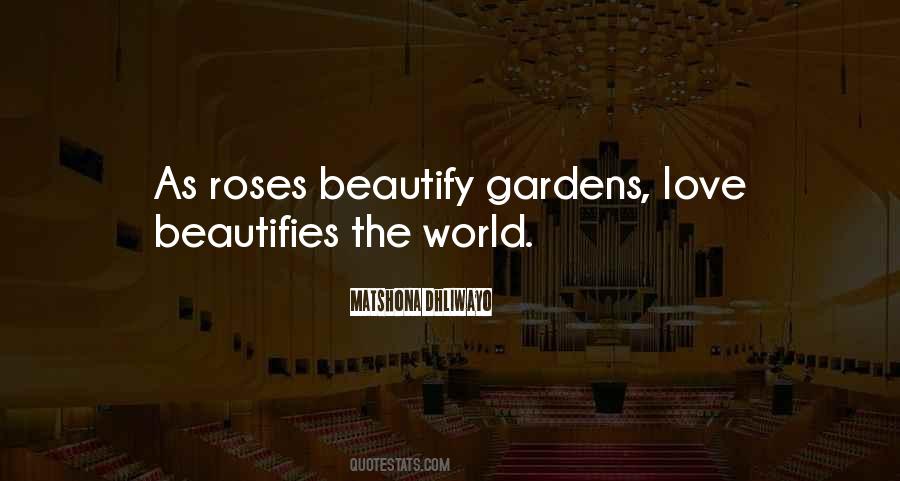 #48. Love is like the wild rose-briar; Friendship like the holly-tree. The holly is dark when the rose-briar blooms, but which will bloom most constantly? - Author: Emily Bronte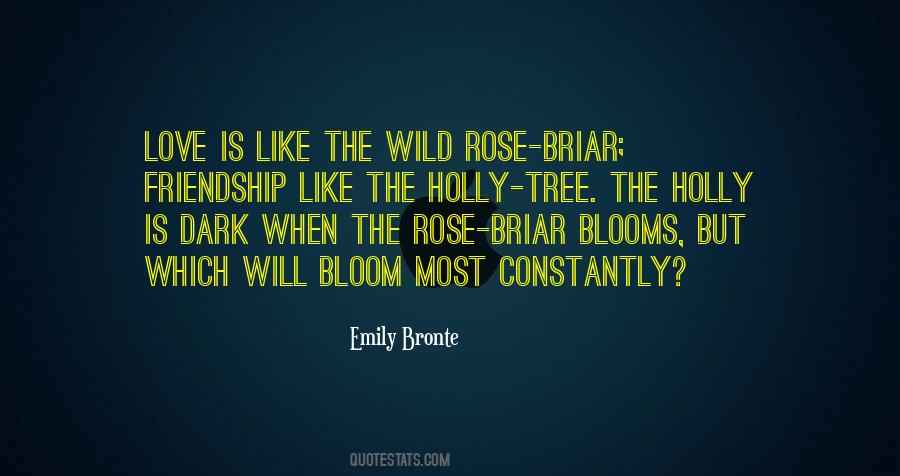 #49. What though youth gave love and roses, Age still leaves us friends and wine. - Author: Thomas Moore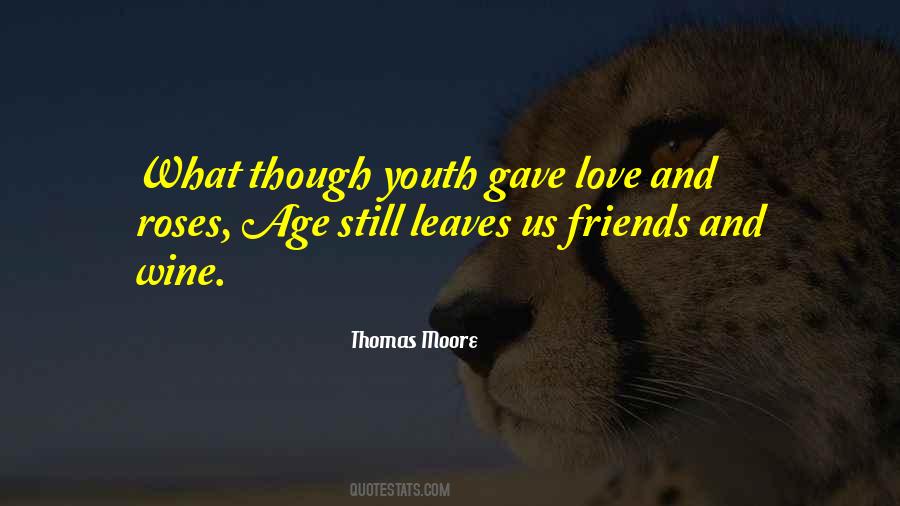 #50. Though what is 'Romeo and Juliet' after all?" he added after a short pause. "The beauty of poetry and holiness of love are simply the roses under which they try to hide its rottenness. Romeo is just the same sort of animal as all the rest of us. - Author: Anton Chekhov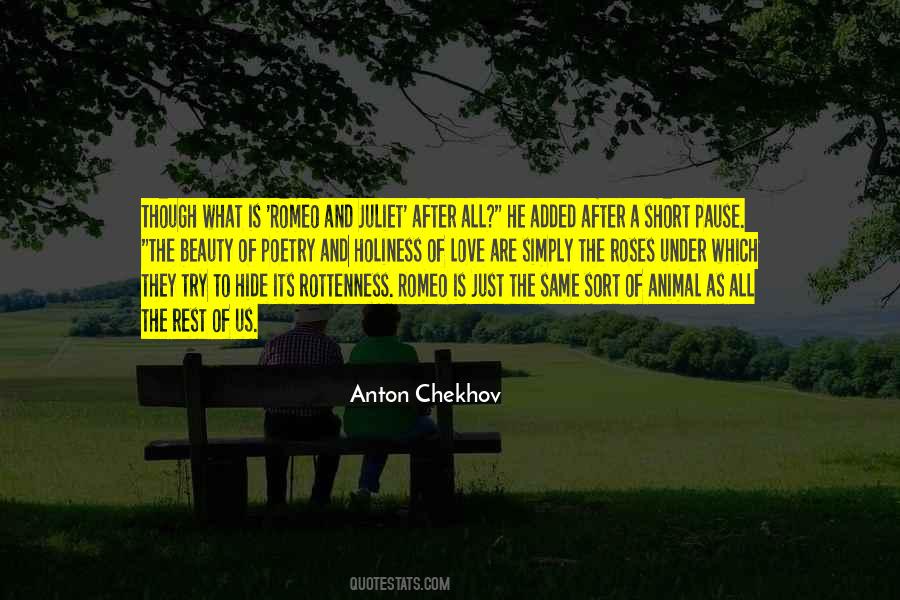 #51. Roses are for our eyes to adore, but they mean nothing unless you give them to someone you love. - Author: Chris Paynter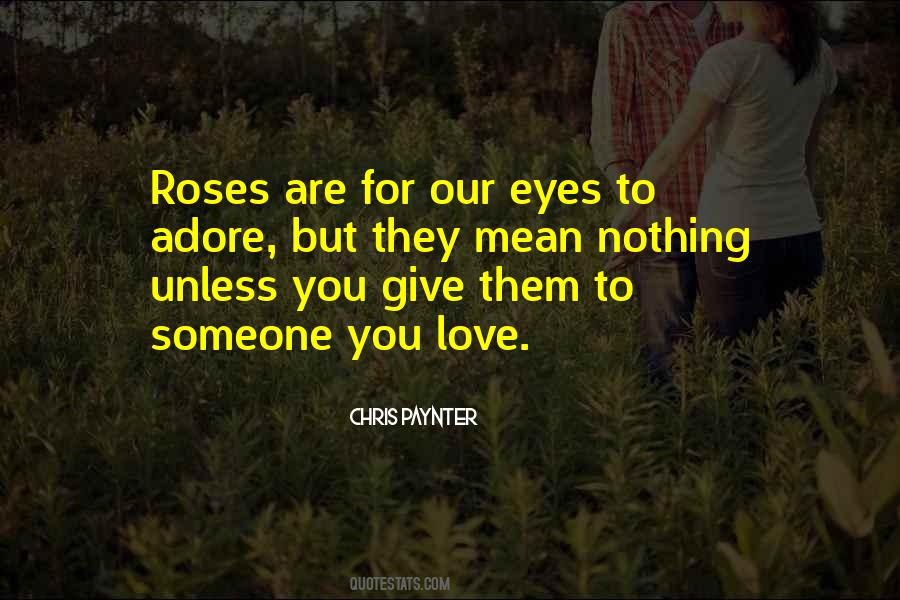 #52. My girlfriend always told me, 'Send roses while they can still smell them, tell people you love them while they can still hear.' - Author: Manti Te'o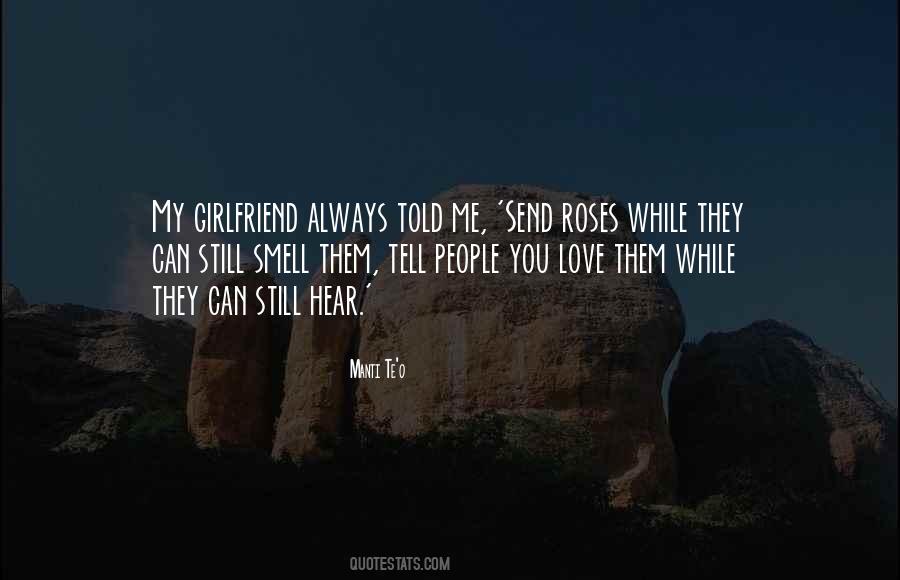 #53. People complain because roses have thorns; I am thankful that thorns have roses because I have finally learned not to pick them the next time around. - Author: Shannon L. Alder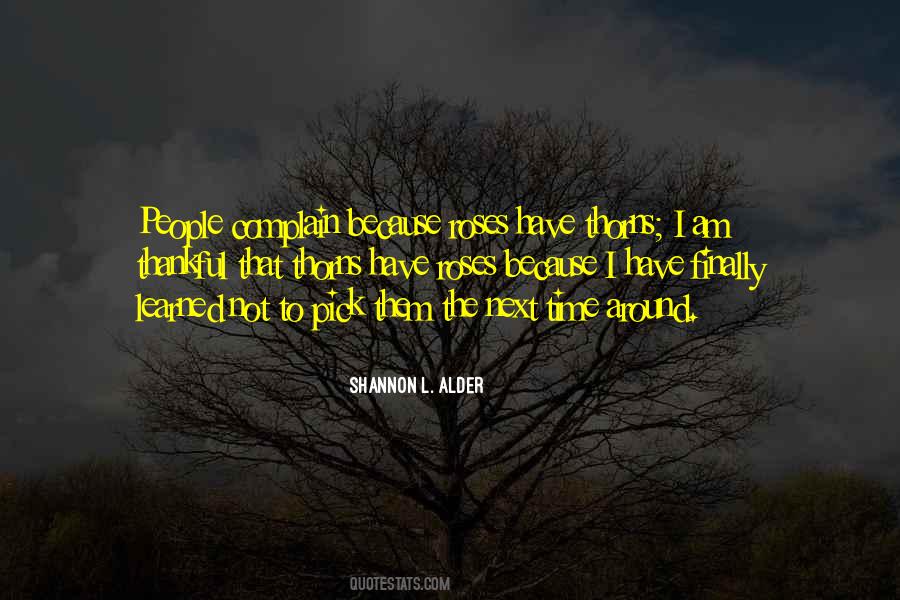 #54. We wouldn't ask why a rose that grew from the concrete for having damaged petals, in turn, we would all celebrate its tenacity, we would all love its will to reach the sun, well, we are the roses, this is the concrete and these are my damaged petals, dont ask me why, thank god, and ask me how - Author: Tupac Shakur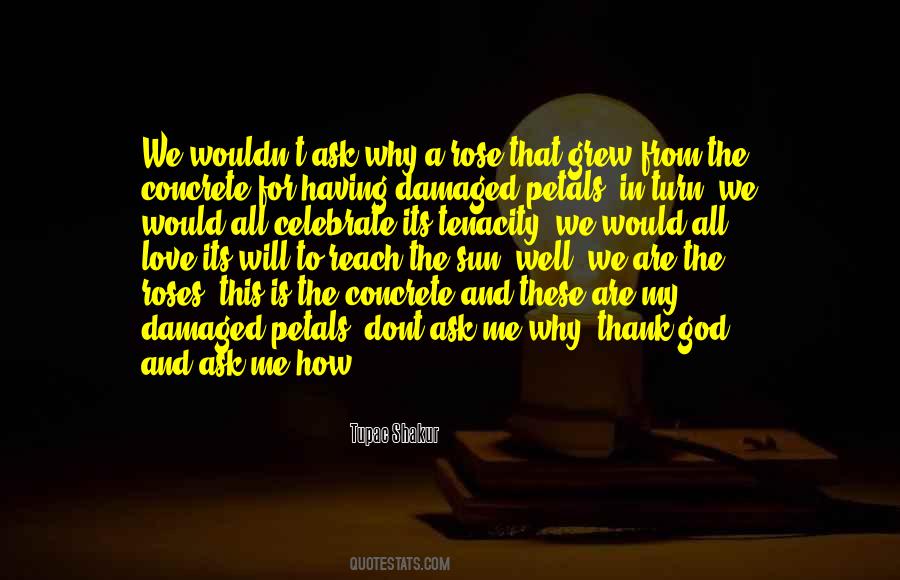 #55. Everytime Ah see uh patch uh roses uh somethin' oversportin' theyselves makin' out they pretty, Ah tell 'em 'Ah want yuh tuh see mah Janie sometime.' You must let de flowers see yuh sometimes, heah, Janie? - Author: Zora Neale Hurston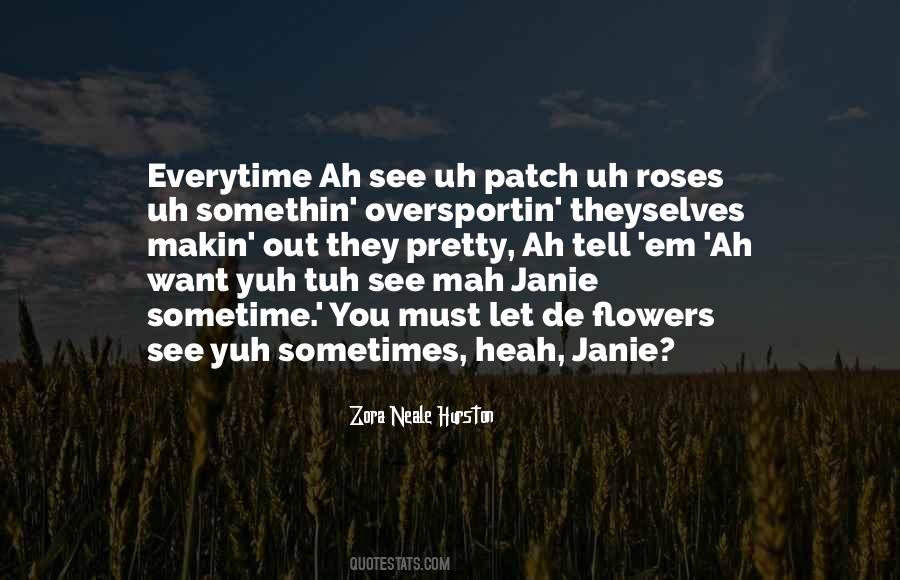 #56. People where you live grow five thousand roses in one garden ... yet they don't find what they are looking for. - Author: Antoine De Saint-Exupery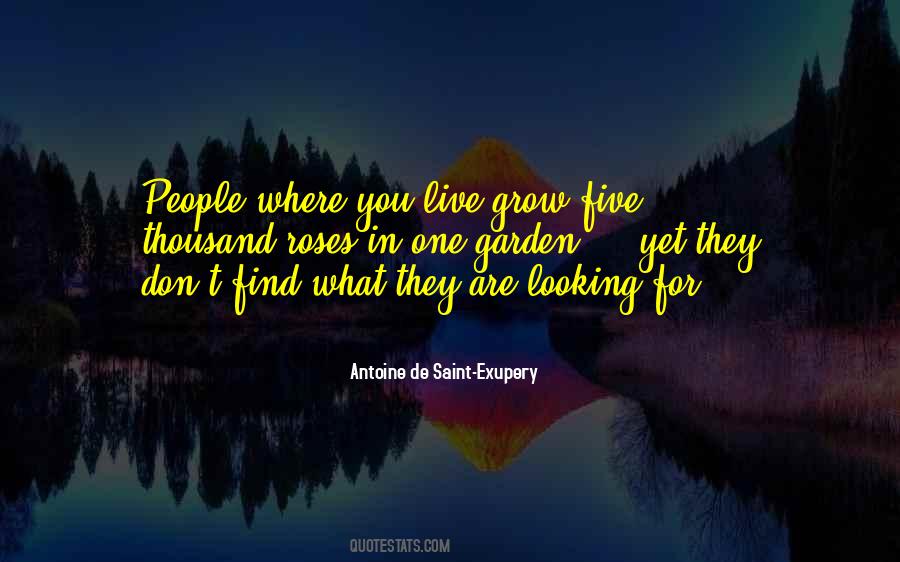 #57. Such a morning it is when love leans through geranium windows and calls with a cockerel's tongue. When red-haired girls scamper like roses over the rain-green grass, and the sun drips honey. - Author: Laurie Lee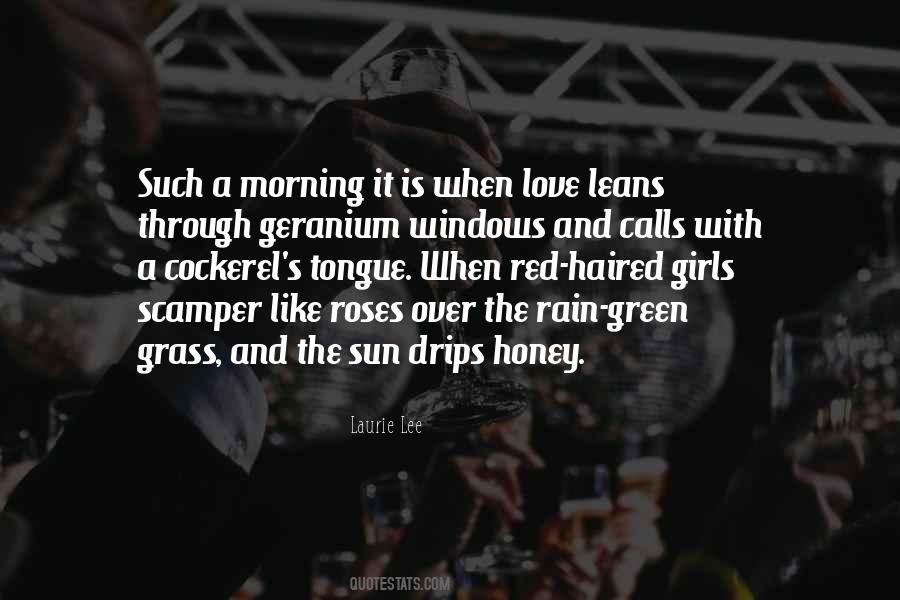 #58. As sure as roses will have thorns, love will bring you pain - Author: Teresa Bodwell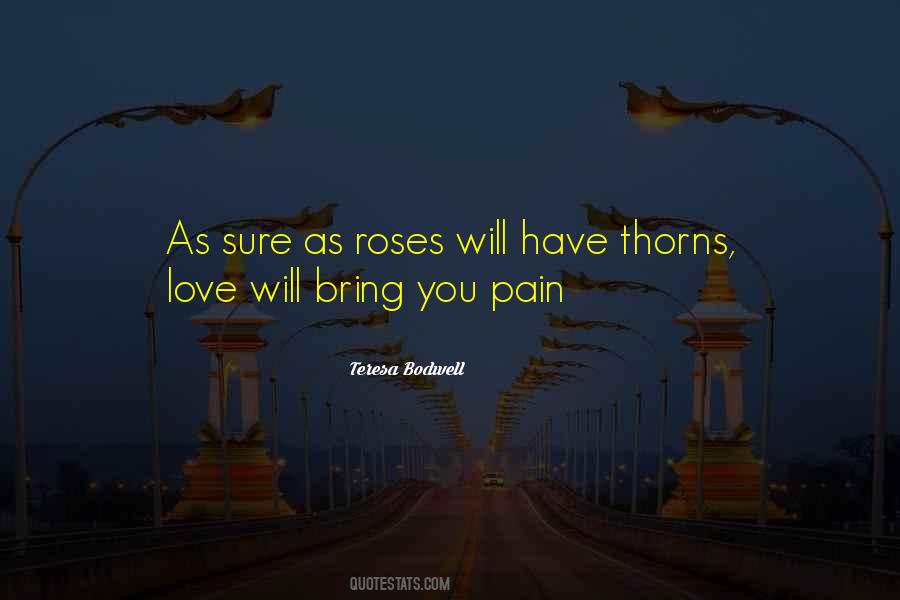 #59. The roses, the lovely notes, the dining and dancing are all welcome and splendid. But when the Godiva is gone, the gift of real love is having someone who'll go the distance with you. Someone who, when the wedding day limo breaks down, is willing to share a seat on the bus. - Author: Oprah Winfrey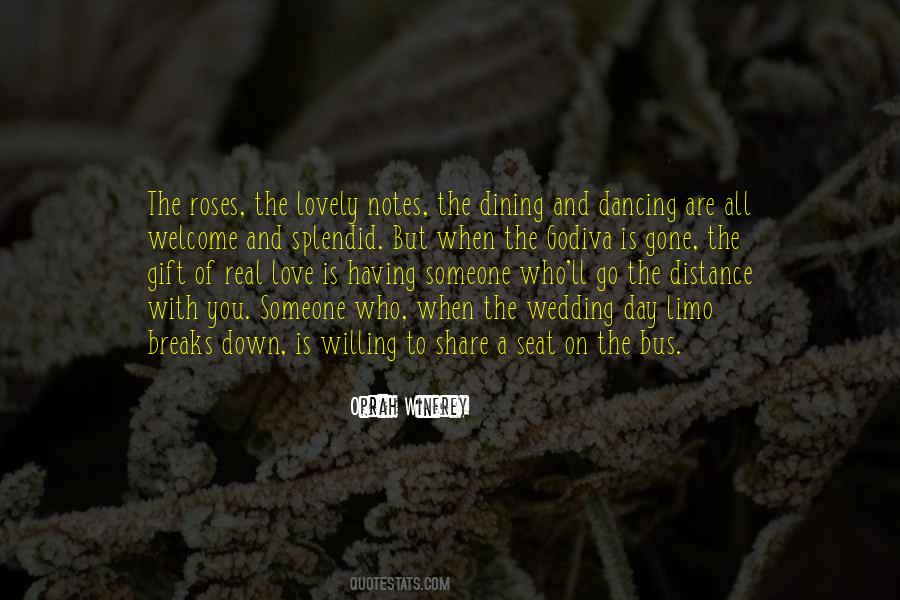 #60. I'd love to have the whole place swimming in roses - Author: James Joyce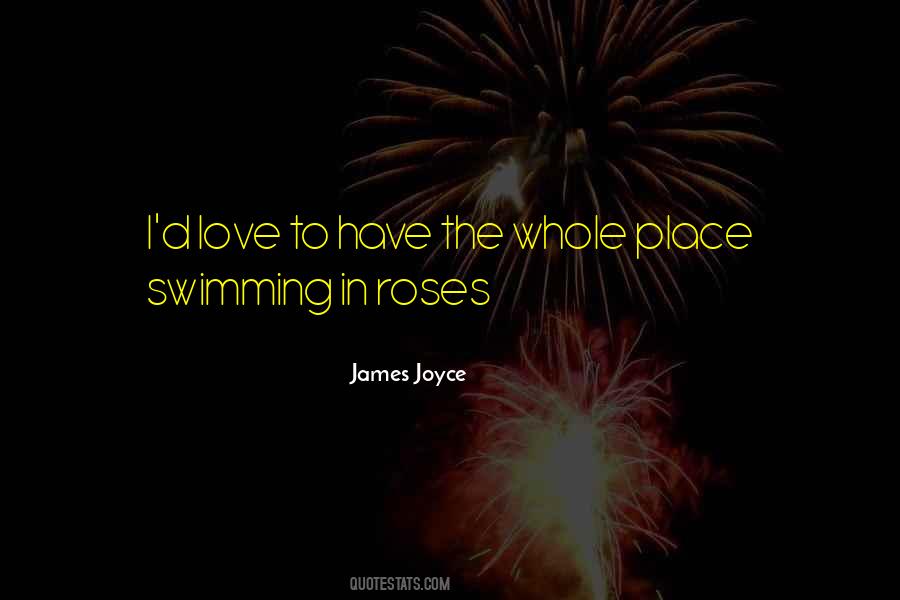 #61. I love bringing roses to a woman when she least expects it. - Author: Esai Morales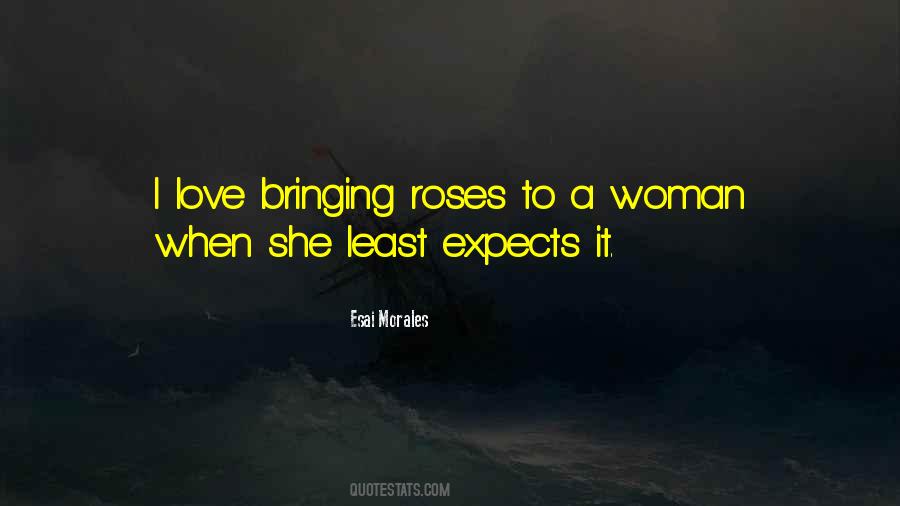 #62. Come, come everyone, come with love, come with joy, come to my heart, there is always spring, roses always smiling, soul is always singing with joy in the light of love. I am waiting, are you coming. My heart is always ready to dance, always ready to love, always ready with a song. - Author: Debasish Mridha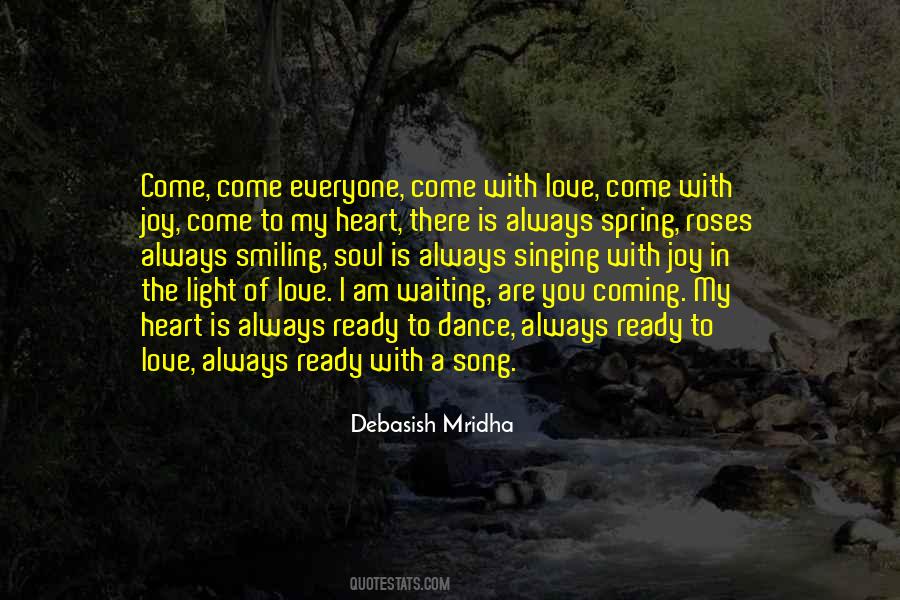 #63. Sometimes I struggle. Sometimes I falter. Sometimes I live in gray. But always I remember the yarrow you've grown in the spaces of my rib cage. I now love with roses from my heart, with lilacs from my mouth. - Author: Elijah Noble El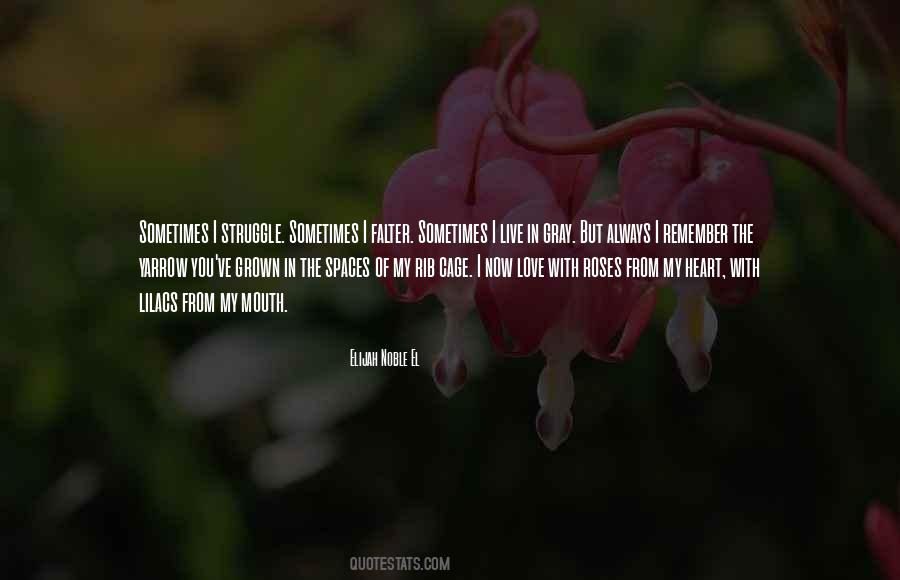 #64. One who loves roses cannot avoid its thorns. - Author: Matshona Dhliwayo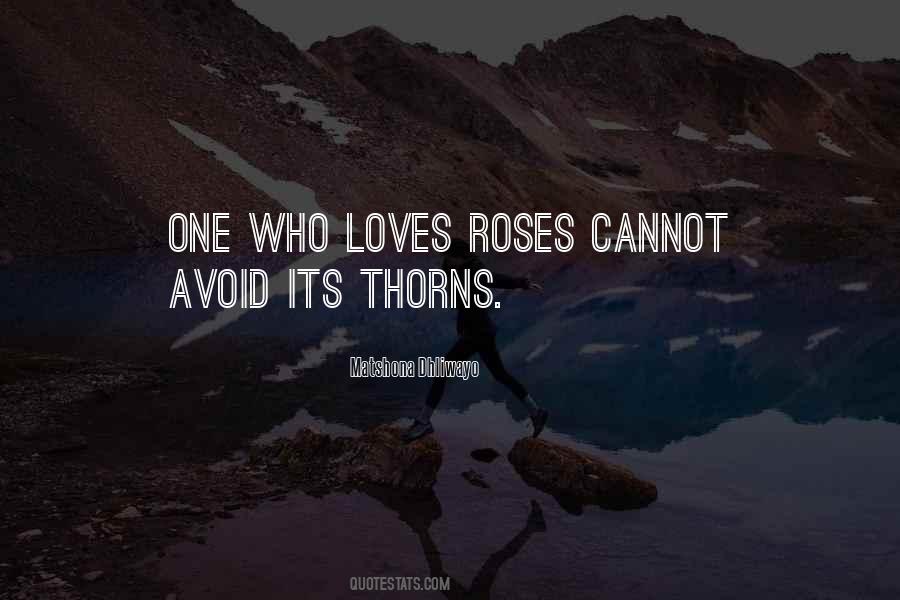 #65. Eyes. "I'm sorry for your loss, Emma," he said stepping forward, offering them to me. "The opened roses are for your parents, and the one that's still closed, is for you. With the love and support around you, it's just a matter of time before you bloom. - Author: Cameo Renae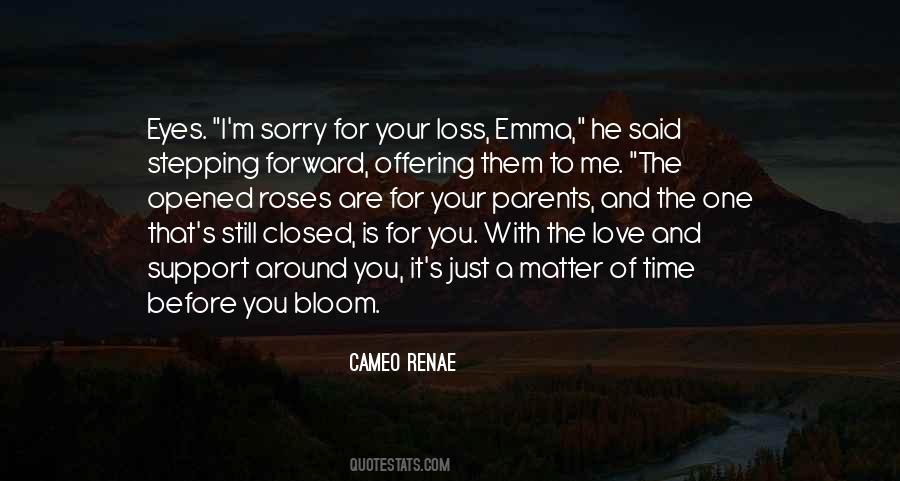 #66. The snows and the roses of yesterday are vanished;
And what is love but a rose that fades? - Author: Edgar Lee Masters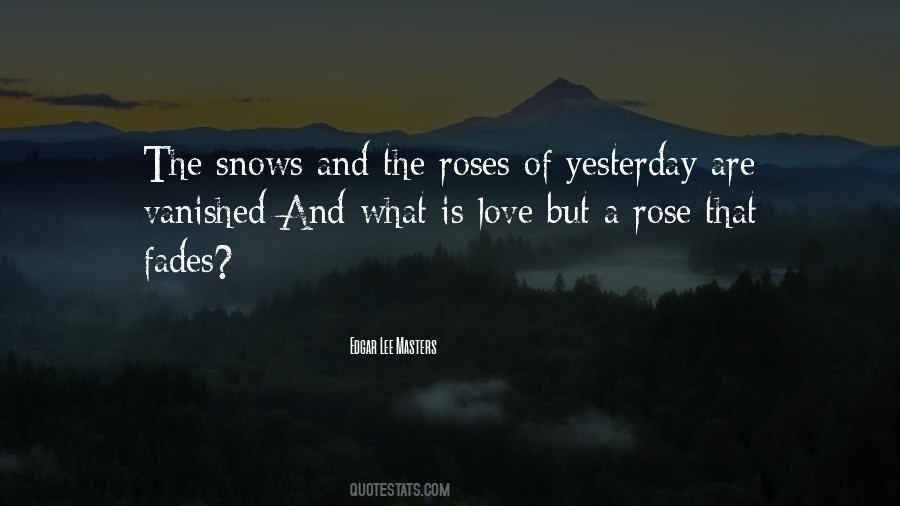 #67. Can anyone remember love? It's like trying to summon up the smell of roses in a cellar. You might see a rose, but never the perfume. - Author: Arthur Miller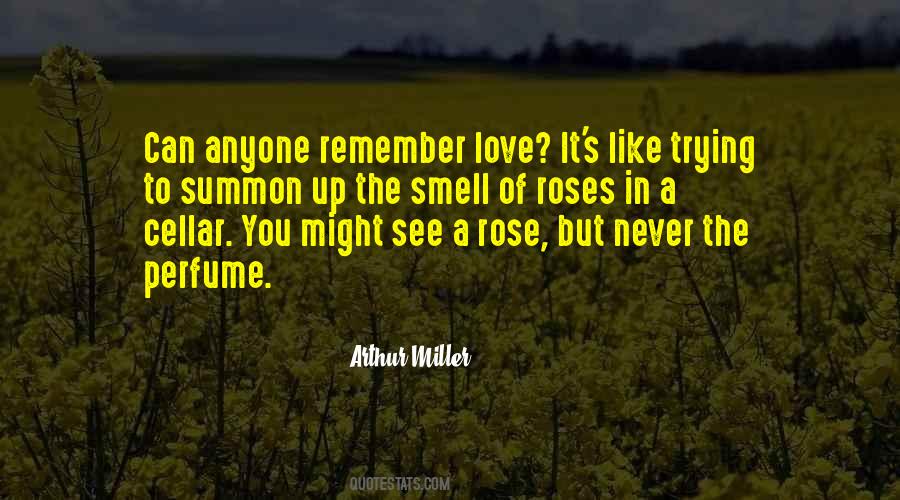 #68. Love won't always be sunshine and roses there is also sadness. - Author: Auliq Ice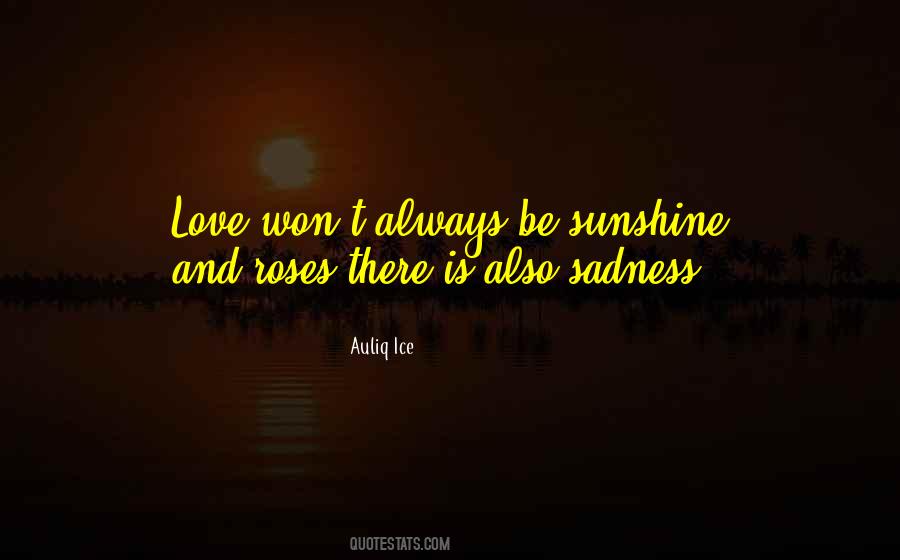 #69. O rose! the sweetest blossom,
Of spring the fairest flower,
O rose! the joy of heaven.
The god of love, with roses
His yellow locks adorning,
Dances with the hours and graces. - Author: James Gates Percival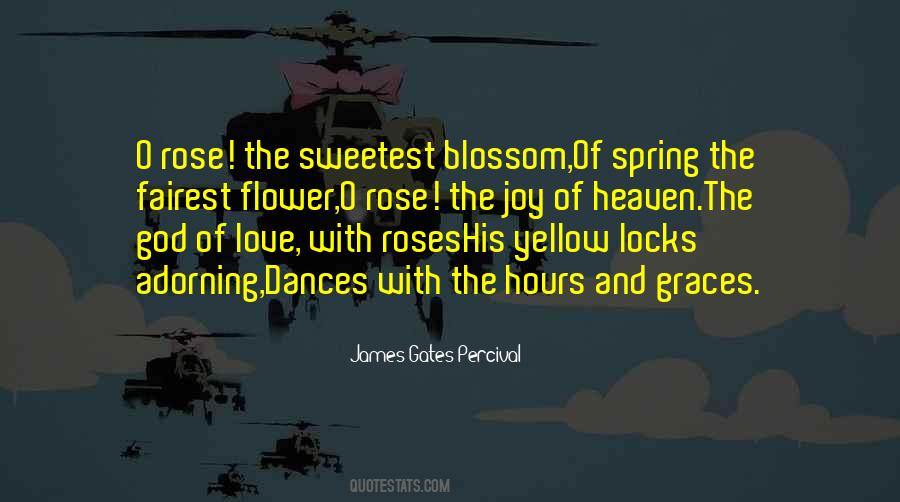 #70. If the Age of Sport has been all champagne and roses hitherto, then expect our love affair with its newly-acquired prominence to become increasingly tainted by scandals about cheating. Sport is losing its shine and allure. - Author: Martin Jacques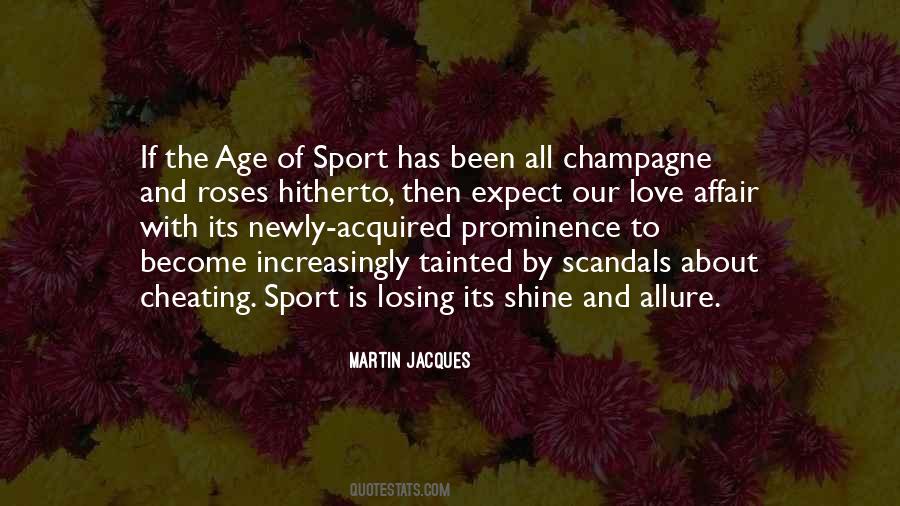 #71. Love is the only thing in this whole universe, that can make the roses grow out of the swords. - Author: Akshay Vasu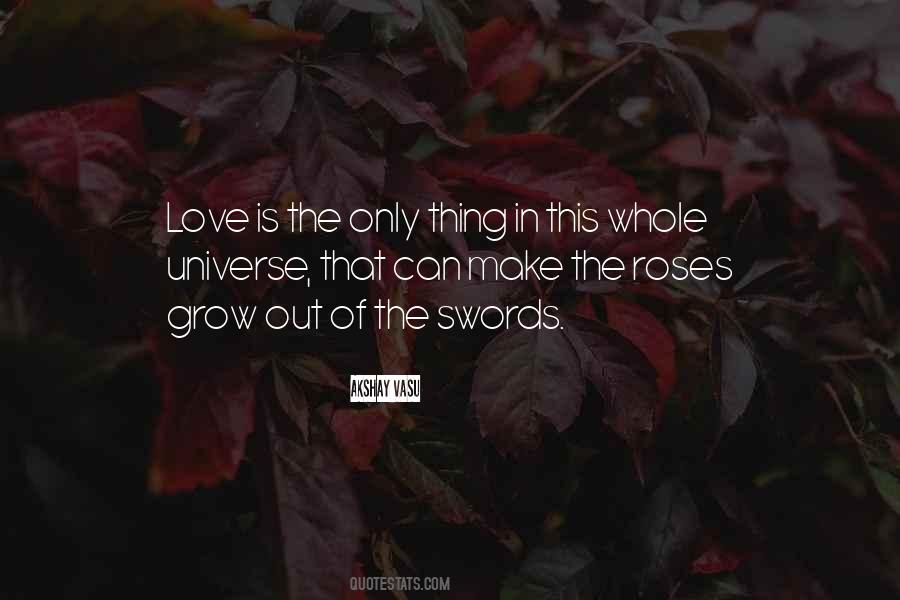 #72. Noah doesn't hold hands often. In fact, it was one of the few rules I understood, and it's not lost on me how special this moment is. It's like the roses. Noah's showing me his love. - Author: Katie McGarry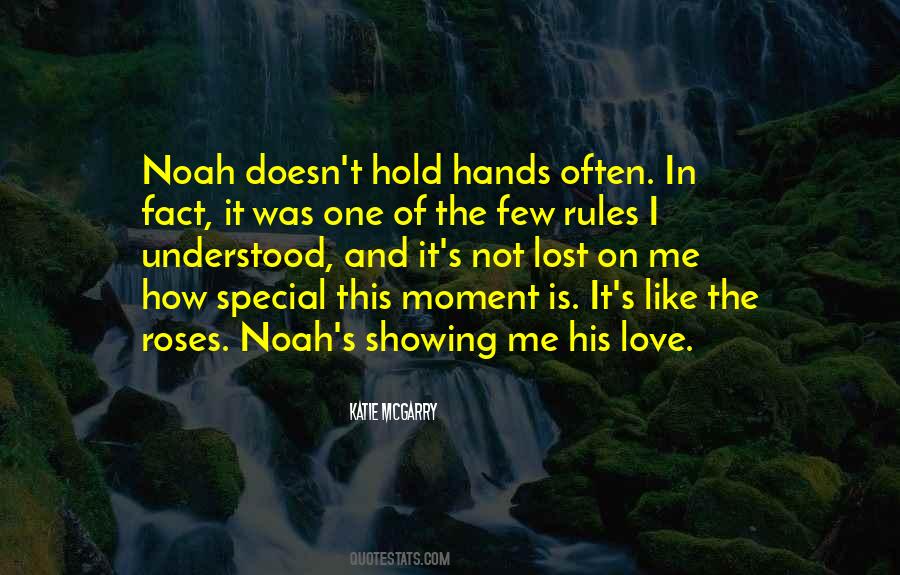 #73. I'm talking about the language of flowers. It's from the Victorian era, like your name. If a man gave a young lady a bouquet of flowers, she would race home and try to decode it like a secret message. Red roses mean love; yellow roses infidelity. So a man would have to choose his flowers carefully. - Author: Vanessa Diffenbaugh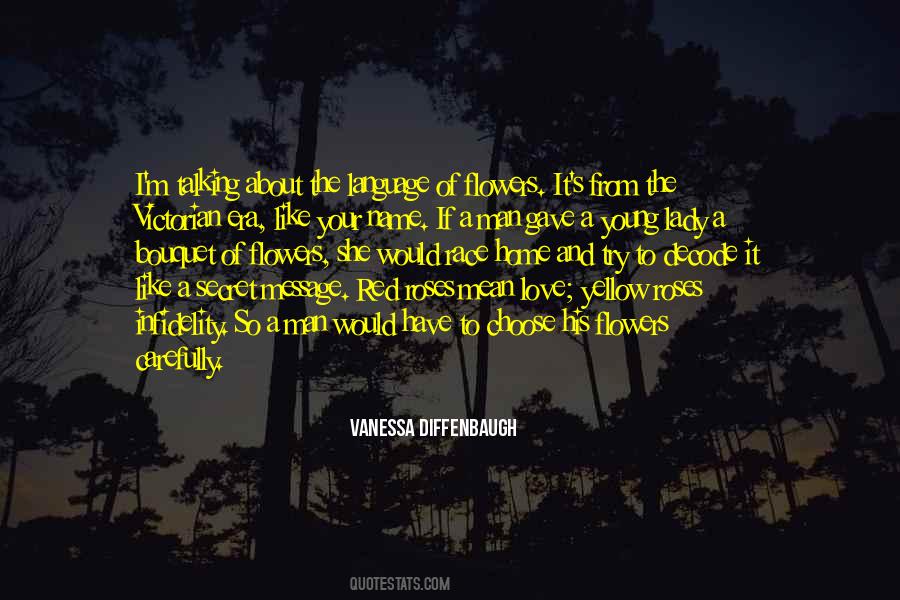 #74. I came to claim the one I love. - Author: Sarah J. Maas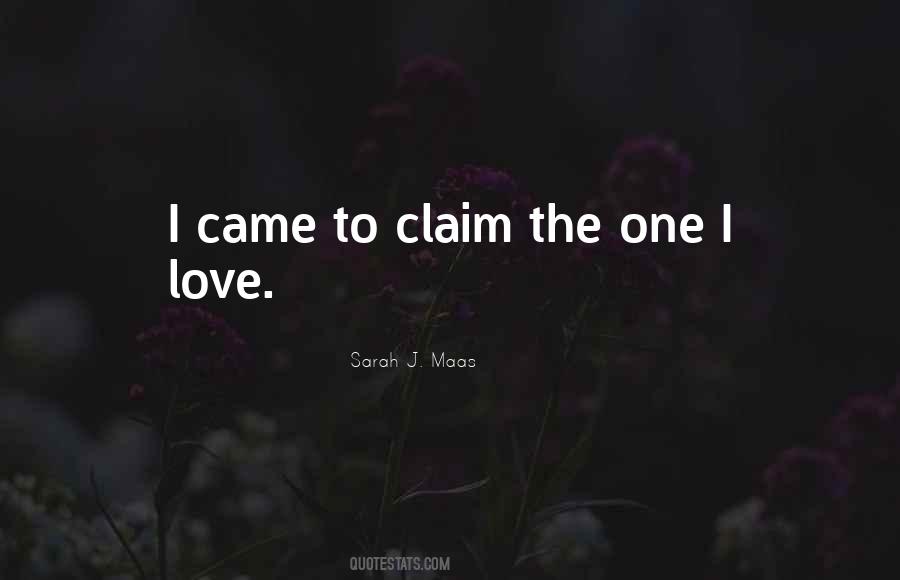 #75. You are lovelier than all the roses in the world. - Author: Avijeet Das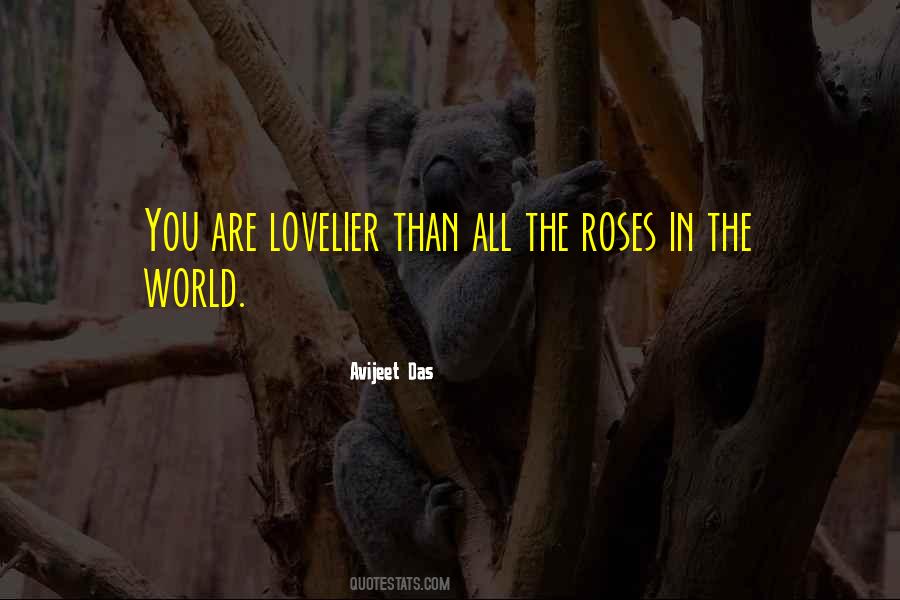 #76. Two or more year ago she was out workin' in her rose garden one mornin' - did you know, boy, she's got over sixty different kinds out there? - and she said to me, said, 'Mr. Blakeslee, I wouldn't even mind dyin' if'n I could be buried in a bed of roses. - Author: Olive Ann Burns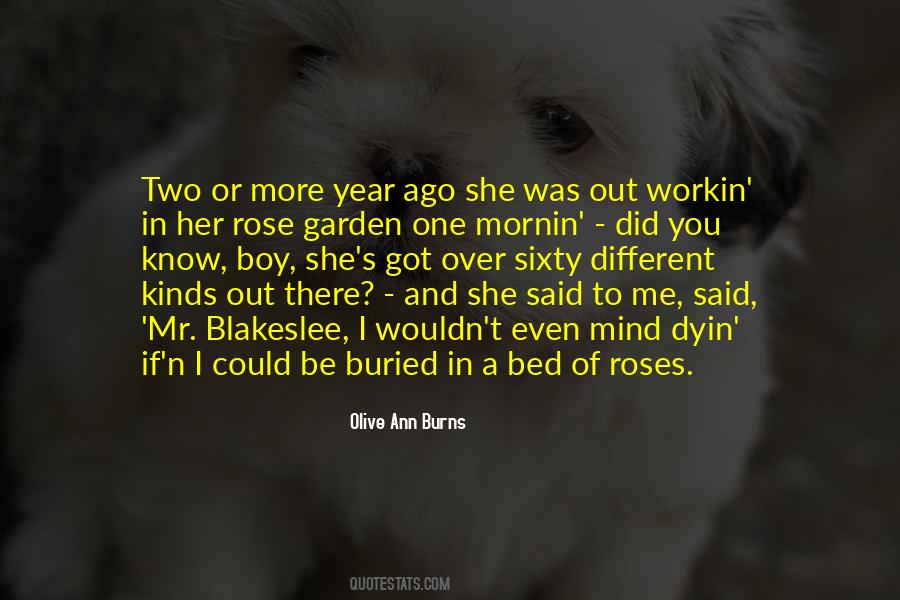 #77. When I had that attack of pleurosis - he asked me what was the matter when I came back. I said pleurosis - he thought that I said Blue Roses! So that's what he always called me after that. Whenever he saw me, he'd holler, Hello, Blue Roses! - Author: Tennessee Williams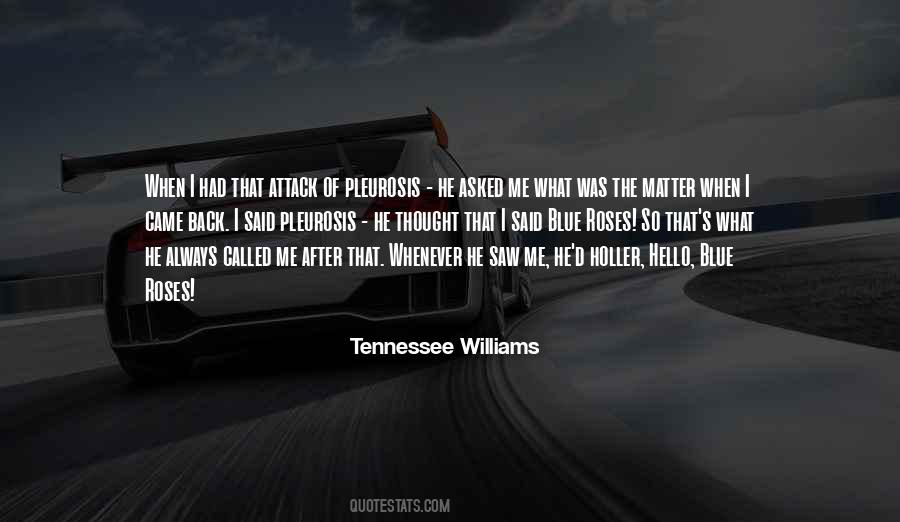 #78. Love in your heart is better than roses in your hand. - Author: Matshona Dhliwayo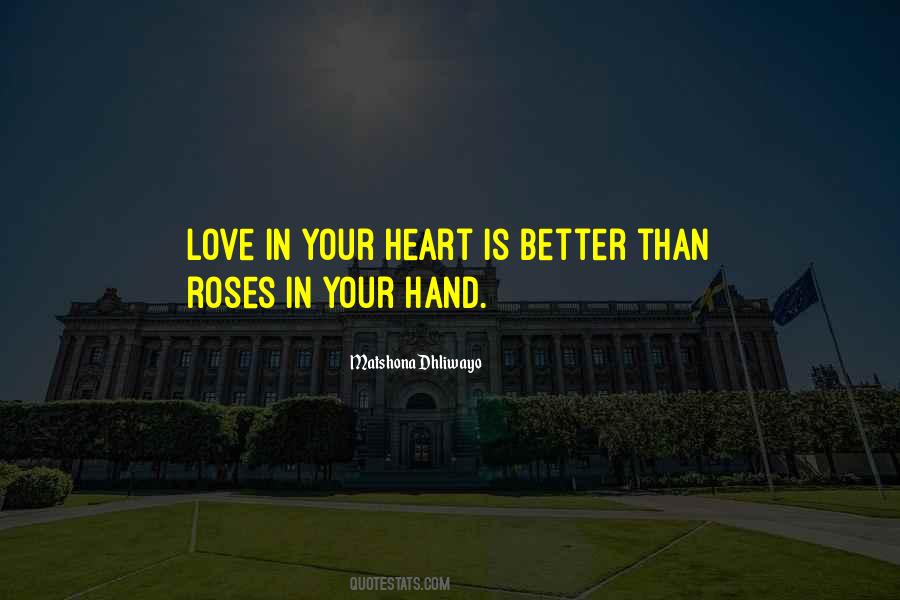 #79. I love to smell like roses, literally all day! - Author: Rachel Roy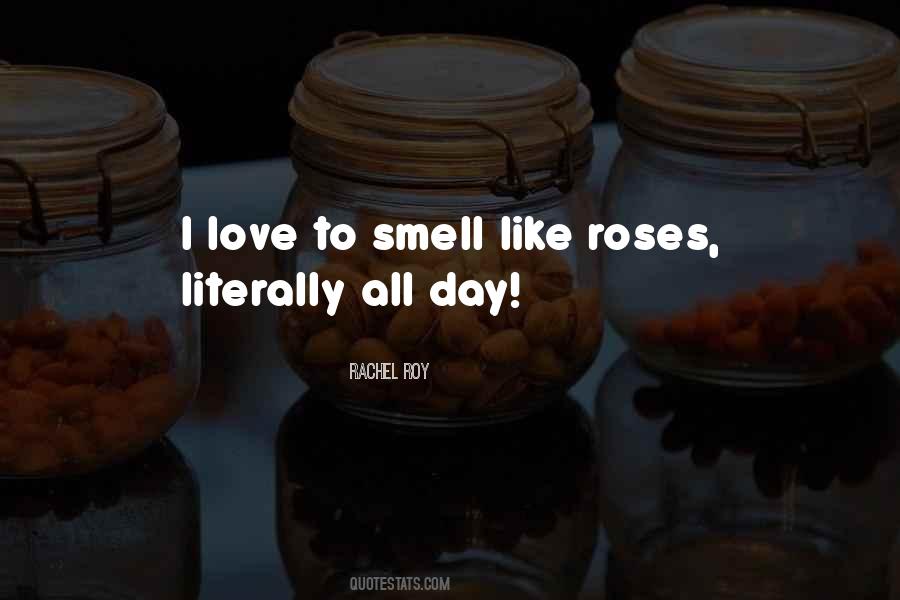 #80. Give her two red roses, each with a note. The first note says For the woman I love and the second, For my best friend. - Author: Saint Augustine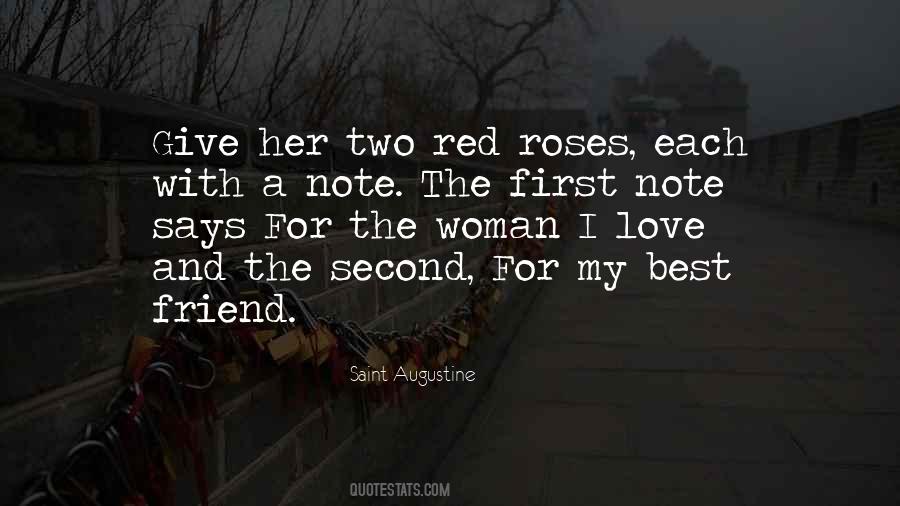 #81. It is the time you have wasted for your rose that makes your rose so important. - Author: Antoine De Saint-Exupery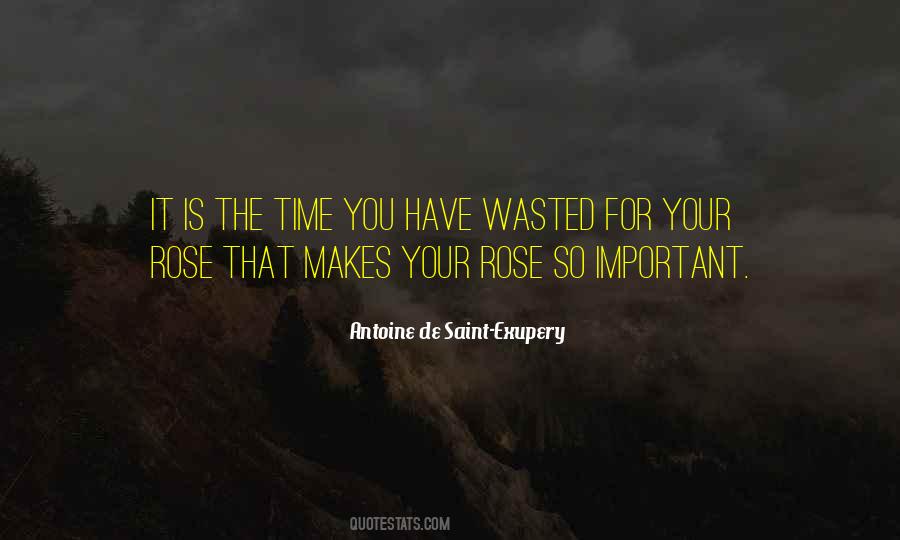 #82. I love 'The War Of The Roses,' especially as my husband is in it! I've often said to him it would be great to remake that with me and him in it, because then we could really get down to some serious business. - Author: Catherine Zeta-Jones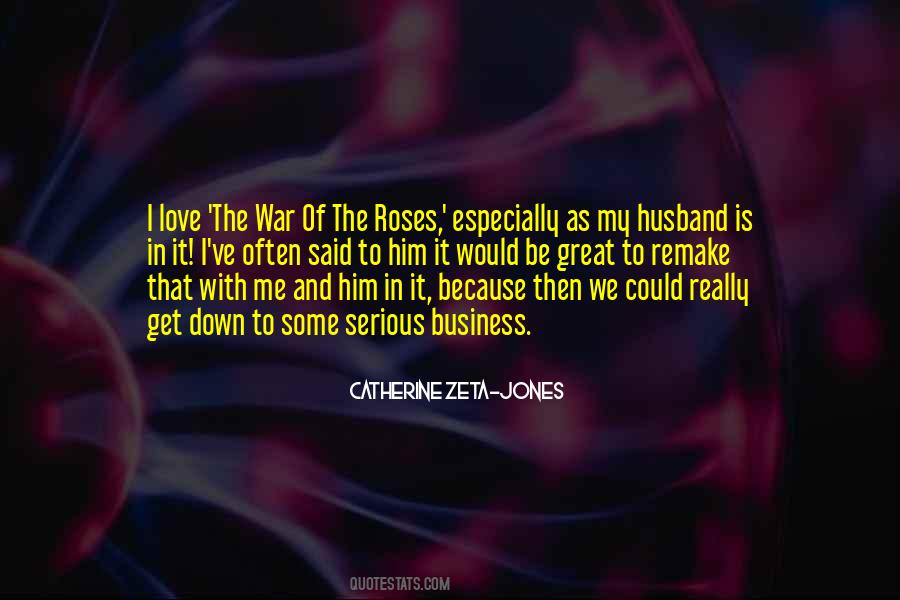 #83. they can't say I didn't love you they can't understand that some people love roses for the thorns and the way sometimes we need to be cut to feel alive and why I could walk away so calmly they said you were dead and remind me from time to time - Author: Mark Abukoff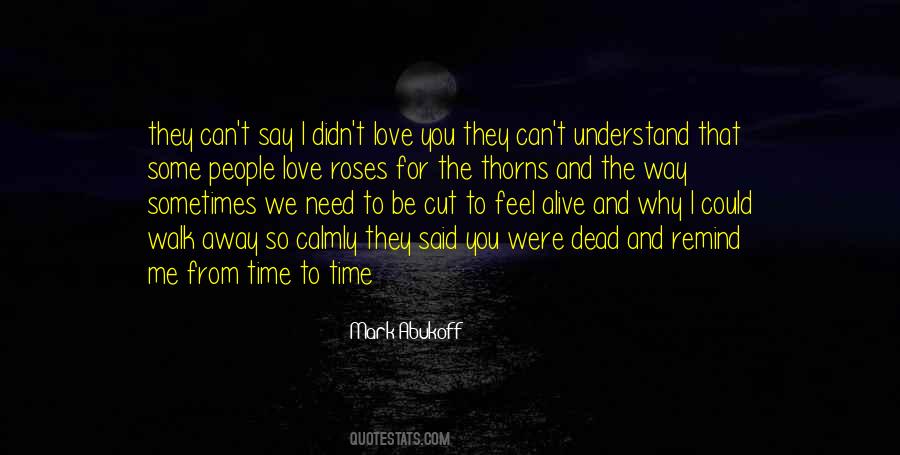 #84. I love Led Zeppelin and Black Sabbath and Guns N' Roses and AC/DC. - Author: Paul Dano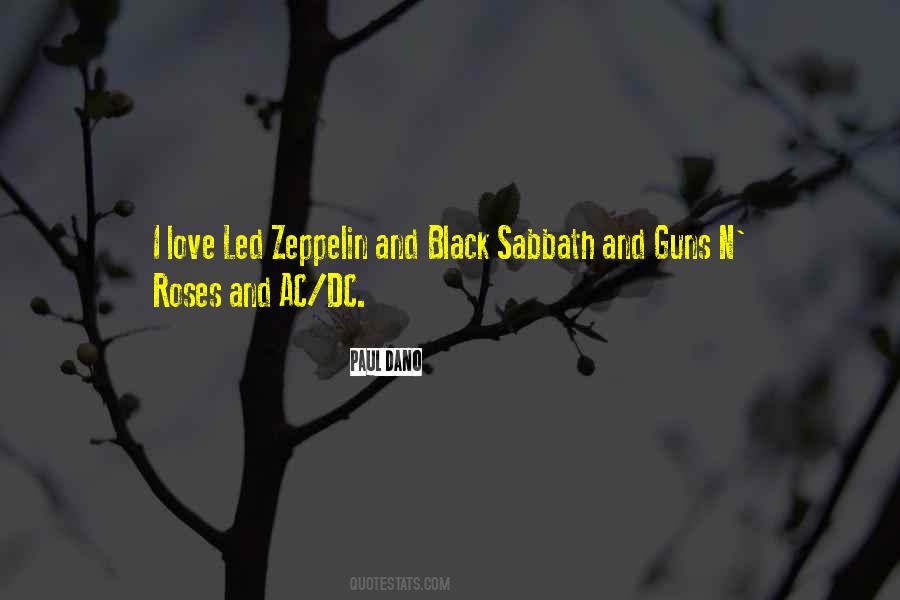 #85. Too often in my life, love has been defined as "humiliation with occasional roses". - Author: Deb Caletti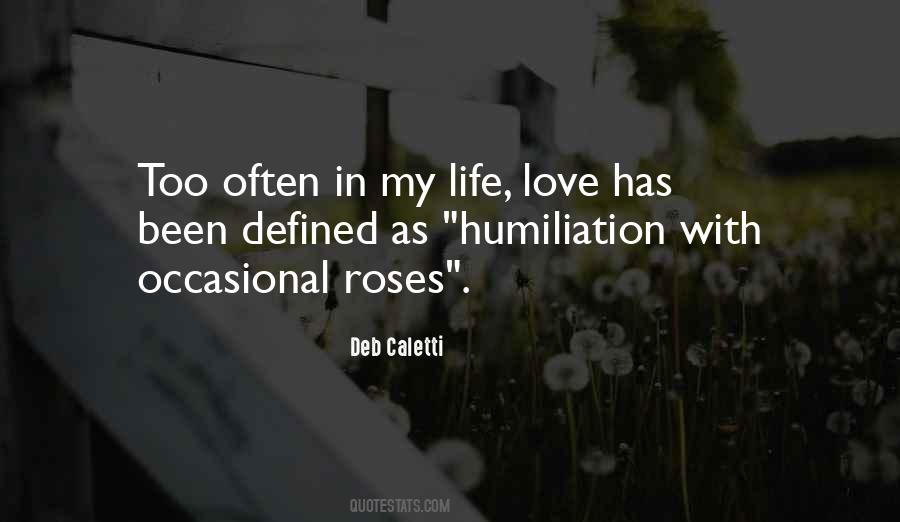 #86. We're withering roses trying to survive all we need is a little love and care and we can be blooming again - Author: Rose Withering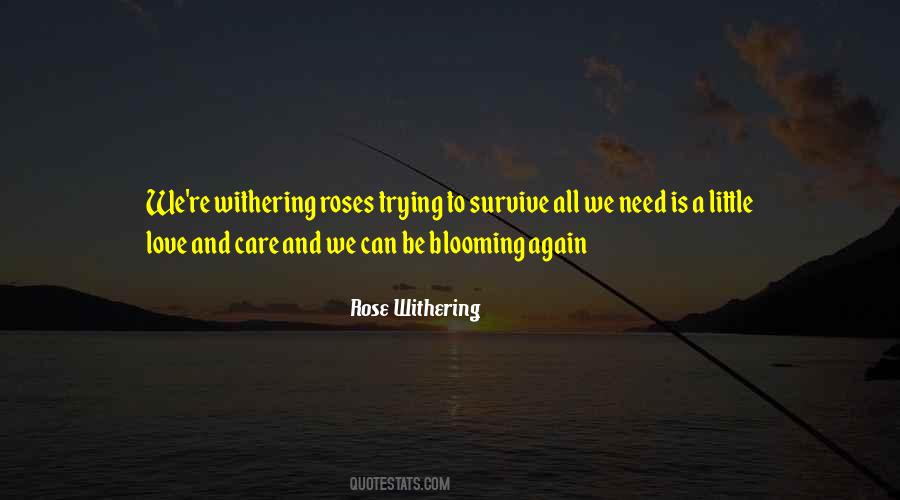 #87. Send two dozen roses to Room 424 and put "Emily, I love you" on the back of the bill. - Author: Groucho Marx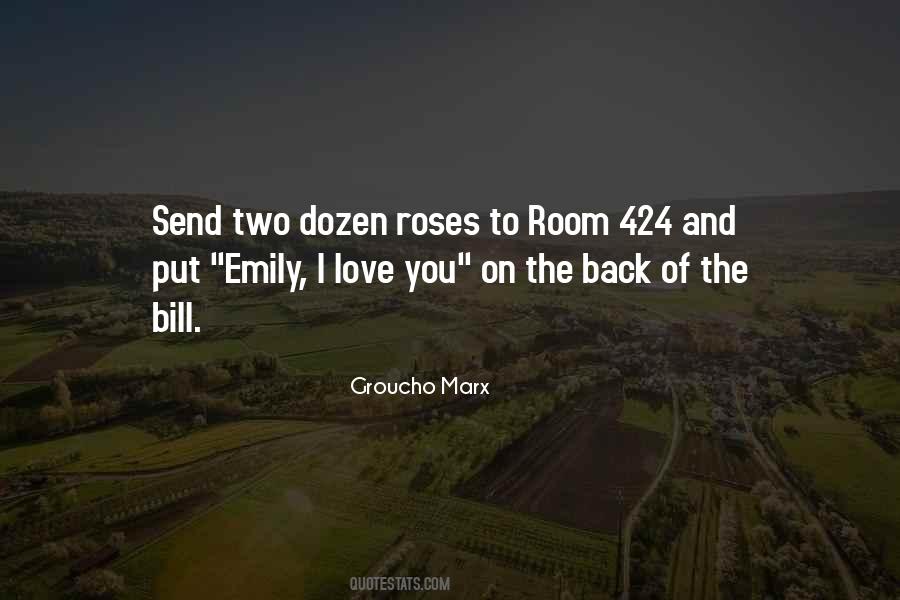 #88. Lys. How now, my love? Why is your cheek so pale? How chance the roses there do fade so fast?
Her. Belike for want of rain, which I could well beteem them from the tempest of my eyes. - Author: William Shakespeare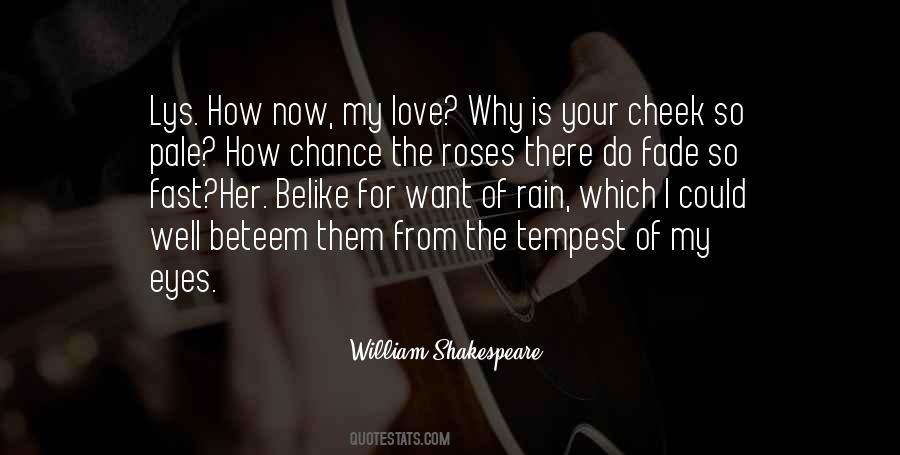 #89. I should probably warn you, my love isn't roses and champagne. I'm obsessive, jealous, and controlling, but I'm faithful and I'll be here when you need someone. - Author: Suzanne Steele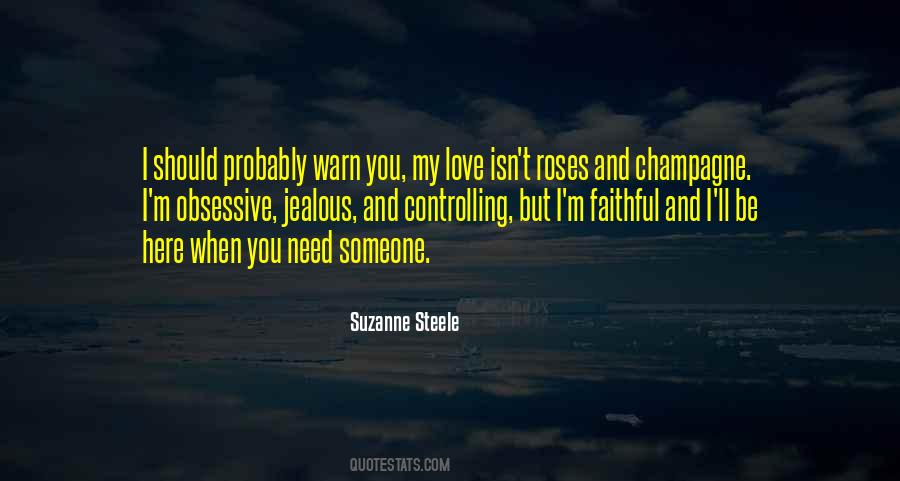 #90. I should like to freeze in time all those I do love, keep them somehow safe from the ravages of the passing years ... Rather like flowers pressed between the pages of a book! - Author: Sharon Kay Penman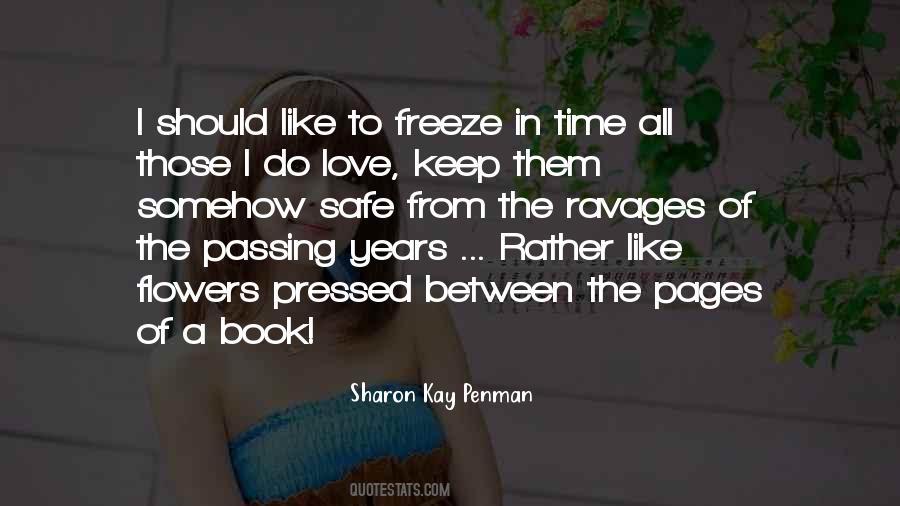 #91. Sweet, can I sing you the song of your kisses? How soft is this one, how subtle this is, How fluttering swift as a bird's kiss that is, As a bird that taps at a leafy lattice; How this one clings and how that uncloses From bud to flower in the way of roses. - Author: Arthur Symons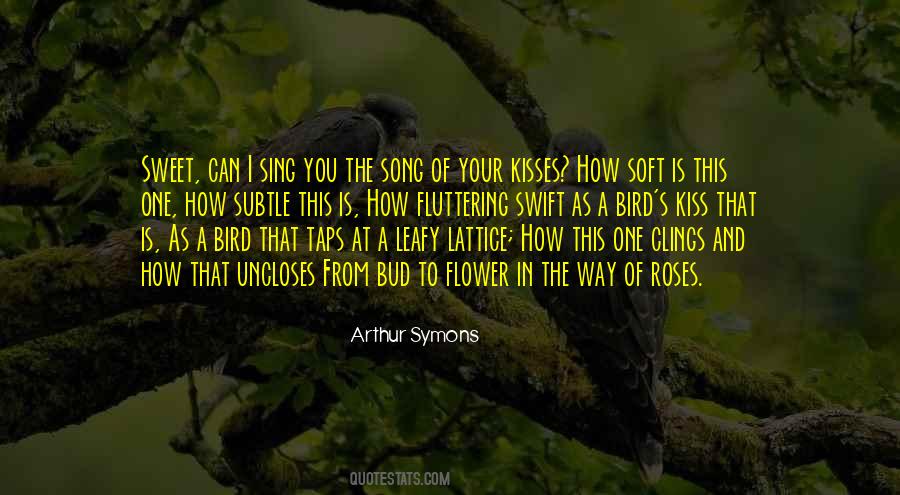 #92. meat is cut as roses are cut
men die as dogs die
love dies like dogs die,
he said. - Author: Charles Bukowski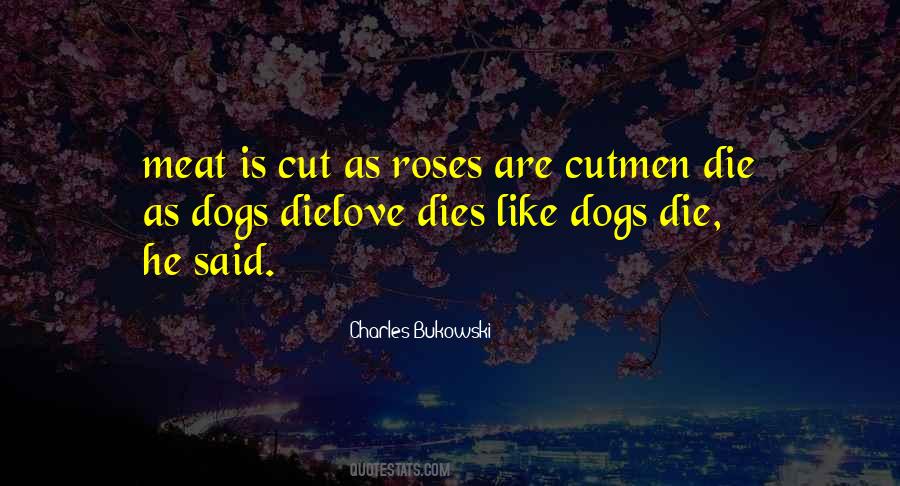 #93. Love, love,
I have hung our cave with roses. - Author: Sylvia Plath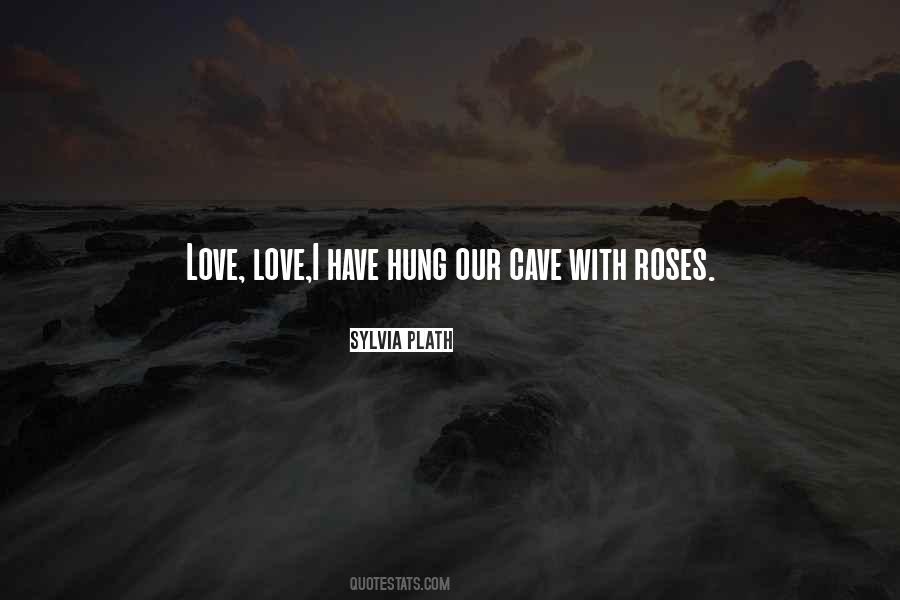 #94. If you love the roses, that is ordinary; if you love the weeds, that is extraordinary! Rather than being common, be extraordinary! - Author: Mehmet Murat Ildan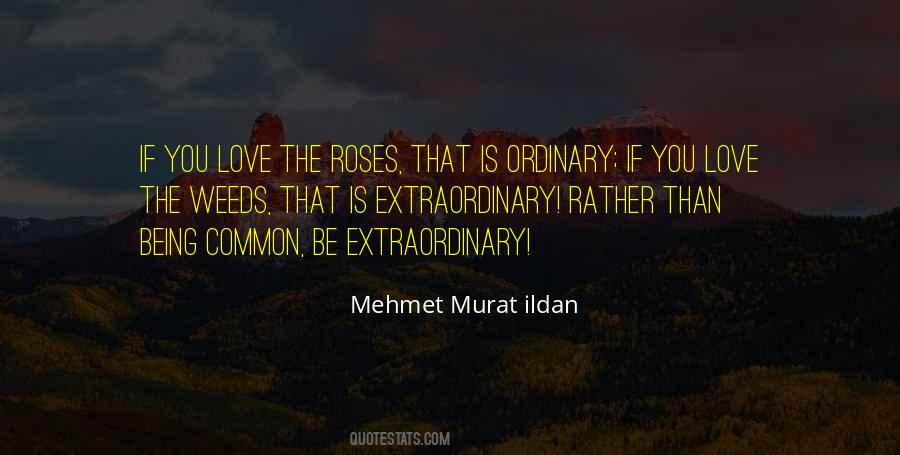 #95. I will turn human anatomy into roses and stars and sea. I will dissect the beloveds body in metaphor. - Author: Siri Hustvedt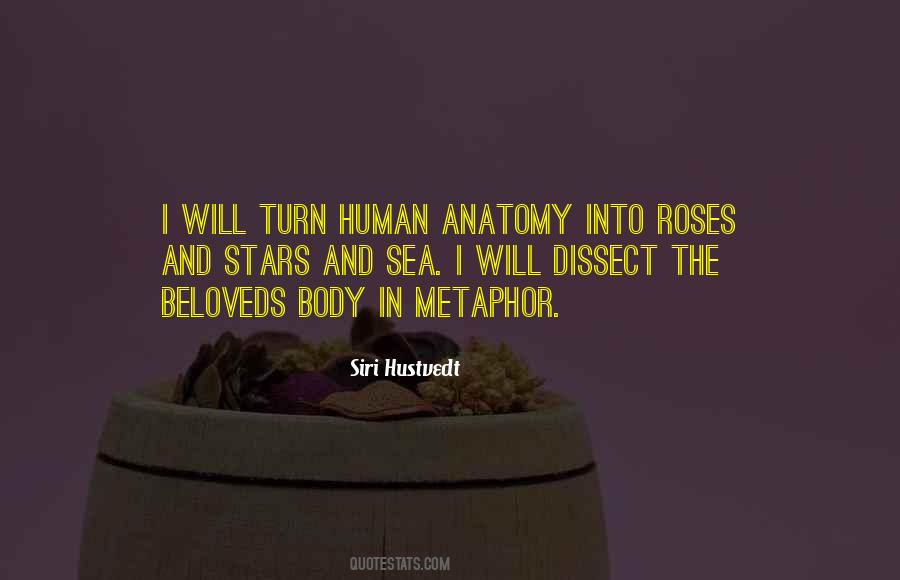 #96. I do not know what it is about you that closes
and opens;only something in me understands
the voice of your eyes is deeper than all roses - Author: E. E. Cummings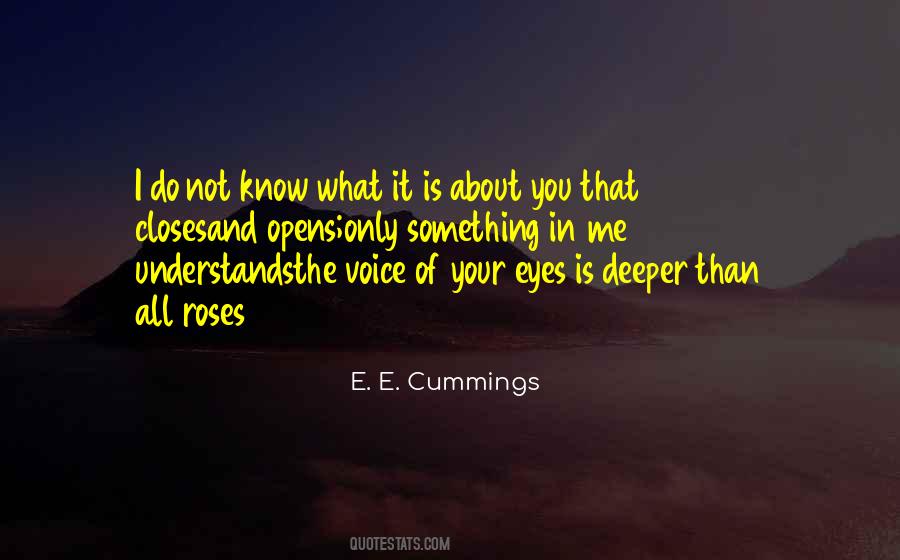 #97. She is forever beautiful just like the roses. - Author: Avijeet Das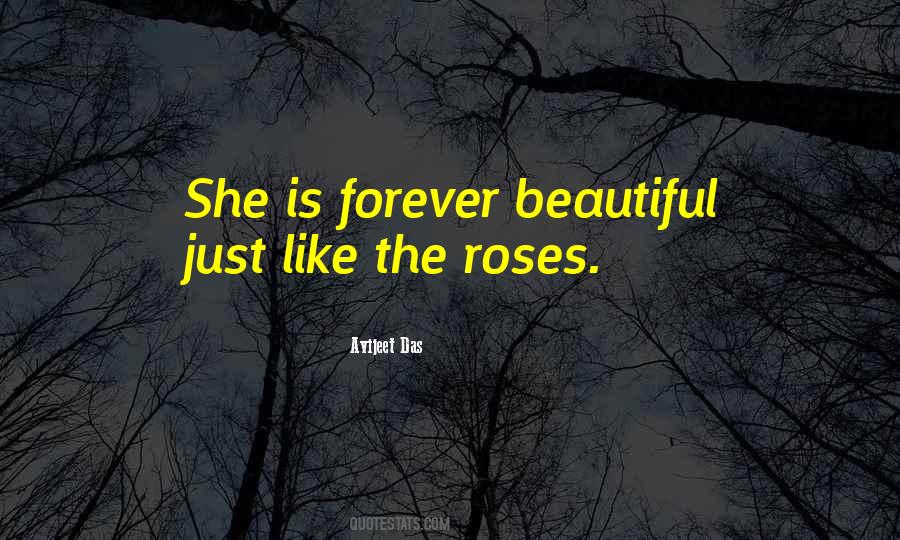 #98. In the garden of existence, there exists two beautiful roses: Music and love. - Author: Mehmet Murat Ildan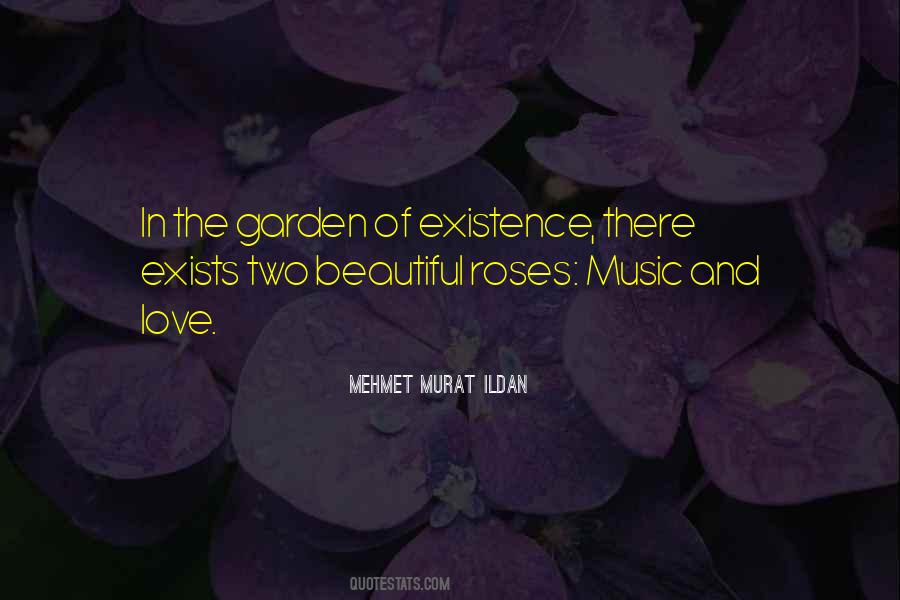 #99. you were
and always will be

that first ever touch
to have fertilized
the ground
beneath my life's trees

that first ever rose
to have fragranced
the rest of my memories. - Author: Sanober Khan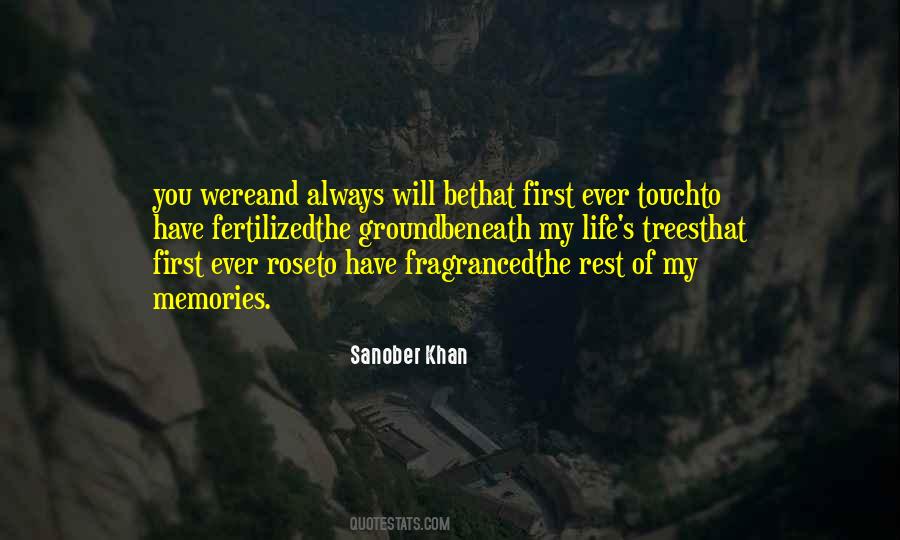 #100. I love Aerosmith. I love Guns N' Roses, AC/DC, anything from that era, Led Zeppelin. So my guitar style is very much like Slash or Jimmy Page. I love playing that kind of music. It's where my heart's at. - Author: Billy Unger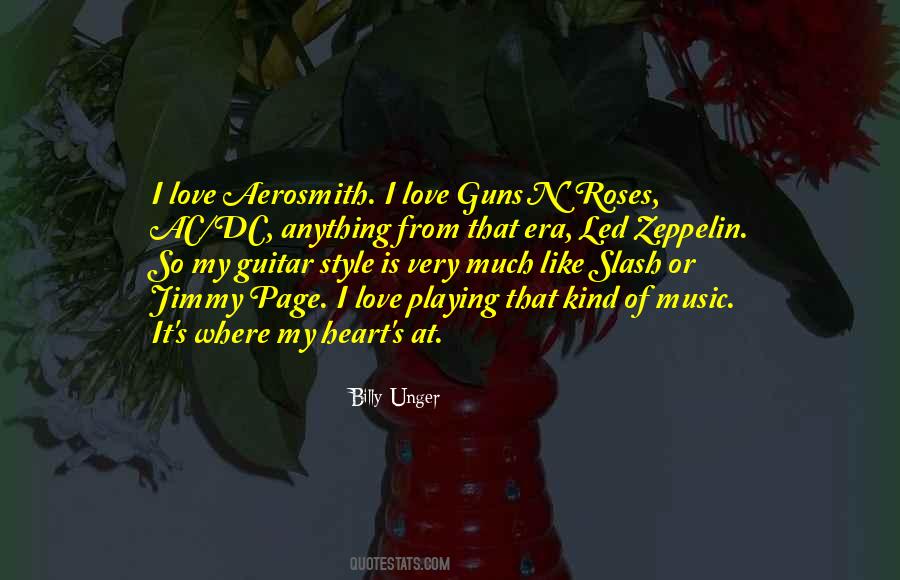 Famous Authors
Popular Topics