Religious Conflict Famous Quotes & Sayings
List of top 34 famous quotes and sayings about religious conflict to read and share with friends on your Facebook, Twitter, blogs.
Top 34 Quotes About Religious Conflict
#1. The religious scholars I have consulted are passionate about the need for political leaders to educate themselves in the varieties of faith and to see religion more as a potential means for reconciliation than as a source of conflict. - Author: Madeleine Albright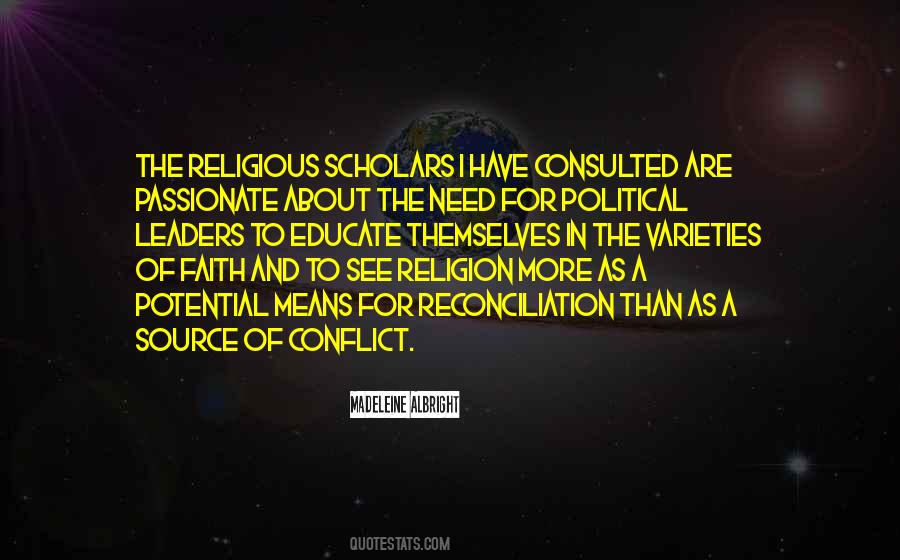 #2. Religion is the cause of all the problems in the world. I don't believe in organized religion at all. It's what separates people. One religion just represents fragments, it causes war. More people have died because of religious conflict than any other reason. - Author: Gwyneth Paltrow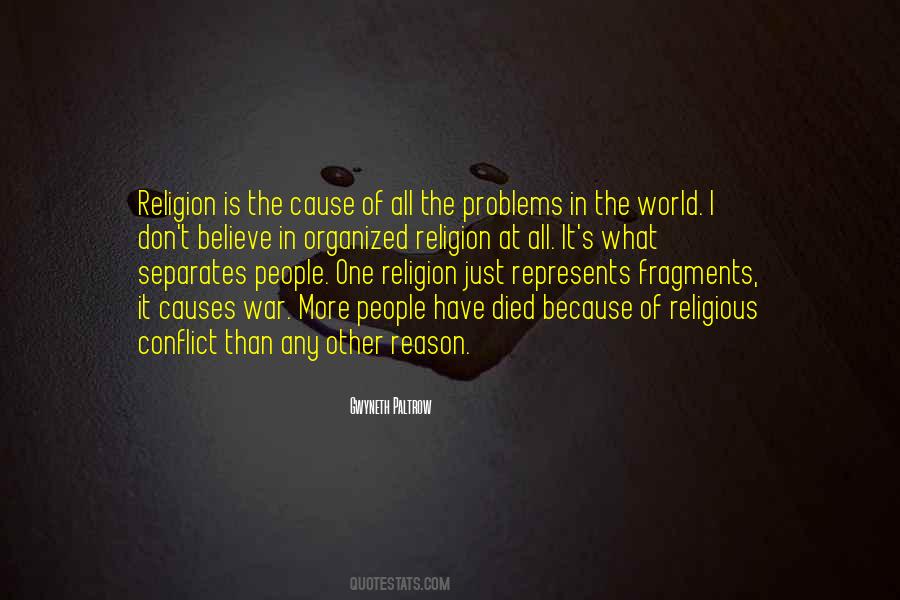 #3. The truth, however, is that the conflict between religion and science is unavoidable. The success of science often comes at the expense of religious dogma; the maintenance of religious dogma always comes at the expense of science. - Author: Sam Harris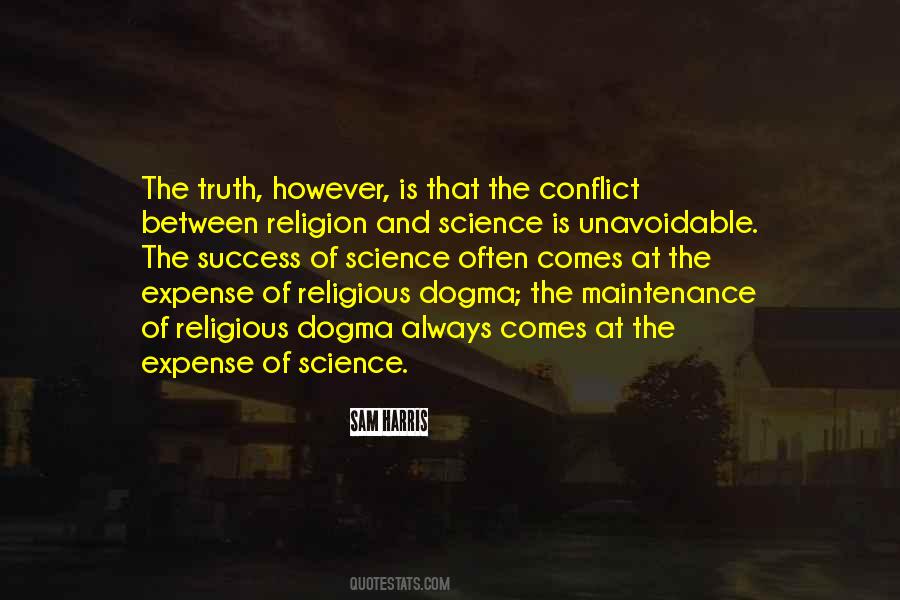 #4. It is this mythical, or rather symbolic, content of the religious traditions which is likely to come into conflict with science. This occurs whenever this religious stock of ideas contains dogmatically fixed statements on subjects which belong in the domain of science. - Author: Albert Einstein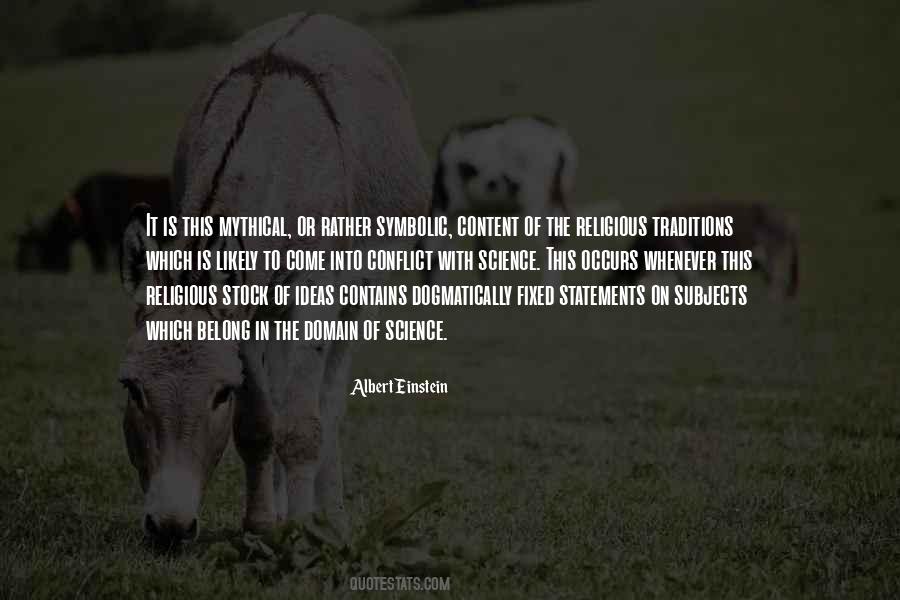 #5. When religious groups in a conflict eliminate the personal element and perceive themselves as representatives of collectives, heir actions tend to become more "radical" and "merciless." (Ch.3, by Jaco Cilliers, p. 48) - Author: David R. Smock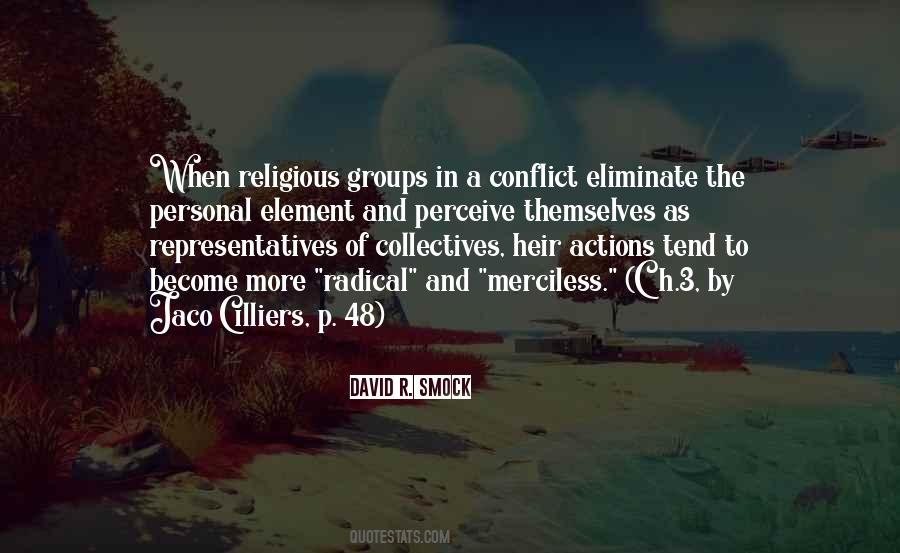 #6. Religious training and indoctrination creates internal states that are in conflict with natural urges and drives. - Author: Darrel Ray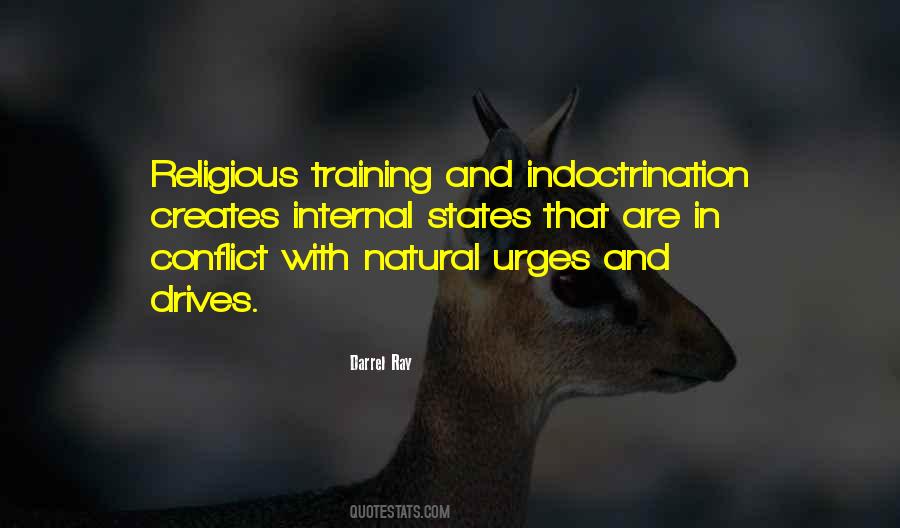 #7. A conflict arises when a religious community insists on the absolute truthfulness of all statements recorded in the Bible. This means an intervention on the part of religion into the sphere of science; this is where the struggle of the Church against doctrines of Galileo and Darwin belongs. - Author: Albert Einstein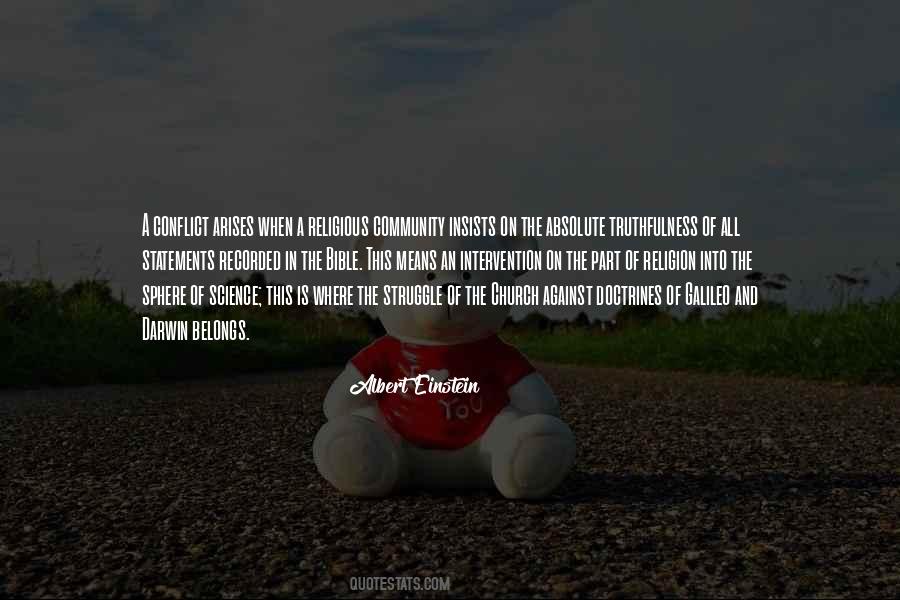 #8. Needless to say, if the Arab-Israeli conflict is about interstate disputes and the need to resolve the future of the West Bank and Gaza, it can be solved; if it is a religious conflict, nothing but violence is ahead. - Author: Elliott Abrams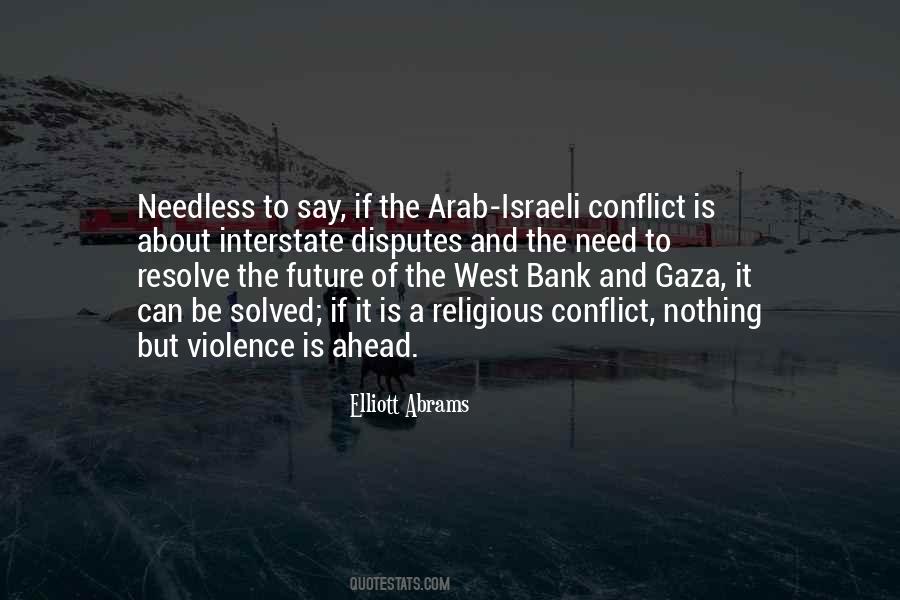 #9. Ethnic and religious conflict remain the most intractable and dangerous problems in the world today. - Author: John Shattuck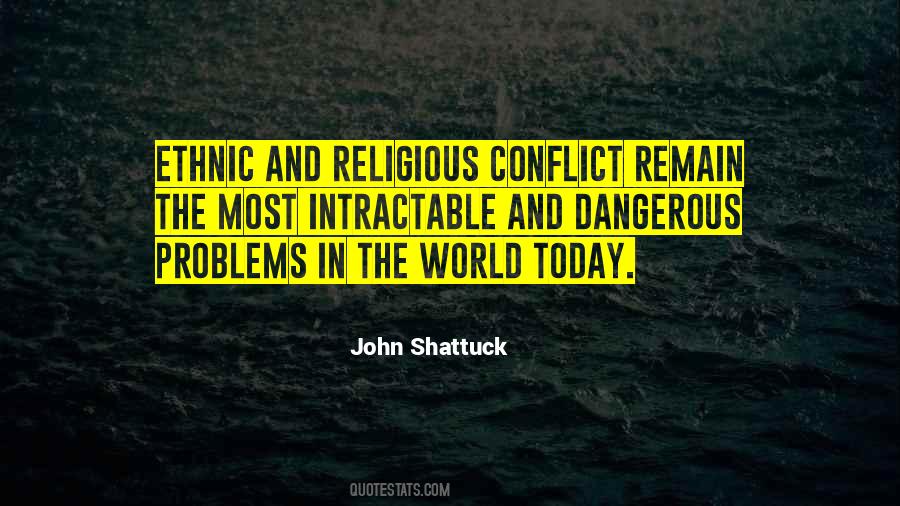 #10. The real Jihad is an internal process, not an external one. - Author: Abhijit Naskar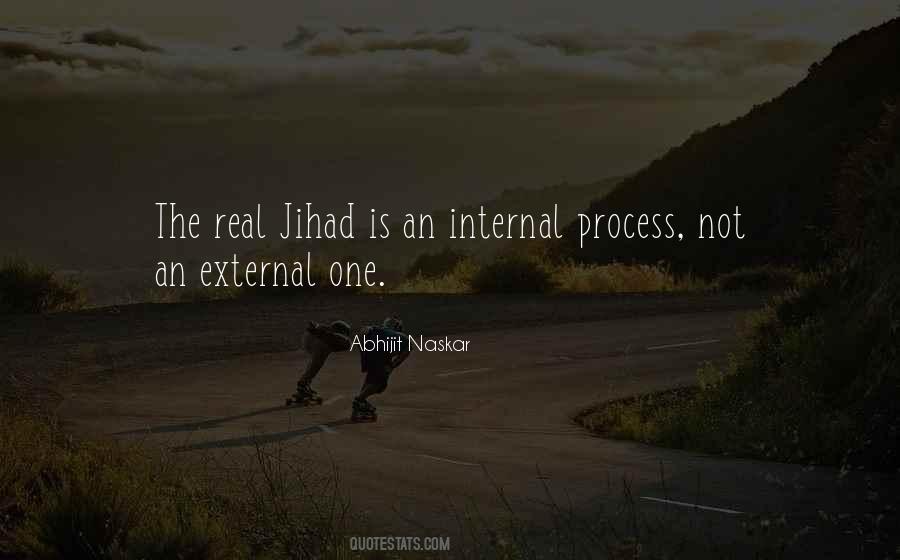 #11. The biggest religious wars and persecutions in history occur when religions, each claiming their own absolute truths, come into conflict. - Author: Susan Jacoby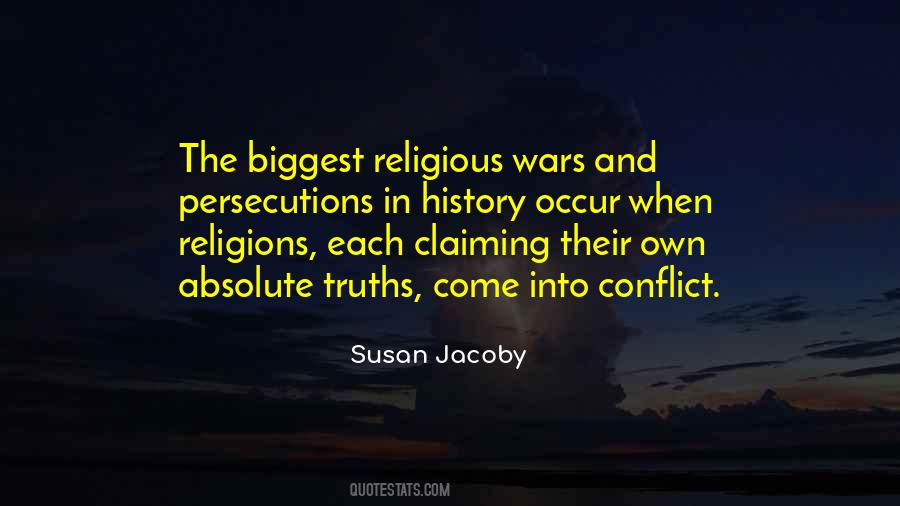 #12. Zionism was originally a rebellion against religious Judaism and the PLO Charter was essentially secularist. But because the conflict was allowed to fester without a resolution, religion got sucked into the escalating cycle of violence and became part of the problem. - Author: Karen Armstrong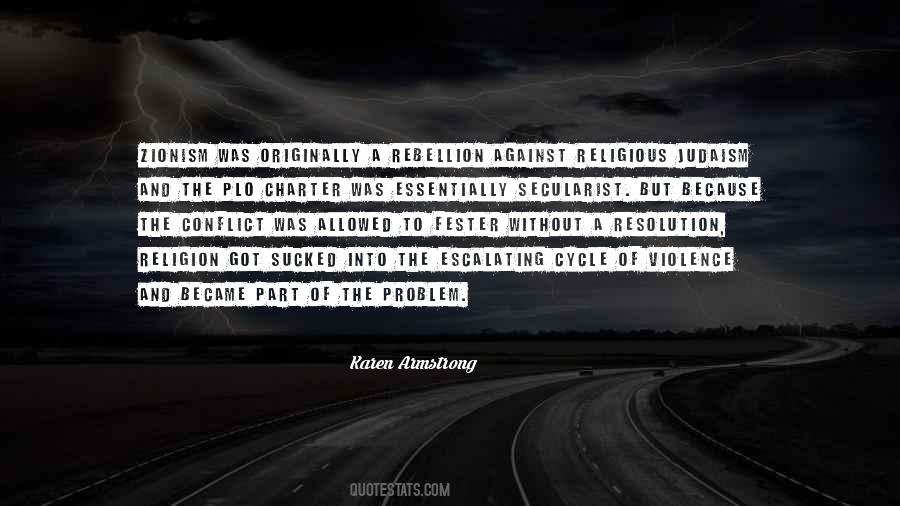 #13. Those who wish to cause religious conflict are small in number but often manage to dominate the headline. - Author: Tony Blair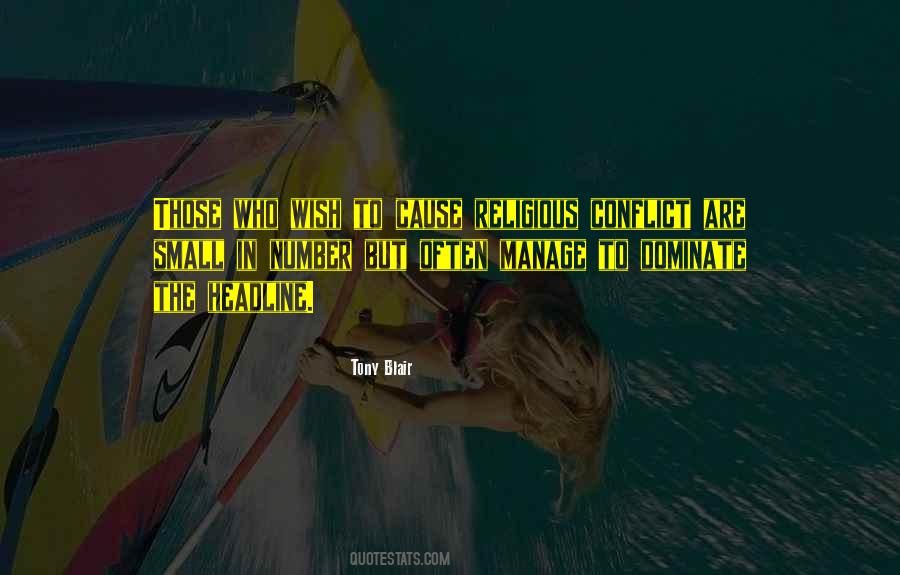 #14. In winter I like sprawling novels, full of conflict and intrigue, and during the bleakest, coldest days of December I holed up with Nicola Griffith 's Hild, a book of love and sex and war and religious upheaval, and I recommend it even over the warmest pair of Sorels. - Author: Maud Newton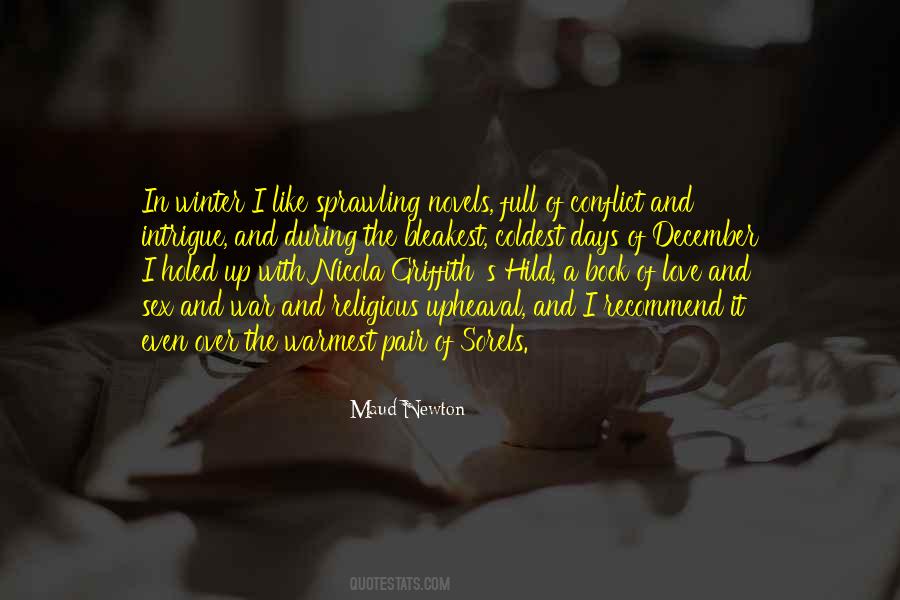 #15. Life is a terrible conflict, a grandiose and atrocious confluence. Hunting submerges man deliberately in that formidable mystery and therefore contains something of religious rite and emotion in which homage is paid to what is divine, transcendent, and in the laws of Nature. - Author: Jose Ortega Y Gasset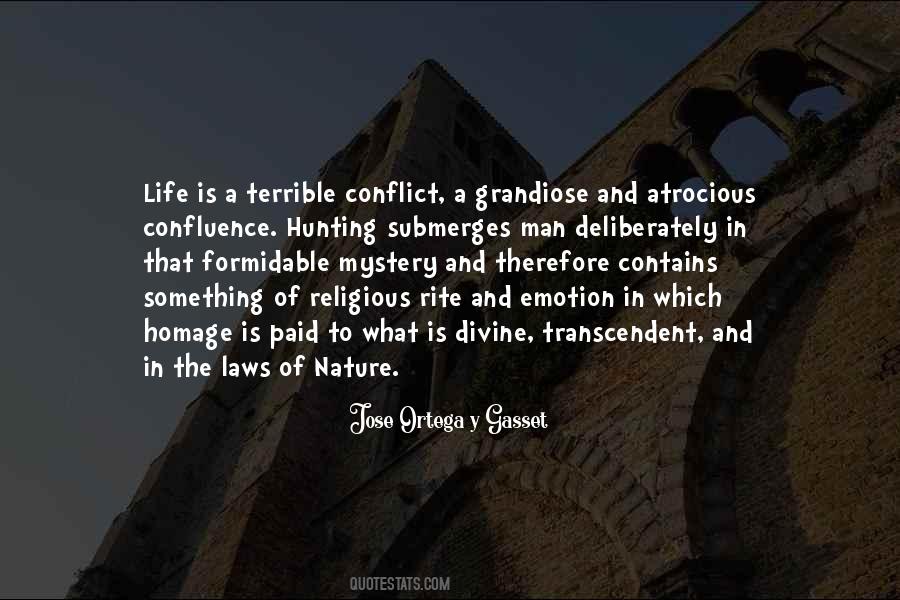 #16. Religious conflict can be the bloodiest and cruelest conflicts that turn people into fanatics. - Author: William J. Brennan Jr.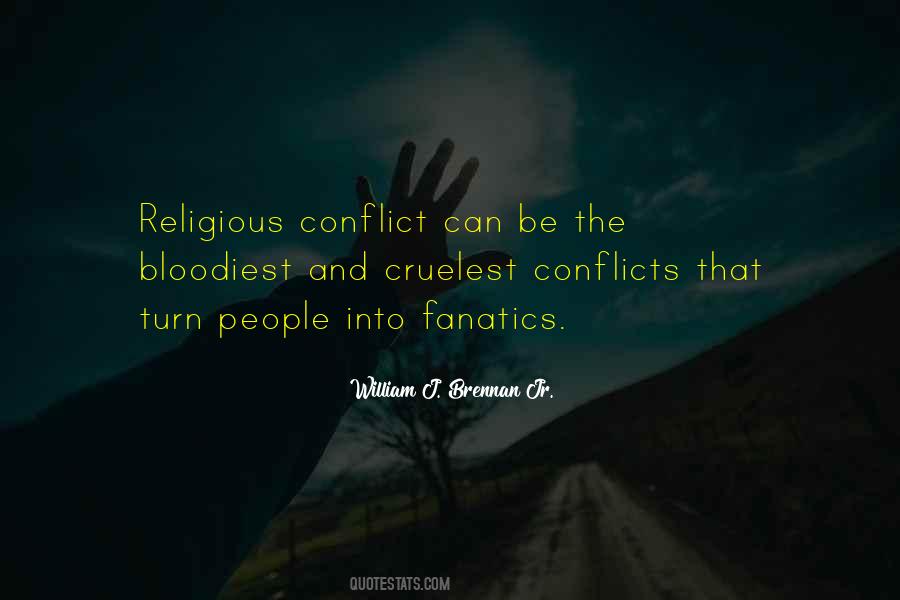 #17. [In] the national and religious conflict of the [Byzantine and Saracen] empires, peace was without confidence, and war without mercy. - Author: Edward Gibbon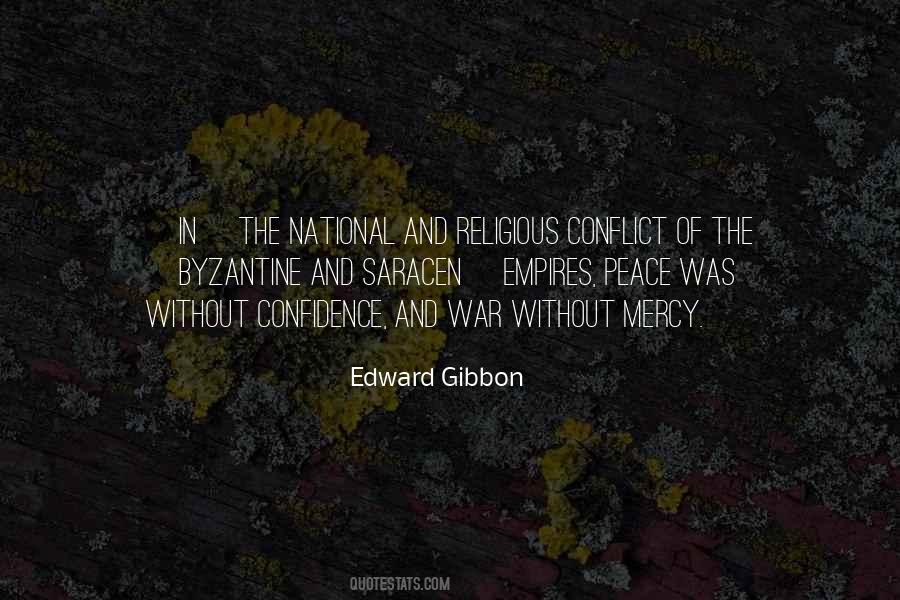 #18. In times of conflict, war, poverty or religious fundamentalism, women and children are the first and most numerous victims. Women need all their courage today. - Author: Isabel Allende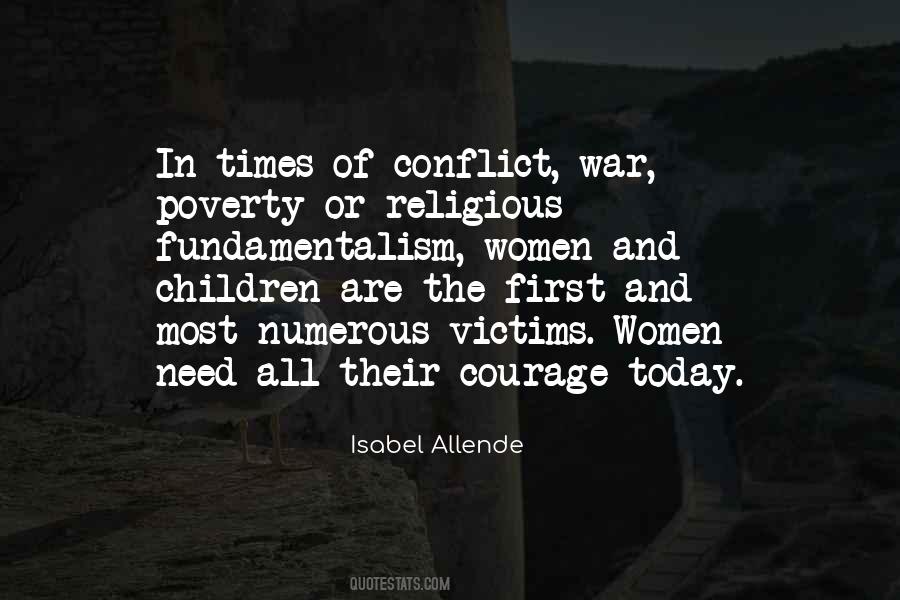 #19. While some people are apprehensive that meditation may conflict with their beliefs, the usual experience is that it leads to a heightened appreciation of their particular religious leanings and a greater level of personal joy - Author: Ian Gawler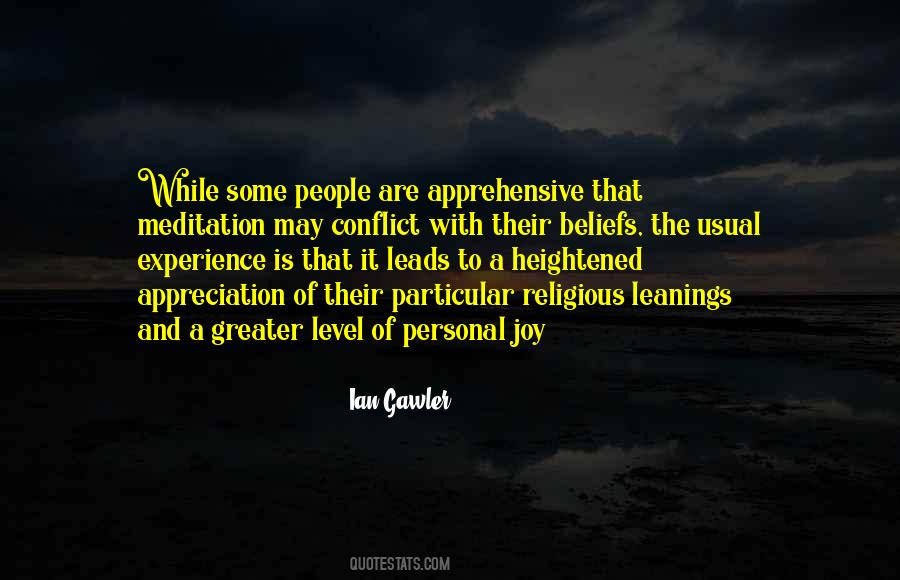 #20. The real conflict over cosmology is not between religion and science-- it's between religion and materialism, between those who think that religious truth is both real and knowable and those who think that science explains everything. - Author: Scott Klusendorf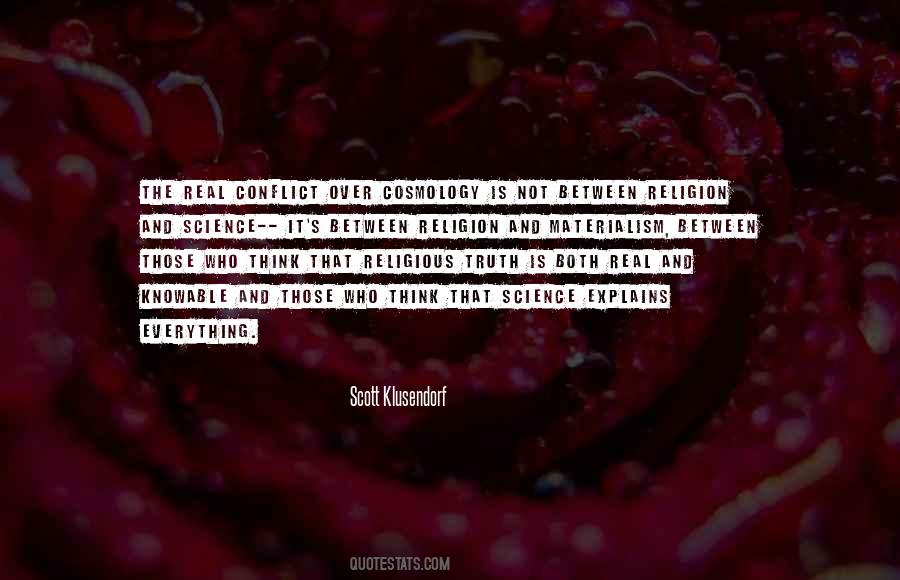 #21. In the long term we can hope that religion will change the nature of man and reduce conflict. But history is not encouraging in this respect. The bloodiest wars in history have been religious wars. - Author: Richard M. Nixon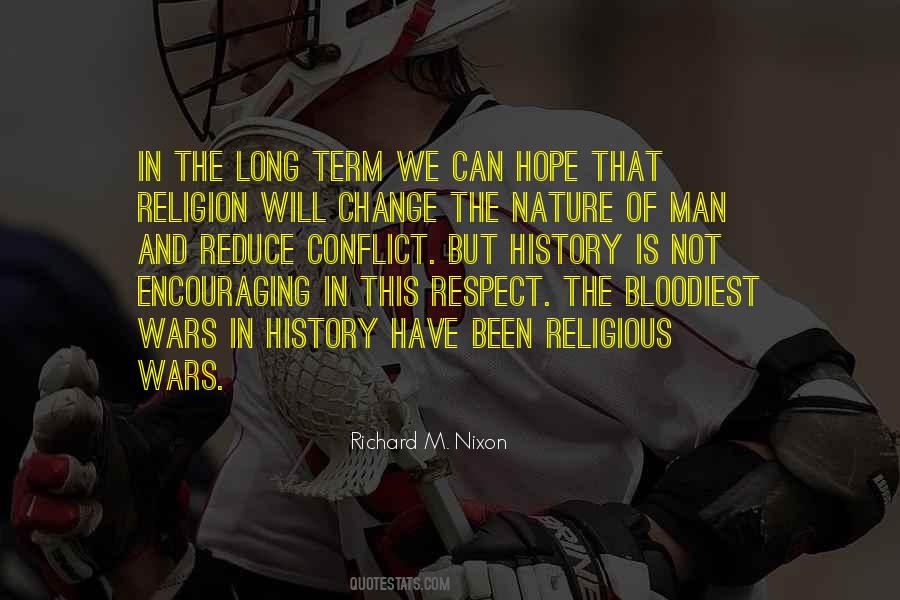 #22. A scientific discovery is also a religious discovery. There is no conflict between science and religion. Our knowledge of God is made larger with every discovery we make about the world. - Author: Joseph Hooton Taylor Jr.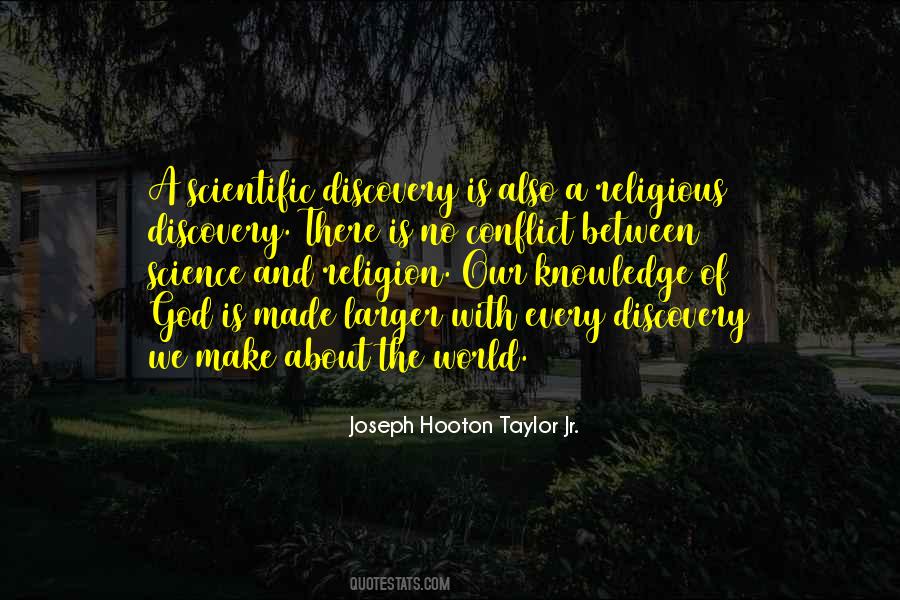 #23. I did not marry the first girl that I fell in love with, because there was a tremendous religious conflict, at the time.
She was an atheist, and I was an agnostic. - Author: Woody Allen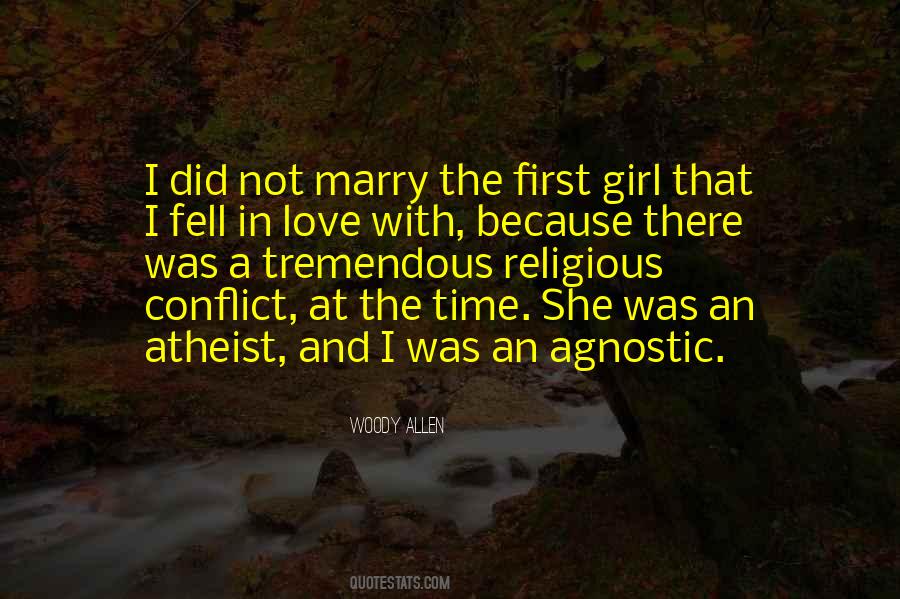 #24. I reject any religious doctrine that does not appeal to reason and is in conflict with morality. - Author: Mahatma Gandhi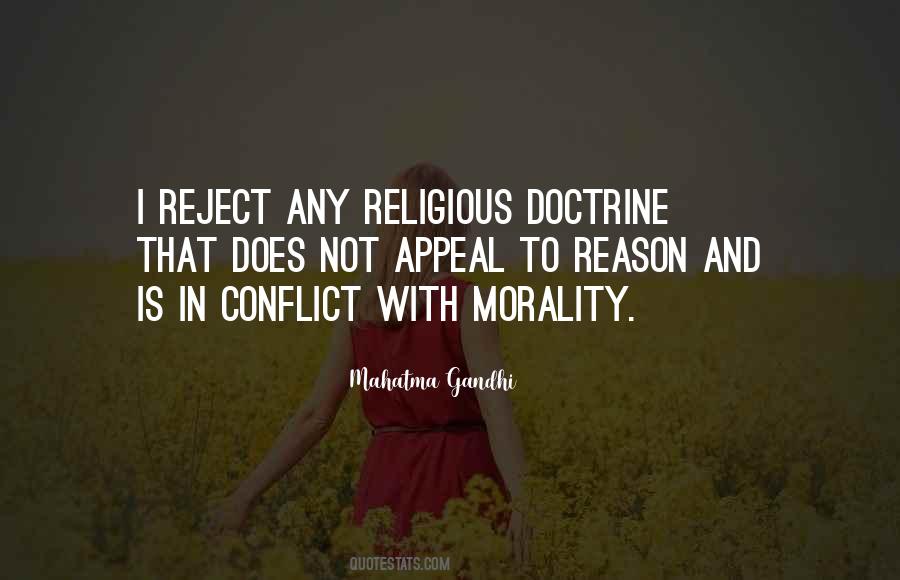 #25. Proponents of so-called pluralism feel compelled to ban religious considerations from public discourse because they know, instinctively if not intellectually, that their faith is in direct conflict with the God of the Bible, and that in the end the two positions are irreconcilable. - Author: Benjamin Hart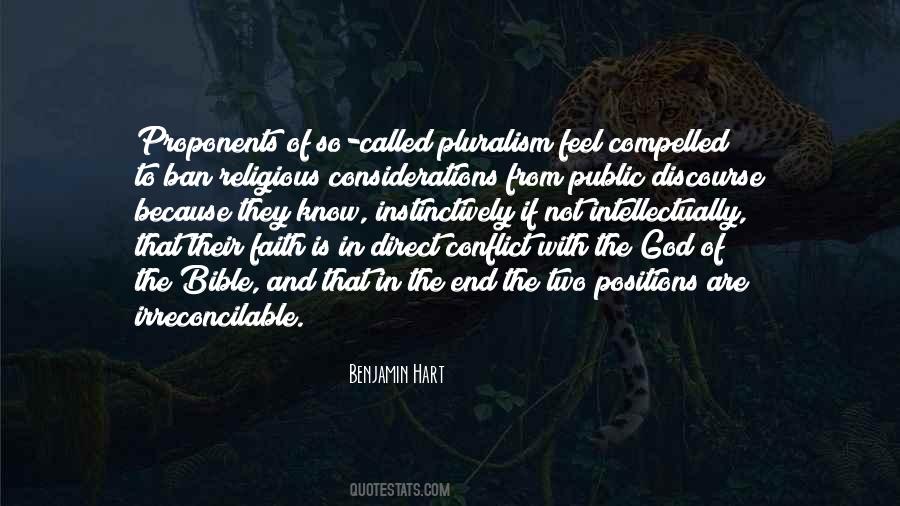 #26. Sometimes religion becomes yet another source for more division and even open conflict. Because of that situation, I feel the different religious traditions have a great responsibility to provide peace of mind and a sense of brotherhood and sisterhood among humanity. - Author: Dalai Lama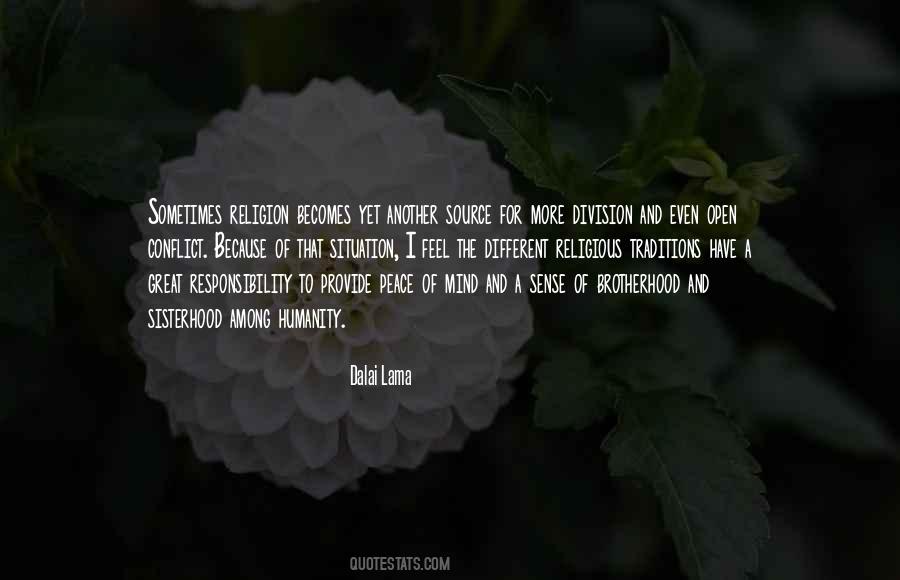 #27. I think there is unnecessary conflict right now between the vehemently religious and the LGBT community. The extremes of religion I think and the LGBT community have an issue and because a lot of black families in America are more religious, I think that is where the conflict comes into play. - Author: John Amaechi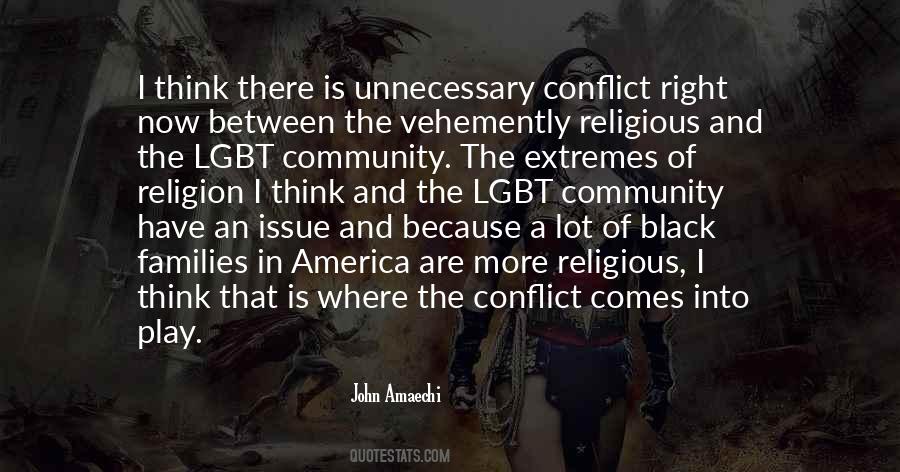 #28. Unfortunately, the source of all this conflict between the Sunnis and Shia is some major powers that do not want religious unity amongst Muslims. - Author: Yousef Saanei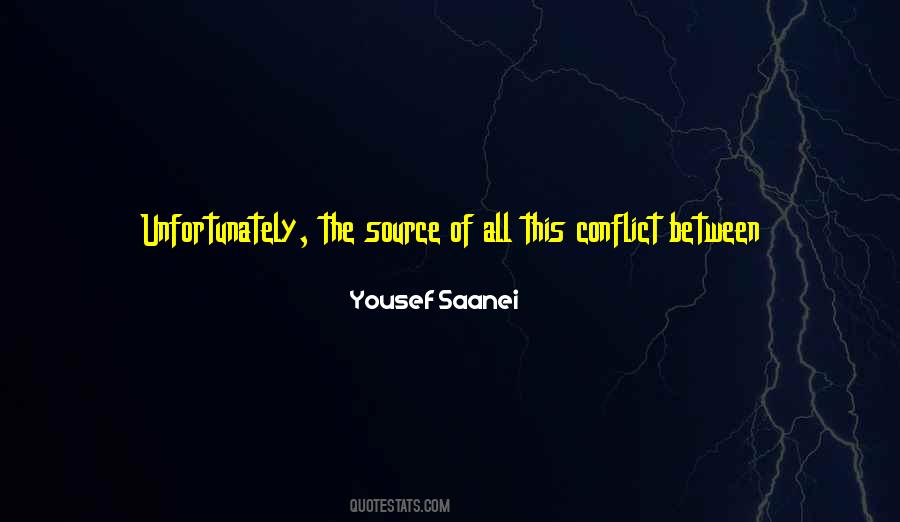 #29. There can never be a conflict between science and religion, once you understand the spiritual knack of the human brain circuits. - Author: Abhijit Naskar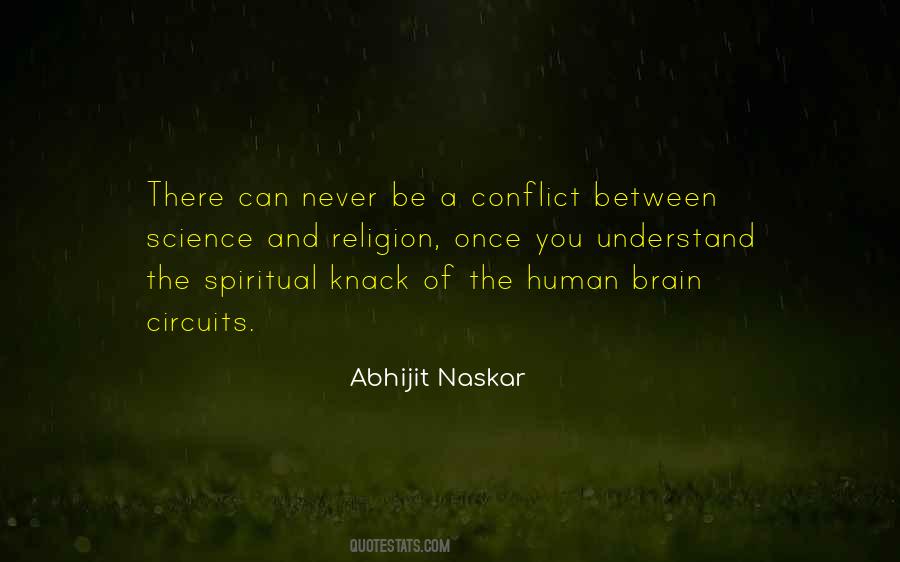 #30. You can not divorce religious belief and public service. I've never detected any conflict between God's will and my political duty. If you violate one, you violate the other. - Author: Jimmy Carter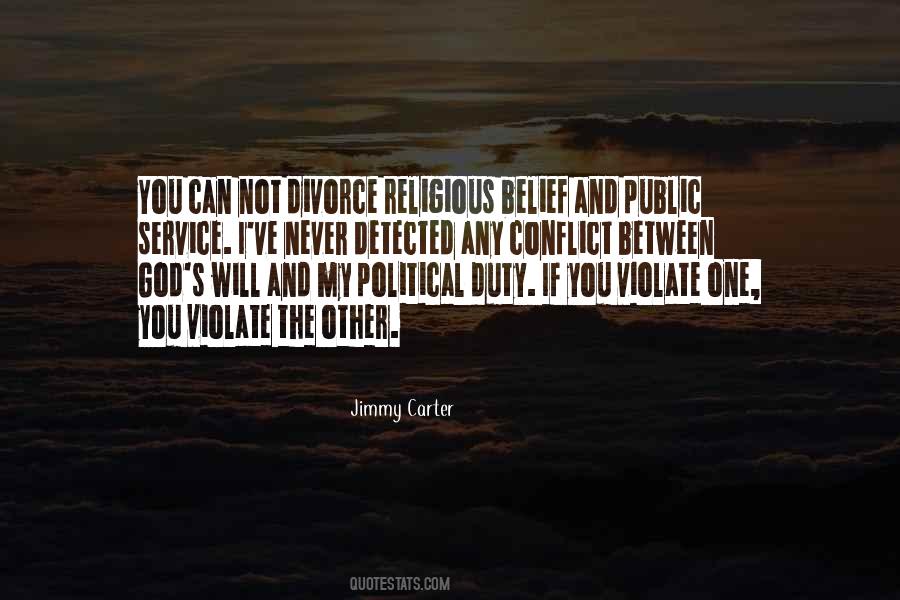 #31. The scientific-religious conflict ultimately is a conflict between allegiance to this method and allegiance to even an irreducible minimum of belief so fixed in advance that it can never be modified. - Author: John Dewey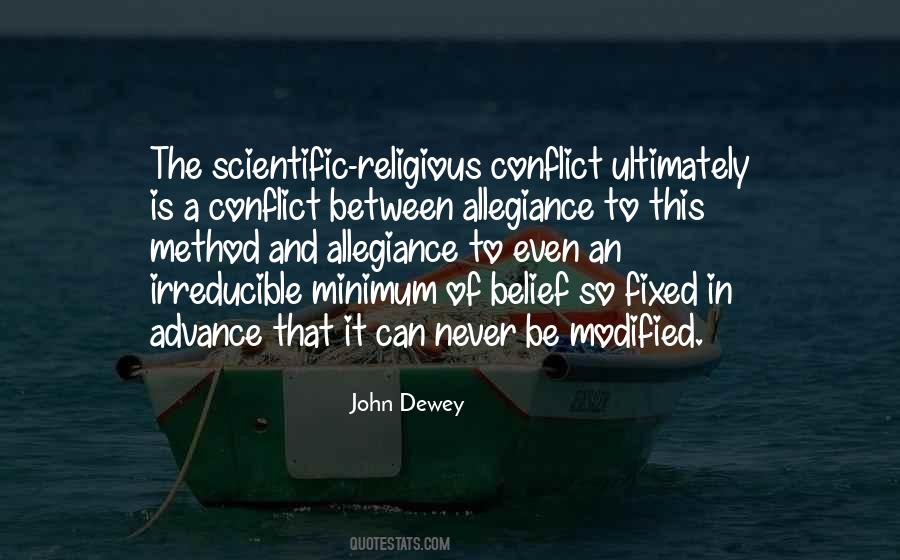 #32. The society with lots of open disagreement and social conflict is the one surging with power in art, science, commerce, constructive social reform, and (most of all) religious revival; the hushed-up society where everyone is afraid to say what he thinks is on the brink of violence and collapse. - Author: Greg Forster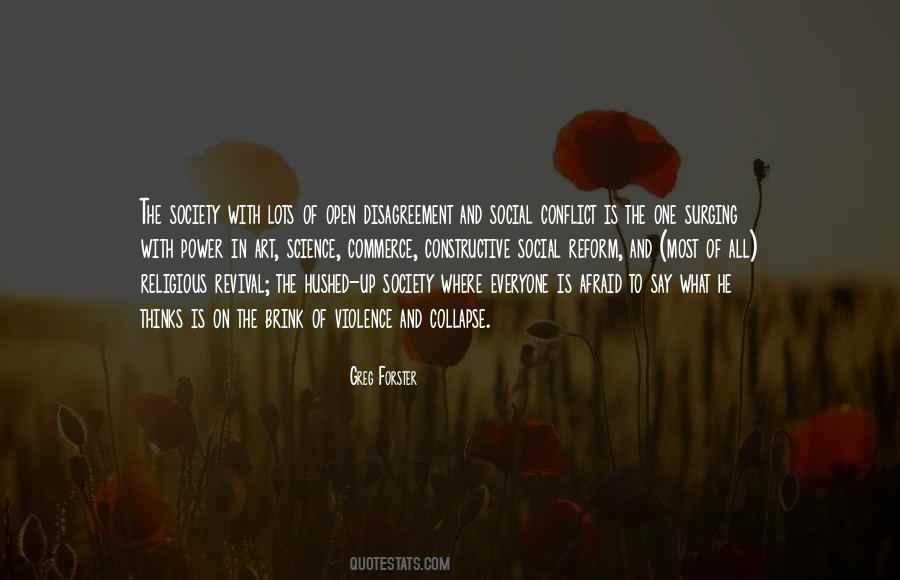 #33. While the religious divisions in our world are self-evident, many people still imagine that religious conflict is always caused by a lack of education, by poverty, or by politics. - Author: Sam Harris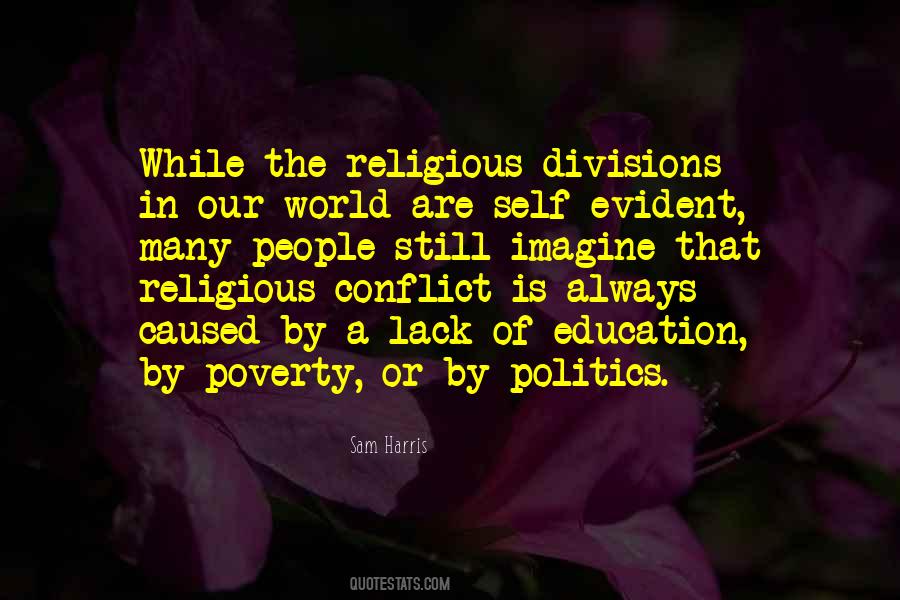 #34. Unless our fundamental sacred connectedness with every being and thing is experienced deeply and enacted everywhere, religious, political, and other differences will go on creating intolerable conflict that can only increase the already dangerously high chances of our self-annihilation. - Author: Andrew Harvey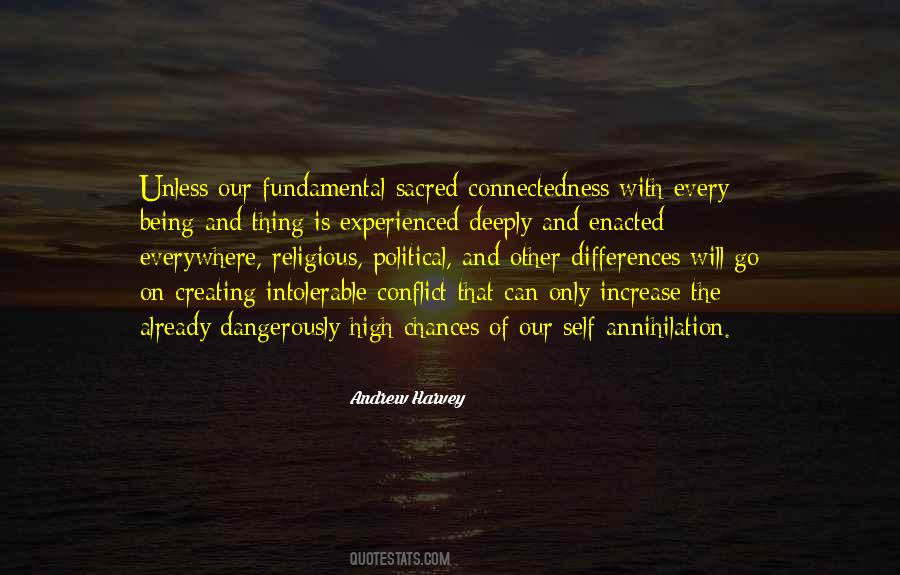 Famous Authors
Popular Topics