Religion And The World Famous Quotes & Sayings
List of top 100 famous quotes and sayings about religion and the world to read and share with friends on your Facebook, Twitter, blogs.
Top 100 Quotes About Religion And The World
#1. The Christian religion is not about the soul; it is about man, body and all, and about the world of things -with- which he was created, and -in- which he is redeemed. Don't knock materiality. God invented it. - Author: Robert Farrar Capon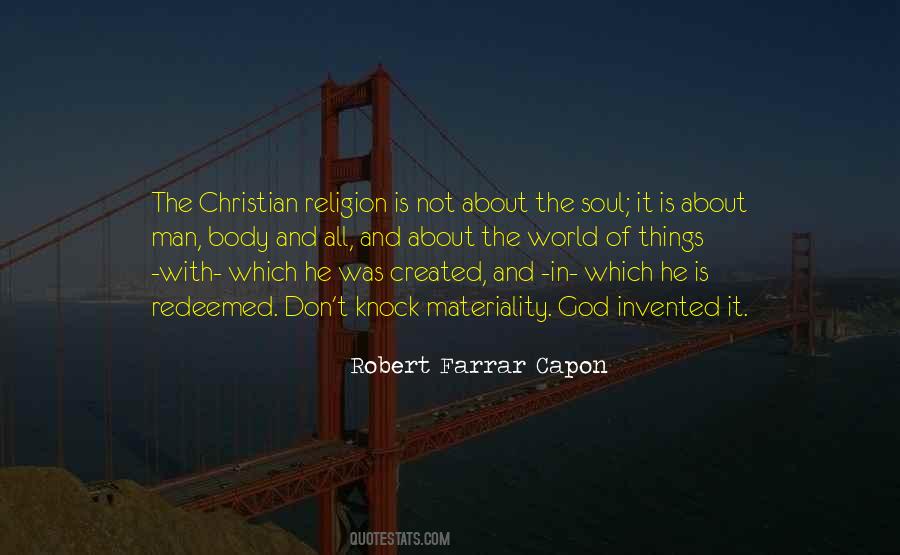 #2. The inhabitants of the earth are of two sorts: those with brains, but no religion, and those with religion, but no brains. - Author: Al-Ma'arri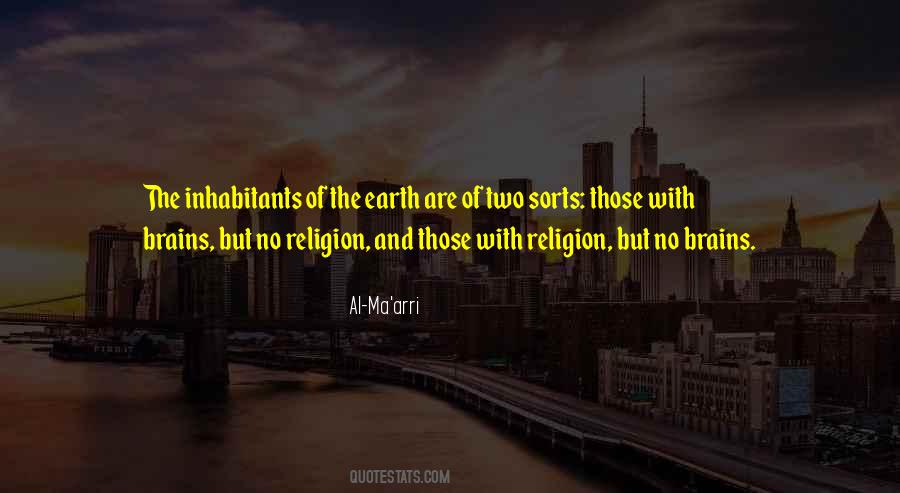 #3. I don't mean to defend zoos. Close them all down if you want (and let us hope that what wildlife remains can survive in what is left of the natural world). I know zoos are no longer in people's good graces. Religion faces the same problem. Certain illusion about freedom plague them both. - Author: Yann Martel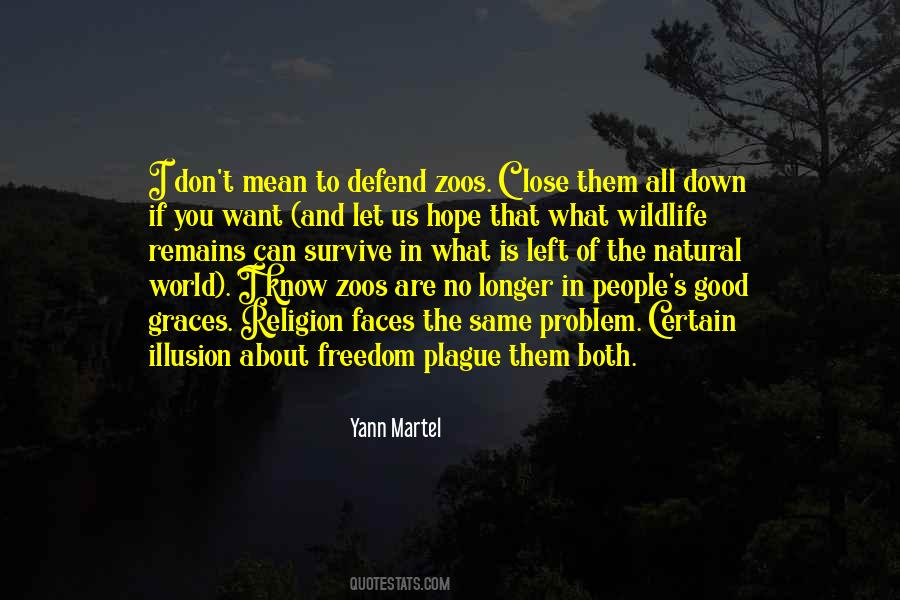 #4. Do not weep, life is paradise, and we are all in paradise, but we do not want to know it, and if we did want to know it, tomorrow there would be paradise the world over. - Author: Fyodor Dostoyevsky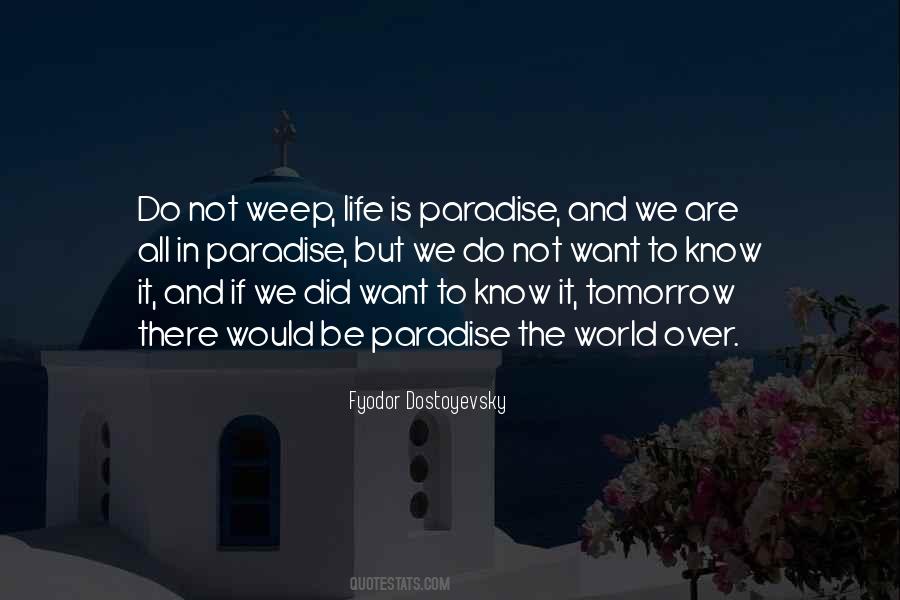 #5. Events that come on tiptoe often change the world. - Author: Richard Holloway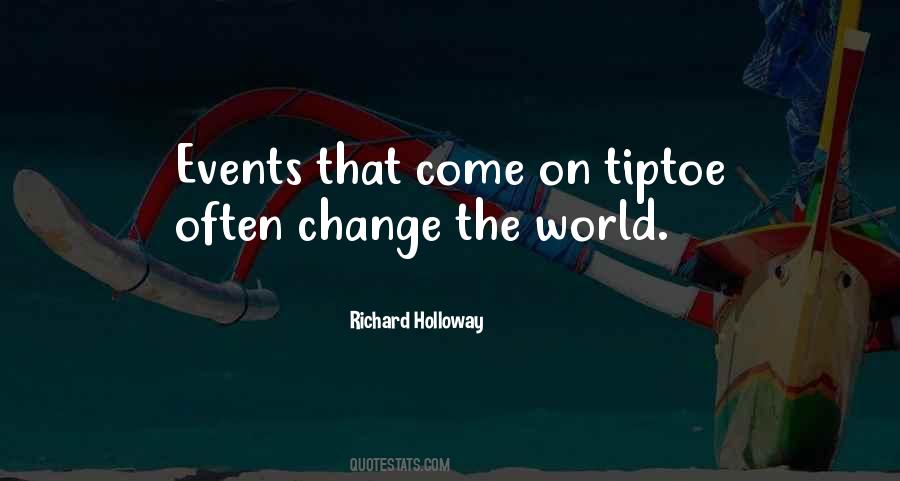 #6. Faith does not offer a strong link between our beliefs and actual states of the world. - Author: Sam Harris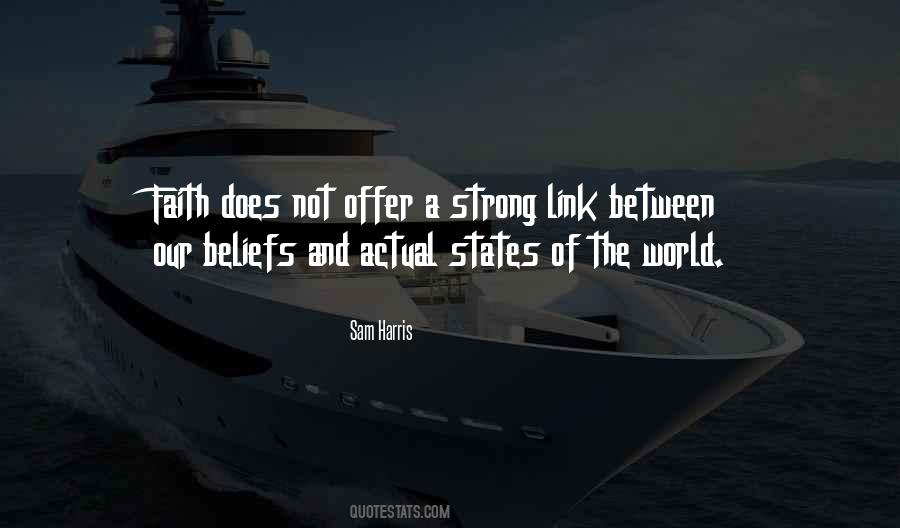 #7. In the long run, the world is going to have the best, and any difference in race, religion, or previous history will not keep the world from what it wants. - Author: Booker T. Washington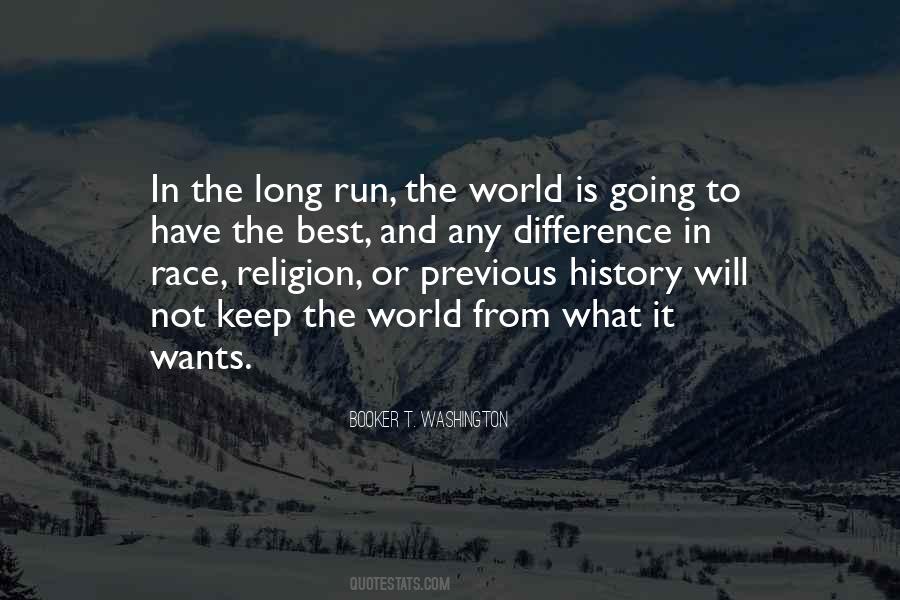 #8. Giordano Bruno was to take the bolder course of maintaining that the magical Egyptian religion of the world was not only the most ancient but also the only true religion, which both Judaism and Christianity had obscured and corrupted. - Author: Frances A. Yates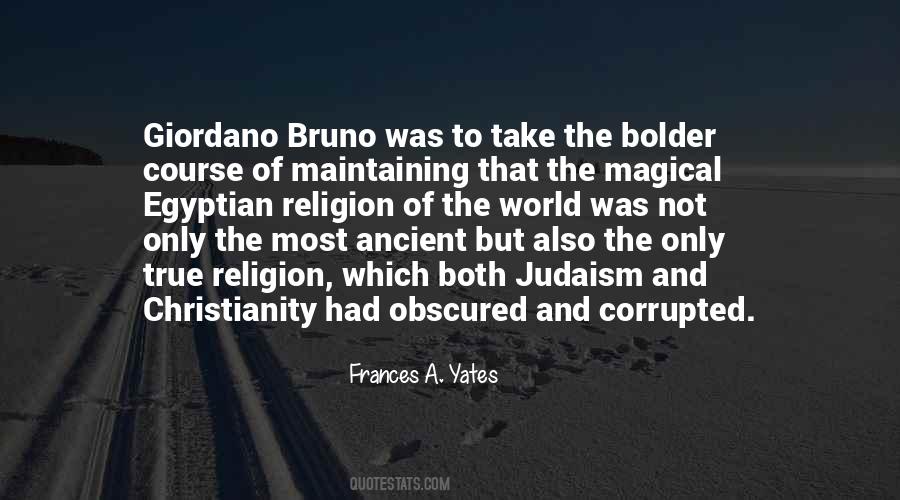 #9. I see a global ancient religion which was marked with its rebellious spirit against the higher authorities. It expressed itself temporally (Solar/Lunar), physically (Skulls/Tridents) and linguistically (Sun/Son/Sn) across the whole world. - Author: Ibrahim Ibrahim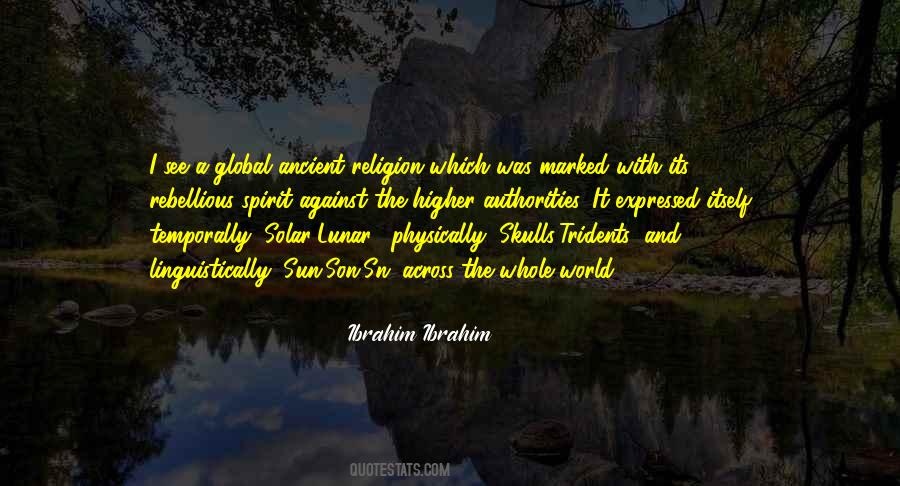 #10. There is nothing wanting to make all rational and disinterested people in the world of one religion, but that they should talk together every day. - Author: Alexander Pope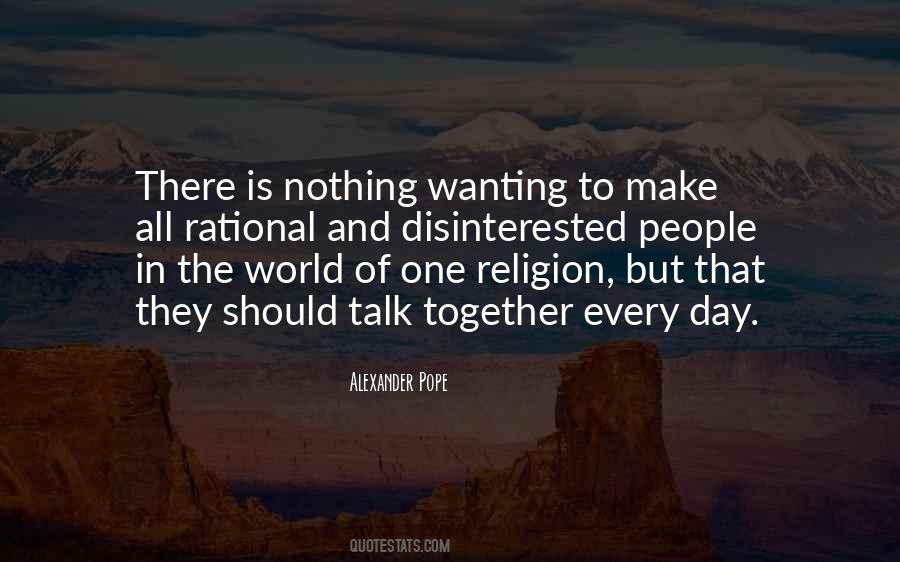 #11. Writing my own novels in the '90s ... I never imagined that in ten years, science and rationality would require explanation and defense in a world rocked and ruled by religious fervor. - Author: Mary Doria Russell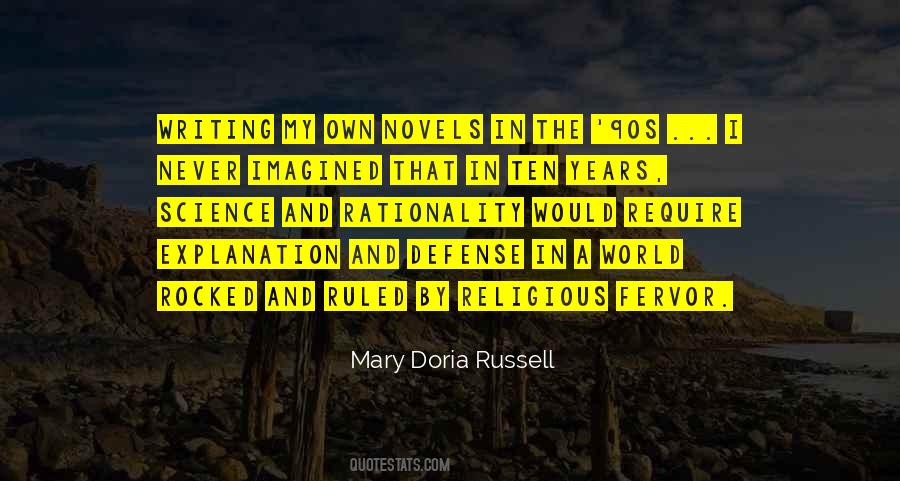 #12. Through prayer, religion insists, things which cannot be realized in any other manner come about: energy which but for prayer would be bound is by prayer set free and operates in some part, be it objective or subjective, of the world of facts. - Author: William James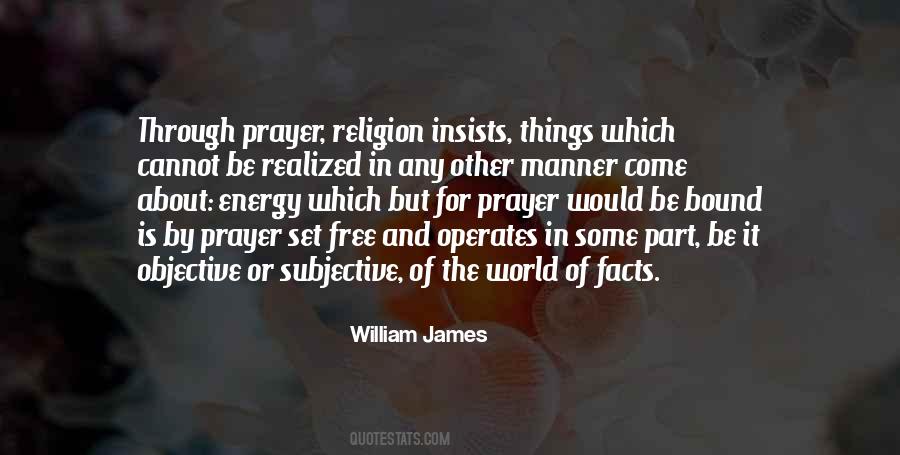 #13. My choice of Muhammad to lead the list of the world's most influential persons may surprise some readers and may be questioned by others, but he was the only man in history who was supremely successful on both the religious and secular level. - Author: Michael H. Hart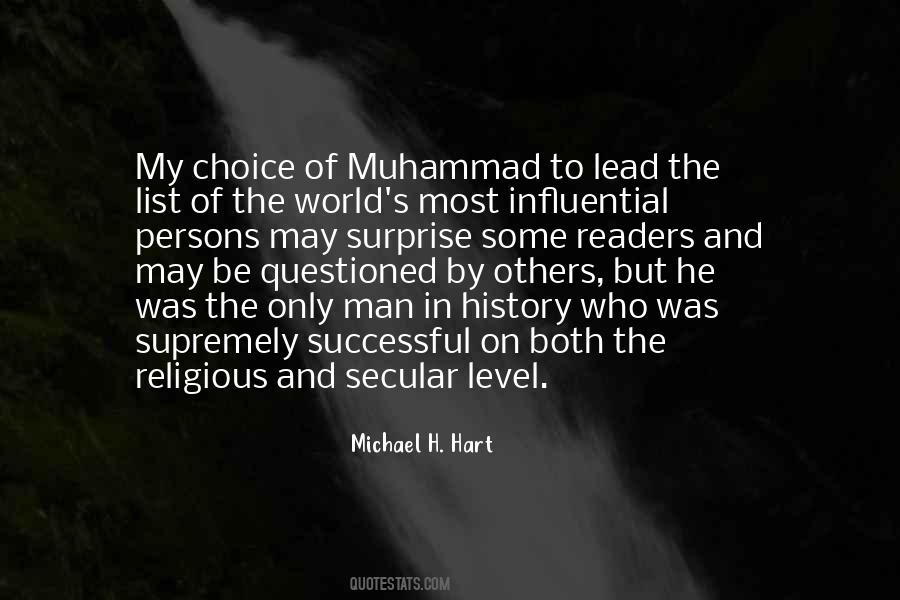 #14. Without suffering, there's no happiness. So we shouldn't discriminate against the mud. We have to learn how to embrace and cradle our own suffering and the suffering of the world, with a lot of tenderness. - Author: Thich Nhat Hanh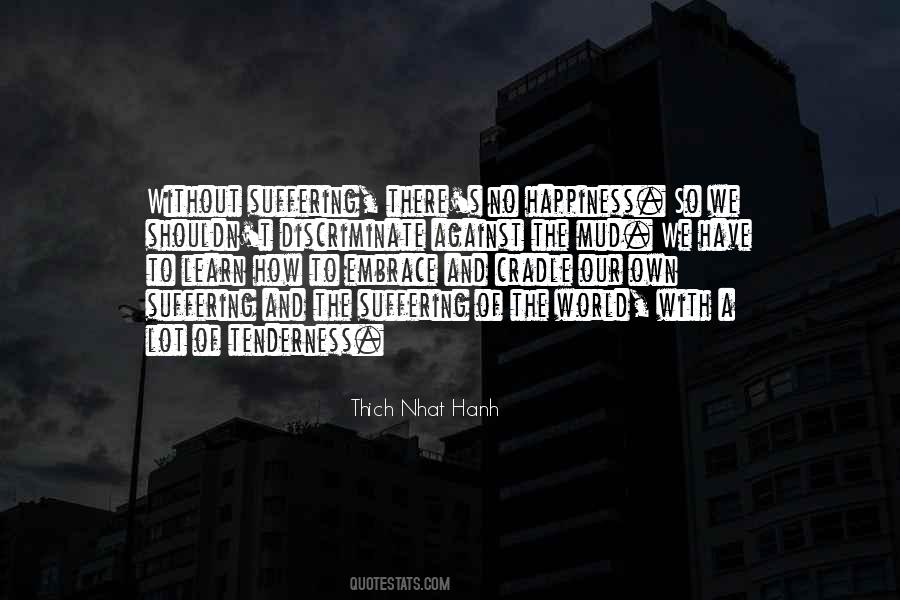 #15. The foundation of religion is not the affirmation that God is, but that God is concerned with man and the world; that, having created the world, he has not abandoned it, leaving it to its own devices; that he cares for his creation. - Author: Eliezer Berkovits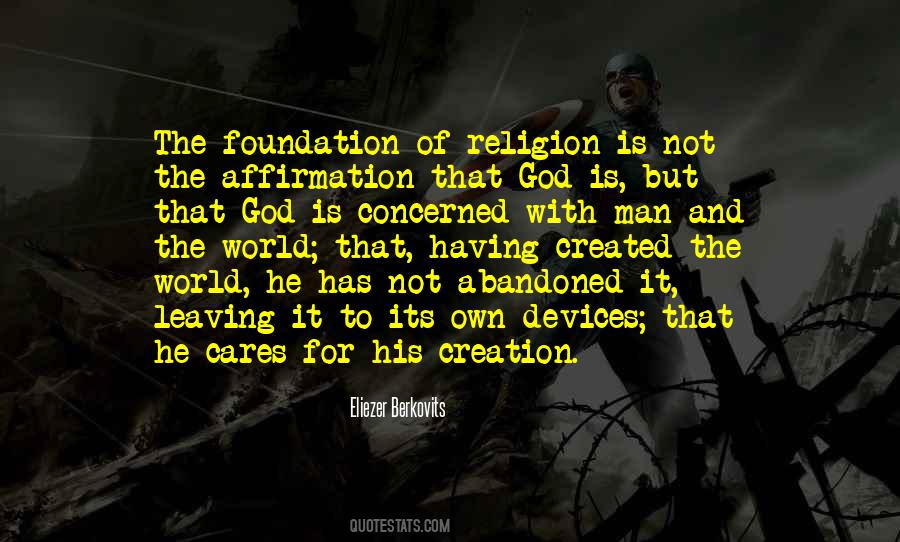 #16. What a mess the world was in, Vimes reflected. Constable Visit had told him the meek would inherit it, and what had the poor devils done to deserve that? - Author: Terry Pratchett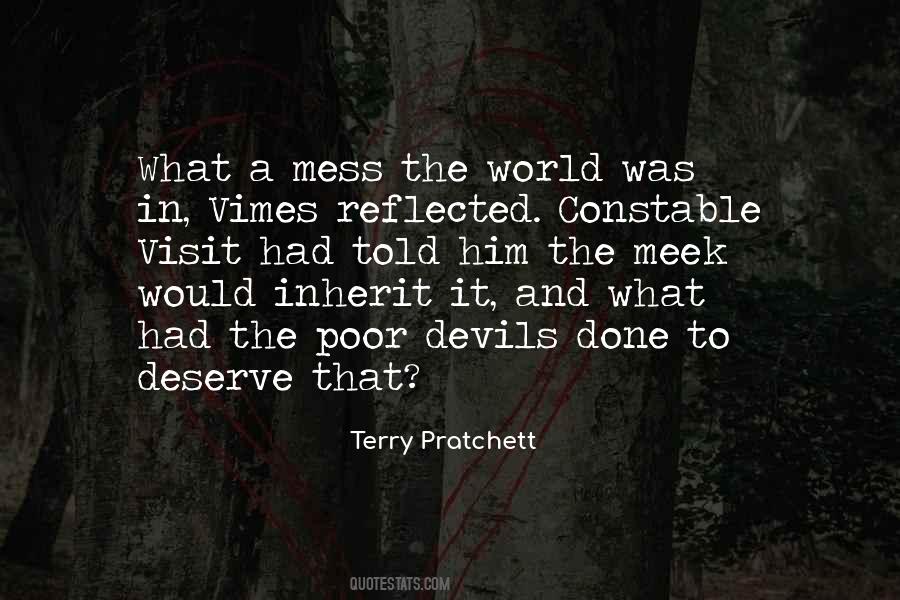 #17. I think that the practice of religion allows one to discover emotional and psychological truth of a kind not available in the secular world. - Author: Jay Parini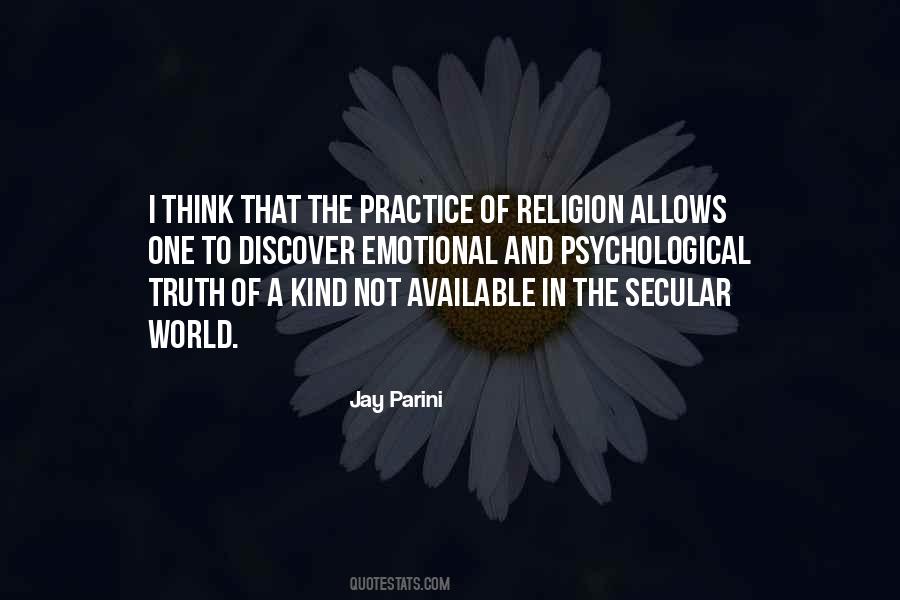 #18. Religion in the form of polytheism entered the world as the vindication of power. Not only was there no separation of church and state; religion was the transcendental justification of the state. - Author: Jonathan Sacks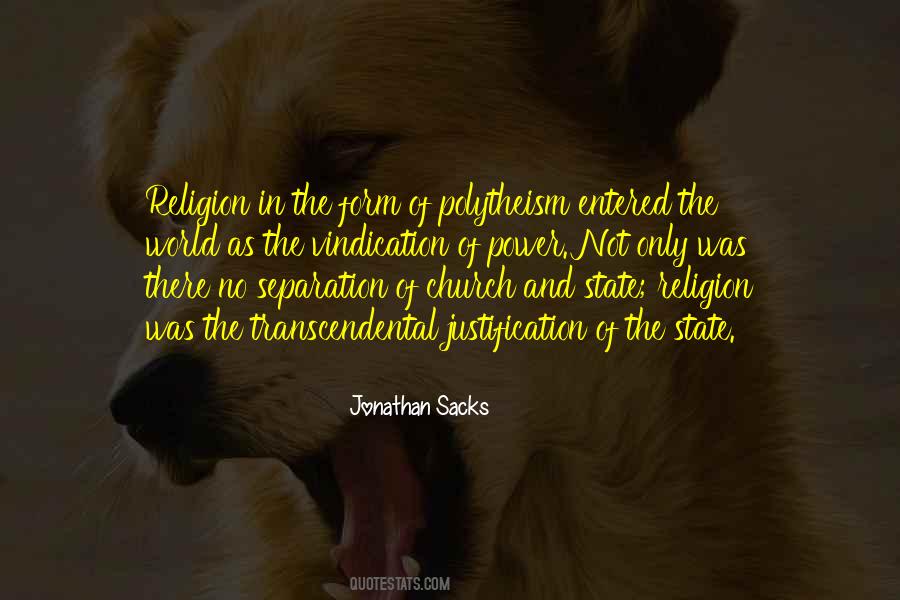 #19. Religion claims to be in possession of an absolute truth; but its history is a history of errors and heresies. It gives us the promise and prospect of a transcendent world - far beyond the limits of our human experience - and it remains human, all too human. - Author: Ernst Cassirer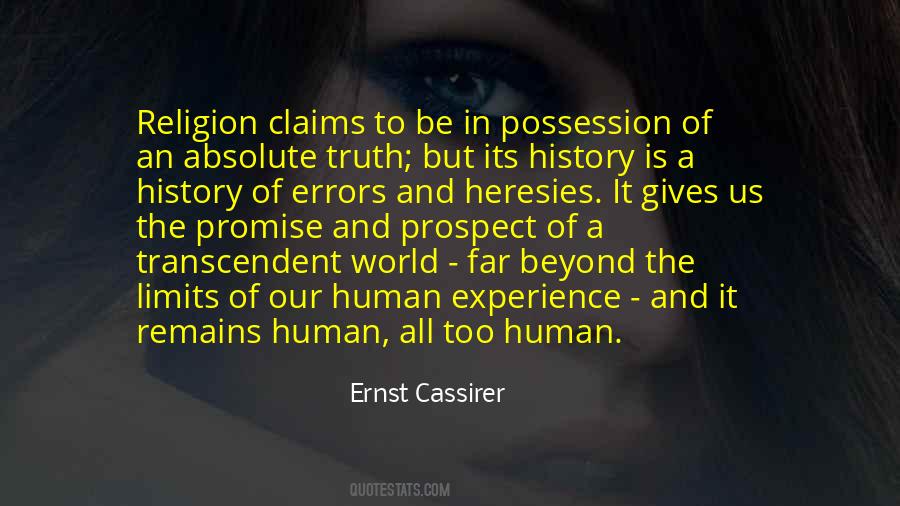 #20. Sometimes the Bible in the hand of one man is worse than a whisky bottle in the hand of (another) ... There are just some kind of men who - who're so busy worrying about the next world they've never learned to live in this one, and you can look down the street and see the results. - Author: Harper Lee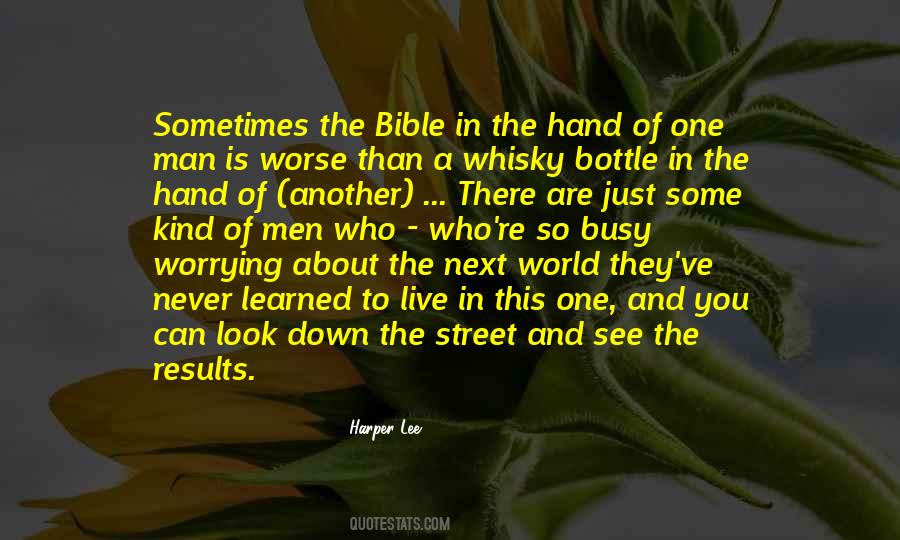 #21. All forms of dogmatic religion should go. The world did without them in the past and can do so again. - Author: Theodore Dreiser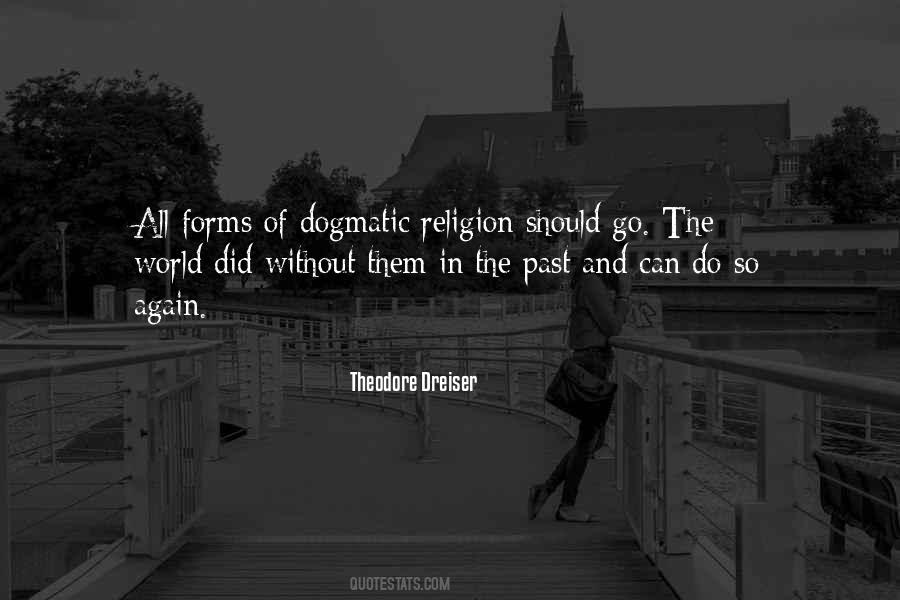 #22. Christianity, unlike any other religion in the world, begins with catastrophe and defeat. Sunshine religions and psychological inspirations collapse in calamity and wither in adversity. But the Life of the Founder of Christianity, having begun with the Cross, ends with the empty tomb and victory. - Author: Fulton J. Sheen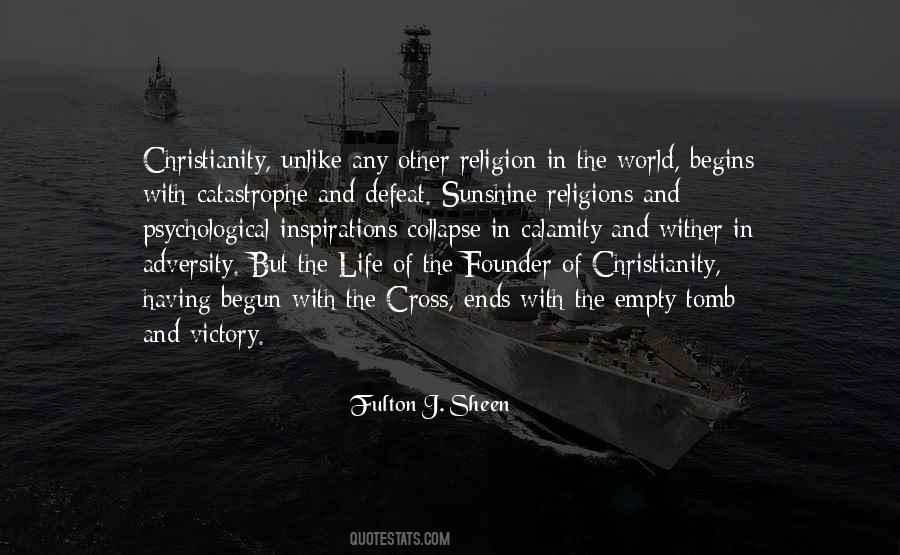 #23. The world is continuously discontinuous. It is continuous for intuition and thinking; discontinuous for reason and observation. The human senses break it down but the unconvinced mind unites it. - Author: Thiruman Archunan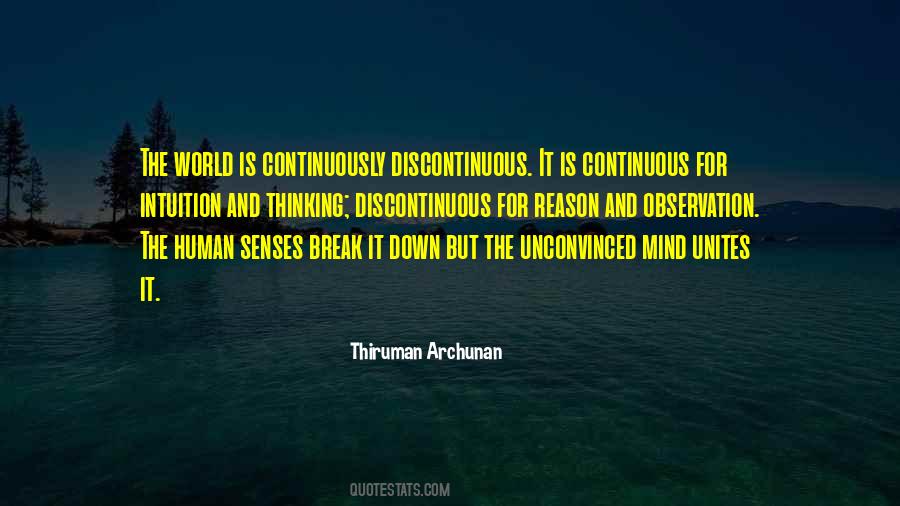 #24. It's almost impossible to deal with a crazy man, except that he does have religious beliefs, and the world of Islam will be damaged if a fanatic like him should commit murder in the name of religion against 60 innocent people. - Author: Ruhollah Khomeini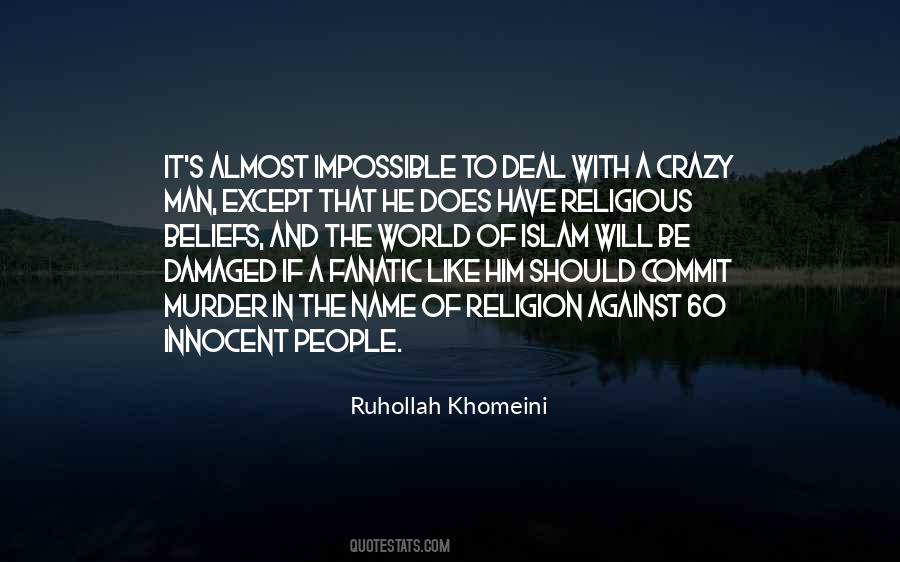 #25. Jesus Christ says, 'Kill me and in 3 days, not only this temple, but all temples in the whole world will be out of business.' This is the most stunning thing any human being has ever said. - Author: Timothy Keller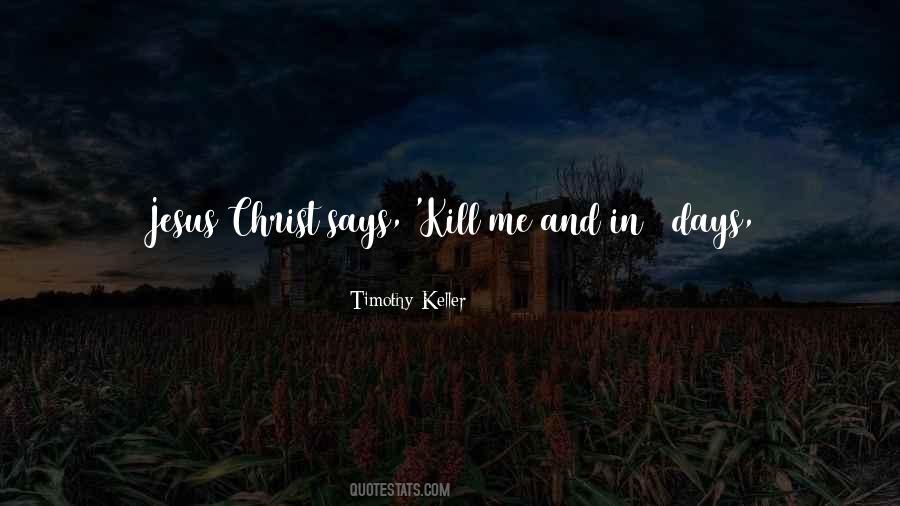 #26. In this respect the differences between the USA and the USSR are those of evangelical dinosaurs competing for domination on one small planet: the first deifies Jesus Christ, the other Karl Marx. Neither has much practical interest in what those two sincere and hard-working fellows actually preached. - Author: Edward Abbey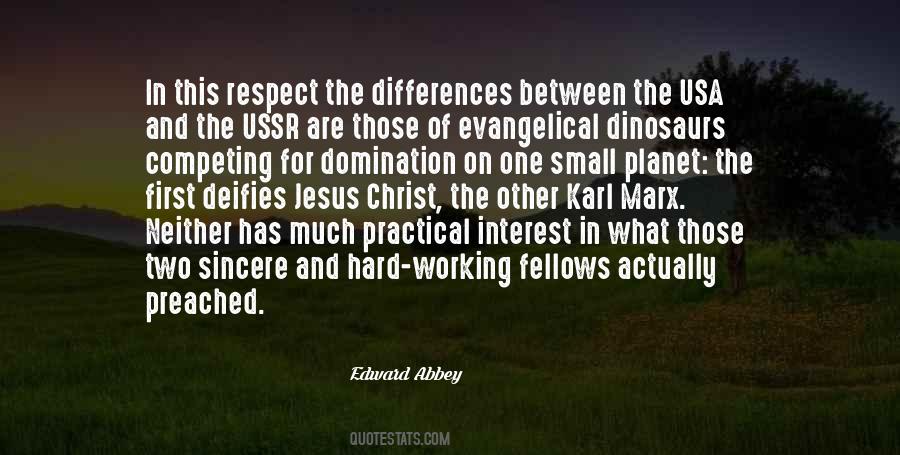 #27. Mystics throughout the world have spoken of the inner experience of unity with the Self, a reality defined in our language by the Sanskrit term yoga, meaning union, and the word "religion", which comes from the Latin religare, meaning to bind or link. - Author: Gwenael Verez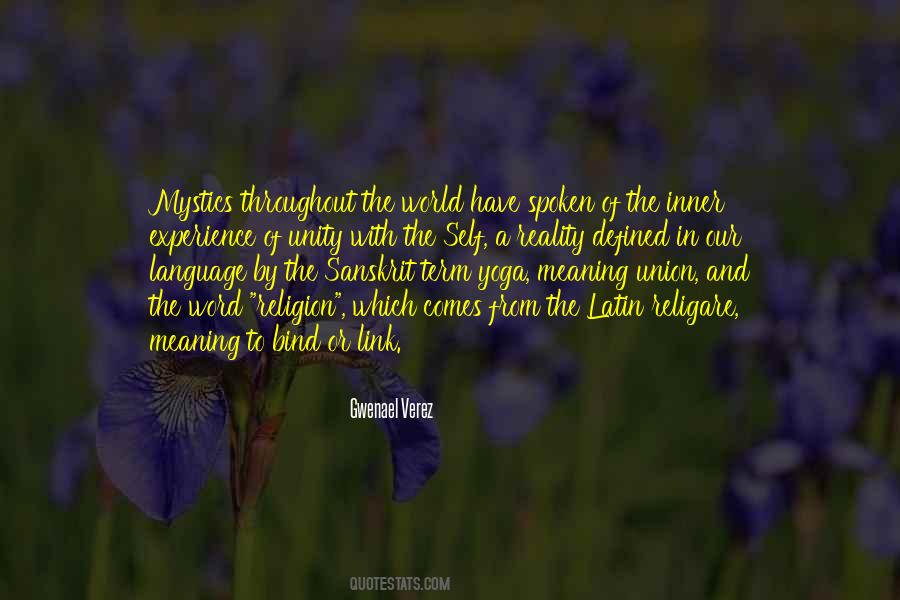 #28. I believe in the religion of reason
the gospel of this world; in the development of the mind, in the accumulation of intellectual wealth, to the end that man may free himself from superstitious fear, to the end that he may take advantage of the forces of nature to feed and clothe the world. - Author: Robert Green Ingersoll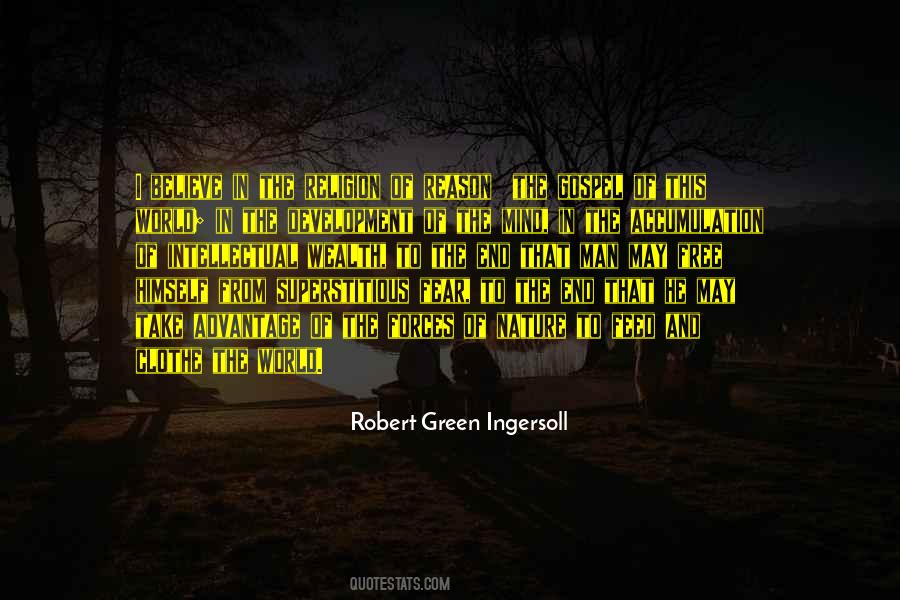 #29. All my life I have preserved in the depths of my heart a live faith in my Creator, the Defender of the World, in His Sanctifying Grace and in the expiatory sacrifice of Christ our Saviour, but never have I agreed that true religion demands outward manifestations. - Author: Valery Bryusov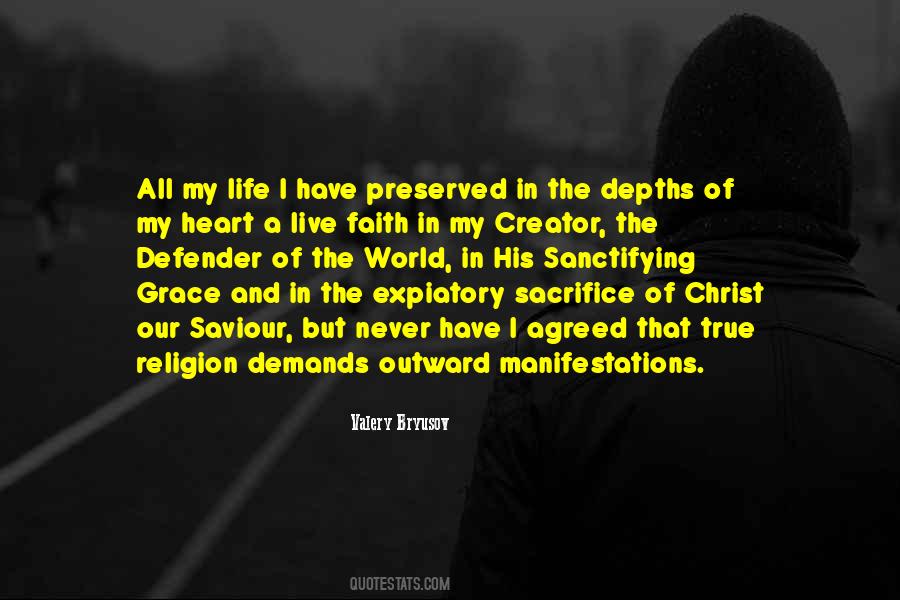 #30. All the sweetness of religion is conveyed to the world by the hands of storytellers and image-makers. Without their fictions the truths of religion would for the multitude be neither intelligible nor even apprehensible; and the prophets would prophesy and the teachers teach in vain. - Author: George Bernard Shaw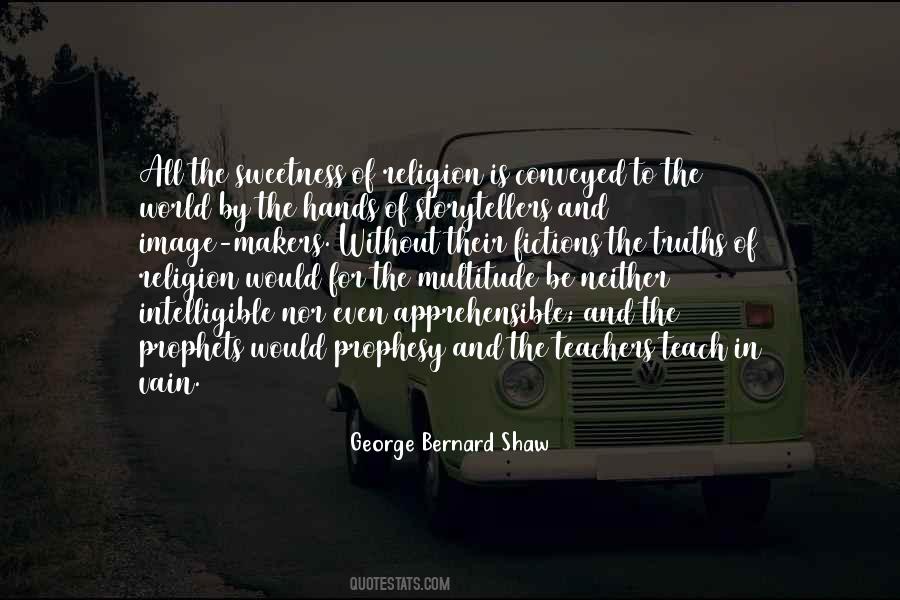 #31. Science is simply a logical process of discovering truths about the world we live in; the illusion is that science is some sort of a set of strange rules, a religion that speaks algebra or a magical group of incantations and spells. - Author: Robert Todd Carroll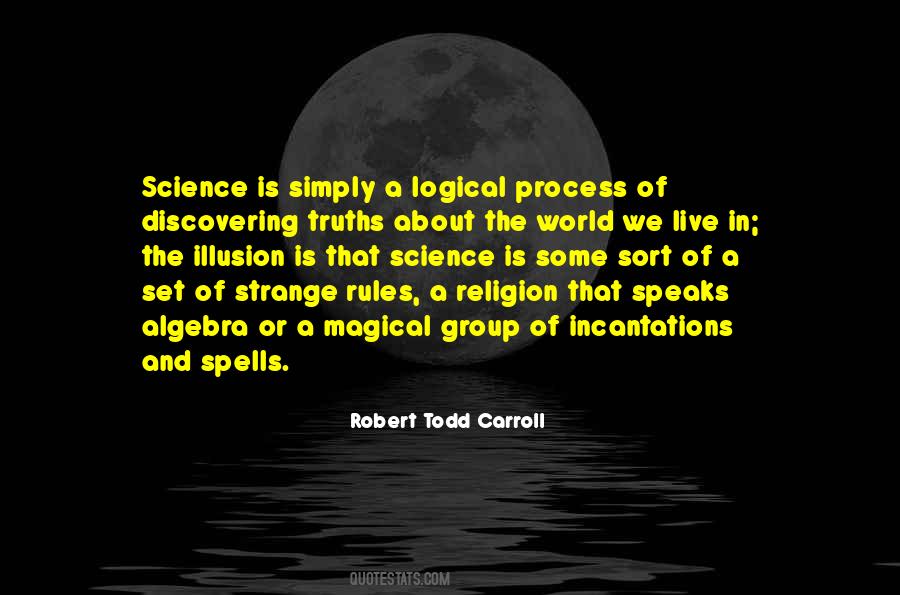 #32. The spirituality of the sun was, for thousands of years, the dominant religion of the ancient world. If you trace it far back enough, its origin stretches well beyond recorded history into the most ancient sacred texts, and from there, into the most ancient of myths and legends. - Author: Belsebuub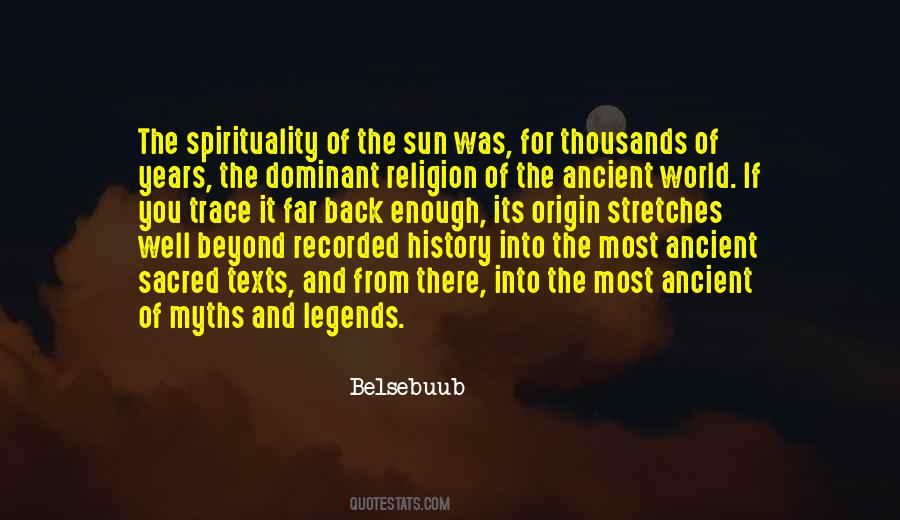 #33. In matters of religion and matrimony I never give advice, because I will not have anybody's torments in this world or the next laid to my charge. - Author: Philip Dormer Stanhope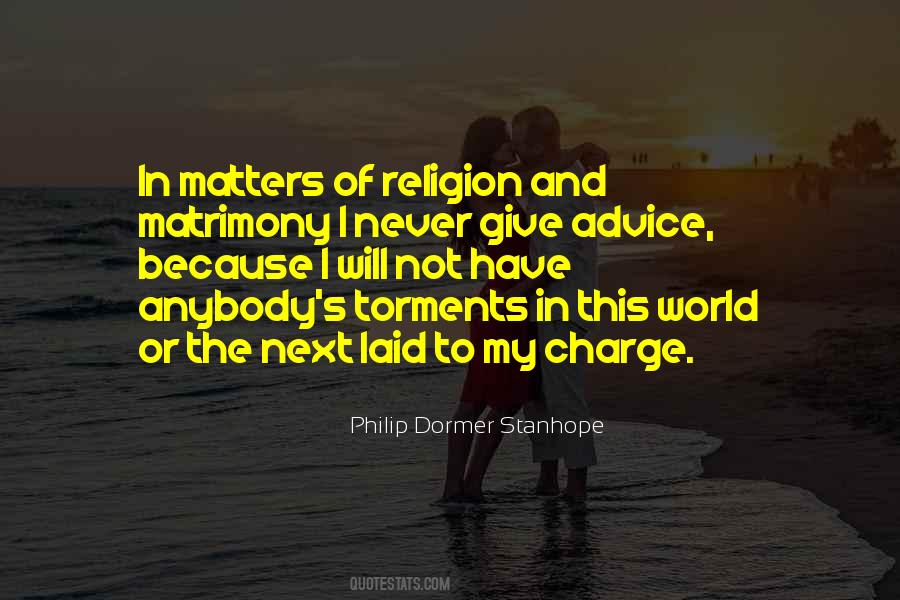 #34. God gives out good gifts of wisdom, talent, beauty, and skill 'graciously'
that is, in a completely unmerited way. He casts them across all humanity, regardless of religious conviction, race, gender, or any other attribute to enrich, brighten, and preserve the world. - Author: Timothy Keller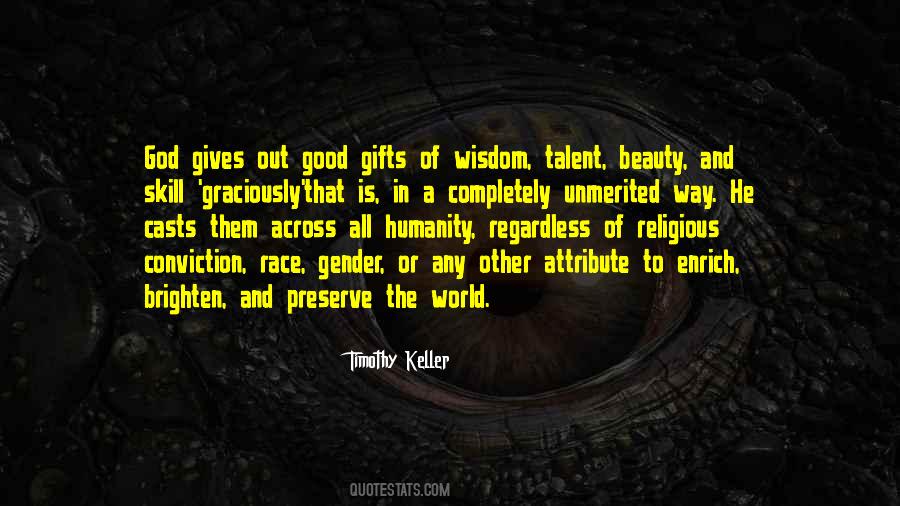 #35. Since the order of the world is shaped by death, mightn't it be better for God if we refuse to believe in Him and struggle with all our might against death, without raising our eyes towards the heaven where He sits in silence? - Author: Albert Camus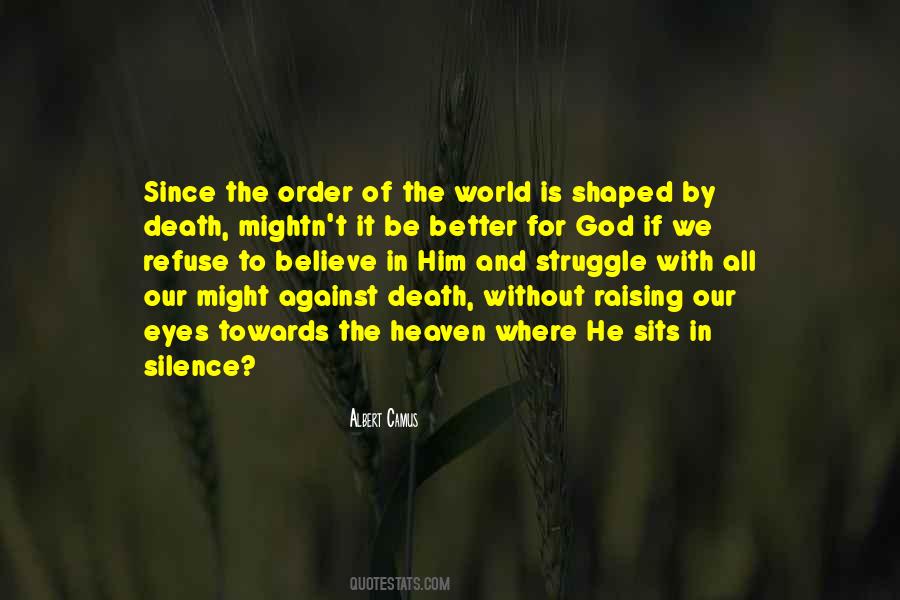 #36. Let us show to the people of the world, who think our religion to be slavery, that it is to us a delight and a joy! Let our gladness proclaim that we serve a good Master. - Author: Charles Haddon Spurgeon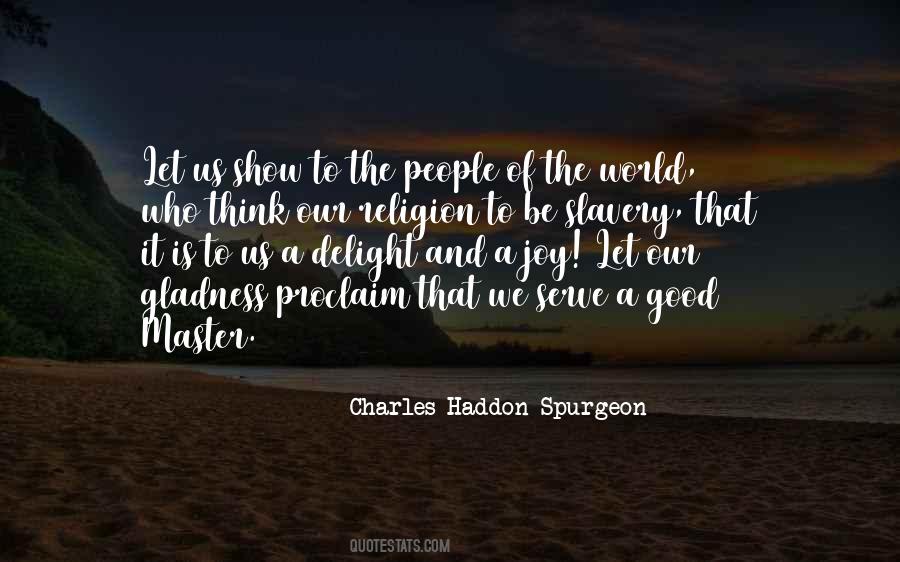 #37. It appeared the more religious and older men got, the more insatiable their appetite grew for teenage hymens; a short sighted, selfish, entitled and wicked appetite at that by the kind of men who were disillusioned enough to believe that the world revolved around their poles. - Author: Dauglas Dauglas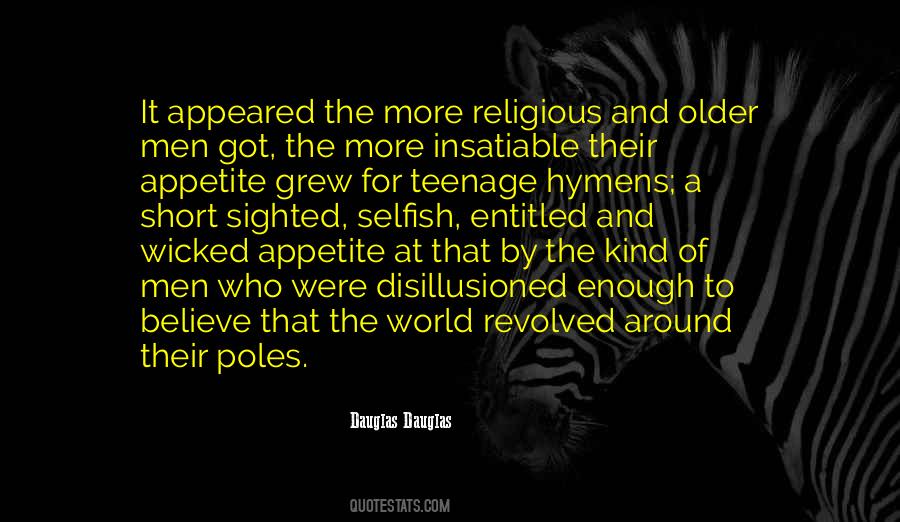 #38. Maybe she still was a pretty-head, making up irrational stories about the empty forest. The longer she stayed alone out here, the more Tally understood why the Rusties and their predecessors had believed in invisible beings, praying to placate spirits as they trashed the natural world around them. - Author: Scott Westerfeld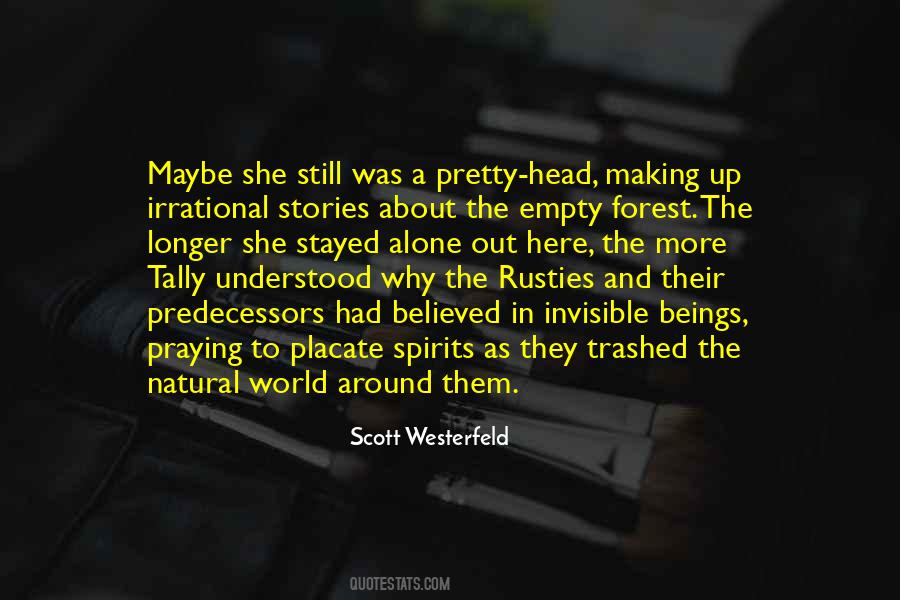 #39. Which is the more useful, the scientific world-view, with all its wonderful technical miracles, or the religious world-view, with its sense of purpose and belonging? - Author: Chris Beckett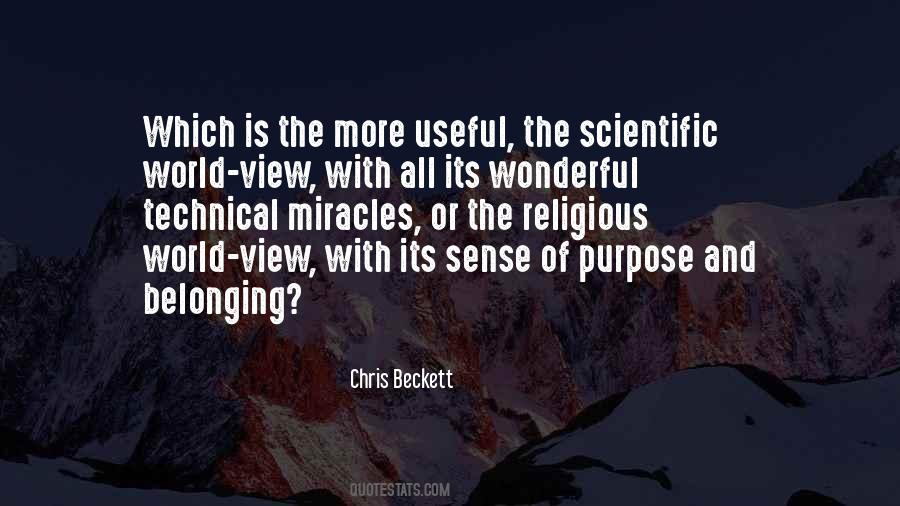 #40. I believe there is a moral sense and a global ethic that commands attention from people of every religion and every faith, and people of no faith. But I think what's new is that we now have the capacity to communicate instantaneously across frontiers right across the world. - Author: Gordon Brown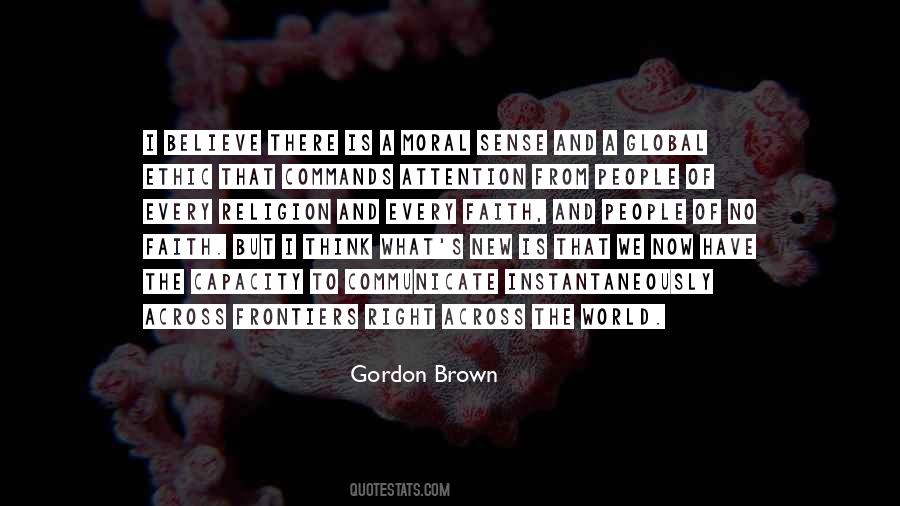 #41. There is not enough love and goodness in the world to permit giving any of it away to imaginary beings. - Author: Friedrich Nietzsche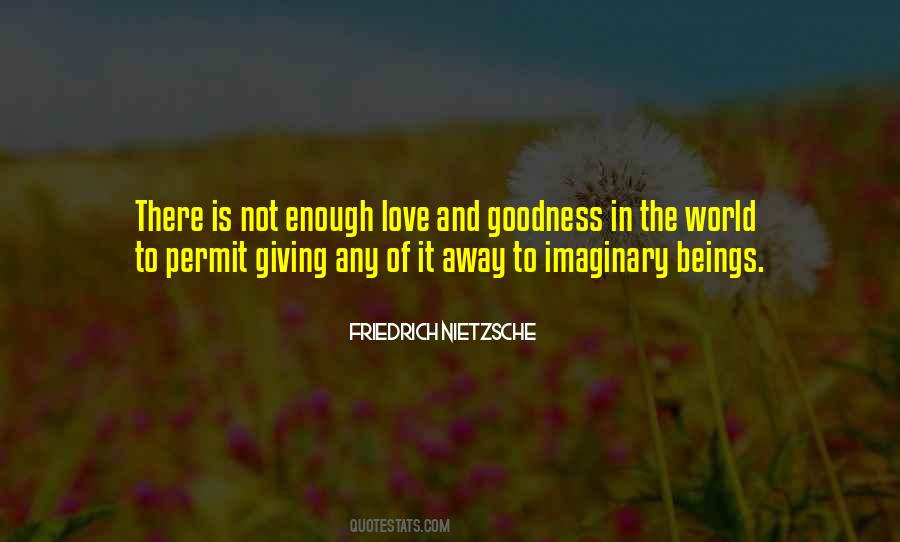 #42. The world in which we now live is a world whose outlook is so distorted that we absolutize what is relative (money-making, power, success) and relativize what is absolute (truth, moral values, and God). - Author: Alice Von Hildebrand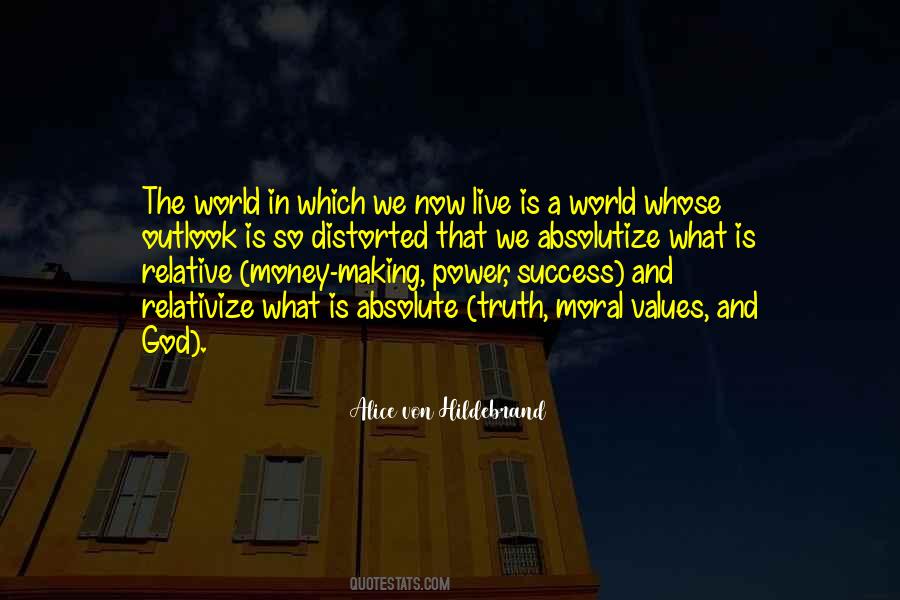 #43. Poetry, mythology, and religion represent the world as man would like to have it, while science represents the world as he gradually comes to discover it. - Author: Joseph Wood Krutch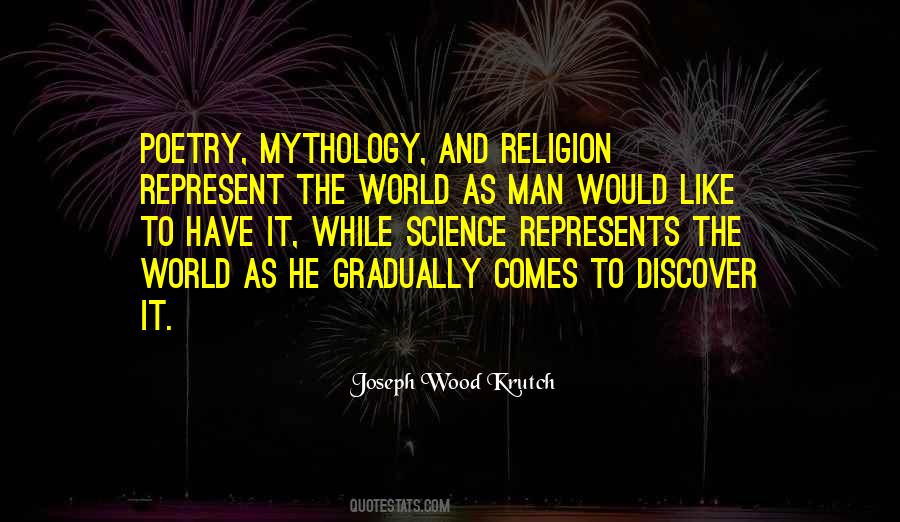 #44. My purpose is to help people look at themselves and begin to shift their concepts. Remember, we are not our country, our race, or religion. We are eternal spirits. Seeing ourselves as spiritual beings without label is a way to transform the world and reach a sacred place for all of humanity. - Author: Wayne Dyer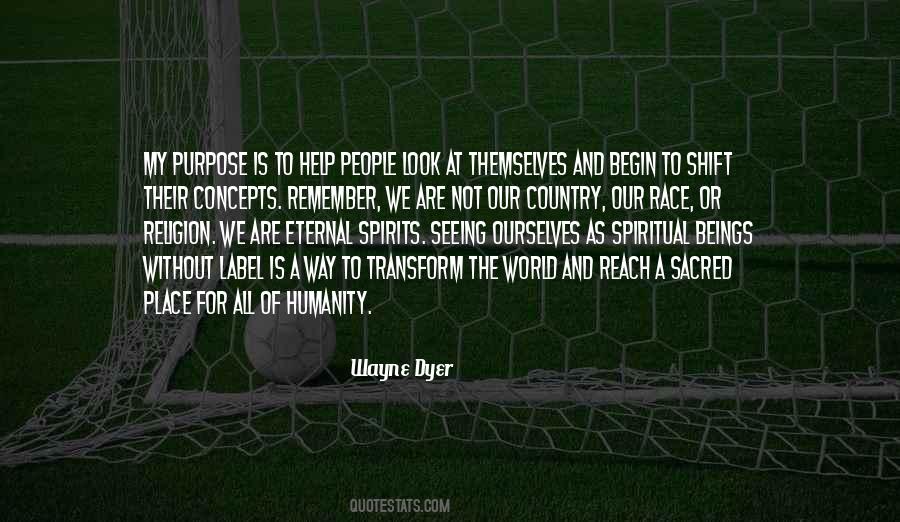 #45. Mankind, not womankind, has slaughtered more humans in the name of God and Religion than for any other reason. - Author: Abhijit Naskar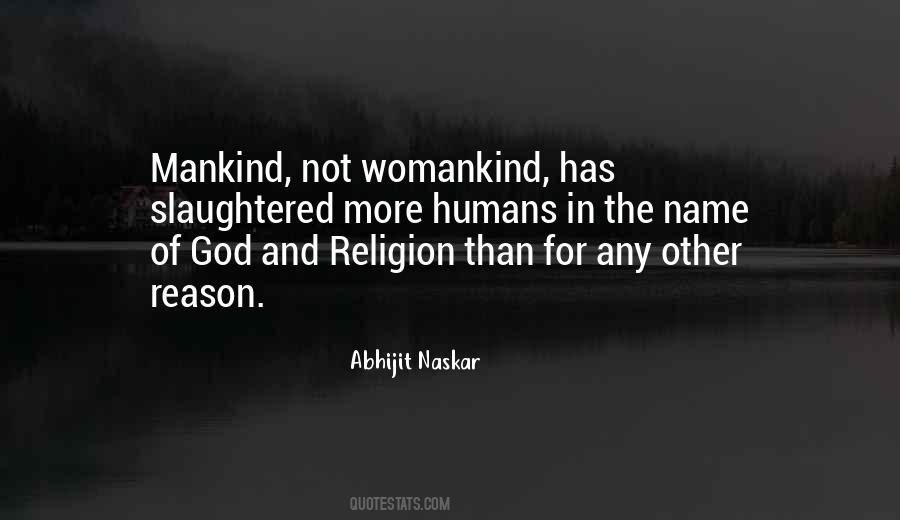 #46. It would be very nice if there were a God who created the world and was a benevolent providence, and if there were a moral order in the universe and an after-life; but it is a very striking fact that all this is exactly as we are bound to wish it to be. - Author: Sigmund Freud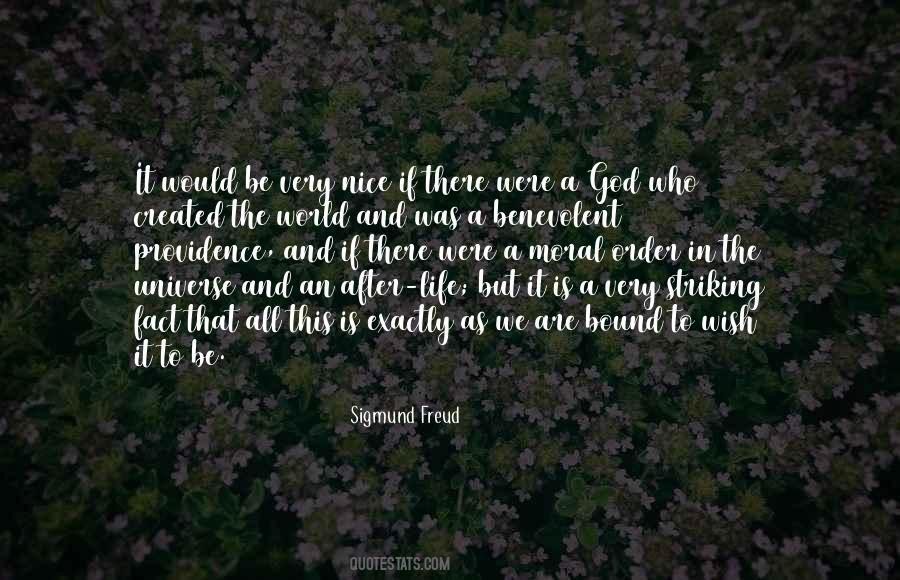 #47. She used religion as a therapy for the ills of the world and herself, and she changed the religion to fit the ill. When she found that the theosophy she had developed for communication with a dead husband was not necessary, she cast about for some new unhappiness. - Author: John Steinbeck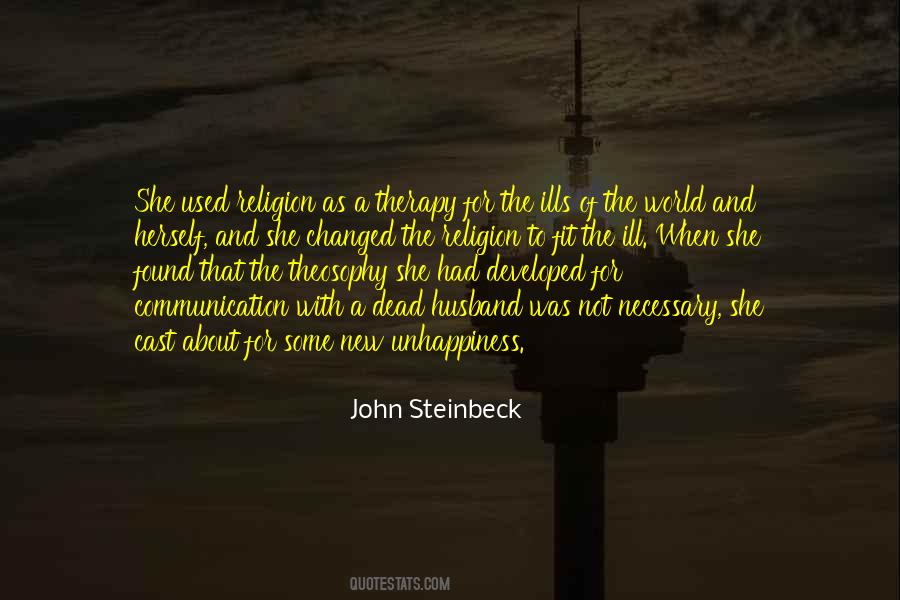 #48. The Jew is not satisfied with de-Christianizing, he Judiazizes, he destroys the Catholic or Protestant faith, he provokes indifference but he imposes his idea of the world of morals and of life upon those whose faith he ruins. He works at his age old task, the annilation of the religion of Christ. - Author: Bernard Lazare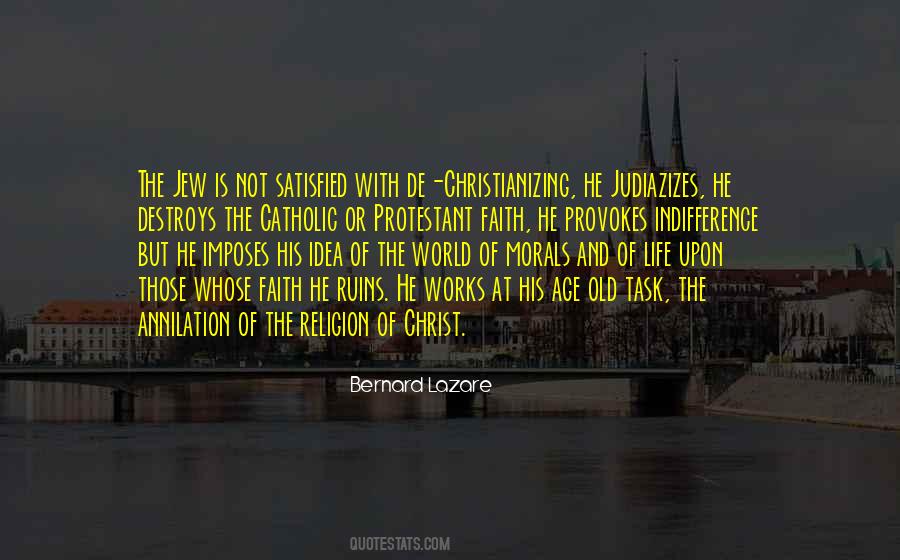 #49. I need to learn not to bend over backwards to be nice to faith-heads. Give these people an inch and they take a league. I think, as I did when I wrote The God Delusion, that the Roman Catholic Church is a disgusting institution, the second most evil religion in the world. - Author: Richard Dawkins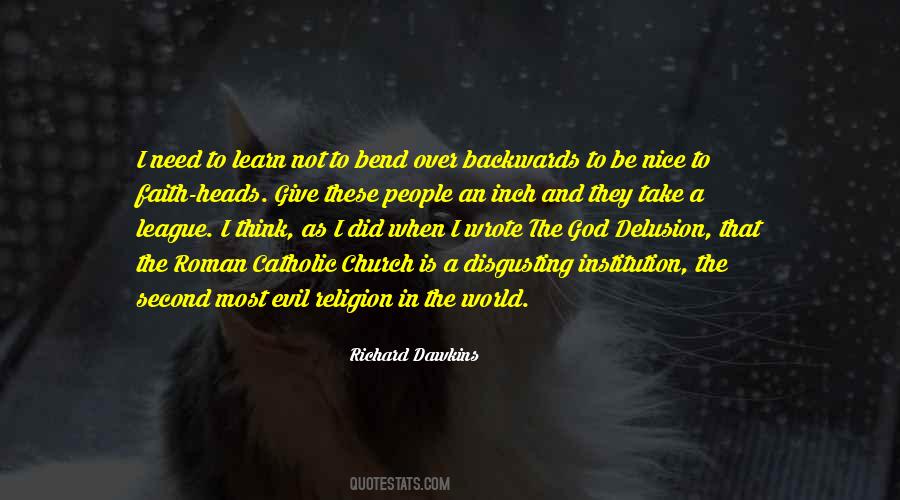 #50. Faith is the mortar that fills the cracks in the evidence and the gaps in the logic, and thus it is faith that keeps the whole terrible edifice of religious certainty still looming dangerously over our world. - Author: Sam Harris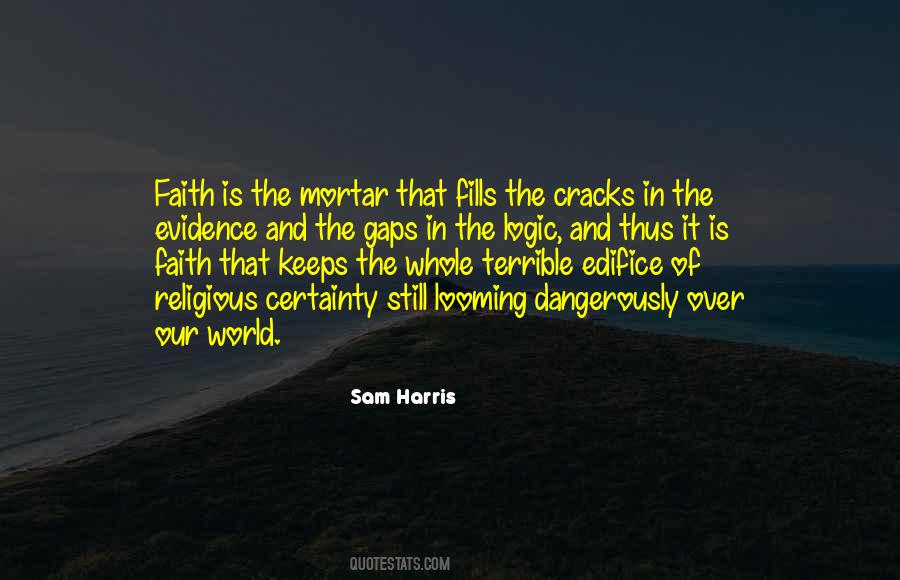 #51. What we call doubt is often simply dullness of mind and spirit, not the absence of faith at all, but faith latent with the lives we are not quite living, God dormant in the world to which we are not quite giving our best selves. - Author: Christian Wiman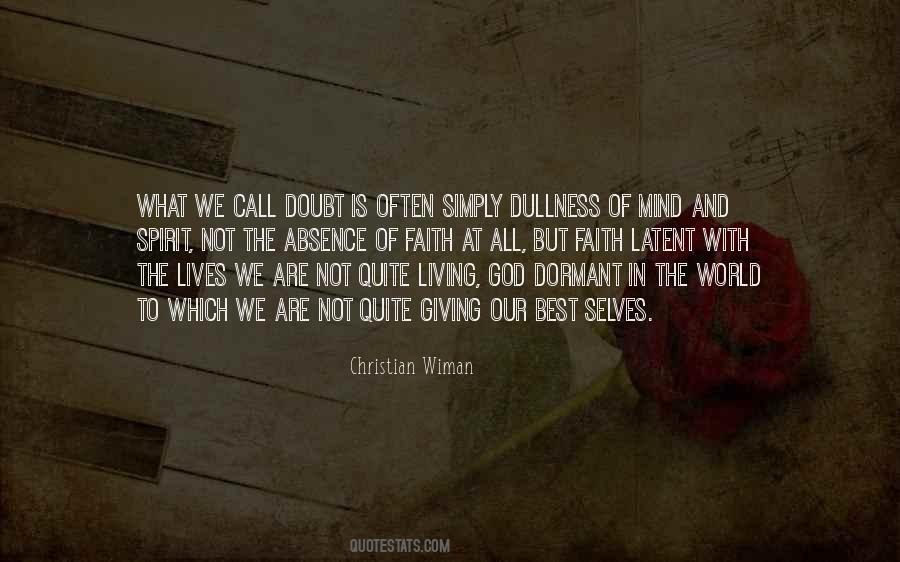 #52. Men are monsters all, and something in them wants to force others to see the world the same way they see it. - Author: M.J. Rose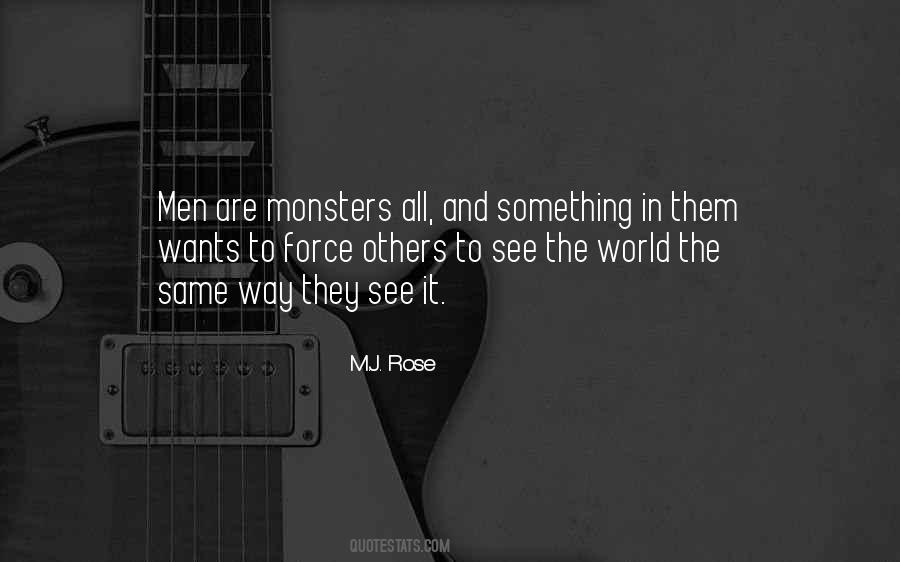 #53. A great responsibility to bring and give
a new way of watching to the world.
The Religion Of The Blue Circle
Religious Leader Petra Cecilia Maria Hermans
December 25, 2016 - Author: Petra Hermans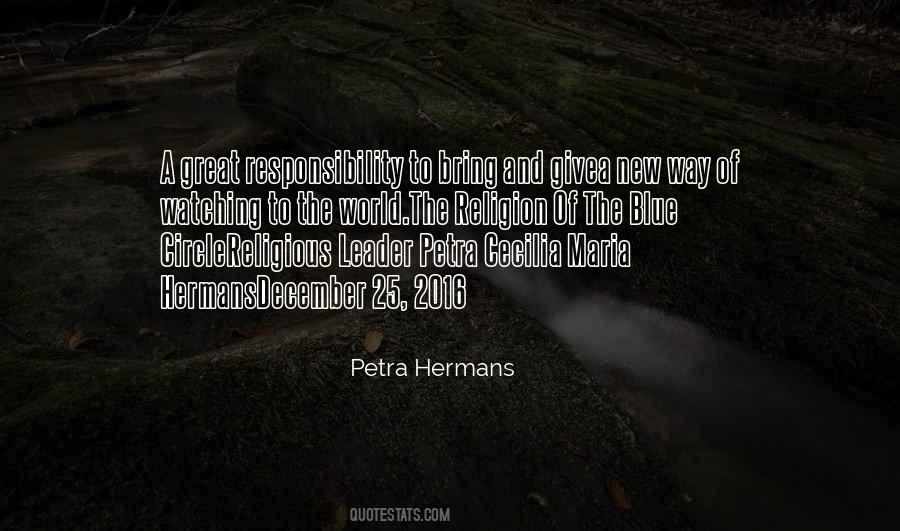 #54. I am a huge fan of capitalism and a huge fan of entrepreneurship and changing the world with technology and with entrepreneurship. Capitalism is awesome. To me, capitalism is my religion. - Author: Jason Calacanis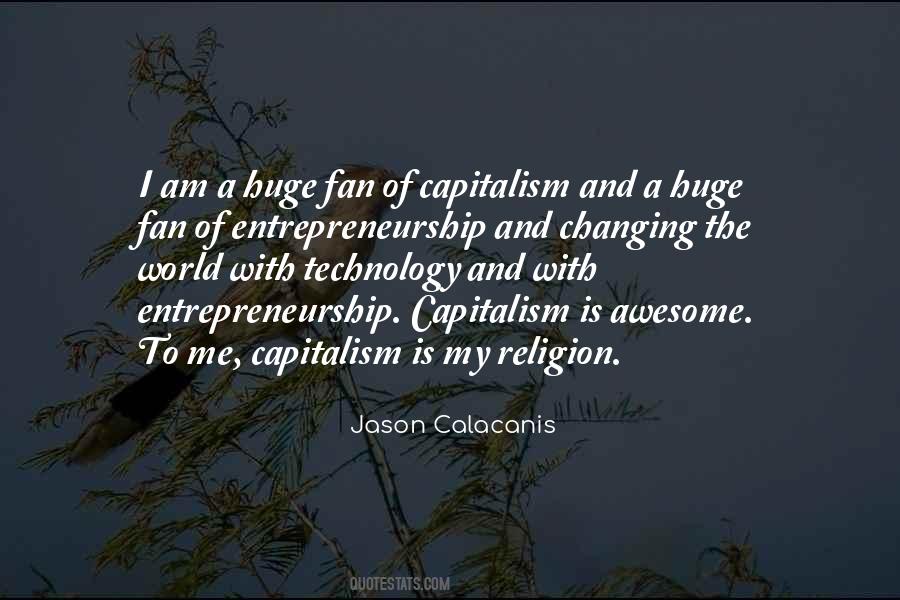 #55. It happened very providentially, to the honor of the Christian religion, that it did not take its rise in the dark illiterate ages of the world, but at a time when arts and sciences were at their height. - Author: Joseph Addison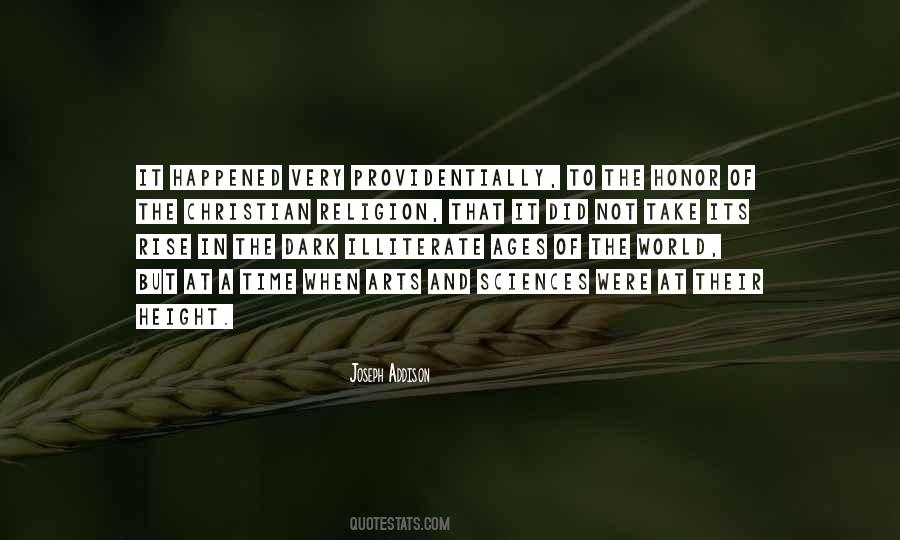 #56. Now the power of the imagination is a unifying power, hence the force of metaphor; and the poet is the supreme manipulator of metaphor ... the world needs the unifying power of the imagination. The two things that give it best are poetry and religion. - Author: R.S. Thomas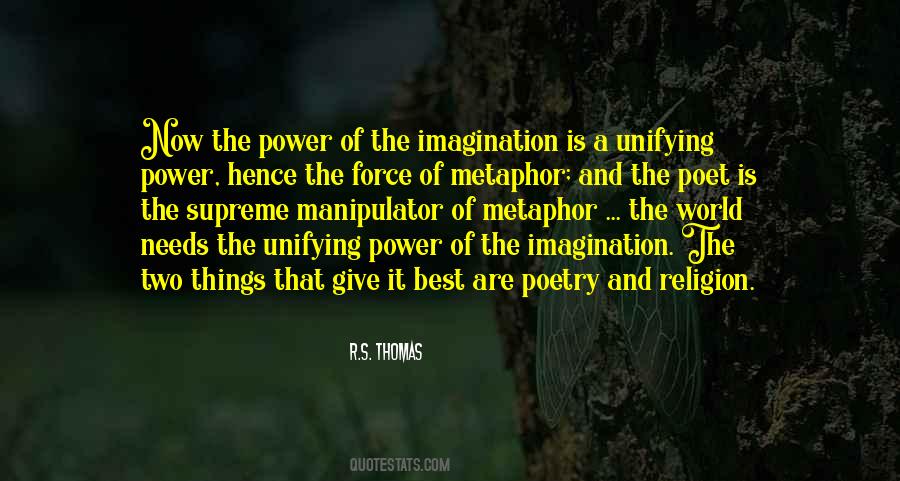 #57. Perhaps not one religion contains all of the truth of the world. Perhaps every religion contains fragments of the truth, and it is our responsibility to identify those fragments and piece them together. - Author: Christopher Paolini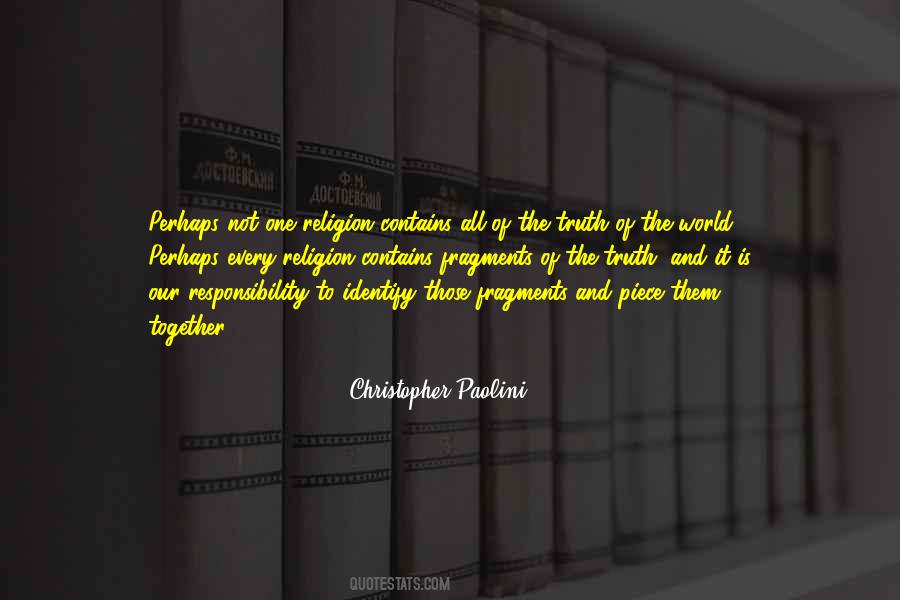 #58. After fulfilling its destructive urge towards everything that is noble and good on earth, it [naive Religion] sketches, in its opium intoxication, a picture of the future situation, which differs drastically from the order of this world, since everything changes and is renewed. - Author: Bruno Bauer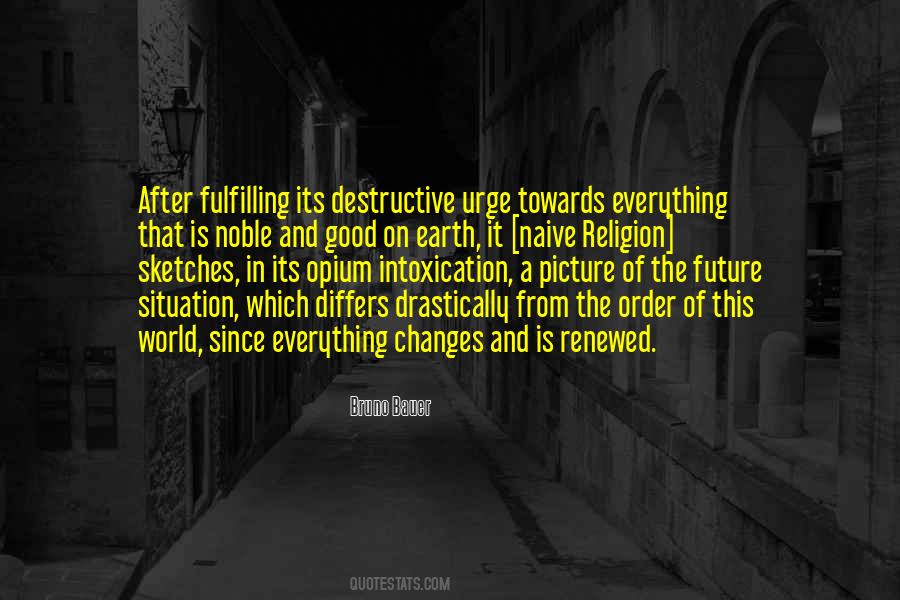 #59. Rumi and Shams taught us how to see the world with new eyes, how to find our place in the order of things, and how to extricate the true self trapped under layers of noise. - Author: Jamila Hammad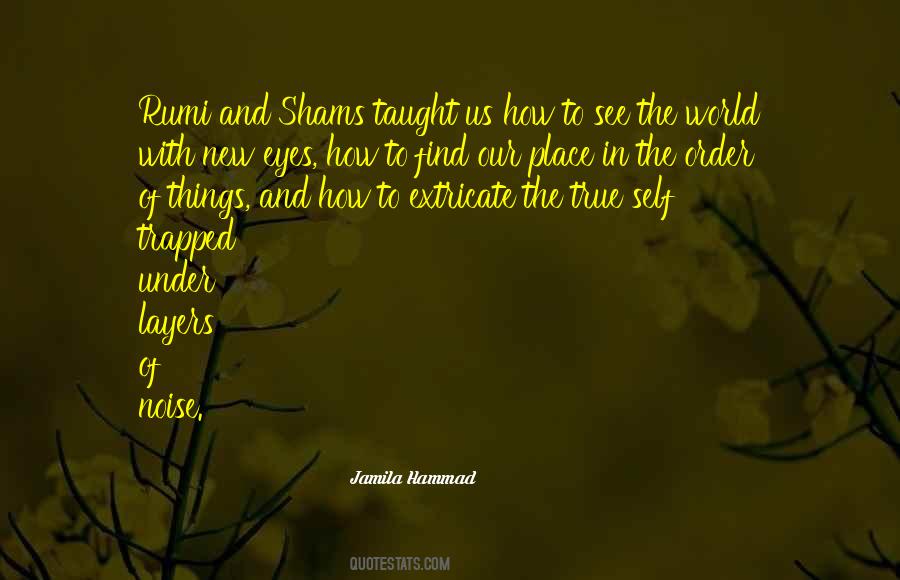 #60. We're [New York] the world's second home, the place where every religion is practiced and every culture is celebrated. - Author: Michael Bloomberg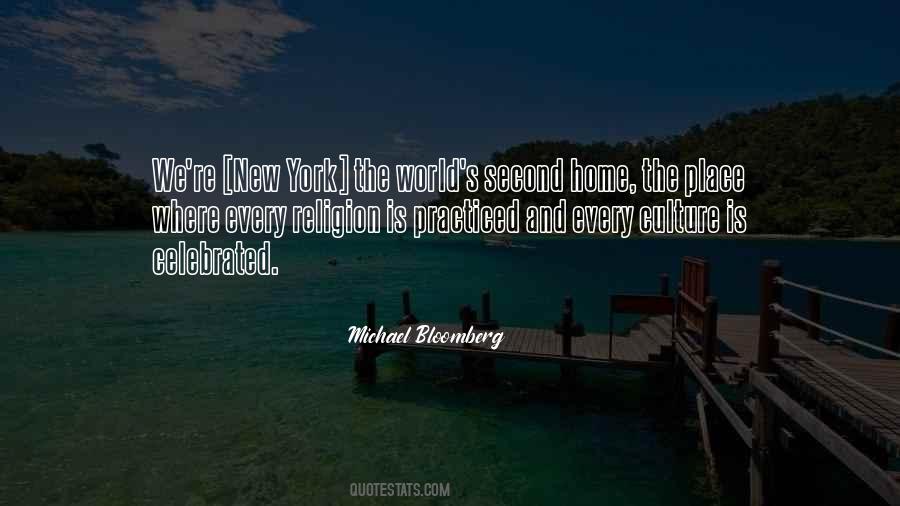 #61. If all with doubts about the factual basis of their religion will but commit to their resolution through direct and unfettered inquiry, our country - and with it the world - will see a rebirth of Liberty, - Author: Thomas Paine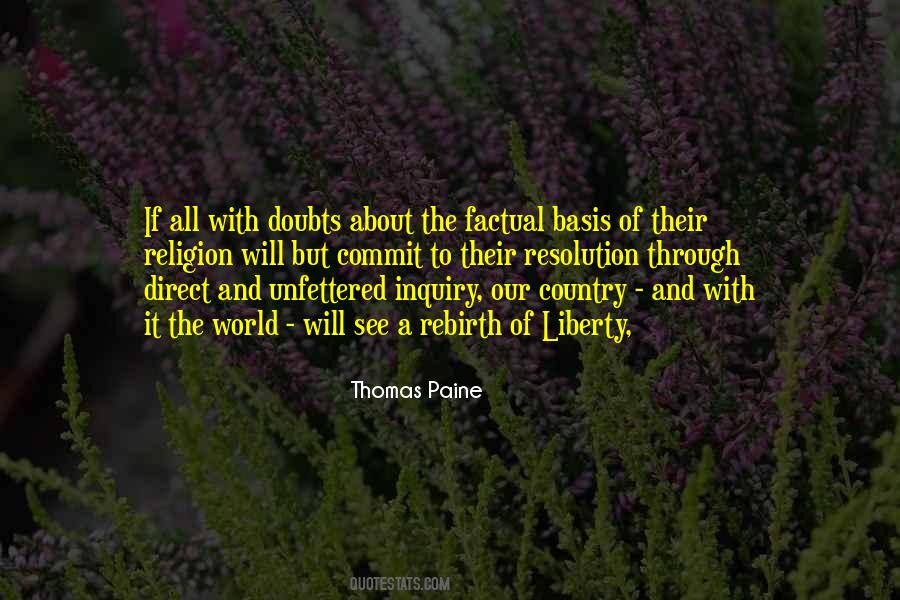 #62. Pretending that the world's religions are the same does not make our world safer. Like all forms of ignorance, it makes our world more dangerous. What we need on this furiously religious planet is a realistic view of where religious rivals clash and where they can cooperate. - Author: Stephen R. Prothero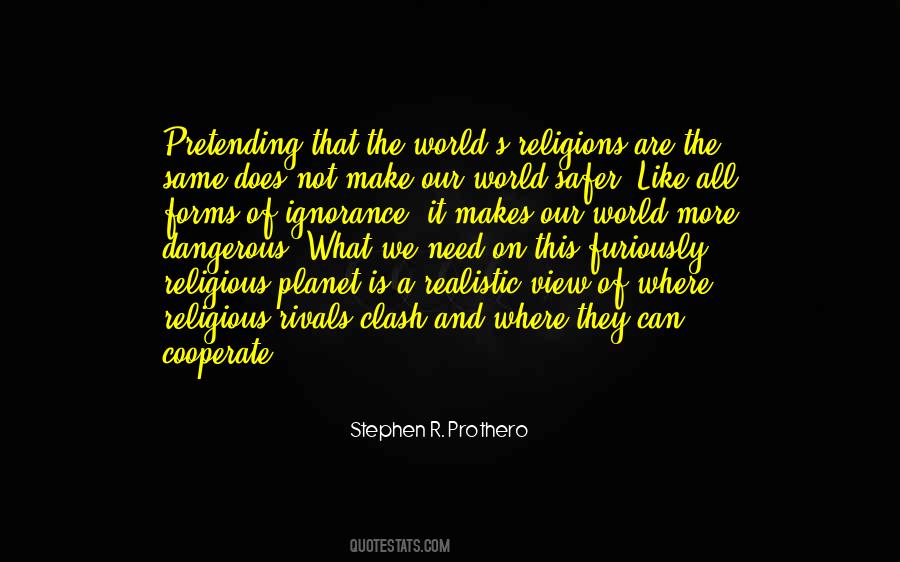 #63. I continued to find myself in a constant process of attempting to deconstruct values that were cultural and replace them with the legitimate teachings of Jesus - no matter how crazy that made me look to the world or Christians around me. - Author: Benjamin L. Corey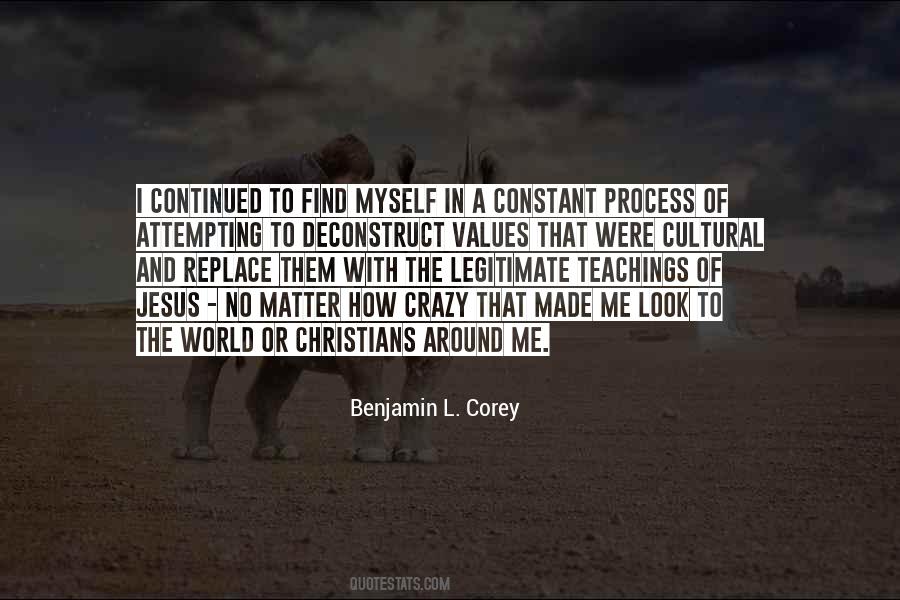 #64. The world is in need of less religion and more common sense. - Author: Llewelyn Powys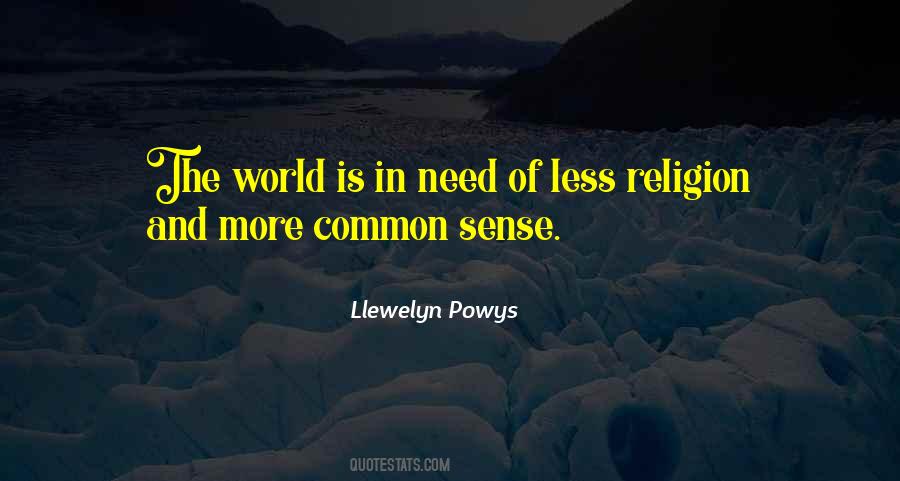 #65. Fear is the engine that drives the human animal. Humanity sees the world as a place of uncountable threats, and so the world becomes what humanity imagines it to be. They not only live in fear but use fear to control one another. Fearmongering is their true religion. - Author: Dean Koontz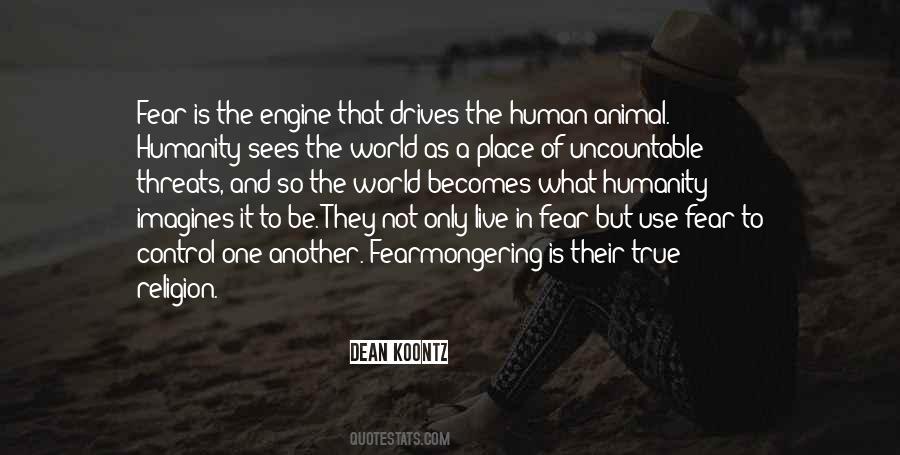 #66. Pastor Saeed Abedini is coming home. Held for three and a half years, his unyielding faith has inspired people around the world in the global fight to uphold freedom of religion. Now Pastor Abedini will return to his church and community in Idaho. - Author: Barack Obama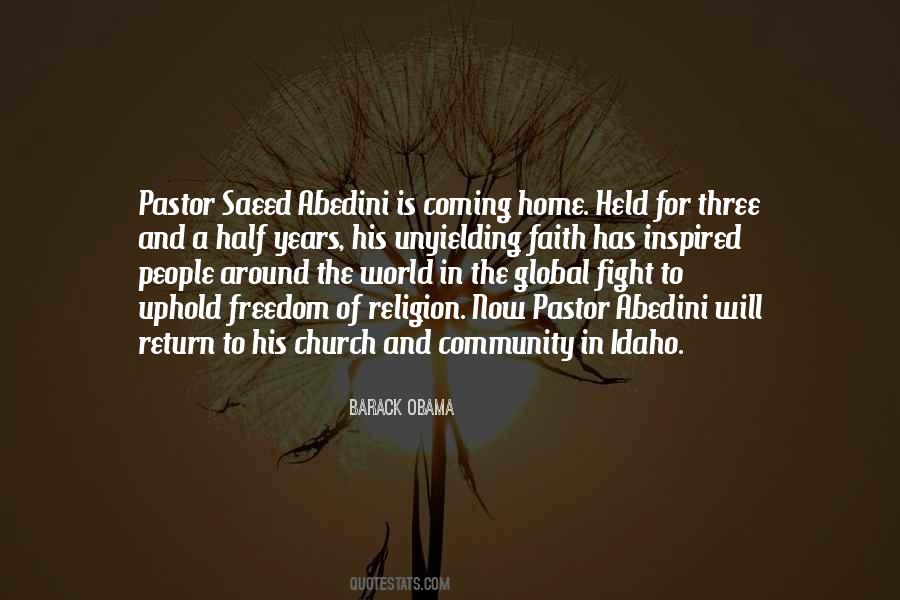 #67. Christianity is the fastest-growing religion in the world; Islam is the second. It's spreading in Asia, Africa, and South America. So the world is in a kind of religious revival, and the atheists are totally flummoxed. They thought they were winning, and now they see that they aren't. - Author: Dinesh D'Souza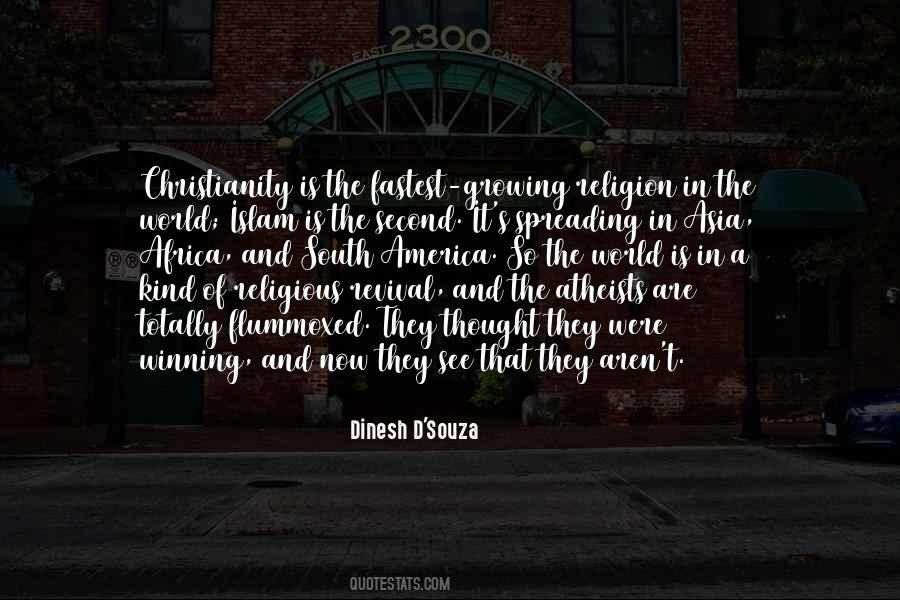 #68. We can always be sure of one thing - that the messengers of discomfort and sacrifice will be stoned and pelted by those who wish to preserve at all costs their own contentment. This is not a lesson that is confined to the Testaments. - Author: Christopher Hitchens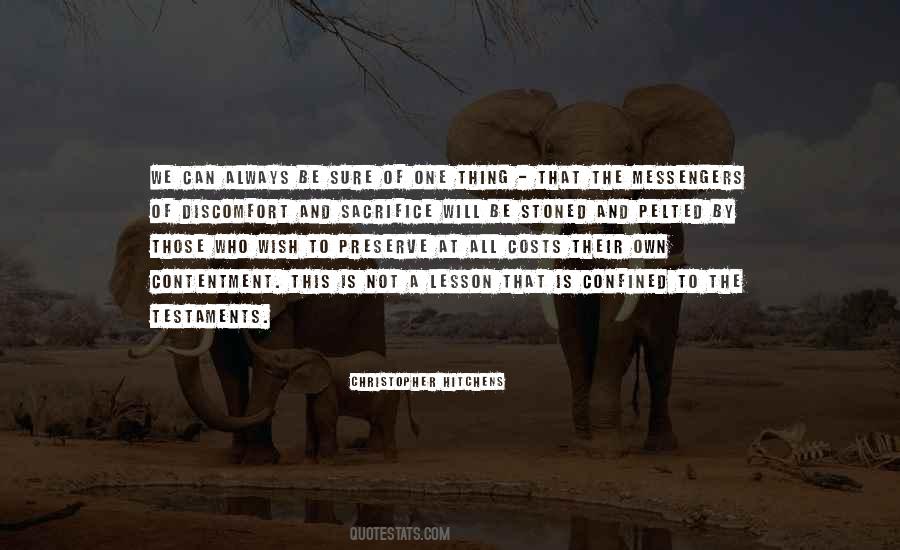 #69. This religion that scorned the beauty and goodness of this world was a puzzle to me. - Author: Wendell Berry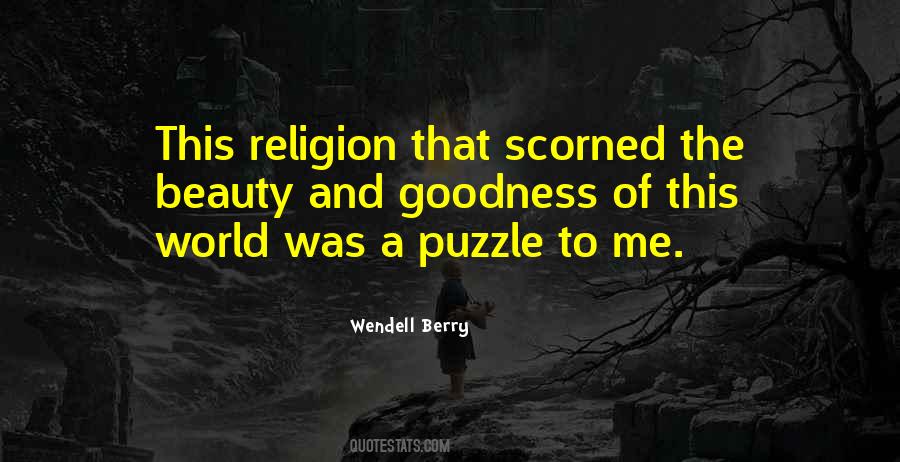 #70. I was a very religious child - I went to synagogue at least once, sometimes twice, a day. And I remember my religiousness as good - I think religion is good for children, especially educated children, because it allows for imagination, a whole imaginative world apart from the practical world. - Author: Yehuda Amichai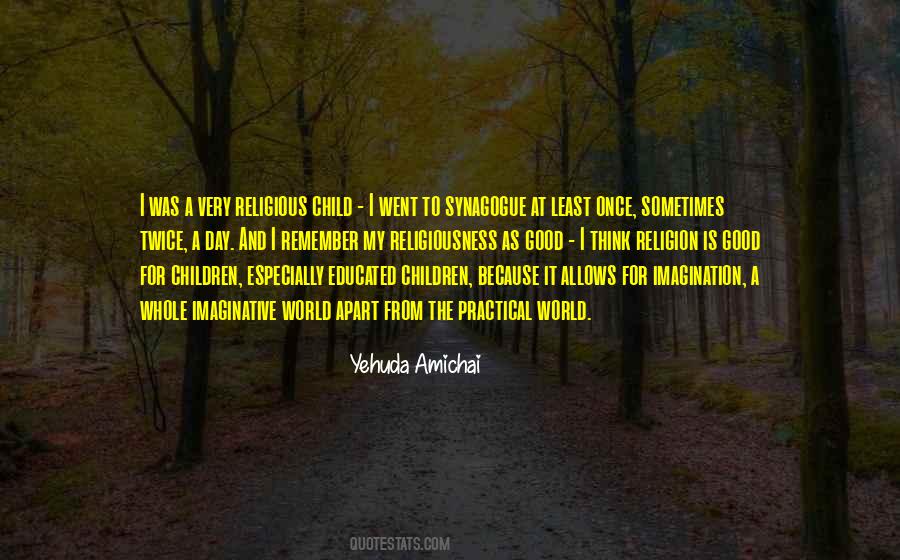 #71. The fact that the Vatican is concluding a treaty with the new Germany means the acknowledgement of the National Socialist state by the Catholic Church. This treaty shows the whole world clearly and unequivocally that the assertion that National Socialism is hostile to religion is a lie. - Author: Adolf Hitler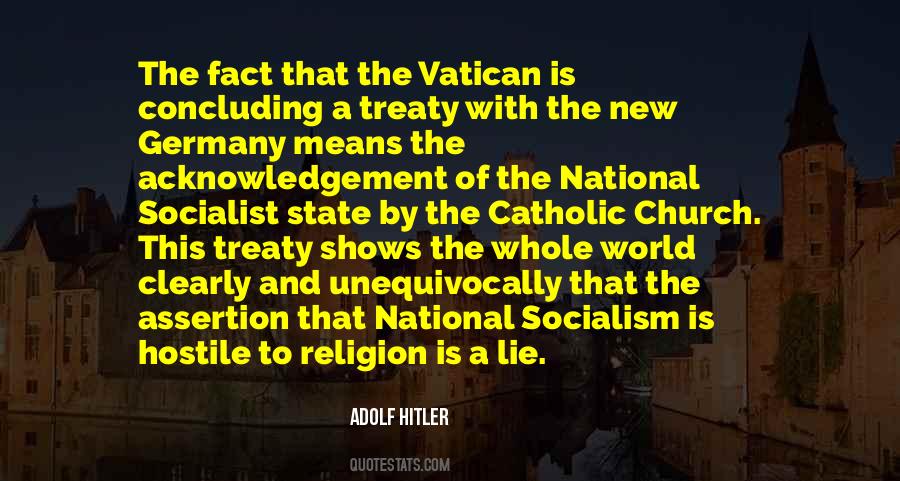 #72. What are all political and social institutions, but always a religion, which in realizing itself, becomes incarnate in the world? - Author: Edgar Quinet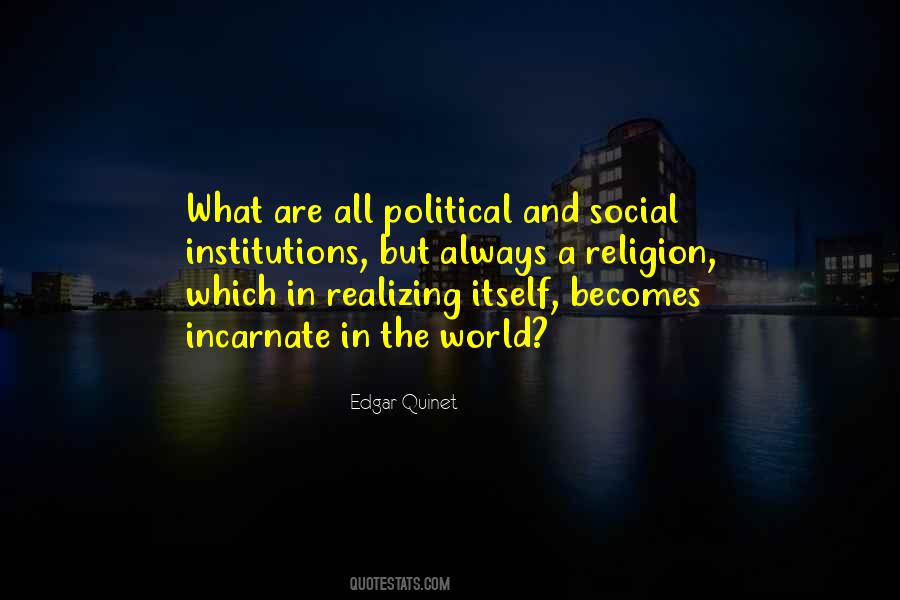 #73. I've never sung anywhere without giving the people listening to me a chance to join in - as a kid, as a lefty, as a man touring the U.S.A. and the world, as an oldster. I guess it's kind of a religion with me. Participation. That's what's going to save the human race. - Author: Pete Seeger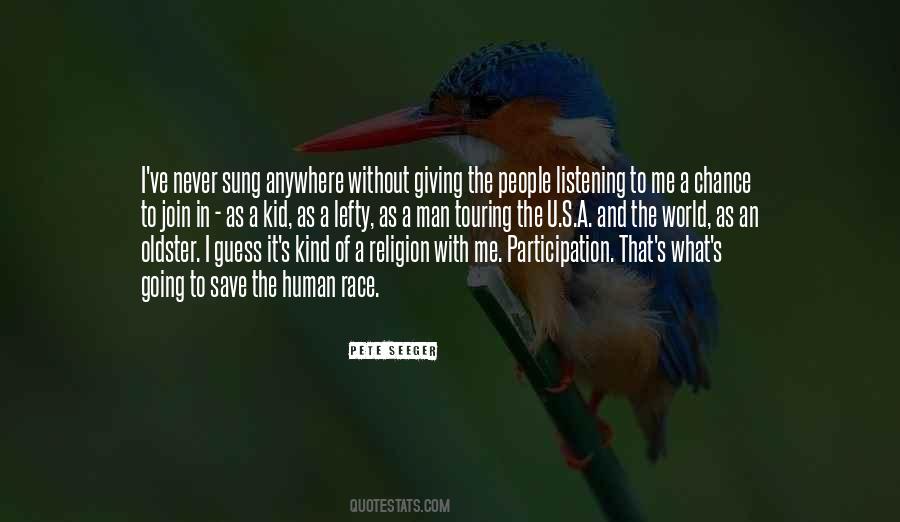 #74. What we gain in the world, we lose in the world, forgotten in death. We must rather fancy what we brought into the world, for therein lives our story, our legend. - Author: Palle Oswald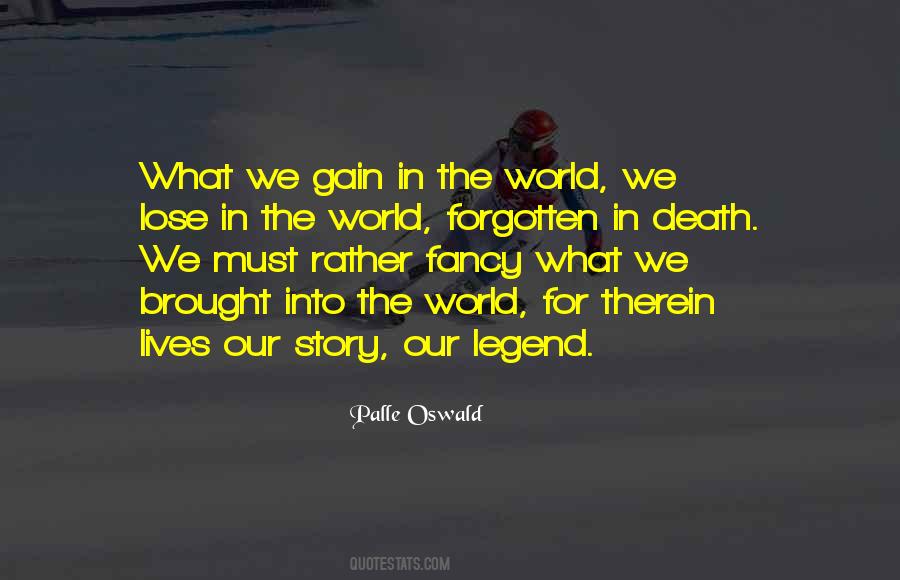 #75. I grew up in the church and had religion in my life for a long time. I'm not really a church goer, but I definitely have a hunger for a spiritual connection to the world and for my soul to be healed. - Author: Wes Bentley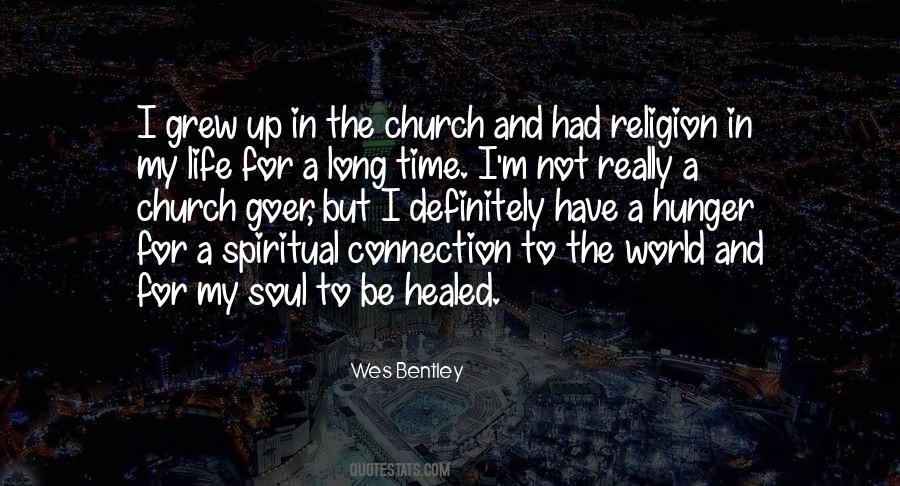 #76. In any event, we must remember that it's not the blinded wrongdoers who are primarily responsible for the triumph of evil in the world, but the spiritually sighted servants of the good. - Author: Fyodor Stepun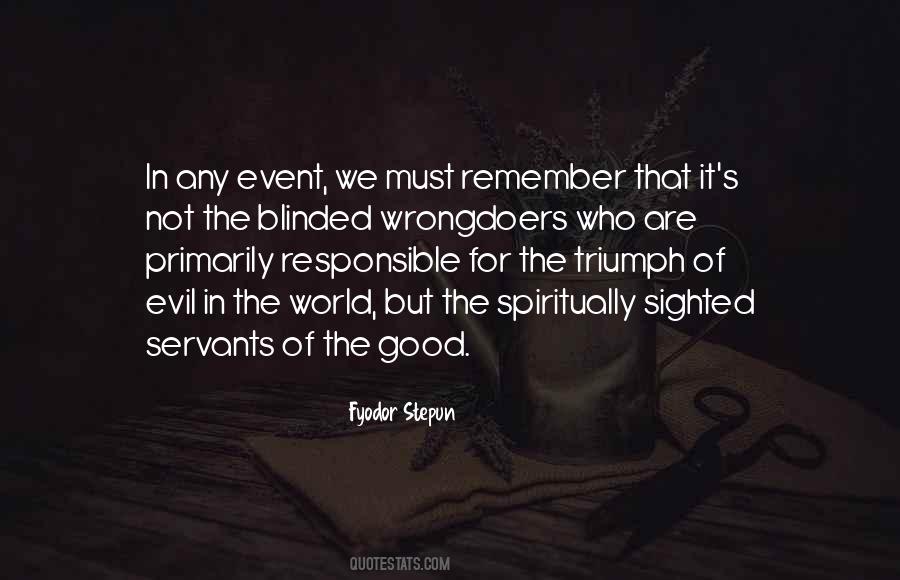 #77. The good Lord made this world and everything that's in it. The way I see it, baby, you got to love it to the limit. - Author: Paul McCartney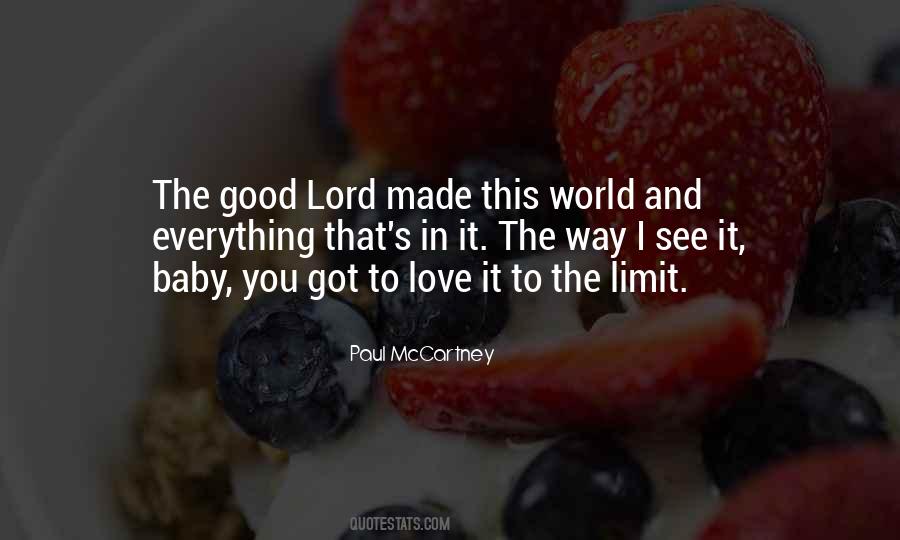 #78. What was once called the objective world is a sort of Rorschach ink blot, into which each culture, each system of science and religion, each type of personality, reads a meaning only remotely derived from the shape and color of the blot itself - Author: Lewis Mumford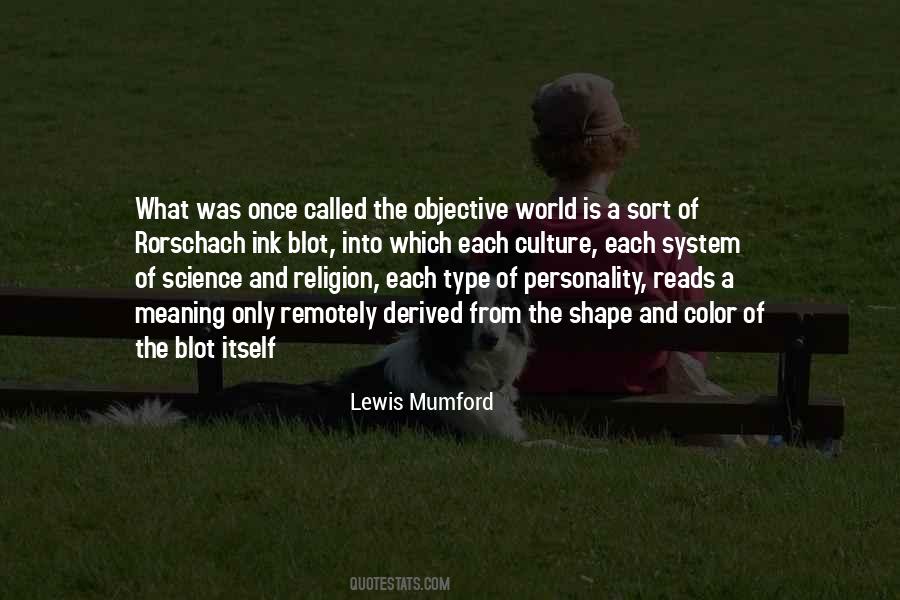 #79. Be careful what you wish for, I guess. I believe - this will sound bloated, but I believe it - that true art, the potent stuff, can take the world down with it, just like religion can. And the opposite of course. - Author: Porochista Khakpour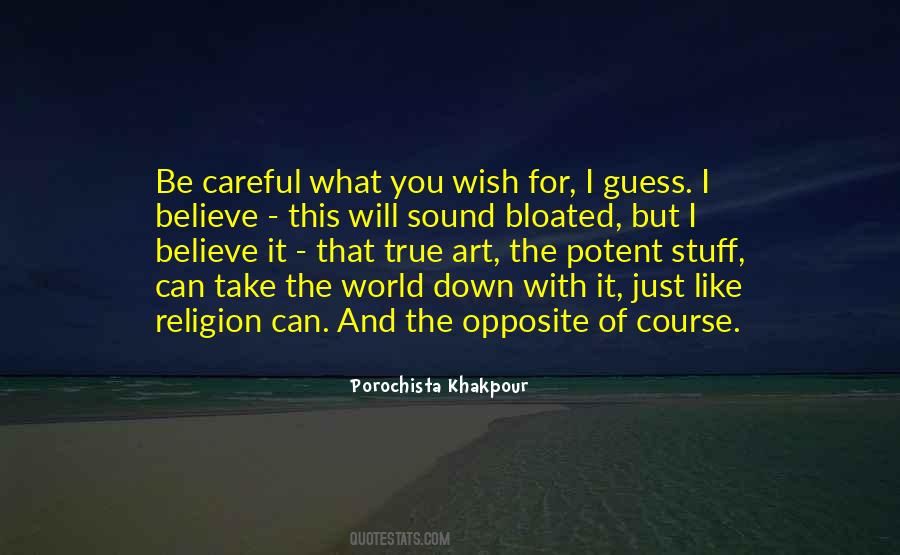 #80. Scientific People, unscientific mind; why are we dividing the world which could shine? Between religion and science, all what matters is human lives. - Author: Santosh Kalwar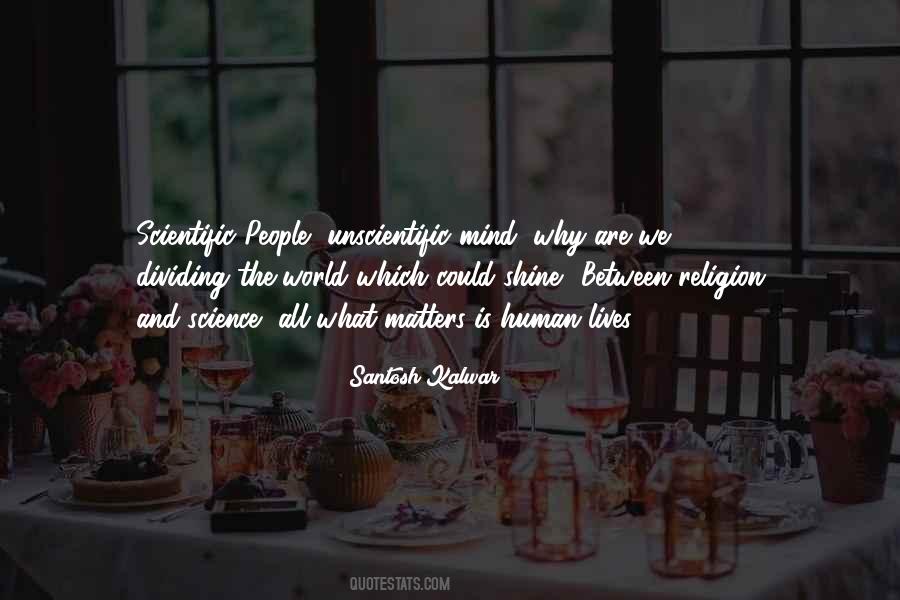 #81. Look at Islam in a rational manner and without demagoguery or emotion. It is the leading religion of the world with 1.5 billion followers. - Author: Zbigniew Brzezinski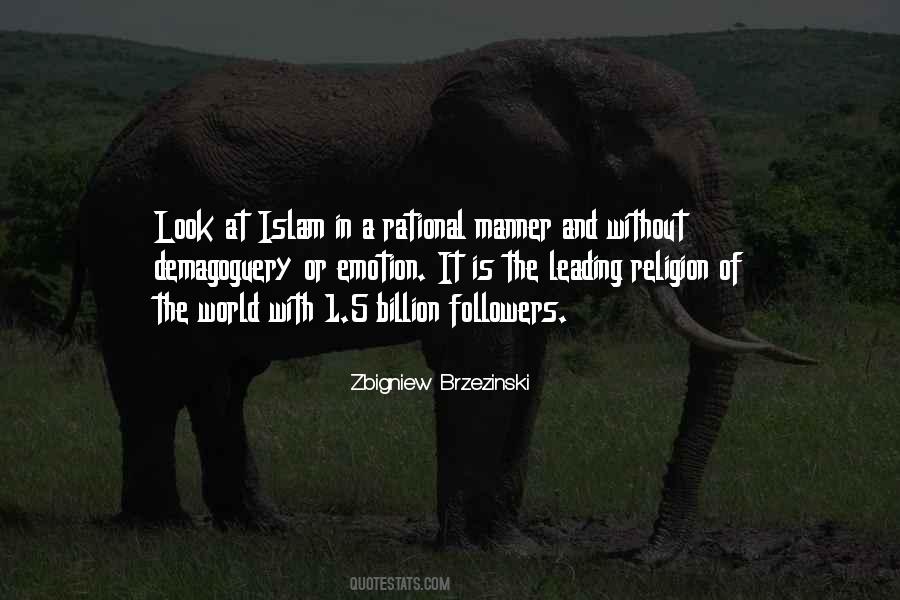 #82. We must have a new reformation. There must come a violent break with that irresponsible, amusement-mad, paganized pseudo-religion which passes today for the faith of Christ and which is being spread all over the world by unspiritual men employing unscriptural methods to achieve their ends. - Author: Aiden Wilson Tozer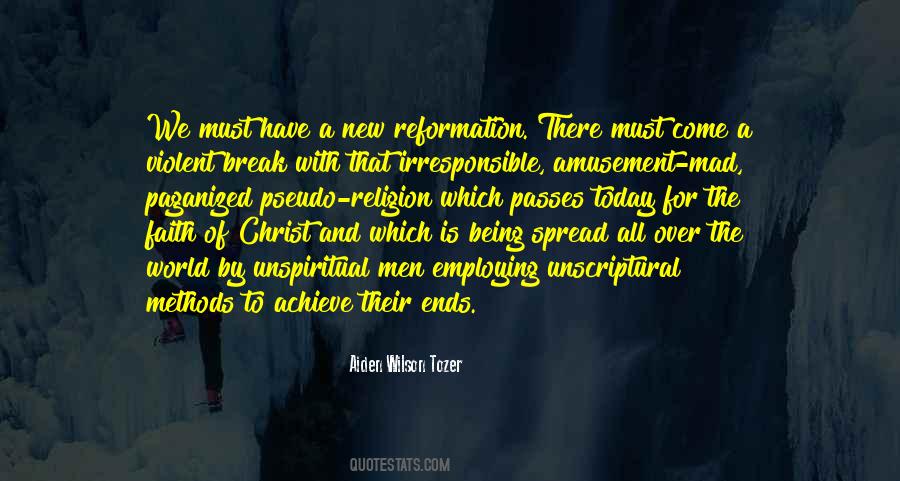 #83. A scientific discovery is also a religious discovery. There is no conflict between science and religion. Our knowledge of God is made larger with every discovery we make about the world. - Author: Joseph Hooton Taylor Jr.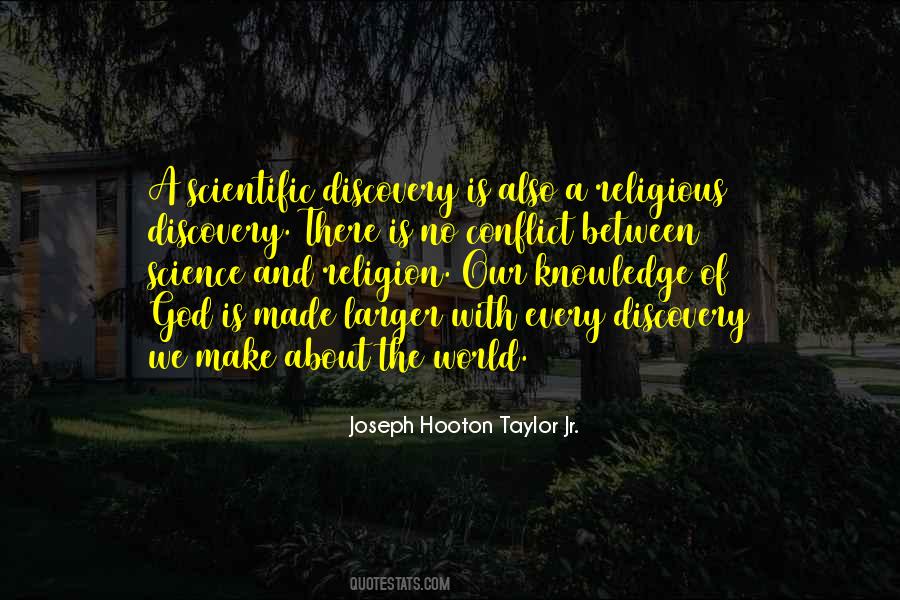 #84. Our nation and those of the developed world must offer our own resistance to despot leaders who seek to commit murder on the basis of religion or race. - Author: Tim Bishop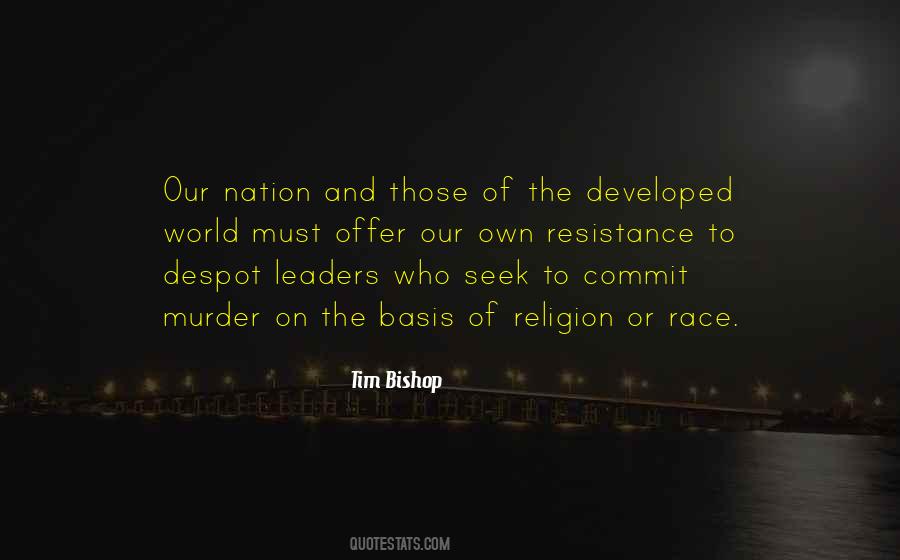 #85. Interspirituality is the world music of religion; borrowing, fusing, blending and bouncing rhythms and riffs off one another not to create a homogenized spirituality, but to birth a radical new sound embedded in the ancient and timeless silence. This doesn't impact or deepen my life-it is my life. - Author: Rami M. Shapiro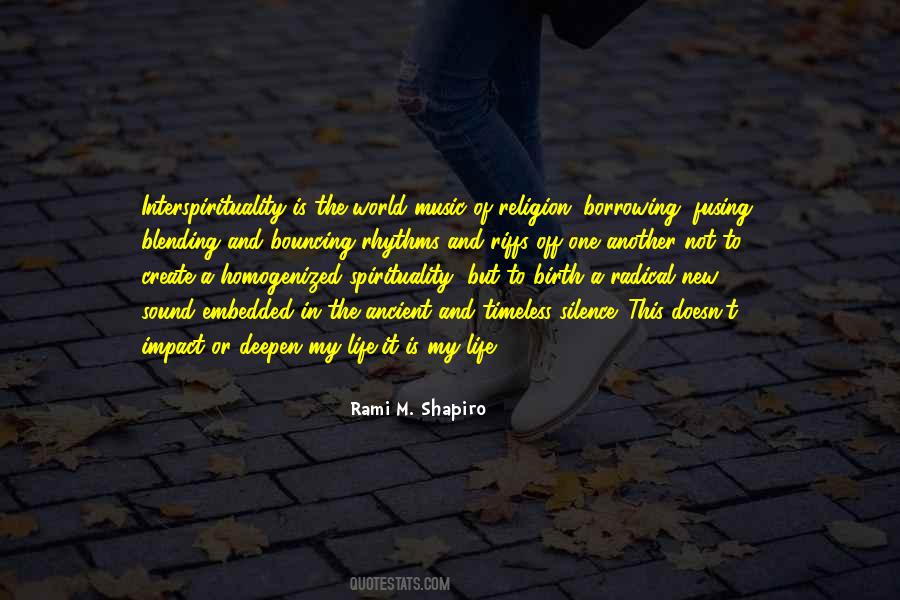 #86. I believe we are our own gods, and our own devils. Good and evil doesn't exist out there in the world, it exists in each and every one of us. - Author: K.A. Hill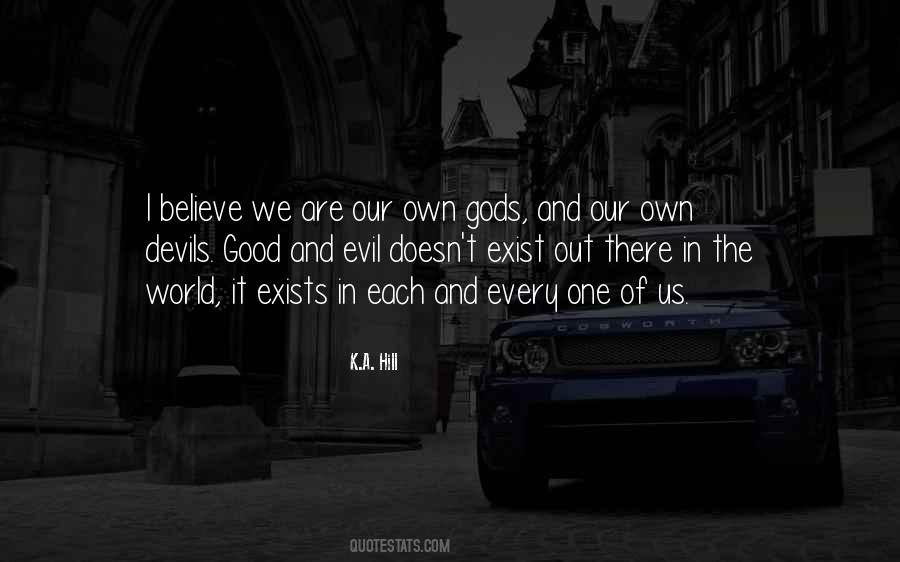 #87. Let me make this radiantly clear - if you believe in spirits and the metaphysical world, your biology will create the illusion that these things are real. - Author: Christopher Zzenn Loren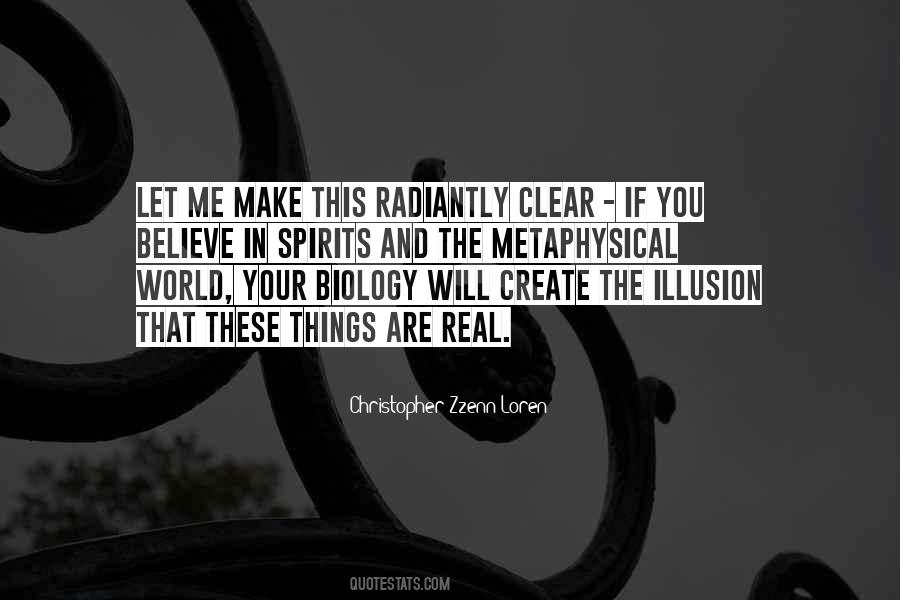 #88. Science is never rigid, it is flexible. It can bend towards any direction that ultimately tends to do good to humanity. Religion must learn the same. And the moment any religion learns that, it would become the most scientific religion in the world. - Author: Abhijit Naskar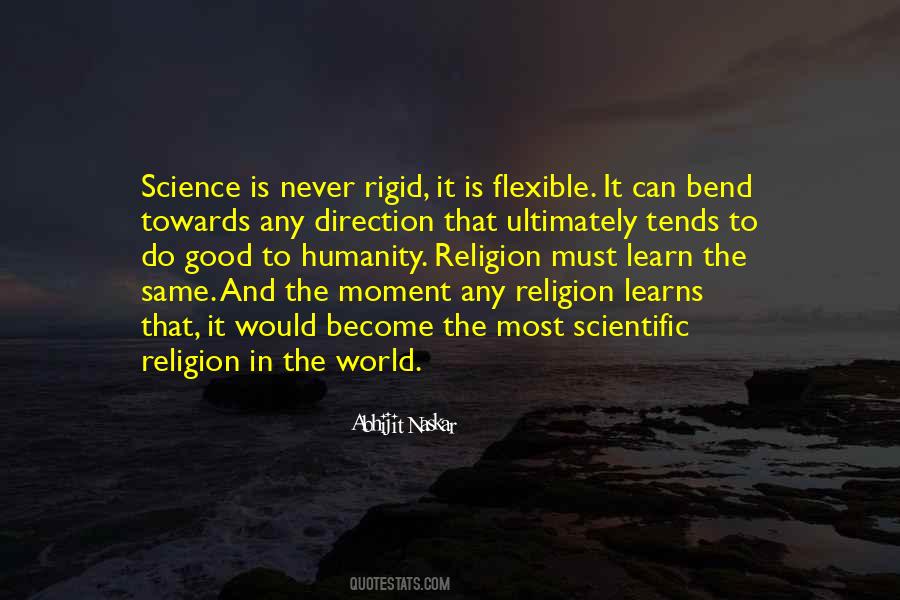 #89. Perhaps no one religion contains all the truth of the world. Perhaps every religion contains fragments of the truth and it is our responsibility to identify those fragments and piece them together. Or perhaps the elves are right and there are no gods. But how can I know for sure?" - Pg 479 Brisingr - Author: Christopher Paolini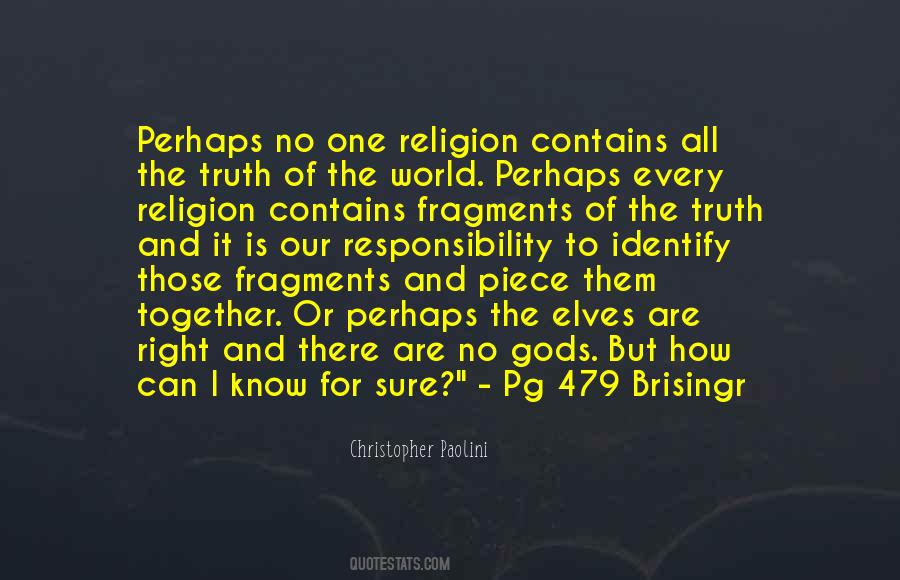 #90. I see that sensible men and conscientious men all over the world were of one religion of well-doing and daring. - Author: Ralph Waldo Emerson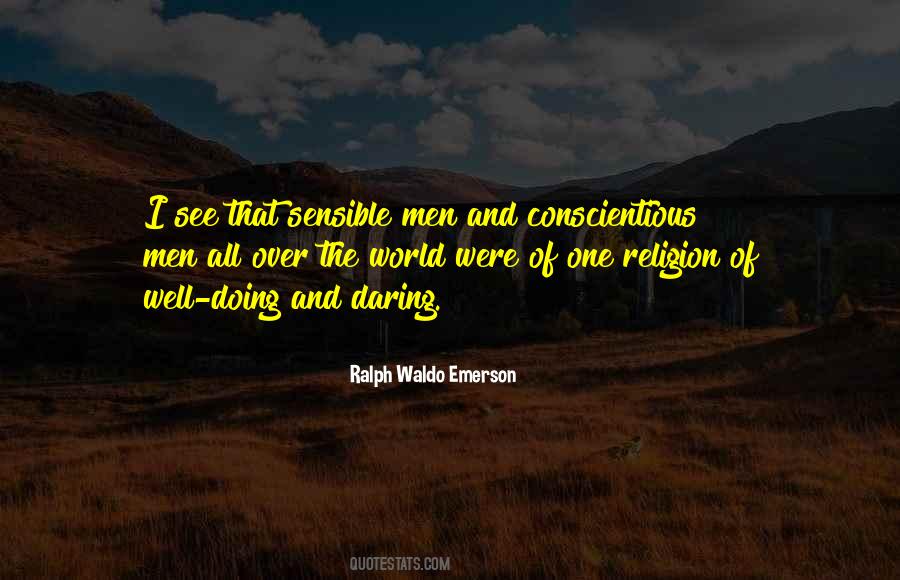 #91. The mere fact that a very large number of people believe such a thing and that the world would be a better place if it were true, is no reason for believing that it is true. - Author: Leonard Woolf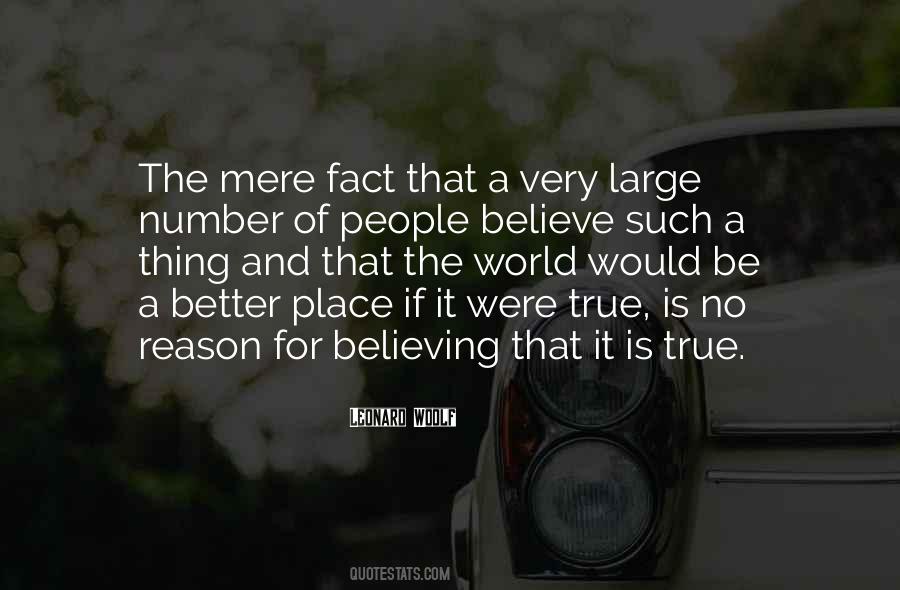 #92. Science enables humans to satisfy their needs. It does nothing to change them. They are no different today from what they have always been. There is progress in knowledge, but not in ethics. This s the verdict both of science and history, and the view of every one of the world's religions. - Author: John Gray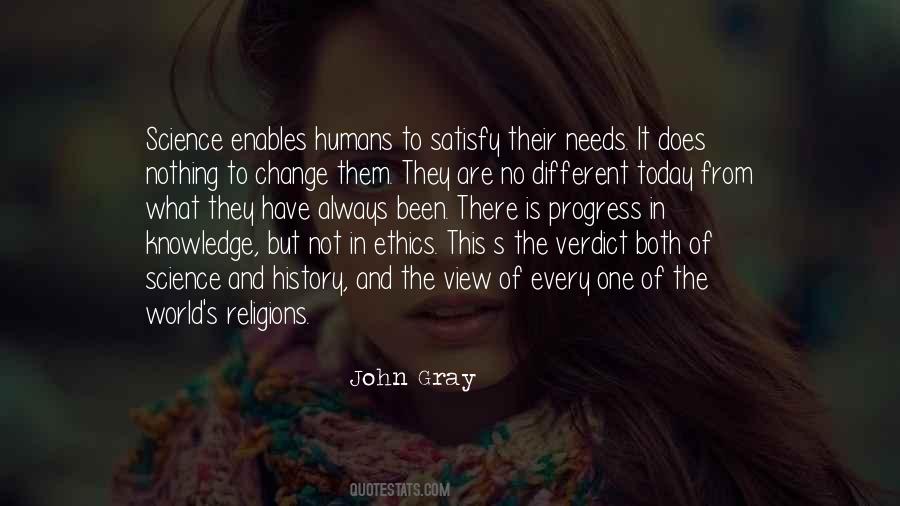 #93. For I bring not a religion ... but a Person, who loves people, who died for them on the cross. For Jesus died for the sins of the whole world and He will not that any one should perish. He understands every single individual. - Author: Corrie Ten Boom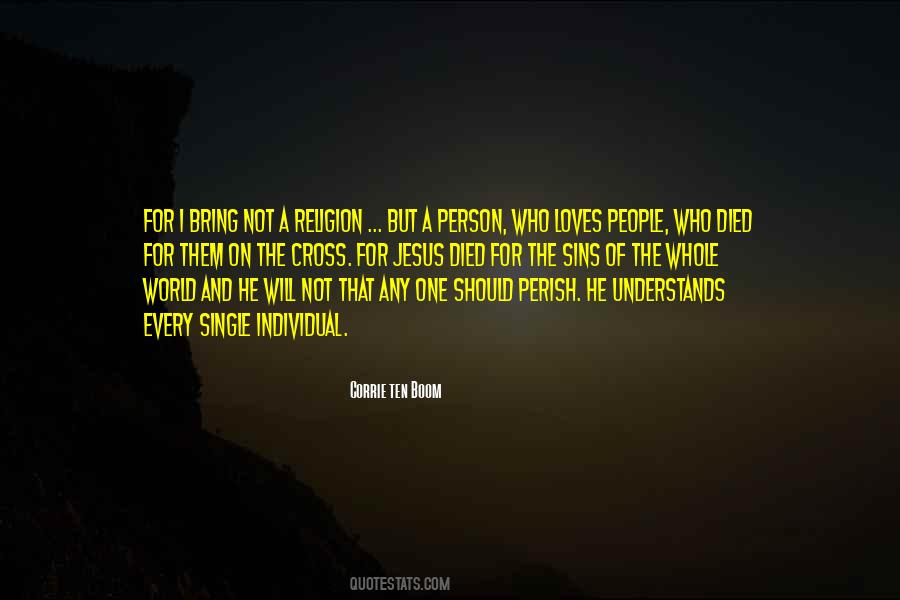 #94. This condition in which women live is created out of, and defended by, a system of ideas represented by the world's religions, by psychoanalysis, by pornography, by sexology, by science and medicine and the social sciences. - Author: Sheila Jeffreys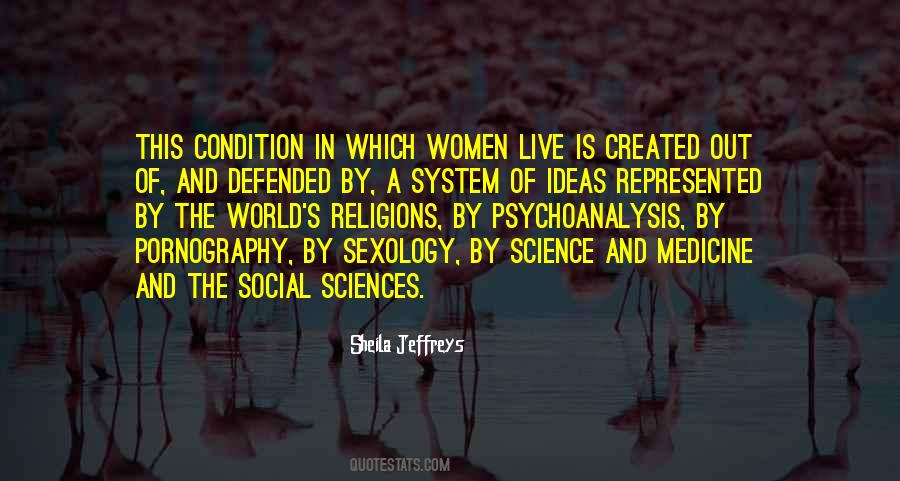 #95. Is it possible that despite our inventions and progress, despite our culture, religion and knowledge of the world, we have remained on the surface of life? - Author: Rainer Maria Rilke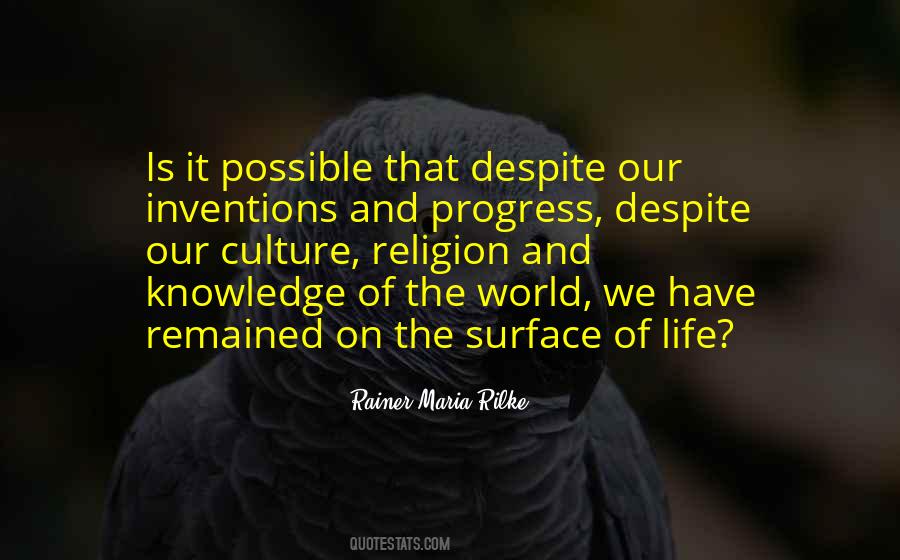 #96. In Mencken's view, "religion belongs to a very early stage of human development, and ... its rapid decay in the world since the Reformation is evidence of genuine progress" ("The Ascent of Man"). - Author: H.L. Mencken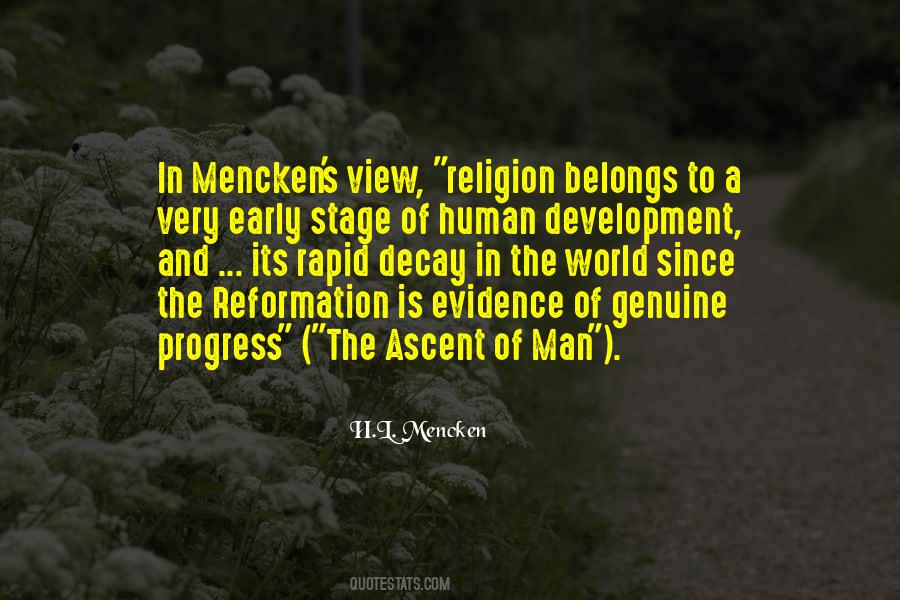 #97. Two attempts have been made in the world to found social life: the one was upon religion, and the other was upon social necessity. The one was founded upon spirituality, the other upon materialism; the one upon transcendentalism, the other upon realism. - Author: Swami Vivekananda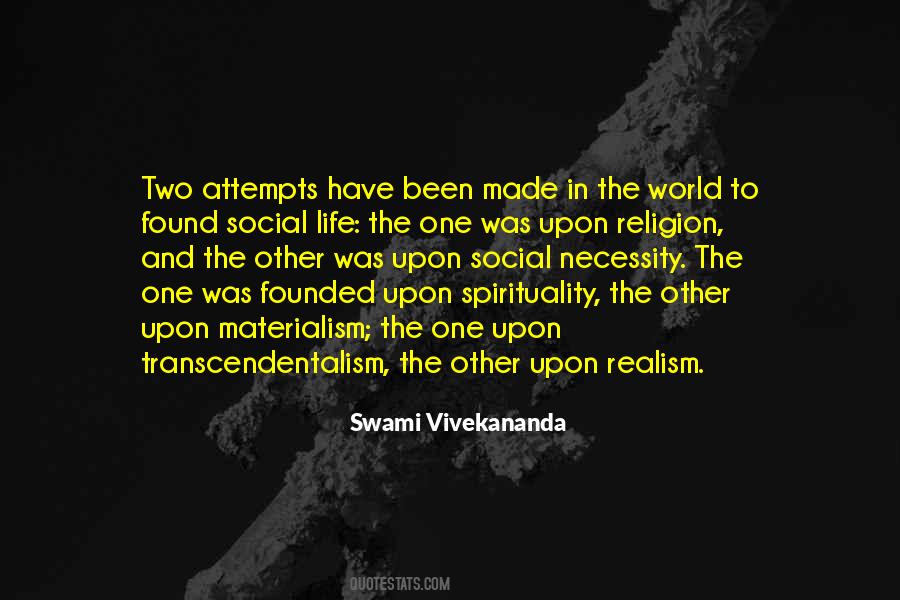 #98. Atheism is more than just the knowledge that gods do not exist, and that religion is either a mistake or a fraud. Atheism is an attitude, a frame of mind that looks at the world objectively, fearlessly, always trying to understand all things as a part of nature. - Author: Emmett F. Fields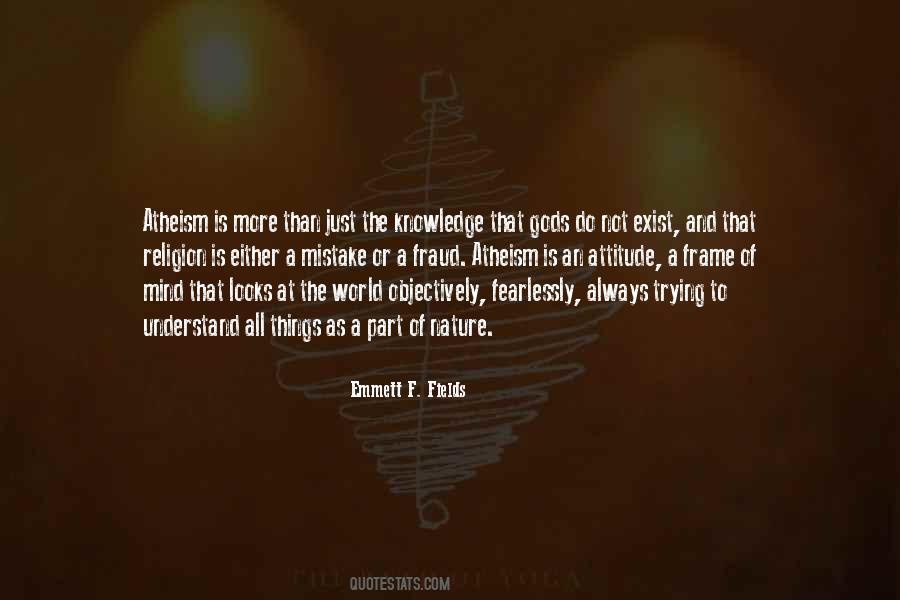 #99. The one and only method of teaching men the true religion was established by Divine Providence for the whole world, and for all times: that is, by persuading the understanding through reasons, and by gently attracting or exhorting the will. - Author: Bartolome De Las Casas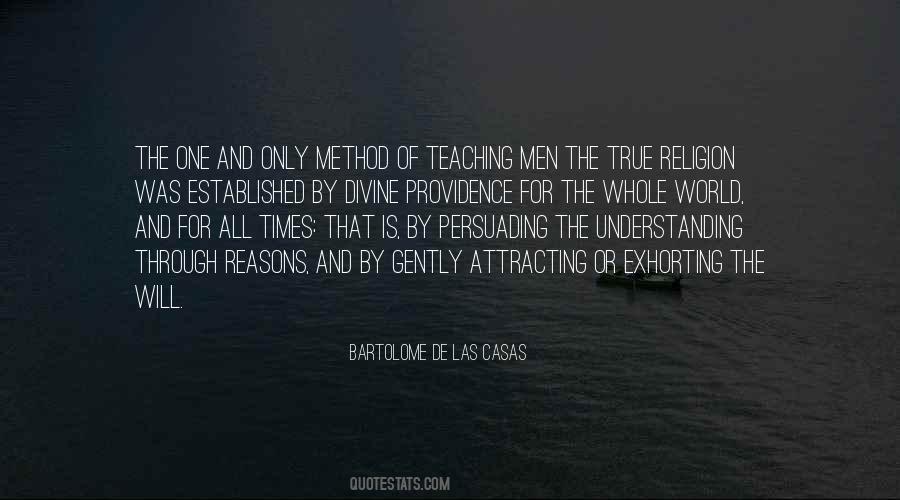 #100. When people try to use religion to address the natural world, science pushes back on it, and religion has to accommodate the results. Beliefs can be permanent, but beliefs can also be flexible. Personally, if I find out my belief is wrong, I change my mind. I think that's a good way to live. - Author: Lisa Randall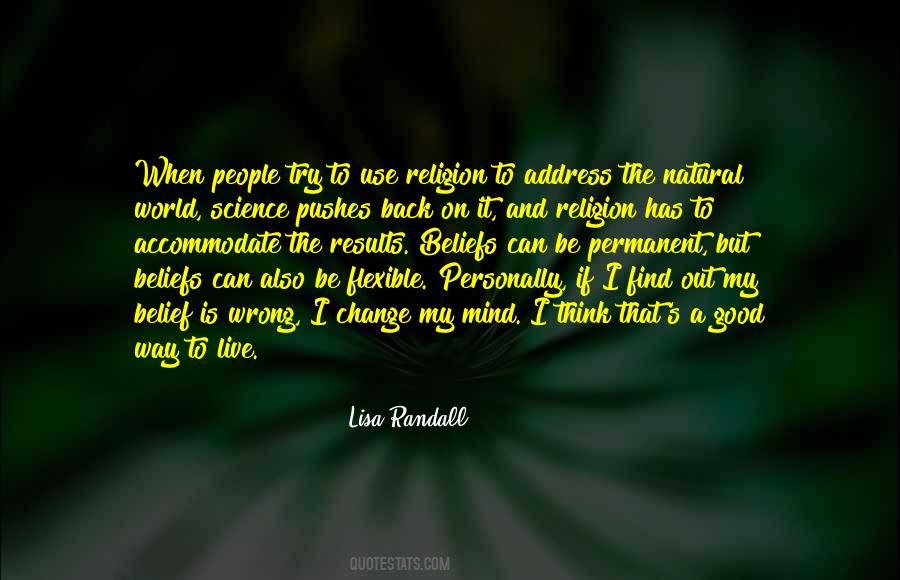 Famous Authors
Popular Topics