List of top 73 famous quotes and sayings about problems in society to read and share with friends on your Facebook, Twitter, blogs.
Top 73 Quotes About Problems In Society
#1. I think we have grave problems. I am very much concerned about environmental questions, even though in Finnish society, we are not facing the most urgent problems.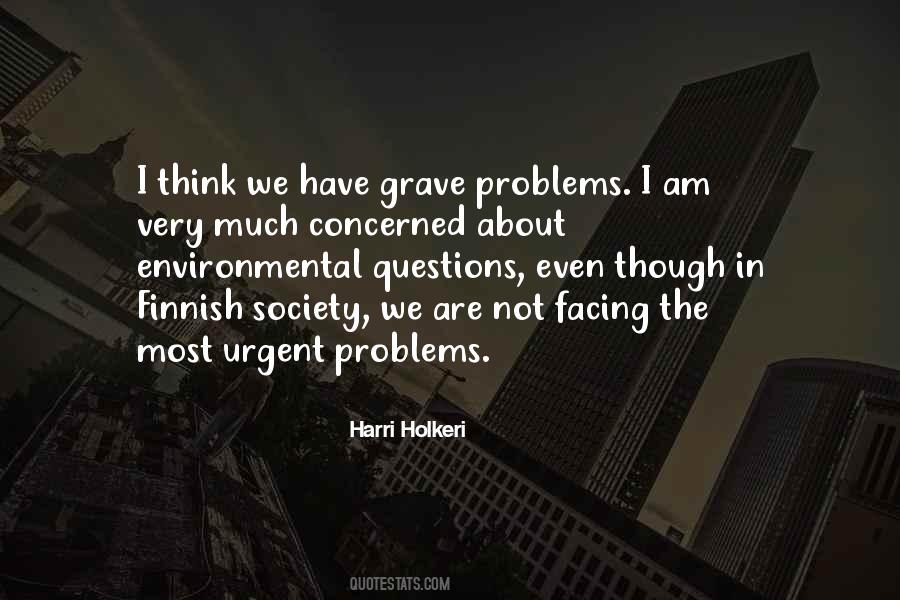 #2. I think it's great that we have organisations like Greenpeace. In a pluralistic society, we want to have people who point out all the problems that the Earth could encounter. But we need to understand that they are not presenting a full and rounded view.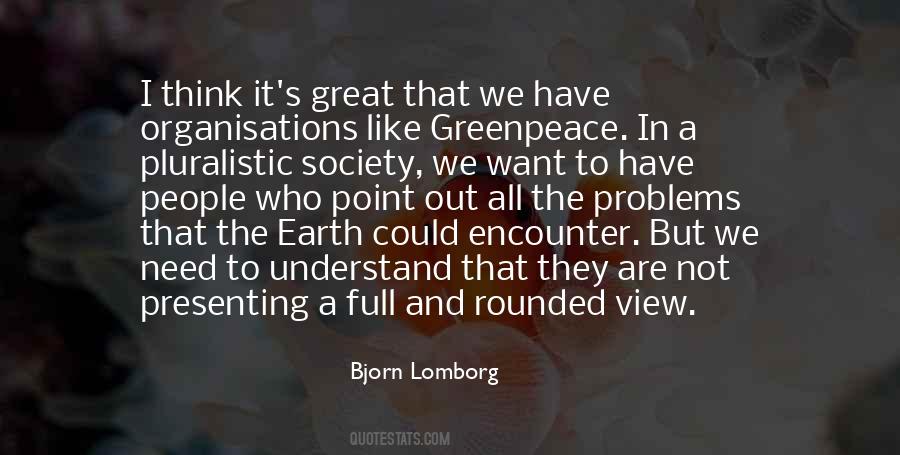 #3. In our age, the problems that needs to be solved are growing in number and business of life is overpowering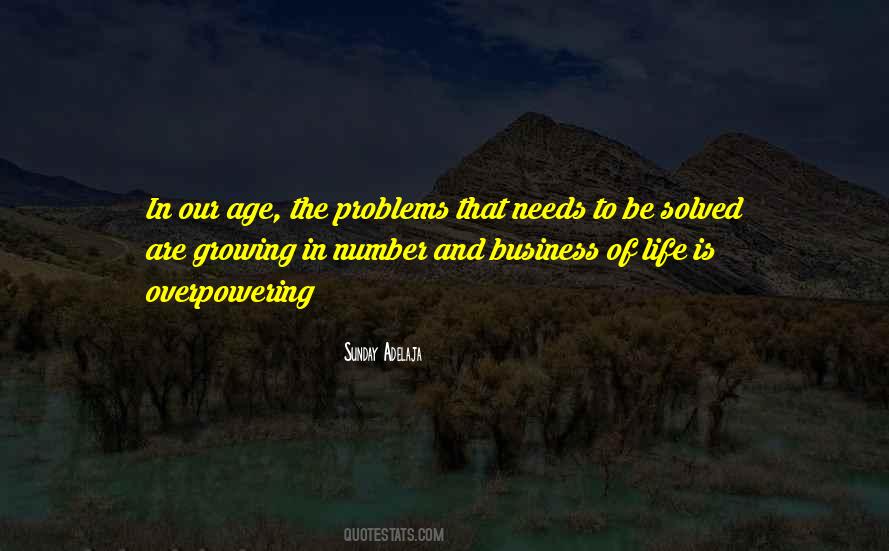 #4. Knowledge can be enormously costly, and is often scattered in widely uneven fragments, too small to be individually usable in decision making. The communication and coordination of these scattered fragments of knowledge is one of the basic problems- perhaps the basic problem- of any society.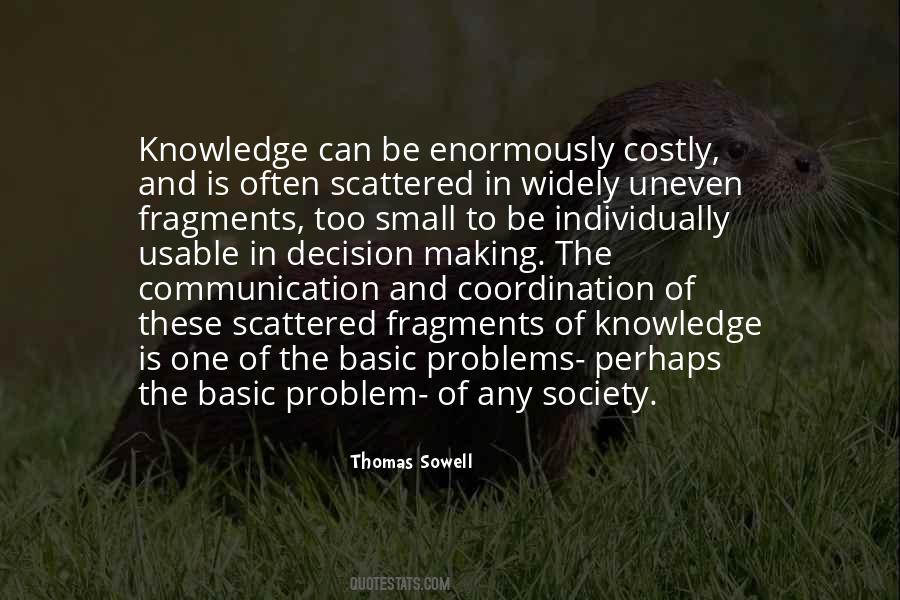 #5. Our own unresolved authority problems from our youth sometimes get transferred to our youthful patients, because we are still "covert adolescent rebels." In subtle ways, we encourage the adolescent patient to rebel towards parents, school authorities, and society in general.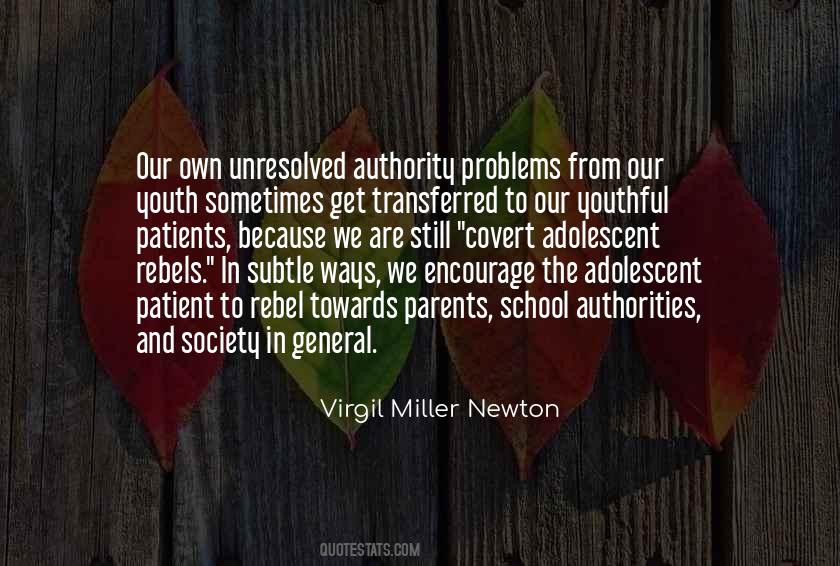 #6. I think an awful lot of the diplomatic problems that exist in the world come from people assuming that their society is the one with a purchase on truth.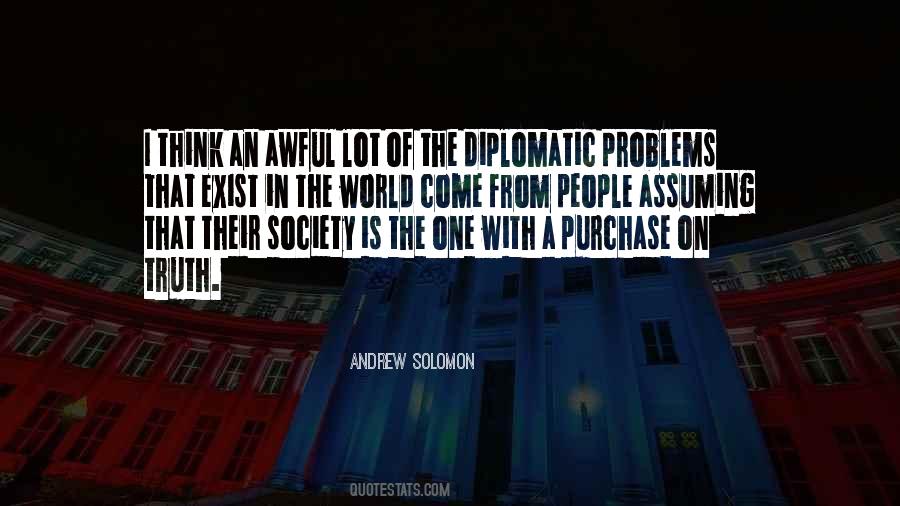 #7. I wanted to write as well as I possibly could to deal with life-and-death problems in contemporary society. And the form of Wilkie Collins and Graham Greene, of Hammett and Chandler, seemed to offer me all the rope I would ever need.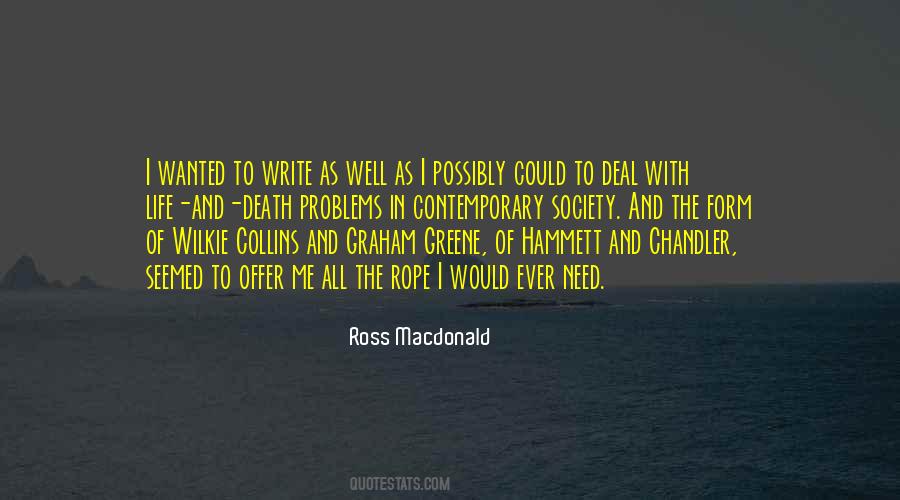 #8. My work always presents problems in our society. Those problems may be anything from injustice to freedom, and everything related to humanity.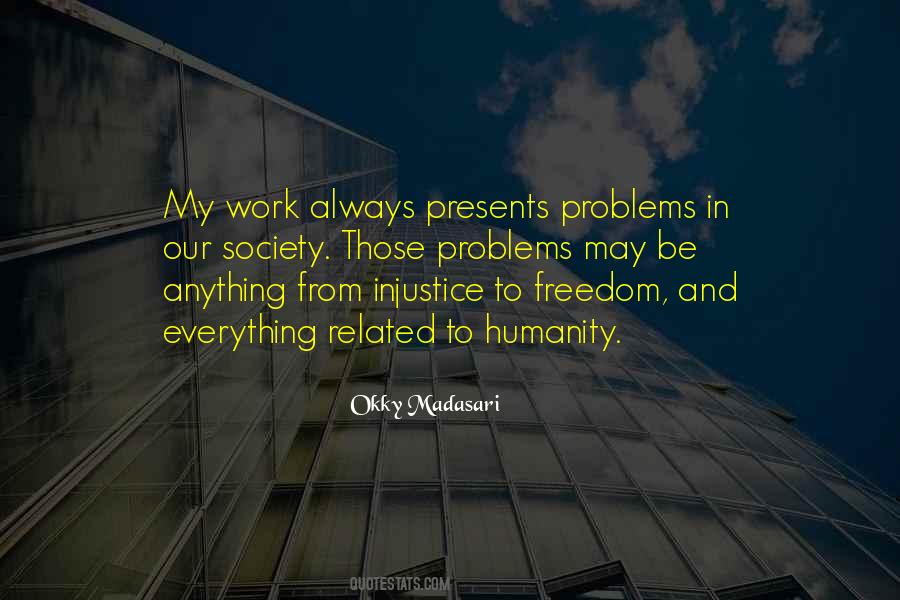 #9. In a free society, government reflects the soul of its people. If people want change at the top, they will have to live in different ways. Our major social problems are not the cause of our decadence. They are a reflection of it.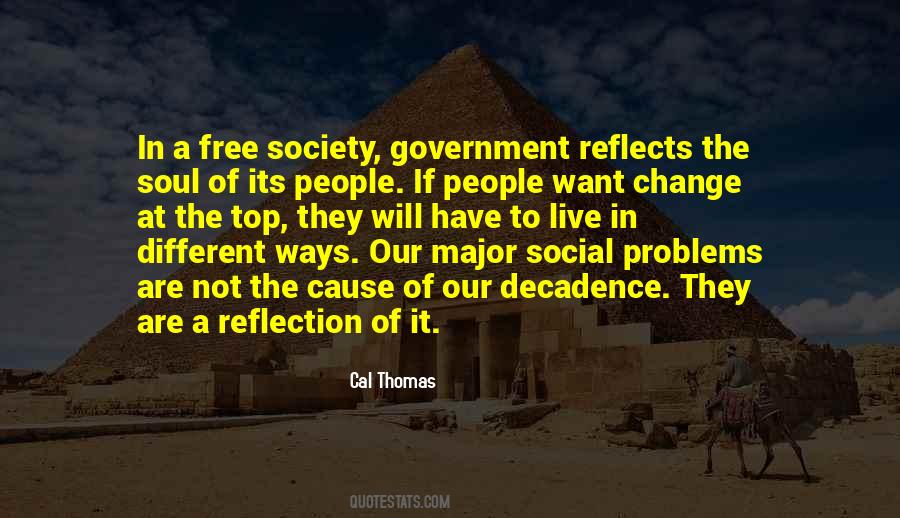 #10. I am proud to say that the Federalist Society was founded in part at the University of Chicago, and one of its best characteristics has been an attack on liberal shibboleths by looking at real consequences and specific problems and by asking what law actually does.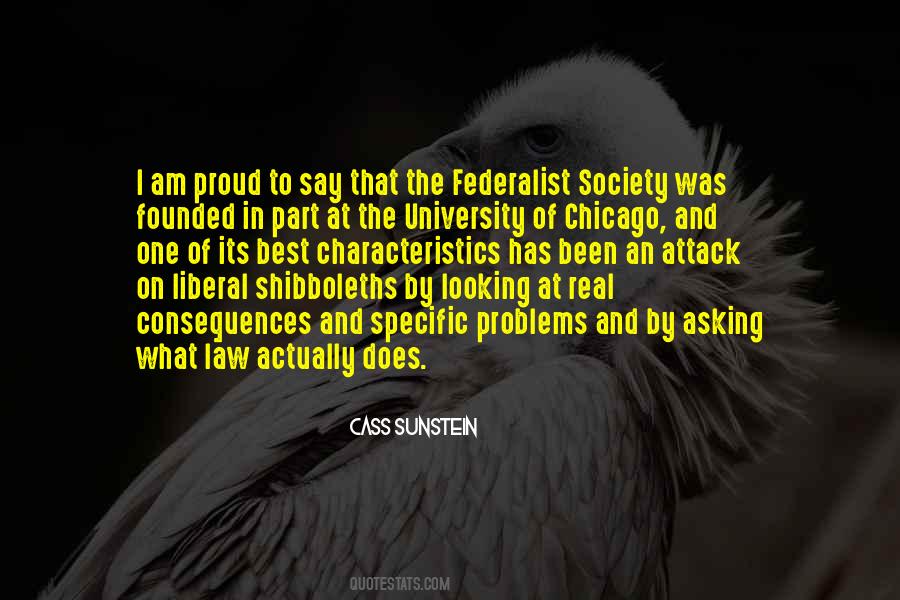 #11. I can officially state that my government and myself believe that all over Europe we need to open a debate on the 'drug question' in order to create more coherent and human policies with better perspectives ... The policy of criminalizing consumers has failed, creating many problems to our society.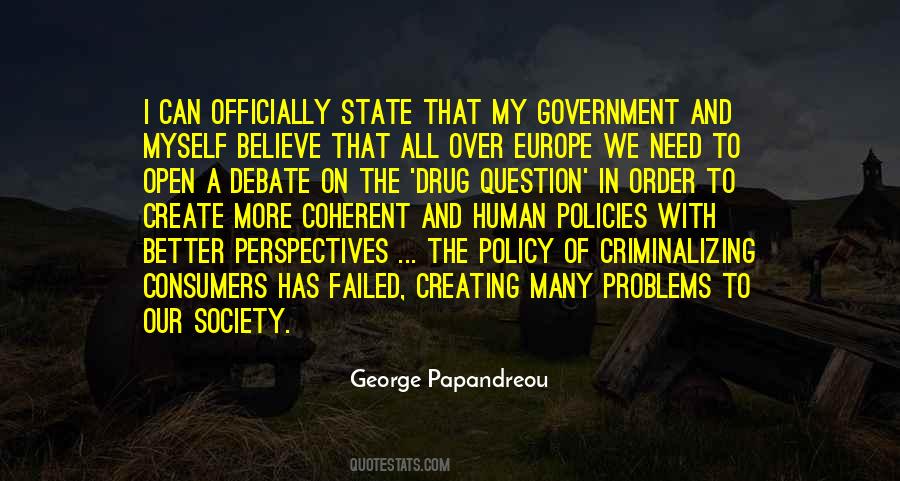 #12. The more the problems in a society, the greater the chances of success.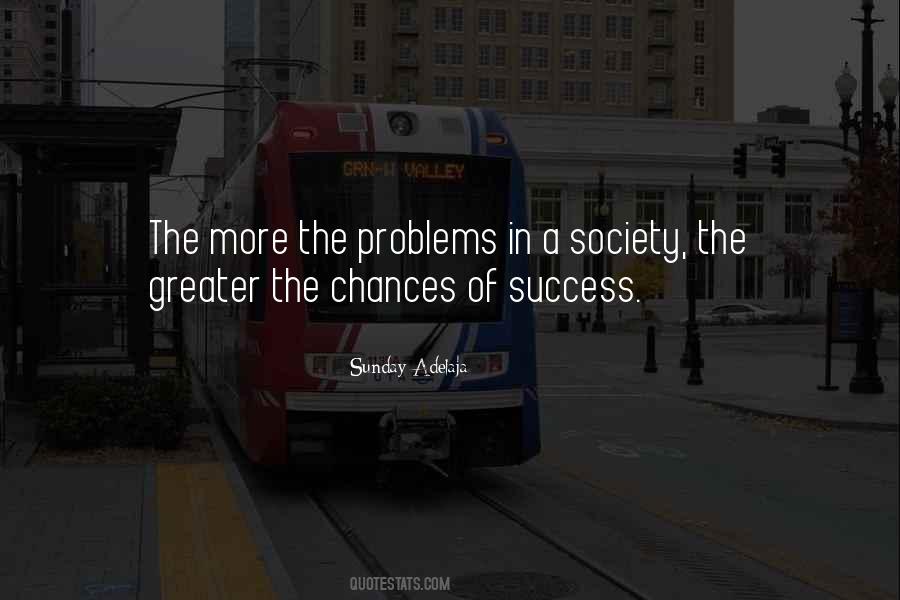 #13. In every European nation, there have been problems in history when the society was too divided.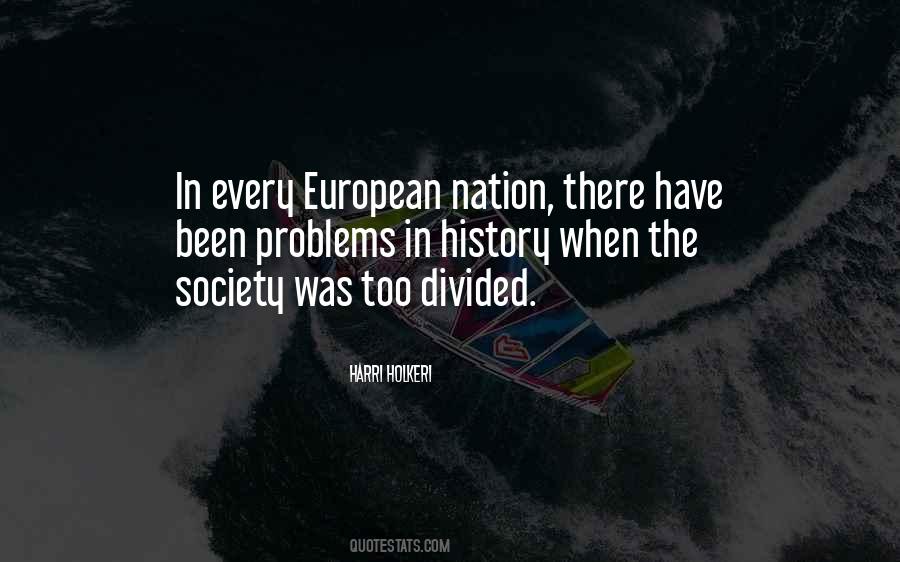 #14. In one aspect, my works record the history of the development of Chinese society. Concern about the situation of Chinese reality is one important theme of my works. I am trying to ask, 'How does our society develop? What are the problems in our society? Where is our direction leading?'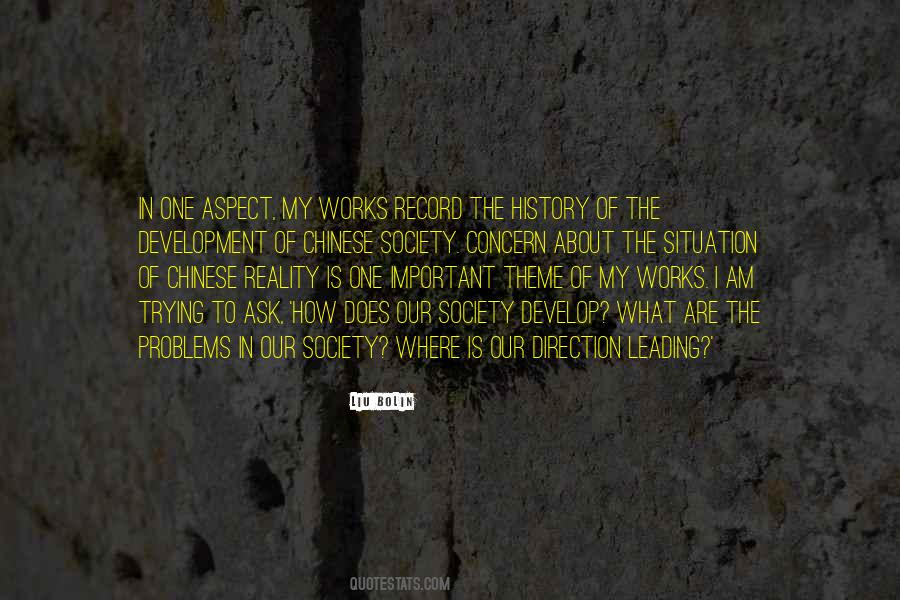 #15. We should get rid of the SAT as fast as we can. Look, there are bigger problems in society. This is not the biggest problem we have. But it's so easy to get rid of it. Right? Just pull the plug.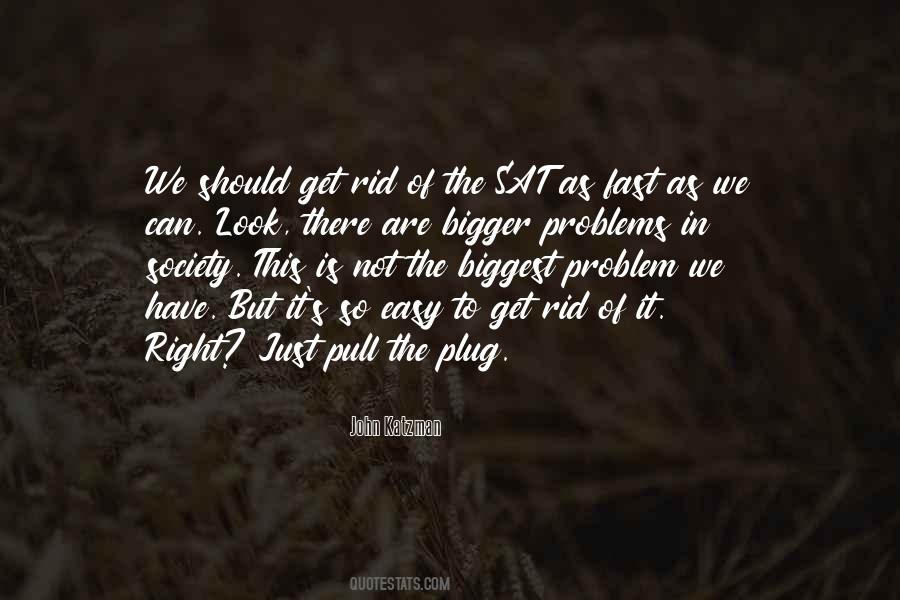 #16. Suppression of expression conceals the real problems confronting a society and diverts public attention from the critical issues. It is likely to result in neglect of the grievances which are the actual basis of the unrest, and thus prevent their correction.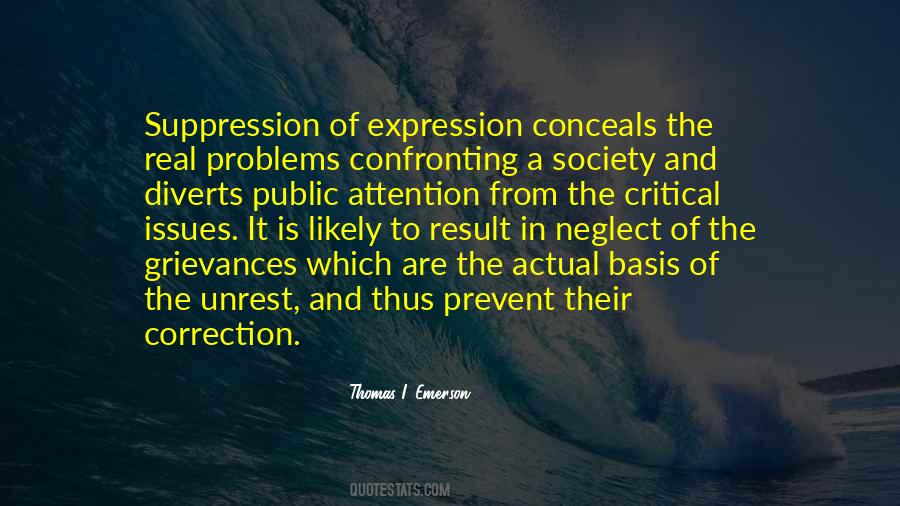 #17. When you look at where the real problems are among minorities in our society, particularly blacks, it's at the bottom. It's the people who are in school systems that don't educate, neighborhoods where there is a lot of crime, drugs, the whole bit.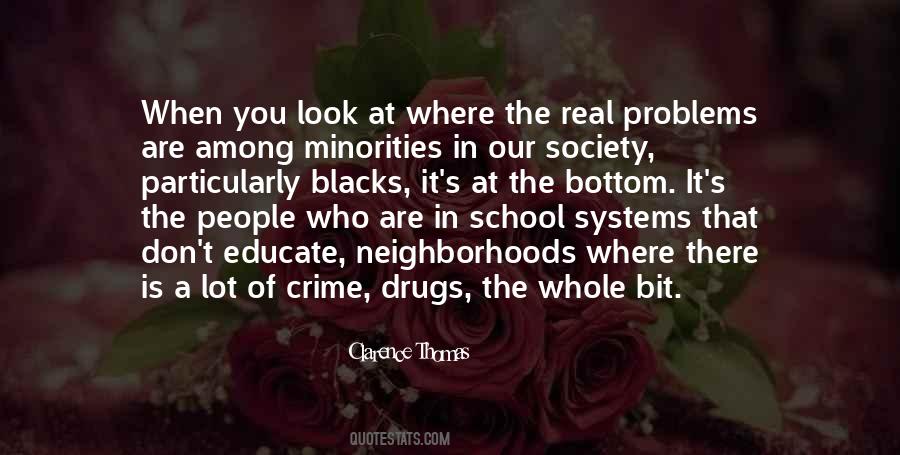 #18. Industrial society seems likely to be entering a period of severe stress, due in part to problems of human behavior and in part to economic and environmental problems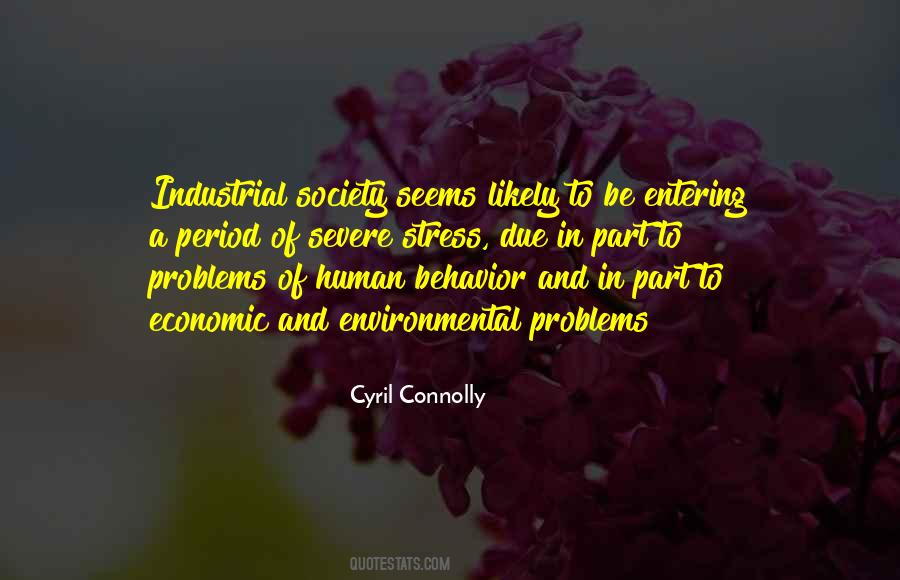 #19. Politics, religion and arrogance are problems of society but being a fanatic in any...makes you a danger to humanity.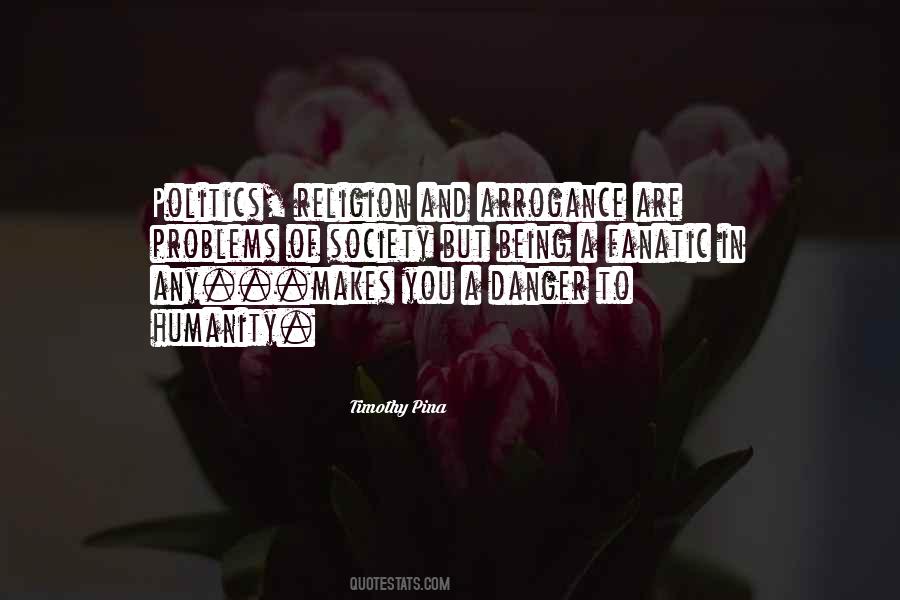 #20. During the Great Depression, African Americans were faced with problems that were not unlike those experienced by the most disadvantaged groups in society. The Great Depression had a leveling effect, and all groups really experienced hard times: poor whites, poor blacks.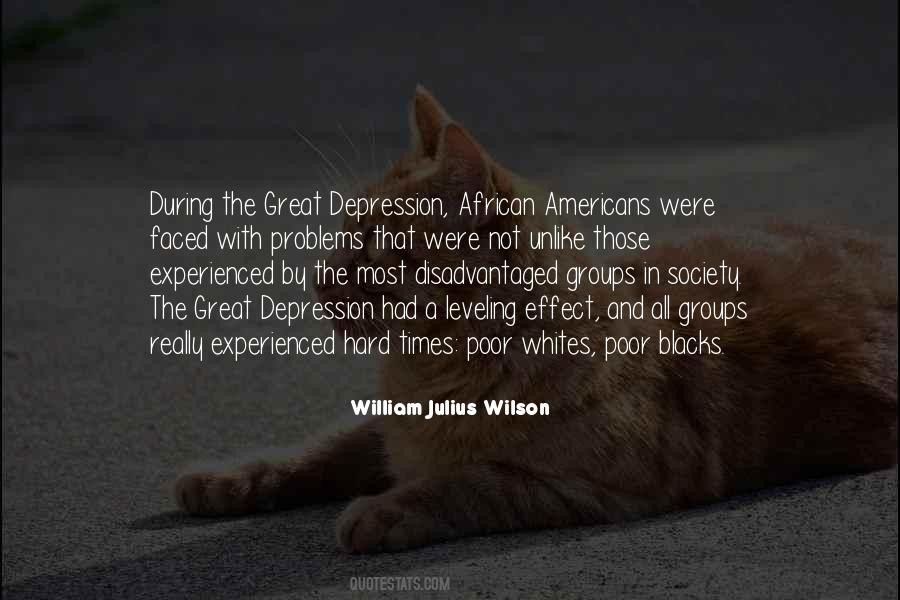 #21. Expecting a novel to bear the weight of our whole disturbed society - to help solve our contemporary problems - seems to me a peculiarly American delusion. To write sentences of such authenticity that refuge can be taken in them: isn't this enough? Isn't it a lot?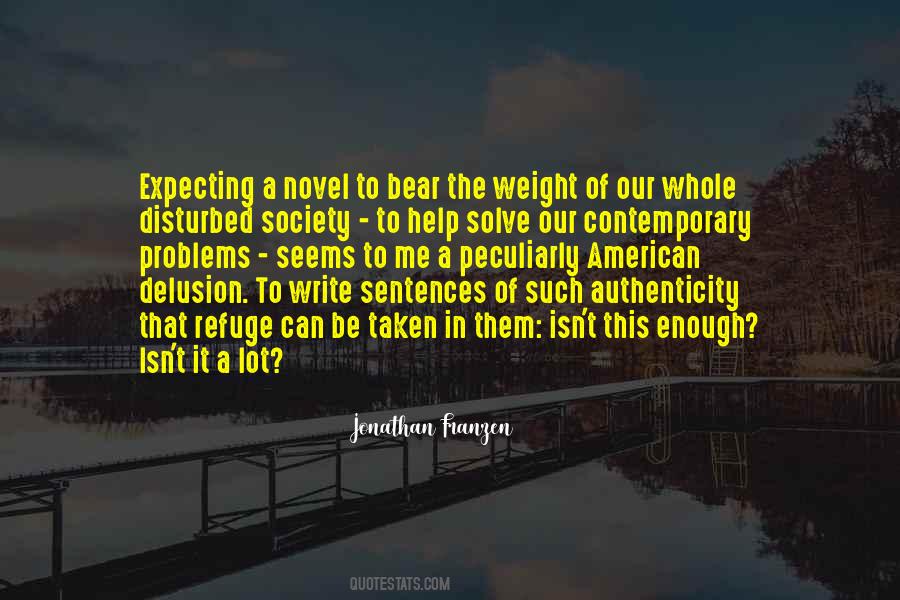 #22. A class cannot exist in society without in some degree manifesting a consciousness of itself as a group with common problems, interests and prospects - although this manifestation may for long periods be weak, confused, and subject to manipulation by other classes.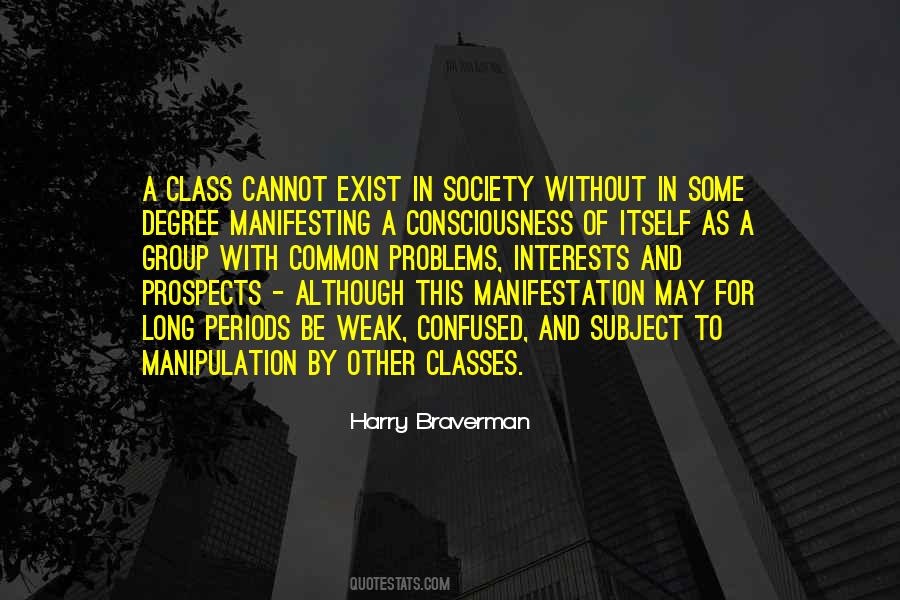 #23. I don't believe athletes should be role models ... We're a one-shot deal, one in a million, so we should be the least likely role models ... I think one of the problems in society today is that we don't stress education enough, because we glorify athletes, actors and actresses.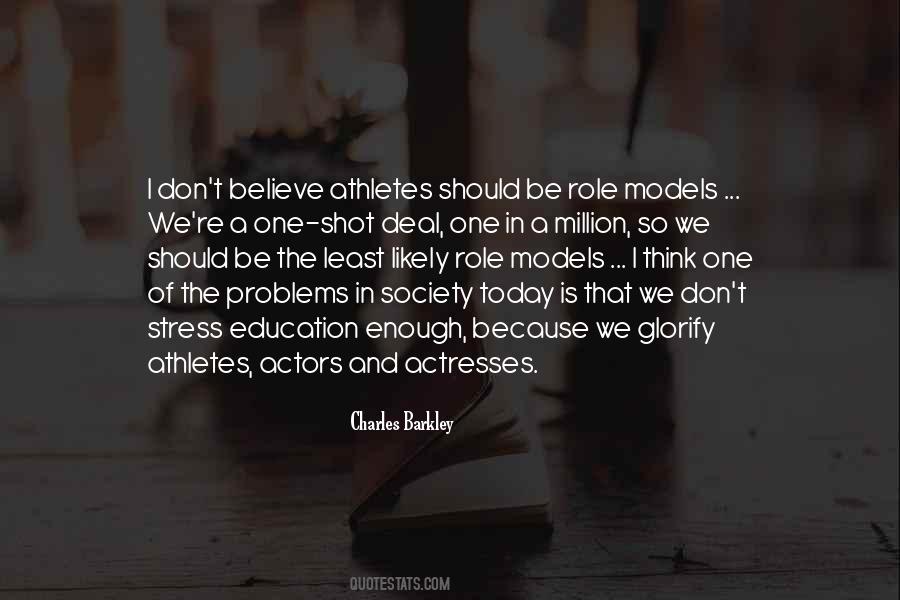 #24. In many cases, jobs that used to be done by people are going to be able to be done through automation. I don't have an answer to that. That's one of the more perplexing problems of society.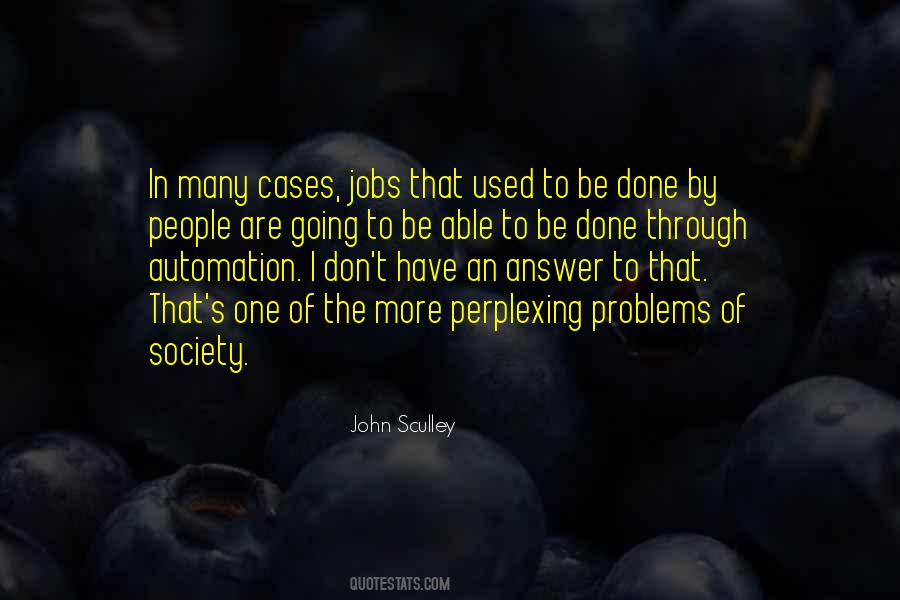 #25. Lust for possession and greed has ravaged the soul of humanity like a great cancer, metastasizing throughout society in the form of a nouveau post-human, consumer hedonism.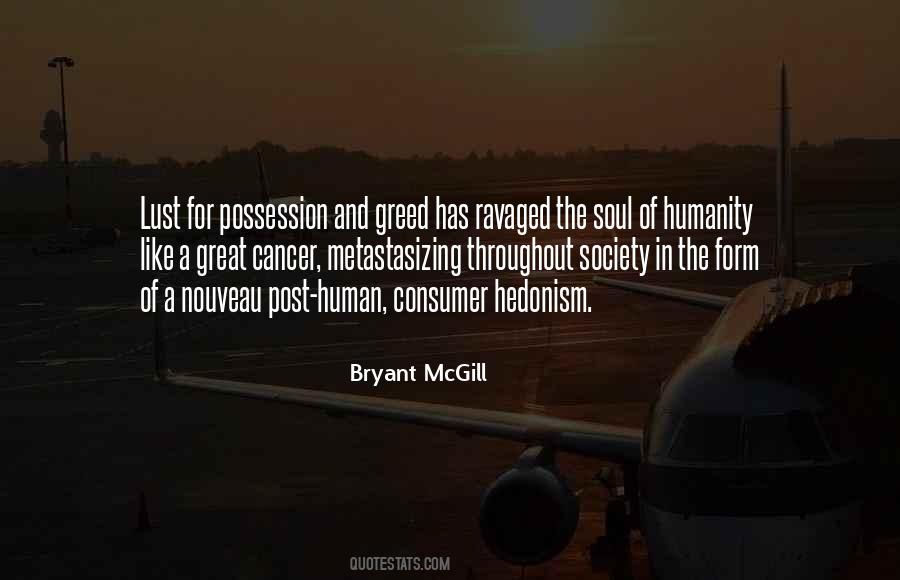 #26. After getting myself relatively educated in the area of national transformation, I have come to discover that it makes better sense to look at what I could do to fix the problems of the society rather than blaming others for what is wrong in the country.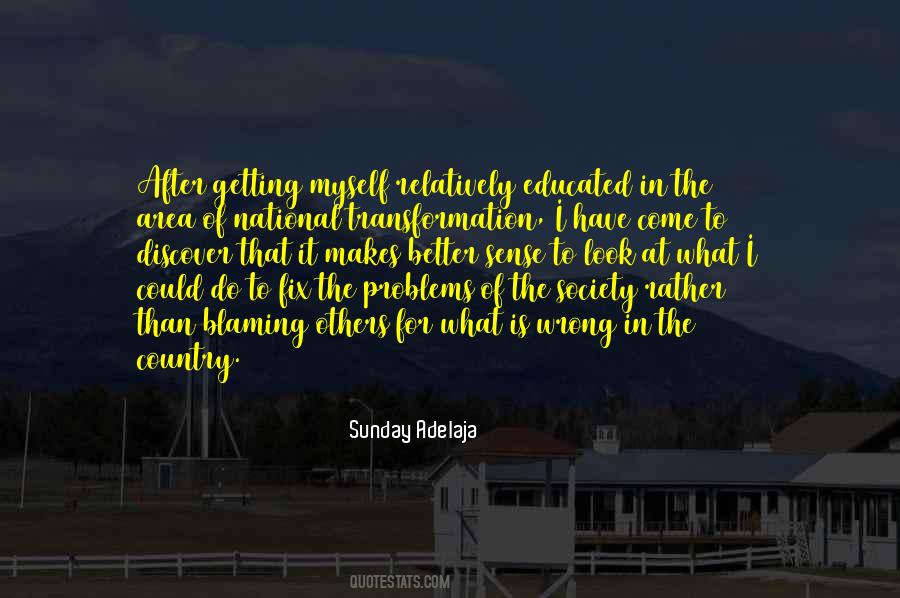 #27. To the extent that we have a better understanding of the brain, we will have a richer appreciation of ourselves, of our fellow men and of society and, in fact, of the whole world and its problems.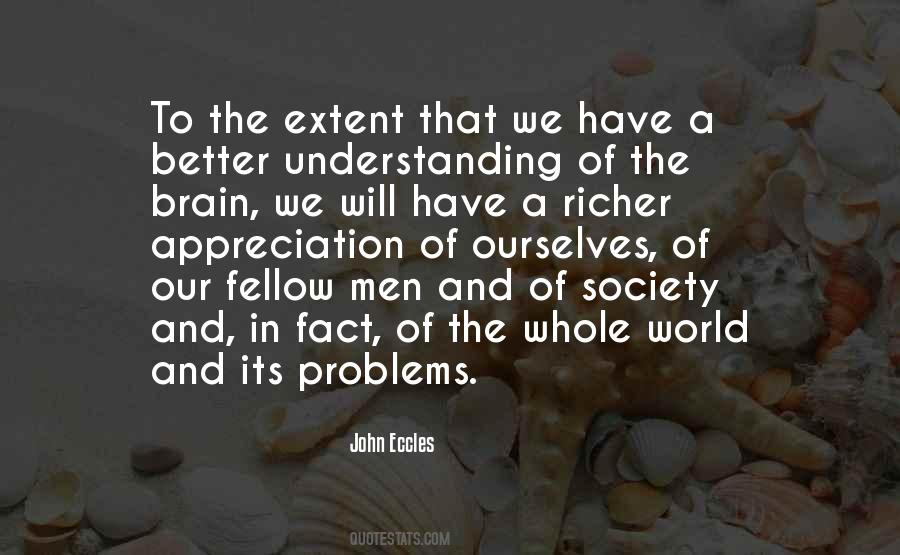 #28. Two people pass each other. As one looks upon the other's skin color, the other is looking back at their appearance. Both justifying, how better and righteous they are, in their own insecurities.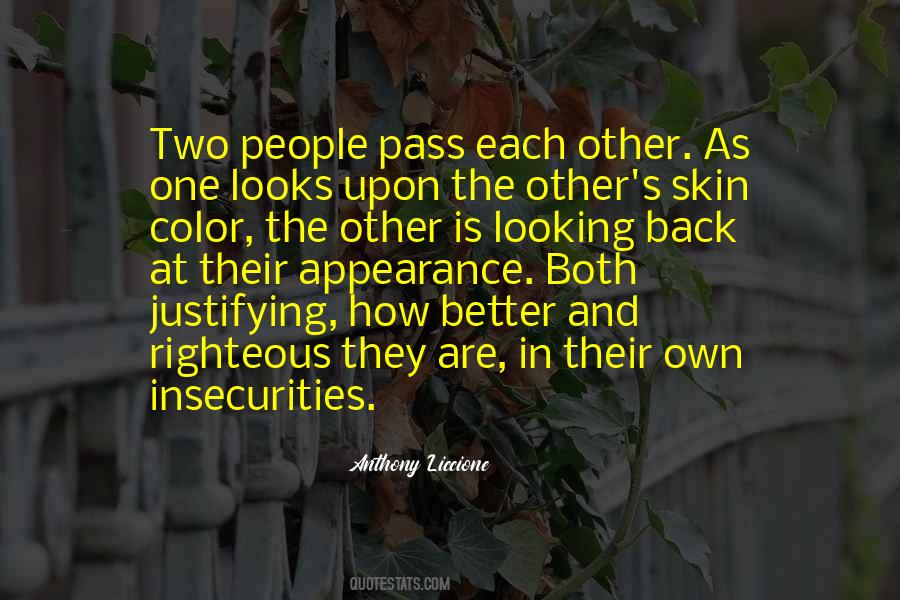 #29. When you start (telling it like it is) speaking the truth, those who opposed it are part of the on-going problems that exist in any society. But it's always good to acknowledge the rebuttal of an opposition. Because the better rebuttal will often win the debate.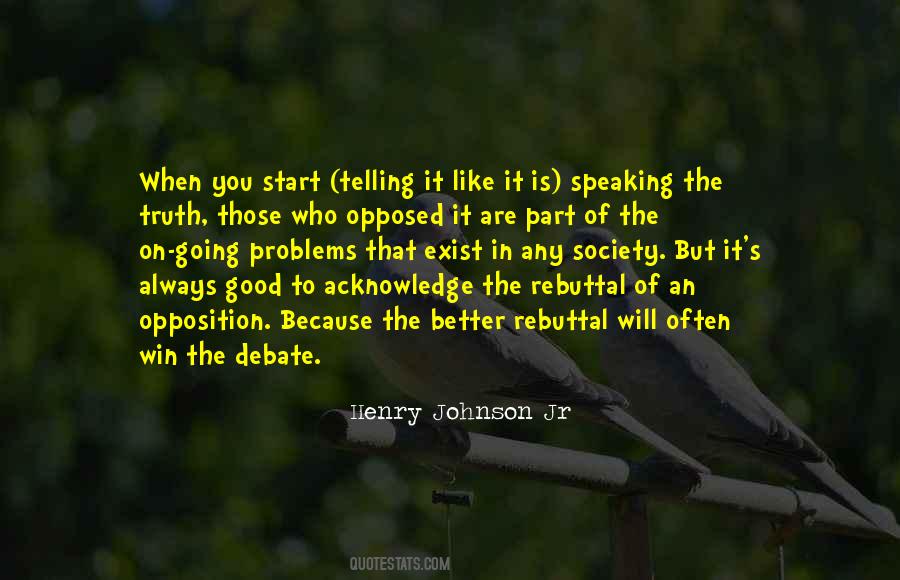 #30. The key to solving the social problems of our age is to abolish the white race. Until that task is accomplished, even partial reform will prove elusive, because white influence permeates every issue in U.S. society, whether domestic or foreign.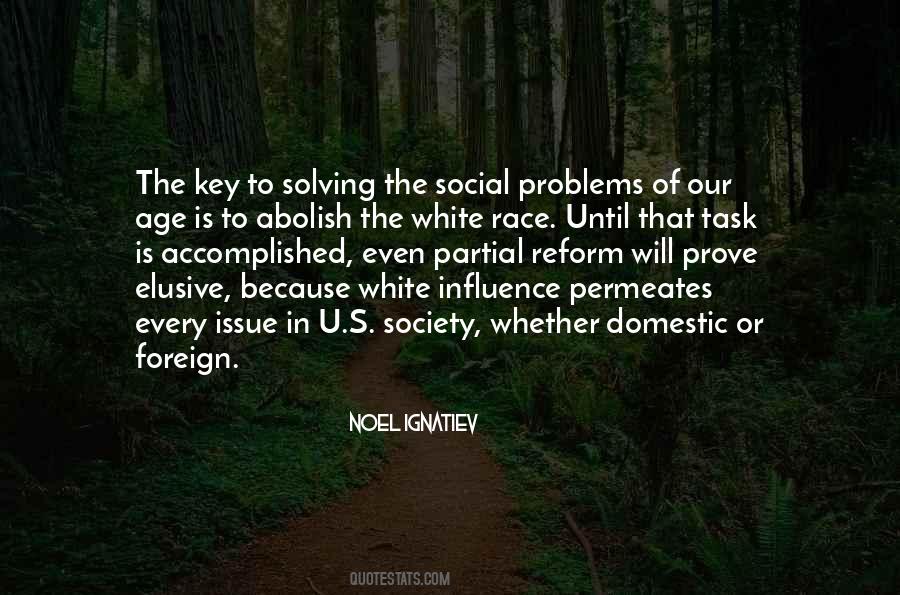 #31. There is a very simple relationship between increased socioeconomic rifts in the society and increased violence, criminality, war, increased lack of trust between people, health problems and social exclusion - but it seems to be very difficult for people to understand this simple relationship.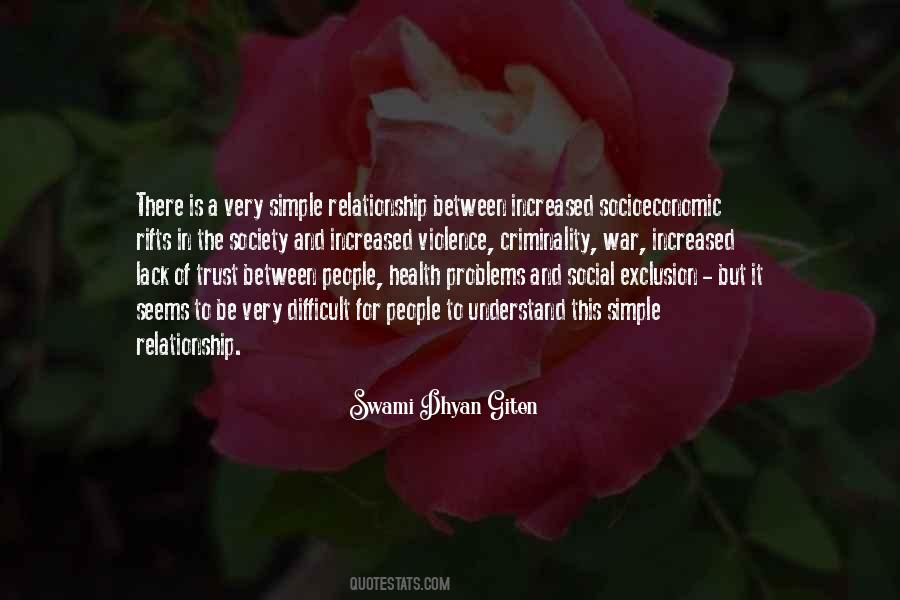 #32. I believe that lack of empathy is behind many problems, and I believe that it's disrupting our society. In Great Britain, there is a steady decline in the willingness to be truly generous, and by that I don't mean monetary generosity, but friendship and sympathy for others.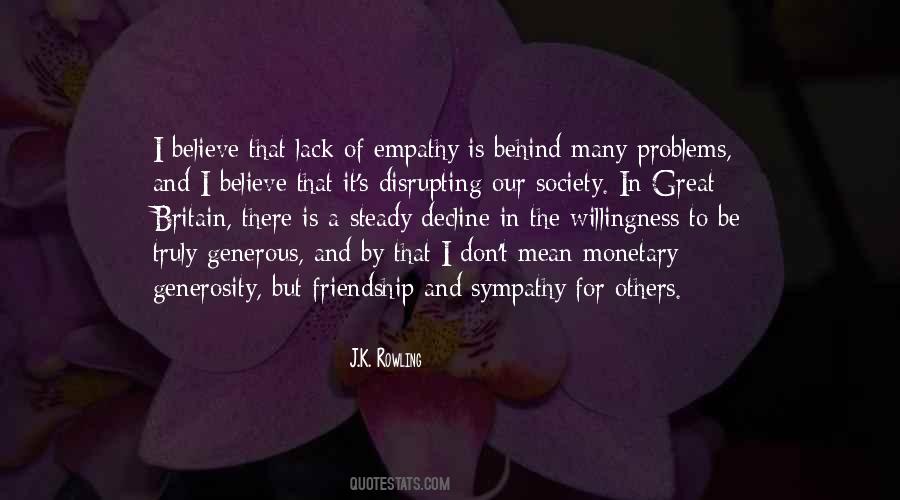 #33. Most of the problems that plague our society - addiction, overeating, crime, domestic violence, prejudice, debt, unwanted pregnancy, educational failure, underperformance at school and work, lack of savings, failure to exercise - are in some degree a failure of self-control.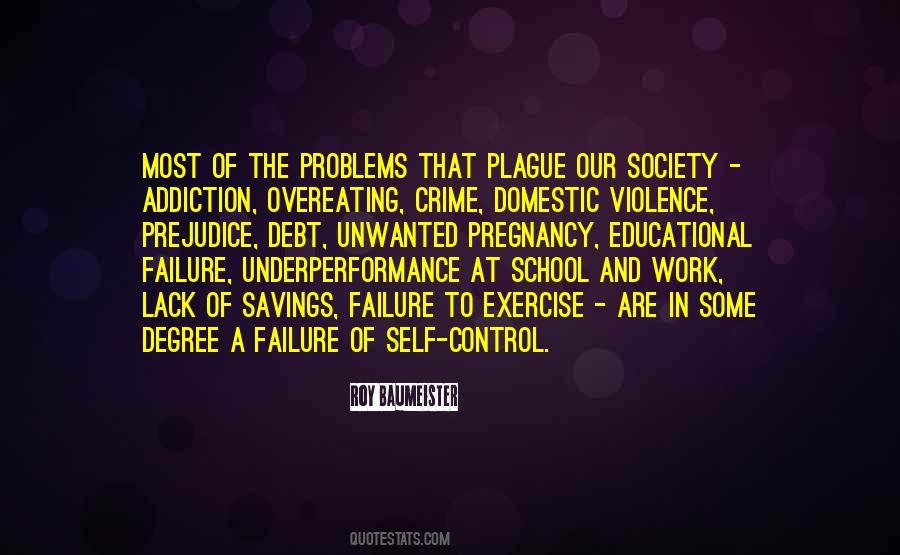 #34. Television and radio do a wonderful job in focusing attention on the problems of our society.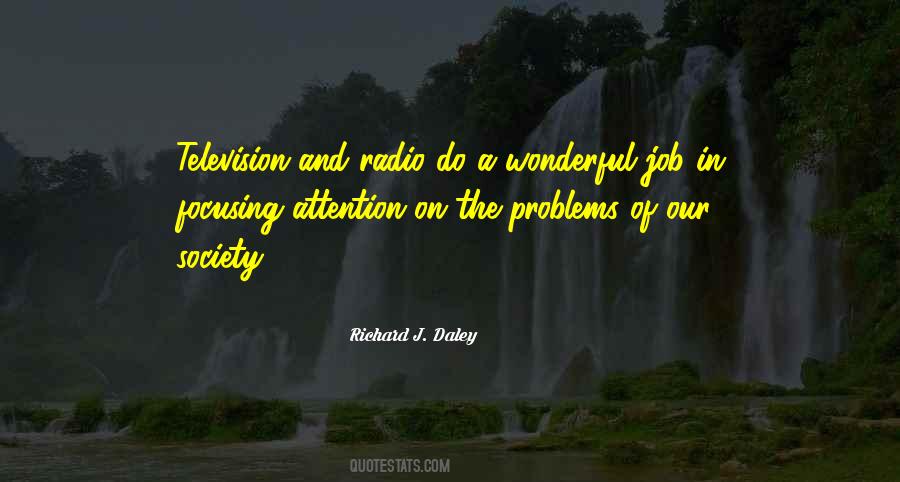 #35. A town with many men who are less educated and as such ignorant of the real solution to the woes of their society has the same problem as a town with many intellectuals and yet with many problems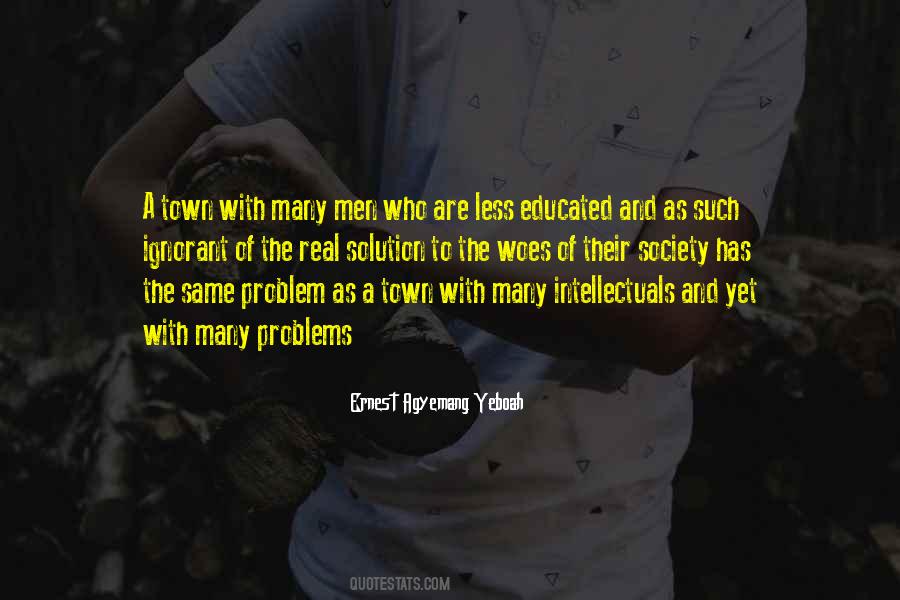 #36. Most people believe, mistakenly, that wealth in a human society has something to do with money, but that's not true. Money is simply a medium of exchange. Prosperity in a human society is the accumulation of solutions to human problems that we create for ourselves.
#37. All necessary steps needed to be taken to tackle terrorism will be adopted ... but we will keep in mind that a particular religion or section of society does not face problems unnecessary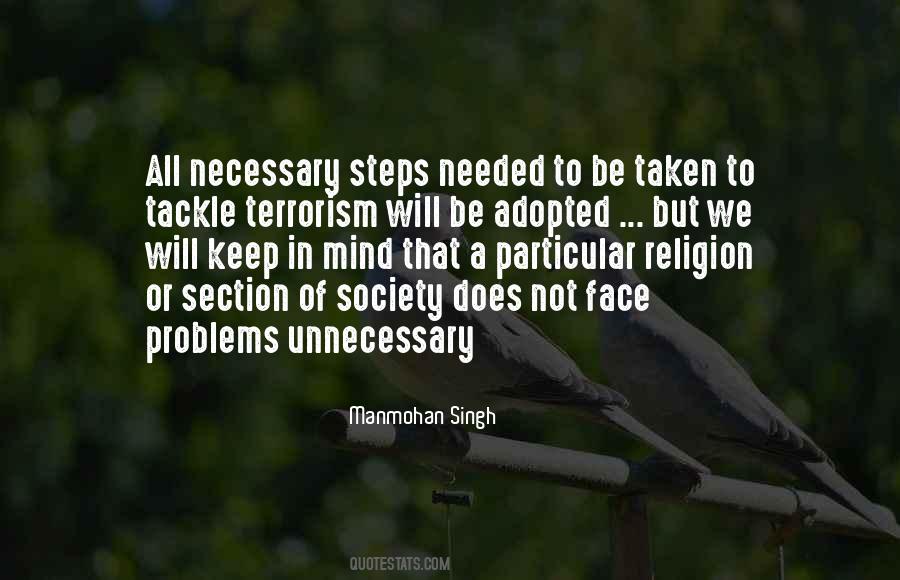 #38. Jail is just another micro-society. It just happens that here, the problems are far more out in the open, we don't live with the facades of lies that democracy or capitalism creates for us.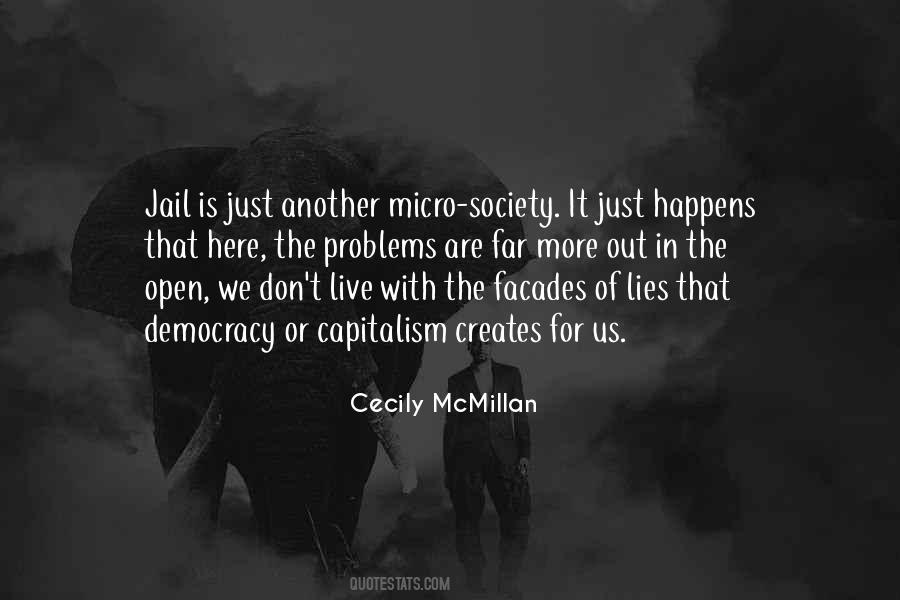 #39. If anything needs to get fixed in society, it's people's consumption of other people's problems.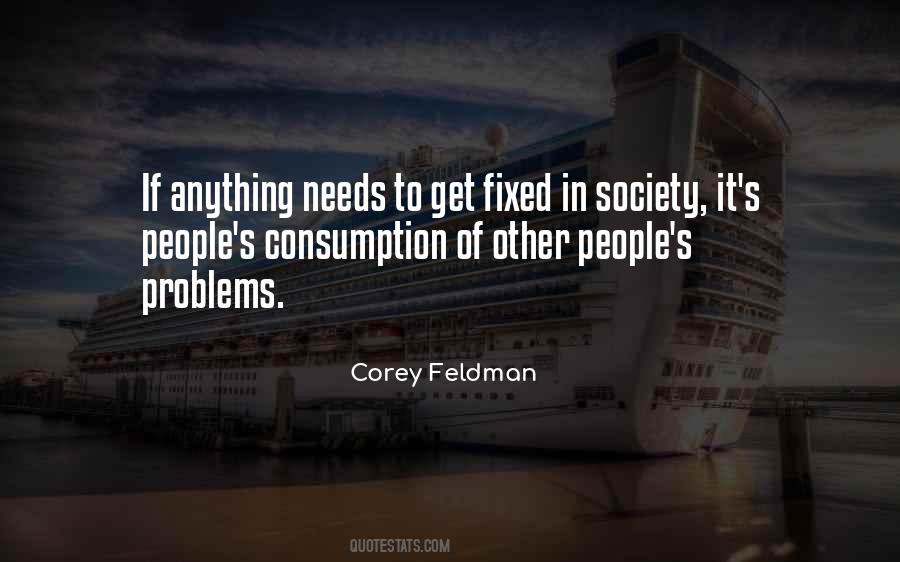 #40. We [Latinos] must be proud. We have the same rights in the U.S. as anybody else. Instead of crying and getting upset about visa problems and having our families come join us, go fight for your rights. Make yourself a productive individual in the society.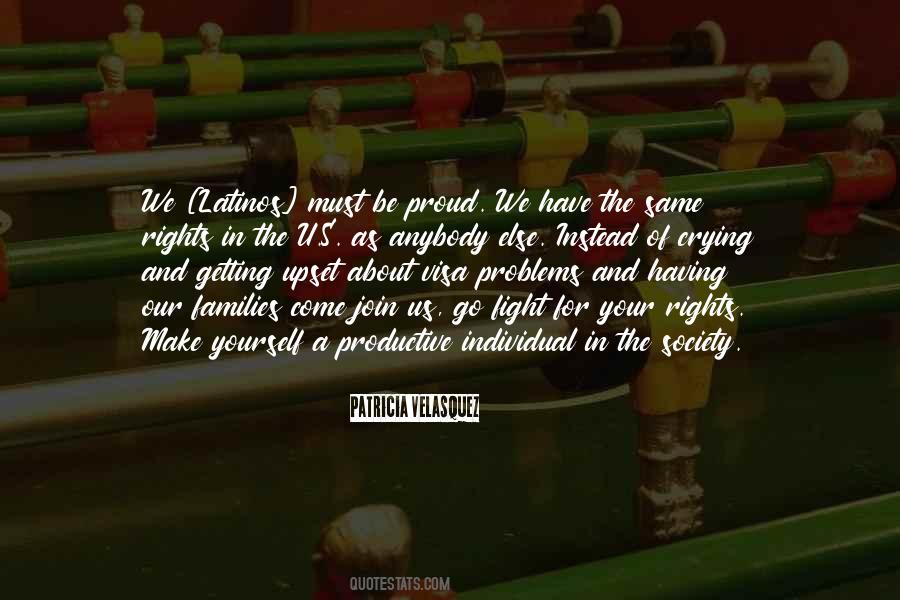 #41. Prosperity in a society is the accumulation of solutions to human problems.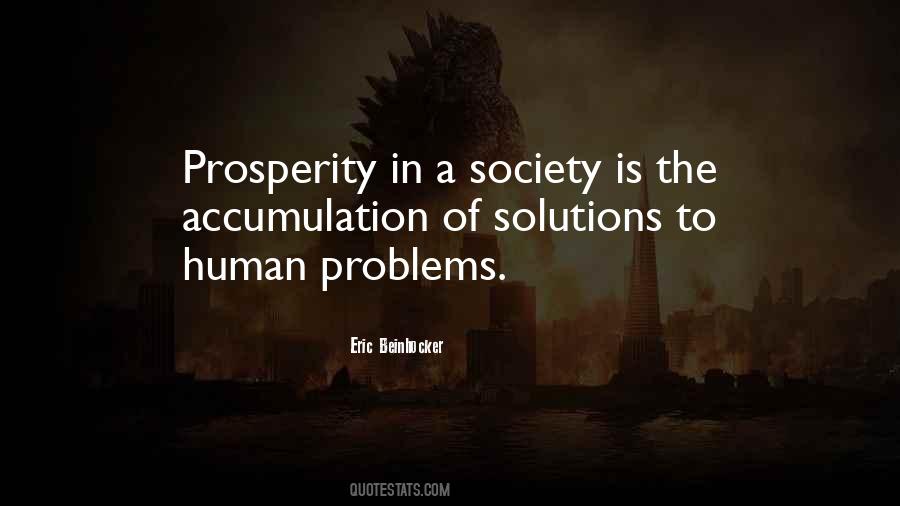 #42. Those who in this world have the courage to try and solve in their own lives new problems of life, are the ones who raise society to greatness.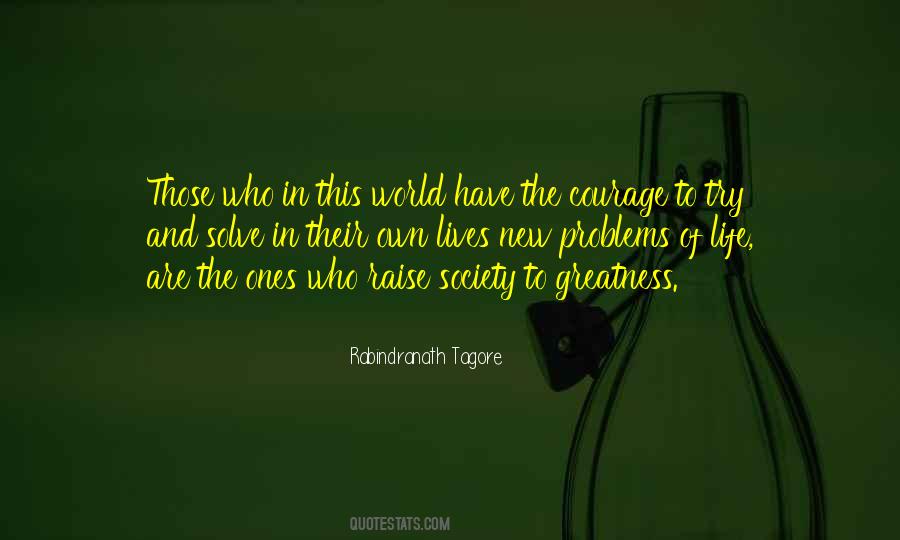 #43. By "radical" I mean something more than that they aimed to change the order of society in a fundamental way or that they searched for the deepest roots of problems. The opposite of radical is not "moderate" or "conservative" but "common.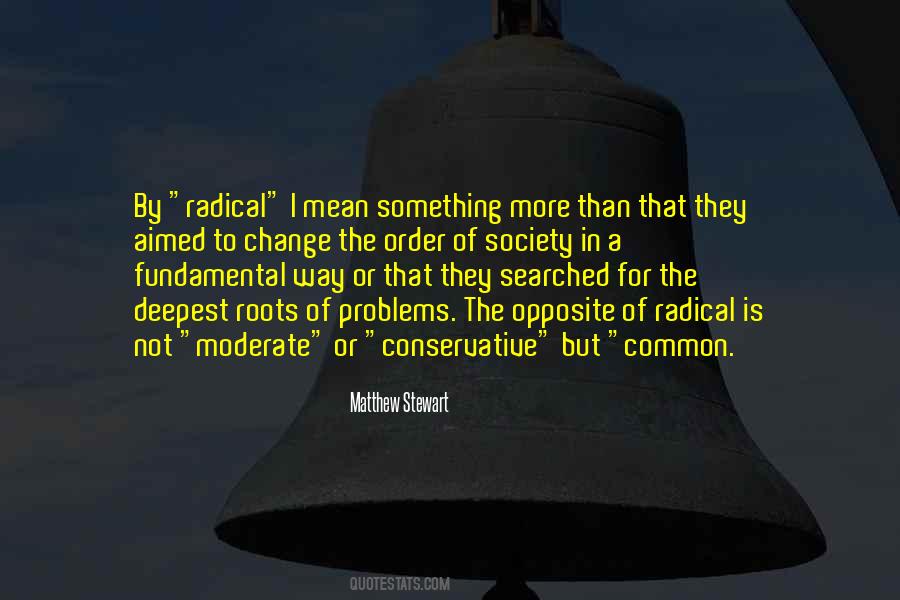 #44. It is hard to grow up in a society in which one's important problems are treated as nonexistent. It is impossible to belong to it, it is hard to fight to change it.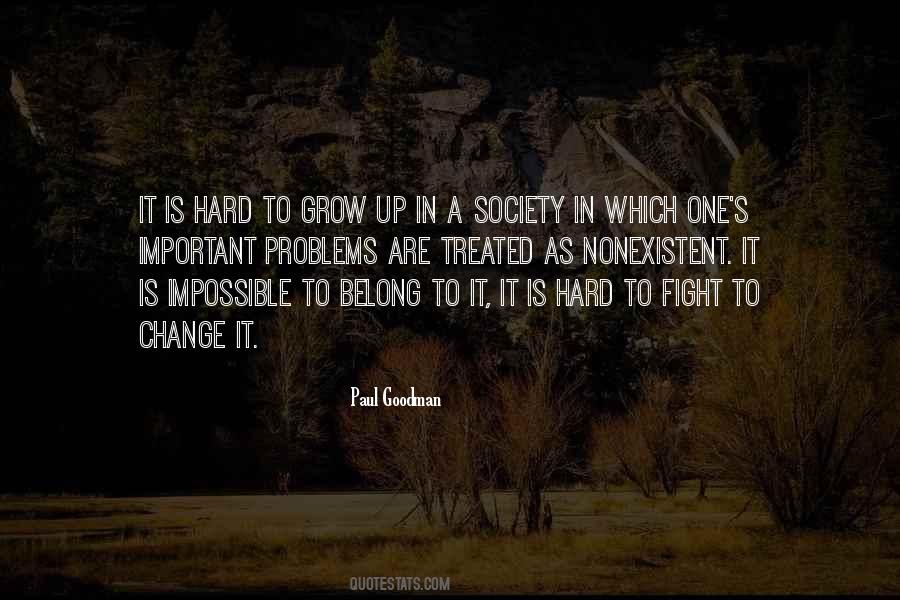 #45. The semimetaphysical problems of the individual and society, of egoism and altruism, of freedom and determinism, either disappear or remain in the form of different phases in the organization of a consciousness that is fundamentally social.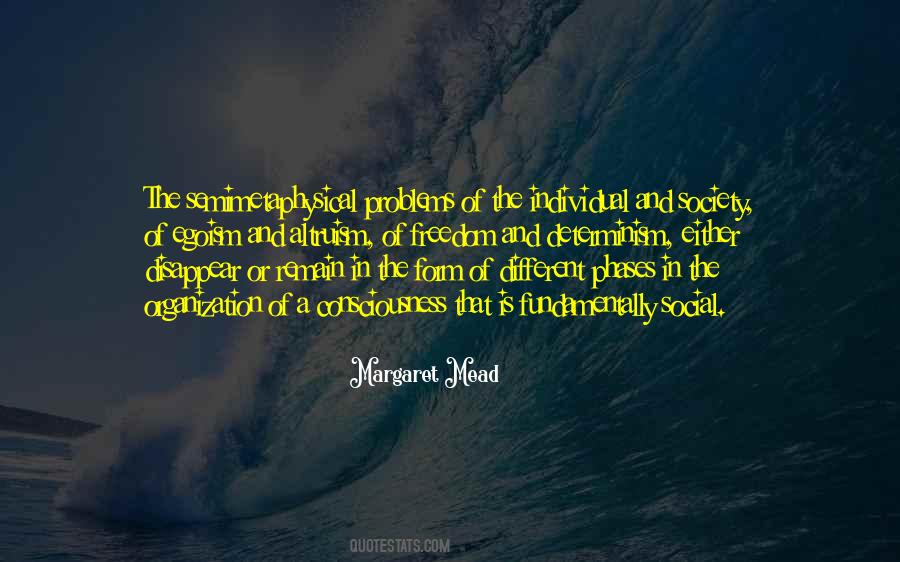 #46. Victims are members of society whose problems represent the memory of suffering, rage, and pain in a world that longs to forget.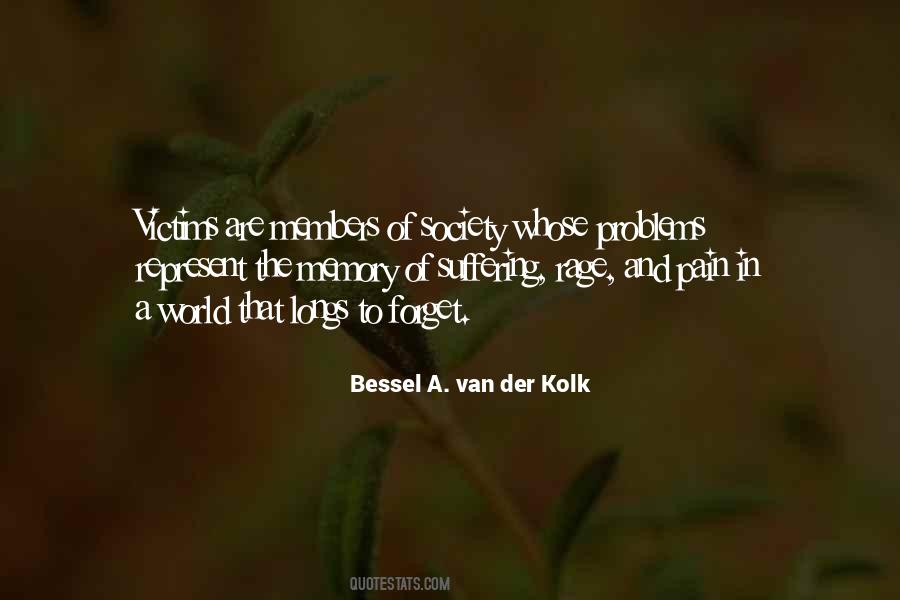 #47. The essential function of the (design) profession in our society is to enhance and cultivate communications toward: Easier understanding of ideas and complex problems, in the shortest possible time and higher visual and auditory retention of data.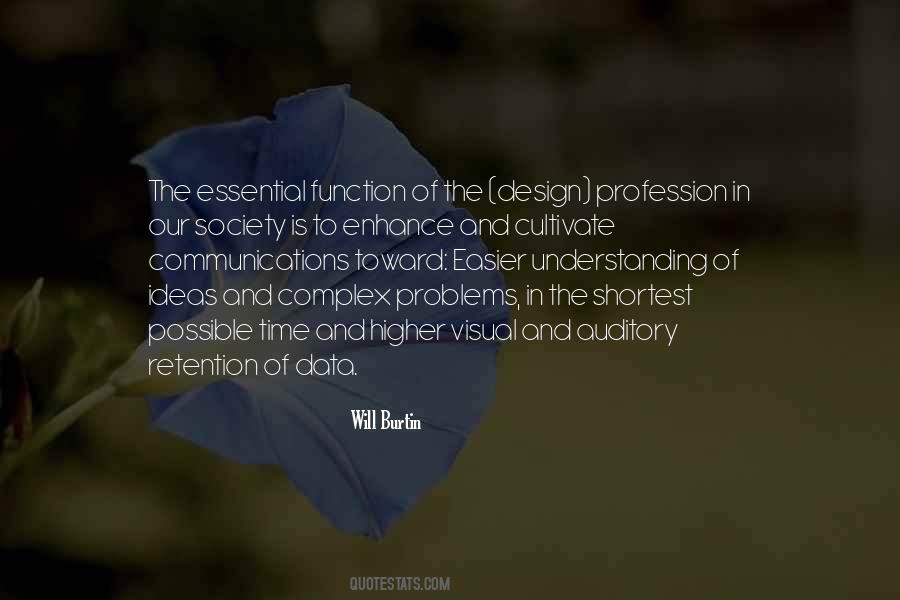 #48. After forty years of working on prevention of a wide range of common and costly psychological and behavioral problems, I am convinced we have the knowledge to achieve a healthier, happier, and more prosperous society than has ever been seen in human history.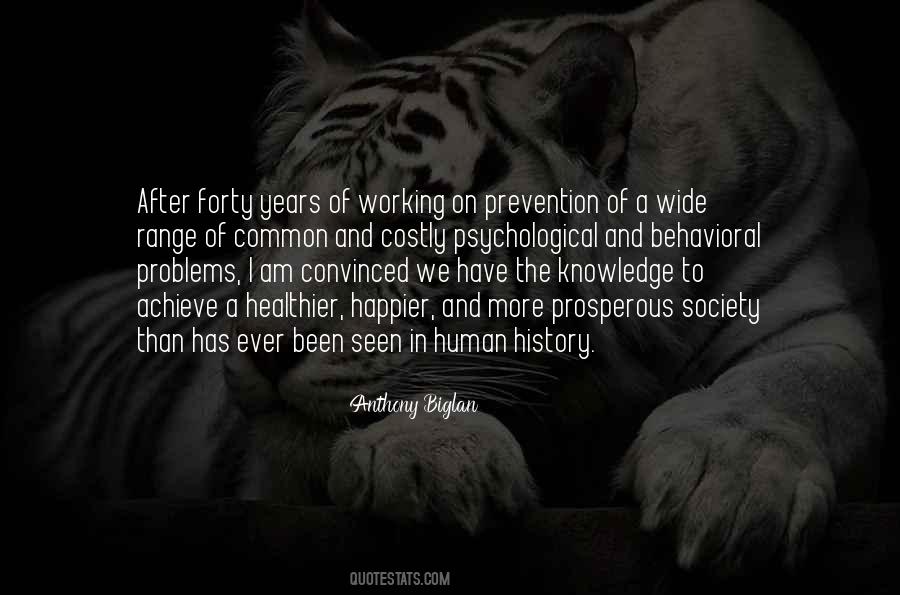 #49. In my experience as a psychotherapist, I have found that stress underlies most of the psychological, social, and medical problems people face in contemporary society. If we can get a handle on stress, we can take care of most of the problems we face in our lives.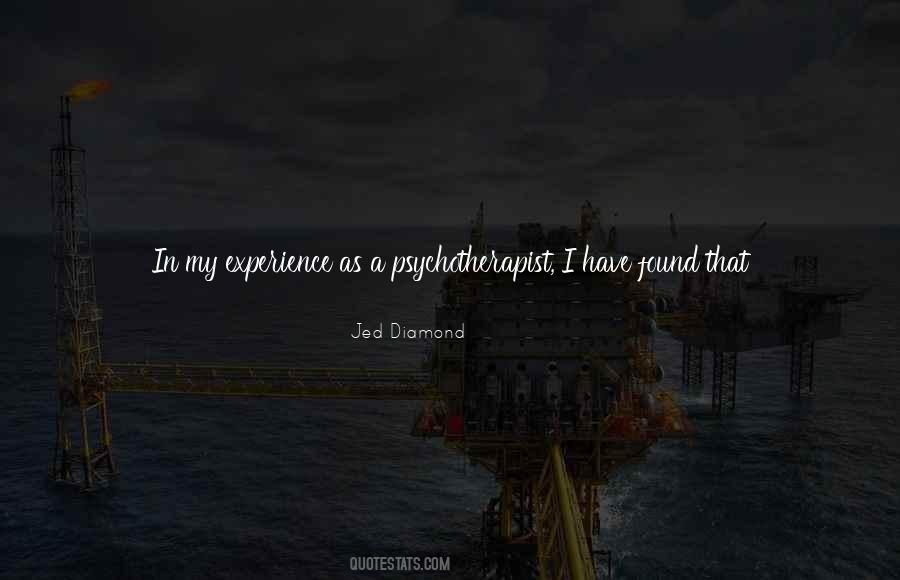 #50. Engineers, medical people, scientific people, have an obsession with solving the problems of reality, when actually ... once you reach a basic level of wealth in society, most problems are actually problems of perception.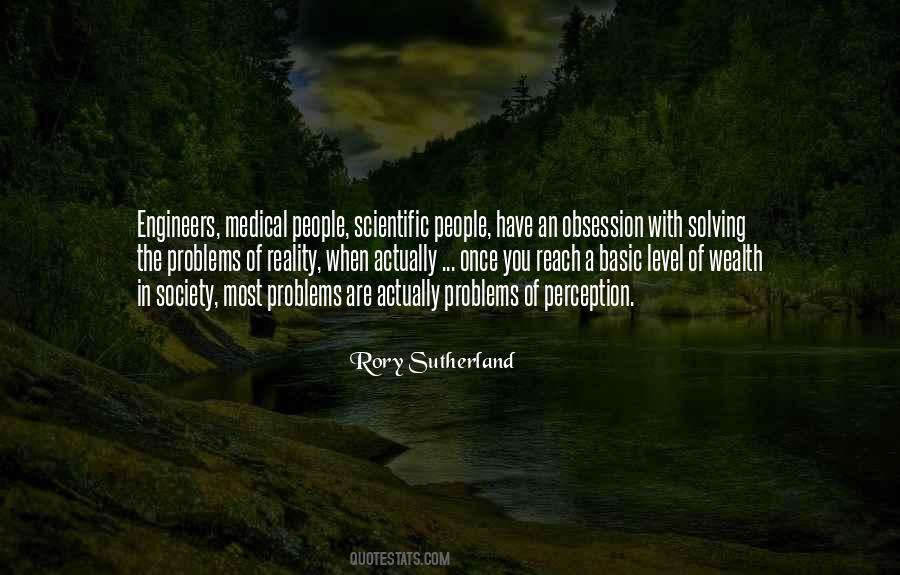 #51. A better understanding of the brain is certain to lead man to a richer comprehension both of himself, of his fellow man, and of society, and in fact of the whole world with its problems.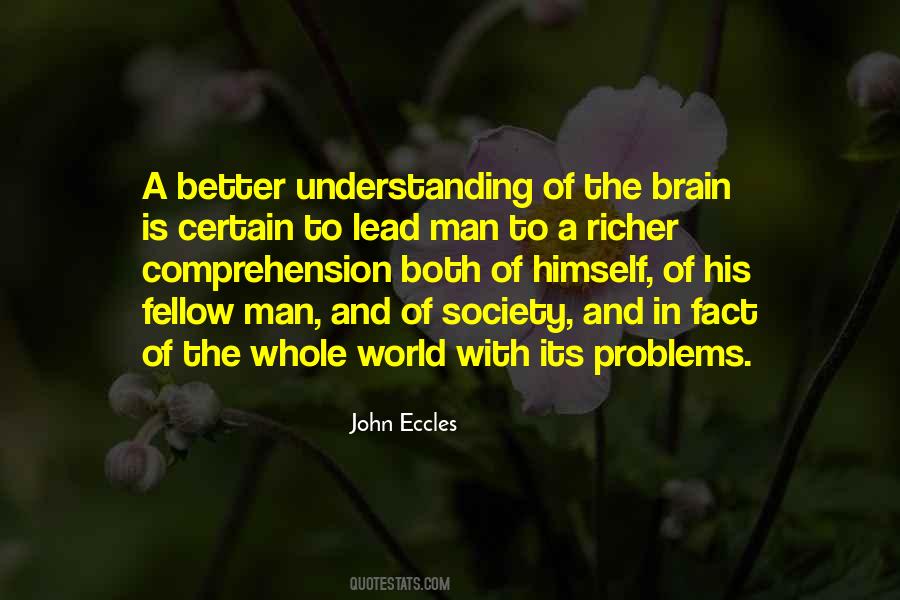 #52. People who carry in their hearts a strong conviction concerning the living reality of the Almighty and their accountability to Him for what they do with their lives are far less likely to become enmeshed in problems that inevitably weaken society.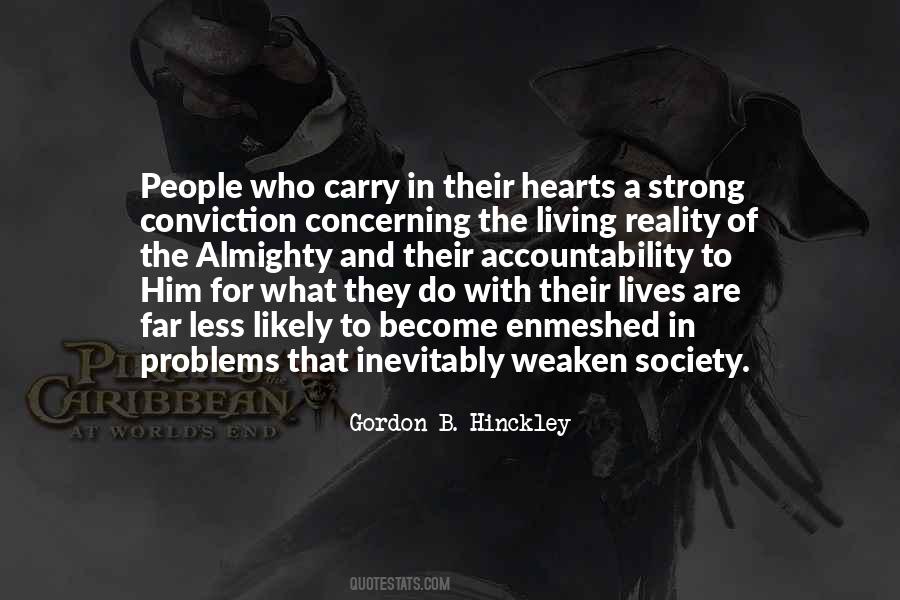 #53. I can admit there are some problems in hip hop but it is only a reflection of what's taking place in our society. Hip hop is sick because America is sick.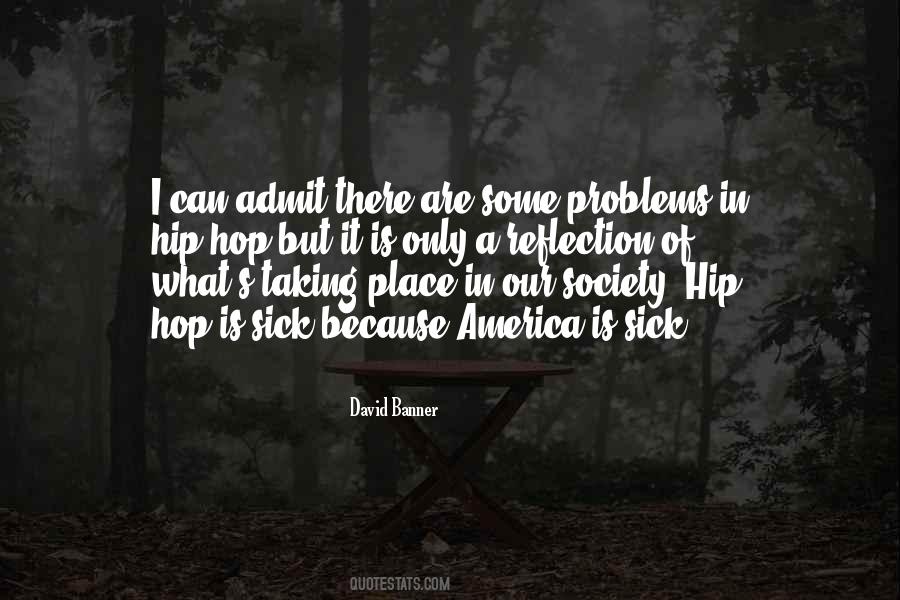 #54. The crisis of modern society is precisely that the youth no longer feel heroic in the plan for action that their culture has set up. They don't believe it is empirically true to the problems of their lives and times.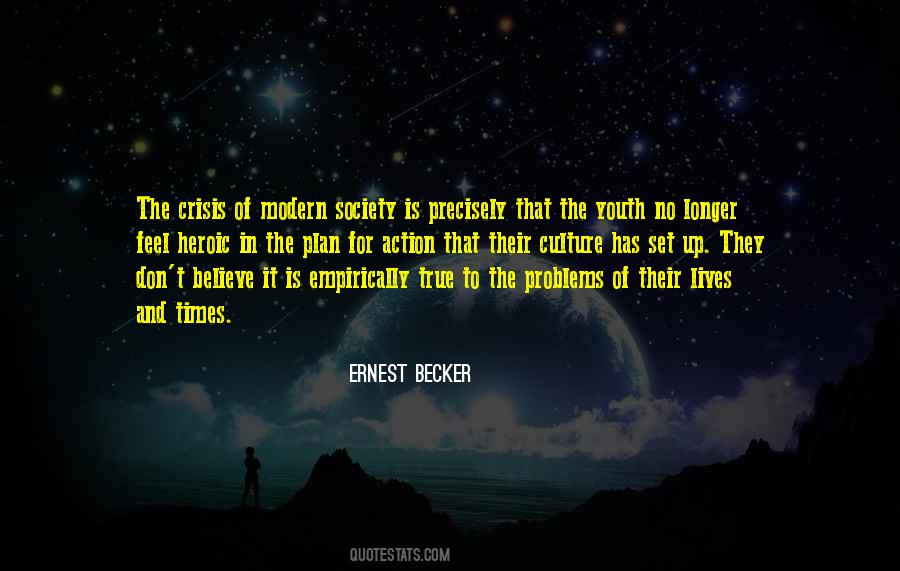 #55. I do hope that 'Interstellar' and this kind of science in film will catch the public fancy and help to reignite an interest in science - and a respect for the power of science in dealing with the problems that society has to deal with.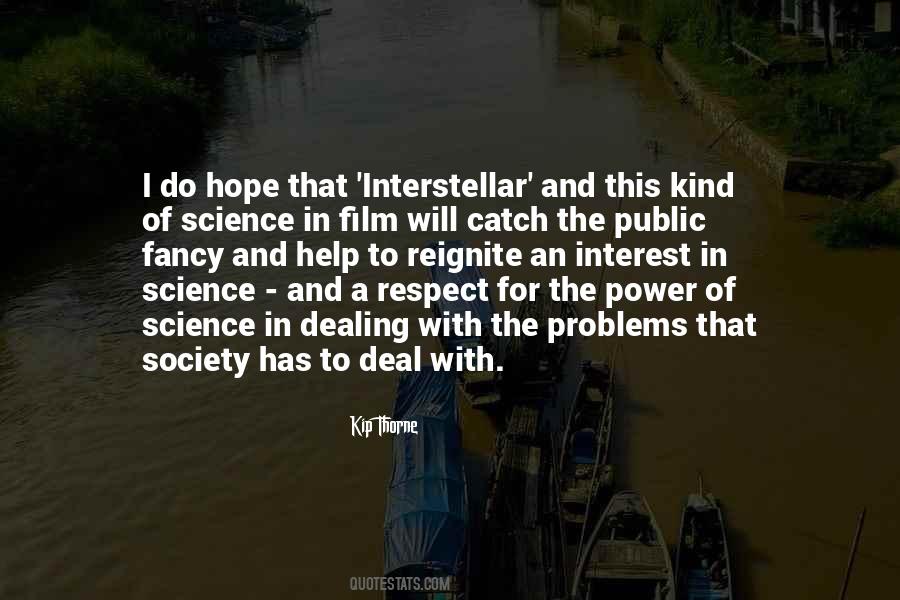 #56. If you had a free society you couldn't get people to go to war, if you had an intelligent type of upbringing in ones children. They would say; There must be many other ways of solving problems other then killing people.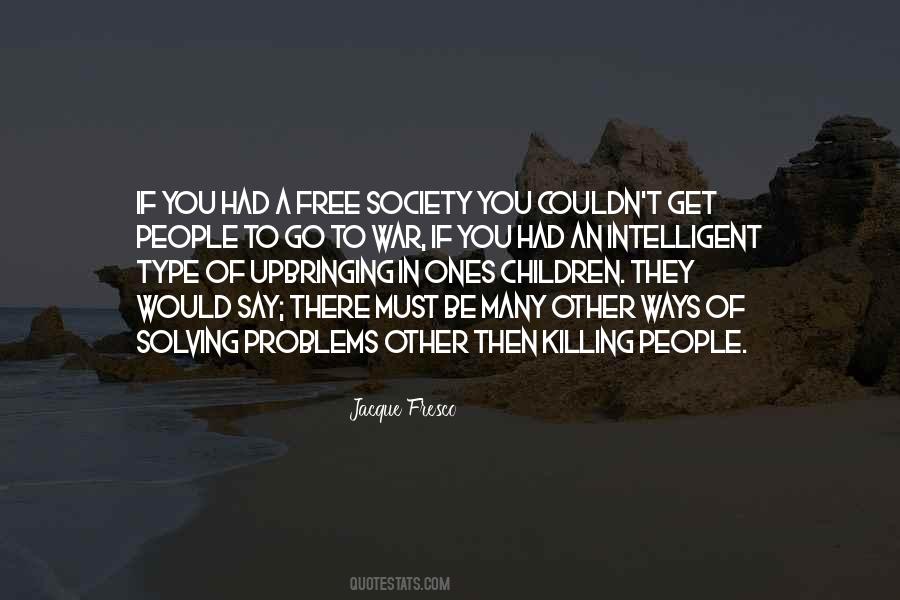 #57. My passion for gardening may strike some as selfish, or merely an act of resignation in the face of overwhelming problems that beset the world. It is neither. I have found that each garden is just what Voltaire proposed in Candide: a microcosm of a just and beautiful society.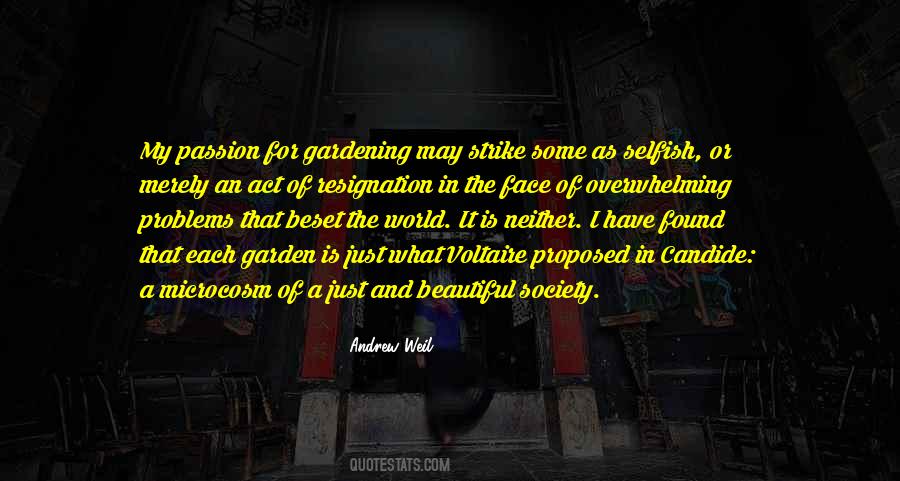 #58. We don't want to put a band-aid on our problems that we keep talking about in society; we want to get down to the nitty gritty and do some surgery.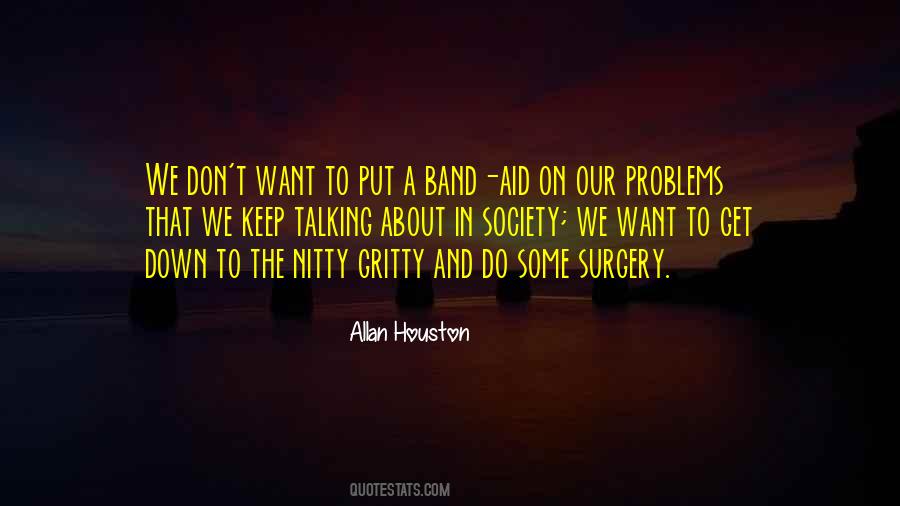 #59. I believe that one of the great problems for us as individuals is the depression and the tension resulting from existence in a world which is increasingly less pleasing to the eye.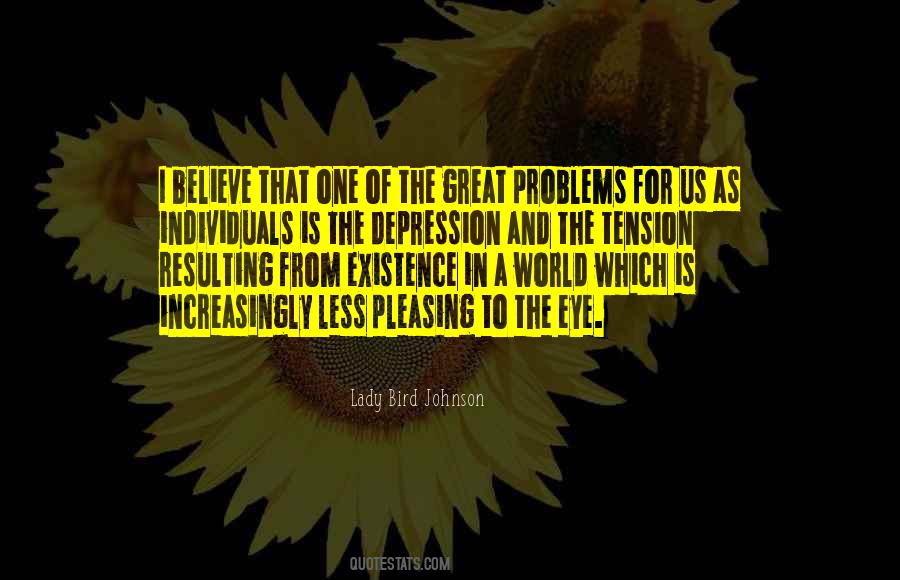 #60. I think the idea that the systemic problems in a society lead to illness is important to know. We shouldn't be separating out how we live with where we live, and what ails us with the environment we're in.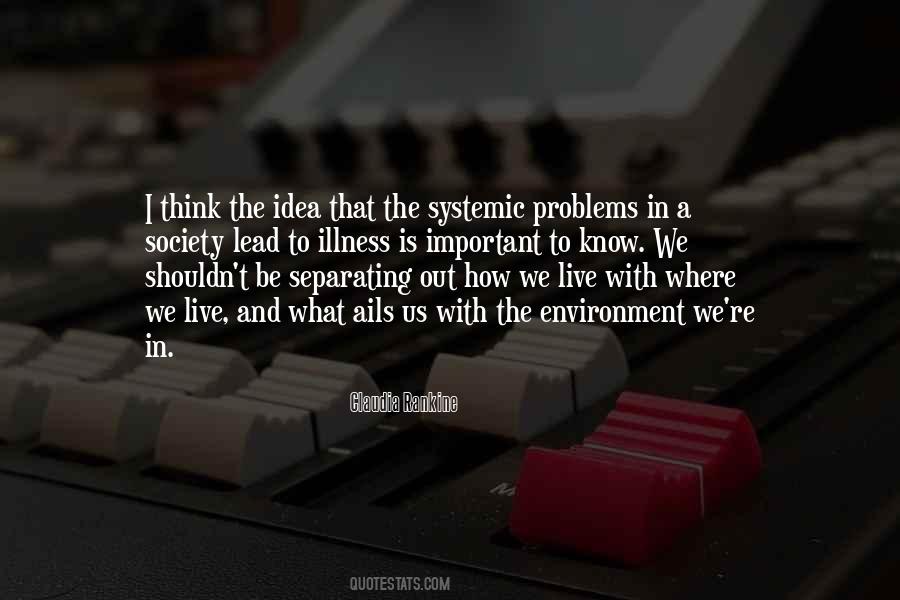 #61. Nearly all problems of human behavior stem from our failure to ensure that people live in environments that nurture their well-being.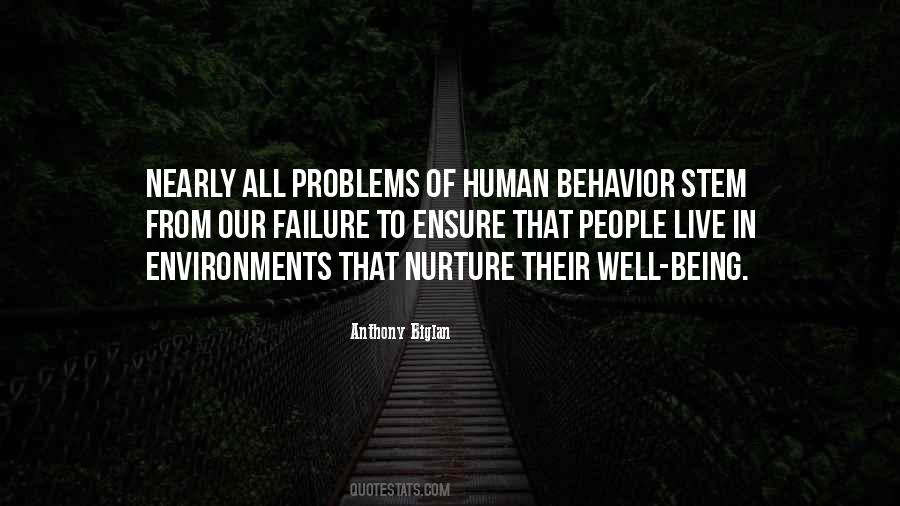 #62. Society always has problems with anyone who combines courage and curiosity with a strong belief in oneself.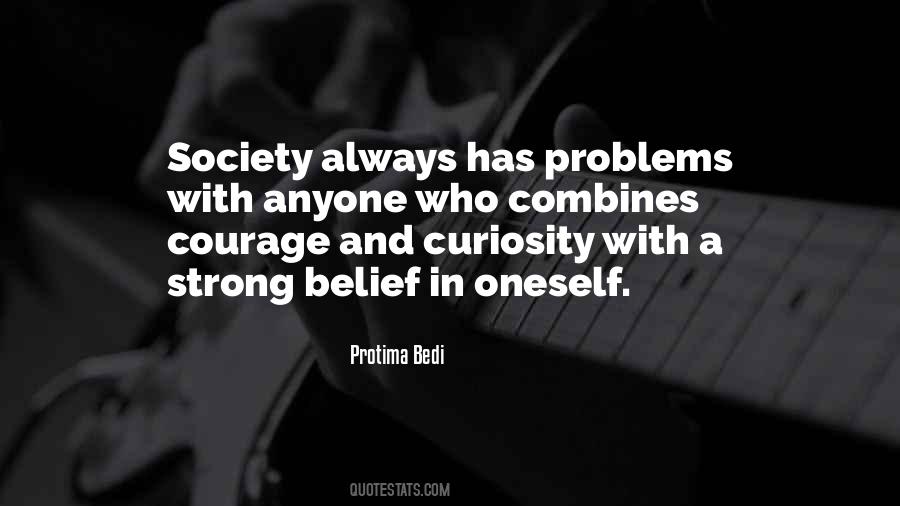 #63. I think sometimes in life we want to ignore the problems of society and just think about the good. I believe in positive thinking and affirmative living, I also think it's really important to remember all of our disenfranchised members of society.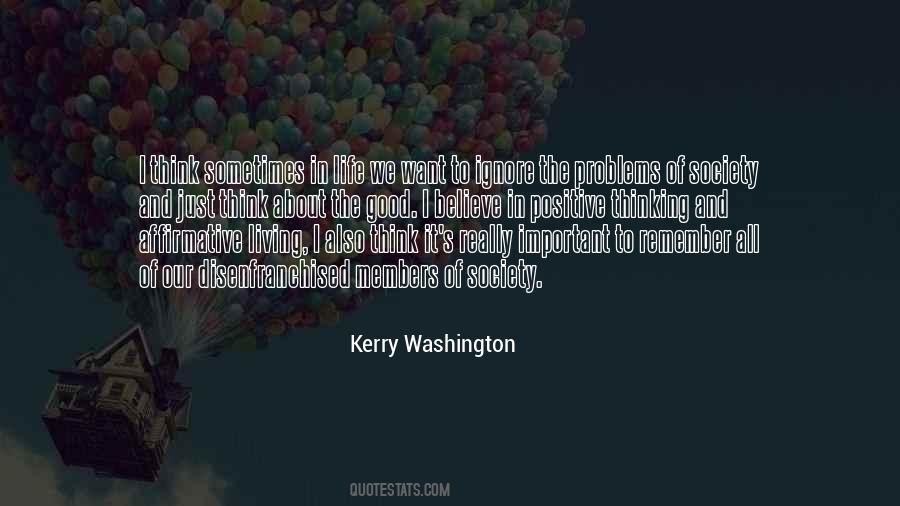 #64. It's important for that to exist in a society that doesn't present you with any genuine problems.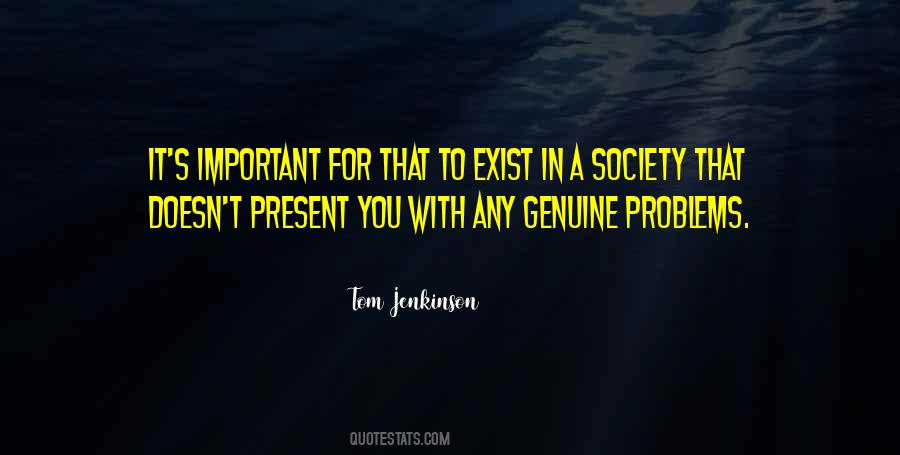 #65. Poverty and injustice are evils, but they are endurable evils in a world where other problems are greater. They are not endurable in a complex, technological society where cooperation is essential, where violence and rioting can destroy a city, even civilization itself.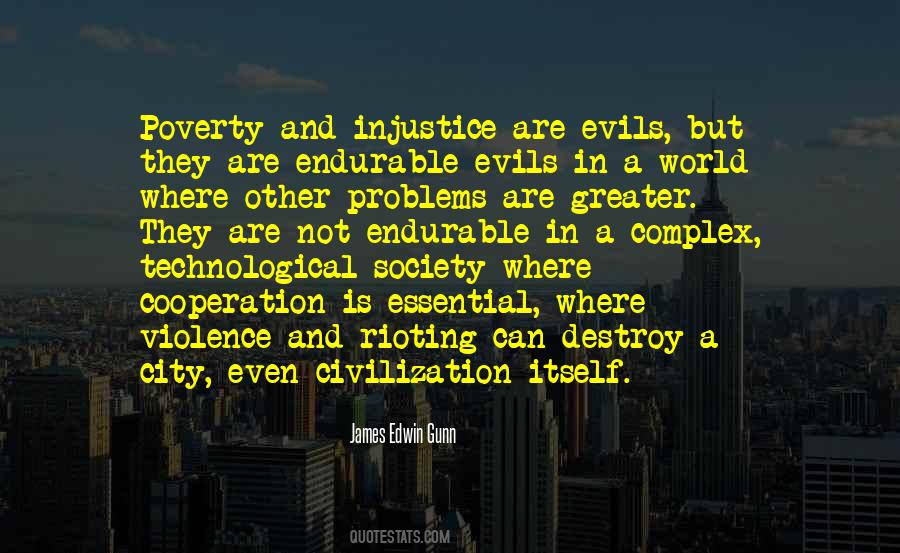 #66. We're living in a whole new social and economic order with a whole new set of problems and challenges. Old assumptions and old programs don't work in this new society and the more we try to stretch them to make them fit, the more we will be seen as running away from what is reality.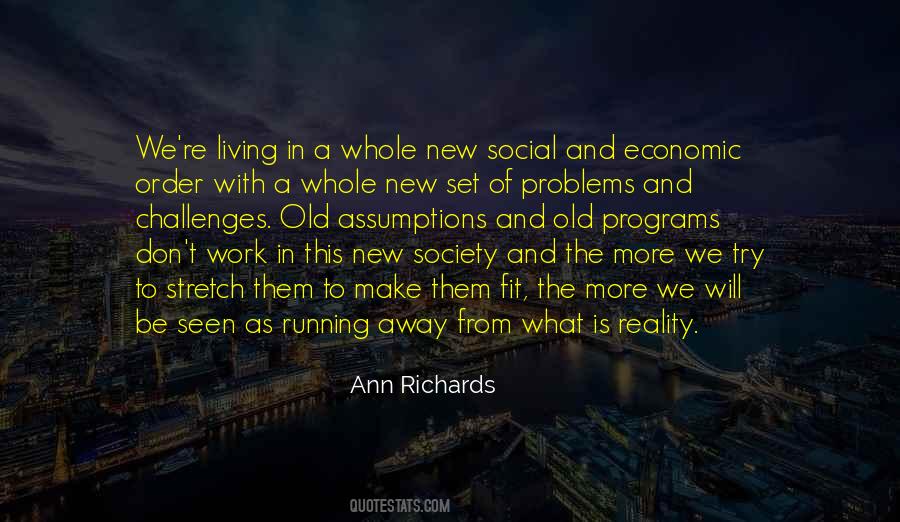 #67. Fear is what created the monster in the room, and in order to overcome the many problems and enslavements that we have today, it is not about getting rid of the monster, but about getting rid of the fear.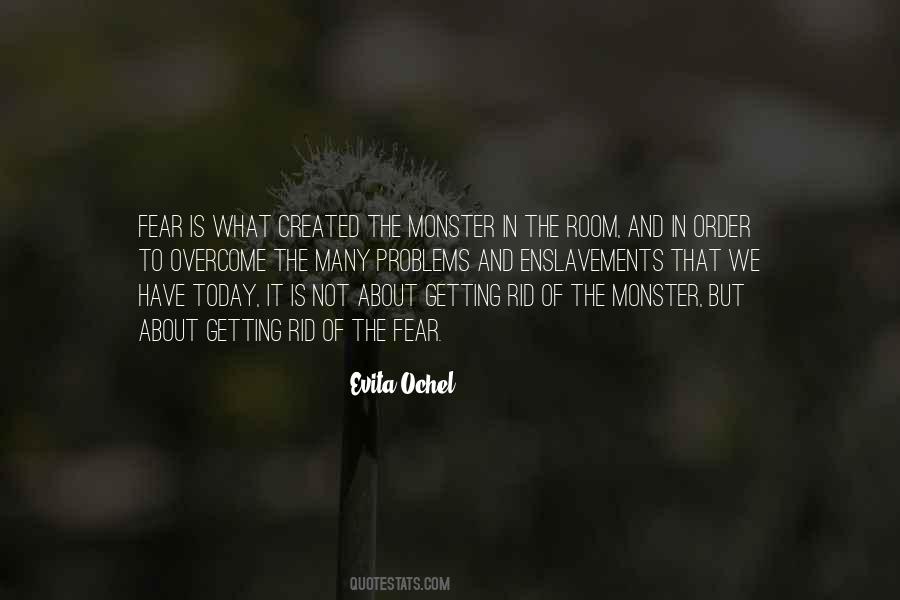 #68. We are so sluggish in our mentality that we think the world's problems are not our business, that they have to be resolved by the United Nations or by substituting new leaders for the old.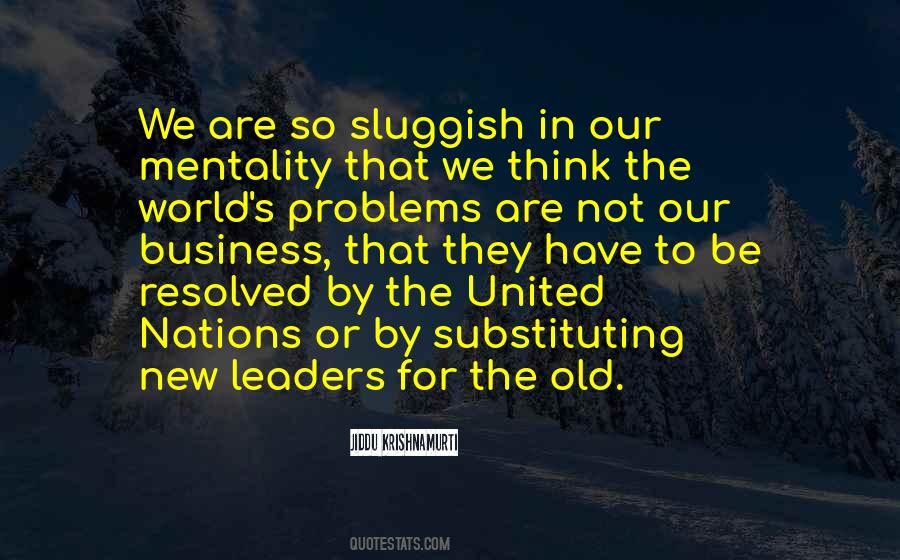 #69. There is a cultural movement in the white working class to blame problems on society or the government, and that movement gains adherents by the day. Here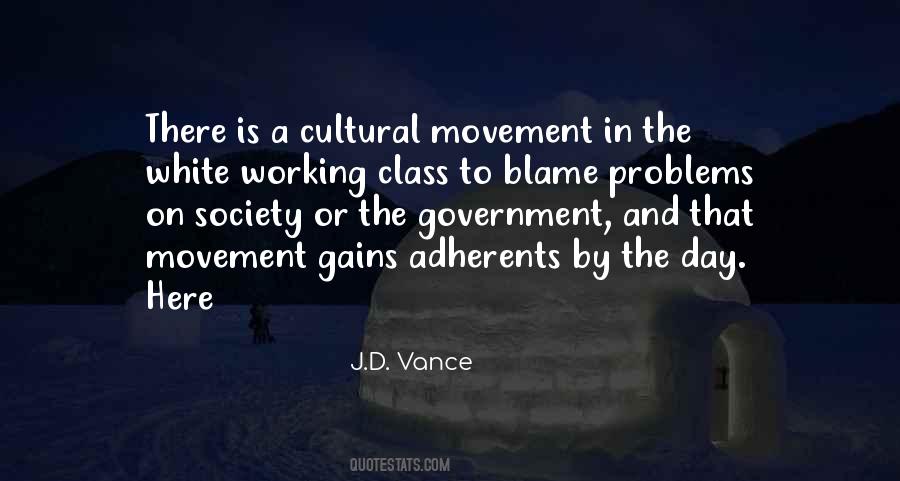 #70. Society is afraid of alonedom, like lonely hearts are wasting away in basements, like people must have problems if, after a while, nobody is dating them. But lonely is a freedom that breaths easy and weightless and lonely is healing if you make it.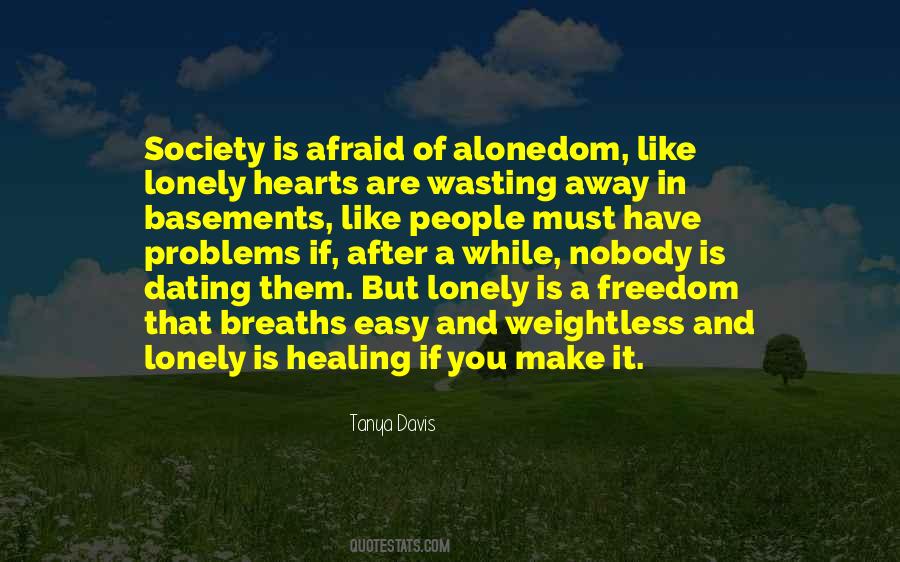 #71. You are the foundation of any change that will happen in your society. A student asked Thay, "There are so many urgent problems. What should I do?" Thay answered calmly, "Take one thing, and do it very deeply and carefully, and you will be doing everything at the same time." Knowing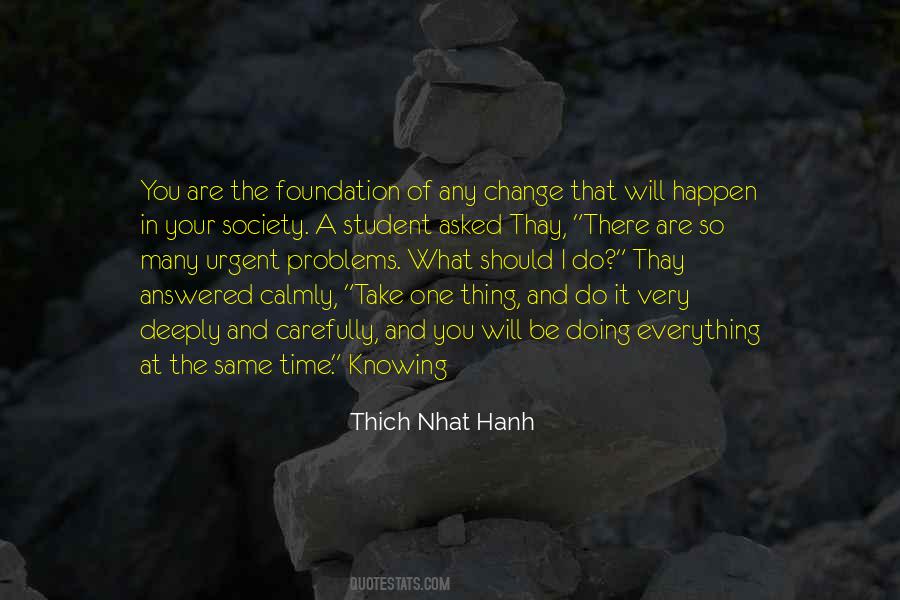 #72. Currently, U.S. society has been encouraged by its political and subsidized mass-media intelligentsia to view U.S. life as a continual "morning in America" paradise, where the only social problems occur in the inner cities. Psychologists call this denial.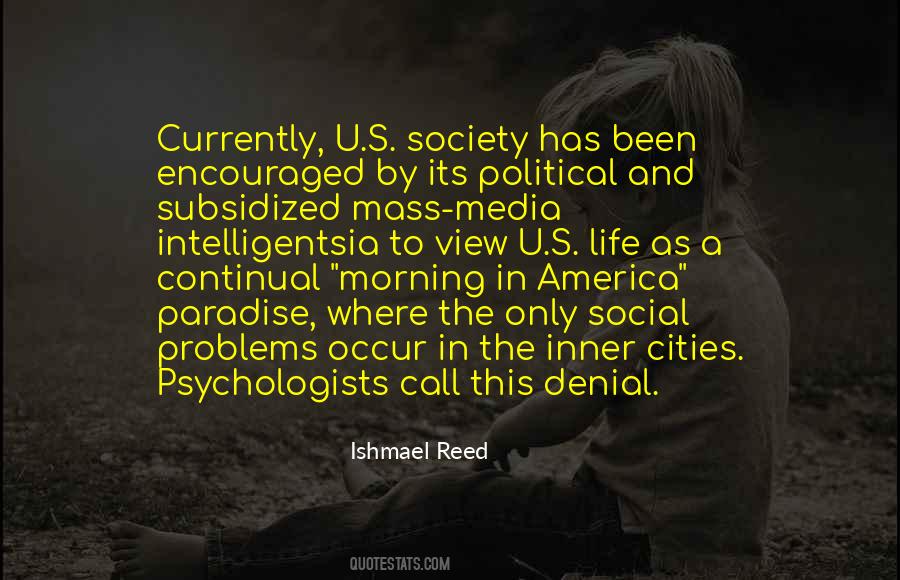 #73. Surely, nothing can be more plain or even more trite common sense than the proposition that innovation [ ... ] is at the center of practically all the phenomena, difficulties, and problems of economic life in capitalist society.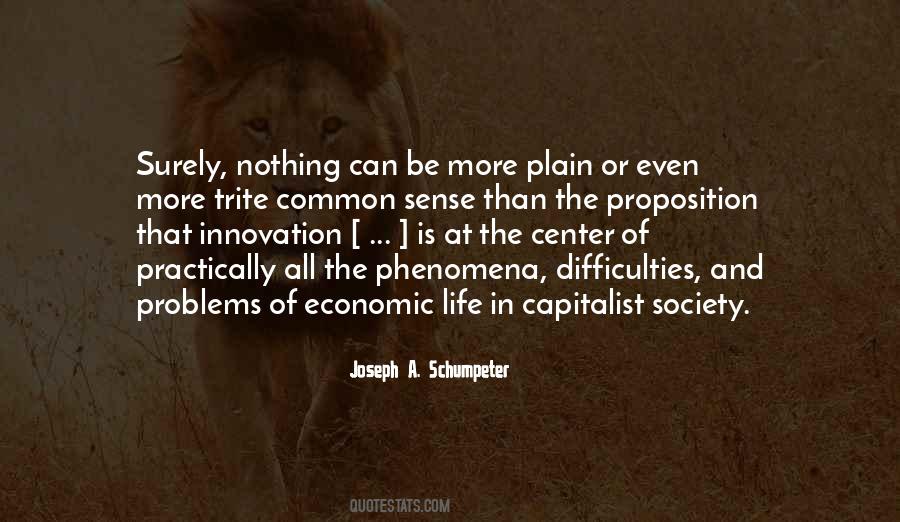 Famous Authors
Popular Topics