Power Of Love Famous Quotes & Sayings
List of top 100 famous quotes and sayings about power of love to read and share with friends on your Facebook, Twitter, blogs.
Top 100 Quotes About Power Of Love
#1. So our task as stewards of the word begins and ends in love. Loving language means cherishing it for its beauty, precision, power to enhance understanding, power to name, power to heal. And it means using words as instruments of love. - Author: Marilyn Chandler McEntyre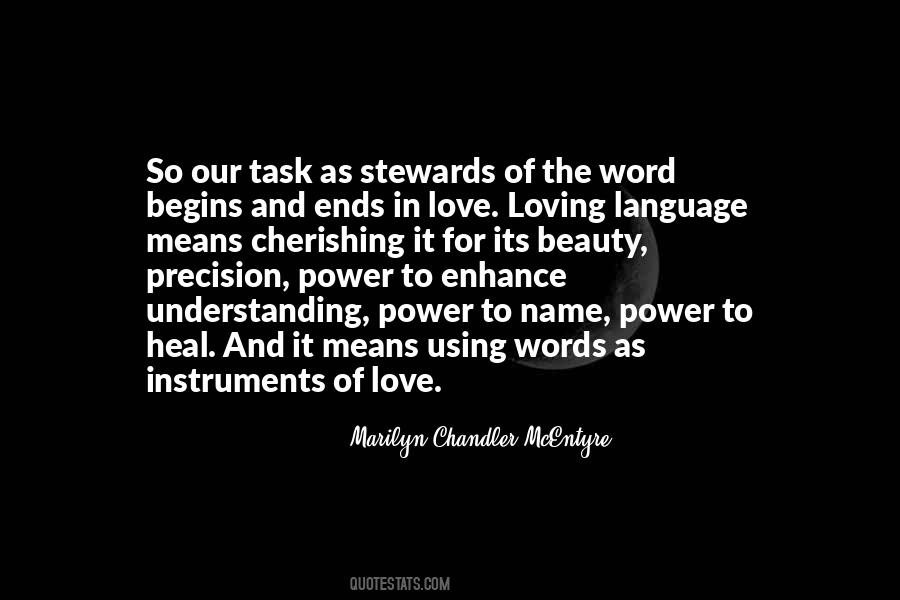 #2. It's a loathsome tale, yet I'm proof of God's love. He seeks us out to be His very own. My life had been so horrible, but it all changed when I surrendered to Him. It's the most important decision you'll ever make, and I pray you will soon understand the power of God's unconditional love. - Author: DiAnn Mills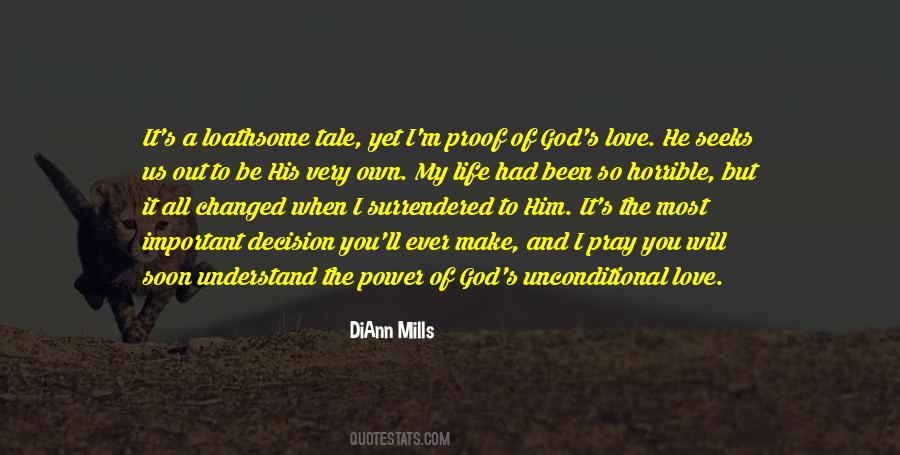 #3. Ironically, the worship of of death as a strategy for coping with our underlying fear of death's power does not truly give us solace. It is deeply anxiety producing. The more we watch spectacles of death, of random violence and cruelty, the more afraid we become in our daily lives. - Author: Bell Hooks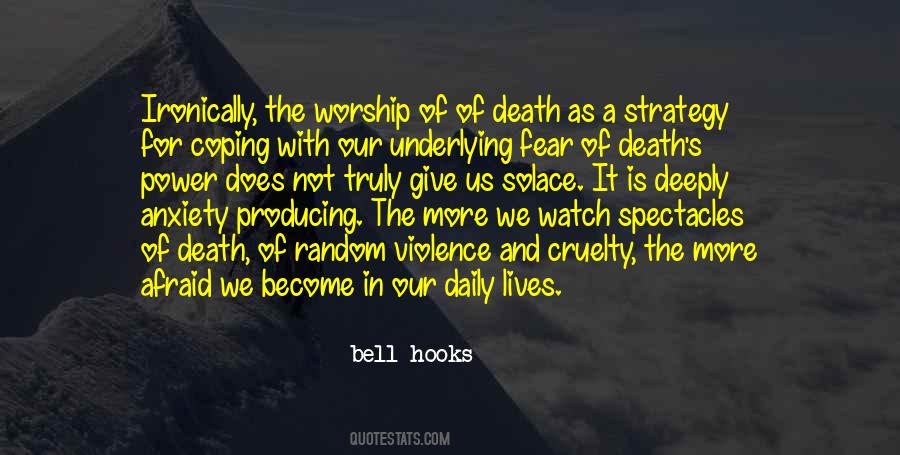 #4. To achieve charity, we must submit, become patient, meek, humble ... We must exercise the love of God as a power. - Author: F. Enzio Busche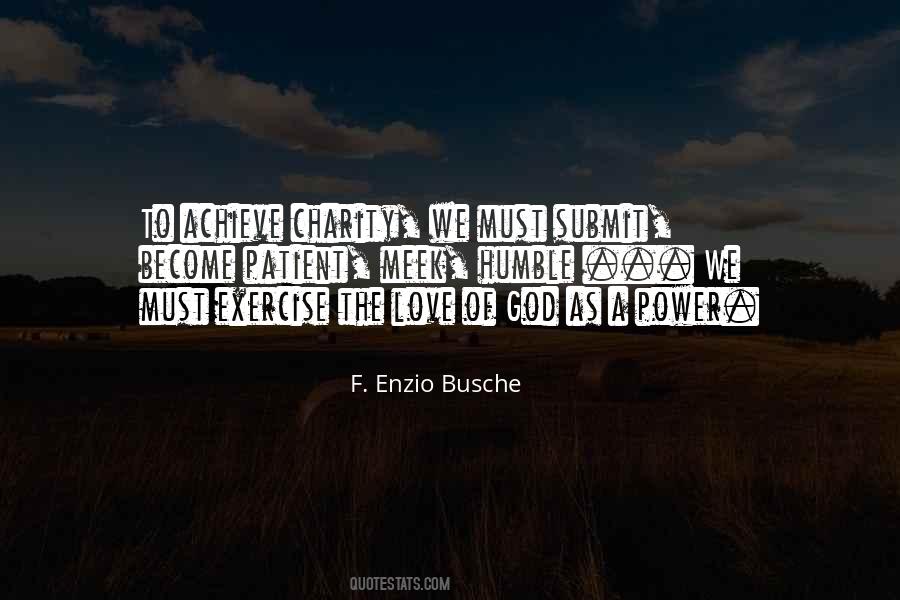 #5. If he touches me, I will succumb. I know the power he wields over me and my traitorous body. I know. - Author: E.L. James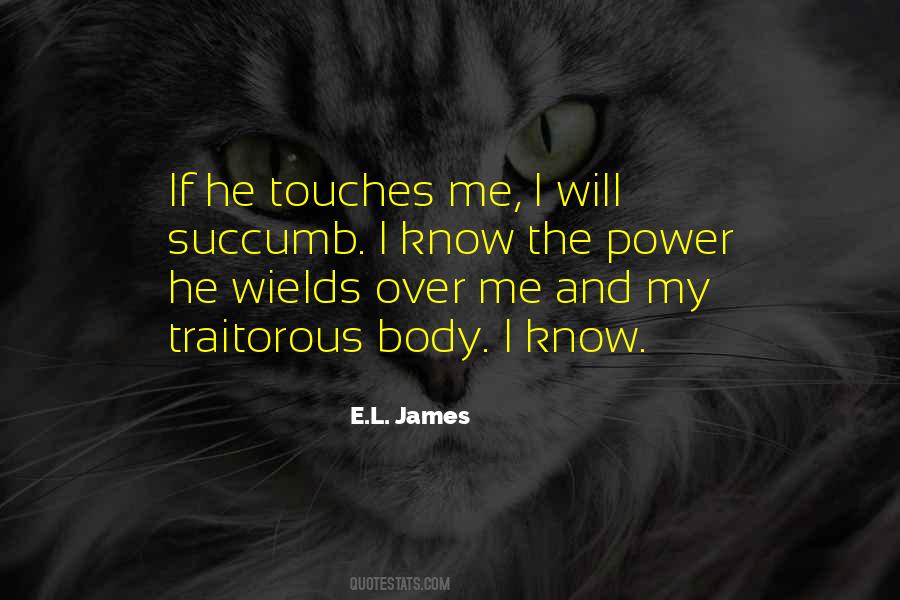 #6. Nothing happens easily in our lives. To get something, you have to attract it with the power of your love. - Author: Debasish Mridha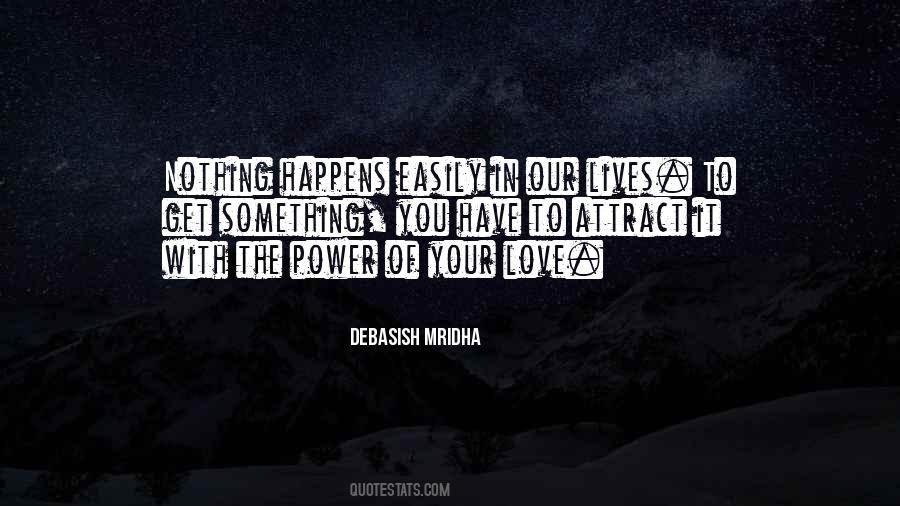 #7. The essence of life is the power of love. - Author: Lailah Gifty Akita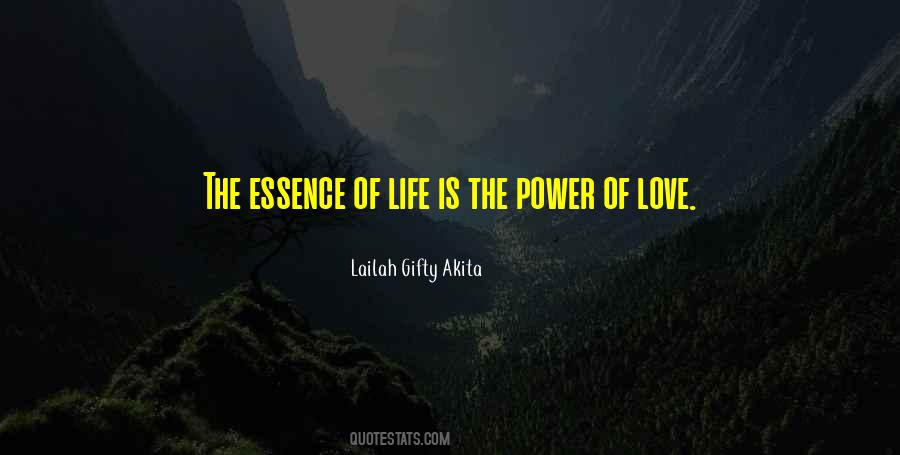 #8. Trust that whatever you are dealing with, whatever doorway to crisis you experience, it is leading you to a greater lesson in liwing where ideally the power of love is what you learn. Forgive, and broadcast your excitement to be alive. - Author: Barbara Marciniak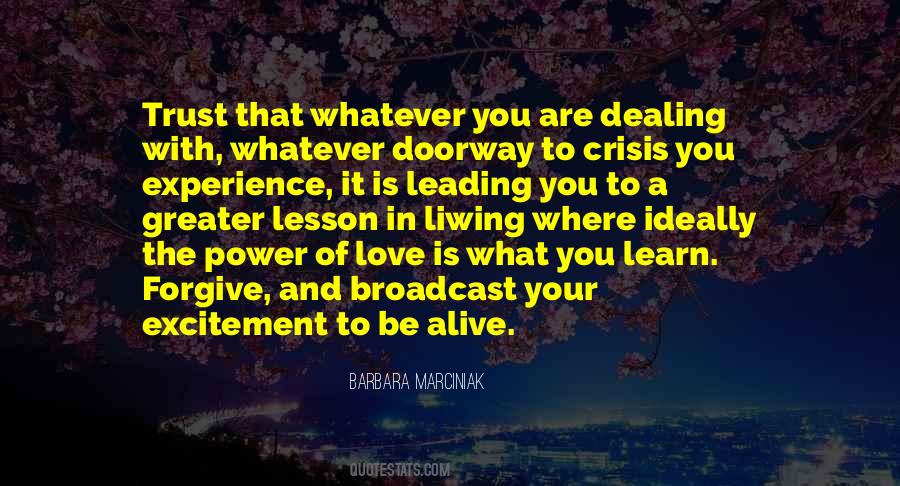 #9. Metaphysically, his bowl filled and emptied at the same time. Violent and maniacal to push himself so far, he'd both created and destroyed his body's energy. In other words he had complete power, self-sustaining, self-sacrificing power at the origin of himself. - Author: E.J. Koh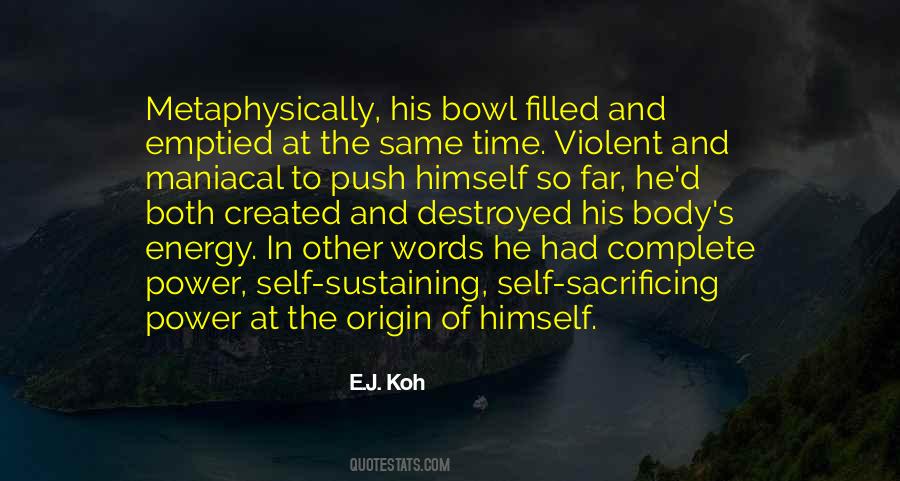 #10. The essence of the divine being is not power but compassion and love. And it's this love, and this love only, that whispers to me in defiance of the darkness: all will be well, all manner of things will be well. - Author: Giles Fraser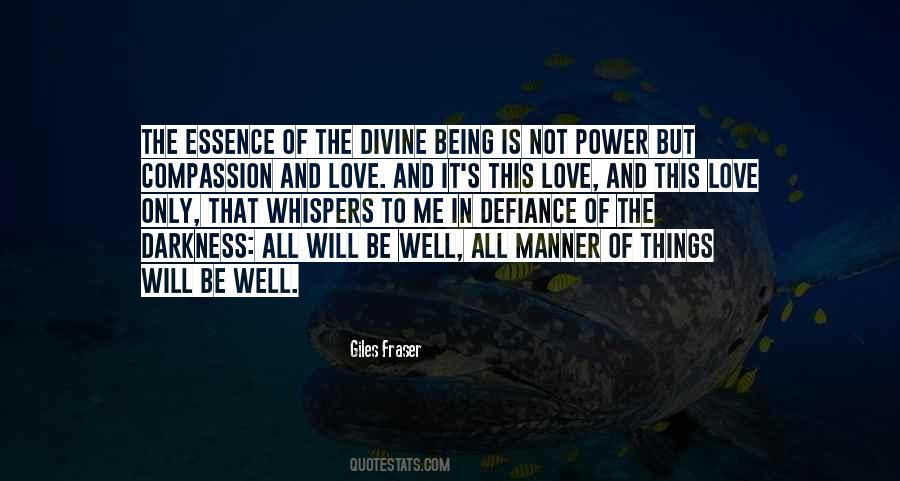 #11. What makes the temptation of power so seemingly irresistible? Maybe it is that power offers an easy substitute for the hard task of love. It seems easier to be God than to love God, easier to control people than to love people, easier to own life than to love life. - Author: Henri Nouwen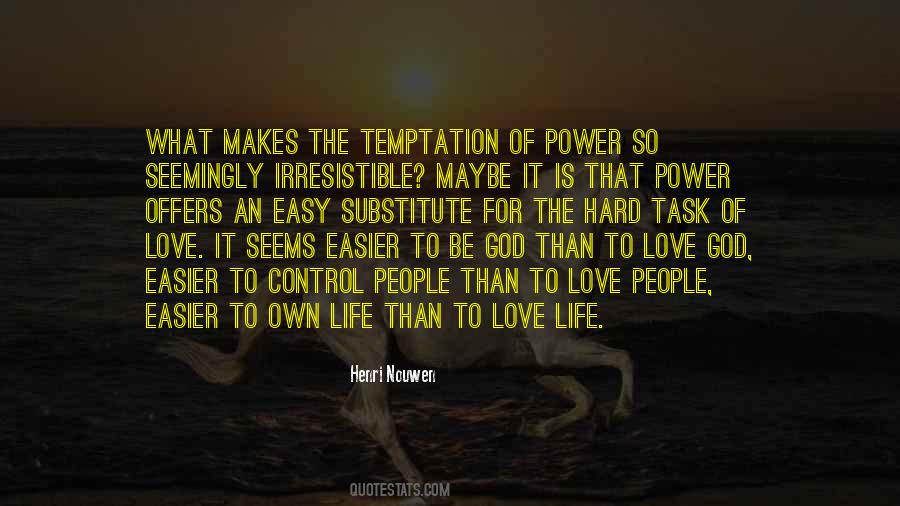 #12. Here's the bottom line: God is in the people business. More than anything He wants us to become like His Son, Jesus. To do this He will love us, bless us, discipline us, and develop us by the power of His Holy Spirit so that we become all He wants us to be. - Author: Kregg Hood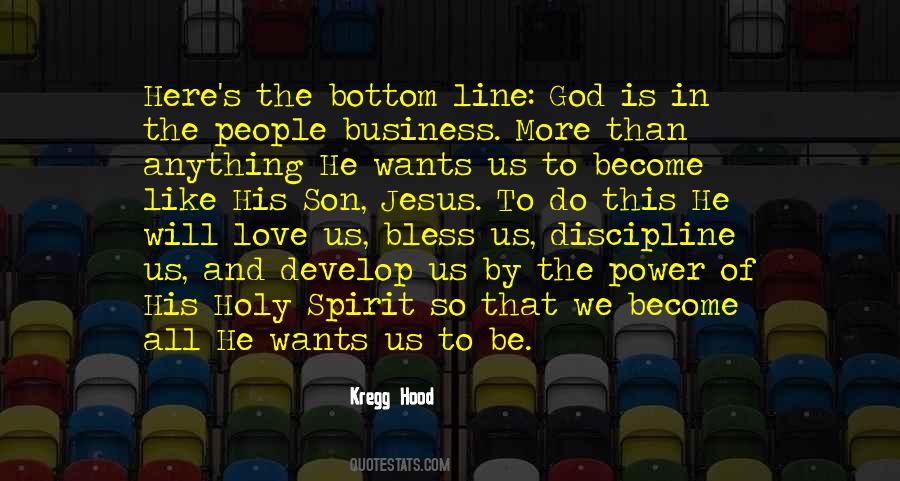 #13. Love, from its awful throne of patient power
In the wise heart, from the last giddy hour
Of dread endurance, from the slippery, steep,
And narrow verge of crag-like agony, springs
And folds over the world its healing wings. - Author: Percy Bysshe Shelley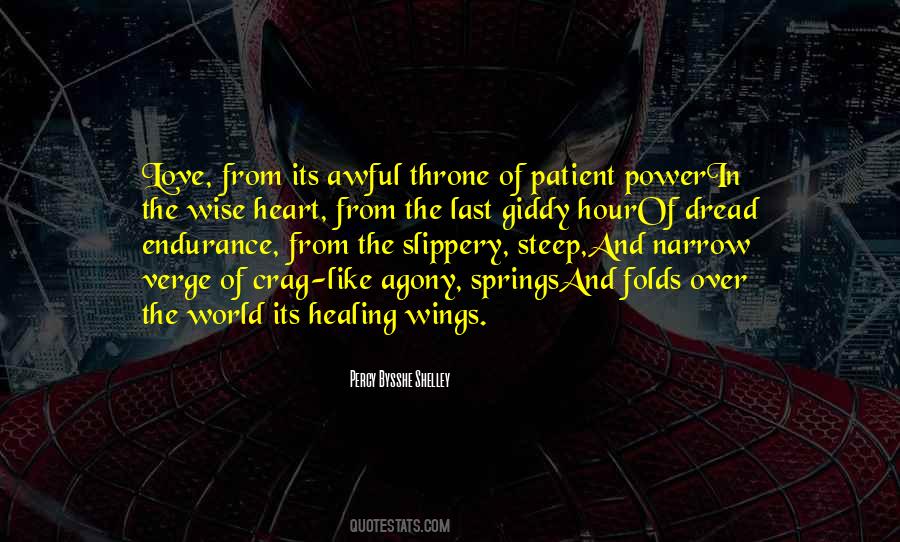 #14. Love is cure,
Love is power,
Love is the magic of changes.
Love is the mirror, of divine beauty! - Author: Rumi
#15. We learn to love our sweat, we discover our passion to move and connect it to effort, we discover both the animal in us and the power of our imagination - Author: Ohad Naharin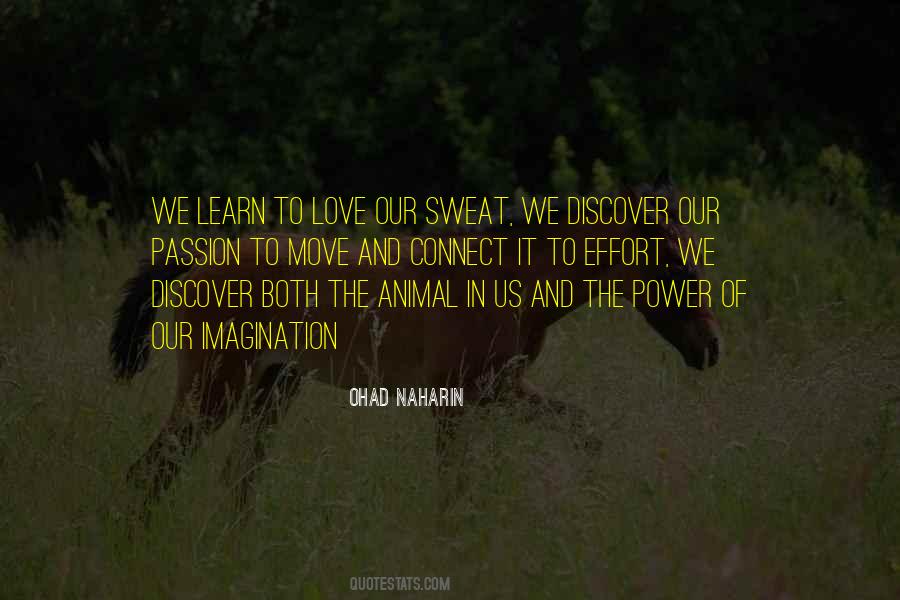 #16. I love the power of celebrity because you can give voice to the voiceless. - Author: Q'orianka Kilcher
#17. In the morning, smile like the morning sun and give the best gift of a smile filled with the warmth of love. - Author: Debasish Mridha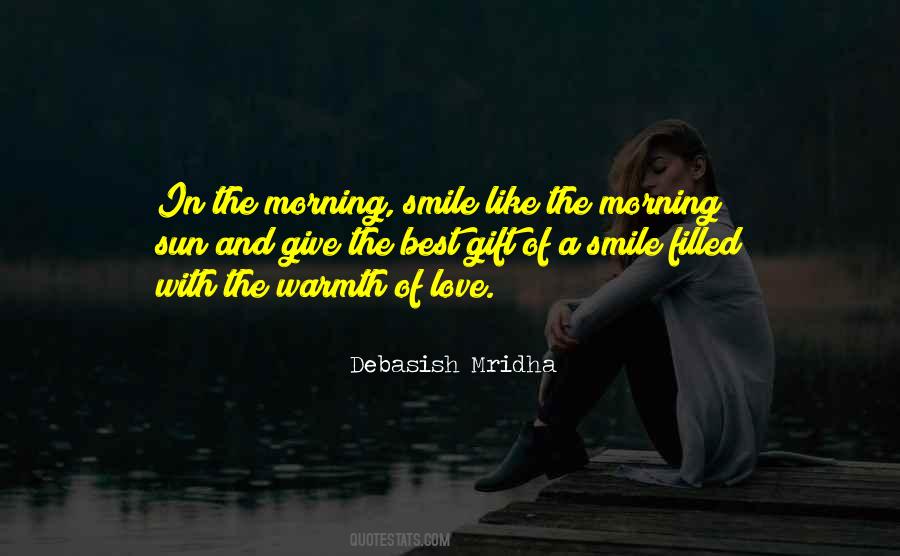 #18. You look at love, and especially woman, as something hostile, something against which you put up a defense, even if unsuccessfully. You feel that their power over you gives you a sensation of pleasurable torture, of pungent cruelty. This is a genuinely modern point of view. - Author: Leopold Von Sacher-Masoch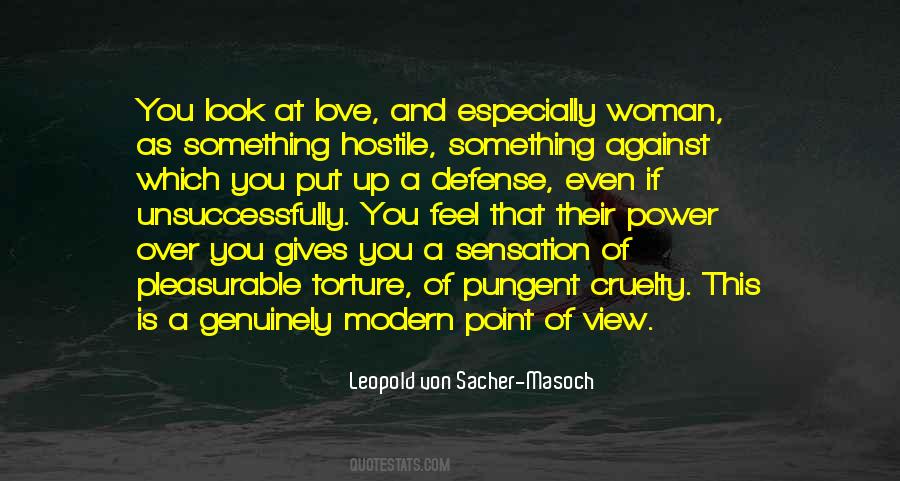 #19. The truest comparison we can make of love is to liken it to a fever; we have no more power over the one than the other, either as to its violence or duration. - Author: Francois De La Rochefoucauld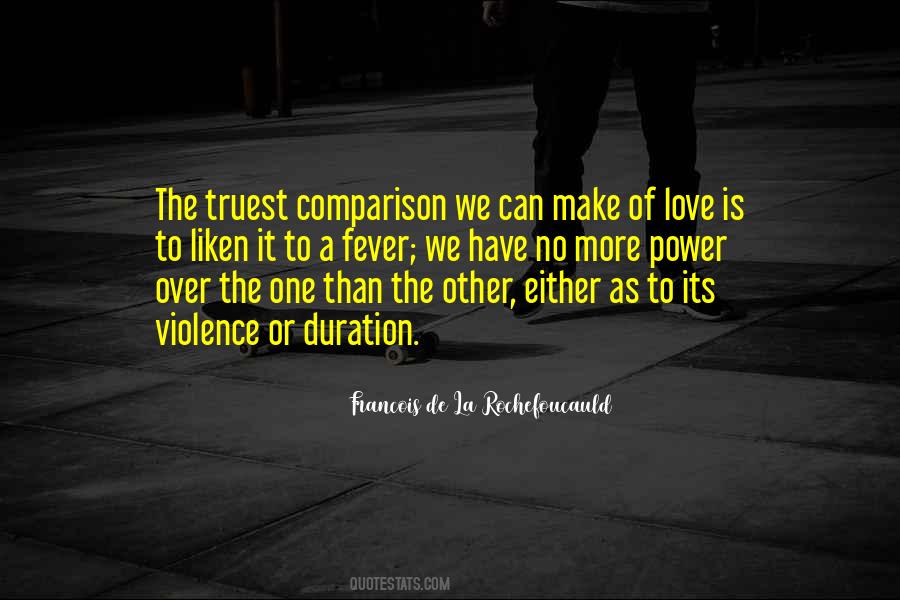 #20. While followers idealize the real, leaders realize the ideal ... They outshine with their power of love those whose only motivation is love of power. - Author: Debashis Chatterjee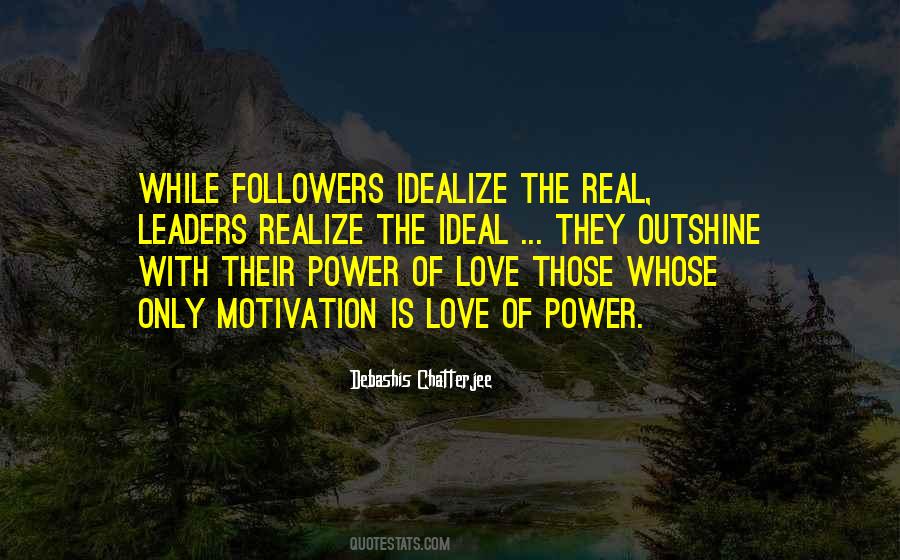 #21. It all begins with goodness in the heart. - Author: Bjorn Street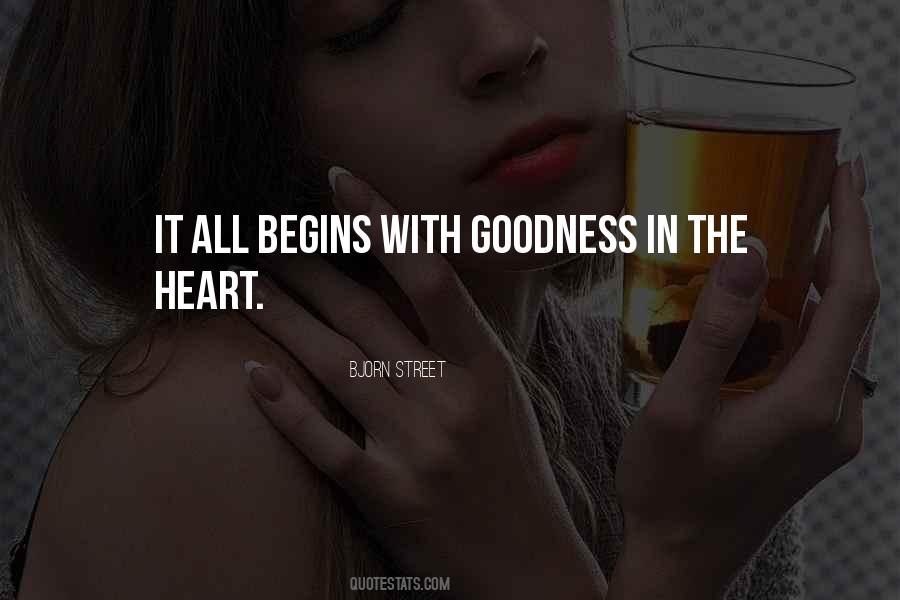 #22. The power of self goes beyond words. Self confidence, self improvement, self esteem, self enhancement, self love ... Get yourself right first! - Author: Behdad Sami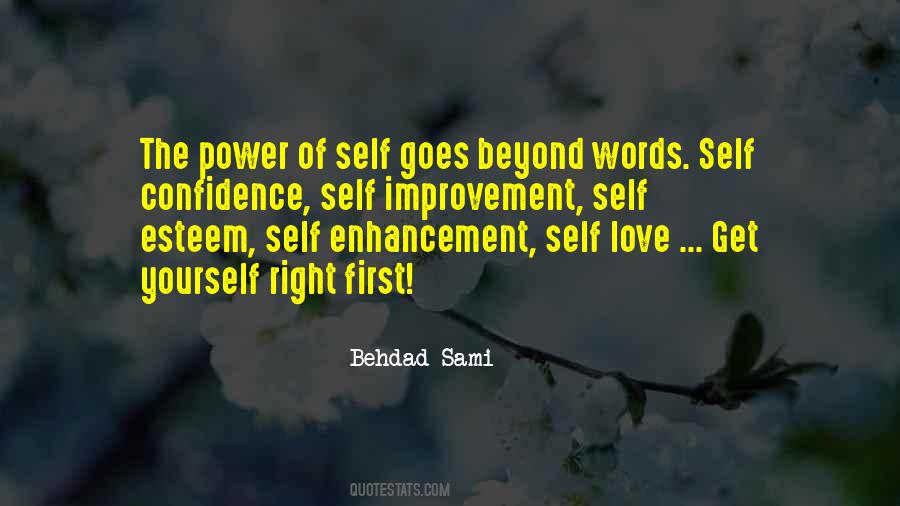 #23. In this ocean of time, life is smaller than a drop of water. To create an impact, create a massive wave with the power of your infinite love. - Author: Debasish Mridha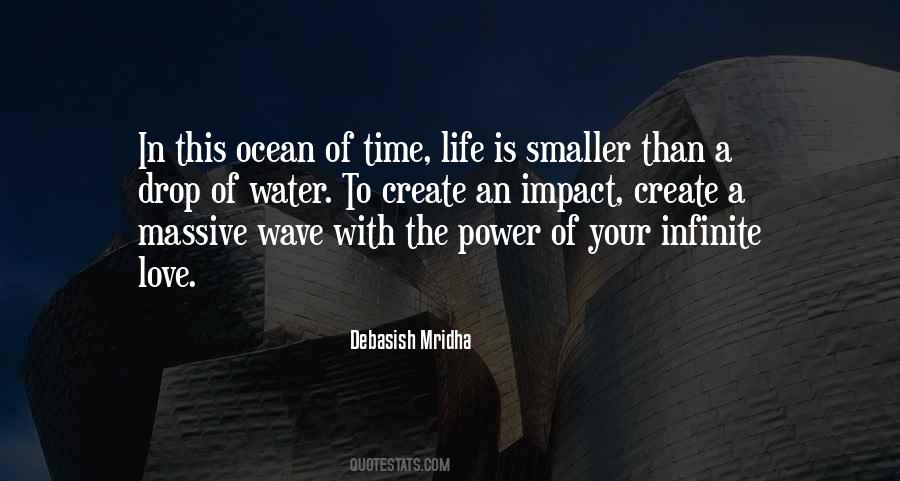 #24. I would sooner be holy than happy if the two things could be divorced. Were it possible for a man always to sorrow and yet to be pure, I would choose the sorrow if I might win the purity, for to be free from the power of sin, to be made to love holiness, is true happiness. - Author: Charles Spurgeon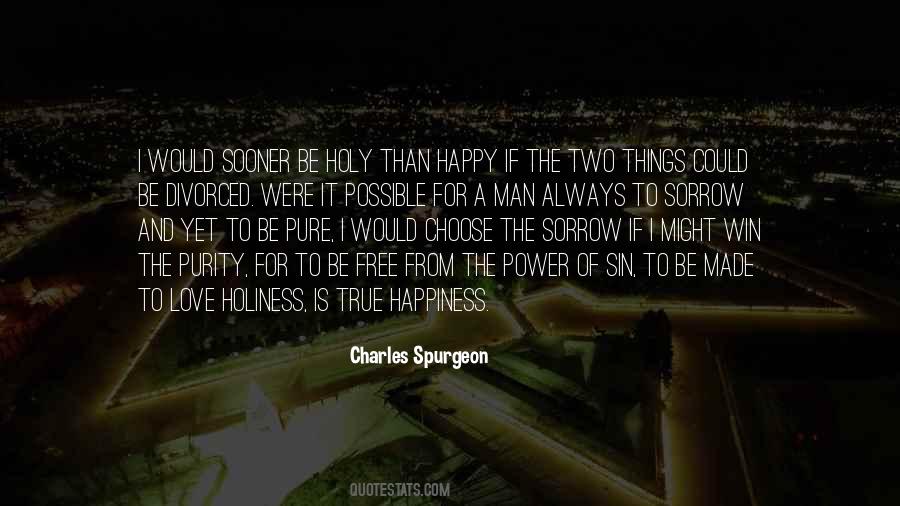 #25. Syldor was not a land of oppressive rules, roles, and labels. Here, love and power were open to, for, and between all; woman or man, rich or poor. What mattered was the sharpness of your mind, the speed of your blade, and the heat of your touch. - Author: Natalia Marx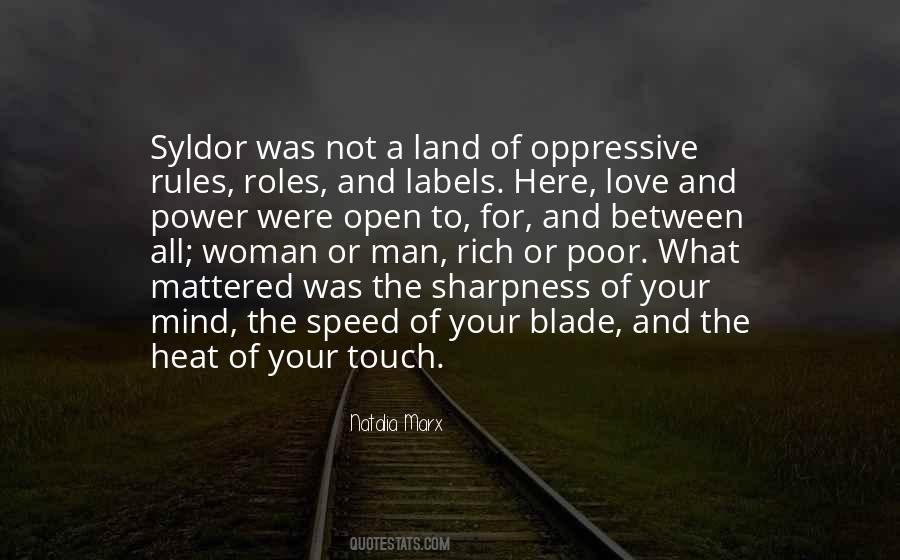 #26. The prestige of royal power has evaporated, but the majesty of the law has failed to take its place. People nowadays despise authority yet still fear it, and fear extracts from them more than they previously gave out of respect and love. - Author: Alexis De Tocqueville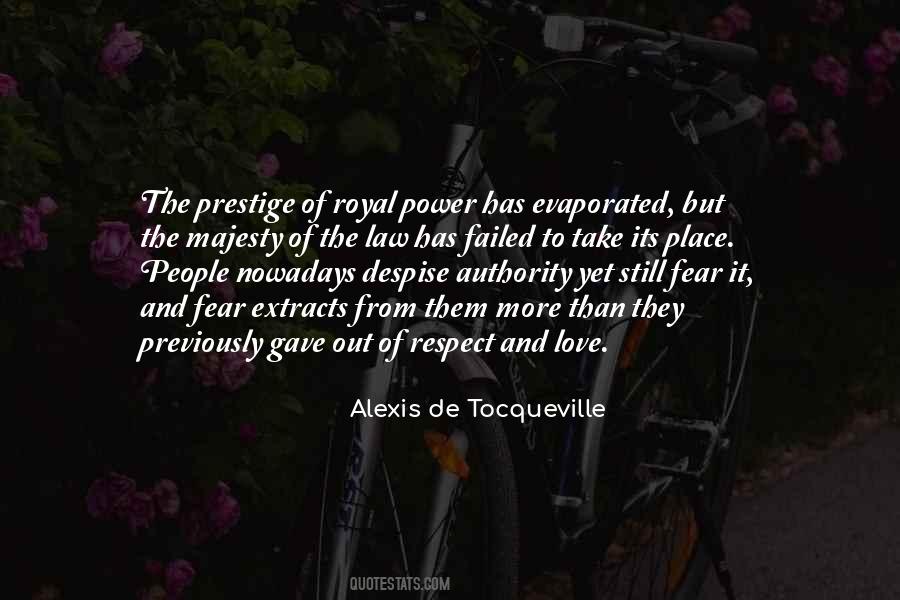 #27. In love, all kinds of love, we wait. If I can't be your dawn, I will be your sunset! - Author: Rossana Condoleo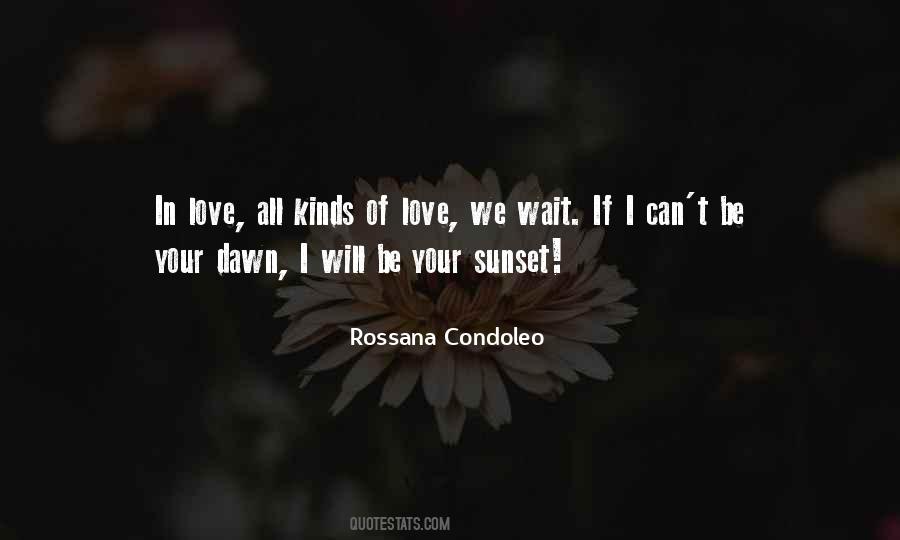 #28. You are a soul. You are a creator. You are an individual, absolutely and positively one of a kind. You are an energetic being of love with enough power inside of you to change this entire world forever. - Author: Stephen Lovegrove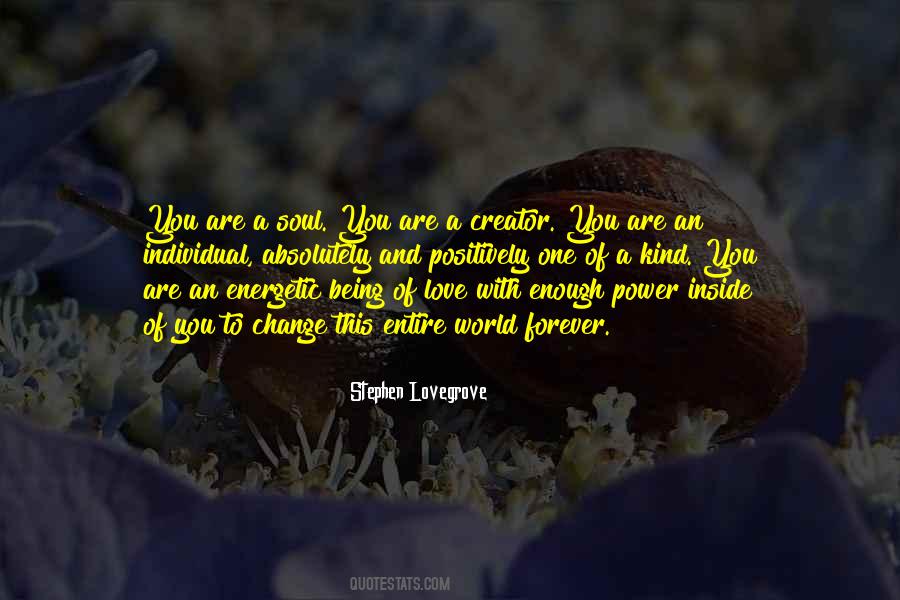 #29. Music is the power of motivation, love it for a reason. - Author: Korey Miracle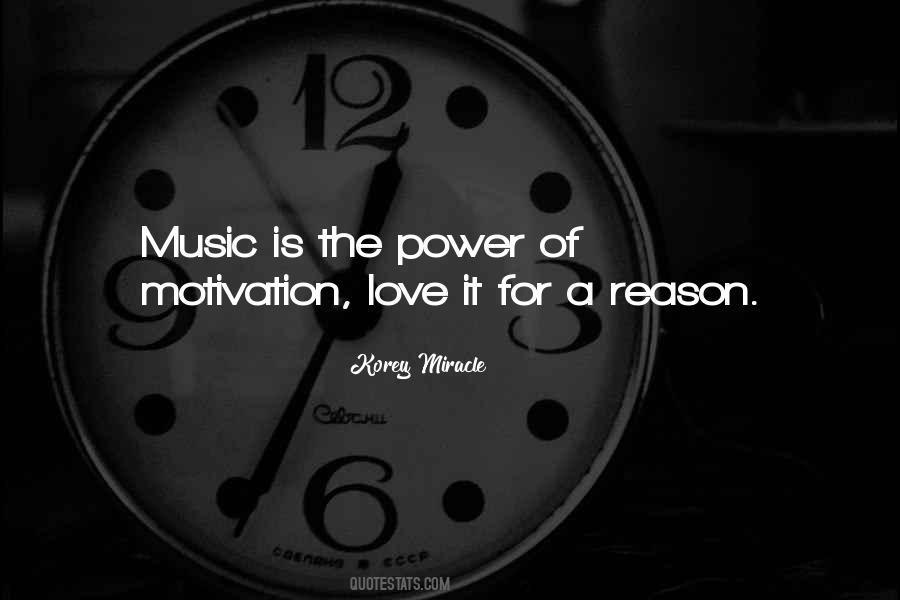 #30. And if I ever thought Ash held all the power in their relationship, I see it clearly now. Embry holds my husband's heart in his hands and he doesn't even know it. He's too busy looking at the details of Ash's faces to see the expression, too busy being in love to see how loved he is. - Author: Sierra Simone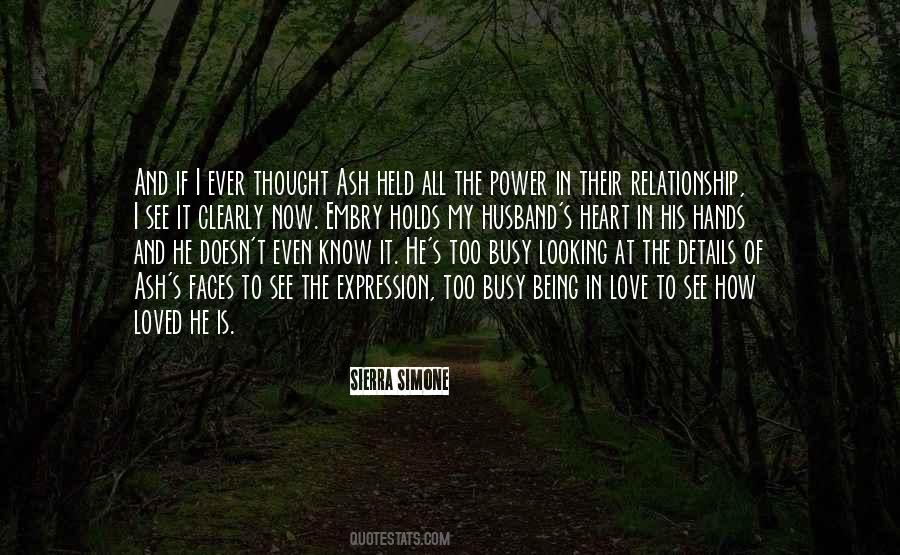 #31. New York was no mere city. It was instead an infinitely romantic notion, the mysterious nexus of all love and money and power, the shining and perishable dream itself. - Author: Joan Didion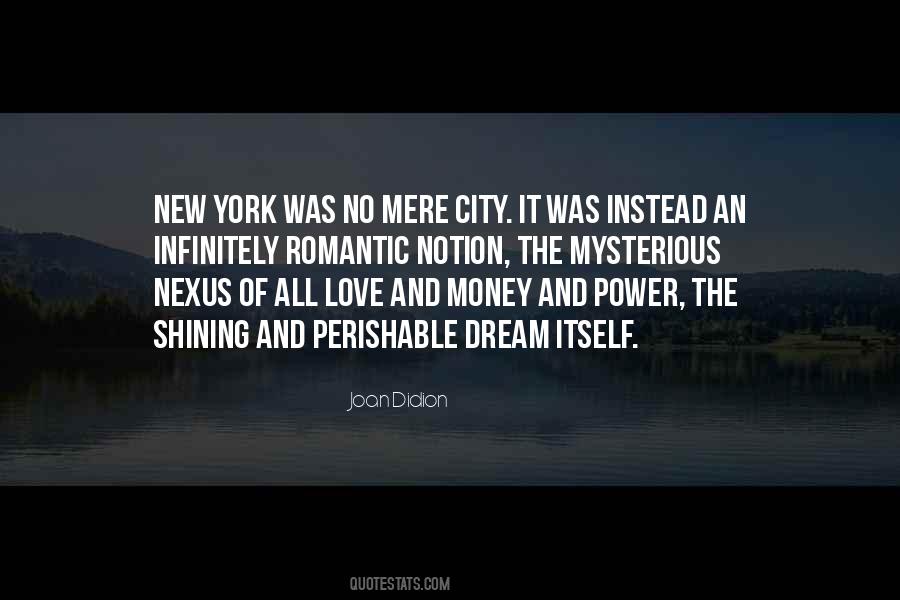 #32. The tale of love and power was a continuum, much like the white carousel just outside of Acronis's hall. It turned around and around. Acronis was tired of the spin."
-Madison Thorne Grey, Sustenance - Author: Madison Thorne Grey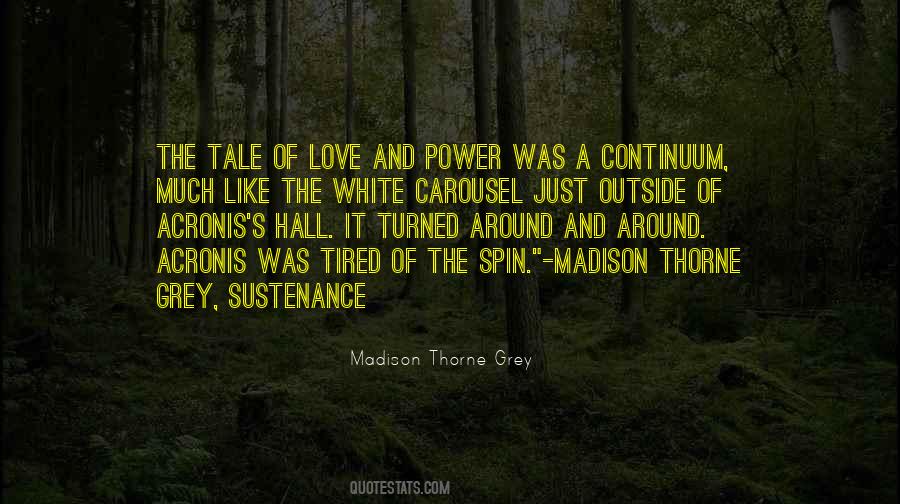 #33. Praise of power leads to weakness; Love of things leads to loss; The wise one leads by filling people's hearts; He destroys illusion and disturbs those who believe they are wise; He does nothing yet everything happens. - Author: Laozi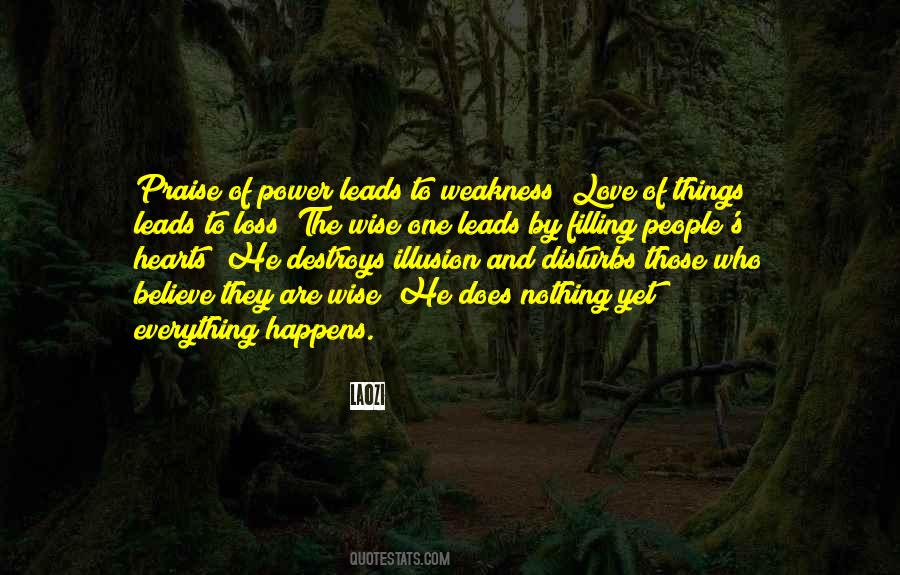 #34. I understood the life around me better, not from love, which everybody acknowledges to be a great teacher, but from estrangement, to which nobody has attributed the power of reinforcing insight - Author: Nirad C. Chaudhuri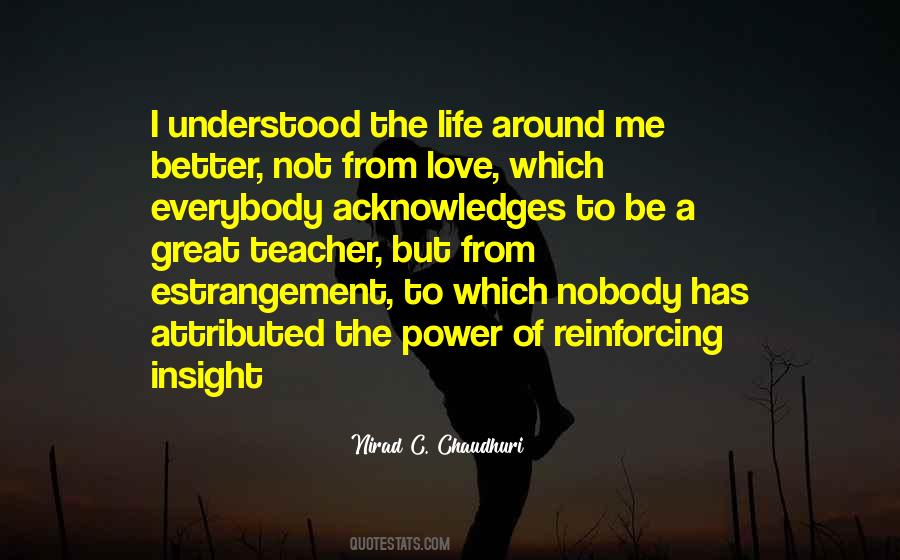 #35. Believe in your prayers. Believe in the power of your faith and blessings of your near and dear ones. Their love serves as a balm, soothes your heart and heals your body. - Author: Sanchita Pandey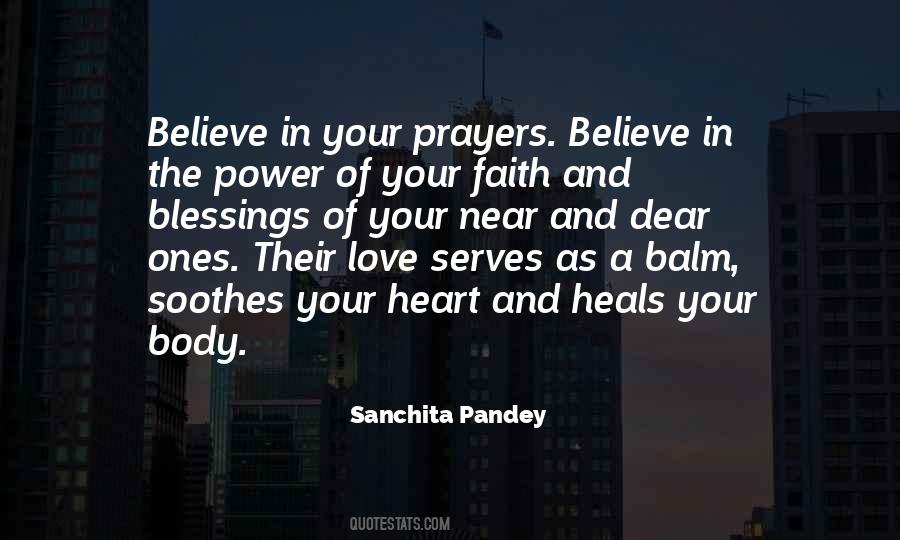 #36. Oh, Lord, bestow me with the power, that as much as I love her, I extinguish the need of loving her within me. - Author: Alireza Salehi Nejad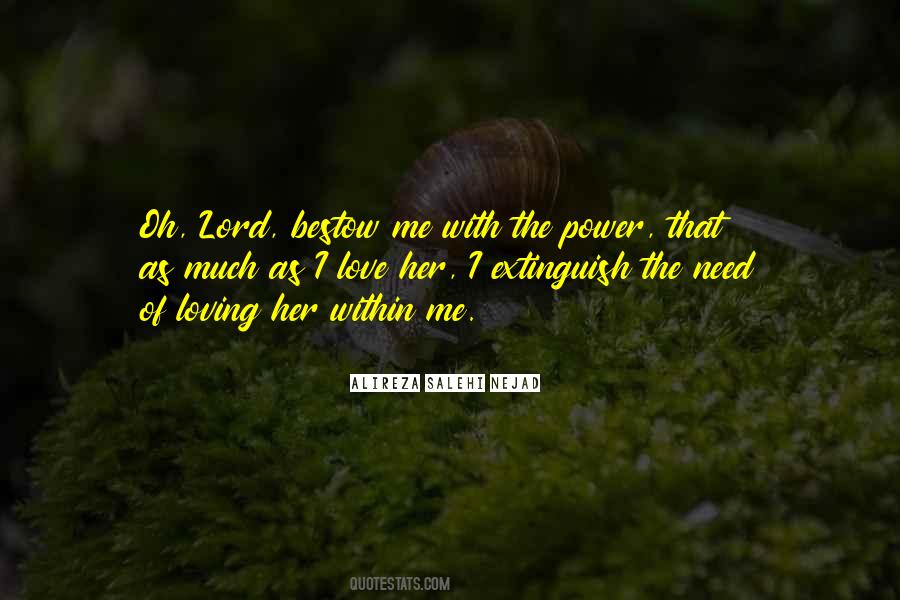 #37. Direct, forceful, energetic. Loves power, eats up publicity and flattery ... Can turn on charm at will and knows it. - Author: Joseph Stilwell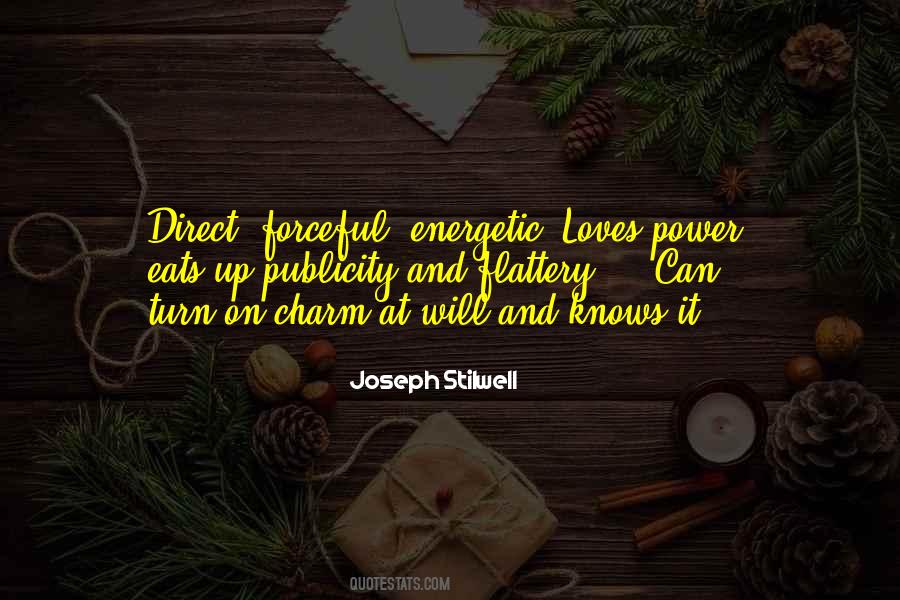 #38. When I am thinking of love or express love, I am happy, when I am happy, I have more power to love. - Author: Debasish Mridha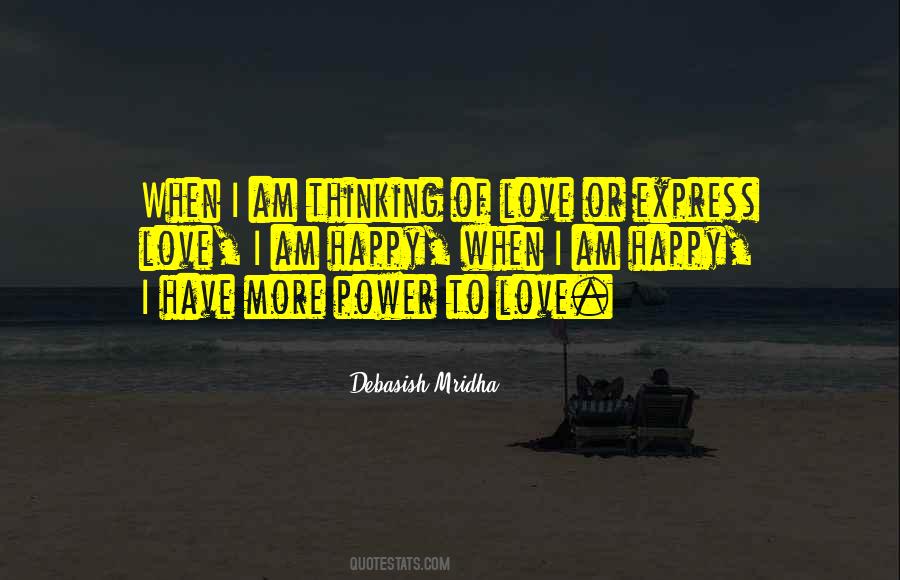 #39. The way is open, comrades, free as Space
Alone is free. The only gold is love,
A coin that we have minted from the light
Of others who have cared for us on Earth
And who have deposited in us the power
That nerves our nerves to seize the burning stars. - Author: Philip Jose Farmer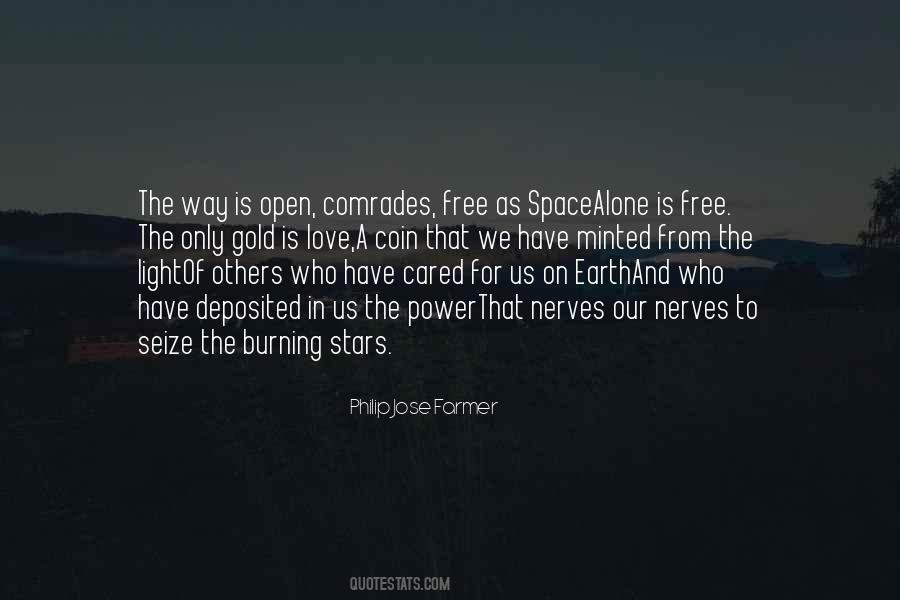 #40. Alas, alas, that ever love was sin! I ever followed natural inclination Under the power of my constellation And was unable to deny, in truth, My chamber of Venus to a likely youth. - Author: Geoffrey Chaucer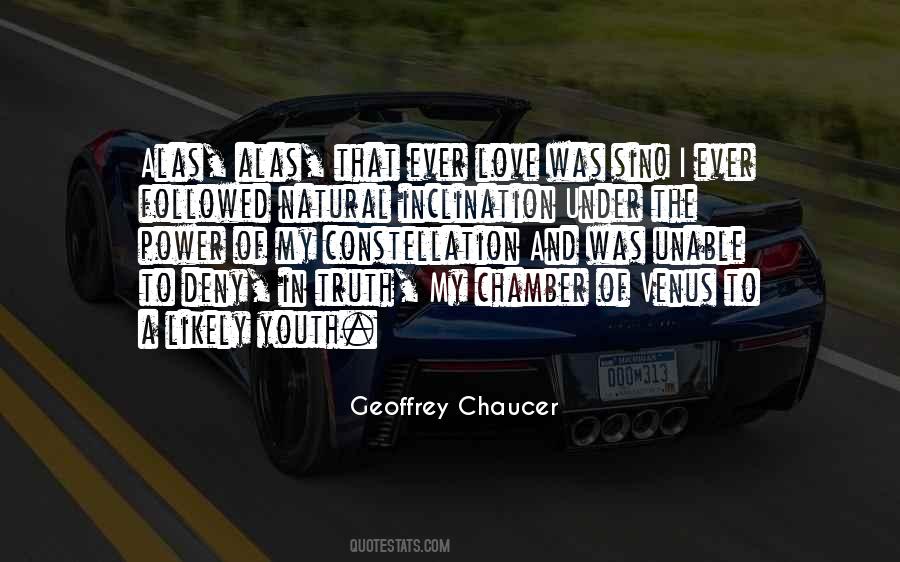 #41. Cursed, he once cried in a fit of rage. His temper has always been as restless and unpredictable as the sea itself. But his words had power behind them and I felt the effects instantly. Too late to take it back. - Author: Jennifer Silverwood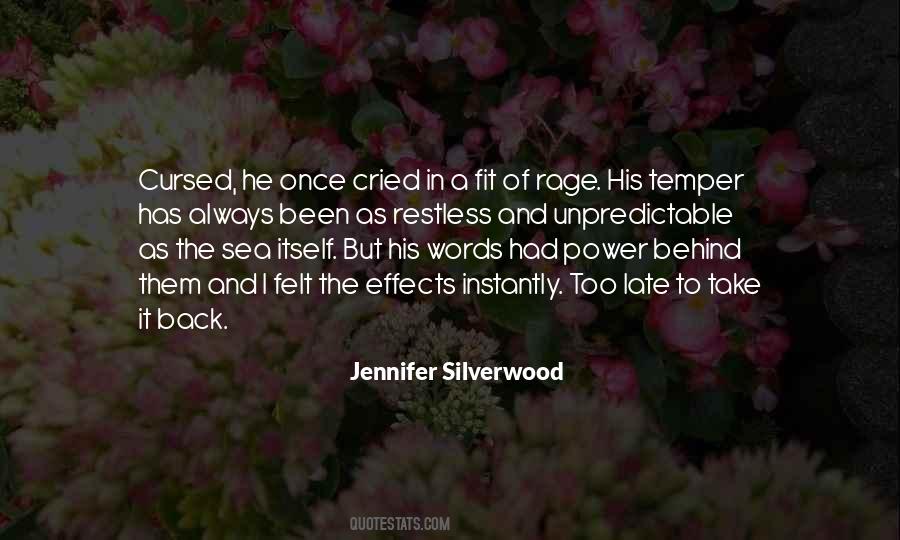 #42. The only people who can really drain your power effectively are people you are very close to, you are open to, you love, or people you are afraid of, you fear. - Author: Frederick Lenz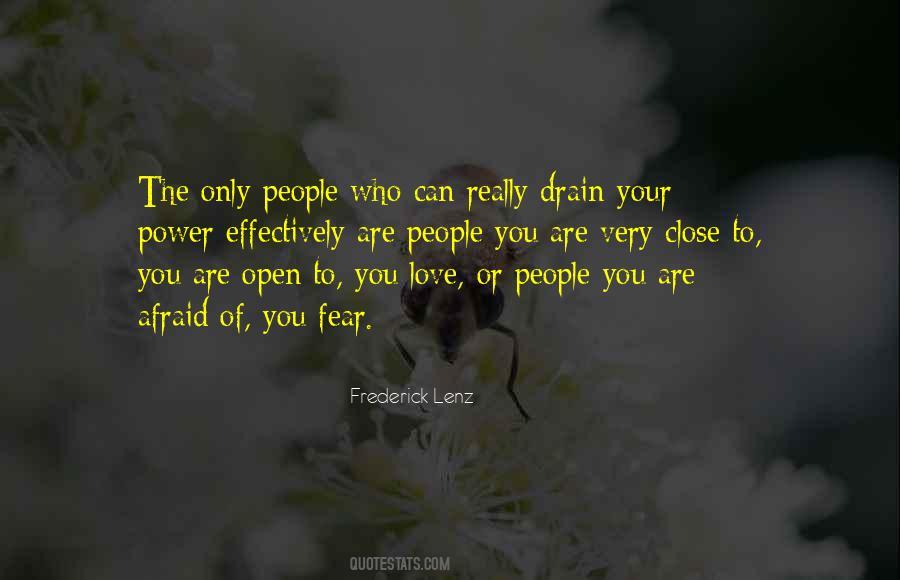 #43. Women lose their lives not knowing they can do something different ... I claimed myself and remade my life. Only when I knew I belonged to myself completely did I become capable of giving myself to another, of finding joy in desire, pleasure in our love, power in this body no one else owns. - Author: Dorothy Allison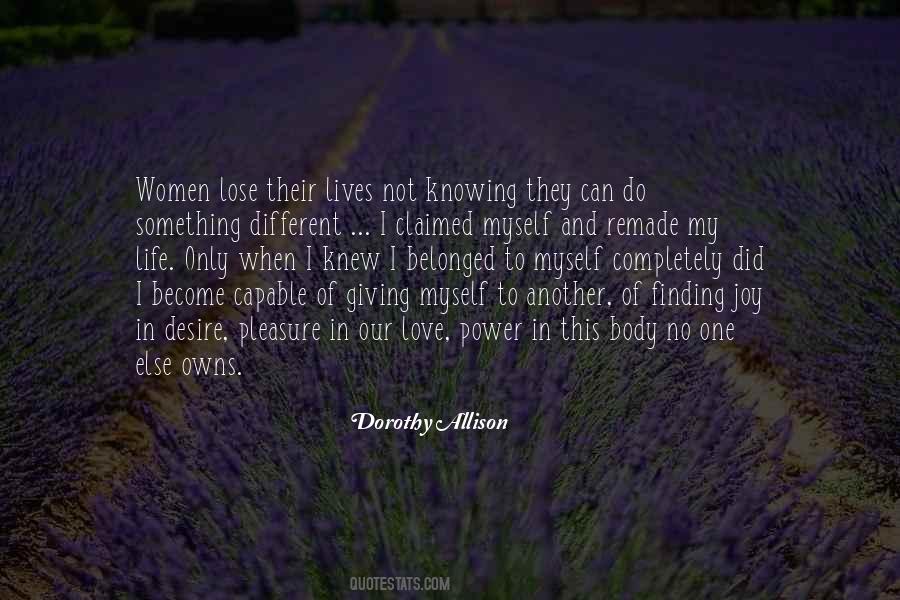 #44. Ya were going to turn me into a rat? Had I known that I wouldn't have tried to turn ya into a snake. - Author: Michelle M. Pillow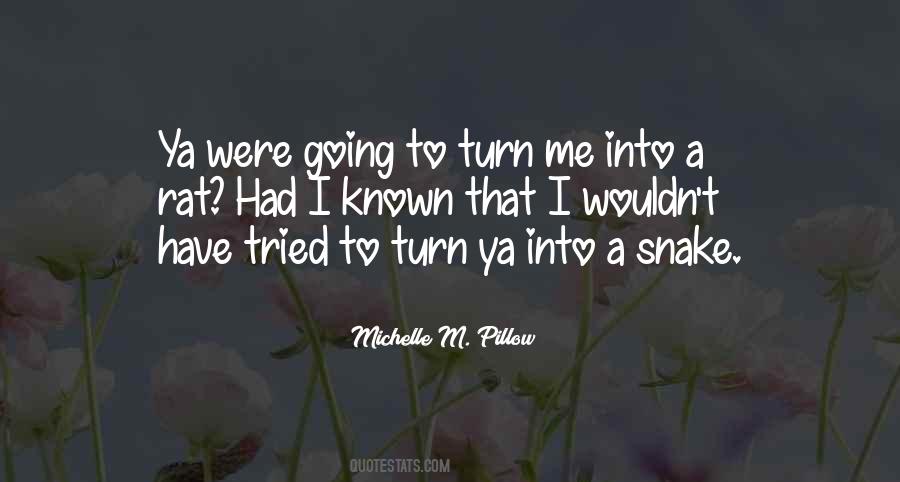 #45. He possessed the power. He held it in his hand. A power stronger than the power of money or the power of terror or the power of death: the invincible power to command the love of mankind. There was only one thing that power could not do: it could not make him able to smell himself. - Author: Patrick Suskind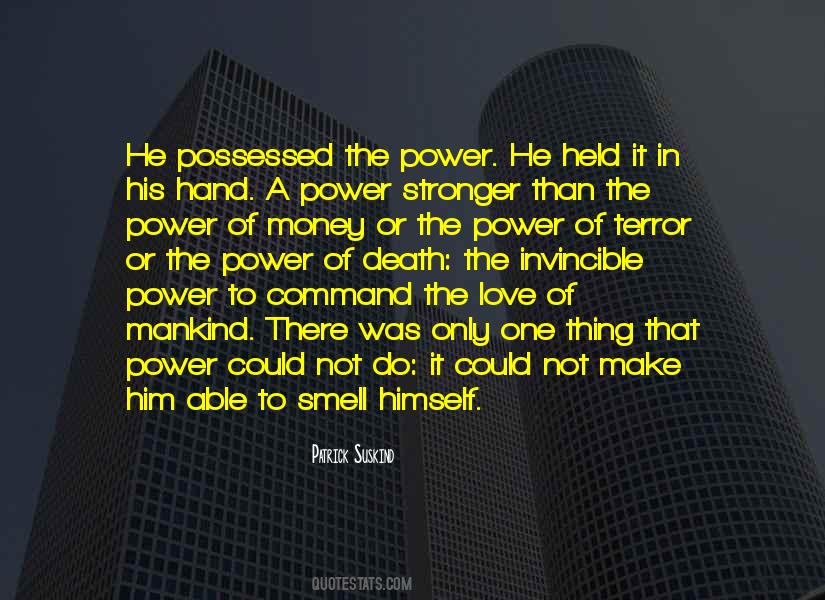 #46. Learning to pray is learning to trust the wisdom, the power, and the love of our Heavenly Father, always so far beyond our dreams. - Author: Elisabeth Elliot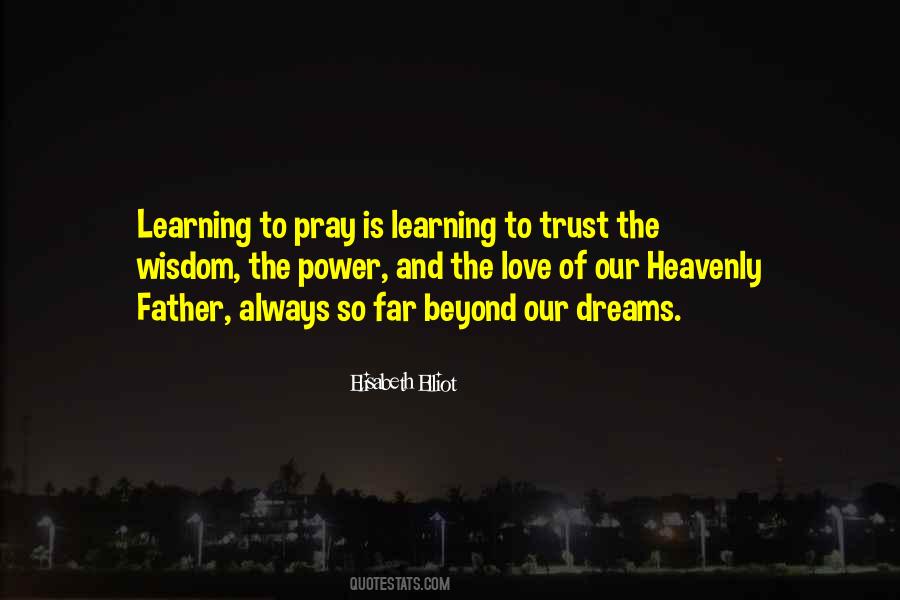 #47. I will love you like God, because of God, mighted by the power of God. I will stop expecting your love, demanding your love, trading for your love, gaming for your love. I will simply love. - Author: Donald Miller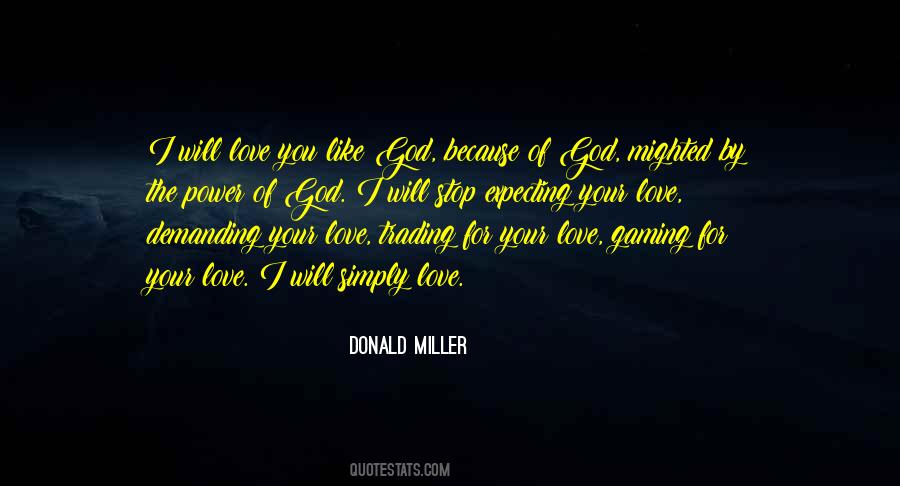 #48. Your spiritual heart imbibes in the primordial light and, as you dance towards infinity, you begin to see all things are held together by the power of love. - Author: Earthschool Harmony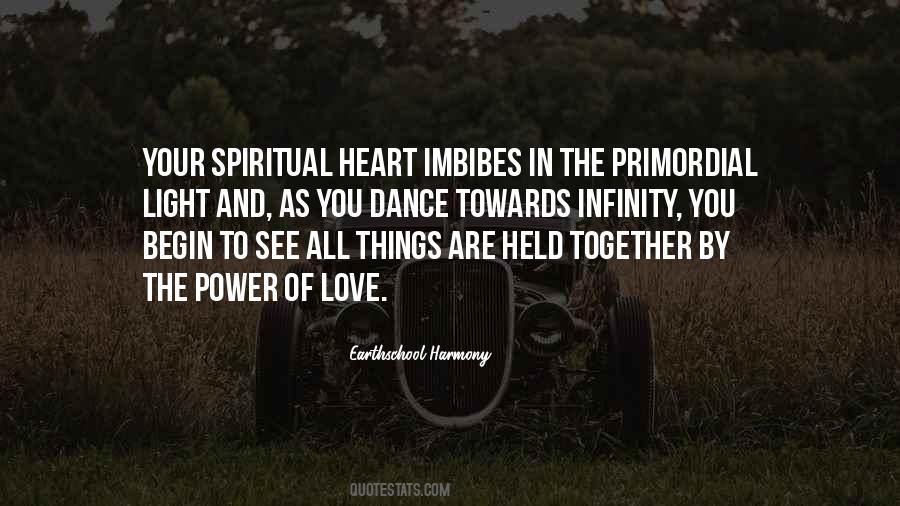 #49. Cleopatra was on a political mission to save her country and her power, but what we remember about her are these two famed seductions, which are a matter of politics, not a matter of love. - Author: Stacy Schiff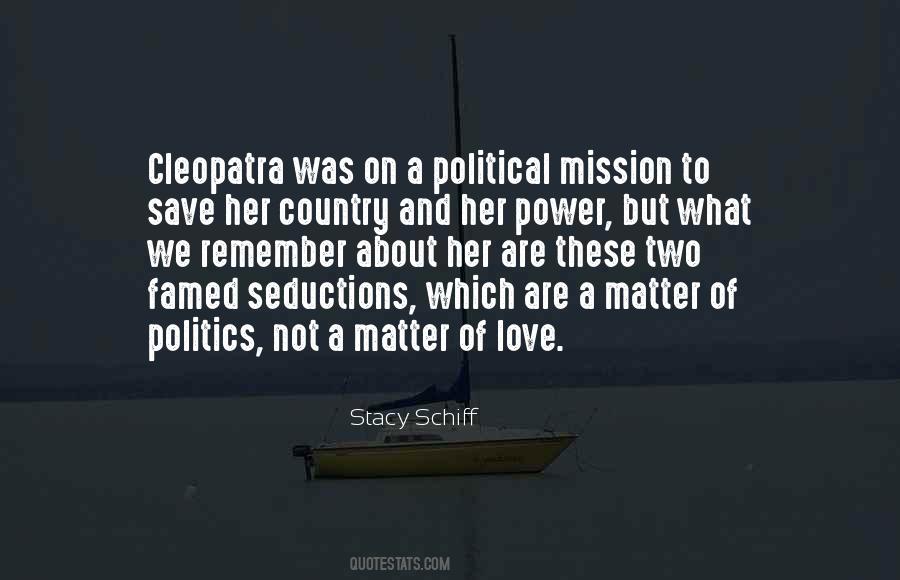 #50. His embrace left her breathless and restored all the faith she'd lost in the power of love. When their lips parted, she sighed and said, 'I don't need a party or anything else. All I need is you. I love you.' (Wildflowers) - Author: Catherine Greenfeder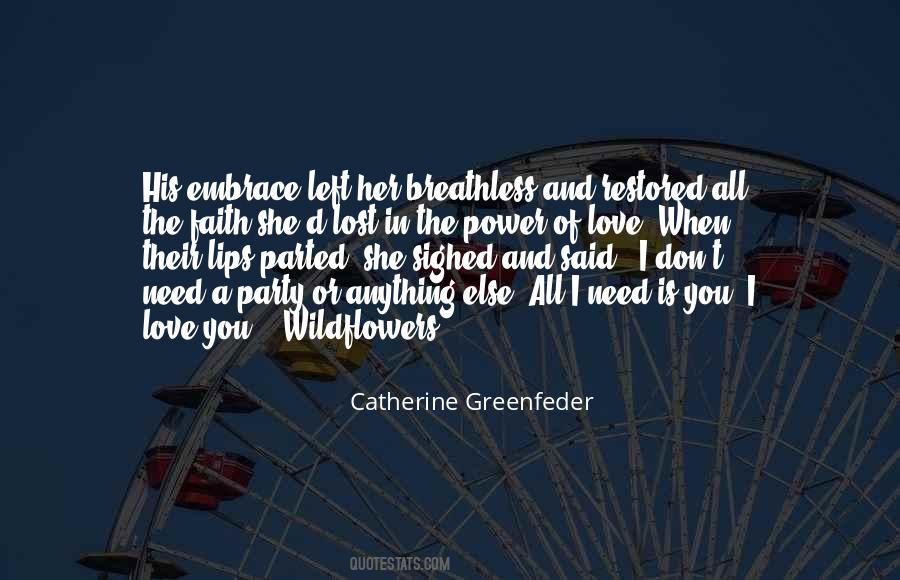 #51. When we understand the illusory nature of life and the profound power of eternal love, which enables us to create miracles and experience the presence of our deceased loved ones, we find ourselves living with joy, hope and peace. - Author: Susan Barbara Apollon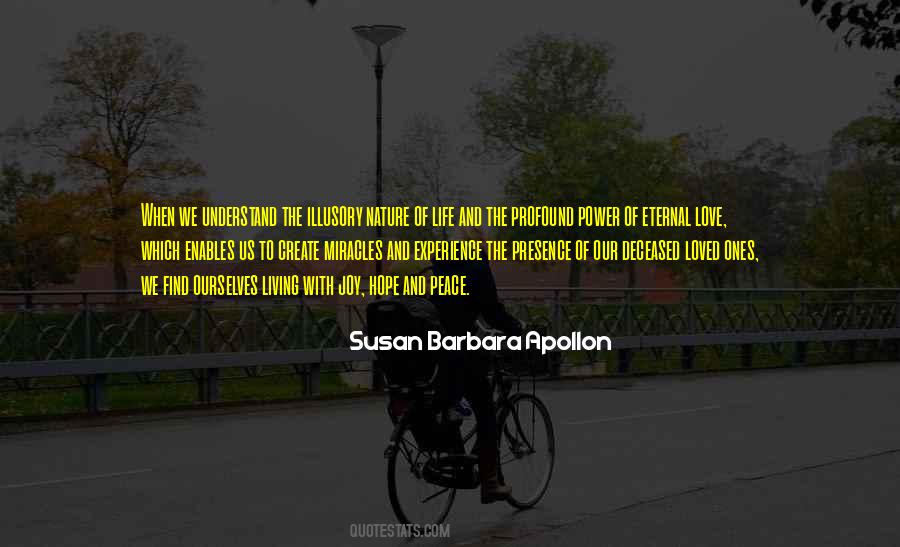 #52. She captured the spot of my world's centre and sent me in elliptic rings about it, causing the ground beneath me to vanish and the breath of my lungs to disperse. I was a rock locked in helpless orbit. - Author: Richard Ronald Allan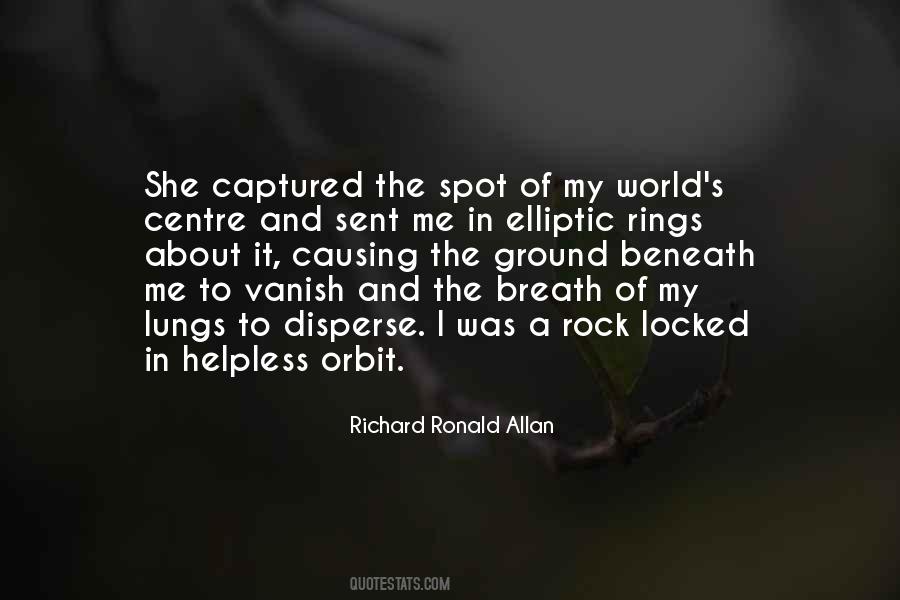 #53. I hurled my fear and my loneliness, my love and my respect, my rage and my pain. I made of my thoughts a hammer, infused with the fires of creation and tempered in the icy power of the darkest guardian the earth had ever known. - Author: Jim Butcher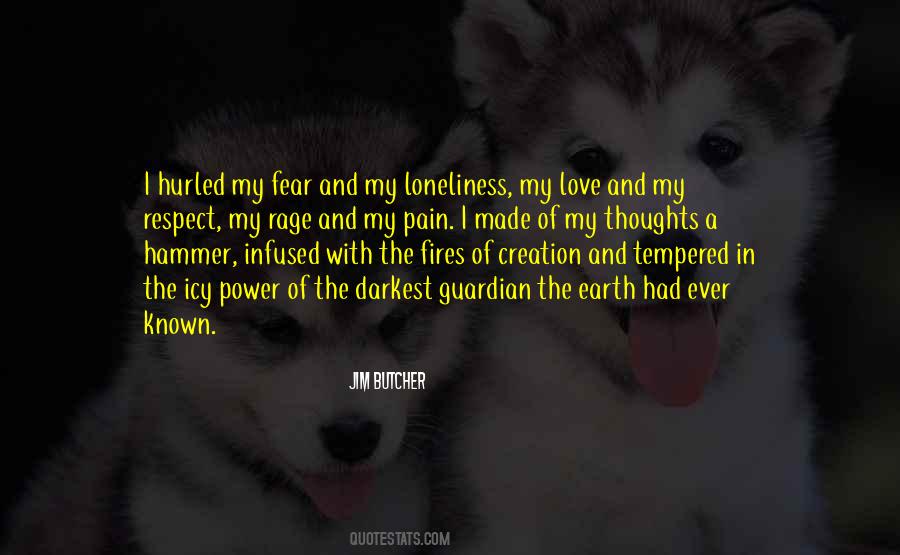 #54. A woman holds dreadful power over a man who is in love with her but she should realize that the quality and force of his love is the index of his potential contempt and hatred. - Author: John Steinbeck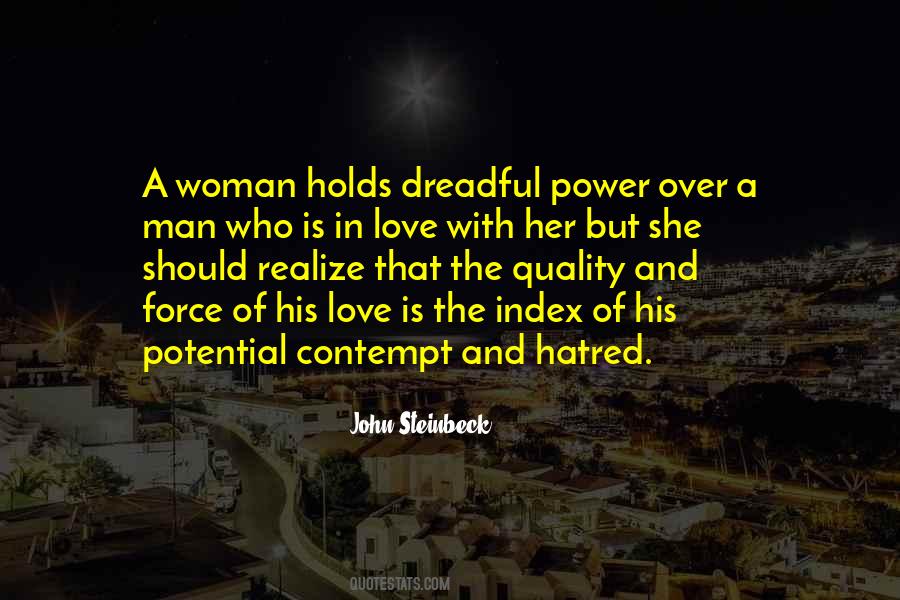 #55. What Can be Promised. - Actions can be promised, but not feelings, for these are involuntary. Whoever promises somebody to love him always, or to hate him always, or to be ever true to him, promises something that it is out of his power to bestow. - Author: Anonymous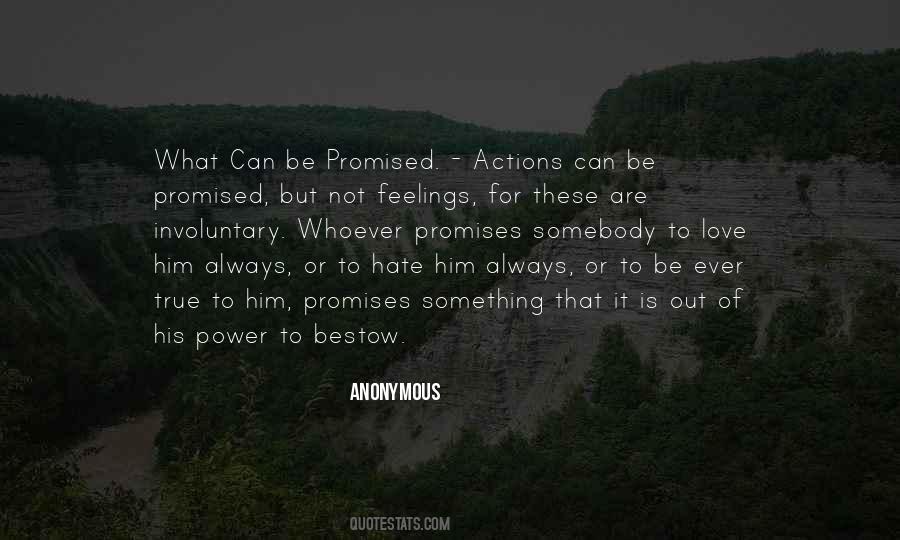 #56. The power of love make everything Possible - Author: Sugiarti Manik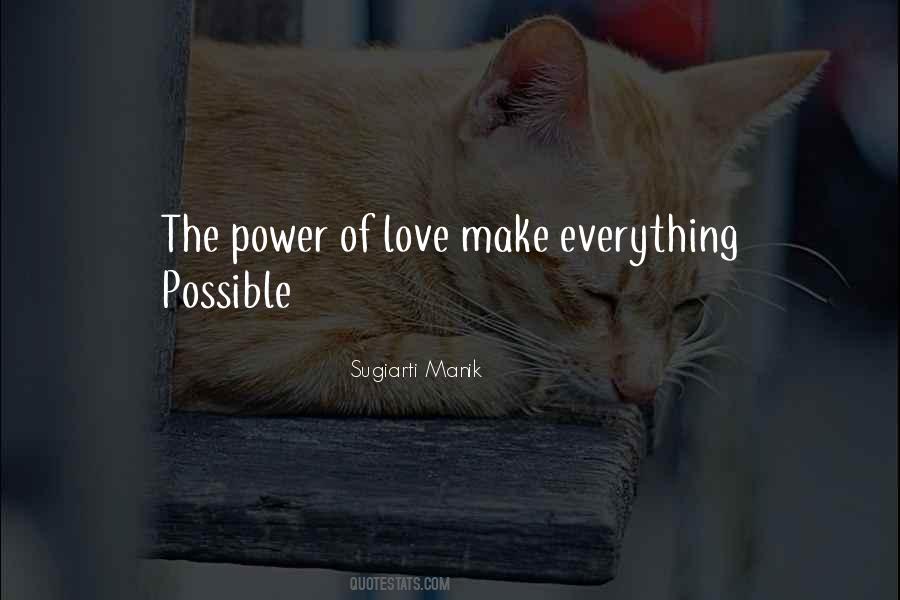 #57. Love, because when you love, you are using the greatest power in the Universe. - Author: Rhonda Byrne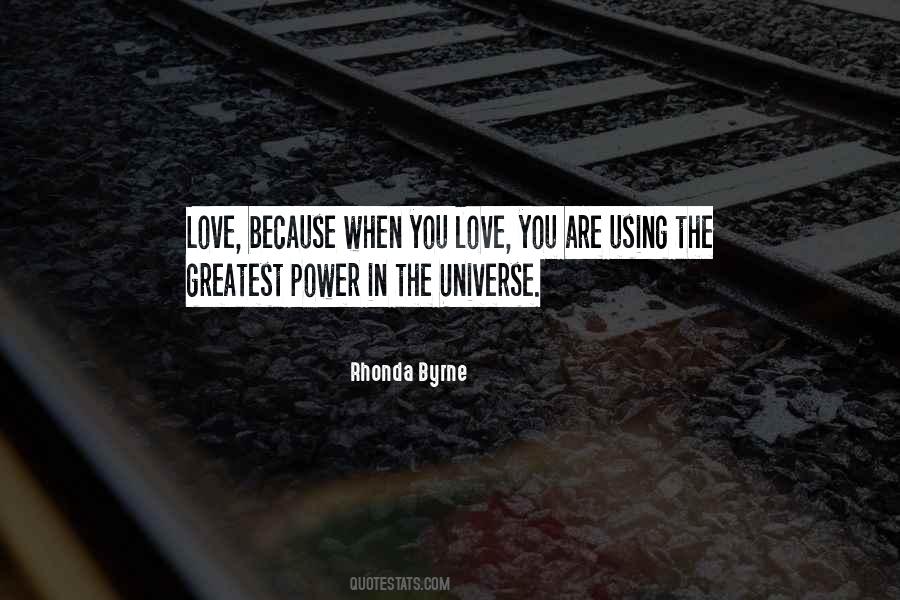 #58. I had come to see, too, that all my characters and I were motivated by the same inspiration. Whether it was power they sought, or revenge, or love - well, those were all just different forms of hunger. The bigger the hole inside you, the more desperate you became to fill it. As - Author: Jodi Picoult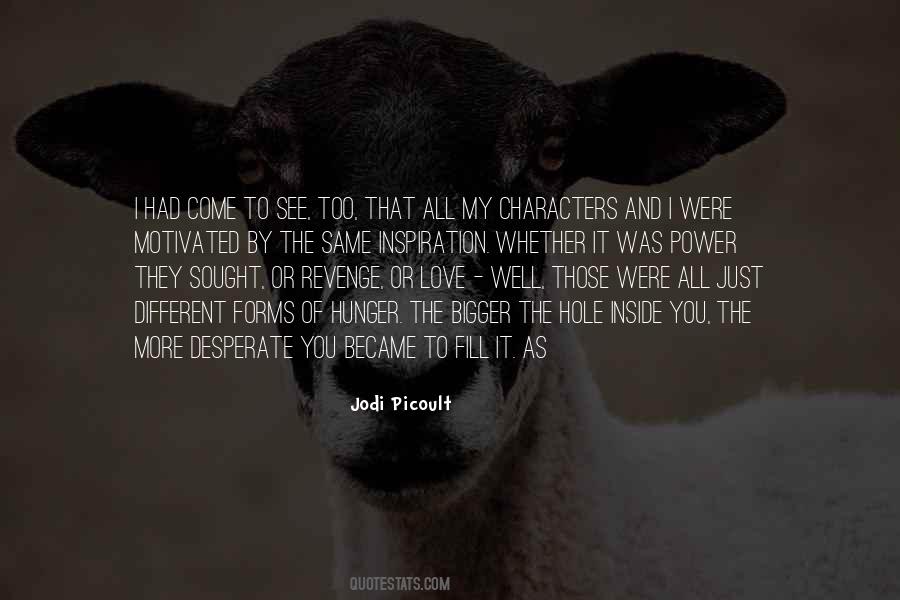 #59. I love the idea of a woman being able to discover the idea of power this way, on such a scale. And I don't know about that, what it means - well, I guess I'd better, or my part's in trouble. - Author: Mary McDonnell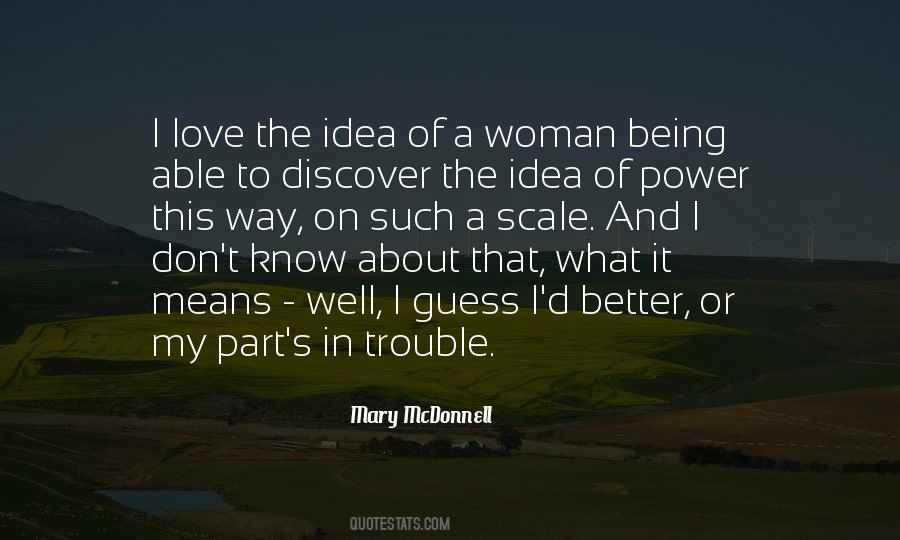 #60. When we will learn to use the power of kindness and love we will fill the world with peace and happiness. - Author: Debasish Mridha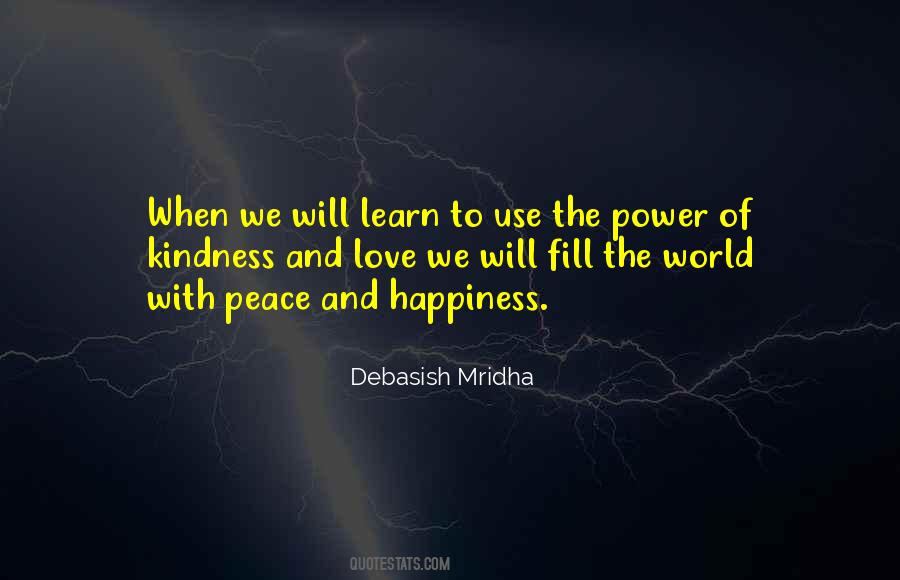 #61. The physical power of real love is staggering, because real forgiveness is staggering ... - Author: Ted Dekker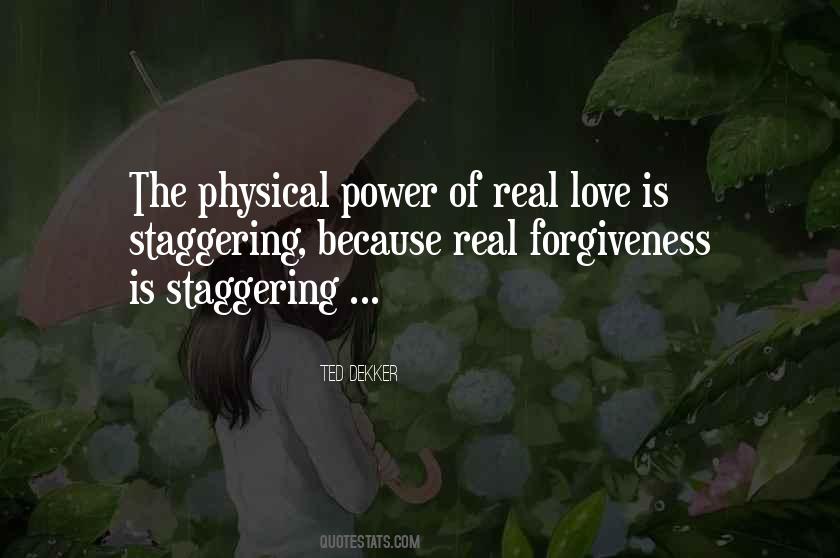 #62. Pain is the biggest power of love. That's what Wireman says. - Author: Stephen King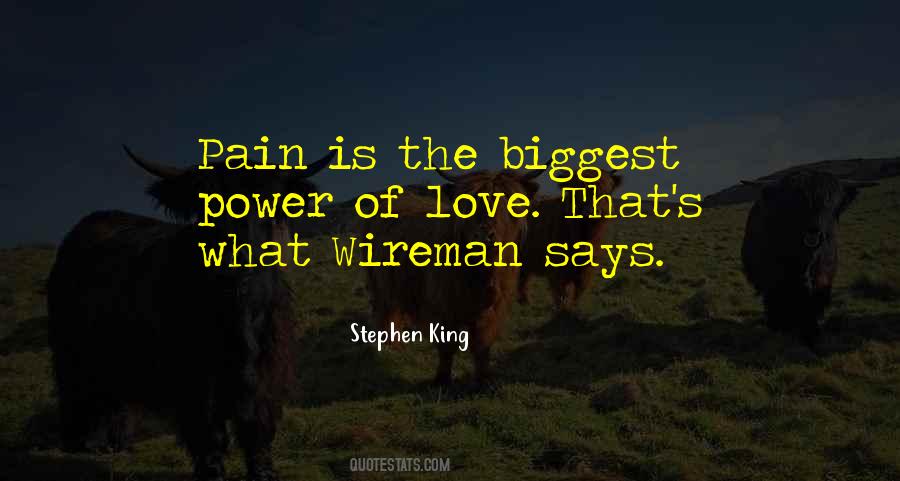 #63. GRATIANO
I have a wife I love. I wish she were in heaven so she could appeal to some power to make this dog Jew change his mind.
NERISSA
It's nice you're offering to sacrifice her behind her back. That wish of yours could start quite an argument back at home. - Author: William Shakespeare
#64. Do you want to change lives? Do you really want to change the world? Then read. Read as much as you can, as widely as you can and don't forget to read what you like. Most of all read what you love. There is power in that. - Author: Abigail George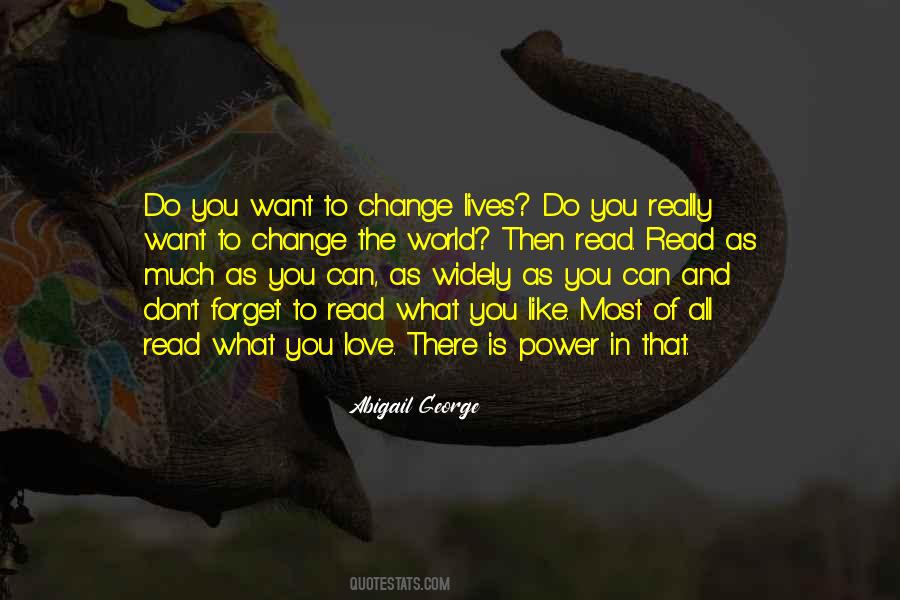 #65. If there isn't an emanation of love and joy, complete presence and openness toward all beings, then it is not enlightenment. - Author: Eckhart Tolle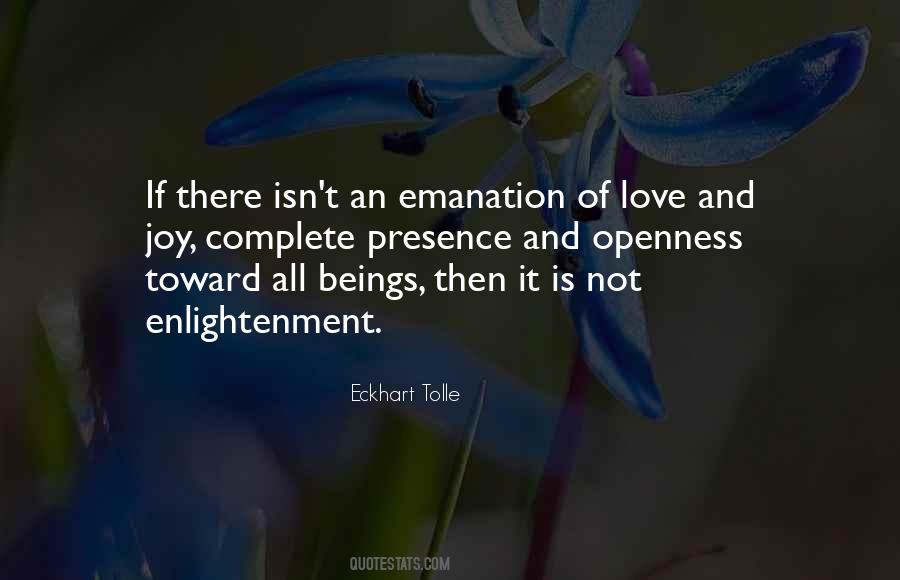 #66. When love is pure, it has the power to conquer. Lover and beloved conquer each other by their affection. The source, the essence, the fullest manifestation of love's conquering power is the love of the soul for the supreme soul, or God. - Author: Radhanath Swami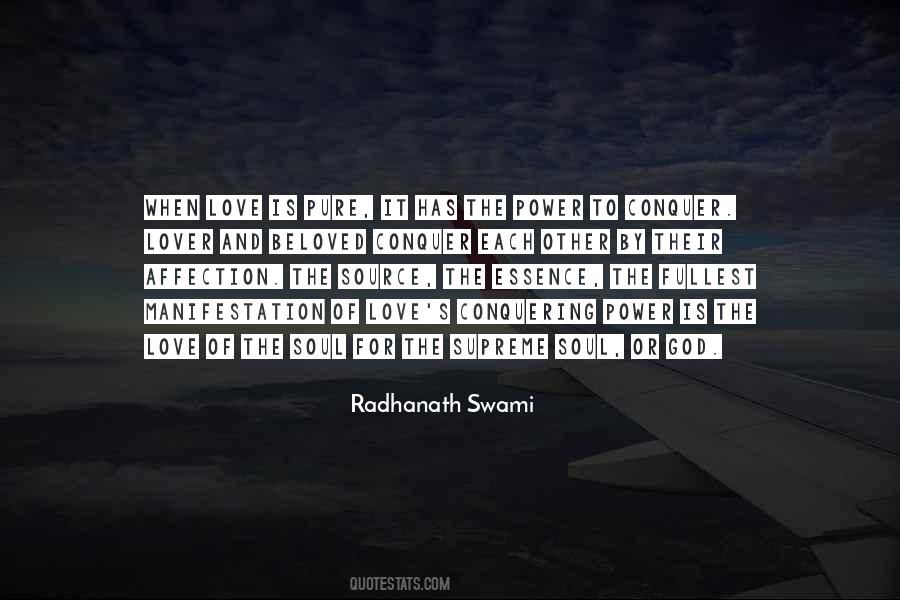 #67. I had something I was trying to say and sometimes the message is an easy transmission and sometimes it's a difficult one but I love the power of saying it so I'm gonna do it whether it's hard or easy. - Author: Faith Ringgold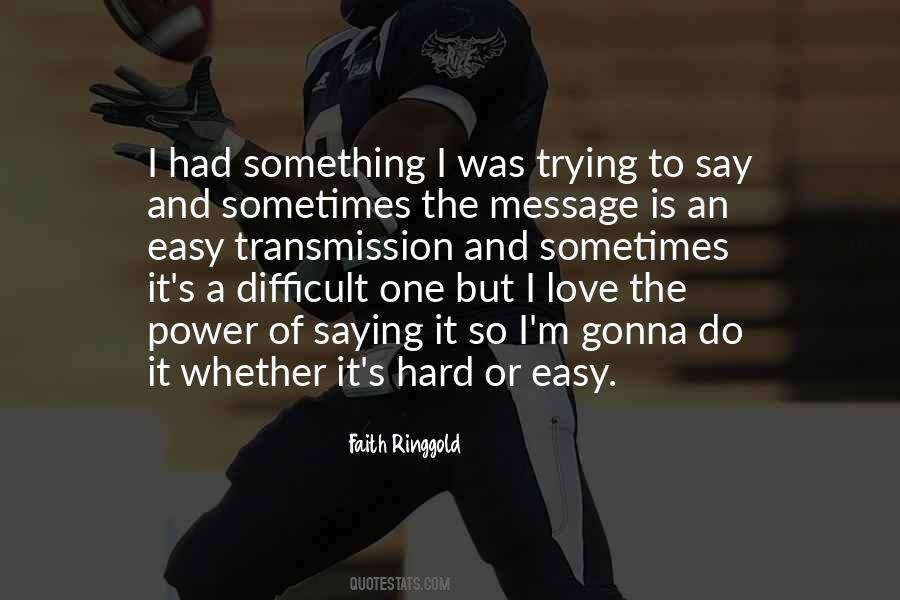 #68. remember you are capable of the most powerful thing in the universe.

you are capable of love. - Author: AVA.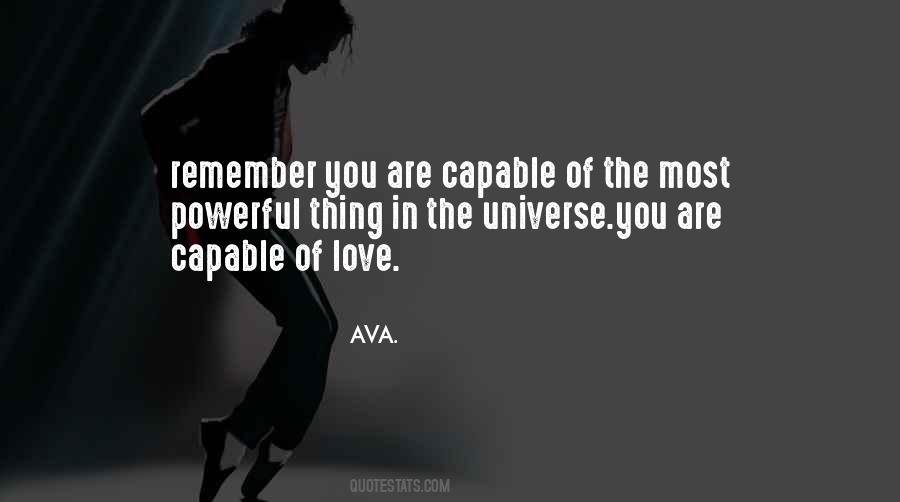 #69. There are those who seek knowledge for the sake of knowledge; that is Curiosity.
There are those who seek knowledge to be known by others; that is Vanity.
There are those who seek knowledge in order to serve; that is Love. - Author: Bernard Of Clairvaux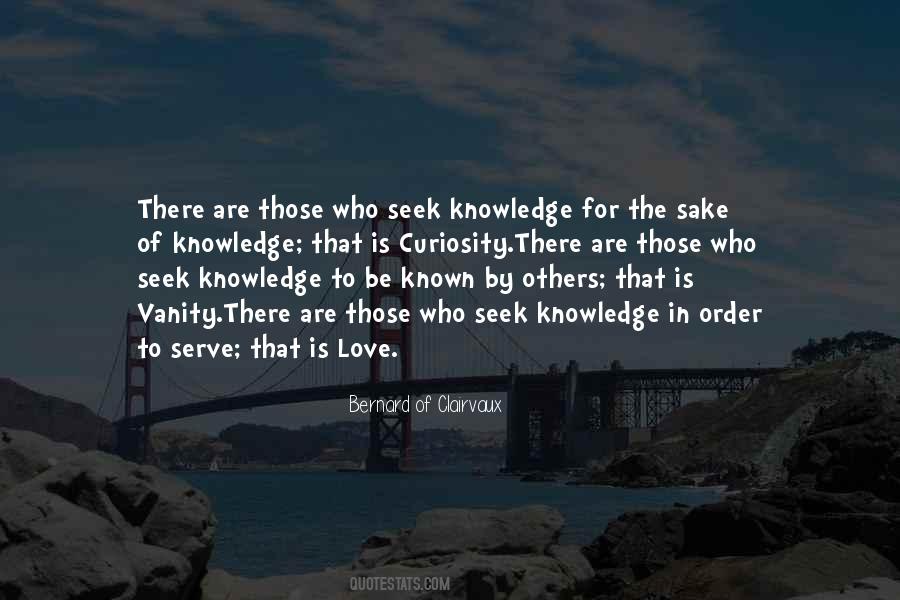 #70. When the power of love overtakes all other power then we will find the true peace on earth. - Author: Debasish Mridha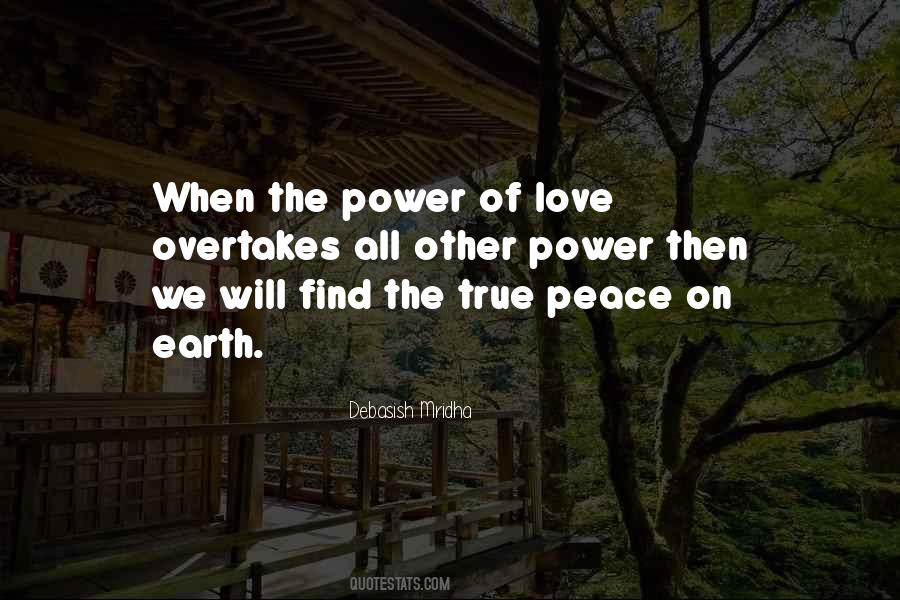 #71. Unless and until your Sahasrara is open, all the blessings of the Divine Power cannot come to you. - Author: Nirmala Srivastava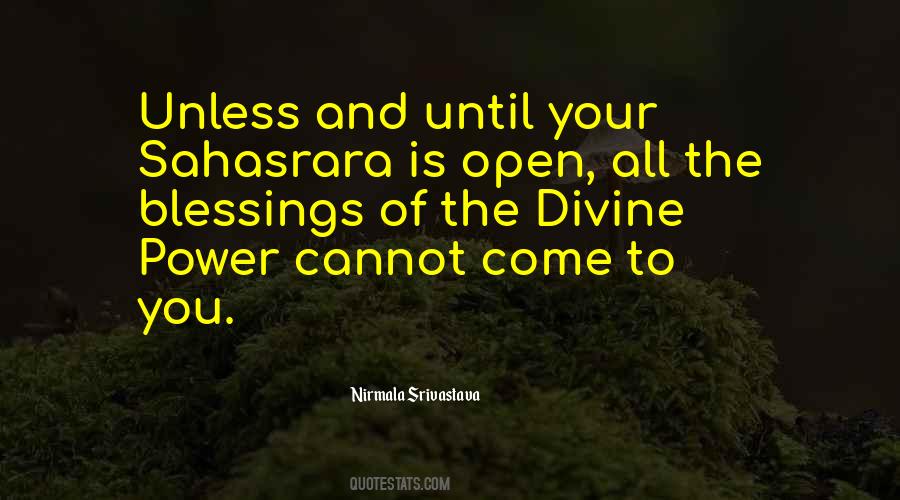 #72. Life is meaningless until we learn to use the power of divine love and see the divine in every event and in every beauty. - Author: Debasish Mridha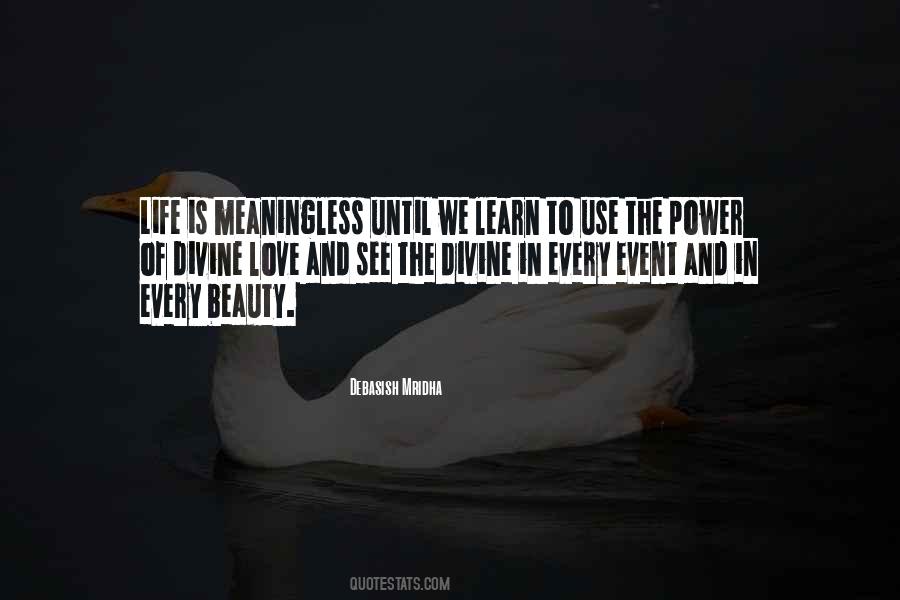 #73. The sun can shine, and it can burn. You can shine your love with a softer power than the sun. - Author: Debasish Mridha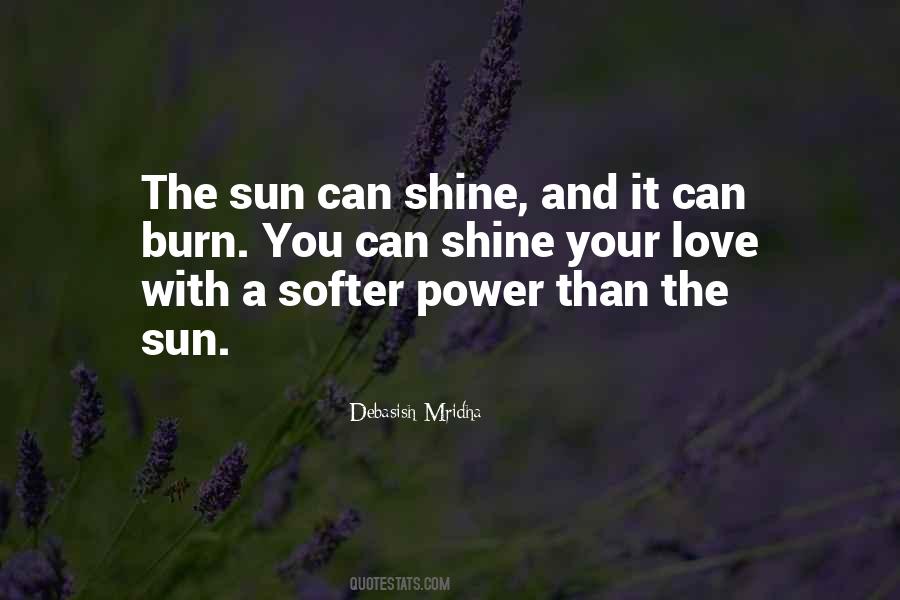 #74. Because of the power of television, I was visible to everybody all over the world. But there are many things in the theater that are more fulfilling and that I look forward to doing more. But really, I love it all: theater, film, television. - Author: Charlotte Rae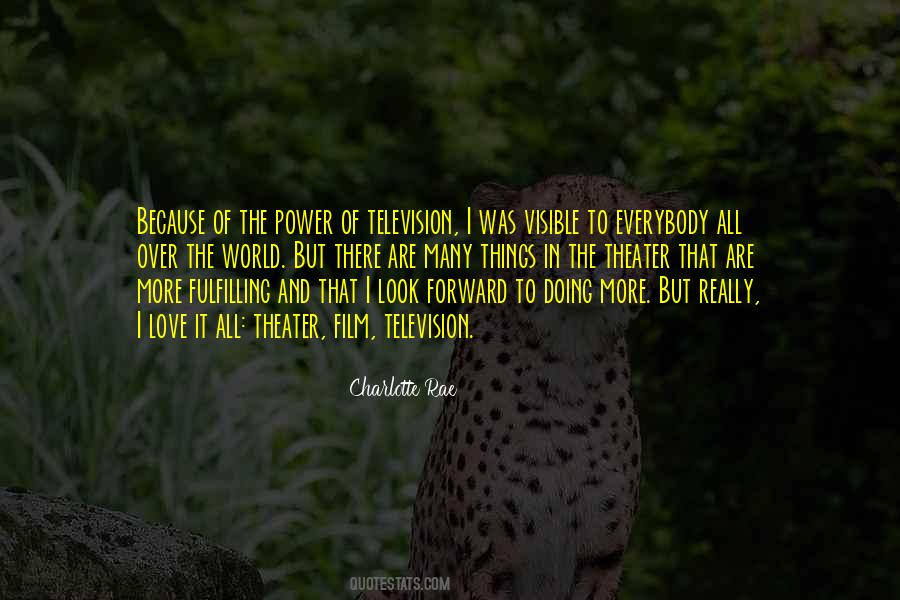 #75. Power of softness and kindness are the greatest. - Author: Debasish Mridha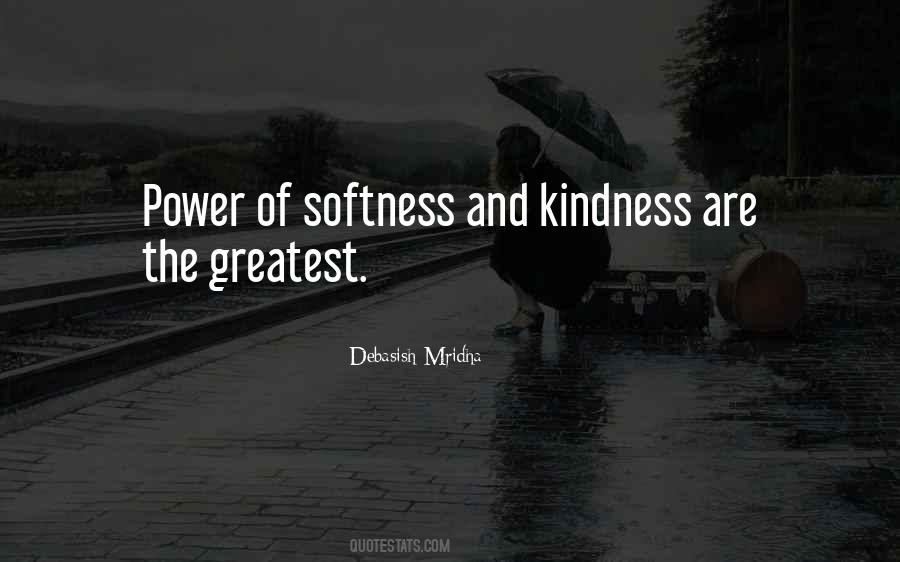 #76. I love the power of words - no music or special effects - and I want to demonstrate that power. - Author: Chuck Palahniuk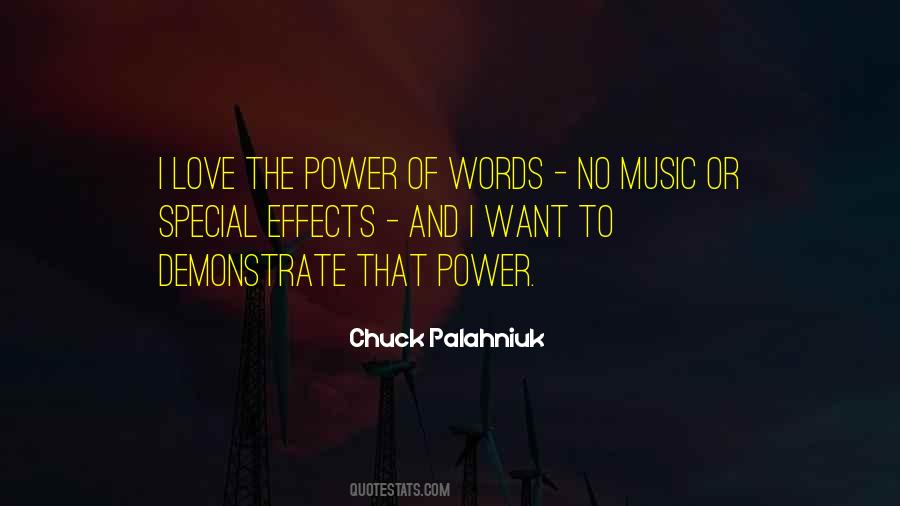 #77. Pain is the biggest power of love. - Author: Stephen King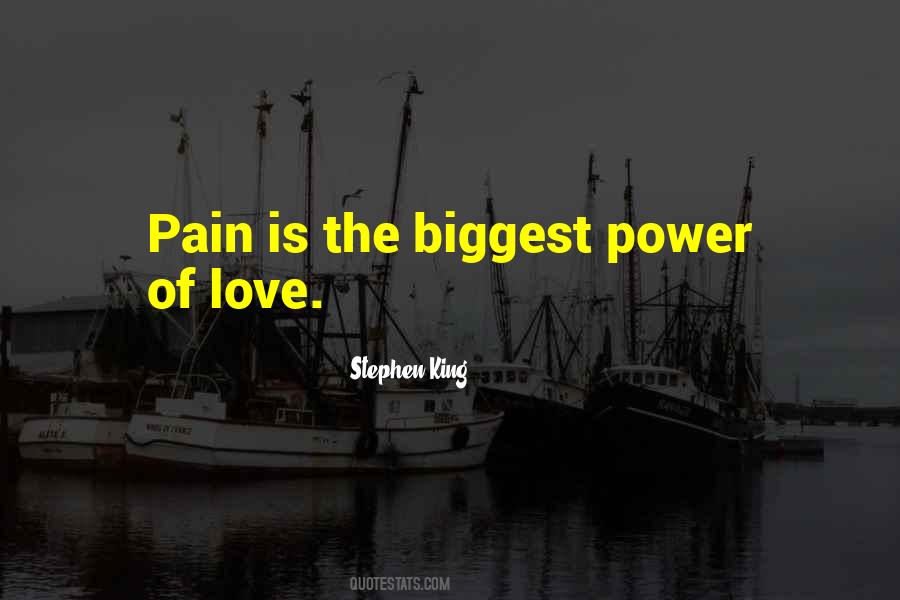 #78. Assuming is a form of giving away your power to another regarding an outcome that concerns you. - Author: Molly Friedenfeld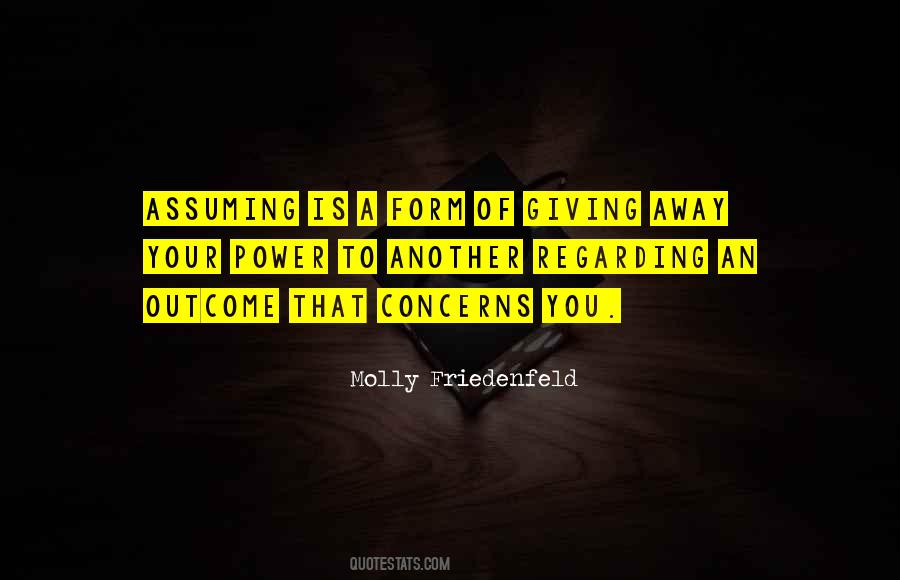 #79. Today I will exercise to build the power of my love. - Author: Debasish Mridha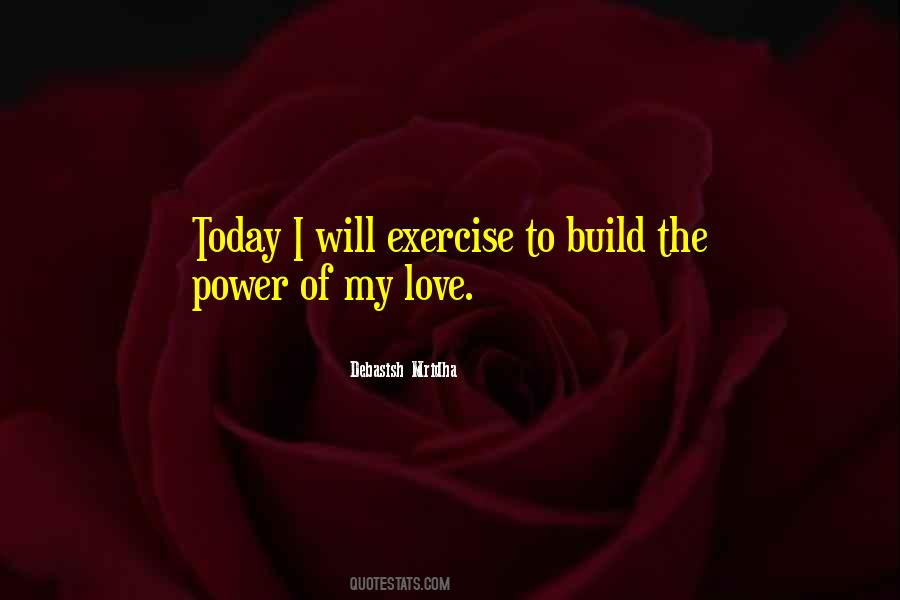 #80. When YOU Say YOU Love Me, I Don't Hear With My Ears Or Read YOUR Lips As I Already Know That By Looking In YOUR Eyes ... - Author: Muhammad Imran Hasan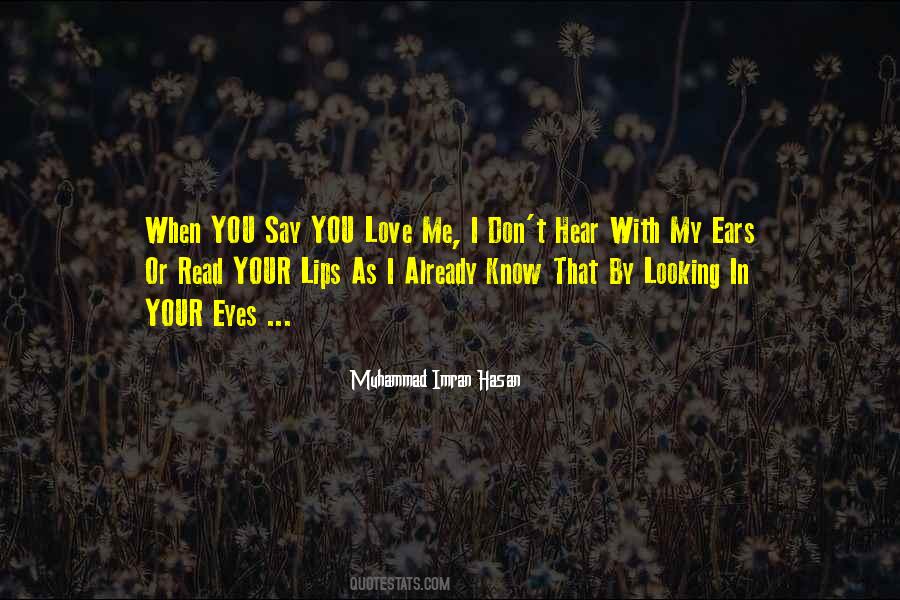 #81. If you have never known the power of God's love, then maybe it is because you have never asked to know it - I mean really asked, expecting an answer. - Author: Frederick Buechner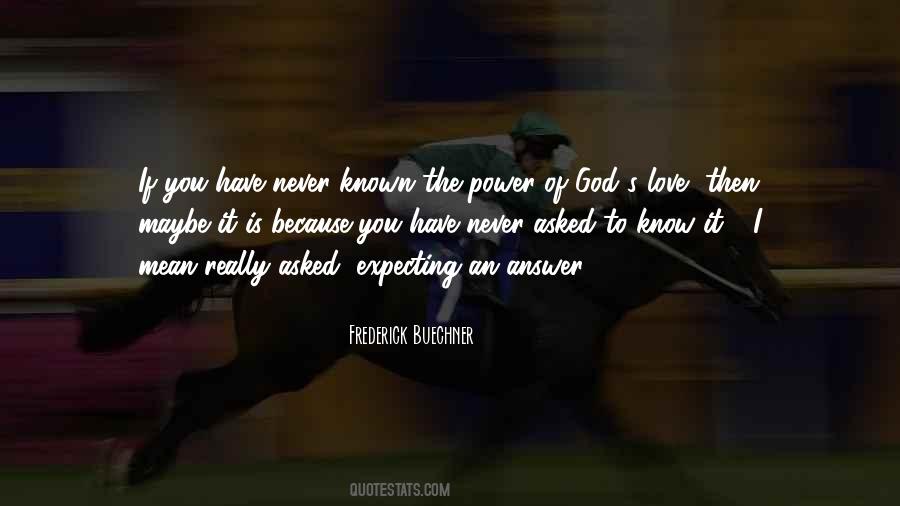 #82. If this world could only grasp the power of forgiveness. Being able to forgive someone breaks the cycle of bitterness and vengeance - Author: James Augustus St. John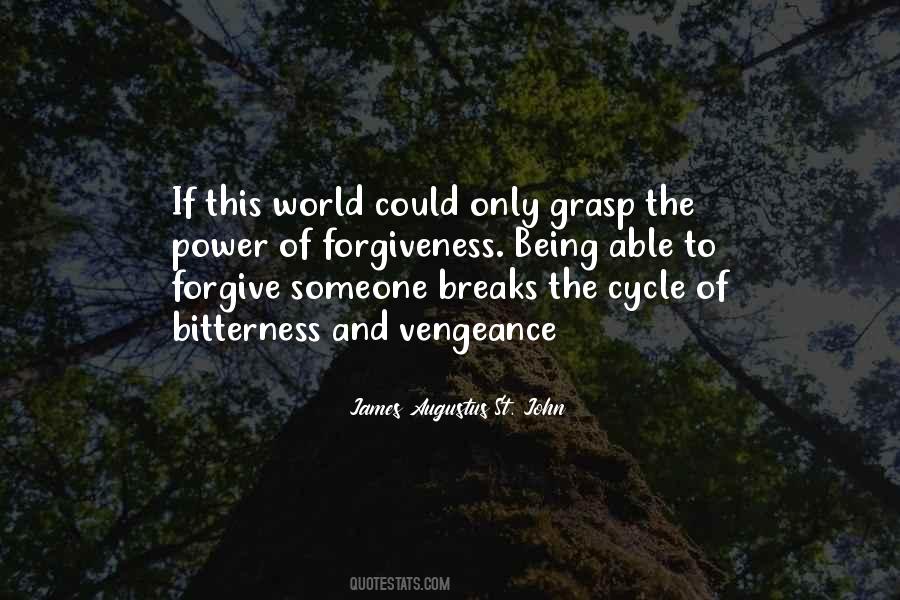 #83. Come forward as servants of Islam, organize the people economically, socially, educationally and politically and I am sure that you will be a power that will be accepted by everybody. - Author: Muhammad Ali Jinnah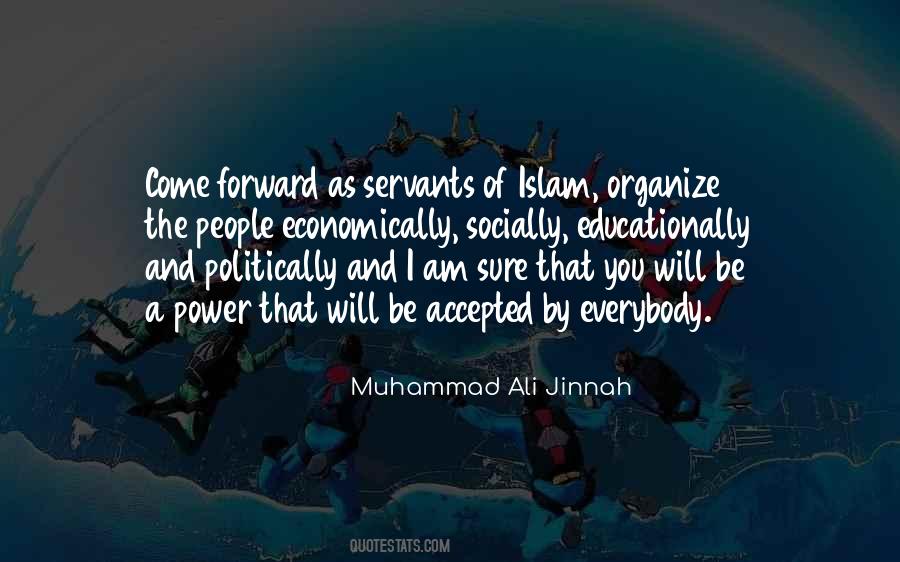 #84. When love and spirit are brought together, their power can accomplish anything. Then love, power, and spirit are one. - Author: Deepak Chopra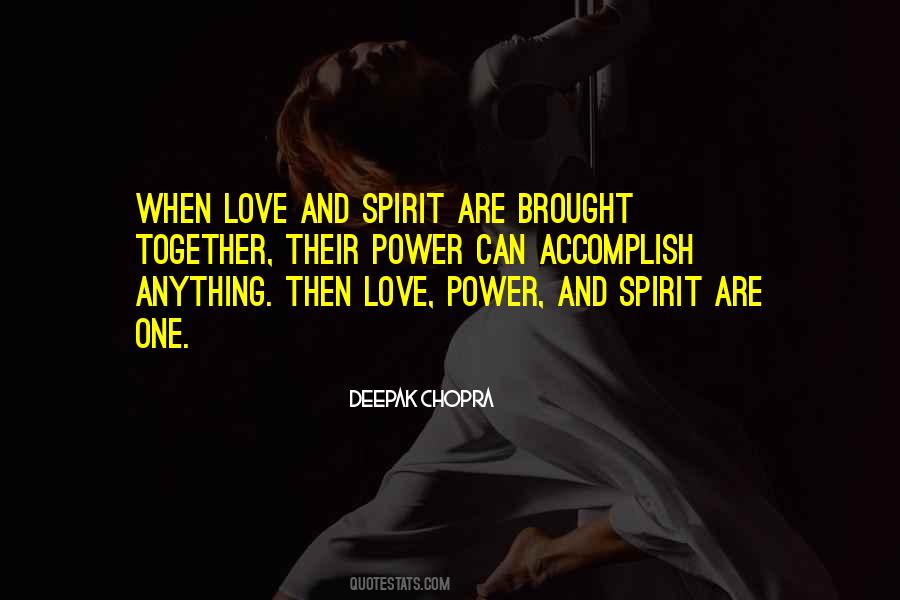 #85. You would be surprised at the healing power of a simple "I love you" from a dying parent to a child or vice versa. This is not always easy, of course, yet a lifetime of mistakes can be undone through forgiveness even at the end of a life. - Author: Alberto Villoldo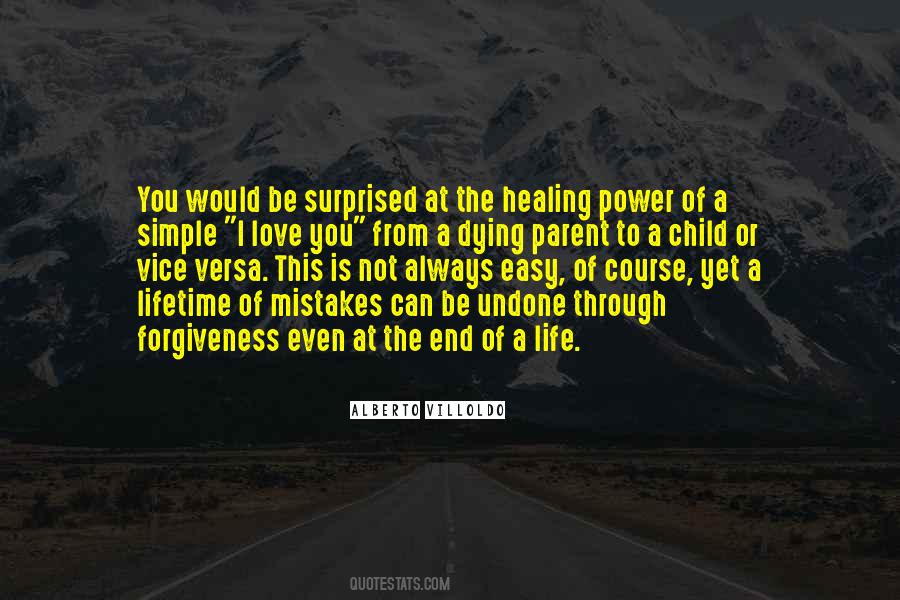 #86. I love the power of the musician who composes and performs. I envy their ability to put a nugget of truth in three minutes of sweat and emotional outpouring, colored entirely from their thoughts. - Author: Kim Harrison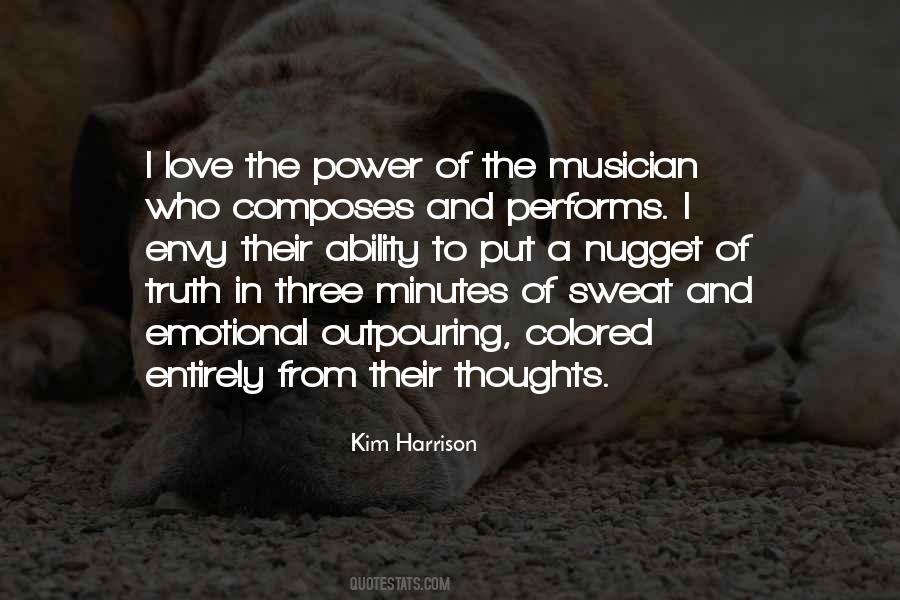 #87. Sahasrara is your awareness. When it is enlightened, you get into the technique of the Divine. Now there are two techniques - the technique of the Divine and the technique that you follow. You cannot act as Divine but you can use the Divine power and maneuver it. - Author: Nirmala Srivastava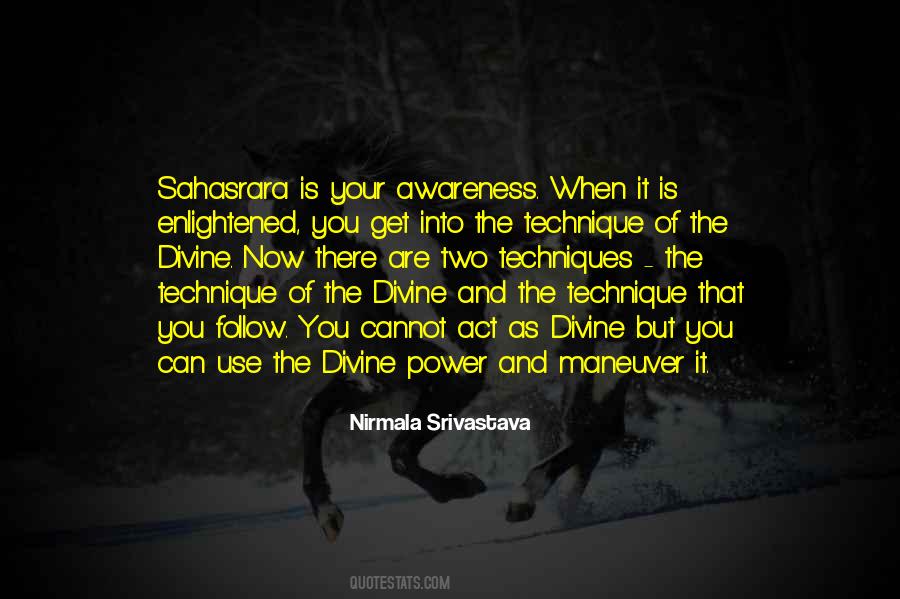 #88. Control is an expression of superiority," he says, "always using the power of position and title. That's why you withhold permission from everyone. But protection is an expression of love. - Author: Bill Thrall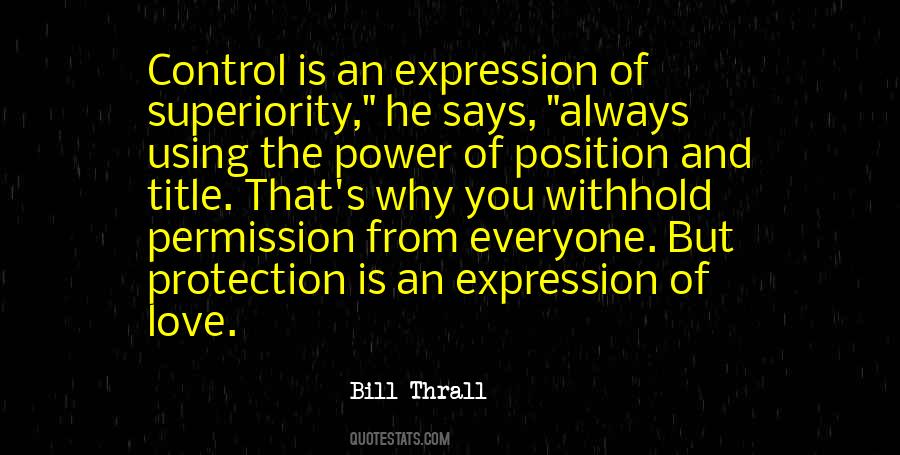 #89. Money confers the power to command the labor of others. Love of money is love of power. And love of power is the root of evil. - Author: Edward Abbey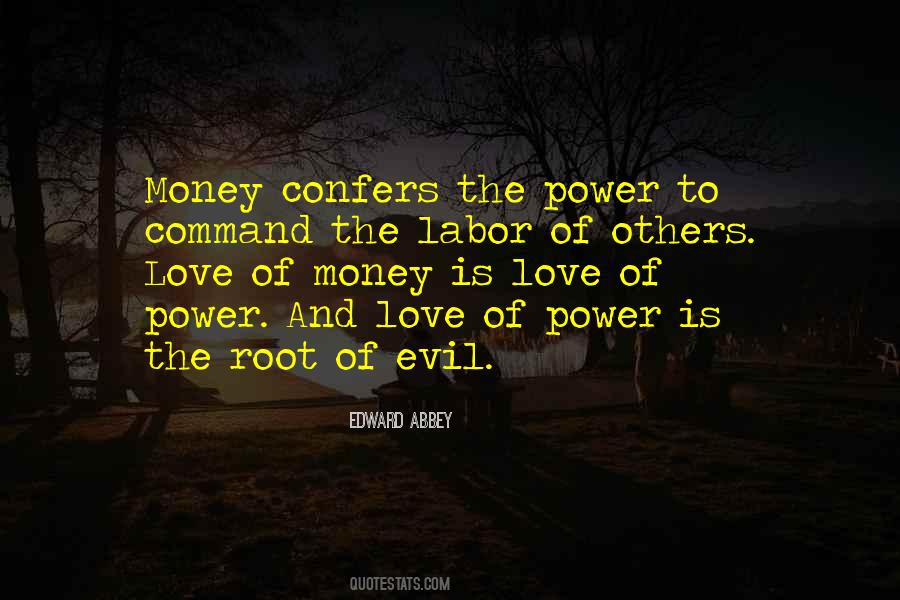 #90. Why do you think that you are weak when you are blessed with the power of love? - Author: Debasish Mridha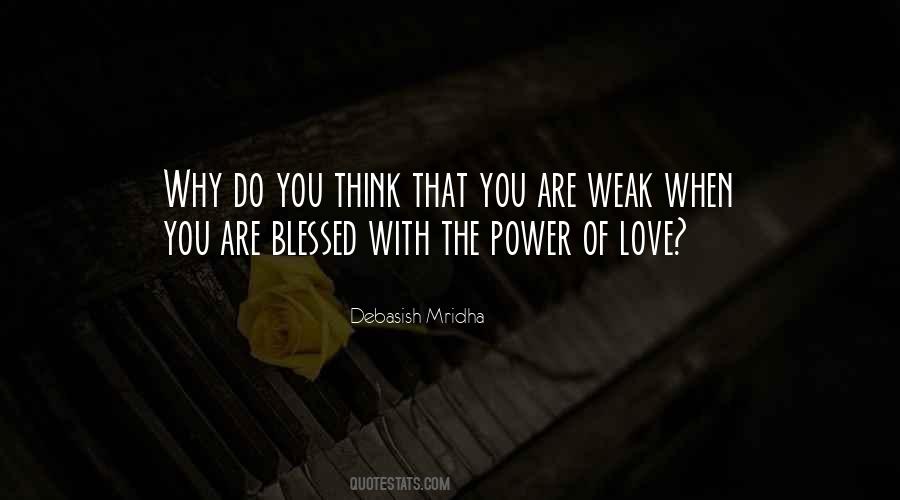 #91. Love and ruin are explained with letters of the alphabet.
The power of the word can describe the glory of the universe. It only requires an open mind and heart. - Author: J.R. Ortiz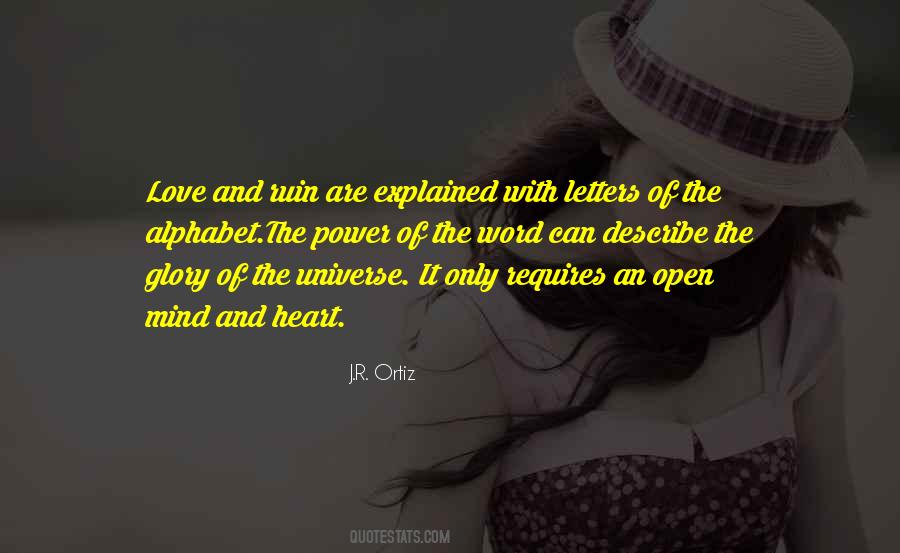 #92. I declare, on my soul and conscience, that the attainment of power, or of a great name in literature, seemed to me an easier victory than a success with some young, witty, and gracious lady of high degree. - Author: Honore De Balzac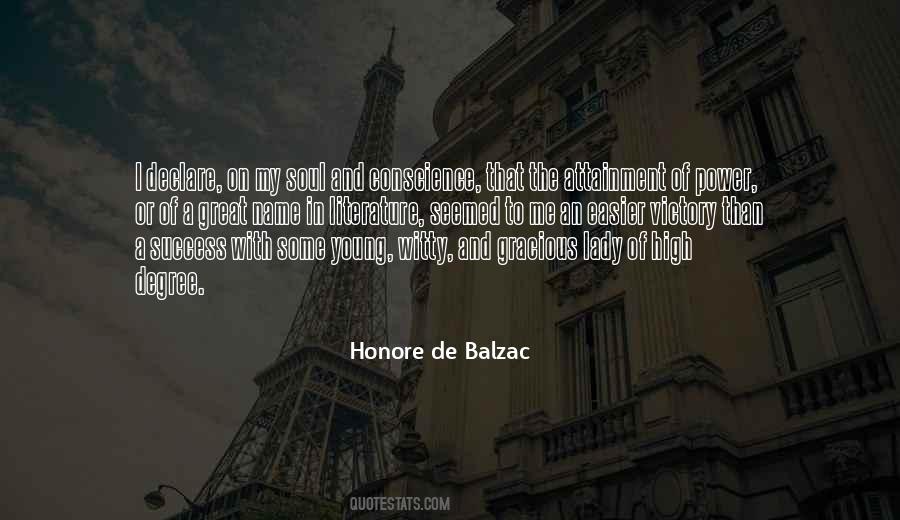 #93. Love is a dramatic driving force, the most powerful potion that we drink willingly. - Author: Balroop Singh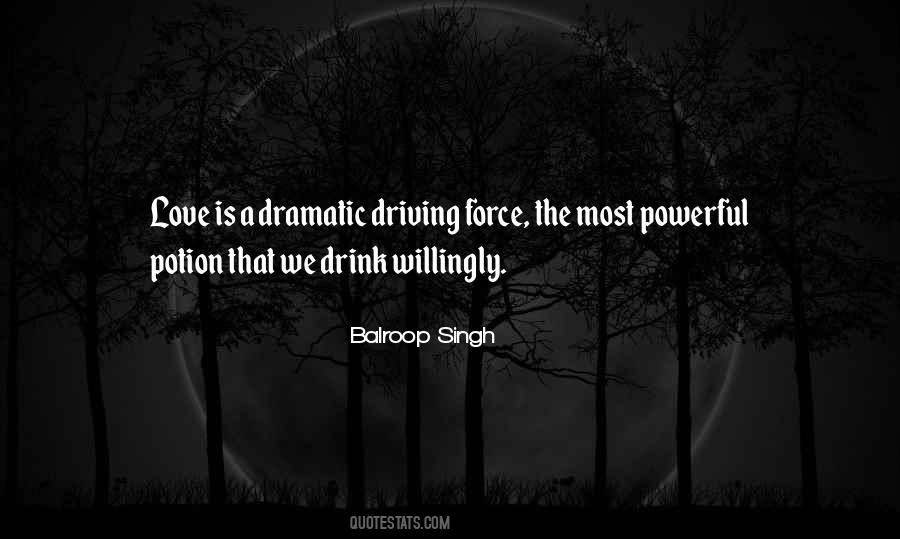 #94. We must believe in the power of education. We must respect just laws. We must love ourselves, our old and or young, our women as well as our men. - Author: Arthur Ashe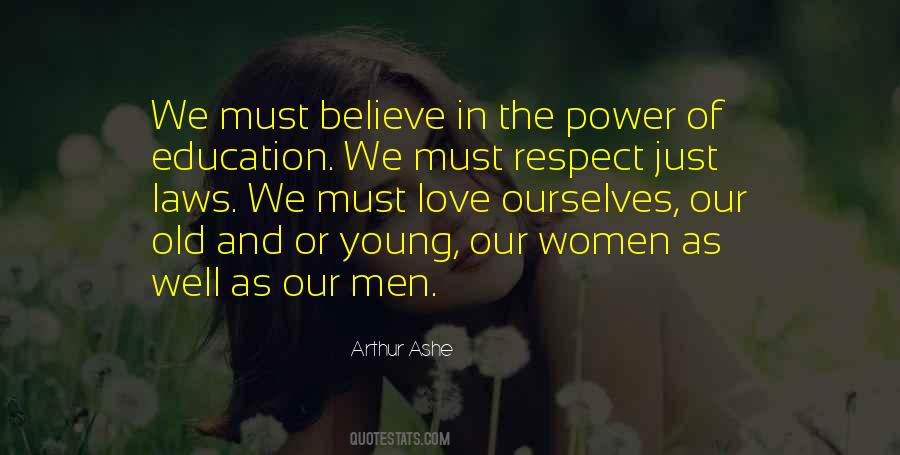 #95. Love can heal. Love can renew. Love can make us safe. Love can inspire us with its power. Love can bring us closer to God. - Author: Deepak Chopra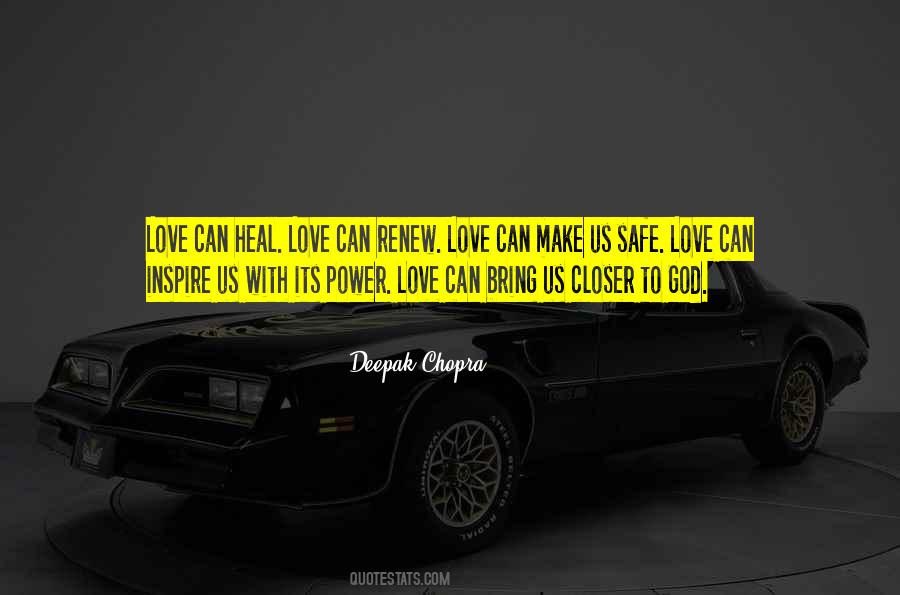 #96. The romance genre is the only genre where readers are guaranteed novels that place the heroine at the heart of the story. These are books that celebrate women's heroic virtues and values: courage, honor, determination and a belief in the healing power of love. - Author: Jayne Ann Krentz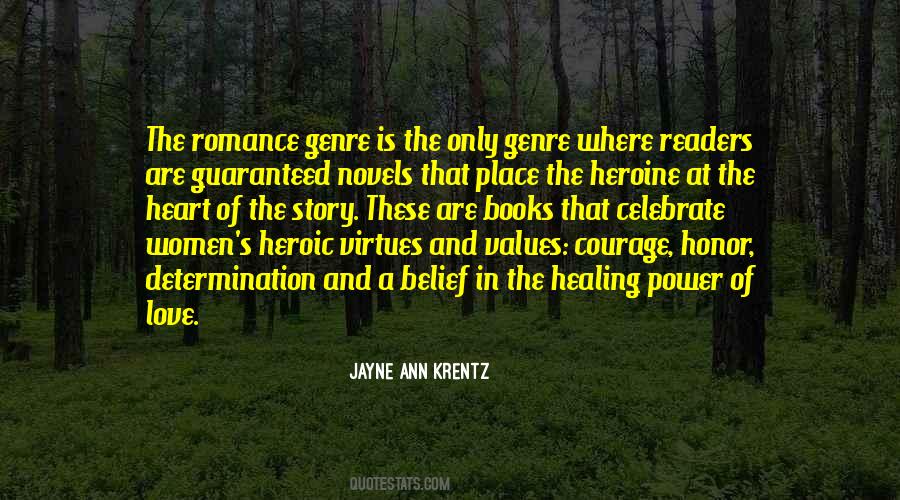 #97. You can stand back and look at this planet and see that we have the money, the power, the medical understanding, the scientific know-how, the love, and the community to produce a kind of human paradise. - Author: Terence McKenna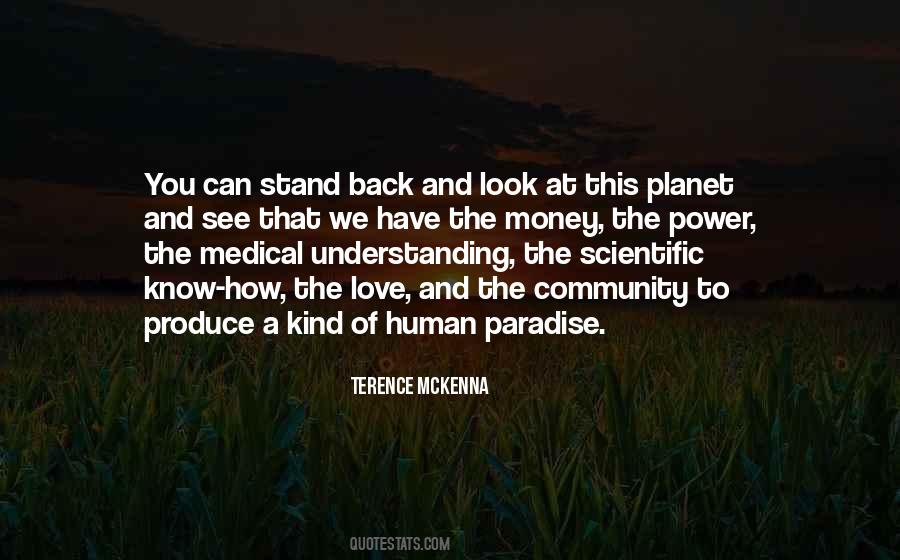 #98. The power of thought is the light of knowledge, the power of will is the energy of character, the power of heart is love. Reason, love and power of will are perfections of man. - Author: Ludwig Feuerbach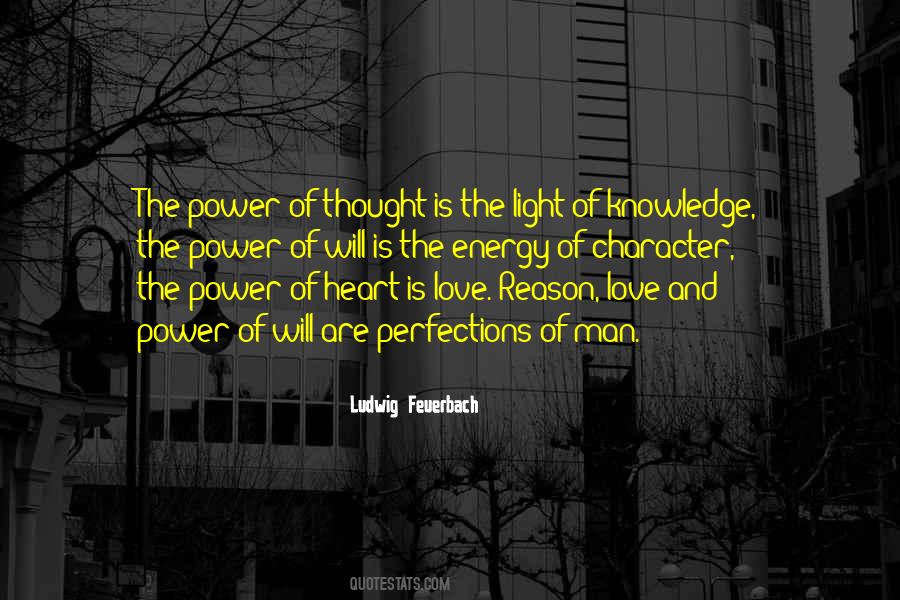 #99. it took
losing him
to finally
find
myself.

It took
losing him
a second time
to be sure
of myself.

that
was my
first act
of
self-love. - Author: Amanda Lovelace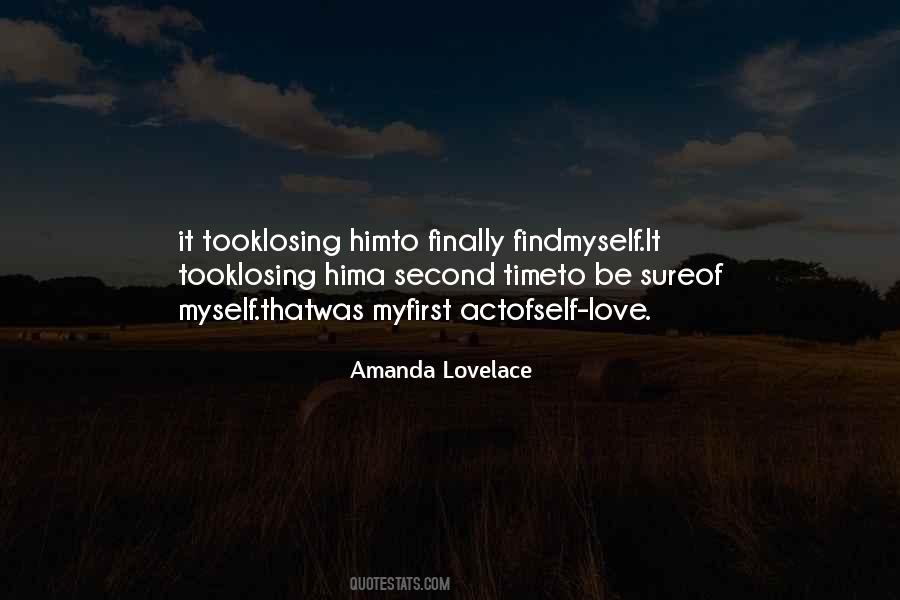 #100. There is no limit to the power of loving. - Author: John Morton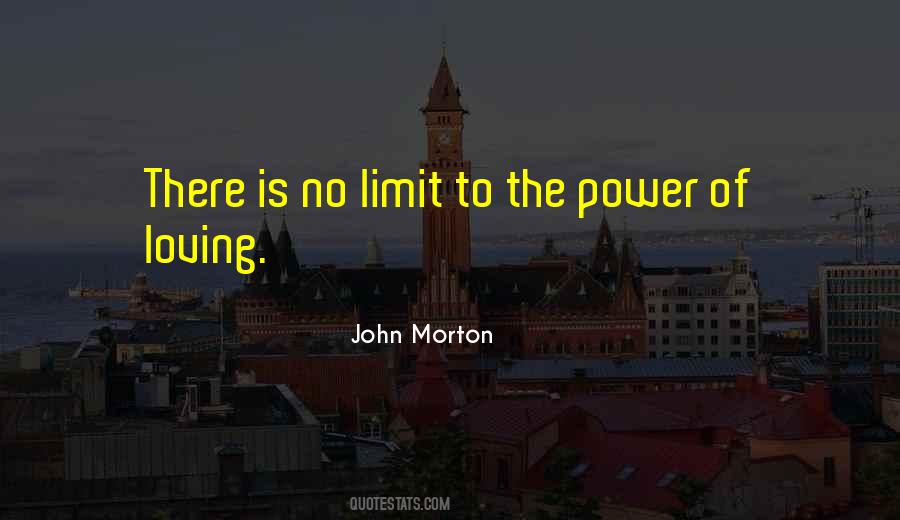 Famous Authors
Popular Topics