Poets And Poetry Famous Quotes & Sayings
List of top 100 famous quotes and sayings about poets and poetry to read and share with friends on your Facebook, Twitter, blogs.
Top 100 Quotes About Poets And Poetry
#1. everything i know about love
is that it hurts
and is almost always never returned
the way you want it to.

but i have hope
because i do not know everything. - Author: AVA.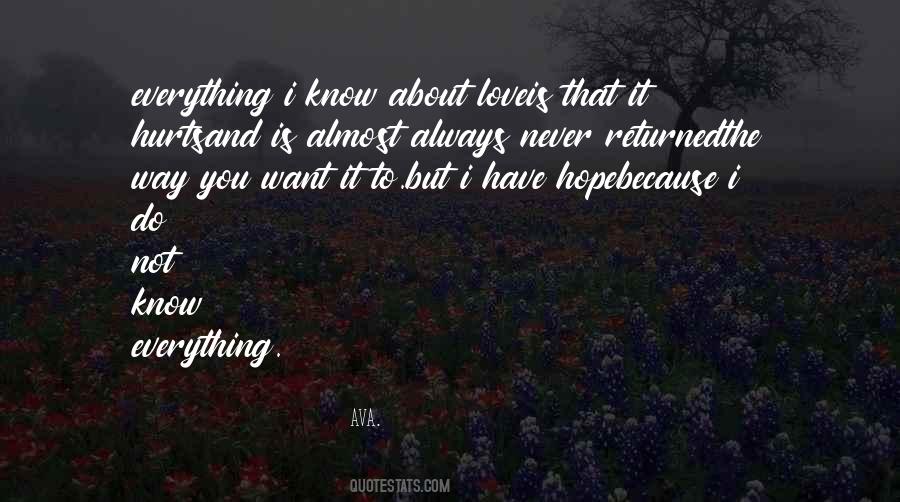 #2. I always liked the magic of poetry but now I'm just starting to see behind the curtain of even the best poets, how they've used, tried and tested craft to create the illusion. Wonderful feeling of exhilaration to finally be there. - Author: David Knopfler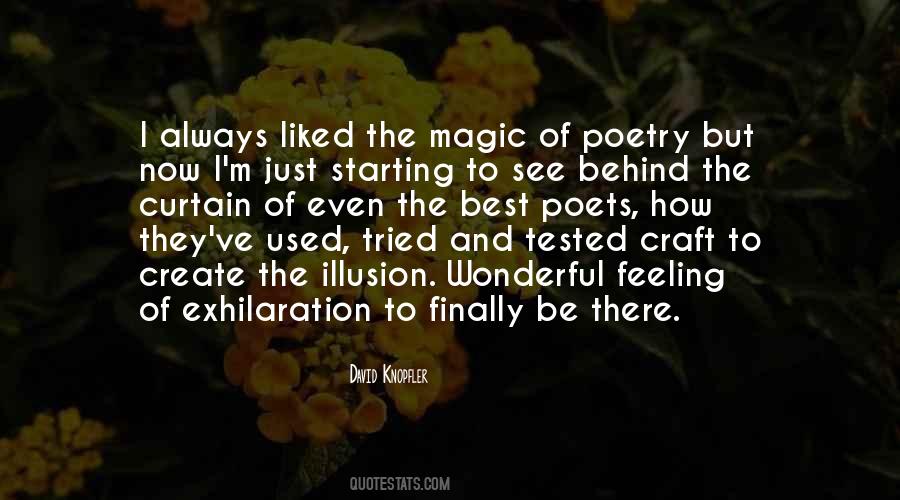 #3. Serious affairs and history are carefully laid snares for the uninformed. - Author: Dejan Stojanovic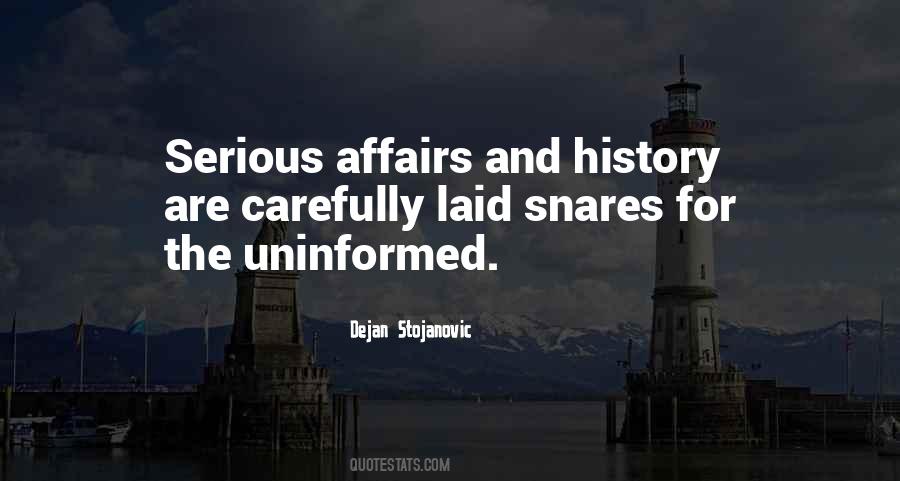 #4. People should like poetry the way a child likes snow, and they would if poets wrote it. - Author: Wallace Stevens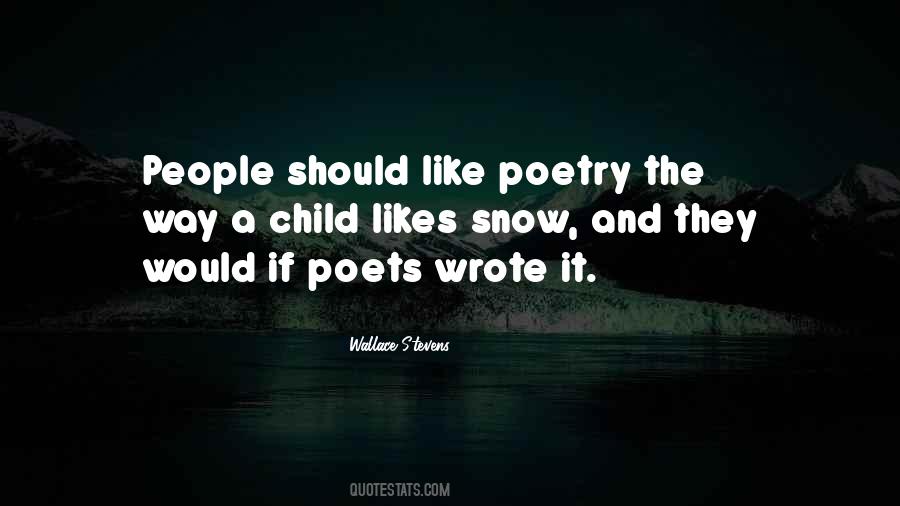 #5. every choice i have ever made after you existed
has been dependent on exactly
how close i can have you next to me
and how long i can get you to stay. - Author: AVA.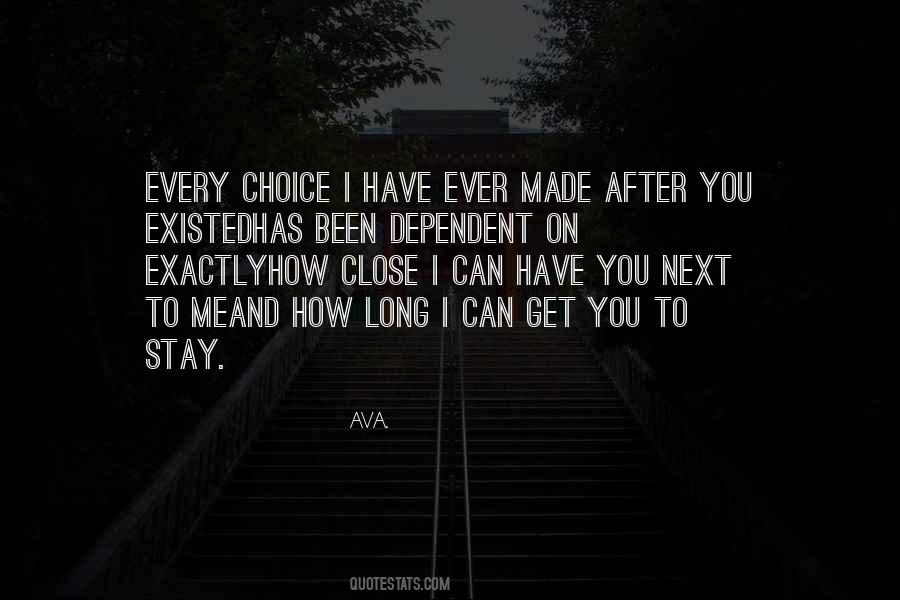 #6. On a summer night it can be lovely to sit around outside with friends after dinner and, yes, read poetry to each other. Keats and Yeats will never let you down, but it's differently exciting to read the work of poets who are still walking around out there. - Author: Michael Cunningham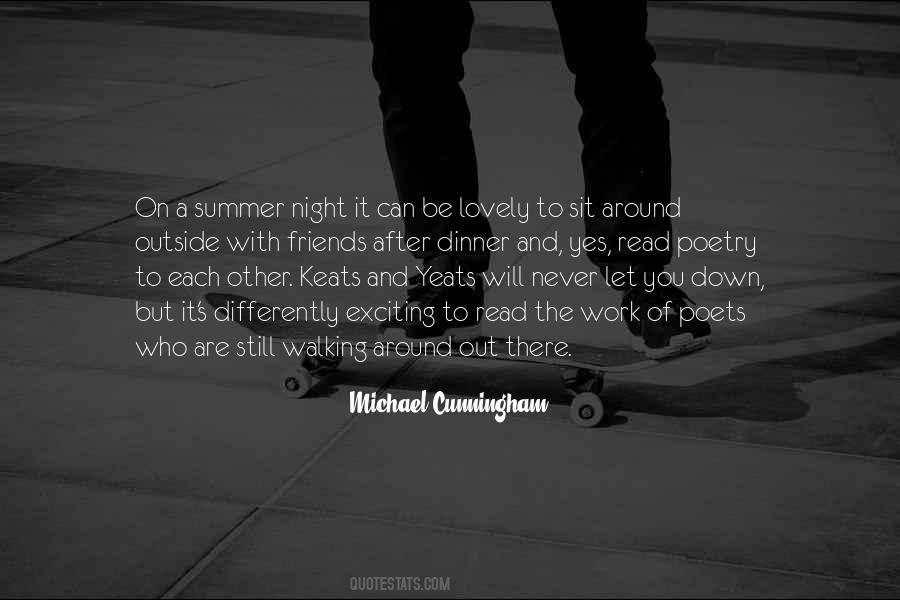 #7. The flower bloomed and faded. The sun rose and sank. The lover loved and went. And what the poets said in rhyme, the young translated into practice. - Author: Virginia Woolf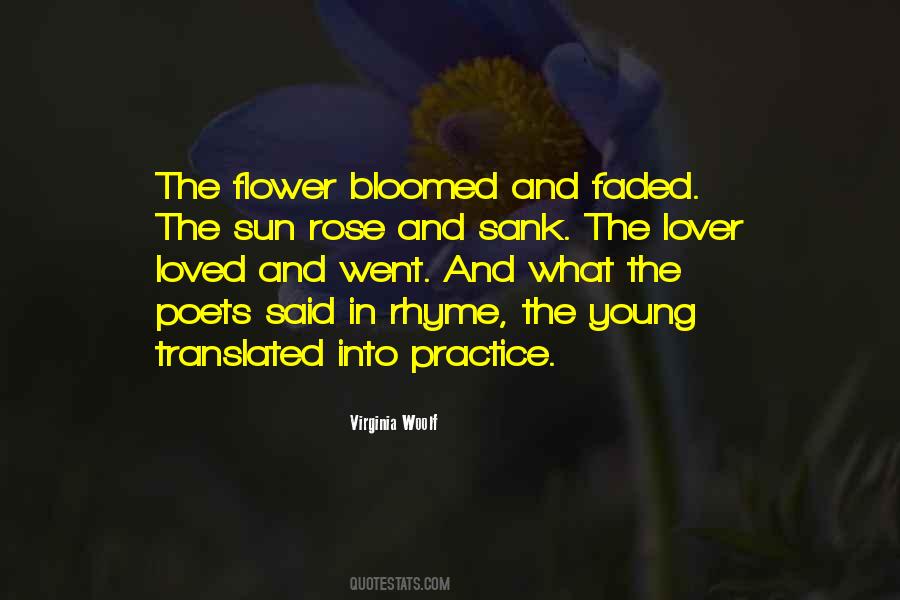 #8. i am changing
and i am loving change. - Author: AVA.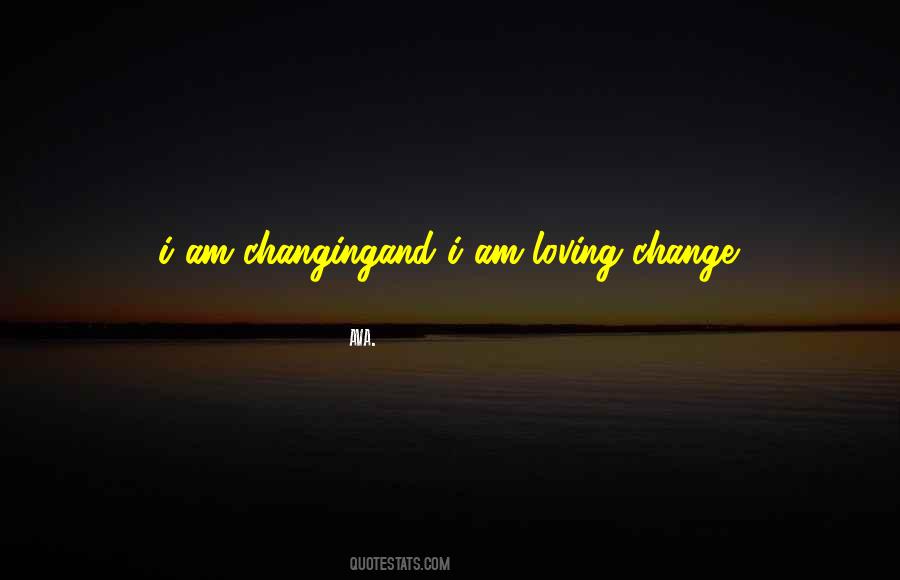 #9. Though we do not have many poets, we certainly have more than we deserve, for we deserve none at all. It is ourselves that we are hurting by our stupidity and ignorance of poetry ... - Author: Elizabeth Janeway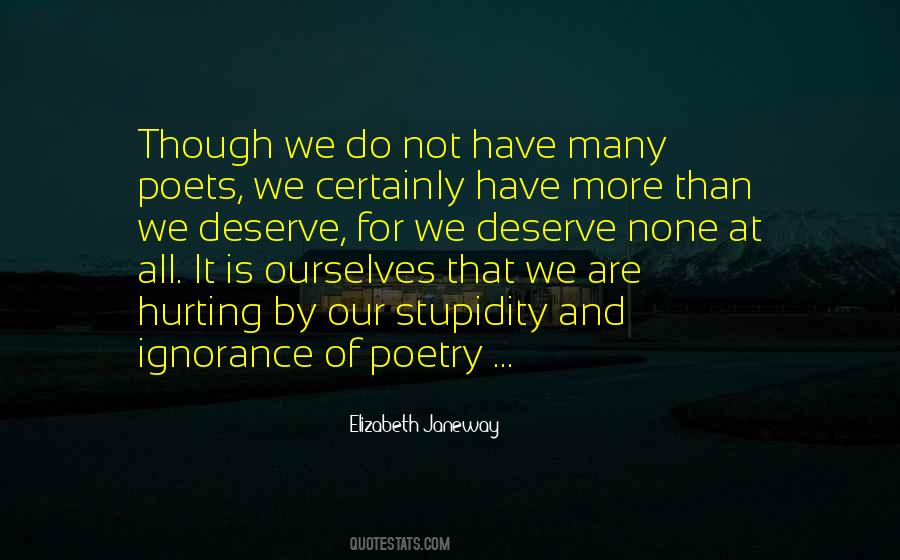 #10. He [the poet] brings out the inner part of things and presents them to men in such a way that they cannot refuse but must accept it. But how the mere choice and rhythm of words should produce so magical an effect no one has yet been able to comprehend, and least of all the poets themselves. - Author: Hilaire Belloc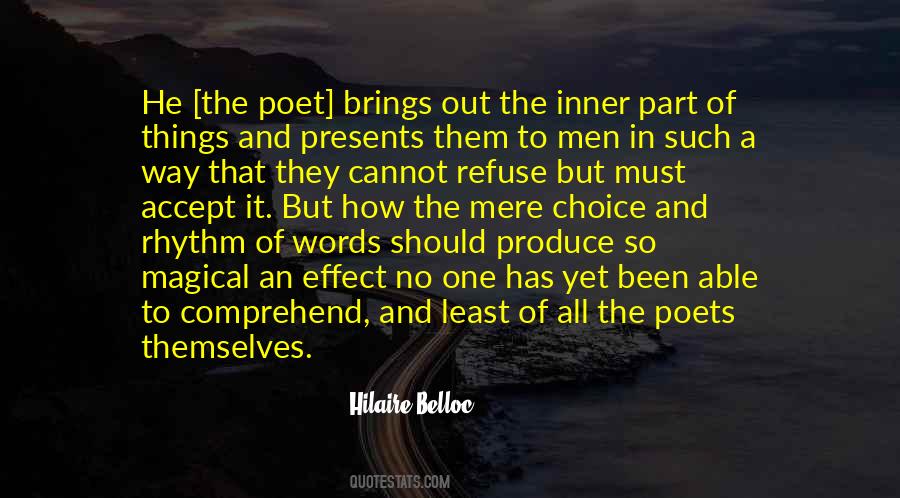 #11. How does one say something new and not retell? - Author: Dejan Stojanovic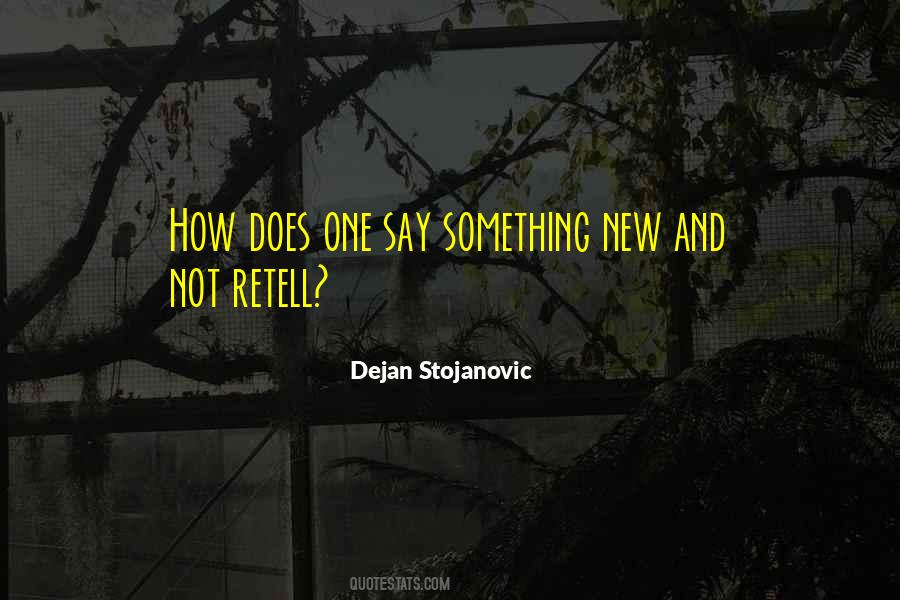 #12. Failures of nerve and energy are not permitted. That's what it means to be an object. - Author: Mary Kinzie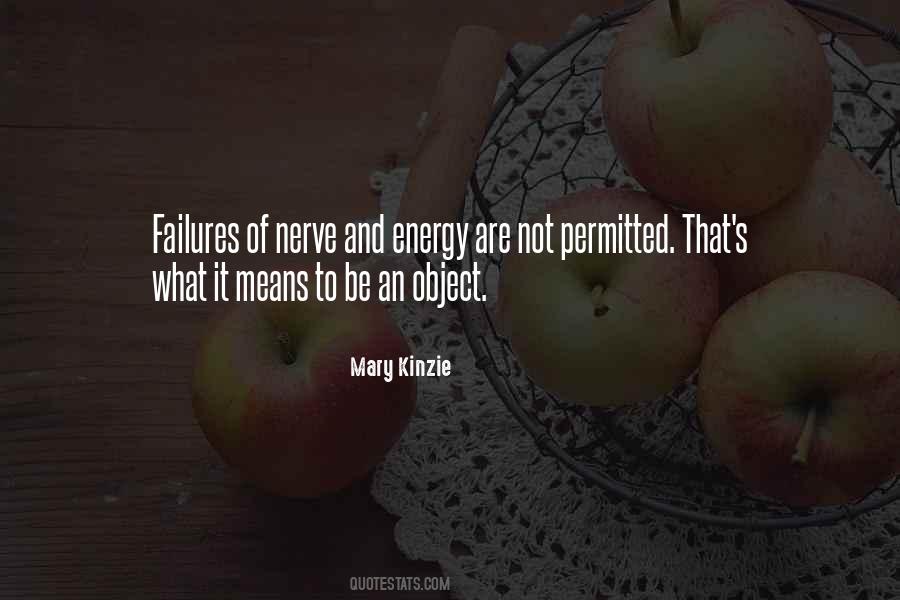 #13. As far as I can tell, there are two kinds of poets: those who want to tell stories and sing songs, and those who want to work out the chemical equation for language and pass on their experiments as poetry. - Author: Simon Armitage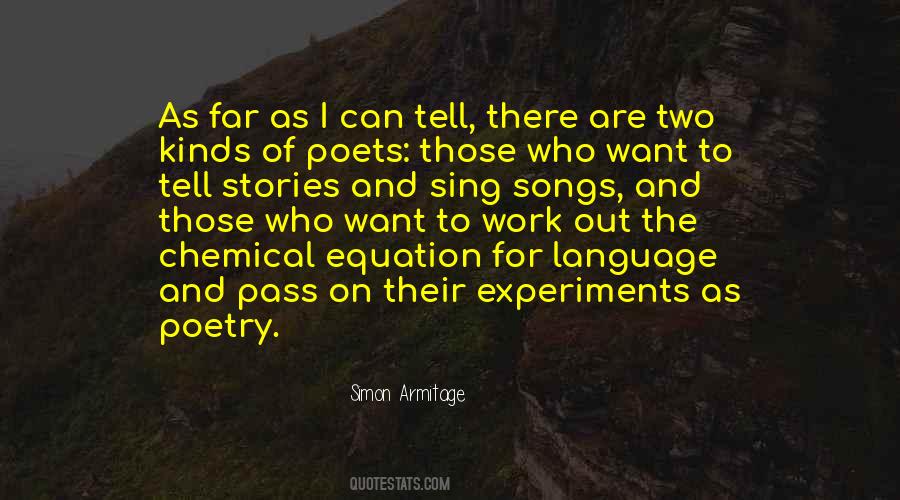 #14. They have the guns, we have the poets. Therefore, we will win. - Author: Howard Zinn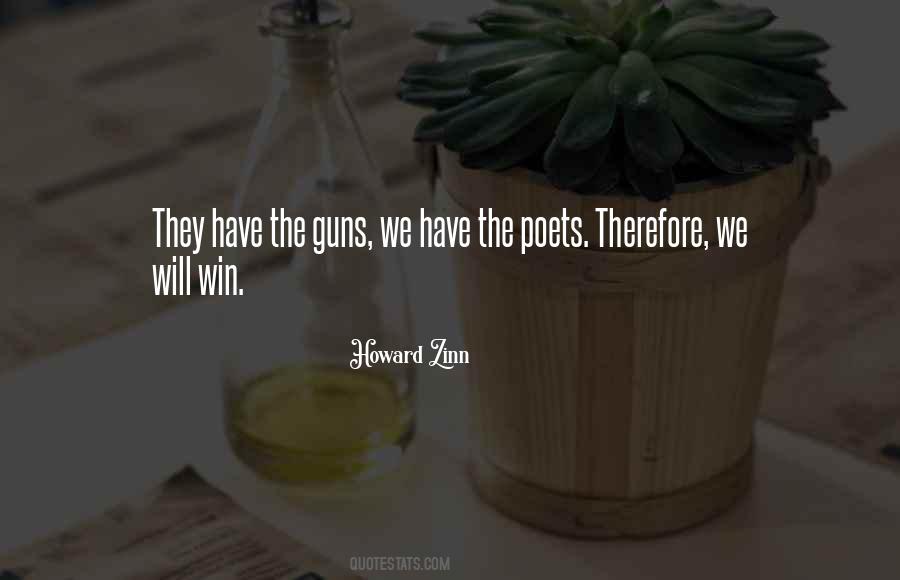 #15. Being a poet in the States is quite different from being one in China, because in the States poetry depends on the universities for its support. They finance the poets and help them get published. That isn't so in China. But overall it is the same. You can't change society with poetry. - Author: Bei Dao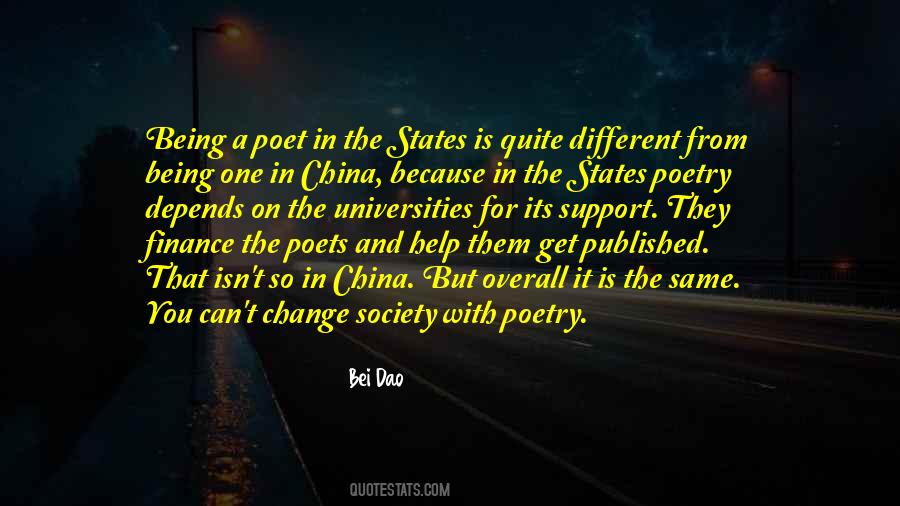 #16. Engineering, like poetry, is an attempt to approach perfection. And engineers, like poets, are seldom completely satisfied with their creations. They notice, even if no one else does, the world that is not quite le mot juste, or the hairline crack that blemishes the structure. - Author: Henry Petroski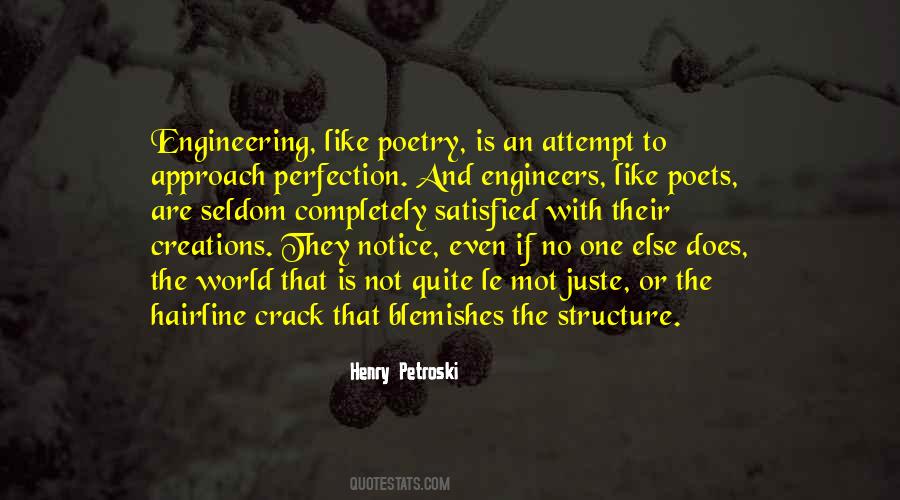 #17. Virtually everyone needs motivation of some sort, but when you are in love - that is motivation enough, it turns many into poets and painters, it spurs the creativity in you. - Author: Bernard Kelvin Clive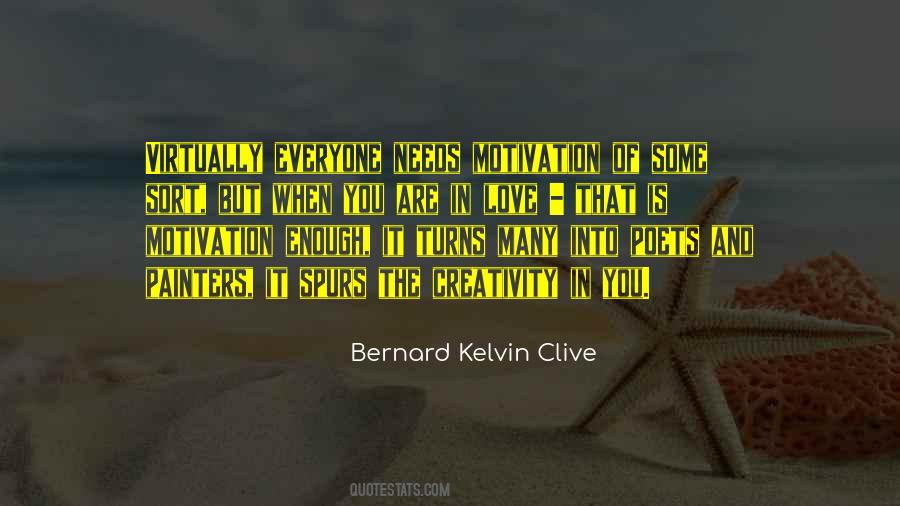 #18. Poets and writers who are in love with the superlative all want to do more than they can. - Author: Friedrich Nietzsche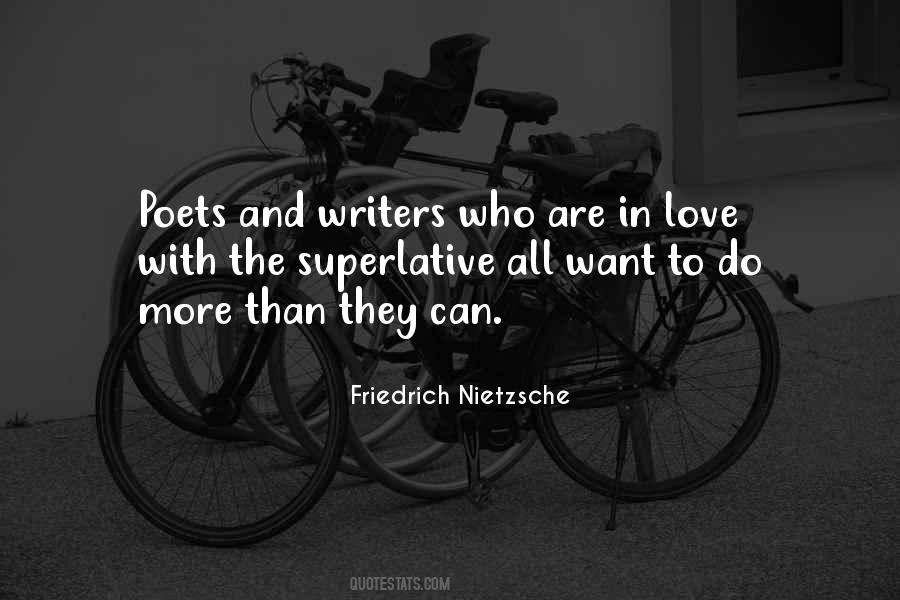 #19. And there he would lie all day long on the lawn brooding presumably over his poetry, till he reminded one of a cat watching birds, when he had found the word, and her husband said, "Poor old Augustus--he's a true poet," which was high praise from her husband. - Author: Virginia Woolf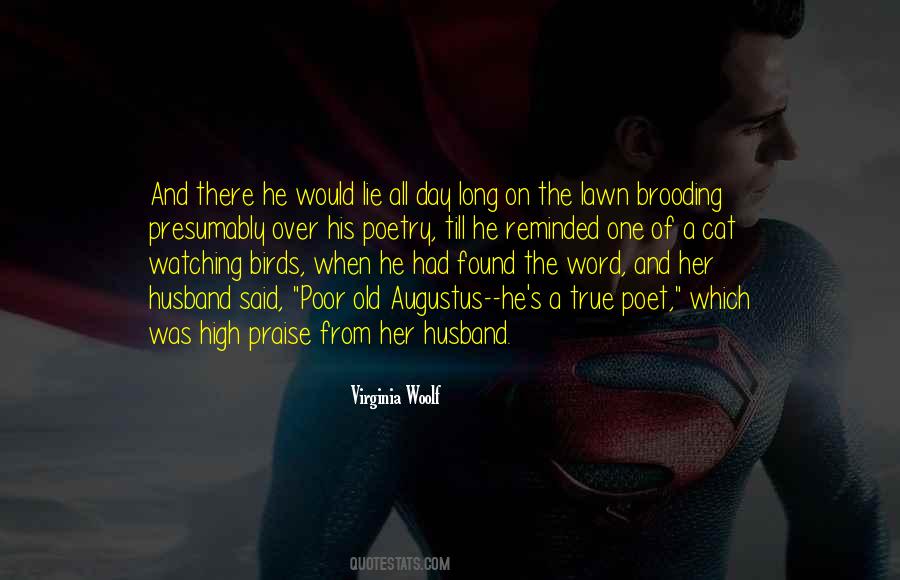 #20. The Vedas say, "All intelligences awake with the morning." Poetry and art, and the fairest and most memorable of the actions of men, date from such an hour. All poets and heroes, like Memnon, are the children of Aurora, and emit their music at sunrise. - Author: Henry David Thoreau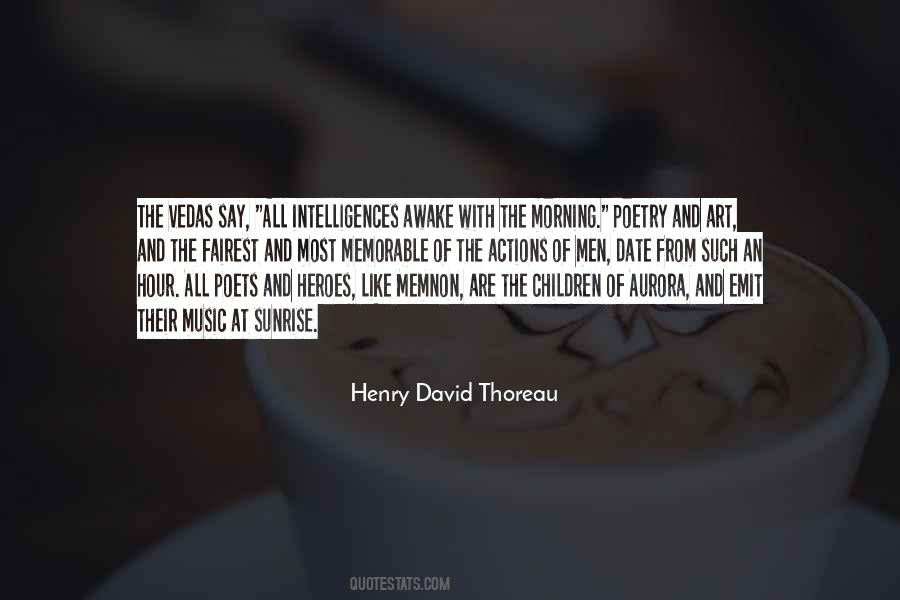 #21. And truly Philosophy is but sophisticated poetry. Whence do those ancient writers derive all their authority but from the poets? - Author: Michel De Montaigne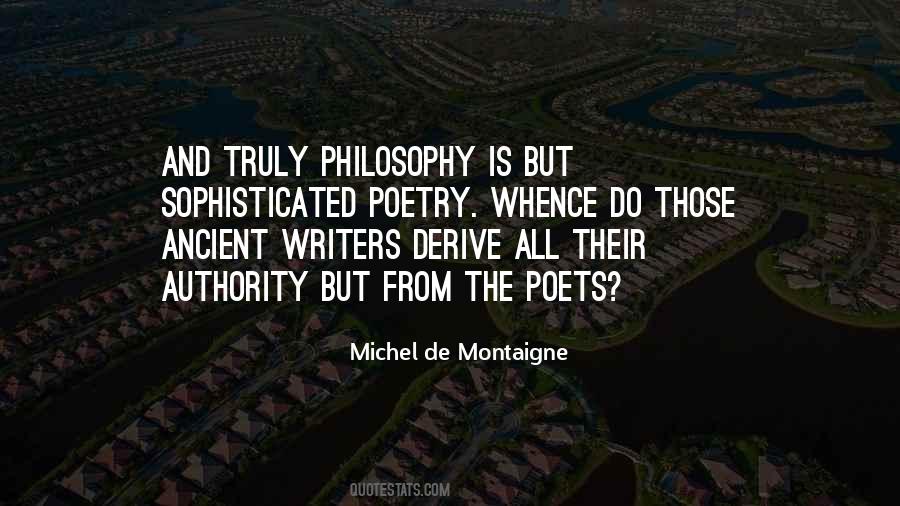 #22. On sighting mathematicians poetry should unhook the algebra from their minds and replace it with poetry; on sighting poets it should unhook poetry from their minds and replace it with algebra. - Author: Brian Patten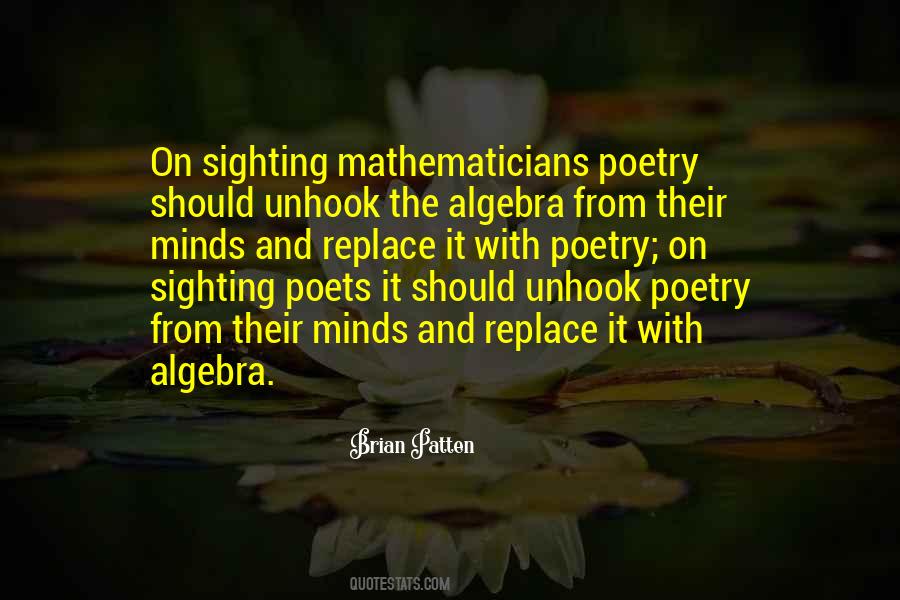 #23. I love Sylvia Plath and Anne Sexton. I also love more cerebral poets like H.D. and Emily Dickinson. My parents subscribed to a monthly poetry periodical, and as a teenager I was introduced to Denise Levertov, who was an influence. - Author: Francesca Lia Block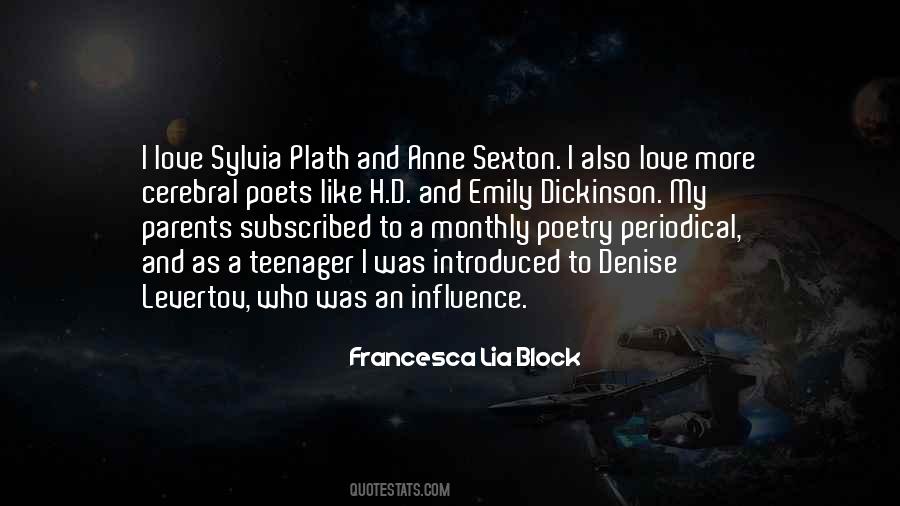 #24. Freedom is slavery some poets tell us.
Enslave yourself to the right leader's truth,
Christ's or Karl Marx', and it will set you free. - Author: Robert Frost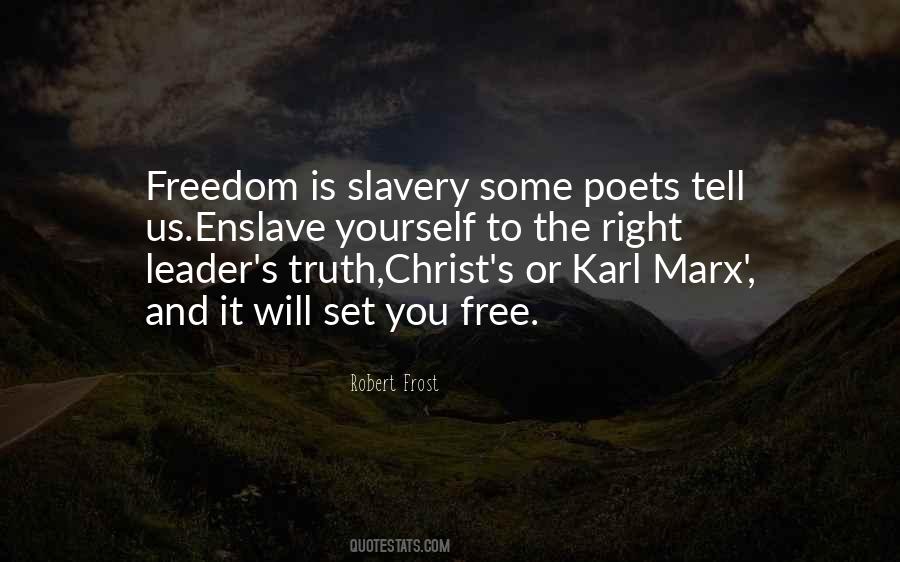 #25. A world without poetry and art would be too much like one without birds or flowers: bearable but a lot less enjoyable. - Author: Aberjhani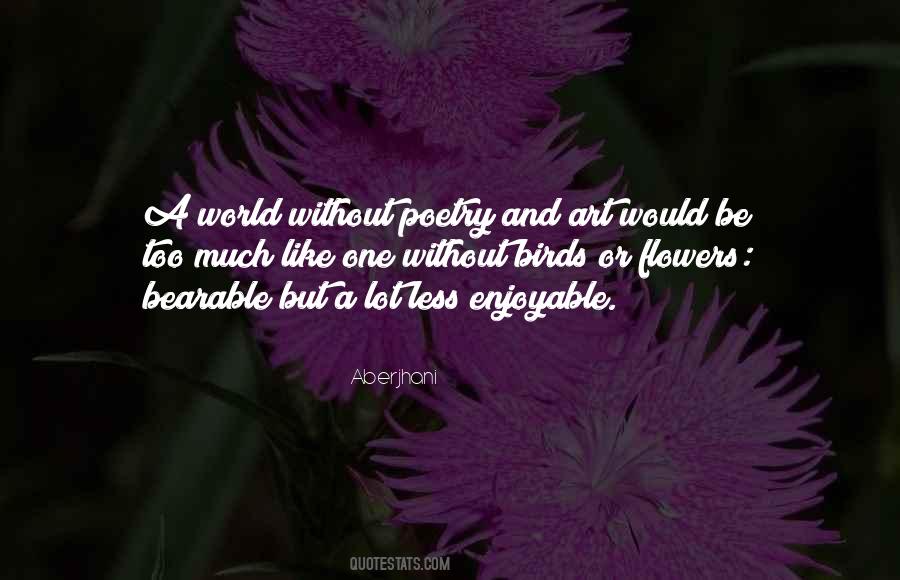 #26. the time will come, my dear
when I will hold you close

and all will be
right again
in the world. - Author: Sanober Khan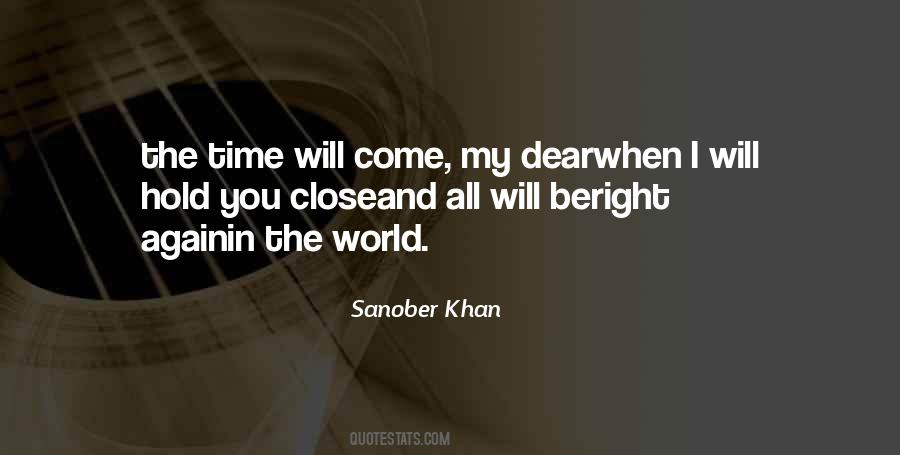 #27. Our desire to say more grows bigger and what to say about it, except that saying is not always about saying, growing is not always about growing. - Author: Dejan Stojanovic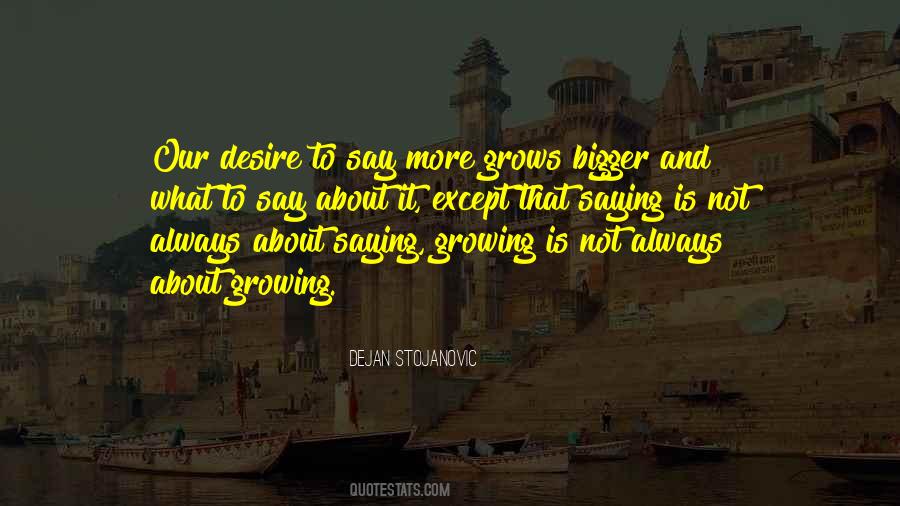 #28. What is this slow blue dream of living,
and this fevered death by dreaming? - Author: Aberjhani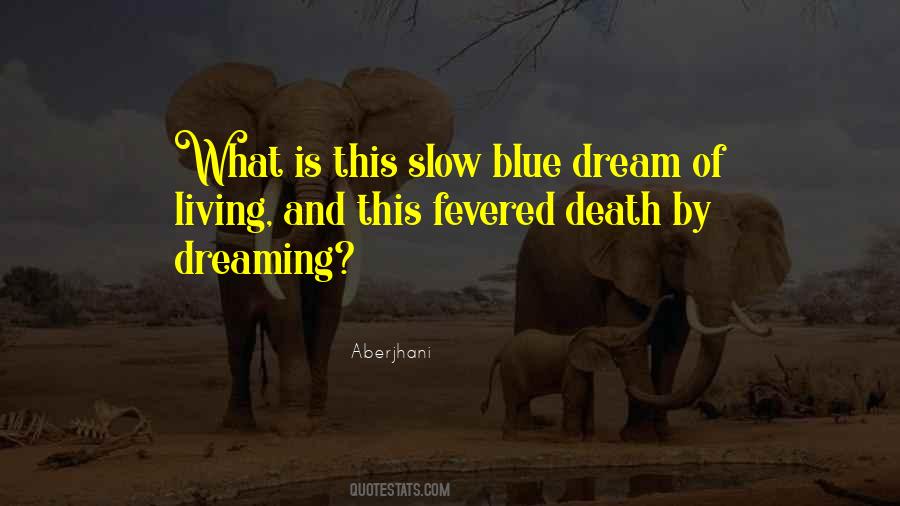 #29. Because philosophy arises from awe, a philosopher is bound in his way to be a lover of myths and poetic fables. Poets and philosophers are alike in being big with wonder. - Author: Thomas Aquinas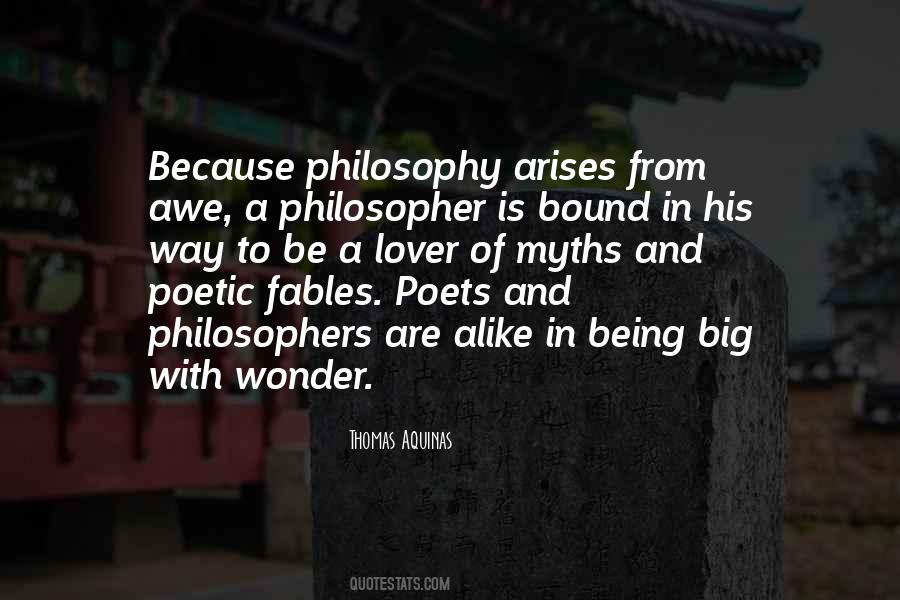 #30. I have heard that hysterical women say
They are sick of the palette and fiddle-bow,
Of poets that are always gay - Author: William Butler Yeats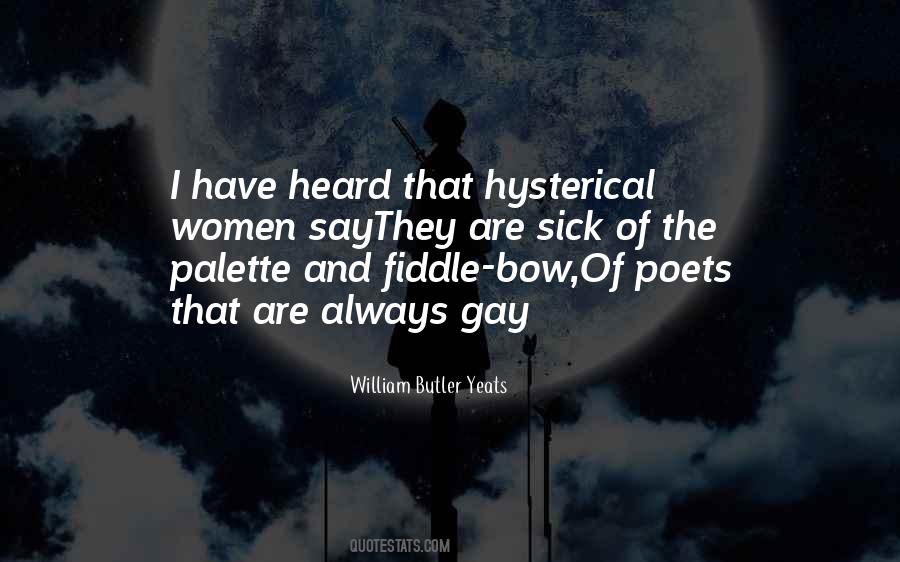 #31. True poets, like great artists, have scarcely any childhood, and no old age. - Author: Sophie Swetchine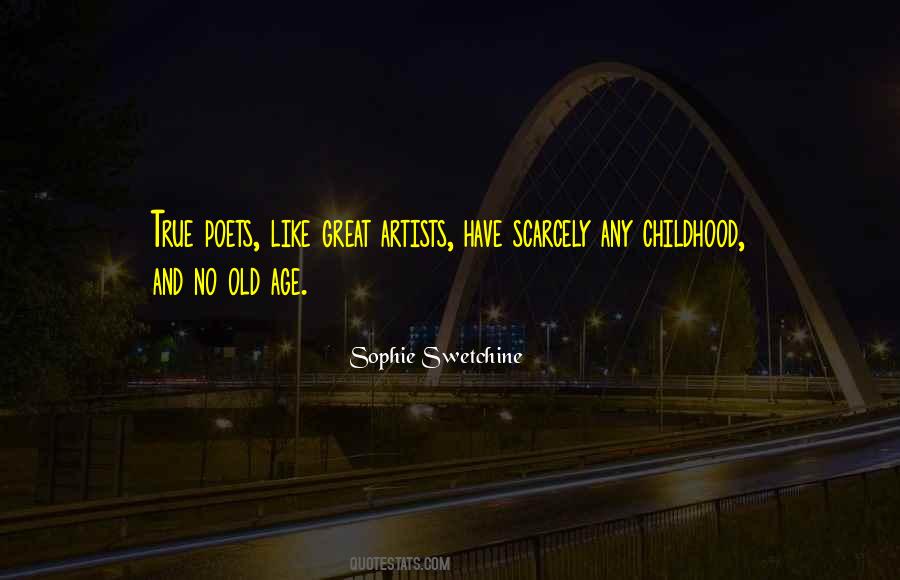 #32. Our earliest poets were shamans. Today, as in the earliest times, true shamans are poets of consciousness who know the power of song and story to teach and to heal. - Author: Robert Moss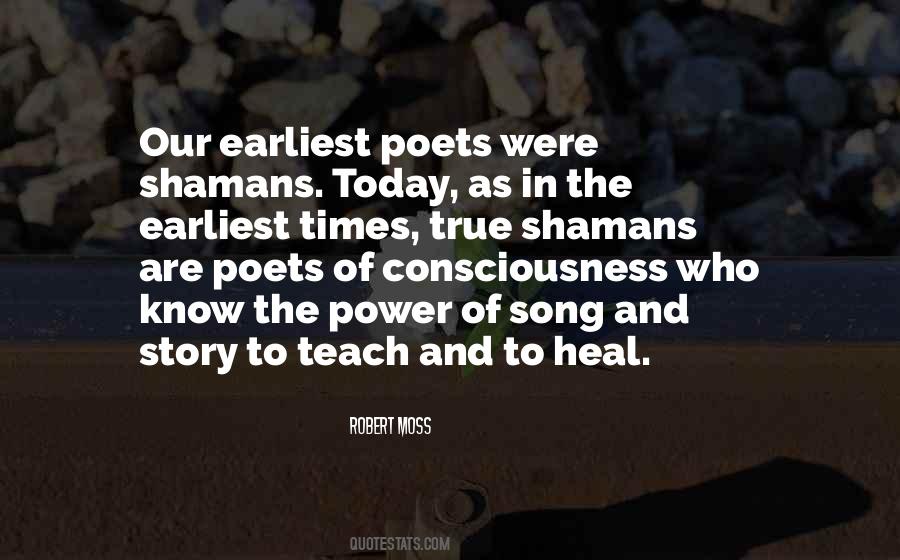 #33. Criticism is like politics: if you don't make your own you are by default accepting the status quo and are finally yourself responsible for whatever the status quo does to you. - Author: Annie Finch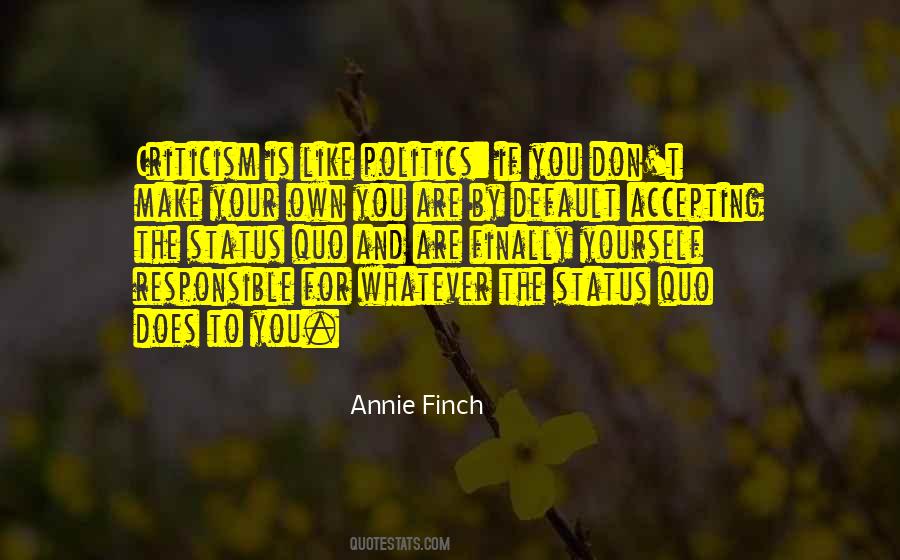 #34. I can't think offhand of any American poets who have Mandelstam's urgency, but it's a different country and a different time, and I don't think it would make much sense to say that this is something that's "missing" from contemporary American poetry. - Author: Christian Wiman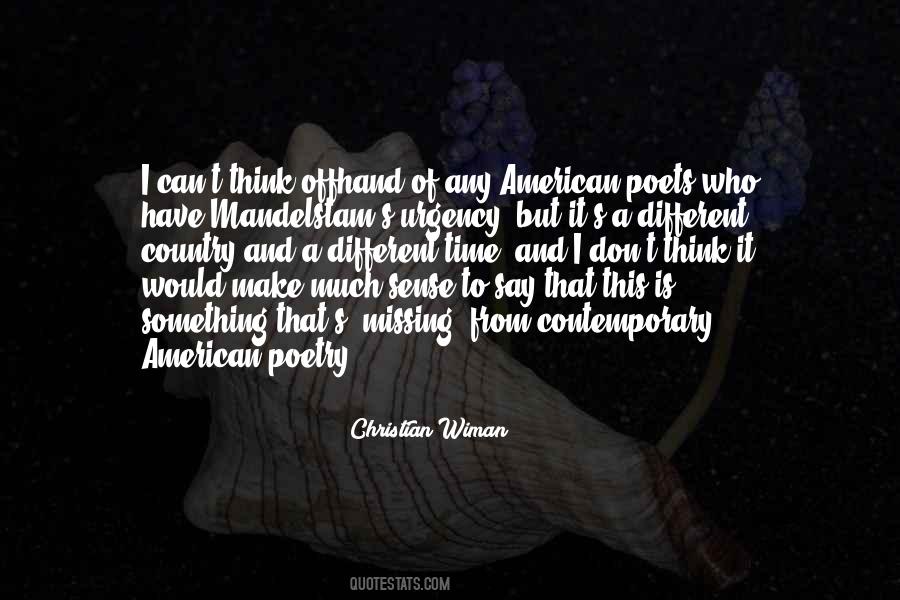 #35. The kind of poetry to avoid in the pretty-pretty kind that pleased our grandmothers, the kind that Longfellow and Tennyson, good poets at their best, wrote at their worst. - Author: Clifton Fadiman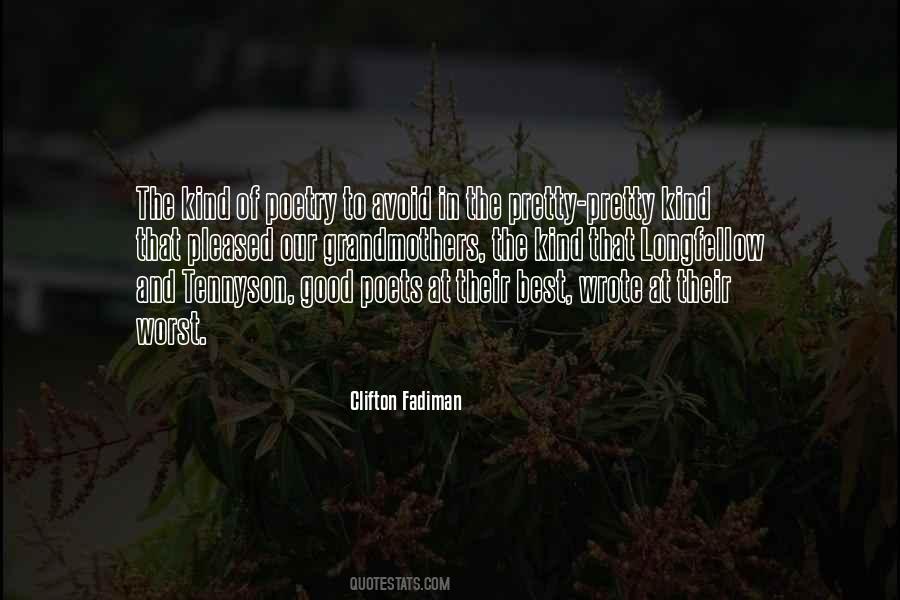 #36. Poets and intellectuals ... are the ones the tyrants go after first. - Author: Frederick Smock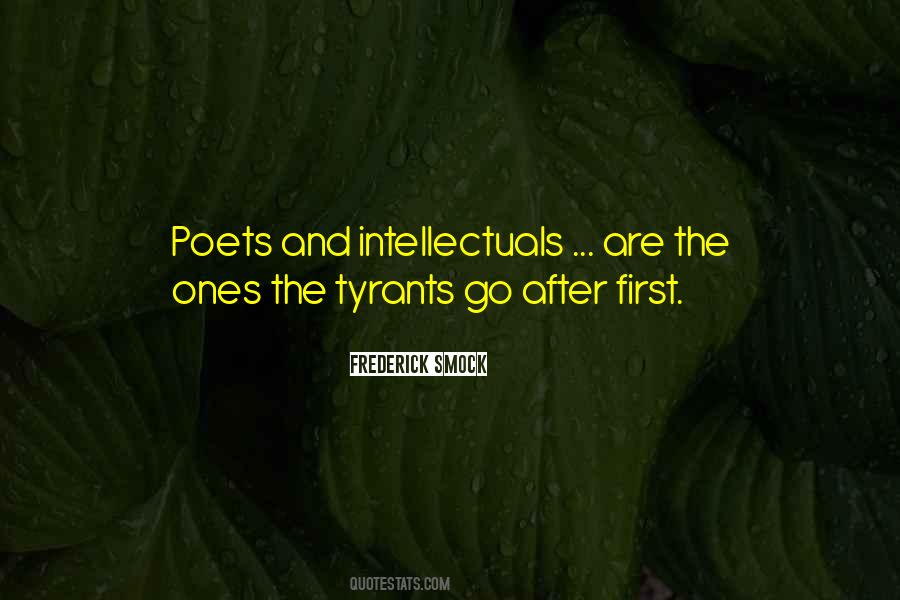 #37. One way or another, all the poets of the thirties and forties reacted to Auden, either by rejecting him or trying to absorb him. - Author: Clive James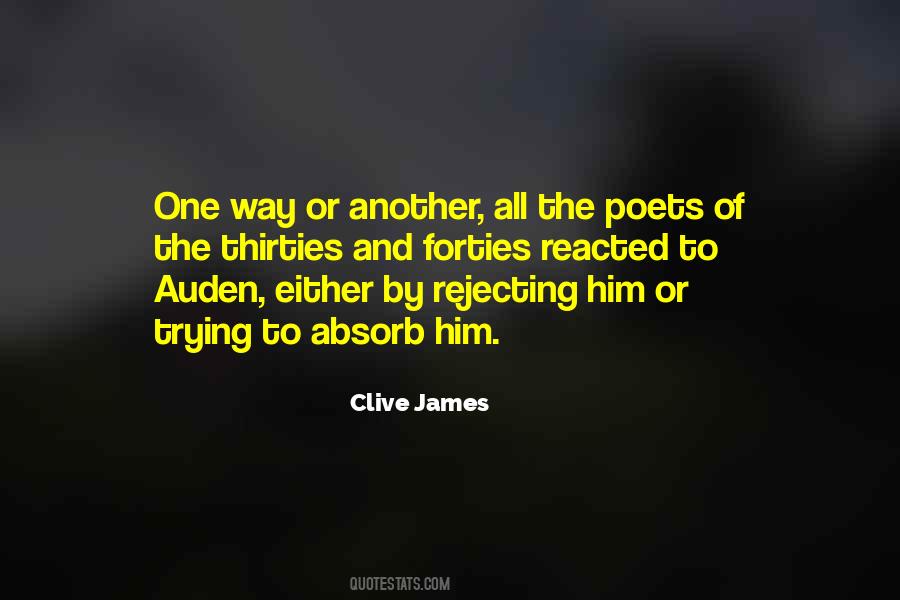 #38. i am infinitely yearning
brimming
and overflowing
in words

i discover
it's another way
for me
to be in tears. - Author: Sanober Khan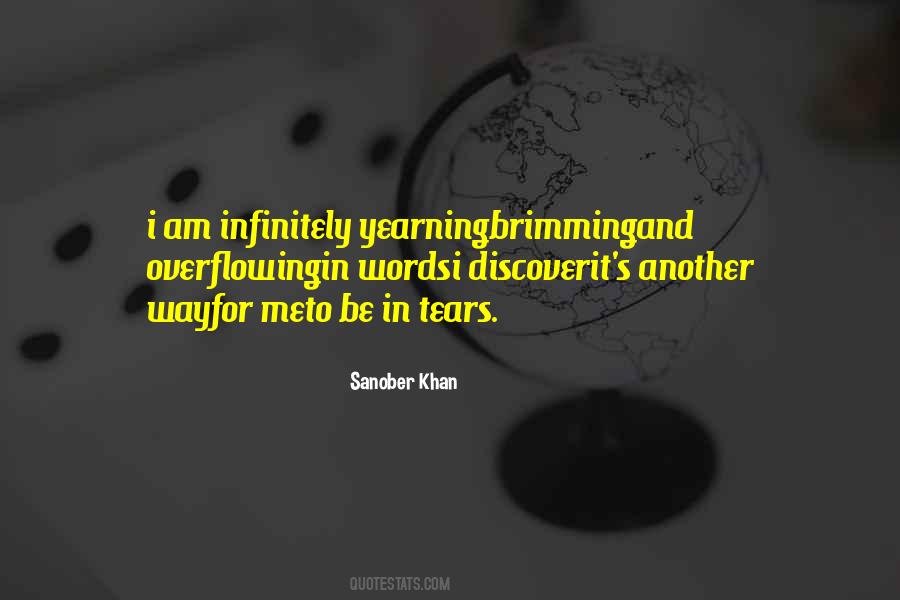 #39. And that is the nature of us poets and whores, to make things hard: dicks, choices... life. - Author: Nicole Lyons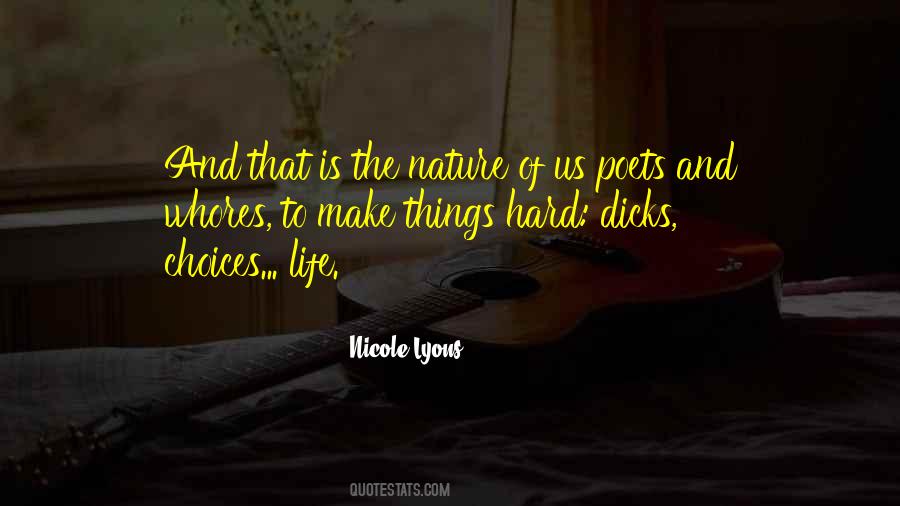 #40. Mandelstam is the sort of poet who comes along very, very rarely. Even the two Russian poets whose work is often linked with his - Anna Akhmatova and Marina Tsvetaeva - though their work is more "urgent" than most American poetry, seem to me to operate at a lesser charge than Mandelstam. - Author: Christian Wiman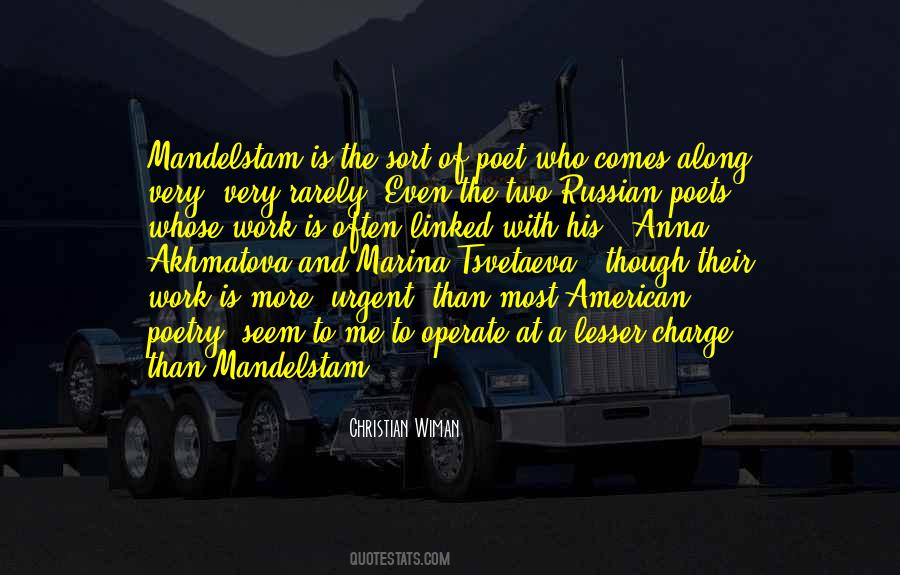 #41. From the beginnings of literature, poets and writers have based their narratives on crossing borders, on wandering, on exile, on encounters beyond the familiar. The stranger is an archetype in epic poetry, in novels. The tension between alienation and assimilation has always been a basic theme. - Author: Jhumpa Lahiri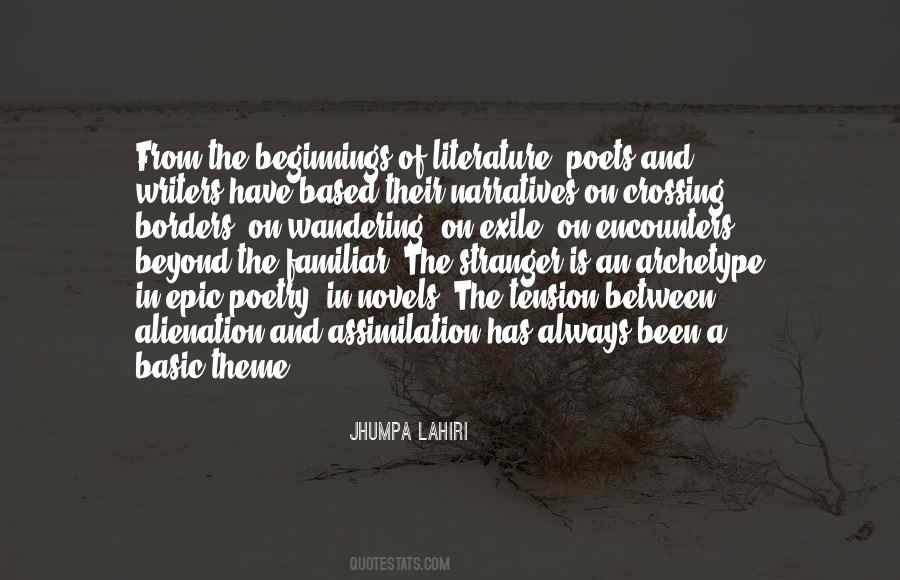 #42. Love me...with all the abandon
of a sudden wild rain. - Author: Sanober Khan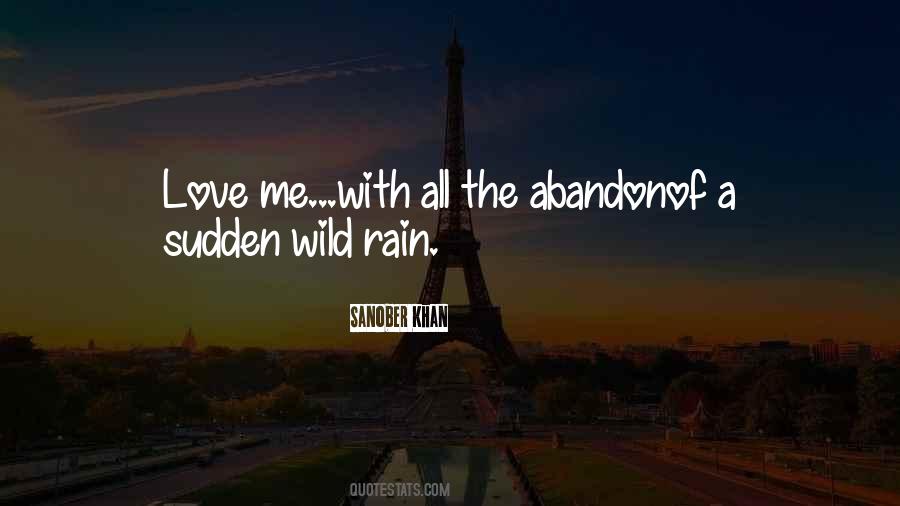 #43. But the worst of it was, all the third-rate poets emerged unscathed; being third-rate, they didn't know good poetry from bad and consequently had no inkling of their crushing defeat. - Author: Stanislaw Lem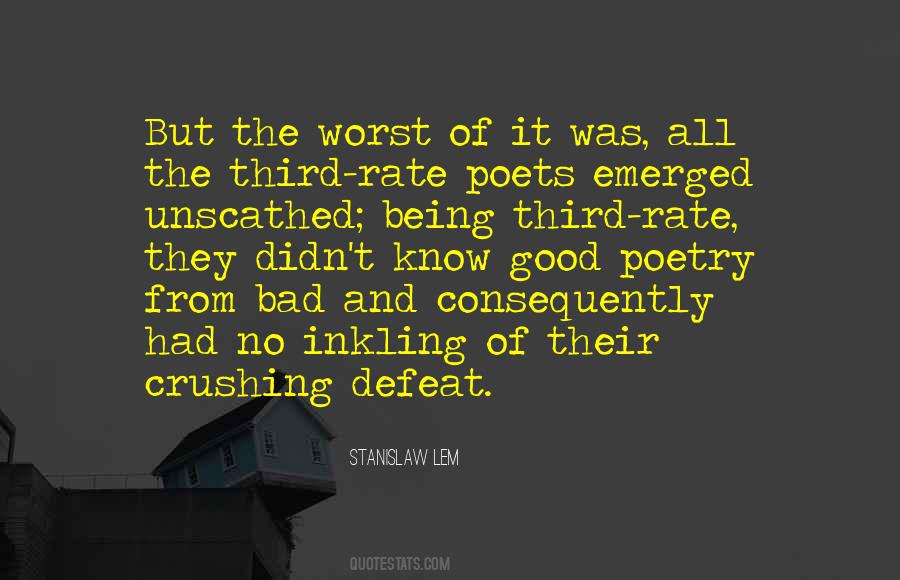 #44. Freud thought that a psychosis was a waking dream, and that poets were daydreamers too, but I wonder if the reverse is not as often true, and that madness is a fiction lived in like a rented house - Author: William H Gass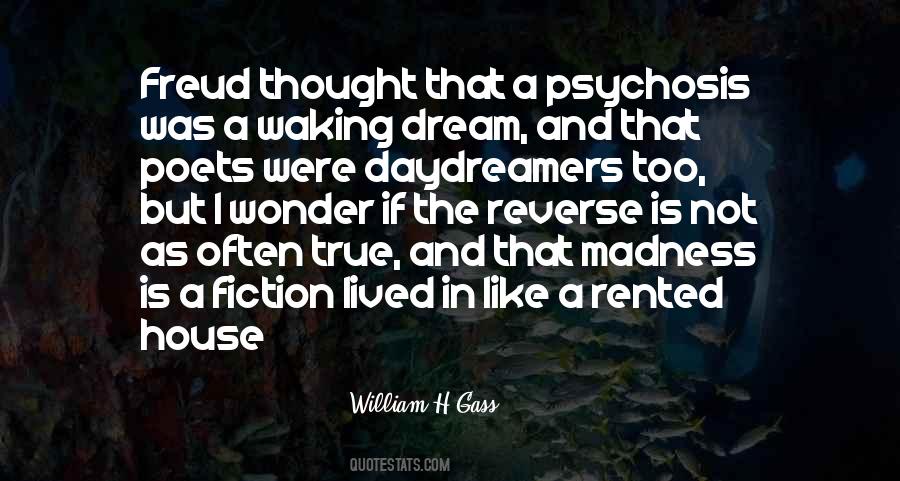 #45. As I grew up I developed some literary pretensions myself, and studied and wrote meticulous poetry informed by poets as diverse as T. S. Eliot, Rimbaud, and Judy Grahn. - Author: Jo Weldon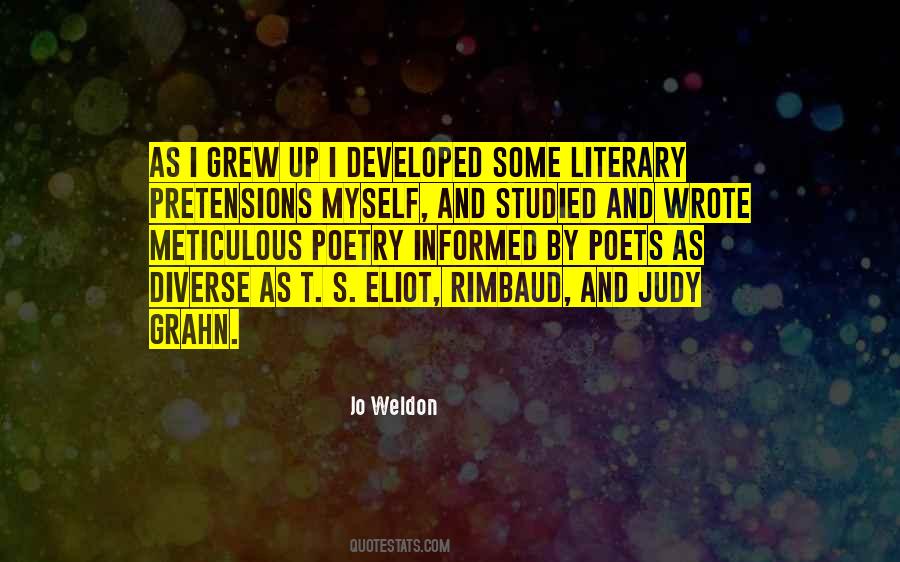 #46. Stop the tape, cut the paper! I will just write another poem and grab a microphone and push record again! - Author: Delano Johnson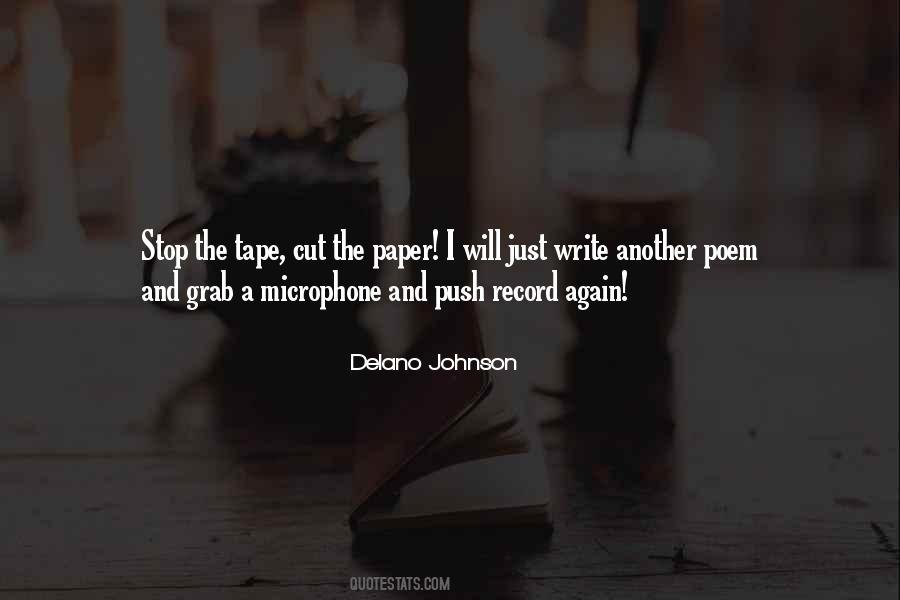 #47. Poets sing our human music for us. - Author: Carol Ann Duffy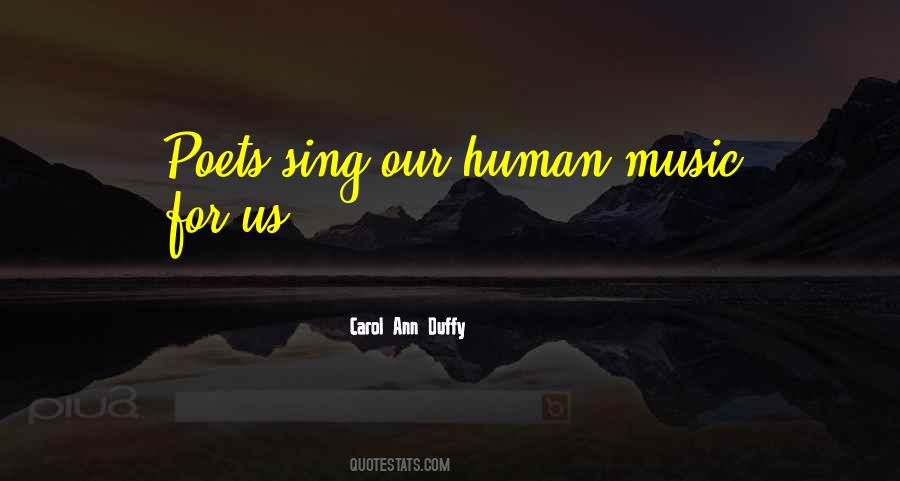 #48. Bless the poets, the workers for justice, the dancers of ceremony, the singers of heartache, the visionaries, all makers and carriers of fresh meaning - We will all make it through, despite politics and wars, despite failures and misunderstandings. There is only love. - Author: Joy Harjo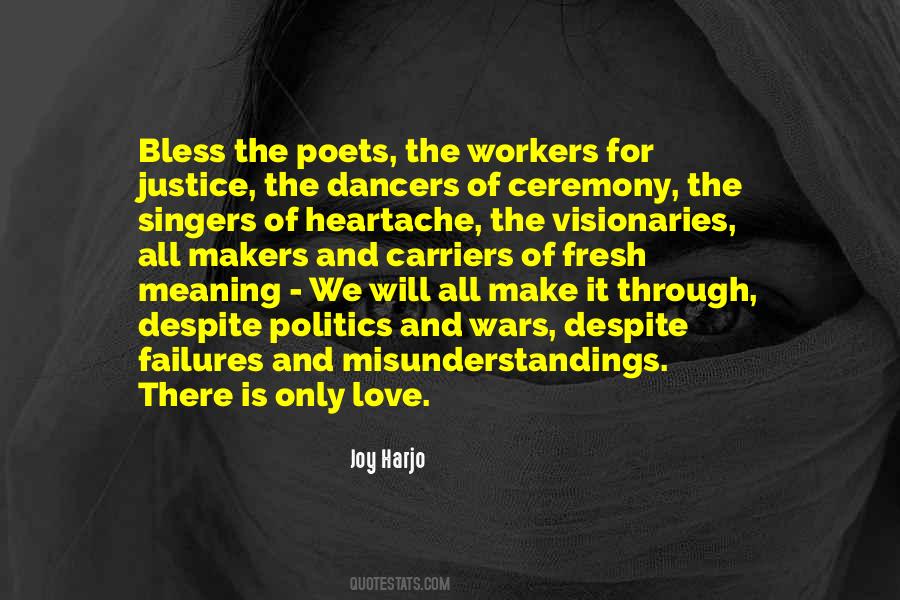 #49. Janice Gould is one of our best poets. The music of her poetry will delight you, and her gentle courageous accounts of tribal, family, and personal history make this book unforgettable. Doubters and Dreamers is a master-piece. - Author: Leslie Marmon Silko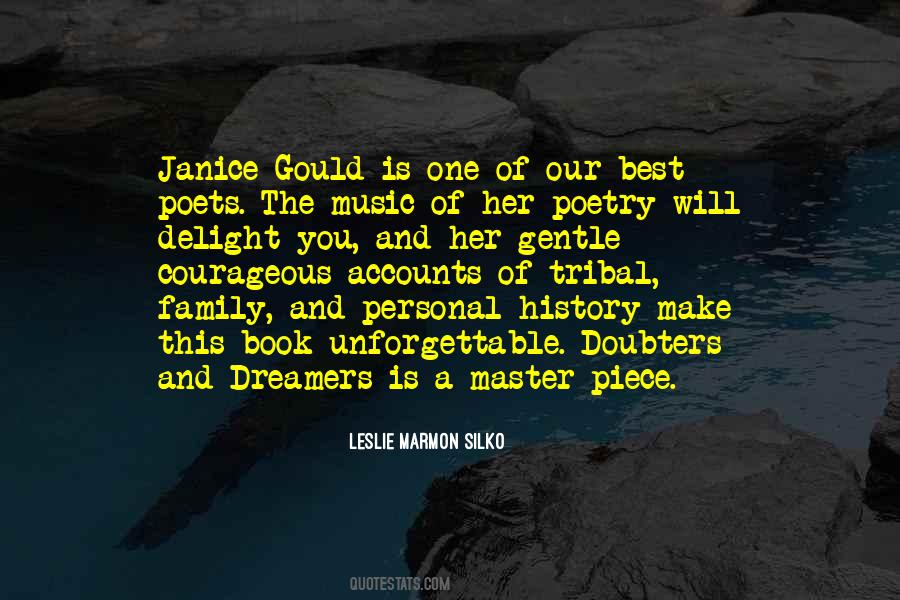 #50. If we were to understand how important it is to say something and say it well, maybe we wouldn't write a single word, but that would be tragic. - Author: Dejan Stojanovic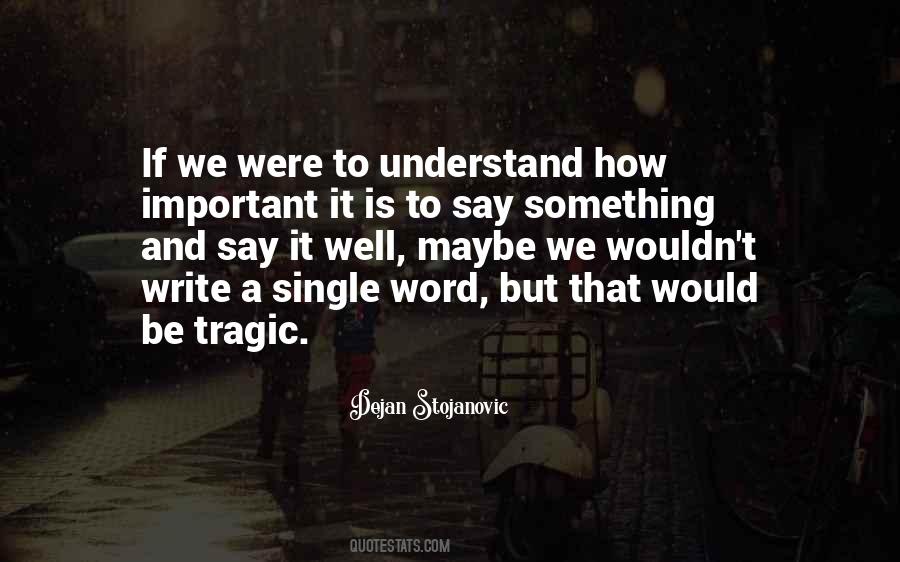 #51. When you recite you're giving a performance, in the way that an actor or a singer performs, and some poets are not interested in doing that, maybe because they're writing for a readership as opposed to an audience, or because they see poetry as a very private art. - Author: James Arthur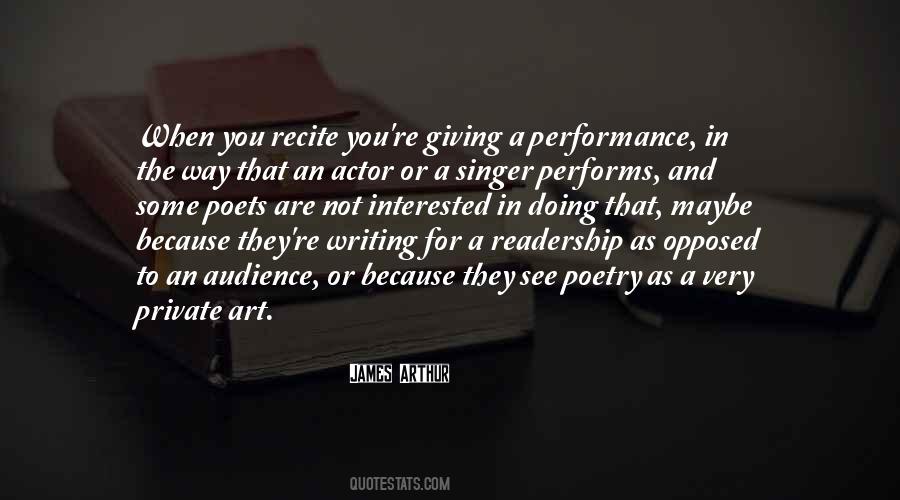 #52. The difference between poets and mystics ... The mystic nails a symbol to one meaning that was true for a moment but soon becomes false. The poet, on the other hand, sees that truth while it's true but understands that symbols are always in flux and that their meanings are fleeting. - Author: Neal Stephenson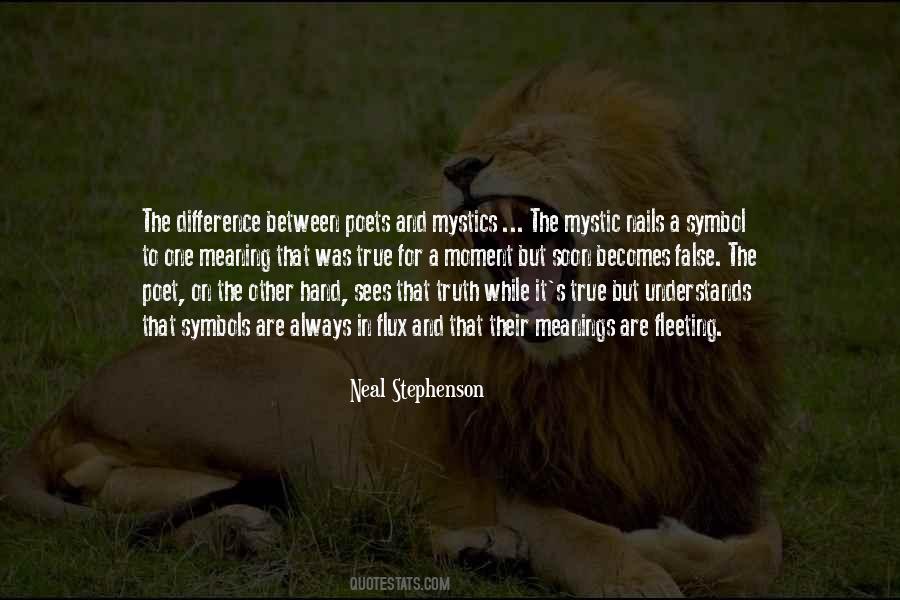 #53. My girl was mad and I loved her. Upon a night, she read my poetry; and kissing me madly she cried, 'You are a genius, my love!' To which I replied, 'My girl,' whispering, 'Every doctor in this land with a prescription pad is more of a genius than I. - Author: Roman Payne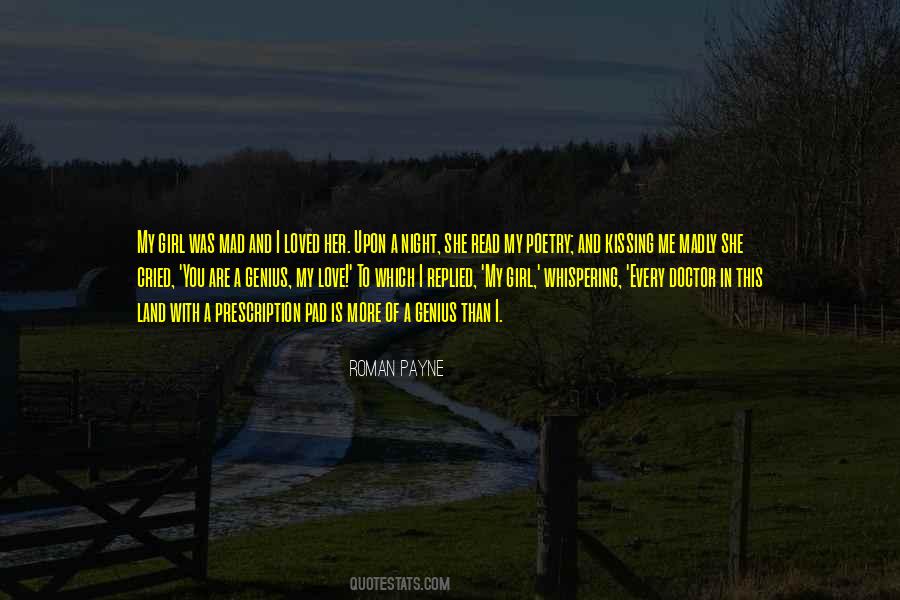 #54. It is a curious thing how poets tend to become ascetics ... Even a debauch for them is a self-flagellation. They go on the loose in cruelty against themselves, admitting that they are pandering to, and despising, the lower self. - Author: D.H. Lawrence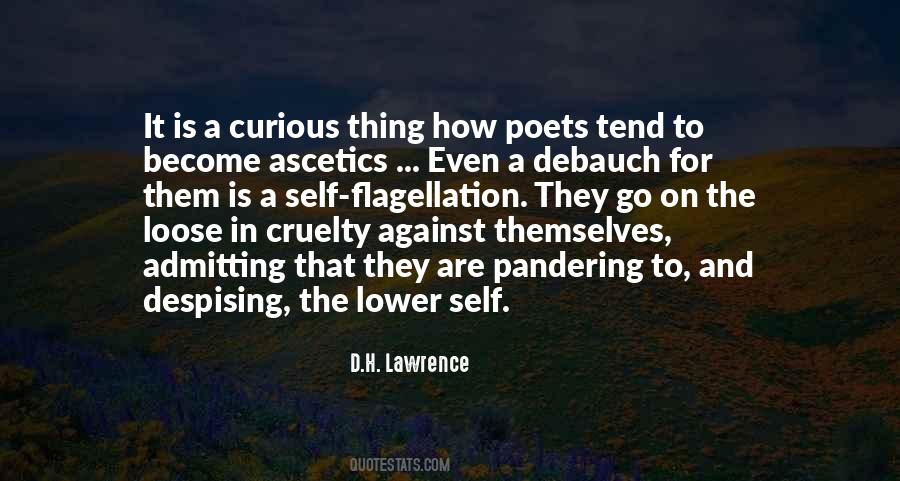 #55. Most poets who have little or nothing to say are concerned primarily with the way in which they say it ... if it is true that the style of a poem and the poem itself are one, ... it may be ... that the poets who have little or nothing to say are, or will be, the poets that matter. - Author: Wallace Stevens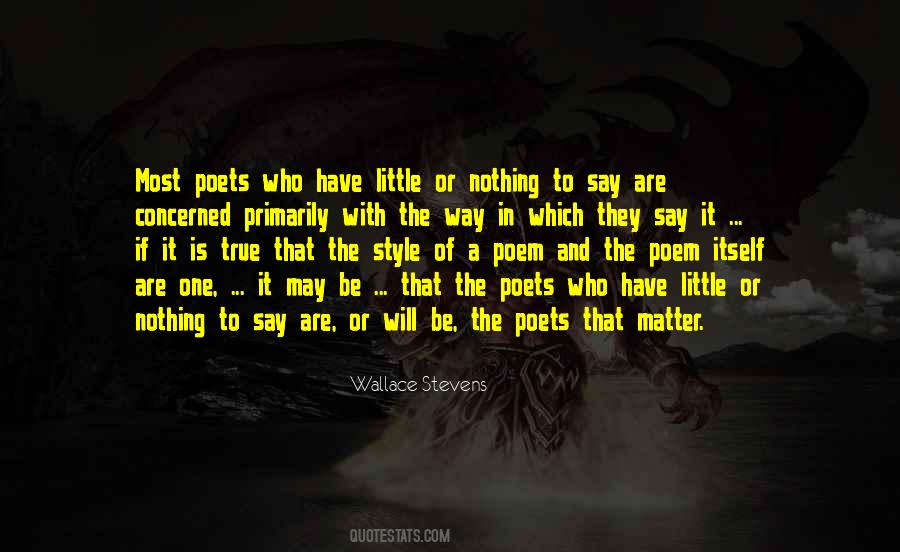 #56. Get close to grass and you'll see a star. - Author: Dejan Stojanovic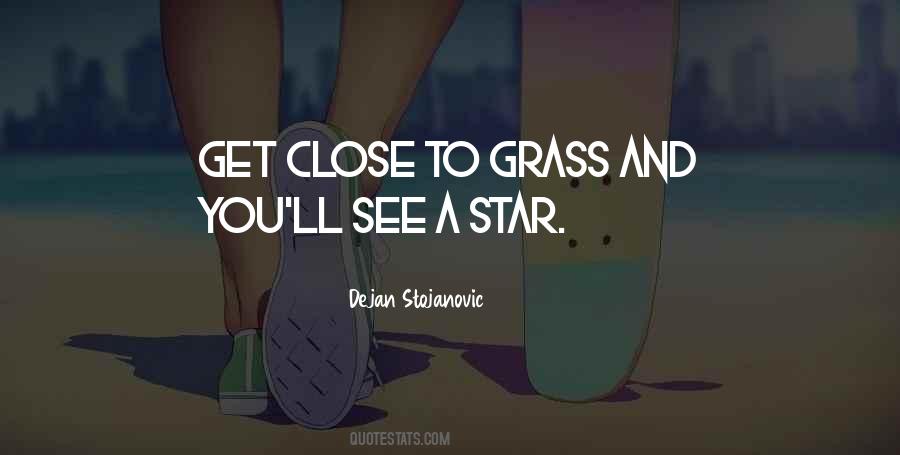 #57. I loved you for a thousand years and missed you in all of them. - Author: Christina Strigas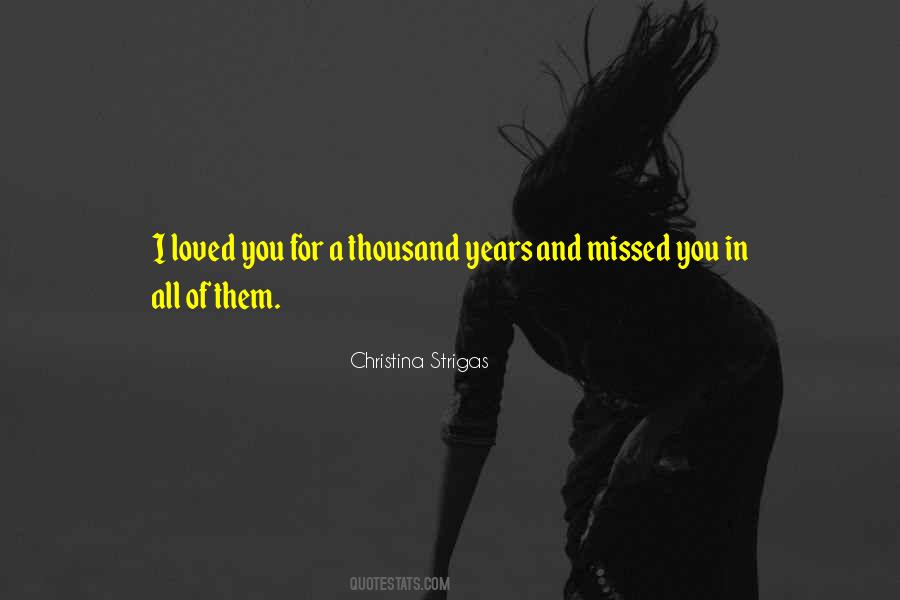 #58. A poet's work ... to name the unnamable, to point at frauds, to take sides, start arguments, shape the world and stop it from going to sleep. - Author: Salman Rushdie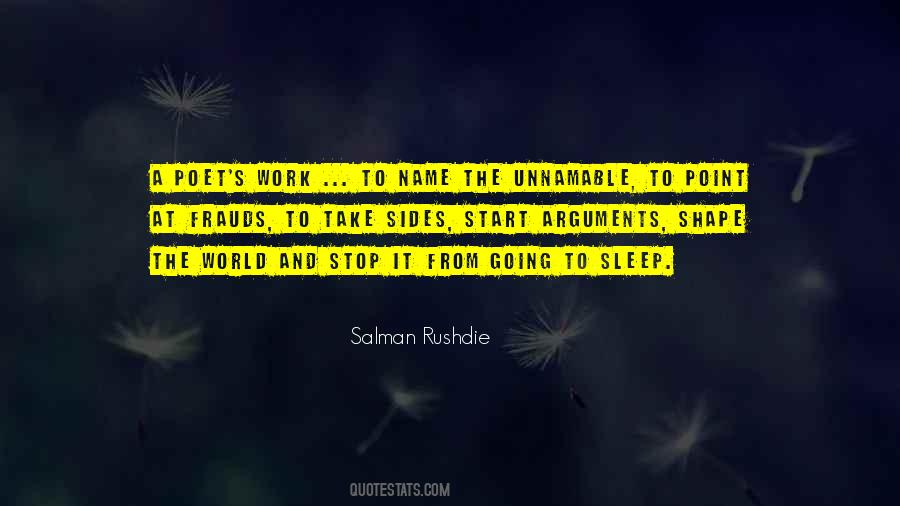 #59. Poets, on the face of it, have either got to be easier or to write their own notes; readers have either got to take more trouble over reading or cease to regard notes as pretentious and a sign of bad poetry - Author: William Empson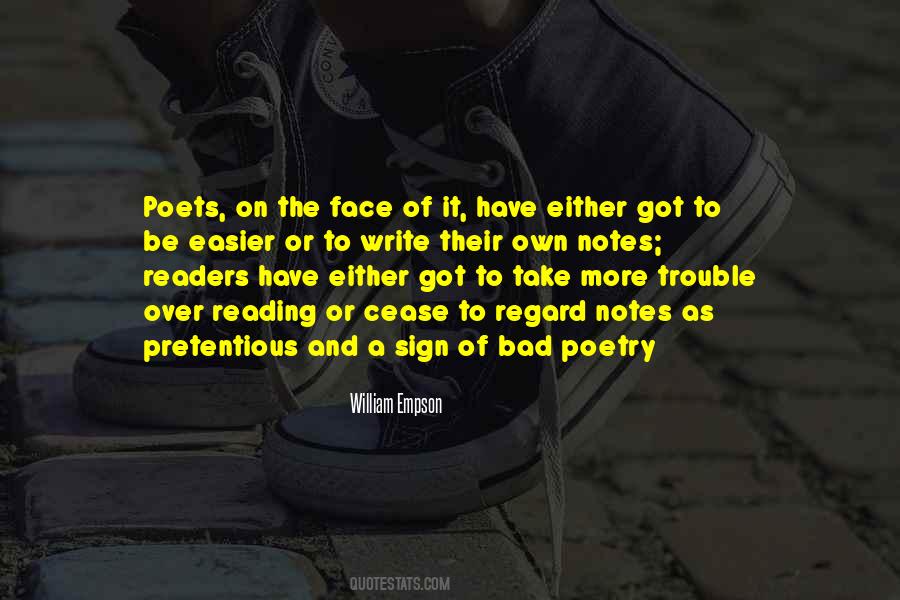 #60. Happy World Poetry Day: 'The American identity has never been a singular one and the voices of poets invariably sing, in addition to their own, the voices of those around them. - Author: Aberjhani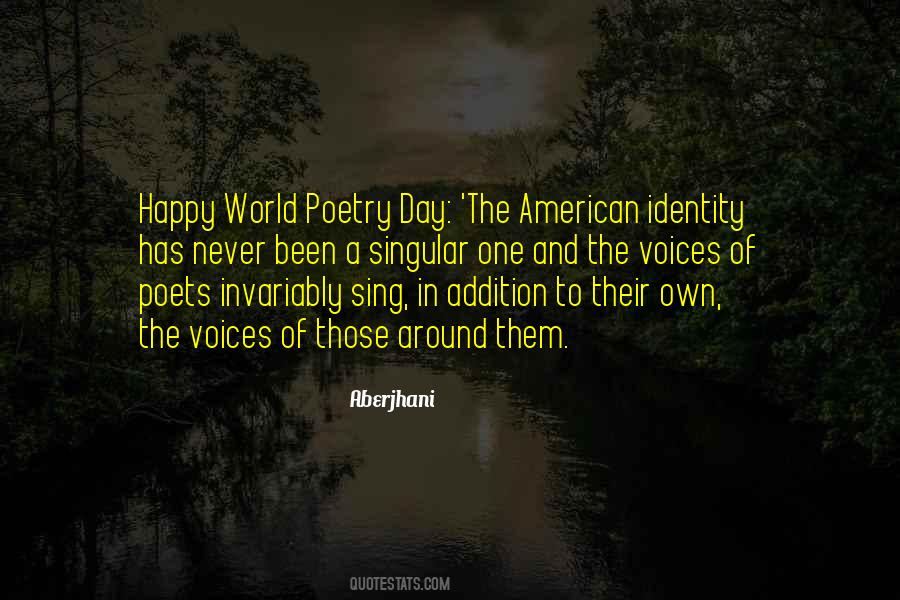 #61. The love of nature is religion, and that religion is poetry; these three things are one thing. This is the unspoken creed of haiku poets. - Author: R.H. Blyth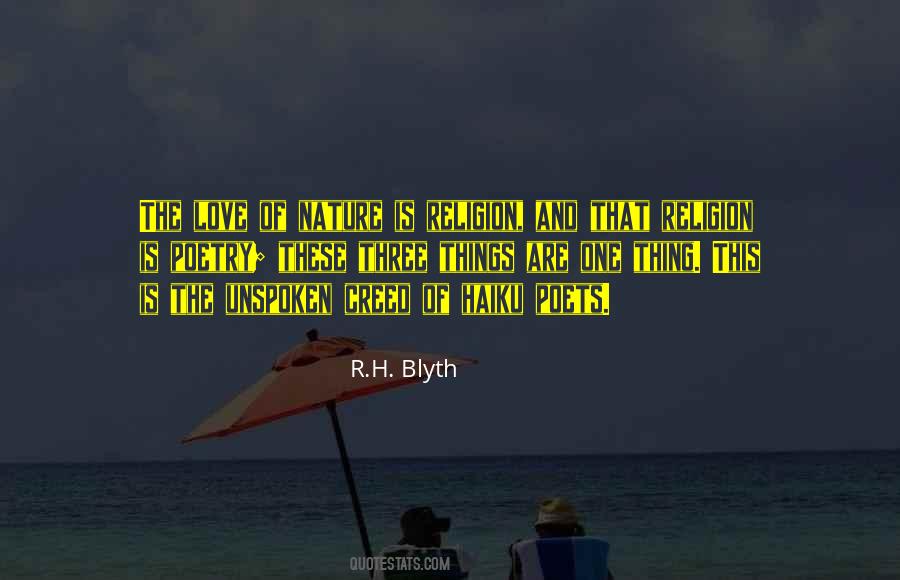 #62. poets. have
the toughest job
in the universe-

of turning silence
into eloquence. - Author: Sanober Khan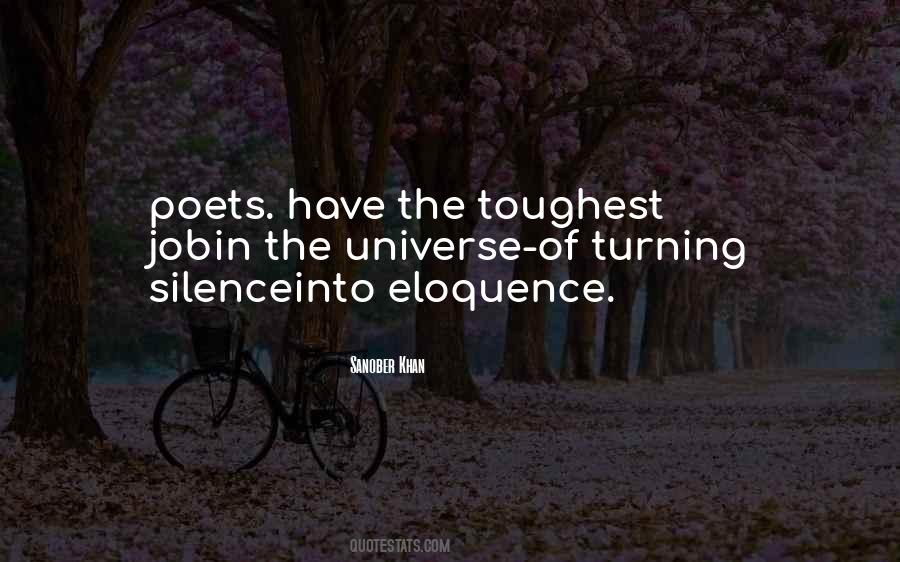 #63. Beyond all vanities, fights, and desires, omnipotent silence lies. - Author: Dejan Stojanovic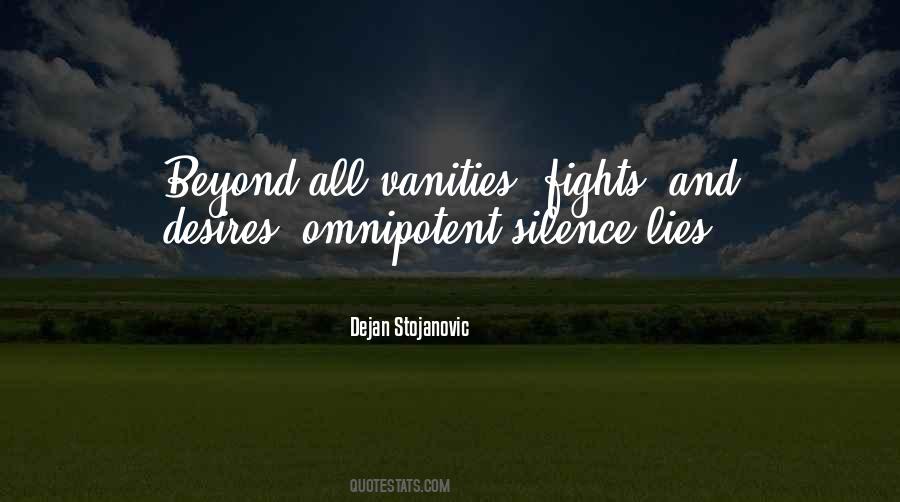 #64. A poet, any real poet, is simply an alchemist who transmutes his cynicism regarding human beings into an optimism regarding the moon, the stars, the heavens, and the flowers, to say nothing of the spring, love, and dogs. - Author: George Jean Nathan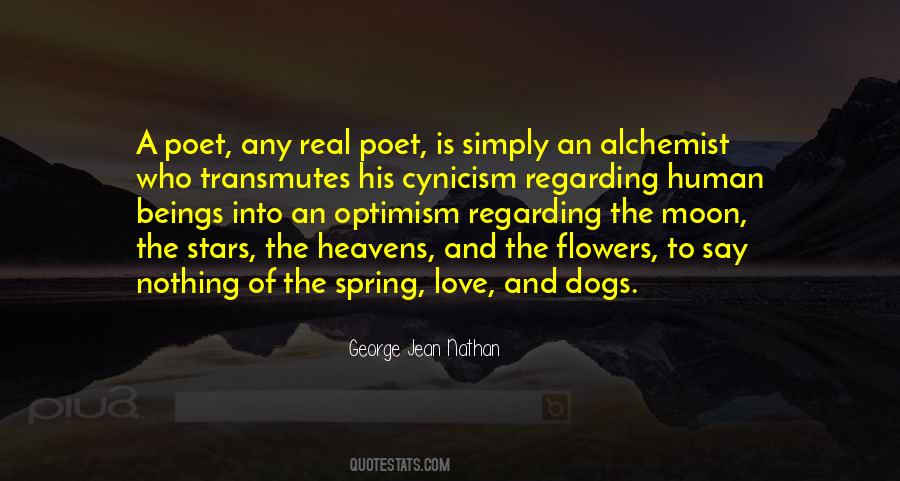 #65. Not all poetry wants to be storytelling. And not all storytelling wants to be poetry. But great storytellers and great poets share something in common: They had something to say, and did. - Author: Sarah Kay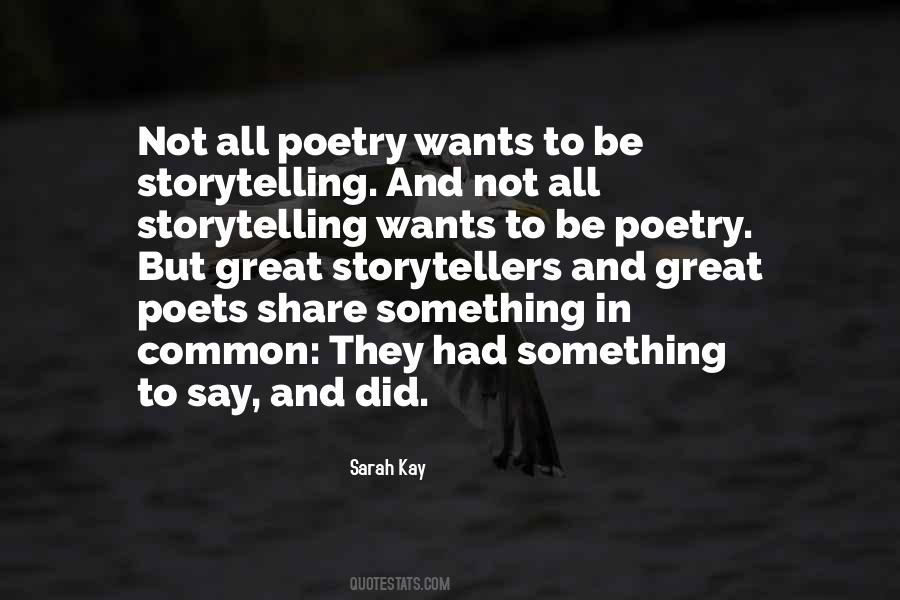 #66. Watch, how the sun
slowly rises
from behind my ear

new lines, new countries
spring up in my palms

my rough hair
become swaying silk

and all the leaves
in my body
become lusher than fruits. - Author: Sanober Khan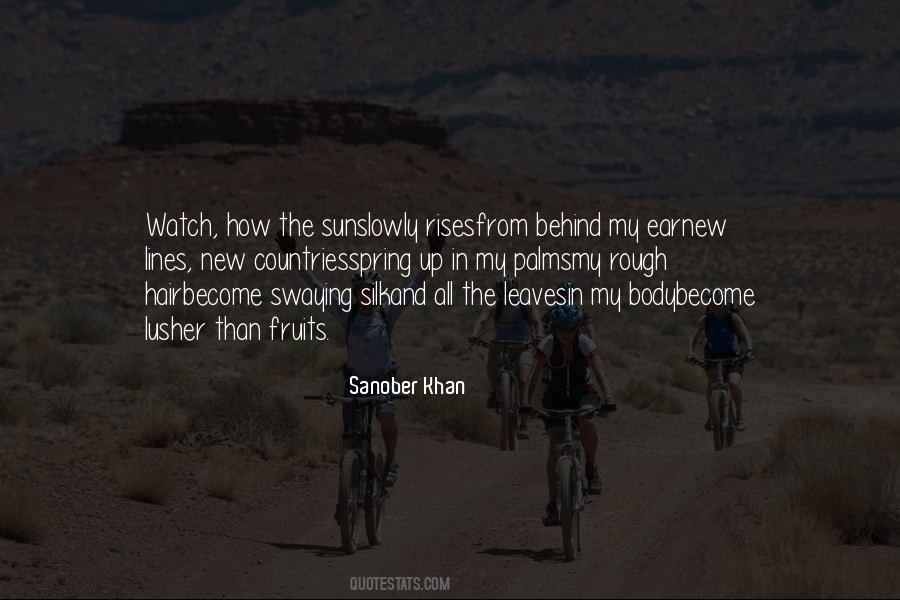 #67. Romanians have a particular love for poetry and have a beautiful, vivid language. The poets they love are not versifiers like Vadim Tudor, but genuinely complex mystical souls like Mircea Cartarescu. - Author: Andrei Codrescu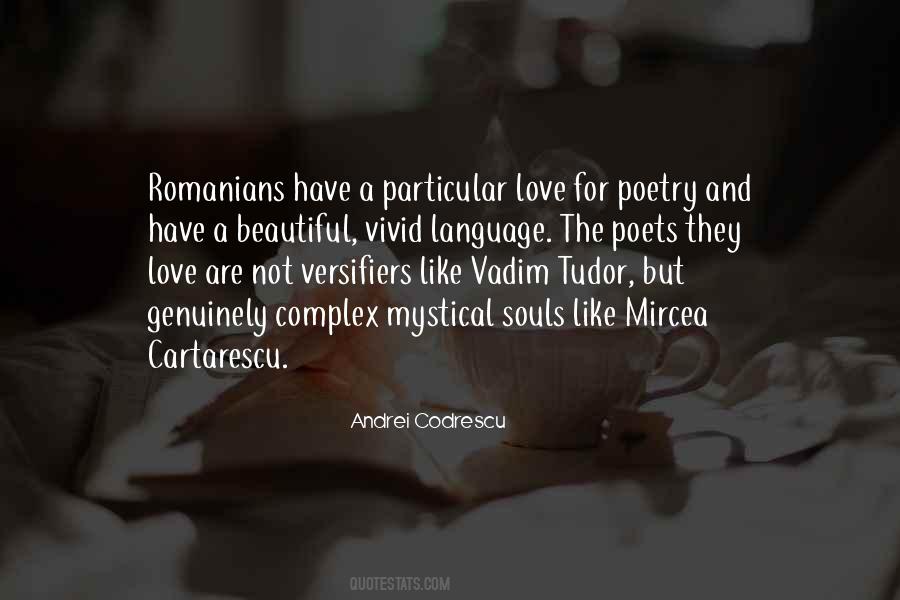 #68. As I read you I fell in love with the holes between your words and I loved you most on the days you could not love yourself. - Author: Jenim Dibie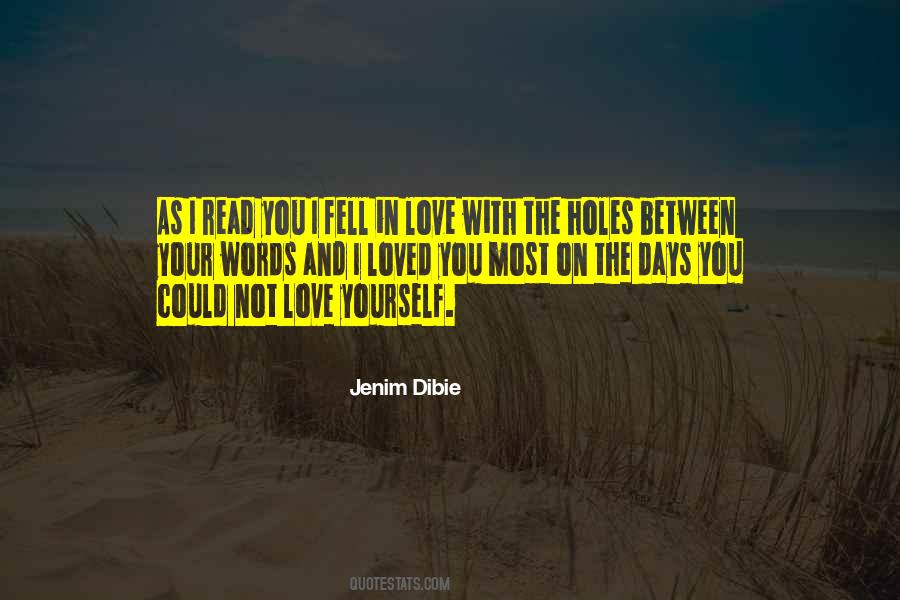 #69. Morning and evening
Maids heard the goblins cry:
'Come buy our orchard fruits,
Come buy, come buy - Author: Christina Rossetti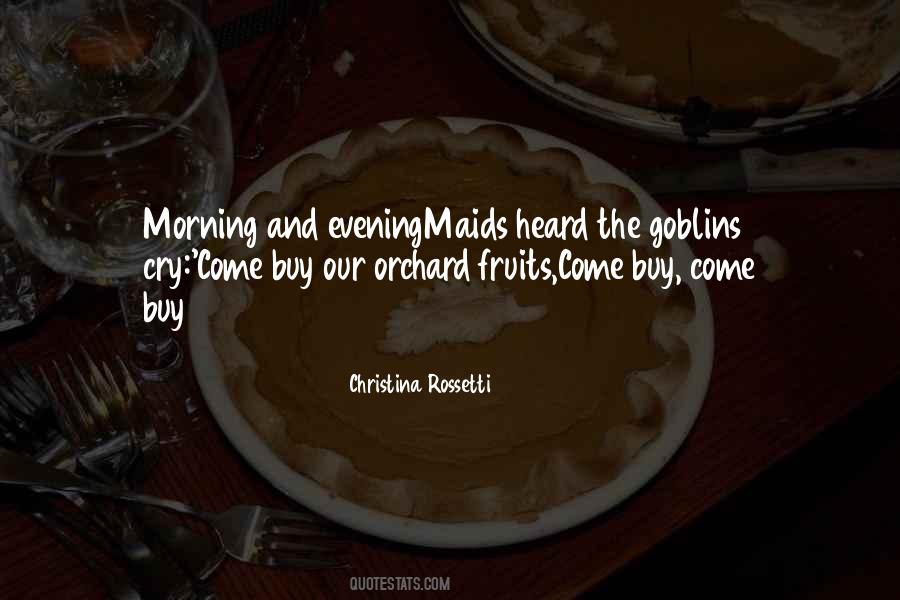 #70. But give thanks, at least, that you still have Frost's poems; and when you feel the need of solitude, retreat to the companionship of moon, water, hills and trees. Retreat, he reminds us, should not be confused with escape. And take these poems along for good luck! - Author: Robert Graves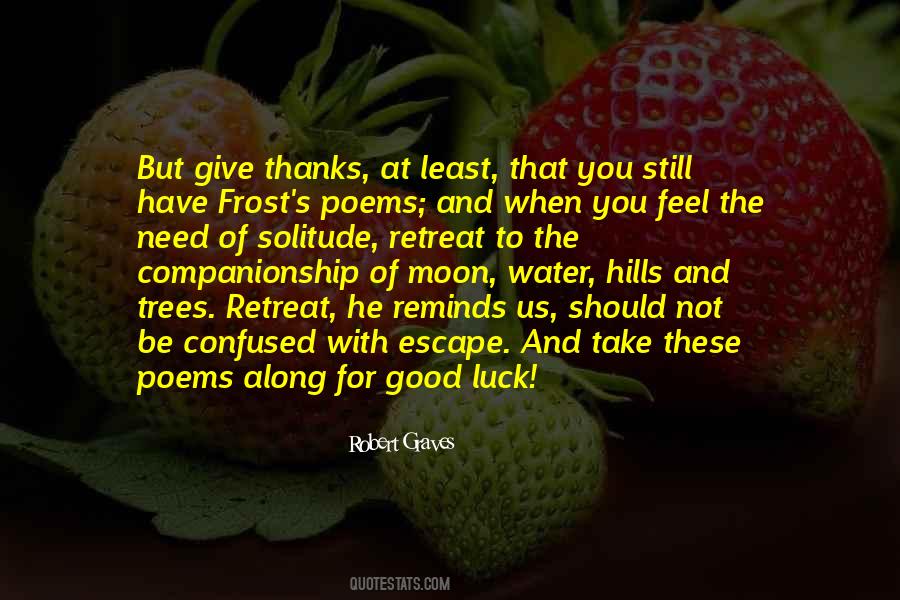 #71. How....will I ever truly depict you?
You're perfect, my writing isn't. - Author: Sanober Khan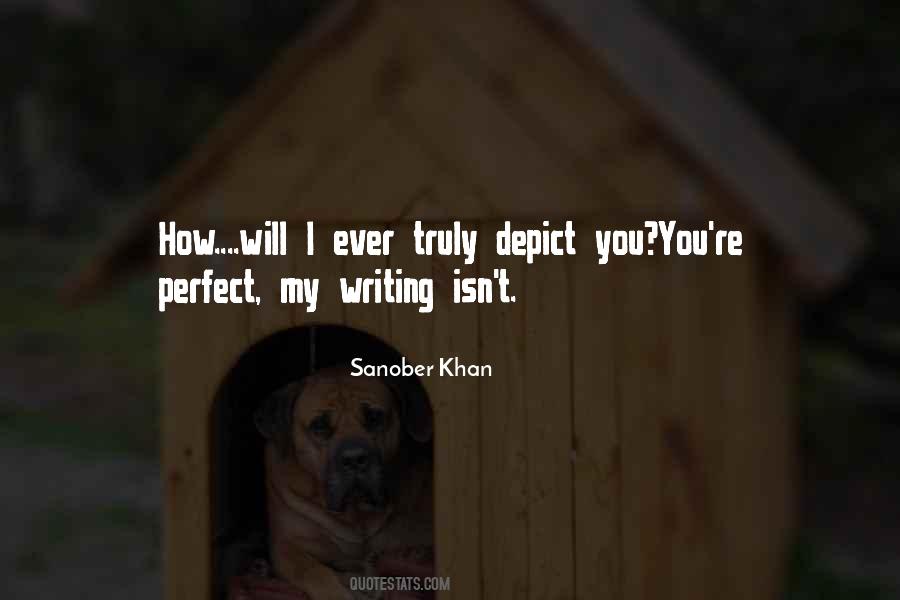 #72. The poet's job is to put into words those feelings we all have that are so deep, so important, and yet so difficult to name, to tell the truth in such a beautiful way, that people cannot live without it. - Author: Jane Kenyon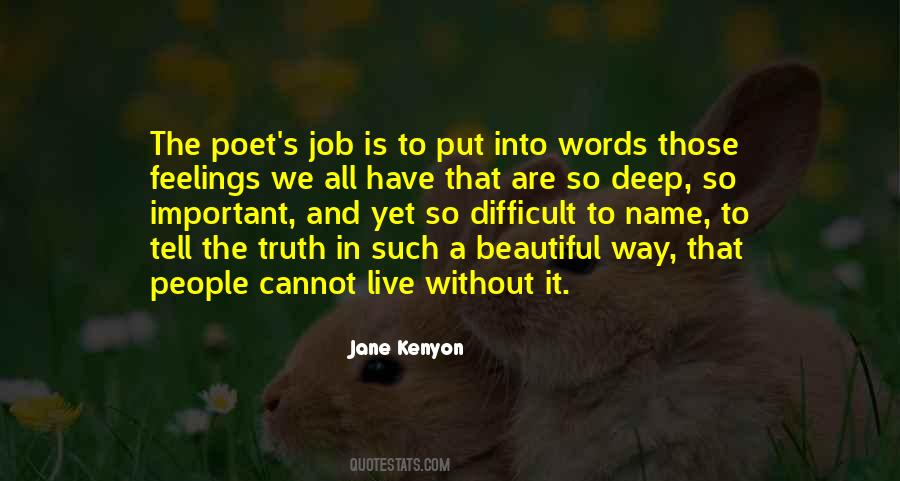 #73. May our twilights mix together
like breath and breathlessness. - Author: Sanober Khan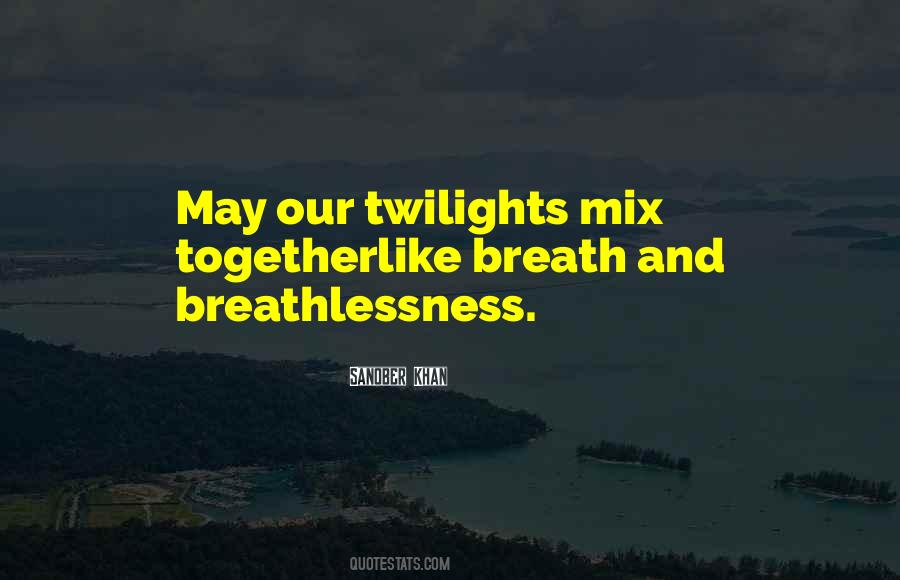 #74. i am awake and alive
and swollen and heavy
with love. - Author: AVA.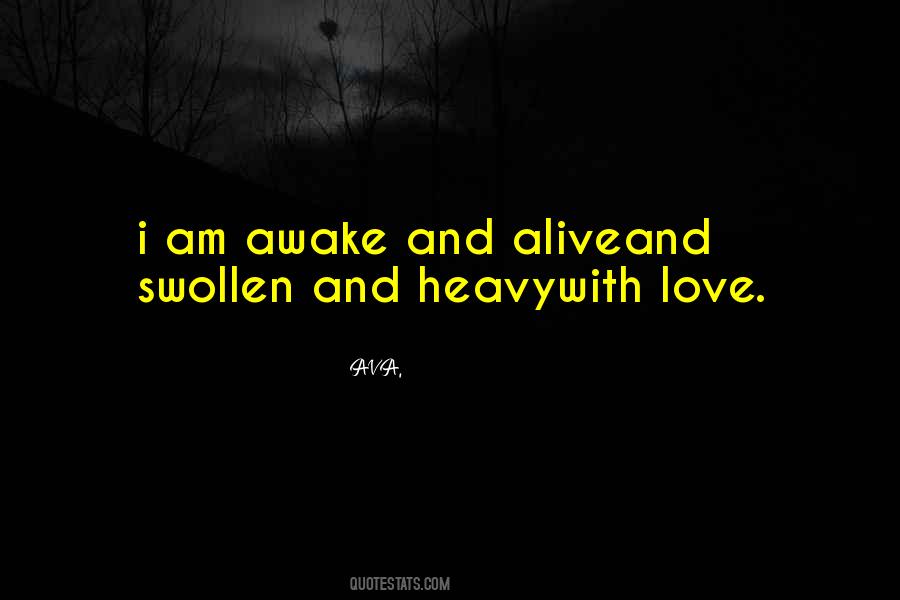 #75. it was the kind of moon
that I would want to
send back to my ancestors
and gift to my descendants

so they know that I too,
have been bruised...by beauty. - Author: Sanober Khan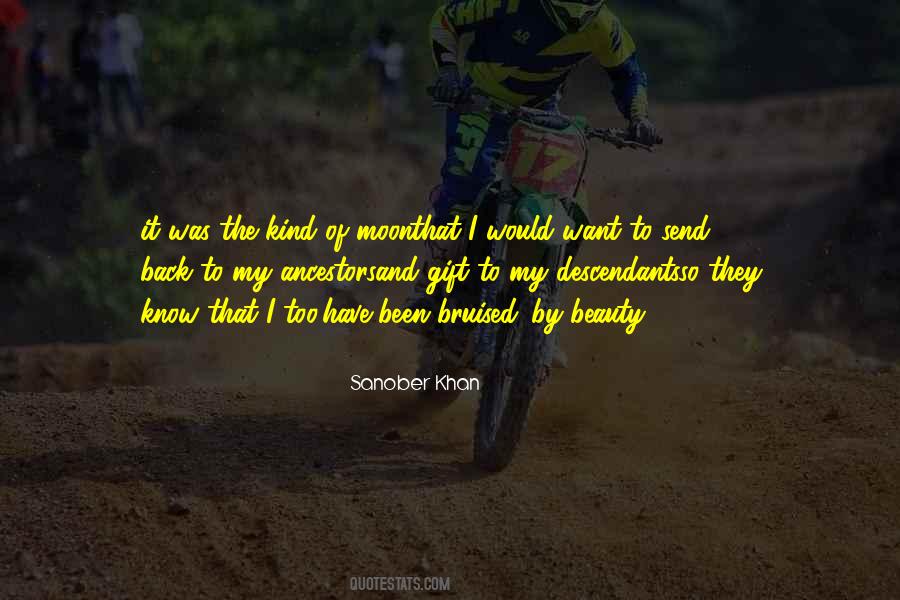 #76. The world is God's salvation. - Author: Dejan Stojanovic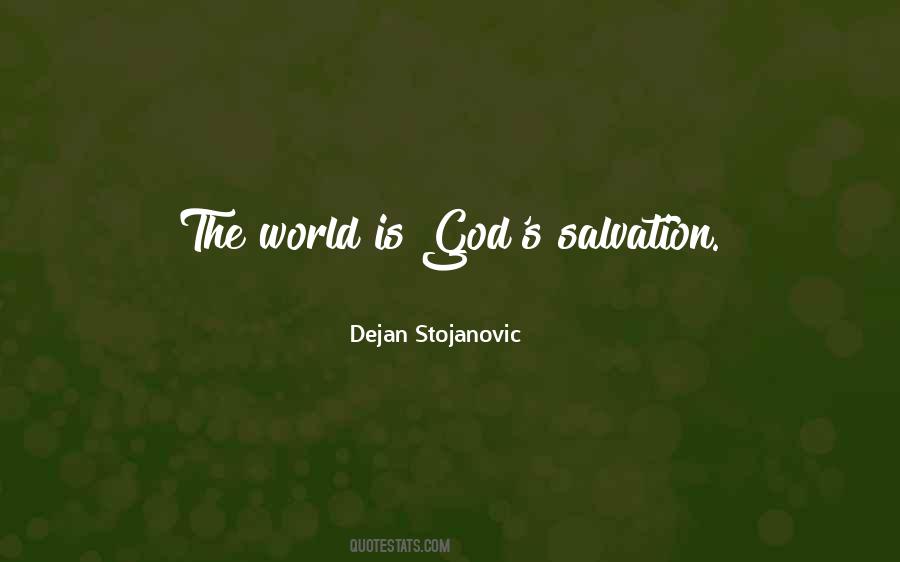 #77. The productions of all arts are kinds of poetry and their craftsmen are all poets. - Author: Plato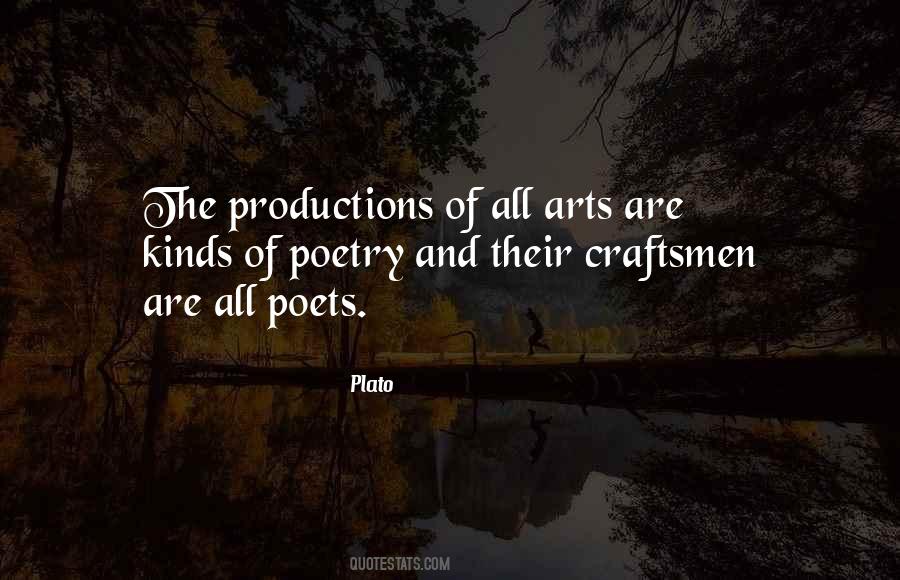 #78. One of the great criticisms of poets of the past is that they said one thing and did another. - Author: Philip Larkin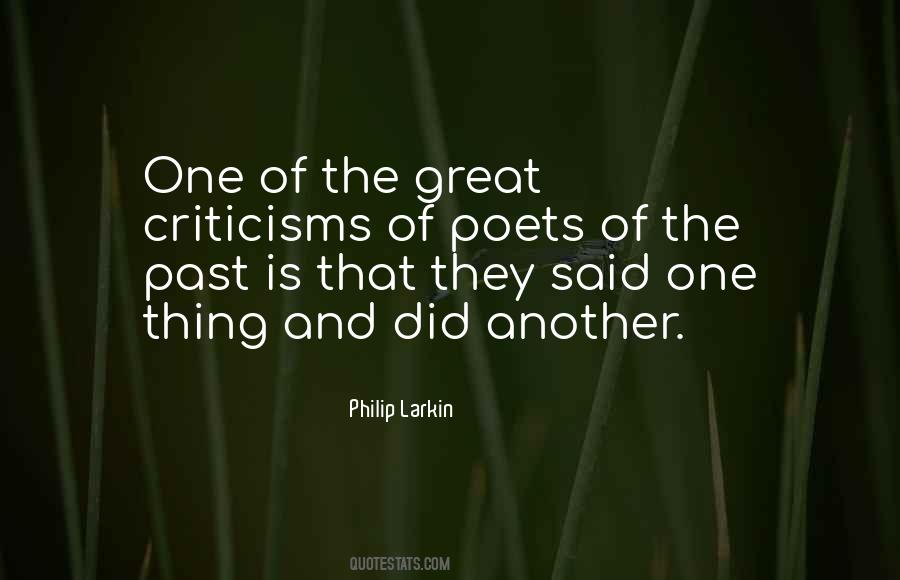 #79. This seems to me a philosophical question, and therefore irrelevant, question. A poet's destiny is to love. - Author: Robert Graves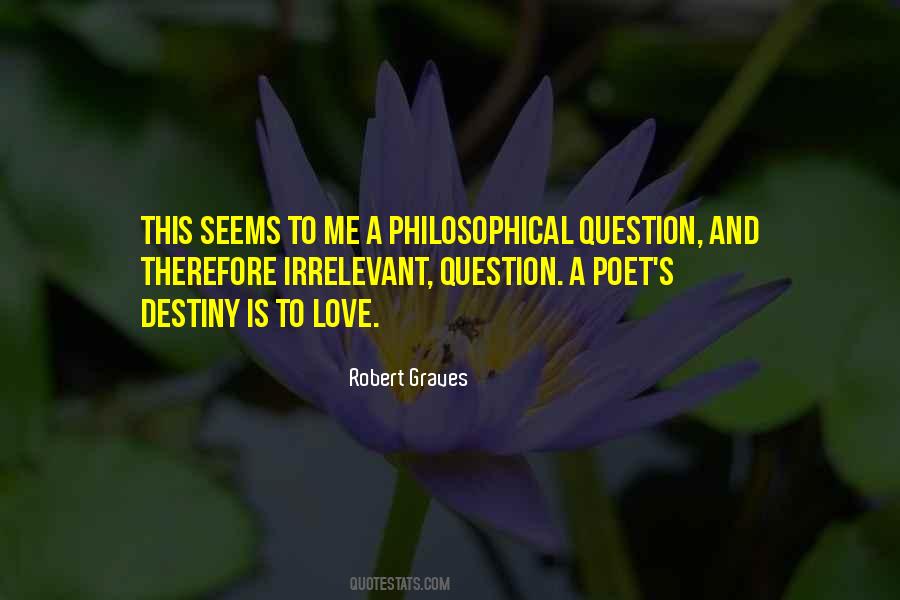 #80. We dreamt of a crappy apartment somewhere
Making love while we let the midnight air
Flow through the open window, into our closed hearts
Left bitter from heartbreak and too much time apart - Author: Jessica-Lynn Barbour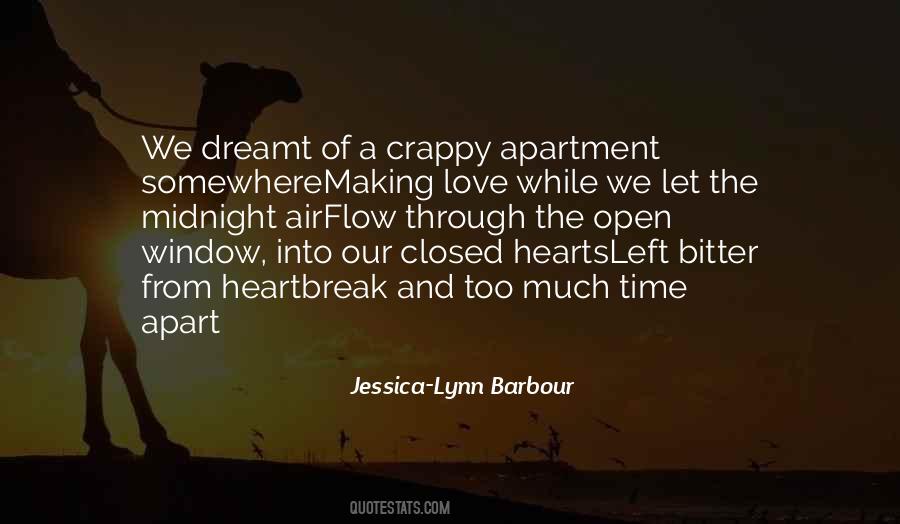 #81. The people fancy they hate poetry, and they are all poets and mystics. - Author: Ralph Waldo Emerson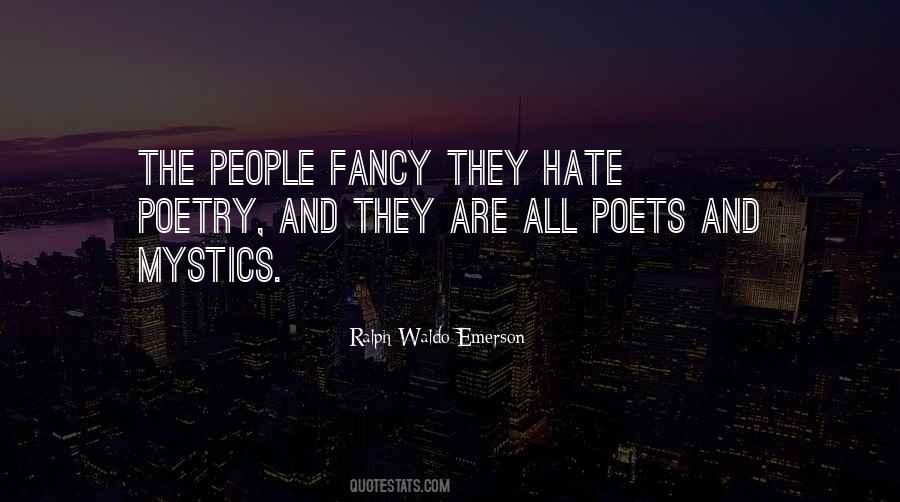 #82. Those ancients who in poetry presented
the golden age, who sang its happy state,
perhaps, in their Parnassus, dreamt this place.
Here, mankind's root was innocent; and here
were every fruit and never-ending spring;
these streams
the nectar of which poets sing. - Author: Dante Alighieri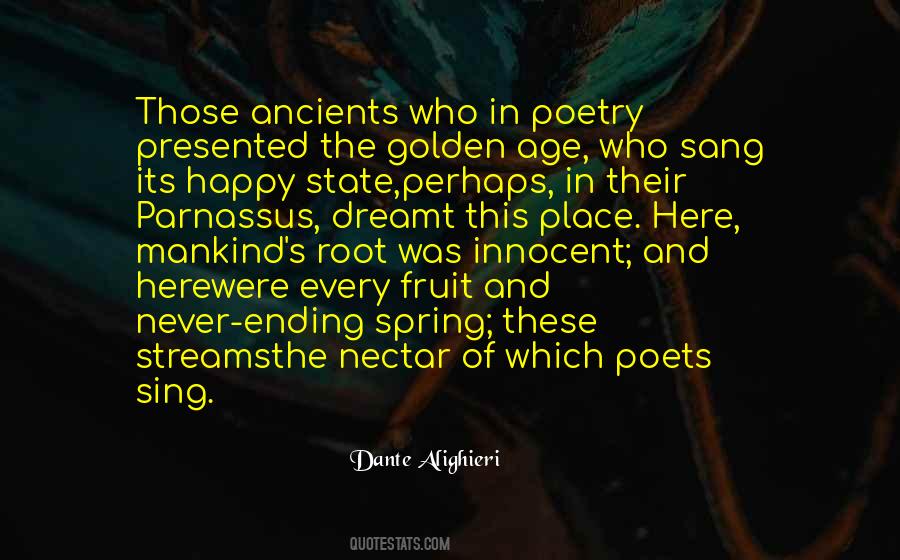 #83. I am talking about the responsibility of the poet, who is irresponsible by definition, an anarchist enamored of a solar order and never of the new order or whatever slogan makes five or six hundred million men march in step in a parody of order. - Author: Julio Cortazar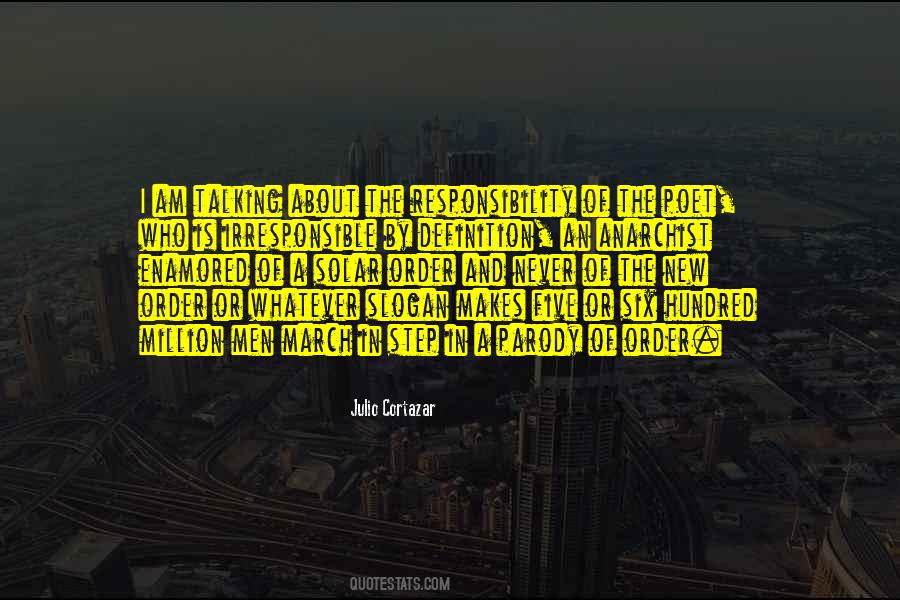 #84. Transcendence is the business of poets. That's what they're for. They're not like you and me. They have that extra bit that's always ready for take-off. Poets understand why God didn't give us wings: he wanted entertainment. He wanted us to aspire, to ascend. He wanted poetry. My - Author: Niall Williams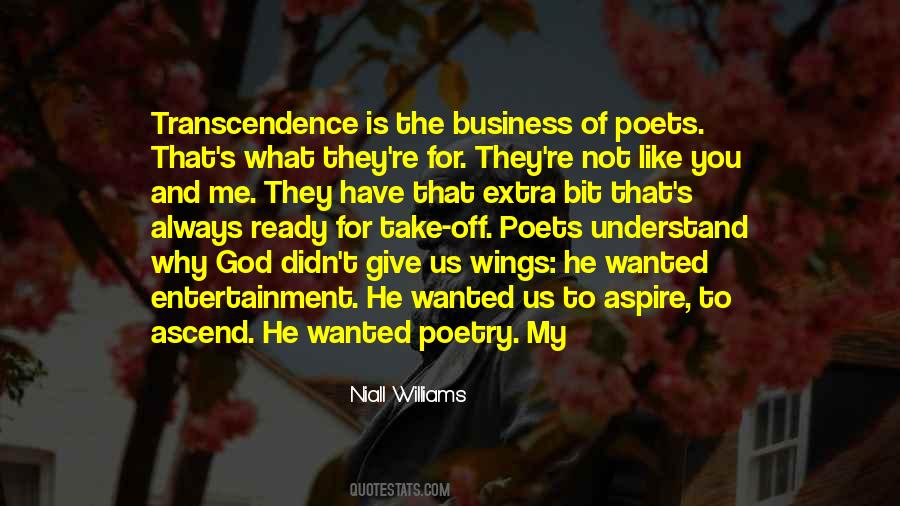 #85. Arrival in the world is really a departure and that, which we call departure, is only a return. - Author: Dejan Stojanovic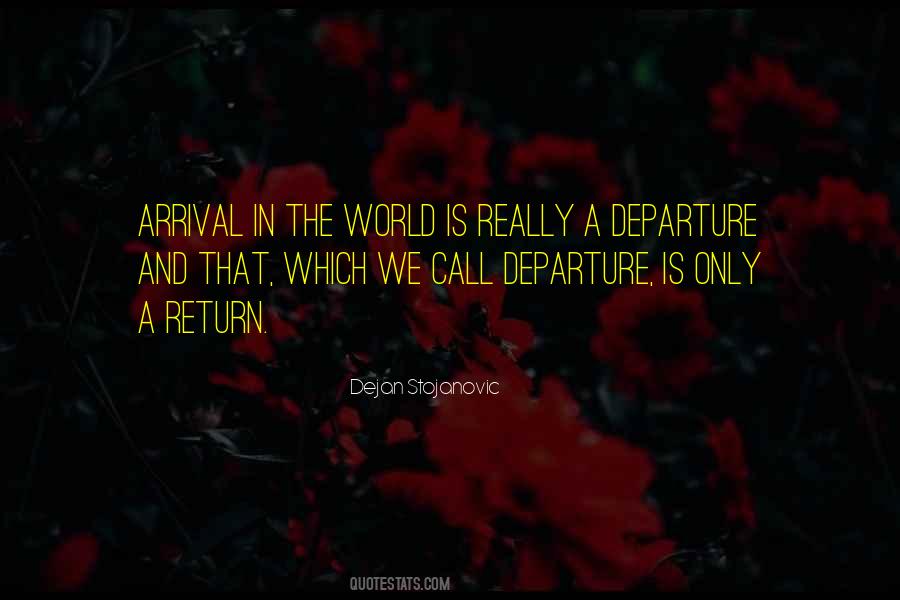 #86. Can't even sleep through the night without you and those sun-dried ginger ale complected limbs crocheted into my thighs ... - Author: Brandi L. Bates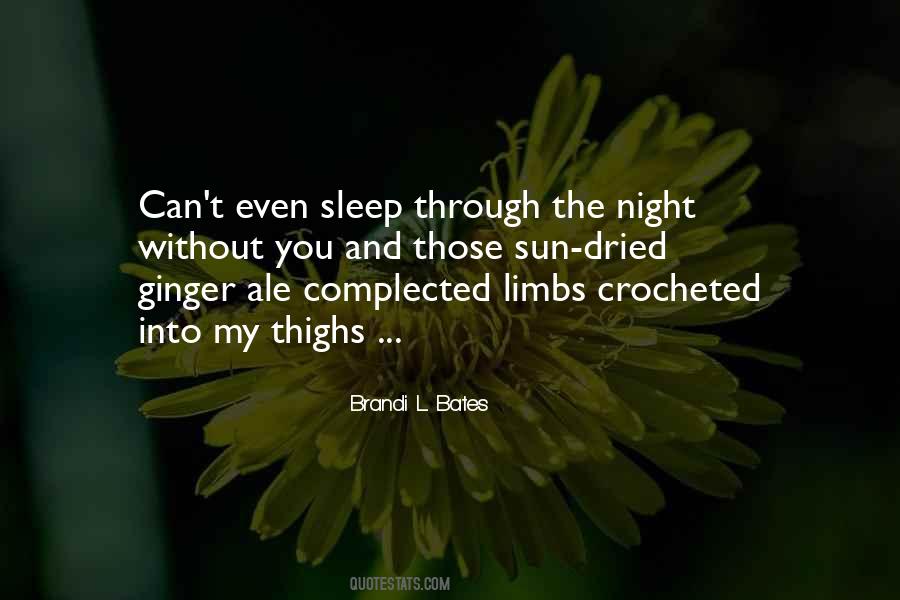 #87. I think that were beginning to remember that the first poets didn't come out of a classroom, that poetry began when somebody walked off of a savanna or out of a cave and looked up at the sky with wonder and said, "Ahhh." That was the first poem. - Author: Lucille Clifton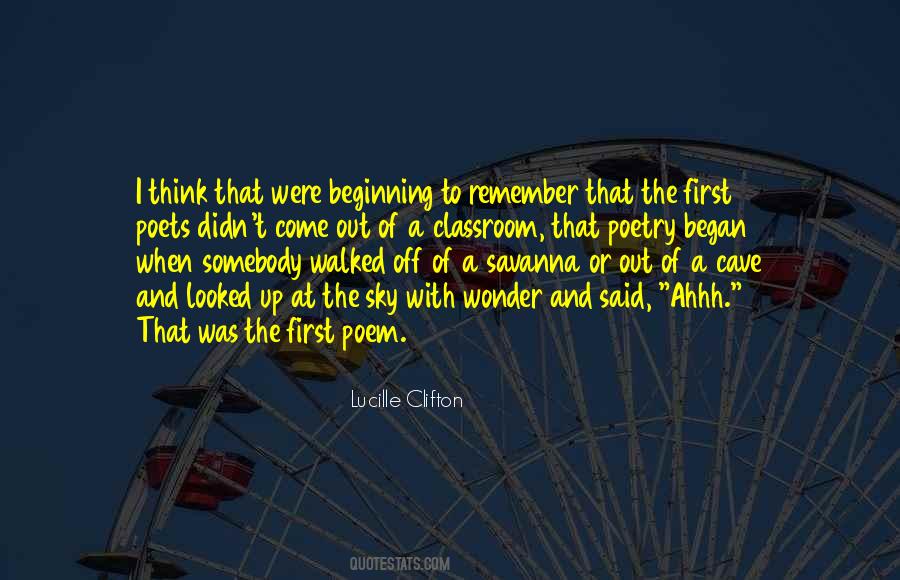 #88. Unborn eternity does not die; existence is dying and falls asleep in the eternity beyond existence. - Author: Dejan Stojanovic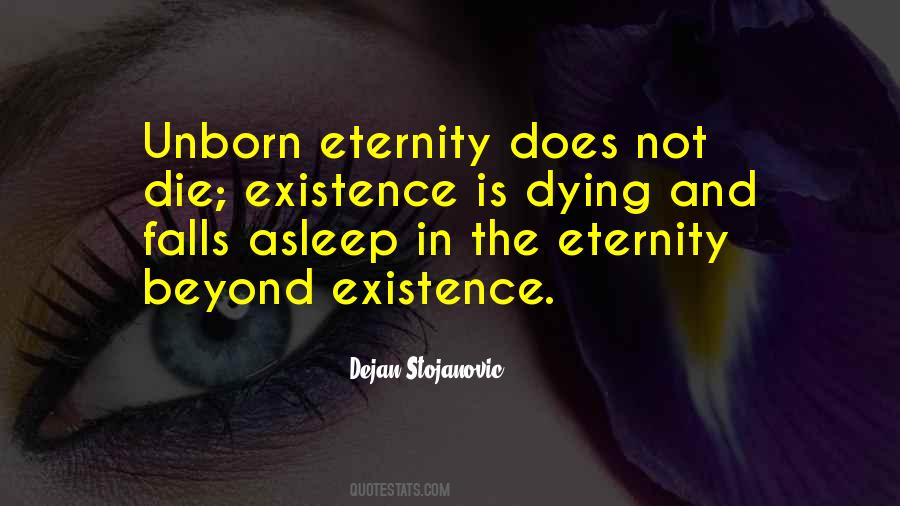 #89. The only people who still read poetry are poets, and they mostly read their own. - Author: Barbara Holland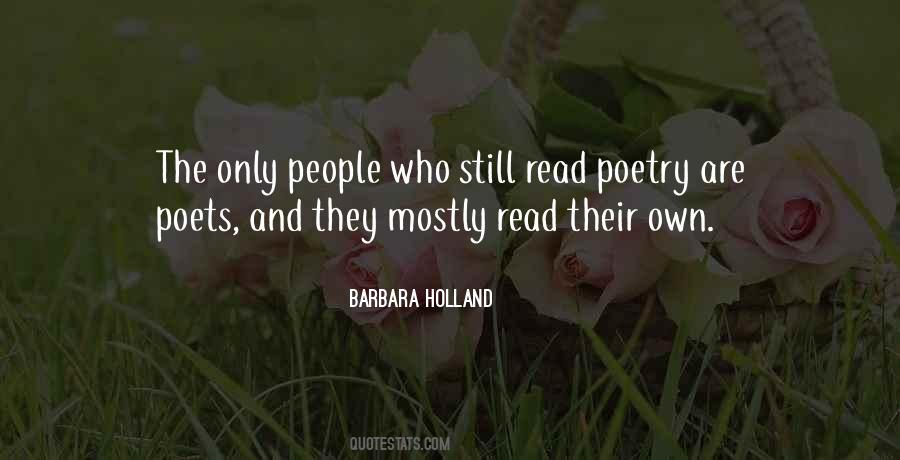 #90. I called it a baptism in flaming ink that forced me to shed my shyness about recognizing myself as a poet and to accept the fact that life had never given me any choice in the matter. And then I had to discover exactly what that meant. - Author: Aberjhani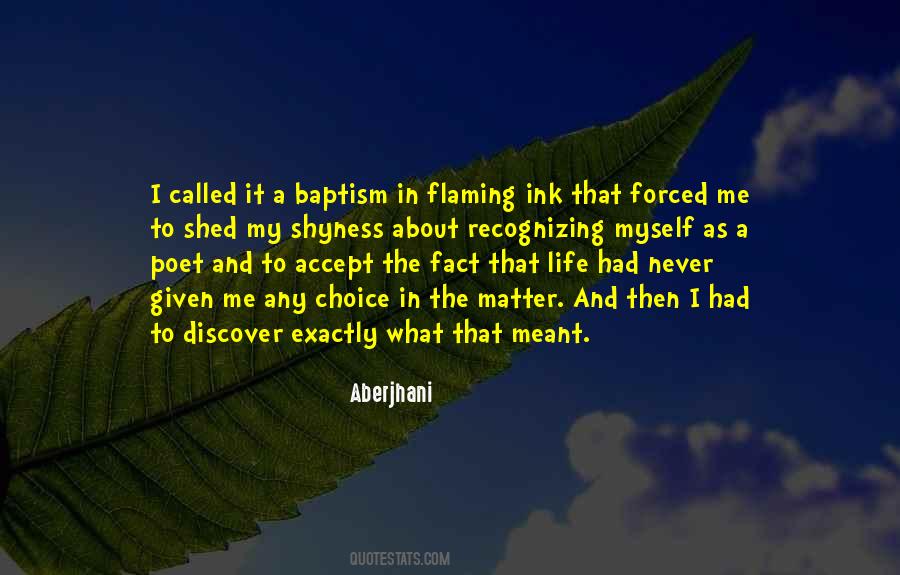 #91. The same word we love and hate, leaves in different directions, taking different paths. - Author: Dejan Stojanovic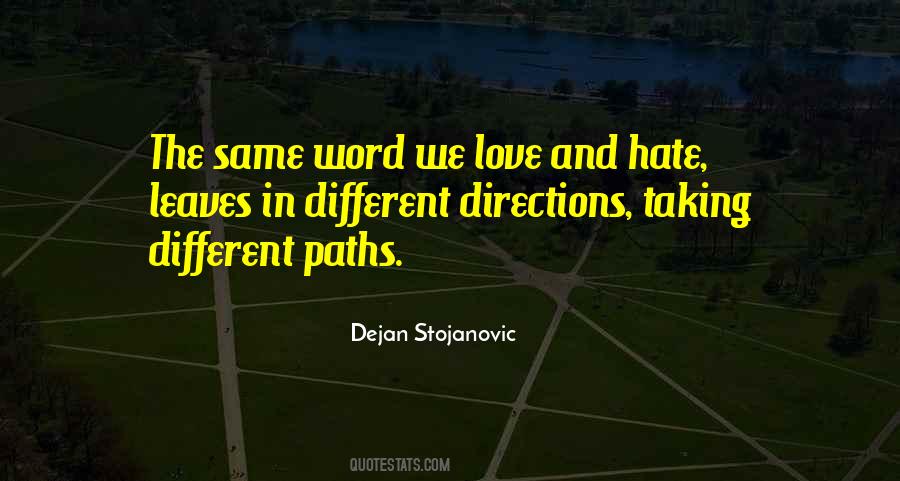 #92. If there has been one overriding change in poetic practice, it is that under the influence of free verse the poets have made a primary virtue out of exactitude and economy of meaning: this has replaced metrical skill as the first thing the poet tunes to. - Author: Martin Langford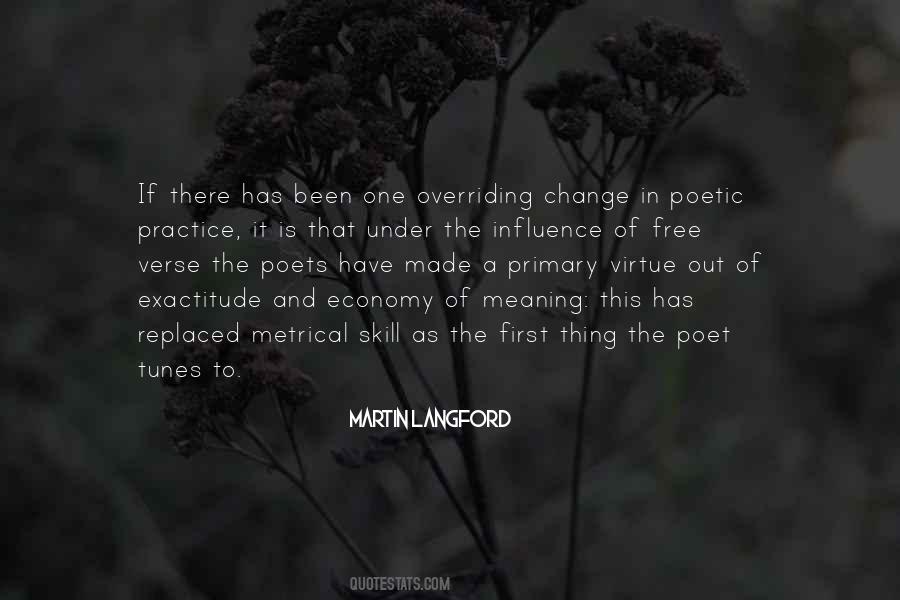 #93. Poets should never stop writing, because their words could be a powerful inspiration to someone else, whether it be now or 100 years from today. - Author: Delano Johnson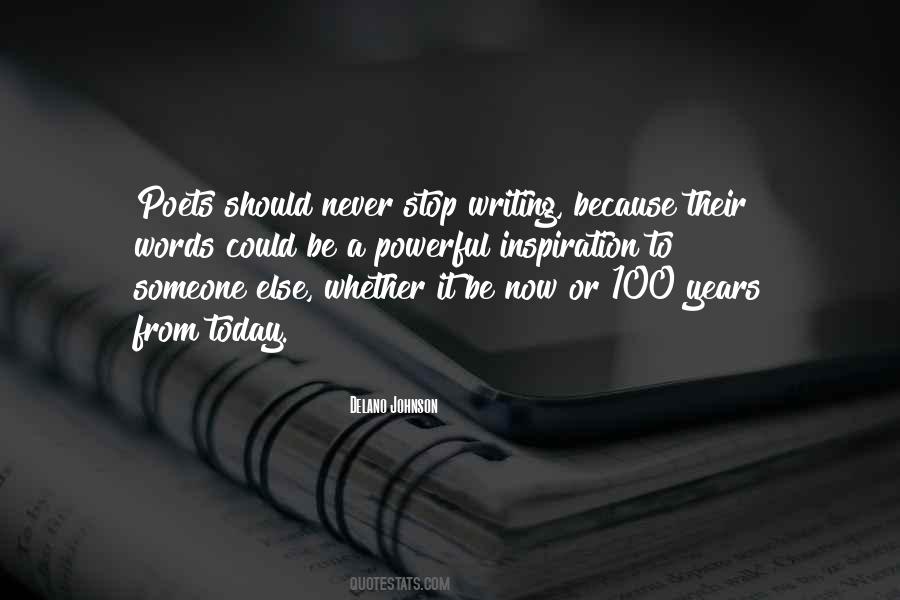 #94. It is kind of ridiculous that a poet is expected to live in the real world. - Author: Sanober Khan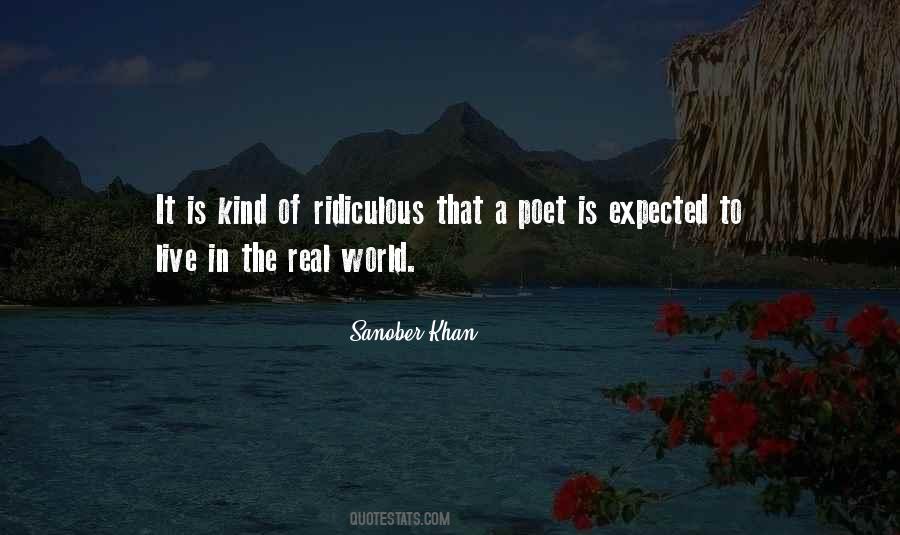 #95. Different languages, the same thoughts; servant to thoughts and their masters. - Author: Dejan Stojanovic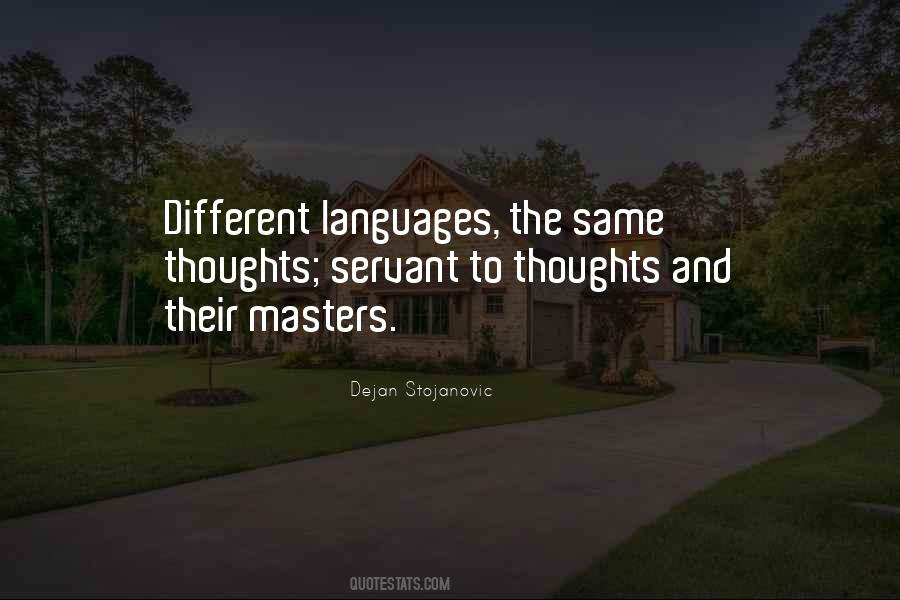 #96. How strange and ironic it is-
all the words i long to say
are lost in words. - Author: Sanober Khan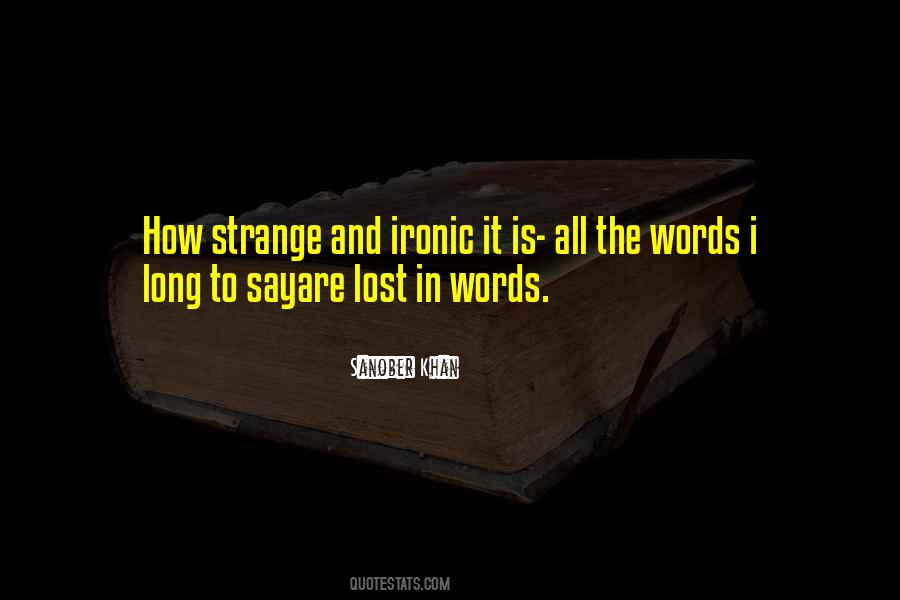 #97. Before men ever wrote in clay they cast their words in verse and line, rythymbound in poets' minds, defying time and age. - Author: Dave Beard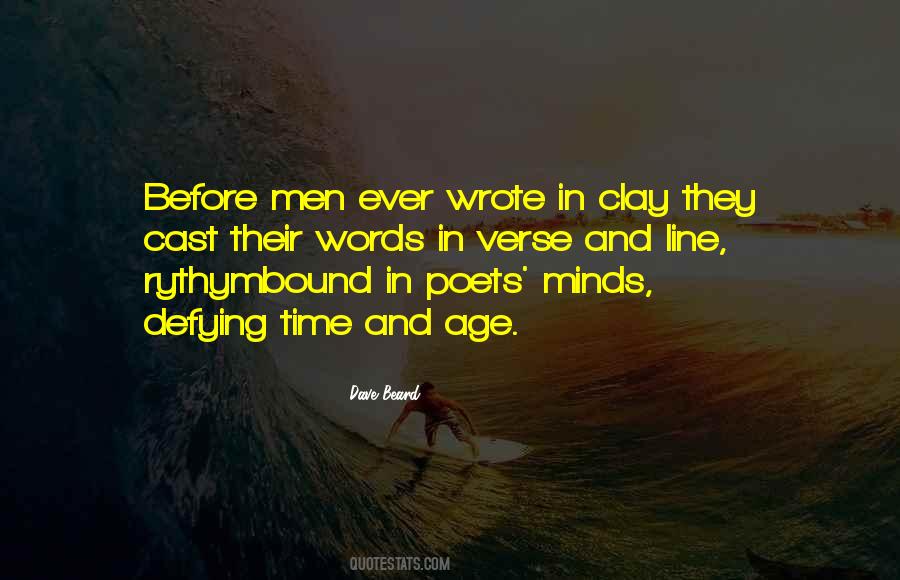 #98. and stars sang like crickets in the dropping dusk and were. - Author: Agnes McDonald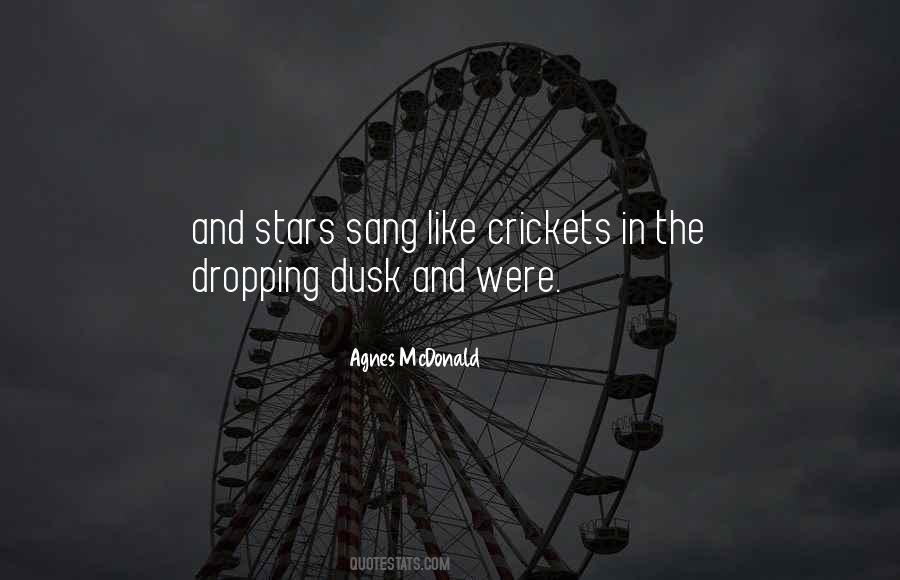 #99. I thought poetry could change everything, could change history and could humanize, and I think that the illusion is very necessary to push poets to be involved and to believe, but now I think that poetry changes only the poet. - Author: Mahmoud Darwish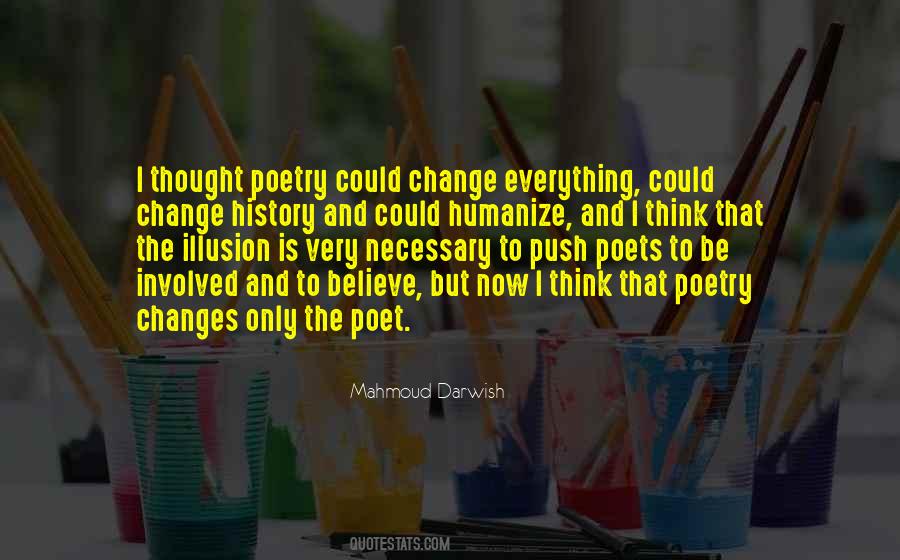 #100. I was too much in solitude, and consequently was obliged to be in continual burning of thought, as an only resource. - Author: John Keats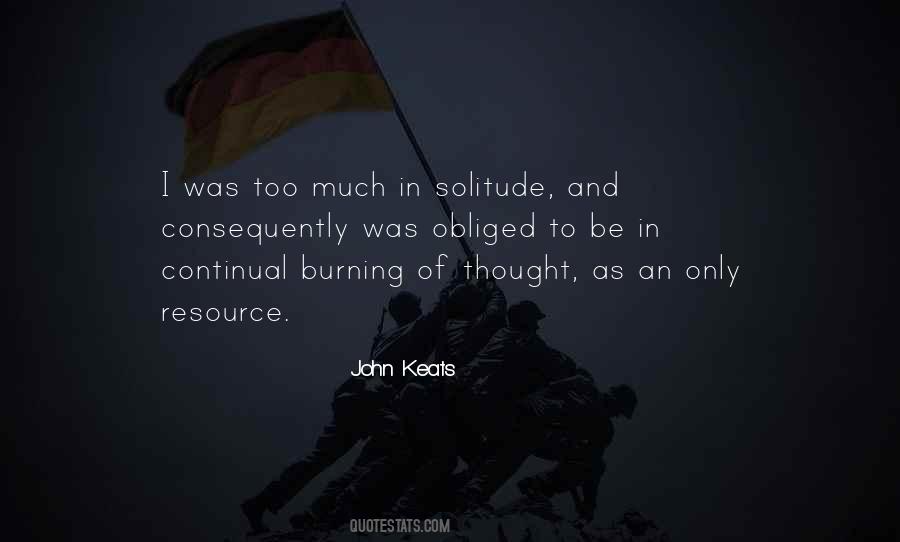 Famous Authors
Popular Topics