Planning For The Future Famous Quotes & Sayings
List of top 35 famous quotes and sayings about planning for the future to read and share with friends on your Facebook, Twitter, blogs.
Top 35 Quotes About Planning For The Future
#1. I will focus on taking care of myself and helping others. I will put more effort into planning for my future. I will make healthy lifestyle choices so I can feel good every day. These are the priorities that matter. - Author: Susane Colasanti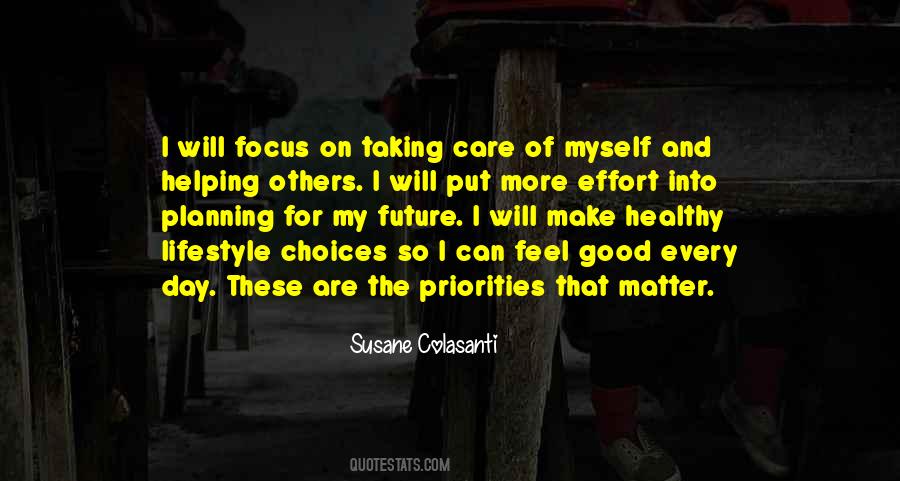 #2. The window of opportunity to plan and prepare for the end of his life had closed gradually. Any cracks left open to talk candidly were tenuous and fleeting. - Author: Lisa J. Shultz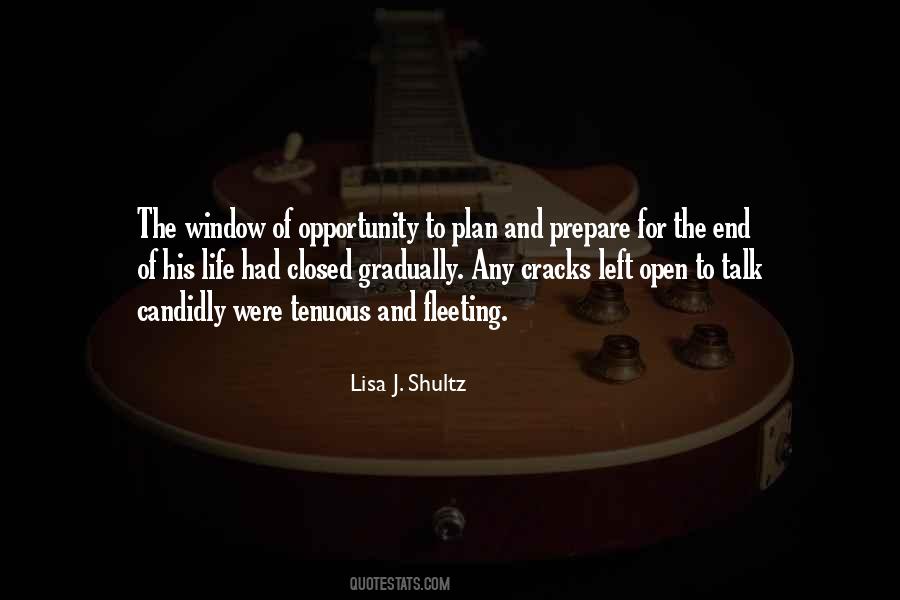 #3. Nationwide thinking, nationwide planning and nationwide action are the three great essentials to prevent nationwide crises for future generations to struggle through. - Author: Franklin D. Roosevelt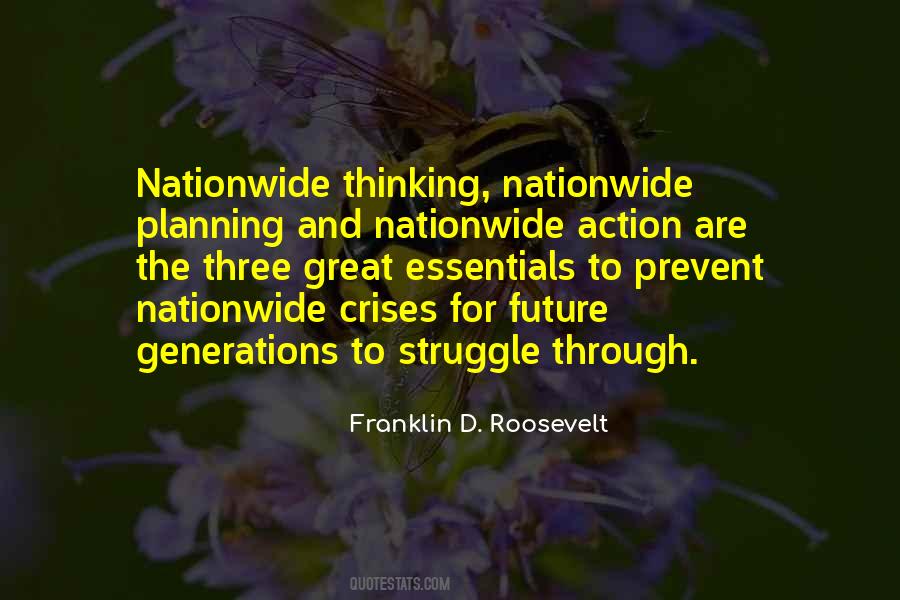 #4. Google's entire business model and its planning for the future are banking on an open and free Internet. And it will not succeed if the Internet becomes overly balkanized. - Author: Rebecca MacKinnon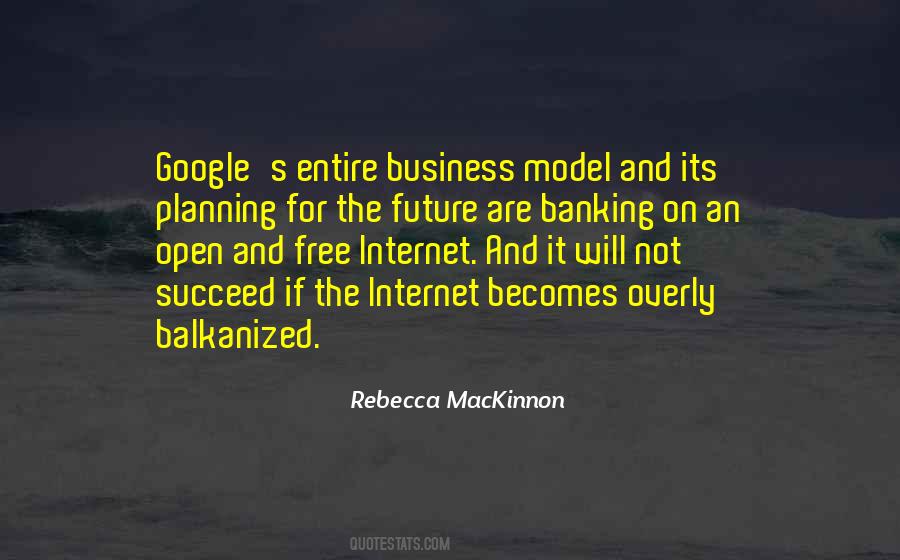 #5. Those living in rural areas as well as those with a planning policy remit for those areas have an important responsibility to protect green belt agricultural land for the wider benefit of feeding the UK into the uncertain future that we all face - Author: Phil Harding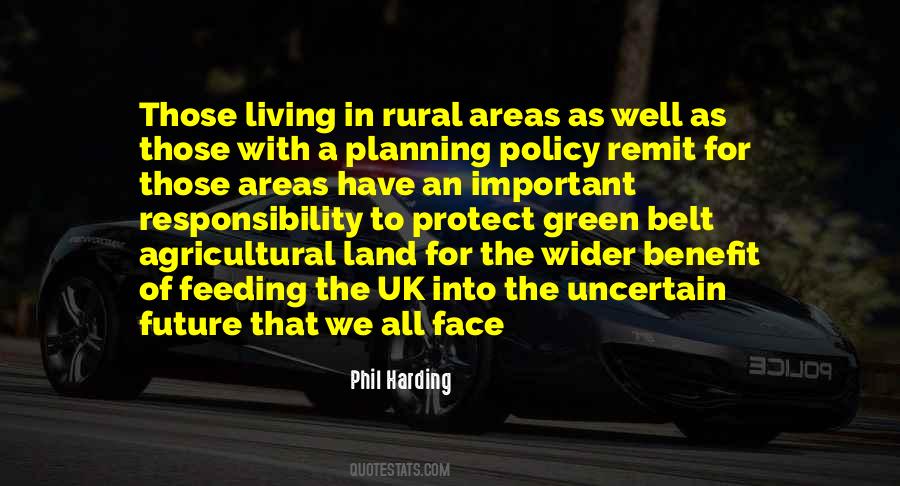 #6. We're not planning for the future. If we continue to spend ourselves into oblivion, we are going to destroy this nation. - Author: Ben Carson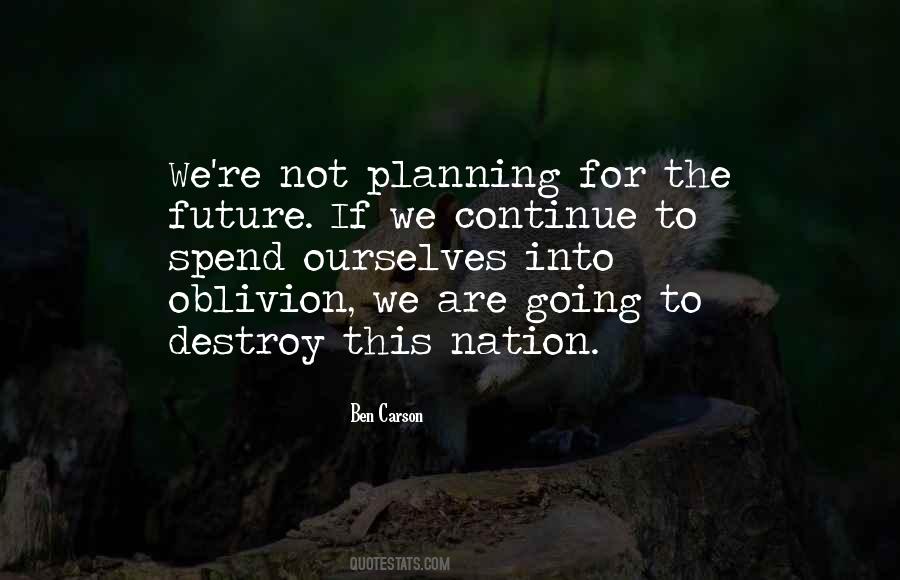 #7. Seize the moments that are before you instead of planning for future moments that get lost in the abyss of time. - Author: Orly Wahba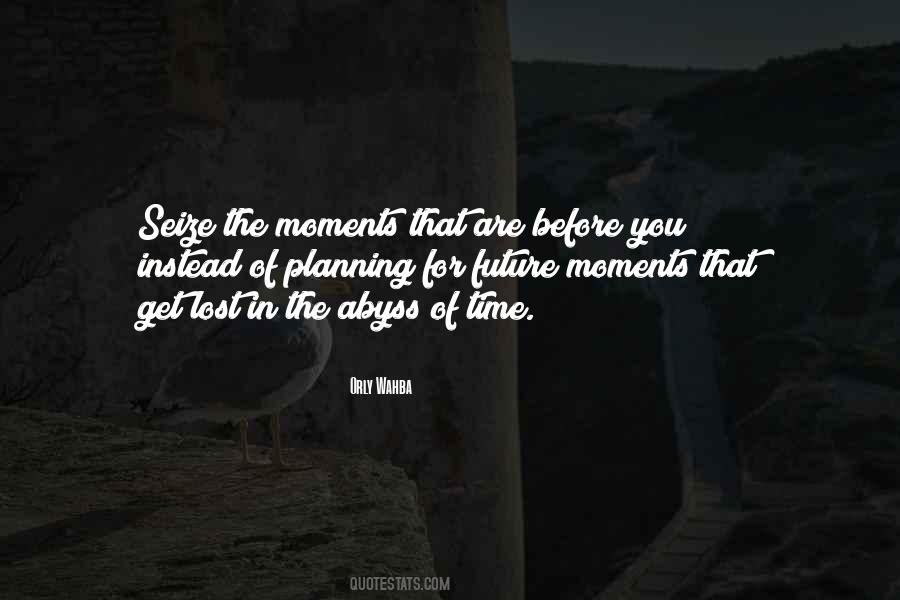 #8. Technology is permeating every single thing we do ... And to the extent that we can better expose our young people to all the different ways that technology can be used, not just for video games or toys, we're planning for the future. - Author: Marc Morial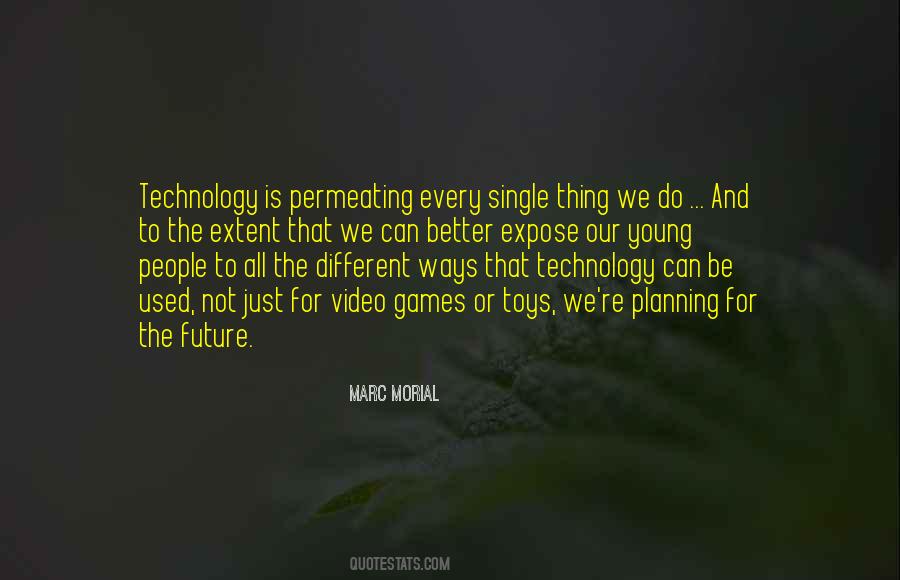 #9. Sometimes, when we pray for miracles what we are really praying for is God to do the work that we are too afraid to take action about. Often, the miracle resides in us and we need to simply "be all in", rather than standing on the fence waiting. - Author: Shannon L. Alder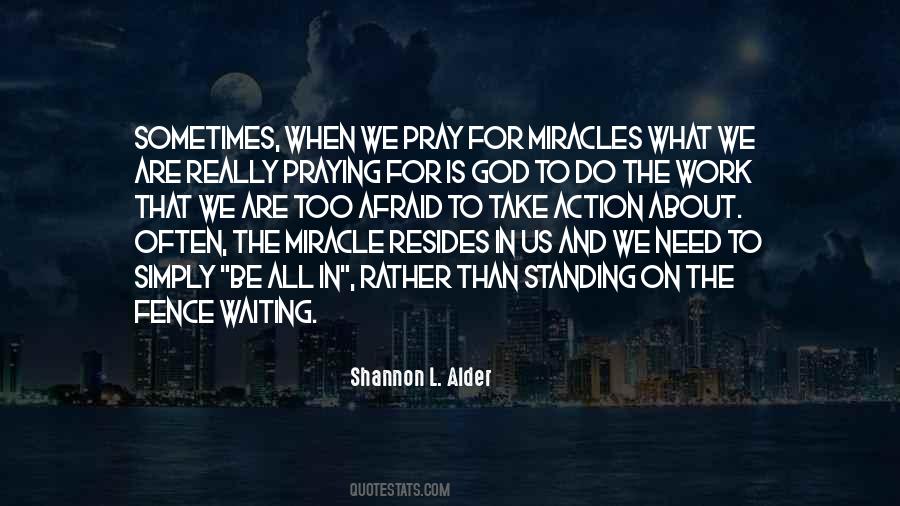 #10. There were no Latin people on 'Star Trek,' that this was proof that they weren't planning to have us around for the future. - Author: John Leguizamo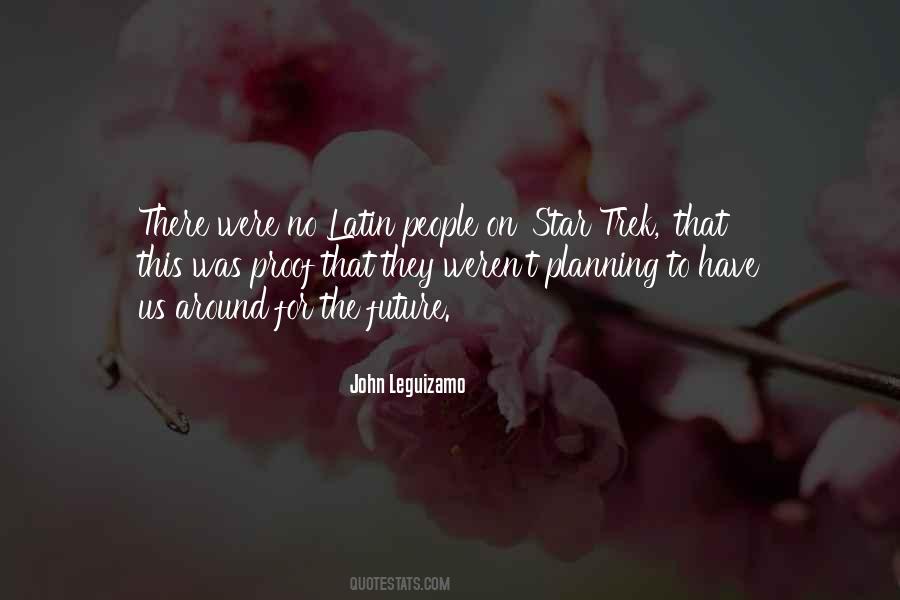 #11. Quite pure, quite free of future planning, I mounted
the tangled funeral pyre built for my suffering,
so sure of nothing more to buy for future needs,
while in my heart the stored reserves kept silent. - Author: Rainer Maria Rilke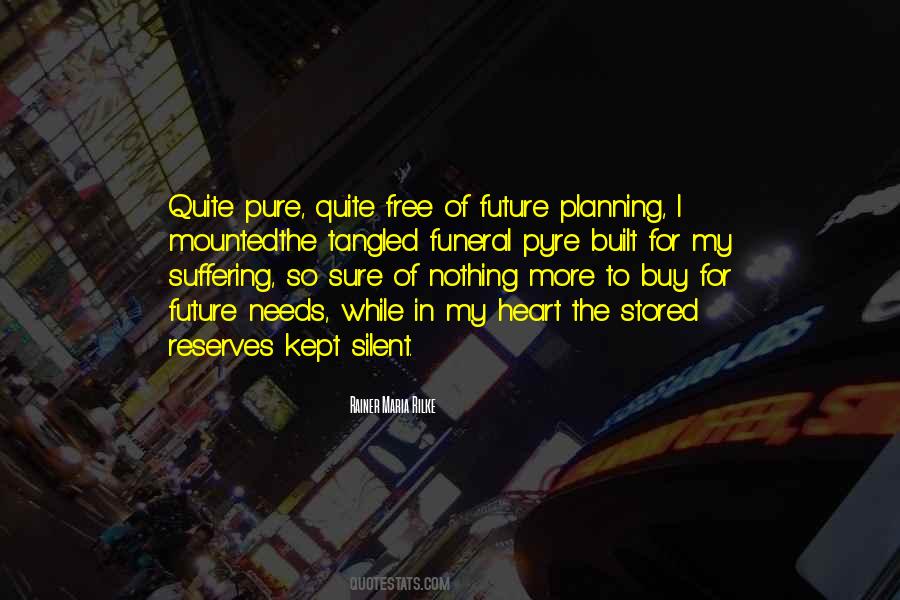 #12. ... dwelling and planning is bullshit," he says. "You dwell on the past, you can't move forward. Spend too much time planning for the future and you just push yourself backwards, or you say stagnant in the same place all your life." His eyes lock on mine. "Live in the moment. - Author: J.A. Redmerski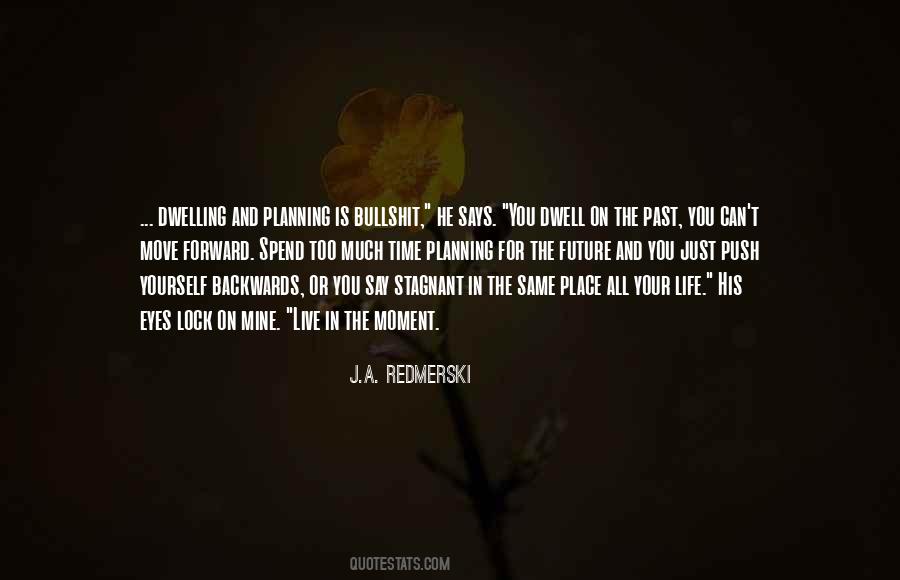 #13. If tomorrow is promised to no one, why do we spend today building the foundation for tomorrow. The future may not be promised, but it may be filled with promise. - Author: Nikki DiCaro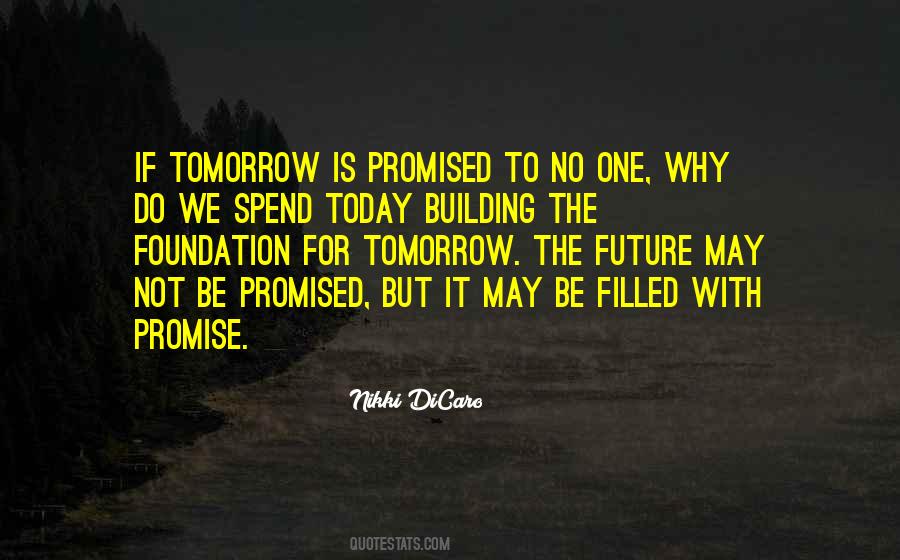 #14. The optimist is a pessimist with a plan - Author: Bangambiki Habyarimana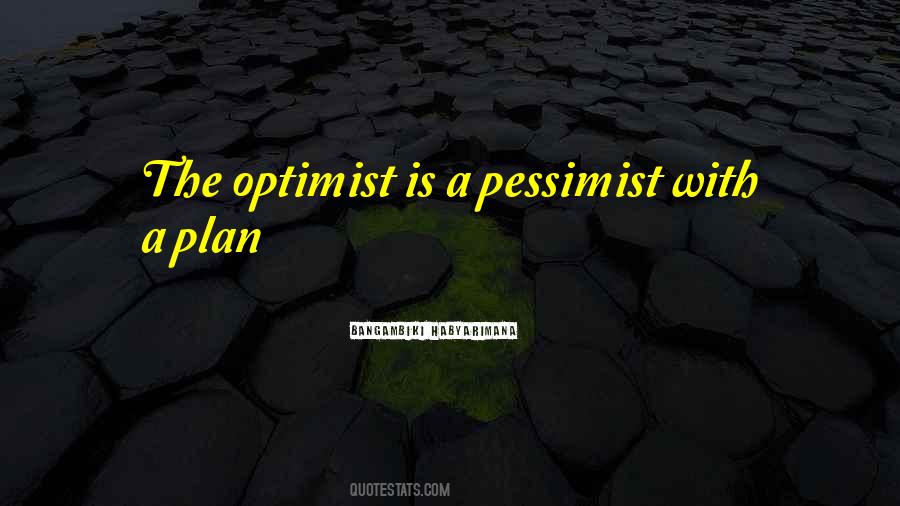 #15. If you're planning on dropping out of high school, prepare yourself for the future by repeating aloud each day: I'm looking forward to low-paying jobs for the rest of my life. - Author: Sean Covey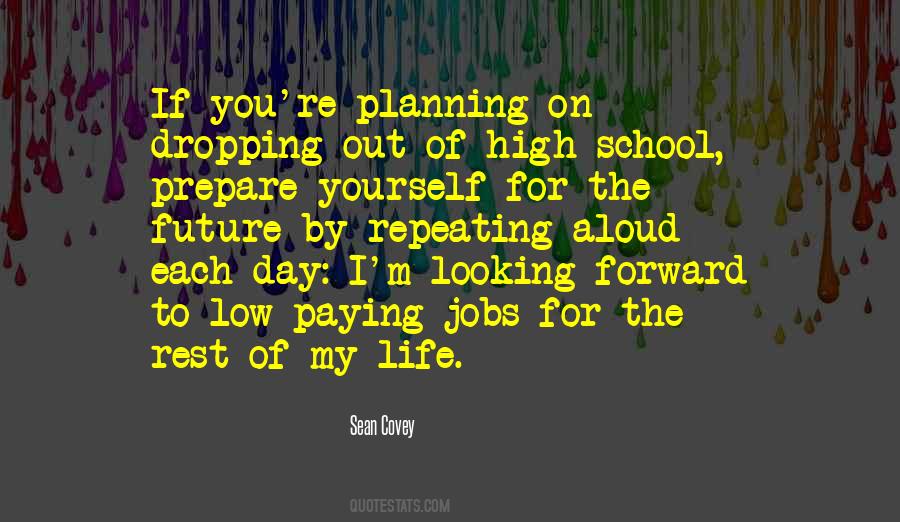 #16. Planning ahead is a measure of class. The rich and even the middle class plan for future generations, but the poor can plan ahead only a few weeks or days. - Author: Gloria Steinem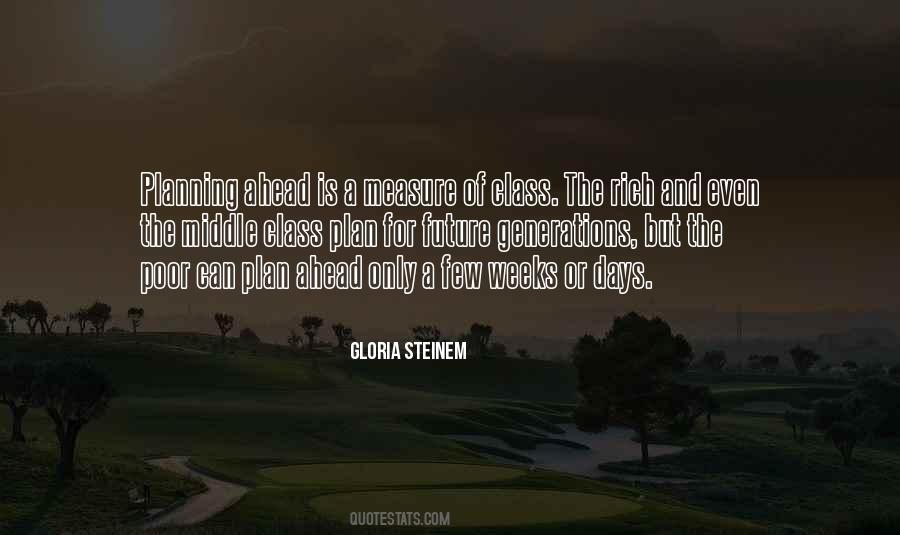 #17. As for the future, your task is not to foresee it, but to enable it. - Author: Antoine De Saint-Exupery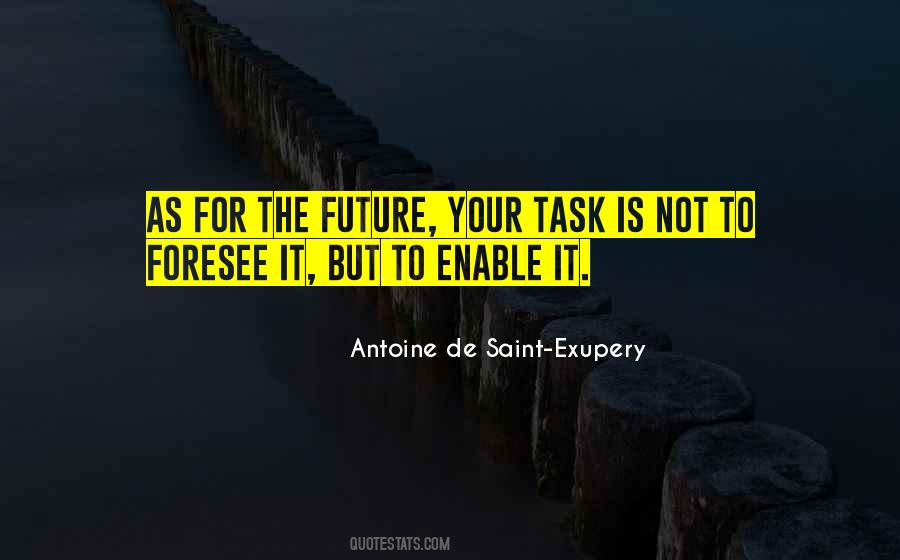 #18. We have to honor our commitments to today's beneficiaries, but we can't solve the growing deficit and debt problems unless we are smart, courageous, and sensible in planning for future. - Author: Nan Hayworth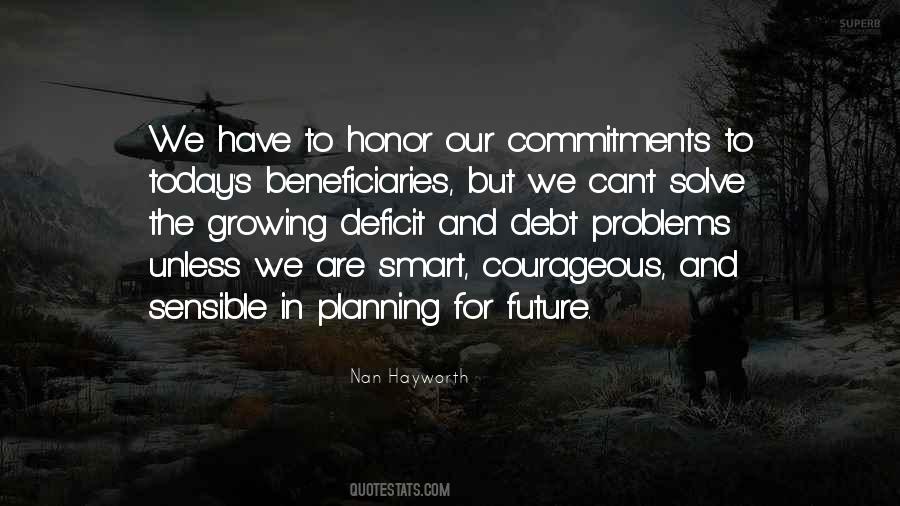 #19. It's just really hard to work and get better, building and planning for the future with the new Monte Carlo and keeping the race team intact and keeping them healthy. - Author: Dale Earnhardt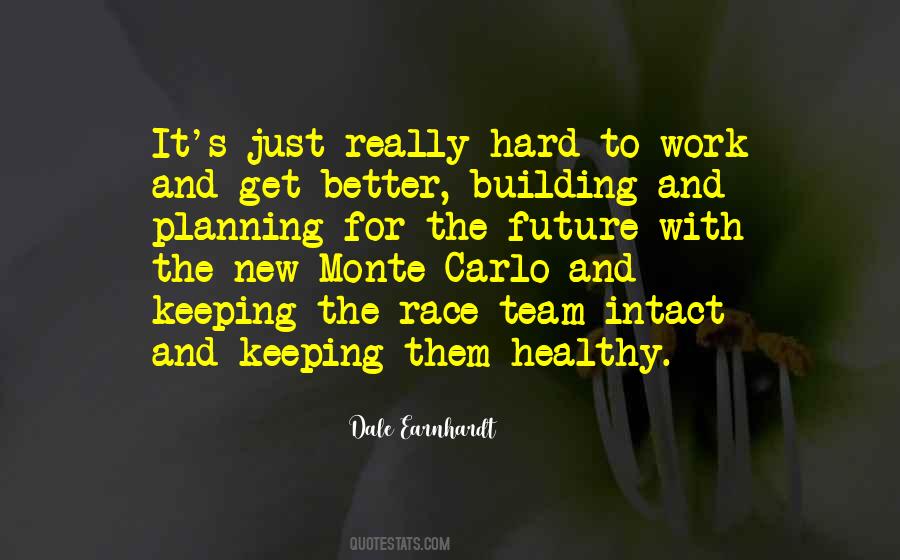 #20. Everyone in America (according to my generalizations) is a potential millionaire waiting for his or her big break. I was astonished lately to realize that Americans are definitely believing in and planning for the future, despite the fact that they elected Ronald Reagan twice. - Author: Roseanne Barr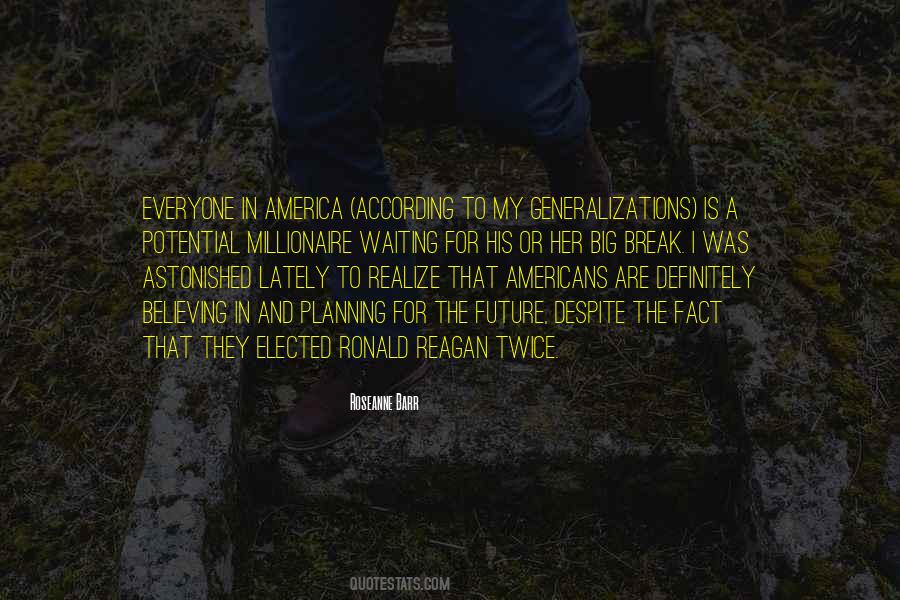 #21. You can't predict the future, but you can plan for it - Author: Saji Ijiyemi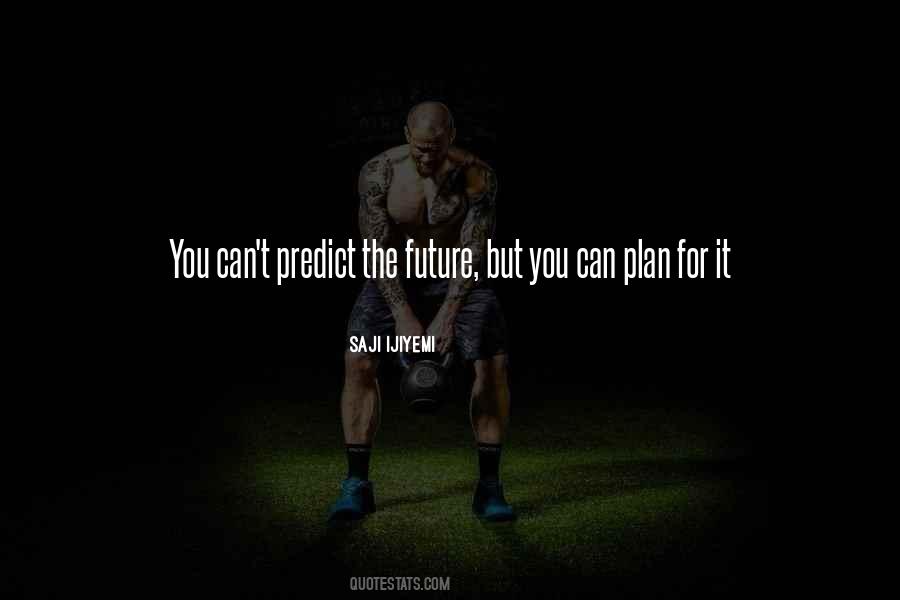 #22. While many different animal species have nervous systems that enable anticipation of events - for example, learning that a flashing light is associated with a reward in a conditioned learning experiment - planning for the future seems to be a prefrontal invention. - Author: Daniel J. Siegel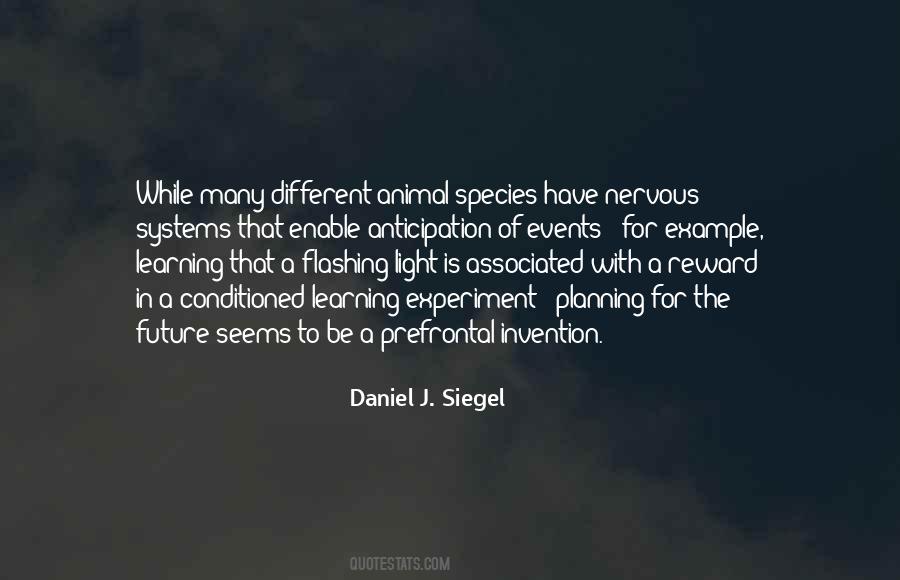 #23. Live in the NOW. Live life to its fullest. Don't spend more than 10% of your time learning from the past, and 20% planning for the future. Live in the present, act NOW to fulfill the dreams you plan. - Author: Vikrmn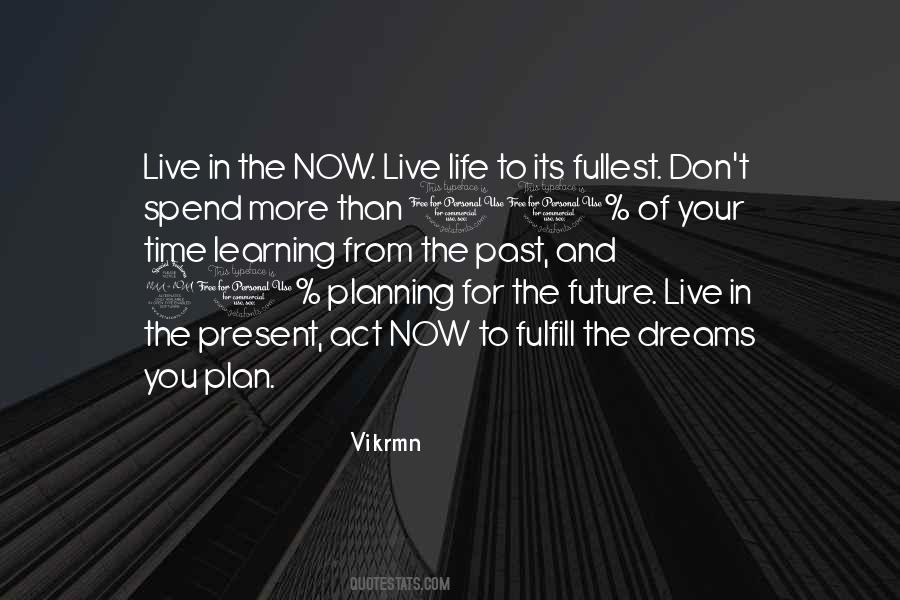 #24. The reality about transportation is that it's future-oriented. If we're planning for what we have, we're behind the curve. - Author: Anthony Foxx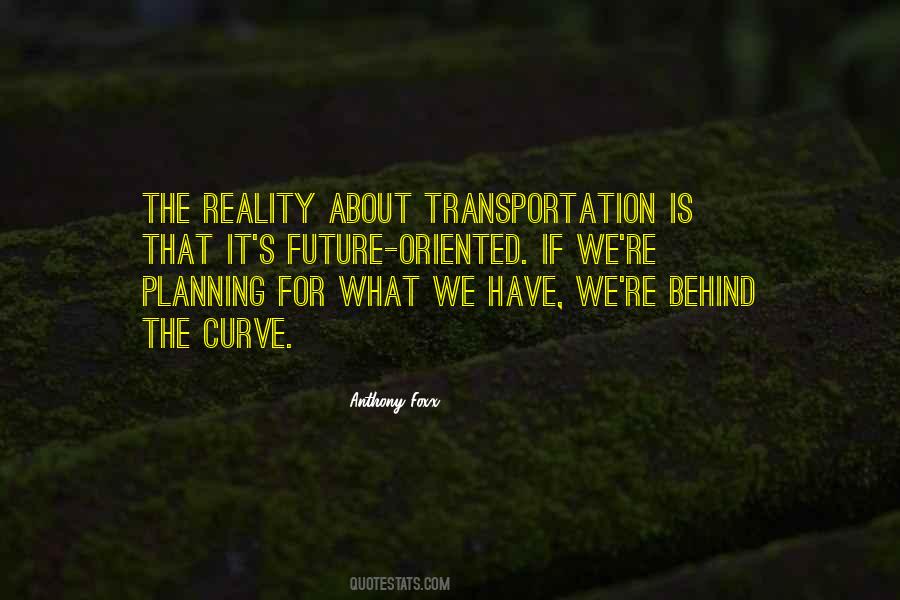 #25. That's the problem with all of us. We've never time to think about the past, and we're always planning for the future. And since the future's always the future, we never live in the present. - Author: L.E. Modesitt Jr.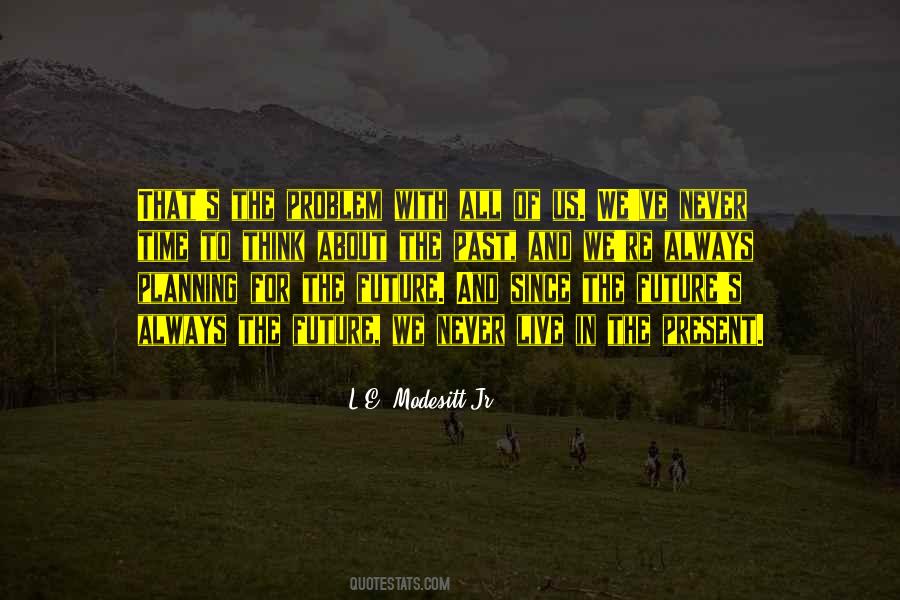 #26. Whether you are just entering the workforce or nearing retirement age, planning for the future is critical. - Author: Ron Lewis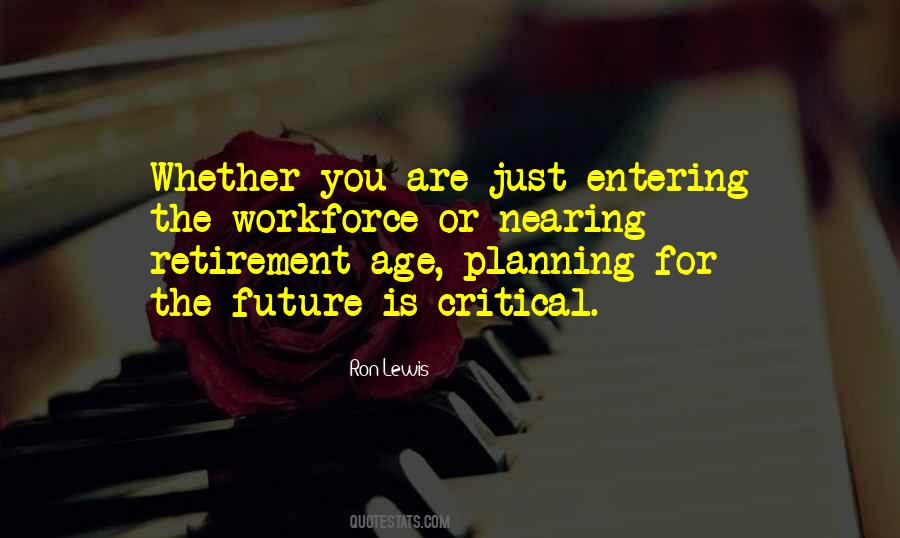 #27. Is it dangerous to plan too much? Yes, we all need to plan, to have a plan, but life goes on regardless of our plans and we know only too well what happens to so many of the best laid plans of mice and men! - Author: Leslie W.P. Garland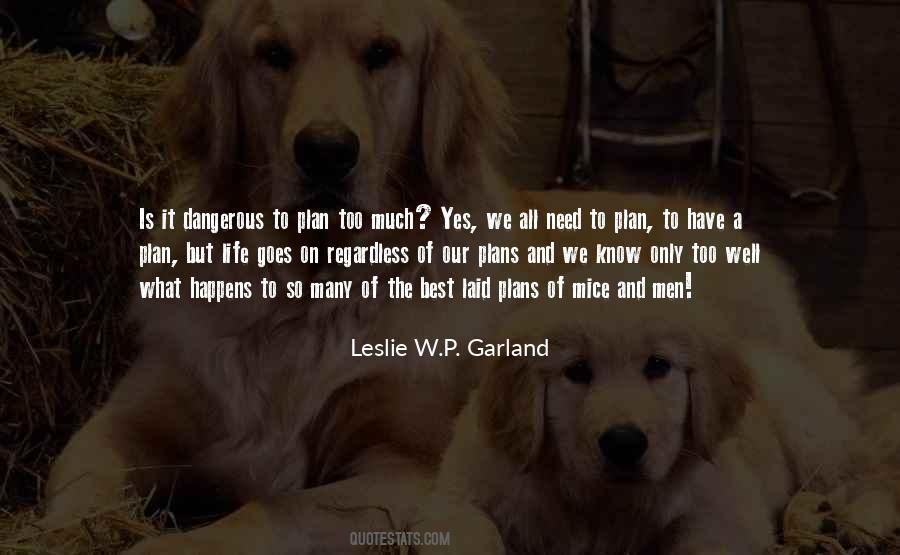 #28. I'm not a big believer in long-term planning and far-off goals. In fact, I generally set 3-month and 6-month dreamlines. The variables change too much and in-the-future distance becomes an excuse for postponing action. - Author: Tim Ferriss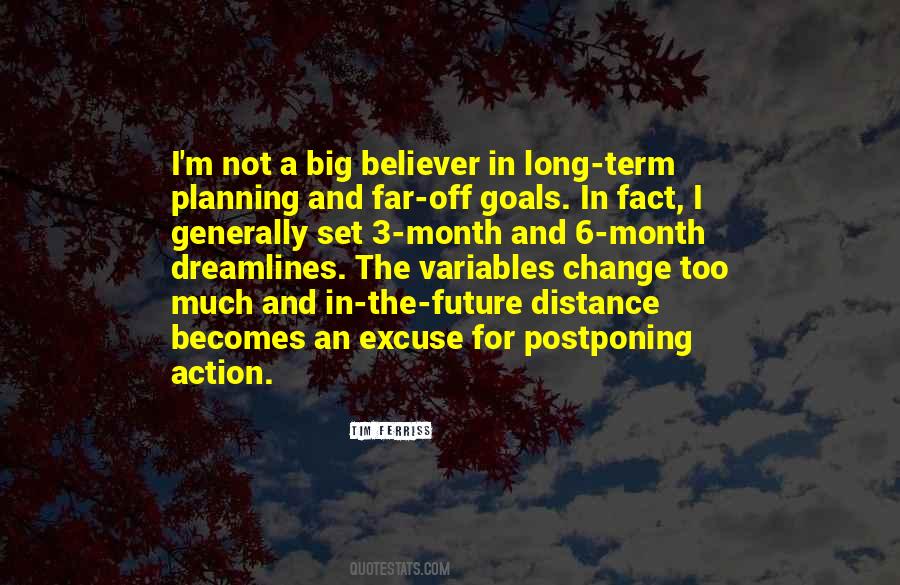 #29. The problem with women was that they were always planning some future that involved you and that you were not aware of, as if you'd signed up for a credit card without knowing it. - Author: Jean Thompson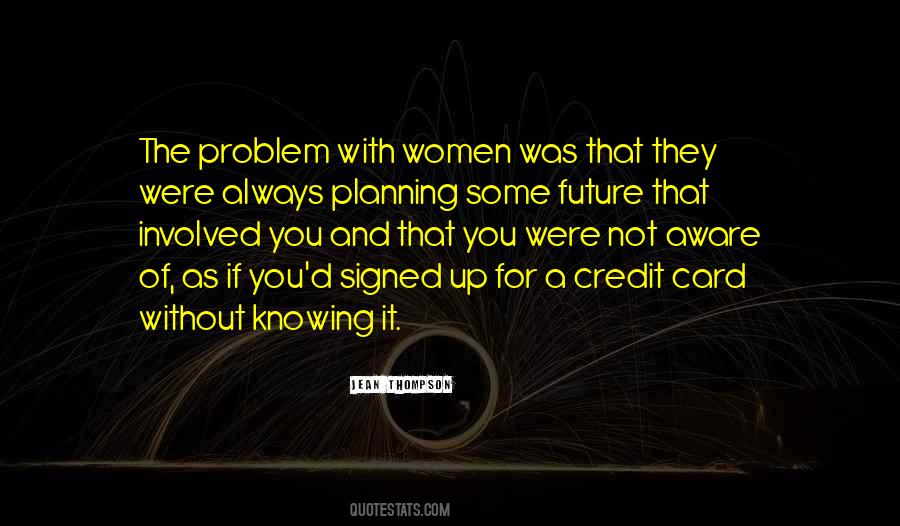 #30. Planning for the future is like going fishing in a dry gulch; Nothing ever works out as you wanted, so give up all your schemes and ambitions. If you have got to think about something - Make it the uncertainty of the hour of your death . - Author: Sogyal Rinpoche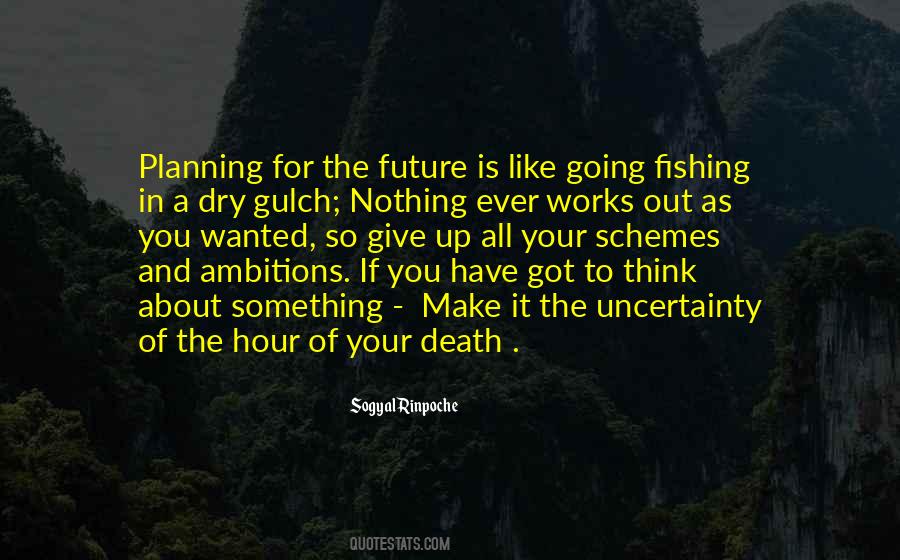 #31. Strategic planning for the future is the most hopeful indication of our increasing social intelligence. - Author: William H. Hastie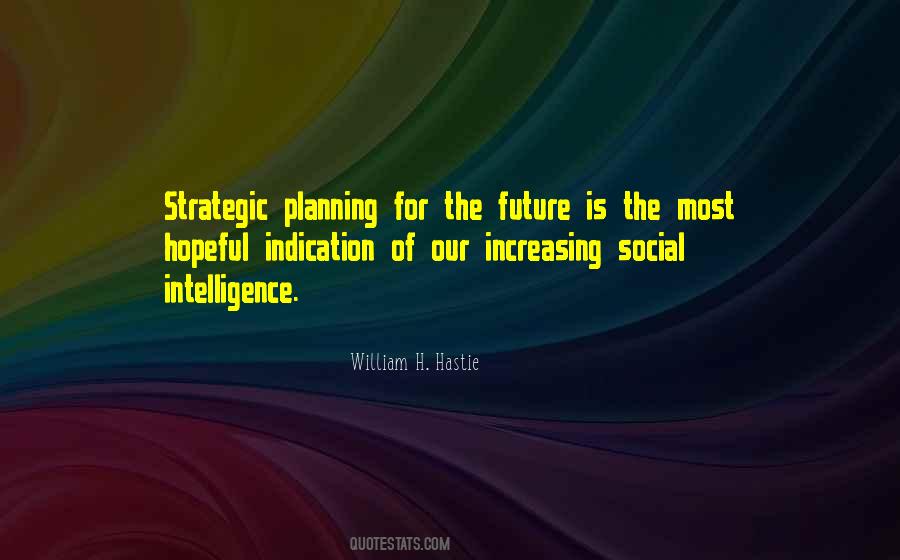 #32. Planning is the essence of good management and when it comes to health care we must allow states to plan for future needs. We need to cement this federal commitment to Alaskans so the state has the assurance that money vital for providing Medicaid health care will not just dry up and disappear. - Author: Lisa Murkowski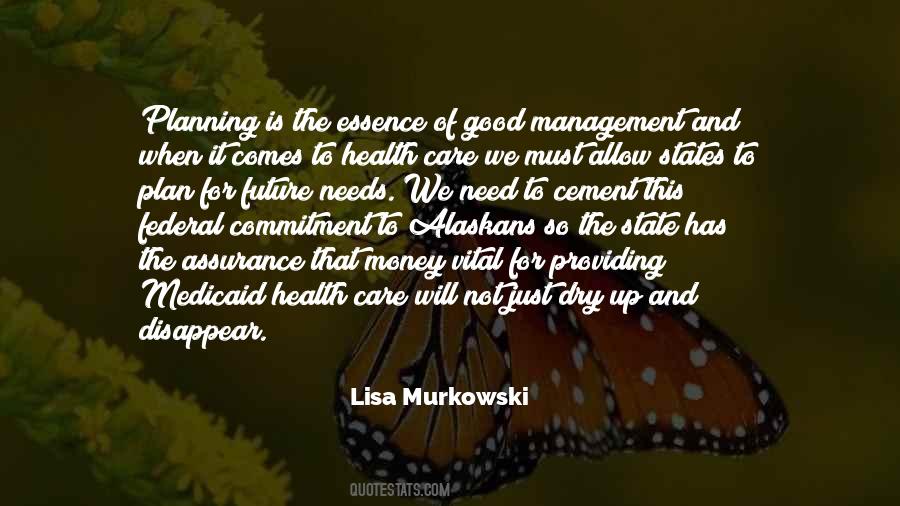 #33. What is important for me is playing cricket and not thinking about how my Test career is shaping up. I am not into future planning and all. I am concerned about my present and not the future. - Author: Suresh Raina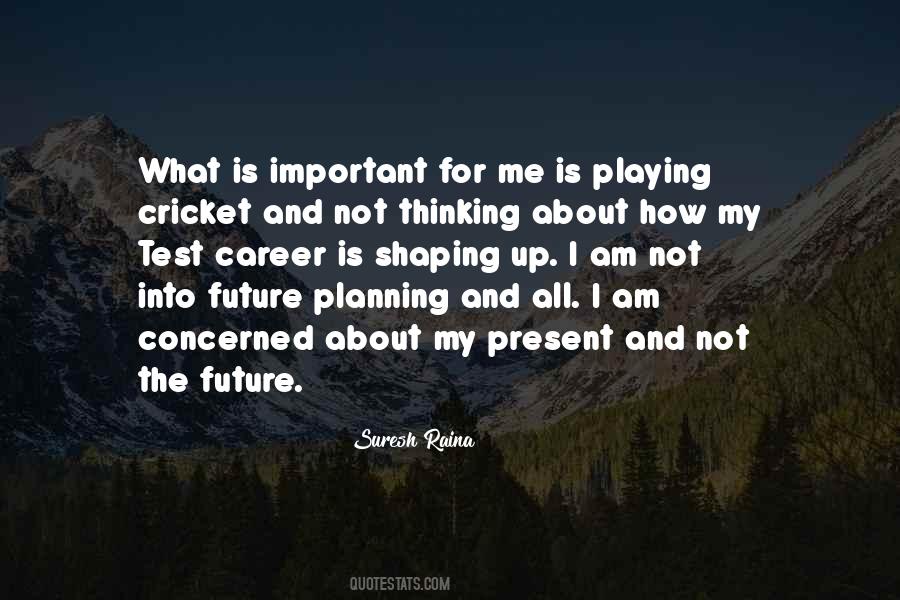 #34. Most people trusted in the future, assuming that their preferred version of it would unfold. Blindly planning for it, envisioning things that weren't the case. This was the working of the will. This was what gave the world purpose and direction. Not what was there but what was not. - Author: Jhumpa Lahiri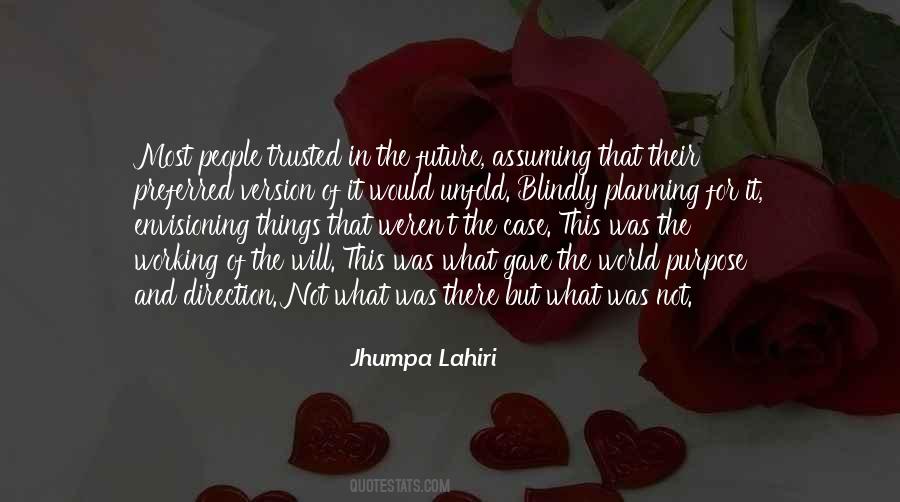 #35. Life is short. Everyone's forever planning for the future. No one lives in the moment anymore. - Author: Dick Houston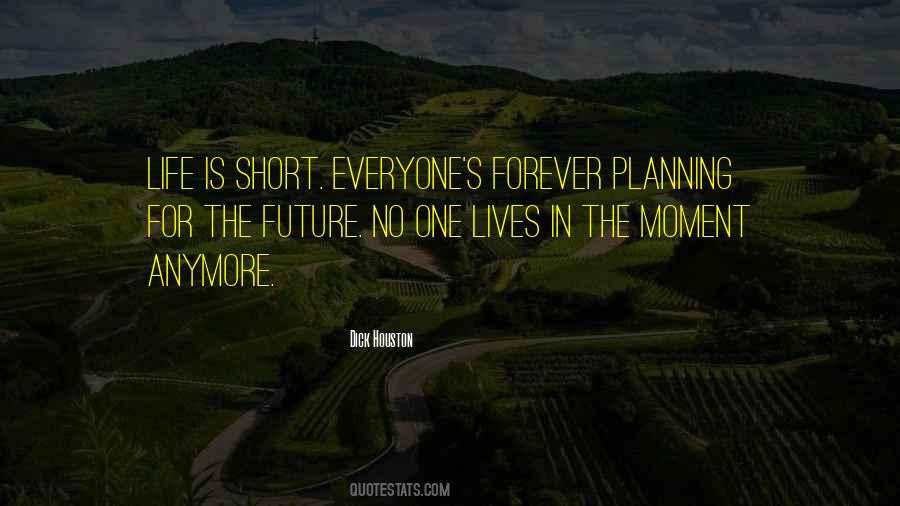 Famous Authors
Popular Topics