Peaks And Valleys Famous Quotes & Sayings
List of top 49 famous quotes and sayings about peaks and valleys to read and share with friends on your Facebook, Twitter, blogs.
Top 49 Quotes About Peaks And Valleys
#1. All of life is peaks and valleys. Don't let the peaks get too high and the valleys too low. - Author: John Wooden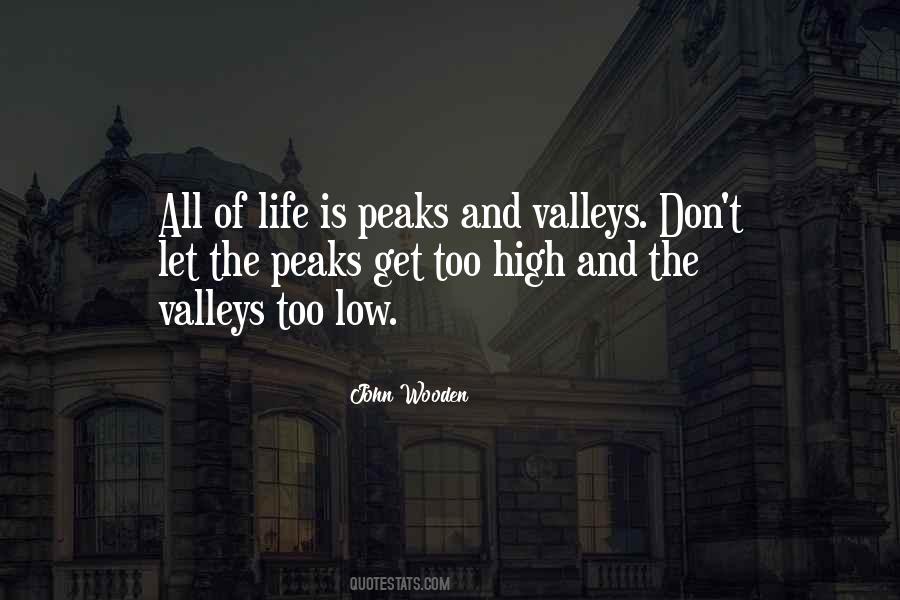 #2. A novel takes place over time. It's a historical narrative, and it needs to have a series of peaks and valleys and the move through. You can't just start at the highest pitch and stay there, but you can in a lyric poem. - Author: Edward Hirsch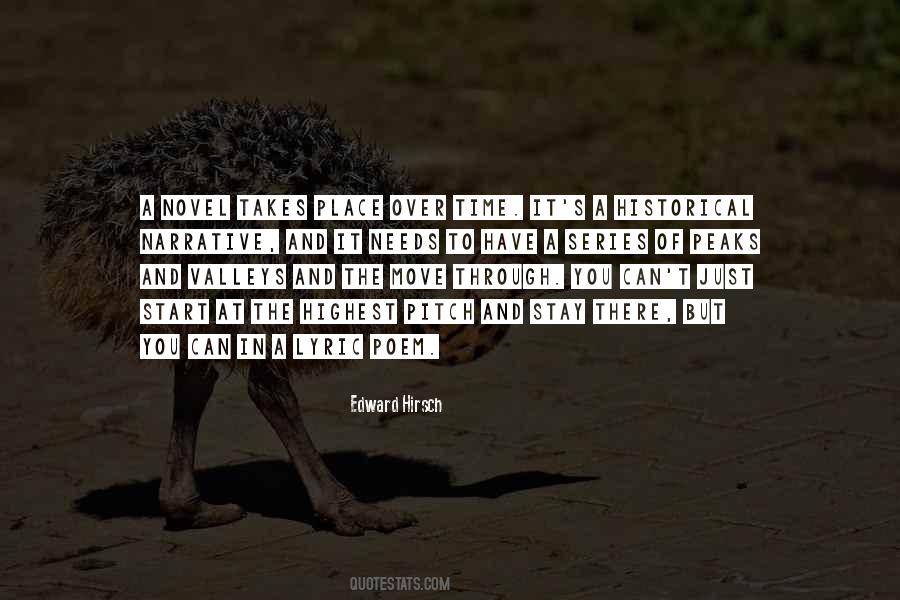 #3. There are peaks and valleys in anything and that is especially true for the music business. It is very inconsistent. But if you are wise, you can let those downs really bring you to another level of your personality. - Author: Bryan White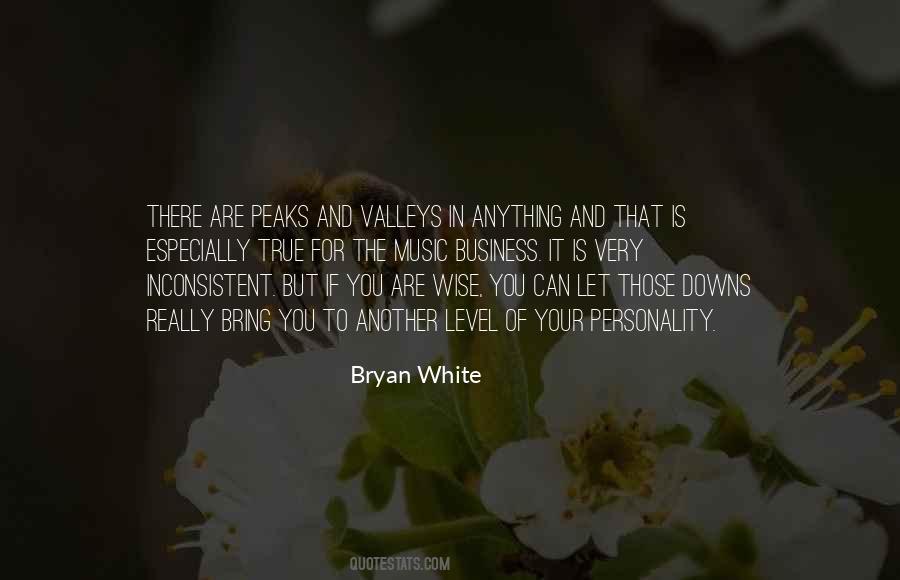 #4. I don't try to get players emotionally up for a game; it creates too many peaks and valleys ... I strive for even keel; they will get up for the big games. - Author: Denny Crum
#5. When books and plays are made into movies, they frequently want to cut out the valleys and just show the peaks. - Author: Tracy Letts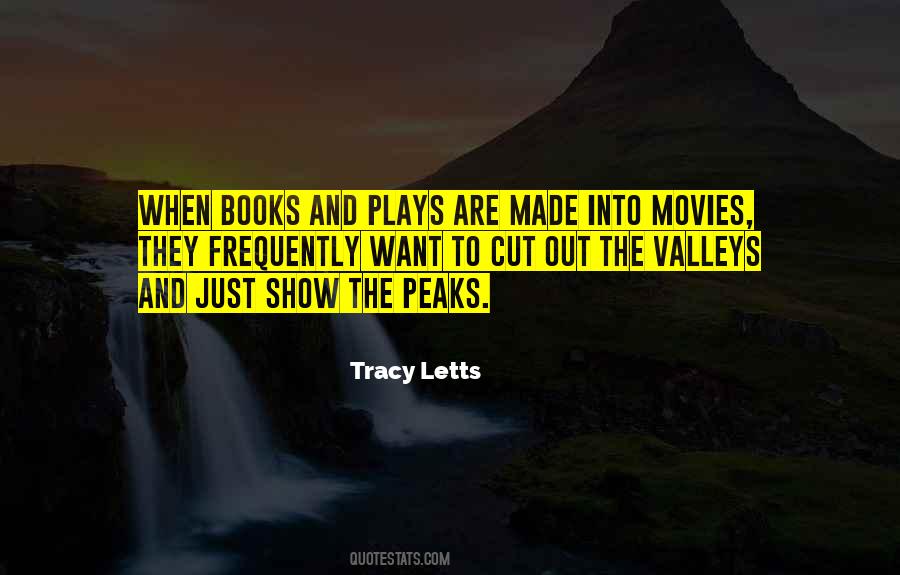 #6. A good horror movie should have peaks and valleys, a good horror movie should move you emotionally; a good horror movie should be exciting to watch and energizing in a weird kind of way. - Author: Kirk Hammett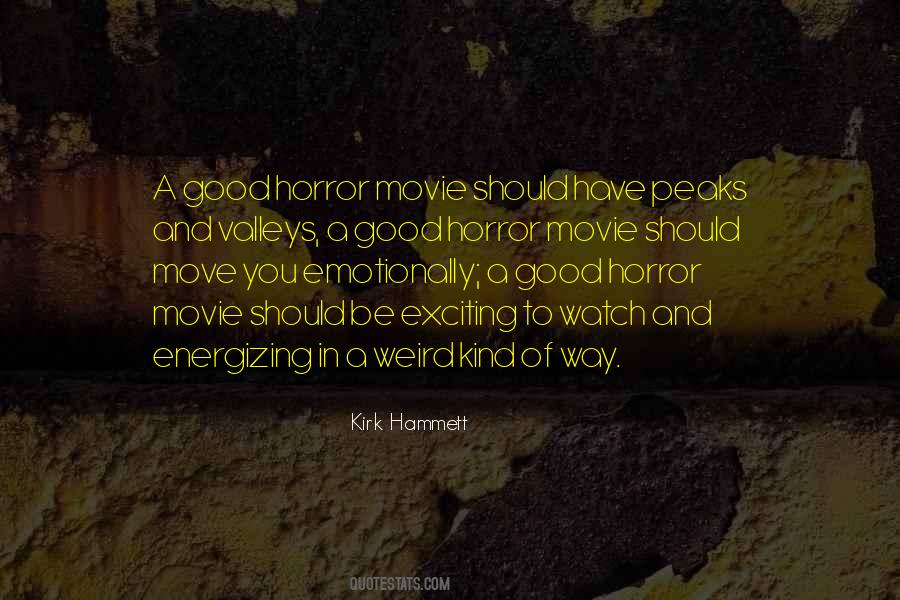 #7. We're going to be there for every inning. Not just the peaks and valleys. - Author: Dee Henderson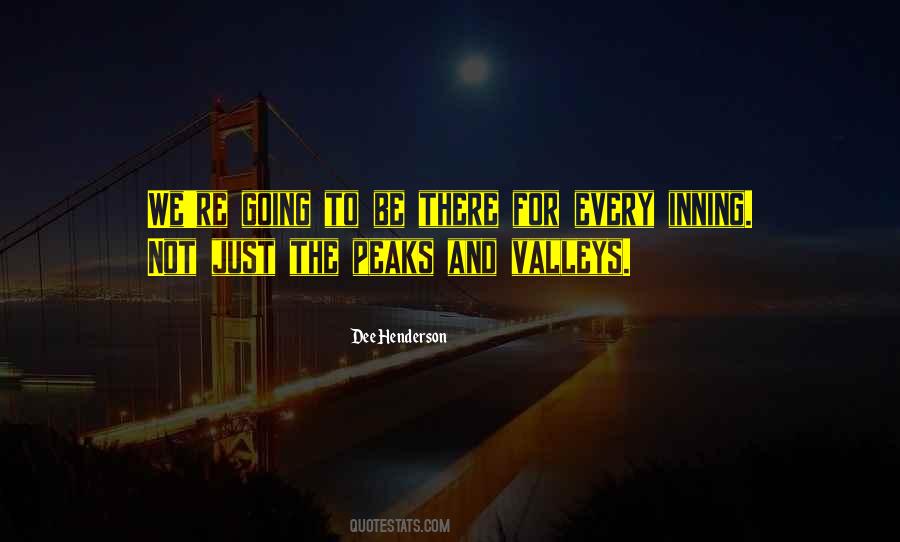 #8. With peaks of joy and valleys of heartache, life is a roller coaster ride that's both scary and exciting at the same time - the rise and fall of which defines our journey. - Author: SebastiAn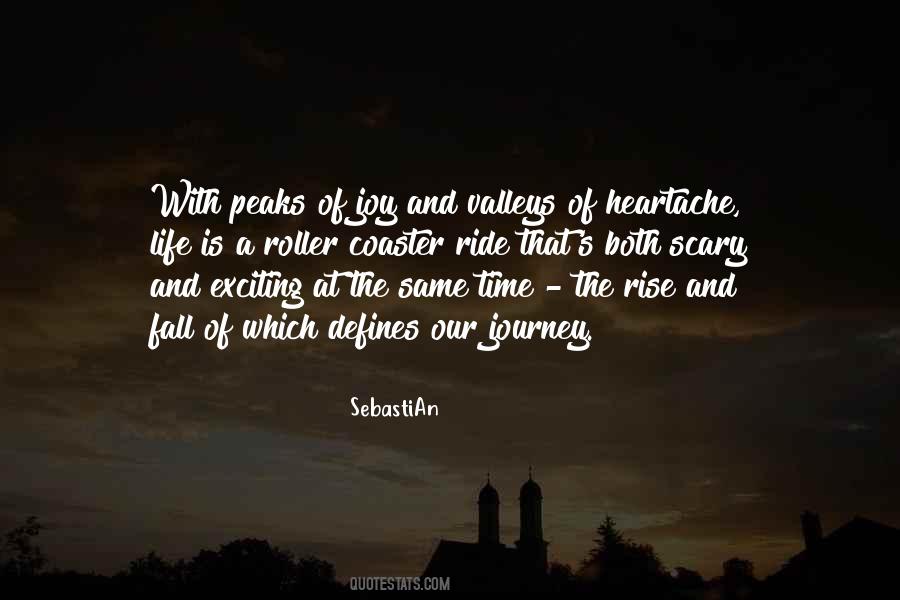 #9. My career was full of struggles and dreams, disappointments and peaks and valleys. But there was no Twitter, no Facebook or TMZ. Young actors could make mistakes and not become the focus of tabloids. - Author: Ricky Schroder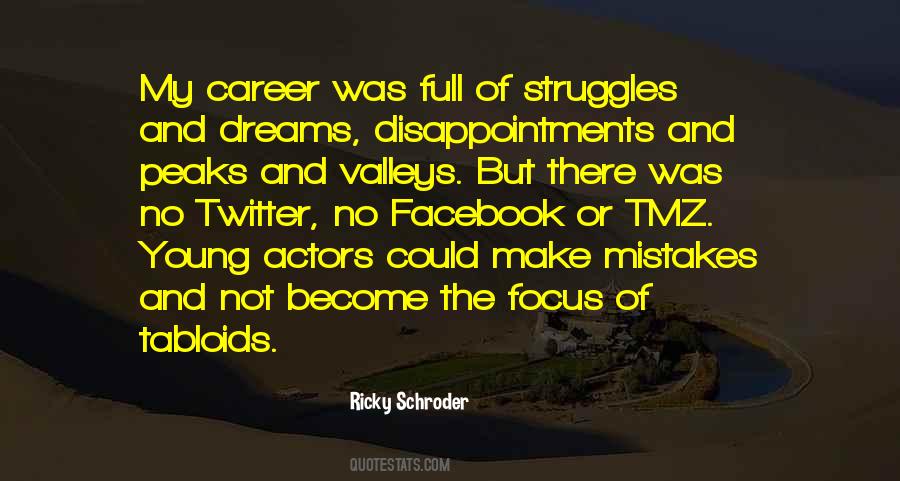 #10. You go through life in a series of peaks and valleys. - Author: Gloria Grahame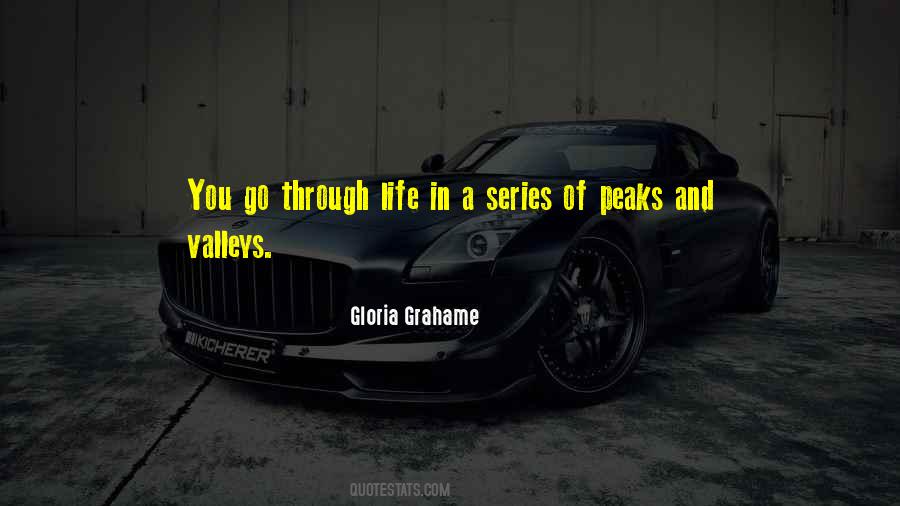 #11. The artful pitcher must take the inevitable peaks and valleys of pitching in stride and never give in to the batters or lose sight of his/her own strengths. - Author: Tom Seaver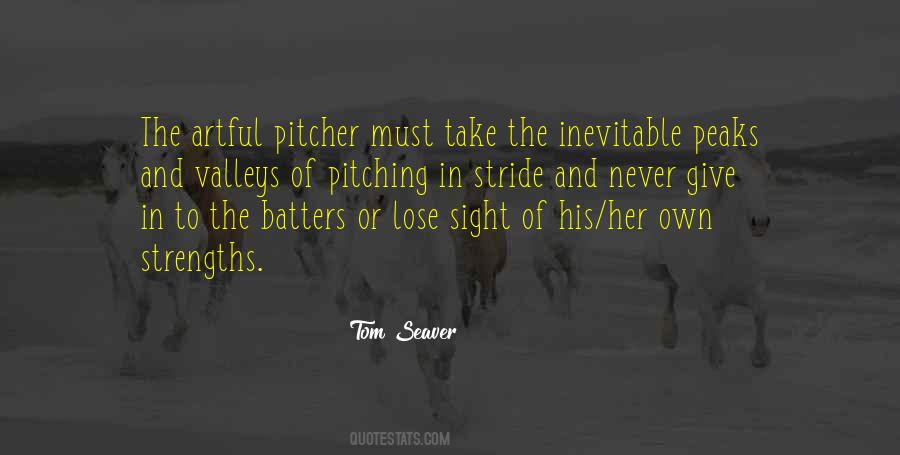 #12. Maybe there is no such thing as success - a final destination where you arrive once and for all. Maybe existence is a never-ending journey of peaks and valleys and forever chasing dreams. - Author: Richelle E. Goodrich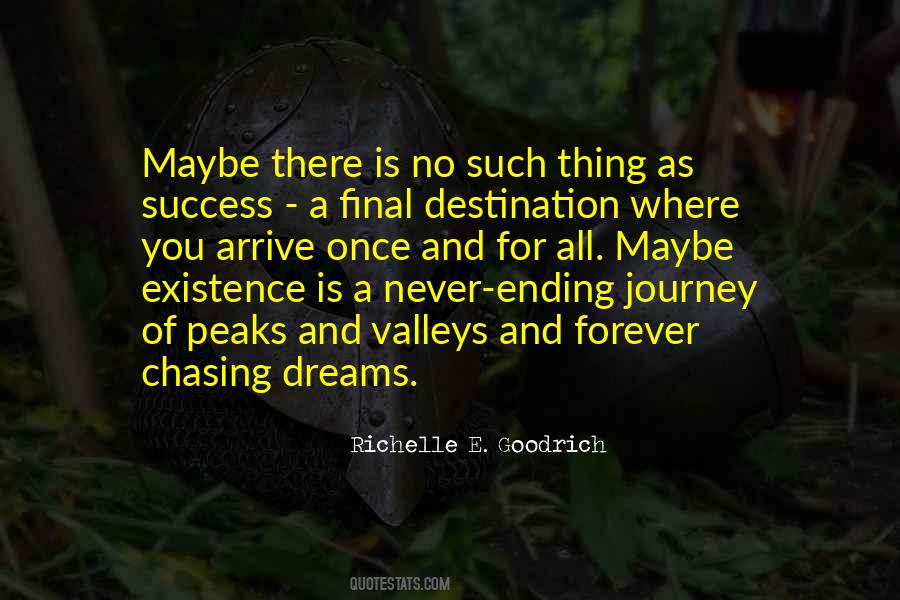 #13. What they frequently want to do with a movie is, they want to cut out the valleys and just show the peaks. And valleys are important; the valleys make the peaks stand out. - Author: Tracy Letts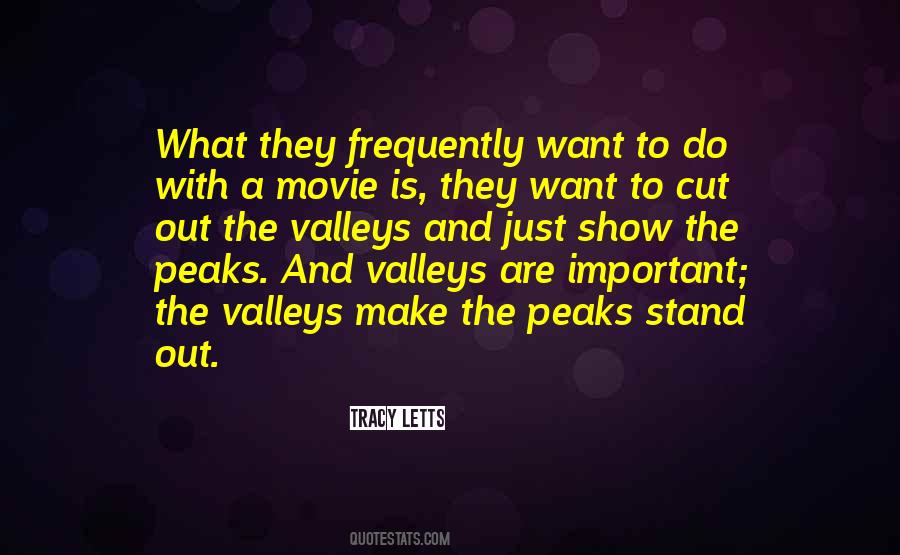 #14. Read all kinds of stories to your child. Don't be afraid if they don't all have happy endings. Being exposed to peaks and valleys of life encourages empathy, resilience, and feelings of meaningfulness and gratitude for our own lives. - Author: Iben Dissing Sandahl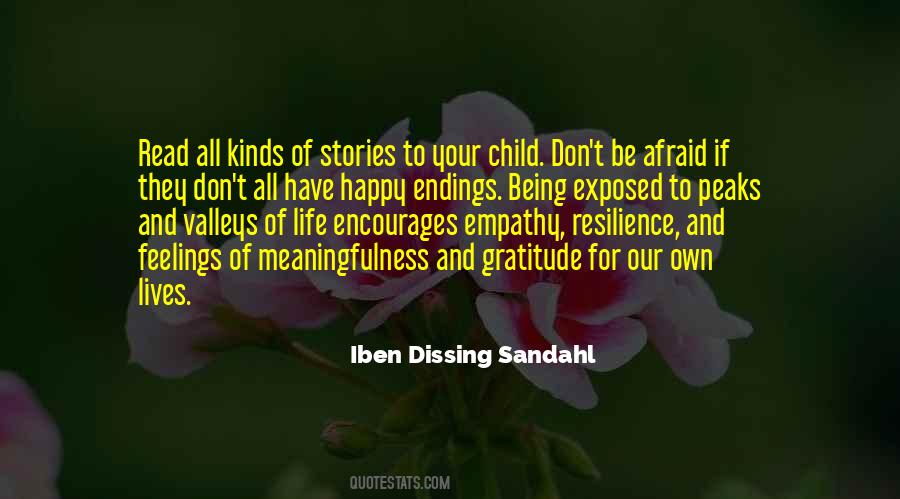 #15. Man, just believe in yourself, be able to dream, and know that there's going to be valleys and peaks. Always stay centered, and know that God is the key, the beginning and end of everything you do. - Author: Common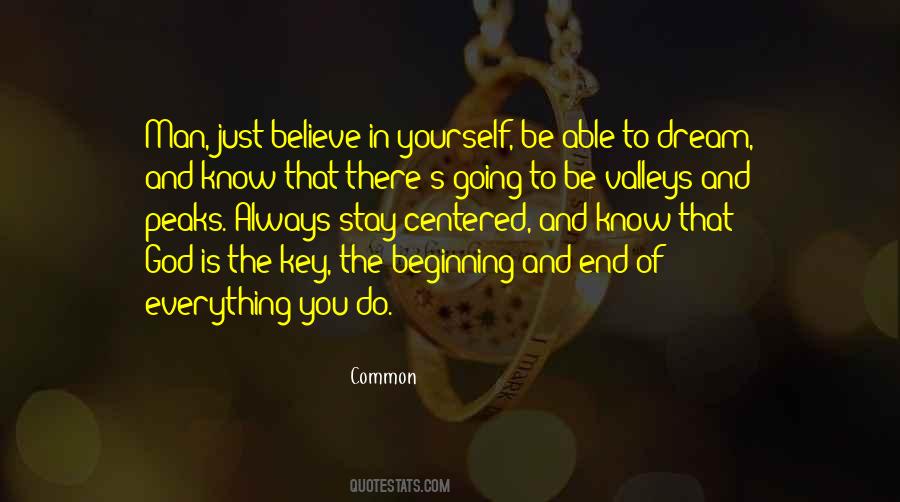 #16. Peaks and valleys. That's what life comes down to, in the end. Fucking geography. - Author: Laura Zigman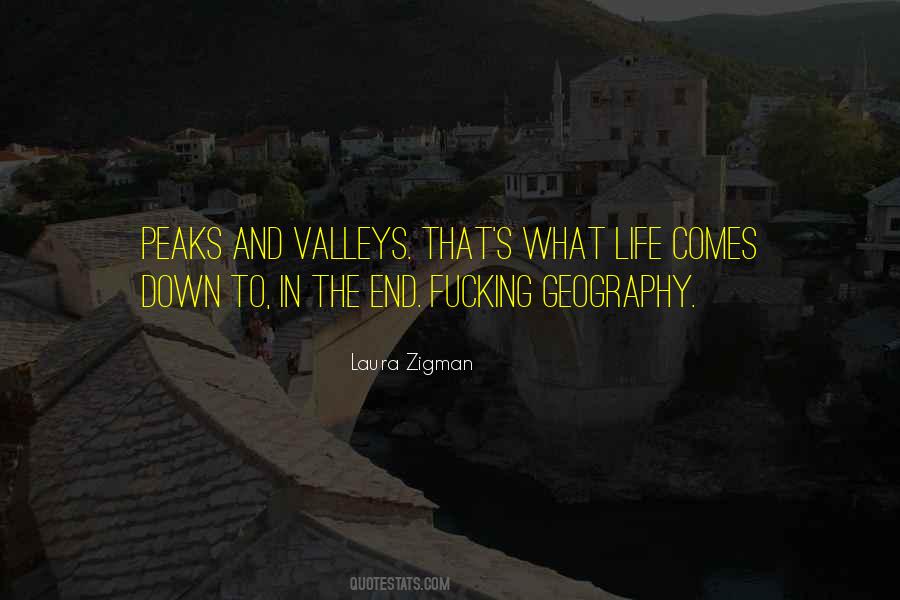 #17. It Is Natural For Everyone Everywhere To Have Peaks And Valleys At Work And In Life. - Author: Spencer Johnson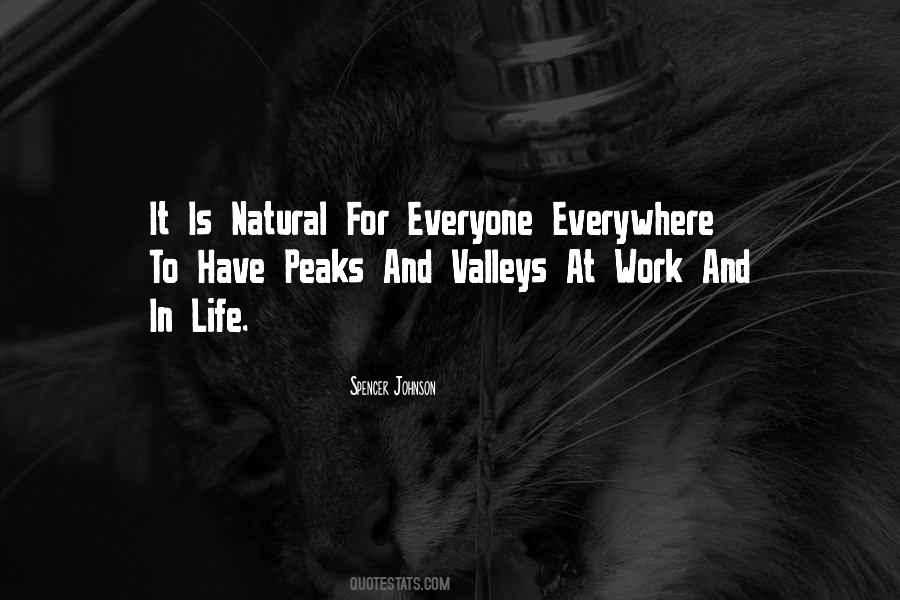 #18. Sadly, peaks and valleys are a part of life. You are resilient and you will come out of this stronger than you ever thought possible. Trust me - I know. It's crucial to remain positive and optimistic. - Author: Matt Abrams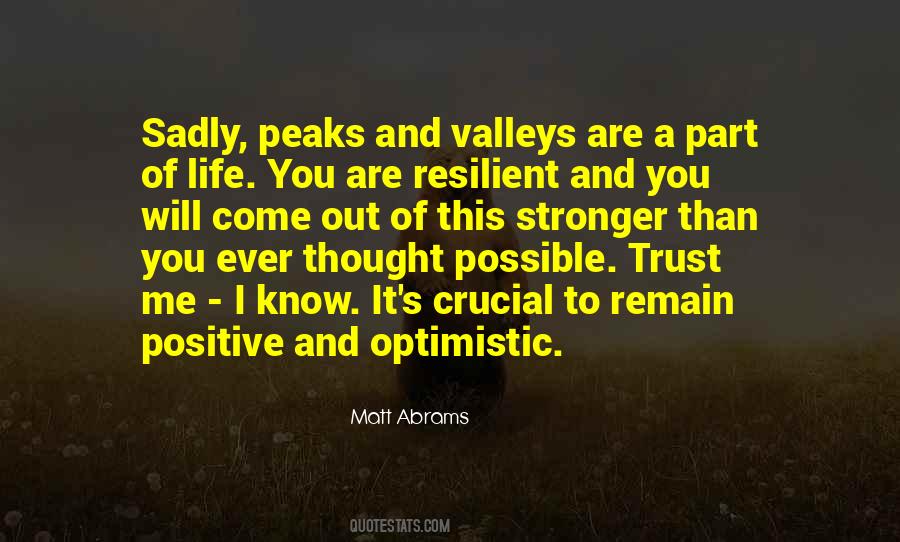 #19. Our hearts may have broken in Nebraska but in Colorado they split open along the fractures, crumble to pieces, blow away. The peaks and green valleys, the lakes set at the foot of mountains like offerings. Beautiful and doomed and thus terrible. - Author: Ron Currie Jr.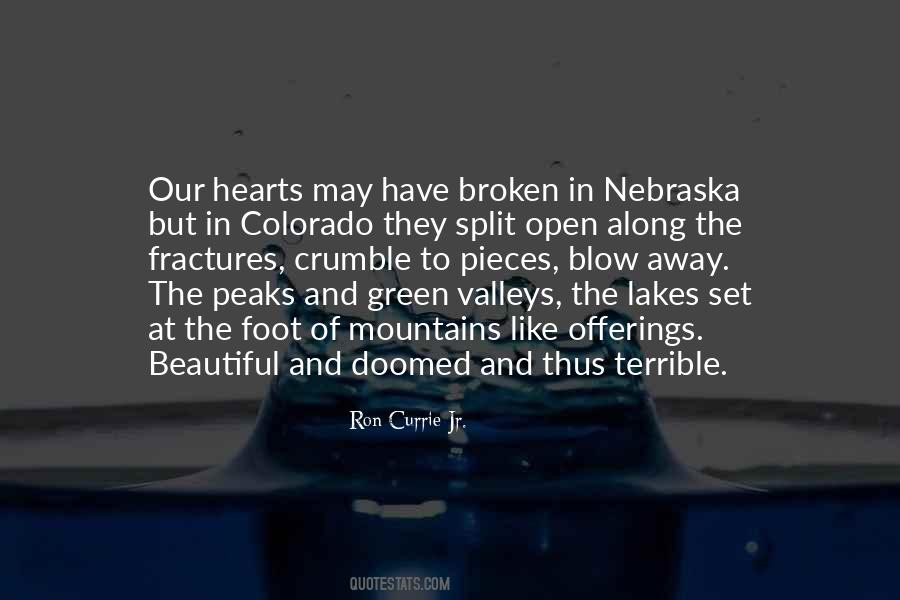 #20. Life is never a straight line - it's peaks and valleys. Why would you want to be the same person every day of your life? - Author: Mary Chapin Carpenter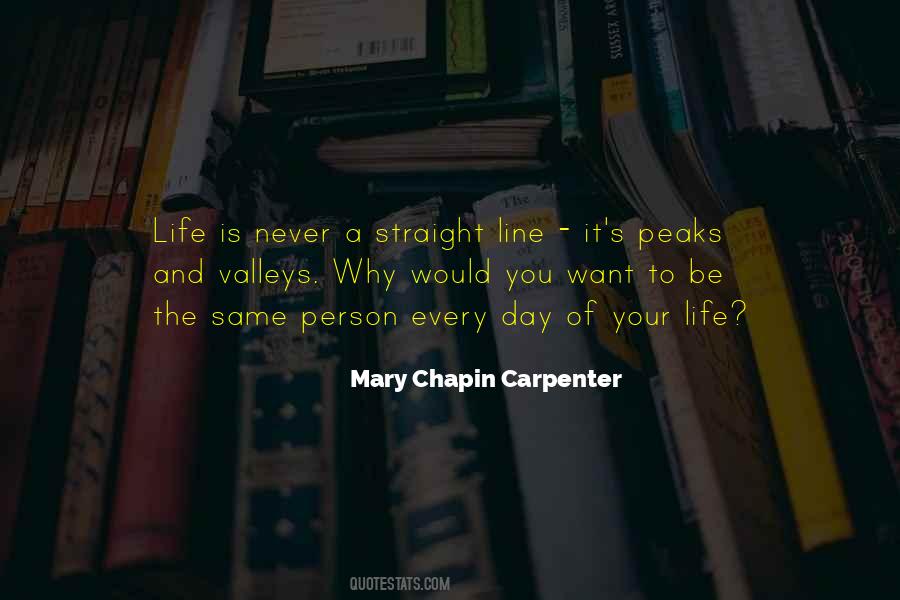 #21. In your life there's peaks and valleys and sometimes we regress, and we don't even know we regress. You just have to learn how to accept all of your mistakes and learn to love yourself again. - Author: Mary J. Blige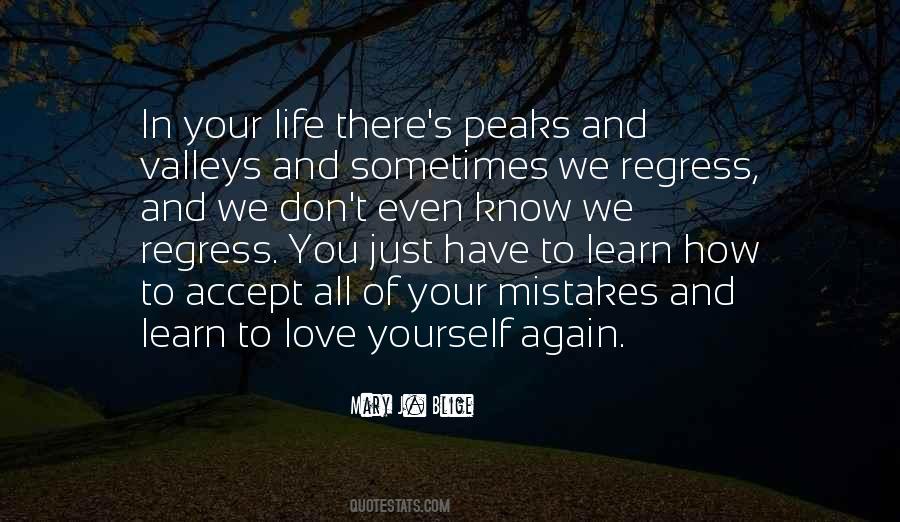 #22. Every season has its peaks and valleys. What you have to try to do is eliminate the Grand Canyon. - Author: Andy Van Slyke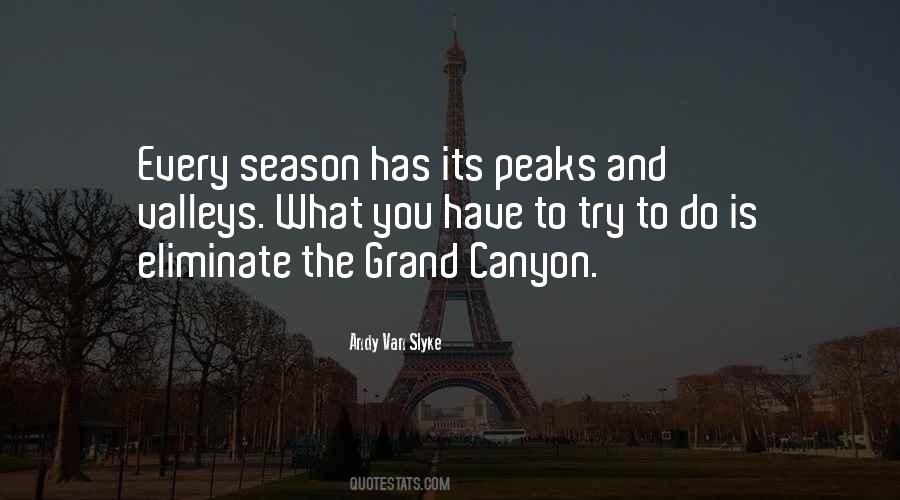 #23. There are obviously peaks and valleys in everyone's career. This business can be a roller-coaster ride, and it's really hard to stay on top all the time. Very few people do. - Author: Chris O'Donnell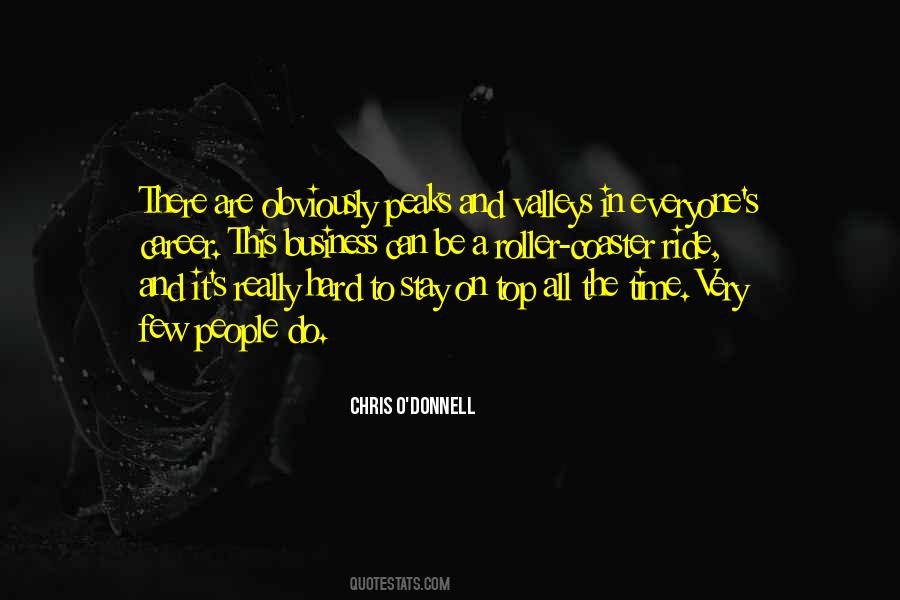 #24. You have to be ready to go through peaks and valleys along the way. Be ready to sacrifice some of the things in life that are considered normal for most people for the first while. And understand the business of the film industry, because studying the art and your craft alone isn't enough anymore. - Author: Kyle Cassie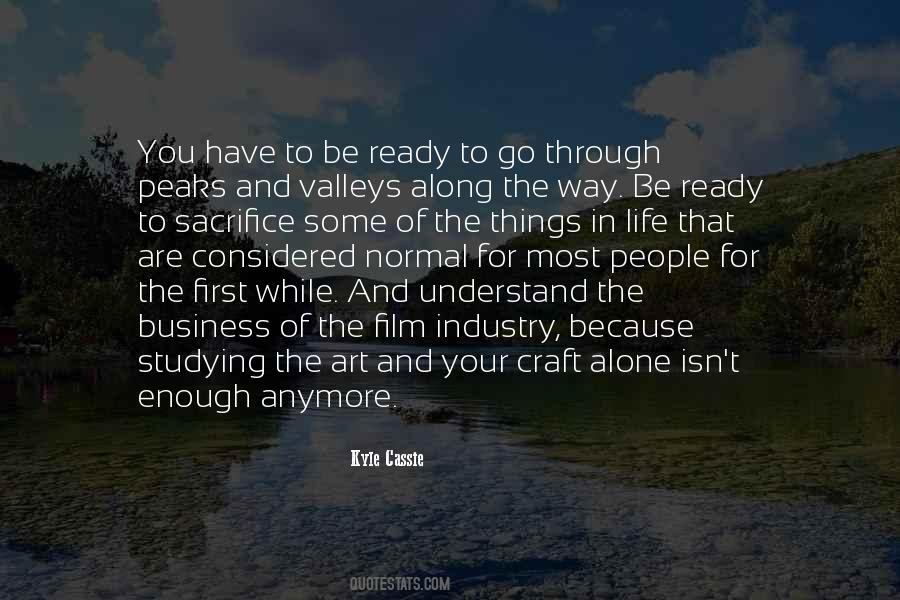 #25. 'Precious' is strangely uplifting. It goes down into the valley but it also goes to the mountain tops. A lot of difficult realities are explored in 'Precious,' but the peaks make the valleys and the valleys make the peaks. - Author: Geoffrey S. Fletcher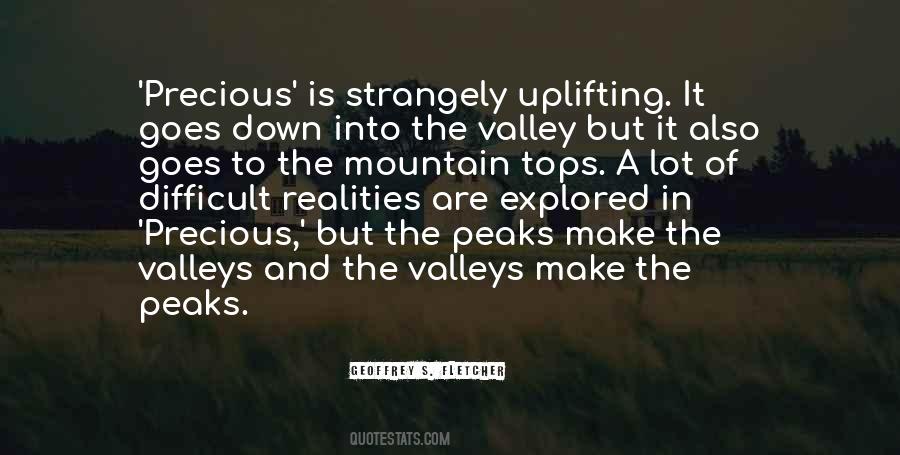 #26. He was responsible for my peaks and valleys, the pulsating waves and earth-shattering releases. It didn't matter if I was bound or not, whether we fucked or made love, he was in control. The reality was he was always in control. - Author: Arika Stone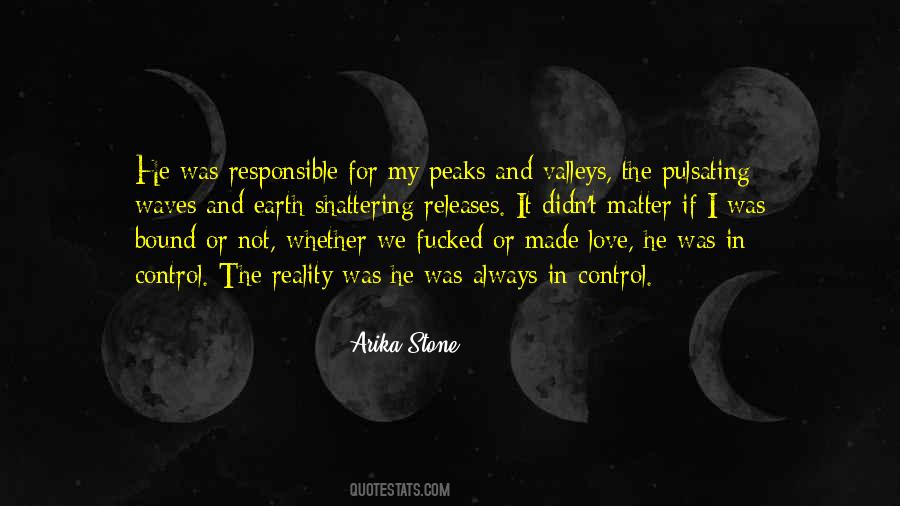 #27. There are going to be peaks and valleys in everything - in your marriage, in your job, in your life. So just enjoy the peaks and ride out the valleys. Just try not to do anything too rash. - Author: Ricky Schroder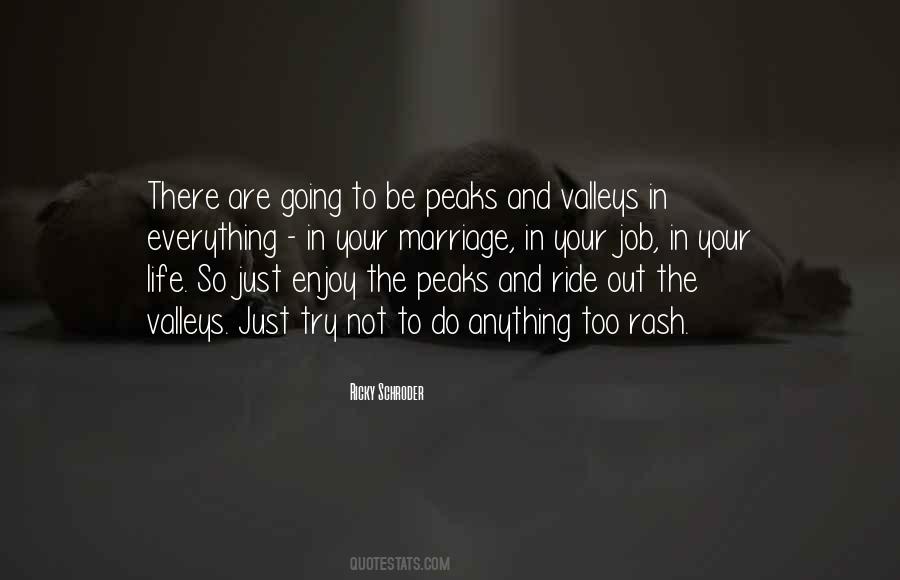 #28. Everyone messes up in relationships and has peaks and valleys in their personal lives. When I realized it wasn't the end of the world and I would keep on standing, I knew it was going to be OK. - Author: Emmy Rossum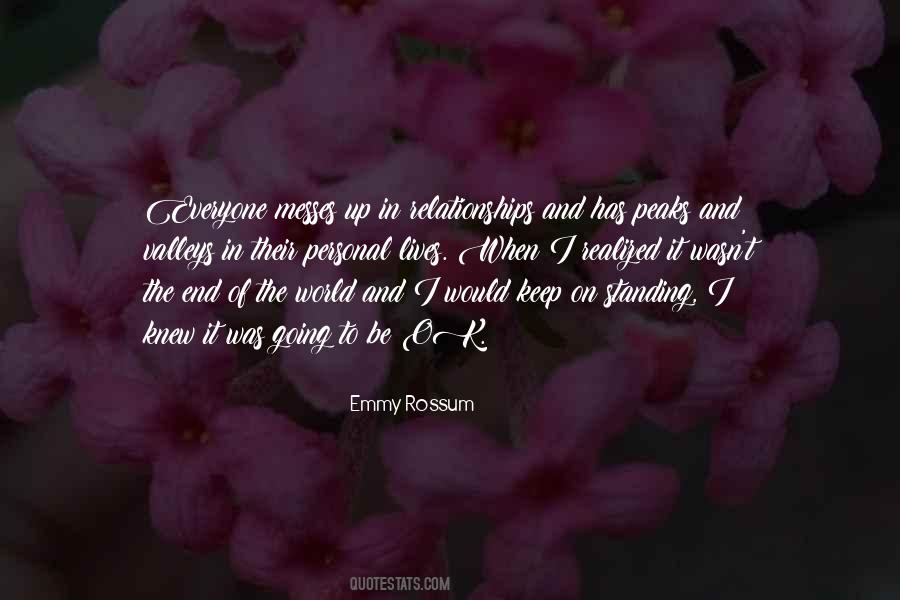 #29. So trust the process of your life unfolding, and know with certainty, through the peaks and valleys of your journey, that your soul rests safe and secure in the arms of God. - Author: Dan Millman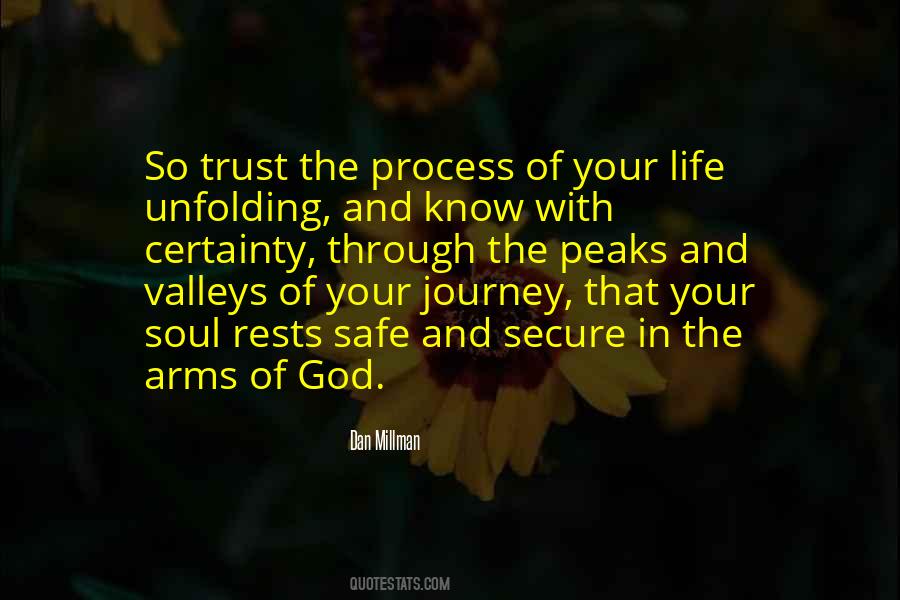 #30. I reject the idea that the guy who comes out of Yale and goes to work in the projects in Newark is good, and the guy who goes to work for a white-shoe law firm is bad. We're all mountain rangers. We all have peaks and valleys. - Author: Cory Booker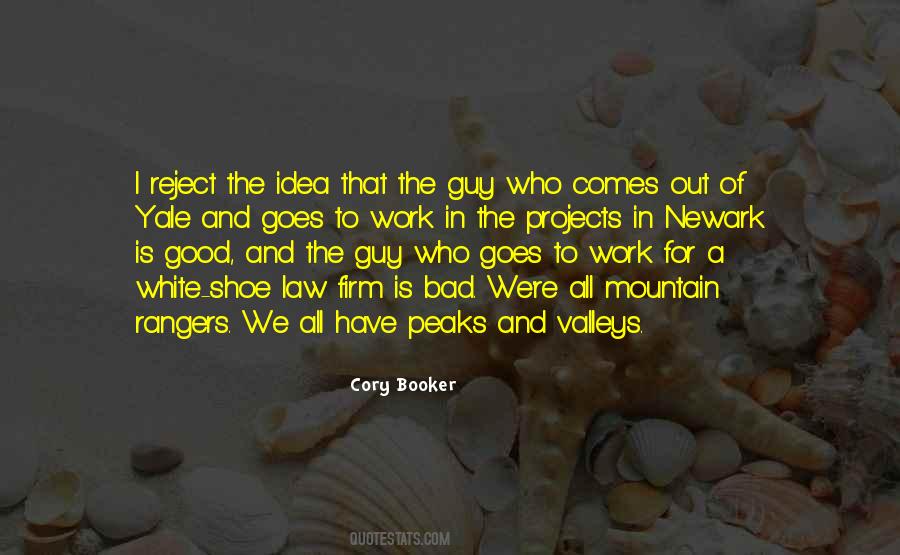 #31. I have always wanted to be both man and woman, to incorporate the strongest and richest parts of my mother and father within/into me - to share valleys and mountains upon my body the way the earth does in hills and peaks. - Author: Audre Lorde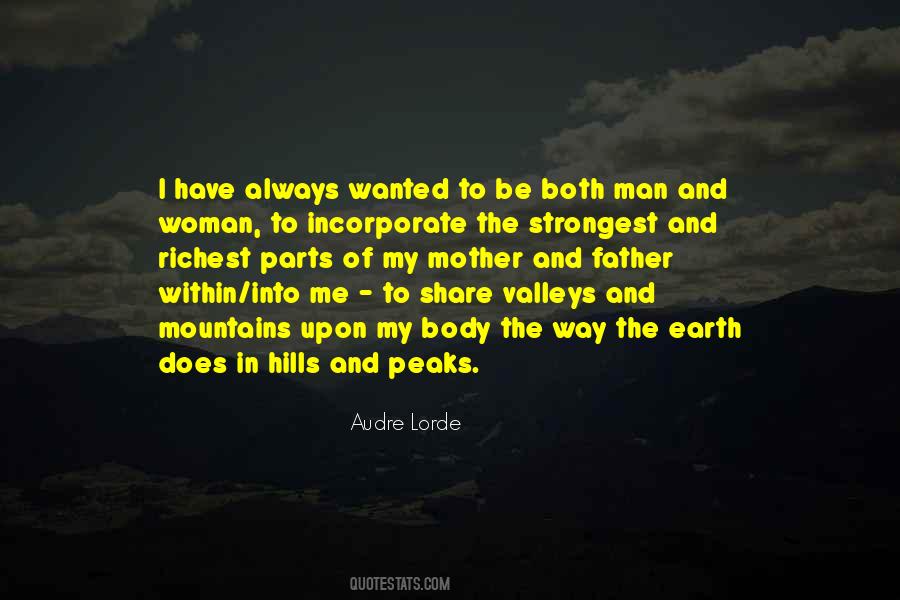 #32. The game is full of peaks and valleys, the key is to avoid the Grand Canyon. - Author: Andy Van Slyke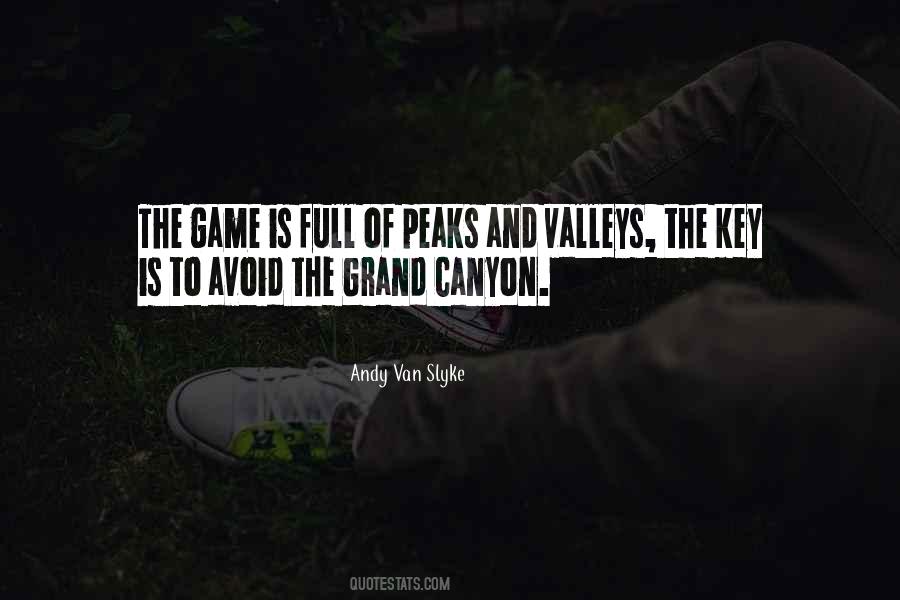 #33. Choose to look at the mountains rather than trying to concentrate on the valleys. It's easier to glance behind you and see the peaks, but it takes actual effort to look down into the darkness of where you've been. - Author: Rachel Van Dyken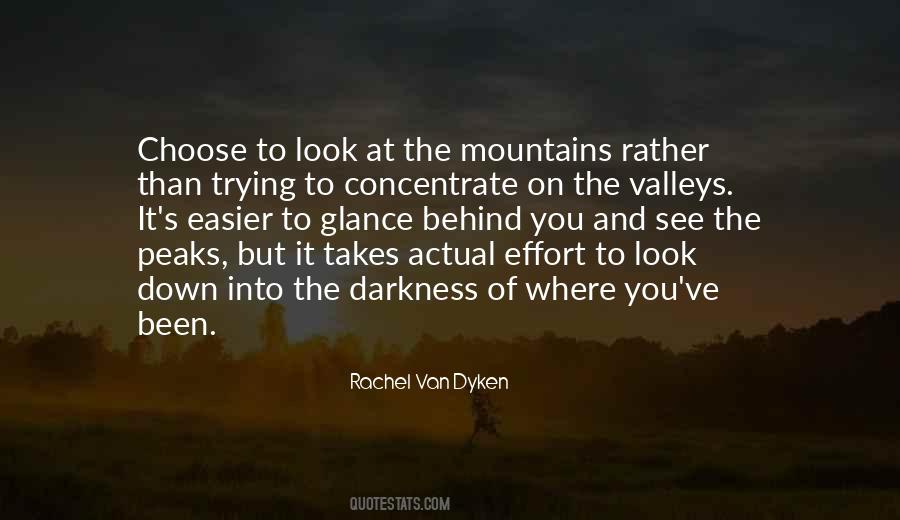 #34. God lives in the peaks and valleys, the jarring transitions, not in the mundane, the safe, the smooth, or the repetitive. But that means there must be at least a certain amount of dissonance. Without dissonance, there is no need of belief, and without belief there surely is no God. - Author: Neil Abramson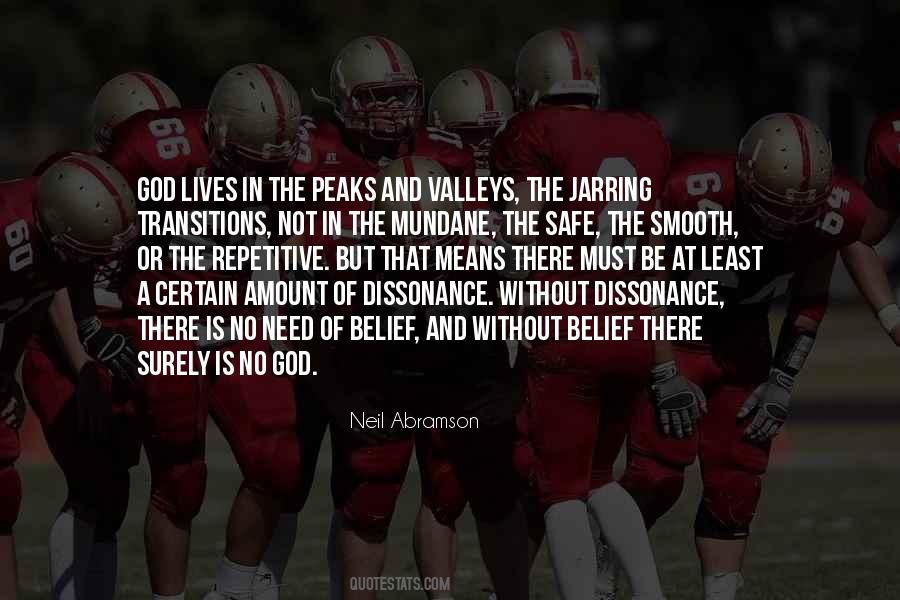 #35. Lucy, you're a passionate, emotional person. Jude isn't so much different. What do you expect to be the result when you two come together? You two don't multiply the peaks and the valleys together; you exponentially affect them. - Author: Nicole Williams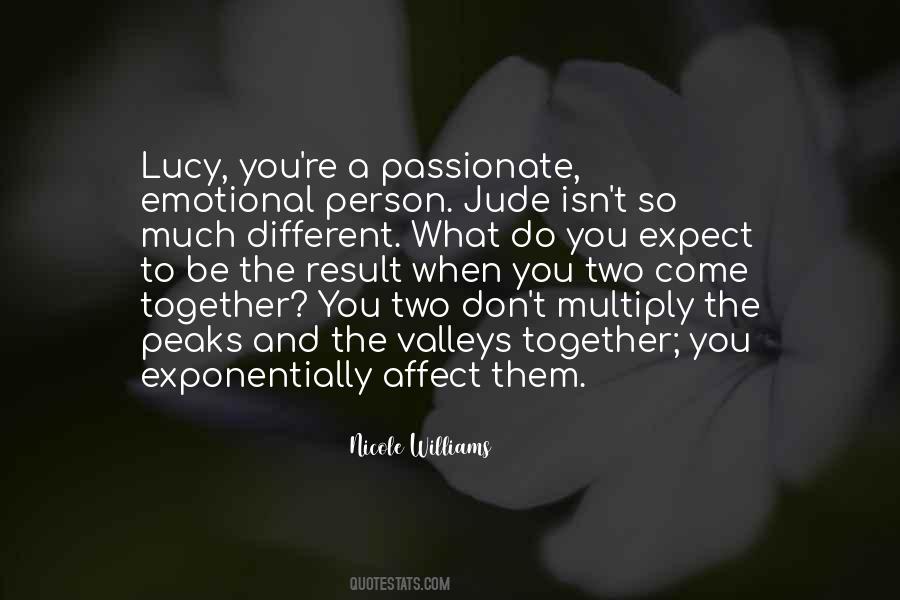 #36. Baseball can be a game of peaks and valleys. Mentally, I want to stay away from the ups and downs and just maintain a level approach. - Author: Mark Teixeira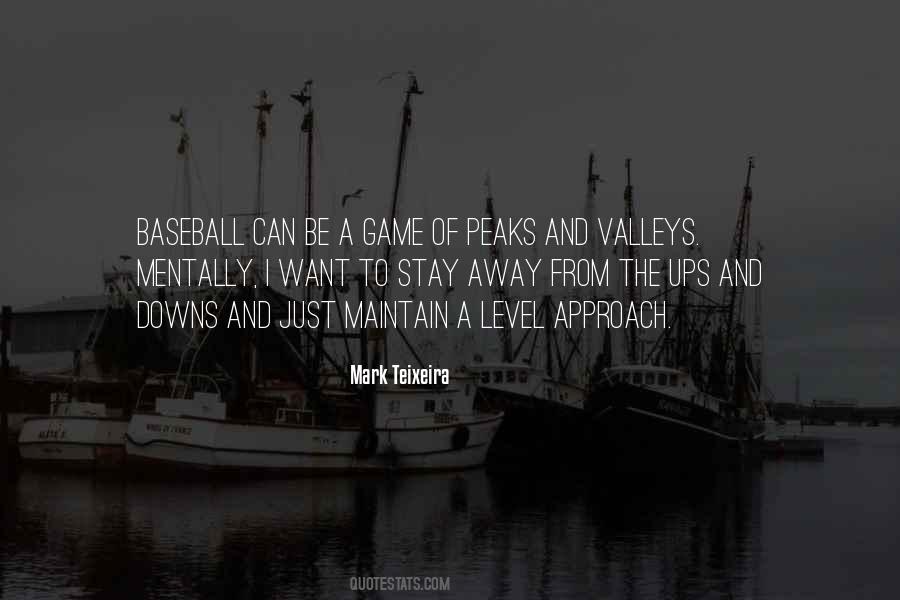 #37. It is but it's also true. Long term relationships - the ones that matter - are all about weathering the peaks and the valleys. And you are still thinking long term, right? - Author: Nicholas Sparks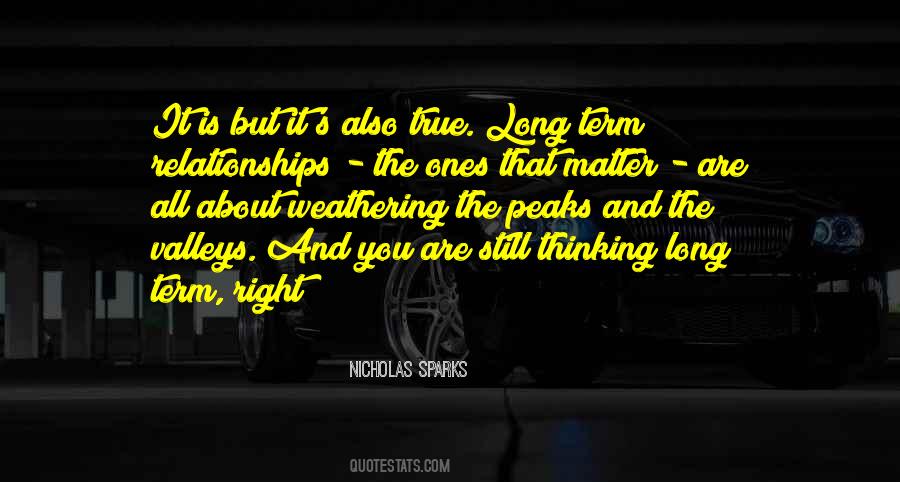 #38. It's been a career filled with very low valleys and some wonderful, high peaks. - Author: Pat Morita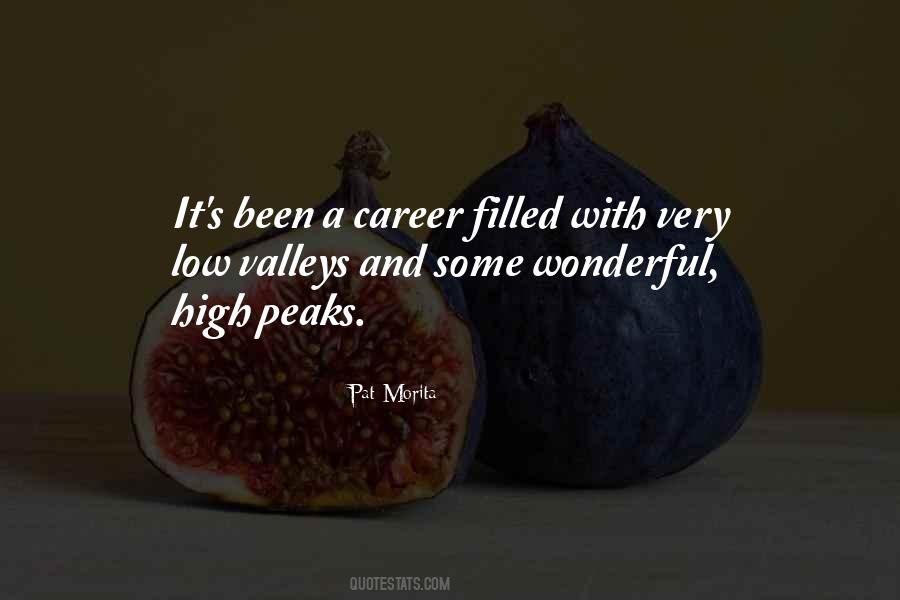 #39. Athletes are sort of part of the community at large. They have to be dedicated to what they do, and go through lots of peaks and valleys. And there's a lot of training that goes into their careers. It's a struggle. Very dramatic. - Author: Dennis Quaid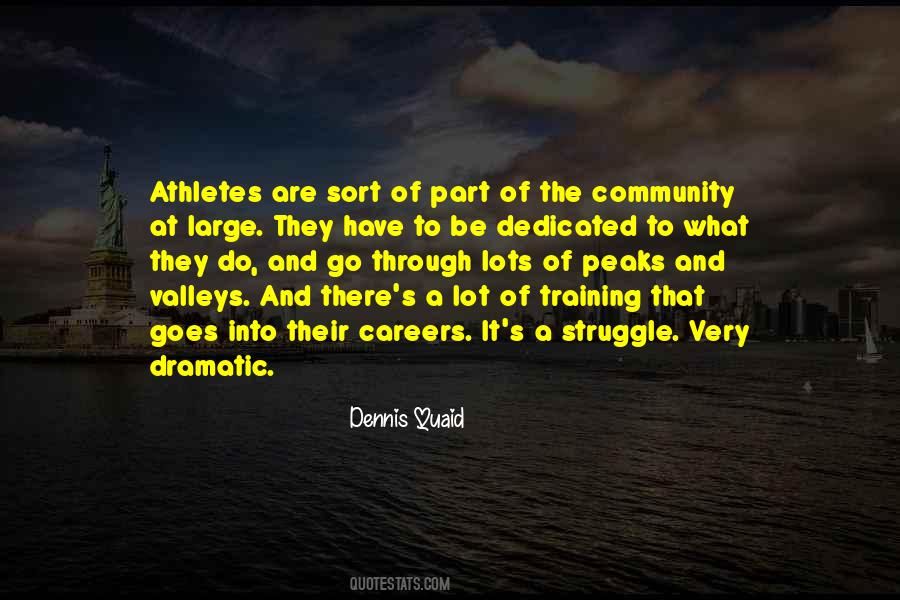 #40. To me it comes naturally, the peaks and valleys, sadness with happiness. I've definitely had periods, maybe, where I haven't been happy. Whether it's from a breakup or the good, old-fashioned blues - but I wouldn't say clinically depressed. - Author: Luke Wilson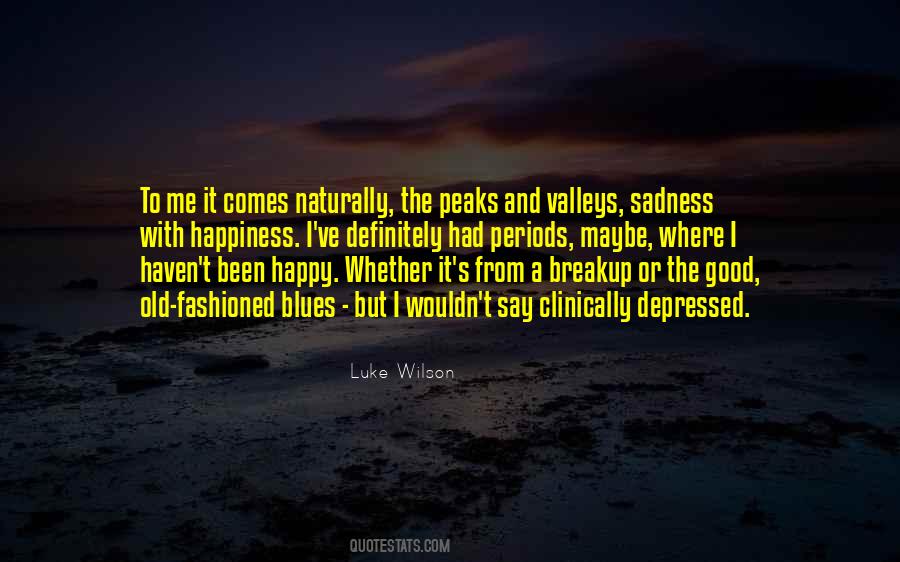 #41. The mountains paralleled the valley and the snowy peaks were extending with fall to the valley floor. - Author: Thomas McGuane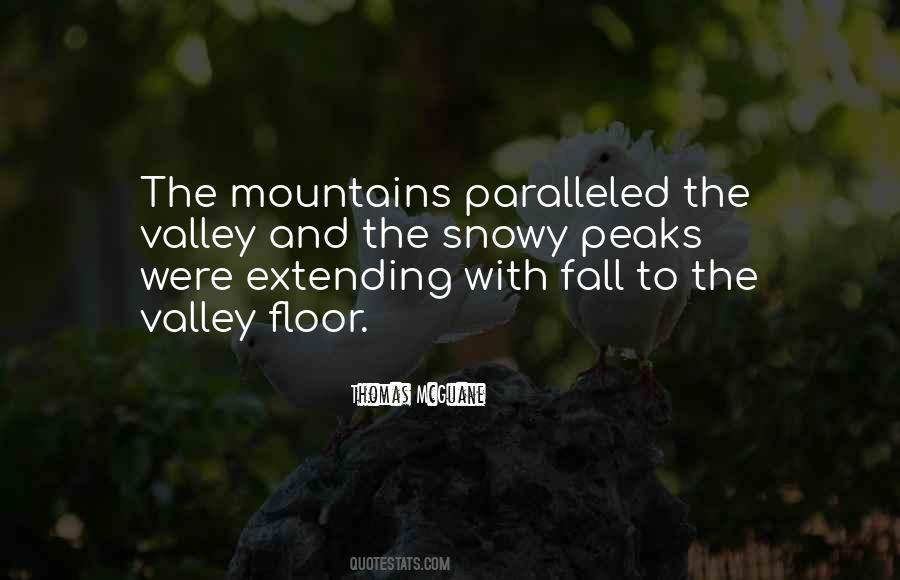 #42. Life is supposed to be a series of peaks and valleys. The secret is to keep the valleys from becoming Grand Canyons. - Author: Bernard Williams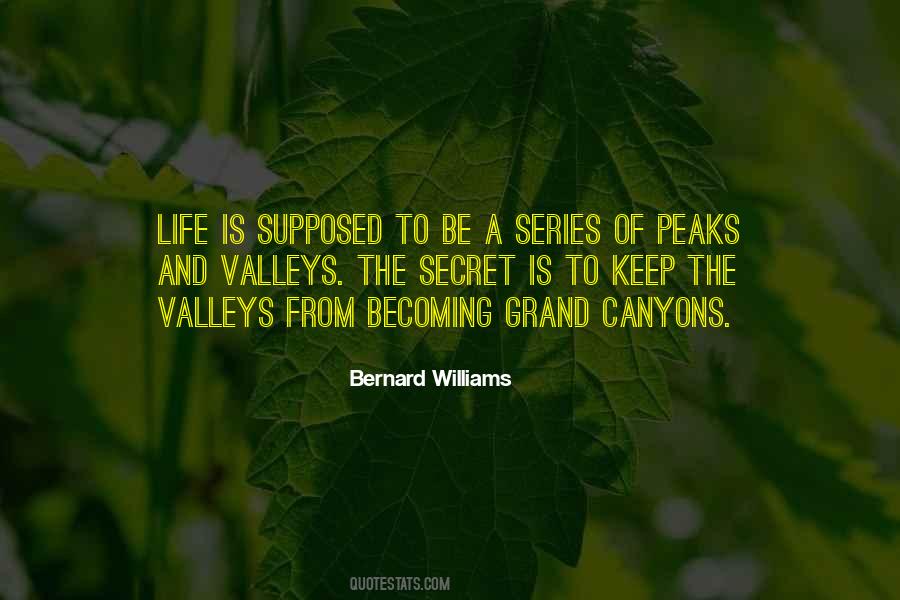 #43. Every couple needs to argue now and then. Just to prove that the relationship is strong enough to survive. Long-term relationships, the ones that matter, are all about weathering the peaks and the valleys. - Author: Nicholas Sparks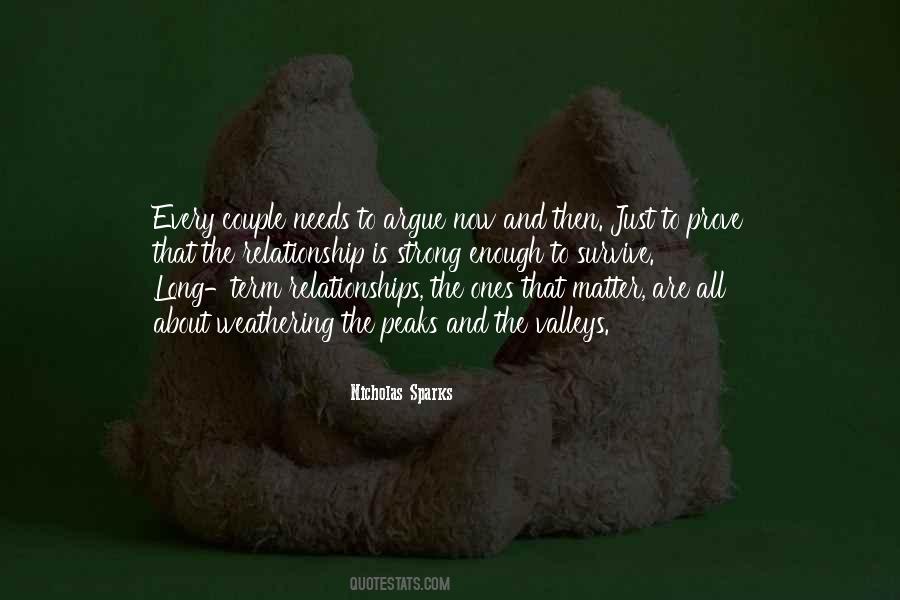 #44. The key to life," he told me once, "is to avoid the highs and the lows. It's the peaks and valleys that mess you up. - Author: Tayari Jones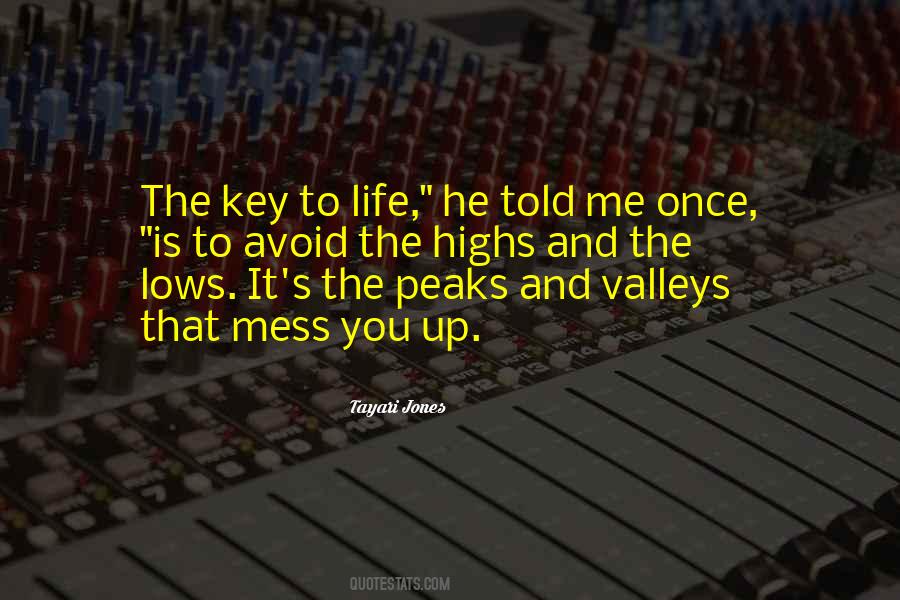 #45. You Cannot Always Control External Events, But You Can Control Your Personal Peaks And Valleys By What You Believe And What You Do. - Author: Spencer Johnson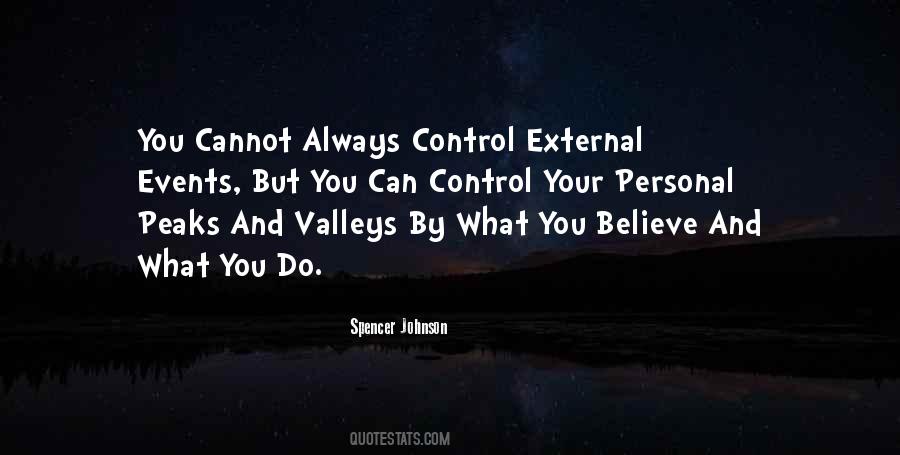 #46. When you have big historic changes, there are going to be ups and downs ... There are going to be peaks and valleys. Some things are going to go right. Some things are going to go wrong. But as long as the strategic direction is going in the right way, that's really what you have to judge. - Author: Condoleezza Rice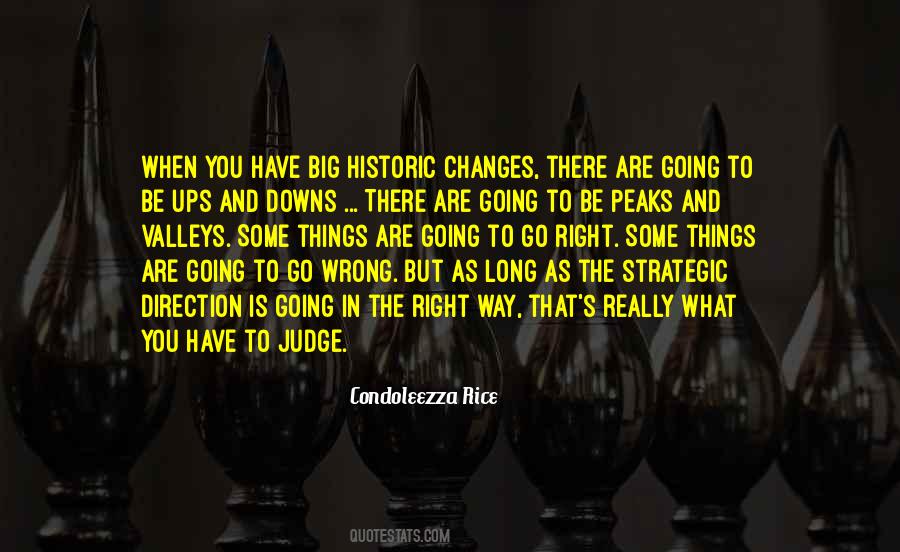 #47. Life has its sunshine and its rain, sir ... its days and its nights ... its peaks and its valleys ... - Author: Charles M. Schulz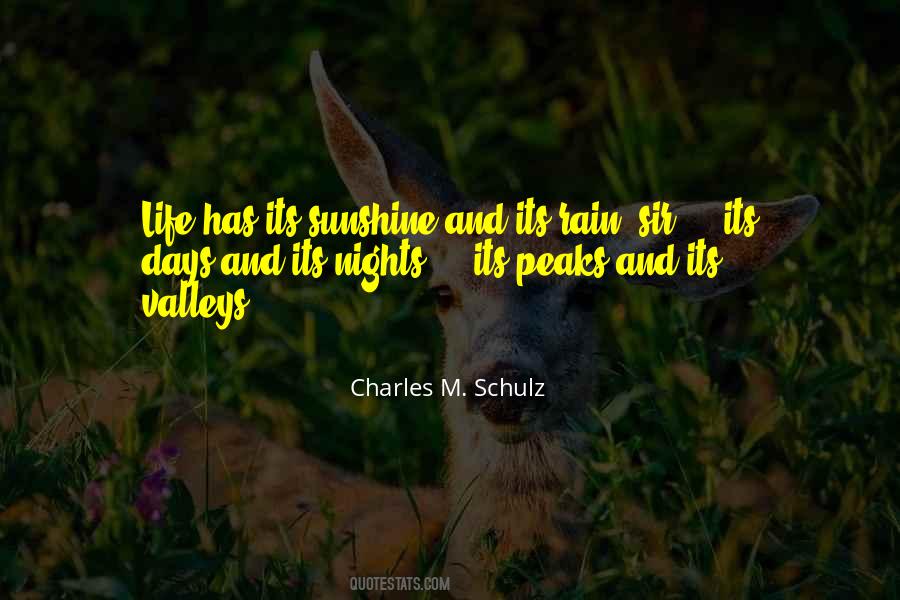 #48. This game is so elusive. You try to maintain the peaks and level up the valleys. - Author: Tom Watson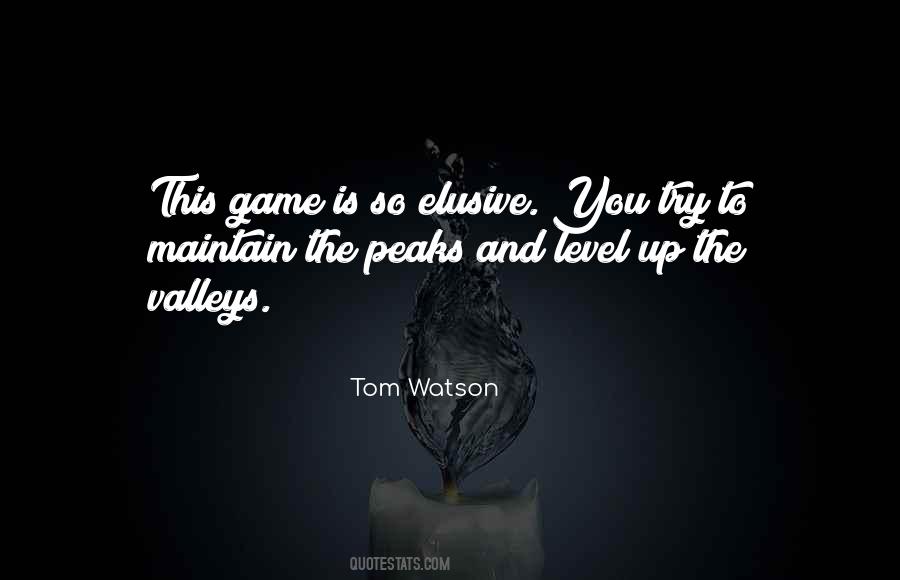 #49. lmost everything looked more beautiful from a distance, the earth becoming more perfect as one ascended and came closer to seeing the world from God's eyes, man's hovels and palaces disappearing, the peaks and valleys of geography fading to become strokes of a paintbrush on a divine sphere. - Author: Viet Thanh Nguyen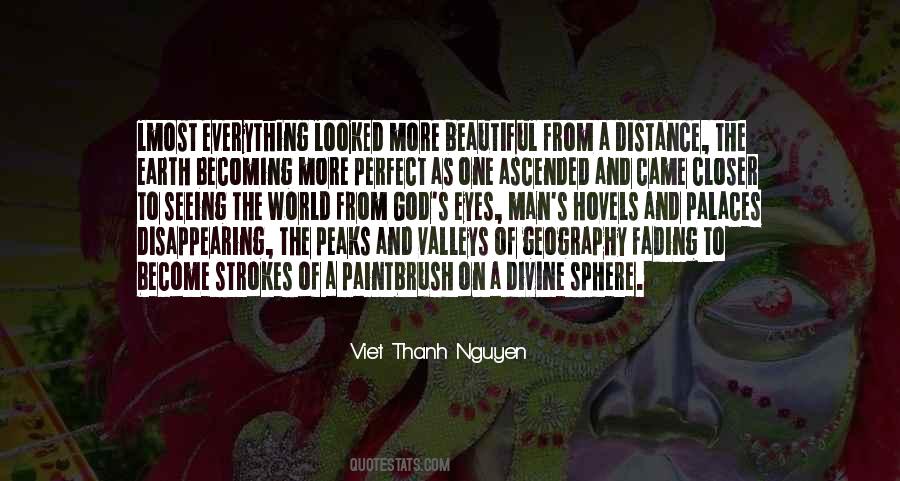 Famous Authors
Popular Topics