Peace And Love Famous Quotes & Sayings
List of top 100 famous quotes and sayings about peace and love to read and share with friends on your Facebook, Twitter, blogs.
Top 100 Quotes About Peace And Love
#1. Spreading the Gospel means that we are the first to proclaim and live the reconciliation, forgiveness, peace, unity, and love that the Holy Spirit gives us. - Author: Pope Francis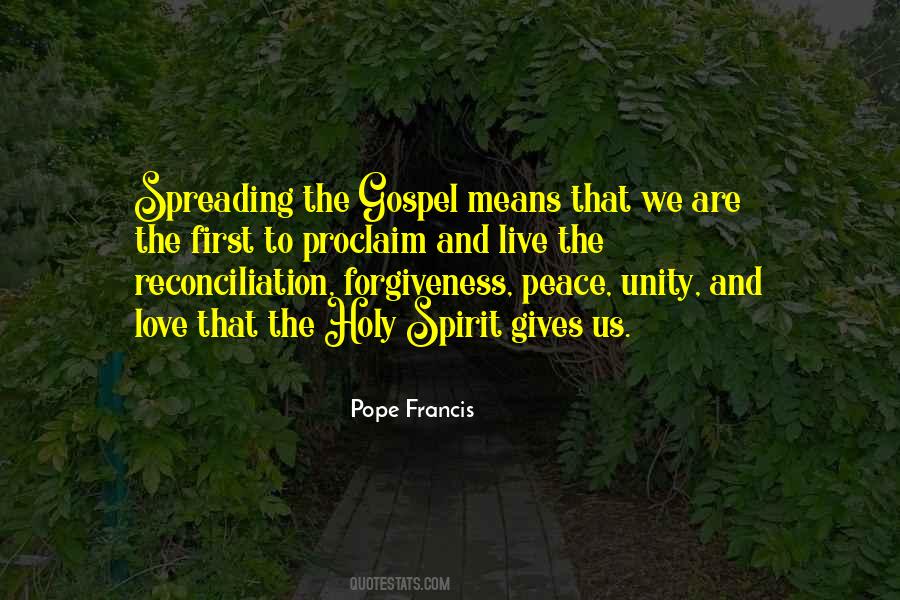 #2. Love was never meant to be contained solely in our hearts, just as life in a seed was always meant to break through into the world and become beauty to be shared. - Author: Forrest Curran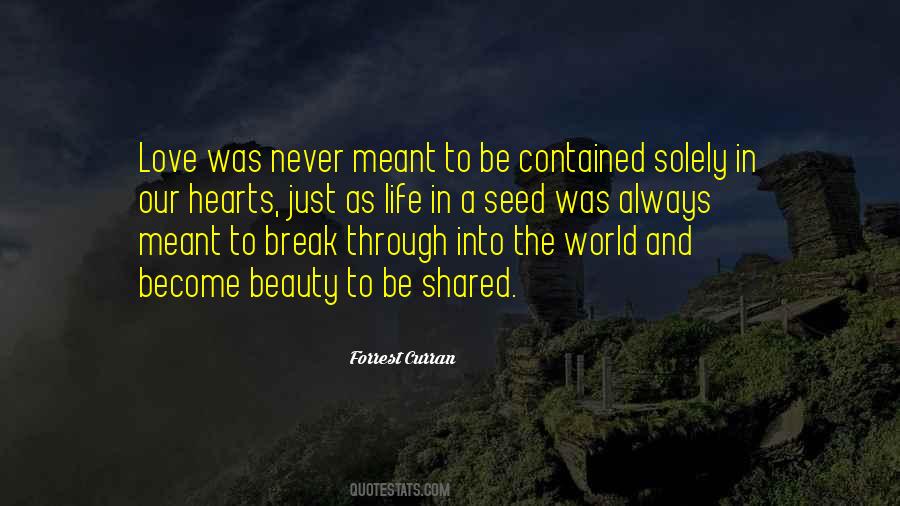 #3. Every moment of our life is filled with joy, happiness, and peace; we can see it when we pay the attention. - Author: Debasish Mridha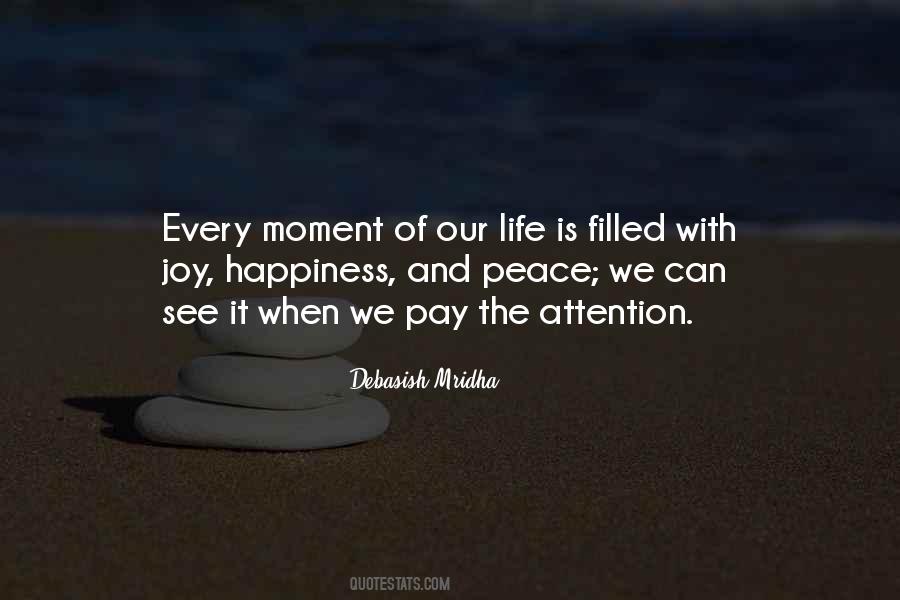 #4. A praying mother symbolizes grace, strength and wisdom; she is an icon of productivity and ingenuity. - Author: Jaachynma N.E. Agu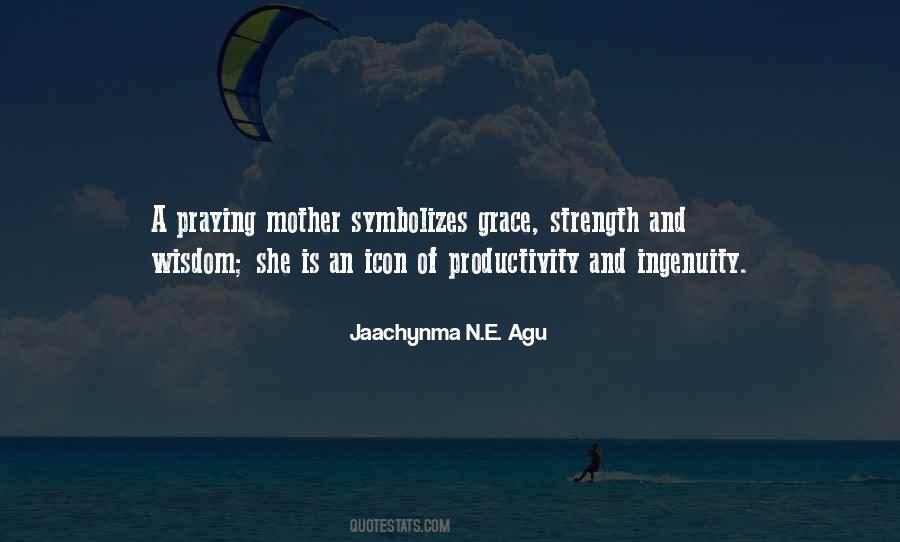 #5. People who tell untruths are easily deceived because they have placed their energy in that negative vibration location and are now a match for that behavior. - Author: Molly Friedenfeld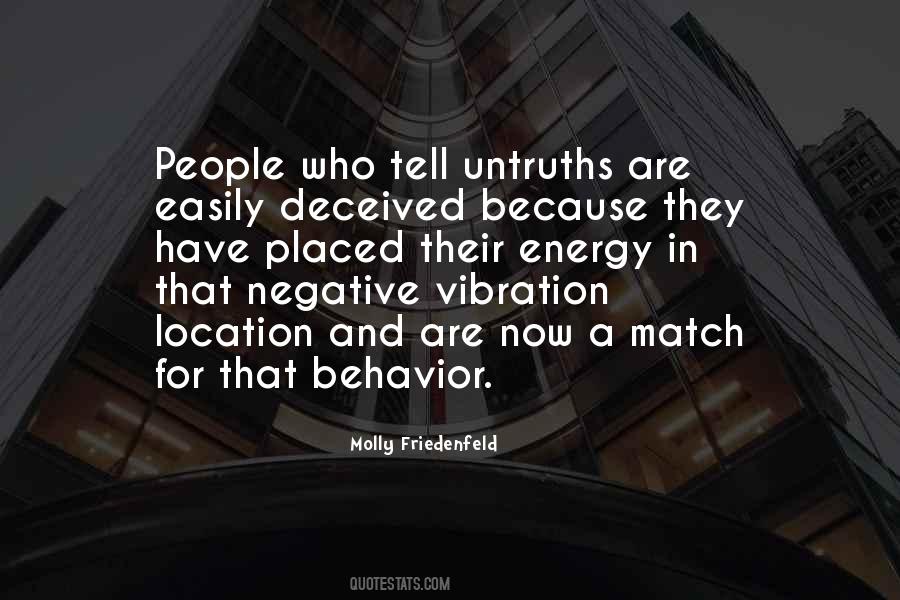 #6. Today, and forever, remember that your peace is not dependent on anything but the one-way, never-ending love of Jesus. - Author: Tullian Tchividjian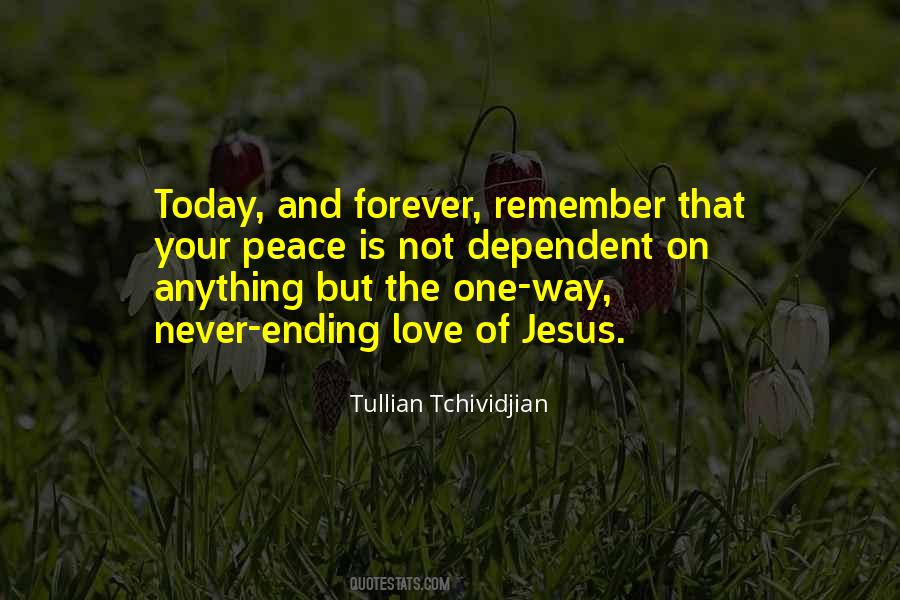 #7. The Temple of Righteousness is built and its four walls are the four Principles - Purity, Wisdom, Compassion, Love. Peace is its roof; its floor Steadfastness, its entrance-door is Selfless Duty, its atmosphere is Inspiration, and its music is the Joy of the perfect. - Author: James Allen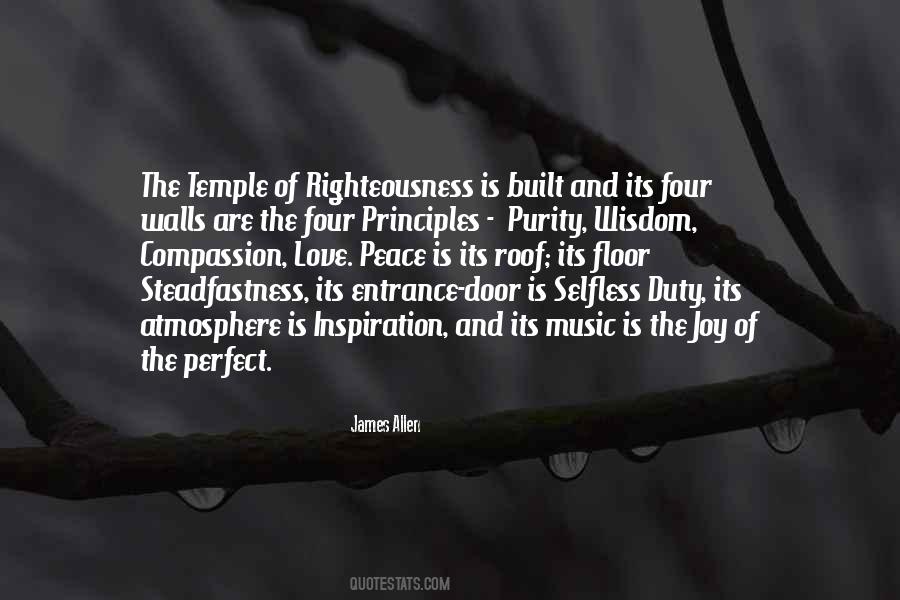 #8. Humanity needs justice, peace and love and we can have this only by returning with our hearts towards God who is the source of all this. - Author: Pope Francis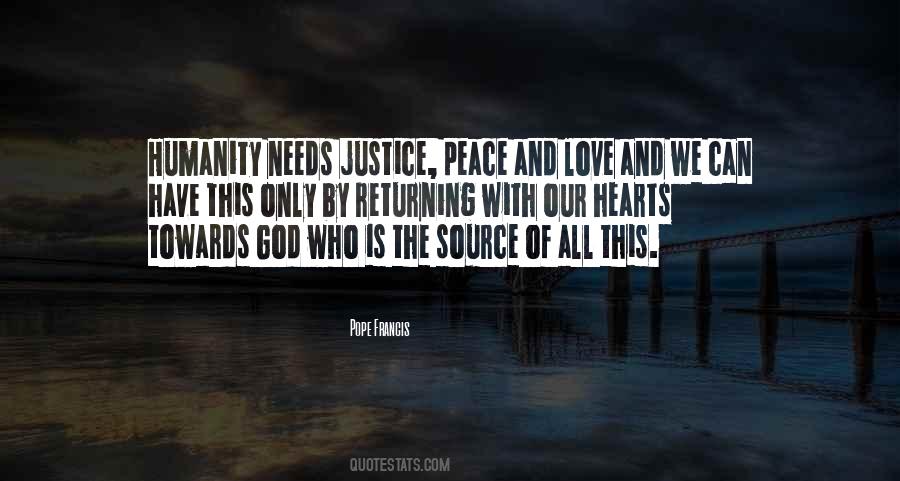 #9. Start a rumor about
peace taking over,
love being the new black,
and compassion going viral. - Author: Khang Kijarro Nguyen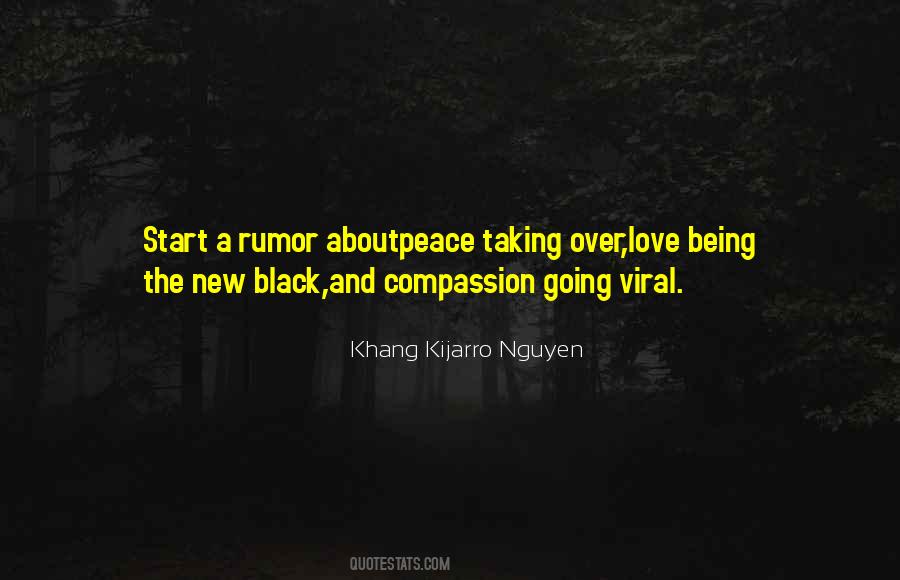 #10. You will find the peace, not by looking outside, but by changing your thoughts, feelings and perception inside. - Author: Debasish Mridha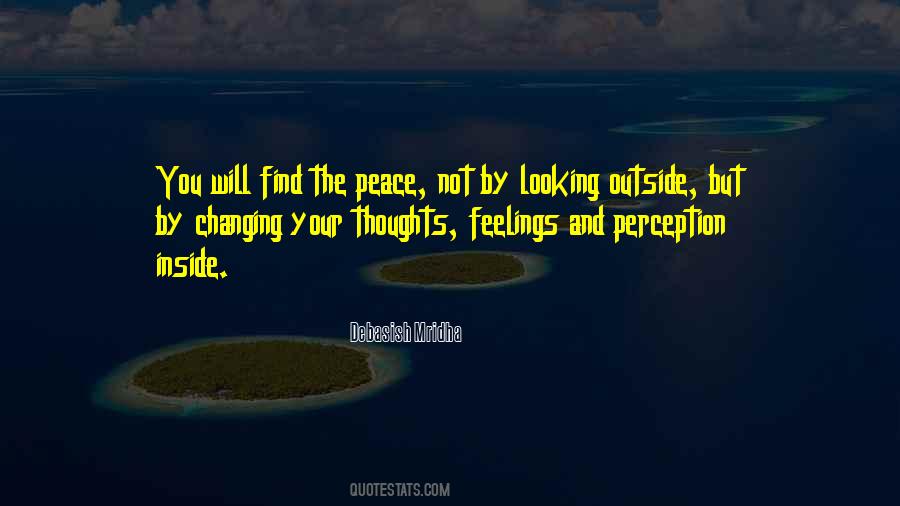 #11. Whatever we focus our attention on will expand in our experience. If we focus on cultivating the higher qualities of love, compassion, joy and peace, they will expand - not only in our own lives, but also into the world beyond. - Author: Deepak Chopra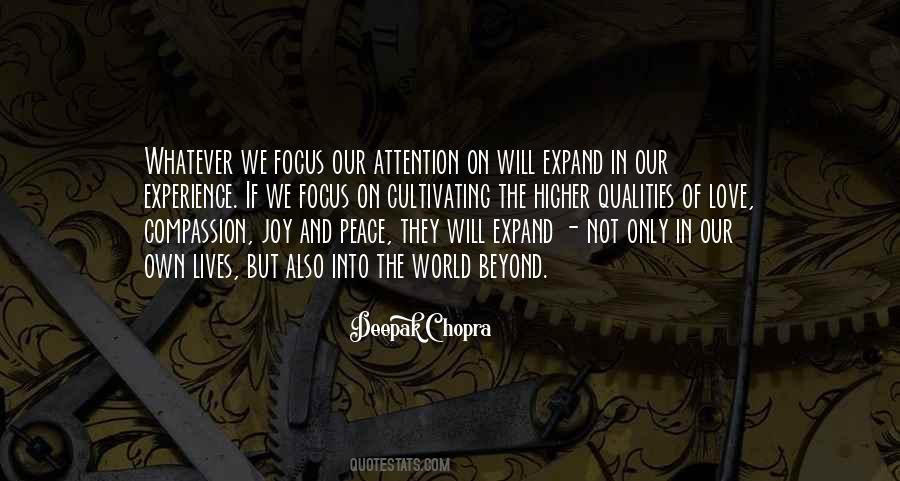 #12. In a world of noise, confusion and conflict it is necessary that there be places of silence, inner discipline and peace. In such places love can blossom. - Author: Thomas Merton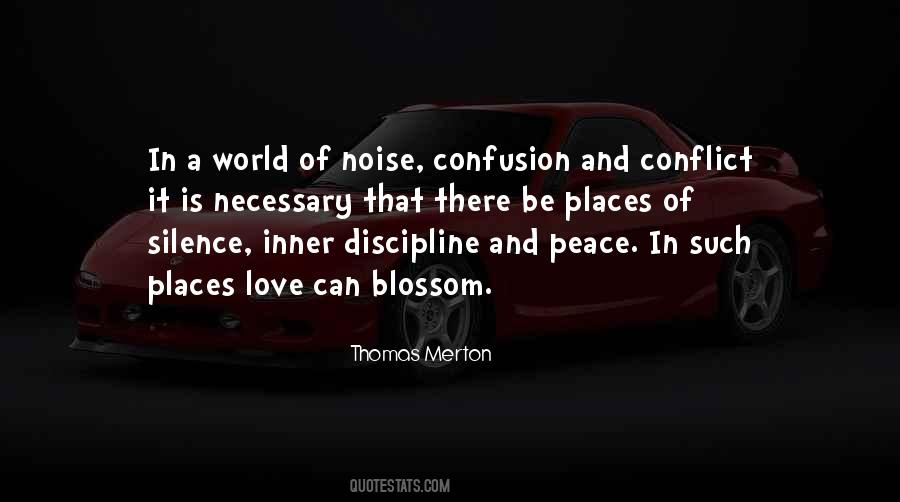 #13. All that is contrary to love and peace is of the Fiend and of his part. - Author: Julian Of Norwich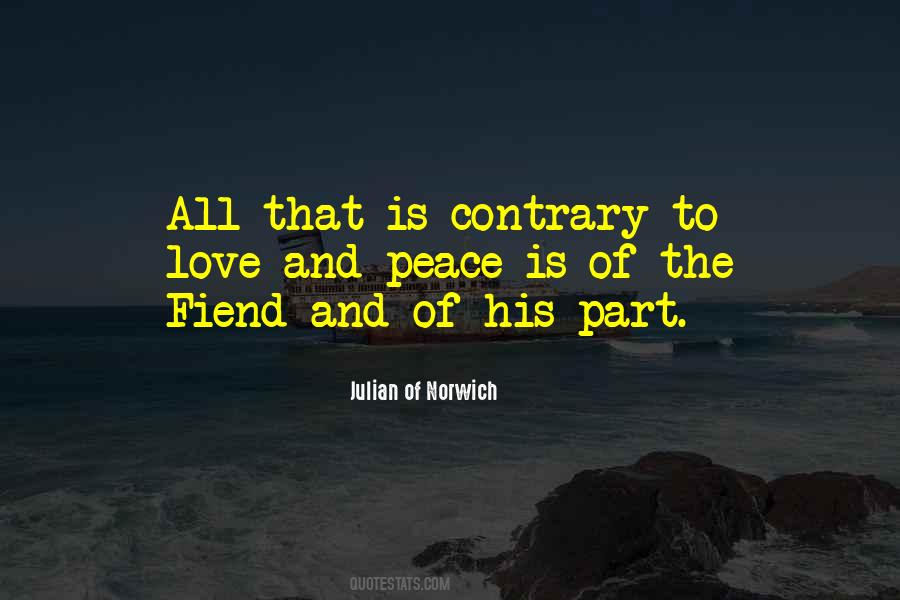 #14. Let me go where love is abundant, peace is plentiful, and joy is in the air. - Author: Debasish Mridha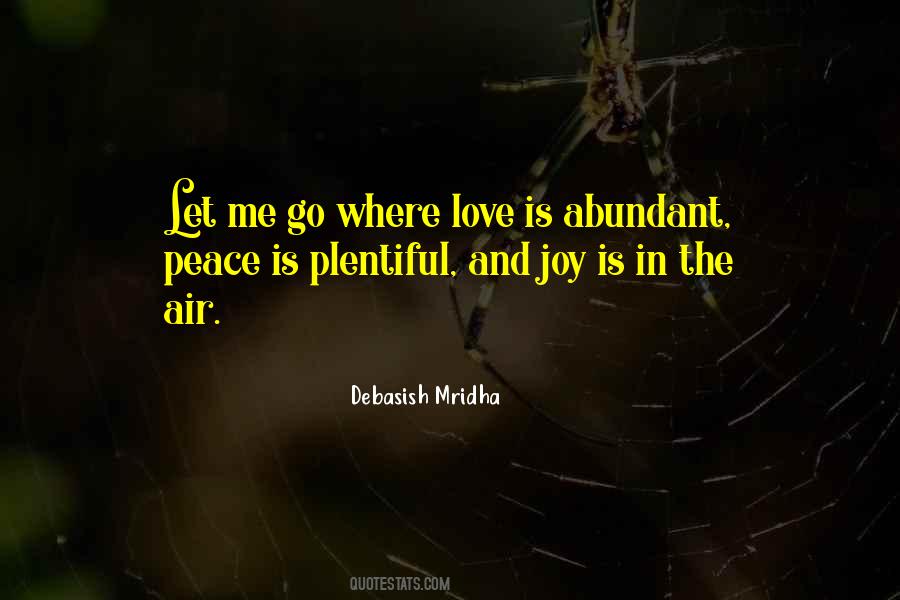 #15. As I read the Qur'an and prayed the Islamic prayers, a door to my heart was unsealed and I was immersed in an overwhelming tenderness. - Author: Jeffrey Lang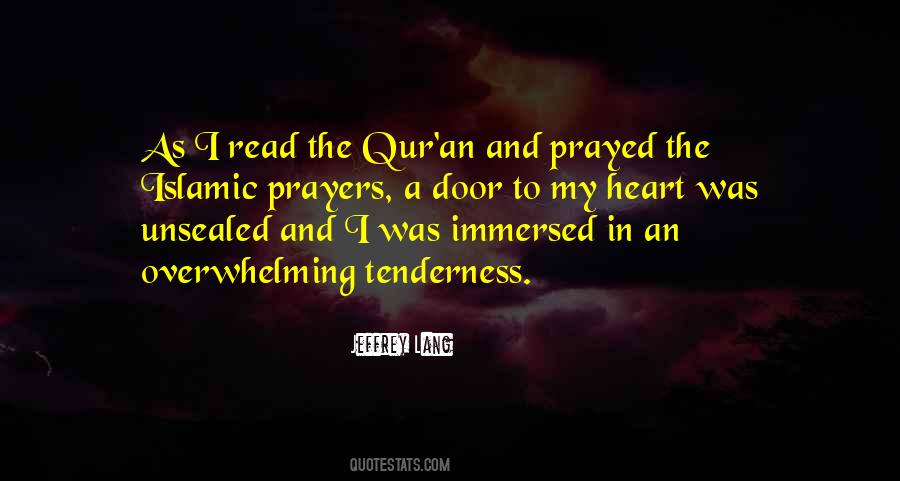 #16. Dare to be vulnerable, walk outside without your armor on and say YES to your heart. - Author: Alaric Hutchinson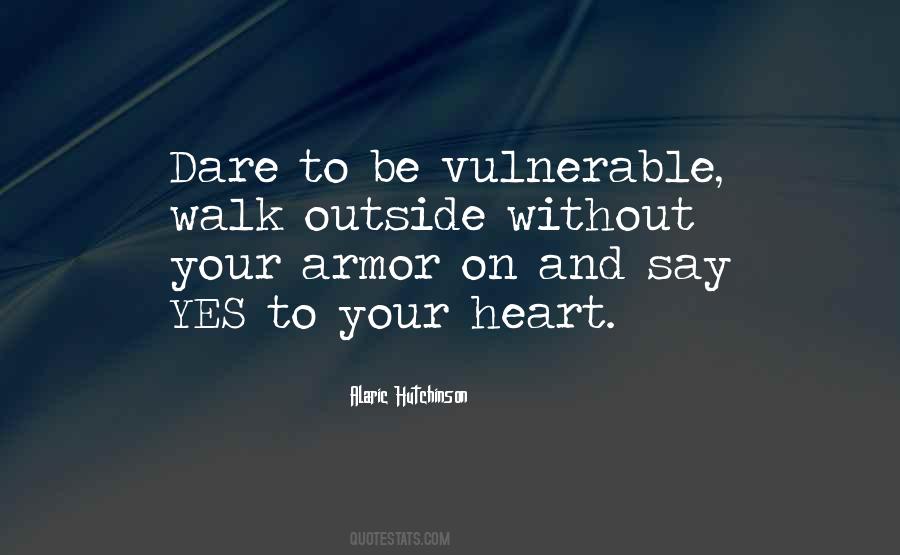 #17. Love and compassion are the pillars of world peace. - Author: Dalai Lama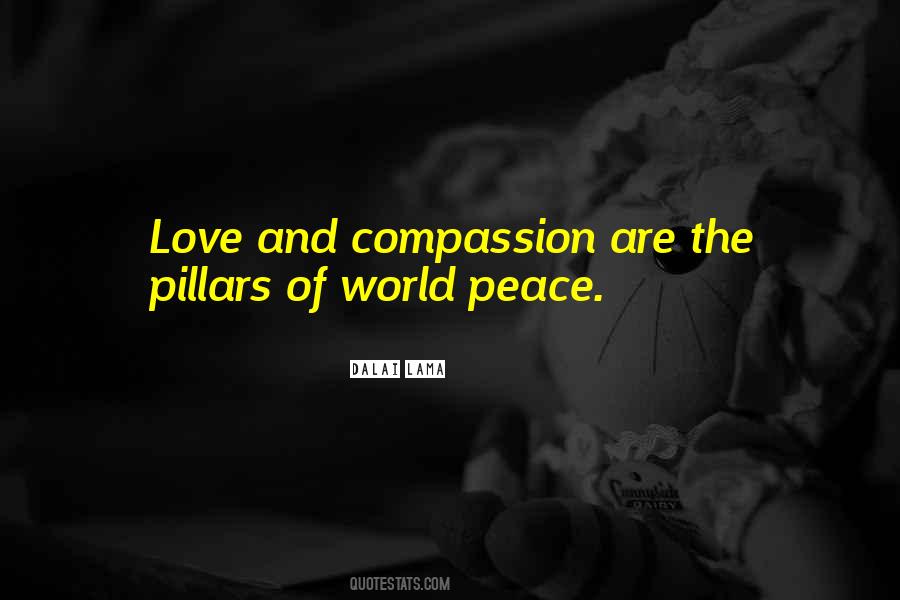 #18. Everything you ever had, everything you ever lost. It's all there in the trumpet
pain and hate and trouble and peace and quiet and love. - Author: Ann Petry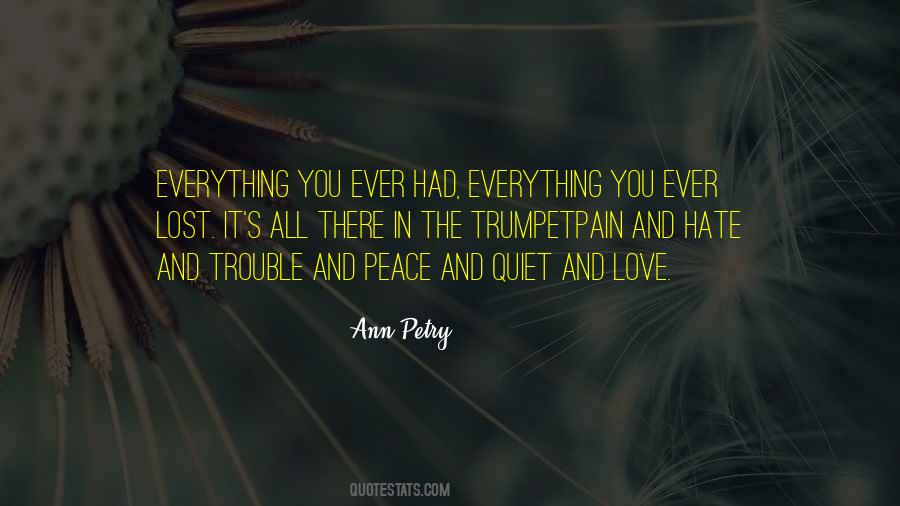 #19. Until he has unconditional and unbiased love for all beings, man will not find peace. - Author: Gautama Buddha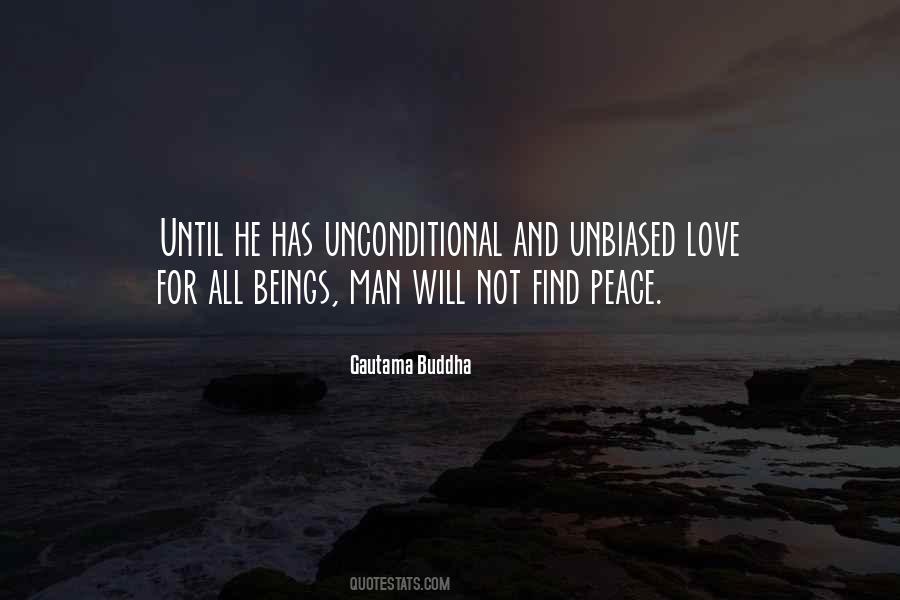 #20. They have the guns, we have the poets. Therefore, we will win. - Author: Howard Zinn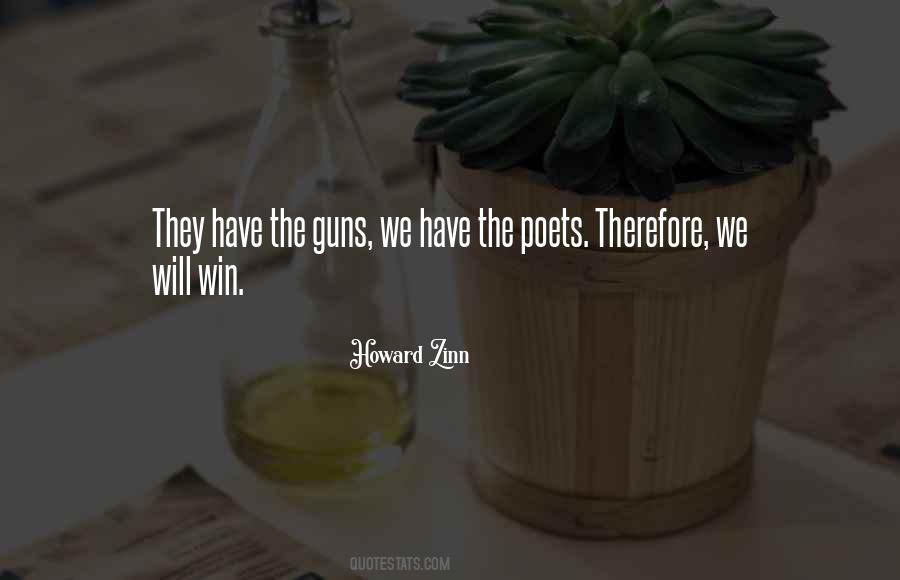 #21. Gratitude is the sweetest source of inner peace and pure happiness. - Author: Debasish Mridha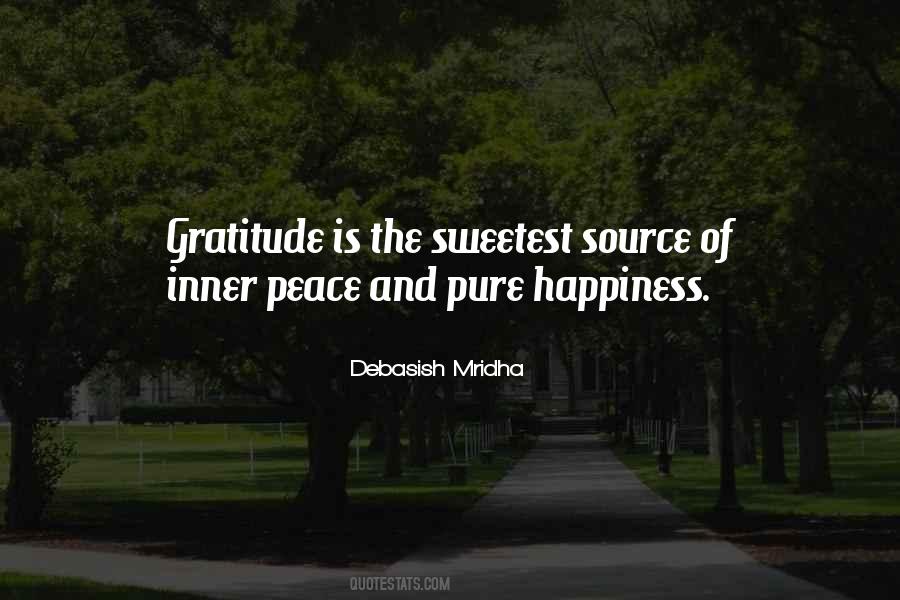 #22. Today, clean our hearts of any emotional poison that we have, free our minds from any judgment so that we can live in complete peace and complete love. - Author: Miguel Ruiz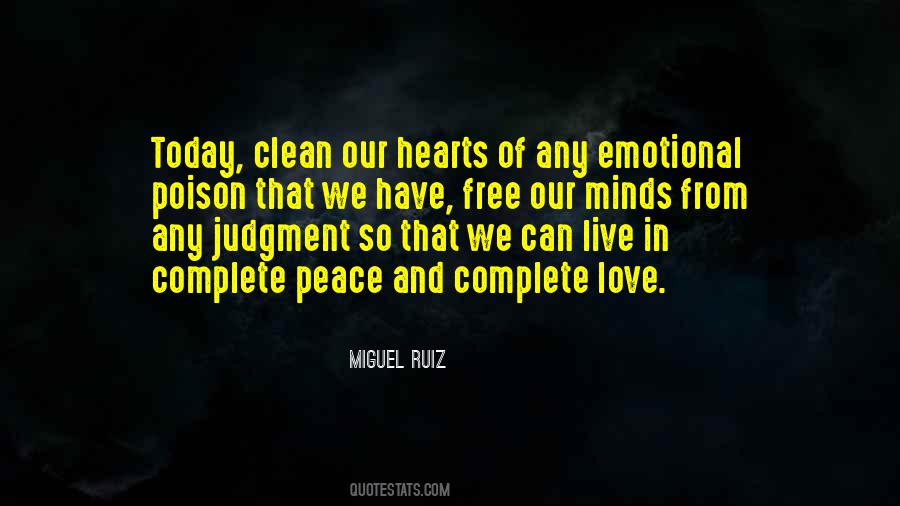 #23. Greatness occurs when your children love you, when your critics respect you and when you have peace of mind. - Author: Quincy Jones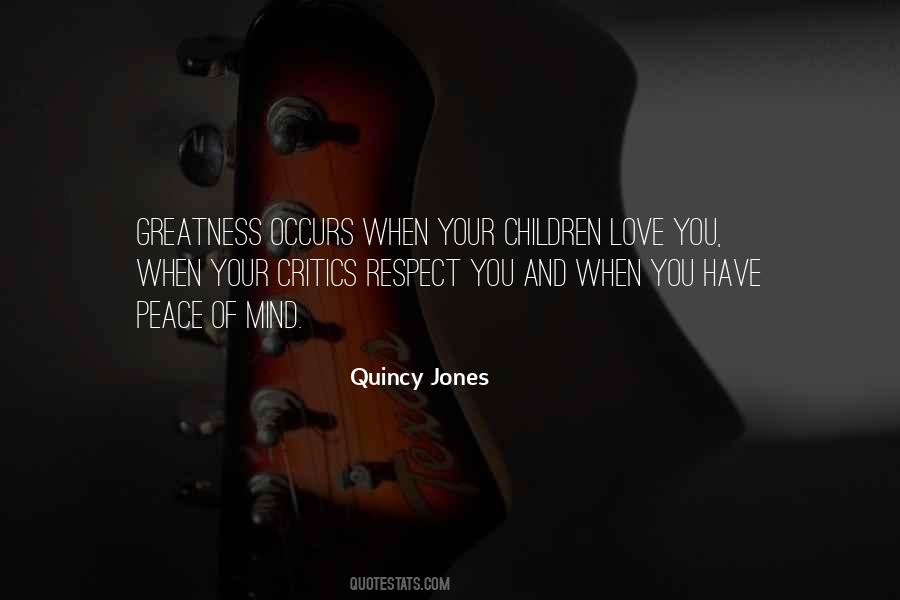 #24. Our job is not to find the peace or create peace, but to find and eliminate all the obstacles on the way to the peace. - Author: Debasish Mridha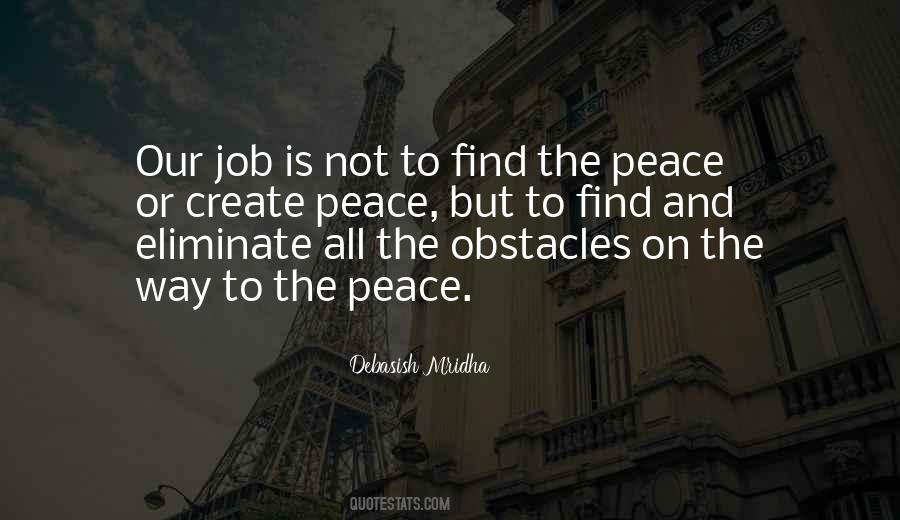 #25. When we choose to love people and the wonderful things around us, it always puts us one step above the people who choose not too. There's a peace we'll carry in our hearts. A feeling of being worthy of all situations. - Author: Ron Baratono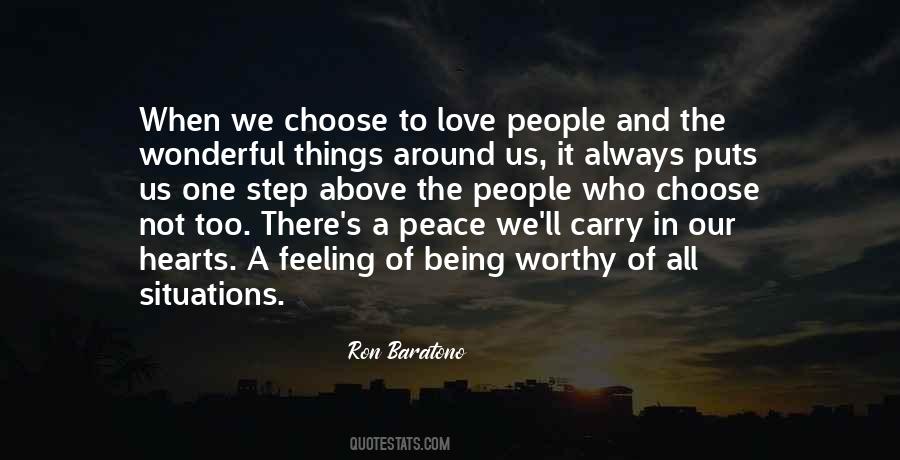 #26. A lot of people don't know that I love to love. To have a different kind of mask on me where people feel like I'm not a loving individual. I just love to love, I love everything and everybody, I'm about peace that's my spirit. - Author: Snoop Dogg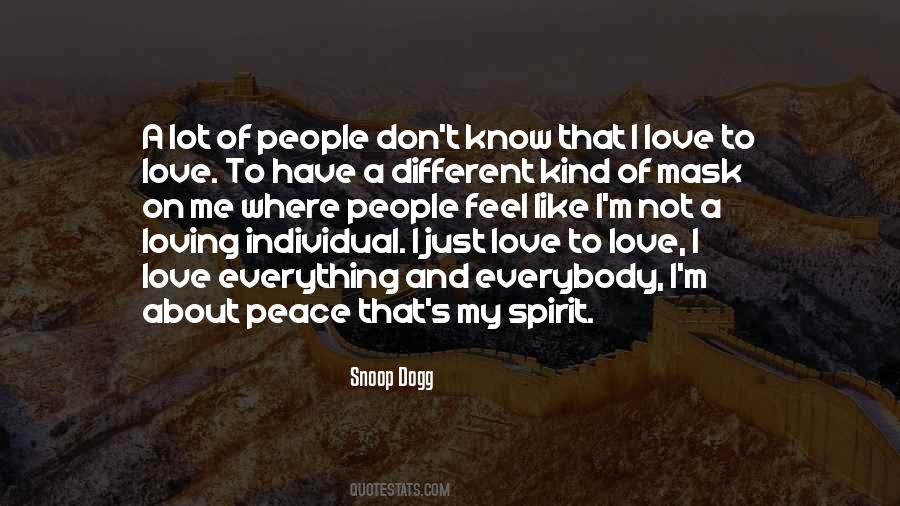 #27. For how can any human be separate from humanity and humanness? - Author: Kamand Kojouri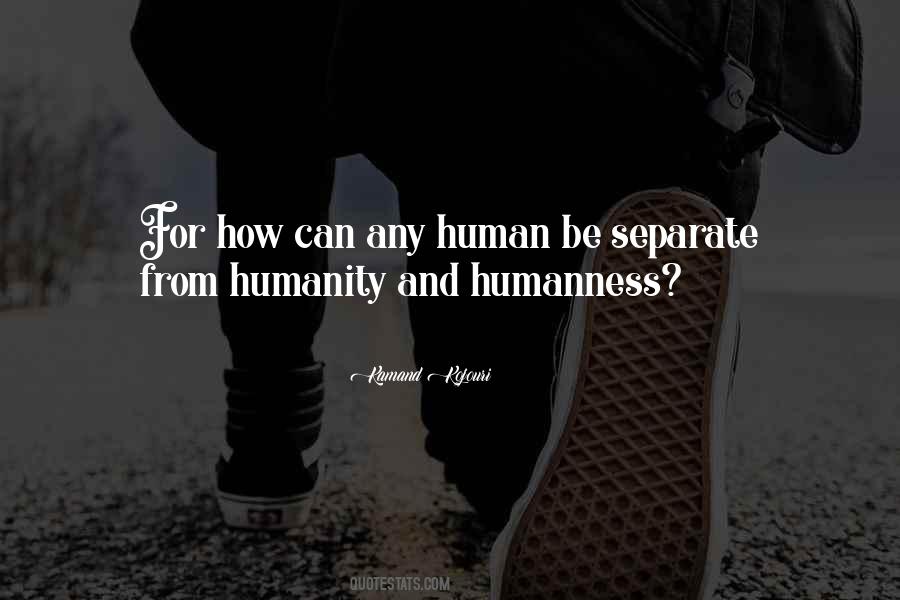 #28. A loving mother makes sacrifices for peace and laughter to reign in her home and family. - Author: Jaachynma N.E. Agu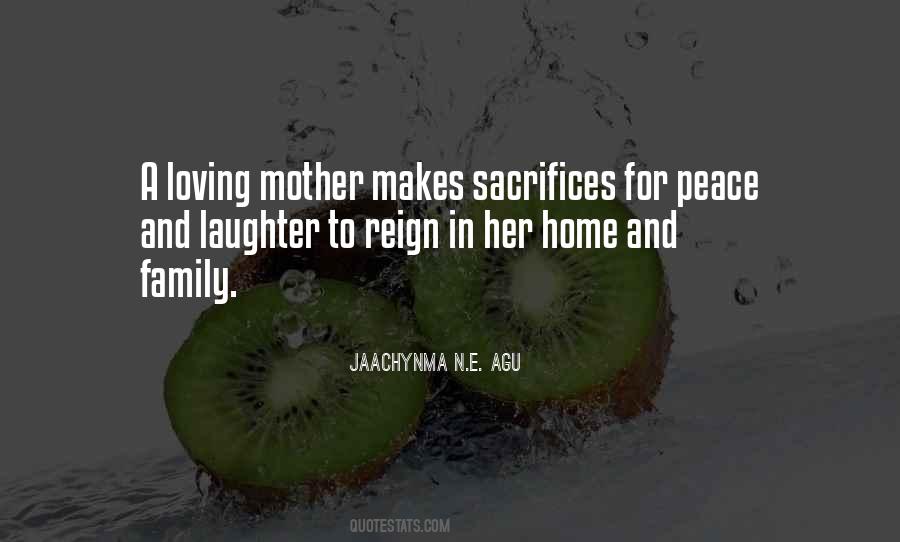 #29. To die,
so young to die.
No, no, not I,
I love the warm sunny skies,
light, song, shining eyes,
I want no war, no battle cry,
No, no, not I. - Author: Hannah Senesh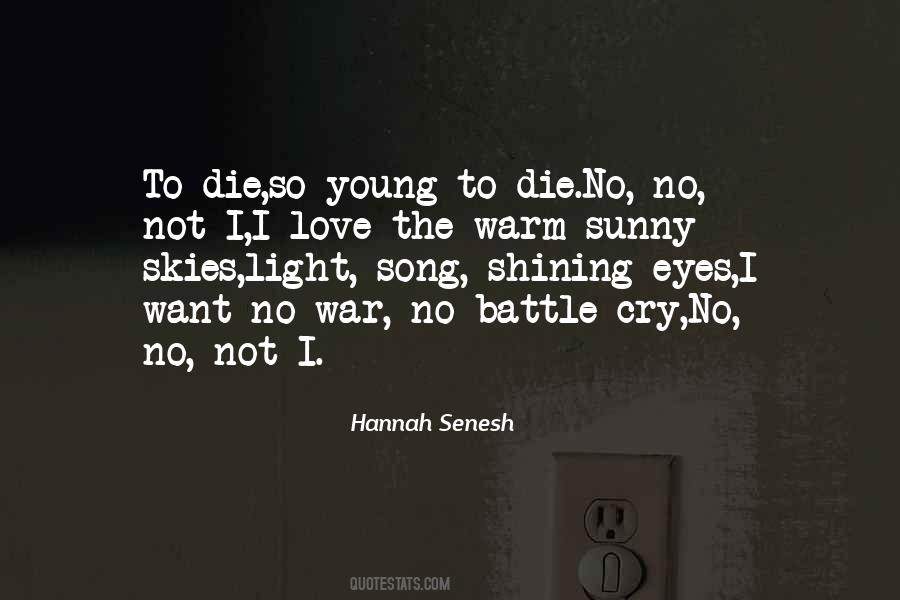 #30. Exchange love for hate ... Thereby, making the present comfortable and the future promising. - Author: Maya Angelou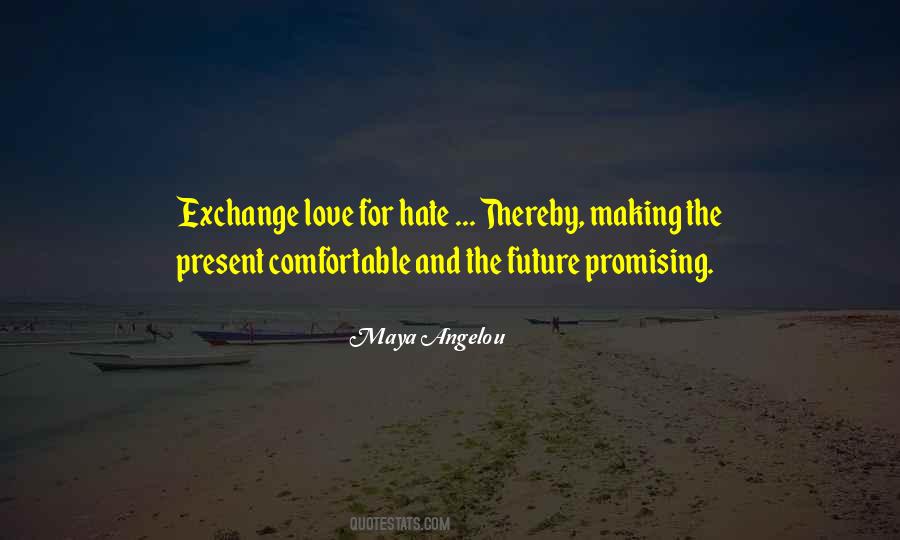 #31. I see when you doubt yourself, i feel your fear. please put down your burden and remember i am here. -your angels. - Author: Nikki Rowe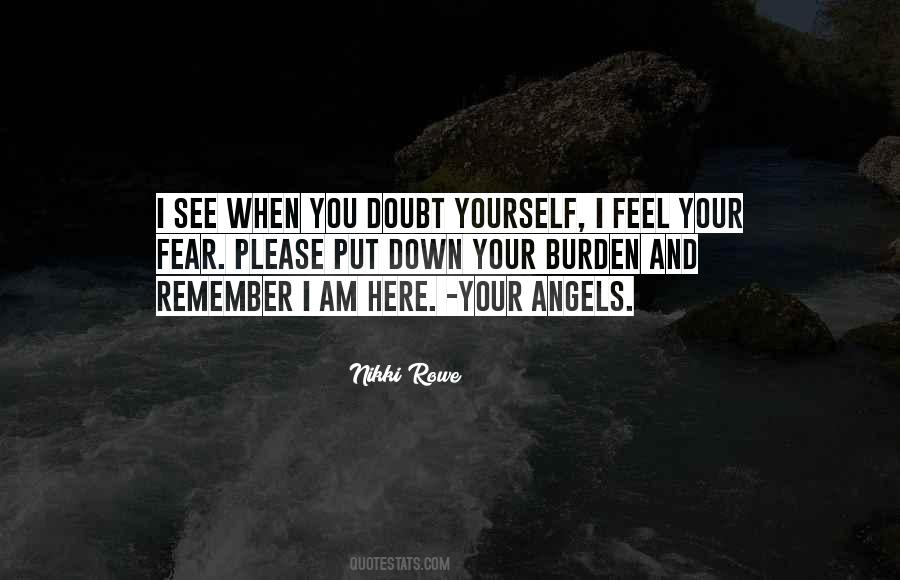 #32. Despite all the sadness, violence and misery, I still believe in universal peace, goodness, and beauty of humanity. - Author: Debasish Mridha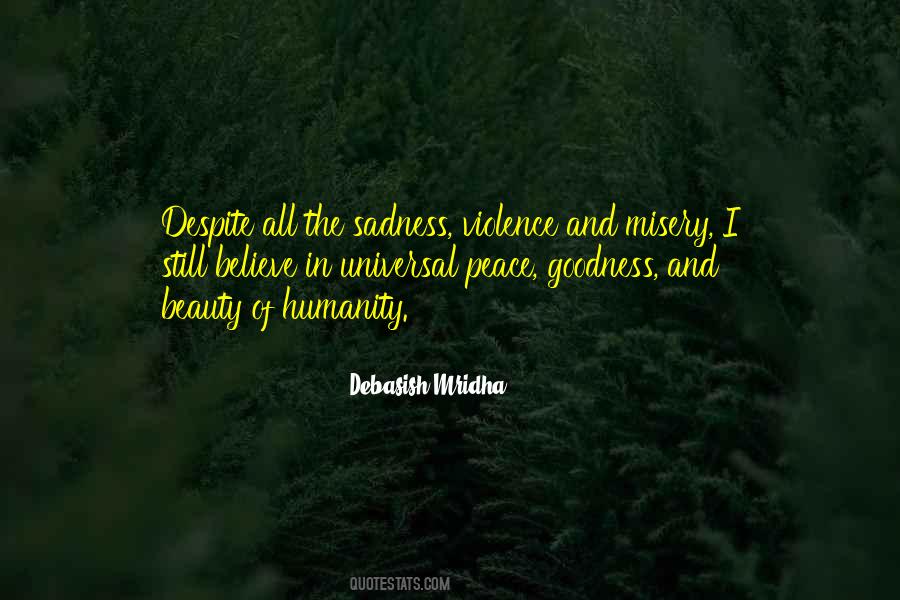 #33. Only in making peace - with ourselves, with others, and the world - will any of us find the life we are hoping for. - Author: Laurence Overmire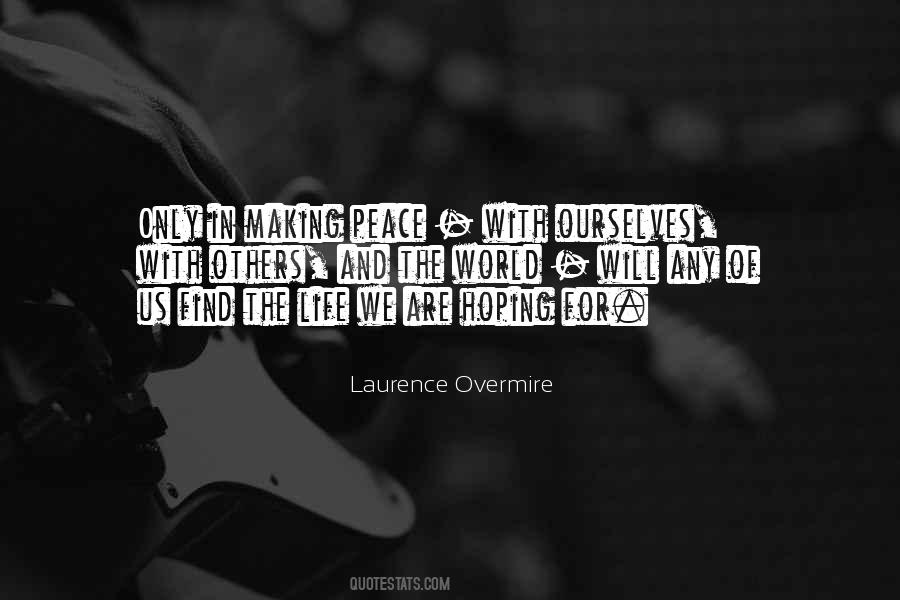 #34. To find true peace, forgive those who fill your mind with hatred and instead show them the path of love. - Author: Debasish Mridha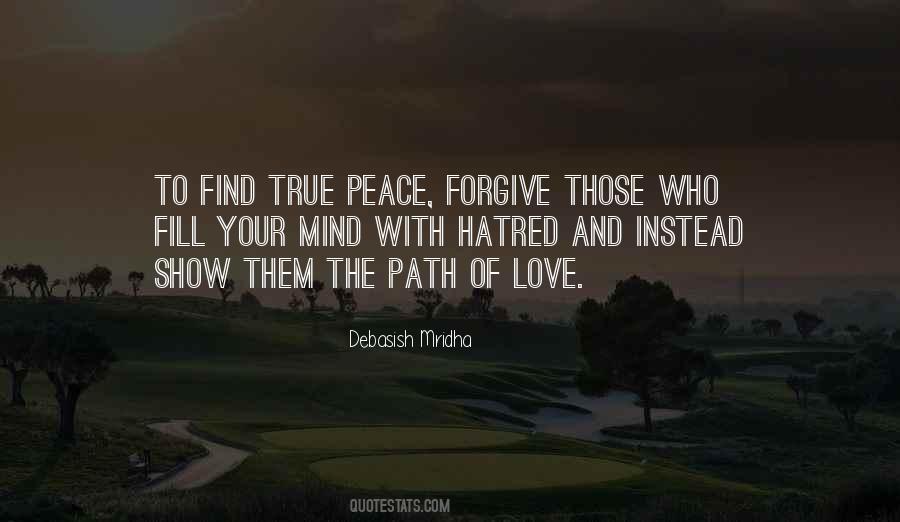 #35. The fruit of silence is prayer, the fruit of prayer is faith, the fruit of faith is love, the fruit of love is service and the fruit of service is peace. - Author: Mother Teresa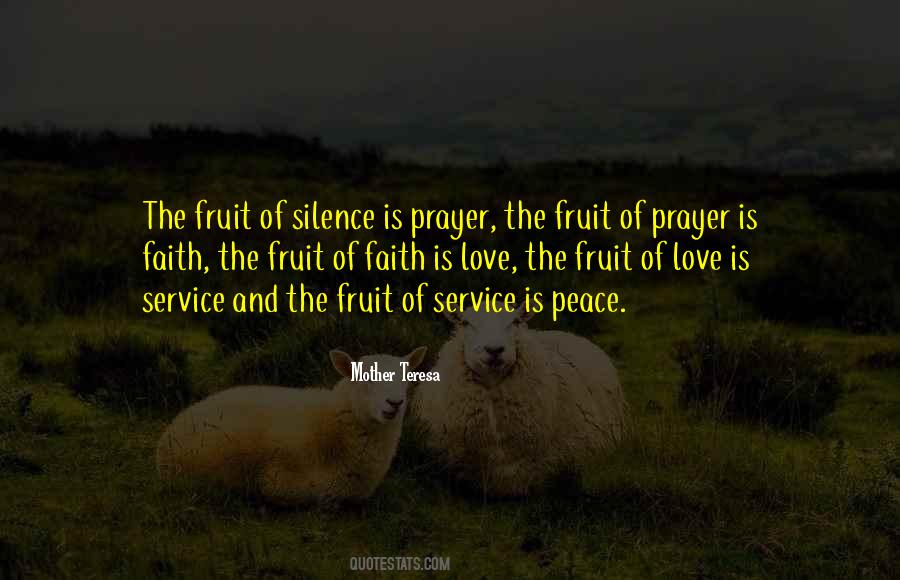 #36. Music with all its subtlety has immense power to unite people, spread love and bring peace in the world! - Author: Sanchita Pandey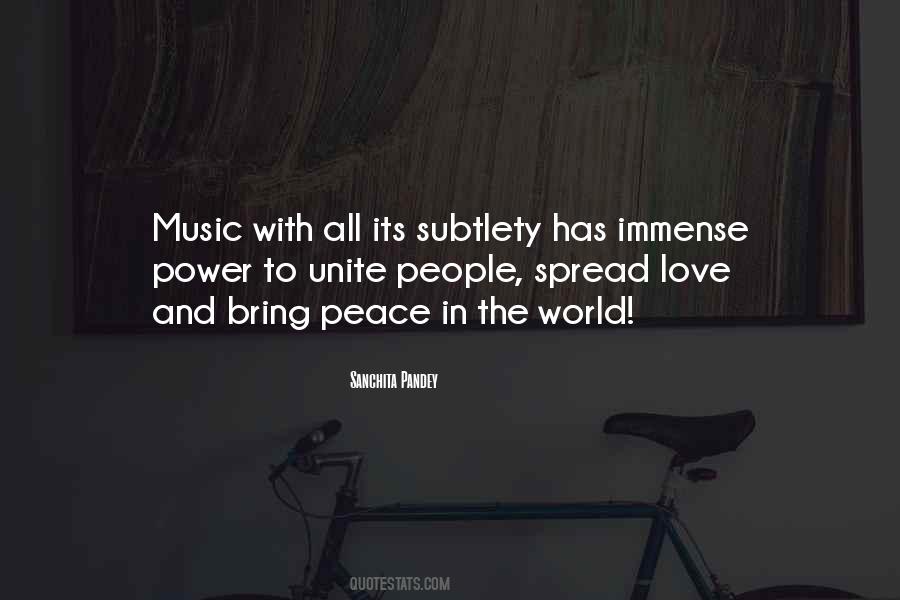 #37. The words 'I Love You' kill, and resurrect millions, in less than a second. - Author: Aberjhani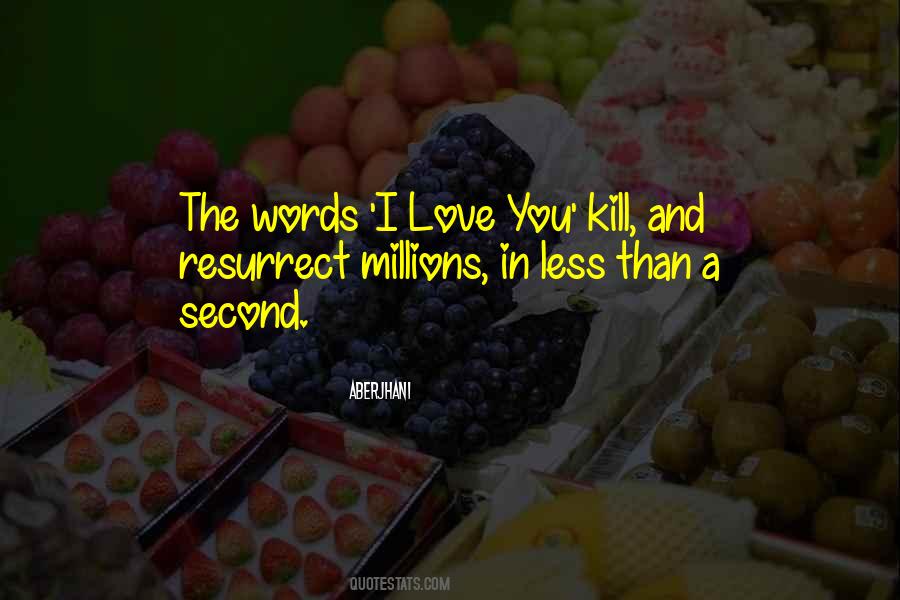 #38. We are all spiritual beings
and our calling is to
LOVE our neighbor,
STAND against injustice
and to show COMPASSION to ALL! - Author: Timothy Pina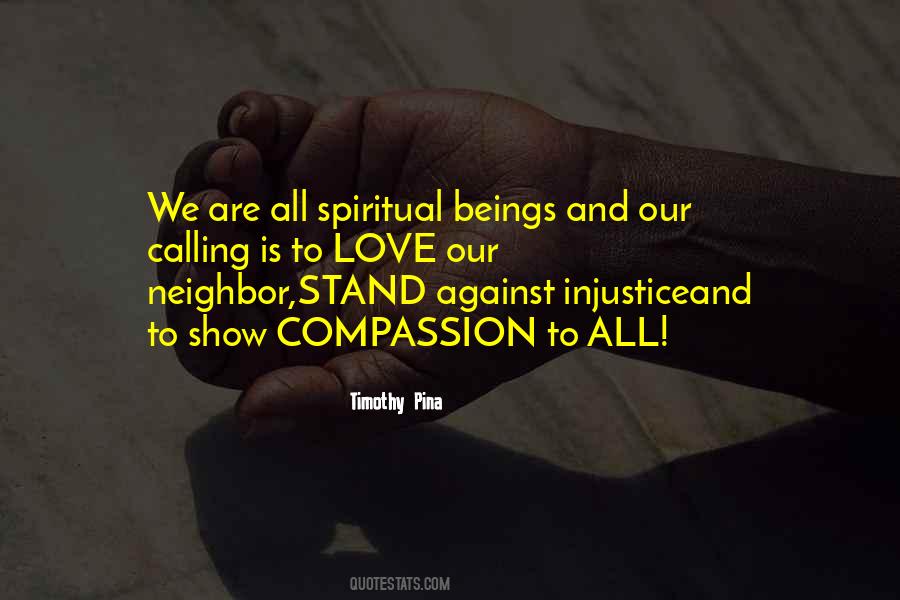 #39. Love and peace are transmitted not through words but the soft light of the eyes and the curved lips of a gentle smile. - Author: Ilchi Lee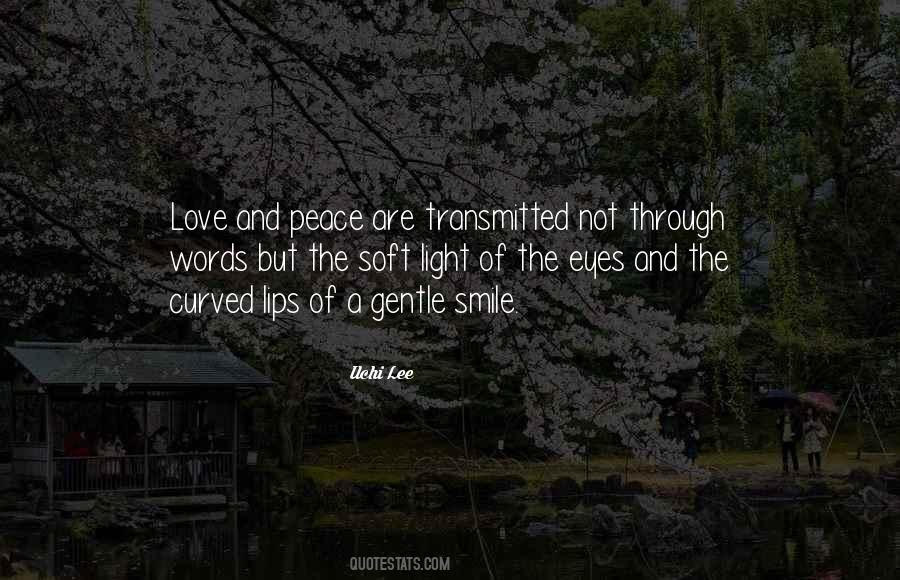 #40. We can dream of an America, and a world, in which love and not money are civilization's bottom line. - Author: Martin Luther King Jr.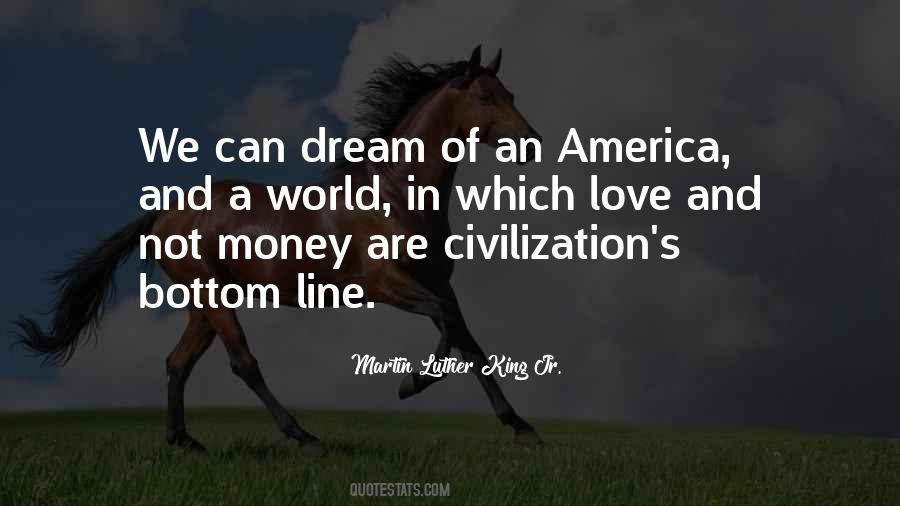 #41. In the tranquillity of a garden, we detest the war and love the peace much more than any other places! - Author: Mehmet Murat Ildan
#42. Line of control should be a garden, a place of art and cultural festival. - Author: Amit Ray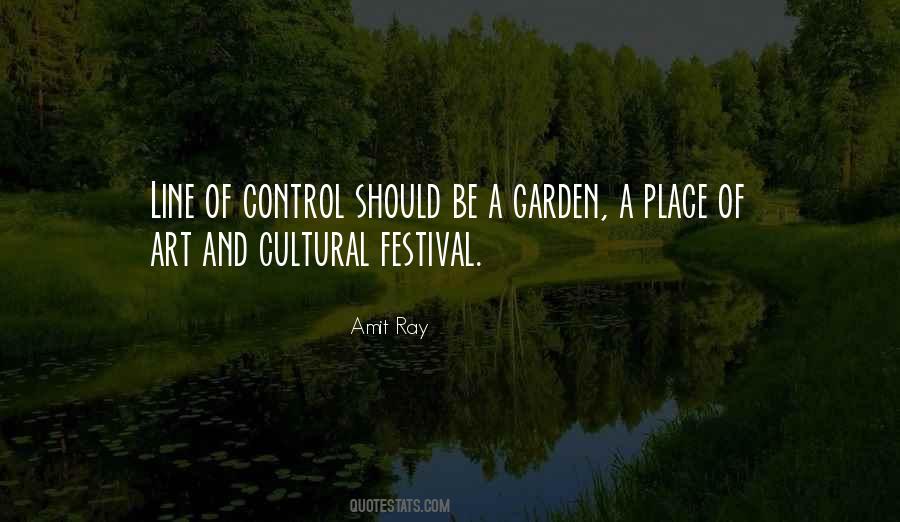 #43. Make us worthy, Lord, to serve those people throughout the world who live and die in poverty and hunger. Give them through our hands, this day, their daily bread, and by our understanding love,give them peace and joy. - Author: Mother Teresa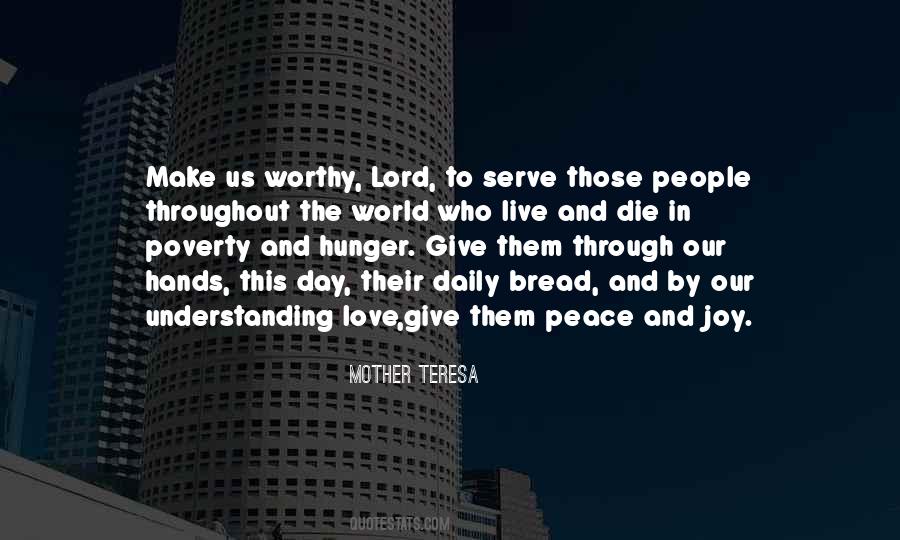 #44. I write to create a sky where the moon can touch the sun and not get burned. - Author: Jenim Dibie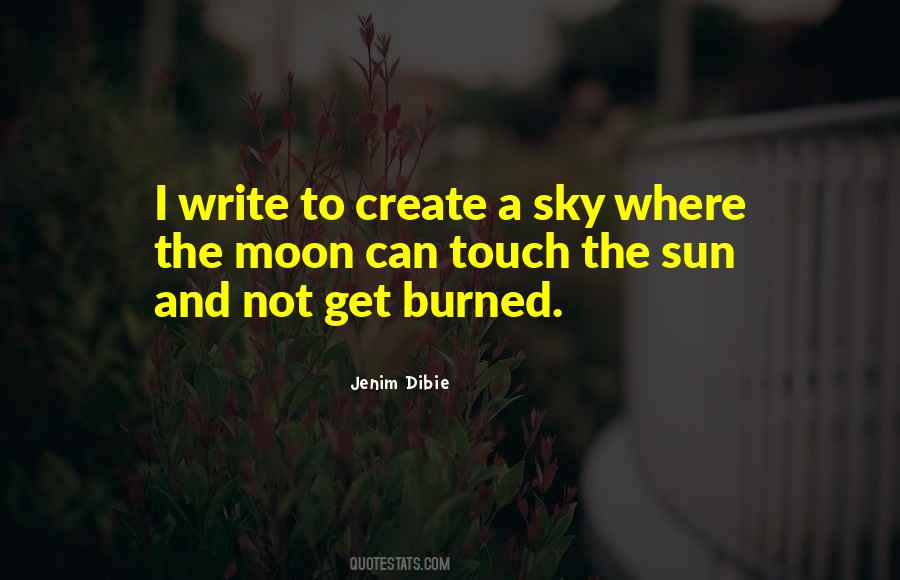 #45. I am leaving this legacy to all of you ... to bring peace, justice, equality, love and a fulfillment of what our lives should be. Without vision, the people will perish, and without courage and inspiration, dreams will die - the dream of freedom and peace. - Author: Rosa Parks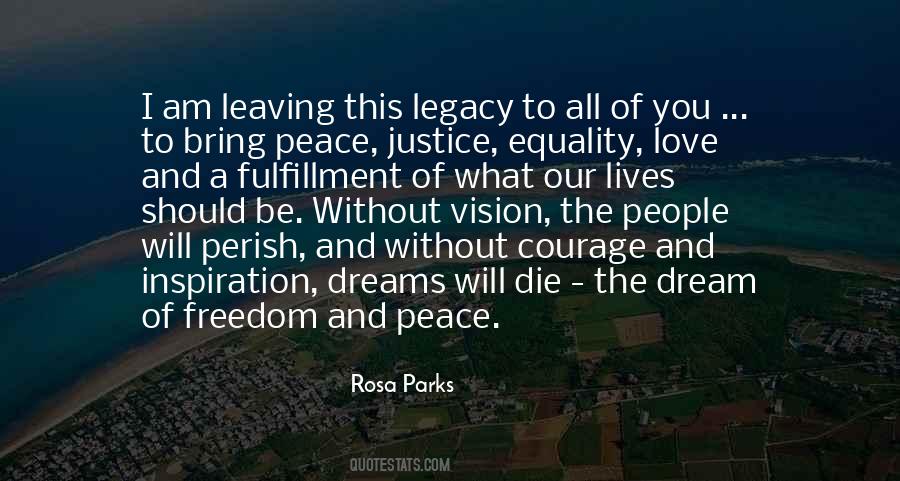 #46. Water makes me feel at peace. In Corsica, I spend most of my time on the beaches or in the rivers. That's one reason I love it there so much. The water is so clean and fresh - you can drink it straight out of the rivers! This island is my secret garden. - Author: Laetitia Casta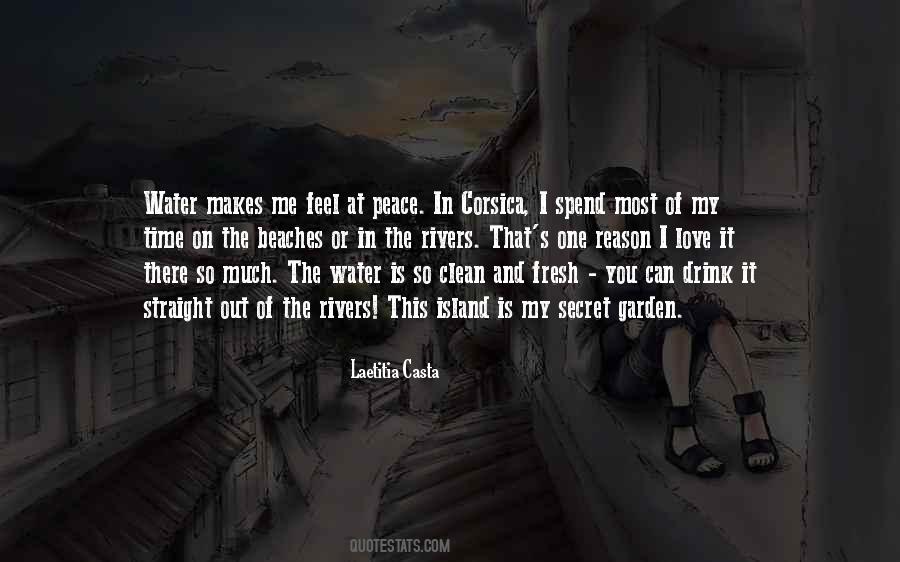 #47. With the world in a chaos of questions, family should be the answer. - Author: Anthony Liccione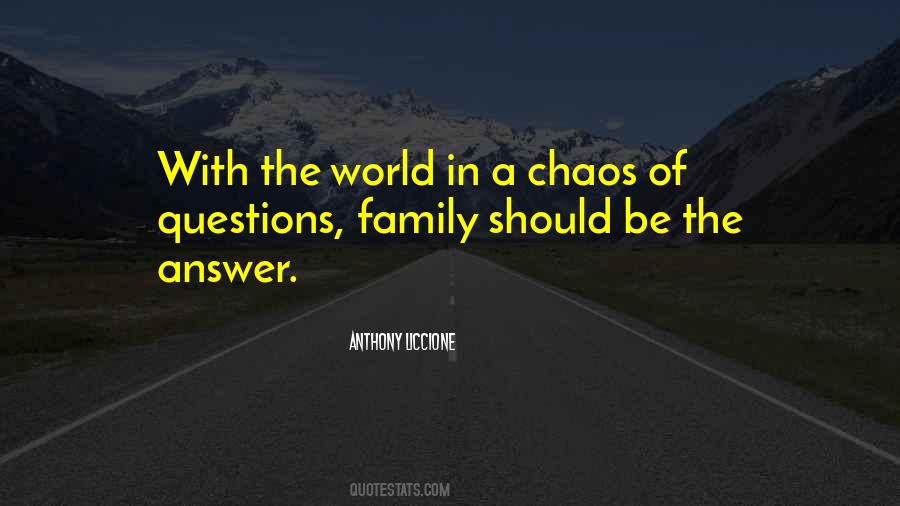 #48. To stop war, teach peace, love, cooperation, and most of all - forgiveness. - Author: Debasish Mridha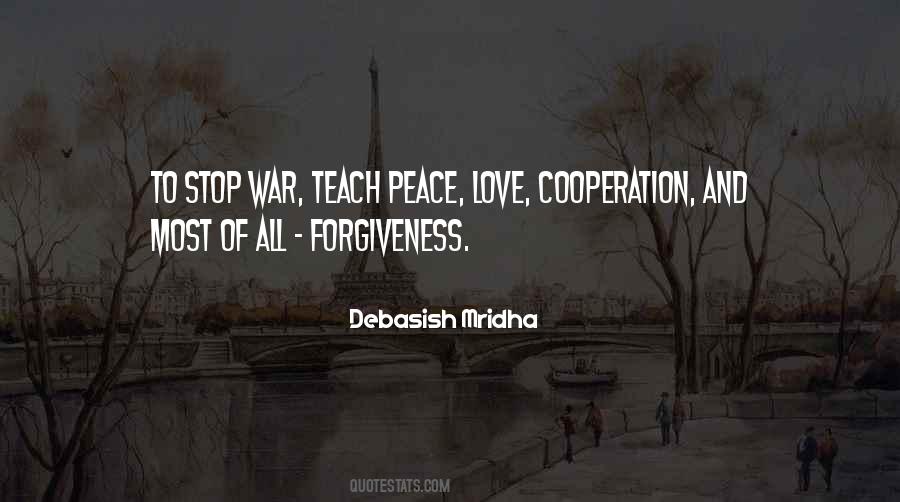 #49. With you, I find peace from pain - You are gentle and healing like the landscape - like rain ... - Author: John Geddes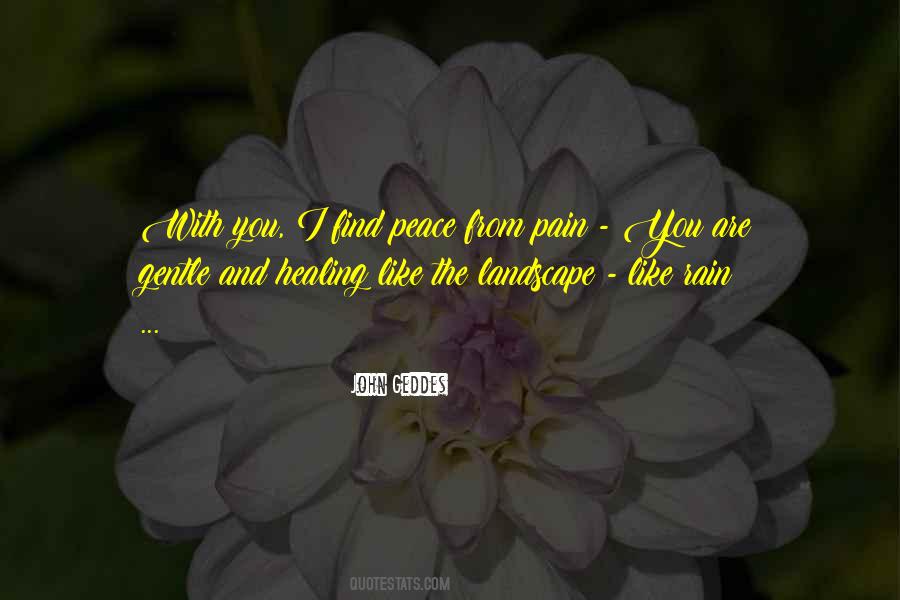 #50. I love painting and music, of course. I don't know nearly as much about them as I know about poetry. I've certainly been influenced by fiction. I was overwhelmed by War and Peace when I read it, and I didn't read it until I was in my late 20s. - Author: Kenneth Koch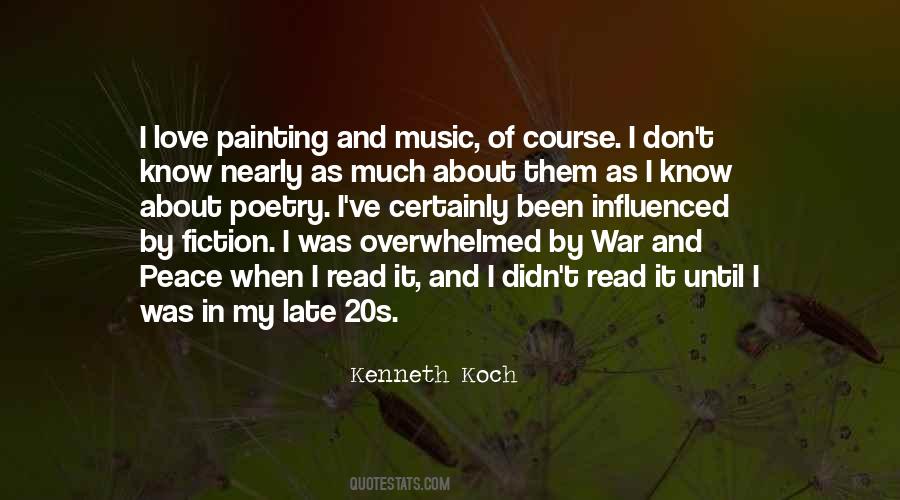 #51. When we understand the illusory nature of life and the profound power of eternal love, which enables us to create miracles and experience the presence of our deceased loved ones, we find ourselves living with joy, hope and peace. - Author: Susan Barbara Apollon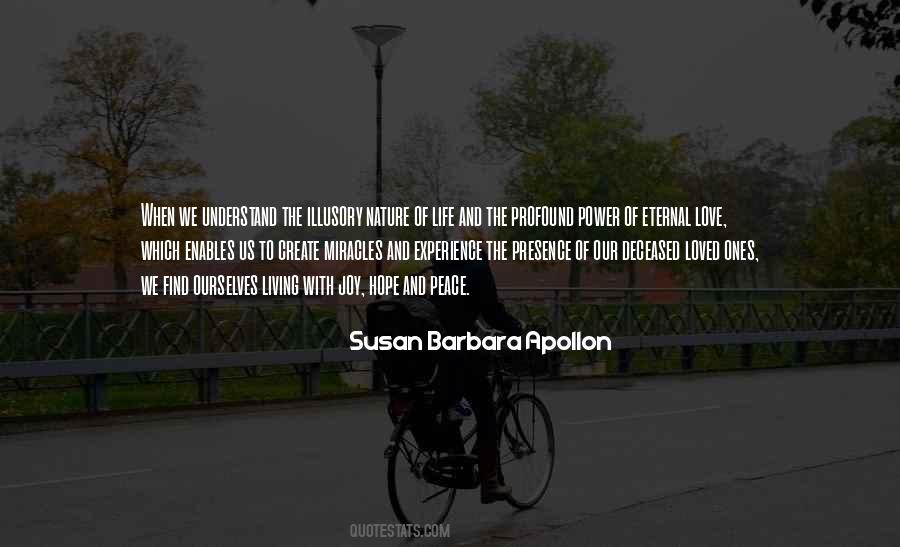 #52. One thing we must understand, that if we have to change the world, we have to change human beings. People think by giving lectures, having conferences and this and that, peace will come. It will never come. A global transformation has to come for peace, for wisdom and for joy. - Author: Nirmala Srivastava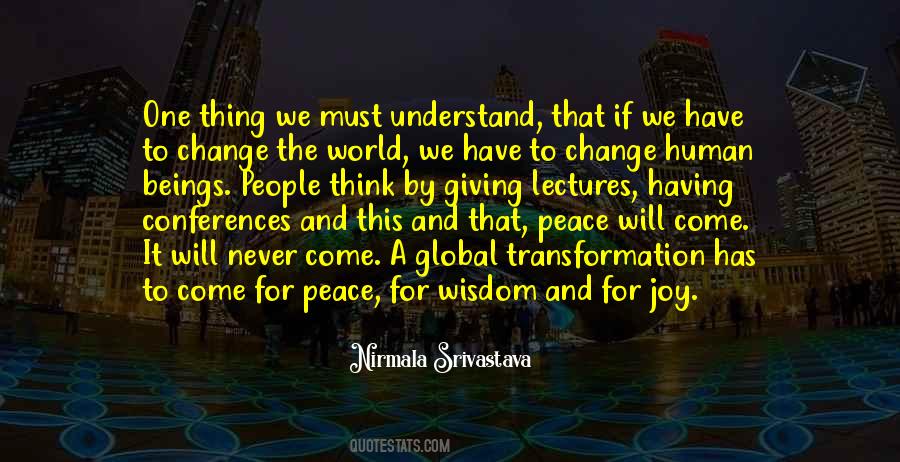 #53. Peace does not mean an absence of violence or conflict, but it means how we respond to it, with violence or with love and understanding. Hate never can eradicate hate but love can. - Author: Debasish Mridha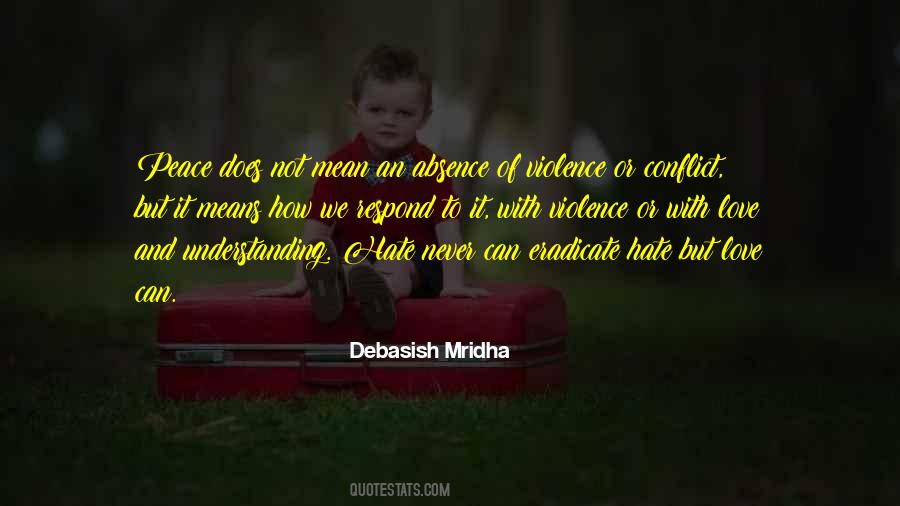 #54. Join hands with other protagonists of love and peace and become a love commander. - Author: Pooja Ruprell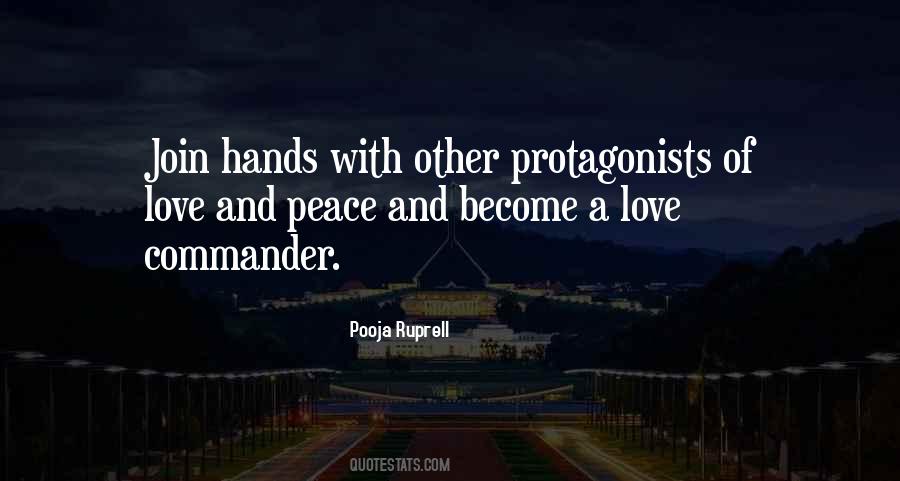 #55. We will not build a peaceful world by following a negative path. It is not enough to say we will not wage war. It is necessary to love peace and sacrifice for it. We must concentrate not merely on the negative expulsion of war, but on the positive affirmation of peace - Author: Martin Luther King Jr.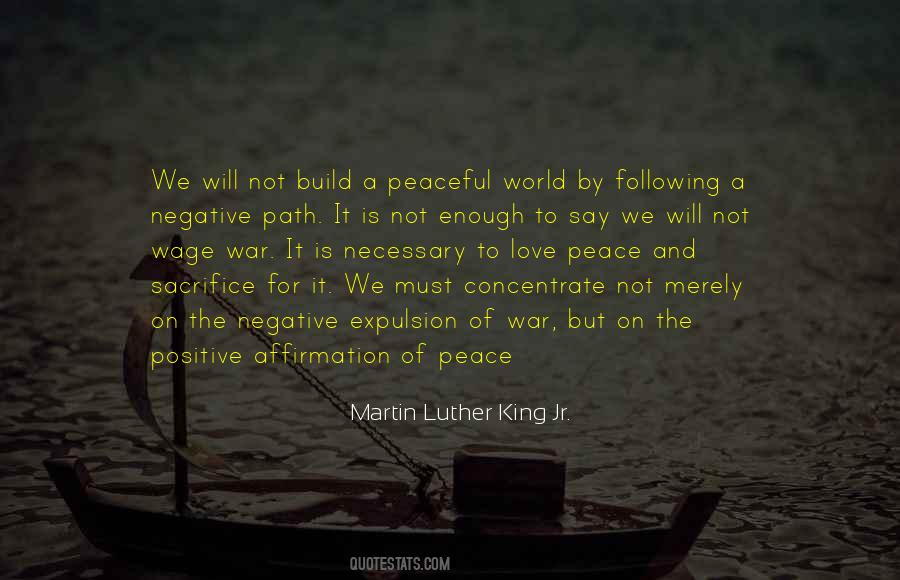 #56. When we will learn to use the power of kindness and love we will fill the world with peace and happiness. - Author: Debasish Mridha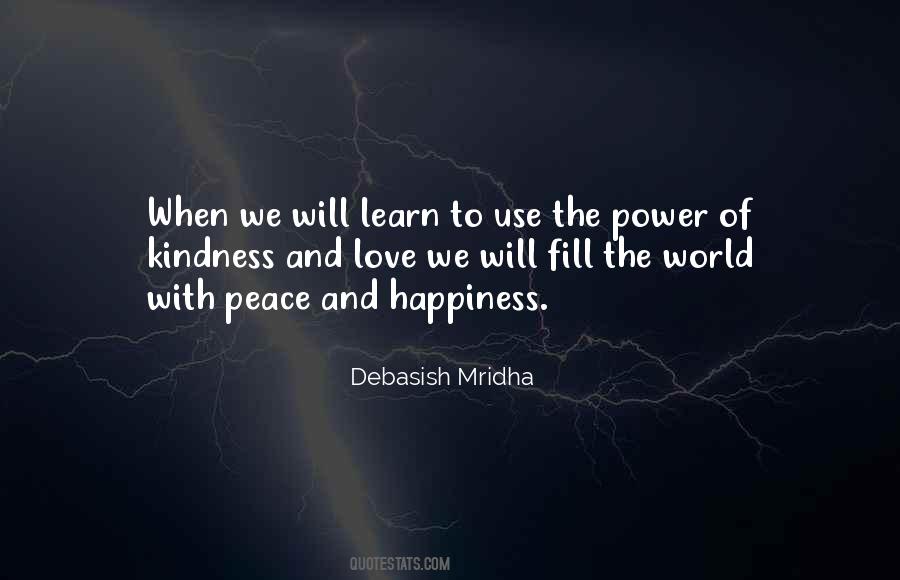 #57. The world is like a mirror; if you smile at it, it smiles at you. I love to smile, and so in general, I definitely receive smiles in return. - Author: Peace Pilgrim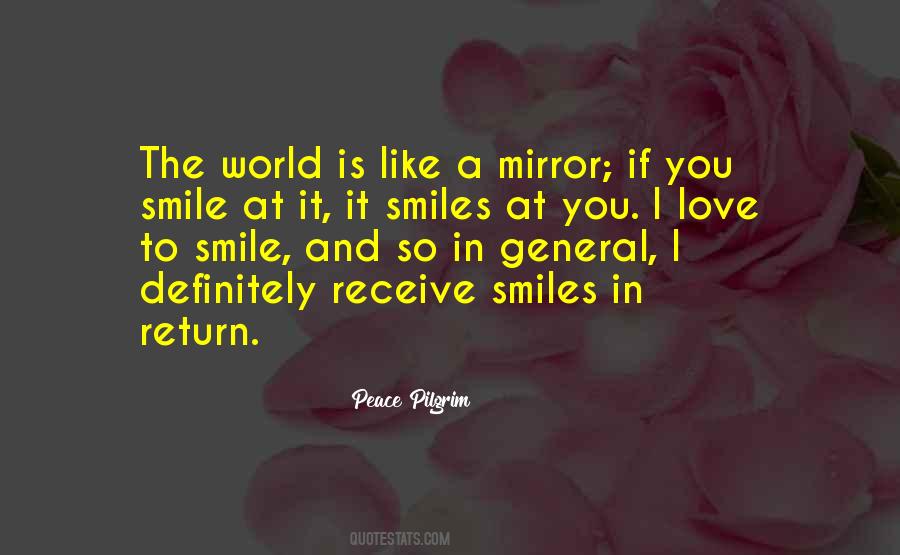 #58. The great secret in salam is it brings love, tranquility and peace to the person receiving the greeting. - Author: Habib Kadhim Al-Saqqaf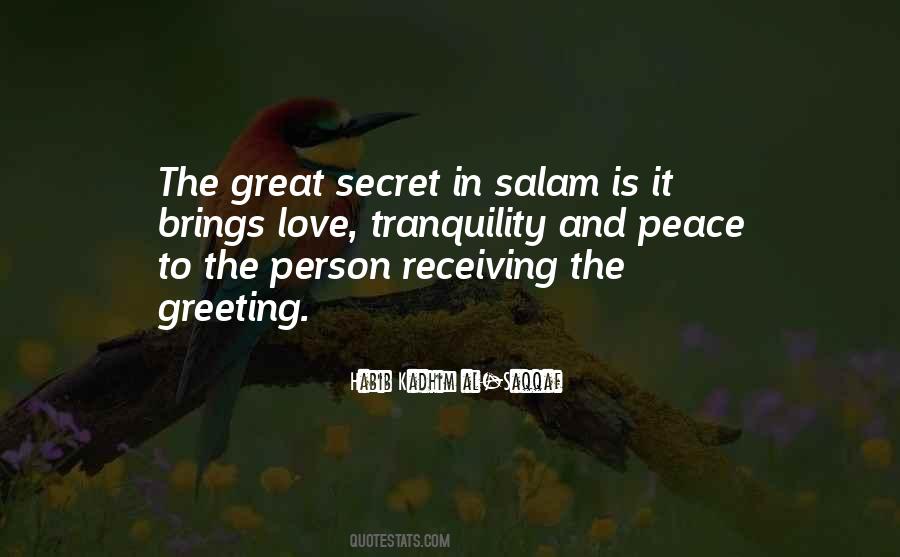 #59. Don't let anything disturb your inner peace and tranquilly. - Author: Debasish Mridha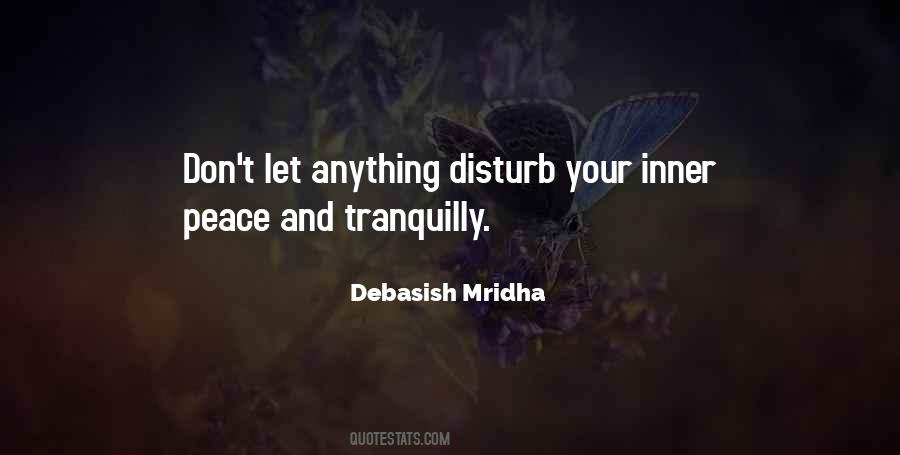 #60. Peace is a new father
Searching for a job
With courage and vigor
With a smile and rigor
But with a great need for money. - Author: Debasish Mridha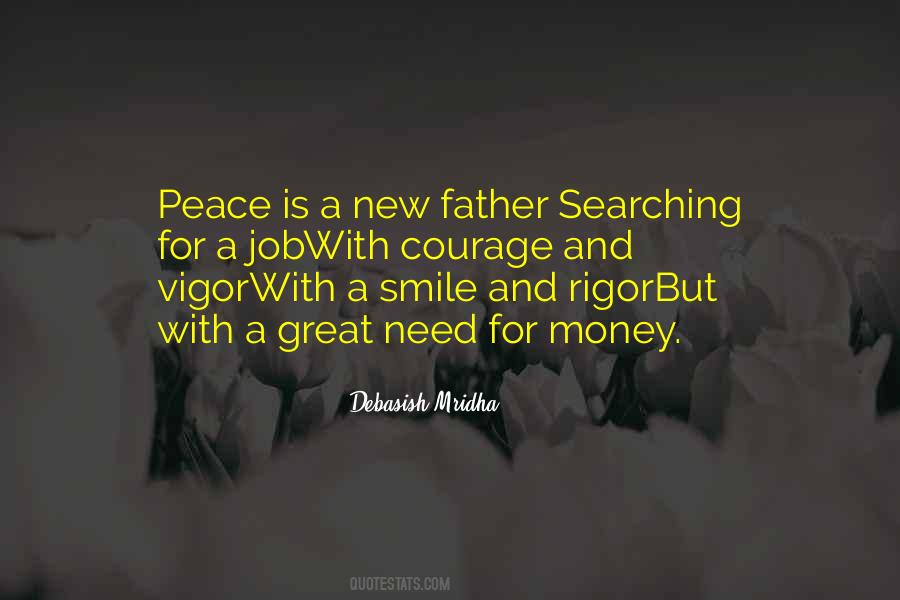 #61. See, I am very dependent ... on beauty and peace of the world ... on loyalty of friends ... on love in families ... on happiness and health of children. And I do not want to be free as long as I have it all ... - Author: Galina Nelson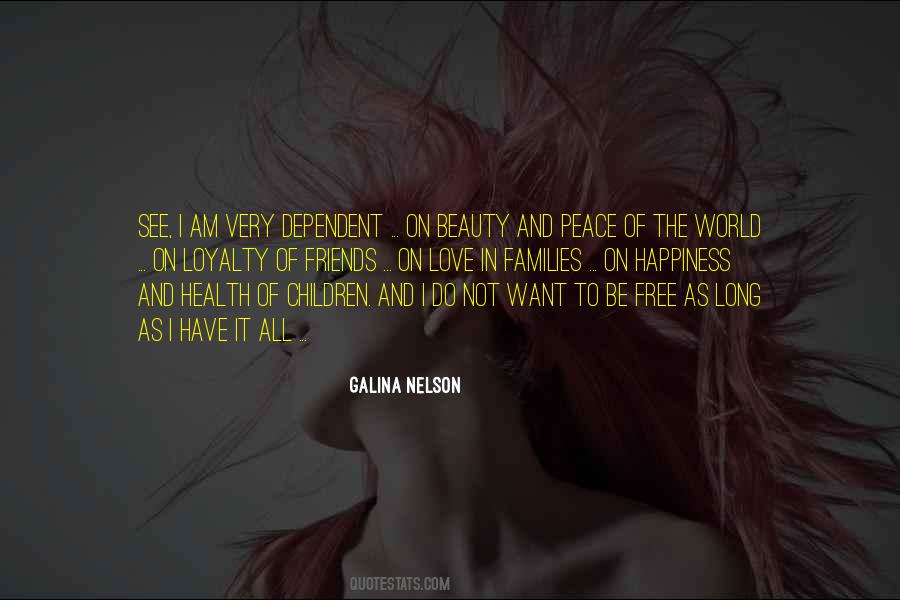 #62. In my long life I have found peace, joy, and happiness beyond my fondest hopes and dreams. One of the supreme benedictions of my life has been my marriage to an elect daughter of God. I love her with all my heart and soul. - Author: James E. Faust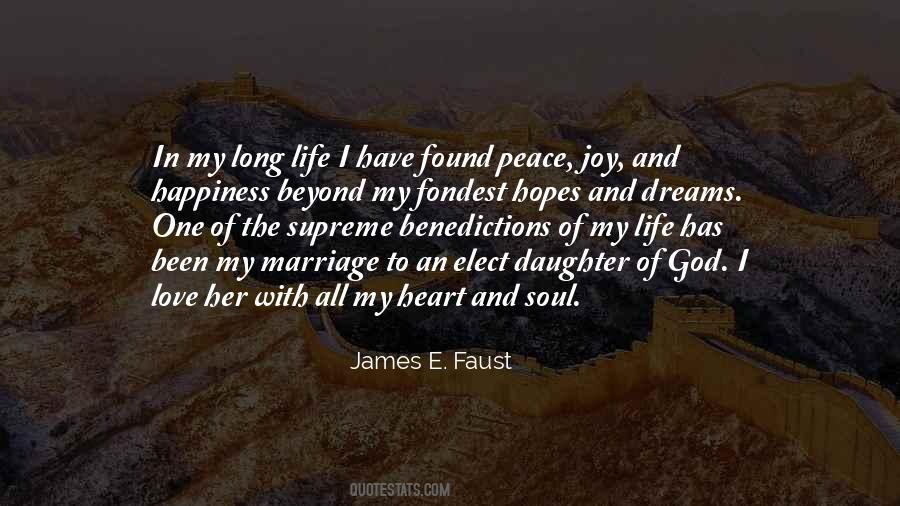 #63. In Italy, for 30 years under the Borgias, they had warfare, terror, murder and bloodshed, but they produced Michelangelo, Leonardo da Vinci and the Renaissance. In Switzerland they had brotherly love, they had 500 years of democracy and peace - and what did that produce? The cuckoo clock. - Author: Yanko Tsvetkov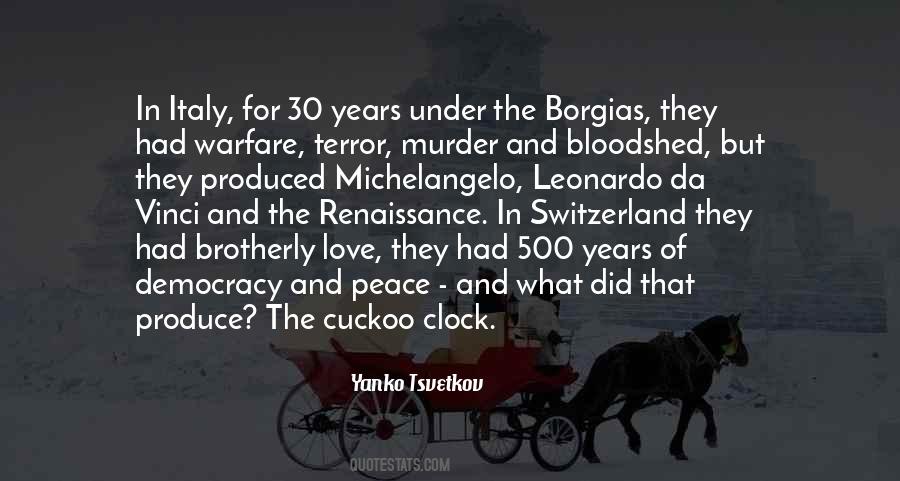 #64. I'm Iranian and no matter what I do, I'm dealing with politics because especially my music, that it's a music that talks about peace, love, unity. - Author: Hafez Nazeri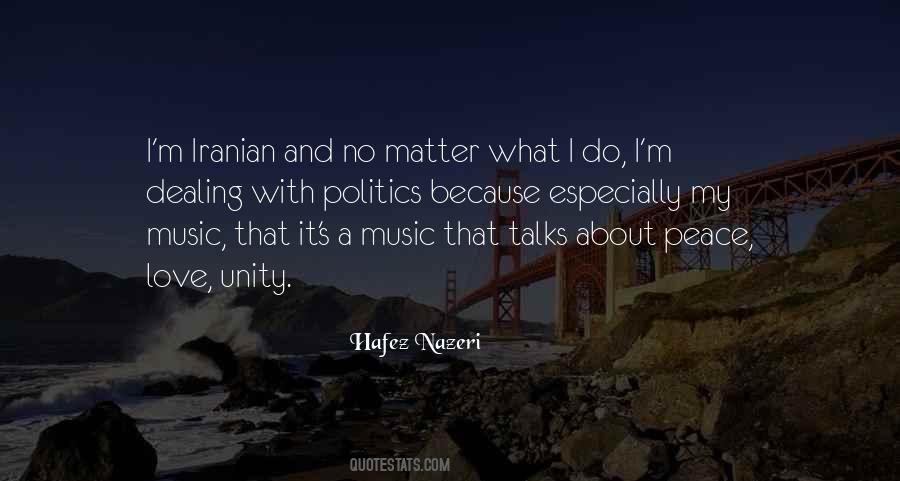 #65. Bob Marley performed the 'One Love Peace' concert in Jamaica with the two different warring political sides. There's always been that in black music and culture in general. It's no surprise because black music is such a reflection of what's going on in black life. It's not unusual for hip-hop. - Author: Mos Def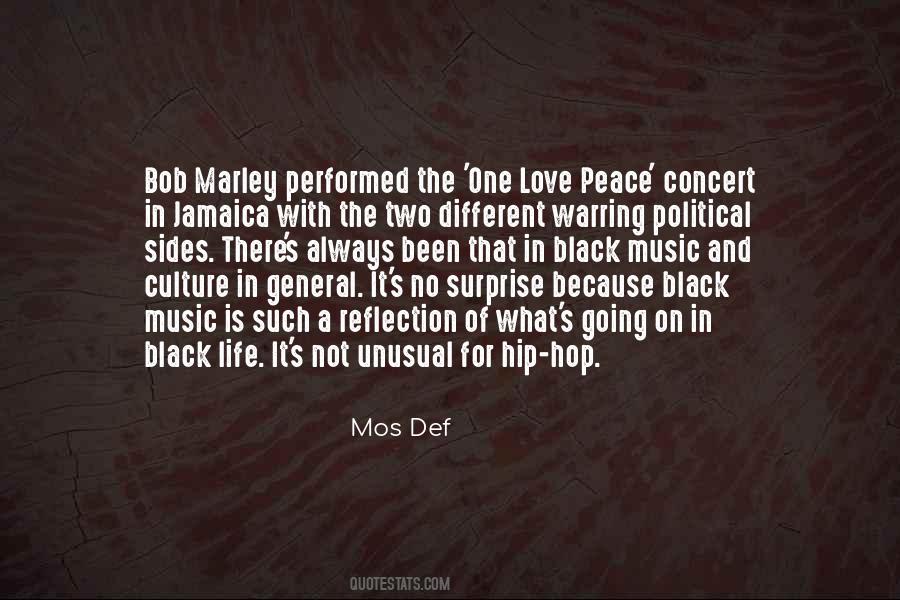 #66. Love and let flowers of peace bloom. - Author: Debasish Mridha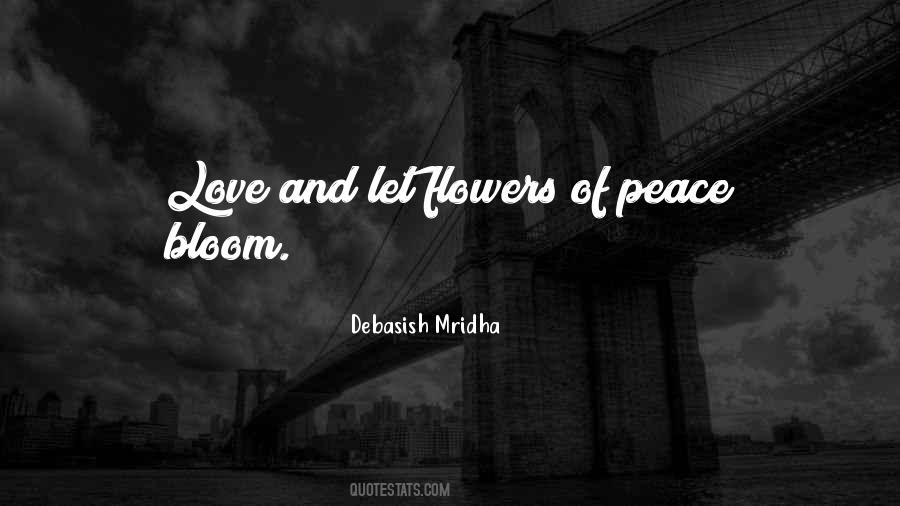 #67. The formula of life is simple. It is the formula of giving - giving courage, attention, peace, love and comfort to yourself and the society. - Author: Amit Ray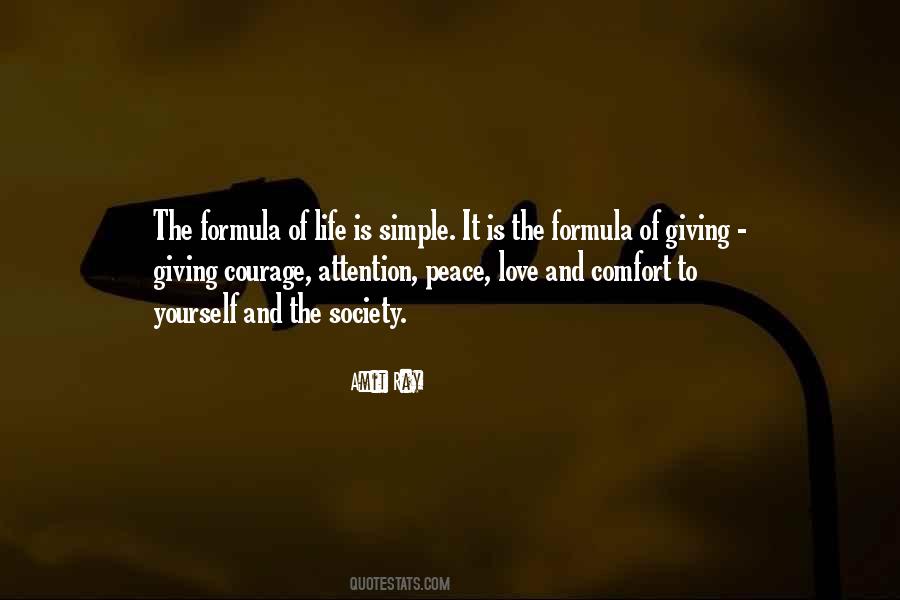 #68. A necklace of pearls on a white neck.
We had lost the sense of discovery which had infused the anarchy of our first year. I began to settle down.
... the old house in the foreground, the rest of the world abandoned and forgotten; a world of its own of peace and love and beauty ... - Author: Evelyn Waugh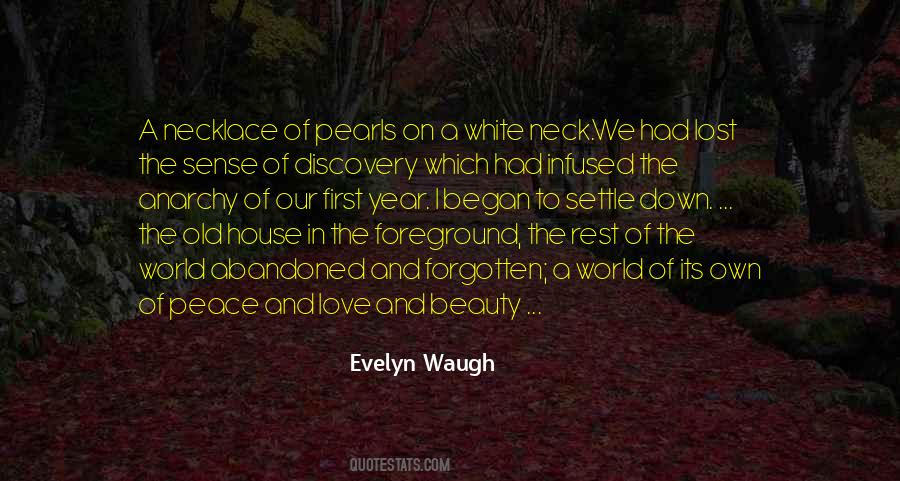 #69. When an Angel whispers in your ear, it is your heart that hears thy message. - Author: Molly Friedenfeld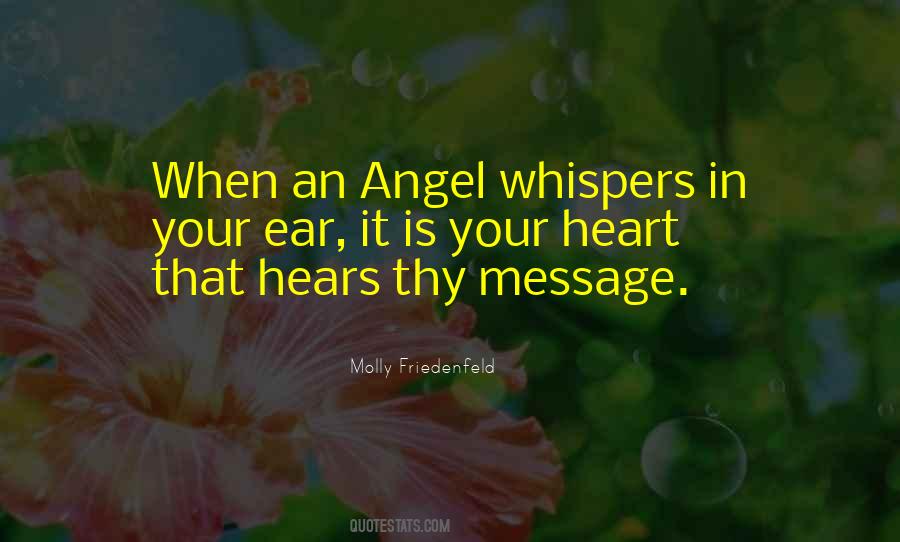 #70. We can bring peace in the world, not by eliminating violence in the world, but by finding the causes of violence and by preventing those from infecting the society. - Author: Debasish Mridha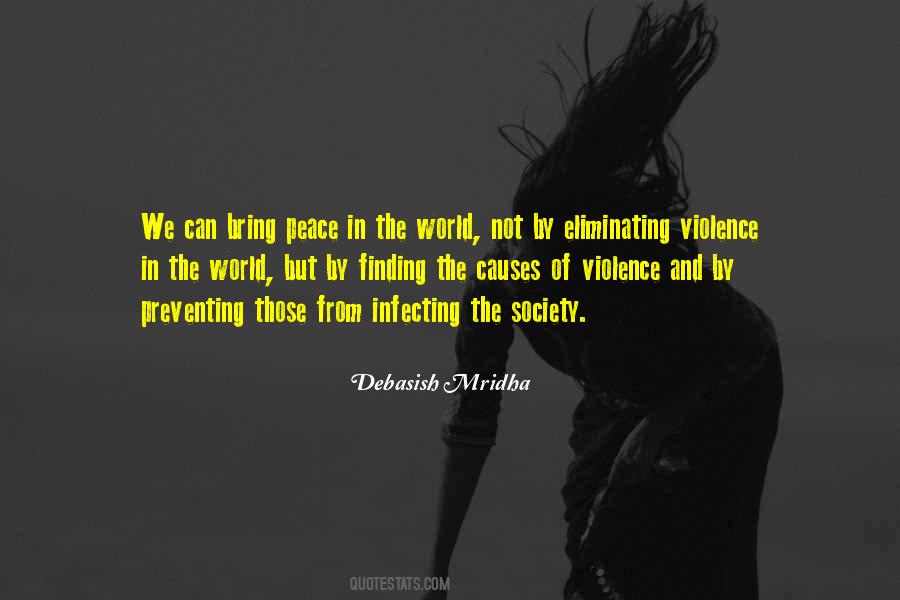 #71. To find love, joy and peace for the humanity, let us promise to build a peace loving and a kind family. - Author: Debasish Mridha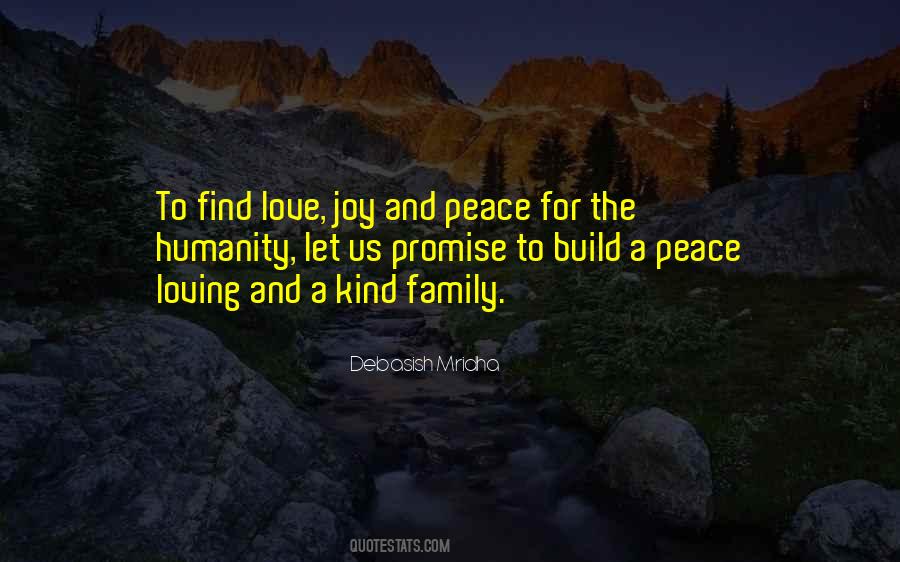 #72. If you love everyone and everything sincerely then you are truly at peace. - Author: Matthew Donnelly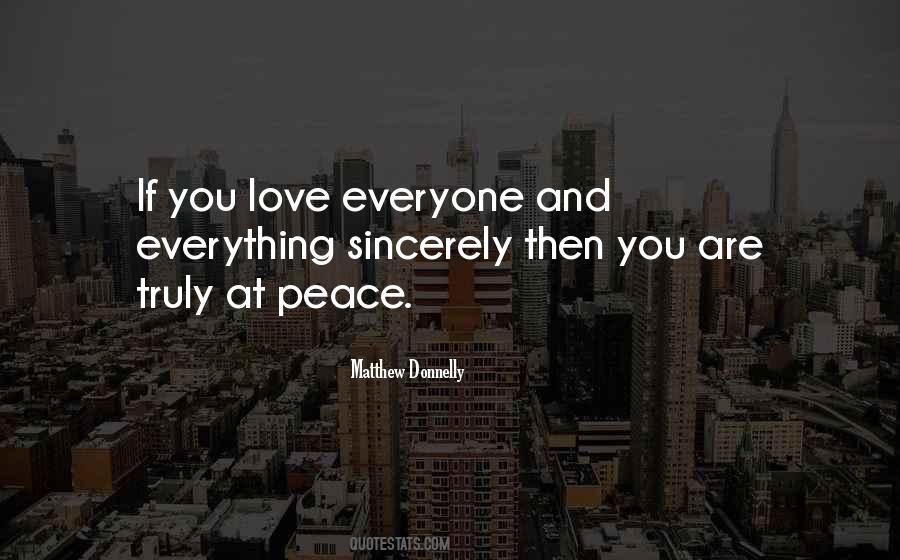 #73. Only a man of inner silences becomes a creator. And we need more and more creative people in the world. Their very creativity, their very silence, their very love, their very peace will be the only way to protect this beautiful planet. - Author: Rajneesh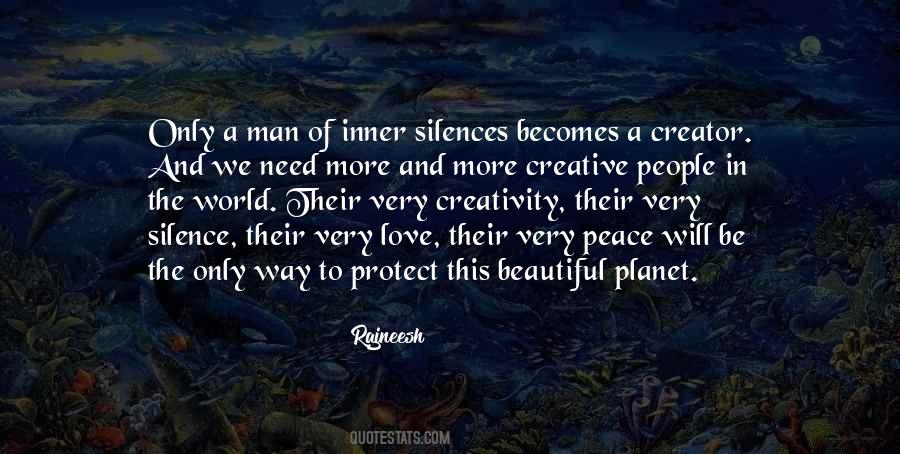 #74. LISTEN to the small, quiet voice within that only ever guides you with love and compassion. Let yourself receive the inspiration of beauty and kindness. Let yourself rediscover peace in your heart. And, from that secure place, meet whatever comes. - Author: Stephanie Dowrick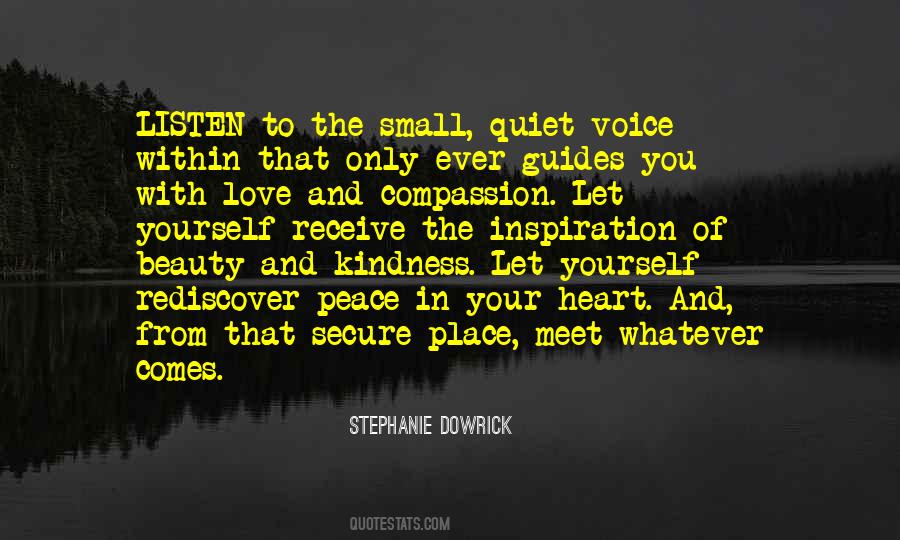 #75. With love that knew no fear, the Singer caught his torment, wrapped it all in song and gave it back to him as peace. - Author: Calvin Miller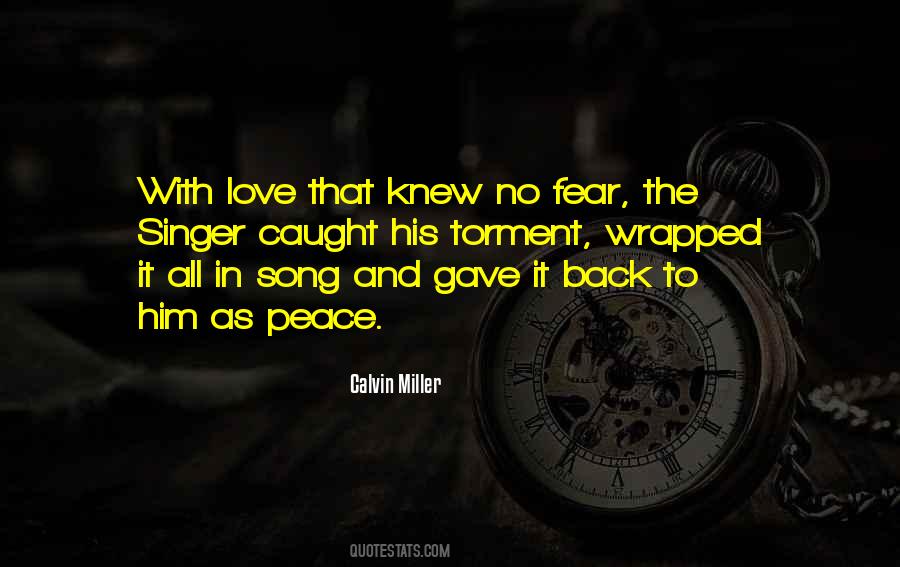 #76. Not fair." Grace put her hand on his shoulder and squeezed lightly. "Learn it, live it, love it. The sooner you make peace with the whole life's not fair thing, the better your life will be. - Author: Katie Graykowski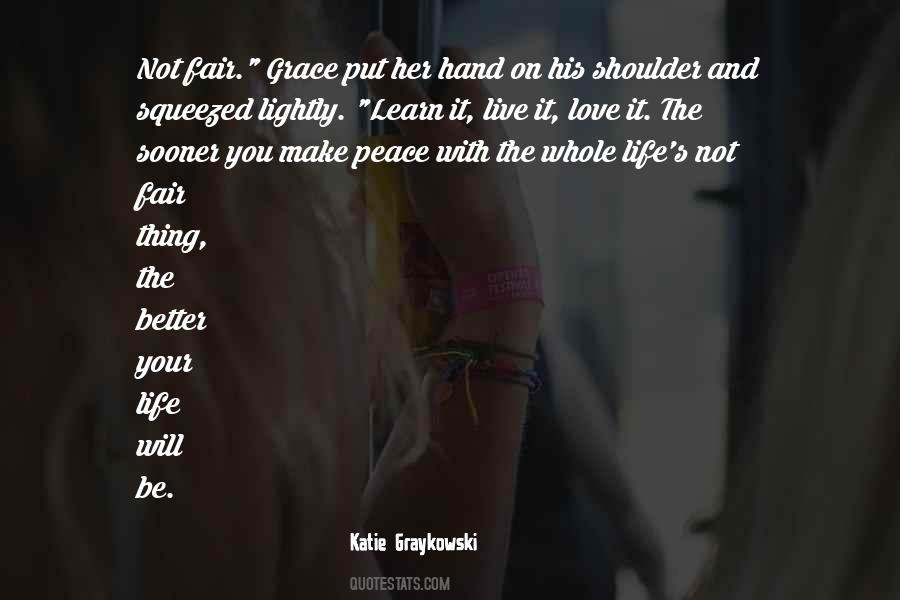 #77. When you have a baby, when you feel his love, you feel so at peace with the world. You just want to share the good news and share how happy you feel. - Author: Shakira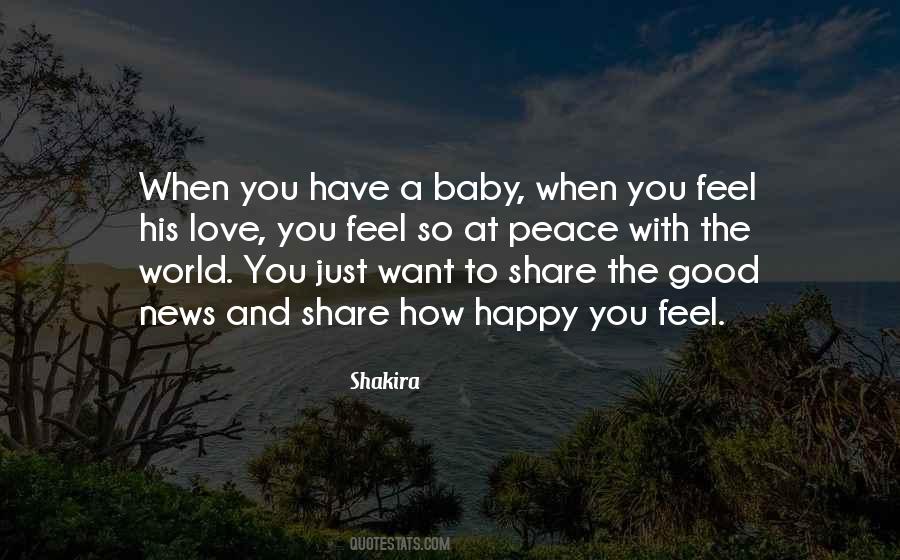 #78. Dreams are what life is made of and although most things are improbable, nothing is impossible. Be the dreamer of the impossible and you can see probability. - Author: Peace Gypsy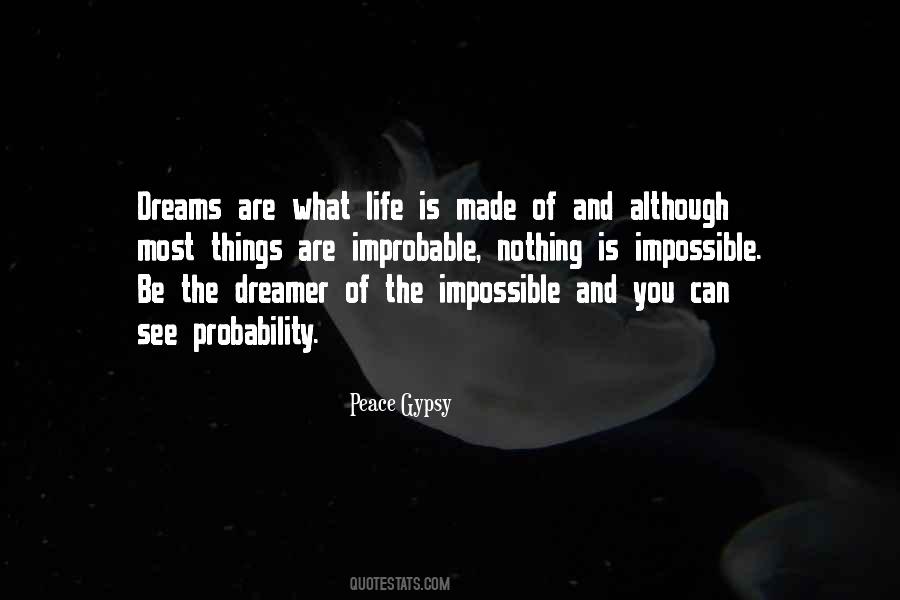 #79. By your side I'm most quiet and most unquiet, most inhibited and most free. - Author: Franz Kafka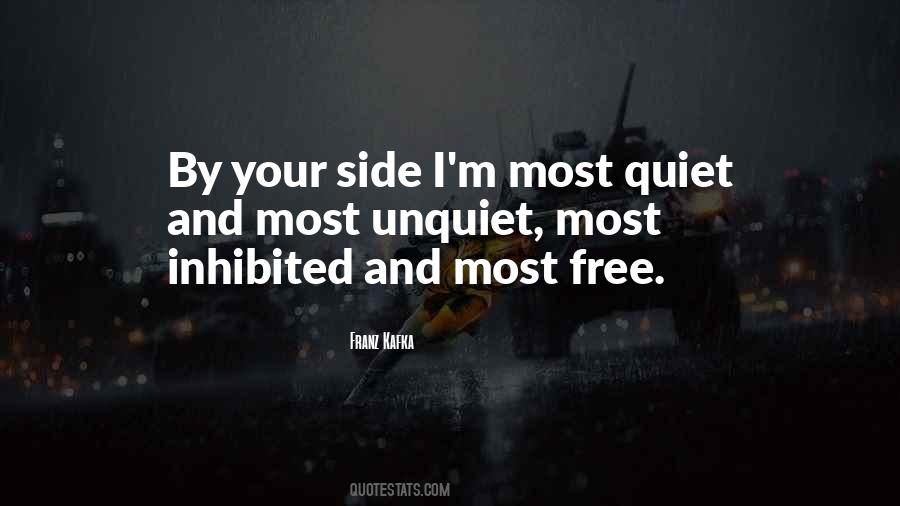 #80. The respect + love for humanity that's why I travel.
We are all special and gifted beings, no matter our religious differences. The message should be peace,
love and prosperity. There should be no adversity but solidarity. - Author: Henry Johnson Jr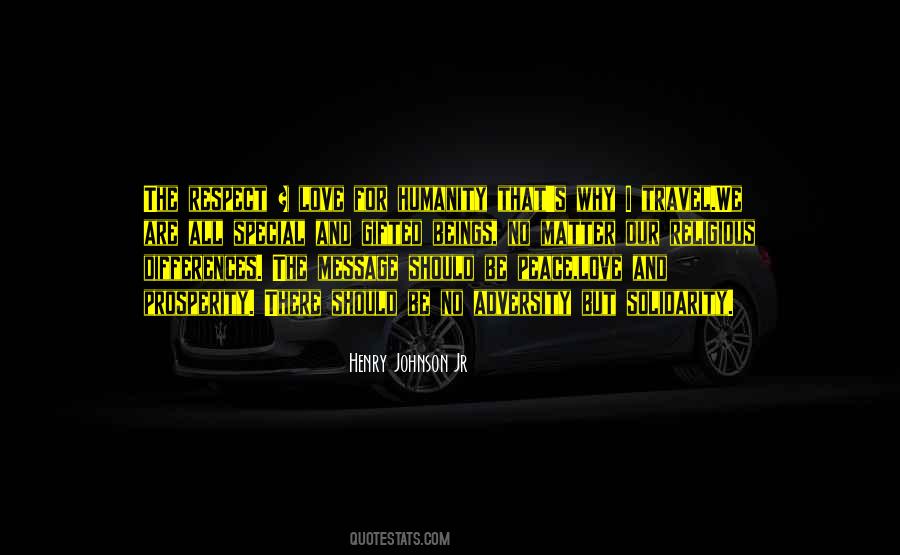 #81. If you surround yourself with flowers of love, peace, and kindness, you will always find yourself in a garden of joy and happiness. - Author: Debasish Mridha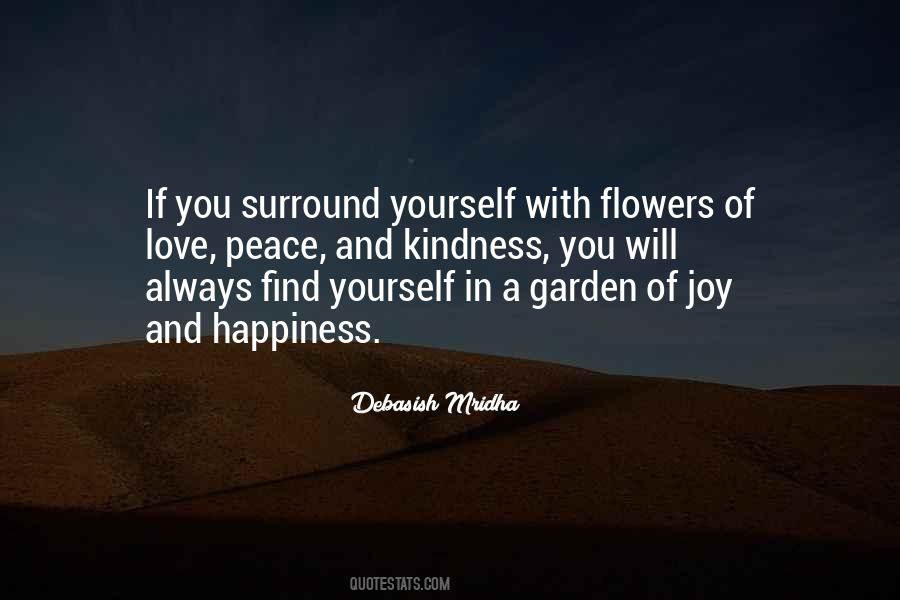 #82. Come forward as servants of Islam, organize the people economically, socially, educationally and politically and I am sure that you will be a power that will be accepted by everybody. - Author: Muhammad Ali Jinnah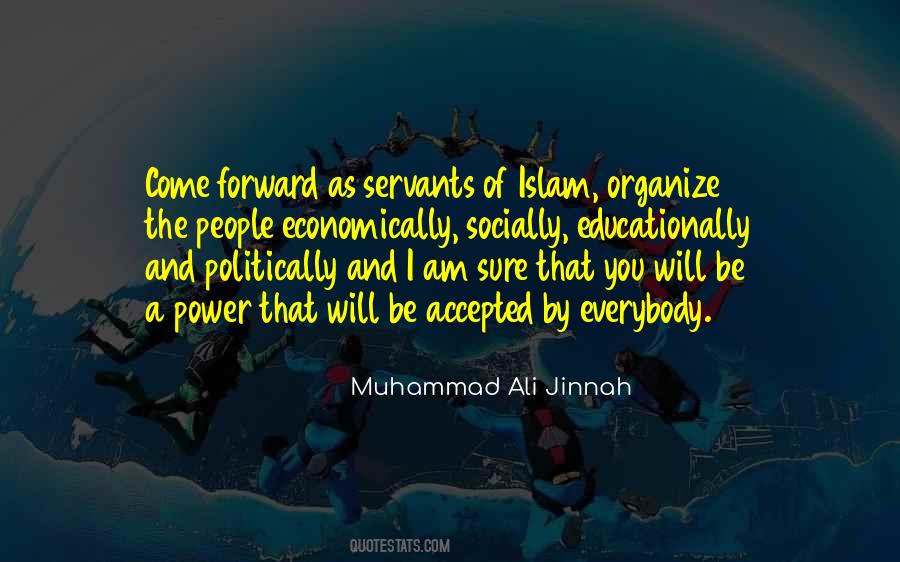 #83. It was a gentle love, a tactile love. It was all hands and lips and hearts in tandem. There was motion in our bodies and emotion in our discourse. We were a symphony of melody and melancholy. When you find peace in another's presence, there is no mistaken. - Author: Lang Leav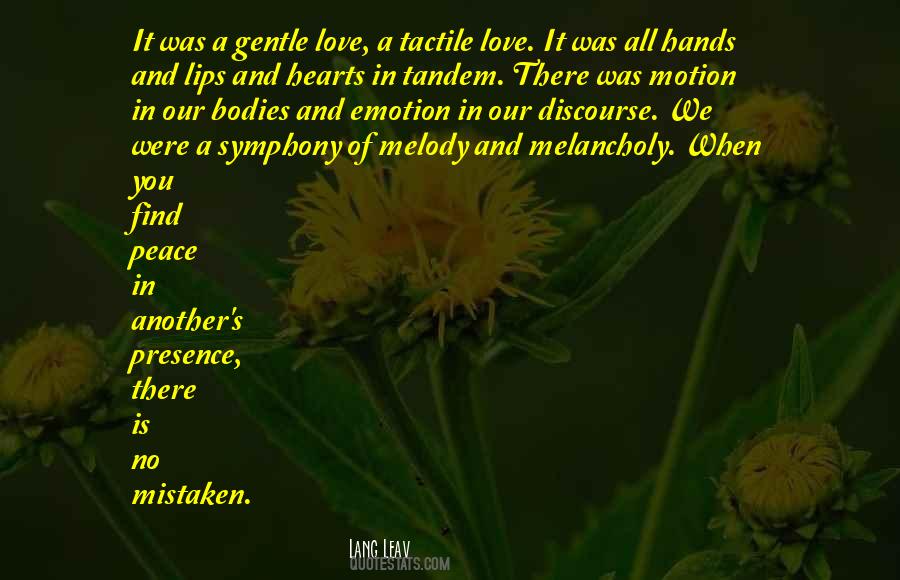 #84. It's a season of life, if your granted peace, freedom and you got the right person to love. - Author: Auliq Ice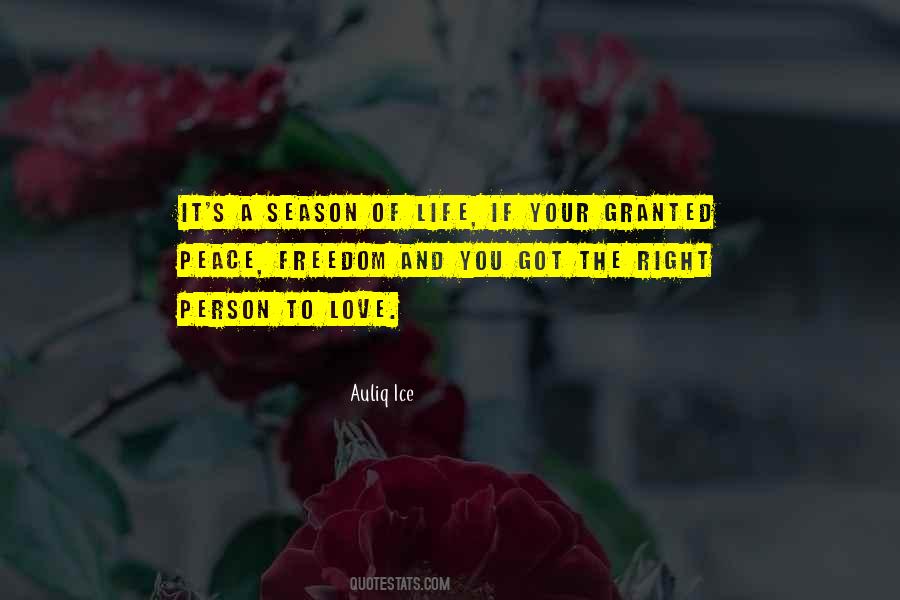 #85. The more you will able to trust yourself, the more joy and peace you will able to experience. - Author: Debasish Mridha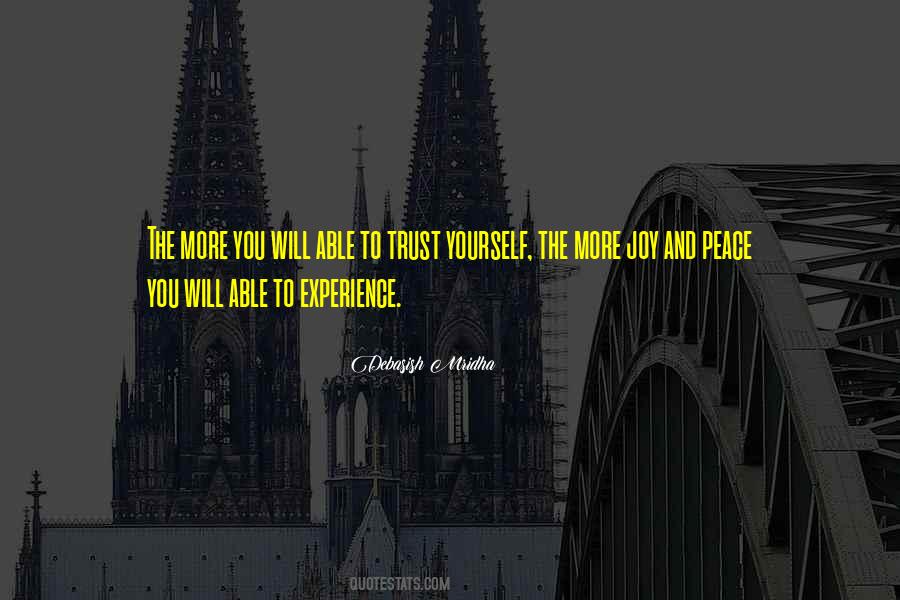 #86. I love to dream of a future, filled with peace, love, joy, and laughter. - Author: Debasish Mridha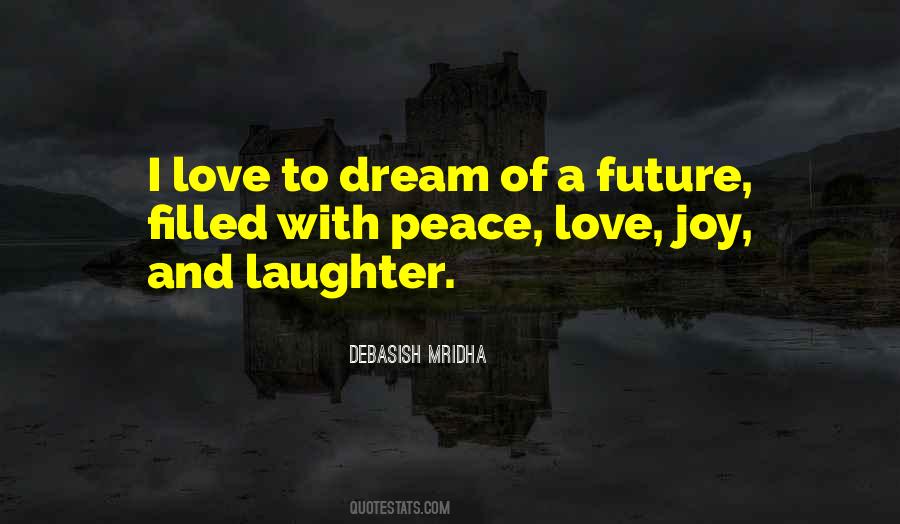 #87. Joy is love exalted; peace is love in repose; long-suffering is love enduring; gentleness is love in society; goodness is love in action; faith is love on the battlefield; meekness is love in school; and temperance is love in training. - Author: D.L. Moody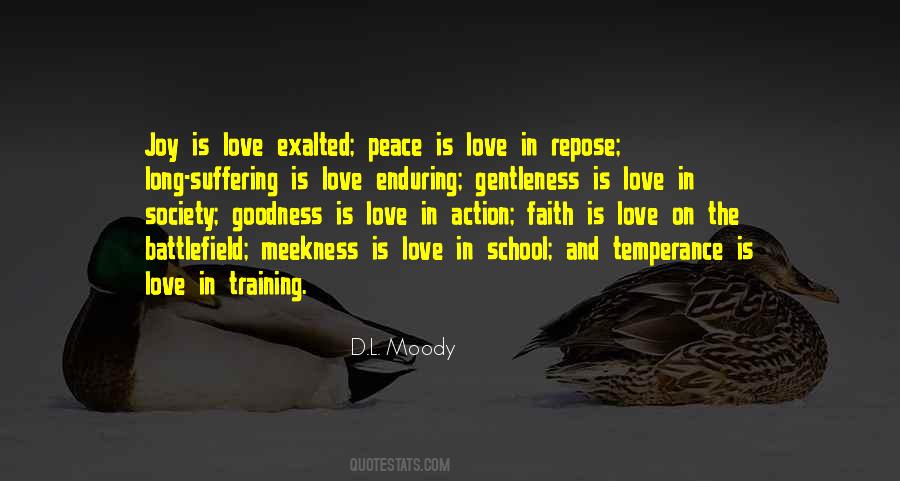 #88. To maintain any degree of sanity, we must believe that everything is interconnected on some level and to experience that level fully once in a while. - Author: Vironika Tugaleva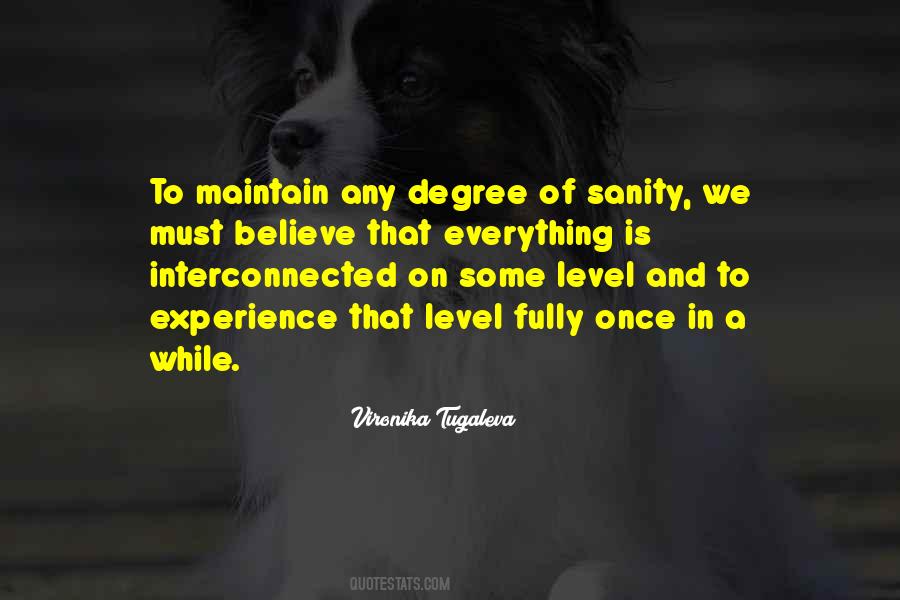 #89. A Christian brings peace to others. Not only peace, but also love, kindness, faithfulness and joy. - Author: Pope Francis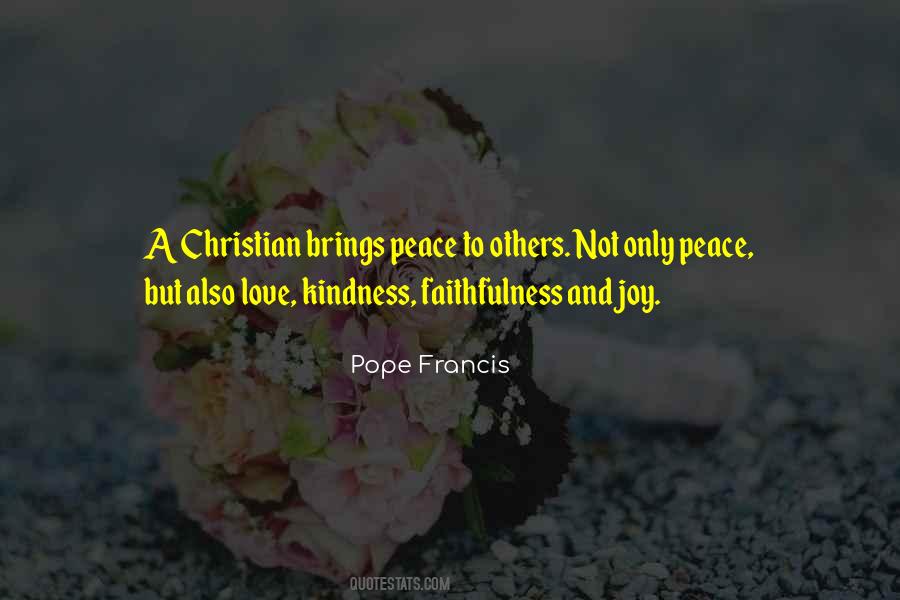 #90. Say a prayer and be that friend to those in despair. Love and Kindness can help keep someone going over the edge if they're standing close to it! - Author: Timothy Pina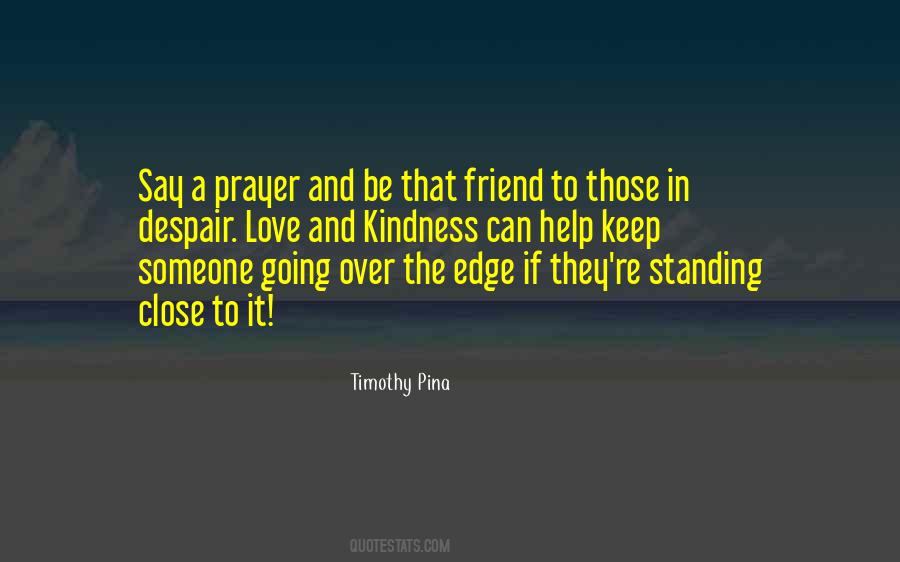 #91. There is a force of love present everywhere and it can be trusted to bring your own life into order and peace. - Author: Deepak Chopra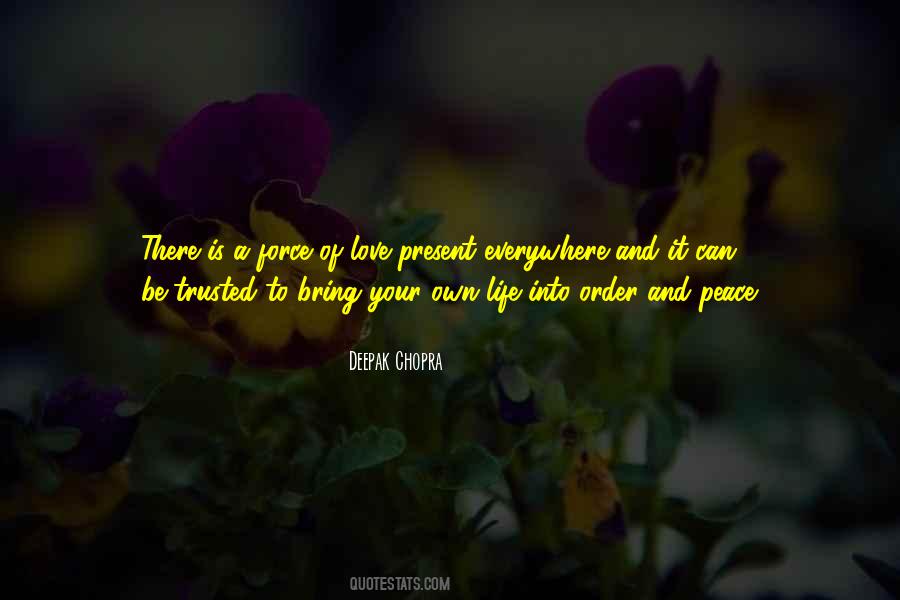 #92. I don't think that we really know our animals. We think we do because we're humans, and we think we can control things like that. We don't know anybody that we love. It could be a girlfriend or a cat. I think we just have to be at peace with that. - Author: Caroline Paul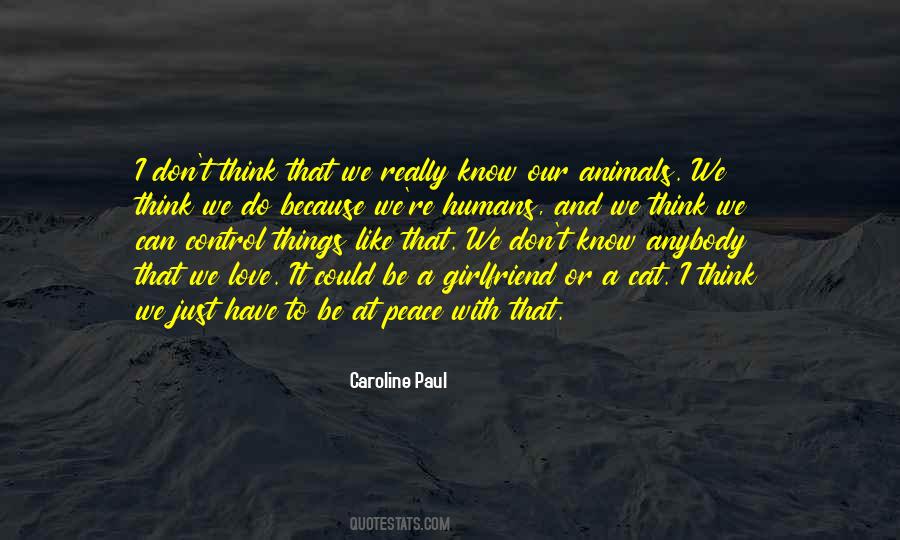 #93. Climate change has been associated so much with a peaceful mentality - obviously peace and love are good, but we need to think about climate as a threat to survival. - Author: Margaret D. Klein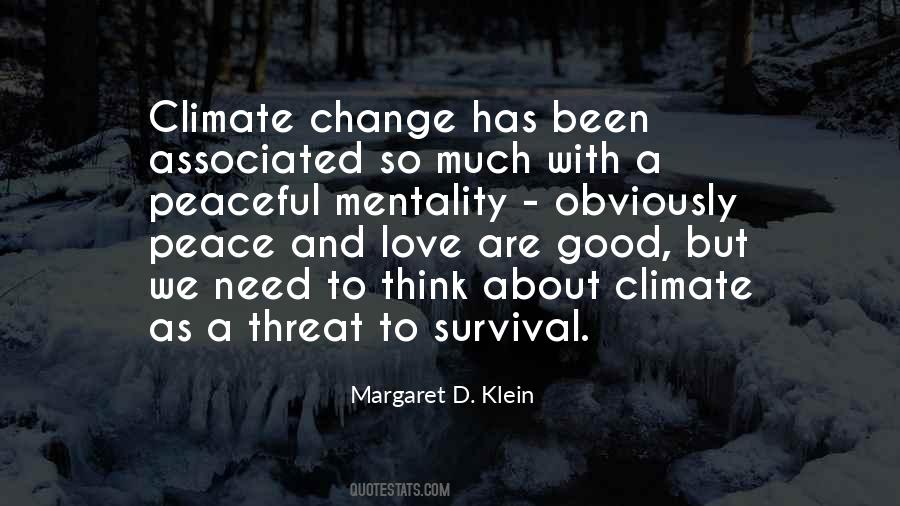 #94. Live to love and love to live - Author: Anthony Pan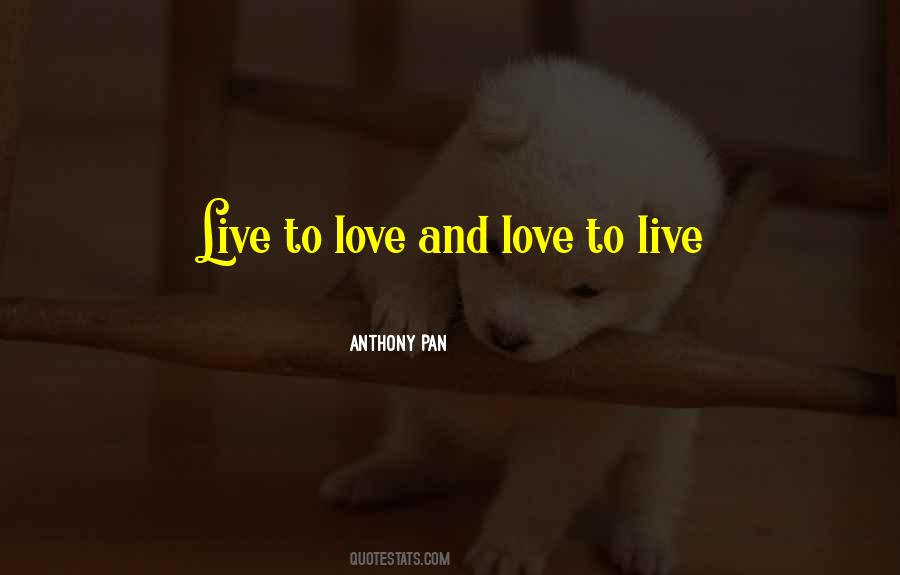 #95. Because of the inherent challenges of life on the earth, all of humanity is vulnerable. This is all the more reason to seek the kingdom of heaven within and find the peace that leads to understanding. - Author: Mike Love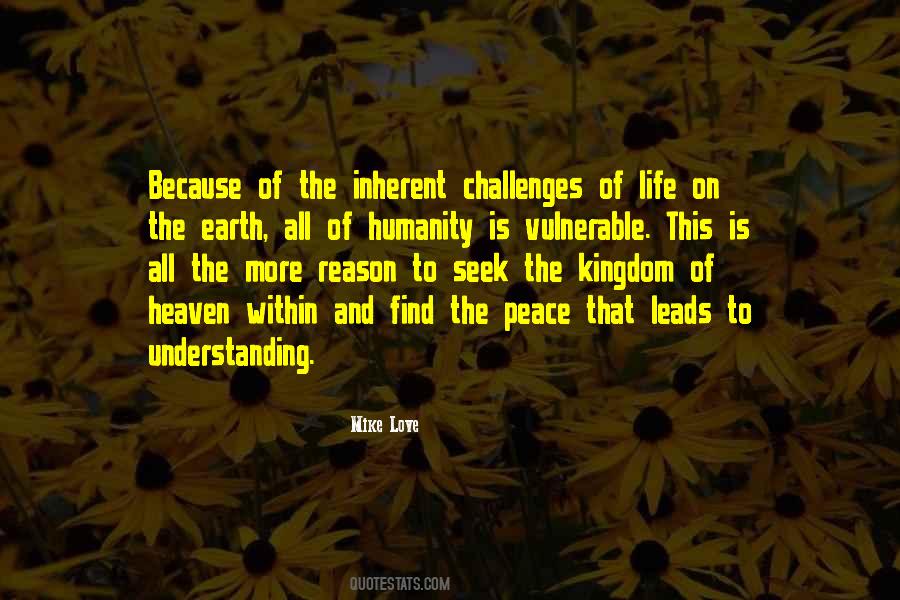 #96. I look forward to my first visit to Israel. Music is a universal language that is meant to unify audiences in peace and love, and that is the spirit of our show. - Author: Alicia Keys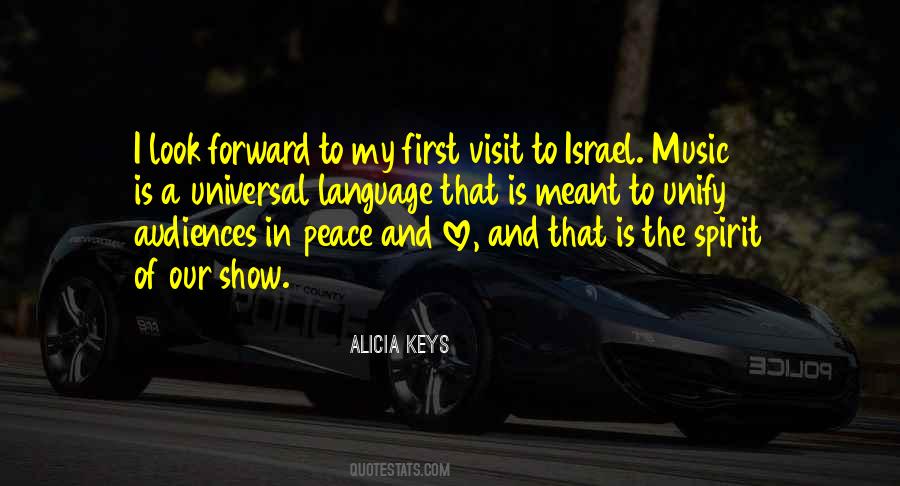 #97. Love has no darkened temples where mysteries are kept obscure and hidden from the sun. - Author: Foundation For Inner Peace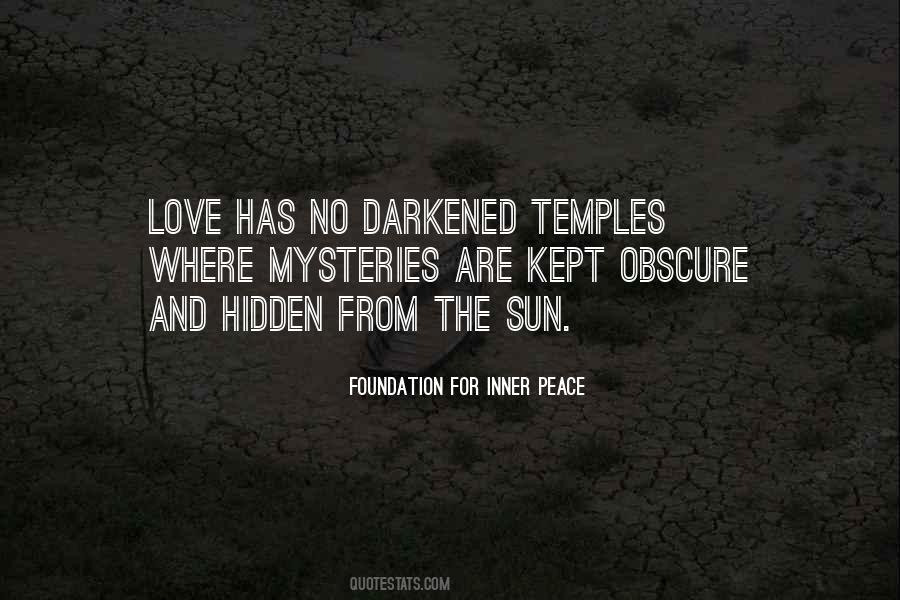 #98. To forgive is the highest, most beautiful form of love. In return, you will receive untold peace and happiness - Author: Robert Muller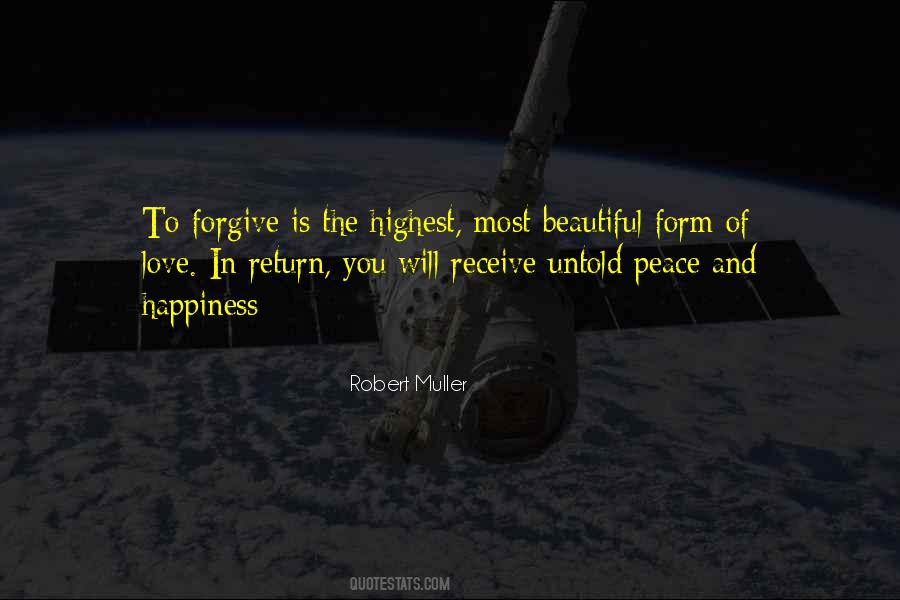 #99. Fill the canvas of life with the colors of peace bliss beauty and love. - Author: Amit Ray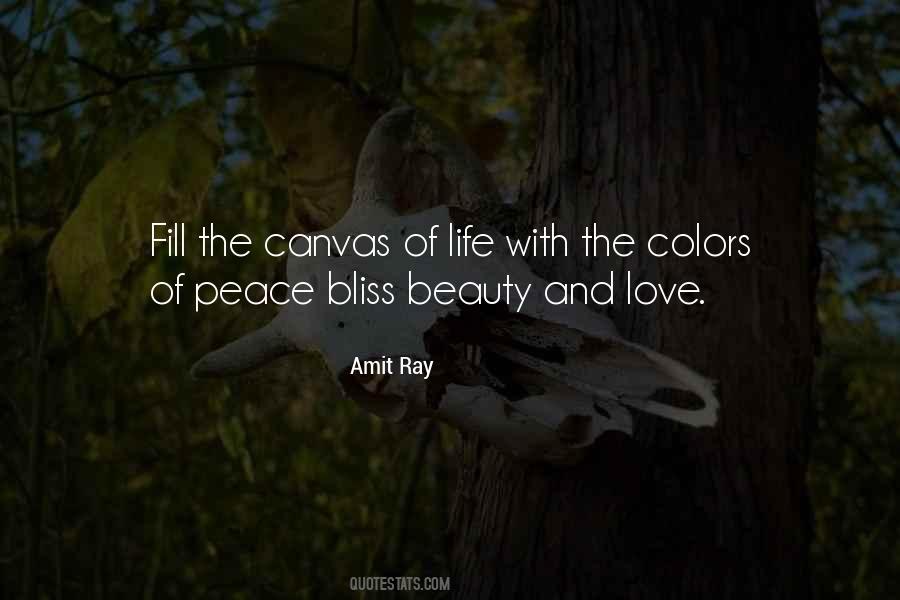 #100. Your happiness depends on people around you and people you love, but peace of mind you alone can cultivate. Never loose your peace of mind even when unhappy. - Author: Bajju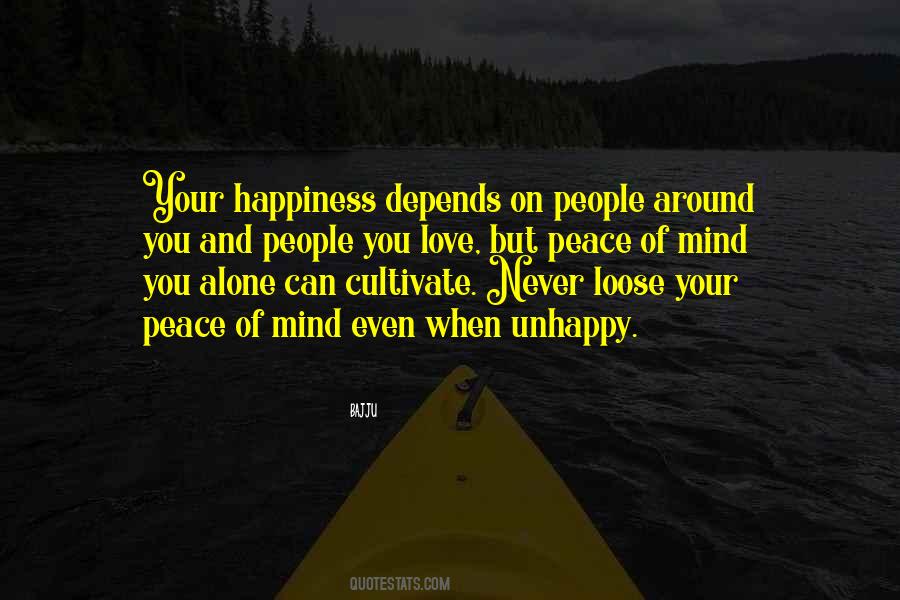 Famous Authors
Popular Topics