Patriotism And Nationalism Famous Quotes & Sayings
List of top 32 famous quotes and sayings about patriotism and nationalism to read and share with friends on your Facebook, Twitter, blogs.
Top 32 Quotes About Patriotism And Nationalism
#1. I distinguish, between nationalism and patriotism. - Author: Michael Ignatieff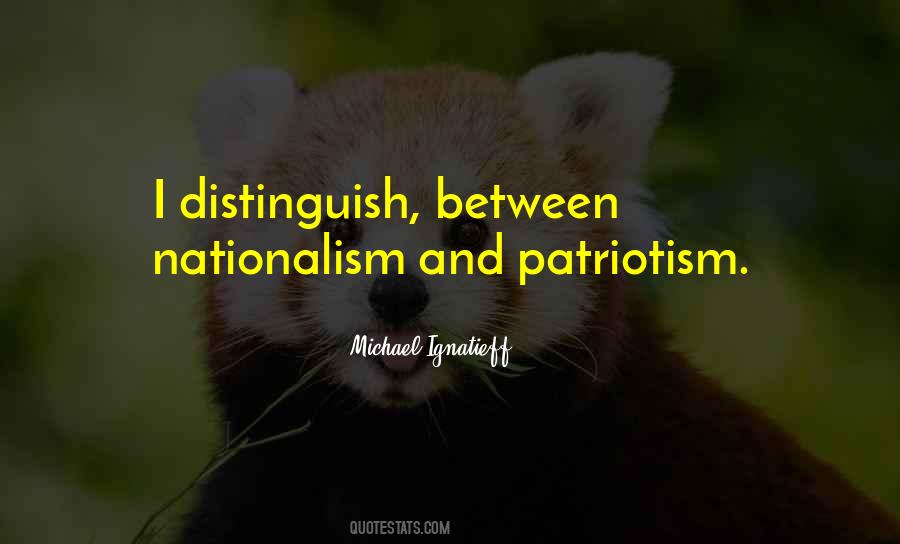 #2. The difference between patriotism and nationalism is that the patriot is proud of his country for what it does, and the nationalist is proud of his country no matter what it does; the first attitude creates a feeling of responsibility, but the second a feeling of blind arrogance that leads to war. - Author: Sydney J. Harris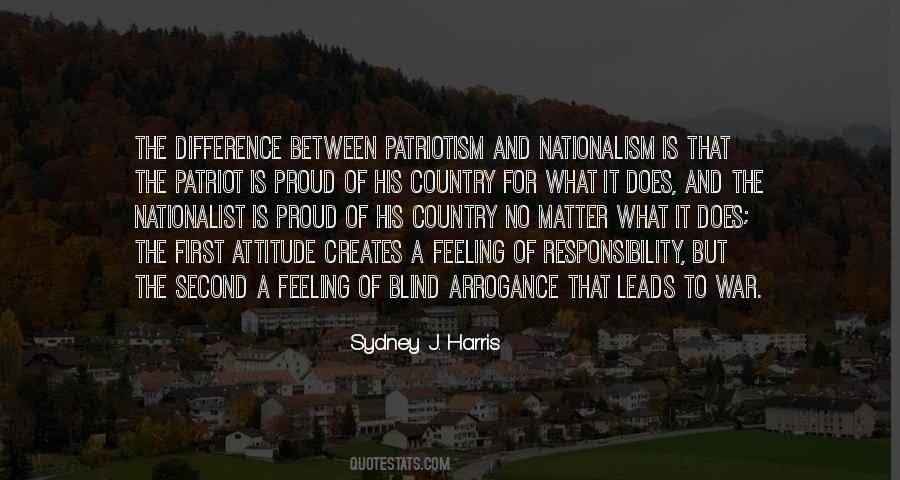 #3. I want to be proud of this country [the USA], but when aspects of our policy don't align with my ethics, I want to protest them and try to change them. Being complicit because it's the home team is nationalism, not patriotism. - Author: Shepard Fairey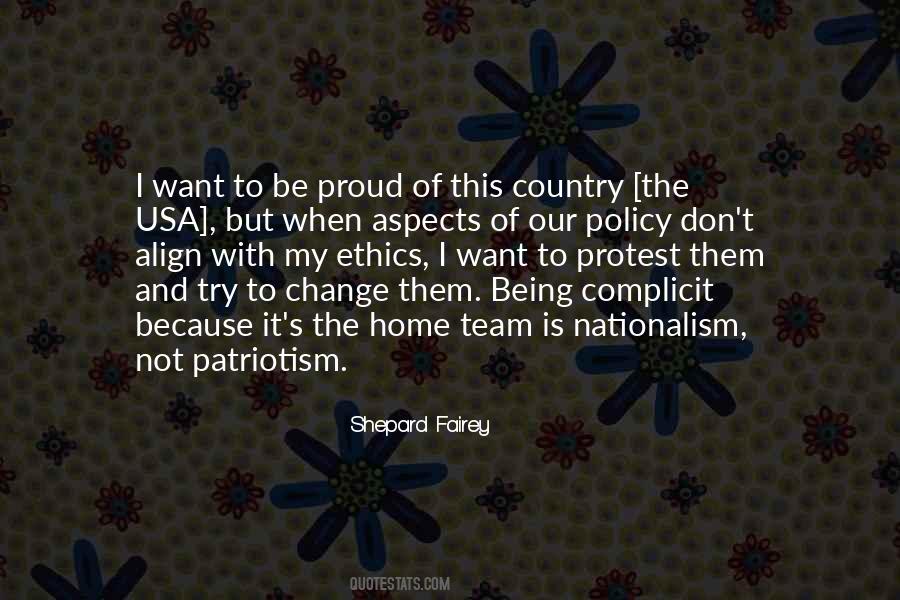 #4. Call it 'nationalism' when you affix a flag to your car, and leave the word 'patriotism' for your efforts to make this country a kinder, more egalitarian place, and one that is less dangerous to the rest of the world. - Author: Barbara Ehrenreich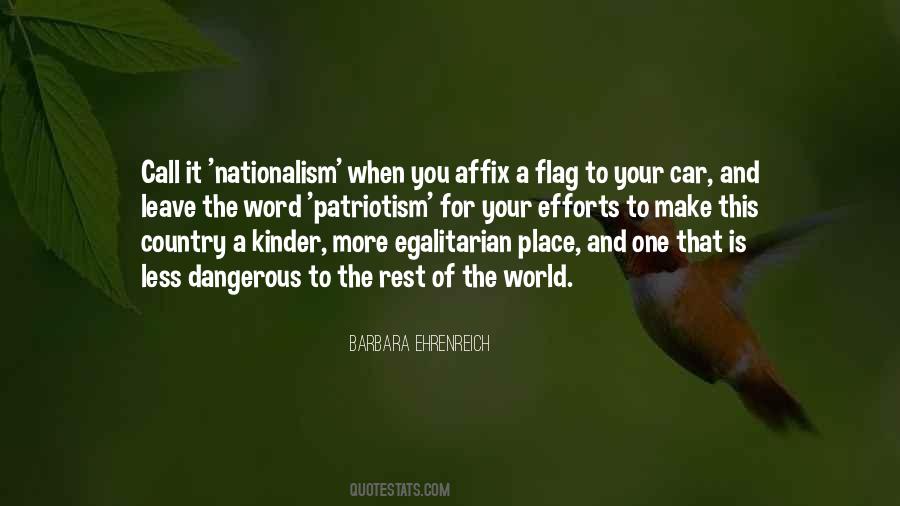 #5. Under this flag may our youth find new inspiration for loyalty to Canada; for a patriotism based not on any mean or narrow nationalism, but on the deep and equal pride that all Canadians will feel for every part of this good land. - Author: Lester B. Pearson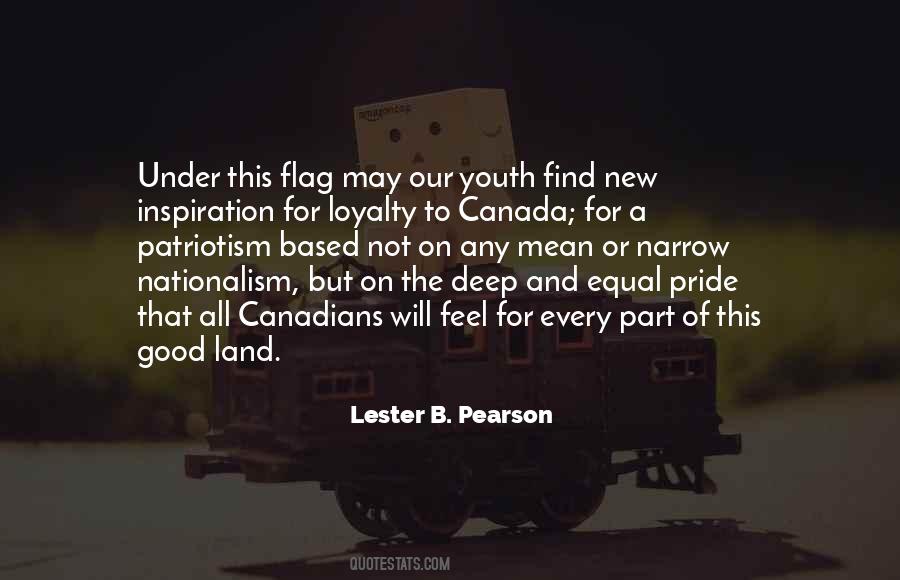 #6. Nationalism is the love which ties me to the blockheads of my country, to the insultors of my way of life, and to the desecrators of my language. - Author: Karl Kraus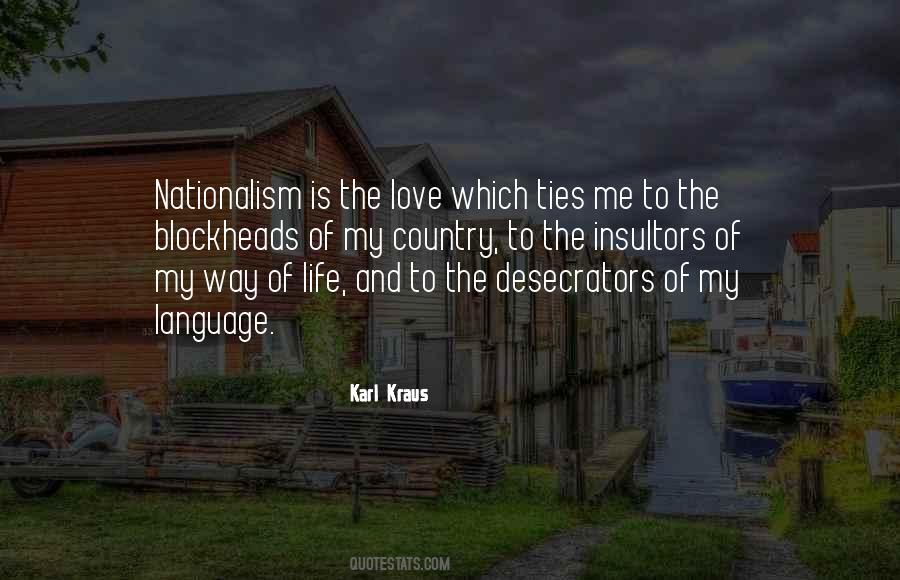 #7. There is a higher form of patriotism than nationalism, and that higher form is not limited by the boundaries of one's country; but by a duty to mankind to safeguard the trust of civilization. - Author: Oscar Straus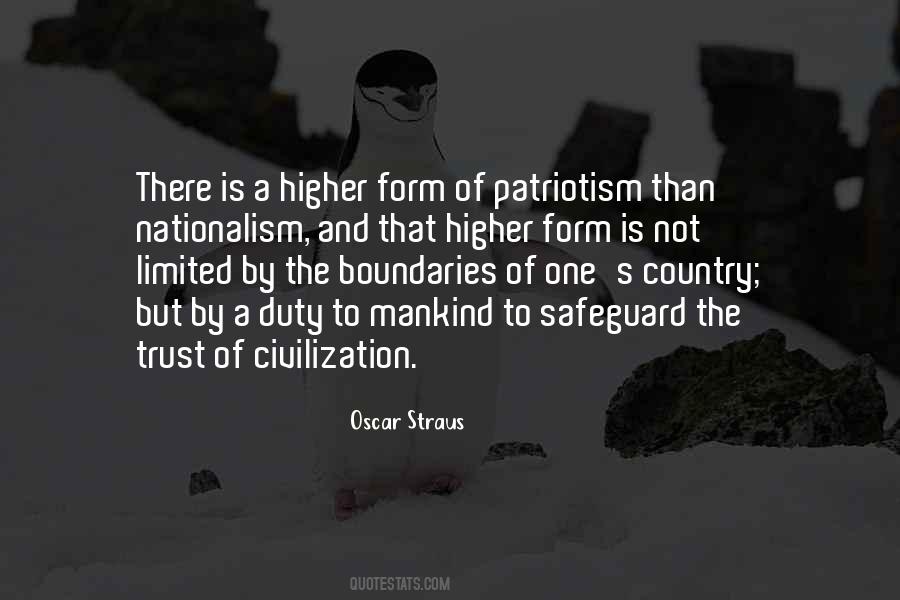 #8. What is there in this big wide world for a man to talk about with certainty besides his homeland, home and family? - Author: Janvier Chouteu-Chando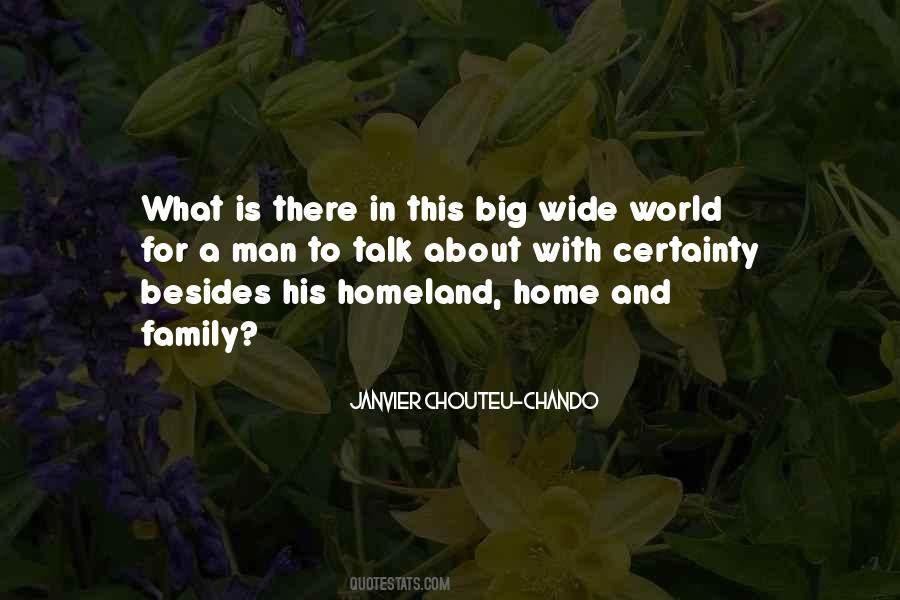 #9. Patriotism is a lively sense of collective responsibility. - Author: Richard Aldington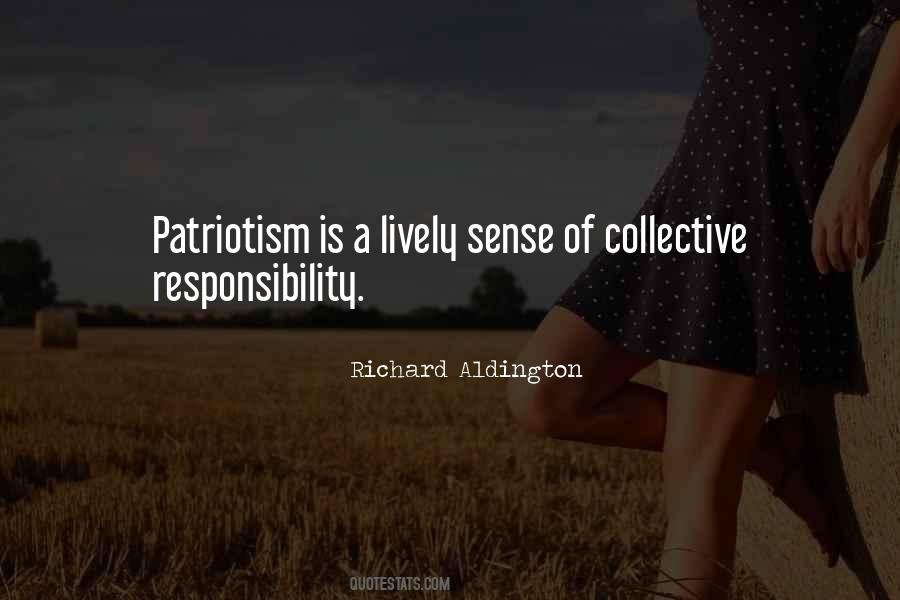 #10. The recognition of a distinct 'national identity' among members of the Body of Christ can keep before us our ties with Christians who live under different secular governments, with whom we have bonds that transcend and override our commitments to governments and groups outside the church. - Author: Richard J. Mouw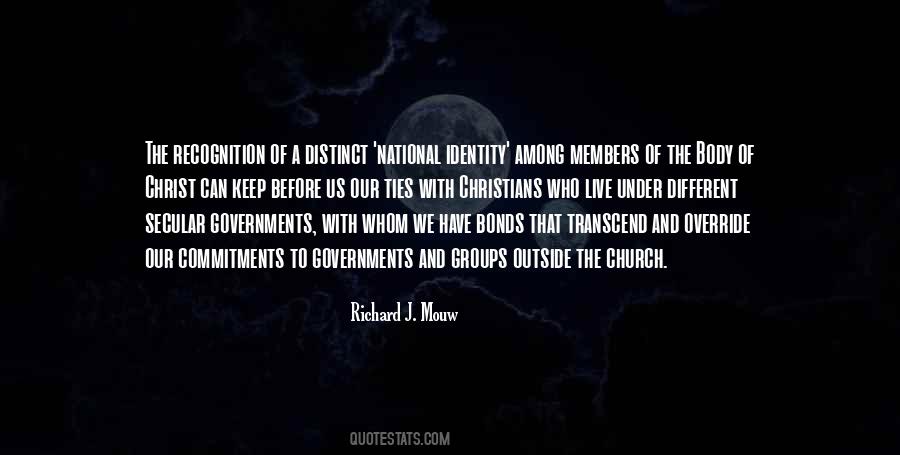 #11. Patriotism is nationalism, and always leads to war. - Author: Helen Caldicott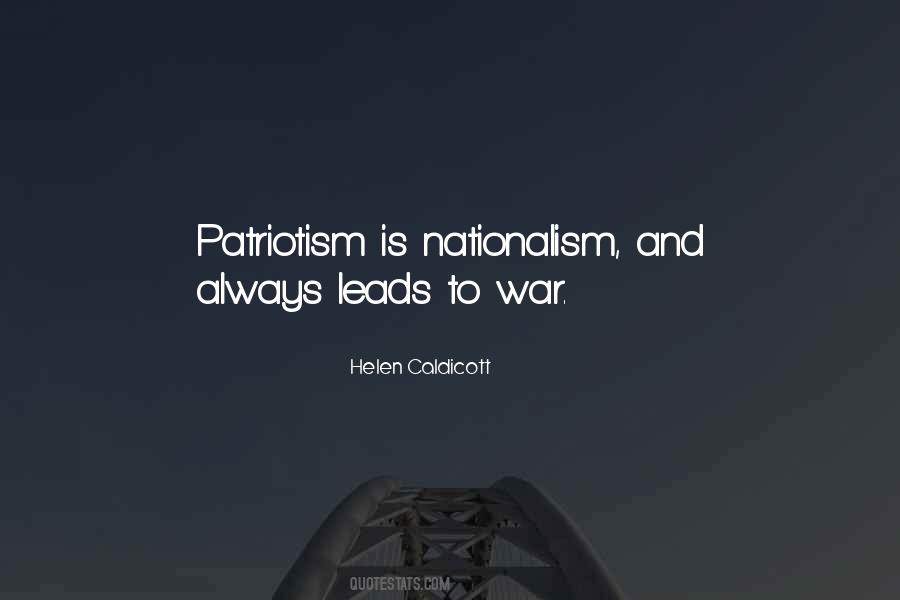 #12. It's only important to differentiate between patriotism and nationalism. I speak of enlightened patriotism. - Author: Charlotte Knobloch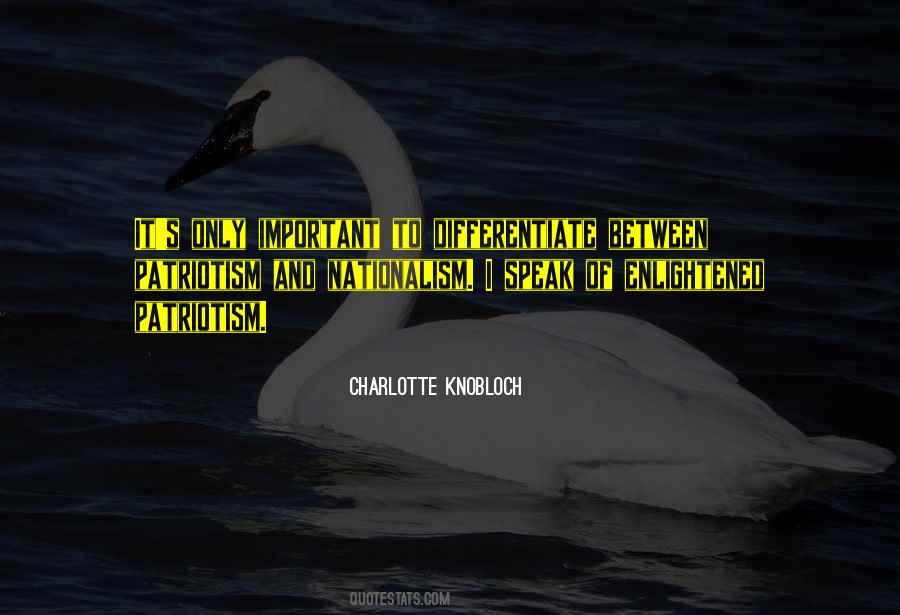 #13. I don't like the showy nationalism - a tattoo, wrapping yourself in a flag - that doesn't matter to me. The way to show your patriotism and commitment is to go and support or play for your team. - Author: Gary Speed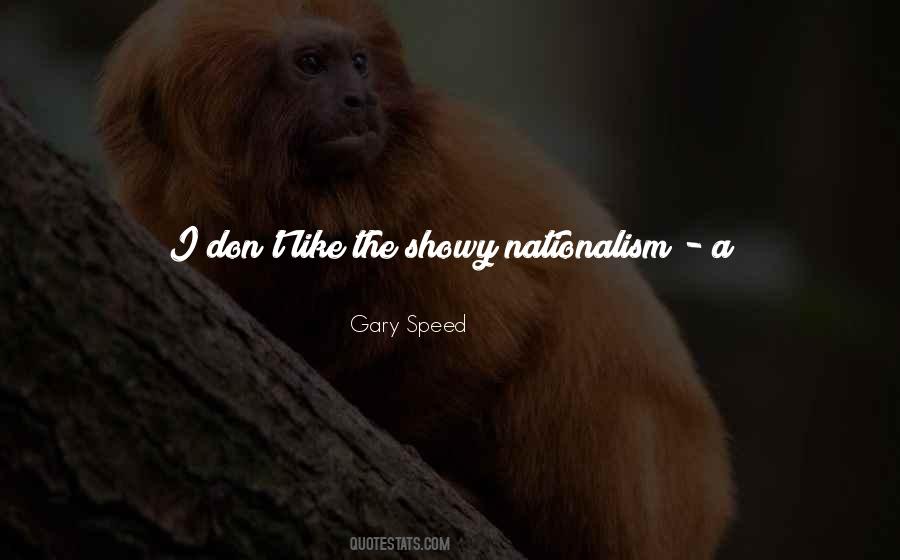 #14. I was weaned not on television or Wild West sagas but on stories of nationalism and patriotism. I would sit at my mother's feet by the hour and drink in these exciting tales of the freedom fighters in our family. - Author: Sukarno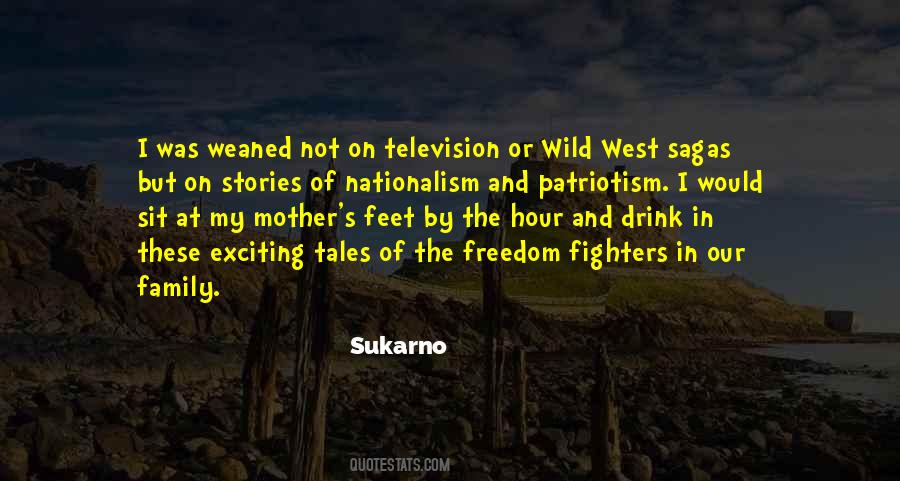 #15. He saw that science had become as great a hoax as religion, that nationalism was a farce, patriotism a fraud, education a form of leprosy, and that morals were for cannibals - Author: Henry Miller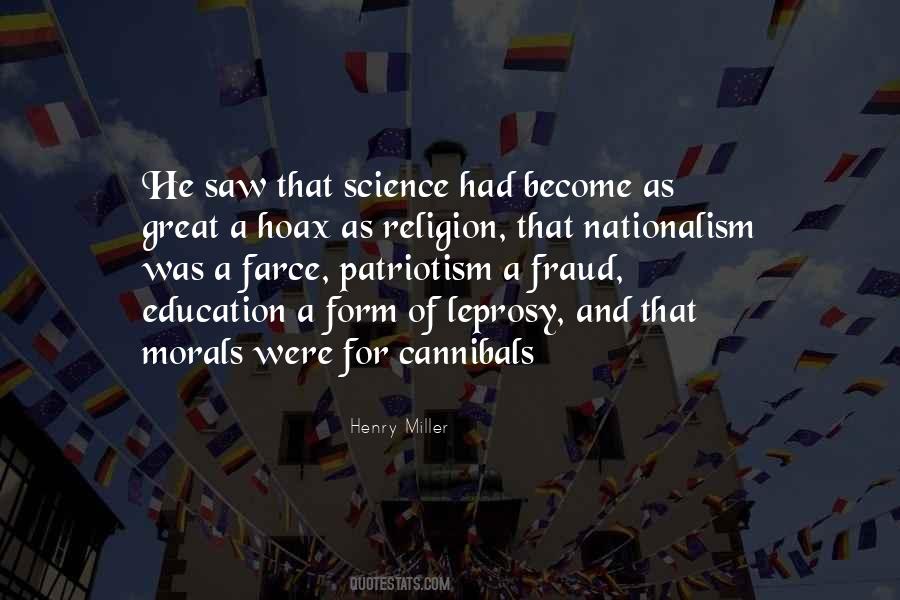 #16. I've never really understood national pride, or even ethnic pride. It should be more about pride at being a human and living on this planet with fellow humans surely, let's widen the parameters a bit - Author: Robert Breeze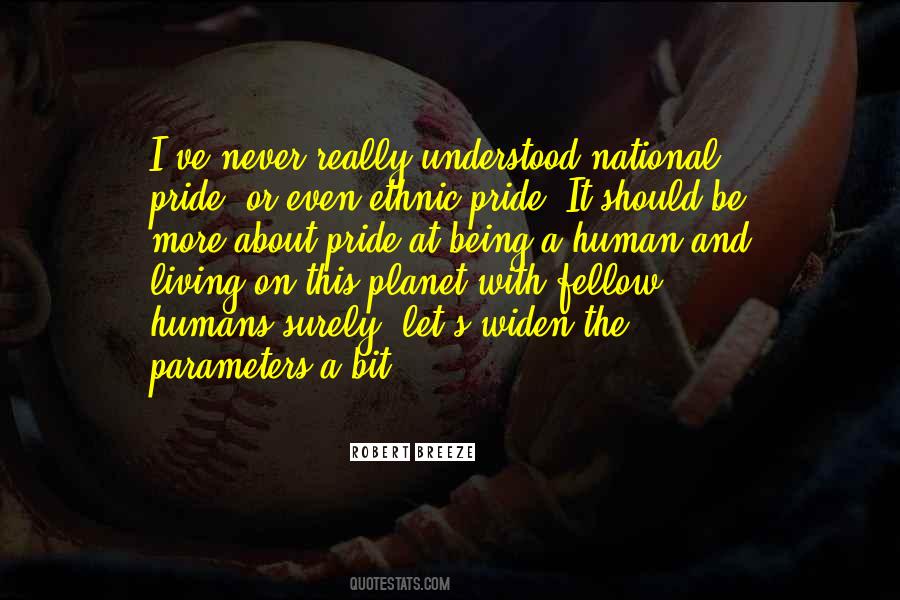 #17. Nationalism is a form of cultural self-centeredness, and as a collective thought-form, can only exist because the dominant in-group is itself comprised of self-centered and narcissistic individuals. - Author: Bryant McGill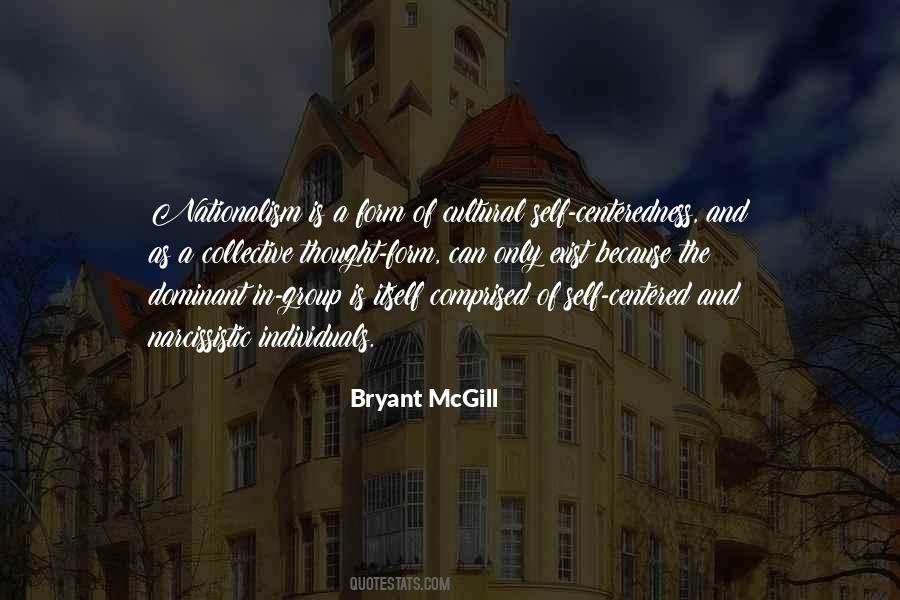 #18. The urge to lie is produced by the contradictions in our lives. We are made to declare love for our country, while it tramples our rights and dignity. - Author: Barbara Kingsolver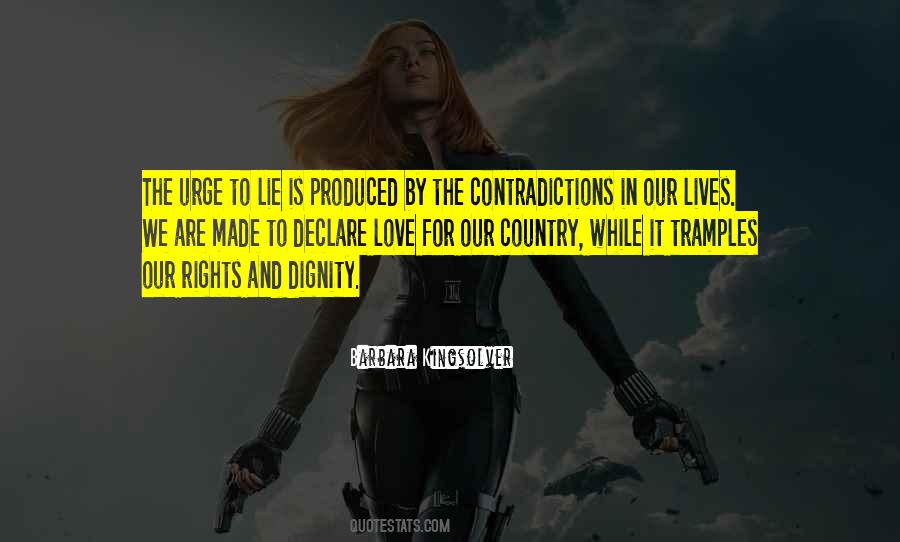 #19. Ten responsible and rational young citizens are sufficient to clean up the mess of a thousand old superstitious citizens. - Author: Abhijit Naskar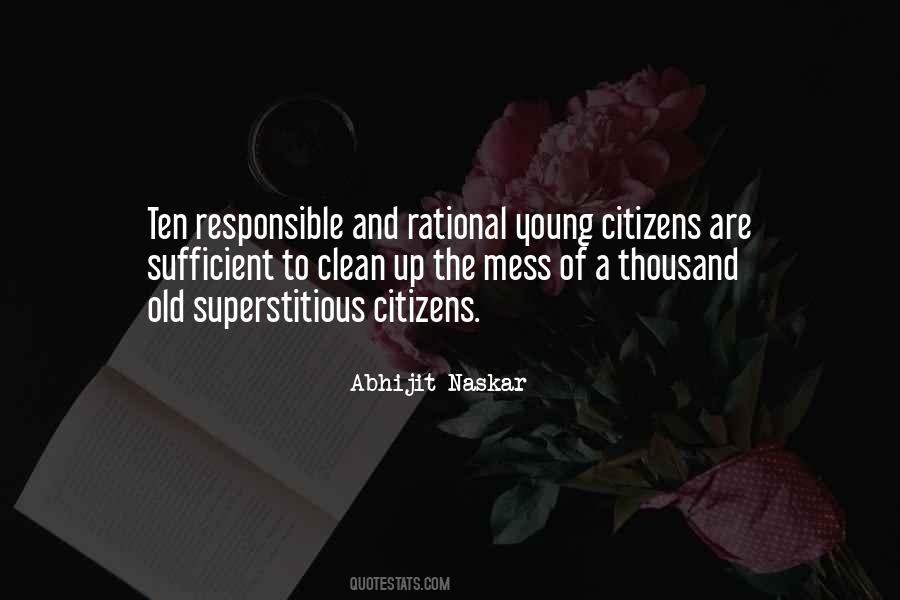 #20. There is a fuzzy but real distinction that can and I believe should be made, between patriotism, which is attachment to a way of life, and nationalism, which is the insistence that your way of life deserves to rule over other ways of life. - Author: Todd Gitlin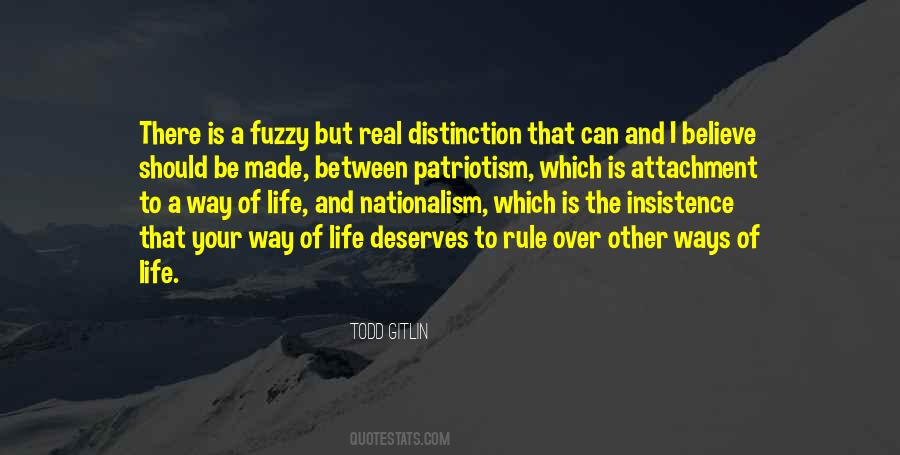 #21. Patriotism can flourish only where racism and nationalism are given no quarter. We should never mistake patriotism for nationalism. A patriot is one who loves his homeland. A nationalist is one who scorns the homelands of others. - Author: Johannes Rau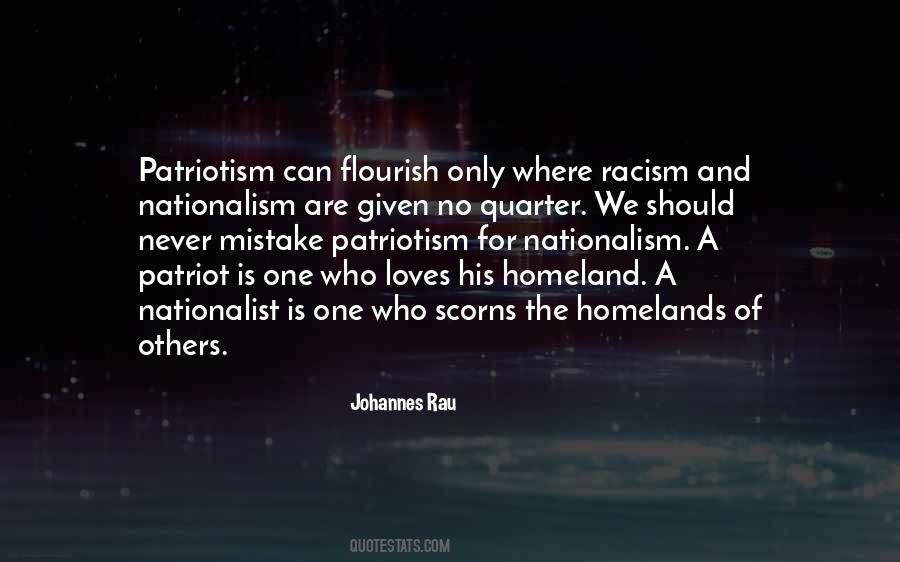 #22. One cannot worship the false god of nationalism and the God of Christianity at the same time. - Author: Martin Luther King Jr.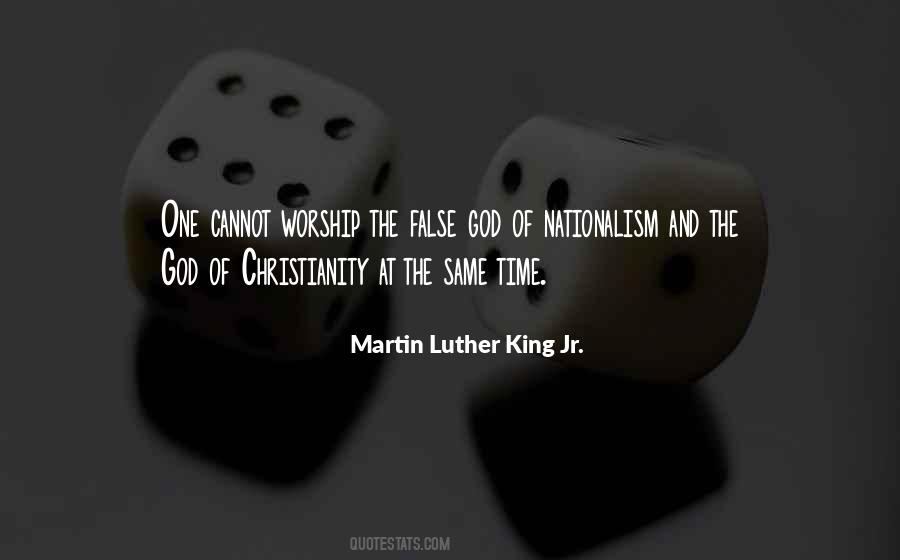 #23. I am against nationalism, and I am against patriotism. They are both the dark side. It is time not simply to redefine a kinder-and-gentler patriotism, but to sweep away the notion and acknowledge it as morally, politically, and intellectually bankrupt. It is time to scrap patriotism. - Author: Robert Jensen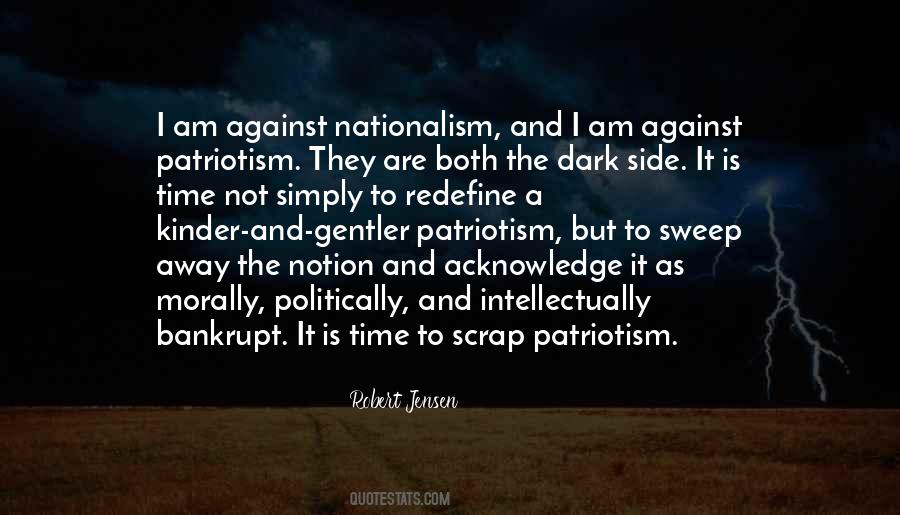 #24. But you know as well as I, patriotism is a word; and one that generally comes to mean either my country, right or wrong, which is infamous, or my country is always right, which is imbecile. - Author: Patrick O'Brian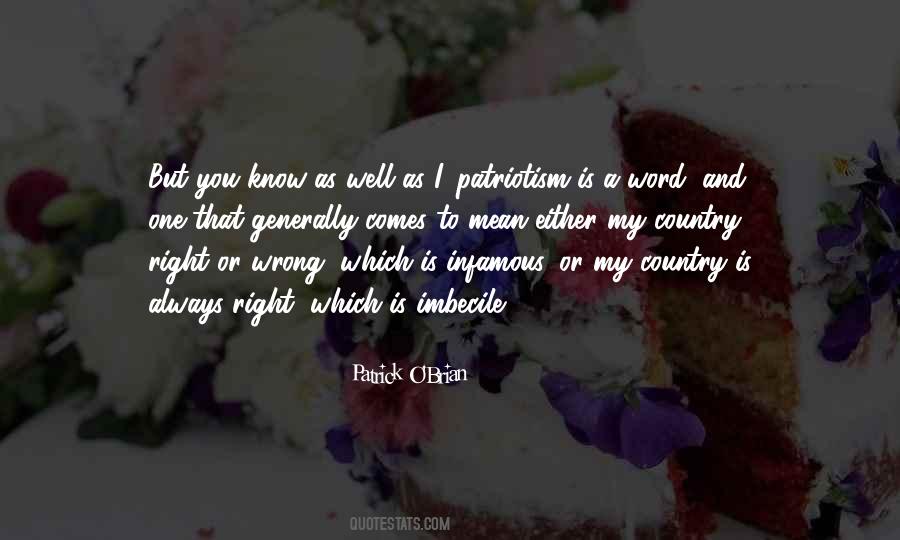 #25. Here is your country. Cherish these natural wonders, cherish the natural resources, cherish the history and romance as a sacred heritage, for your children and your children's children. Do not let selfish men or greedy interests skin your country of its beauty, its riches or its romance. - Author: Theodore Roosevelt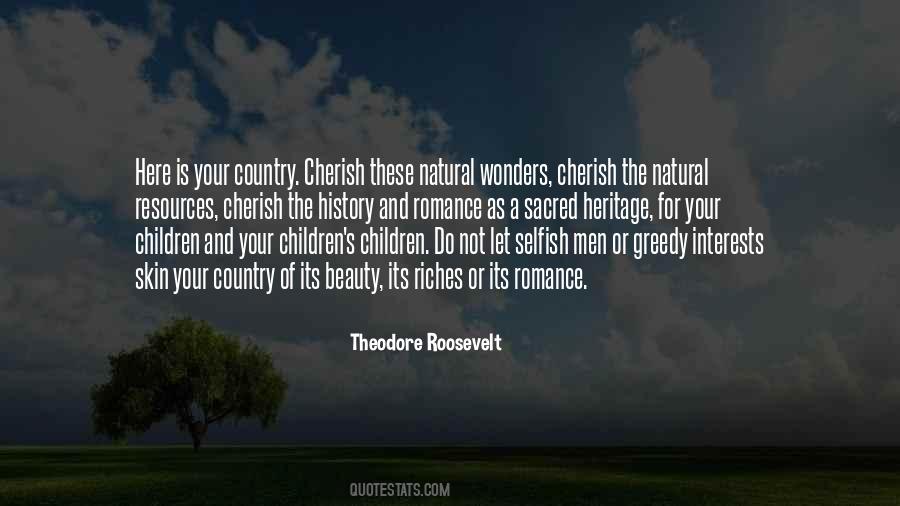 #26. No nation can truly develop unless fanaticism, primitive superstitions and metaphysical non-sense are eradicated. - Author: Abhijit Naskar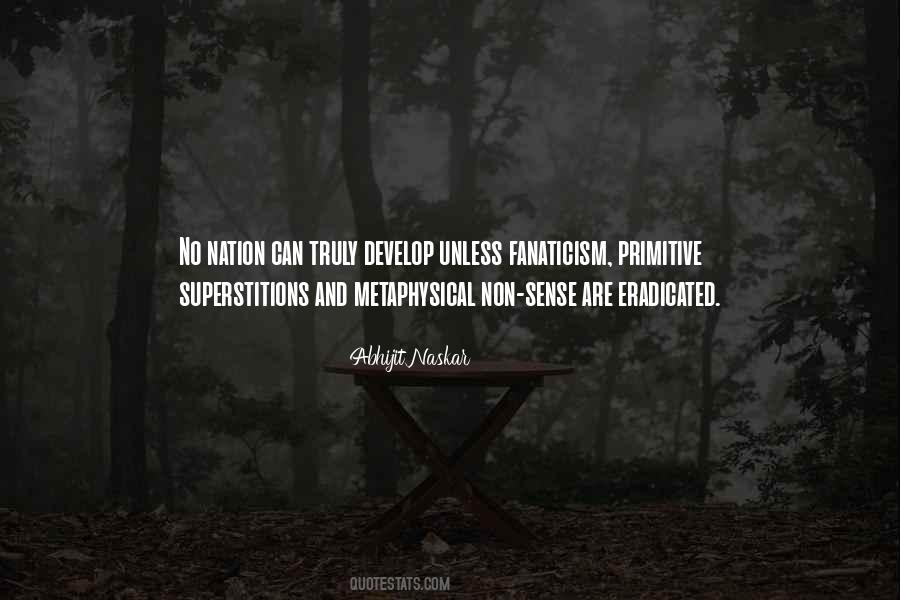 #27. A Canadian is somebody who knows how to make love in a canoe. - Author: Pierre Berton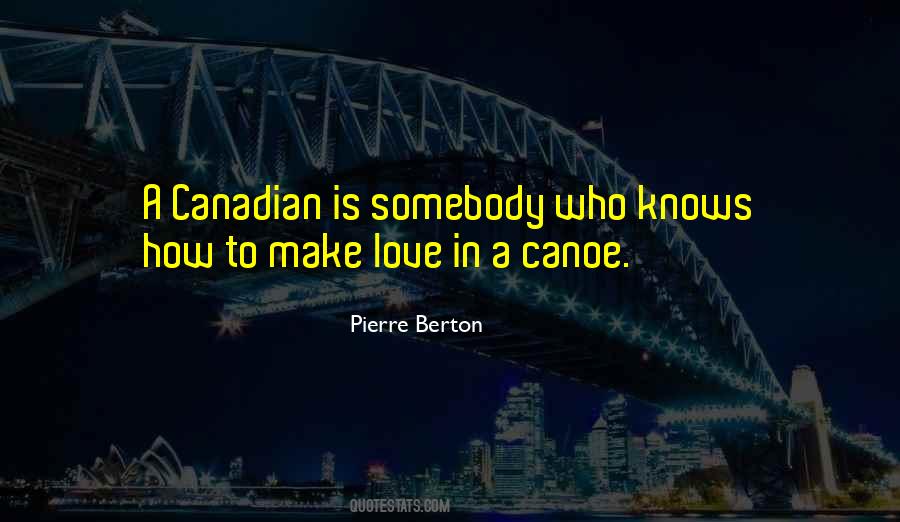 #28. The antisemites who called themselves patriots introduced that new species of national feeling which consists primarily in a complete whitewash of one's own people and a sweeping condemnation of all others. - Author: Hannah Arendt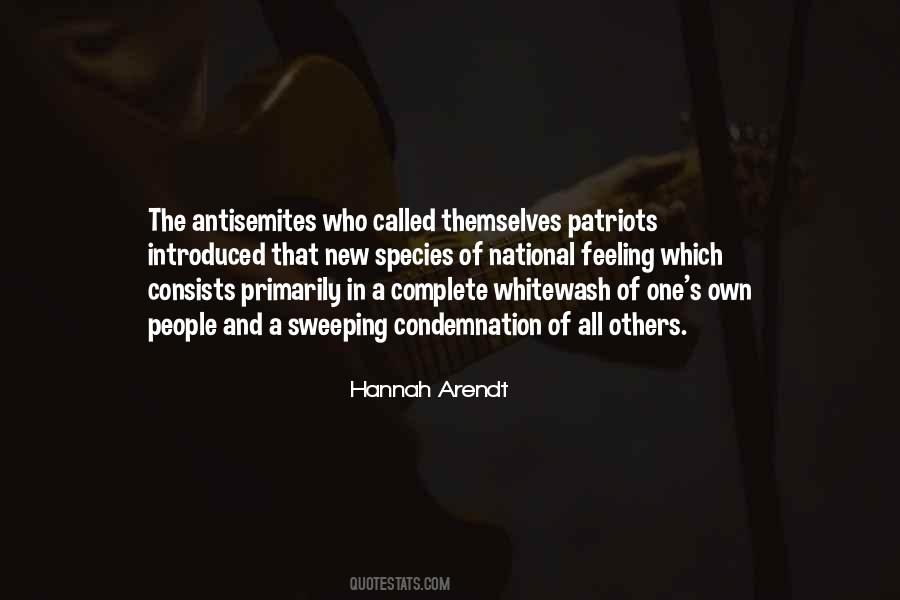 #29. Should we not begin to redefine patriotism? We need to expand it beyond that narrow nationalism which has caused so much death and suffering. If national boundaries should not be obstacles to trade-we call it globalization-should they also not be obstacles to compassion and generosity? - Author: Howard Zinn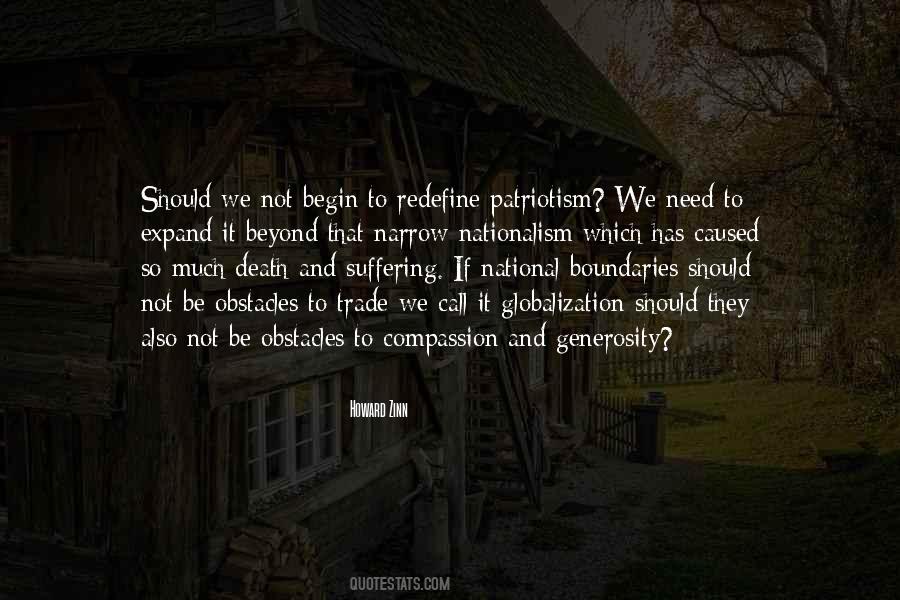 #30. The love we have for our native land would be good and praiseworthy if it did not degenerate, as we see it does everywhere, into vanity, the spirit of predominance, acquisitiveness, hate, envy, nationalism, and militarism - Author: Henri Barbusse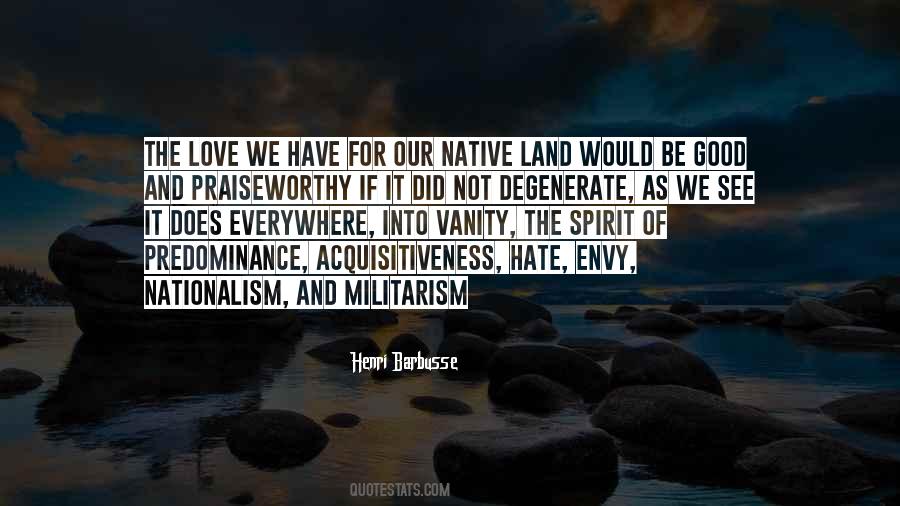 #31. ABYSS
Our country lives
Among the dead
And dies among the living
Sometimes. - Author: Visar Zhiti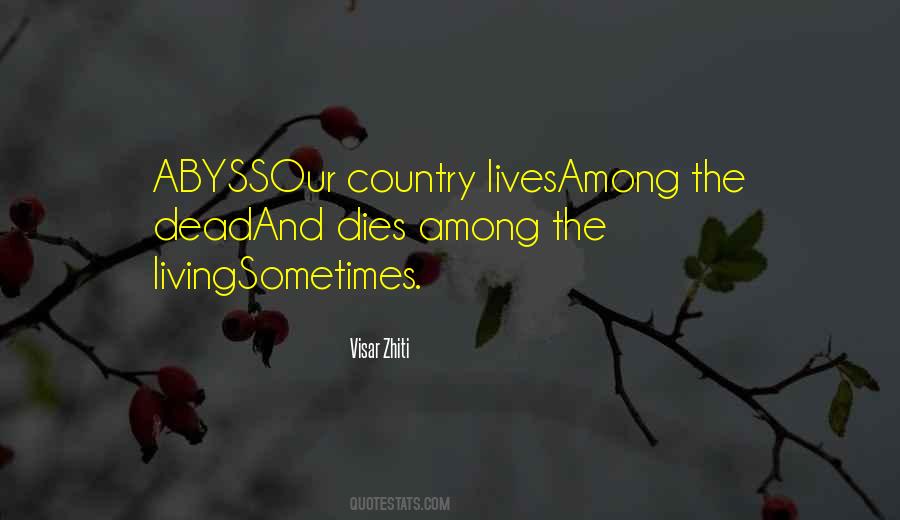 #32. Nationalism and patriotism are the two most evil forces that I know of in this century or in any century and cause more wars and more death and more destruction to the soul and to human life than anything else. - Author: Oliver Stone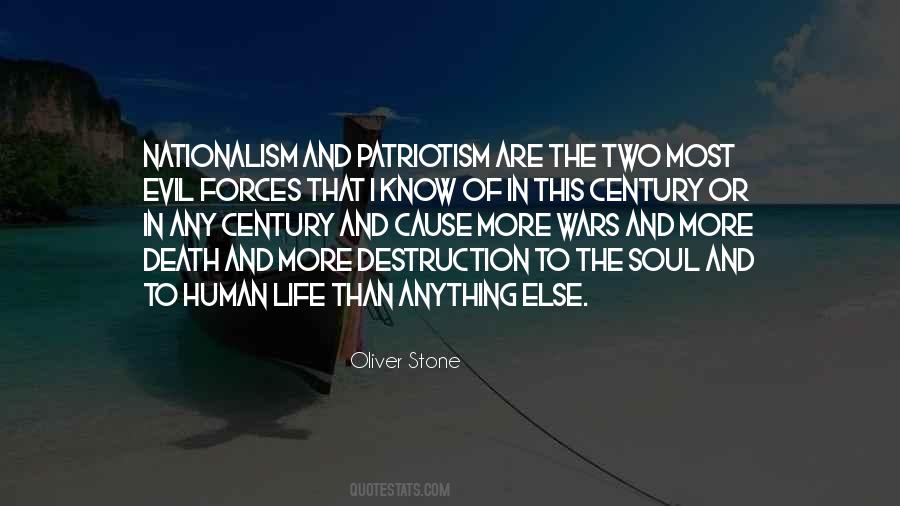 Famous Authors
Popular Topics