Patience Of Waiting Famous Quotes & Sayings
List of top 57 famous quotes and sayings about patience of waiting to read and share with friends on your Facebook, Twitter, blogs.
Top 57 Quotes About Patience Of Waiting
#1. Great men wait for the right moment to abandon caution. The rest of us abandon it when impatience becomes too much for us. - Author: Mason Cooley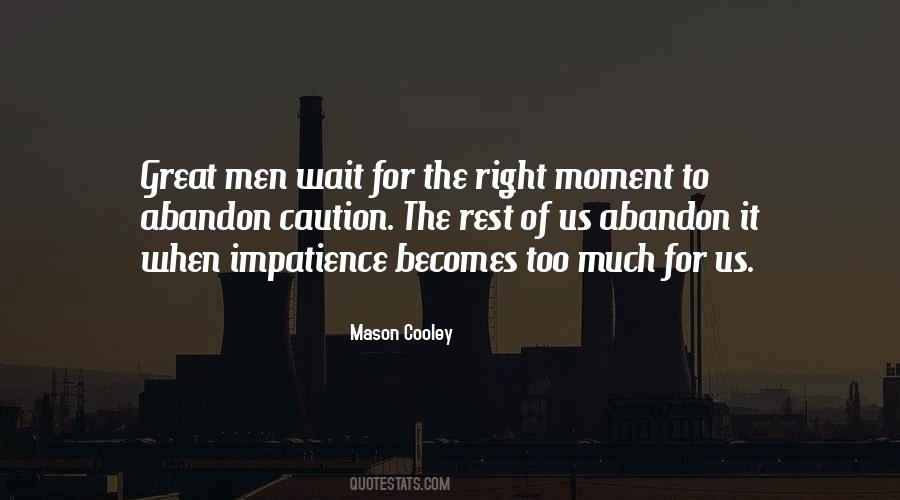 #2. Difficult times are pregnant with glory moments just waiting to be birthed in the lives of those willing to labor through the pain. - Author: Sharon Jaynes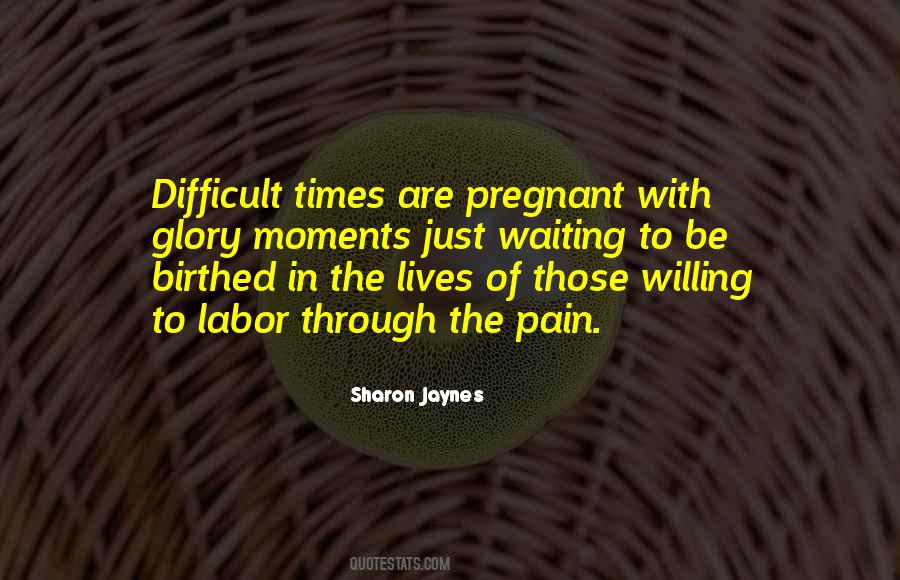 #3. Up there, up there in the vastness of space, in the void that is sky, up there is an enemy known as isolation. It sits there in the stars waiting, waiting with the patience of eons, forever waiting in the Twilight Zone. - Author: Rod Serling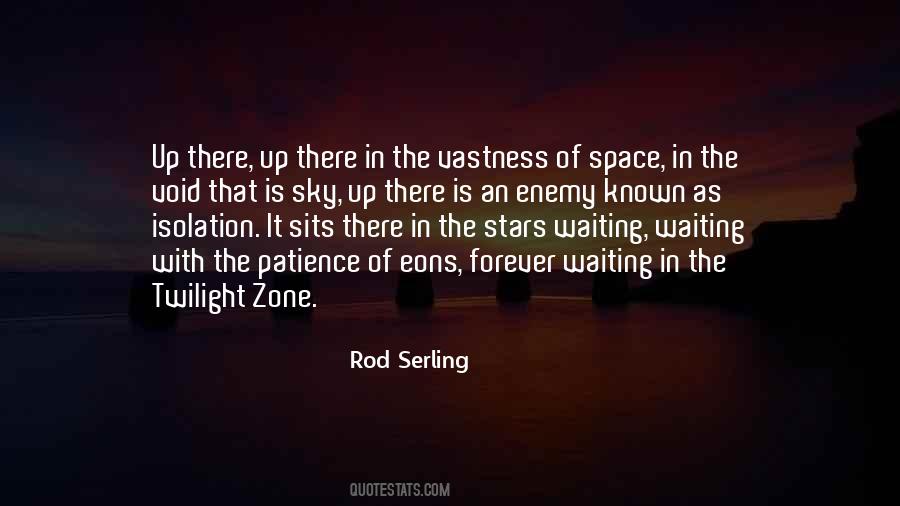 #4. The bane of sects, especially in Bengal, is that if any one happens to have a different opinion, he immediately starts a new sect, he has no patience to wait. - Author: Swami Vivekananda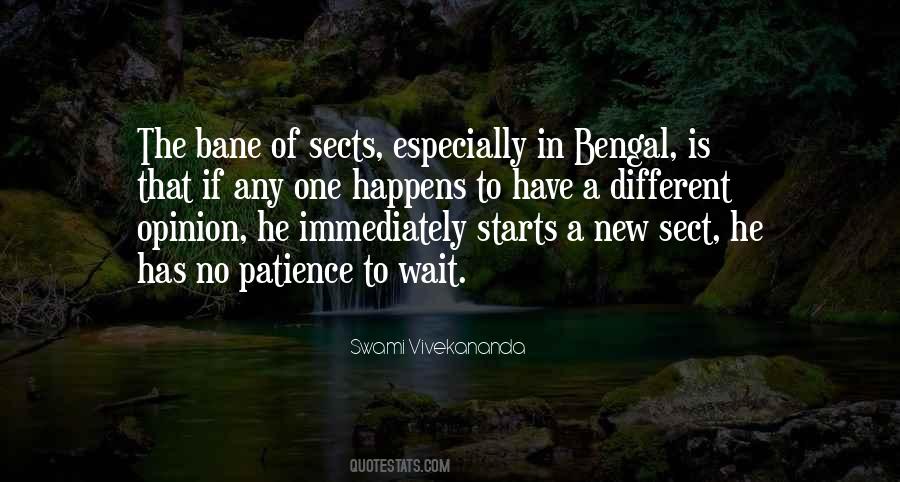 #5. One of the things I've been taught by Native American elders is the importance of patience, of waiting to do things when the time is right. - Author: Joseph Bruchac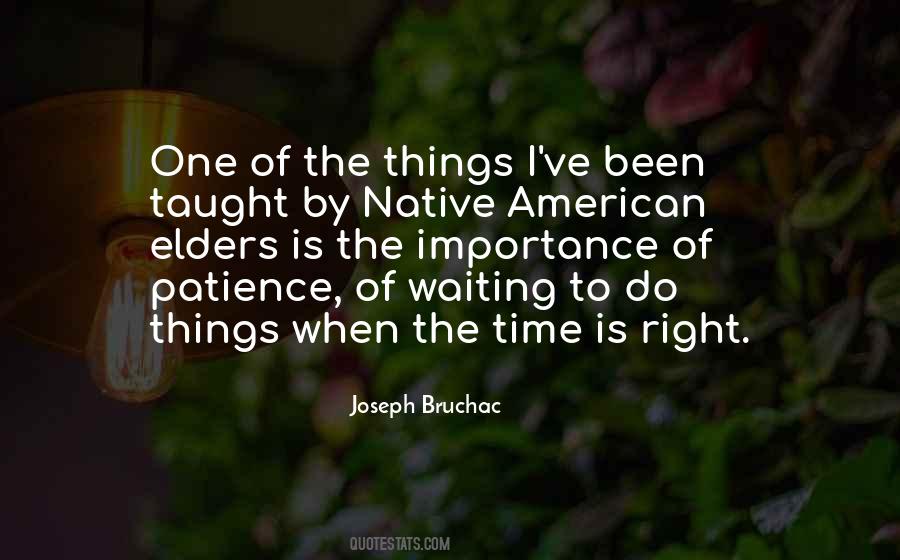 #6. Each life is made up of mistakes and learning, waiting and growing, practicing patience and being persistent. - Author: Billy Graham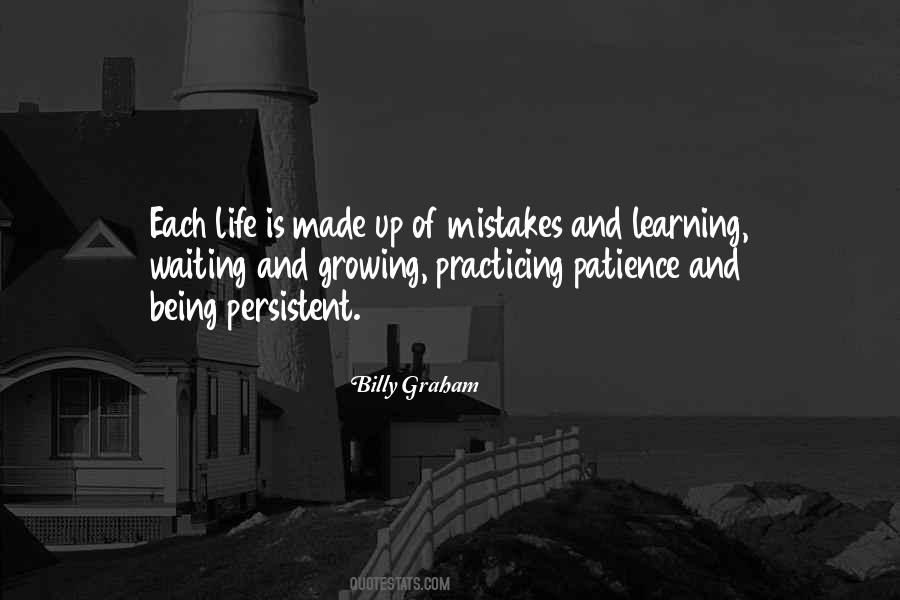 #7. Patience as we wait to take action is a kind of compassionate mind. Impatience on the other hand can be a source of failure. - Author: Dalai Lama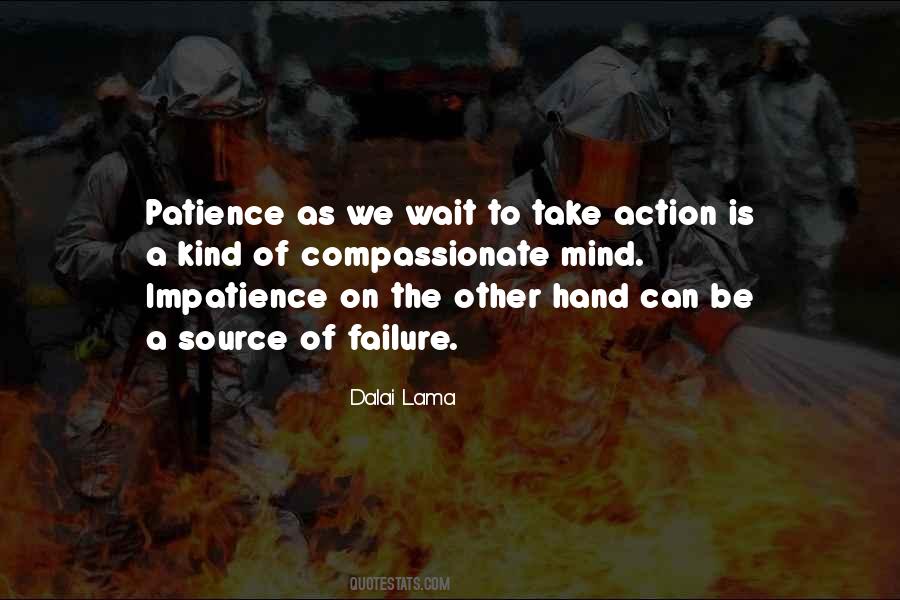 #8. In love, all kinds of love, we wait. If I can't be your dawn, I will be your sunset! - Author: Rossana Condoleo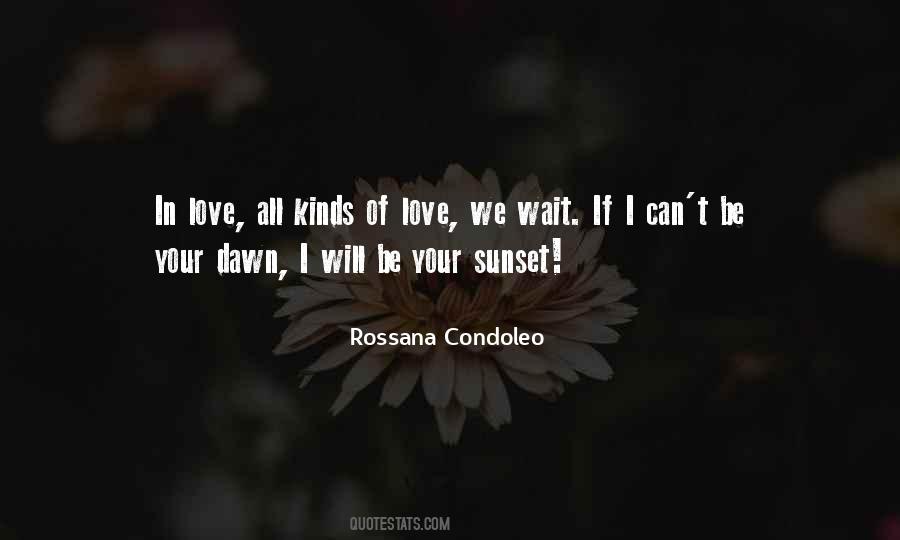 #9. We can't have it both ways. We can't expect God to protect us in a crisis and just leave Him over there on the shelf in our day-to-day living. I wonder if sometimes He isn't waiting for us to wake up, He isn't maybe running out of patience. - Author: Ronald Reagan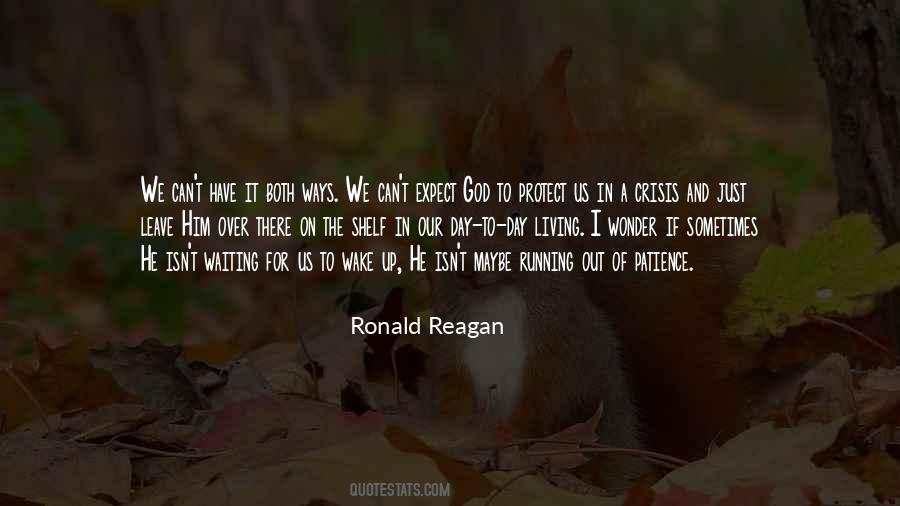 #10. A lot of impulsive mistakes are made by people who simply aren't willing to stay bored a little longer. - Author: Paul Aurandt Jr.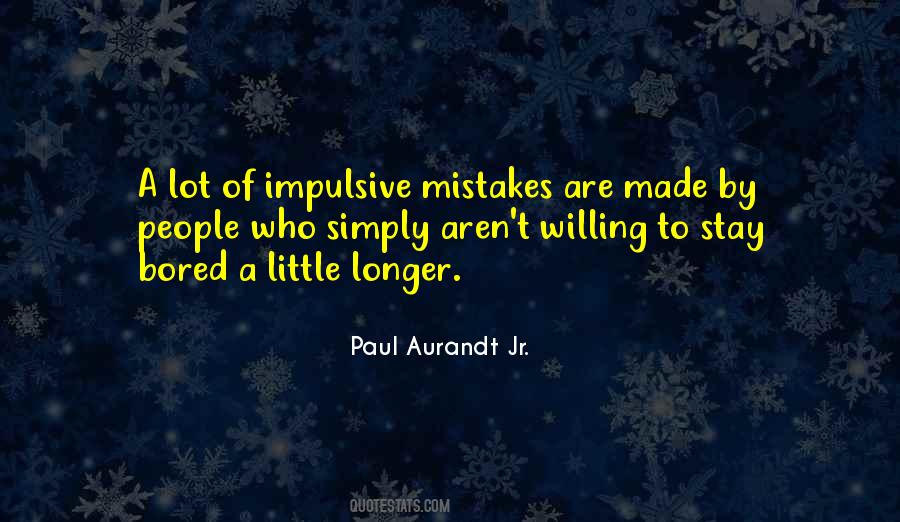 #11. It's a matter of timing and of patience. Although it may seem nothing is happening on the surface, there may yet be profound changes occurring a little deeper. Waiting isn't bad. - Author: Buck Brannaman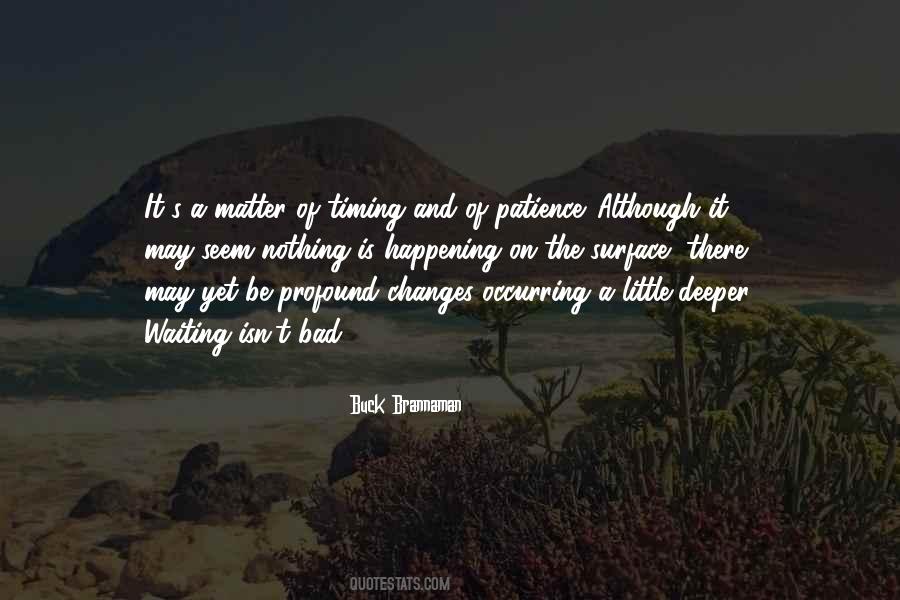 #12. Time is a power of its own, and it may be the only power by which some miracles come to pass. - Author: Richelle E. Goodrich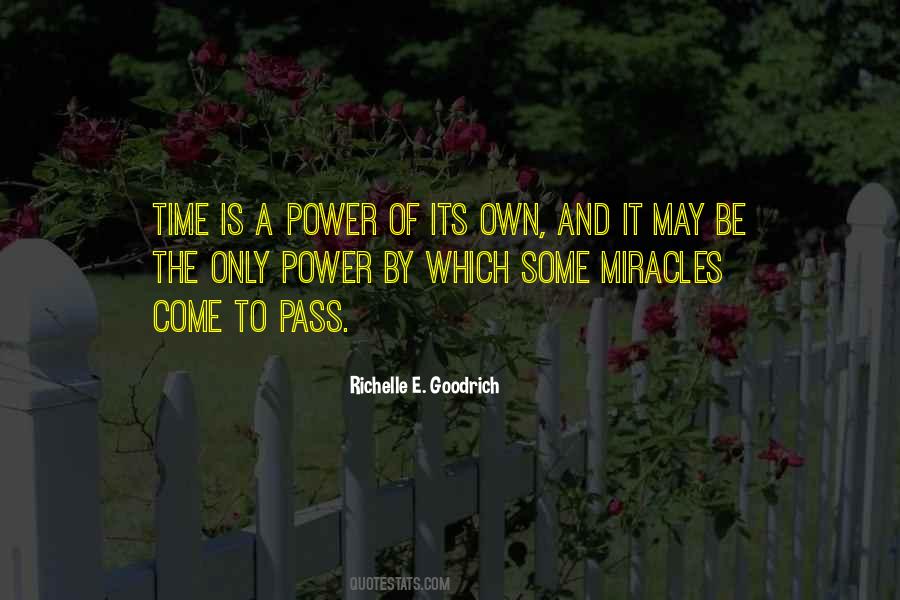 #13. There is a man waiting for a woman like you, don't settle for someone who only opens half of your heart. - Author: Nikki Rowe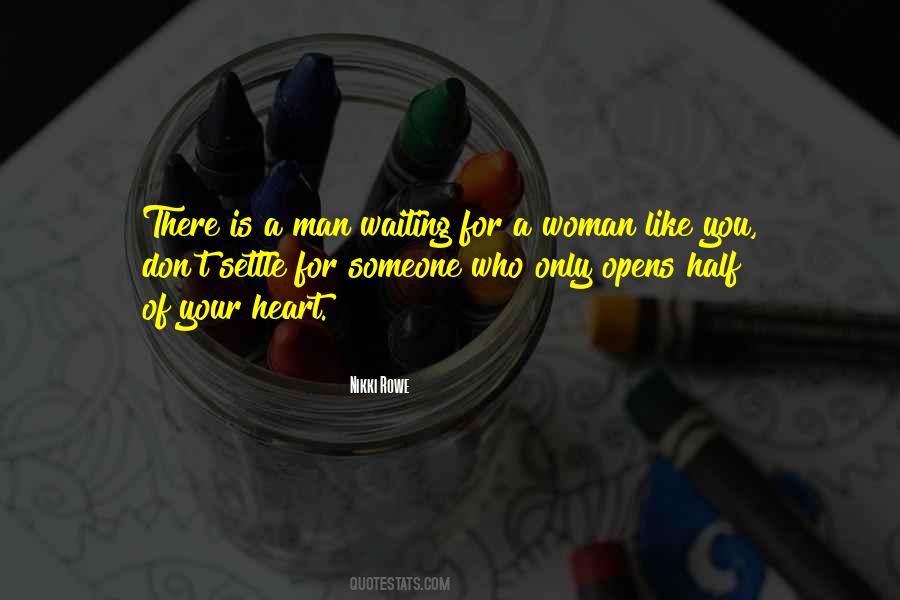 #14. Time neither flies nor sleeps. It is flexible, plastic, ever changing. Spend two hours watching a movie curled up with your lover and time ceases to exist. Spend two hours waiting for your lover to come and time is the iron bars of a prison - Author: Chloe Thurlow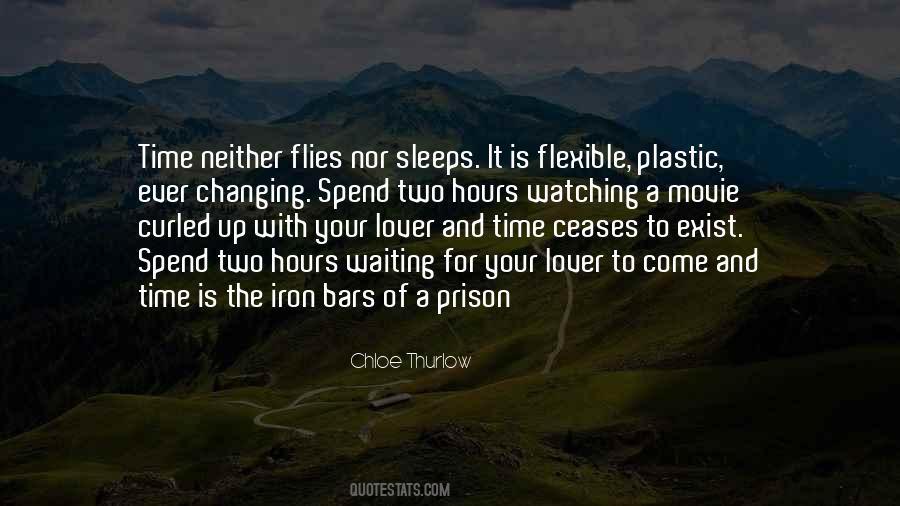 #15. He realized that, despite the dangers and alarms of the day, waiting was perhaps the worst thing of all. - Author: Dan Abnett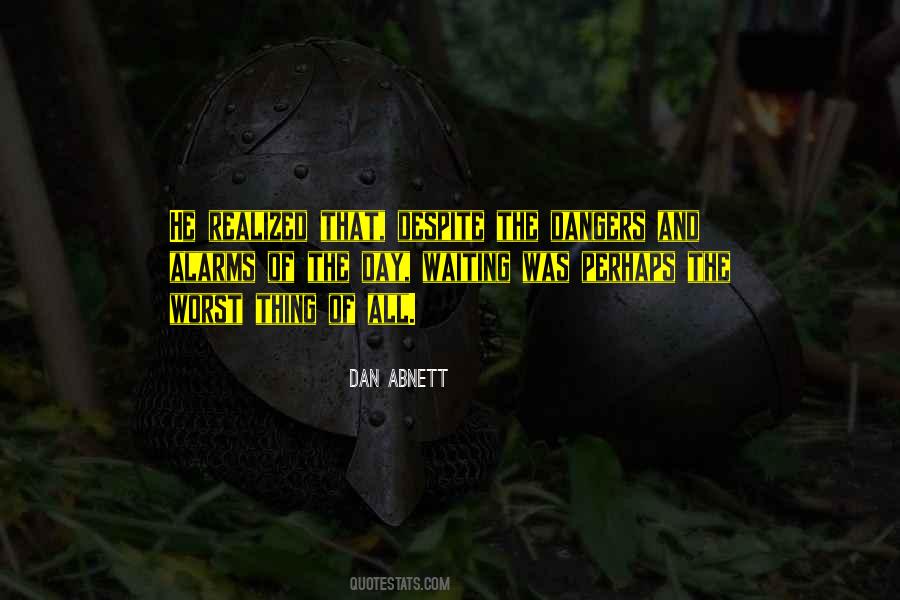 #16. We are sensible of the duty and expediency of submitting our opinions to the will of the majority, and can wait with patience till they get right if they happen to be at any time wrong. - Author: Thomas Jefferson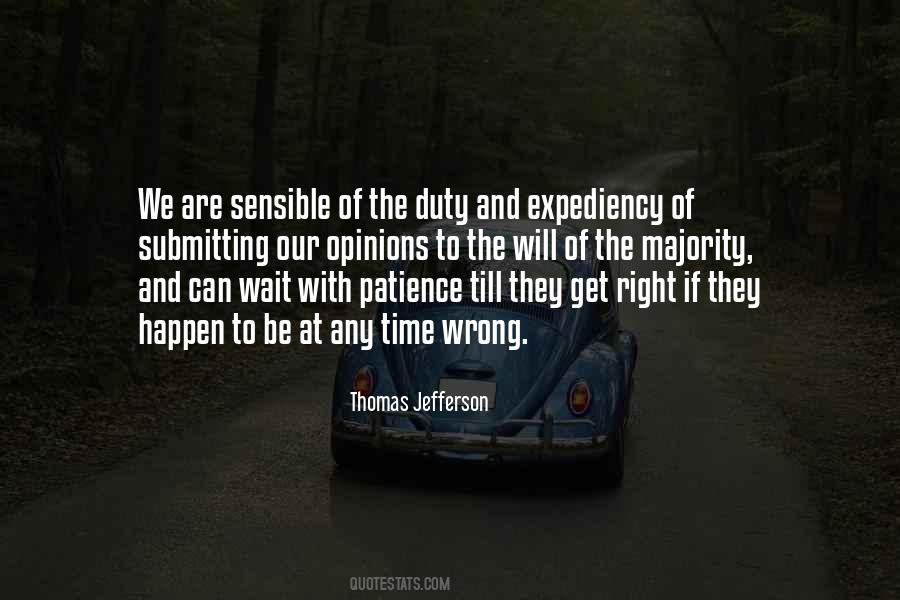 #17. Who can wait quietly until the mud settles? Who can remain still until the moment of action? - Author: Laozi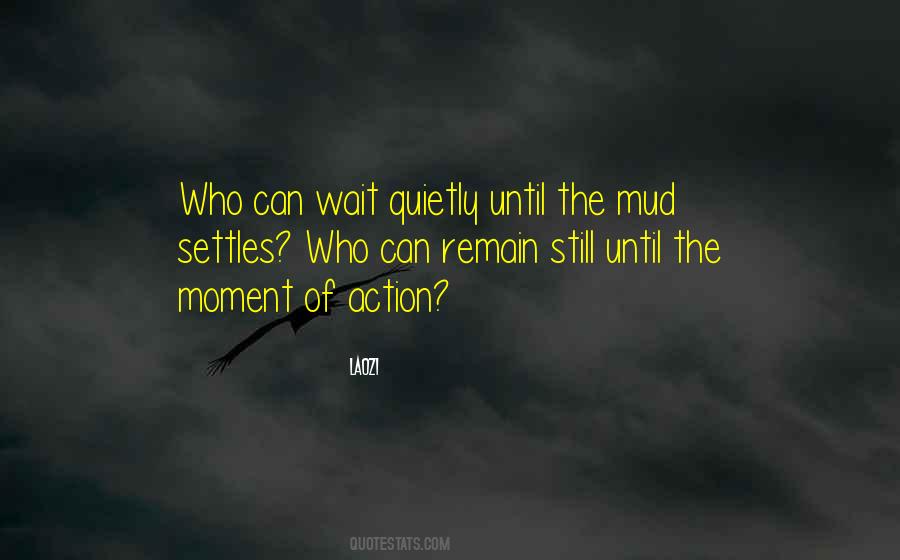 #18. Tell me what's the difference
between hope and waiting
because my heart doesn't know
It constantly cuts itself on the glass of waiting
It constantly gets lost in the fog of hope - Author: Anna Kamienska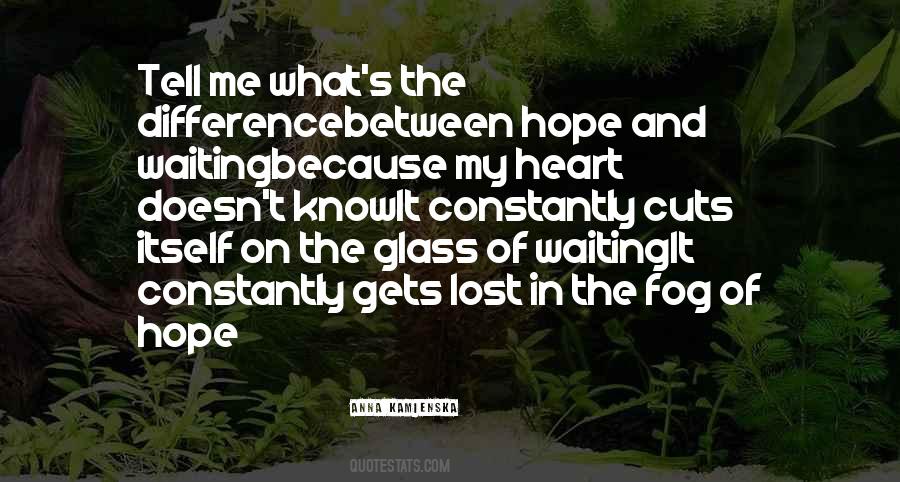 #19. The Scriptures contain many stories of people who waited years or even decades before the Lord's promises came to pass. What modern believers can learn from the patience of biblical saints like Abraham, Joseph, David, and Paul is that waiting upon the Lord has eternal rewards. - Author: Charles Stanley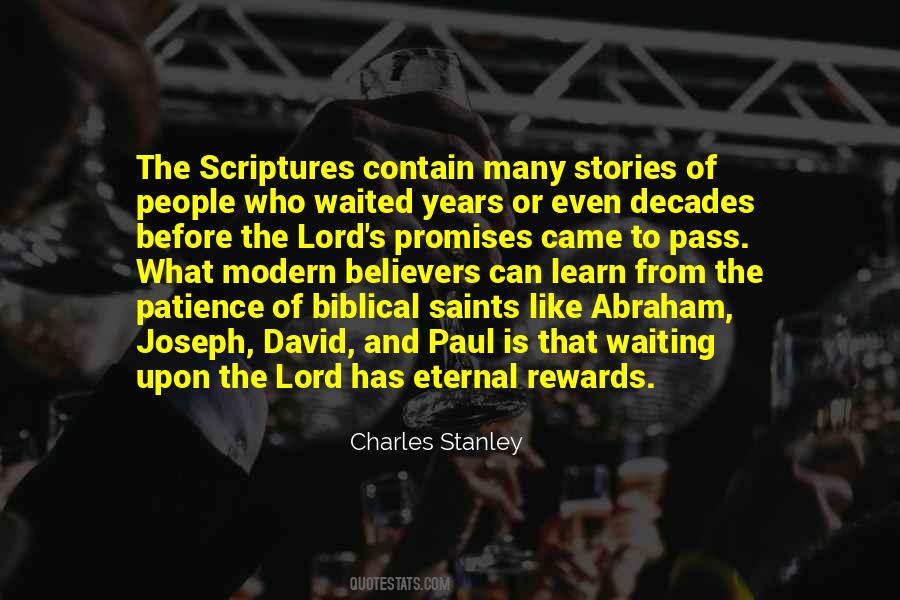 #20. Patience is not waiting; it is a quality of waiting. - Author: Sharon Weil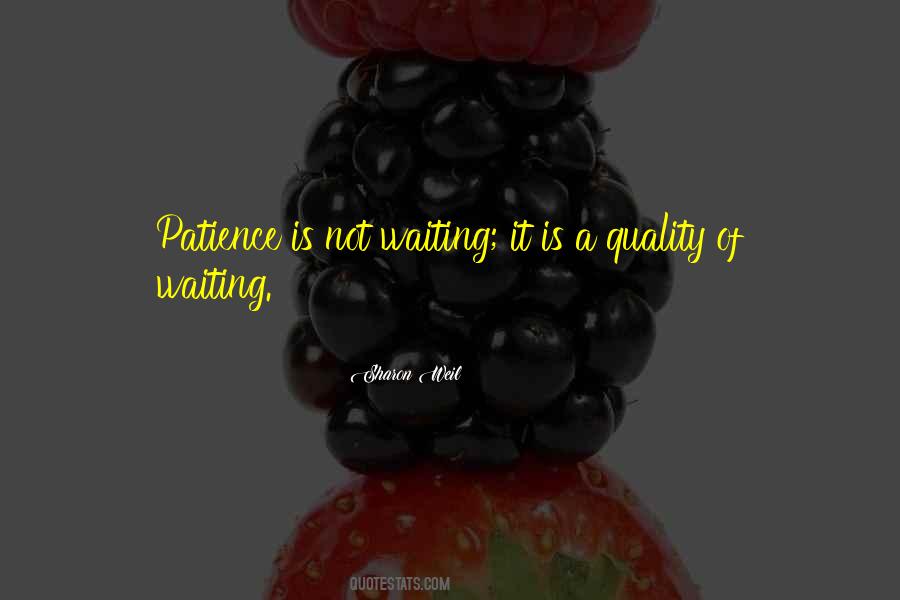 #21. Ive been waiting for this moment,
The one where looking back doesn't seem fascinating anymore & looking forward doesn't seem to be the greatest seek, I am so darn content with creating and living right now that there honestly isn't any room left for the ordinary. - Author: Nikki Rowe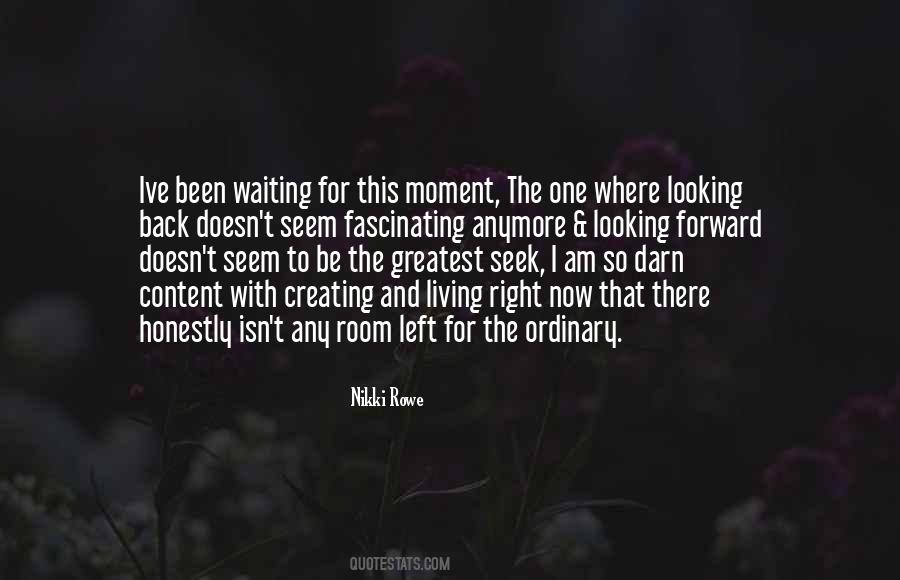 #22. Patience is not passive waiting. Patience is active acceptance of the process required to attain your goals and dreams. - Author: Ray A. Davis
#23. Patience, he thought. So much of this was patience - waiting, and thinking and doing things right. So much of all this, so much of all living was patience and thinking. - Author: Gary Paulsen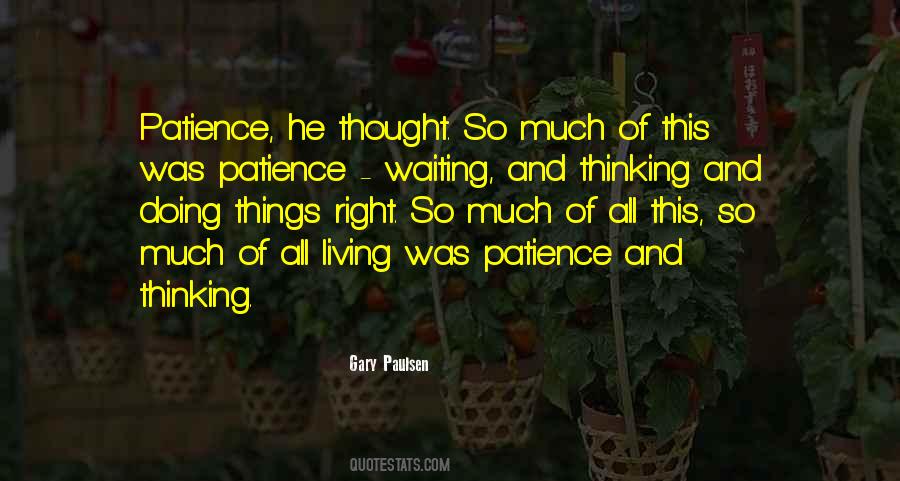 #24. Patience takes away lots of stress, regrets, & sleepless nights knowing that all is well at the end of the day if we just wait a little bit. - Author: Assegid Habtewold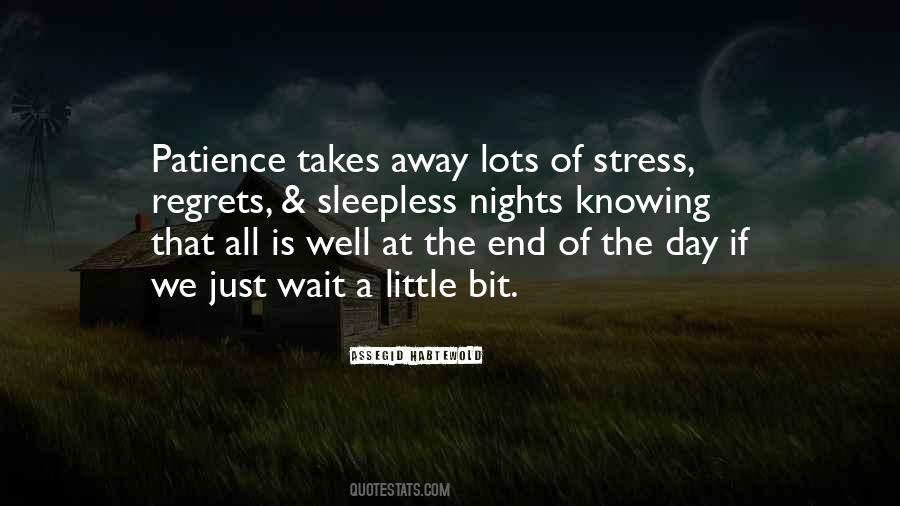 #25. Extraordinary power exists in a trial of patience. Few endure their trials well enough to discover this. - Author: Richelle E. Goodrich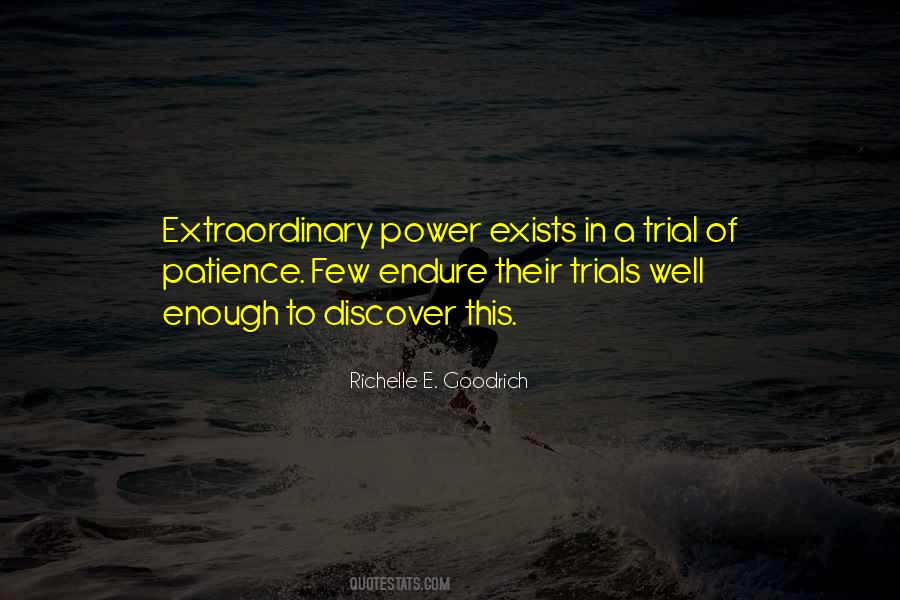 #26. Everywhere in nature we are taught the lessons of patience and waiting. We want things a long time before we get them, and the fact that we want them a long time makes them all the more precious when they come. - Author: Joseph F. Smith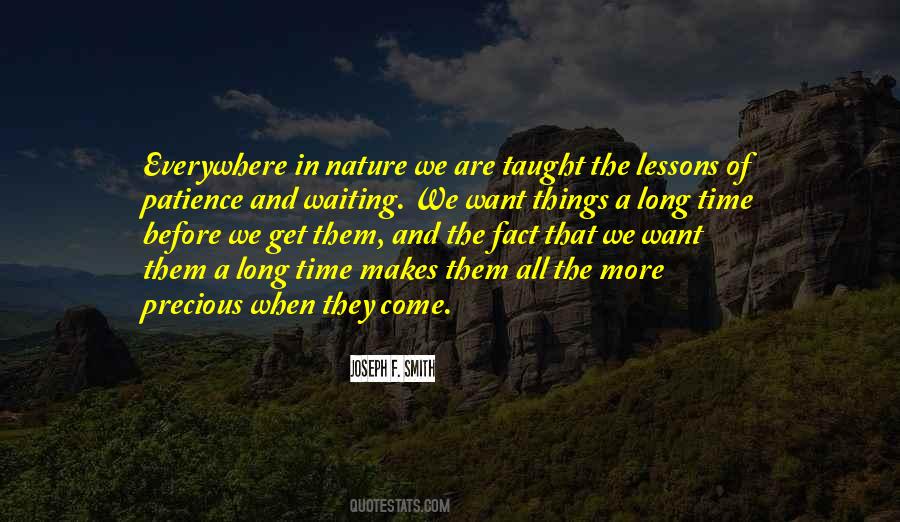 #27. Patience is to wait for the ice to melt instead of breaking it. - Author: Munia Khan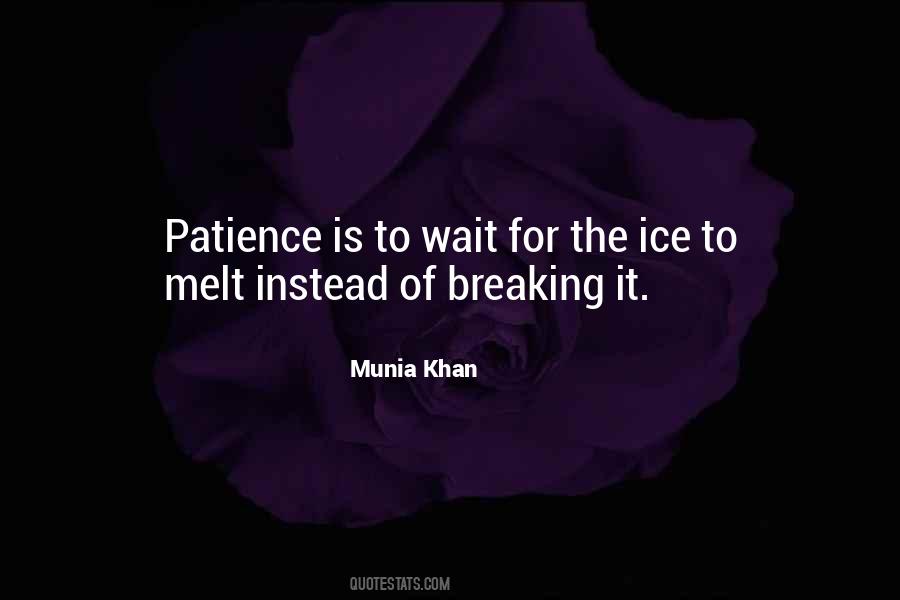 #28. But the waiting time, my brothers,
Is the hardest time of all. - Author: Sarah Doudney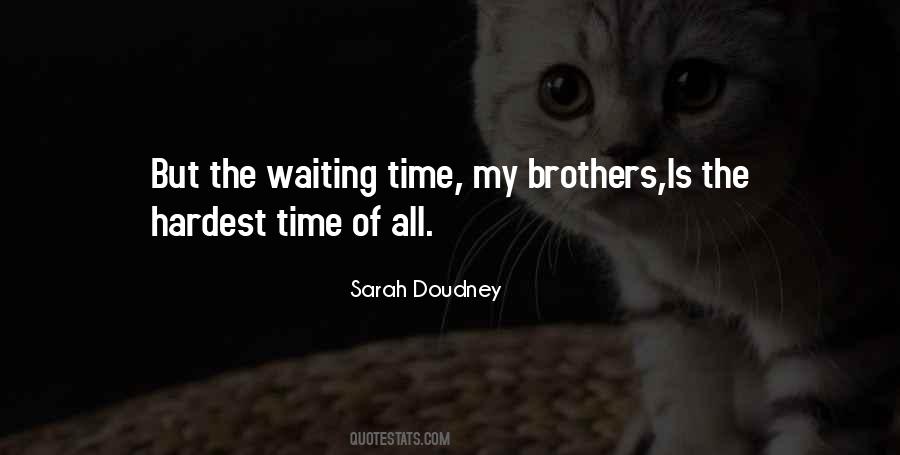 #29. Waiting is a form of passive persistence. - Author: Ogwo David Emenike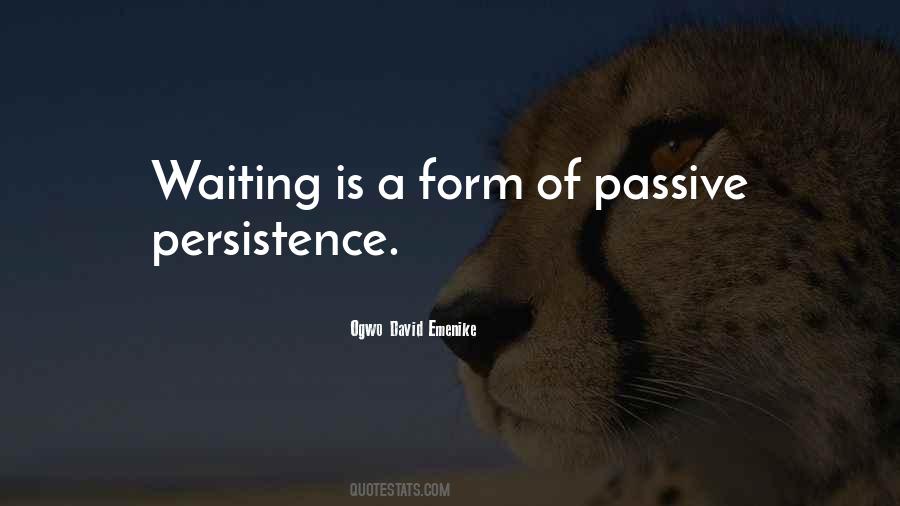 #30. In times of uncertainty, wait. Always, if you have any doubt, wait. Do not force yourself to any action. If you have a restraint in your spirit, wait until all is clear, and do not go against it. - Author: Lettie Cowman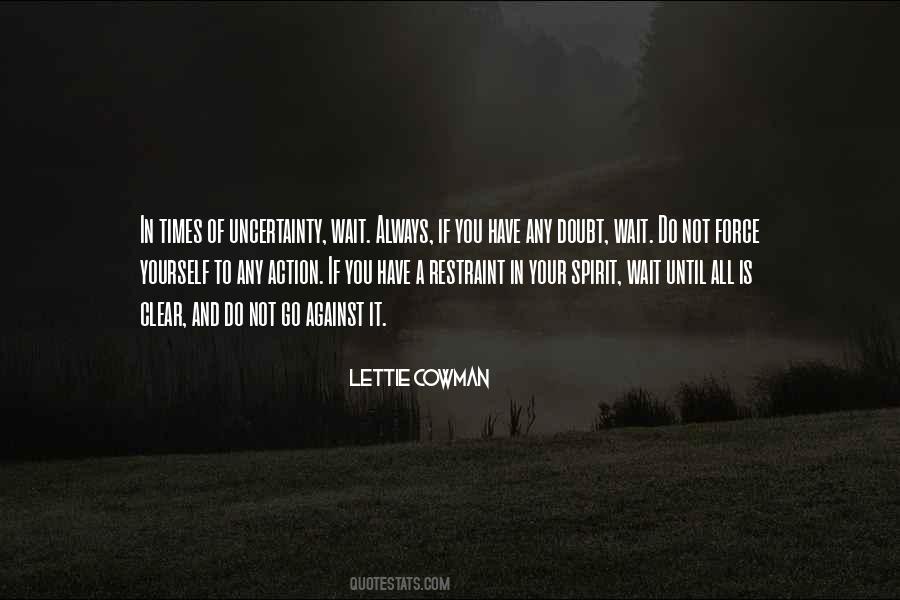 #31. If we are deprived of hope as well as fear, we are compensated by being given an almost endless patience for enduring or simply for waiting. - Author: Joseph Wood Krutch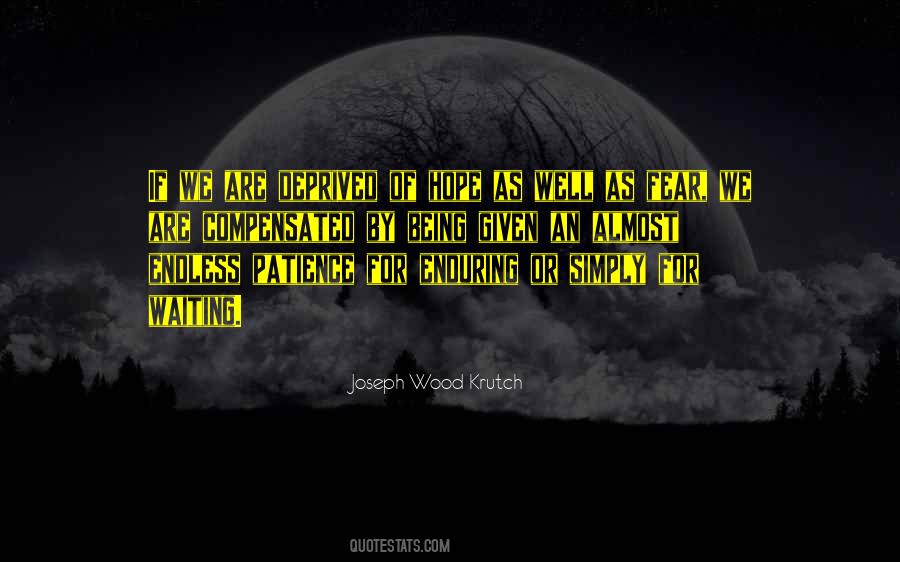 #32. Sometimes it feels like you have nothing, or aren't going anywhere, but while you're waiting for fortune to deliver you, there is always something you can do to help yourself, or teach yourself to better your situation. - Author: A.J. Darkholme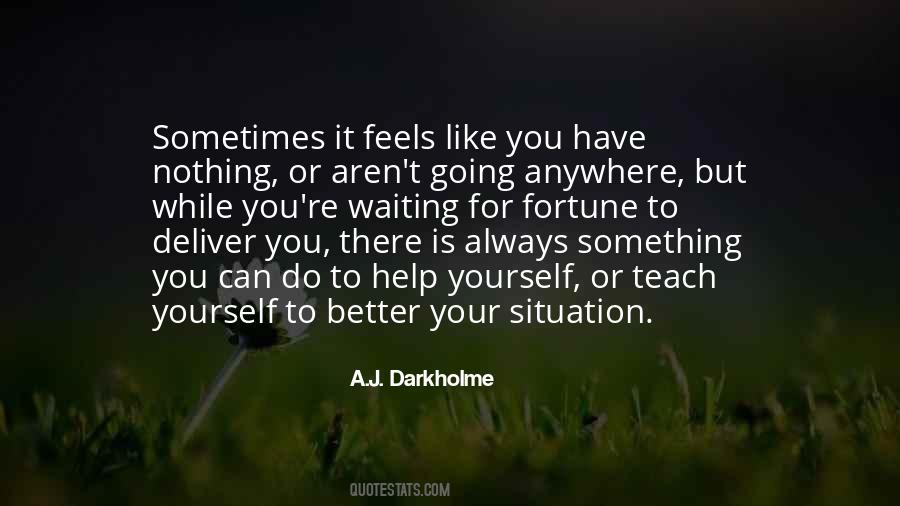 #33. This life of ours can feel an awful lot like waiting. - Author: Christina Baker Kline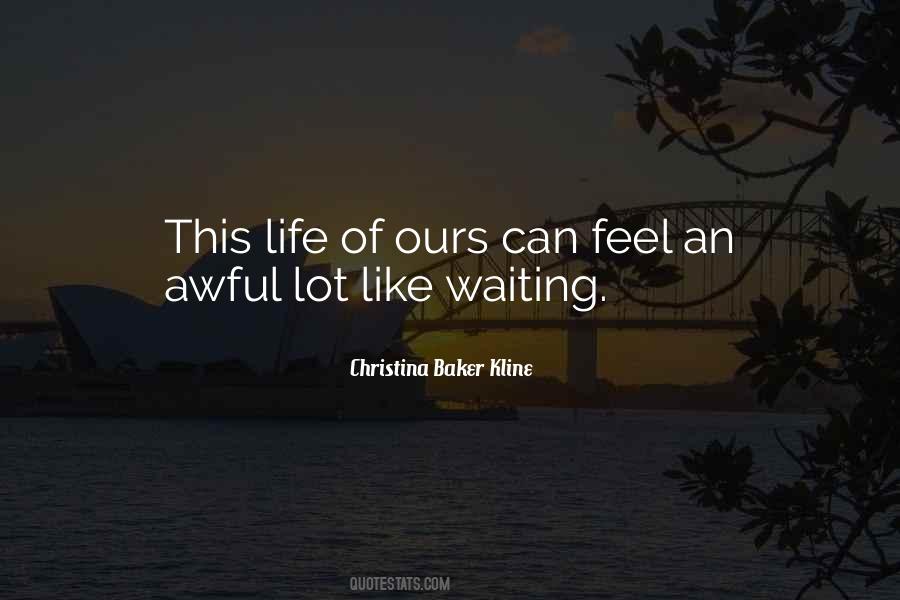 #34. Some broken things you can't mend. Some you have to put together very slowly piece by fragile piece, waiting until the last bit of work is strong enough before you try the next. It takes a lot of patience. - Author: Juliet Marillier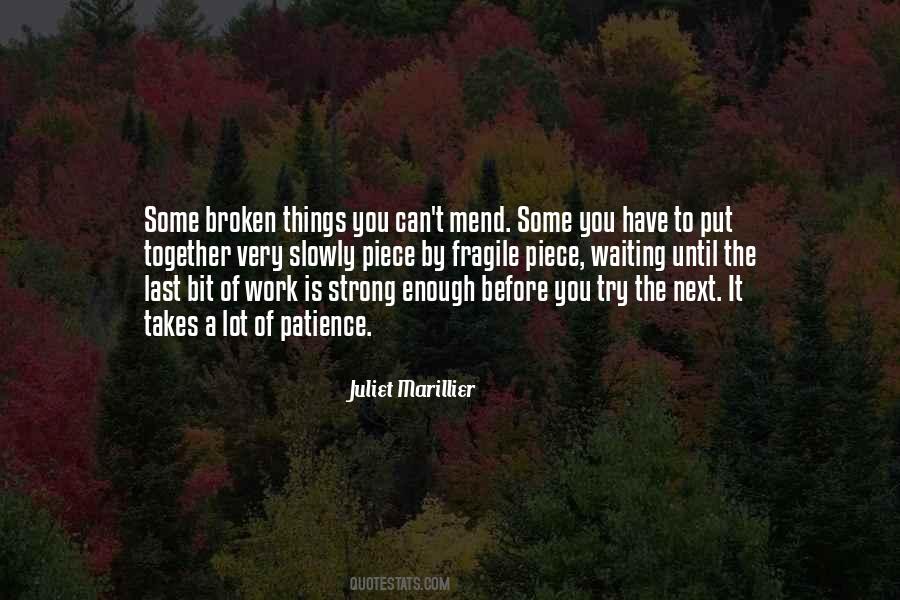 #35. In the modern world, human beings display little tolerance for waiting. We are addicted to fast food, instant messaging, and other conveniences of life. Patience is a lost virtue. - Author: Kilroy J. Oldster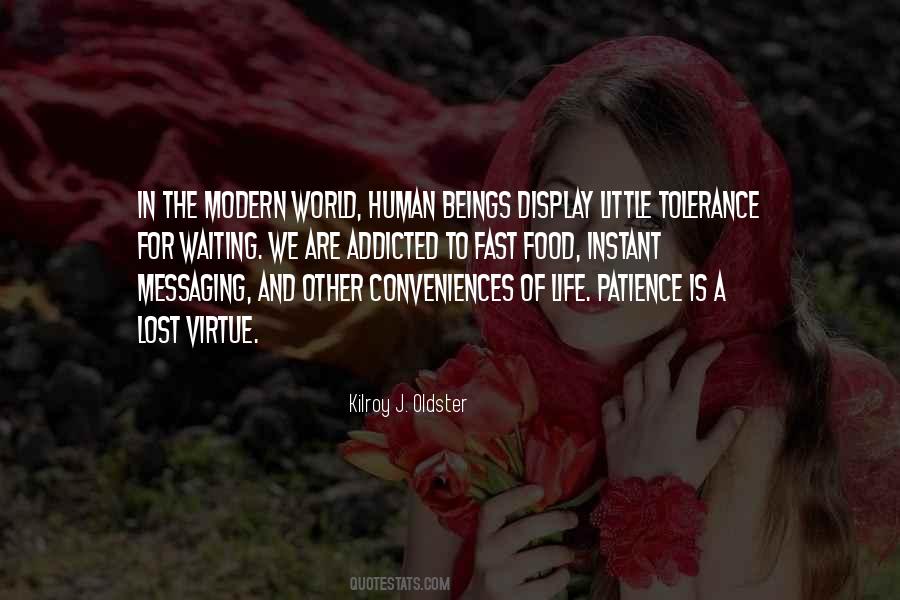 #36. Don't be in a hurry in life. The sacred-time determines the due events. - Author: Lailah Gifty Akita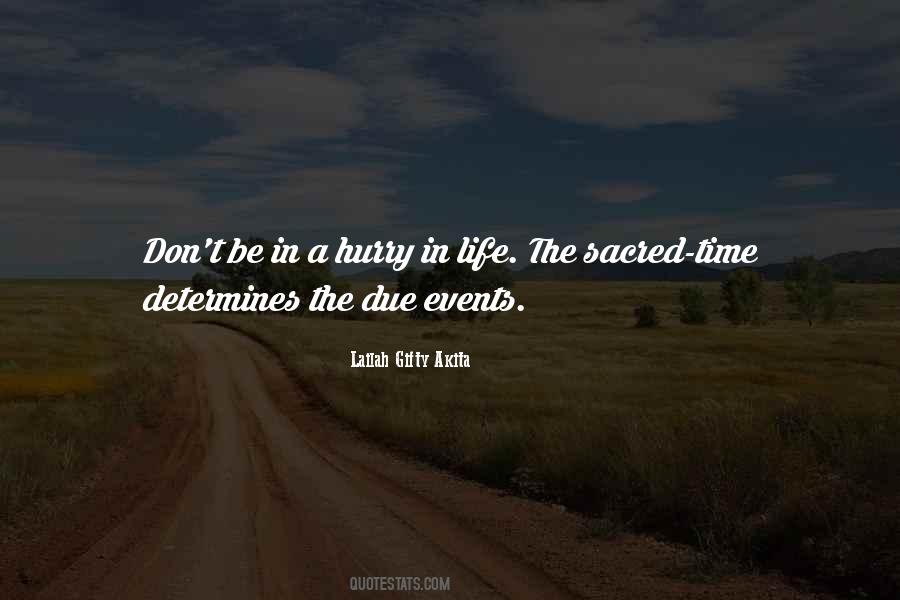 #37. Patient waiting is often the highest way of doing God's will. - Author: Jeremy Collier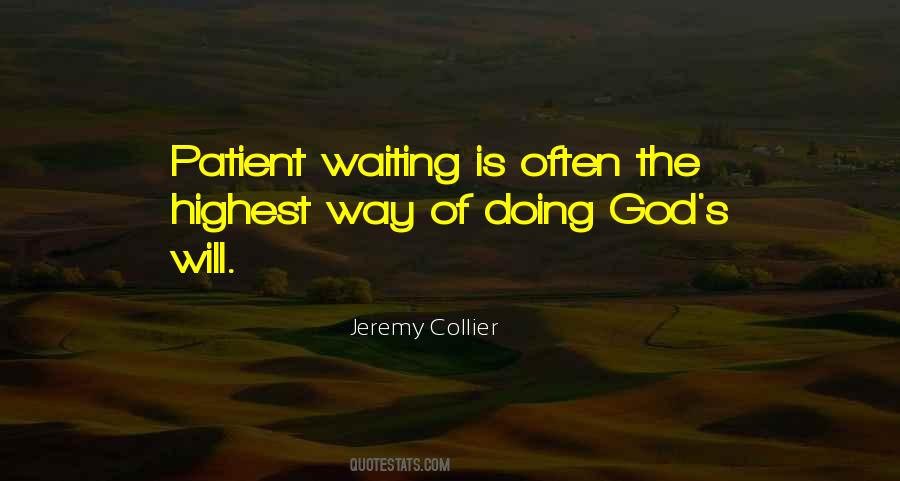 #38. So much of control is not authoritative action but mindful waiting. - Author: Cameron Conaway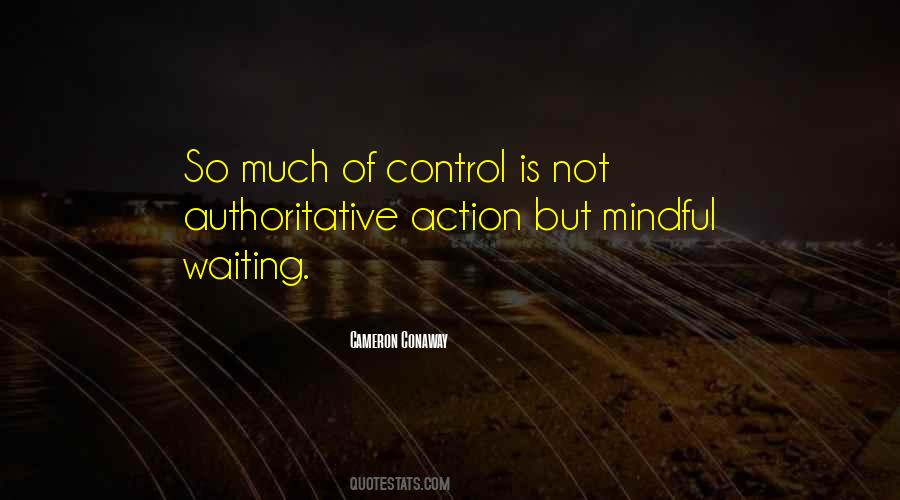 #39. If you have the patience to wait and watch, history will reshape truth (weakest of all forces, and weightless) in the image of opinion. What really happened will cease to matter and, eventually, cease to exist. - Author: Meg Rosoff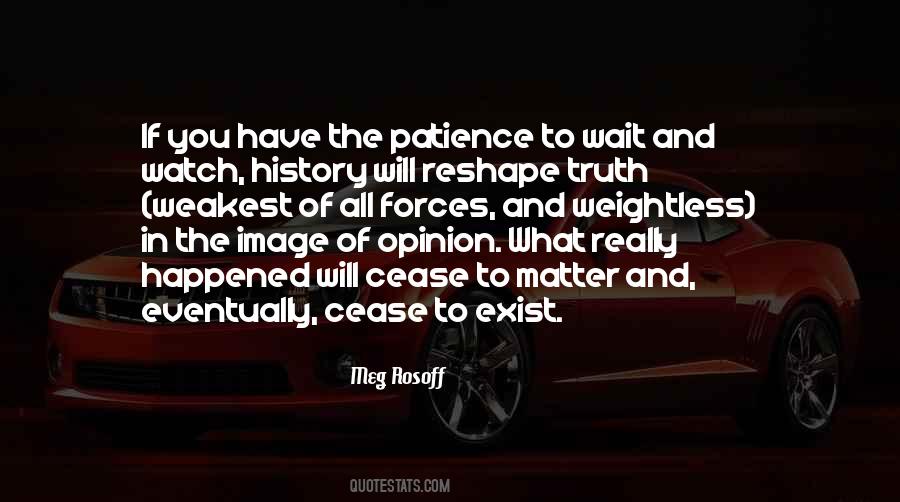 #40. I can imagine few things more trying to the patience than the long wasted days of waiting. - Author: Robert Falcon Scott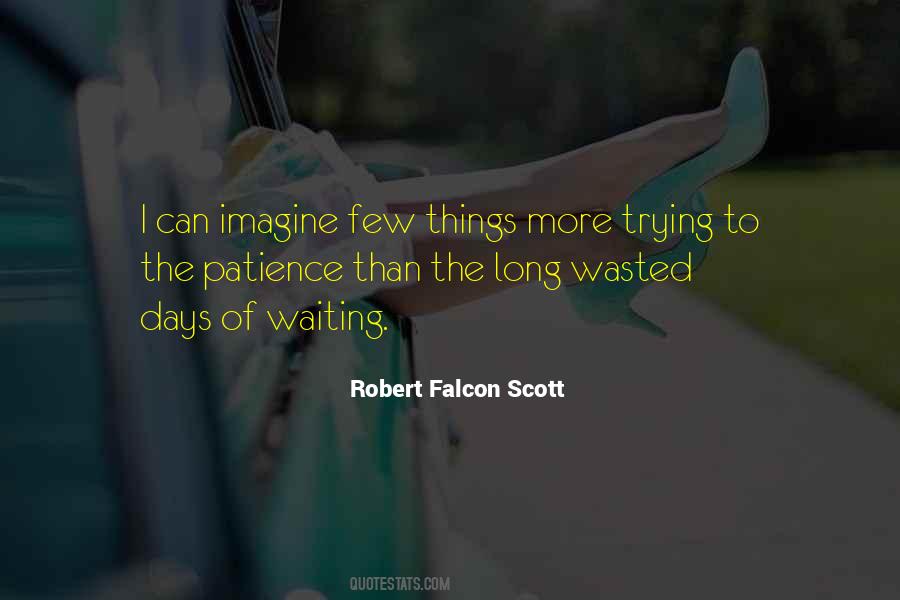 #41. Instead of our petulant, fretful, irritable human hastiness we should cultivate in our souls the patience which has learned to wait on God. - Author: William Barclay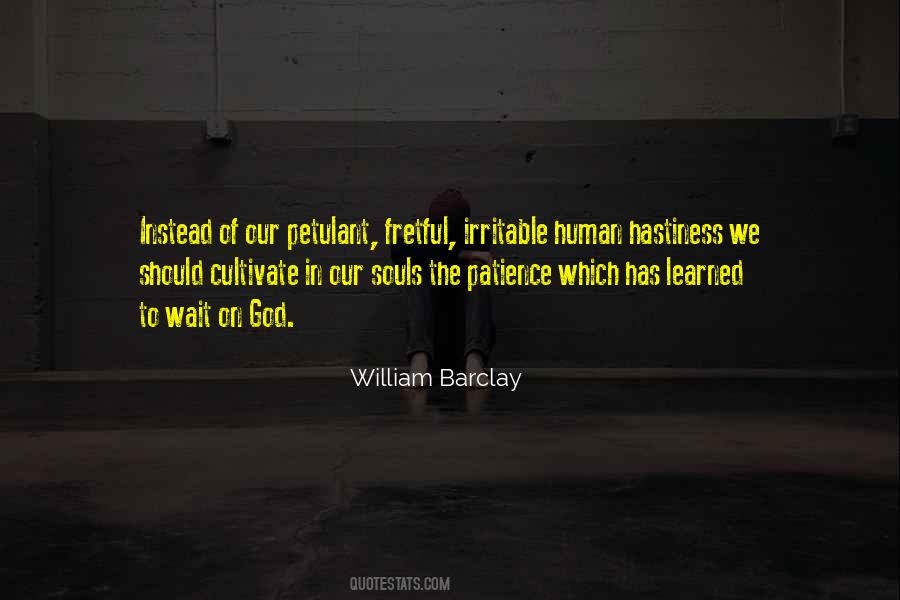 #42. I've learnt not to draw my sword first to strike.
That in no way portends I have the most feeble of minds or might . . .
Probably, I'm waiting for the perfect moment to startle with a fatal strike. - Author: Ufuoma Apoki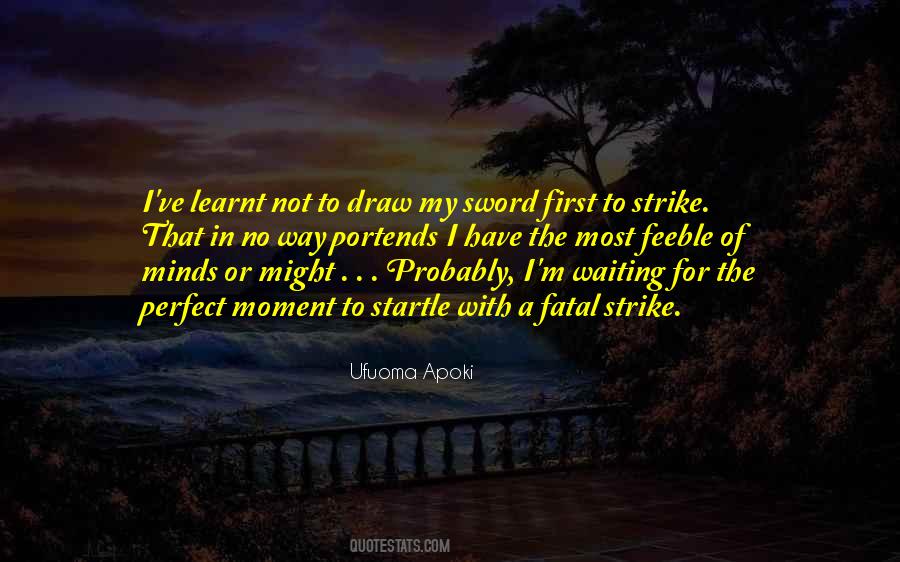 #43. What we view as God's absence or lack of quickness to change our circumstances or fix our problems is really God waiting for the proper time to act on our behalf, while simultaneously waiting for us to acknowledge our need for rescue. - Author: Tracie Miles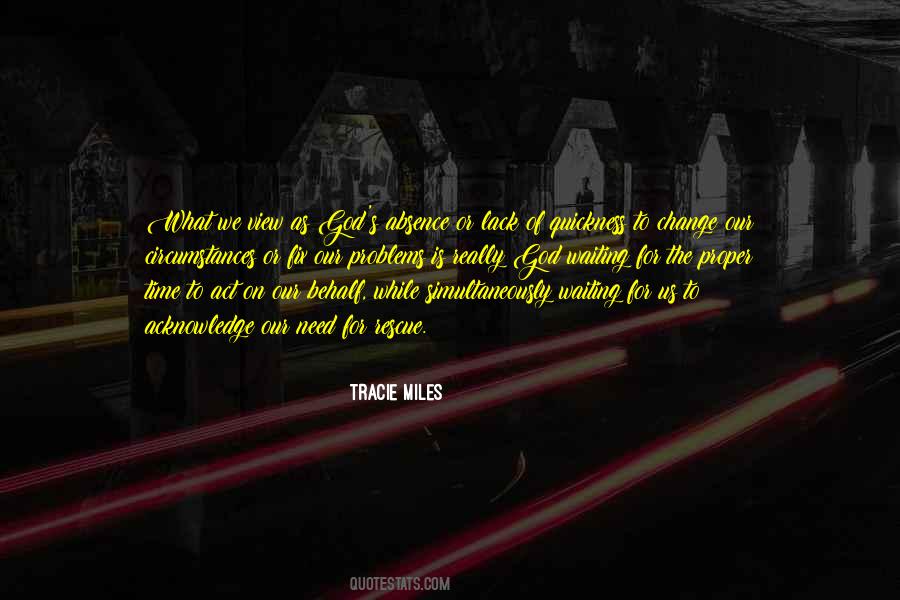 #44. This is the case with thousands: they appear desirous of knowing the truth, but have not patience to wait in a proper way to receive an answer to their question. - Author: Adam Clarke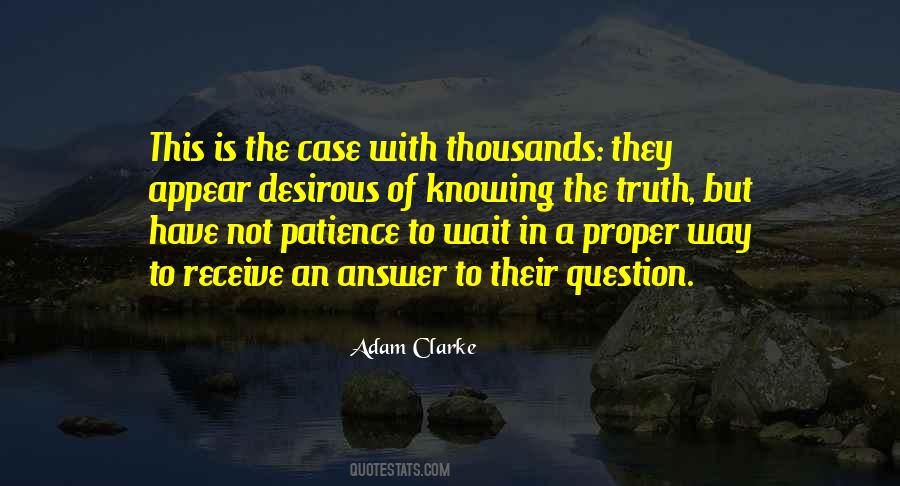 #45. Therefore let the Saints be diligent in building the Temple, and all houses which they have been, or shall hereafter be, commanded of God to build; and wait their time with patience in all meekness, faith, perseverance unto the end. - Author: Joseph Smith Jr.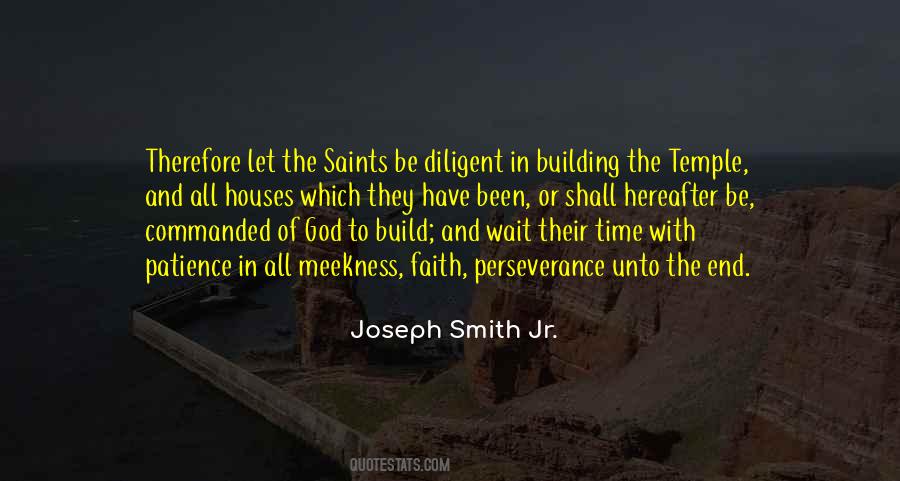 #46. All along I'd vaguely assumed the emptiness and the pain meant I was doing something wrong. But maybe it was all just part of the process so something new could be born. First the barrenness, to make space. Then the pain, which is the only way to a birth. - Author: Stephanie Rische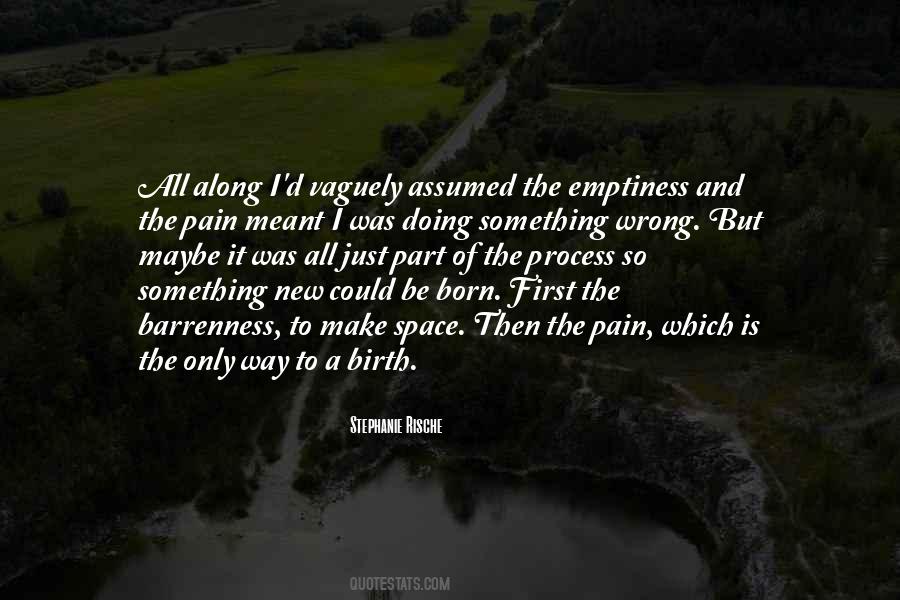 #47. Waiting with hope is very difficult, but true patience is expressed when we must even wait for hope. I will have reached the point of greatest strength once I have learned to wait for hope."
George Matheson - Author: George Matheson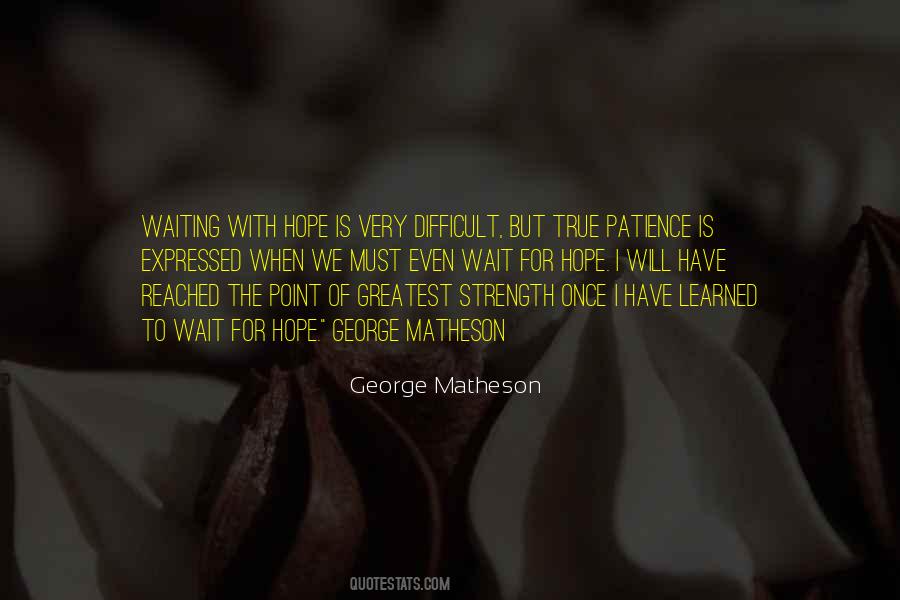 #48. Anything you dream [can] be yours simply because you've focused on the steps you could take instead of the distance to get there. - Author: A.J. Darkholme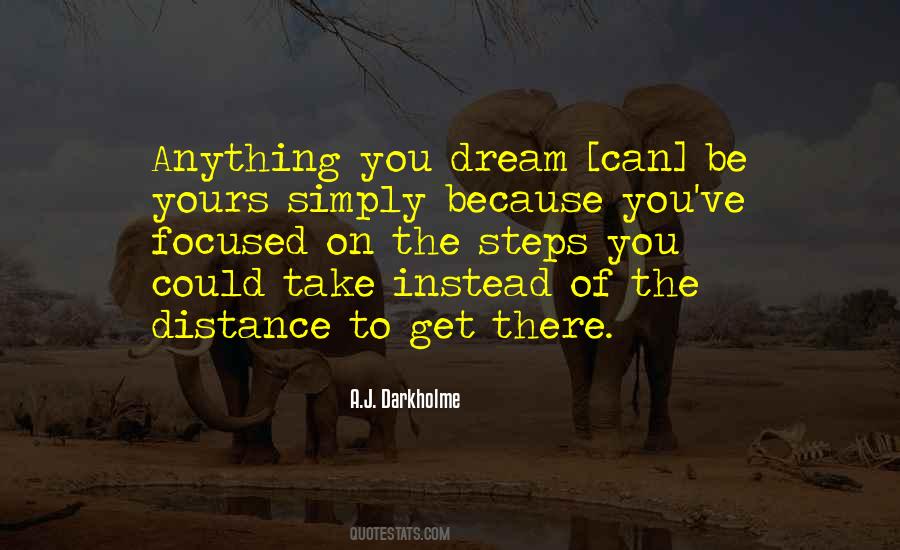 #49. Waiting does not exist in the experience of those who recognize the presence of love wherever they are. - Author: Alan Cohen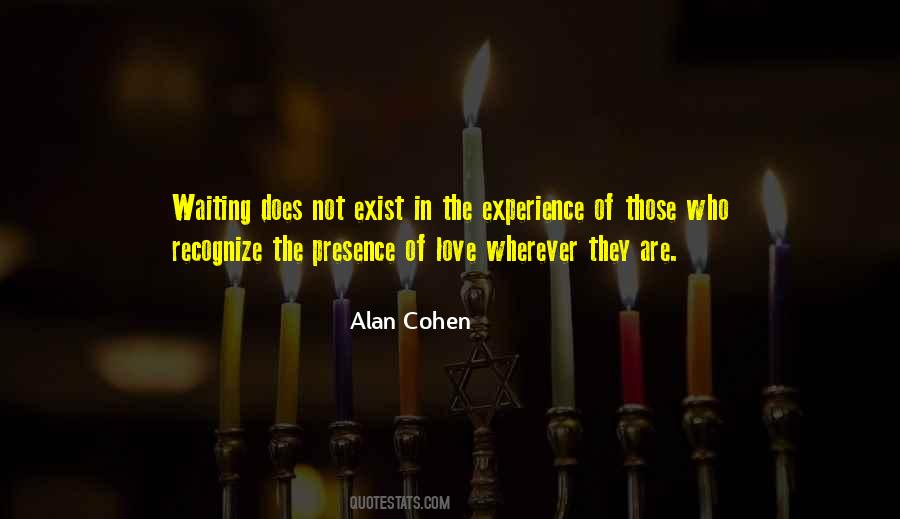 #50. Though the mills of God grind slowly, yet they grind exceeding small; Though with patience He stands waiting, with exactness grinds He all. - Author: Henry Wadsworth Longfellow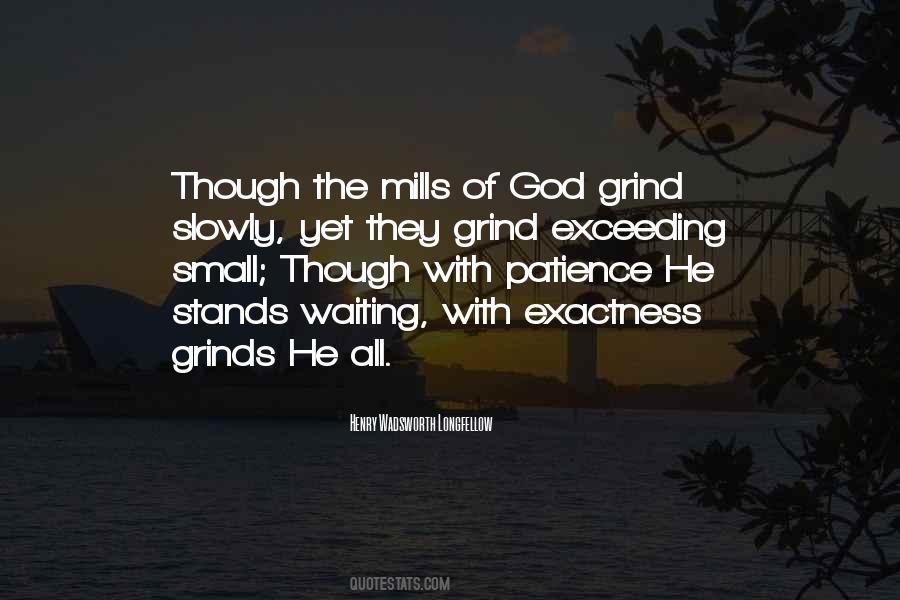 #51. Sometimes they are a matter of luck; the photographer could not expect or hope for them. Sometimes they are a matter of patience, waiting for an effect to be repeated that he has seen and lost or for one that he anticipates. - Author: Bill Brandt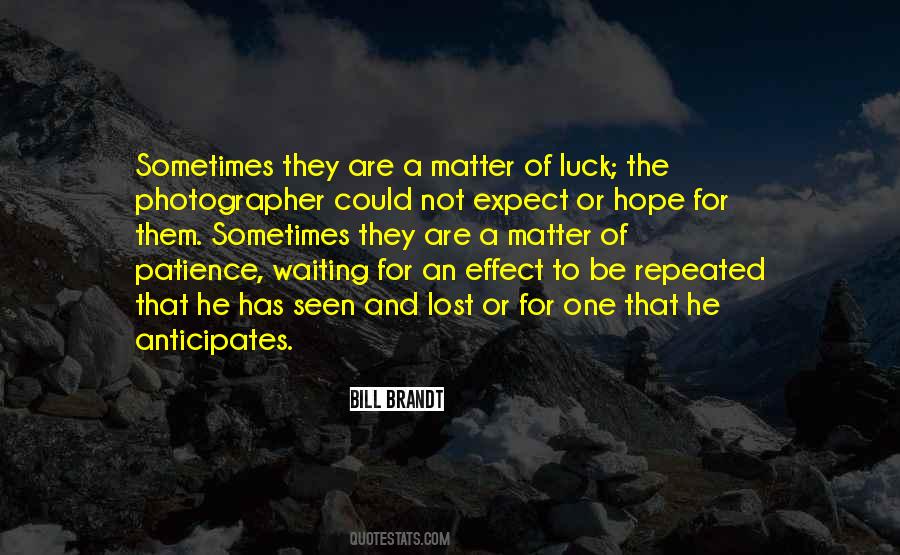 #52. In our lives we know joy, anger, sorrow, and a hundred other emotions, but these emotions altogether occupy a bare one per cent of our time. The remaining ninety-nine per cent is just living in waiting. - Author: Osamu Dazai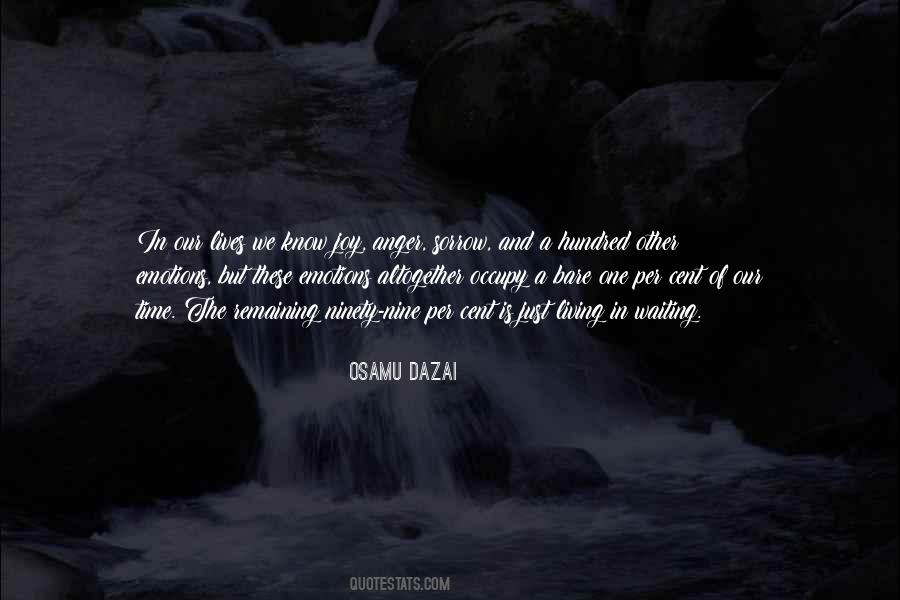 #53. To say that one waits a lifetime for his soulmate to come around is a paradox. People eventually get sick of waiting, take a chance on someone, and by the art of commitment become soulmates, which takes a lifetime to perfect. - Author: Criss Jami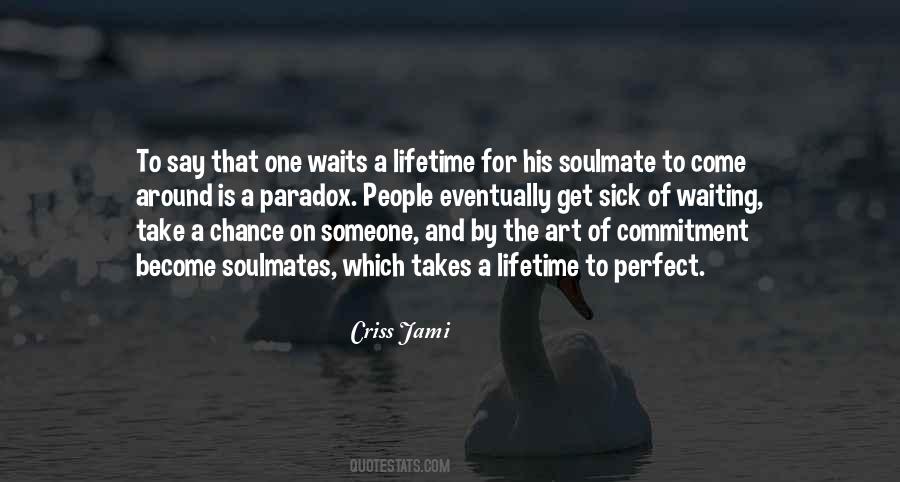 #54. If you knew where your happiness came from, it gave you patience. You realized that a lot of the time, you were just waiting out a situation, and that took the pressure off; you no longer looked to every interaction to actually do something for you. - Author: Curtis Sittenfeld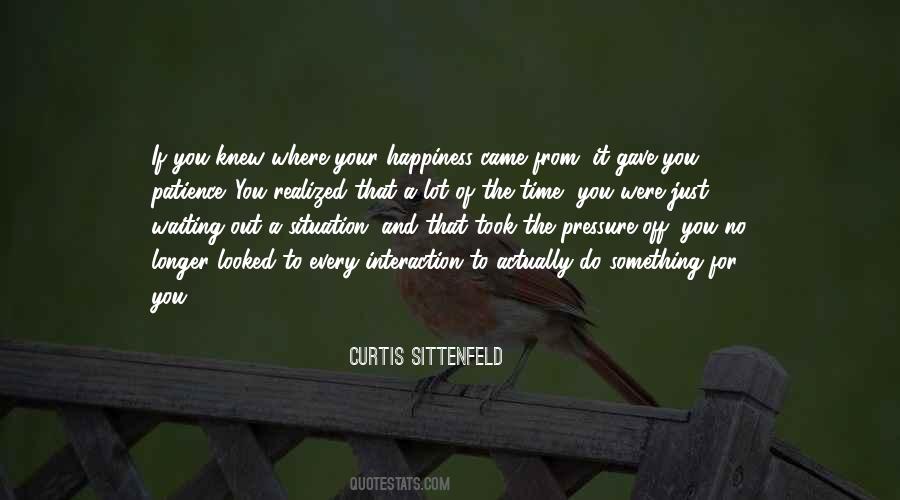 #55. time is the best teacher; patience is the best lesson - Author: Ernest Agyemang Yeboah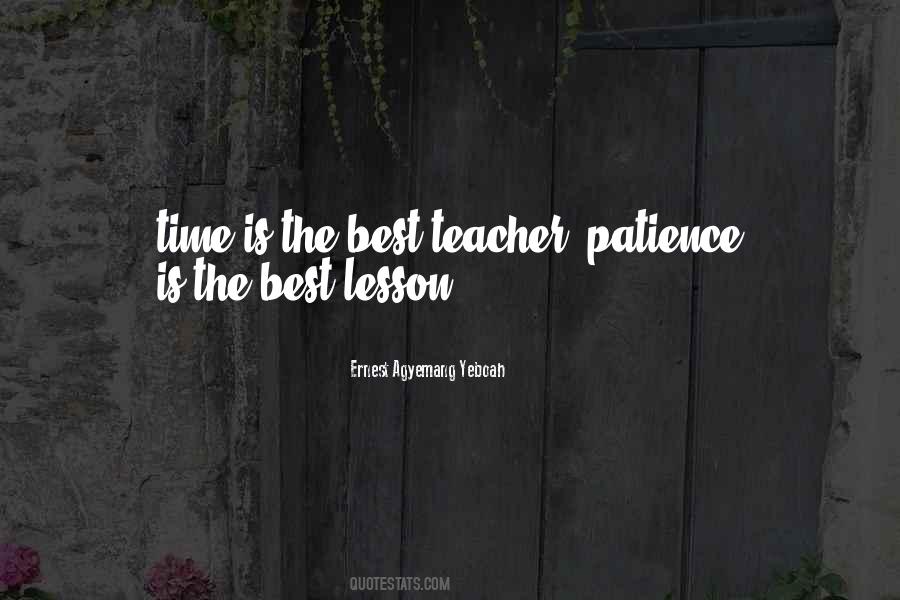 #56. For me, most writing consists of siphoning out useless pre-story matter, cutting and cutting and cutting, what seems to be endless rewriting, and what is entailed in all that is patience, and waiting, and false starts, and dead ends, and really, in a way, nerve. - Author: Deborah Eisenberg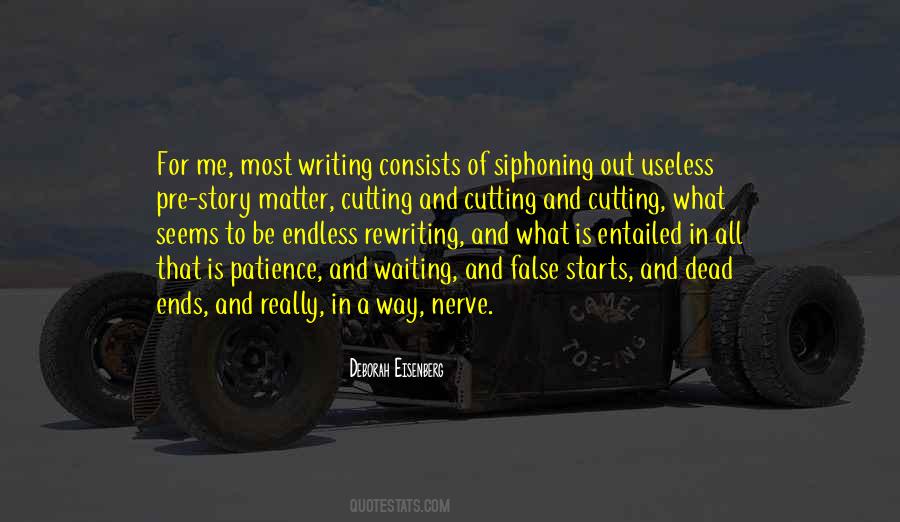 #57. Art thou in the darkness? Mind it not, for if thou dost it will feed thee more. But stand still, and act not, and wait in patience, till light arises out of darkness and leads thee. - Author: James Nayler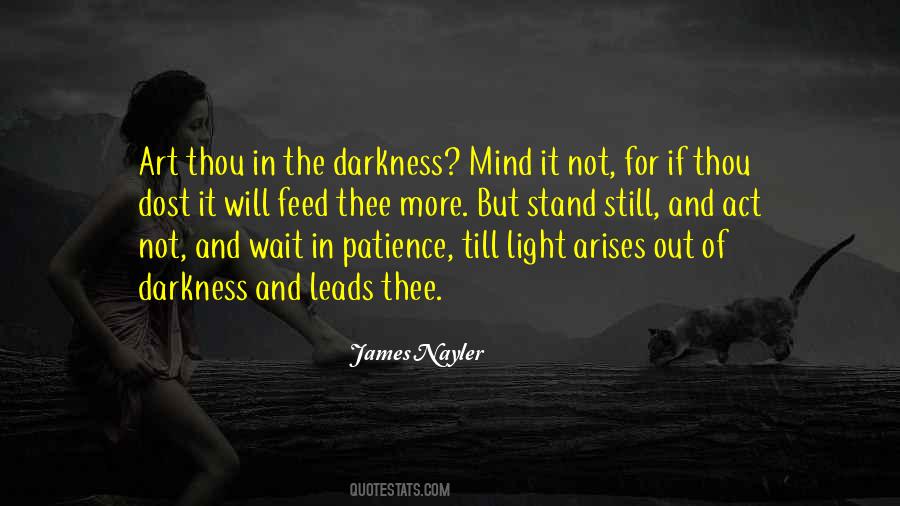 Famous Authors
Popular Topics