Pain And Heartbreak Famous Quotes & Sayings
List of top 58 famous quotes and sayings about pain and heartbreak to read and share with friends on your Facebook, Twitter, blogs.
Top 58 Quotes About Pain And Heartbreak
#1. Because of that, he didn't know how to love someone who actually loved him. He had learned a twisted, tormented kind of love filled with pain and exploitation. - Author: Jacqueline Simon Gunn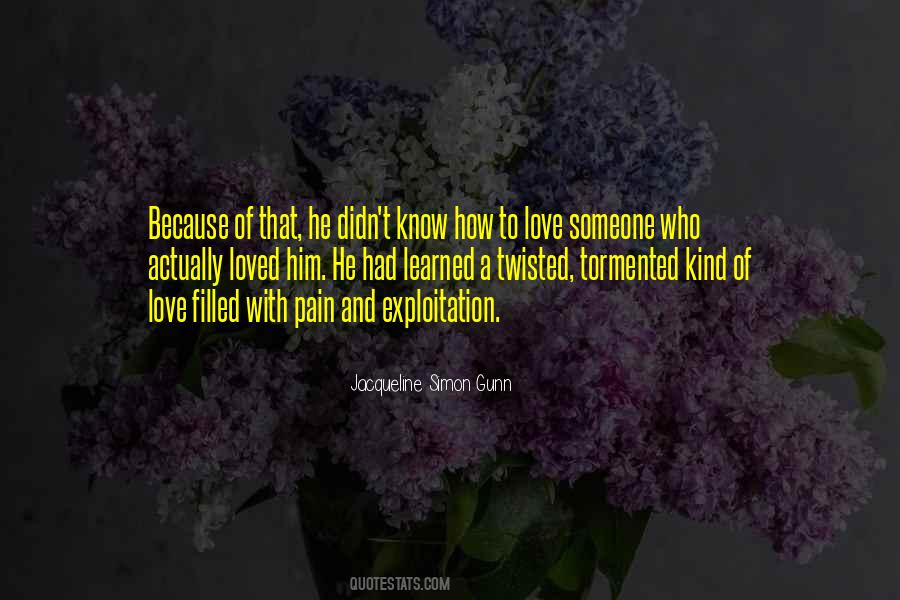 #2. There was enough ice.So I thought. For my drink.When I used it all,I cut her heart out and used it instead.I never ran out of ice that night. - Author: Mrinaal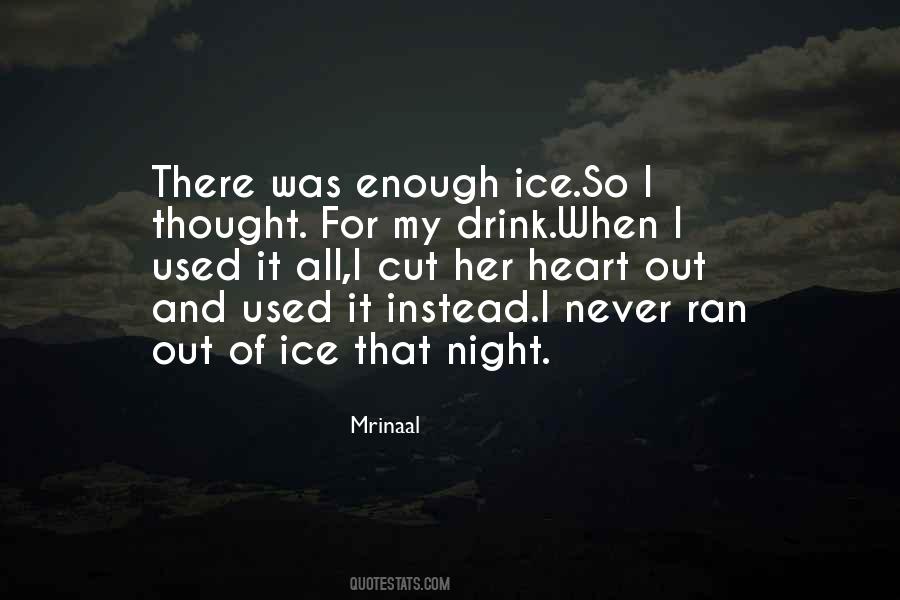 #3. Many immigrants do not talk about what they endured back home. They were fleeing that world, and when they left they didn't want to talk about it because there had been pain and heartbreak under the caste system of the South. They didn't want to burden their children with what they had endured. - Author: Isabel Wilkerson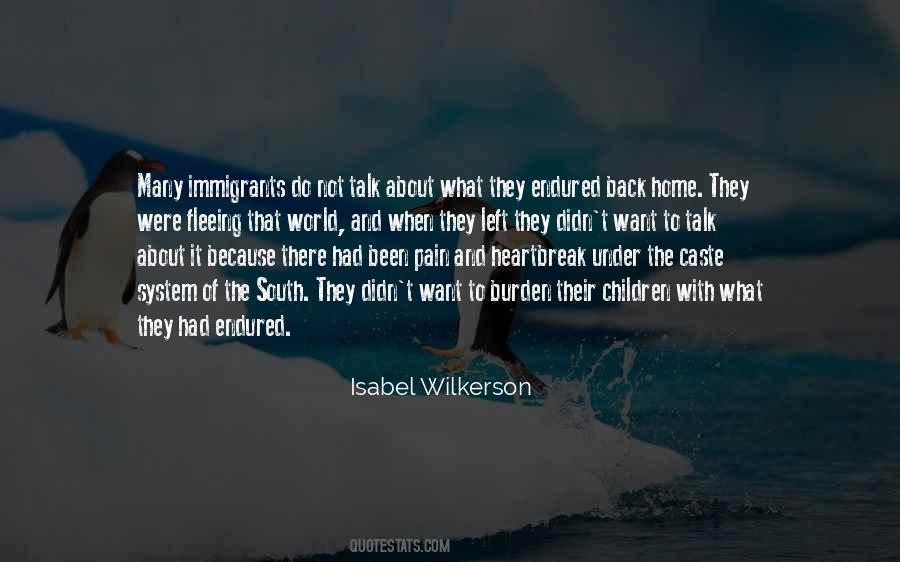 #4. You are afraid to let anyone in, but you still leave the door open, hoping someone good will shut the door behind him and throw away the keys. - Author: Jenim Dibie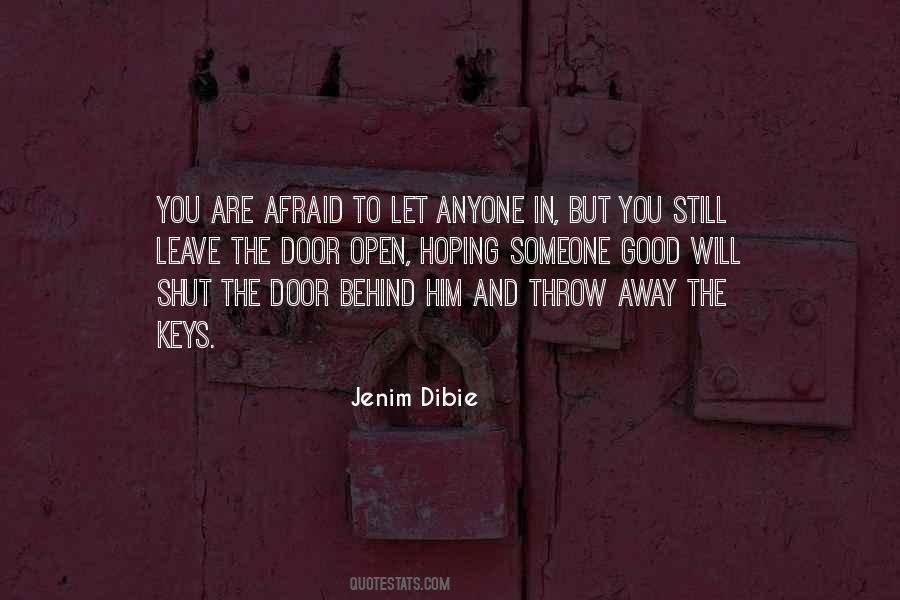 #5. The Atonement has not only helped me be cleansed, and be healed, but it has also helped me live. - Author: Jayda Skidmore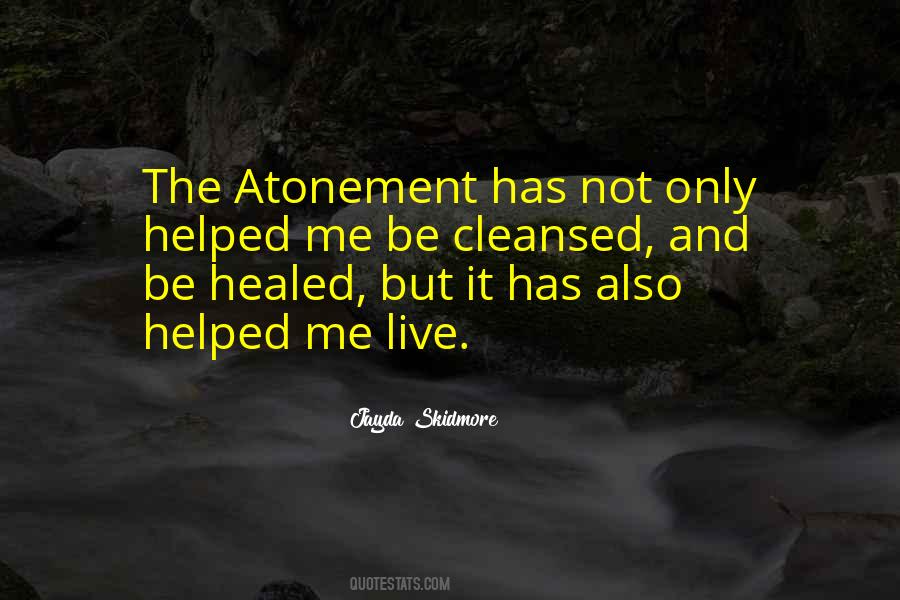 #6. As usual in the very young, she marveled that people could be so selfishly oblivious to her pain and the world rock along just the same, in spite of her heartbreak. Her - Author: Margaret Mitchell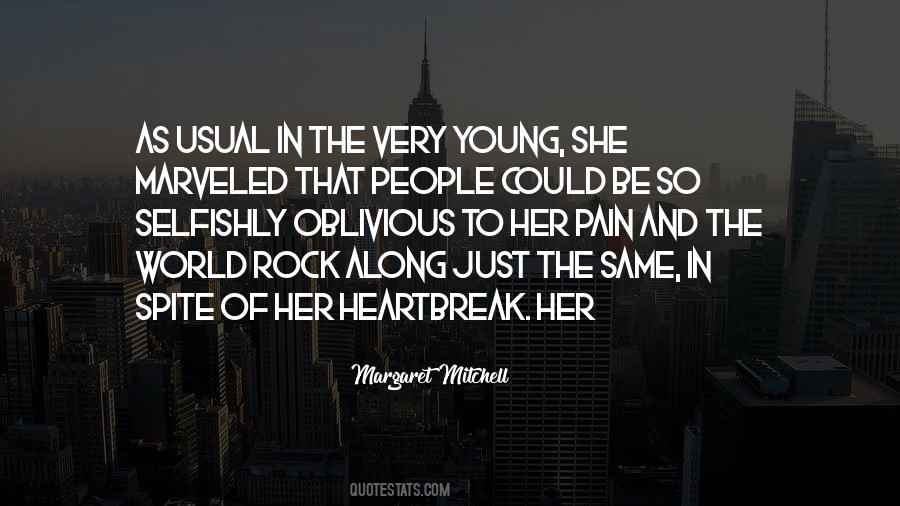 #7. I really wish Hollywood would stop labeling movies, especially movies with predominantly black casts. Then, it makes others feel like, "Oh, well, that's not for me." At the end of the day, everybody understands love, loss, pain and heartbreak. That's not a color. - Author: Taraji P. Henson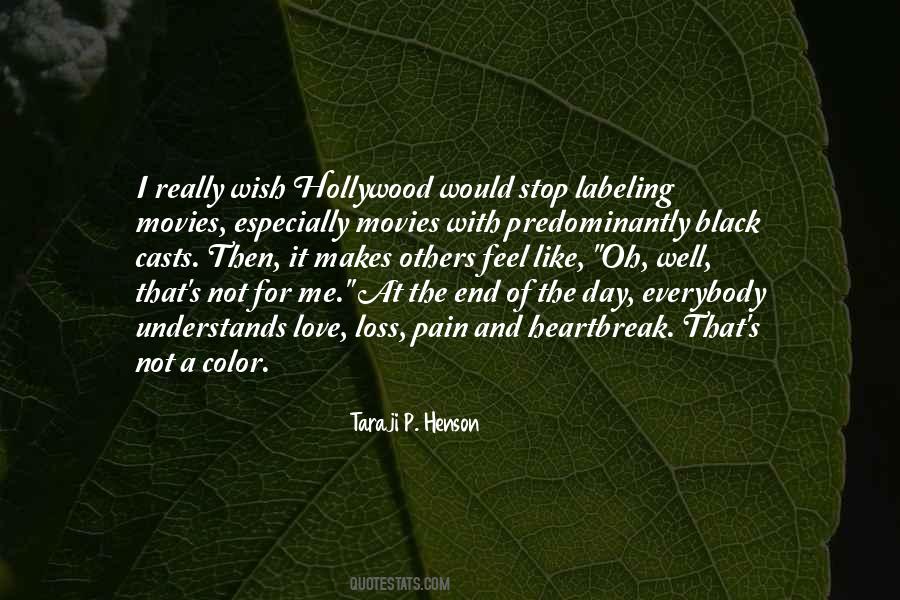 #8. A broken heart is probably tougher the second time around but just remember those pieces will come together again. The hurt and pain will fade. You will then remember how strong you are. You will thank a broken heart someday, remember that. - Author: Aline Alzime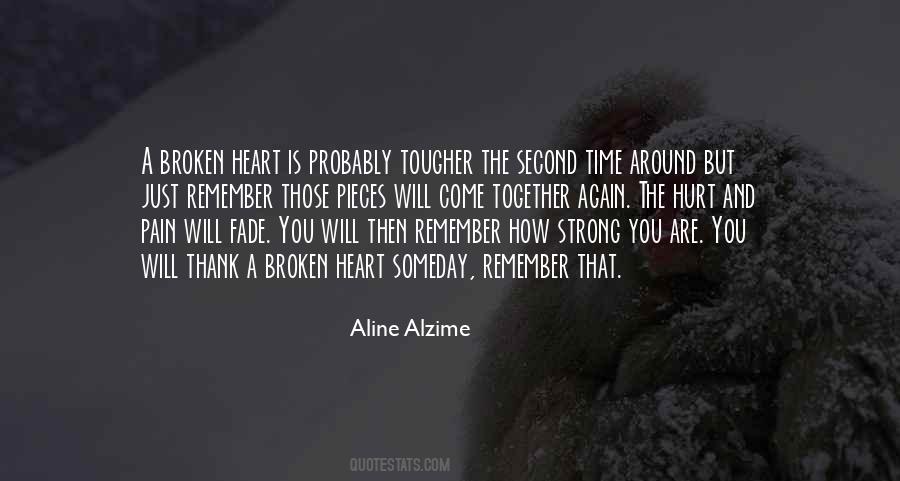 #9. We run through the remnants of our pain, and more importantly, we run for our present and for our future.
Together we kick heartbreak's ass. - Author: Jessica Park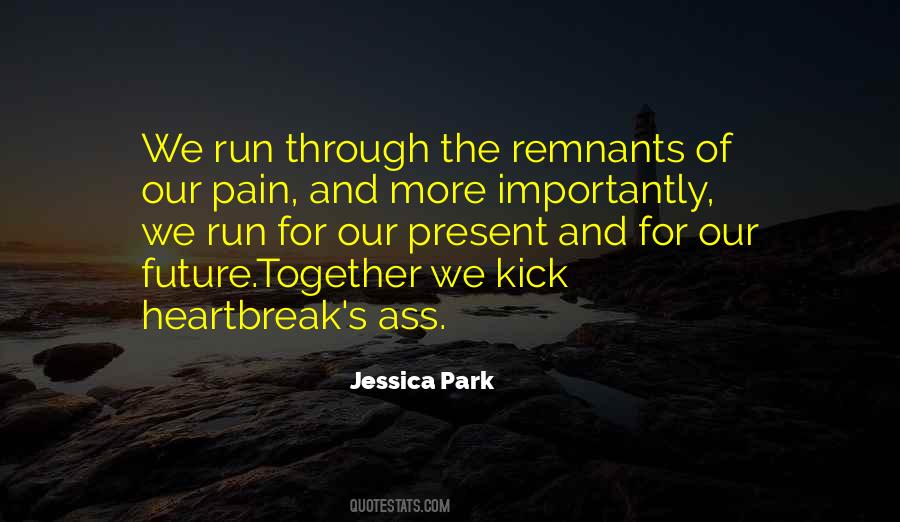 #10. Because I know if I sit down and start to write out how it feels ... . it all becomes too real ... the pain becomes too much. But that's the weird part because I feel so empty, like there no longer is a heart living where there used to be one, so why am I feeling pain? - Author: Chriselle Ravadilla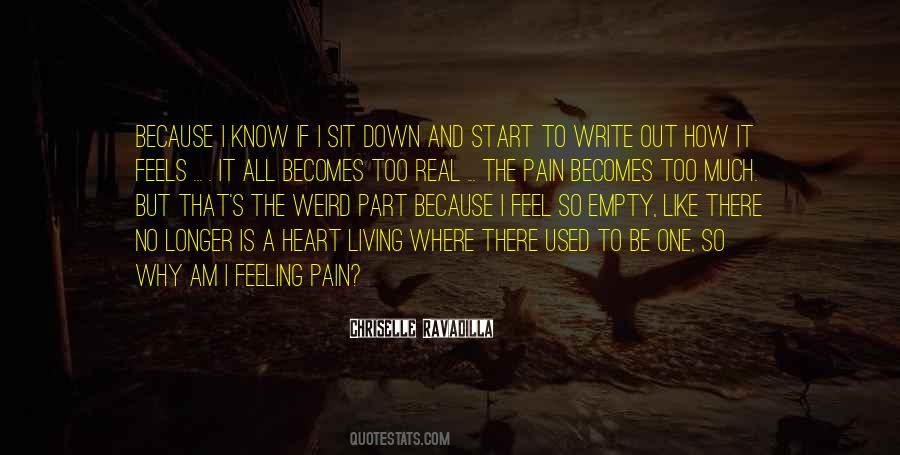 #11. Jealousy is a horrible thing. The pain of it is almost as consuming as heartbreak, and I would know because I was feeling both at the same time. I felt like someone had ripped open my chest with their bare hands, removed my heart and lungs, and replaced them with a bunch of rocks and stones. - Author: Samantha Young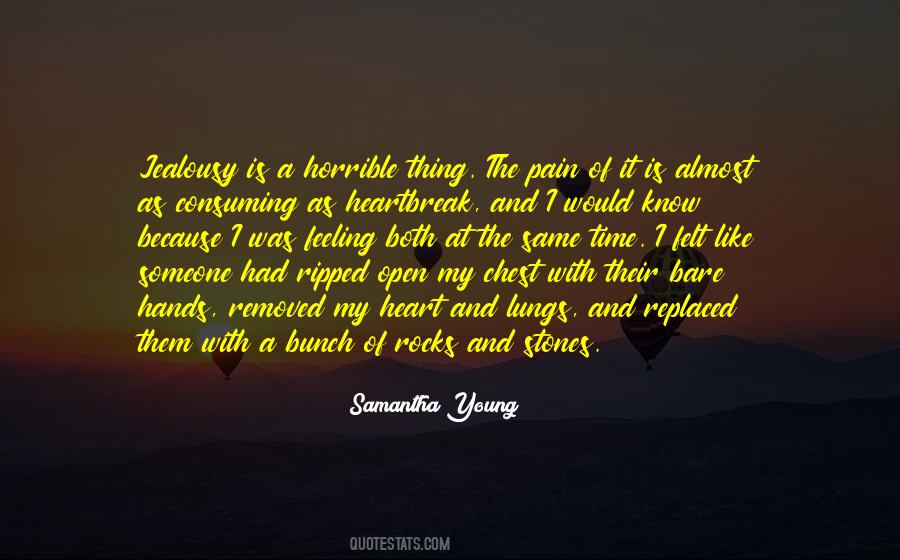 #12. The way he looks at me makes me ache, but it isn't fair. He hurt me first. He caused this ache from the start. This inside out, churning pain that feels mental and physical now.
I fiddle with my hands, peering up at him again, and all I can think is, God, I wish he'd stop staring at me like that. - Author: Alex Rosa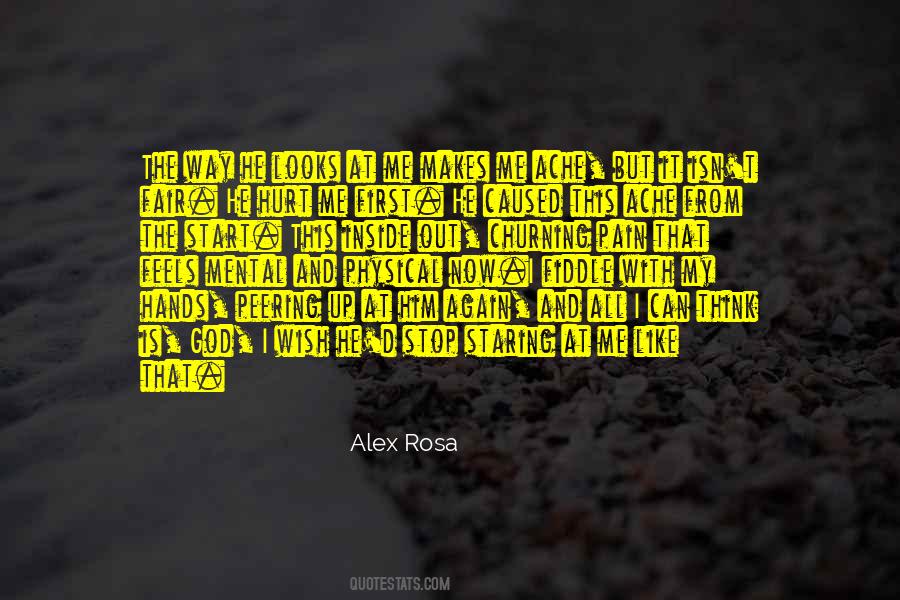 #13. Let go. Why do you cling to pain? There is nothing you can do about the wrongs of yesterday. It is not yours to judge. Why hold on to the very thing which keeps you from hope and love? - Author: Leo Buscaglia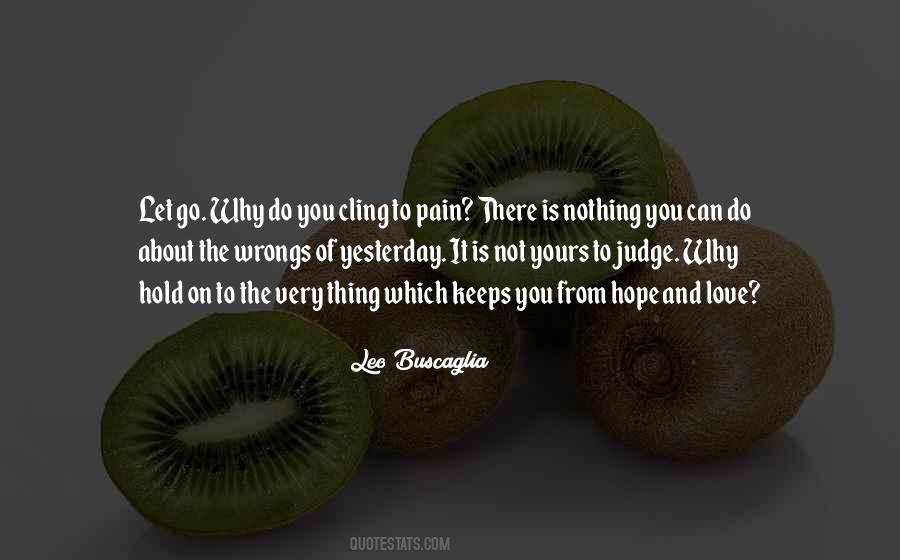 #14. They had lied, those who had extolled the virtues of love - its pleasures, its sublimity - those who had told her that it was beautiful and worthwhile.
There was nothing beautiful about it.
It was awful. - Author: Sarah MacLean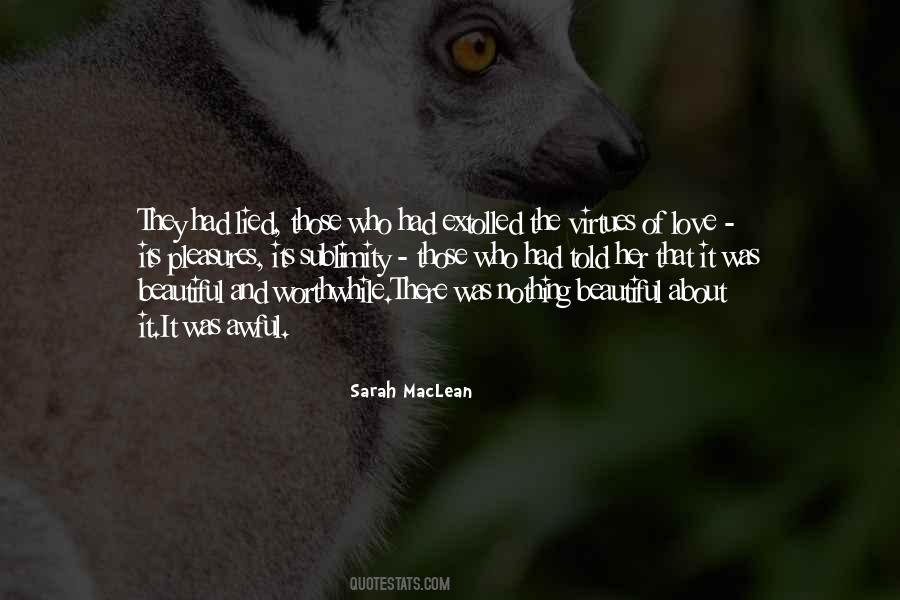 #15. Everything is gone except traces of you inside me - and the years like the wind are sweeping those away ... - Author: John Geddes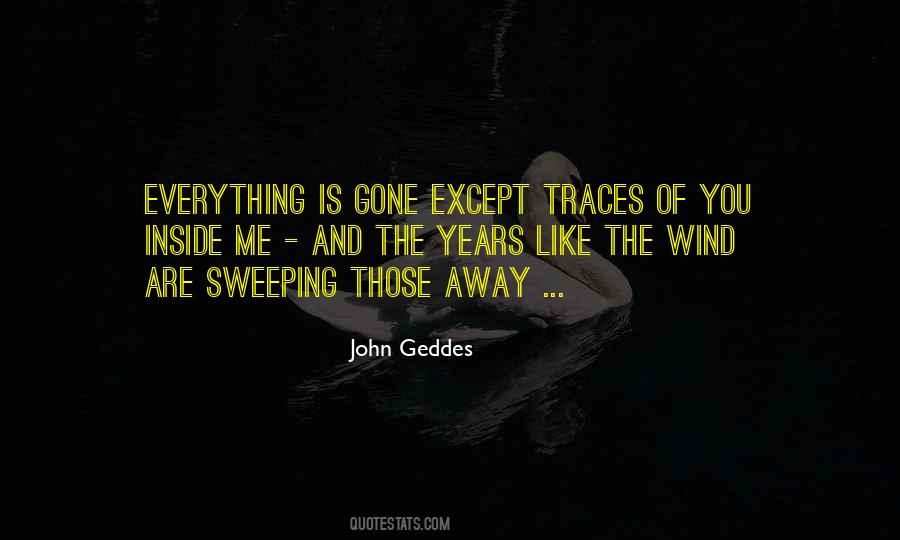 #16. Realize that the tests you endure will mold your character, persona, and will. The more heartbreak and pain you will feel with your trials in life, the greater your joy and glory will be once you've overcome. Not IF, not POSSIBLY, not MAYBE, but ONCE you have overcome. - Author: J. Junior Reynolds II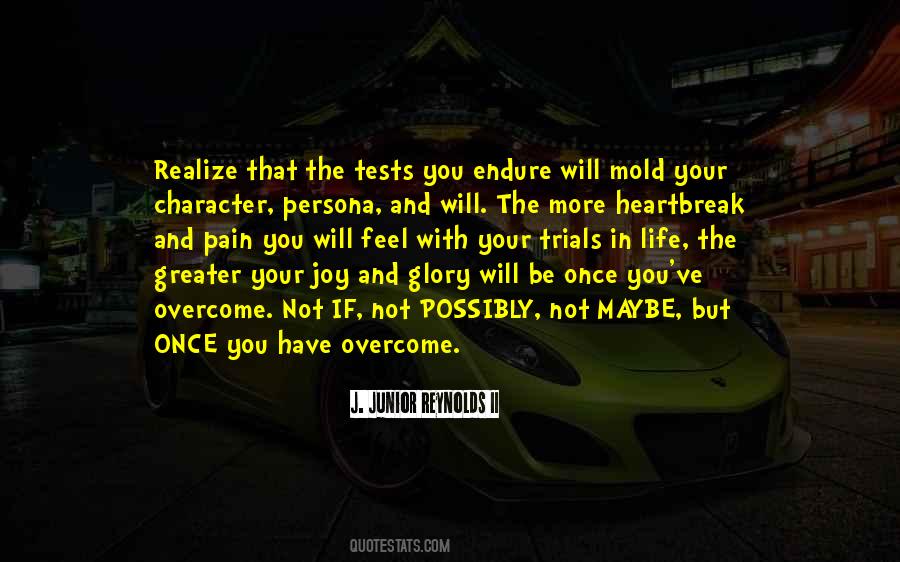 #17. Perfect love, like perfect partner does not exist. We create our own perfect love. If you care to know, a a good partner is like a construction engineer. To build the kind of house he want, he must pick the material that best suits his needs and maybe his wallet too. - Author: Augustine Sam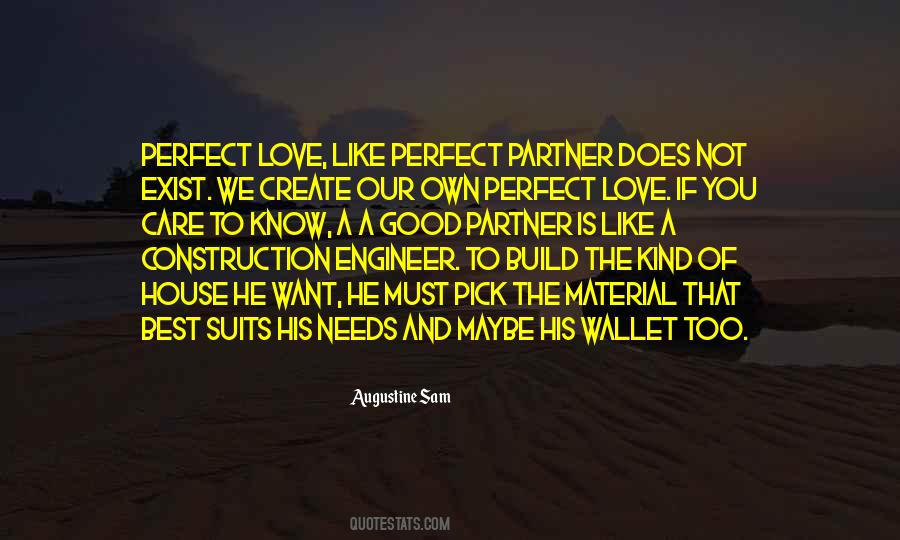 #18. You and I
Again and again
Always almost
Never enough.

- A world of almosts - Author: Ayushee Ghoshal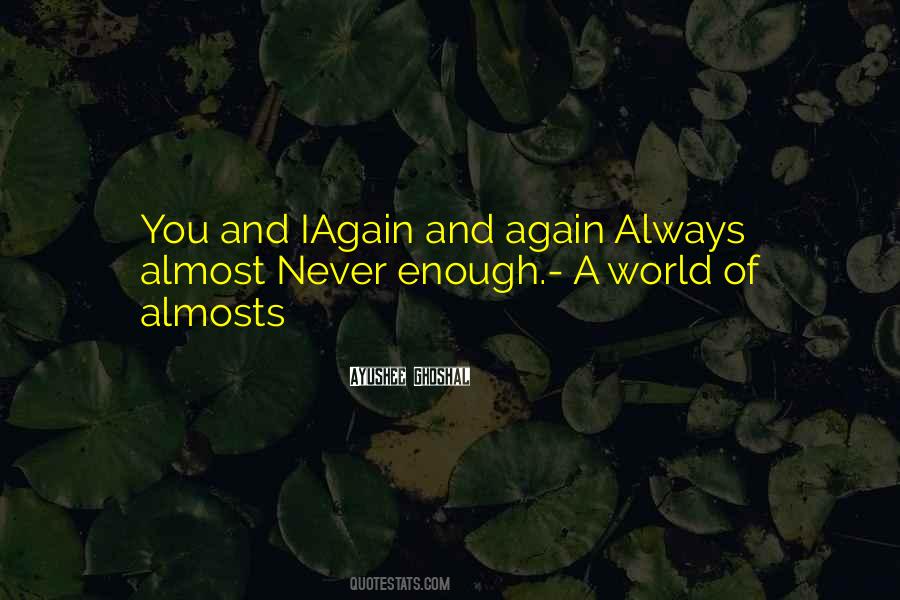 #19. That the world I was in could be soft, lovely, and nourishing was more than I could bear, and so I stood there and wept, for I didn't want to love one more thing that could make my heart break into a million little pieces at my feet. - Author: Jamaica Kincaid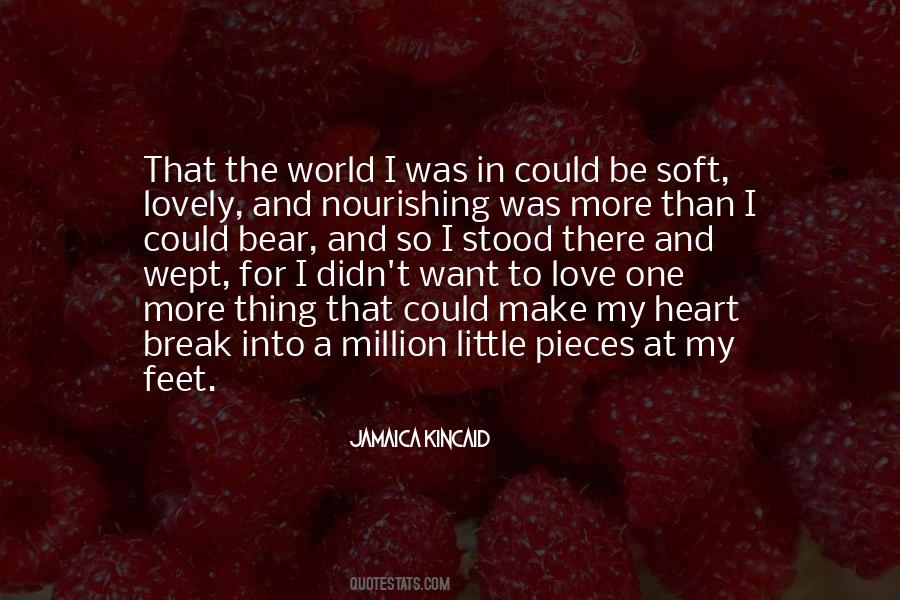 #20. And you left your mark on me ...
With the destruction of us, finally, we became no one. - Author: Nadege Richards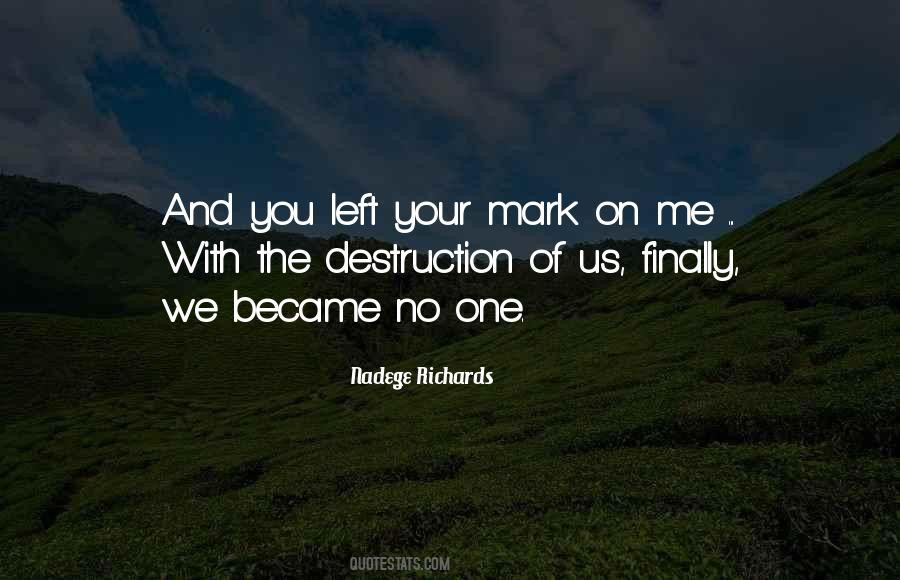 #21. The human heart must be a strong and resilient thing, Daphne decided when she awoke the following morning. She was surprised to find that she was no longer in the throes of wrenching heartbreak and pain. Instead, in a strange way, she felt as if she had been reborn. - Author: Laura Lee Guhrke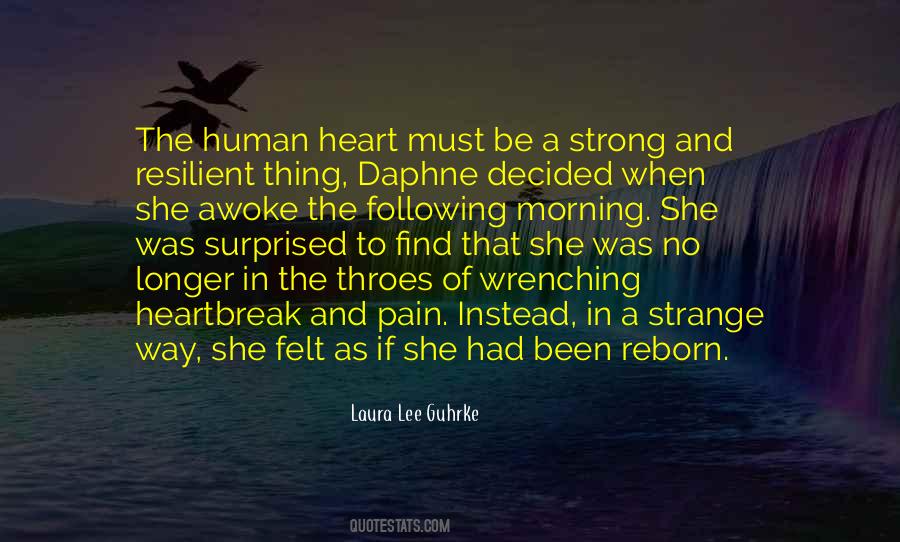 #22. If only everything were like that. It's not easy to do: owning and accepting the pain of our past, the heartbreak, our misgivings, and using them for good. Make our lives better not in spite of it all...but because of it. - Author: J.B. Salsbury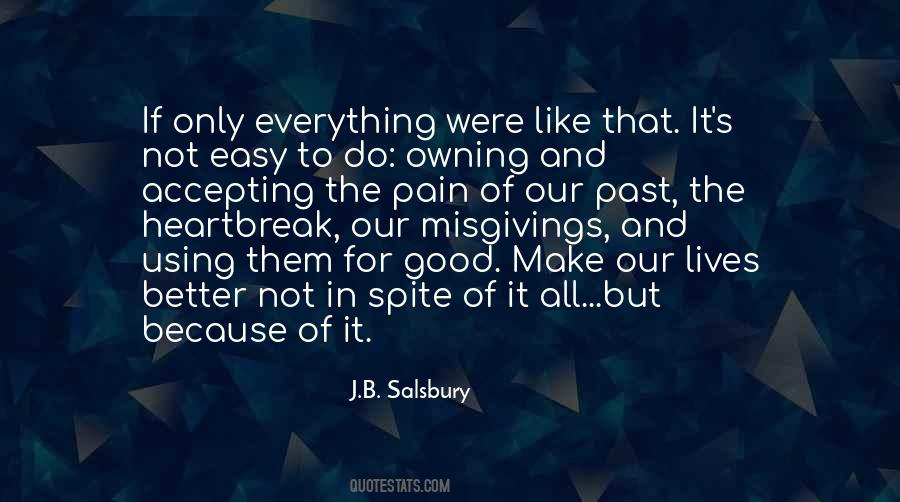 #23. She hardly ever thought of him. He had worn a place for himself in some corner of her heart, as a sea shell, always boring against the rock, might do. The making of the place had been her pain. But now the shell was safely in the rock. It was lodged, and ground no longer. - Author: T.H. White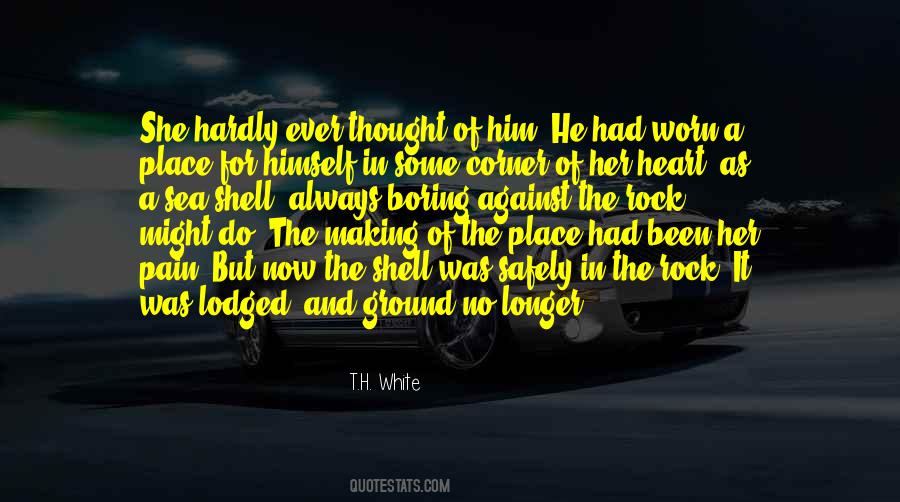 #24. I made you better and you made me worse. - Author: Jennifer Elisabeth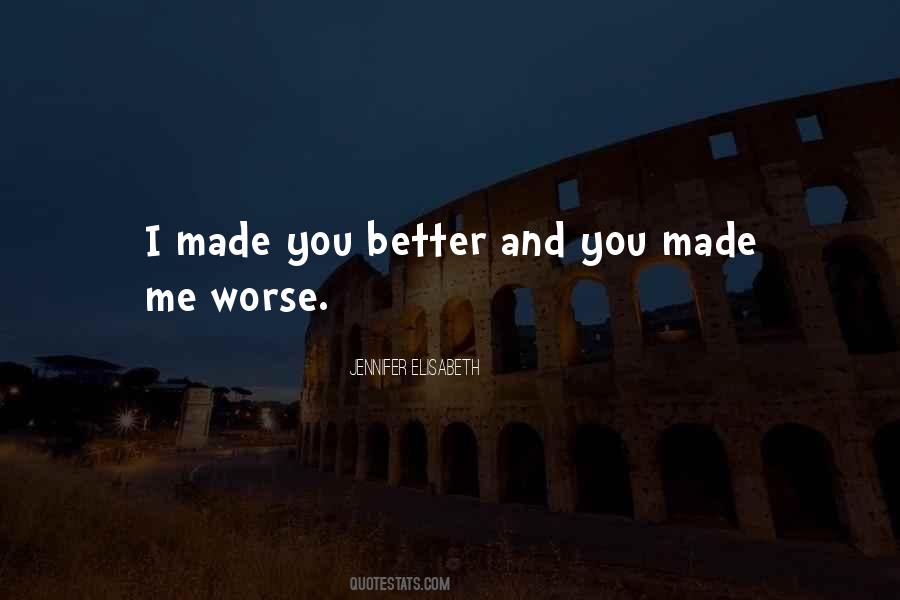 #25. But I've grown thoughtful now. And you have lost Your early-morning freshness of surprise At being so utterly mine: you've learned to fear The gloomy, stricken places in my soul, And the occasional ghosts that haunt my gaze. - Author: Siegfried Sassoon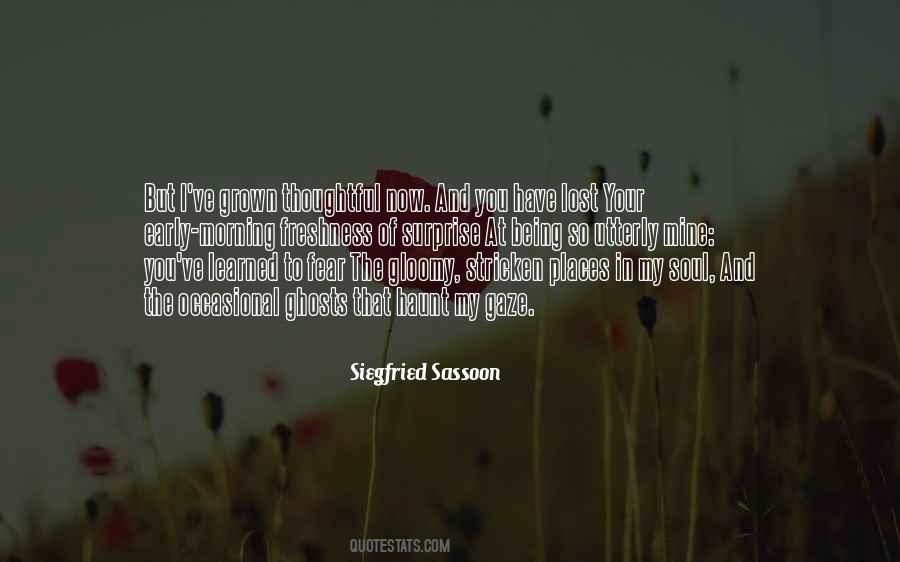 #26. Kat stood immobile and watched with pain, a kiss of passion, a kiss of desire; a kiss that could never be hers. - Author: Kiki Archer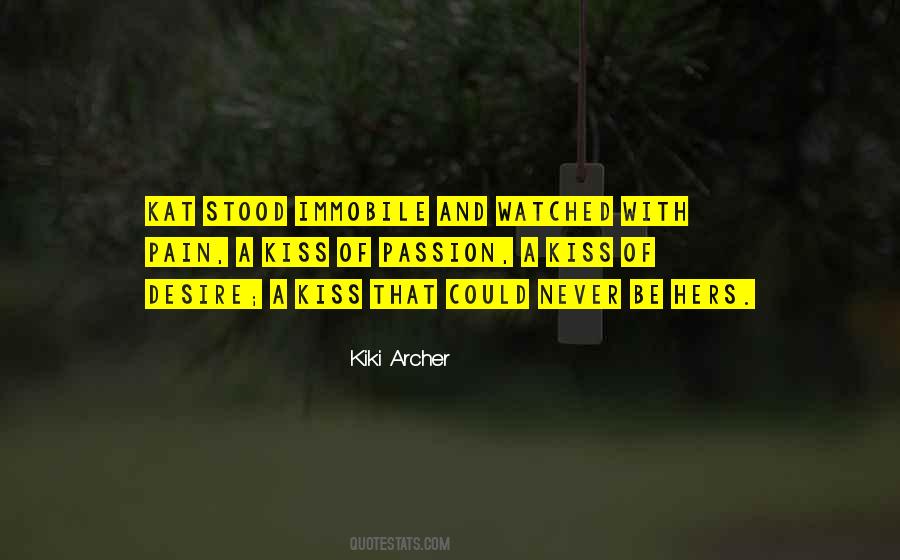 #27. Eyes can shed tears to reduce its pain while blubbering but what about my hearts, it does not have such capability ... it only wept into frustration and frustration - Author: Prakhar Srivastav
#28. He didn't need someone to fix the problem - there was no fixing it. He needed someone to acknowledge his feelings. Accept his pain. Agree that his heart was broken, and that it should be. And that it might stay broken for a long, long time. - Author: Julie Lawson Timmer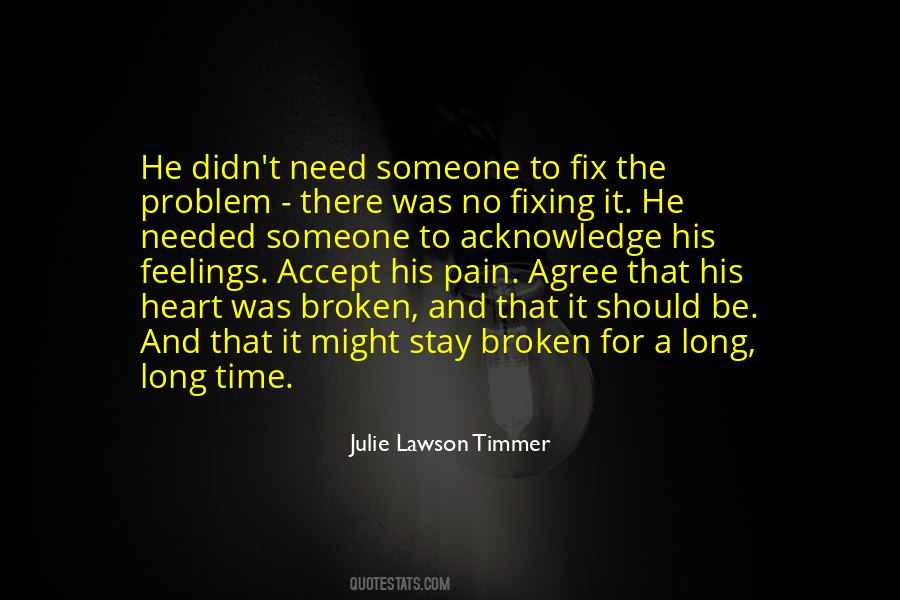 #29. Life is terribly awkward and uncomfortable, so we spend our time searching for those who make it all a little less unpleasant. - Author: Elizabeth Brooks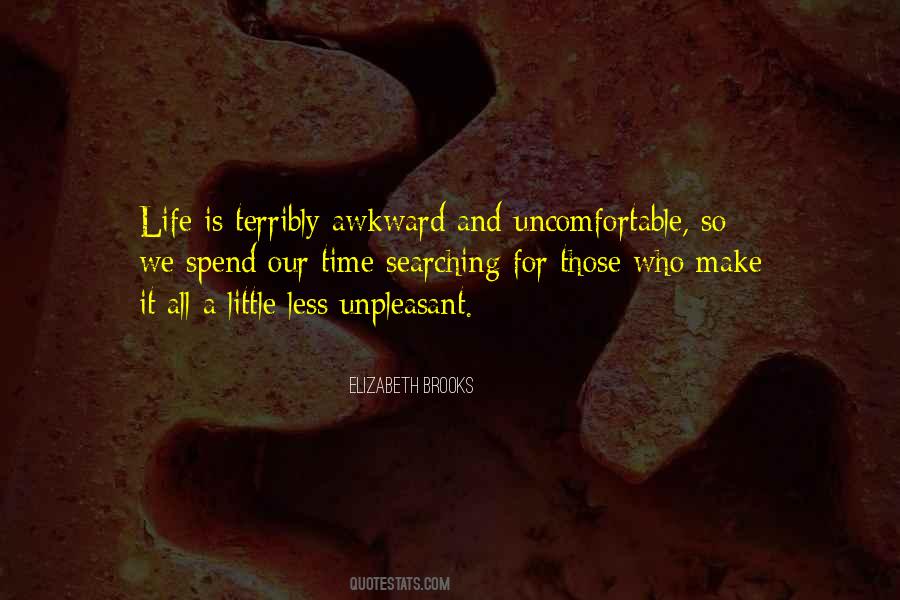 #30. Closure. That's probably the most unrealistic word in the English vocabulary. It's up there with heartbreak, pain, loss, and abandonment, all these things that you're supposed to get over and mend and heal but really, do you ever get over those moments? - Author: Katie Kacvinsky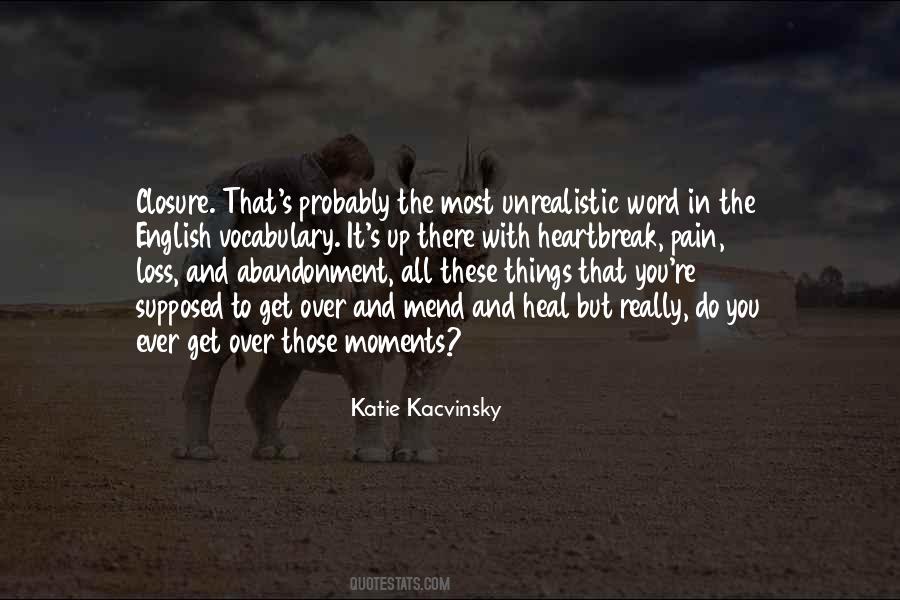 #31. My own love was never mine and now I don't even have a dream of loving again. - Author: Abhishek Kothari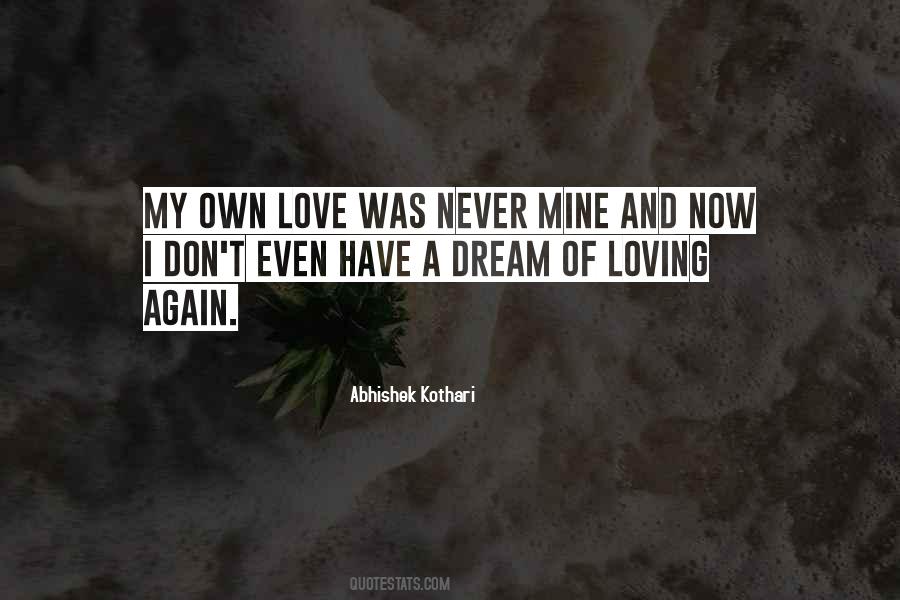 #32. What was wrong with her? Why did things like this keep happening to her? Love wasn't supposed to hurt, yet it felt like all she knew when it came to love was pain. Every time she opened her heart, she just got burned. Or, in this case, frozen. And she was getting sick and tired of it. - Author: Elizabeth Rudnick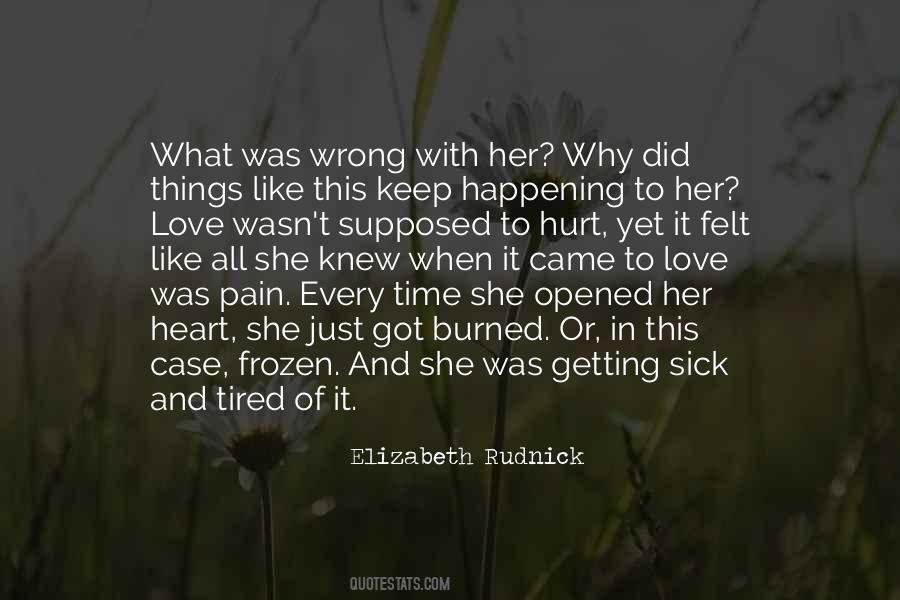 #33. Breaking up is like unsticking your fingers after you've Superglued them. Love's the glue and no matter how slow and carefully you separate, you're going to lose a little bit of yourself in the process. You're also going to retain a little DNA from the one you lost. - Author: Toni Sorenson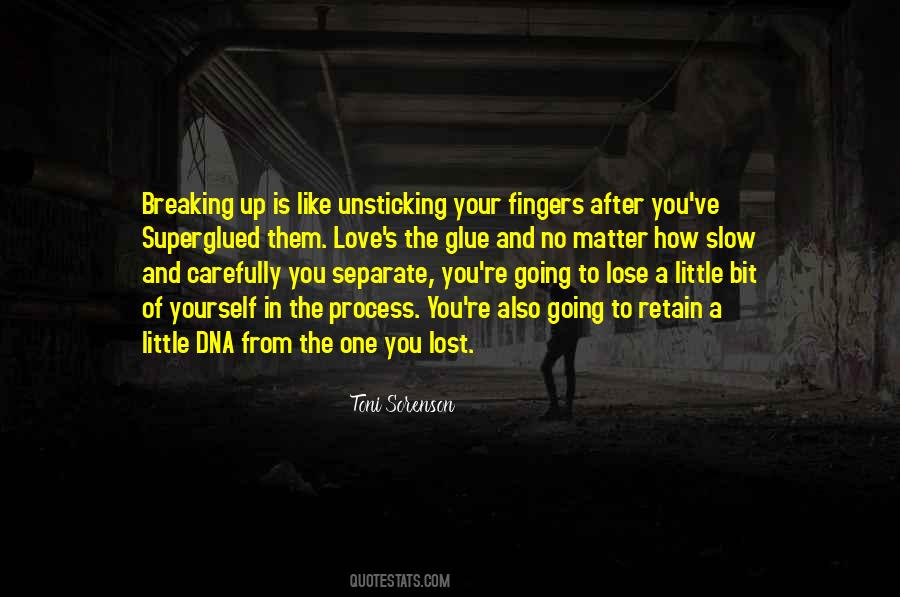 #34. No matter how much you love someone, time heals your pain and your death wish. - Author: Parul Wadhwa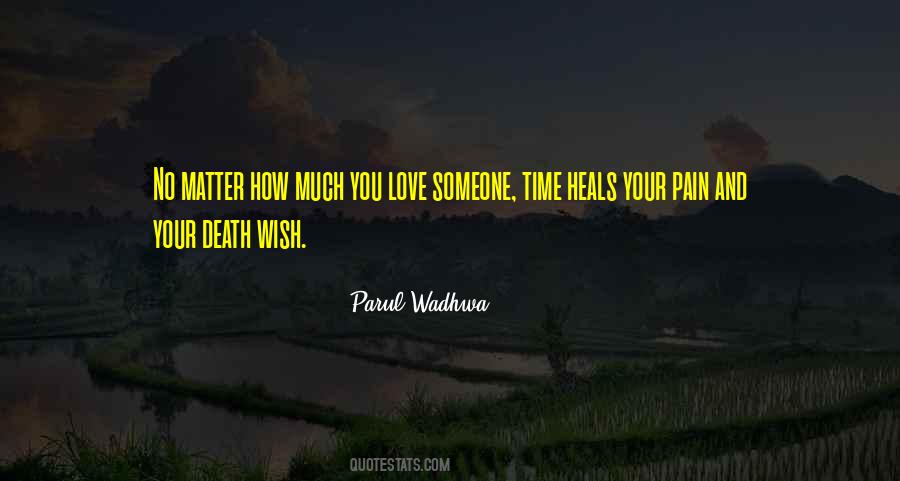 #35. Now that he's gone, I feel like I'm a senior citizen who gave away her life savings over the phone.
And this is the crux: I never in my life believed in someone as much as I believed in him.
The shame is overwhelming. - Author: Emma Forrest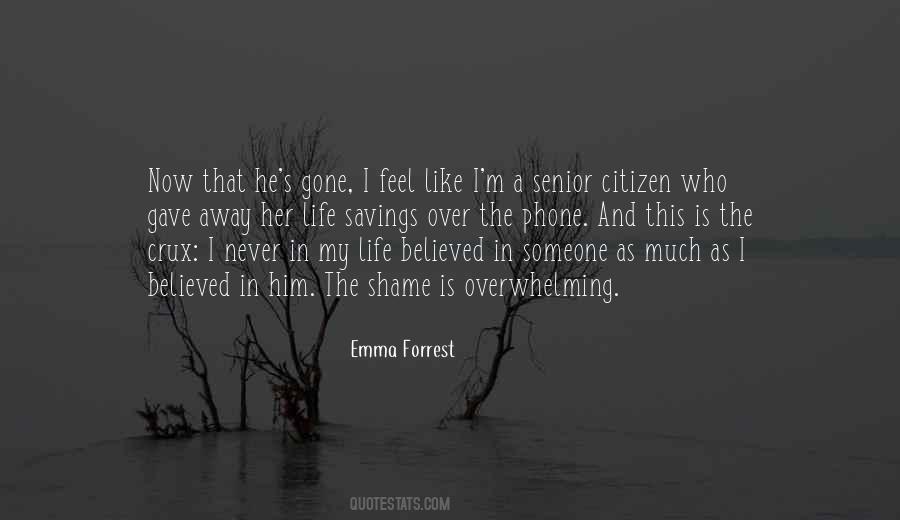 #36. unrequited love is like
kneeling on uncooked rice
and waiting for
the boiling water
of his kisses
to soften the pain
but he never comes. - Author: K.Y. Robinson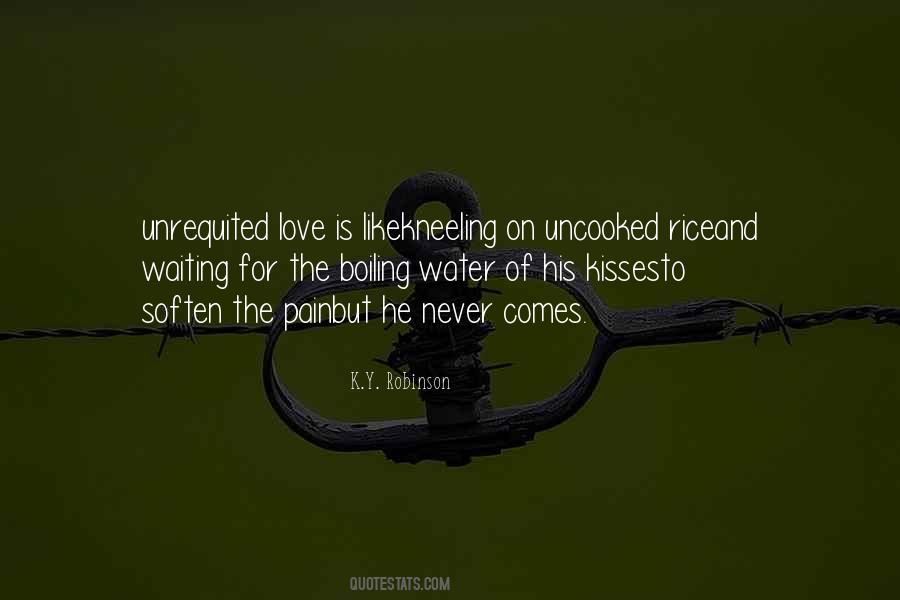 #37. Now I'm told that this is life, that pain is just a simple comprimise so we can get what we want out of it. Would someone care to classify a broken heart and some twisted minds so I can find someone to rely on? - Author: Hayley Williams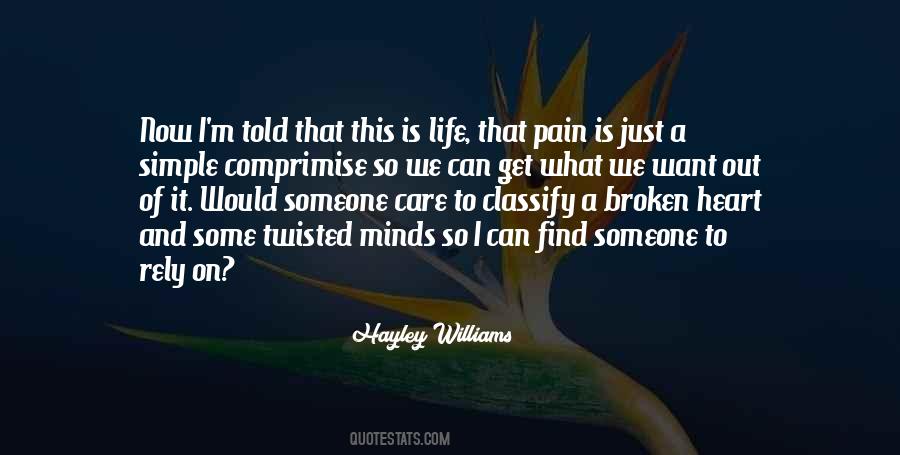 #38. Two words. Three vowels. Four constenants. Seven letters. It can either cut you open to the core and leave you in ungodly pain or it can free your soul and lift a tremendous weight off you shoulders. The phrase is: It's over. - Author: Maggi Richard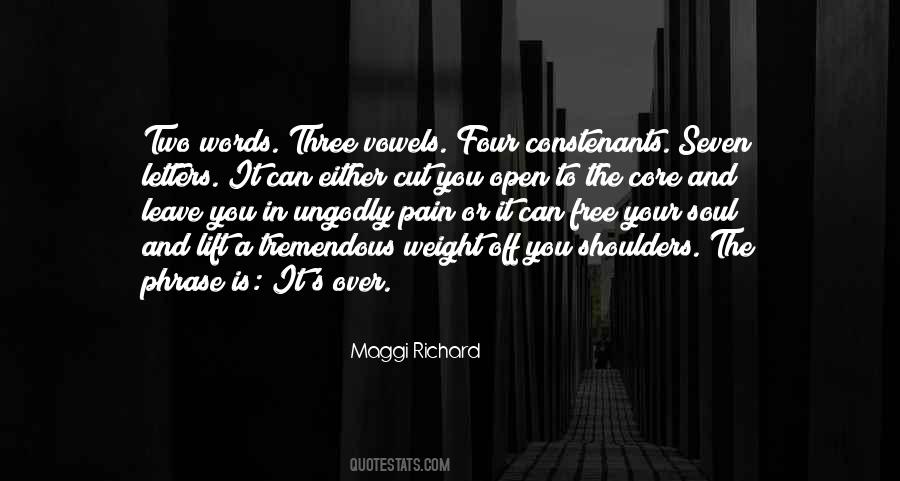 #39. I bruise easily and sometimes I can't stop bleeding. - Author: Jennifer Elisabeth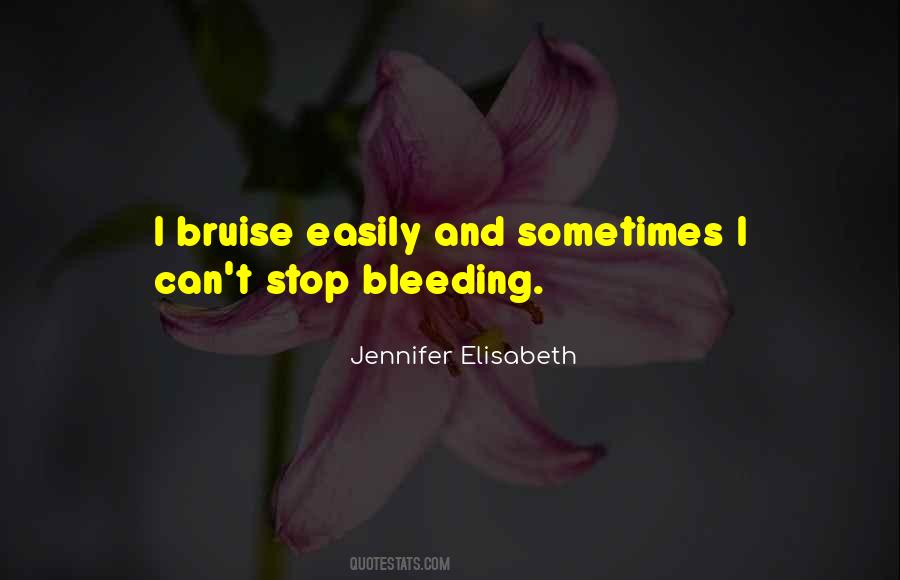 #40. Time heals everything. Sometimes you have to go through that pain and heartbreak so that you can get to the other side and come out on top. - Author: Christina Aguilera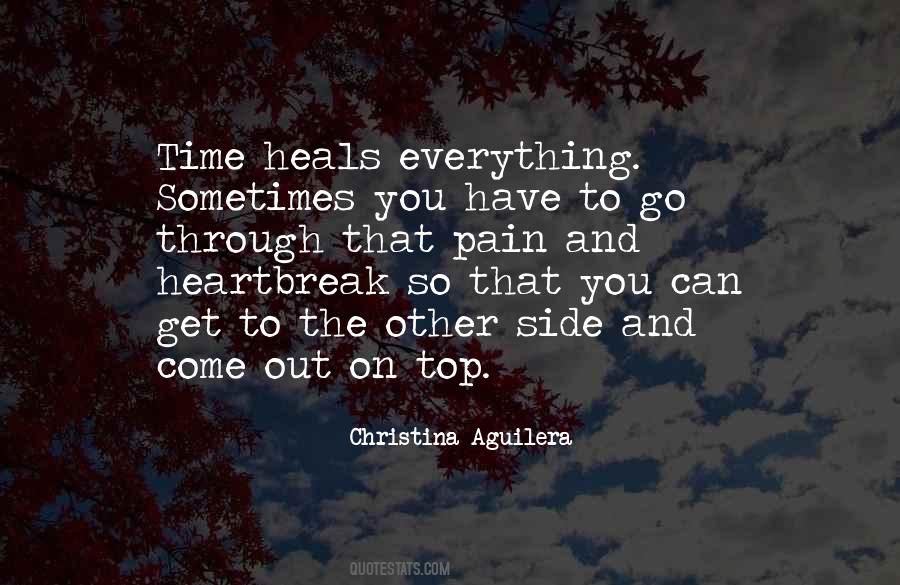 #41. You think your pain and your heartbreak are unprecedented in the history of the world, but then you read. It was books that taught me that the things that tormented me most were the very things that connected me with all the people who were alive, or who had ever been alive. - Author: James Baldwin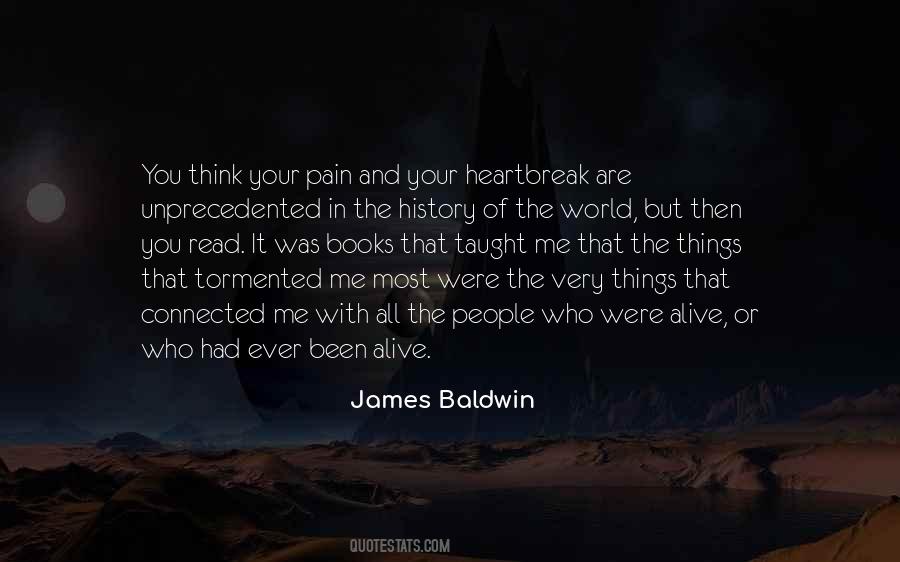 #42. You wanted to see the world.
And yet, all I want is to see you. - Author: Sade Andria Zabala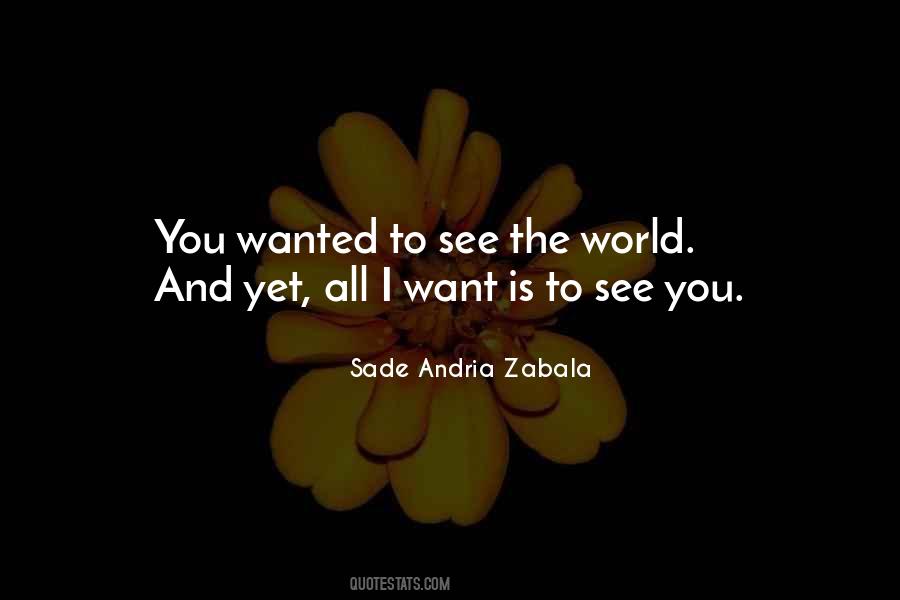 #43. I am but a stranger ... as we all are. Lonely inside our separate skins, we cannot know each others pain and must bear our own in solitude. For my part, I have found that walking soothes it; and that, given luck, sometimes we find one to walk besides us ... at least for a little way. - Author: Alan Moore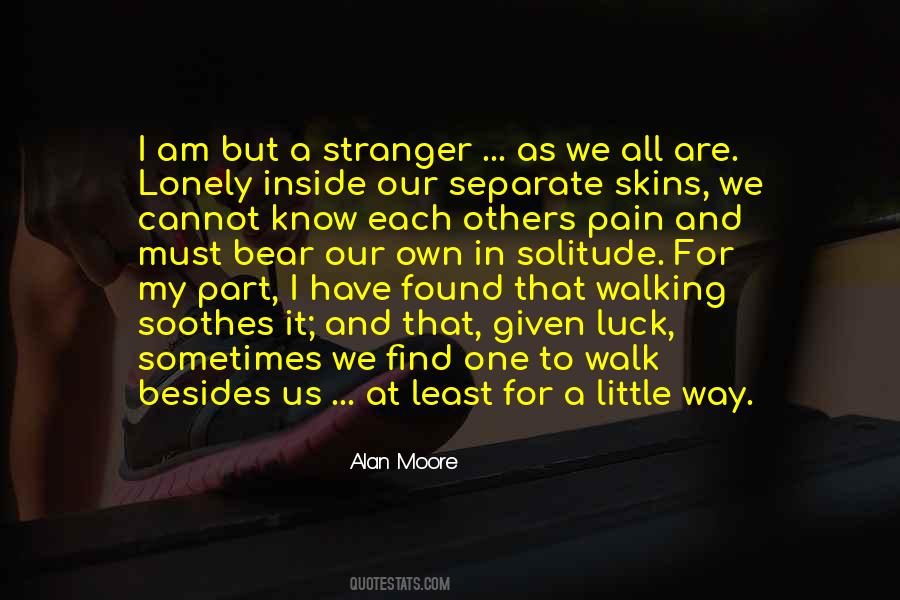 #44. I'm going inside of myself and never coming out. - Author: Jennifer Elisabeth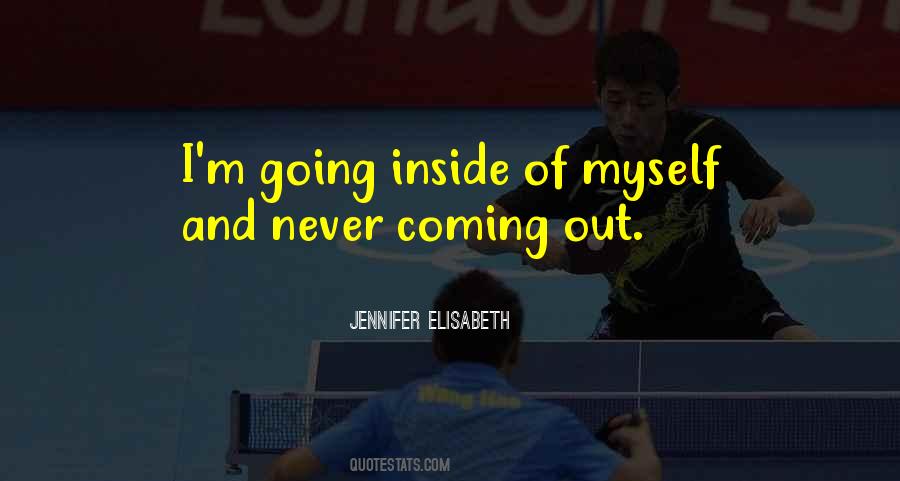 #45. My weaknesses, my choices, and my decisions - the ones I made and the ones I didn't - all took me down a rocky road filled with regret, heartbreak, and pain. And eventually, they nearly killed me. Would I change things if I could? Would I turn back time and do things differently? Never. - Author: Madeline Sheehan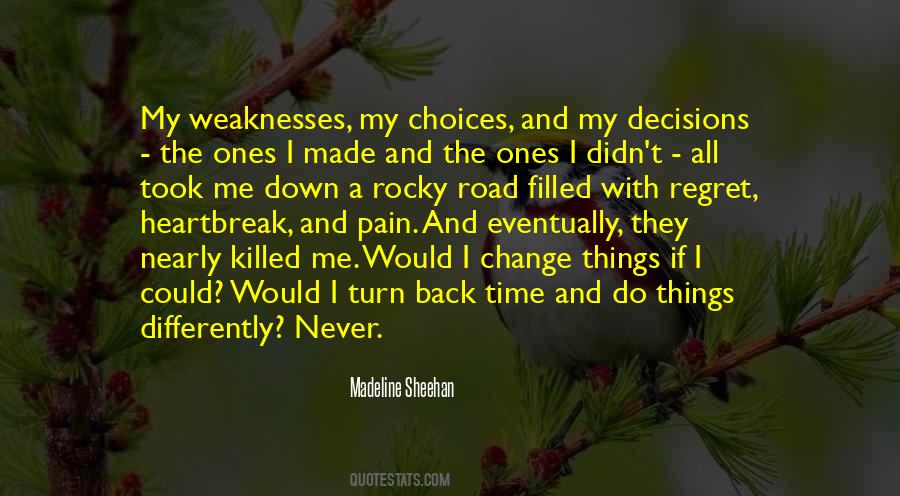 #46. I thought about how stupid it is, that all of us are born destined to desire somebody else, though desire brings with it such disappointment and pain. Humankind's history must be scored bloody with heartbreak. This hankering for affection is a blight upon us. - Author: Sonya Hartnett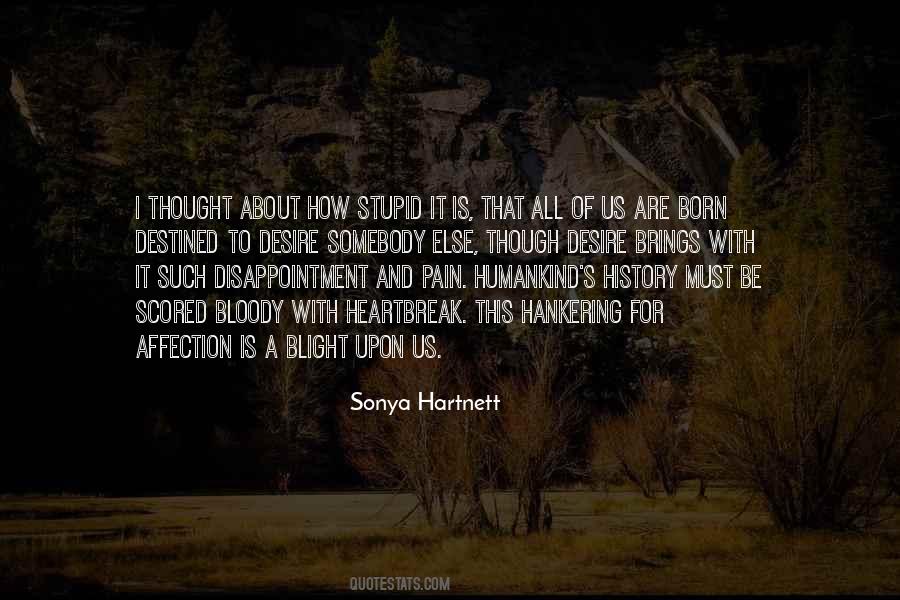 #47. Sadness, it was such an arresting emotion. You could almost convince yourself of the rhyme and reason of heartbreak. - Author: Anne Rice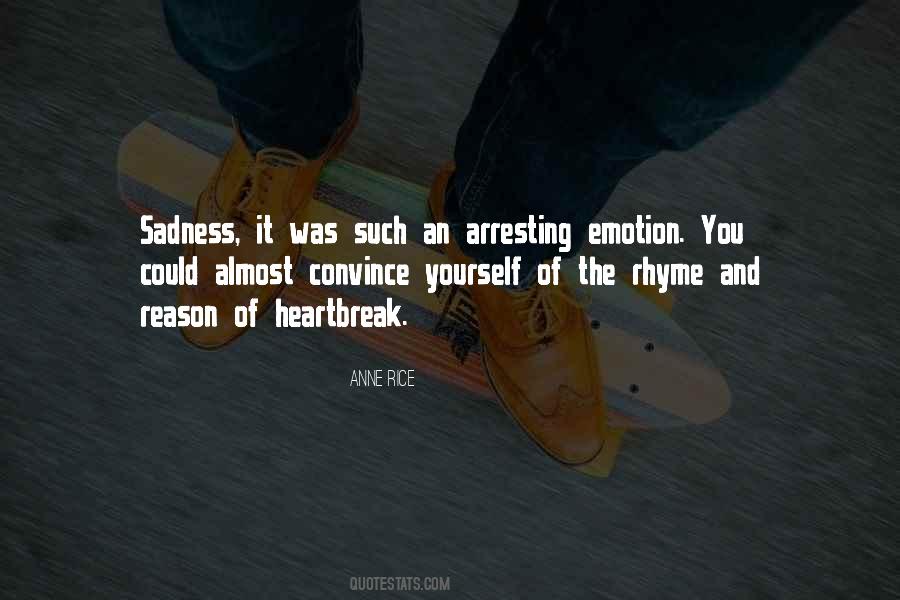 #48. It takes two to tango, and if you dance too long, implosion is inevitable. - Author: Allie Burke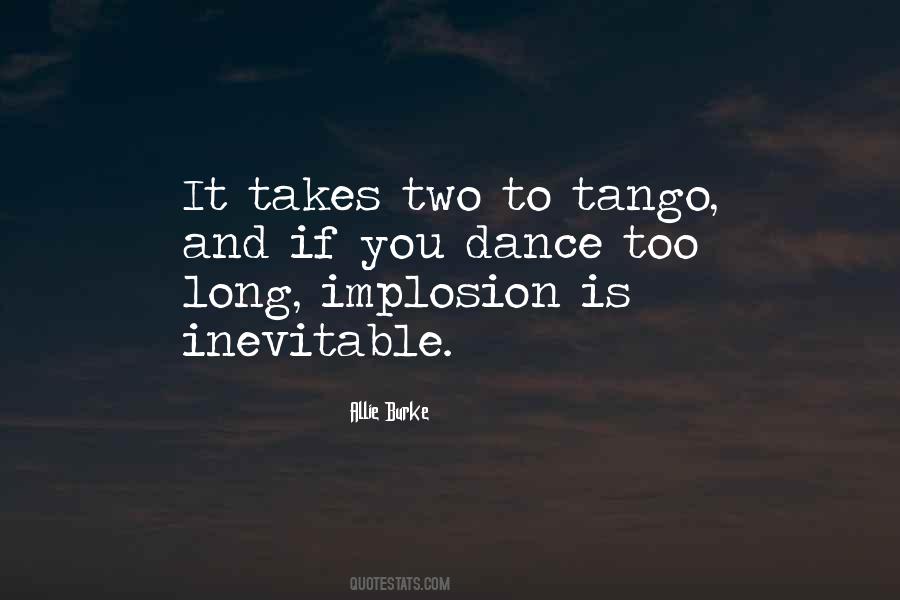 #49. Don't get me wrong: I wouldn't wish it on anyone. Even the word 'cancer' brings back the nausea and pain, the fear I felt, and the heartbreak I saw in my parents' faces. The smells that fill hospitals and the constant tired feeling that comes with treatment are also permanently stuck in my memory. - Author: Jon Lester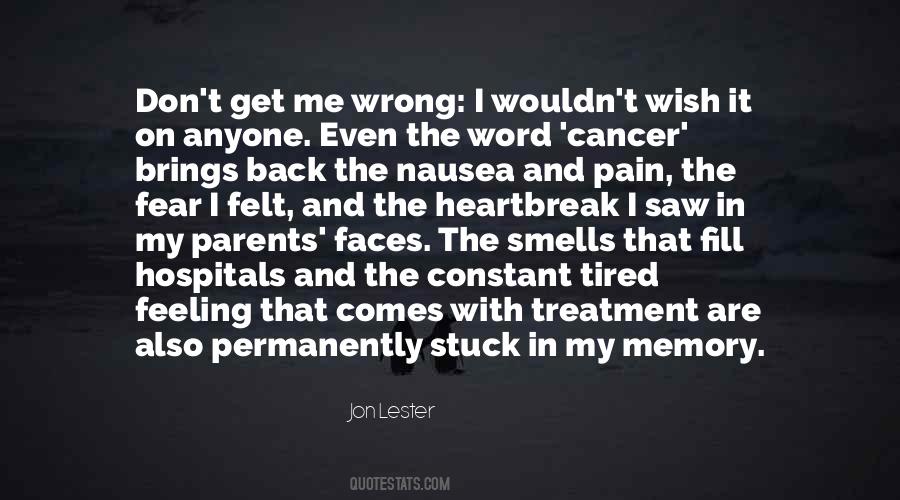 #50. Although he never speaks of how or what or why, I know that his childhood was difficult, that his parents broke his heart. Books and excess poundage are his insulation against pain. - Author: Dean Koontz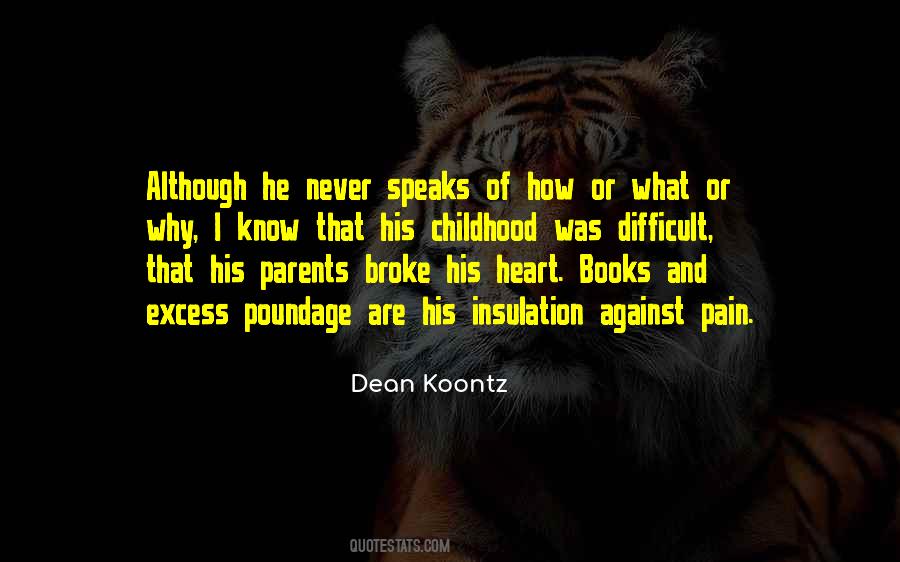 #51. Lonely's a different kind of pain, it doesn't hurt as bad as heartbreak. I preferred it and embraced it 'cause I reckoned it was one or the other. - Author: Kristen Ashley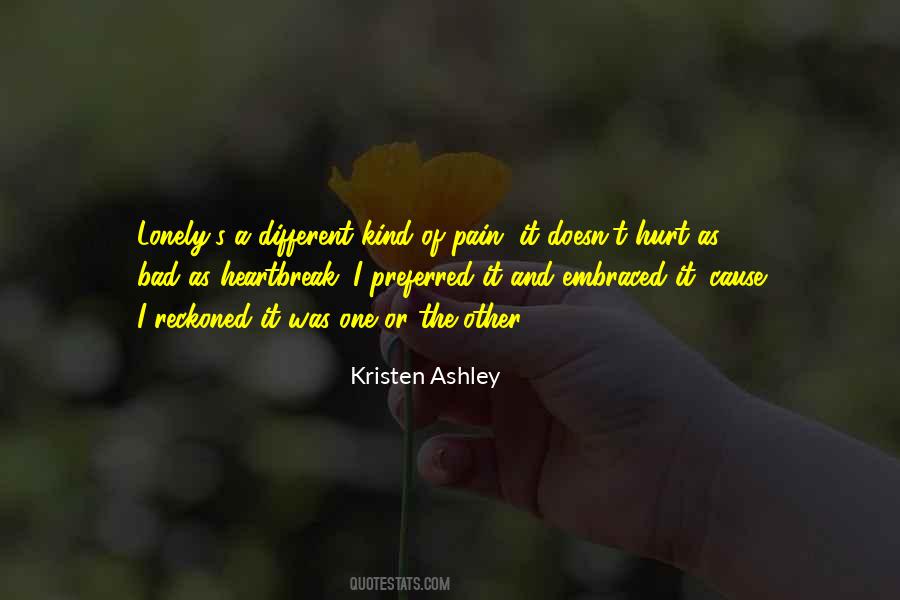 #52. When the guy kissed her, Cassidy felt a stab of pain that was close to physical, and therefore within the penumbra of hurts he told himself he could bear. - Author: John L. Parker Jr.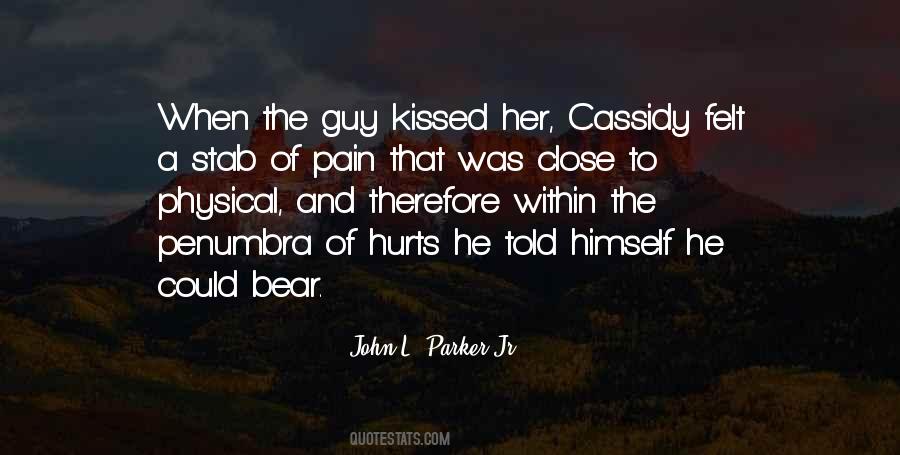 #53. Envy hurt exponentially more than heartbreak because your soul was torn in two, half soaring with happiness for another person, half mired in a well of selfpity
and pain. - Author: Diana Peterfreund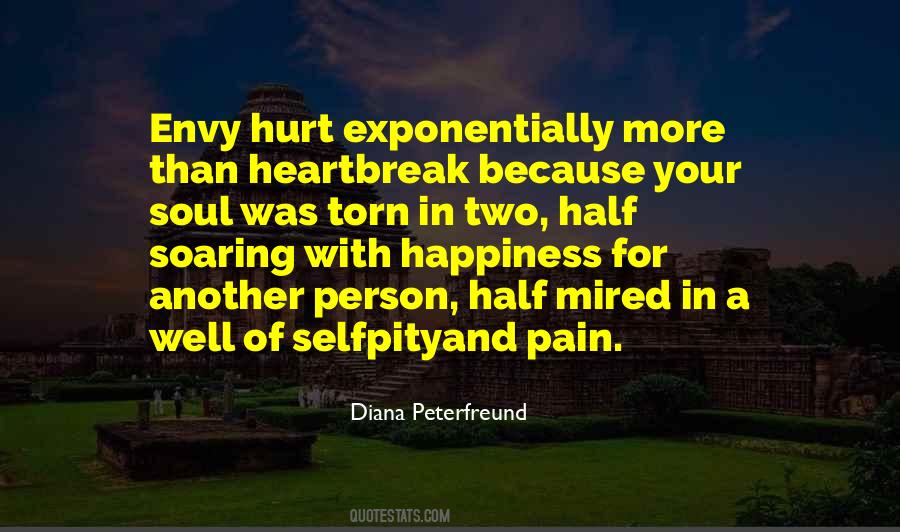 #54. The mighty trojans fell, and so did i.
A wooden horse you were not, yet in a pool of my own blood i lie.
Dawn follows every dusk, and all that rises - fall it must.
So, my blood shall find its way and trickle down your eyes.
The day your deeds of today, eventually make you cry. - Author: Anurag Anand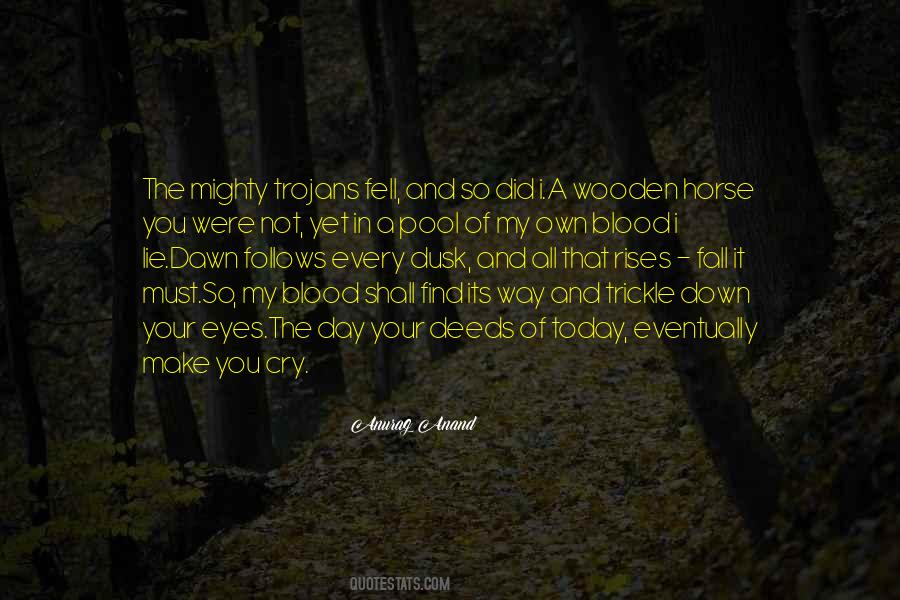 #55. I hate that I got dealt shitty parents! I hate how you make me feel like scum! I hate that you're always running away from me! And I hate that I ever fucking gave you the power to destroy me! - Author: Adriana Law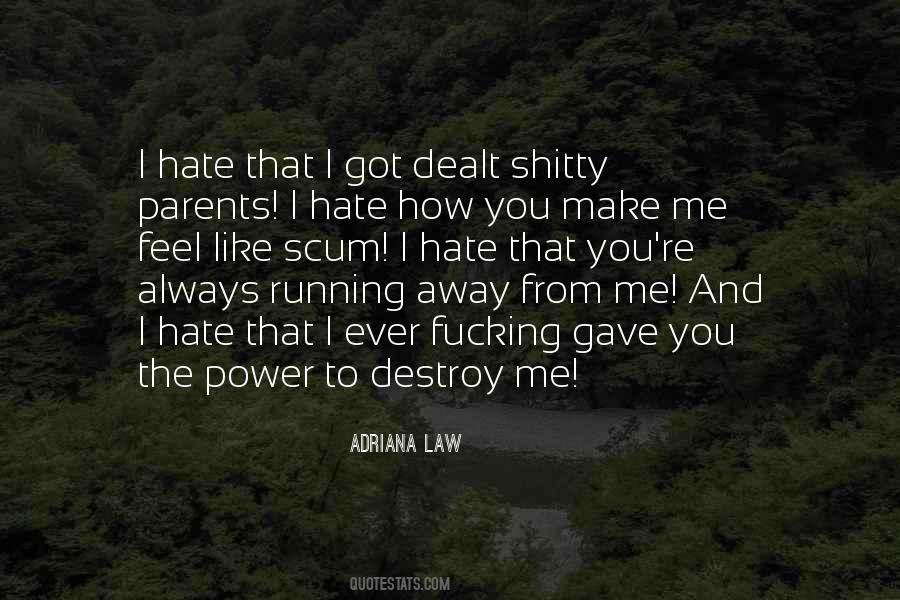 #56. If love were human I would've set them on fire by now - a screaming blaze of smoke and flesh. I'd breathe in the blackness once more just to feel love's destruction, its mortality filling in the hollow of my ribcage without a heart. - Author: Piper Payne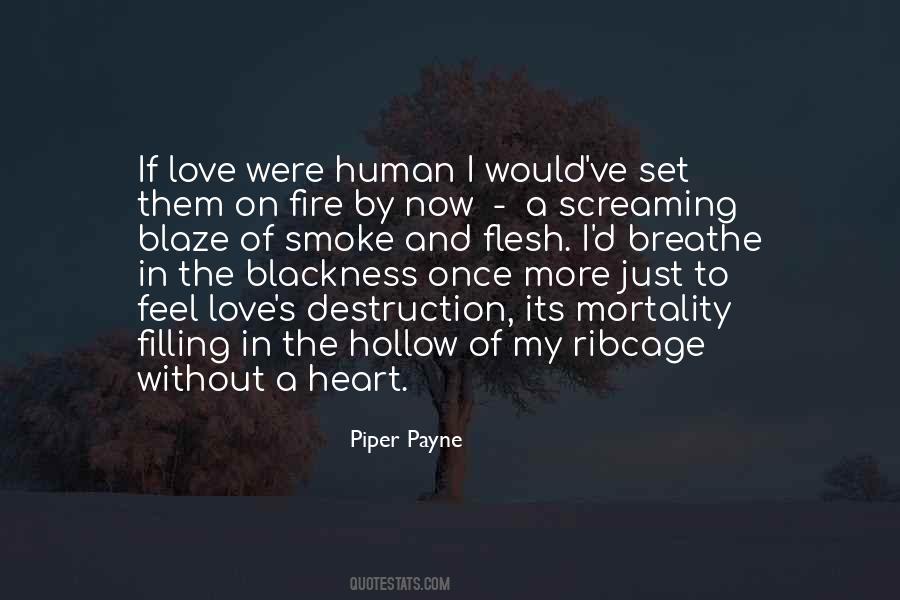 #57. The greatest writers are the ones not afraid to share their heartbreak and pain for the world to read.
They are fearless and freely in sharing their heart to heal other wounds with their story. - Author: Tamyara Brown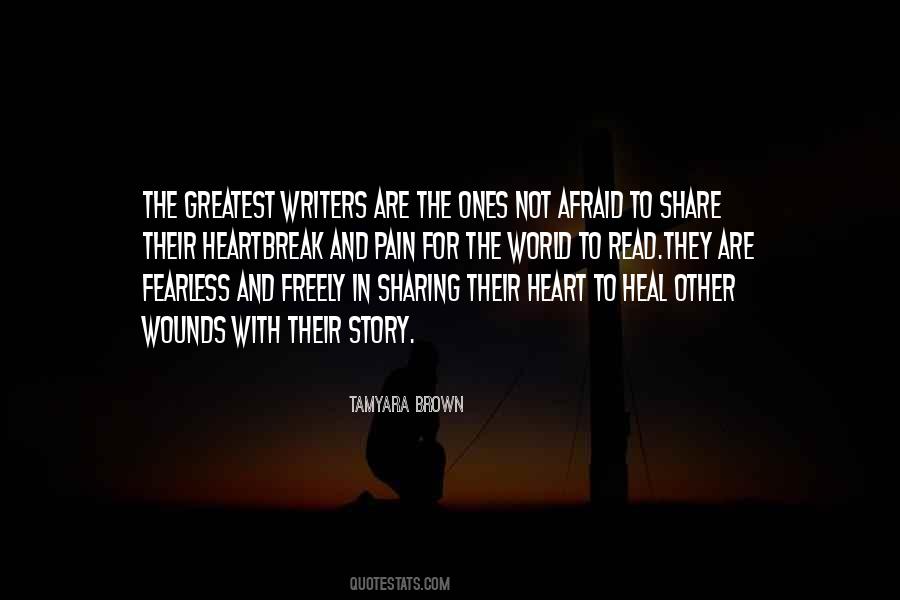 #58. My life is a room filled with love letters and goodbye notes. - Author: Jenim Dibie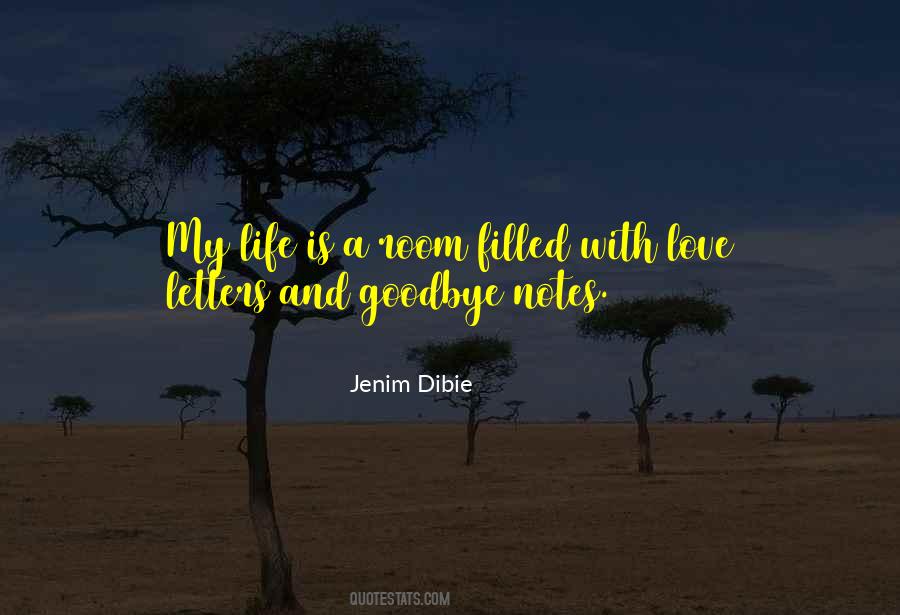 Famous Authors
Popular Topics