Not Regretting Things Famous Quotes & Sayings
List of top 46 famous quotes and sayings about not regretting things to read and share with friends on your Facebook, Twitter, blogs.
Top 46 Quotes About Not Regretting Things
#1. Better ten days of love than years of regretting, - Author: Robert Jordan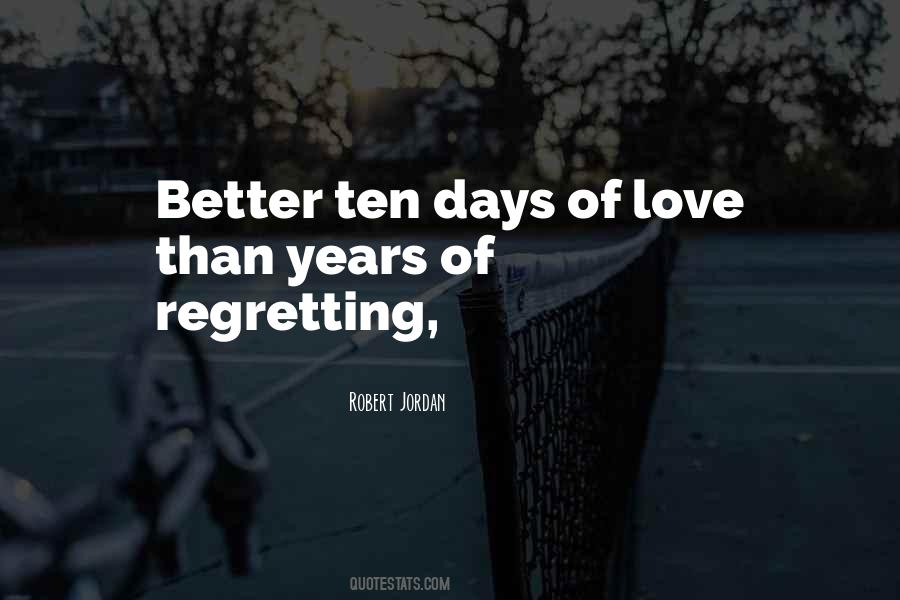 #2. In 'Straight Talking,' I had bared my soul, and the press attention had been overwhelming. There were times when I felt scared and vulnerable, regretting the articles I had written to publicize the book, regretting I had opened my life up for all to see. - Author: Jane Green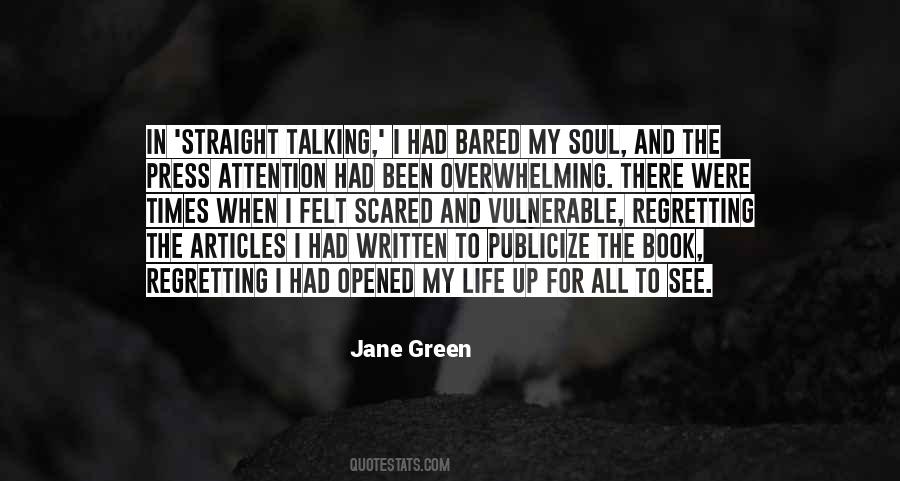 #3. Mogget's voice. Sam whirled around. "Mogget? Is that you? Where are you?" "Here, and regretting it as per usual," replied Mogget, and a small white cat sauntered out from behind a fern tree. - Author: Garth Nix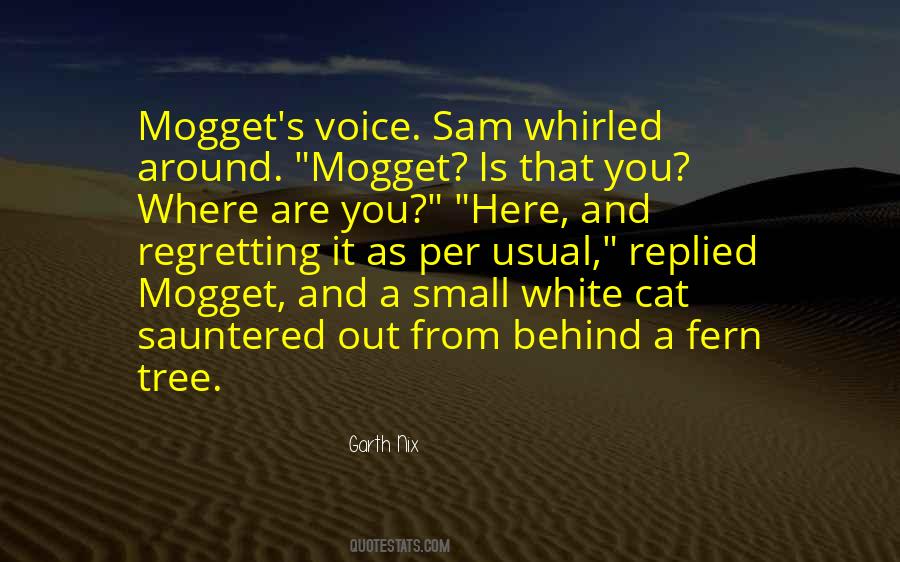 #4. Self-confidence is not pride. Just the contrary: only a person or a nation that is self-confident, in the best sense of the word, is capable of listening to others, accepting them as equals, forgiving its enemies and regretting its own guilt. - Author: Vaclav Havel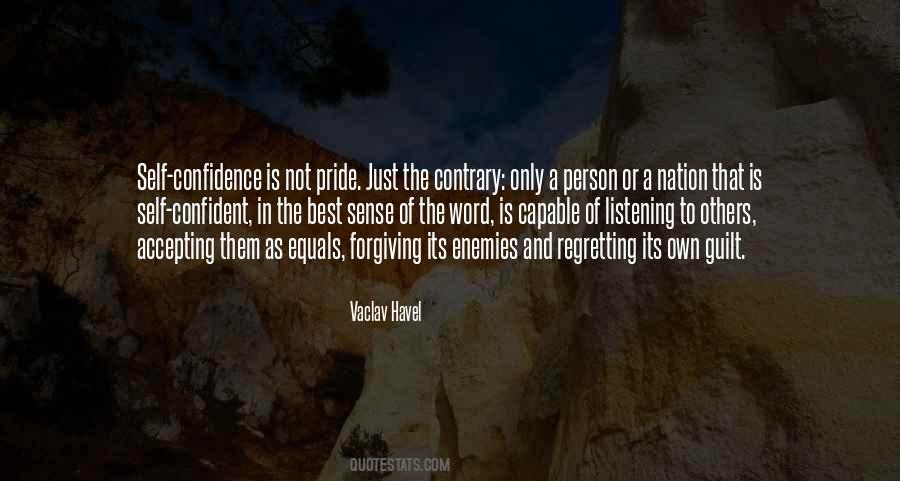 #5. I felt that I ostracized myself by my behavior, by the past, by living with all the regrets of my mistakes, that I sort of wore a hair shirt and beat myself up most of the day thinking and regretting why did I make such a mistake? Why have I made so many mistakes? - Author: Sarah Ferguson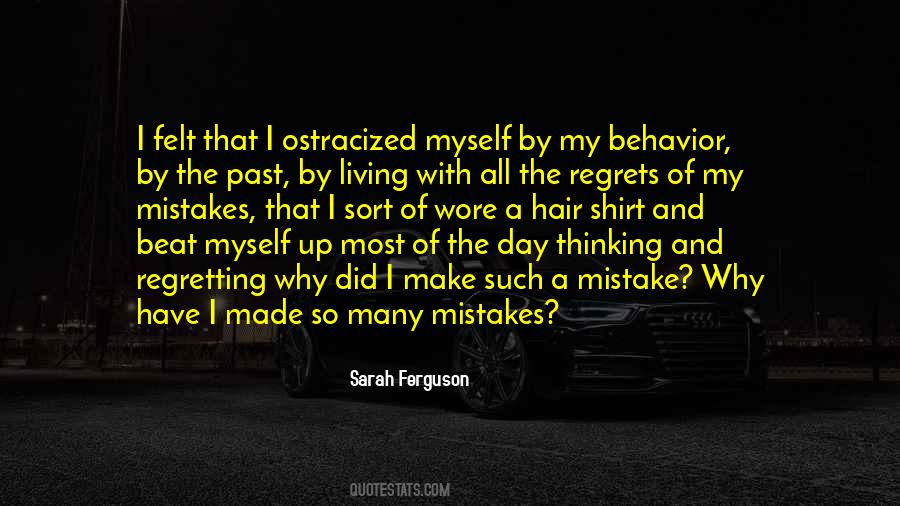 #6. I started with the firm conviction that when I came to the end, I wanted to be regretting the things that I had done, not the things I hadn't. - Author: Michael Caine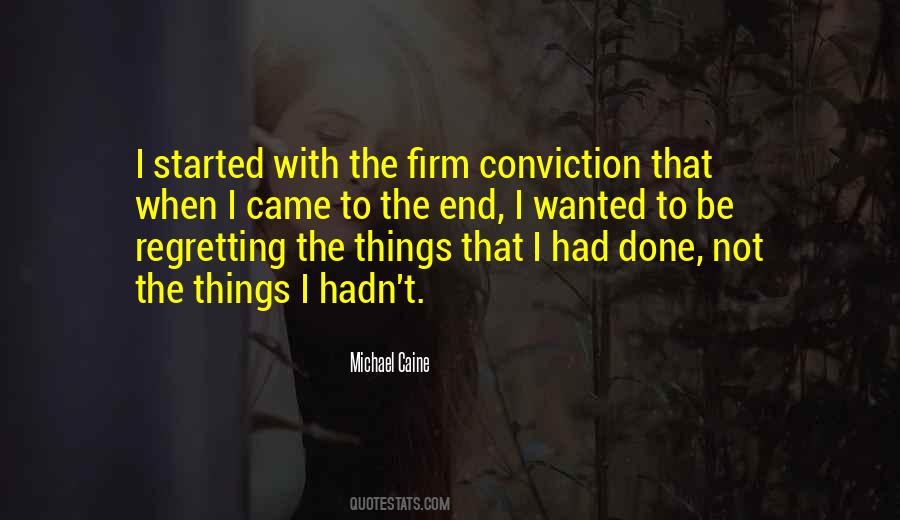 #7. In a serious sense, wanting to change something from the past doesn't work for me - change something you don't enjoy now rather than regretting it later. - Author: Rory McIlroy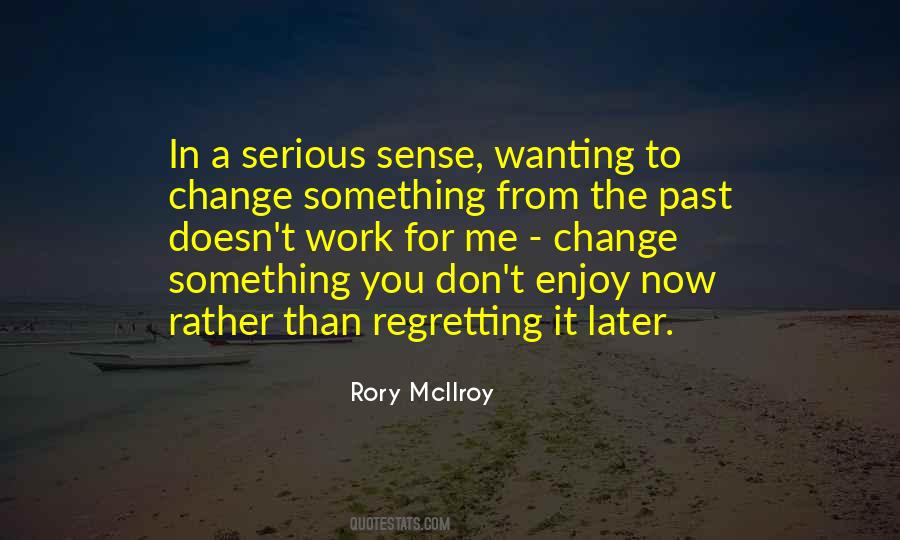 #8. You have a way of turning the established order on its head." Instantly regretting that, he forced his face to relax; Lynx must not see anger in his eyes. - Author: Gwynn White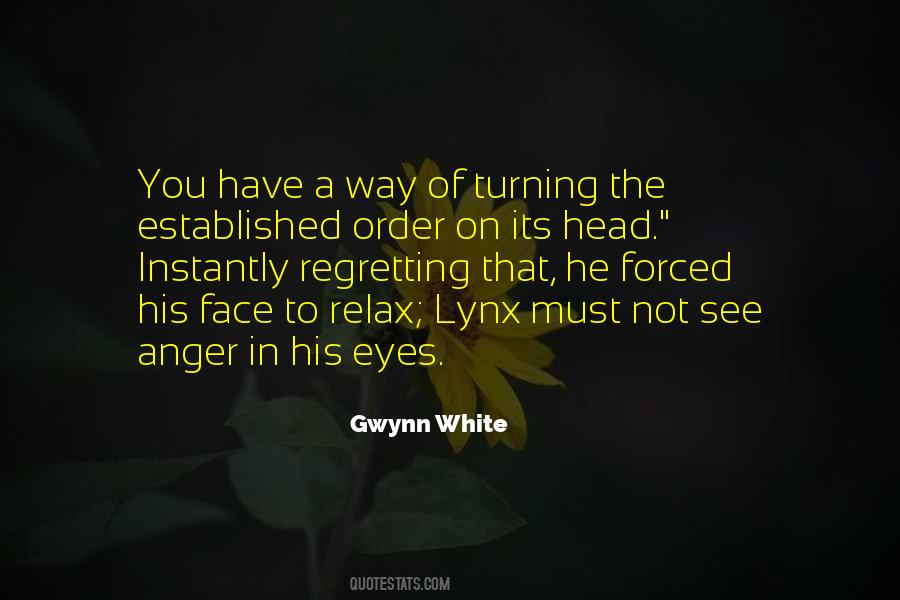 #9. Living in the present moment or commonly know as Mindfulness is being aware and conscious of your surroundings. From awareness, we evolve into the moment rather than regretting the past or fearing the future. It leads to full consciousness, even intuition. - Author: Suresh Devnani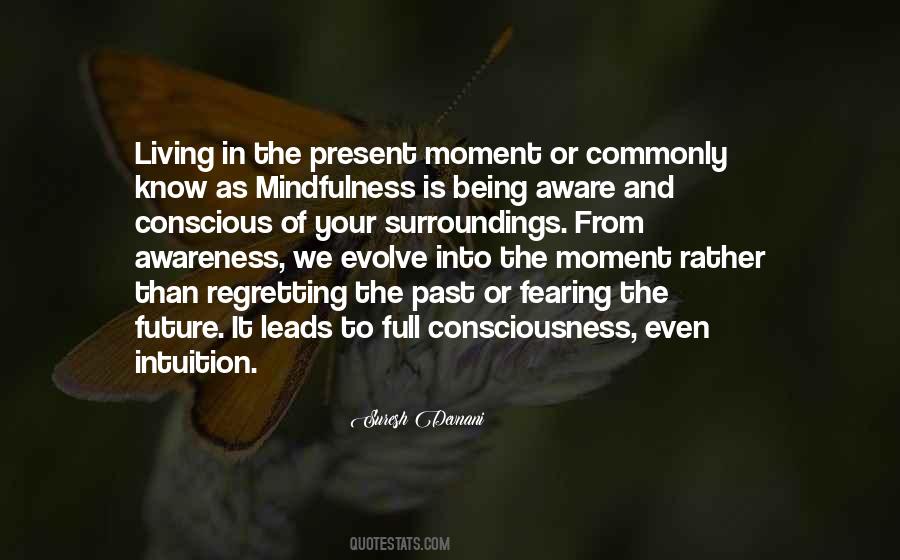 #10. Hearing those words, I instinctively turn to my new keeper, regretting it, because for only the third time in my entire existence, tears are streaming down my cheeks. - Author: Giselle Simlett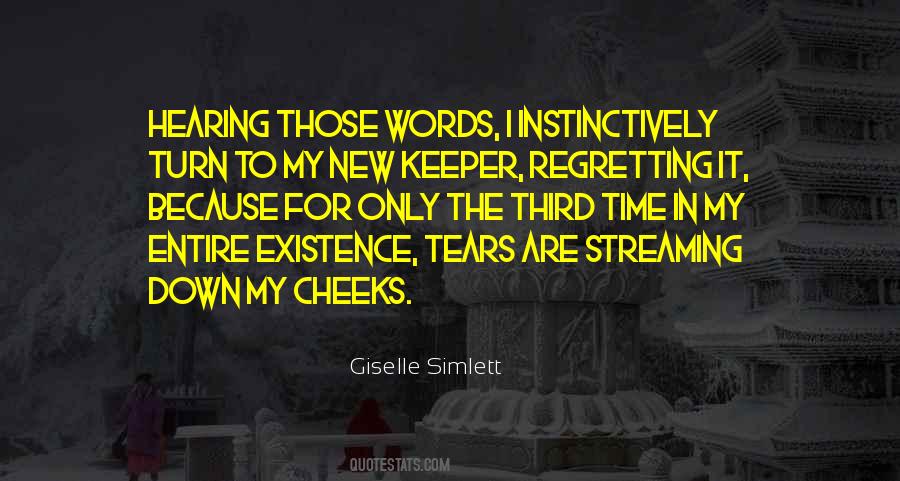 #11. RVM Thoughts for Today -
If only I had spent my life Smiling and Laughing rather than regretting and cursing , I would have been much Happier. - Author: R.v.m.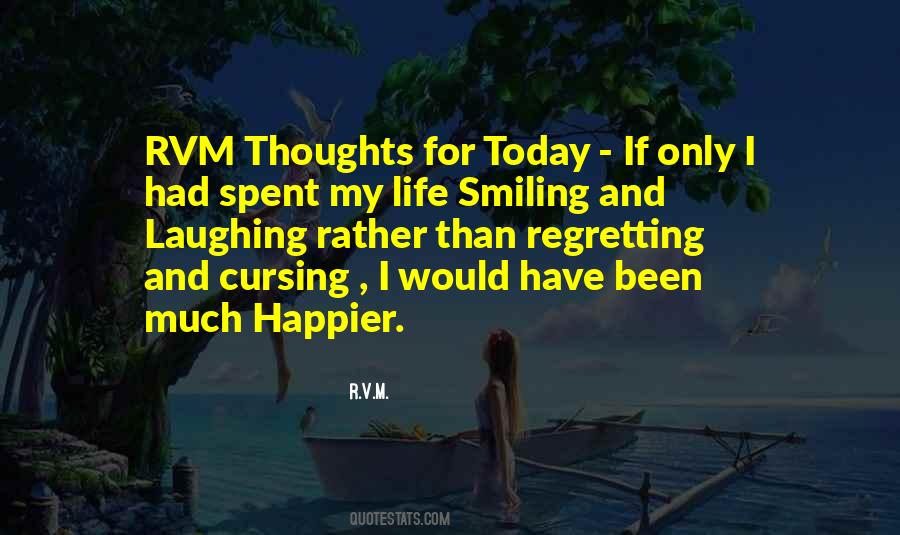 #12. Life is too precious to waste any of it regretting the past. - Author: Gordon Savage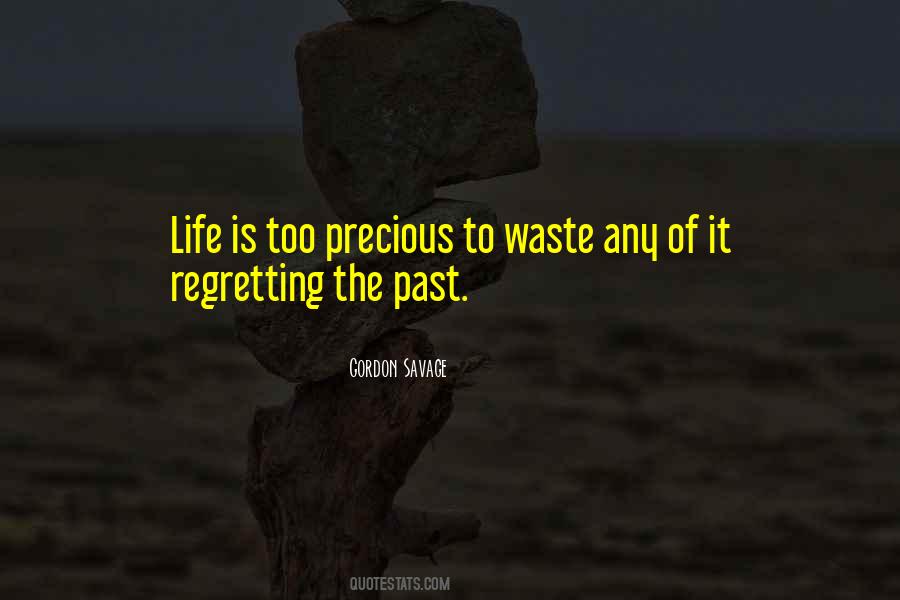 #13. Good Lord, I'm regretting this now," I muttered. "I have never - ever - smelled BO this bad in my life. And I once had s'mores wit a Sasquatch."
"Hang out with him for awhile," Mort gasped. "Eventually it's not so bad."
"Wow. Really?"
"No. Not really. - Author: Jim Butcher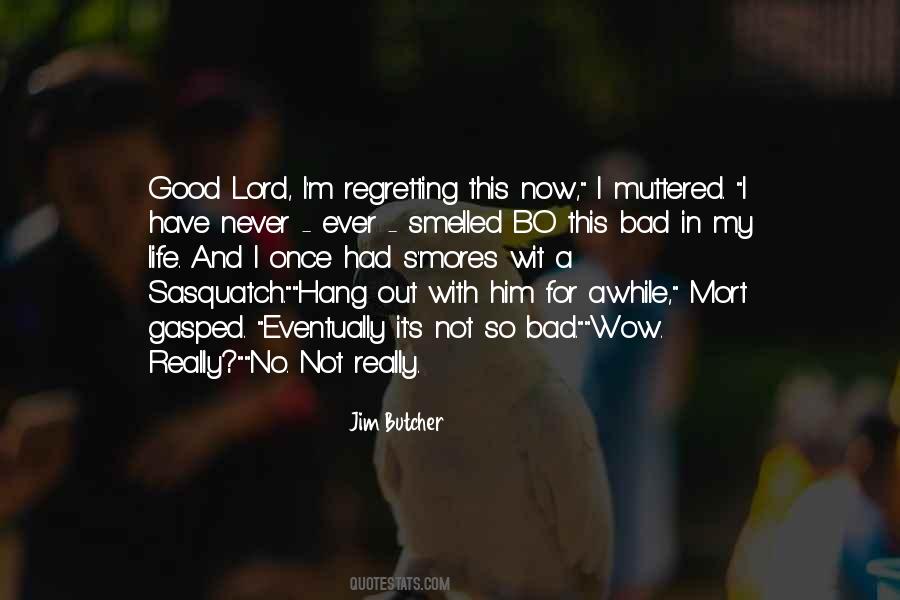 #14. I have always regretted instances in which I failed to live up to the highest standards of conduct or principles of compassion that I cherish and teach. Being human, I anticipate regretting future failures. - Author: K. Lee Lerner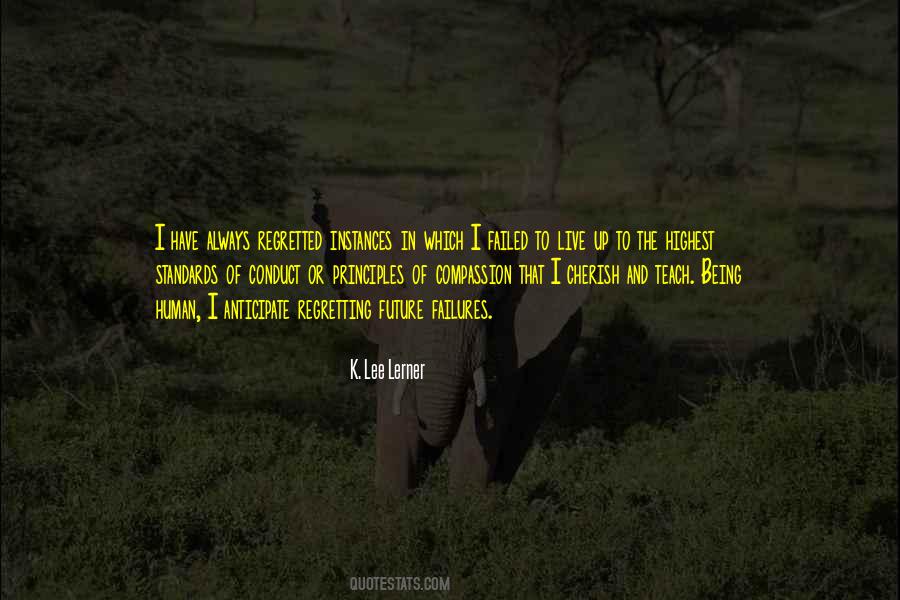 #15. Instead of regretting what we cannot do, it is better to do anything we can do. Even if what we do does not bring us to our goal, it brings us much closer to it. - Author: CLAMP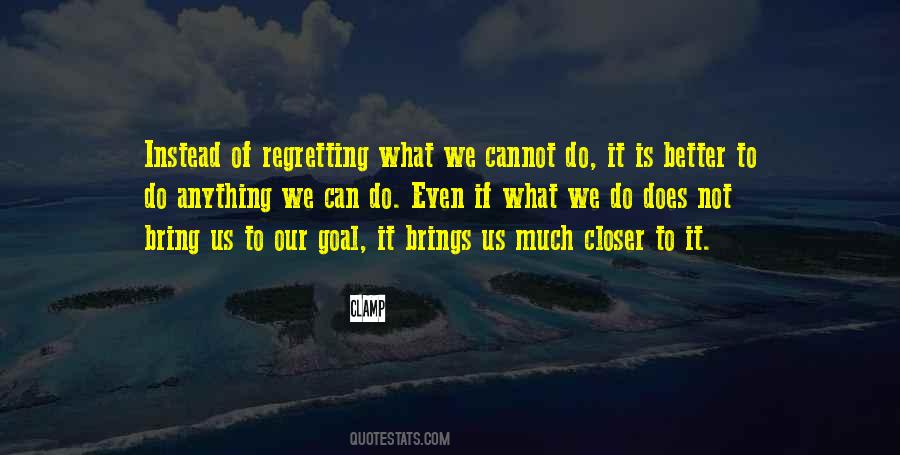 #16. The rapid progress true Science now makes, occasions my regretting sometimes that I was born so soon. - Author: Benjamin Franklin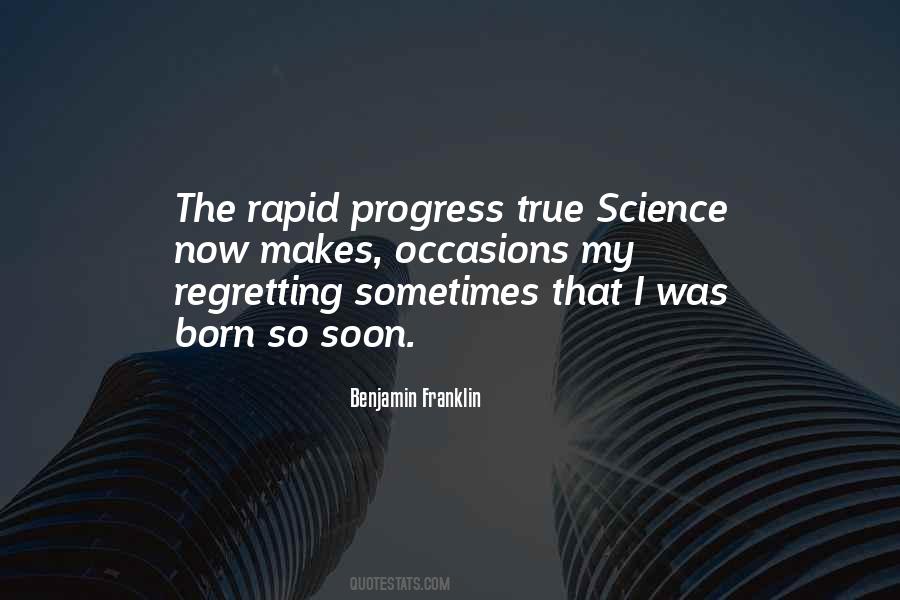 #17. True penance consists in regretting without ceasing the faults of the past, and in firmly resolving to never again commit that which is so deplorable. - Author: Bernard Of Clairvaux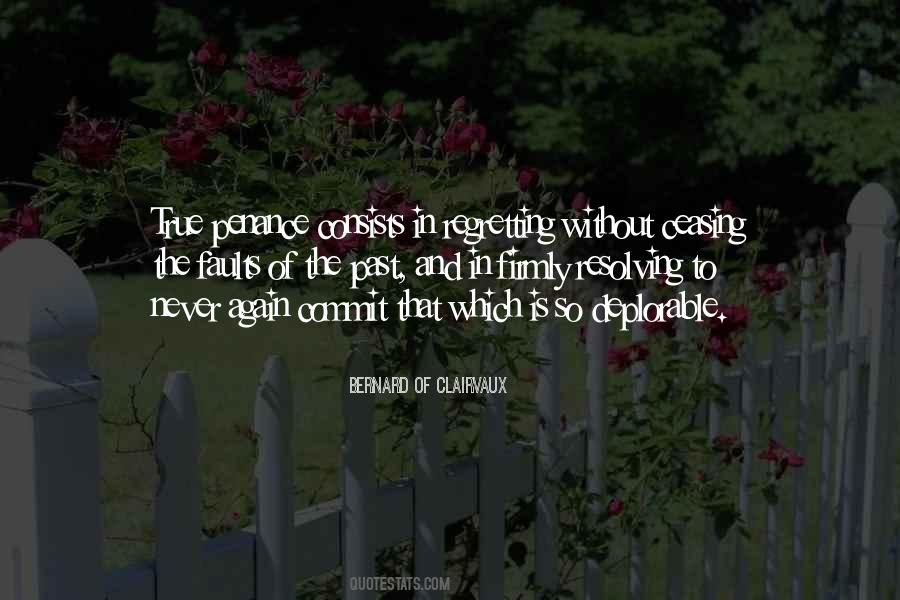 #18. There cannot be many people who can go through life without regretting sooner or later a lack of knowledge about horses. - Author: Muriel Wace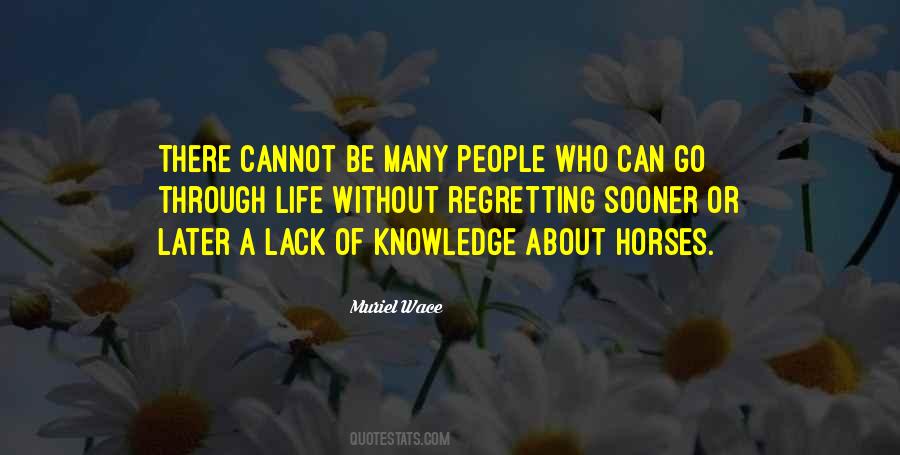 #19. people are here to do reckless things, stupid things they might later regret, though the point of it all is in not regretting. For the idea of the party is youth. - Author: Lucy Foley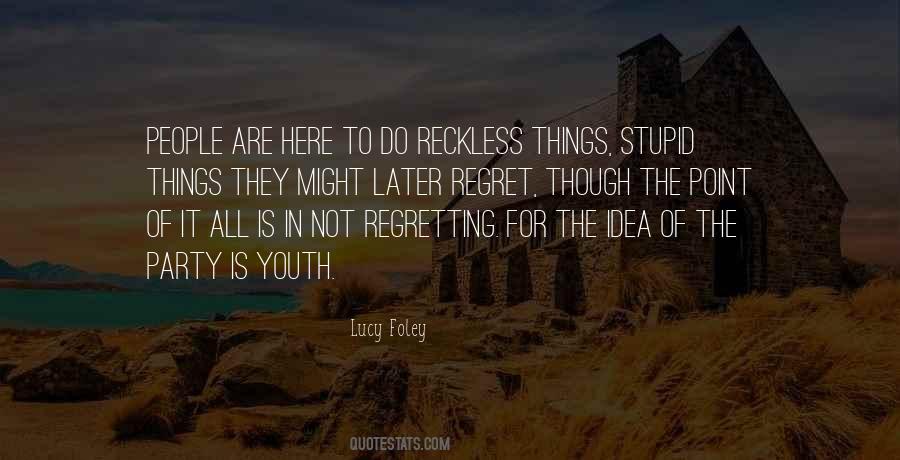 #20. Some things you did were worth regretting; others not. - Author: Richard Yates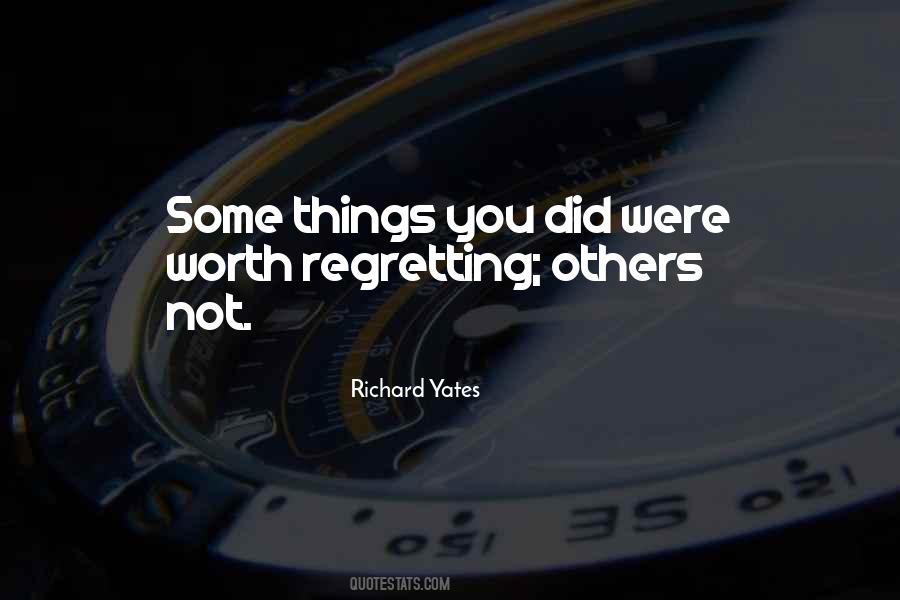 #21. I prefer buying things and figuring out where to put them later than regretting not buying them. - Author: Christian Louboutin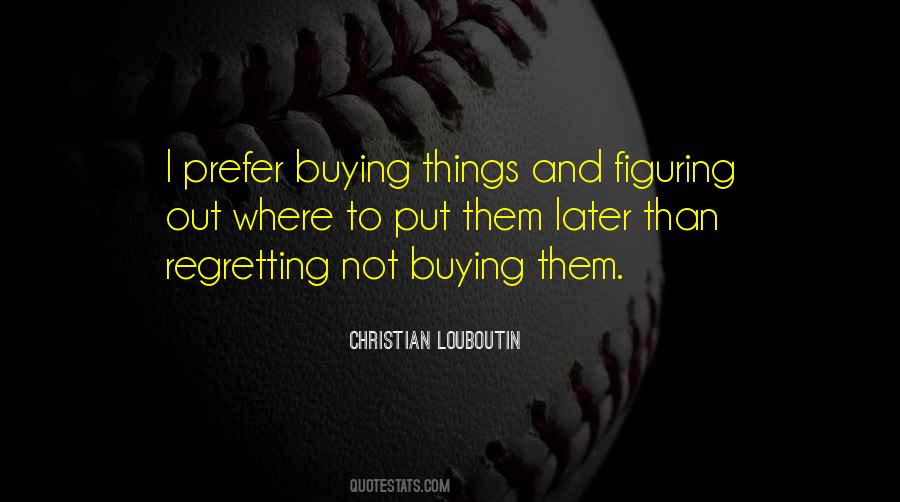 #22. Many of our efforts to intentionally craft and subsequently force our limited vision on life has more often than not resulted in some degree of cataclysm or schism or division or any number of other things that aren't all that savory. - Author: Craig D. Lounsbrough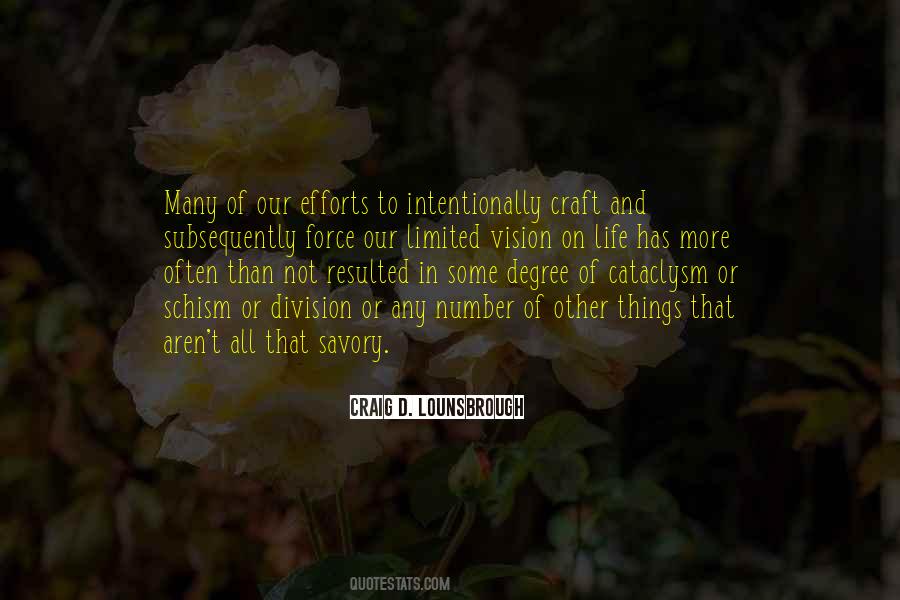 #23. Not regretting it later is the reason I've done at least three-quarters of the best things in my life. - Author: Cheryl Strayed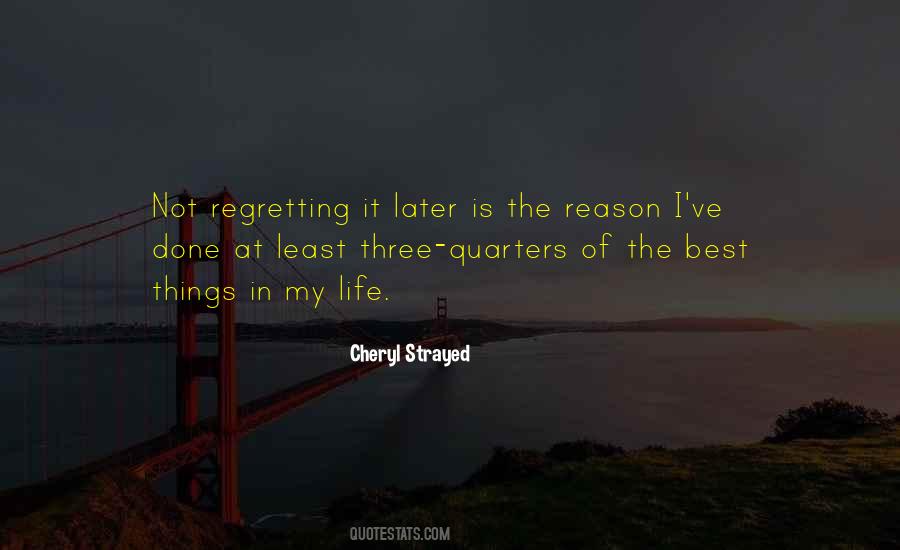 #24. You can't change the past and you shouldn't waste energy regretting it or feeling pity for yourself. - Author: Daniel Marques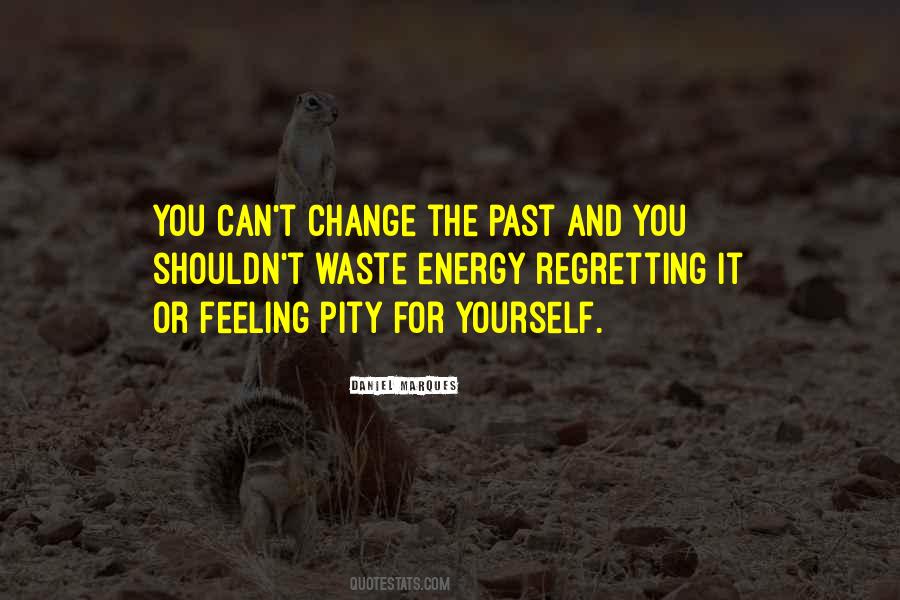 #25. It is true that I had wanted to die , but that is peculiarly different from regretting having been born. Overwhelmingly, I was enormously glad to have been born, grateful for life, and I couldn't imagine not wanting to pass on life to someone else. - Author: Kay Redfield Jamison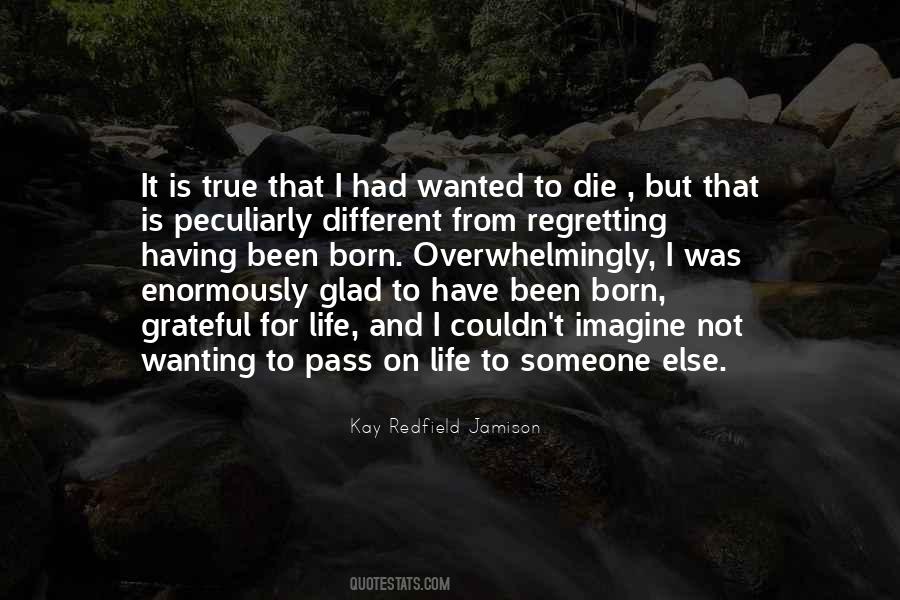 #26. I really wish you hadn't said sorry for it. Because apologizing means regretting. - Author: Estelle Maskame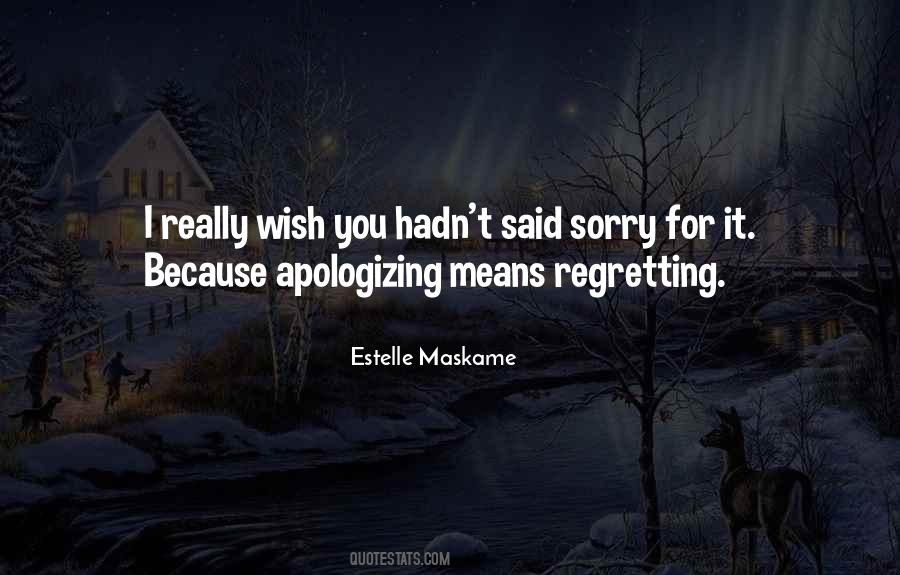 #27. You just gotta love someone with full force, even if it hurts you. Even if you end up regretting it, at least you gave it your all. - Author: Magan Vernon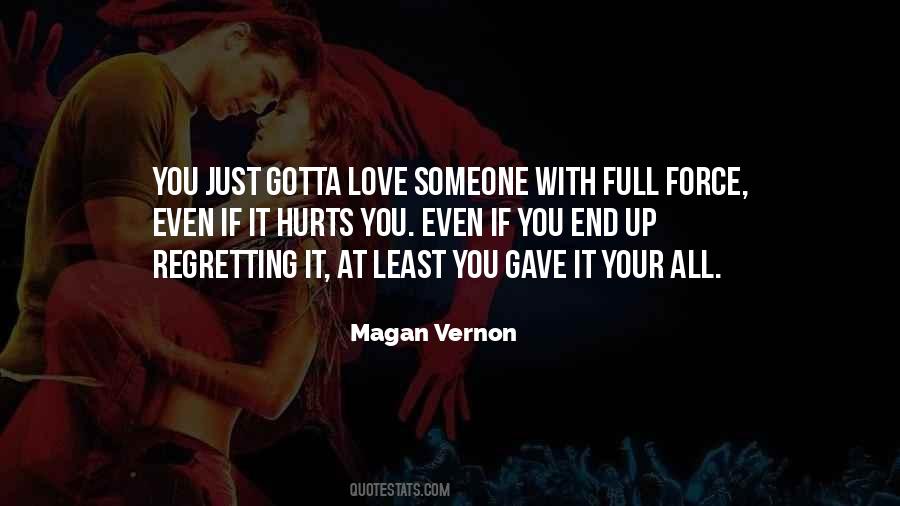 #28. Part of being of a true existentialist is wanting to be what we make ourselves be by the way we choose to act, as opposed to making excuses for the way we act and regretting it. - Author: Gary Cox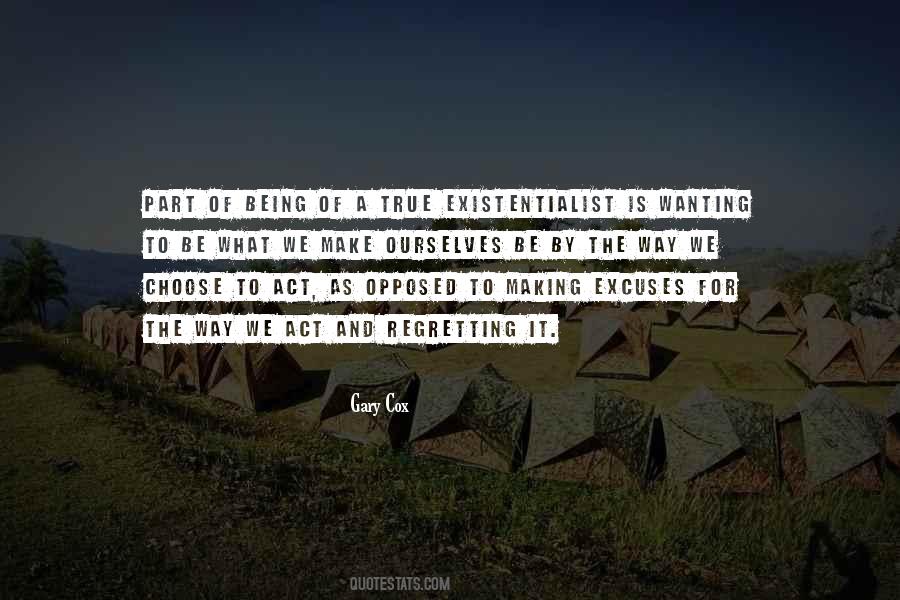 #29. You have nothing to be embarrassed about. Life would be awfully dull if we could look back without regretting at least one affair. - Author: J.D. Robb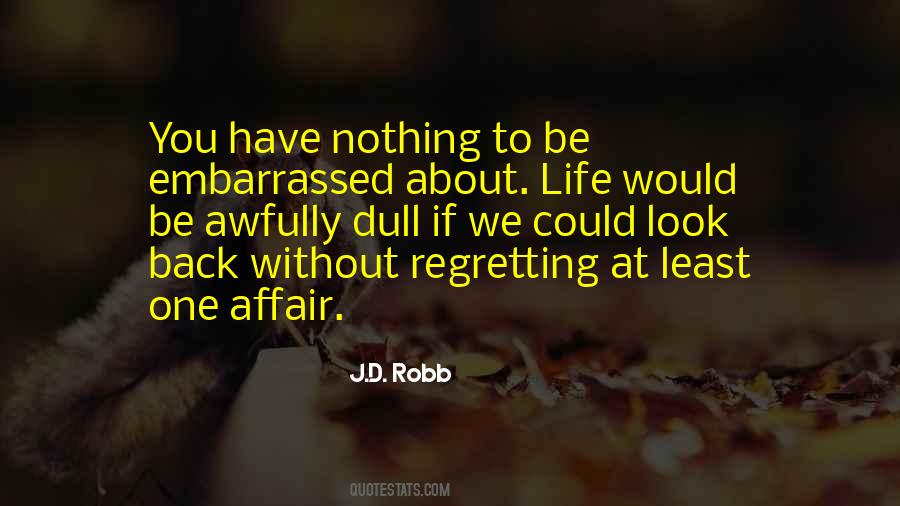 #30. And he began to understand what a wild game we play in life; he began to understand that a thing once done cannot be undone nor changed by saying I am sorry! - Author: Robert Louis Stevenson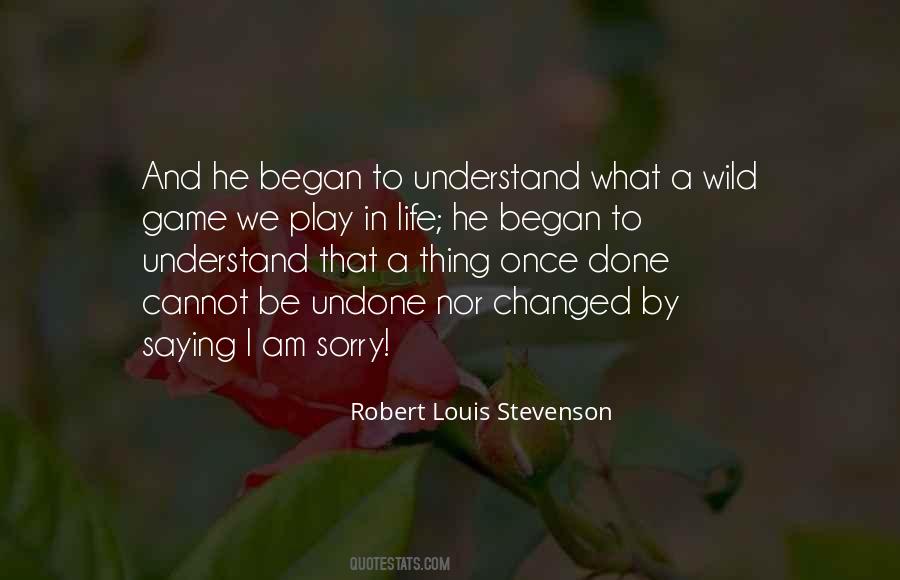 #31. At the crossroad in my life, I didn't know which way to go. I just mindlessly choose a random direction... then, after regretting my decision I tried to retrace my steps. However, without even realizing it the sun had already set. - Author: Nobuyuki Fukumoto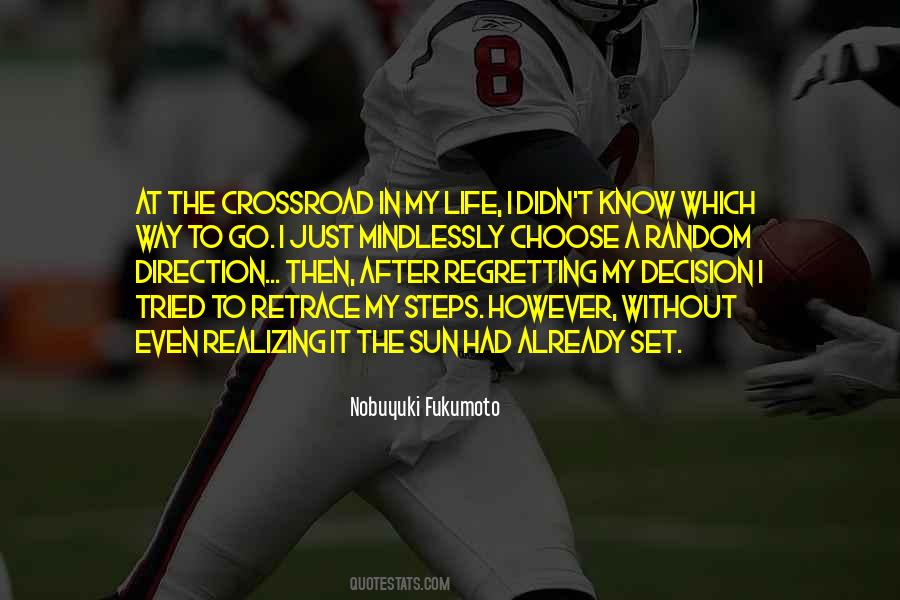 #32. I never regret anything. I always said that when I'm old, I want to be sitting there regretting the things that I did and not the things that I didn't do; and now I'm old, and I don't regret anything! I had fun. I had fun, and I'm still having it. - Author: Michael Caine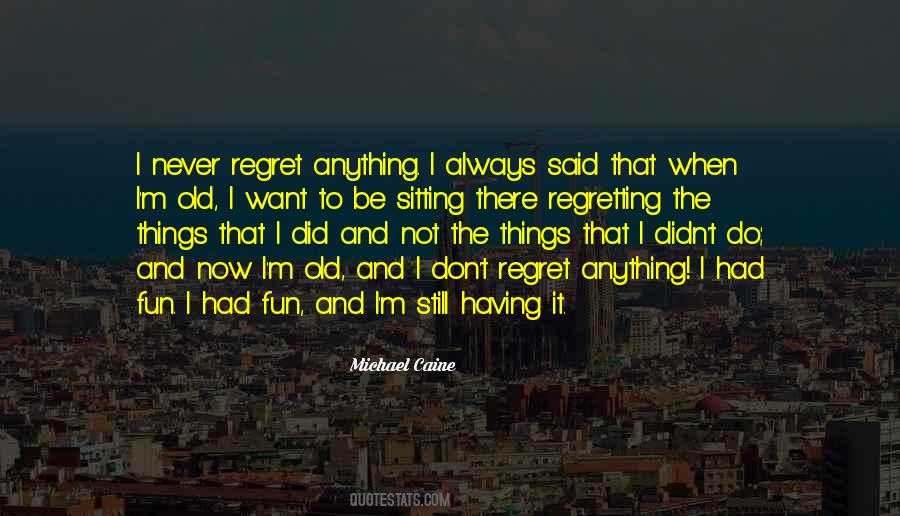 #33. It's never too late to stop regretting. It's never too late to see your present self as the young one and to listen to the person you hope to become. - Author: Hugh Howey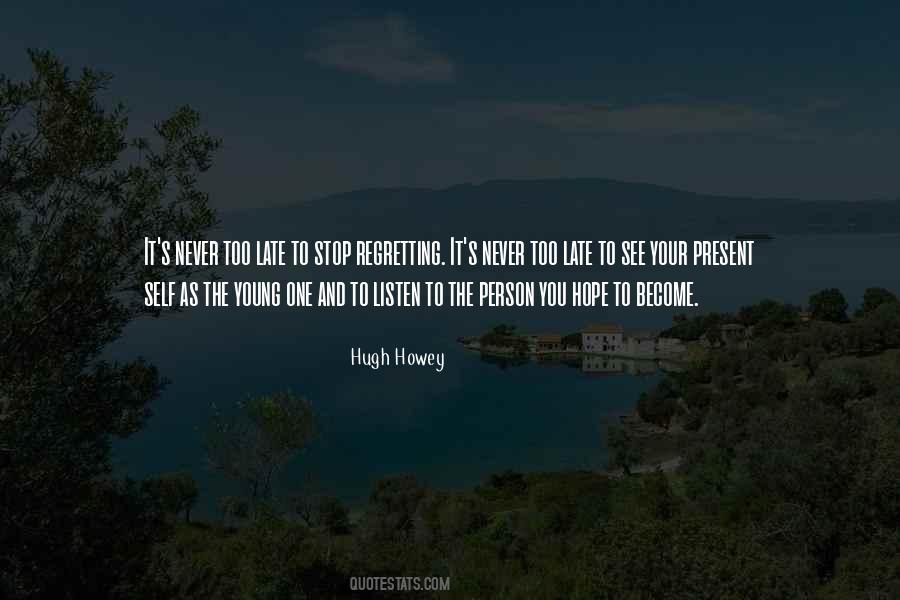 #34. I don't regret one day of breaking that rule. Because it'd mean regretting every moment that I spent with Baylee. And I don't. I just don't. I can't. - Author: Krista Ritchie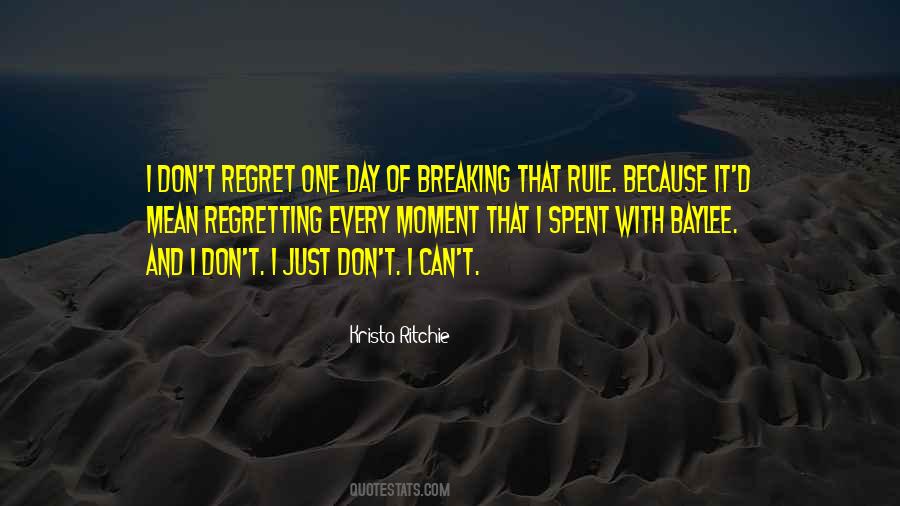 #35. I think it's nice to have children. I didn't have many, and while I don't sit around regretting it, I maybe would have liked a couple more. But it wasn't meant to be, and I didn't want it badly enough. - Author: Lulu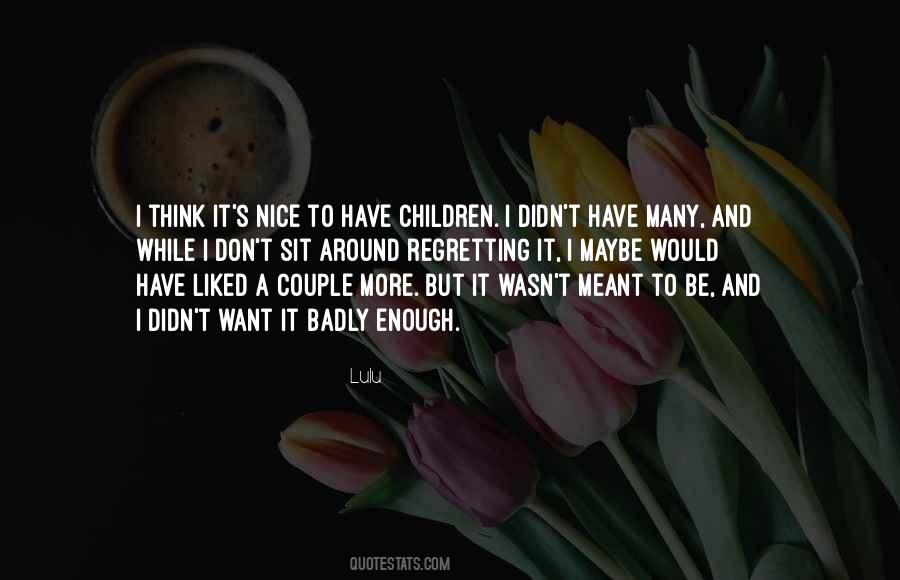 #36. Not truly living in the present moment and later regretting is like closing your eyes when a peacock is dancing, only to want to see it dance once it is gone.-RVM - Author: R.v.m.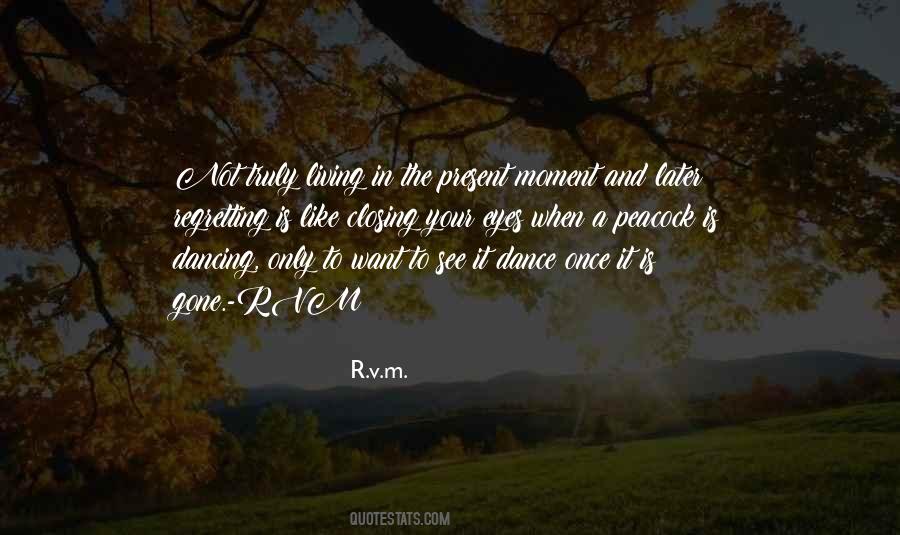 #37. Regret for time wasted can become a power for good in the time that remains, if we will only stop the waste and the idle, useless regretting. - Author: Arthur Brisbane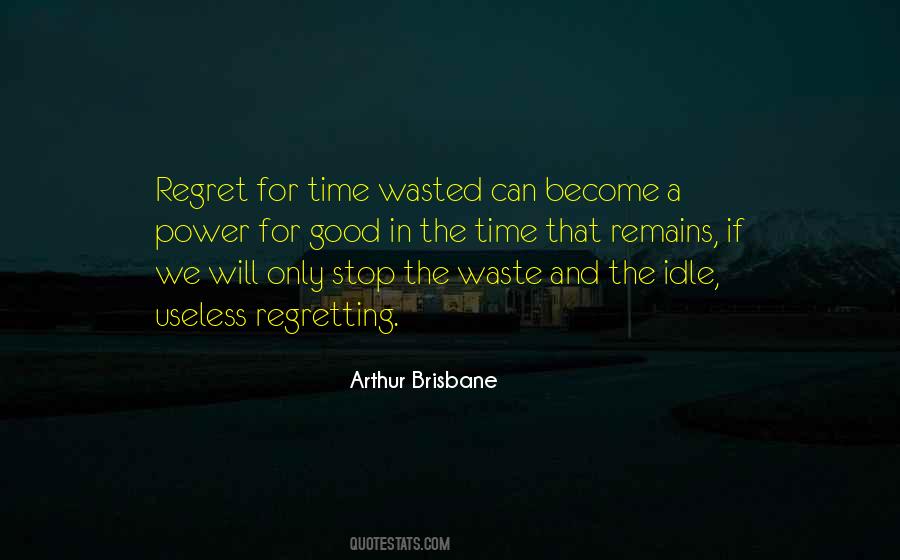 #38. Whenever you go with the cheaper option, you end up regretting it - Author: Jeff Kinney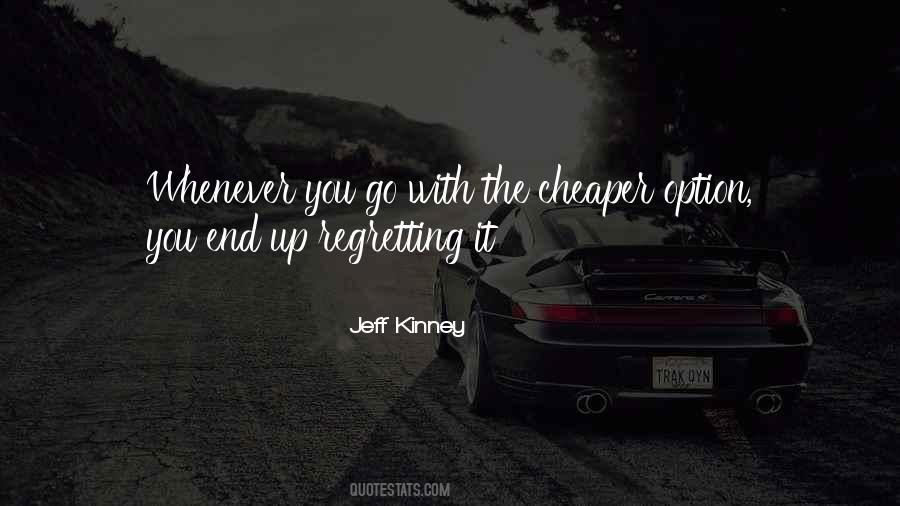 #39. Commitment separates those who live their dreams from those who live their lives regretting the opportunities they have squandered. - Author: Bill Russell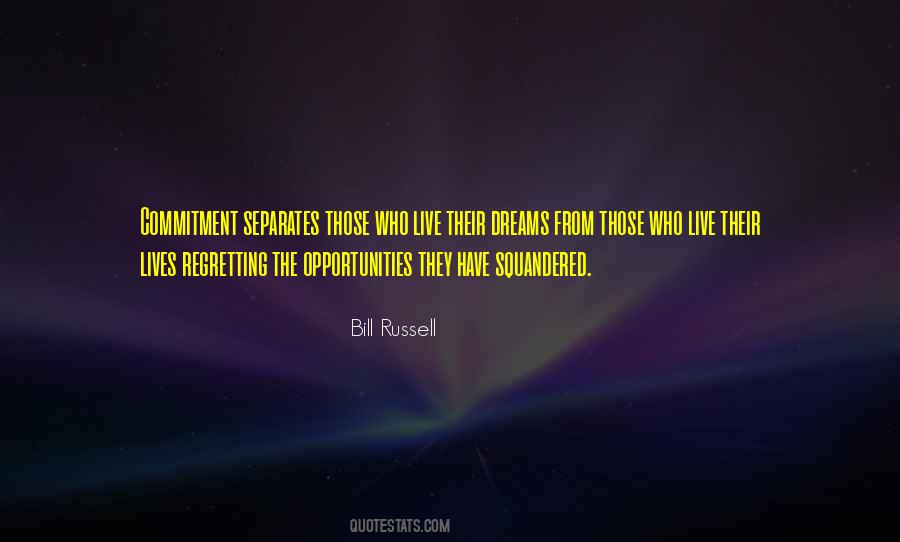 #40. I want to say that probably 24 hours after I told CBS that I was stepping down at my 65th birthday, I was already regretting it. And I regretted it every day since. - Author: Walter Cronkite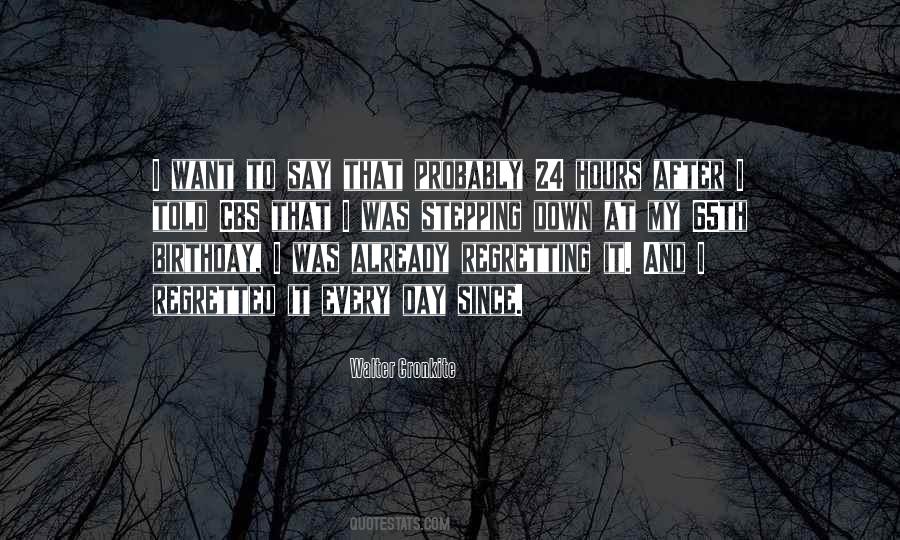 #41. [When I die], I will decidedly not be regretting missed opportunities for a good time. My regrets will be more along the lines of a sad list of people hurt, people let down, assets wasted and advantages squandered. - Author: Anthony Bourdain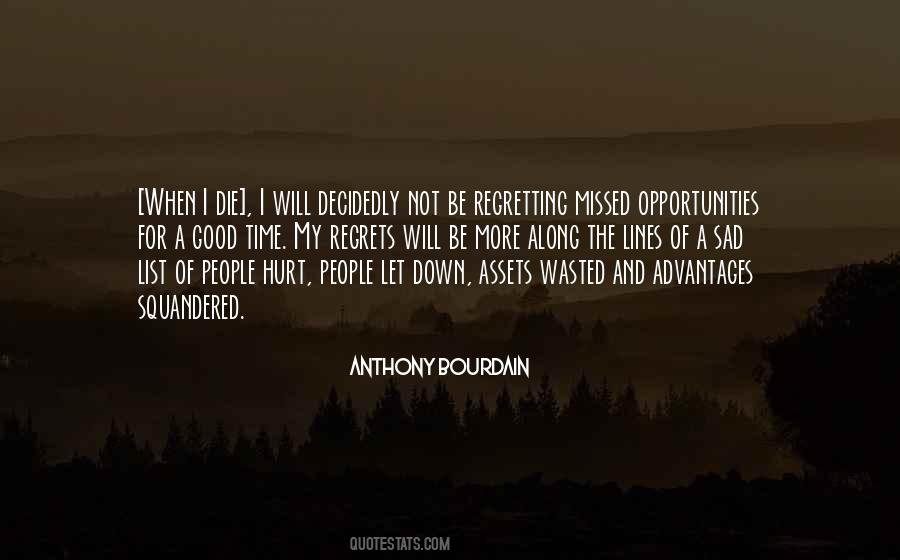 #42. There's a house across the river, but alas, I cannot swim
I'll live my life regretting that I never jumped in - Author: Laura Marling
#43. There is no point in regretting any part of the past. The past can't now be altered, the future has yet to be lived, and consciously to experience every moment of the present is the only way to gain at least the illusion of immortality. - Author: P.D. James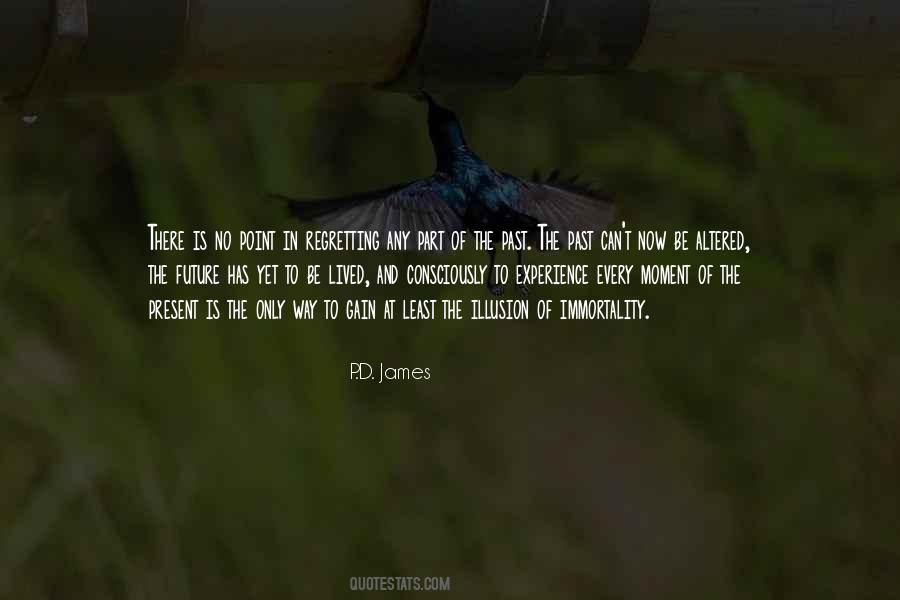 #44. The idea of regretting not doing this seemed insane to me. Sitting in the corner at a bar at age 60, saying: 'I could've been Bond. Buy me a drink.' That's the saddest place I could be. At least now at 60 I can say: 'I was Bond. Now buy me a drink.' - Author: Daniel Craig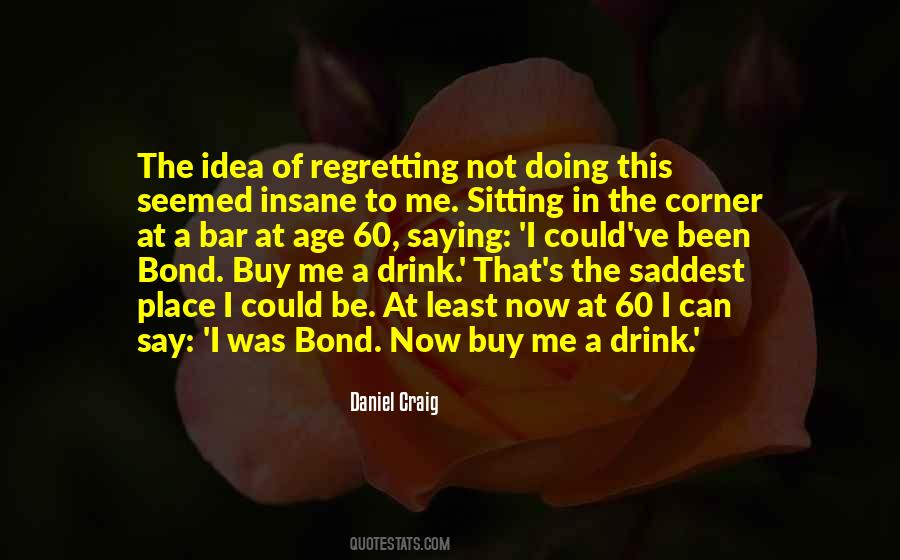 #45. I have always been regretting that I was not as wise as the day I was born. - Author: Henry David Thoreau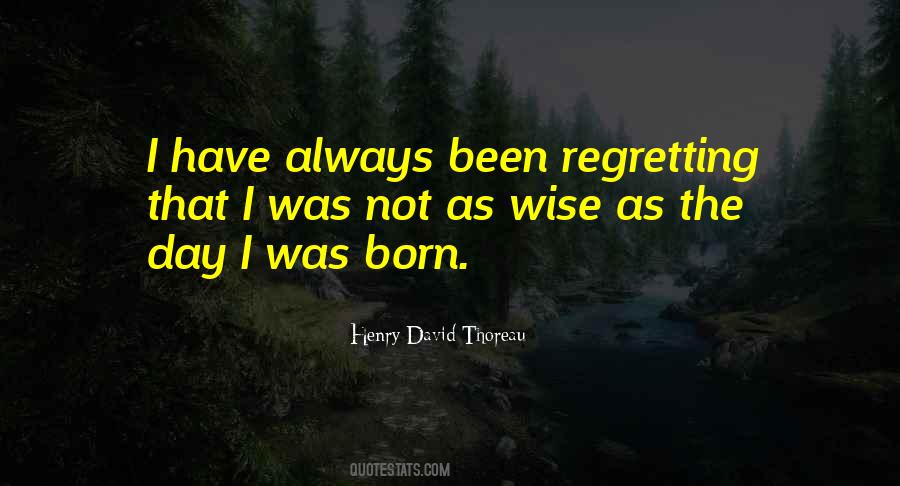 #46. Heredity. It's like going to a fortune-teller and regretting it. As human beings, we tend not to like things we can't avoid. Death, for instance. - Author: Jo Nesbo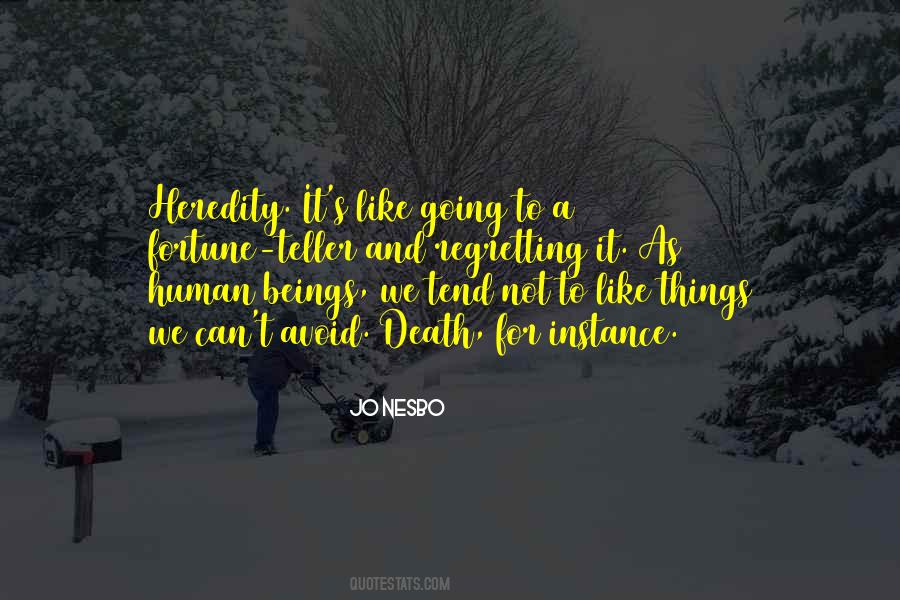 Famous Authors
Popular Topics