Not Being Selfish Famous Quotes & Sayings
List of top 38 famous quotes and sayings about not being selfish to read and share with friends on your Facebook, Twitter, blogs.
Top 38 Quotes About Not Being Selfish
#1. She wanted to get some personal profit out of things, and she rejected as useless all that did not contribute to the immediate desires of her heart, being of a temperament more sentimental than artistic, looking for emotions, not landscapes. - Author: Gustave Flaubert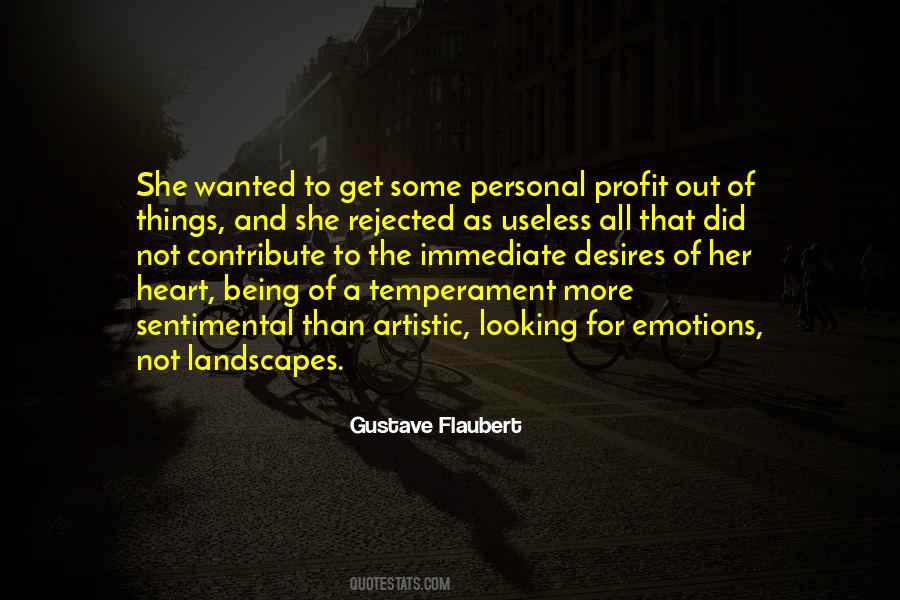 #2. A lot of times you'll hear horror stories about actors being incredibly selfish and only wanting themselves to shine, but for me, it's not about just one person. It's about the whole team. That's the way I look at acting. That's the way I look at everything I do. - Author: Mekhi Phifer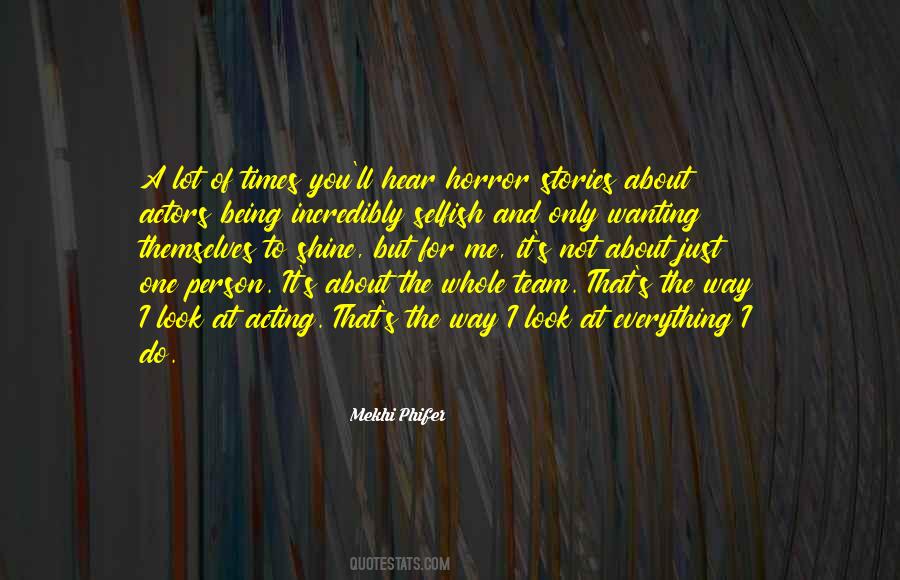 #3. Gaining control over your health and well-being is one of those times in your life that you get to be completely selfish and not feel bad about it. If you want to meet your goals, you have to make it about you. You have to make it work for you and you alone. Anything less is a setup for failure. - Author: Jennifer Hudson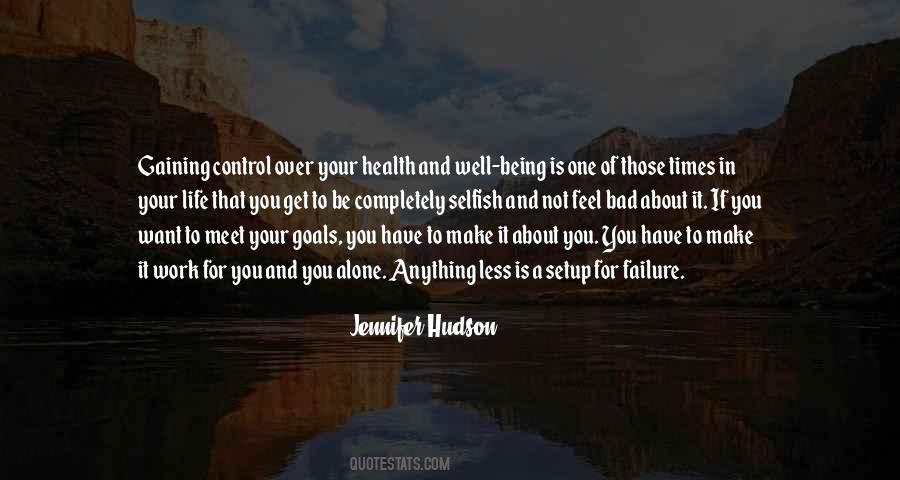 #4. Everywhere I've been, I've been the best player. I love being a leader, and I love being the best. I just want to get better. It's not about being cocky or selfish or anything like that. It's just how I am. - Author: LeBron James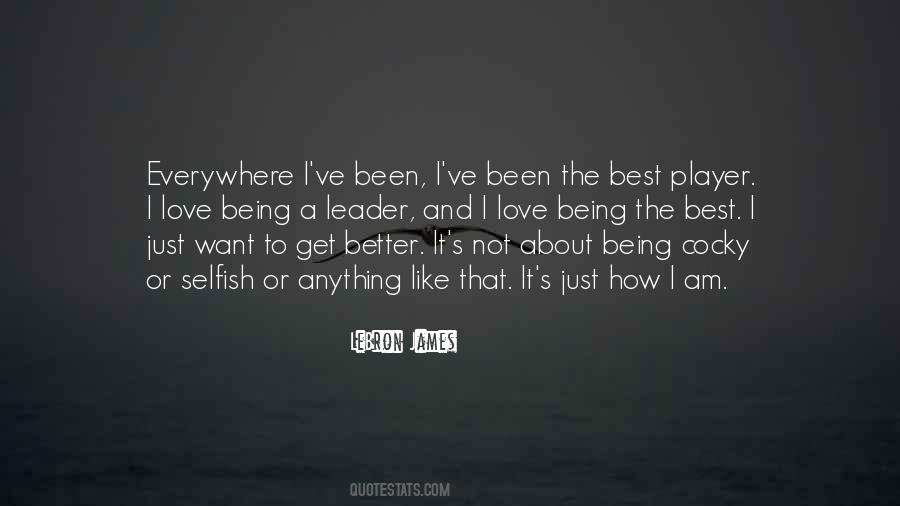 #5. I would not be a good mother. I mean, I love being an aunt to my niece and nephew. And I used to want to, like, adopt 10 kids - because I had friends who were adopted, and I thought that was the coolest thing, to be chosen. But again, my job is too selfish. - Author: Kelly Clarkson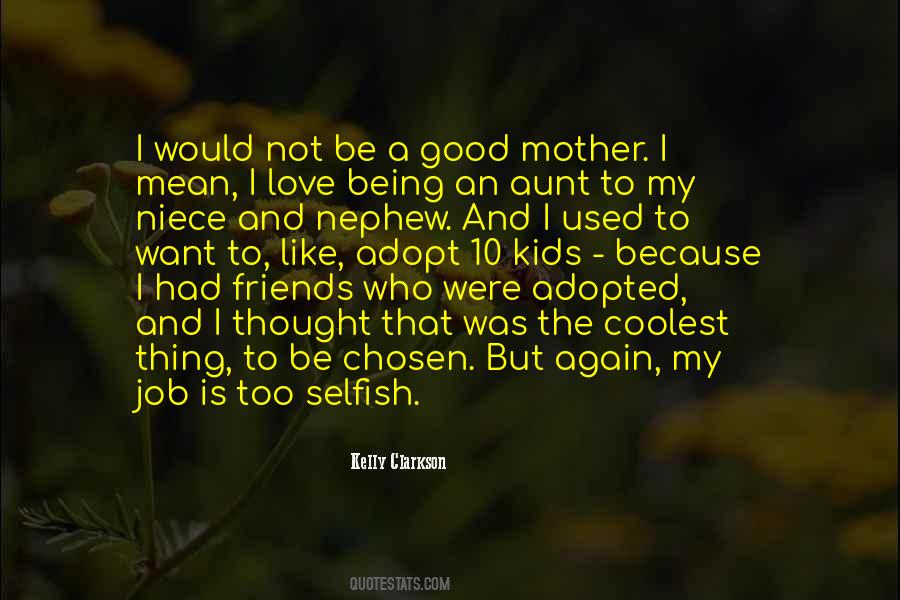 #6. Duty exists and it's real. It means sharing any gift or talent that you have with people who need it. It means not being afraid or selfish or tight - but open. - Author: Eva Ibbotson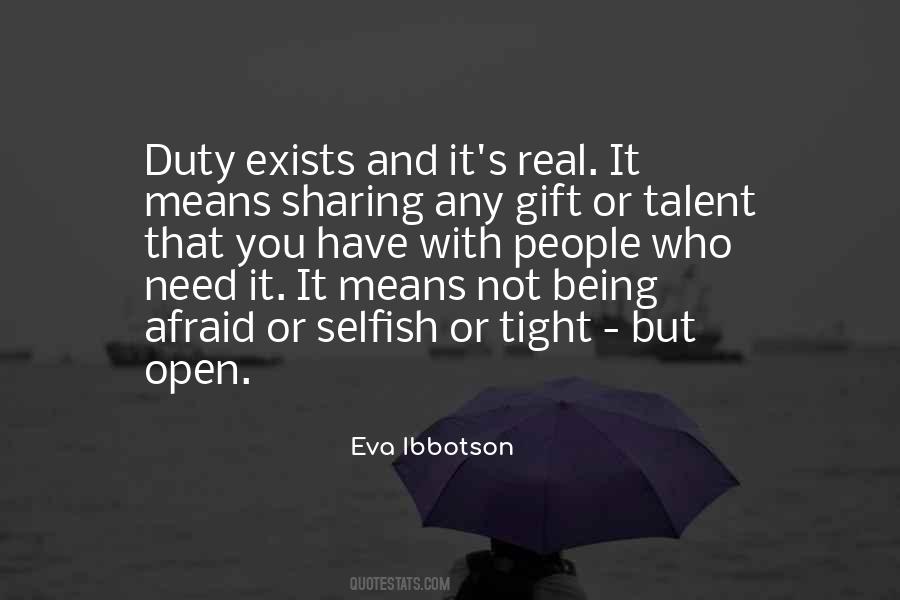 #7. I want to mother the world, I thought. I have so much love.
Then - I have no business being a mother. I am a selfish woman.
Then - I can do this. Millions of women have been mothers.
Then - I feel very alone. I do not know what I'm capable of. - Author: Megan Mayhew Bergman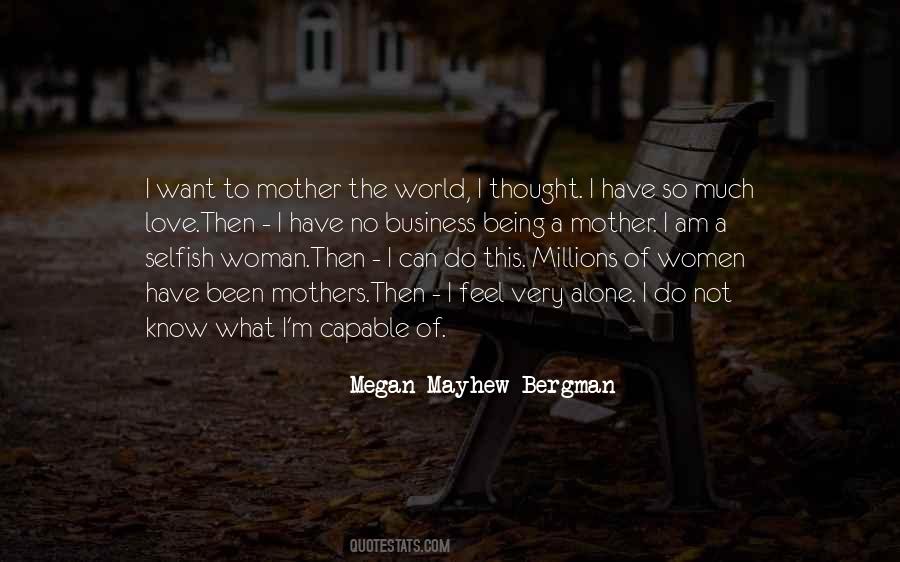 #8. Self esteem is not the same as being self centered, self absorbed or selfish. Self esteem is also not complacency or overconfidence, both of which and set us up for failure. Self esteem is a strong motivator to work hard. Self esteem is related to mental health and happiness. - Author: Glenn R. Schiraldi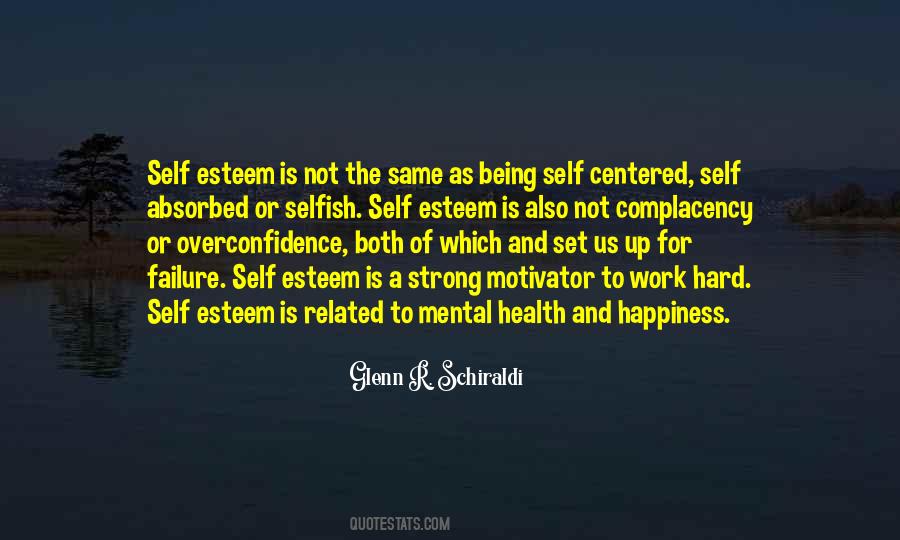 #9. Capitalism satisfied the Christian demand for an institution that channels selfish human desire toward the betterment of society. Some critics accuse capitalism of being a selfish system, but the selfishness is not in capitalism - it is in human nature. - Author: Dinesh D'Souza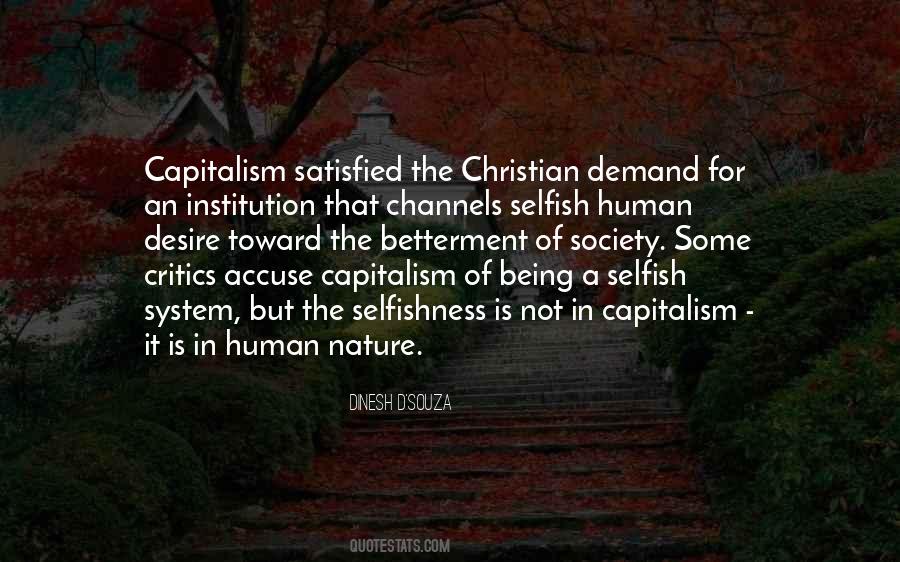 #10. Not that I'm the kind of person who would actually inflict emotional pain on another human being out of a selfish, twisted need for revenge.
I just like to think about it. - Author: Jennifer Gilby Roberts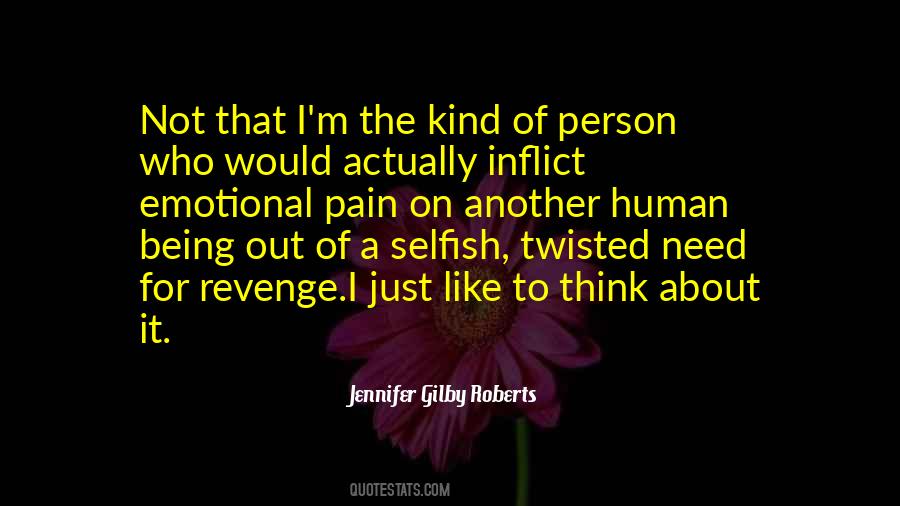 #11. I wasn't sure which of us was being more selfish - her, for wanting something that no one could promise, or me, for not promising her something that was too painfully impossible to want. - Author: Maggie Stiefvater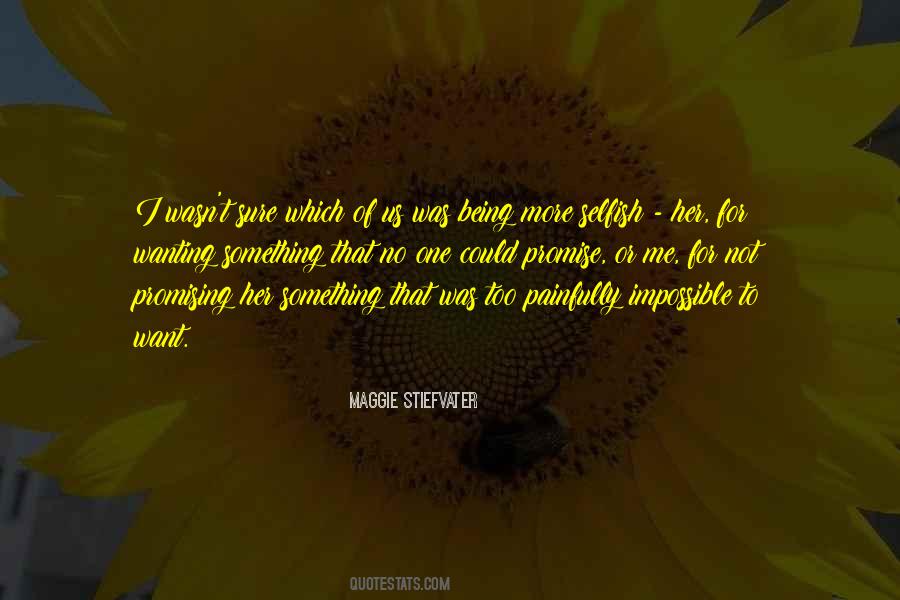 #12. People are mistaken when they think chasing your dream is a selfish thing to do. As if perhaps being average is an act of humility. As if perhaps wasting the talents you were given is proof that you're a considerate individual.
It's not. - Author: Jon Acuff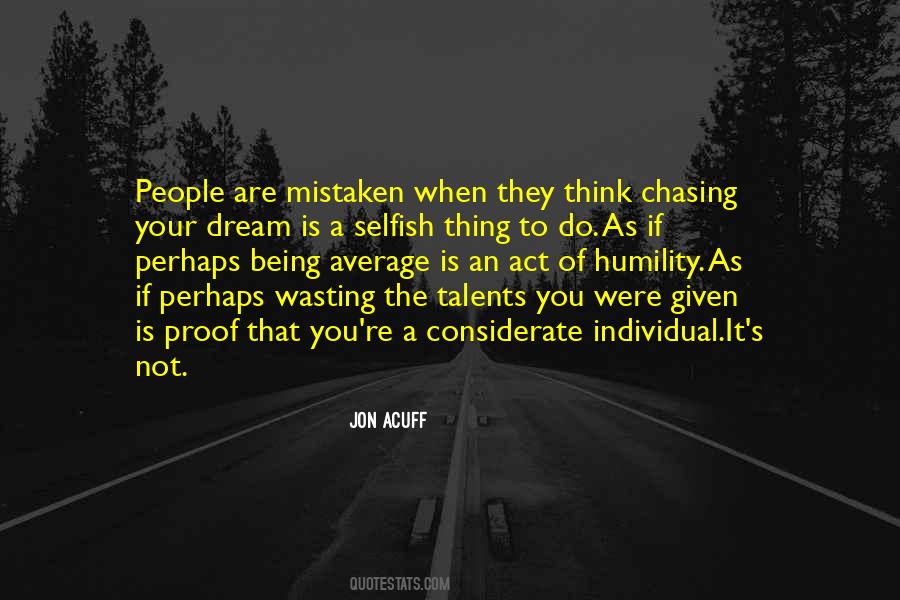 #13. The whole point of being in love with someone is to make sure their life is the best life it can be. It's not about being selfish. It's not about how great that person makes you life, It's about making their life wonderful. - Author: Cherie M. Hudson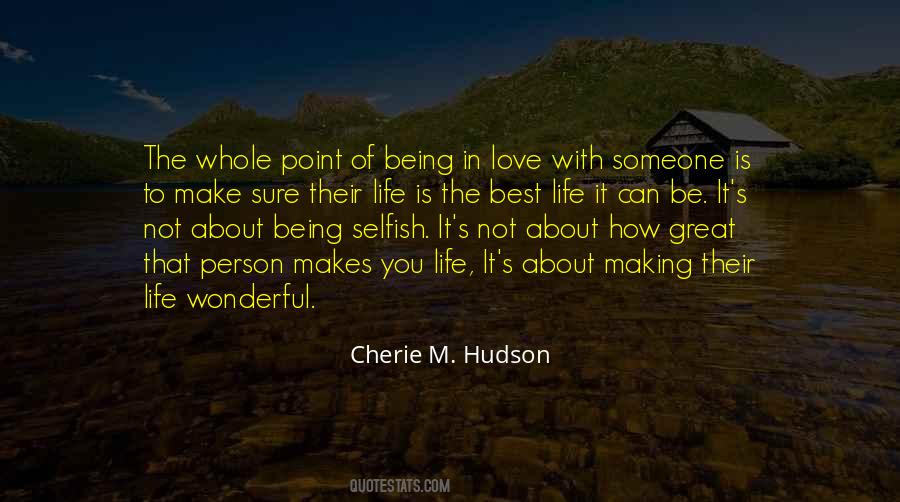 #14. Americans today confuse freedom with not being asked to sacrifice. The fact that you can't have everything you want exactly when you want it has somehow become un-American. - Author: Bill Maher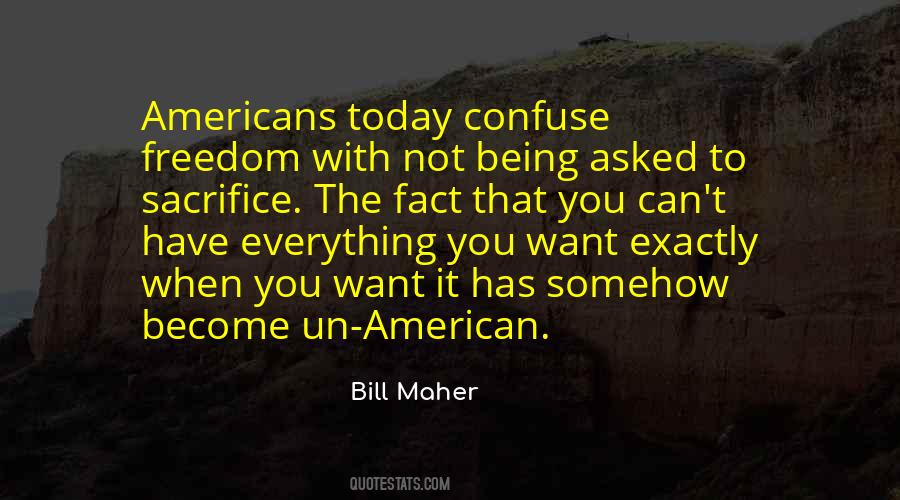 #15. Time and time over it is the ones who try a little too hard to be innovative rebels - and for the sheer glory of being considered innovative rebels - who then turn out not quite as innovative or as rebellious as they would like to think they are. - Author: Criss Jami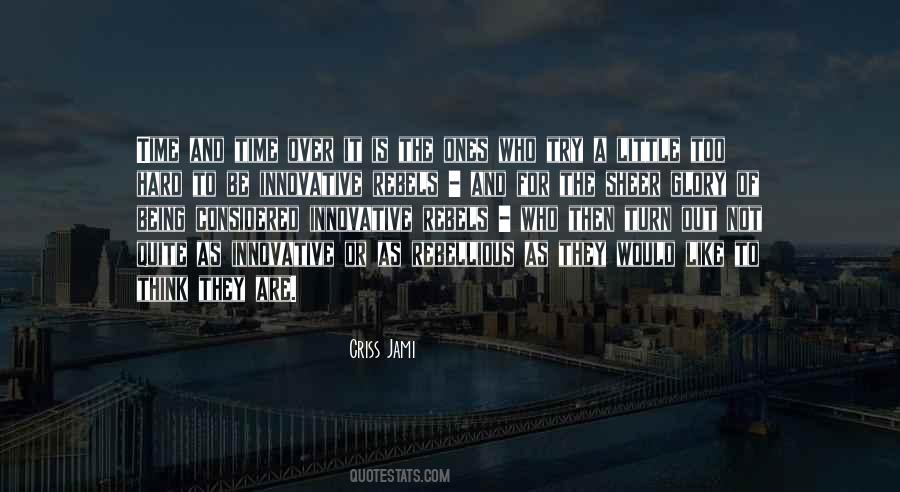 #16. She wondered if it counted as being good if you did the good thing for purely selfish reasons. Probably not, but who cared. What was important was what you did, not how you felt. - Author: Emily Gould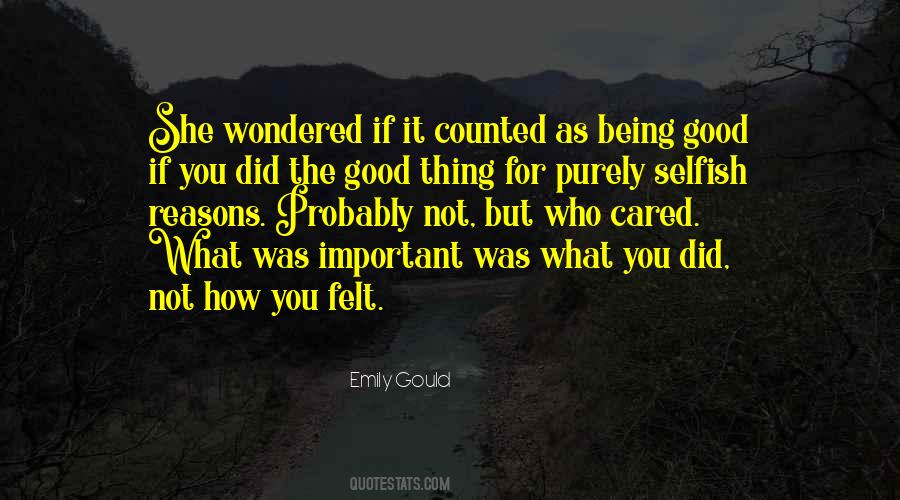 #17. I have been a selfish being all my life, in practice, though not in principle. - Author: Jane Austen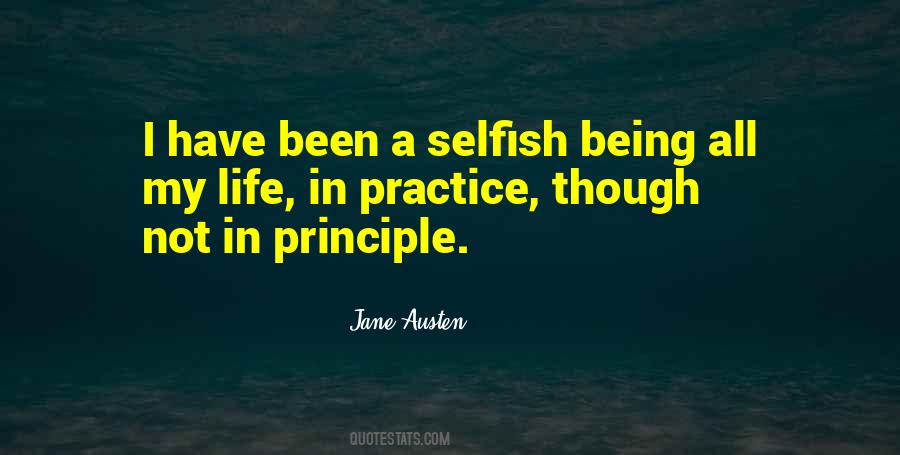 #18. Isn't it wonderful when people do that, when you put all your faith in their being selfish and self -centered and not giving a damn and it turns out, all that time, you were wrong? - Author: Joan Frances Turner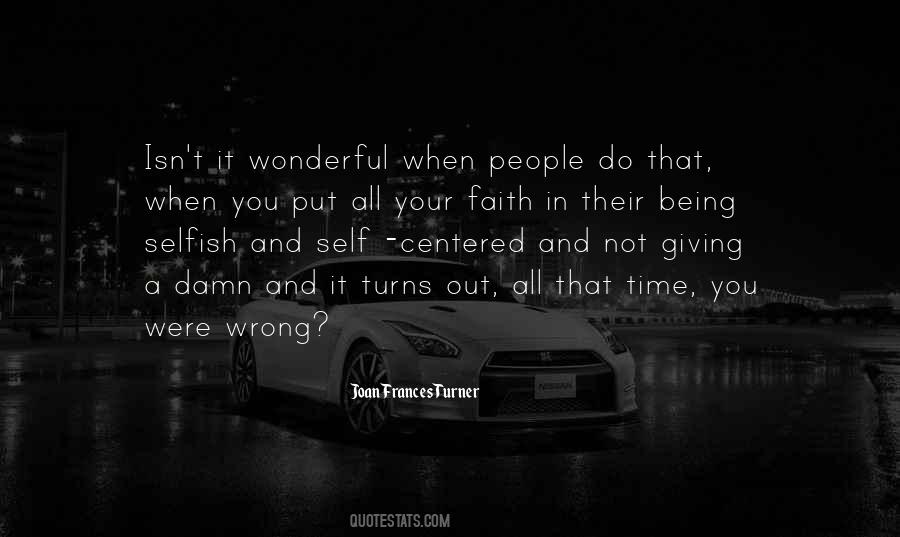 #19. I would have been a terrible mother because I'm basically a very selfish human being. Not that that has stopped most people going off and having children. - Author: Katharine Hepburn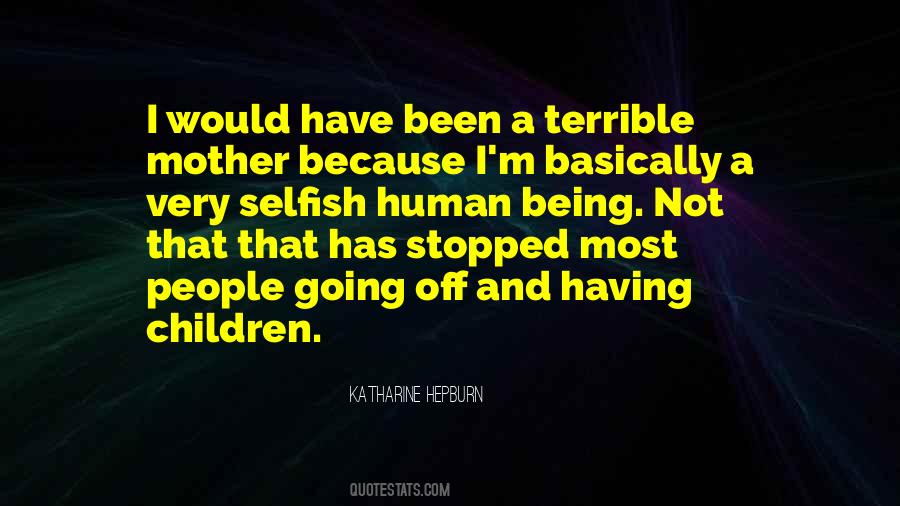 #20. Being Proud is Pleasing Your Weakness.
Not Strength.
It is Selfish.
Petra Cecilia Maria Hermans
Jos de Vries
September 11, 2016 - Author: Petra Hermans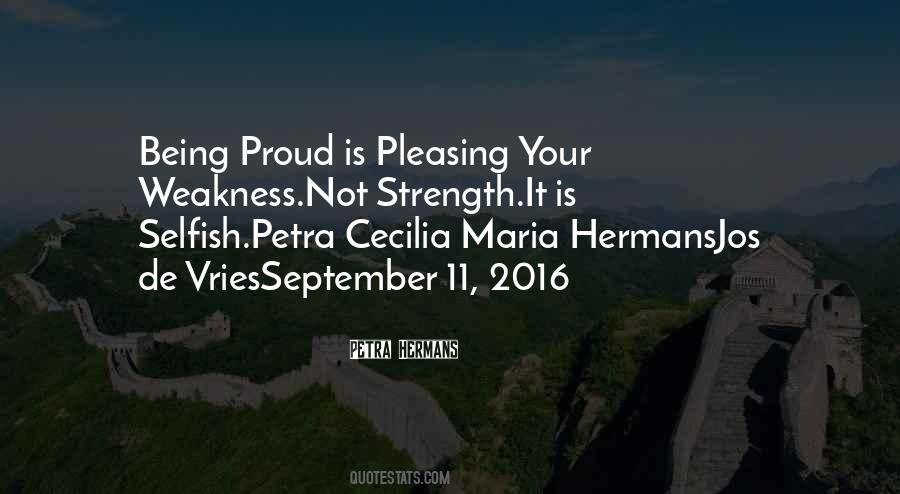 #21. The great mass of human beings are not acutely selfish. After the age of about thirty they abandon individual ambition - in many cases, indeed, they almost abandon the sense of being individuals at all - and live chiefly for others, or are simply smothered under drudgery. - Author: George Orwell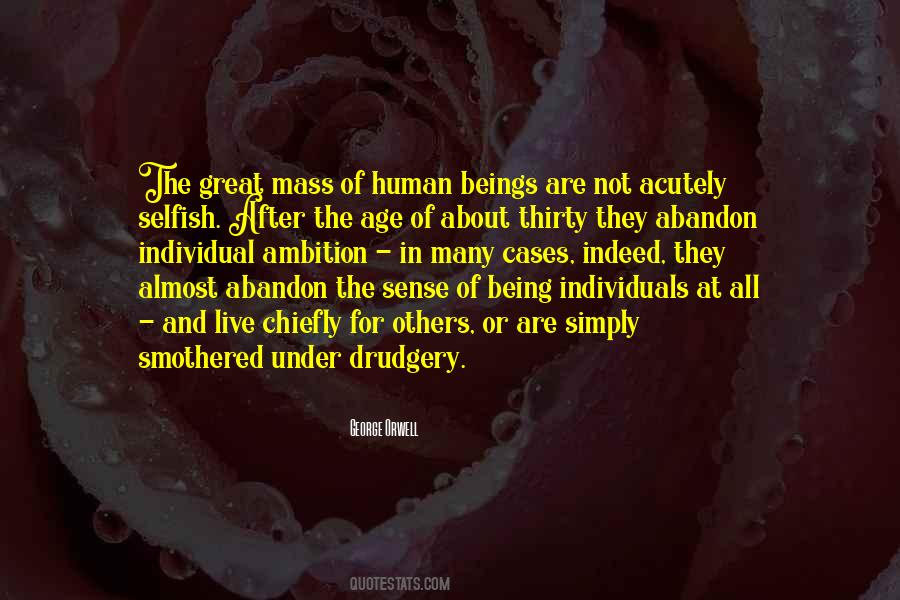 #22. The selfish part of me, however, couldn't fathom not falling asleep in his arms or being with him every day. I needed TJ, and the thought of being away from him bothered me more than I wanted to admit. - Author: Tracey Garvis-Graves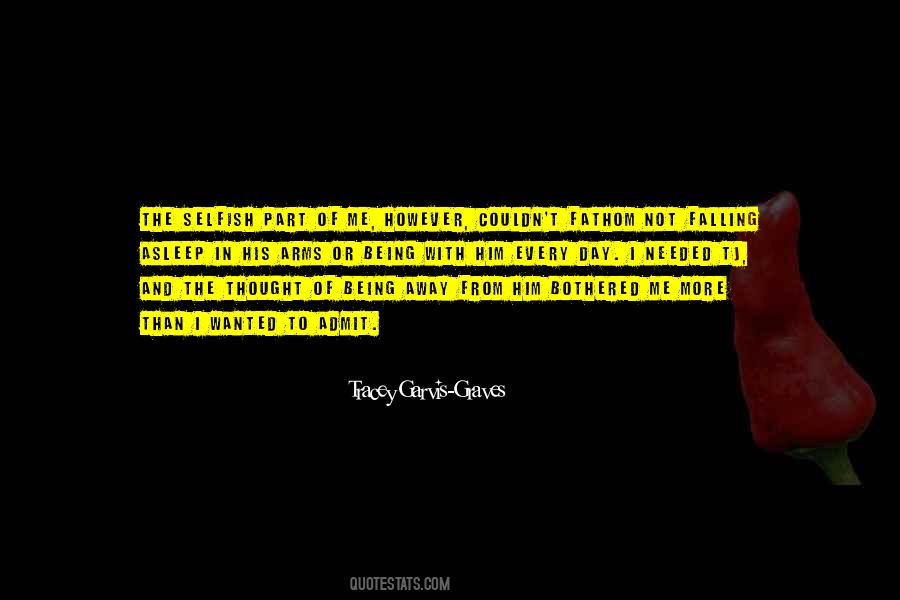 #23. Man liveth from hour to hour, and knoweth not what may happen; Influences circle him on all sides, and yet must he answer for his actions: For the being that is master of himself, bendeth events to his will, But a slave to selfish passions is the wavering creature of circumstance. - Author: Martin Farquhar Tupper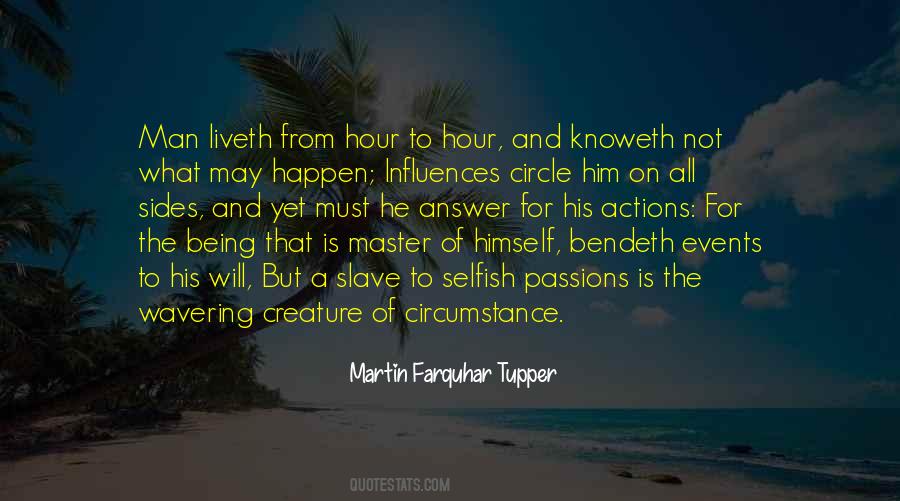 #24. There is nothing wrong in being selfish provided you know where your self interest are. Once you start meditating regularly you will come to a stage where you will realize that selfish action are those which brings peace and welfare to all and not only for yourself. - Author: Subodh Gupta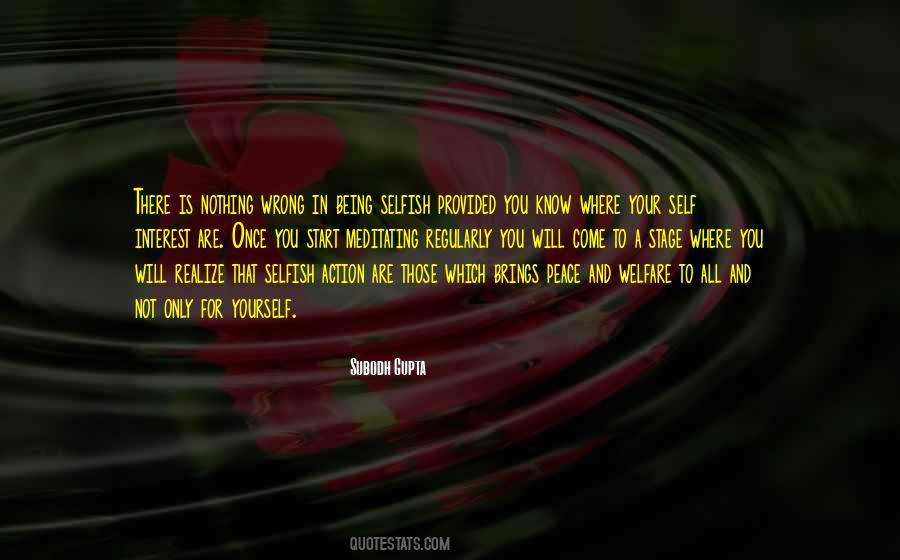 #25. Marriage is a mystery and part of it is just being kind to each other, not being selfish. - Author: Aisha Tyler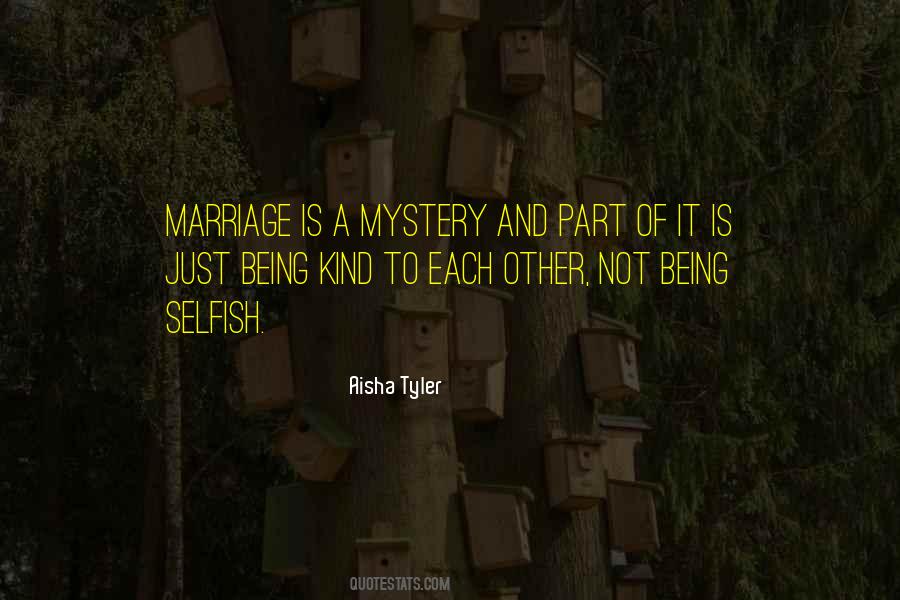 #26. There is no hell like that of a selfish heart, and there is no misfortune so great as that of not being able to make a sacrifice. These two thoughts come to me strongly this morning. It is something to have learned these truths so that we can never again doubt them. - Author: Julia Ward Howe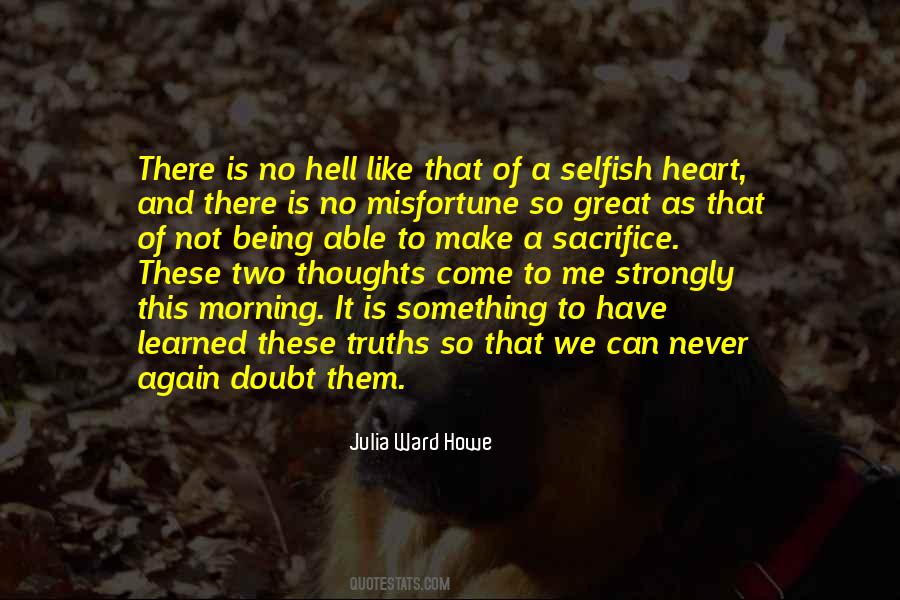 #27. When your kid is being selfish or greedy and you want to help them not be that way, you have to find a way to articulate it and inspire them. - Author: Louis C.K.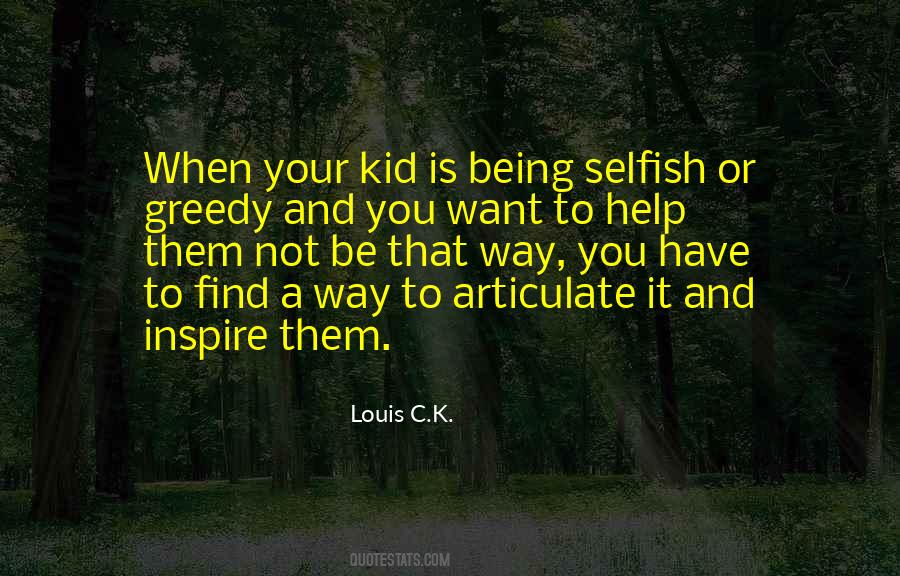 #28. Authentic happiness is not selfish, egotistical or narcissistic, in fact, it is essential in order for humankind to thrive - Author: Lisa Cypers Kamen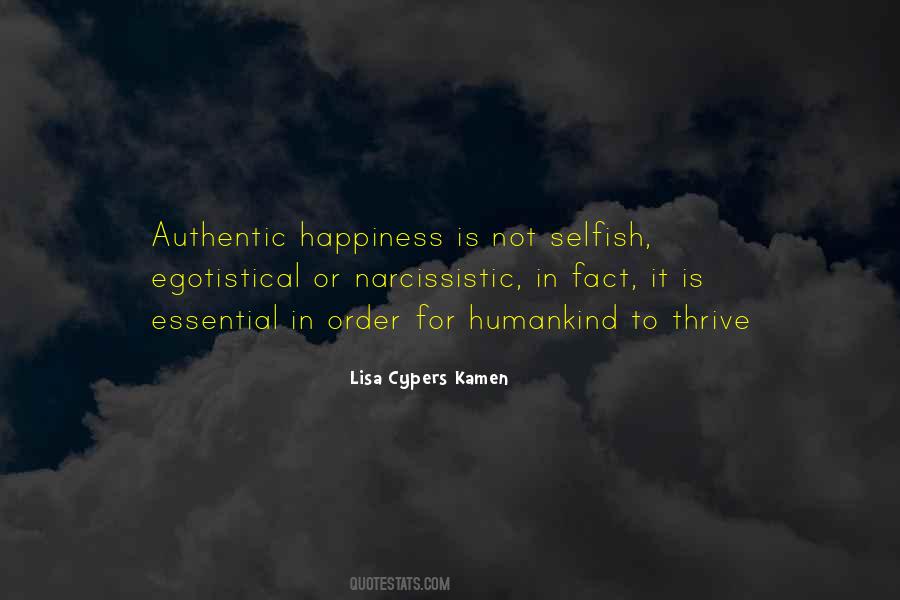 #29. The Buddha's teaching leads us to the realization that we must always strive to harm no sentient being, human or nonhuman, whether or not it is in our selfish interest to do so. - Author: Norm Phelps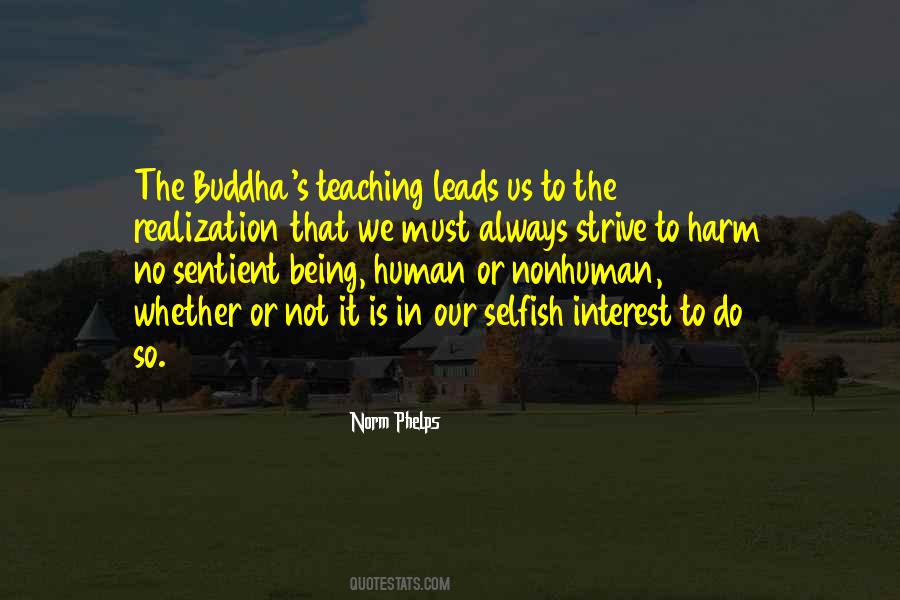 #30. I am startled by how resistant people are to doing anything nice or nurturing for themselves, especially women. They fear being selfish. This intense clinging to a martyr role doesn't serve anyone. It makes you brittle, not resilient. - Author: Annette Vaillancourt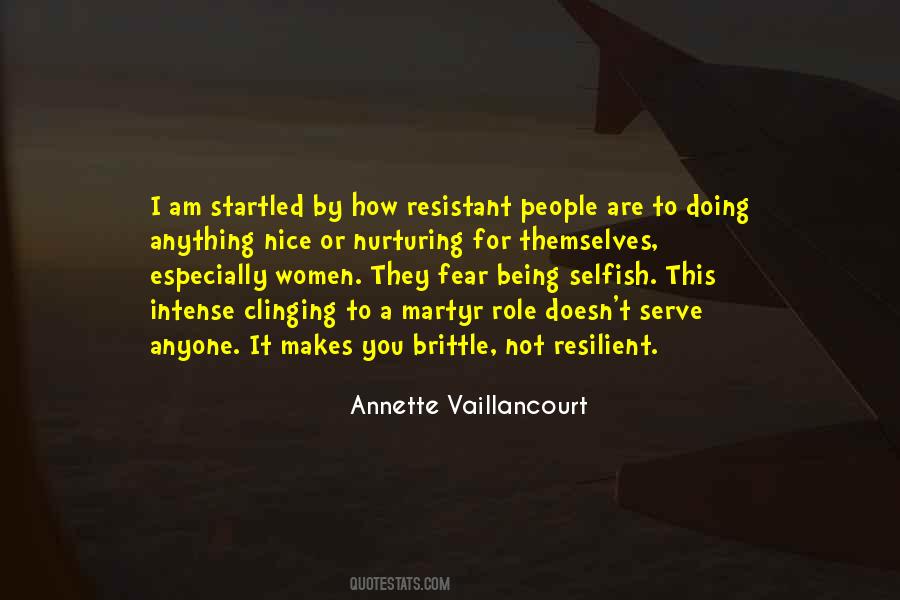 #31. Young women especially have something invested in being nice people, and it's only when you have children that you realise you're not a nice person at all, but generally a selfish bully. - Author: Fay Weldon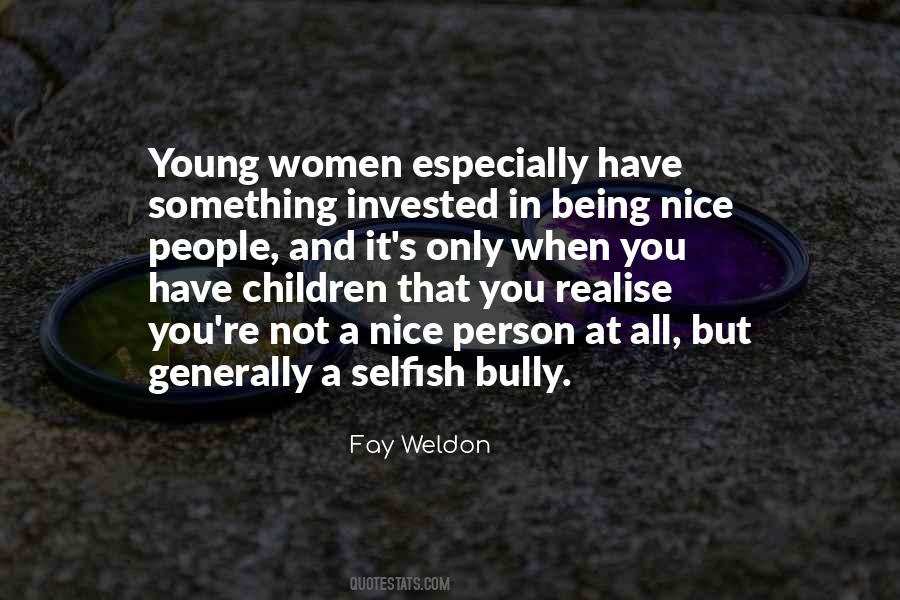 #32. Being self-sufficient is not selfish; it is a need. Harming others or yourself is not selfish because it will never benefit the self; it is just stupid. - Author: Elizabeth Cartwright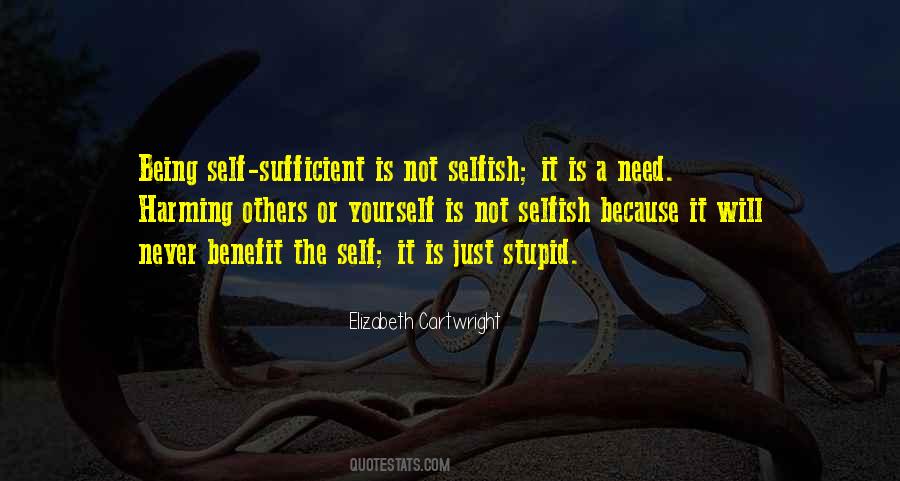 #33. Learning to not be selfish is what has changed in me the most since being married. - Author: Blake Shelton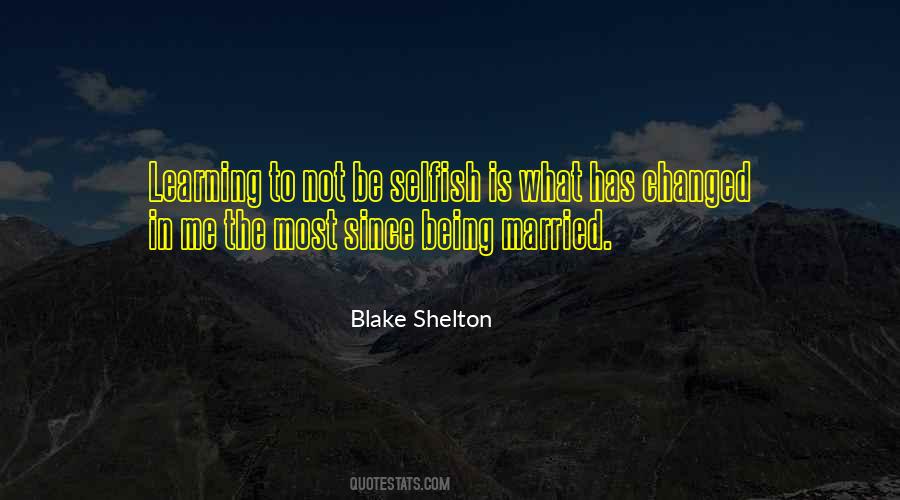 #34. Poor men ... always make love better than those who are rich, because, having less to care about, and not being puffed up with their own consequence, they are not so selfish and think much more of the lady than of themselves. - Author: Frederick Marryat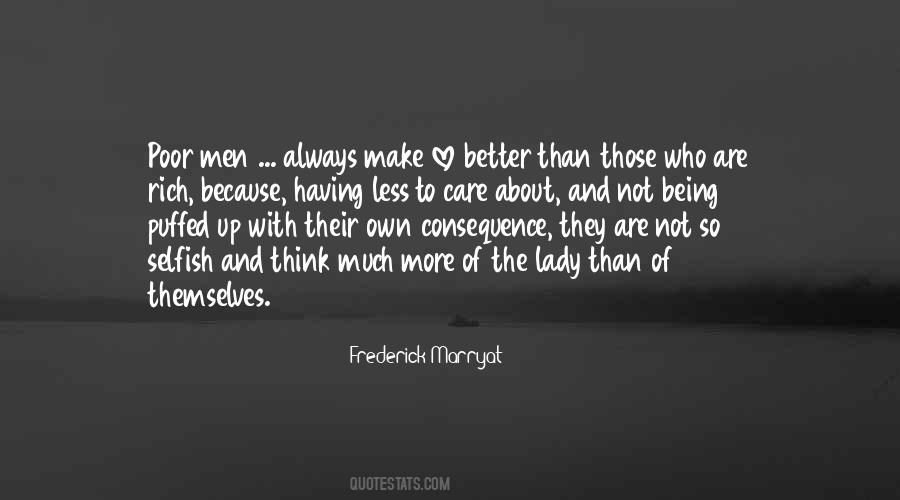 #35. My philosophy is as simple as ever - smoking, drinking, moderate sexual intercourse on a diminishing scale, reading and writing (not arithmetic). I have a selfish absorption in the well-being and achievement of Noel Coward. - Author: Noel Coward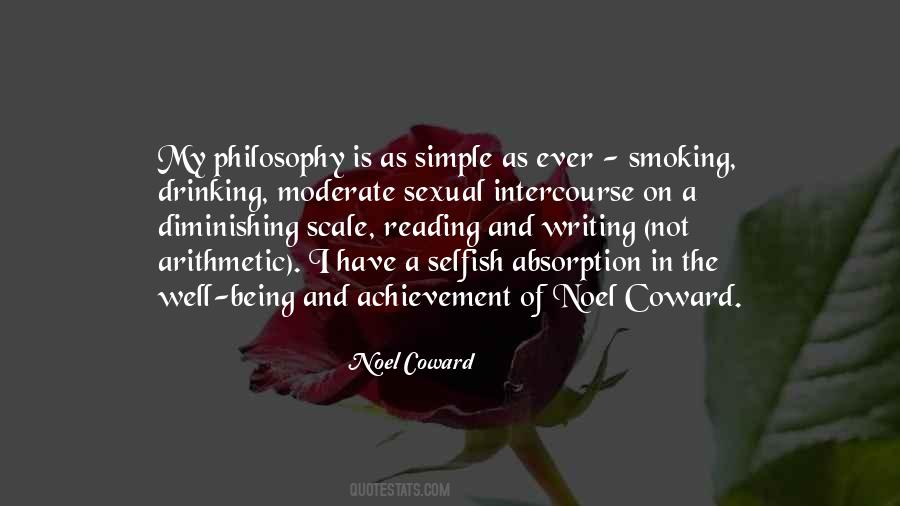 #36. Being stubborn has helped, being selfish is not a bad thing. - Author: Herbie Mann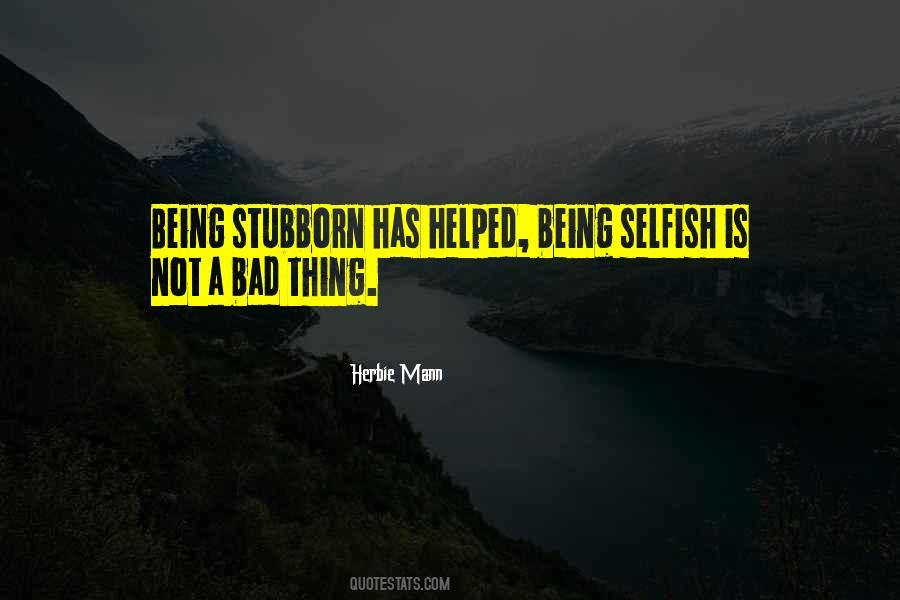 #37. Complex adaptations like "being a little selfish" and "not being willing to
work without reward" are human universals. The strength might vary a bit
from person to person, but everyone's got the same machinery under the
hood, we're just painted different colors. - Author: Eliezer Yudkowsky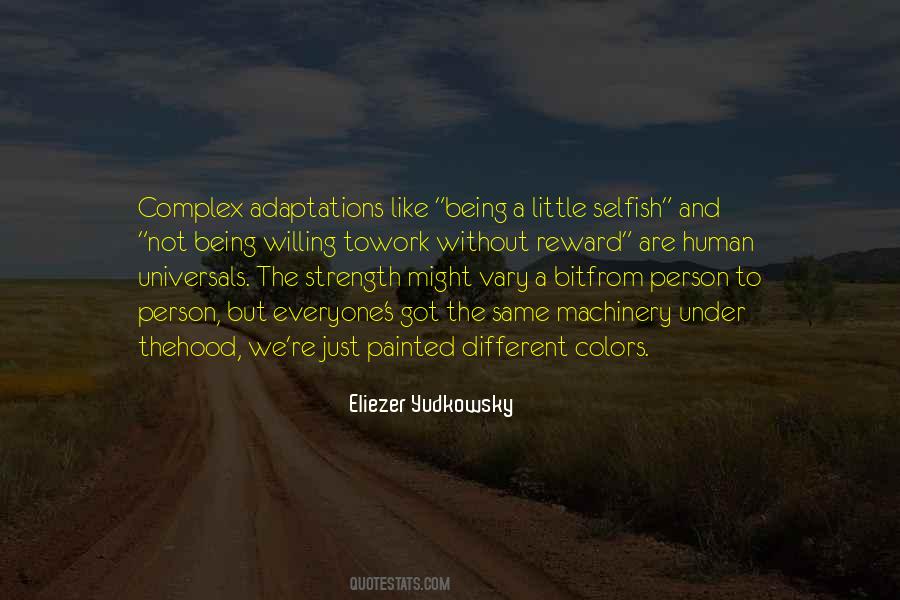 #38. Our marriage is grounded in the word of God. That's really it. God is the core of our marriage, and the foundation and the blueprint for it is how we live, and being open and honest and communicating, but ultimately doing what pleases God, and not in a selfish manner. - Author: Candace Cameron Bure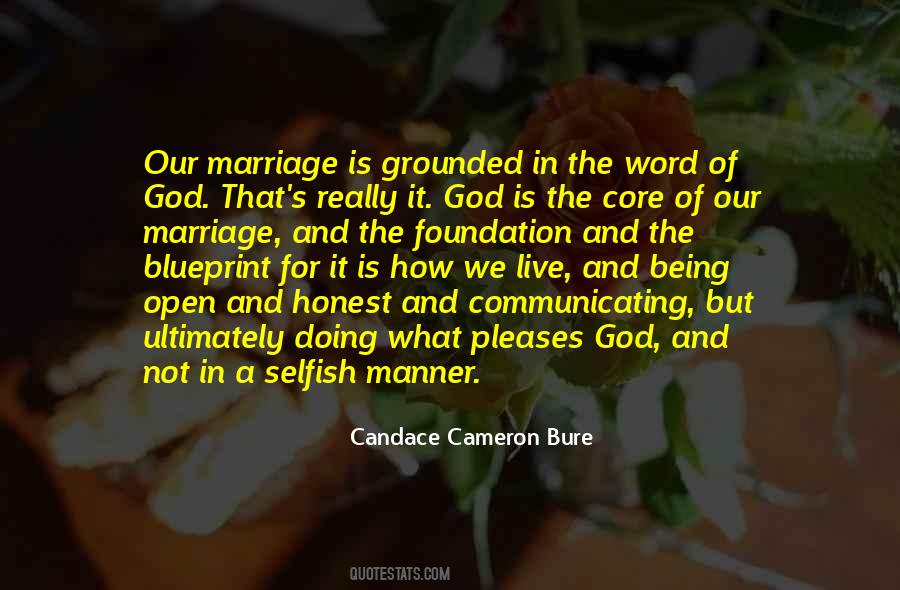 Famous Authors
Popular Topics