Negative Self Talk Famous Quotes & Sayings
List of top 53 famous quotes and sayings about negative self talk to read and share with friends on your Facebook, Twitter, blogs.
Top 53 Quotes About Negative Self Talk
#1. I don't know how to talk about technology in a positive or negative way because it's just the way the world is to me. It seems like talking about the advantages of breathing through holes in our face instead of holes that lead more directly to the lungs. - Author: Chelsea Martin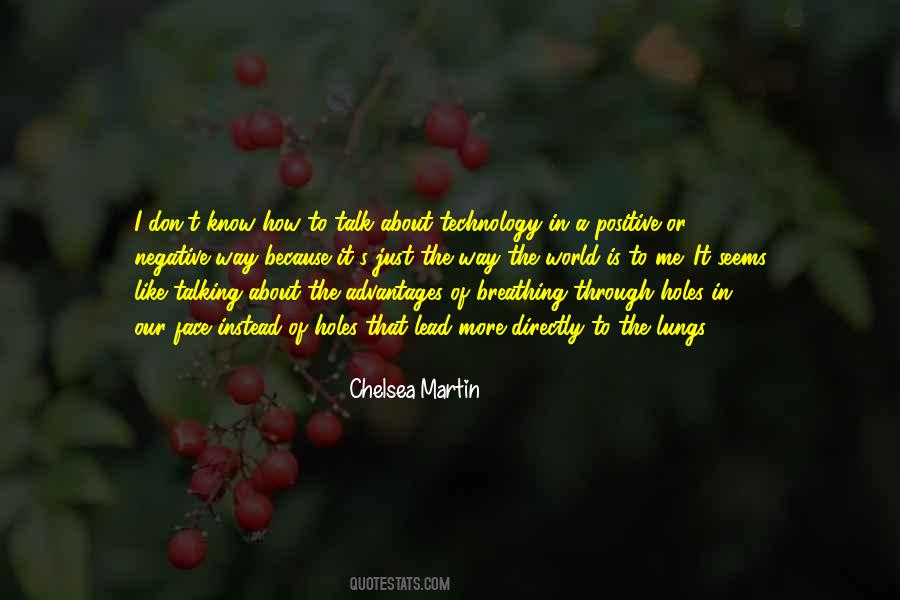 #2. Do you want to have your feelings hurt a little bit because you have some negative feedback, or do you want to continue down the disastrous track you're on and have a huge disaster? Talk about a bruised ego. It may ruin your career. - Author: Charles Koch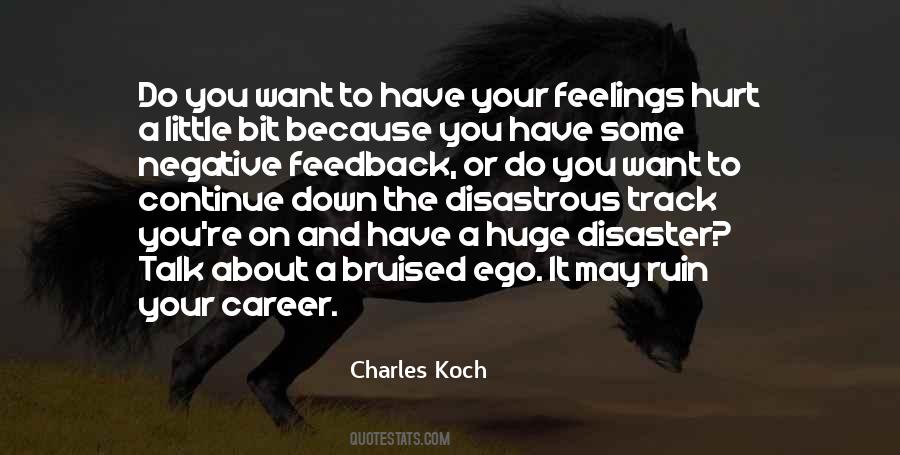 #3. It became very clear to the director that it would be foolish not to use our friendship. I had tried to talk to him about it because all the relationships in the film are so, not negative, but antagonistic. There's not a lot of love going around. - Author: Jennifer Beals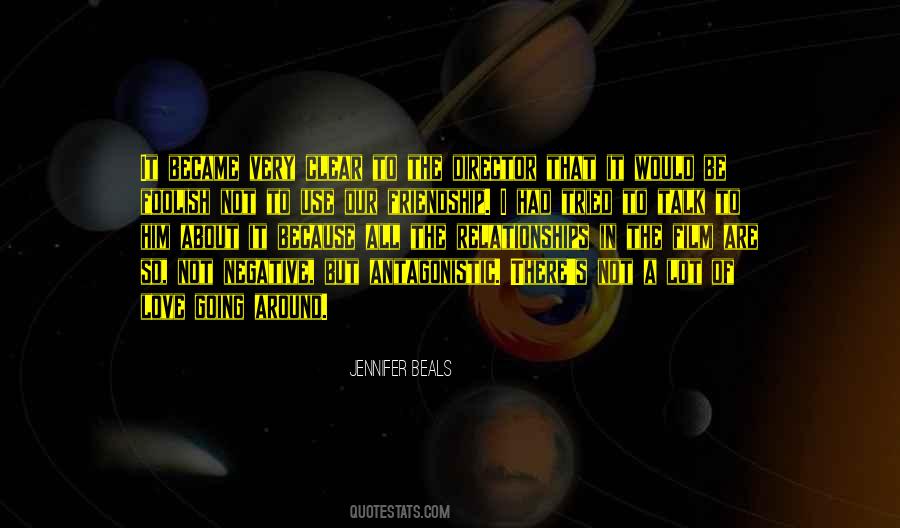 #4. How foolish we are to keep repeating the negative memories from the past in our minds, while rarely thinking of the good times, nor being thankful for what we have. Be good to yourself and repeat and focus on the positive. - Author: Maddy Malhotra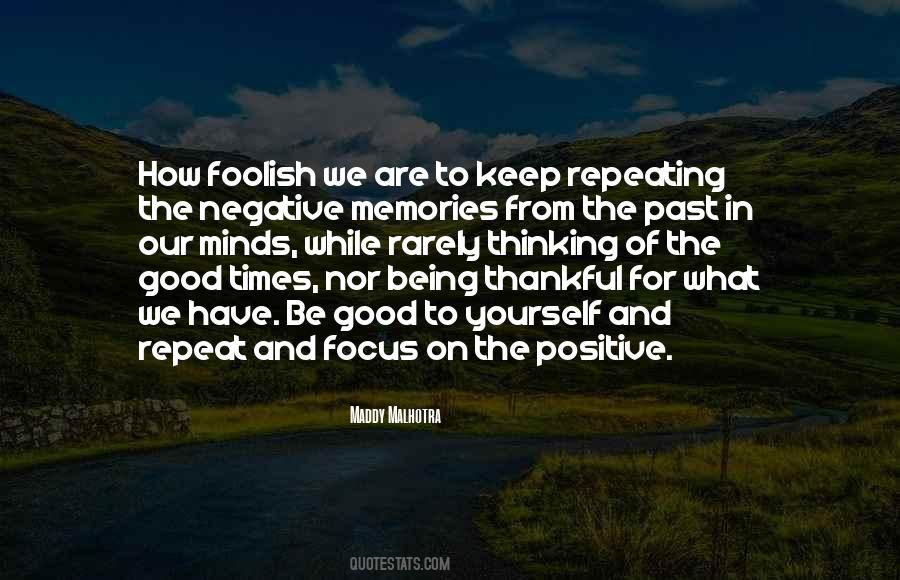 #5. This negative self-talk is something you probably aren't even aware of, but it eats away at you bit by bit and erodes that self-confidence you need to tackle your anxiety. - Author: Robert Duff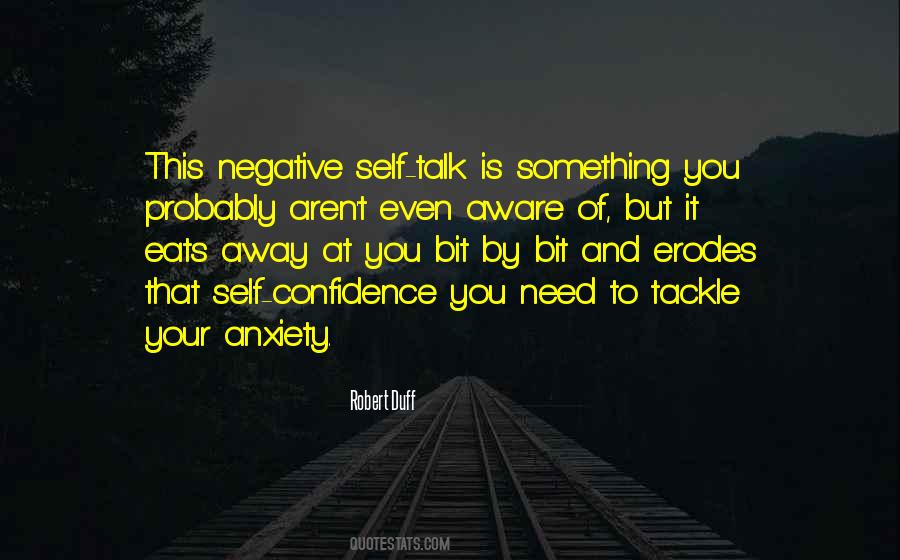 #6. Avoid the use of abusive words when communication is in session; you might scare away someone who is meant to become your mentor or your customer. - Author: Israelmore Ayivor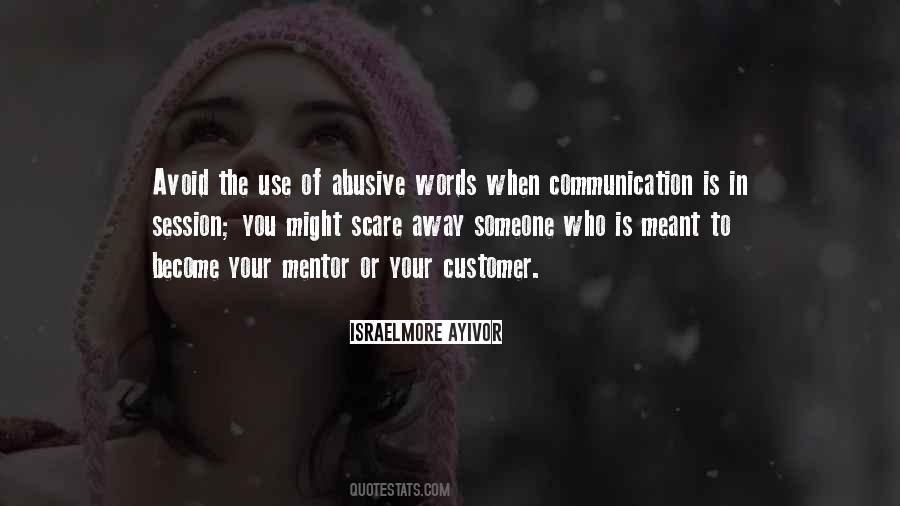 #7. The way you choose to think and speak about yourself (to yourself and others), IS A CHOICE! You may have spent your whole life talking about yourself in a negative way, but that doesn't mean you have to continue that path. - Author: Miya Yamanouchi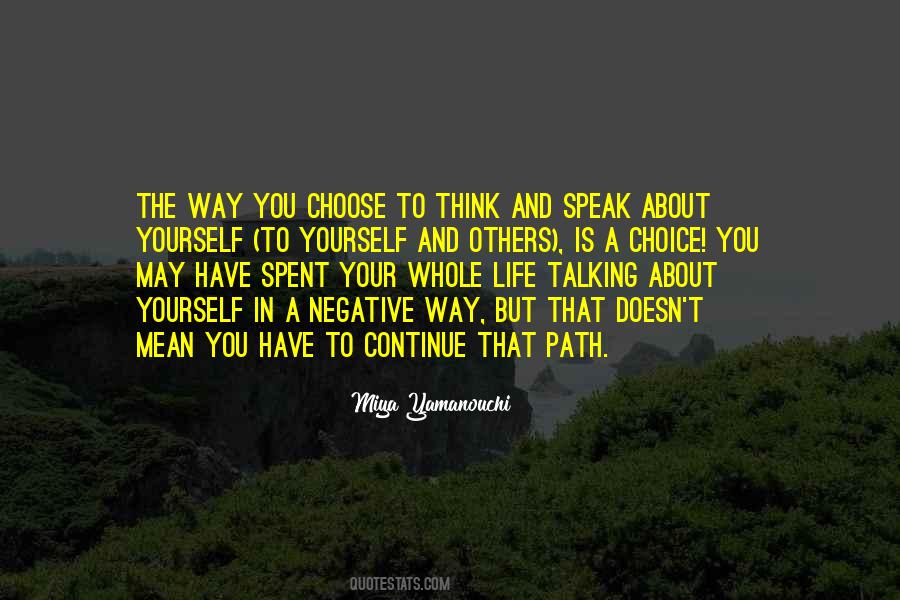 #8. You parrot negative things and squawk about the things you don't love, you are literally jailing yourself, like a parrot in a cage. Every time you talk about what you don't love, you are adding another bar to the cage and you are locking yourself away from all the good. - Author: Rhonda Byrne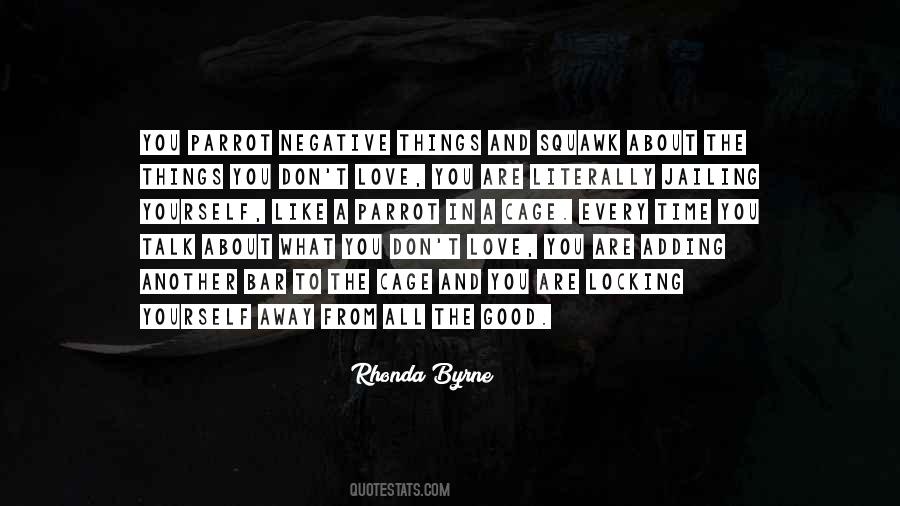 #9. How you talk to yourself, in your head, determines how you feel about yourself, and determines the actions you take. - Author: Maddy Malhotra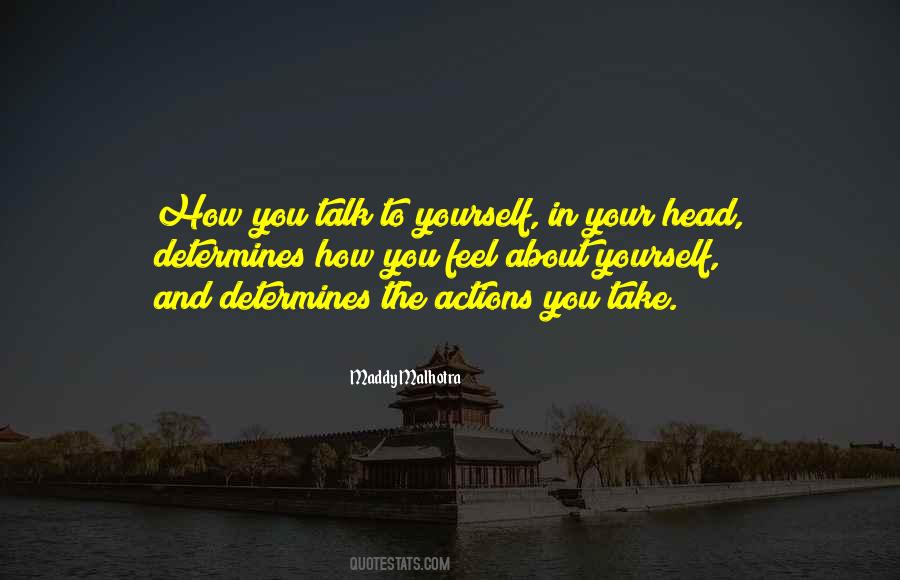 #10. Negative people talk and your dreams begin to wither off. But they begin to sprout in the fragrance of hope when they find a new soil! Change your environment! - Author: Israelmore Ayivor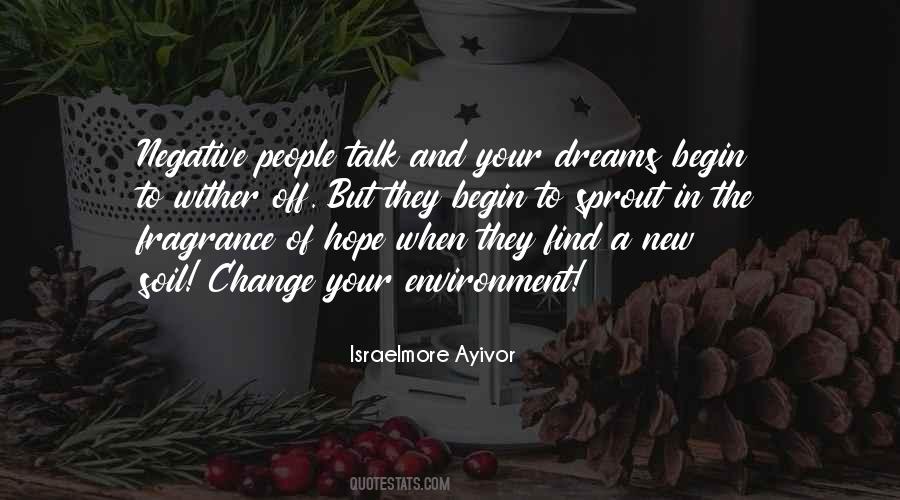 #11. I'm just a young guy with big dreams who is working hard to make it on top while many people are waiting for my downfall, they don't support but hate and talk negativity. - Author: Werley Nortreus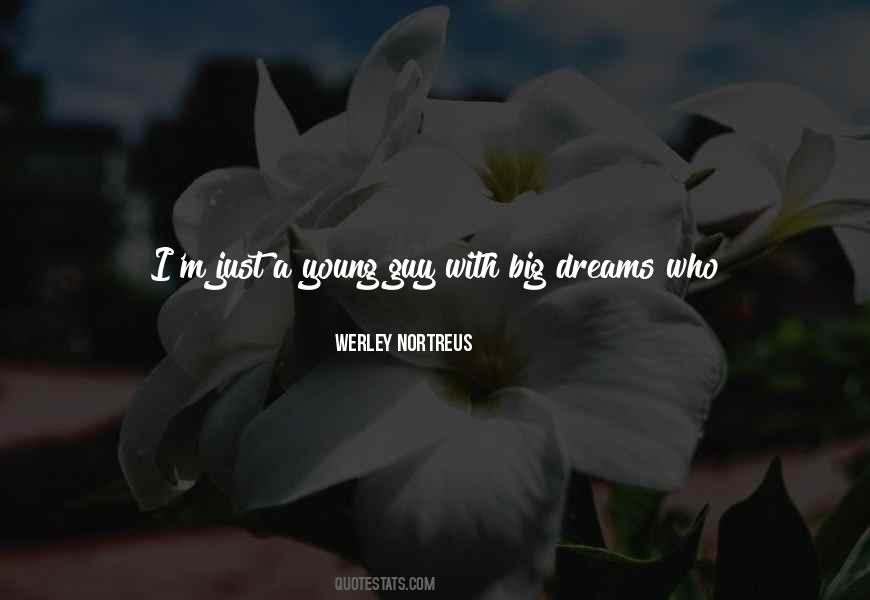 #12. Self-talk deeply impacts your attitude, decisions and actions hence your success, happiness and self-esteem. - Author: Maddy Malhotra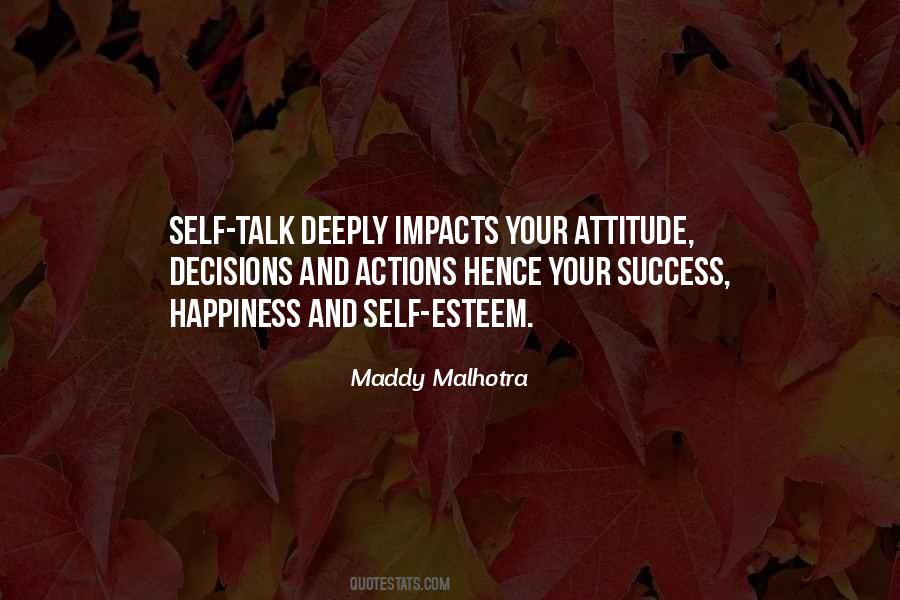 #13. Be careful what you tell yourself, and do not belittle yourself, even in jest. Negative, deprecating self-talk can do significant harm to your self-image. - Author: Cheryl L. Ilov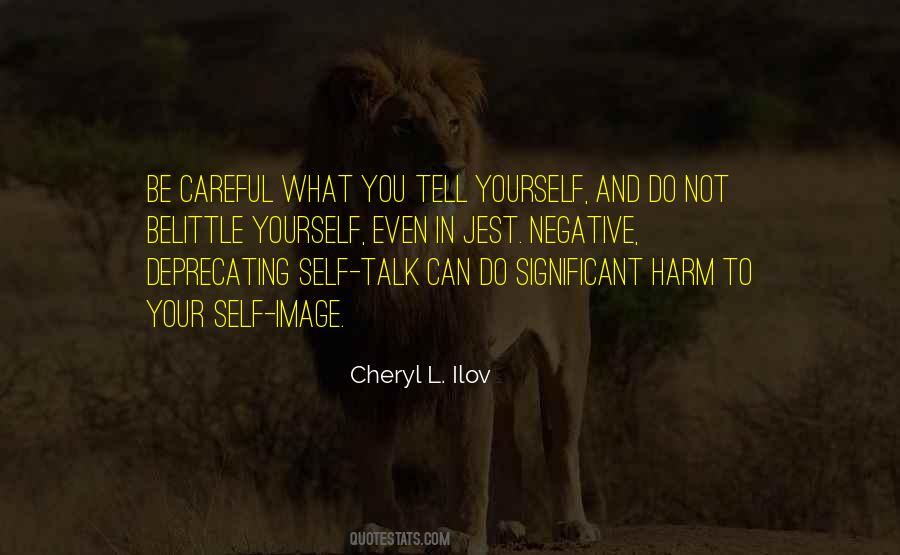 #14. When people talk about people who are optimistic about gold, they call them 'gold bugs.' A bug is an insect. I don't call equity bugs 'cockroaches.' Do you understand? There is already a negative connotation with the expression of 'gold bug.' - Author: Marc Faber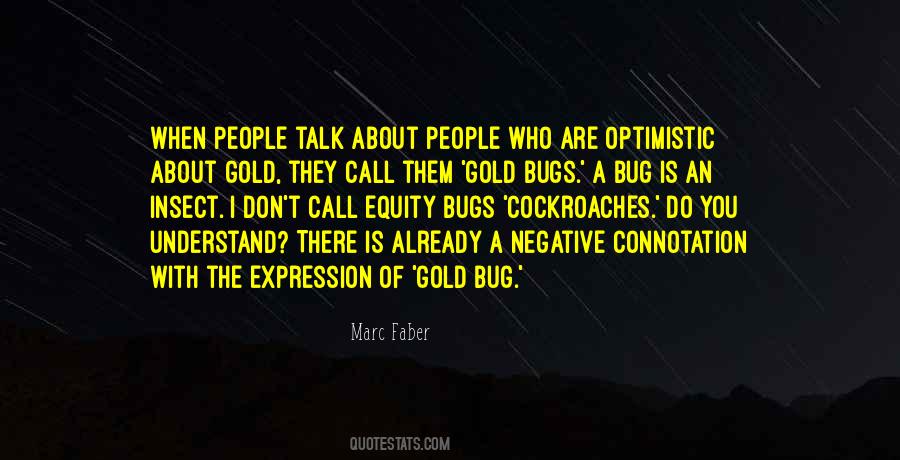 #15. Too often we talk ourselves out of God's best. We allow doubts, fears, and discouraging things people have said to limit us and convince us to settle where we are. Negative voices always speak the loudest. - Author: Joel Osteen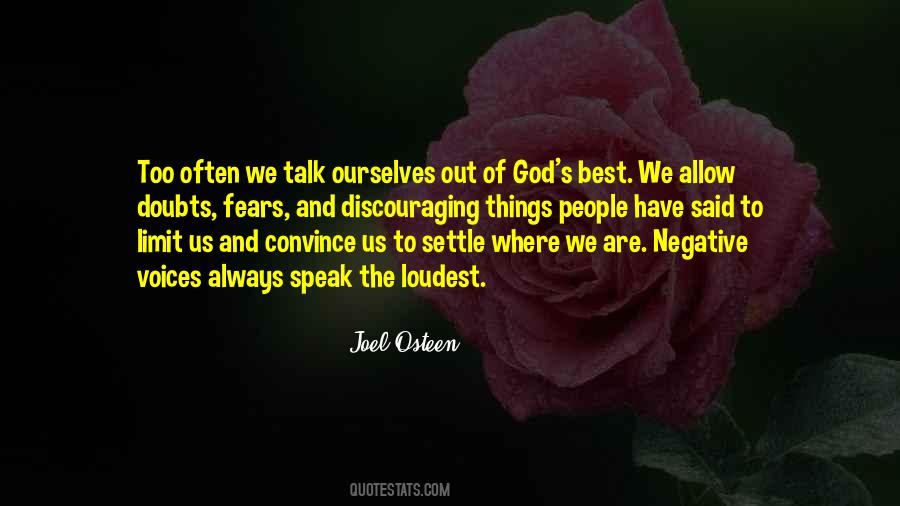 #16. Talk about your negative experiences with the father, with your girlfriends. Not with your children. And bite your tongue when it comes to diminishing, denying, dismissing, name-calling. - Author: Iyanla Vanzant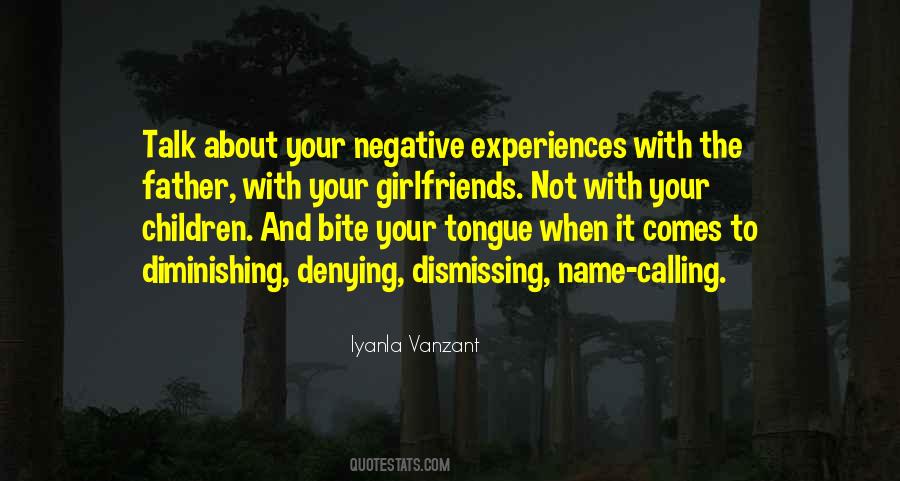 #17. Don't be a VICTIM of negative self talk - remember YOU are listening. - Author: Bob Proctor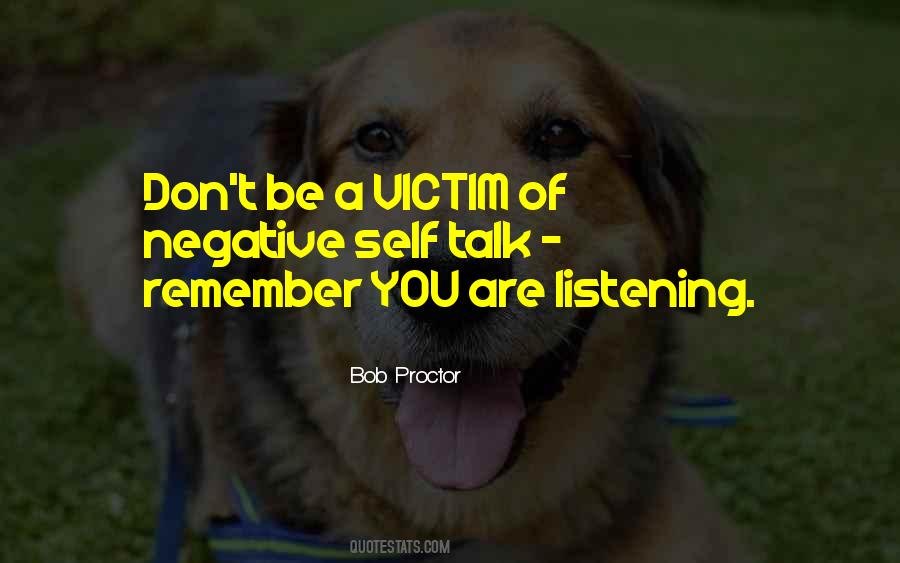 #18. If you start praising your wife, if you start telling her how beautiful she is, and how glad you are to have her in your life, when you talk about the good, you will draw out the good. If you talk about the negative, you'll draw out the negative. It's up to you. - Author: Joel Osteen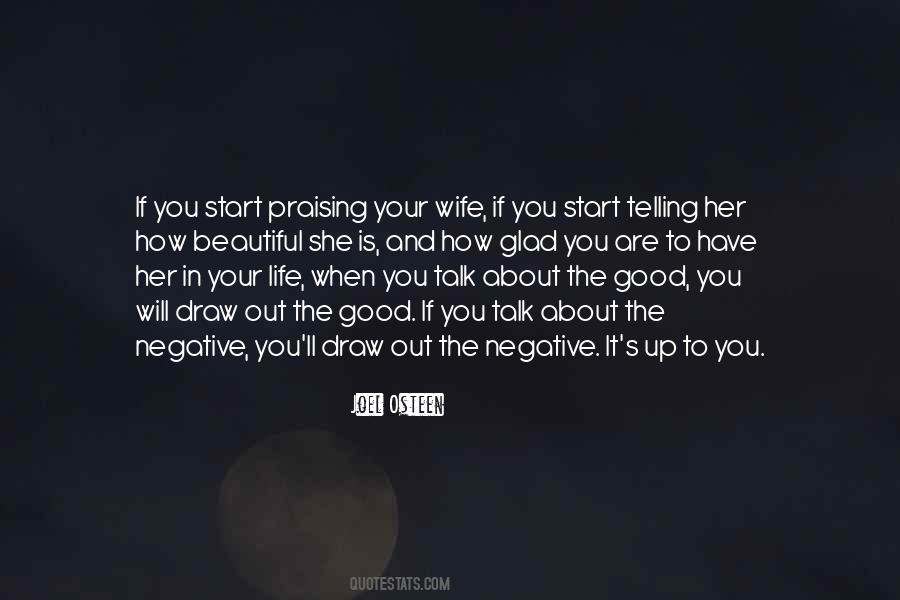 #19. I don't want to talk about negative, dark things. The only thing I've got against stuff like Marilyn Manson is, they make unbelievable videos and unbelievable images. - Author: Sammy Hagar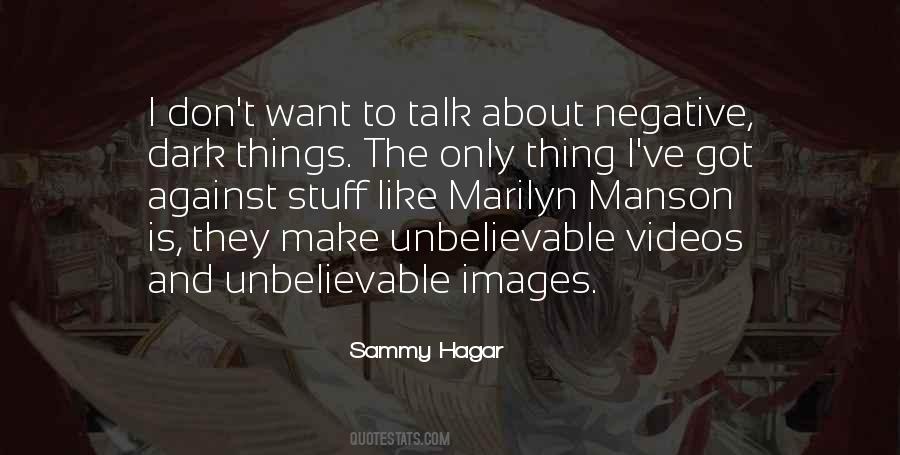 #20. A lot of people think this is a goodie two-shoes talking. But we do have a tendency to complain rather than celebrating who we are. I learned at my mother's knee it's better to appreciate what's happening ... I think we kind of talk ourselves into the negative sometimes. - Author: Betty White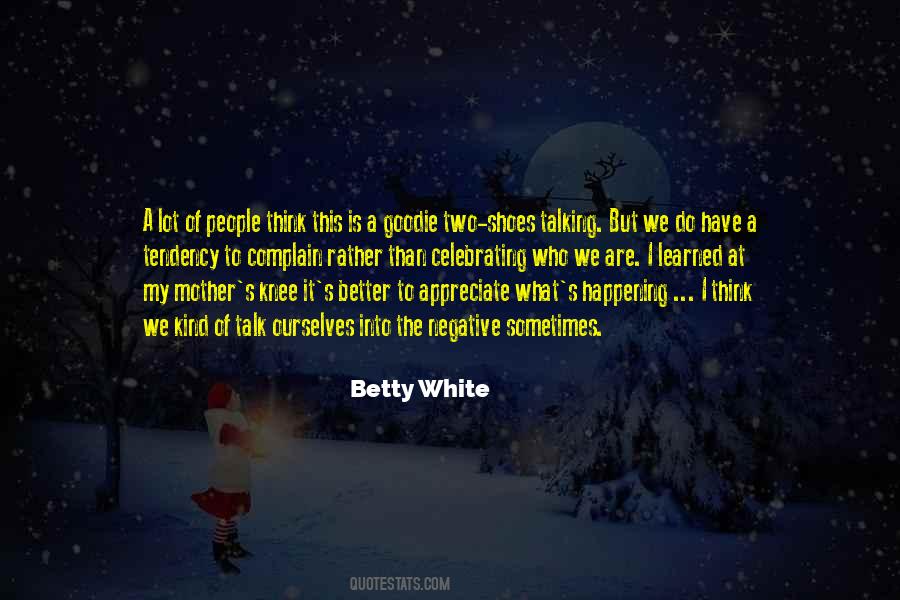 #21. All this talk about morality, chastity, prudence and the like are very antiquated notions created by some very old belief systems that are notoriously negative towards women. - Author: Roberto Hogue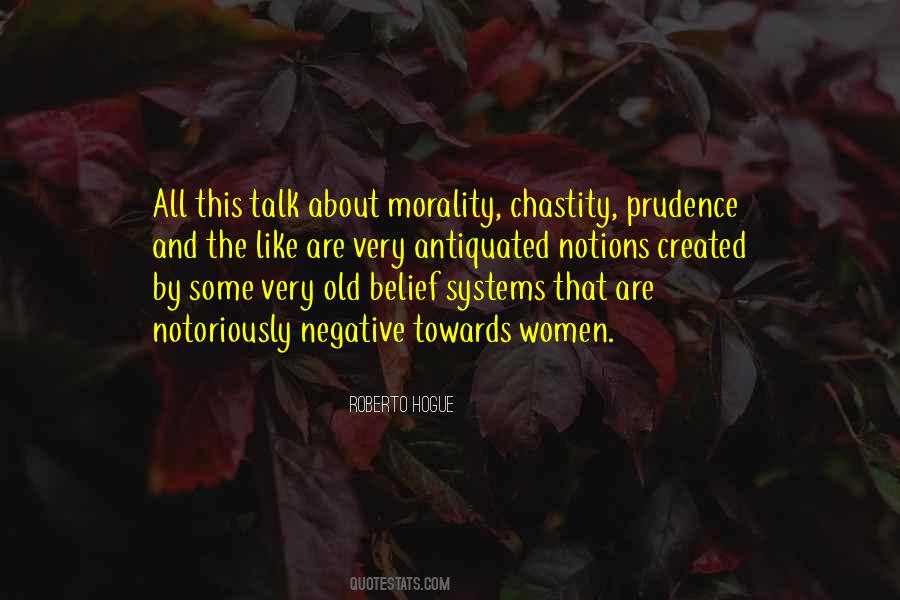 #22. We are stuck in the maize that we created. Most people keep complaining about being stuck rather than finding the way out, and they call themselves unlucky! - Author: Maddy Malhotra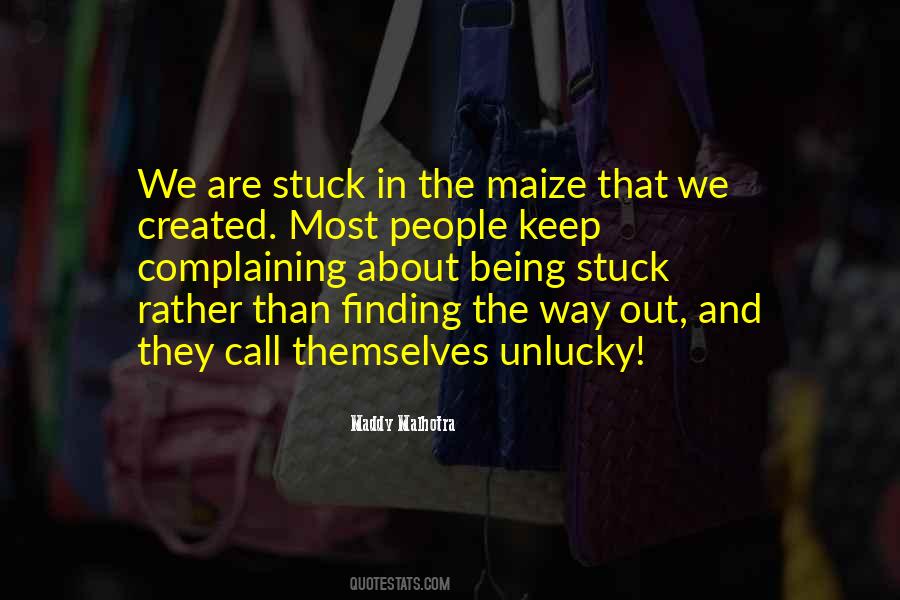 #23. Don't let your past pollute your present and disable you from progressing in the future. - Author: Maddy Malhotra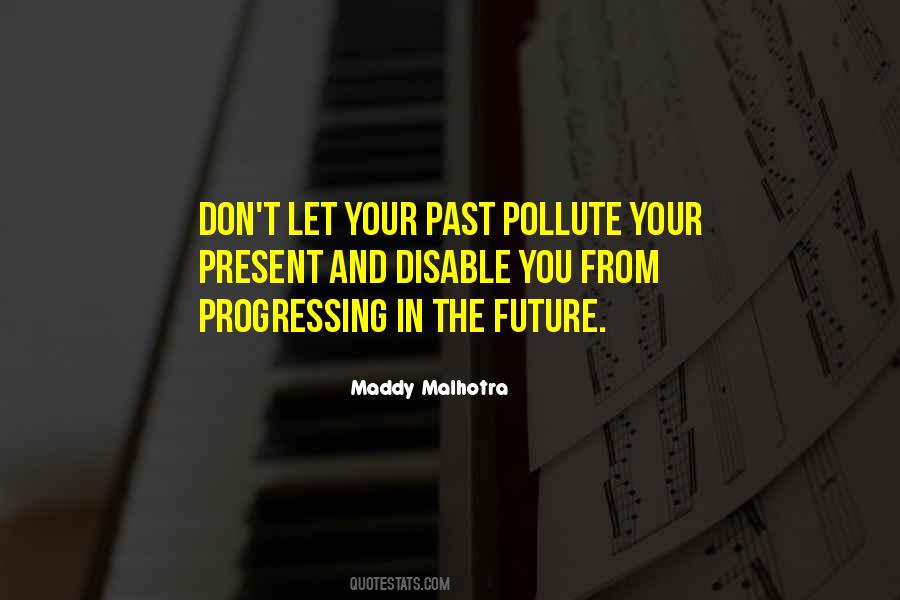 #24. Bottom line: Refuse to accept negative ideas about what you can't accomplish or what's impossible. Don't even talk to negative people while your dreams are still in the fragile incubation stage! - Author: Doreen Virtue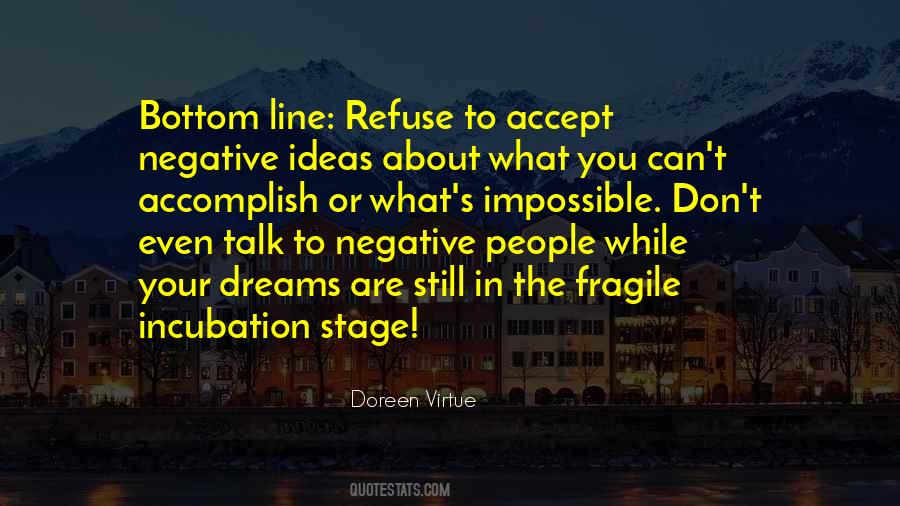 #25. Self-critical thoughts and detrimental predictions about yourself have a huge impact on our mood/feelings. It affects our attitude, decisions and behavior. They ensure our self-esteem stays low and can create physical illnesses. - Author: Maddy Malhotra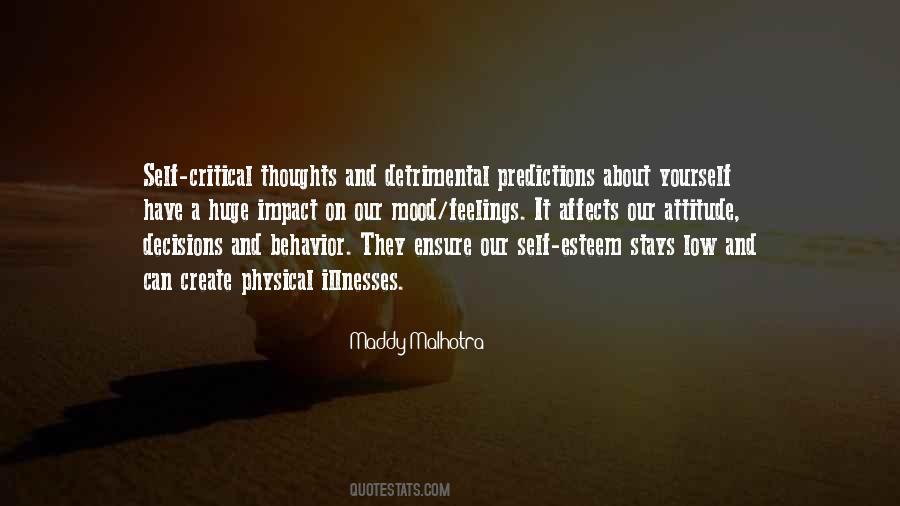 #26. I hope that whenever my daughter has a negative experience, I'm there to talk about it and remind her how we feel when it's done to her so that she doesn't do it to others. - Author: Lorraine Toussaint
#27. I didn't feel like gymnastics were part of The Cars. I certainly philosophically didn't want to prod the audience to react to anything. To me, it was more like negative theater. We didn't really talk to the audience. I didn't see that being a part of this band. - Author: Ric Ocasek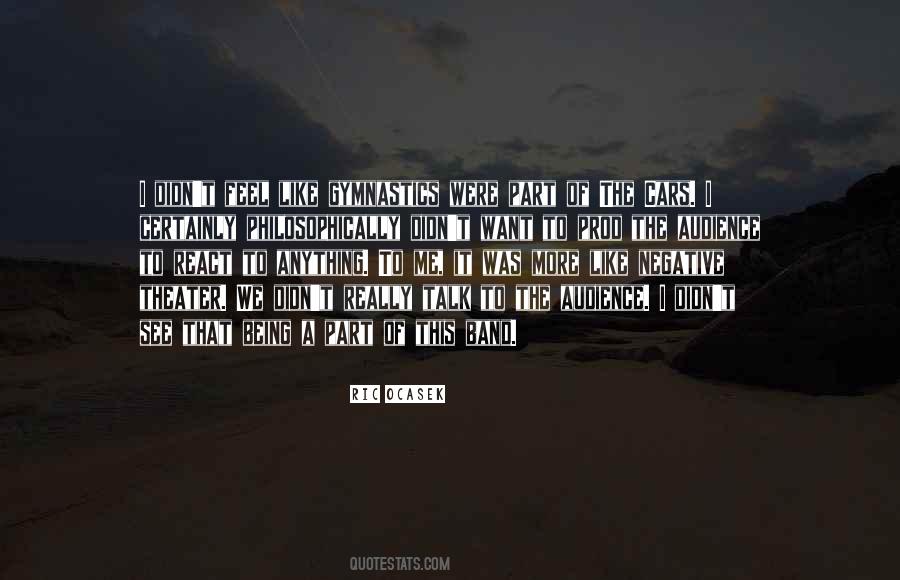 #28. Negative self-talk and negative affirmation can keep you anchored in old thought patterns and identities. - Author: Bryant McGill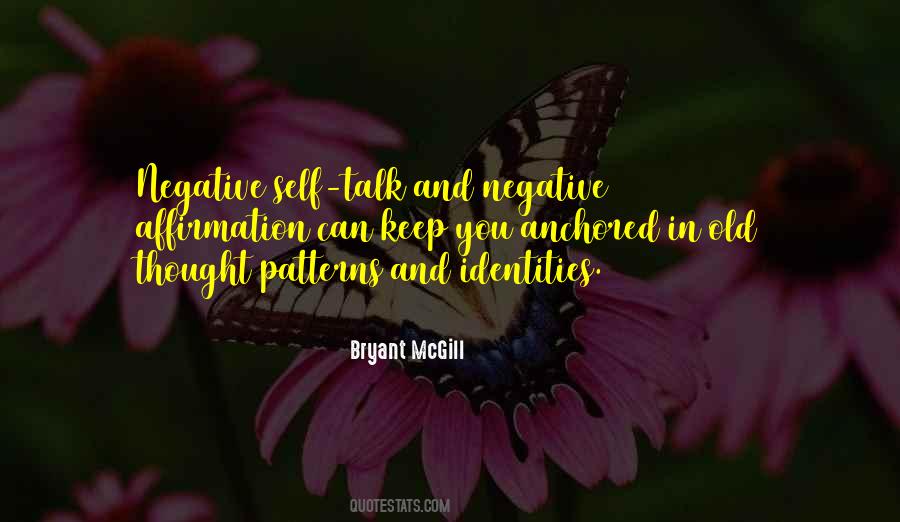 #29. When the word is heard consult the source, and beware the messenger. - Author: T.F. Hodge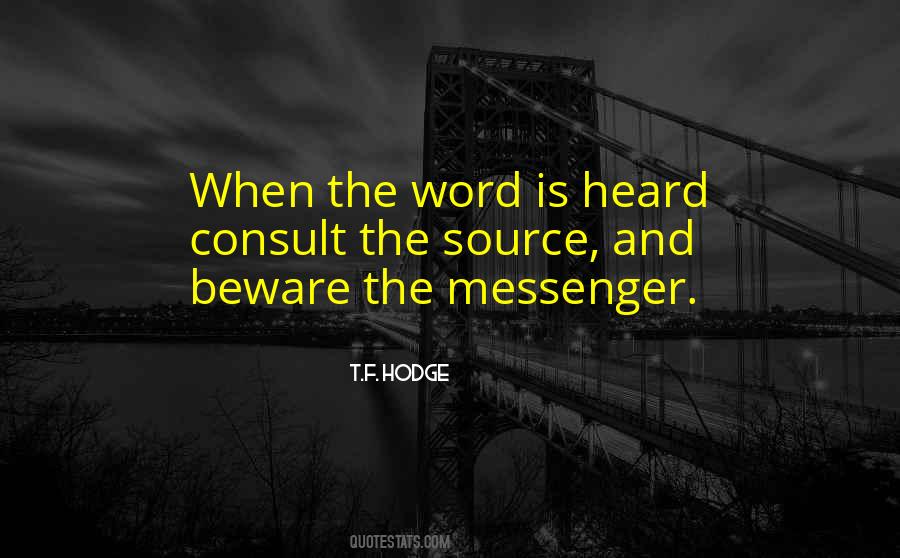 #30. Surround yourself with people who are positive and who guard against negative talk. - Author: Alan E. Nelson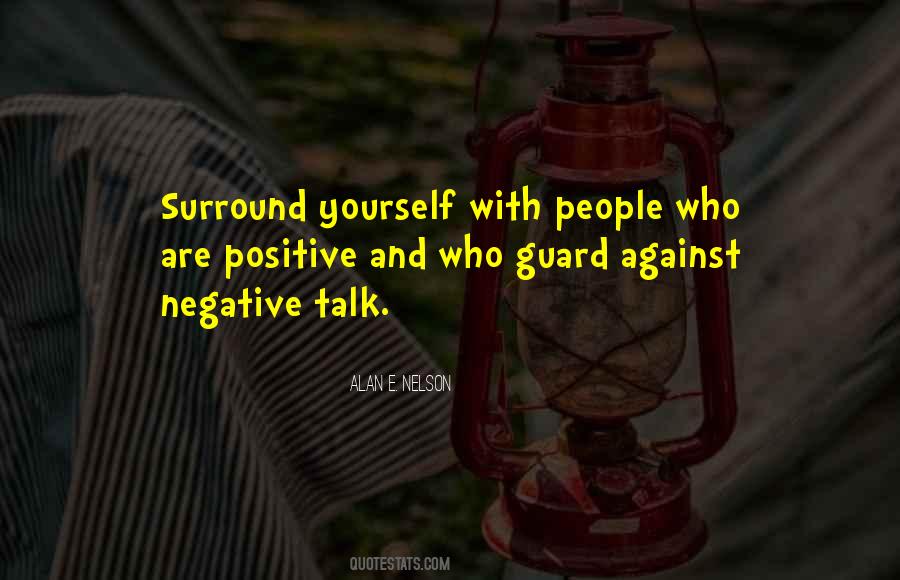 #31. Our best friend and our worst enemy reside within us. Unfortunately, most of us access the latter far more often than the former. - Author: Maddy Malhotra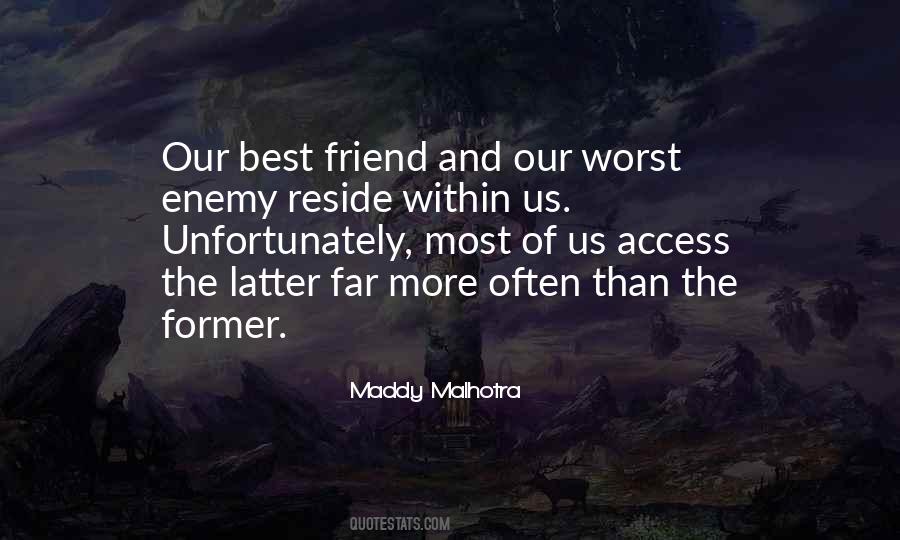 #32. Today we are going to talk about words. You know, words are containers for power. They carry creative or destructive power. They carry positive or negative power. We can choose our words and we should do it carefully. - Author: Joyce Meyer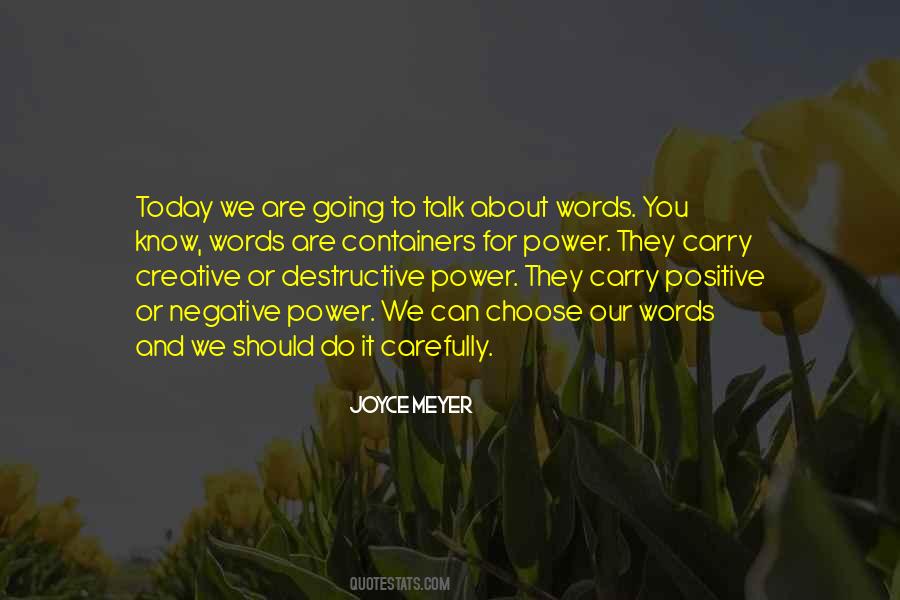 #33. Negative self talk costs more than even the richest person can afford. So be nice to yourself whenever possible ... and know that it is always possible. - Author: Doug Pedersen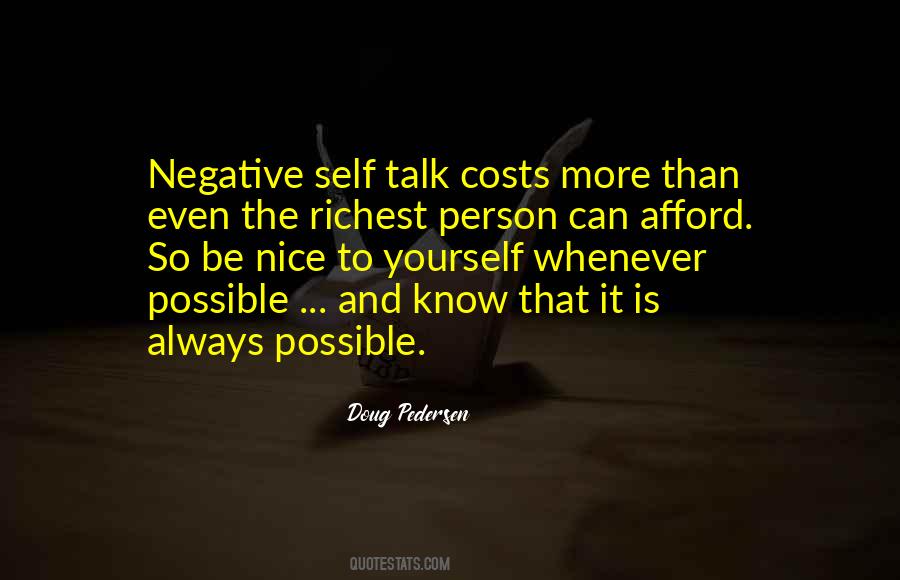 #34. Children, do not listen to those who malign masters and sages. Never listen to or indulge in derogatory talk about anyone. When we harbor negative thoughts about others, our minds become impure. - Author: Mata Amritanandamayi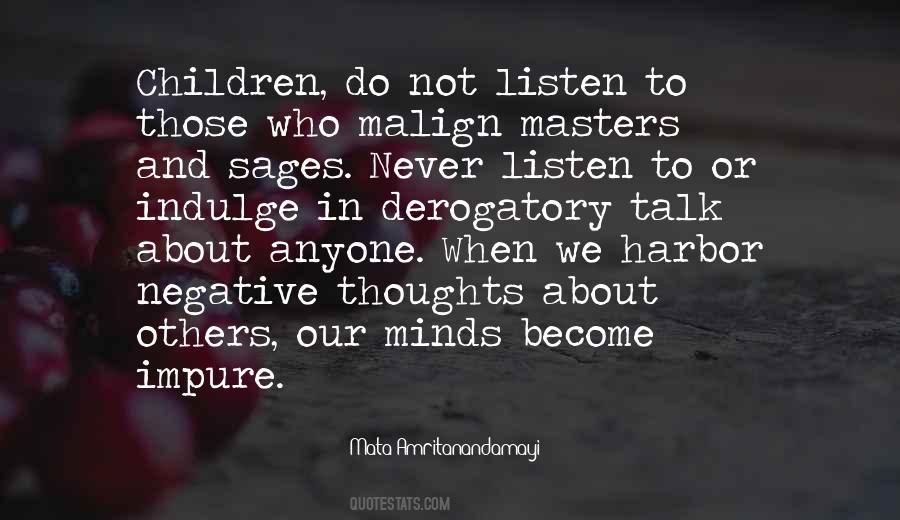 #35. Brain wave tests prove that when we use positive words, our "feel good" hormones flow. Positive self-talk releases endorphins and serotonin in our brain, which then flow throughout our body, making us feel good. These neurotransmitters stop flowing when we use negative words. - Author: Ruth Fishel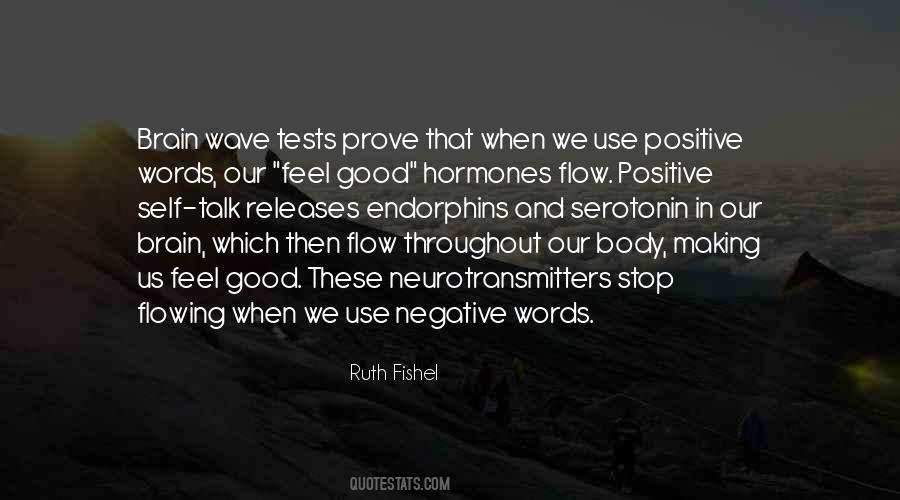 #36. Do not own negative self-talk. - Author: Asa Don Brown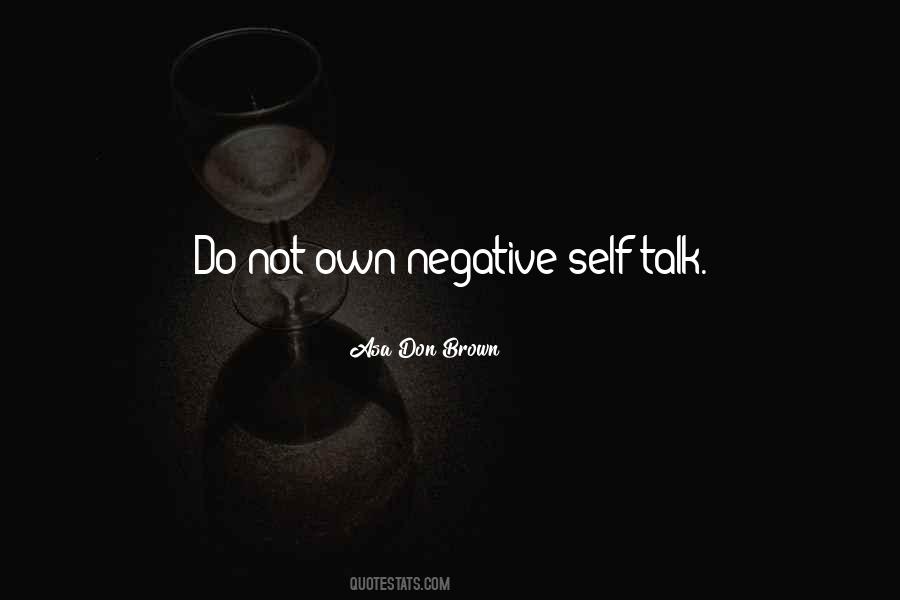 #37. I had heard so much negative talk about our generation, that we're slackers and young fogies, that I knew wasn't true of the people I know. - Author: Eric Liu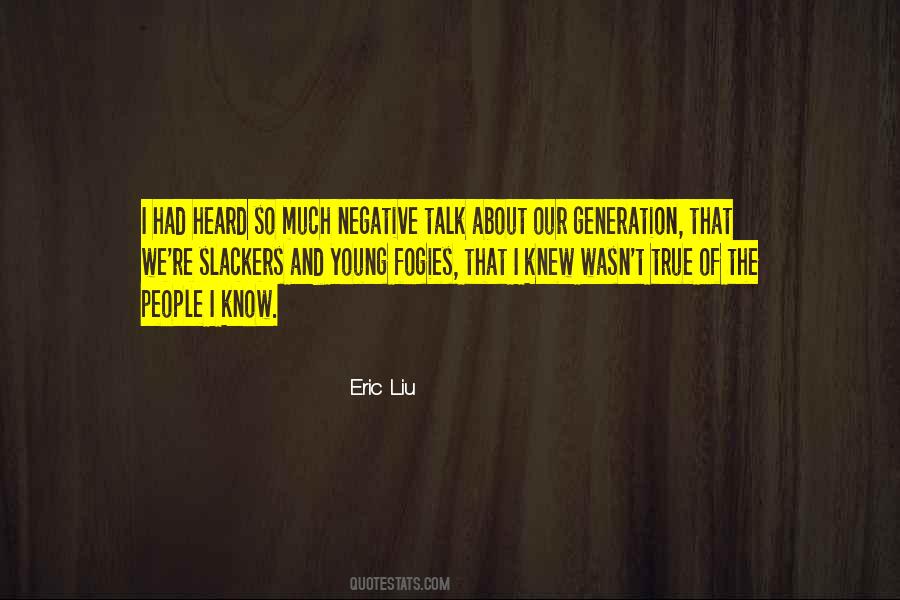 #38. The more you talk about negative things in your life, the more you call them in. Speak victory not defeat. - Author: Joel Osteen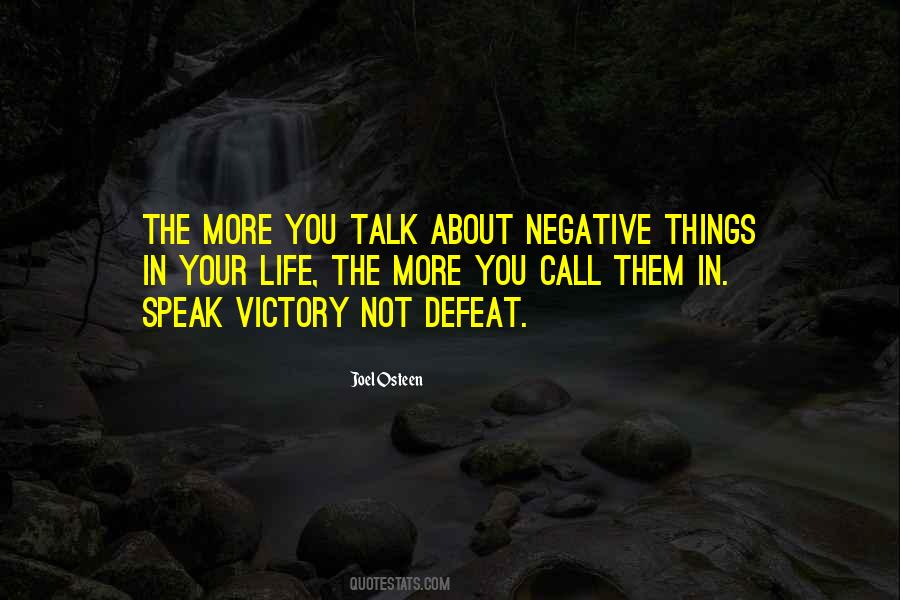 #39. In many situations, the only thing you can control is your own response. Changing self-talk from negative to positive is an excellent way to manage that response. Anger destroys your health and relationships. - Author: Maddy Malhotra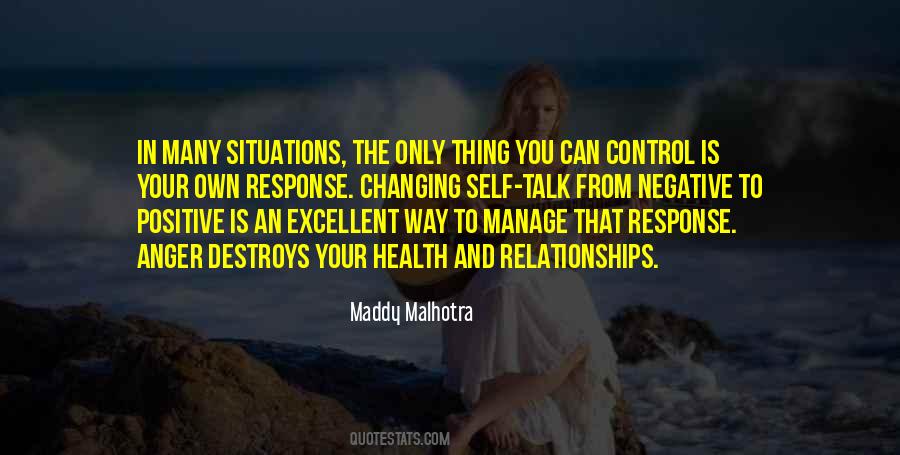 #40. You need to be your own cheer squad not your own worst enemy. - Author: Miya Yamanouchi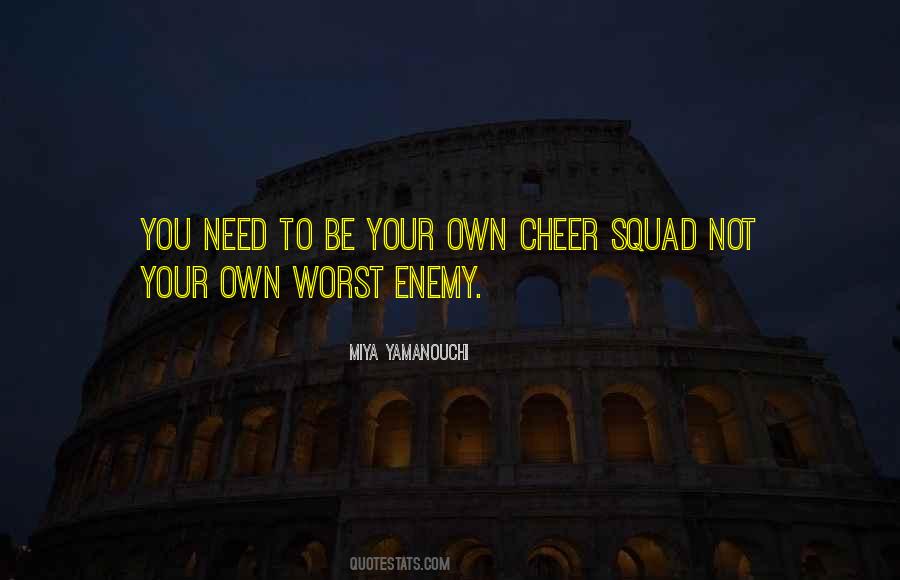 #41. You won't ever get ahead if you keep feeling sorry for yourself. You must stop all the negative talk and start thinking positive. You have a lot of potential but your life won't change until you change how you think. - Author: Michele Woolley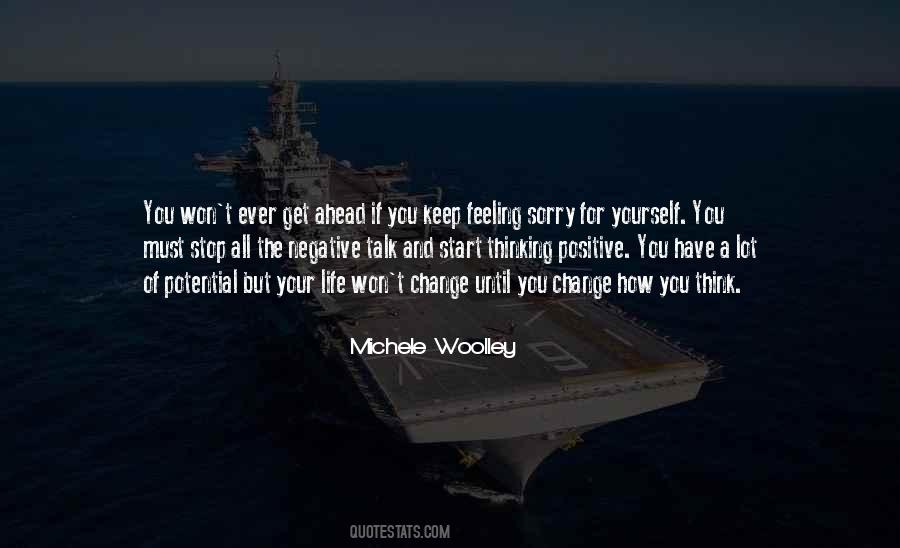 #42. You can replace negative self-talk with optimistic thoughts. It is possible to change a negative perspective on life into a positive life force if you keep a sense of proportion. - Author: Lynn C. Tolson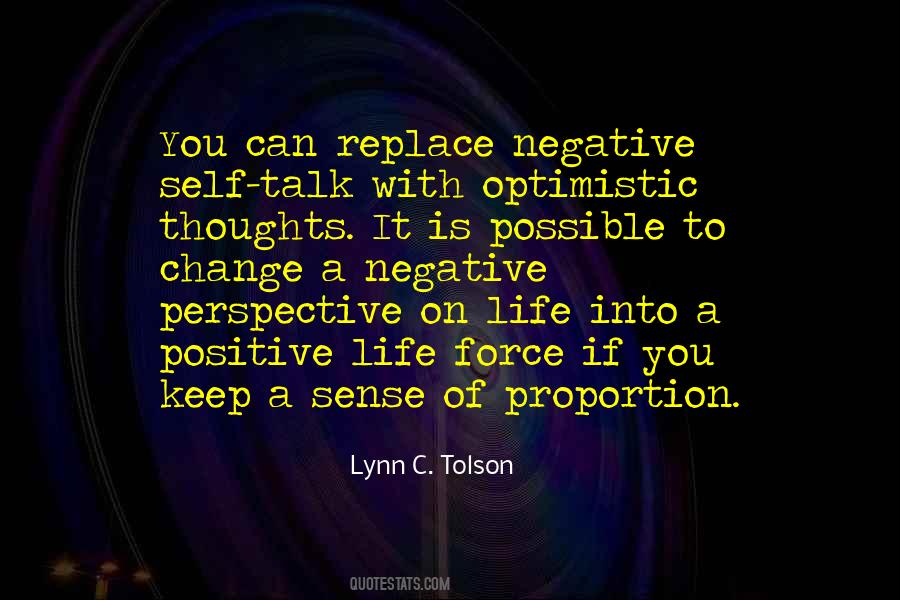 #43. If you repeat your negative memories in your mind and feel self-pity, then YOU are both the abuser and the victim - not those who wronged you in the past. Your present and future will be happier if you take control of your thoughts. - Author: Maddy Malhotra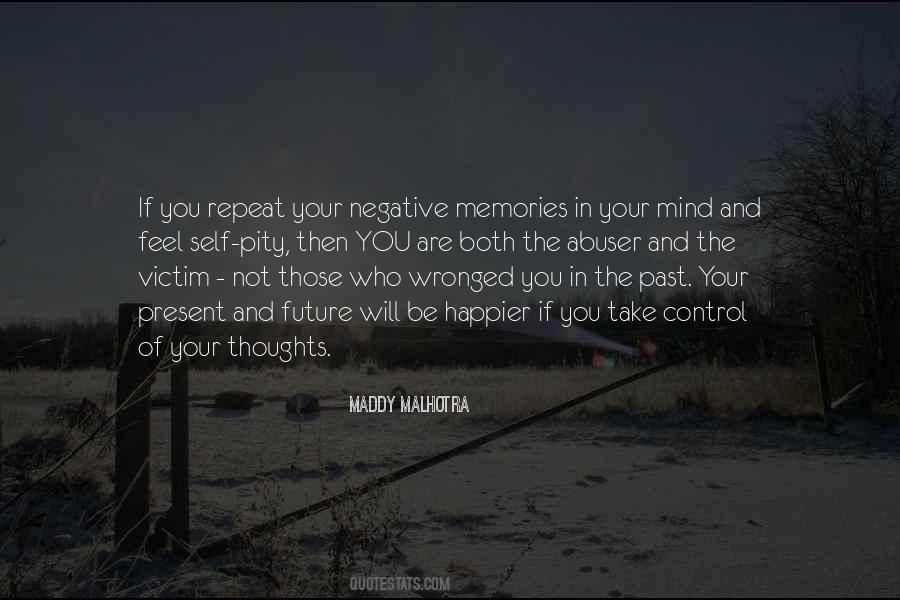 #44. People just wanna talk. They wanna create negative things about you and your life and make up things. You can't let them affect you! - Author: Blake Lively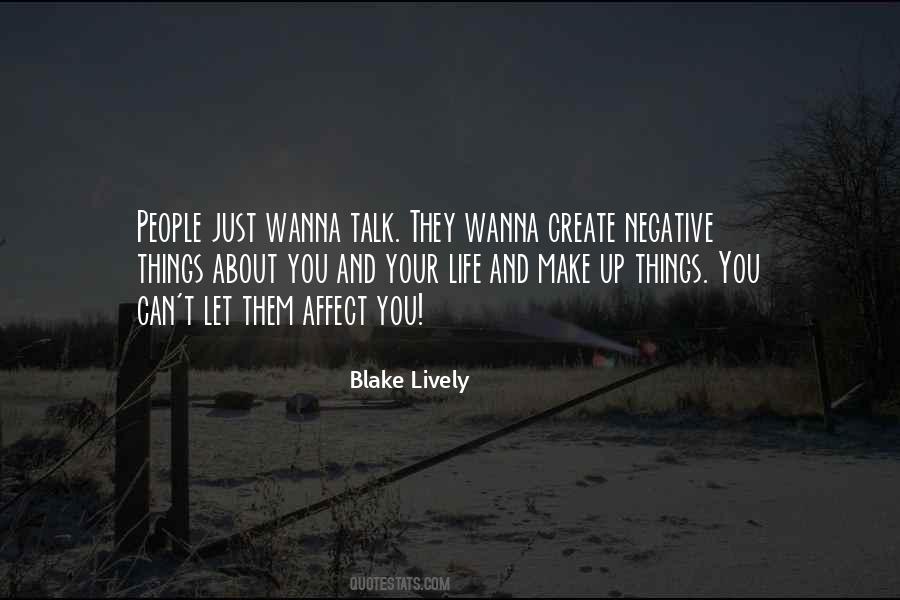 #45. We were free of self-judgment when we were babies, and yet at some point, we developed a sensitivity that taught us to react with self-consciousness and negative self-talk. - Author: Elaina Marie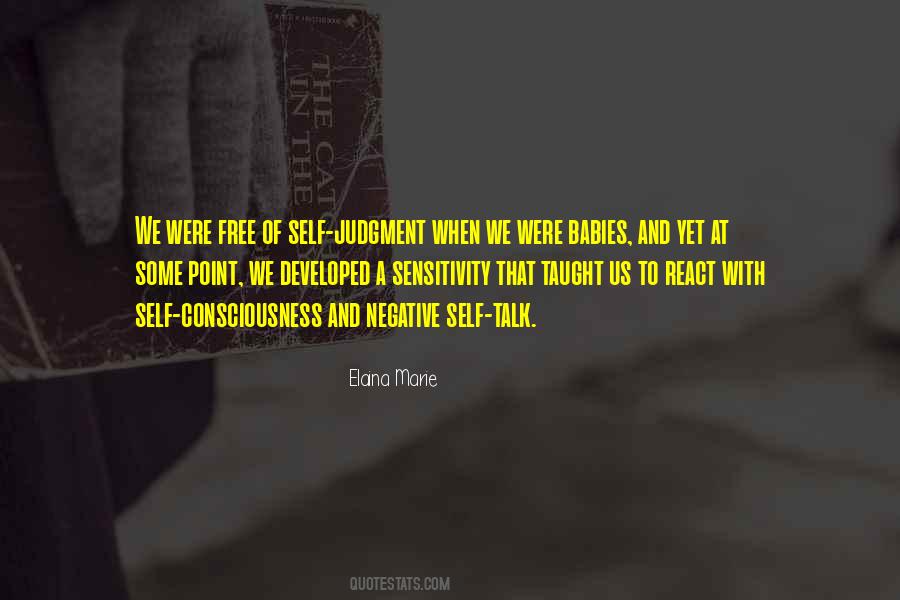 #46. Replace the negative talk that will hinder you. Replace it with praises for God, who will deliver you. - Author: Lysa TerKeurst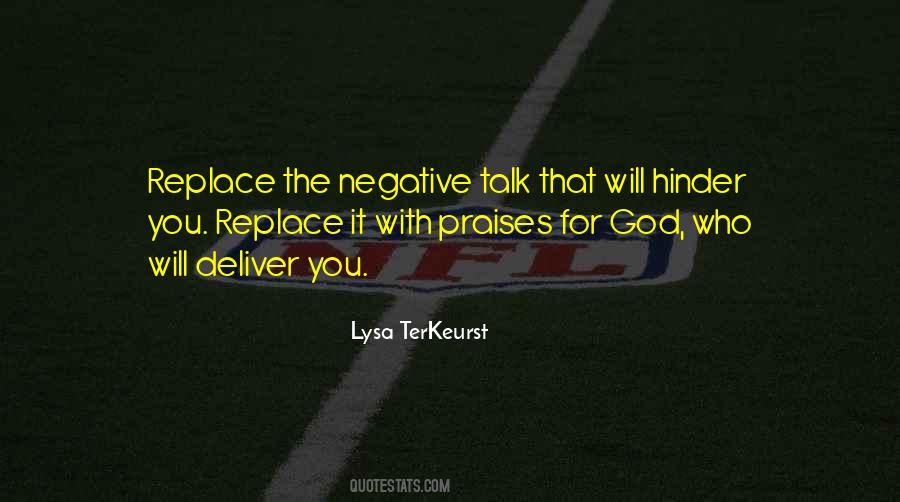 #47. It's difficult to find a person who can accept the truth consistently and more when it is related to him only and that's what keeps the difference between the real talk and the negative talk very marginal. - Author: Anuj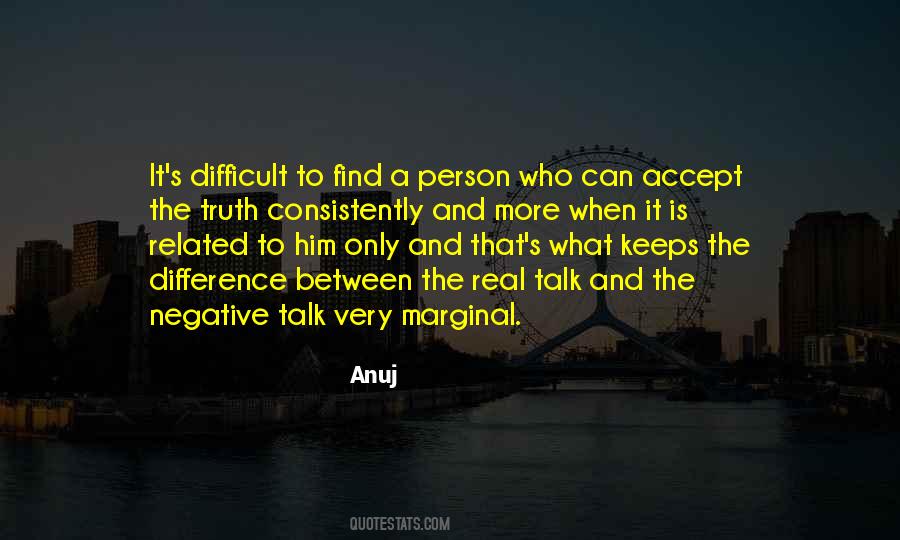 #48. When they put me on ESPN and they talk about negative things, or when they put me on TMZ and they talk about negative things, I'm just glad that I'm relevant; to have lasted this long being relevant. - Author: Floyd Mayweather Jr.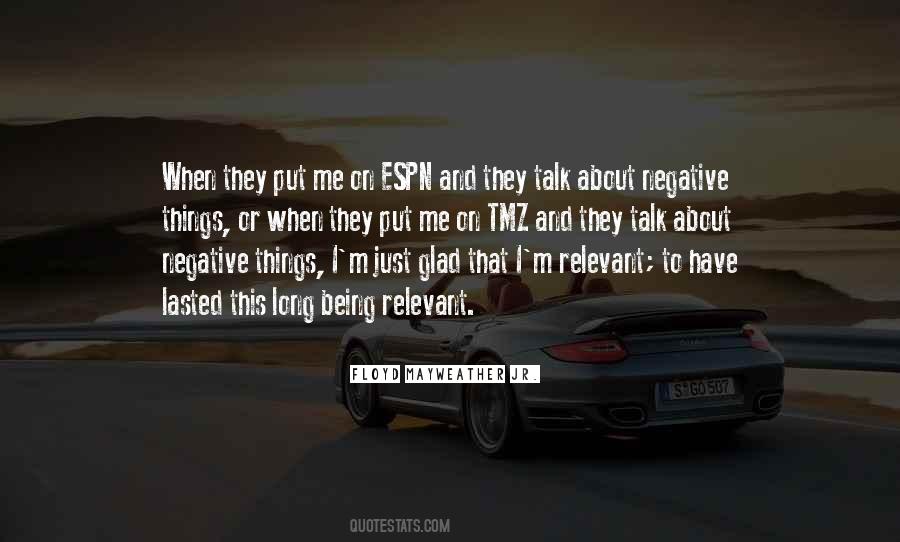 #49. If you are going to talk negative about a place, you're almost throwing yourself out to begin with because golf is a mental game. - Author: Jordan Spieth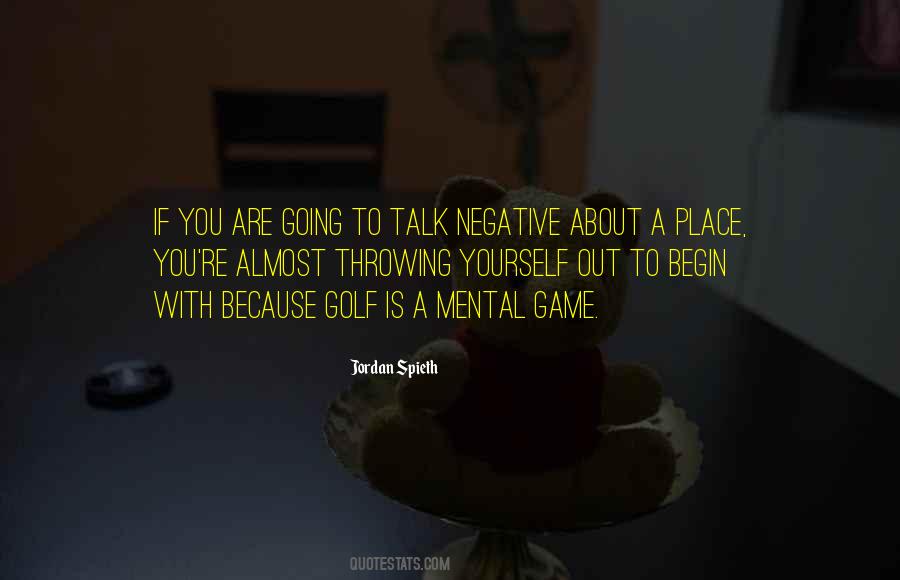 #50. [A]ny ecstatic experience can be healing not just for you but for others. Therapy is good to help you think differently and break patterns of pessimistic thinking or negative self-talk. But we have to be joyful, dance, and bring pleasure into our lives deliberately. - Author: Christiane Northrup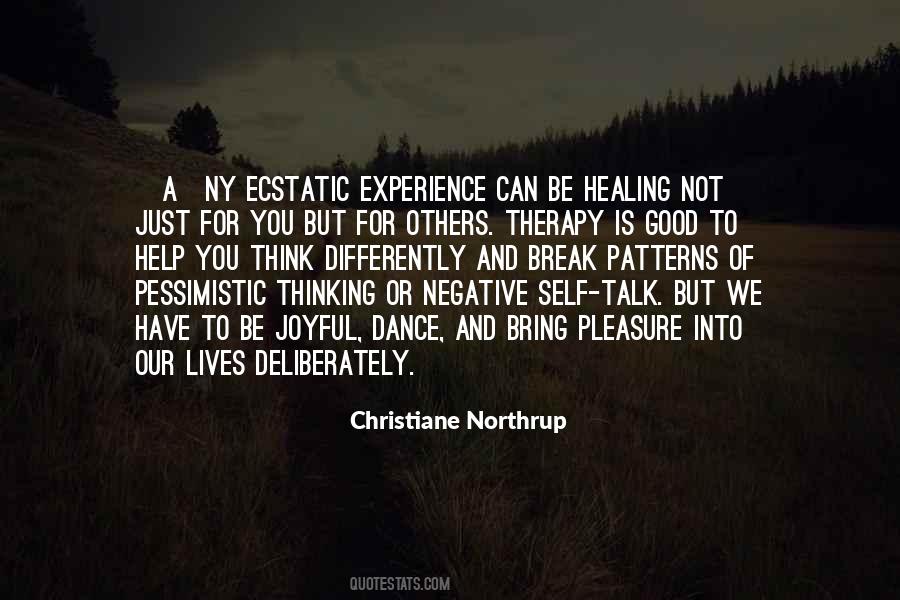 #51. Learn to catch yourself and stop yourself immediately when you are engaging in negative self-talk. - Author: Bryant McGill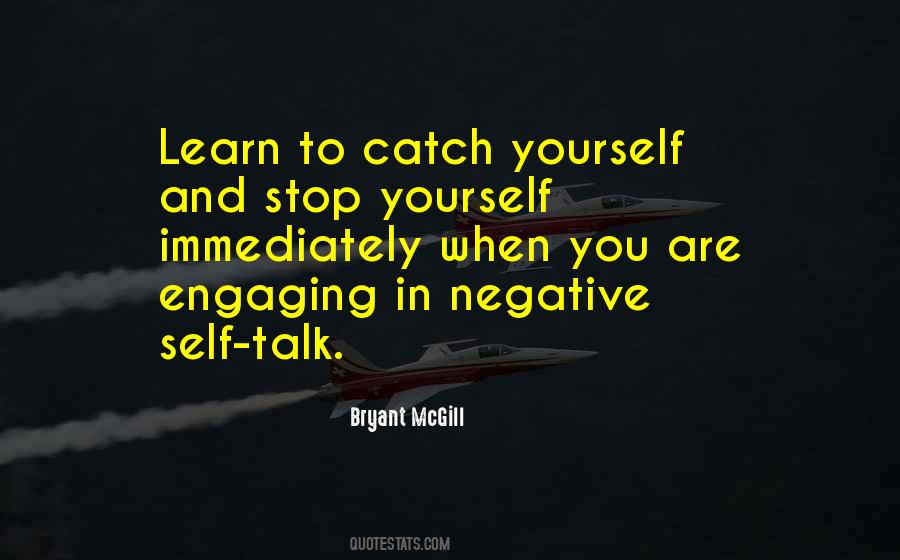 #52. Needing to talk badly about others indicates low self esteem. That means, 'I feel so low that instead of picking myself up, I have to cut others down.' Letting go of negative things quickly is healthy. - Author: Pope Francis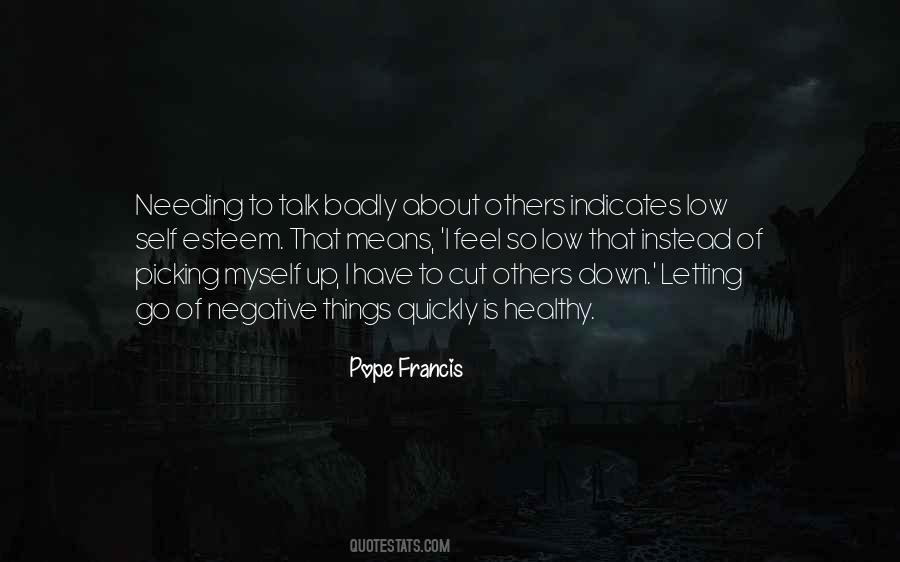 #53. You can accomplish so much with a strong will. Just do your best, no matter what. Don't let negative thoughts creep in. Don't talk yourself out of anything. - Author: Rebecca Twigg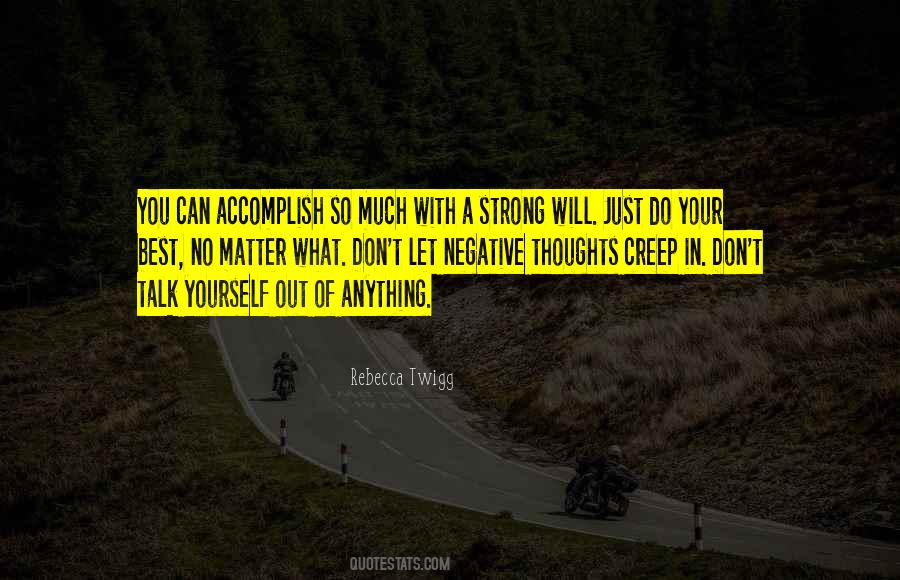 Famous Authors
Popular Topics