Nature Spirituality Famous Quotes & Sayings
List of top 100 famous quotes and sayings about nature spirituality to read and share with friends on your Facebook, Twitter, blogs.
Top 100 Quotes About Nature Spirituality
#1. With its leaves so rich and heavy with elation and its crimson face made brighter with visions of divinity the shadow of a certain rose looks just like an angel eating light. - Author: Aberjhani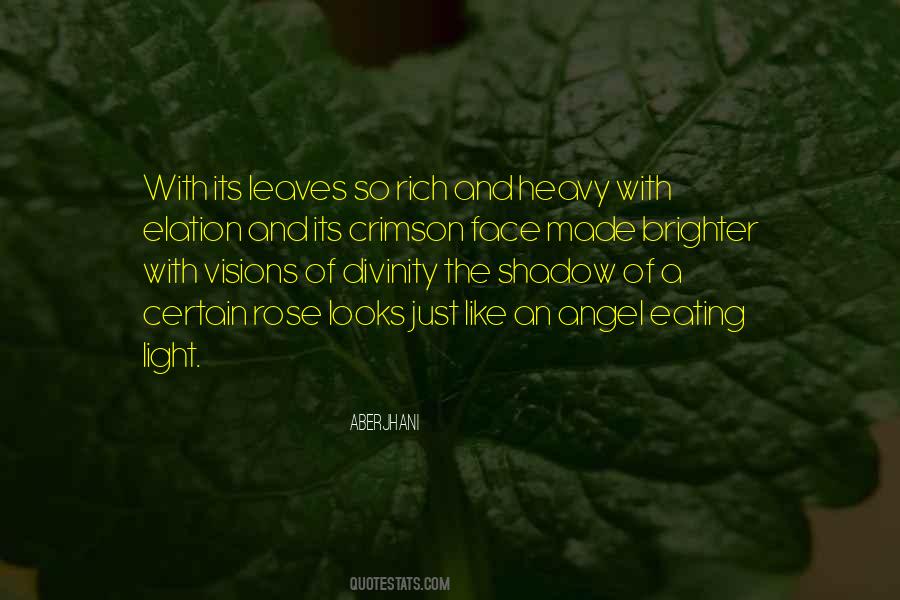 #2. Spirituality is your original face; it is the discovery of your intrinsic nature. - Author: Rajneesh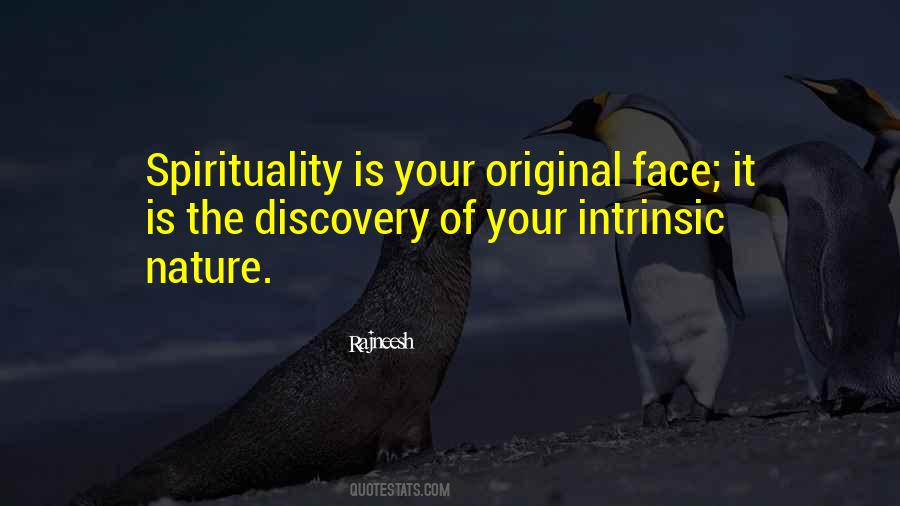 #3. By reading the scriptures I am so renewed that all nature seems renewed around me and with me. The sky seems to be a pure, a cooler blue, the trees a deeper green. The whole world is charged with the glory of God and I feel fire and music under my feet. - Author: Thomas Merton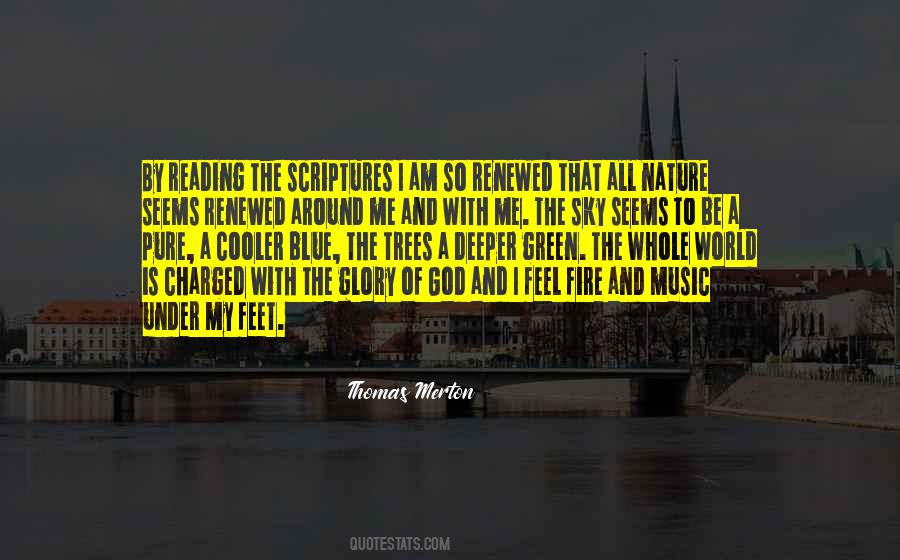 #4. The trees were his chapel and the hillsides his cathedral. - Author: Aleksandra Layland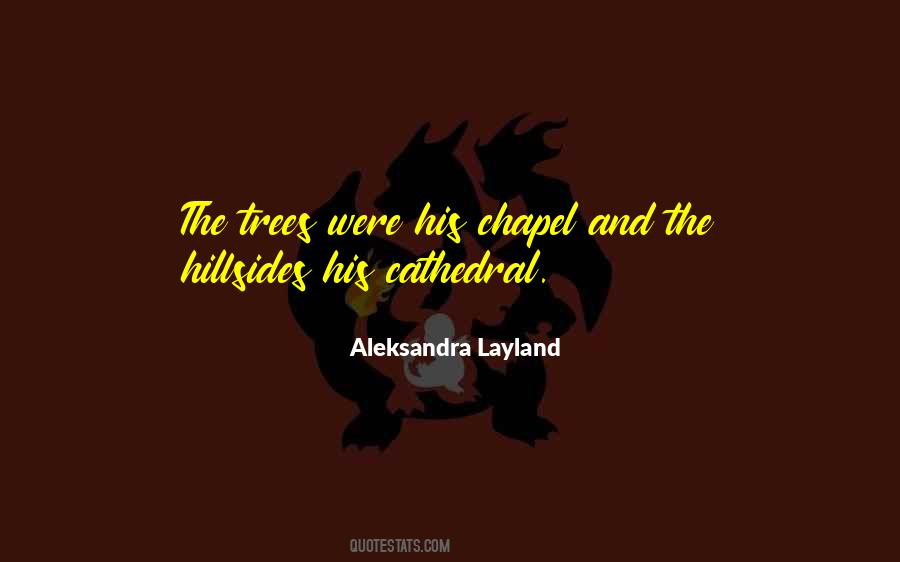 #5. In my head this cruel unspeakable truth: that we battled and we cursed and we spilled each other's blood, we relished our taste of hell and strangled heaven's love. - Author: Aberjhani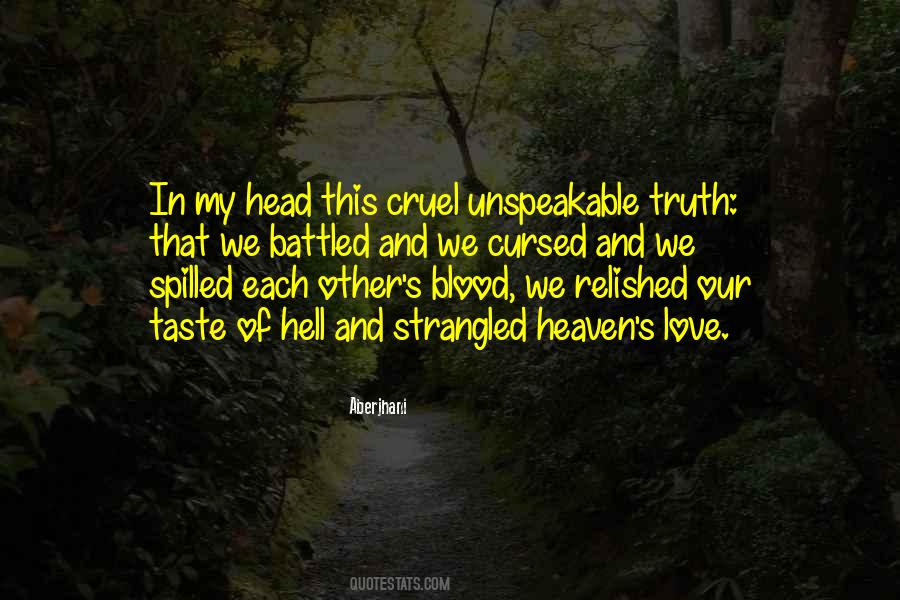 #6. Consciousness is the basis of all life and the field of all possibilities. Its nature is to expand and unfold its full potential. The impulse to evolve is thus inherent in the very nature of life. - Author: Maharishi Mahesh Yogi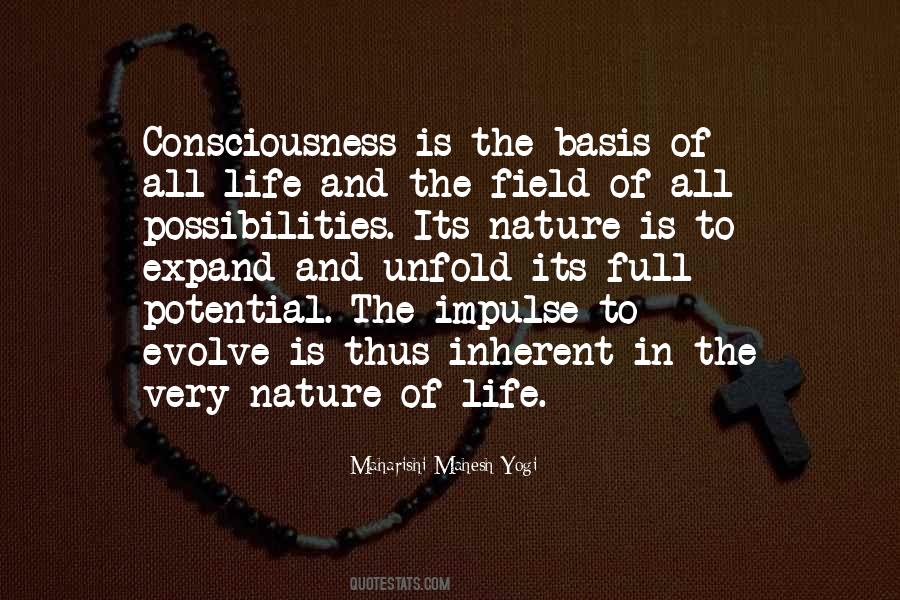 #7. This fire that we call Loving is too strong for human minds. But just right for human souls. - Author: Aberjhani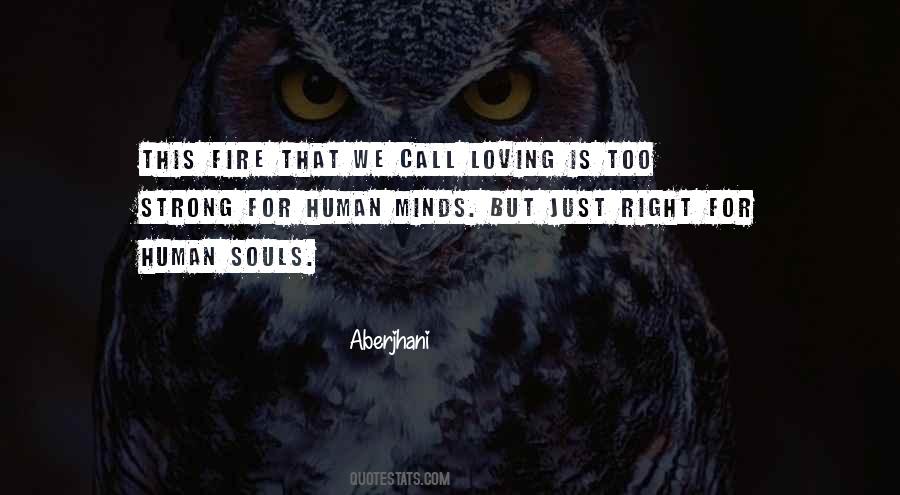 #8. You are the sun and the rain, the water and the plants, the birds and the animals. There is no such thing as 'nature,' apart from you and me. You are nature, I am nature, just as you are me and I am you. - Author: John Lundin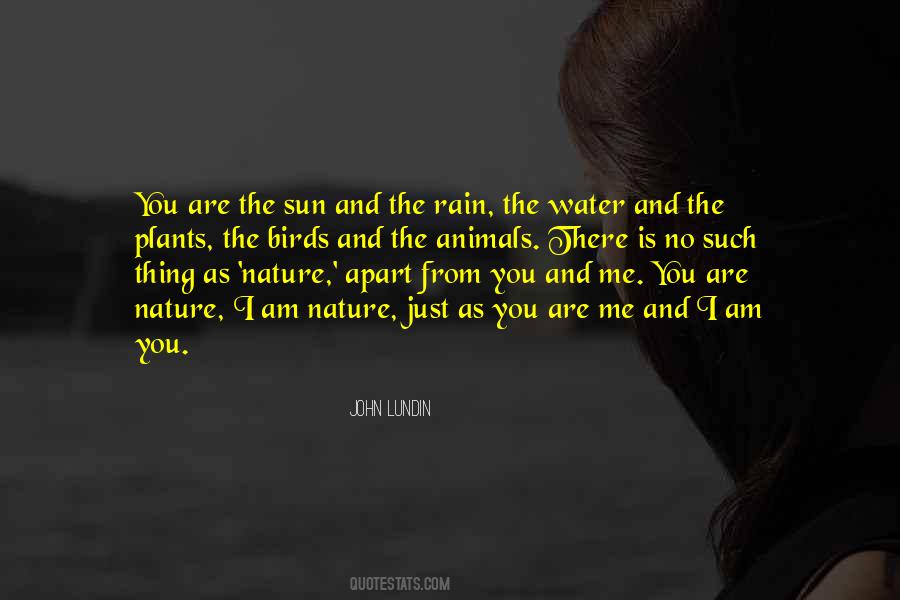 #9. May all beings be free of pretended happiness.
May all beings find their deepest lie.
May all beings see the nature of their inner turmoil.
May all beings realize what they are not.
And through this, may all beings become who they already are. - Author: Christopher Zzenn Loren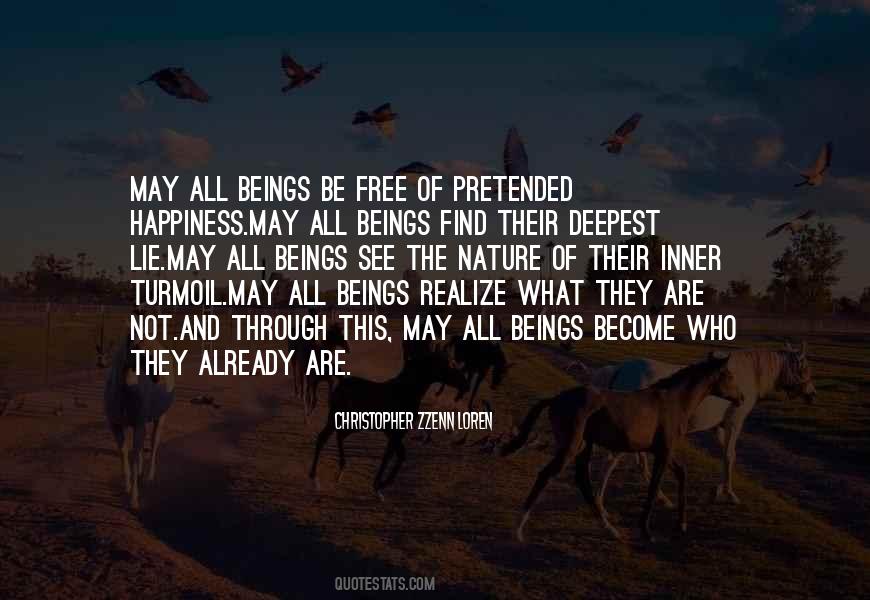 #10. Our ailing planet needs spiritual warriors, ones capable of standing up to the Western materialism machine, so we can create sustainable societies that care for their citizens, harmonize with the cycles of nature, and receive and honor the vast healing light that quietly connects us all. - Author: Jonathan Talat Phillips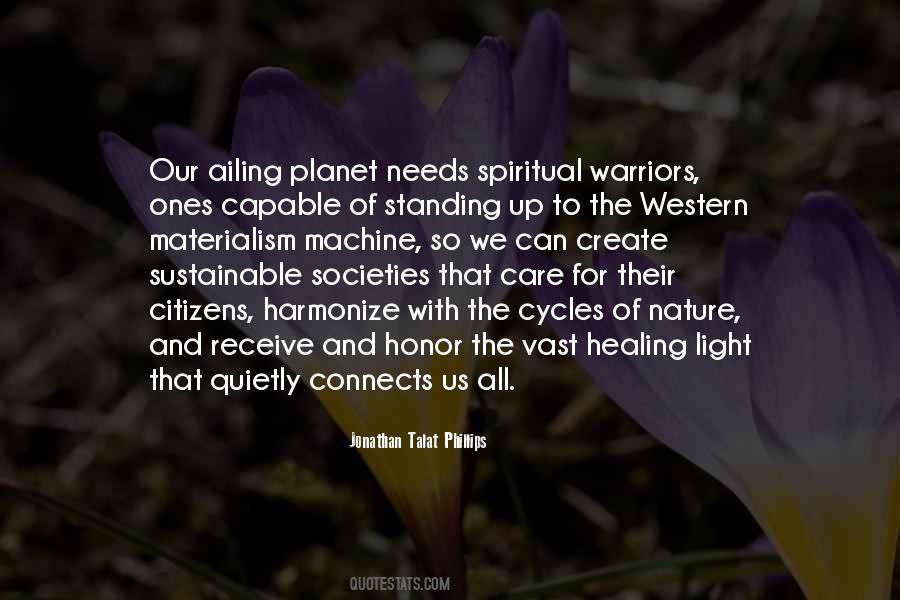 #11. Not God, but man-made gods kill, by self-will. - Author: Fakeer Ishavardas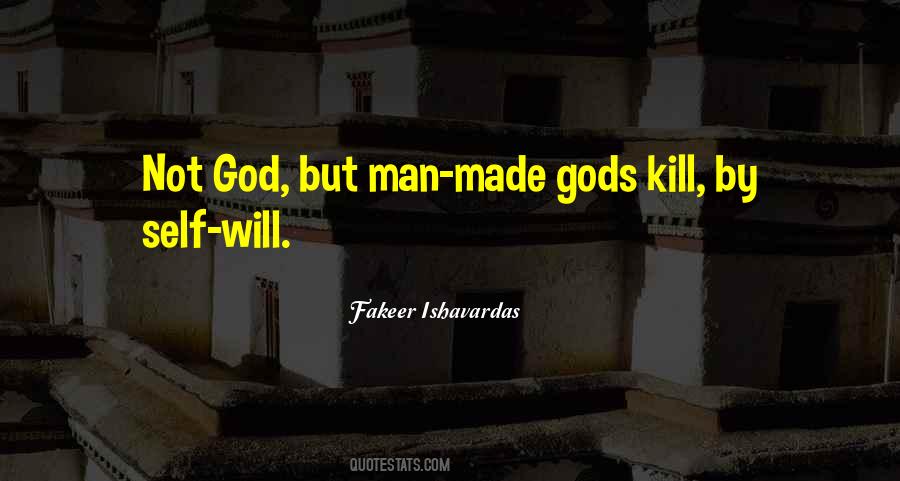 #12. As you notice your whole being, your entirety, your wise inner nature, there are messages there for you. Quietly give permission for your wholeness, your entirety, to share its deepest wisdom. - Author: Janet Gallagher Nestor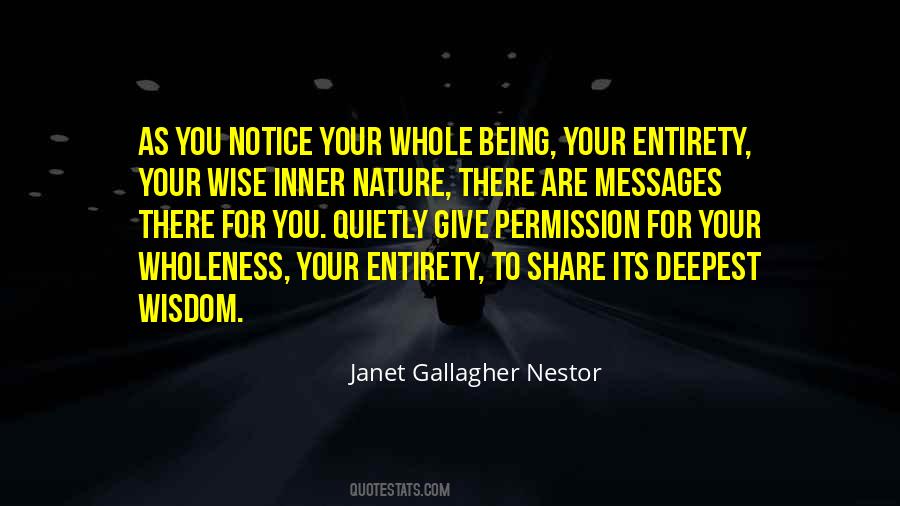 #13. Most people are slow to champion love because they fear the transformation it brings into their lives. And make no mistake about it: love does take over and transform the schemes and operations of our egos in a very mighty way. - Author: Aberjhani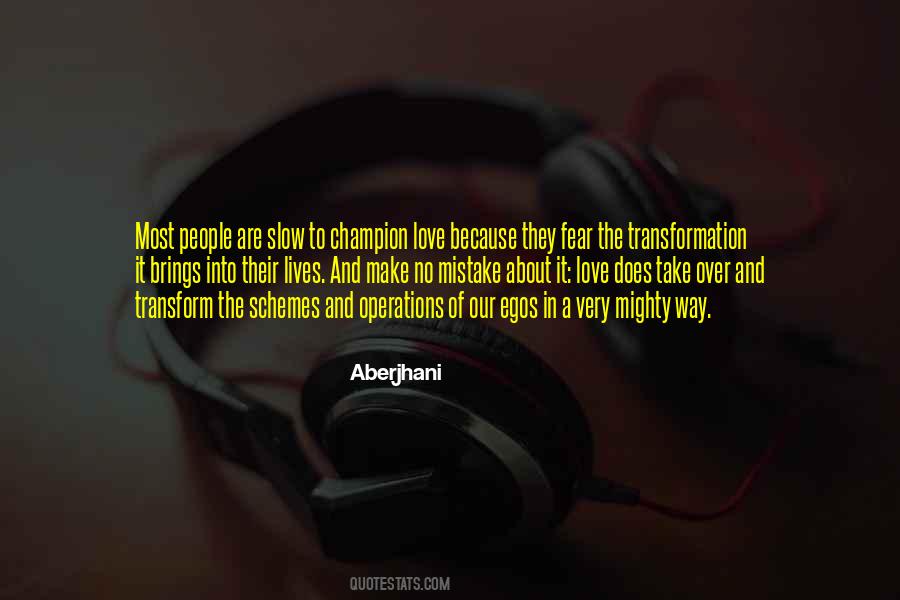 #14. The Son symbolizes the hope of humanity, bringing light to the darkness of our material existence, and reuniting us with the divinity of our own higher nature. - Author: Belsebuub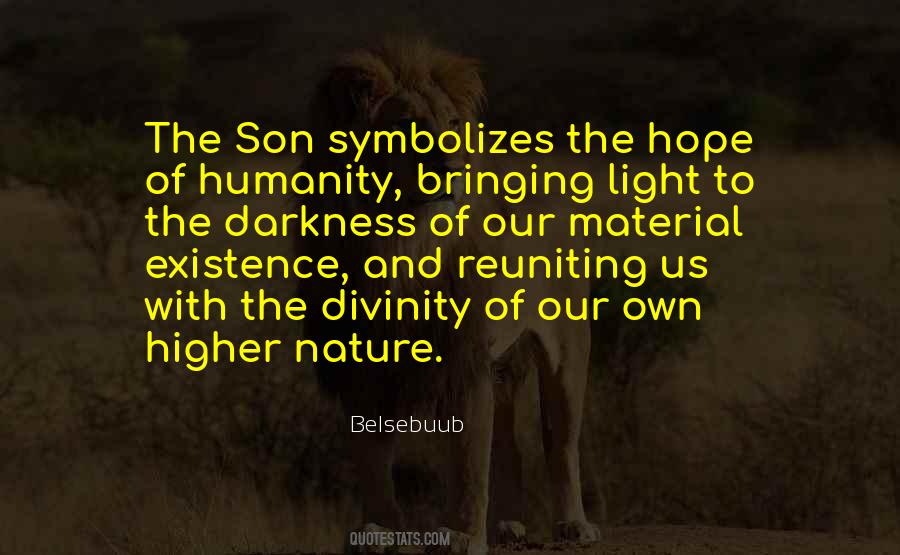 #15. There is one thing that all true spirituality has in common, whether that spirituality is derived from faith, from science, from nature or from the arts - a sense of wonder. - Author: Andrew Schneider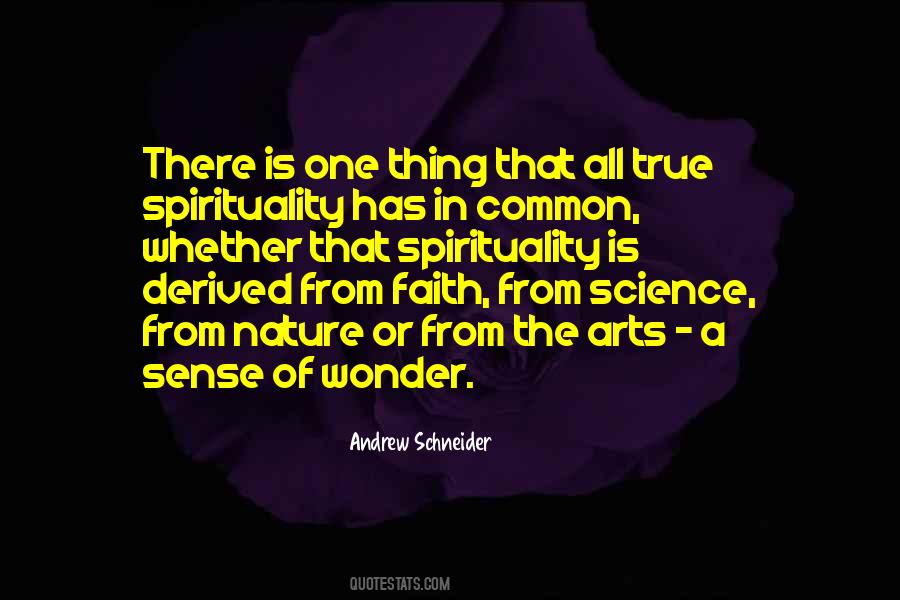 #16. The miracle is life, time and nature, three sacred gifts, ends with 'e'. - Author: Lailah Gifty Akita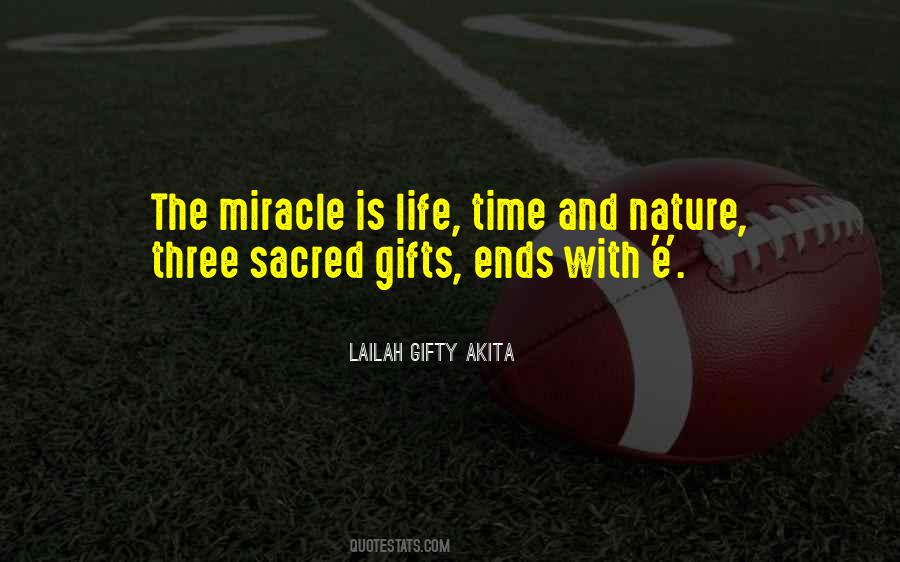 #17. First came him, then came I, then he came again and then I was lost forever. - Author: Alok Jagawat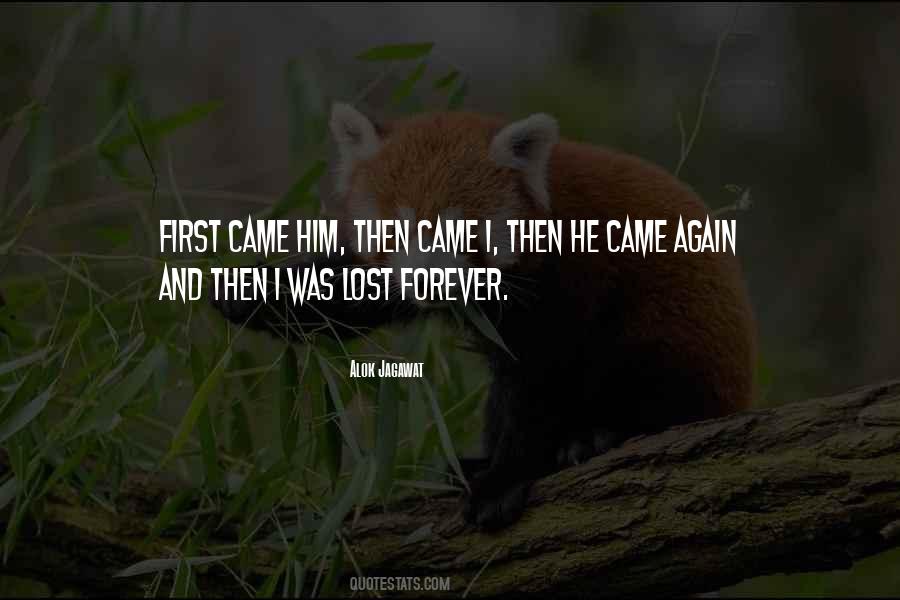 #18. [N]one of us drinks the chalice of our existence to the last drop. None of us is fully obedient. Each of us falls short of the human nature entrusted to us. - Author: Johann Baptist Metz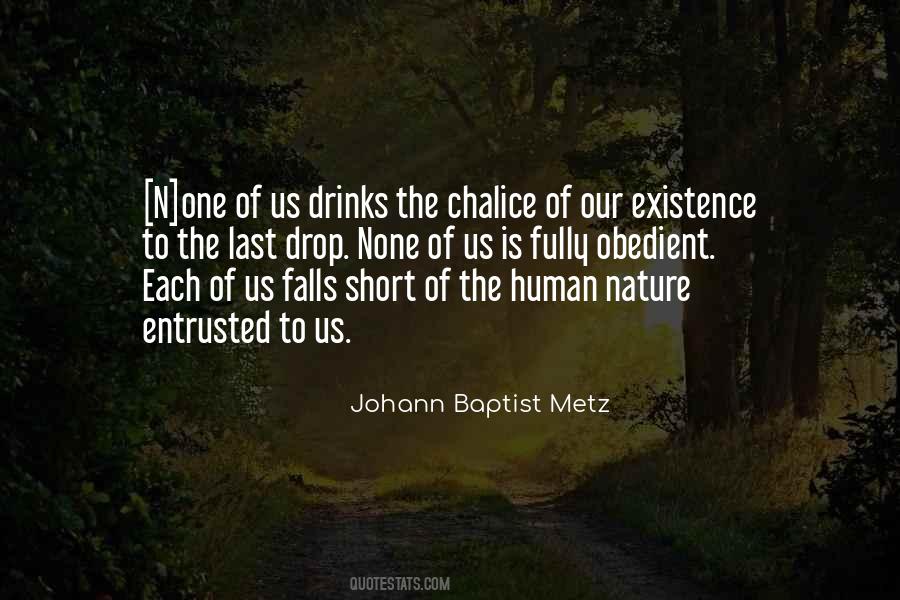 #19. Play is a sacred act. When we are playing, the essence of all creation flows freely through us. We are expressing our true nature and connecting with the very core of our existence. Nothing is more spiritual than that. - Author: Victor Shamas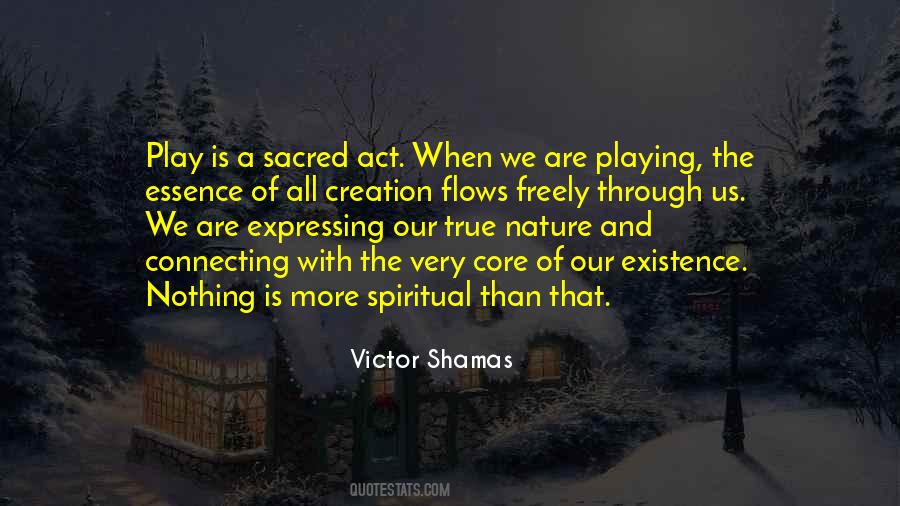 #20. There is something to be said about the vastness of the earth, as well as the vastness of the heavens, in reminding us how small we are and how great God's creation is. - Author: Aleksandra Layland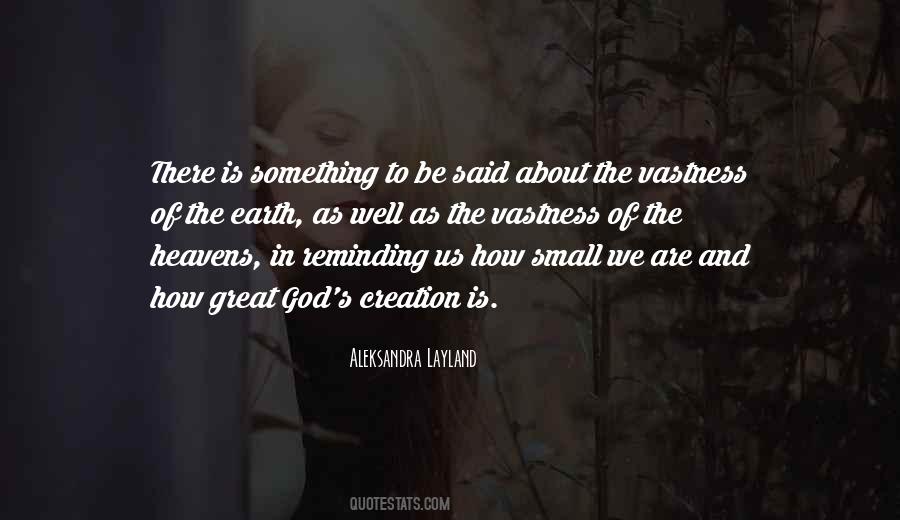 #21. I just have to make it to the Tuichi' I mumbled to myself, 'I just have to make it to the Tuichi'.
Alone, deep in the jungle, so small and insignificant, pitted against nature, still I sensed someone was watching me. Or watching over me.Someone could see me, someone was providing for me - Author: Yossi Ghinsberg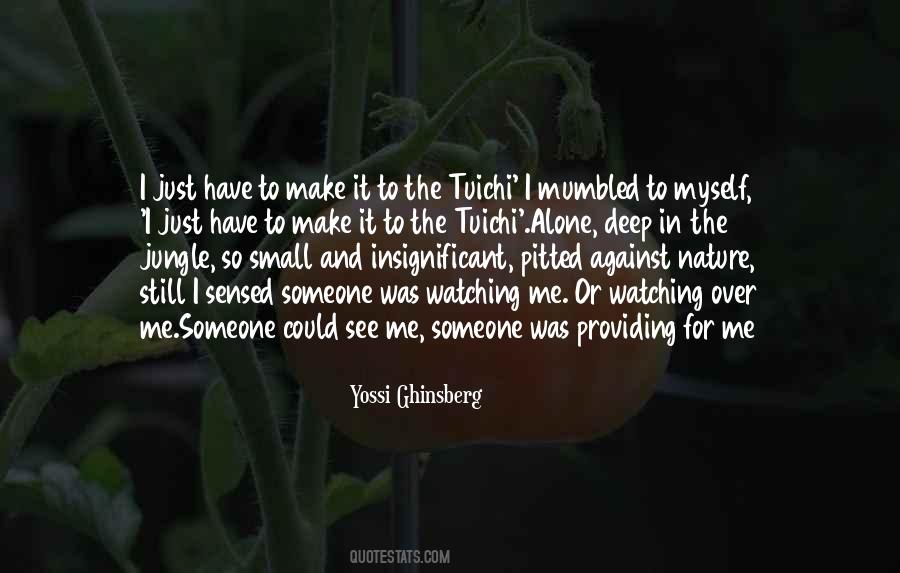 #22. What a strange alchemy we have worked, turning earth around to destroy itself, using earth's own elements to wound it. - Author: Linda Hogan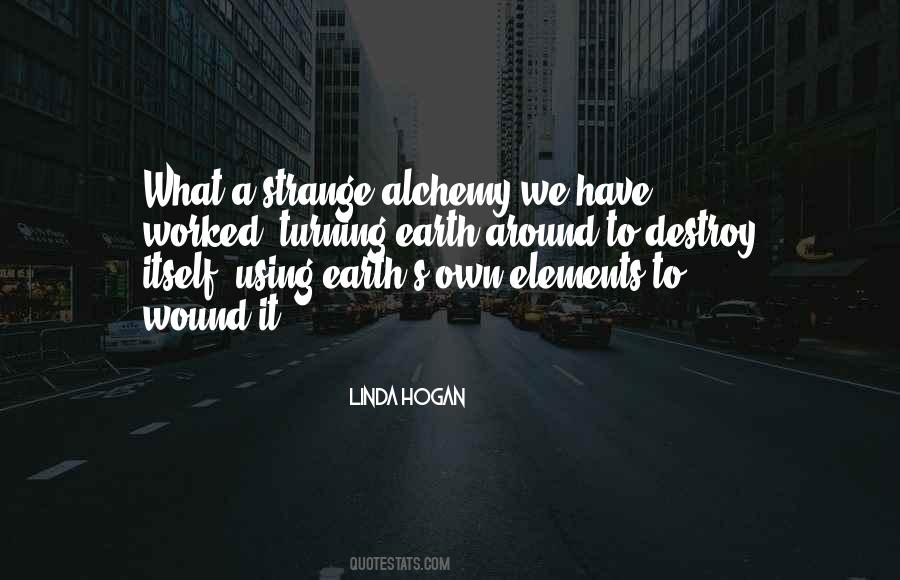 #23. Divinity means unfolding and expressing life in new ways. Divinity means radiating peace, bliss and beauty in the world. Divinity means overcoming the limitations of nature in new ways. - Author: Amit Ray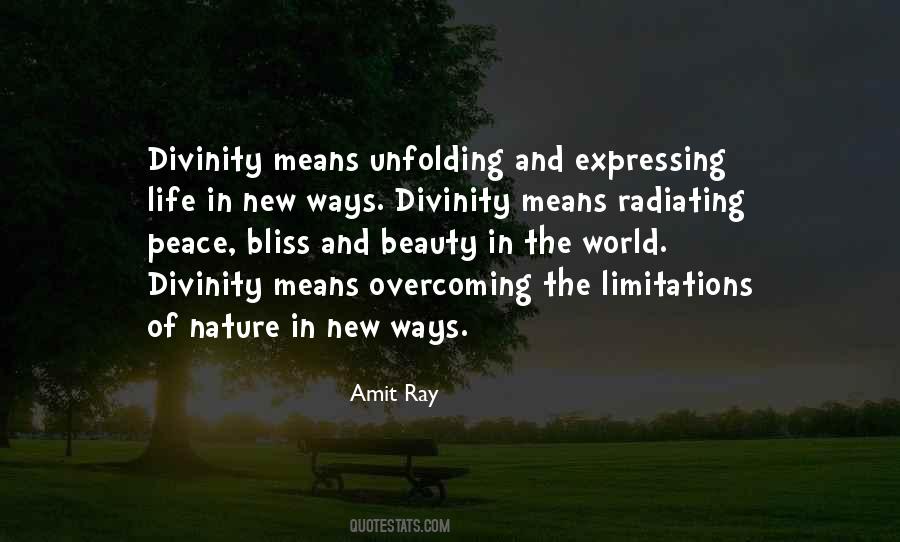 #24. In original nature There is no this and that. The Great Round Mirror Has no likes or dislikes. - Author: Seungsahn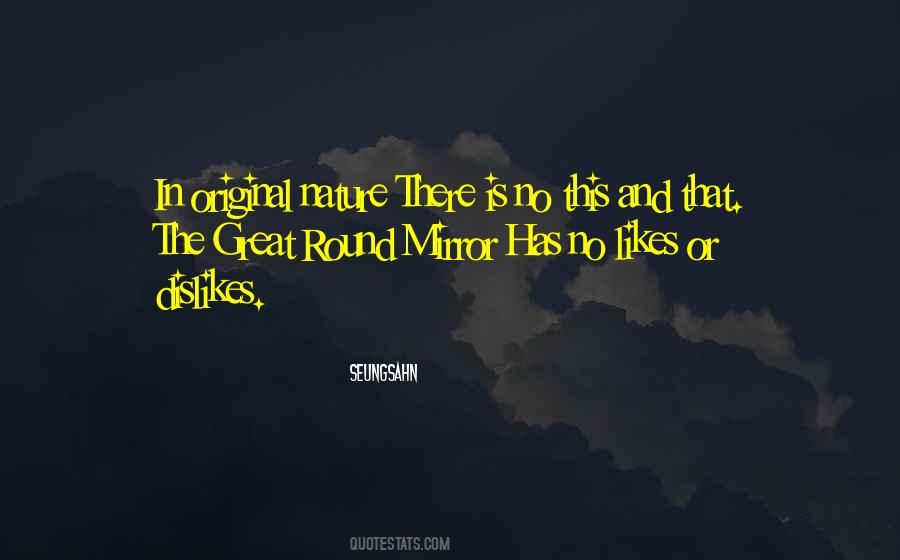 #25. It's possible to satisfy the needs of the inner life by an intimate communion with nature, or by knowledge of the past. - Author: Adolf Hitler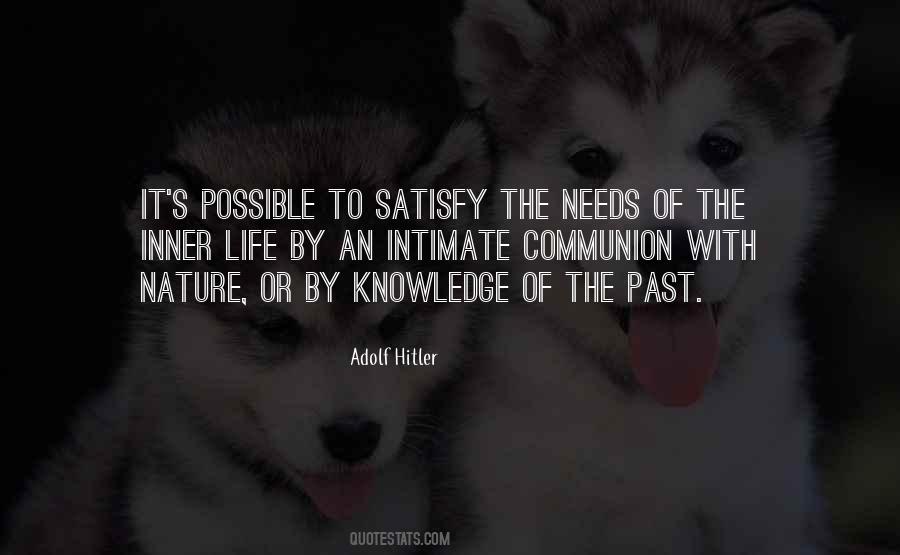 #26. God is so vastly wonderful, so utterly and completely delightful that He can, without anything other than Himself, meet and overflow the deepest demands of our total nature, mysterious and deep as that nature is. - Author: A.W. Tozer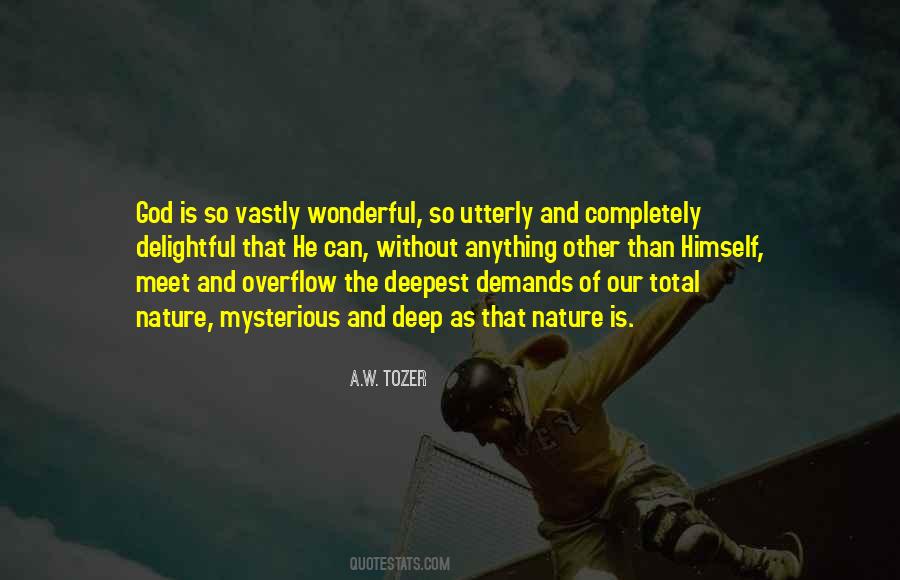 #27. And do you see how beautiful and graceful the birds are when they are flying and soaring? The ground has many comforts for them to enjoy... But in the sky they are truly what a bird is meant to be. So it is with the human heart. - Author: Aleksandra Layland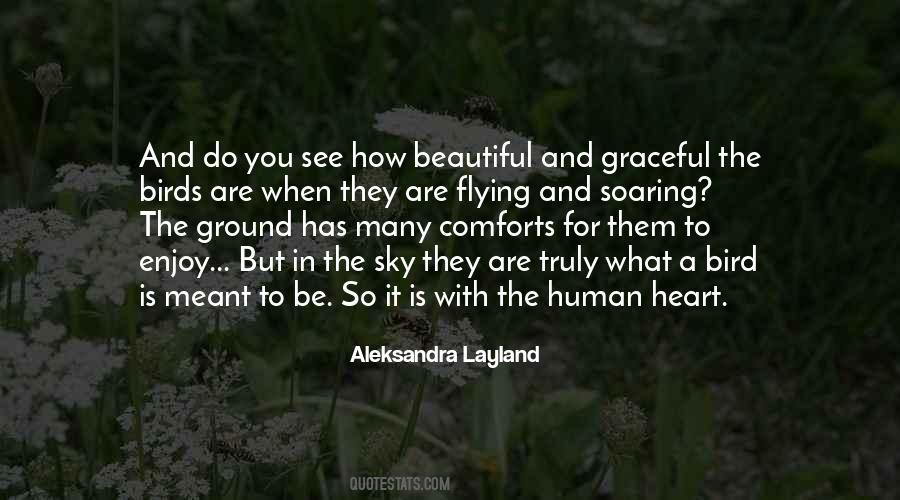 #28. Thoughts, by their nature, come and go endlessly in you. But you are not the thought; you are the one seeing the thought, so any thought of who you are cannot be the truth of who you are. - Author: Enza Vita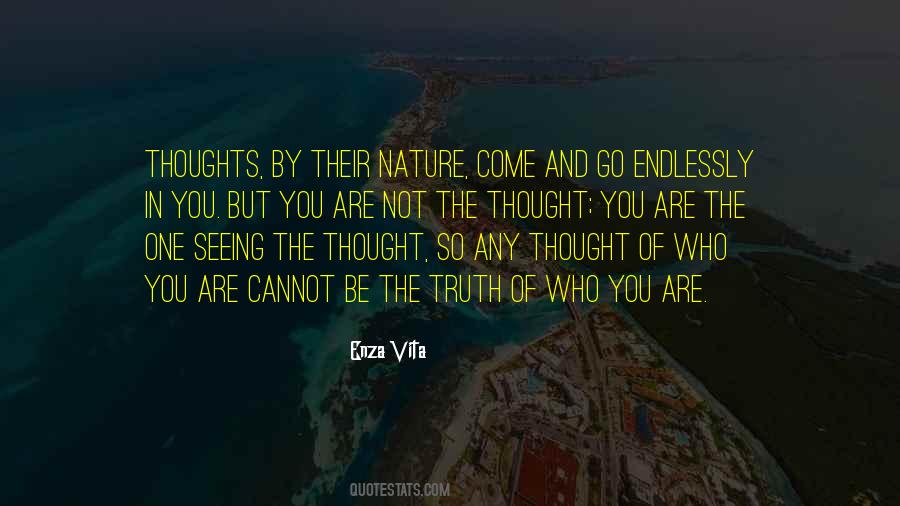 #29. The sacred tree, the sacred stone are not adored as stone or tree they are worshipped precisely because they are hierophanies, because they show something that is no longer stone or tree but sacred, the ganz andere or 'wholly other. - Author: Mircea Eliade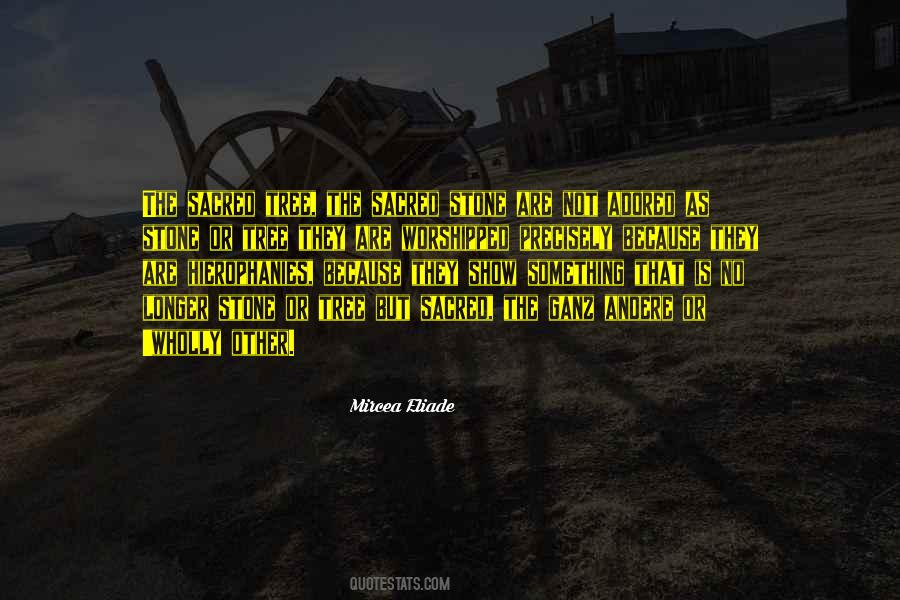 #30. God is the most beautiful, and beauty is the expression of God. If you can't appreciate beauty in the world how can you understand God? - Author: Amit Ray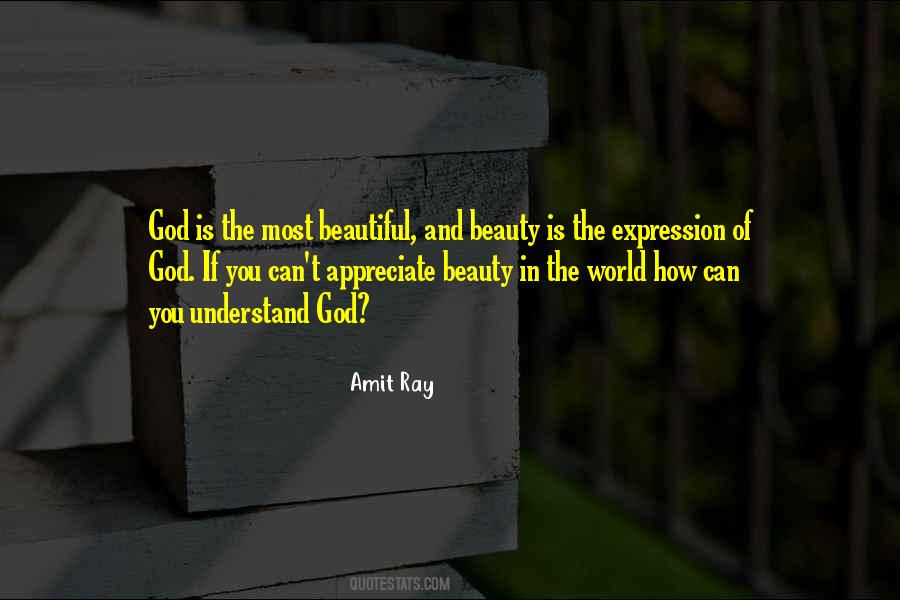 #31. Nature reflects the moods of the wizard. - Author: Deepak Chopra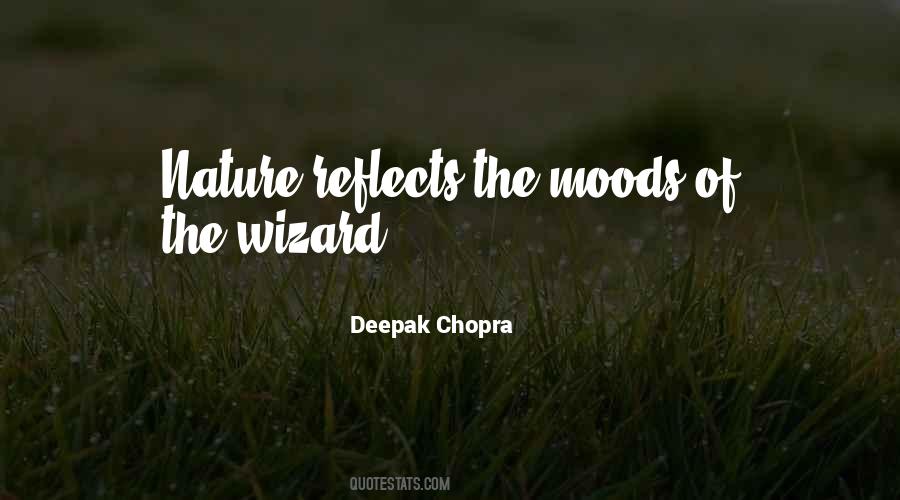 #32. Tomorrow always has the potential for sunshine. - Author: Kehinde Sonola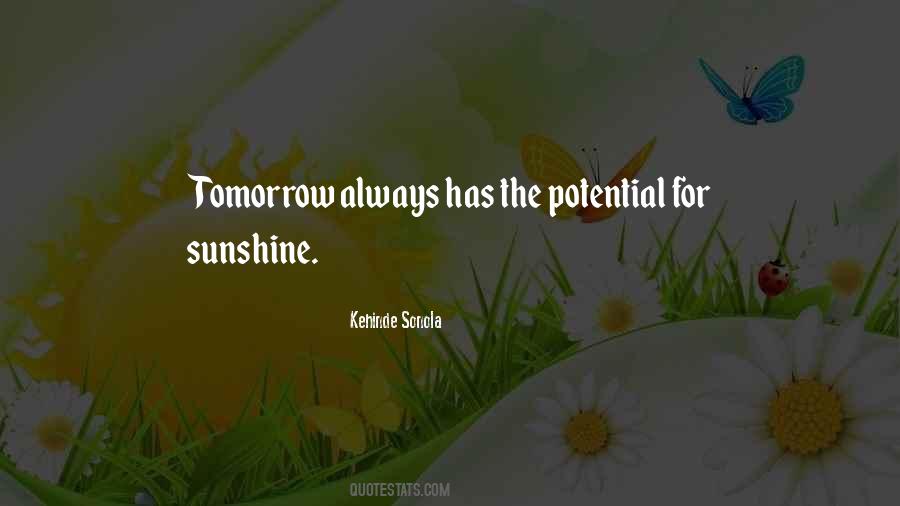 #33. A wise teacher is a keen and true student of absolute beauty and truth, and he searches everywhere for them in nature with all his heart - Author: Sadegh M. Angha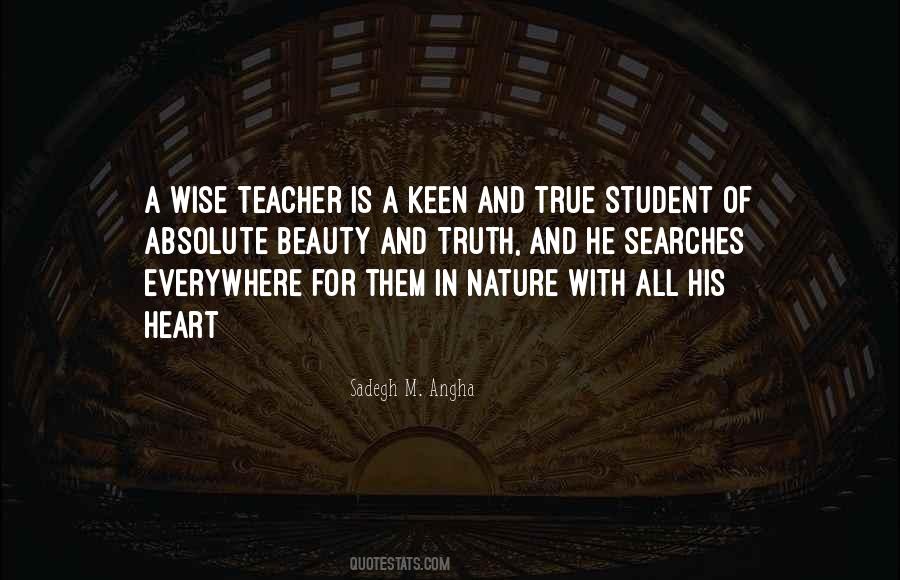 #34. Your big heart will make you care and care a lot - About nature, a friend, a moment, even an enemy. Sometimes you will feel no one else does. Take a breath and trust it will be momentarily. Keep looking for those who care and keep them close to you. - Author: Septem Nuntius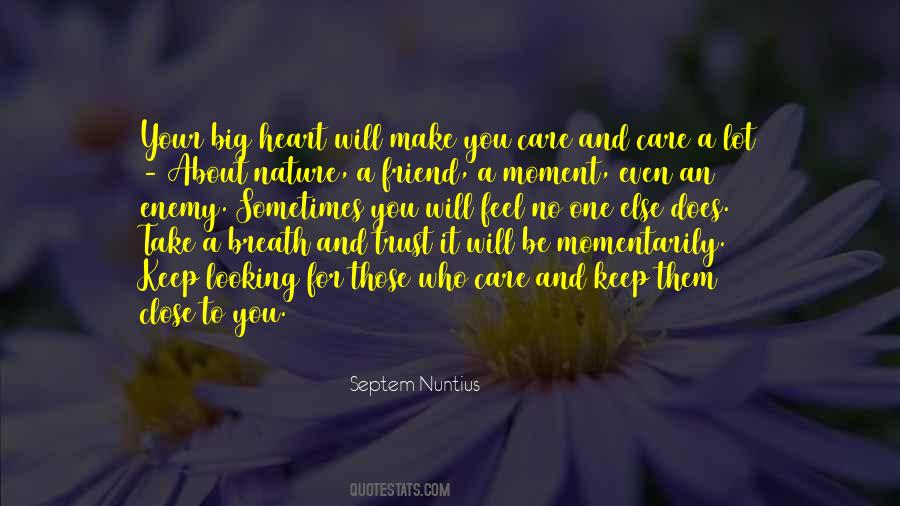 #35. I'm not religious, but by nature I am spiritual. I'm an artist, and creativity seems to go hand in hand with spirituality. But I have a knee-jerk reaction against organized religions. Actually, I have knee-jerk reactions against anything that's organized. - Author: Nikki Sixx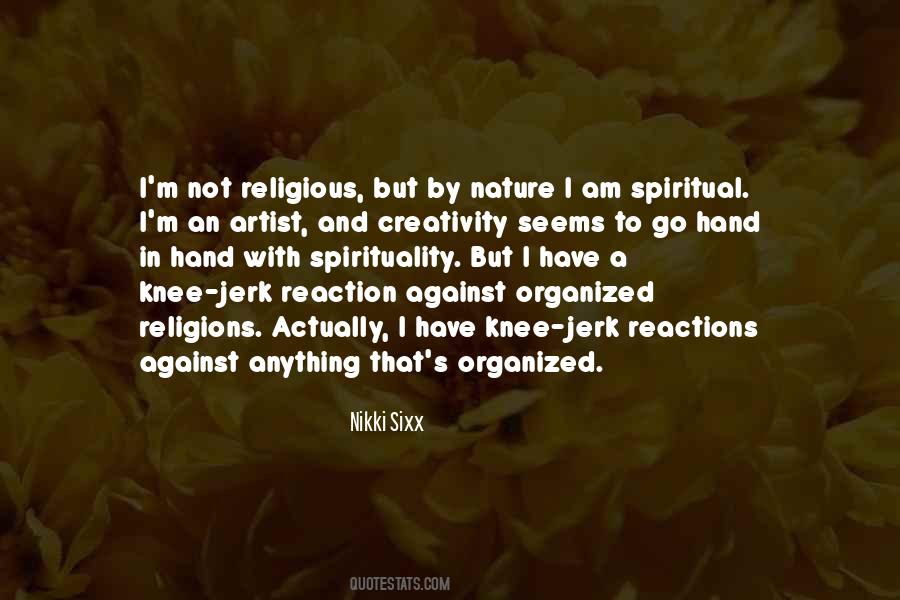 #36. In silence alone does a man's truth bind itself together and strike root. - Author: Antoine De Saint-Exupery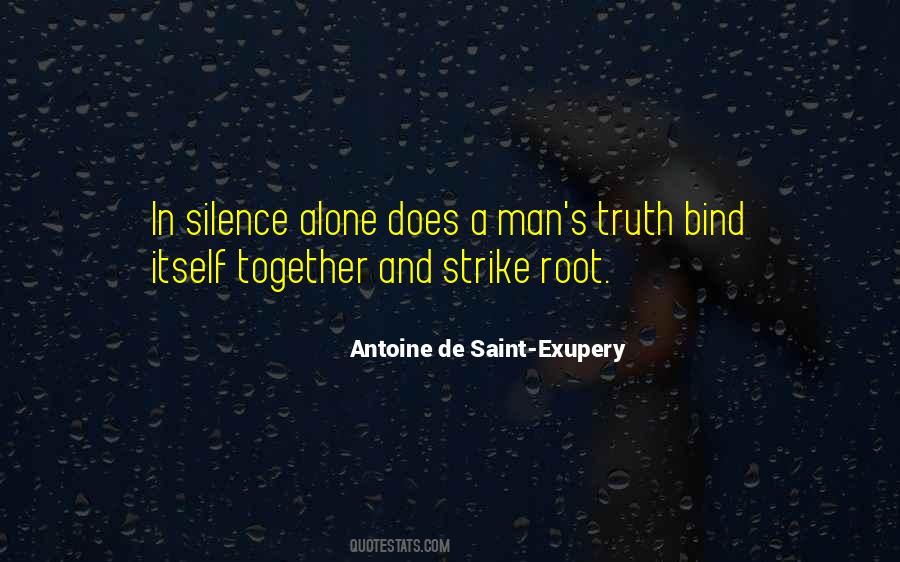 #37. Western science is approaching a paradigm shift of unprecedented proportions, one that will change our concepts of reality and of human nature, bridge the gap between ancient wisdom and modern science, and reconcile the differences between Eastern spirituality and Western pragmatism. - Author: Stanislav Grof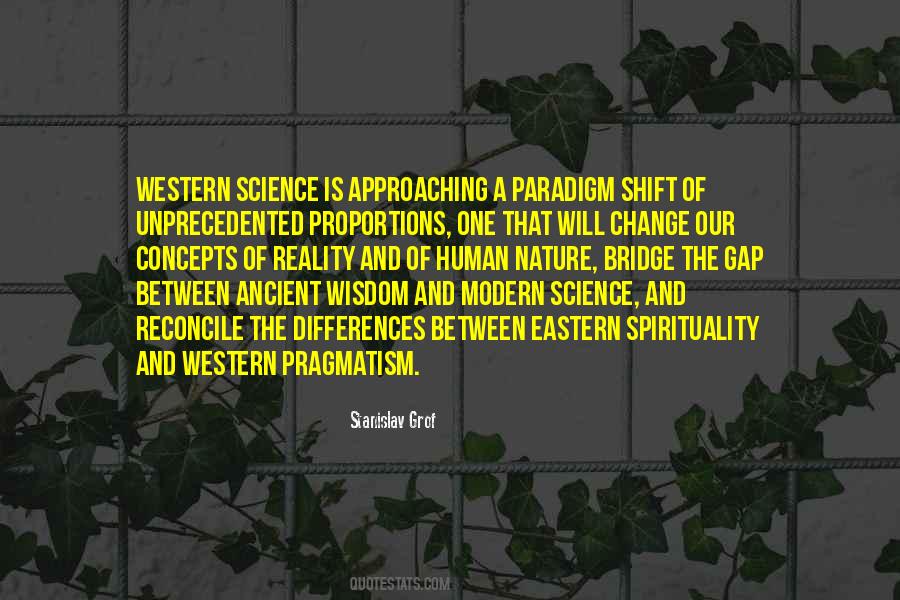 #38. The unceasing flow of thought in all its various forms is an inescapable and defining aspect of the human condition. - Author: Paul O'Brien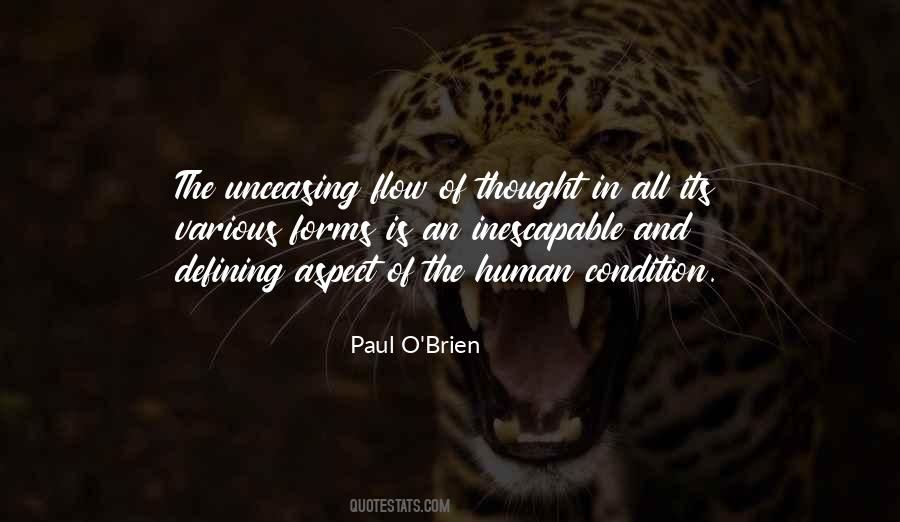 #39. Om (AUM) the Divine song is at the same time Symmetry, Supersymmetry, broken Symmetry, and the unbroken Symmetry of Nature. - Author: Amit Ray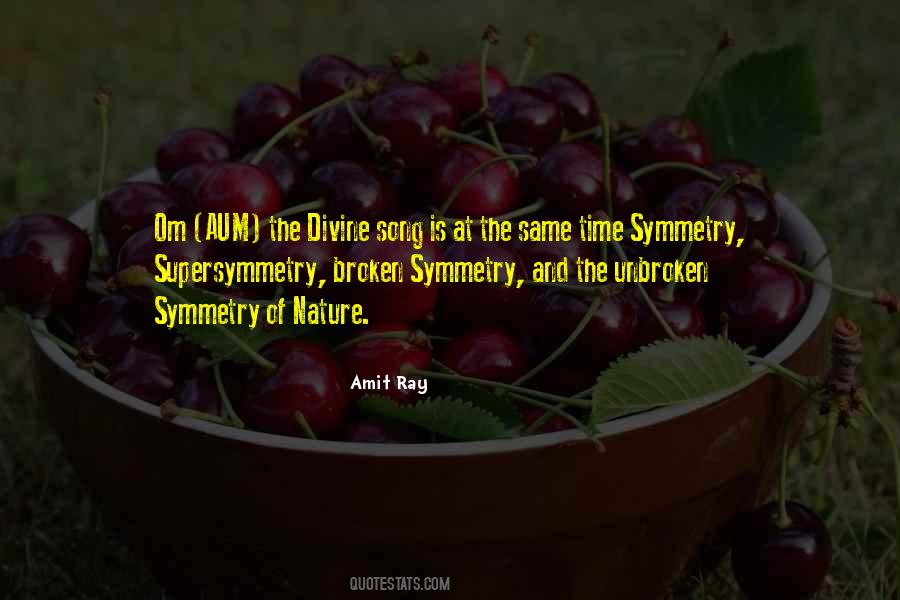 #40. Science and Truth are simple phenomenon of nature, but it is the known that is preventing us from mastering the unknown. - Author: Chandrakanth Natekar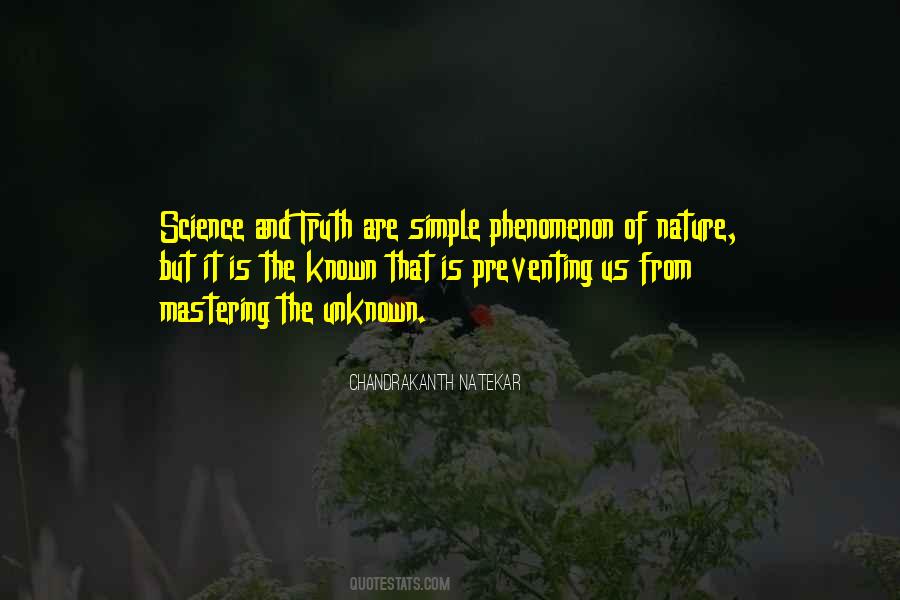 #41. A basket of ripe fruit is holier than any prayer book. - Author: Marty Rubin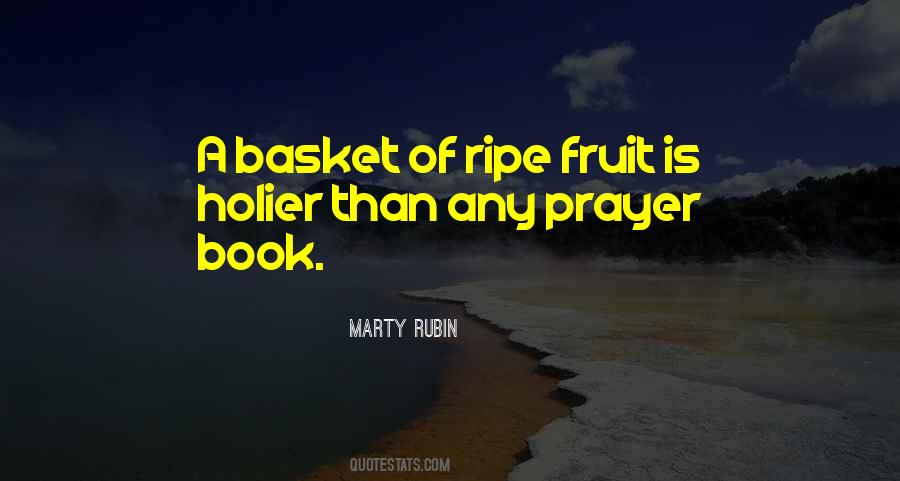 #42. When the soul is consciously awakened can it comprehend the acquiescence of Muhammad, the unshakable foundation of Abraham and the very nature of Christ, equating the Aleph in the sealed Universe - As The Soul Speaks - Author: AainaA-Ridtz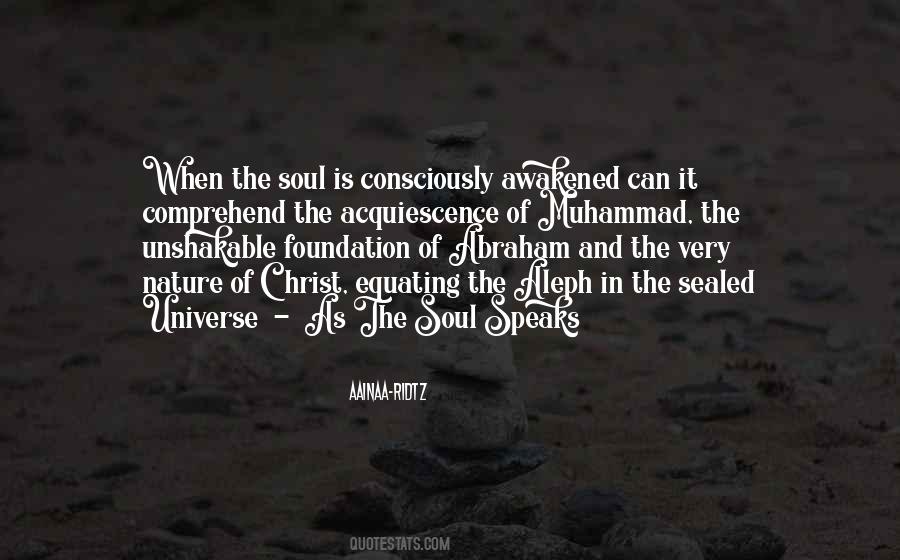 #43. The essence of death is discovered in the gap between one moment ceasing and another one beginning. That essence is the wakefulness that is our true nature. - Author: Enza Vita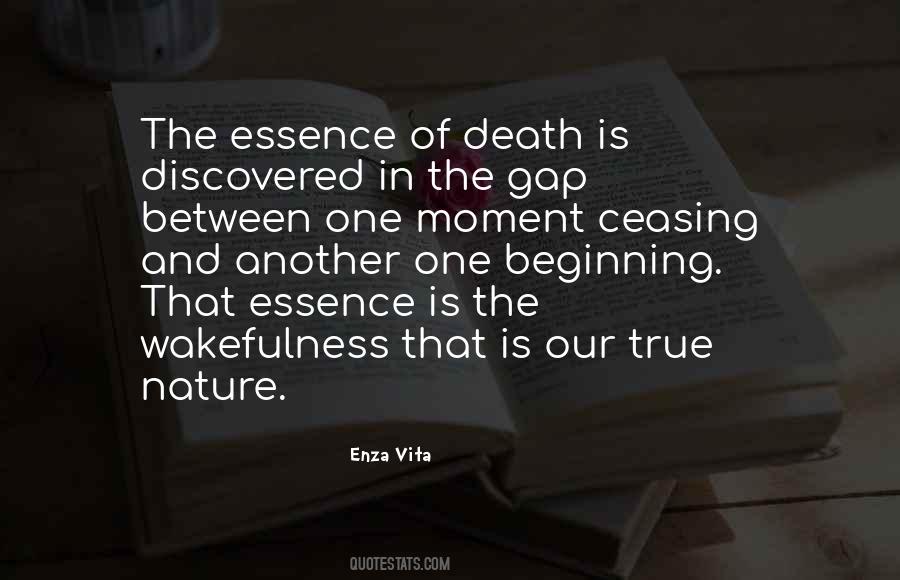 #44. My pragmatic nature, my impatience, will most likely have me drunk on aged spirit by noon. - Author: S.A. Tawks
#45. With passions stilled and one's nature firm, all destinies are in harmony; When the full moon of contemplation is reached you will be pure. - Author: Wu Cheng'en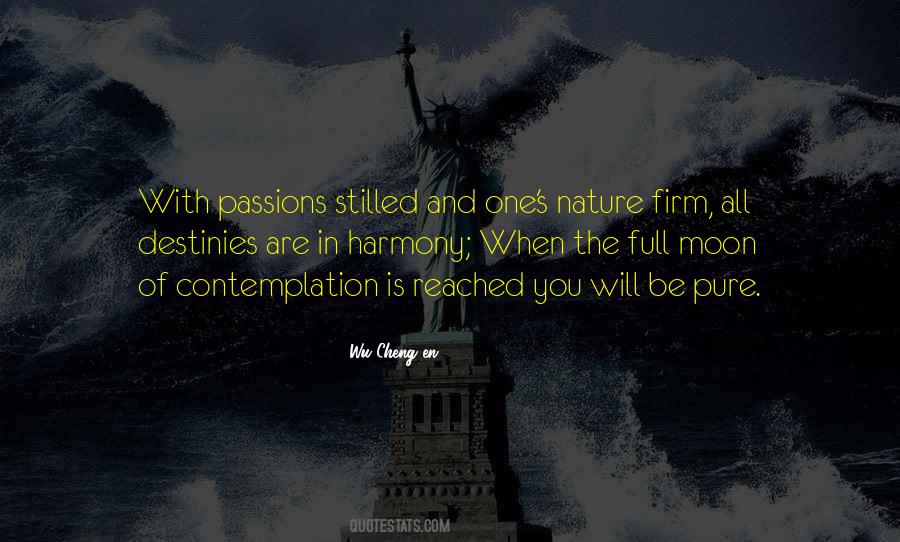 #46. We are all equally capable of spiritual awakening. It may not seem that way, at times. Some of us are so caught up in the drama of our day-to-day existence that we have lost track of who we really are. But eventually, all of us will make the discovery of our true nature. - Author: Victor Shamas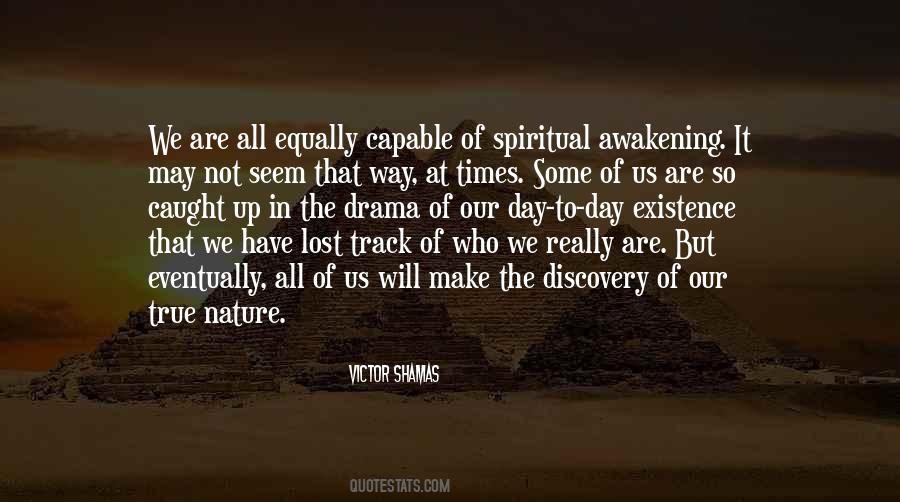 #47. When I see a garden in flower, then I believe in God for a second. But not the rest of the time - Author: Svetlana Alexievich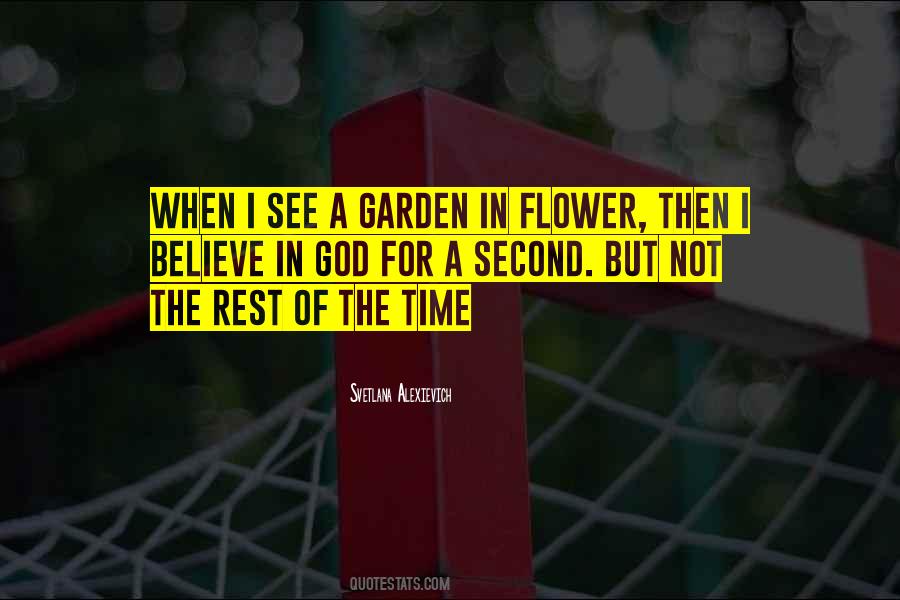 #48. I think the time has come for us to embrace spirituality as a domain of awareness where we all experience our universal nature, where we all experience our inseparability, where we all know love as the ultimate truth at the heart of creation. - Author: Deepak Chopra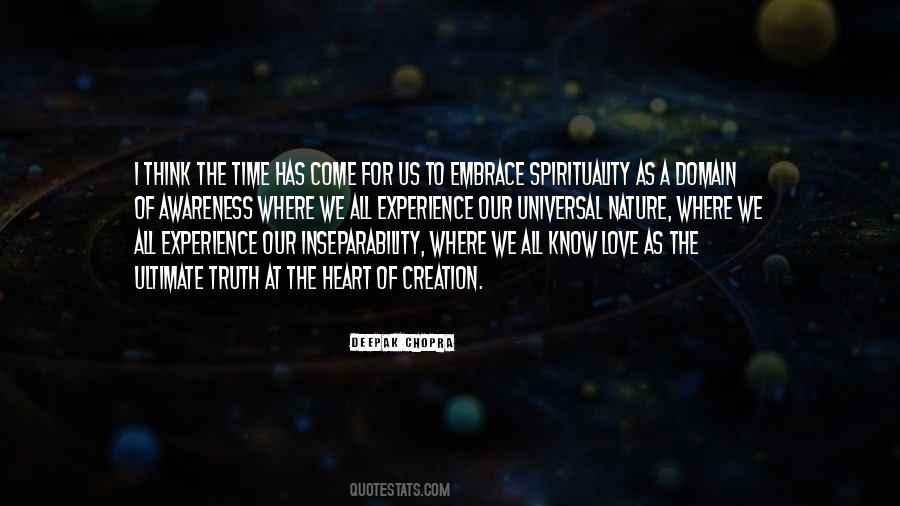 #49. There is no real aloneness. There is solitude and the nurturing silence that is relationship with ourselves, but even then we are part of something larger. - Author: Linda Hogan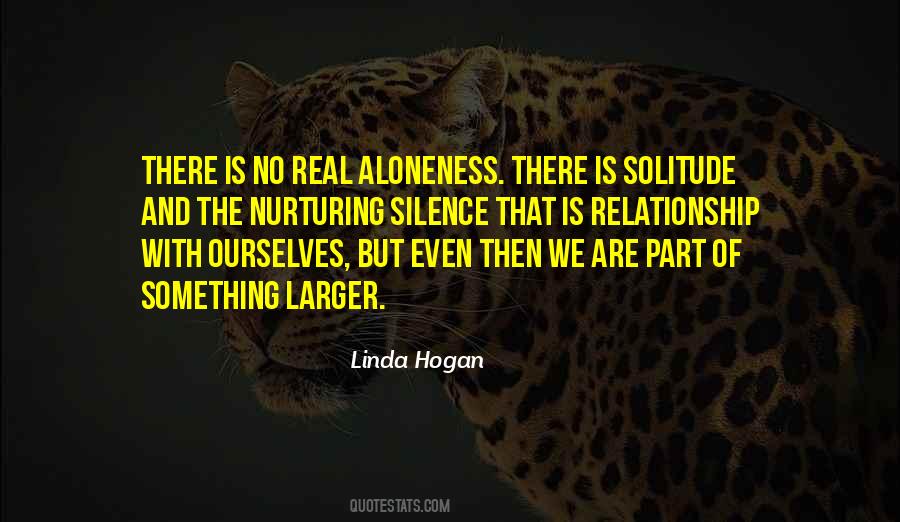 #50. We all have a thirst for wonder. It's a deeply human quality. Science and religion are both bound up with it. What I'm saying is, you don't have to make stories up, you don't have to exaggerate. There's wonder and awe enough in the real world. Nature's a lot better at inventing wonders than we are. - Author: Carl Sagan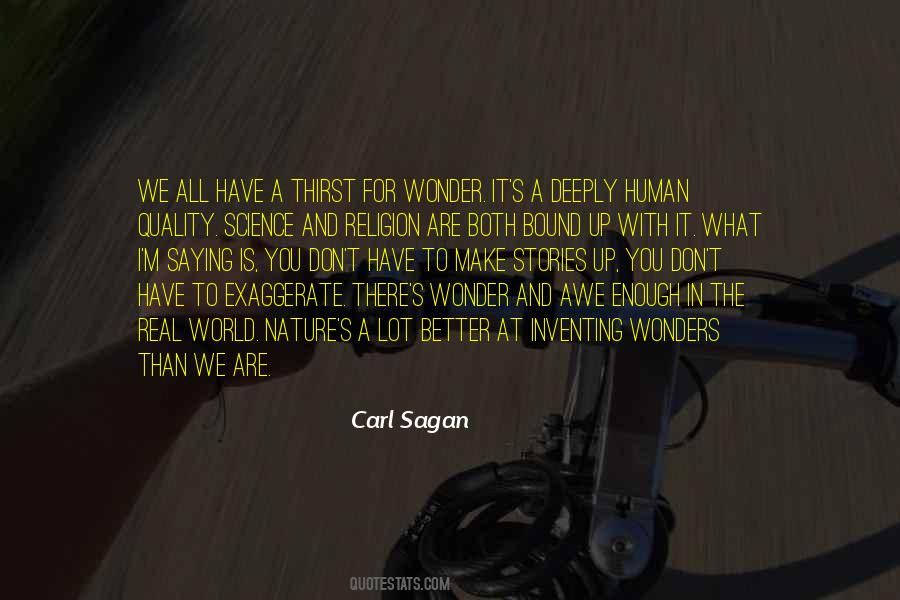 #51. With the harmonious balance between materialist nature and spiritual attitude, it is possible to be affluent yet with the soul of a saint. Such a state is a synthesis of matter and soul; the Rich Monk is a way to be rich in two ways. - Author: Vishwas Chavan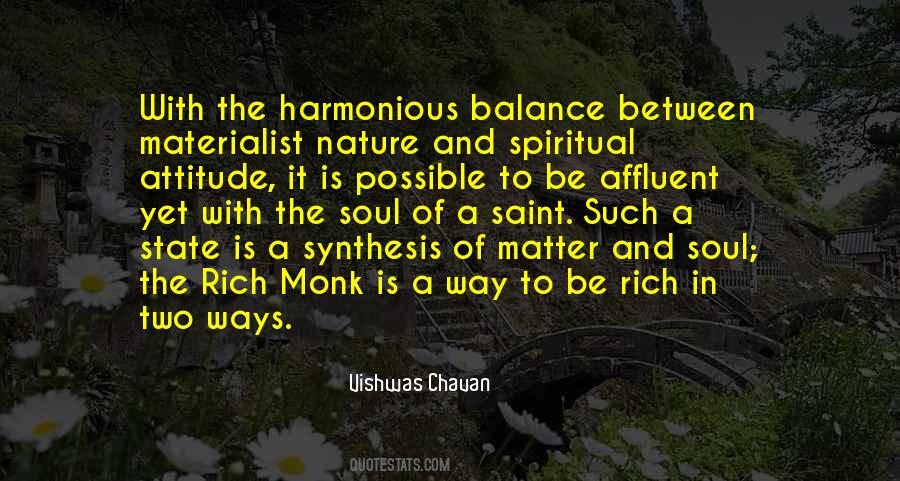 #52. When is the last time your computer restarted you? Don't forget about nature. Recreation means to re-create yourself. - Author: Bryant McGill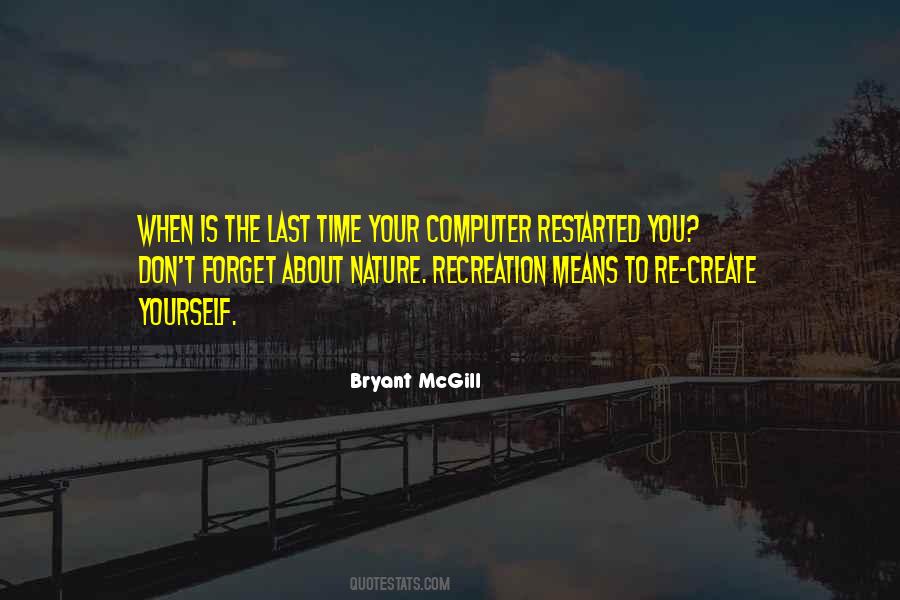 #53. If the true nature of everything isn't extraordinary, then God would be ordinary. - Author: Craig Smedley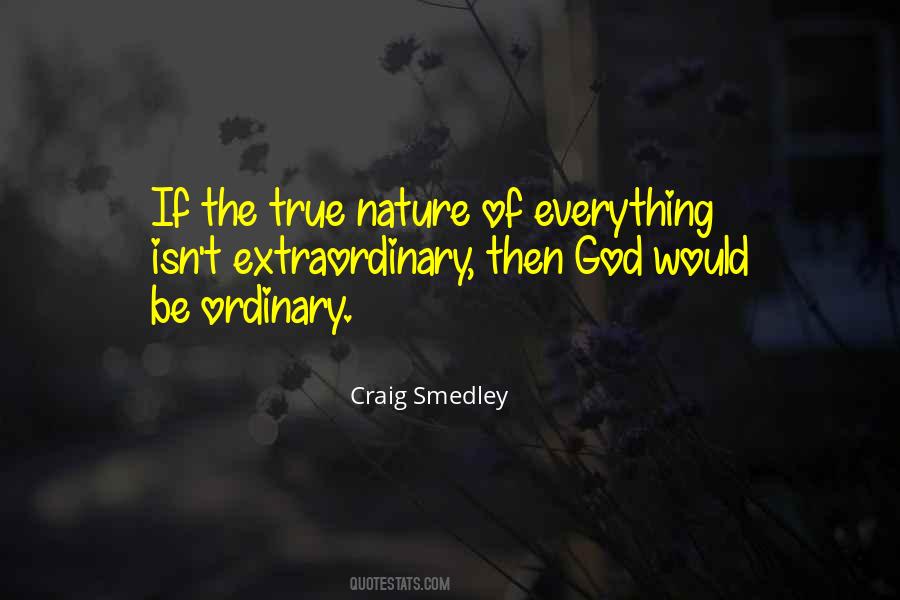 #54. Nature streamlines the soul connection
with the divine. - Author: Leta B.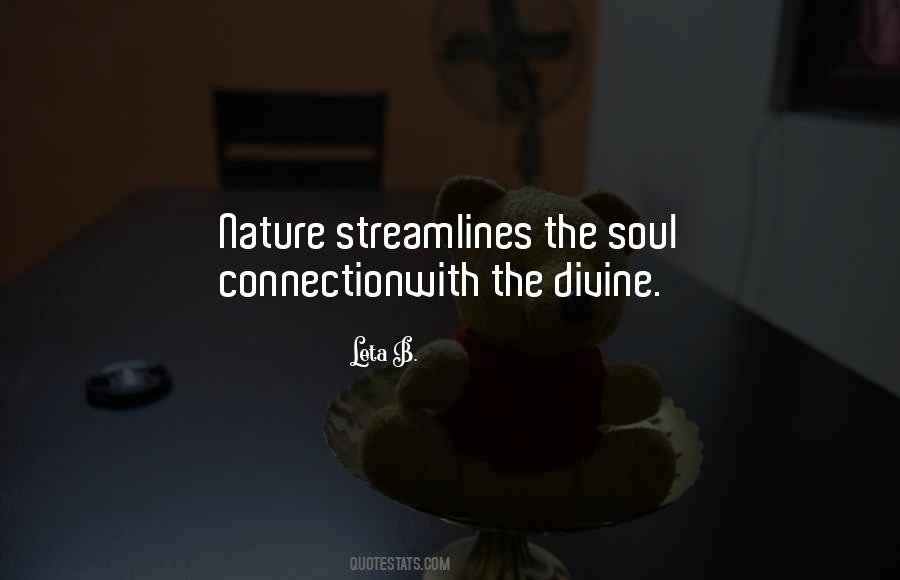 #55. Dance,' they told me, and I stood still,
and while I stood quiet in line at the gate of the Kingdom, I danced.
'Pray,' they said, and I laughed,
covering myself in the earth's brightnesses,
and then stole off gray into the midst of a revel,
and prayed like an orphan. - Author: Wendell Berry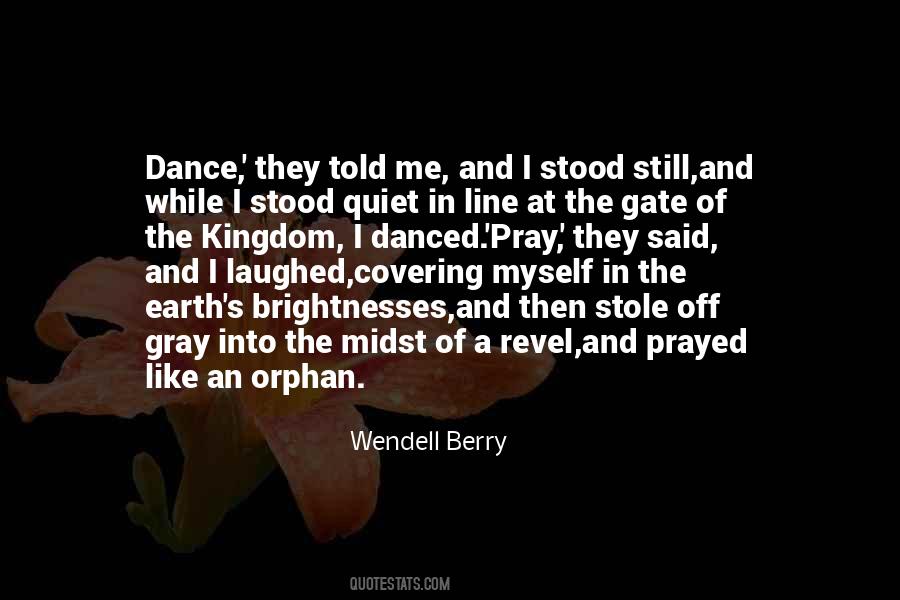 #56. My God, my God
May there be no end
To the sea, to the sand,
The splash of the water,
The glow of the sky,
The prayer of man - Author: Hannah Senesh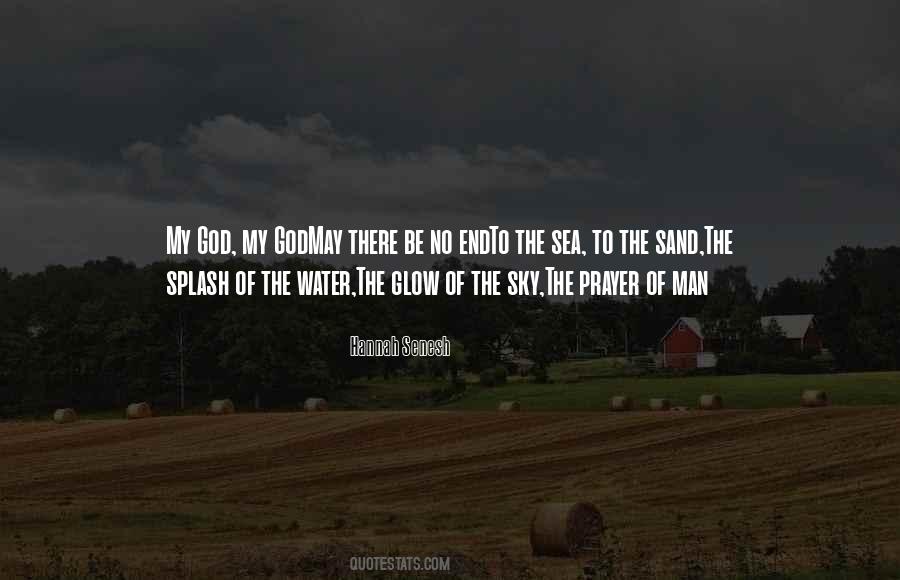 #57. I am just like you,
Destined to play my part.
And leave,
In the nature of my departure at least,
Some kind of sweet message behind
In the fathomless pattern I make. - Author: Scott Hastie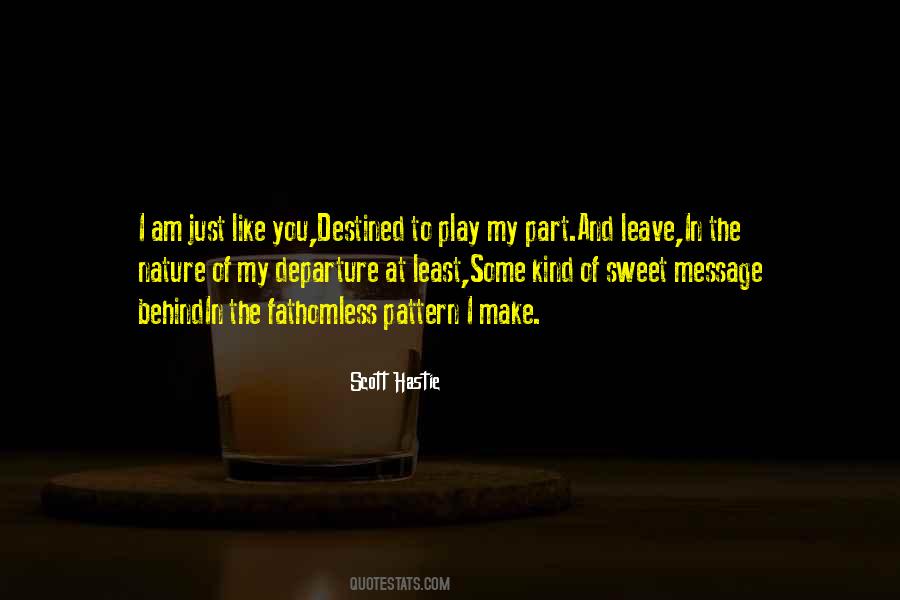 #58. Life is ephemeral; each moment passes quickly, a blur of color on a fast moving subway car. There and gone and all we are left with is the imprint of what once was. - Author: Jacqueline Simon Gunn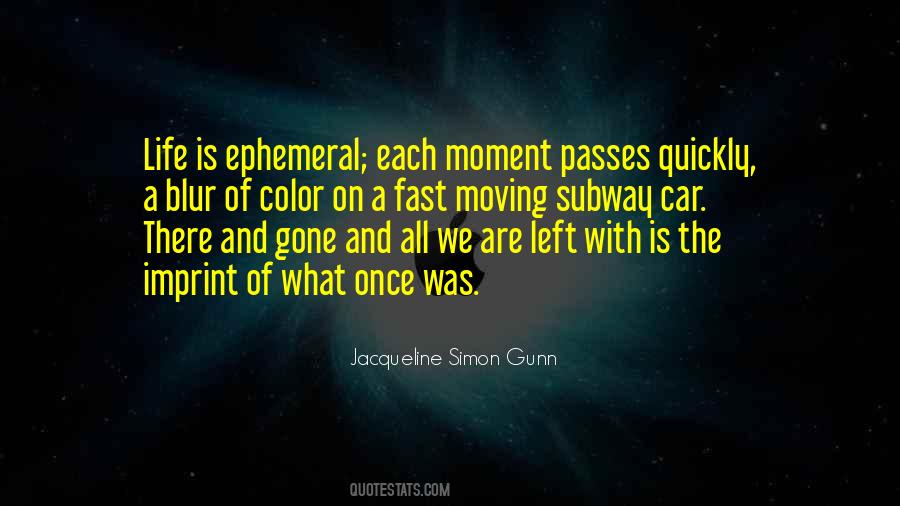 #59. Nature is bent on new beginning
and death has not a chance of winning ... - Author: Rosy Cole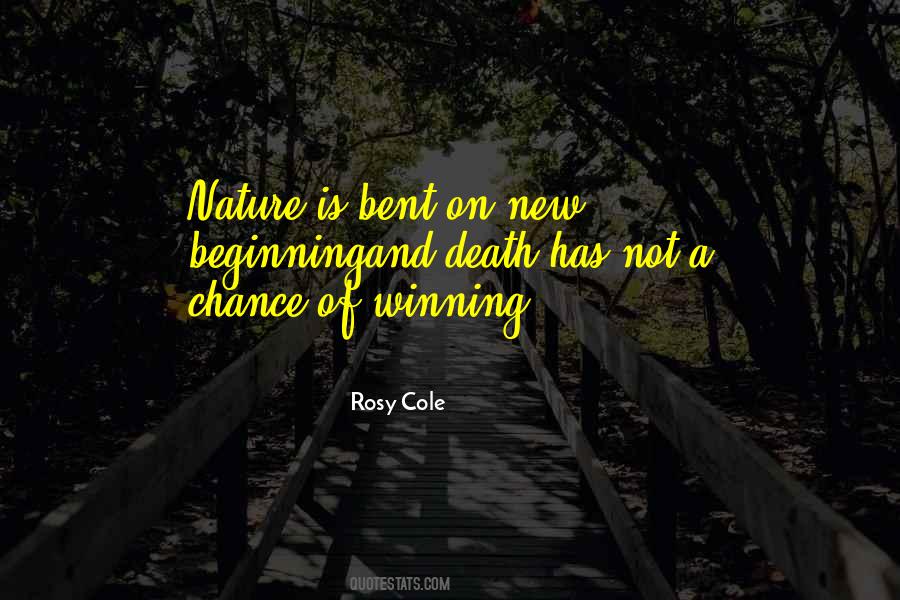 #60. We are energetic beings, all we do is filling voids. - Author: Stefan Emunds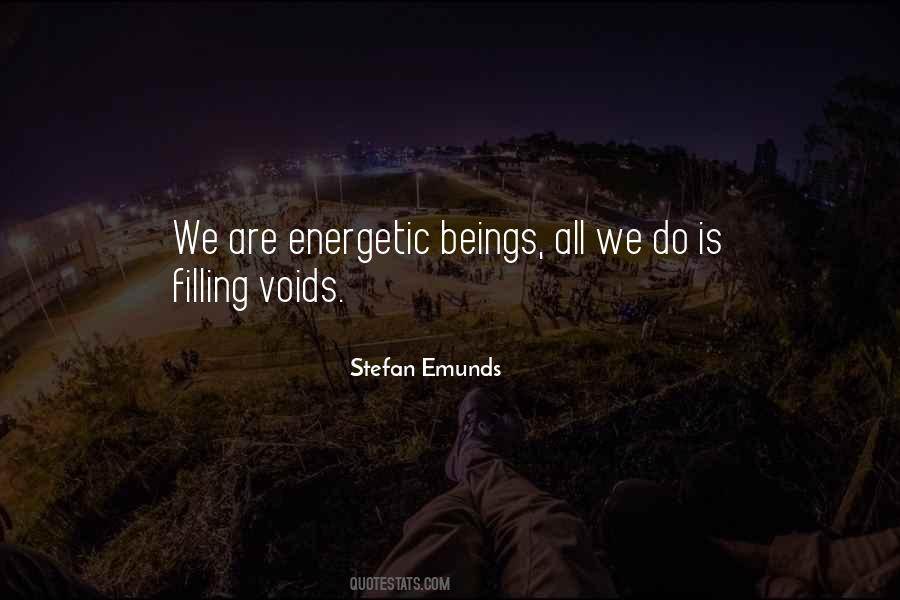 #61. Southerners had a long tradition of looking for religious significance in even the most humble forms of nature, and I always preferred the explanations of folklore to the icy interpretations of science. - Author: Pat Conroy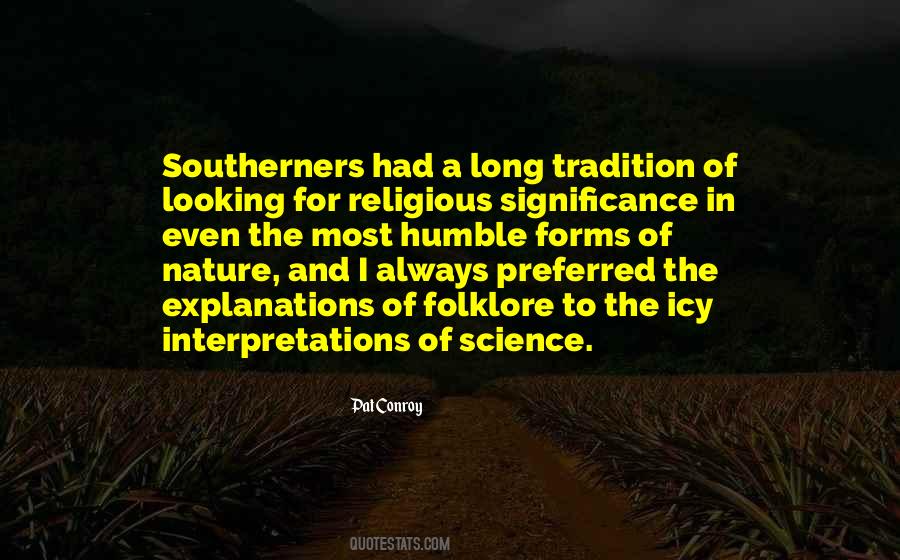 #62. We must not bind our hearts to the things of the world, no matter how beautiful they are or how much pleasure they give us. Our hearts must soar in the heavens for us to be truly the humans we were meant to be. - Author: Aleksandra Layland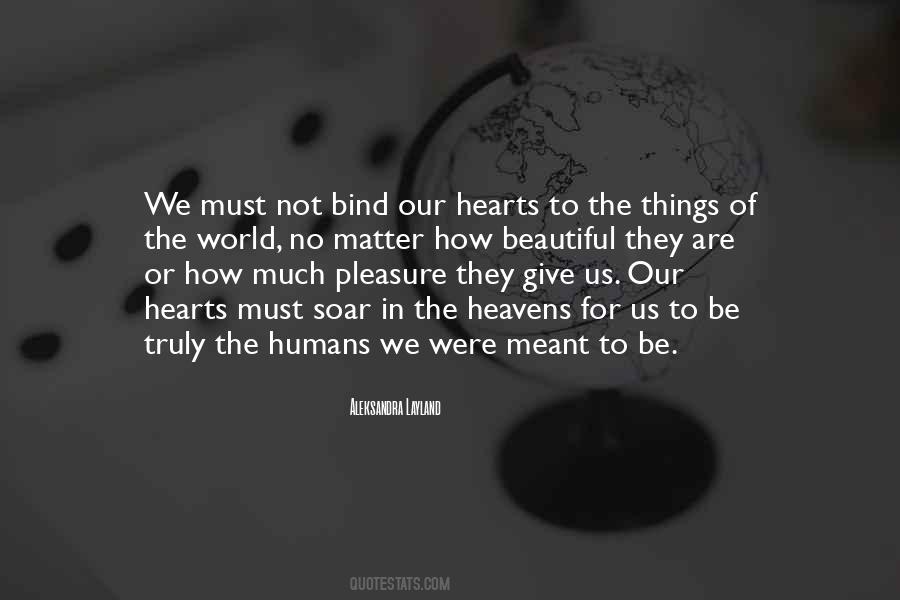 #63. A soul who is not close to nature is far away from what is called spirituality. In order to be spiritual one must communicate, and especially one must communicate with nature; one must feel nature. - Author: Hazrat Inayat Khan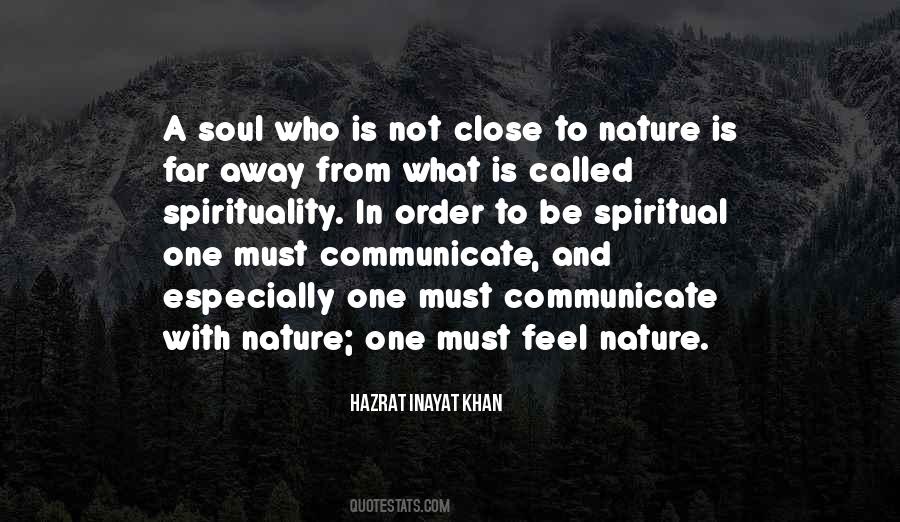 #64. No church or synagogue pew can produce a higher awareness of God than sitting at the base of a tree and observing His creation. - Author: Donald L. Hicks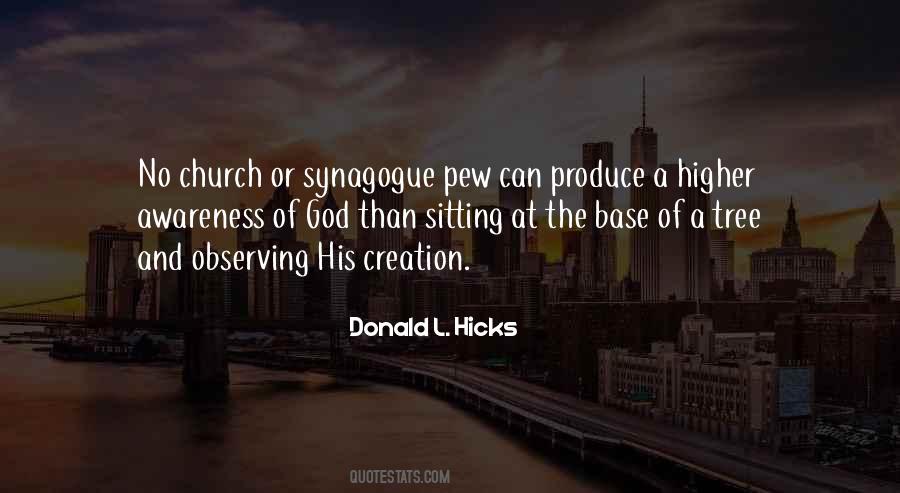 #65. So you know that all living things share the same energy source and that every action that humans do to nature will affect everything on this planet. - Author: Alison Cooklin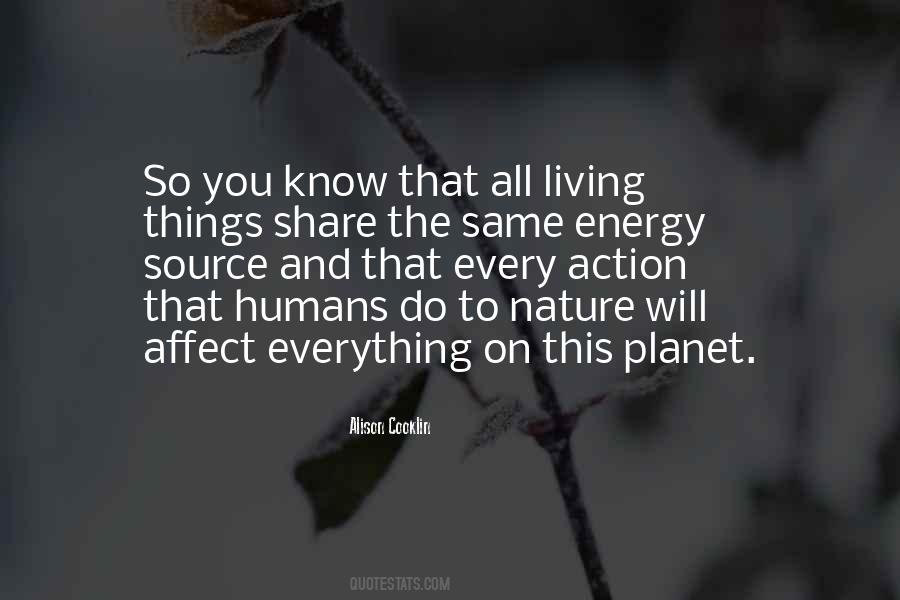 #66. It would seem that unless we see through and beyond the physical, we shall not even see the physical as we ought to see it: as the very vehicle for the glory of God - Author: Elisabeth Elliot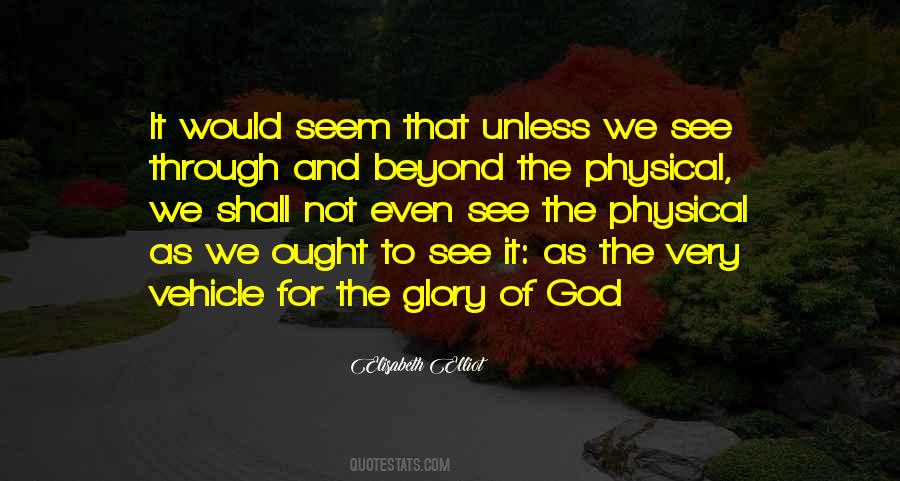 #67. We must learn to accept ourselves in the painful experiment of living. We must embrace the spiritual adventure of becoming human, moving through the many stages that lie between birth and death. - Author: Johann Baptist Metz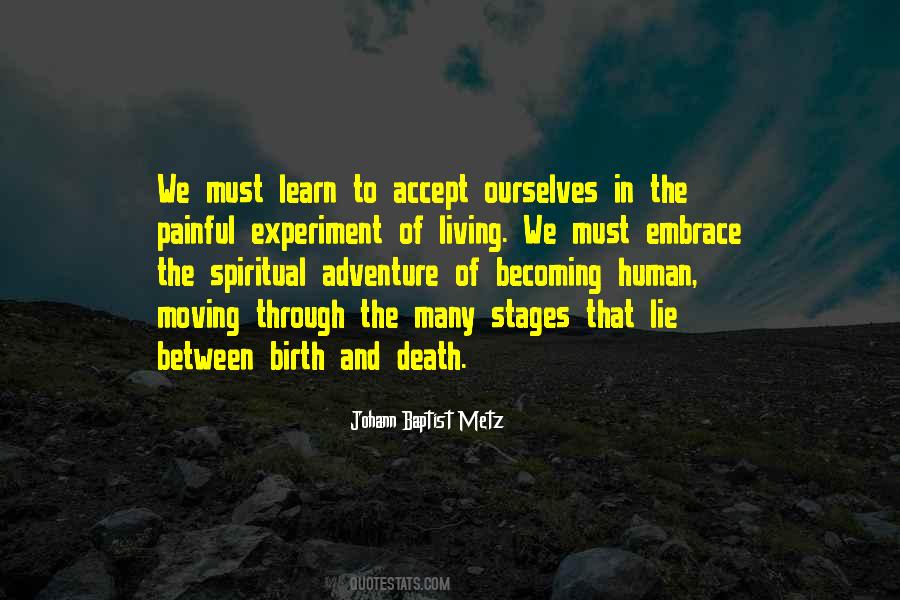 #68. The traditional Indian mind has been for centuries, and still is, first religious, and then everything else. - Author: Abhijit Naskar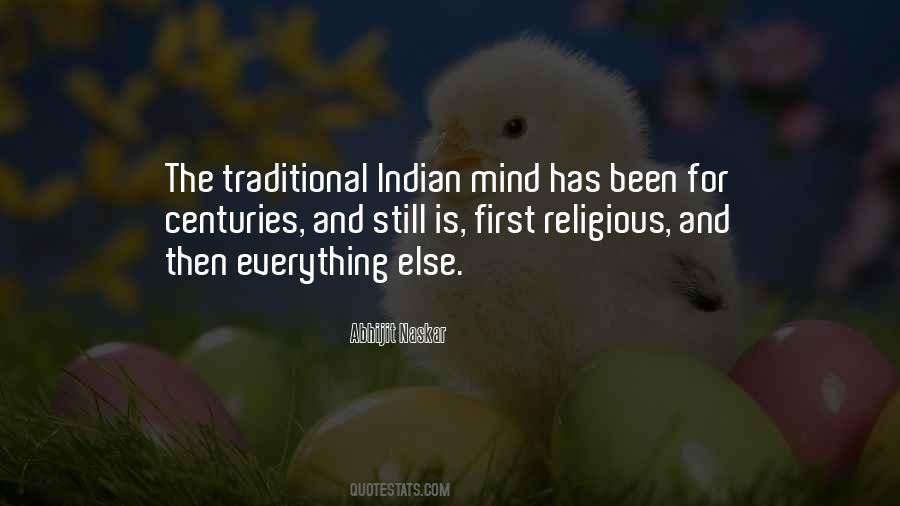 #69. And hearing him, Stephen found herself thinking that all men had something simple about them; something that took pleasure in the things that were blameless, that longed, as it were, to contact Nature. - Author: Radclyffe Hall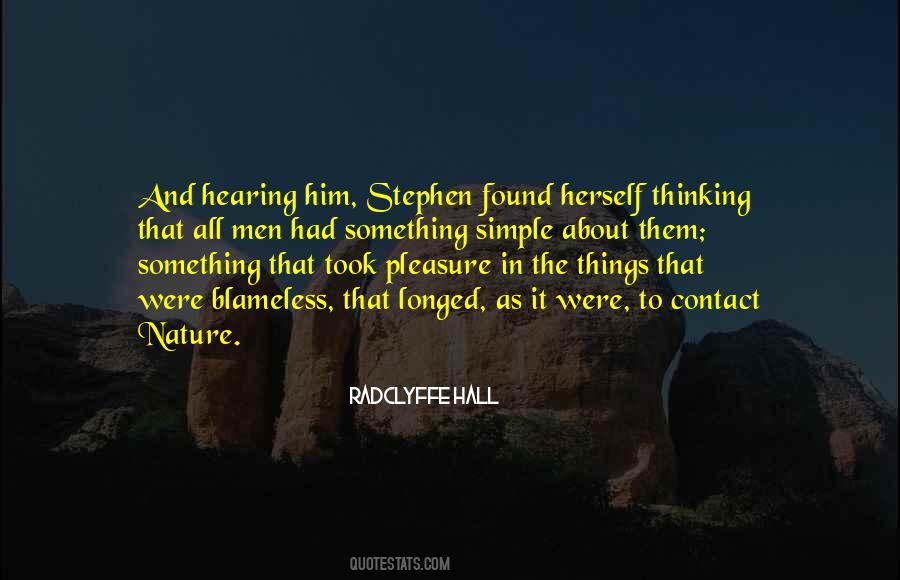 #70. Deep within ourselves, we find the inner being, the inner source of love, which is our true nature.
Love is the only reality, because only love works. - Author: Swami Dhyan Giten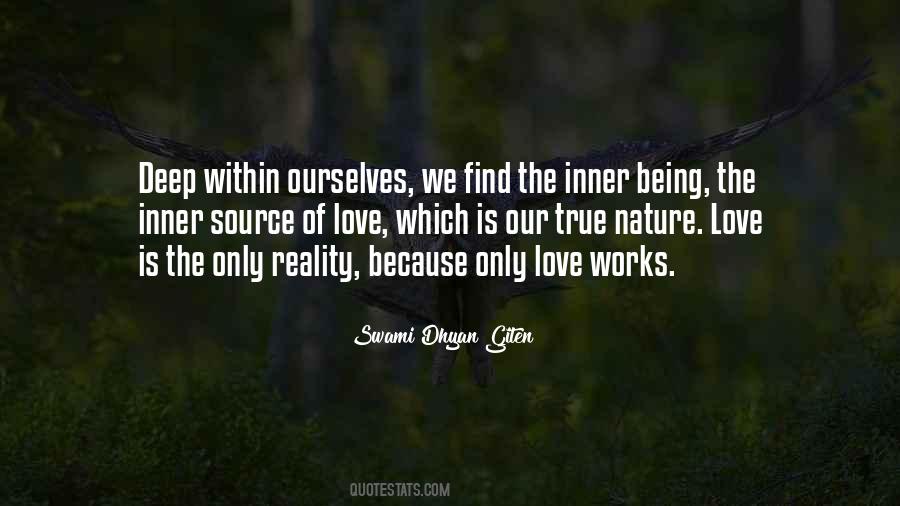 #71. As I read the Qur'an and prayed the Islamic prayers, a door to my heart was unsealed and I was immersed in an overwhelming tenderness. - Author: Jeffrey Lang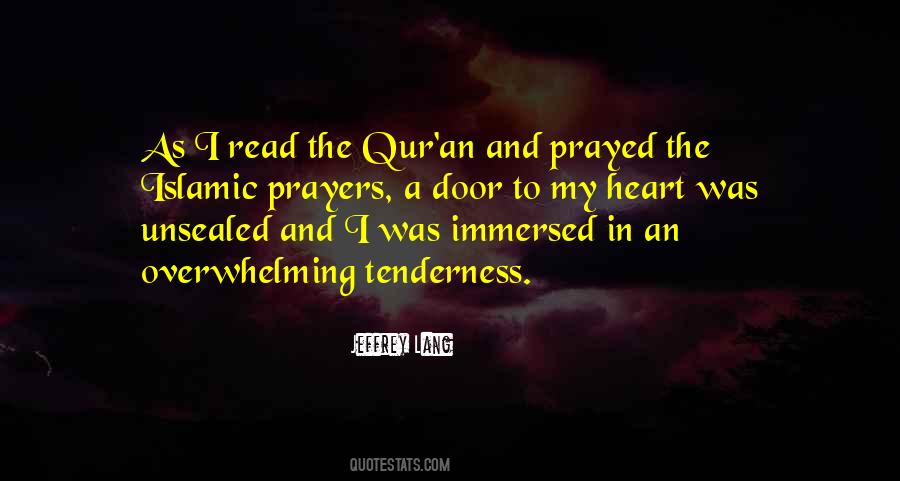 #72. Nature is also God's way of communicating with us. Jesus himself used nature to teach us about God. He used birds and flowers, the weather, precious stones ... Looking at nature, we can come to understand God himself. - Author: Adelina St. Clair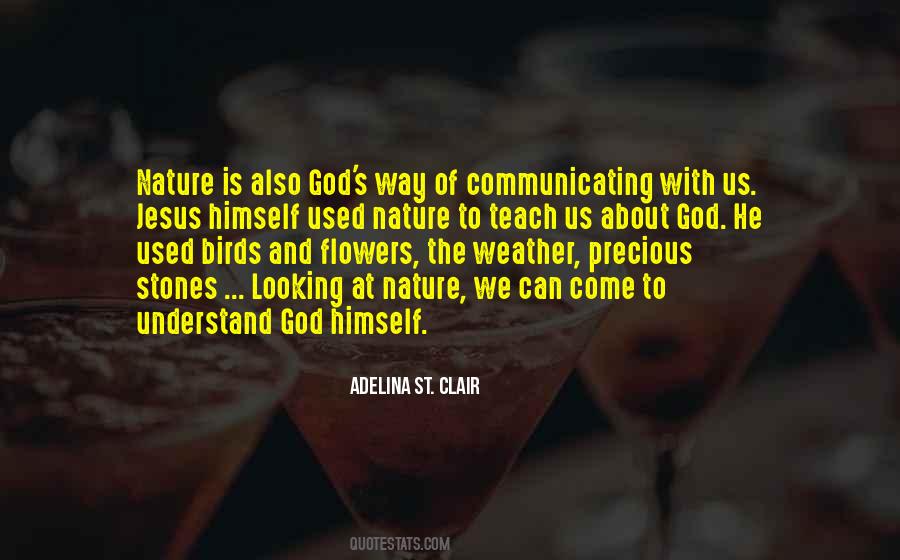 #73. In India, it is religion that forms the very core of the national heart. It is the backbone - the bed-rock - the foundation upon which the national edifice has been built. - Author: Abhijit Naskar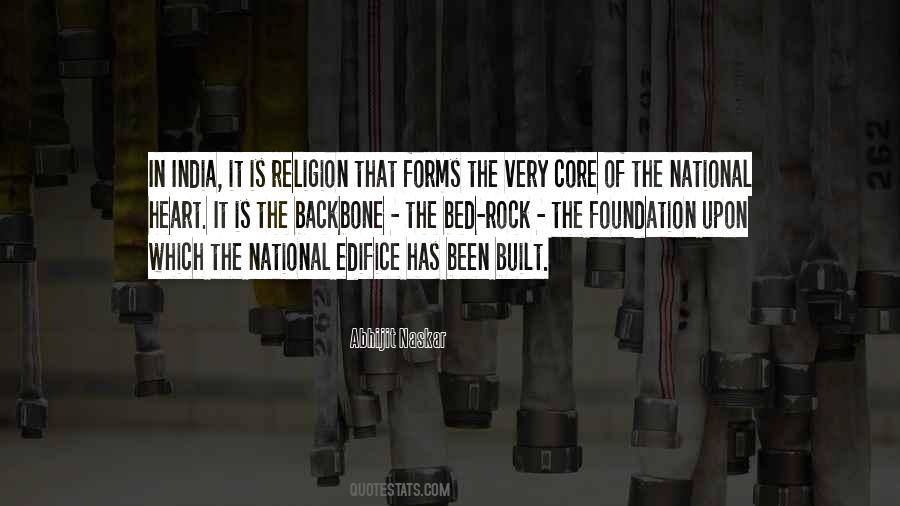 #74. Meditating on the nature and dignity of prayer can cause saying at least one thing to God: Lord, teach us to pray! - Author: Karl Rahner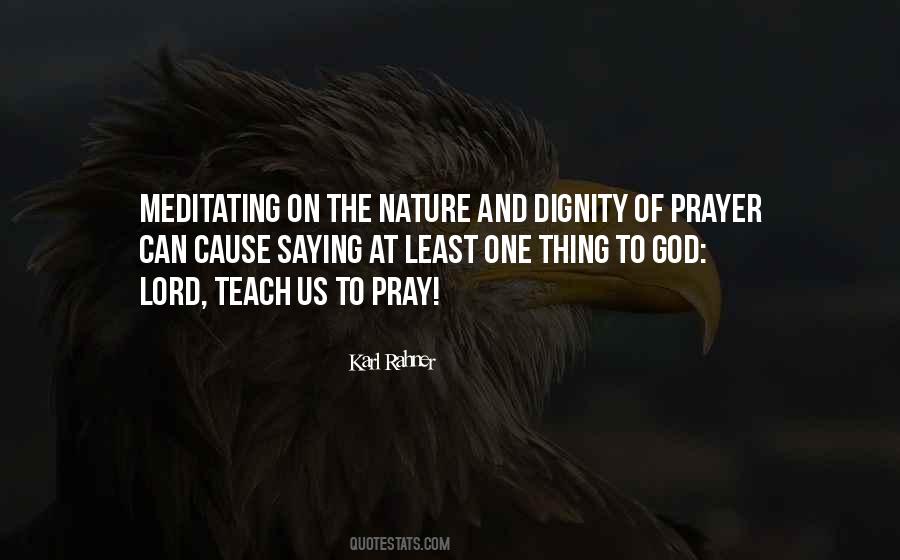 #75. Now take all these qualities together: order, balance, evolution and intelligence. What you have is a description of love. It's not the popular ideal, it is the wizard's love - the force that upholds life and nurtures it. - Author: Deepak Chopra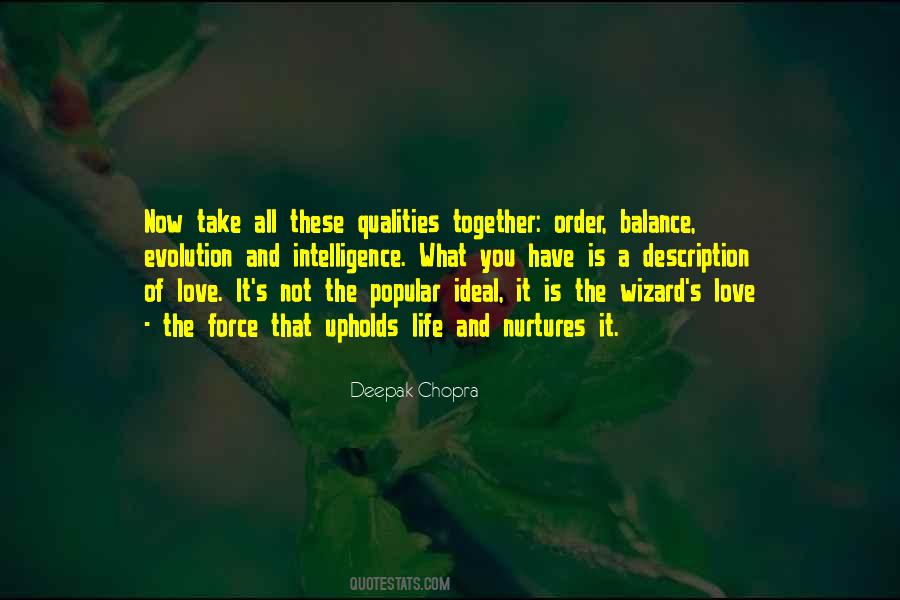 #76. The children, each of those kids is in touch with nature and traditional aboriginal culture so a very important part of getting performances from them was just letting them be and trying to capture the unique spirituality that was in each of them. - Author: Phillip Noyce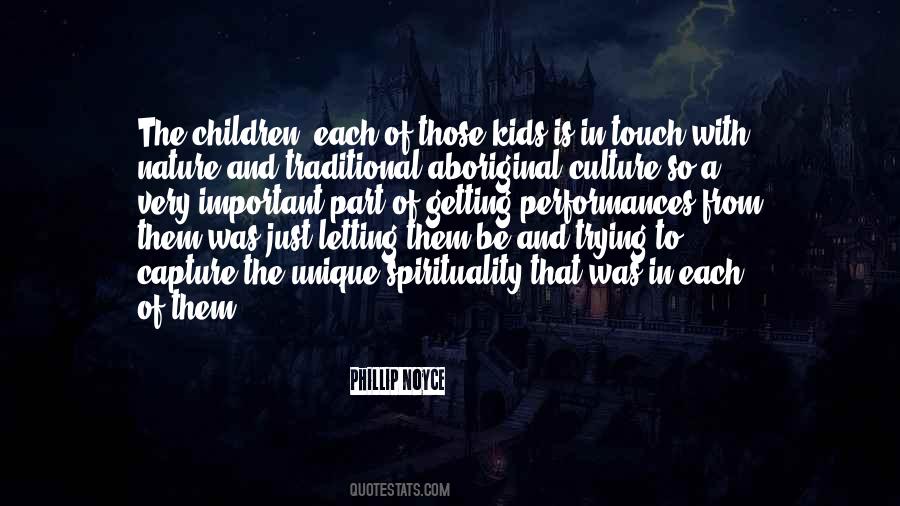 #77. Regardless of geographical region or culture gardening is perhaps the most common and shared experience of Nature. - Author: S. Kelley Harrell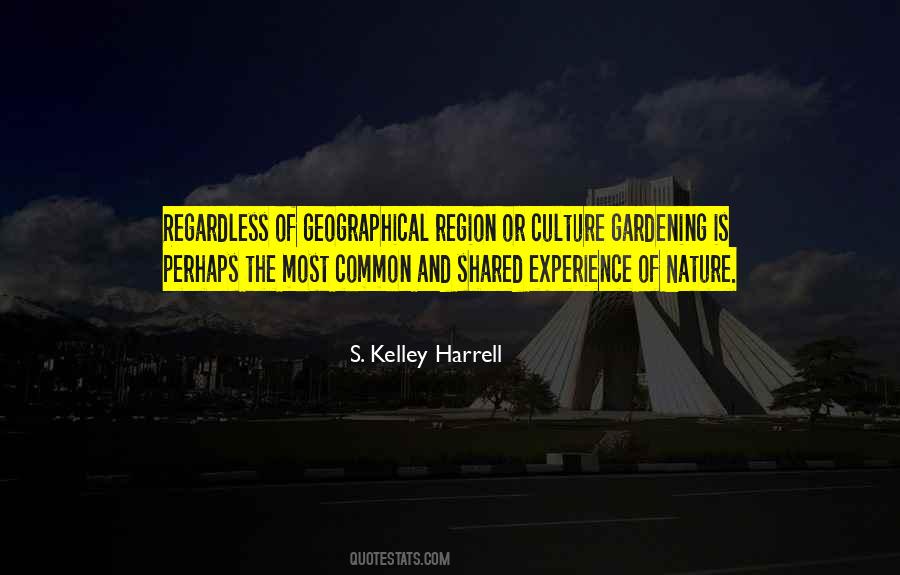 #78. For the beauty that adorns the earth is not imitation - Author: Judy Azar LeBlanc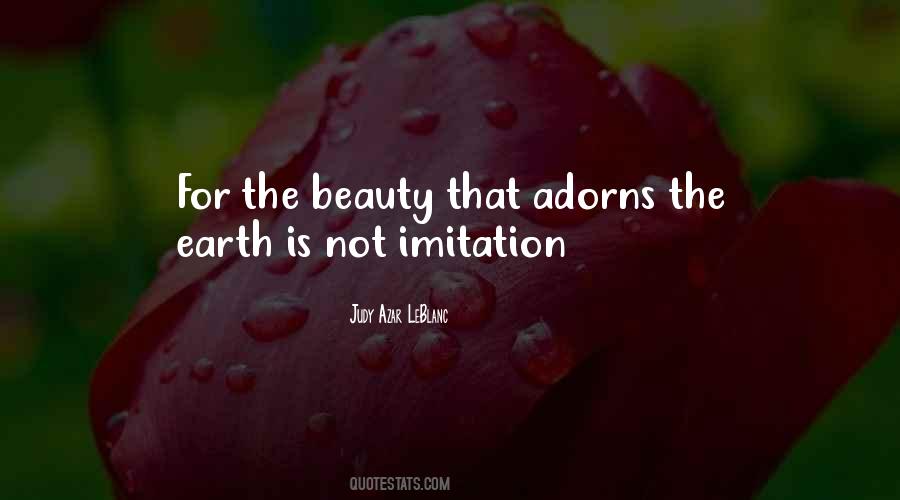 #79. When nations resort to arms, the human spirit is like a bird that cannot stand to hear its own song. - Author: Phoenix Desmond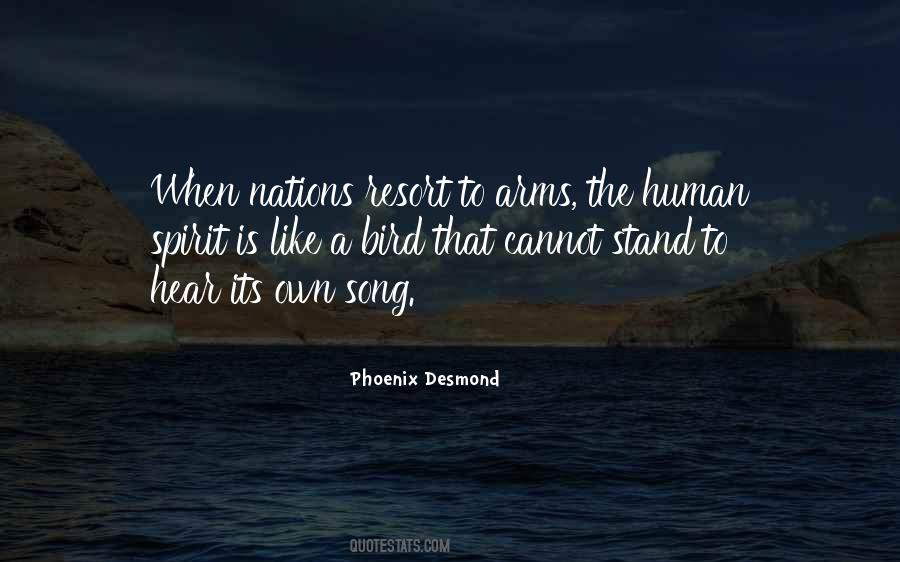 #80. Spirituality can go hand-in-hand with ruthless single-mindedness when the individual is convinced his cause is just - Author: Michela Wrong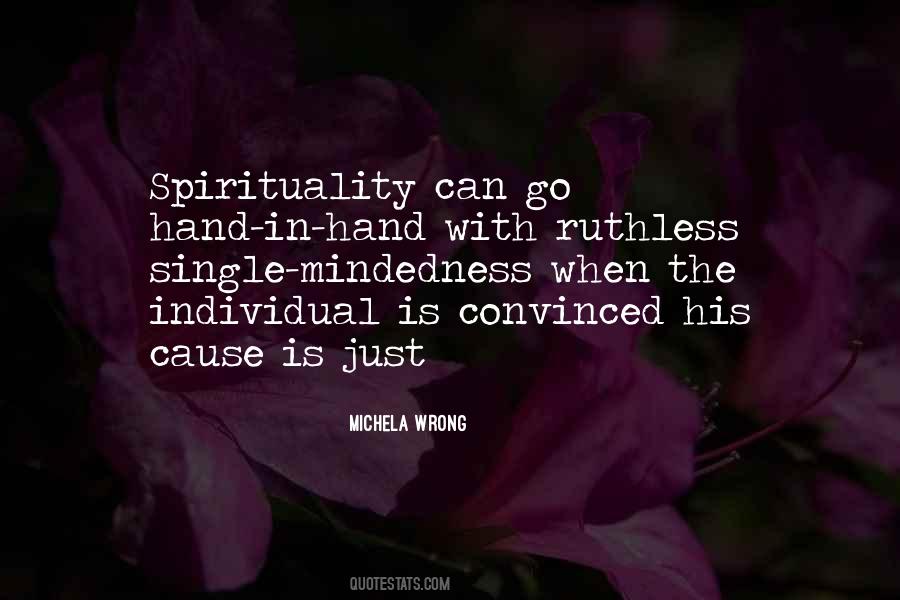 #81. Realize your true nature. That is all there is to do. Know yourself as you are - infinite Spirit. That is practical religion. Everything else is impractical, for everything else will perish. - Author: Swami Vivekananda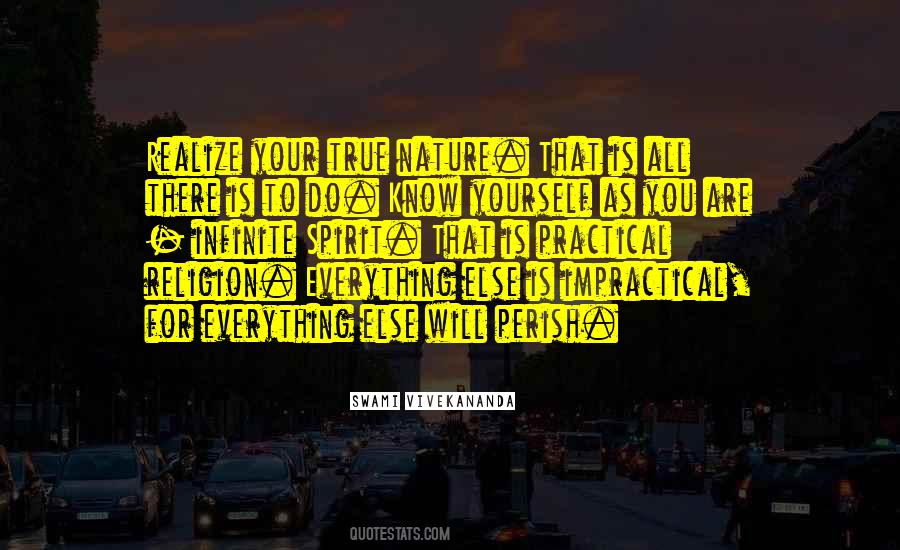 #82. My feet, bare, lightly graced your face. My soul ascended to the sky, magnificent, as that of two thousand thrushes. Grounded I am by your white light. My dear Mother Earth, forgive me for intruding." - Susan Marie - Author: Susan Marie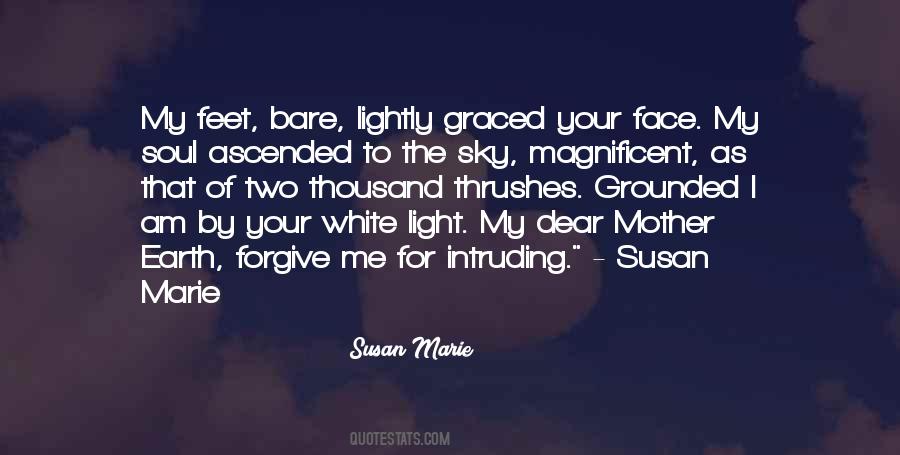 #83. I'm Noah, and you are the ship coasting along the banks and as long as you are my valentine I will sail between your eyes.. - Author: Adel Abouhana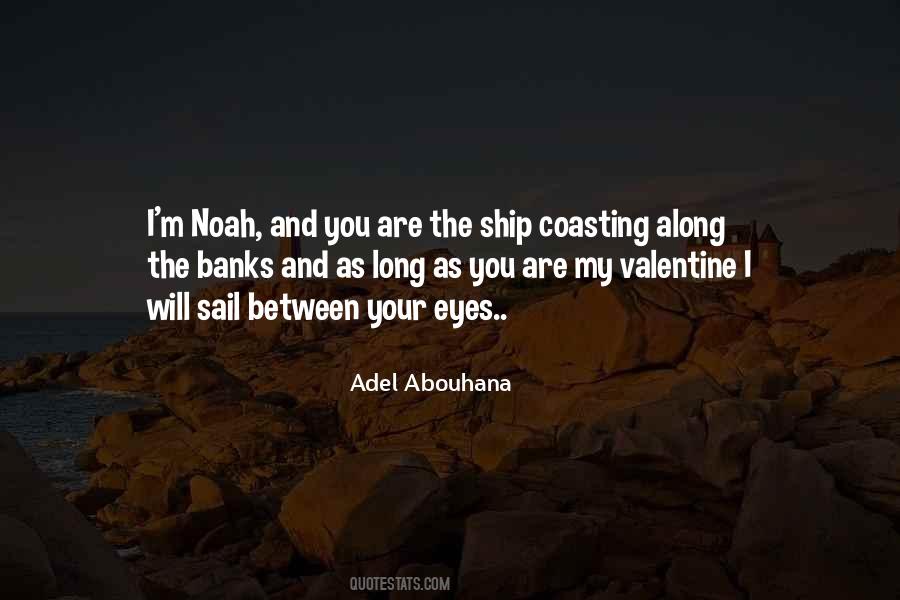 #84. The deeper question ... is not whether ancient religious forms can reform ... but whether new forms of nature-related spirituality might emerge ... - Author: Robert Bly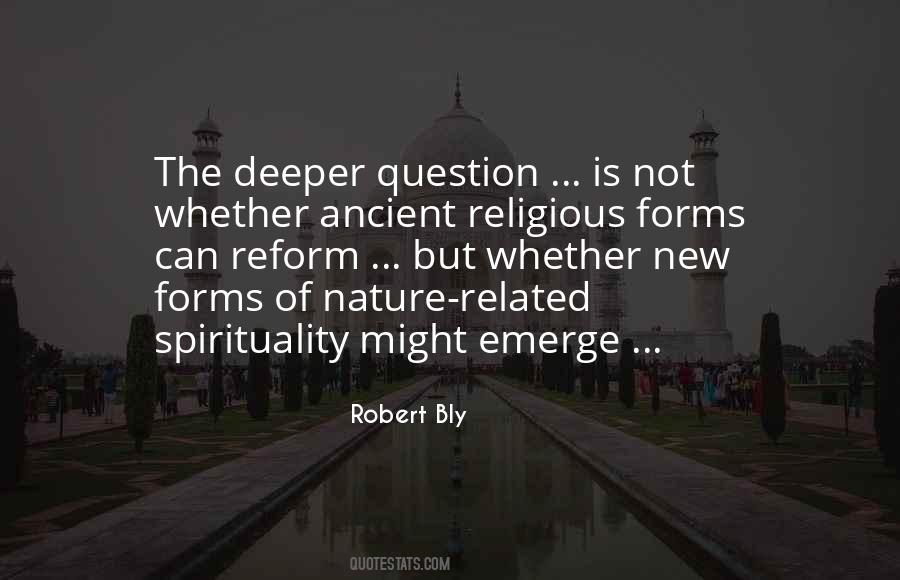 #85. Know that this universe is nothing but a dream bluff of nature to test your consciousness of immortality. - Author: Paramahansa Yogananda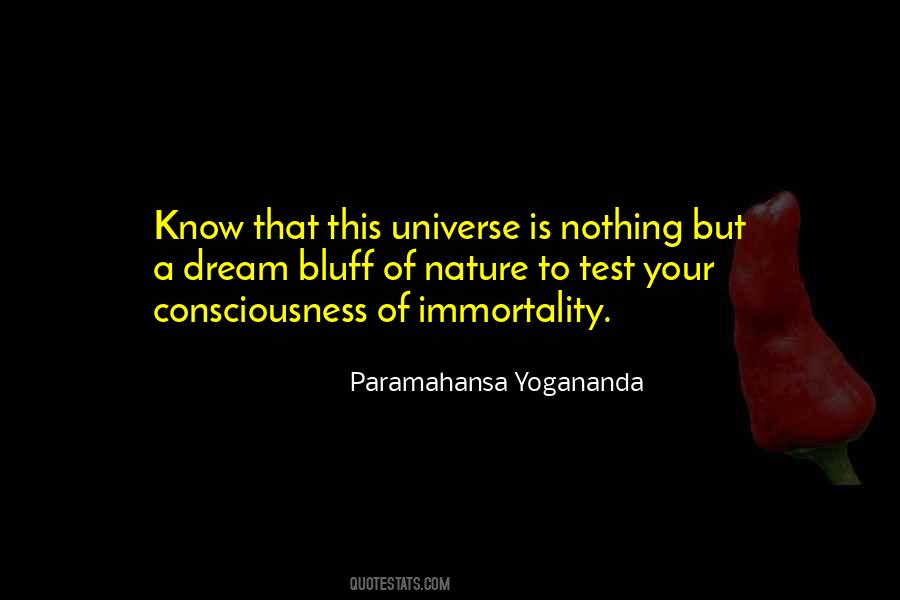 #86. Understand the nature and influence of repeating patterns, from childhood experiences or even from past lives. Wthout understanding, patterns tend to repeat, unnecessarily damaging the relationship. - Author: Brian L. Weiss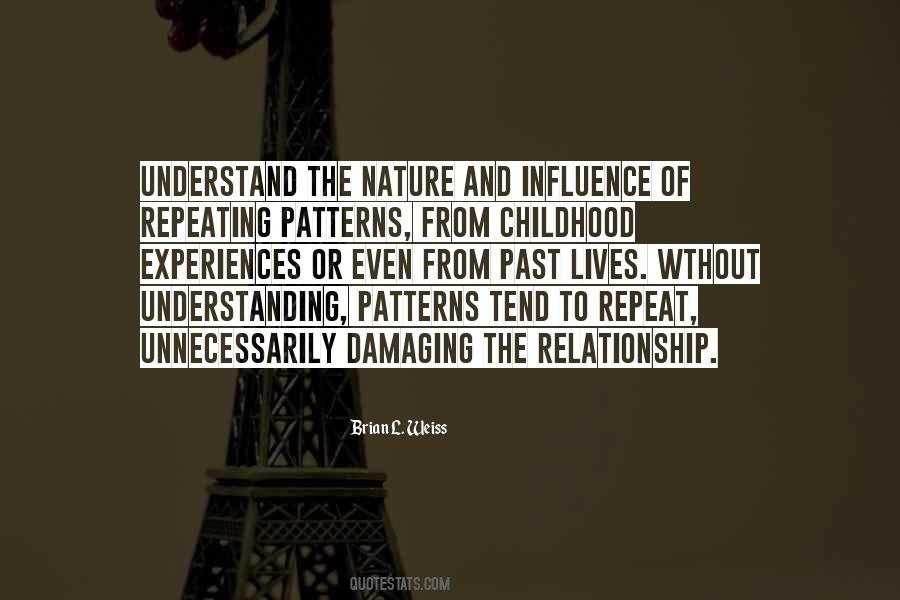 #87. Nature is our spirit, breathing. - Author: Jaeda DeWalt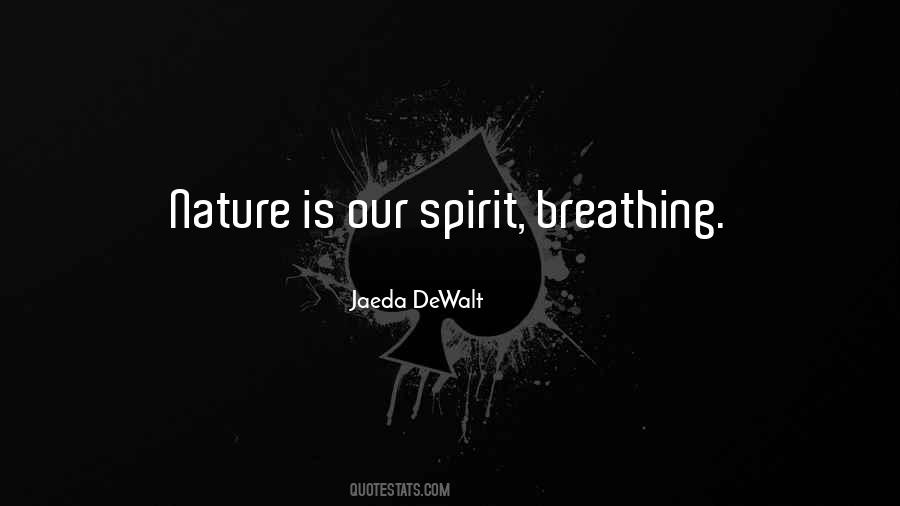 #88. Spirituality is a brave search for the truth about existence, fearlessly peering into the mysterious nature of life. - Author: Elizabeth Lesser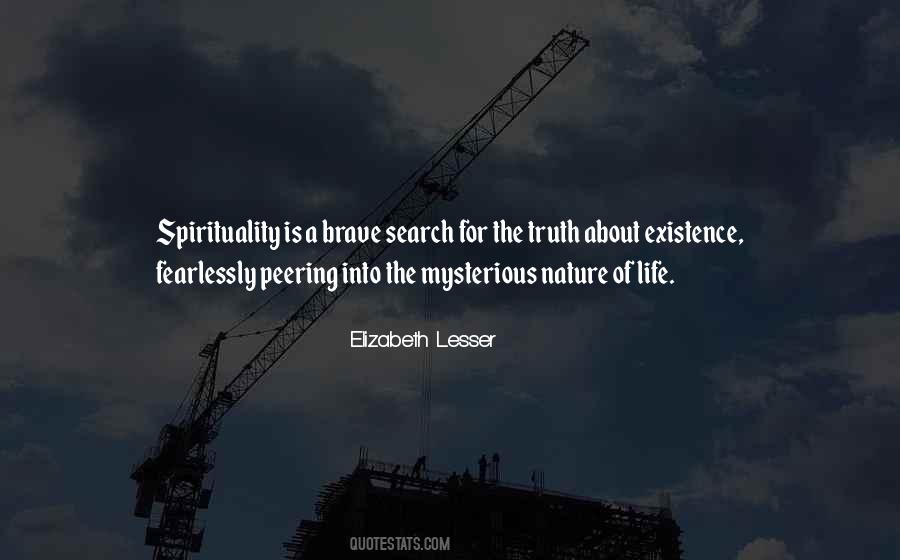 #89. The love of nature is the love for the Creator. - Author: Lailah Gifty Akita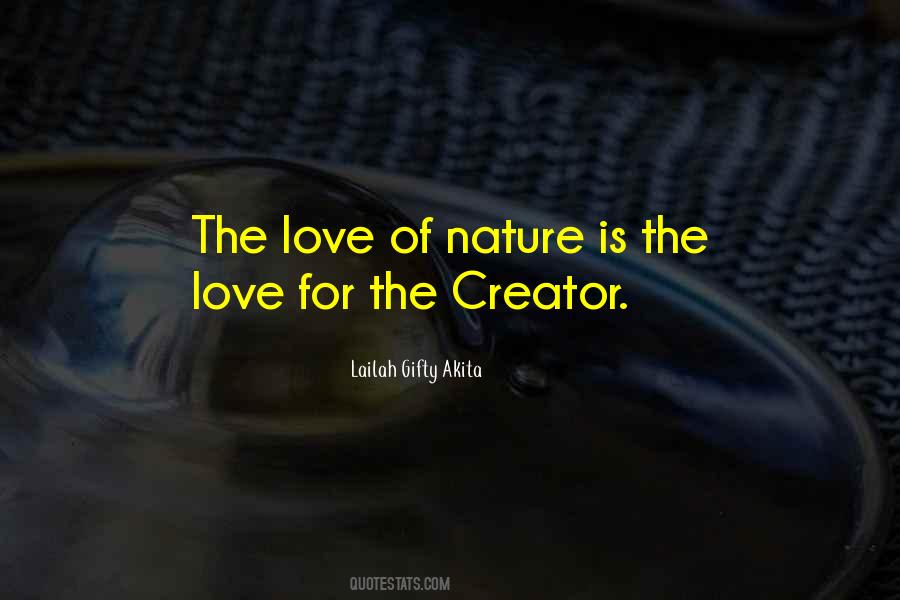 #90. I don't have any idea of who or what God is. But I do believe in some great spiritual power. I feel it particularly when I'm out in nature. It's just something that's bigger and stronger than what I am or what anybody is. I feel it. And it's enough for me. - Author: Jane Goodall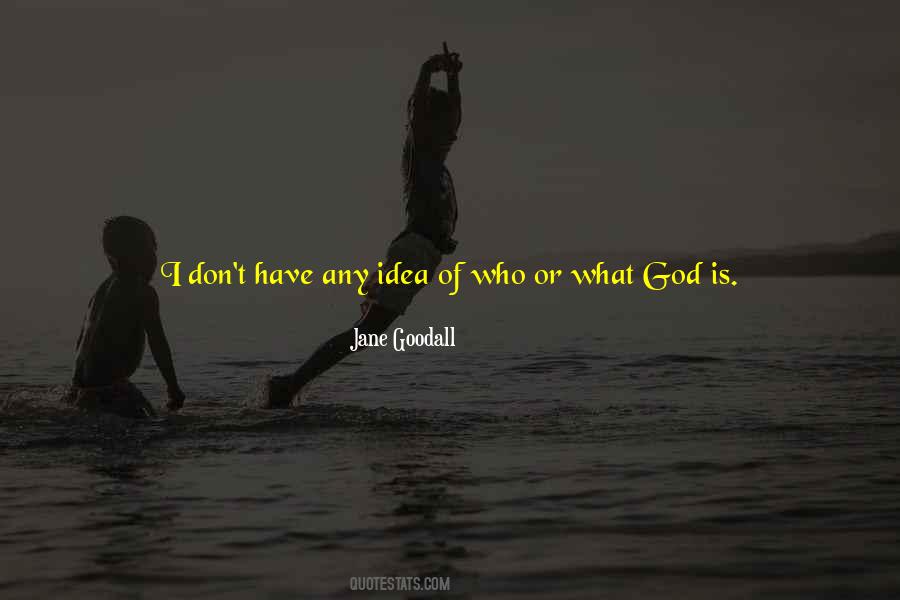 #91. Nature follows the way of the celestial immortals, the never-failing source of inspiration, the eternal masters of this and all sacred medicine traditions. - Author: Jonathon Miller Weisberger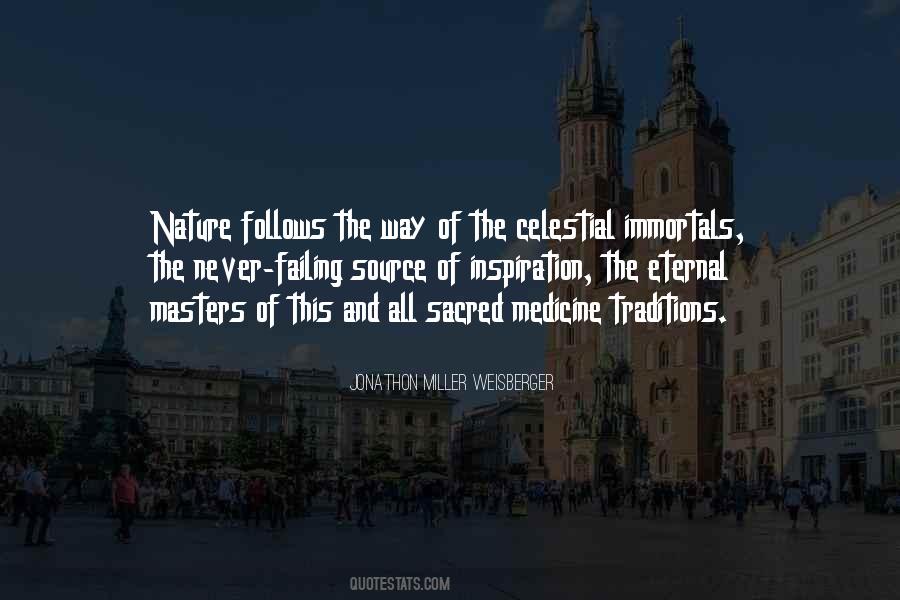 #92. ...To see your life flow in obscurity among the treasures of the heart and of nature, happy in your anonymity, and to occasionally lose yourself in reading or in the pleasure of being a sensitive admirer of the fine arts; that's the image of modern life you're looking for! - Author: Paul Amadeus Dienach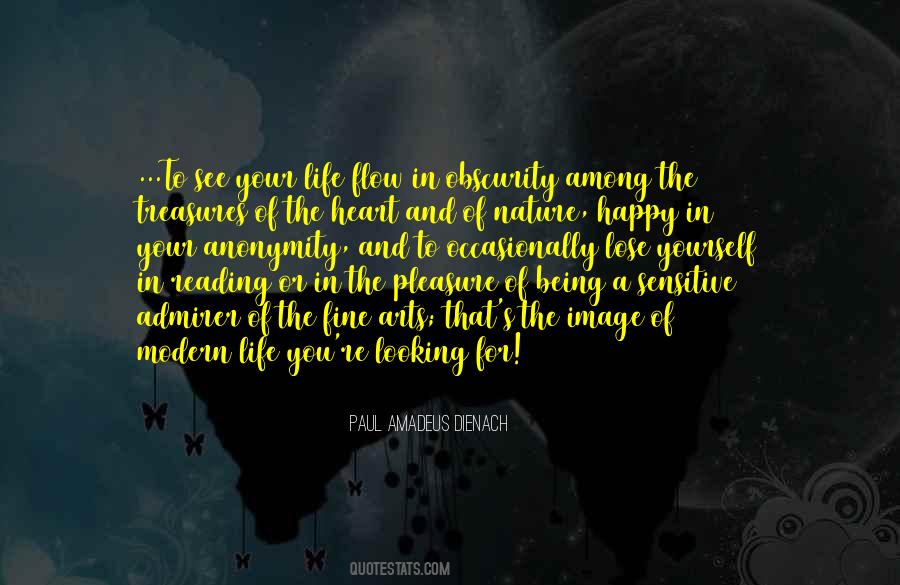 #93. W might 'conquer' nature if we could first, or at the same time, conquer our own nature, though we do not see that human nature and 'outside' nature are all of a piece. - Author: Alan W. Watts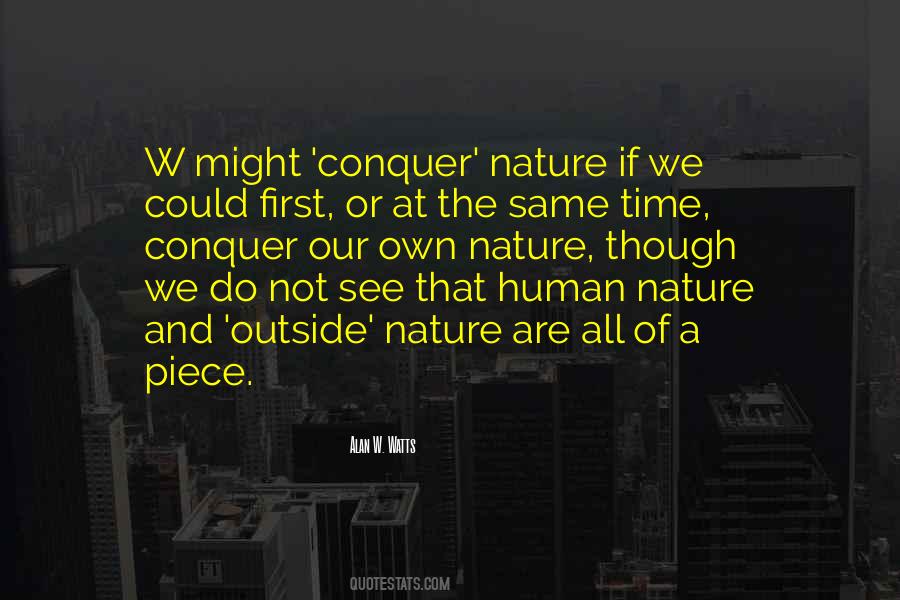 #94. Metagapism is the belief that love is the ultimate reality, literally god and the one shared soul, and the source, nature and destiny of all. - Author: John K. Brown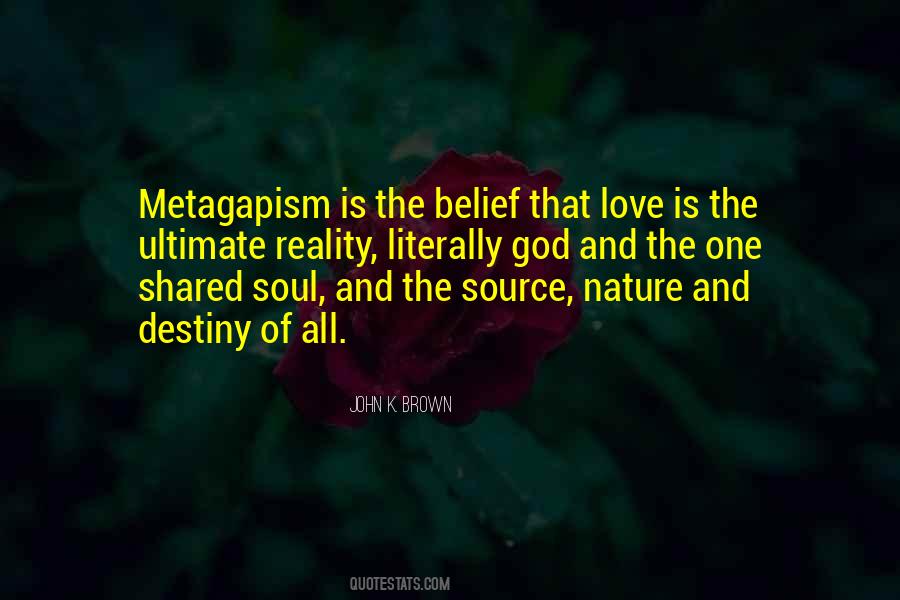 #95. Nature is made of vibrations of Love. - Author: Joao Mendes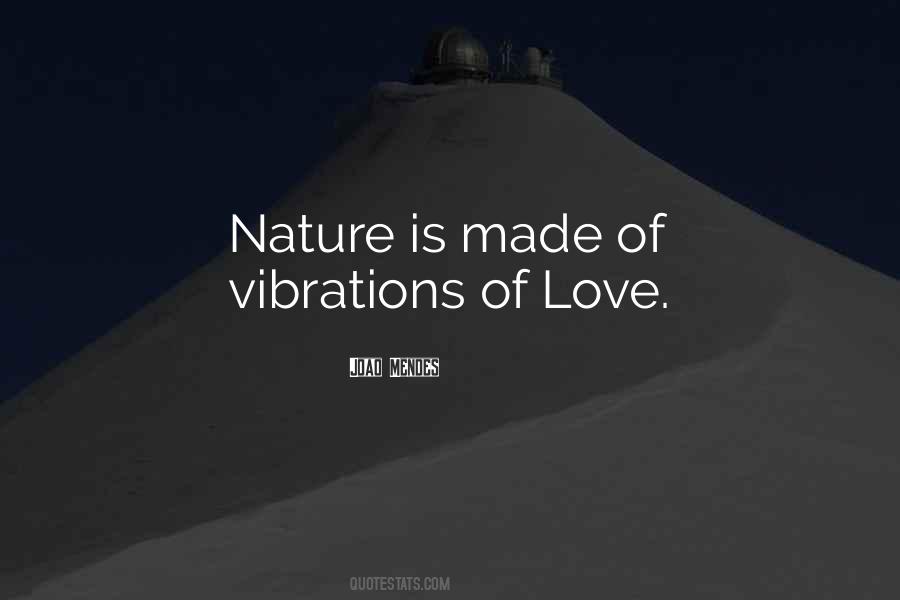 #96. Nature was beautiful and filled with spirituality without needing to be likewise full of spirits. - Author: Thomm Quackenbush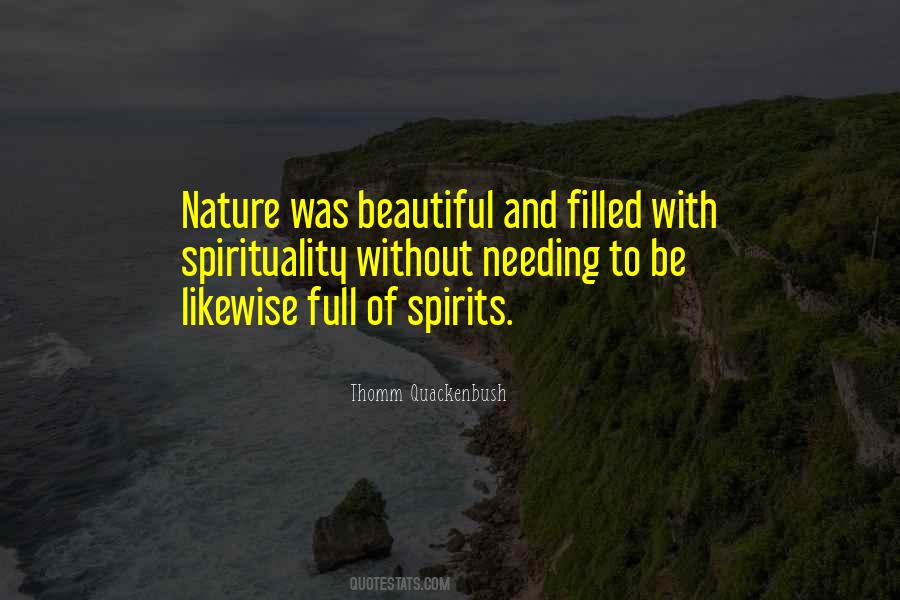 #97. When studying the world's religions, there appear to be two primary paths available to those who want to practice their faith. One path is internal and contemplative in nature. The other is emotional, external, and actionable in nature. I have identified these as the paths of oneness and goodness. - Author: Gudjon Bergmann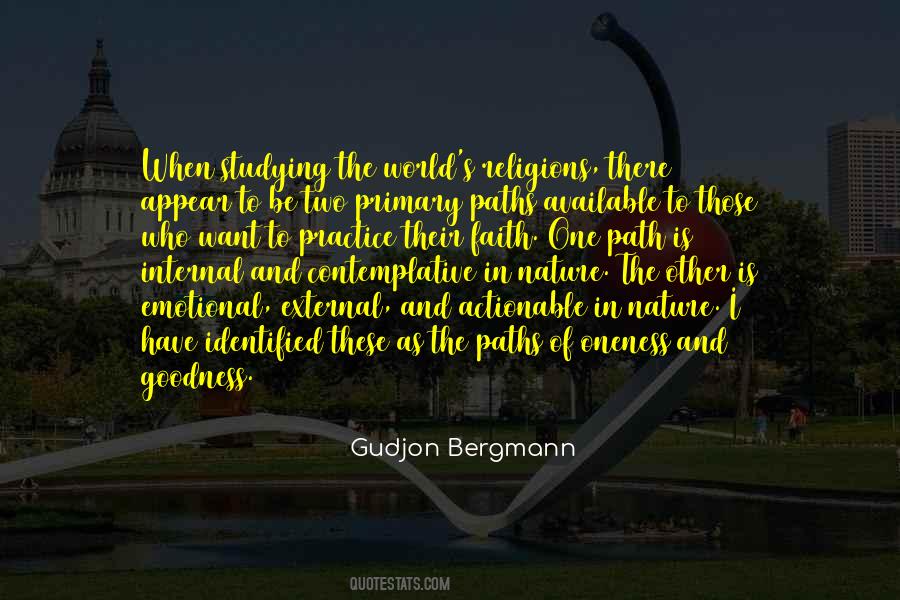 #98. I trust, and I recognize the beneficence of the power which we all worship as supreme- Order, Fate, the Great Spirit, Nature, God. I recognize this power in the sun that makes all things grow and keeps life afoot. I make a friend of this indefinable force ... this is my religion of optimism. - Author: Helen Keller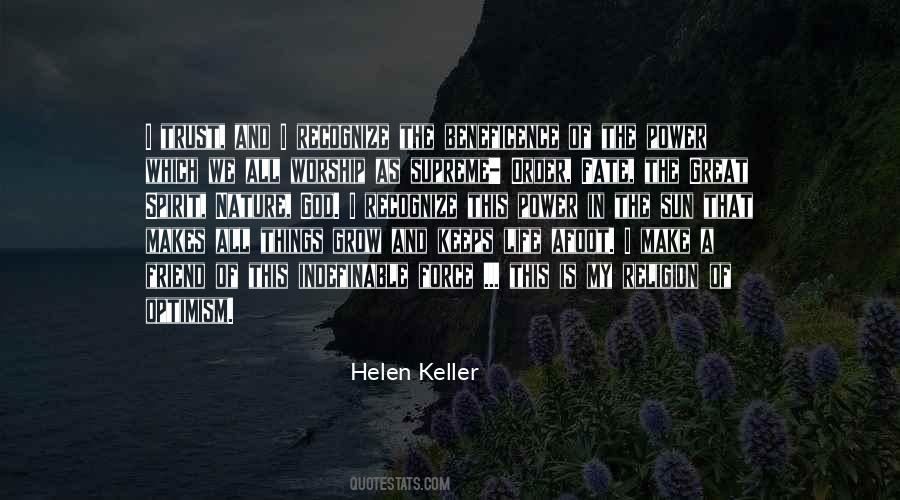 #99. I exist for those I exist for - Author: Anastasia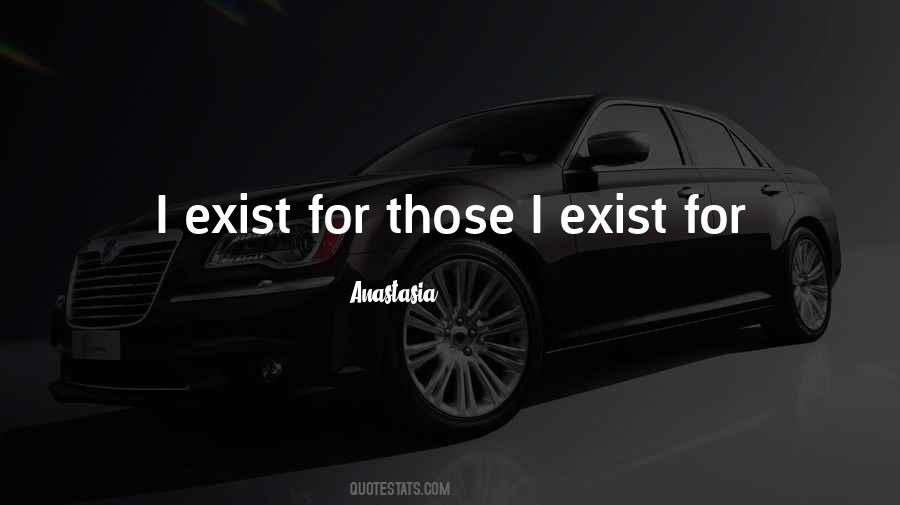 #100. As for me, I have a choice between honoring that dark life I've seen so many years moving in the junipers, or of walking away and going on with my own human busyness. There is always that choice for humans. - Author: Linda Hogan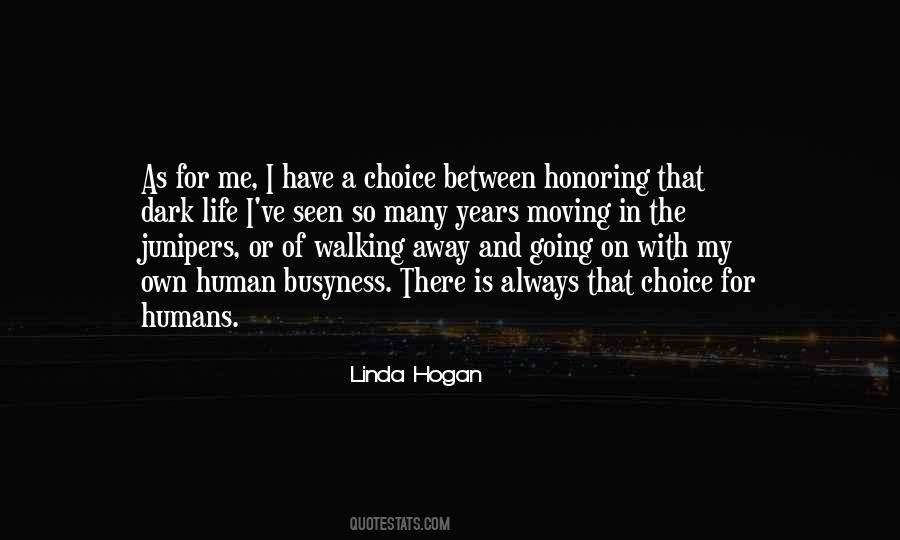 Famous Authors
Popular Topics