My Basketball Team Famous Quotes & Sayings
List of top 42 famous quotes and sayings about my basketball team to read and share with friends on your Facebook, Twitter, blogs.
Top 42 Quotes About My Basketball Team
#1. I think I'll stick to what I'm used to, my principles, and that is team Number 1 and individual Number 2. - Author: Yao Ming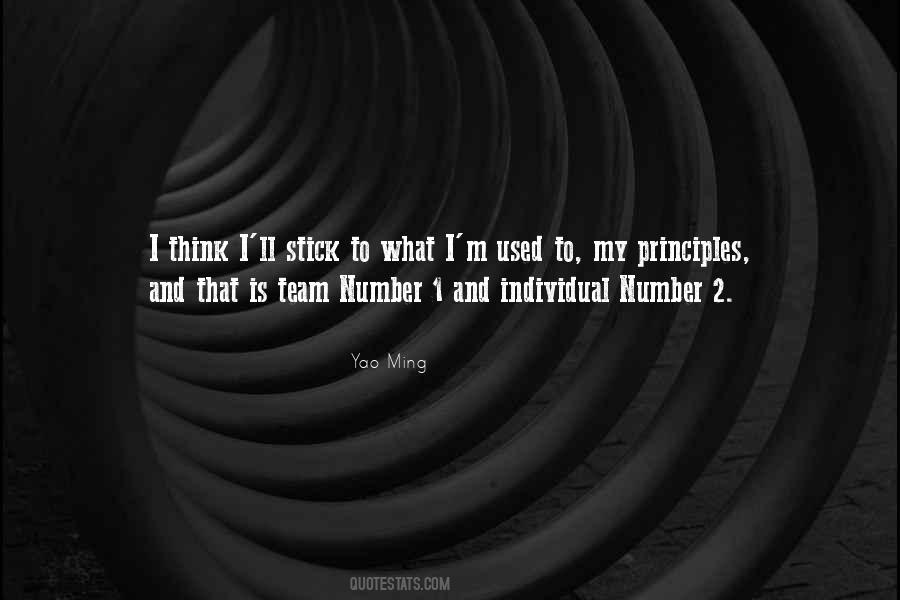 #2. I blame Riley for my broken thumb, not Matt Geiger. That ain't defense Miami is playing. That's just chopping. I have no idea how his team gets away with it. I guess when you've been in the league 30 years you can do it. Respect, he gets it - he's like John Gotti. - Author: Shaquille O'Neal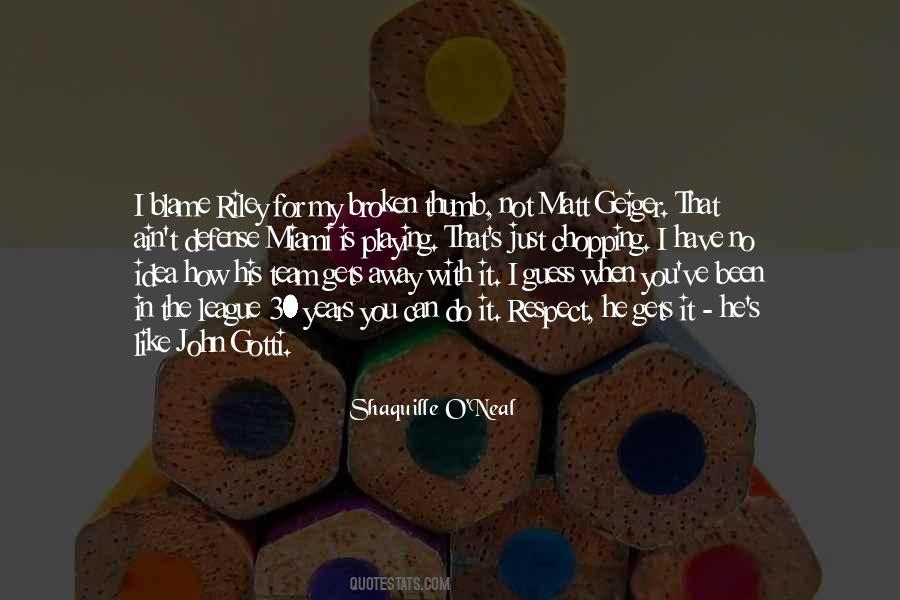 #3. I wanna make uniforms for my high school basketball team through brand Yeezy. - Author: Kanye West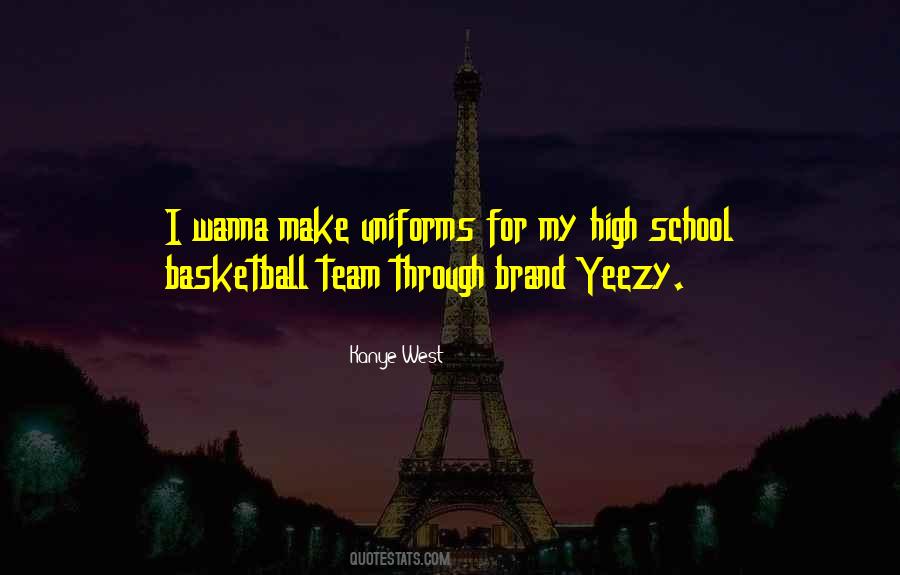 #4. I play because I have fun. The vets of this team, I just wanted to say thanks to them. You guys mean so much to me. I can have a terrible day and walk in the gym and have Hasheem smile at me. That will change my day. - Author: Kevin Durant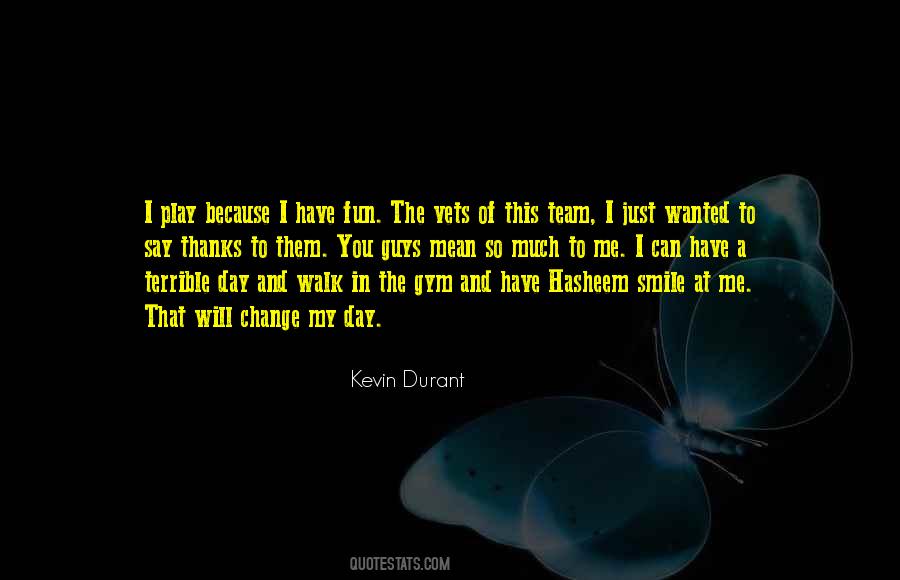 #5. When I told my wife UConn would win the Big East tournament, she wanted to know why a team from Alaska got into the Big East tournament. - Author: Vic Ziegel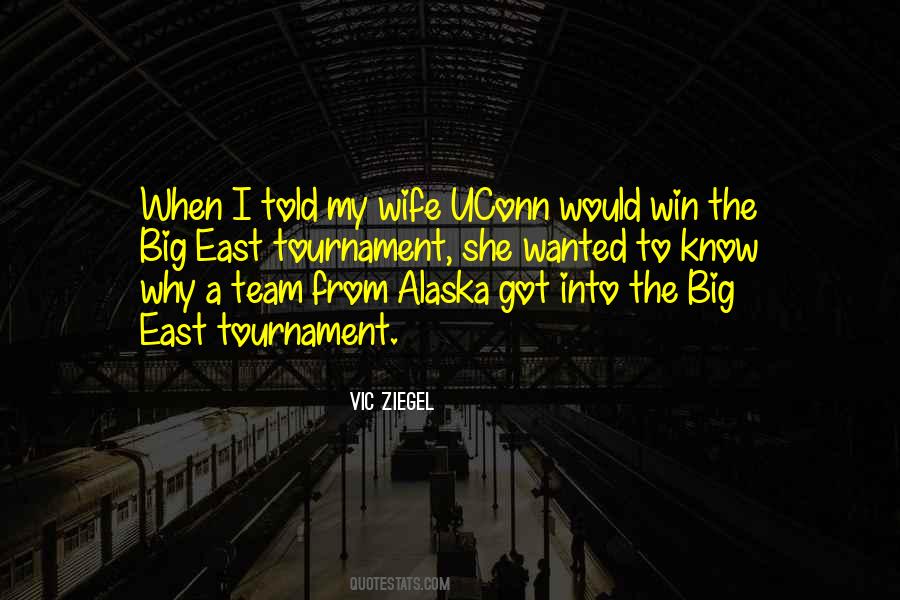 #6. My dad was the one who really loved basketball, and he was the one that put the basketball in my hands, and my mom was 'Team Mom' of all my teams. I used to play for three or four teams at once and she would just spend her entire afternoon driving me from practice to practice to practice. - Author: Jeremy Lin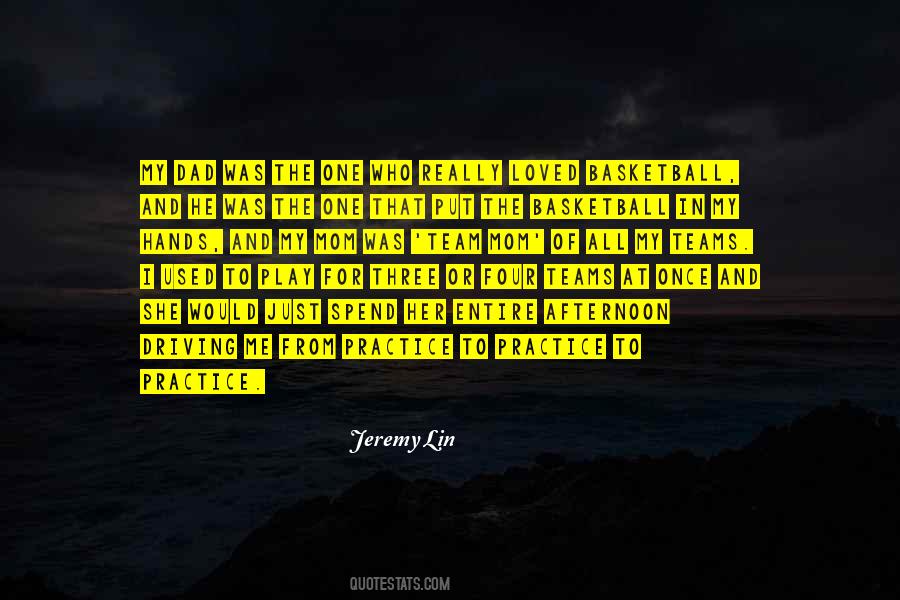 #7. I don't put pressure on myself. When I put pressure on myself, then I just play bad. When I play bad, my team plays bad. - Author: Carmelo Anthony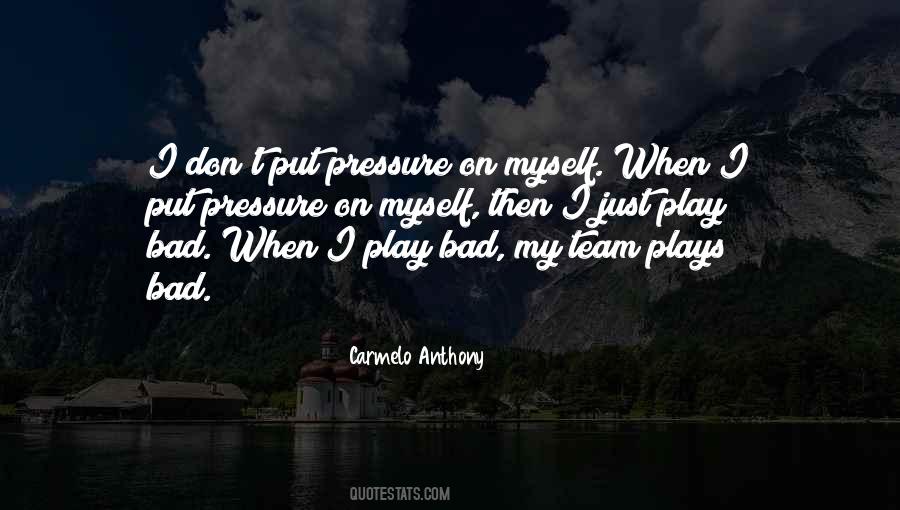 #8. When I was really young, the women's national team wasn't on a grand media stage, so my role models were male basketball and male American football players. - Author: Abby Wambach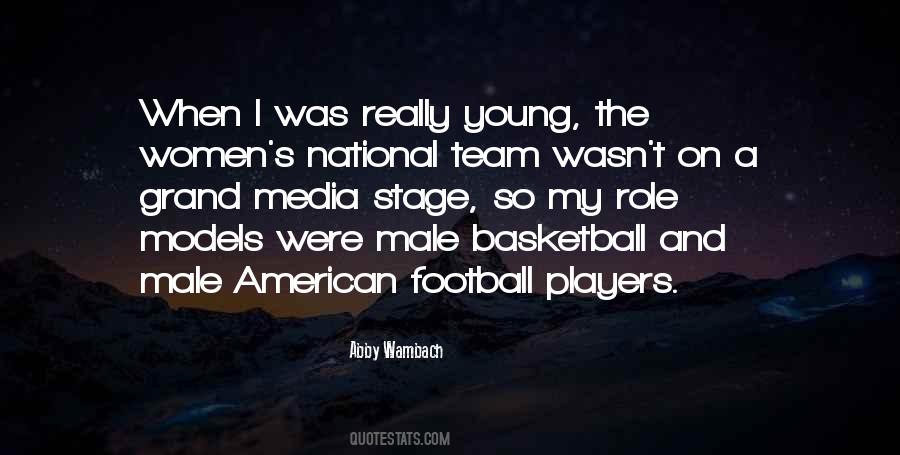 #9. But at the same time, my parents always encouraged my brother and me to be happy with what we were doing. My parents were athletes in high school; my mom and my dad were the stars of the basketball team, but they never pushed my brother and me to be anything we didn't want to be. - Author: Jonathan Groff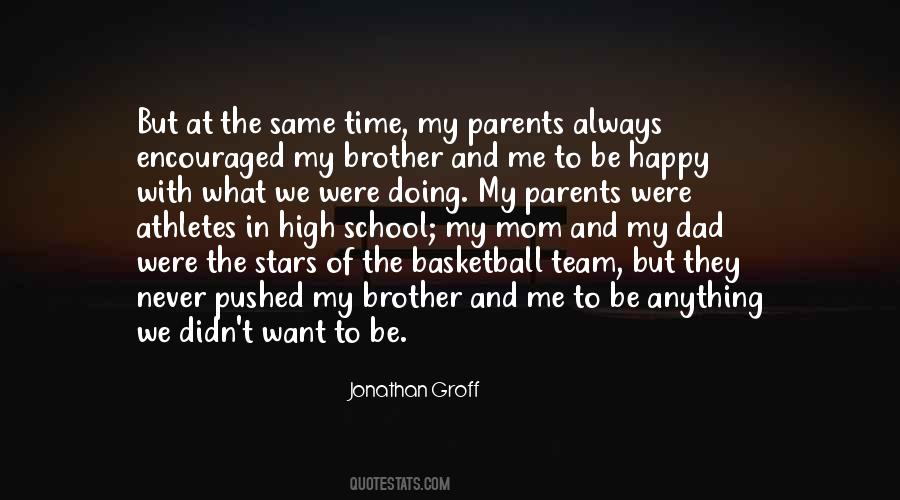 #10. Sports were a big part of my life. I was the captain of the basketball team in high school, and captain of the basketball team at Princeton. - Author: John W. Rogers Jr.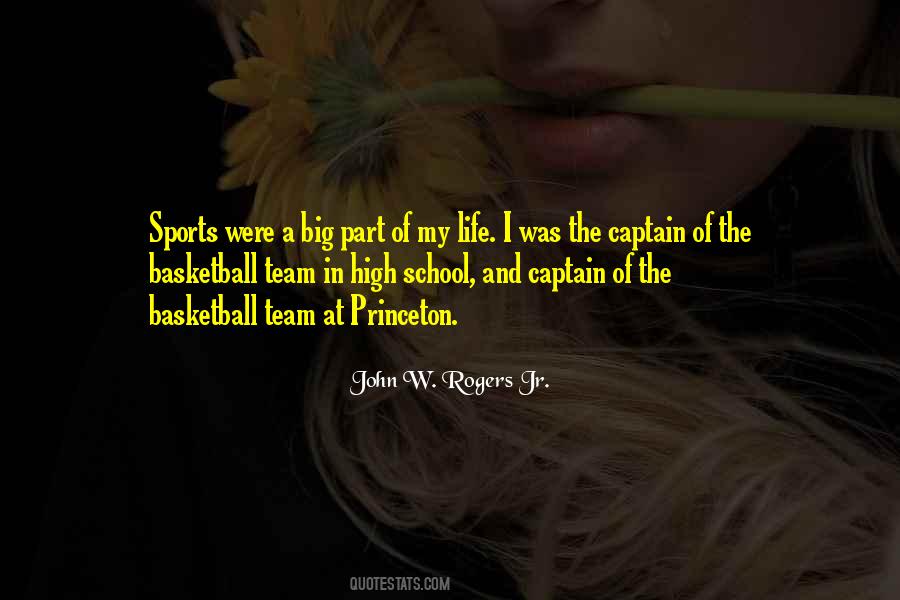 #11. I'm someone who always comes on the court no matter what's going on in my life. It's all about basketball and my teammates and my team. I don't let any distractions in, and I bring my best every night, regardless of what's going on or what people are talking about. - Author: Kris Humphries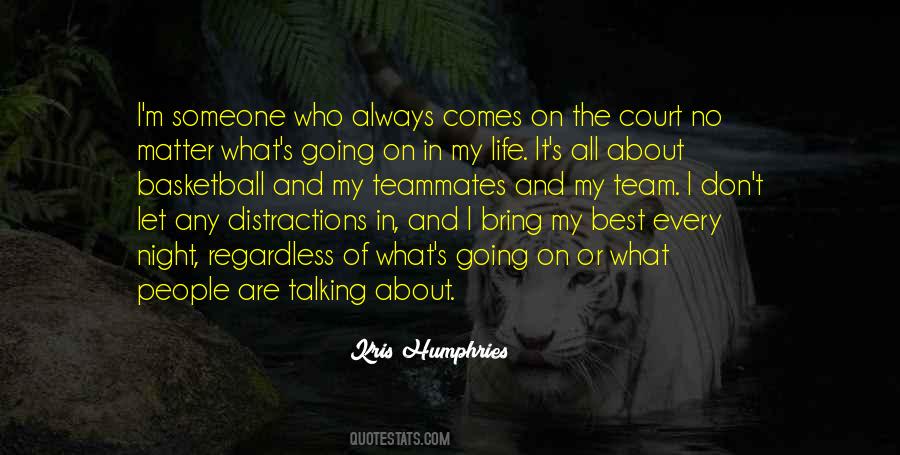 #12. I'll play all five positions if my team needs me to. - Author: Kevin Durant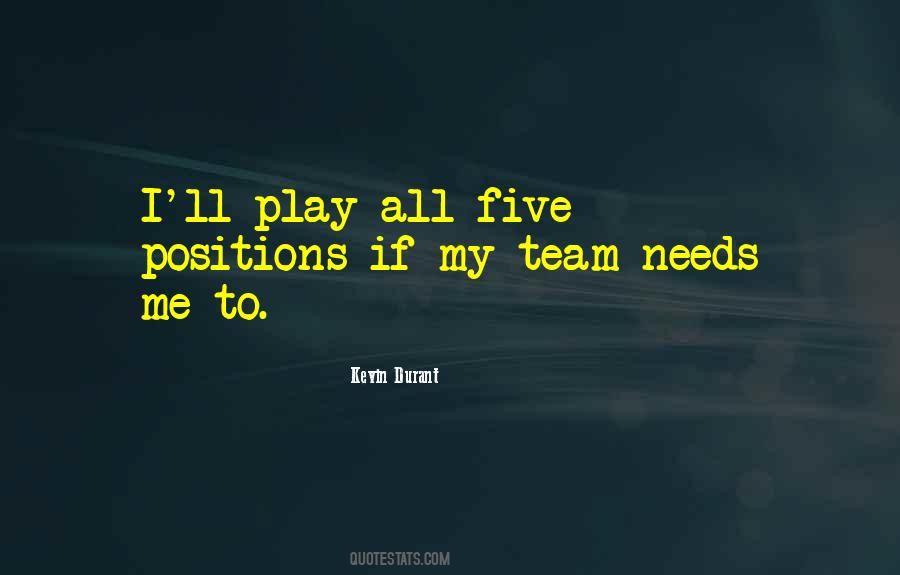 #13. My whole family likes to play basketball. George II plays for his high school team and George III and George IV and George V are going to be good players. One day we're going to have a team and call it Georgetown. - Author: George Foreman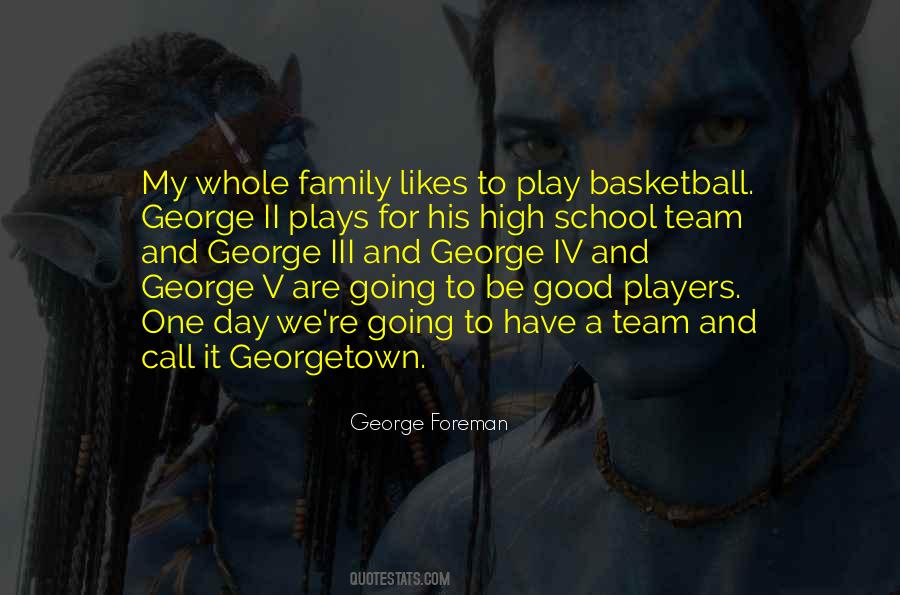 #14. In sixth grade, my basketball team made it to the league championships. In double overtime, with three seconds left, I rebounded the ball and passed it - to the wrong team! They scored at the buzzer and we lost the game. To this day, I still have nightmares! - Author: Zac Efron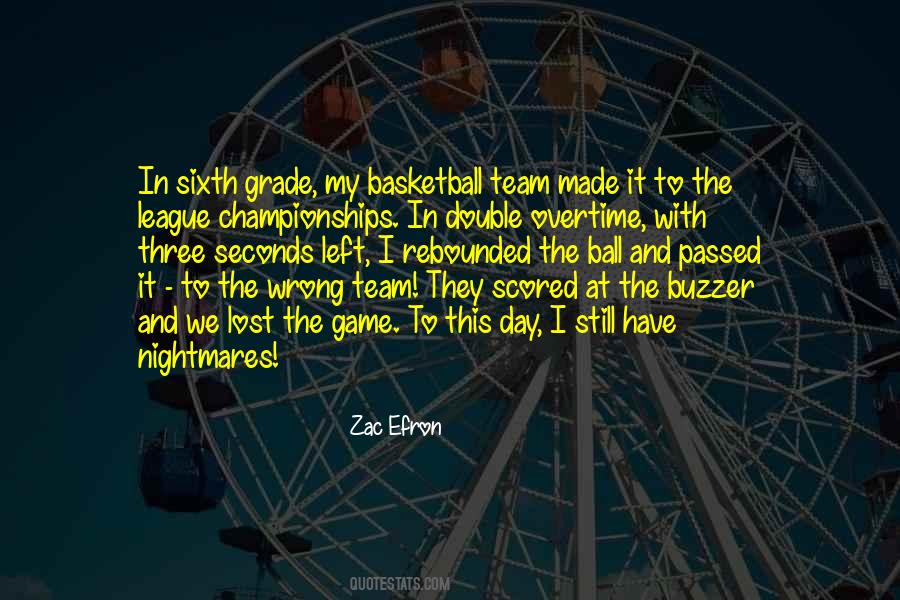 #15. I was a roving guard on the Lowell Hebrew Community Center's girls' basketball team all through high school. My specialty was stealing the ball, but my only shot was a lay-up. - Author: Elinor Lipman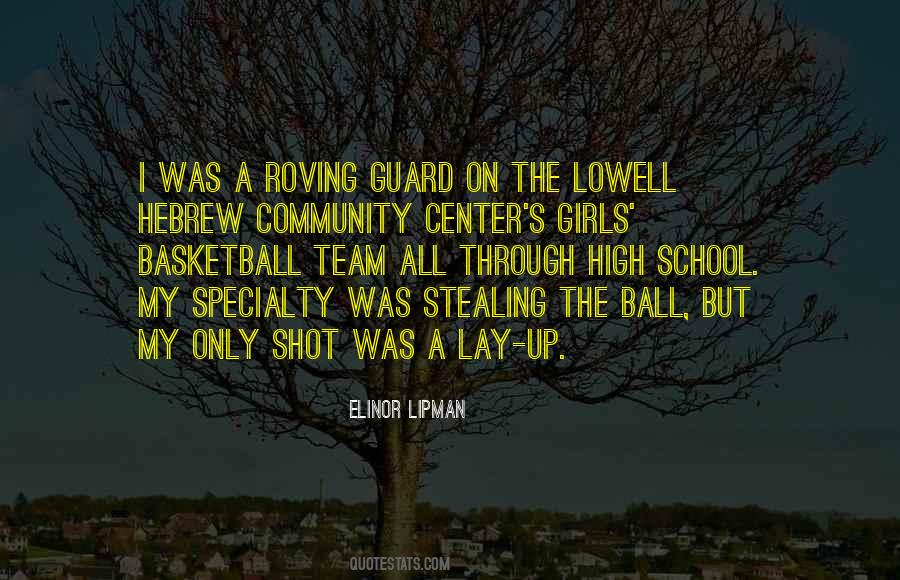 #16. I understand the NBA and the role I play on my team. I know that I have to play a leadership role and do whatever I have to do to win. - Author: Carmelo Anthony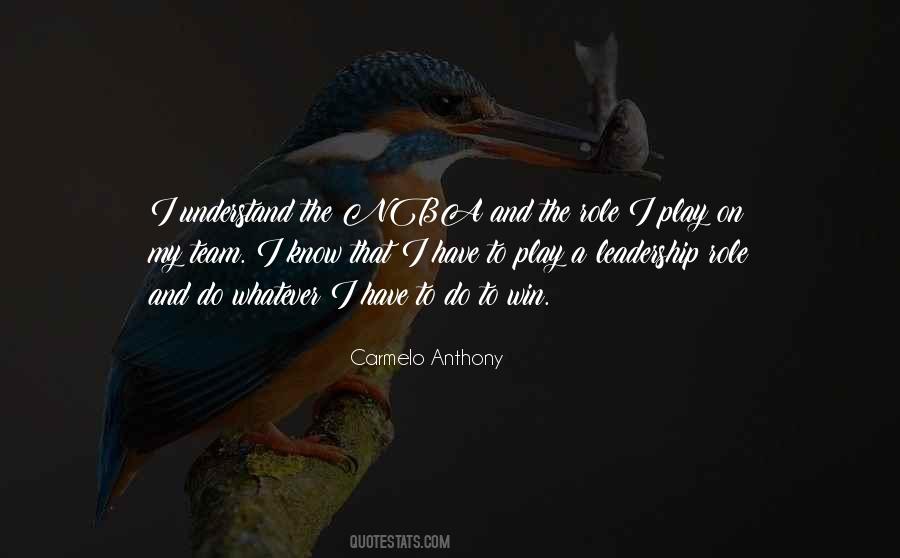 #17. The strength of my Princeton teams has always been attitude, intelligence and discipline. - Author: Pete Carril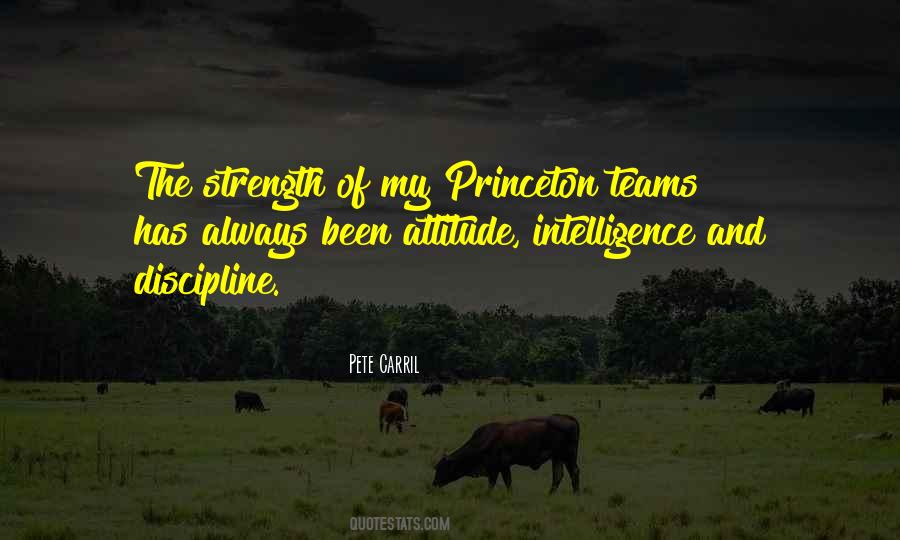 #18. In many ways, my job in soccer was like my job in basketball now. I had to protect the goal. That was the name of the game, not letting the other team score. - Author: Hakeem Olajuwon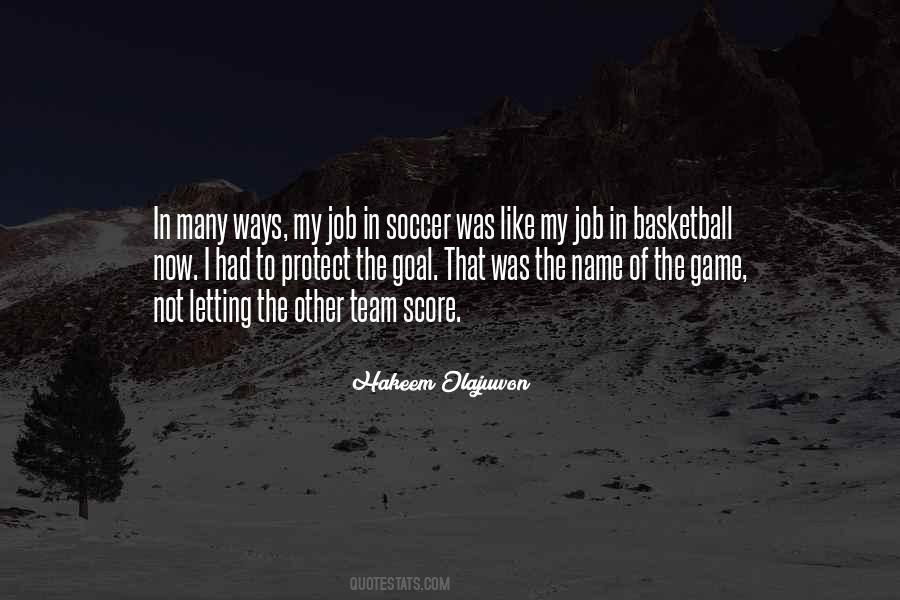 #19. I tried out for my basketball team every year and I never made it. You had to buy the shoes before you knew if you were on the team because it took a few weeks for them to ship. I bought the shoes every year, never once made the team, had a ton of high school basketball shoes. - Author: Adam DeVine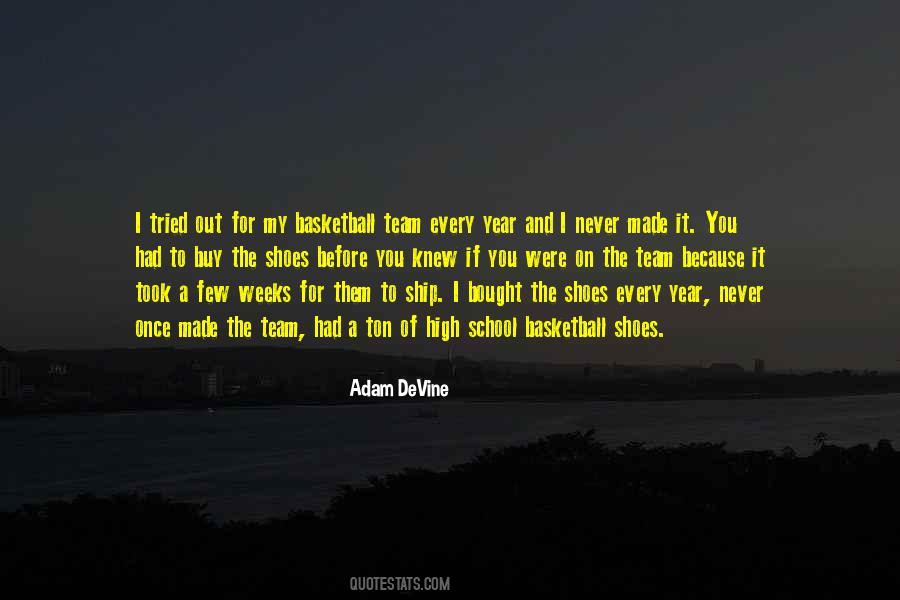 #20. I don't really want to go into my problems with the team at the time except to say that no one's ever had to pay me to play basketball. - Author: Jerry West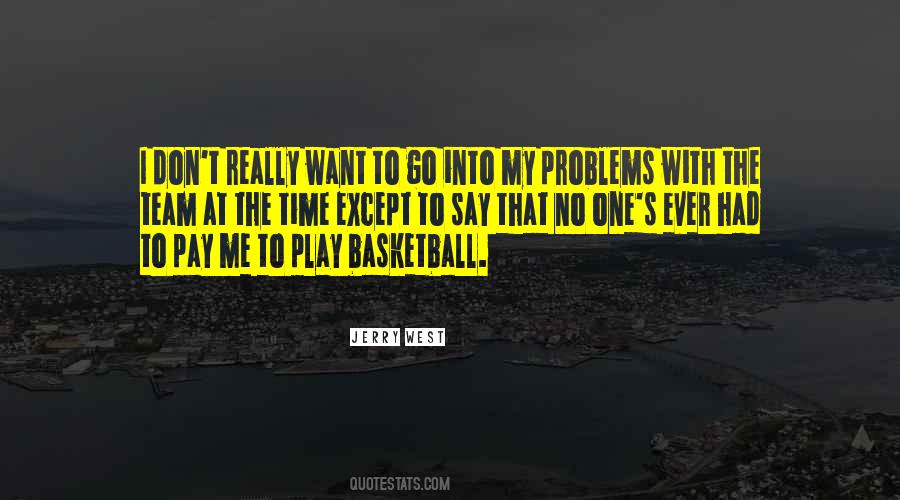 #21. Cooper was my road roommate, and also happened to be the first African American player drafted by a National Basketball Association team. - Author: Bob Cousy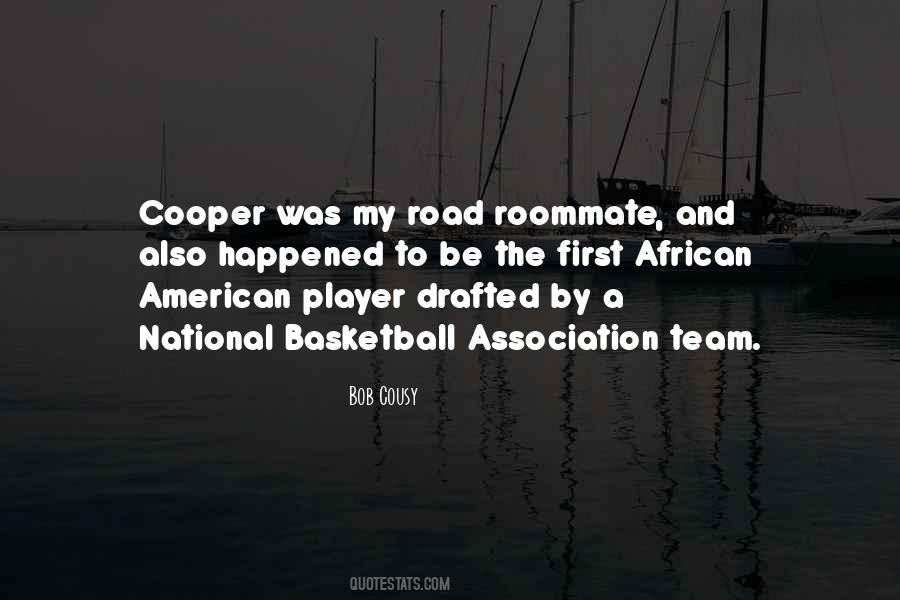 #22. I lived to play basketball. Growing up as a kid, Bill Russell and the Boston Celtics were my favorite team. The way they played, the teamwork, the sacrifice, the commitment, the joy, the camaraderie, the relationship with the fans. - Author: Bill Walton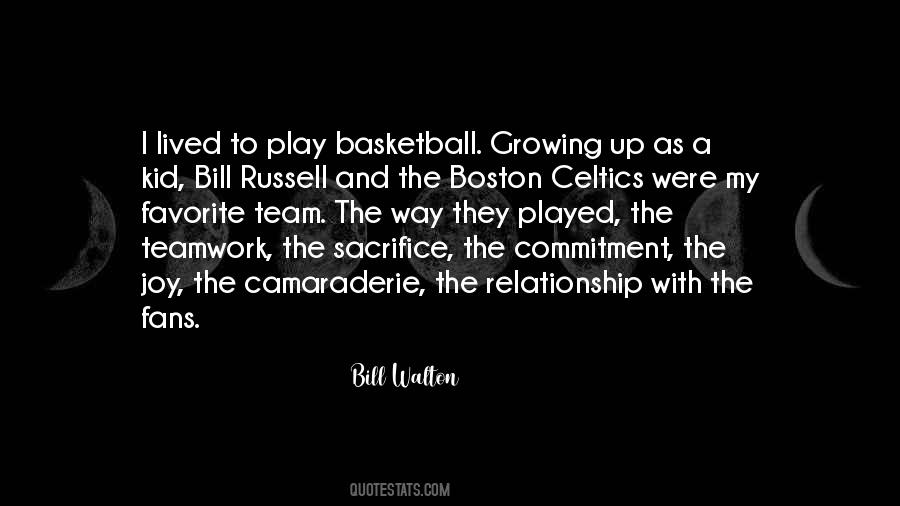 #23. For a college basketball player or coach, to reach the Final Four is la-la land. You've achieved, you've got your stamp of approval. My first team to do that was in 1986. Then we did it in '88, '89 and '90. - Author: Mike Krzyzewski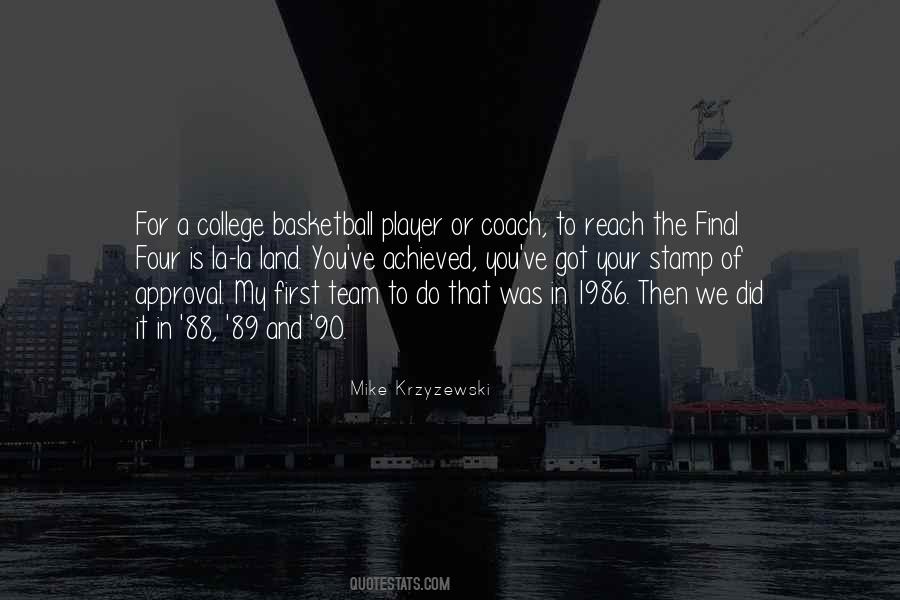 #24. My goal was just to try and be the best player on my high school team, and look where I am now. And that was still my goal as a young kid, just to try and be a little better than my brother was. - Author: Larry Bird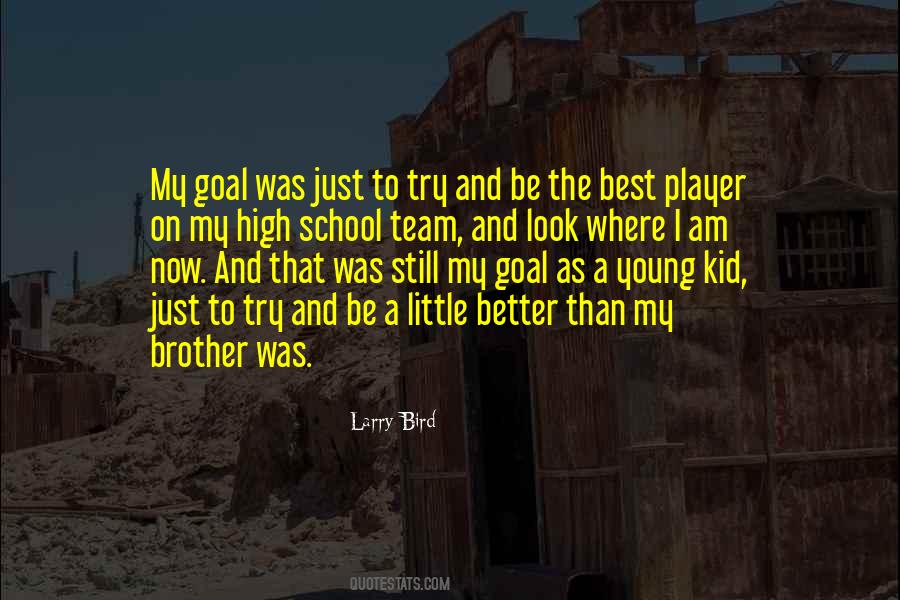 #25. I was homecoming queen. I was star of my basketball team. - Author: Marla Maples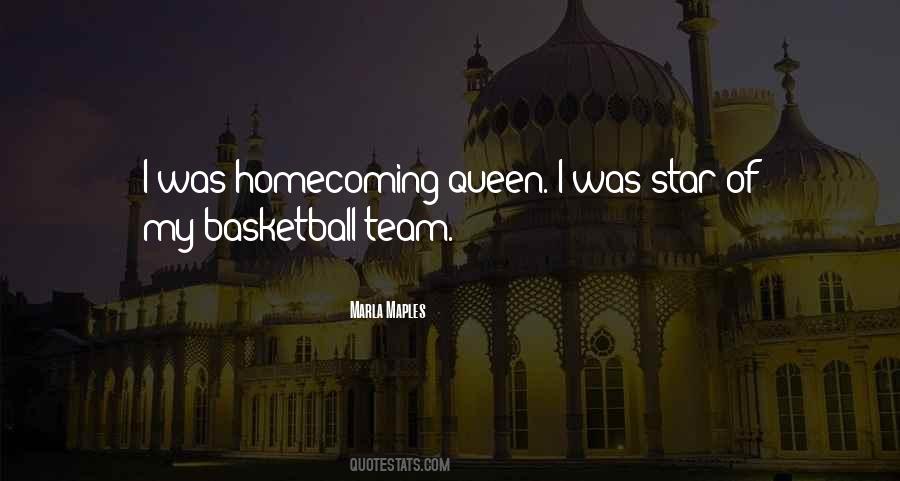 #26. If you twisted my arm today, I would probably vote for James Harden, he's single-handedly put that Houston Rockets team in the position they are in today. It would be tough. - Author: Mark Jackson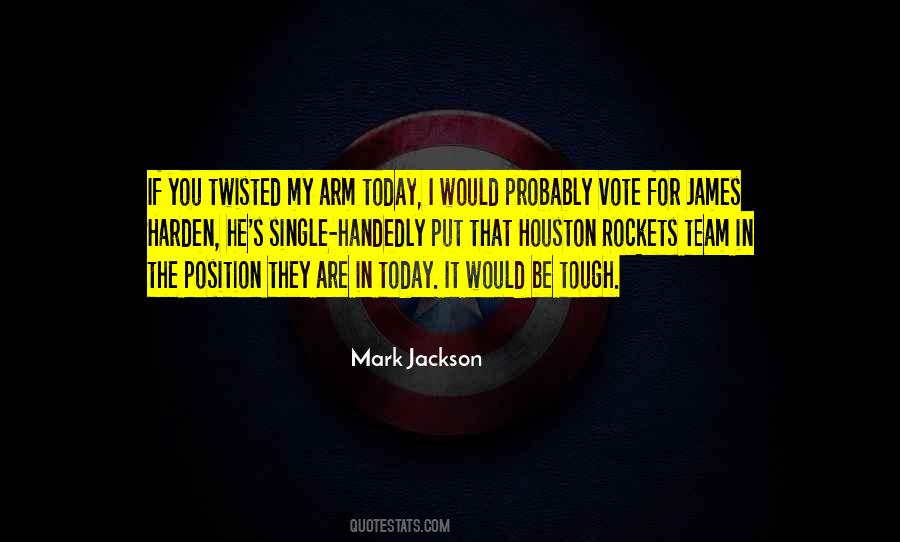 #27. A team should be an extension of a coach's personality. My teams are arrogant and obnoxious. - Author: Al McGuire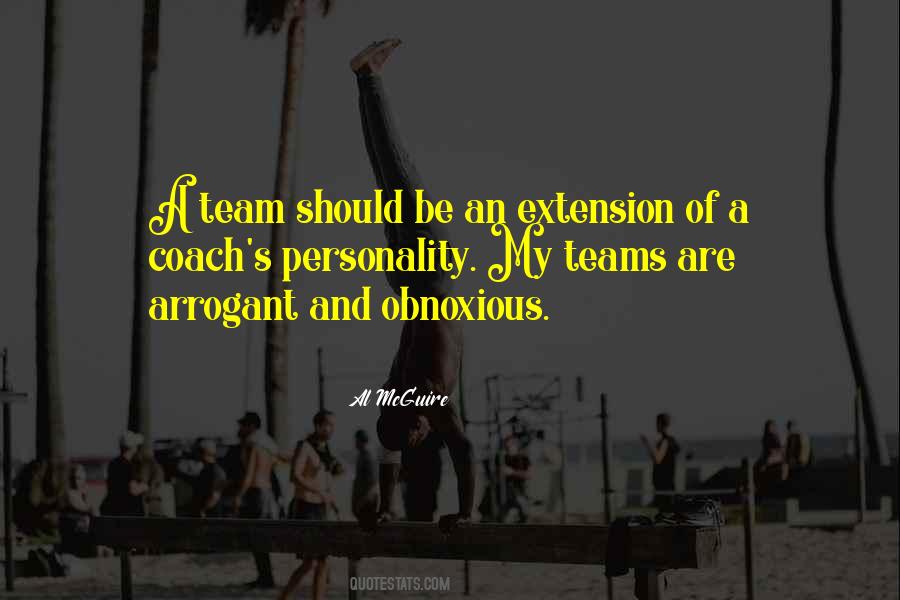 #28. My name is on the thing, but the reality of it is, when I get up there on stage, I'm part of a band. I'm part of a unit. It's like a basketball team. - Author: David Sanborn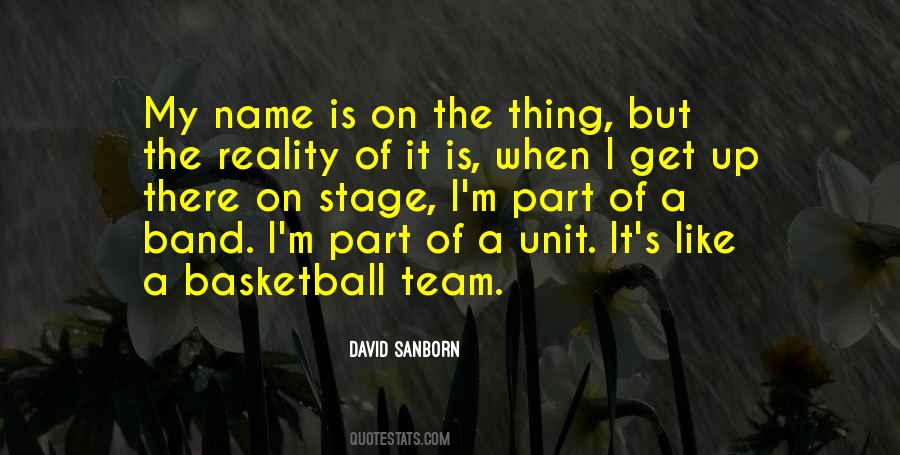 #29. I'll just have to get it against my favorite team. - Author: Shaquille O'Neal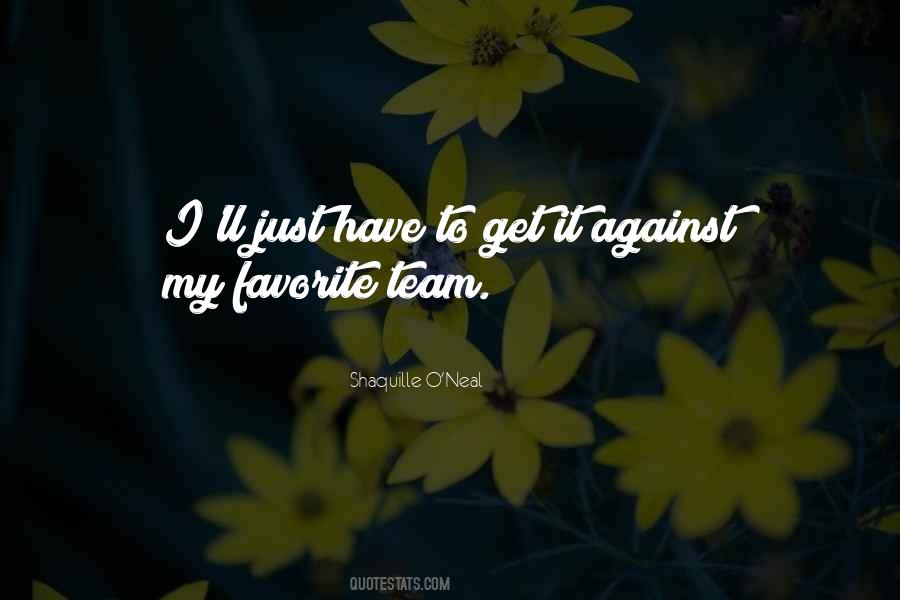 #30. A lot of people talk about the Fab Five, and they were wonderful, one of the best teams you'll ever see in college basketball. But the '89 team is the best one to ever play at Michigan in my opinion because they won the national championship. Winning a championship is winning a championship. - Author: Trey Burke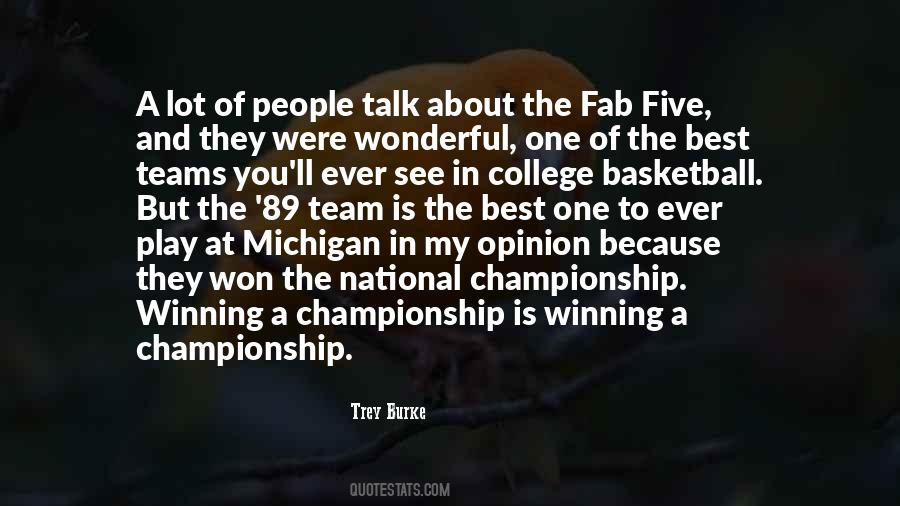 #31. I didn't do anything very pretty. My contributions were in the intangibles. But, they were the type of things that help lead a team.. - Author: Wes Unseld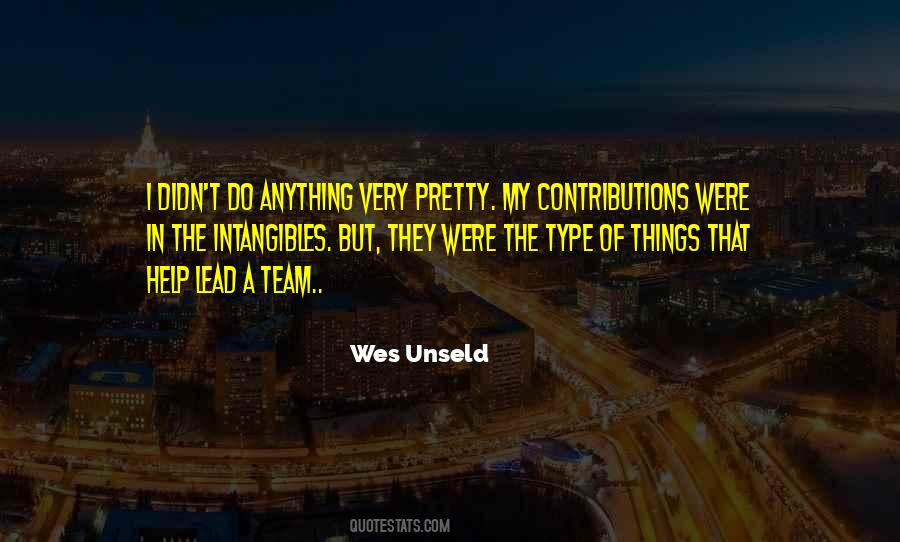 #32. It's LeBron's team. He's the captain. This is the time in my career where I can fit in. I'm now in the security business. My job is to protect the King, and that's what I'm here to do. - Author: Shaquille O'Neal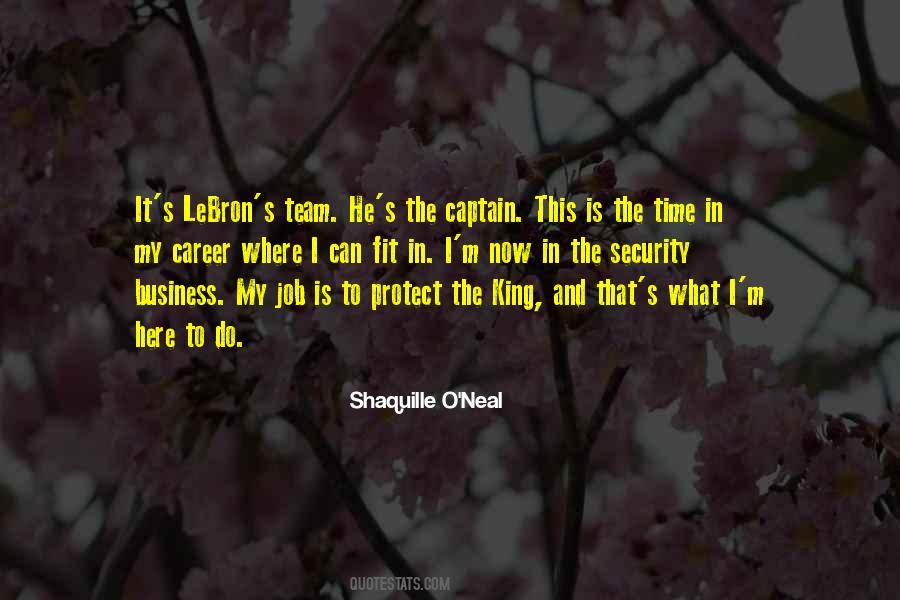 #33. The only time I'd played organized basketball was my sophomore year in high school, when I barely made the junior varsity team. - Author: Dennis Rodman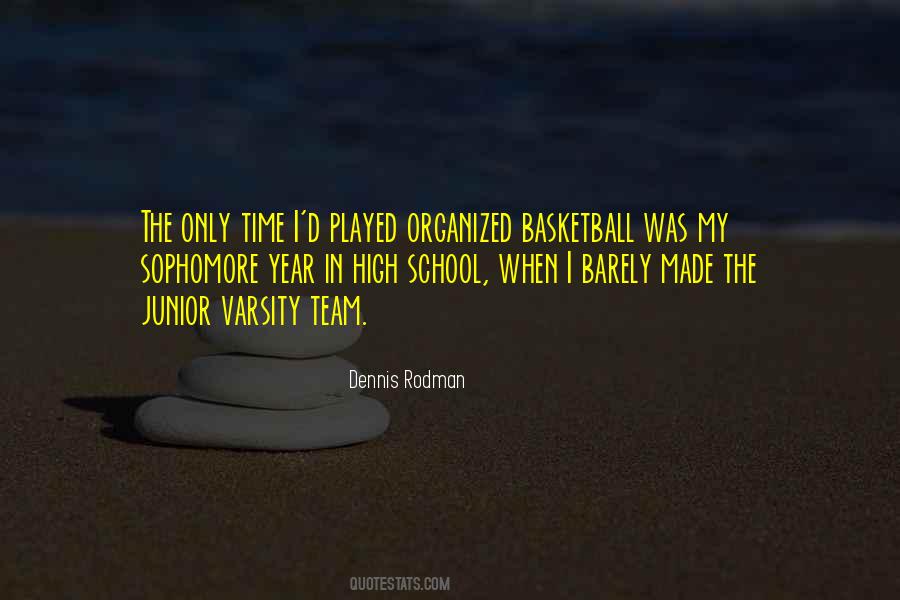 #34. I've always felt that, you know, the Almighty has a lot of things to do other than help my basketball team. - Author: Bobby Knight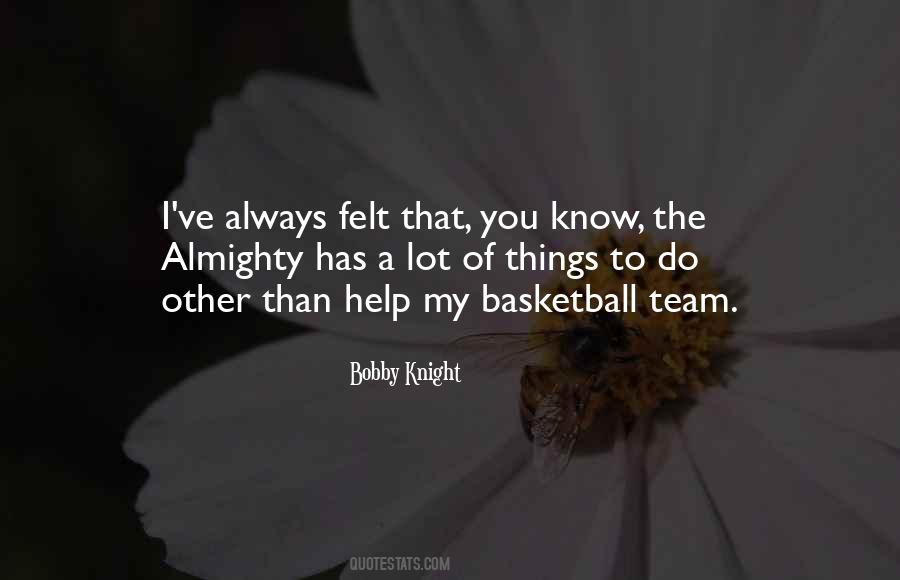 #35. Being named as a finalist for the USA Basketball National Team is an unbelievable feeling and an opportunity that is truly humbling. It is an honor to be included with such talented players and I look forward to the chance to represent my country this summer. - Author: James Harden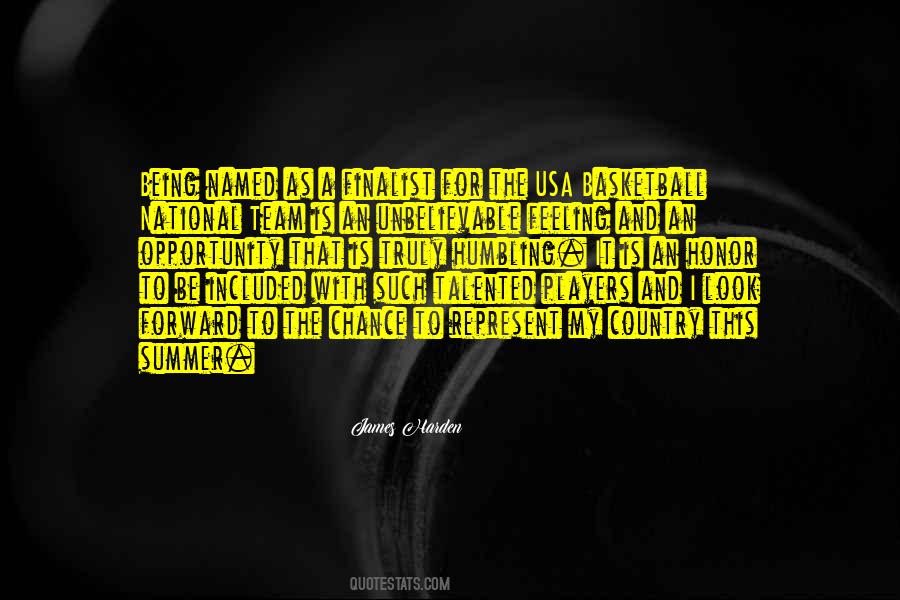 #36. He doesn't need advice on how to play his position, but he needs advice on how to play team ball ... If it's going to be my team, I'll voice my opinion. If he don't like it, he can opt out. - Author: Shaquille O'Neal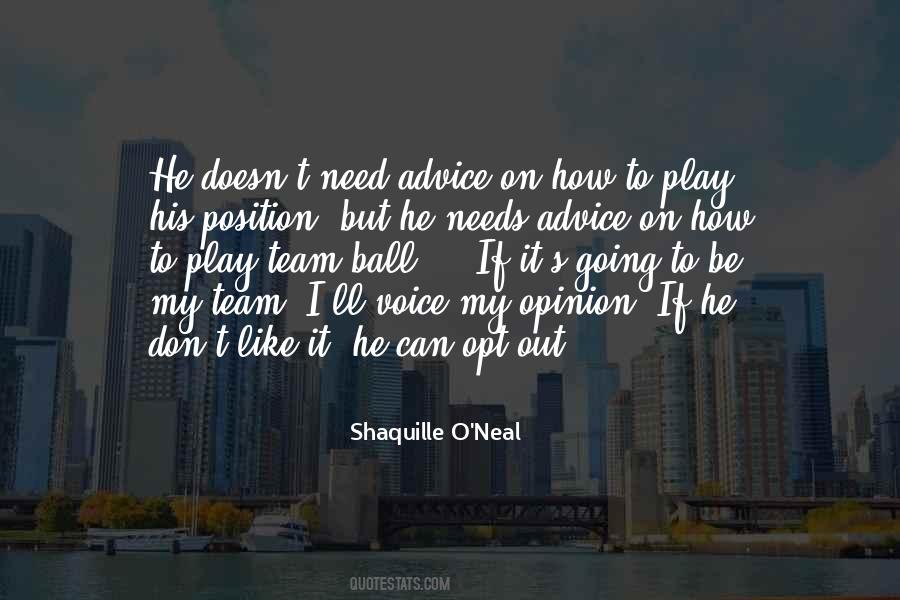 #37. I've always been a leader. I've always kind of been the tallest person on the team when I was younger but always kind of the smartest. I was ahead of my time. I wasn't always the oldest, I kind of was the youngest on the team, but, I kind of knew what to do at times. - Author: LeBron James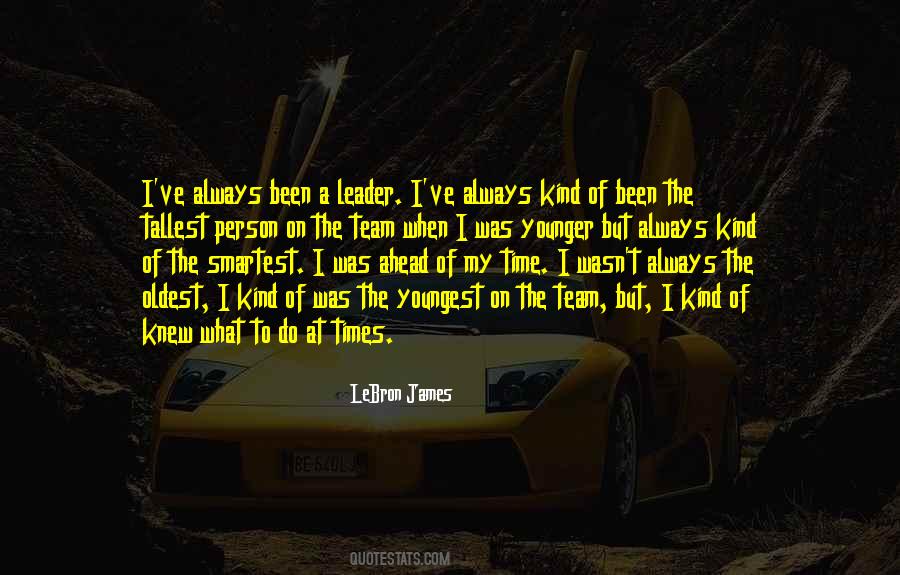 #38. The way my team are doing, we could get Wilt Chamberlain in a trade and find out that he's really two midgets Scotch-taped together. - Author: Gene Shue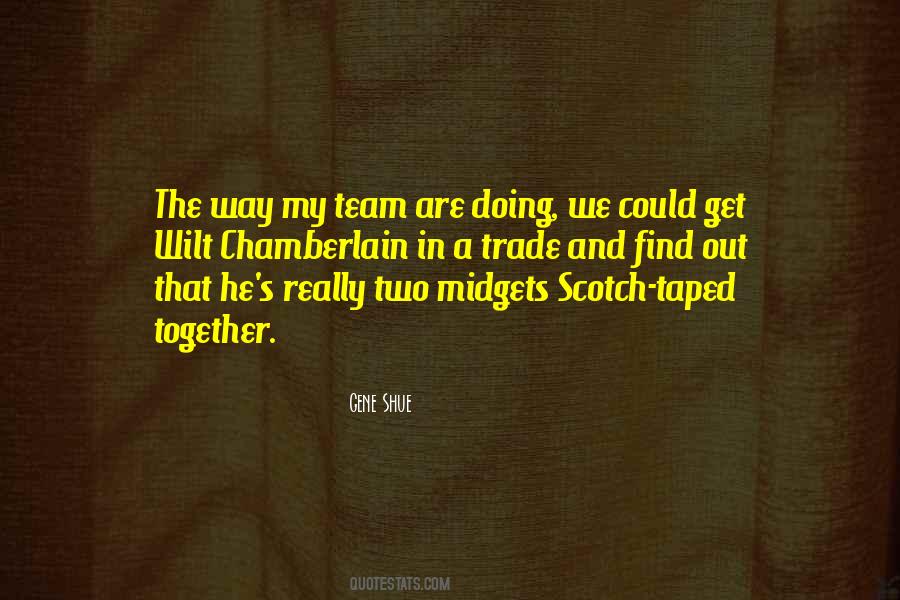 #39. I never thought I'd lead the NBA in rebounding, but I got a lot of help from my team-mates - they did a lot of missing. - Author: Moses Malone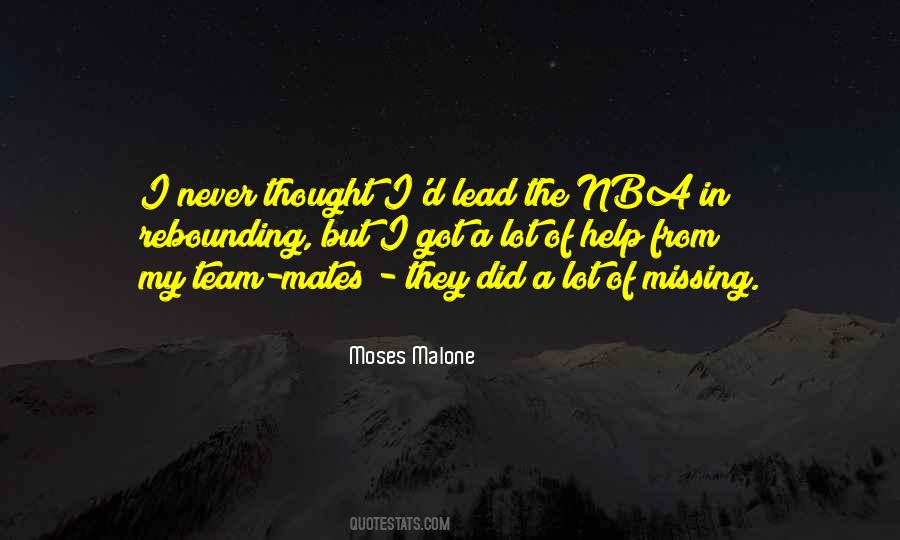 #40. The Dodgers. My favorite hockey team is the Kings. I like the Clippers in basketball. And I like USC college. Football, the Giants. - Author: Alyssa Milano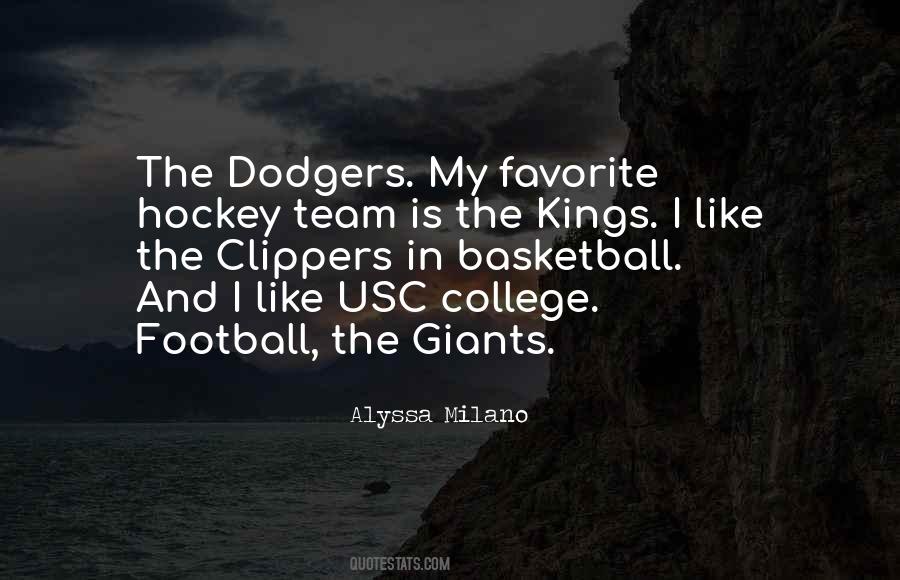 #41. It all depends on how you want to define what an MVP is. I've been fortunate to win the trophy four times, but I've been the MVP of my team for a long time - just because of the way I lead and the way I approach us being professionals off the floor. - Author: LeBron James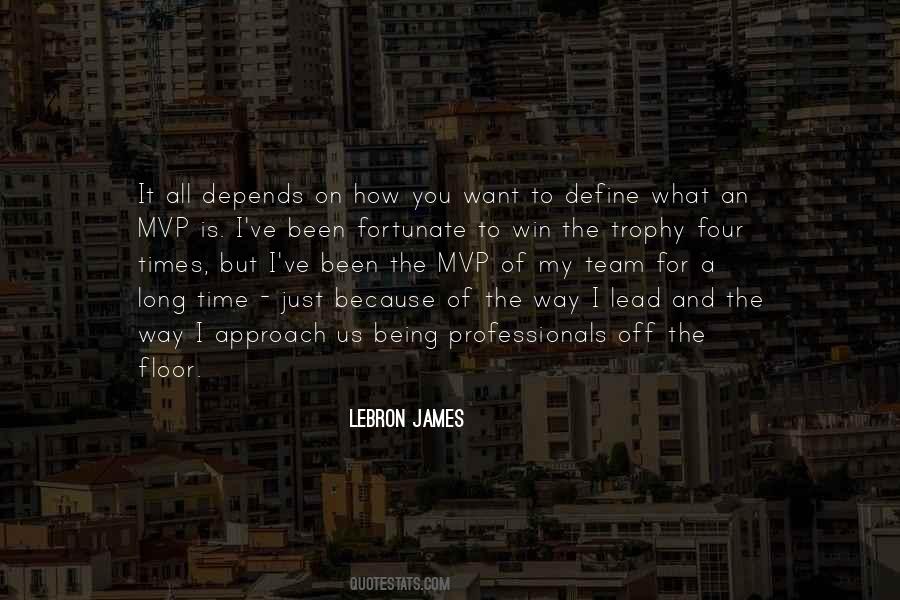 #42. I coach my daughter's softball and basketball team. We go to all the school functions. We go out to eat at night and take the kids to the movies. We try to be as normal as we can. - Author: Tim McGraw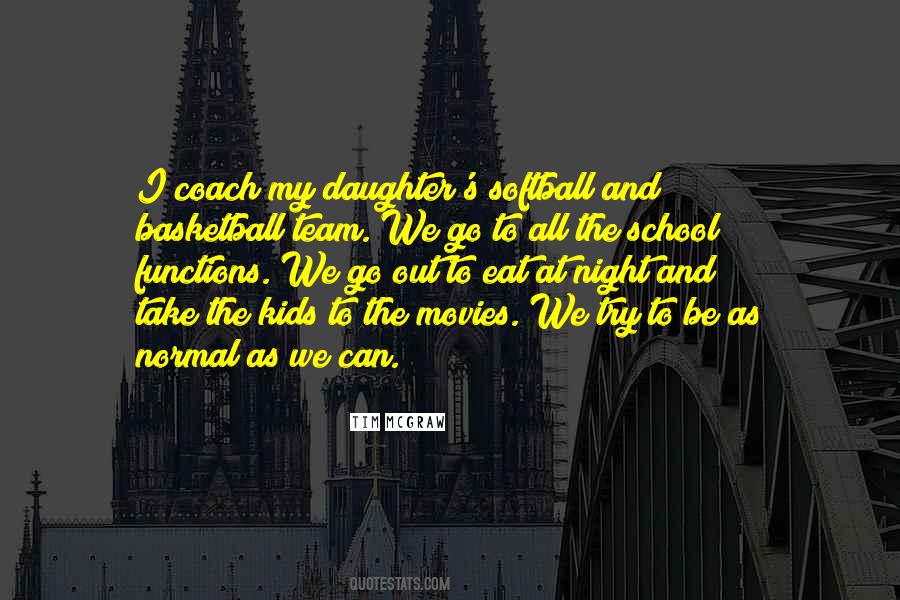 Famous Authors
Popular Topics