More Blessings Famous Quotes & Sayings
List of top 98 famous quotes and sayings about more blessings to read and share with friends on your Facebook, Twitter, blogs.
Top 98 Quotes About More Blessings
#1. Be thankful for it all. And beyond your many blessings, will be many, many more. - Author: Ralph Marston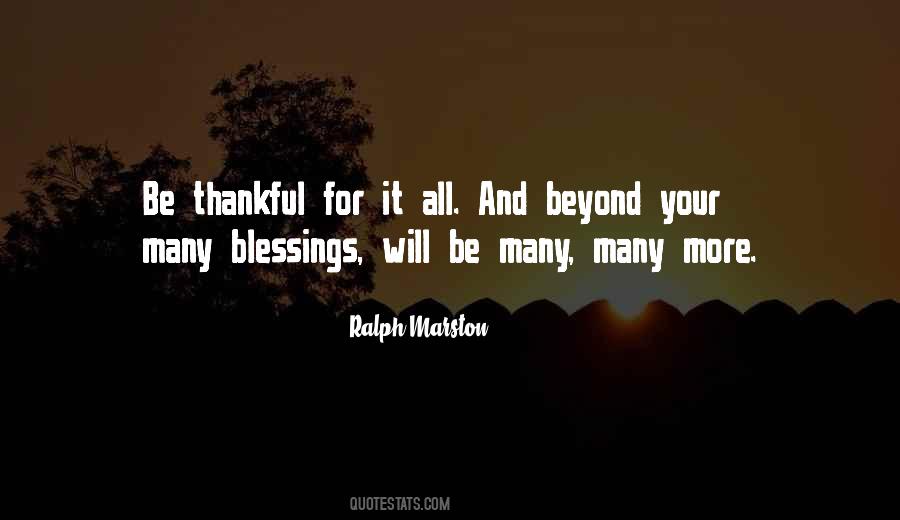 #2. Why don't we have more babies, Mom? Bailey has big sisters. I wish I had a big sister.
I don't know why, Fern. I tried to have more children, but sometimes we are given something so special, so wonderful, that one is enough. - Author: Amy Harmon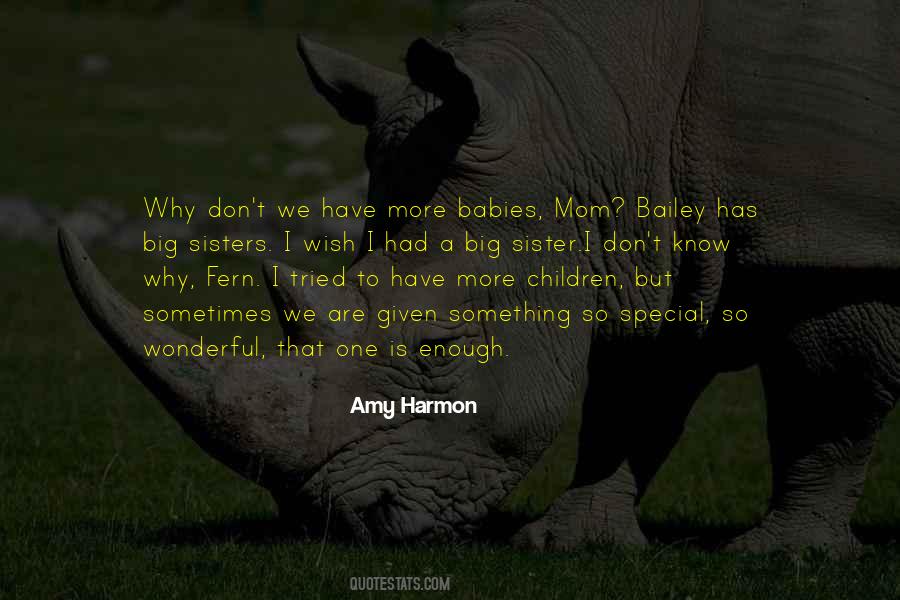 #3. Never keep your blessings all to yourself. Share them with those who need and you will receive more. - Author: Timothy Pina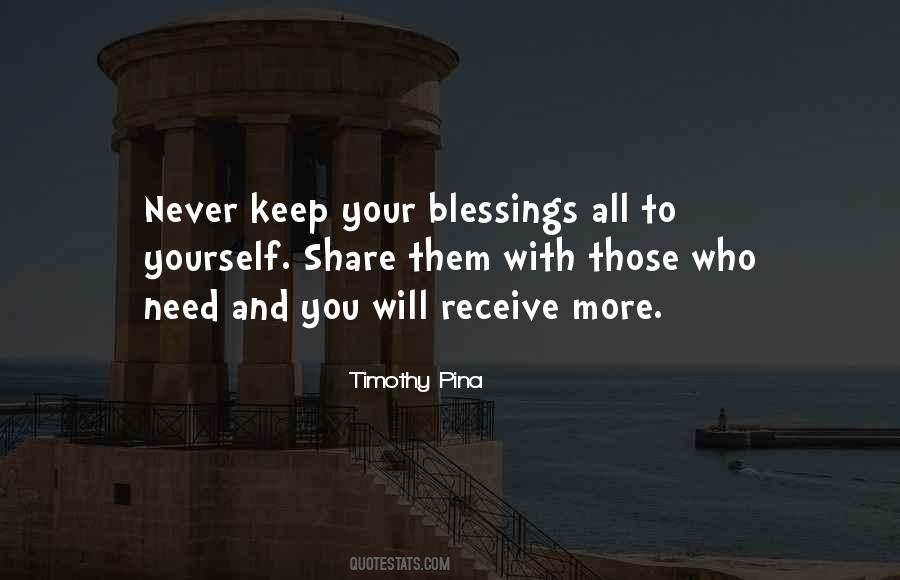 #4. I recognize women are under a lot more stress today. The things you consider stress are also the blessings in your life. - Author: Bonnie Fuller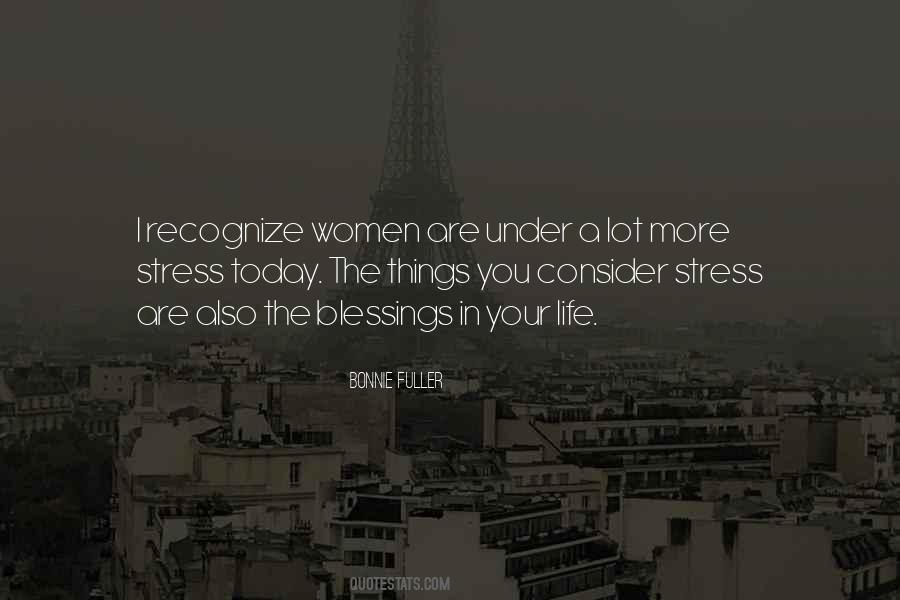 #5. We don't ask any people to throw away any good they have got; we only ask them to come and get more. What if all the world should embrace this Gospel? They would then see eye to eye, and the blessings of God would be poured out upon the people, which is the desire of my whole soul. - Author: Joseph Smith Jr.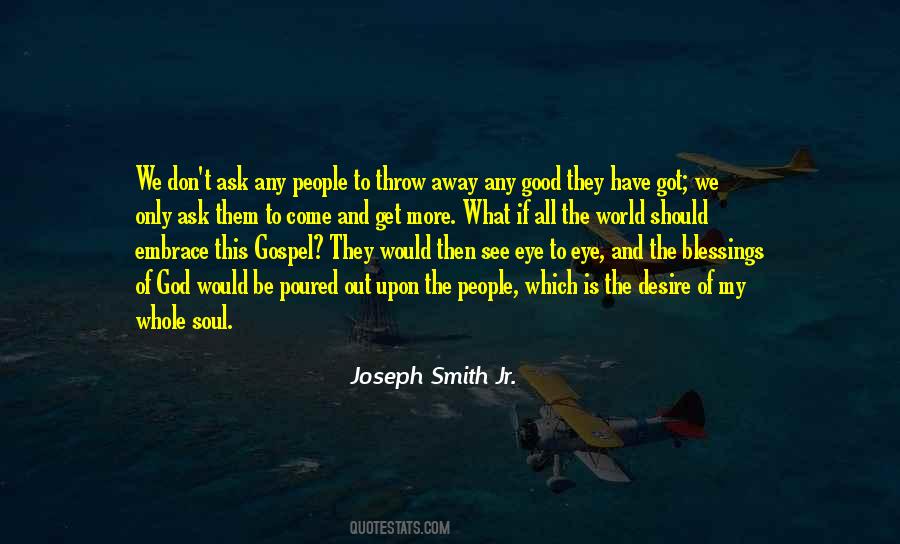 #6. I wish I could fly.
I wish I were rich.
I wish I had more time."
"But you can, and you are, and you do;
I wish you would open your eyes. - Author: Richelle E. Goodrich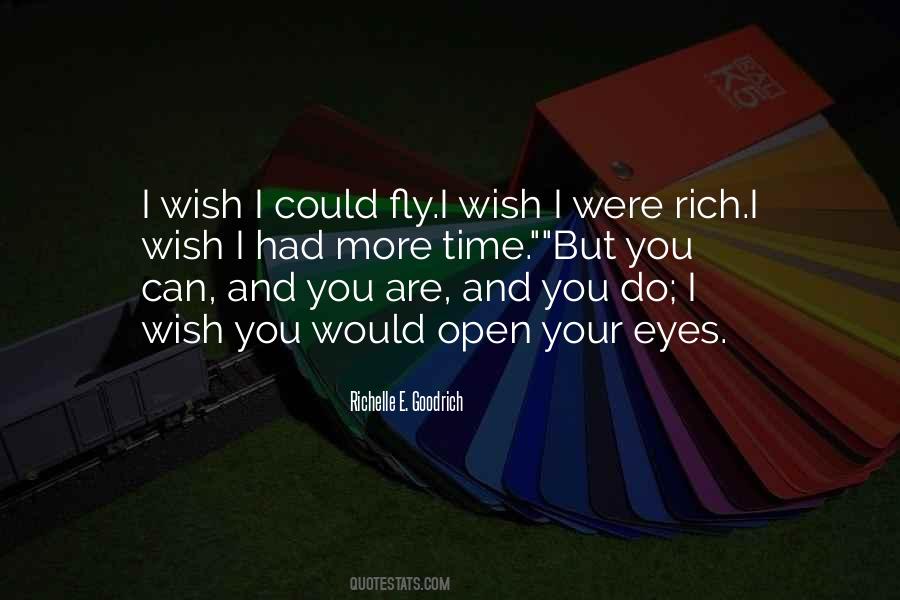 #7. Count your blessings. A grateful heart attracts more joy, love and prosperity. - Author: Cheryl Richardson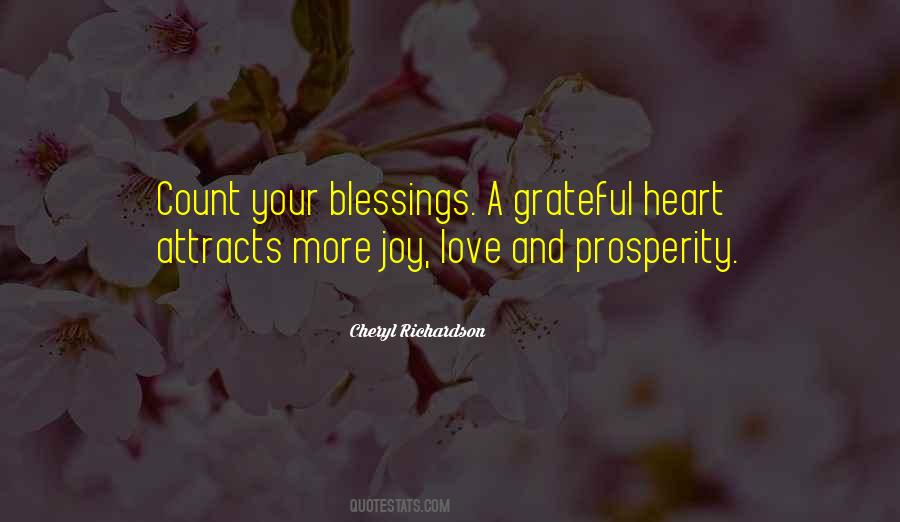 #8. It is one of God's blessings that we cannot foreknow the hour of our death; for a time fixed, even beyond the possibility of living, would trouble us more than doth this uncertainty. - Author: King James I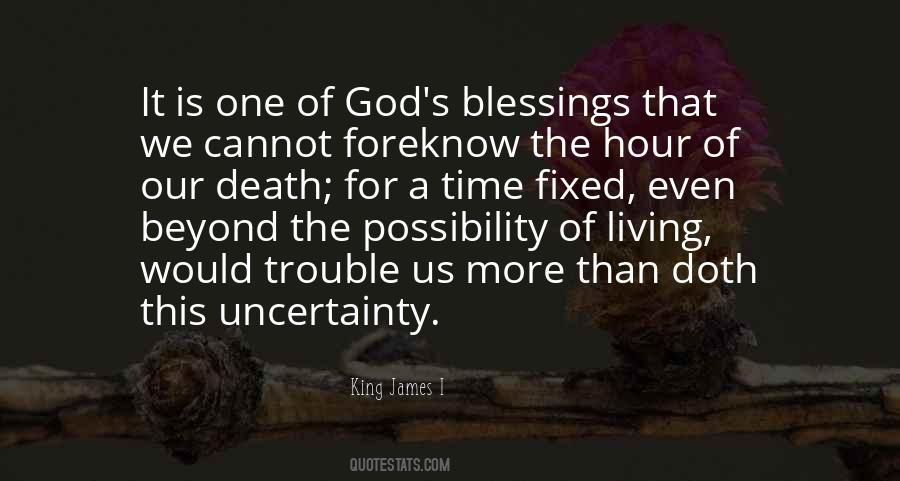 #9. Praise God (or whatever it is) from (if direction exists) whom (if personality exists) all blessings (if that word corresponds to any percept of objective reality) flow (if Heraclitus and Bergson and Einstein are correct in stating that everything is more or less flowing about). - Author: Dorothy L. Sayers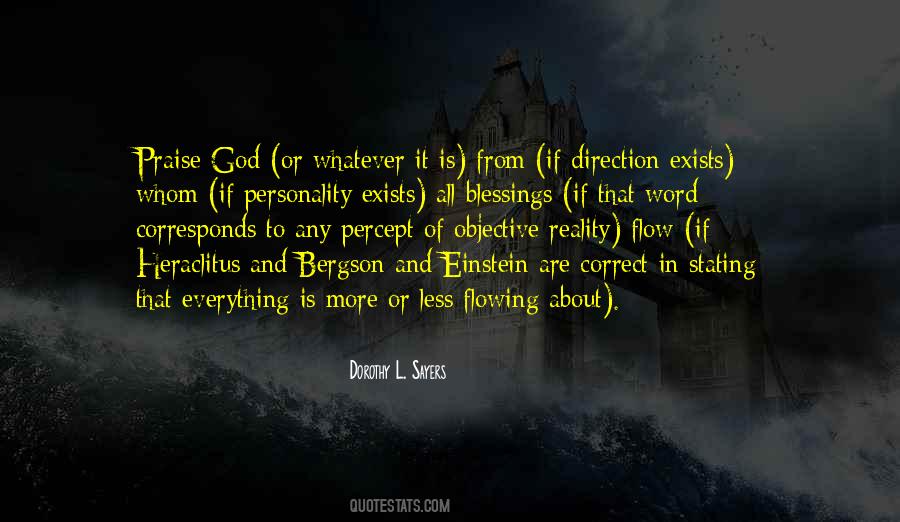 #10. By looking up, by raising our eyes above our limited horizon, we are more likely to perceive the blessings hidden in affliction. - Author: David Steindl-Rast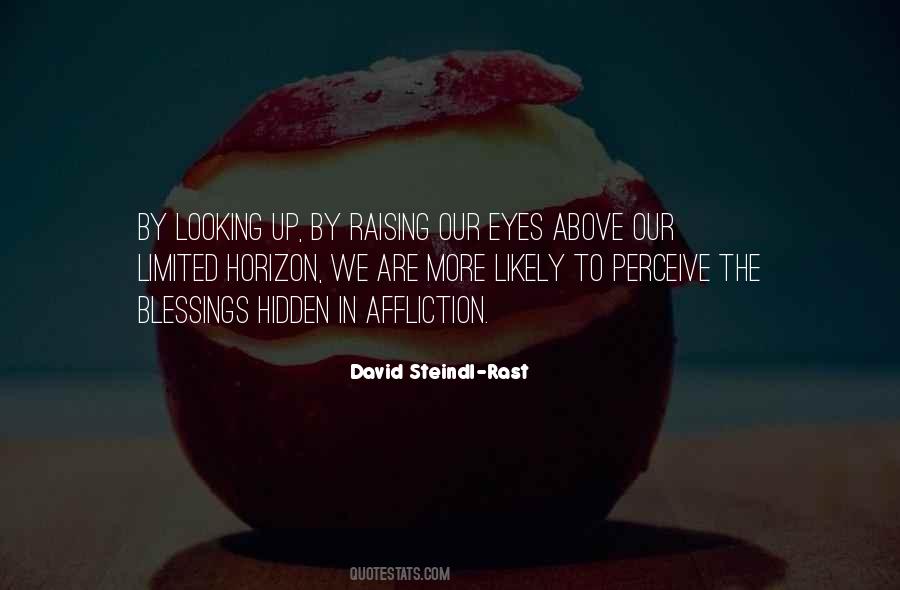 #11. May your troubles be less
Your blessings be more.
And nothing but happiness
Come through your door. - Author: Dorien Kelly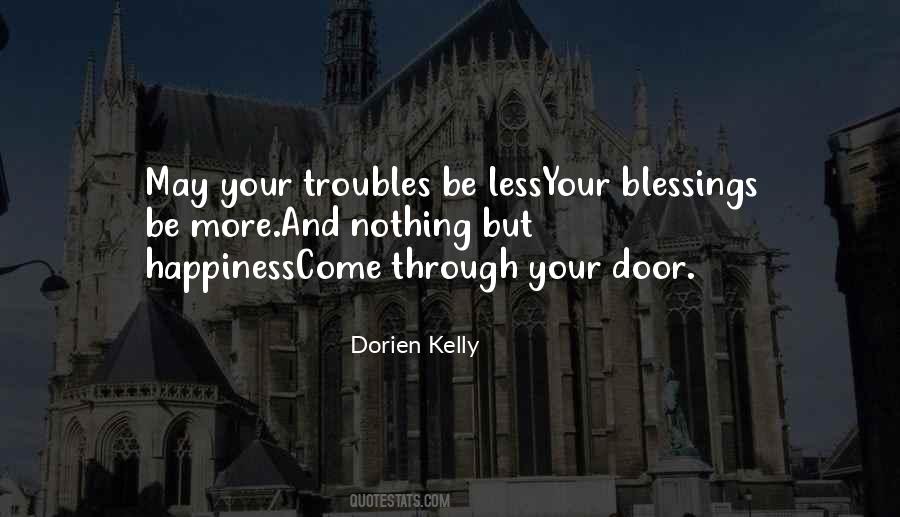 #12. The more gratefully we fix our minds on the Supreme when good things come to us, the more good things we will receive, and the more rapidly they will come; and the reason simply is that the mental attitude of gratitude draws the mind into closer touch with the source from which the blessings come. - Author: Wallace D. Wattles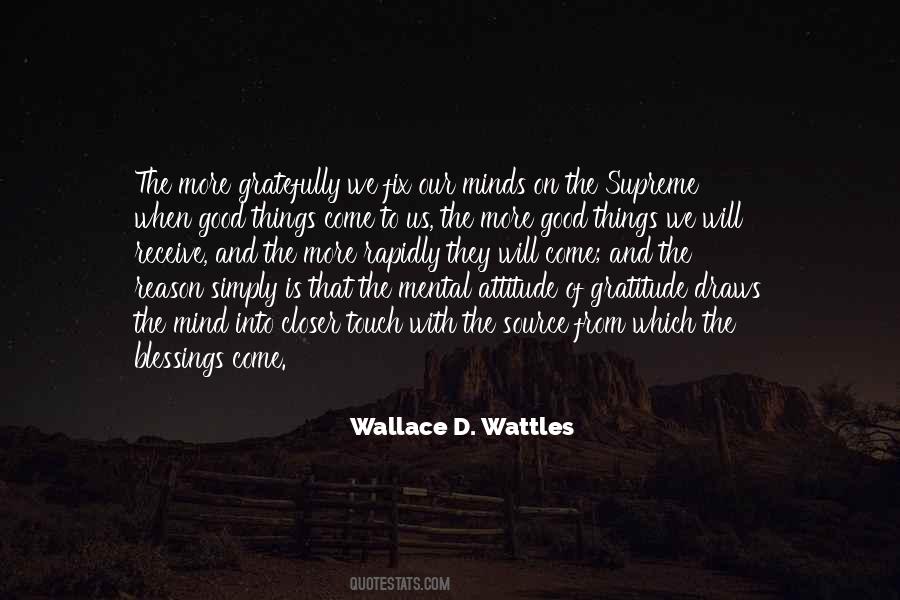 #13. Madame Gherardi maintained that love, like most other blessings of civilisation, was a chimaera which we desire the more, the further removed we are from Nature. - Author: W.G. Sebald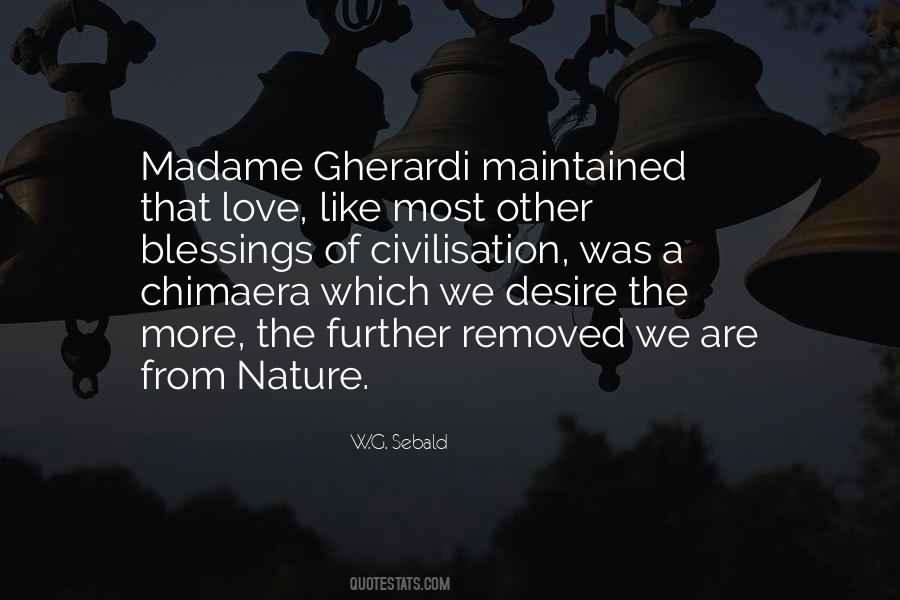 #14. Relationships are blessings, but they need the manure of love, respect and devotion. A little more would raise expectations and a little less would bring remorse. - Author: Shilpa Sandesh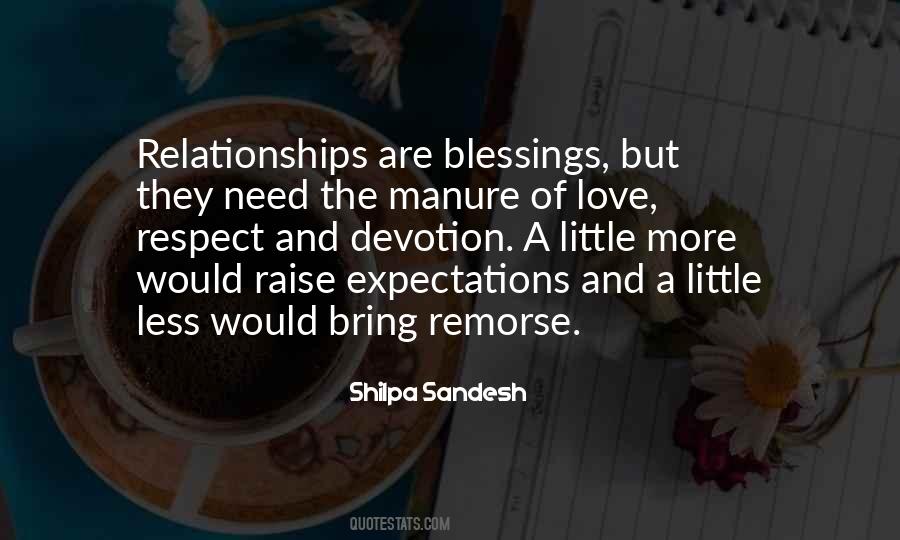 #15. One of the bellwether marks of the growth and vitality of the Church is the construction of temples ... We will keep on working to bring the temples to the people, making it more convenient for Latter day Saints everywhere to receive the blessings which can only be had in these holy houses. - Author: Gordon B. Hinckley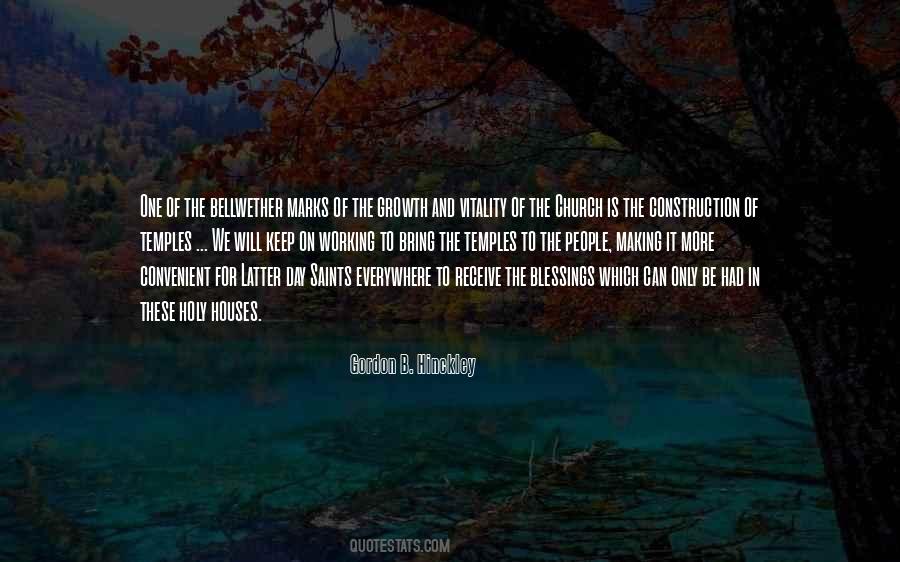 #16. Nothing is more inspiring in today's world of easily dissolved marriages than to observe a husband and wife quietly appreciating and enjoying each other's friendship year in and year out as they experience together the blessings and trials of mortality. - Author: Marlin K. Jensen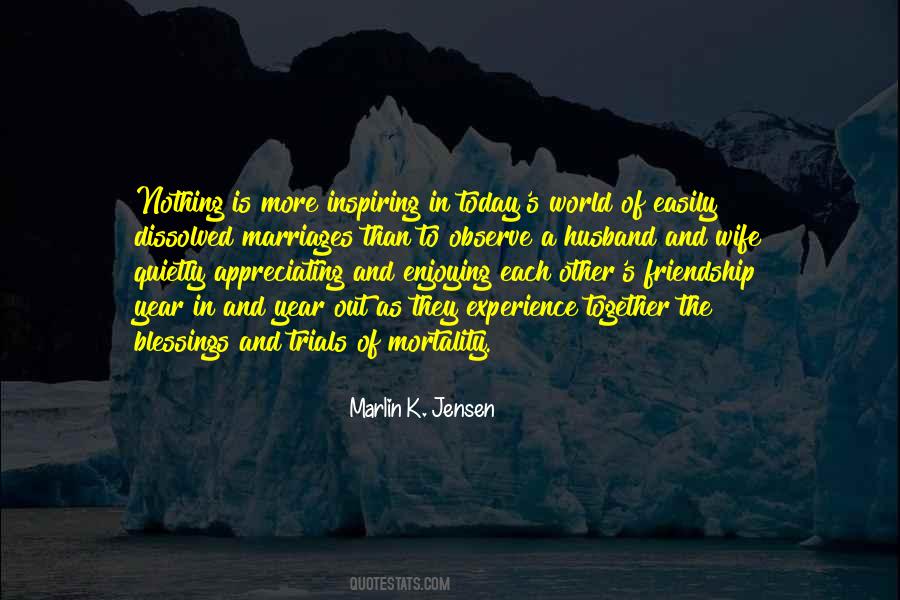 #17. [God] is waiting and anxious to pour out blessings, and glory, and honor, and exaltation upon his people, far more than we have ever received, and far more than we are capable of receiving; and the only reason we have not received it long ago is because there was no place found for it. - Author: Erastus Snow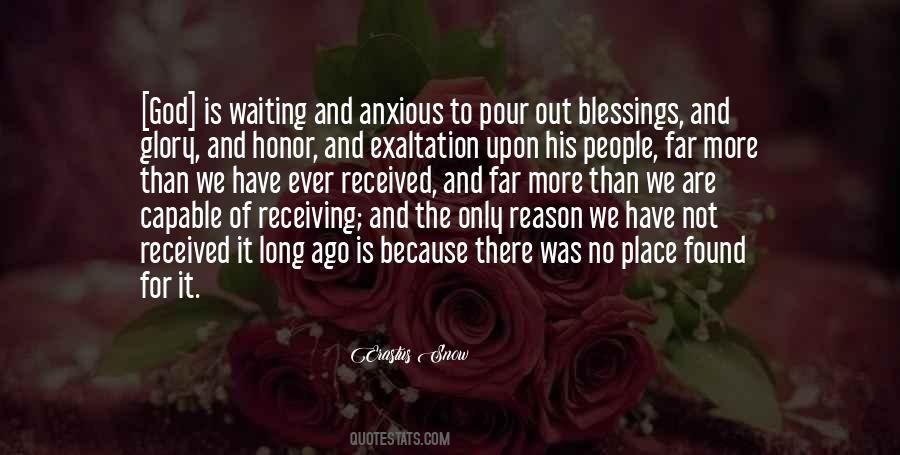 #18. The Sundaies of man's life, Thredded together on time's string, Make bracelets to adorn the wife Of the eternal, glorious King. On Sunday heaven's gates stand ope; Blessings are plentiful and rife. More plentiful than hope. - Author: George Herbert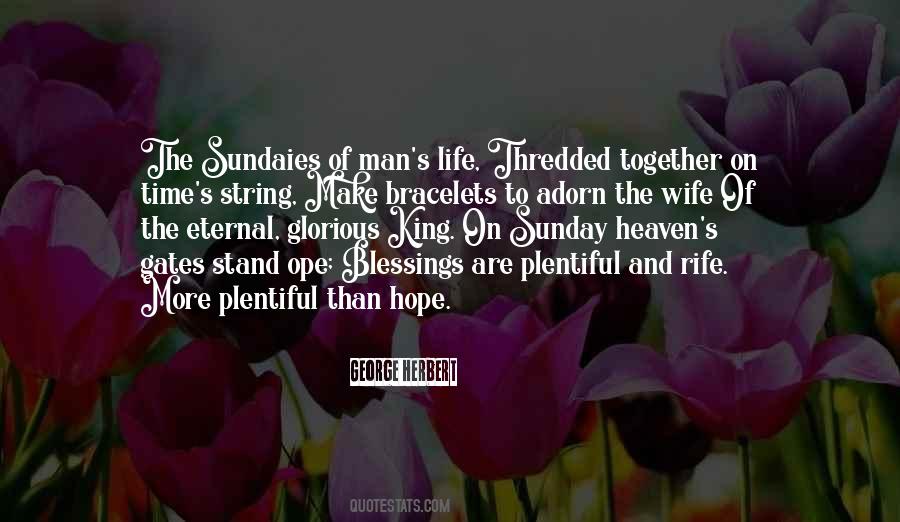 #19. What ascends up in prayer descends to us again in blessings. It is like the rain which just now fell, and which had been drawn up from the ground in vapors to the clouds before it descended from them to the earth in that refreshing shower. - Author: Hannah More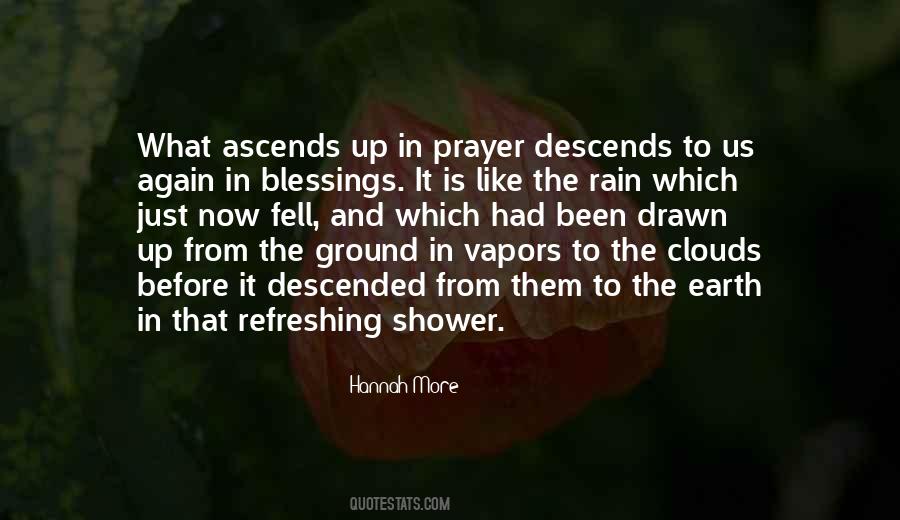 #20. What if you gave someone a gift, and they neglected to thank you for it - would you be likely to give them another? Life is the same way. In order to attract more of the blessings that life has to offer, you must truly appreciate what you already have. - Author: Ralph Marston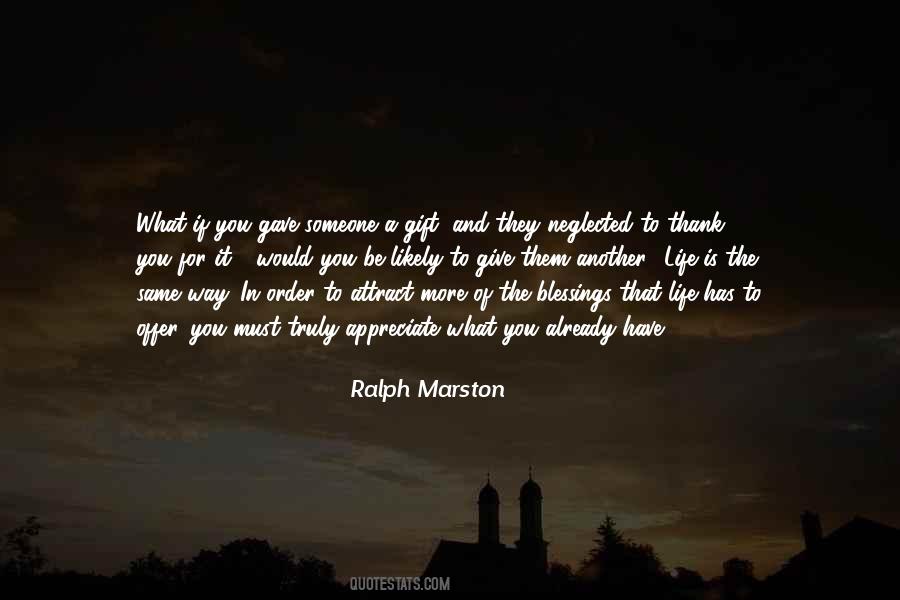 #21. Oh, dear God, you have given abundant blessings. I do not deserve them, and I cannot help but ask for more. - Author: Lori Smith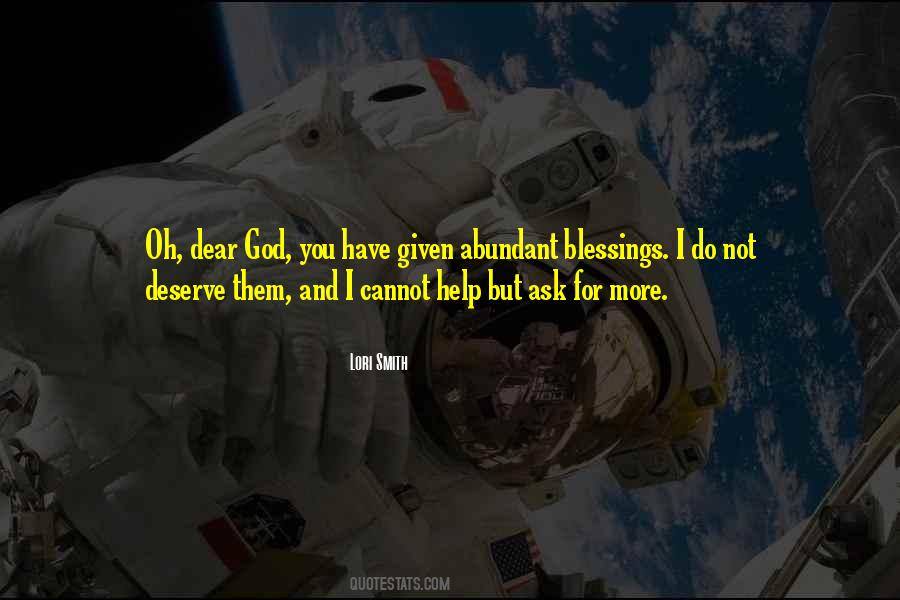 #22. I love the accomplishments and the awards that I've received through the years. But I've always worked more for the rewards than the awards. I've always counted my blessings before I've counted my money. I'm glad that new dreams come to me everyday. - Author: Dolly Parton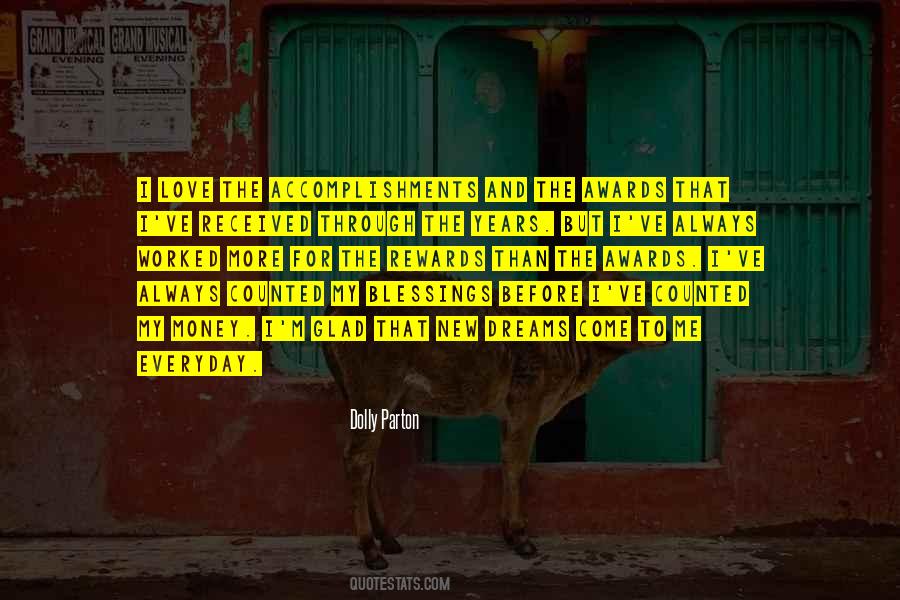 #23. Though the world is becoming more wicked, the youth of Christ's Church can become more righteous if they understand who they are, understand the blessings available, and understand the promises God has made to those who are righteous, who believe, who endure. - Author: David B. Haight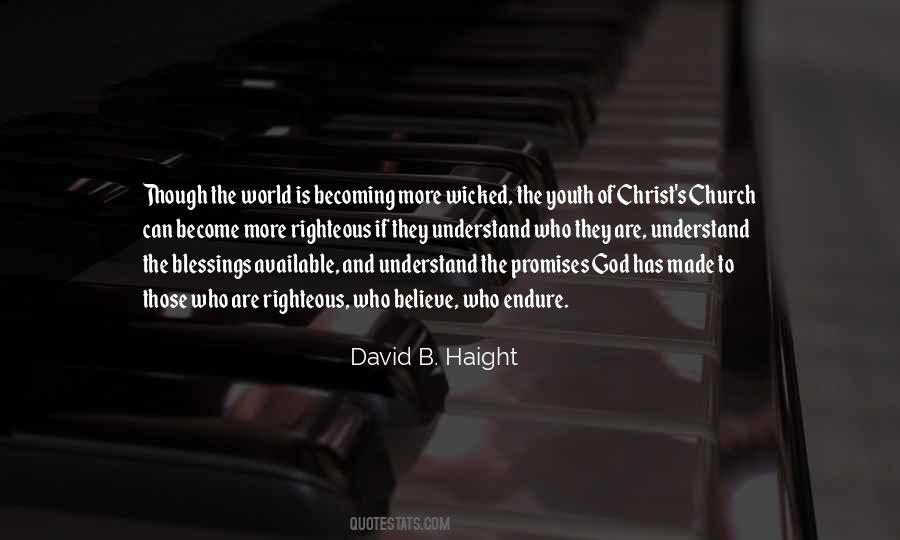 #24. You are here, and there is nothing to fear. Count your blessings and before you're finished counting, youll have even more - Author: Ralph Marston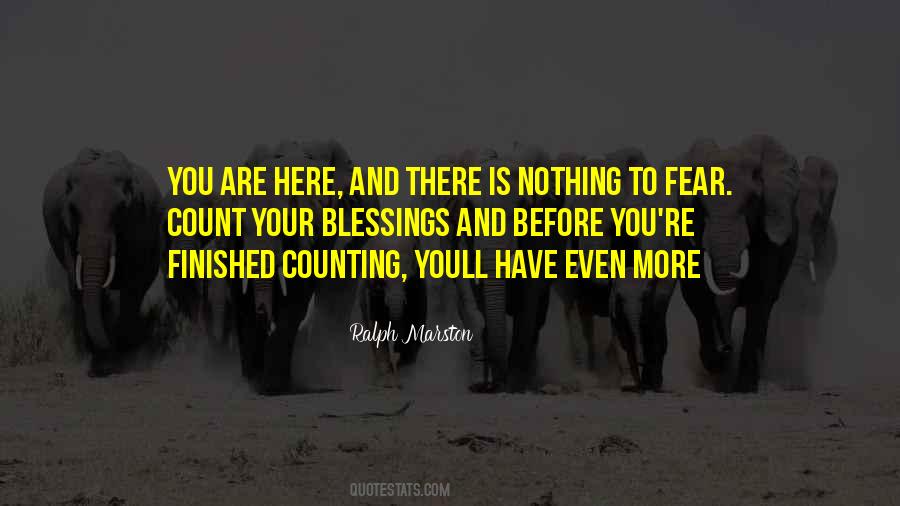 #25. Talk about your blessings more than you talk about your burdens. - Author: Tim Tebow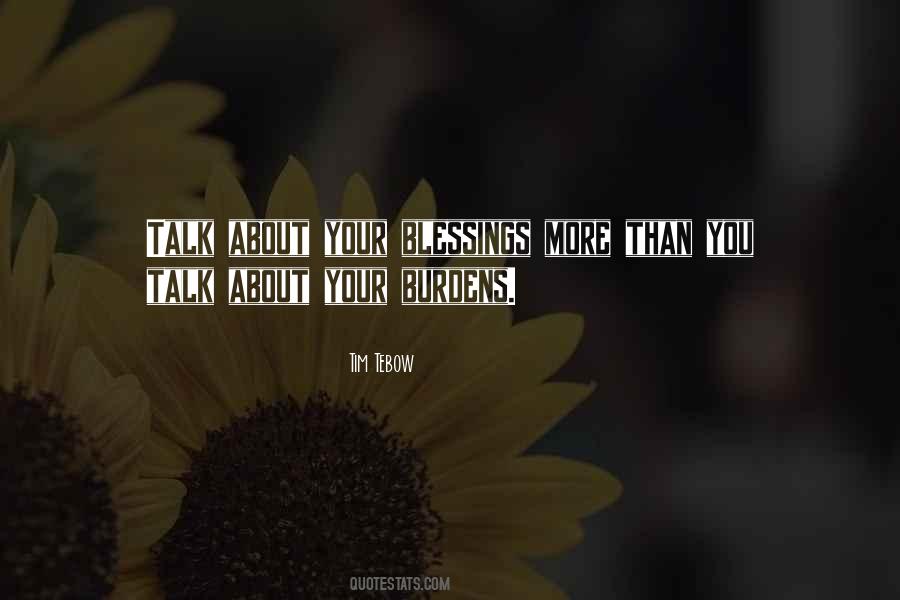 #26. The more we count the blessings we have, the less we crave the luxuries we haven't. - Author: William Arthur Ward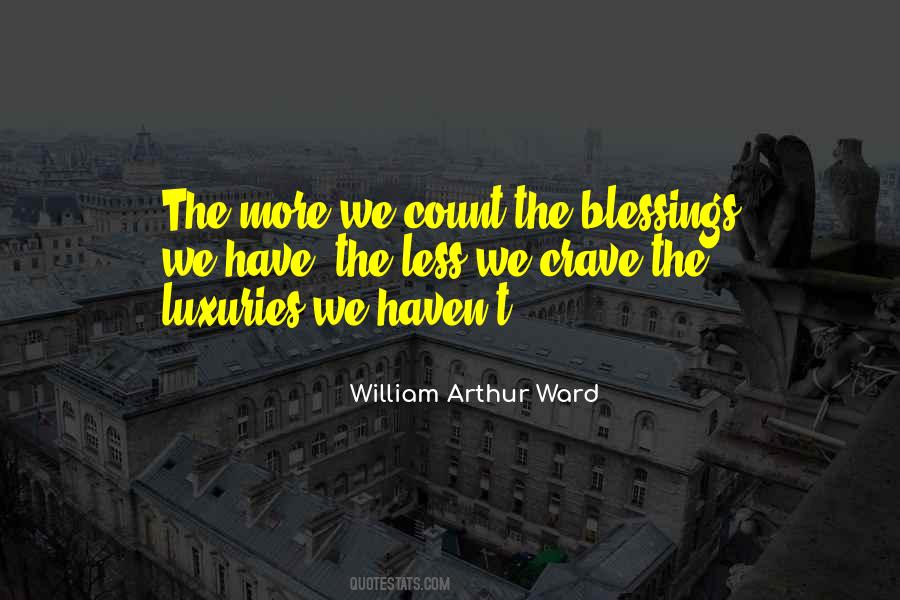 #27. There is nothing your highest self wants more than peace. This peace makes you feel worthy of all of the richest blessings of the universe, and when you radiate this out into the world, it is returned to you without fail. - Author: Wayne Dyer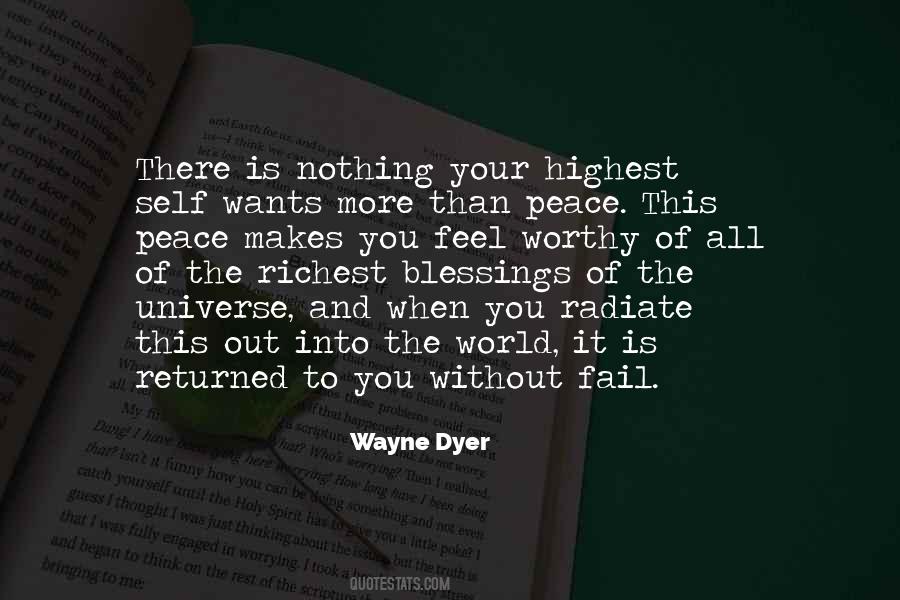 #28. Pause and remember - The more you stay focused on your blessings the less stressed your life will be! - Author: Jennifer Young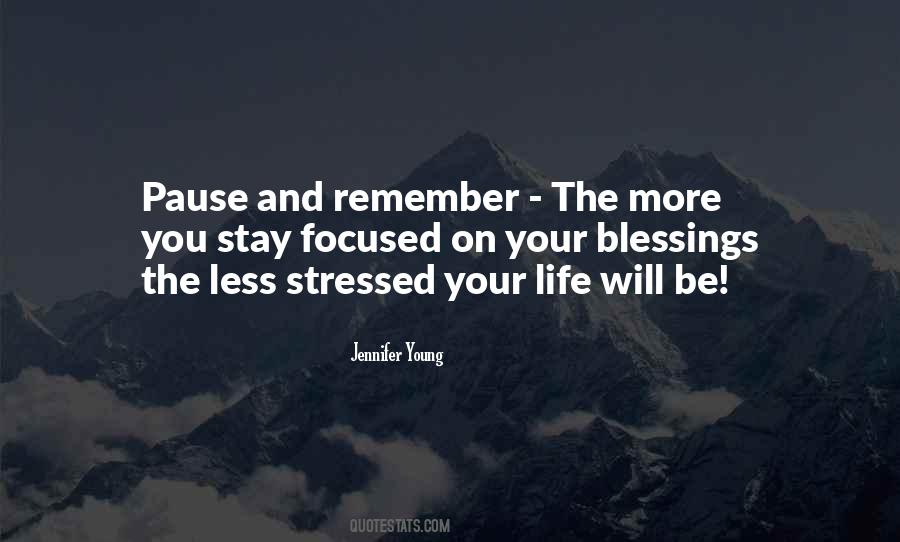 #29. A sense of blessedness comes from a change of heart, not from more blessings. - Author: Mason Cooley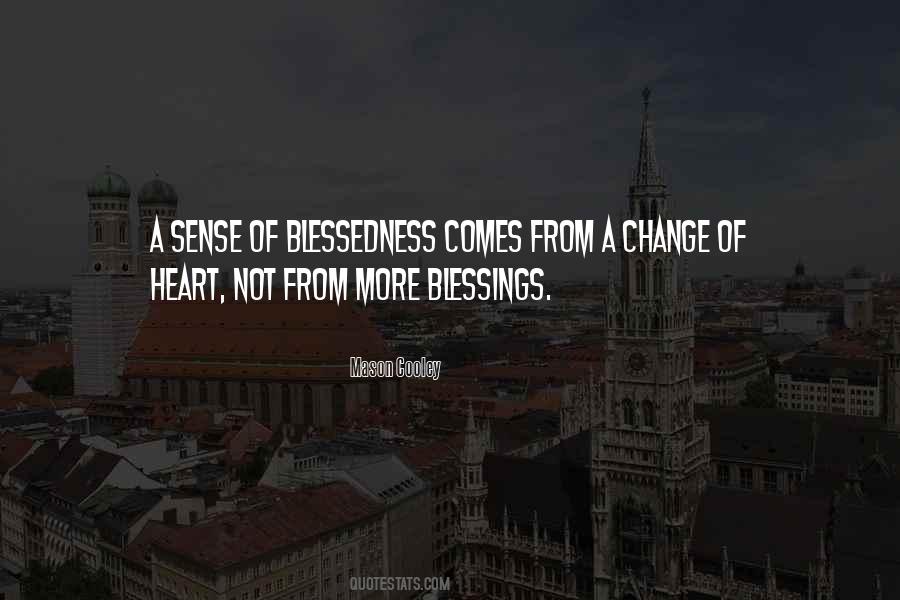 #30. Laugh more. Don't forget to enjoy the blessings that God bestows on this beautiful planet. - Author: Desmond Tutu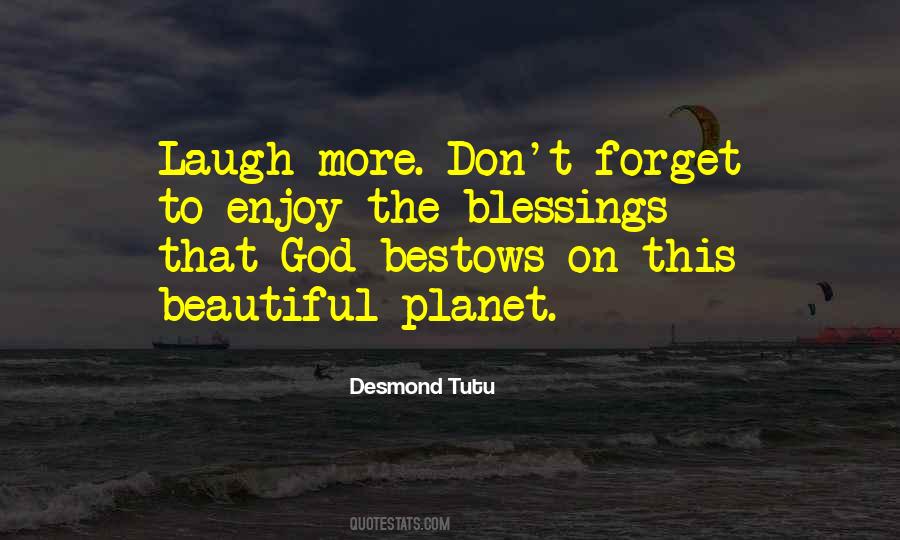 #31. The first step to receiving more blessings is appreciating the ones you have. - Author: Carlos Wallace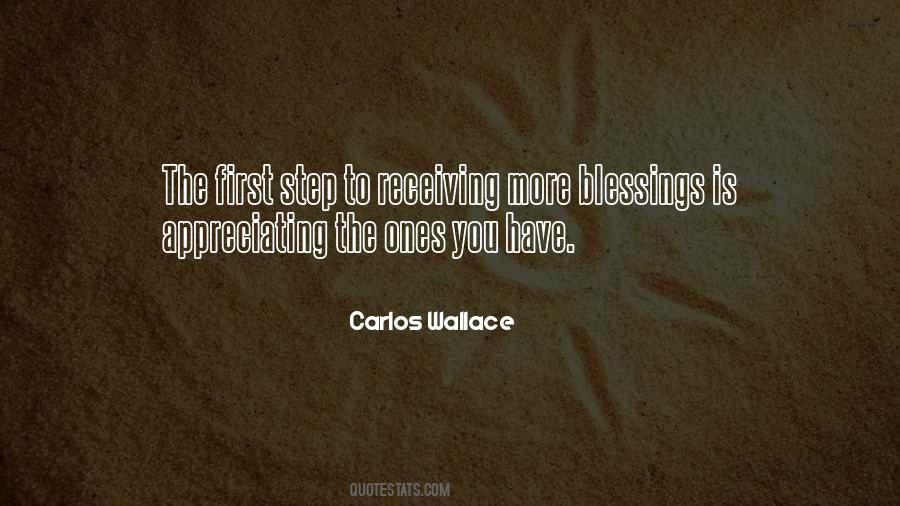 #32. To experience the good you have to have seen the bad; plus it makes you appreciate blessings more. Tough times taught me to be a fighter. - Author: Pink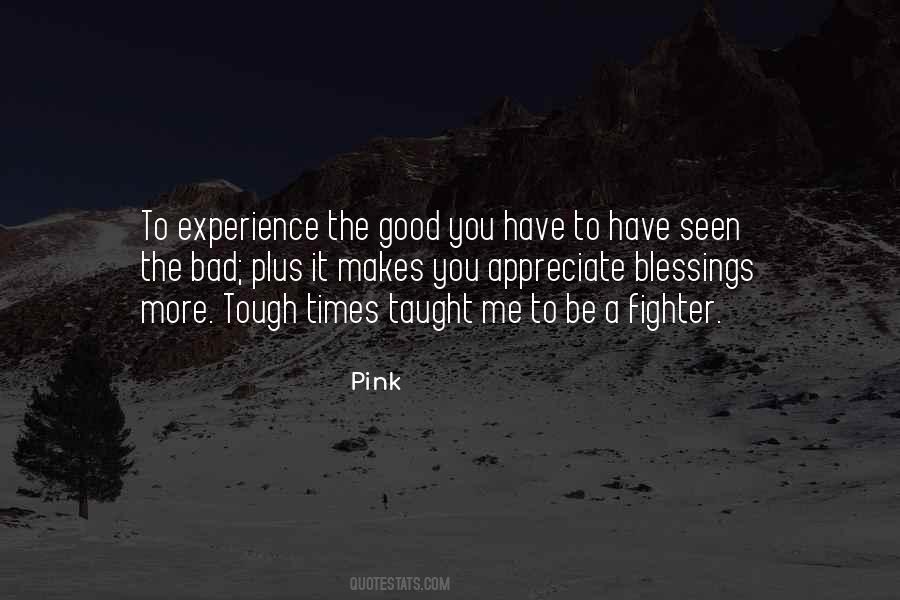 #33. Permissiveness, immorality, pornography, drugs, the power of peer pressure-all these and more-cause many to be tossed about on a sea of sin and crushed on the jagged reefs of lost opportunities, forfeited blessings, and shattered dreams. - Author: Thomas S. Monson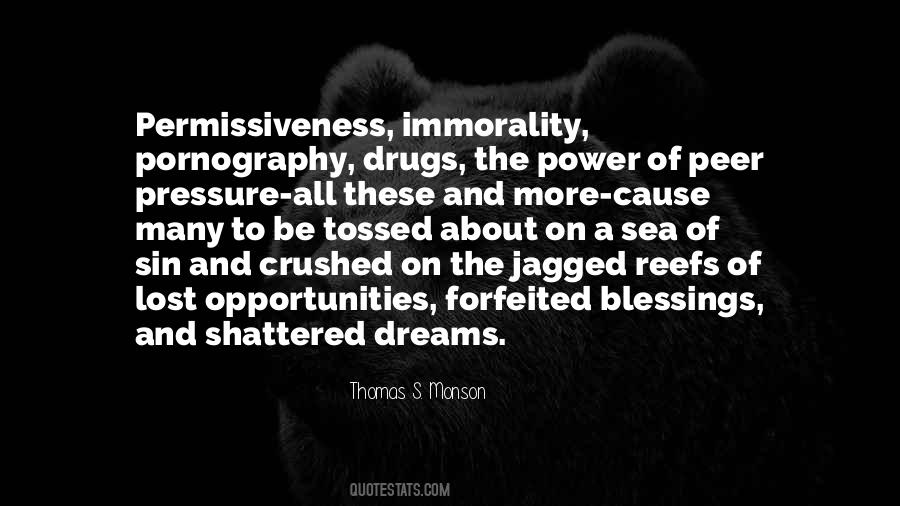 #34. Pacifists become militants. Freedom fighters become tyrants. Blessings become curses. Help becomes hindrance. More becomes less. - Author: Tim Ferriss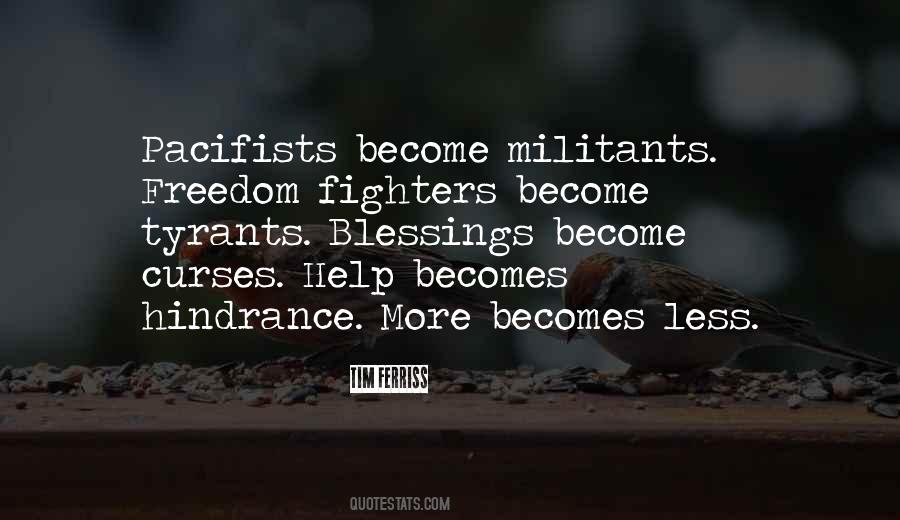 #35. When you begin to see and appreciate the littlest of blessings, you will attract more because Jesus will see that you are appreciative of everything... - Author: Janet Fuller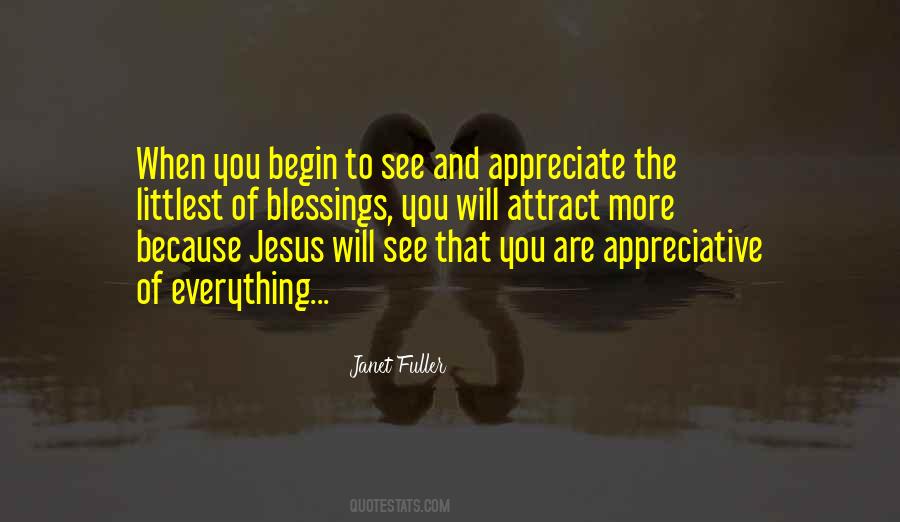 #36. Obedience allows God's blessings to flow without constraint. He will bless His obedient children with freedom from bondage and misery. And He will bless them with more light. - Author: Russell M. Nelson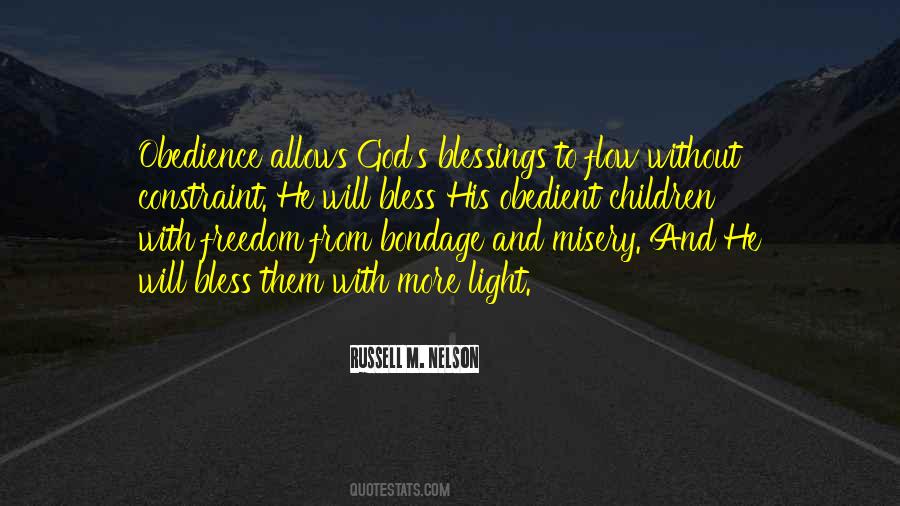 #37. You cannot imagine a more certain rule or a more powerful suggestion than this, that all the blessings we enjoy are divine deposits which we have received on this condition that we distribute them to others. - Author: John Calvin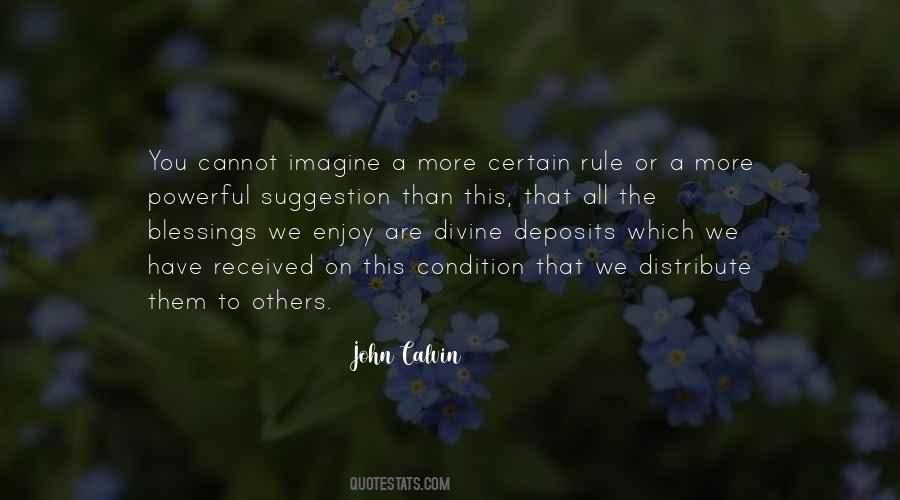 #38. Count your blessings for selfish reasons! Psychological studies show that people who are aware of their blessings and feel grateful for them live longer than non-grateful people, have fewer medical problems such as hypertension, earn more and achieve longer marriages. - Author: Gregg Easterbrook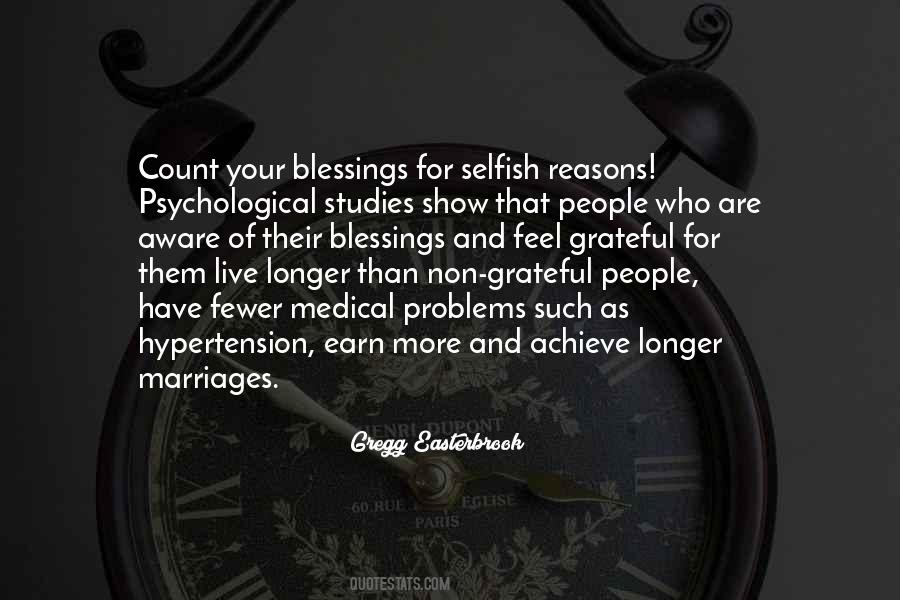 #39. This is the secret of how the Jewish people have created a hedge against chaos in their partnership with God. Sharing creates room in your life for more blessings to come in. Giving creates an endless circuit. You earn, you give, and then you earn more. - Author: Celso Cukierkorn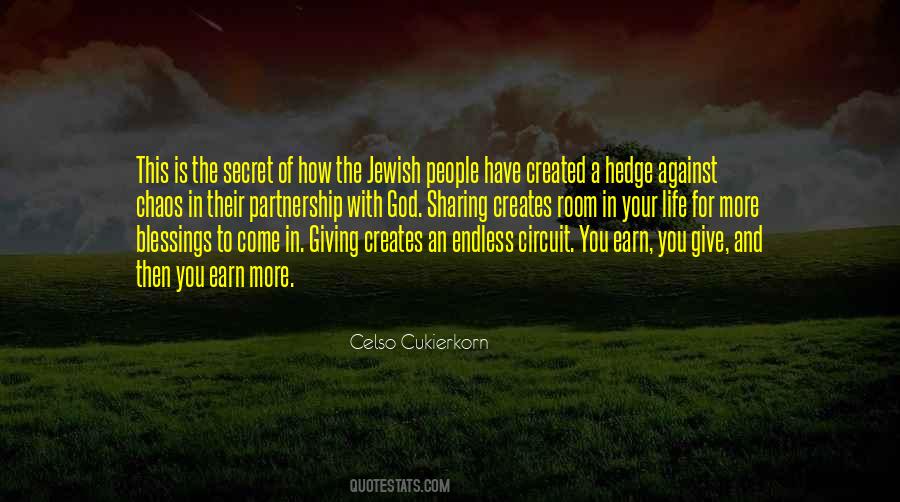 #40. If you want more from life - start by counting your blessings instead of counting your losses, deficits and wants. - Author: Bryant McGill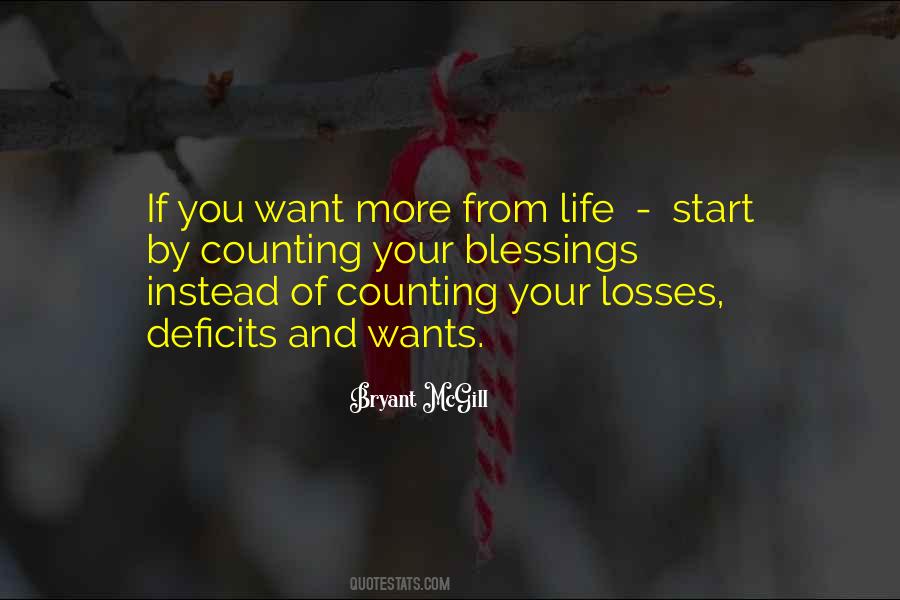 #41. Blessings come in packages of two. With every blessing is a test. So don't ever envy people who seem to have more than you. The more blessings, the more tests. And the greater the blessing, the harder the test. - Author: Yasmin Mogahed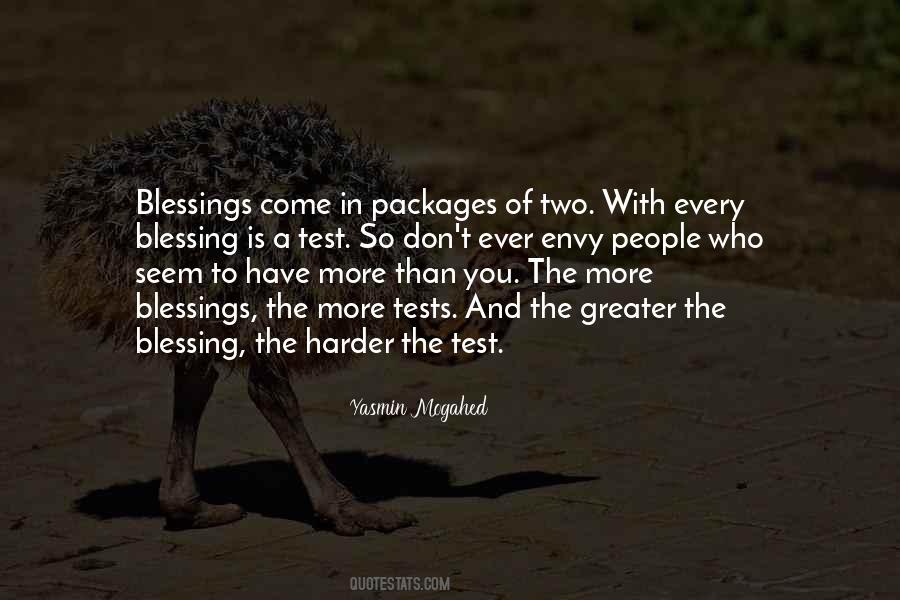 #42. If you are not having good experiences in meditation, then do more seva you will gain merit and your meditation will be deeper. When you bring some relief or freedom to someone through seva, good vibrations and blessings come to you - Author: Sri Sri Ravi Shankar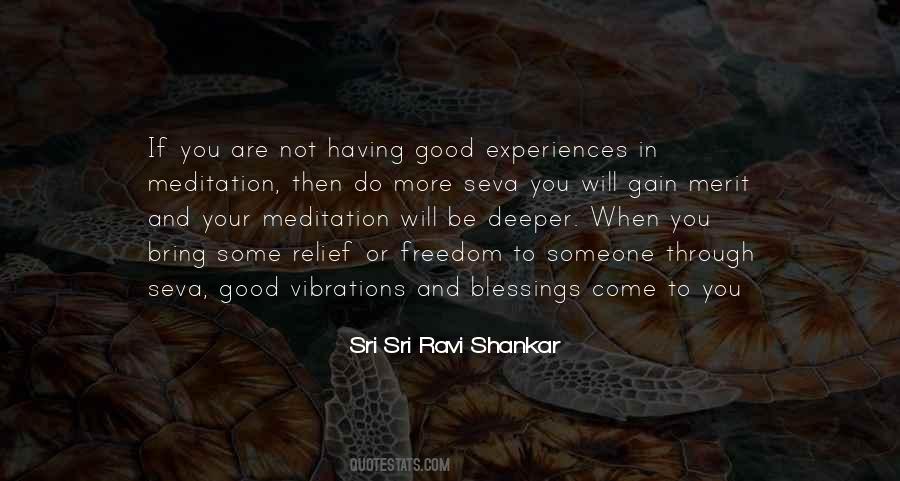 #43. The more you give, the more you have much to keep giving. - Author: Lailah Gifty Akita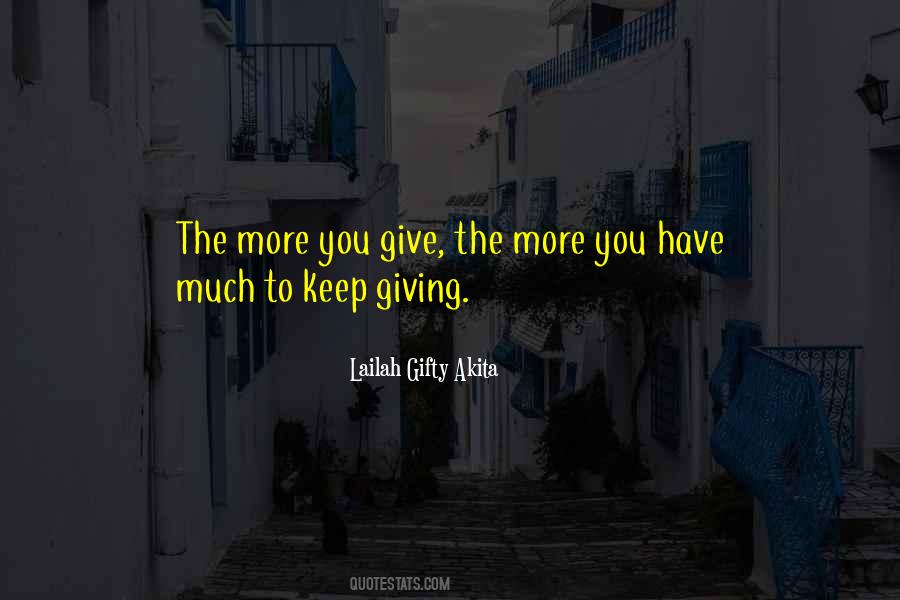 #44. When we stop to count our blessings rather than focusing on our predicament, our attitude will be able to help us cope with our situation more productively. - Author: Kevin Eikenberry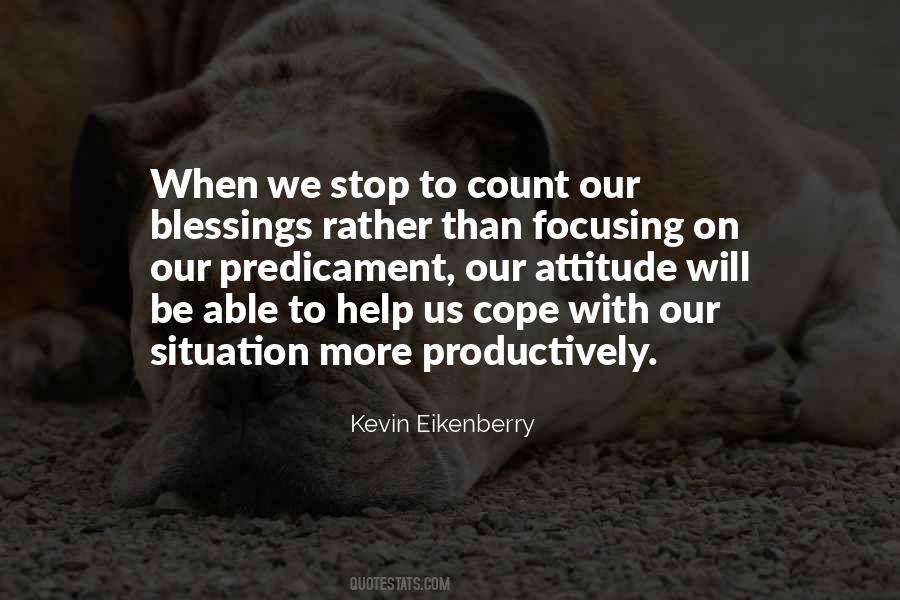 #45. The minimalist life. Pleasure is an egg. Blessings that can be counted, on the fingers of one hand. But possibly this is how I am expected to react. If I have an egg, what more can I want? In - Author: Margaret Atwood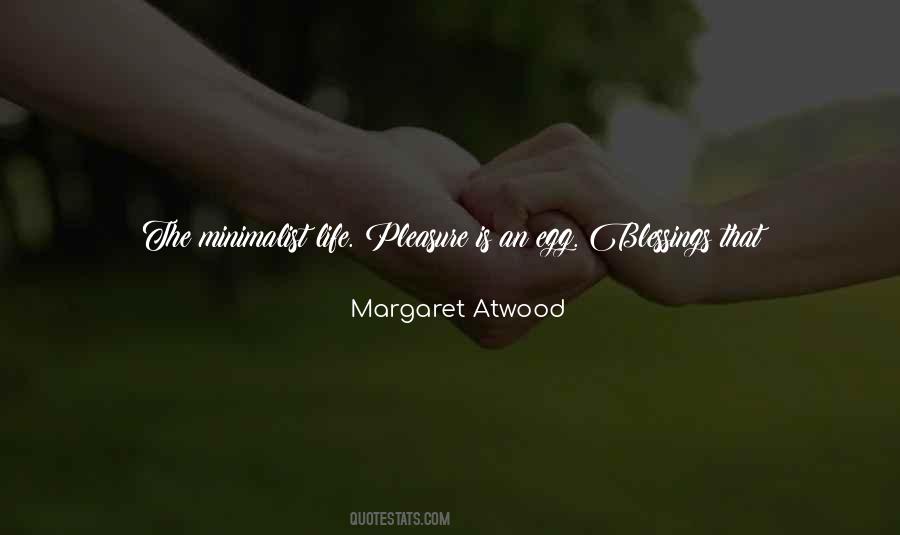 #46. The Rosary is the most excellent form of prayer and the most efficacious means of attaining eternal life. It is the remedy for all our evils, the root of all our blessings. There is no more excellent way of praying. - Author: Pope Leo XIII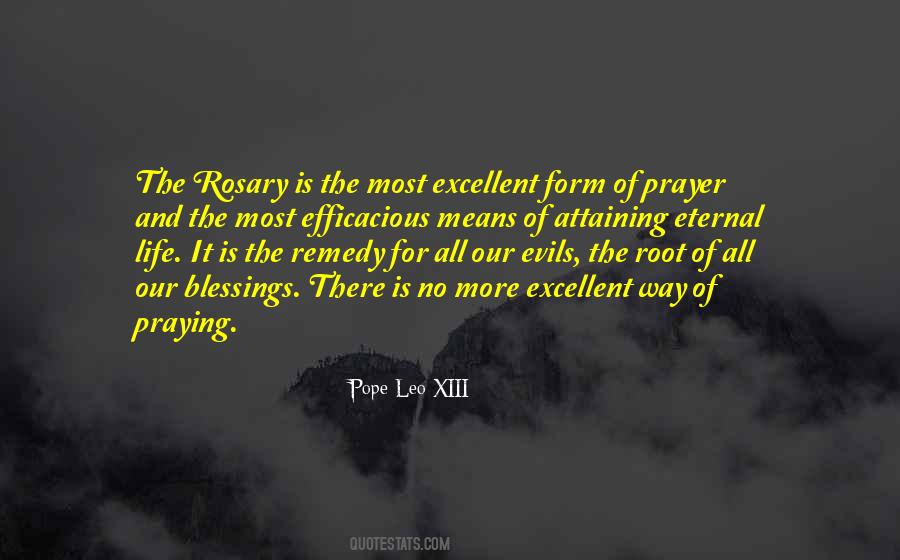 #47. But the value of gratitude does not consist solely in getting you more blessings in the future. Without gratitude you cannot long keep from dissatisfied thought regarding things as they are. - Author: Wallace D. Wattles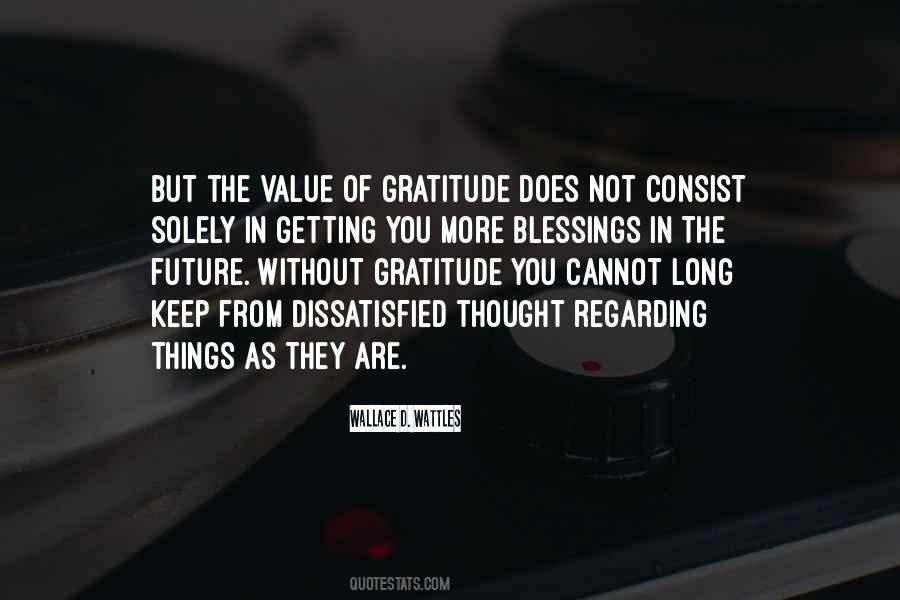 #48. Every time we are obedient to the words of the prophets and apostles we reap great blessings. We receive more blessings than we can understand at the time, and we continue to receive blessings long after our initial decision to be obedient. - Author: Paul V. Johnson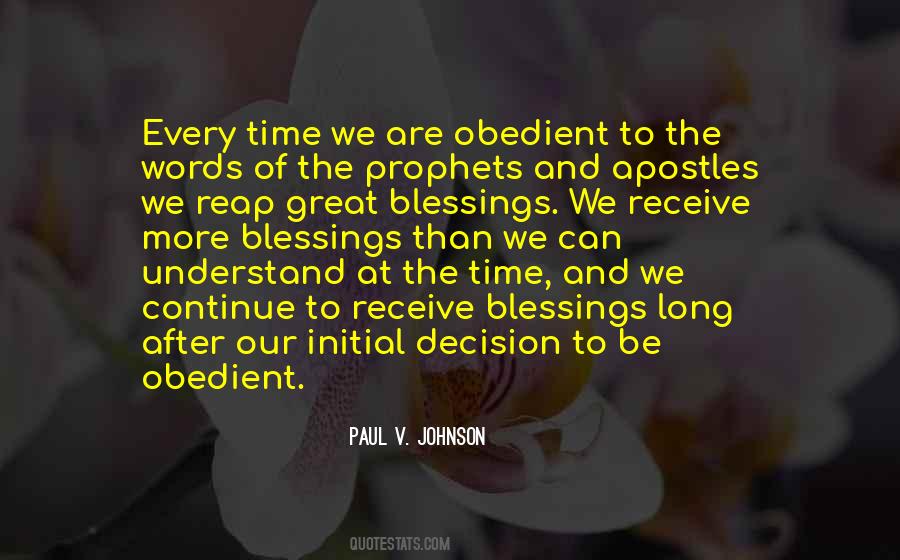 #49. The more we express our gratitude to God for our blessings, the more he will bring to our mind other blessings. The more we are aware of to be grateful for, the happier we become. - Author: Ezra Taft Benson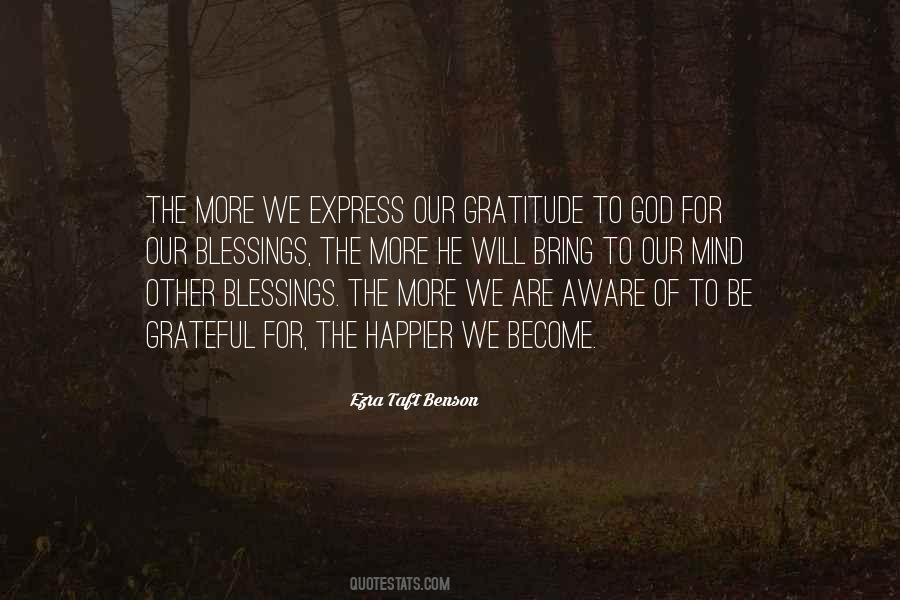 #50. Try as you may, you cannot put the Lord in your debt. For every time you try to do His will, He simply pours out more blessings upon you. - Author: Ezra Taft Benson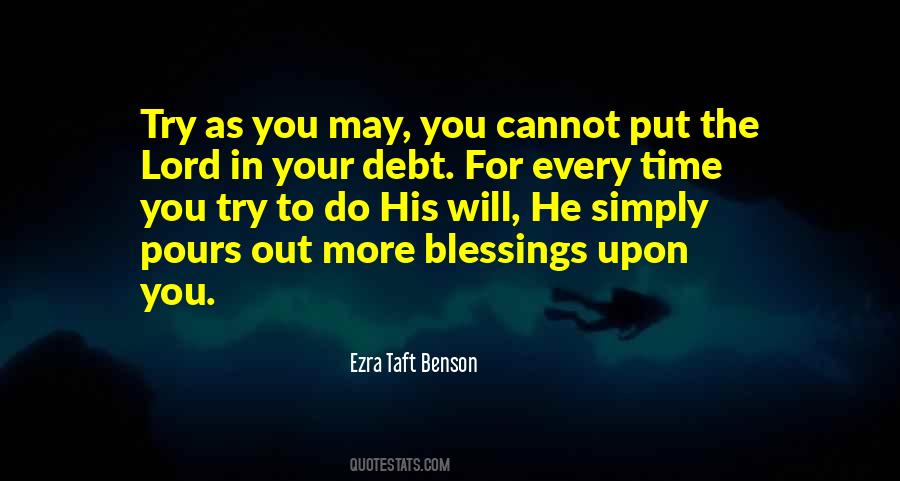 #51. Count your blessings as the more you are grateful for what you have the more there is to be grateful for. - Author: Pravin Agarwal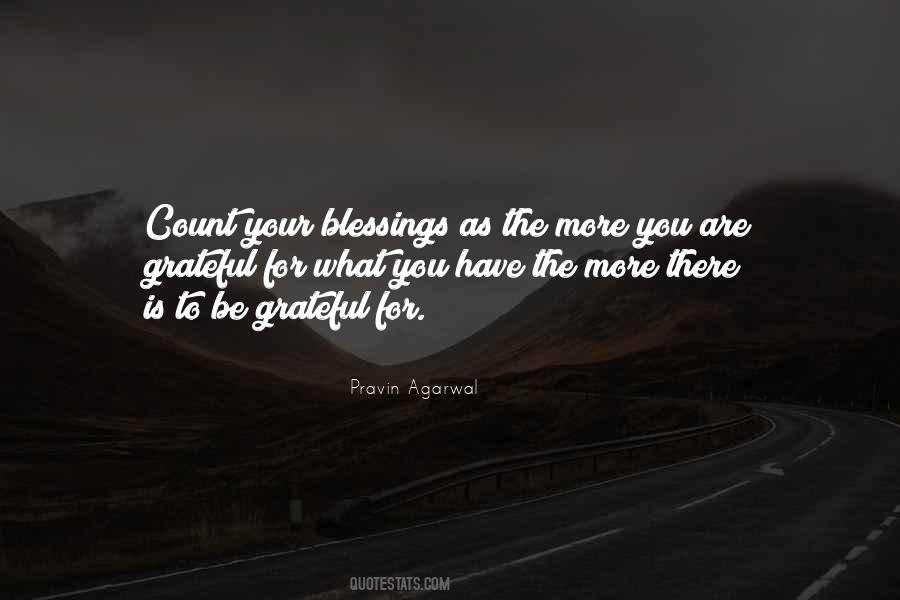 #52. Grace? Undeserved kindness? Blessings? Whatever we call it, I'm pretty sure we get doses of luck more than we'll ever know. - Author: Jon Foreman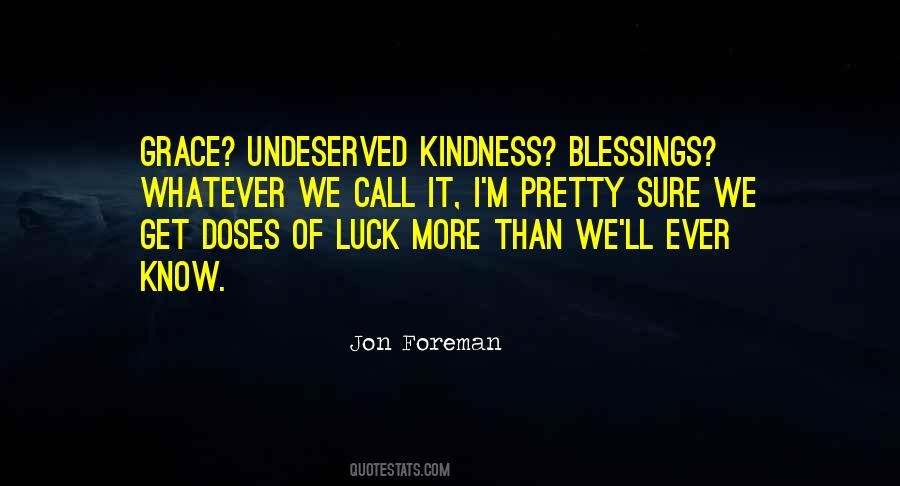 #53. They that do much themselves deny,
Receive more blessings from the sky. - Author: Thomas Creech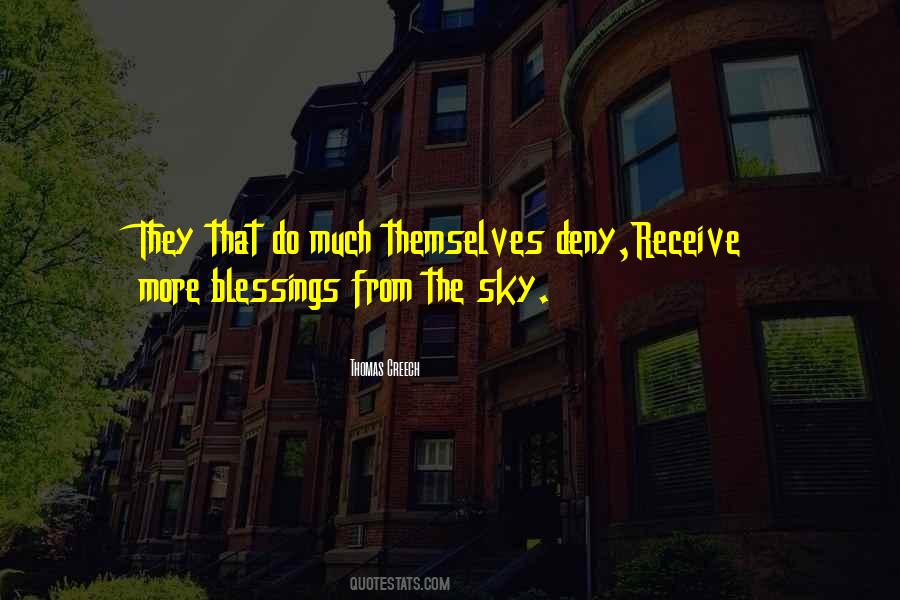 #54. Does it seem that everything is extravagance in the world, or rather madness, when you watch the way things go? A crowd of rogues enjoy blessings they have won by sheer injustice, while more honest folks are miserable and die of hunger. - Author: Aristophanes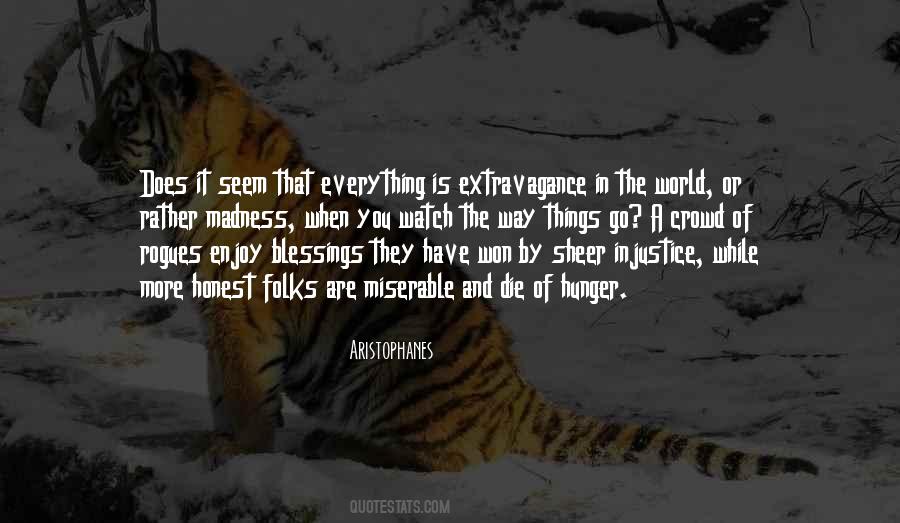 #55. The life that counts blessings discovers its yielding more than it seems. - Author: Ann Voskamp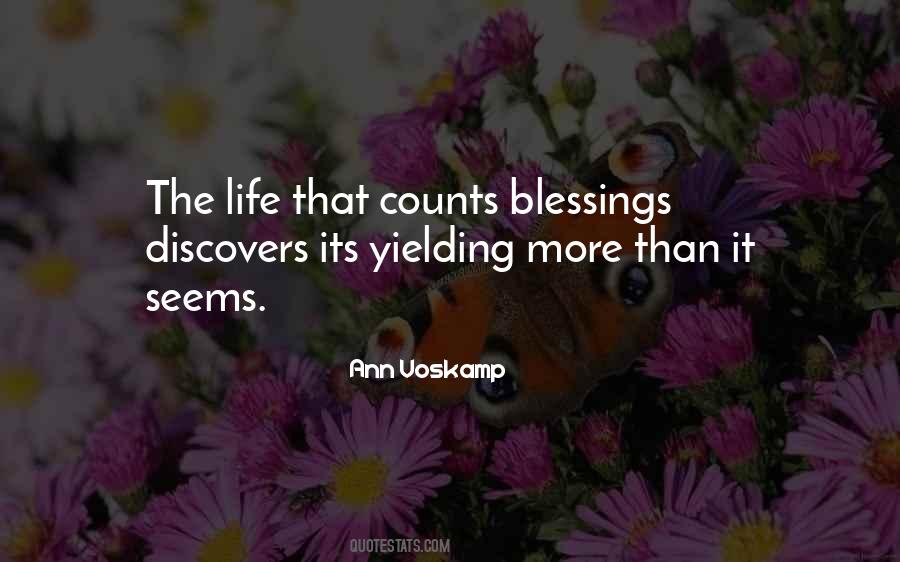 #56. As we express our appreciation of our many blessings, we become more conscious of what the Lord has done for us, and thereby we become more appreciative - Author: Nathan Eldon Tanner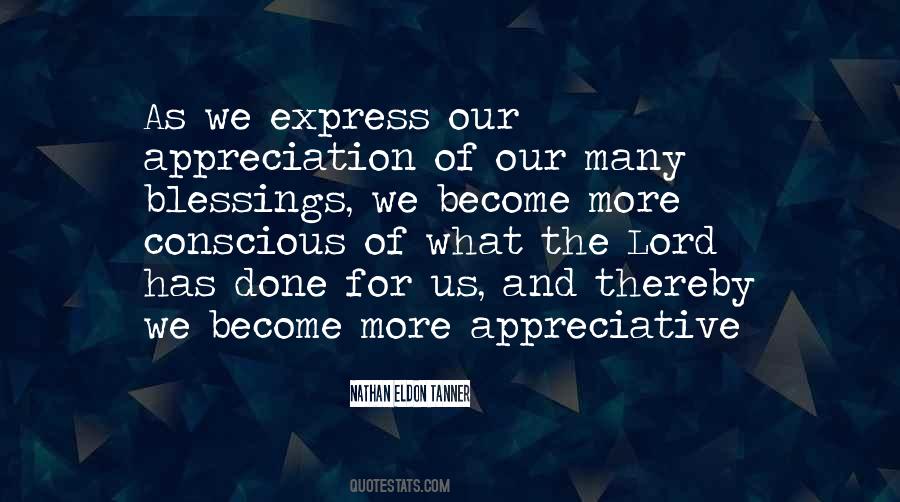 #57. The time has come to harness the blessed power within us and to use it to transcend from our current existence into a more empowered reality. - Author: Steve Maraboli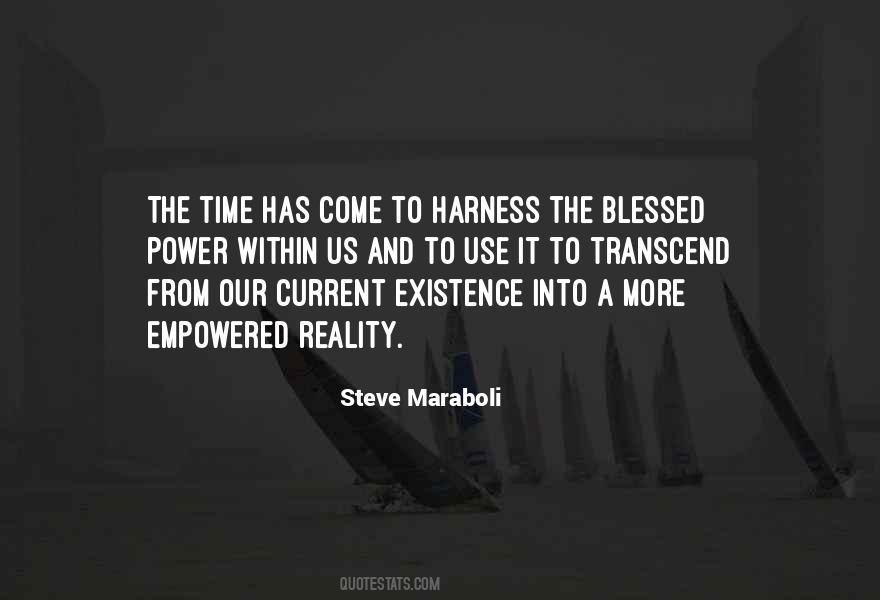 #58. Your eight is someone's infinity. - Author: NITYA MORE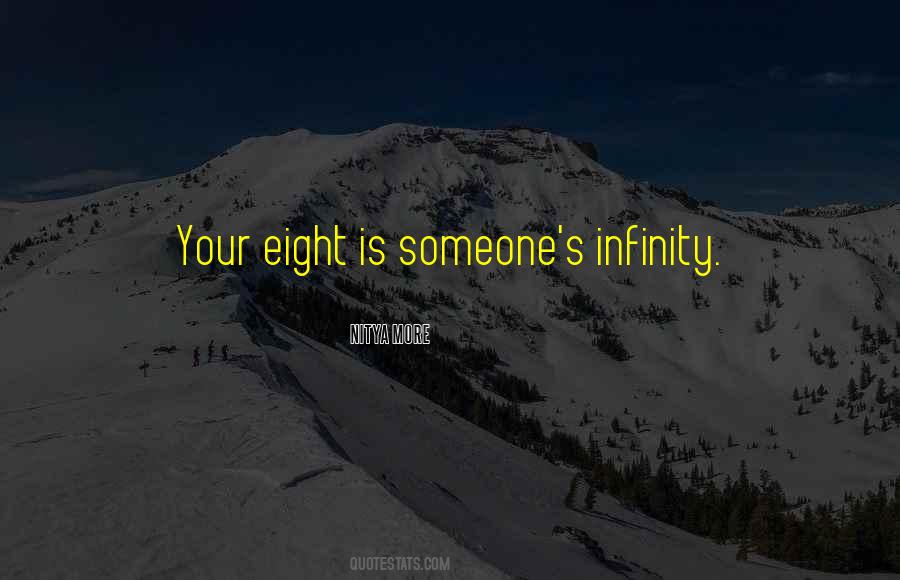 #59. God's greatest blessings often come costumed as disasters. Any doubters need to do nothing more than ascend the hill of Calvary. - Author: Max Lucado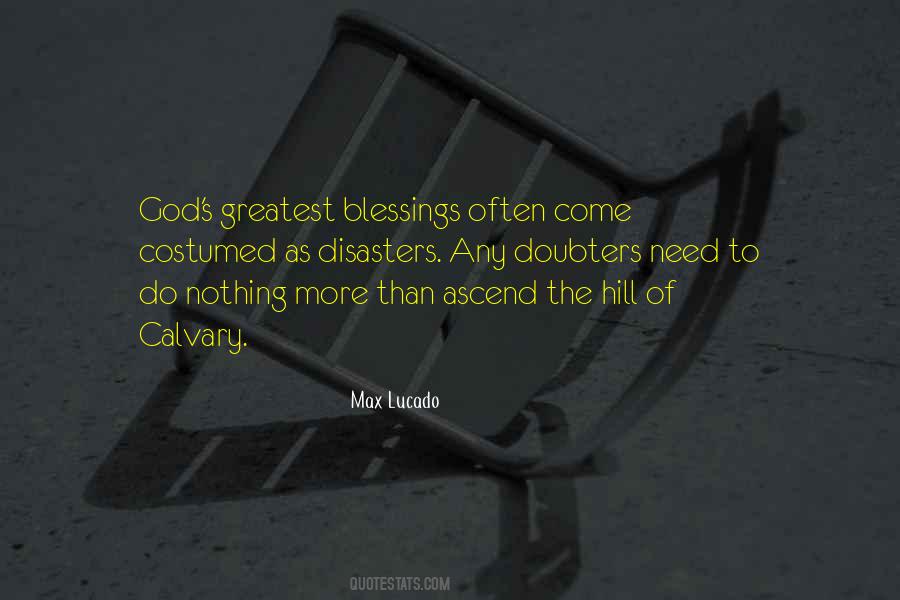 #60. I absolutely believe in the power of tithing and giving back. My own experience about all the blessings I've had in my life is that the more I give away, the more that comes back. That is the way life works, and that is the way energy works. - Author: Ken Blanchard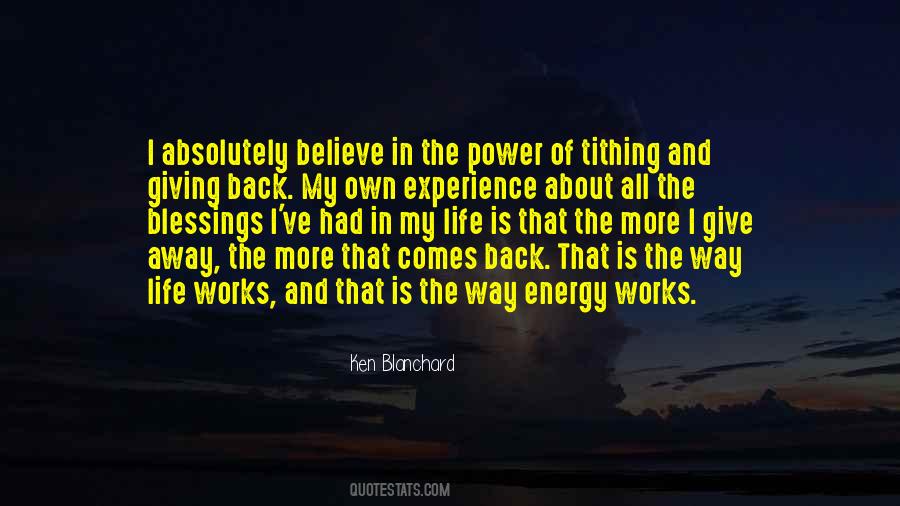 #61. We should count our blessings more than our happenings, as much as we should count our savings more than our earnings. - Author: Ana Claudia Antunes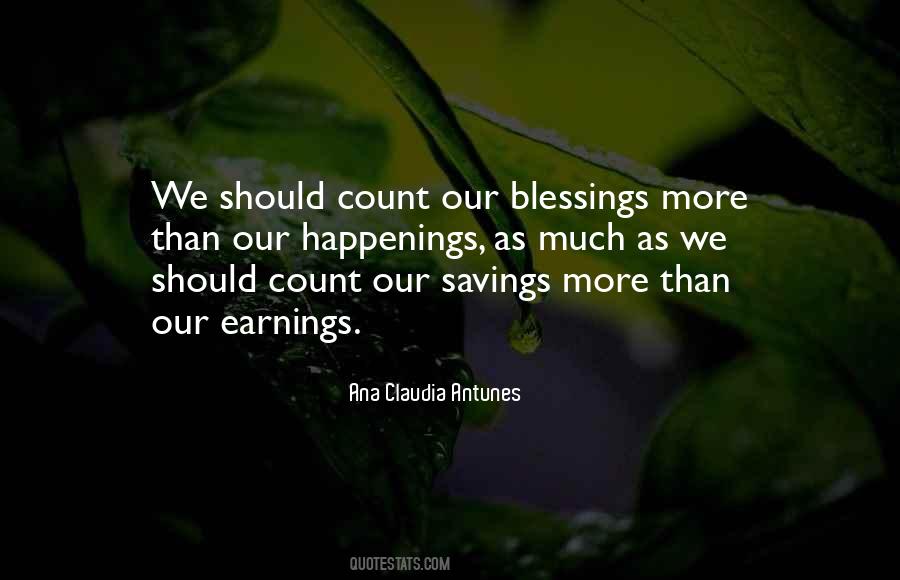 #62. And blessings on the falling out That all the more endears, When we fall out with those we love And kiss again with tears! - Author: Alfred Lord Tennyson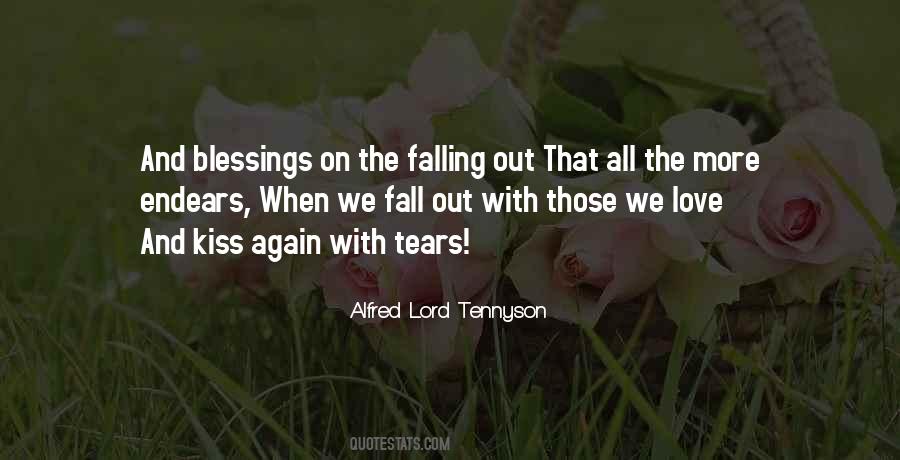 #63. From the meanest creature one departs wiser, richer, more conscious of one's blessings. - Author: Samuel Beckett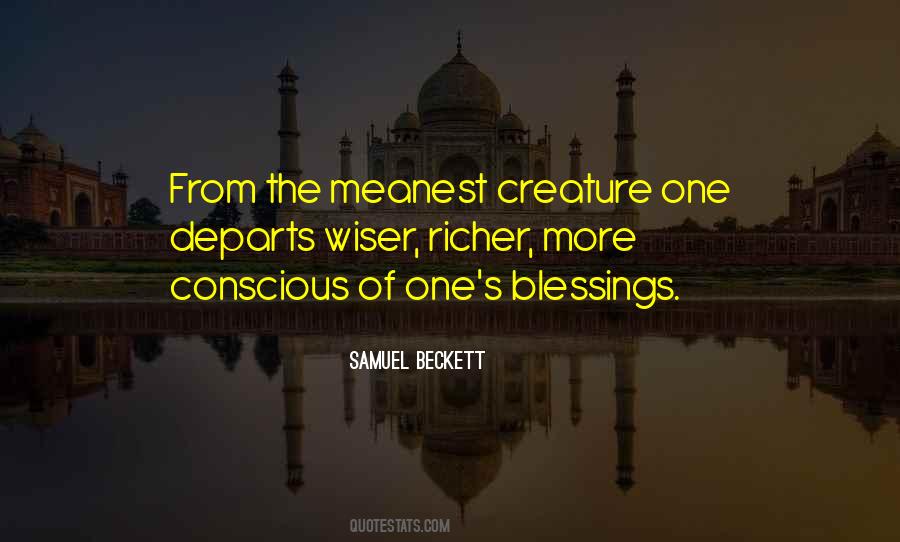 #64. God is more anxious to bestow his blessings on us than we are to receive them. - Author: Saint Augustine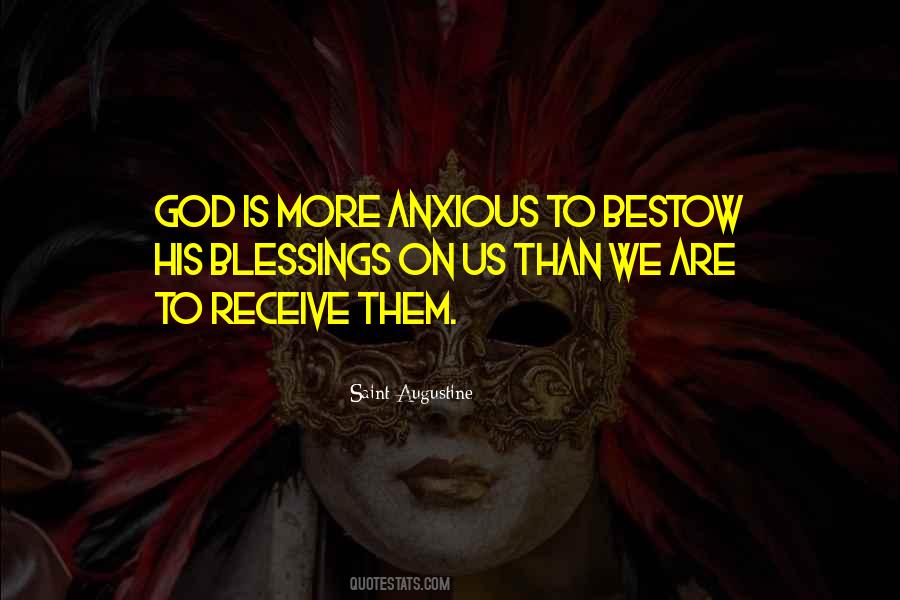 #65. Of many, imagined blessings it may be doubted whether he that wants or possesses them had more reason to be satisfied with his lot. - Author: Samuel Johnson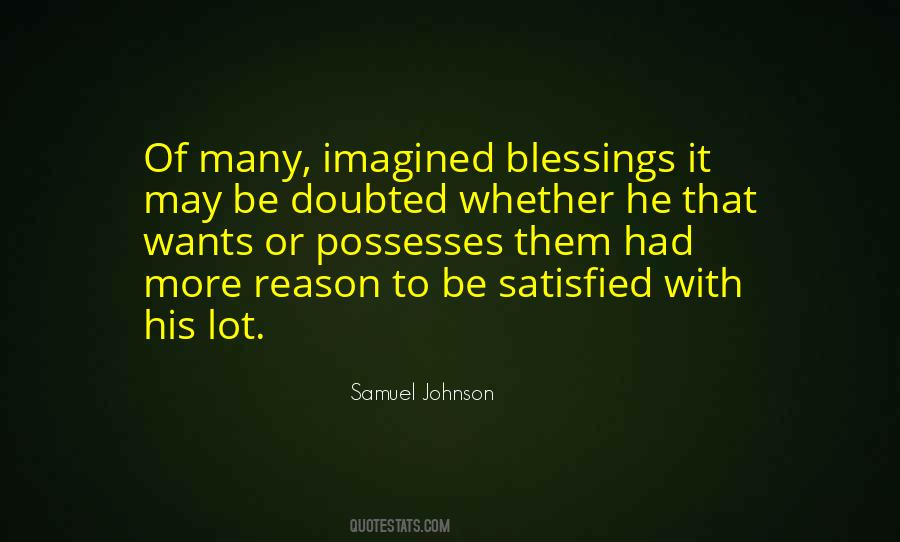 #66. But whatever the Lord throws at me right now, I think I've been given more blessings than I ever deserved. If he wants to top it off with anything - boy, girl - I would love either of them. - Author: Bo Bice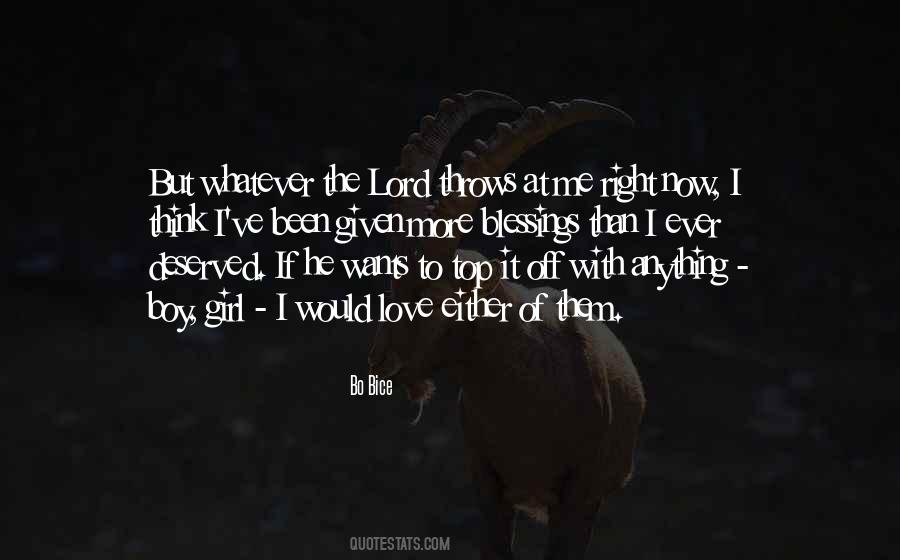 #67. Try to realize all the blessings you have, and you will find perhaps that they are more than you suppose. - Author: John Lubbock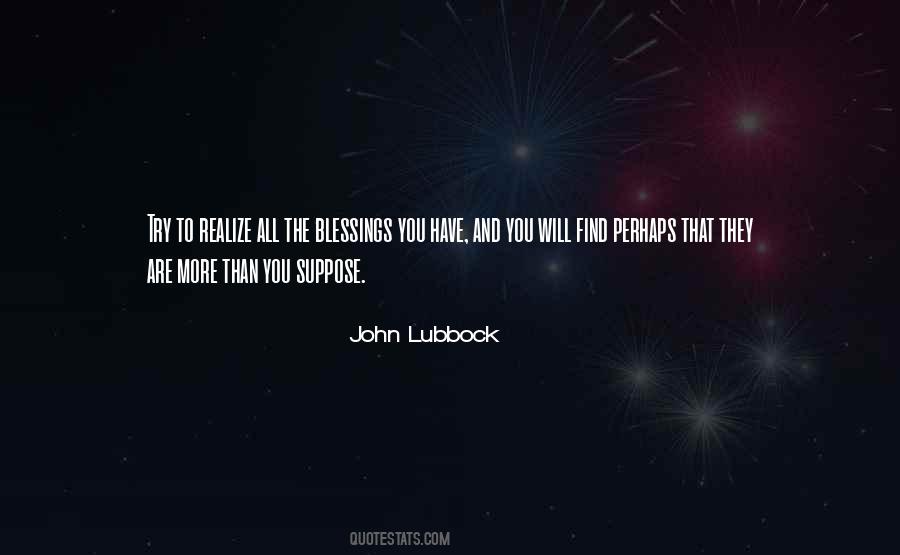 #68. If we expect to inherit the blessings of our Fathers, we should return a little more to their primitive Simplicity of Manners. - Author: Abigail Adams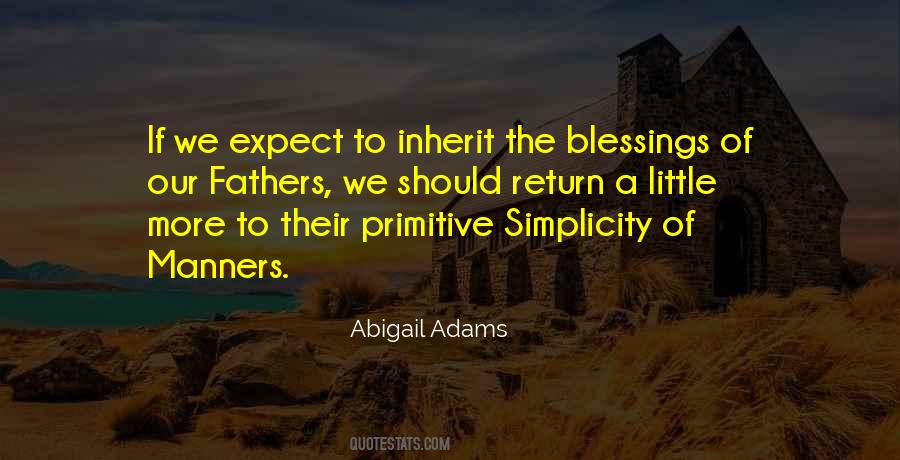 #69. It should seem that Negroes, of all Americans, would be found in the Free-thought fold, since they have suffered more than any other class of Americans from the dubious blessings of Christianity. - Author: Hubert Harrison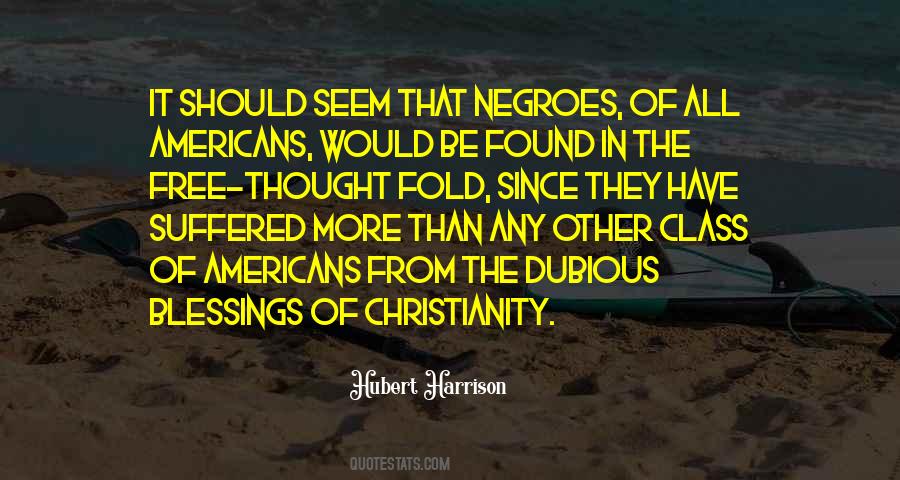 #70. The more honest we become, the more we realize that our own devices get us nowhere. Even if we are having success, that success wouldn't be possible without the undeserved blessings we have received - Author: Jessica Lowery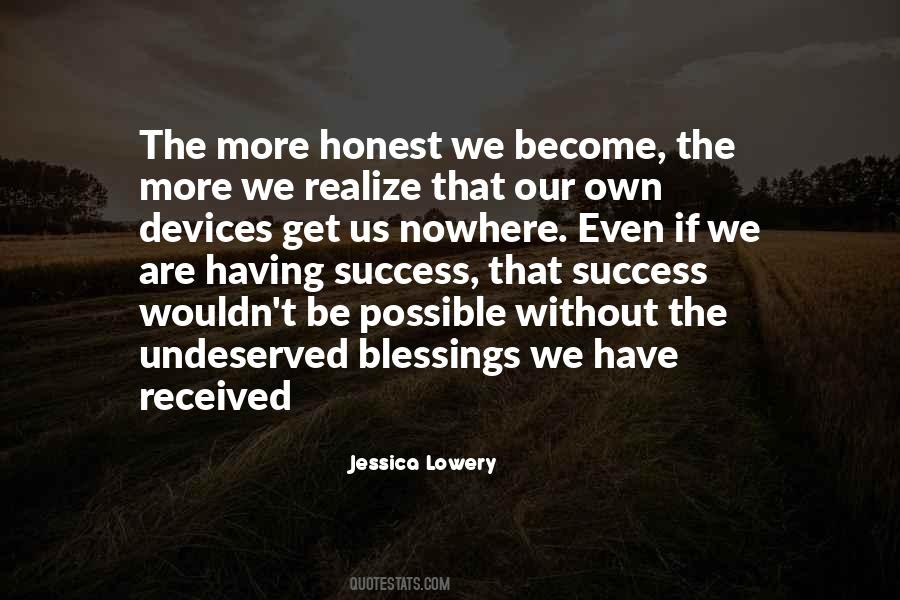 #71. When you express gratitude for the blessings that come into your life, it not only encourages the universe to send you more, it also sees to it that those blessings remain. - Author: Stephen Richards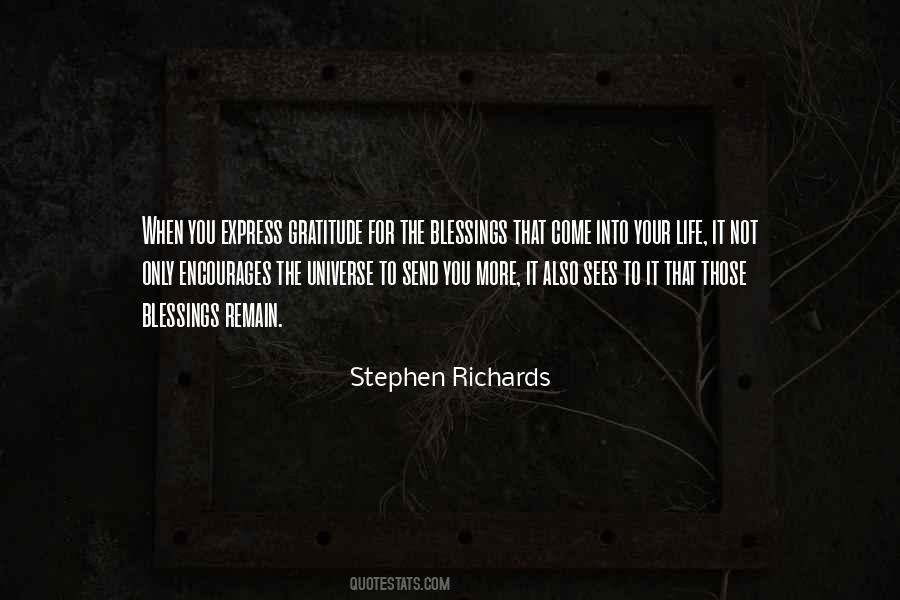 #72. Learn to let others do their share of the work. Things may be done less well, but you will have more peace of soul and health of body. And what temporal interest should we not sacrifice in order to gain these blessings? - Author: Rose Philippine Duchesne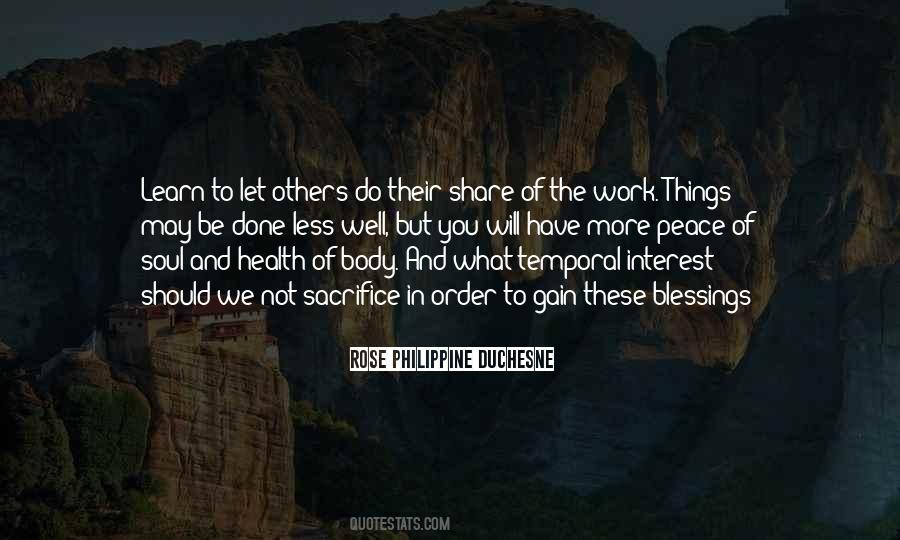 #73. The more we thank God for the blessings we receive, the more we open the way for further blessings. - Author: Betty Eadie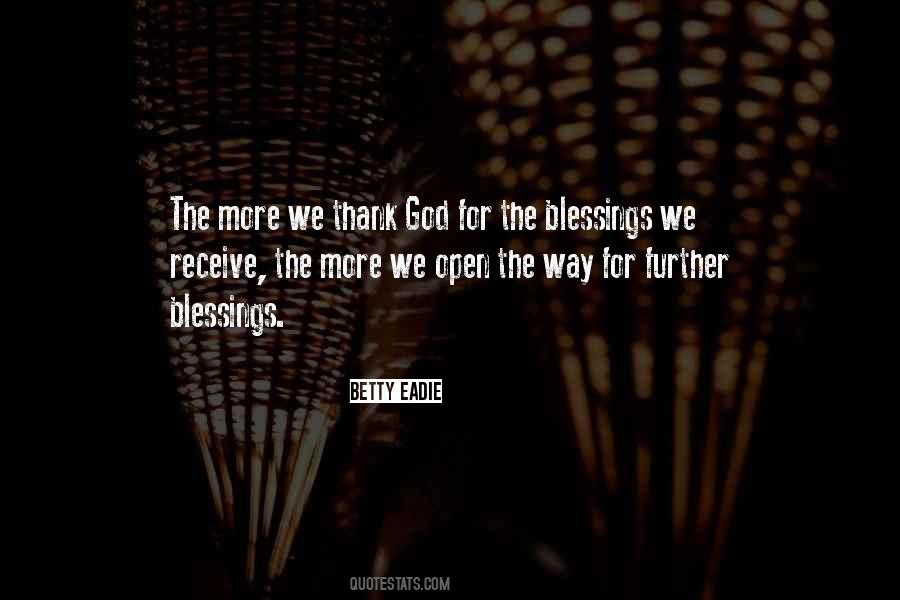 #74. This piece of iron which he had been allowed to keep aroused a more profound wave of gratitude towards heaven in his heart than he had experienced, in his previous life, from the greatest blessings that had descended upon him. - Author: Alexandre Dumas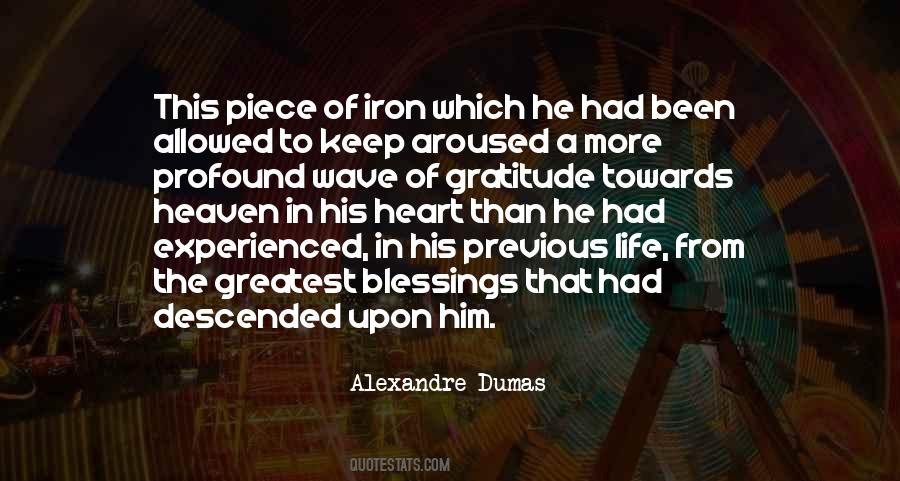 #75. With one eye on today's blessings you will have more staying power for the distant goal. - Author: Henry B. Eyring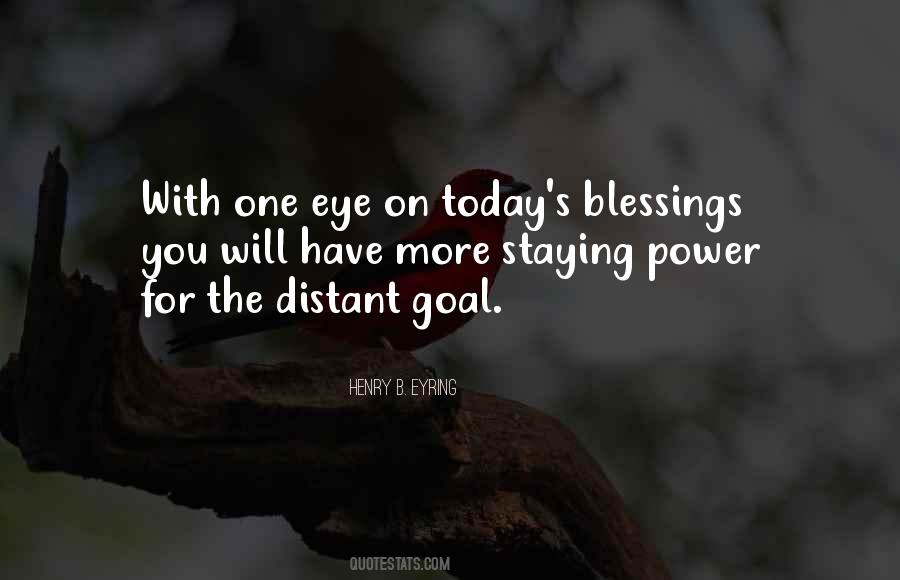 #76. Wisdom views with an indifferent eye all finite joys, all blessings born to die. - Author: Hannah More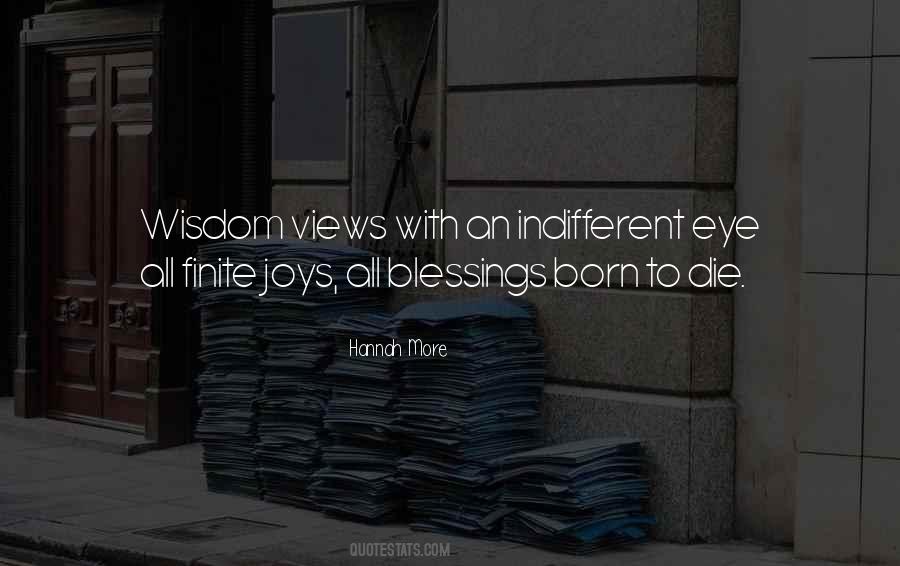 #77. The difficulties, hardships and trials of life, the obstacles ... are positive blessings. They knit the muscles more firmly, and teach self-reliance. - Author: William Matthews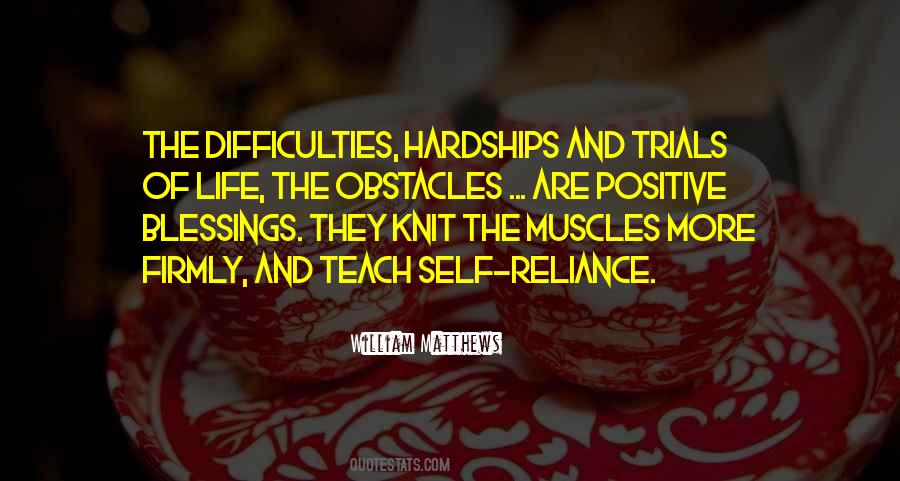 #78. Each time we cooperate with God, we take one more giant step forward. Because when God asks us to change, it means that He always has something better to give us - more freedom, greater joy, and greater blessings. - Author: Joyce Meyer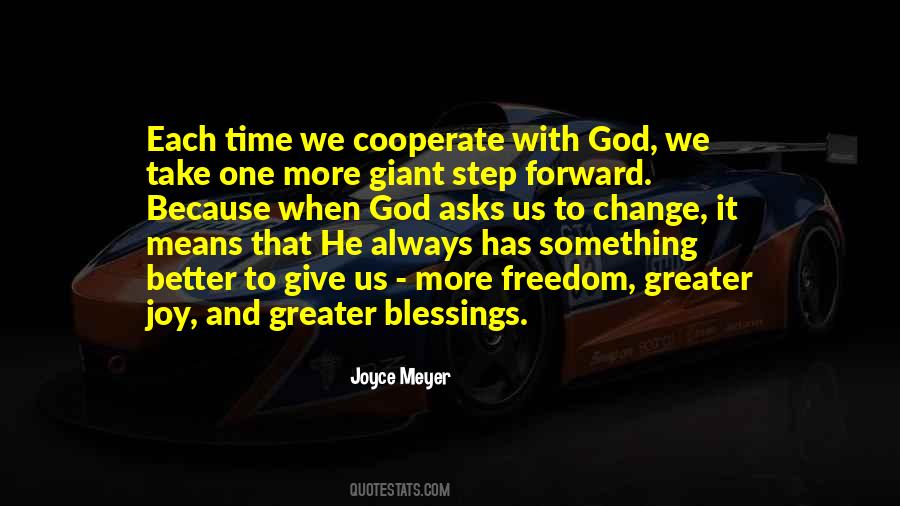 #79. Thou that hast given so much to me give me one thing more, a grateful heart: not thankful when it pleaseth me, as if Thy blessings had spare days, but such a heart whose pulse may be Thy praise. - Author: George Herbert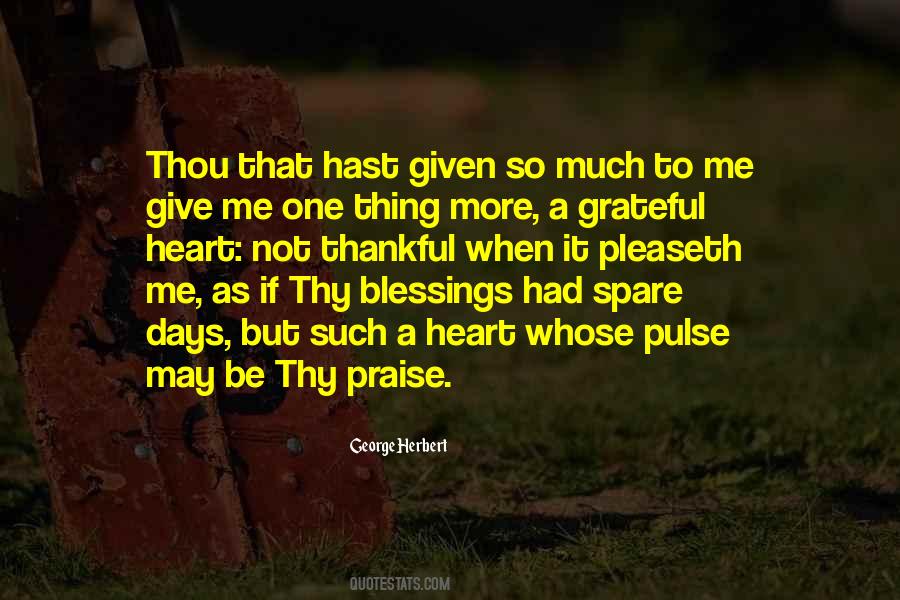 #80. I have no doubt concerning that Supreme Goodness, who is so eager to share His blessings, or of that everlasting love which makes Him more eager to bestow perfection on us than we are to receive it. - Author: Saint Ignatius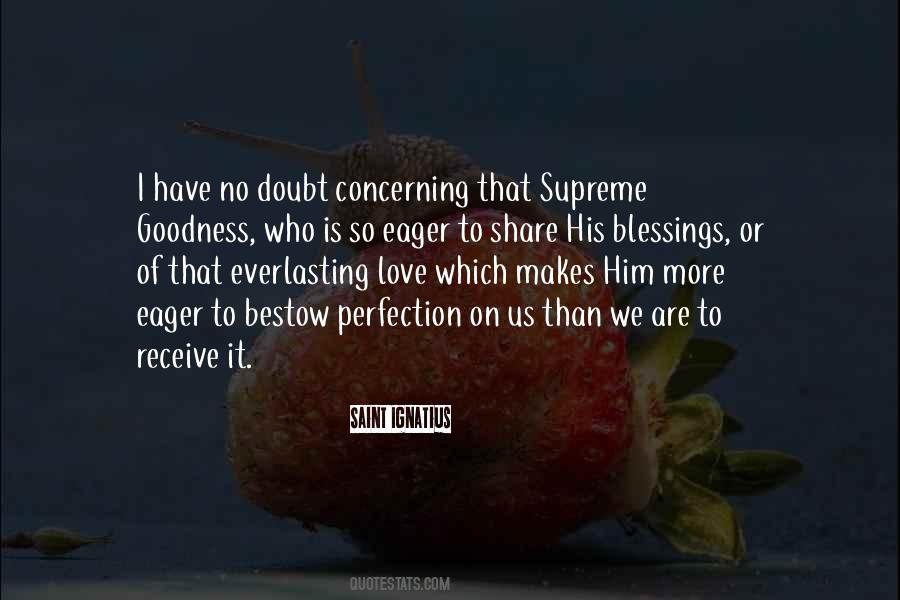 #81. When you are committed to doing what's right, you are sowing seeds for God's blessings. You will never go wrong by taking the high road and doing more that is required. - Author: Joel Osteen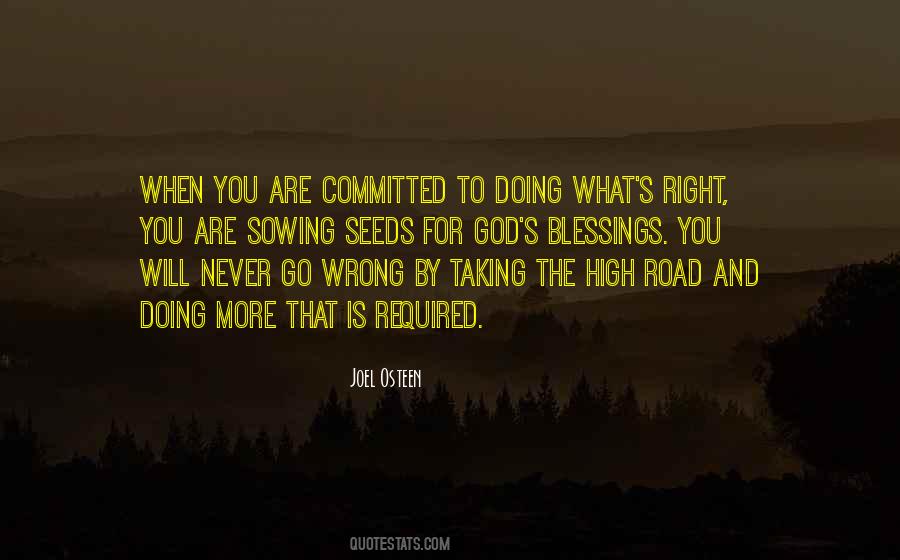 #82. For I will yet praise him" (Ps. 43:5). More prayer, more exercising of our faith, and more patient waiting leads to blessings - abundant blessings. I have found it to be true many hundreds of times, and therefore I continually say to myself, "Put your hope in God." George Mueller - Author: Lettie B. Cowman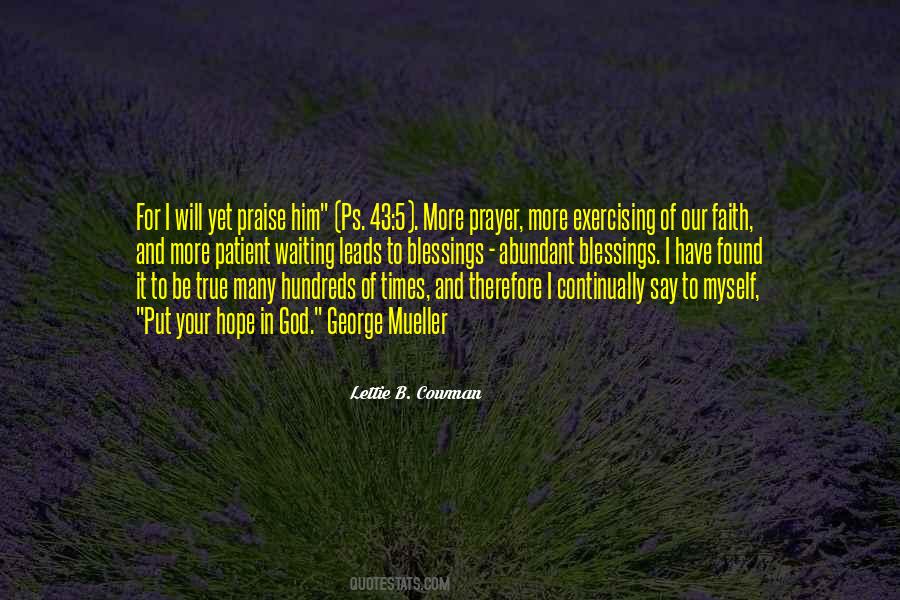 #83. When will I ever learn to accept what is given instead of always yearning for more? My lavish expectations too often tarnish my blessings. - Author: Joan Anderson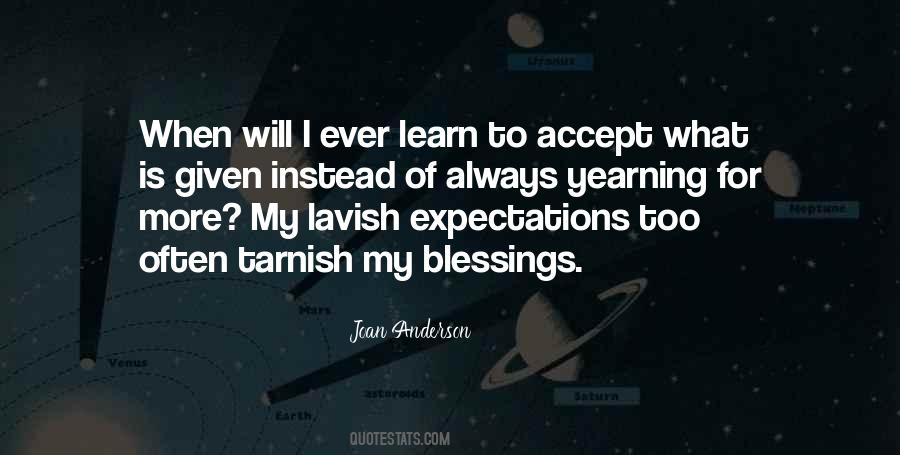 #84. To improve quality of life, to evolve into a better version of ourselves, to pause in recognition of blessings with only our name on the tag, to dance in graitutde, to embrance with abandon, to give without receiving, to seek the face of God ... all this and more is why we exisit. - Author: Toni Sorenson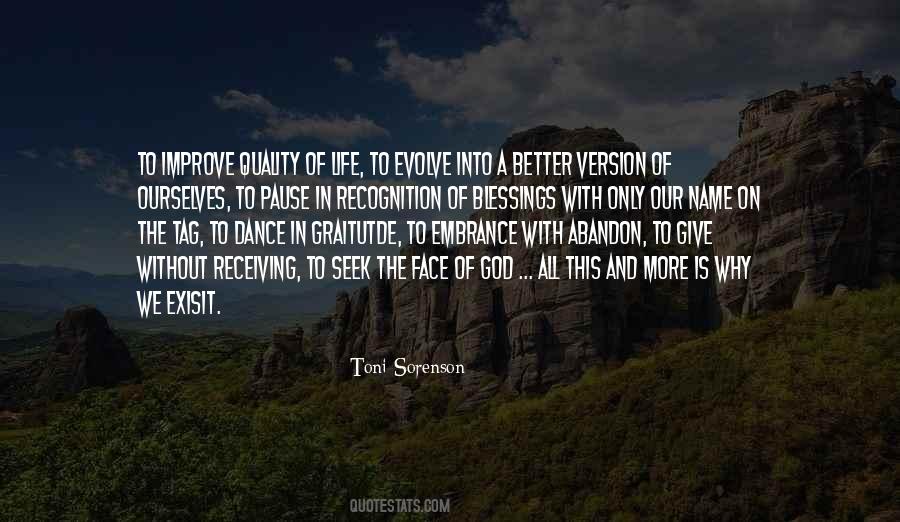 #85. May your troubles be less And your blessings be more And nothing but happiness Come through your door. Irish blessing - Author: Janice Thompson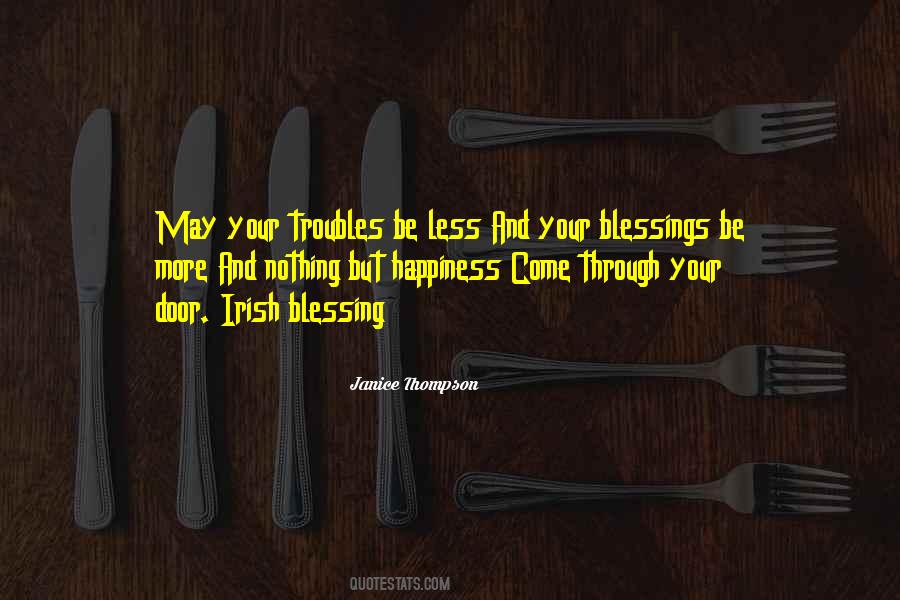 #86. As you trust Me more and more, you are able to receive Me and My blessings abundantly. Be still, and know that I am God. - Author: Sarah Young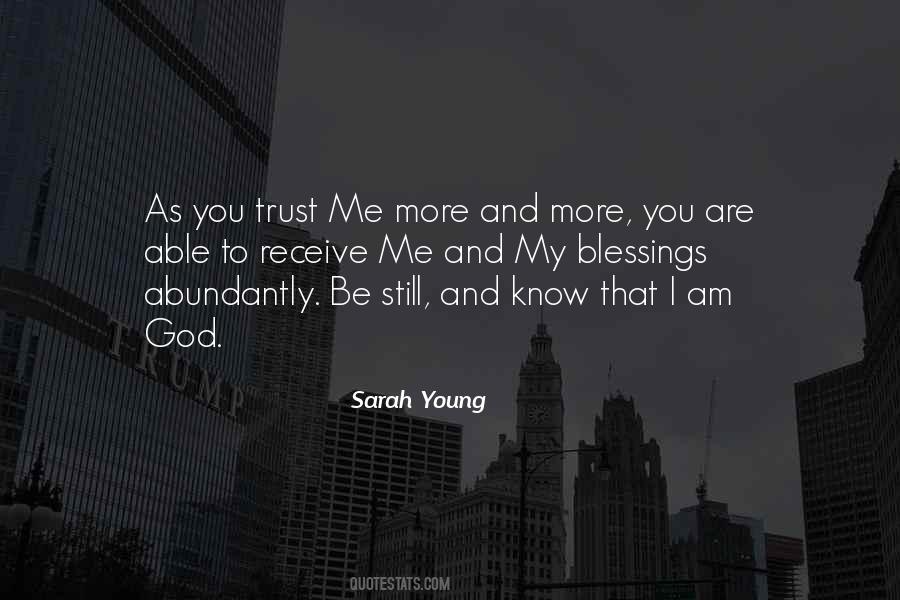 #87. The more we give, the more we are blessed to keep giving. - Author: Lailah Gifty Akita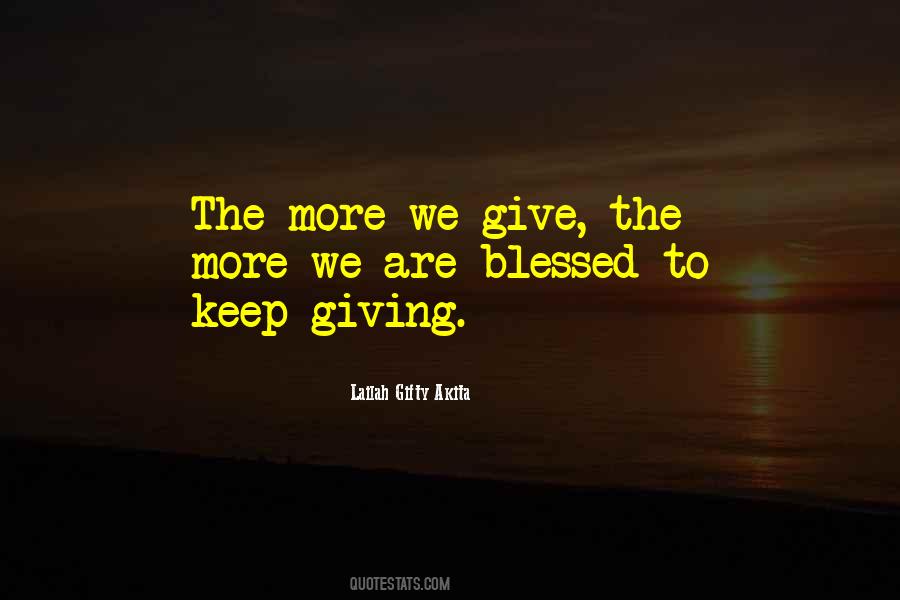 #88. Letter writing allows us to be alone yet connected. We need a certain amount of solitude in order to have true ideas to communicate. But few of us desire solitude all the time ... Yet solitude is what makes us contemplative and receptive, more aware of life's gifts and our own special blessings. - Author: Alexandra Stoddard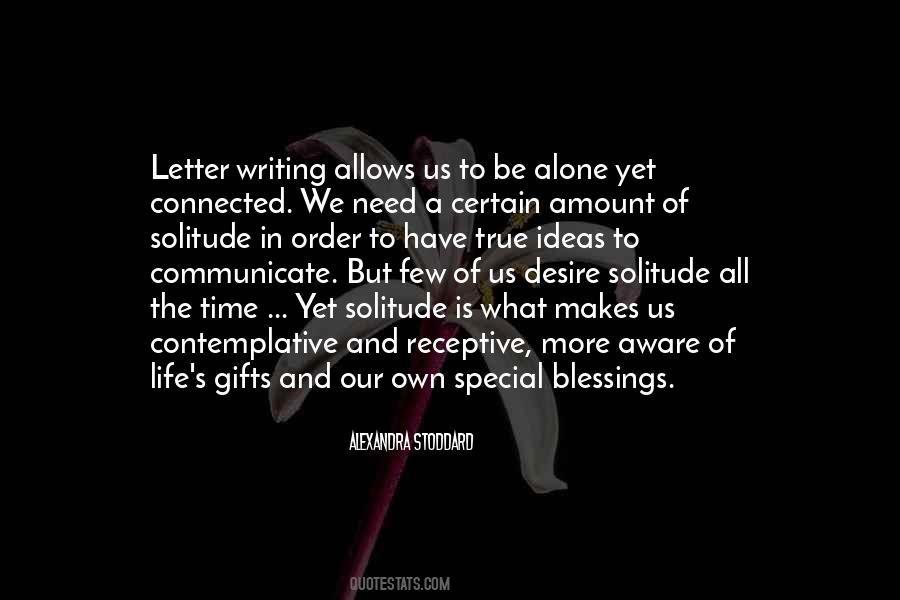 #89. What a pure blessing it was to have a bath in a tub alone in a room where all you had to do was pump the water, not tote buckets. Then all you had to do was pull out the cork, not tote more buckets to the back porch
that kind of thing is easy to take lightly until you don't have it. - Author: Nancy E. Turner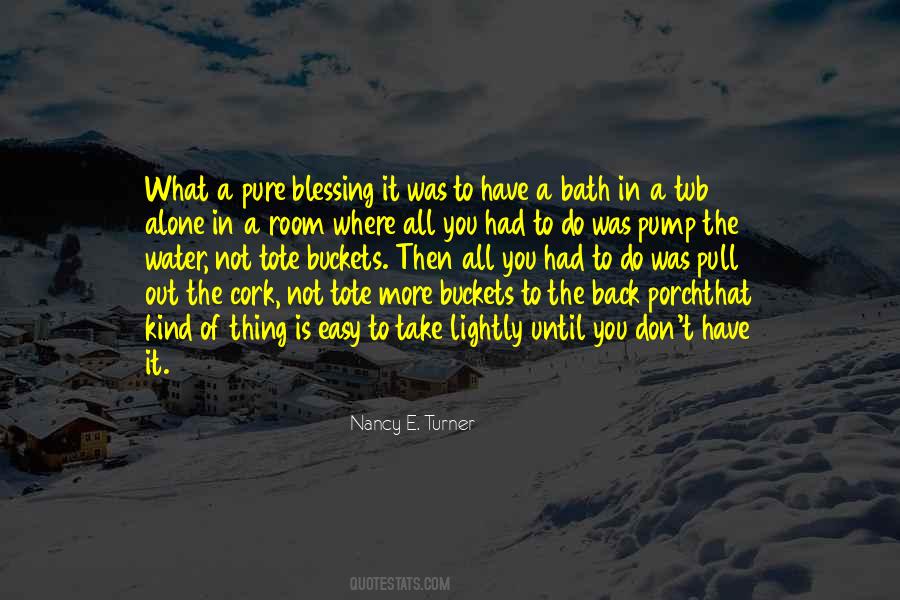 #90. I was successful materially, but I know life is much more than worldly success. I saw all these blessings God had given me. The way to give thanks is obedience to God. - Author: Hakeem Olajuwon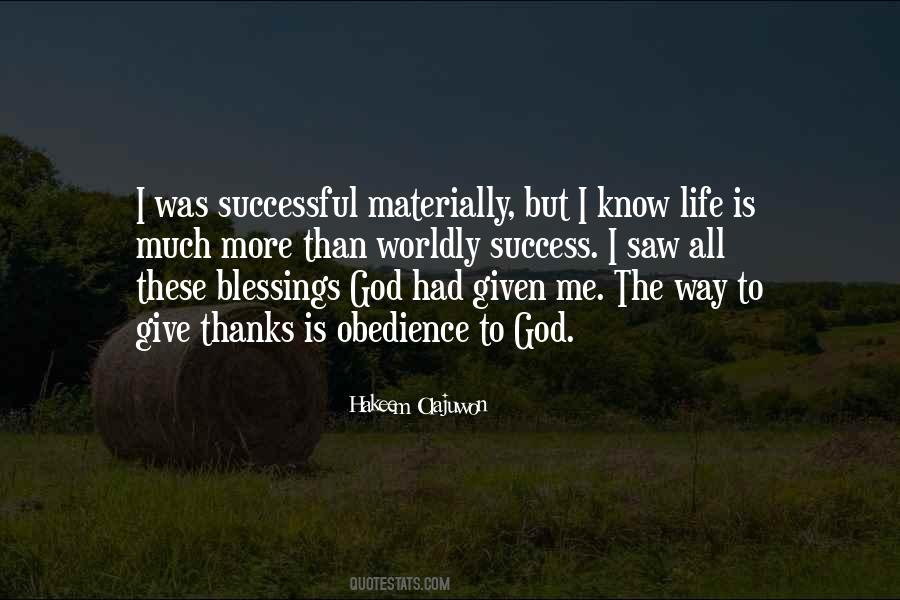 #91. No more let sins and sorrows grow,
Nor thorns infest the ground;
He comes to make His blessings flow
Far as the curse is found. - Author: Isaac Watts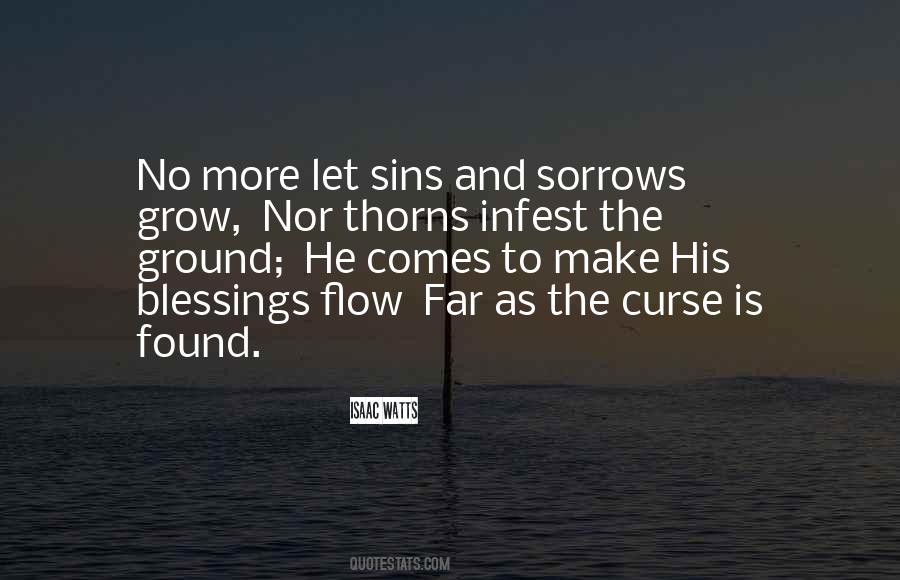 #92. The real sign of His blessings is if you can have more and more happiness inside. Learn always to be happy; to be happy with the happiness of God. Even- minded and cheerful. This is the fastest route to divine bliss. - Author: Goswami Kriyananda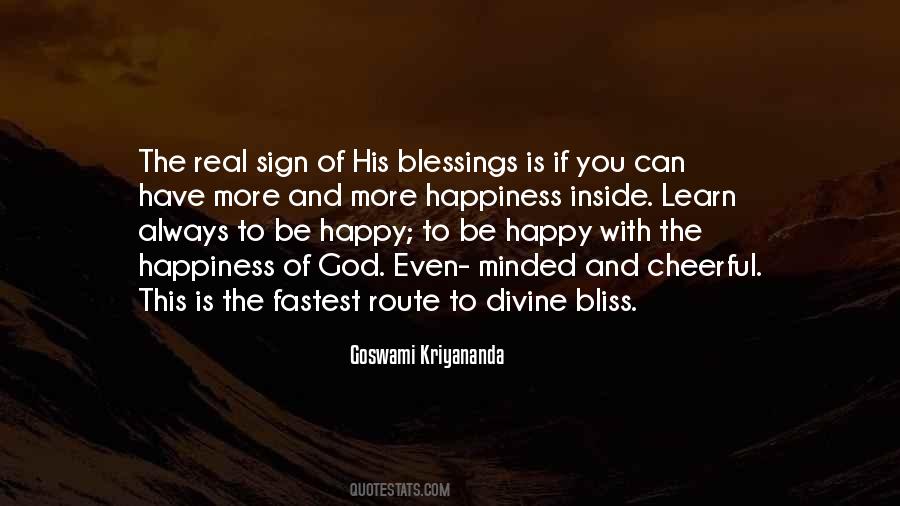 #93. We finally realize this one day that our solitude is a blessing for us! - Author: Avijeet Das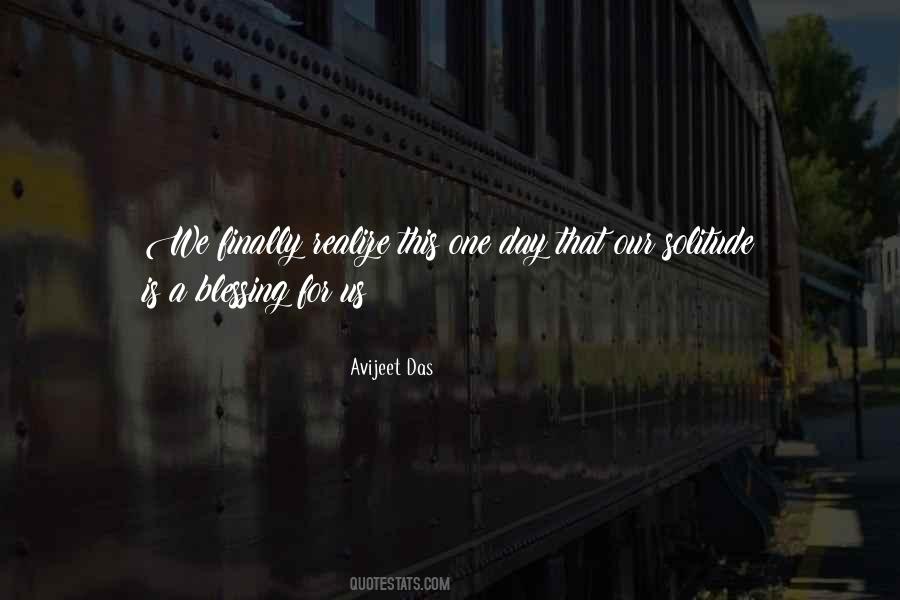 #94. This is one of the blessings of the urban nature project: without the overtly magnificent to stop us in our tracks, we must seek out the more subversively magnificent. Our sense of what constitutes wildness is expanded, and our sense of wonder along with it. - Author: Lyanda Lynn Haupt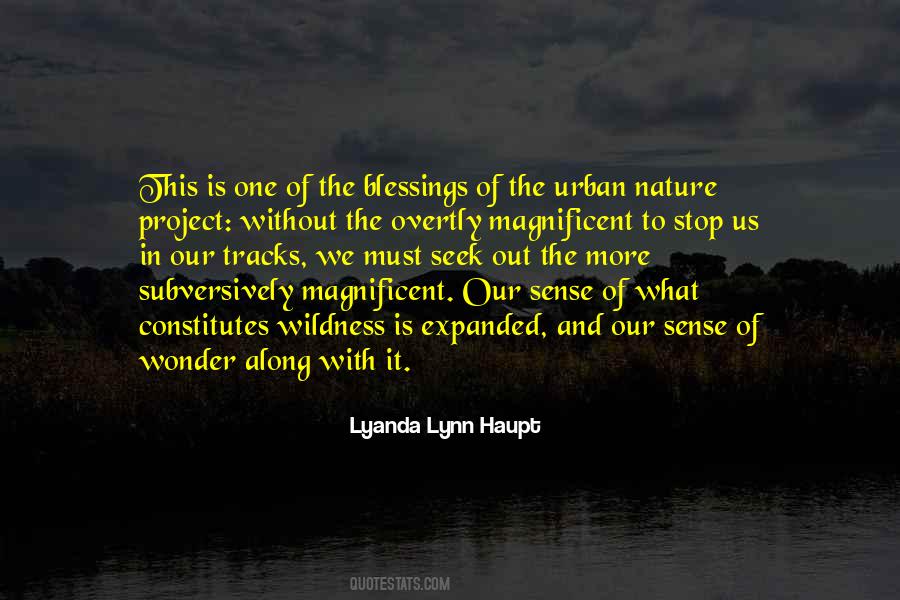 #95. I count my blessings far more than I count my money. - Author: Dolly Parton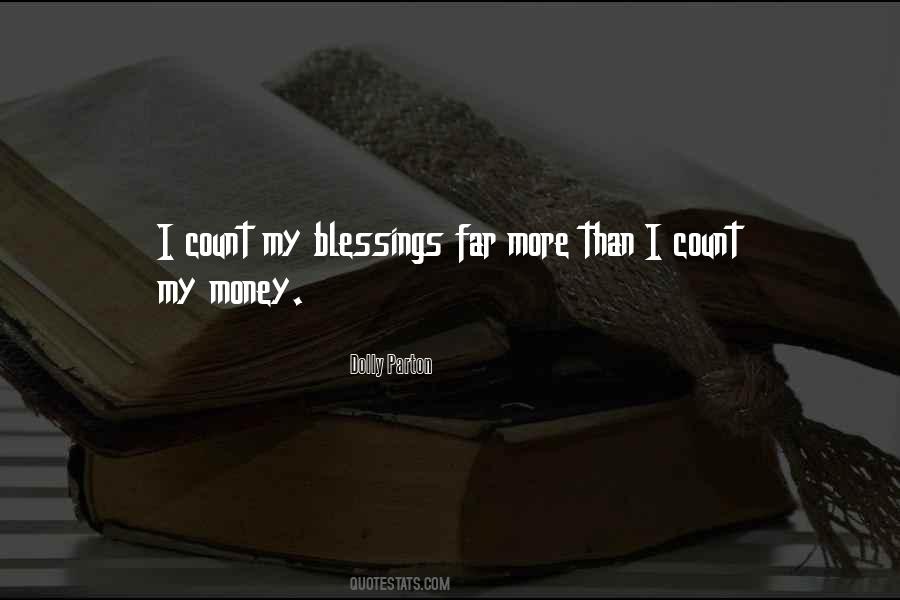 #96. Sometimes spiritual blessings are much more important than most material goals we pursue in life. - Author: Sunday Adelaja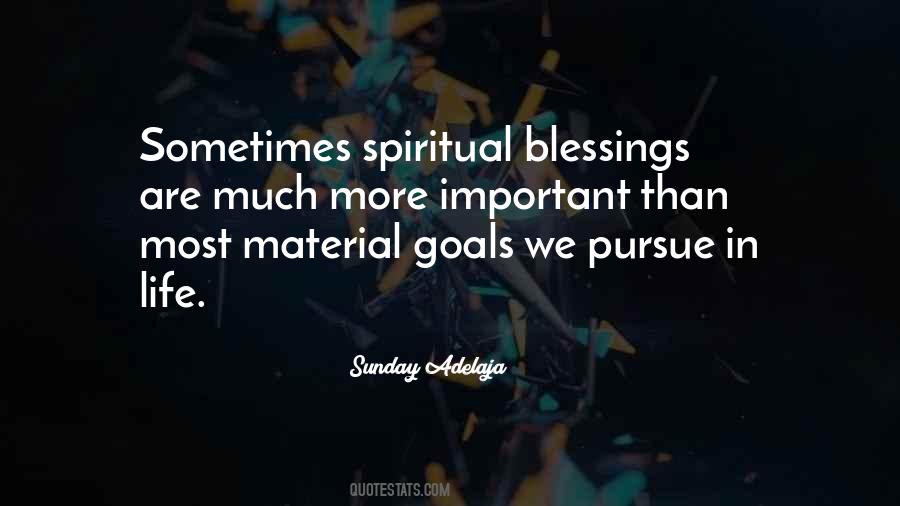 #97. Among the blessings of love there is hardly one more exquisite than the sense that in uniting the beloved life to ours we can watch over its happiness, bring comfort where hardship was, and over memories of privation and suffering open the sweetest fountains of joy. - Author: George Eliot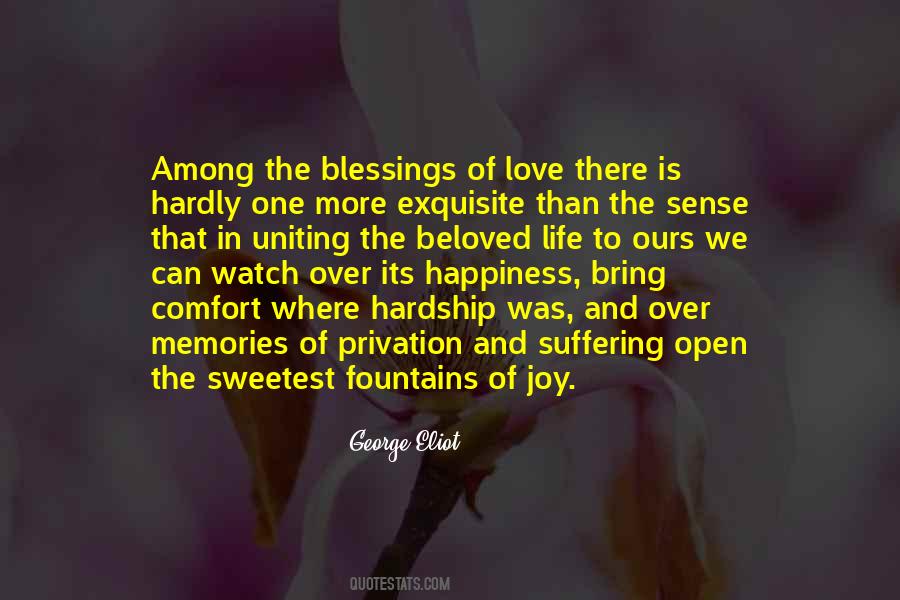 #98. Everyone has challenges and everyone is blessed. Never believe your challenges are more or your blessings any less. - Author: Charles F. Glassman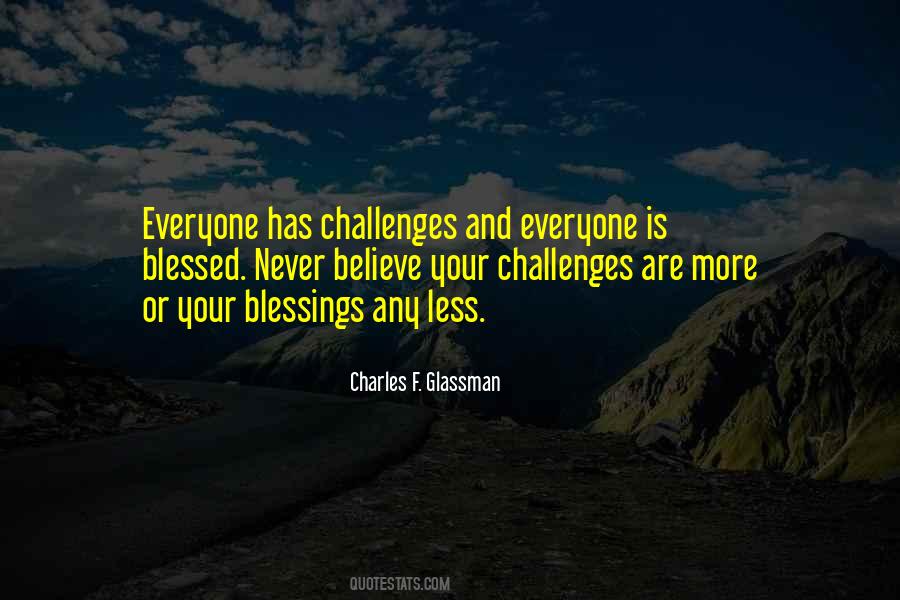 Famous Authors
Popular Topics