Madison Square Garden Famous Quotes & Sayings
List of top 30 famous quotes and sayings about madison square garden to read and share with friends on your Facebook, Twitter, blogs.
Top 30 Quotes About Madison Square Garden
#1. My fellow Americans, this is an amazing moment for me. To think that a once scrawny boy from Austria could grow up to become Governor of California and stand in Madison Square Garden to speak on behalf of the President of the United States that is an immigrant's dream. It is the American dream. - Author: Arnold Schwarzenegger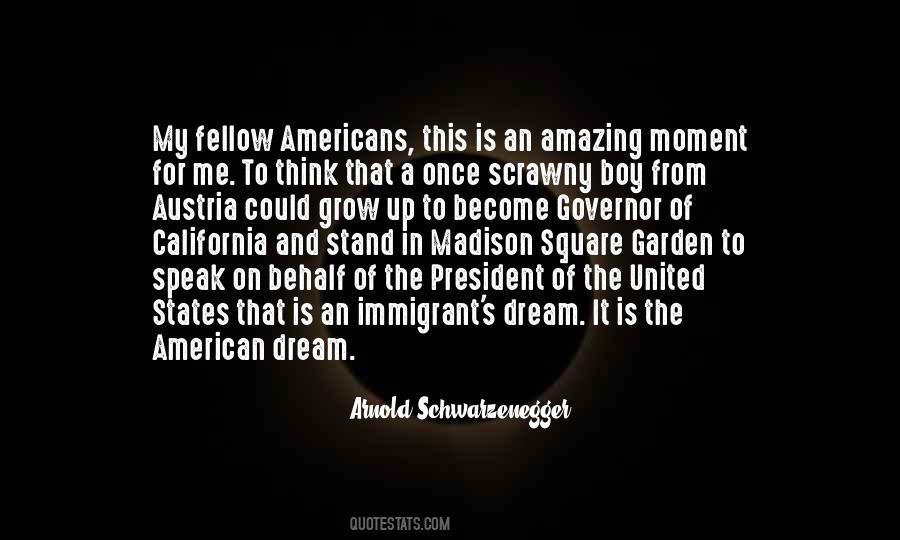 #2. We still haven't played Madison Square Garden. That's a benchmark. Something will have gone seriously wrong if we don't play Madison Square Garden for this album. - Author: Dan Hawkins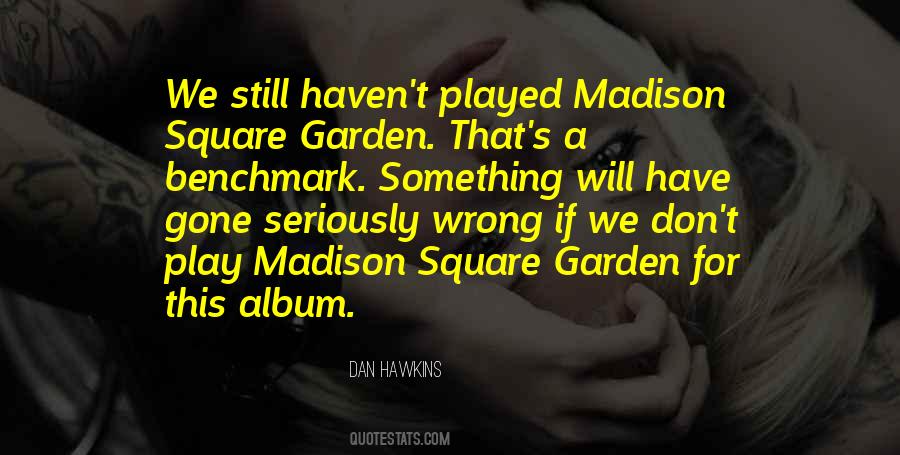 #3. Madison Square Garden sounds like crap. - Author: Rick Nielsen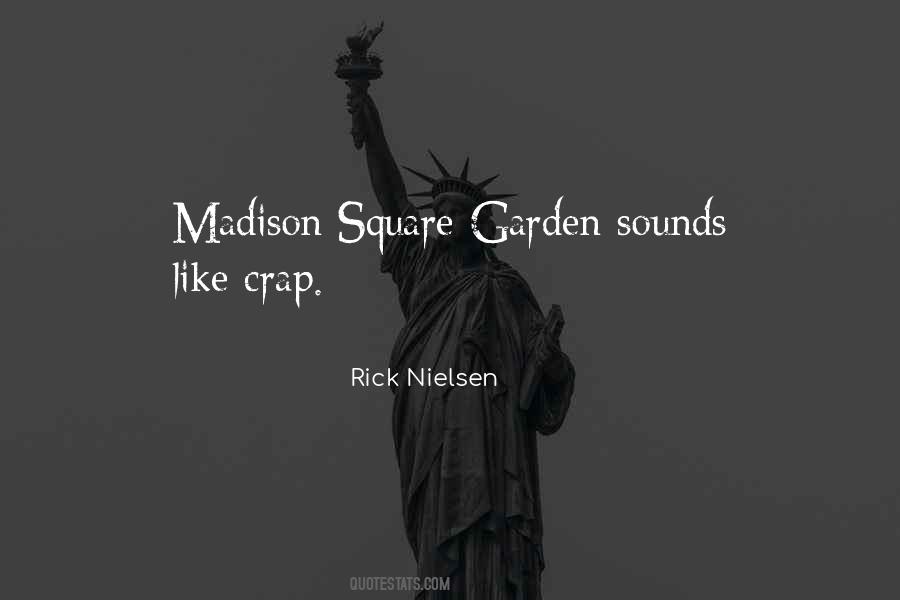 #4. I have this first album that sells more than 100,000 copies in its first week, debuts at number two, goes gold, the single goes platinum, we're doing Madison Square Garden. - Author: Halsey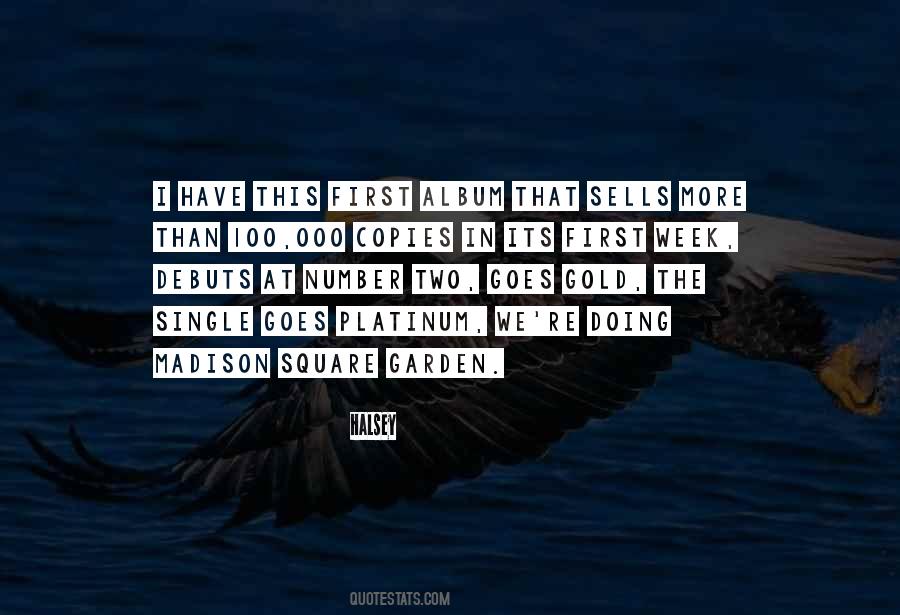 #5. If you're playing live, I like to think of the ensemble, whether it's the duet or a forty piece orchestra, as one person. And the entire audience, whether it's twelve people or twelve thousand at Madison Square Garden, is the other person. The two of you are going to dance together tonight. - Author: John Densmore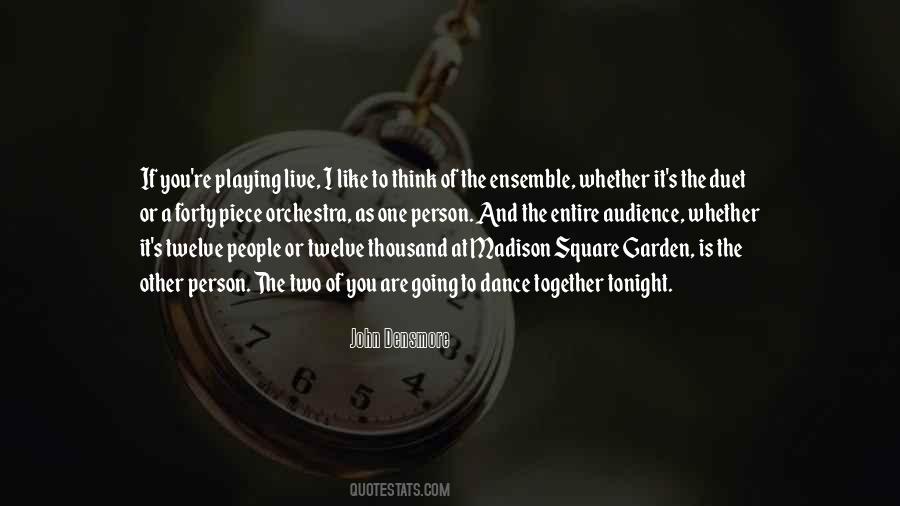 #6. The others forgot the work and the weather watching them throw. It was art. A thousand dollars a throw in Madison Square Garden wouldn't have gotten any more breathless suspense. It would have just been more people holding in. - Author: Zora Neale Hurston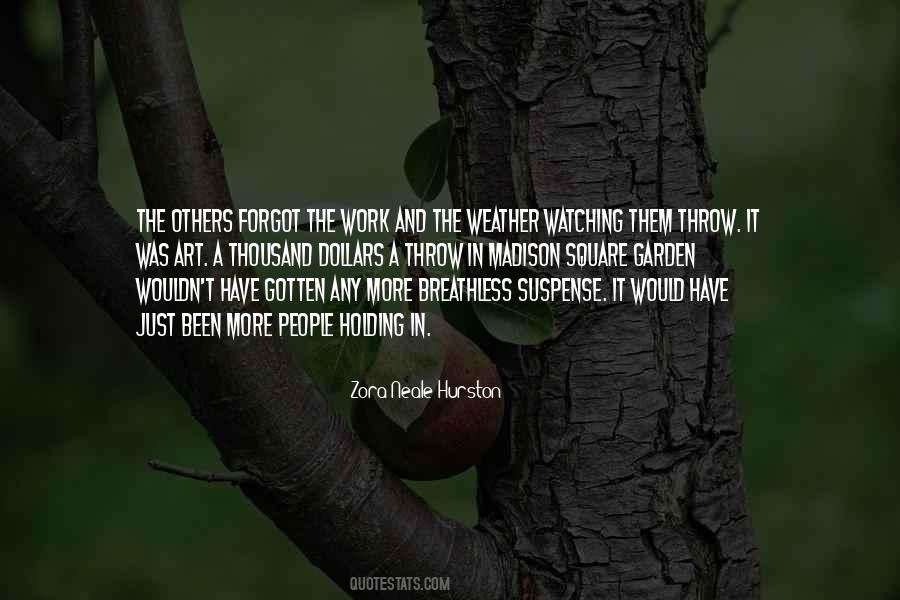 #7. We're in Madison Square Garden, I can't let you beat me in Madison Square Garden, are you serious!? - Author: Roy Jones Jr.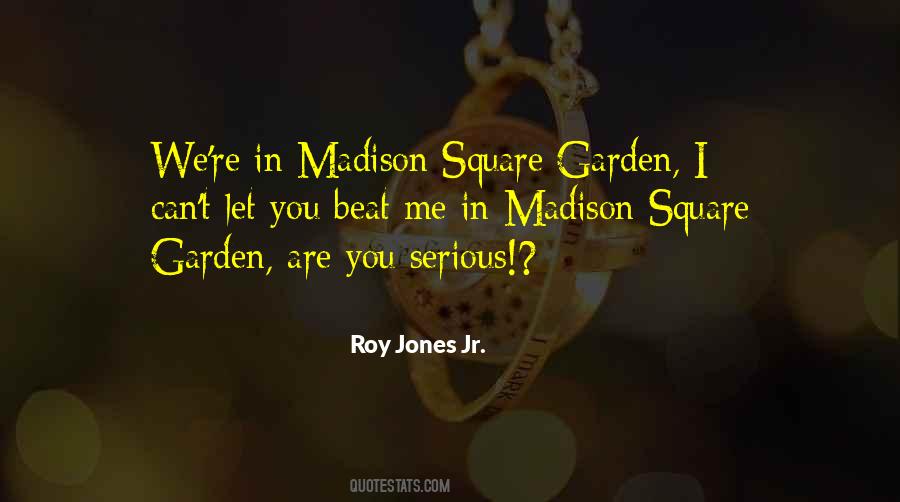 #8. I remember what a thrill it was to go from the back streets of Birmingham to Madison Square Garden in New York ... it's like playing on Mars. You can't buy that. - Author: Ozzy Osbourne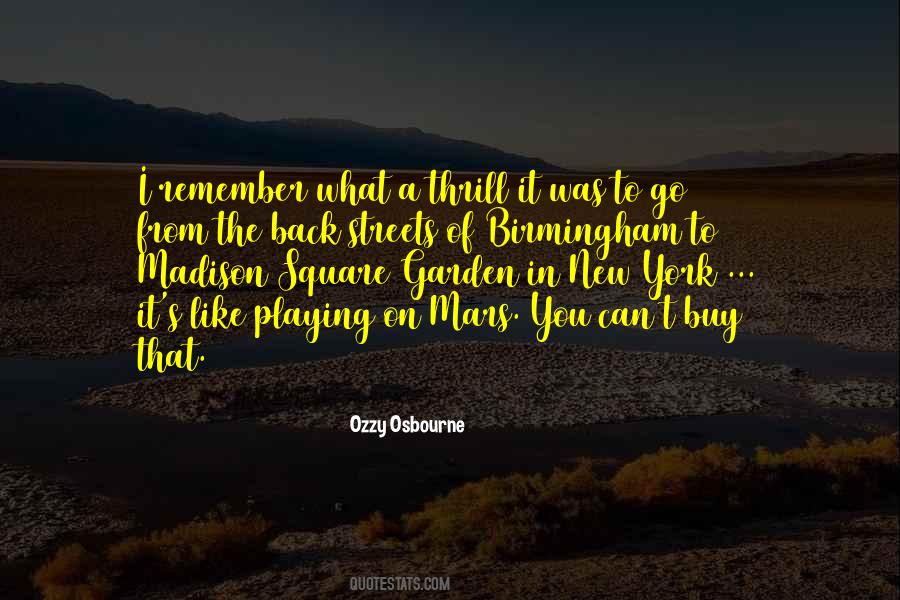 #9. The purity of finding the right artist, that artist that's gonna be the next hall of famer, that artist that's gonna be the next headliner, lifting people out of their seats at Madison Square Garden, that song that's gonna be sung for hundreds and hundreds of years, that essence remains the same. - Author: Clive Davis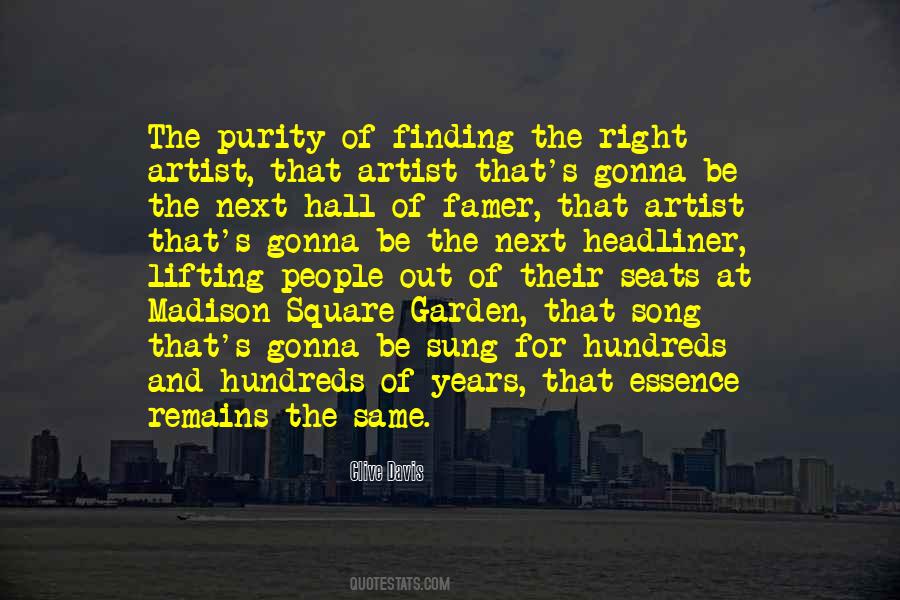 #10. As a hockey player, playing for an Original Six team at Madison Square Garden, where it's packed every night, there's nothing like it. - Author: Carl Hagelin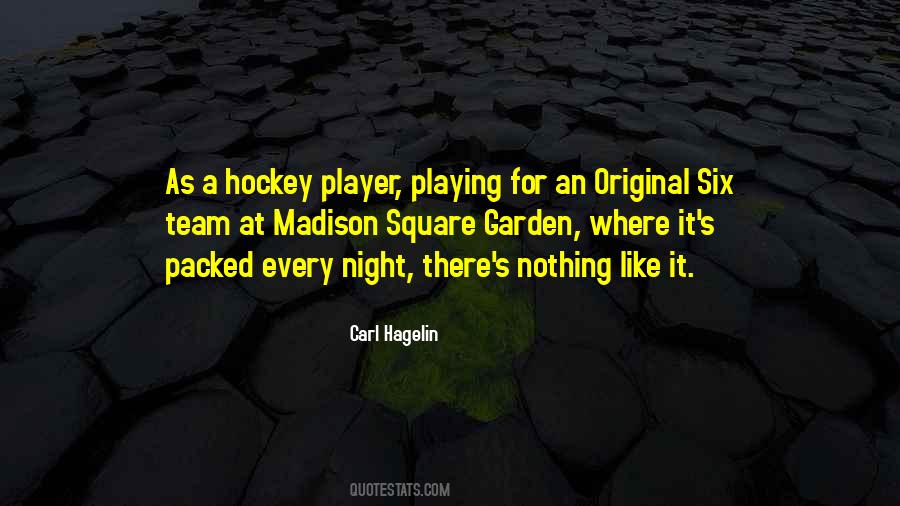 #11. L.A. is always great. There's something special about L.A. And New York, for me, because it's home. There's nothing quite like walking onstage at Madison Square Garden. - Author: Dave Gahan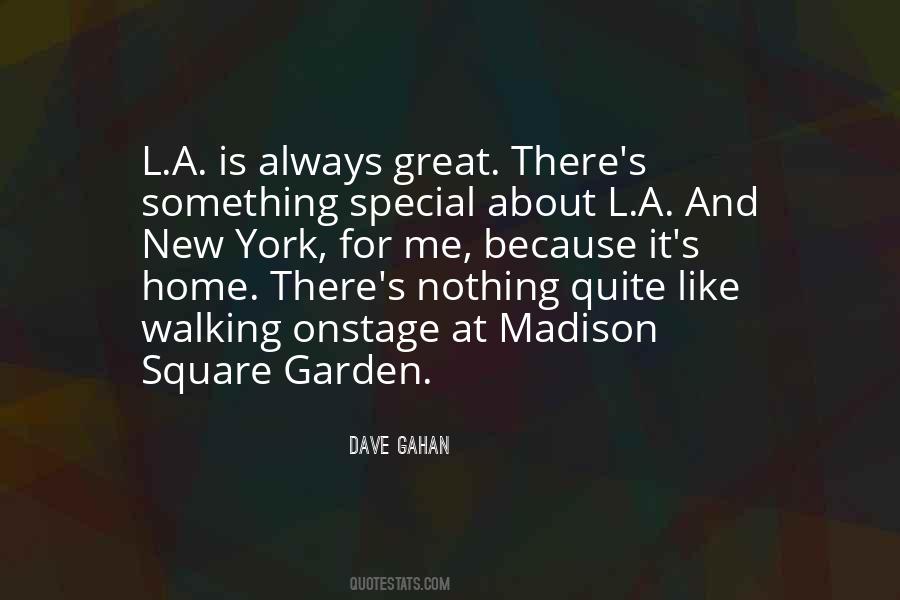 #12. I can sell out Madison Square Garden masturbating - Author: Mike Tyson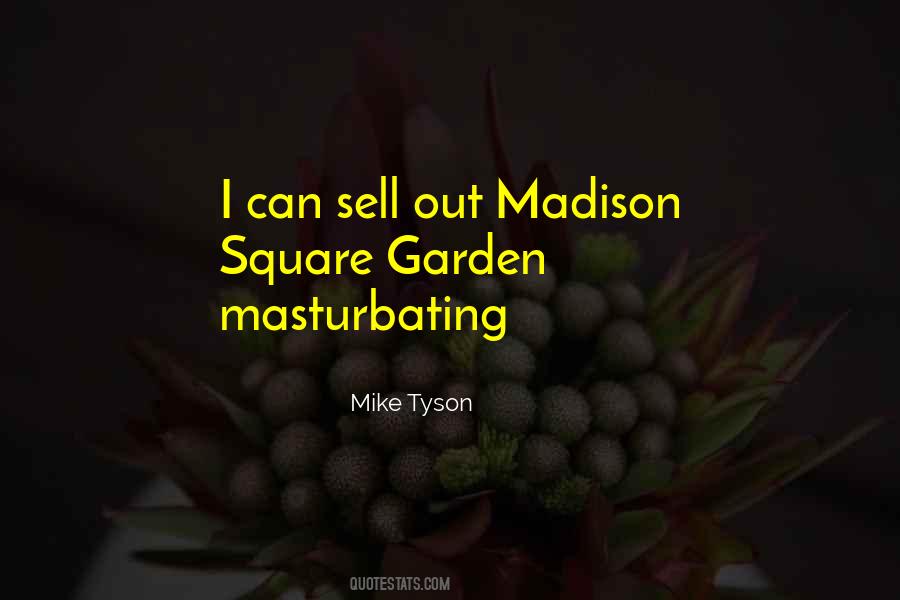 #13. I saw my father preach in Madison Square Garden, and I was a little embarrassed, I think, the first time I heard him preach. That's my father up there, and I kind of slid down in my chair. - Author: Franklin Graham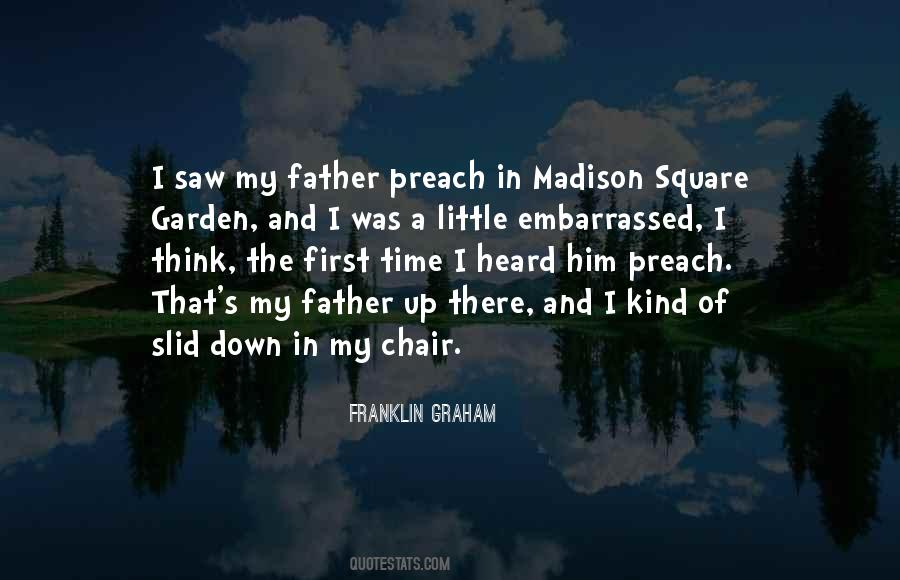 #14. It's always been my dream to come to Madison Square Garden and be the warm-up act for Elvis. - Author: Al Gore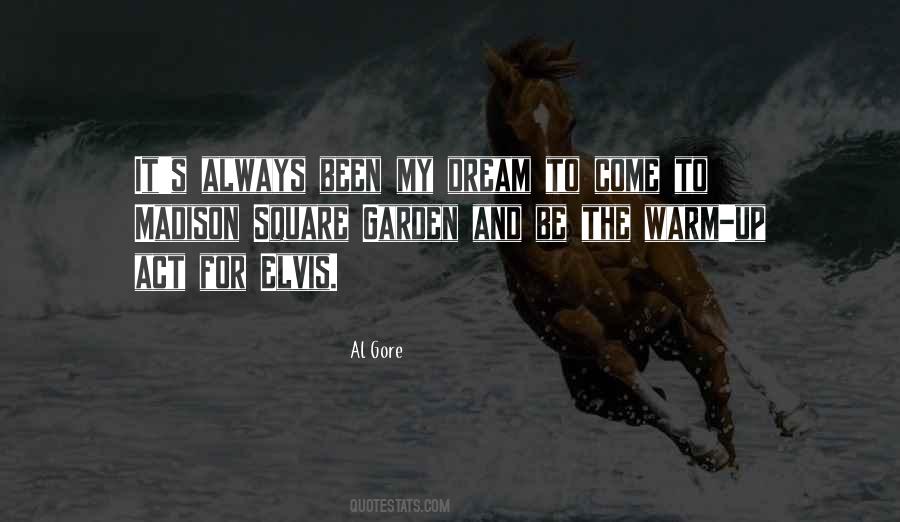 #15. How were the receipts today in Madison Square Garden ? - Author: P.T. Barnum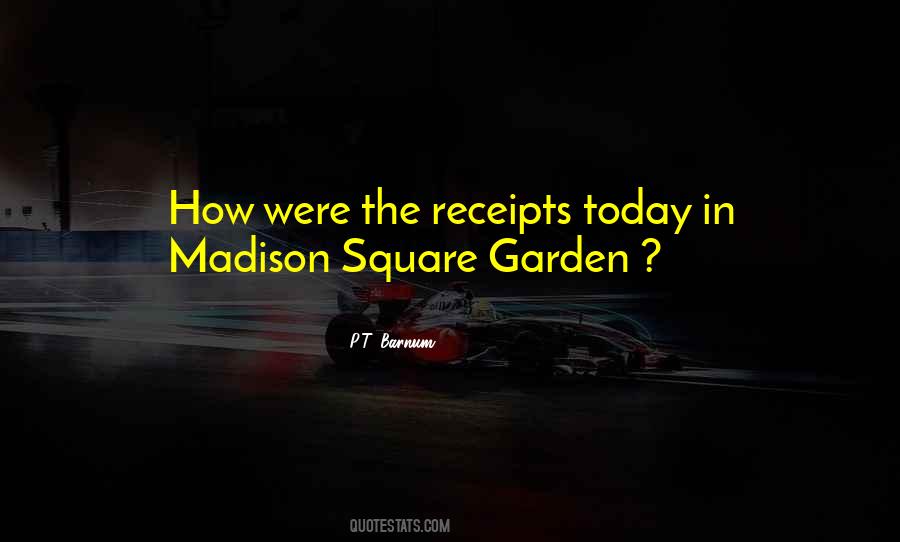 #16. Tex Rickard started his career staging boxing matches for Nome's miners, then moved on to New York and built Madison Square Garden, becoming one - Author: Gay Salisbury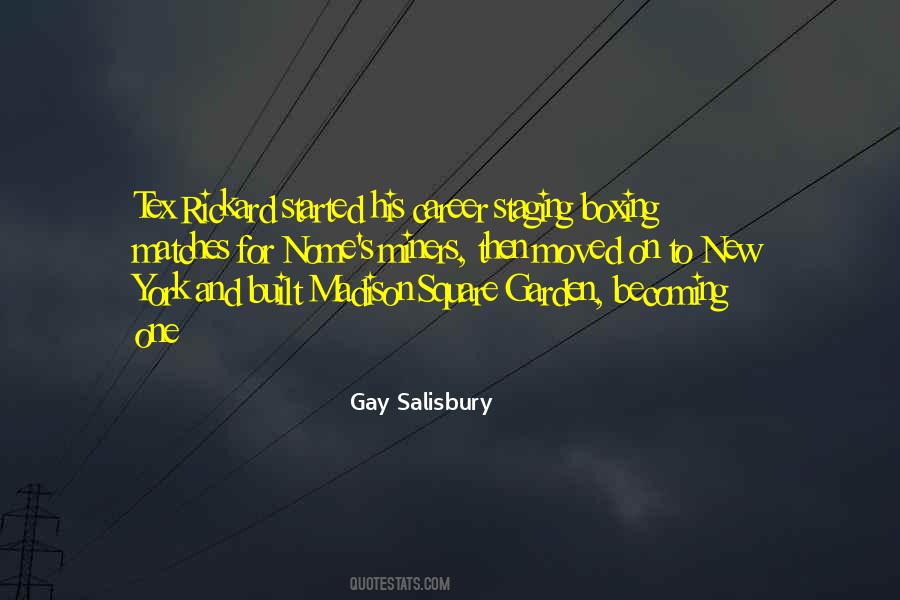 #17. If you go to Madison Square Garden, you better have your A game ready, because here goes the thing, they love boxing. They either like you, or they don't like you. They're either cheering for you, or they're cheering for you to die ... They want you to kill, or be killed. - Author: Roy Jones Jr.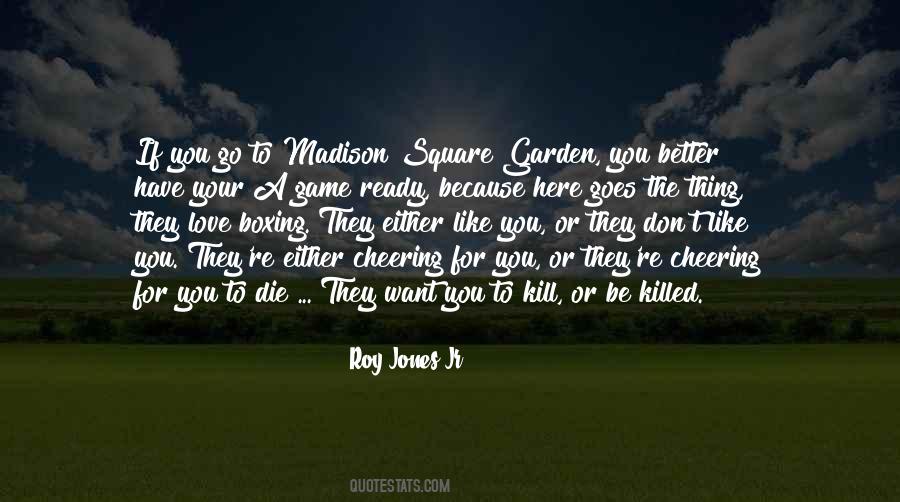 #18. They are the three venues I wanted to box in - I wasn't really interested in Las Vegas and all of them places. The three I always said was Croke Park, United, and Madison Square Garden. - Author: Tyson Fury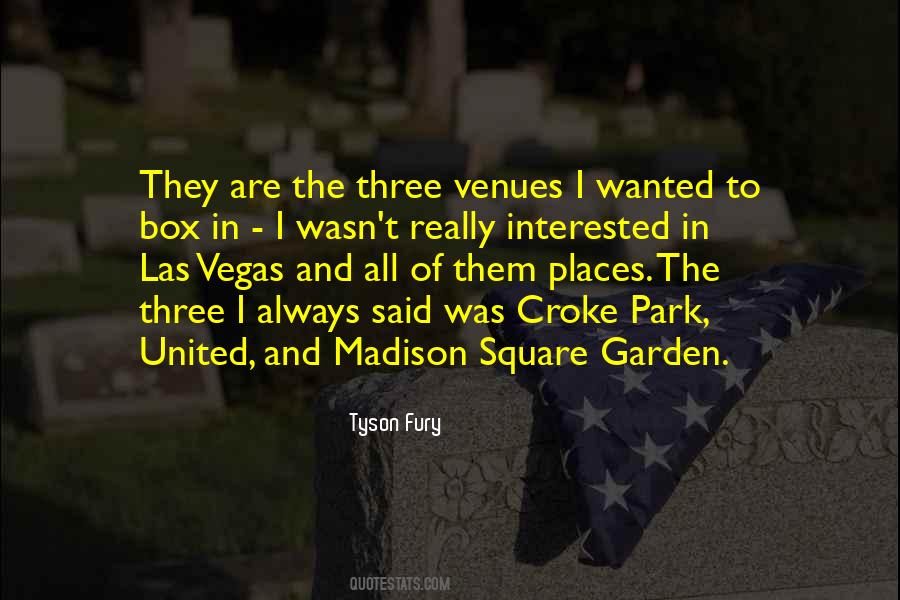 #19. spectacle of Dorothy Thompson at Madison Square Garden - tall, fair, blue-eyed, and laughing in her evening gown at twenty-two thousand "little men" - was not a thing to be forgotten. - Author: Peter Kurth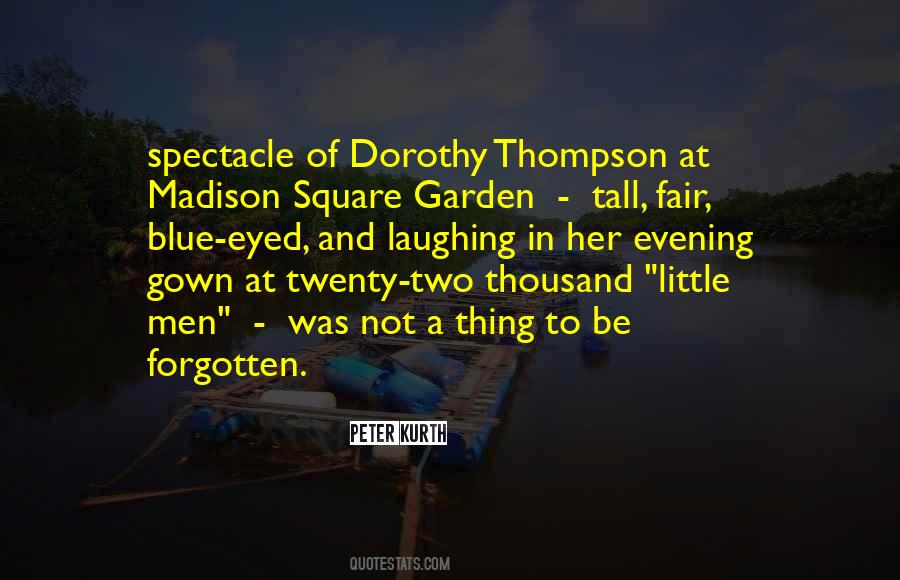 #20. I've played Madison Square Garden and Jones Beach several times, but I personally don't enjoy those larger venues. I much prefer theater or a performance space. - Author: Jason Mraz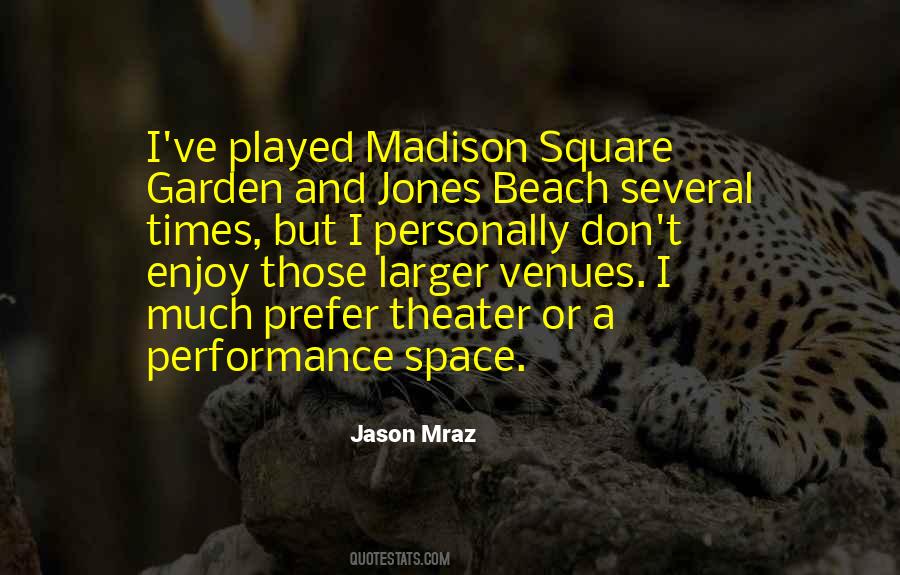 #21. I want to get to the point where one day I don't have to have anything but a rug and a microphone stand on stage and still be able to sell out places like Madison Square Garden, like Bruce Springsteen does. - Author: Demi Lovato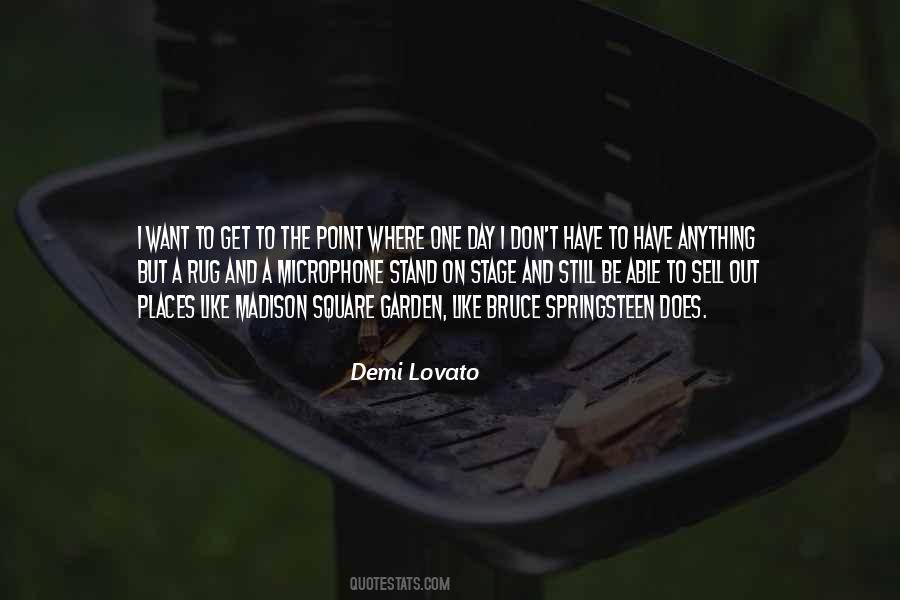 #22. You're damn right I do. I'm in Madison Square Garden getting the s*** knocked out of me - Author: Willie Pastrano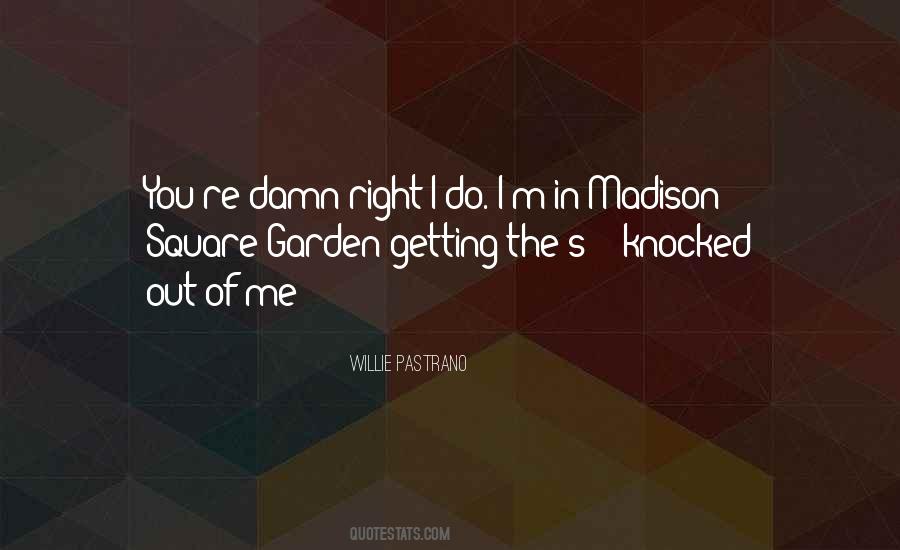 #23. I'm sure everyone knows now that only a few have performed in Madison Square Garden. That list is so small. Now I'm on that list. I'm a part of a very small group, which is unbelievable. You relish in that moment for a second. - Author: Kevin Hart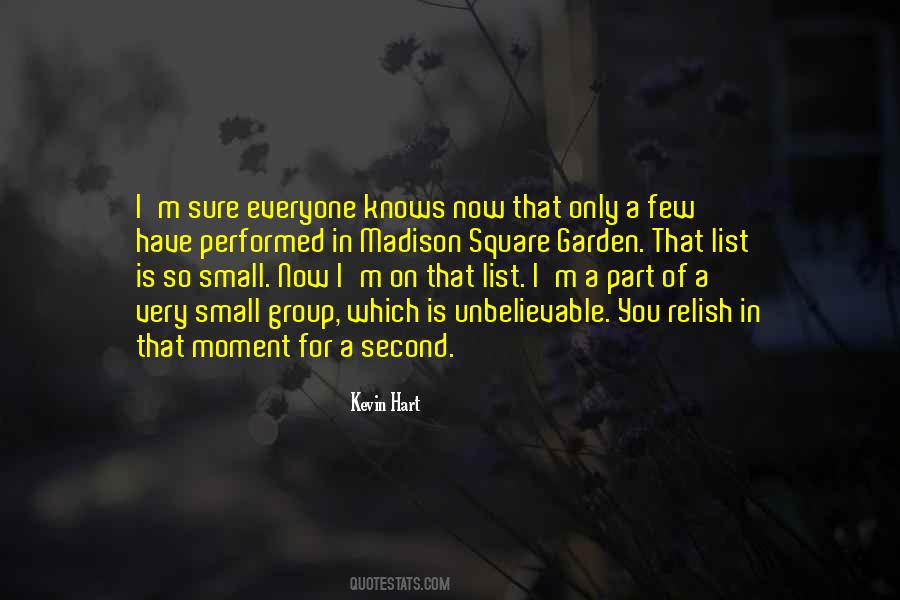 #24. I wanted to play in New York when I was in my prime and I was young, fierce, lock-down [defender]. Madison Square Garden, that would have been sick. But right now, China is way more adventurous for me. - Author: Metta World Peace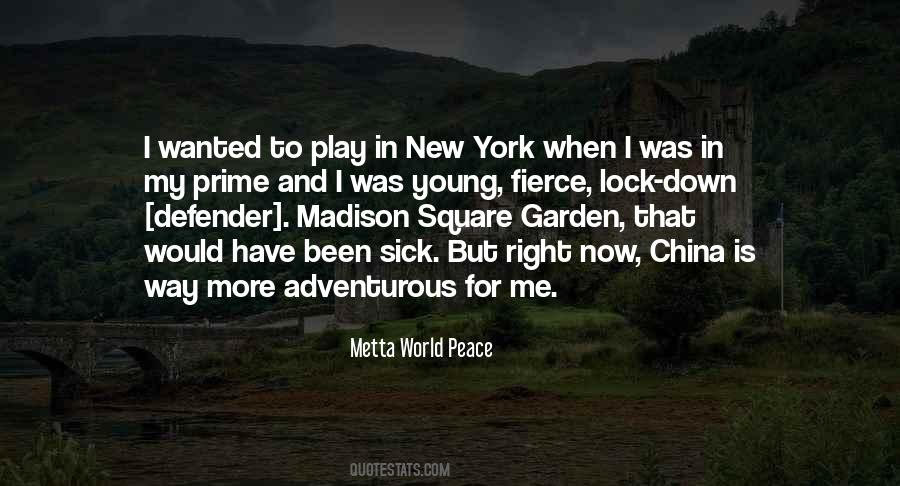 #25. My biggest thrill came the night Elgin Baylor and I combined for 73 points at Madison Square Garden. Elgin had 71 of them. - Author: Rod Hundley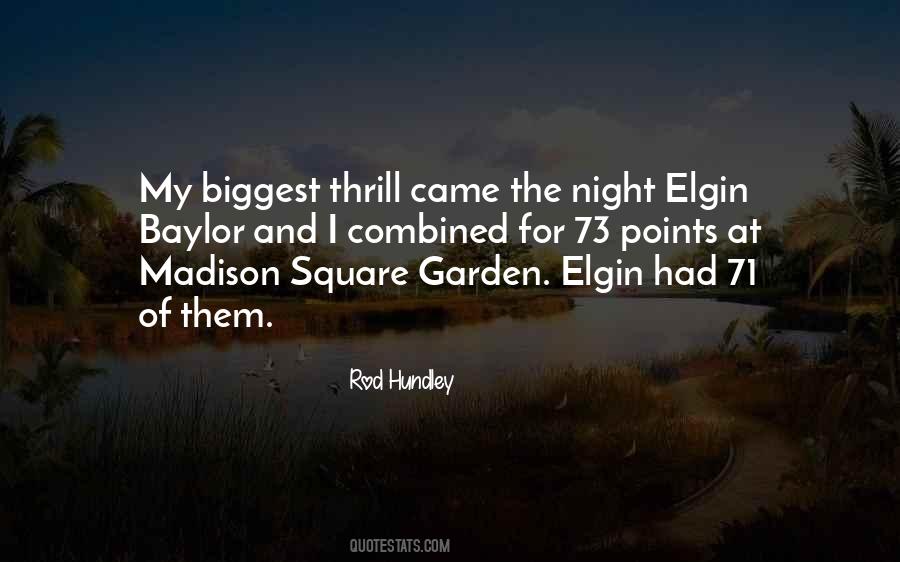 #26. These wrestlers aren't organized. They have no union, no pension and no insurance. You meet wrestler after wrestler who sold out Madison Square Garden ten years ago, basically running on fumes today. There's a lot of drama there. - Author: Darren Aronofsky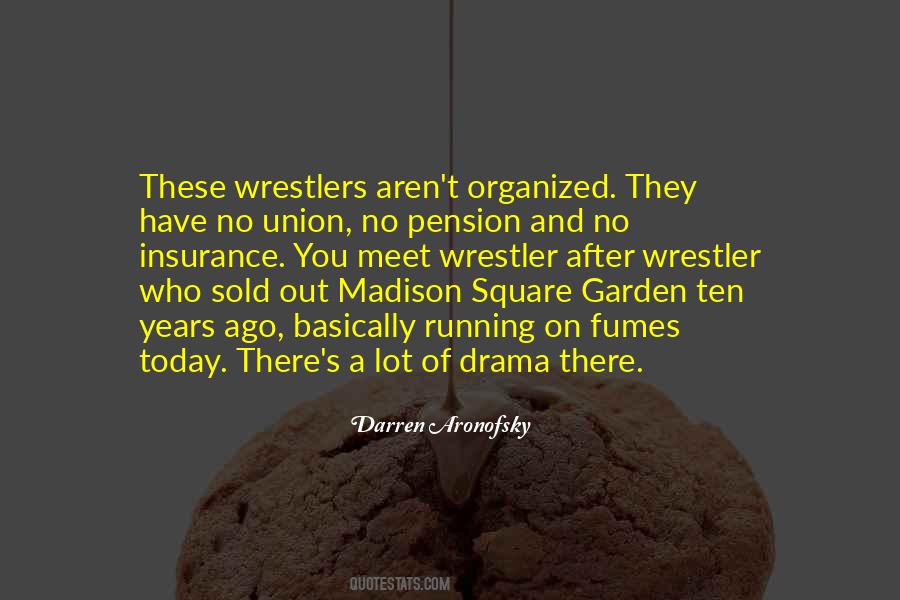 #27. I want to play a show at Madison Square Garden in New York, which is where the New York Knicks play. That's what I want. - Author: William Beckett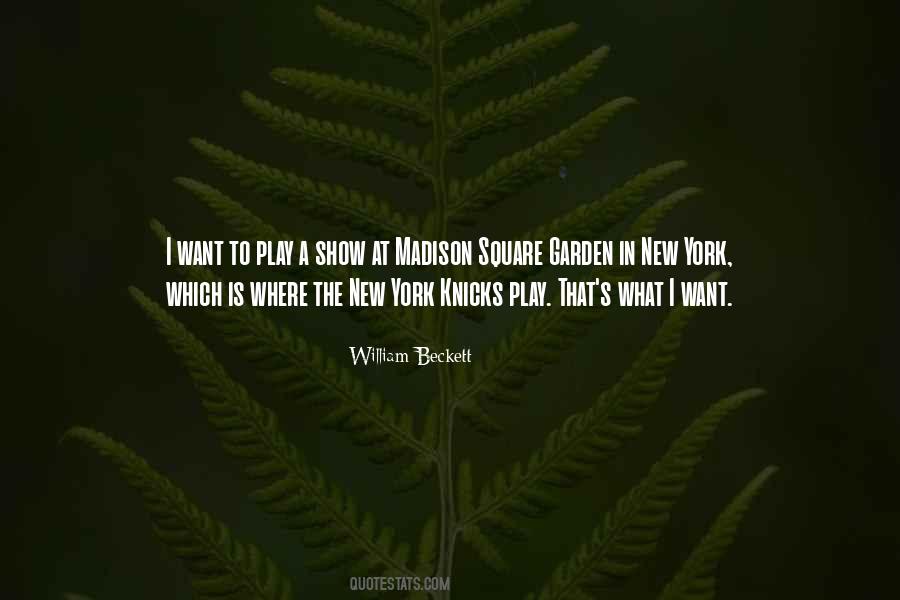 #28. I never dreamed that I would hear 10,000 people screaming when I stepped out onto a stage. Well, that's not entirely true. I dreamed about it but in a performing-on-the-stage-at-Staples-Center-or-Madison-Square-Garden context. But never in a I'm-in-a-movie-that-hasn't-even-come-out-yet one. - Author: Jacqueline Emerson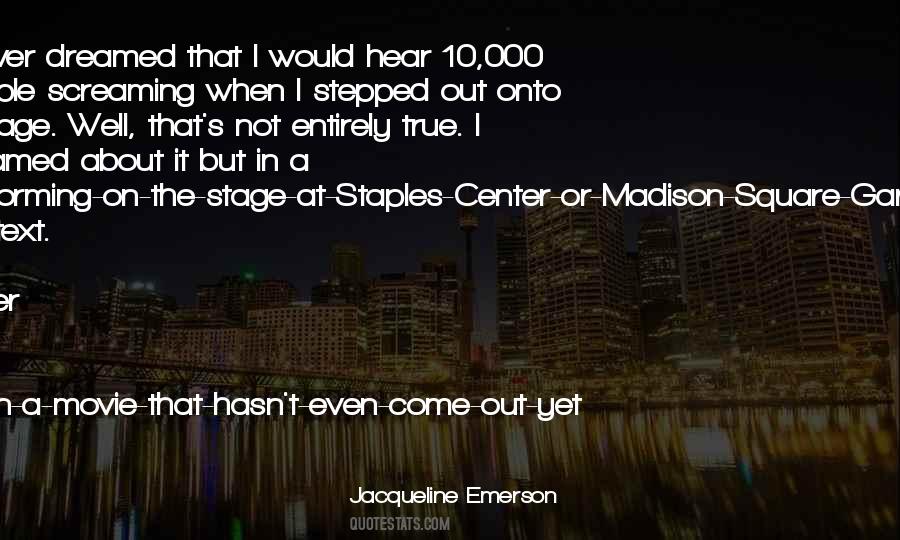 #29. In Naples, Fla., I met a self-made man, a multimillionaire, whose round penthouse apartment is home to Pierre-Auguste Renoir, Claude Monet, Henry Moore, and Mickey Mantle. He had purchased the most coveted items auctioned by the Mantle family at Madison Square Garden in December 2003. - Author: Jane Leavy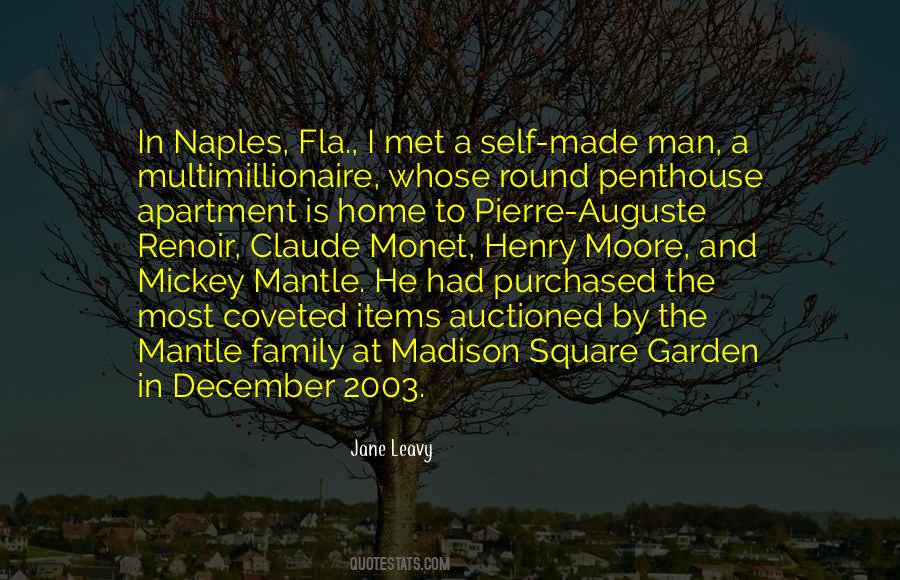 #30. It's amazing to see places like Madison Square Garden on the schedule again. - Author: Roger Andrew Taylor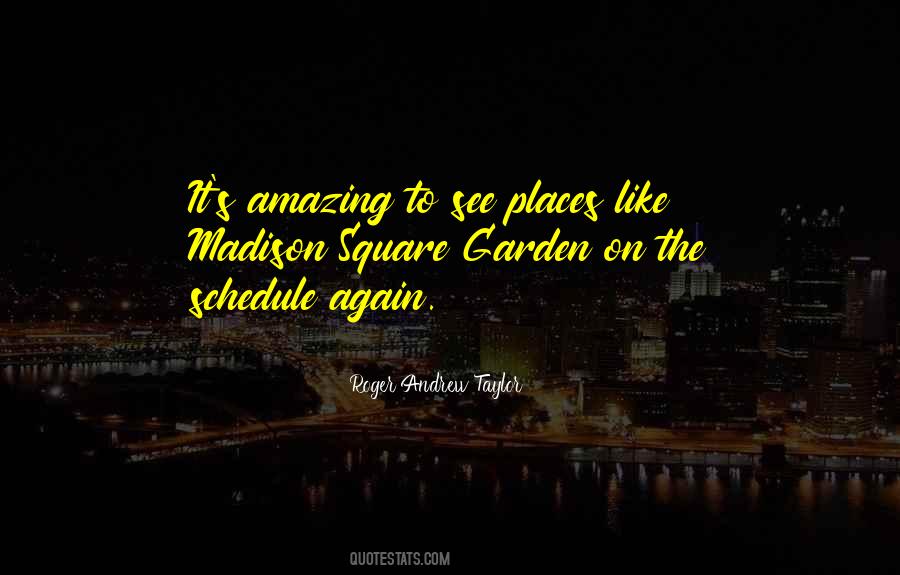 Famous Authors
Popular Topics