Lucky To Have Friends Famous Quotes & Sayings
List of top 35 famous quotes and sayings about lucky to have friends to read and share with friends on your Facebook, Twitter, blogs.
Top 35 Quotes About Lucky To Have Friends
#1. I don't think I'm lucky; I think I have a tough constitution. That's a lot of it. And I've been wise enough to listen to other people. I was unconsciously cultivating as many straight friends as I could. - Author: Iggy Pop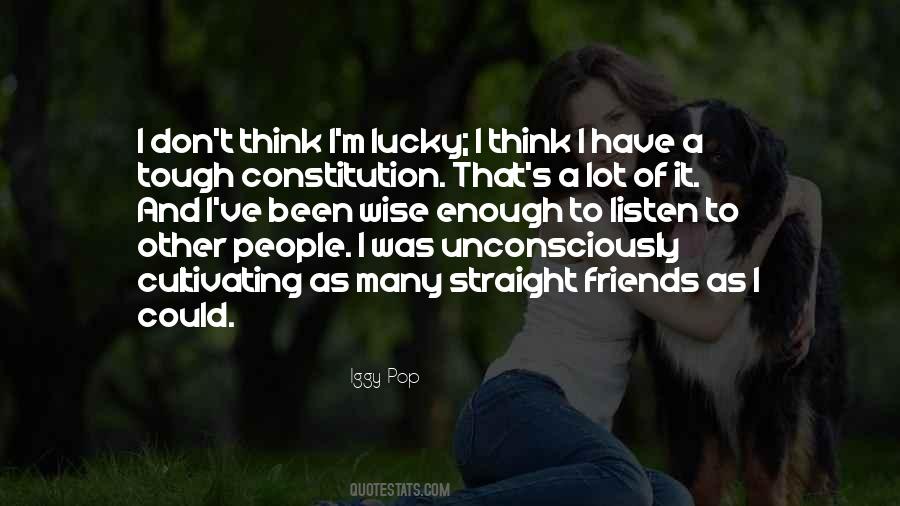 #2. I believe that I am very lucky to have close friends who are faithful. From my friends, I have learned the importance of perseverance. - Author: Julia Cameron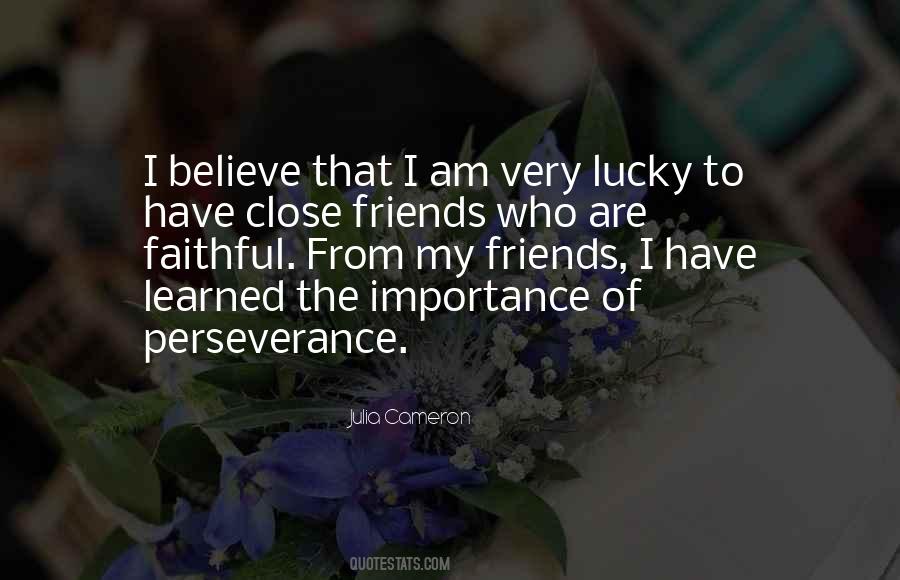 #3. I don't go out - ever. I'm lucky enough to have awesome friends, and we always end up at someone's house. We're big house-party guys. - Author: John Krasinski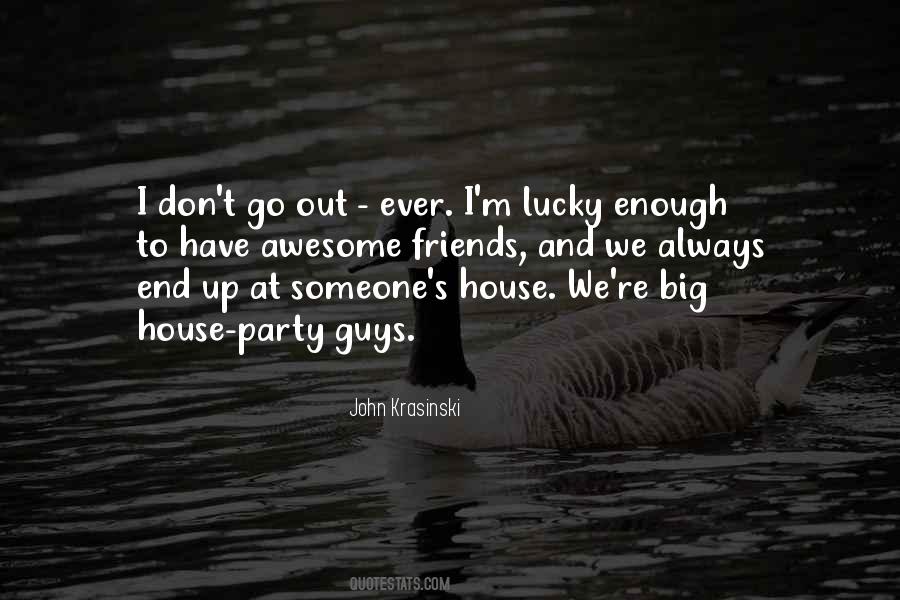 #4. I couldn't have gotten this far without my beautiful parents. I'm also very lucky to have the best friends that I do. - Author: Nicole Anderson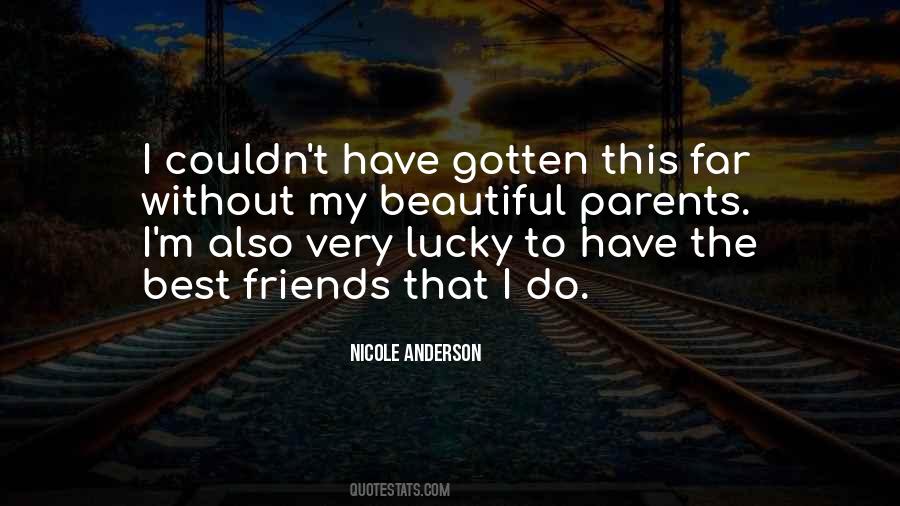 #5. I am very lucky, I have a very tight group of friends and a very supportive family, and to this date no-one has ever sold a story on me. - Author: Sienna Miller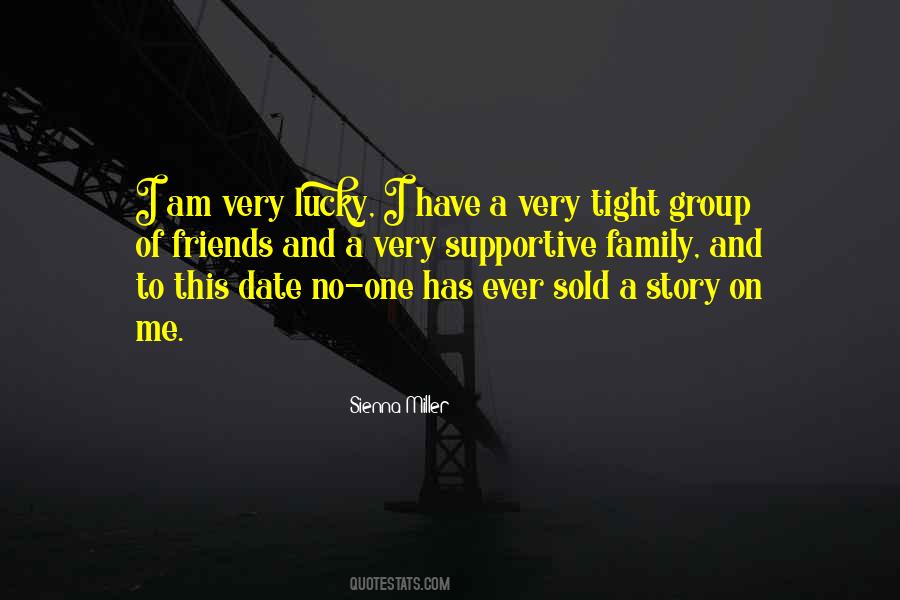 #6. I have been lucky with writers. None have been real trouble. Some I never met. Some I meet only after the book is finished, and some, the easiest to get along with, are the dead ones. Most become friends. - Author: Michael Foreman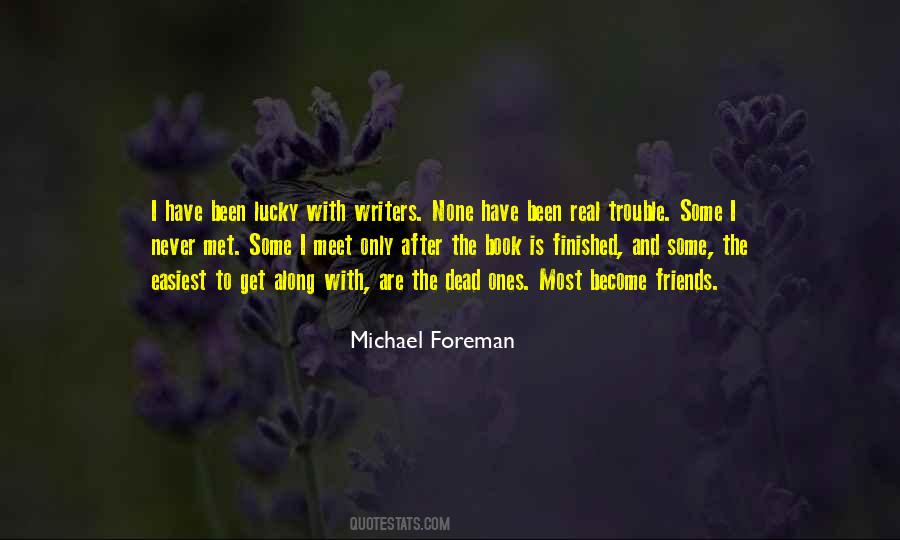 #7. You're lucky to have such great friends," Joey said quietly. "Luck has nothing to do with it, dearie. We decided to become friends and to stay friends, through thick and thin, warts and all. - Author: Barbara J. Zitwer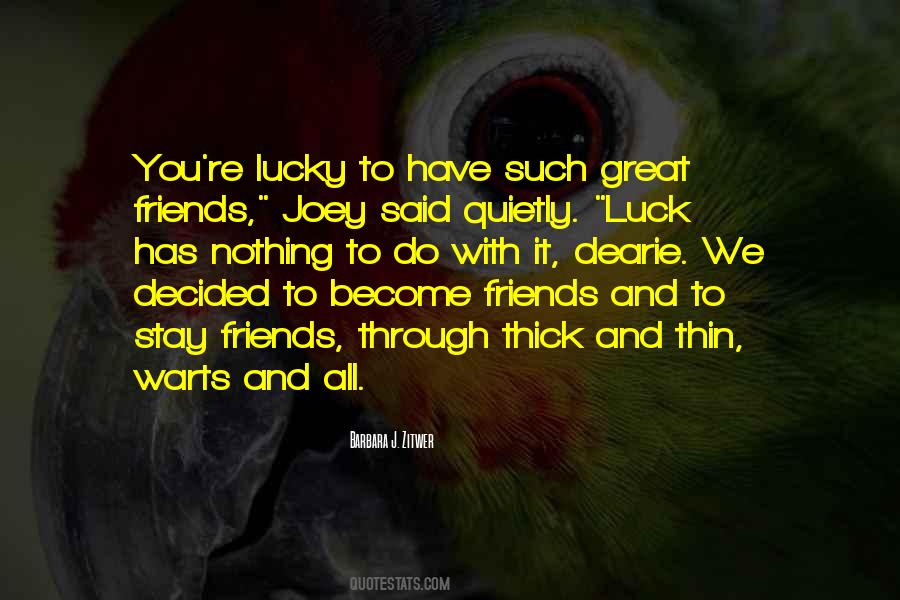 #8. Every time I walk with Alex I'm reminded both how lucky I am to have friends like him and also how unworthy I am to have friends like him. - Oliver Stone - Author: David Baldacci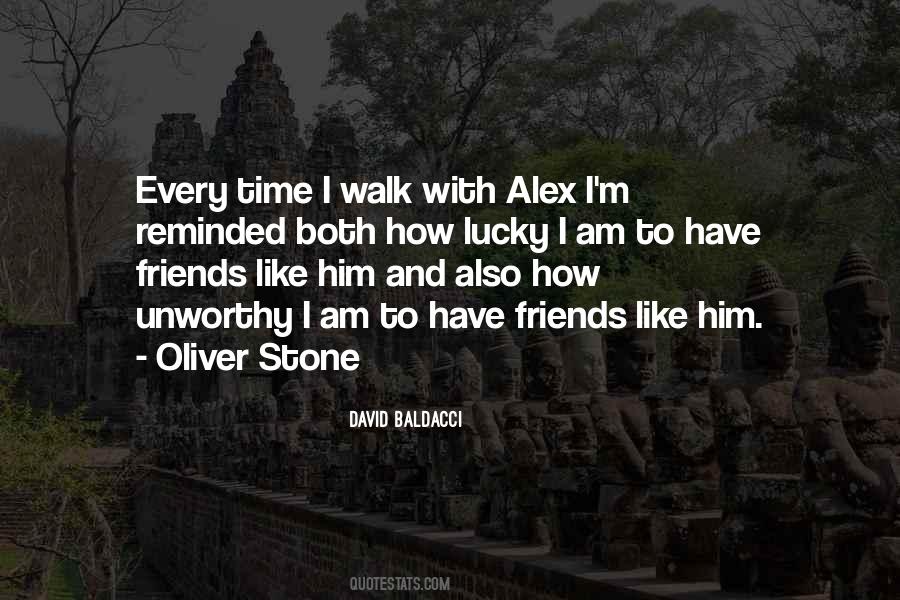 #9. I'm really lucky to have some super-talented friends. - Author: Charlie Worsham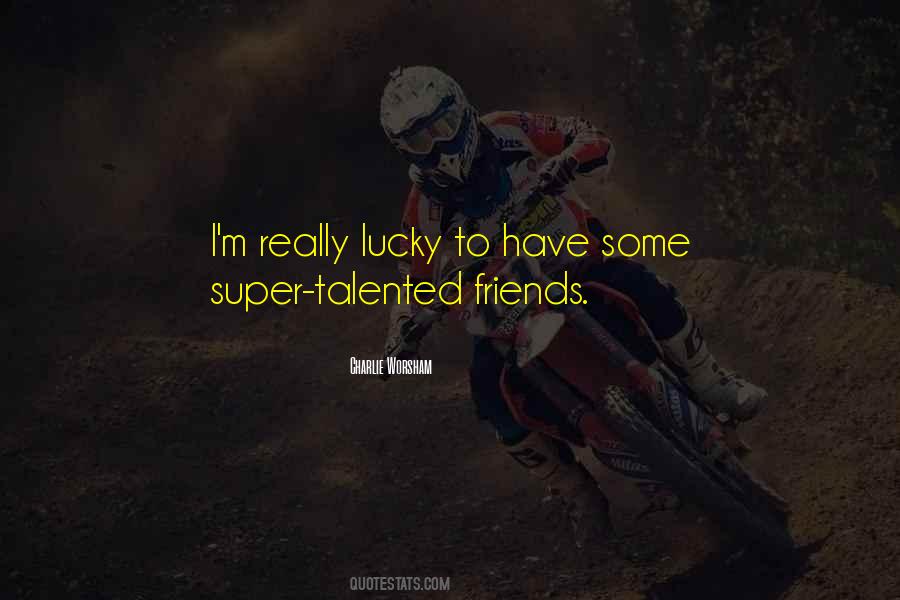 #10. In high school, I was lucky enough to have a big group of girlfriends that have really inspired a lot of the stories in my books. I'm still close with my friends from that time, so it's never very hard to put myself back into that place, that voice. - Author: Sarah Dessen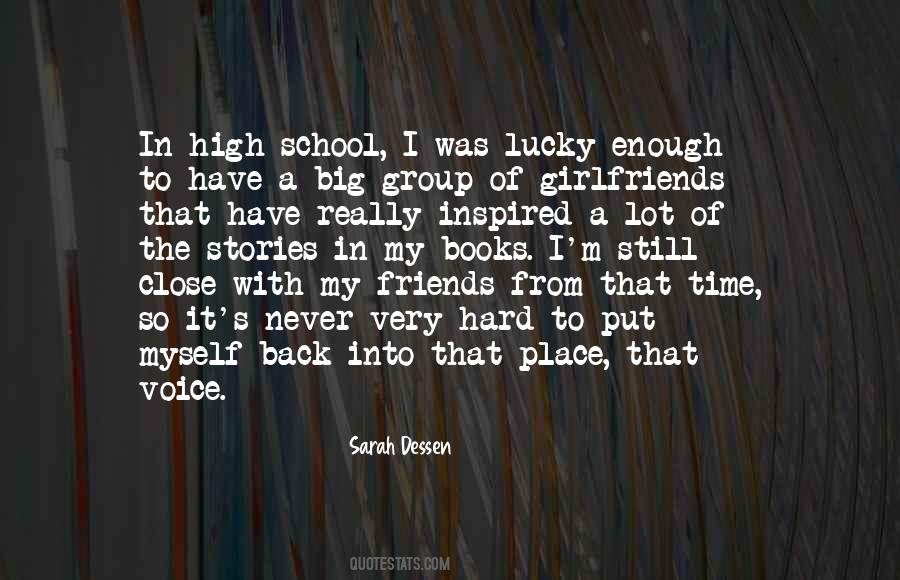 #11. For me, I'm lucky to have a lot of close friends - through football or through my family. - Author: Justin Tuck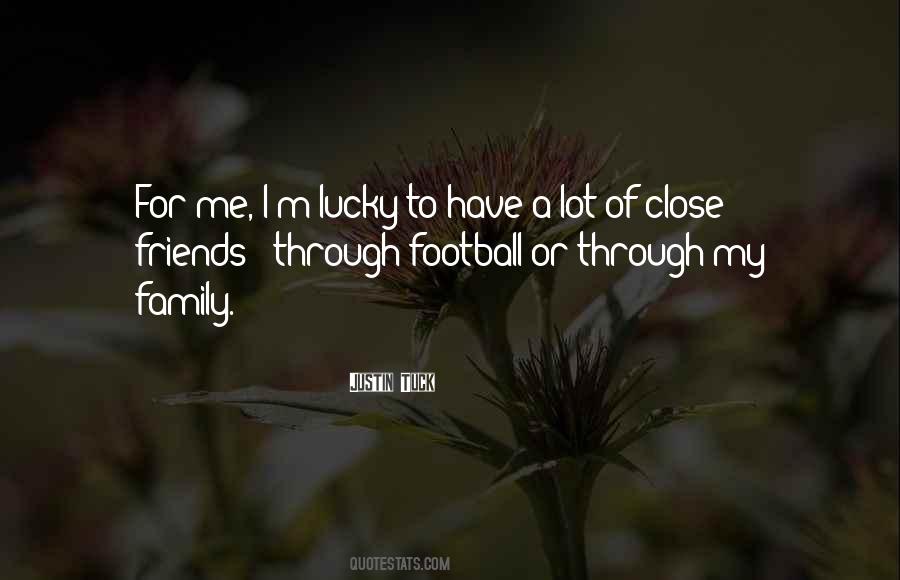 #12. When you grumble about a taxi being dirty, people your own age will absolutely agree with you, whereas younger people say, 'You should be so lucky to have a taxi - I walk to work!' So I have lots of young friends, who fortunately don't treat me as a guru, a person that knows all the answers. - Author: Ian McKellen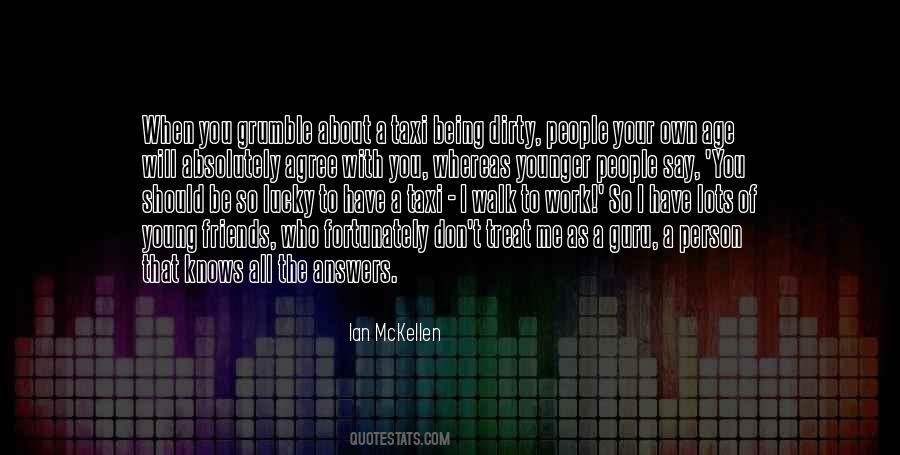 #13. I don't know who this quote is by but the friends that you can call at 3am are the ones that really count and I am lucky that I have a few of those. So, I just drew on that and the people who believe in me as they lift you up. It's really important to have people around you that do that. - Author: Emma Watson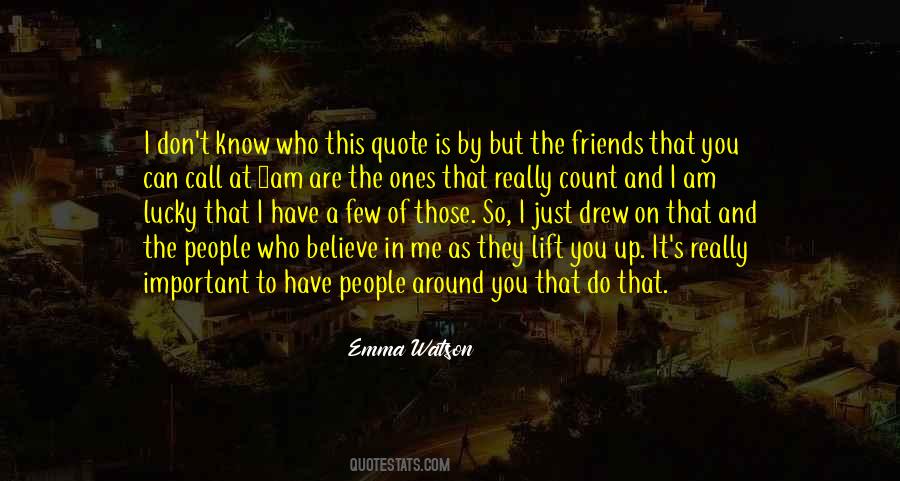 #14. I would never, ever desert my child. A lot of my friends didn't have fathers growing up, and they were very upset that their fathers weren't around. I was lucky to have mine around. - Author: Dwight Howard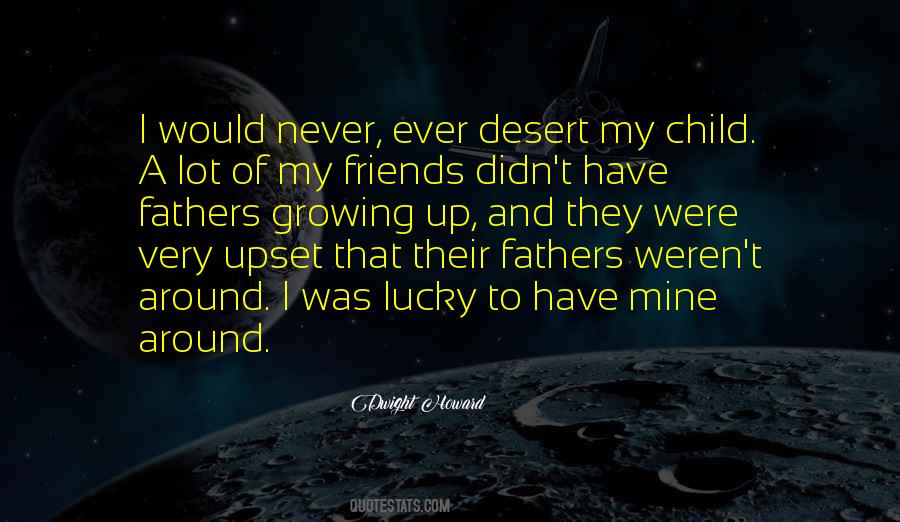 #15. I'm really lucky to have a lot of friends in fashion. I don't know if that's common, but I just get along with a lot of people. My really close friends are Ireland Baldwin, Kendall Jenner, Lily Aldridge and Devon Windsor. - Author: Gigi Hadid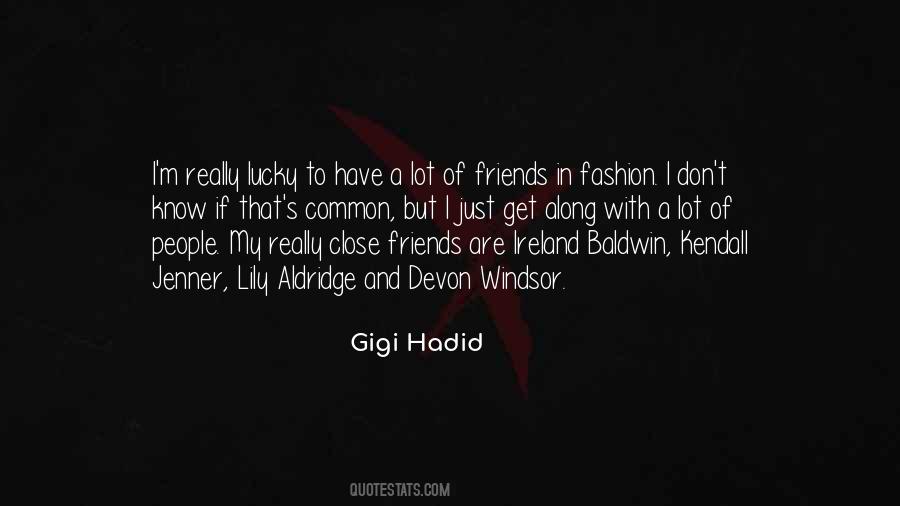 #16. I'm into eating salads and fish. I've always been a big fish eater. I like fruit. I have friends that you have to force-feed them the good stuff. I'm lucky I actually like it. Brussel sprouts and all that. - Author: Elisha Cuthbert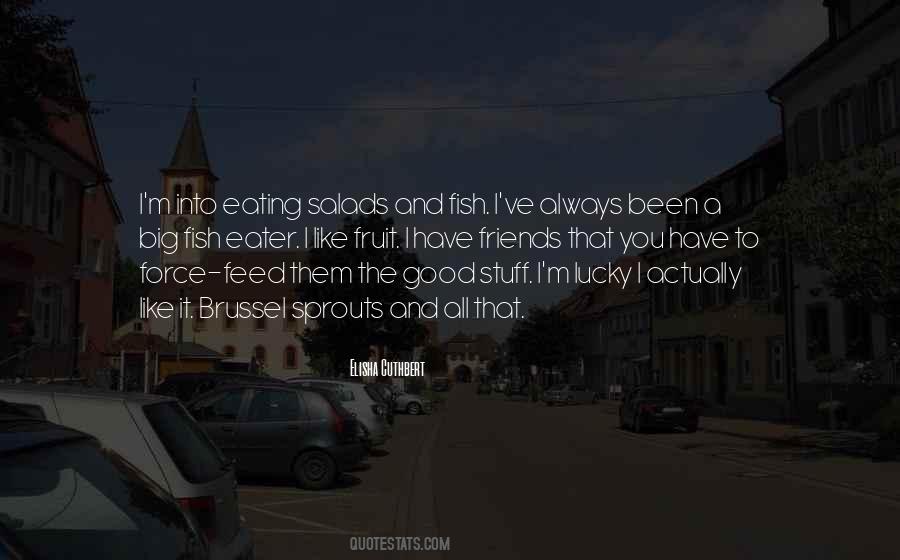 #17. I'm lucky in that I have close friends and family and my agent to advise me. - Author: Imogen Poots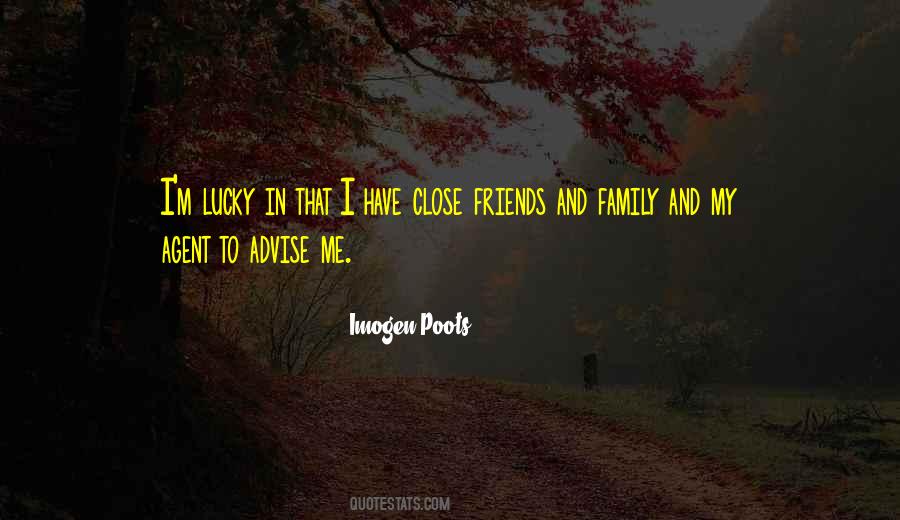 #18. I have been very, very lucky because I have my health, a wonderful husband, family, and friends, and I get to do what I love. - Author: Daphne Oz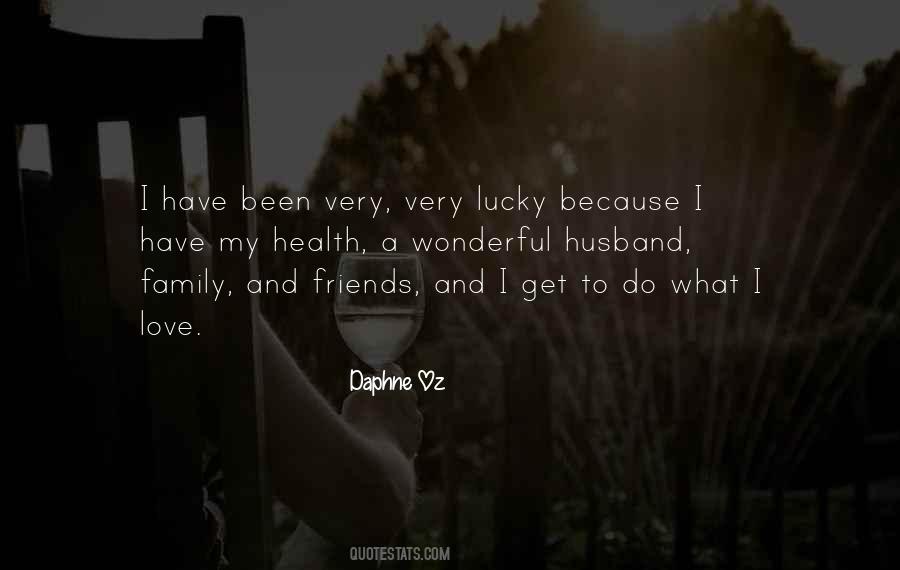 #19. Mariacarla Boscono has taught me a lot, and I have been lucky enough to become good friends with so many amazing models. - Author: Kendall Jenner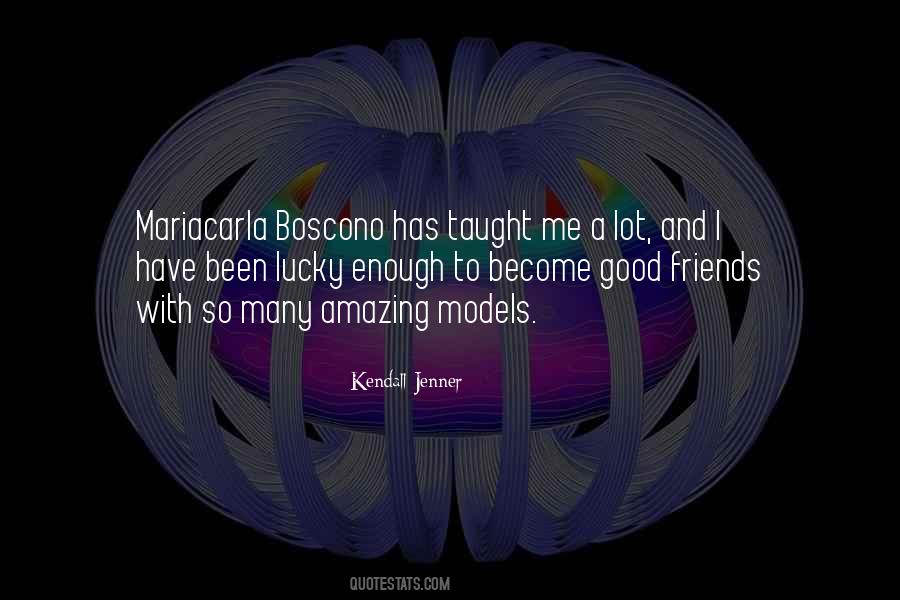 #20. So many of my friends are still trying to get record deals, and I've had one for 10 years now, where my only goal is to make the best music I can make. I've been very lucky. I have great faith that I'm exactly where I'm supposed to be, and whatever happens is going to be absolutely right for me. - Author: Jane Siberry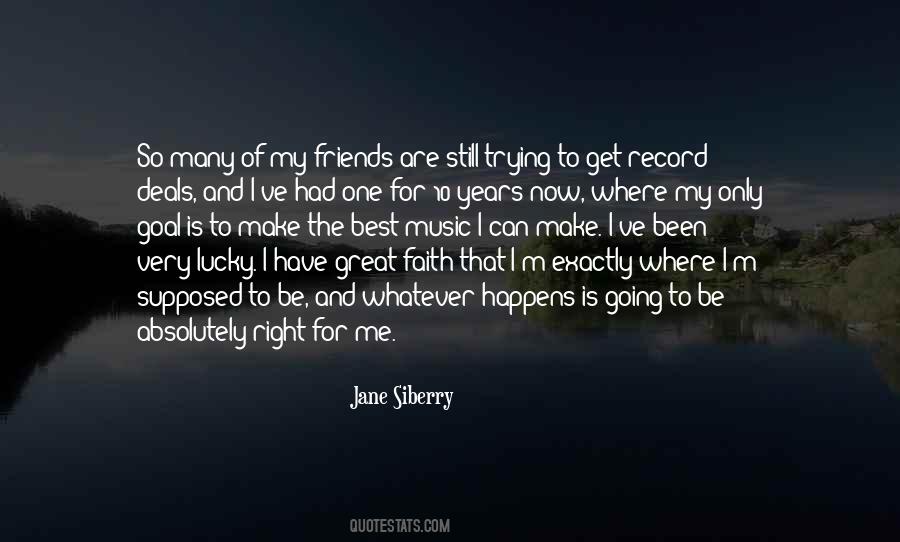 #21. Most actors are lucky to ever get a job, period. I never forget that, because I have so many actor friends in L.A., and most of us barely ever work. And those of us that do, it's still only 60 days out of the year that we're actually on camera. It's an absurdly low number. - Author: Emile Hirsch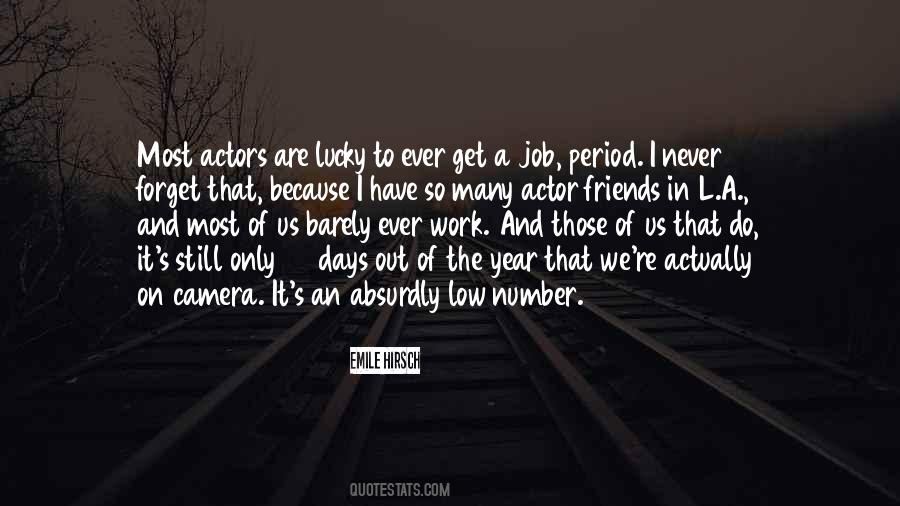 #22. Amanda knew she was lucky to have a friend like Laura, somebody who was always there to back her up. It made it easier to be brave, easier to do the right thing. - Author: Annette Cascone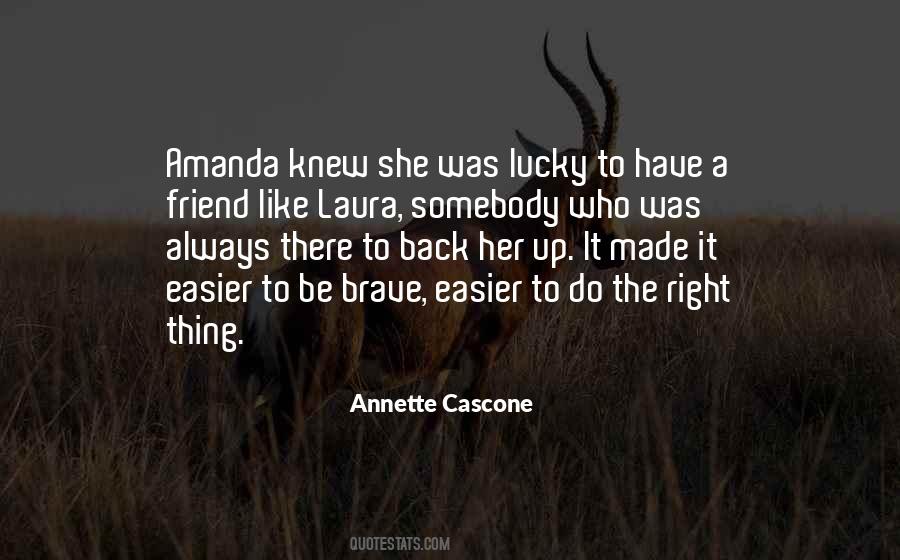 #23. Dear friends, do you know that you are lucky people? You don't have any cows to lose. - Author: Thich Nhat Hanh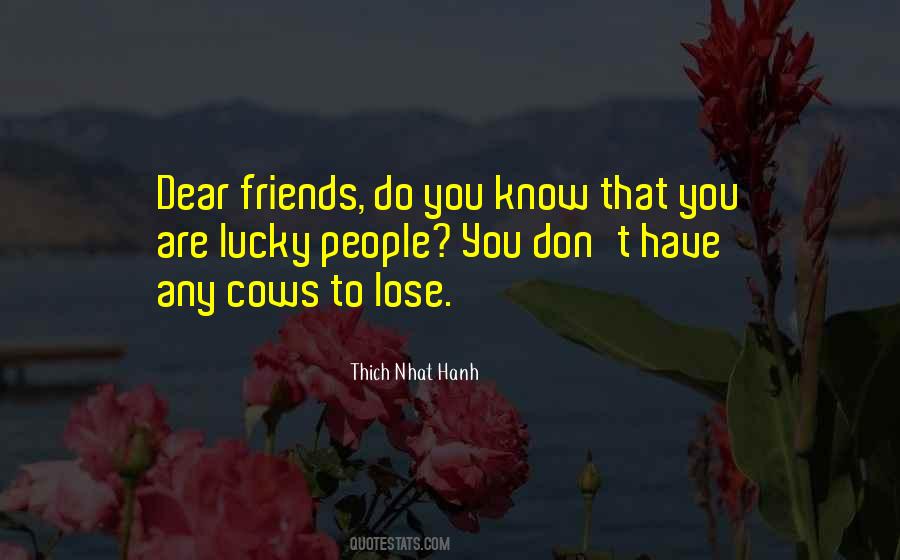 #24. I'm lucky to have a great support system in my friends and some of my family. If you have those people that you trust, go ahead and fall back into them and let them be your hammock and cocoon and let them embrace you. - Author: Jojo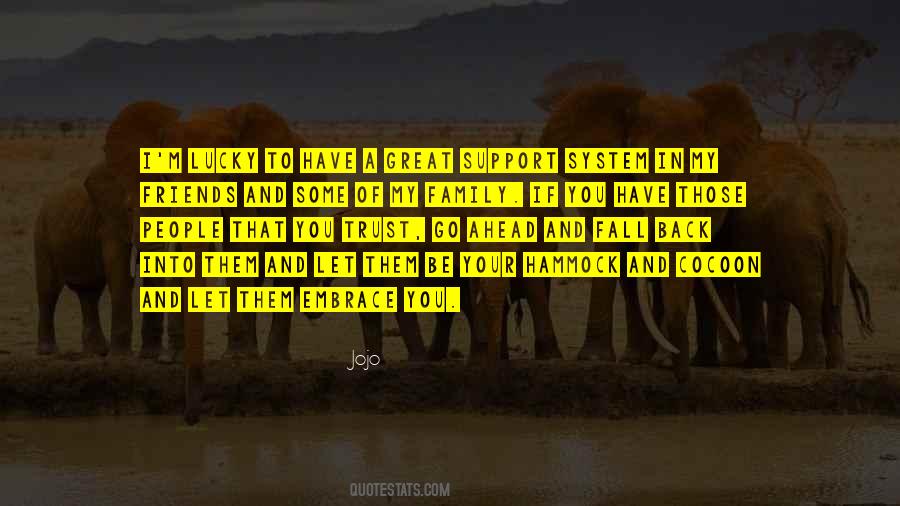 #25. I love my wife and I know she loves me. We're best friends. We're just lucky to have found each other. It takes a lot of work but I just feel very blessed that I found the right person. It's a very fortunate situation and not everyone has that. - Author: Harry Connick Jr.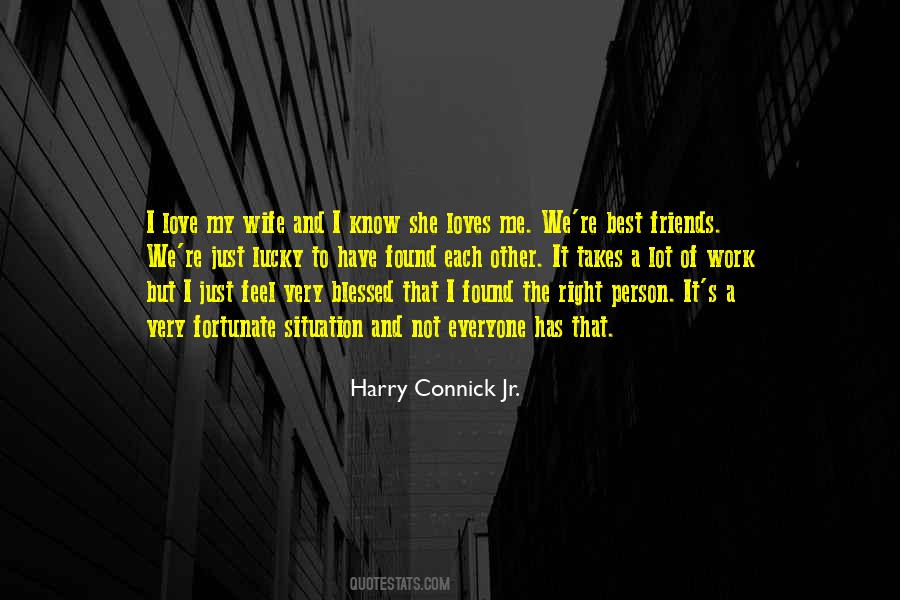 #26. I'm just lucky to have the type of friends and musicians and people dedicated to my music that I do. - Author: Wynton Marsalis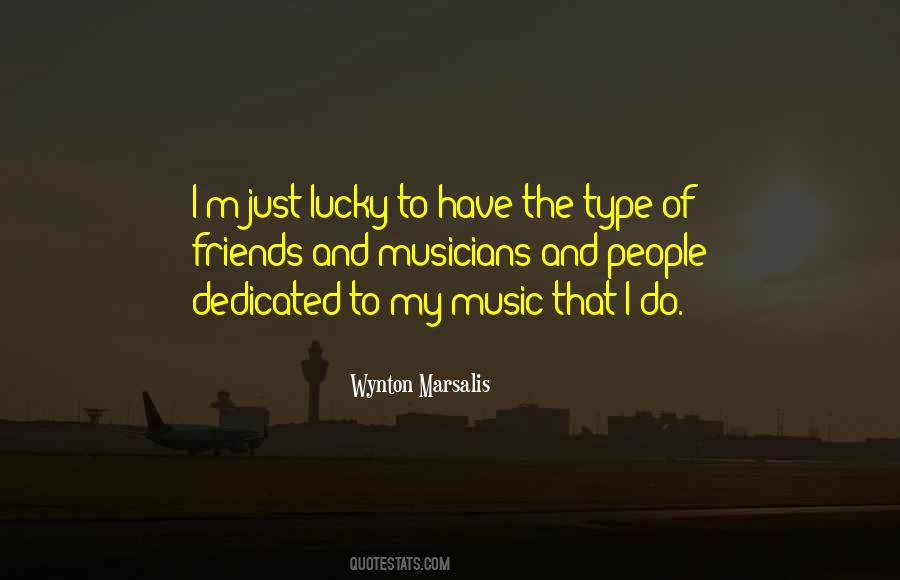 #27. We were born to be friends. We both knew it. The Australian Aborigines have the traditional belief that a complete human being comprises two parts that are split before birth, that we spend our lives seeking the other part to make ourselves whole again, and that only the lucky succeed in doing so. - Author: John Grant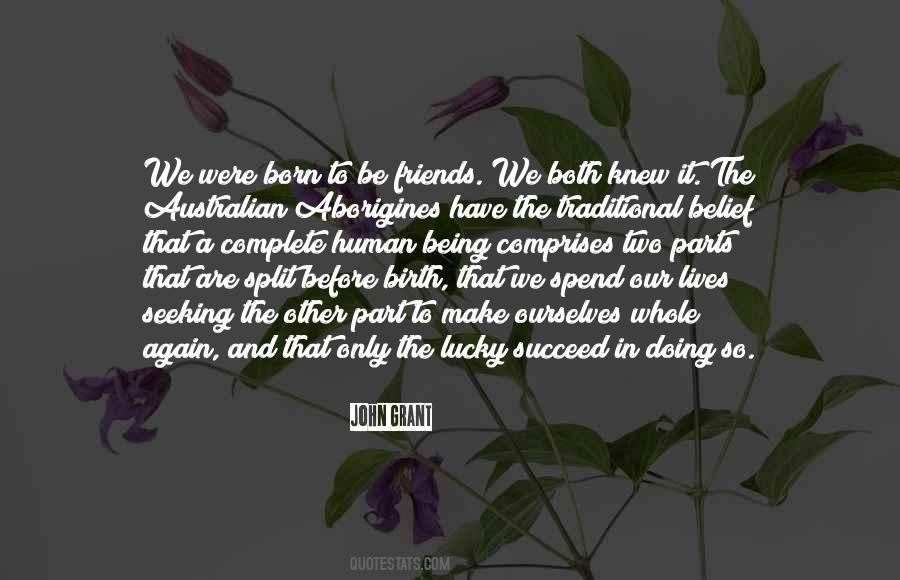 #28. I have friends who are in the posh category and some who are in the not-at-all-posh category, and some who you would find it very hard to get any sort of handle on. But I am lucky to have any friends, of course. - Author: Jools Holland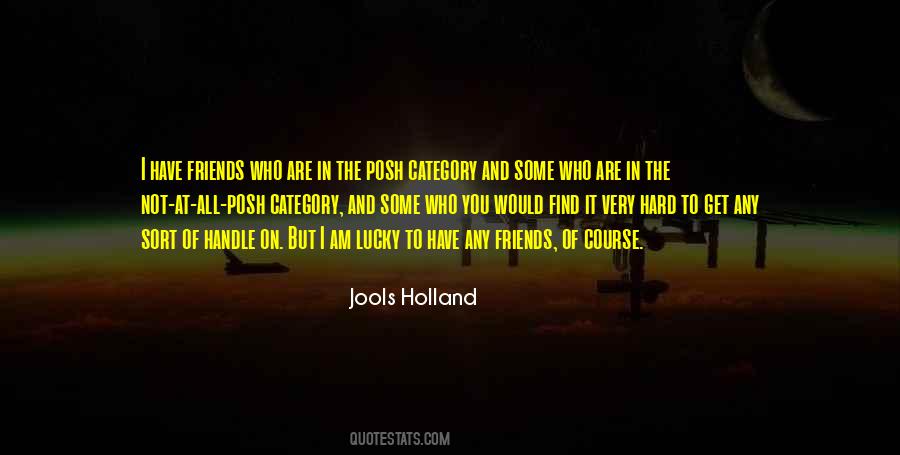 #29. There have been times when people who weren't my friends all of a sudden became my friend. I won't allow them to use me, but I have been pretty lucky to have friends who have supported me and who I have known since I was 12. They are still the same and they don't treat me any different. - Author: Lalaine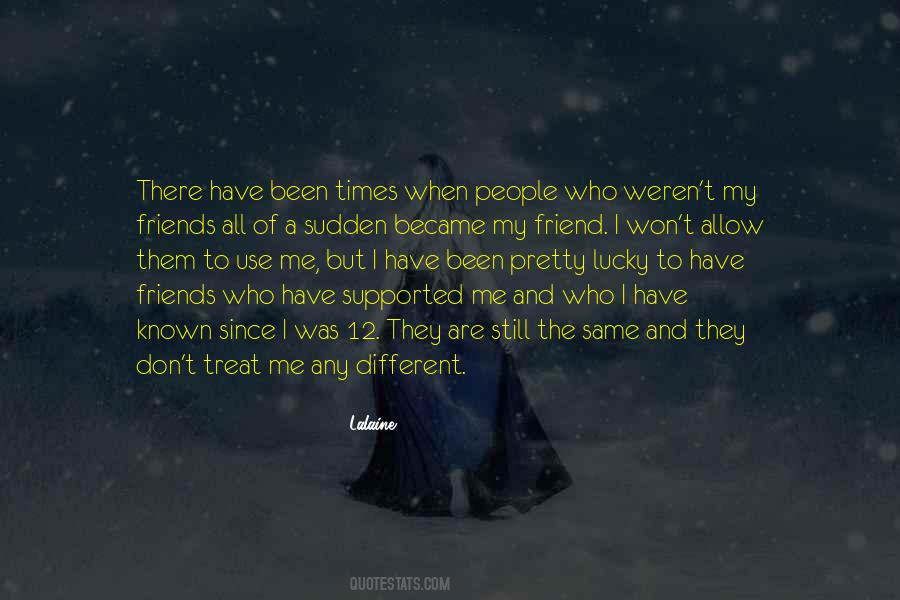 #30. I've been lucky enough - well, maybe unlucky enough - to have had a lot of friends who have had their ups and downs. And for an actor, that's good. Life experience in any regard is good. So I've seen a lot and I've had my own experiences. - Author: Chris Evans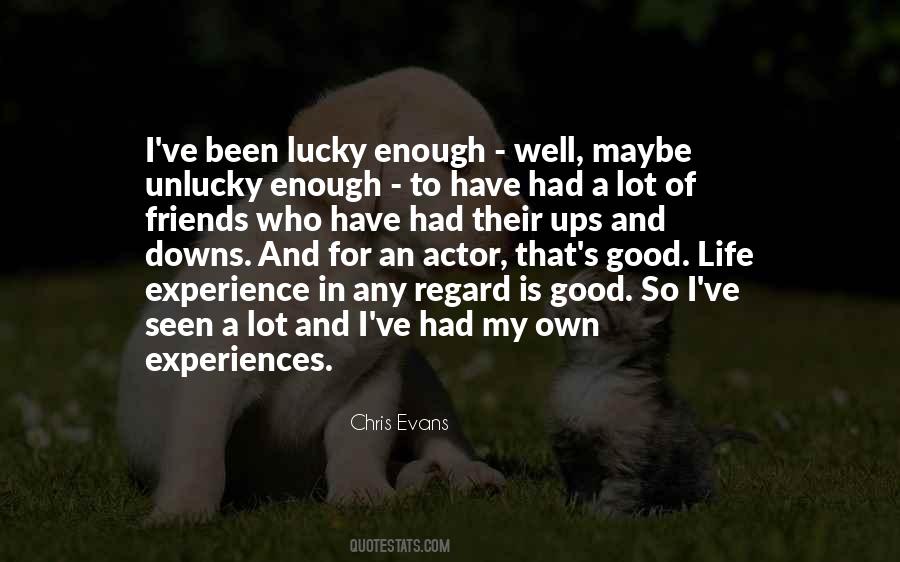 #31. I think it's very hard to find a good friend. That's why I'm so lucky to have two sisters, because they're my best friends, and they have to be with me forever. They're stuck with me. - Author: Kate Upton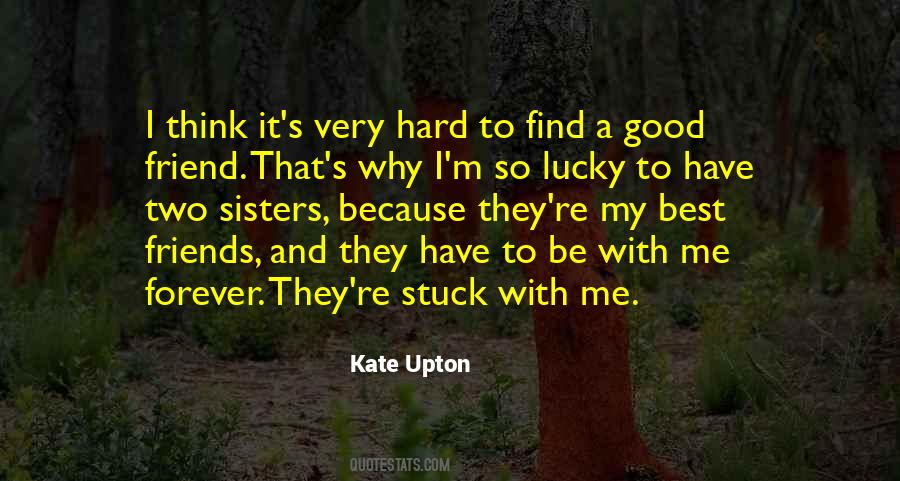 #32. I was lucky enough to have great mentors both in the culinary world and in the world of chefs who became celebrities. Bobby Flay is one of my dearest friends and a tremendous mentor for me. Mario Batali is the same way. They began doing TV a little before me and they showed me the way. - Author: Michael Symon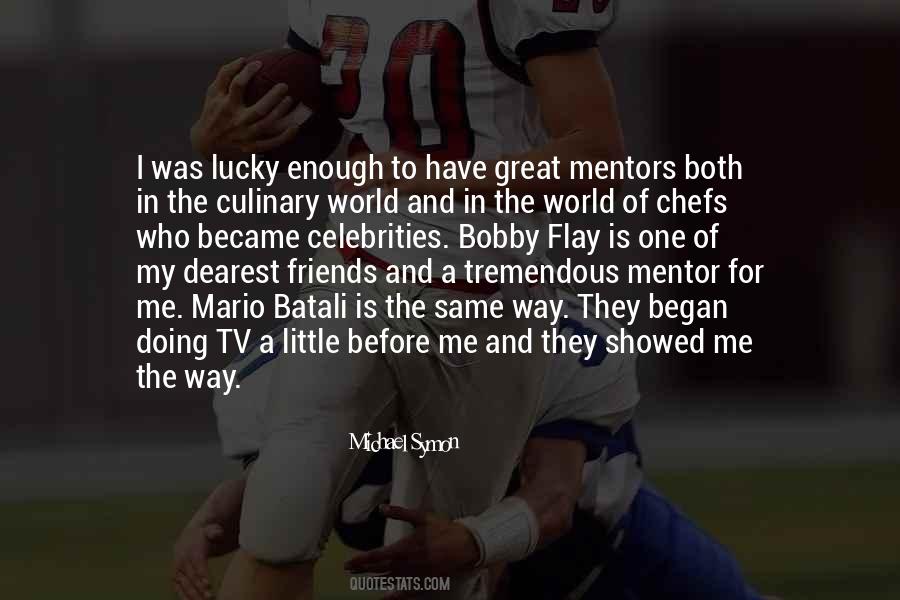 #33. I have smoked marijuana, but I no longer do. I went to art school in the 1960s so you can imagine what was going on. Yet my friends were the ones who said, "No, no, no, David, don't take those drugs." I was pretty lucky. - Author: David Lynch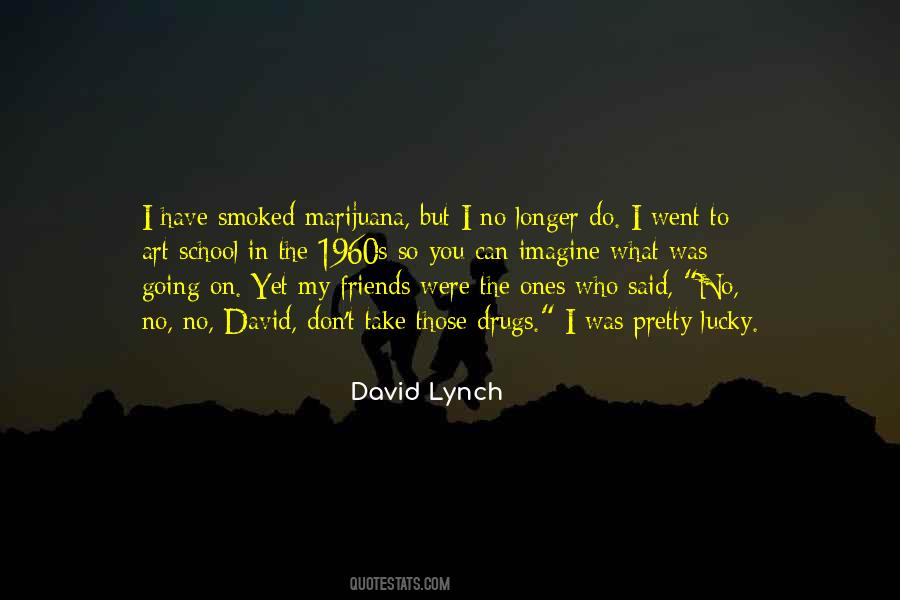 #34. I went to a lot of different high schools. I had quite a sporadic schooling experience. I went to school in England briefly, to boarding school, and I went to a few different ones in Australia as well. I'm really lucky! I have friends in most countries. - Author: Alice Englert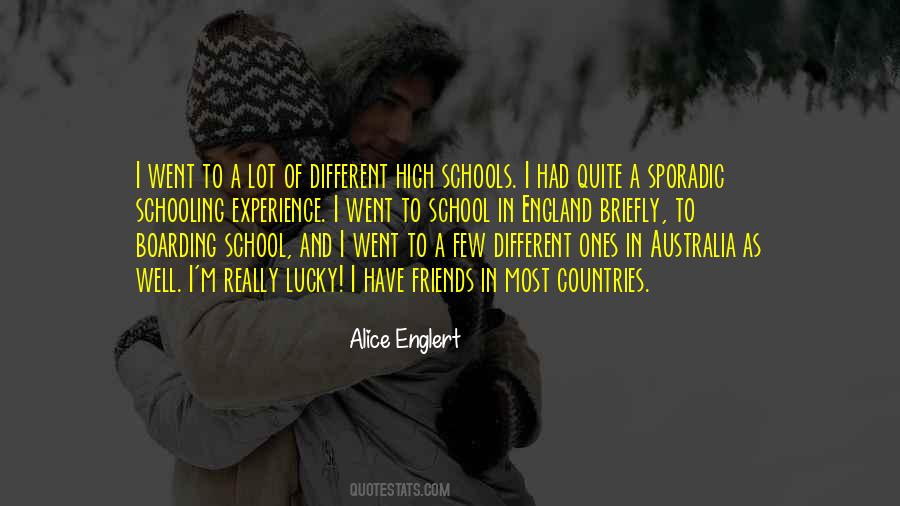 #35. I'm very lucky to have a strong support system with my friends and my family. They have kept me grounded. - Author: Kelsey Chow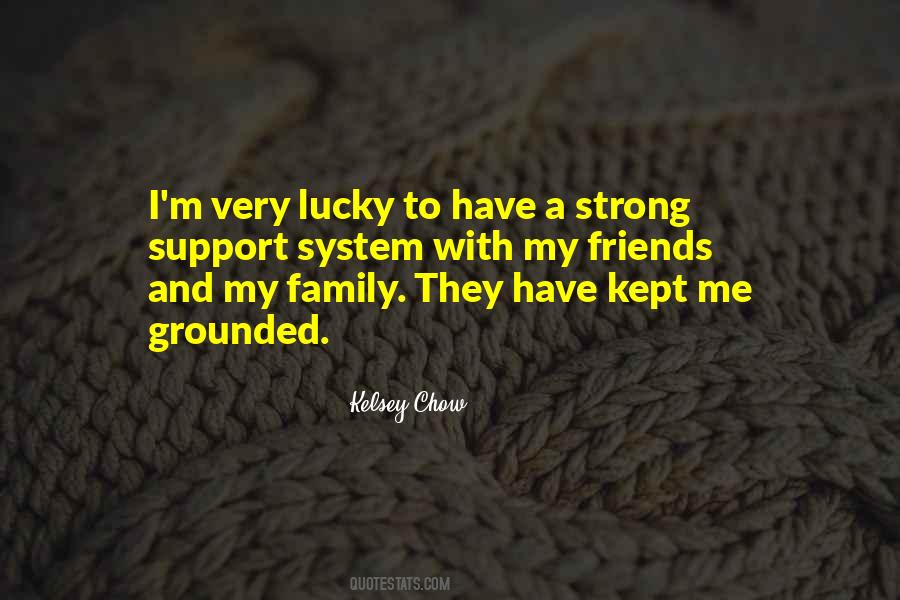 Famous Authors
Popular Topics