Loving Something Famous Quotes & Sayings
List of top 100 famous quotes and sayings about loving something to read and share with friends on your Facebook, Twitter, blogs.
Top 100 Quotes About Loving Something
#1. humans are fully capable of loving cats and dogs and tropical fish. If they can love something much less intelligent than humans that does not talk and looks nothing like them, why can they not love one another? Certainly, - Author: Hiroshi Yamamoto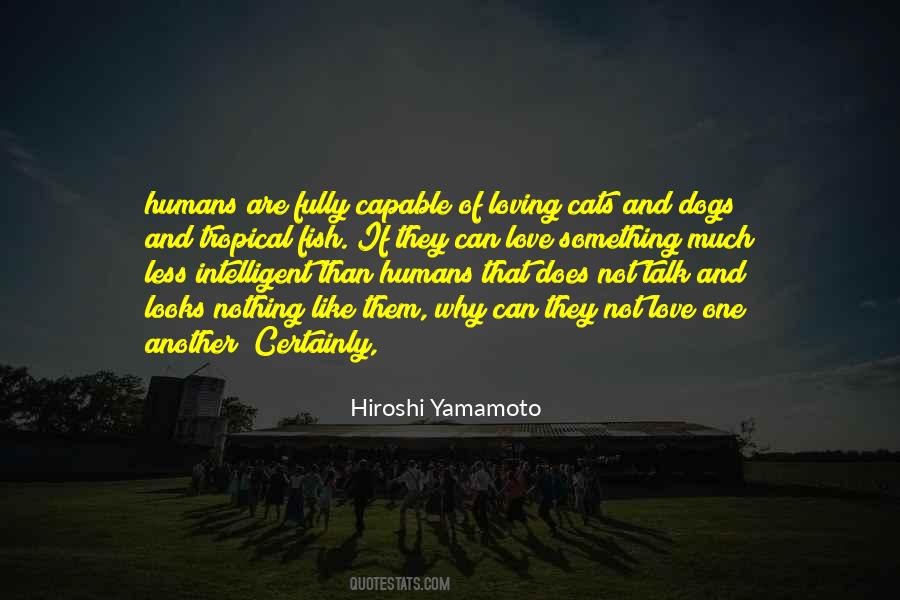 #2. You can see that in people around the world who struggle to survive with little or nothing. Whether they've been inspired by faith or by loving relationships, or whether it's just something innate that gives them that ability to shine and inspire others. - Author: Queen Noor Of Jordan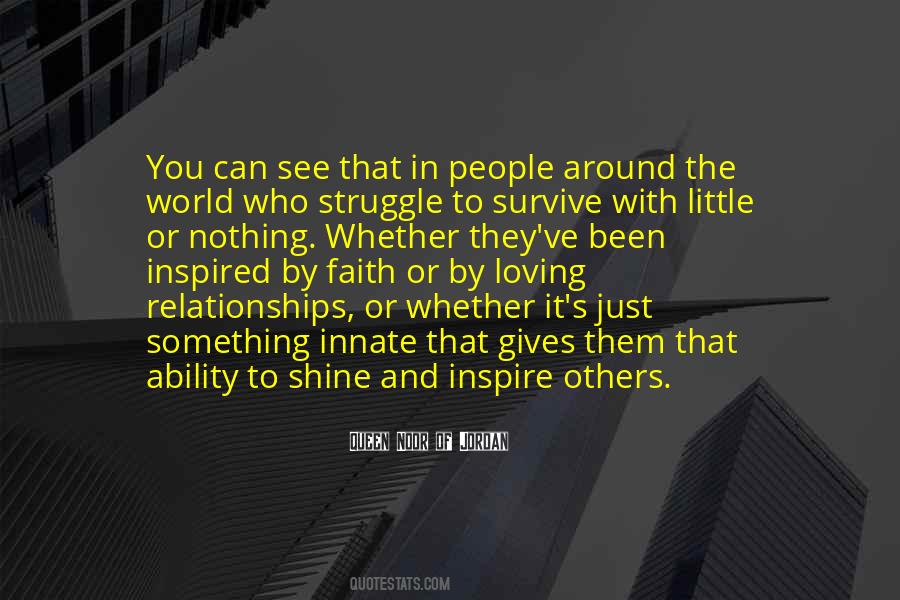 #3. Python is much more like a dog, loving you unconditionally, having a few key words that it understands, looking you with a sweet look on its face (), and waiting for you to say something it understands. - Author: Charles Severance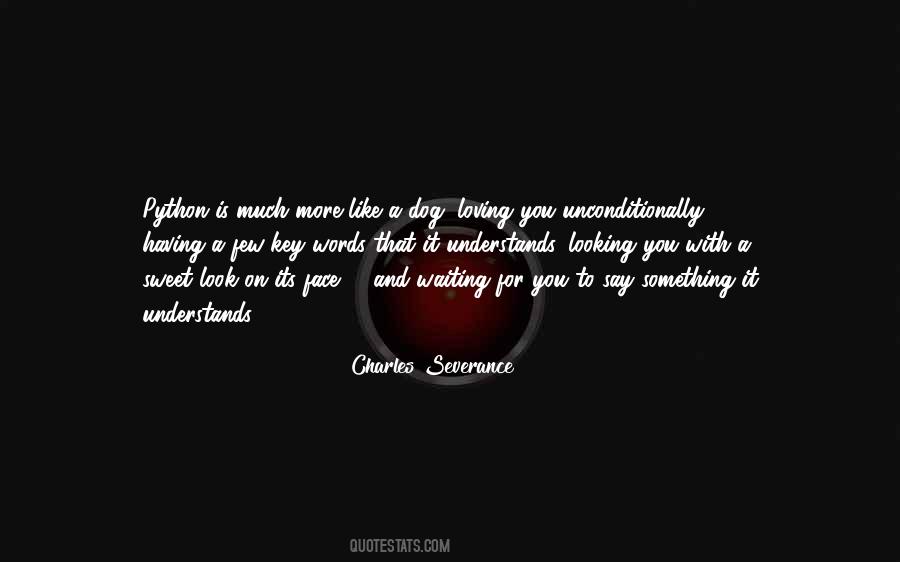 #4. I look for individuality in the artisans I work with for CoutureLab; a loving relationship with the product and care in the construction, along with the story behind it, make couture desirable to consumers looking for something that cannot be mass-produced. - Author: Carmen Busquets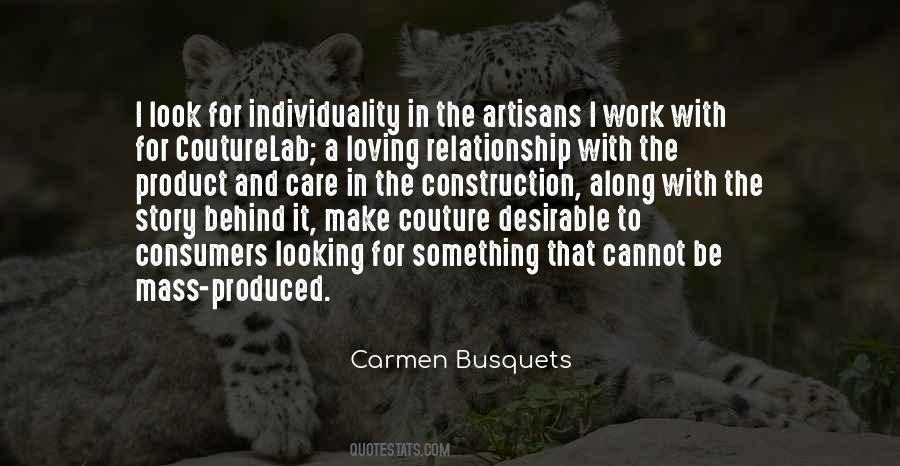 #5. There was something I wanted, something I envisioned, loving parents, a happy home with everyone smiling at me. A home that no one would ever want to leave, a warm place , a warm person. It exists, I know it does - Author: Natsuki Takaya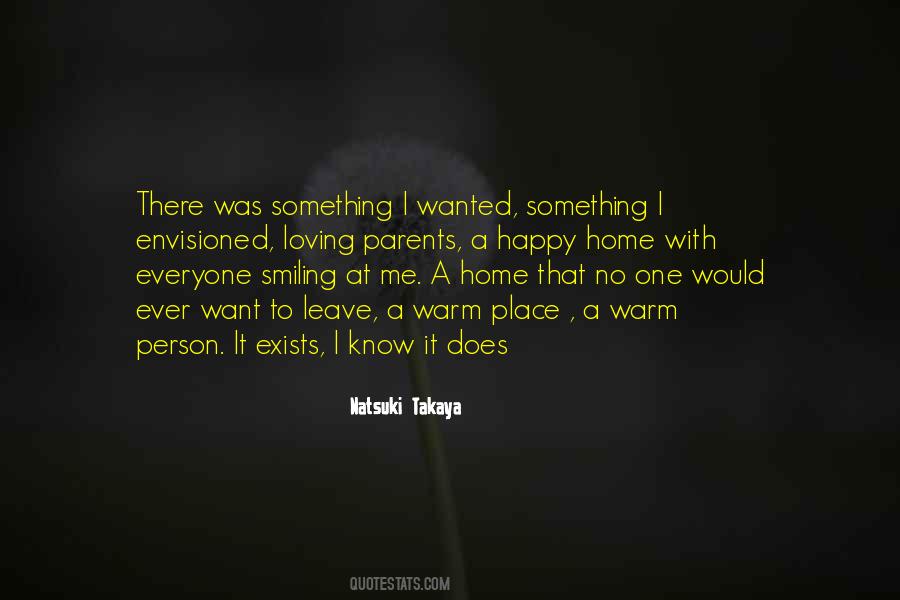 #6. Sail forth into the sea of life, O gentle, loving, trusting wife, And safe from all adversity Upon the bosom of that sea Thy comings and thy goings be! For gentleness and love and trust Prevail o'er angry wave and gust; And in the wreck of noble lives Something immortal still survives. - Author: Henry Wadsworth Longfellow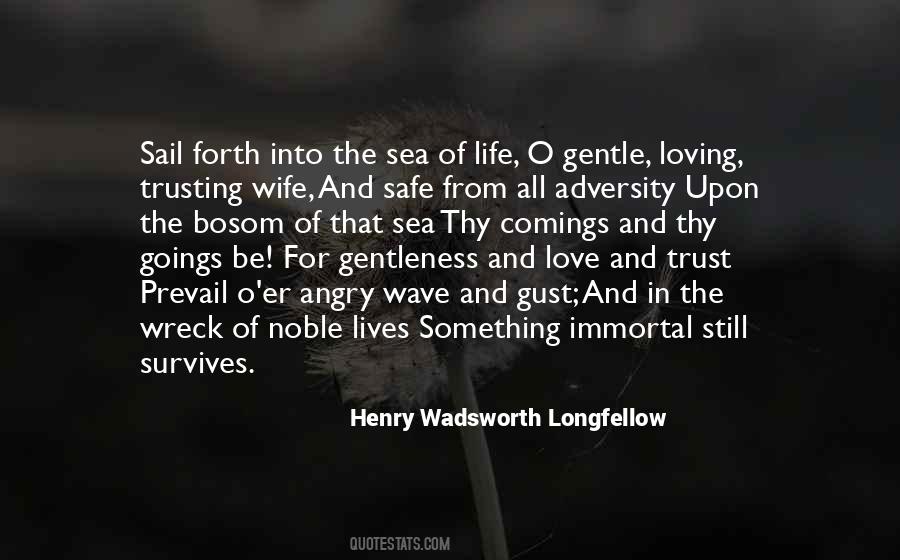 #7. Something inside you emerges ... an innate, indwelling peace, stillness, aliveness. It is the unconditioned, who you are in your essence. It is what you had been looking for in the love object. It is yourself. - Author: Eckhart Tolle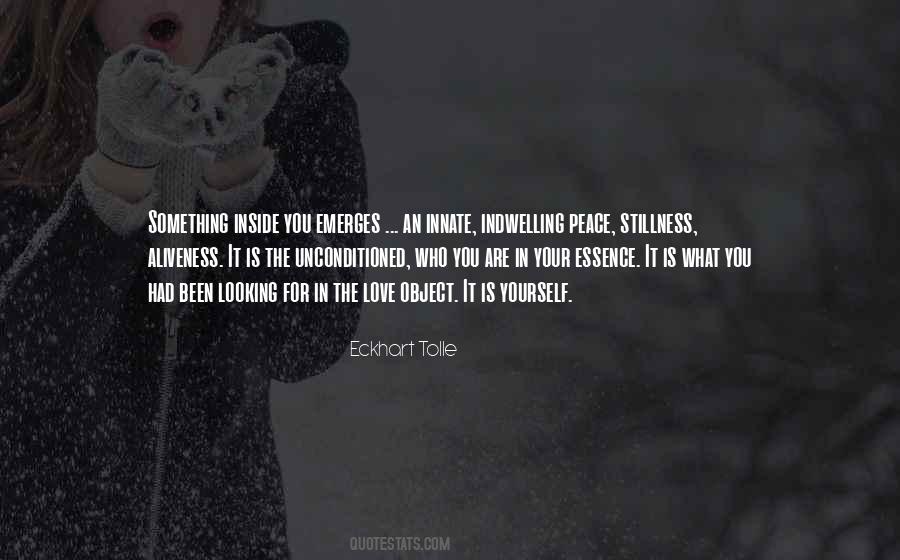 #8. You can only master something by loving it. - Author: Lera Auerbach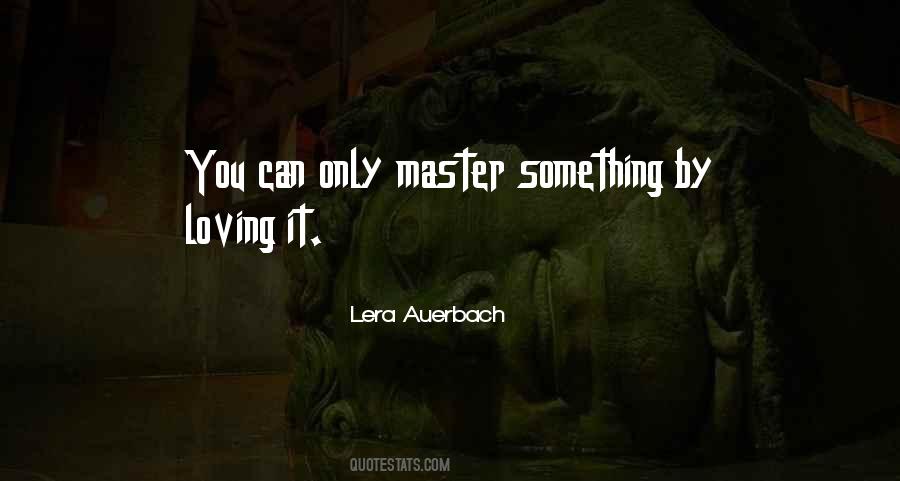 #9. It's hard loving someone more than they love you, and it's something I have to deal with. - Author: Nora Roberts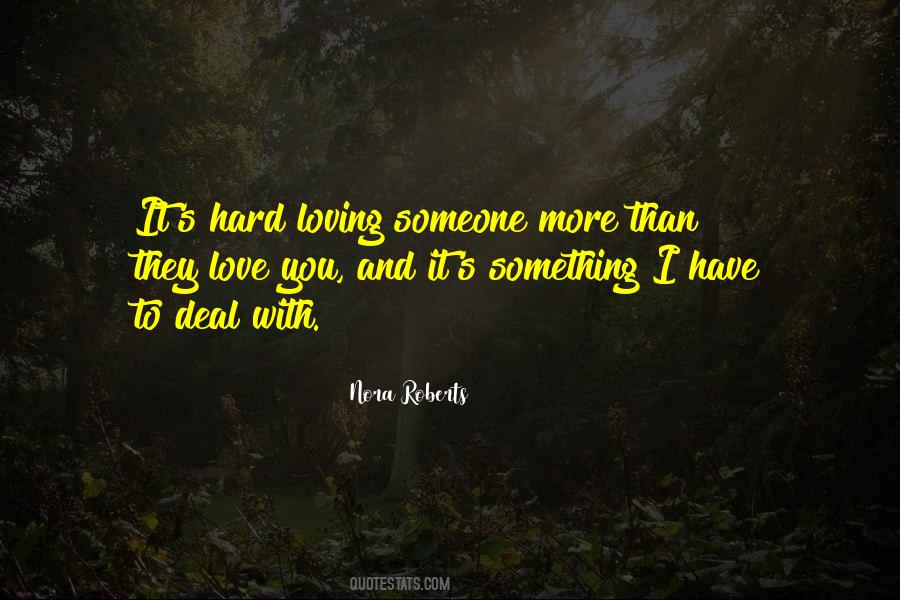 #10. If you want to know what you are here to do, how you can be more loving, or how to get through a difficult situation, my answer is always meditate. The difference between prayer and meditation is that when we pray, we are asking for something, and when we meditate, we are listening to the answer. - Author: James Van Praagh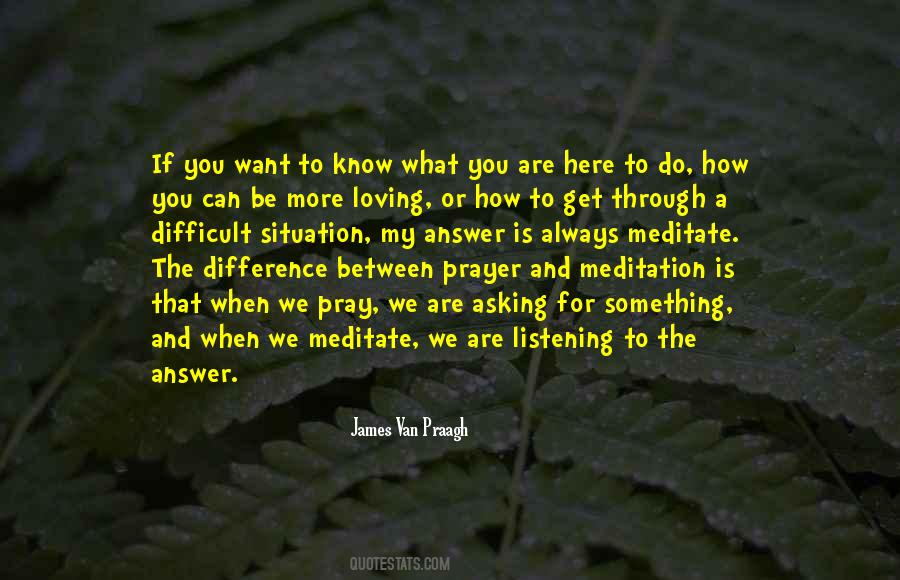 #11. A soul cannot live without loving. It must have something to love, for it was created to love. - Author: St. Catherine Of Siena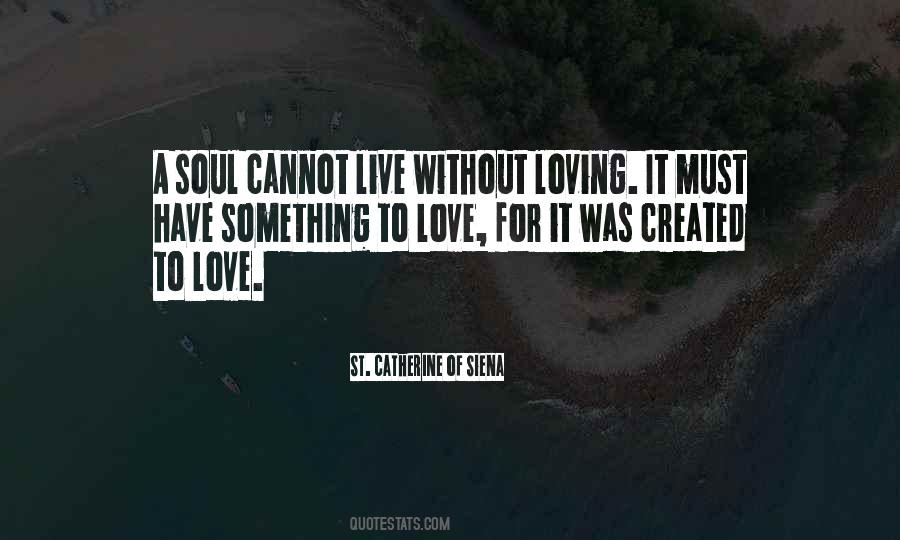 #12. Part of being a revolutionary is creating a vision that is more humane. That is more fun, too. That is more loving. It's really working to create something beautiful. - Author: Assata Shakur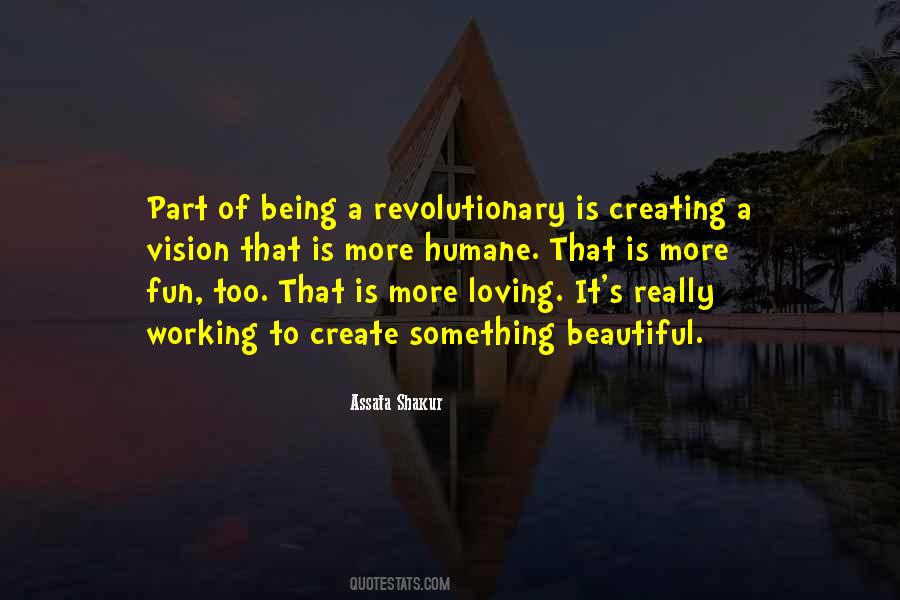 #13. You think it can't get worse than wanting someone and not having them, but it can. You can want someone, have them, and want them more. Still. Always. You can never get enough. - Author: Michelle Hodkin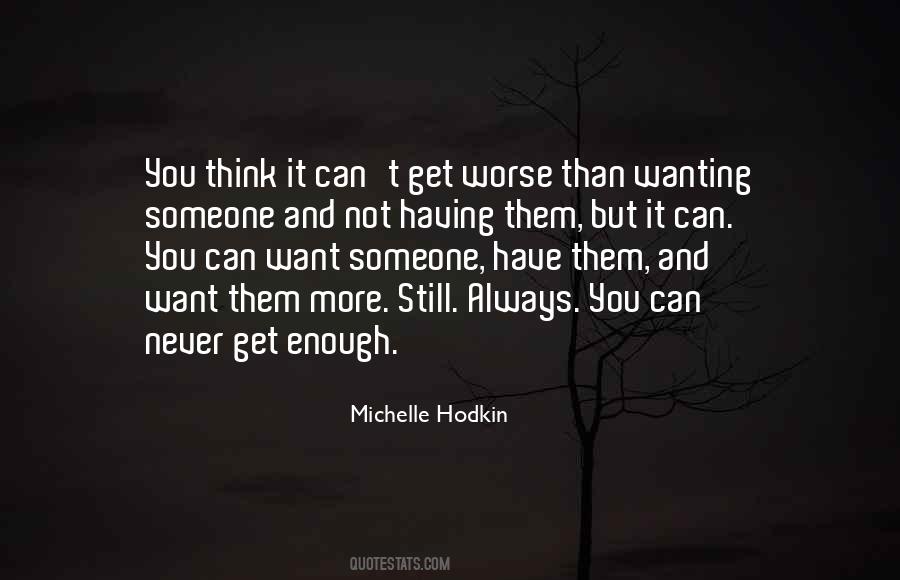 #14. Remember that worrying will not go away by thinking the same thought again and again. Thinking something fresh, loving and uplifting instead of worrying. Replace your worse anxiety with cheerful optimism. - Author: Angelica Hopes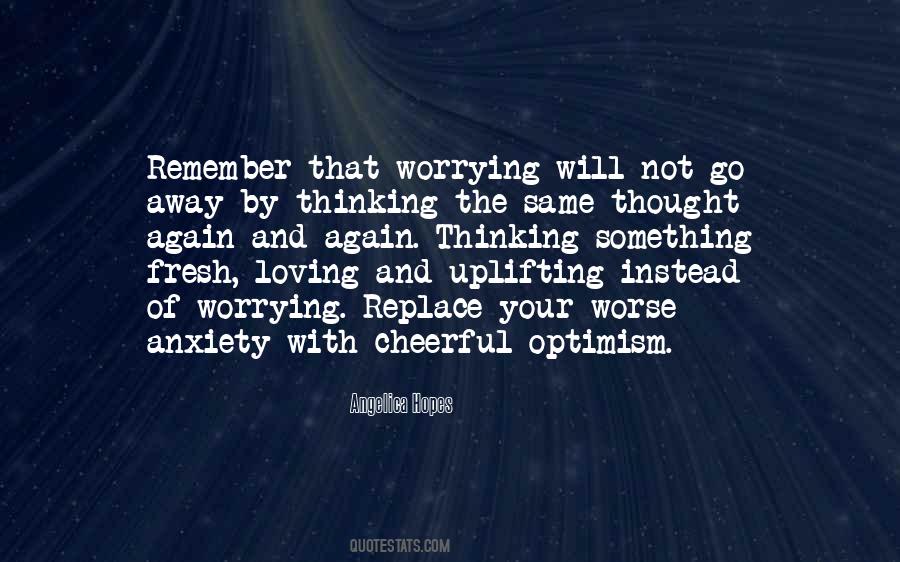 #15. Marriage is something that needs to be worked on every day. I don't know if I'm the one to give marital advice since I've only been married for a little over a year, but marriage is certainly easier if you are open, trusting and loving. - Author: Emily Blunt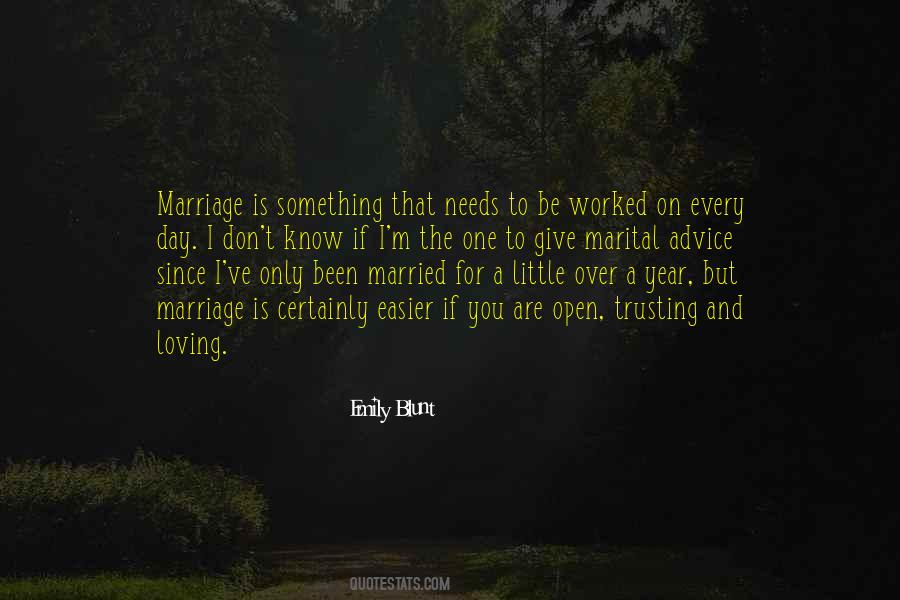 #16. I wasn't encouraged to write just stand there and sing and I never thought I was a writer. I always figured if I couldn't write something as good as "He Stopped Loving Her Today," then what's the point? - Author: Shelby Lynne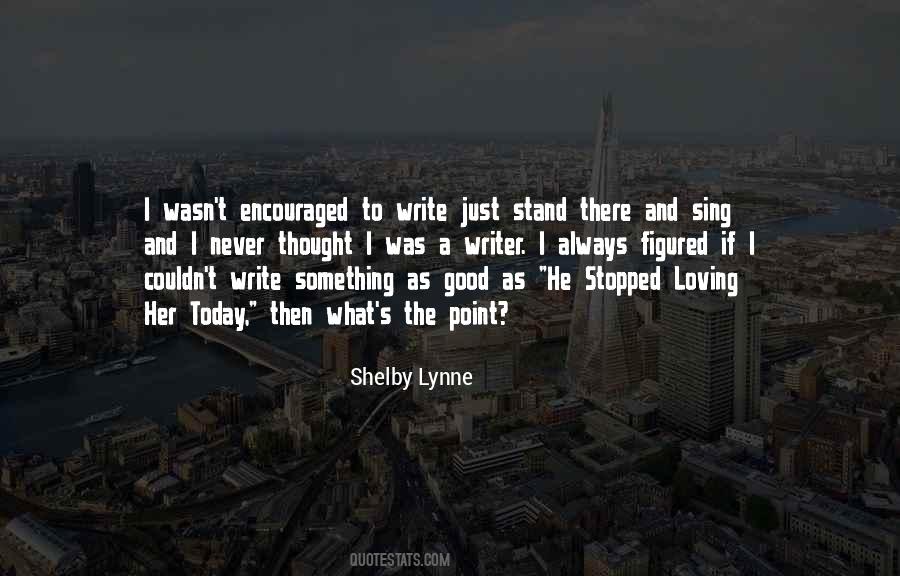 #17. It's funny. You love something and one day it's suddenly gone or changed or lost forever. But somehow that doesn't stop your loving. Maybe that's how you know it's the real thing. - Author: Tony Parsons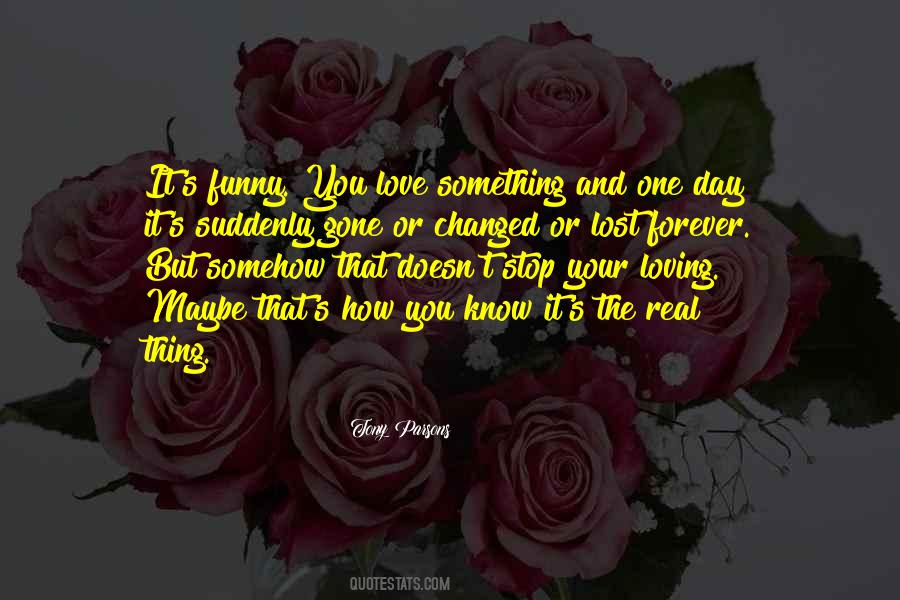 #18. Being Jewish means loving something that's gone. Your parents, your grandparents, the place they came from. Jerusalem itself. Creation. - Author: Michael Davidow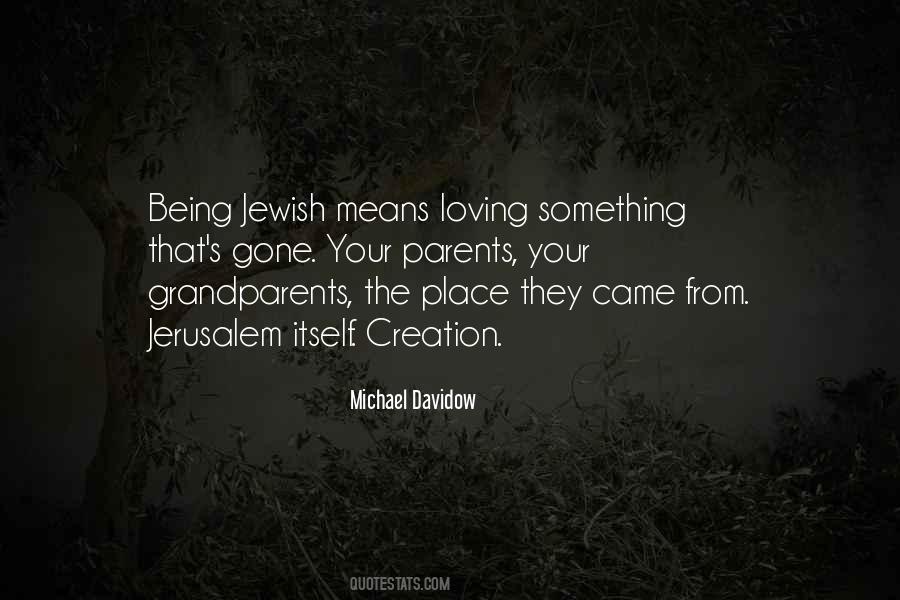 #19. Love is a way of being, not something you give. When a person is truly loving, he is love. - Author: Deepak Chopra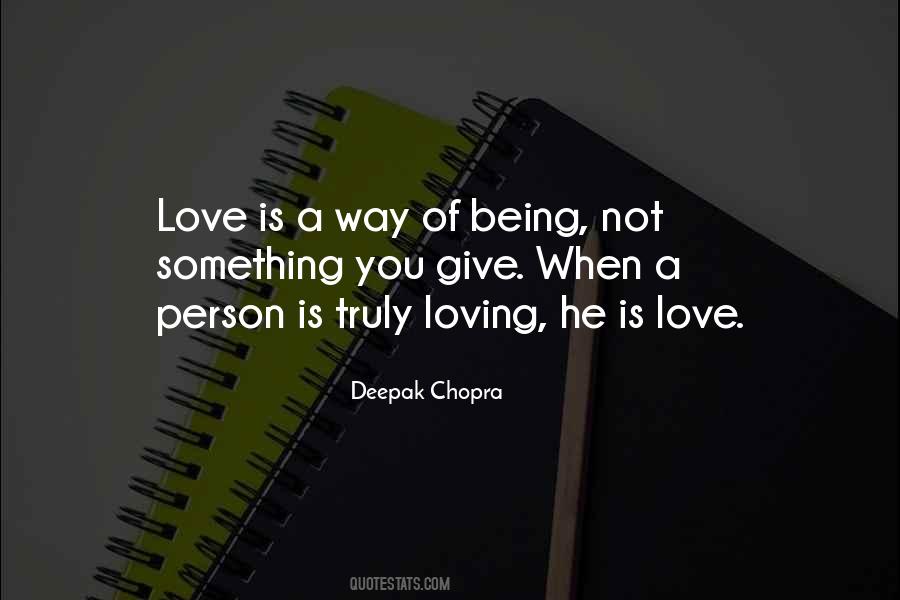 #20. Thus is the nature of love: that you must use it! A love unused is not love! If it is something that sits on the shelf that you don't know what to do with, it is not true to the nature of love! Use love! - Author: C. JoyBell C.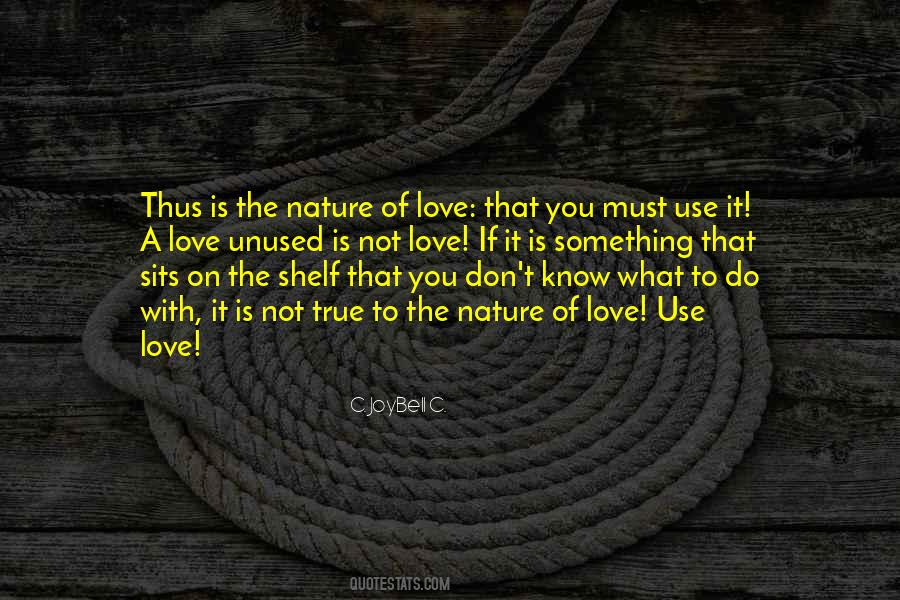 #21. I am the result of a loving upbringing in a peaceful country, with wonderful parents and siblings, a very long-term relationship, stability, support - but a feeling that life isn't always just and that there is injustice for people and we should do something about it. - Author: Michael Kirby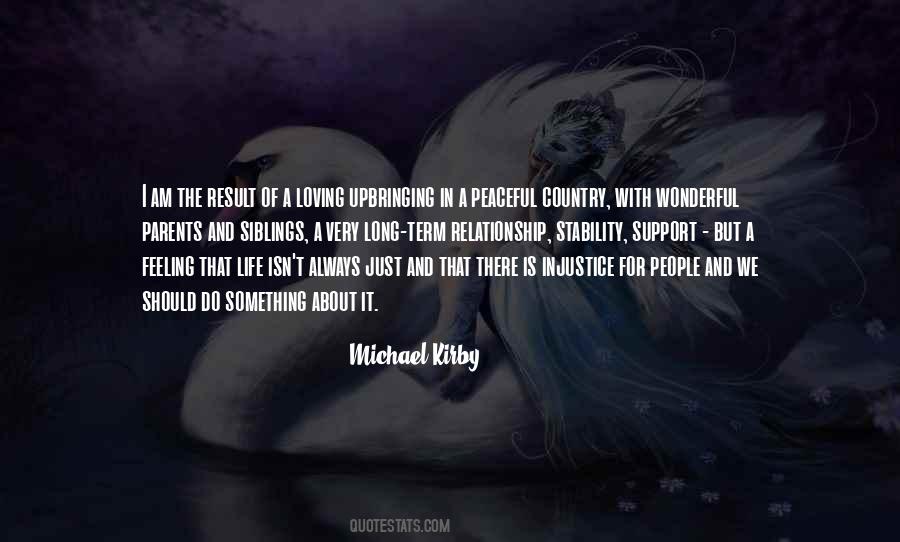 #22. True love is something, so very true and very rare to find. So, if you ever find such a thing. Treat it as if it were some treasure. Because, once you find such a thing and set free; it will not ever return. So, treat it as if its your most precious gift ... - Author: Jynnette L. Miller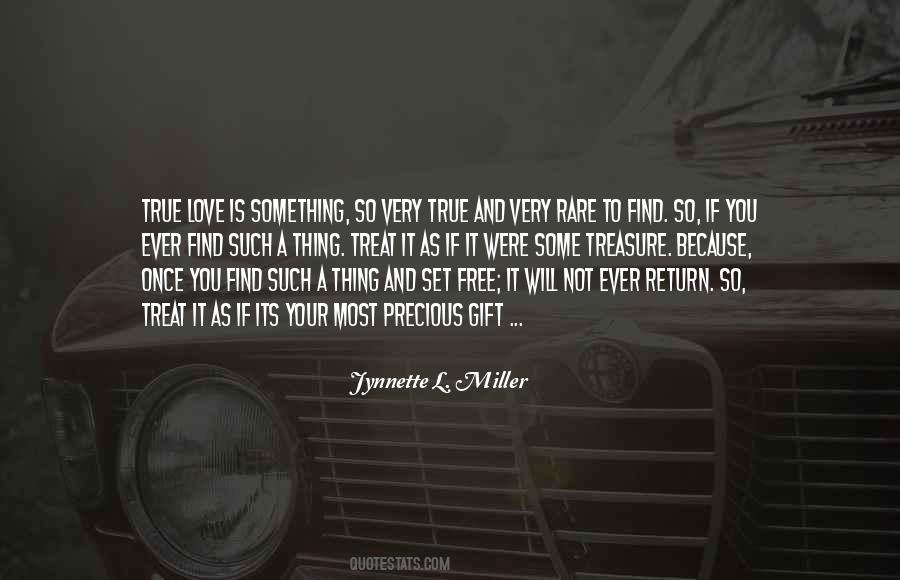 #23. Let me tell you a little bit about demons. They love pain and other people's misery. They lie when it suits them and don't see anything wrong with it. They corrupt and kill and destroy, all without conscience. You just don't have the capacity for something as honorable as loving another person. - Author: Brenna Yovanoff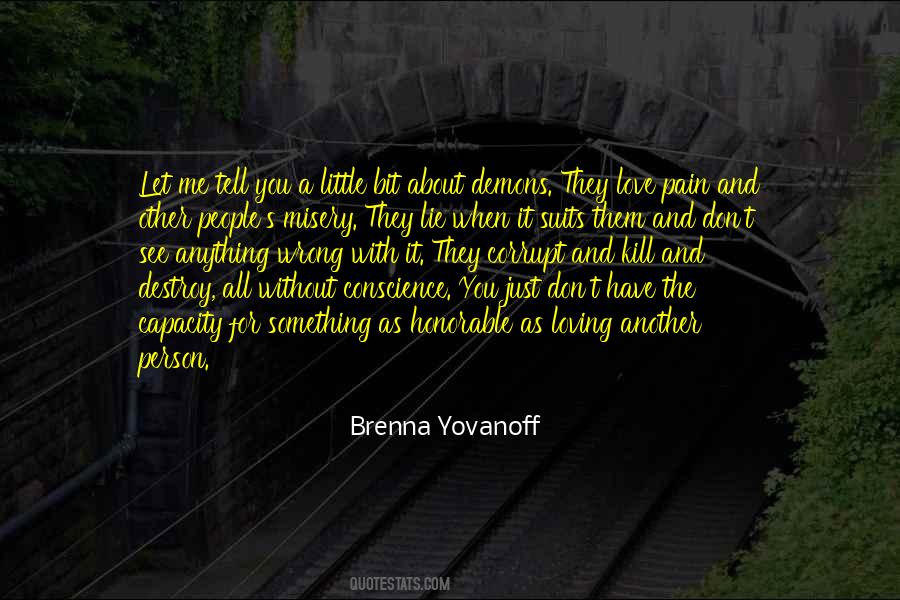 #24. Why is the truth, it would seem, revealed to some and not to others? Is there a special organ for receiving revelation from God? Yes, though usually we close it and do not let it open up: God's revelation is given to something called a loving heart. - Author: Seraphim Rose
#25. Loving Simon isn't something one does alone or once a year at a convention - for thousands of fans of all ages, loving Simon Snow is nothing less than a lifestyle. - Author: Rainbow Rowell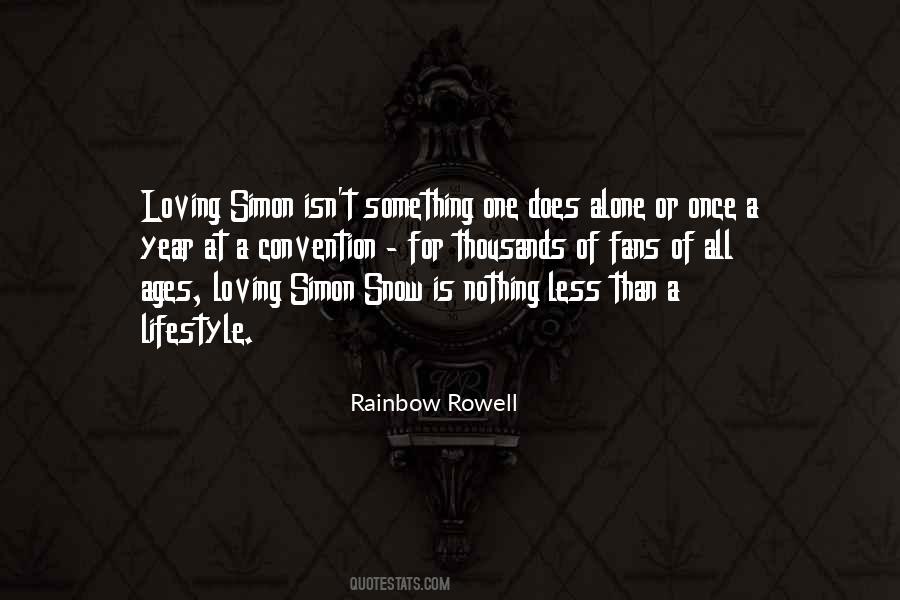 #26. Hop in? Dude, are you out of your ever-loving mind? I can't touch this. I might leave a fingerprint or something. (Nick)
Oh the horror. Guess I'll have to trade the piece of junk in and get a new one if that happens. (Acheron) - Author: Sherrilyn Kenyon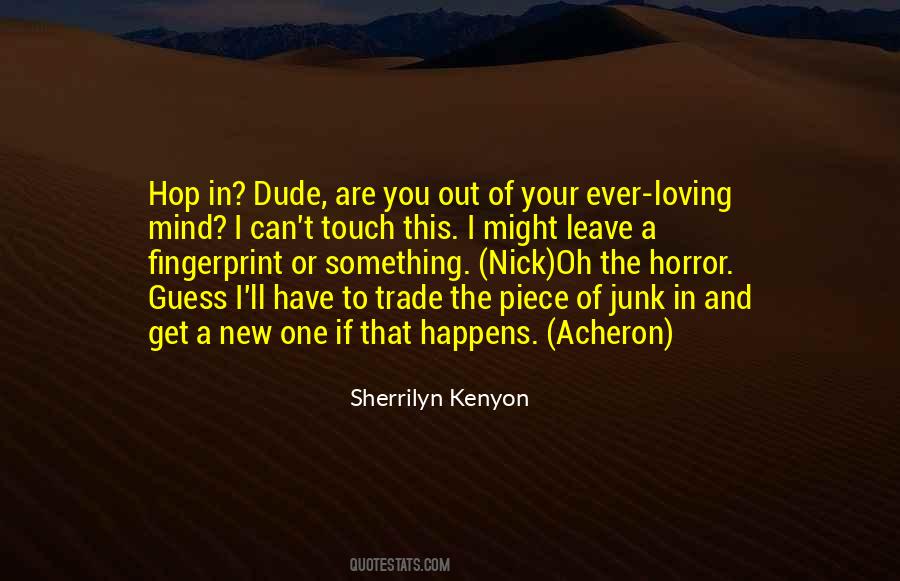 #27. It's the tragedy of loving, you can't love anything more than something you miss. - Author: Jonathan Safran Foer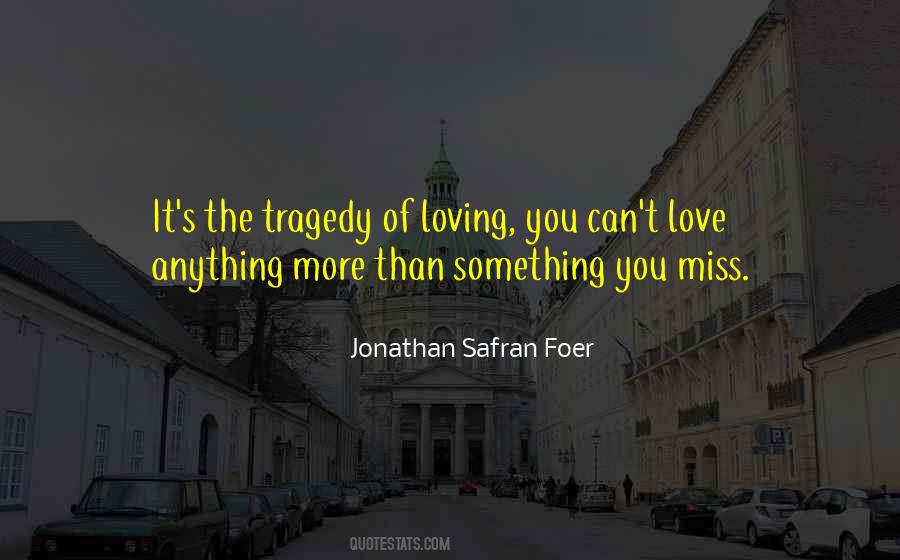 #28. We have errantly romanticized love as something we freely get verses something we sacrifice for in the giving. - Author: Craig D. Lounsbrough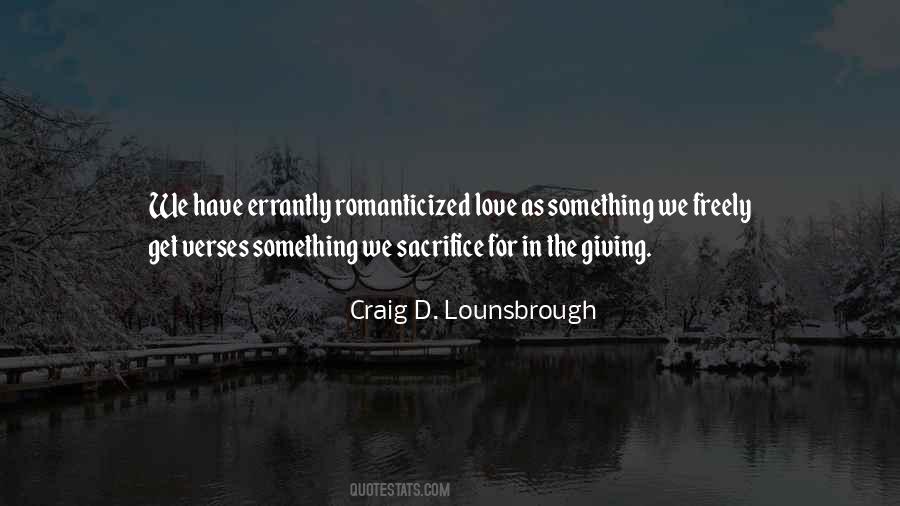 #29. Love yourself as much you can before loving others. If you don't have something, you can't give it to anyone. - Author: Debasish Mridha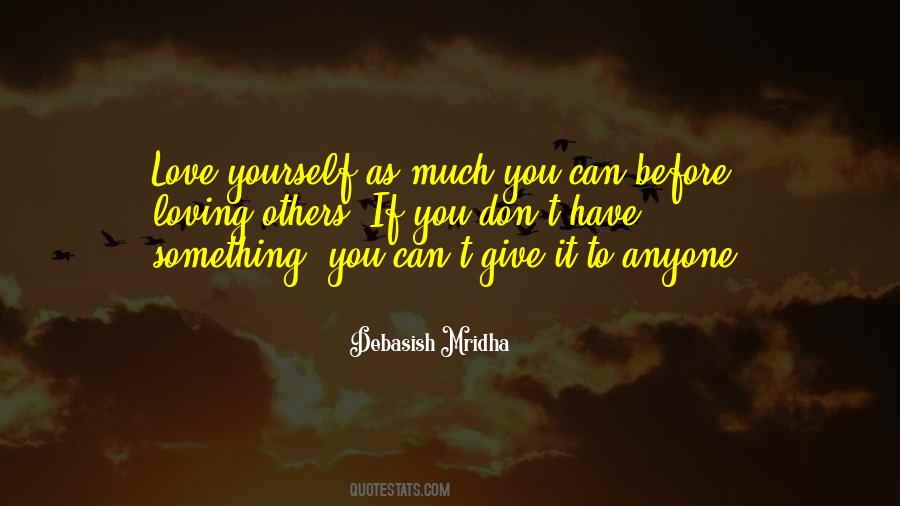 #30. Our physiology creates disease to give us feedback, to let us know we have an unbalanced perspective, or we're not being loving and grateful. So the body's signs and symptoms are not something terrible. - Author: John Frederick Demartini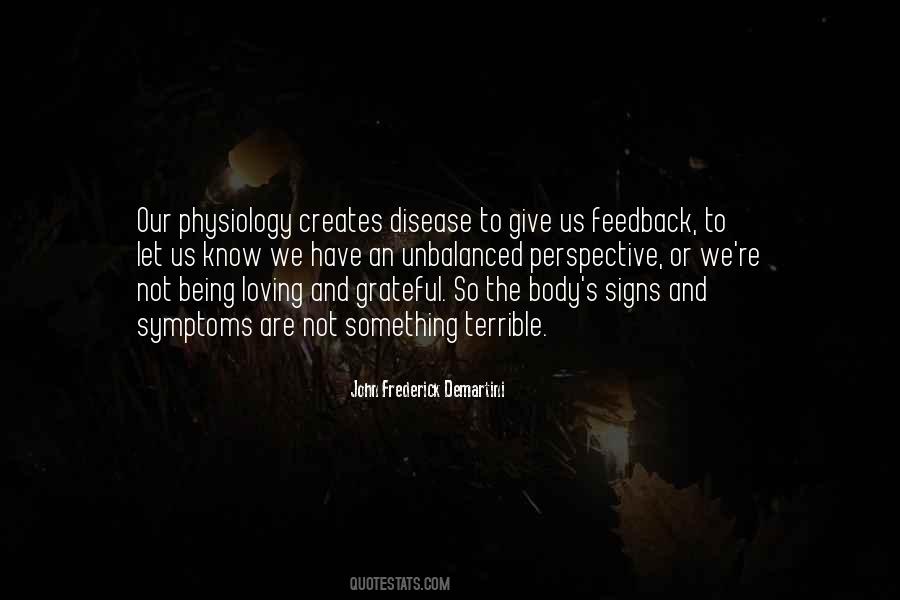 #31. Seeking Heaven through righteousness is not seeking righteousness, but something else;
it is not loving goodness for goodness' sake, but for its rewards. - Author: Edwin Hubbel Chapin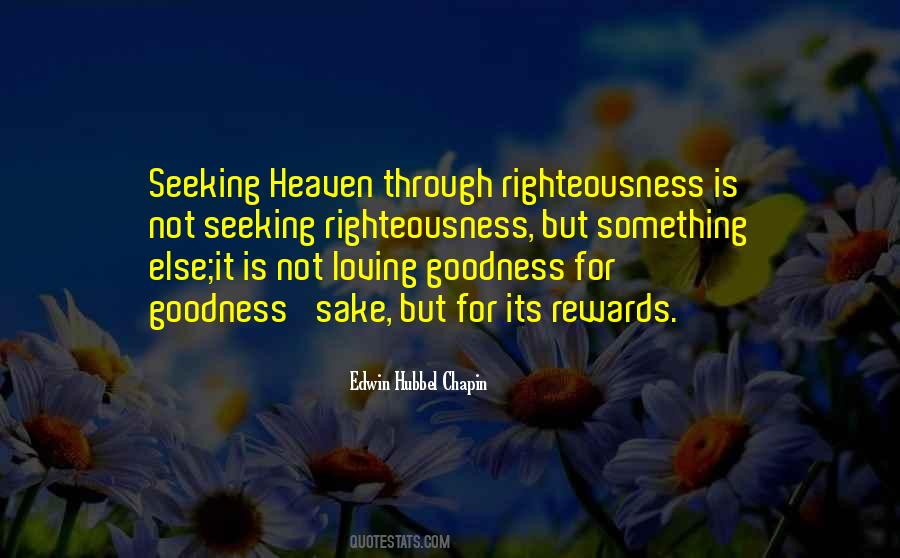 #32. I was only one woman alone, and had no power to move to action full-fed, sleek- coated, ease-loving, pleasure-seeking, well-paid,and well-placed countrymen in this war- trampled, dead, old land, each one afraid that he should be called upon to do something. - Author: Clara Barton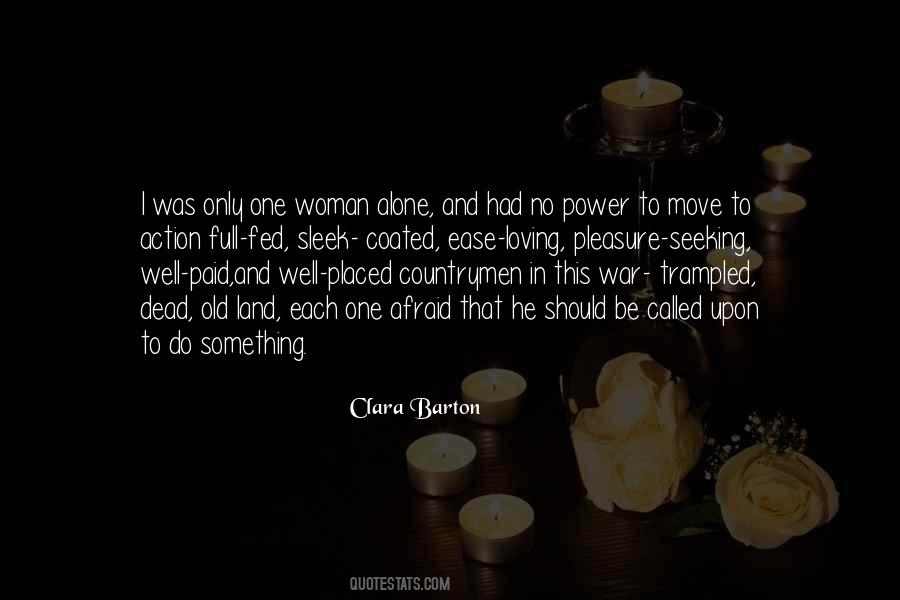 #33. Feeling inspired, being challenged. Learning something new, something meaningful. Knowing change is possible and I can make that happen. Understanding and loving others, feeling truly connected and authentic. Good food, great sex, and belly laughs. All the basic foundations of happiness, really! - Author: Jaime Murray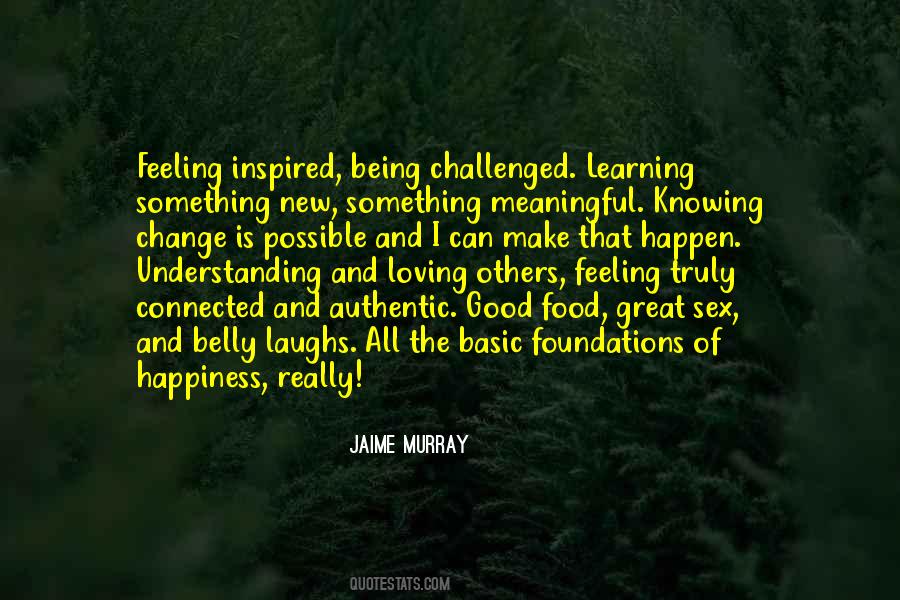 #34. If your partner is angry with you, recognize that his anger is a misdirected plea for love. Your partner's simply upset because he feels something you said or did was a sign of not loving him enough. - Author: Karen Salmansohn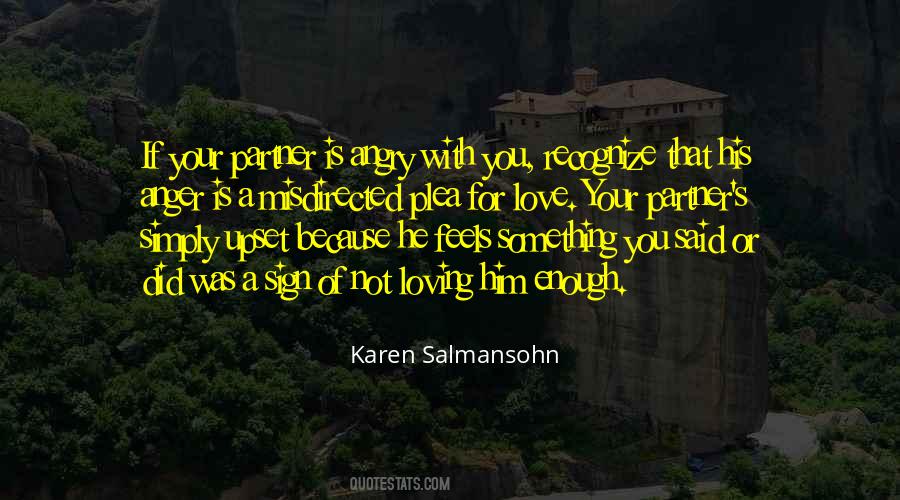 #35. What the boy felt was something pure, something gentle, something that predates sex or sensual fulfillment. It was the simple desire to reach out and touch a loving body, to be held in loving arms. Tenderness is a deeper instinct than seduction, which is why it is so difficult to give up hope. - Author: Michel Houellebecq
#36. Because I'm a big guy, I was always playing the bad guy or whatever, but after I did 'The Blind Side,' where I played a father who's a really loving, likeable sort of person, a lot of those barriers were broken down. People saw me as something softer, not so much as a heavy anymore. - Author: Omar Dorsey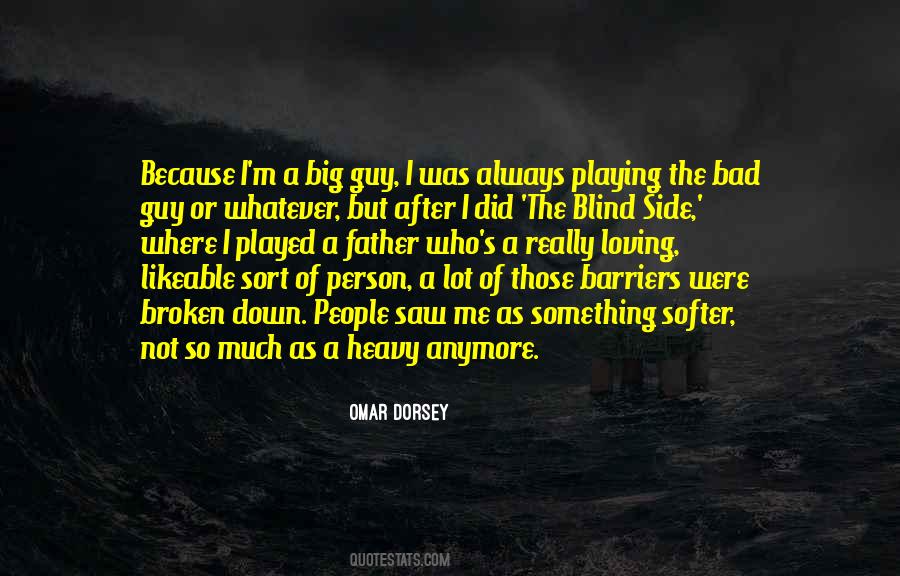 #37. I want you to understand something: I am loving father who would do anything for his kids, whether they are mine or belonging to others in my family. - Author: Corey Taylor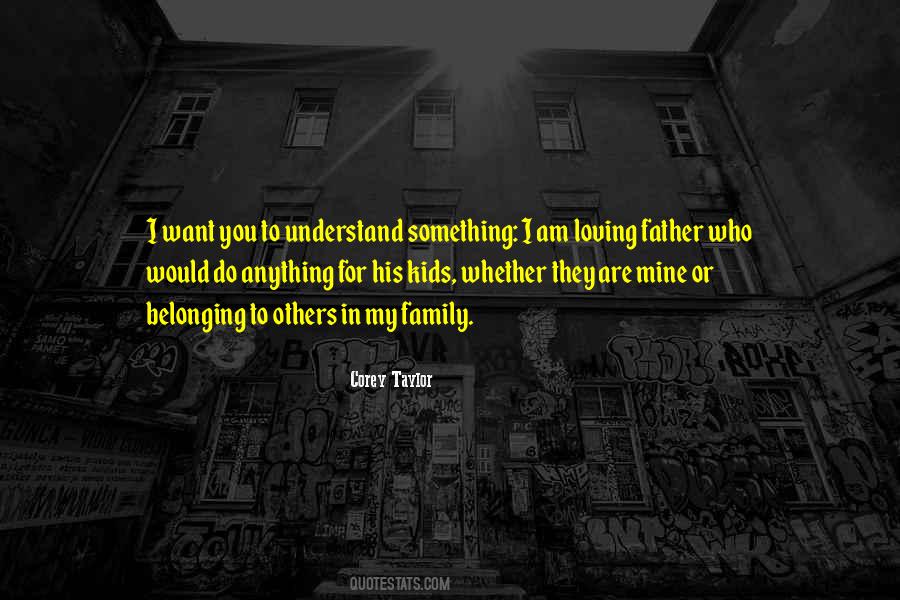 #38. She recognized the strange happiness that came from loving something without knowing why you did, that strange happiness that was sometimes so big that it felt like sadness. It was the way she felt when she looked at the stars. - Author: Maggie Stiefvater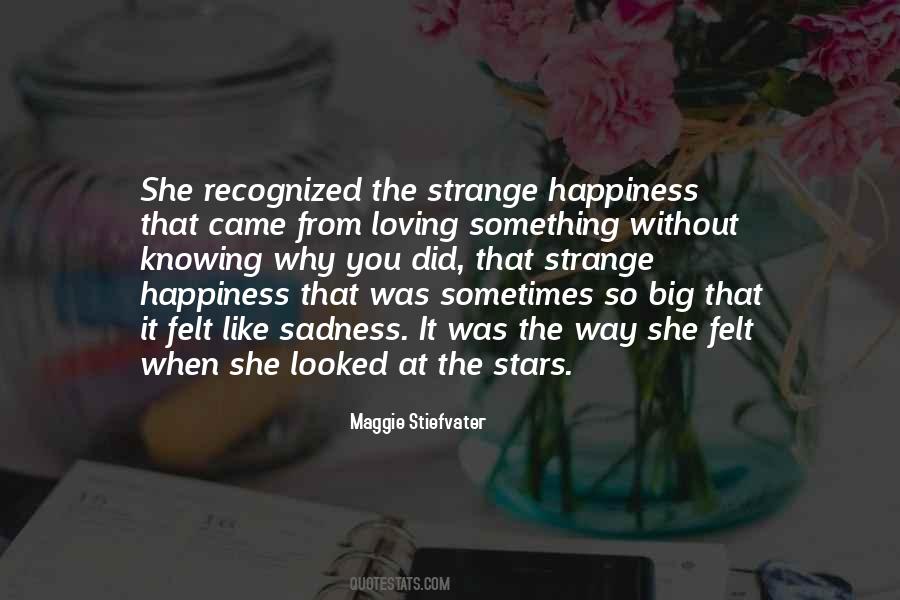 #39. Naturally, for a person who finds his identity in something other than his full organism is less than half a man. He is cut off from complete participation in nature. Instead of being a body, he 'has' a body. Instead of living and loving he 'has' instincts for survival and copulation. - Author: Alan W. Watts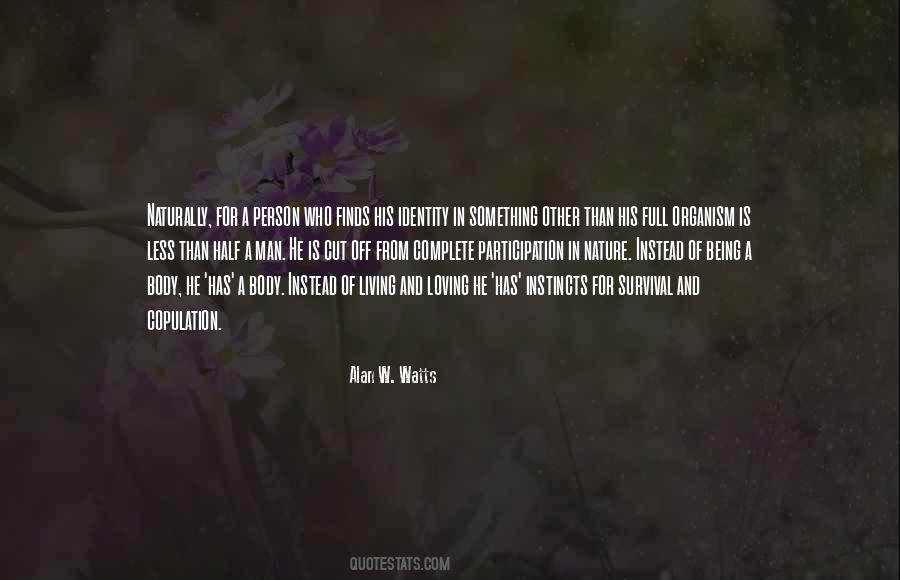 #40. But there was something more true, more solid about loving someone through change. - Author: Lisa Unger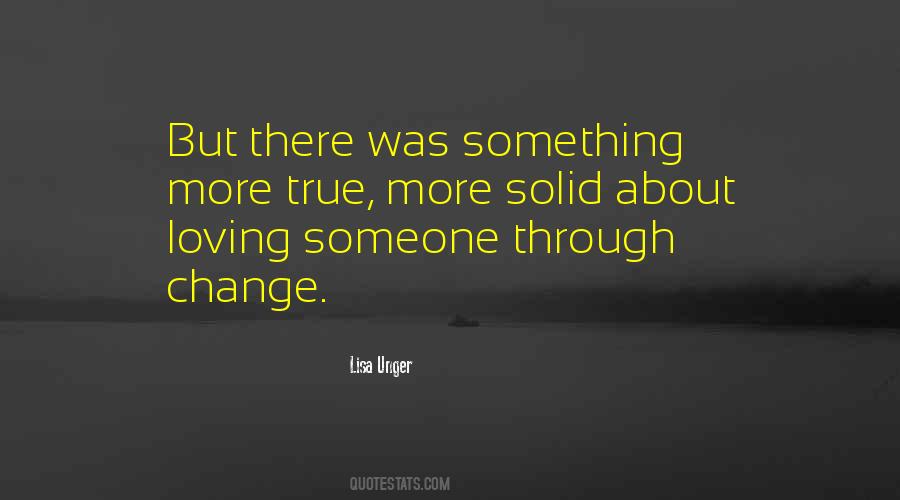 #41. I have friends who wear Star Wars costumes and act like the characters all day. I may not be that deep into it, but there's something great about loving what you love and not caring if it's unpopular. - Author: Kristen Bell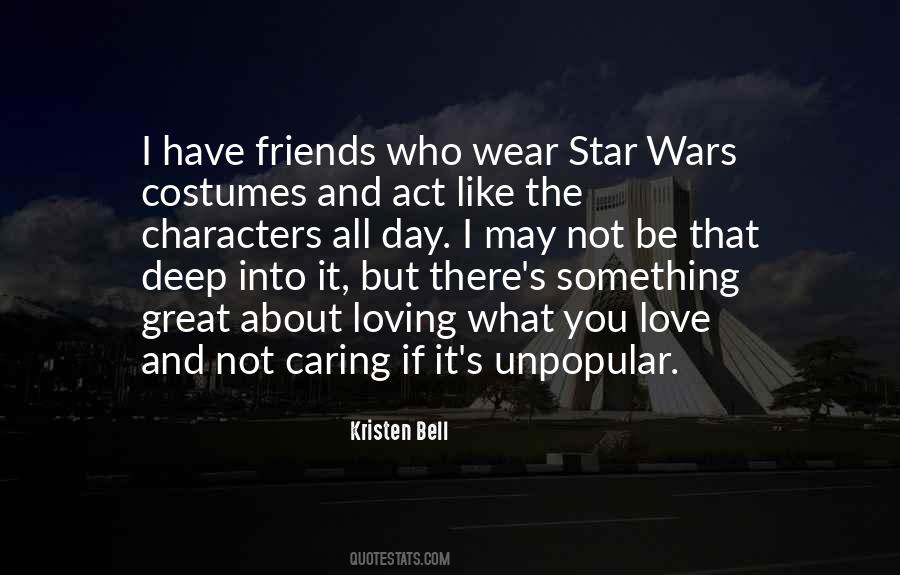 #42. The way you get meaning into your life is to devote yourself to loving others, devote yourself to your community around you, and devote yourself to creating something that gives you purpose and meaning. I - Author: Mitch Albom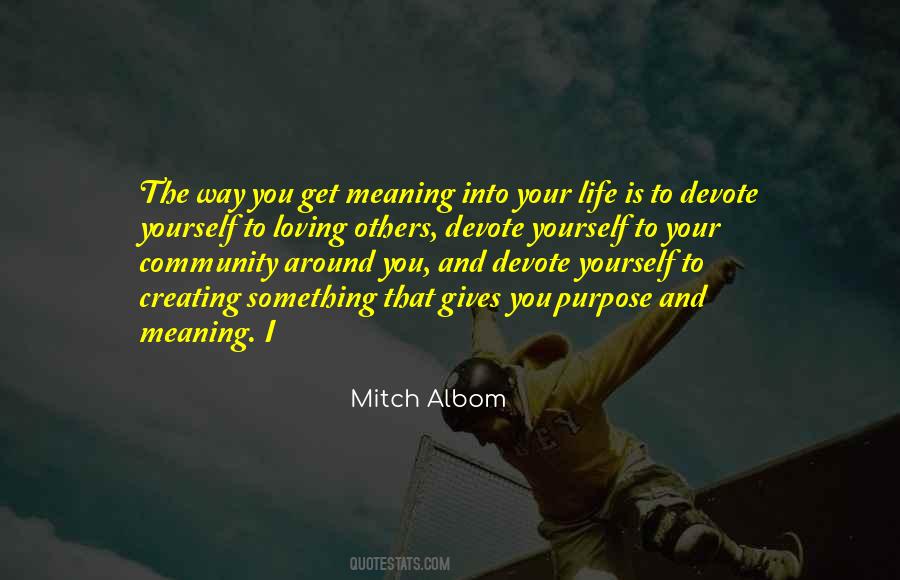 #43. Love is the direct opposite of hate. By definition it's something you can't feel for more than a few minutes at a time, so what's all this bullshit about loving somebody for the rest of your life? - Author: Judith Perelman Rossner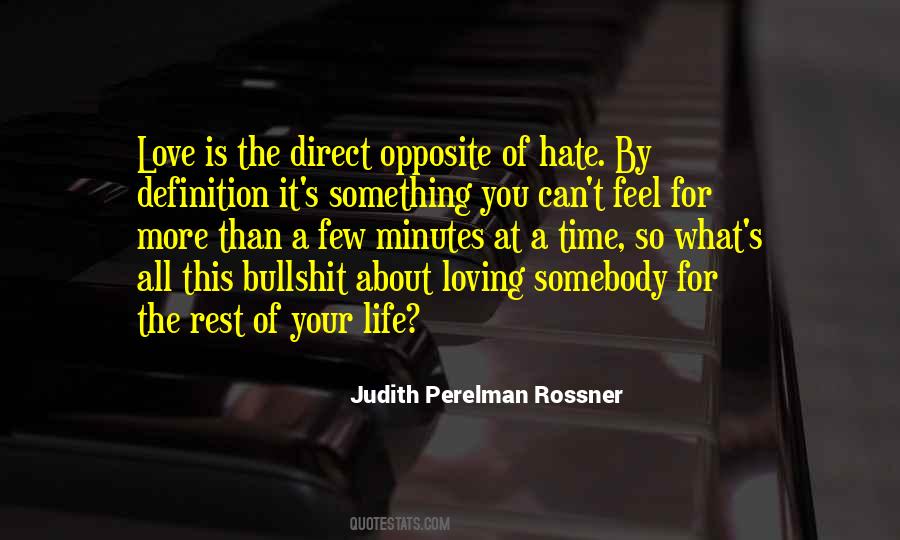 #44. To this crib I always took my doll; human beigns must love something, and, in the dearth of worthier objects of affection, I contrived to find a pleasure in loving and cherishing a faded graven image, shabby as a miniature scarecrow - Author: Charlotte Bronte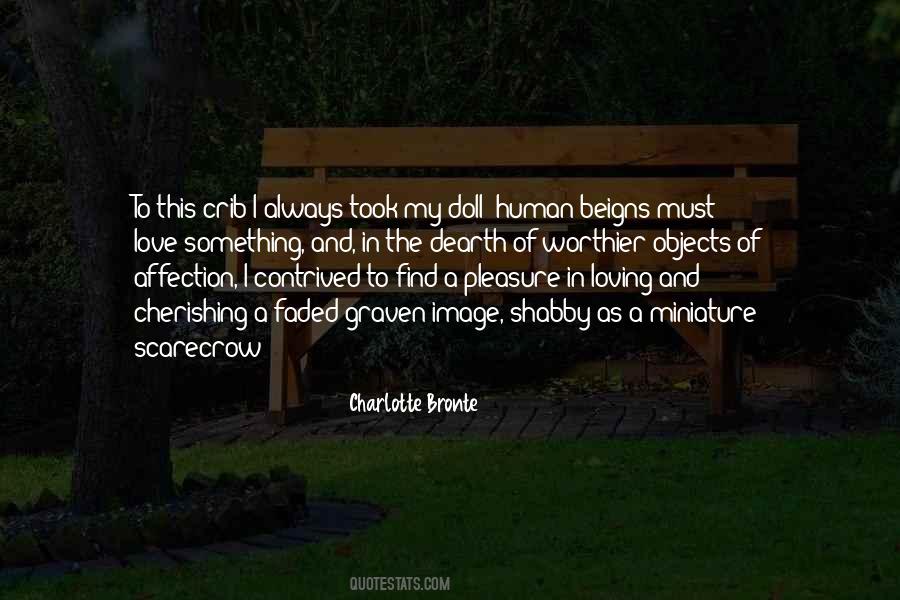 #45. Is to be in love with blue, then, to be in love with a disturbance? Or is the love itself the disturbance? And what kind of madness is it anyway, to be in love with something constitutionally incapable of loving you back? - Author: Maggie Nelson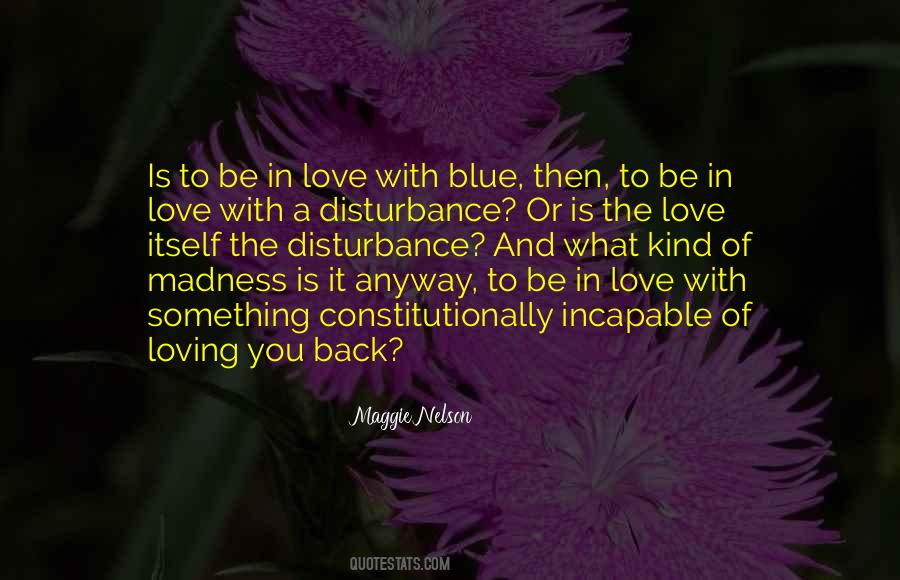 #46. But loving Tristan often felt like loving something once removed. He could be cold and indifferent to others' suffering, especially if he was causing it. - Author: Tod Wodicka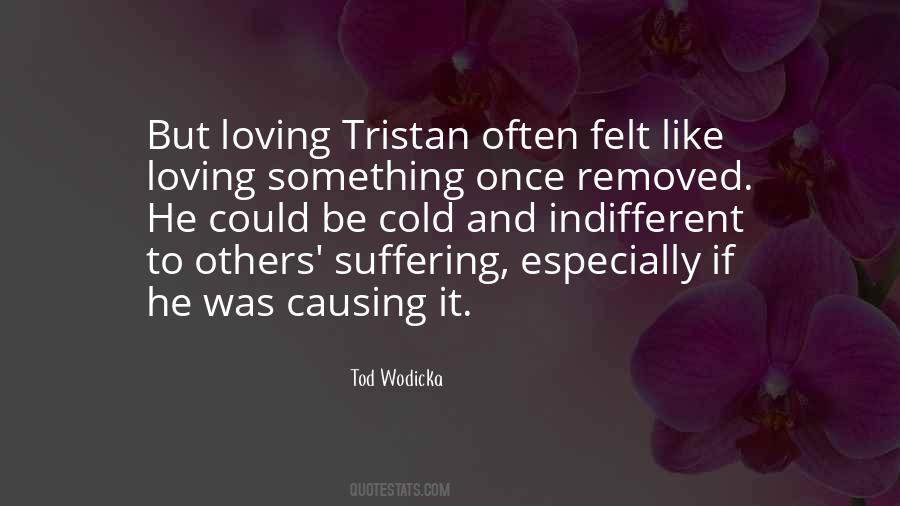 #47. Yes. Loving somebody isn't a one time thing, its an everyday thing. Something you do to them, with them, for them. Because of them. Every day, all day. And night." ~Solomon~ - Author: Lucian Bane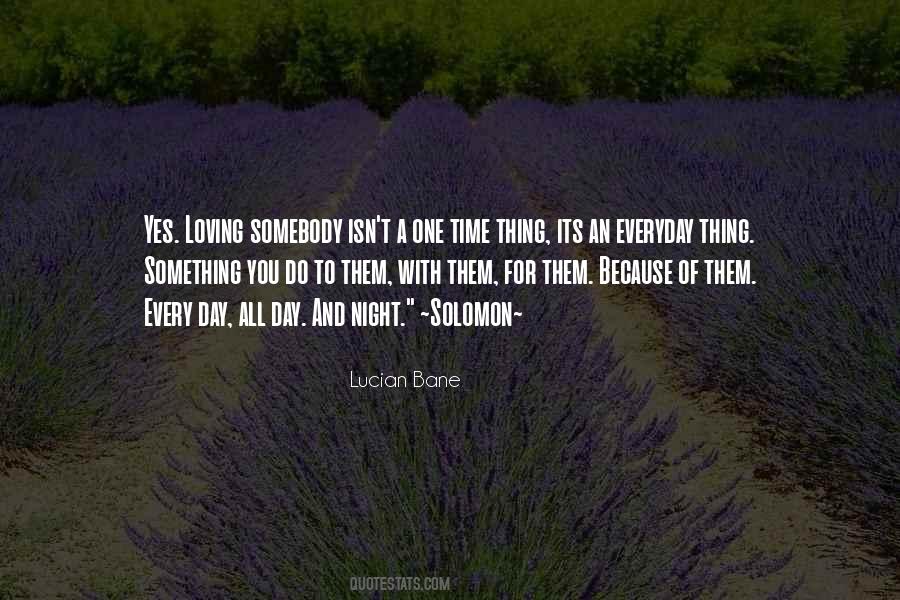 #48. We need objects to remind us of the commitments we've made. That carpet from Morocco reminds us of the impulsive, freedom-loving side of ourselves we're in danger of losing touch with. Beautiful furniture gives us something to live up to. All designed objects are propaganda for a way of life. - Author: Alain De Botton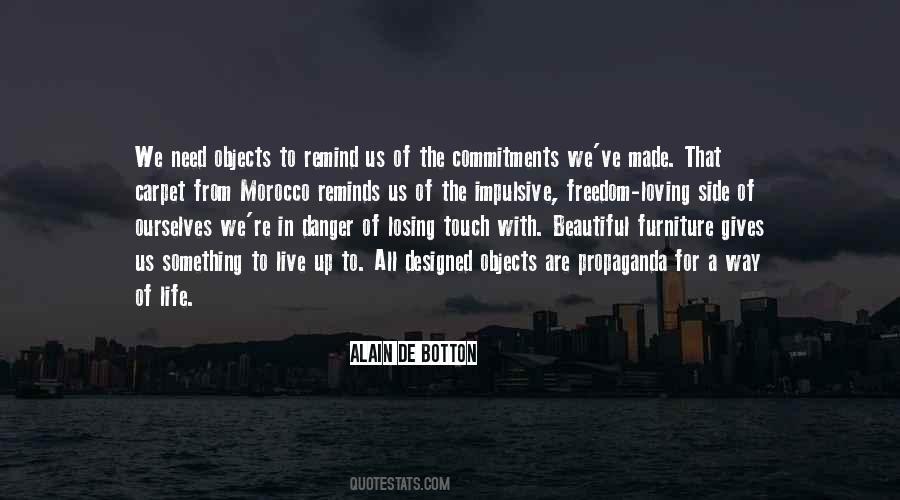 #49. I remember really loving the CoverGirl ads when I was younger - there was something very cool about how they always put the girls in white. It looked so clean. - Author: Christie Brinkley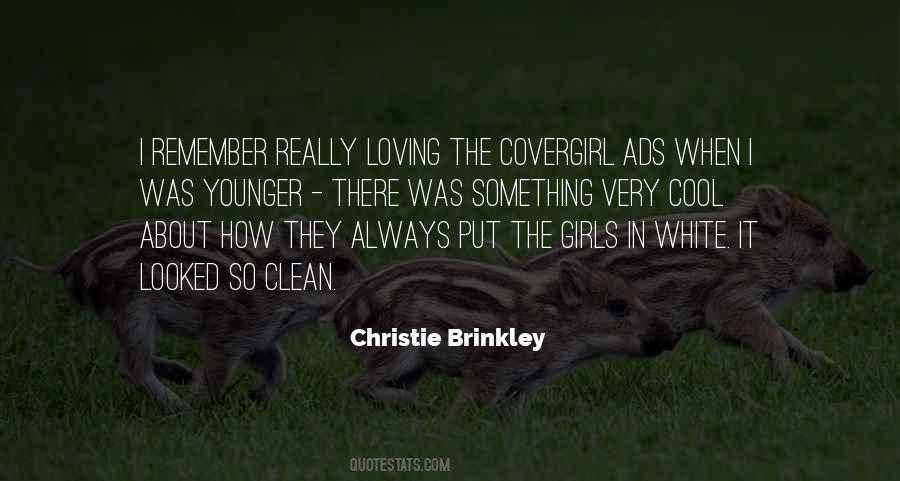 #50. I love life, even when bad things happen to me. I can't stop loving it. Every season of the year comes with a promise that something wonderful is going to happen to me someday. - Author: Judith McNaught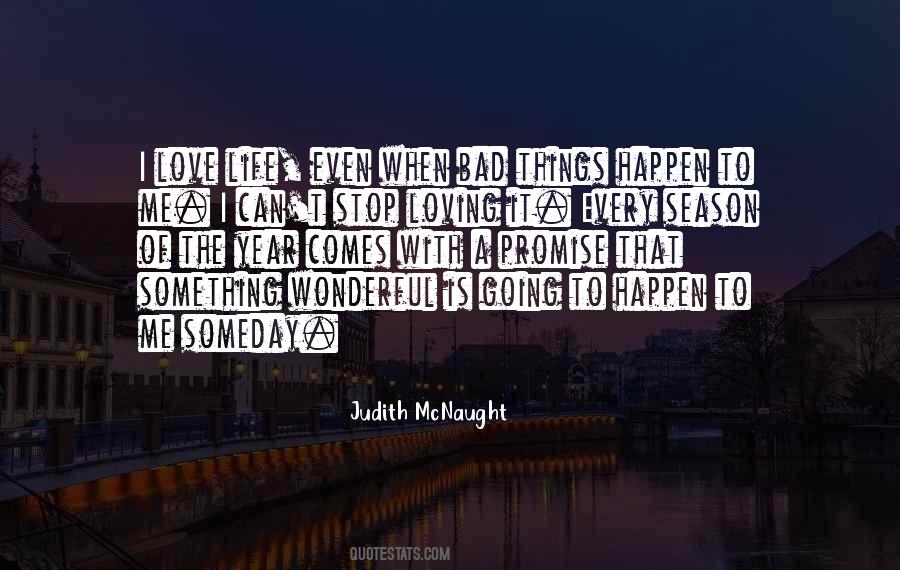 #51. And it was always
without pretensions of loving or being loved although always in the hope of
finding something that resembled love but without the problems of love. - Author: Gabriel Garcia Marquez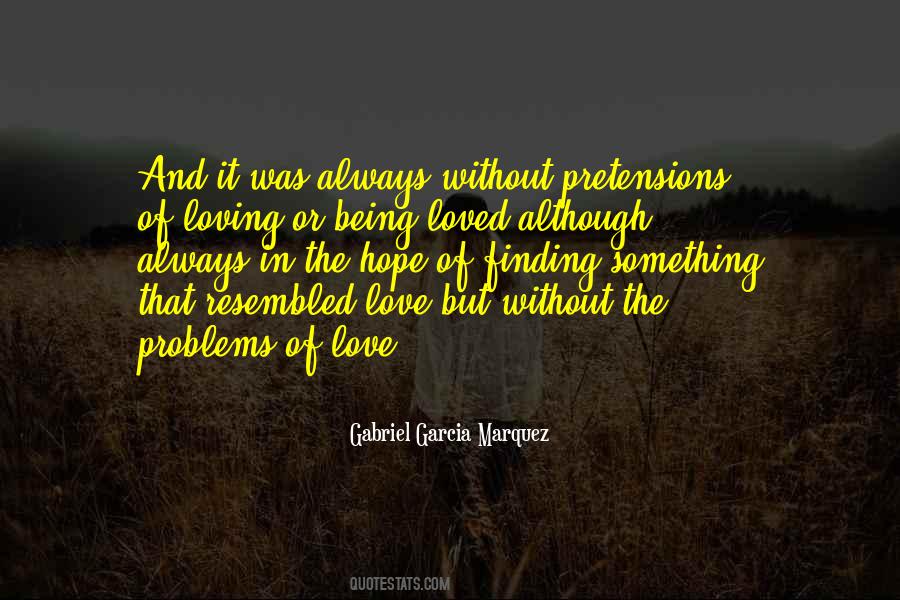 #52. Advice for a human.
81. You can't find happiness looking for the meaning of life. Meaning is only the third most important thing. It comes after loving and being.
82. If you think something is ugly, look harder. Ugliness is just a failure of seeing. - Author: Matt Haig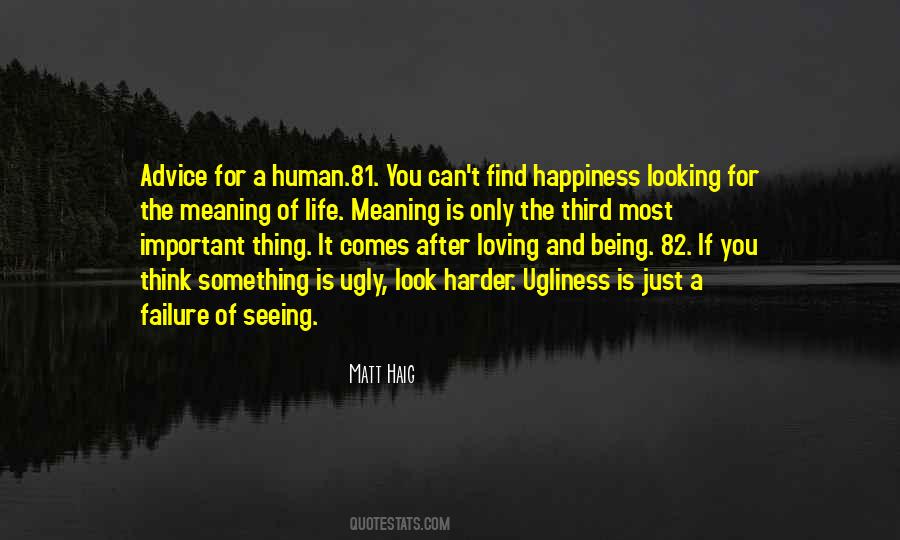 #53. The old man sold beer after hours on weekends. And that was something that he probably did to top up his earnings as a truck driver. Mum was the traditional housewife. Loving, caring, sharing - always the keynotes of the family. - Author: Lindsay Fox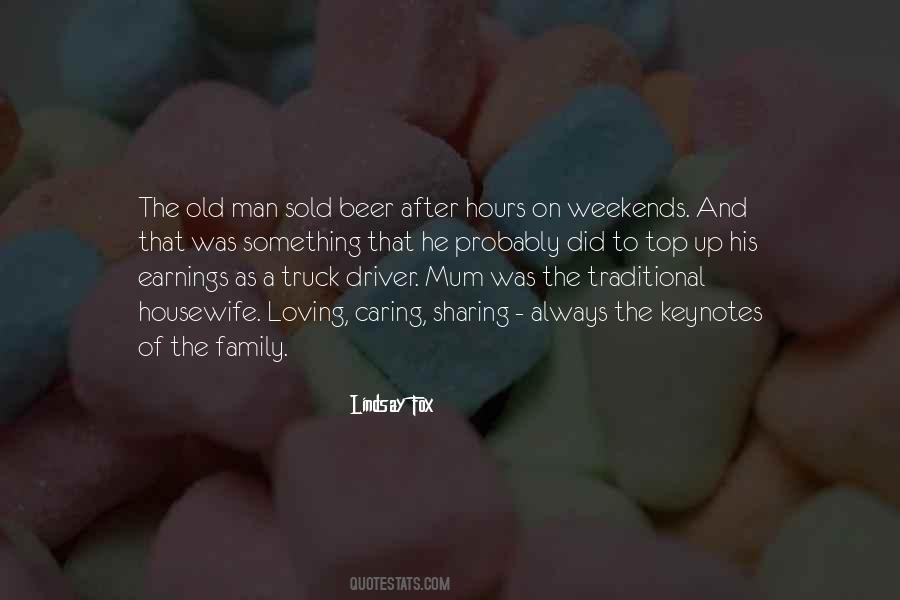 #54. For what is faith, except a perspective on life seen through the belief that there is a purpose, there is hope, there are miracles, there is something better coming, there is a loving God? - Author: The Prophet Of Life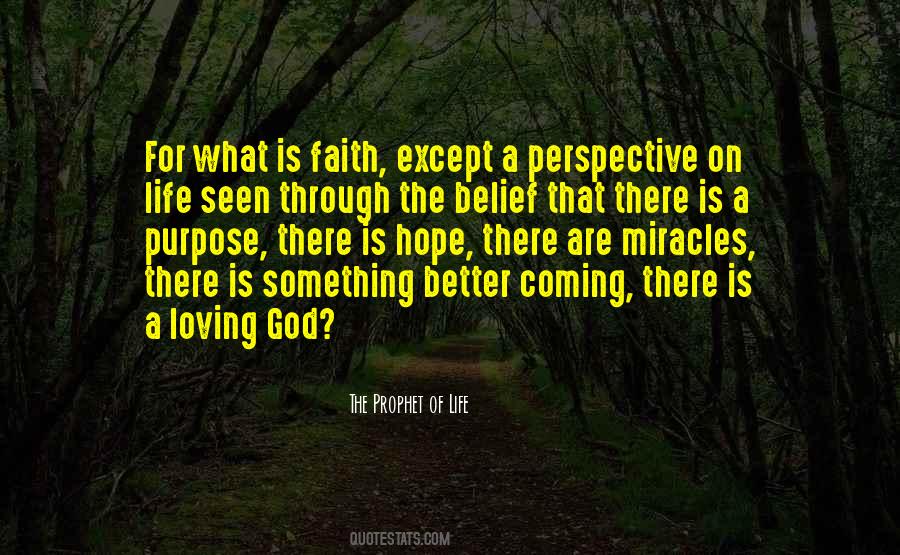 #55. And like a fool who will never see the truth
I keep thinking something's gonna change
There's a danger in loving somebody too much
And it's sad when you know it's your heart they can't touch
There's a reason why people don't stay who they are
Baby sometimes love's just ain't enough - Author: Patty Smyth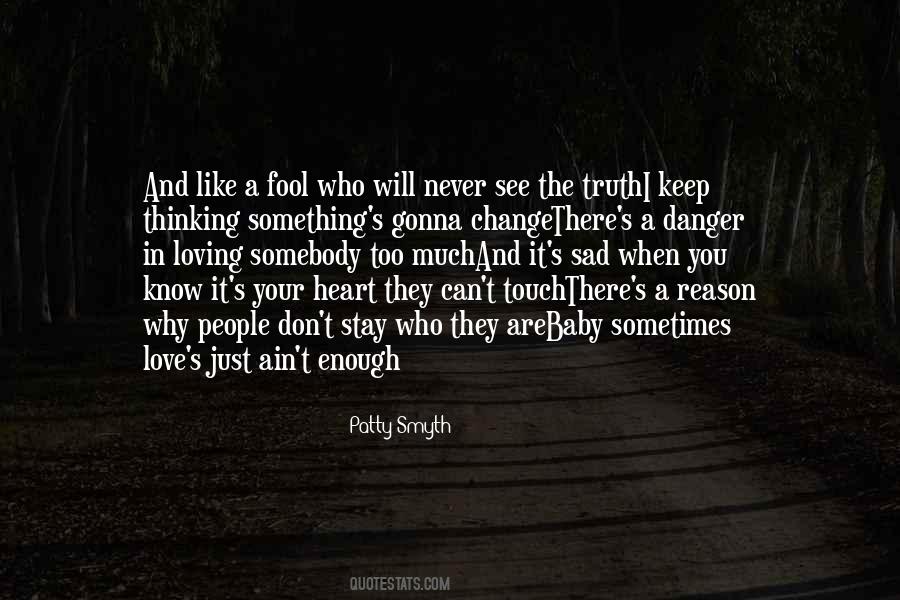 #56. I consider my greatest strength my complete and utter faith in a loving God. Strong family values are also important and I do not hesitate to write them into my books. My reader mail tells me this is something that readers especially like about my books. - Author: Debbie Macomber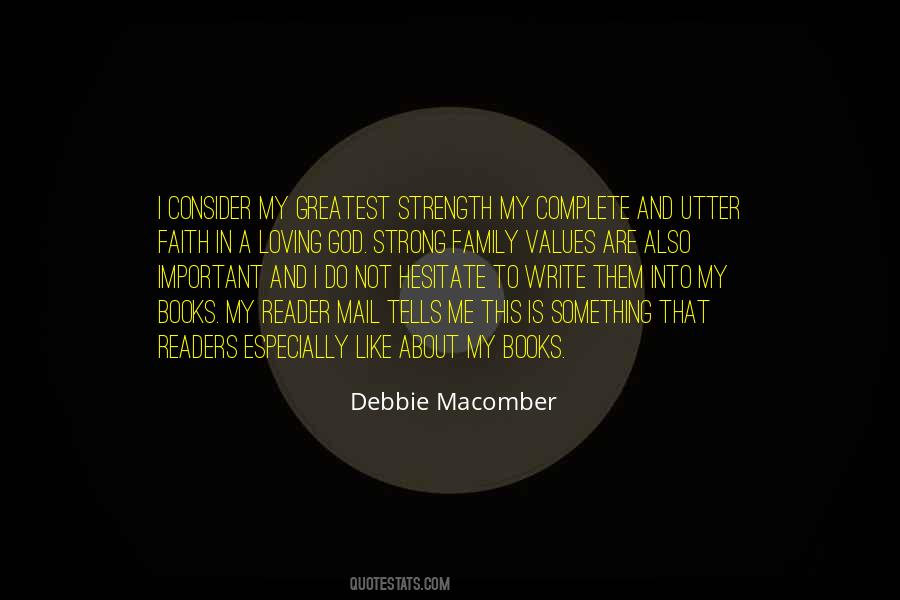 #57. When it comes to loving people, let's not allow it to be something we do on the side. Let's make it a lifestyle. Whether we are at the gas station, picking up groceries, even waiting to get our car repaired, there is always an open opportunity to love someone in need. - Author: Jarrid Wilson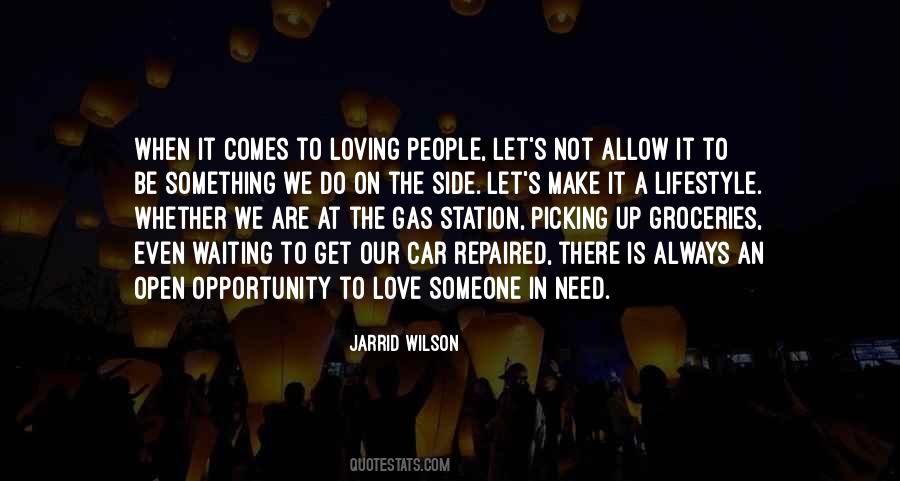 #58. And loving you was a pattern of self-discovery because some way, somehow I always ended up learning something new about myself. - Author: Robert M. Drake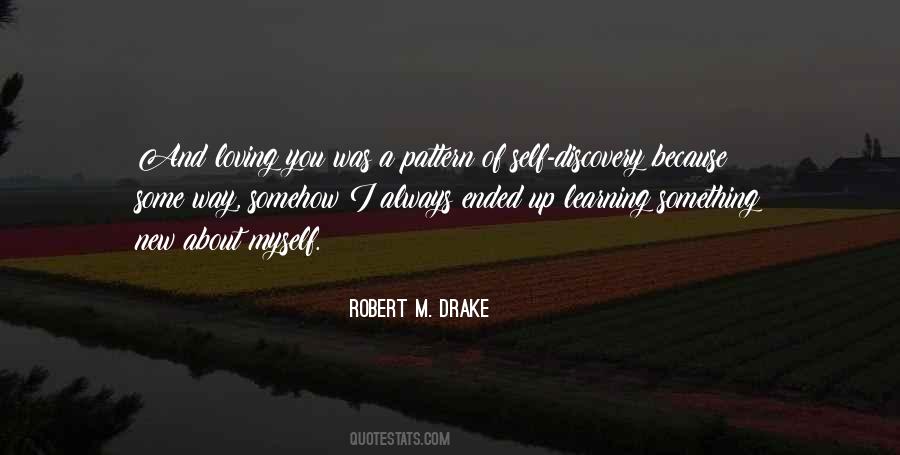 #59. There's something very enticing about an empty bench under a tree. And if it's facing a river, that's the bench for me. - Author: Joyce Rachelle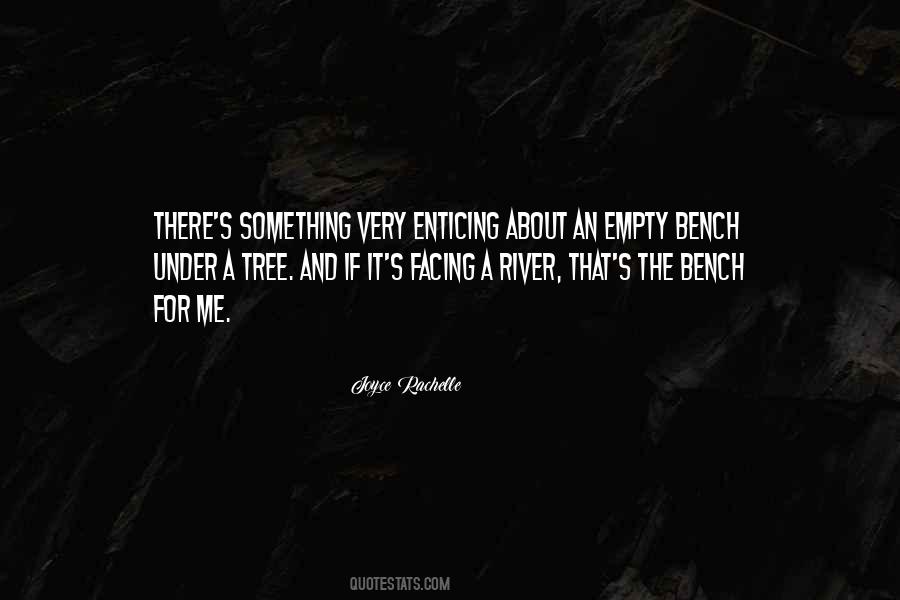 #60. Knowing Charlie, she wouldn't have gotten a tattoo unless it really meant something to her. It had to be something she knew she would never grow tired of. Never stop loving. - Author: Colleen Hoover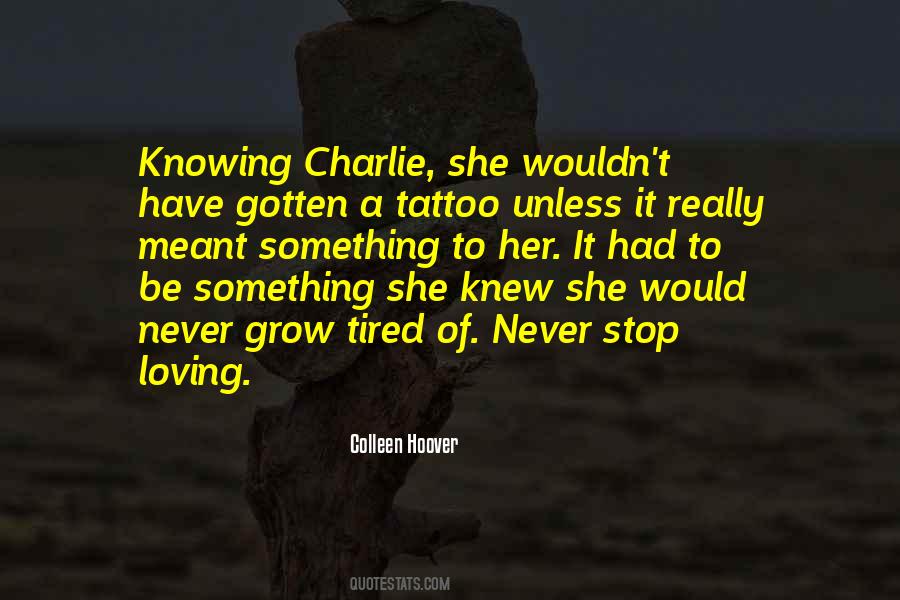 #61. No one, not even my father, not even my children, has ever loved me the way that man loved me, that's for sure. There's something satisfying in being loved that hard, maybe more than loving that hard yourself. - Author: Anna Quindlen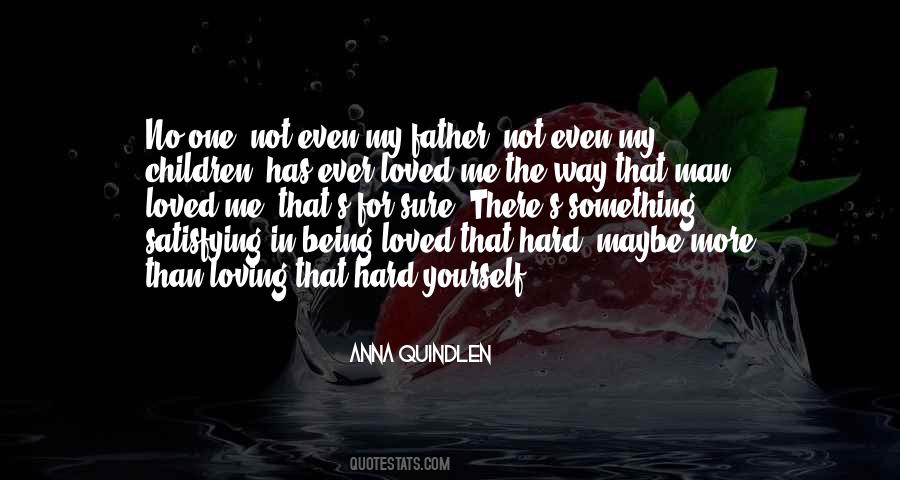 #62. Most important are the lessons of being humble, being a giver, and generally being a loving and caring person for people. That is something that I am trying to instill in my kids and all the kids around the world. - Author: Raheem Devaughn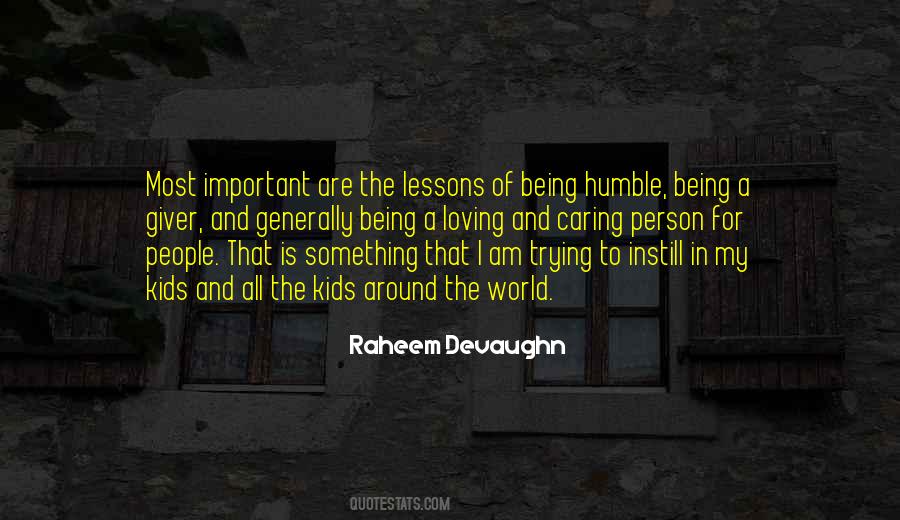 #63. You can't just stop loving someone just like that, you know. You can't just turn it off. - Author: Lesley Anne Cowan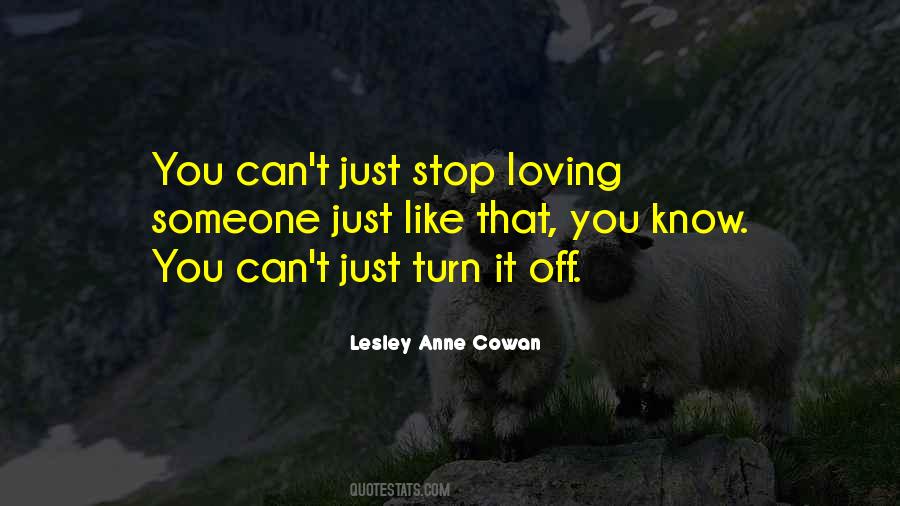 #64. Kimberly Reed explains why this love has transferred to adulthood, saying, "When you love something as a kid, you never stop loving it; you just tuck that love away in a different spot in your heart. - Author: Nikki Van Noy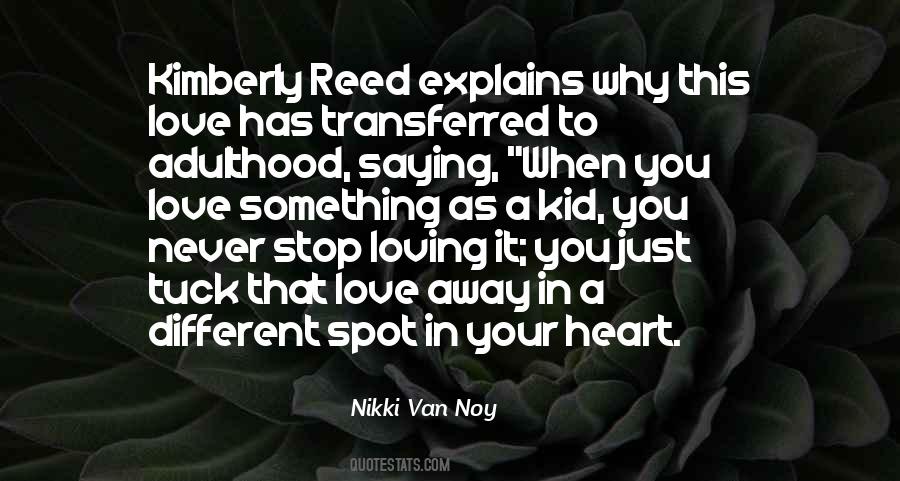 #65. Happiness is.. doing something you love and loving something you do. - Author: Vikrmn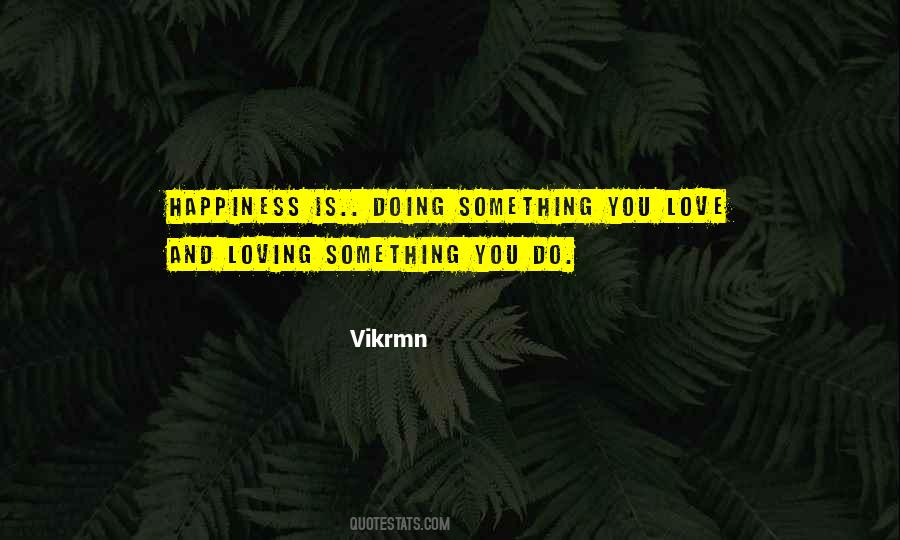 #66. Think about the word mould for a moment. A mould is a device into which one crams and smashes something until it becomes the shape that they desire. Don't spend your life letting other people destroy you while they try and force you into their moulds. - Author: Dan Pearce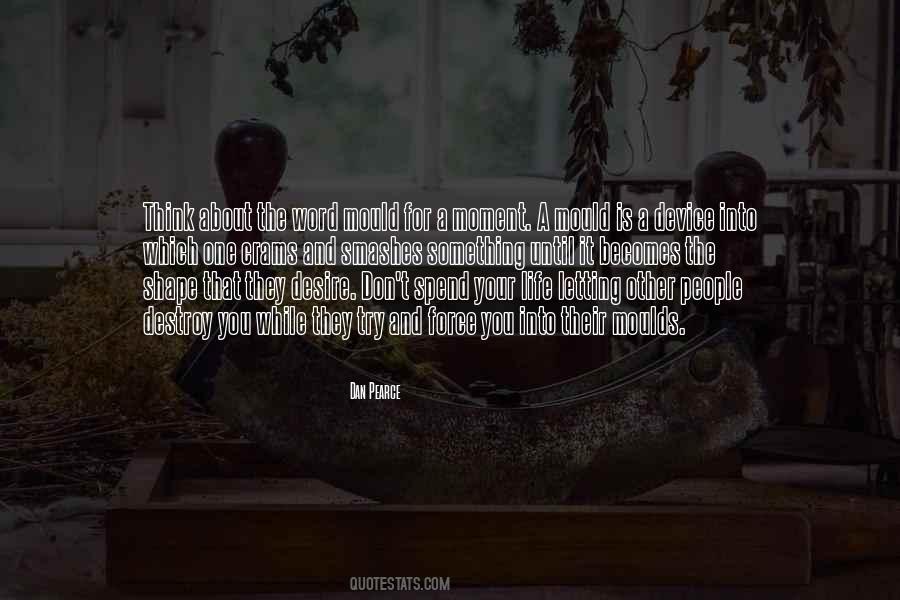 #67. There is something wrong in a government where they who do the most have the least. There is something wrong when honesty wears a rag, and rascality a robe; when the loving, the tender, east a crust, while the infamous sit at banquets. - Author: Robert G. Ingersoll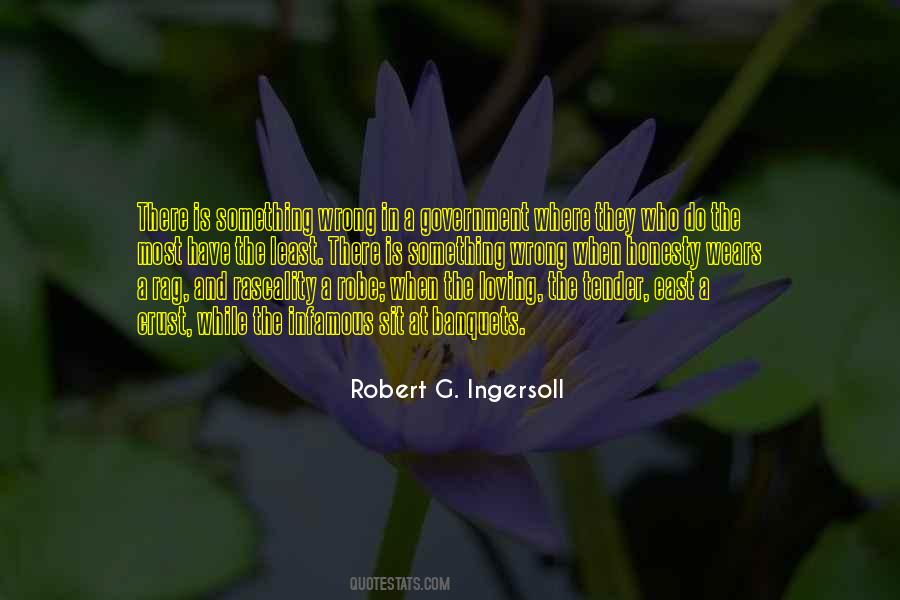 #68. Sentimentality is loving something more than God does. - Author: J.D. Salinger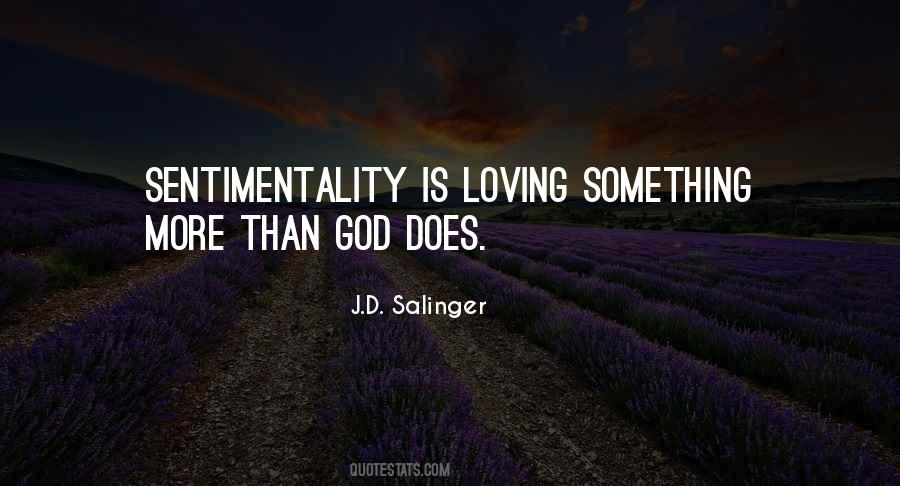 #69. There is something very attractive about blonds, especially for brunettes. Its been said that blonds are loved and brunettes do the loving. - Author: Joan Juliet Buck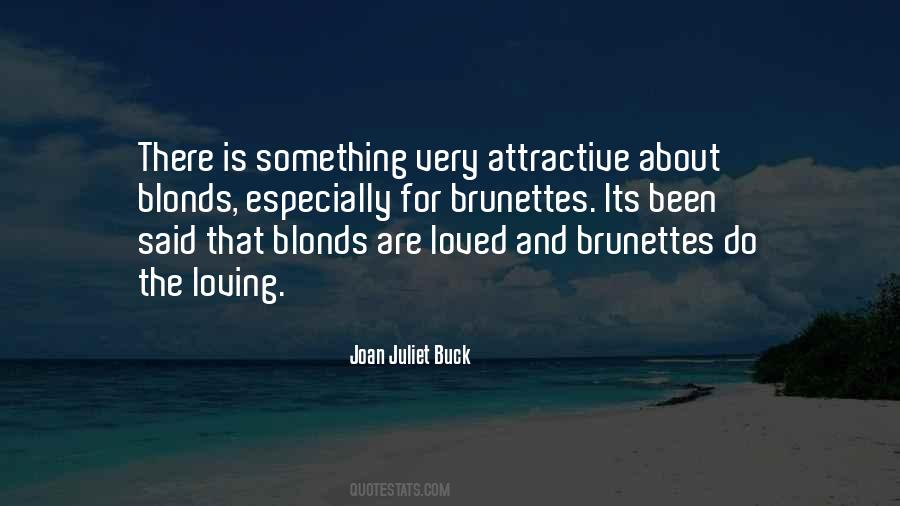 #70. If you can live in Vegas, or visit Vegas, and leave in one piece, still loving it and somehow laughing about it, you should spend at least part of your last night in town doing something that will serve you well no matter where you go next: thank your lucky stars. - Author: J.R. Moehringer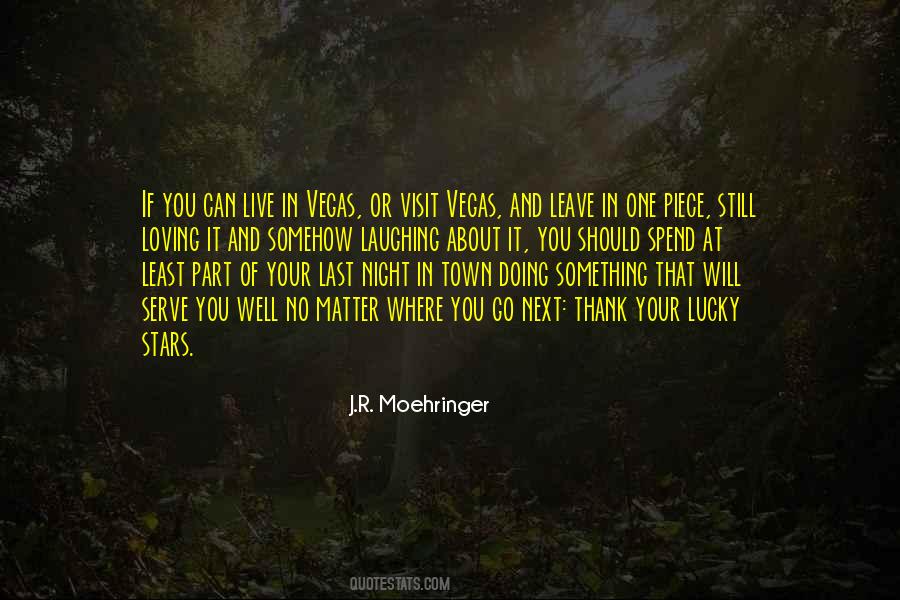 #71. 'If I Should Love Again' - I was just so impressed with myself writing something like that. It wasn't a single and people didn't really know about it, but it's a beautiful song and that's part of what I'm loving. - Author: Barry Manilow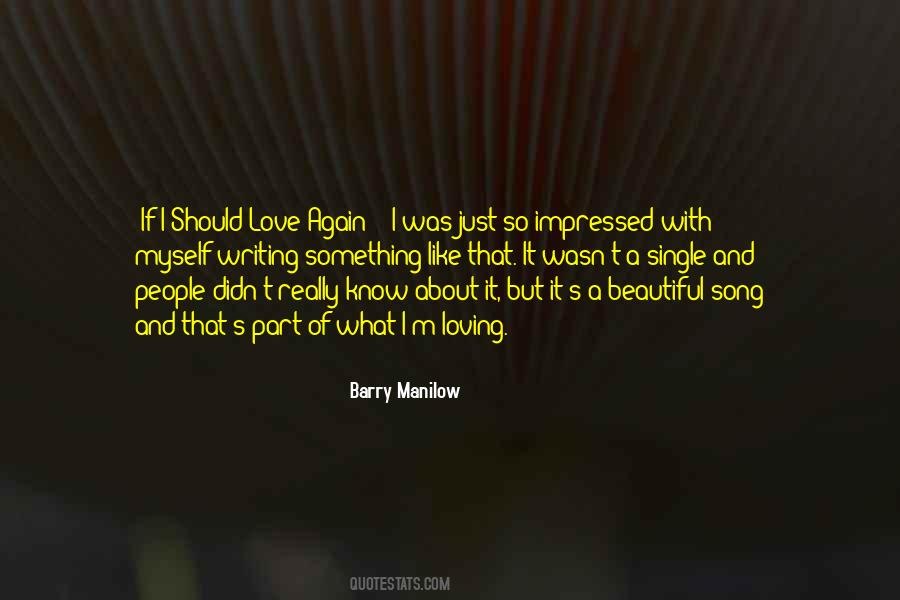 #72. I grew up loving actresses or actors who were very classy but who seemed a little bit mysterious because you couldn't grasp what they're really thinking. I mean, Grace Kelly always looked impossibly glamorous, yet you could always see there was something behind her eyes. - Author: Diane Kruger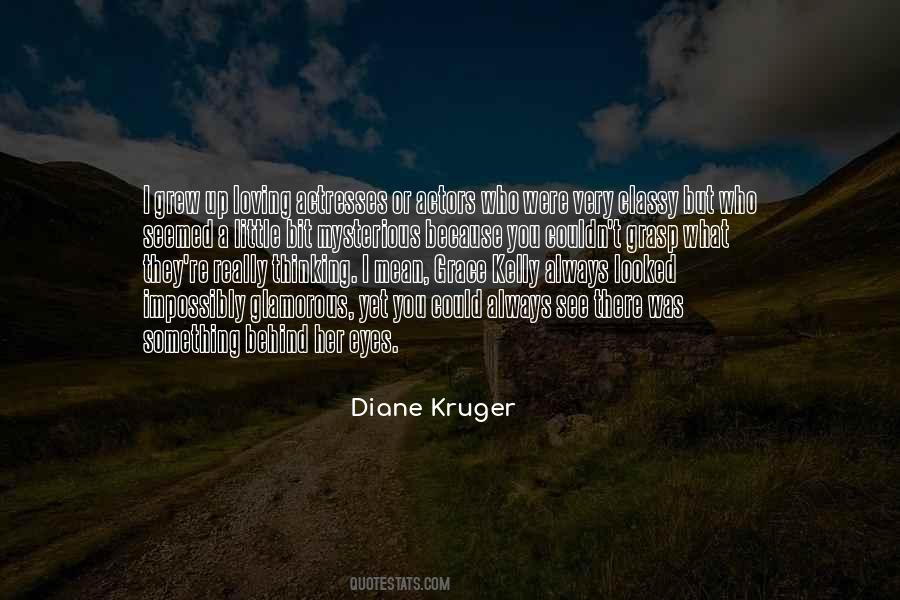 #73. Because the truth is, it isn't worth loving something if you aren't going to love it all the way. - Author: Goldy Moldavsky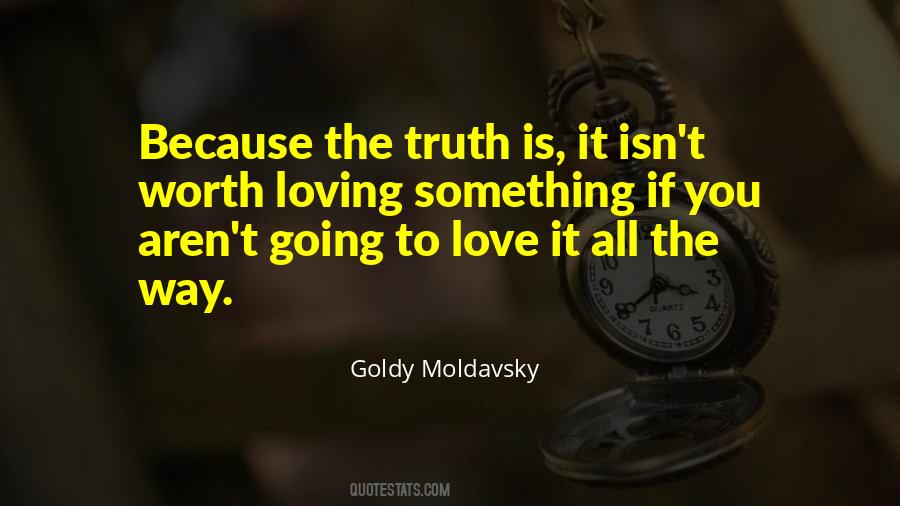 #74. Do something every day that is loving toward your body and gives you the opportunity to enjoy the sensations of your body. - Author: Golda Poretsky
#75. Although 'L.A. Confidential' is a long movie, there's never a moment when you think, 'I'm loving this ... but when's dinner?' Each time I see it, I discover something I hadn't noticed before. It has a tremendous skill in developing all the subplots. - Author: Julian Fellowes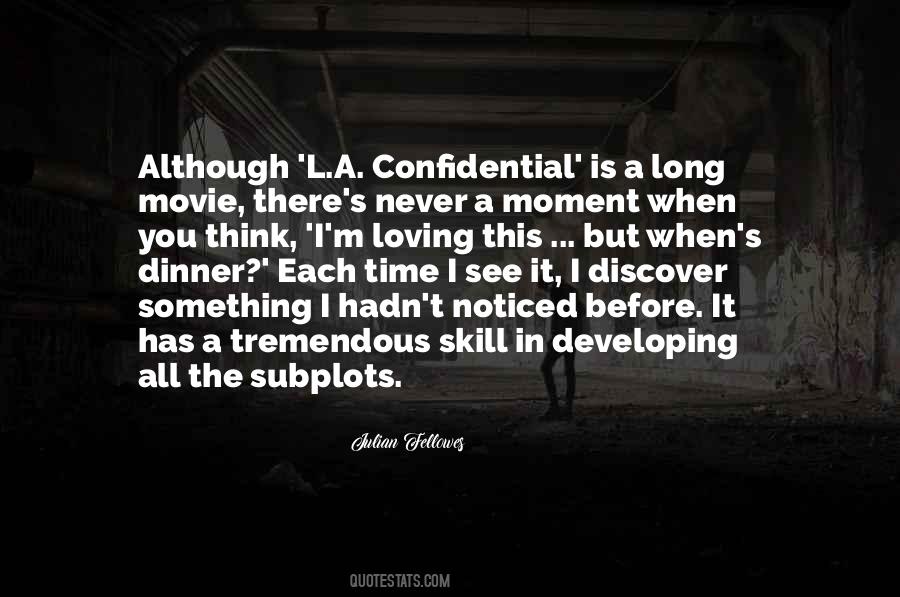 #76. Something hurts, lean in. You just lean into that point until it loses its power over you. There's a certain amount of suffering that you have to be willing to sustain if you want to have a good life. And the real trick is to be able to sustain it with your heart open and still be loving. - Author: Will Smith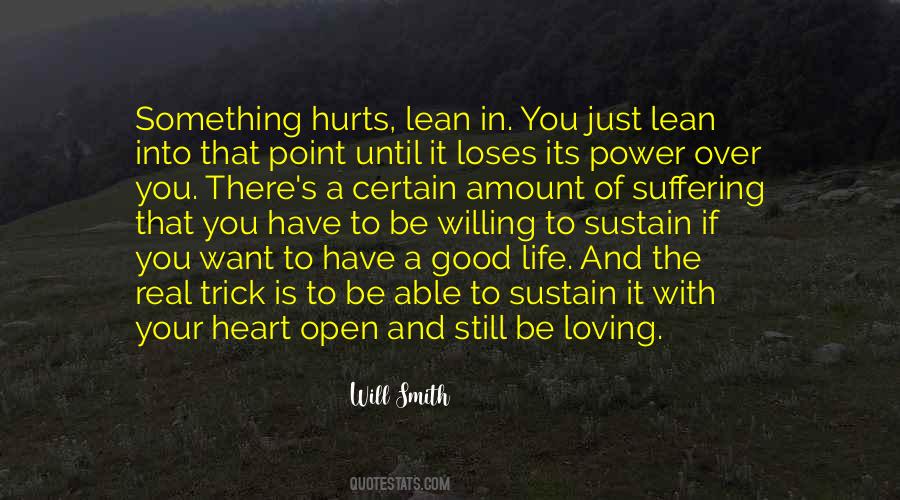 #77. I know something about that war, and I never want to see that history repeated. But, my fellow Americans, it certainly can be repeated if the peace-loving democratic nations again fearfully practice a policy of standing idly by while big aggressors use armed force to conquer the small and weak. - Author: Dwight D. Eisenhower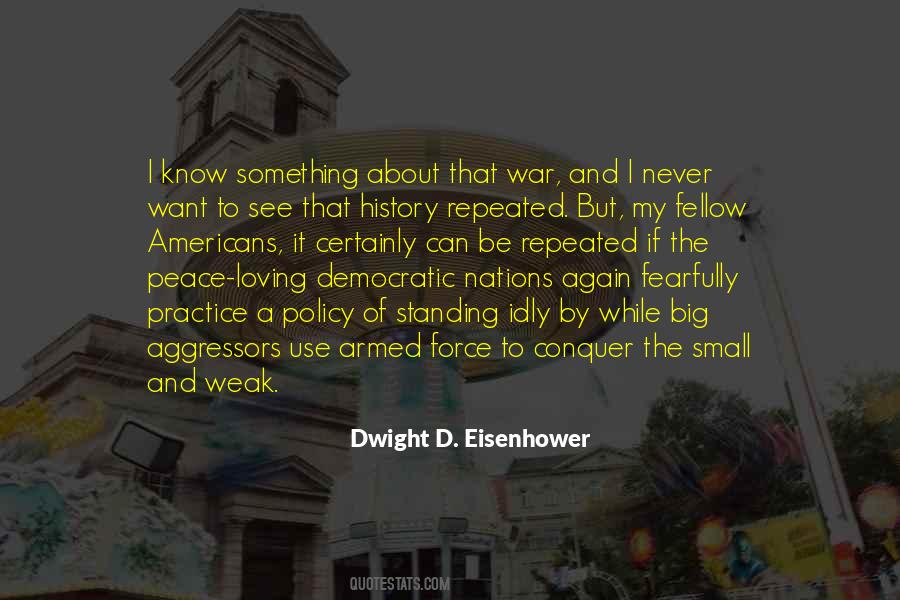 #78. It isn't enough to love people because they're good to you, or because in some way or other you're going to get something by it. We have to love because we love loving. - Author: John Galsworthy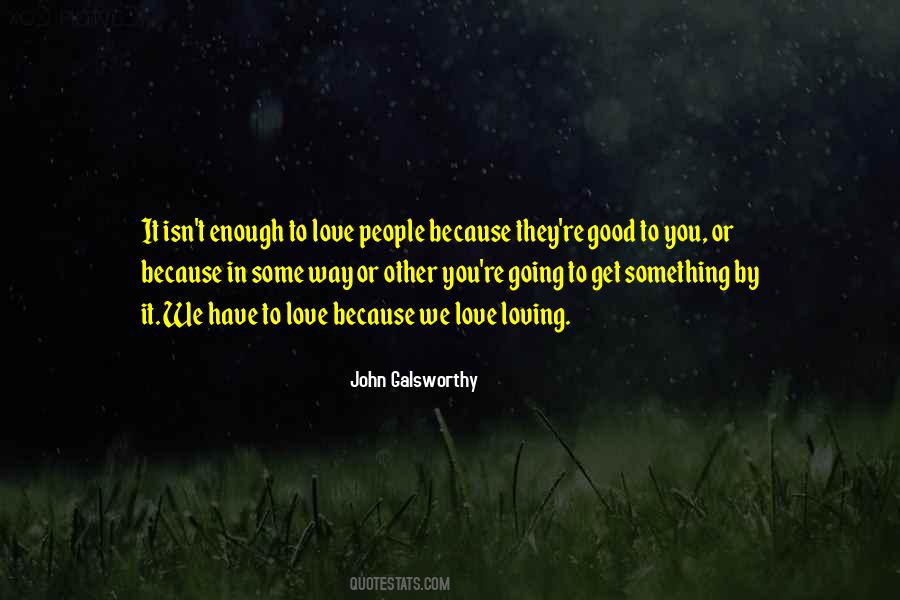 #79. Truly loving something can be articulated by the lyrics from the song 'Hotel California': 'You can check out any time you like, but you can never leave.' Oblivious - Author: Anu Vaidyanathan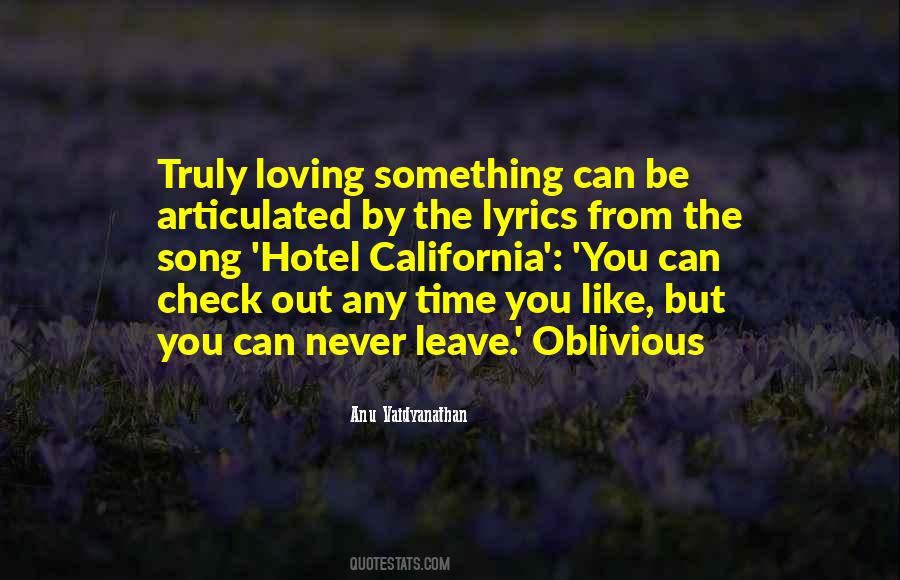 #80. Being human doesn't make us humans. Humanity is something else only a kind and loving heart can possess - Author: Munia Khan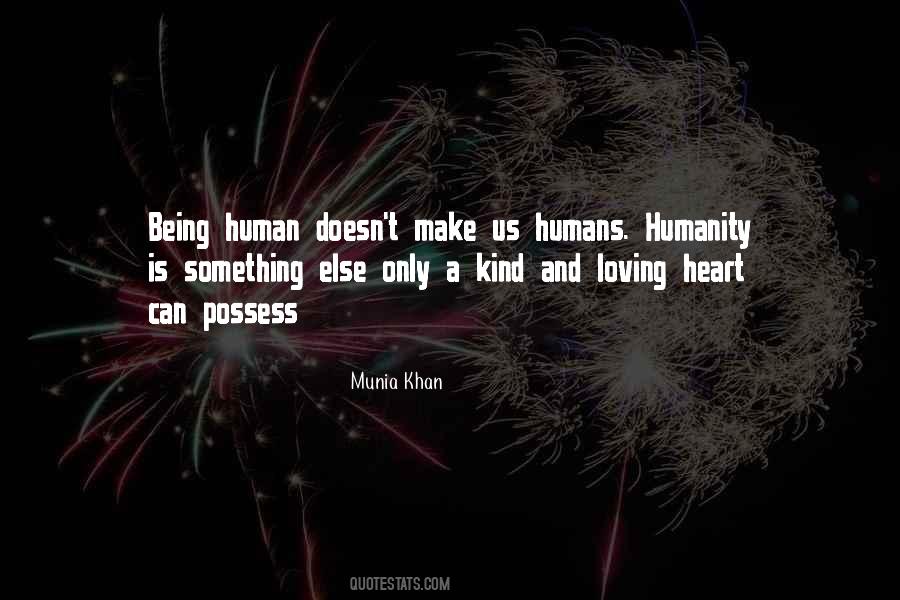 #81. If something good was happening in my life, I'd call my mom to let her know. If something bad was happening, she'd be somebody whose advice I would seek out. We had a very good relationship, but she drove me crazy, all the time. But, she drove me crazy in a loving way. - Author: Dan Fogelman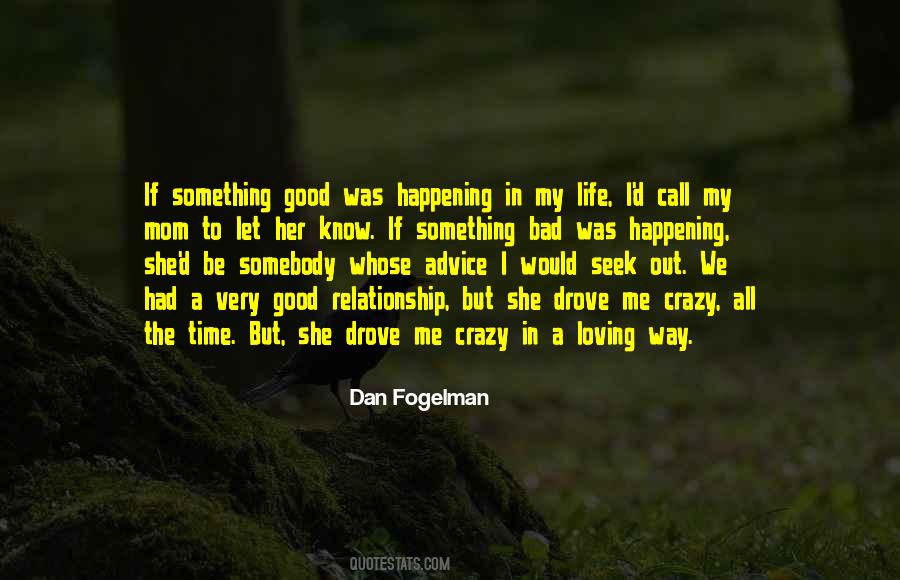 #82. Love is the biggest thing. I feel that if we all were truly loving to each other, I think life would be better. Even to like, a stranger. They could be going through something crazy in their day and just to show love towards that person ... - Author: Leon Bridges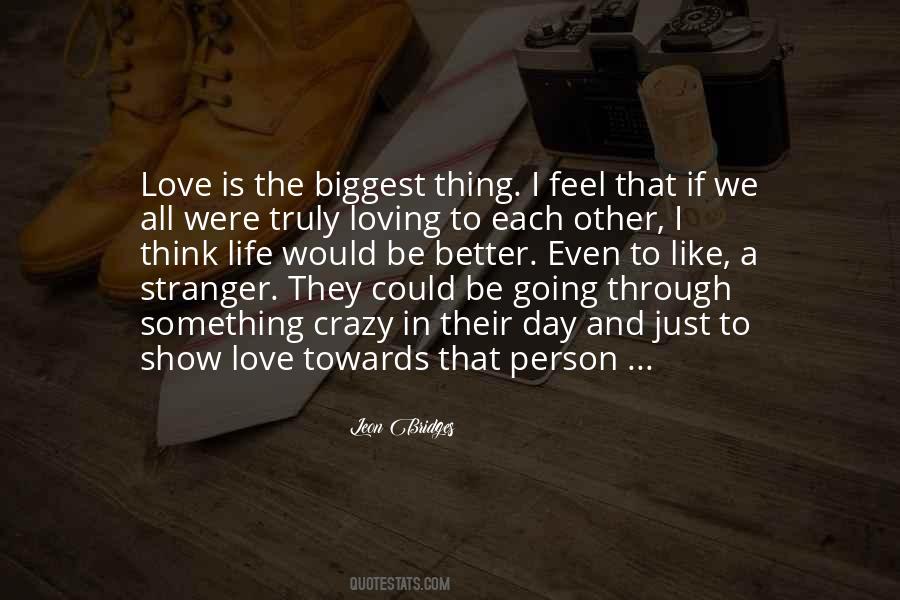 #83. Not loving him hurt me. I didn't leave to find someone else. I left because he was there, every day, reminding me I'd lost something I cherished. I - Author: C.D. Reiss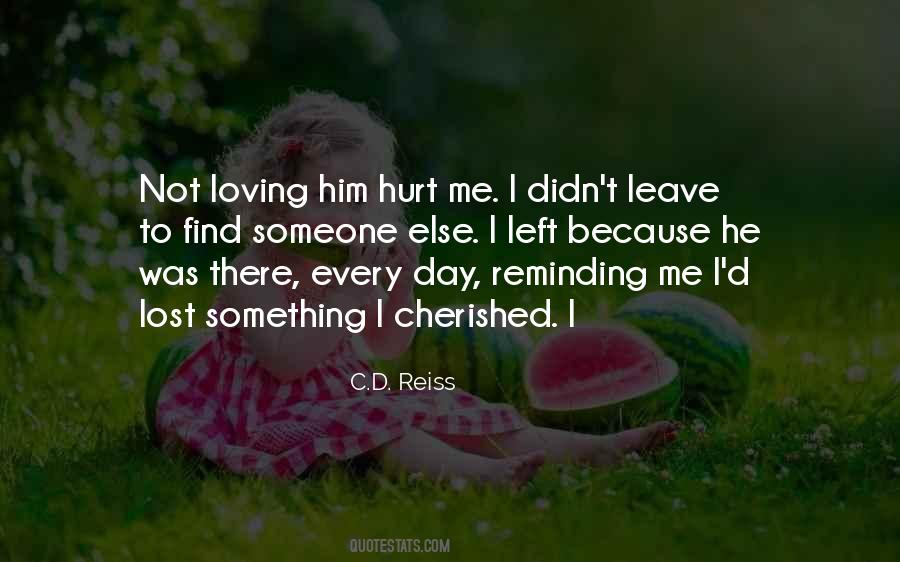 #84. Nobody who has done business in any country with an Indian would doubt the shrewdness of Indians, but what Indian people bring to the world is something special and unique, which is the capacity for a loving interaction. - Author: Gregory David Roberts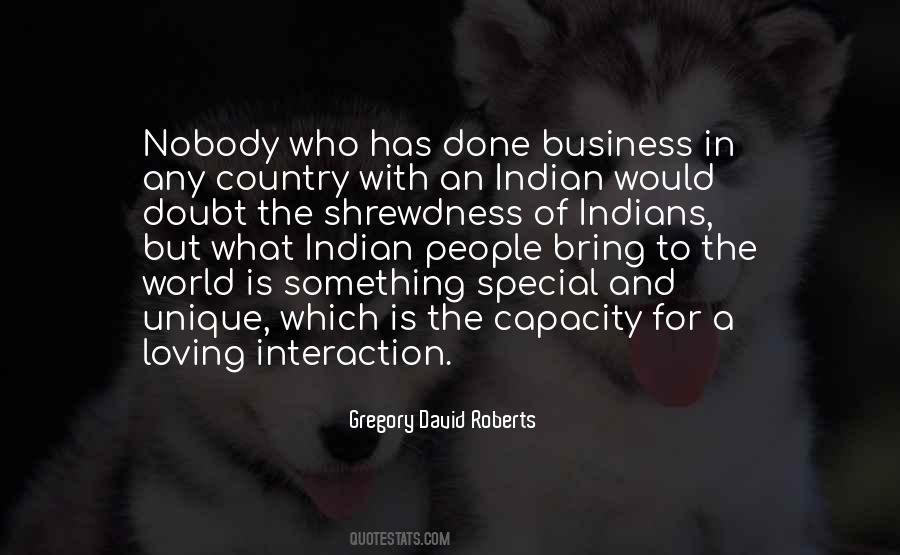 #85. No one ever told me that loving someone would feel like you were giving up every last part of yourself, but that's how I feel, Addison.
From the second I saw you, I was done. I gave it all to you. Something about you called to me, and I have never regretted you, even as I questioned us. - Author: Ella Frank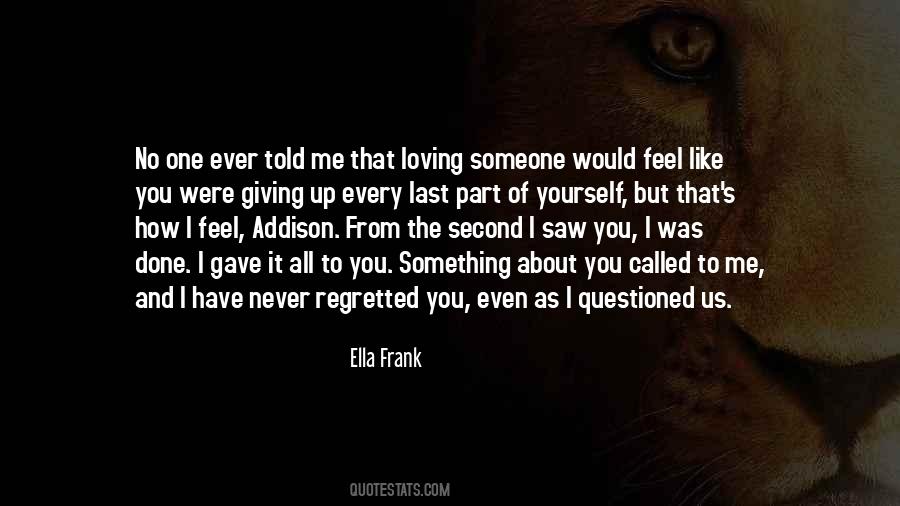 #86. There is something so precious about watching your child day after day after day. I want to hold on to every moment, every smile, every single hug and kiss. I suppose it has to do with loving to be needed and needing to give love. - Author: James Patterson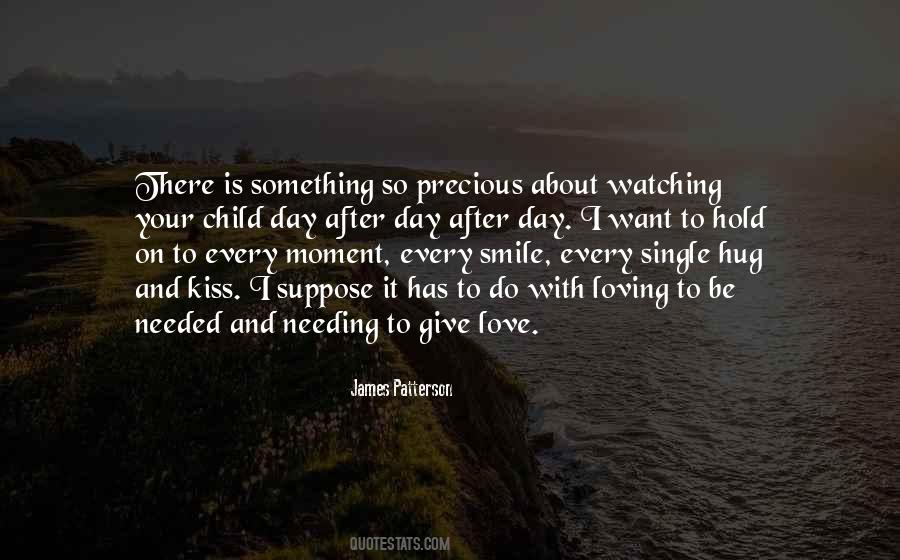 #87. You can't be an entrepreneur for other people. You can't start a company for other people. You have to love it more than you ever thought of loving something that wasn't a human being. The demands will kick you down and rob your life - but yet, it is so rewarding. - Author: Blake Lively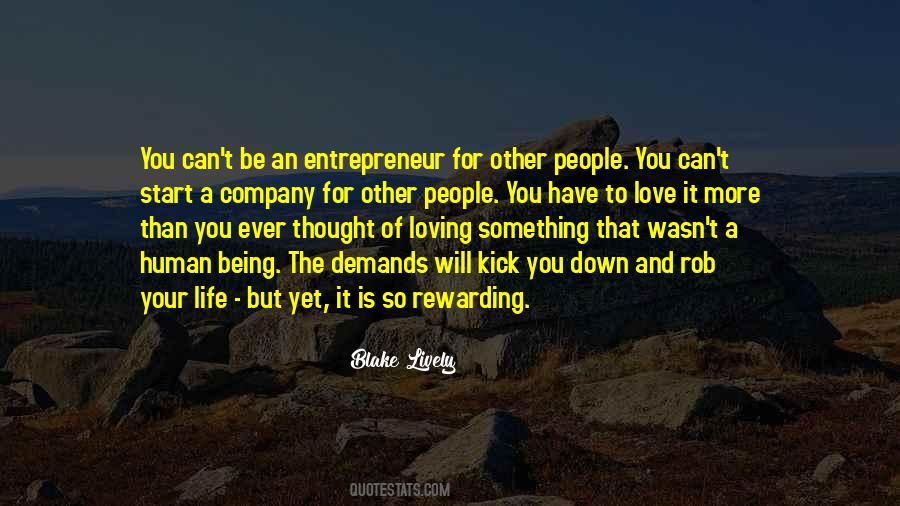 #88. If you have a friend, a good friend, a woman you love, and you learn she's done something abominable, do you stop loving her? - Author: Diane Chamberlain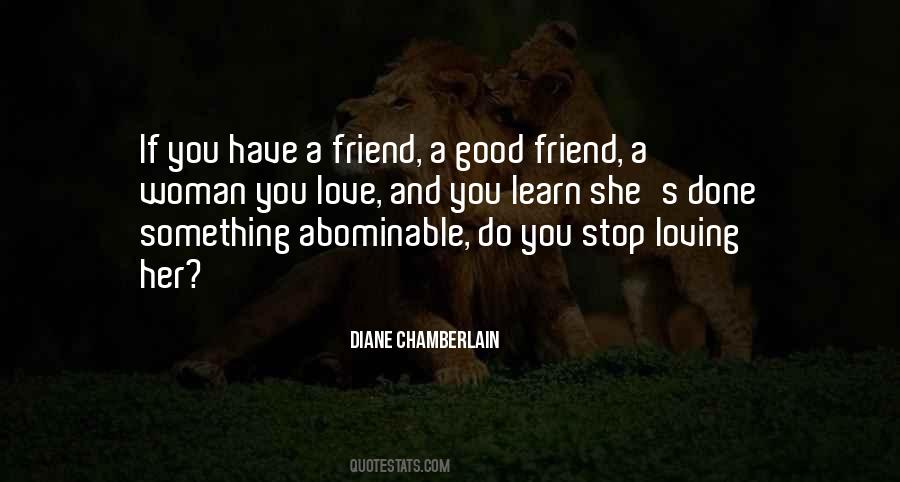 #89. It was she whom I loved and whom I could not therefore see without that anxiety, without that desire for something more, which destroys in us, in the presence of the person we love, the sensation of loving. - Author: Marcel Proust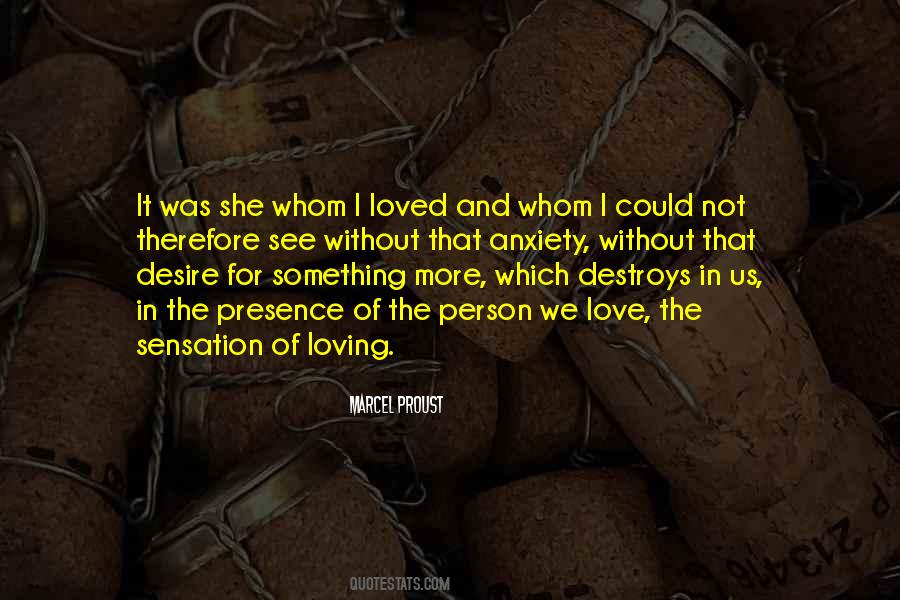 #90. It wasn't a deliberate decision to become a poet. It was something I found myself doing - and loving. Language became an addiction. - Author: Yusef Komunyakaa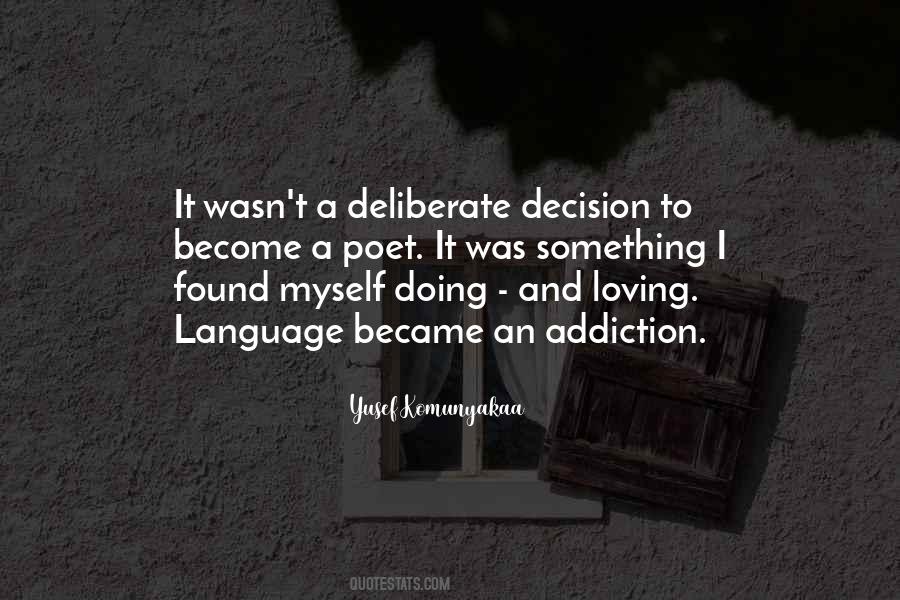 #91. The Spirit is the one that is love. Can you understand total love ? Can you understand something that just gives and enjoys giving and not asking for anything ? Loving for loves sake, that's what is your Spirit. It is watching you with that love, that total love. - Author: Nirmala Srivastava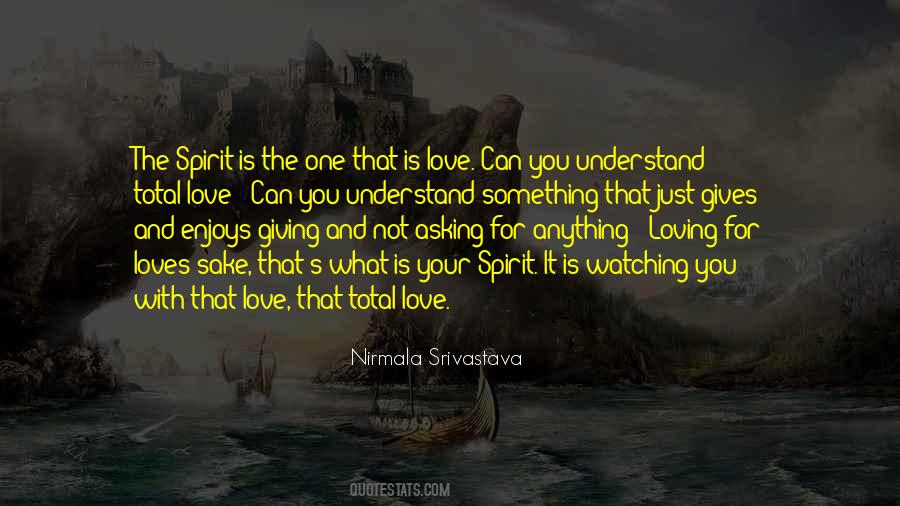 #92. A stable, loving family is something that should absolutely, fundamentally never be taken for granted! I am lucky that I got dealt some cards that showed me what it's like to not have family, and I am much luckier to now have the chance to create my own deck! - Author: Drew Barrymore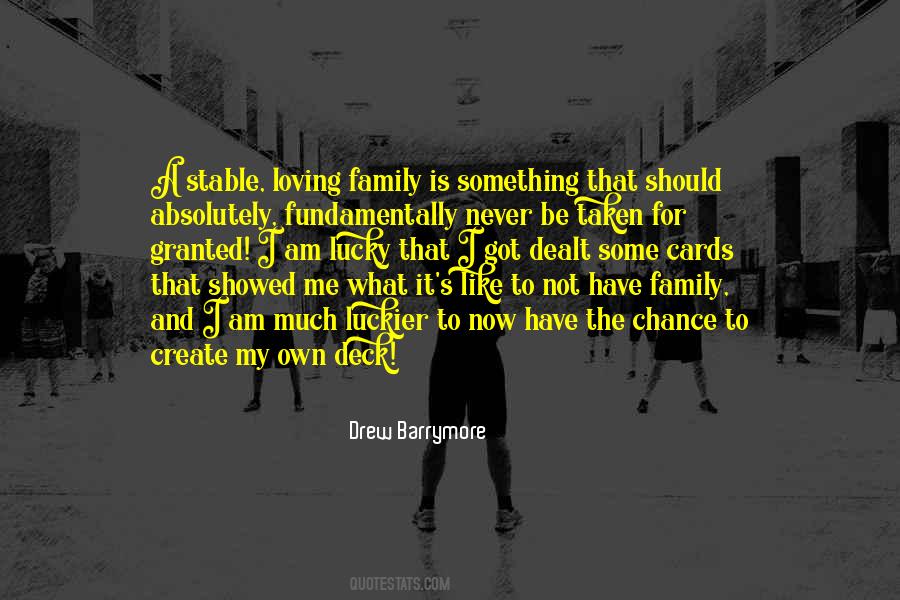 #93. When you can't see any reason for loving a person, you must be loving him as a symbol of something, don't you think so? - Author: Kylie Tennant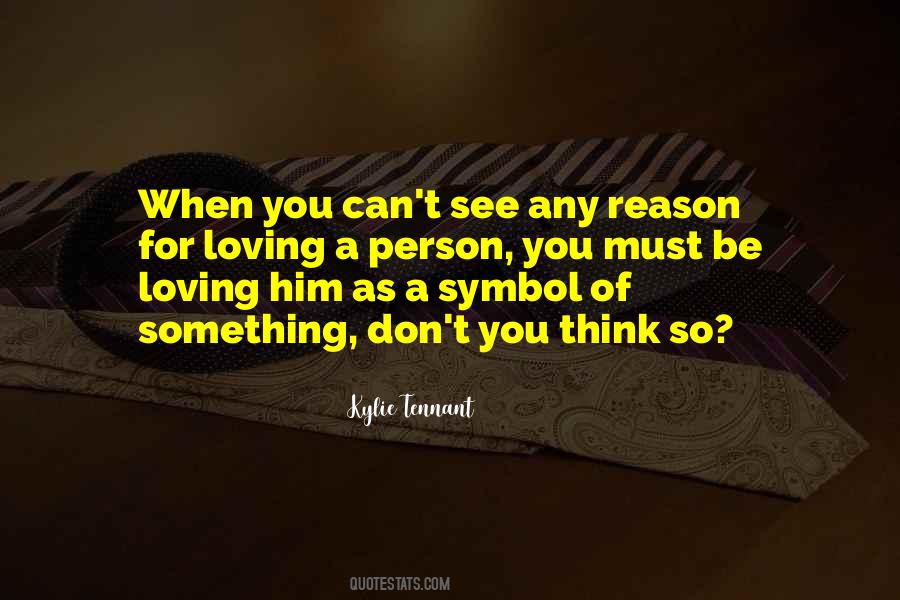 #94. Isn't it time that, loving, we freed ourselves
from the beloved, and, trembling, endured:
as the arrow endures the bow, so as to be,
in its flight, something more than itself? - Author: Rainer Maria Rilke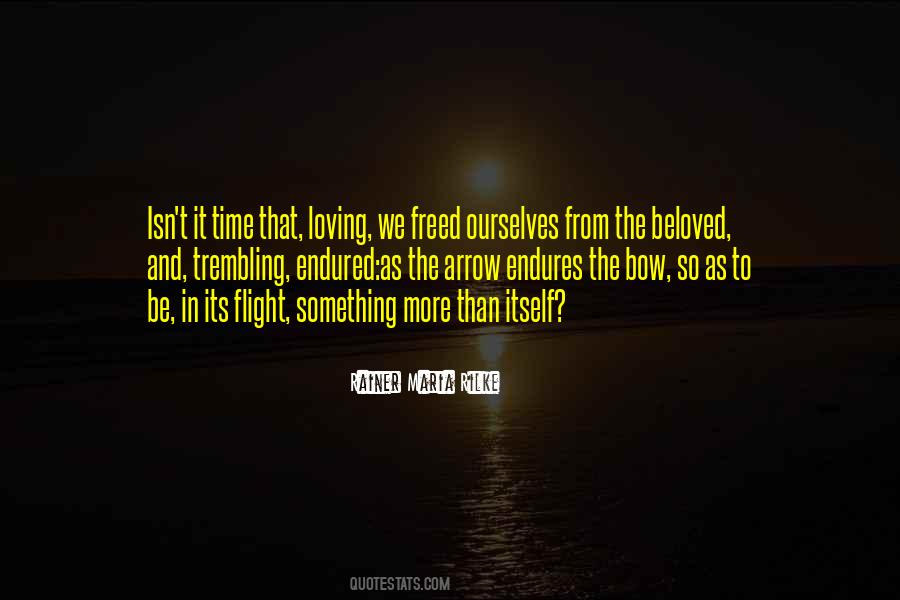 #95. The day you begin to accept who you are is when the journey of knowing yourself begins. That day is when validation through others becomes something of the past, and loving you and evolving into who you were made to be will begin. - Author: Pierre Alex Jeanty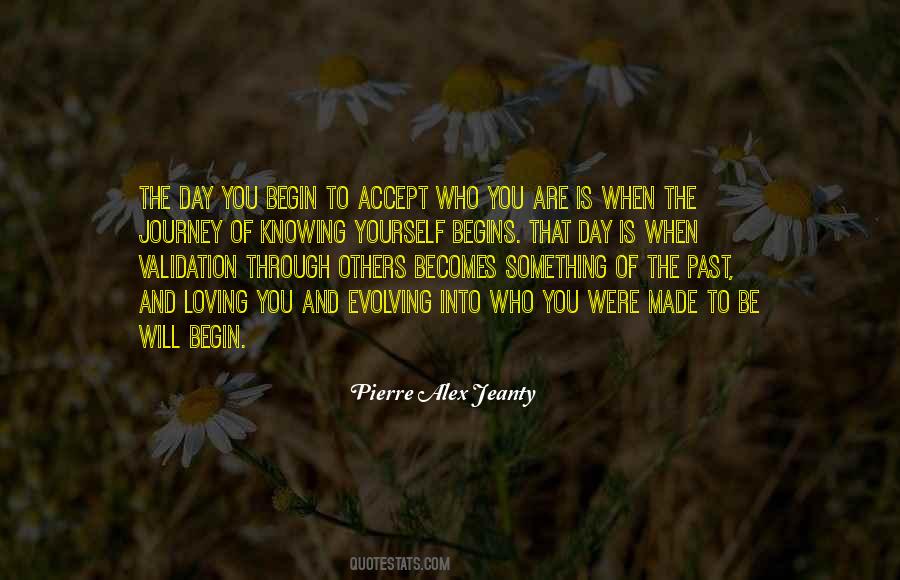 #96. Something mystical can happen in the course of acting together that transcends words and ideologies
people who do not agree on ideas can create common ground in the act of loving. - Author: Shane Claiborne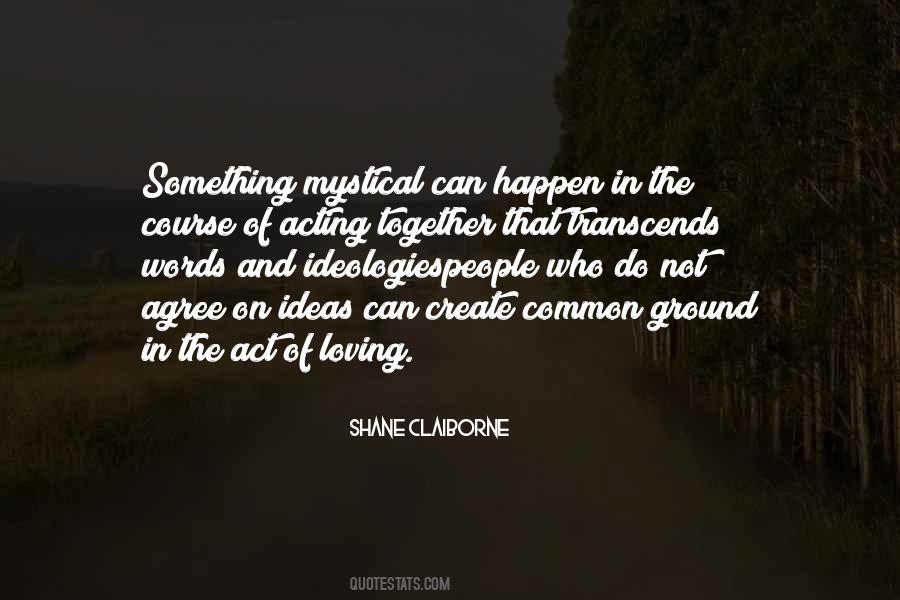 #97. Please do not become so hurt by life that when someone loving comes along, or something good happens, you resist allowing the love and joy in. - Author: Karen Salmansohn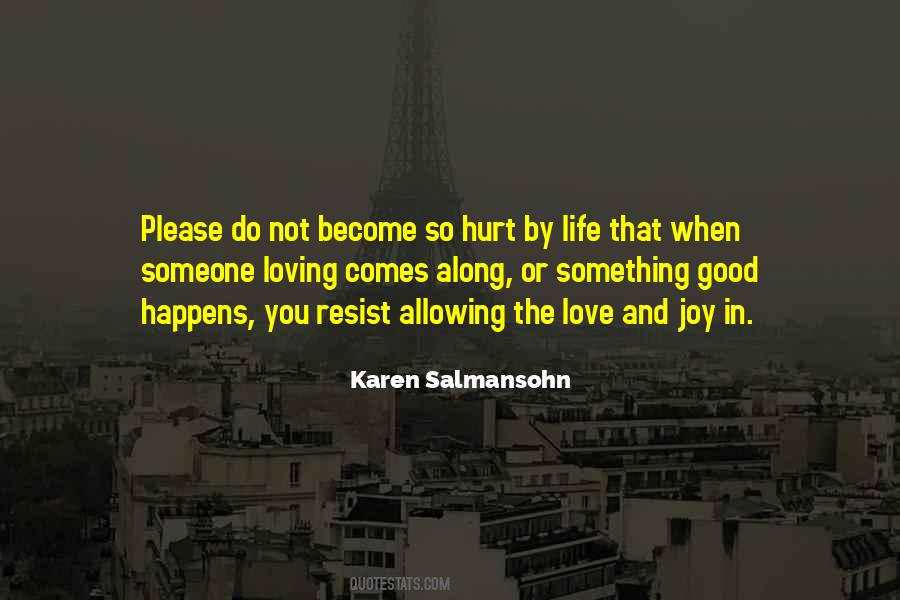 #98. God, how that stings! I've spent a lifetime loving science fiction and now I find that you must expect nothing of something that's just science fiction. - Author: Isaac Asimov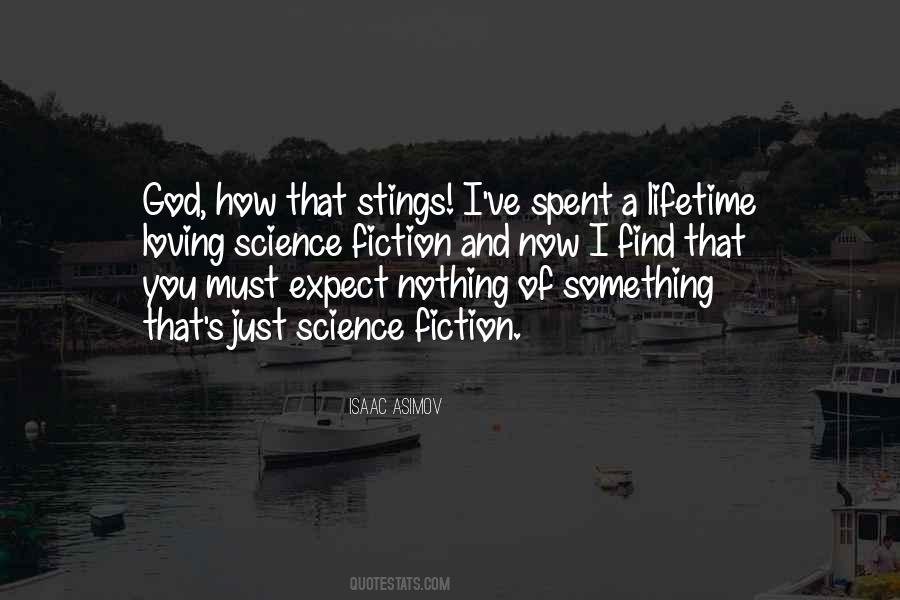 #99. The notion of loving oneself has gotten an undeservedly bad rap, which goes something like this: self-love is narcissistic, selfish, self-indulgent, the supreme delusion of a runaway ego looking out for "number one." In fact, just the opposite is true. - Author: Sharon Salzberg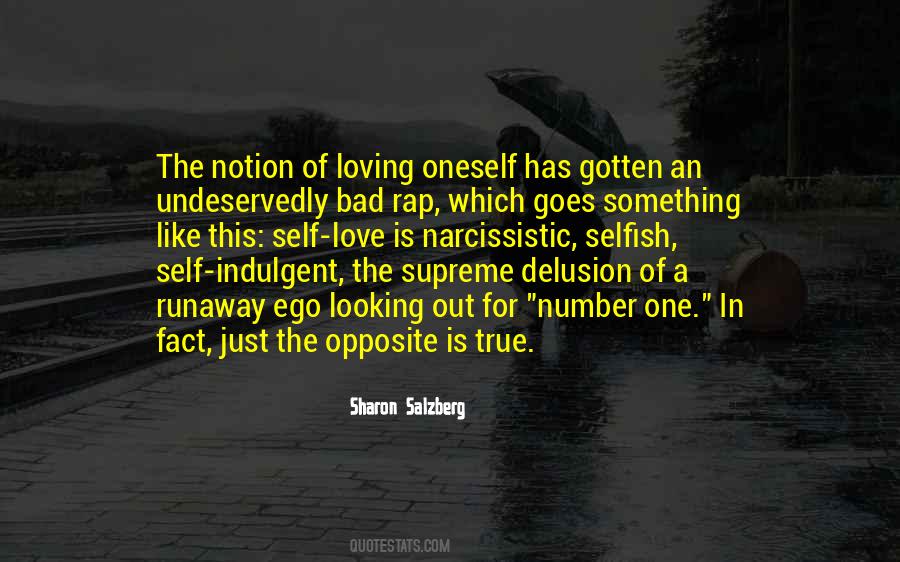 #100. I had a very easy time loving an audience. But when it's one-on-one with somebody, all I wanted to do was run away, because maybe they're going to want something from me I can't give, or they're going to hurt me. - Author: Tim Allen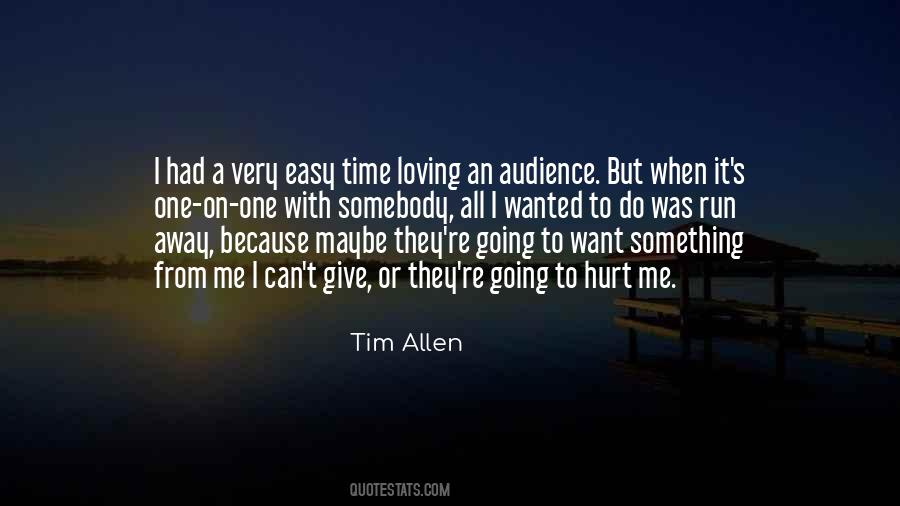 Famous Authors
Popular Topics