Listen To Your Body Famous Quotes & Sayings
List of top 50 famous quotes and sayings about listen to your body to read and share with friends on your Facebook, Twitter, blogs.
Top 50 Quotes About Listen To Your Body
#1. The best thing I've learned is that you have to listen to your body, and you have to be your own physician. Don't ignore those little groaning aches and pains. - Author: Valerie Cruz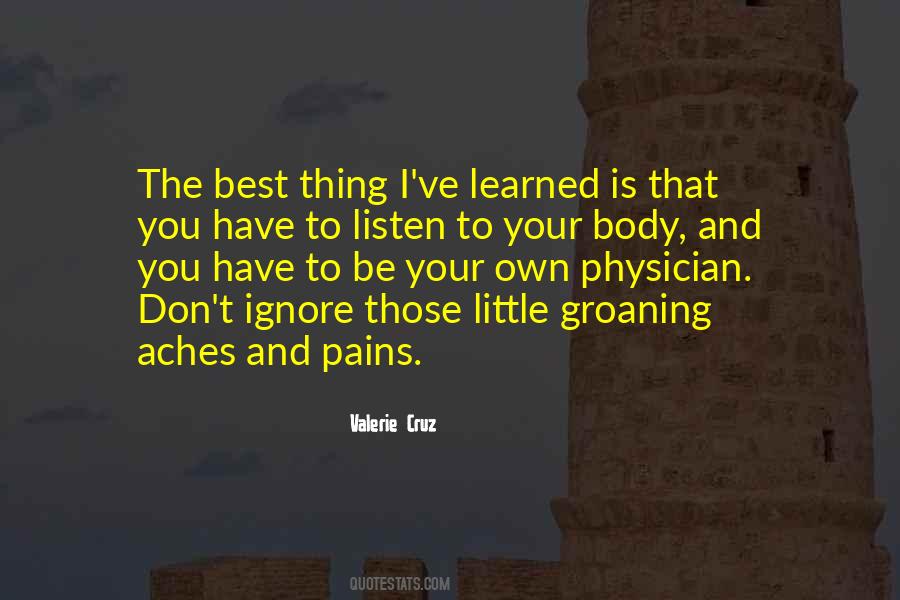 #2. When you are balanced and when you listen and attend to the needs of your body, mind, and spirit, your natural beauty comes out. - Author: Christy Turlington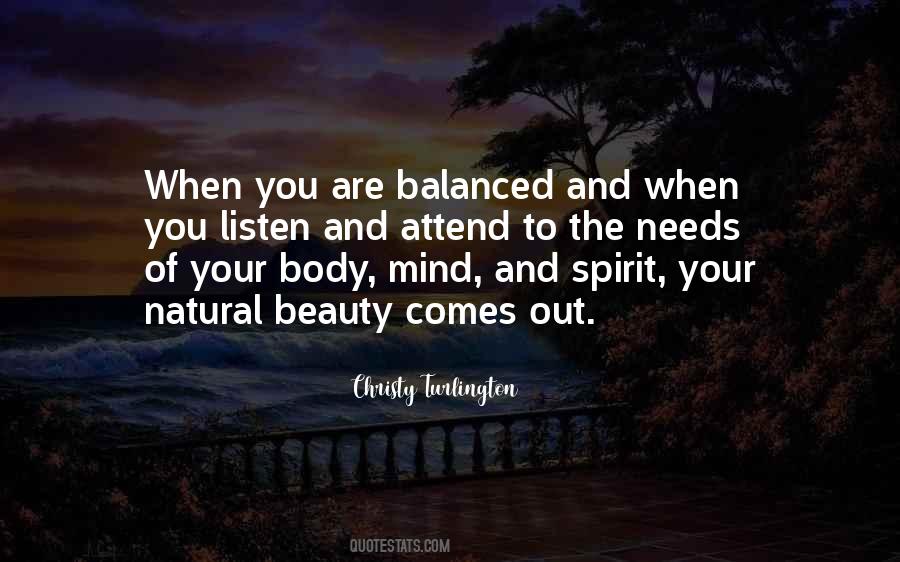 #3. Staying healthy is about really listening to your mind and body. They will both let you know when you're doing things the right way for you. And when you're not. You just need to be honest with yourself and listen to what they're saying. - Author: Adam Rodriguez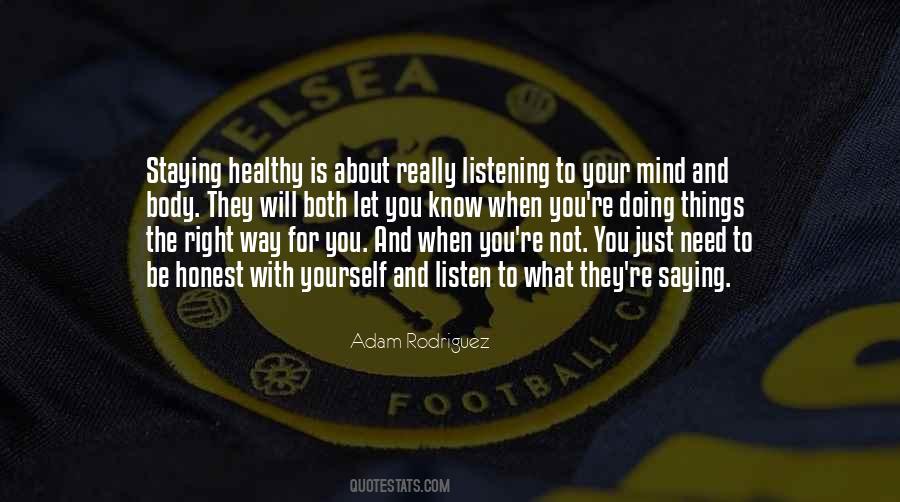 #4. Listen. This will probably be the worst pain you have ever experienced in your life. Everything in your body will tell you to let go, but you have to hold on. You have to hold on, Maddy, no matter what. No matter how badly it hurts. You can never, never let go. Can you do that for me? - Author: Scott Speer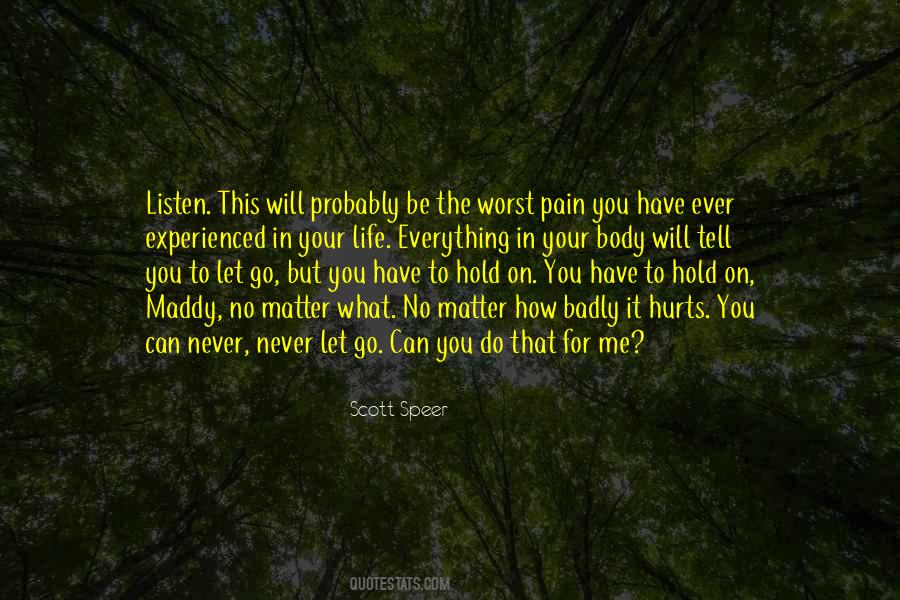 #5. Everybody has a finite amount of energy and limits to what he or she can do. Listen to your body. It will talk to you if you're willing to listen. - Author: Phyllis George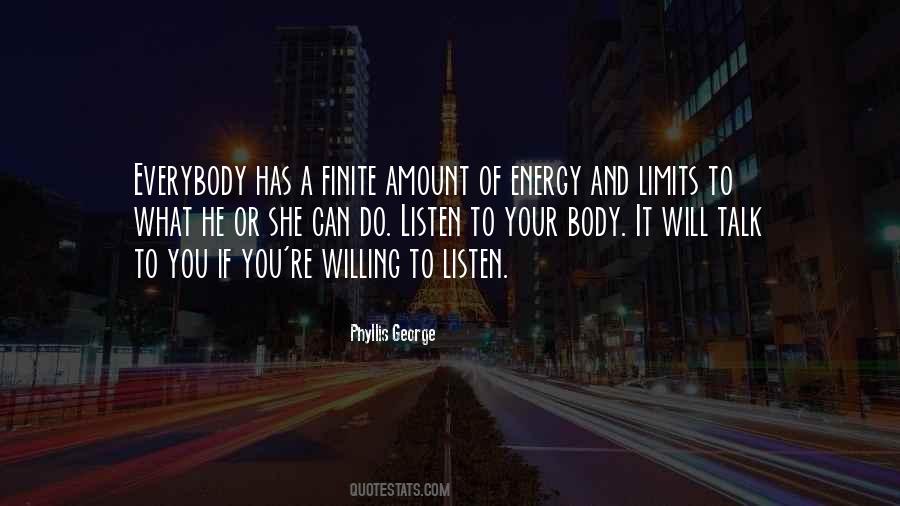 #6. Listen to me, your body is not a temple. Temples can be destroyed and desecrated. Your body is a forest - thick canopies of maple trees and sweet scented wildflowers sprouting in the underwood. You will grow back, over and over, no matter how badly you are devastated. - Author: Beau Taplin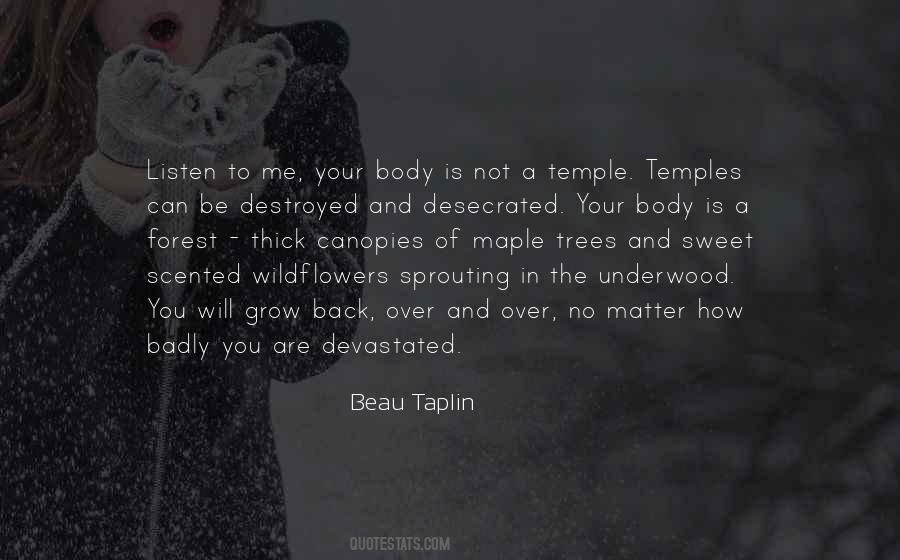 #7. To listen is to be vulnerable. You allow something outside your body to come inside. To be open and impressionable, to hear everything, is dangerous. You can be damaged all too easily. - Author: W.A. Mathieu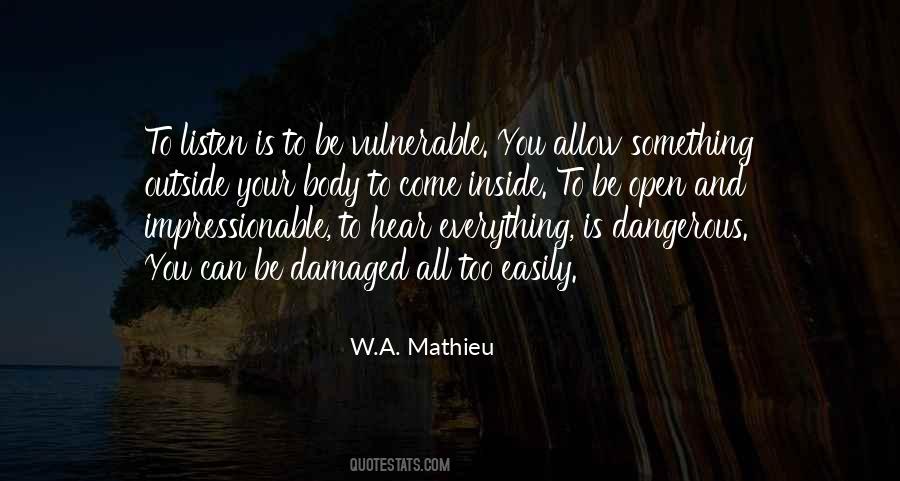 #8. Now I know you should listen to what your body is telling you. - Author: Delta Goodrem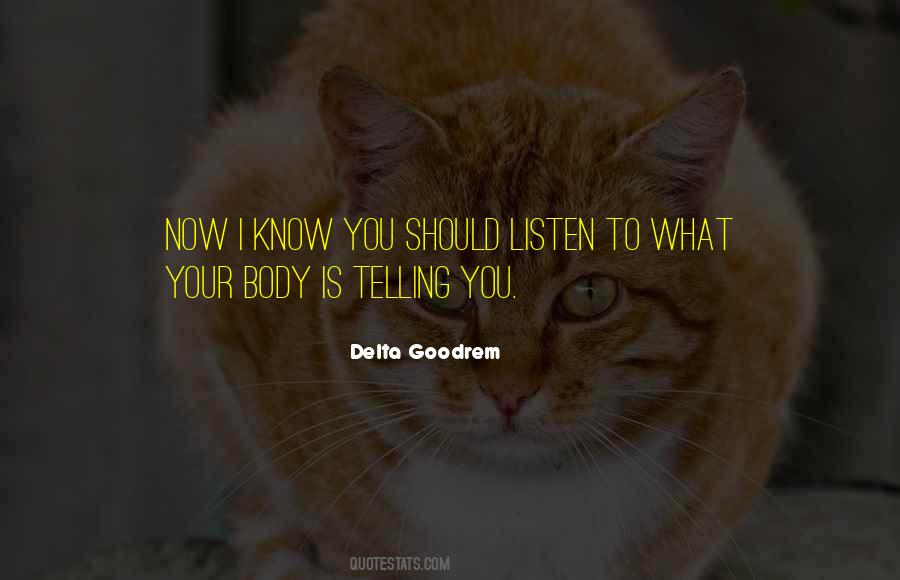 #9. Leave safety behind. Put your body on the line. Stand before the people you fear and speak your mind - even if your voice shakes. When you least expect it, someone may actually listen to what you have to say. Well-aimed slingshots can topple giants. - Author: Maggie Kuhn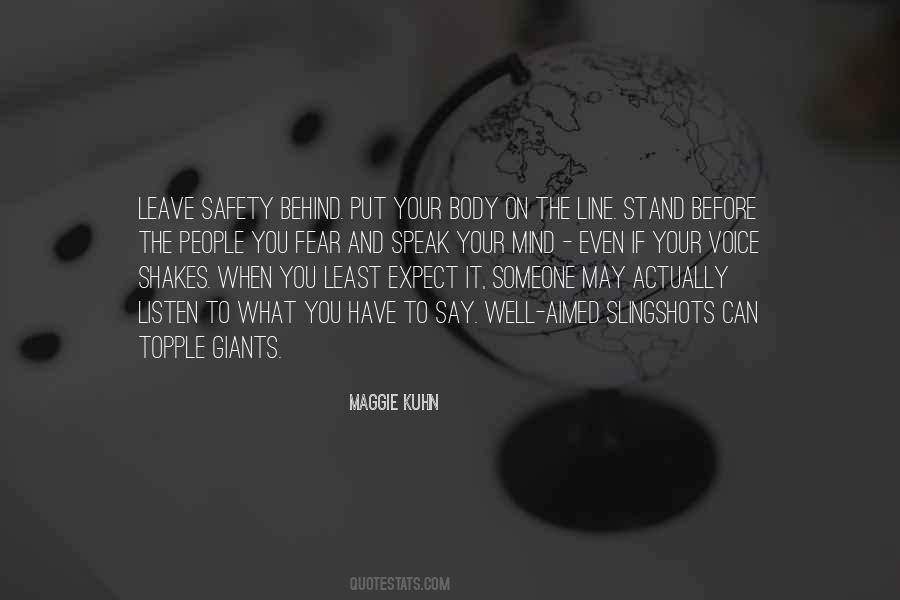 #10. I used to spend a couple of hours in the weight room, but really, an hour is long enough. I lift twice a week and on other days incorporate more core yoga and different exercises. It's important to listen to your body. I will shut it down if I'm tired. - Author: Misty May-Treanor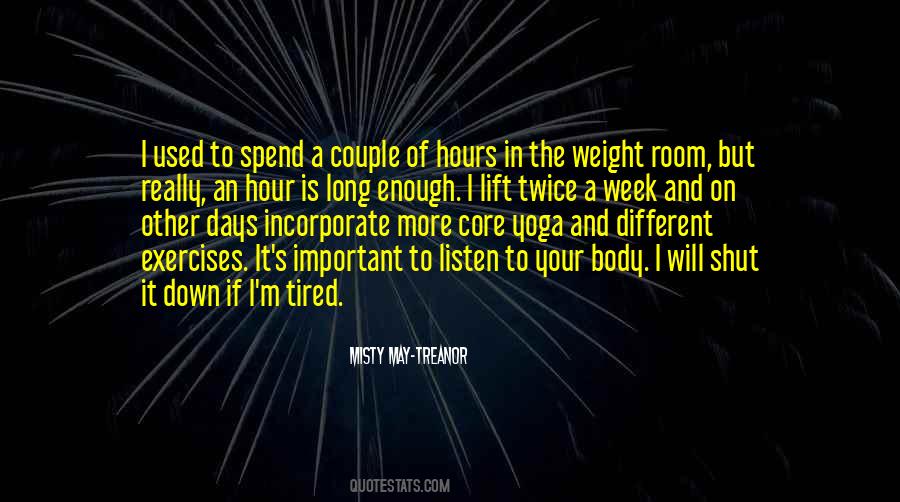 #11. With your whole body, with your whole heart, with your whole conscience, listen to the Revolution ... This is the music everyone who has ears should hear. - Author: Alexander Blok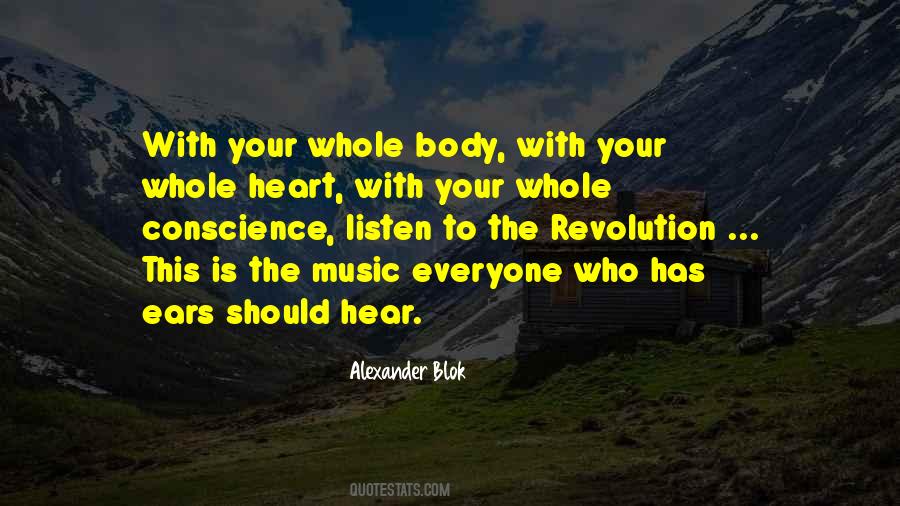 #12. You listen to me, Lance Hamilton, and you listen good. If you ever go near Savannah Carmichael again with anything but the utmost respect, I will come back here with my Army-issued sidearm and I will shoot your balls off your body. That is a bona fide goddamned promise. Nod if you understand me. - Author: Katy Regnery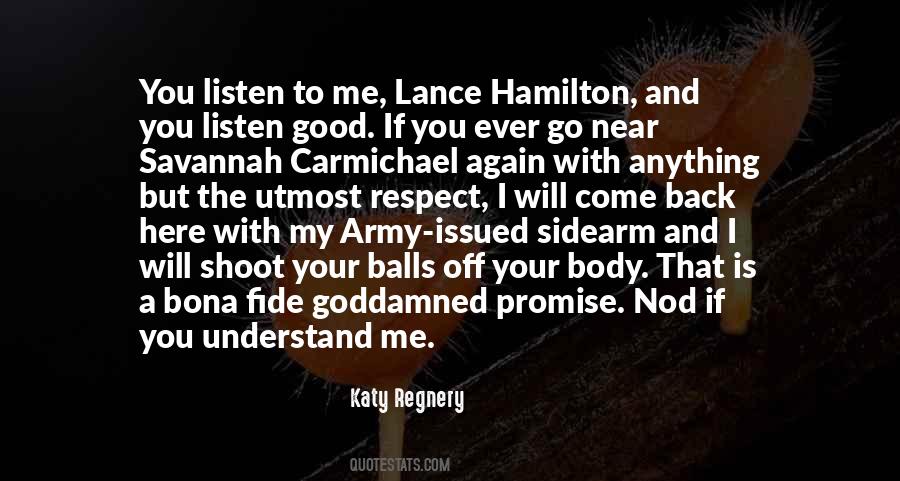 #13. In training, you listen to your body. In competition, you tell your body to shut up. - Author: Rich Froning Jr.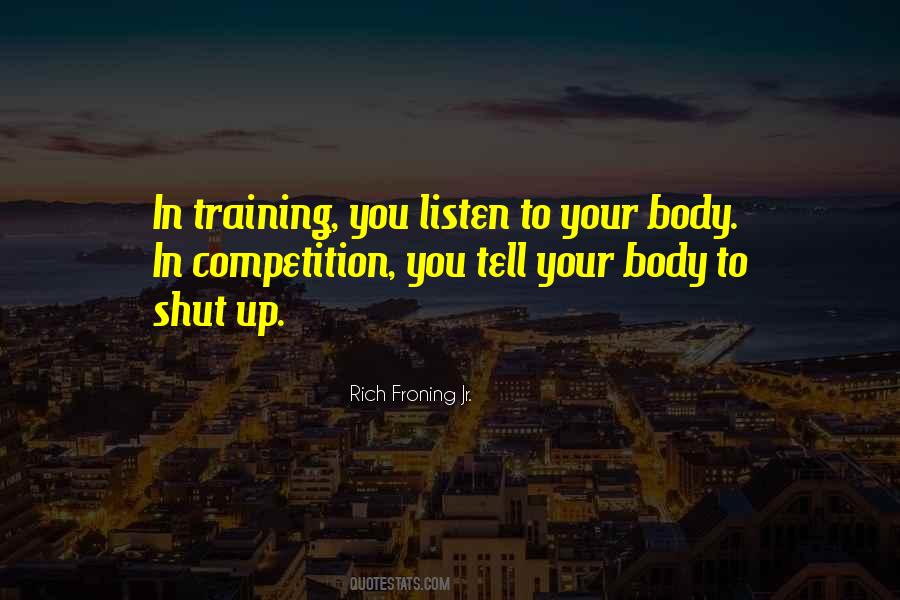 #14. I've trained myself to find time to exercise relaxation of the body. I have these programs - I just listen to the instructions, and they're simple. Sometimes you just hold your hand tight and keep your breath - you hold it, hold it, feel all the tension, and then relax. - Author: May-Britt Moser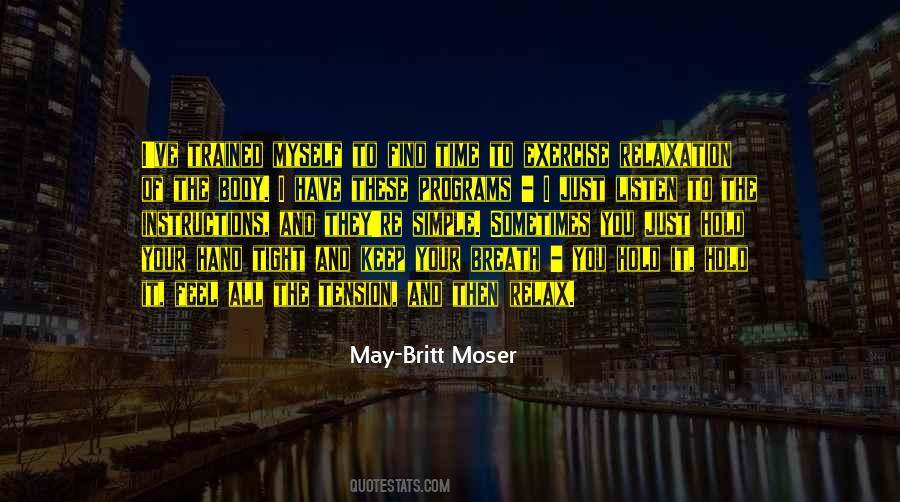 #15. A strong body listens. It obeys. A weak body commands. If your body is weak it tells you what to do. If your body is strong it'll actually listen to you when you tell it to do something. If you build it right you can overcome some of the obstacles of age and recovery. - Author: Andre Agassi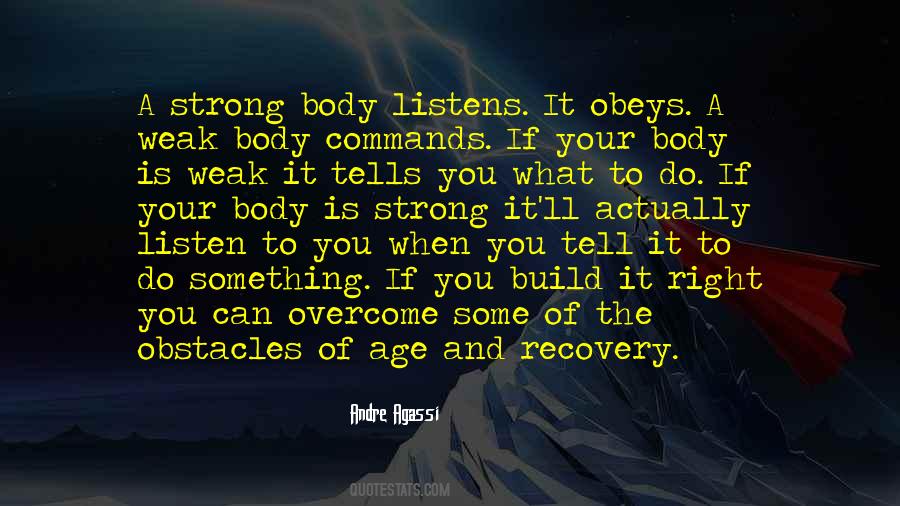 #16. The quest for a lost city erodes your body, damaging you beyond all reason. But it is your mind that bears the heaviest toll. Listen to the doubters, the worriers and the weak, and the vaguest hope of success evaporates. - Author: Tahir Shah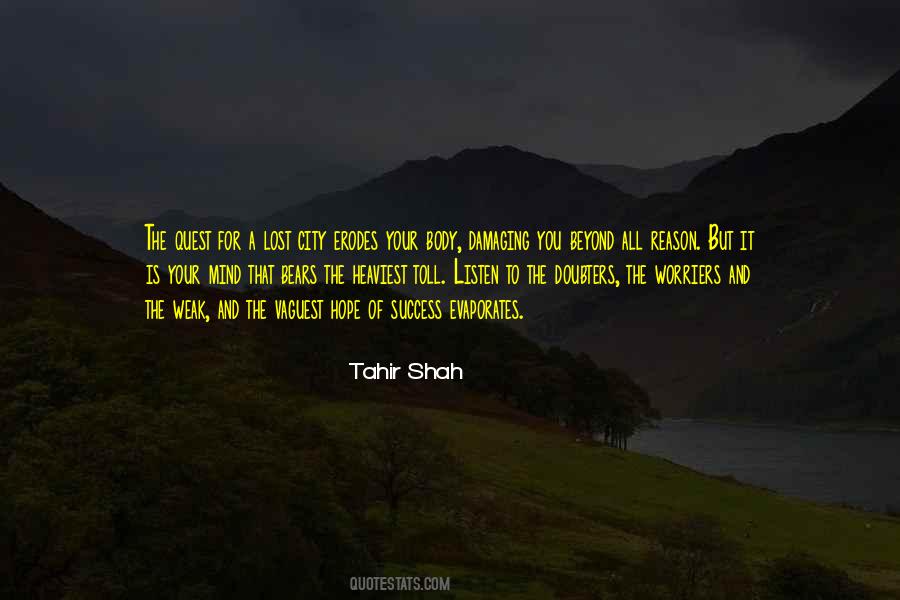 #17. Yoga teaches you how to listen to your body. - Author: Mariel Hemingway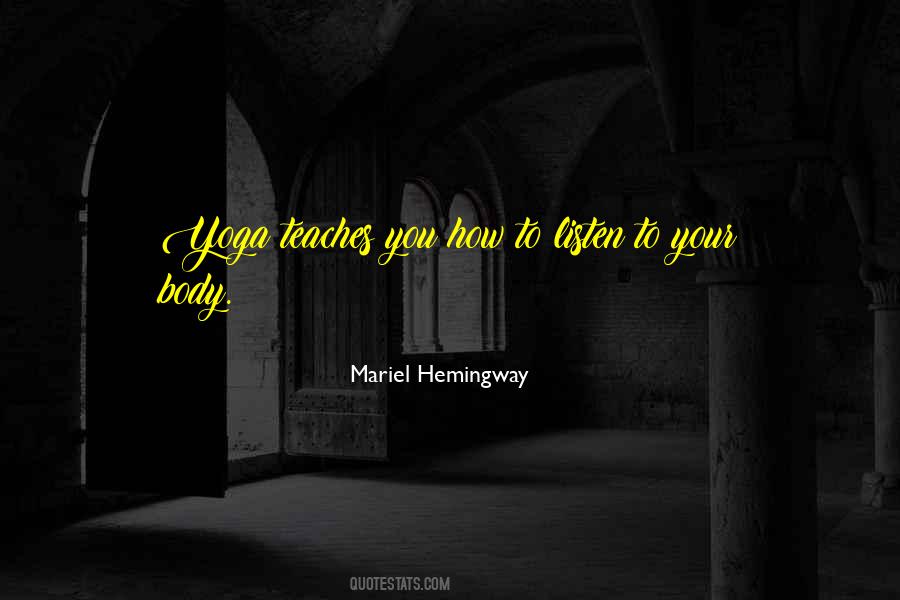 #18. Whenever I cook, I think of Spanish music, so I always have to listen to some sort of salsa. It gets your body going. - Author: Action Bronson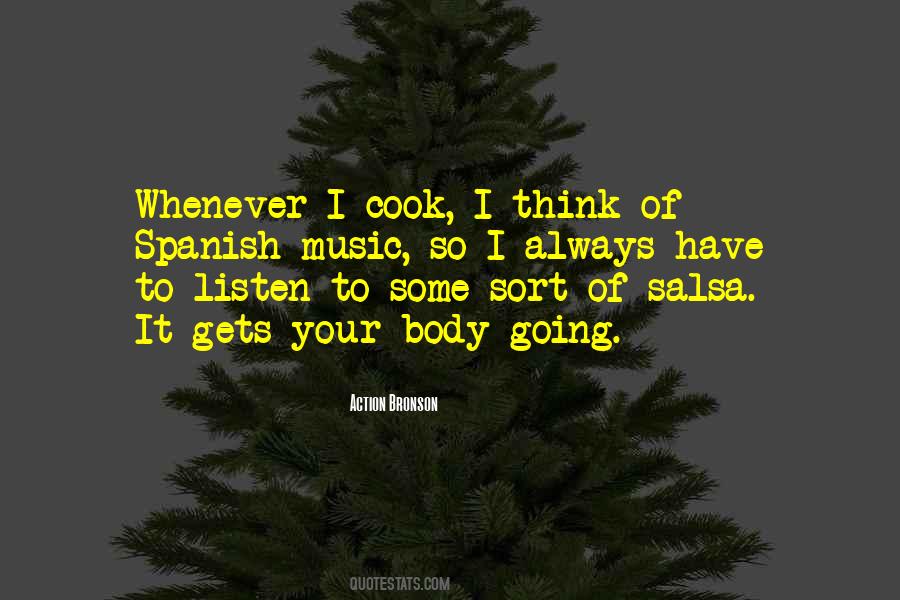 #19. Just listen to your body, eat in silence and see what feels good and you will spontaneously choose the foods that are beneficial to you. - Author: Deepak Chopra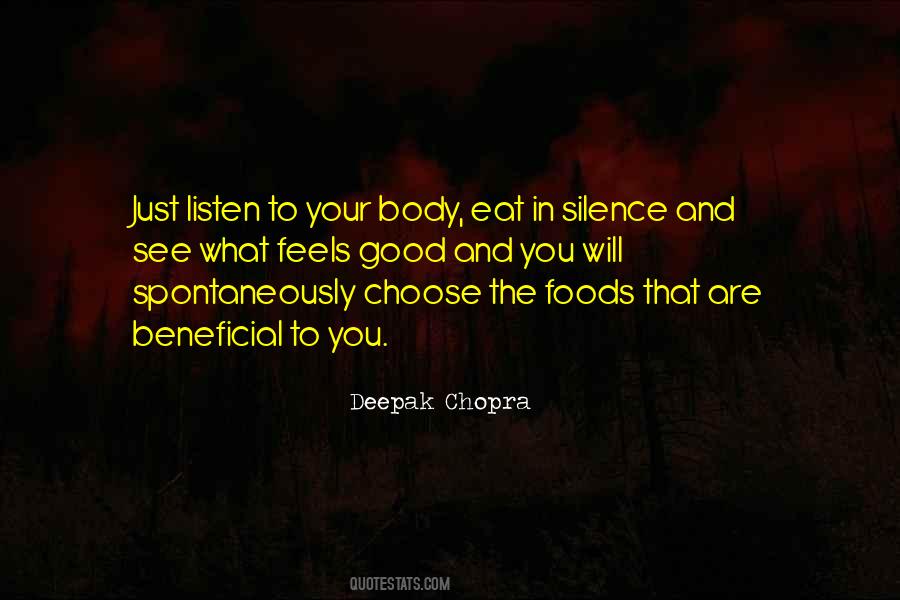 #20. All the hands, hearts and minds of the individuals collectively contribute to the team's success. (listen to your team, watch their body language, share your expectations ... work together.) - Author: Suzanne Yoculan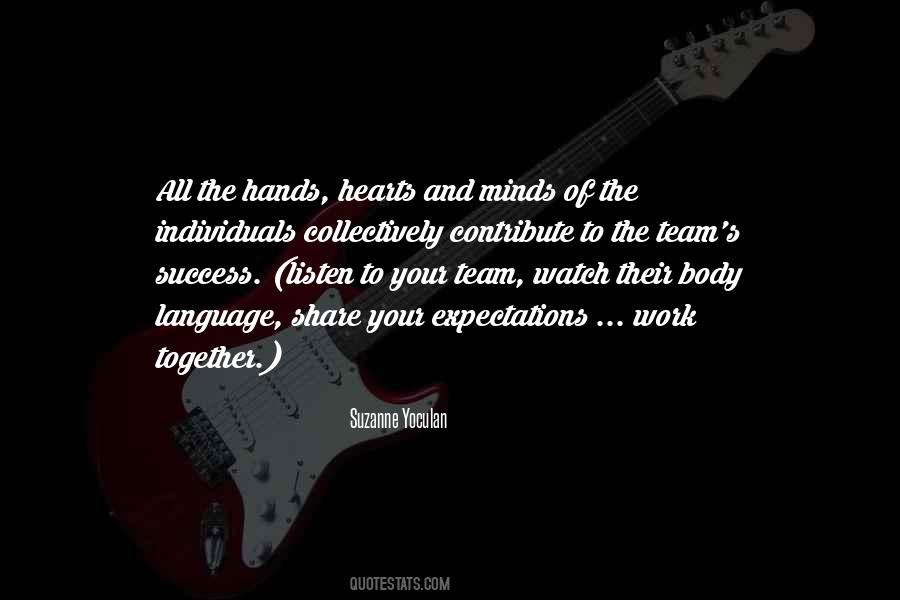 #21. Healing happens when we learn how to listen to our body. Your body knows exactly what it needs to be radiantly healthy. - Author: Catherine Carrigan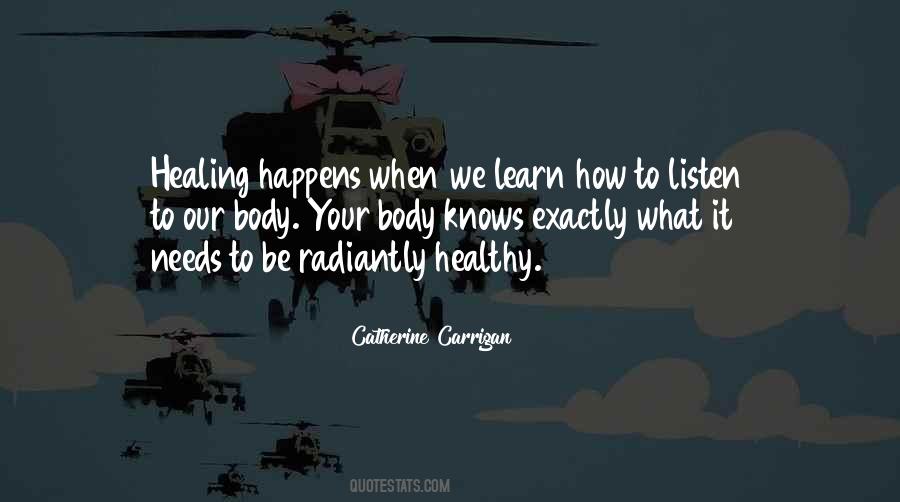 #22. All discomfort is not equal. Learning to listen will help you distinguish among effort, fatigue and pain. To what degree, under what conditions and over what period of time your body experiences these sensations will determine how you respond. - Author: Gina Greenlee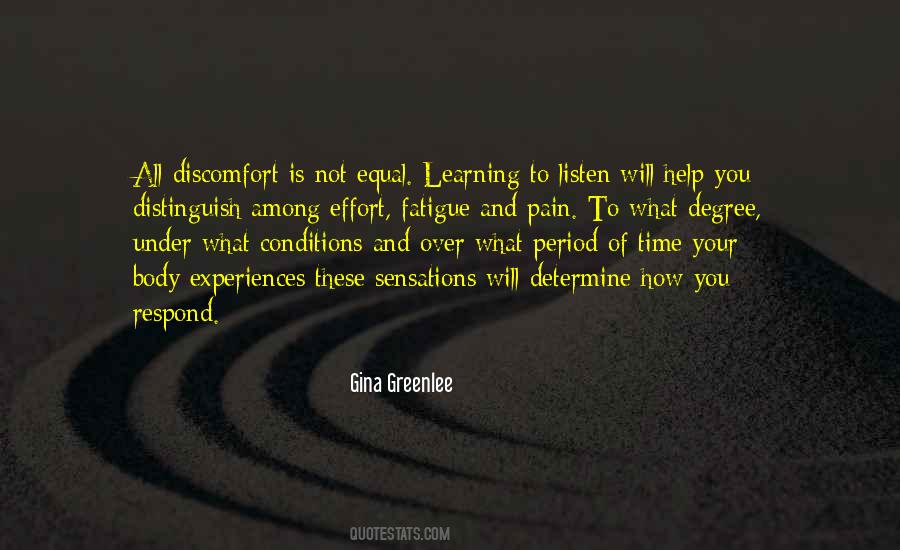 #23. Listen to your body. The quality of your communication matters. - Author: Natalie Geld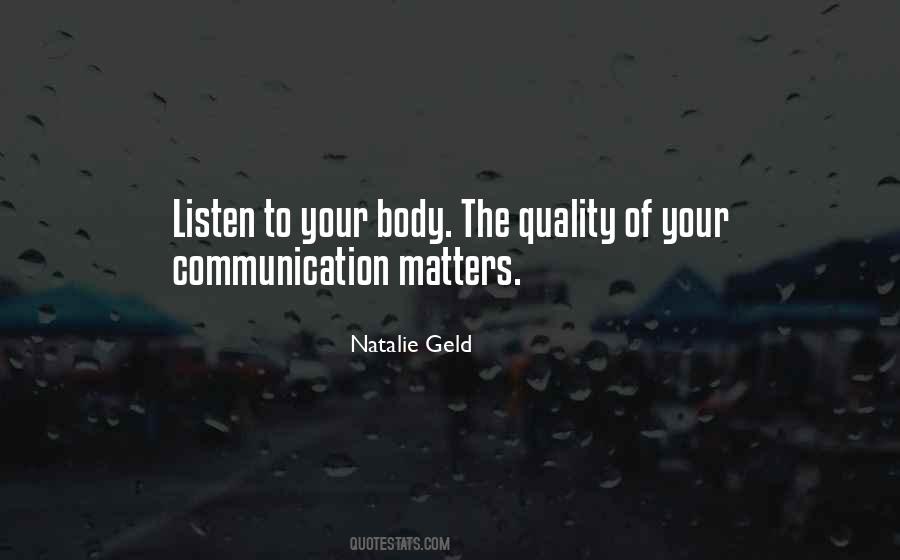 #24. Continued pain is a signal to the body that there's something wrong, not right.
Lucy Scarborough
Nancy Werlin - Author: Nancy Werlin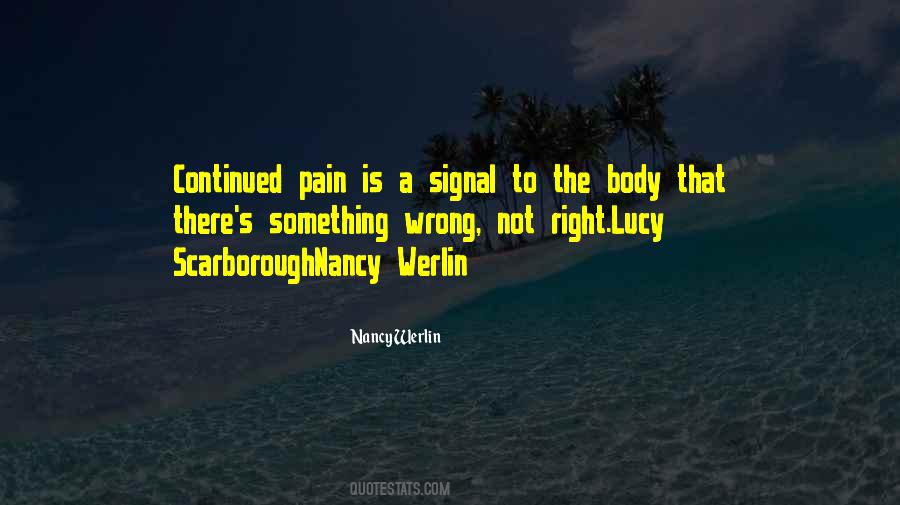 #25. If you talk to your body, it will listen. - Author: Bernie Siegel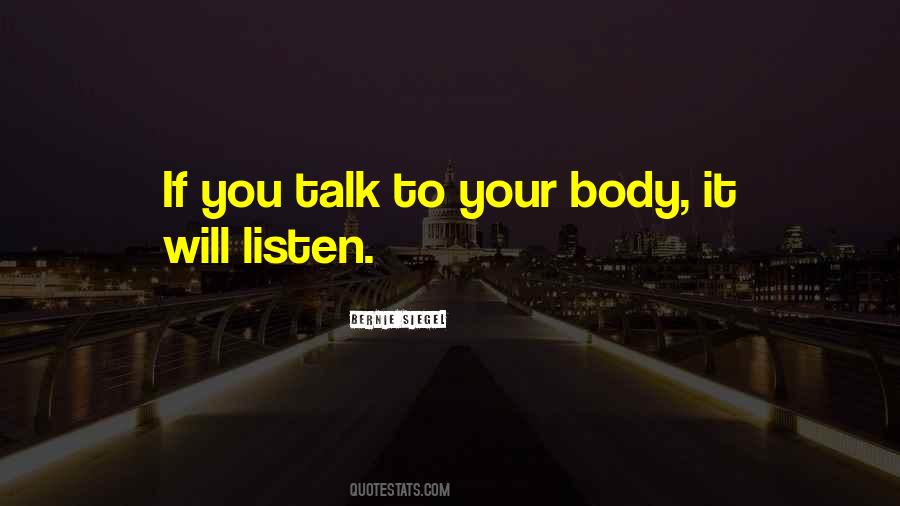 #26. One of the most important ways for you to train, stay healthy and injury free is to listen closely to what your body tells you. - Author: Gina Greenlee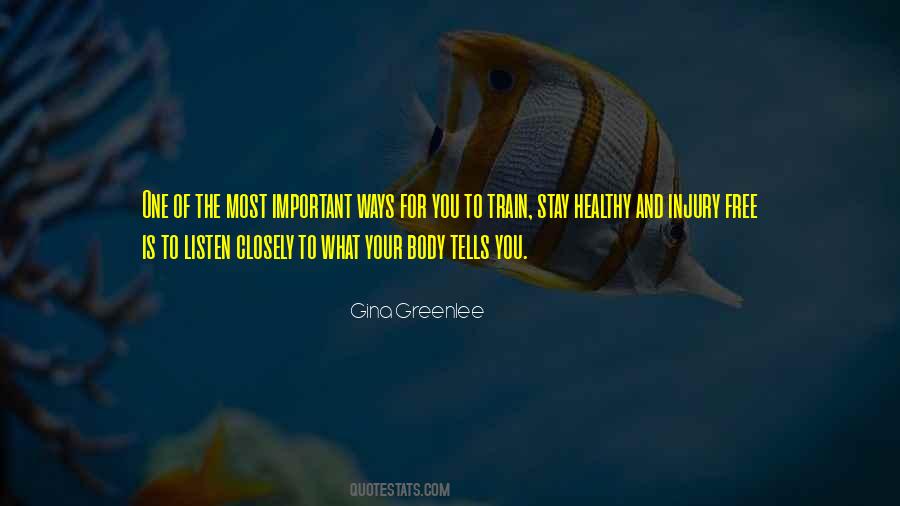 #27. You need to listen to your body because your body is listening to you. - Author: Phil McGraw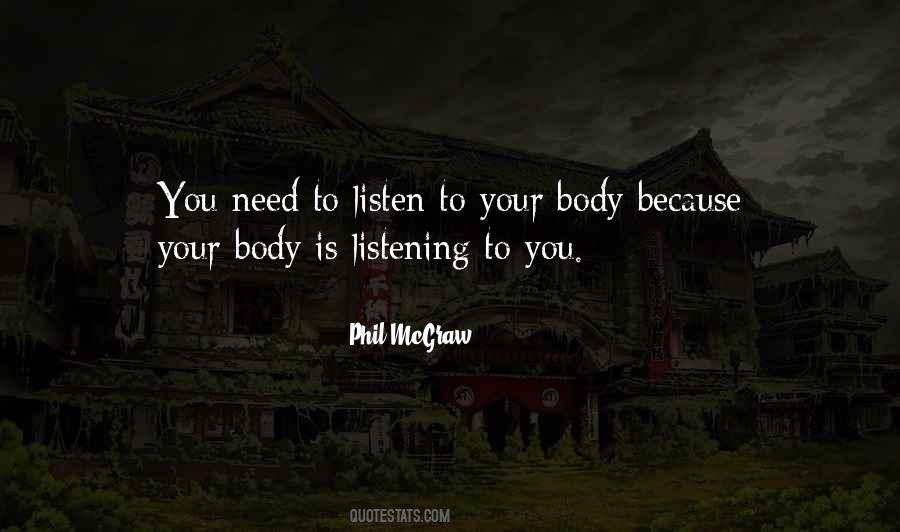 #28. Also, go inside and listen to your body, because your body will never lie to you. Your mind will play tricks, but the way you feel in your heart, in your guts, is the truth. - Author: Miguel Ruiz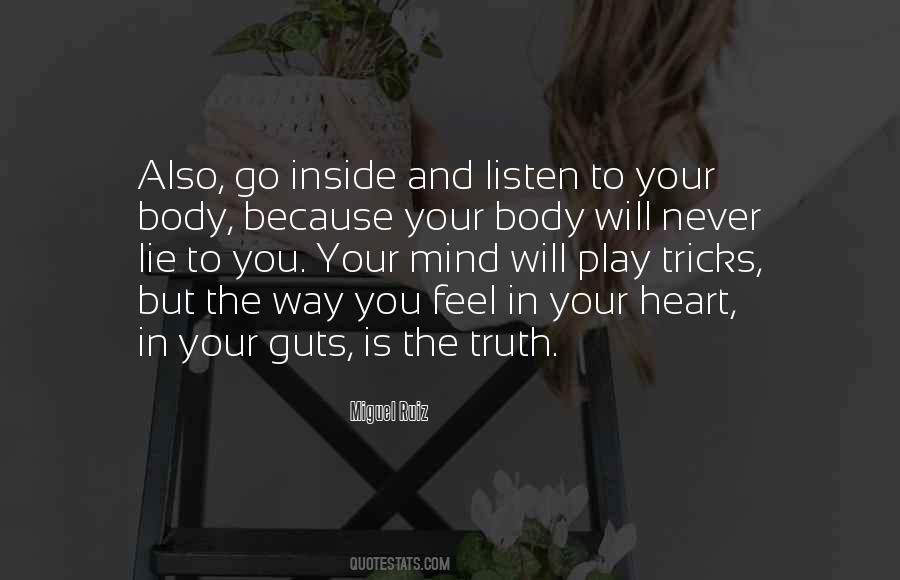 #29. Your body is your best guide. It constantly tells you, in the form of pain or sensations, what's working for you and what's not. - Author: Hina Hashmi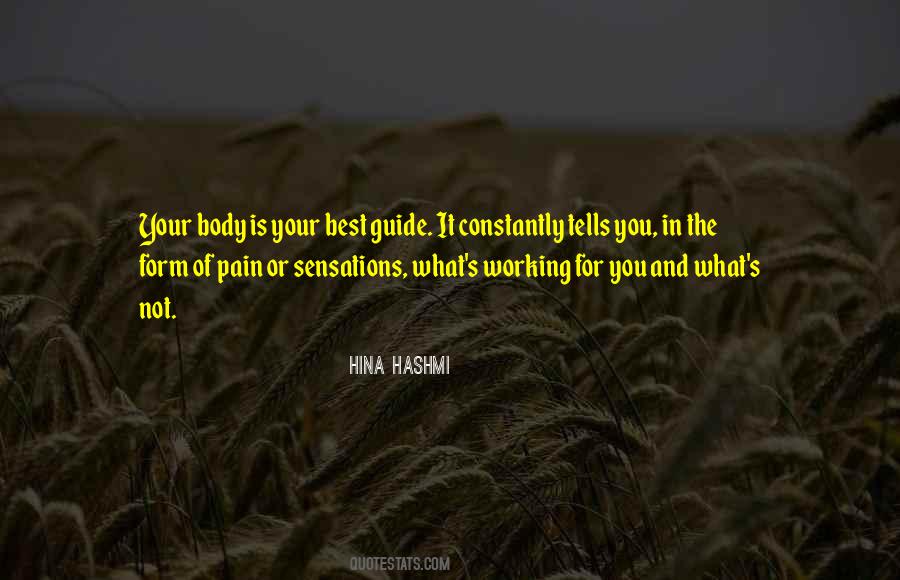 #30. No one can listen to your body for you ... To grow and heal, you have to take responsibility for listening to it yourself. - Author: Jon Kabat-Zinn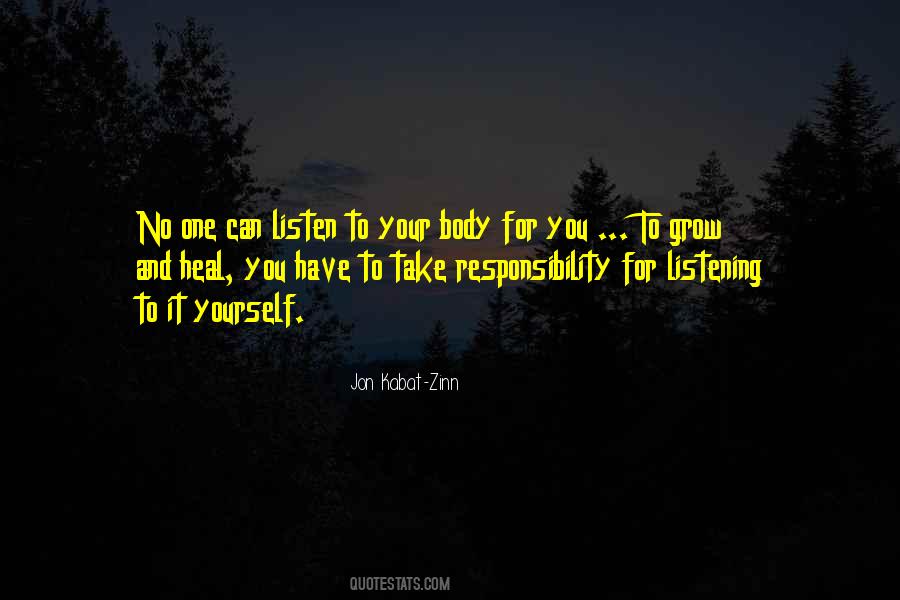 #31. I'm not dieting anymore. I want to eat what my body is asking of me. Just listen to your body in general - it's all self-awareness. - Author: Mary Lambert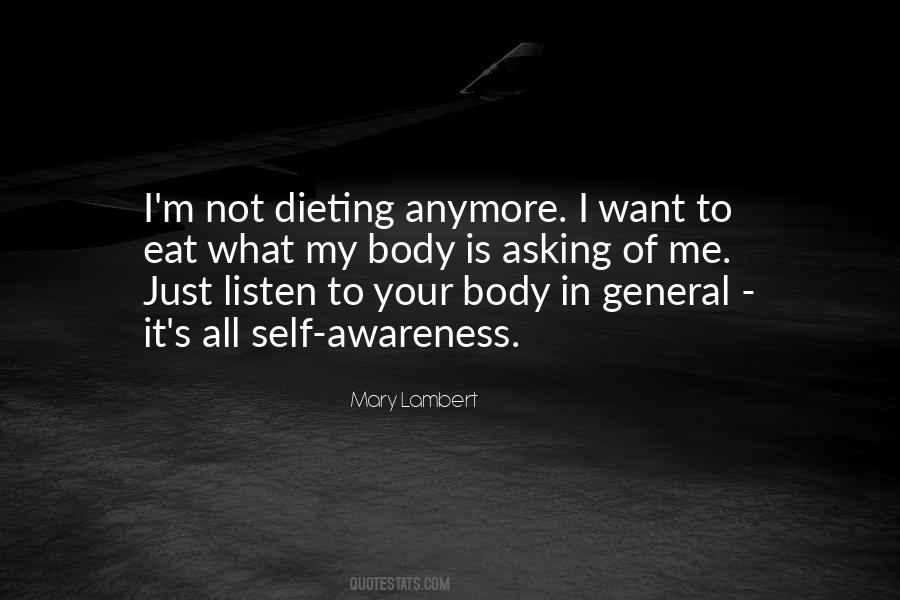 #32. In fact, you will play your instrument better if you listen to your body's responses to how you are doing what you are doing. - Author: Judith Kleinman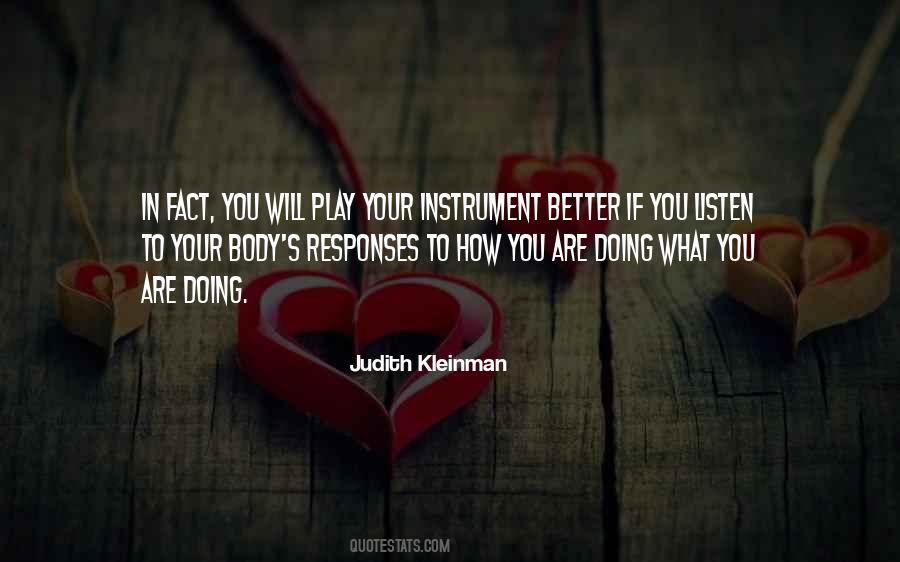 #33. You've got to listen to your body, notice some trends in yourself and do the best you can to be ready when a finish line approaches. - Author: Chael Sonnen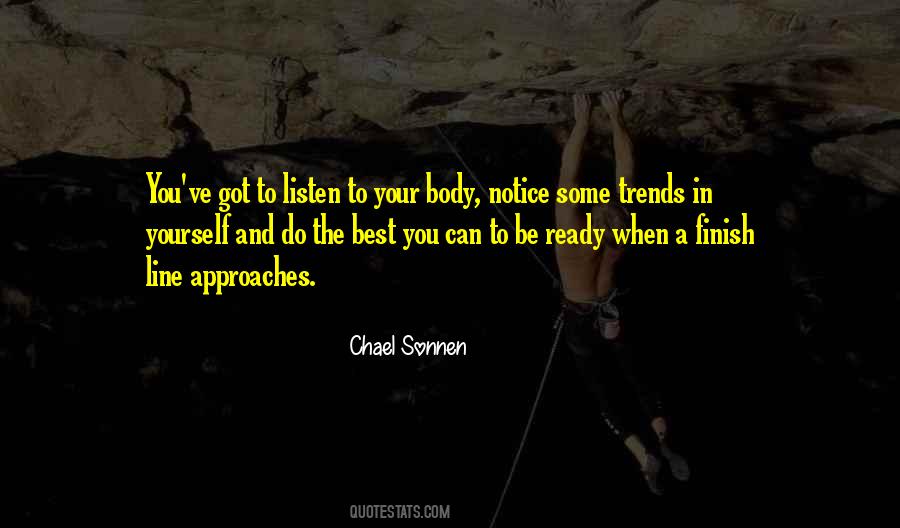 #34. Listen, my body is attracted to your body but when you speak it makes my brain angry. - Author: Mindy Kaling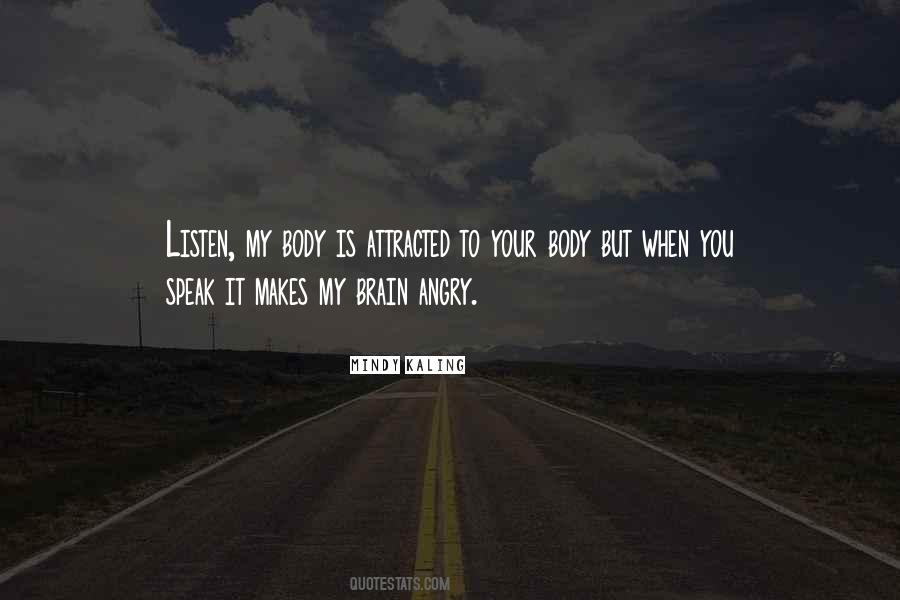 #35. Do not follow the ideas of others, but learn to listen to the voice within yourself. Your body and mind will become clear and you will realize the unity of all things. - Author: Dogen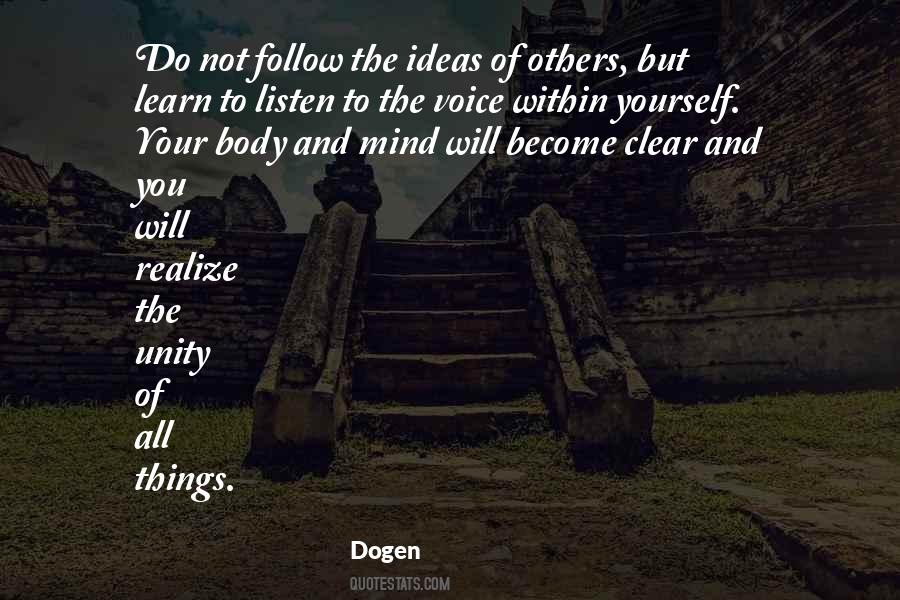 #36. The bible is not a blueprint for every day of your life, it is an inspiration not a blueprint. That requires that we listen to one another and get challenged and grow by living with difference within the body of the church. - Author: Alan Green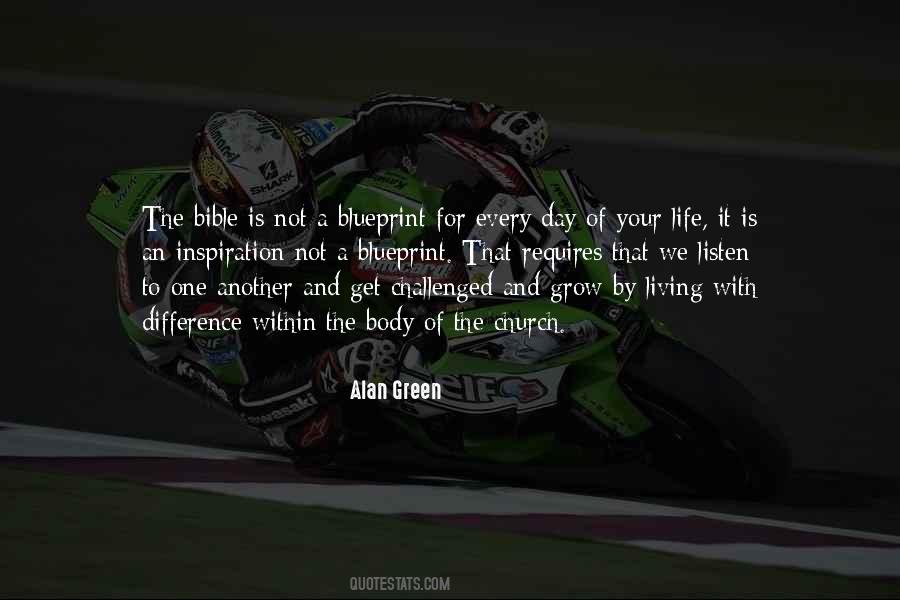 #37. The body knows. When your heart sinks. When you feel sick to your gut. When something blossoms in your chest. When your brain gloriously pops. That's your body telling you the One True Thing. Listen to it. - Author: Cheryl Strayed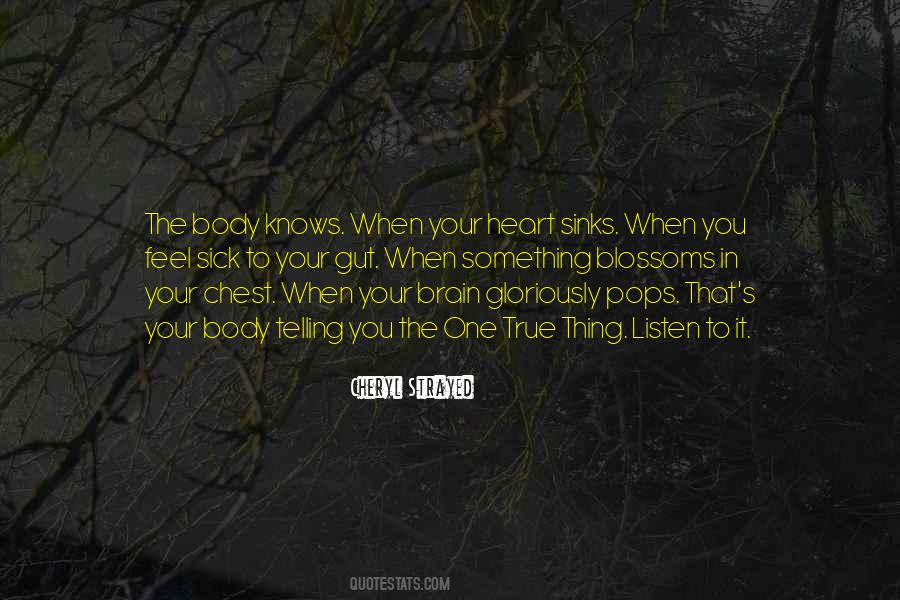 #38. Listen to your body. Do not be a blind and deaf tenant. - Author: George A. Sheehan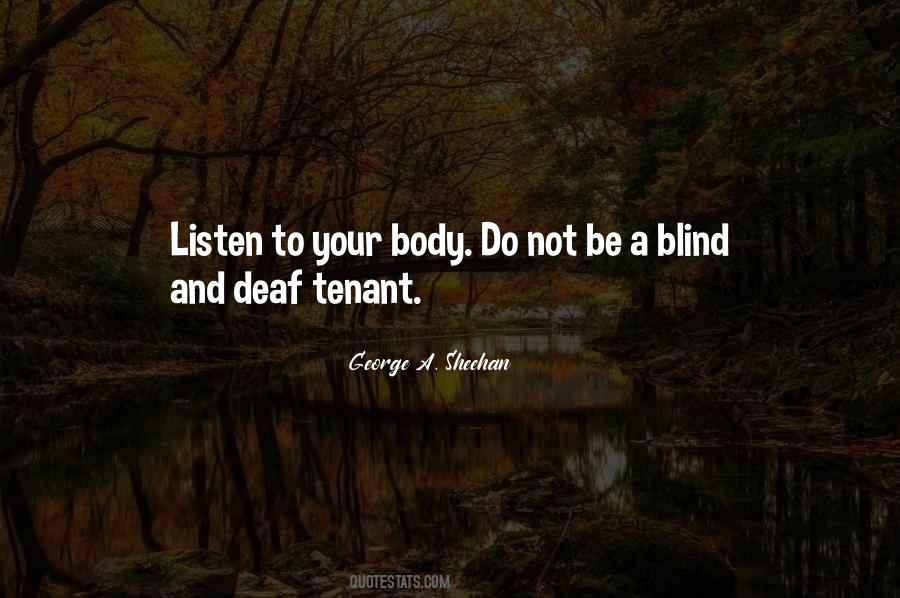 #39. No one knows your body like you do. Listen to it. It will tell you what to eat, when to drink, how to sleep and which exercises you need to do. Let your own body be your most trusted personal trainer. - Author: Toni Sorenson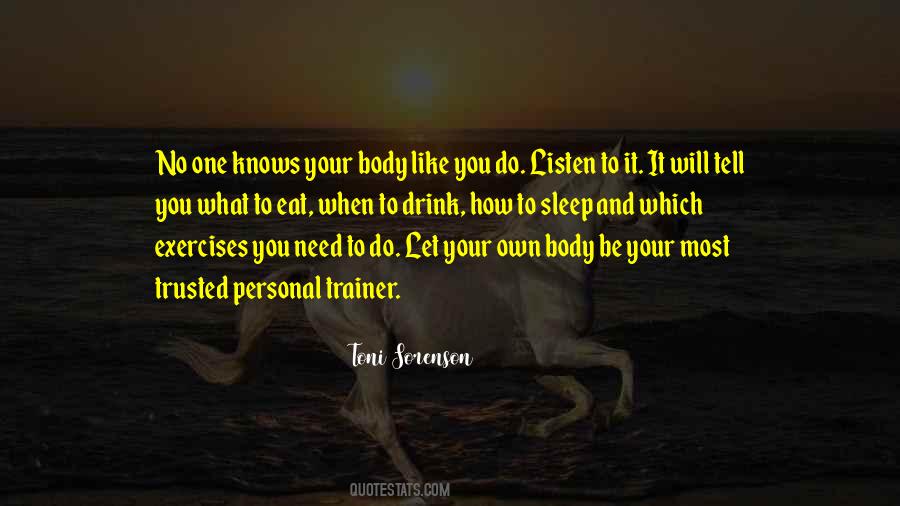 #40. Health is an announcement of agreement between your body, mind and spirit. Honor your body, keep it in good shape. When you are not healthy, look to see which parts of you disagree. Your body will demonstrate the truth to you. Notice what it is showing you, listen to what it is saying. - Author: Neale Donald Walsch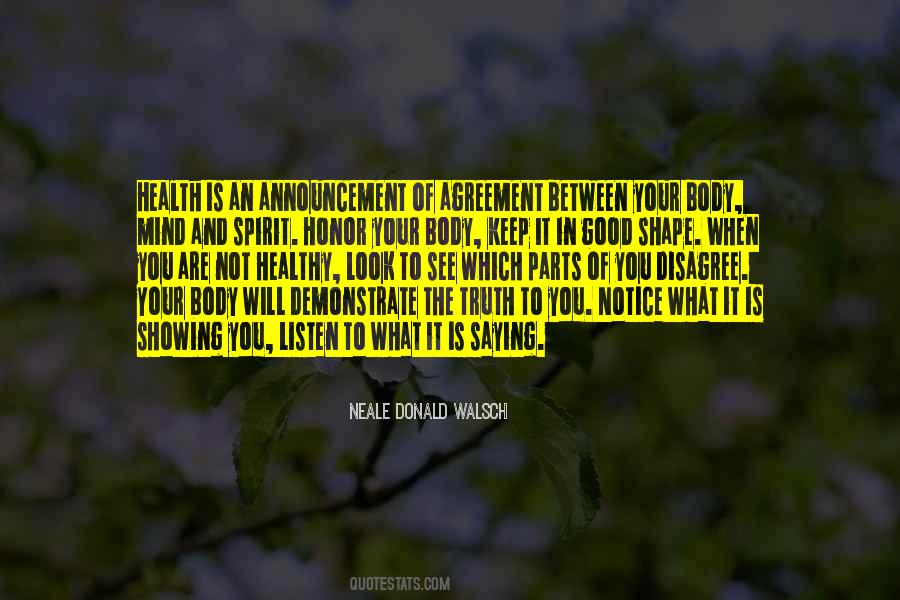 #41. 14Then Jesus called to the crowd to come and hear. "All of you listen," he said, "and try to understand. 15It's not what goes into your body that defiles you; you are defiled by what comes from your heart.* - Author: Anonymous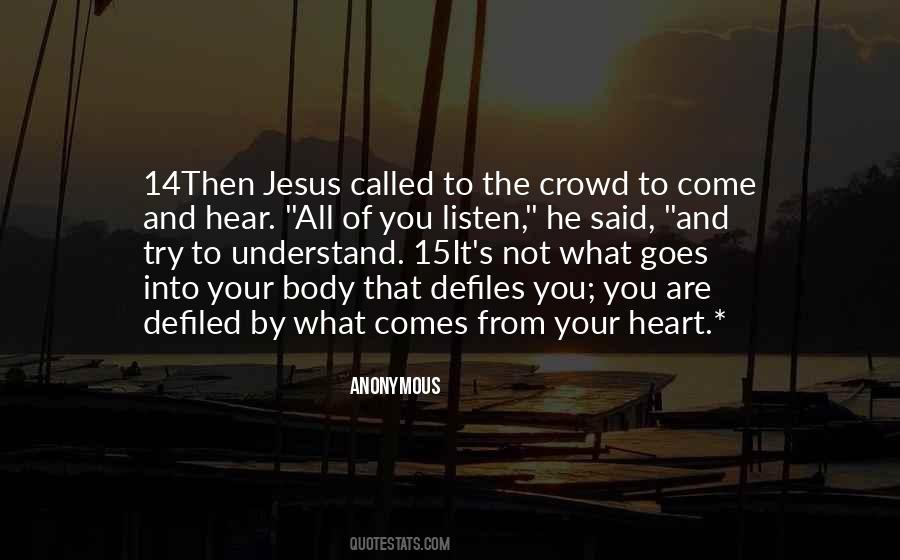 #42. Angels are always with you. You're never alone, especially in your time of need. Listen in stillness for our guidance, which comes upon wings to your heart, mind, and body. Our messages always speak of love. - Author: Doreen Virtue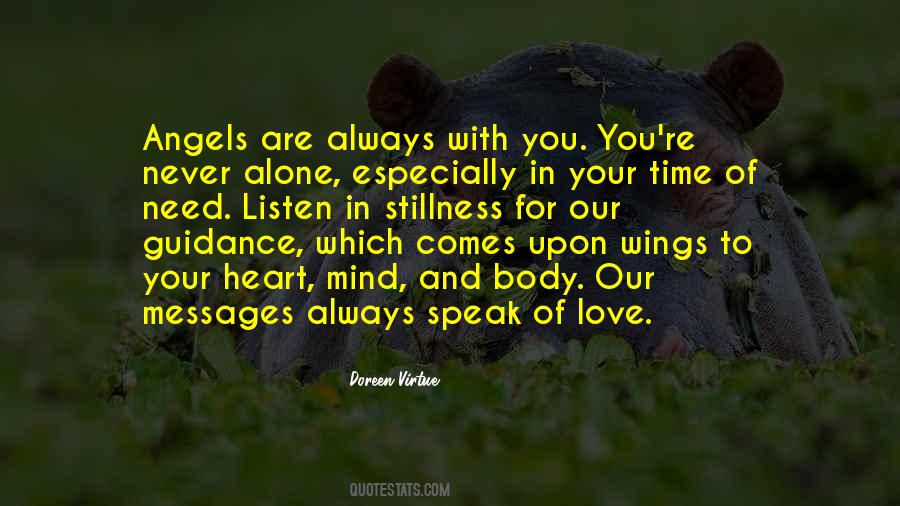 #43. Listen, if you choose to believe nothing else that transpires here, believe this: your body does not have a soul; your soul has a body, and souls never, ever die. - Author: Bernice L. McFadden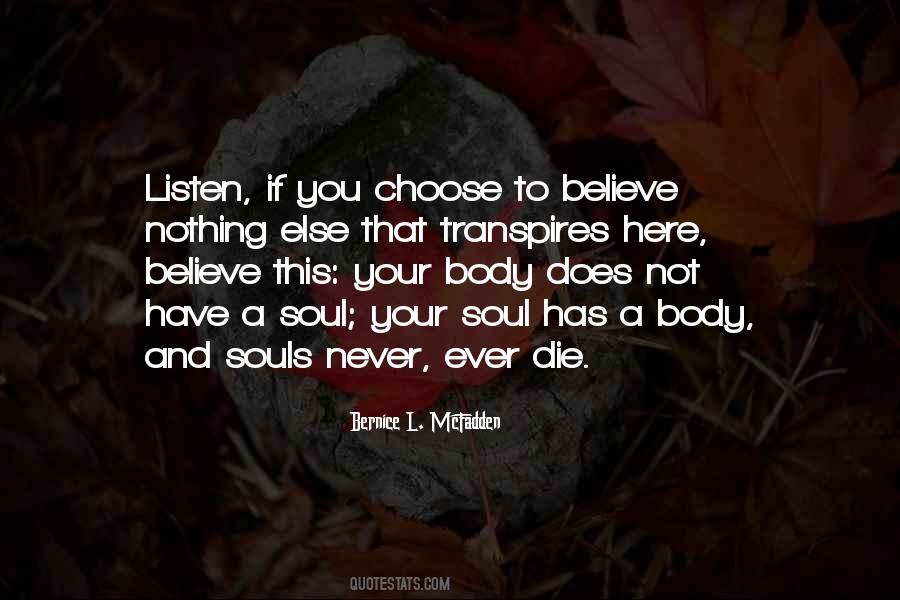 #44. You are you and your body of steam,
you and your face of night,
you and your hair, unhurried lightning,
you cross the street and enter my forehead,
footsteps of water across my eyes,
listen to me as one listens to the rain - Author: Octavio Paz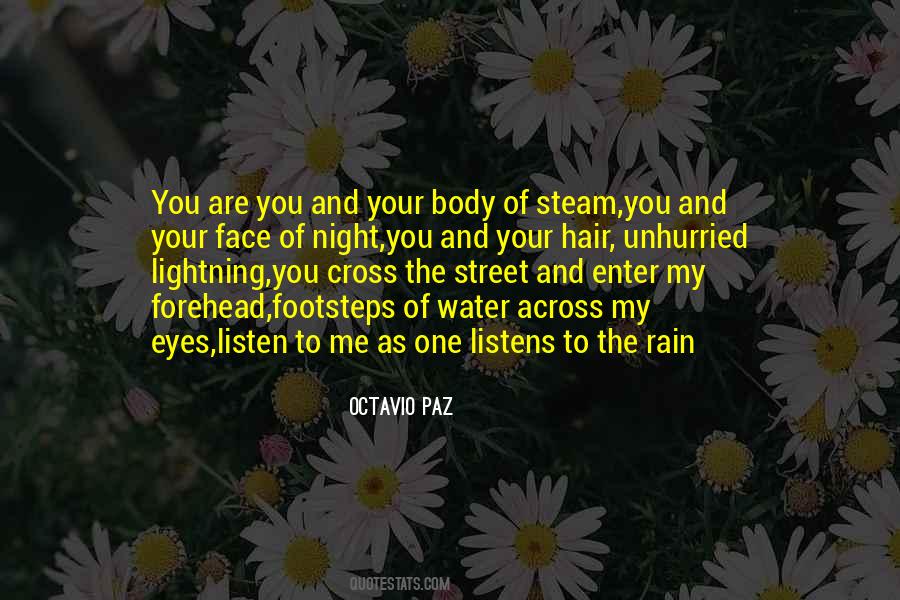 #45. If you listen to music, dance daily and mediate, you have the best medicine for your mind, body and soul. - Author: Lailah Gifty Akita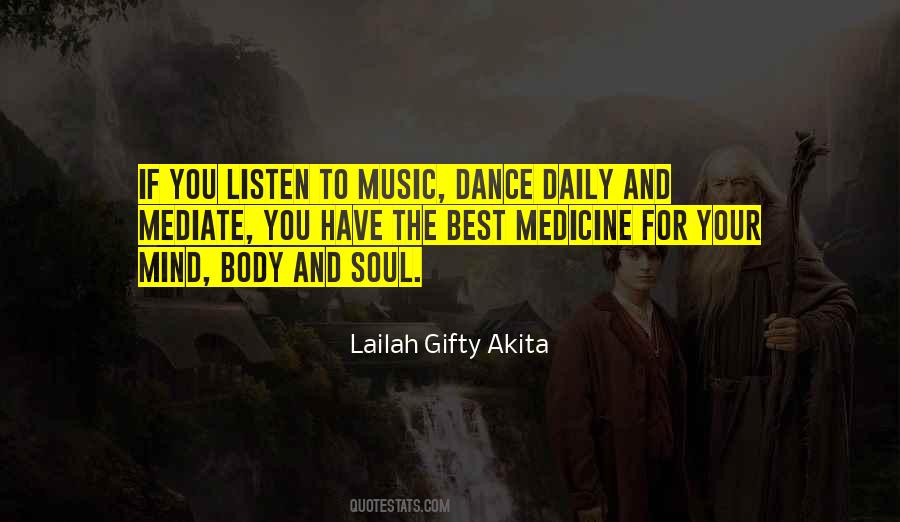 #46. Listen, it is not the charcoal that draws the picture. It is you. It is your hand, which is attached to your body, and in that body is a beating heart ... - Author: Jandy Nelson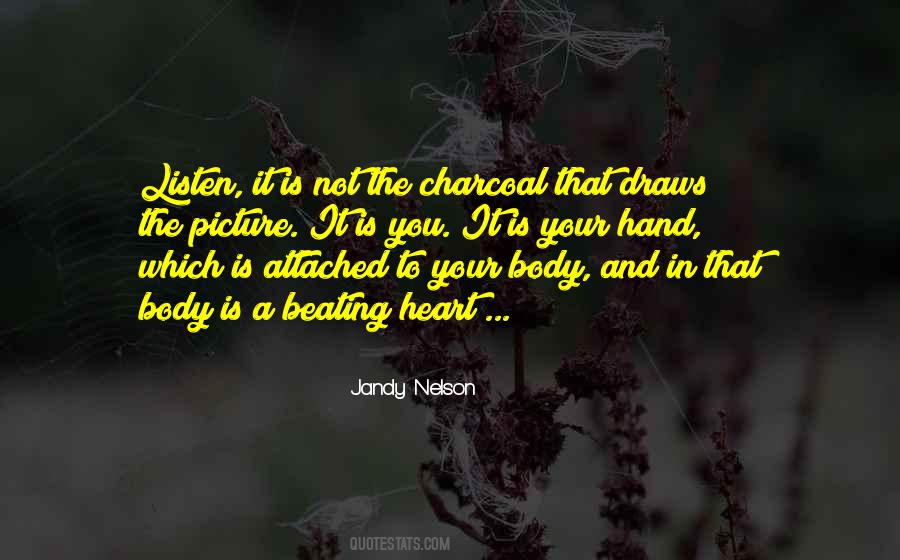 #47. Take the time to listen and to get to know yourself. Take the time to change, to grow, to rest. Take the time to say yes, take the time to say no. Take the time to be quiet. Take the time to look after your body, to eat well. Take the time to ask yourself who you are and what you want. - Author: Anne Berest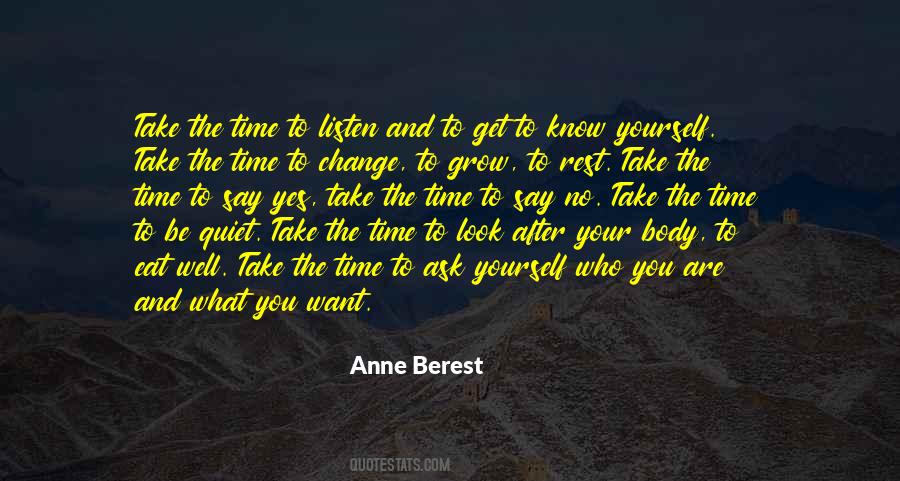 #48. The Daniel Plan is designed to cut cravings, satisfy your appetite, and teach you to listen to your body. - Author: Rick Warren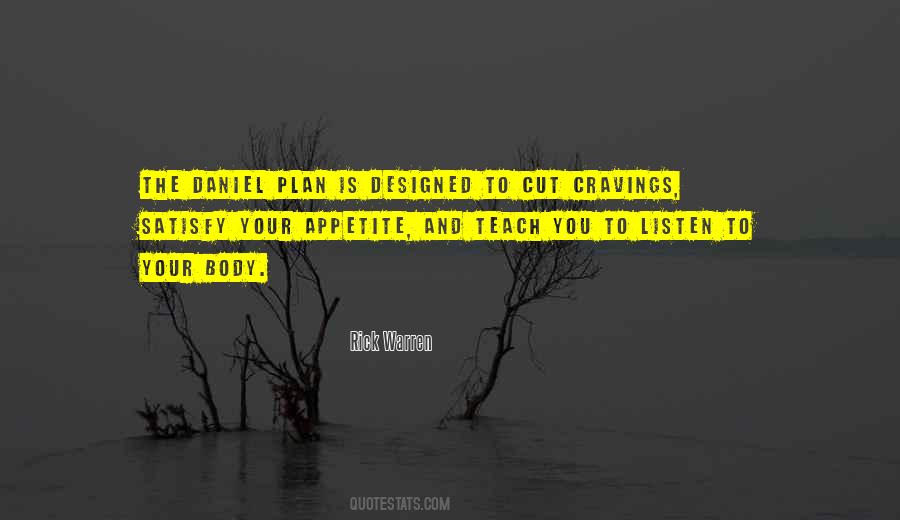 #49. Pain is the body's voice. Listen to your body. - Author: Pete Egoscue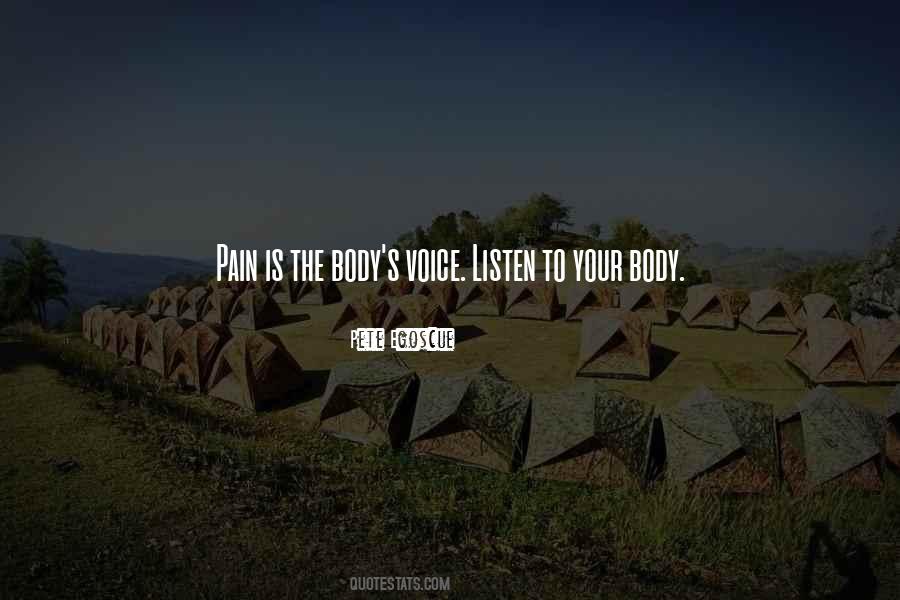 #50. Be good to yourself. Listen to your body, to your heart. We're very hard on ourselves, and we're always feeling like we're not doing enough. It's a terribly hard job. - Author: Marcia Wallace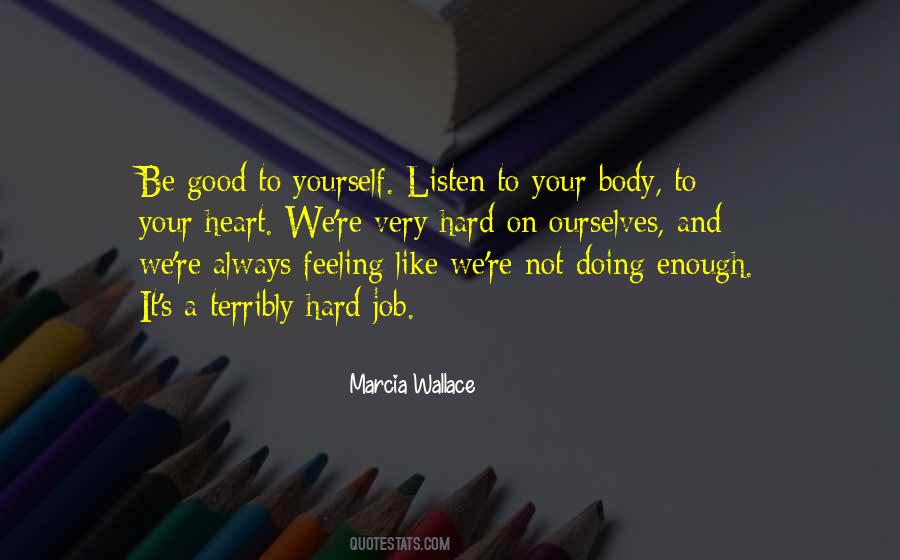 Famous Authors
Popular Topics