Life Worth Fighting For Famous Quotes & Sayings
List of top 38 famous quotes and sayings about life worth fighting for to read and share with friends on your Facebook, Twitter, blogs.
Top 38 Quotes About Life Worth Fighting For
#1. I've been fighting to be who I am all my life. What's the point of being who I am, if I can't have the person who was worth all the fighting for? - Author: Stephanie Lennox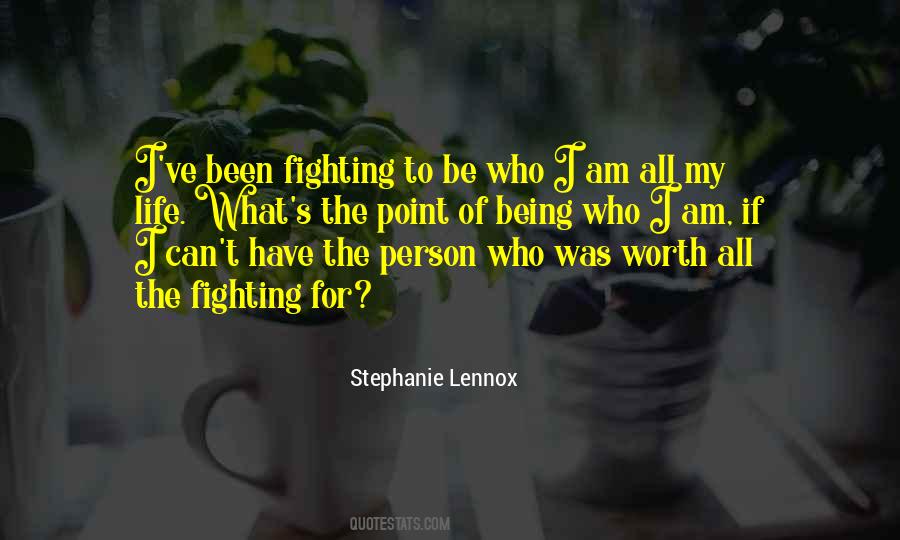 #2. To awaken to the living dream within one's life and
remain awake in a world trying to lull everyone to sleep involves repeated struggle, yet also presents something truly worth fighting for. - Author: Michael Meade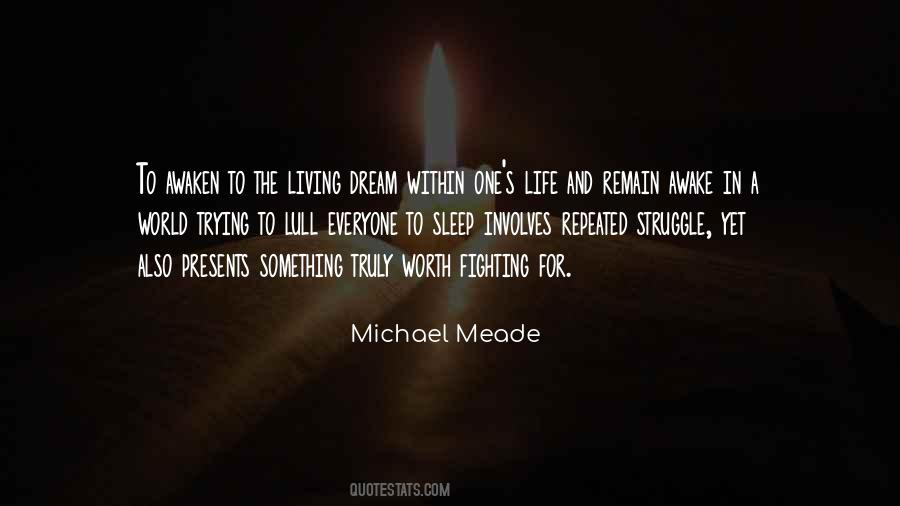 #3. Life isn't worth living if you're not fighting for something. A lost cause is a life mission worthy of pursuit just to prove them wrong. - Author: Shannon L. Alder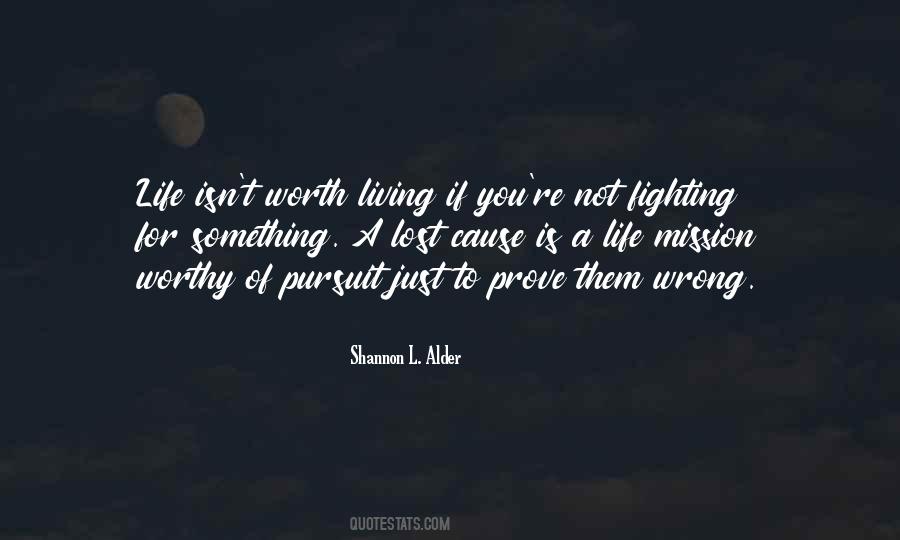 #4. I'd just known I wanted her happy. It was important to me.
But I knew why now. She was special. The kind of special that is hard to find in this life. The kind of special most people don't get to touch. It's the rare kind that, when you find it, you know it's worth fighting for. - Author: Abbi Glines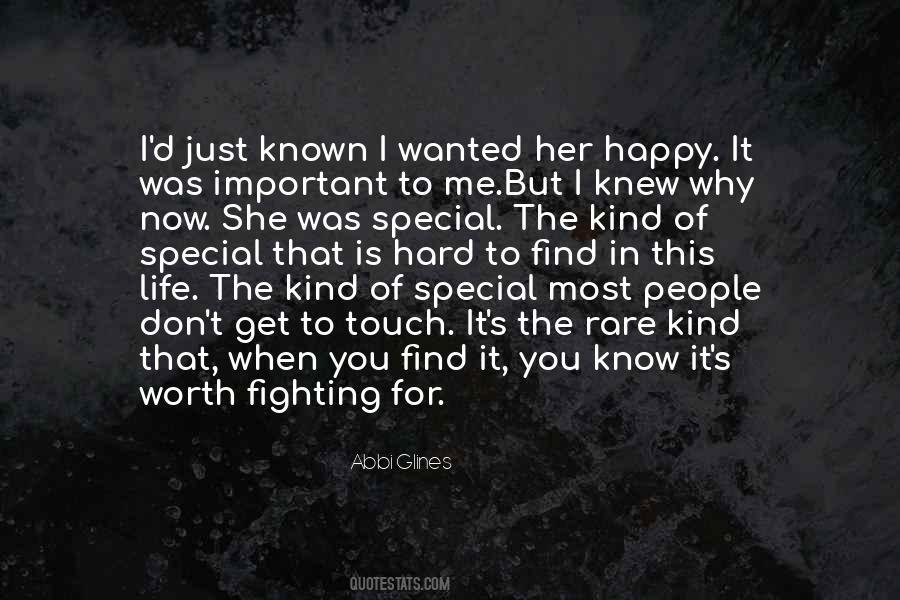 #5. There is simply no issue more important. Conservation is the preservation of human life on earth, and that, above all else, is worth fighting for. - Author: Rob Stewart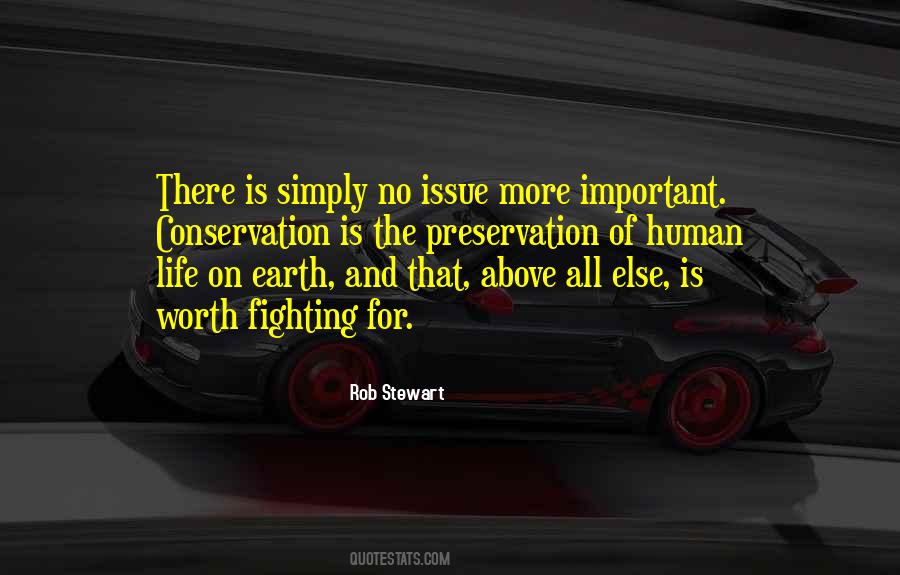 #6. I knew there had to be more to honor than just one's station in life. That's what Sorcha had taught me: that actions meant more than accolades. That honor was something worth fighting for- and dying for- no matter what house you were born into. - Author: Lesley Livingston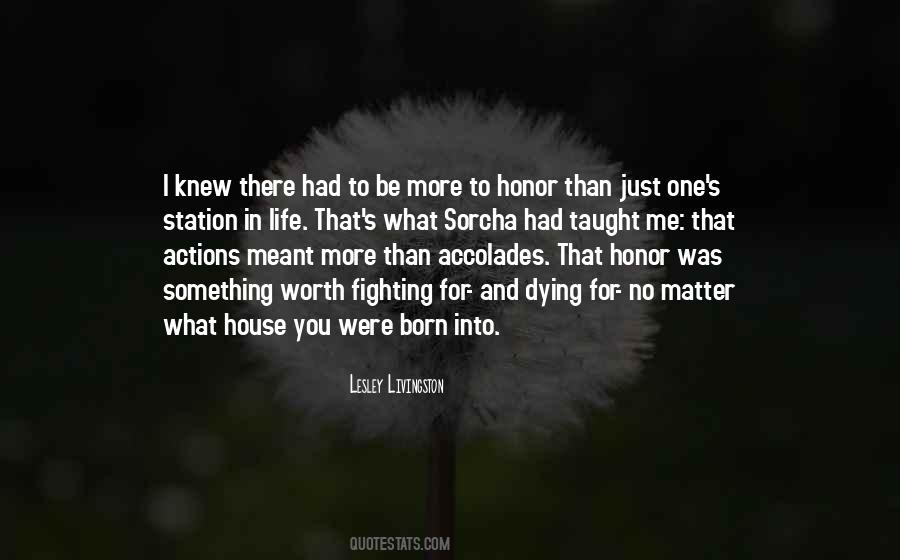 #7. Happiness is the only thing worth fighting for in your life. - Author: Lilly Singh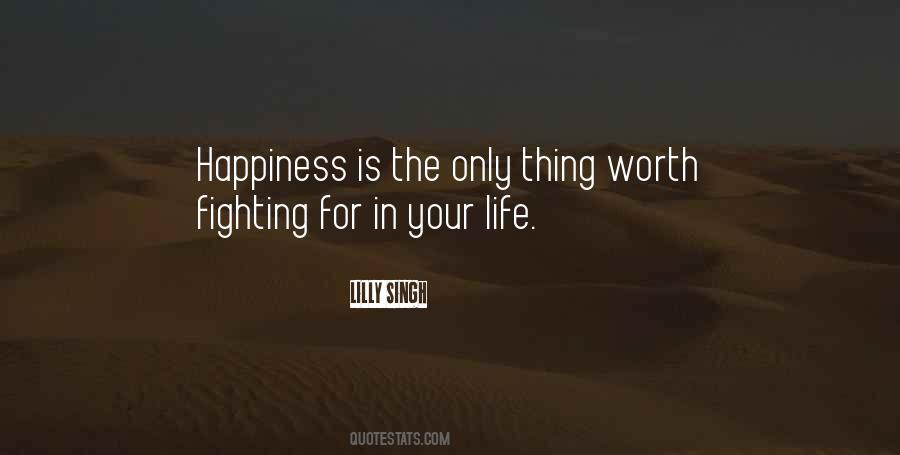 #8. Find something in your life worth fighting for - Author: Martin Sheen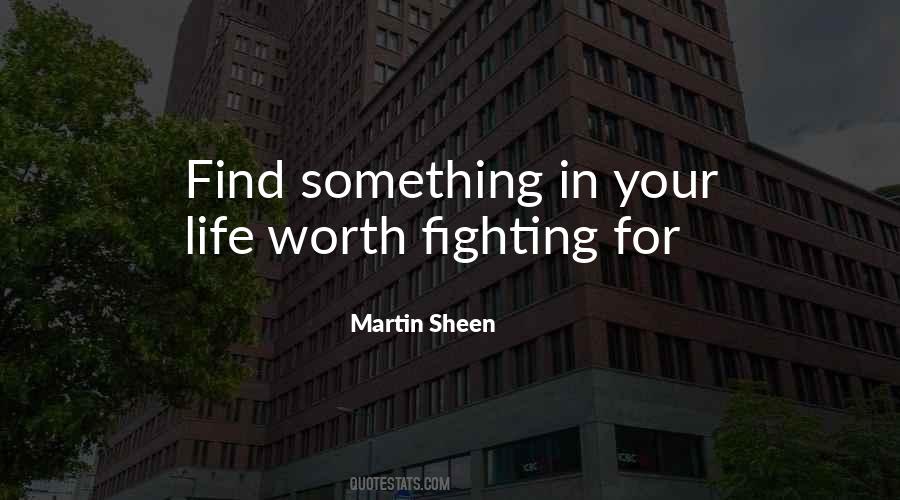 #9. Pain is a byproduct of life. That's the truth. Life sometimes sucks. That's true for everyone. But if you don't face the pain and the suck, you don't ever get the other things either. Laughter. Joy. Love. Pain passes, but those things are worth fighting for. Worth dying for. - Author: Jim Butcher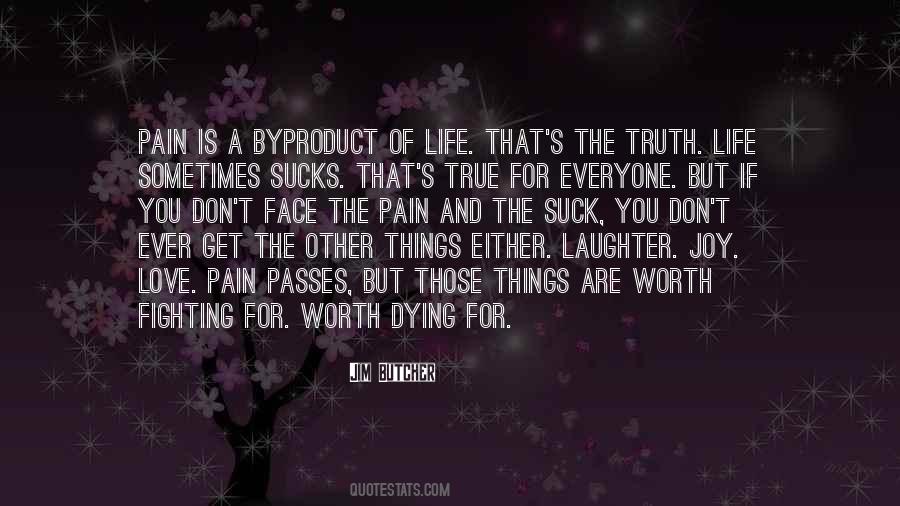 #10. We're all scarred. That's how we know we've lived a life worth fighting for. Love is a battlefield! Thank you, Pat Benatar! - Author: J. Sterling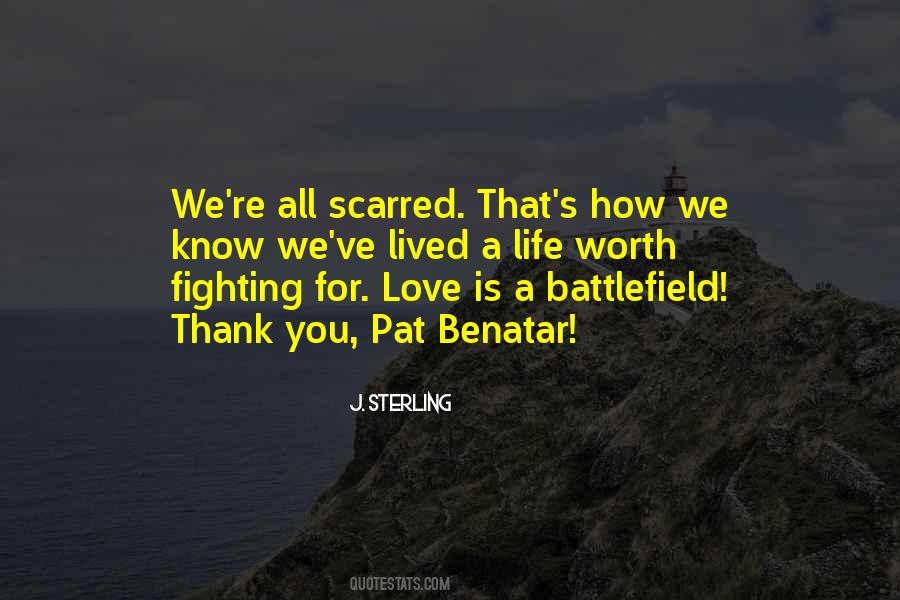 #11. There are some things in life that are worth fighting for to the end. - Author: Paulo Coelho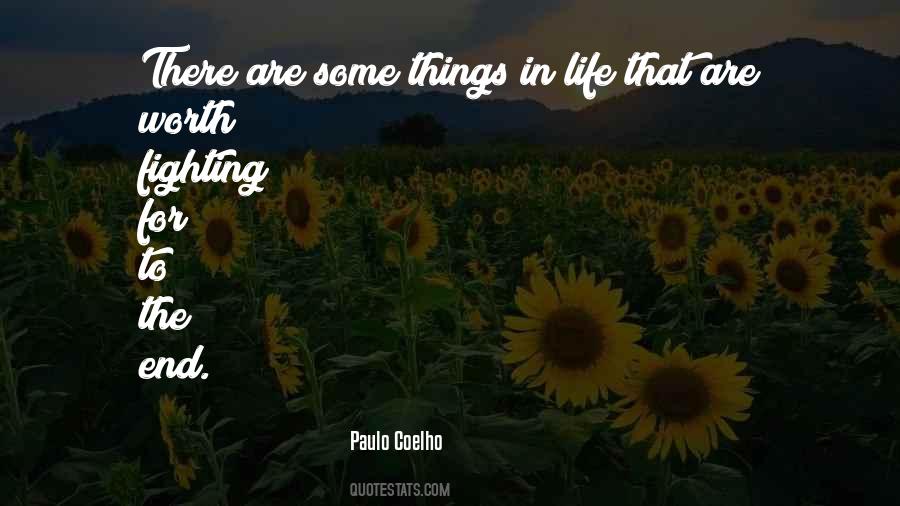 #12. Some people are optimists. Some people are pessimists. I'm just a realist who believes that some things are worth fighting for. - Author: C. JoyBell C.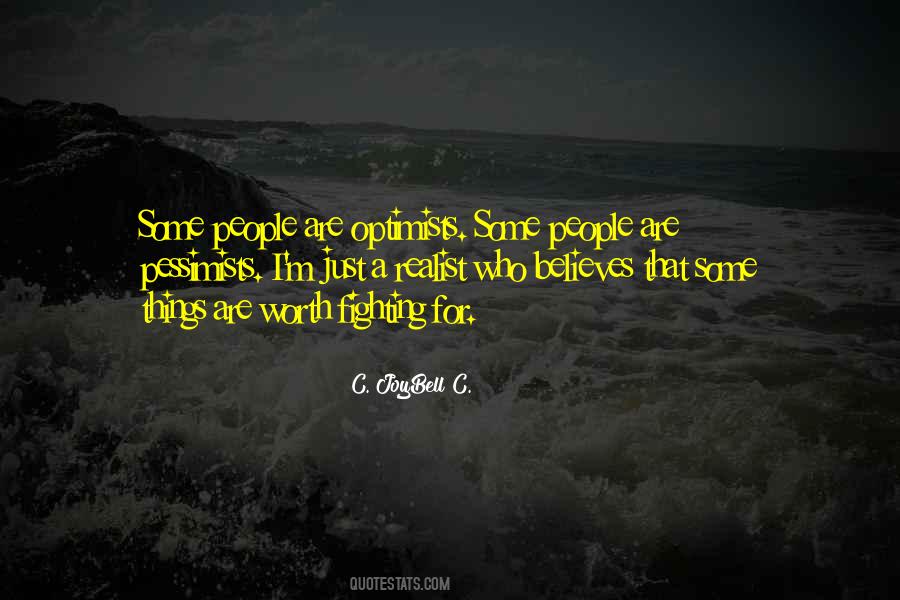 #13. Life and the things you loved were worth fighting for. - Author: Talli Roland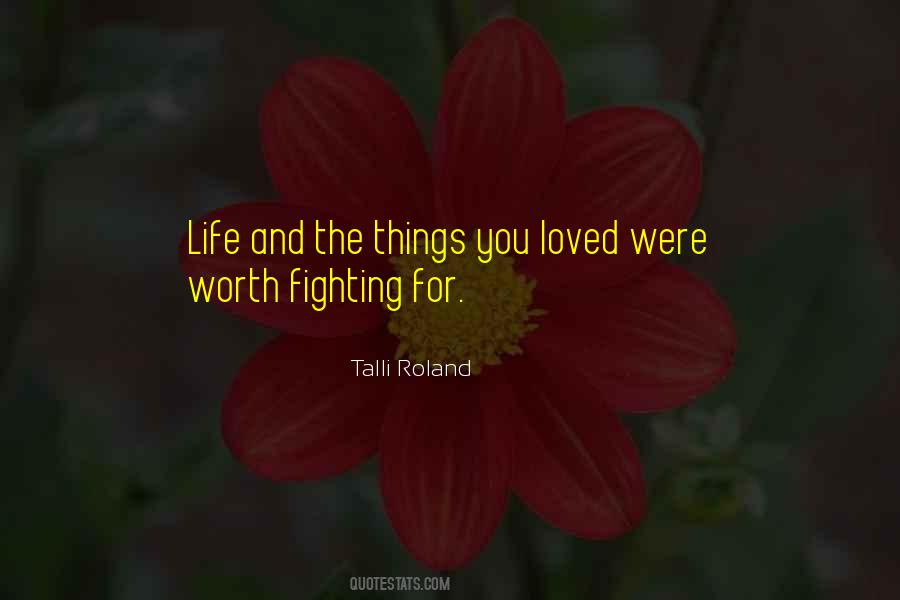 #14. Every person has a right to the small things, you see? The little happinesses. After all, those are the ones that make life most worth living. It's what we're fighting for. - Author: Kim Harrison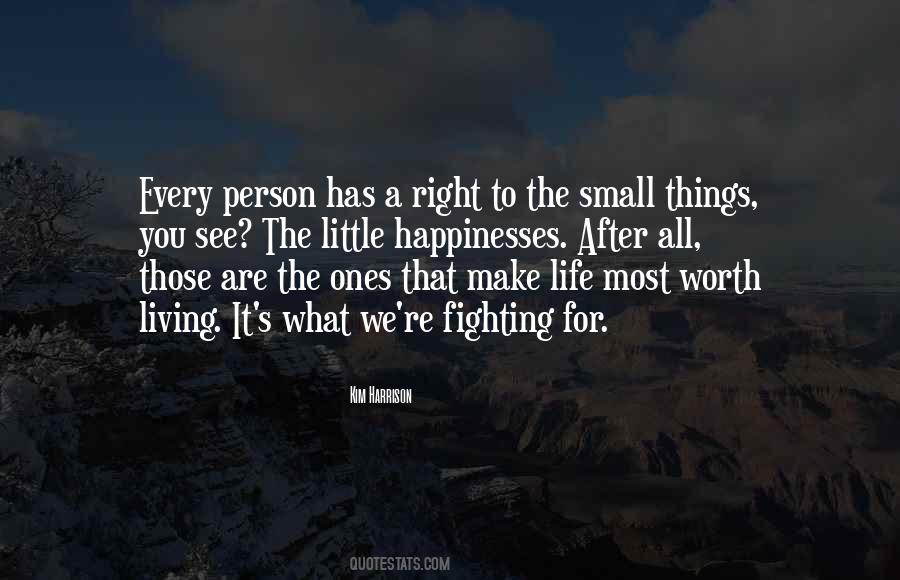 #15. There is no such thing as work-life balance. Everything worth fighting for unbalances your life. - Author: Alain De Botton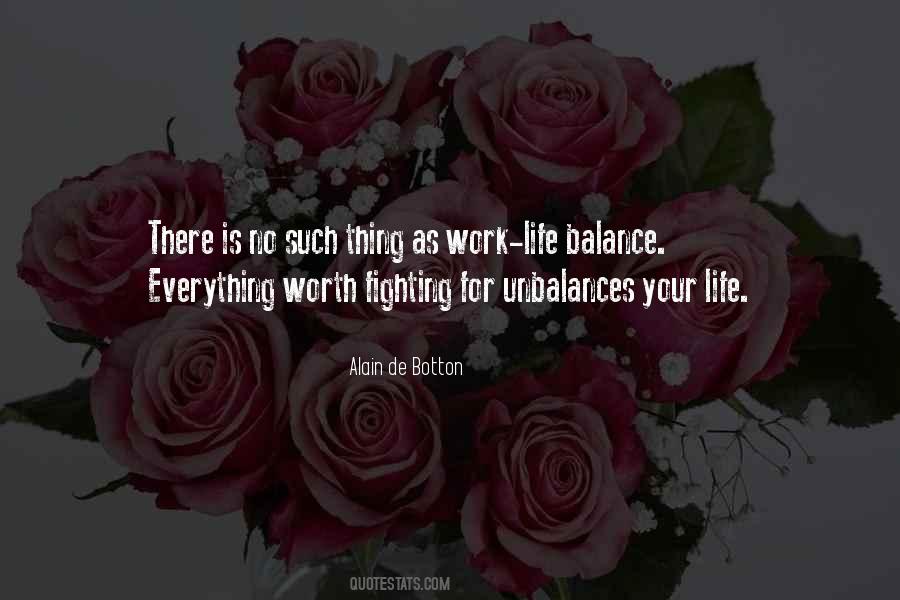 #16. If it's not worth fighting for, run from it, because it's certainly not worth having in your life. - Author: Christopher Mark Heben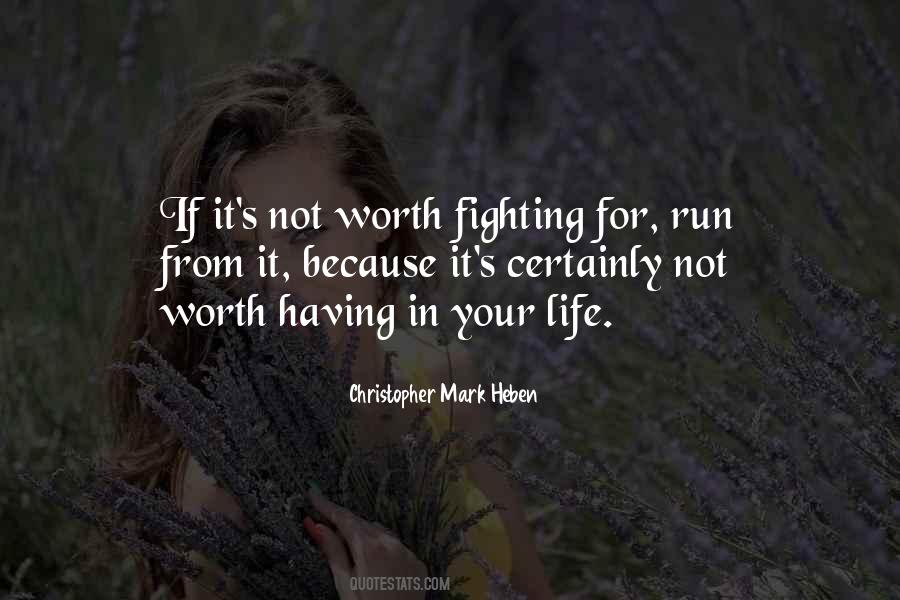 #17. And suddenly, as if her head had cleared, she was quite sure that wonderful things did indeed exist. Even if they're only in my own mind, she thought, they're there and worth fighting for. I mustn't give in. - Author: Diana Wynne Jones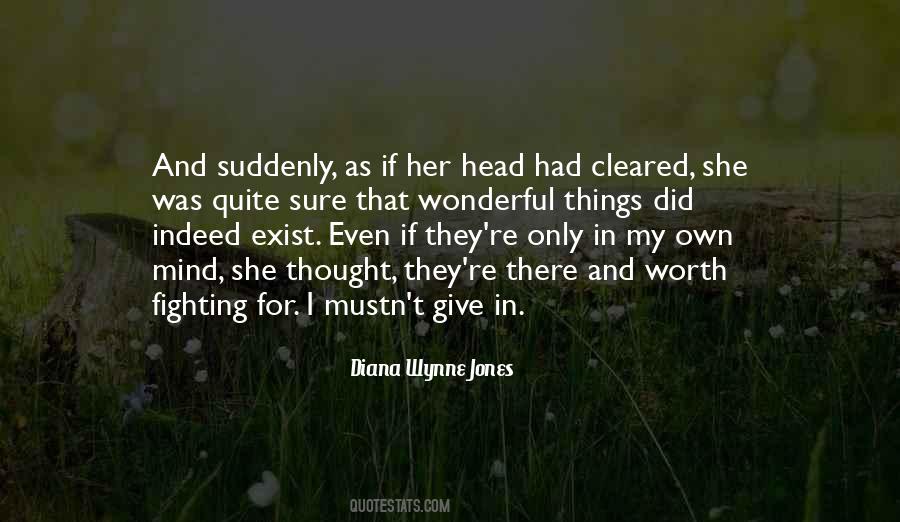 #18. The happiest excitement in life is to be convinced that one is fighting for all one is worth on behalf of some clearly seen and deeply felt good, and against some greatly scorned evil. - Author: Ruth Benedict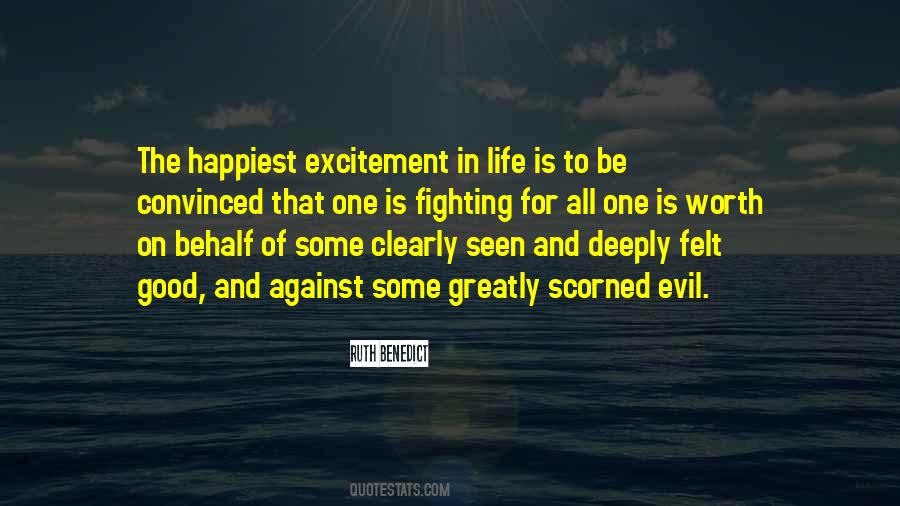 #19. I have found one can never get anything in life that is worth while without fighting for it. - Author: Woodrow Wilson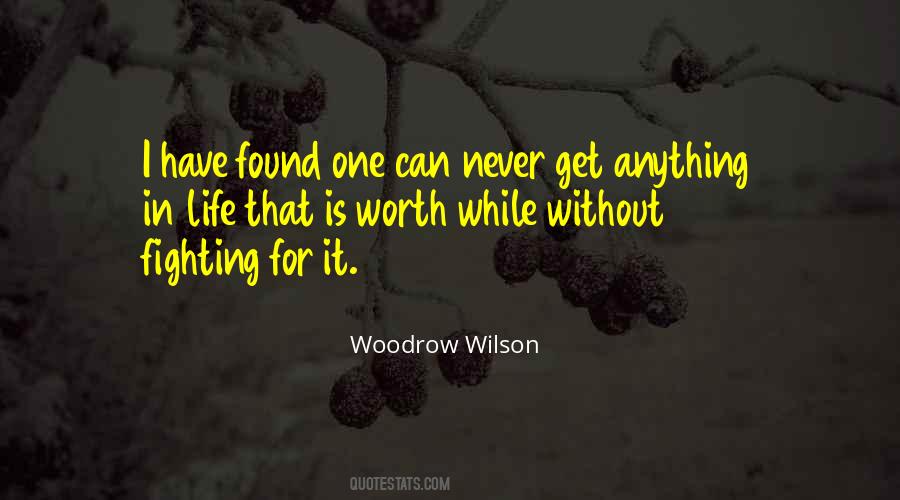 #20. Anyone can battle for pride, power, vanity, greed, or hate, but war should always be approached with an equal measure of wisdom and strength. It's not just enough to know when to fight, but to know when to lay down the sword and negotiate. Not everything in the world is worth fighting for. - Author: Sherrilyn Kenyon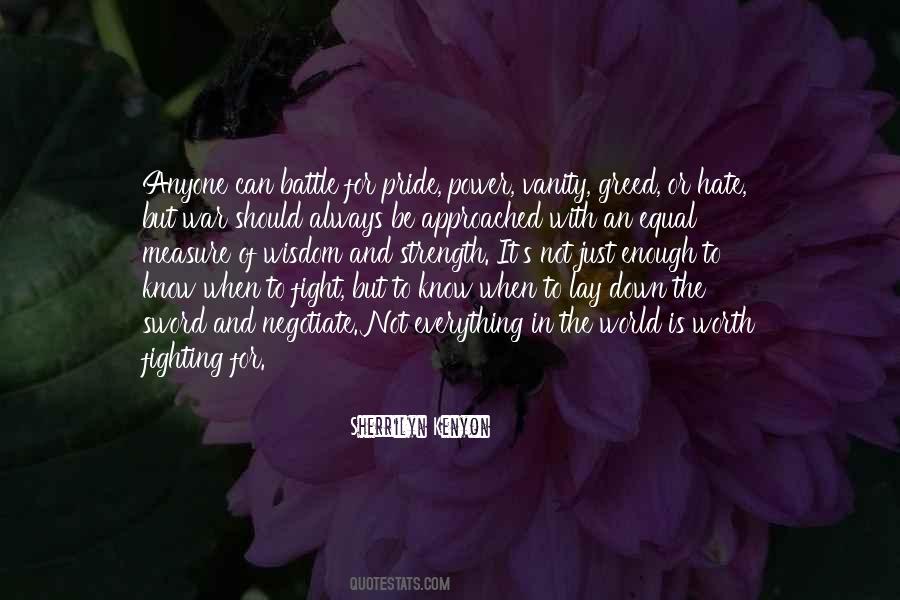 #21. I know you don't love me. But I'm going to fight for your love. There are some things in life that are worth fighting for the end. You are worth it. - Author: Paulo Coelho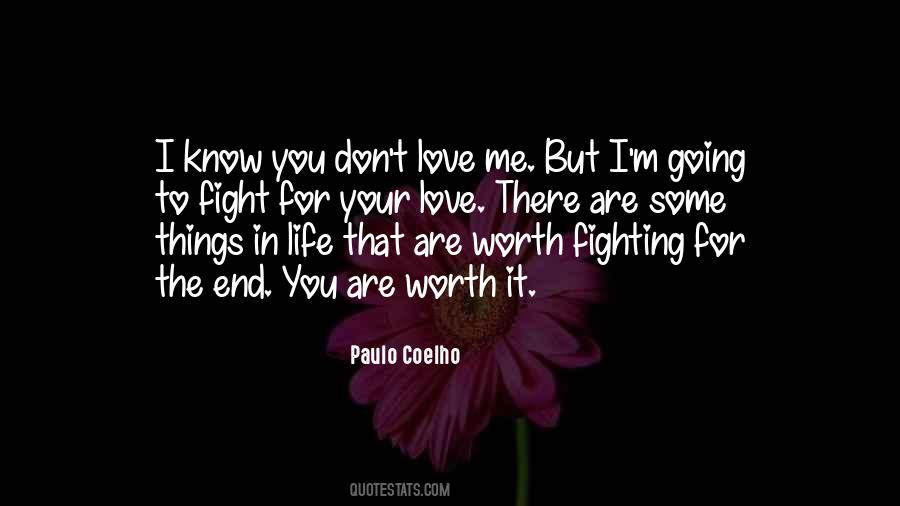 #22. Visions are worth fighting for. Why spend your life making someone else's dreams? - Author: Tim Burton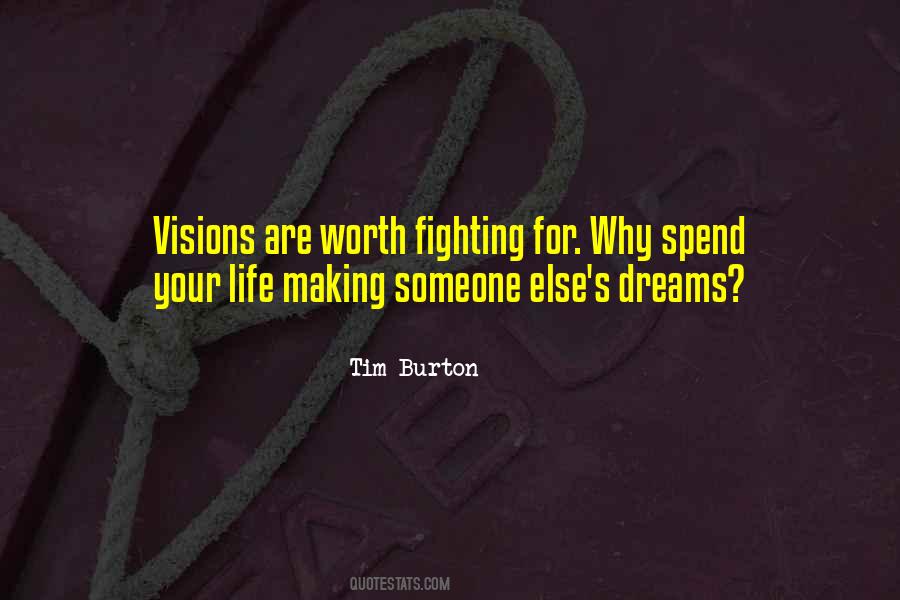 #23. They say a good man is worth fighting for. But a man who's good for YOU shouldn't make you fight just for the right to be in his life. - Author: Kyra Davis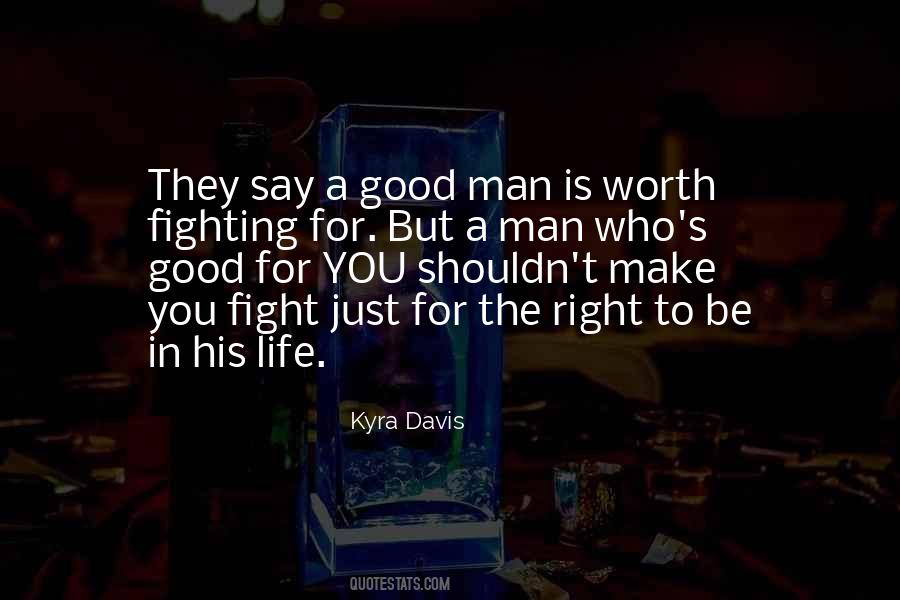 #24. You own every piece of me, Cadence Taylor, and if you let me, I'll spend the rest of my life proving to you that you're the only thing left worth fighting for. - Author: Melyssa Winchester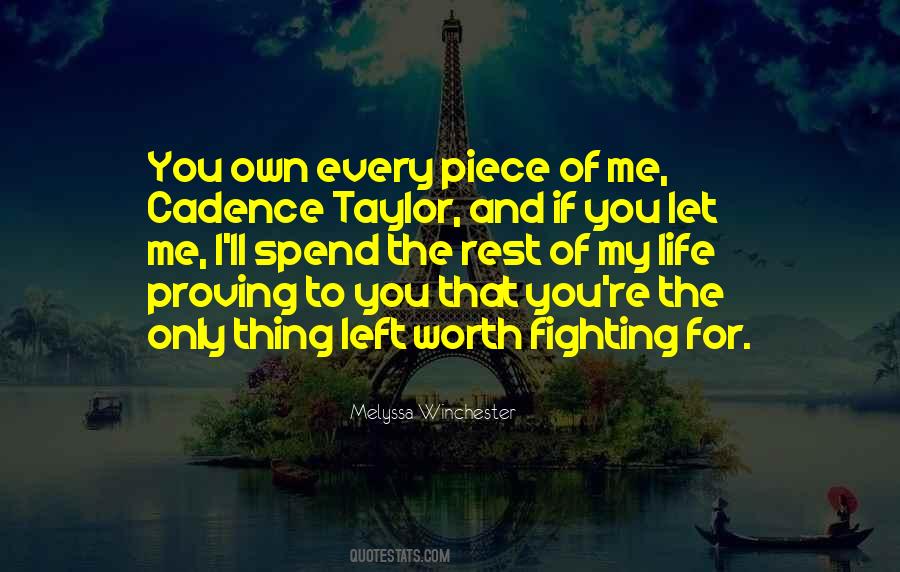 #25. No, I'm not mistaken. I know you don't love me. But I'm going to fight for your love. There are some things in life that are worth fighting for to the end. You are worth it. - Author: Paulo Coelho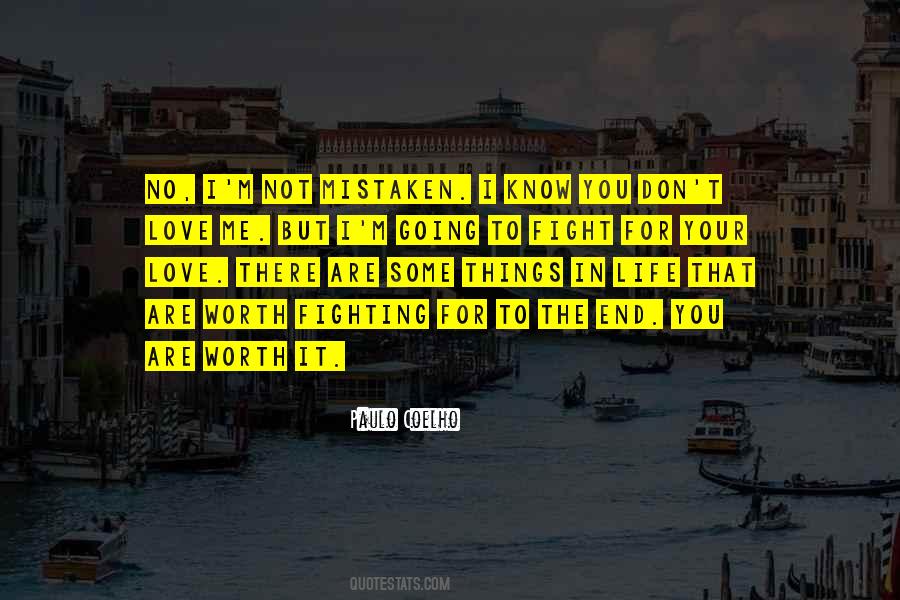 #26. To give life...is to know what's worth fighting for. And what's love. - Author: Jesmyn Ward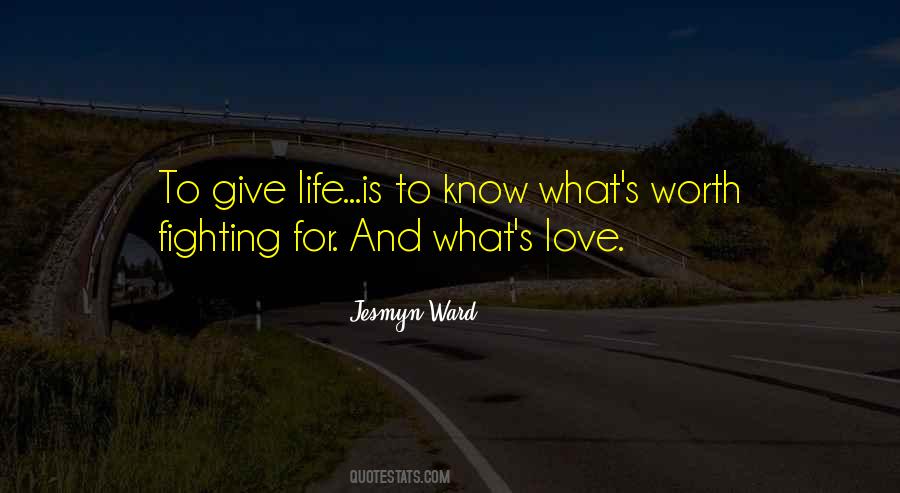 #27. The life you're meant to lead is worth fighting for. Worth crying for, even worth bleeding for. When you sing the right song, your life opens before you, and all the pain and sorrow become the bricks you build your castles with. - Author: Heidi Cullinan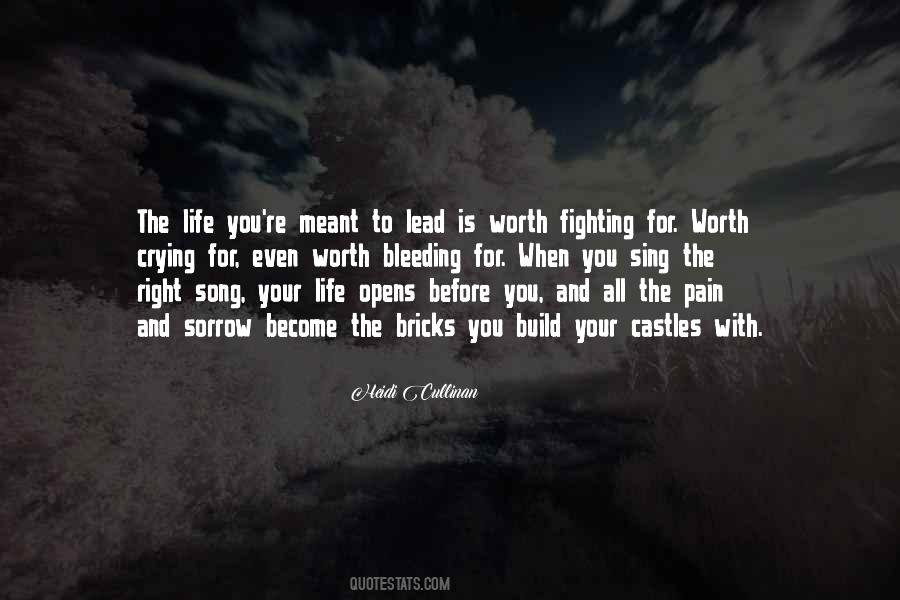 #28. There are so many battles worth fighting for. The ones not worth fighting are the insecure battles that rage in another person's mind. - Author: Shannon L. Alder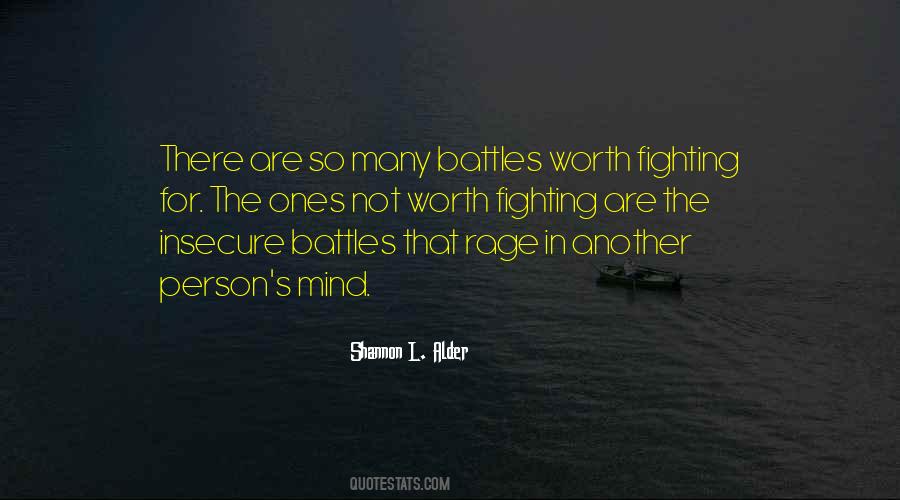 #29. Everyone _shouldn't_ have a say in whose life is worth fighting for. - Author: N.K. Jemisin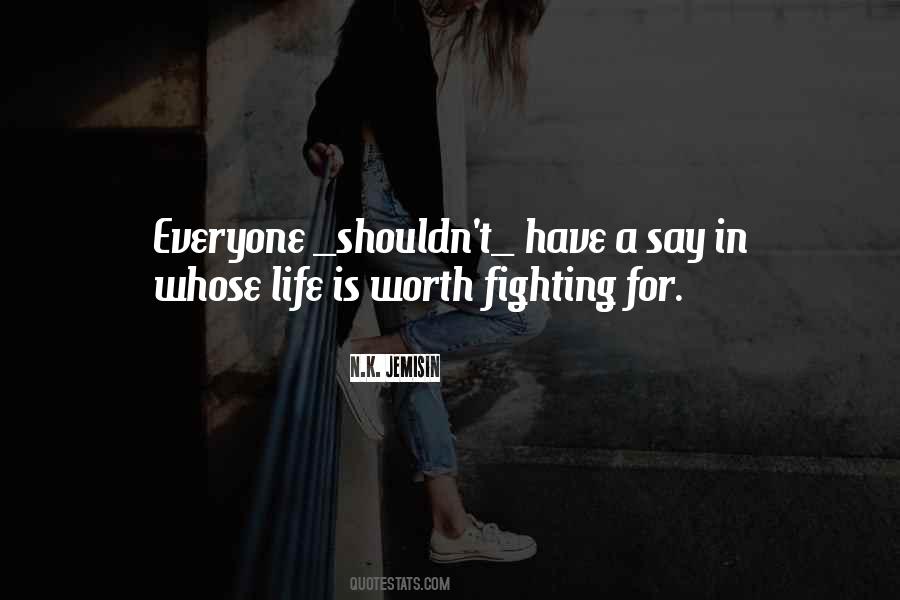 #30. You, Emily. You're worth fighting for. I fought all my life, but never for anything worthwhile. Now... Now I'm fighting for my heart. Bullshit ends here and now. - Author: Nashoda Rose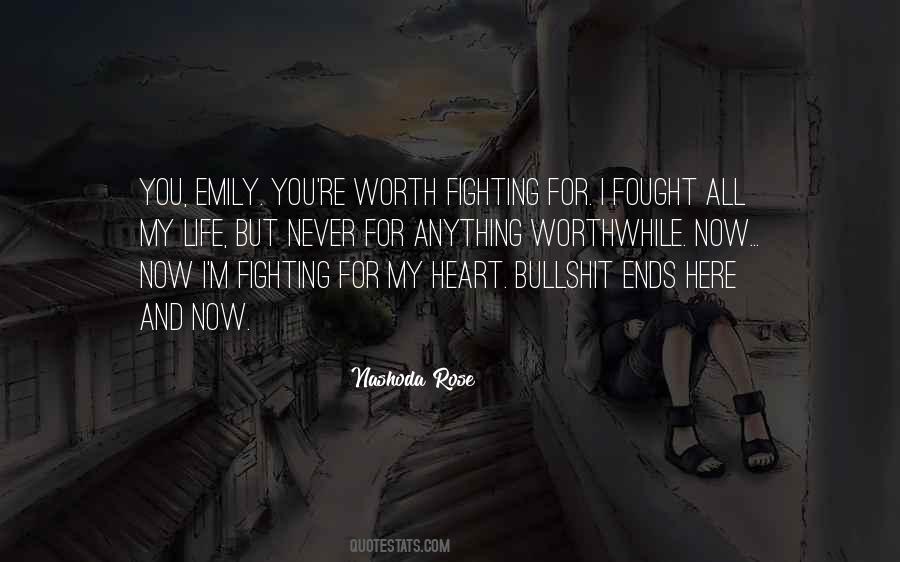 #31. We waddled through life blindly, hoping to find something - and someone - worth fighting for. - Author: Susan Dennard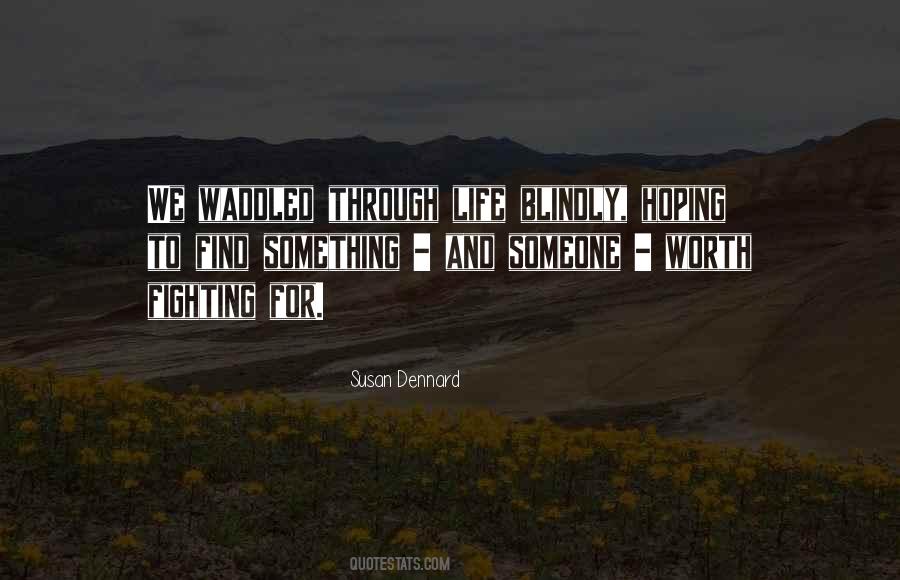 #32. One of the great tragedies I see is people not putting every effort into the foundation of their marriage. My grandmother told me that it's one man and one woman for life and that your marriage is worth fighting for. - Author: Kay Robertson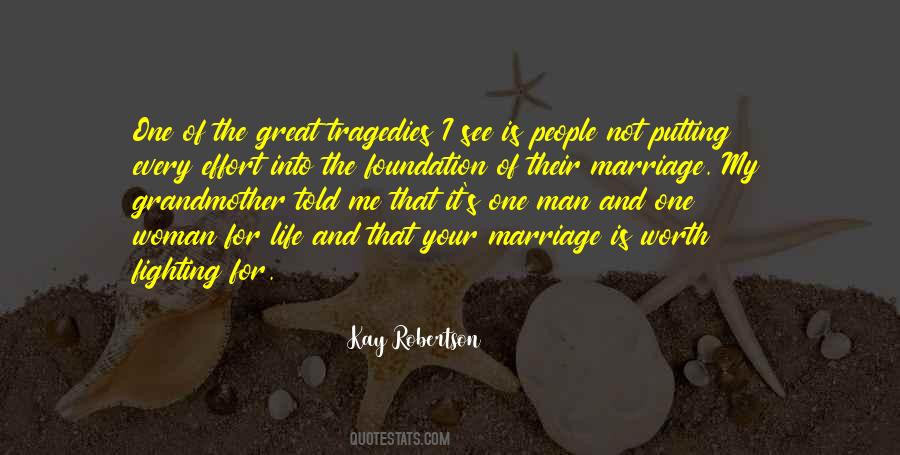 #33. For the sake of one soul. For one loved one. For one life." I called power into my blasting rod, and its tip glowed incandescent white. "The way I see it, there's nothing else worth fighting a war for. - Author: Jim Butcher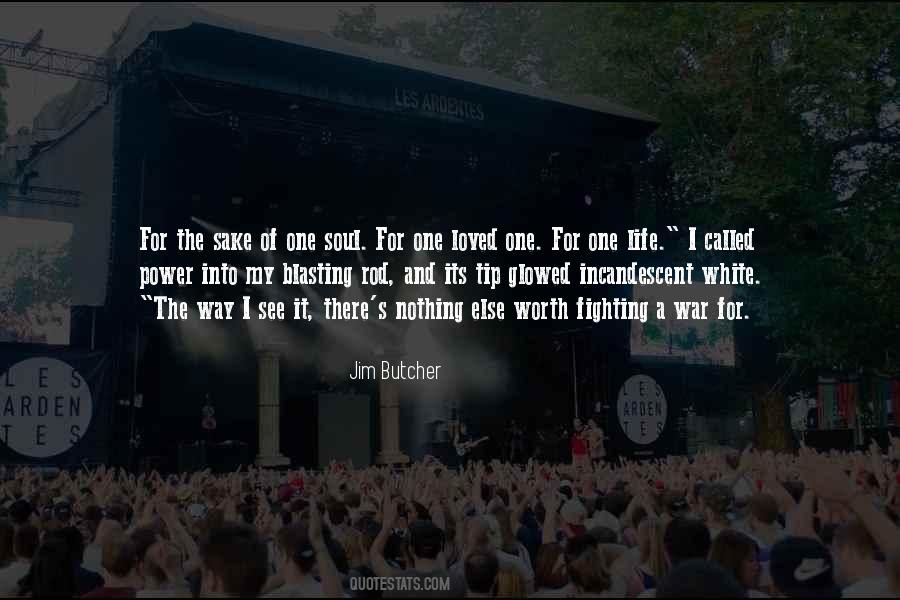 #34. The only man worth having in your life is one that would never let you walk away. - Author: Shannon L. Alder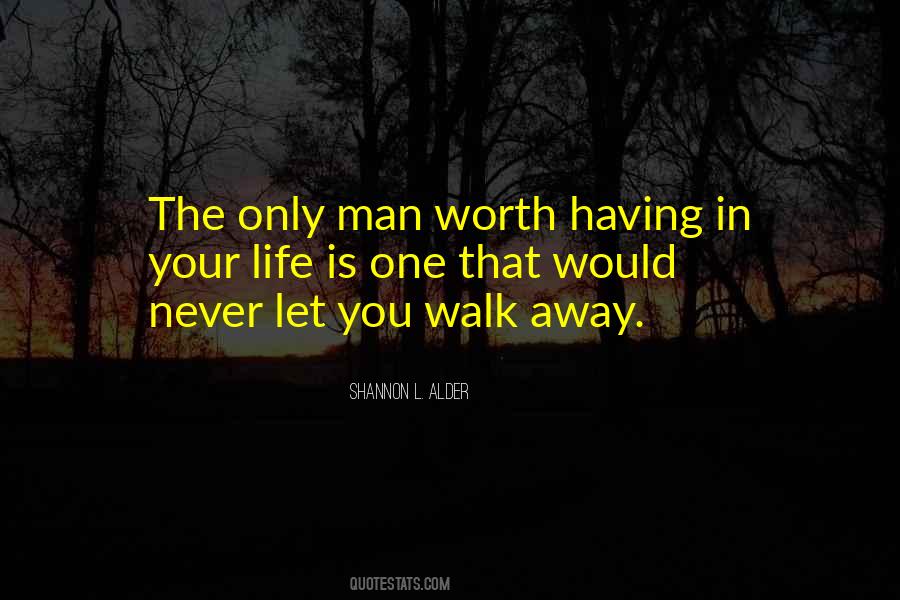 #35. Just like me. Just like so many others. Tragedies may change who we are, may alter the paths we take, sometimes drastically. But we can still continue on, continue living for tomorrow. Tomorrow is always worth fighting for." Mach Derune, A Time for Revenge, The End of Old Ways series - Author: A.W.Chrystalis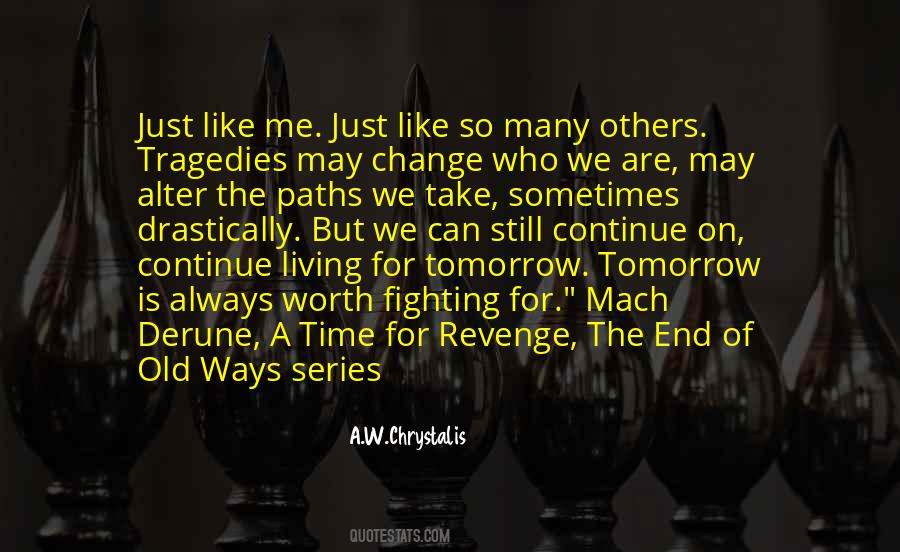 #36. You're probably scare, and nervous, and just about ready to pee your pants. But don't run from your fear. Embrace it! Because believe me, the best things in life are worth fighting for. - Author: Victoria Jamieson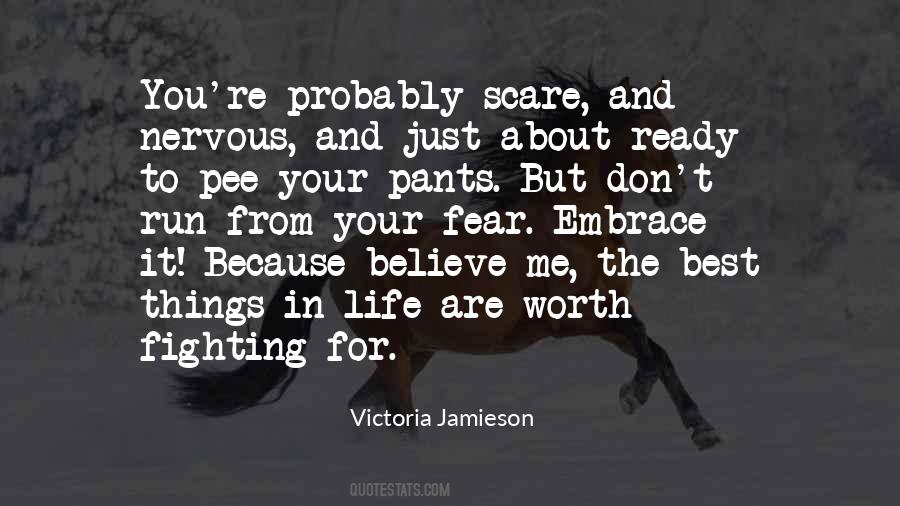 #37. All things worth having are worth fighting for. - Author: Kirsty Moseley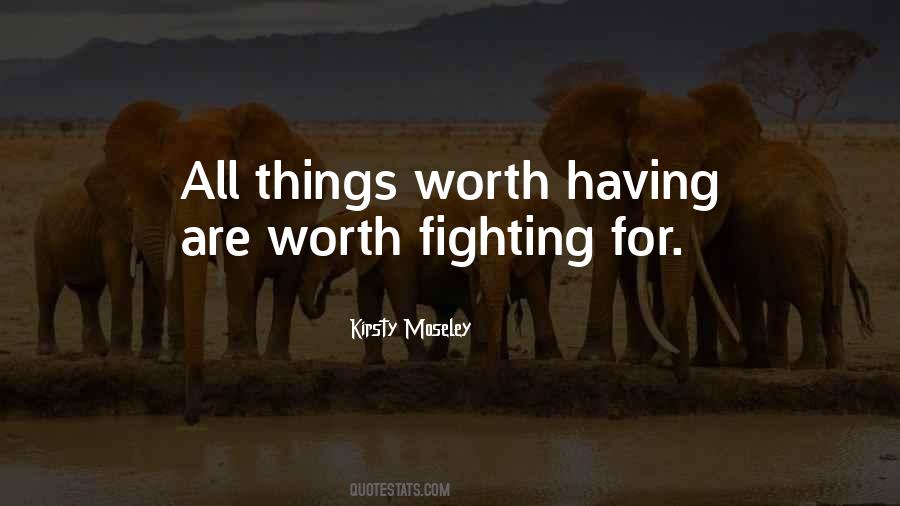 #38. An ideal world in my own home ... I'm not yet sure why the prospect appalls me quite so much, but I do know somewhere in me that (he) is wrong, that a life without hatred is no life at all, that my children should be allowed to despise whom they like. Now there's a right worth fighting for ... - Author: Nick Hornby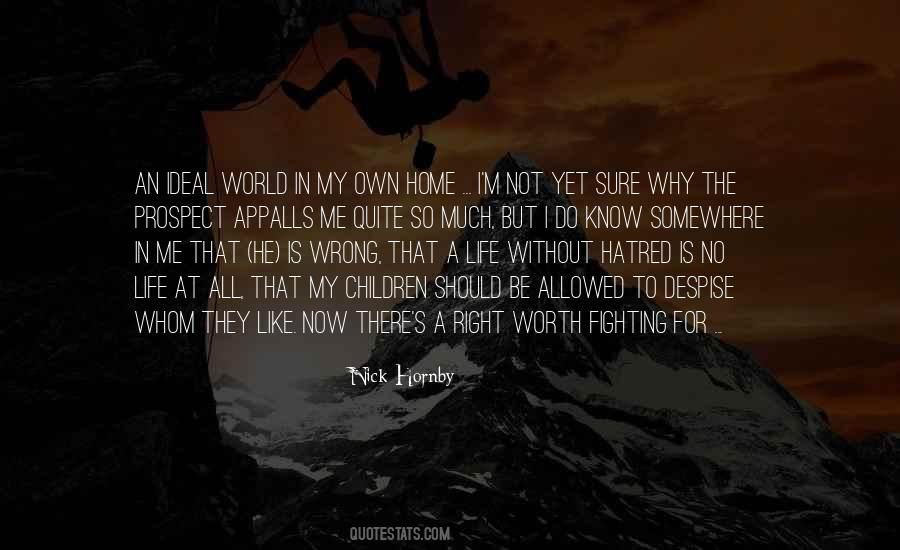 Famous Authors
Popular Topics