Knowledge Sharing Famous Quotes & Sayings
List of top 68 famous quotes and sayings about knowledge sharing to read and share with friends on your Facebook, Twitter, blogs.
Top 68 Quotes About Knowledge Sharing
#1. we are speaking about cognitive meanings, which cannot be transferred into students as blood is pumped into veins. Learning the meaning of a piece of knowledge requires dialog, exchange, sharing, and sometimes compromise. - Author: Joseph D. Novak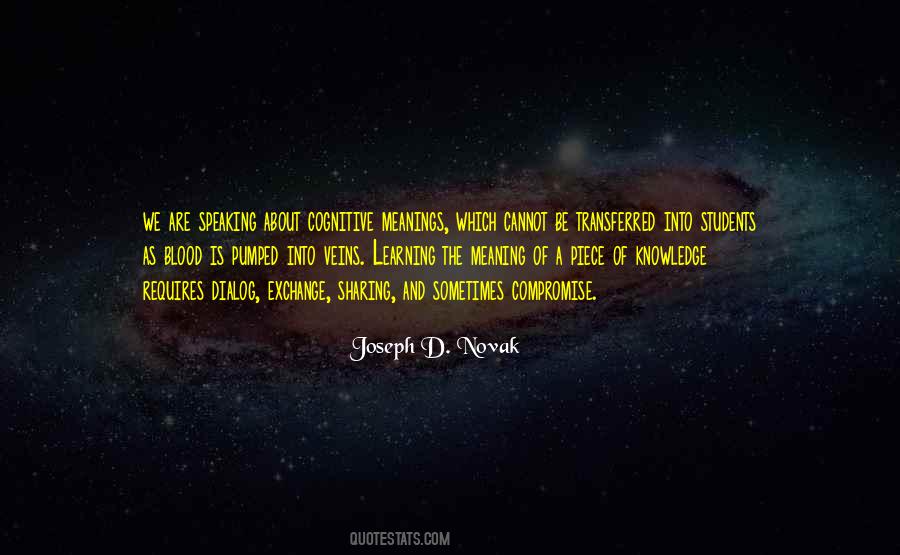 #2. Sharing a burdened heart with another who has the wisdom, strength, and knowledge to carry it, frees us from its weight long enough to focus on solutions - Author: Gayathri Ramprasad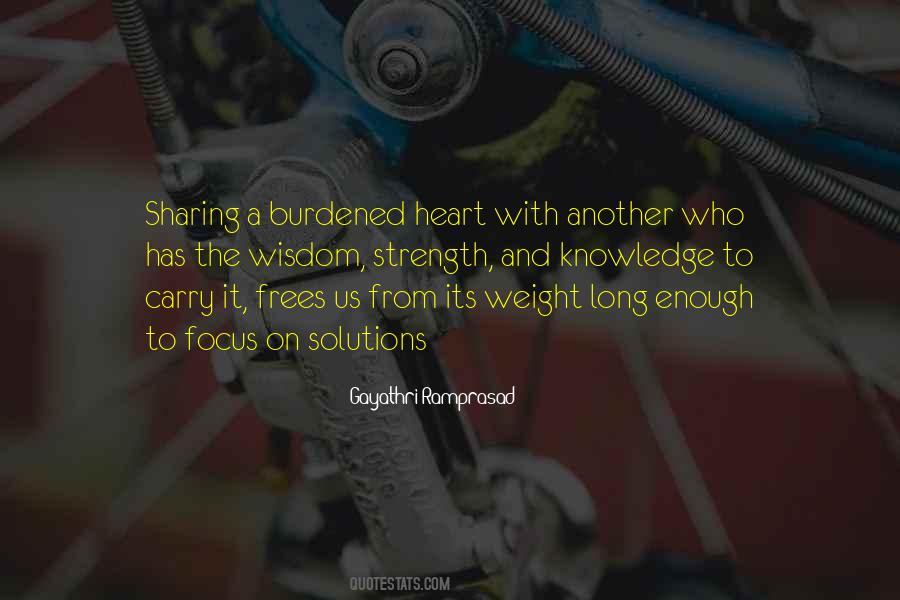 #3. Knowledge is power as long as it is shared. - Author: Baris Gencel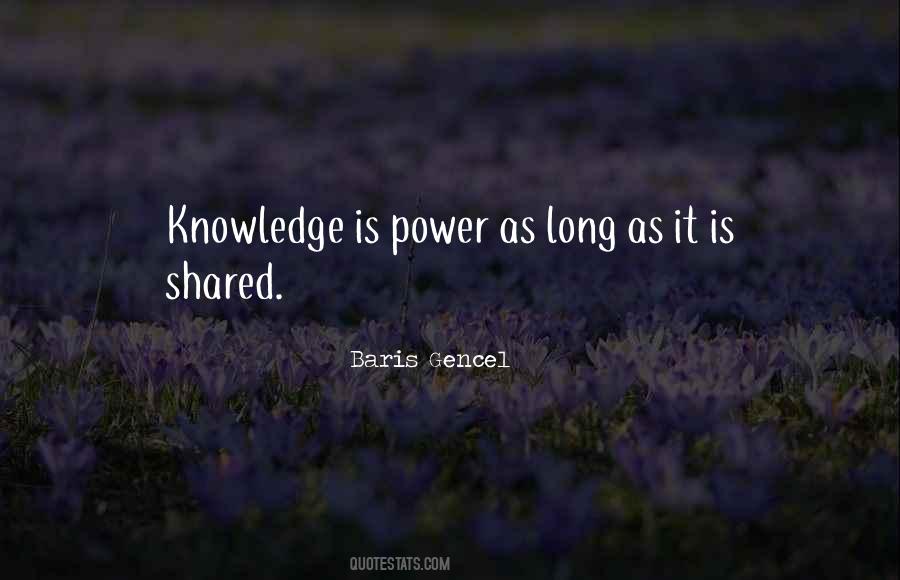 #4. As a physician, we heal by sharing our bestowed power of knowledge, love, and compassion. - Author: Debasish Mridha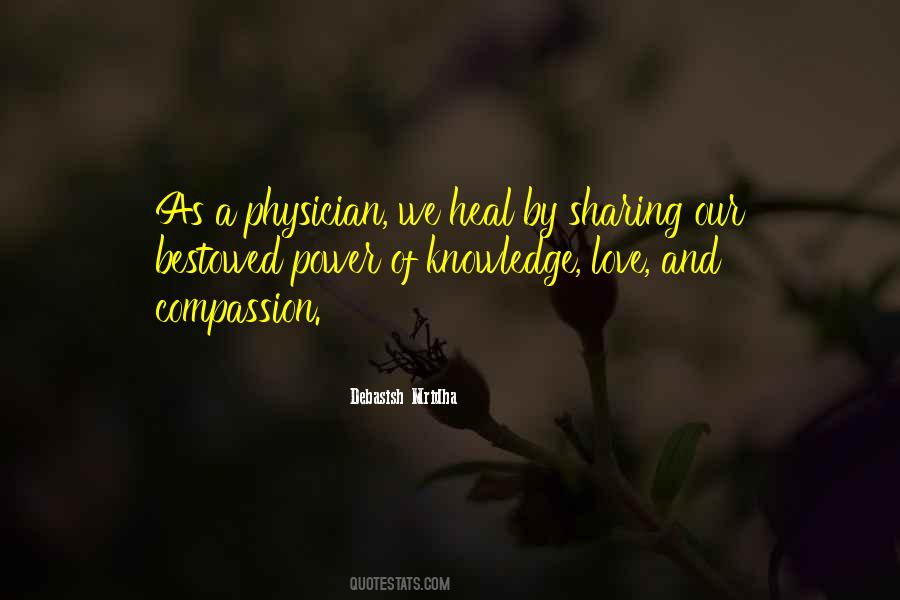 #5. Be giving, enjoy sharing. - Author: Debasish Mridha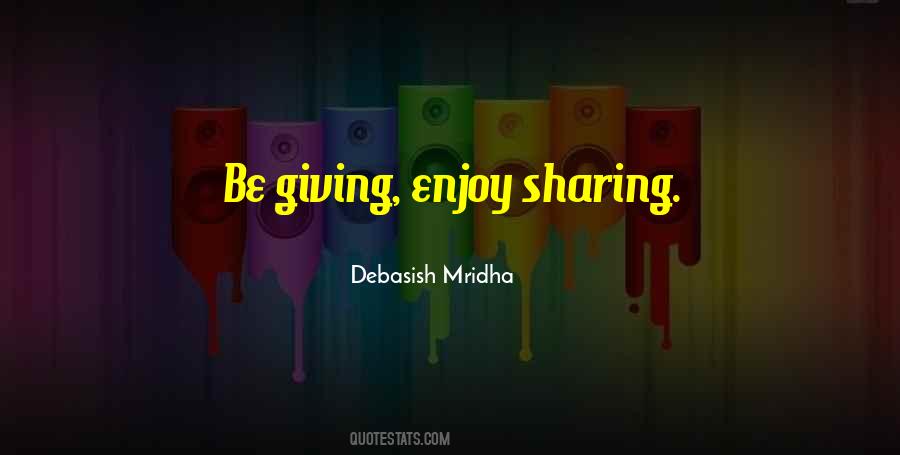 #6. Disseminating knowledge is the human duty, sharing it about so that all can benefit. - Author: Tracy Rees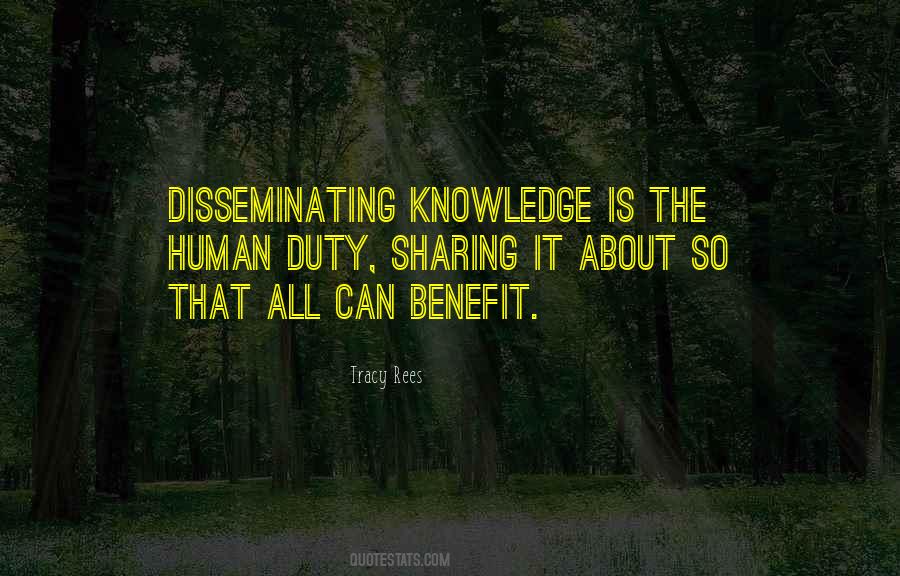 #7. But he who has been earnest in the love of knowledge and of true wisdom, and has exercised his intellect more than any other part of him, must have thoughts immortal and divine. If he attain truth, and in so far as human nature is capable of sharing in immortality, he must altogether be immortal. - Author: Plato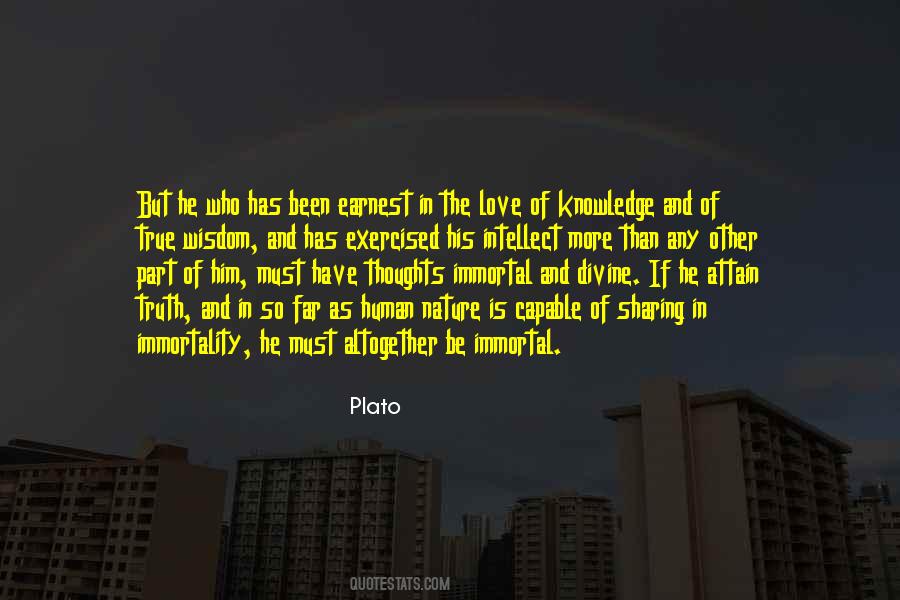 #8. This universe is your home. So make your home peaceful by loving, caring and sharing. - Author: Debasish Mridha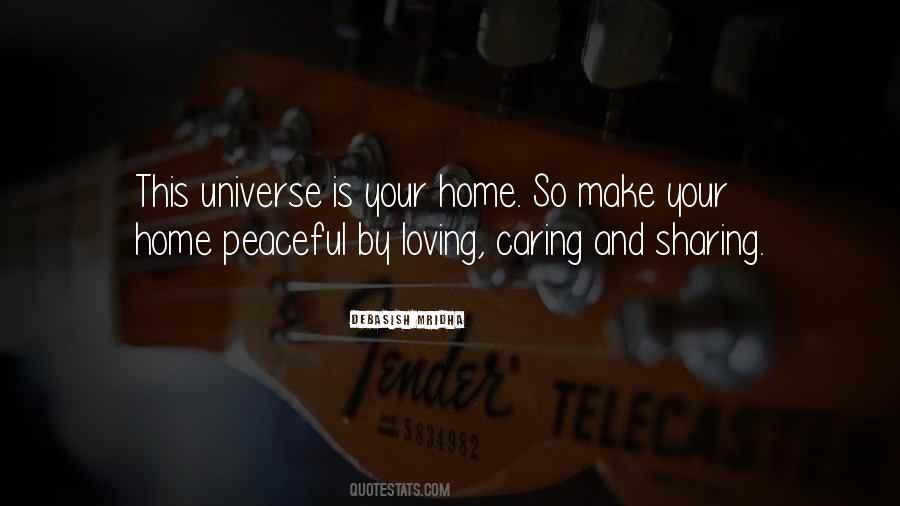 #9. Sharing knowledge is sharing wealth - Author: Andrew-Knox B Kaniki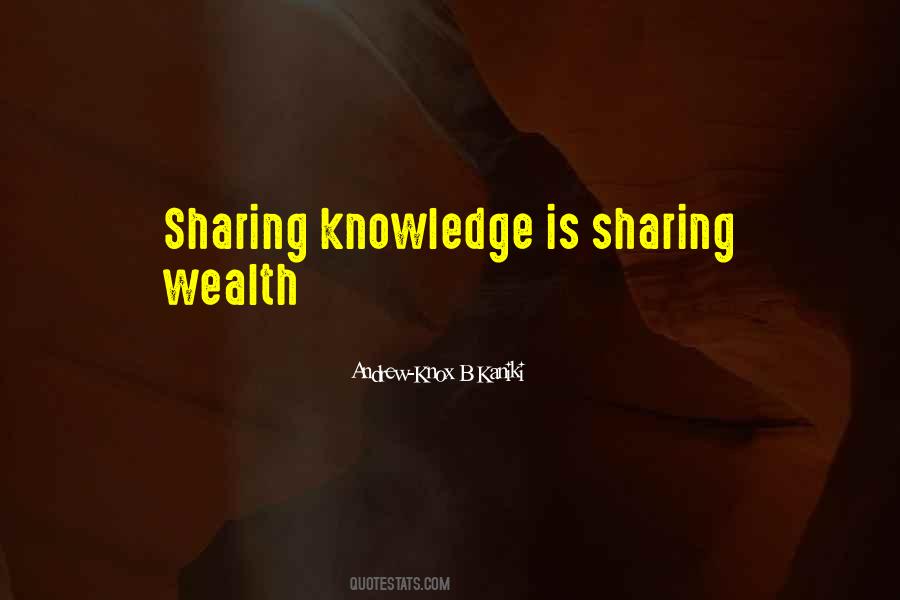 #10. Everyone has a transferable commodity-knowledge. Sharing your unique expertise and making introductions for someone creates a lasting legacy. - Author: Marsha Blackburn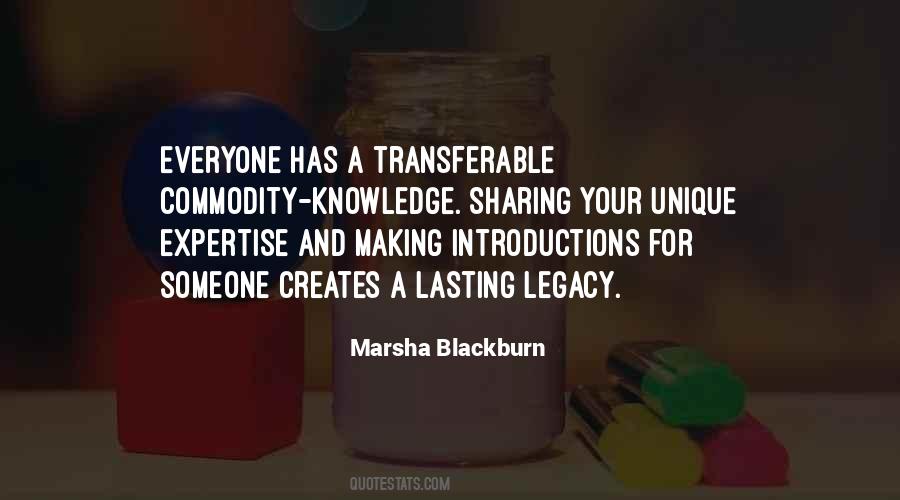 #11. Trivia are not knowledge. Lists of facts don't comprise knowledge. Analyzing, hypothesizing, concluding from data, sharing insights, those comprise knowledge. You can't google for knowledge. - Author: Elaine Ostrach Chaika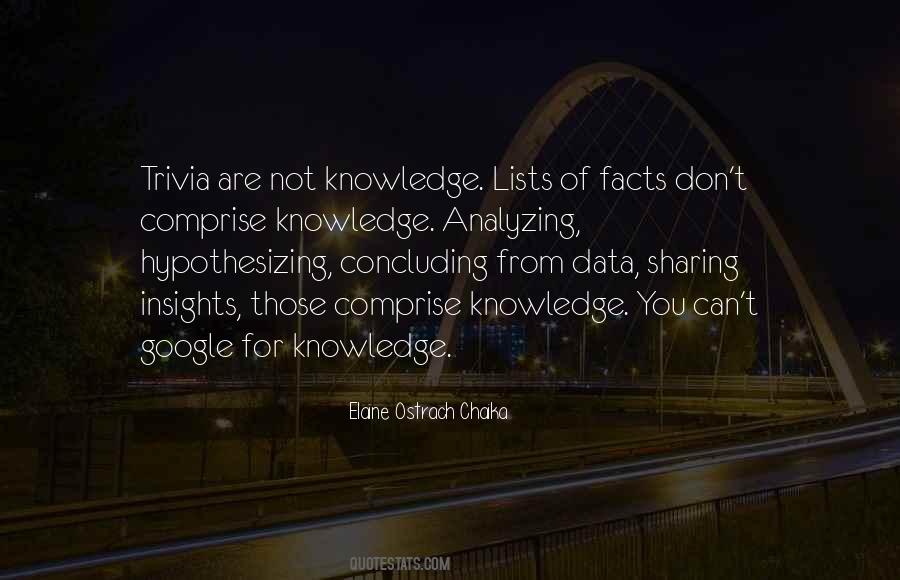 #12. Share your knowledge. It is a way to achieve immortality. - Author: Dalai Lama XIV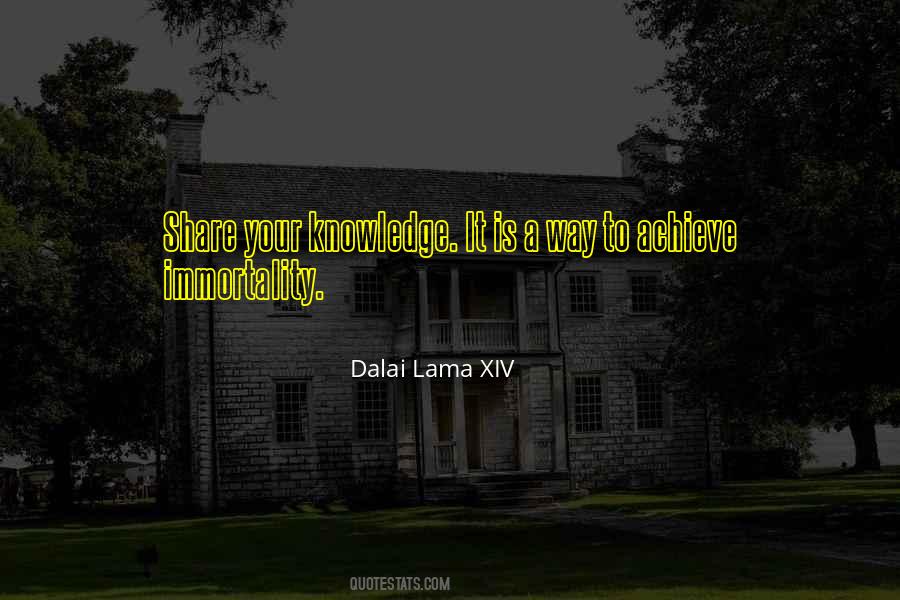 #13. Sharing knowledge is not about giving people something, or getting something from them. That is only valid for information sharing. Sharing knowledge occurs when people are genuinely interested in helping one another develop new capacities for action; it is about creating learning processes. - Author: Peter Senge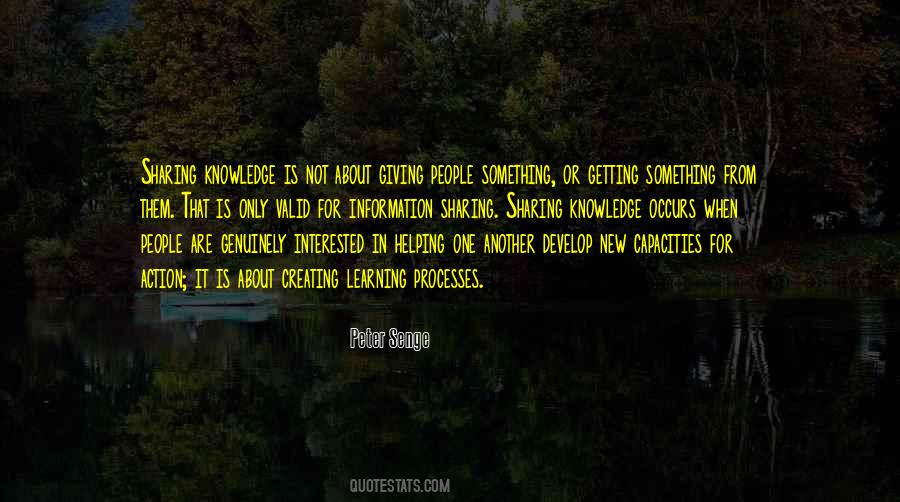 #14. Leadership isn't about simply being in charge and treating your people like soldiers and barking orders. Leadership is sharing your knowledge and your direction so that others grow and reach their potential. - Author: Cal Ripken Jr.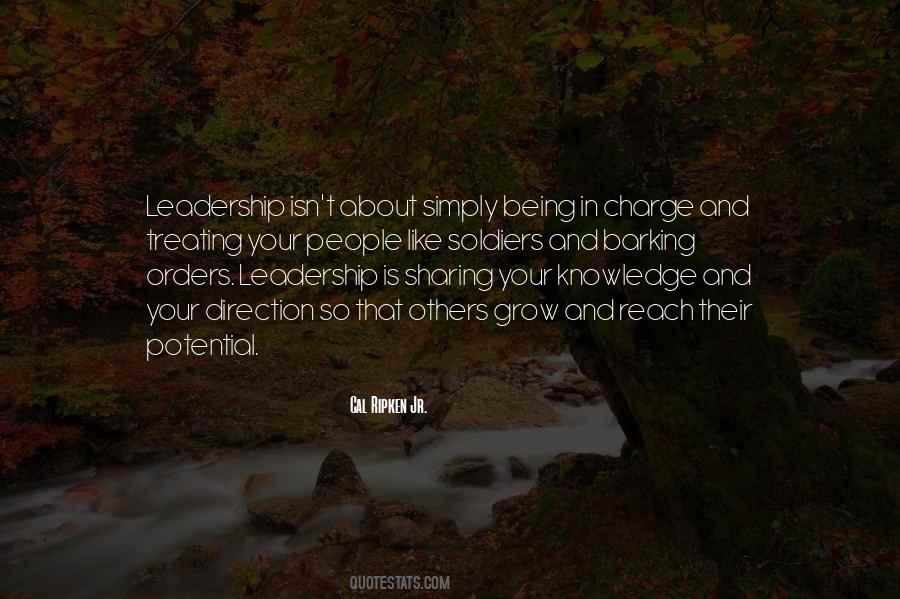 #15. Often, we are too slow to recognize
how much and in what ways we can assist each other
through sharing expertise and knowledge. - Author: Owen Arthur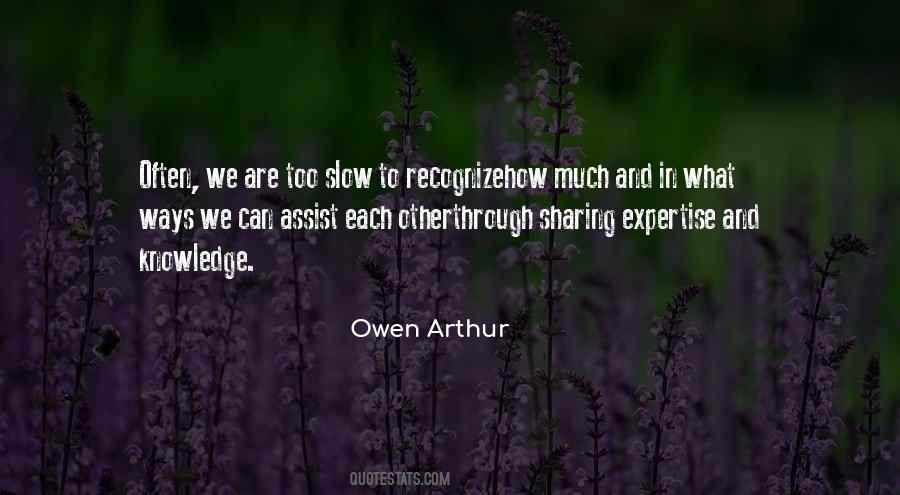 #16. I'm trying to change the way people approach knowledge and information in general. I think that to try to own knowledge, to try to control whether people are allowed to use it, or to try to stop other people from sharing it, is sabotage. - Author: Richard Stallman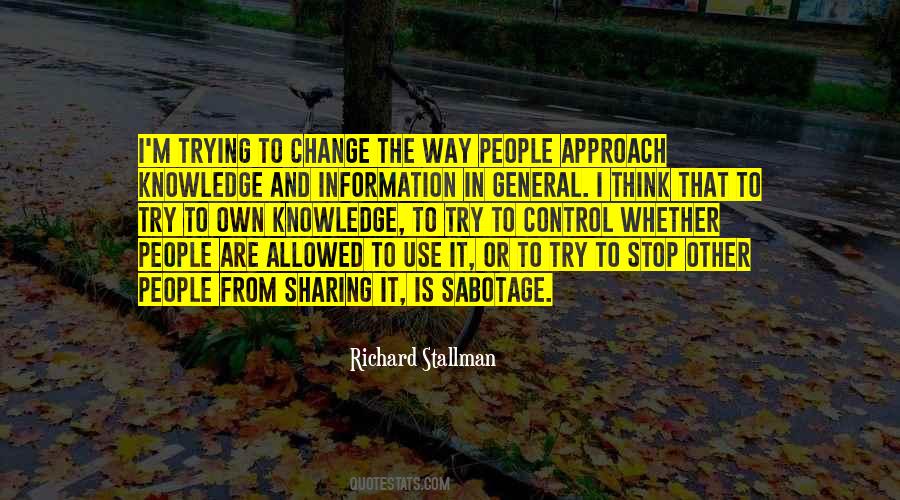 #17. Plant the seeds of trust and compassion
Make caring and sharing a life's mission
Hold hand with dreams of greatness
Peace will grow with beauty and fragrance. - Author: Debasish Mridha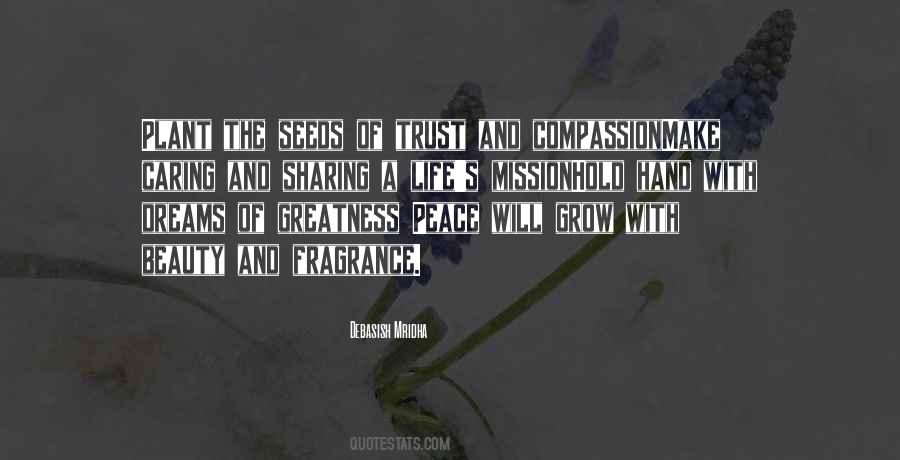 #18. Second, you need to spread the large amount of information knowledge that you've gained-pooping like an elephant. This means sharing information and discoveries with your fellow employees and occasionally even with your competitors. - Author: Guy Kawasaki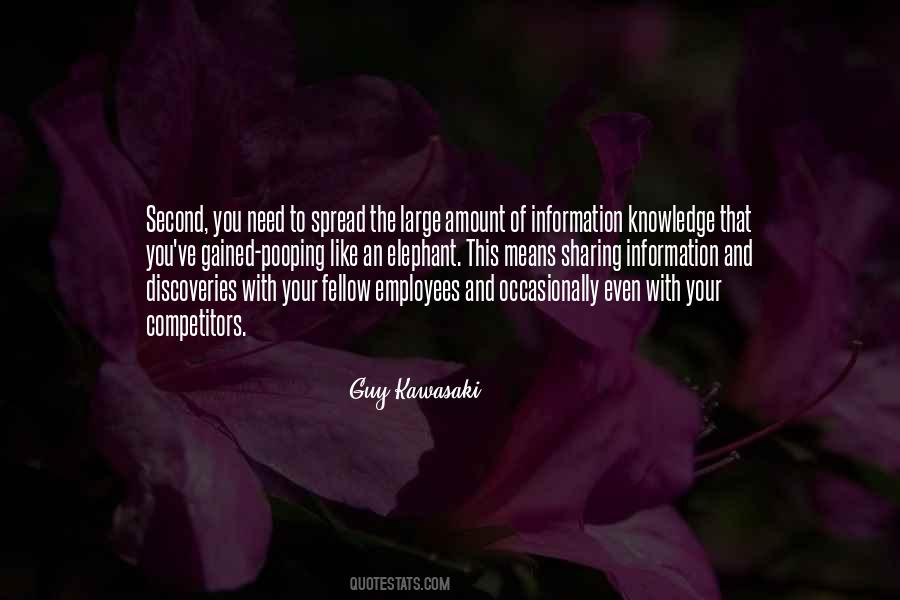 #19. By sharing, we express our gratitude for abundance and create emptiness for receiving. - Author: Debasish Mridha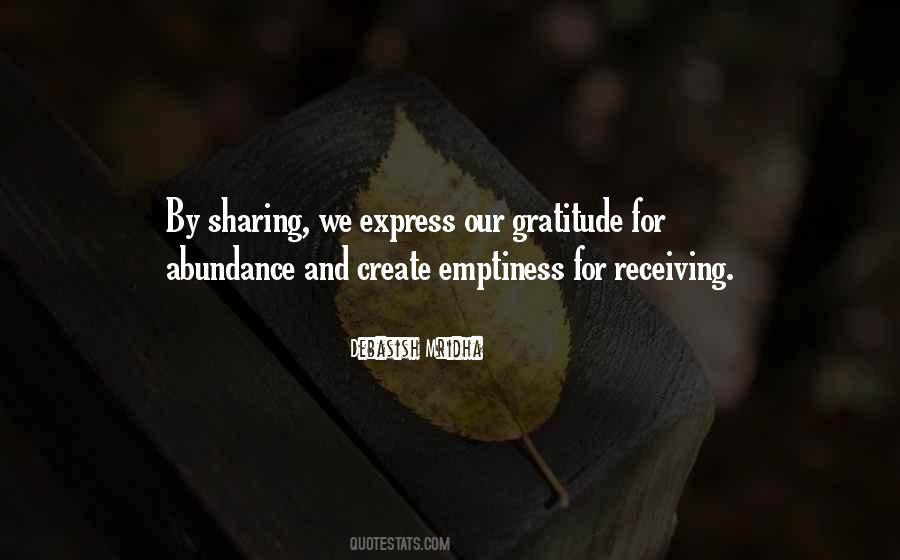 #20. I love sharing my knowledge of hitting with others. Now coaches and players at all levels can learn my systematic approach to hitting a baseball with more consistency, mental strength and accuracy. - Author: Dusty Baker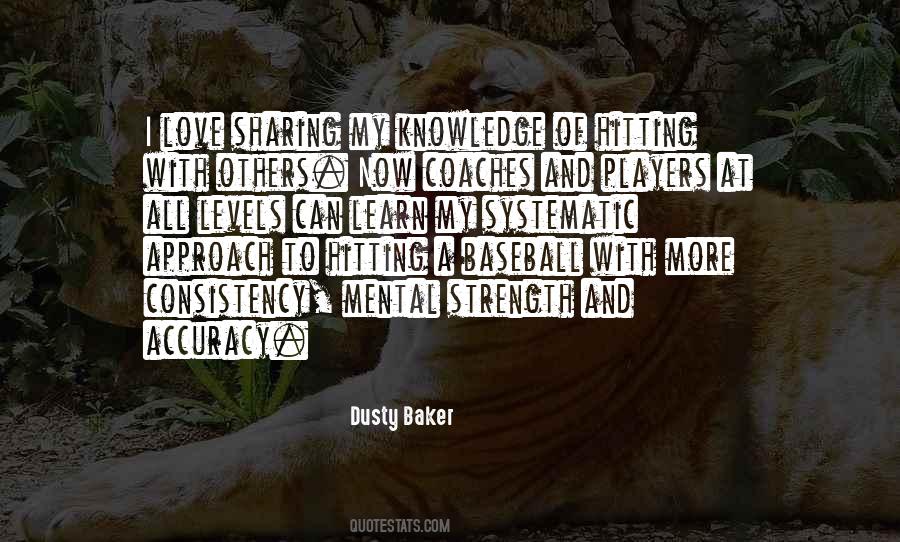 #21. Love and knwoledge have one thing in common; both live on giving and sharing, more you share more it will be and make impacts over impacts, influence one to another. Love will not get lesser by giving, knowledge too.. - Author: Baris Gencel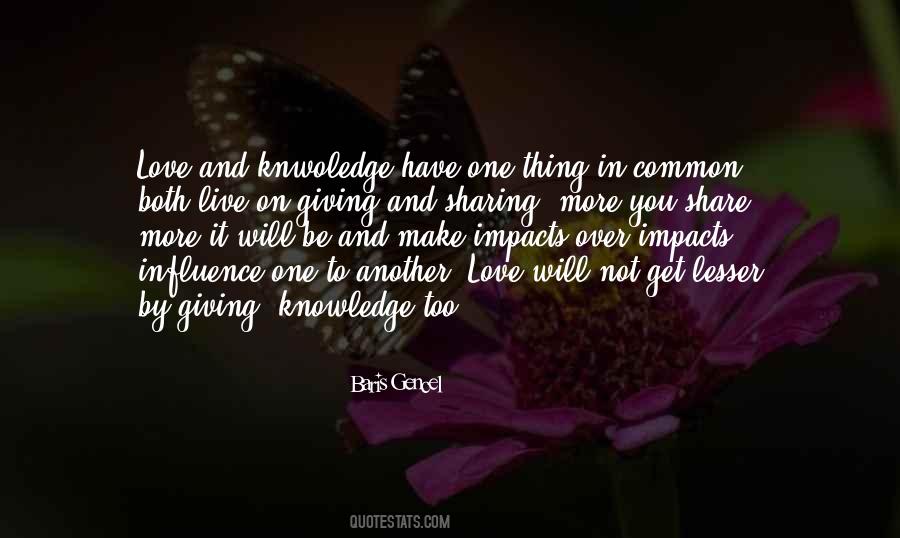 #22. The intimacy. The deepest level of love. The knowledge that someone understands you, is rooting for you, is sharing your life. - Author: Adriana Trigiani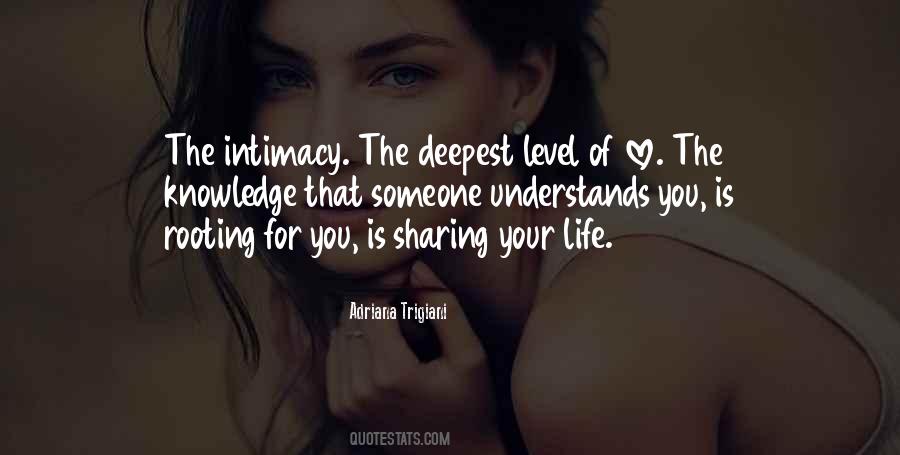 #23. So I ask you: whose job is it in this country to wake up comatose parents? Someone better do it soon because knowing television's potential for harm and keeping that knowledge to ourselves instead of sharing it with parents amounts to covering up a land mine on a busy street. - Author: Jim Trelease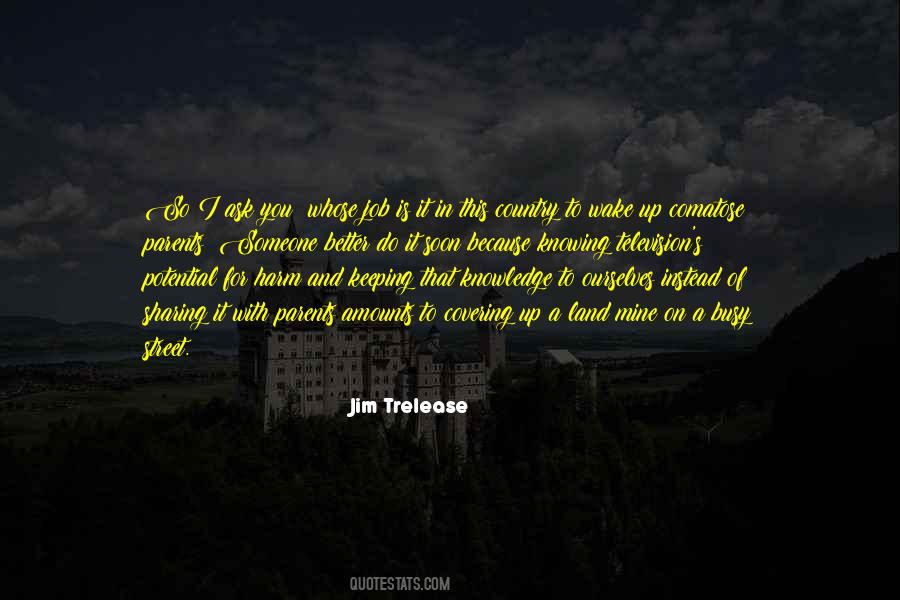 #24. The heart dances with joy when you're sharing. - Author: Debasish Mridha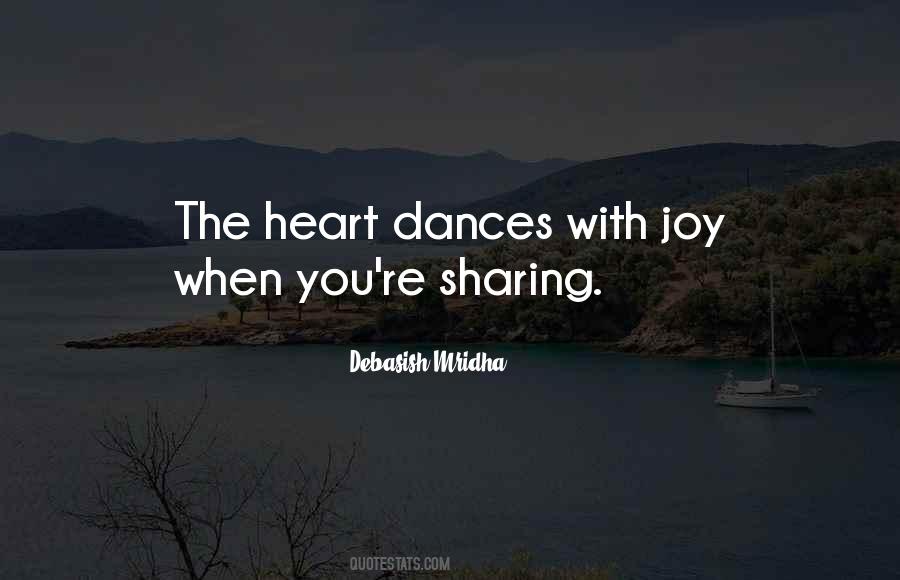 #25. Sharing knowledge is the most fundamental act of friendship. Because it is a way you can give something without loosing something. - Author: Richard Stallman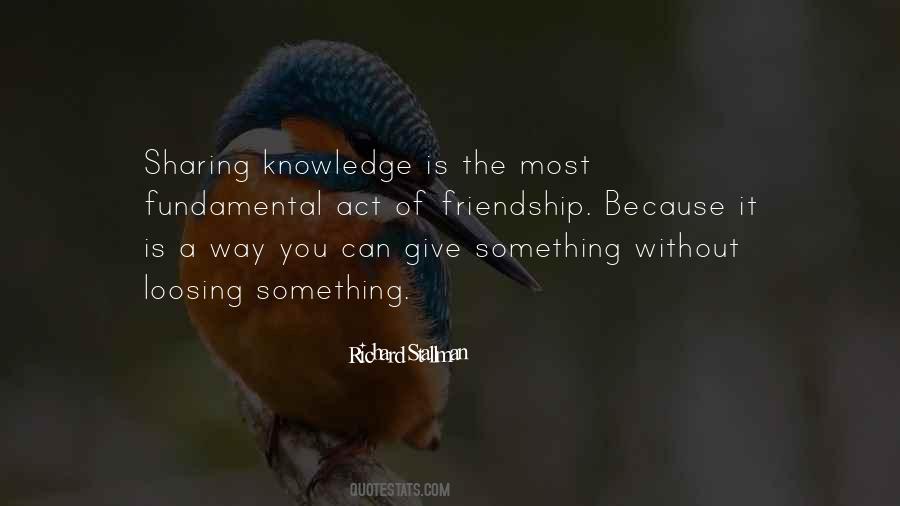 #26. Make your life a monument of visions. Serving, caring, and sharing are the passions. - Author: Debasish Mridha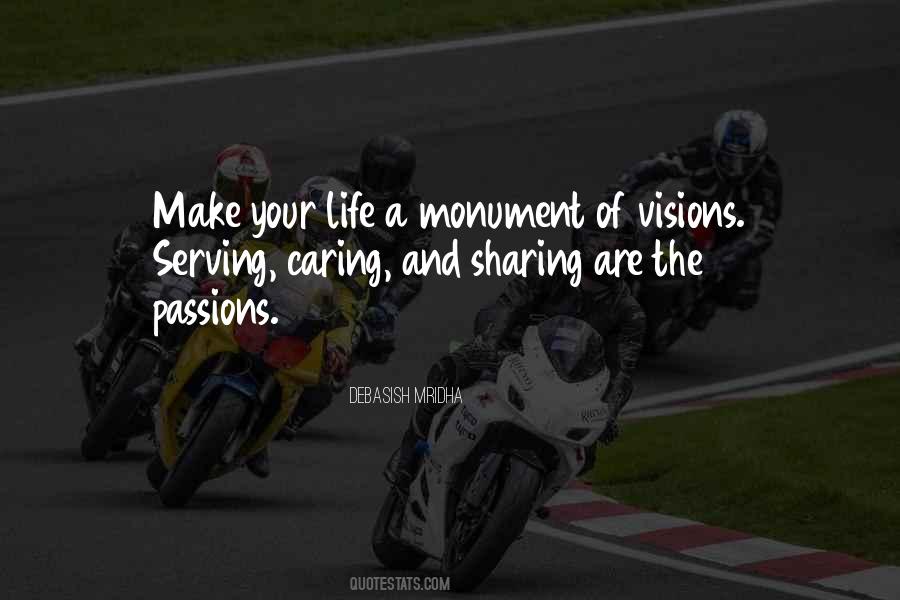 #27. I like to share info & links to help access knowledge and possible solutions to situations. - Author: Jay Woodman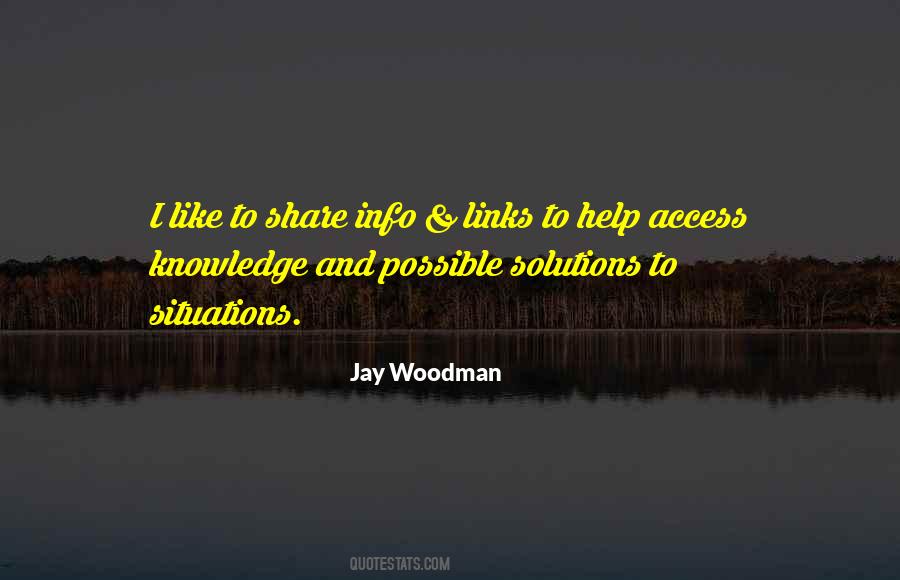 #28. When you hoard knowledge, you deprive yourself of blessings and growth. - Author: Kemi Sogunle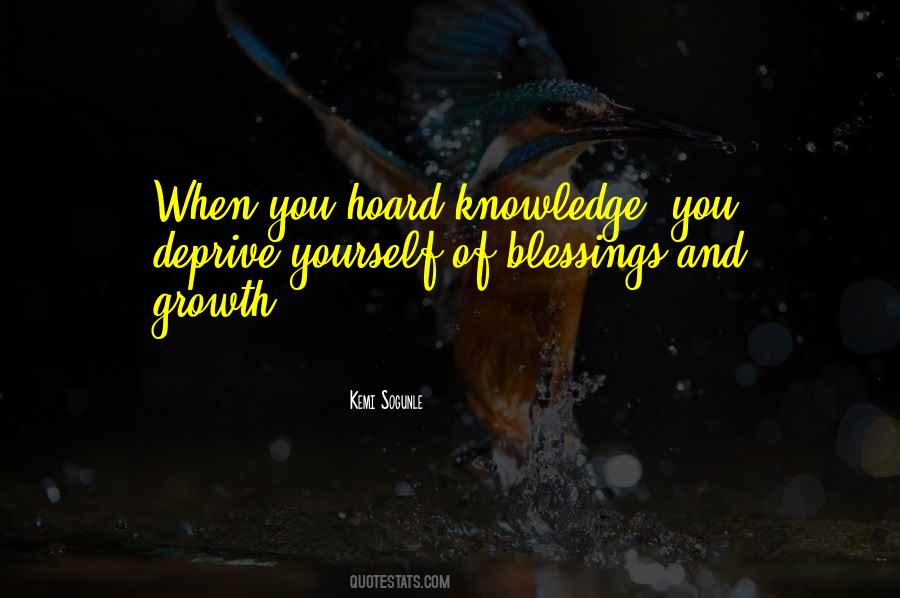 #29. Sharing is sometimes
more demanding than giving. - Author: Mary Catherine Bateson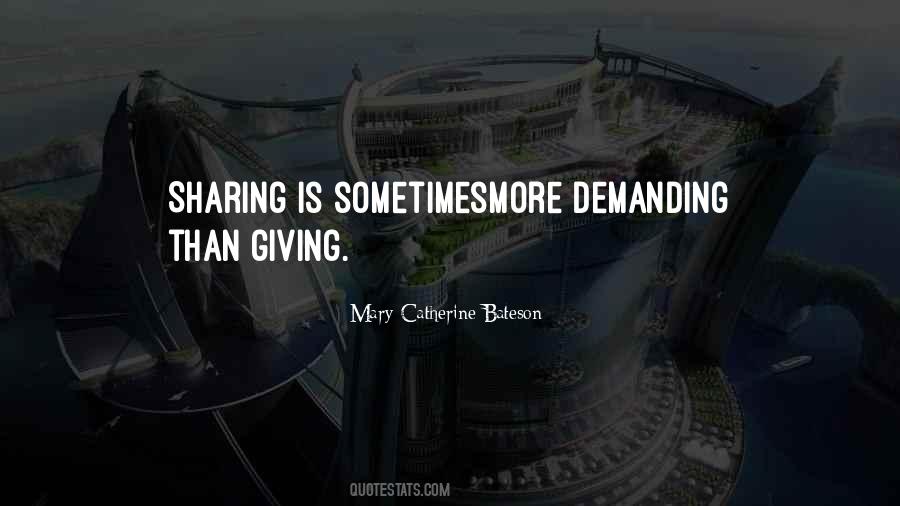 #30. You love me; I love you. We are sharing our happiness, too. - Author: Debasish Mridha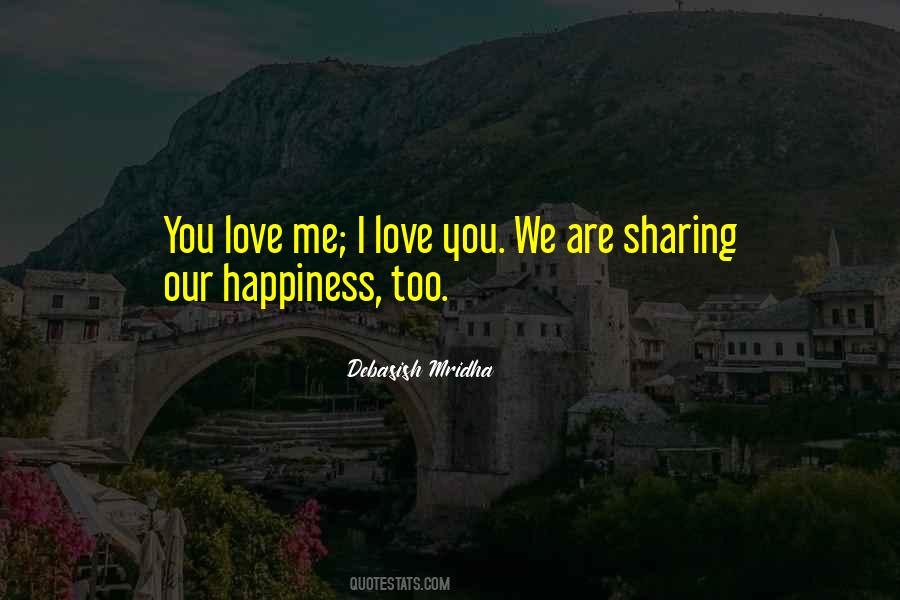 #31. And a new philosophy emerged called quantum physics, which suggest that the individual's function is to inform and be informed. You really exist only when you're in a field sharing and exchanging information. You create the realities you inhabit. - Author: Timothy Leary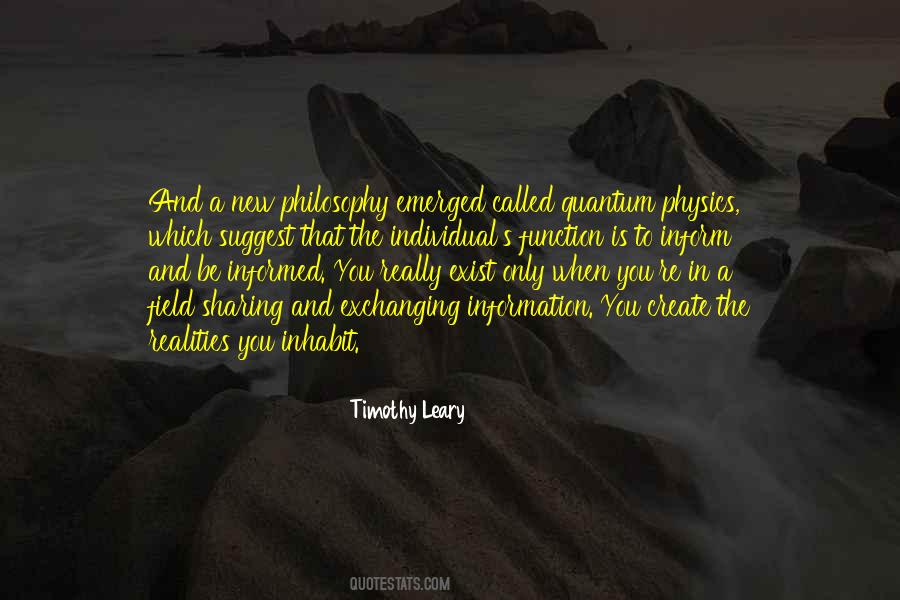 #32. Every day of my life is worth living. Every day I spend by caring, sharing, and loving. - Author: Debasish Mridha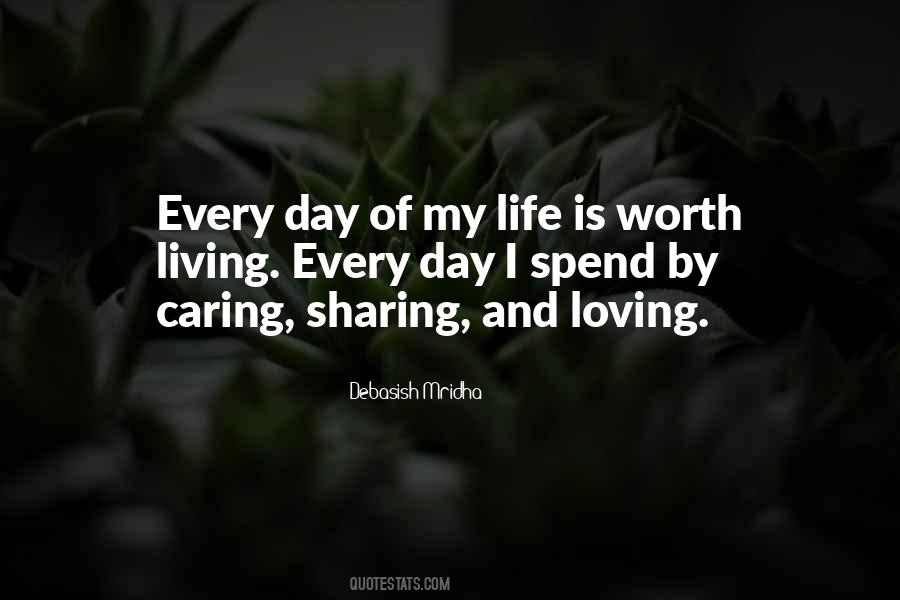 #33. Sharing knowledge is not part of Western culture - Author: Fons Trompenaars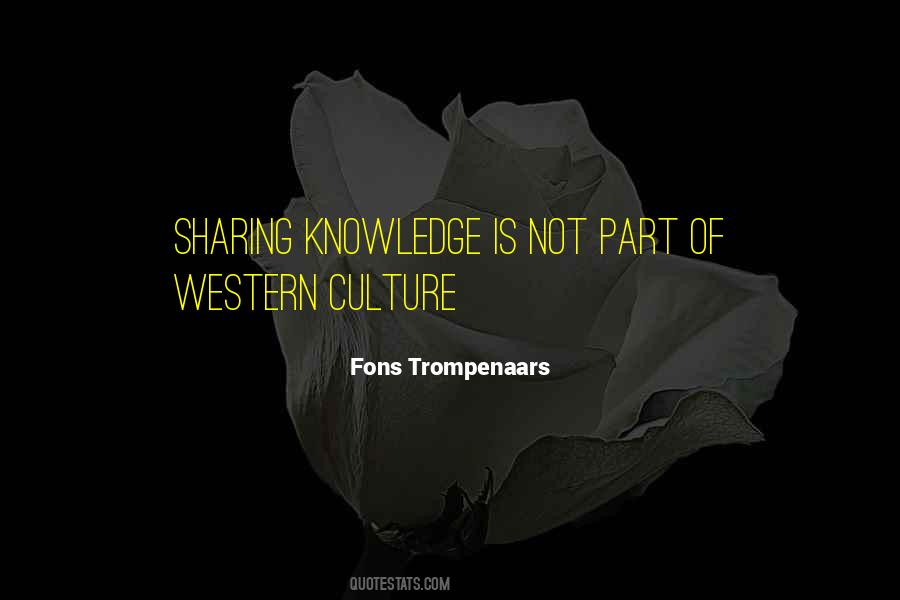 #34. Love and knowledge have one thing in common; both live on giving and sharing, more you share more it will be and make impacts over impacts, influence one to another. Love will not get lesser by giving and same goes to knowledge too.. - Author: Baris Gencel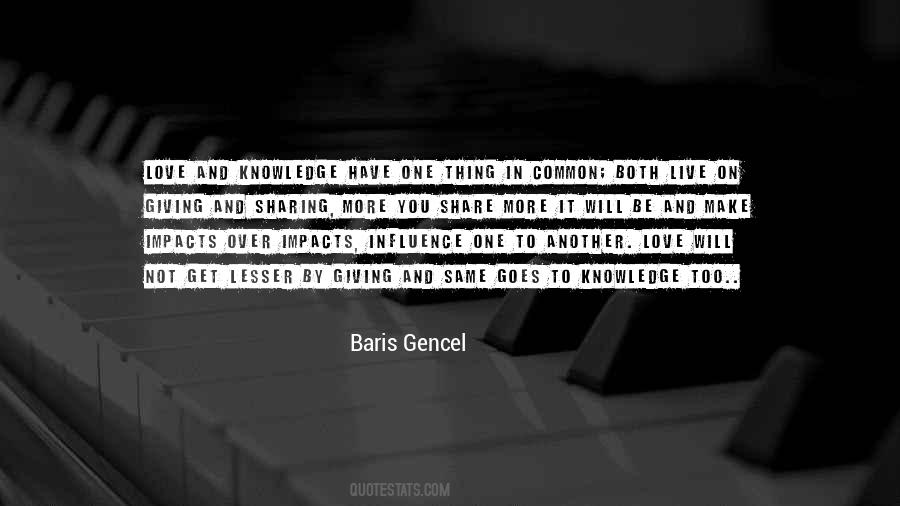 #35. Sharing is an inherent sign of growth. - Author: Debasish Mridha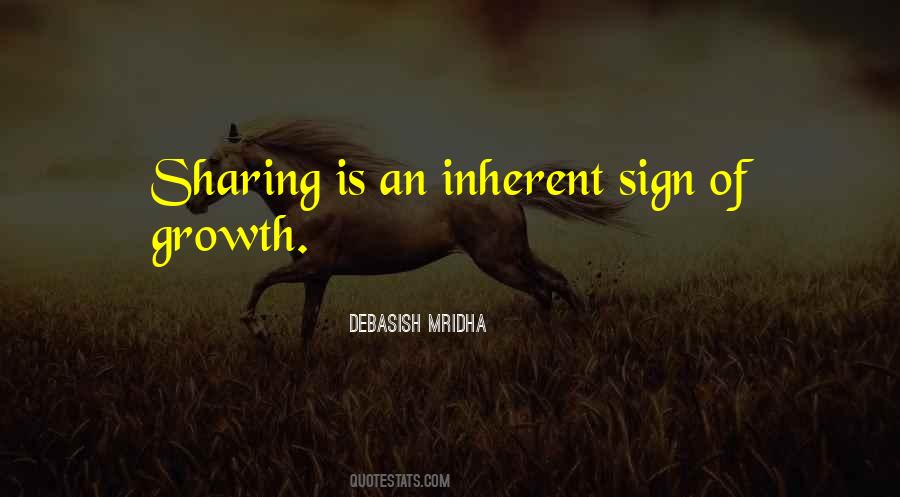 #36. Hoarding knowledge ultimately erodes your power. If you know something important, the way to get power is by sharing it. - Author: Joseph Badaracco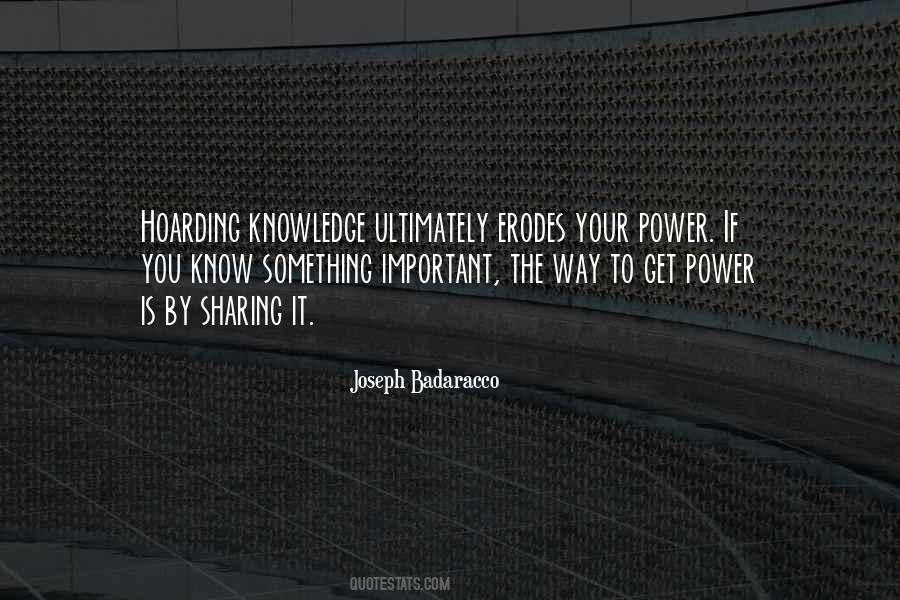 #37. Because sometimes pain is knowing, and sometimes pain is sharing that knowledge with someone who loves you but can't do anything to help. - Author: Lisa Gardner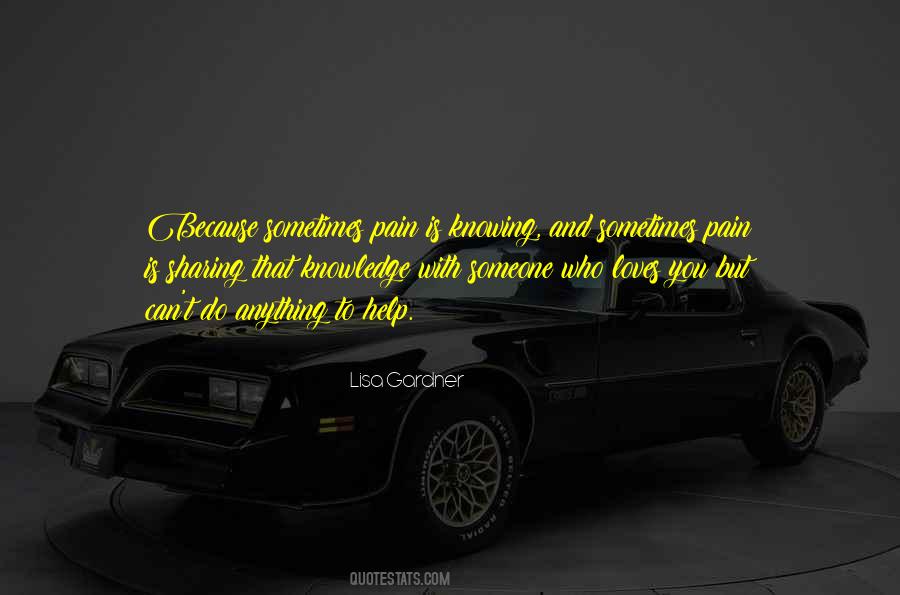 #38. By philosophy, history, economics and science, all knowledge and wisdom, humanity may eventually arrive at the awareness of its own oneness.... Sudipta Das - Author: Sudipta Das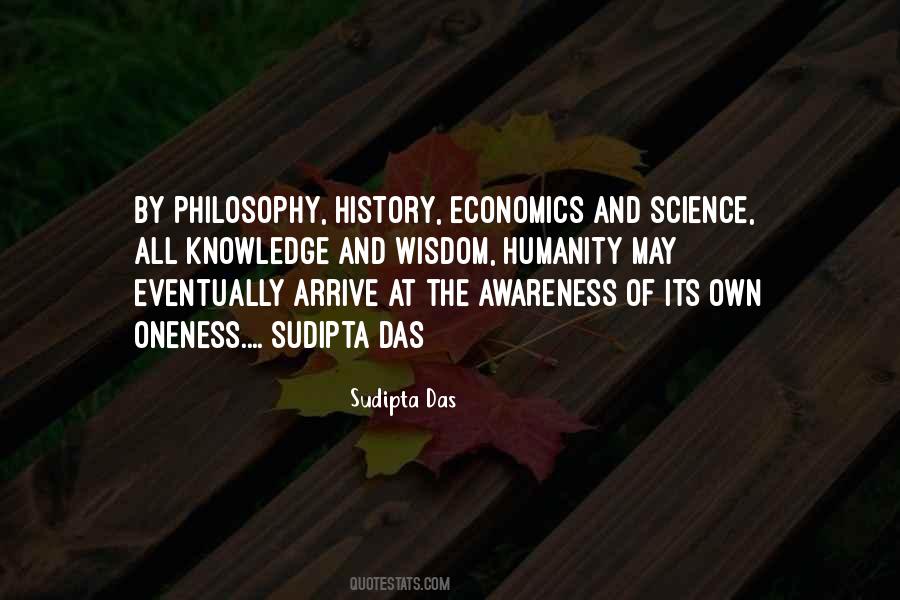 #39. Poetry as Initiation
Every poem embraces our passion to connect
its reader to snippets of knowledge
that have become life-giving to us.
Poems go beyond simple sharing to initiation,
beyond the need to express
to the urgency to edify. - Author: Beryl Dov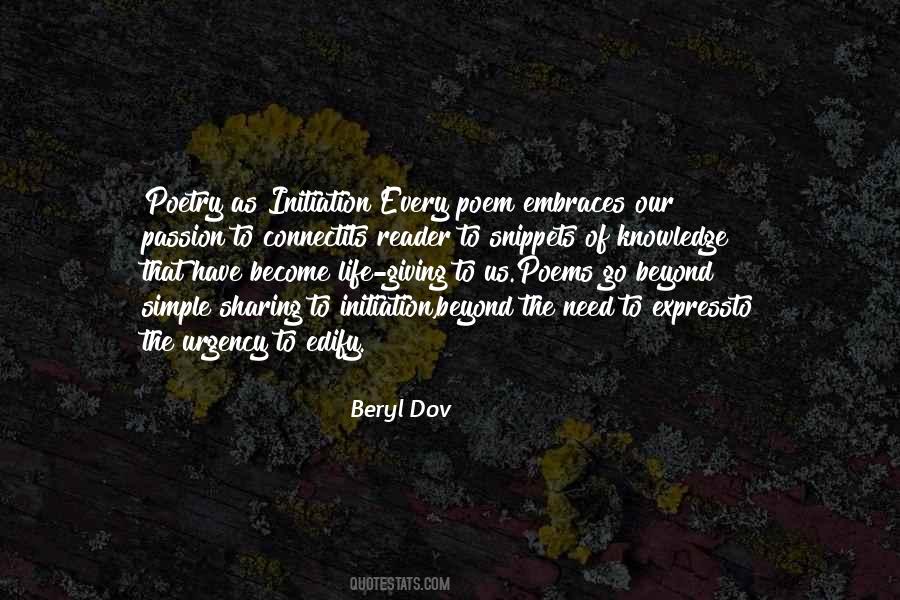 #40. Libraries promote the sharing of knowledge, connecting people of all ages with valuable information resources. These dynamic and modern institutions, and the librarians who staff them, add immeasurably to our quality of life. - Author: George W. Bush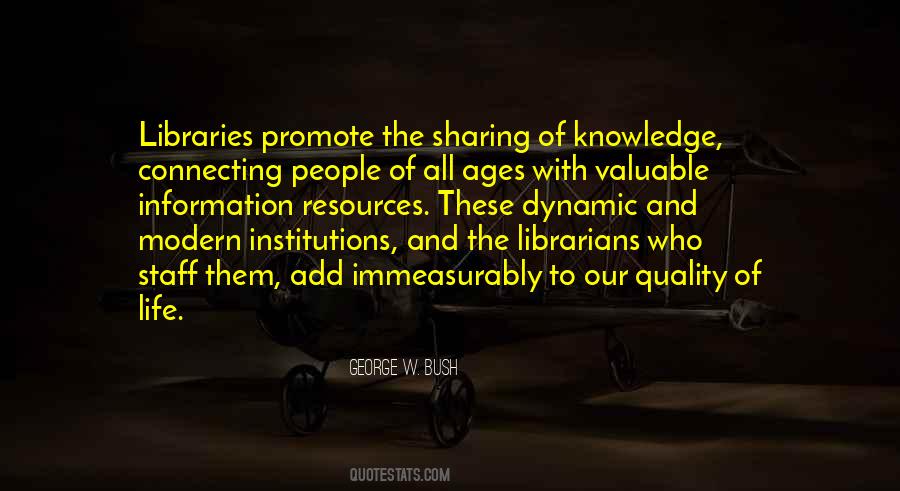 #41. Sharing hope is powerful stuff, and sharing knowledge is highly beneficial, but sharing love changes the world! - Author: Sheldon K. Bass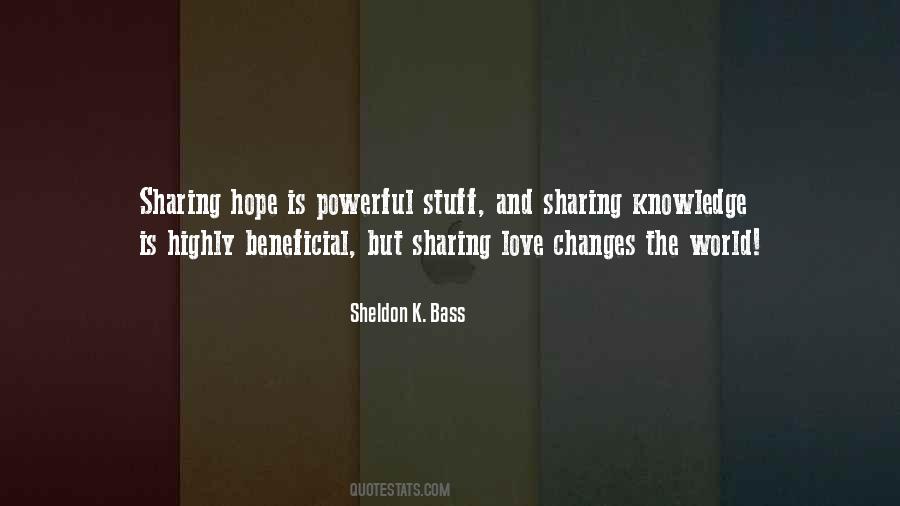 #42. There is no value for a knowledge that has not been shared. More you share more it will be and will make impacts over impacts, influence one to another in a positive way. - Author: Baris Gencel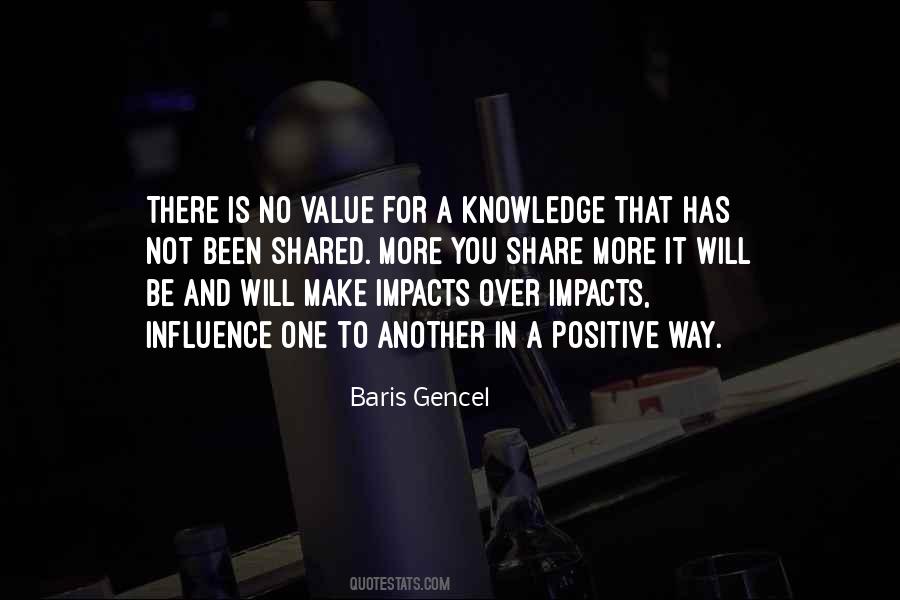 #43. THE RIGHT INFORMATION BRINGS KNOWLEDGE. AND KNOWLEDGE IS POWER. SHARING IT IS EMPOWERMENT. - Author: Seth Godin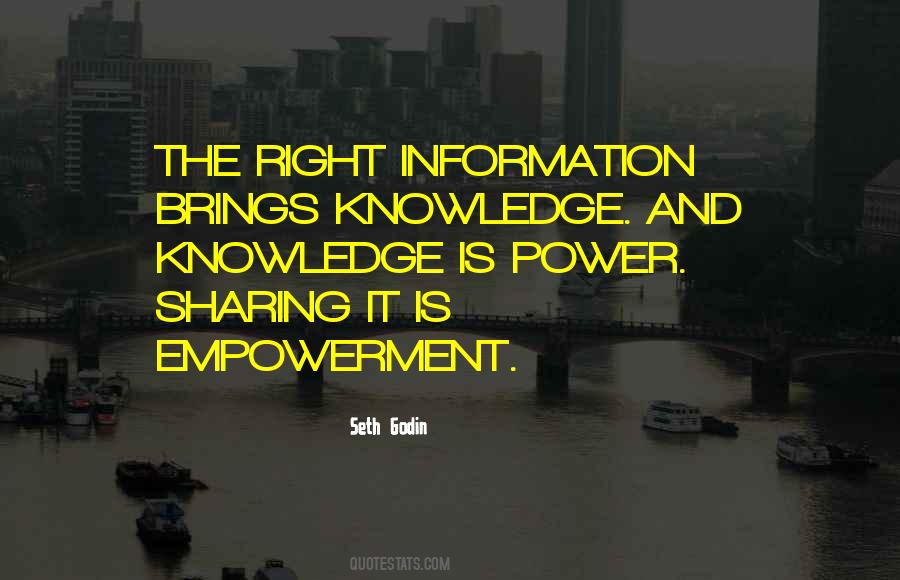 #44. Helping, serving, caring, and sharing are my missions and passions. - Author: Debasish Mridha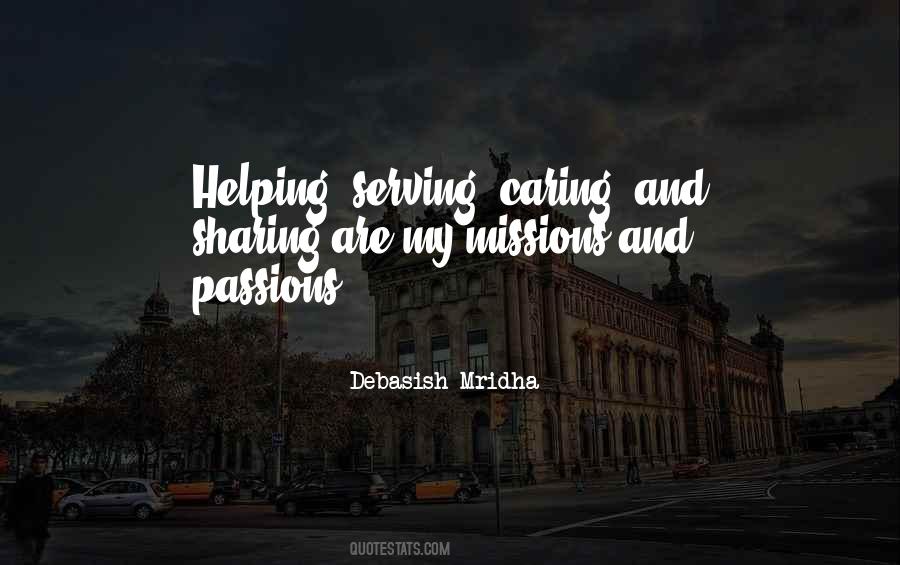 #45. The benefit of such horizontal interactions - people sharing knowledge across fields - is that it encourages conceptual blending, which is an extremely important part of the insight process. - Author: Jonah Lehrer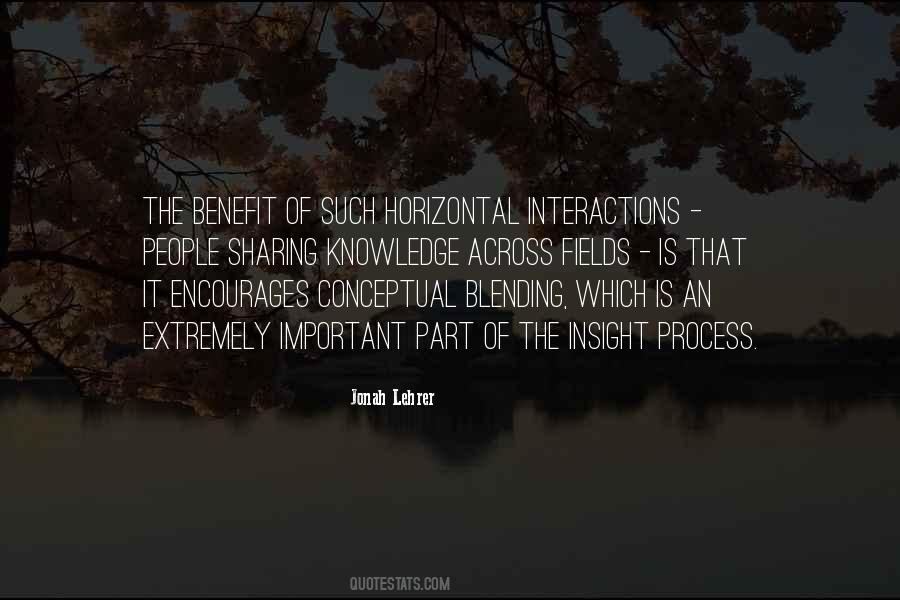 #46. I would like the world to remember me as the guy who really enjoyed playing games and sharing his knowledge and his fun pastimes with everybody else. - Author: Gary Gygax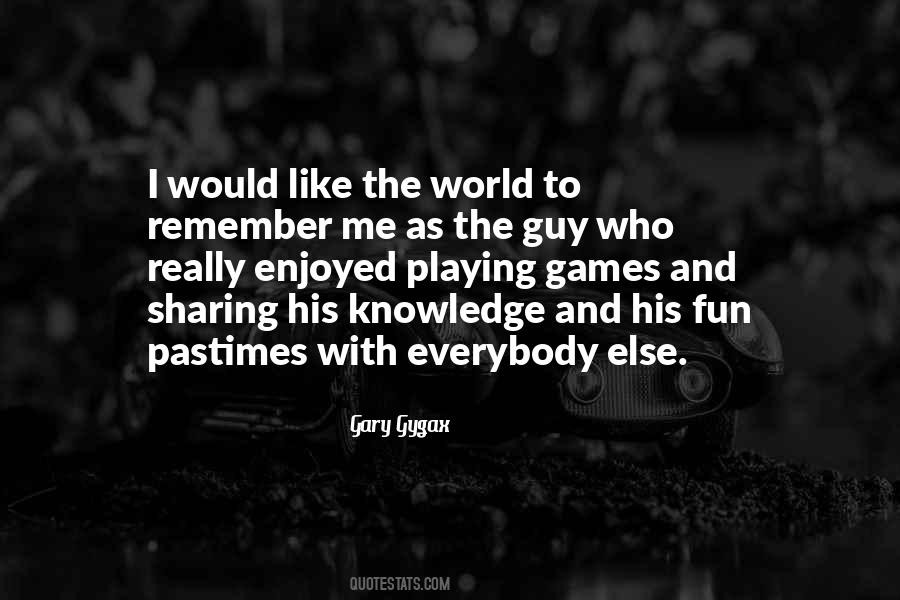 #47. The CEO's role in raising a company's corporate IQ is to establish an atmosphere that promotes knowledge sharing and collaboration. - Author: Bill Gates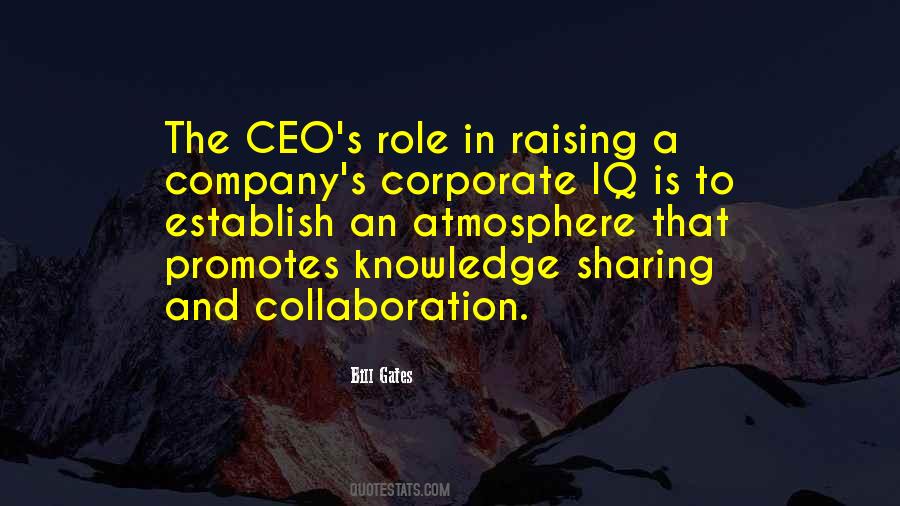 #48. In general, sharing and using things decreases their value. However, knowledge increases by implementation and especially by sharing among people. - Author: Eraldo Banovac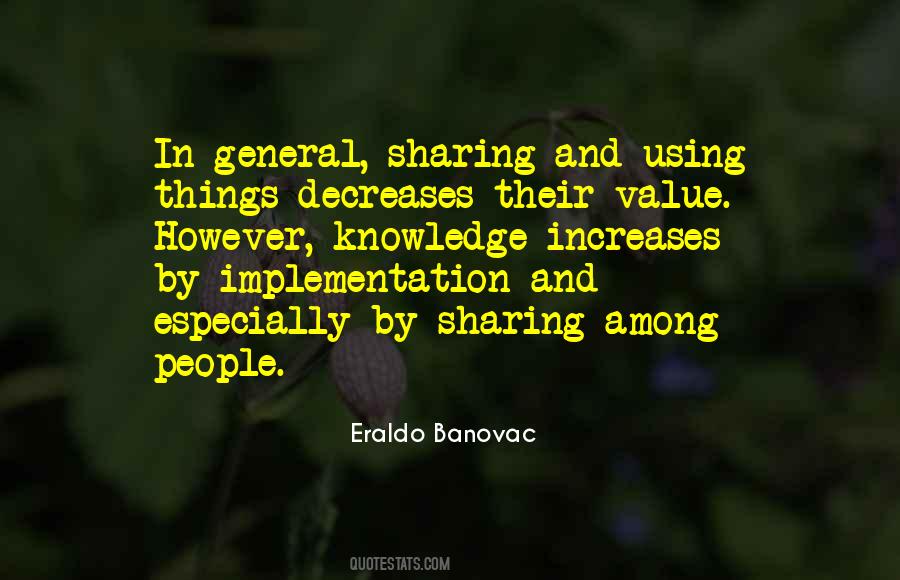 #49. There is no hierarchy of elder knowledge in my social region of things. There are only people learning and sharing in a very complex environment. - Author: Terence McKenna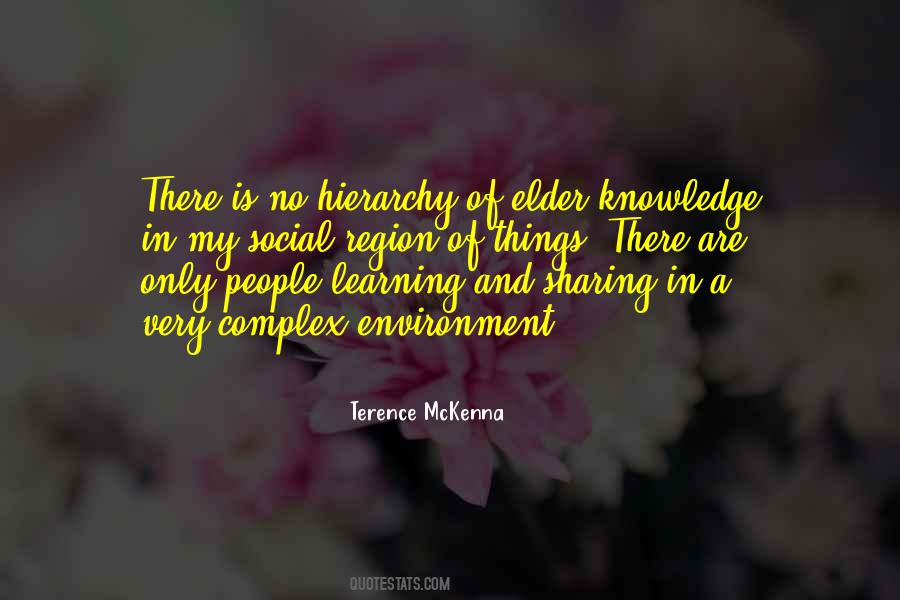 #50. Every day we bear witness to each woman's knowledge of holding the profound power to decide whether or not to allow the life within her to come to term. The sharing of those moments makes abortion work sacred. - Author: Merle Hoffman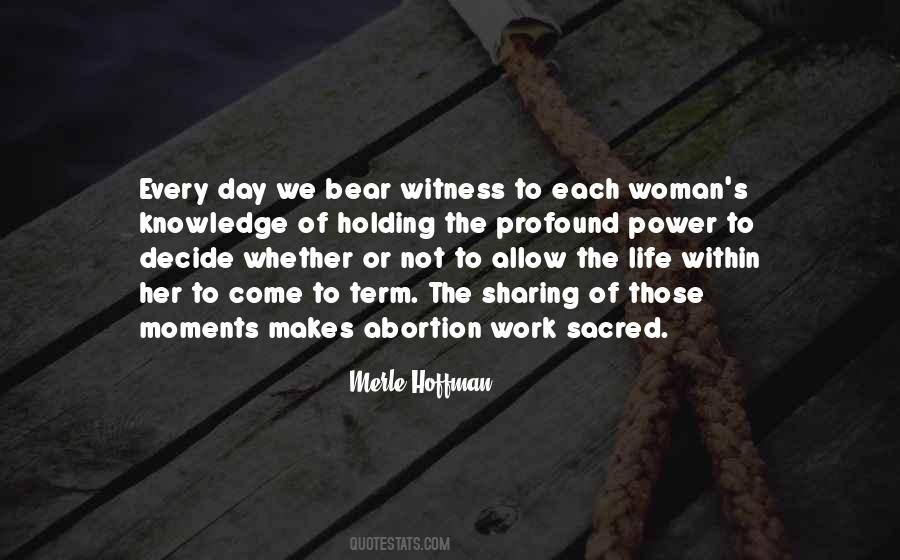 #51. There is the authority of position and the authority of knowledge - 'Authority flows from the one who knows.' But sharing in hardship confers upon a leader something quite rare - moral authority. - Author: John Adair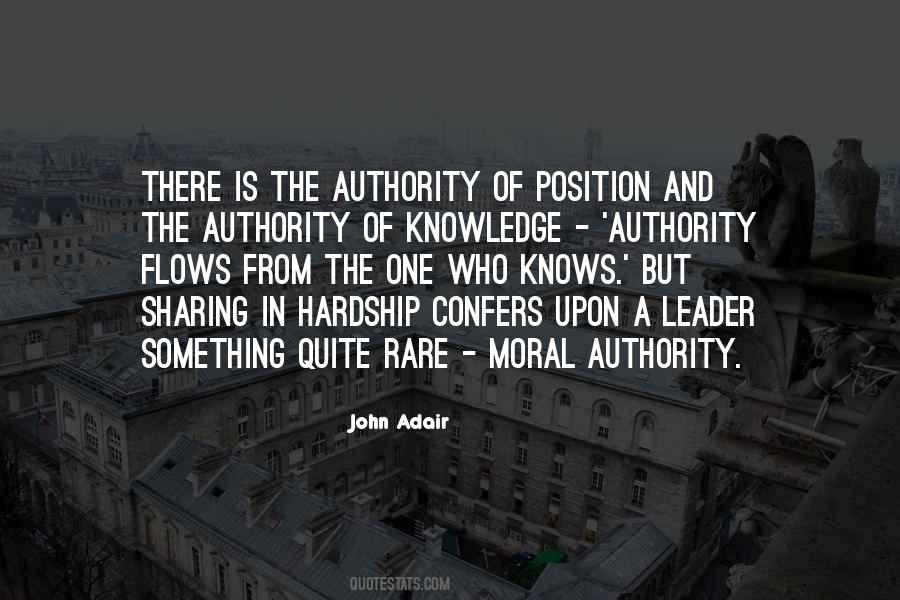 #52. Sharing will enrich everyone with more knowledge. - Author: Ana Monnar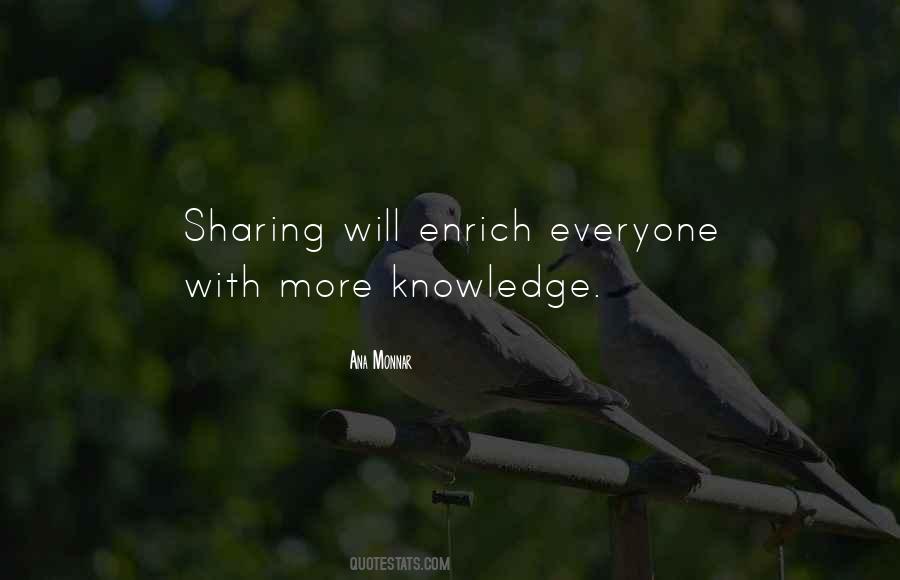 #53. As I've gotten older, and now that my kids are starting to do what they do, I am now really focusing on sharing my knowledge and insights with them to help guide them on their journeys. - Author: Jada Pinkett Smith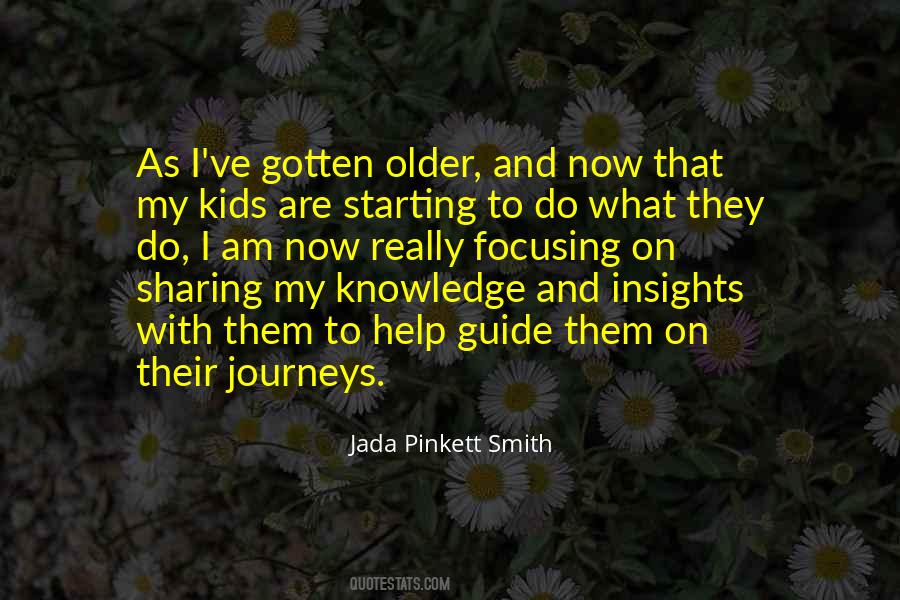 #54. I don't argue with fools; I educate. - Author: Shannon L. Alder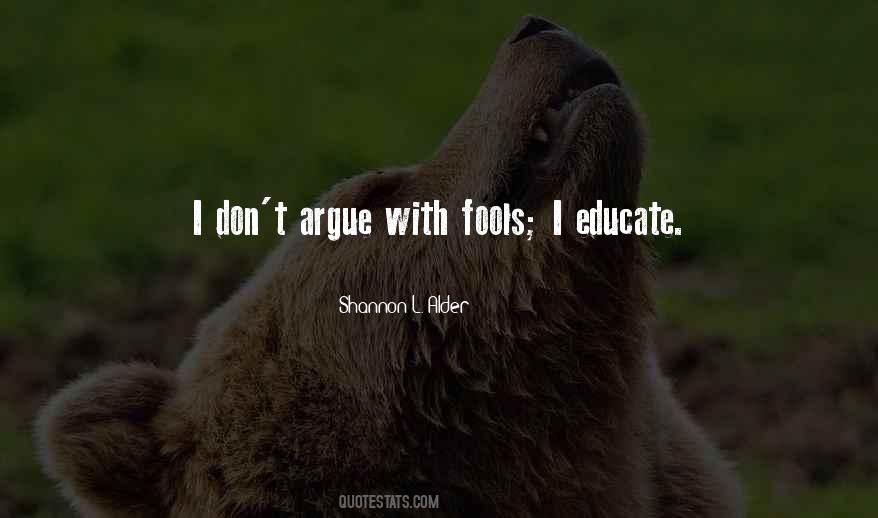 #55. Most people have no understanding of the myriad ways feminism has positively changed all our lives. Sharing feminist thought and practice sustains feminist movement. Feminist knowledge is for everybody. - Author: Bell Hooks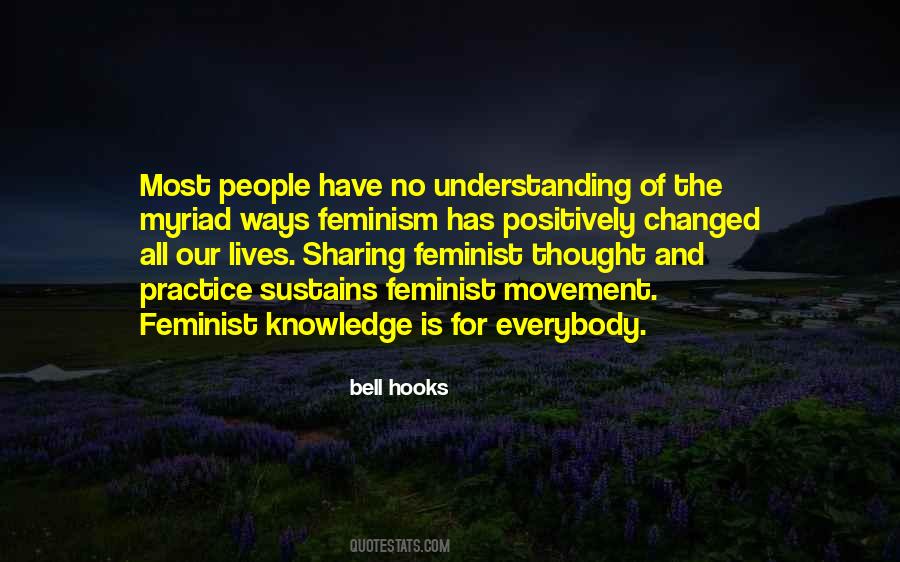 #56. The mystery of poverty is that by sharing in it, making ourselves poor in giving to others, we increase our knowledge of and belief in love. - Author: Dorothy Day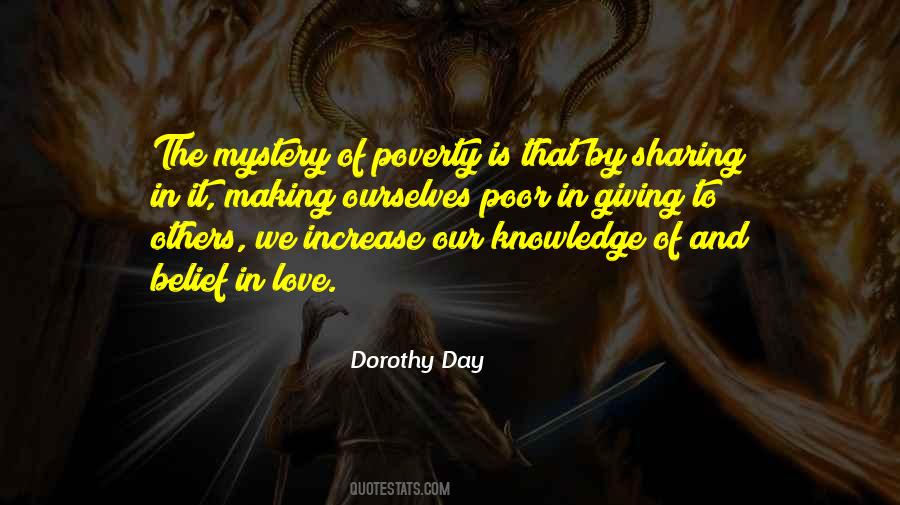 #57. Anything you want to know, you go to Quora and get it. And at the same time, give people a platform that is easy to use for sharing the knowledge. - Author: Adam D'Angelo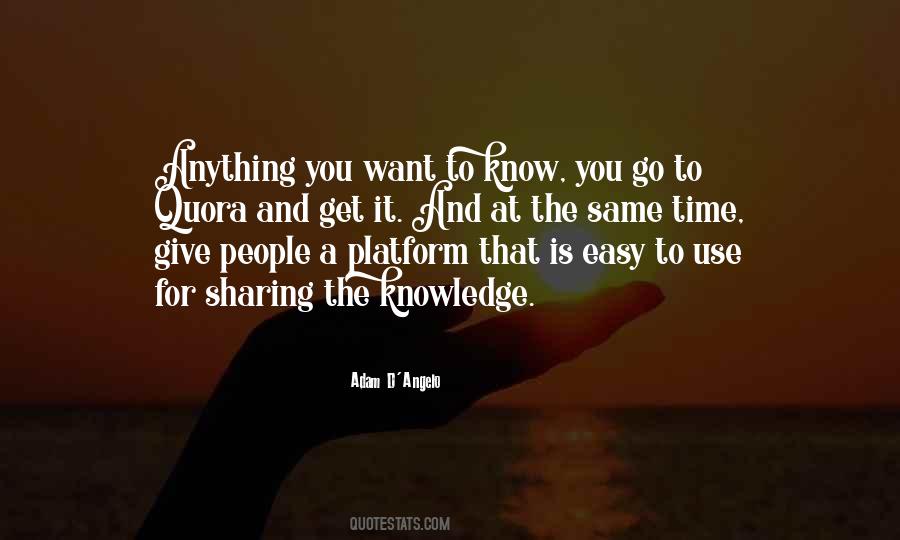 #58. The most holy cannibalism you can perform is to eat the flesh and blood of sagacity, and by sharing it with other wisdom thirsty cannibals. - Author: Michael Bassey Johnson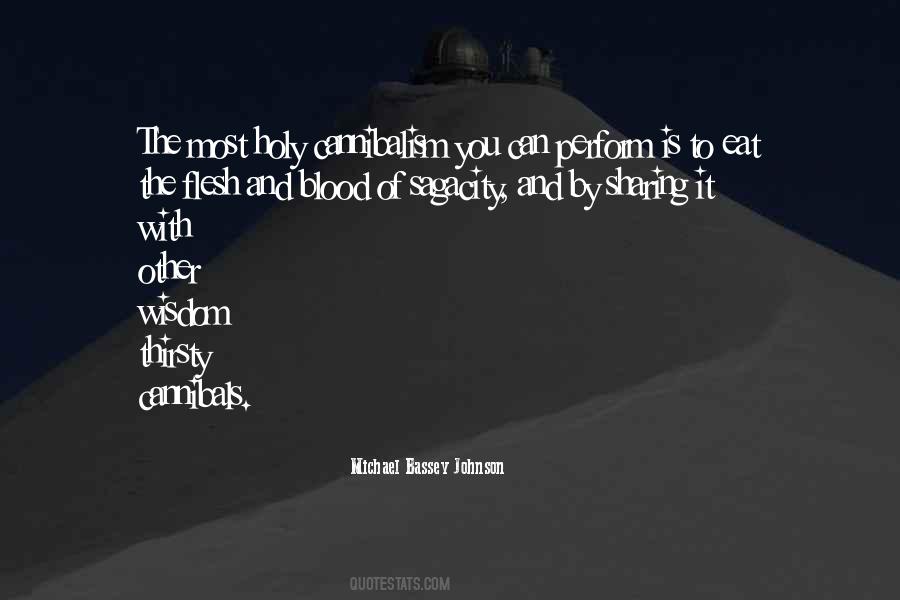 #59. Human evolution has two steps -
from being somebody to being nobody;
and from being nobody to being everybody.
This knowledge can bring
sharing and caring throughout the world. - Author: Sri Sri Ravi Shankar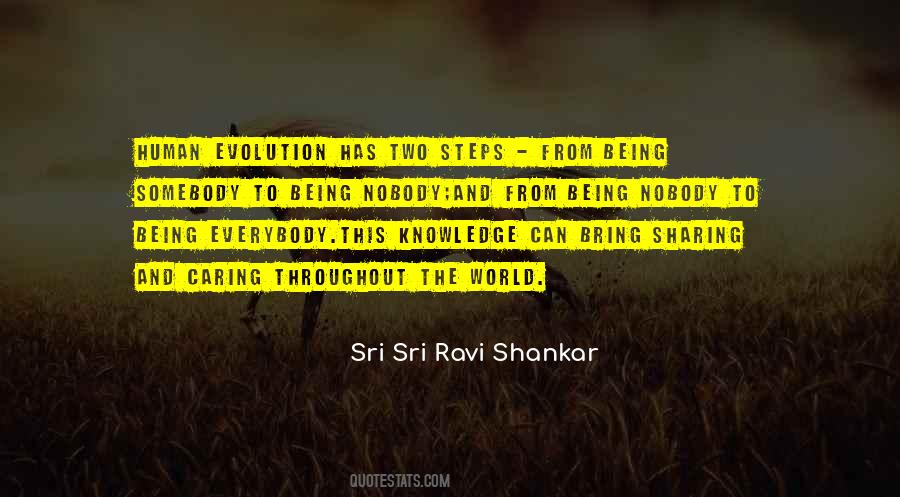 #60. One of the things we often miss in succession planning is that it should be gradual and thoughtful, with lots of sharing of information and knowledge and perspective, so that it's almost a non-event when it happens. - Author: Anne M. Mulcahy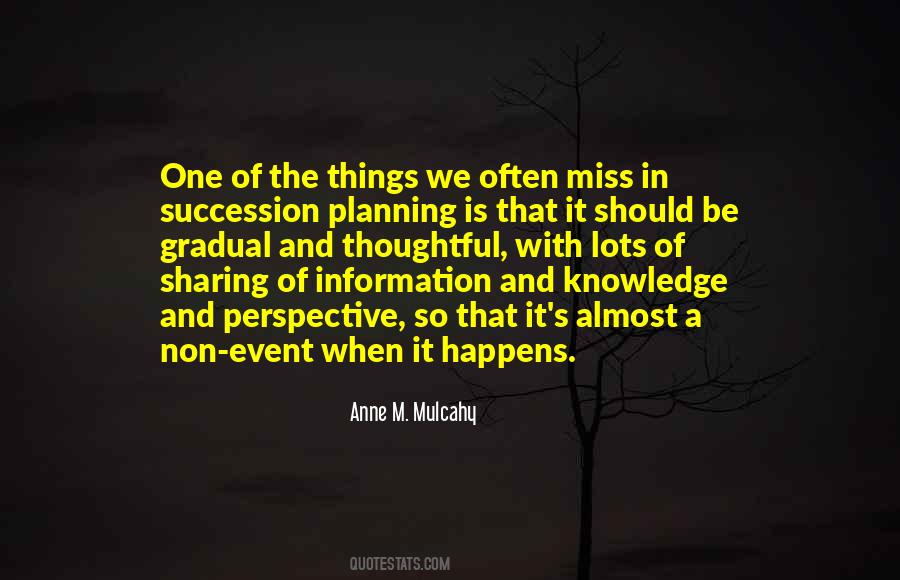 #61. Knowledge is a commodity to be shared. For knowledge to pay dividends, it should not remain the monopoly of the selected few. - Author: Moutasem Algharati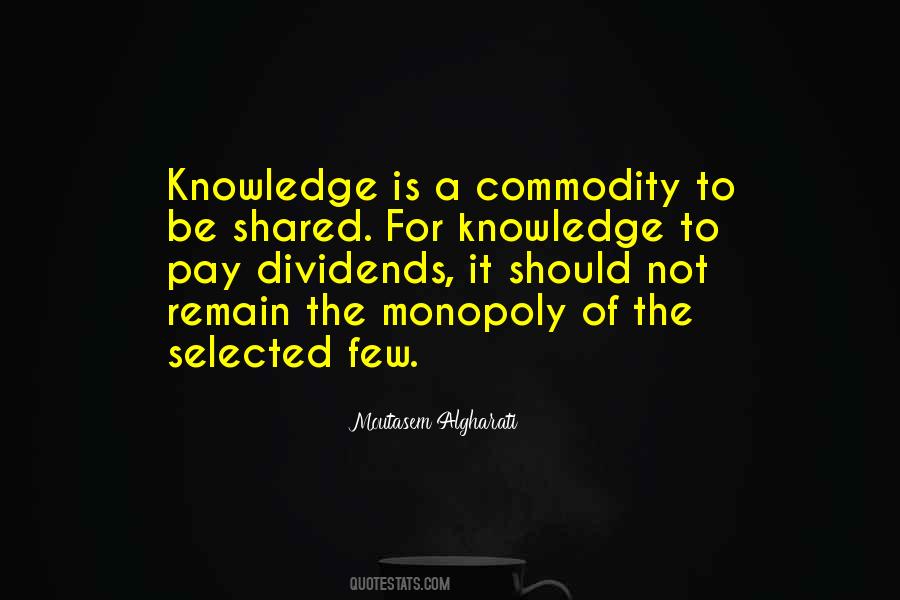 #62. A university should not be an island where academics attain higher and higher levels of knowledge without sharing any of this knowledge with its neighbours. - Author: Muhammad Yunus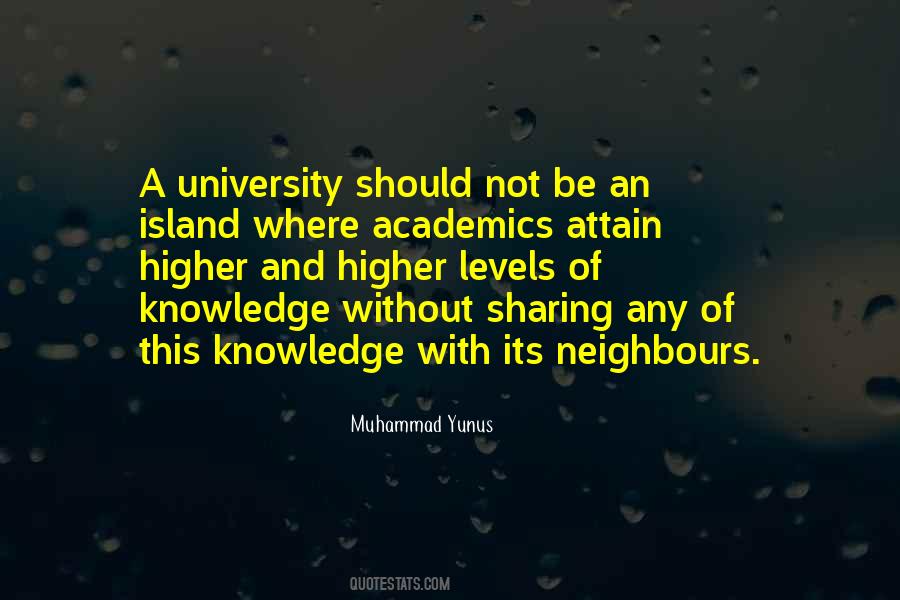 #63. Knowledge-like the sky- is never private property. No teacher has a right to withhold it from anyone who asks for it. Teaching is the art of sharing. - Author: Abraham Joshua Heschel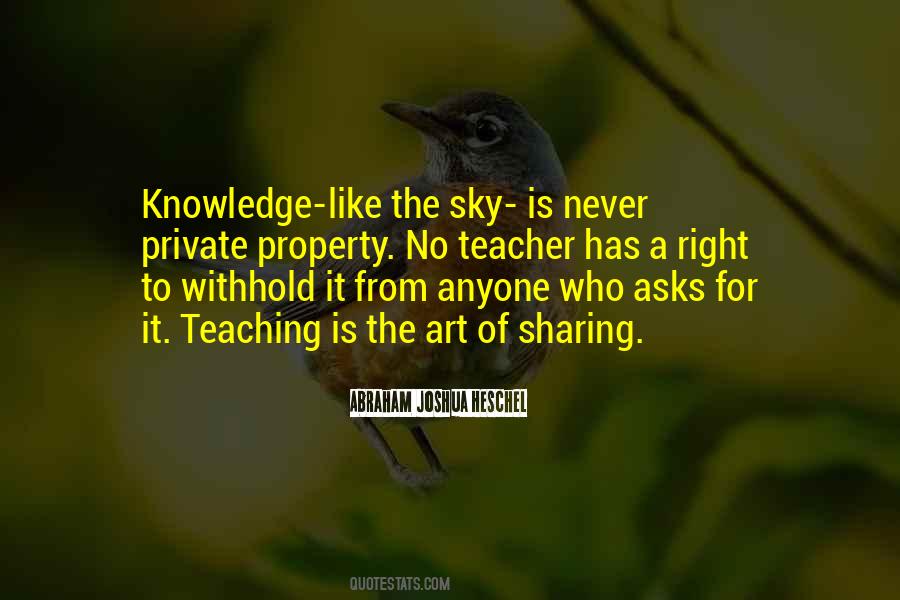 #64. If networked science is to reach its potential, scientists will have to embrace and reward the open sharing of all forms of scientific knowledge, not just traditional journal publication. Networked science must be open science. - Author: Michael Nielsen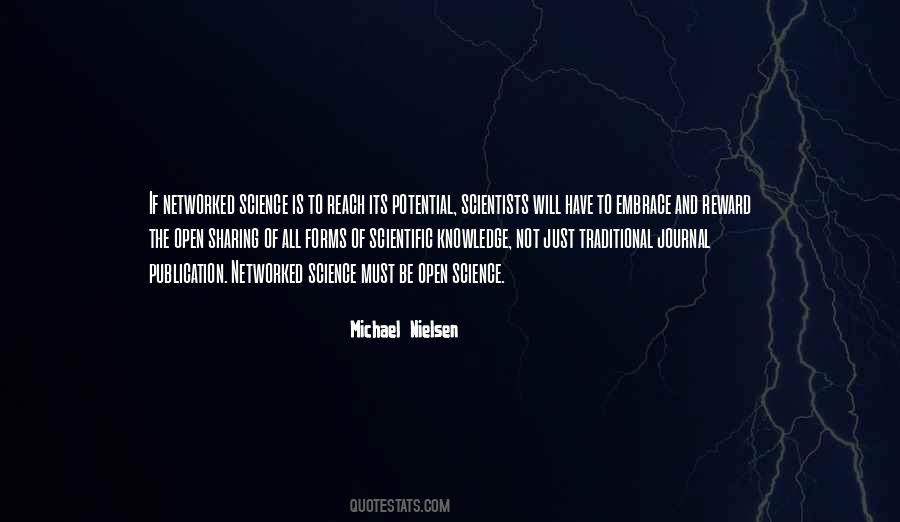 #65. Knowledge is power is time is money. Meaning that if I shared knowledge, it would tantamount to sharing power or money. - Author: Robert Thier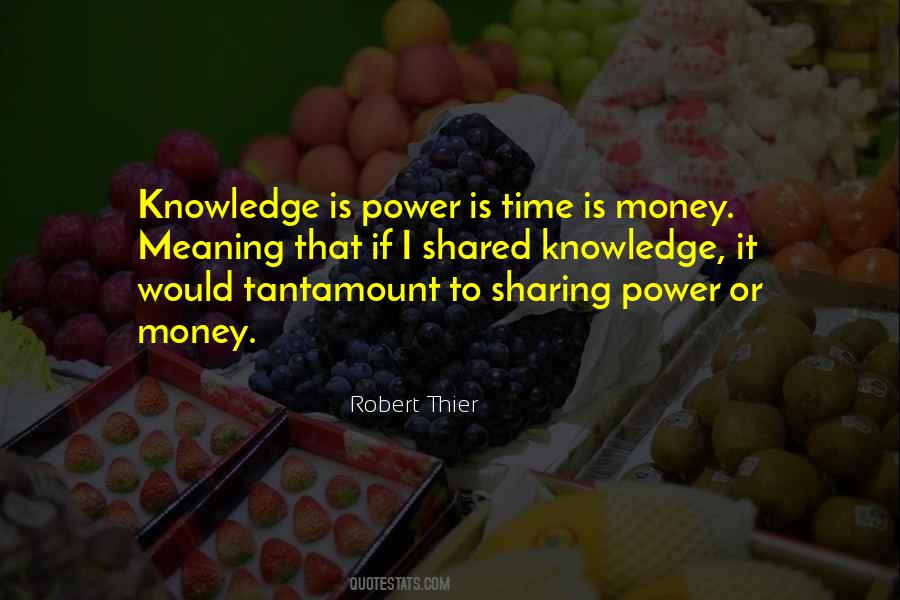 #66. specialized knowledge" - that is, something that sets a person apart from all others and helps to define his worth and can be the basis for his wealth. The key to specialized knowledge, however, is not merely having it, but sharing it. - Author: Greg S. Reid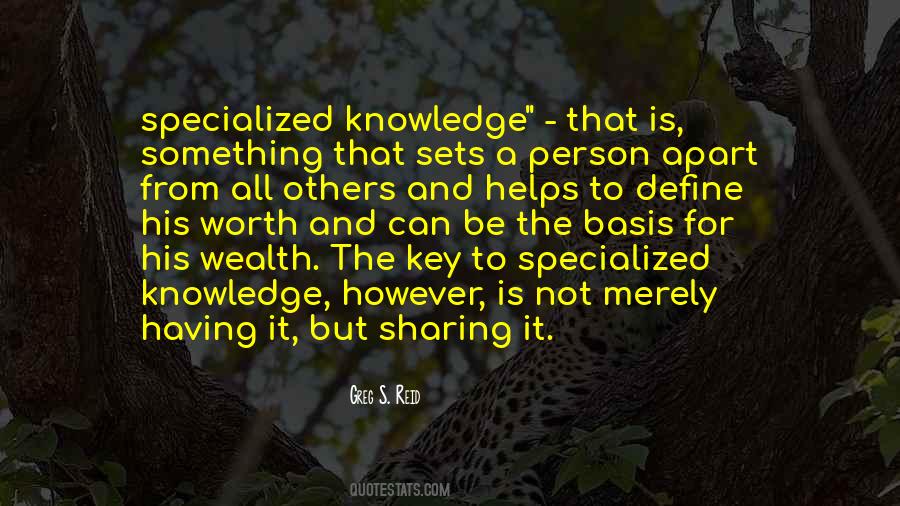 #67. Wisdom cannot be imparted. Wisdom that a wise man attempts to impart always sounds like foolishness to someone else ... Knowledge can be communicated, but not wisdom. One can find it, live it, do wonders through it, but one cannot communicate and teach it. - Author: Hermann Hesse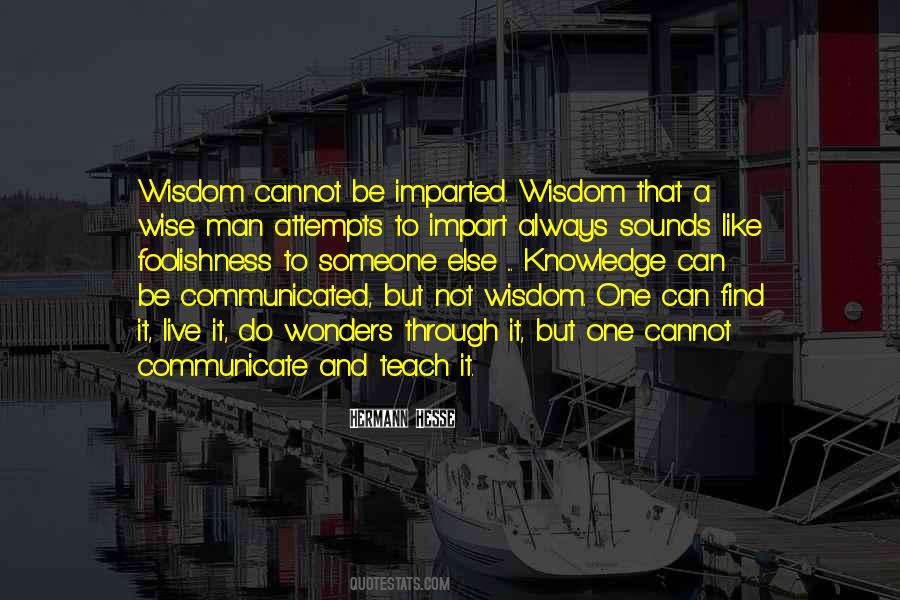 #68. A lot of people really like to answer questions, and they really enjoy sharing their knowledge. Especially people who have valuable knowledge. - Author: Adam D'Angelo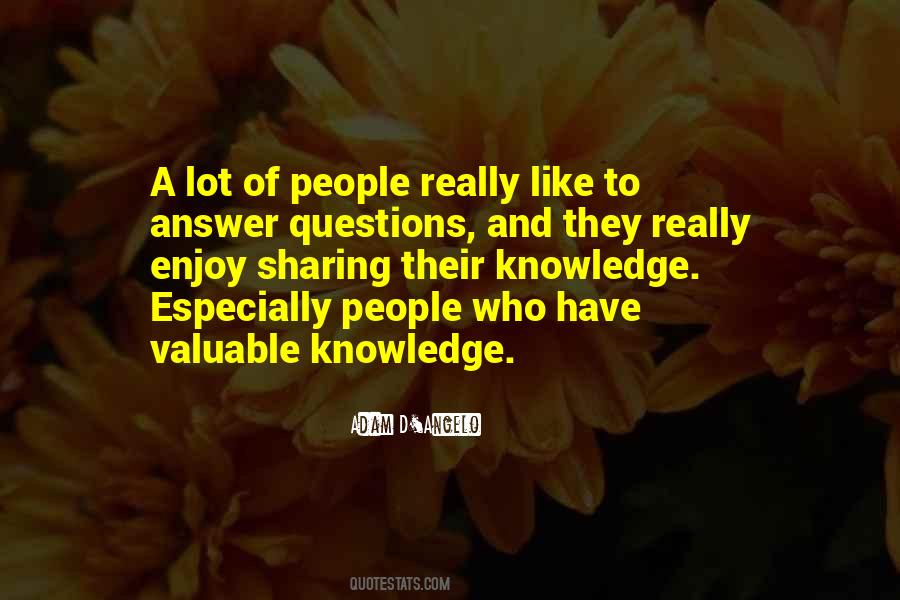 Famous Authors
Popular Topics