John Green Famous Quotes & Sayings
List of top 100 famous quotes and sayings about john green to read and share with friends on your Facebook, Twitter, blogs.
Top 100 Quotes About John Green
#1. The last time I was this scared, I peed myself."
"The last time I was this scared," Radar says, "I actually had to face a Dark Lord in order to make the world safe for wizards. - Author: John Green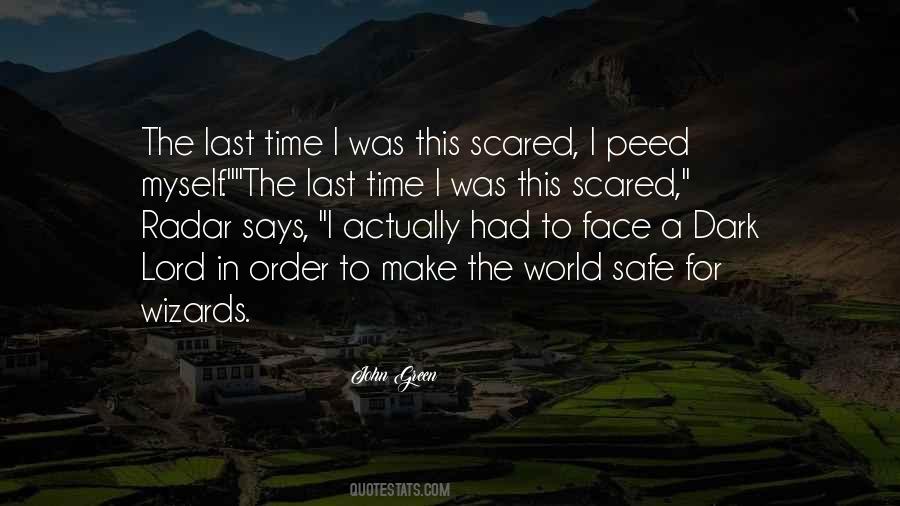 #2. Books are a weird collaboration between author and reader: You trust me to tell a good story, and I trust you to bring it to good life in your mind. - Author: John Green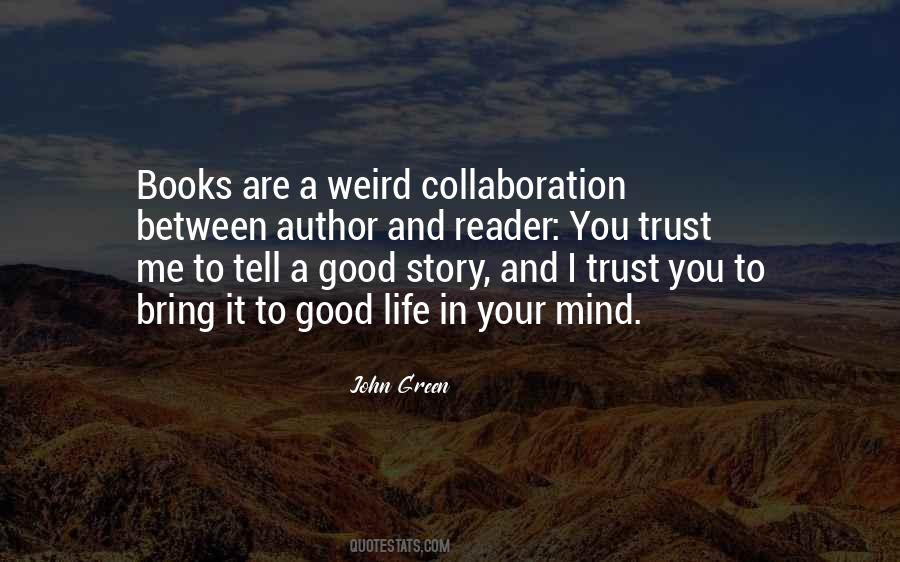 #3. Leaving senior year like:
its hard to leave to you leave, then its the eased goddam thing you've ever done. - Author: John Green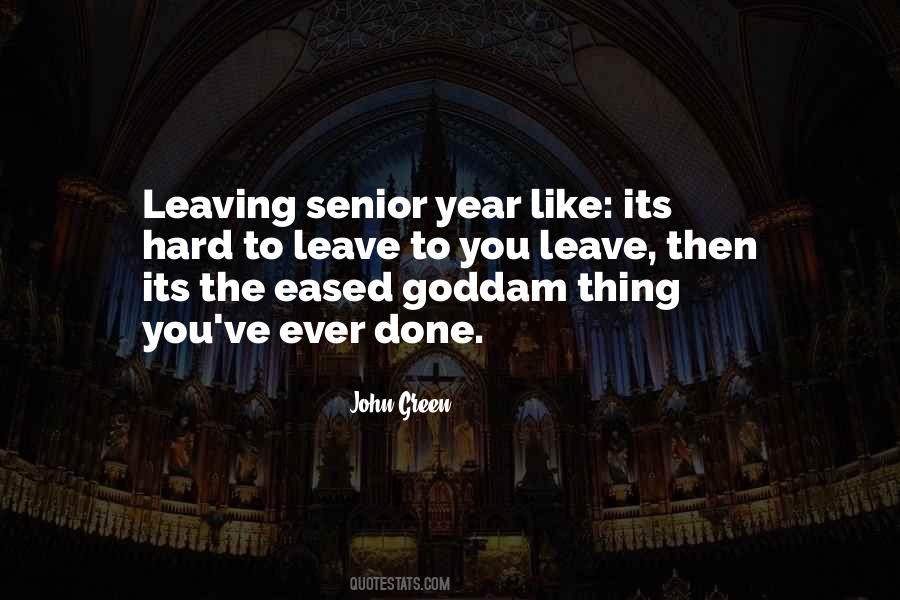 #4. So keeping the box closed just keeps you in the dark, not the universe. - Author: John Green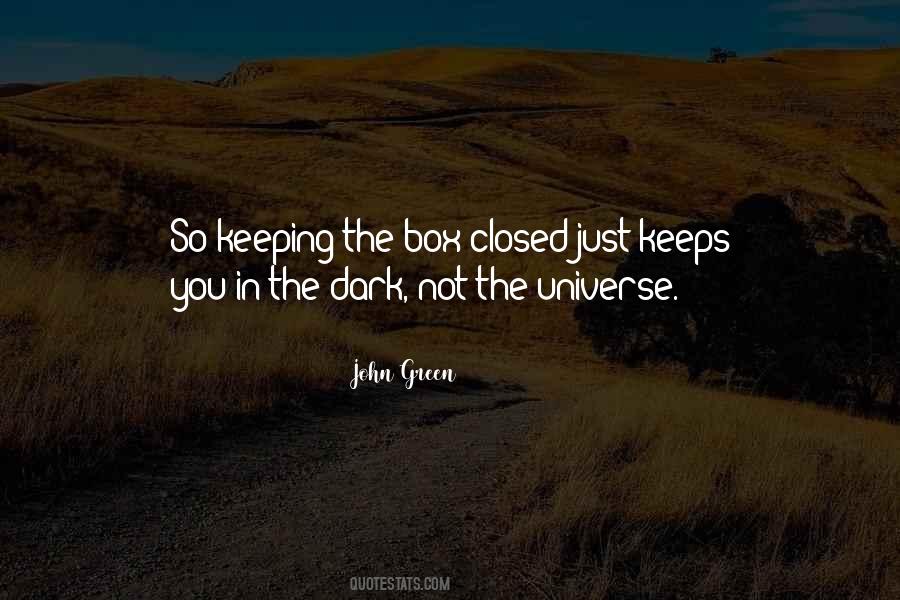 #5. For a moment, she was quiet. Then she grabbed my hand, whispered, "Run run run run run," and took off, pulling me behind her. - Author: John Green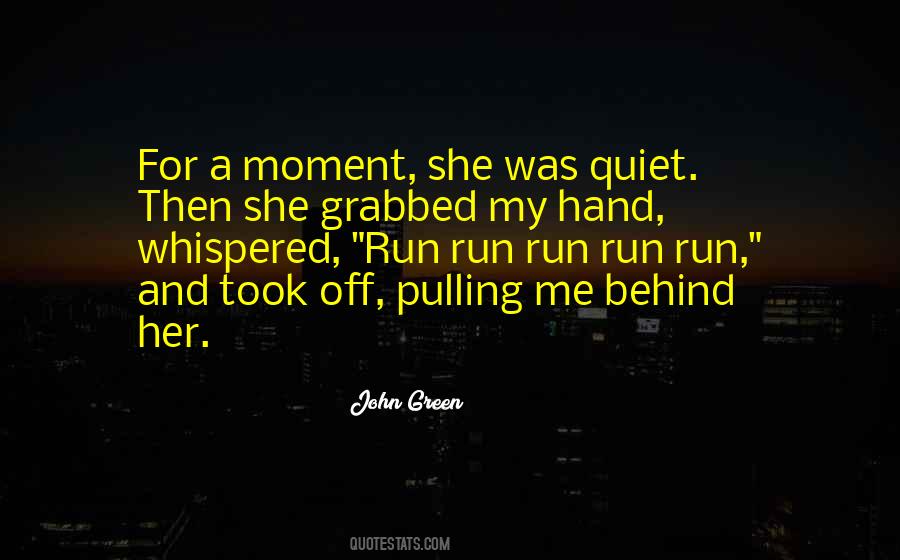 #6. 'I Want To Hold Your Hand' is a great classic by Paul McCartney and John Lennon, I sure love that song. I did like the classic version, a rock-oriented song, then someone heard me do it with the Grant Green approach - Grant Green and Larry Young did it, with a bossa nova beat on the funky side. - Author: George Benson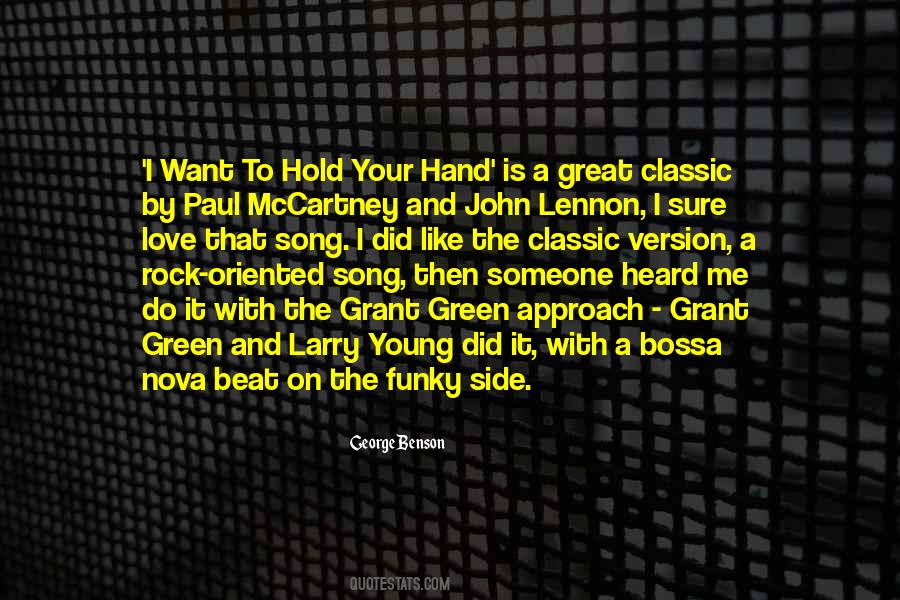 #7. Hey, guys, do you remember that time I was double-seat-belted in the wayback and the door flew open and the beer fell out but I survived completely uninjured? How is that even possible? - Author: John Green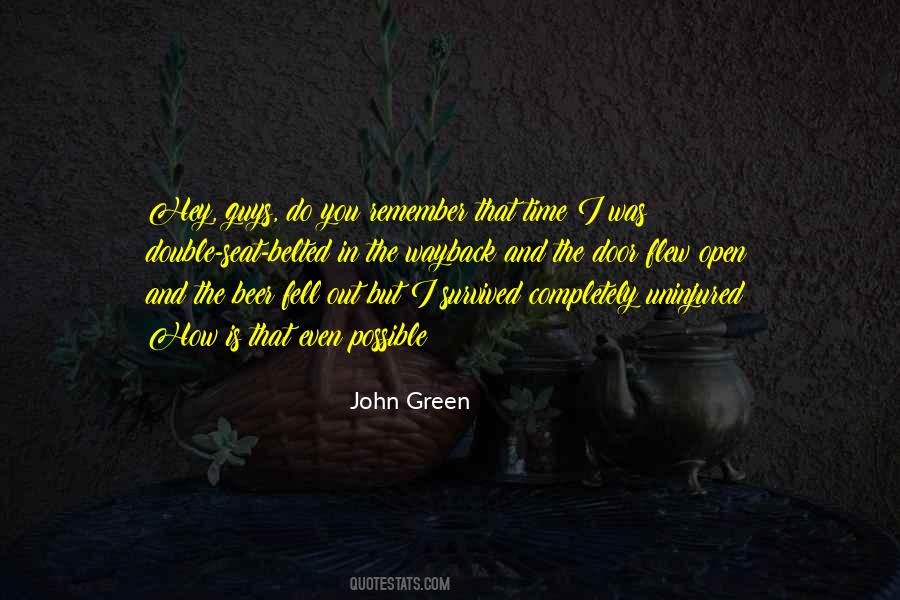 #8. Thank you for letting me hijack your wish', I said.
'Thank you for wearing that dress which is like whoa, he said. - Author: John Green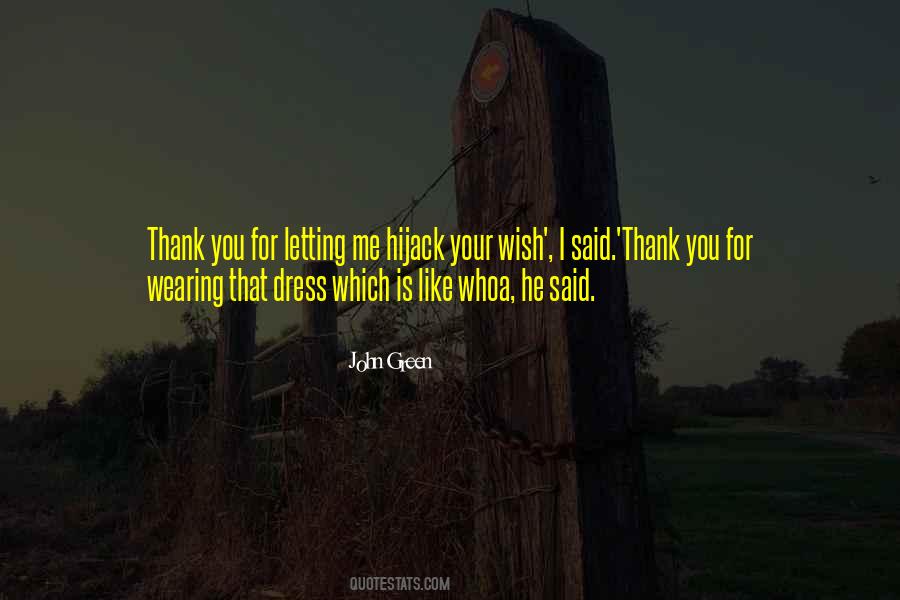 #9. The beautiful thing about driving was that it stole just enough of his attention - car parked on the side, maybe a cop, slow to speed limit, time to pass this sixteen-wheeler, turn signal, check rearview, crane neck to check blind spot and yes, okay, left lane. - Author: John Green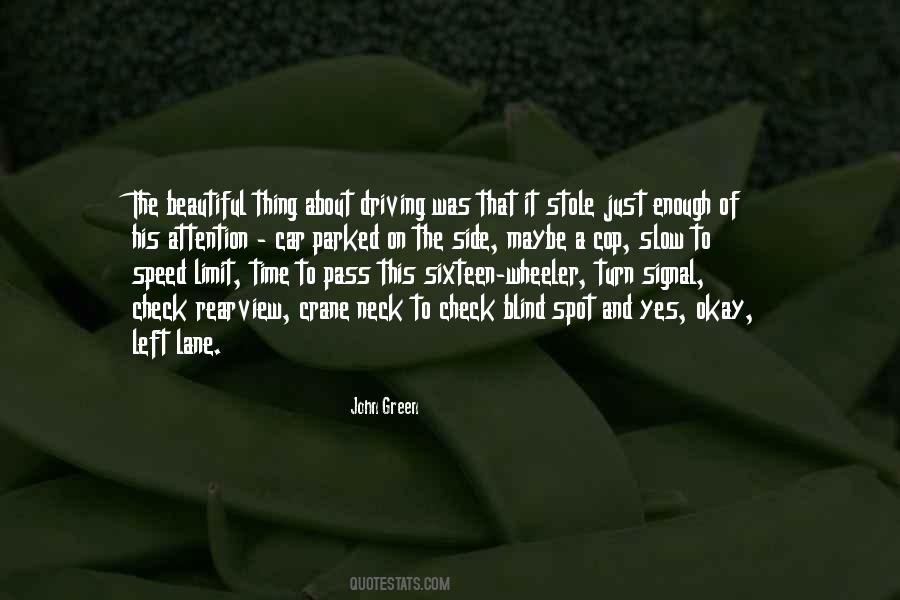 #10. Without pain, how could we know joy?' This is an old argument in the field of thinking about suffering and its stupidity and lack of sophistication could be plumbed for centuries but suffice it to say that the existence of broccoli does not, in any way, affect the taste of chocolate. - Author: John Green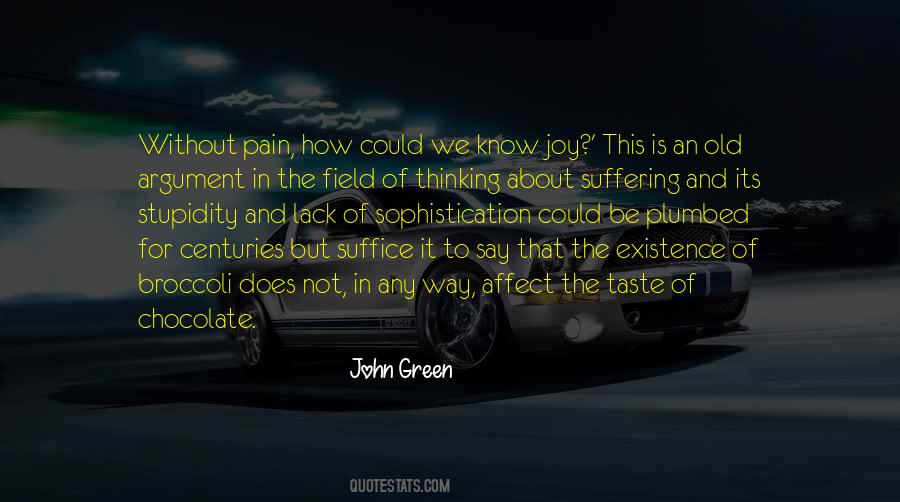 #11. Oh, Wikipedia, with your tension between those who would share knowledge and those who would destroy it. - Author: John Green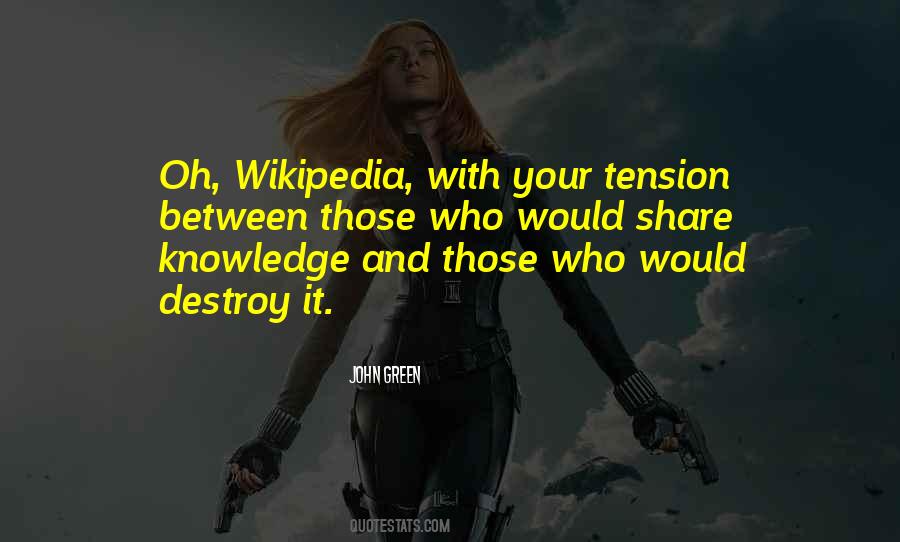 #12. Children's hospitals are not designed for teenagers. - Author: John Green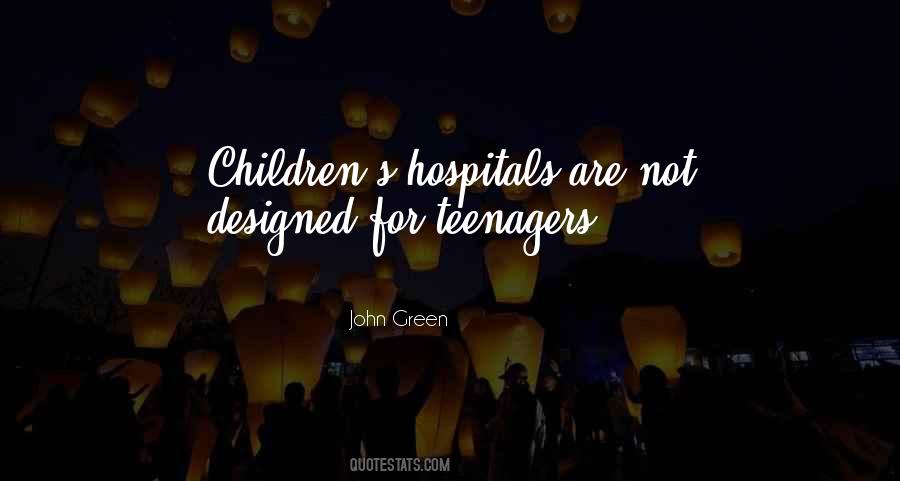 #13. I looked down and thought about how I was made of paper. I was the flimsy-foldable person, not everyone else. - Author: John Green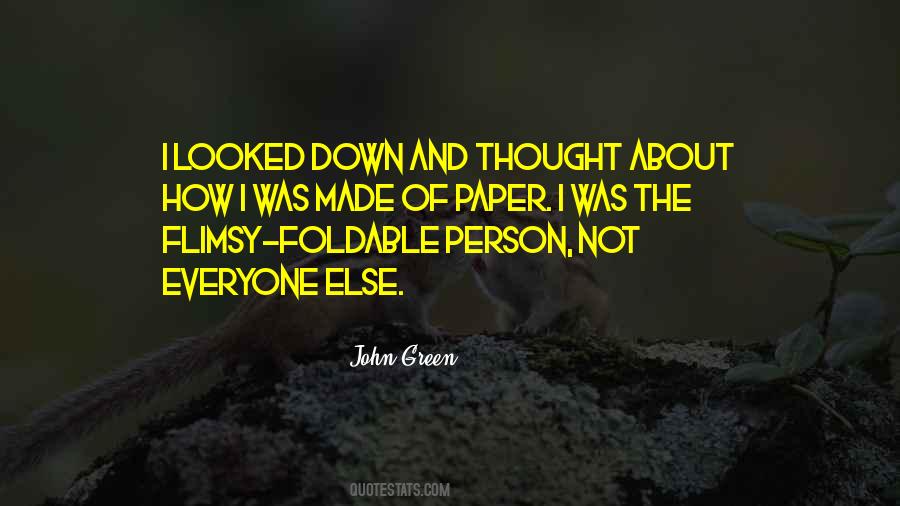 #14. My thoughts are stars I can't fathom into constellations. - Author: John Green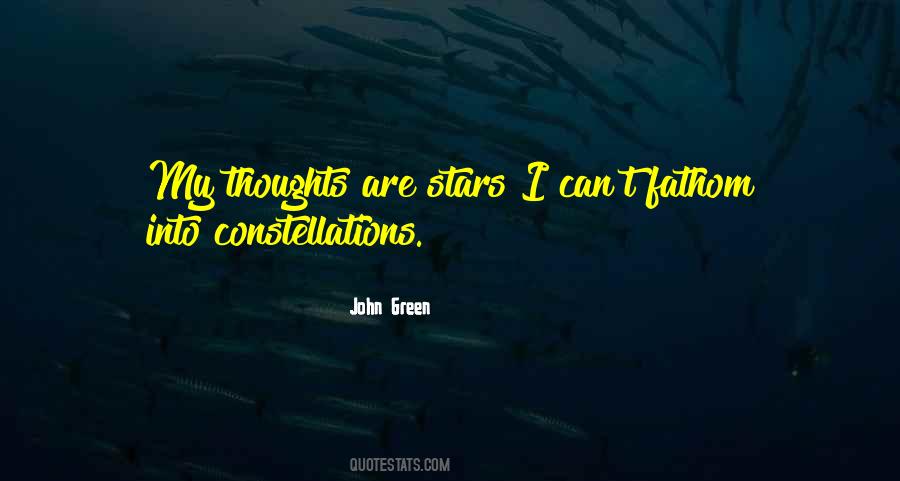 #15. Most of my friends were in band, and most of my free time during school was spent within twenty feet of the band room - Author: John Green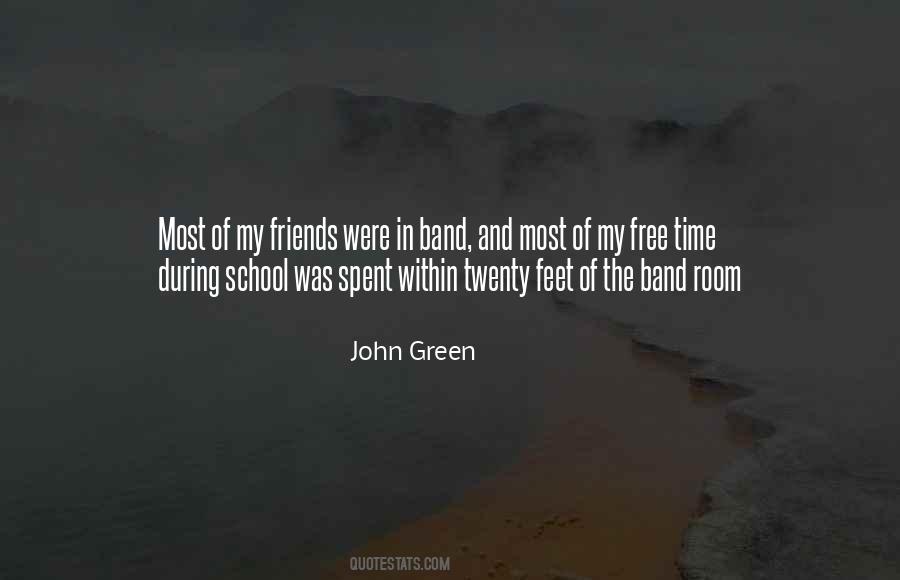 #16. I spent your Wish on that doucheface," I said into his chest.
"Hazel Grace. No. I will grant you that you did spend my one and only Wish, but you did not spend it on him. You spent it on us. - Author: John Green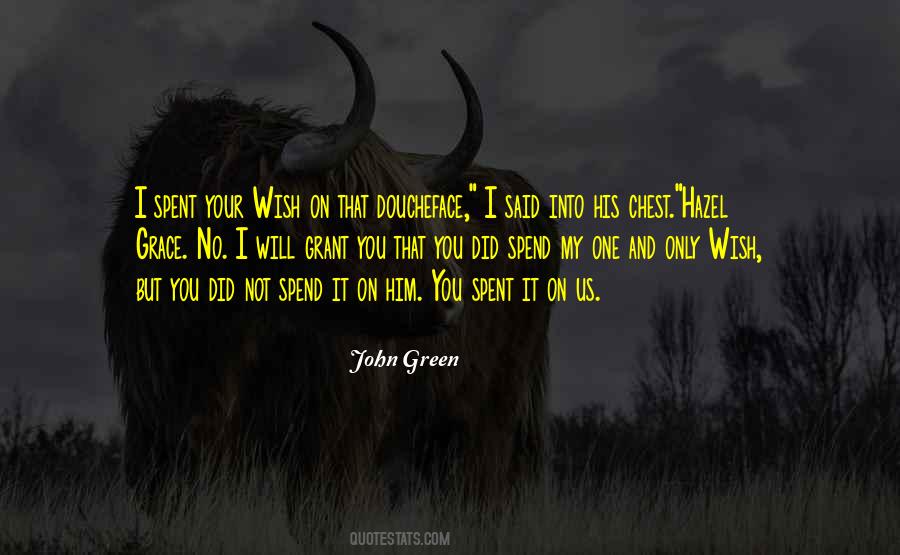 #17. I was kidding, Hazel Grace. I understand. ( But we both know that okay is a very flirty word. Okay is BURSTING with sensuality.) - Author: John Green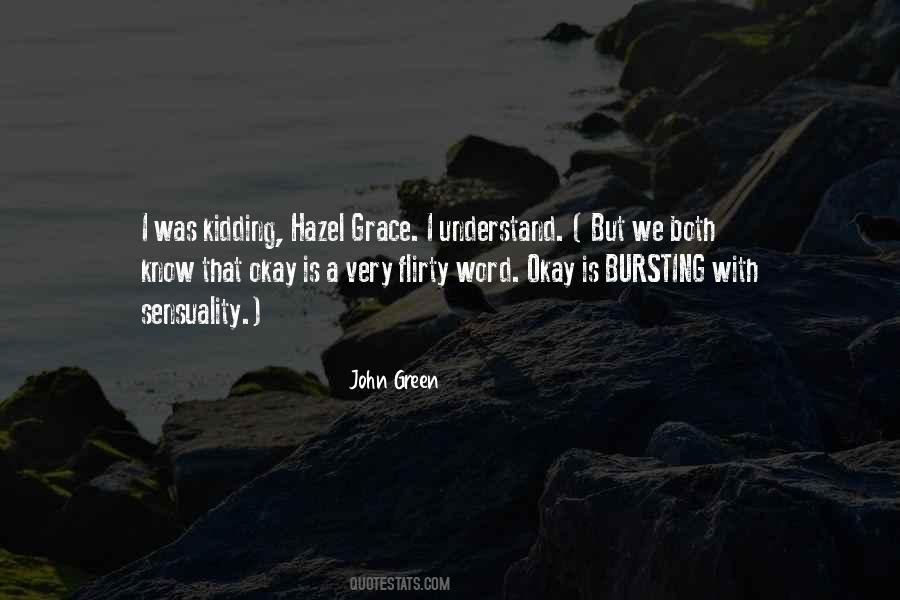 #18. We're invisible. I've never been here with someone else. It's different being invisible with someone. - Author: John Green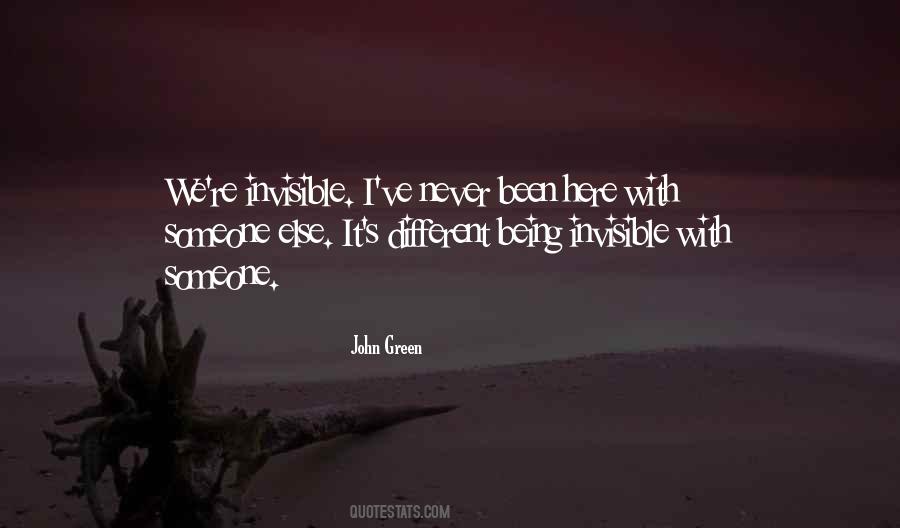 #19. It will be up to Congress to check the president's ambition of committing the U.S. to an international green scheme that will produce little or no return. - Author: John Barrasso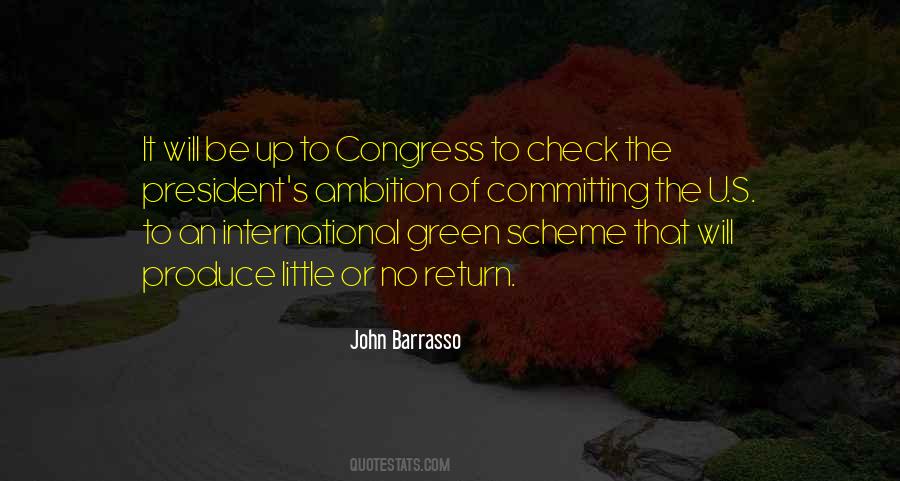 #20. Daddy's gonna put you on a sailboat across the River Styx." "Did you just use Greek mythology to talk trash? - Author: John Green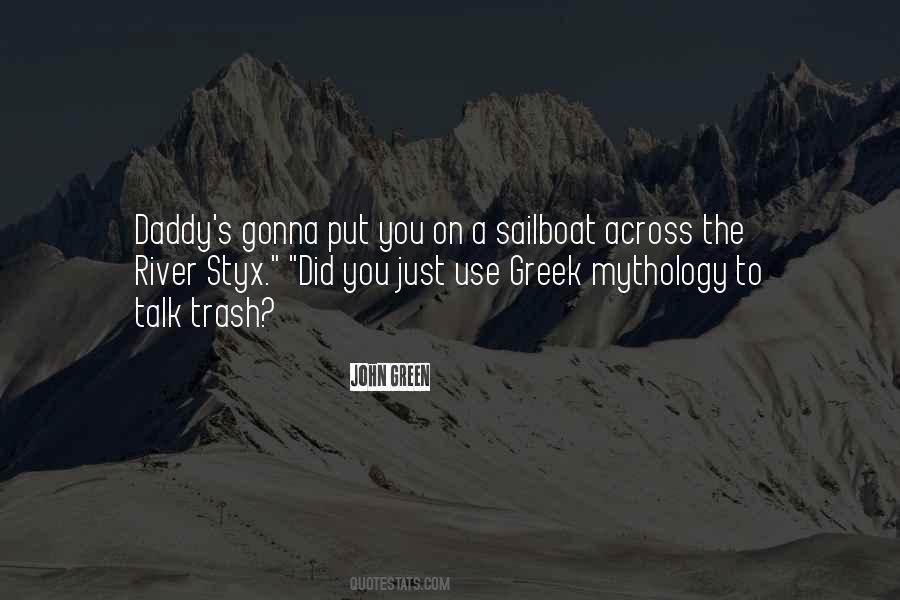 #21. There were so many of us who would have to live with things done and things left undone that day. Things that did not go right, things that seemed okay at the time because we could not see the future. - Author: John Green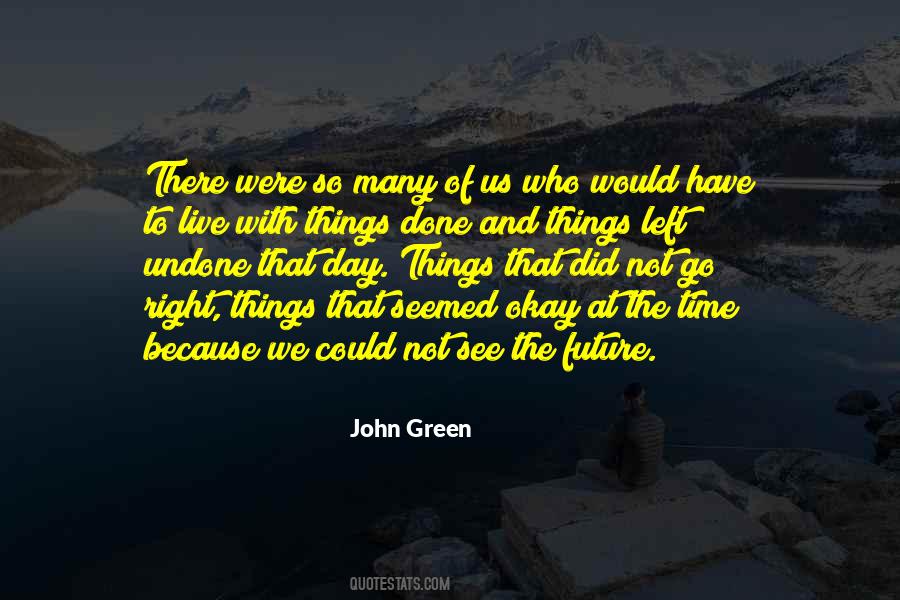 #22. We're going to have a big frickin' problem when he starts feeling those shots", and I decide that Jane is right, and anyway, Ashland Avenue is terrible, so we need to leave the Hideout posthate. - Author: John Green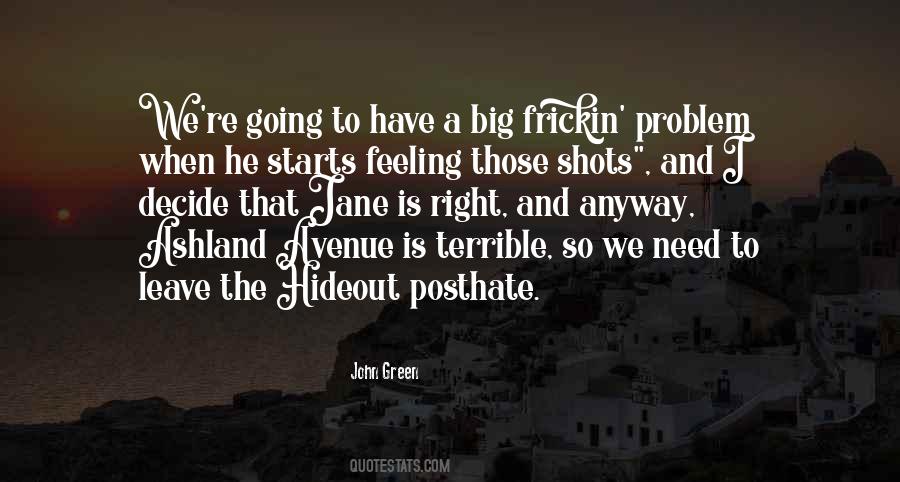 #23. You used to call me Augustus. - Author: John Green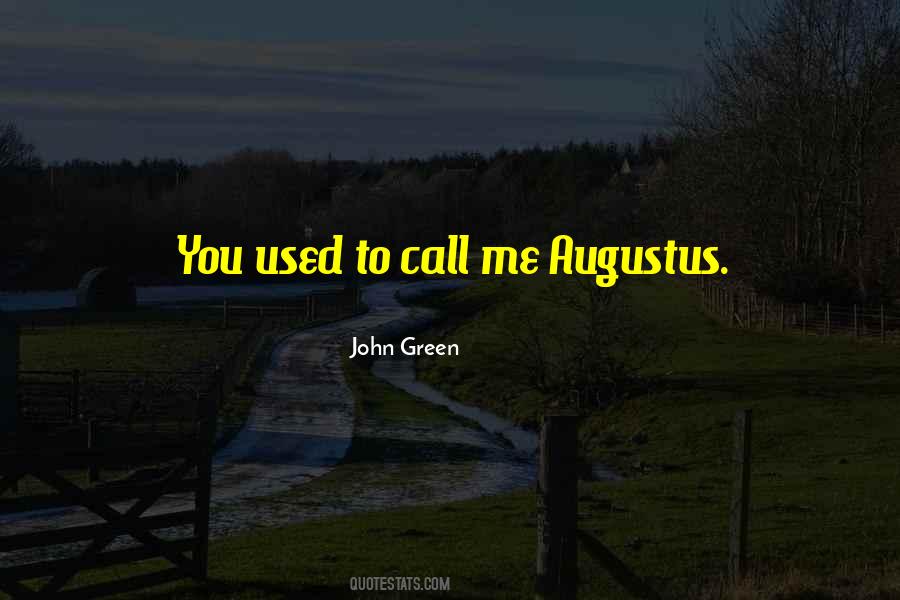 #24. Some infinites are longer than other infinites - Author: The Fault In Our Stars John Green.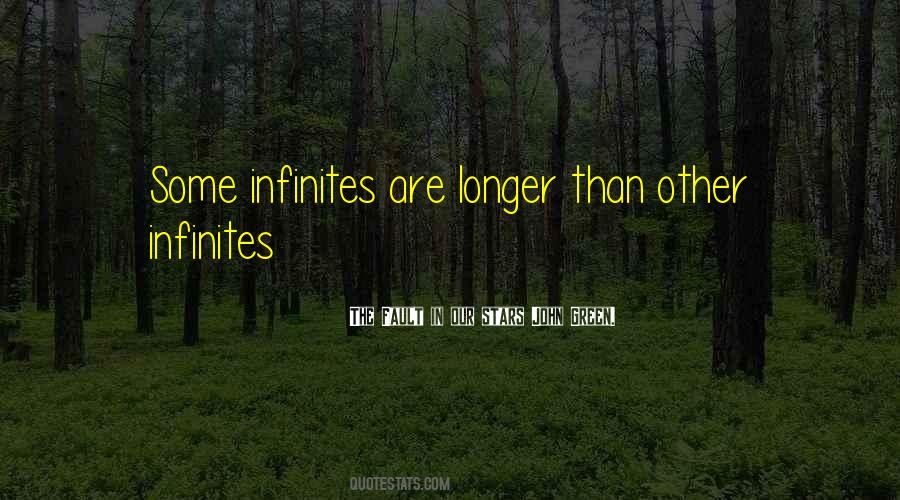 #25. I've been smart longer. - Author: John Green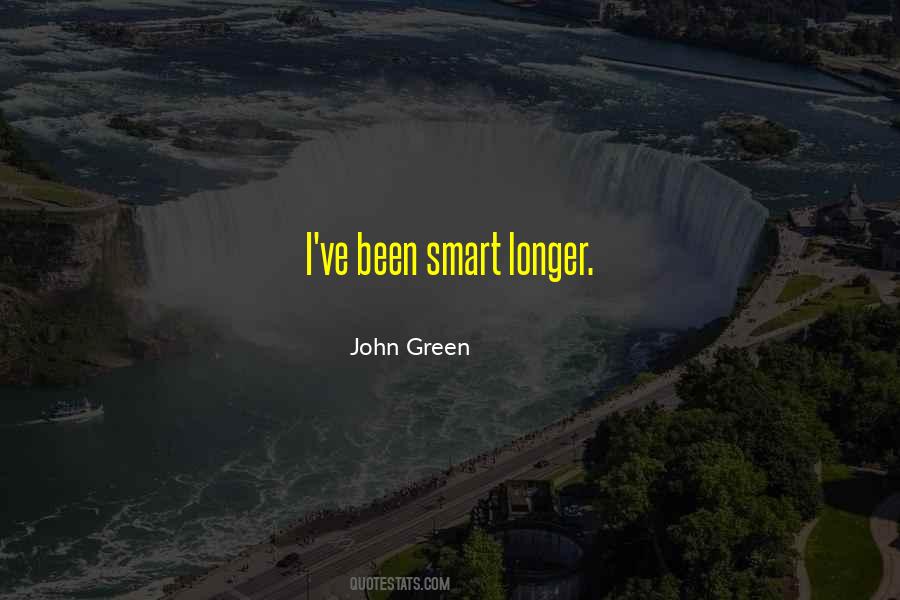 #26. It had rained on some vivid green ferns in Maine and it was quite beautiful. I was moving the camera slightly and studying the ground glass. Looking at those 20 square inches, trying to find out just what were the right elements to include. - Author: John Sexton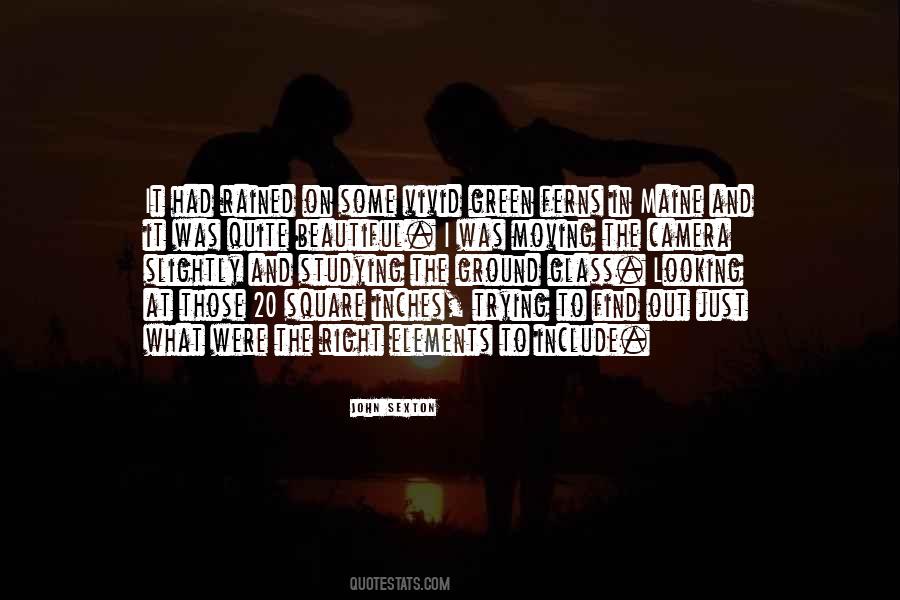 #27. As he held her by the waist,she leaned forward,her pouty lips parted,her head just slightly tilted,and eveloped his mouth with such passion that I felt I should look away but couldn't. - Author: John Green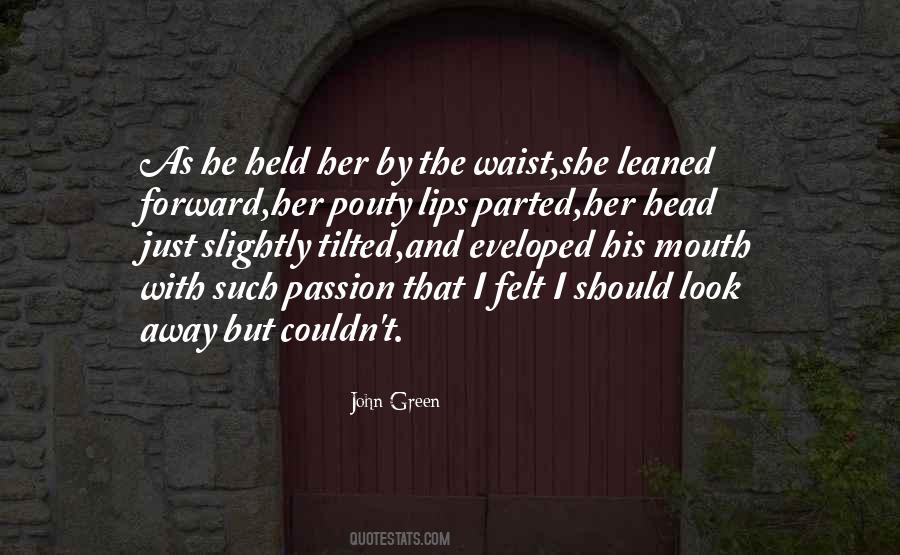 #28. It always seemed so ridiculous that want to be around someone because they're pretty.Is like basing your breakfast cereal on color instead of taste. - Author: John Green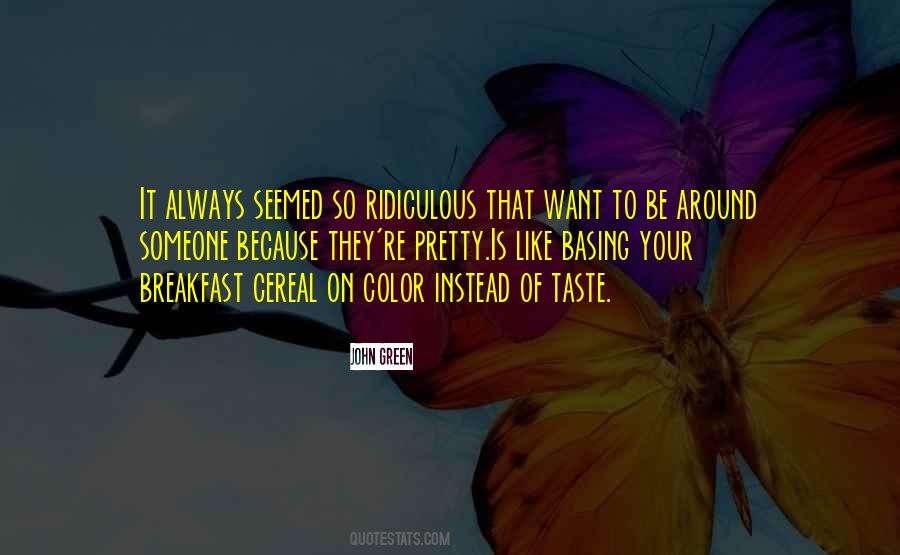 #29. At first, I was able to use a Bunsen burner attached to my mother's gas stove, but the use of the kitchen as a laboratory came to an abrupt end when a minor explosion involving hydrogen sulphide spattered the newly painted decor and changed the colour from blue to dirty green! - Author: John Vane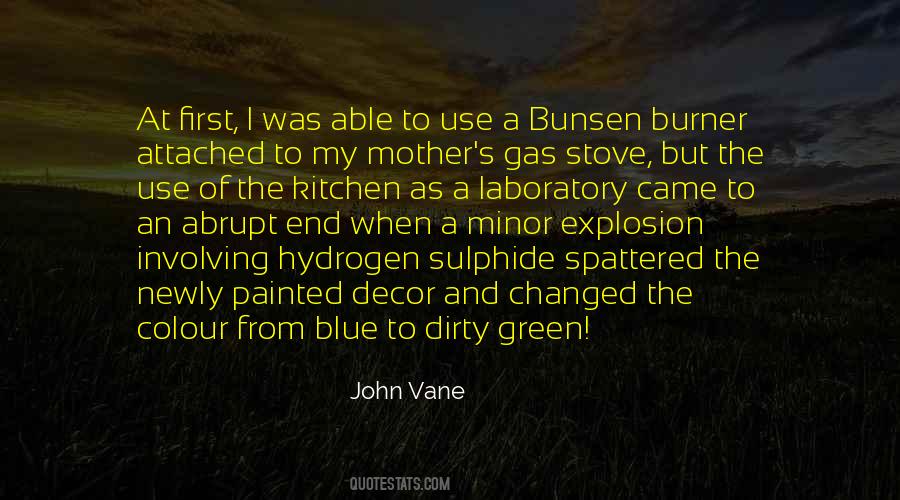 #30. Oh, we"re just scattering some dead fish about town, breaking some windows, photographing naked guys, hanging out in sky-scraper lobbies at three-fifteen in the morning, that kind of thing. "Not much", I answered. - Author: John Green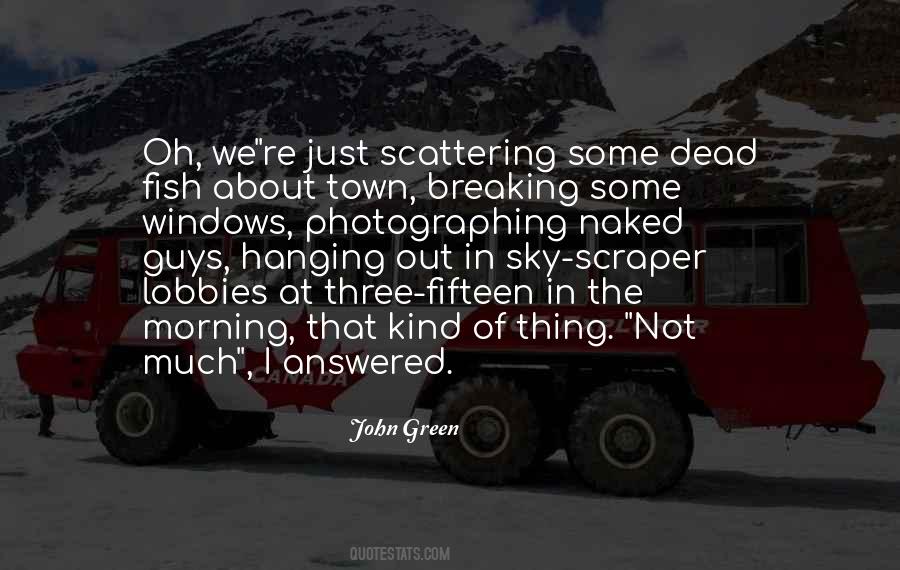 #31. Can't wear it to the opera," said the Colonel, almost smiling. "Can't wear it to a funeral. Can't use it to hang myself. It's a bit useless, as ties go. - Author: John Green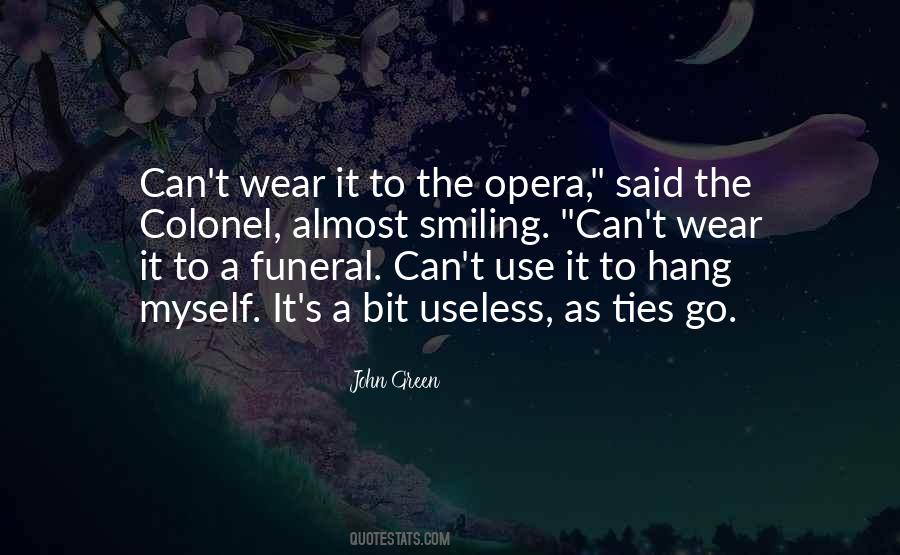 #32. I am in love with you, Hazel Grace. And I know that love is just shout into the void, and that oblivion is inevitable. And I am in love with you. - Author: John Green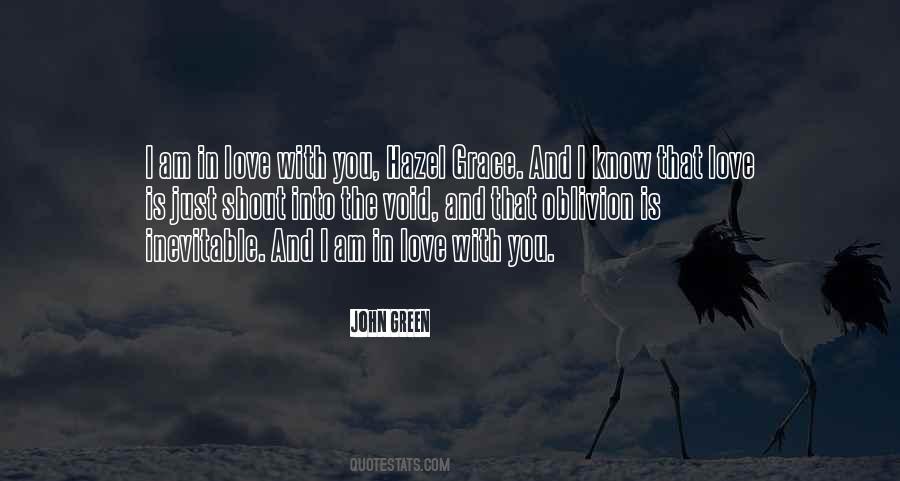 #33. I have a green card now, but they can take that away, yeah, they can take that away at any moment. So please don't; please let me keep it. - Author: John Oliver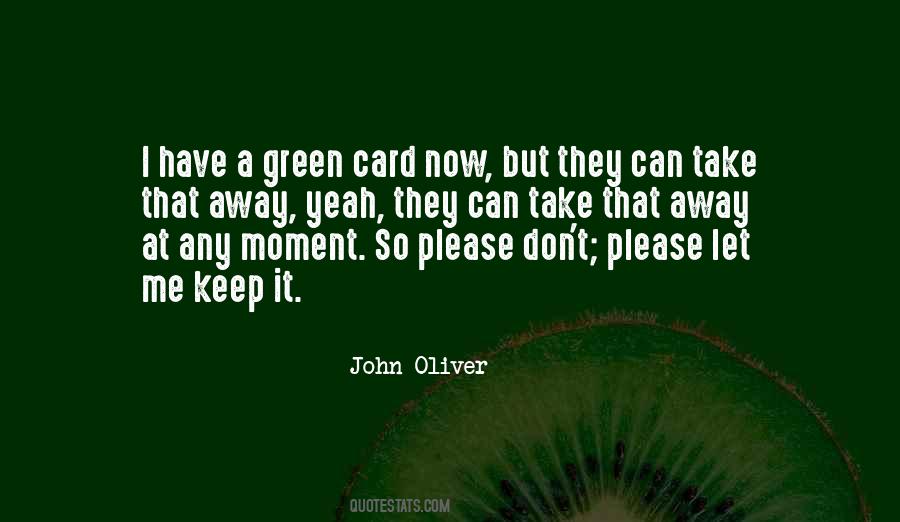 #34. Pageboy haircut, and I hadn't even bothered to, like, brush it. Furthermore, - Author: John Green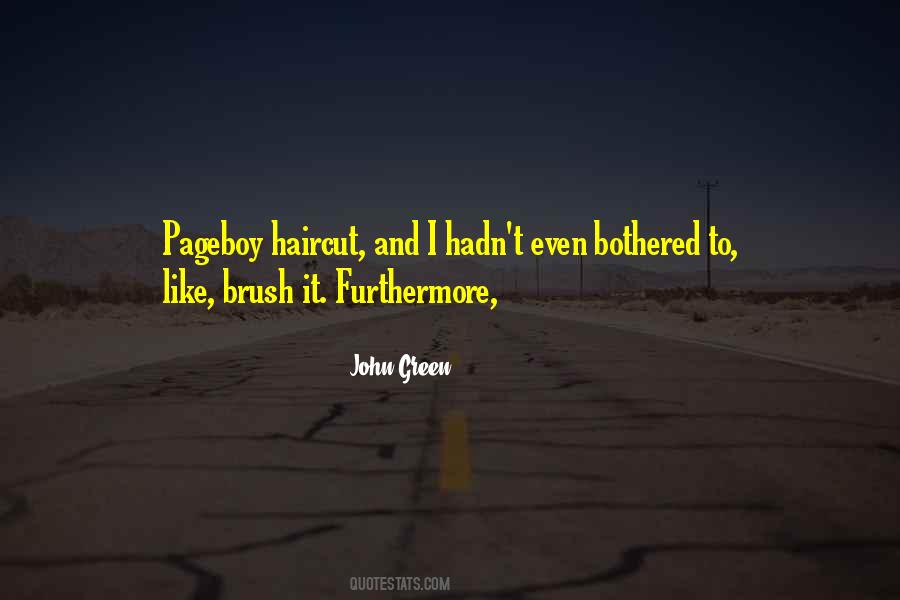 #35. I picked you. And then you picked me back. And that's like a promise.
At least for tonight. In sickness and in health. In good times and in bad. For richer, for poorer, 'Til dawn do us part. - Author: John Green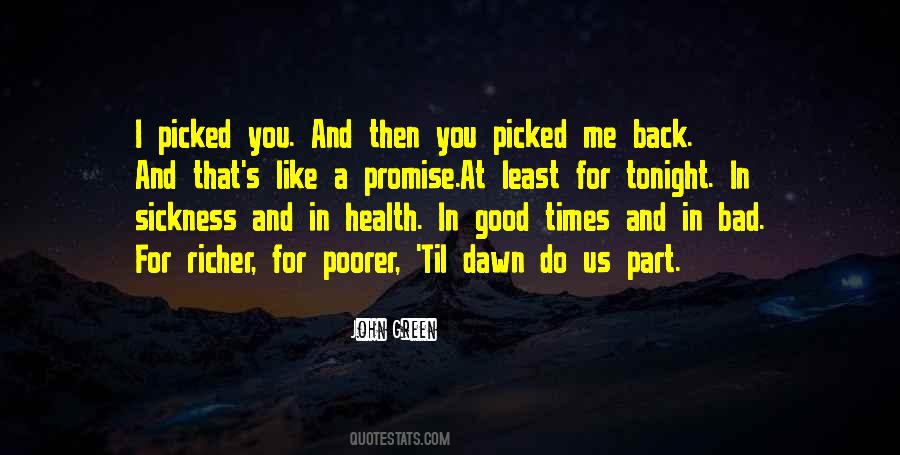 #36. As a reader, I don't feel a story has an obligation to make me happy. I want stories to show me a bigger world than the one I know. - Author: John Green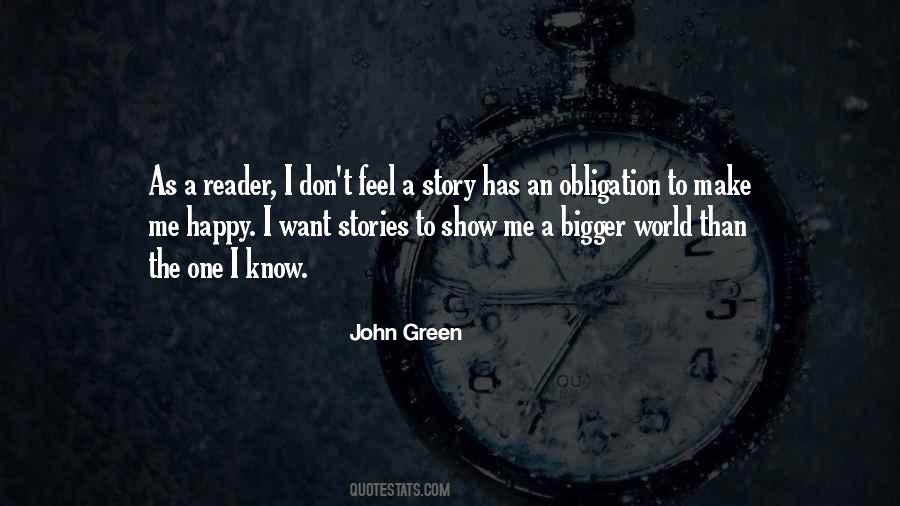 #37. Only in winter can you tell which trees are truly green. Only when the winds of adversity blow can you tell whether an individual or a country has steadfastness. - Author: John F. Kennedy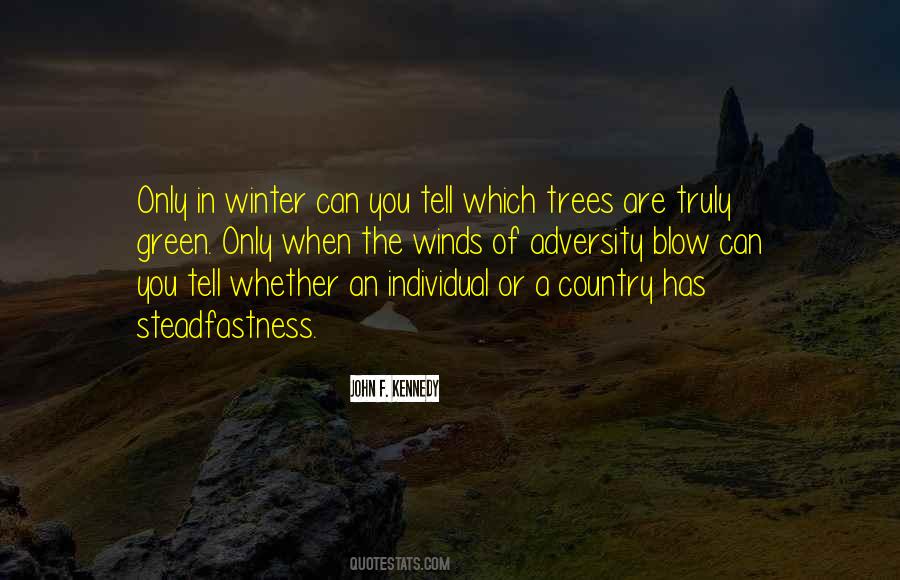 #38. The ideas of directing attention outward, trying to imagine other people complexly, trying not to see myself as the center of the universe - these concepts have become important to me, and I hope they're at work in my life on a minute-by-minute basis. - Author: John Green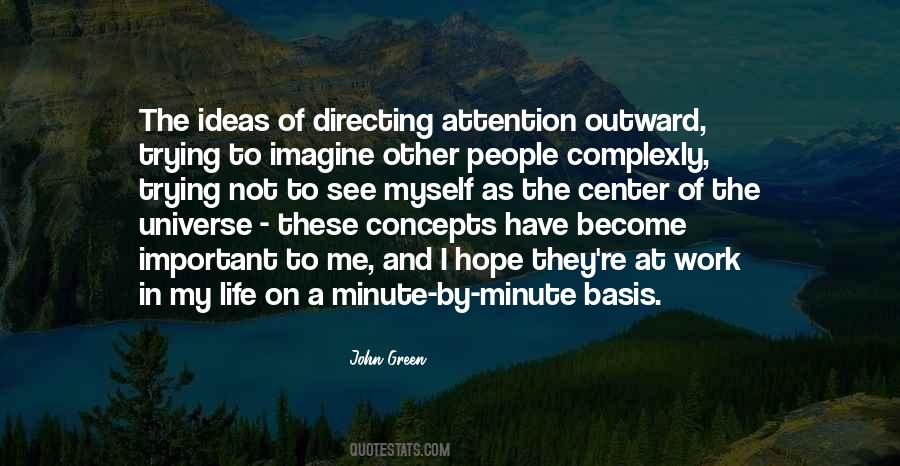 #39. At some point, I realized I was Kaitlyning the encounter, so I decided to text Kaitlyn and ask for some advice. - Author: John Green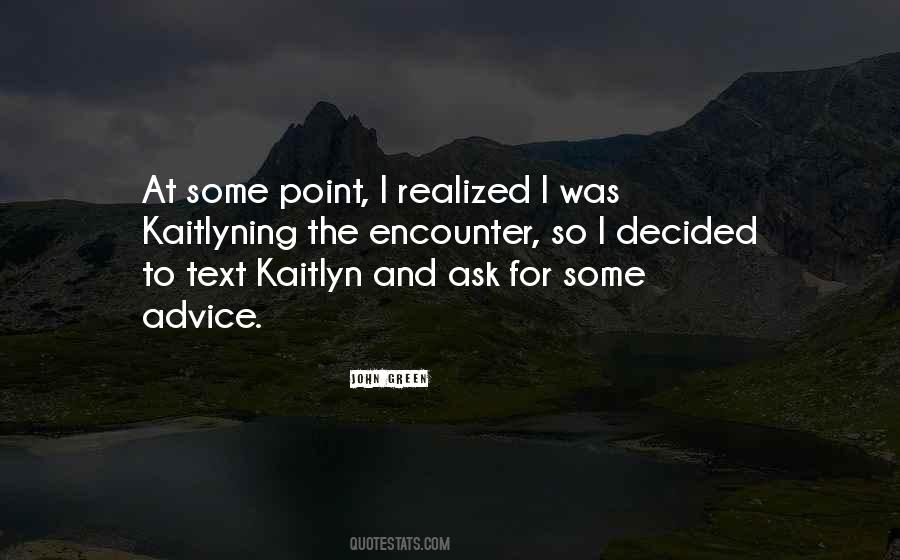 #40. What did Dom Perignon say to fellow monks after he invented champagne? ... Come quickly, I am tasting the stars. - Author: John Green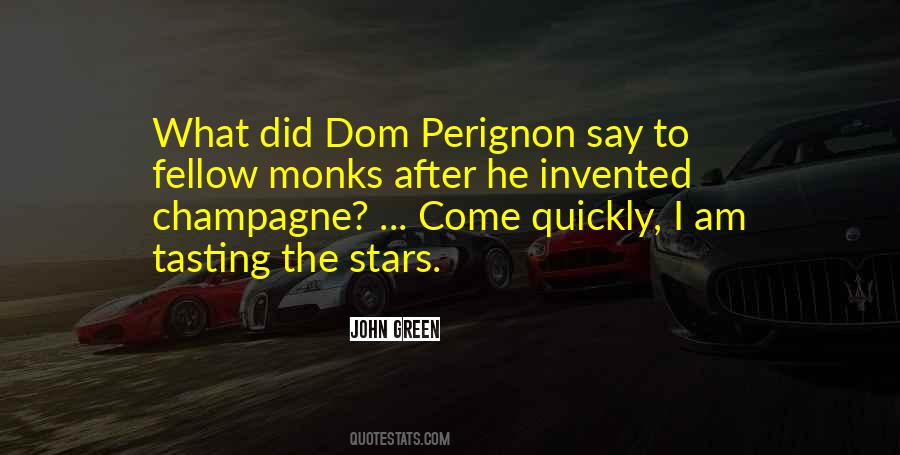 #41. Authors do not own books, readers do - Author: John Green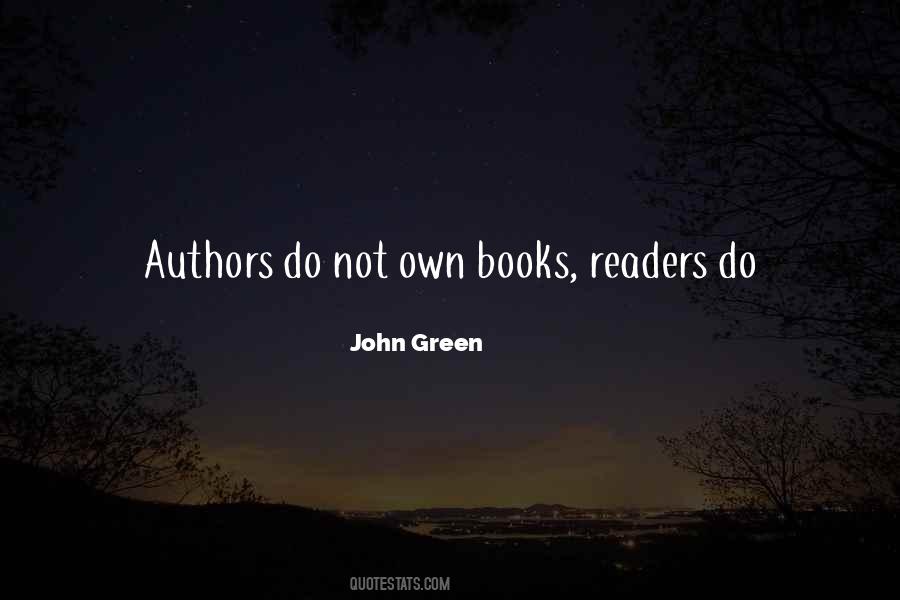 #42. Dude, if Kentucky is going to remind you of Paris, we're in a hell of a pickle. - Author: John Green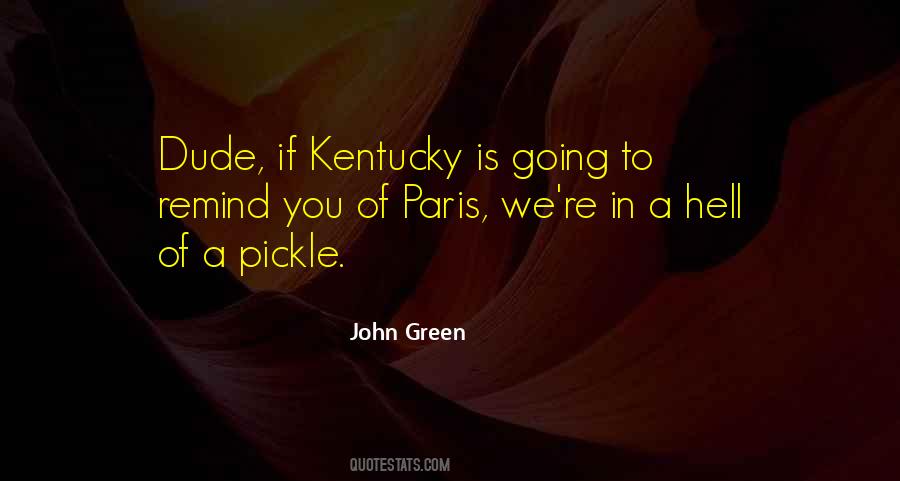 #43. The best way to get people to like you is not to like them too much - Lindsey to Colin, ch.14 - Author: John Green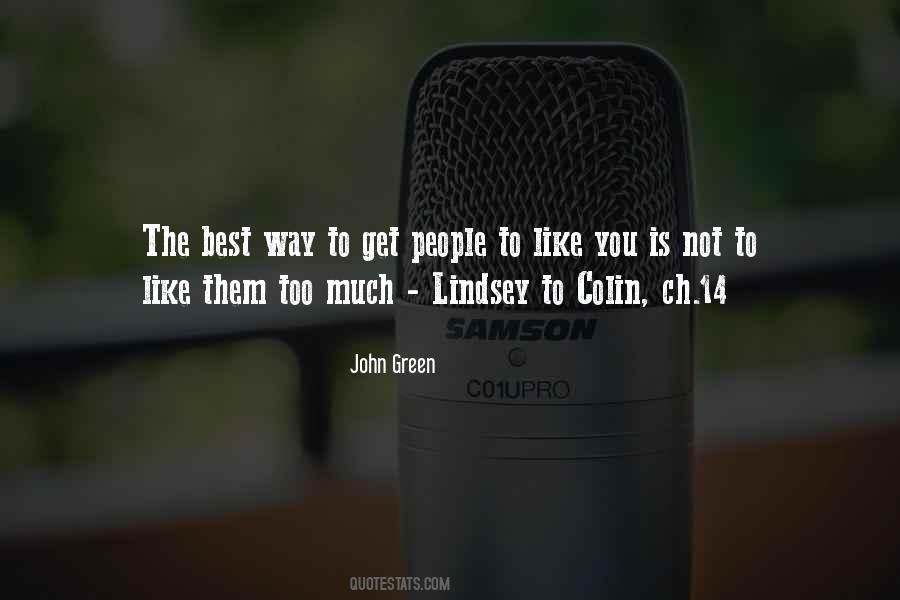 #44. Trane's playing is literally the most convincing proof of God's existence I've ever come across. - Author: John Green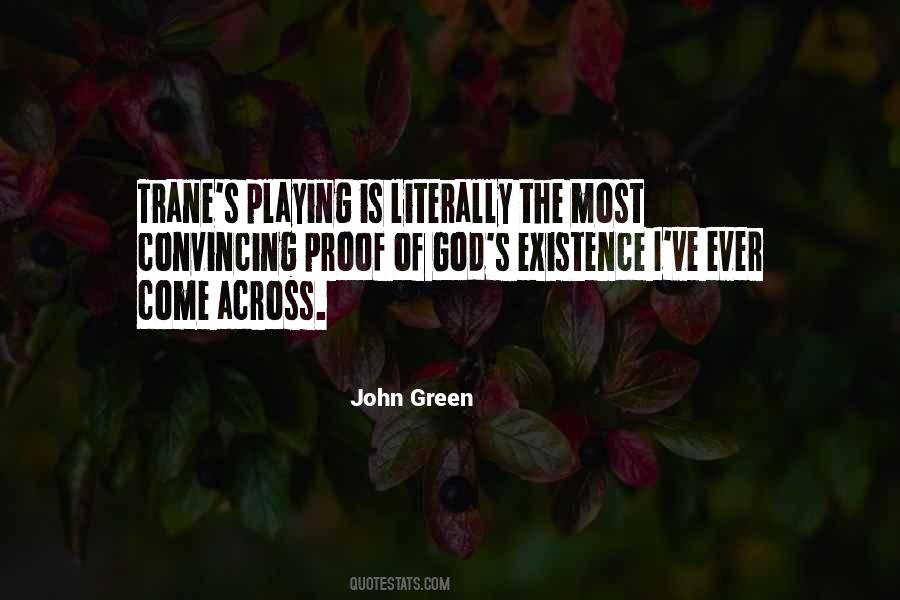 #45. It scares me sometimes. Wishing it to work - Author: John Green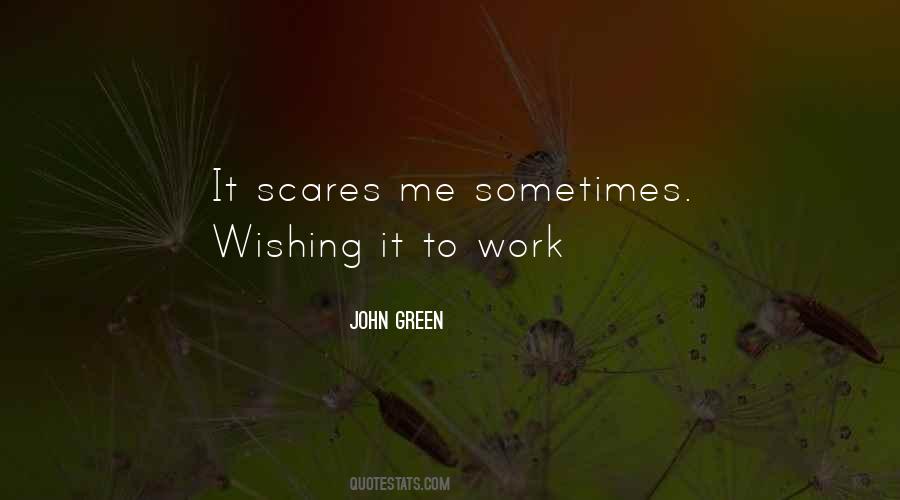 #46. So I came here looking for a Great Perharps - Author: John Green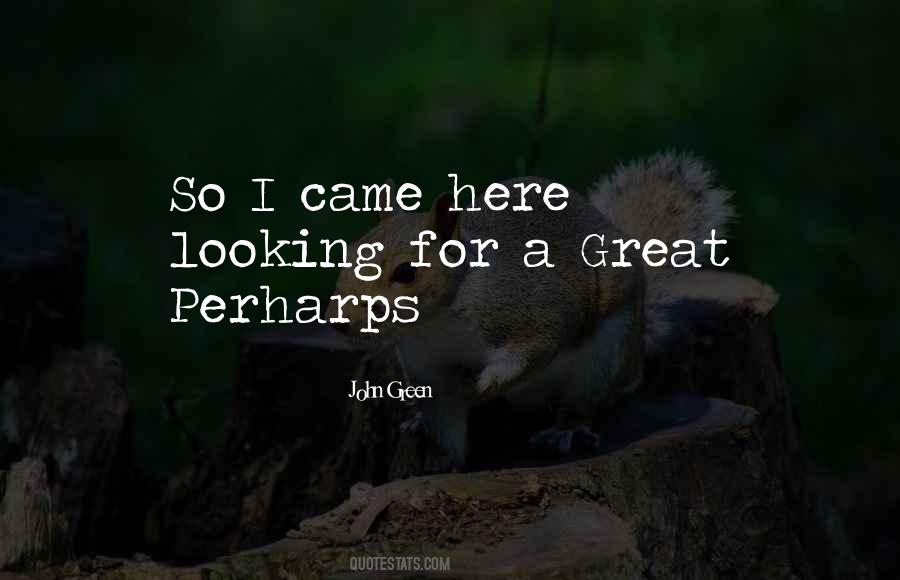 #47. His face is livid, gaunt his whole body, his breath is green with gall; his tongue drips poison. - Author: John Quincy Adams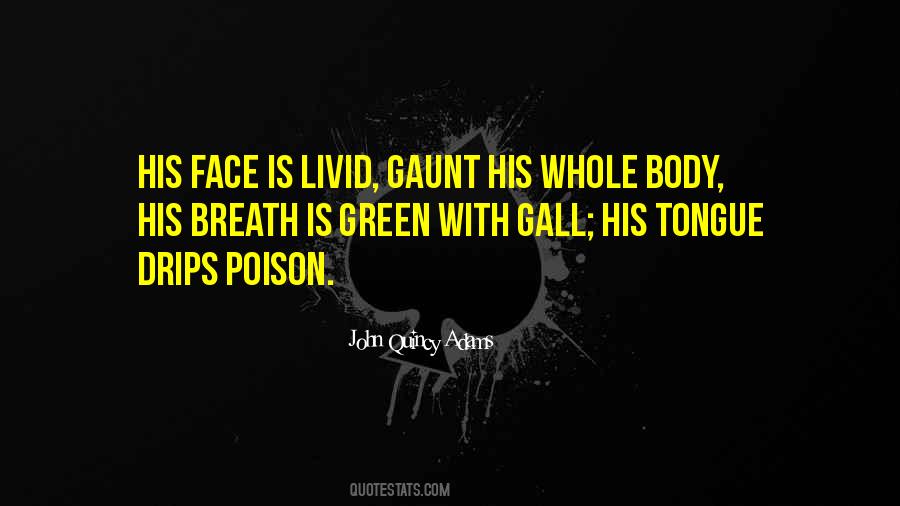 #48. I can't be you. You can't be me. You can imagine another well - but never quite perfectly, you know? - Author: John Green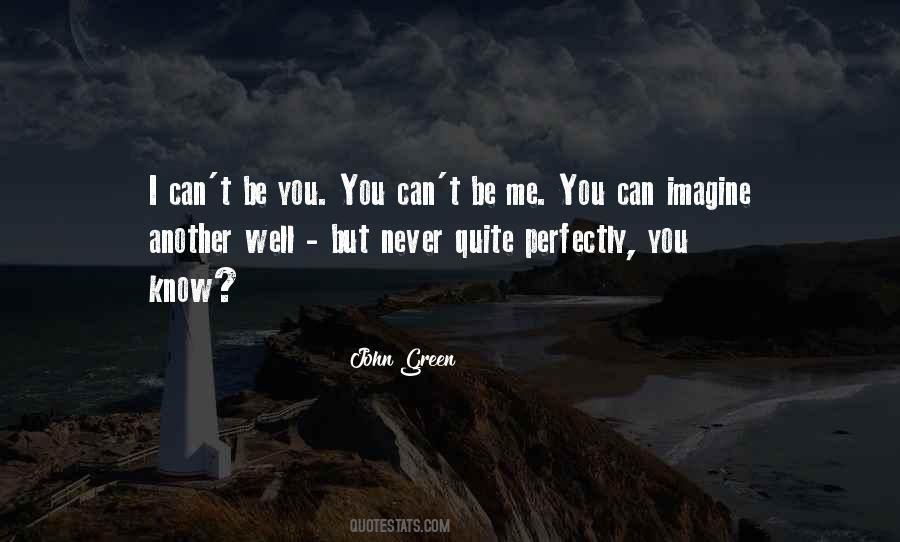 #49. Than unswept stone, besmear'd with sluttish time. (Off topic, but: What a slut time is. - Author: John Green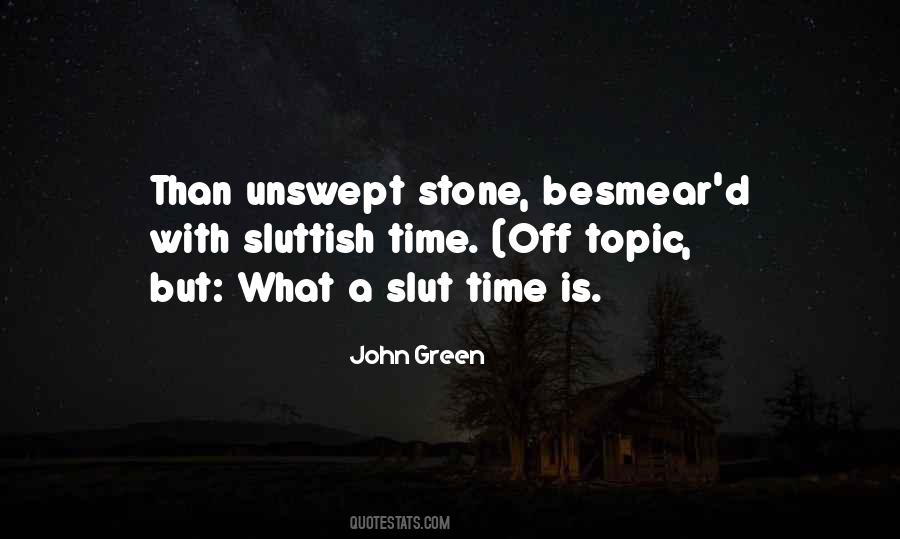 #50. It is saying these things that keeps us from falling apart. And maybe by imagining these futures we can make them real, and maybe not, but either way we must imagine them. The light rushes out and floods in. - Author: John Green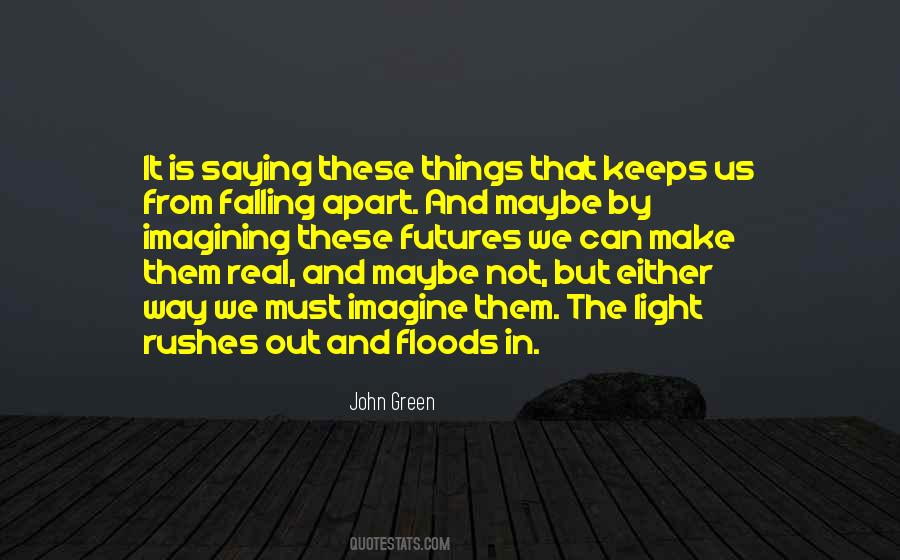 #51. My regret was immediate and permanent and useless. - Author: John Green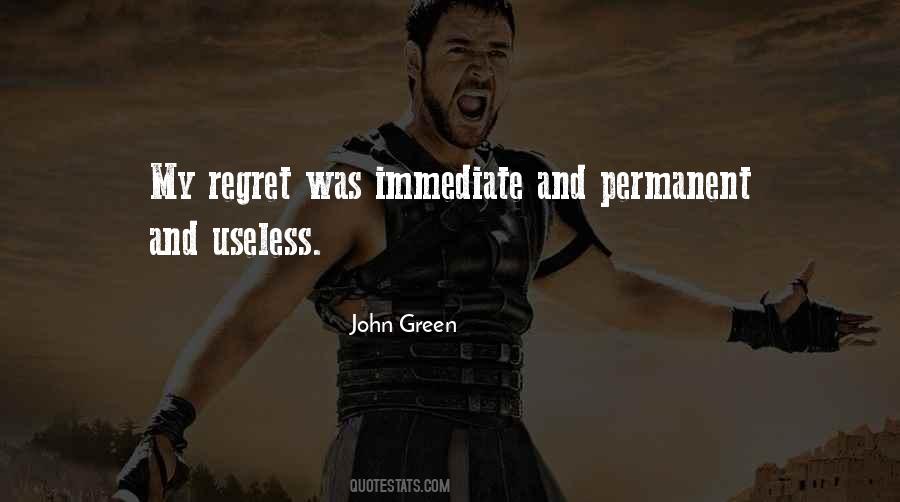 #52. I fell in love the way you fall asleep: slowly, then all at once. - Author: John Green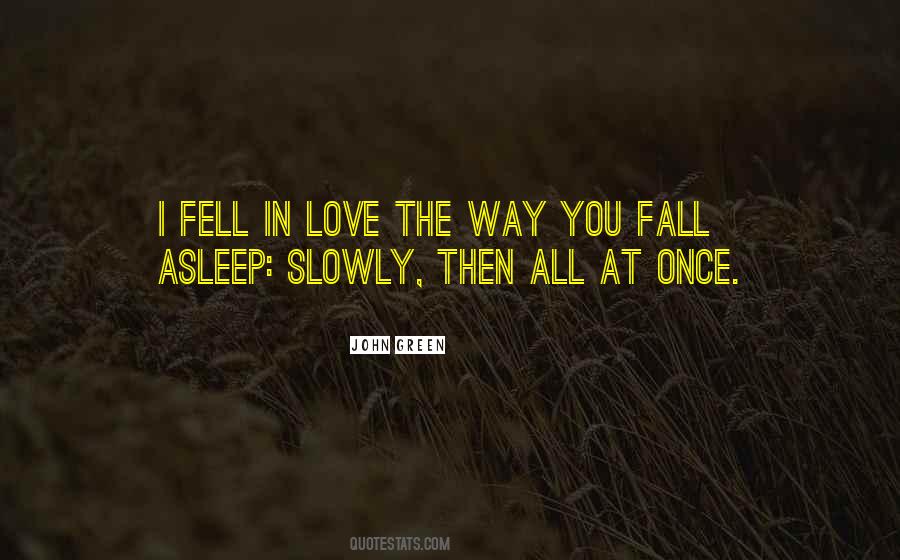 #53. Grayson. I know you think I'm full of shit, but I knew I loved him the moment we kissed.
Goddamaned it. What am I going to do? And then he stifles a sob with the last shot. - Author: John Green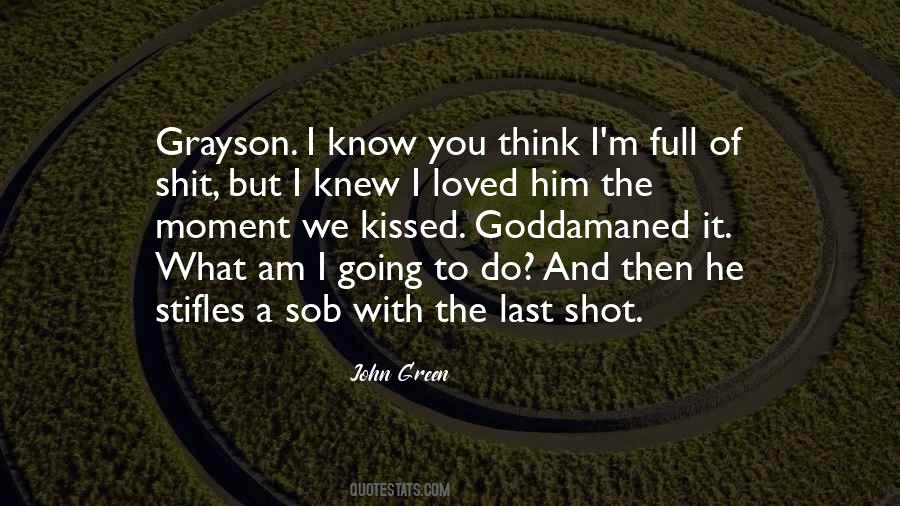 #54. So excuse me forgetting, but these things I do
You see I've forgotten, if they're green or they're blue
Anyway, the thing is, what I really mean
Yours are the sweetest eyes, I've ever seen. - Author: Elton John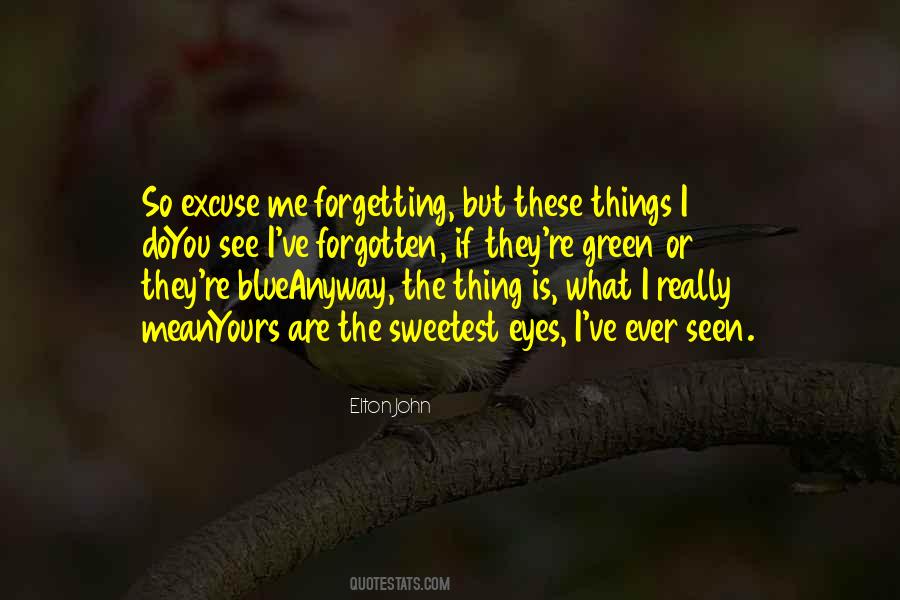 #55. I can't answer the door with Sharpie on my face! - Author: John Green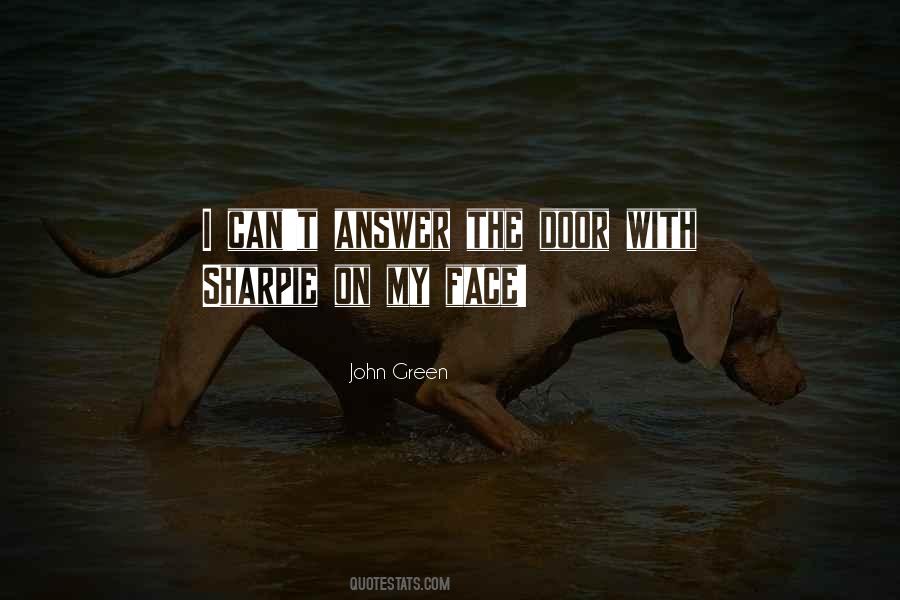 #56. I imagine it's hard to go back once you've felt the continents in your palm. - Author: John Green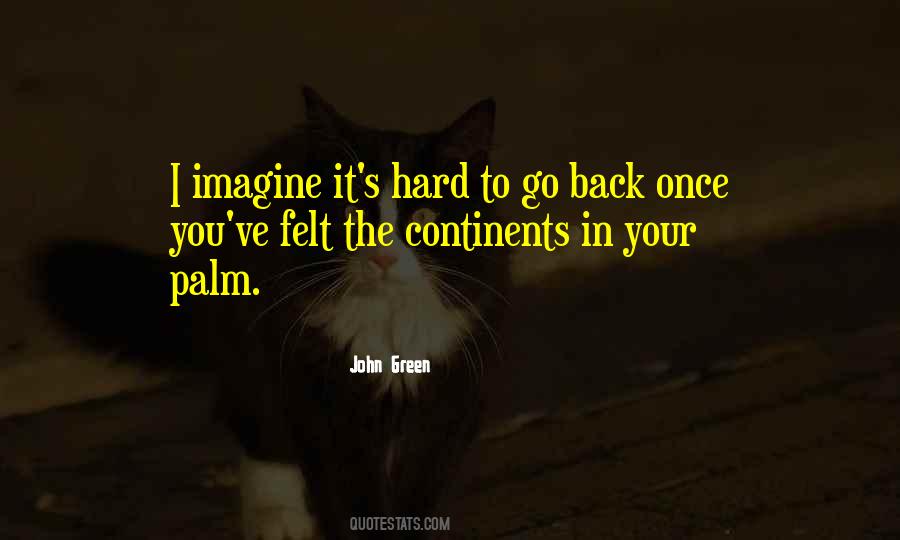 #57. Everywhere man blames nature and fate, yet his fate is mostly but the echo of his character and passions, his mistakes and weaknesses. - Author: An Abundance Of Katherines By John Green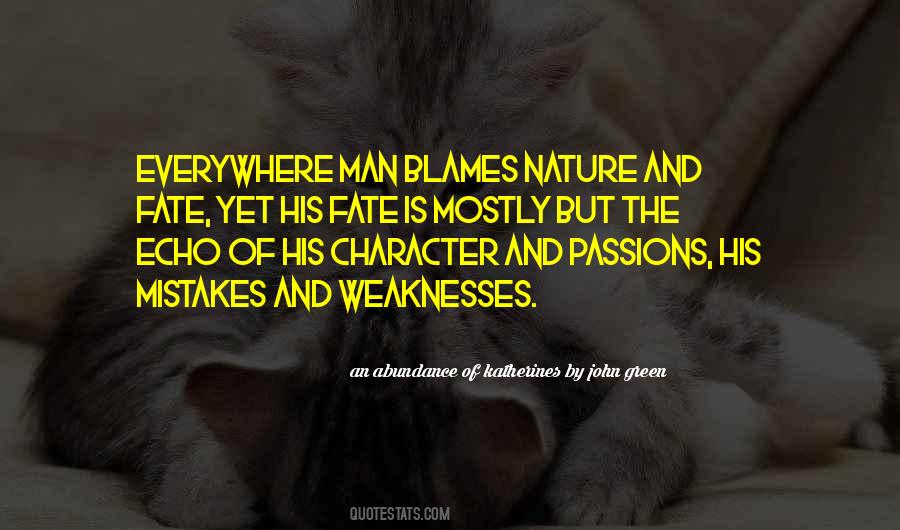 #58. I dislike living in a world without Augustus Waters. - Author: John Green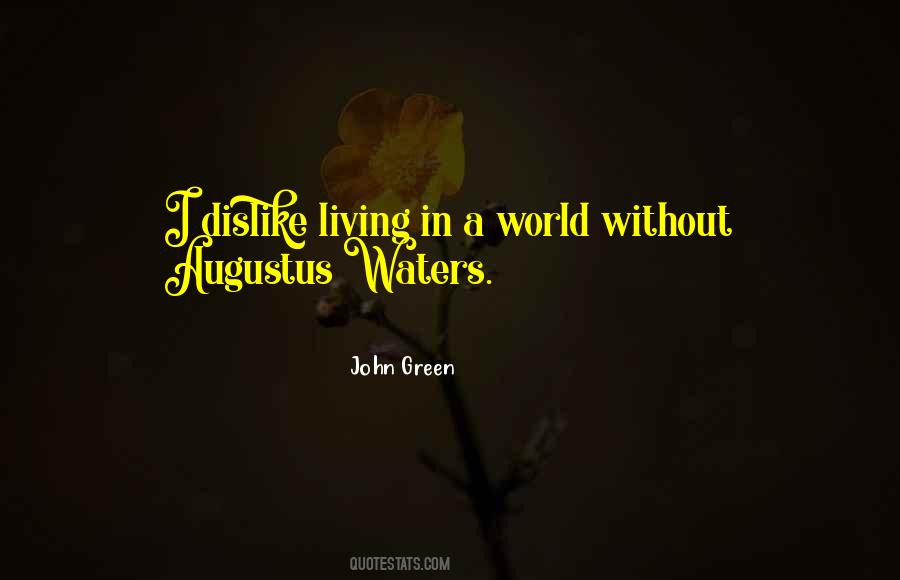 #59. He did not drink or do drugs or smoke cigarettes or wear black eyeliner or stay out late or get bad grades or pierce his tongue or have the words "KATHERINE LUVA 4 LIFE" tattoed across his back. - Author: John Green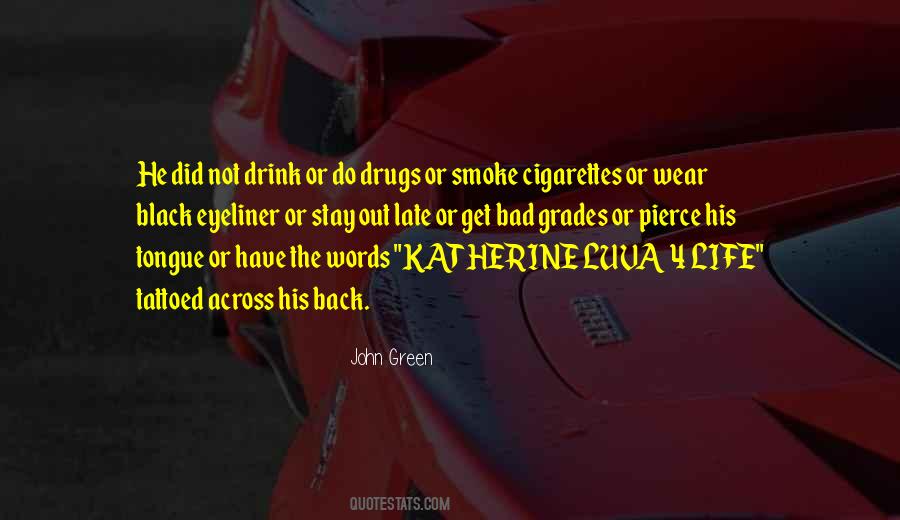 #60. Tiny and I are sitting with a table full of Drama People, and they are discussing Tiny Dancer, all of them speaking more words per minute than I speak in a day. - Author: John Green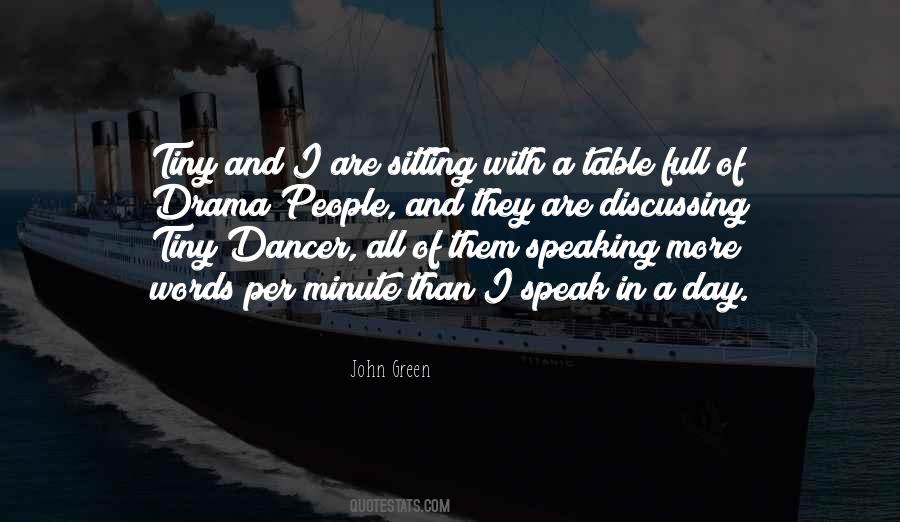 #61. Without Pain, How Could We Know Joy? - Author: John Green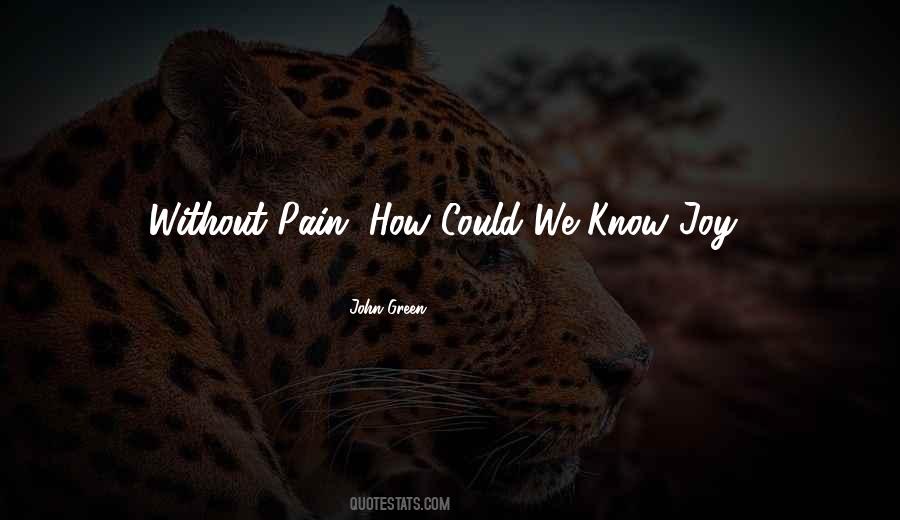 #62. The dead are visible only in the terrible lidless eye of memory. - Author: John Green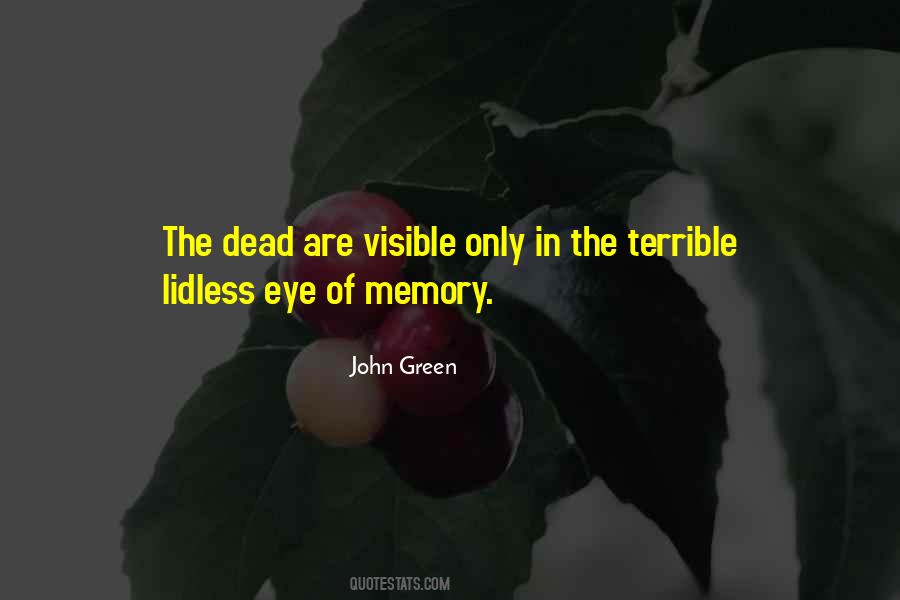 #63. I've never known before what it feels like to want someone - not to want to hook up with them or whatever, but to want them, to want them. And now I do. So maybe I do believe in epiphanies. - Author: John Green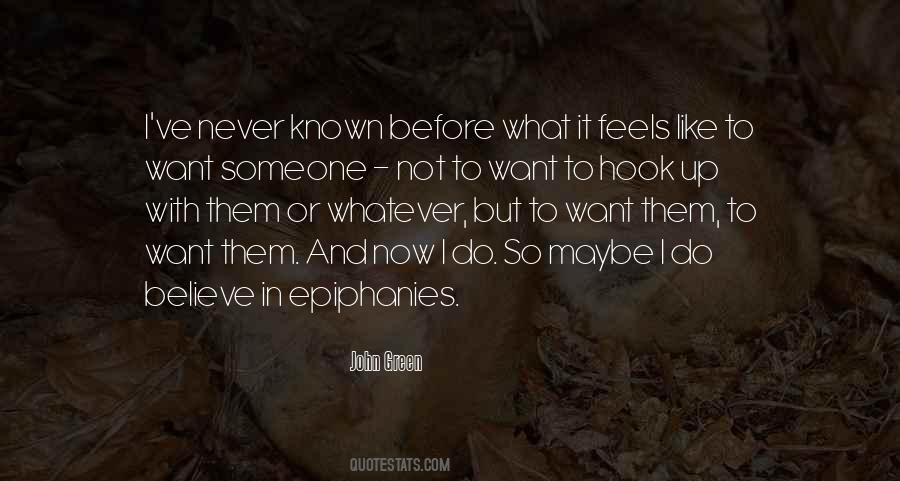 #64. How about I call you when I finish this?"
"But you don't even have my phone number," he said.
"I strongly suspect you write it in the book. - Author: John Green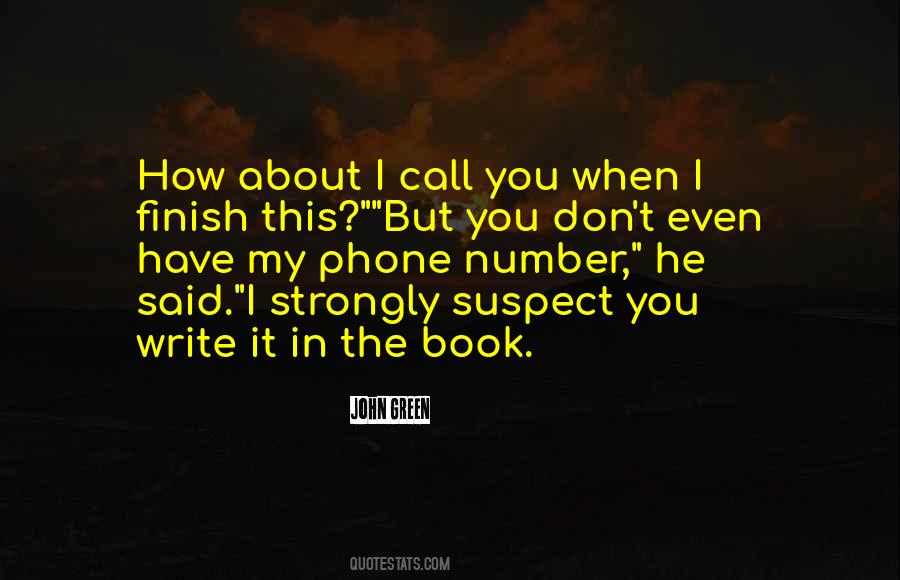 #65. I'm hungrier than a kid on his third day of fat camp. - Author: John Green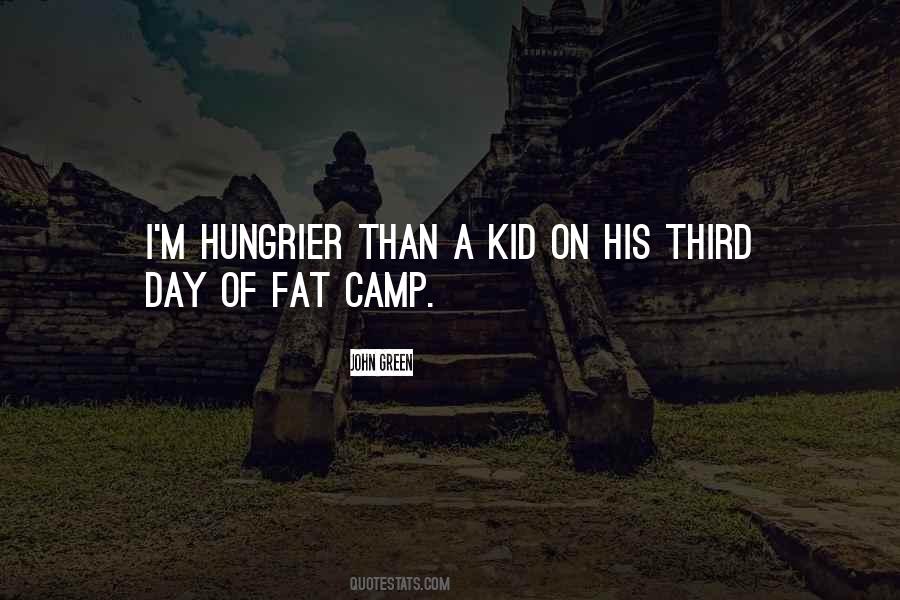 #66. She liked you.. You thought she was quietly discussing precalc, when she was clearly talking about having hot sex with you. Which is why you need me. - Author: John Green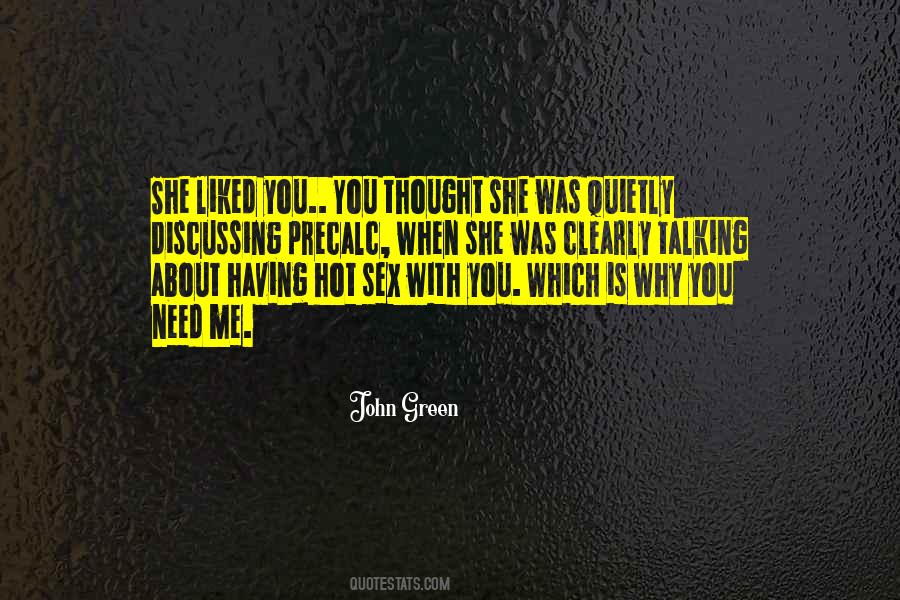 #67. Maybe life is not about accomplishing some bullshit markers. - Author: John Green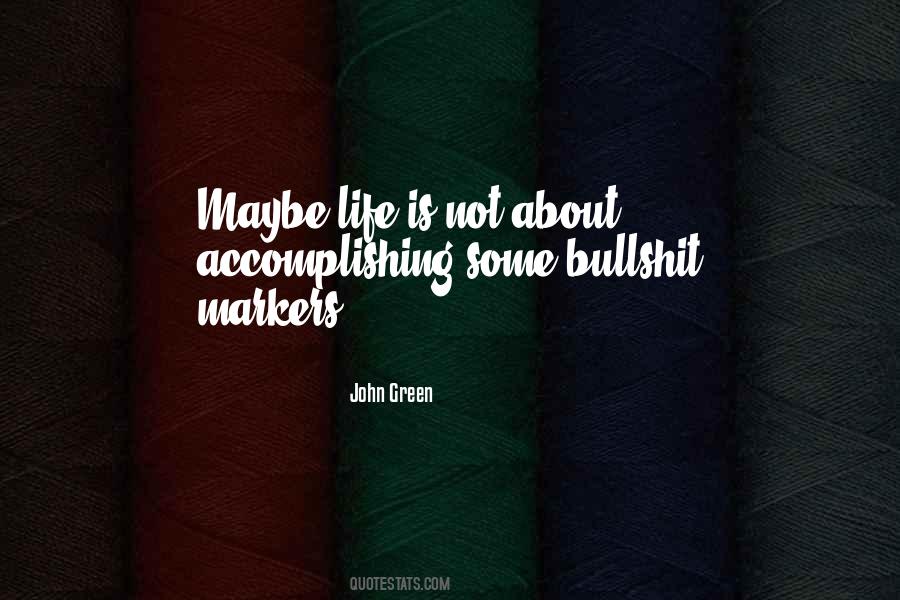 #68. Be the Music that Moves you
Float like a Butterfly Sting like Bee
Follow your DREAMS! - Author: John Green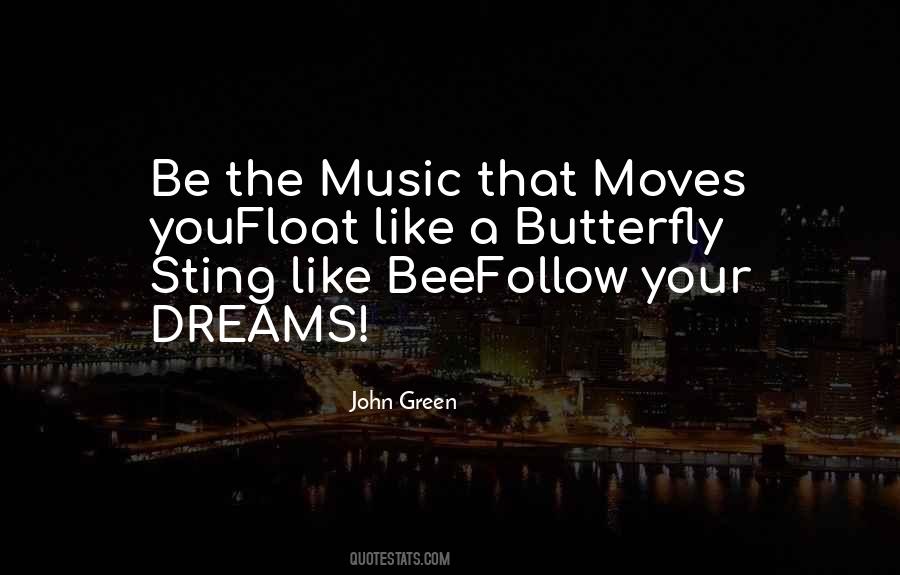 #69. Keys show up when you reconcile yourself to the bus ... - Author: John Green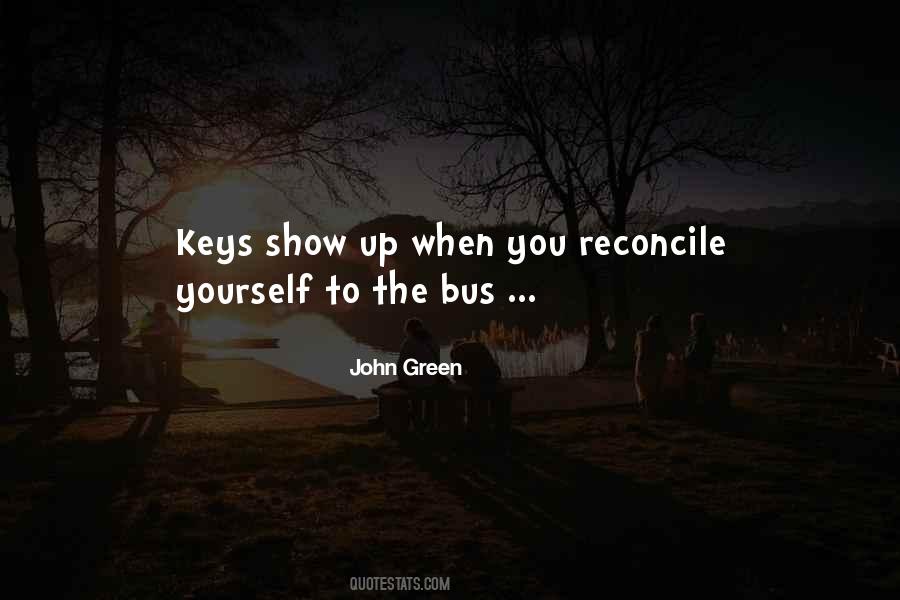 #70. If anyone ever uses lol with me, i rip my computer right out of the wall and smash it over the nearest head. - Author: John Green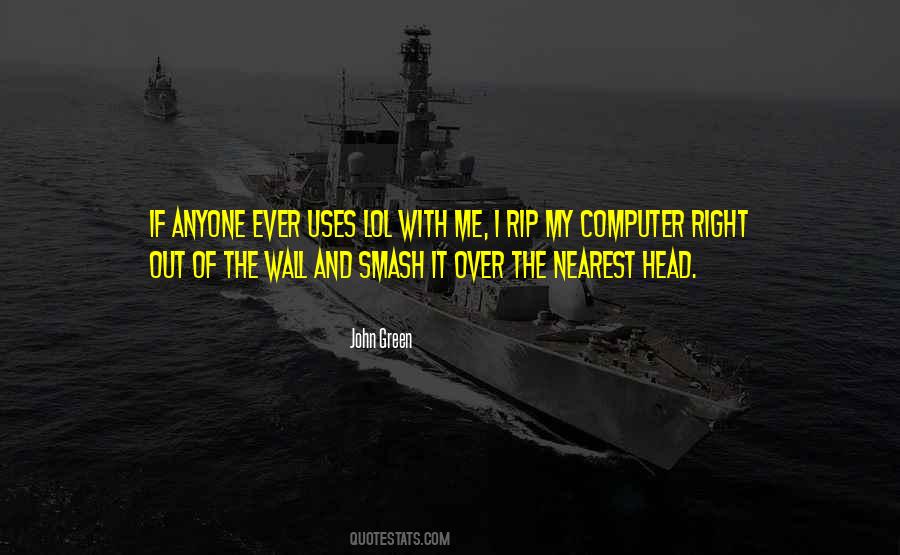 #71. The moon is made of a green cheese. - Author: John Heywood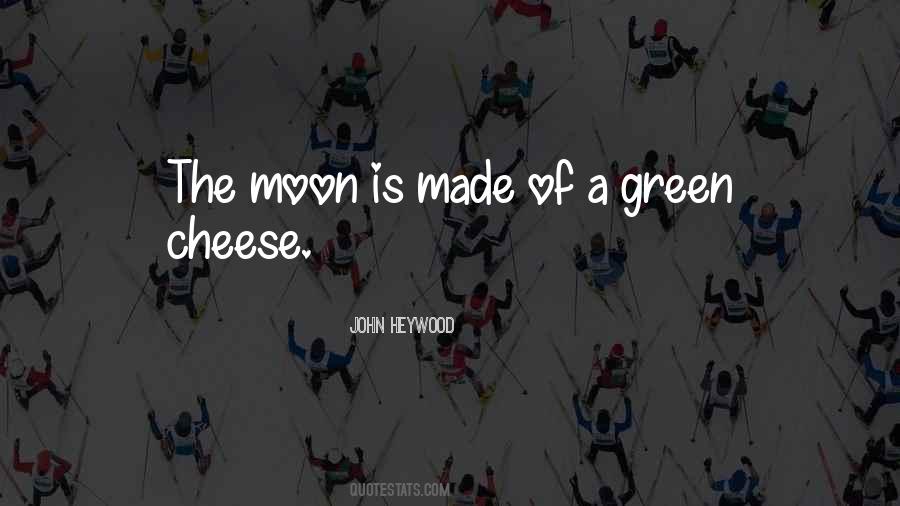 #72. And I should have said something. Of course, I should have said thing after thing after thing after thing. - Author: John Green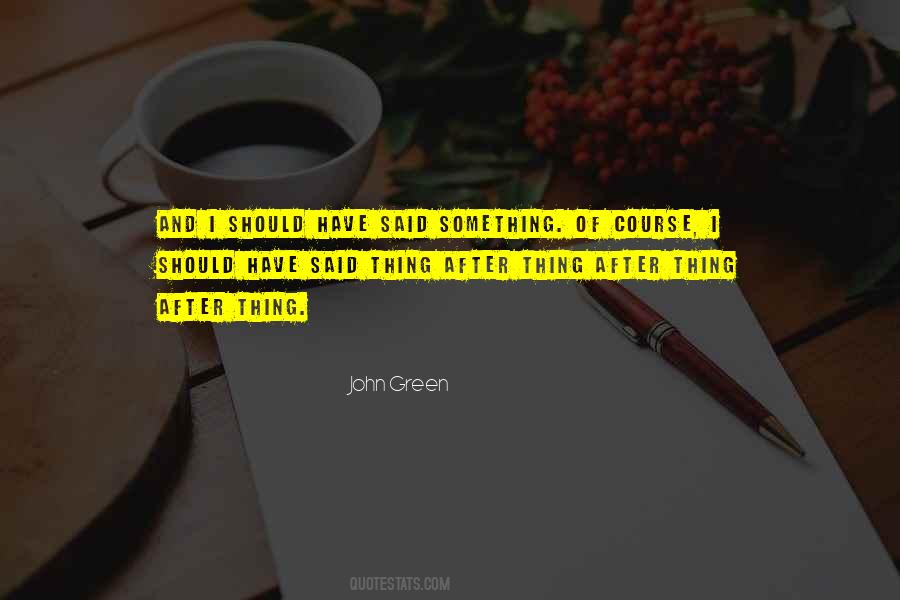 #73. I'm starting to realize that people lack good mirrors. It's so hard for anyone to show us how we look, & so hard for us to show anyone how we feel. - Author: John Green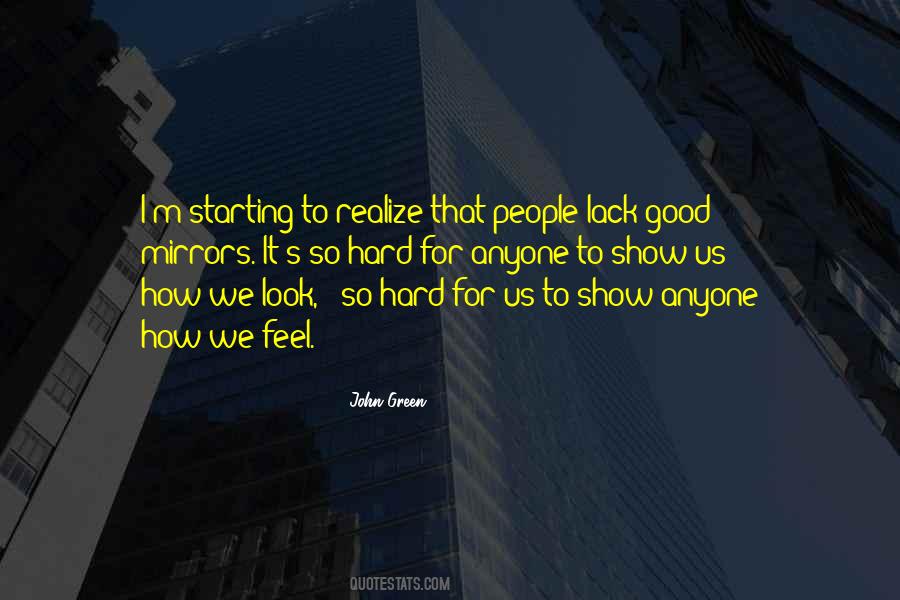 #74. The oldest pictures were faded and yellowing, and Colin thought about how even in pictures of their youth, old people look old. - Author: John Green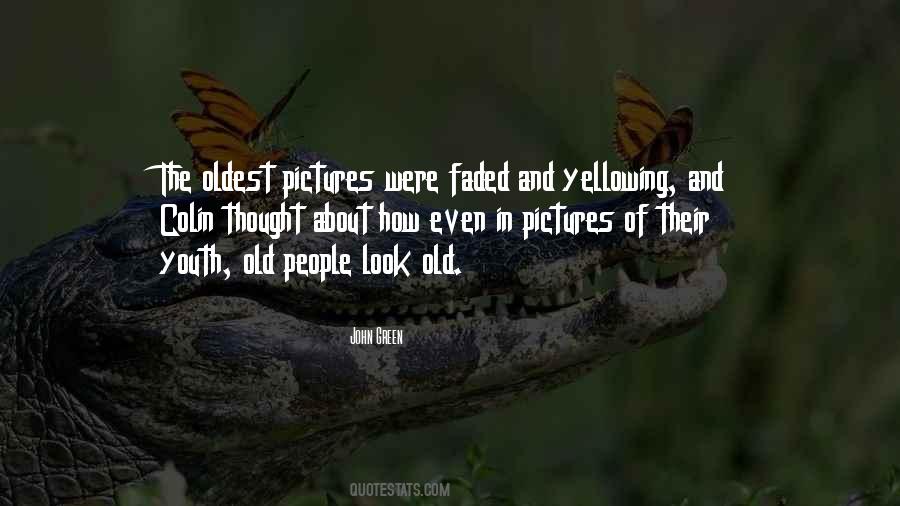 #75. Hazel, do you enjoy it?' I paused a second, trying to figure out if my response should be calibrated to please Augustus or his parents. 'Most of the people are really nice,' I finally said. - Author: John Green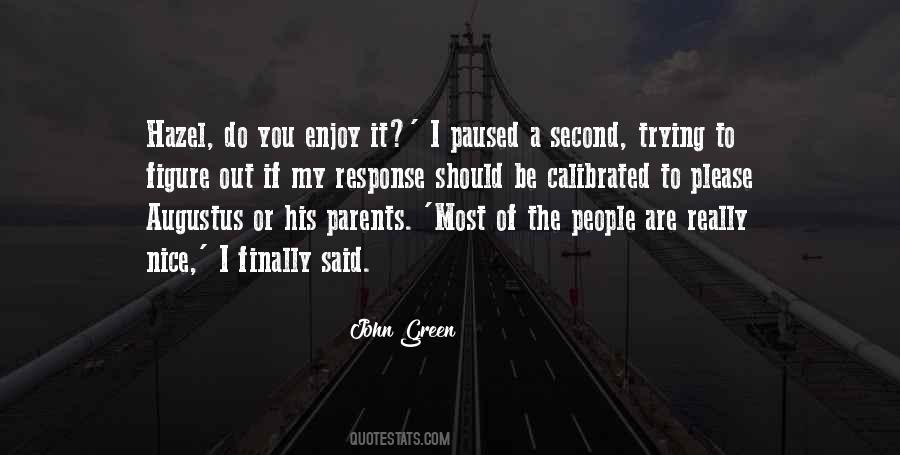 #76. We did a few things worth remembering, and I wish for someone to remember them. - Author: John Green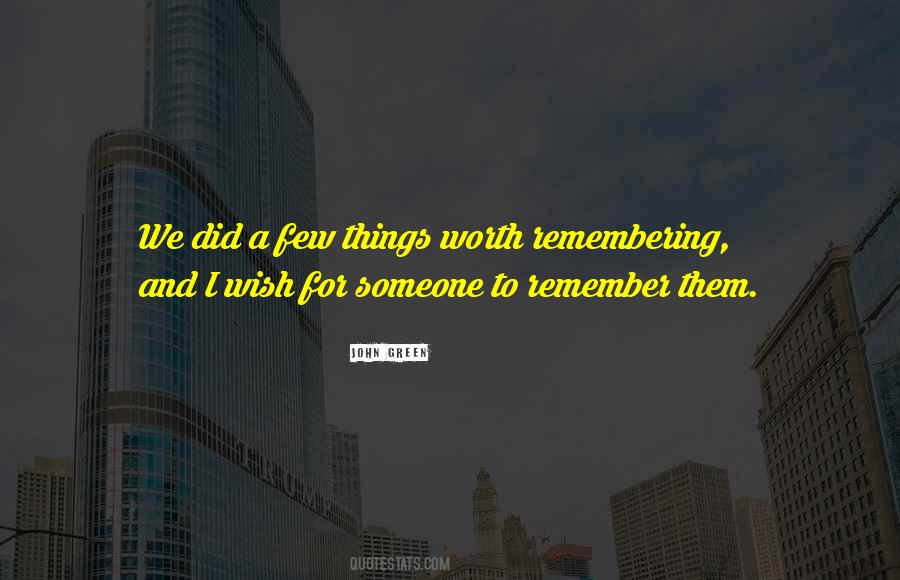 #77. Abraham Maslow, I present to you Augustus Waters, whose existential curiosity dwarfed that of his well-fed, well-loved, healthy brethren. - Author: John Green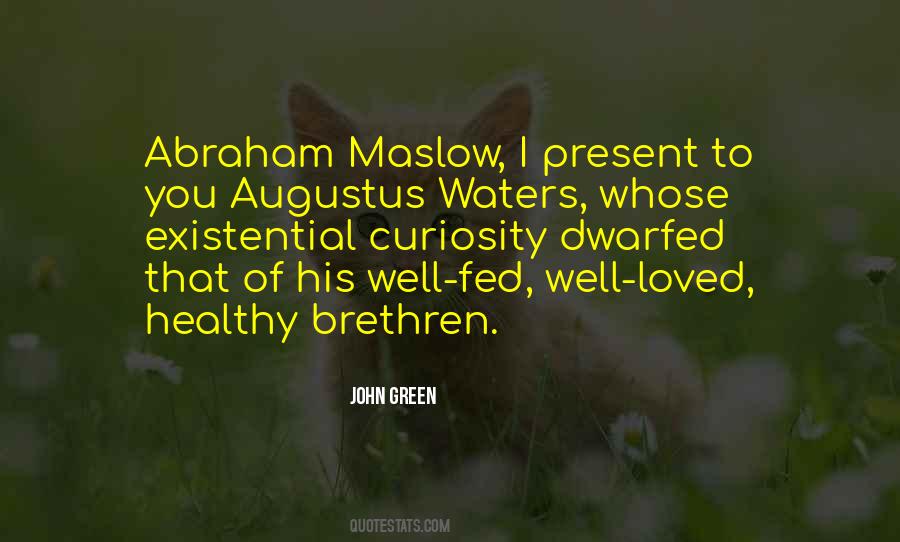 #78. To what do I owe the pleasure?' I asked. Margo and I were still friendly, I guess, but we weren't meet-in-the-dead-of-night-wearing-black-face-paint friendly. She had friends for that, I'm sure. I just wasn't among them. - Author: John Green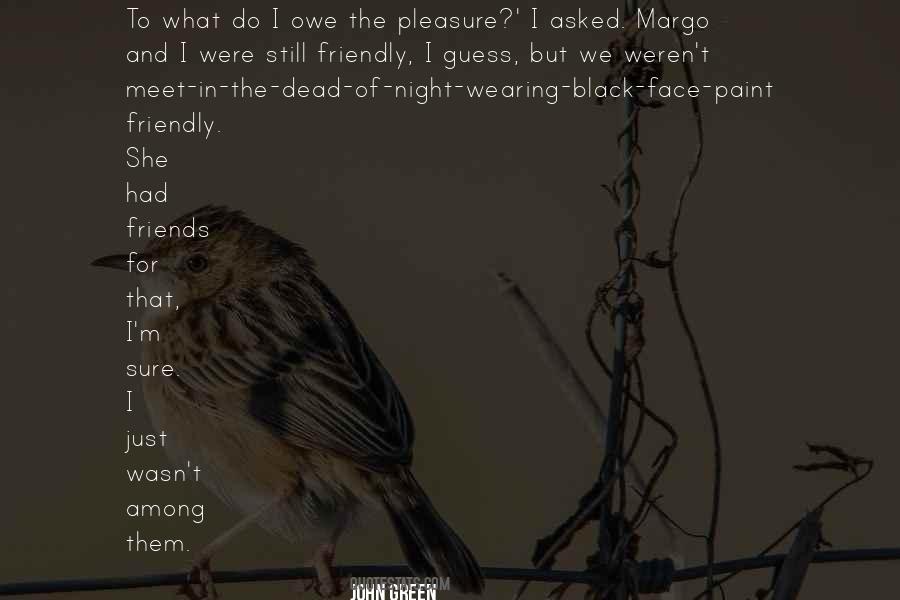 #79. The rules of capitalization are so unfair to words in the middle of a sentence. - Author: John Green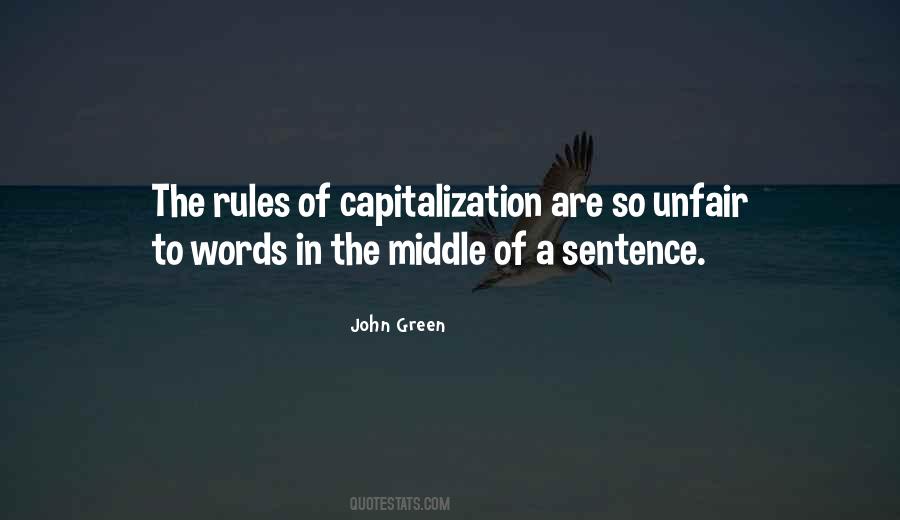 #80. But I believe in true love, you know? I don't believe that everybody gets to keep their eyes or not get sick or whatever, but everybody should have true love, and it should last at least as long as your life does. - Author: John Green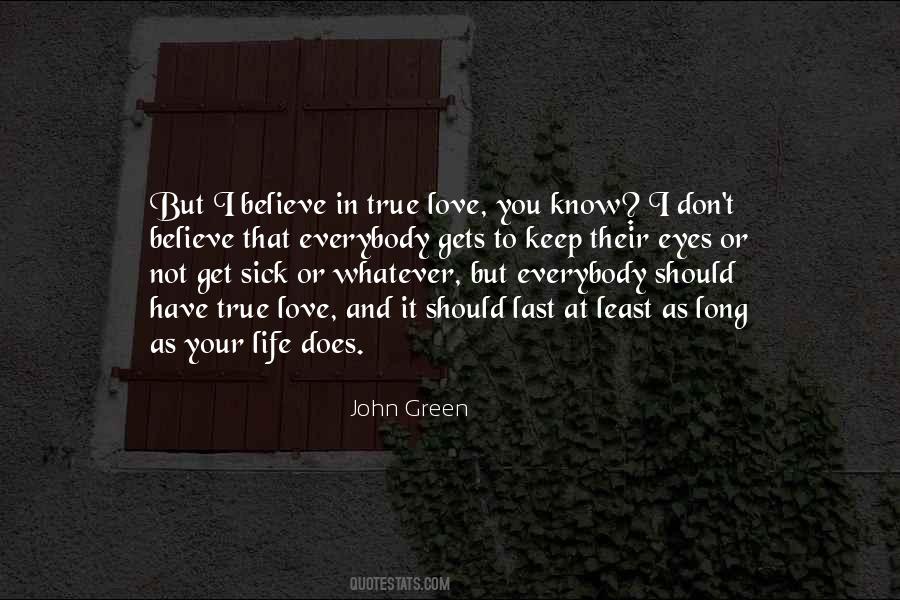 #81. She raised one leg and gave me all her weight as I dipped her. She either trusted me or wanted to fall. - Author: John Green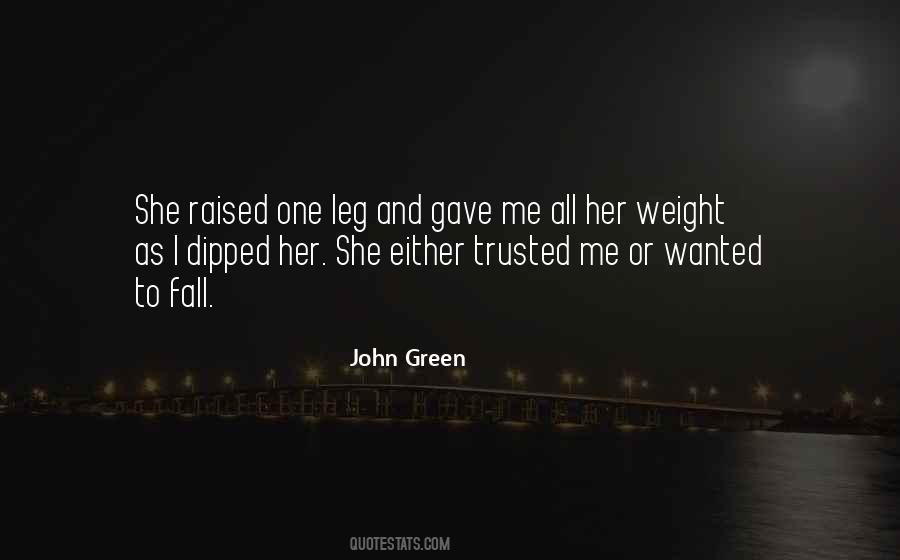 #82. I don't think ministering requires a religious context. The number one thing is that every parent is extremely worried about their kid. Of course, when a chaplain shows up, that can exacerbate this worry rather than calm it. - Author: John Green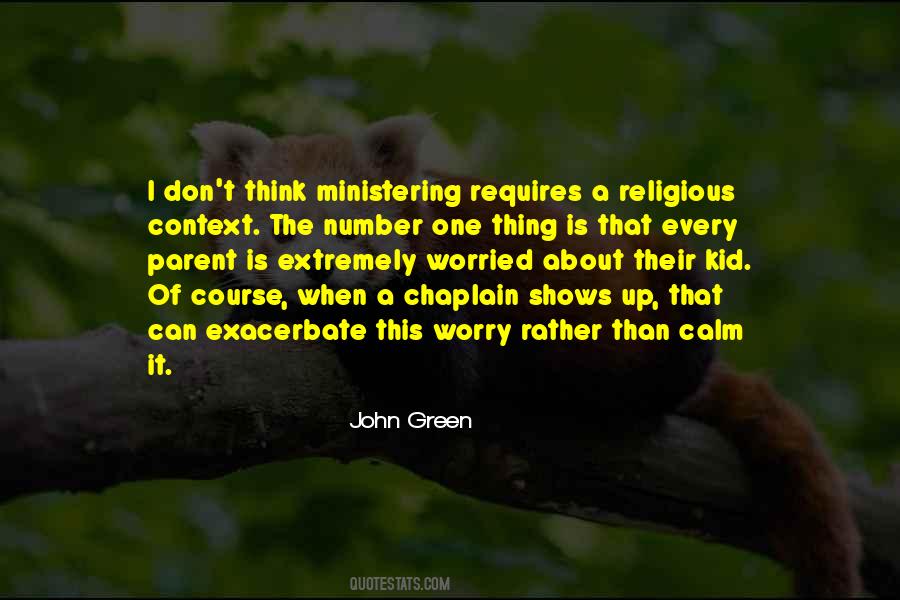 #83. John Green has written a powerful novel - one that plunges headlong into the labyrinth of life, love, and the mysteries of being human. This is a book that will touch your life, so don't read it sitting down. Stand up, and take a step into the Great Perhaps. - Author: KL Going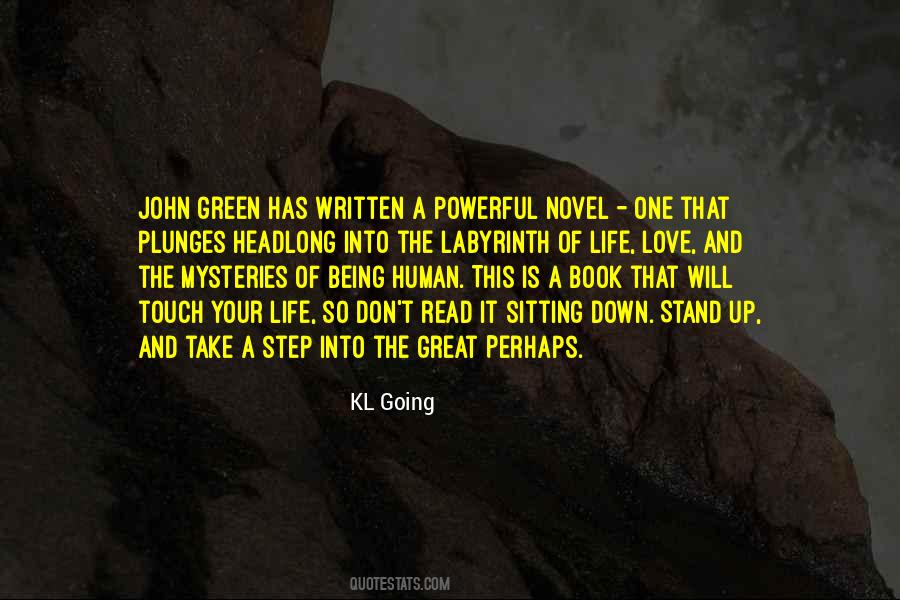 #84. I love green. Green is the color of nature, trees. I'm a tree freak. I spend a lot of my time planting trees, nurturing them, and studying them. It's one of the colors I couldn't live without. - Author: John Boorman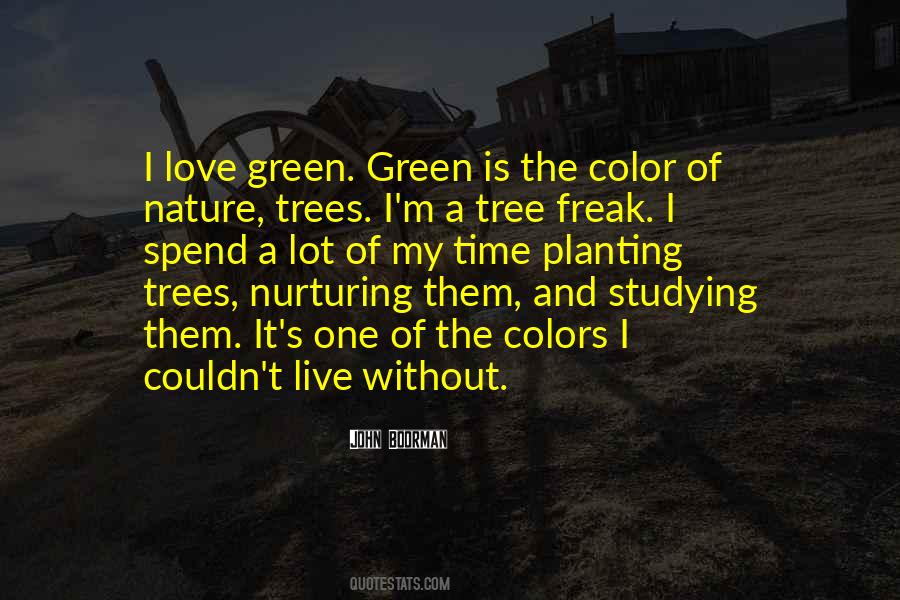 #85. It seems to me that all the things we keep in sealed boxes are both alive and dead until we open the box, that the unobserved is both there and not. - Author: John Green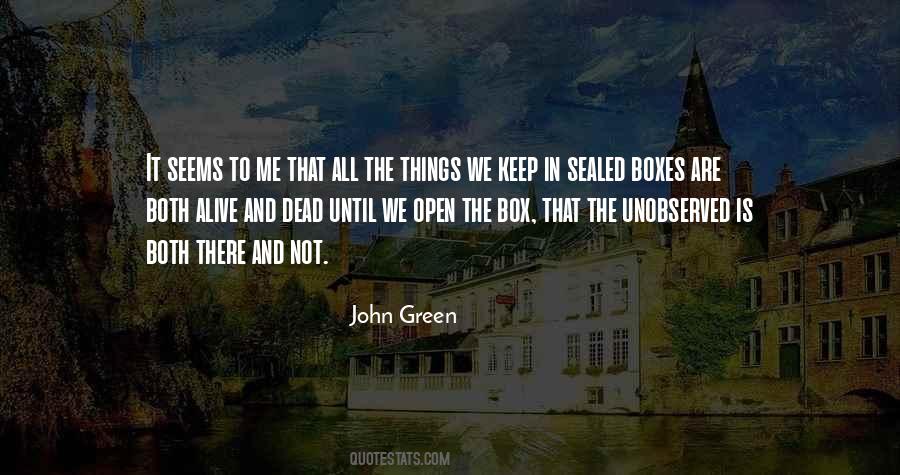 #86. No more diving into pools of chlorinated water lit green from below. No more ball games played out under floodlights. No more porch lights with moths fluttering on summer nights. No more trains running under the surface of cities on the dazzling power of the electric third rail. No more cities. - Author: Emily St. John Mandel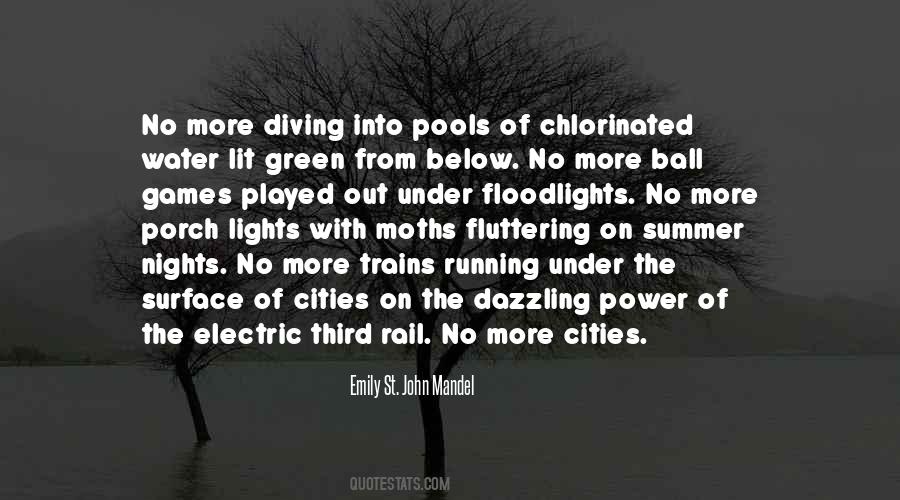 #87. We left. We did not say: Don't drive, You're drunk.
We did not say: We aren't letting you in that car when you are upset.
We did not say: We insist on going with you.
We did not say: This can wait until tomorrow. Anything-everything-can wait. - Author: John Green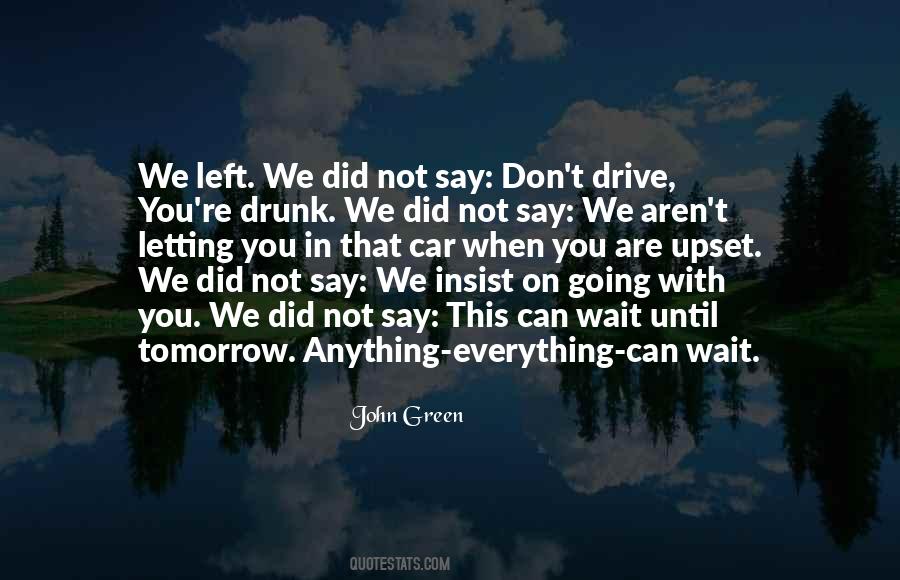 #88. People see what they want to see. - Author: John Green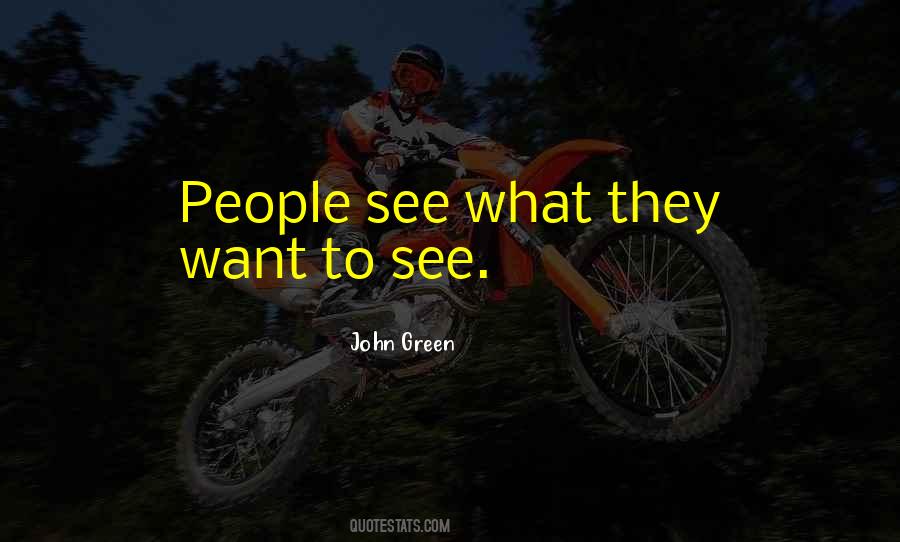 #89. You do not know how to shut me up, Hazel Grace. - Author: John Green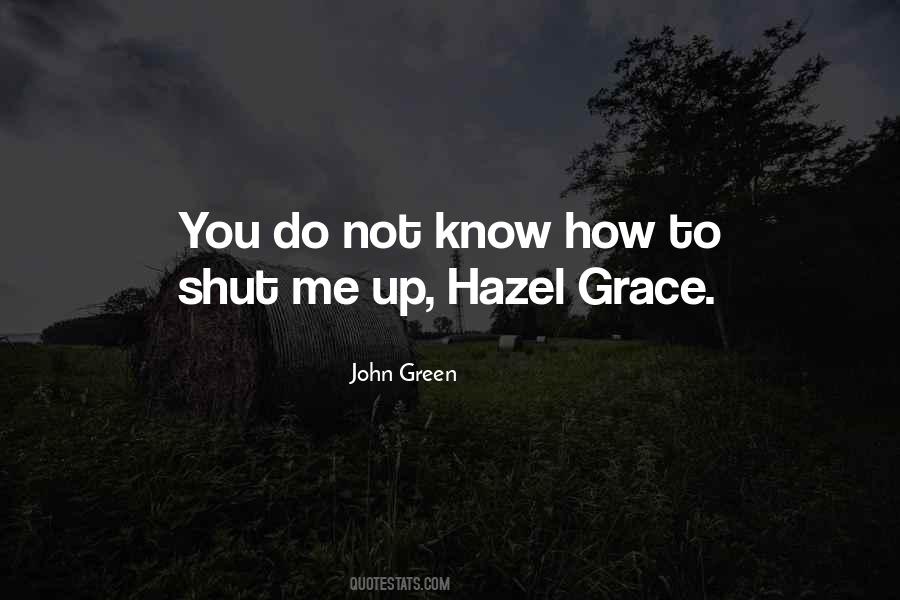 #90. Grand," he said. "I have been wanting to call you on a nearly minutely basis, but I have been waiting to call you until I could form a coherent thought in re An Imperial Affliction." (He really said "in re". That boy.) - Author: John Green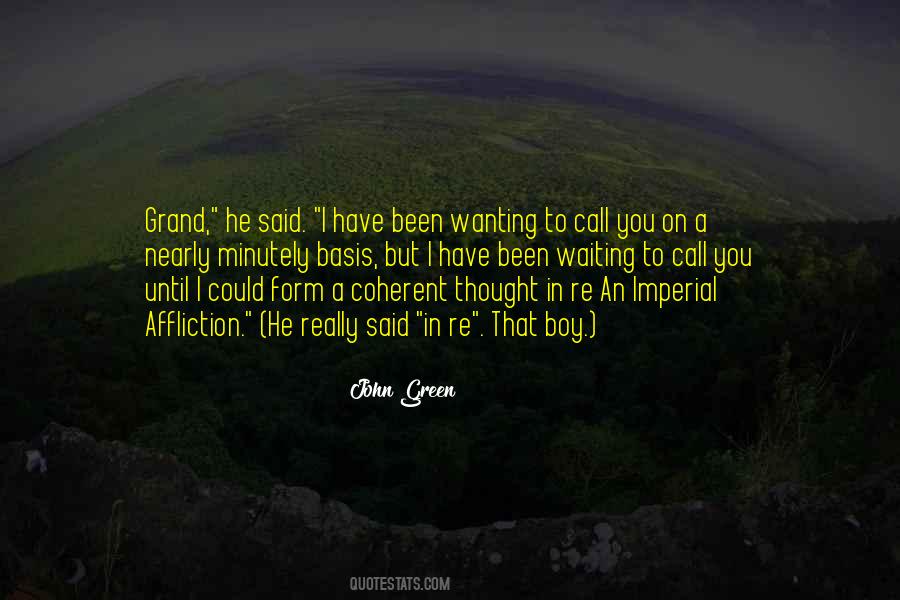 #91. Maybe all the strings inside him broke. - Author: John Green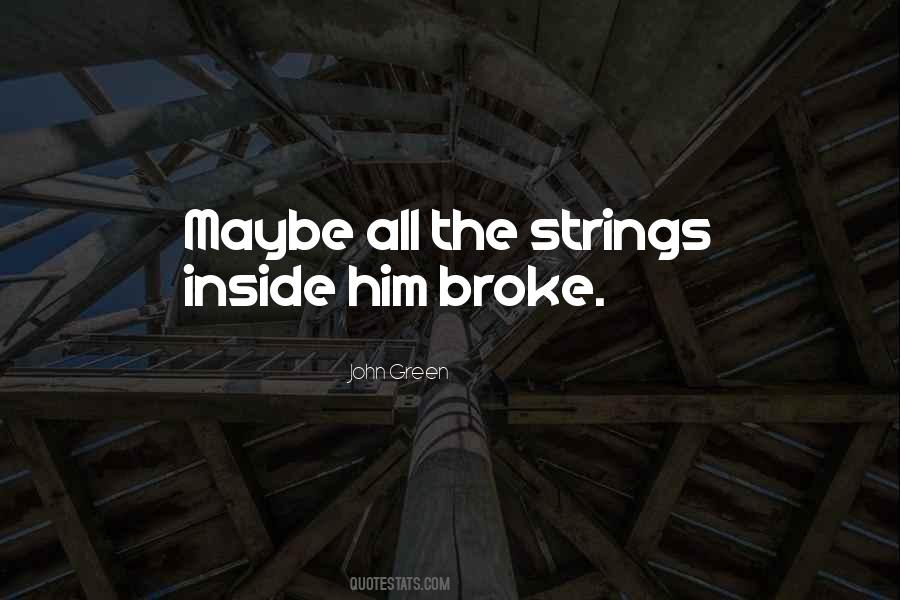 #92. And, since they are theater people, they are all talking. All of them. Simultaneously. They do not need to be heard; they only need to be speaking. - Author: John Green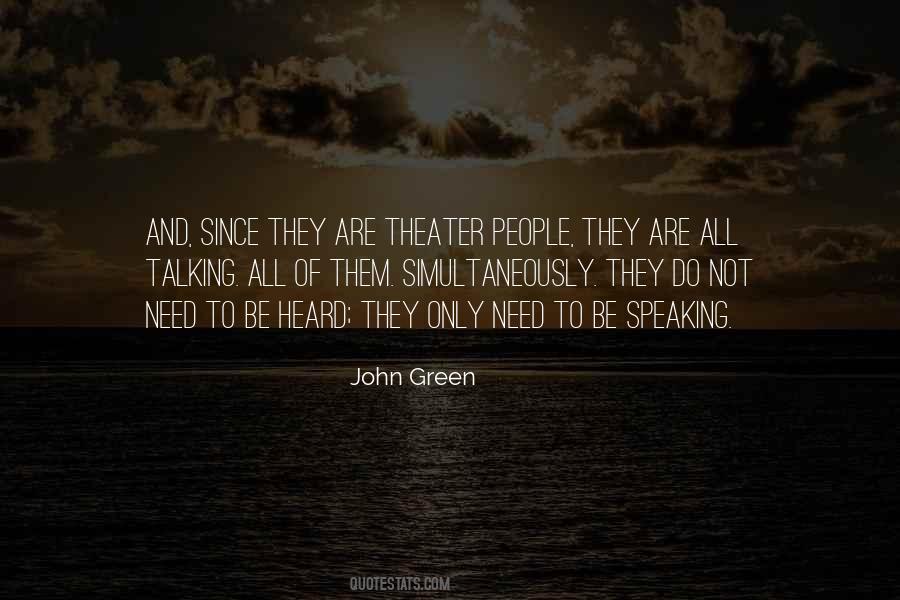 #93. What had driven the litigation-loving Bengali to turn his gentle green valley into a pocket edition of hell?'

John Younie, the judge who tried the Chittagong Armoury Raid Case. - Author: Manoshi Bhattacharya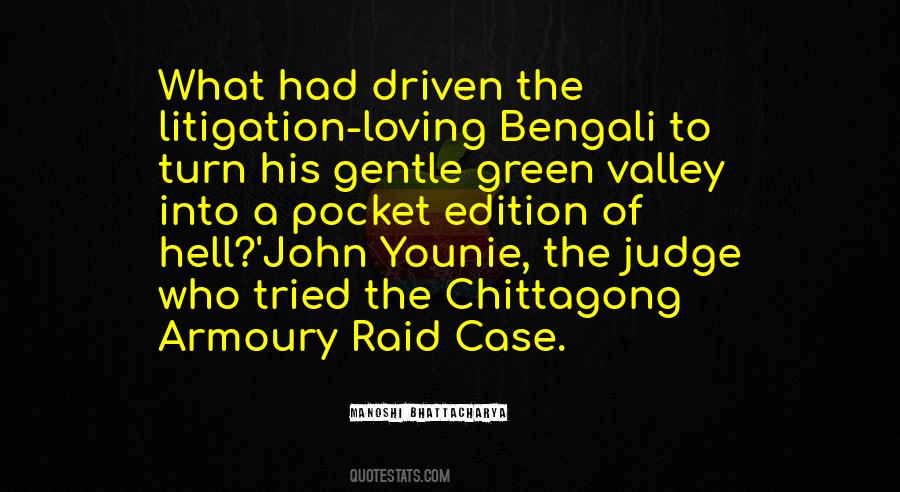 #94. Y'all smoke to enjoy it. I smoke to die. -Alaska Young - Author: John Green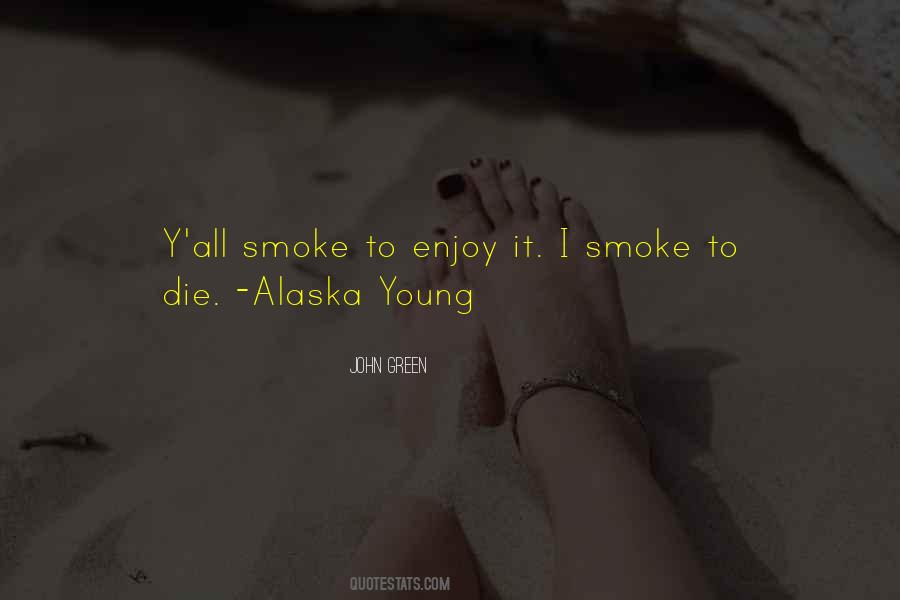 #95. He look'd in years, yet in his years were seen A youthful vigor, and autumnal green. - Author: John Dryden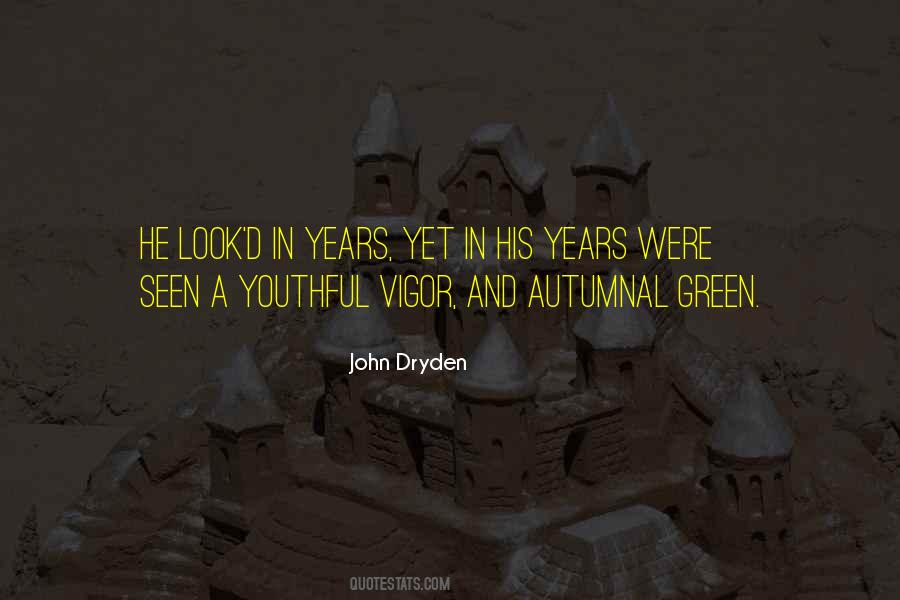 #96. A small olive-skinned creature who had hit puberty but never hit it very hard, Ben had been my best friend since fifth grade, when we both finally owned up to the fact that neither of us was likely to attract anyone else as a best friend. - Author: John Green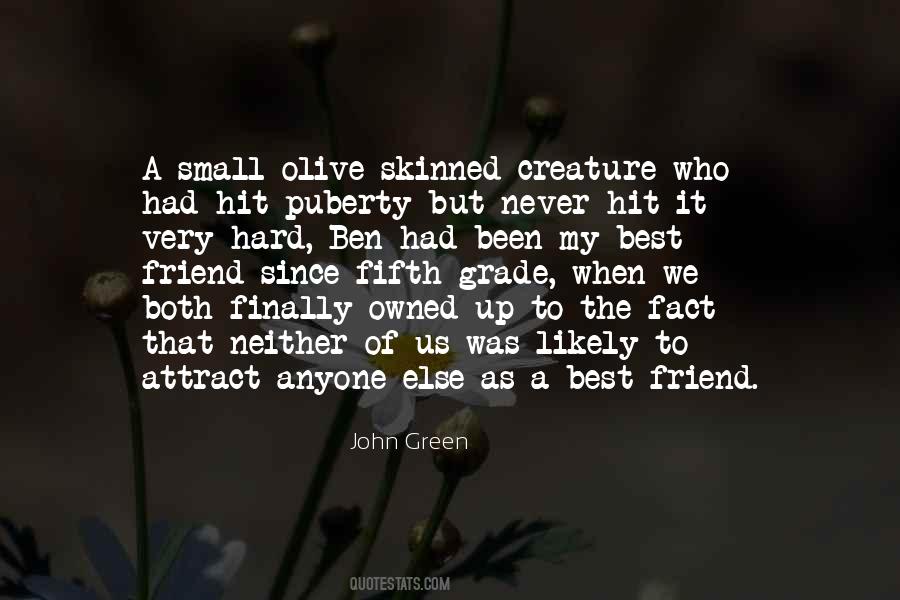 #97. I think all true stories are hopeful stories. I don't think there's any room for nihilism. - Author: John Green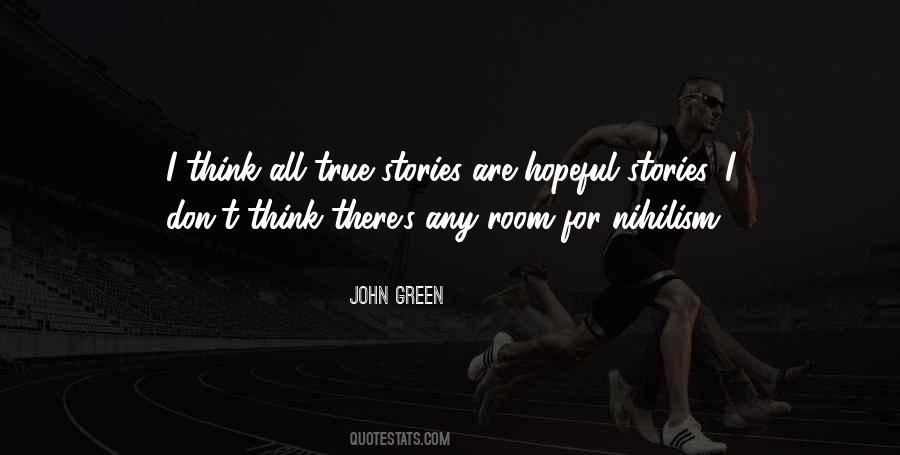 #98. I want to leave a mark.

But Van Houten: The marks humans leave are too often scars. - Author: John Green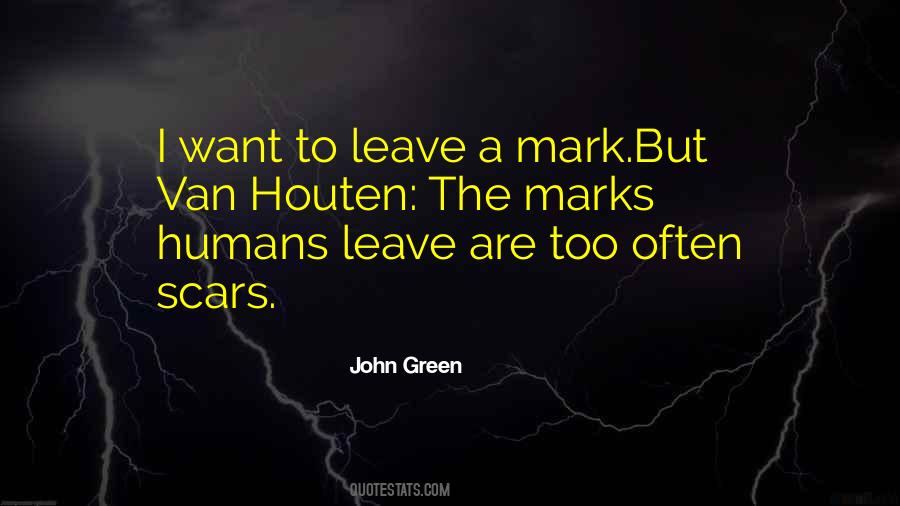 #99. Amsterdam is like the rings of a tree: It gets older as you get closer to the center. - Author: John Green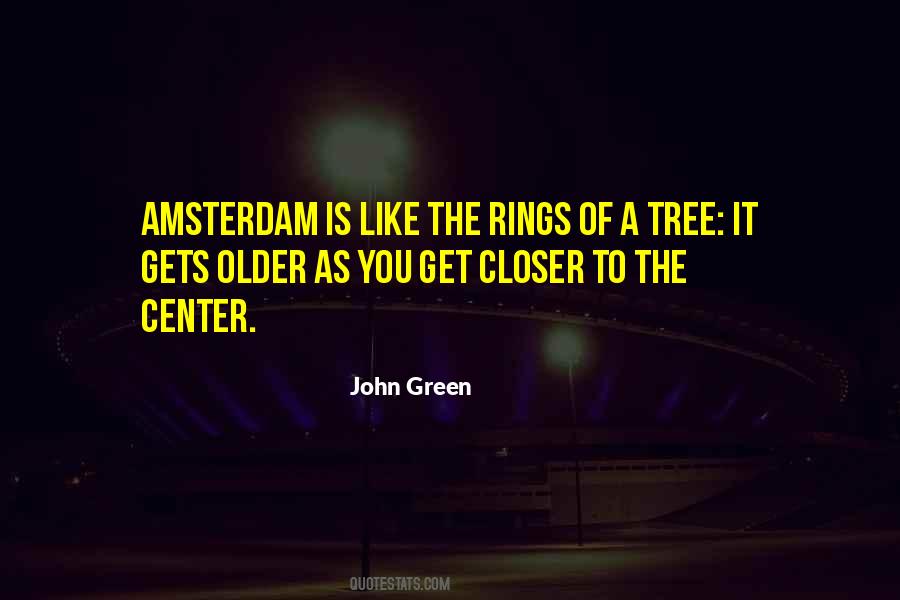 #100. This is the Homosexuality Is An Abomination Club, right? - Author: John Green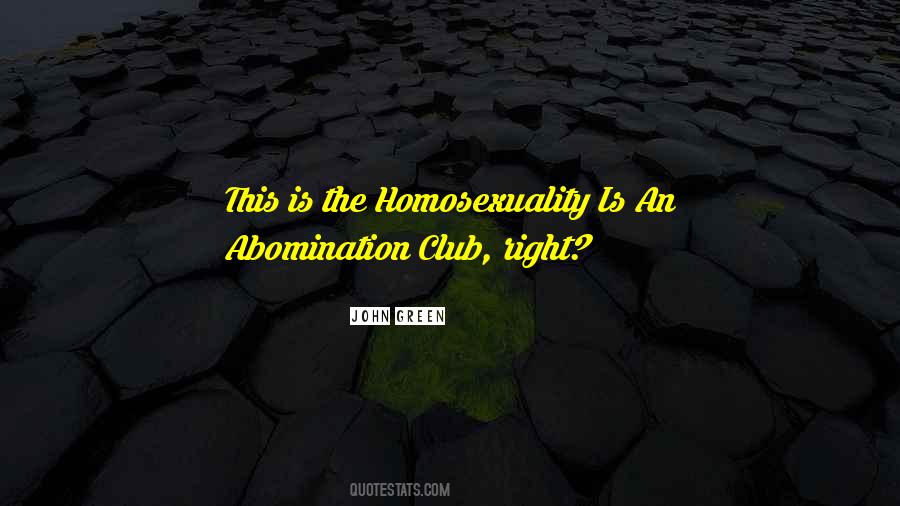 Famous Authors
Popular Topics