Jesus Crucified Famous Quotes & Sayings
List of top 61 famous quotes and sayings about jesus crucified to read and share with friends on your Facebook, Twitter, blogs.
Top 61 Quotes About Jesus Crucified
#1. Men can see the greatest miracles and miss the glory of God. What generation was ever favored with miracles as Jesus' generations was? Yet that generation crucified the Son of God! - Author: Tom Wells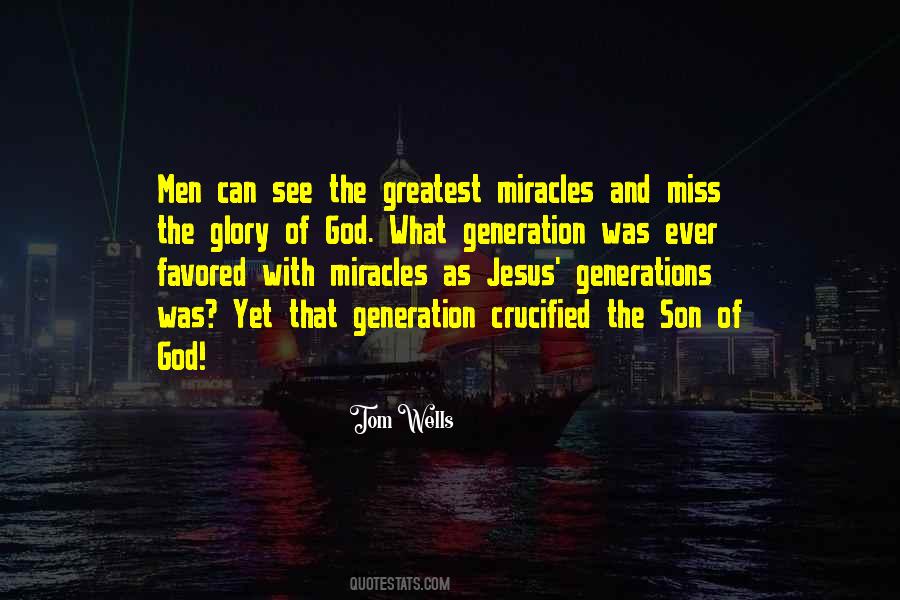 #2. He (Jesus) knew that the old eye-for-eye philosophy would leave everyone blind. He did not seek to overcome evil with evil. He overcame evil with good. Although crucified by hate, he responded with aggressive love. - Author: Martin Luther King Jr.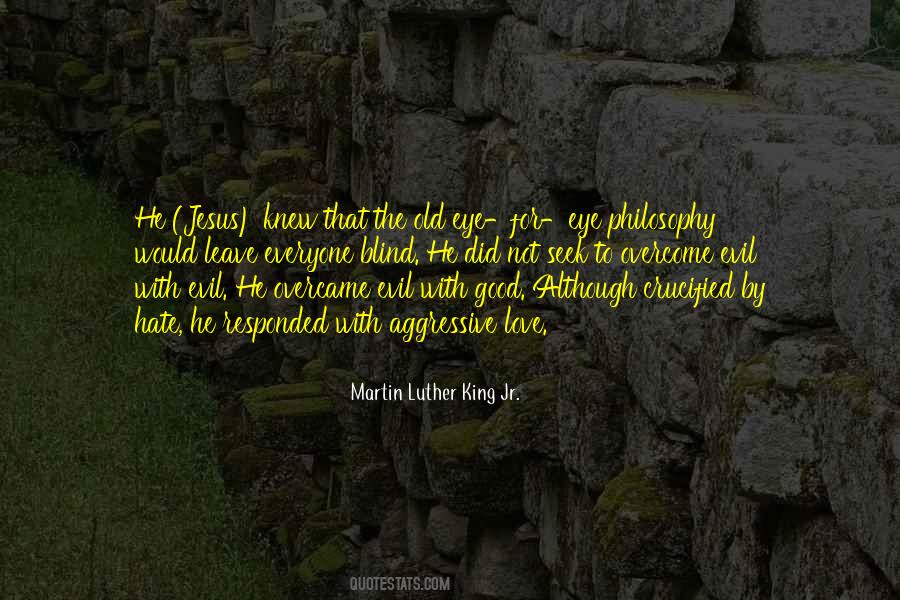 #3. We preach Christ crucified. The cross is the focal point in the life and ministry of Jesus Christ. It was no afterthought or emergency measure with God. Christ was "the Lamb slain from the foundation of the world" [Revelation 3:8 KJV]. - Author: Billy Graham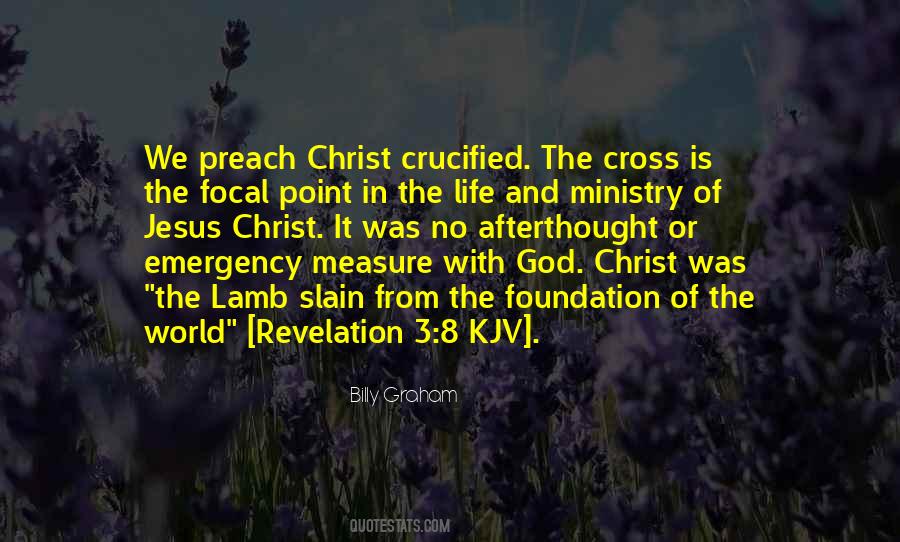 #4. There is a green hill far away, Without a city wall, Where the dear Lord was crucified, Who died to save us all. - Author: Cecil Frances Alexander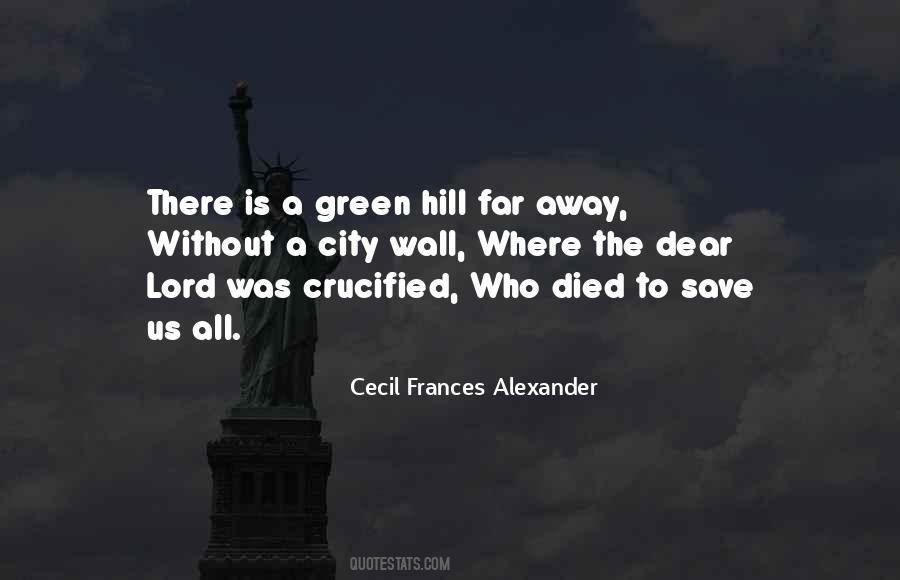 #5. Crosses, contempt, sorrows and afflictions are the real treasures of the lovers of Jesus Christ crucified - Author: Margaret Mary Alacoque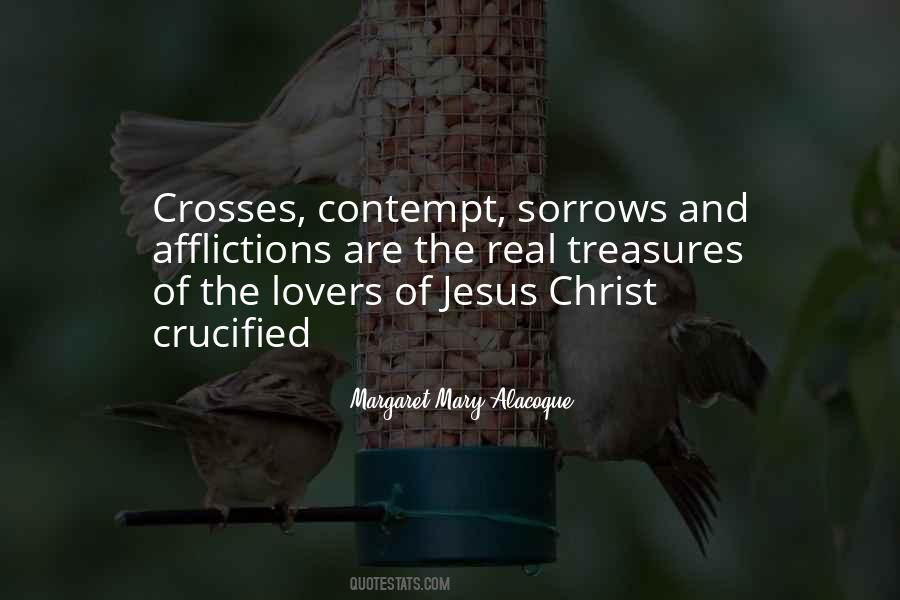 #6. Two thousand years ago Jesus is crucified, three days later he walks out of a cave and they celebrate with chocolate bunnies and marshmallow Peeps and beautifully decorated eggs. I guess these were things Jesus loved as a child. - Author: Billy Crystal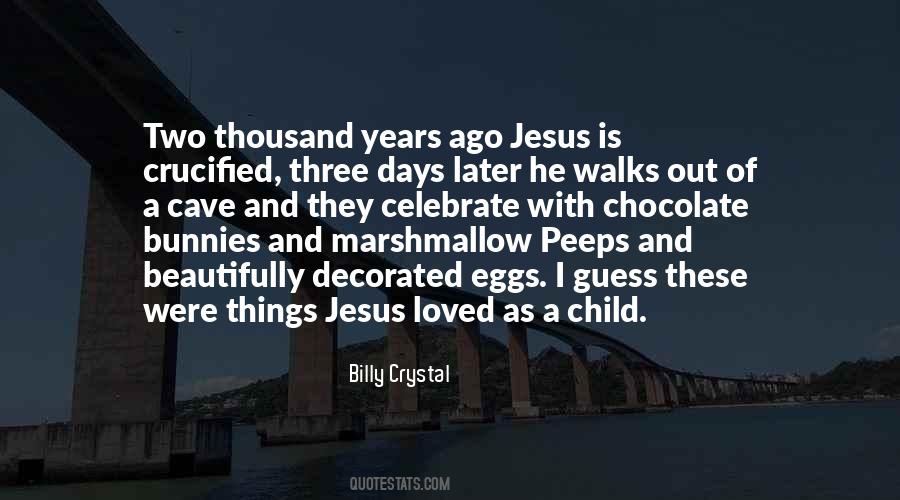 #7. And these are the same
type of people who kill
the innocent and
justify it by saying
"They've gone to be
with Jesus now"
But we won't talk
about how they
crucified Him, too - Author: Phil Volatile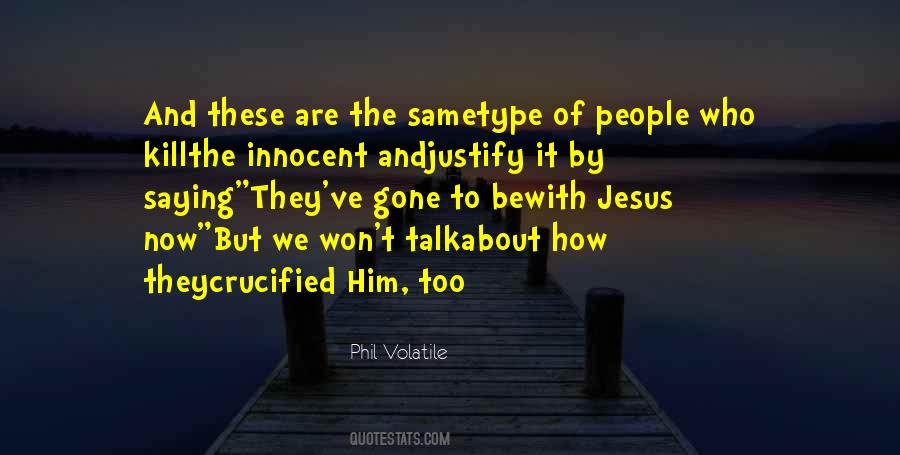 #8. Whenever I'm in doubt, I ask myself, 'What would Jesus do?' And then I realize, Jesus got crucified, so maybe his decision-making isn't all that great. - Author: Oscar Wilde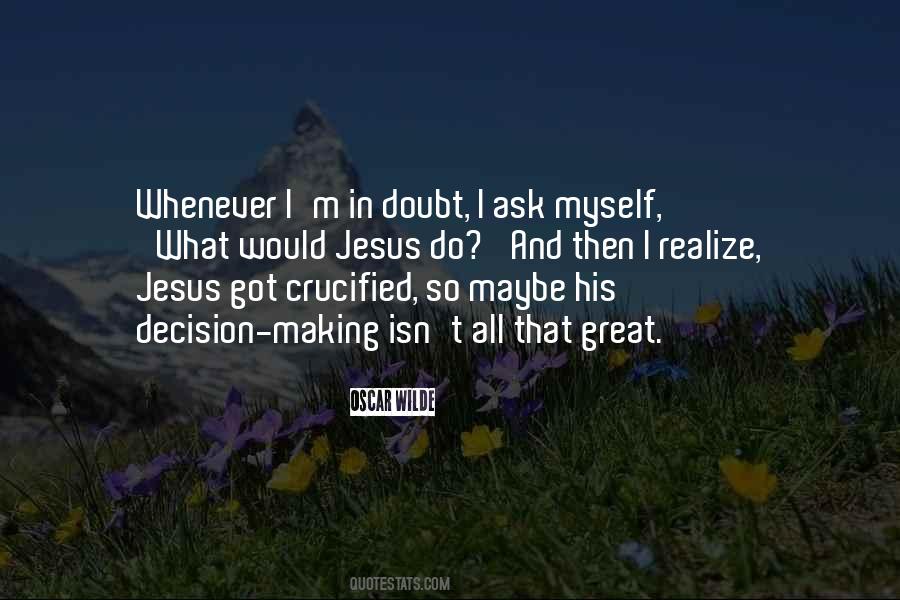 #9. Christians, for instance, are not, properly speaking, believers in religion; rather, they believe that Jesus of Nazareth, crucified under Pontius Pilate, rose from the dead and is now, by the power of the Holy Spirit, present to his church as its Lord. - Author: David Bentley Hart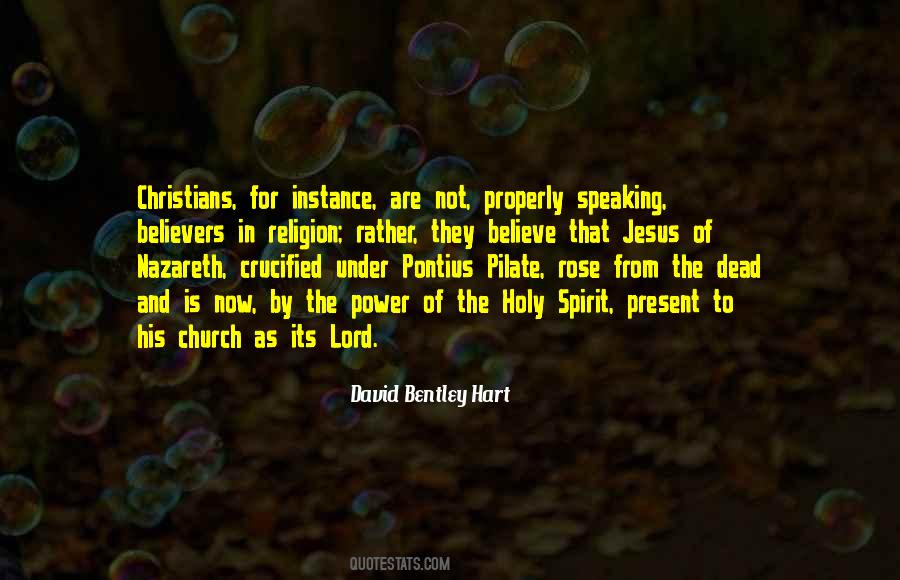 #10. During this same year of 1896 another desire began to grow in me. I began to feel an ever greater yearning to love Jesus Crucified very much, and at the same time a desire to suffer with him and to help him in his sufferings. - Author: Gemma Galgani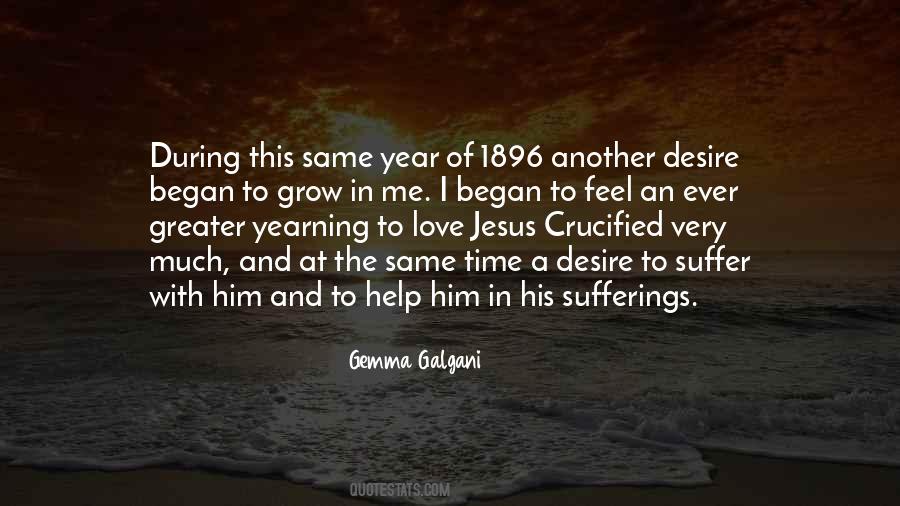 #11. I had a dog named Jesus once. I crucified him, but he didn't come back to life. Before he died, he told me what to do to the people in the brick house. Off went their heads. - Author: Robert McCammon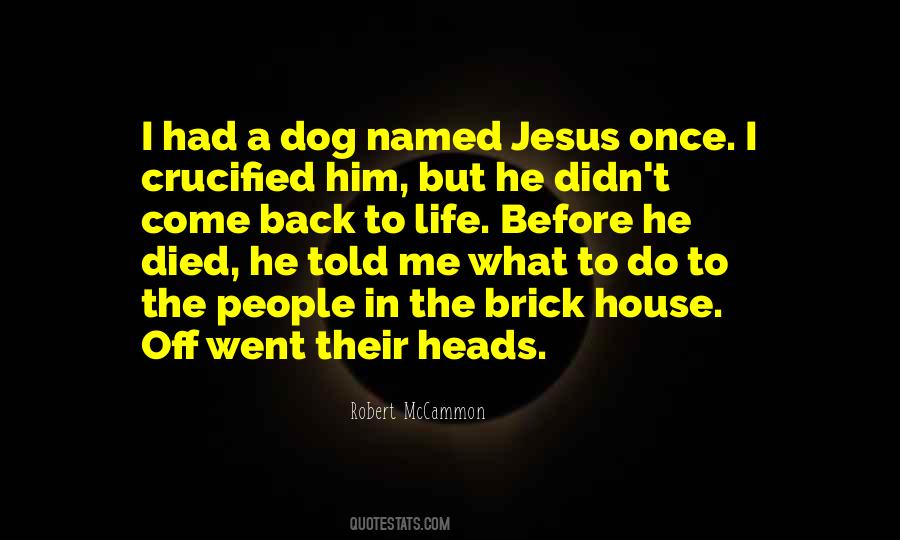 #12. If Jesus had preached the same message that ministers preach today, He would never have been crucified. - Author: Leonard Ravenhill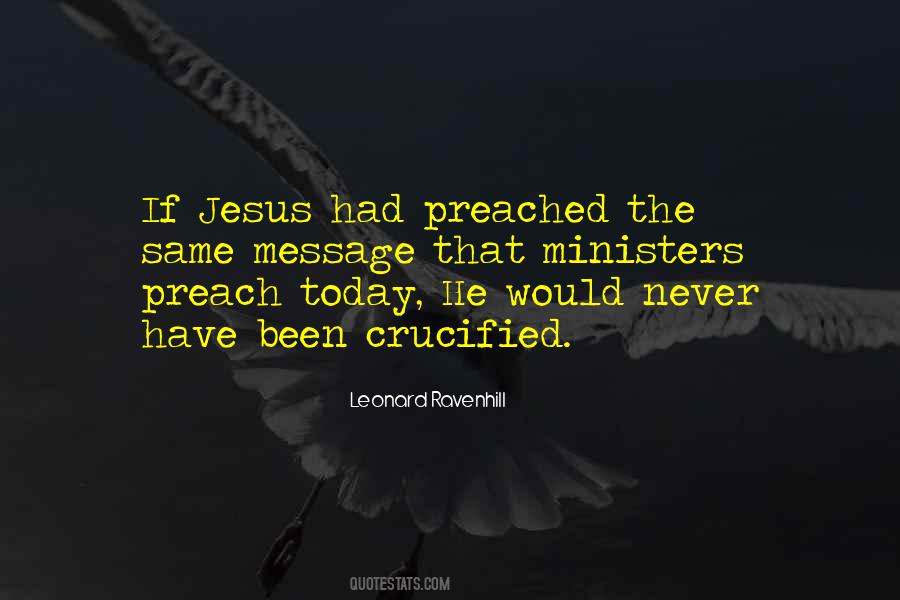 #13. Each confrontation between Jesus and another person or group reveals what we do to each other, personally and on a public level. Each is an indictment against Christians, followers of the man crucified, the suffering servant, the Lamb of God. - Author: Megan McKenna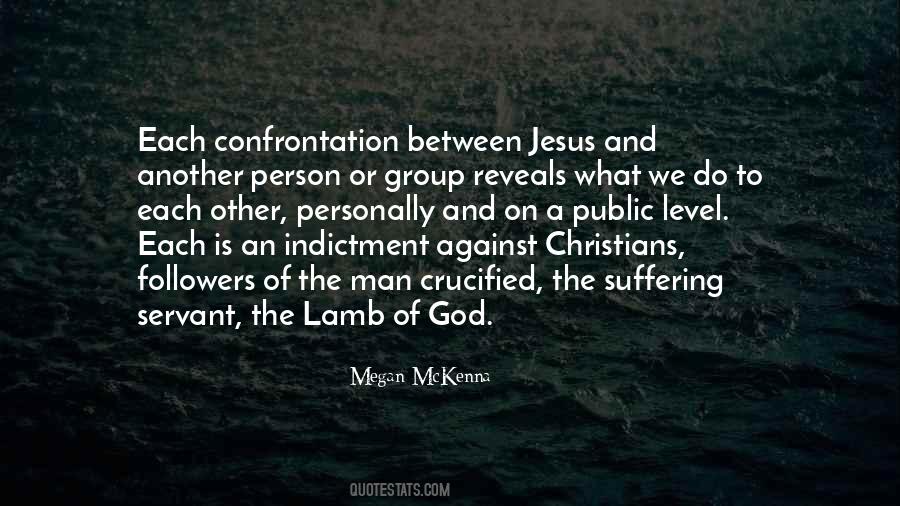 #14. By way of contrast he wanted to stress that the gospel's center is found in Jesus Christ himself, who has been crucified for sin and raised for justification, with the inbuilt implication that Christ himself thus defined and described should be proclaimed as able to save all who come to him. - Author: Sinclair B. Ferguson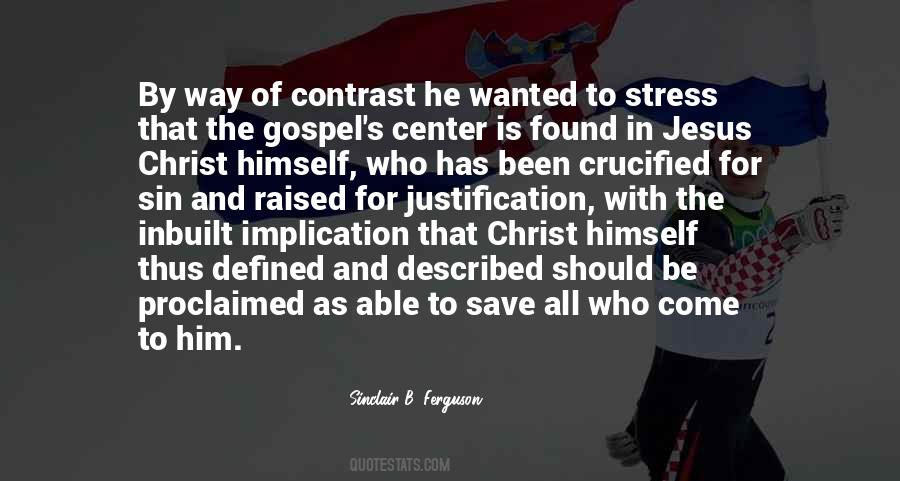 #15. Faith is an action. He (one criminal on the cross) puts himself one step lower than where he was, sharing Jesus' place of poverty, insecurity, and the focus of rage. Remember me. And he will be remembered, because of his association with the Crucified One. - Author: Megan McKenna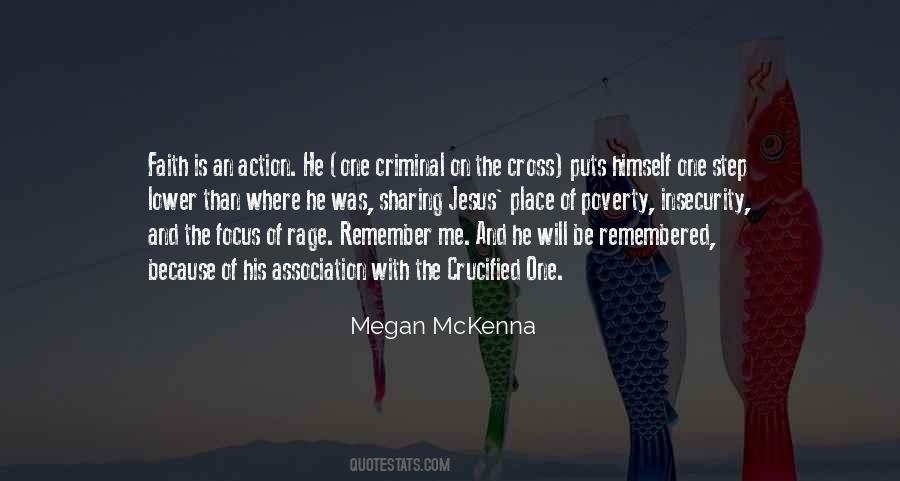 #16. Meditation on Jesus Christ crucified is a precious balm which sweetens all pains. - Author: Paul Of The Cross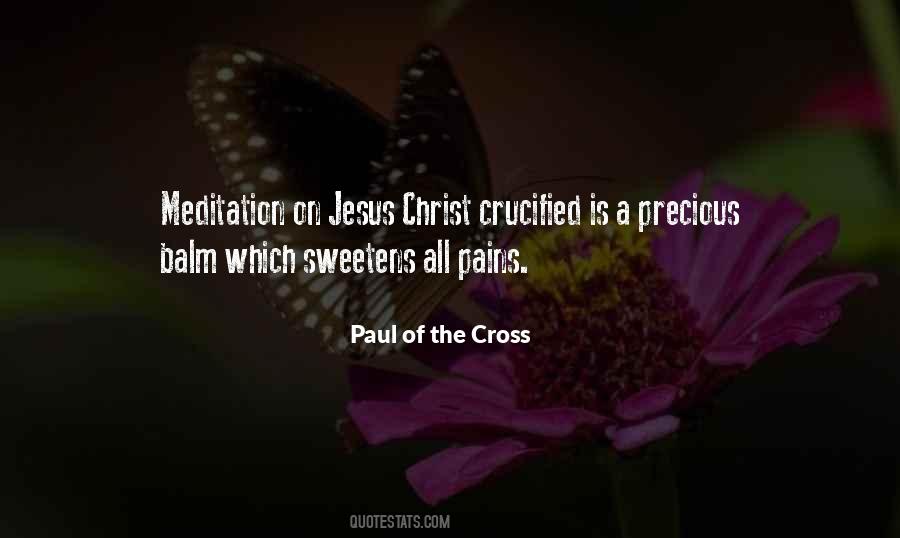 #17. Success and failure, ultimately, have little to do with living the gospel. Jesus just stood with the outcasts until they were welcomed or until he was crucified - whichever came first. - Author: Gregory J. Boyle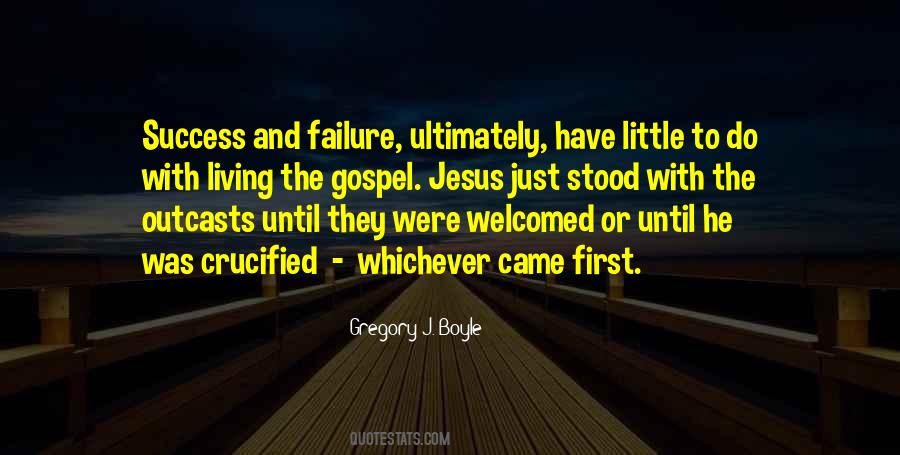 #18. No doctrine is more excellent, or necessary to be preached and studied, than Jesus Christ, and him crucified. - Author: John Flavel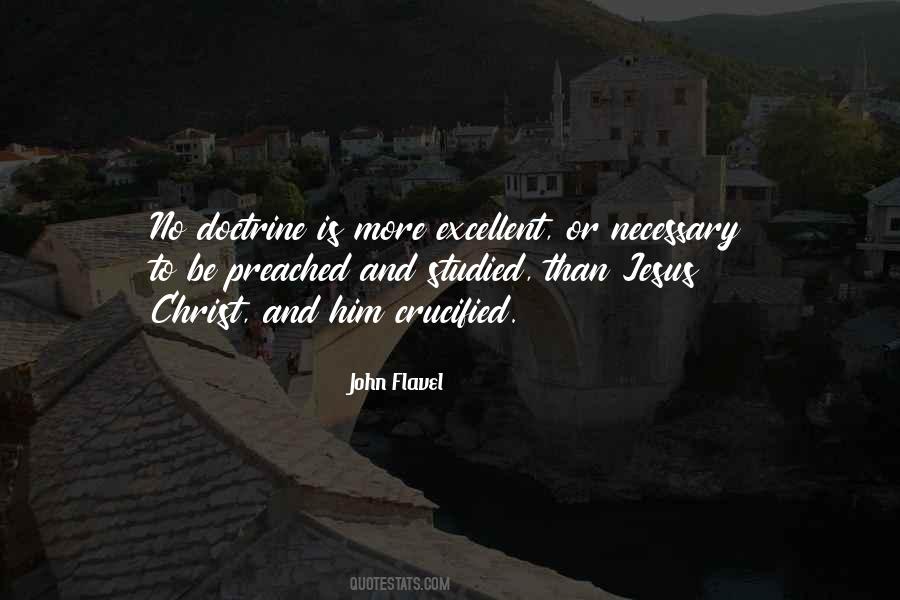 #19. The greatest testimony to this dark world today would be a band of crucified and risen men and women, dead to sin and alive unto God, bearing in their bodies "the marks of the Lord Jesus" [Galatians 6:17 NKJV]. - Author: Billy Graham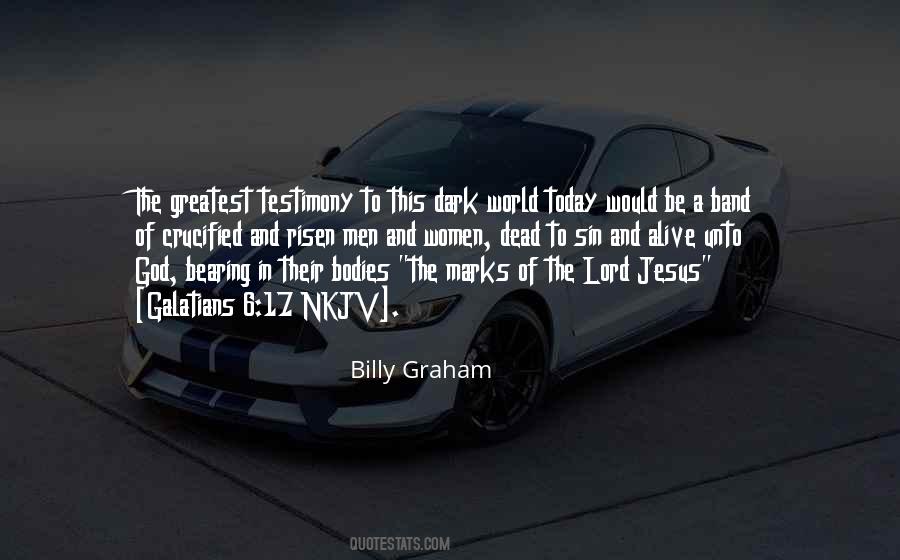 #20. Being noticed can be a burden. Jesus got himself crucified because he got himself noticed. So I disappear a lot. - Author: Bob Dylan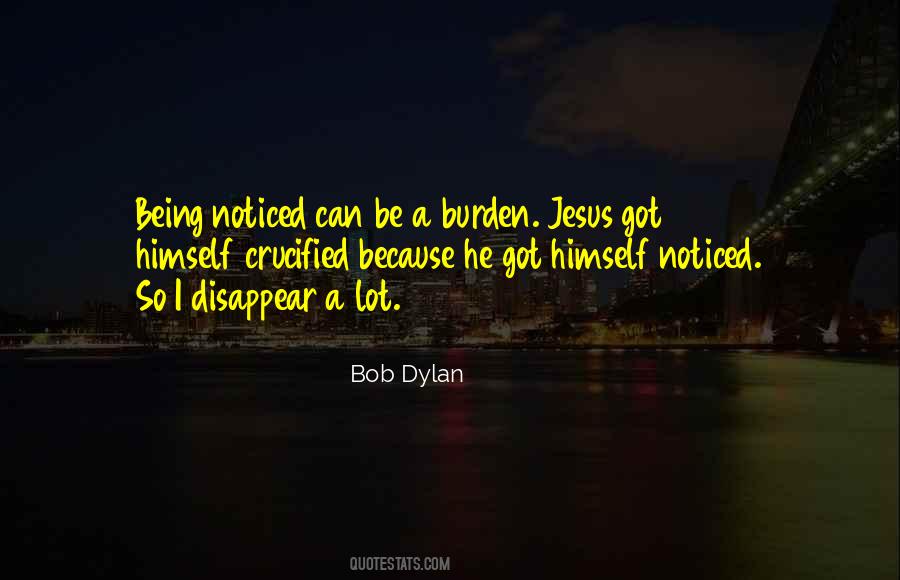 #21. Imagine Jesus crucified in your arms and on your chest, and say a hundred times as you kiss His chest, This is my hope, the living source of my happiness; this is the heart of my soul;
nothing will ever separate me from His love. - Author: Pio Of Pietrelcina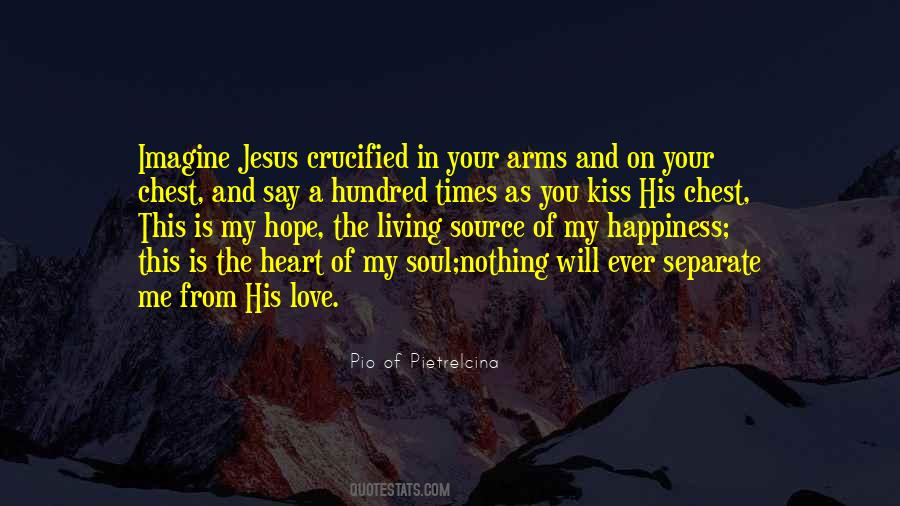 #22. Who do you think was smarter, Jesus or Buddha? I mean, just in terms of not letting themselves get crucified. - Author: Anthony Jeselnik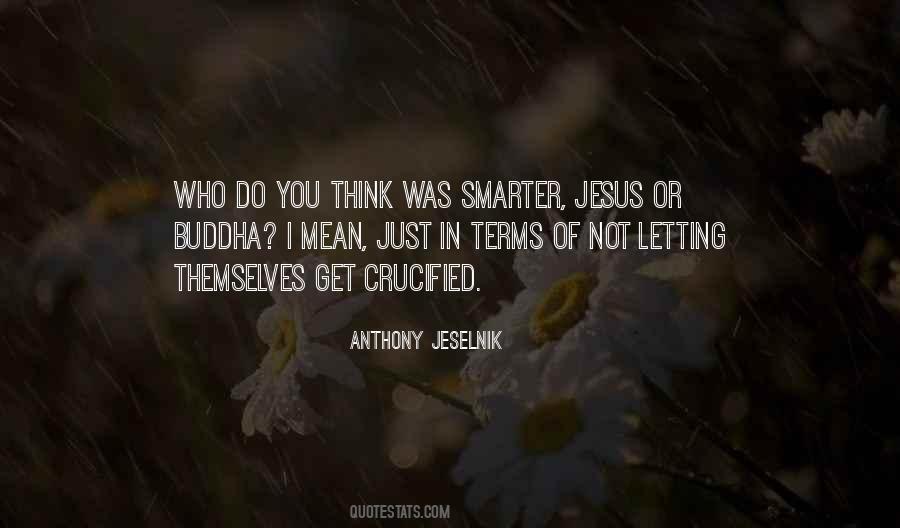 #23. So they crucified their Messiah? Well can I believe it. That He was a Son of the Living Spirit would be naught to them, if indeed He was so ... They would care little for any God if he came not with pomp and power. - Author: H. Rider Haggard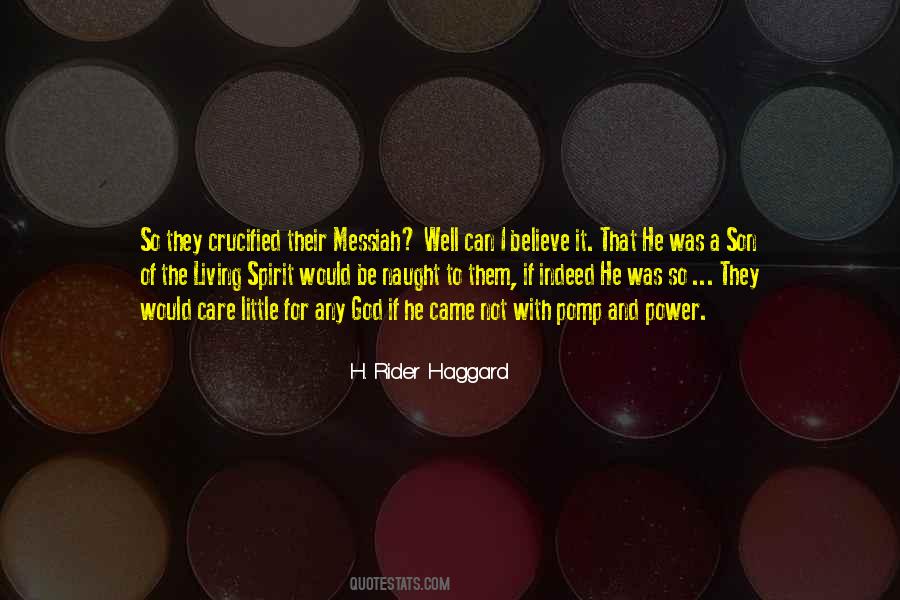 #24. Reflect carefully on this, for it is so important that I can hardly lay too much stress on it. Fix your eyes on the Crucified and nothing else will be of much importance to you. - Author: Teresa Of Avila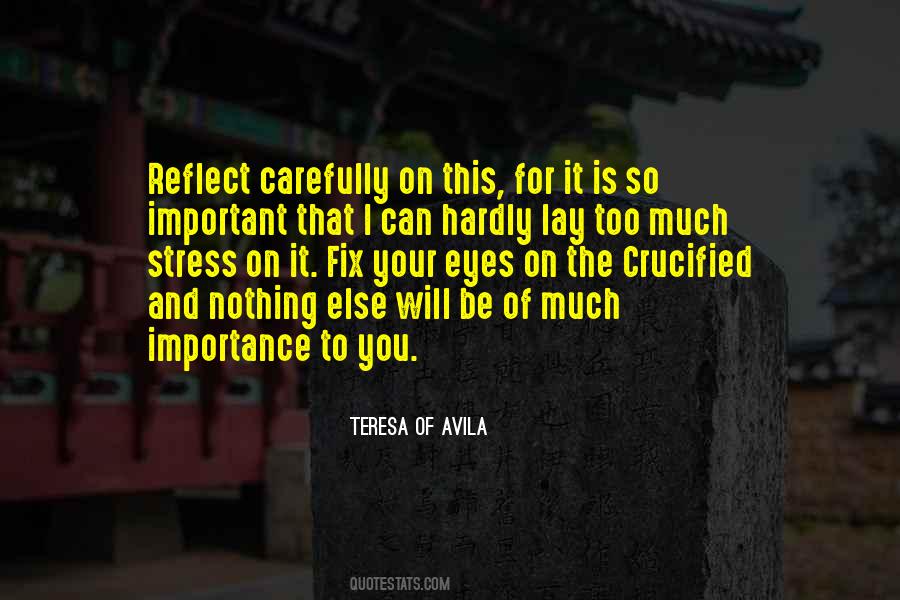 #25. 2:2 The testimony of God is my only persuasion concerning you: Jesus Christ died your death on the cross! I can see you in no other light! (For I determined to know nothing in you except Jesus Christ and him crucified.) - Author: Francois Du Toit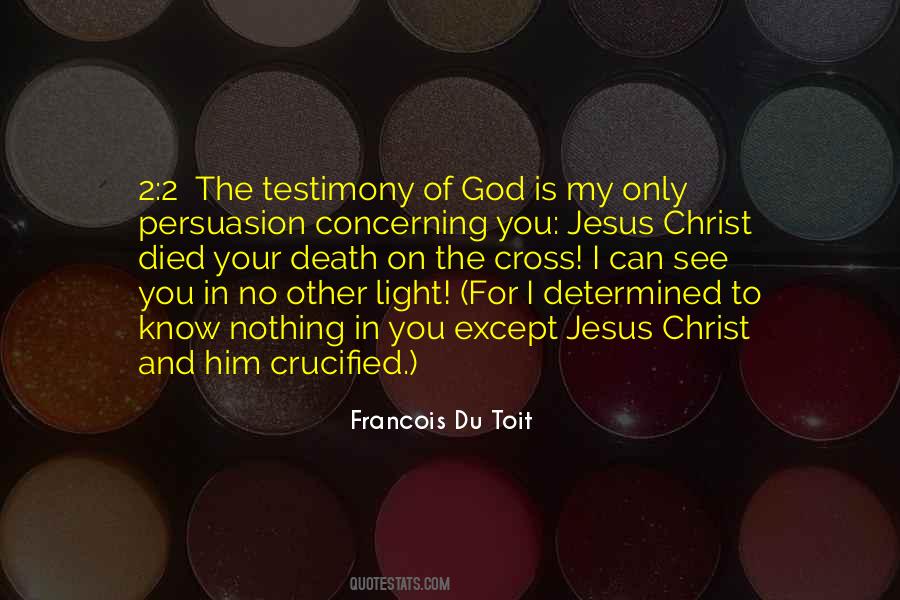 #26. True freedom is being able to give up all your rights for another out of love. Just ask Jesus. He willingly came to earth. Willingly lived life for thirty-three years. Willingly let himself be beaten, scourged, and crucified. All for others. All for us. - Author: Jefferson Bethke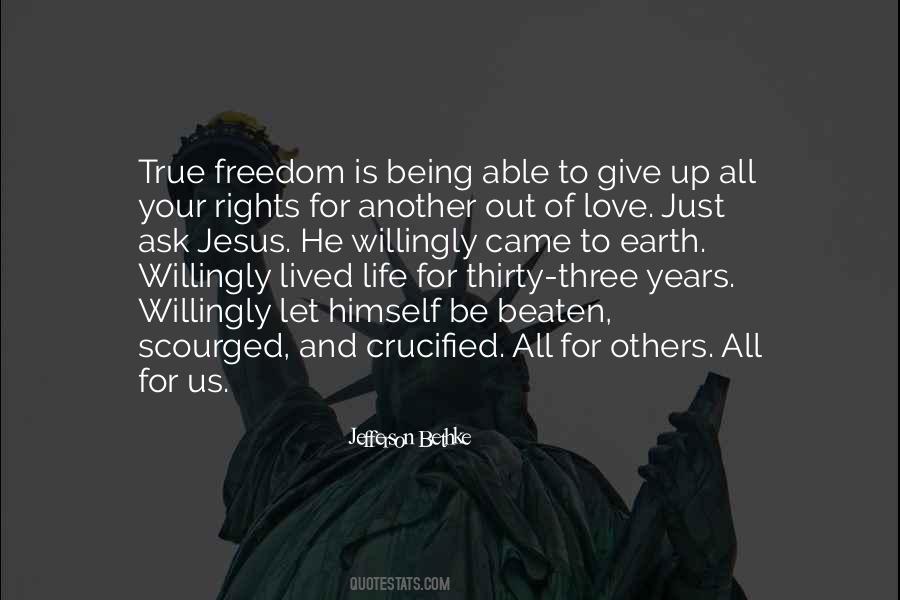 #27. Jesus was crucified for humanity, I am being crucified for love. - Author: Santosh Kalwar
#28. Even the disciples of Jesus all fled from their master's cross. Christians who do not have the feeling that they must flee the crucified Christ have probably not yet understood him in a sufficiently radical way. - Author: Jurgen Moltmann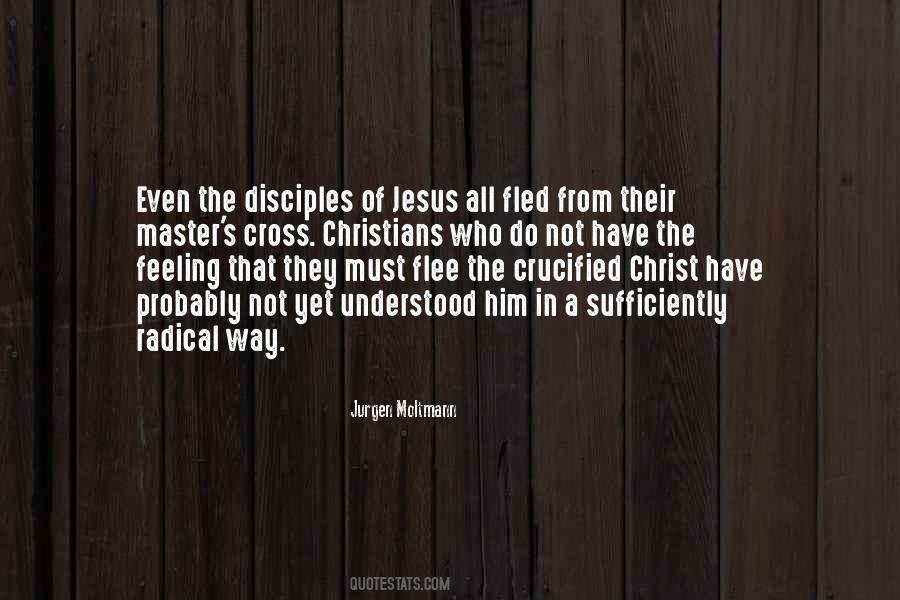 #29. A minister may be diligent in his work, regular in his family, resident with his people and attentive to them, and in many respects exemplary in his outward conduct, and yet not preach Jesus Christ, and him crucified.32 - Author: Tony Reinke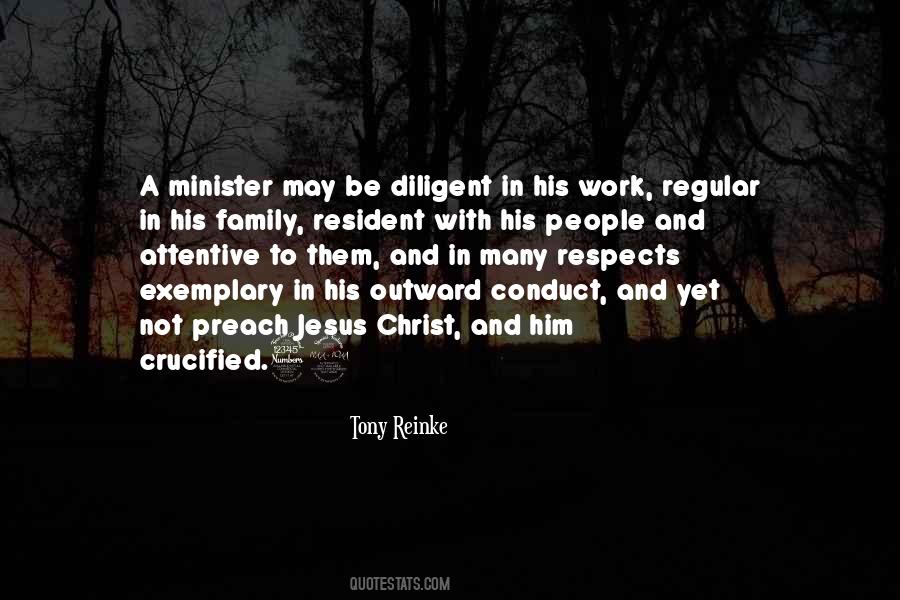 #30. The Gospel is a very dangerous idea. We have to see how much of that dangerous idea we can perform in our own lives. There is nothing innocuous or safe about the Gospel. Jesus did not get crucified because he was a nice man. - Author: Walter Brueggemann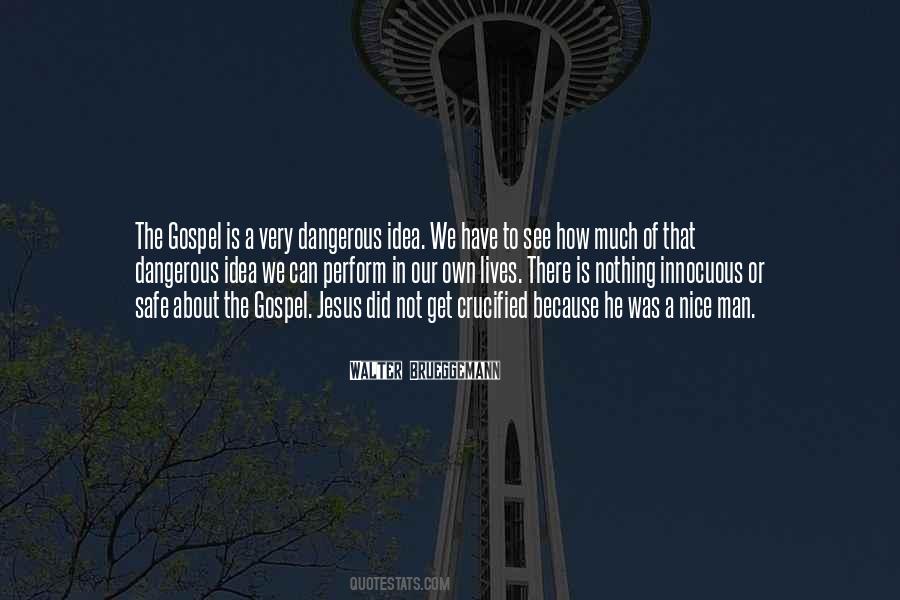 #31. Jesus Christ was innocent too,' said Svejk, 'and all the same they crucified him. No one anywhere has ever worried about a man being innocent. Maul halten und weiter dienen ['Grin and bear it and get on with the job'] - as they used to tell us in the army. That's the best and finest thing of all. - Author: Jaroslav Hasek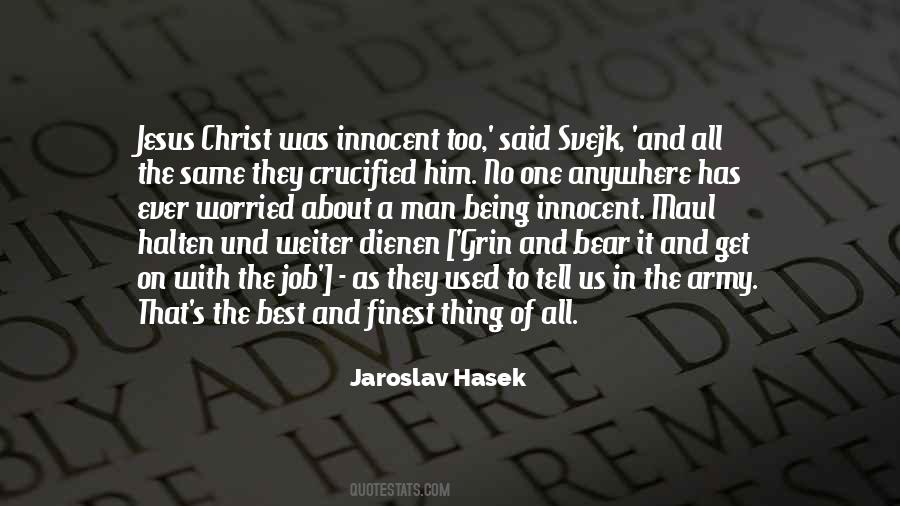 #32. At the cross, God was punishing Jesus for the sins of the world. God's justice required a penalty from sinners, and in his unspeakable love, he paid the penalty himself in the person of his crucified Son. - Author: Lewis B. Smedes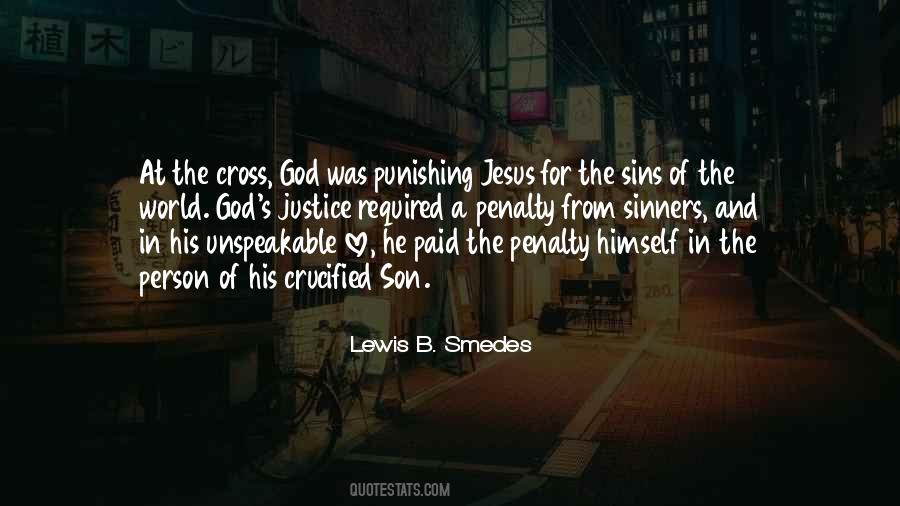 #33. When the crucified Jesus is called "the image of the invisible God," the meaning is that THIS is God, and God is like THIS. - Author: Jurgen Moltmann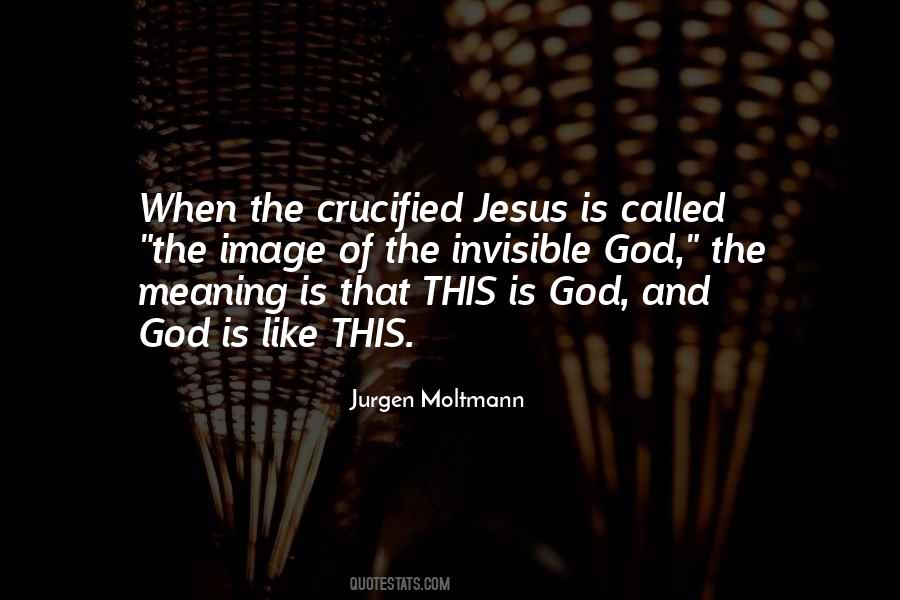 #34. I suppose we could ask the same question of Jesus. God sent Him to be the Messiah of Israel and King of Israel; why did He fail the first time around and get crucified? - Author: Pat Robertson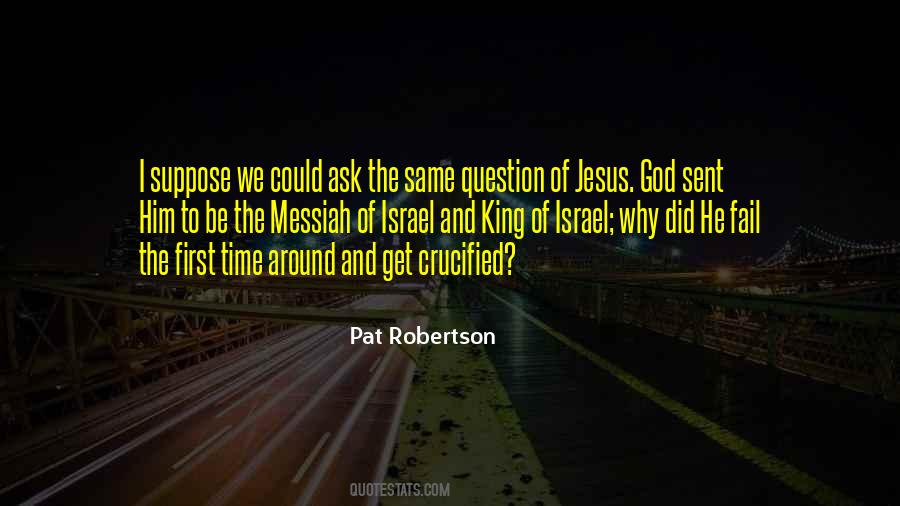 #35. Jesus was crucified by Rome because his messianic aspirations threatened the occupation of Palestine, and his zealotry endangered the Temple authorities. - Author: Reza Aslan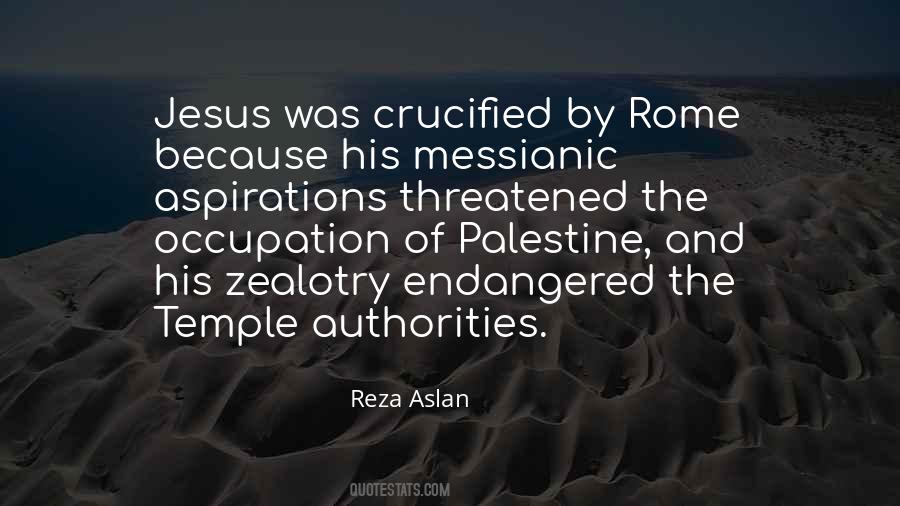 #36. The crucified Jesus is the only accurate picture of God the world has ever seen. - Author: John Austin Baker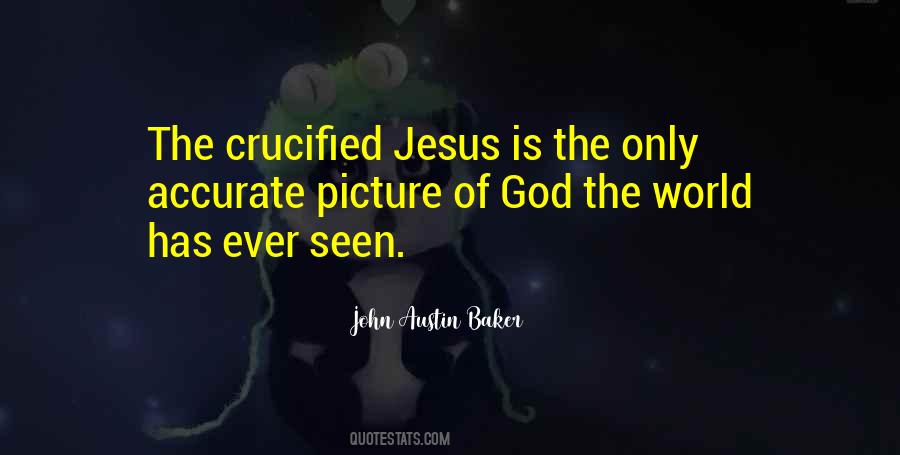 #37. My prayer is that the good news of Jesus, the crucified and risen Messiah, would flood Jewish communities around the world, that the veil would be lifted, and that we would see a massive turning of Israel to the Lord Jesus. - Author: John Piper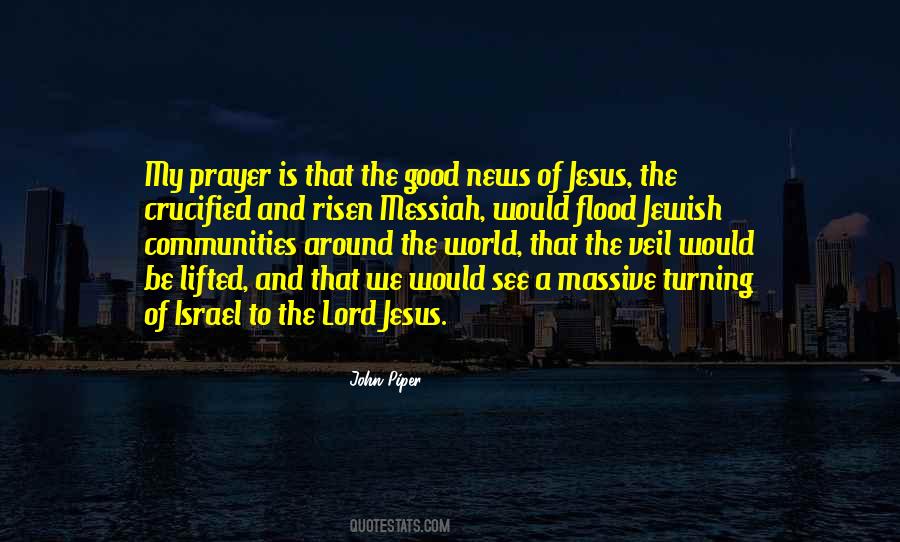 #38. If I had 300 men who feared nothing but God, hated nothing but sin, and were determined to know nothing among men but Jesus Christ and Him crucified, I would set the world on fire. - Author: John Wesley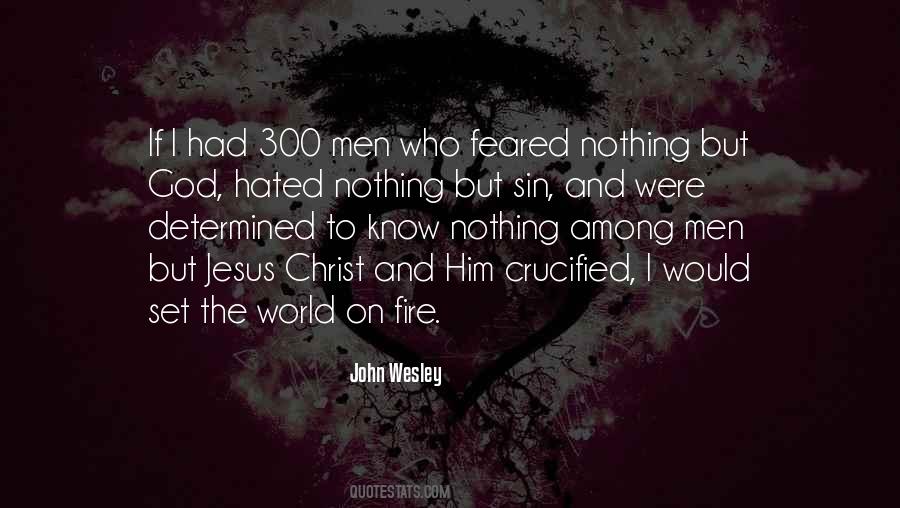 #39. That for which Paul lived and died so gloriously; that for which Jesus gave himself to be crucified; the end that animated the thousand martyrs and heroes who have followed his steps, was to redeem us from a formal religion, and teach us to seek our well-being in the formation of the soul. - Author: Ralph Waldo Emerson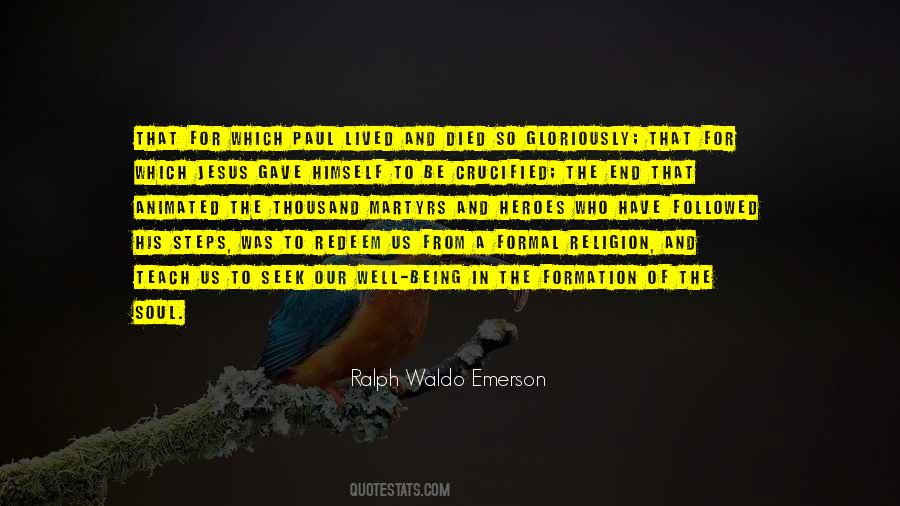 #40. The people who crucified Jesus were not able to see his godliness at all; they could only see the mischief in him. - Author: Rajneesh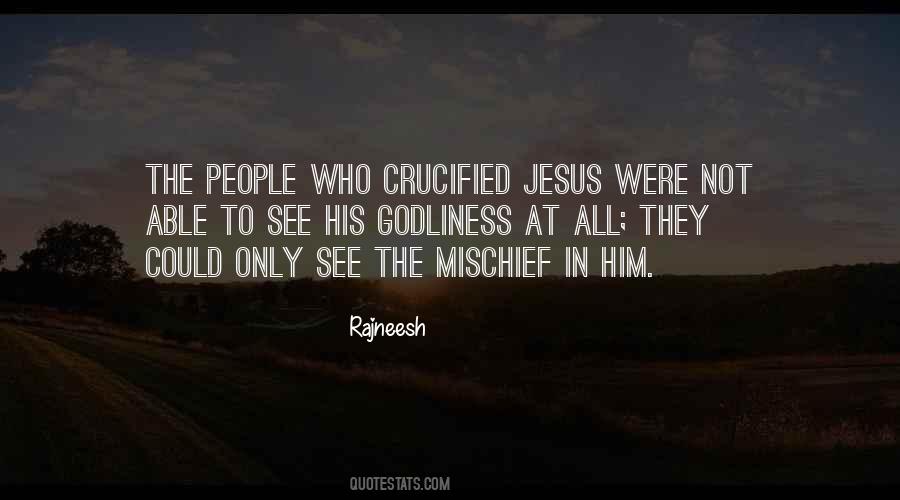 #41. Jesus called for nonviolent resistance to Rome and just distribution of land and food. He was crucified because he threatened Roman stability - not as a sacrifice to God for humanity's sins - Author: John Dominic Crossan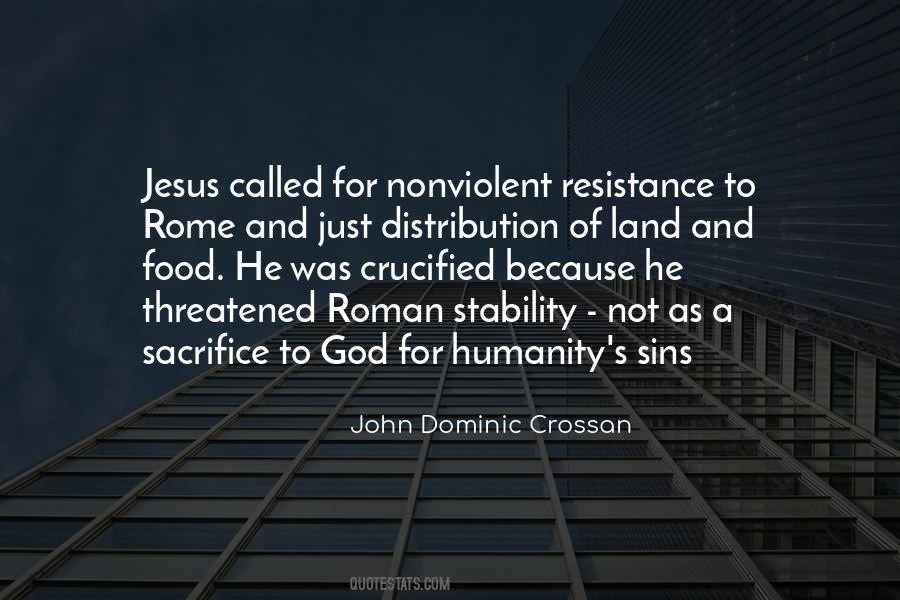 #42. Jesus was crucified for doing nothing
And God is worshiped for even less. - Author: Porcupine Tree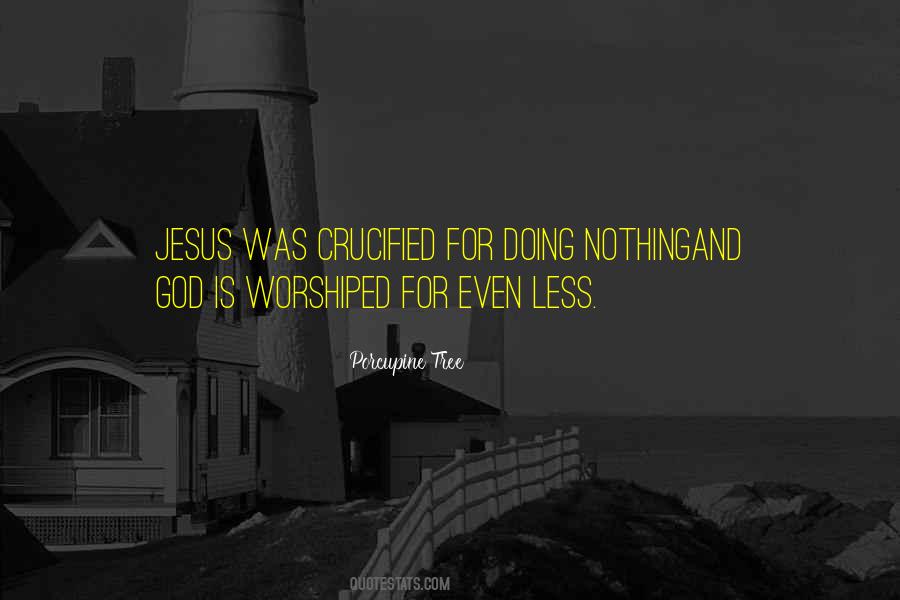 #43. The preaching of Jesus Christ and him crucified on account of sinners is Gods desired way of being God. - Author: Gerhard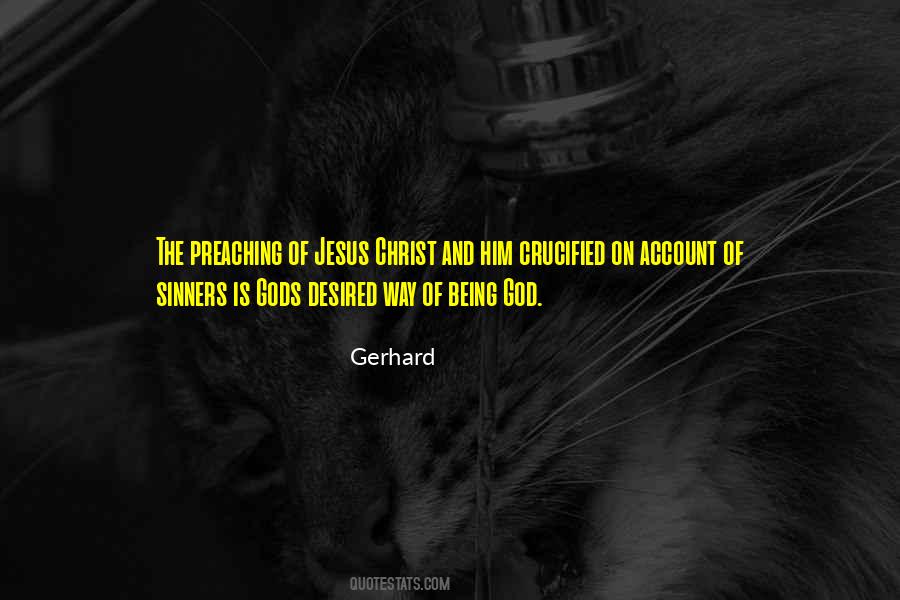 #44. O Jesus, keep me under the standard of Your cross. Let me not just look at You crucified, but have You living in my heart. Amen. - BERNADETTE OF LOURDES (1844 - Author: David P. Gushee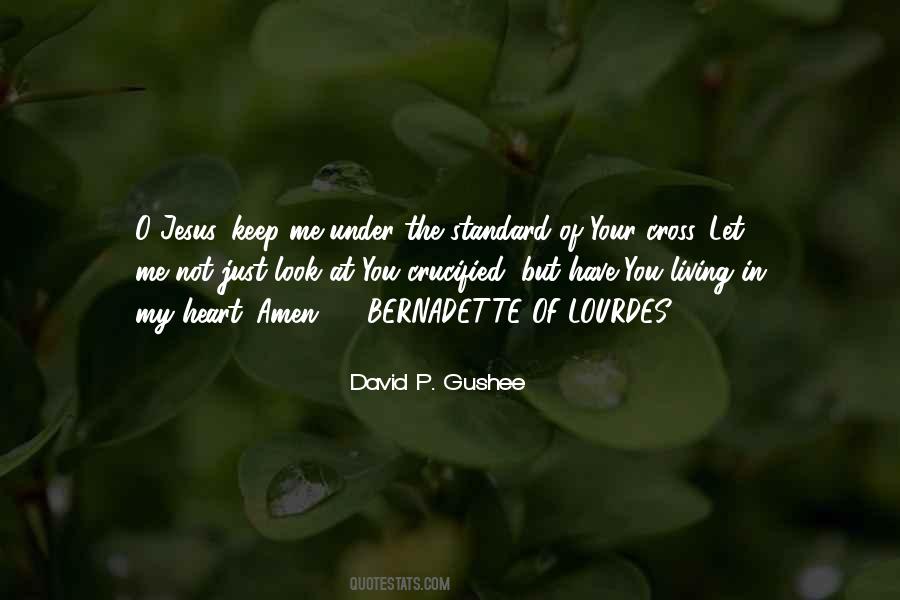 #45. Preach [and live] as if Jesus was crucified yesterday, rose from the dead today, and is returning tomorrow. - Author: Martin Luther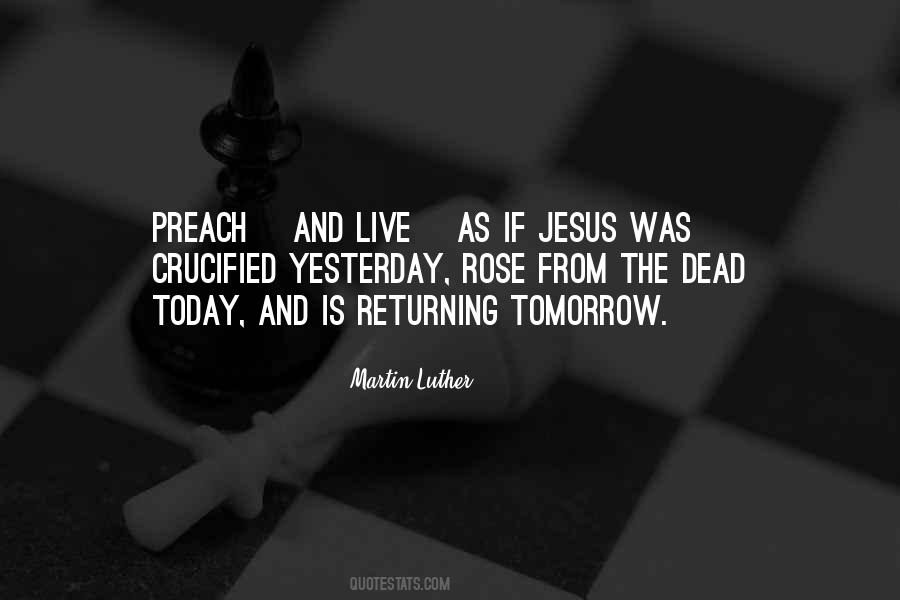 #46. The God of this world has chosen to provide light to all mankind through His Son, who was crucified and died so that we could be cleansed and made free - Author: Todd Coburn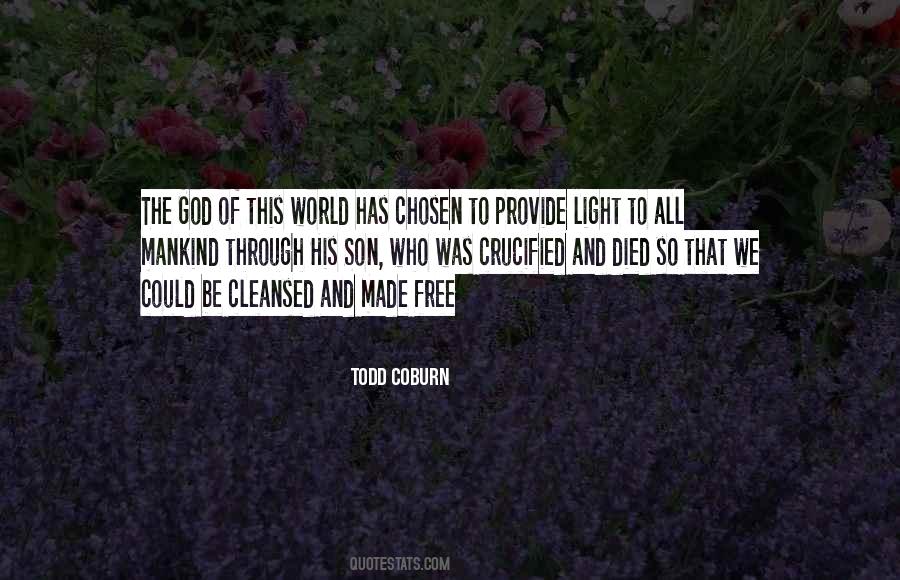 #47. There will be glimpses of hope, shards of refracted light at the Cross when Jesus is crucified, but on the way there is very little. Sobering, yet truthful. We are reminded that others who have sought hope and freedom have had to endure without much to go on, too. - Author: Megan McKenna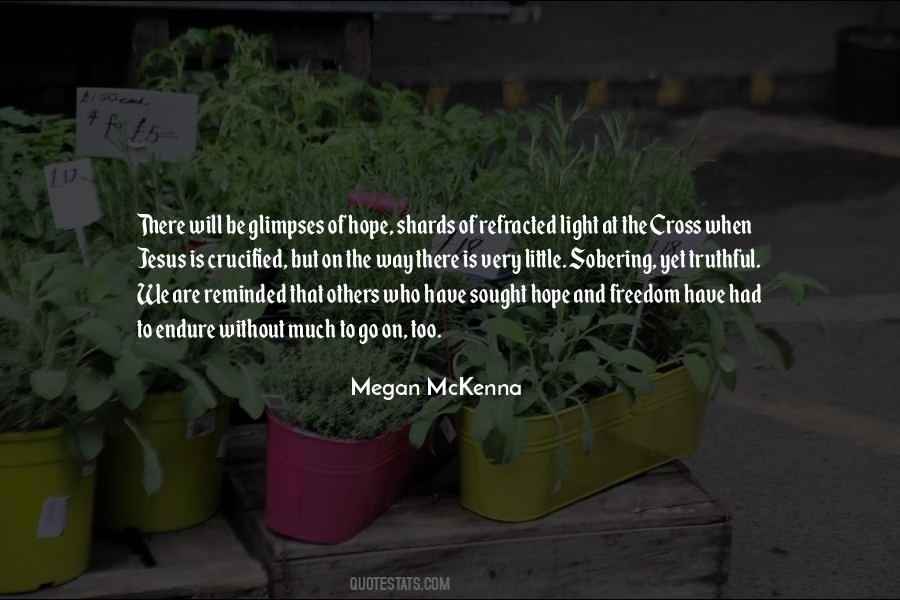 #48. The most excellent study of expanding the soul, is the science of Christ, and Him crucified, and the knowledge of the Godhead in the glorious Trinity. - Author: J.I. Packer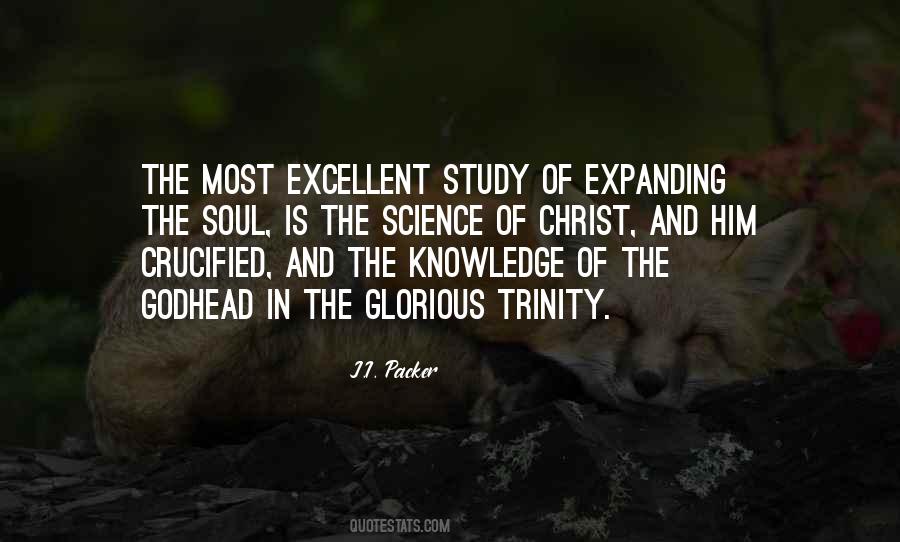 #49. However much we suffer for the love of Jesus Crucified, it is but little. - Author: Benedict Joseph Labre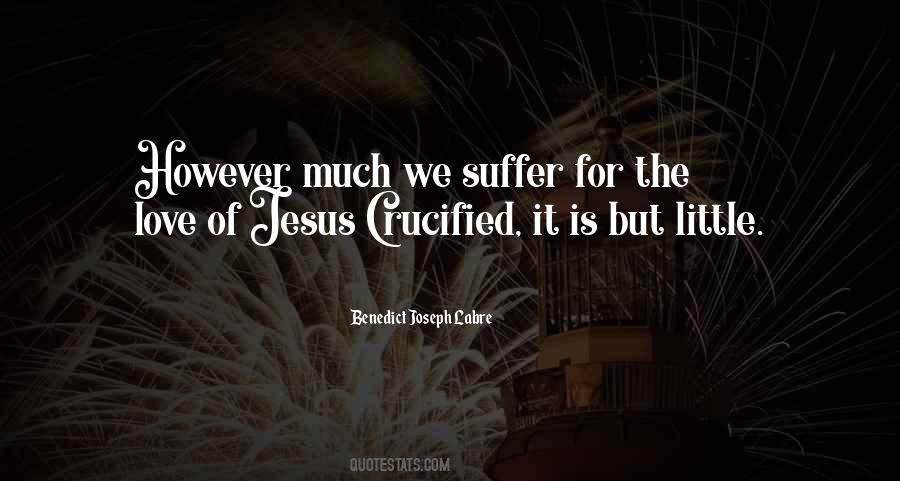 #50. Pilate was required to release one of the prisoners, so he gave the mob the choice of Jesus or Barabbas, a notorious murderer and insurrectionist-in otherwords, someone who incites mobs.
Again, the mob "spoke with one voice" demanding "with loud shouts" that Jesus be crucified. - Author: Ann Coulter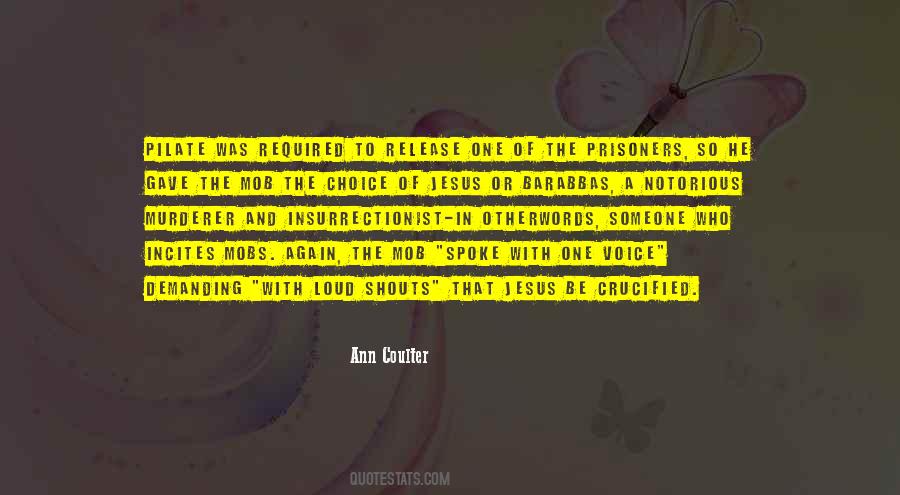 #51. Galatians 5:24 says that those who belong to Christ Jesus have crucified the flesh (also called the sinful nature) with its passions and desires. It doesn't say "are in the process of crucifying the flesh" or "will someday master crucifying the flesh," but says the flesh has already been crucified. - Author: Brenna Kate Simonds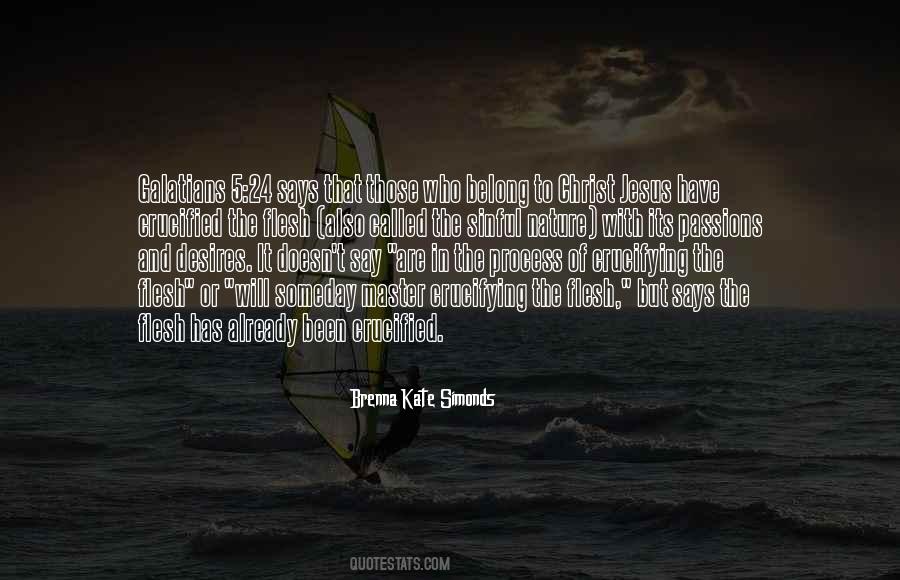 #52. Spartacus, like Jesus, was also crucified by the Romans. And for equally good reasons. - Author: Edward Abbey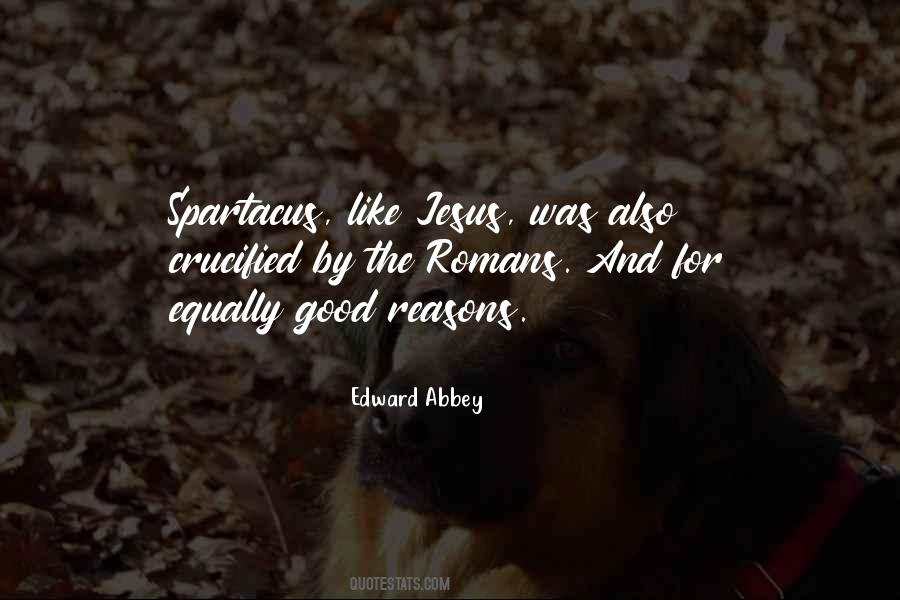 #53. The idea is that Jesus overcame death through the Resurrection. What that does is fail to appreciate the fact that the resurrected Christ is the crucified Christ. It's not like, 'Oh, that was just a mistake, now it's over.' Jesus continues to suffer from our sins. - Author: Stanley Hauerwas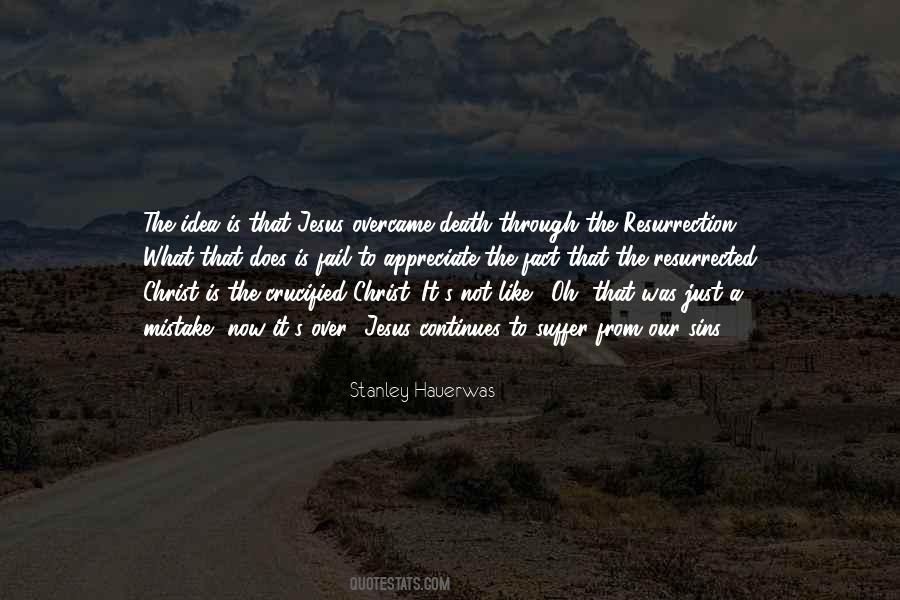 #54. The saints were cowards who stood by to see Christ crucified: they should have flung themselves Upon the Roman spears, and died in vain
The grandest death, to die in vain
for love Greater than sways the forces of the world! - Author: George Eliot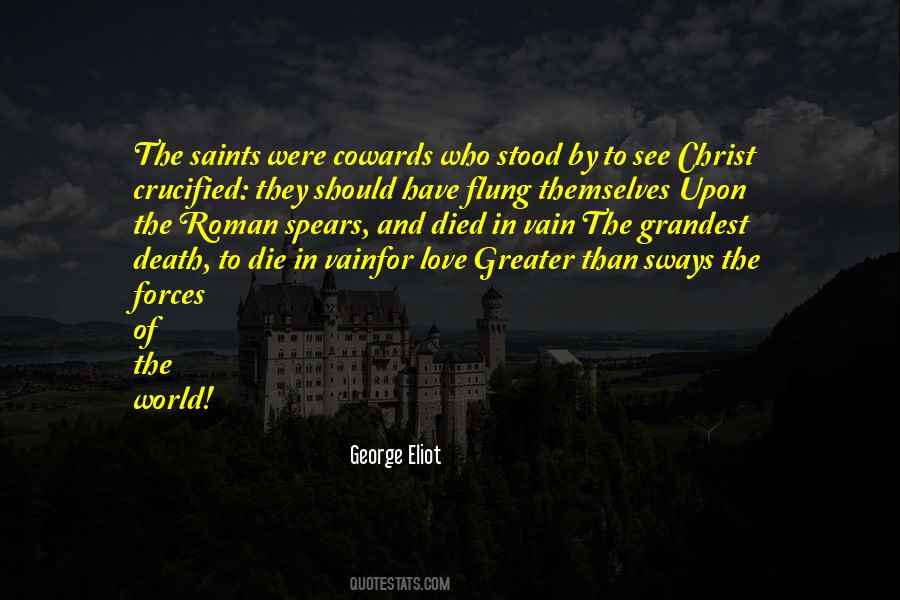 #55. Would it be worth it to pick up my cross and be crucified next to Jesus? If He is not God, then, no. Lose everything I love to worship a false God? A million times over, no!

But if He is God, then yes. Being forever bonded to my Lord by suffering alongside Him? A million times over, yes! - Author: Nabeel Qureshi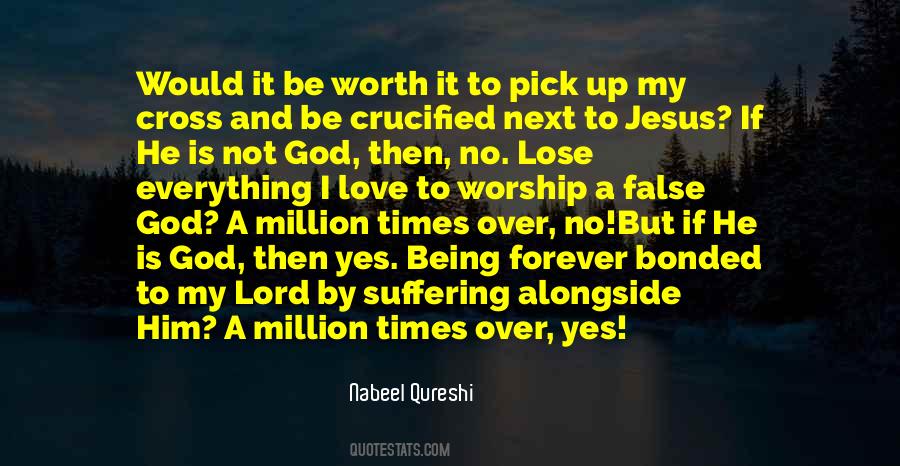 #56. The pursuit of the crucified crown follows the performance of the crucified King such that both performances go against the power structures of the world that think victory and power come only through aggressive and violent means. - Author: Matt Farlow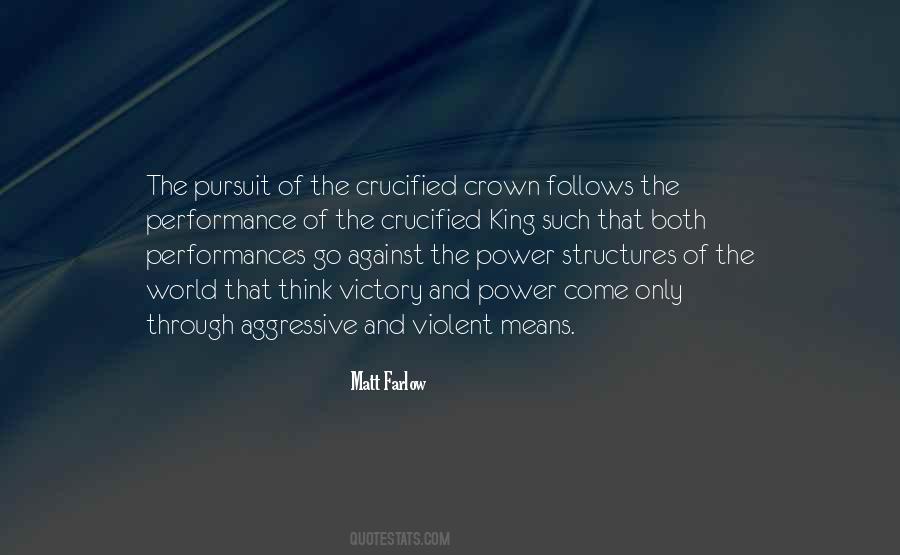 #57. 6And he said to them, d Do not be alarmed. You seek Jesus of Nazareth, who was crucified. He has risen; he is not here. See the place where they laid him. 7But go, tell his disciples and Peter that e he is going before you to Galilee. There you will see him, e just as he told you. - Author: Anonymous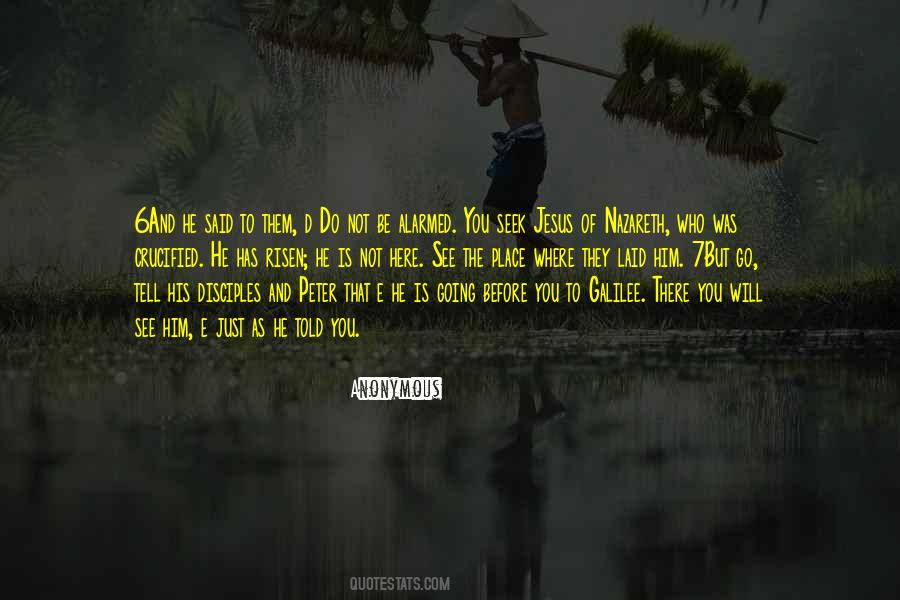 #58. When we say that Jesus Christ was produced without sexual union, was crucified and died, and rose again, and ascended to heaven, we propound nothing new or different from what you believe regarding those whom you call the sons of Jupiter. - Author: Justin Martyr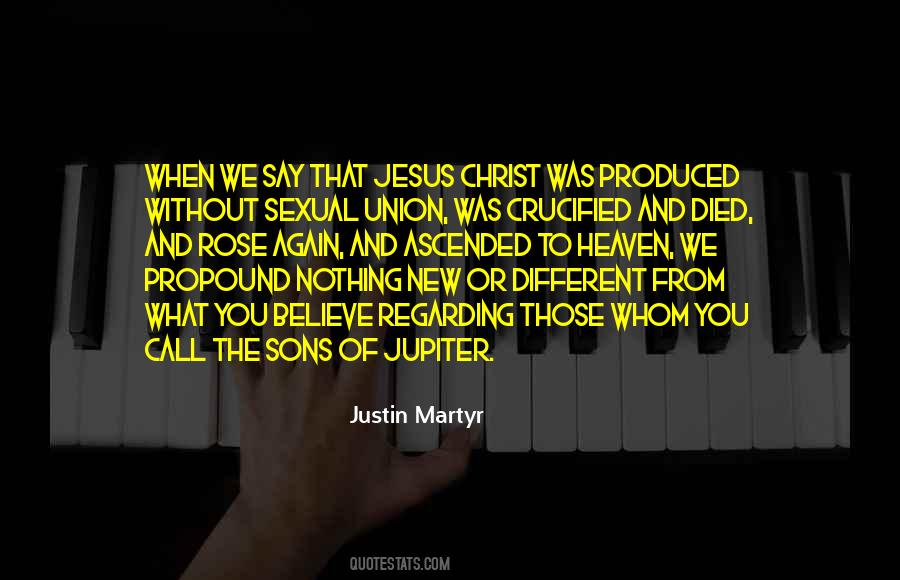 #59. The world is not looking for proof of Jesus Christ; the world knew everything about Jesus when they crucified him. The world is guilty. John 16:5-8. - Author: Felix Wantang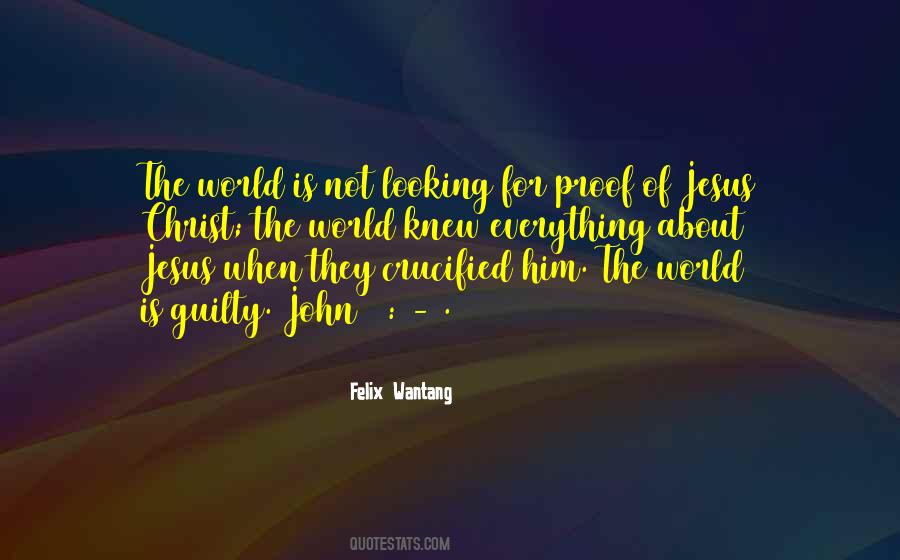 #60. Jesus had loved men too much, that was the problem; to let himself be crucified for their sake showed, at the very least, a lack of taste, as the old faggot would have put it. - Author: Michel Houellebecq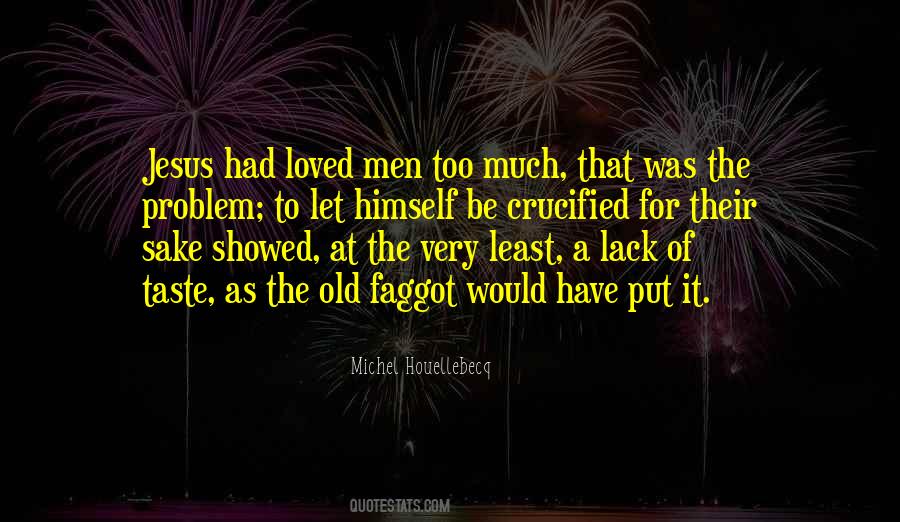 #61. You don't sound very well Owen." I pointed out to him. "IF JESUS HAD TO BE BORN ON A DAY LIKE THIS. I DON'T THINK HE'D HAVE LASTED LONG ENOUGH TO BE CRUCIFIED." Owen said. - Author: John Irving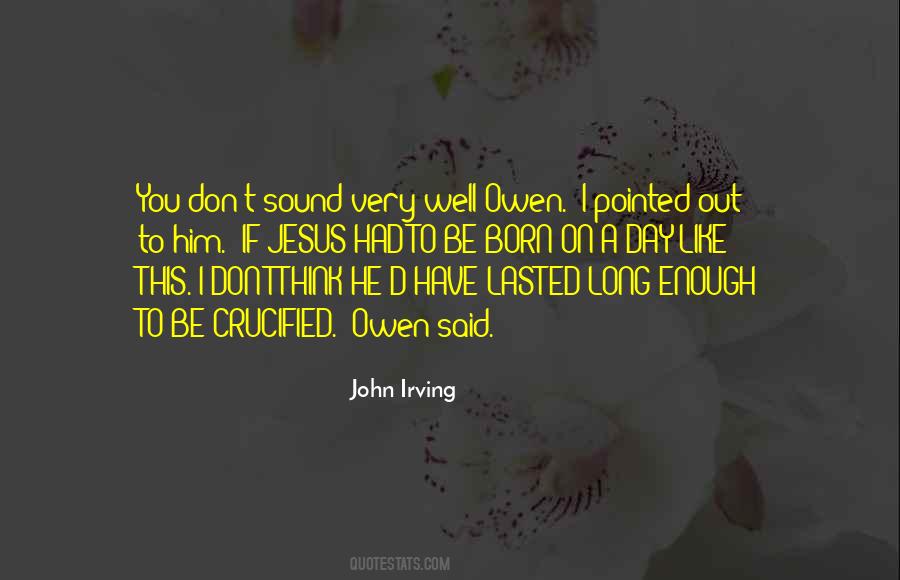 Famous Authors
Popular Topics