Issues With Family Famous Quotes & Sayings
List of top 82 famous quotes and sayings about issues with family to read and share with friends on your Facebook, Twitter, blogs.
Top 82 Quotes About Issues With Family
#1. How we preserve time for family is one of the most significant issues we face in most cultures. - Author: Quentin L. Cook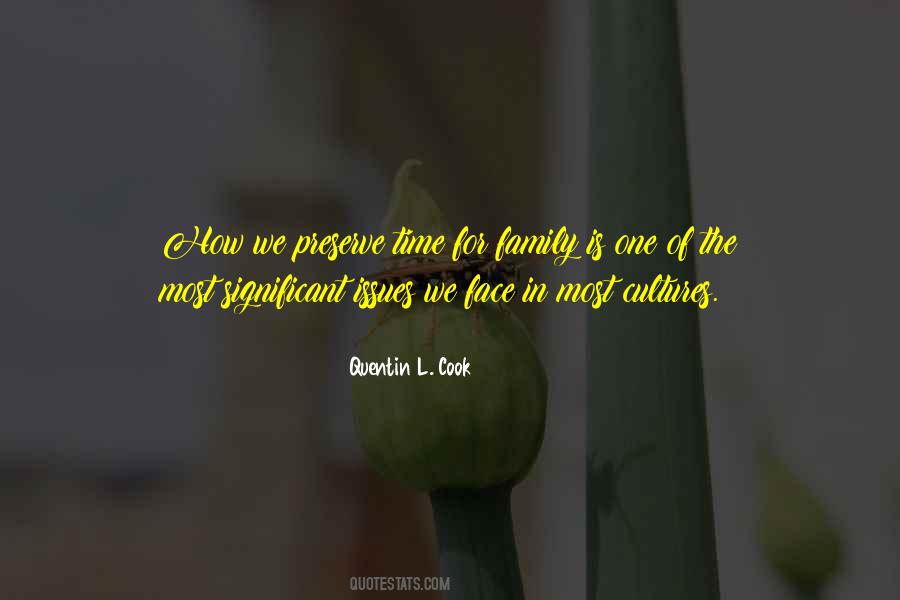 #2. Are you willing to spend time studying the issues, making yourself aware, and then conveying that information to family and friends? Will you resist the temptation to get a government handout for your community? - Author: Ronald Reagan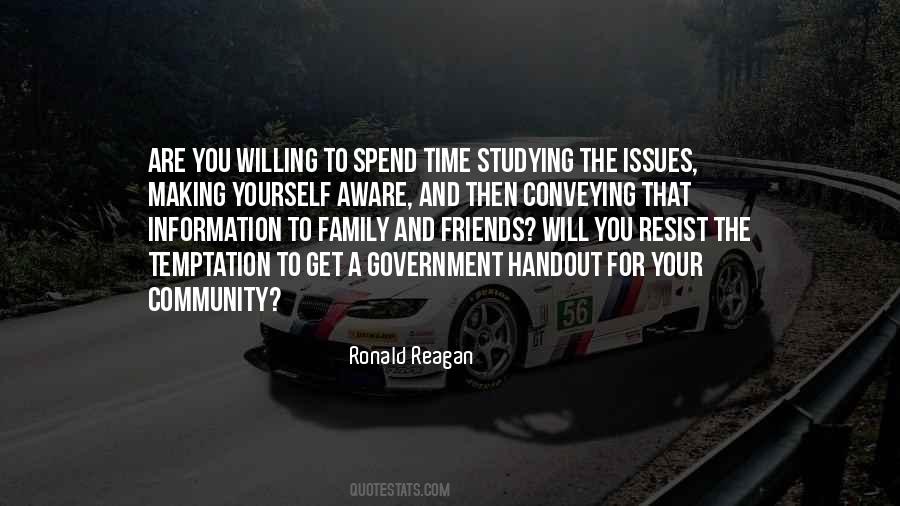 #3. Trying to resolve family issues and abandoning God will not resolve the issues - Author: Sunday Adelaja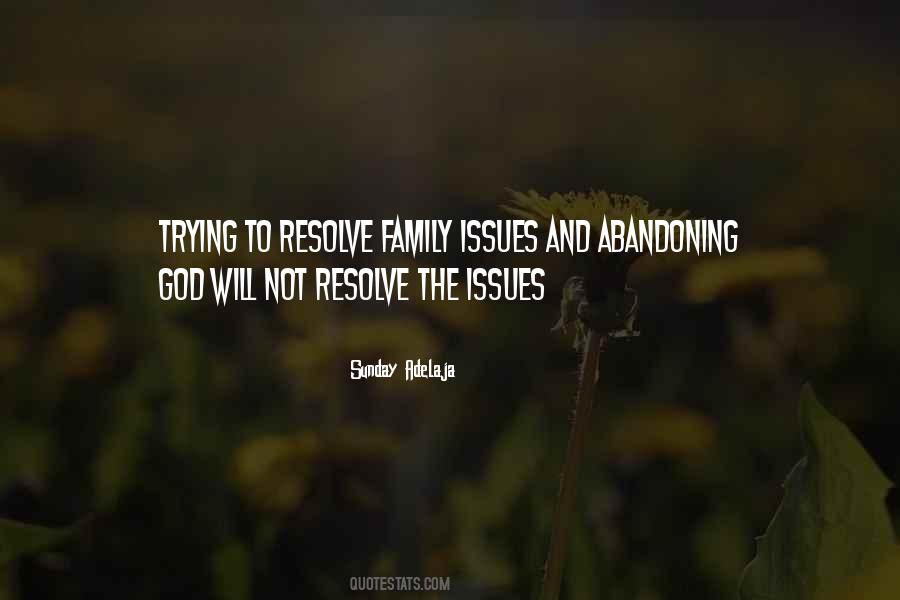 #4. Women in America will have to find an answer for the pressures of work and family, but if you really care about women's issues you have to think about women in the world, especially Africa, Asia and the Middle East. - Author: Gail Collins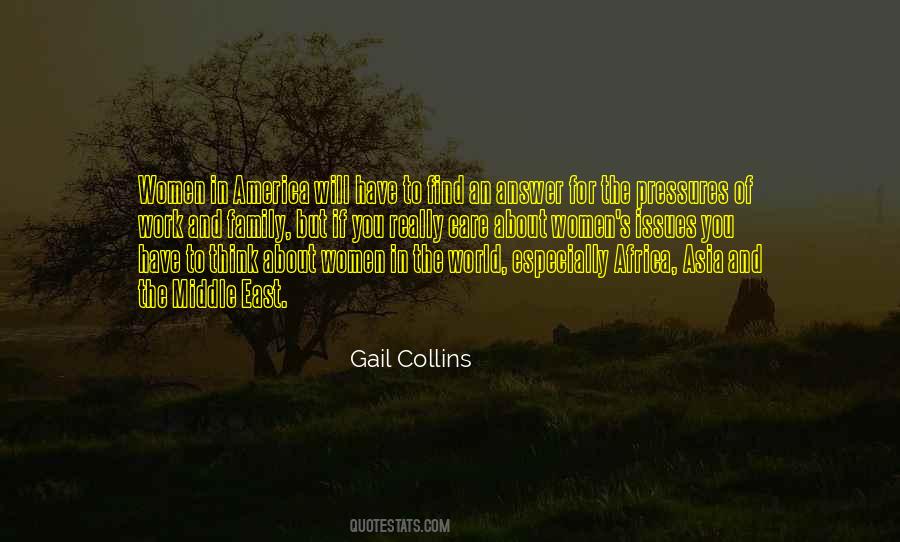 #5. Everyone, even within a family, is different. We all have different needs, different issues we struggle with. Part of being a family is learning to face those differences, forgive, and accept so that you can move on to love. - Author: Susan May Warren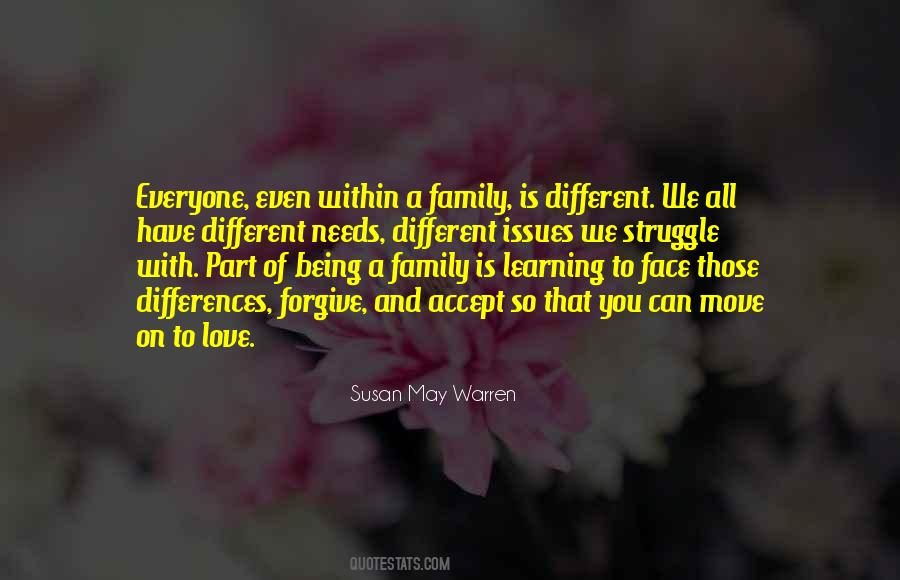 #6. Sometimes, the people that love you the most turn out to be the people you will trust the least. - Author: Shannon L. Alder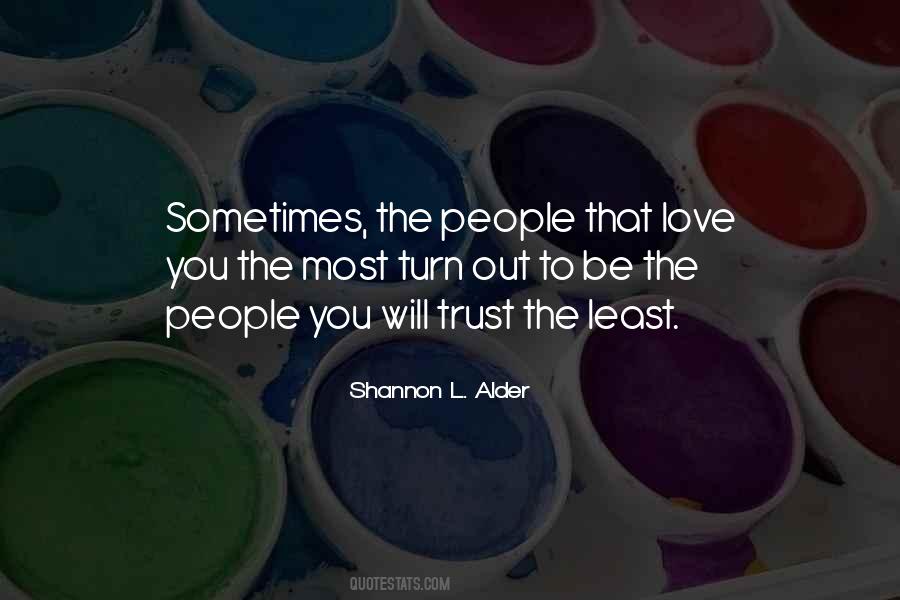 #7. I think they are paying a lot more attention to news now, by the way, in part because of national-security issues. A lot of young people have friends or family in the military today. - Author: Tom Brokaw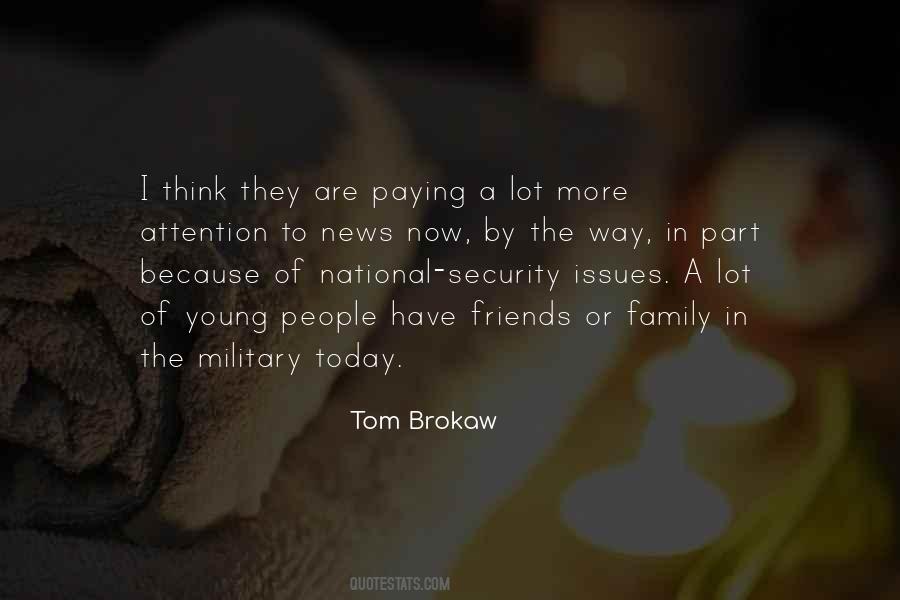 #8. Hope is putting Faith "on the line" and expecting results!
(from Mission Possible - Spiritual Covering) - Author: Deborah L. McCarragher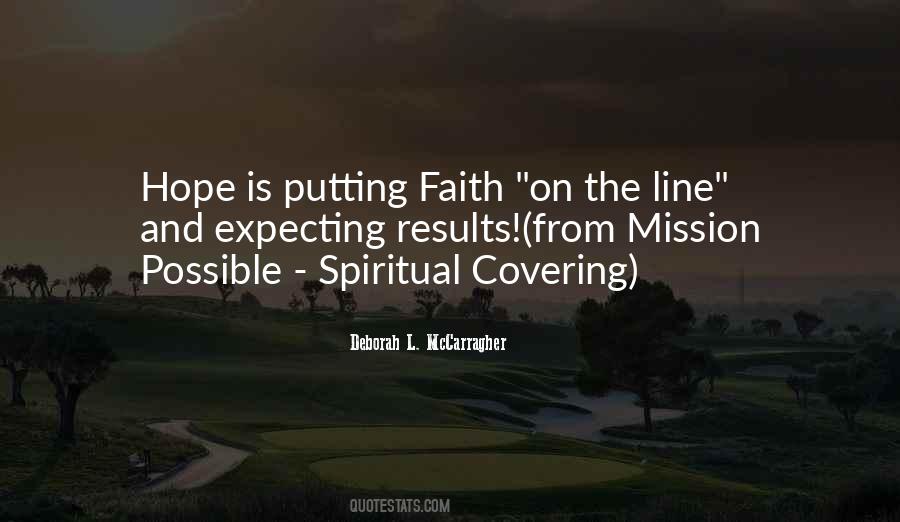 #9. When it comes to family policies, you are dealing with very private issues. Still, my husband and I decided that we didn't want to make our private lives a matter of public discussion. - Author: Kristina Schroder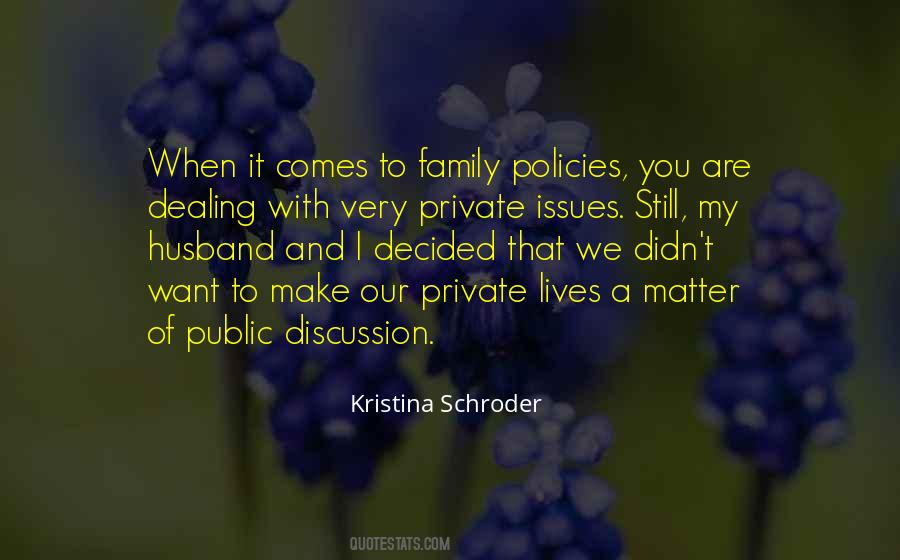 #10. As part of my Christmas present I'd be giving chickens to a family in Nepal through the Heifer Foundation. I think they expanded my world when I was young to know sort of the other issues that were going on globally. - Author: Serinda Swan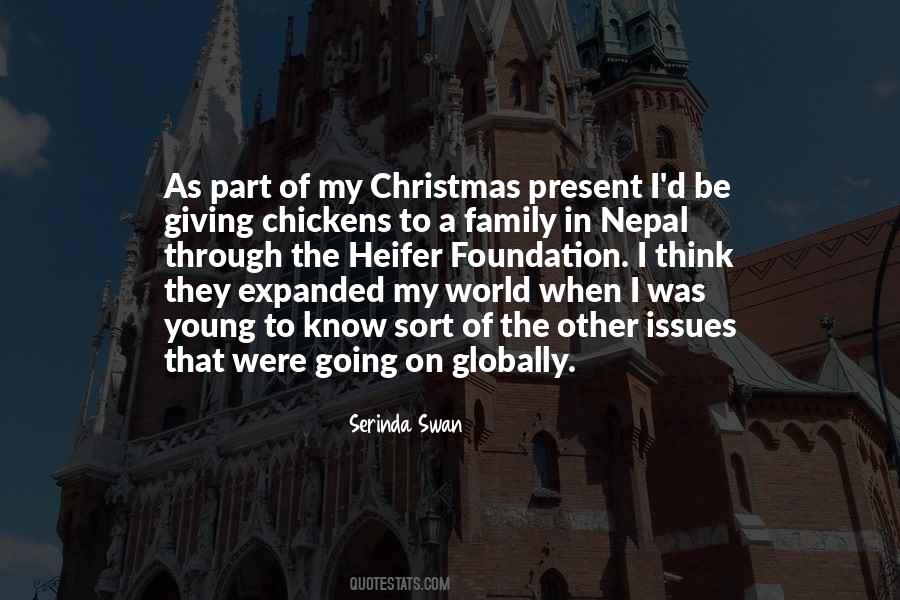 #11. The job of the school is to teach so well that family background is no longer an issue. - Author: Martin Luther King Jr.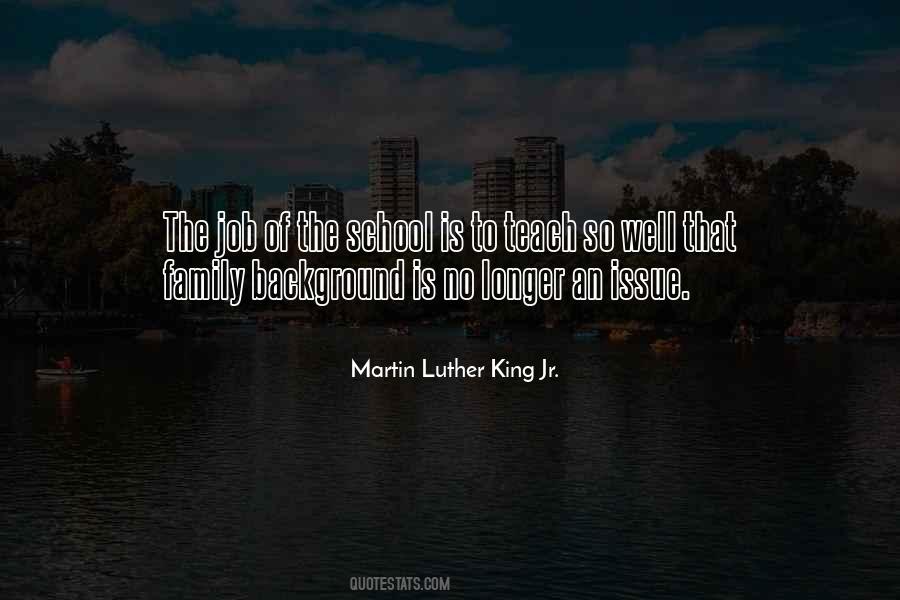 #12. We all have our family issues from time to time. - Author: Aja Naomi King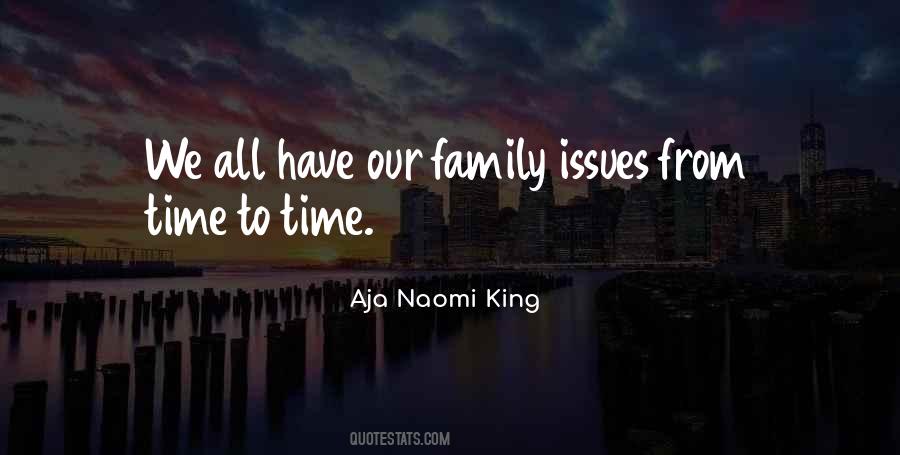 #13. Working on the themes I was interested in, through the context of a particular family, was a very economical way of dealing with a lot of the issues I was concerned with. - Author: Atom Egoyan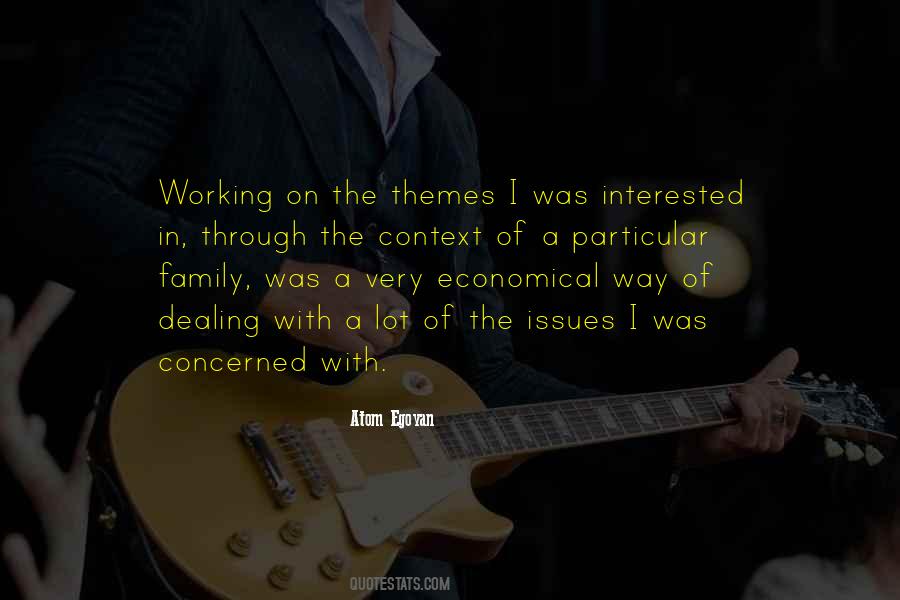 #14. The family stayed put for a few years, largely due to issues involving a contract with a demon, an open dimensional rift, and preschool, - Author: Seanan McGuire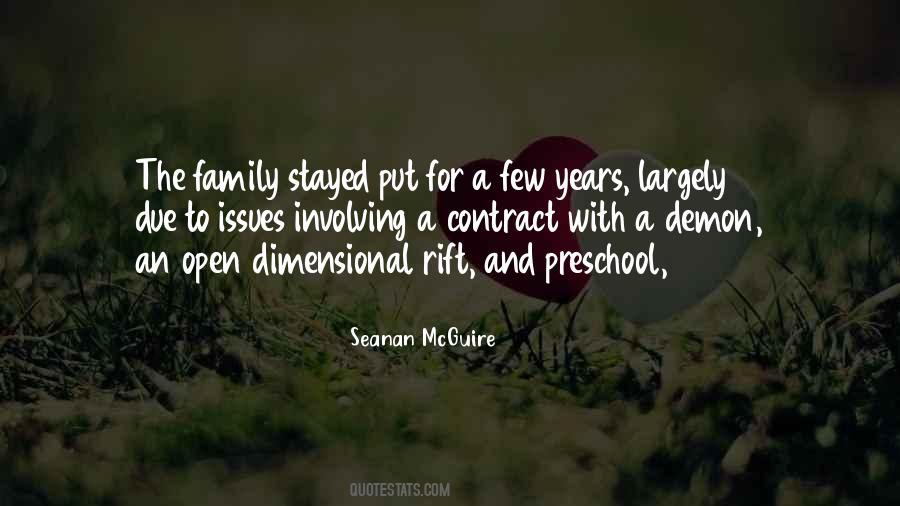 #15. I just completed The Tenth Circle. It is an excellent mystery story surrounding a family with modern day issues. - Author: Jodi Picoult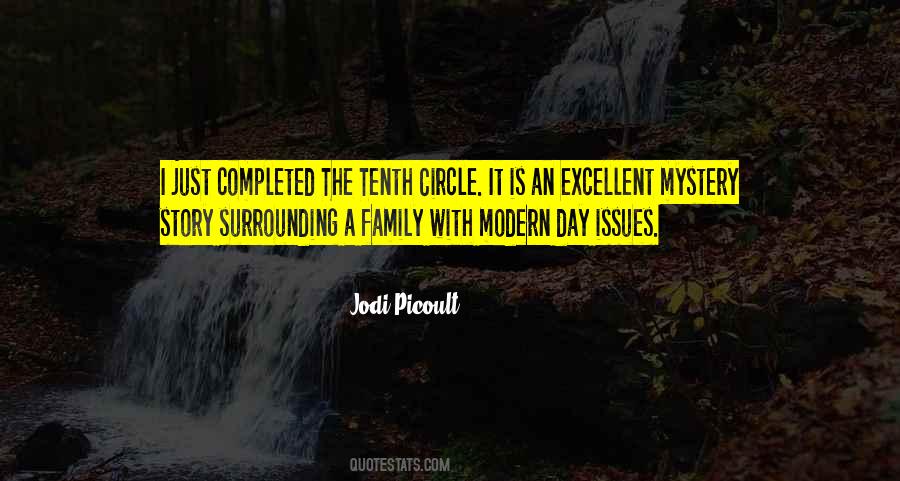 #16. My work is inspired by my passion for human rights issues and the environment, and by my love of family, music and nature. - Author: Susan Dorothea White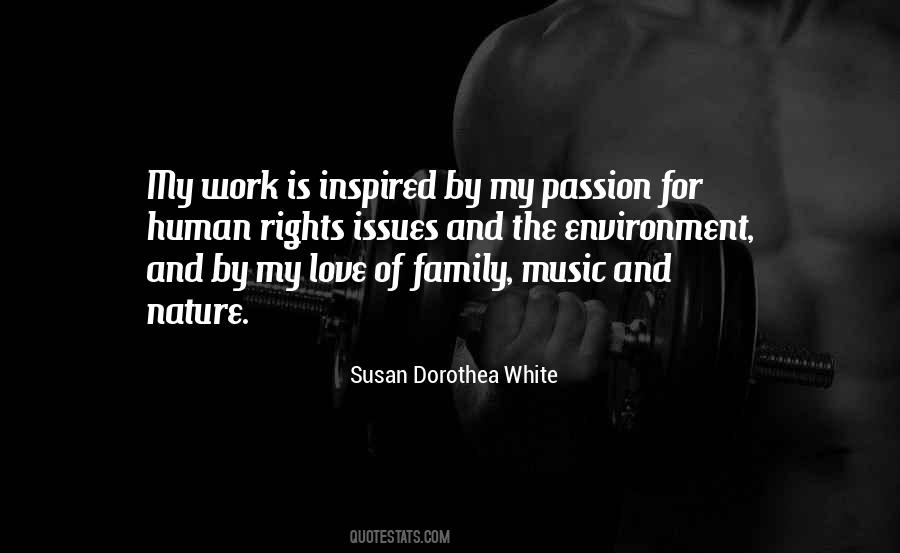 #17. I imagine people might look at me and think 'Oh, she has been single-mindedly working on her career all these years and those family issues have fallen by the wayside', but that is absolutely not the case. - Author: Savannah Guthrie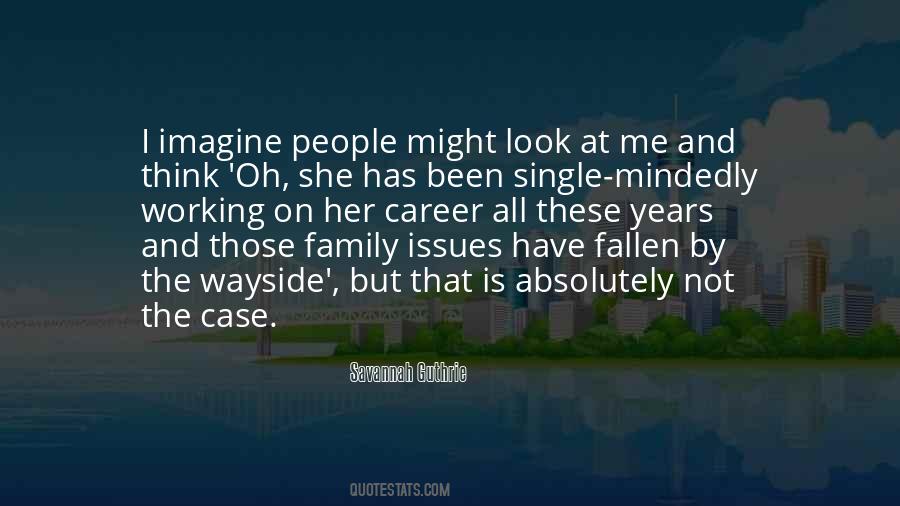 #18. Policies that support families aren't political issues. They're personal. They're the causes I carry with me every single day. - Author: Michelle Obama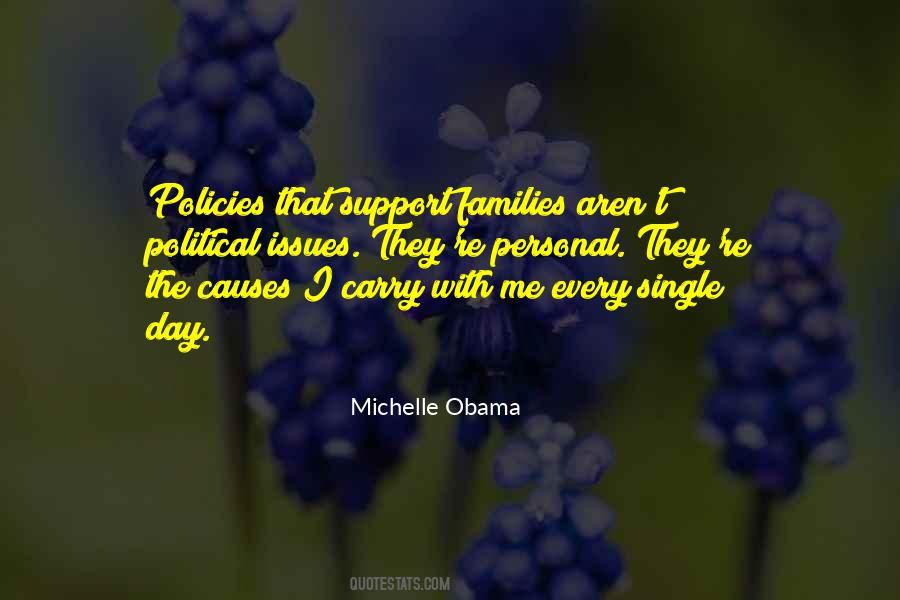 #19. I think we're at a place wherea woman's health is danger because of whether this family planning or contraception or any issues that relate to women's health, there's an assault on that in the Congress. - Author: Barack Obama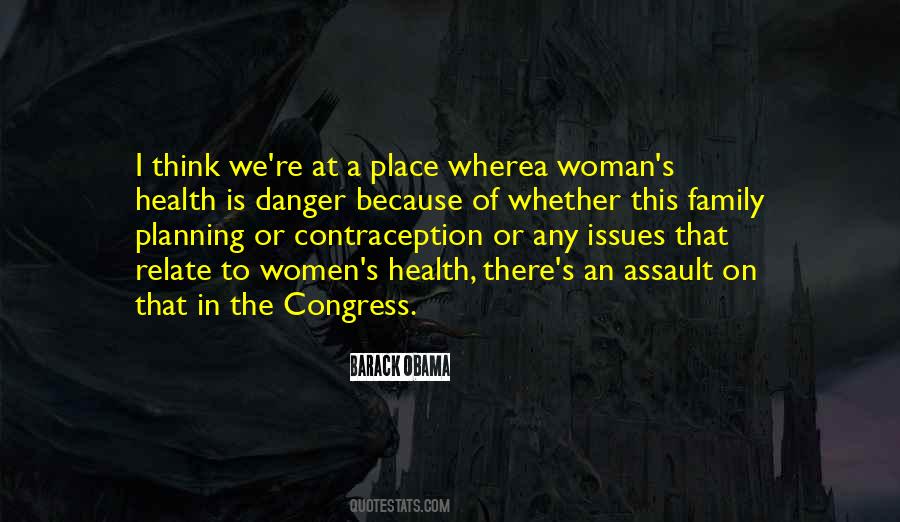 #20. My dad was a terrible father. Dreadful. But he had a very difficult childhood. He was fostered - he never knew who his father was. So he had a very different attitude to family and kids. I don't have any issues. I'm not suffering some secret angst. - Author: Mark Billingham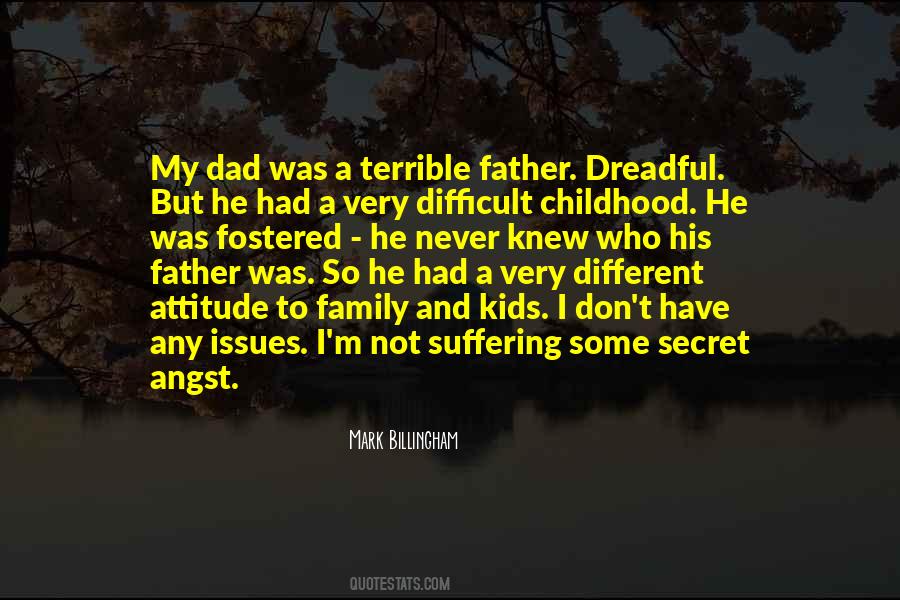 #21. Dreams are more personal. We tend to only dream about issues that impact us directly: our careers, our marriage, our children, our family and friends. - Author: Charles McPhee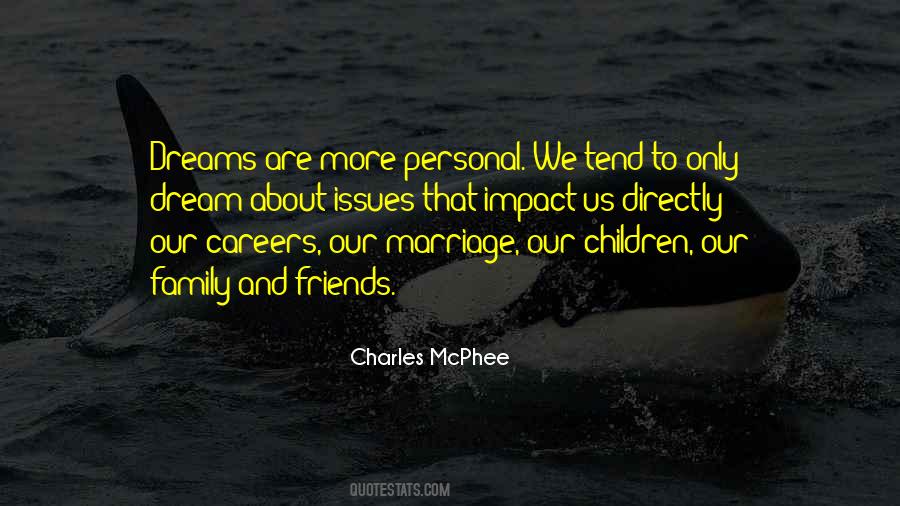 #22. It is now clear to me that the family is a microcosm of the world. To understand the world, we can study the family: issues such as power, intimacy, autonomy, trust, and communication skills are vital parts underlying how we live in the world. To change the world is to change the family. - Author: Virginia Satir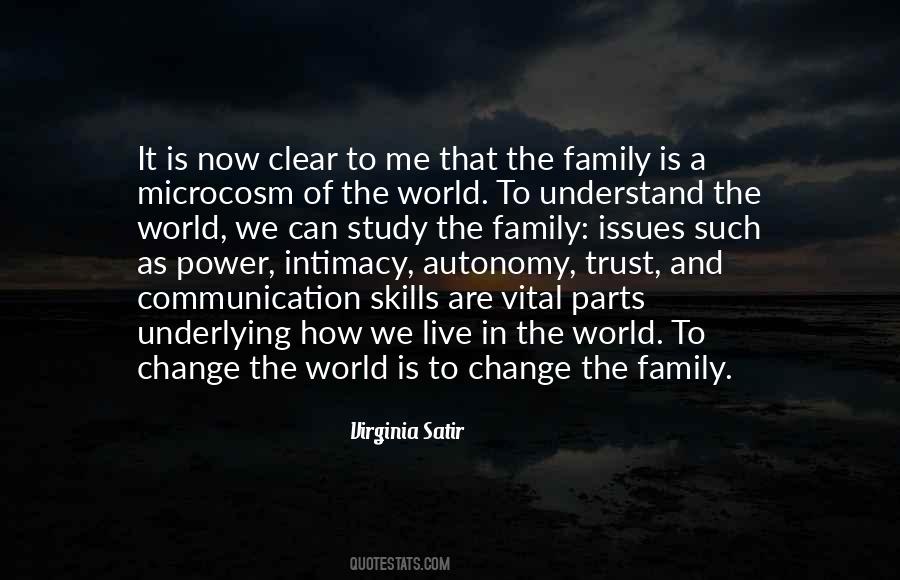 #23. I have issues with inheritance tax, particularly coming from a migrant family. My dad has worked incredibly hard all his life, so it seems odd to me that someone who has gone through that experience and has managed to save then gets taxed for dying. - Author: Sanjeev Bhaskar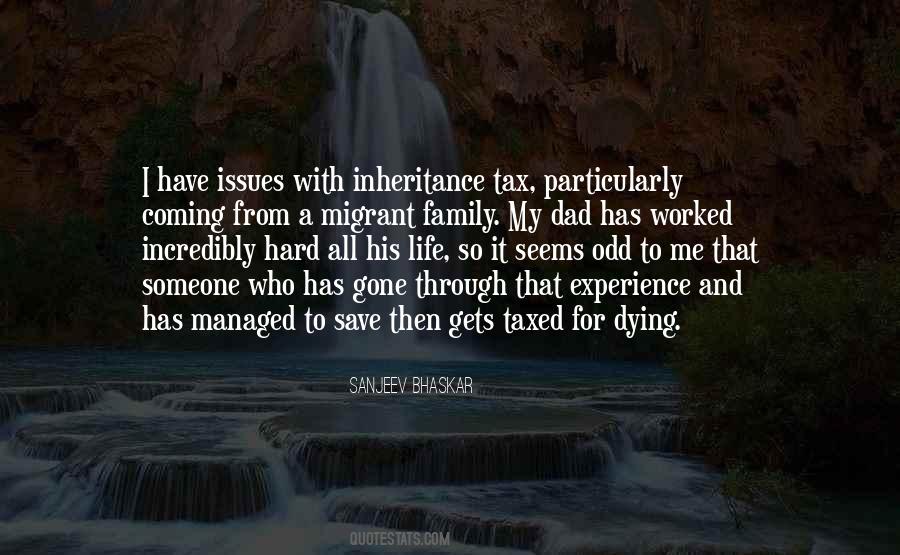 #24. The main interest of most members of the Christian Coalition is the breakdown of the family. I think that's our biggest problem, and if the whole country was as concerned and active in issues of the family as members of the Christian Coalition are, we'd probably be better off as a country. - Author: Lamar Alexander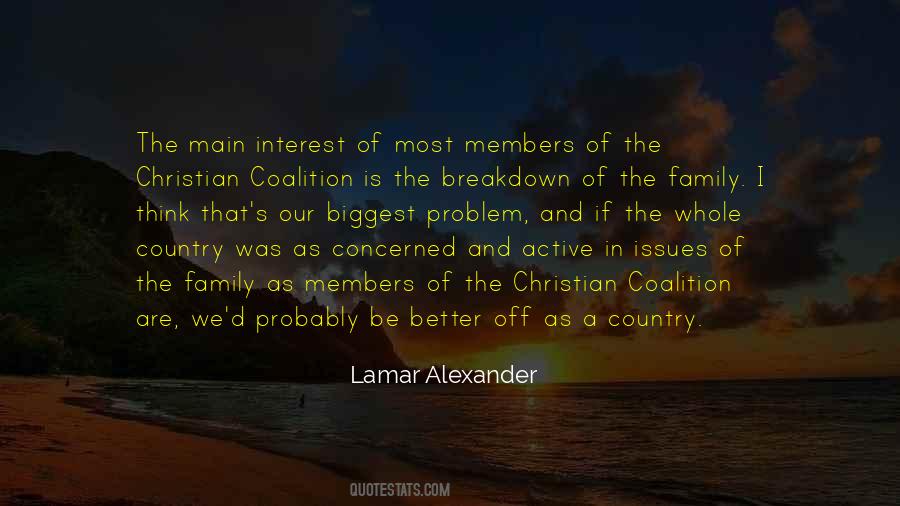 #25. Controlling others is the cornerstone of dysfunctional families. - Author: David W. Earle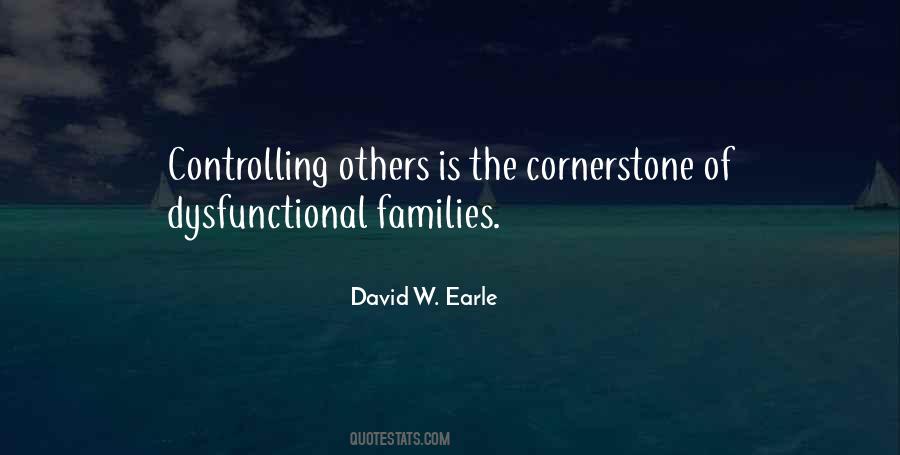 #26. While 'Friends' was about a 20-something population and what they were going through, they were also dealing with issues with their family. - Author: Warren Littlefield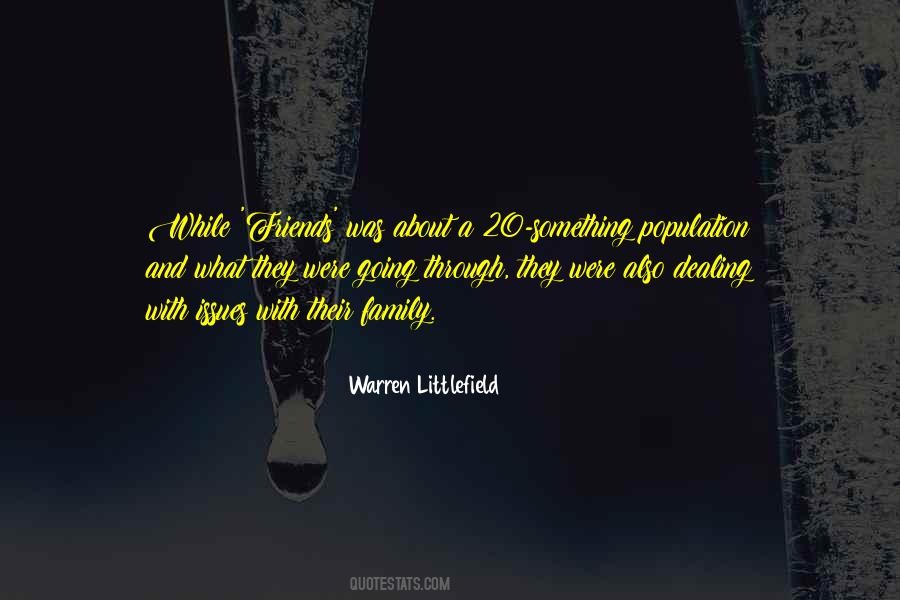 #27. Your what?"
"He keeps saying he's my brother. That he's come to take me with him."
"Just ... try and figure it out ok? I've got family issues of my own to deal with. - Author: Debbie Moon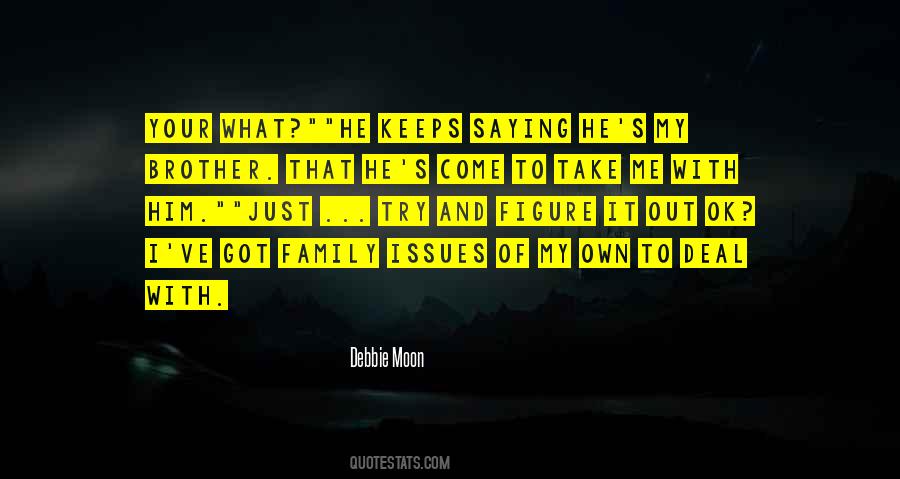 #28. I urge you children to be patient with your parents. If they seem to be out of touch on such vital issues as dating, clothing styles, modern music, and use of family cars, listen to them anyway. They have the experience that you lack. - Author: Joseph B. Wirthlin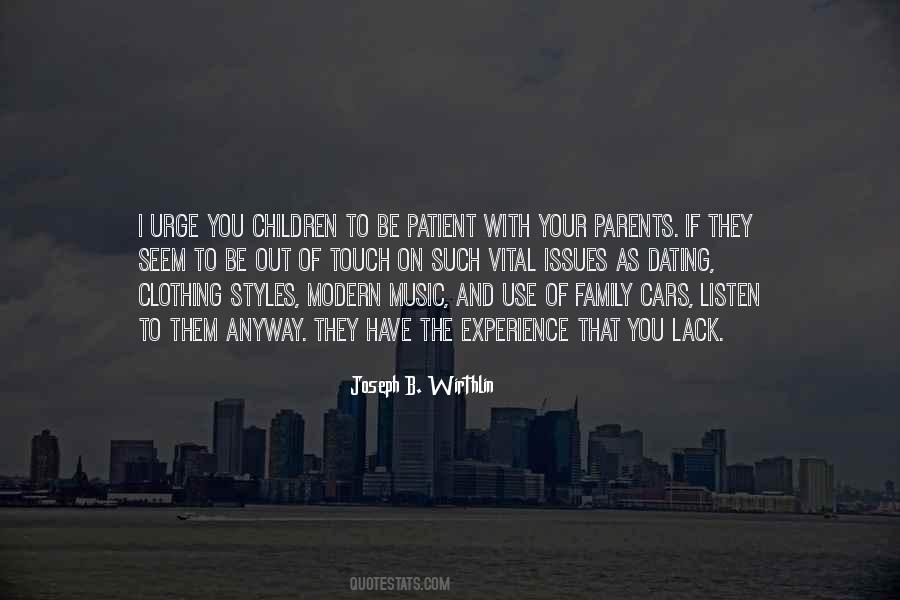 #29. I grew up in a family in which political issues were often discussed, and debated intensely. - Author: Joseph Stiglitz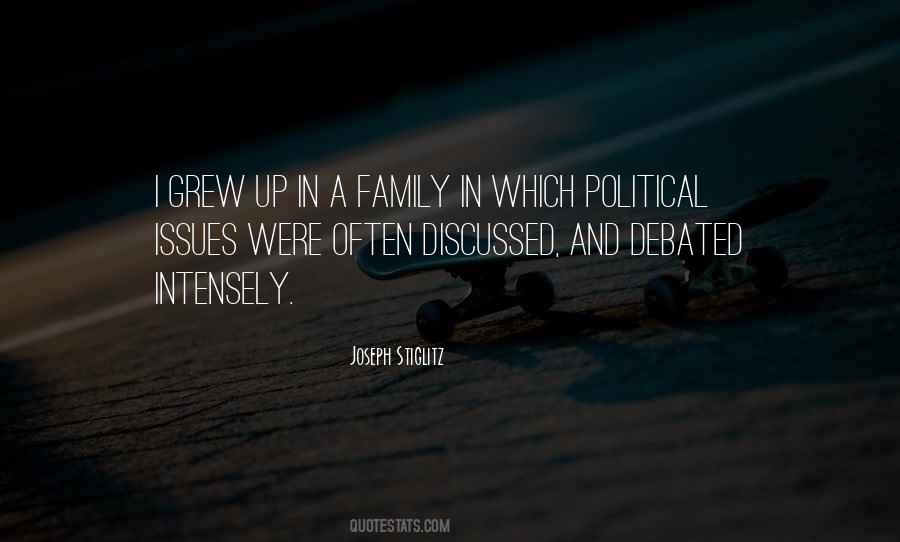 #30. He was supposed to be the first man to tell her that she was beautiful and help her determine who she was before anyone had the opportunity to label her. She was supposed to be his "little girl". - Author: Anais Torres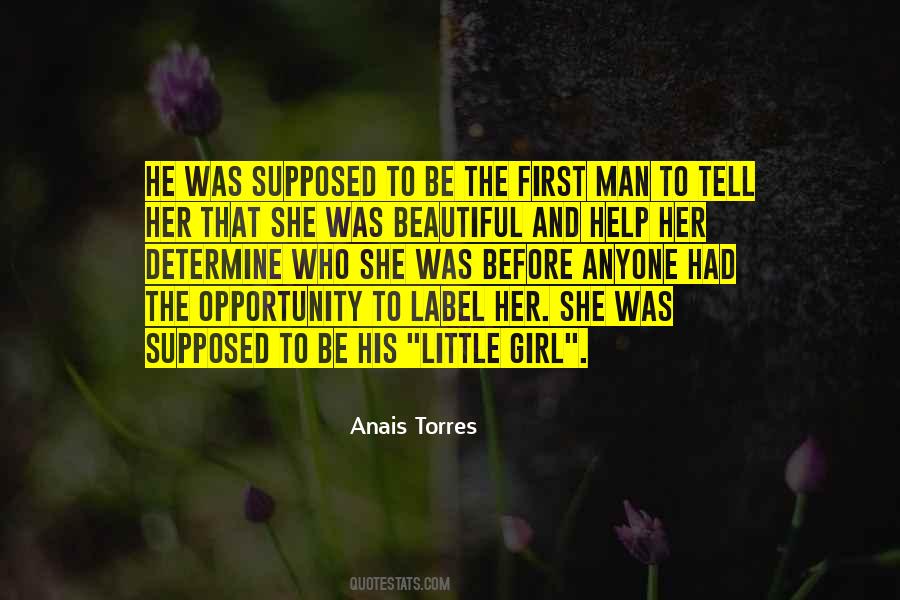 #31. If you think people in your life are normal, then you undoubtedly have not spent any time getting to know the abnormal side of them. - Author: Shannon L. Alder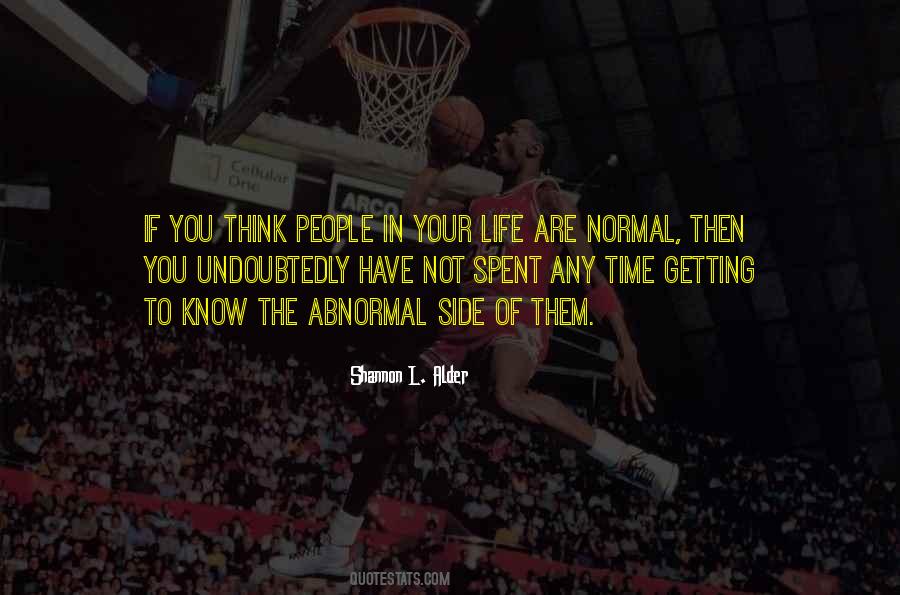 #32. One cannot always summarize massive issues by looking at the life of one person or one family, or even one community. - Author: Fred Ritchin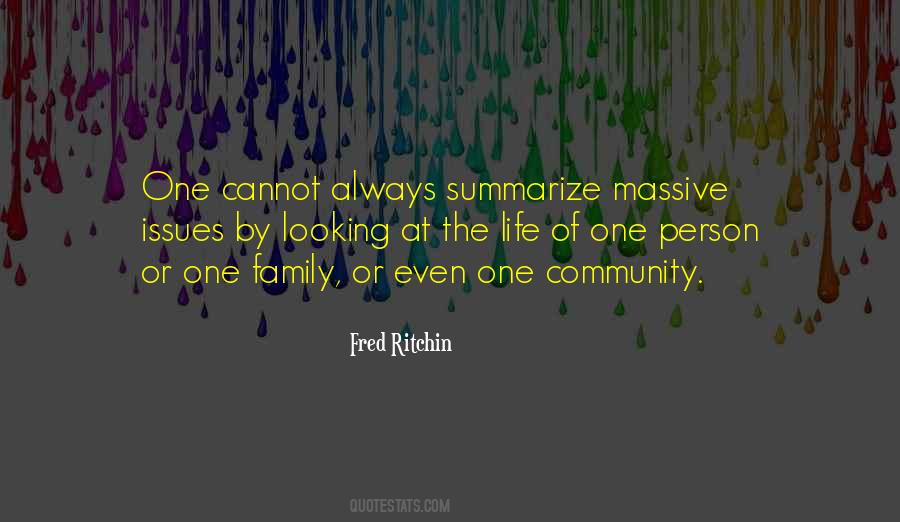 #33. I know when my life is over my writings will live on, perhaps in a story or maybe a sweet love song. You see, I do not write for glory or to get anything for free. I just sit down and I write, because it makes so much sense to me. - Author: Terri F. Williams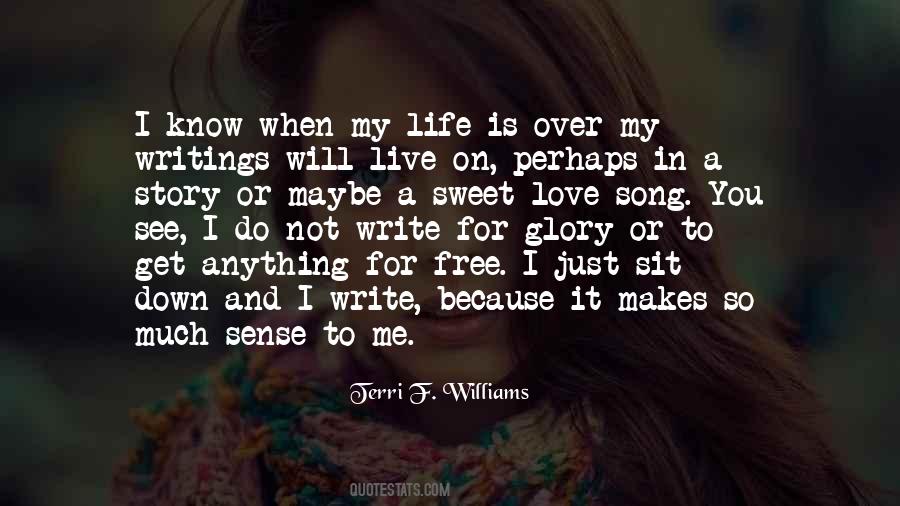 #34. i can't tell if my mother is
terrified or in love with
my father it all
looks the same

i flinch when you touch me
i fear it is him - Author: Rupi Kaur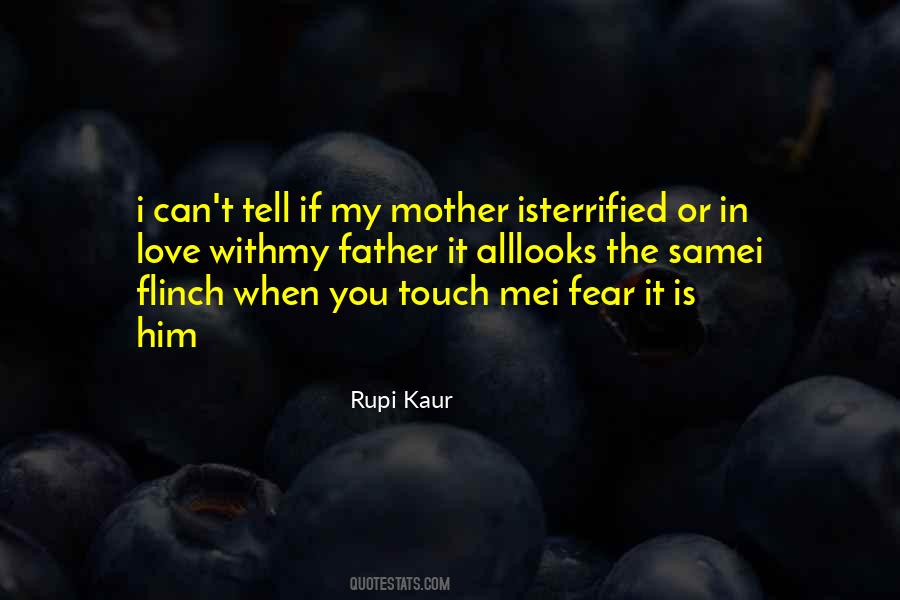 #35. He was such a beautiful baby, and so placid. Then he grew up. It was an unfortunate development. - Author: K.Z. Snow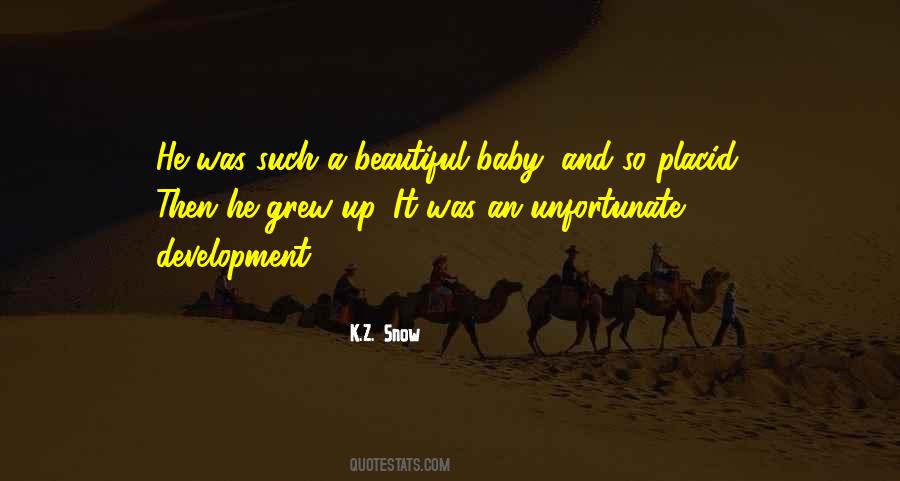 #36. I think it's a deeper issue on the lack of communication in our culture in general. It's not abnormal to see a family out to dinner and every person is on their phone instead of communicating with each other and that's pretty sad. - Author: Laura Benanti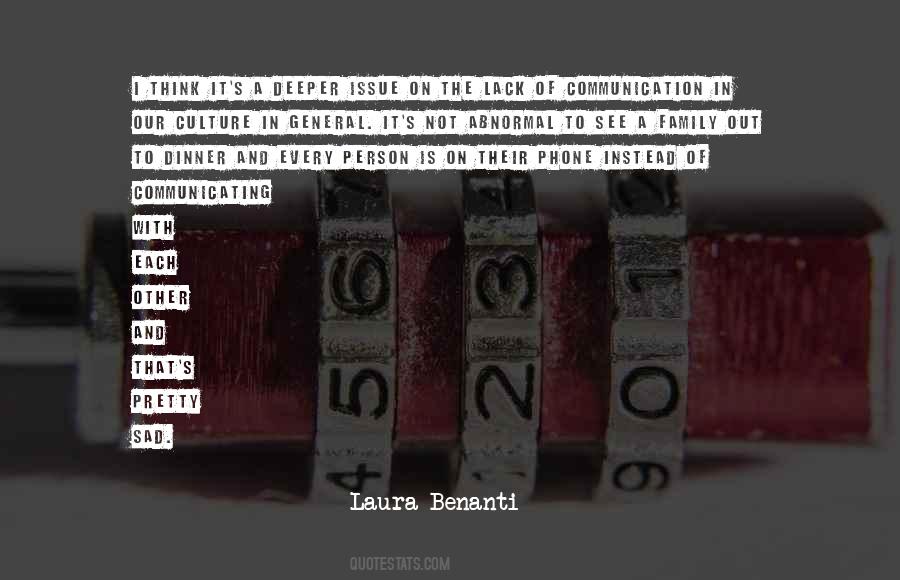 #37. You know what will bring family and social issues front and center? If 2012 America sees middle-schoolers reenacting Lady Gaga videos. - Author: Jim Geraghty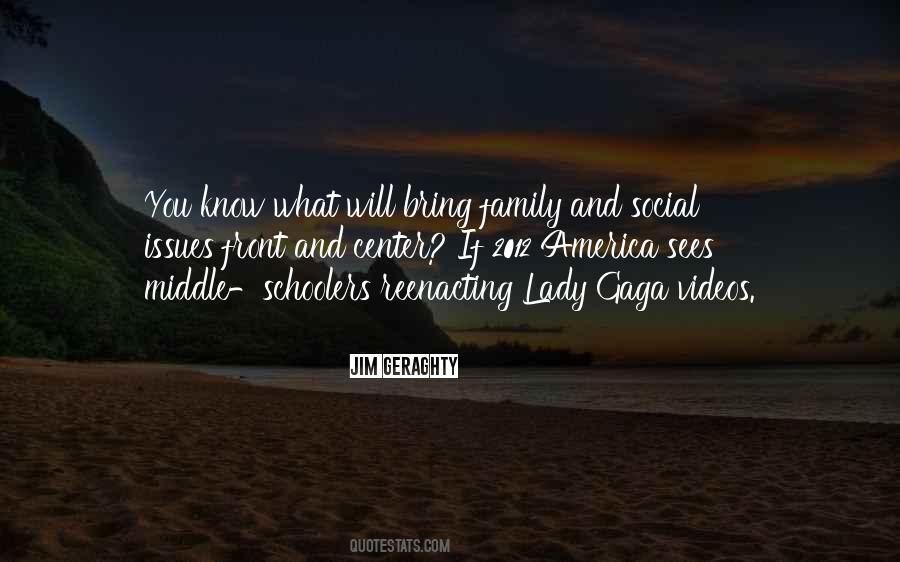 #38. We have a tendency to put ourselves last, we concentrate on everything else; work, friends, family, home issues, but we ignore the deeper stuff until it becomes so compressed that it can explode. - Author: Cecelia Ahern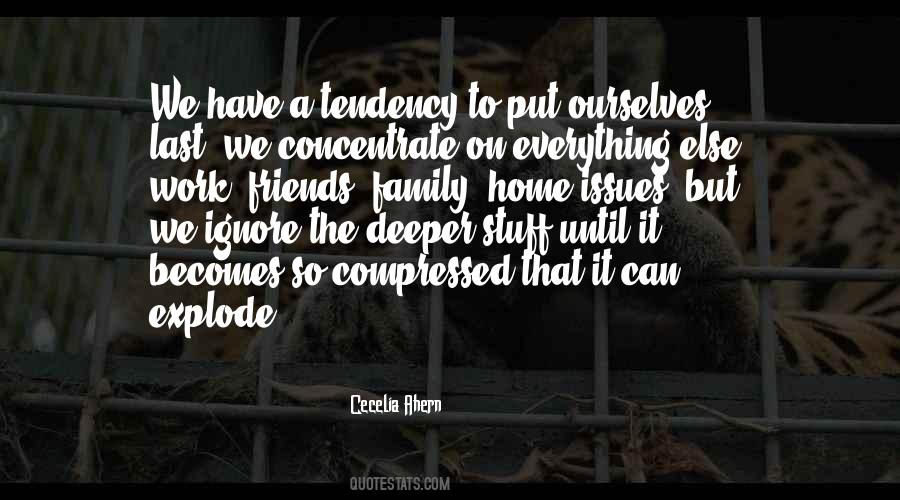 #39. And whether it is equal pay, health care, Social Security, or family leave, this Congress has refused to address issues critical to hard-working American women. - Author: Louise Slaughter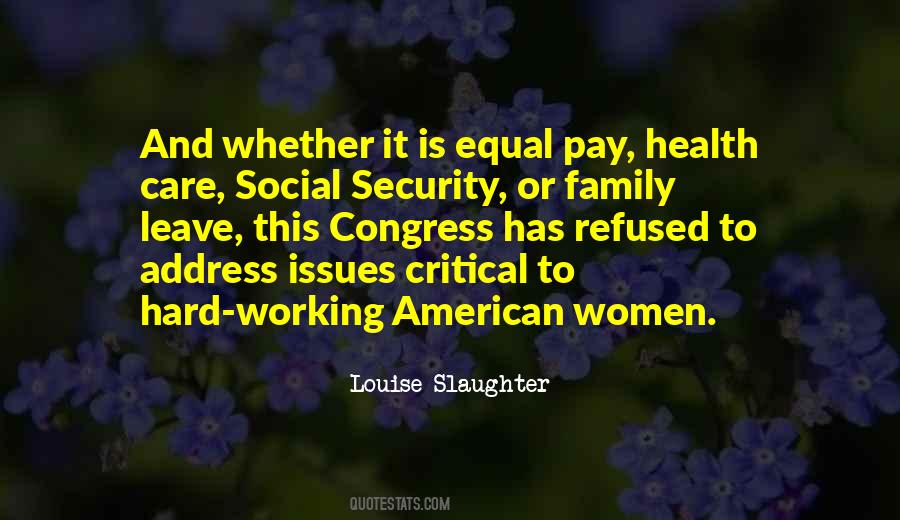 #40. I never have issues in handling the fame. I was in a boarding school, as I am from a middle-class family. We didn't have a lot of money, so we all learned to respect money and understood its real value. - Author: Suresh Raina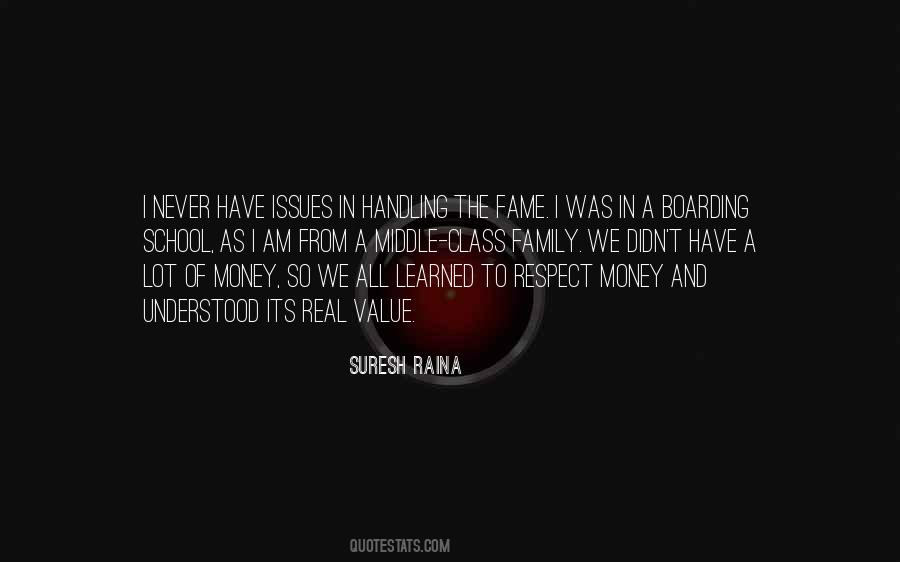 #41. She didn't want to keep talking about him as if everything was okay. Worst of all, she hated sorting through his mail. Reading the hatred people had for her family and worse, reading how others immortalized him into a god for what he'd done. - Author: Anais Torres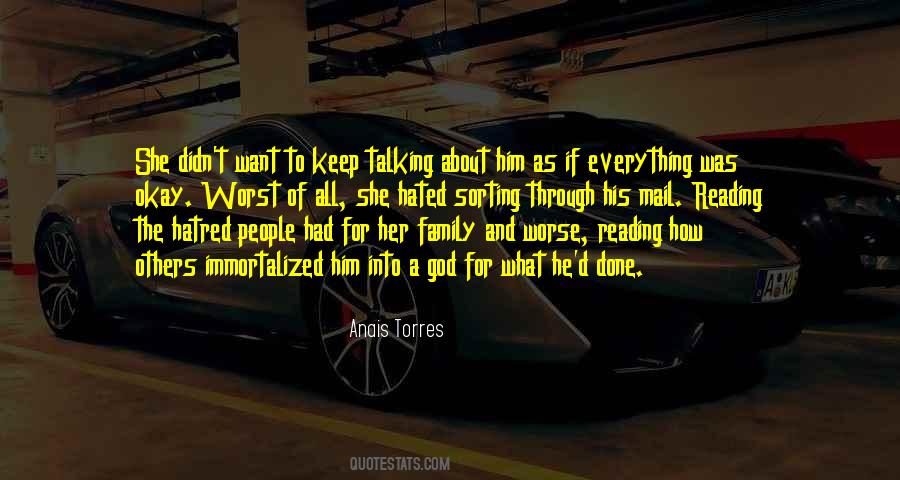 #42. Food during my early years was a very difficult issue for me. I grew up in an addictive family. My mother had serious problems with alcohol and prescription drugs. I was an overweight kid. I can remember back in those days there weren't the strategies that there are today to deal with those issues. - Author: Tom Vilsack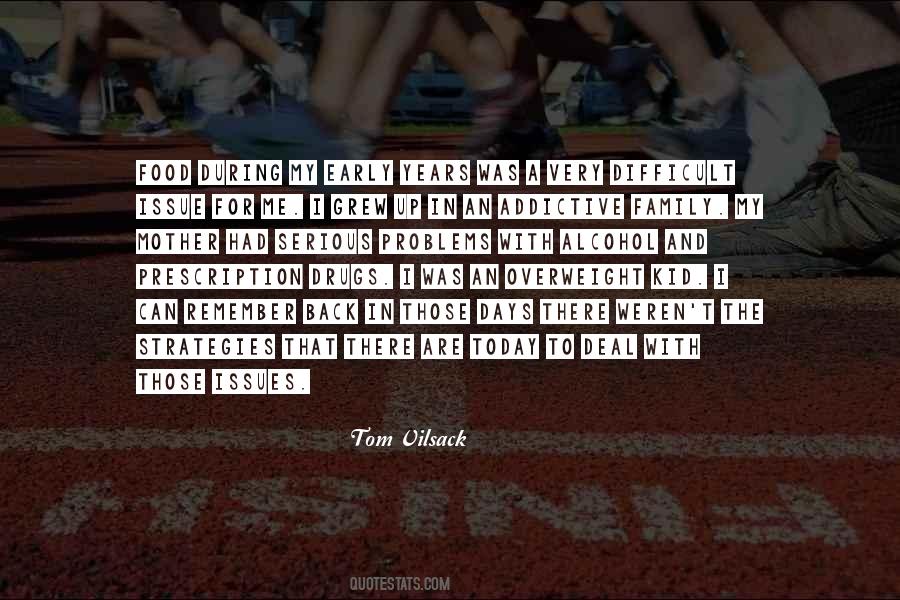 #43. Can the child who is Dell; be the outer emoodiment of man's quest to save himself? To cure himself? ... Or, to "be" himself? - Author: Milkweed L. Augustine
#44. There is no family in America without a clock, and consequently there is no fair pretext for the usual Sunday medley of dreadful sounds that issues from our steeples. - Author: Mark Twain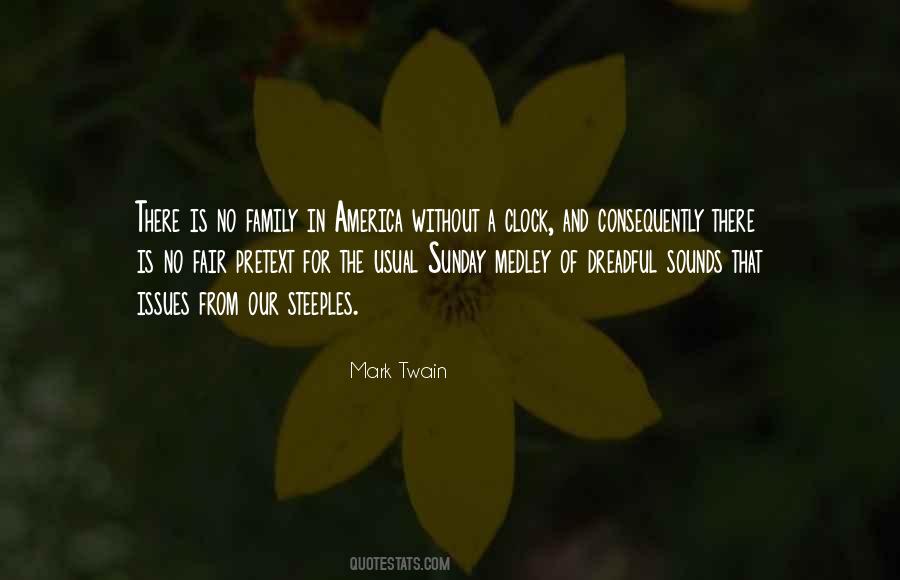 #45. Seven and half years ago I began my own journey. For me and my family it was a time of adversity. But during that adversity I derived a deeper faith. And born out of that adversity was a commitment to devote myself to those people and to those issues that truly matter to me. - Author: Paul Tsongas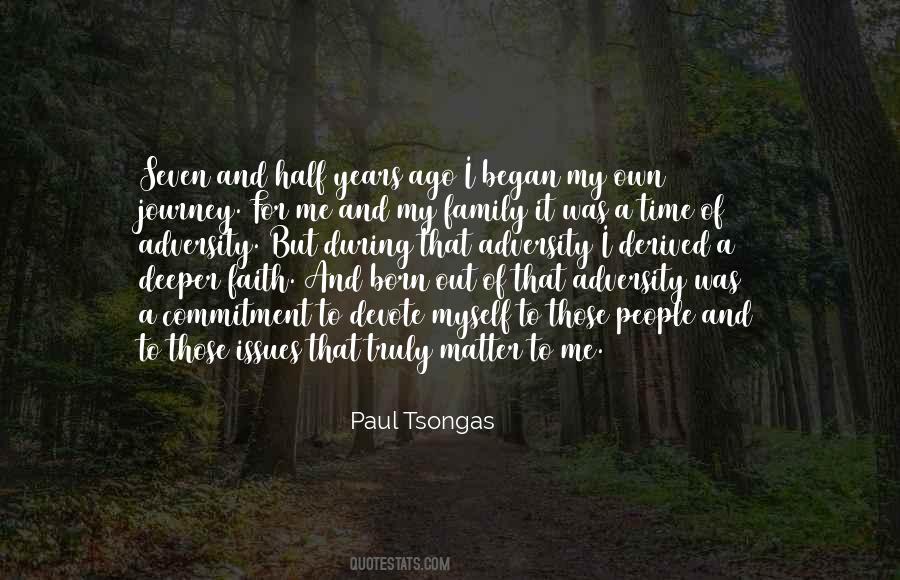 #46. Our wives, our families, and our churches need godly men who have discernment
discernment to deal with life and life-issues on a spiritual level. - Author: Jim George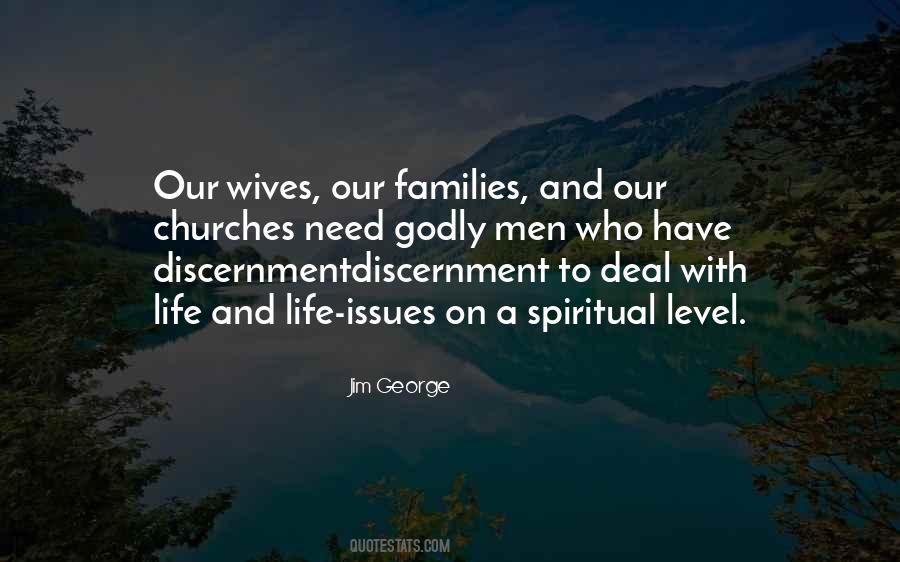 #47. Responsible parenting is NOT a crime. Responsible parenting is most valuable tool of our society. - Author: Mick Karabegovic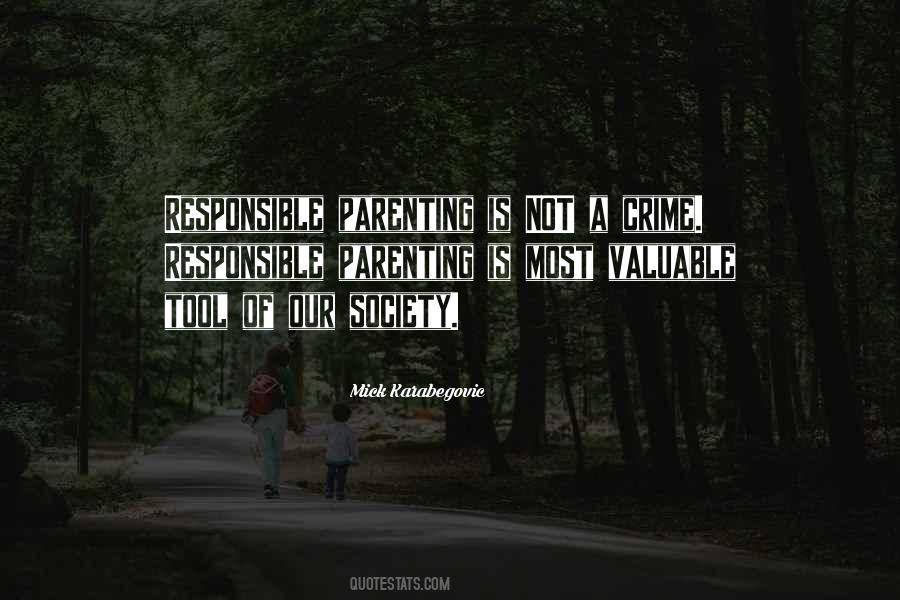 #48. No doubt, the White House thinks the American people know Obama's story. But since the Inauguration, we've seen only the president's present: his perfect family, his Ivy League elegance, his effortless mastery of complex issues. We never see him sweat. And we forget that he ever had to struggle. - Author: Dee Dee Myers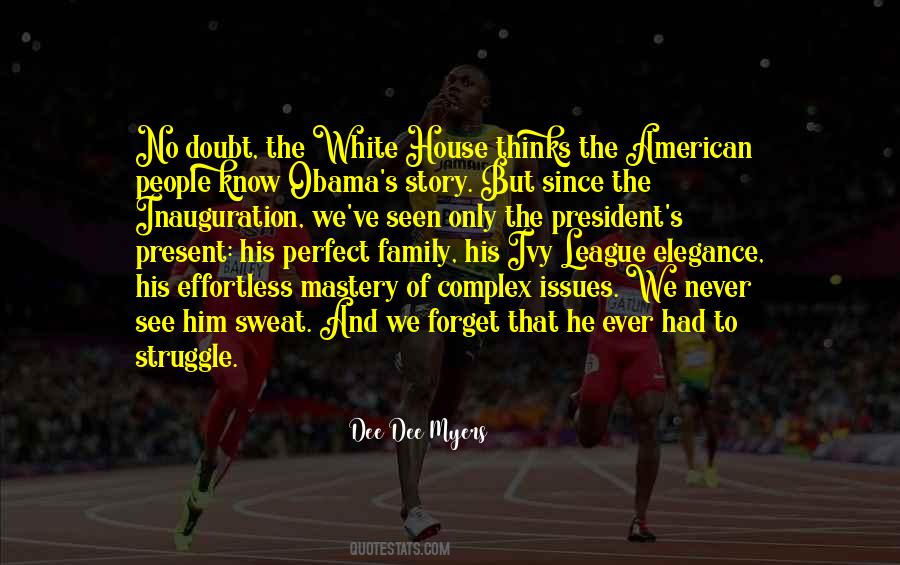 #49. When everyone in the family is united, when they resolve their issues with each other and unite; it is called vitarag bhav, attachment-free intent. And to disunite is to have raag-dwesh, attachment-abhorrence remain. - Author: Dada Bhagwan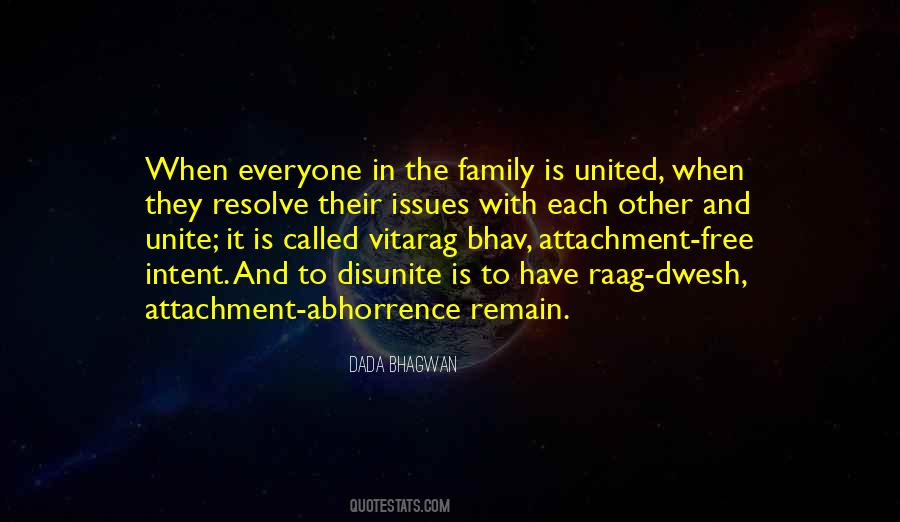 #50. In fact, the family as an institution is both oppressive and protective and, depending on the issue, is experienced sometimes one way, sometimes the other - often in some mix of the two - by most people who live in families. - Author: Lillian B. Rubin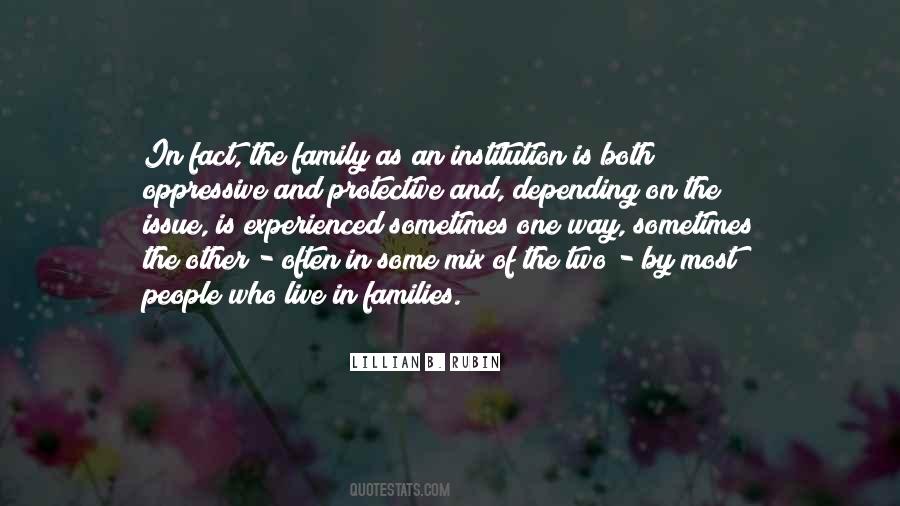 #51. Over 120 Aboriginal communities run their own health services - some have been doing so for 30 years. They struggle with difficult medical problems. They also try to deal with counselling, stolen generations issues, family relationships, violence, suicide prevention. - Author: Malcolm Fraser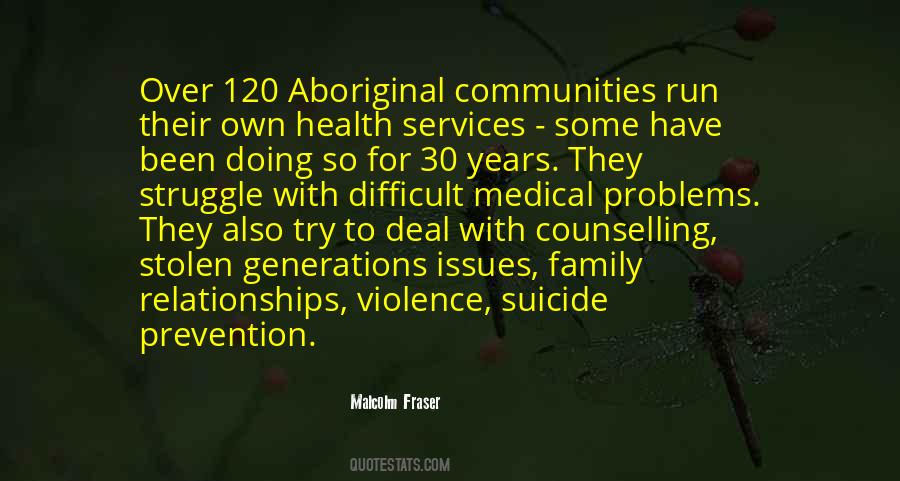 #52. You have a right against any forms of domestic violence.
Protect your life.
Protect your family and love ones.
Mutual respect and love are main keys to avoid violence.
~ Angelica Hopes, Life Issues - Author: Angelica Hopes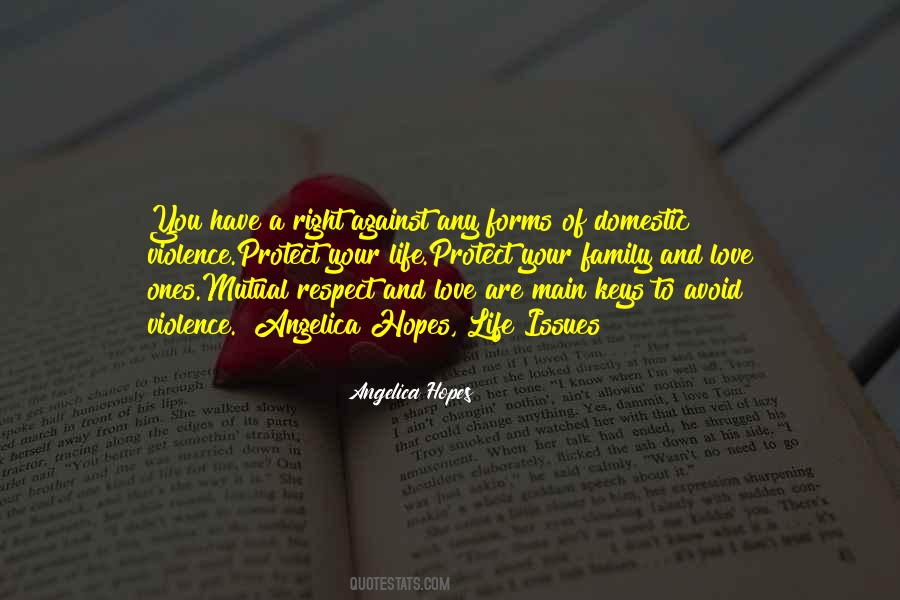 #53. If the widow of a man who died without leaving issue, raises up to him a son by a member of the family , she shall deliver to that ,son the whole property which belonged to the ,deceased . - Author: Guru Nanak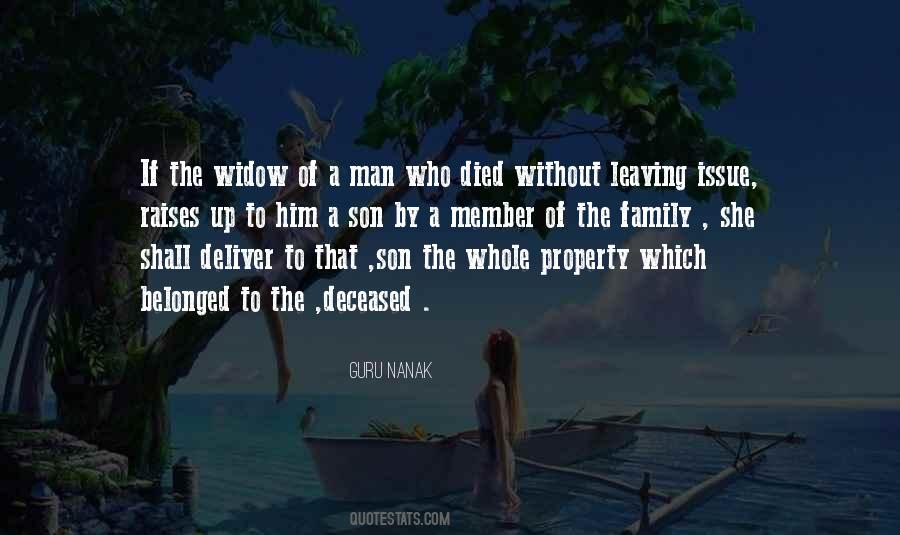 #54. We need the wisdom to accept the fact that this world abounds with issues we cannot solve; and we need to part ways with those people, ideas and things that are a vexation to the soul. - Author: Janvier Chouteu-Chando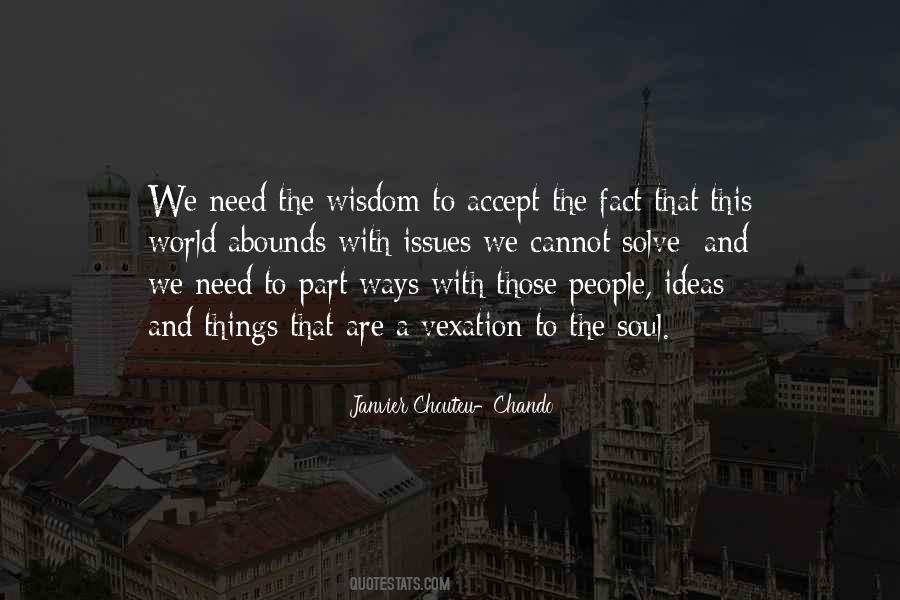 #55. Most poor people in America are white. The family breakdown issue is an issue that crosses all sorts of racial lines. High school dropout issues. But because of the flow of events which involve the racial component, we've sometimes confused racial issues with other issues which are trans-racial. - Author: David Brooks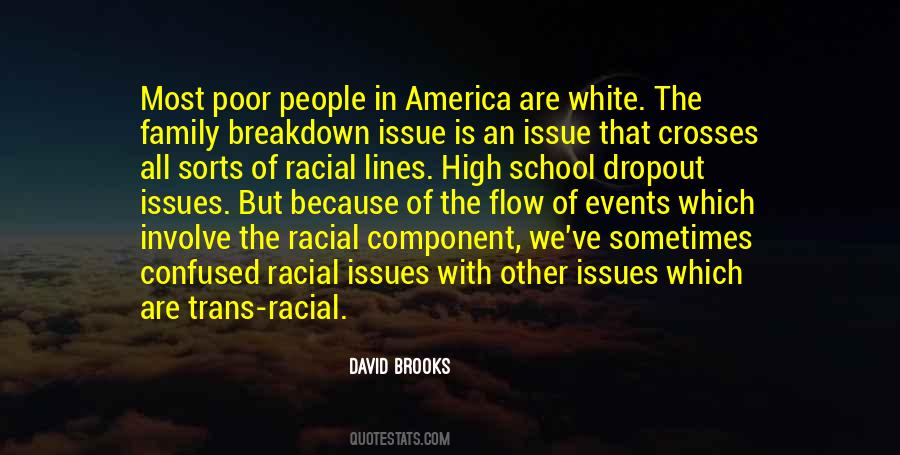 #56. I love Mary very much. I love her family very much. This is just an issue in which we disagree. - Author: Liz Cheney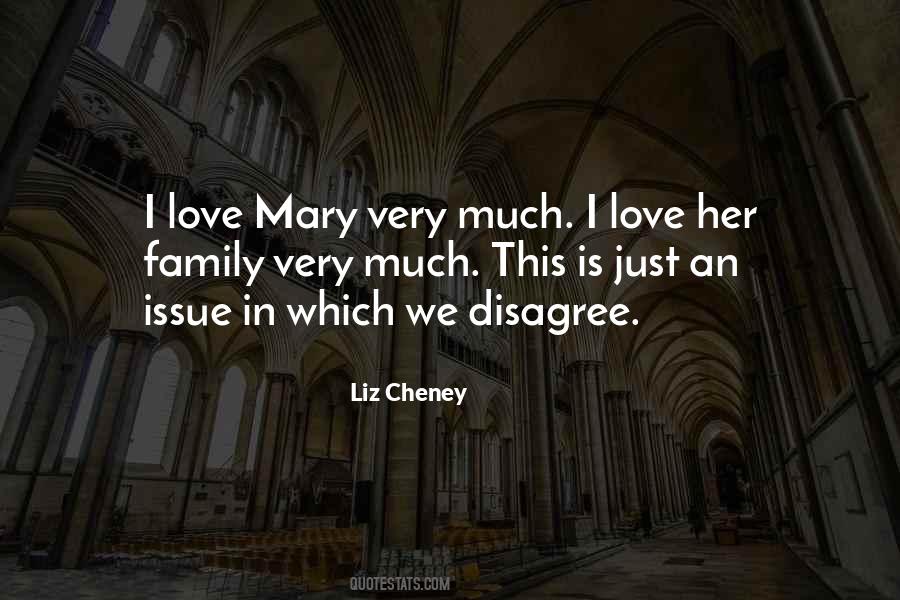 #57. But you know, we have a very normal family. We've had our ups and downs. You know, we've had our issues, but we've had great cause for celebration. - Author: Julius Erving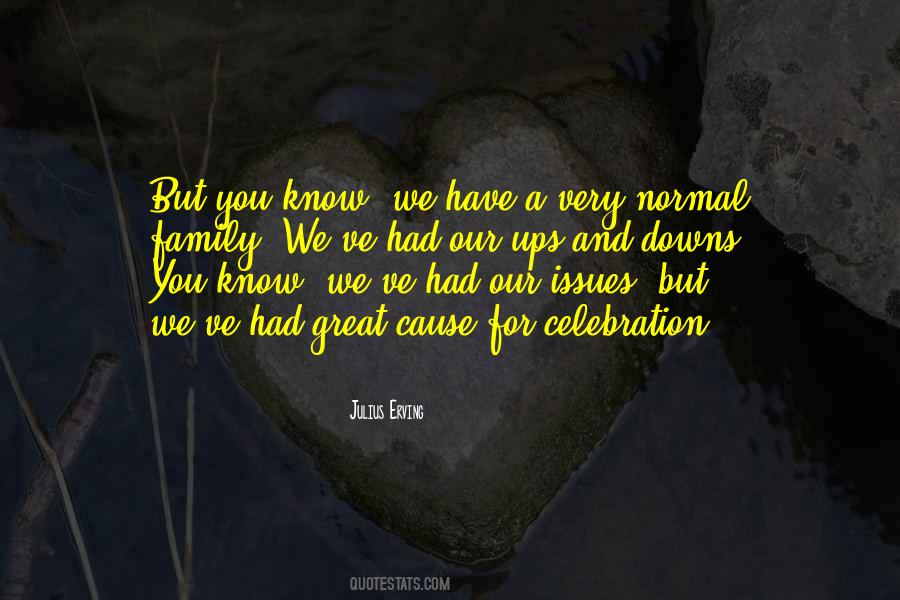 #58. Her mother told her once that her father was sick. That the sickness made him do it. She made it seem logical. As if he was lying in a hospital bed with cancer rather than rotting in a prison cell for rape and murder. - Author: Anais Torres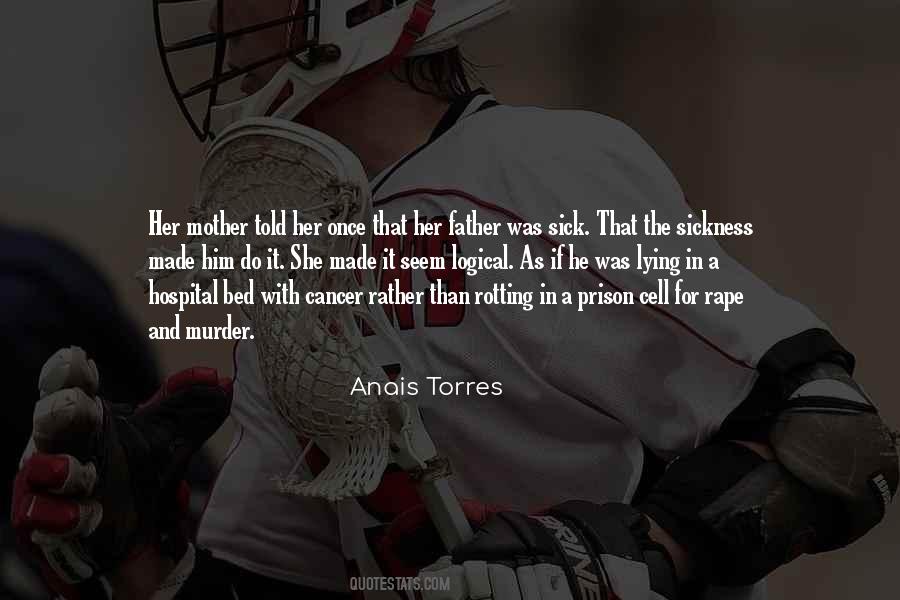 #59. Yet all of us are vulnerable to intense, nonproductive angry reactions in our current relationships if we do not deal openly and directly with emotional issues from our first family - in particular, losses and cutoffs. - Author: Harriet Lerner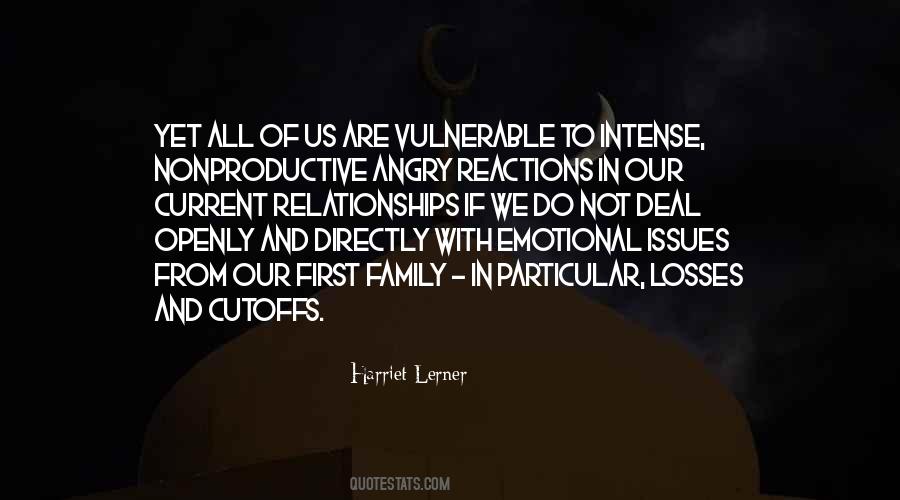 #60. Let us tackle the big issues with bold ideas that transform Iowa to accomplish our shared mission to grow Iowa, and realize our shared vision of Iowa as the best place to live, work and raise a family. - Author: Thomas Vilsack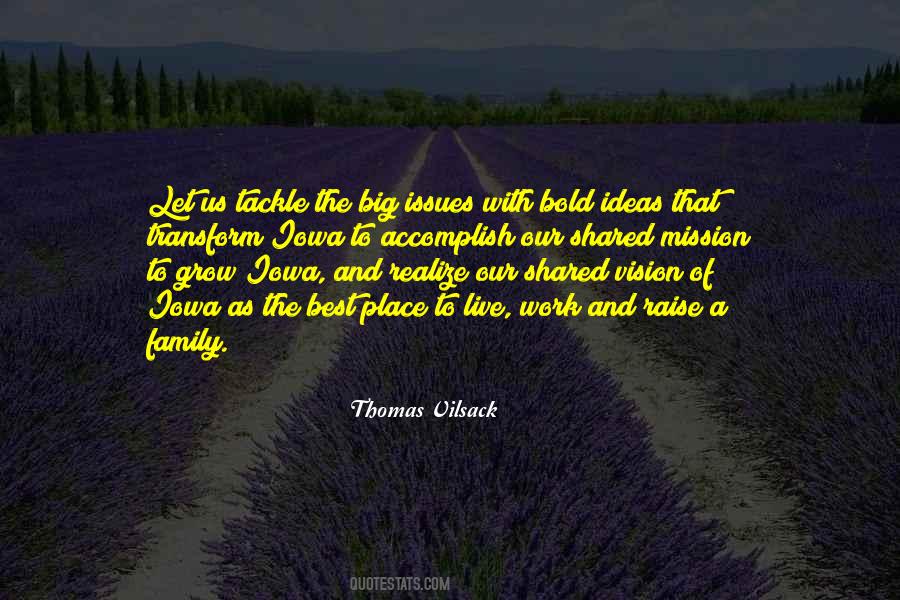 #61. Global health issues remind us - perhaps more than any other issue - that we are all children of the same extended family. - Author: Kathleen Sebelius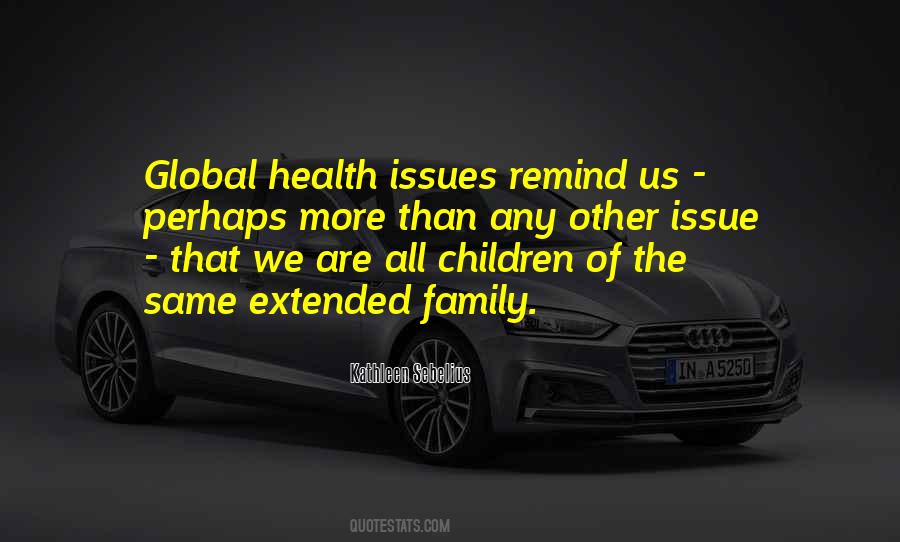 #62. My mother's family were full-on Irish Catholics - faith in an elaborate old fashioned, highly conservative and madly baroque style. I sort of fell out of the tribe over women's rights and social justice issues when I was just 13 years old. - Author: Geraldine Brooks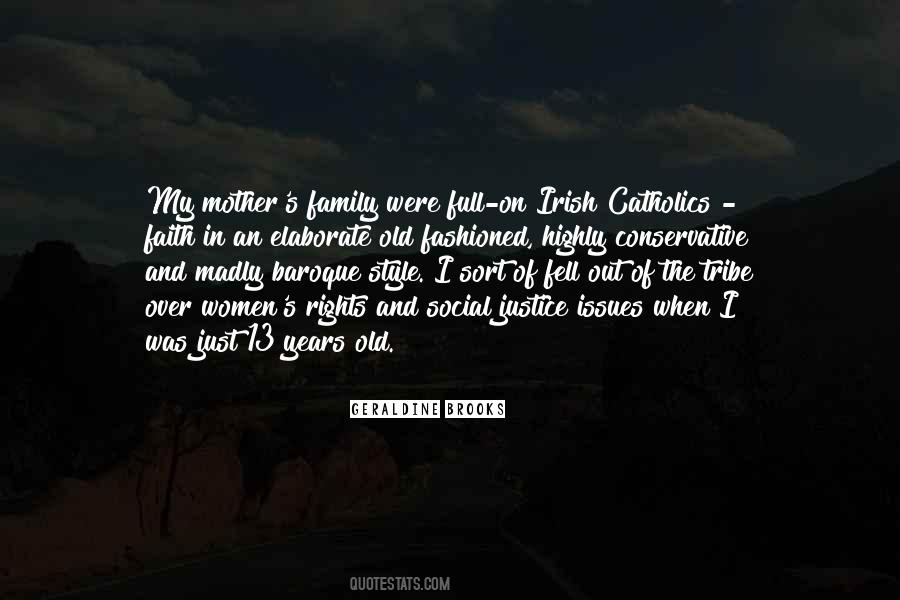 #63. I had my issues with the Kardashians, absolutely. I think there's so much wrong with how they are the most revered family in the country, but they are, nevertheless. - Author: Lisa Ling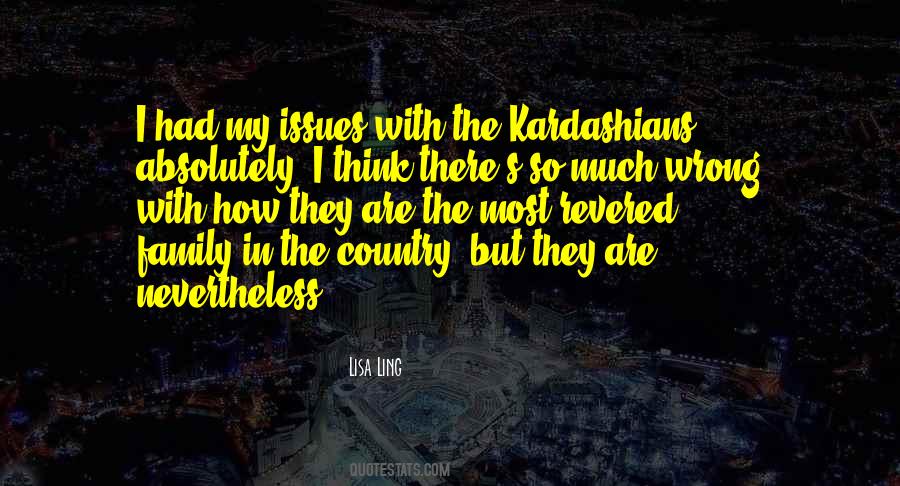 #64. They've really got to recognize that all of us bring some of our family issues to work and our work home. - Author: James Levine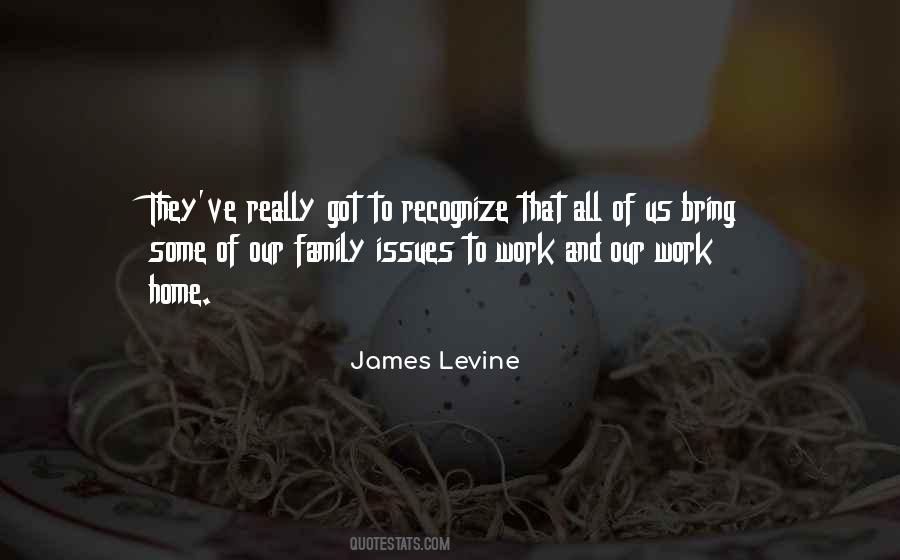 #65. It was through the private world of family that the public world of politics came alive for me: living in intimate proximity with people for whom larger questions of ideology and belief, as well as issues relating to politics and governance, were vivid daily realities. - Author: Sonia Gandhi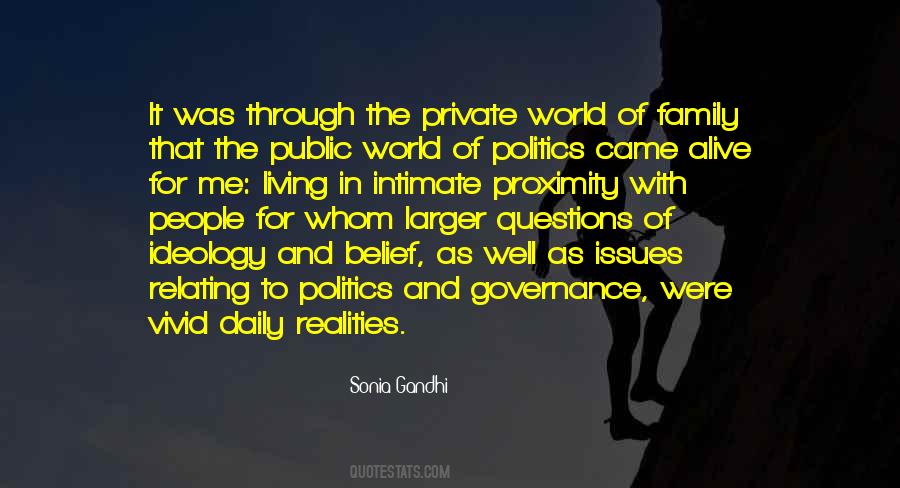 #66. Immigration is not an issue that I read about in the newspaper or watch a documentary on PBS or CNN. It's an issues I've lived around my whole life. My family are immigrants. My wife's family are immigrants. All of my neighbors are immigrants. - Author: Marco Rubio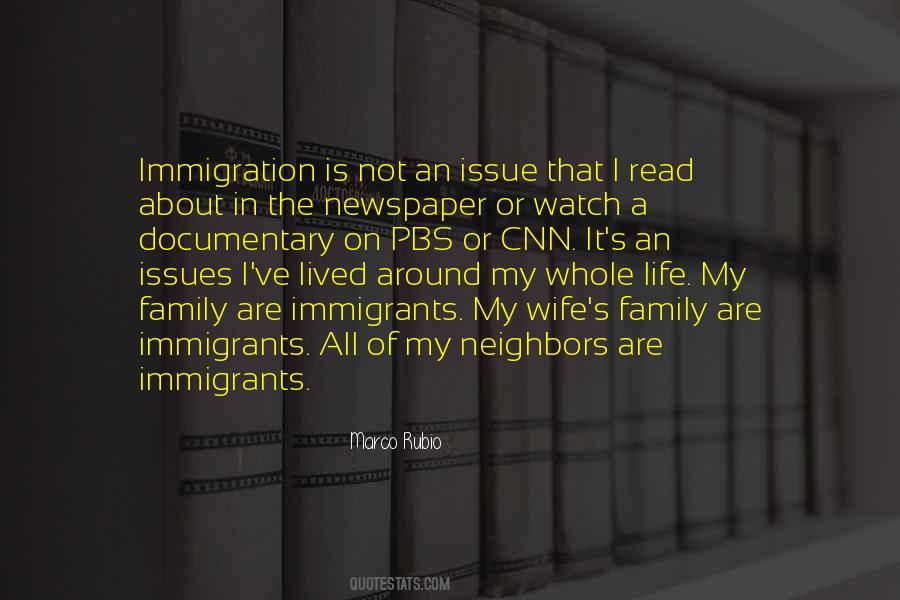 #67. I want to deal with somebody who comes from another country to the United States and has a family that comes. I don't care if it's a black family from Jamaica or a Hispanic family from Mexico. These issues need to be dealt with, but they need to be dealt with in the entertaining way. - Author: Harvey Weinstein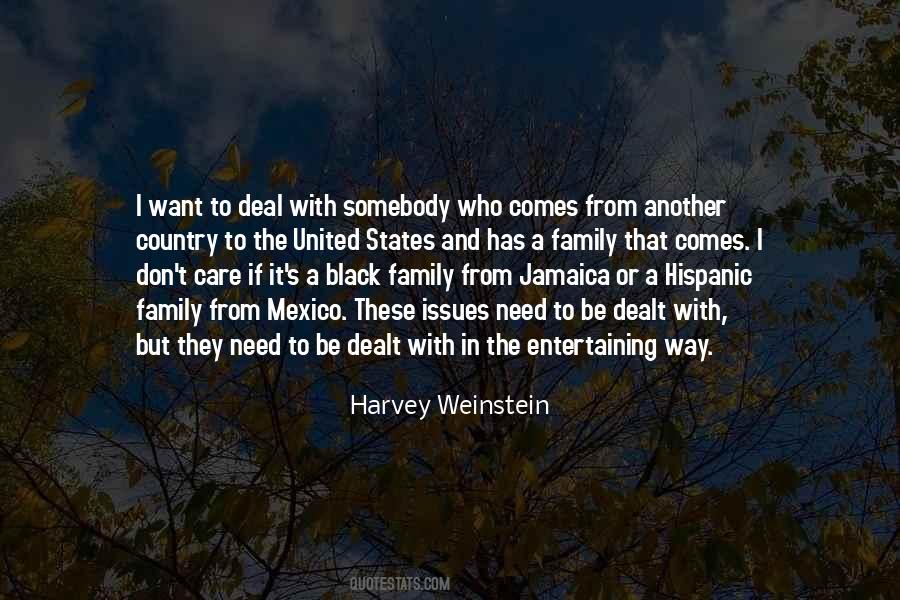 #68. Emma stared at the ceiling of the hotel room. Her thoughts went over every memorial, each picture, the families and children left behind. At this point it was a nightly routine. Some people counted sheep. Emma counted her father's victims. One by one. - Author: Anais Torres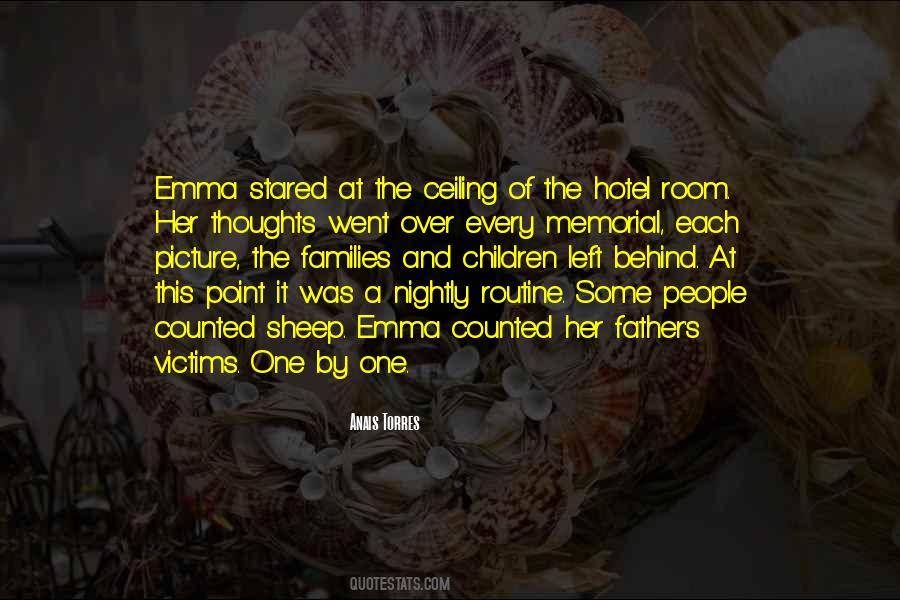 #69. He was a chicken in the outside world that turned into a lion on entering the house. - Author: Pawan Mishra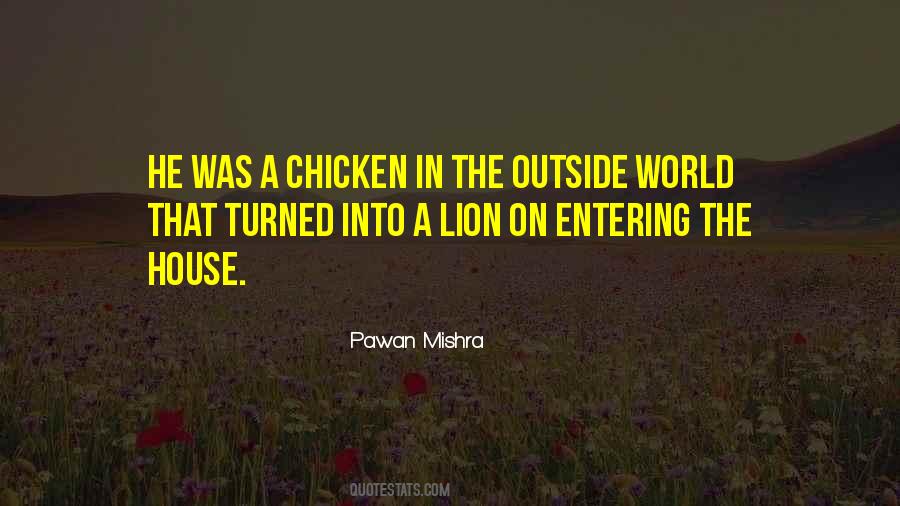 #70. We need to focus on issues where we all agree, which is spending discipline and control and making sure that government, both in Springfield and in Washington, doesn't take more from your family budget. - Author: Mark Kirk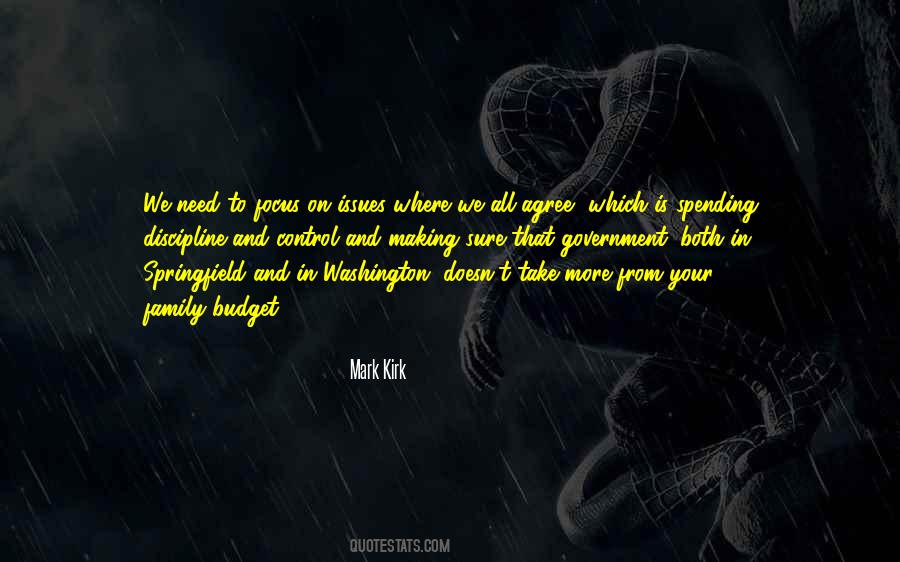 #71. No one thinks she [Carolyn Maloney] can pass the Paid Family and Medical Leave Act; she passed it through the House. I mean, it's just - she's there. She knows the issues and she makes sure they get done. - Author: Eleanor Smeal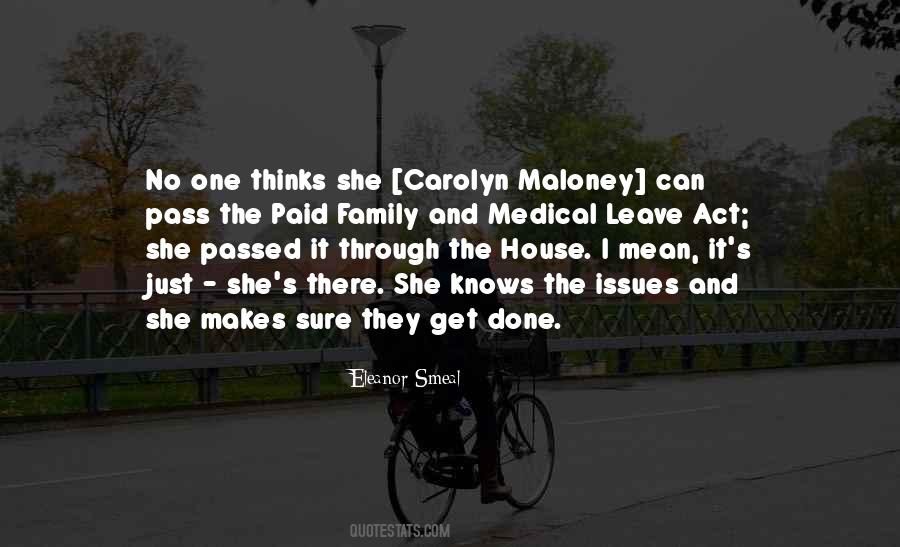 #72. If you have issues with family, friends, and people at work, try and solve these issues head on so you can move on and concentrate on having the life you want. - Author: Heidi Klum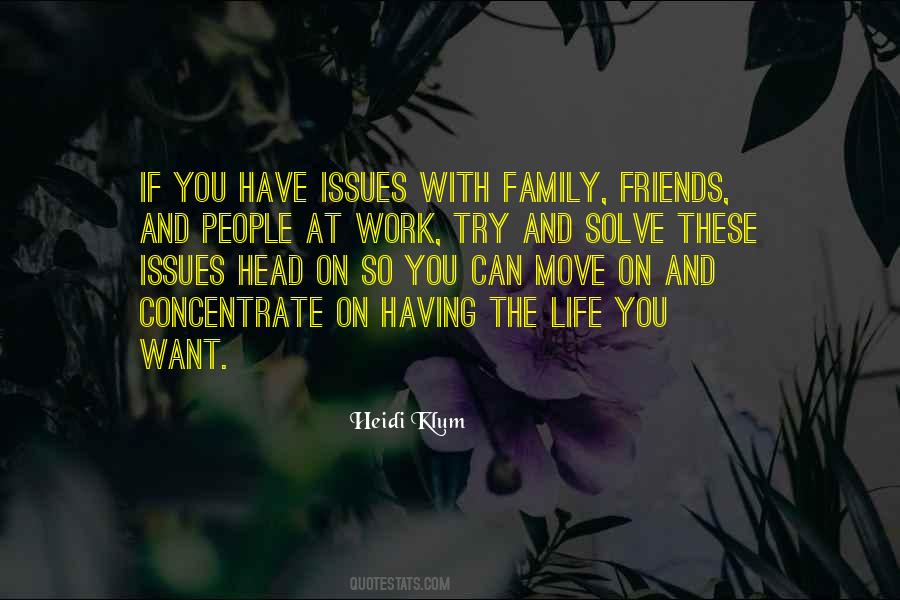 #73. We busted a lot of family secrets with this. But to make a long story short, my parents relationship was built heavily on security issues for my Mom, and when my Dad couldn't provide security, the relationship unraveled. - Author: Kenny Loggins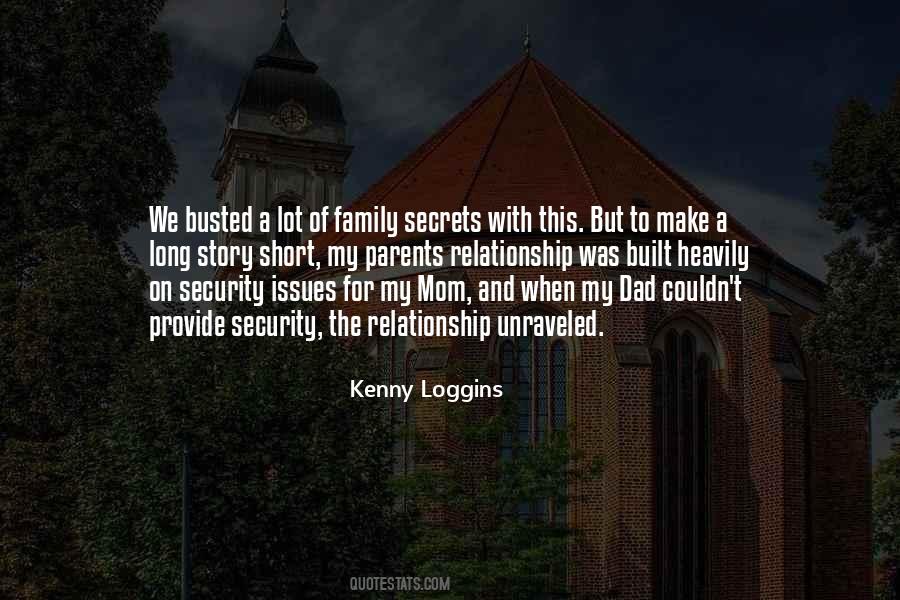 #74. I felt a long way from the pre-me, the pawn-Christian who was a Republican because my family was Republican, not because I had prayed and asked God to enlighten me about issues concerning the entire world rather than just America. - Author: Donald Miller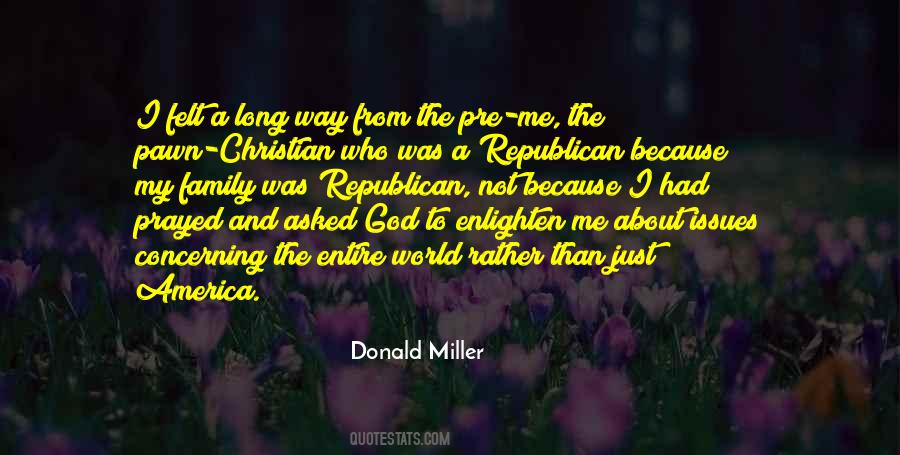 #75. Women tend to vote the economic interests of their families and to speak out on family economic issues. For men, there's often much more focus on the idea of personal failure: "If I'm not winning this great economic game, it must be my fault." - Author: Elizabeth Warren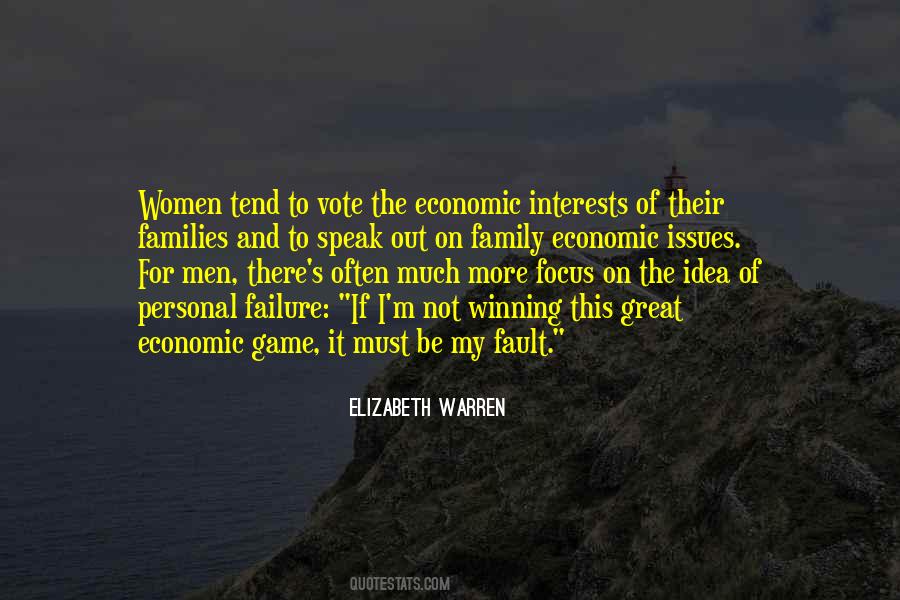 #76. I do a number of things working on human rights issues, prison recidivism rates, and then I also push and have worked a lot on the social issues of rebuilding the family. - Author: Sam Brownback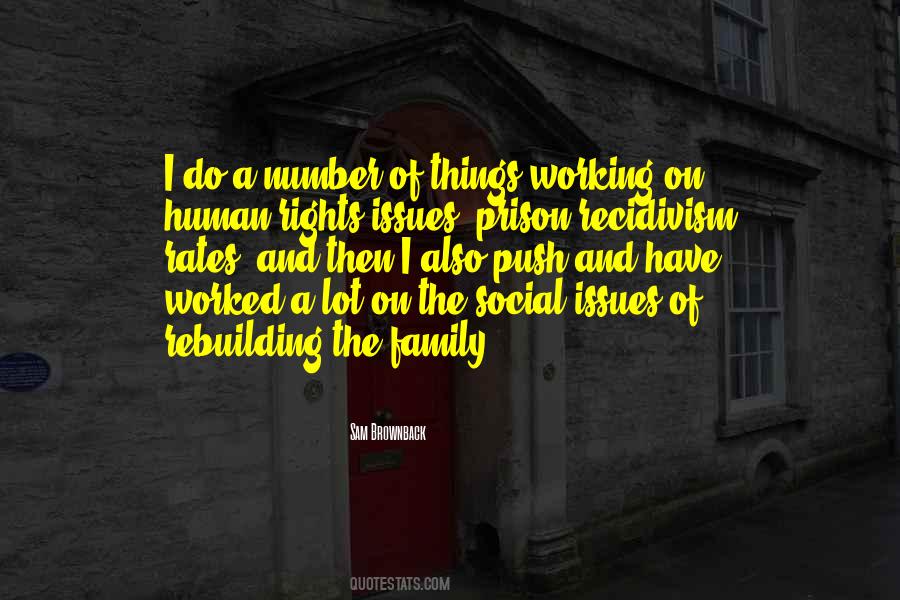 #77. Family issues and a failing career would be enough to consume most young actresses. - Author: Jane Velez-Mitchell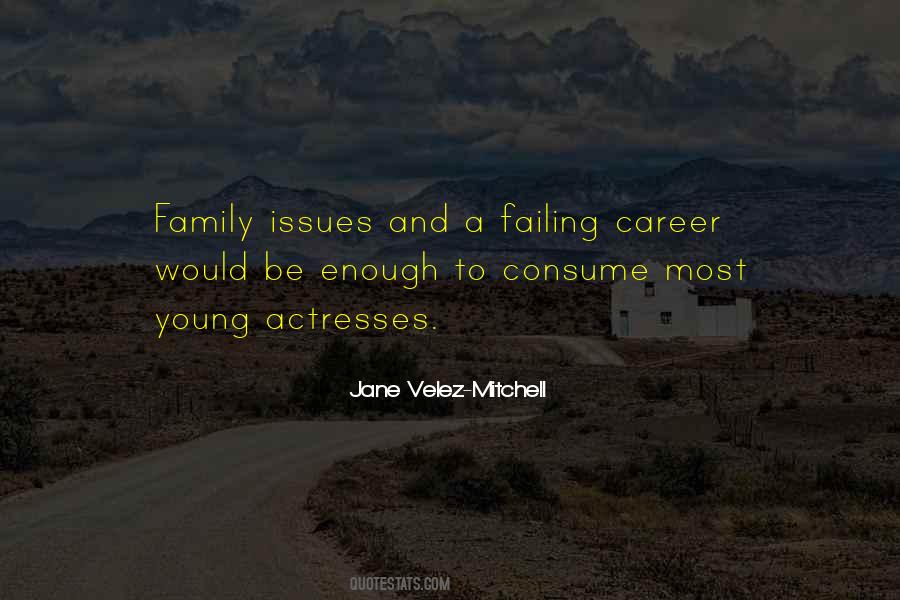 #78. I don't know what the secret is. We're a family ... We all love each other ... and we've all worked through whatever issues there've ever been, and in a healthy way. So, we all get along. Love conquers all, I guess. - Author: Zoe Kravitz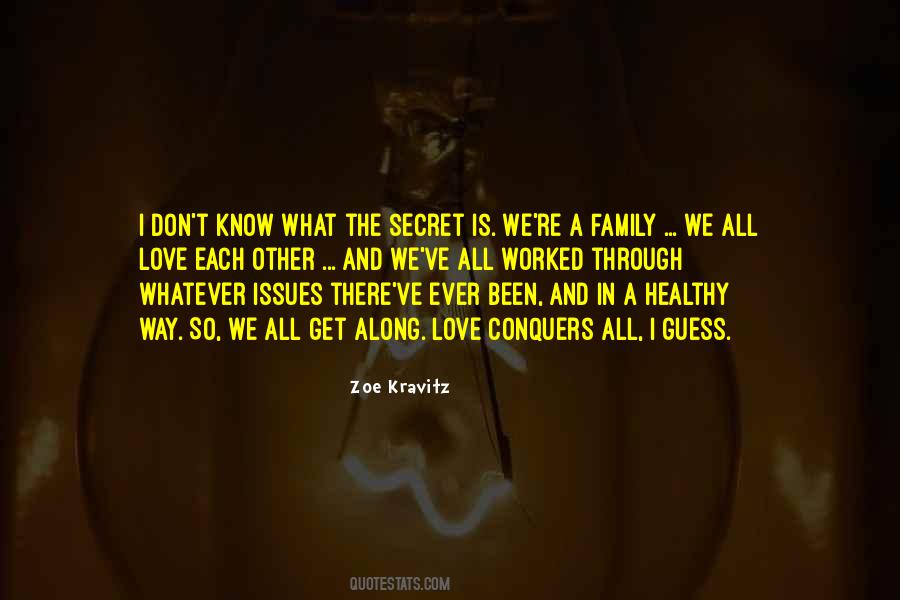 #79. It's understandable why TV hasn't been diverse because a lot of TV writers are white dudes from Harvard. And white dudes from Harvard aren't going to immediately want to write about trans issues. They're not immediately going to want to write about a Filipino family. - Author: Rachel Bloom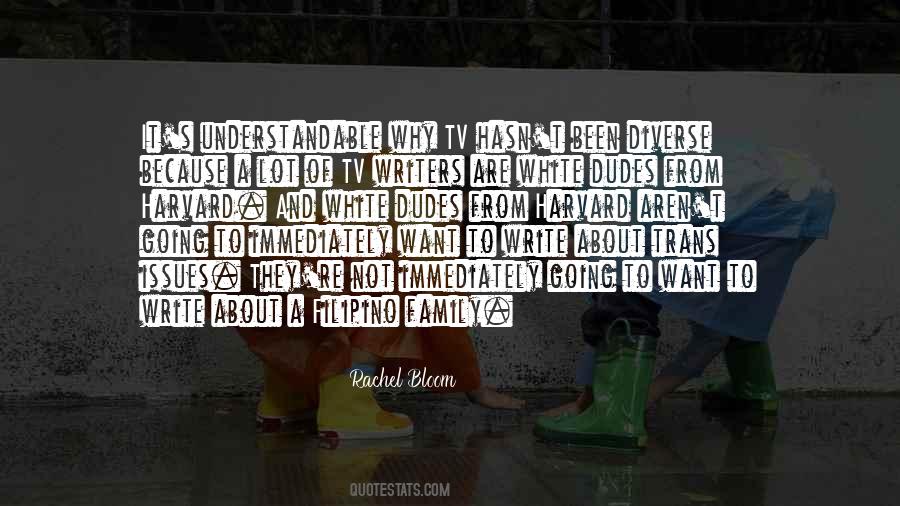 #80. The memoir was a very personal book. I wrote it as a personal journey and search about who my father was and how my family had come together and come apart - sorting all that out, you know, issues of personal identity. - Author: Barack Obama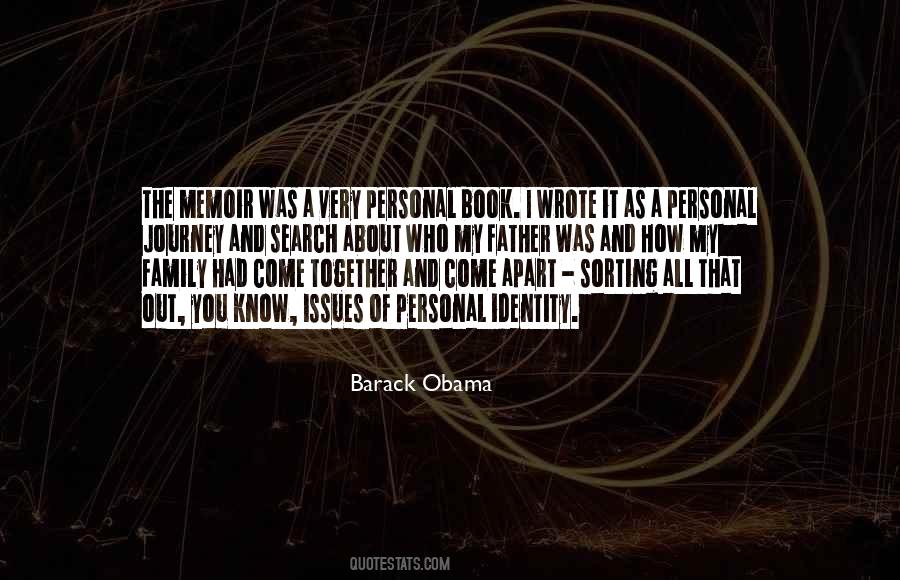 #81. I grew up speaking English and Spanish. I grew up moving from country to country due to political, governmental, and social issues and just family atmosphere that wasn't right to bring up your kid in a country where there's a dictatorship or a communist type sense, so I incorporate that int music. - Author: Cristian Machado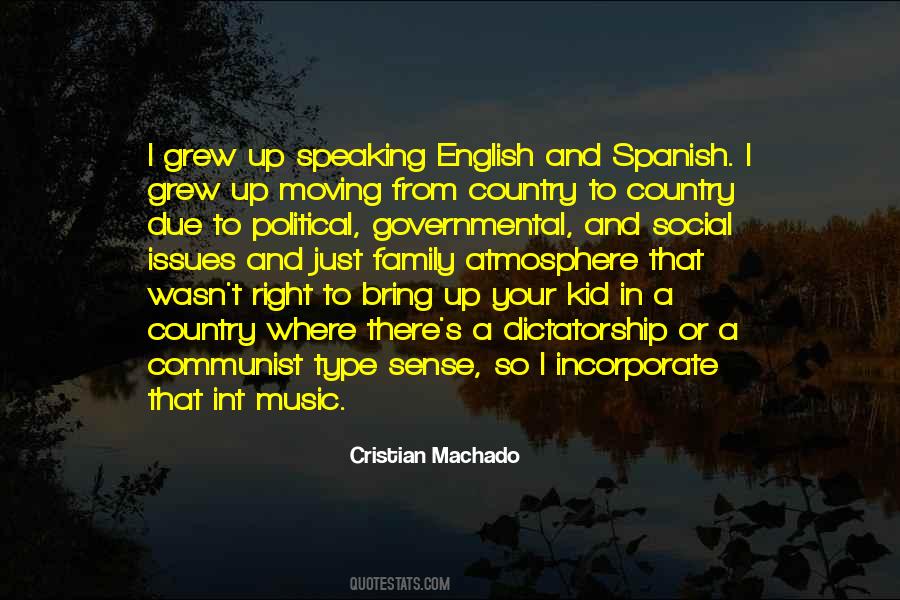 #82. We put together a one-sentence petition asking Congress to censure President Clinton and move on to other pressing issues. We sent it to under 100 friends and family, and within a week we had 100,000 people sign the petition. - Author: Joan Blades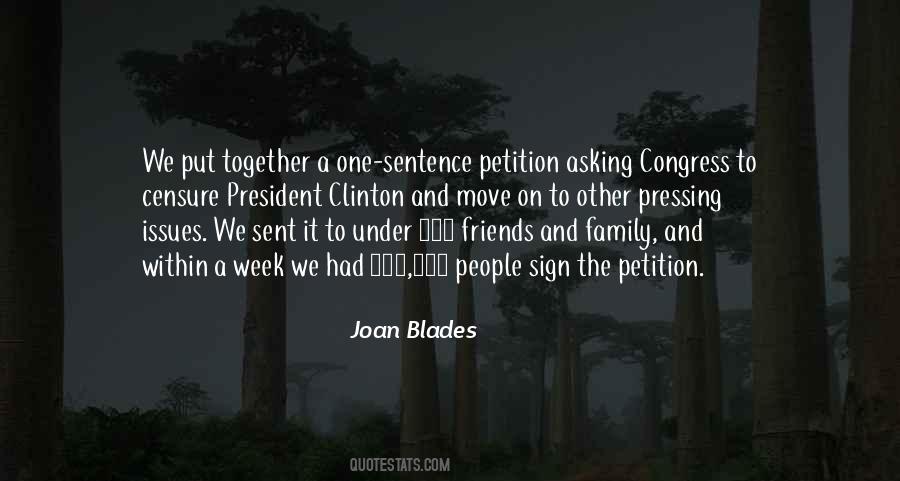 Famous Authors
Popular Topics