Israel Peace Famous Quotes & Sayings
List of top 100 famous quotes and sayings about israel peace to read and share with friends on your Facebook, Twitter, blogs.
Top 100 Quotes About Israel Peace
#1. We want to see Israel withdraw from our territory. But we don't want to be accountable vis-a-vis Israel on the security basis, because we don't see, in the absence of a peace agreement, that Lebanon can really be accountable to Israel if anything happens. - Author: Rafik Hariri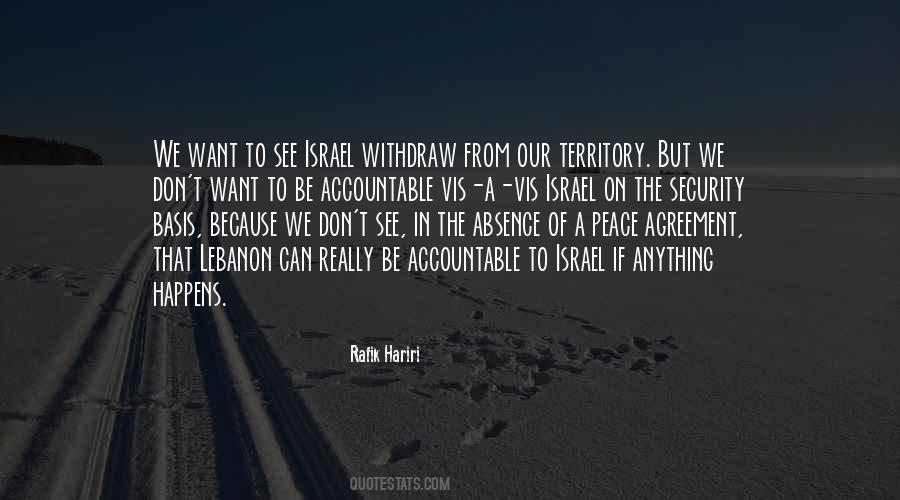 #2. Too often in the past, U.S. leaders have forced Israel to pay the price for American strategic interests in the Middle East - through concessions in the peace process as well as passivity in the face of Iraqi attacks. - Author: Ron Silver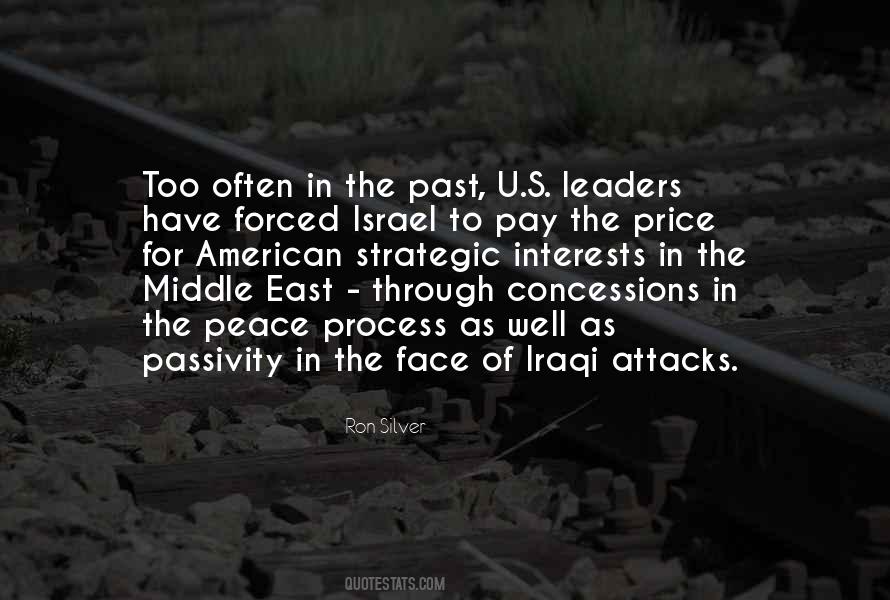 #3. Isaac and I are going to Israel to ride for peace enviromental justice and a safer world for us all. - Author: Mandy Patinkin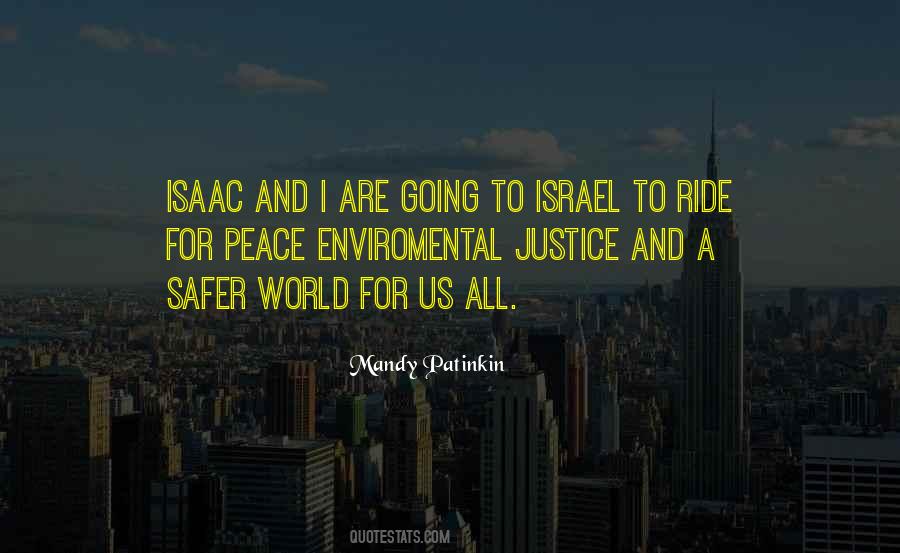 #4. I am deeply concerned that, without peace and a two-state solution, the Jewish and democratic nature of Israel is in danger. That's why I have opposed Israel's settlement policy since 1973, and that's why I have favored a two-state solution since 1967. - Author: Alan Dershowitz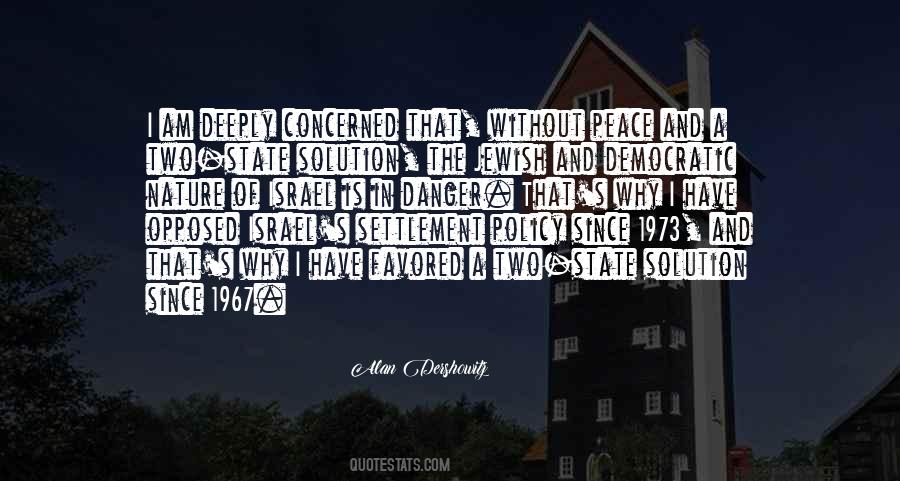 #5. As an Israeli, I have come to understand: there is no way to love Israel and reject a two-state peace, no way to love Israel and reject Palestine. - Author: Yael Dayan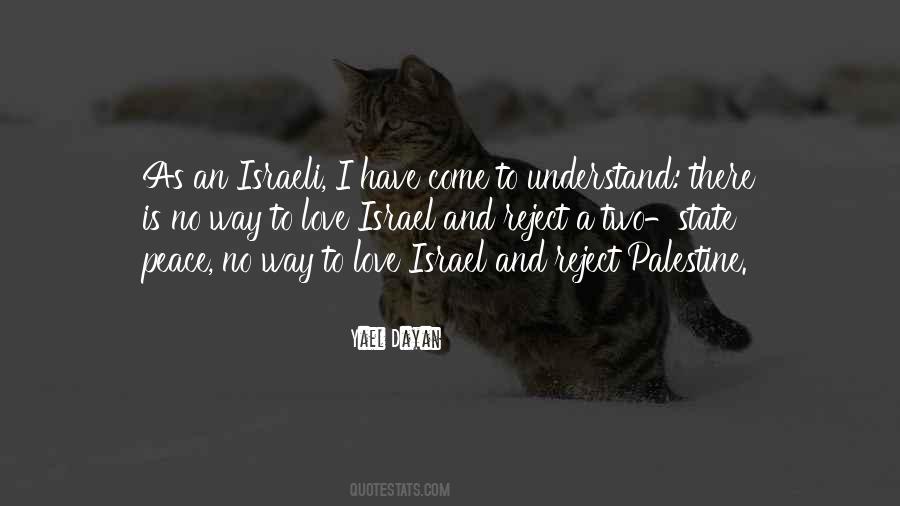 #6. We have peace with Israel. We're actually the last man standing. So there is going to be immense pressure and people asking, 'Why are we having this relationship when it's not benefiting anybody?' Obviously, my answer is you always benefit from peace. - Author: Abdallah II Of Jordan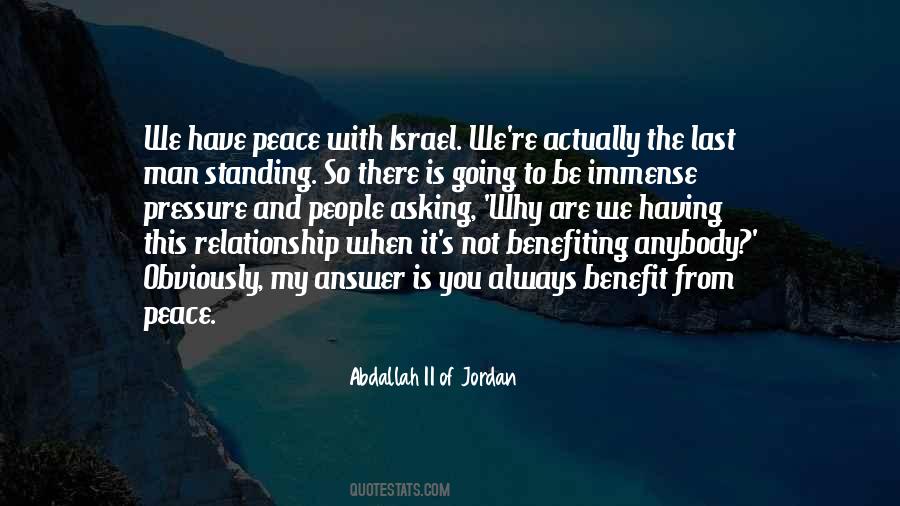 #7. Every administration has this idea to talk tough to Israel and make nice to the Arabs and the Palestinians, and that's the way to bring about peace. It's counter-productive - it's actually the opposite. - Author: Chuck Schumer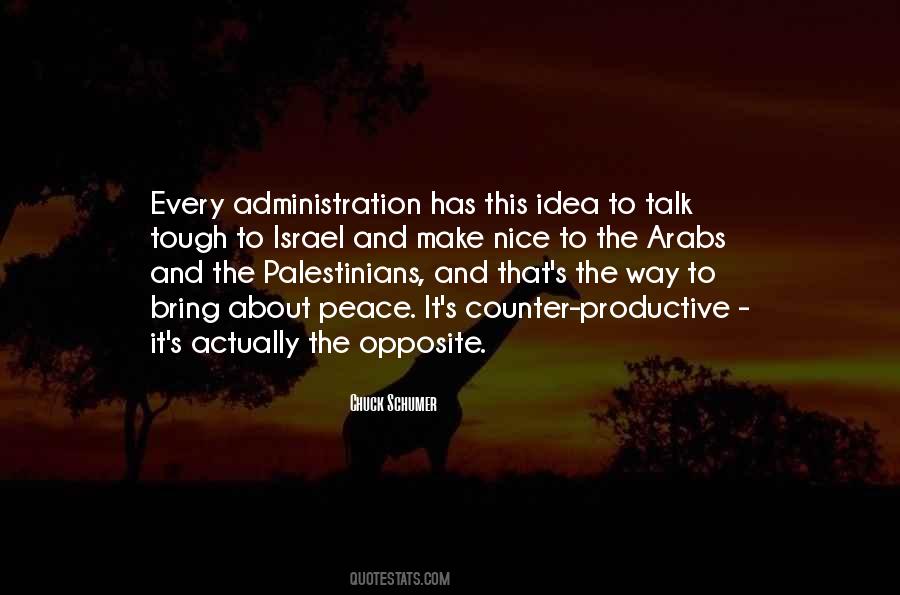 #8. I will go to the UN General Assembly and, in a clear voice, tell the nations of the world the truth about Iran's terrorist regime, which constitutes the greatest threat to world peace. - Author: Benjamin Netanyahu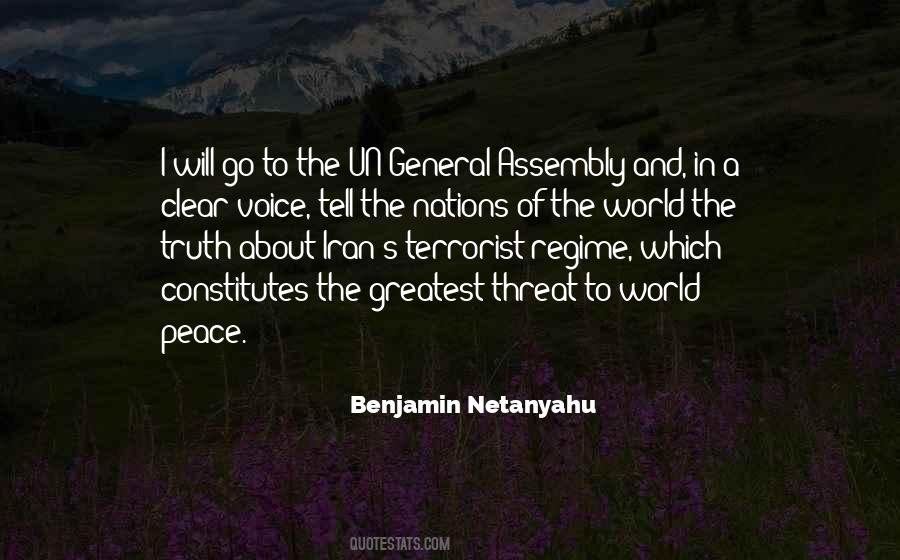 #9. I am inspired beyond my ability to articulate ... and now I know what and who I want to be ... a soldier for peace. - Author: Will Smith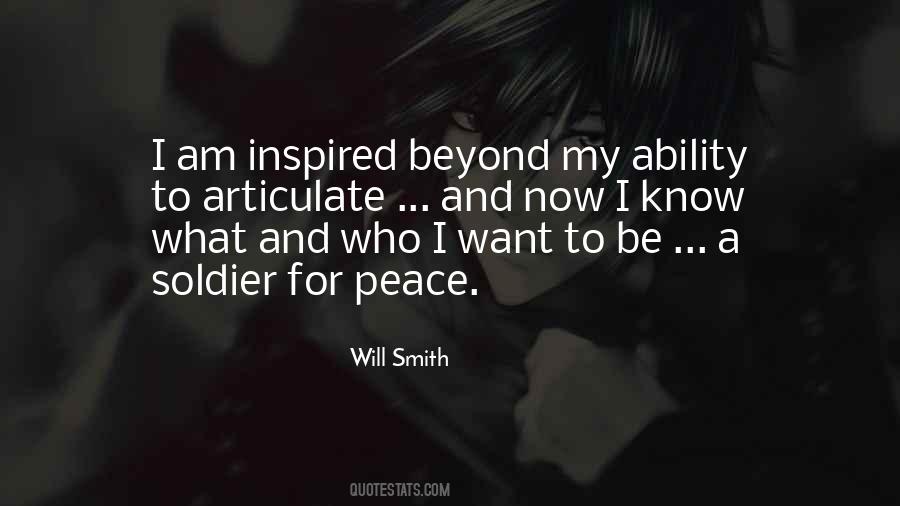 #10. When I was elected President nobody asked me to negotiate between Israel and Egypt. It was not even a question raised in my campaign. But I felt that one of the reasons that I was elected President was to try to bring peace to the Holy Land. - Author: Jimmy Carter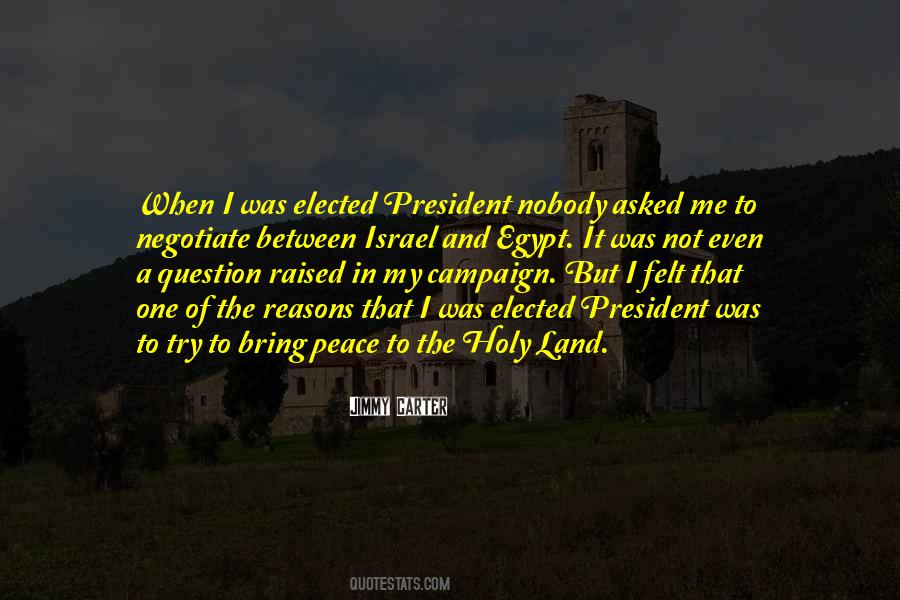 #11. I want to say a simple thing, that the dividing line exists not between Jordan and Israel, but between the proponents of peace and the opponents of peace. - Author: King Hussein I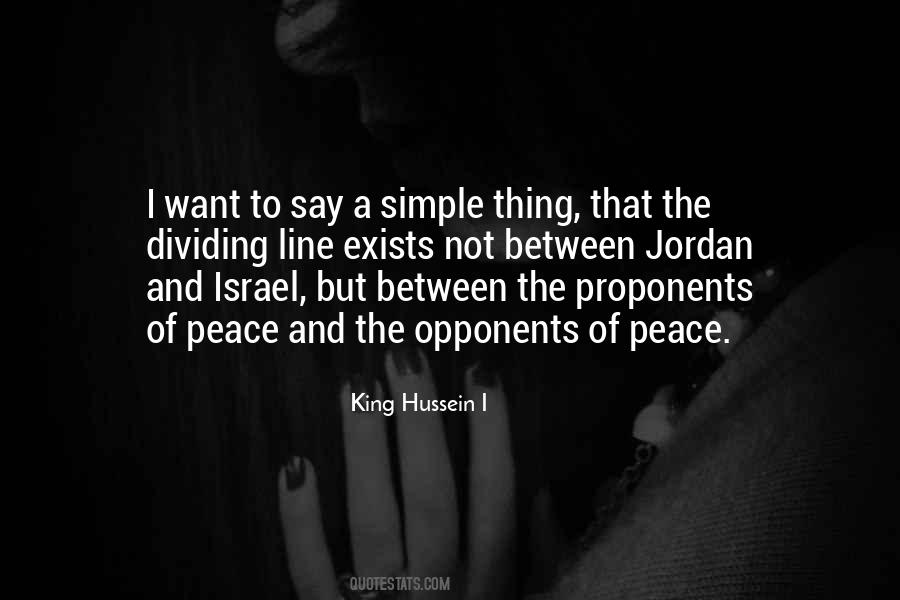 #12. Peace without justice is equivalent to institutionalizing injustice. - Author: Omar Barghouti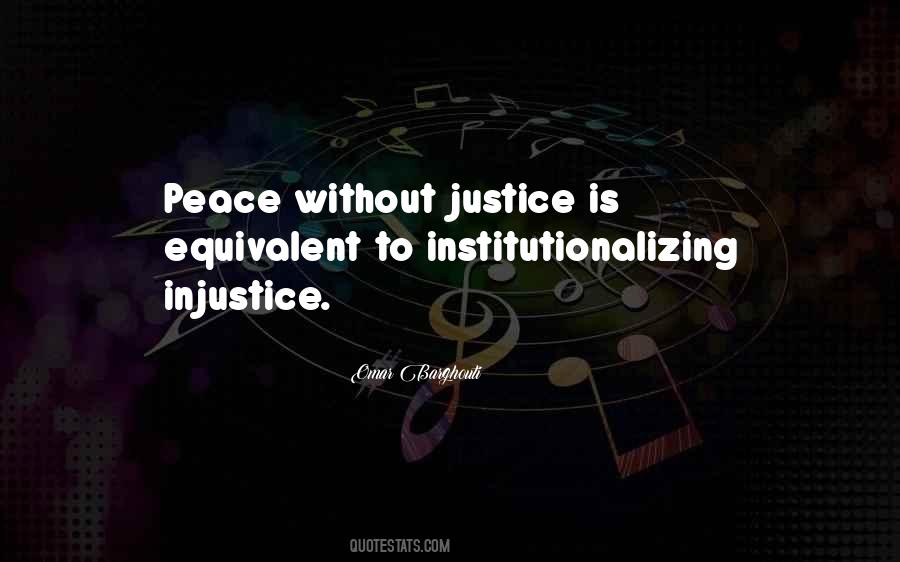 #13. Peace for us means the destruction of Israel. We are preparing for an all-out war, a war which will last for generations. - Author: Yasser Arafat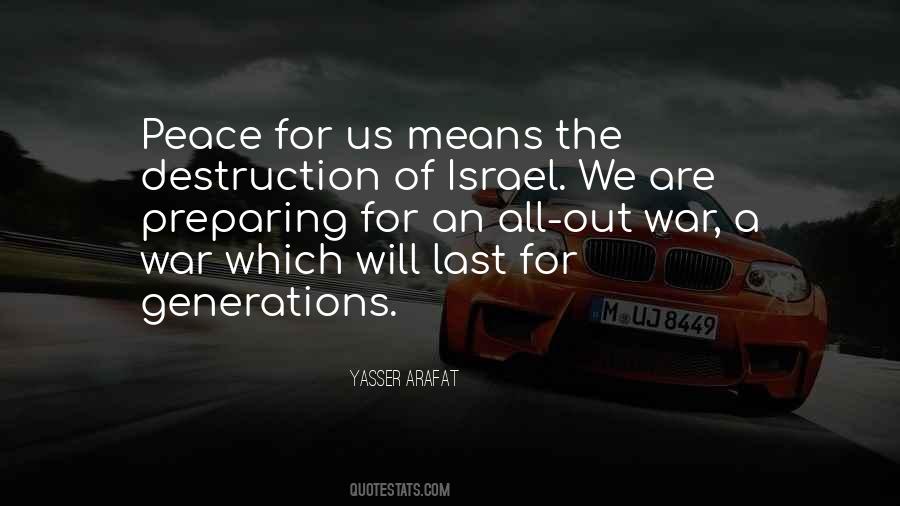 #14. Peace will not wipe out the memory of the massacres it has committed ... And on this last day of the century, I promise Israel that it will see more suicide attacks, for we will write our history with blood, - Author: Hassan Nasrallah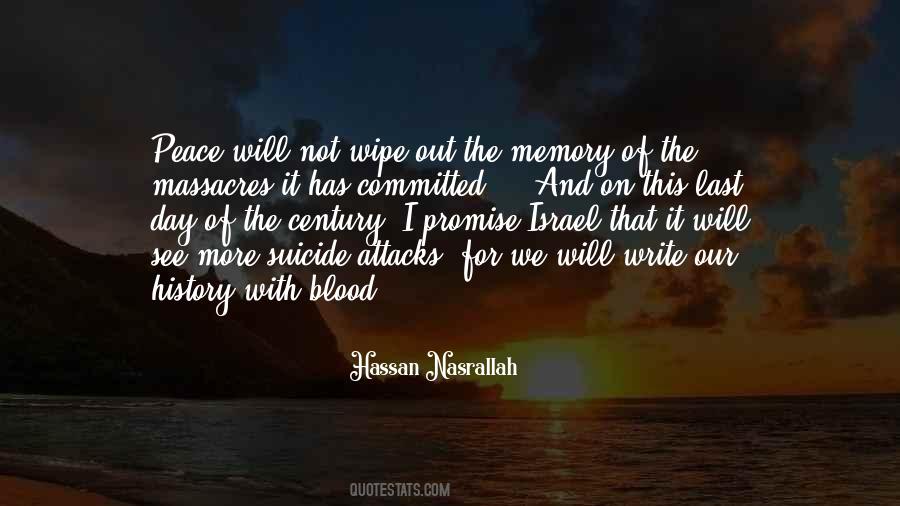 #15. The Bush Administration's failure to be consistently involved in helping Israel achieve peace with the Palestinians has been both wrong for our friendship with Israel, as well as badly damaging to our standing in the Arab world. - Author: Barack Obama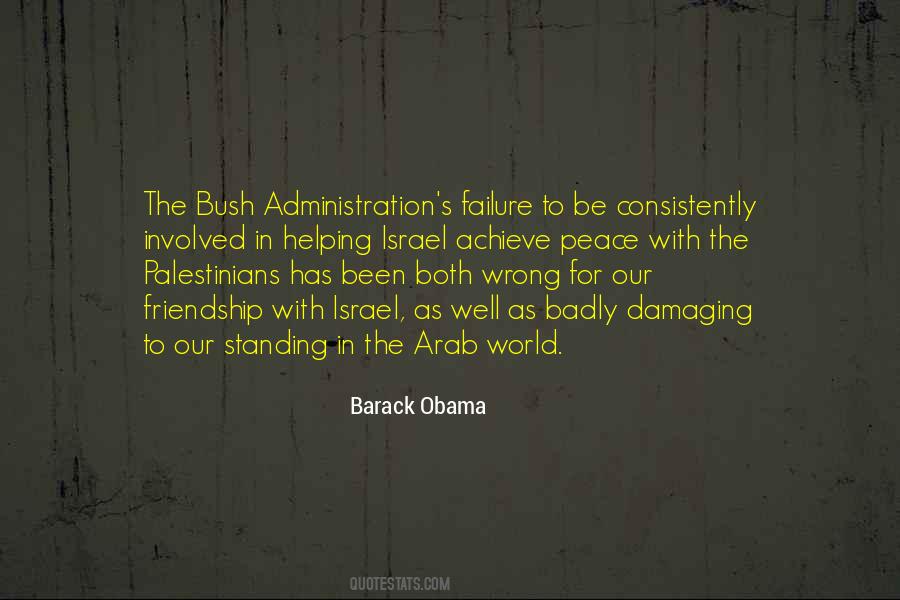 #16. While Israel is prepared to make generous compromises for peace, it cannot go back to the 1967 lines. - Author: Benjamin Netanyahu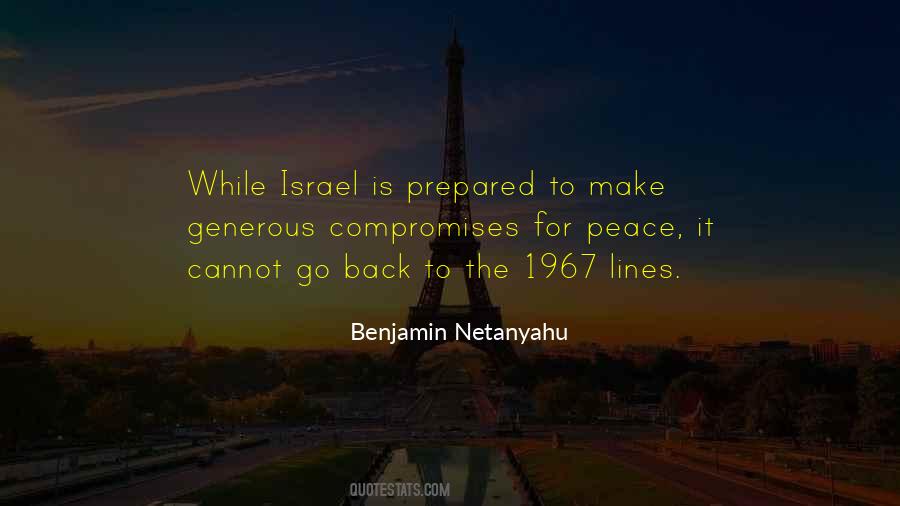 #17. [The United States and Israel] share many common objectives ... chief of which is the building of a better world in which every nation can develop its resources and develop them in freedom and peace. - Author: Lyndon B. Johnson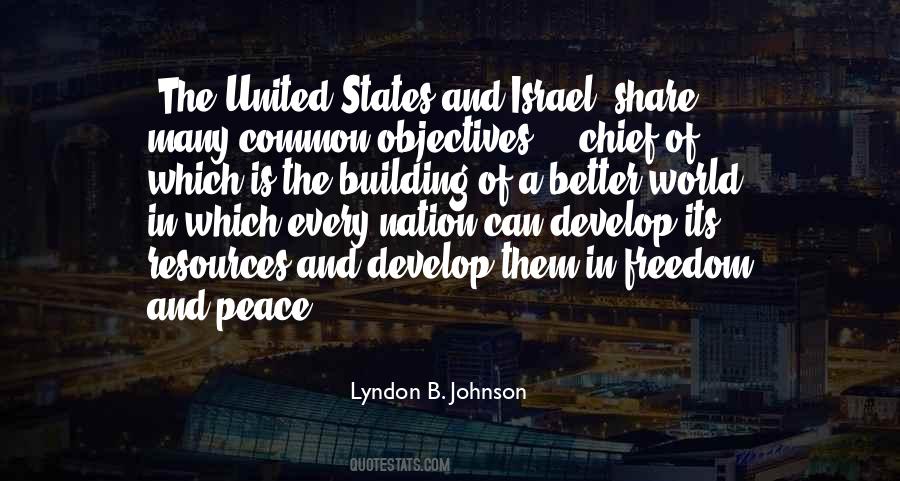 #18. Only God can change a season of war into a season of peace. Would you agree with me in prayer for peace? - Author: Mike Evans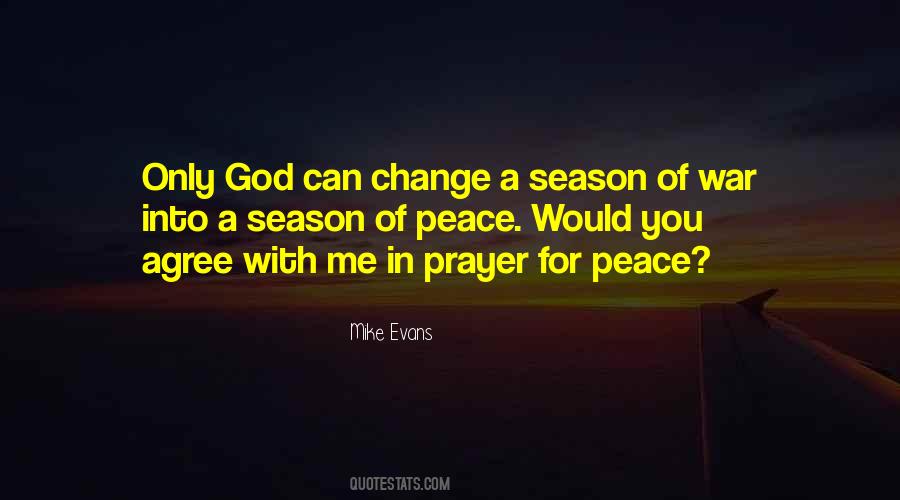 #19. One day the UN Secretary General proposes that, in the interest of global peace and harmony, the world's soccer players should come together and form one United Nations global soccer team.

"Great idea," says his deputy. "Er, but who would we play?"

"Israel, of course. - Author: Mark Steyn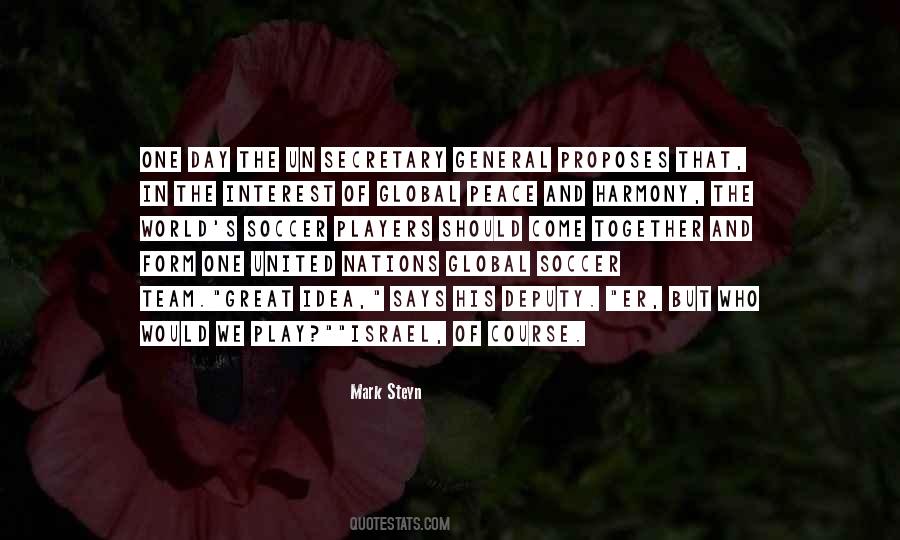 #20. I enter negotiations with Chairman Arafat, the leader of the PLO, the representative of the Palestinian people, with the purpose to have coexistence between our two entities, Israel as a Jewish state and Palestinian state, entity, next to us, living in peace. - Author: Yitzhak Rabin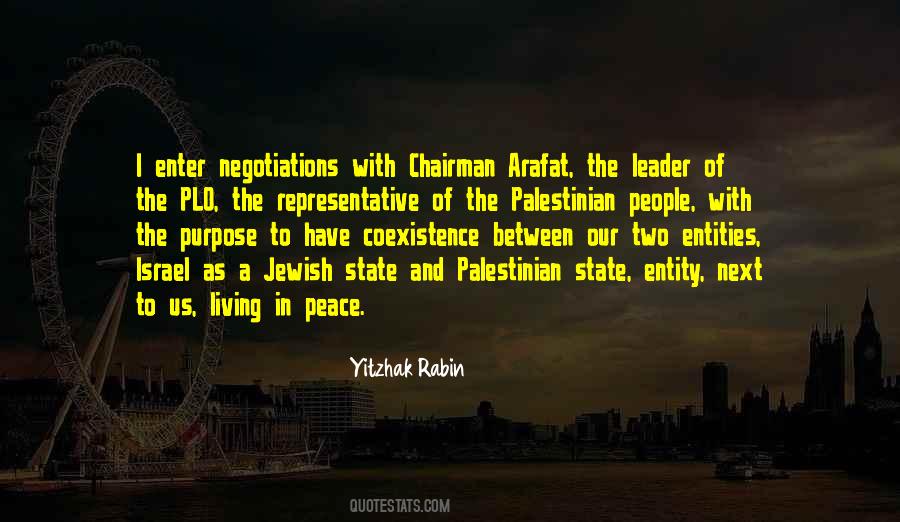 #21. Peace should provide security. It should be durable. I'm ready to go far in making painful concessions. But there is one thing I will never make any concessions on and that's the security of the Israeli citizens and the very existence of the state of Israel. The Palestinians are losing time. - Author: Ariel Sharon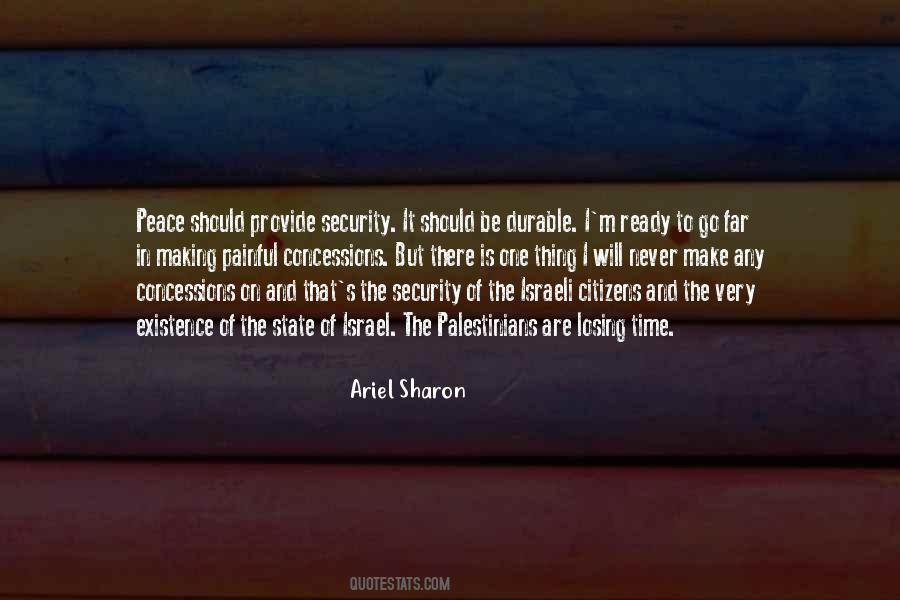 #22. [America] will stand steadfast with Israel in pursuit of security and a lasting peace. - Author: Barack Obama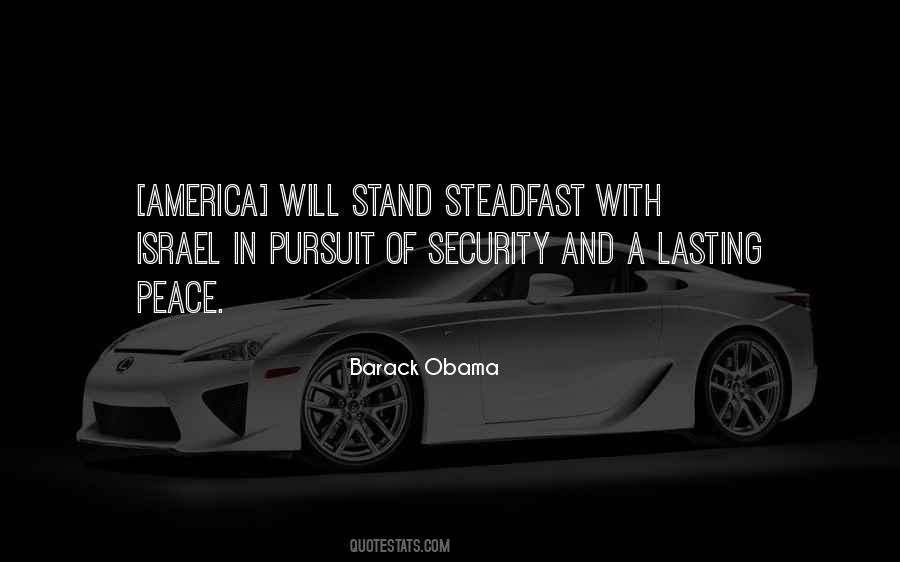 #23. Peace can happen in 24 hours ... just like war can happen in 24 hours. - Author: Sari Nusseibeh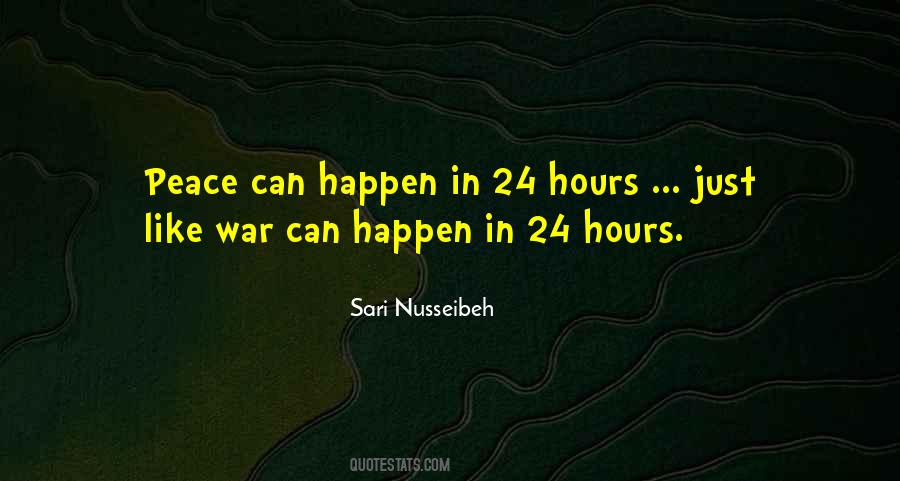 #24. I think that a strong Israel is the only Israel that will bring the Arabs to the peace table. - Author: Benjamin Netanyahu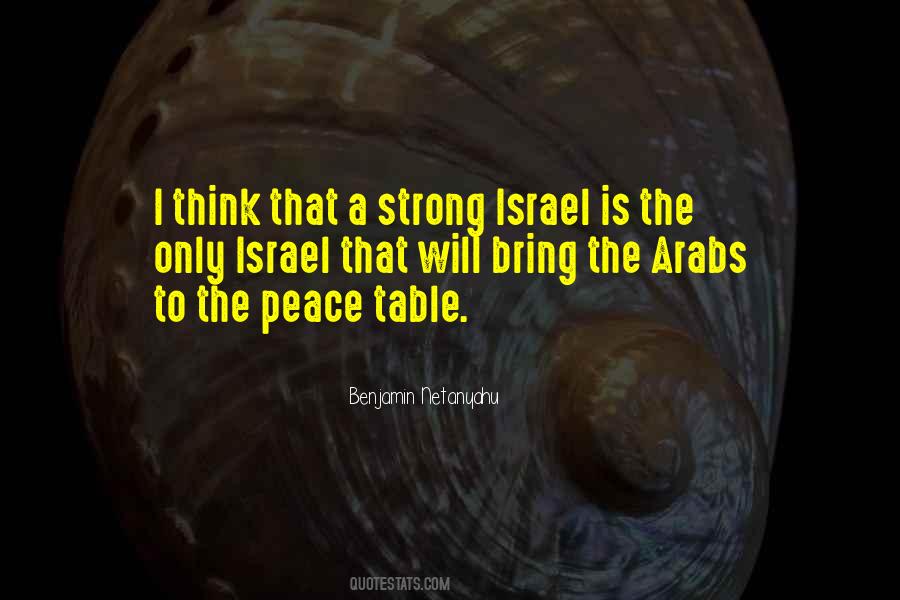 #25. I am sure the majority of Iranians want a peace agreement with Israel and want Iran to integrate with the international community and accept its universal values. - Author: Moshe Katsav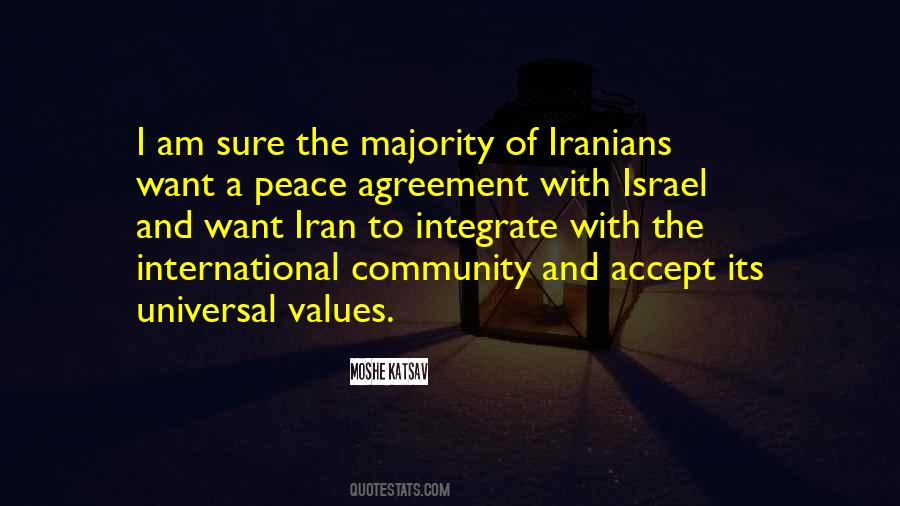 #26. The Middle East that Obama inherited in 2009 was largely at peace, for the surge in Iraq had beaten down the al Qaeda-linked groups. U.S. relations with traditional allies in the Gulf, Jordan, Israel and Egypt were very good. Iran was contained, its Revolutionary Guard forces at home. - Author: Elliott Abrams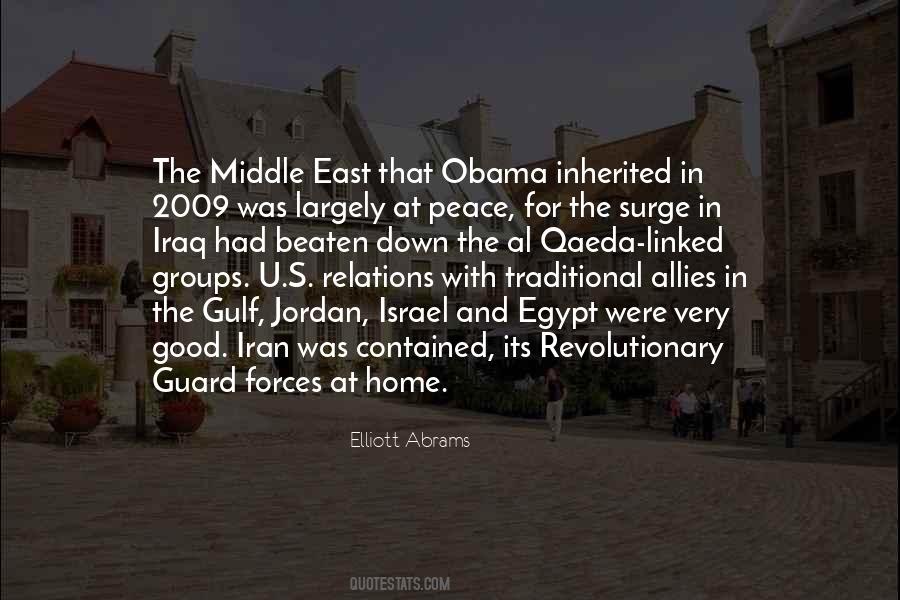 #27. Palestinian and Israeli leaders finally recover the Road Map to Peace, only to discover that, while they were looking for it, the Lug Nuts of Mutual Interest came off the Front Left Wheel of Accommodation, causing the Sport Utility Vehicle of Progress to crash into the Ditch of Despair. - Author: Dave Barry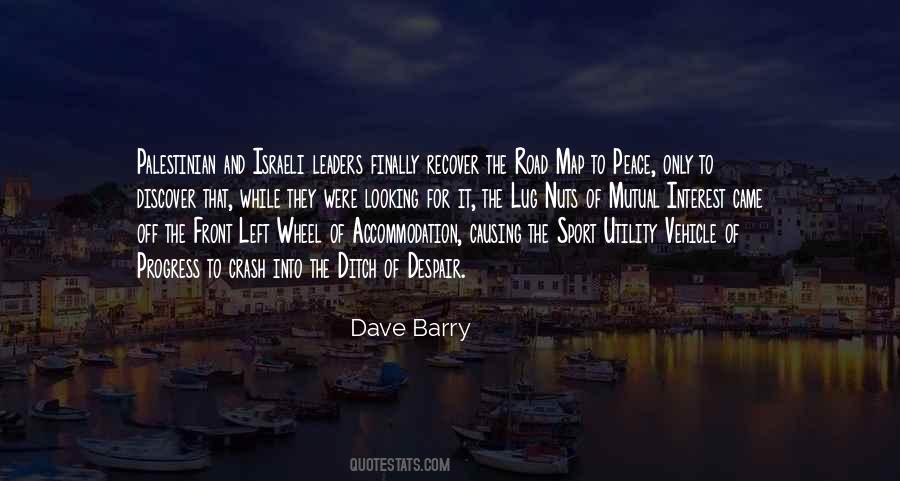 #28. It's clear Israel has suspended the peace process, despite the so-called moderation of the Arab world, because it has no interest in peace. - Author: Hanan Ashrawi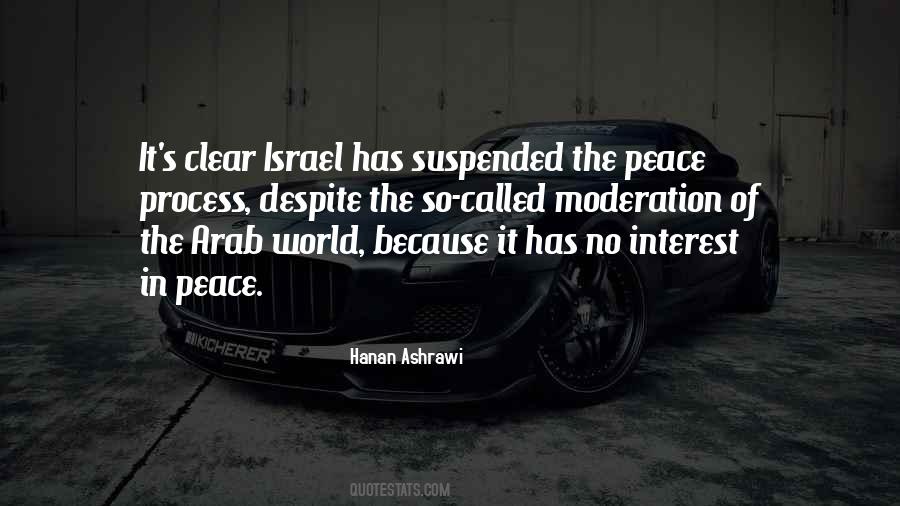 #29. Israel can make peace with an organization that seeks its destruction. That's Hamas. But Israel can make peace with the Palestinian Authority. It requires a lot of courage from both sides including President Mahmoud Abbas, the president of the Palestinian Authority. - Author: Benjamin Netanyahu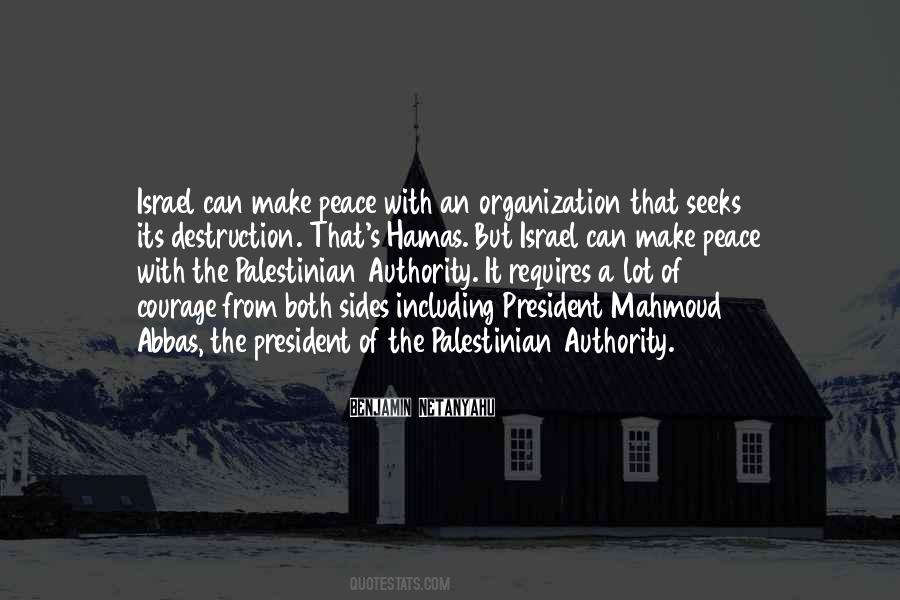 #30. Israel can't make peace without the clear support of the United States. - Author: Alan Dershowitz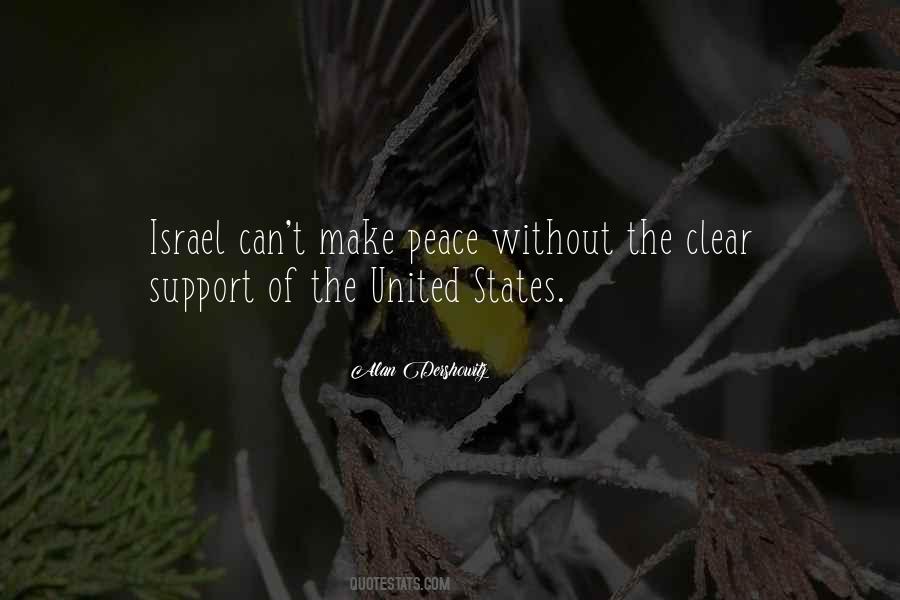 #31. In the midst of wanton aggression, we still call upon the Arab inhabitants of the State of Israel to return to the ways of peace and play their part in the development of the State, with full and equal citizenship and due representation in its bodies and institutions - provisional or permanent. - Author: David Ben-Gurion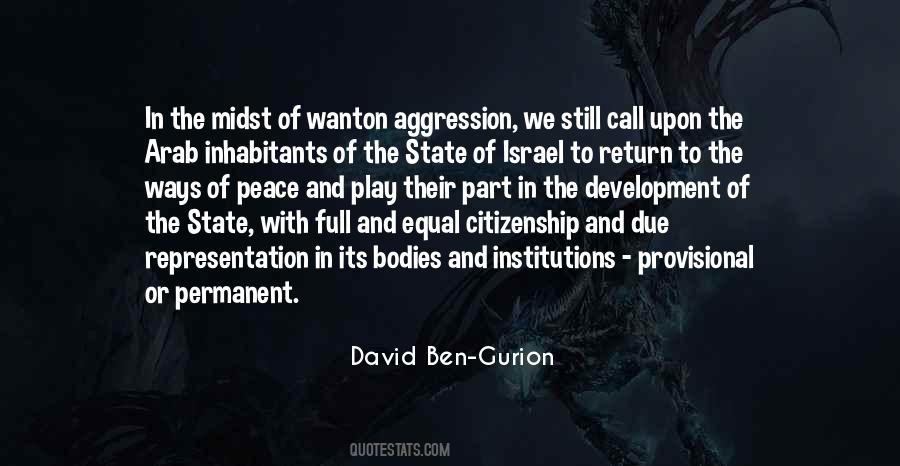 #32. If the Jews are denied the right to live in freedom and peace, soon we will all be denied this right. If the light of Israel is extinguished, we will all face darkness. If Israel falls, the West falls. - Author: Geert Wilders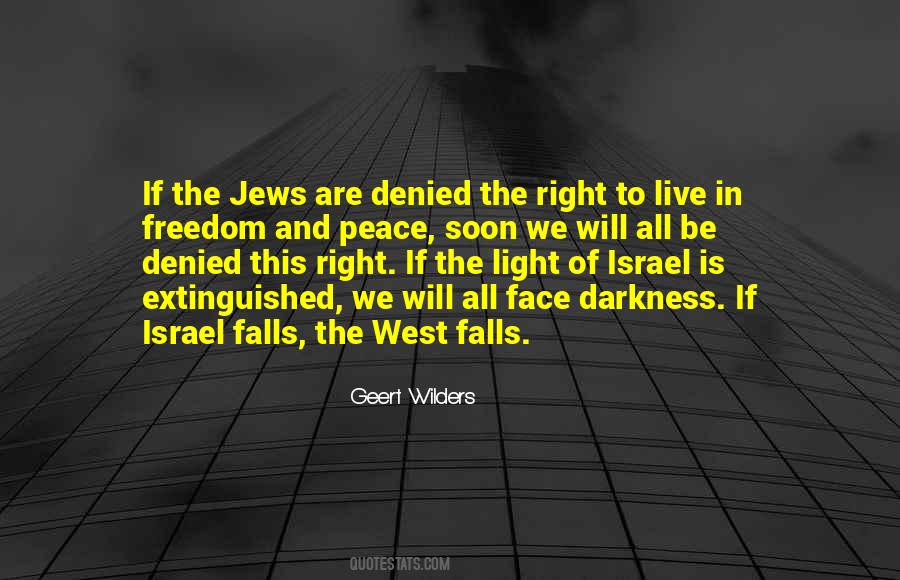 #33. The Arabs are ready to accept a strong Israel with nuclear arms - all it has to do is open the gates of its fortress and make peace. - Author: Mahmoud Darwish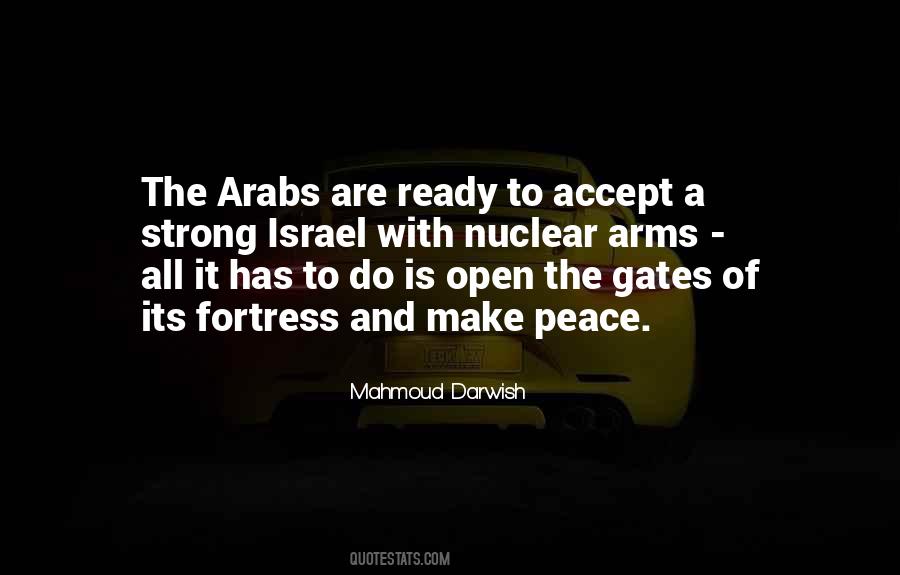 #34. In addition to the peace treaty between Egypt and Israel, which is crucial to U.S. interests both domestically and in the Middle East, the U.S. has had and will continue to need Egypt's collaboration in the war on terrorism. - Author: Ahmed Zewail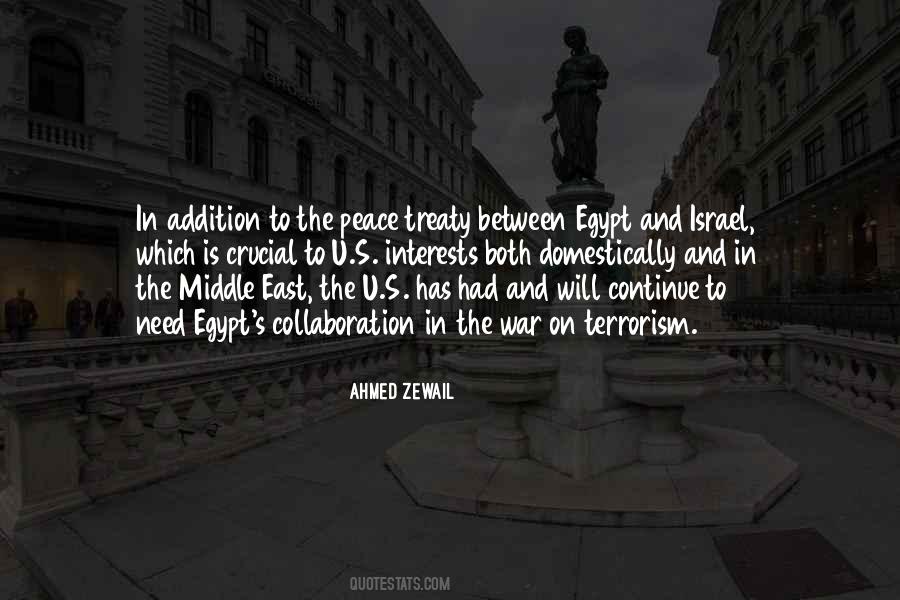 #35. We can forgive the Arabs for killing our children. We cannot forgive them for forcing us to kill their children. We will only have peace with the Arabs when they love their children more than they hate us. - Author: Golda Meir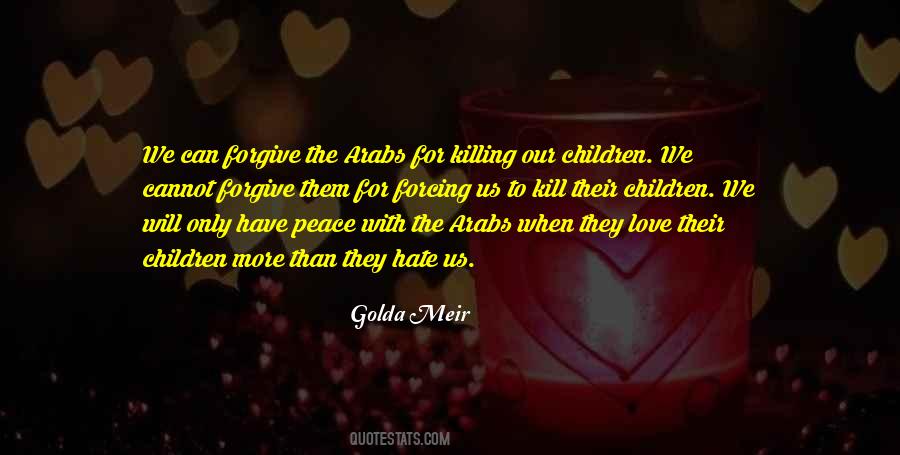 #36. Israel will not discuss a peace involving the concession of any piece of territory. The neighboring states do not deserve an inch of Israel's land ... We are ready for exchange for peace. - Author: David Ben-Gurion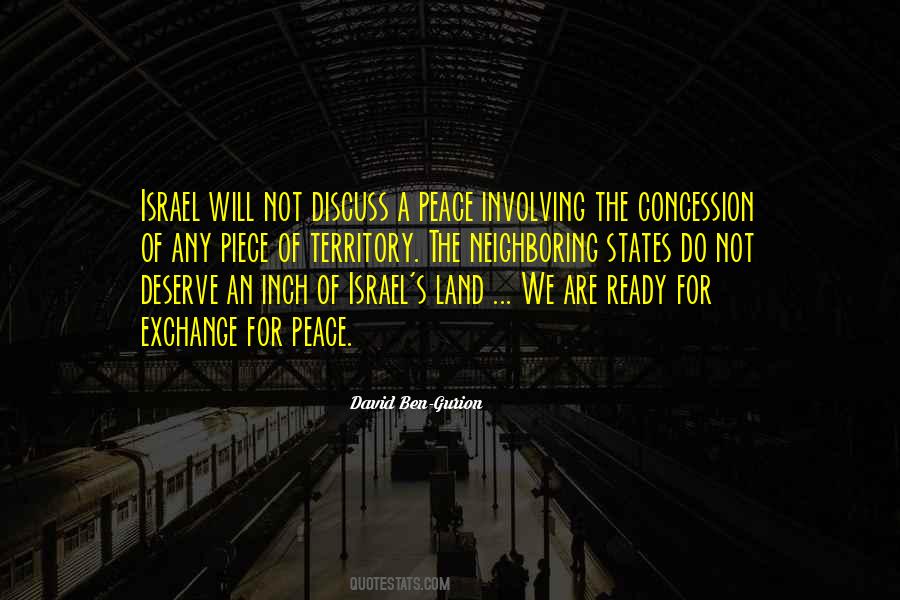 #37. Mr. President, prime ministers, let us have ambitions: ambitions to move beyond the violence and occupation, to the day when two states, Palestine and Israel, can live together side by side in peace and security. - Author: Abdallah II Of Jordan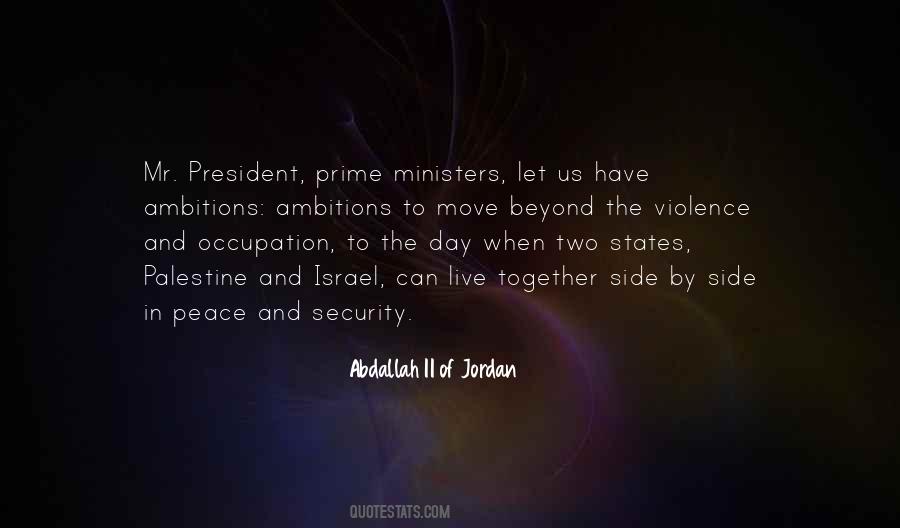 #38. I respect the right of Israel to defend itself, and - and we stand with - with Israel. We're a - a nation - two nations that come together in - in peace and that want to see Iran being dissuaded from its nuclear folly. - Author: Mitt Romney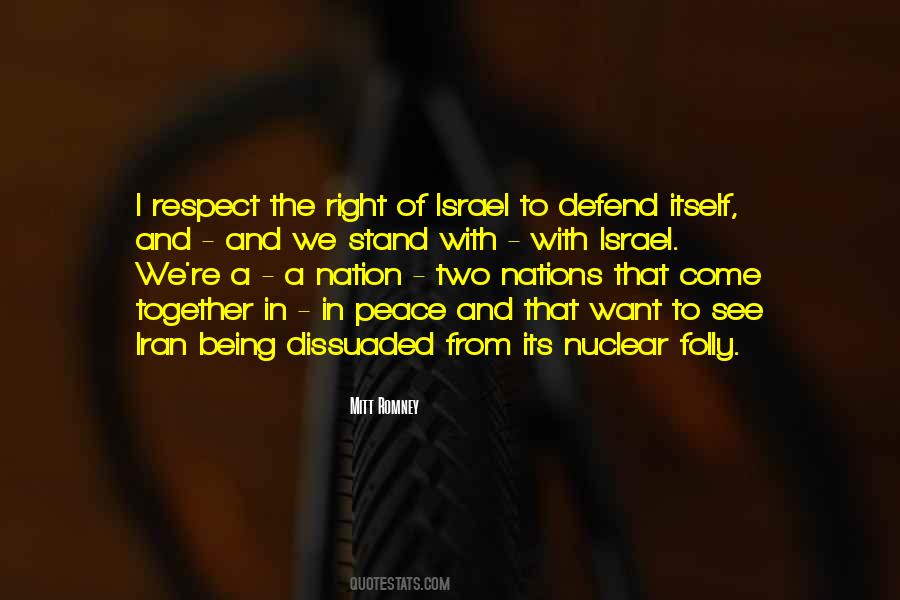 #39. Prime Minister Golda Meir said that the Middle East will see peace when Arabs love their children more than they hate Israel. On behalf of many Arab mothers, this is one mother who not only loves her children, but also loves Israel's children. - Author: Nonie Darwish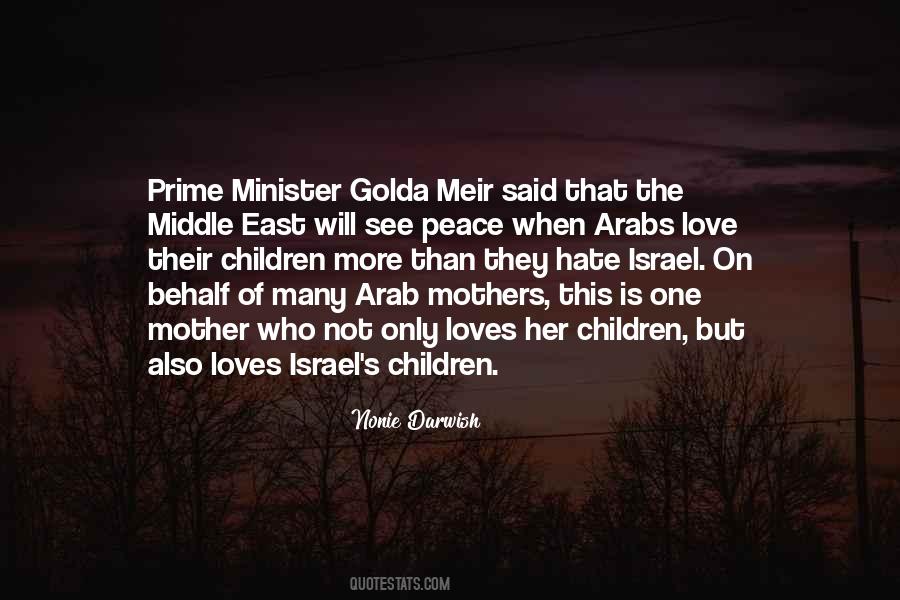 #40. Israel is the number one rogue state threat to Middle Eastern peace with its nuclear arms and acts of outright aggression towards its peaceful neighbours Syria and Lebanon - and genocidal actions against the marginalised Palestinians of the West Bank - and Gaza in particular. - Author: Mohamed ElBaradei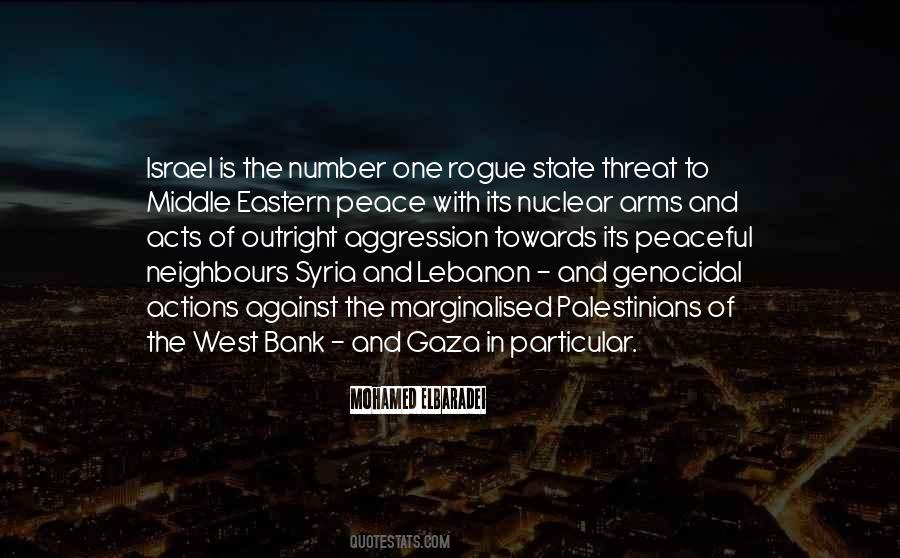 #41. The United States and Israel have enjoyed a friendship built on mutual respect and commitment to democratic principles. Our continuing search for peace in the Middle East begins with a recognition that the ties uniting our two countries can never be broken. - Author: George W. Bush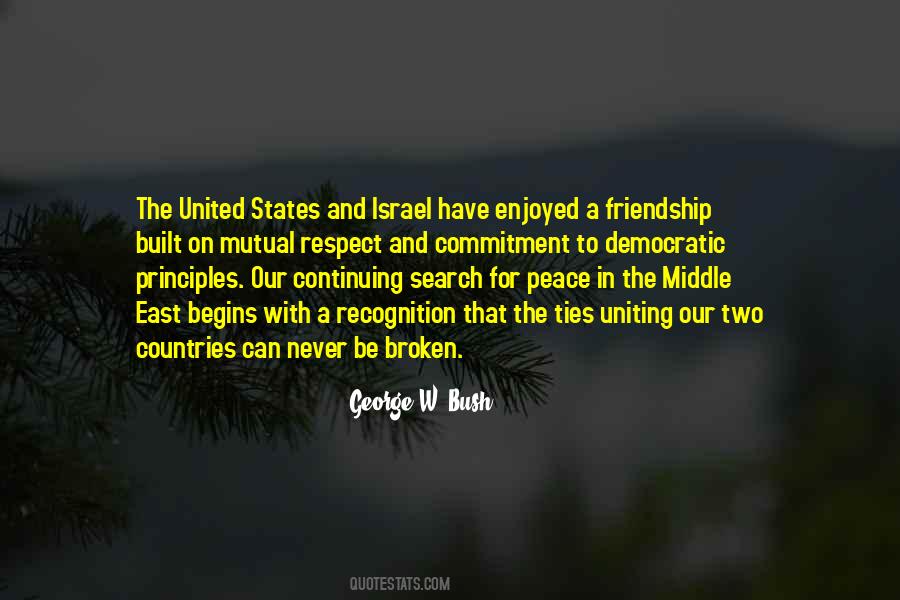 #42. Welcome to Israel, where chanting "Death to Arabs" is democracy, running over children is equality, and firing on funerals is peace. - Author: Remi Kanazi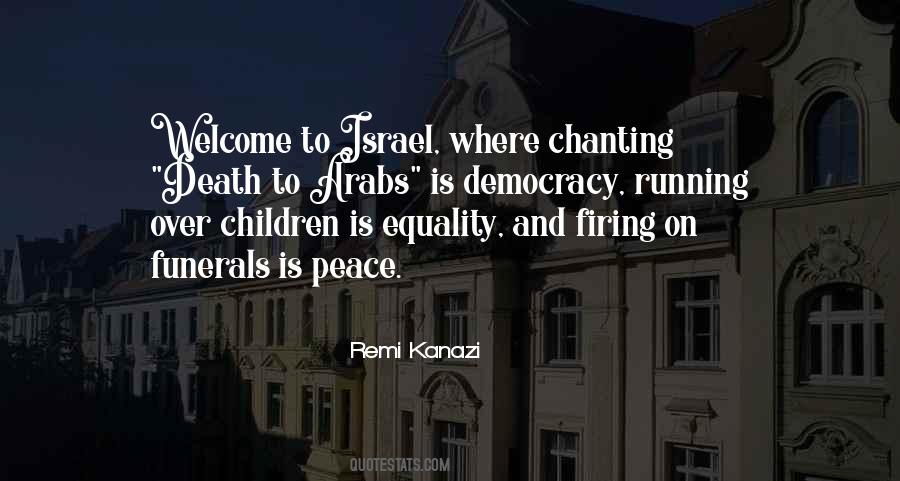 #43. If peace was really within reach wasn't it immoral to fail? - Author: Lawrence Wright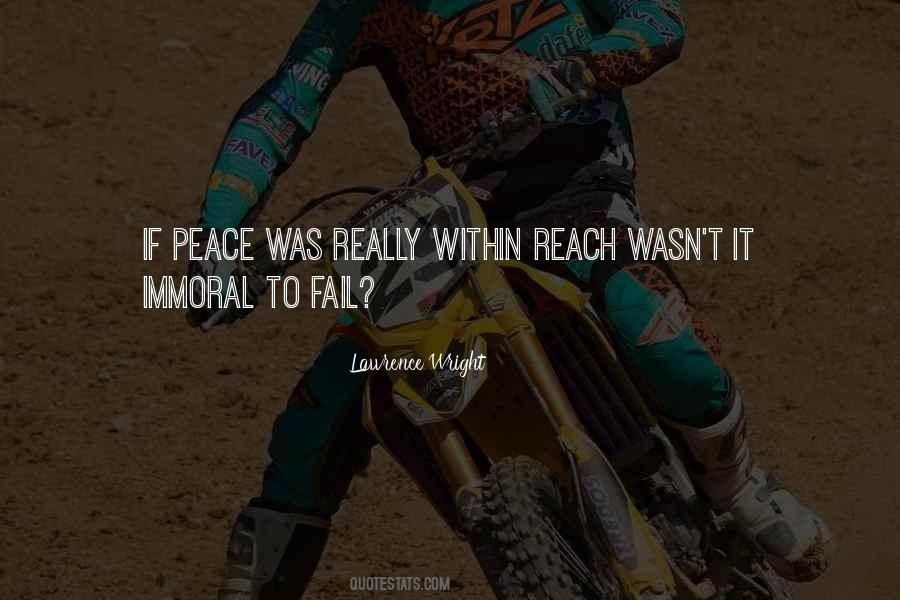 #44. The struggle to get weapons is continuous, but the United States will aid us, if it finds Israel displaying a willingness for peace. - Author: Yitzhak Rabin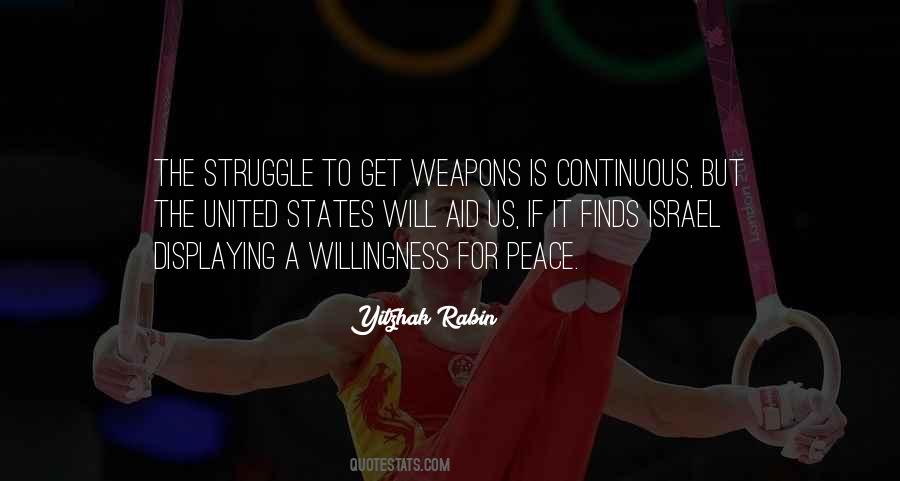 #45. A policy of peaceful coexistence between Israel and Palestine is the foundation of the tower, which will be built for the future; and visible from afar, the tower will be a non-violent symbol forever lasting peace. - Author: Kristian Goldmund Aumann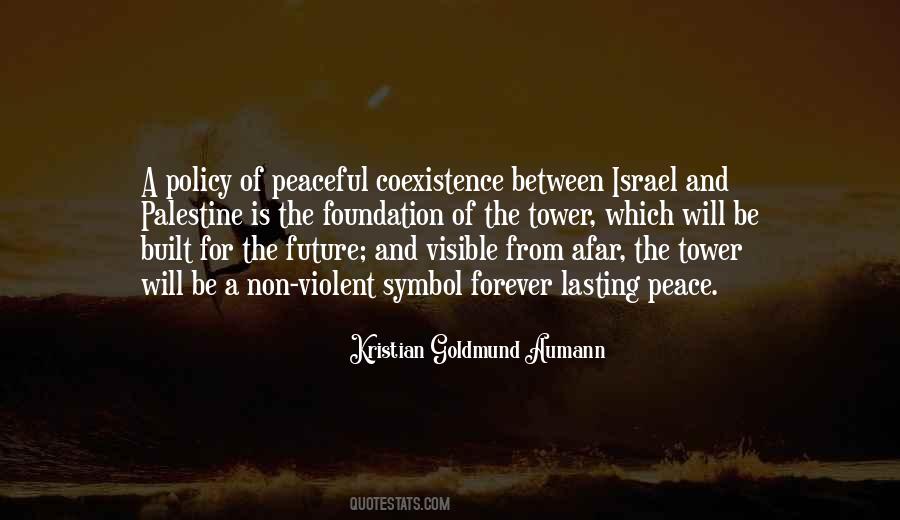 #46. This rally must send a message to the Israeli people, to the Jewish people around the world, to the many people in the Arab world, and indeed to the entire world, that the Israeli people want peace, support peace. For this, I thank you. - Author: Yitzhak Rabin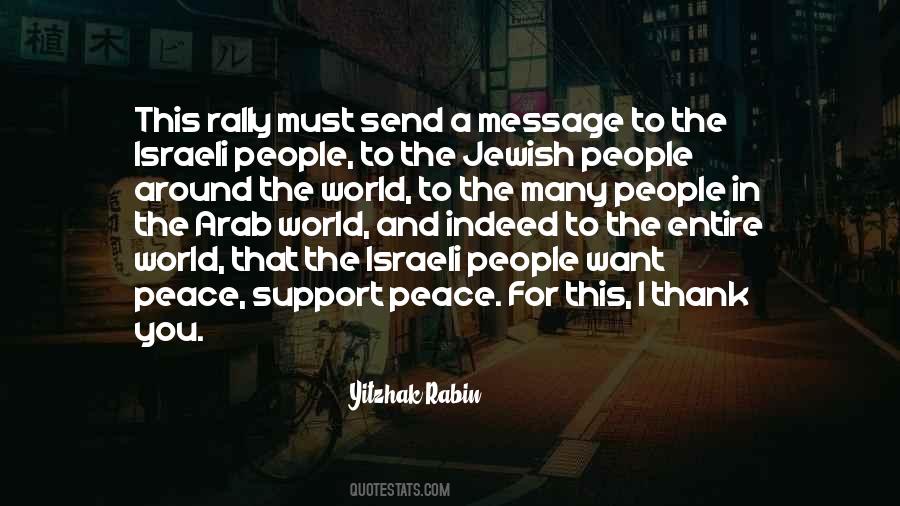 #47. I really want to see Israel. I would like to come and to express my support in the peace process there, and help the war orphans. - Author: Peta Wilson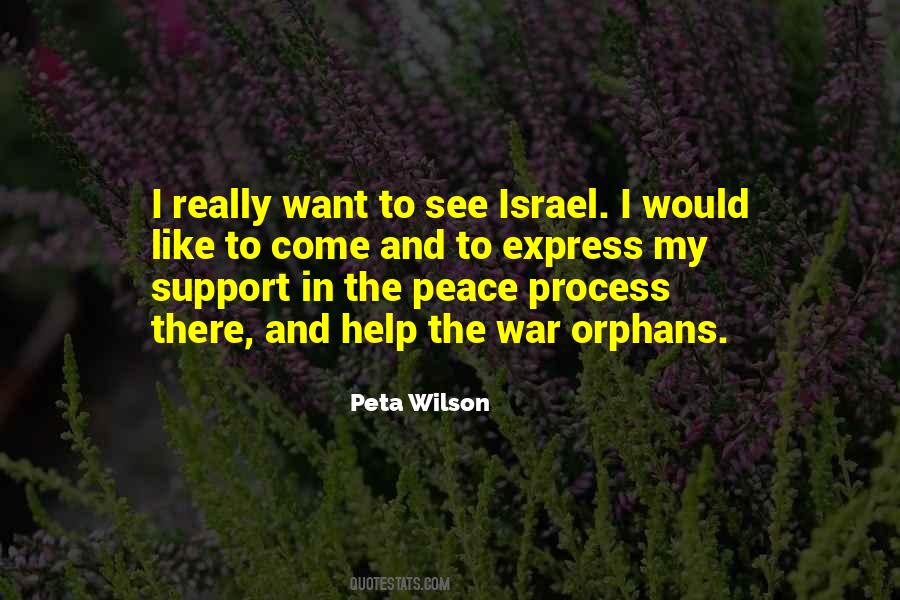 #48. There will be peace in the Middle East only when the Arabs love their children more than they hate Israel. - Author: Golda Meir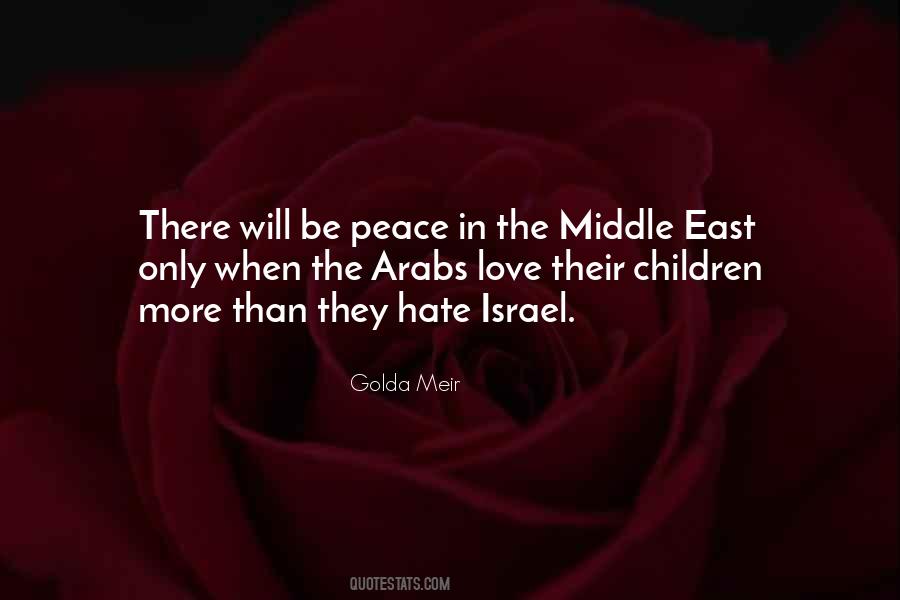 #49. The entire world is focusing on the compromises that are necessary from Israel's side. But people [in the world] are not focusing on the fact that the Palestinians refuse to make the necessary compromises that are required on their side for peace. - Author: Benjamin Netanyahu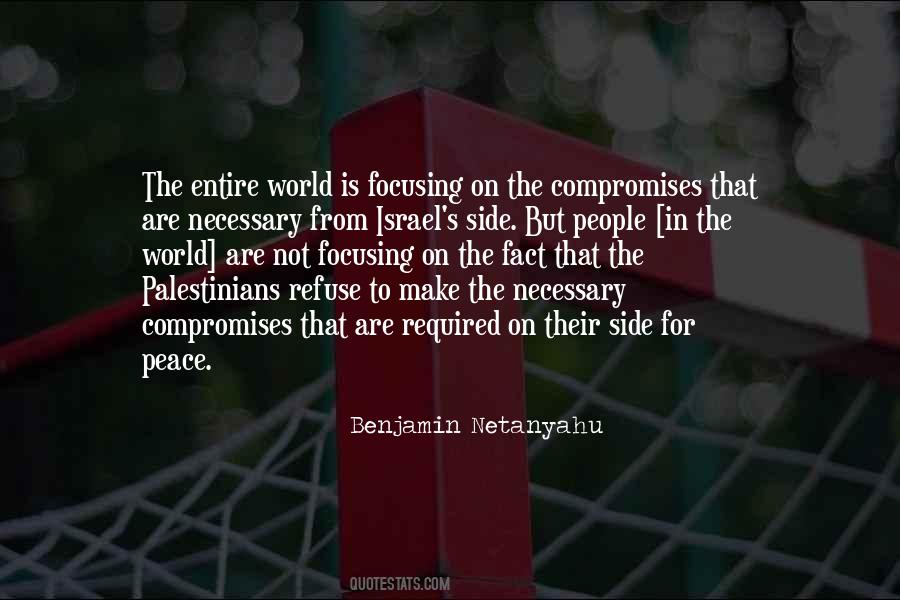 #50. The framework for peace signed by Egypt and Israel is almost a peace treaty. We solved the problem for the peace treaty 98%. - Author: Menachem Begin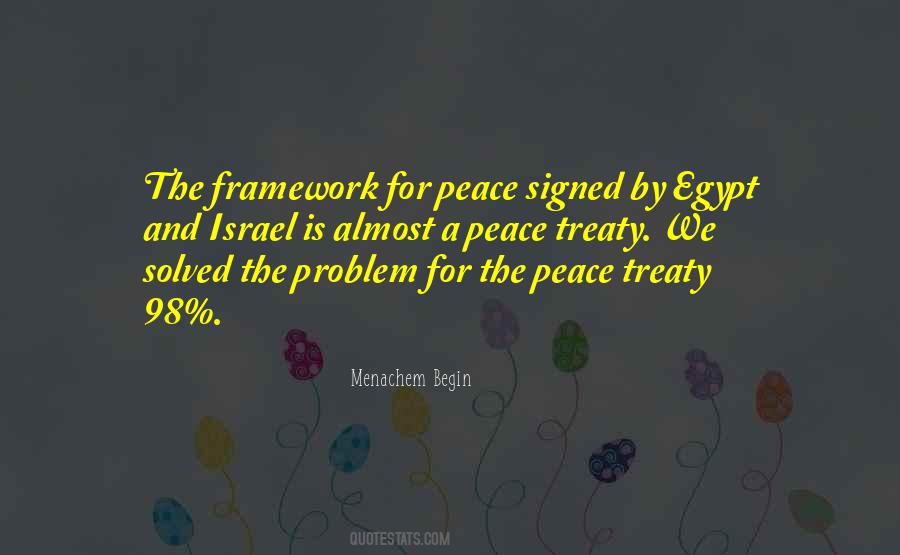 #51. For the Palestinians, efforts to delegitimize Israel will end in failure ... Palestinian leaders will not achieve peace or prosperity if Hamas insists on a path of terror and rejection. And Palestinians will never realize their independence by denying the right of Israel to exist. - Author: Barack Obama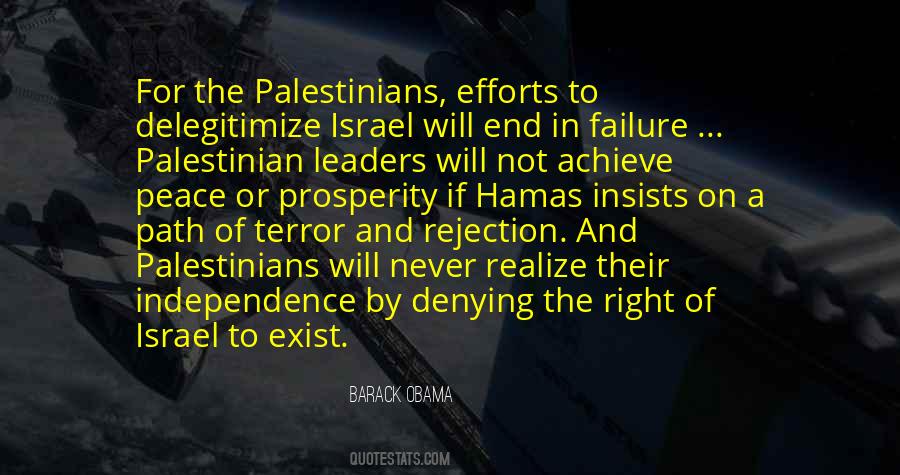 #52. Peace with Israel is a strategic imperative for Jordan. - Author: Abdallah II Of Jordan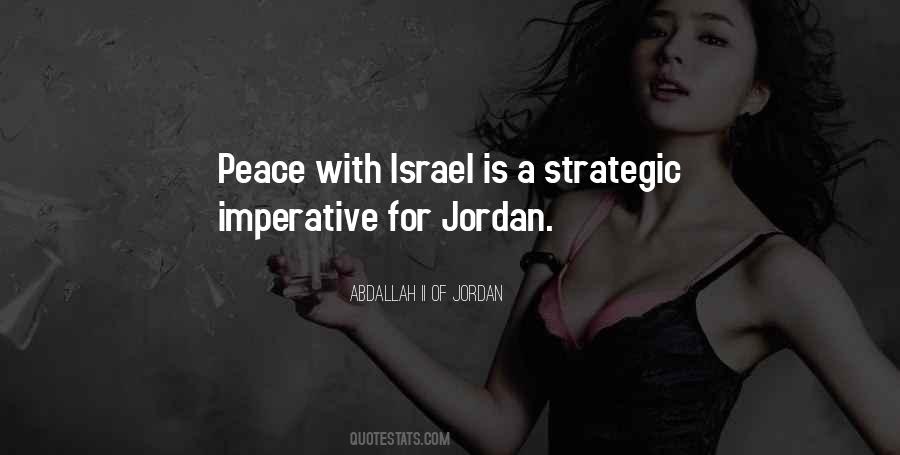 #53. There is an element of paranoia in this inclination to view any serious attempt at a compromised peace as somehow directed against Israel. - Author: Zbigniew Brzezinski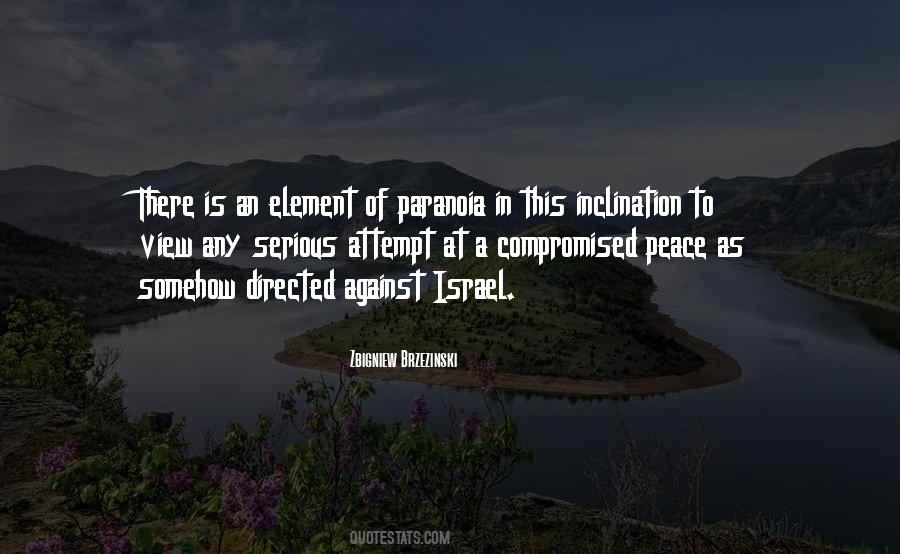 #54. The reality is that Israel is a multi-ethnic, multireligious society, and it makes no sense to insist as a precondition for peace that its neighbors recognize it as 'the Jewish state.' - Author: Kai Bird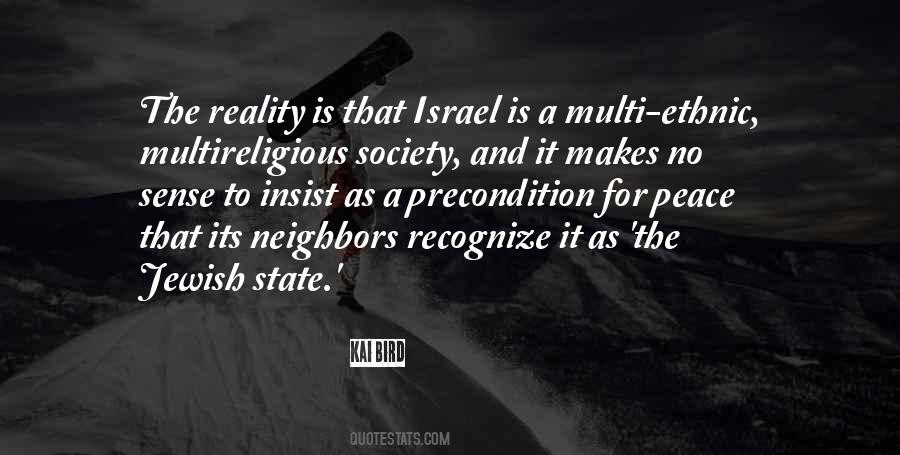 #55. And if we are honest we have to make a distinction between a democratic Israel that wants to live in peace and the terrorists who want Israel wiped out. The Israelis were told to give up land for peace; they gave up the land, but got no peace. - Author: J. D. Hayworth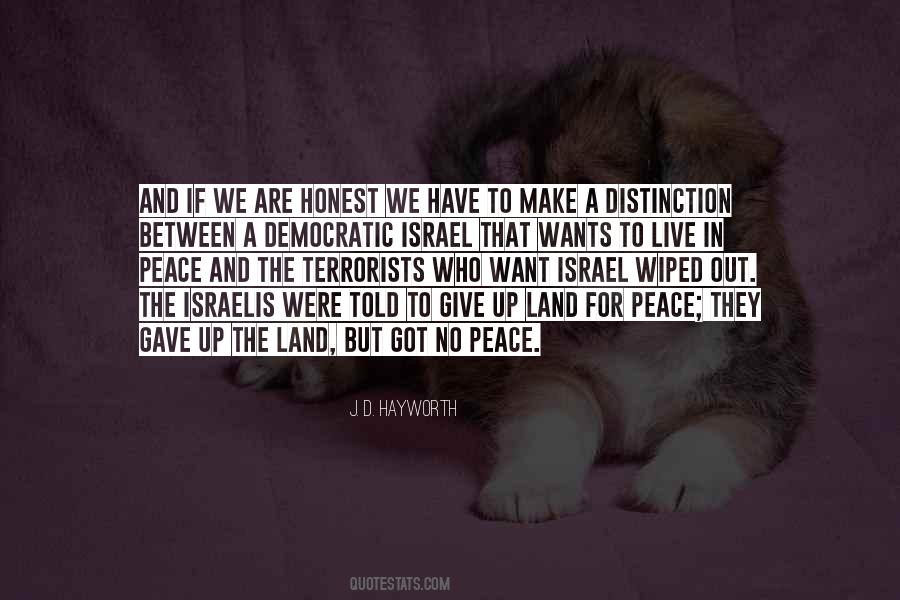 #56. There is not going to be a peace process unless there is talks involving Israel, Hezbollah and Hamas, and I think everyone knows that. - Author: Jeremy Corbyn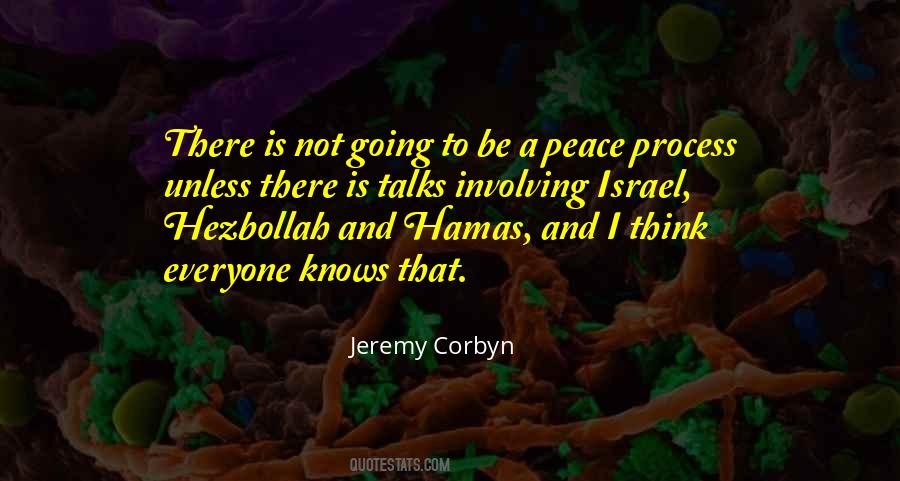 #57. Because I know about the Holy Land, I've taught lessons about the Holy Land all my life, and - but you can't bring peace to Israel without giving the Palestinian also peace. And Lebanon and Jordan and Syria as well. - Author: Jimmy Carter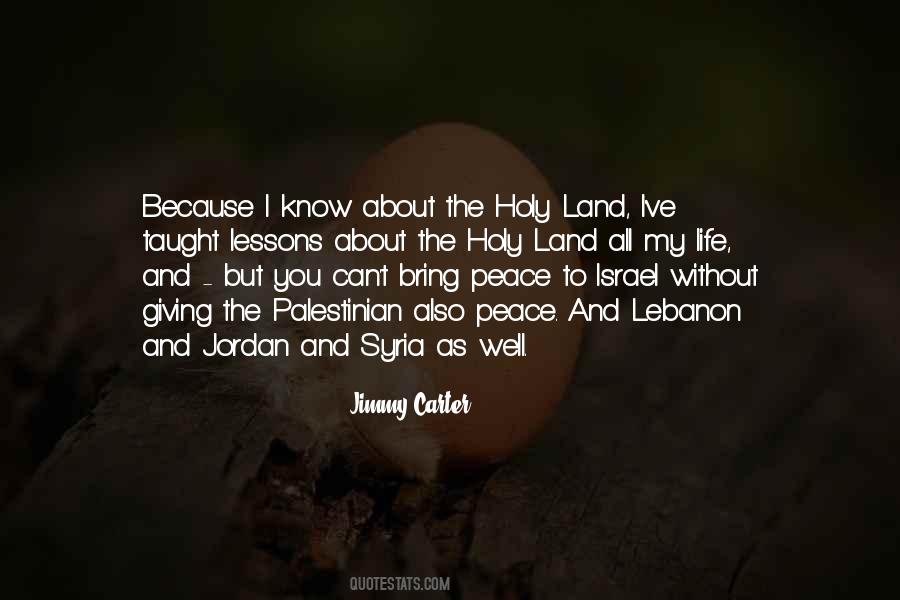 #58. One of the great barriers to peace in the Middle East is that both sides, both Israel and the Palestinians, do not understand that they share a collective destiny. - Author: Paddy Ashdown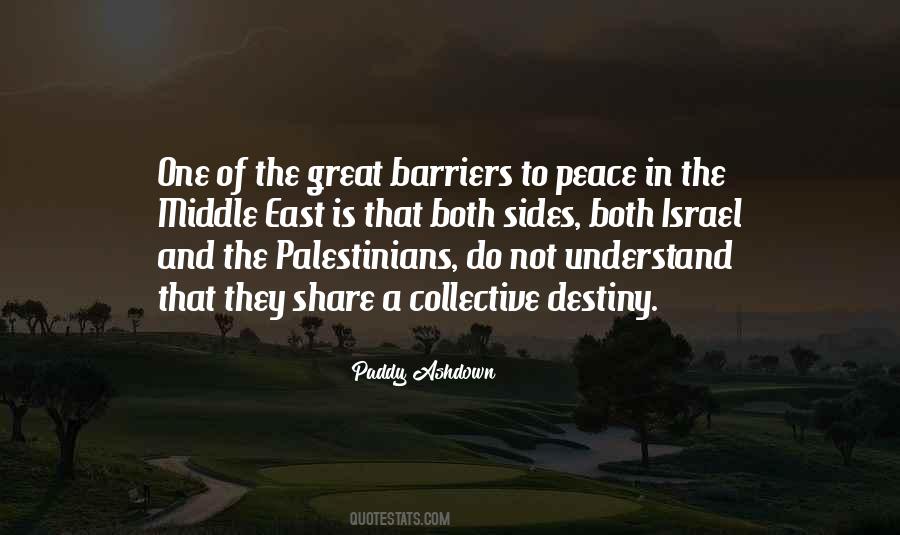 #59. We can continue to fight. We can continue to kill - and continue to be killed. But we can also try to put a stop to this never-ending cycle of blood. We can also give peace a chance. - Author: Yitzhak Rabin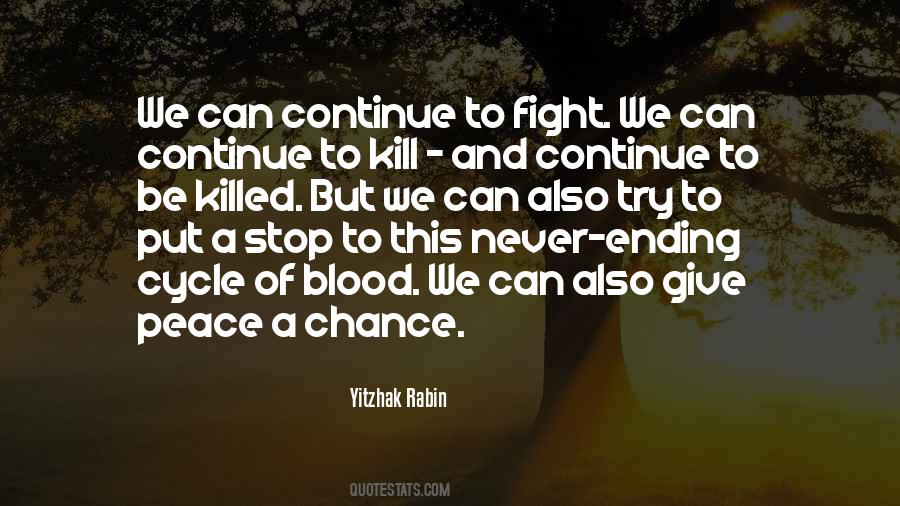 #60. The central premise behind Oslo was that if Arafat were given enough legitimacy, territory, weapons and money, he would use his power to fight terror and make peace with Israel. - Author: Natan Sharansky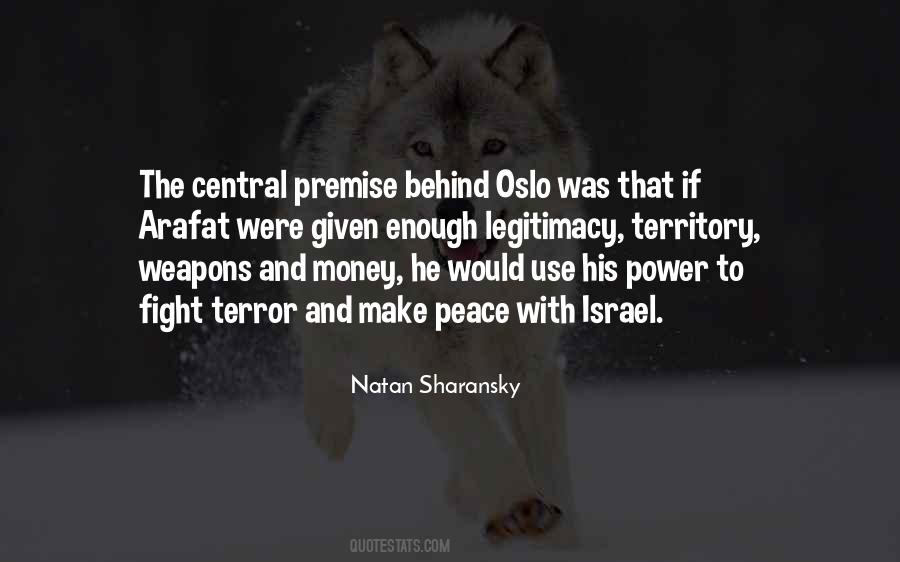 #61. When a peace agreement is concluded between the Lebanese government and Israel, we would surely disagree with the Lebanese government about that, but we would not make any turmoil out of it. - Author: Hassan Nasrallah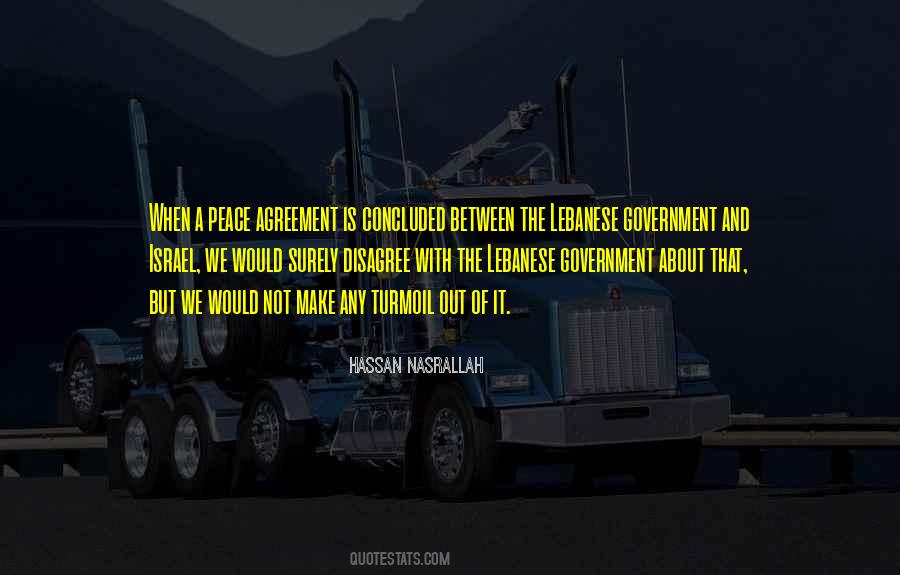 #62. We will stand up for our friends in the world. And one of the most important friends is the State of Israel. My administration will be steadfast in support Israel against terrorism and violence, and in seeking the peace for which all Israelis pray. - Author: George W. Bush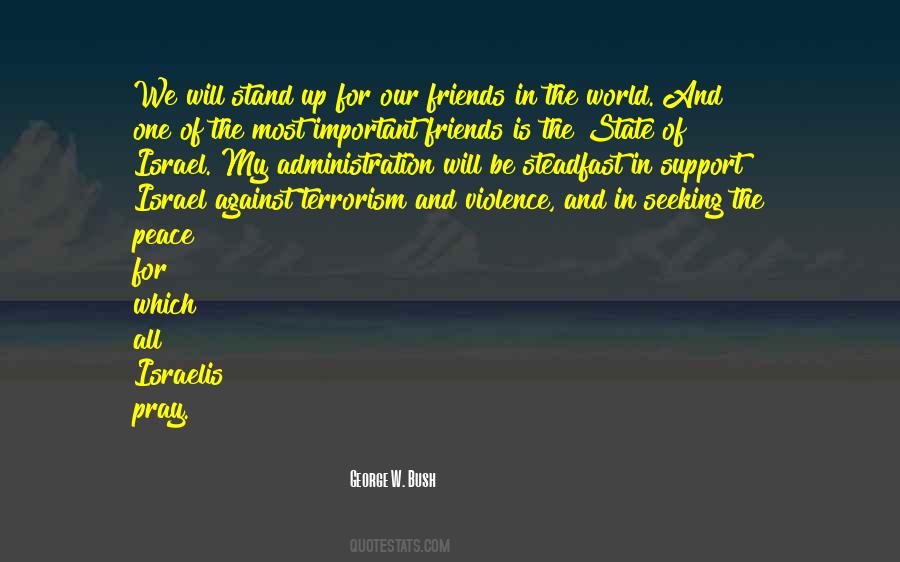 #63. I shouldn't have stayed so long away. Every time I come here, I get so supercharged with energy. I truly believe that Israel is the energy centre of the world. And I also believe that if we can all live together in harmony in this place, then we can live in peace all over the world. - Author: Madonna Ciccone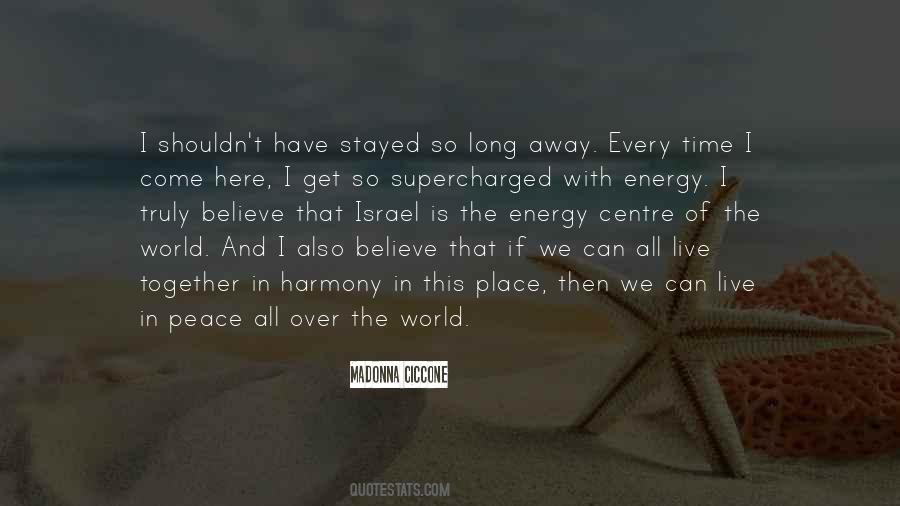 #64. If you feel besieged by life today, lean on the God of peace - the God of hope and the future. The same God who has a plan for Israel has a plan for you. Trust that He will direct your path. - Author: David Jeremiah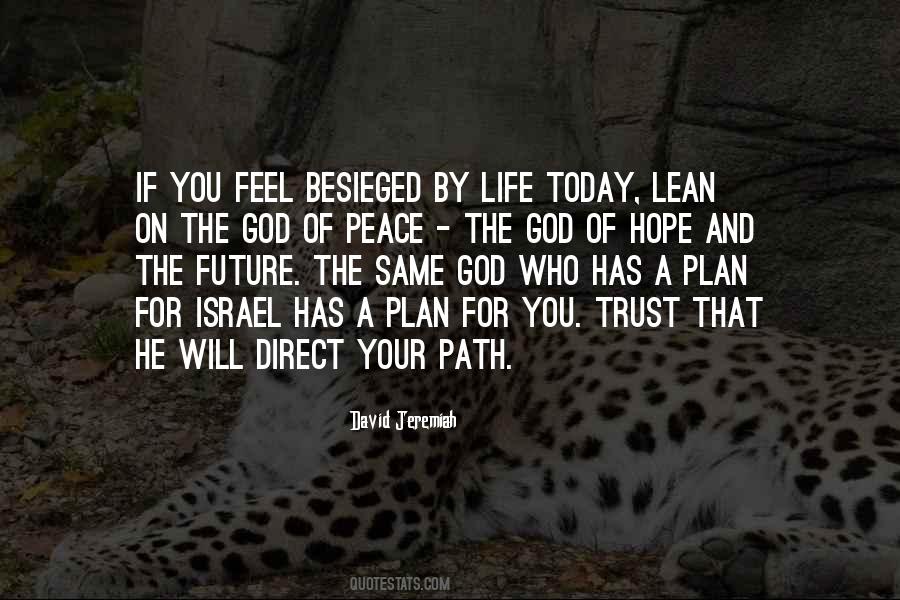 #65. The ultimate goal is two states for two people: Israel as a Jewish state and the homeland for the Jewish people and the State of Palestine as the homeland for the Palestinian people - each state in joined self-determination, mutual recognition, and peace. - Author: Barack Obama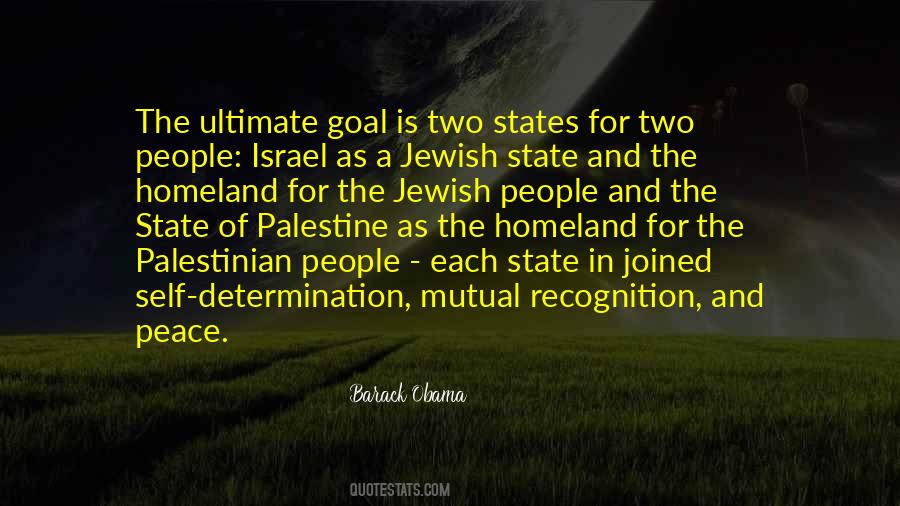 #66. Since the foundation of the State of Israel, the United States has stood by her and helped her to pursue security, peace, and economic growth. Our friendship is based on historic moral and strategic ties, as well as our shared dedication to democracy. - Author: Ronald Reagan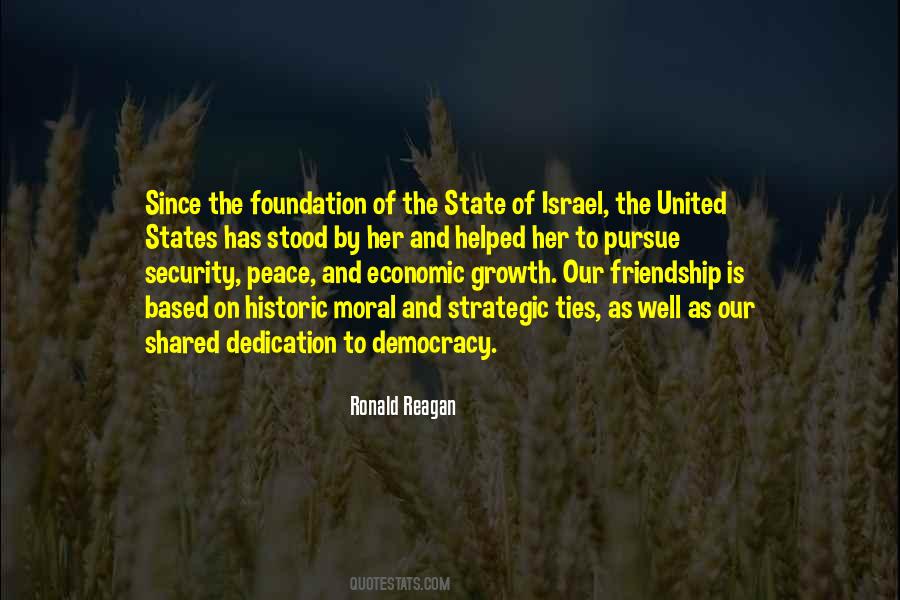 #67. The actions of the terrorist organizations, Hezbollah, in Lebanon, and Hamas, in Gaza, against Israel are unconscionable. Instead of working towards peace, these terrorist organizations have chosen to perpetuate the violence. - Author: Alcee Hastings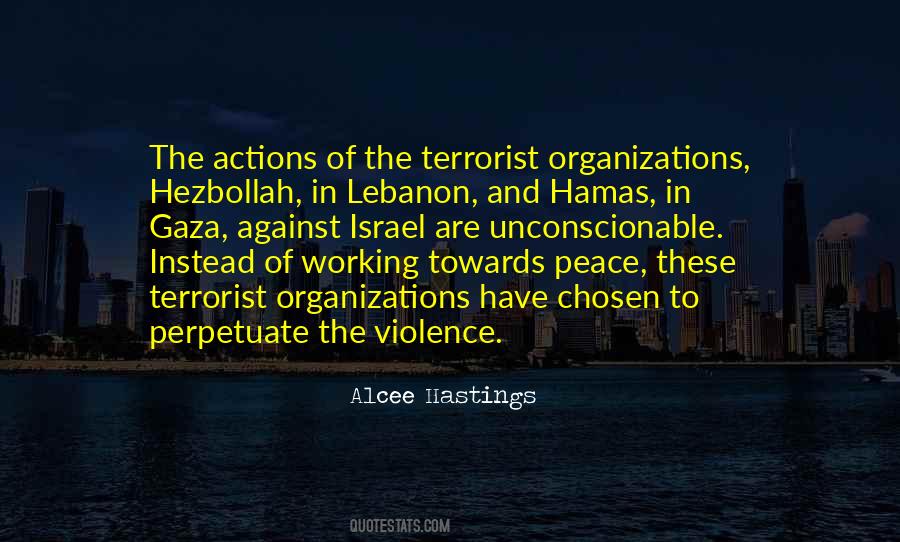 #68. I imagine, like all his predecessors, Barak Obama would like to achieve greatness in bringing peace in the Middle East. I hope it will not be at the expense of Israel. - Author: Elie Wiesel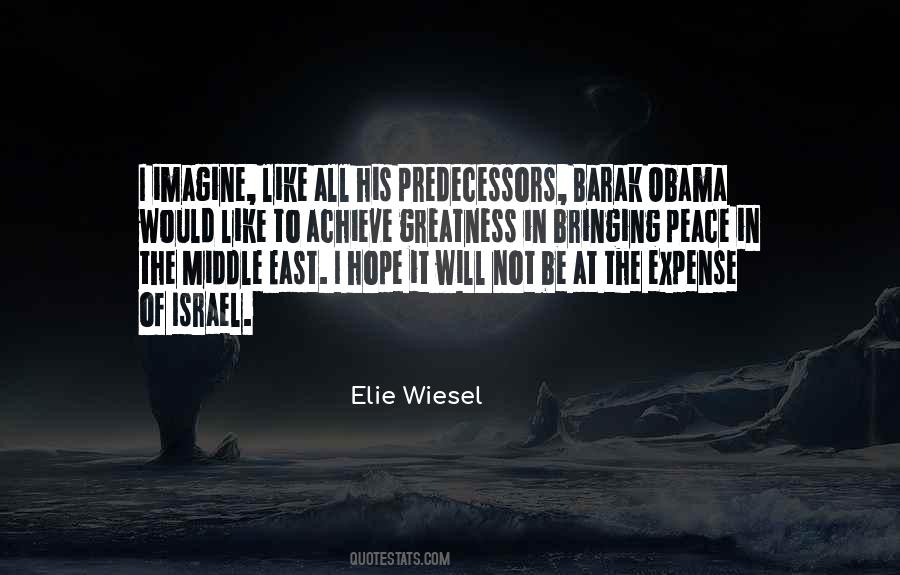 #69. We offer peace and neighborliness to all the neighboring states and their peoples, and invite them to cooperate with the independent Hebrew nation for the common good of all. - Author: David Ben-Gurion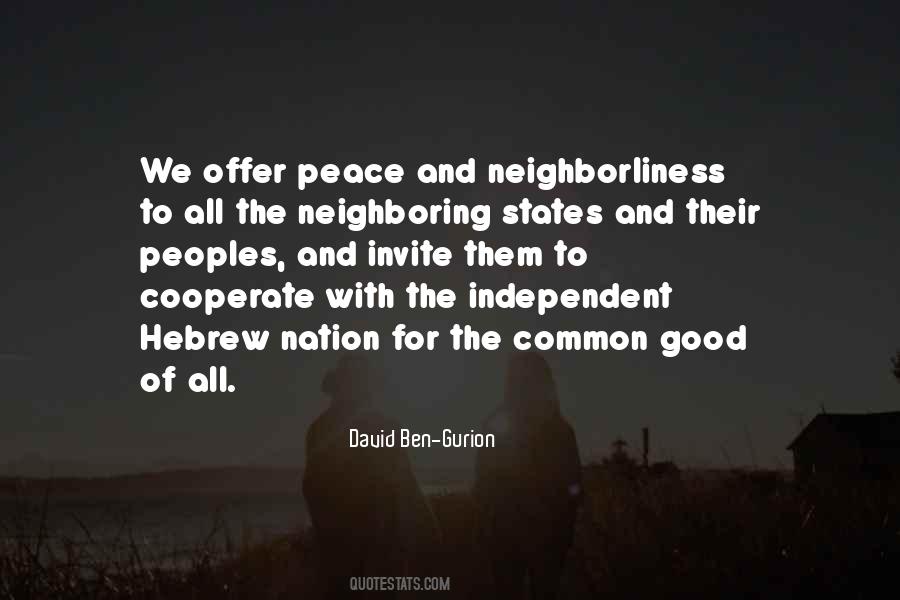 #70. Only weeks after Oslo began, when nearly all the world and most of Israel was drunk with the idea of peace, I argued that a Palestinian society not constrained by democratic norms would be a fear society that would pose a grave threat to Israel. - Author: Natan Sharansky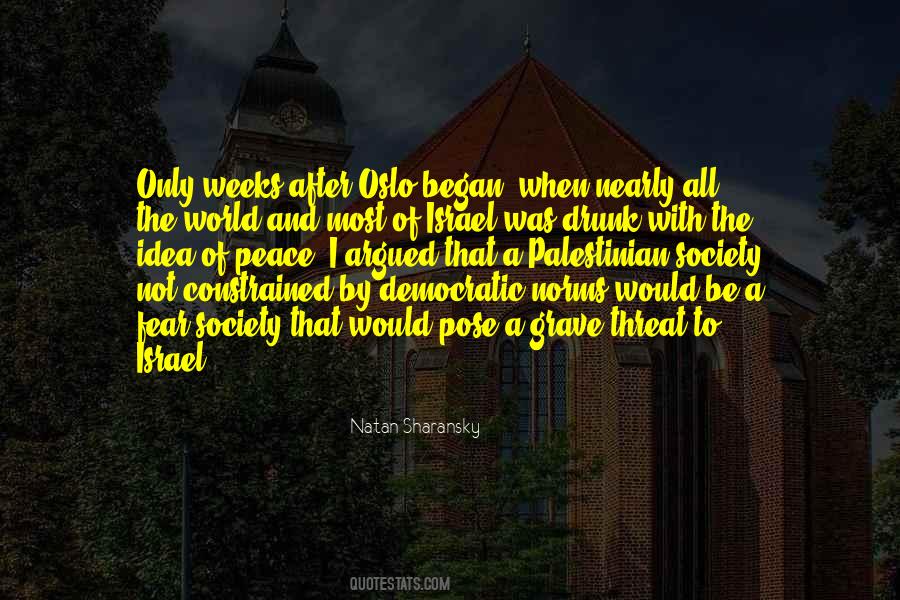 #71. I look forward to my first visit to Israel. Music is a universal language that is meant to unify audiences in peace and love, and that is the spirit of our show. - Author: Alicia Keys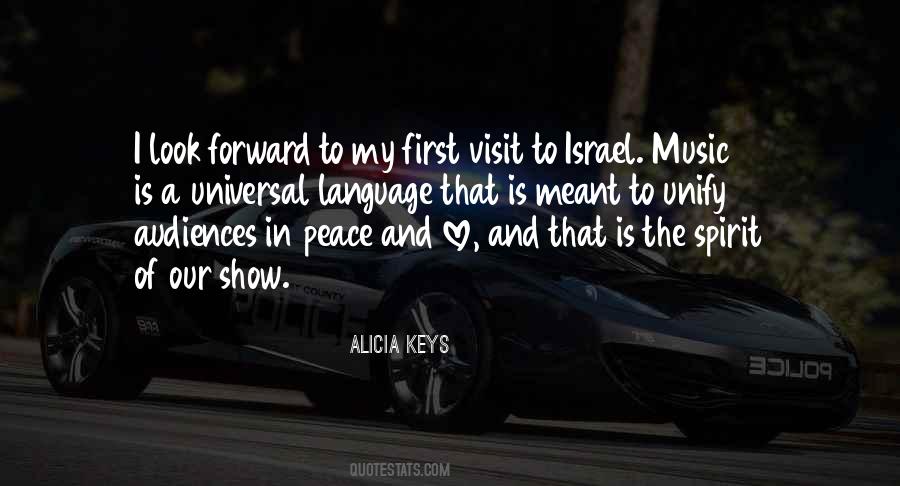 #72. Israel was seen as having demonstrated unmistakably it wanted peace, and the reason it wasn't available, achievable was because Arafat wouldn't accept it. - Author: Dennis Ross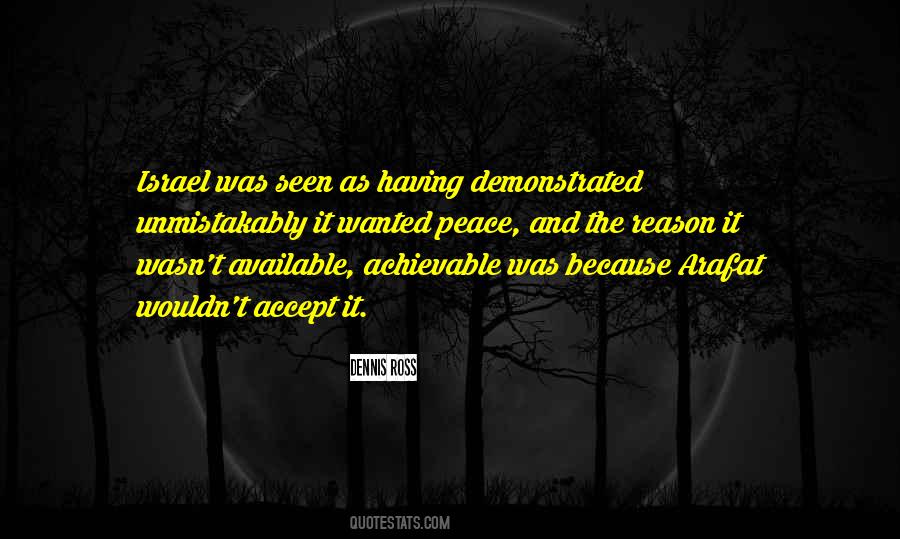 #73. I think Israel, as a number of commentators pointed out, is becoming an insane state. And we have to be honest about that. While the rest of the world wants peace, Europe wants peace, the US wants peace, but this state wants war, war and war. - Author: Norman Finkelstein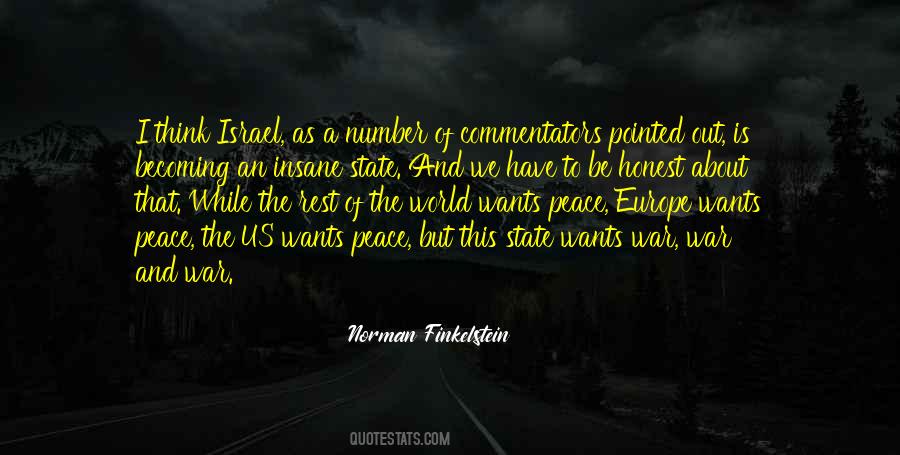 #74. Wishful thinking won't make the Palestinians an Israeli peace partner, no matter how much President Barack Obama pressures Israel to make concessions; caustically mocking Putin's worldview won't make it any less real or mitigate the Russian threat. - Author: Ben Shapiro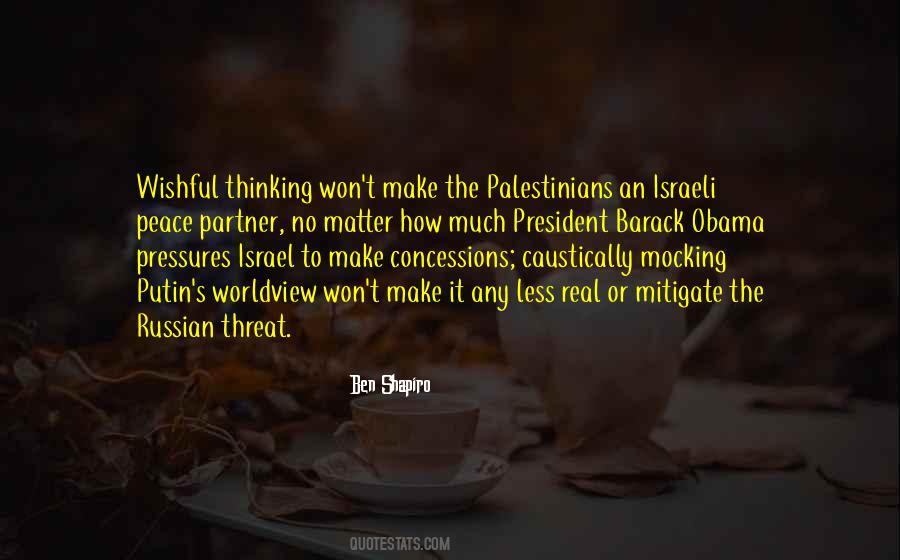 #75. We are a nation that loves the peace. We will never stop growing and developing but we know how to protect ourselves using force. - Author: Moshe Ya'alon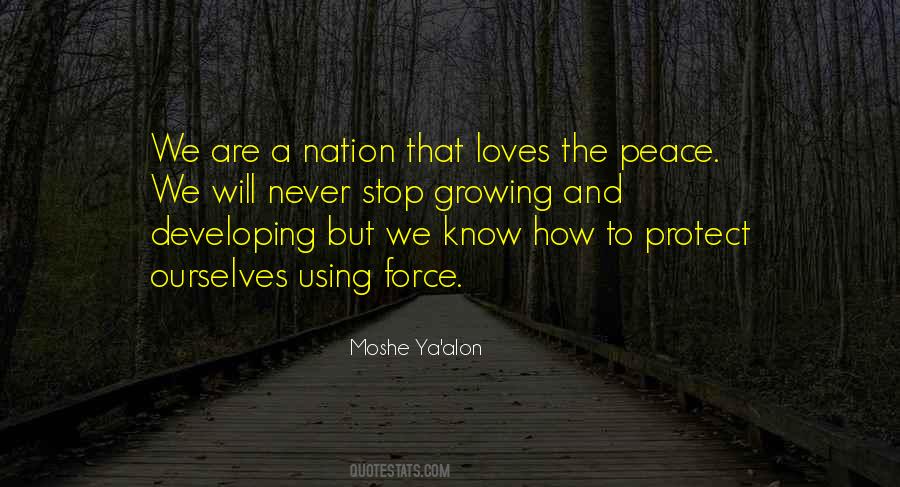 #76. The United States and Israel have a unique relationship based on our mutual commitment to democracy, freedom, and peace. Therefore, just as our commitment to these principles must be steadfast, so must our support for Israel. - Author: John Boehner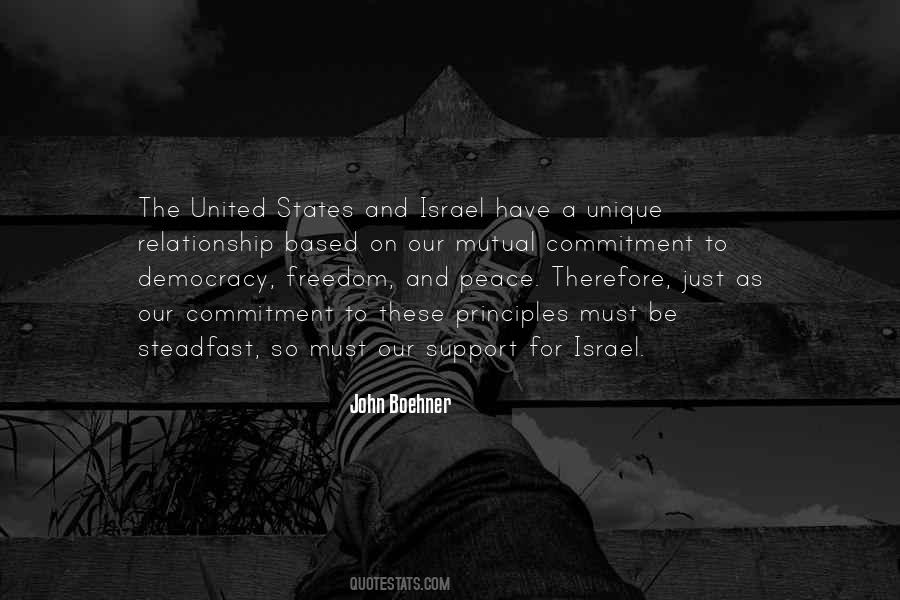 #77. President George W. Bush is the first American president to call openly for two-states, Israel and Palestine, living side by side in peace and security. - Author: Lee H. Hamilton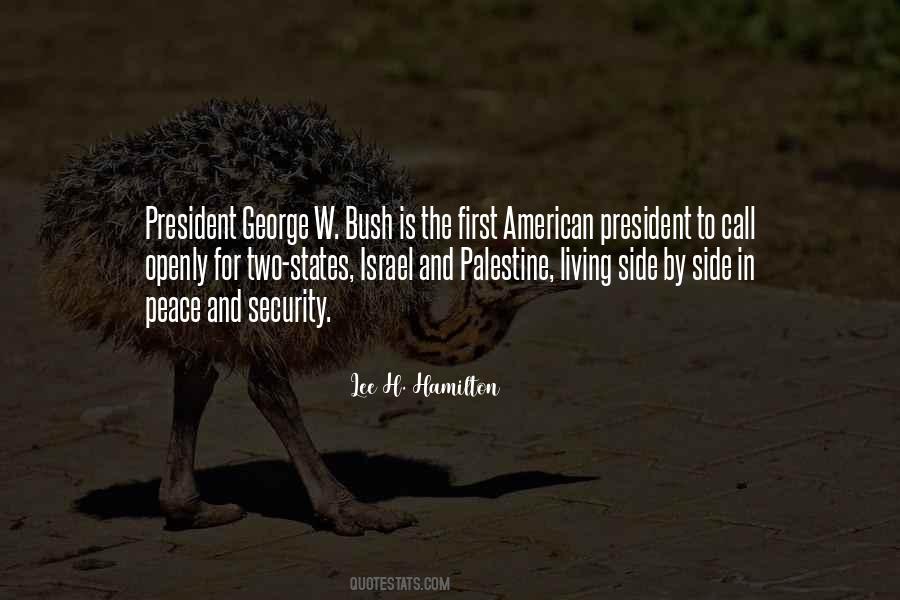 #78. That is why if Lebanon concludes a peace agreement with Israel and brings that accord to the Parliament our deputies will reject it; Hezbollah refuses any conciliation with Israel in principle. - Author: Hassan Nasrallah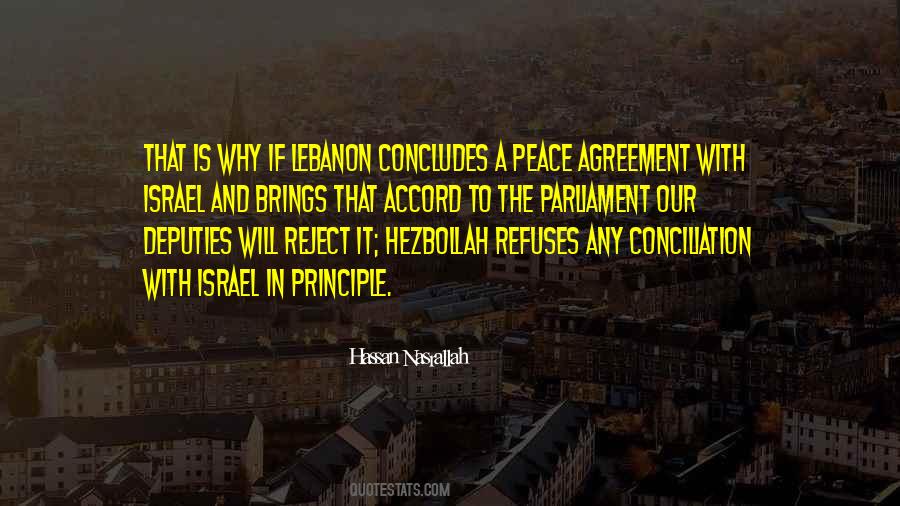 #79. Now, at peace, Jordan has few resources but is full of plans. Mohammed Noufal observed with a smile, All we need is Israel's technology, Egypt's workers, Turkey's water, and Saudi Arabia's oil, and I am sure we can build a paradise here. - Author: Mark Kurlansky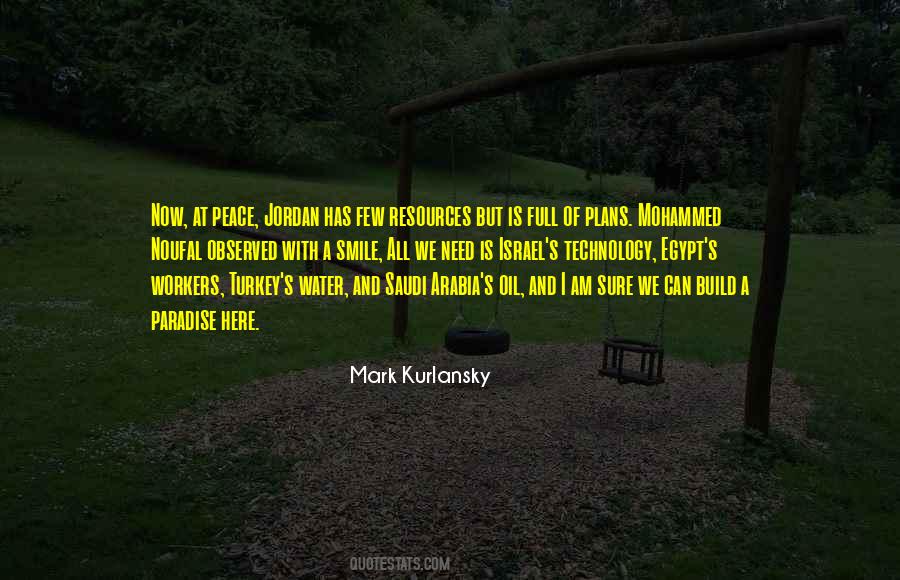 #80. Israel has to accommodate the Palestinian demands and aspirations for ending occupation and the establishment of an independent Palestinian state. That is the only answer. The Israeli aggression on Gaza does not bring peace to Israel. We know that. We want end of occupation. - Author: Benjamin Netanyahu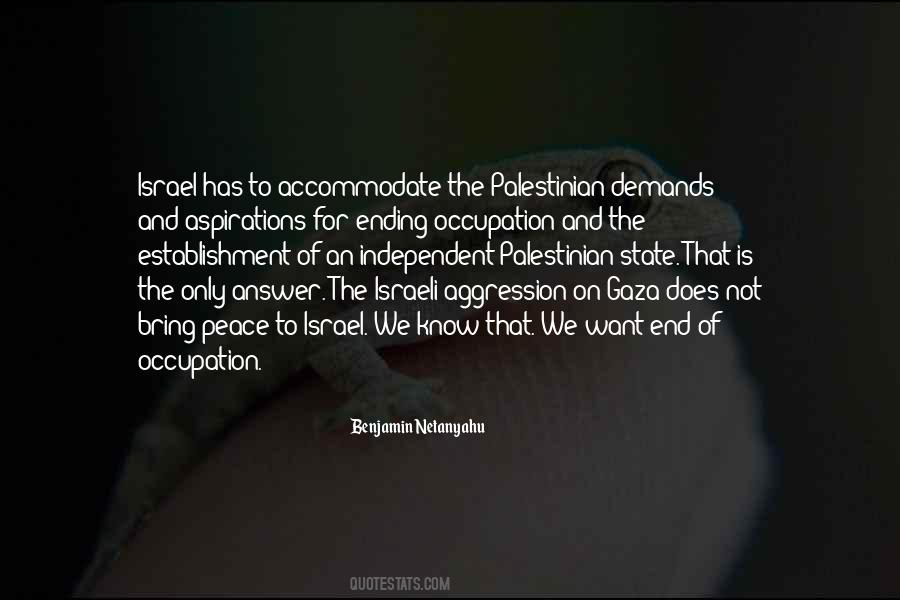 #81. It seems Palestinians can't win. The language of peace negotiations has always been predicated on a representation that Palestinians are violent and that is why Israel behaves as it does. - Author: Randa Abdel-Fattah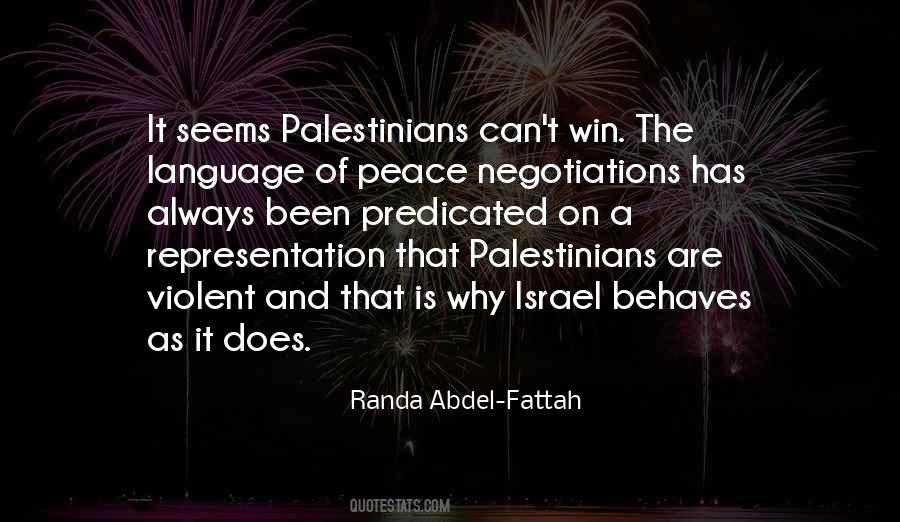 #82. Peace for Israel," he said.
"Is that possible?" I drew closer.
"Yes, if we have peace with God first. - Author: Rachelle Ayala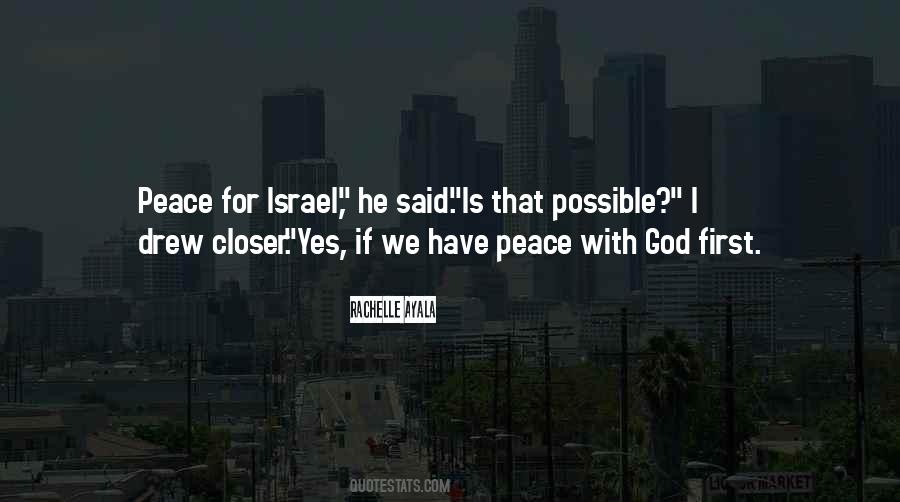 #83. Sharon was a strong and charismatic leader who steered the politics toward the right and extremism. Now it is clear that Israel needs a leadership that proceeds strongly toward peace, or else the extremist right will hijack the situation. - Author: Hanan Ashrawi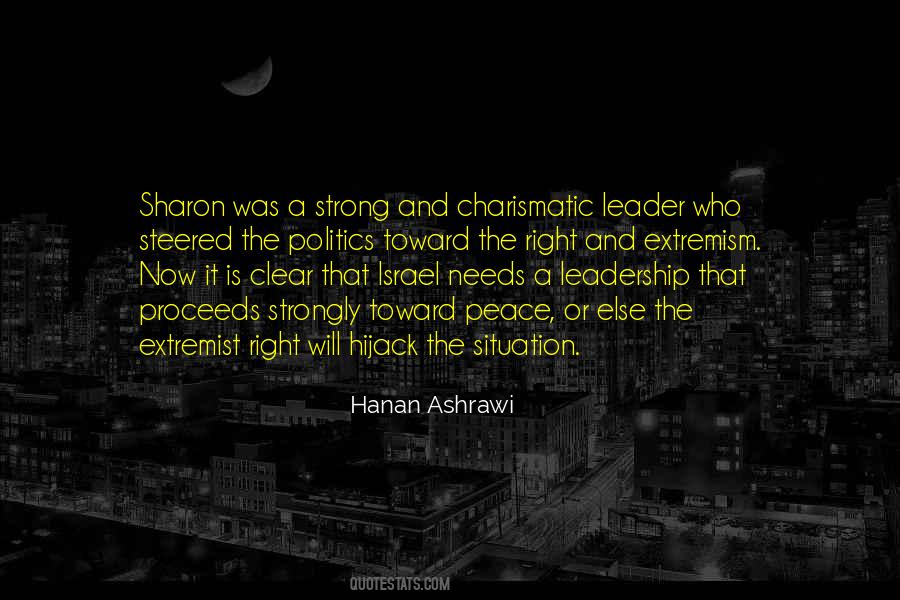 #84. They're in the red zone. They're in the last 20 yards, and you can't let them cross that goal line. You can't let them score a touchdown, because that would have unbelievable consequences, grievous consequences for the peace and security of us all, of the world really. - Author: Benjamin Netanyahu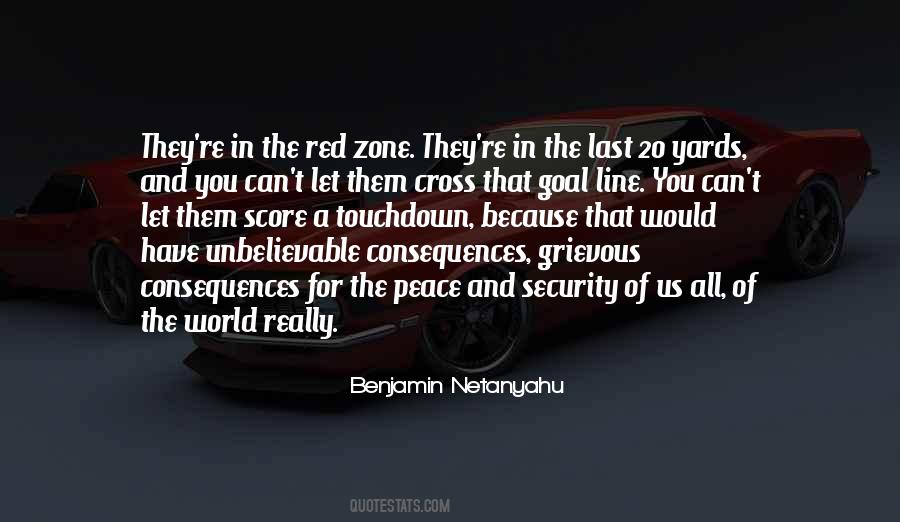 #85. For if life had taught her anything, it was that healing and peace can begin only with acknowledgment of wrongs committed. - Author: Susan Abulhawa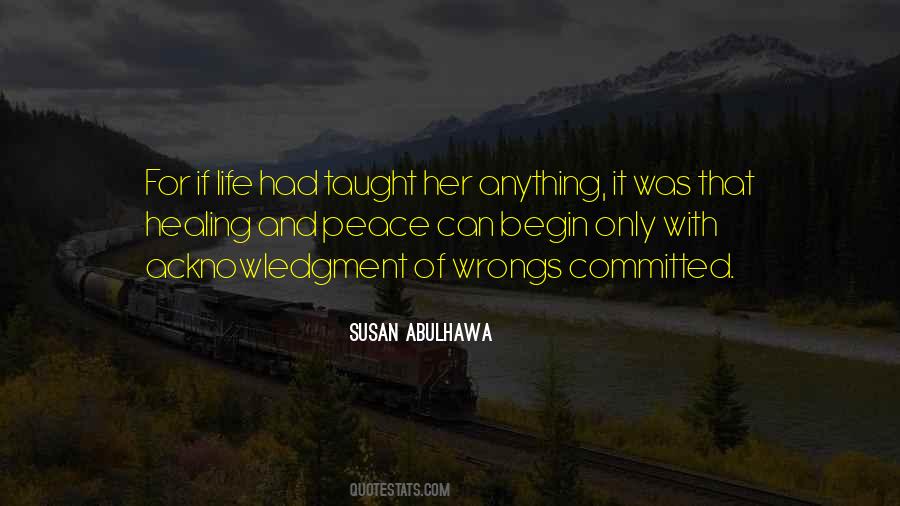 #86. The Government chose to give peace a chance. The Government chose to do something to achieve it. - Author: Yitzhak Rabin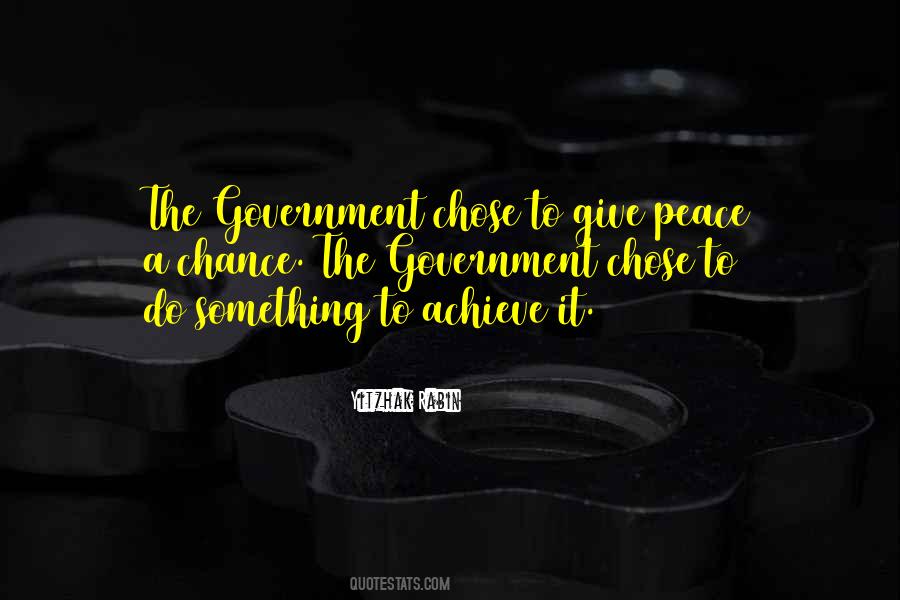 #87. I believe that peace with the Palestinians is most urgent - urgent than ever before. It is necessary. It is crucial. It is possible. A delay may worsen its chances. Israel and the Palestinians are, in my judgment, ripe today to restart the peace process. - Author: Shimon Peres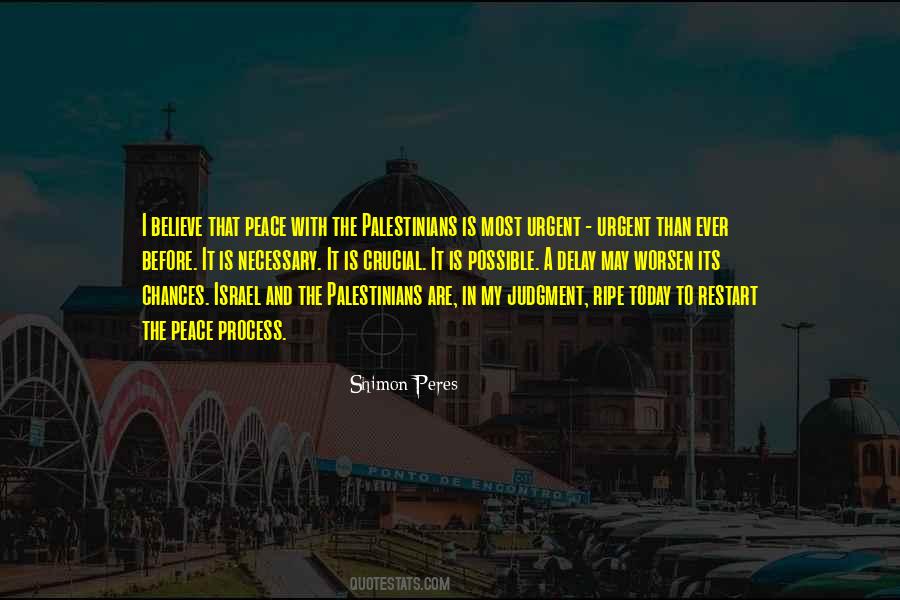 #88. We have a special relationship with Israel. It's absolutely crucial that no one in our country or around the world ever doubt that our number one committment in the Middle East is to protect the right of Israel to exist, to exist permanently, and to exist in peace. It's a special relationship. - Author: Jimmy Carter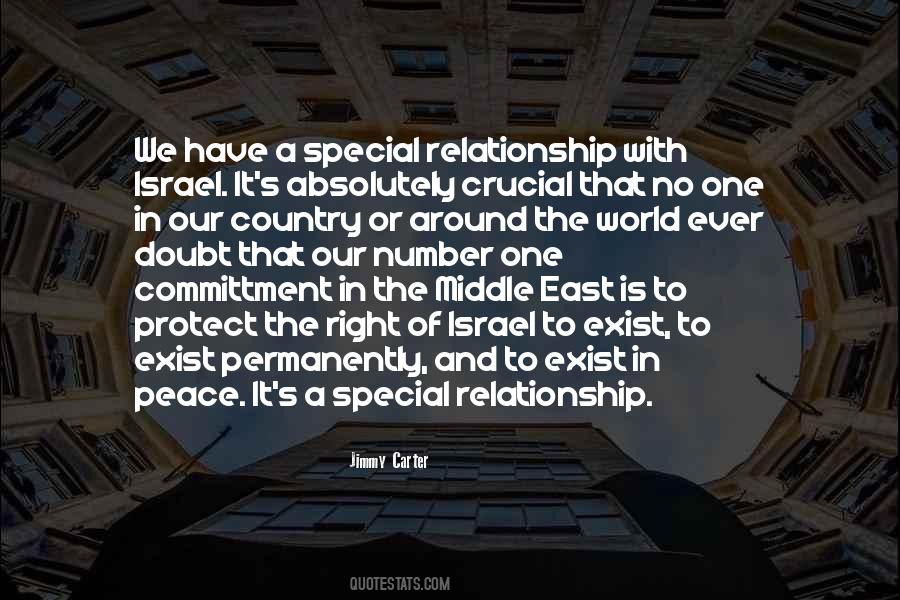 #89. If there will be a serious Palestinian prime minister who makes a 100 percent effort to end terrorism, then we can have peace. Each side has to take steps. If terror continues, there will not be an independent Palestinian state. Israel will not accept it, if terror continues. - Author: Ariel Sharon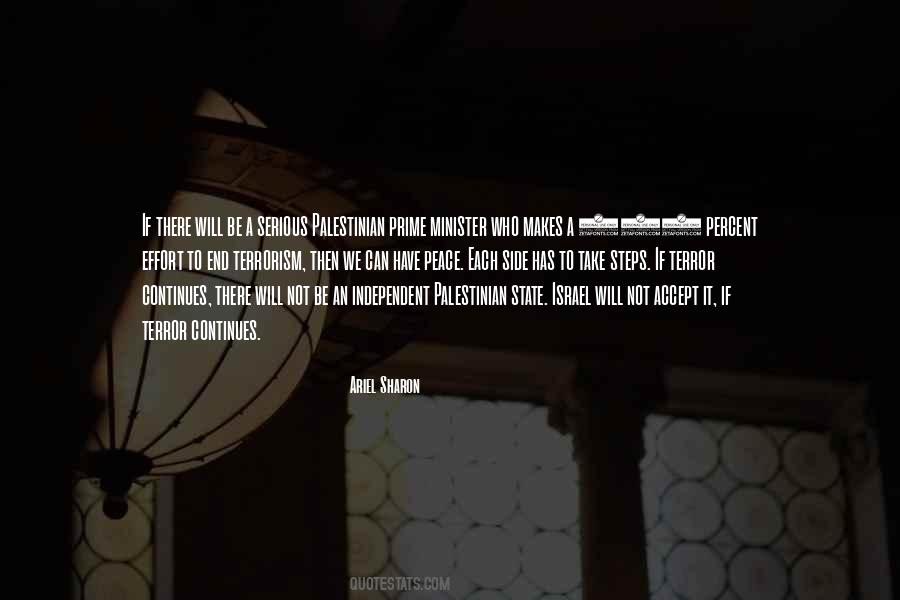 #90. Most of the approaches to peace between Israel and the Palestinians, have been directed at trying to resolve the most complex problems, like refugees and Jerusalem, which is akin to building the pyramid from the top down. - Author: Benjamin Netanyahu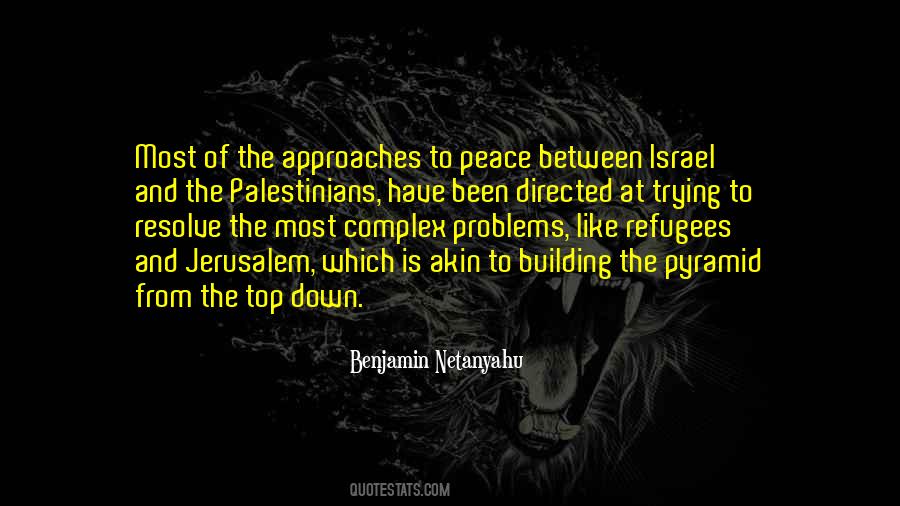 #91. But I'll tell you the truth: The world needs more peacemaker instead of warmonger. - Author: Kristian Goldmund Aumann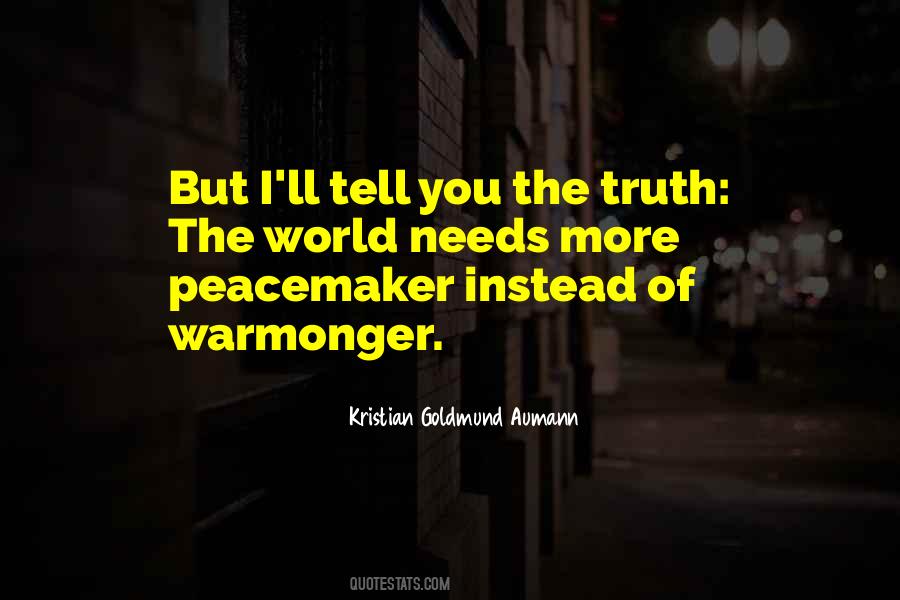 #92. Israel desperately needs peace if it is to come anywhere close to being the 'light unto nations' of Jewish dreams. - Author: Edgar Bronfman, Sr.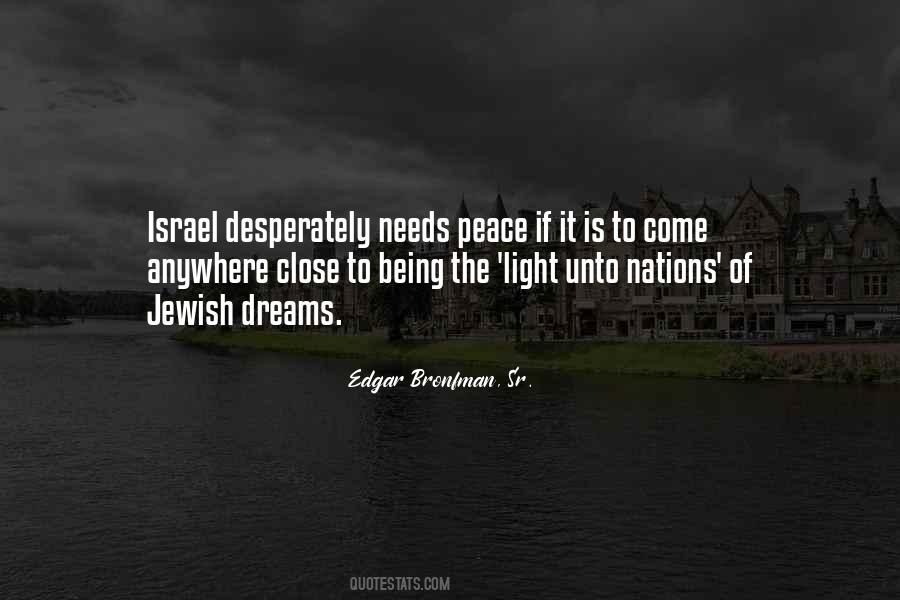 #93. Arafat rejected the deal because, as a dictator who had directed all his energies toward strengthening the Palestinians hatred toward Israel, Arafat could not afford to make peace. - Author: Natan Sharansky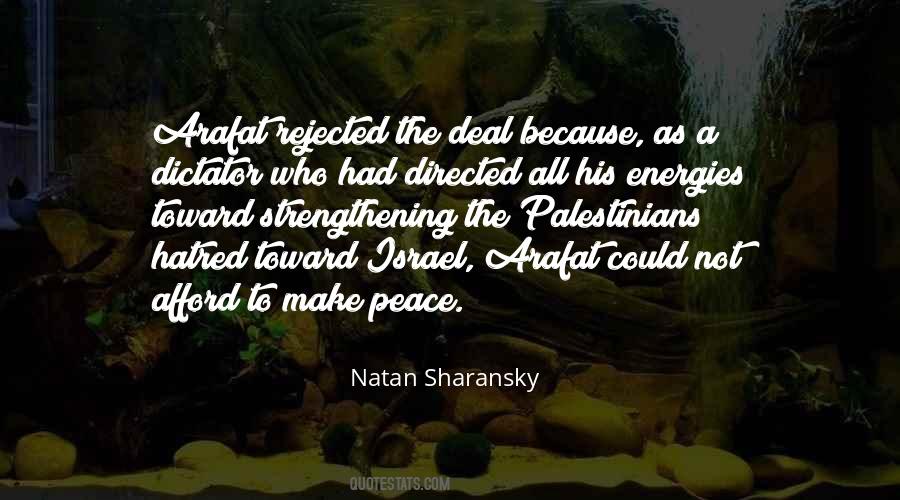 #94. Israel must never be expected to jeopardize her security: if she was ever foolish enough to do so, and then suffered for it, the backlash against both honest brokers and Palestinians would be immense - 'land for peace' must also bring peace. - Author: Margaret Thatcher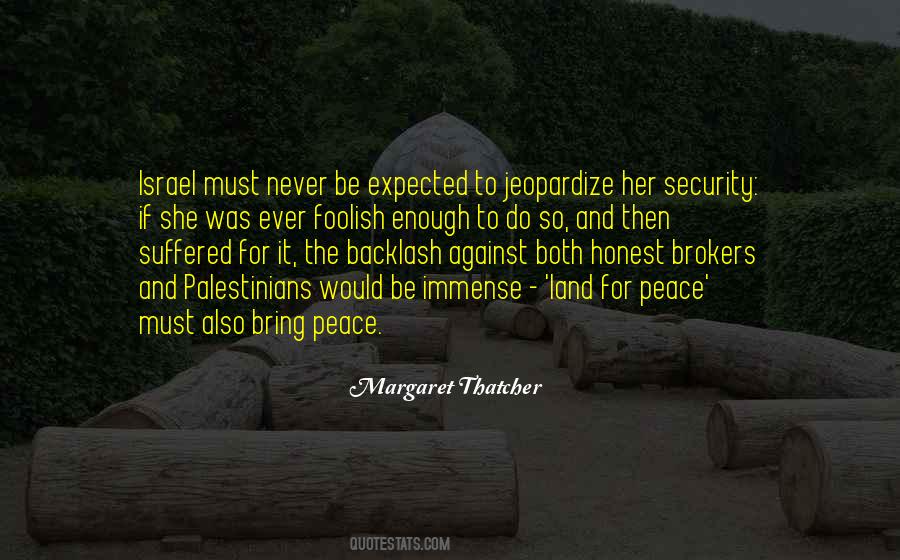 #95. My constant prayer, my number one foreign goal, is to bring peace to Israel. And in the process to Israel's neighbours. - Author: Jimmy Carter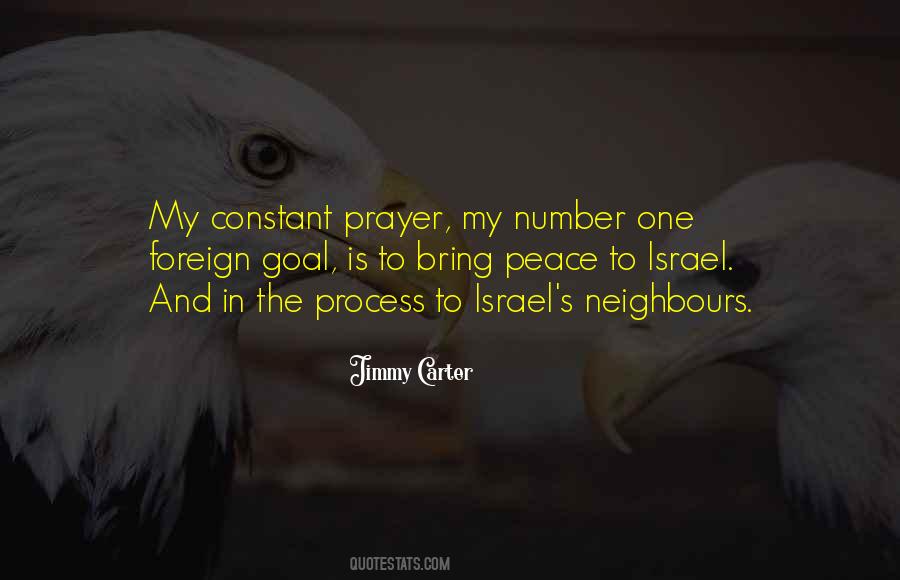 #96. I can certainly put myself in Israel's shoes. They are humans just like we are. They want peace and security inside their borders. - Author: Mahmoud Abbas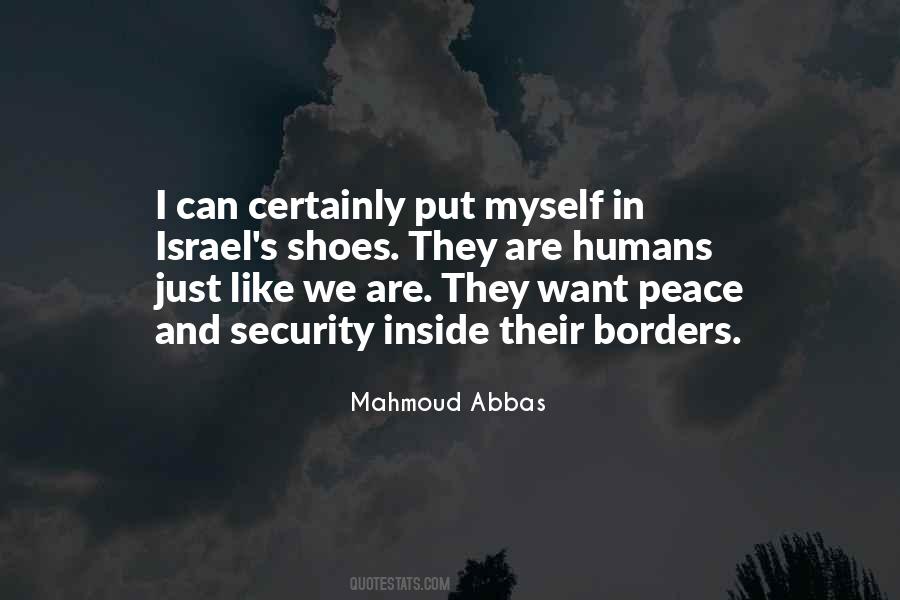 #97. Israel deserves special treatment from the United States, both for historical reasons and because there can be no regional peace without a secure Israel. - Author: Stephen Kinzer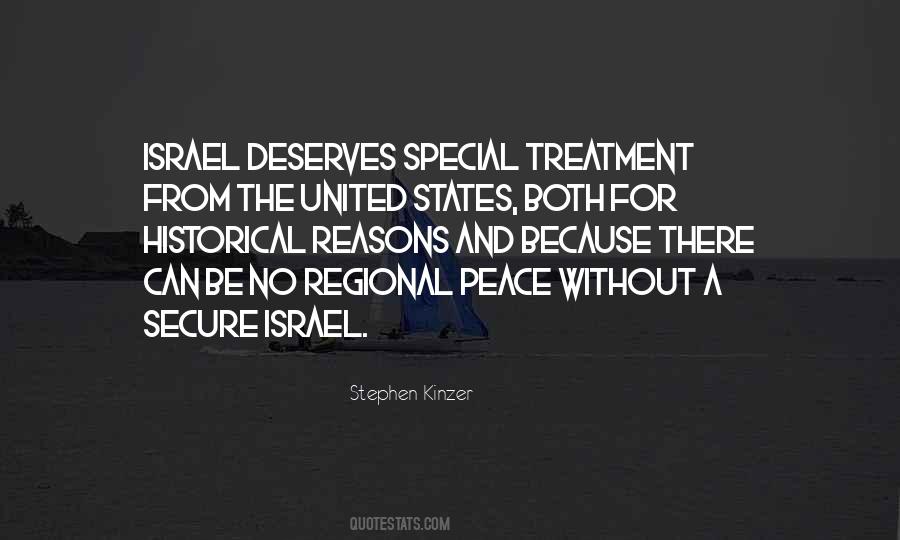 #98. The aggressive, unprovoked acts of violence against Israel by Hezbollah and Hamas are revealing. It is clear they don't want peace, but rather seek the ultimate destruction of Israel. - Author: John Boehner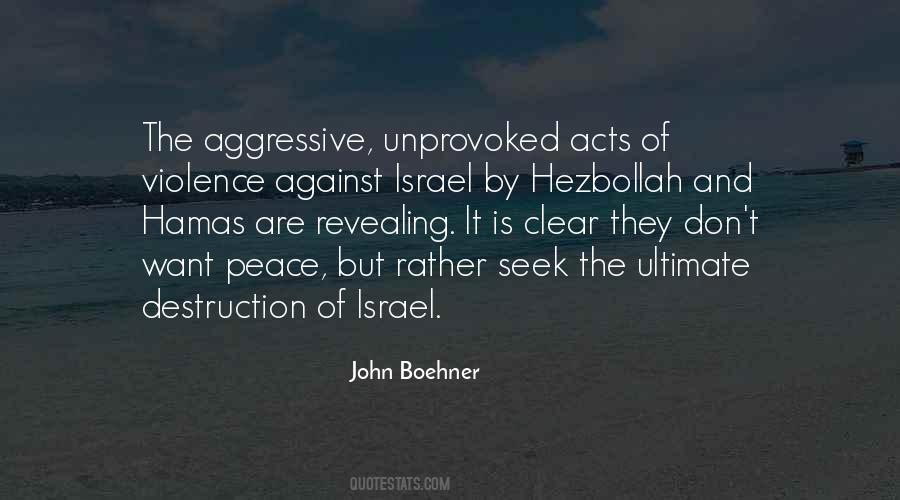 #99. We appreciate the efforts of the United States, of the president, of the secretary of state, and we are ready to find any form of talks, but we have to overcome the differences between Syria and Israel to reach peace. - Author: Yitzhak Rabin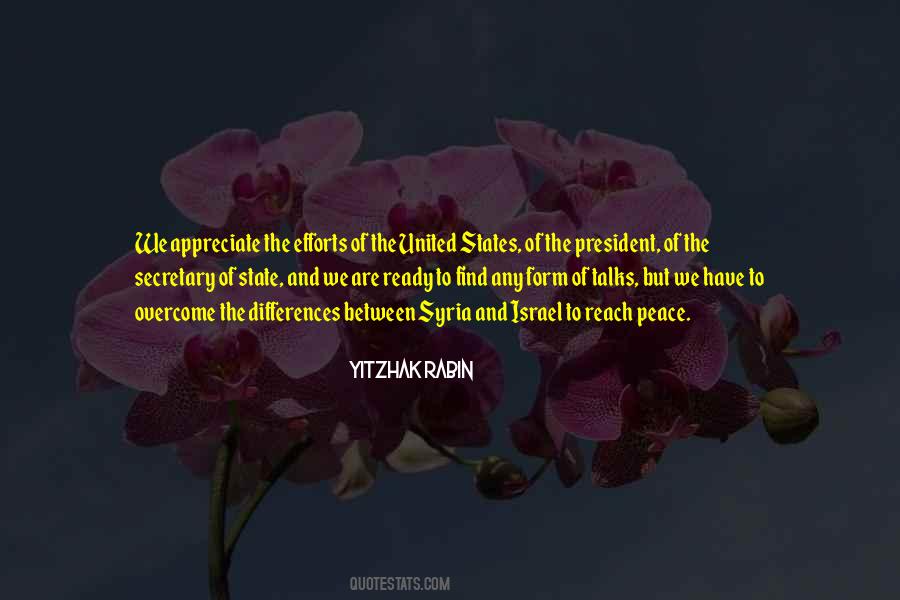 #100. Peace is important for Israel. - Author: Ehud Olmert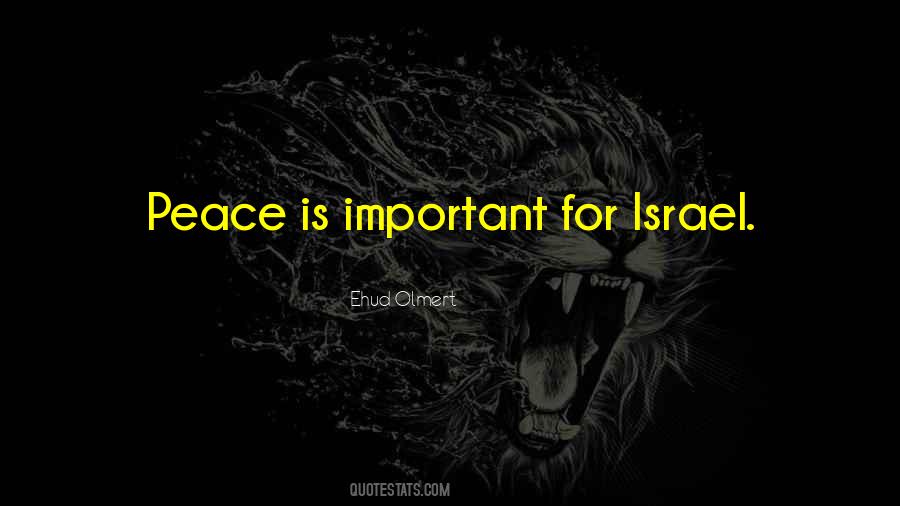 Famous Authors
Popular Topics