Inner Strength And Peace Famous Quotes & Sayings
List of top 32 famous quotes and sayings about inner strength and peace to read and share with friends on your Facebook, Twitter, blogs.
Top 32 Quotes About Inner Strength And Peace
#1. I must learn to be as the bear in a cage with the stick that pokes it always, through the bars. The bear acts as if the stick is made of air, and takes no notice of it, even when it is sharpened and draws blood. I must do the same. - Author: Ned Hayes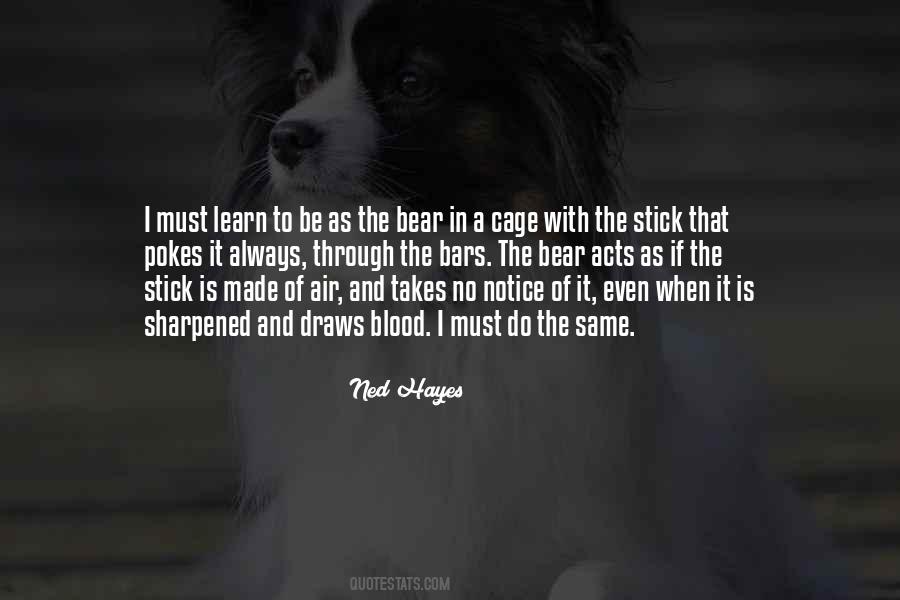 #2. Compassion is a sign of inner peace. Kindness is a sign of inner strength. Be kind and be compassionate. - Author: Debasish Mridha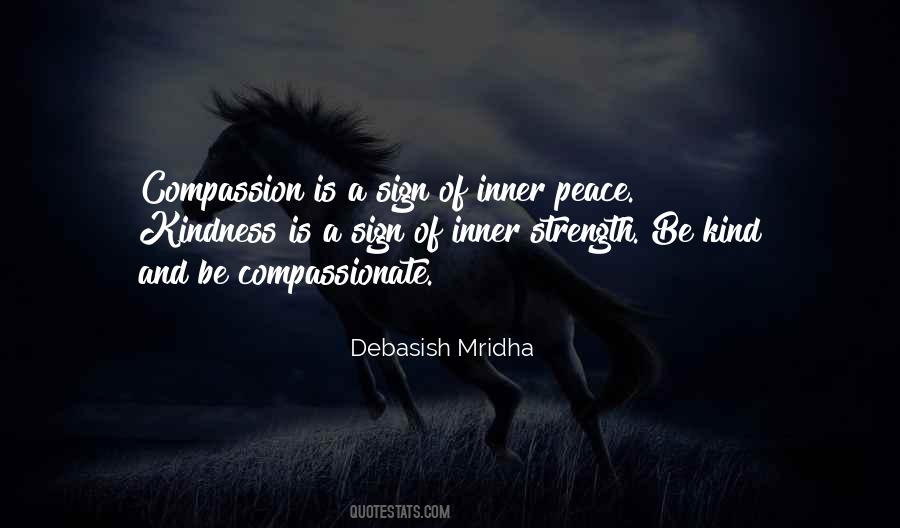 #3. Nobody can hurt me without my permission. - Author: Mahatma Gandhi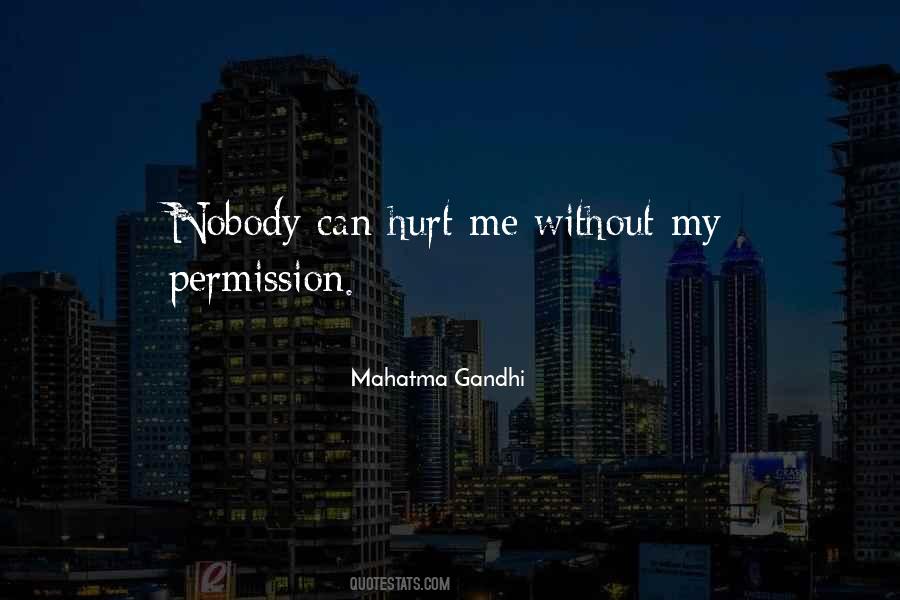 #4. The dignity of self is greatly enhanced by looking upward in the search for holiness. Like the giant trees, we should reach up for the light. The most important source of light we can come to know is the gift of the Holy Ghost. It is the source of inner strength and peace. - Author: James E. Faust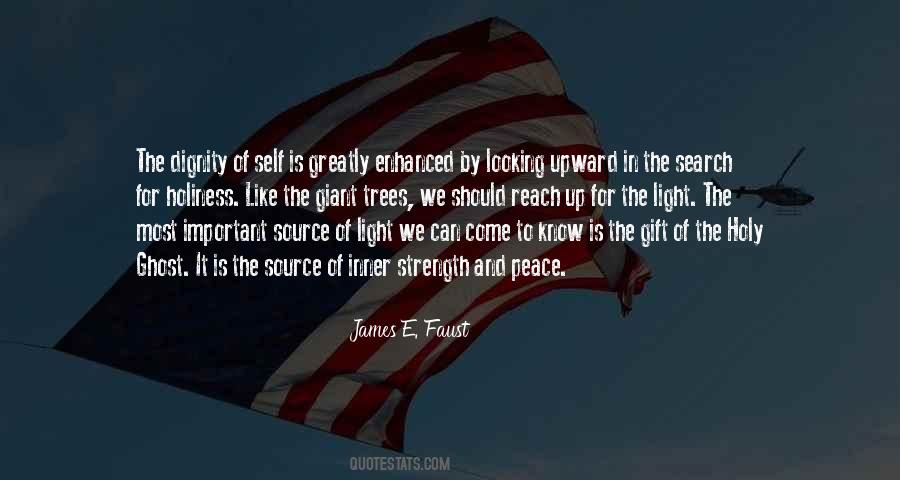 #5. Inner peace is the sacred-strength of peaceful existence. - Author: Lailah Gifty Akita
#6. In quietness we find inner peace. - Author: Lailah Gifty Akita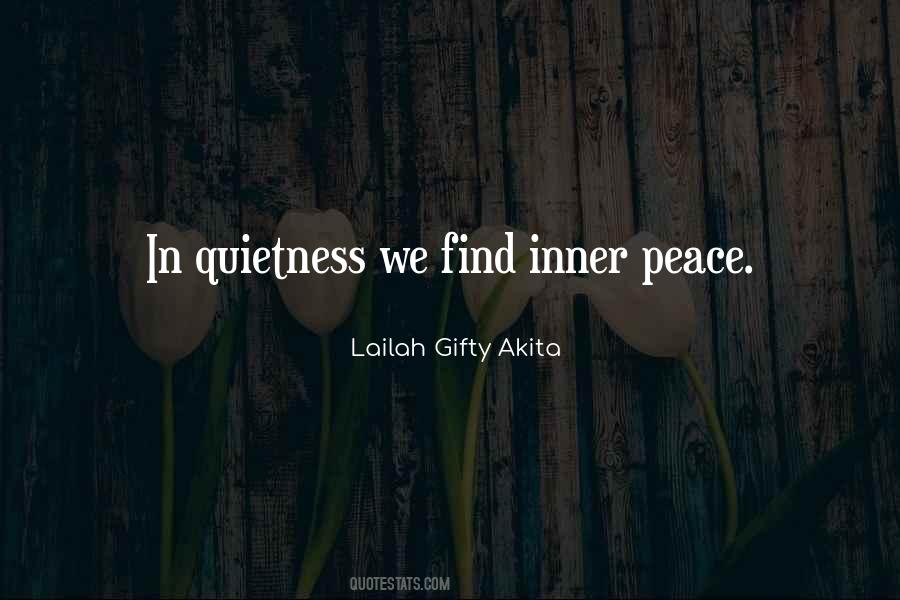 #7. Inner stillness is the key to outer strength. - Author: Jared Brock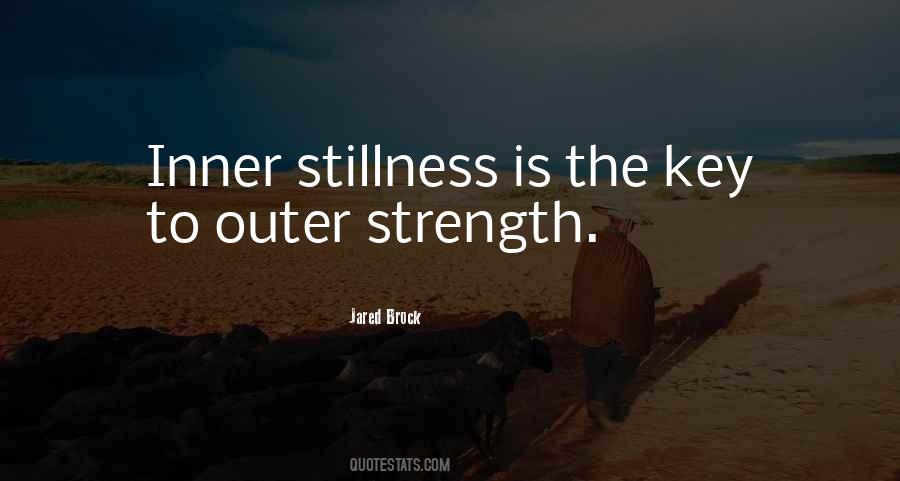 #8. The quietness of spirit is an inner peace. - Author: Lailah Gifty Akita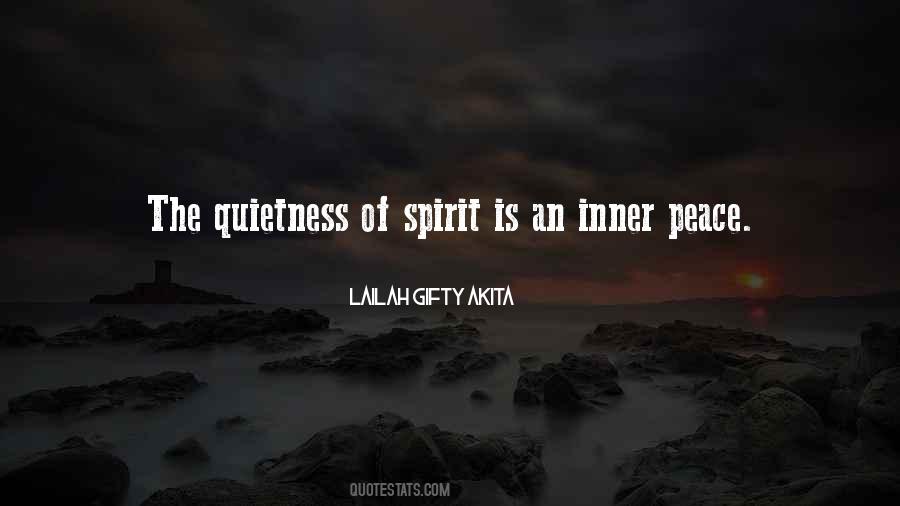 #9. Peace is the first step to equip yourself to face problems. Once you find the peace and the inner strength, then you can face any problem. It won't even appear as a problem then. - Author: Sri Sri Ravi Shankar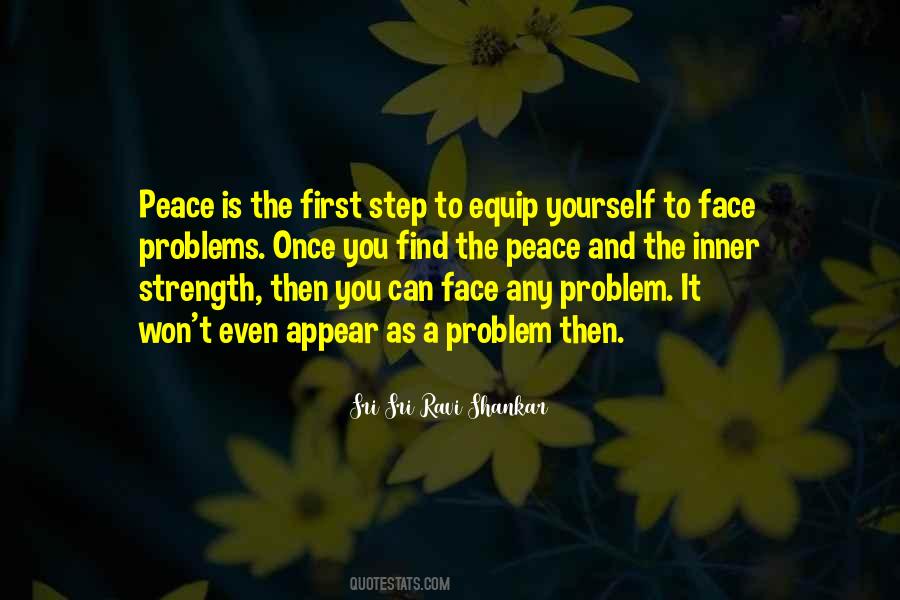 #10. Admitting the weighty problems and staggering disappointments, Christianity affirms that God is able to give us the power to meet them. He is able to give us inner equilibrium to stand tall amid the trials and burdens of life. He is able to provide inner peace amid our outer storms. - Author: Martin Luther King Jr.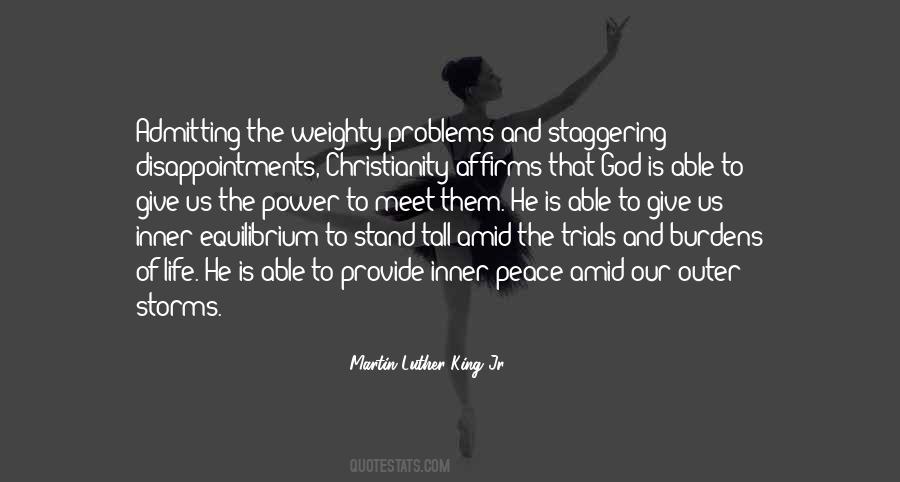 #11. The reason I have entered into bodybuilding and weightlifting is to inspire everybody to pray and meditate so they can bring to the fore their own inner strength. If everybody brings to the fore his own inner strength, the world will eventually be inundated with peace. - Author: Sri Chinmoy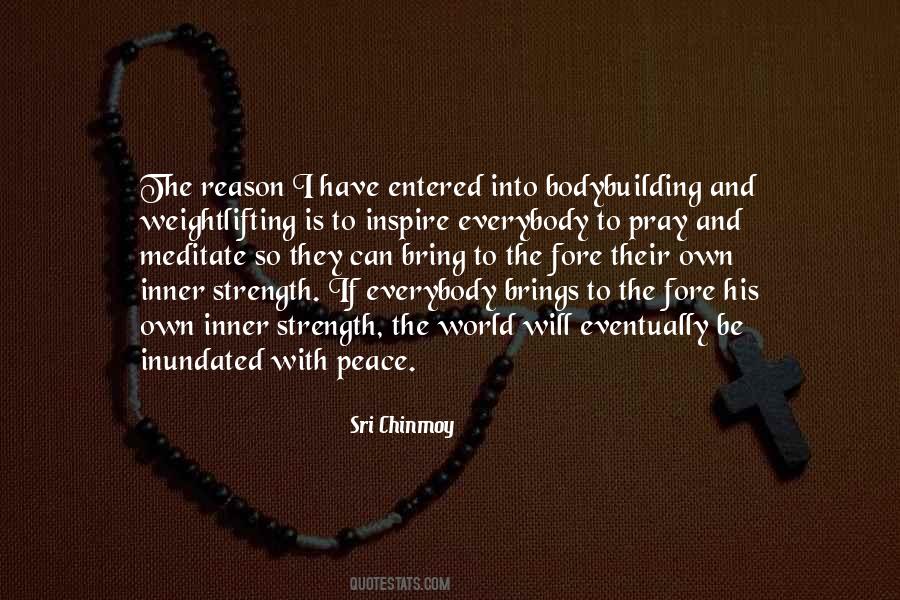 #12. Be at peace with yourself and everyone. It is the greatest inner strength. - Author: Lailah Gifty Akita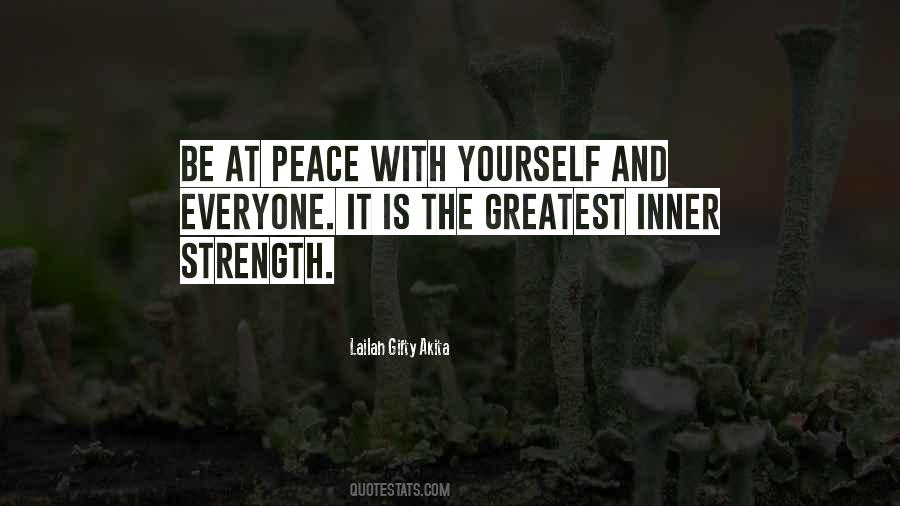 #13. Spiritually is finding the truth in you. - Author: Wes Adamson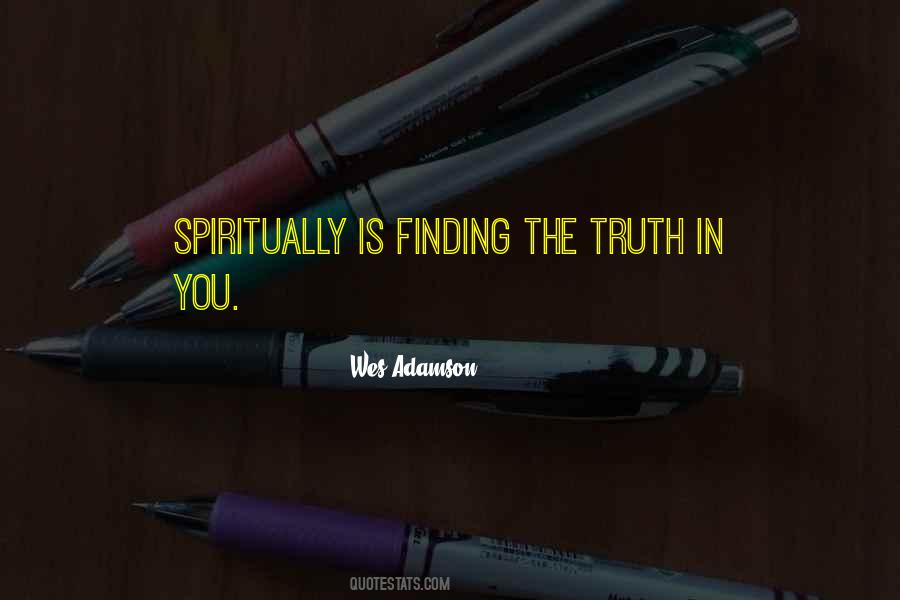 #14. Trials may come - and we may not understand everything that happens to us or around us. But if we humbly, quietly trust in the Lord, He will give us guidance and strength in every challenge we face. When our only desire is to please Him, we will be blessed with a deep inner peace. - Author: Bruce D. Porter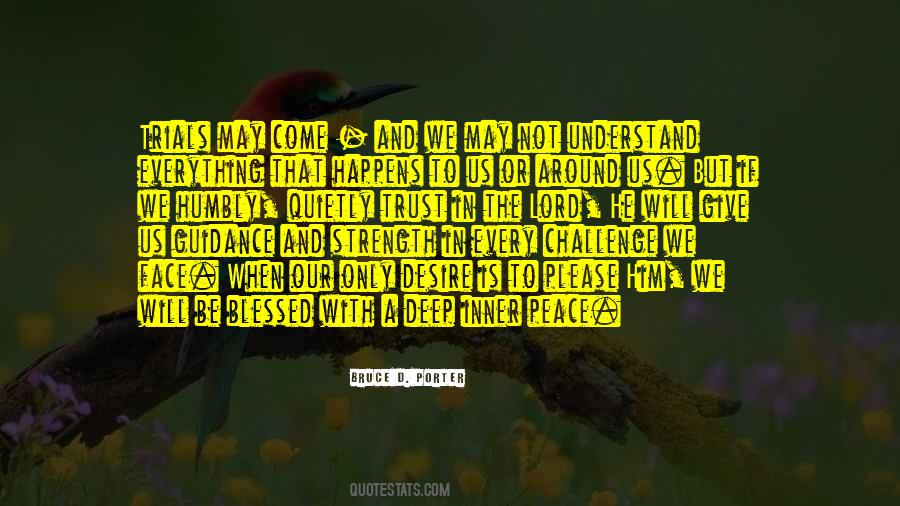 #15. The Secret is - there really is no secret. Everything you need lies within yourself. - Author: Vid Lamonte' Buggs Jr.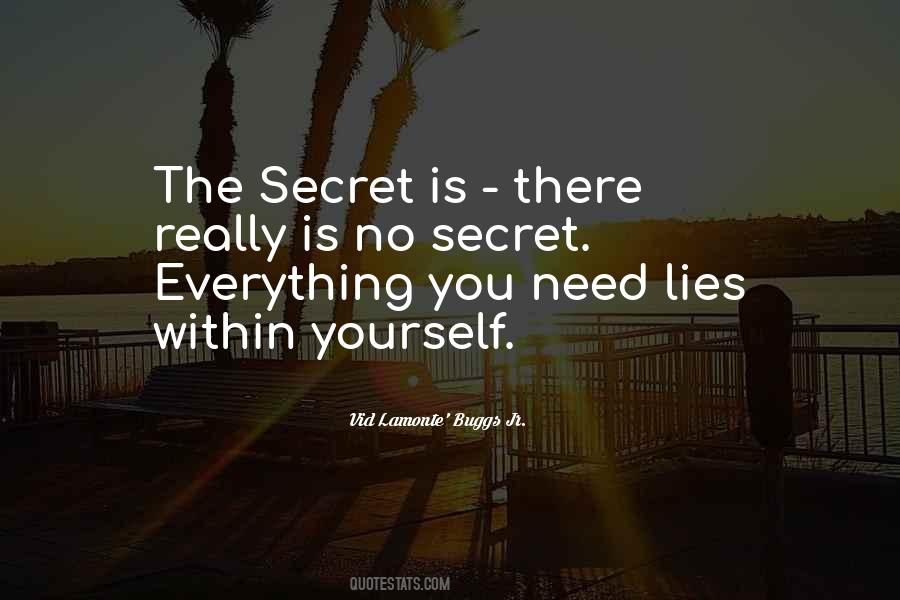 #16. Sometimes all it takes is a little watering everyday and a sunny day to follow, that's how weeds become flowers and new dawns rise - why would it be any less then for a human life? - Author: Nikki Rowe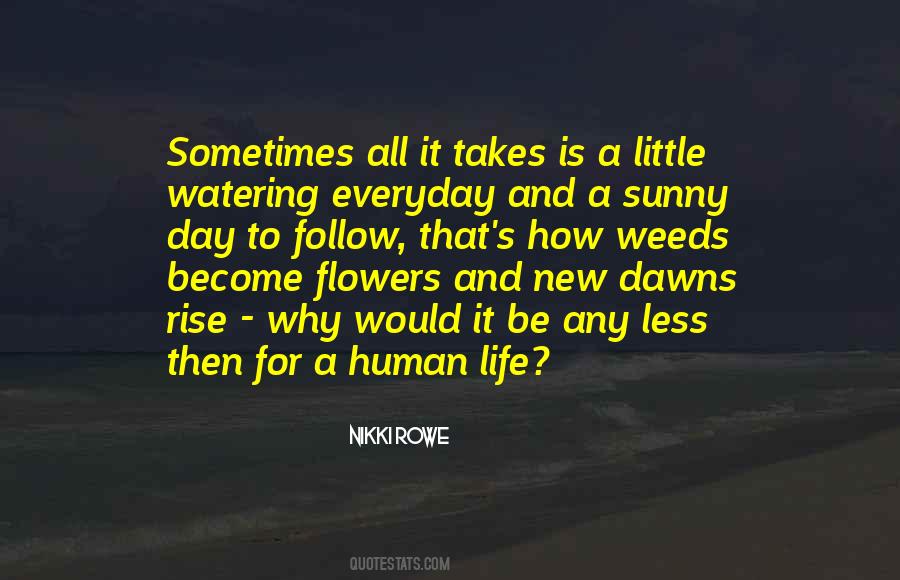 #17. In my weightlifting I am trying to show that if you pray and meditate, you can bring to the fore your inner strength. Now, if somebody is really inwardly strong, he is always at peace. - Author: Sri Chinmoy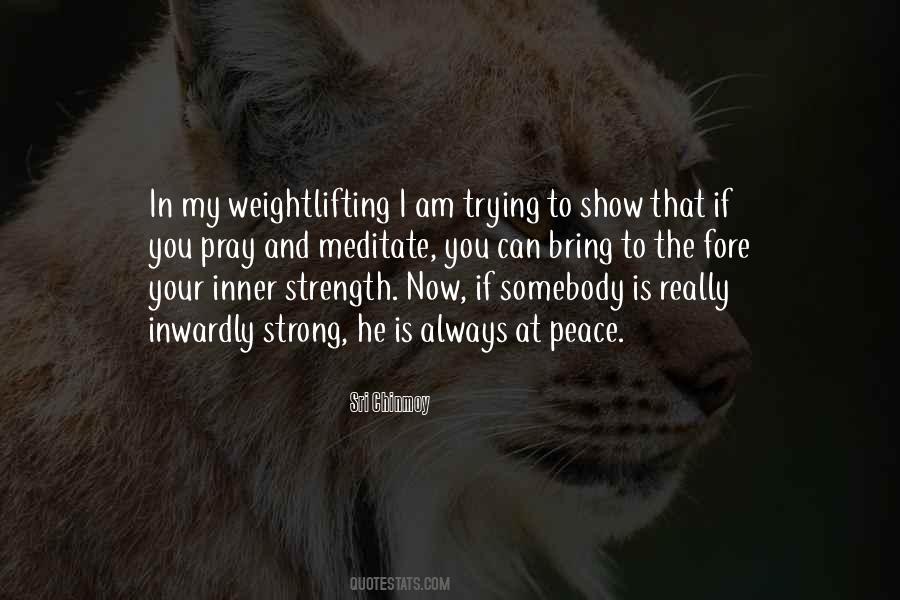 #18. Courage uncovers strength, grace reveals beauty, vulnerability expresses humility, inner peace reflects contentment - Author: Millen Livis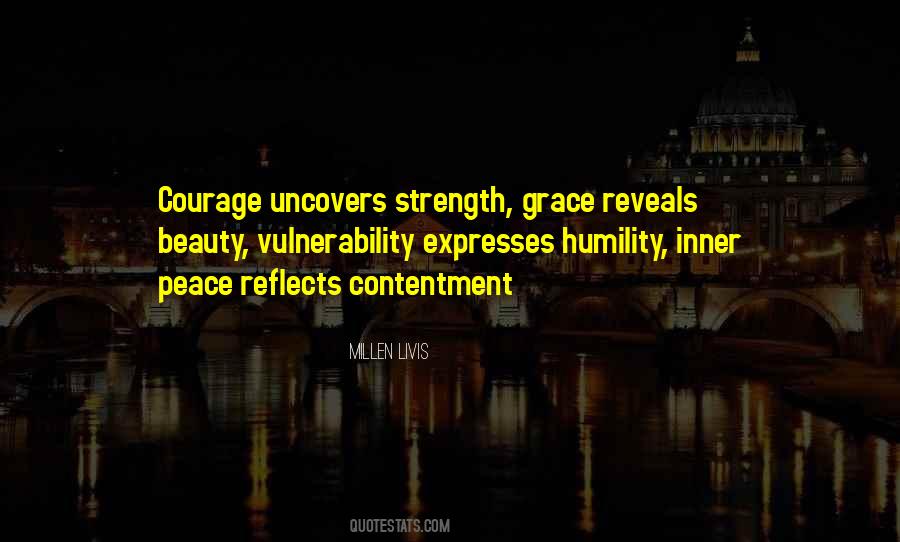 #19. A major contribution of miracles is their strength in releasing you from your false sense of isolation, deprivation and lack. - Author: Foundation For Inner Peace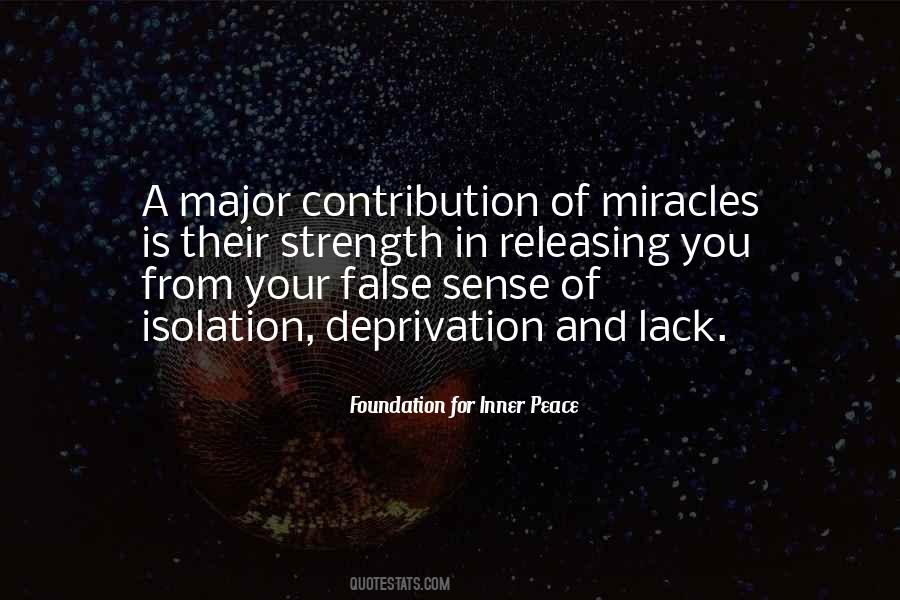 #20. We only radiate the inner self. - Author: Lailah Gifty Akita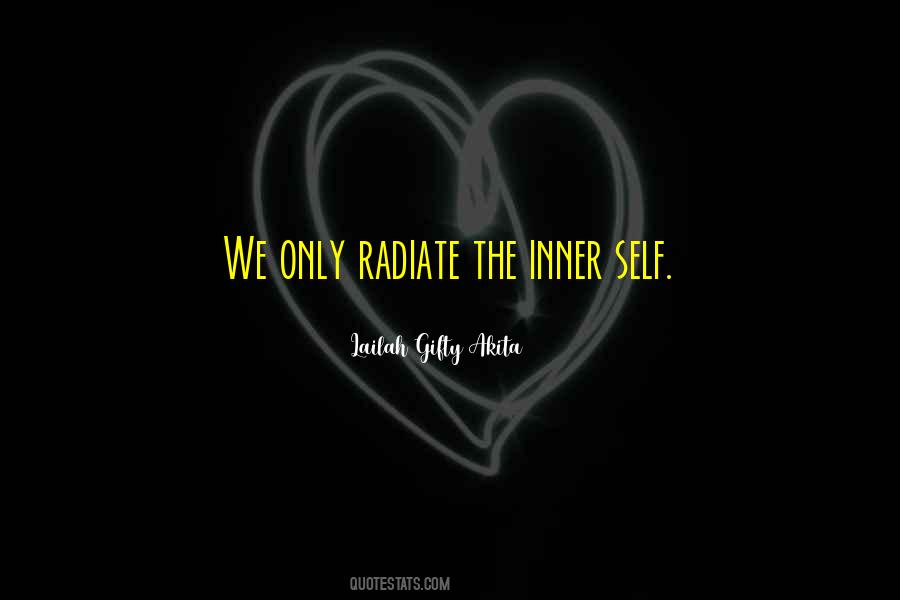 #21. God gives us His strength by giving us His vision of things. Our seeing people as innocent is the only way to achieve God's peace. - Author: Marianne Williamson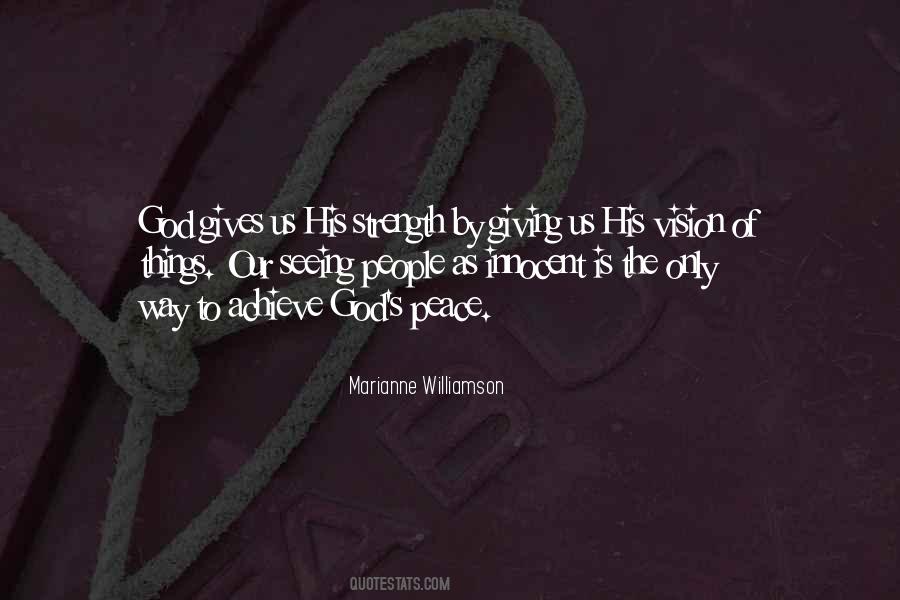 #22. Time, place, and space for all things, but spending [the] majority of one's time playing in outer places, and far less time exploring inner space, is perhaps the worst form of neglect. Don't play yourself; the real you awaits. - Author: T.F. Hodge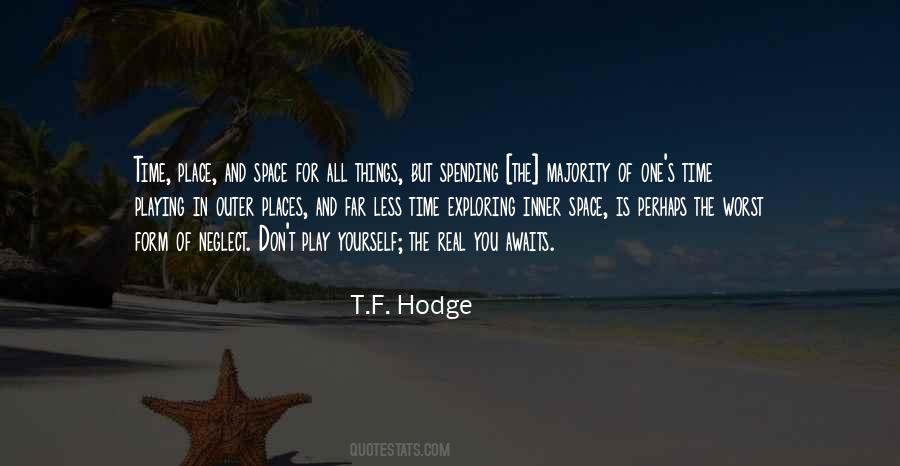 #23. Be an empowertarian. A person who empowers their own life and that of others. - Author: Catherine Jane Fisher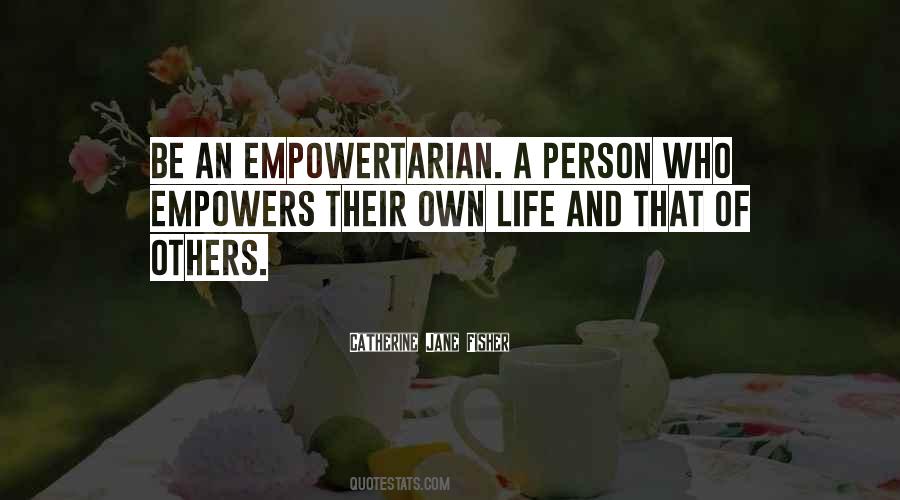 #24. Your inner strength is your outer foundation - Author: Allan Rufus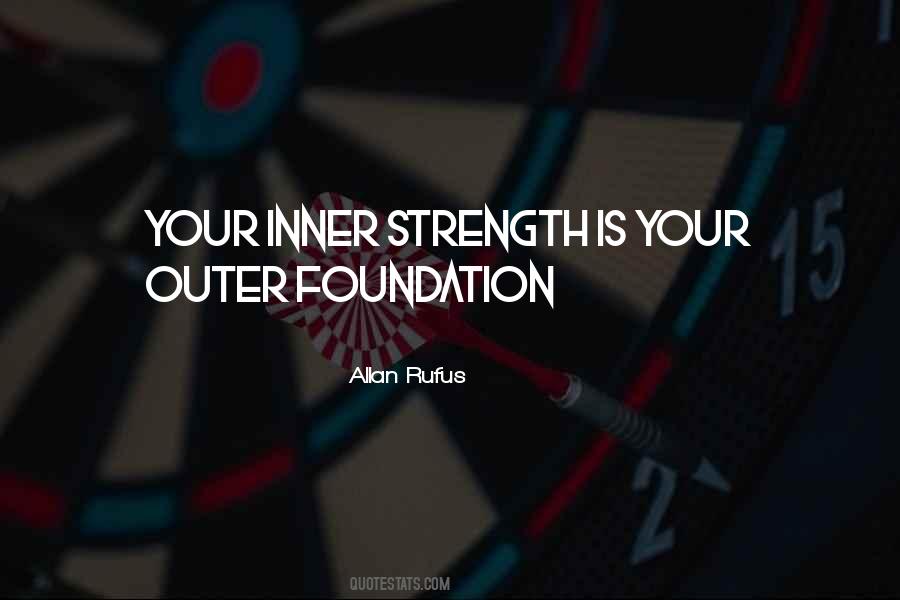 #25. Religion brings to man an inner strength, spiritual light, and ineffable peace. - Author: Alexis Carrel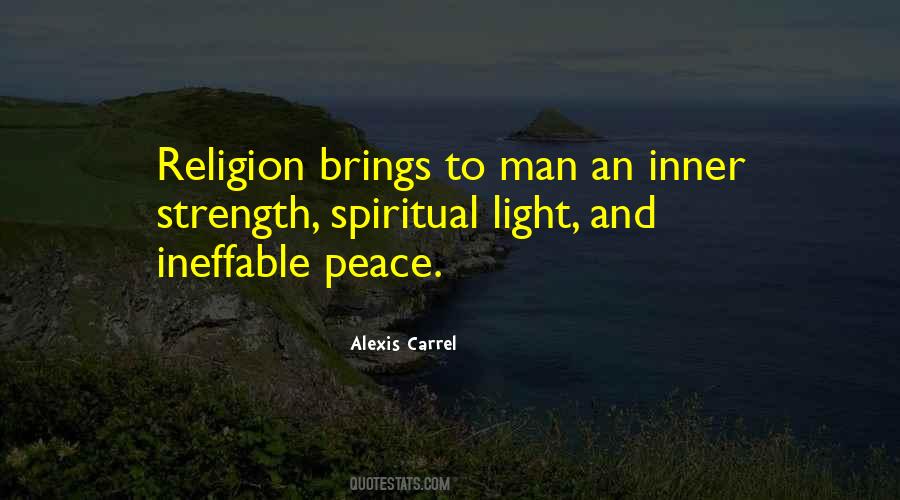 #26. Tranquility is not weakness; from tranquility emerges power and strength. - Author: C. JoyBell C.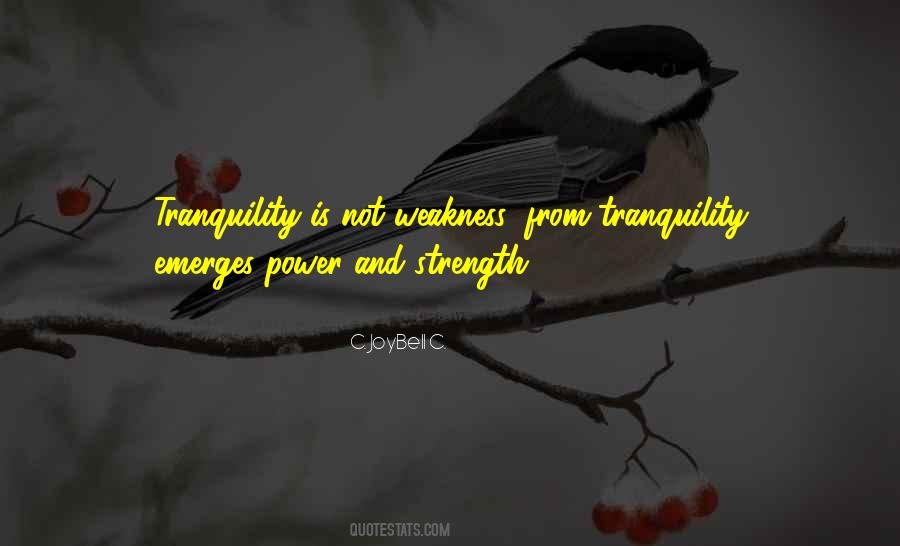 #27. You are your master. Only you have the master keys to open the inner locks. - Author: Amit Ray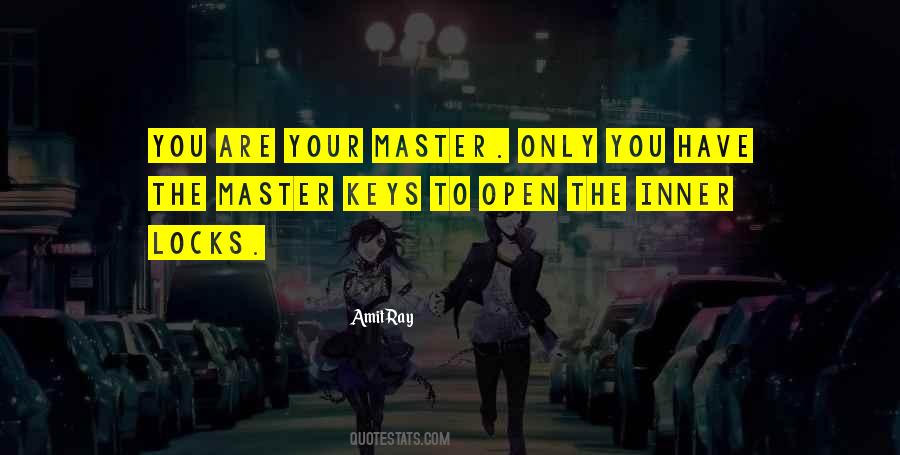 #28. For today learn that with inner strength and mental stability we can endure all kinds of adversity. Now keep looking toward the stars because as long as you have life ... anything is possible! - Author: Timothy Pina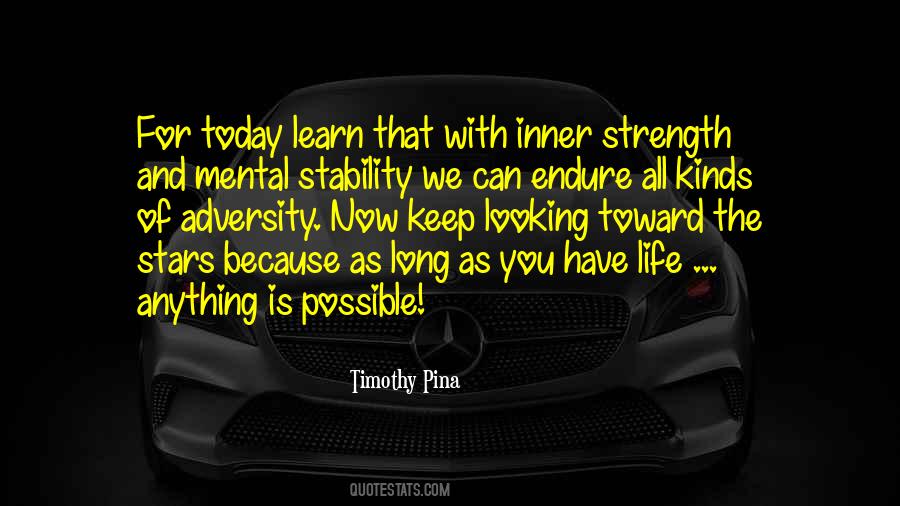 #29. Compassion is a mental quality that can bring us true lasting inner peace and inner strength. - Author: Dalai Lama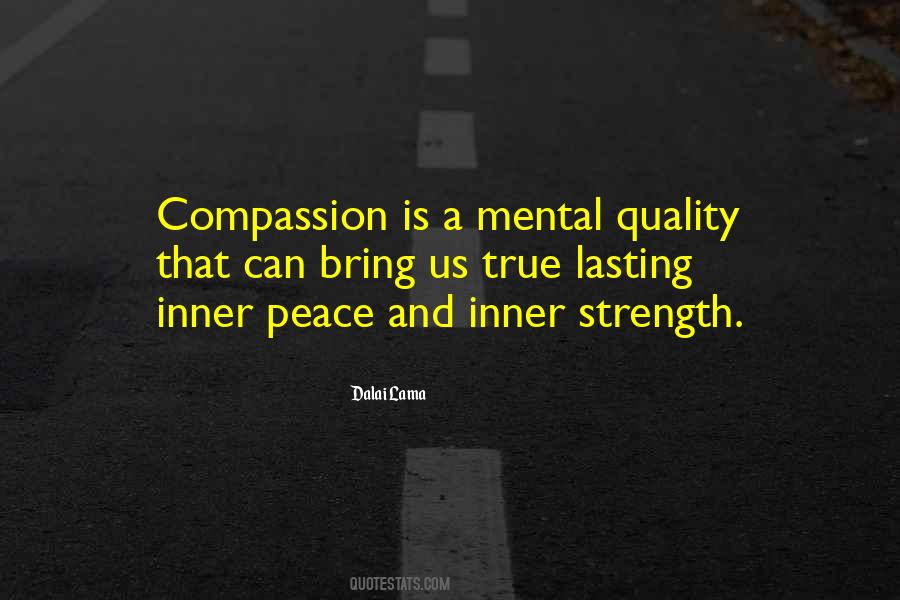 #30. First set a strong and clear inner voice and then do all that you want to achieve and the door will be opened. - Author: Amit Ray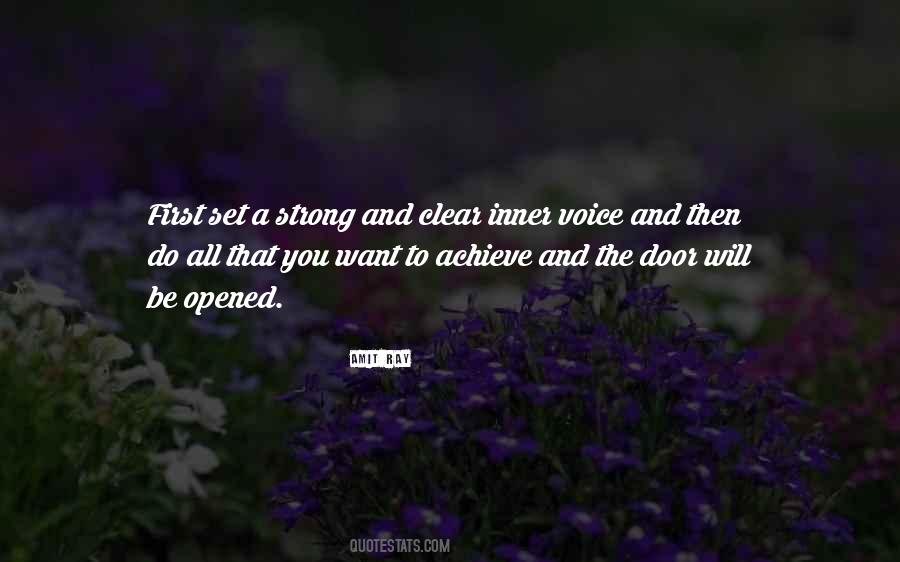 #31. In Zen the emphasis is on meditation and developing your body, mind and spirit to find inner peace, strength, clarity and enlightenment. - Author: Frederick Lenz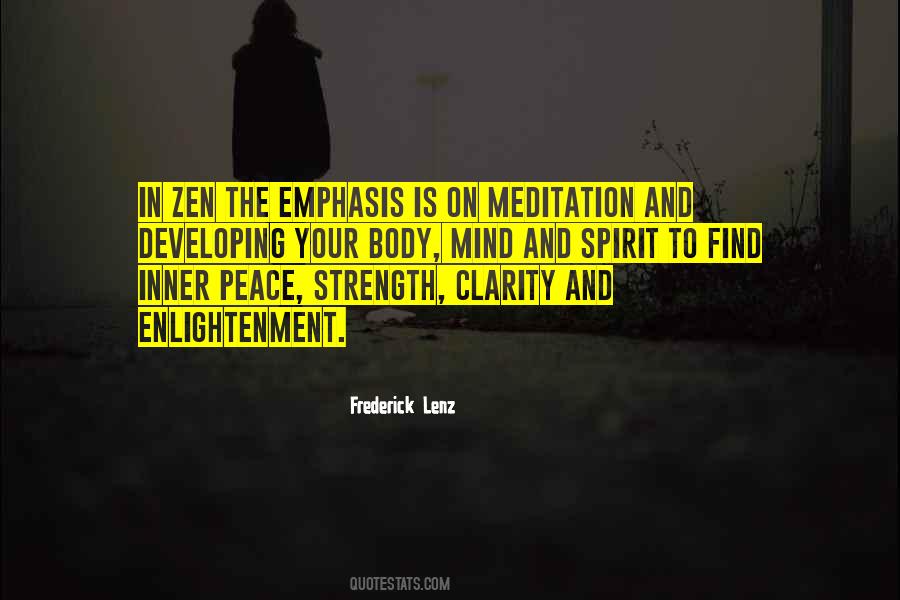 #32. Be at peace with yourself and with all humankind. - Author: Lailah Gifty Akita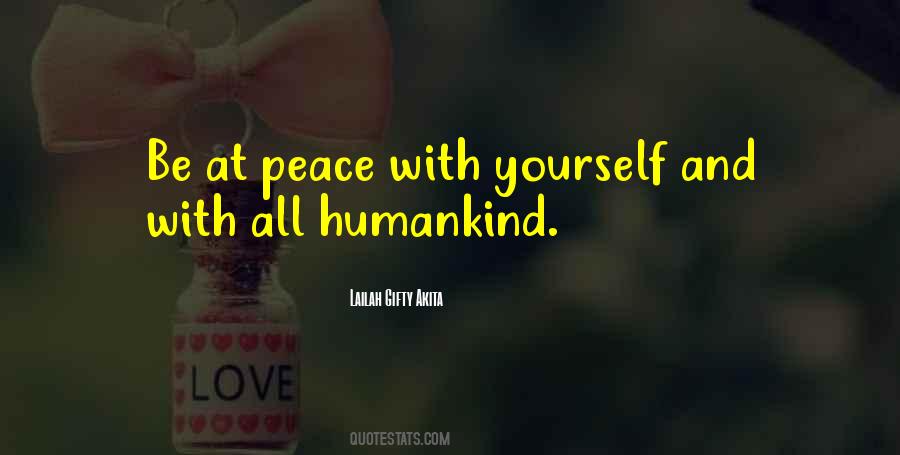 Famous Authors
Popular Topics