I Am Beautiful Famous Quotes & Sayings
List of top 100 famous quotes and sayings about i am beautiful to read and share with friends on your Facebook, Twitter, blogs.
Top 100 Quotes About I Am Beautiful
#1. I am waiting for a man to come in here and fuck me sideways with a beautiful line like that - Author: Patrick Marber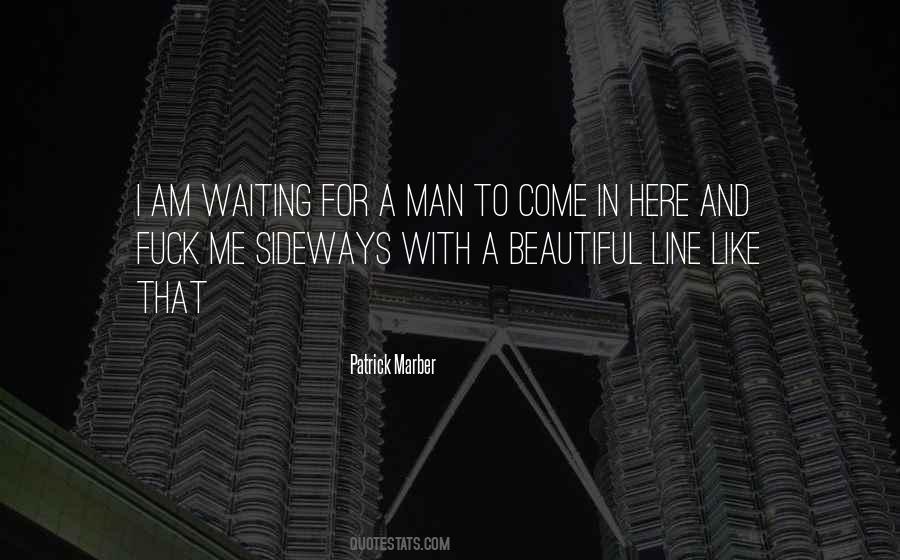 #2. I am very lucky. I have known wonderful romantic love in my life but to actually see this little creature and find him to be the most beautiful creature in the world. I know all mothers and fathers feel that way. - Author: Anne-Marie Duff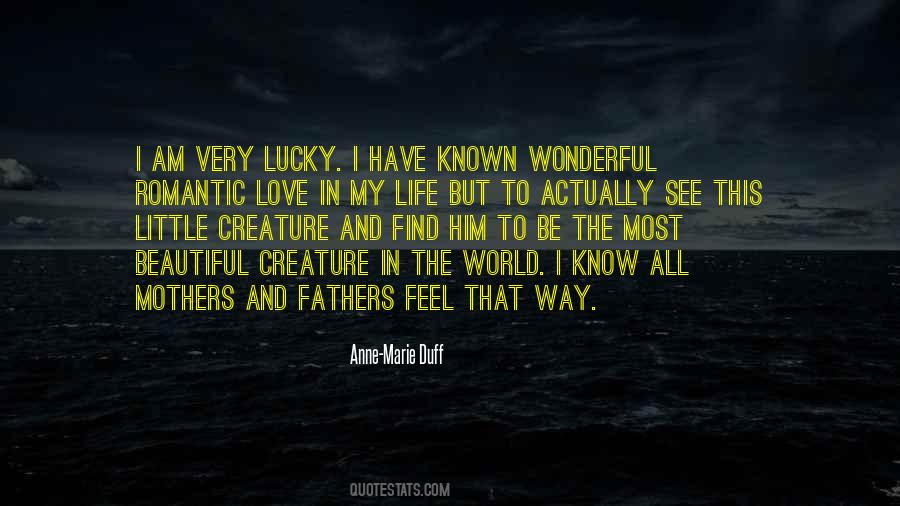 #3. Having played the Old Course many times since my first visit in 1981, I am now of the opinion it is one of the best and most beautiful tests of links golf anywhere in the world. - Author: Tom Watson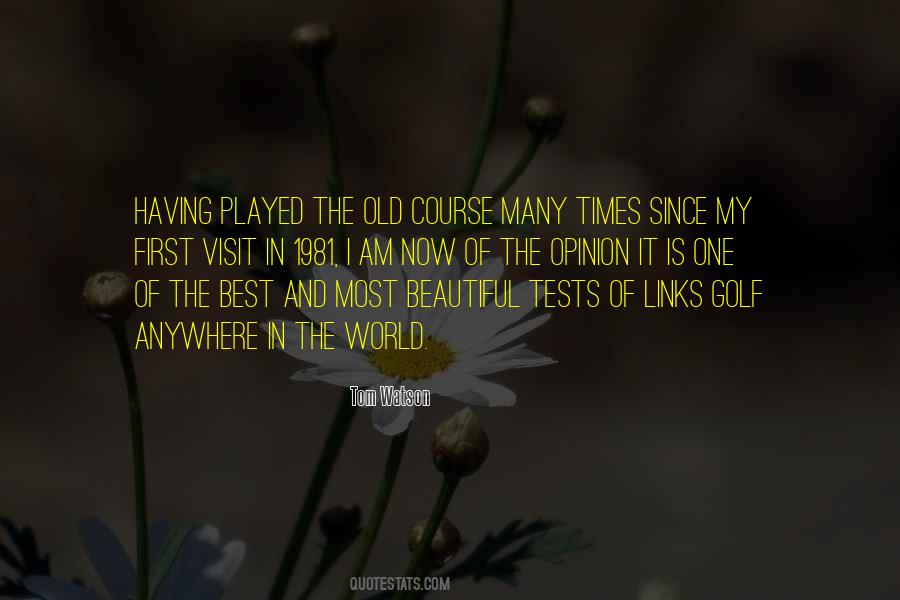 #4. I am a beautiful and intelligent woman. Anything I touch will turn to gold. - Author: Jeyn Roberts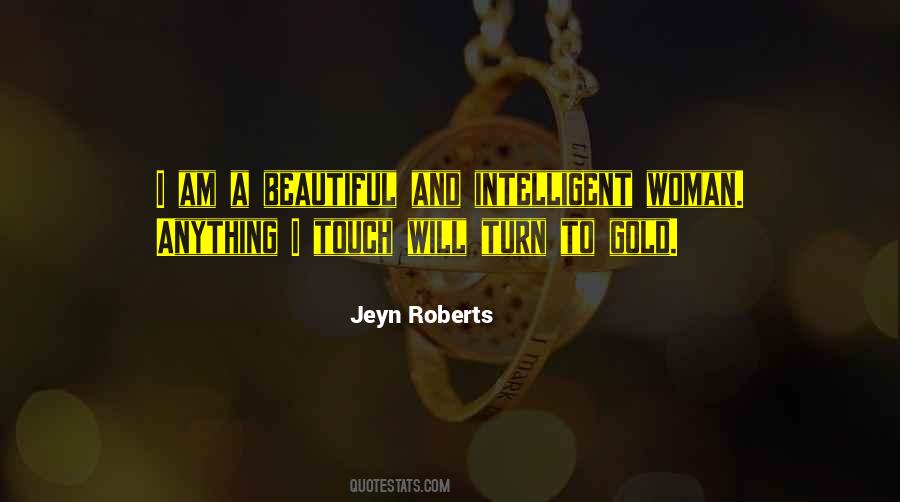 #5. I am inspired by so much. I am inspired by women, of course - beautiful women. I am also inspired by not so beautiful things in the world. - Author: Raheem Devaughn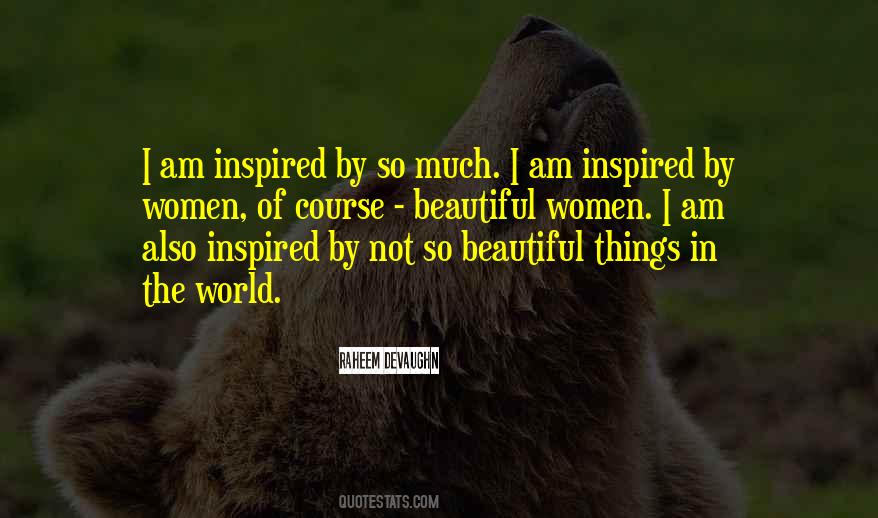 #6. When I do a mix tape for my kids, for my friends, for my lover, I meticulously choose the tracks, and it's beautiful. And when they are alone they think of me - and when I am alone I think of them. - Author: Jean-Marc Vallee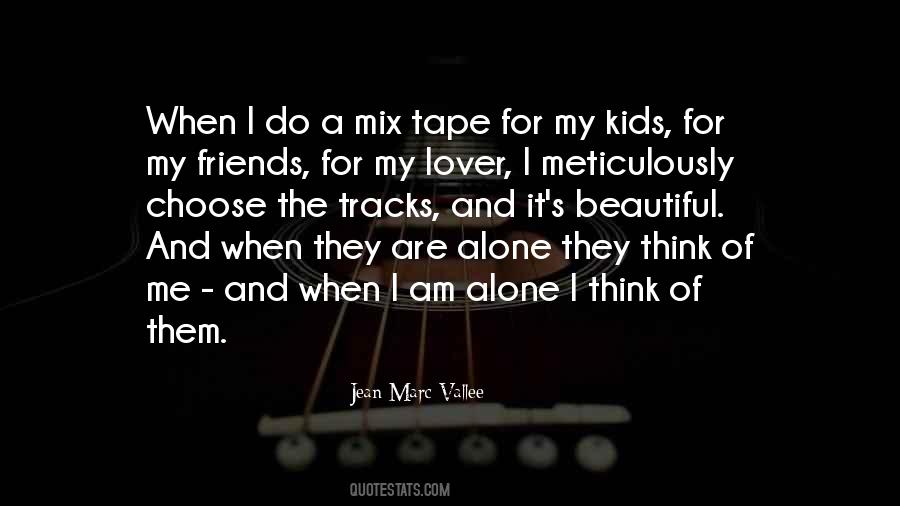 #7. But I am convinced that those Jews who stand aside today with a malicious smile and with their hands in their trousers' pockets will also want to dwell in our beautiful home. - Author: Theodor Herzl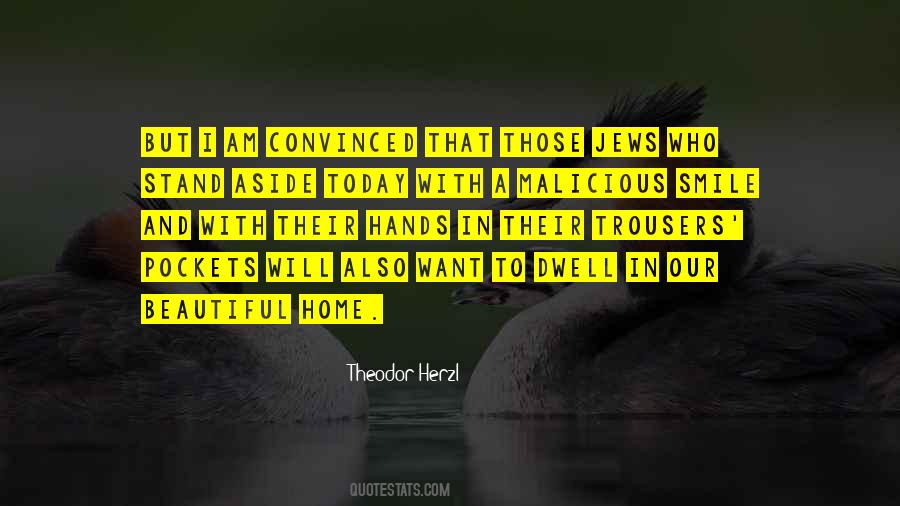 #8. So what if I cannot be a model, if I am no longer considered beautiful, if Malvolia is trying to catch me. I am climbing a tree! And I am doing so with Jack. - Author: Alex Flinn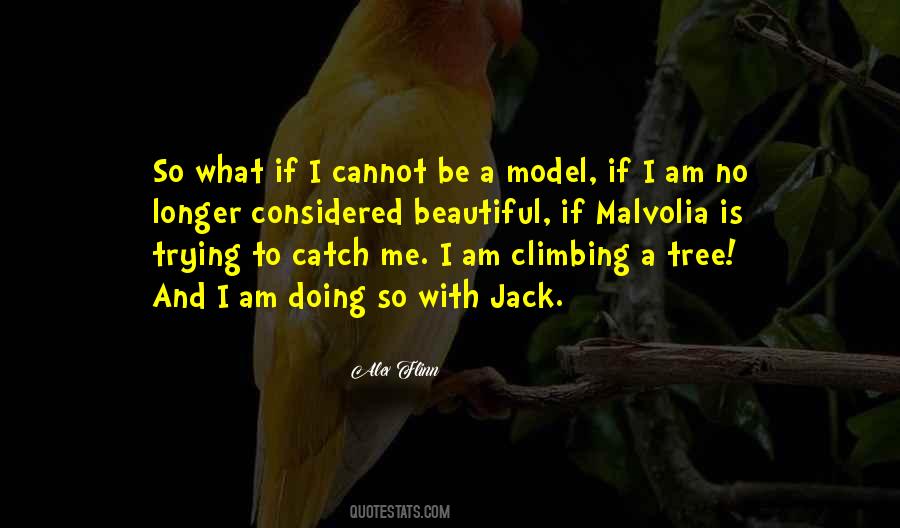 #9. I am flushed and warm.
I think I may be enormous,
I am so stupidly happy,
My wellingtons
Squelching and squelching through the beautiful red. - Author: Sylvia Plath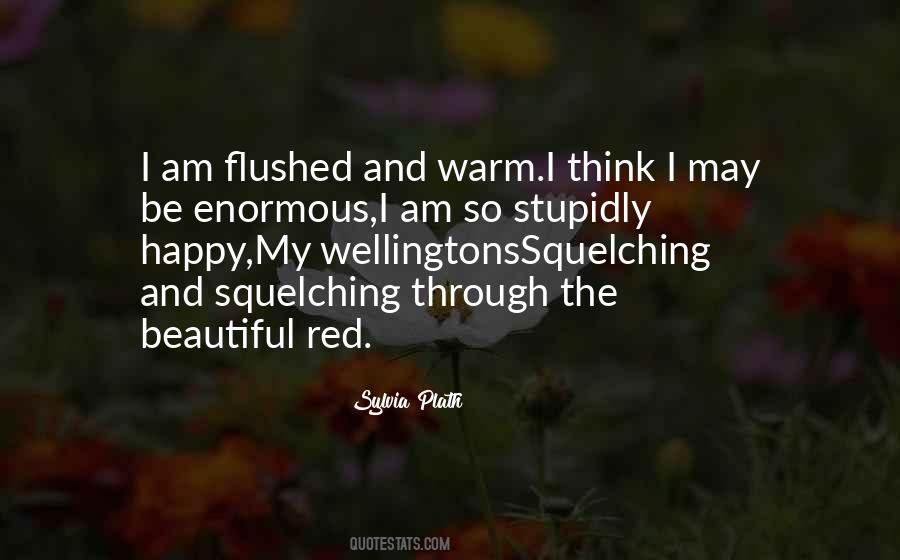 #10. The things which the child loves remain in the domain of the heart until old age. The most beautiful thing in life is that our souls remain hovering over the places where we once enjoyed ourselves. I am one of those who remembers those places regardless of distance or time. - Author: Kahlil Gibran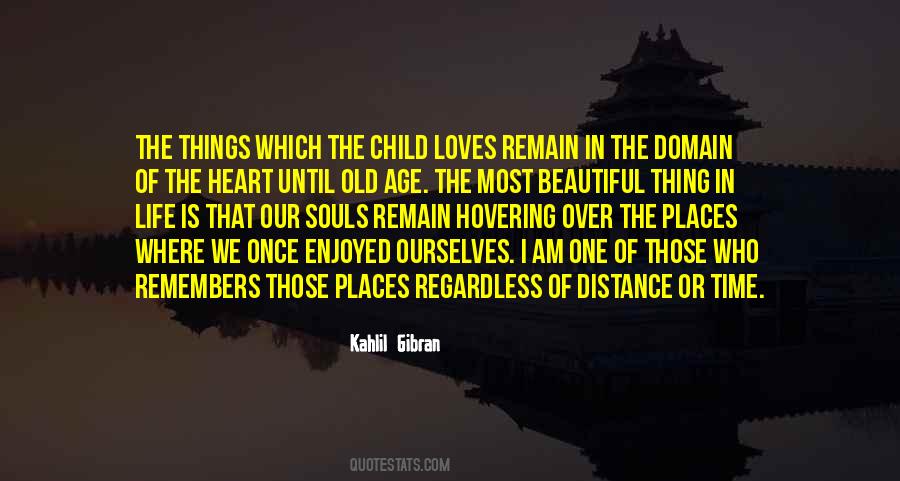 #11. I am not yours, nor lost in you, not lost, although I long to be. Lost as a candle lit at noon, lost as a snowflake in the sea. You love me, and I find you still a spirit beautiful and bright, yet I am I, who long to be lost as a light is lost in light. - Author: Sara Teasdale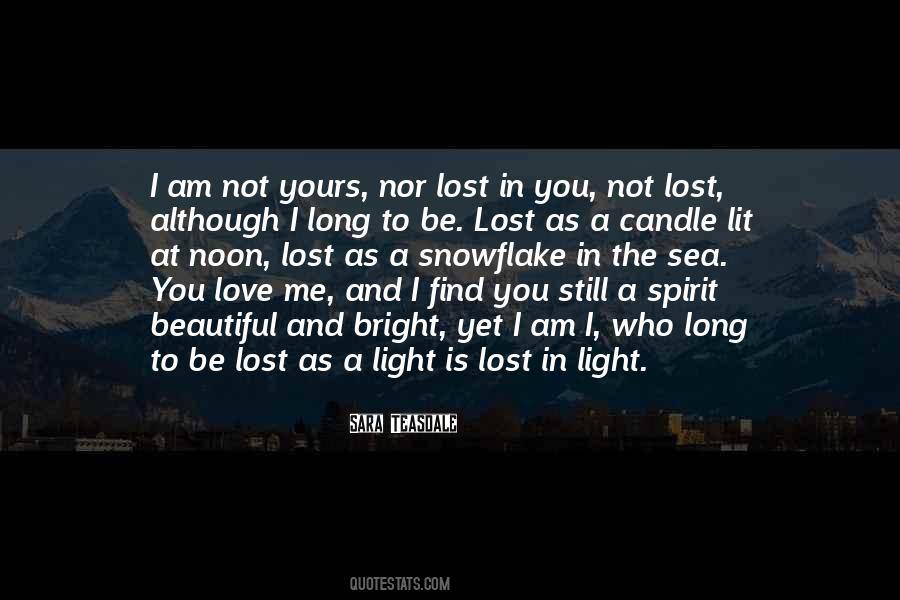 #12. Anytime I am asked to use my creativity as a way to be of service, I consider it an opportunity I cannot refuse. This experience was truly a pleasure. Scott's enthusiasm is infectious His voice is soothing and beautiful at the same time. - Author: Katey Sagal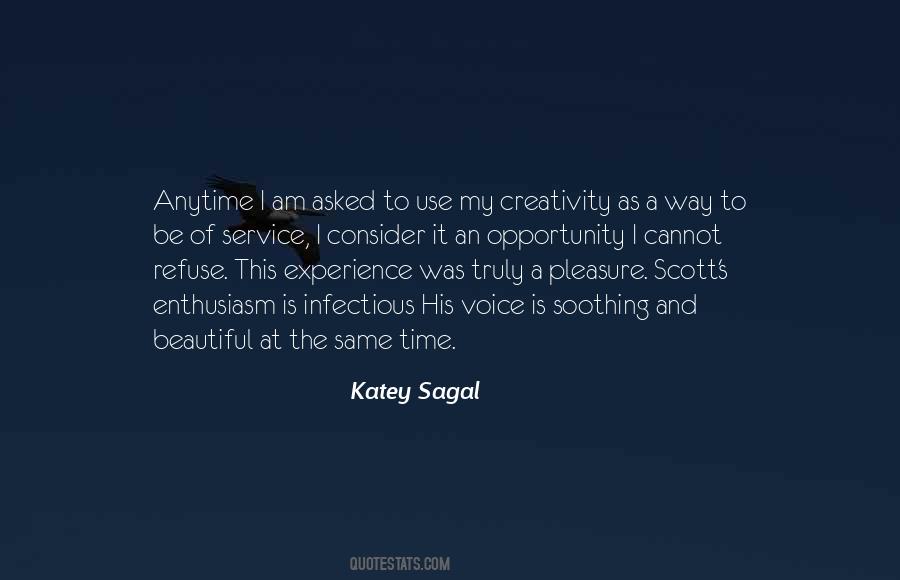 #13. I love who I am. I am beautiful creation of God. - Author: Lailah Gifty Akita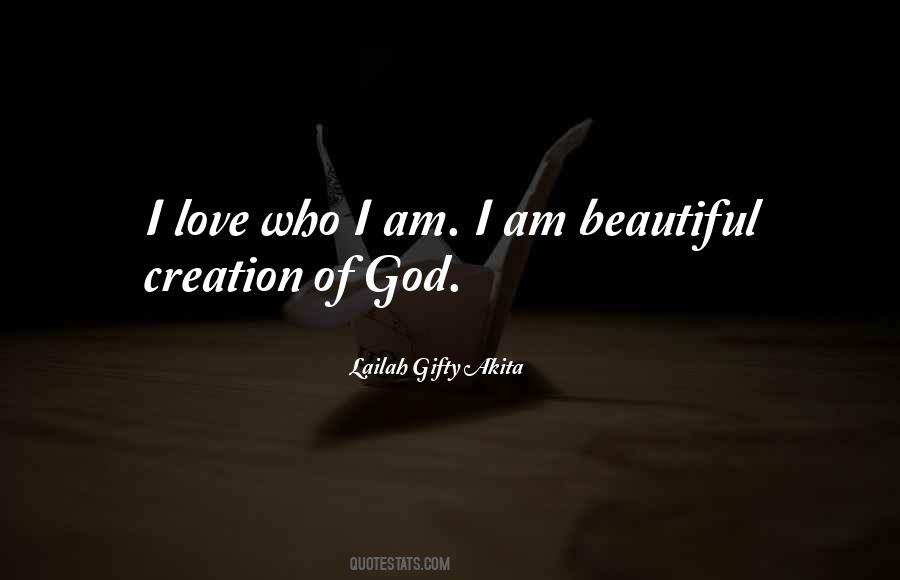 #14. I want you to say it. 'I am so beautiful and sexy that I make Dmitri come in his dreams for me.' Say it." He hissed in her ear. - Author: Fiona Murphy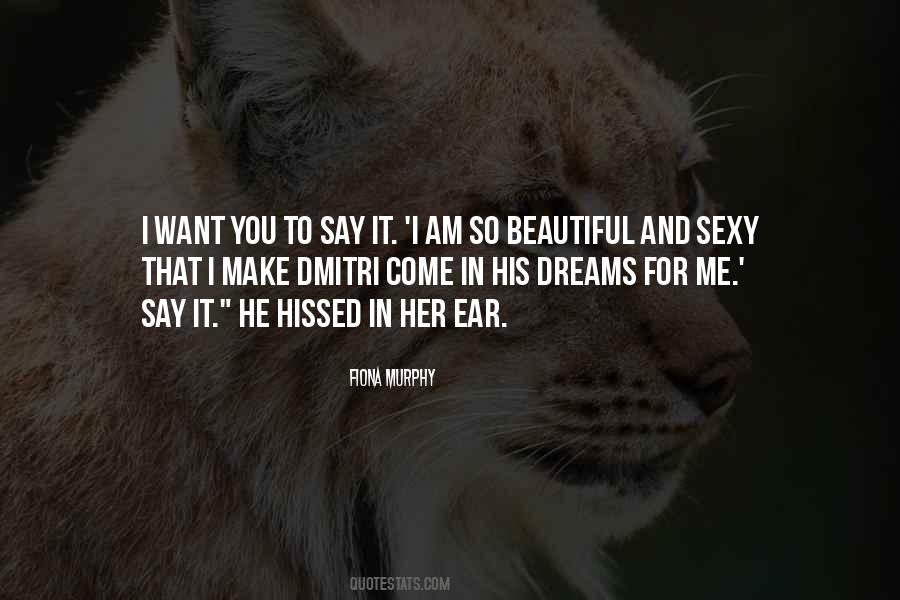 #15. You are me, and I am you. Isn't it obvious that we "inter-are"? You cultivate the flower in yourself, so that I will be beautiful. I transform the garbage in myself, so that you will not have to suffer. - Author: Nhat Hanh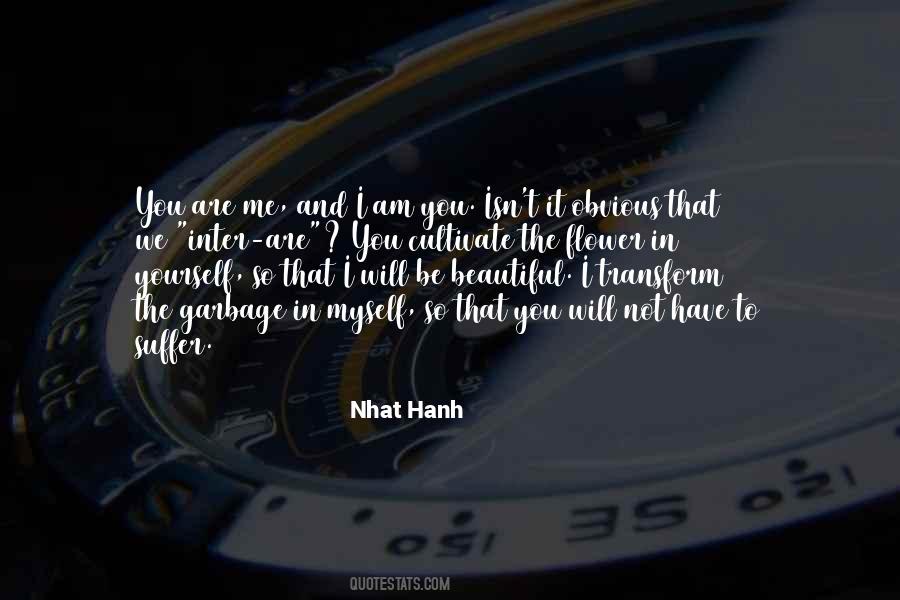 #16. In the water I am beautiful. - Author: Kurt Vonnegut Jr.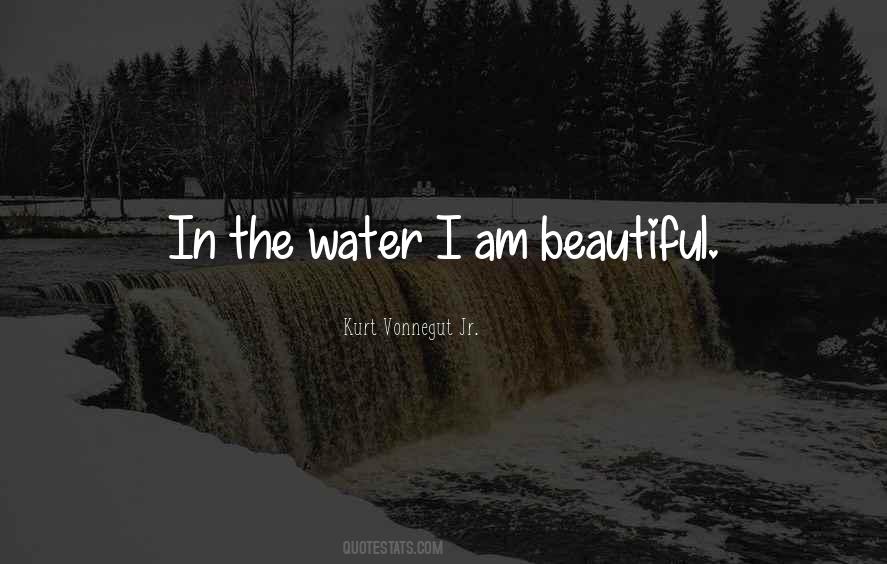 #17. I love to design for women, it's really open and very free. I always think of my friends. I think of both fictitious characters, real people from the past and the present. I am not a woman, but I find women so beautiful and so fascinating. - Author: Marc Jacobs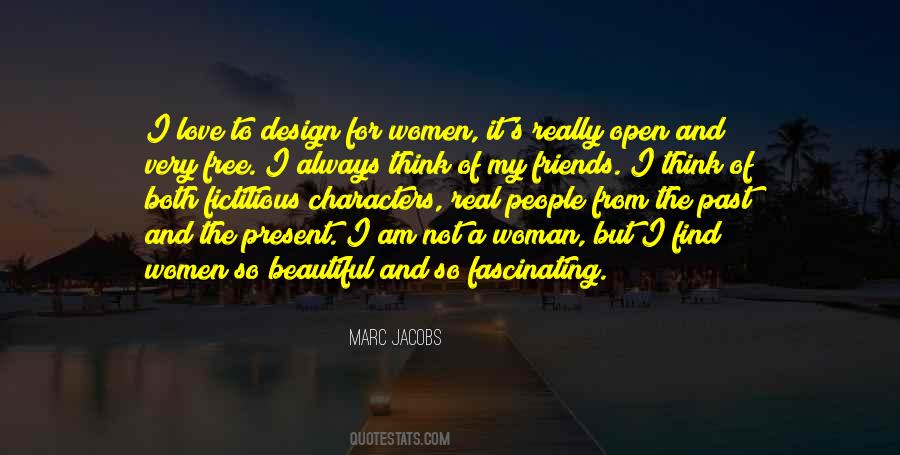 #18. I am so grateful for my beautiful life. I am cherished and loved. And I share my love and joy with everyone. - Author: Louise Hay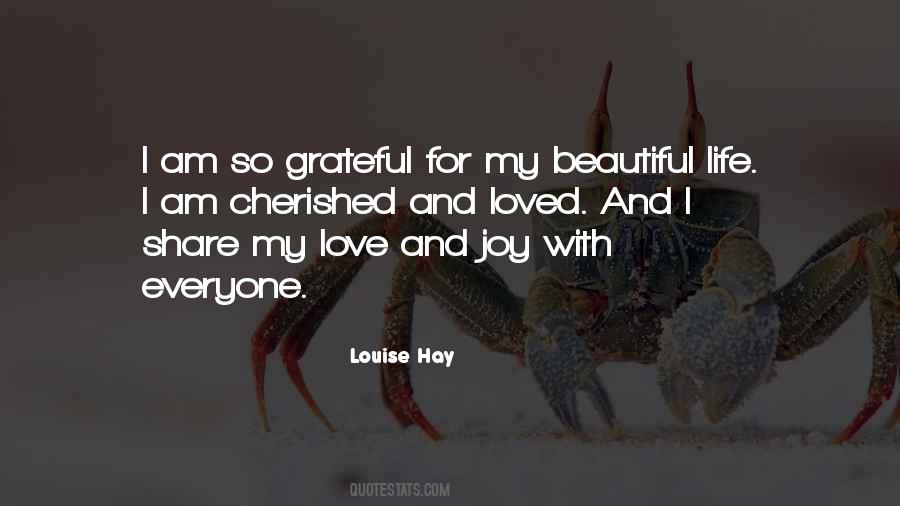 #19. And as I walk round the park I always think, 'Maybe round the corner I am going to find something beautiful.' I always think positively. It is very rare that you find me in a mood that is sad or melancholic, - Author: Sophia Loren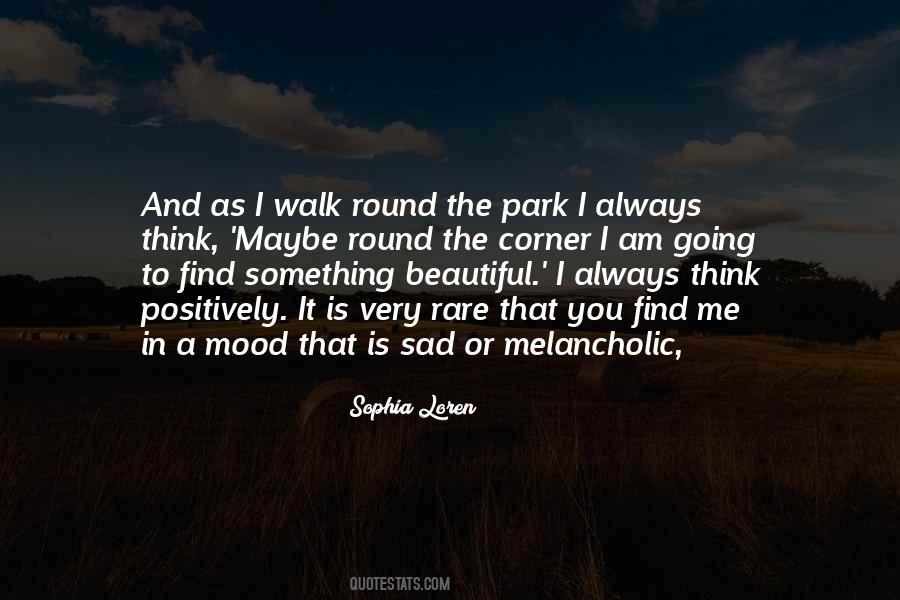 #20. I am unique, a sheep, intimidating, scared, powerful, beautiful, flawed, and perfect in the same moment. - Author: Kristin Cast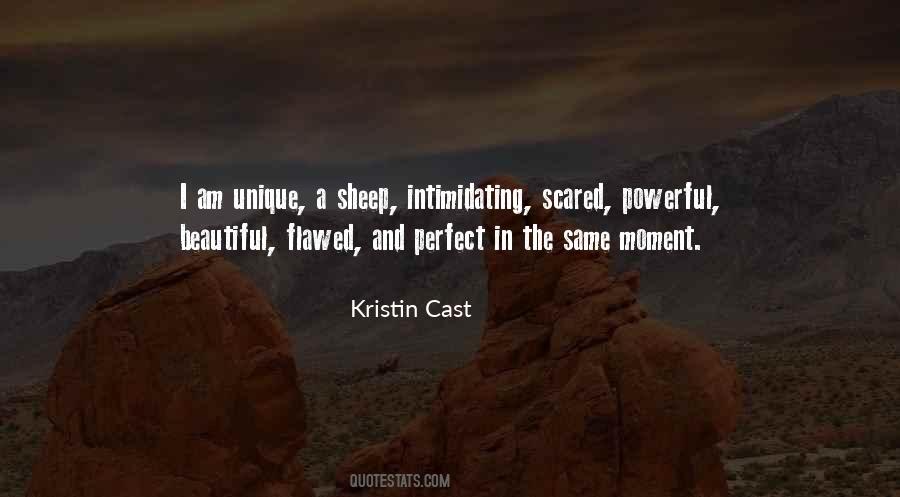 #21. I experience a period of frightening clarity in those moments when nature is so beautiful. I am no longer sure of myself, and the paintings appear as in a dream. - Author: Vincent Van Gogh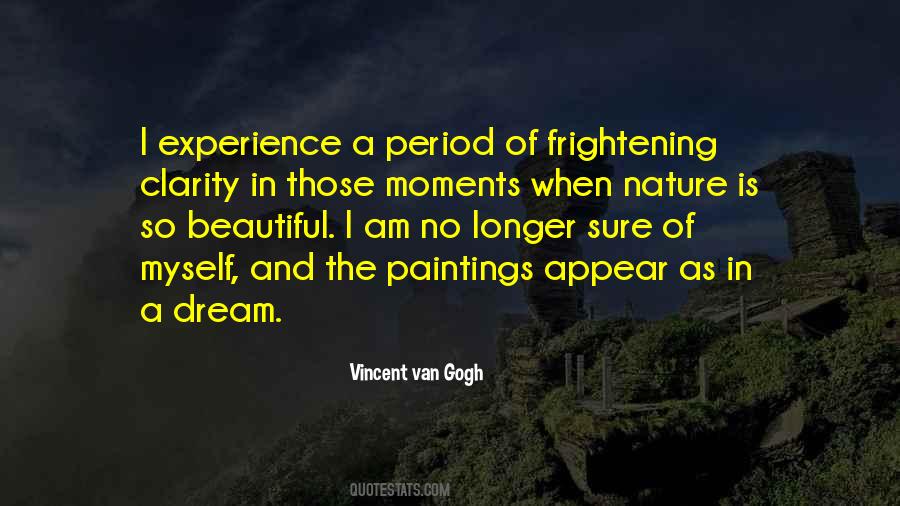 #22. I'm a believer that the more I'm giving, the happier I am, and the more beautiful my exterior will be. - Author: Janelle Monae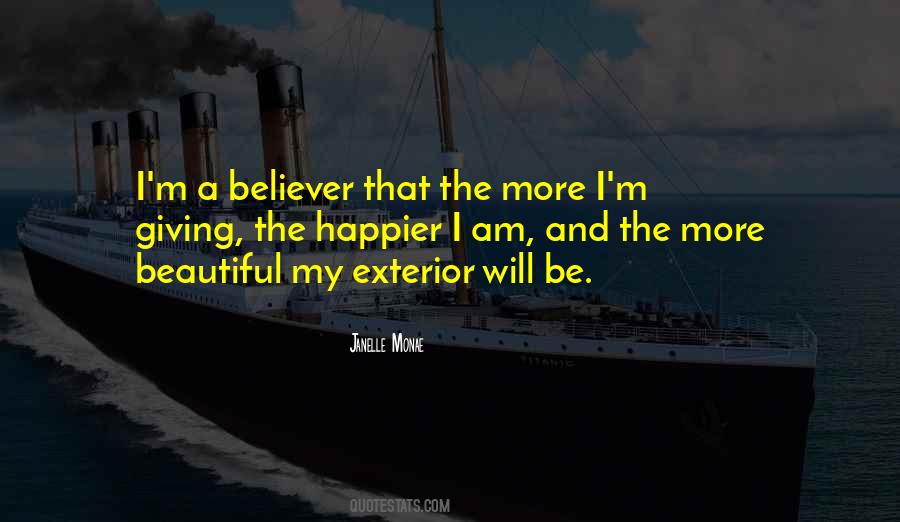 #23. I am not trying to say that I am poor and that I don't like beautiful things. But I don't like luxury for luxury sake or in the sense of showing off luxury. - Author: Vladimir Potanin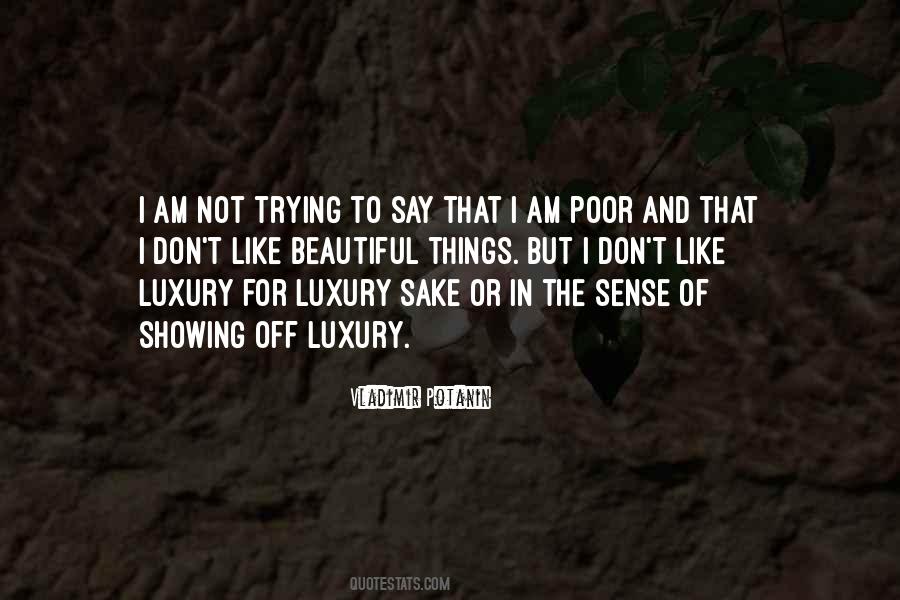 #24. Once I was beautiful. Now I am myself,
Counting this row and that row of moccasins
Waiting on the silent shelf. - Author: Anne Sexton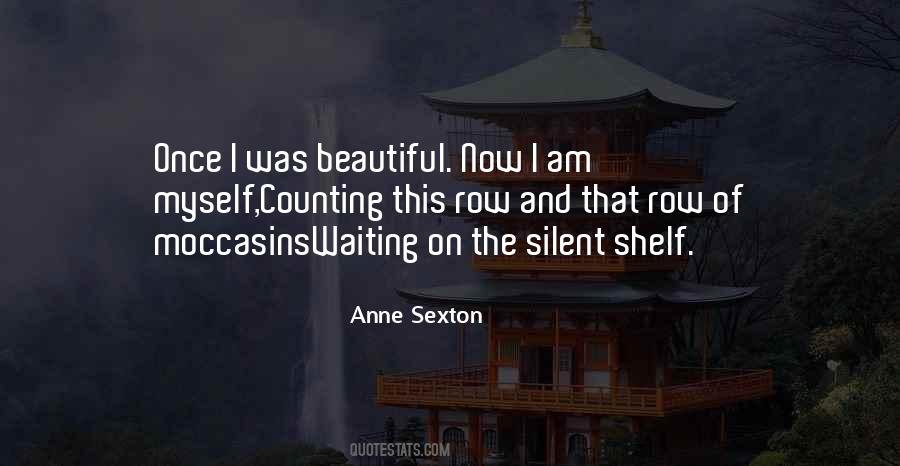 #25. I am not perfect. I just think that imperfections are beautiful. - Author: Lady Gaga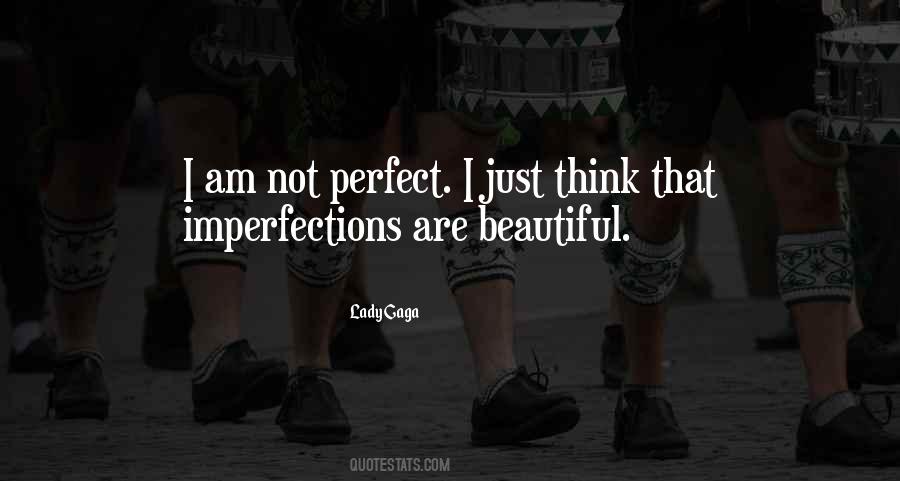 #26. When I am trying to understand the method of winning in the endgame with two bishops against the knight, chess is a science, when I admire a beautiful combination or study, then chess is art, and when I am complicating position in the approaching time trouble of my opponent, then chess is sport. - Author: Ashot Nadanian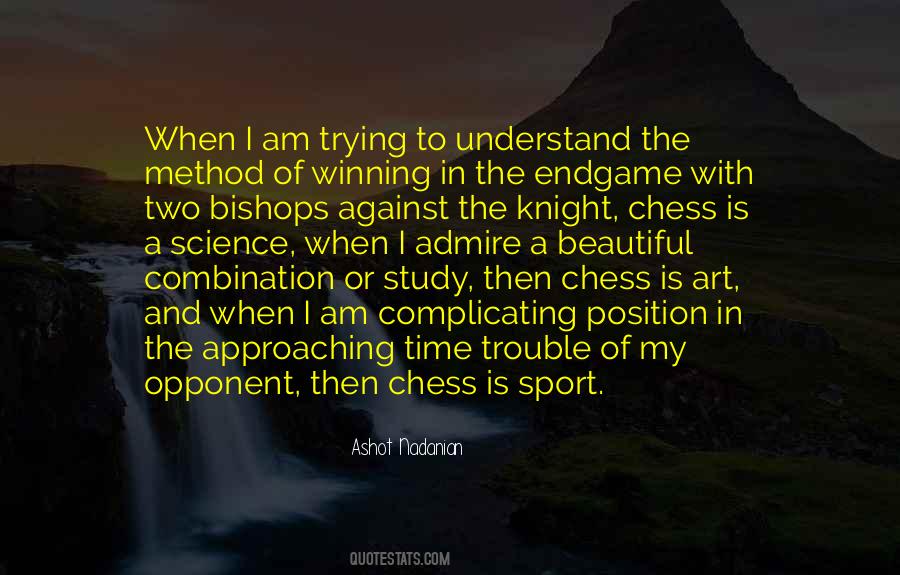 #27. I am who I am. Life is too beautiful to be sad, to be depressed. The sun comes up every day and it's beautiful. - Author: Ilya Bryzgalov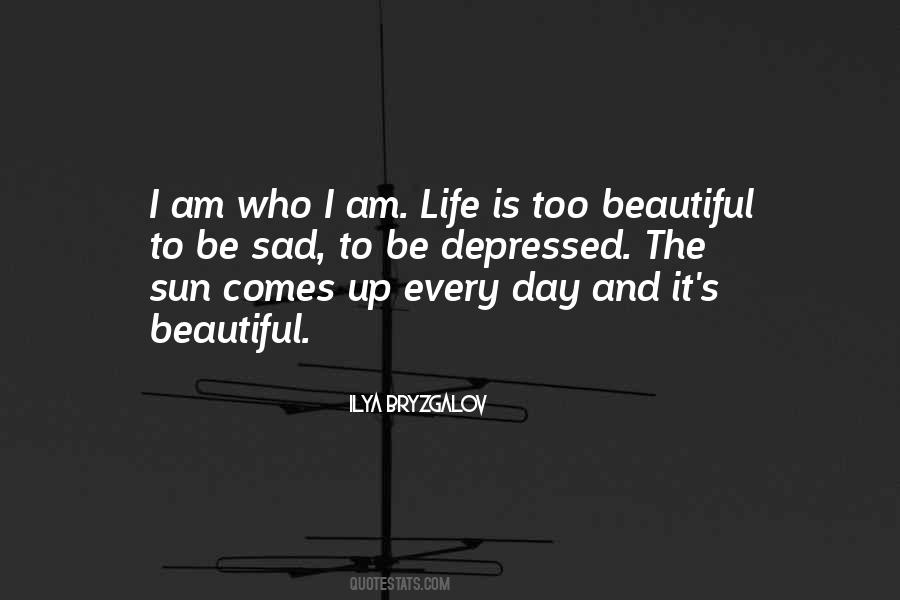 #28. Now I am quietly waiting for the catastrophe of my personality to seem beautiful again, and interesting, and modern. - Author: Frank O'Hara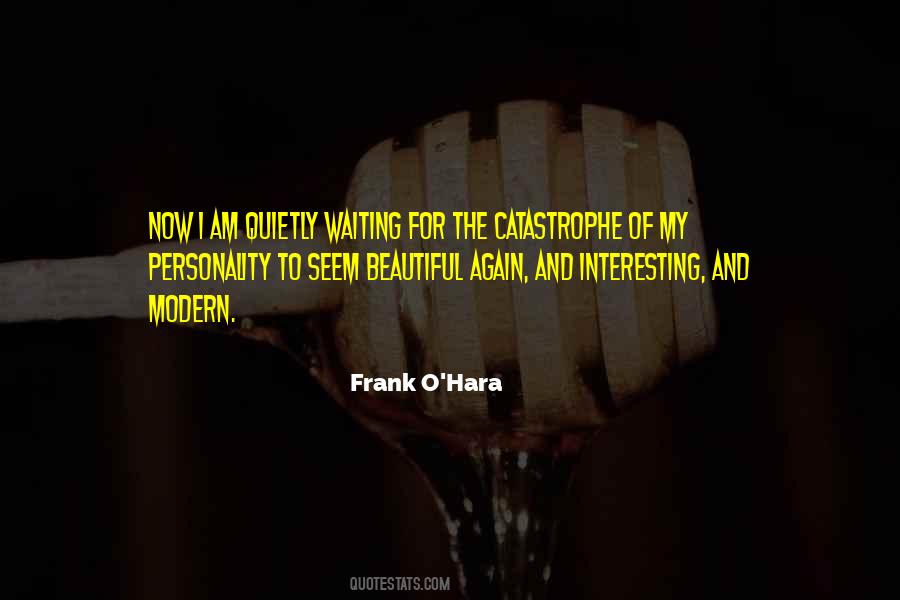 #29. I would love to be friends with Kendrick Lamar because I am just a huge fan of his music, I think he is so cool and he uses so many interesting sounds and has such good melodies and is just a beautiful rapper, his raps are just so well-written and his tracks are so insane, I am obsessed with him. - Author: Alana Haim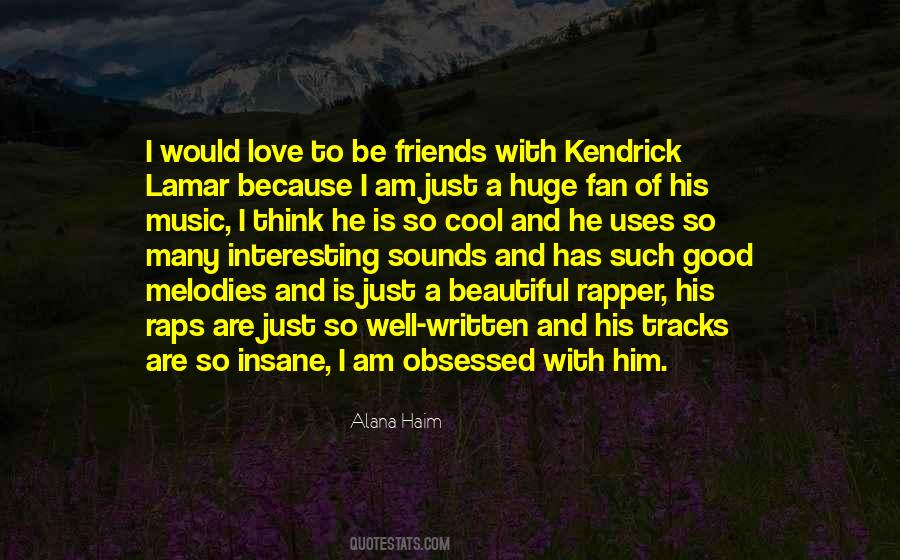 #30. Art for art's sake is an empty phrase. Art for the sake of truth, art for the sake of the good and the beautiful, that is the faith I am searching for. - Author: George Sand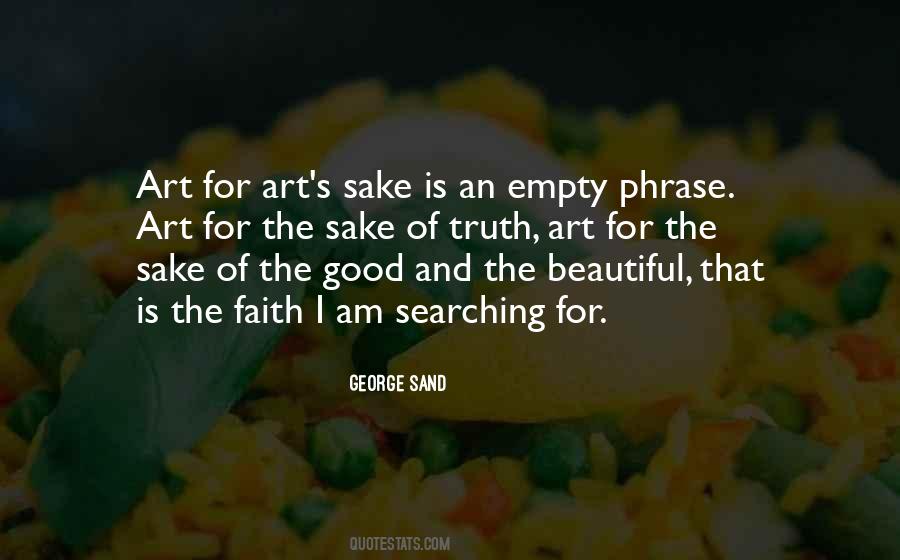 #31. Cassius Clay is a name that white people gave to my slave master. Now that I am free, that I don't belong anymore to anyone, that I'm not a slave anymore, I gave back their white name, and I chose a beautiful African one. - Author: Muhammad Ali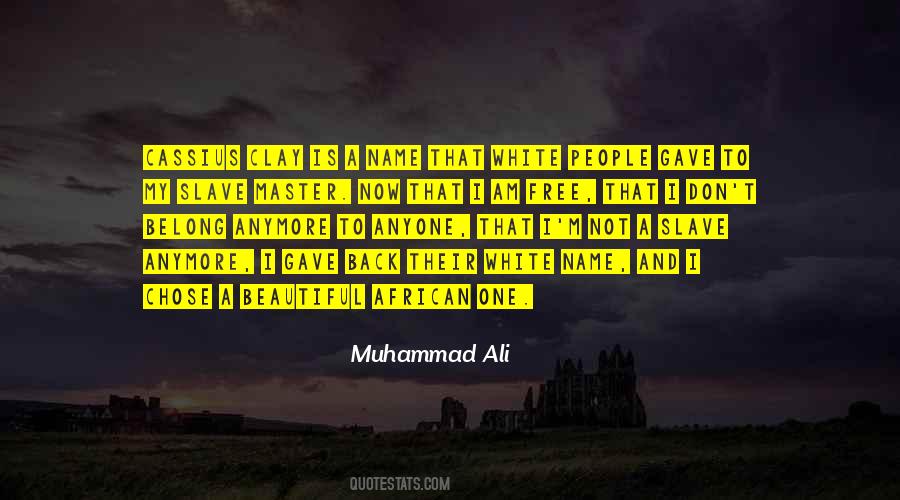 #32. I am married to the most amazing, generous and beautiful human being and it has been hard on him because from the outside if you look at it it's just all about me. - Author: Emily Watson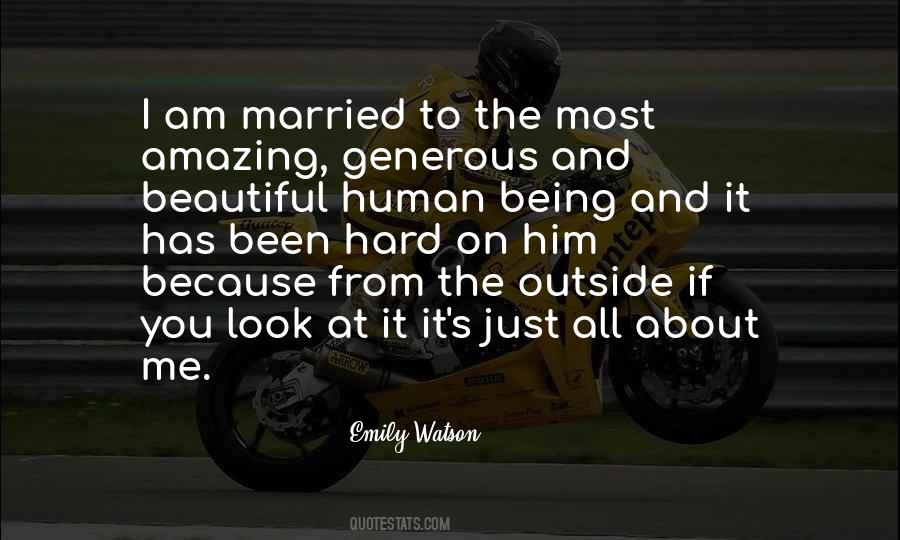 #33. It's a beautiful thing to be that committed to something that you get so much joy from, but it is like a sick addiction, because sometimes it's incredibly volatile, incredibly painful, and very frustrating. A man shouldn't be defined by his work, but I am. - Author: Scott Weiland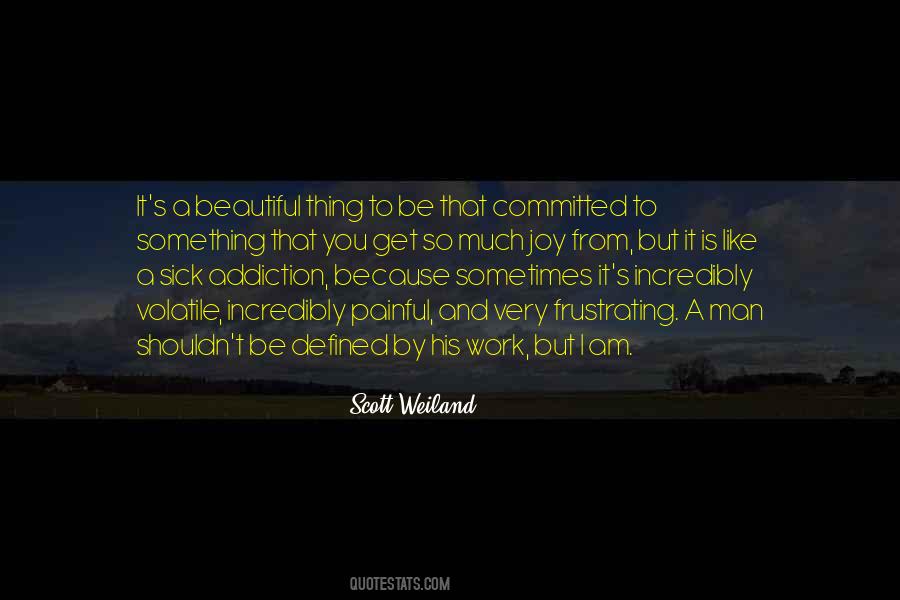 #34. I am looking at her and she is so beautiful. - Author: Stephen Chbosky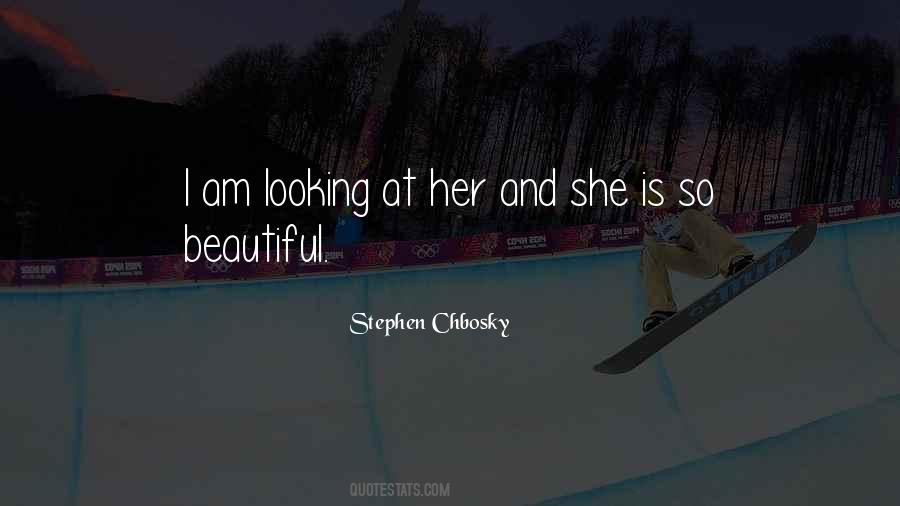 #35. I remember, when I was about ten years old, working out that I would be thirty-six in the year 2000. It seemed so far away, so old, so unreal. And here I am, a fucked, crazy, anorexic-alcoholic-childless beautiful woman. I never dreamed it would be like this. - Author: Tracey Emin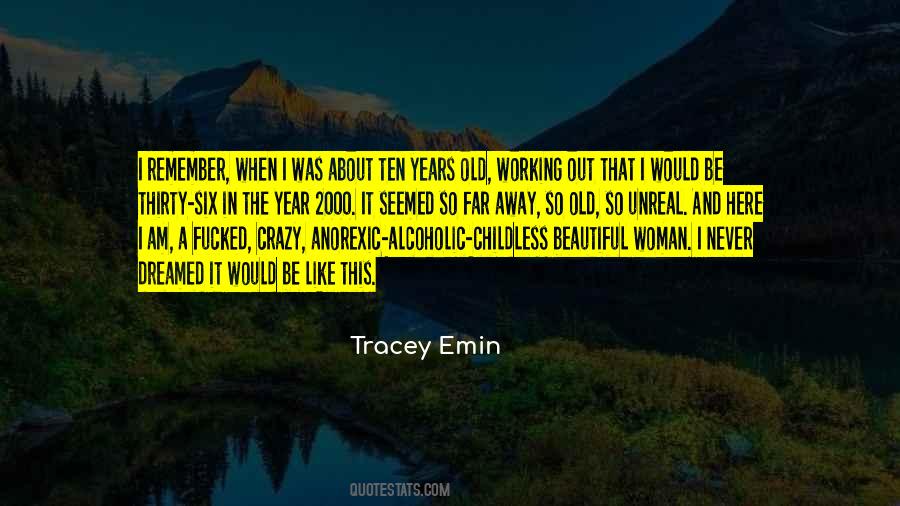 #36. I've put up with too much, too long, and now I'm just too intelligent, too powerful, too beautiful, too sure of who I am finally to deserve anything less. - Author: Sandra Cisneros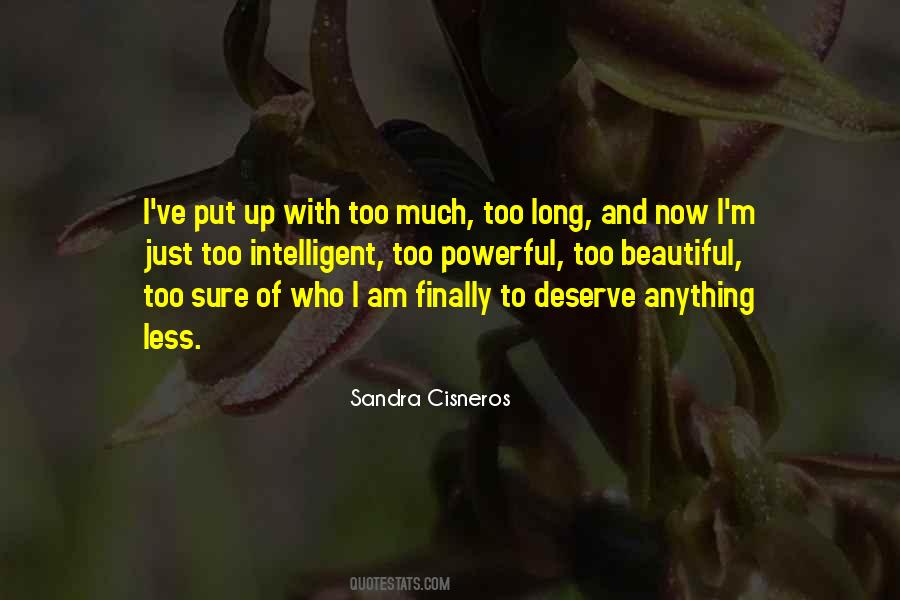 #37. My parents always told me I'm beautiful the way that I am, and I never thought to myself that I needed to be skinny because there's a magazine out there that said, 'Oh, size two,' or, 'Oh, this girl's beautiful because she's skinny.' - Author: Hayley Hasselhoff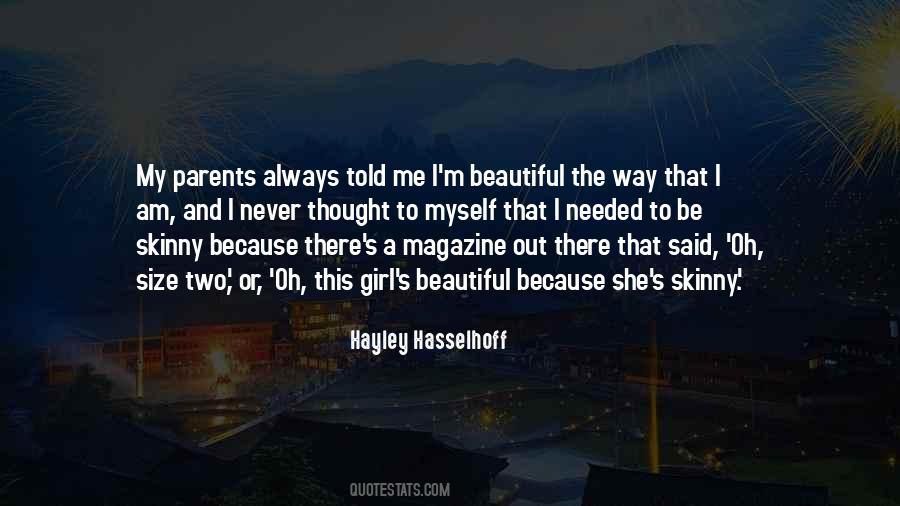 #38. I hate myself because I am not beautiful. - Author: Judith Moore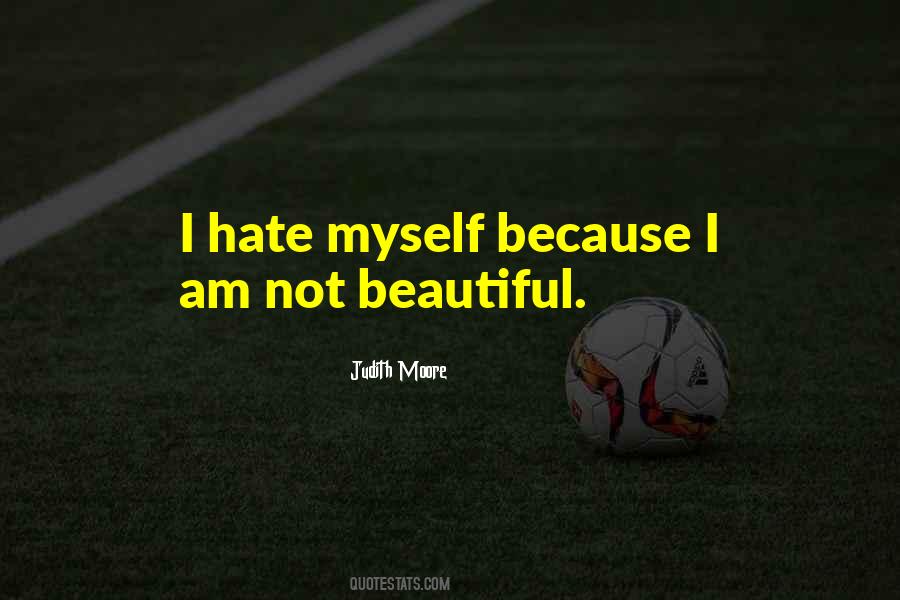 #39. I am the entertainer, I've come to do my show You've heard my latest record, it's been on the radio It took me years to write it, they were the best years of my life It was a beautiful song but it ran too long If you're gonna have a hit you gotta make it fit So they cut it down to 3:05. - Author: Billy Joel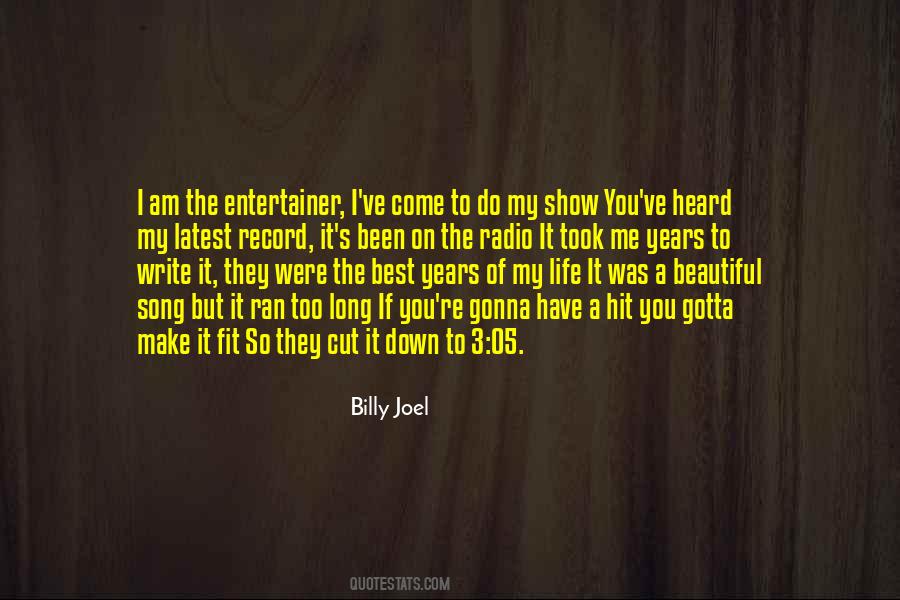 #40. As a teen I was totally that dumpy overweight nerdy girl that nobody wants to be in the stories you're told. And now I am a dumpy overweight nerdy adult and life is beautiful like a song. I'm not a flower that bloomed in the mud. Just a girl who stayed steady on the path of determination. - Author: Lauren DeStefano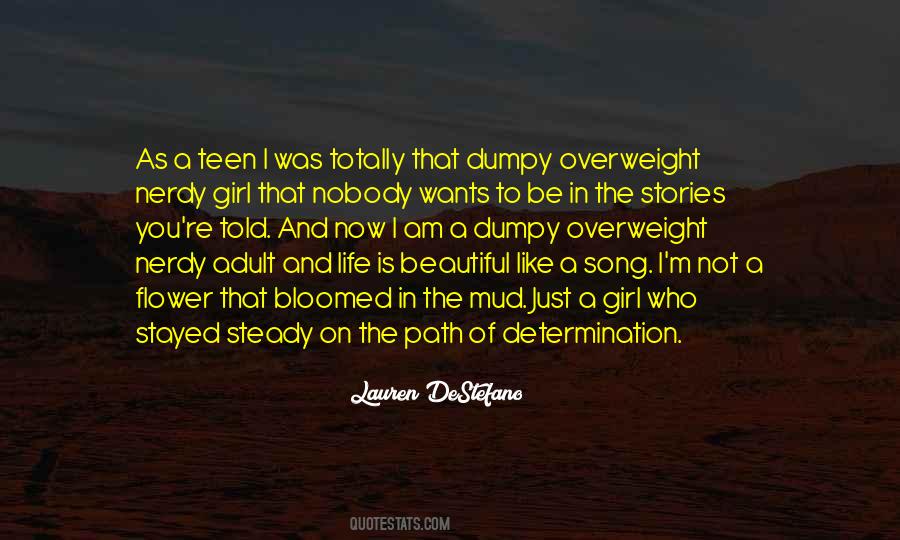 #41. Solitude, what a sad and beautiful thing it is! How beautiful when we choose it! How sad when it is forced upon us year after year! Some strong men are not lonely when they are alone, but I, who am weak, am lonely when I have no friends. - Author: Emmanuel Bove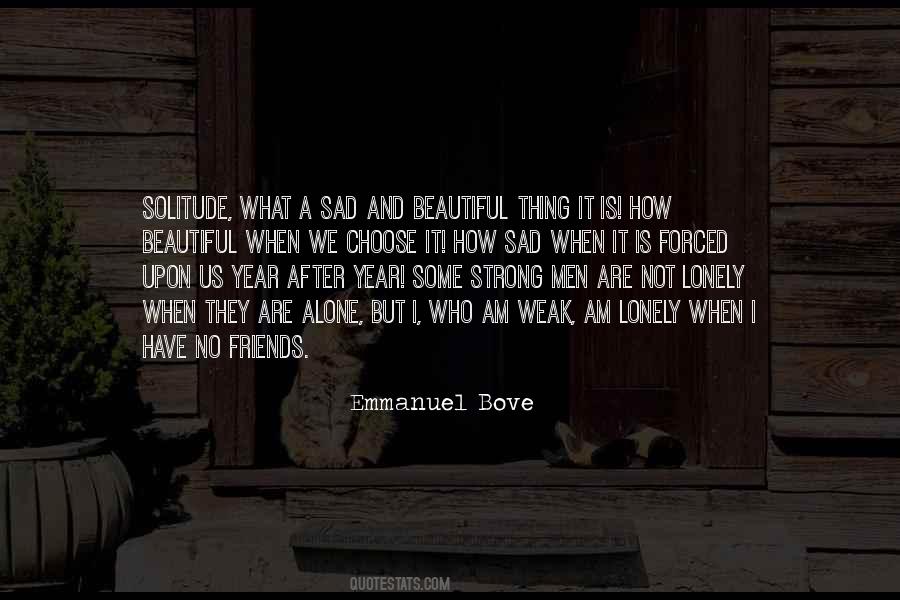 #42. July 2. A beautiful day for Labrador. Went ashore and killed nothing, but was pleased with what I saw. The country is so grandly wild and desolate that I am charmed by its wonderful dreariness. - Author: John James Audubon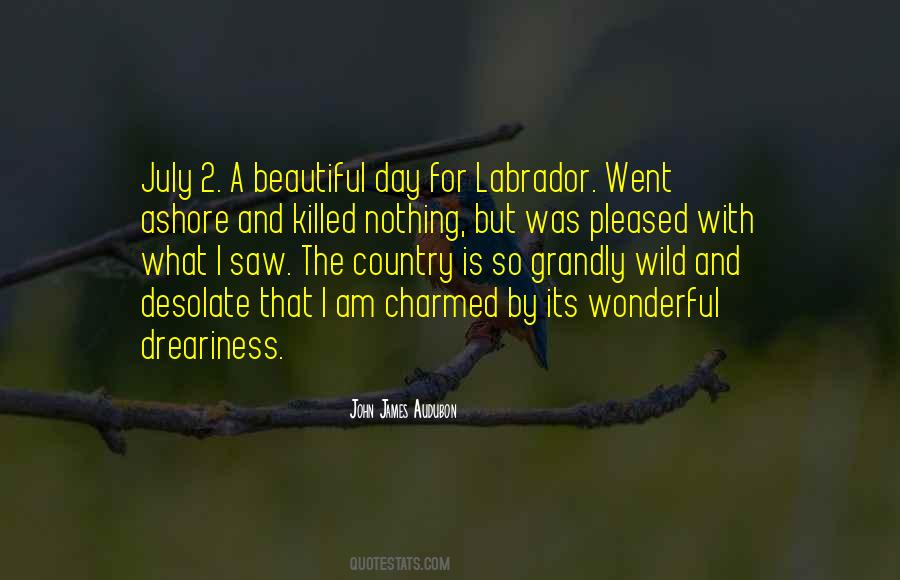 #43. His smile is too beautiful for his world, and I am dying of love. - Author: Ann Aguirre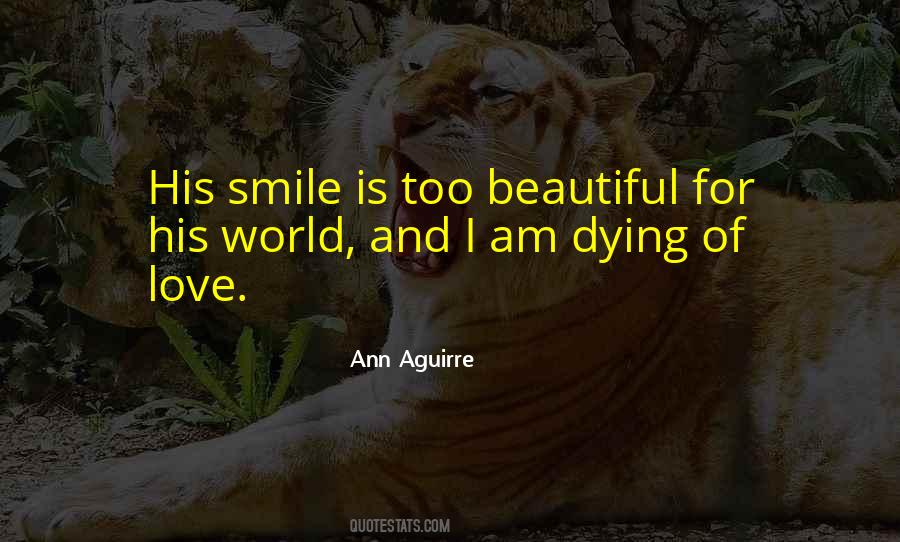 #44. Whenever I gaze up at the moon, I feel like I'm on a time machine. I am back to that precious pinpoint of time, standing on the foreboding - yet beautiful - Sea of Tranquility. I could see our shining blue planet Earth poised in the darkness of space. - Author: Buzz Aldrin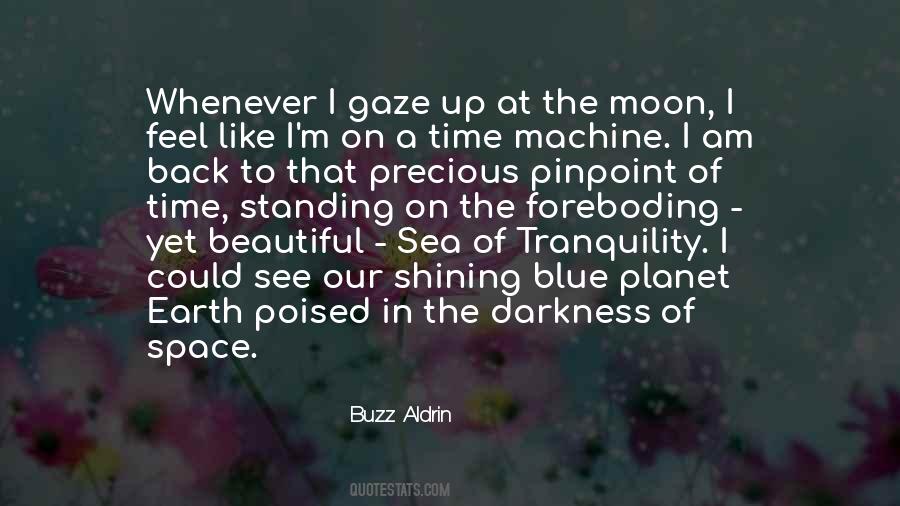 #45. By letting go of the past with love and gratitude, I am creating beautiful memories, which are living in me, but I am living at present not in memories. - Author: Debasish Mridha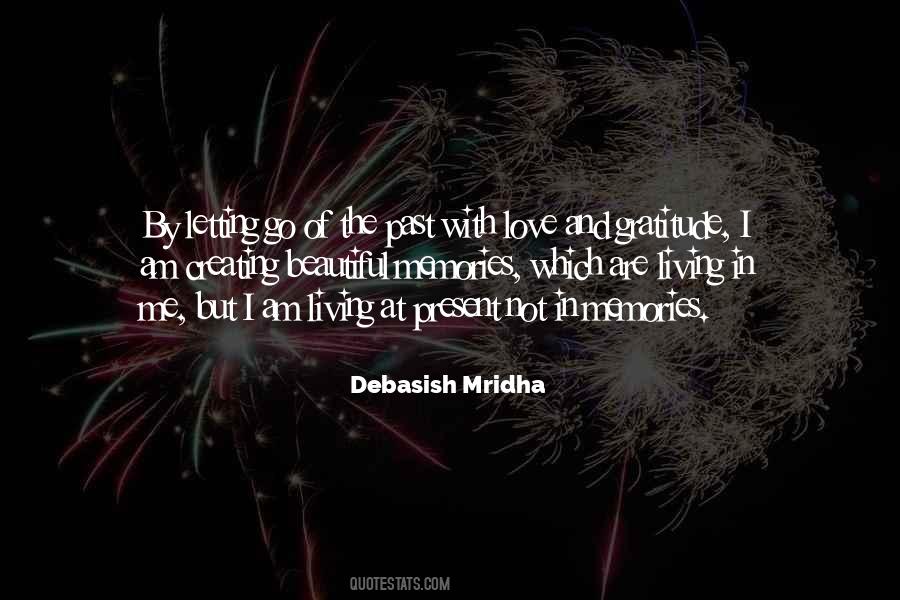 #46. I am beautiful for a brainy woman, brainy for a beautiful woman, but objectively speaking, neither beautiful nor brainy. - Author: Rebecca Goldstein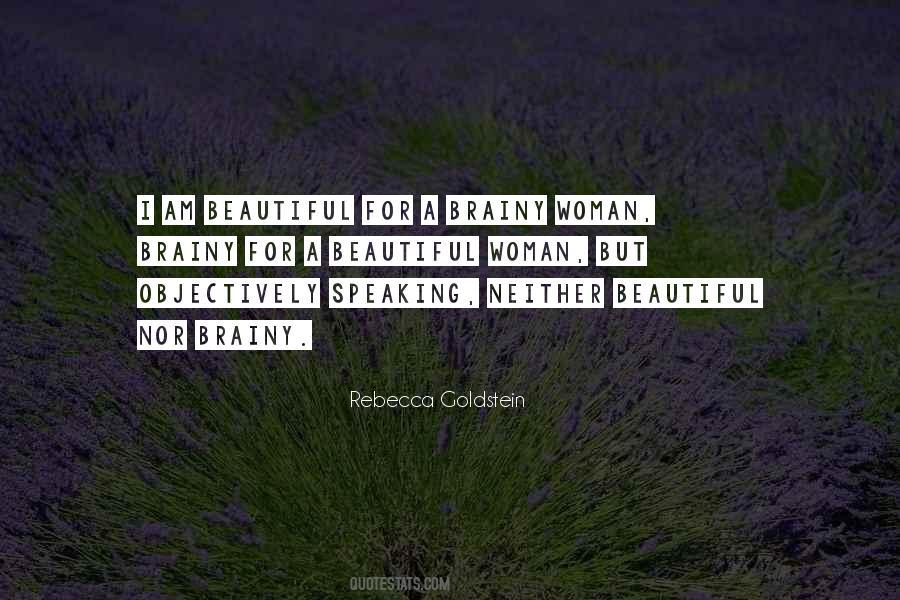 #47. I'm not a pin-up, thankfully. I'm not suggesting I feel unconfident. I am beautiful to my husband. I am beautiful to my friends. I feel sexy and all those things with the people I love. - Author: Olivia Colman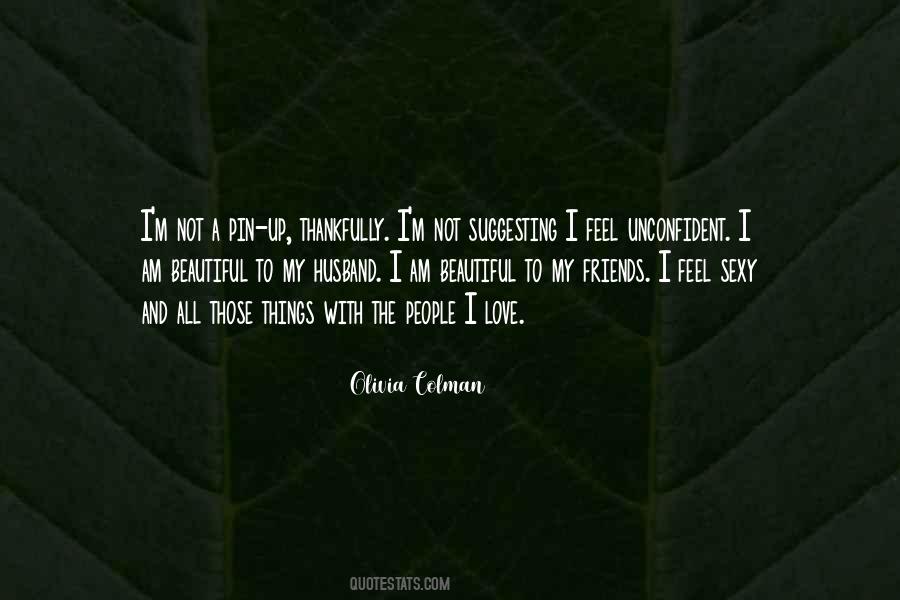 #48. I thought: yes, Lila is right, the beauty of things is a trick, the sky is the throne of fear; I'm alive, now, here, ten steps from the water, and it is not beautiful, it's terrifying; along with this beach, the sea, the swarm of animal forms, I am part of the universal terror. - Author: Elena Ferrante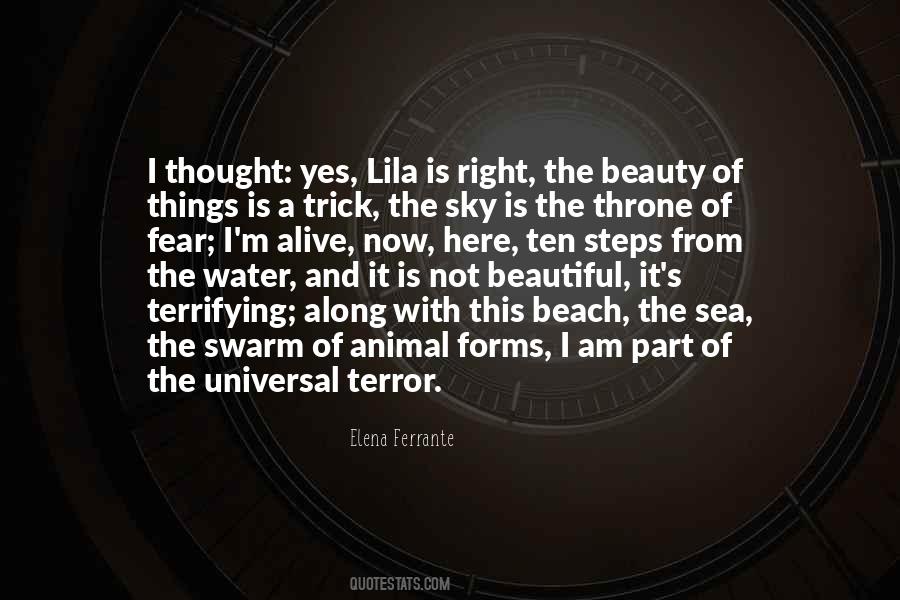 #49. After all, what would be "beautiful" if the contradiction had not first become conscious of itself, if the ugly had not first said to itself: "I am ugly"?. - Author: Friedrich Nietzsche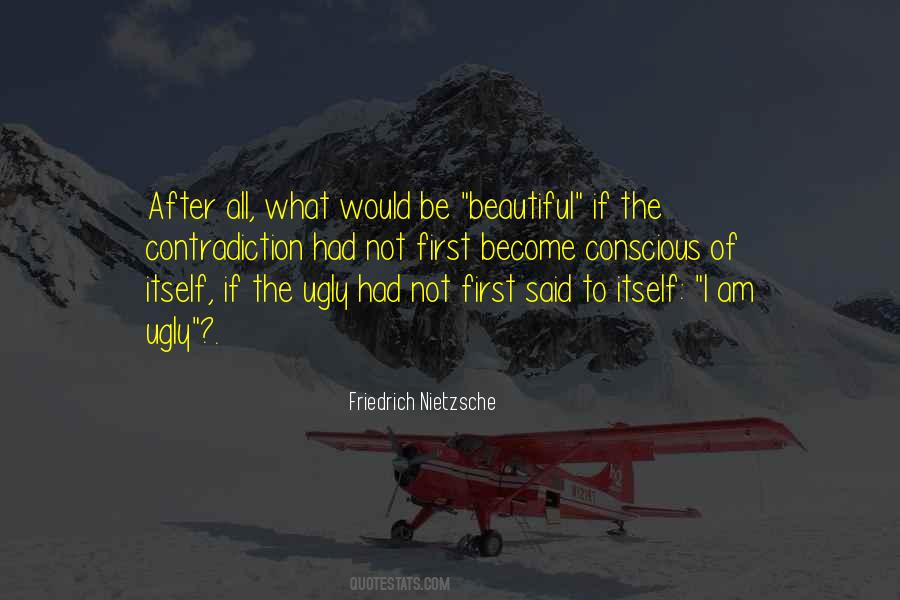 #50. I am alone and my spiritual journey is my experience.' This is the real experience of freedom and independence. Then we begin to see that being alone is a very beautiful thing. Nobody is obstructing our vision. We have complete panoramic vision. - Author: Chogyam Trungpa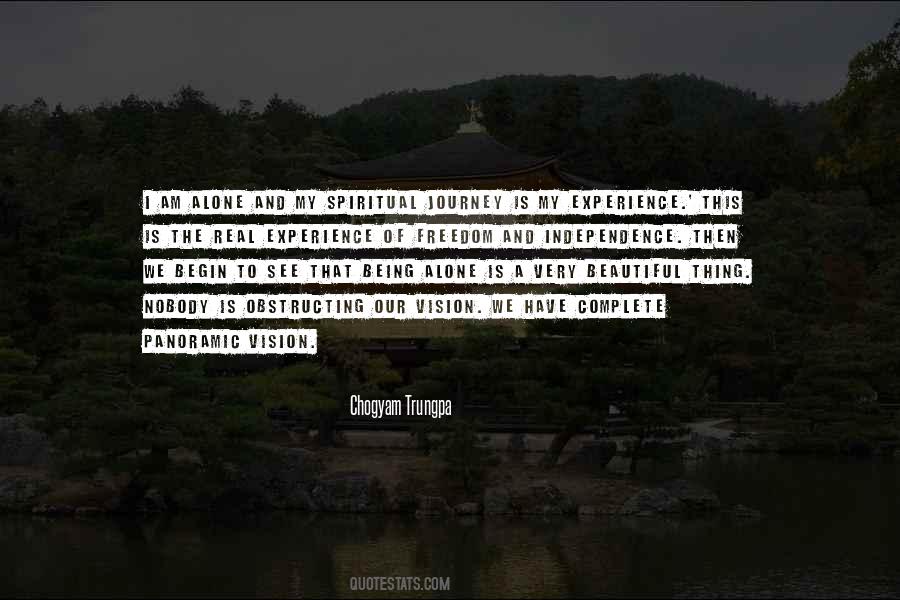 #51. I am not pretty. I am not beautiful. I am as radiant as the sun. - Author: Suzanne Collins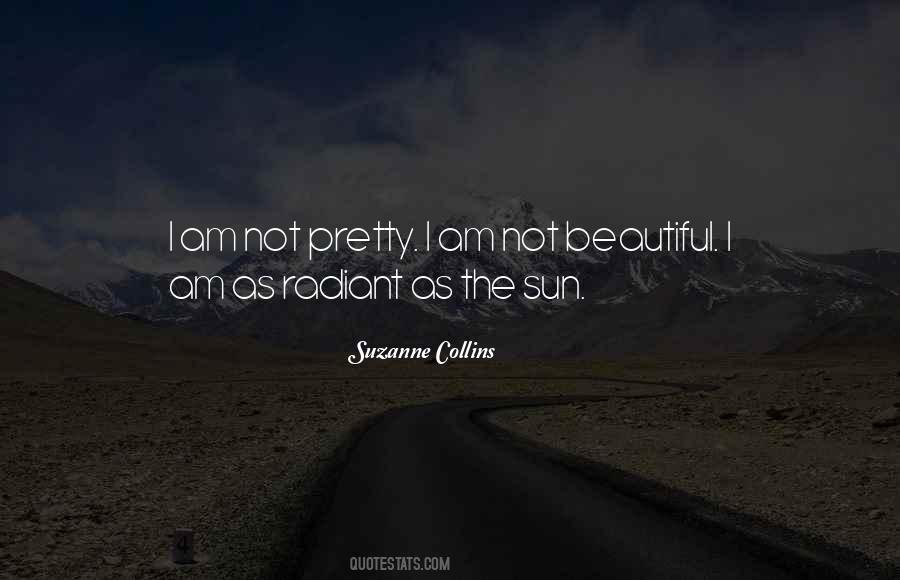 #52. I am beautiful and I deserve to be loved! - Author: Crystal Rose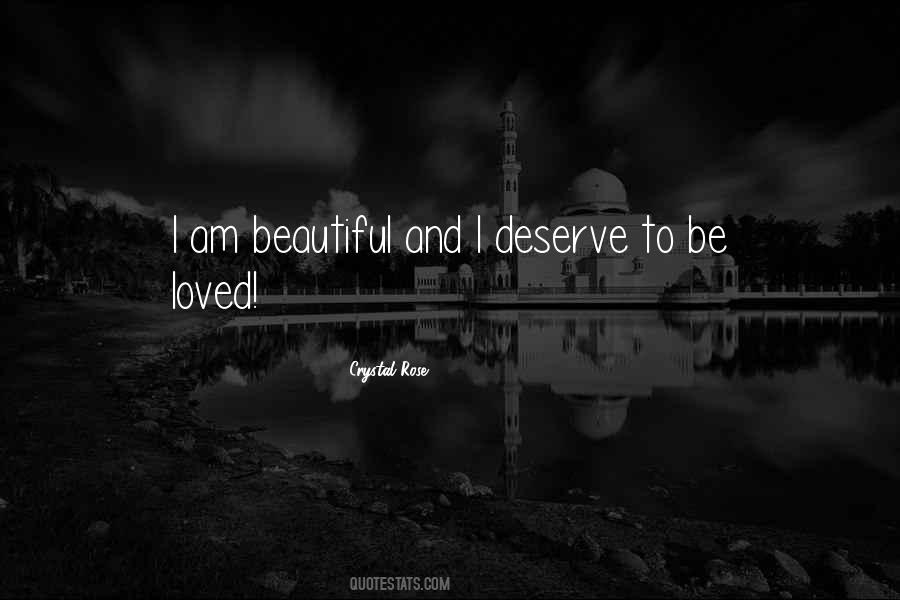 #53. I watch women continuously. I want them to look beautiful, I am not interested in making them funny, but just beautiful. They have got to look marvelous to please their own men. - Author: Gianni Versace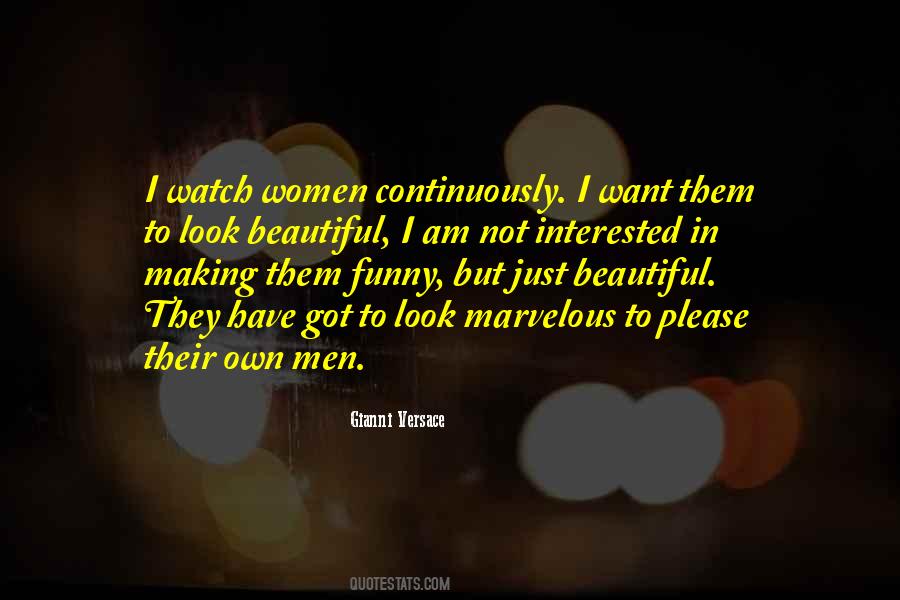 #54. I am and always will be a sinner. But that's the beautiful thing about Jesus. I'll always try to be a better person in the eyes of God. But I'm not all of a sudden stepping up on a pedestal and saying I'm holier than thou, 'cause I'm not! - Author: Billy Ray Cyrus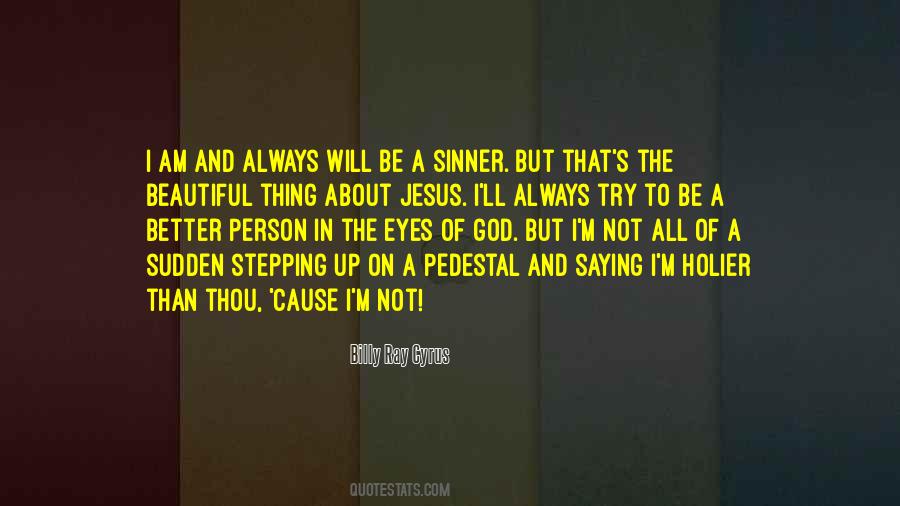 #55. I know that people think I'm sexy and I am looked at as that. It is cool with me. It's wonderful to have sexy appeal. If you embrace it, it can be a very beautiful thing. - Author: Aaliyah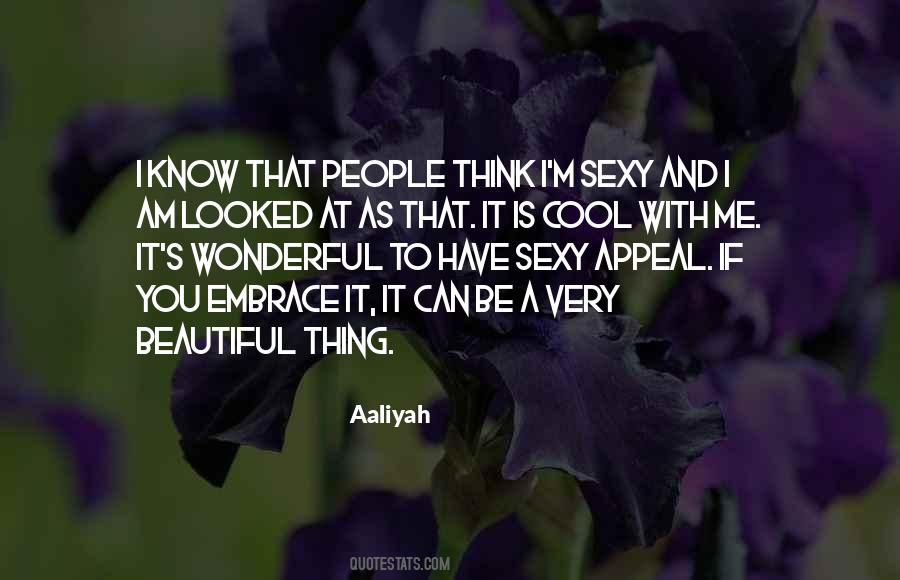 #56. I'm not a plastic surgeon, and I cannot change the DNA of a person, but when I see a woman try on my clothes and she feels beautiful, I know I am doing my job. - Author: Alber Elbaz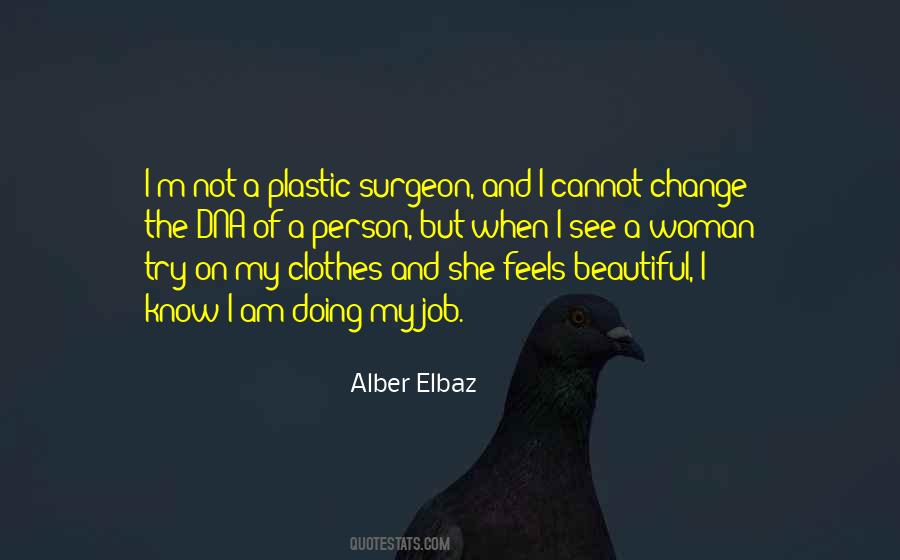 #57. In my soul, I am still that small child who did not care about anything else but the beautiful colours of a rainbow. - Author: Papiya Ghosh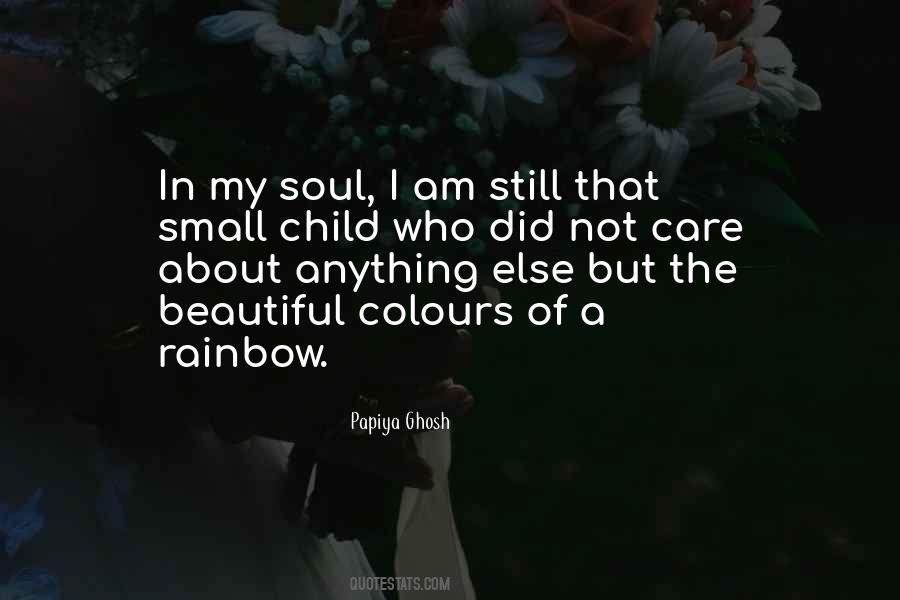 #58. Gestalt Prayer
I do my thing and you do yours.
I am not in this world to live up to your expectations,
And you are not in this world to live up to mine.
You are you, and I am I,
And if by chance we find each other, then it is beautiful.
If not, it can't be helped. - Author: Frederick Salomon Perls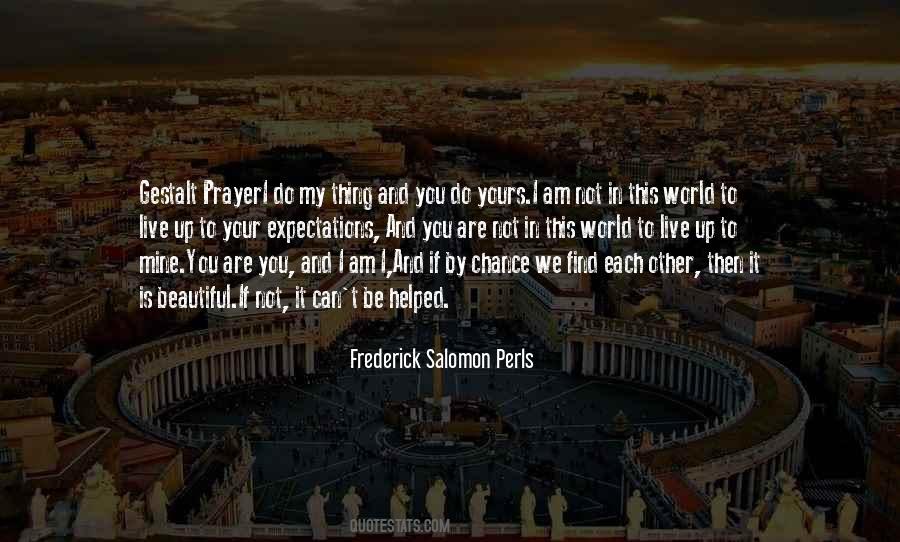 #59. I think there's a lot projected on beautiful women, period. At least, maybe this is just my fear, but I do sometimes feel dismissed before I've even been allowed to participate. I have moments of feeling really wounded. But I am pretty optimistic, and I do enjoy a lot of my life. - Author: Shalom Harlow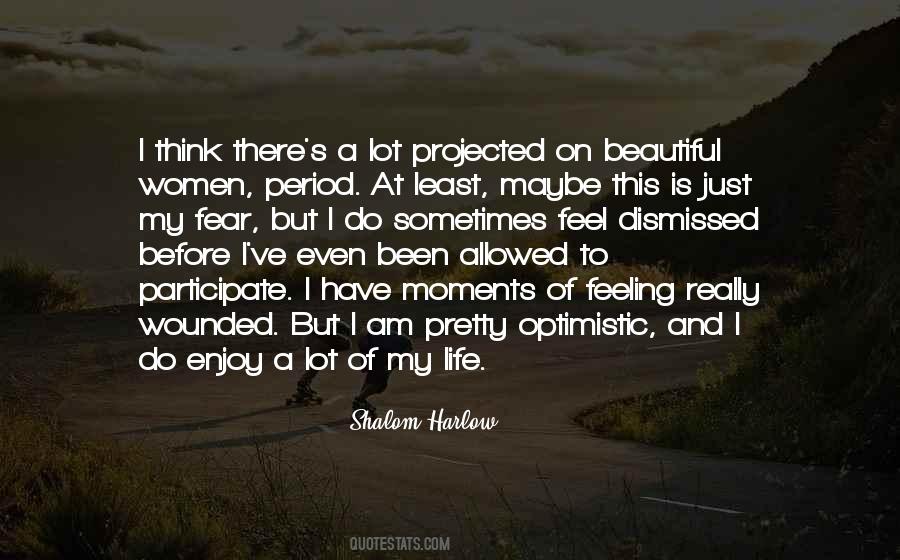 #60. To my mind, it is the duty of the younger Negro artist, if he accepts any duties at all from outsiders, to change through the force of his art that old whispering 'I want to be white,' hidden in the aspirations of his people, to 'Why should I want to be white? I am a Negro - and beautiful!' - Author: Langston Hughes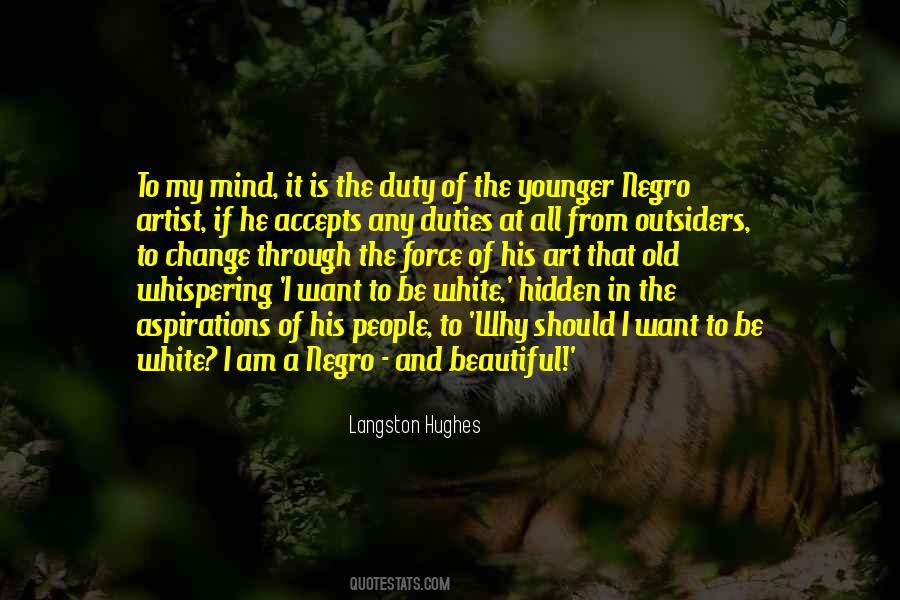 #61. We're at war.
On the verge of an apocalypse filled with monsters and torture in a nightmare world.
And I'm standing here, a moonstruck teenager pining for an enemy soldier. What am I, crazy?
This time, I'm the first to turn away. - Author: Susan Ee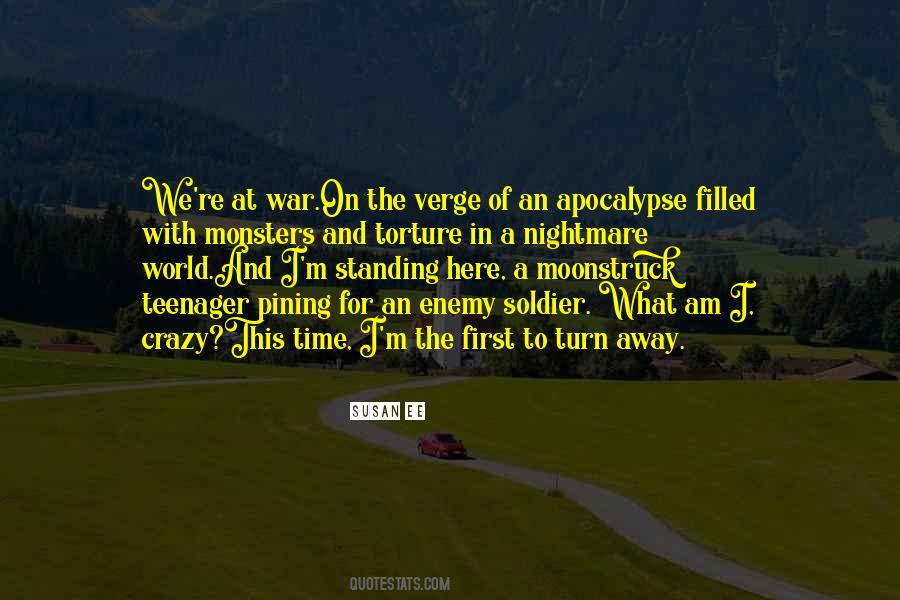 #62. For me, if I can design beautiful things that have the price be lower, I am thrilled. - Author: Tory Burch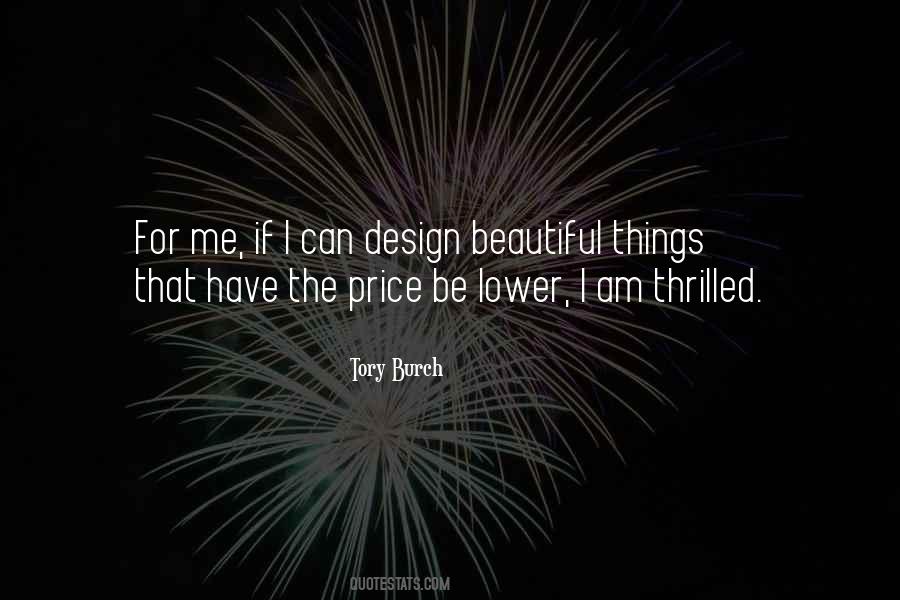 #63. They call me 'sweet,' and 'gentle'; and some of the men go the length of calling me 'endearing,' and I laugh in my sleeve and think, 'Oh, Lord! If you but knew what a brimstone of a creature I am behind all this beautiful amiability!' - Author: Jane Welsh Carlyle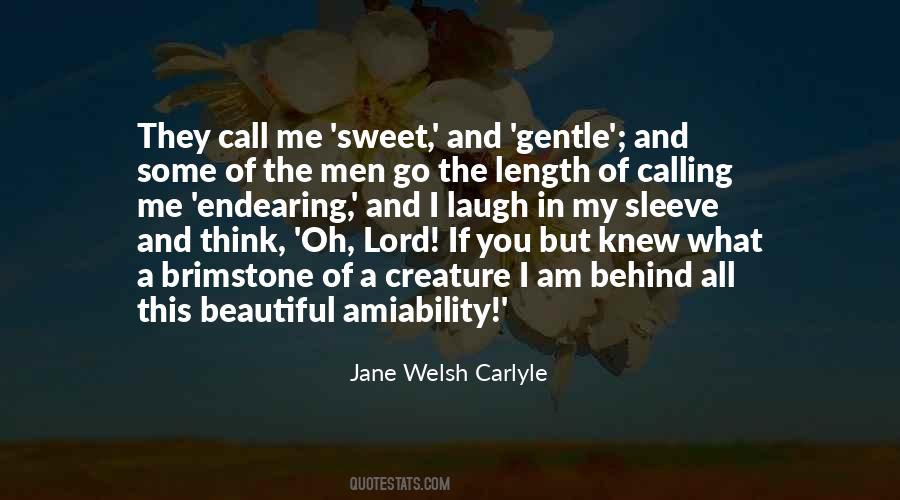 #64. I've told many people that I'm not looking to go out there and find the most beautiful girl in the world who likes me because I'm 'Mr. American Idol Scott McCreery.' If I could just find a nice hometown girl who just likes me for who I am, that's all I want. - Author: Scotty McCreery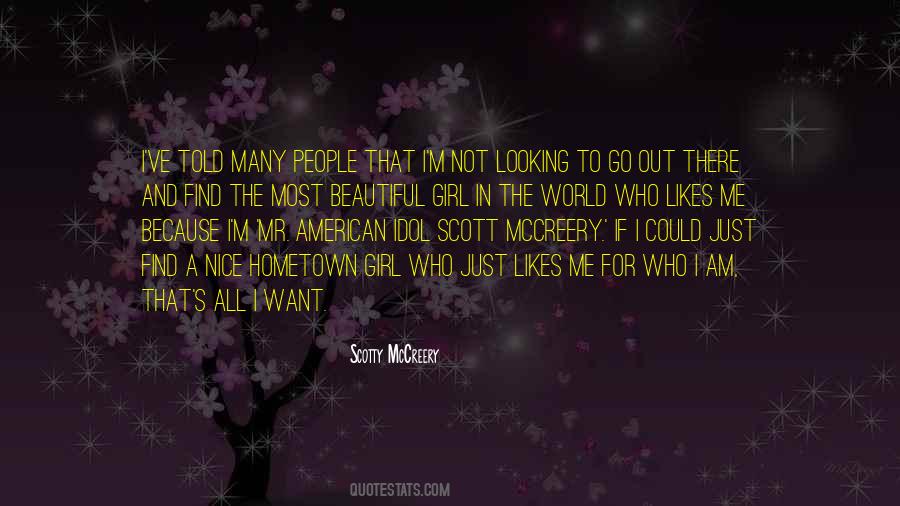 #65. Do you know how beautiful you are?' I shook my head 'I'm not. But you make me fell like I am.' I wanted to be beautiful. To him. For him. I didn't care how anybody else saw me. Only Ethan. - Author: Ellen Hopkins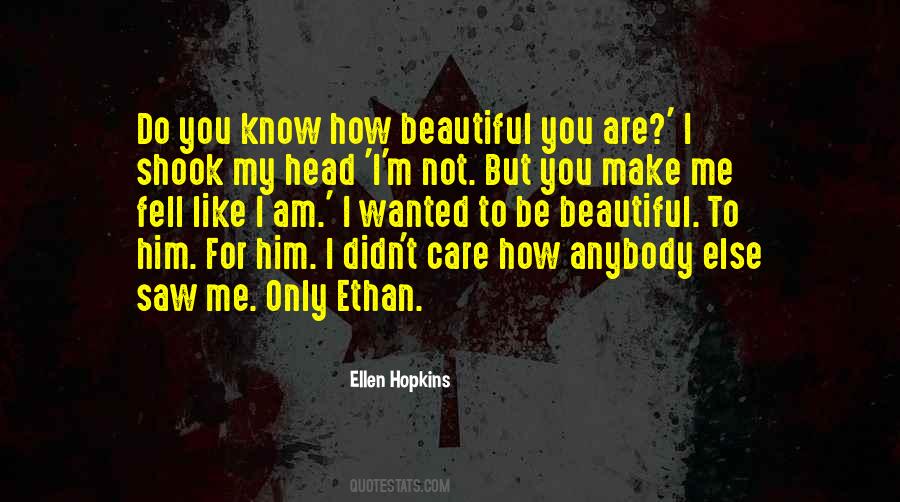 #66. You're very beautiful, dear', she said, 'what nationality are you, Indian?'
'No', I smiled, 'I'm Aboriginal.'
She looked at me in shock. 'You can't be,' she said.
'I am.'
'Oh, you poor thing,' she said, putting her arm around me, 'what on earth are you going to do? - Author: Sally Morgan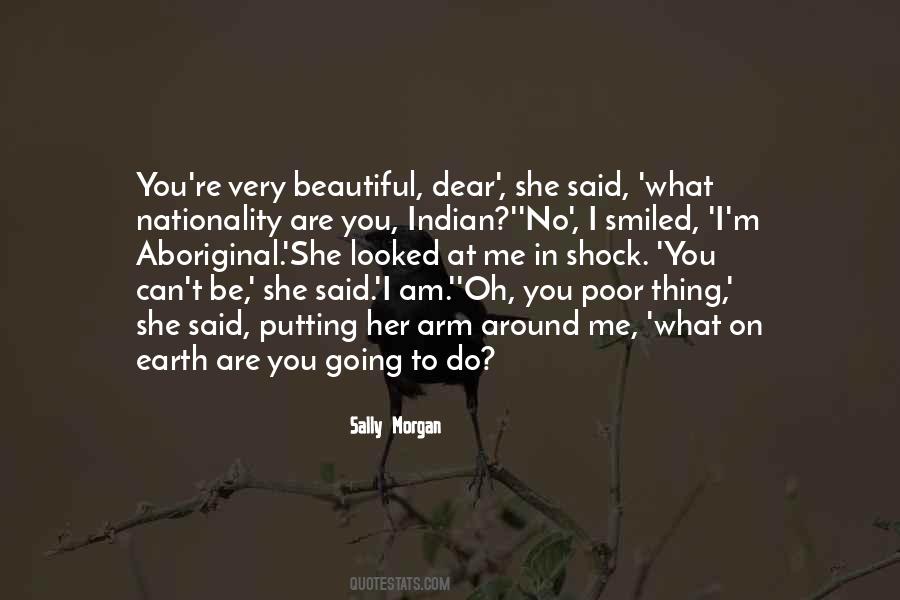 #67. I am asked if I think the war was a just war ... how can I answer? I was a boy born and raised in beautiful Leningrad, a boy who loved his parents and went obediently to school. A boy who was yanked out of that life and dumped in a strange land where life followed different rules. - Author: Vladislav Tamarov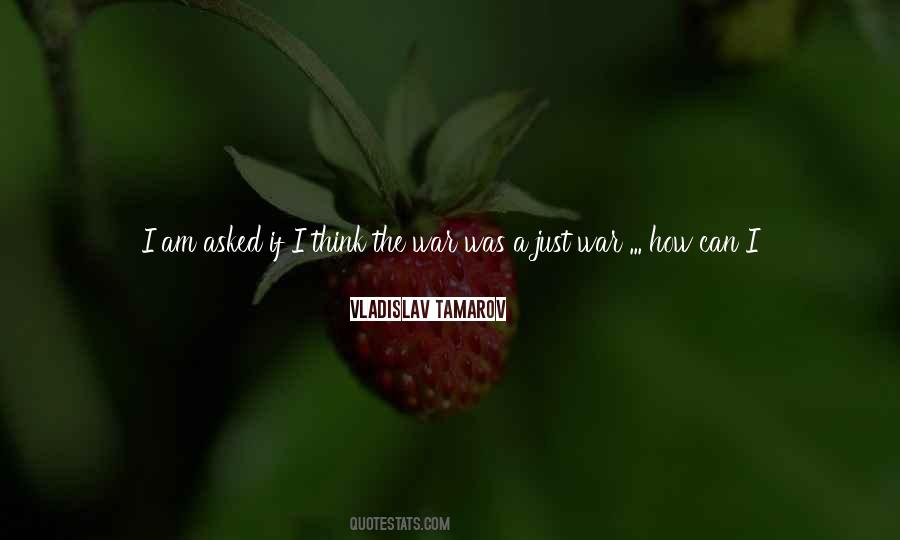 #68. People don't realize that when you're Latin, you're so diverse. I am black. I am Latin. I am Spanish. You know? It's a little bit of everything, and that's beautiful. So, everybody, claim me. I'm fine with that! - Author: Joan Smalls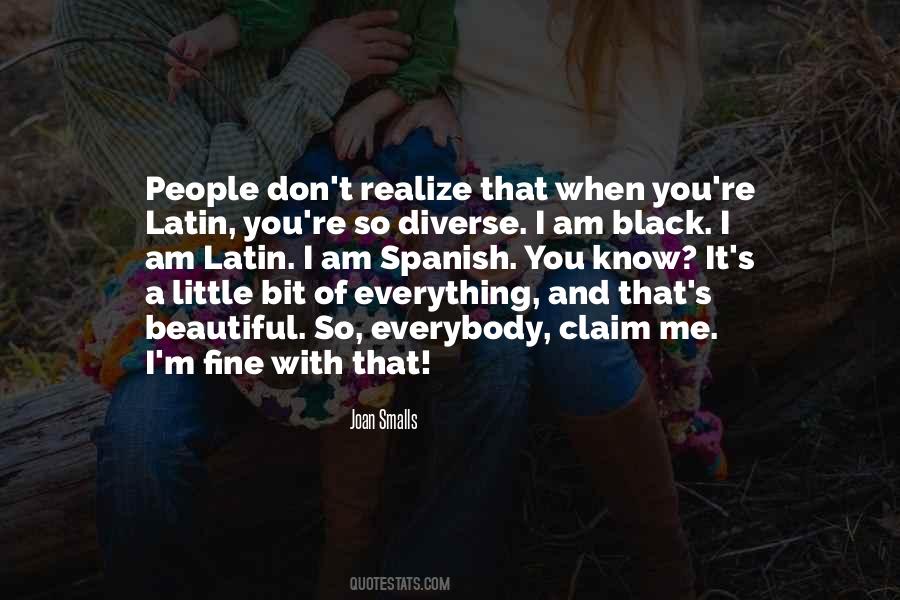 #69. Am I beautiful? It is for you alone. Say that you love me, for without you I cannot live. - Author: Mary Renault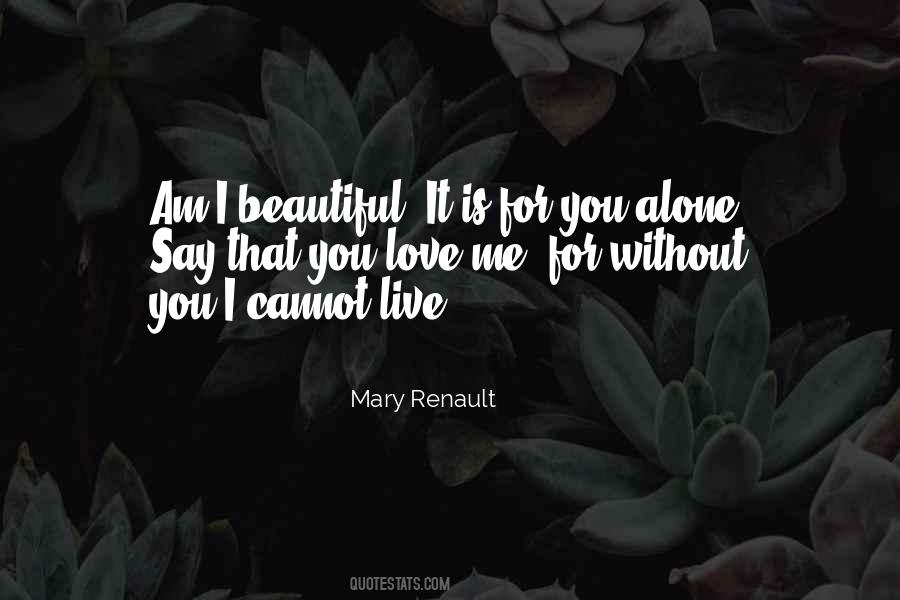 #70. Life is beautiful, what do you think? In the morning I say, 'Ah, I am alive still!' All my friends die already. I am alive. It is fantastic. - Author: Alejandro Jodorowsky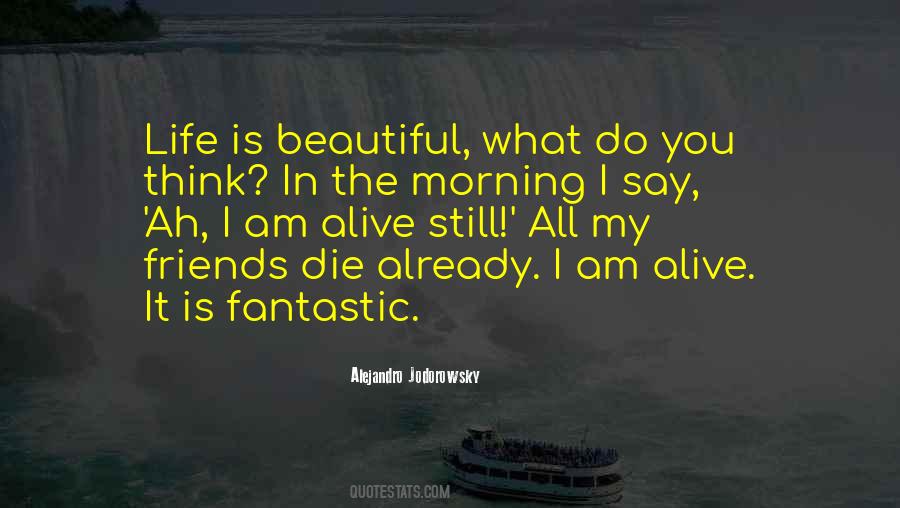 #71. I am a beautiful thing, shaped for fighting. - Author: Maggie Stiefvater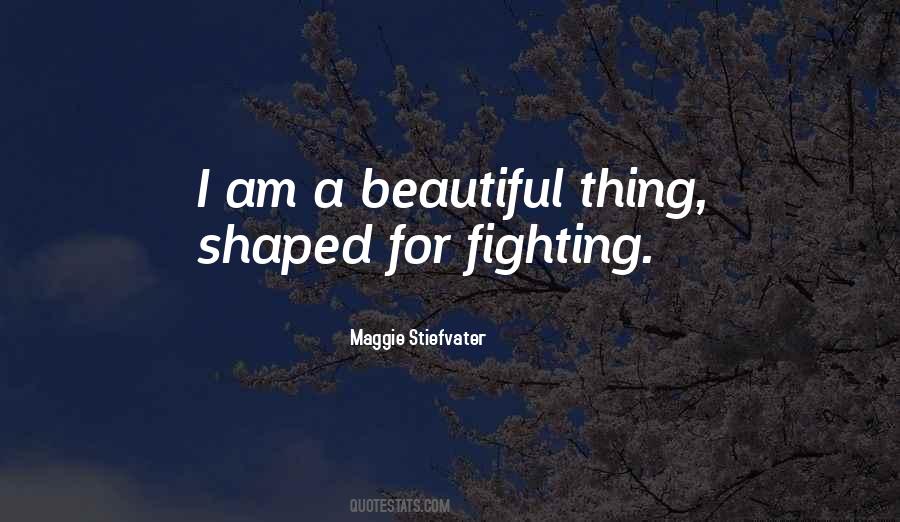 #72. I am not a sexy woman, I'm not beautiful, I'm not a sex kitten, I don't flirt with people, yet I've been tagged more of sex symbol than women who truly are and I that's solely because I don't reveal too much: people are curious. - Author: Shirley Manson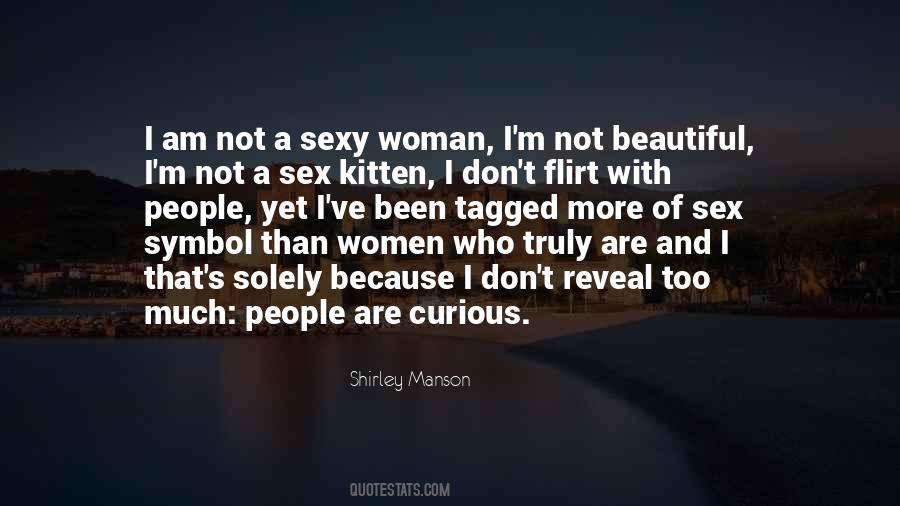 #73. And there I am, blushing and confused, made beautiful by Cinna's hands, desirable by Peeta's confession, tragic by circumstance, and by all accounts, unforgettable. - Author: Suzanne Collins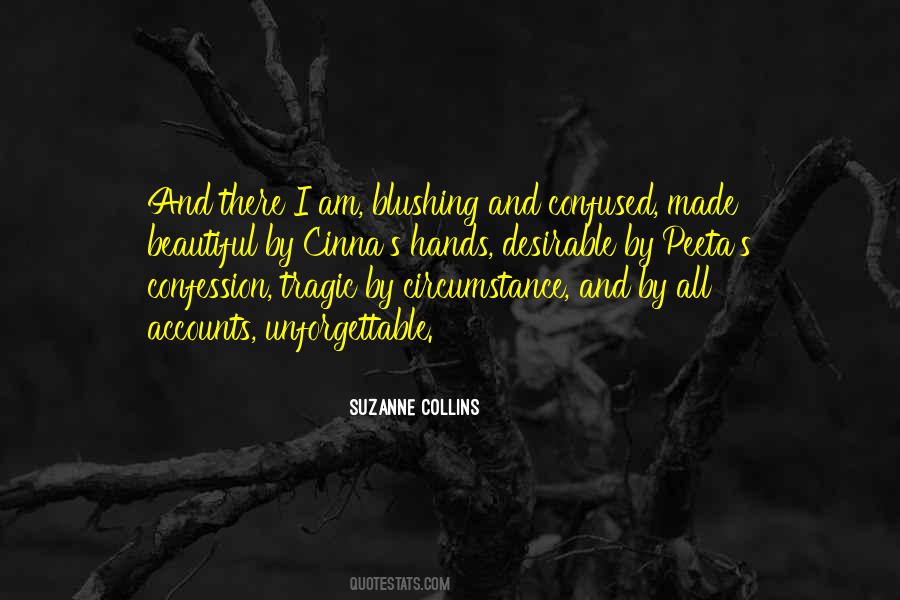 #74. I'm a very ordinary girl, Moses. I know that I am. And I always will be. I can't paint. I don't know who Vermeer is, or Manet for that matter. But if you think ordinary can be beautiful, that gives me hope. And maybe sometime you'll think about me when you need an escape from the hurt in your head. - Author: Amy Harmon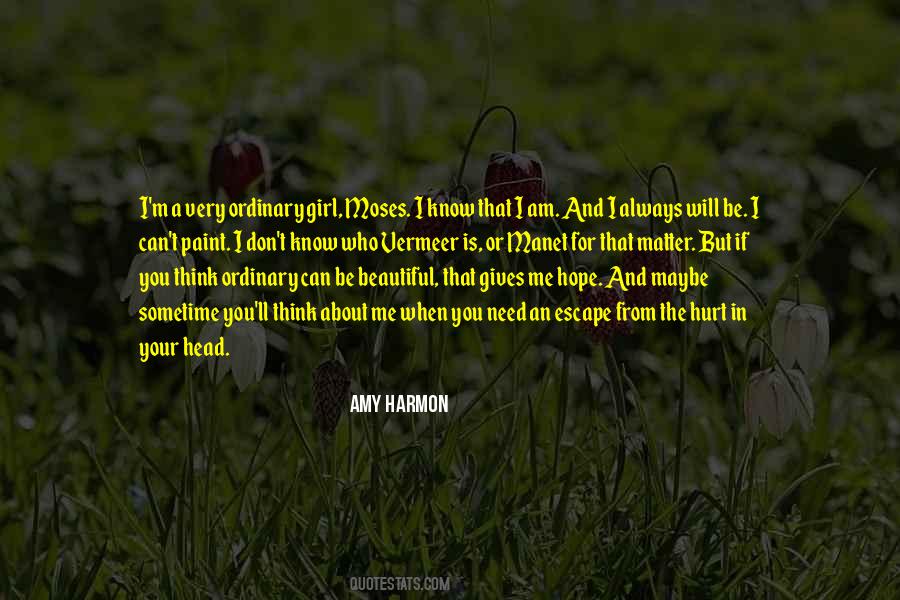 #75. I am said to be the most beautiful woman in Europe. About that, of course, I cannot judge because I cannot know. But about the other queens, I know. I am the most beautiful queen in Europe. - Author: Marie Of Romania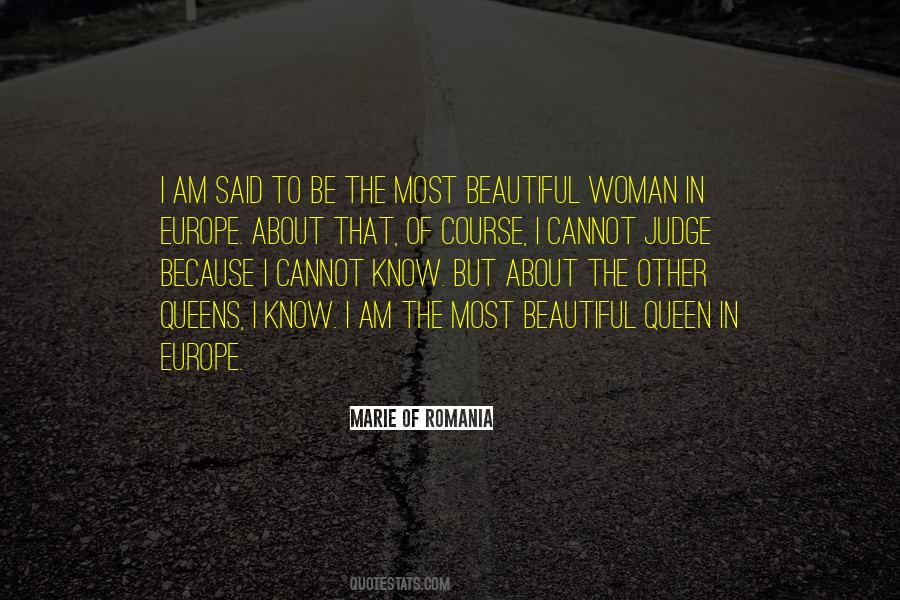 #76. But enough of that
here I am. Hineni! How marvelously beautiful it is today. He stopped in the overgrown yard, shut his eyes in the sun, against flashes of crimson, and drew in the odors of catalpa-bells, soil, honeysuckle, wild onions, and herbs. - Author: Saul Bellow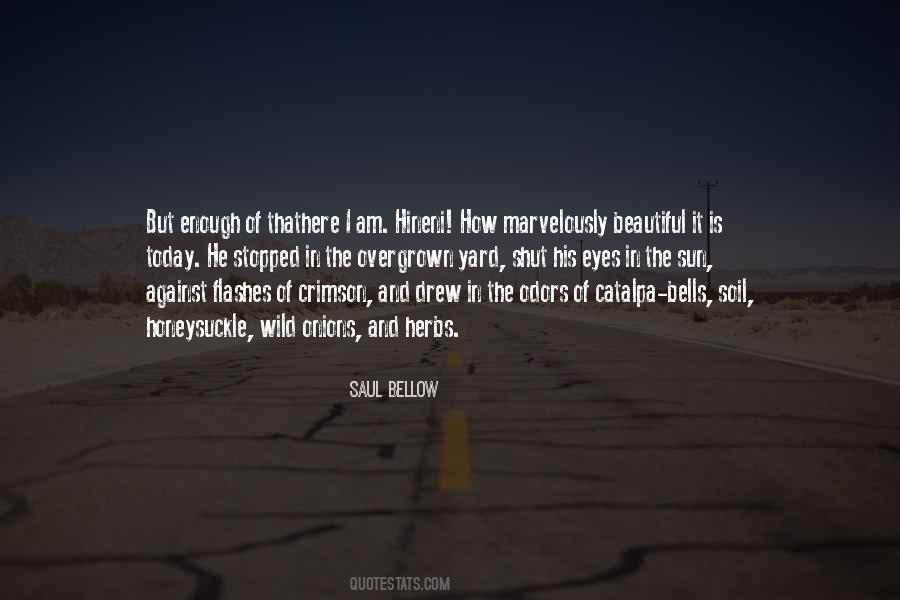 #77. Sam said, Hey, you want to get high?
Amy had taken his words to mean You are so beautiful I am undone by you. - Author: Alice Hoffman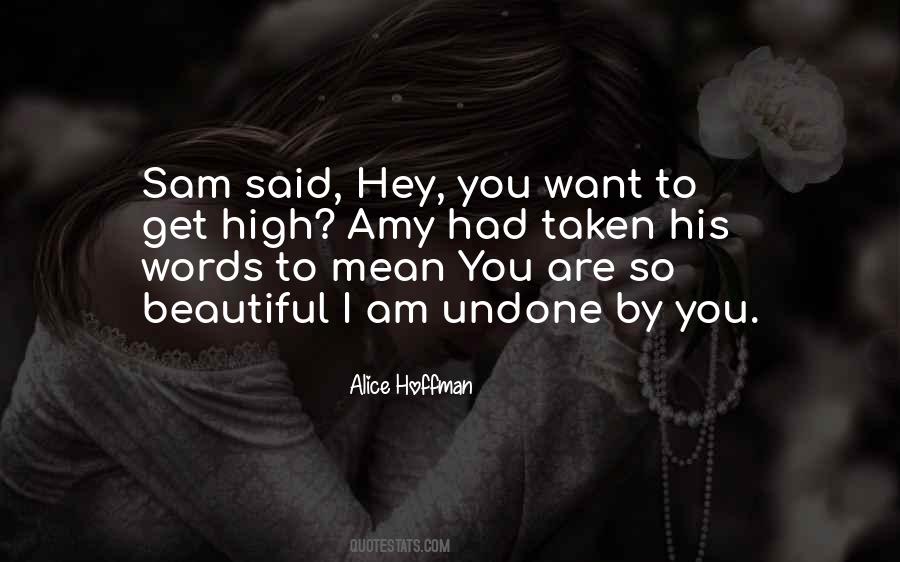 #78. It's too late," she said, her voice trembling. "You are not the beautiful innocent vagabond walking toward me under the dogwood blossoms, with his trunks and his head full of worthless notions. And I am not the beloved, cherished ladies' maid ... - Author: Geraldine Brooks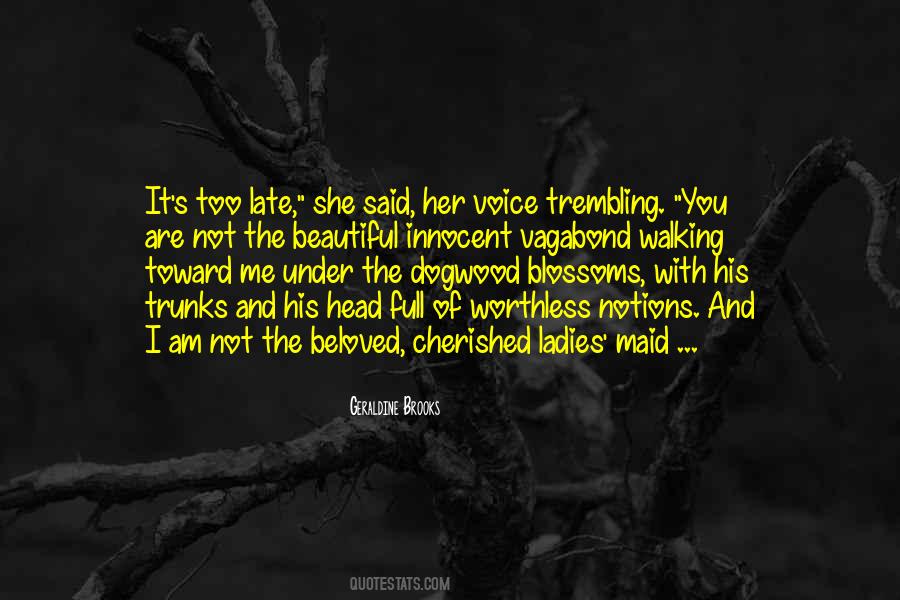 #79. As from a star I saw, coldly and soberly, the separateness of everything. I felt the wall of my skin; I am I. That stone is a stone. My beautiful fusion with the things of this world was over. - Author: Sylvia Plath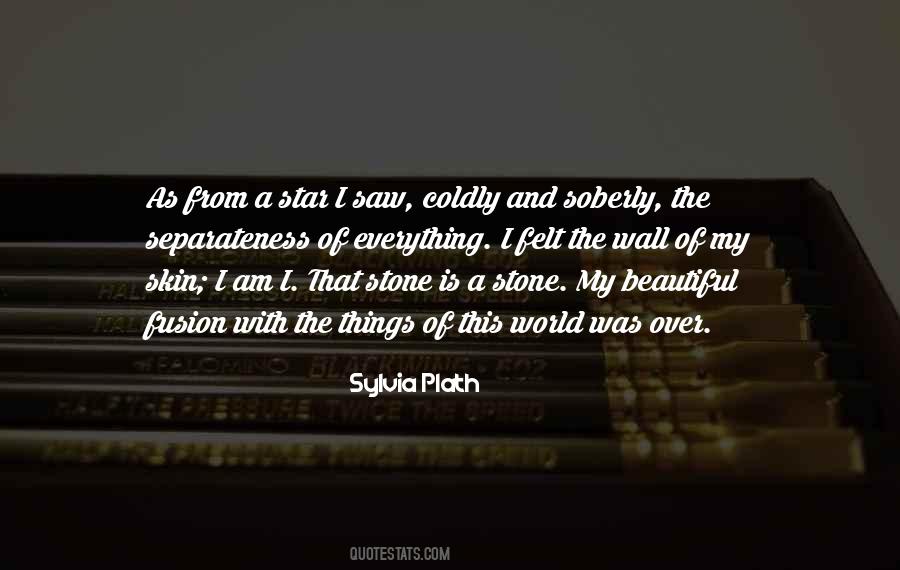 #80. Truly I am God's Beauty, His Trophy, His Outstretched Arms ... I am here for His Glory and Pleasure. - Author: Jaachynma N.E. Agu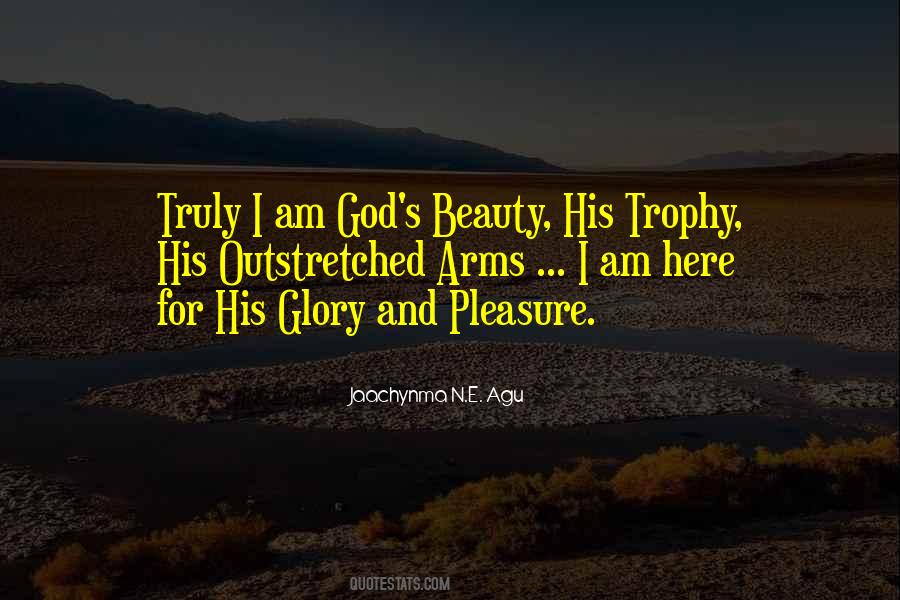 #81. I am the only consistent person in my life and so I better like myself, and I better love myself. And I really better know that I'm as beautiful as anyone else. - Author: Gabourey Sidibe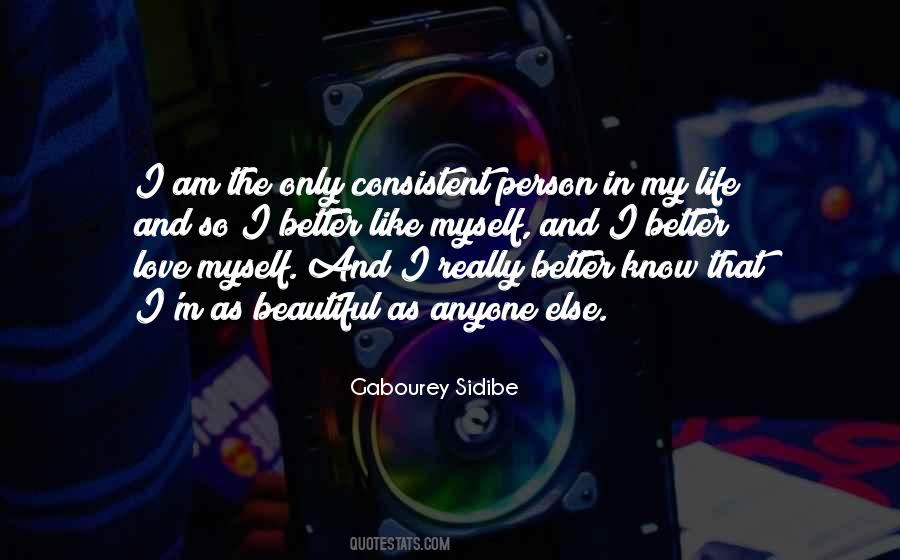 #82. To me the gospel is not a great mass of theological jargon. It is a simple and beautiful and logical thing, with one quiet truth following another in orderly sequence. I do not fret over the mysteries. I do not worry whether the heavenly gates swing or slide. I am only concerned that they open. - Author: Gordon B. Hinckley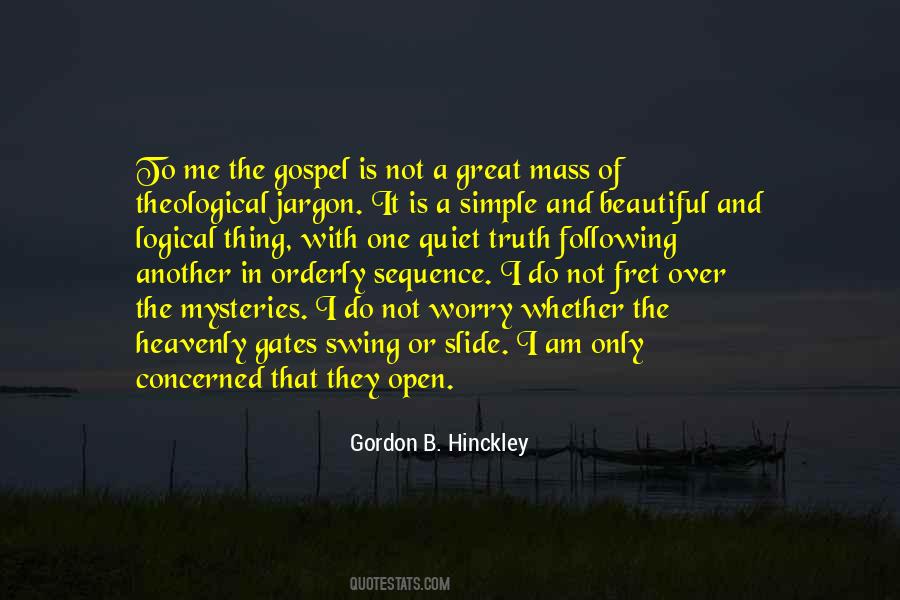 #83. I am comforted by the assurance that there will be beautiful music in heaven, and for that I am most grateful. - Author: Spencer W. Kimball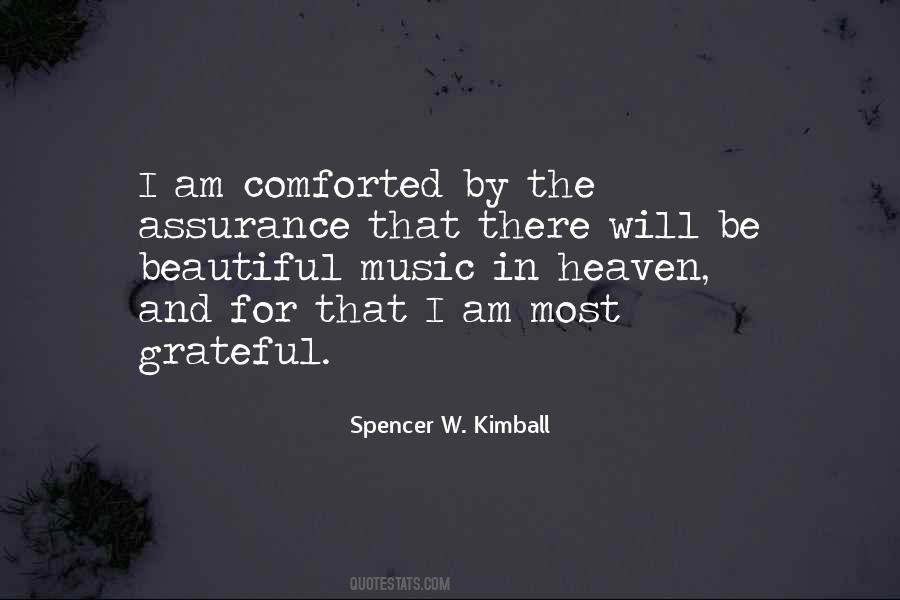 #84. Peace is in the grave. The grave hides all things beautiful and good. I am a God and cannot find it there, Nor would I seek it; for, though dread revenge, This is defeat, fierce king, not victory. - Author: Percy Bysshe Shelley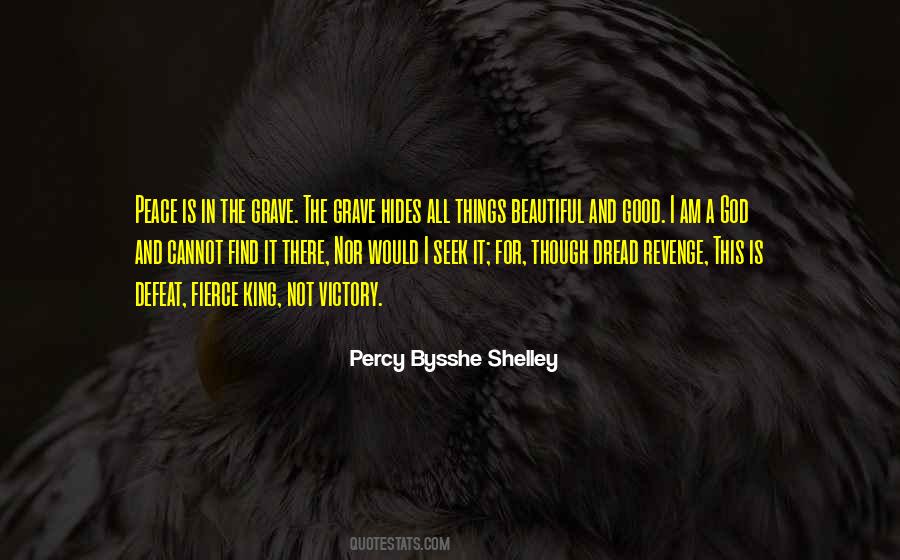 #85. How lucky am I that a beautiful girl like you spills a drink on me?
I blushed. Shit! I couldn't take my eyes off him, he was strikingly handsome. - Author: Nicole Gulla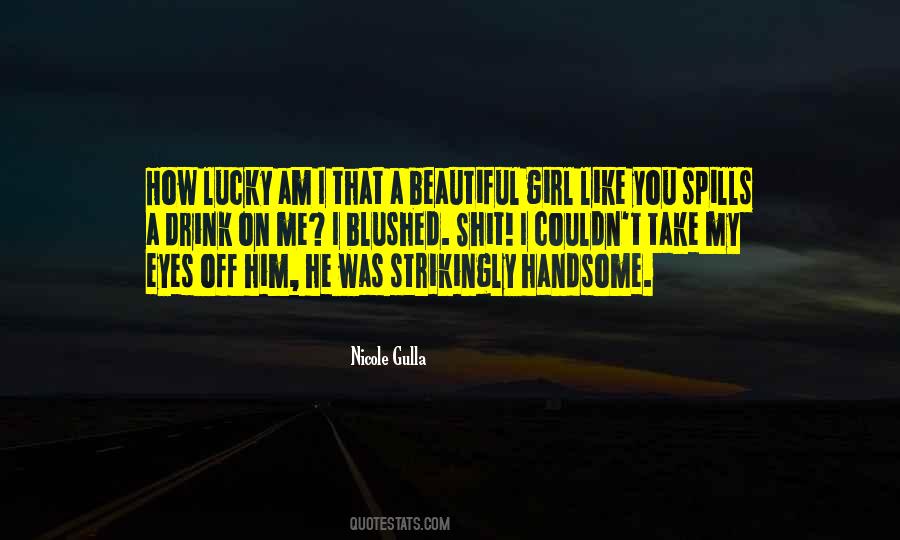 #86. I will add that I do not believe his admiration of my person, dazzling through I am, to be sincere. He told me I was a beautiful, sparkling lady. - Author: Cassandra Clare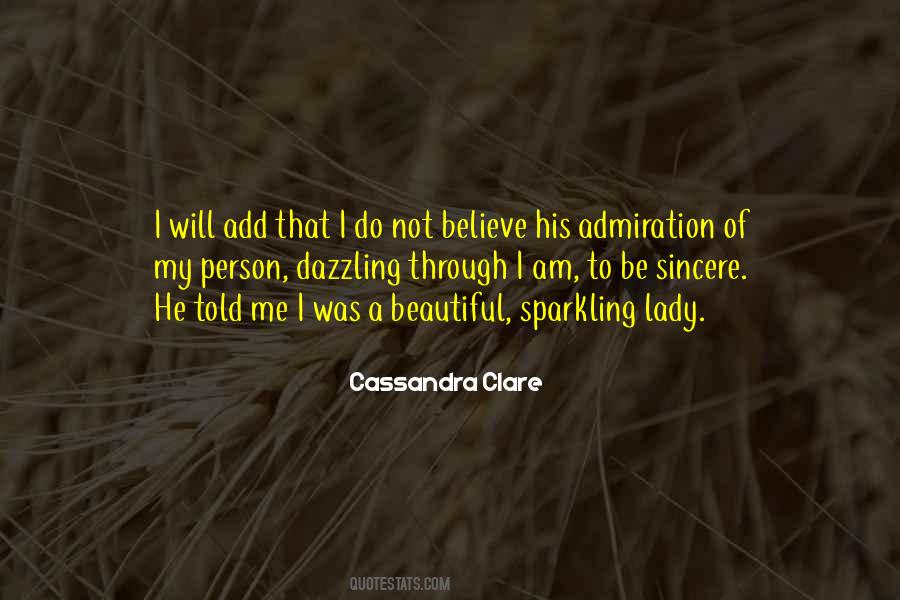 #87. One of the most important things I'm glad we did and am proud of is that we don't have any real grass on our property. It might not be realistic to ask people to pull out their grass, but we'll never have to think about it. We used Smart Grass, and I think it looks beautiful. - Author: Lisa Ling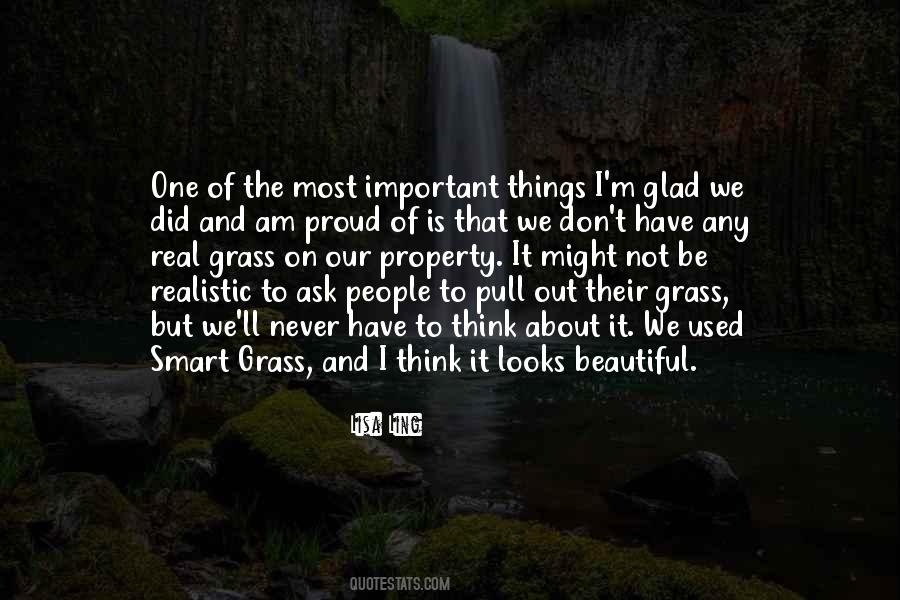 #88. That's right. Watch closely, so there's no fucking way you can miss how indisputably beautiful you are, because I don't intend to argue about this again. The next time I tell you you're gorgeous, you're going to say, 'Damn right I am. - Author: Samanthe Beck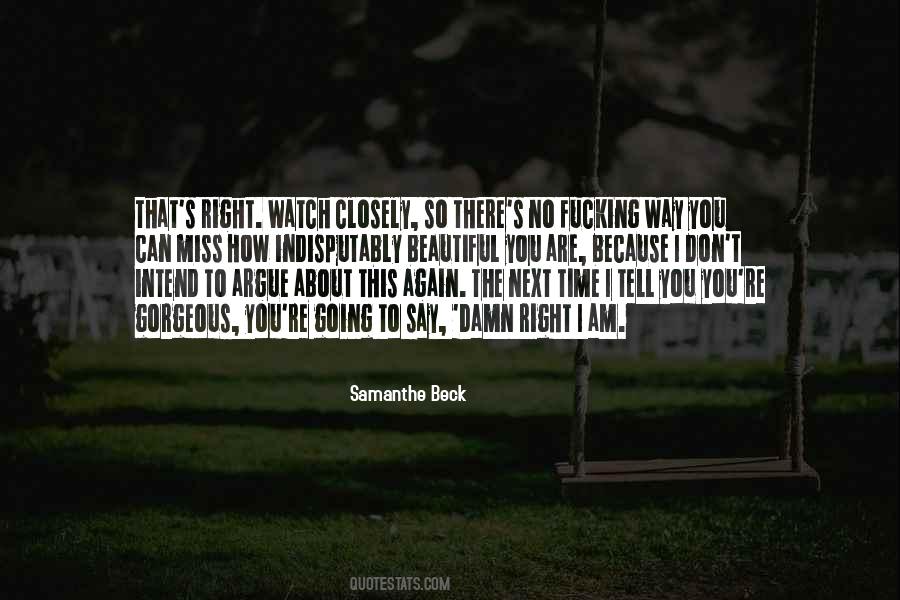 #89. I would not be standing here today if my skin were white or my religion were Presbyterian. I am here today only because my skin is yellow and my religion is Unification Church. The ugliest things in this beautiful country of America are religious bigotry and racism. - Author: Sun Myung Moon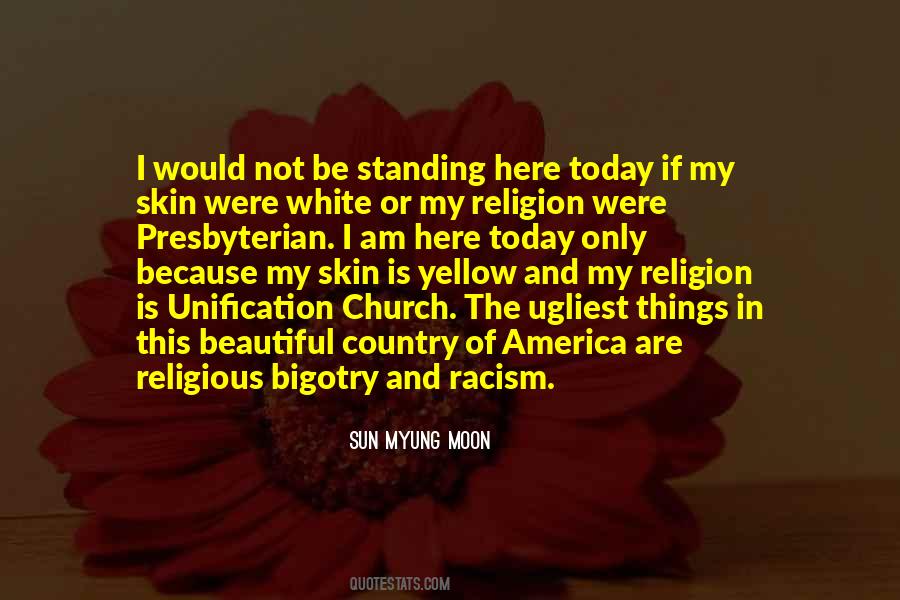 #90. I definitely want to show how beautiful the marathon can be. I am the opponent of all those who find the marathon bad: the psychologists, the physiologists, the doubters. I make the marathon beautiful for myself and for others. That's why I'm here. - Author: Uta Pippig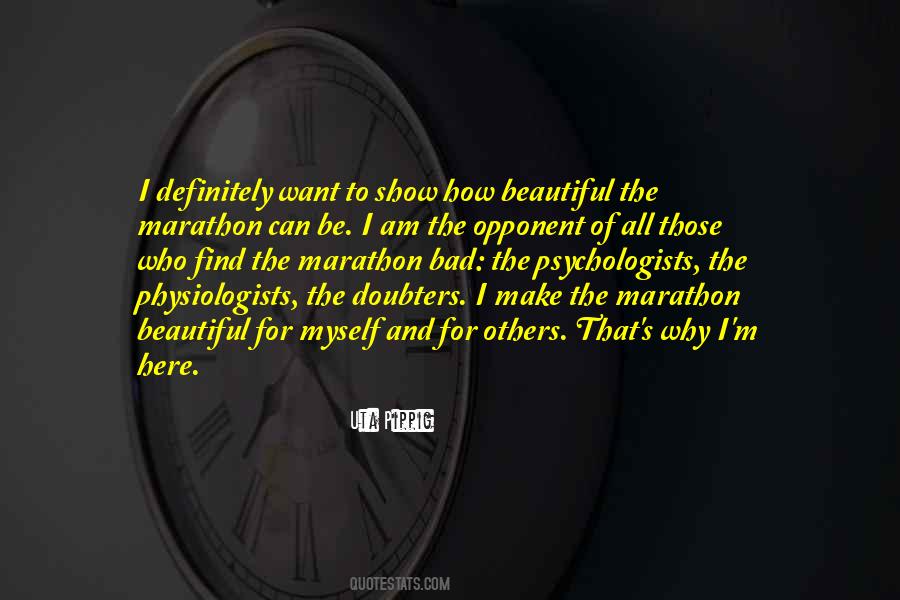 #91. My God! You are almost as beautiful as I am! - Author: Fabio Lanzoni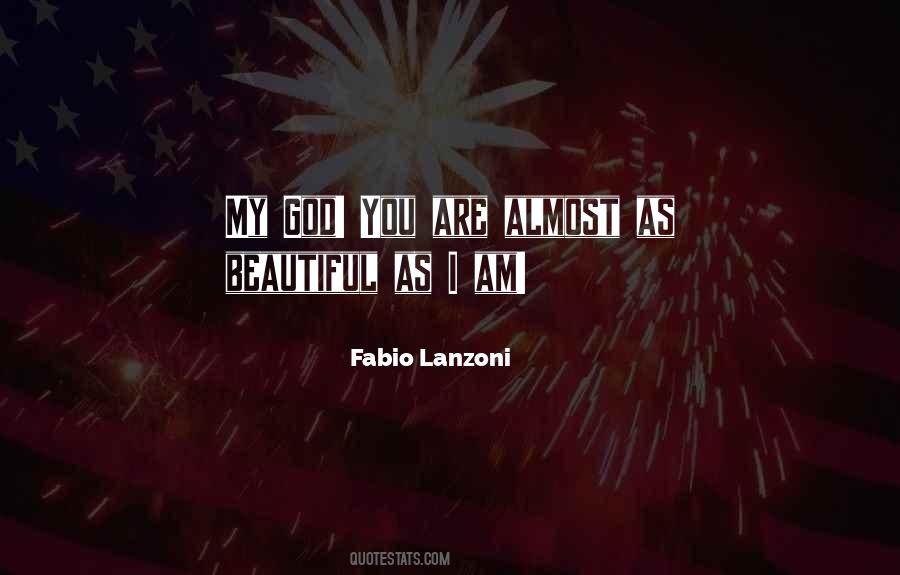 #92. I am a bike enthusiast; there's a certain amount of romance to bikes. They're both beautiful and utilitarian. - Author: Dave Eggers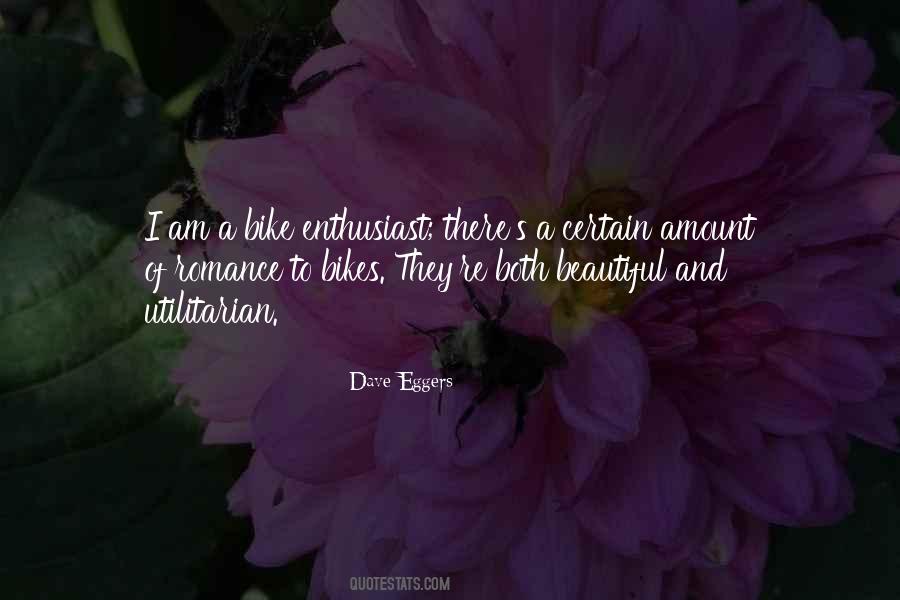 #93. He was my light, my heart, my beautiful scalawag. And I was - I am - his GG. - Author: James Patterson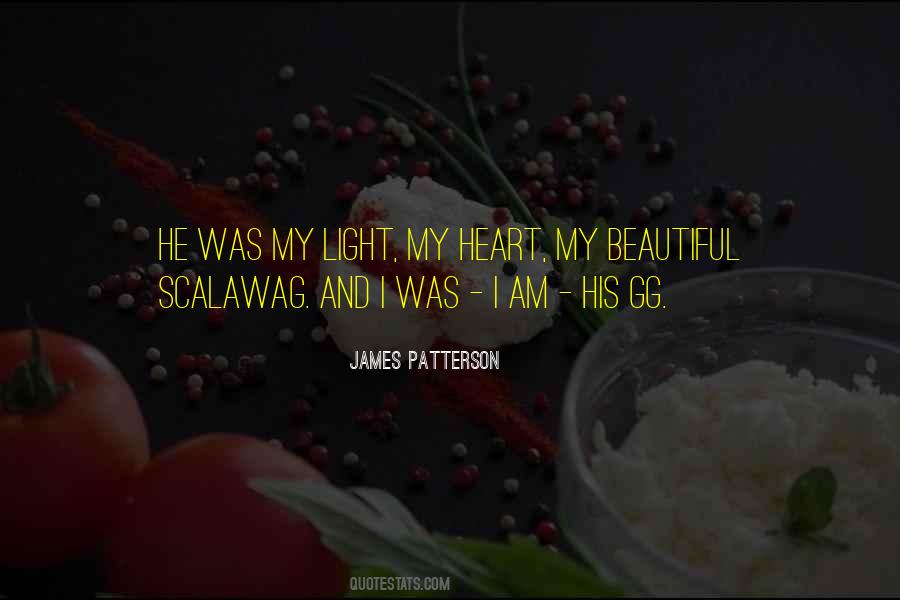 #94. You know when I feel inwardly beautiful? When I am with my girlfriends and we are having a 'goddess circle'. - Author: Jennifer Aniston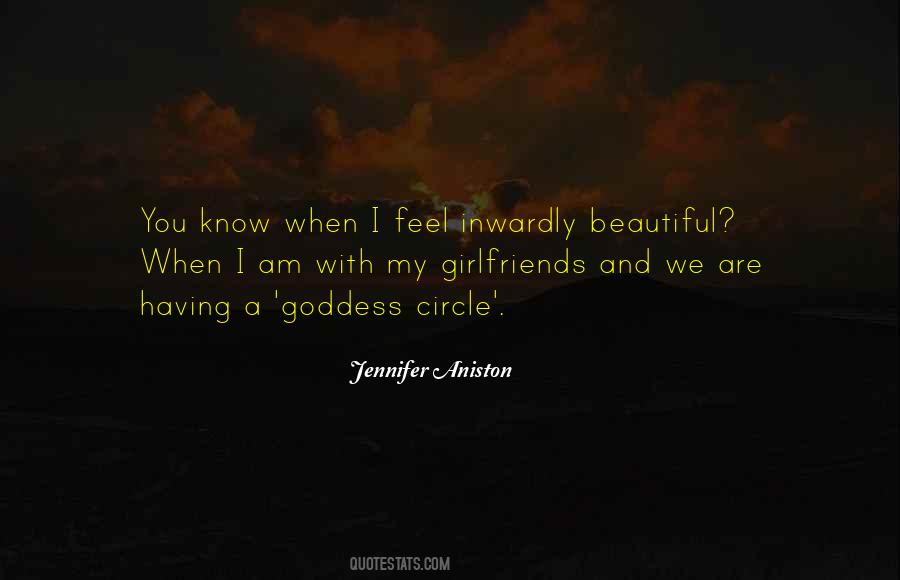 #95. I am beautiful, one with cosmos, life force, eternal abundance, joy, vitality, infinite consciousness. - Author: Jay Woodman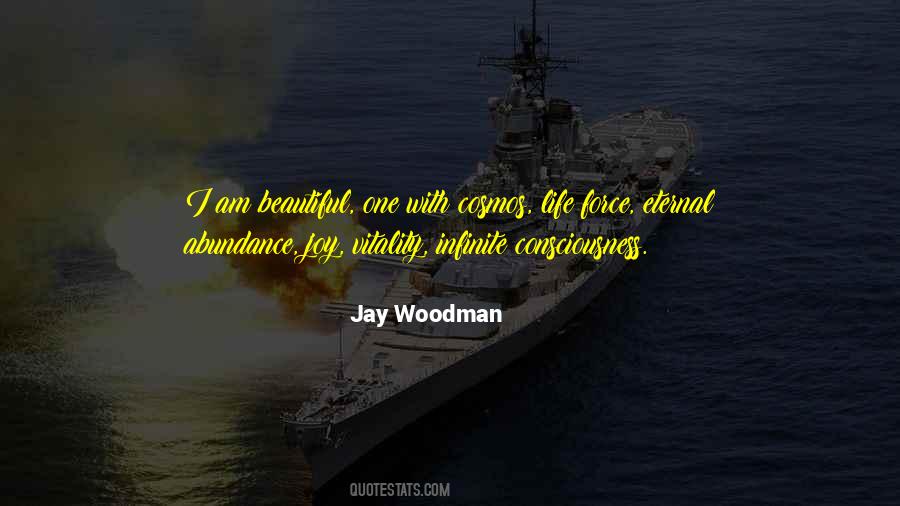 #96. I am not trying to change the world. I am just offering my gift that God gave me, and if somebody is moved by it, that's beautiful. - Author: Lenny Kravitz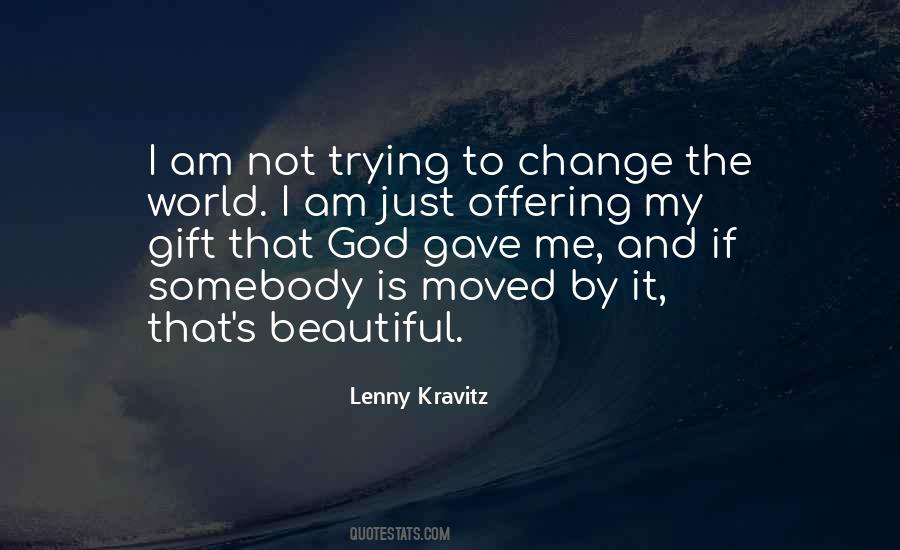 #97. If I am in a beautiful place, but I don't like the people, I am miserable. - Author: Alber Elbaz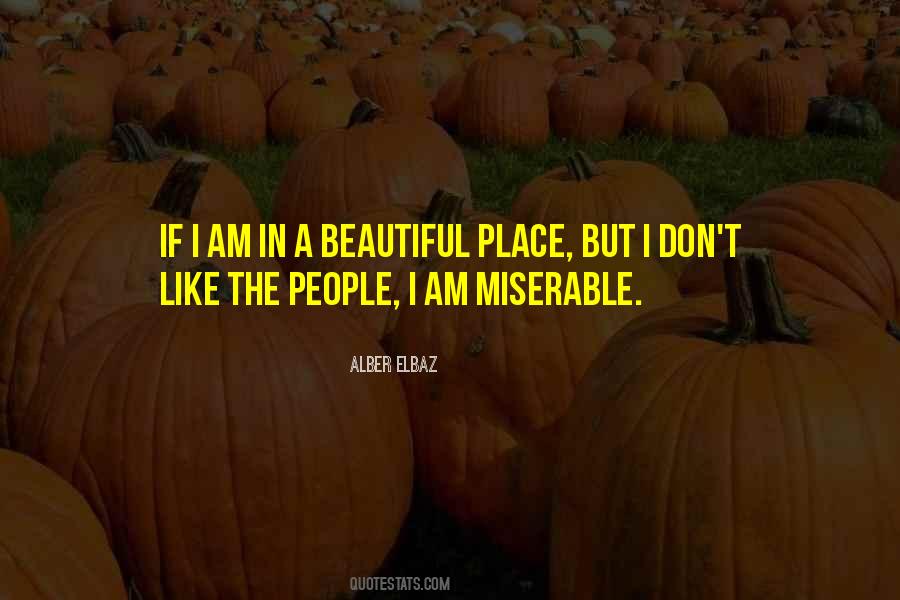 #98. I was walking home from the library on Broadway, and I remember that the street looked different to me, very clear and beautiful, and I felt incredibly happy. I even said to myself, 'I've never been happier than I am now. - Author: Siri Hustvedt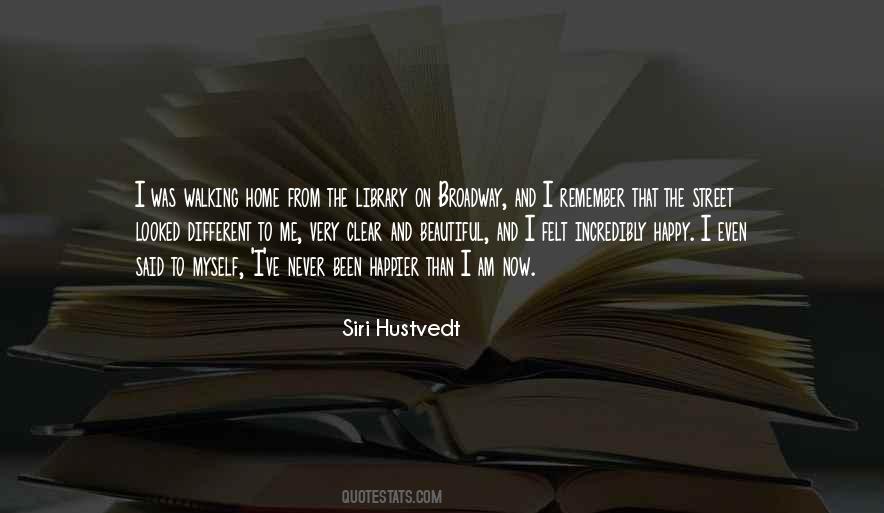 #99. My mother was the most beautiful woman I ever saw. All I am I owe to my mother. I attribute my success in life to the moral, intellectual and physical education I received from her. - Author: George Washington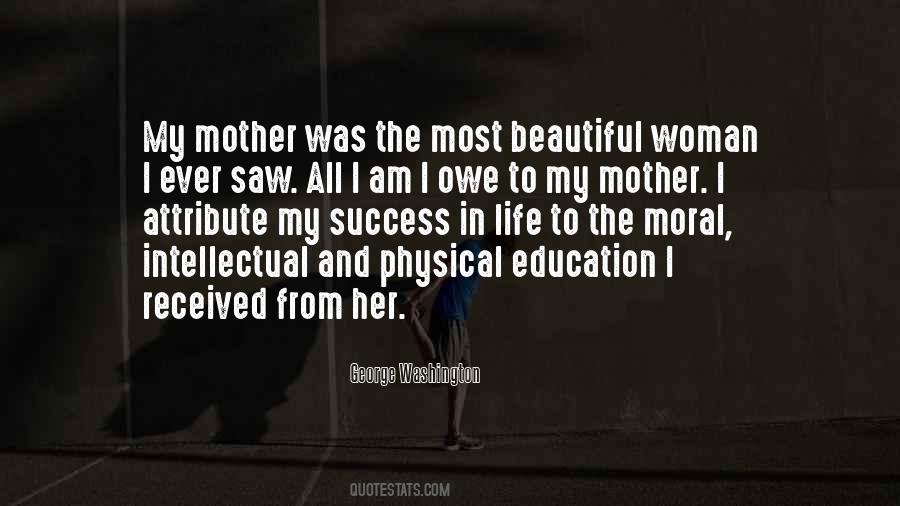 #100. Life is given to you like a flat piece of land and everything has to be done. I hope that when I am finished, my piece of land will be a beautiful garden, so there is a lot of work. - Author: Jeanne Moreau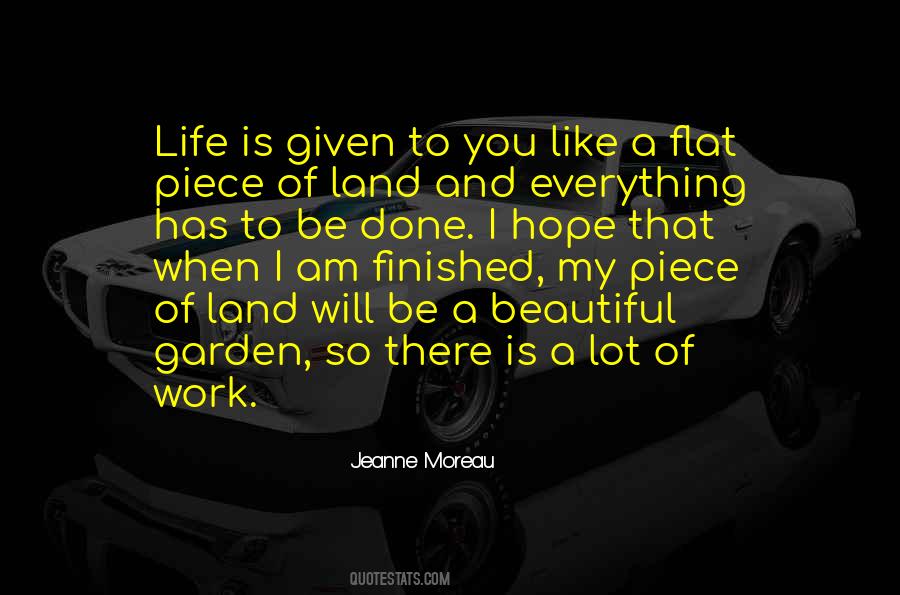 Famous Authors
Popular Topics