How To Face Life Famous Quotes & Sayings
List of top 68 famous quotes and sayings about how to face life to read and share with friends on your Facebook, Twitter, blogs.
Top 68 Quotes About How To Face Life
#1. No matter how reclusive we tend to be, we picture the after-life as a community of souls. It is one thing to seek privacy in this life; it is another to face eternity alone. - Author: Robert Breault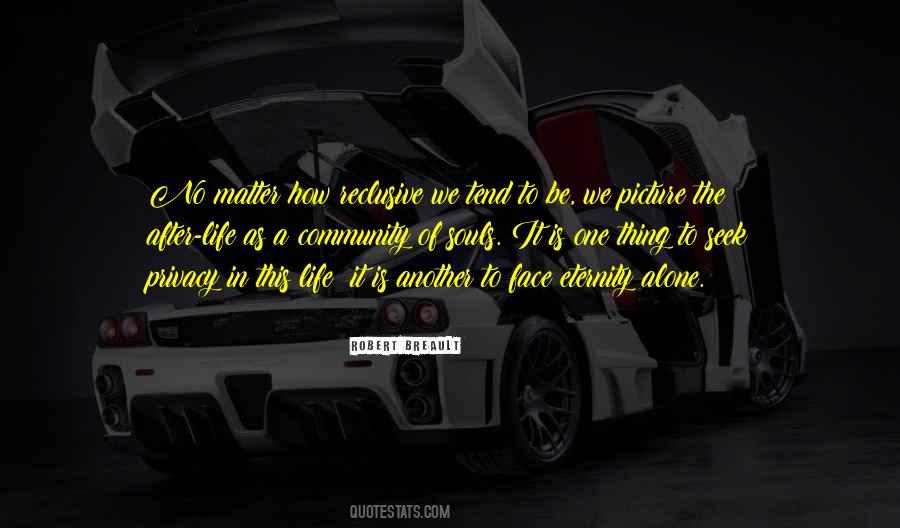 #2. The first morning after Westley's departure, Buttercup thought she was entitled to do nothing more than sit around moping and feeling sorry for herself. After all, the love of her life had fled, life had no meaning, how could you face the future, et cetera, et cetera. - Author: William Goldman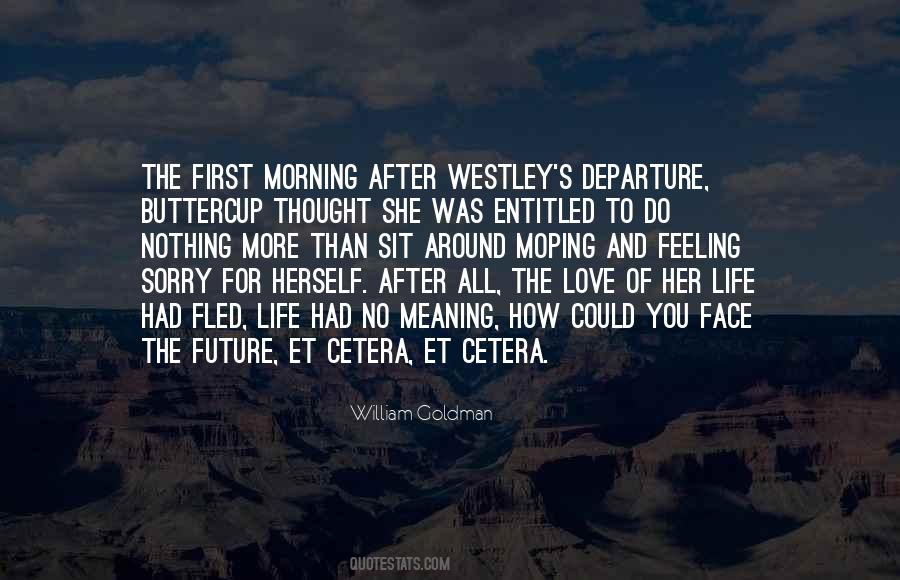 #3. Life will hit you hard in the face, wait for you to get back up just so it can kick you in the stomach. But getting the wind knocked out of you is the only way to remind your lungs how much they like the taste of air. - Author: Sarah Kay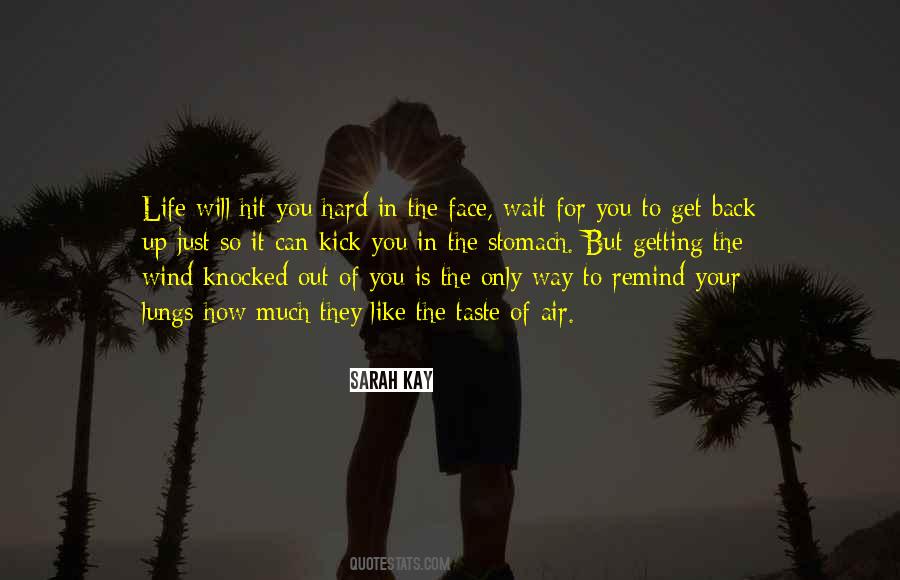 #4. I thought you were going to be a grey little man like most of us but you outshone us all. When your times comes, Guntram, you could look Death in the face and tell her, 'I go now but how I lived my life! - Author: Tionne Rogers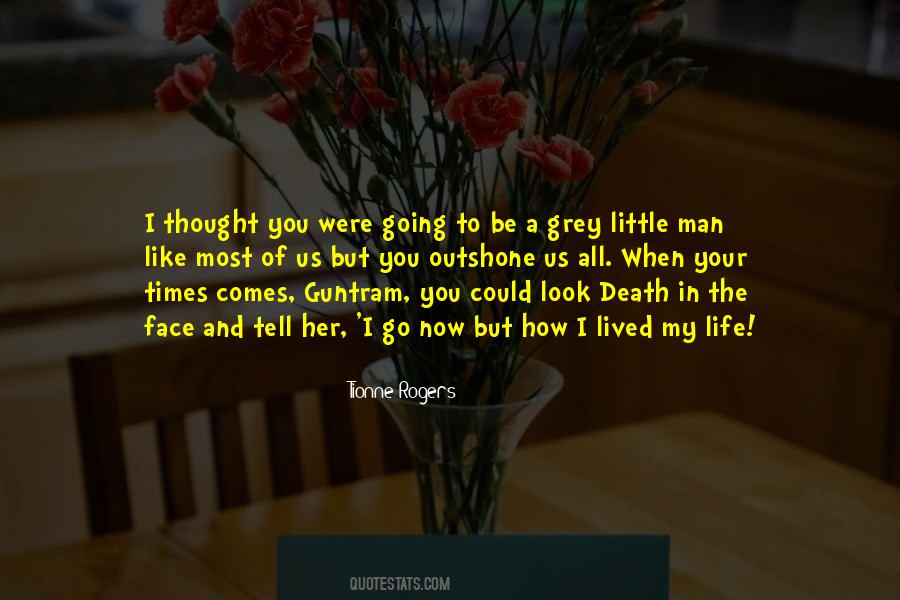 #5. I know not how to defeat others, I only know how to win over myself. The real and most dangerous opponents we face in life are fear, anger, confusion, doubt and despair. If we overcome those enemies who attack from within , we can attain a sure victory over any attack from without. - Author: Chris Bradford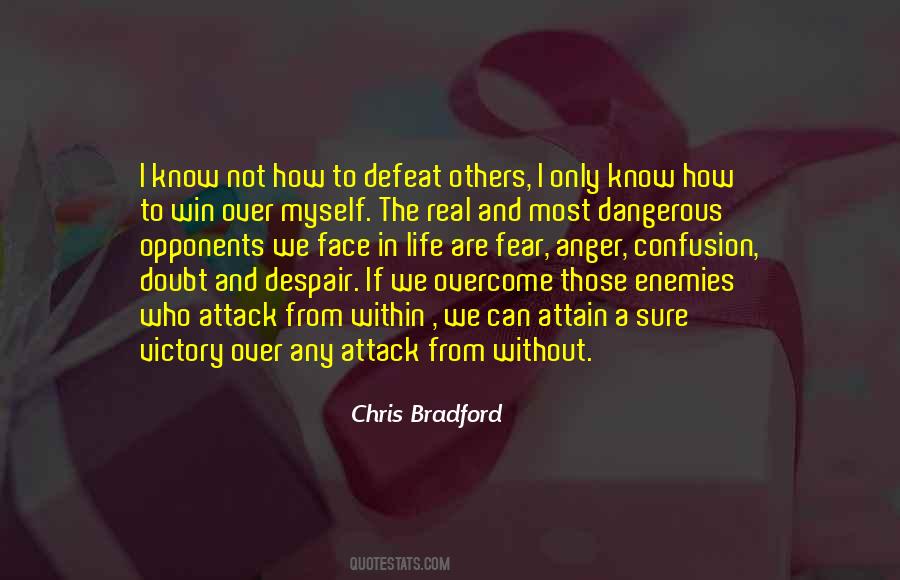 #6. Looking around, I wonder what is it that makes my fellows able to bear such a life. How can they face the day, when I can't? Is there some secret to living that makes its conditions irrelevant? A neutering of expectation, a mastery of the mundane? Or have they just grown accustomed to rape? - Author: D.B.C. Pierre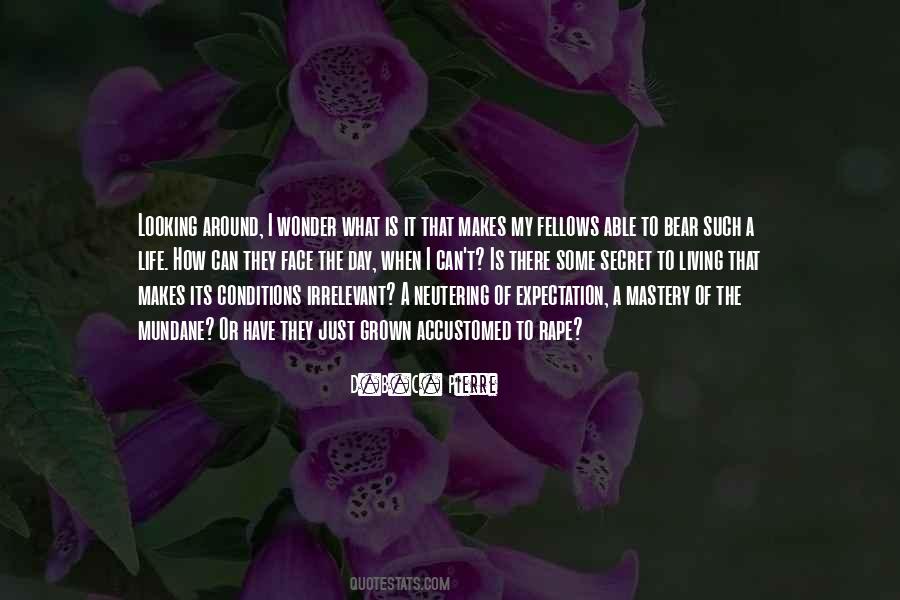 #7. To truly fail in life is to never try. When you fall on your face, it is an opportunity for you to find the road again. It may remind you how hard the road is, but you will never forget its presence once you make contact. - Author: H.L. Stephens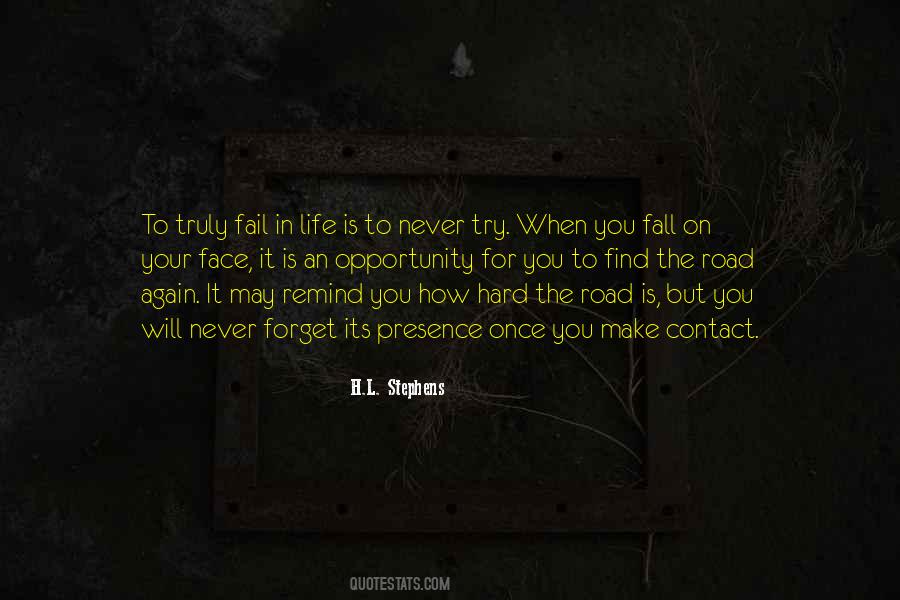 #8. I might face death any minute now! But I should try not to put myself in harms' way as long as I can live. Of course it is not important if I die, because this is going to happen anyway. I know my purpose, my purpose is: How will my life or death impact the lives of others? - Author: Samad Behrangi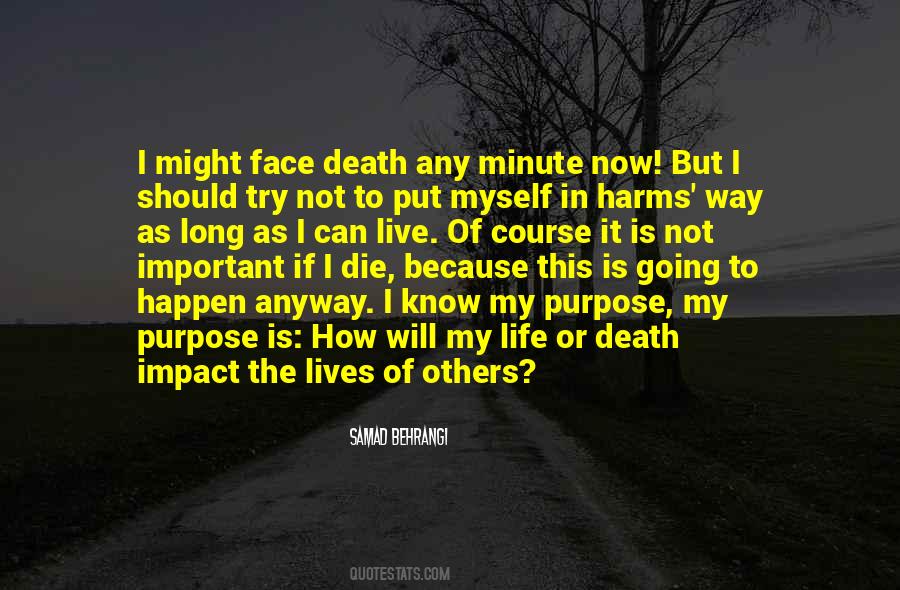 #9. Cheer up, Crips, and keep smiling. That's the thing to do. If you go through life with a smile on your face, you'll be amazed how many people will come up to you and say 'What the hell are you grinning about? What's so funny?' Make you a lot of new friends. - Author: P.G. Wodehouse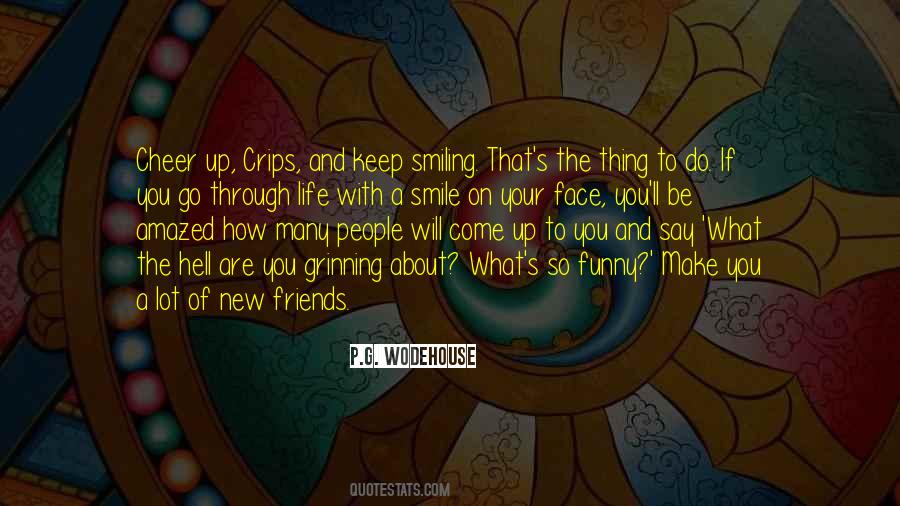 #10. He was always with her, an appendage to her life, and she never could decide how to feel about him. Sometimes, when a smile broke across his face like sun reflecting off a stream, or she saw him relax into sleep, she was filled with an unaccountable sort of ache. It terrified her. - Author: Kiersten White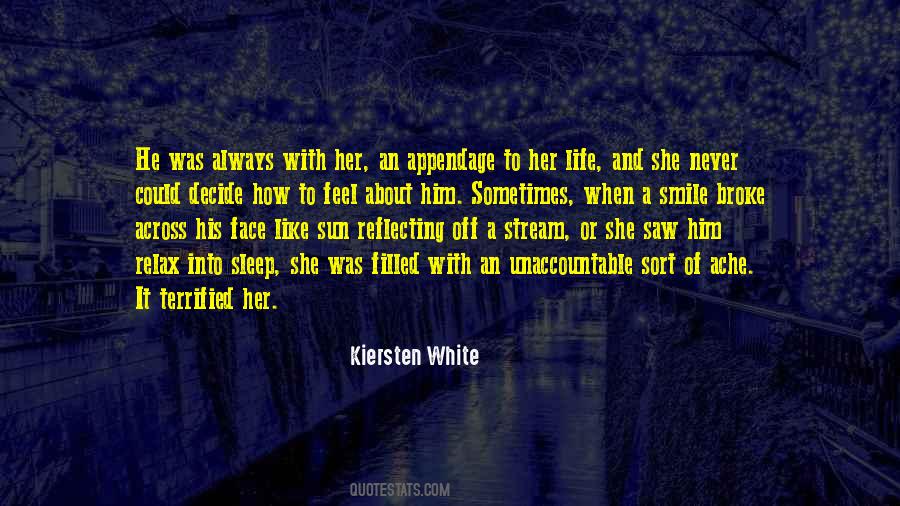 #11. Life is not perfect. But it is how you face it that's worth living for. From there you will find out how beautiful it is to live. - Author: Kcat Yarza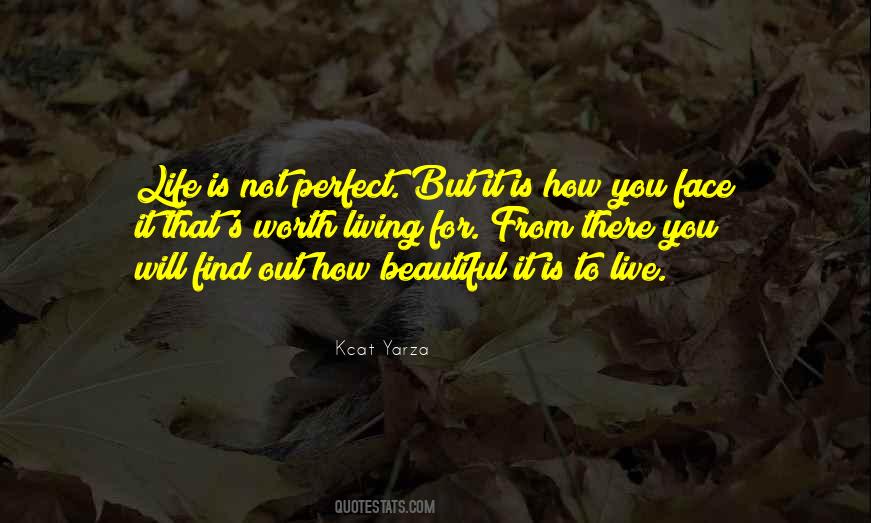 #12. Happiness is not only how to make yourself happy! but it's also how to draw a smile on others face.. - Author: Abdulrahman Danbos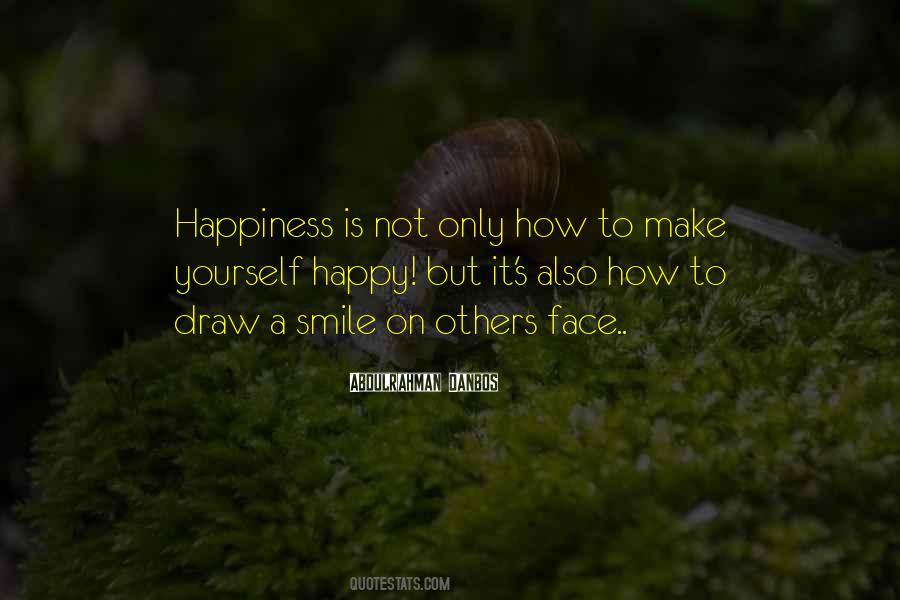 #13. Life is a journey for us all. We all face trials. We all have ups and downs. All of us are human. But we are also the masters of our fate. We are the ones who decide how we are going to react to life. - Author: Elizabeth Smart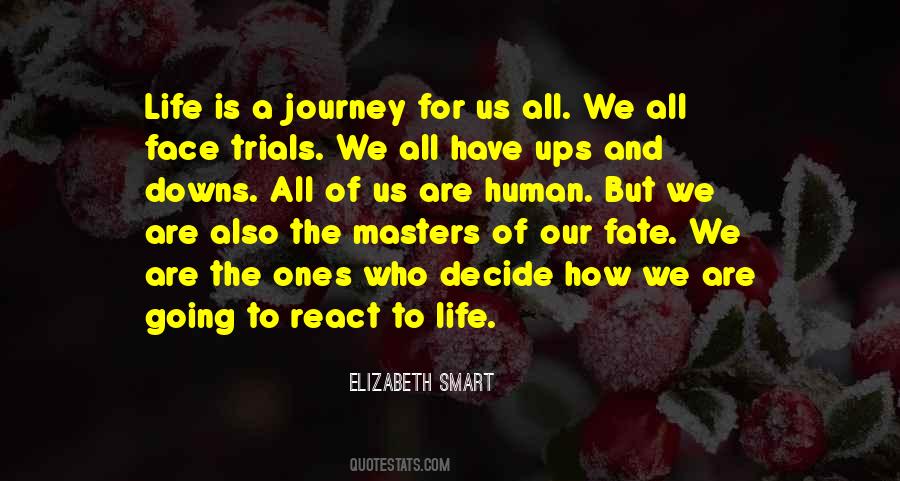 #14. It's a wisdom that comes from seeing how things work. Things you want to happen always take a long time.' She pointed one little finger at the meech dragon and shook it in his face. 'You may read books and know bunches, but I have lived life longer than you. - Author: Donita K. Paul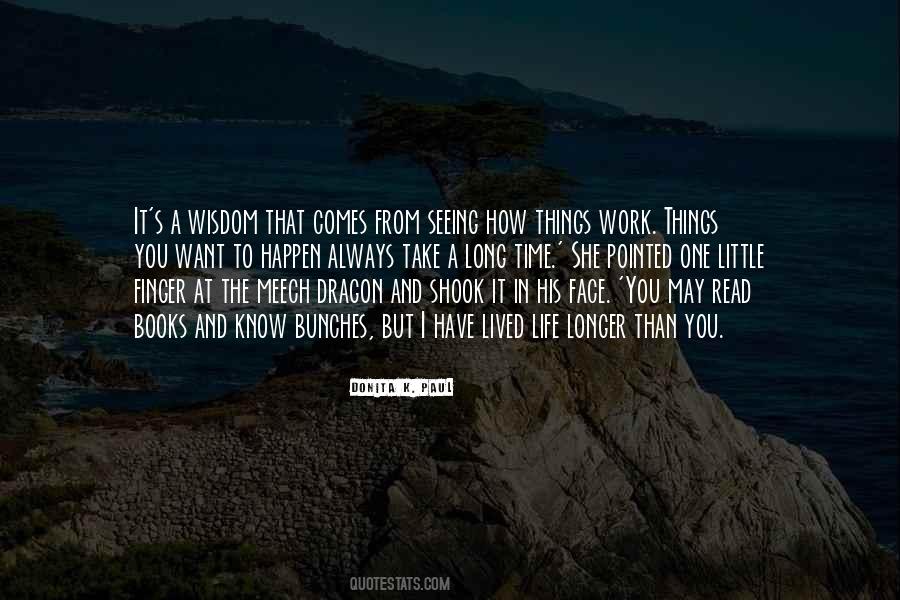 #15. He loves me without having to say it. He cherishes me without having to prove it. When he touches me I know what he's thinking, how he truly feels beneath that mask he wears in the face of others. I'm the only soul he's ever let into his life completely. And the only one he'll never let go. - Author: J.A. Redmerski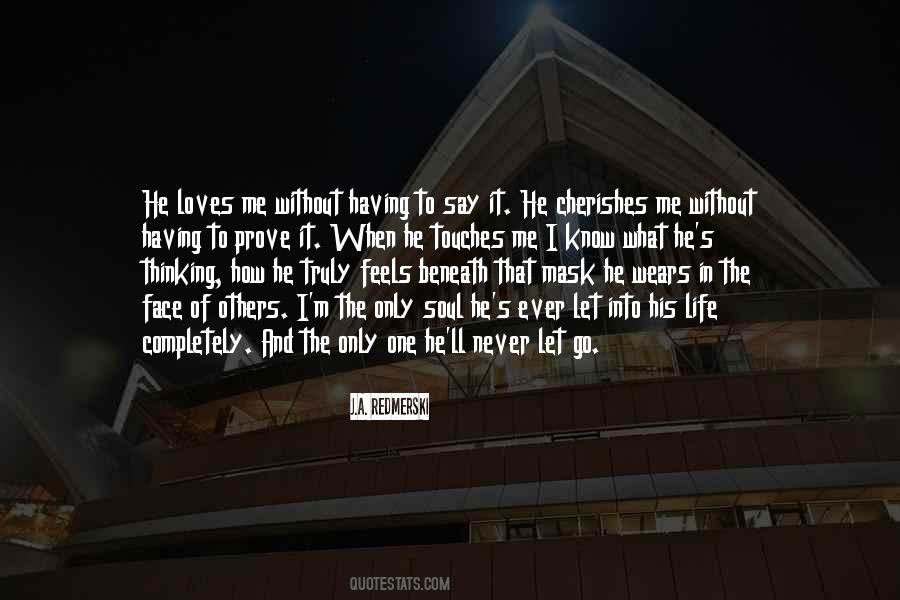 #16. And I wonder how Gage knew this is what my soul has craved. He turns me to face him, his eyes searching. It occurs to me that no one in my life has ever concerned himself so thoroughly with my happiness. - Author: Lisa Kleypas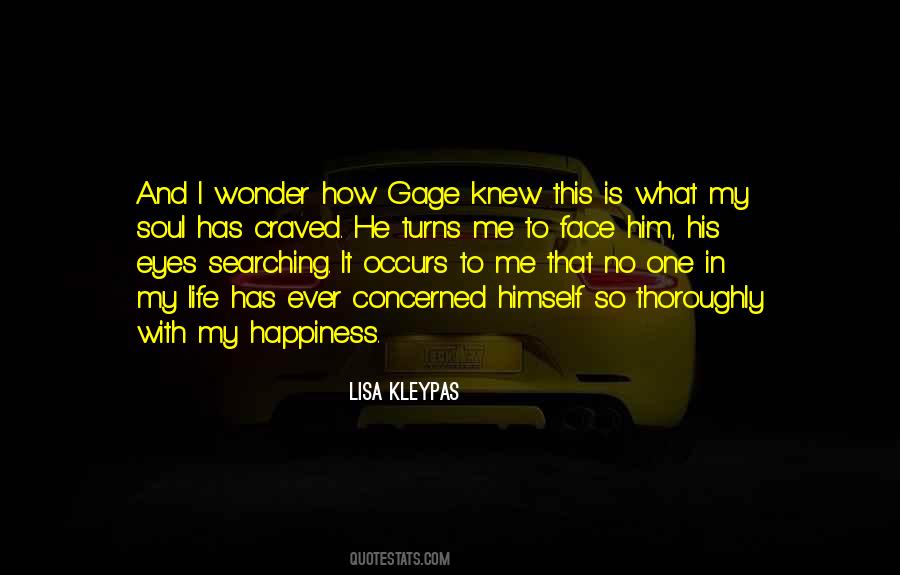 #17. Patiently persevere in the face of hardship hoping for a good outcome because you never know how many dead hearts you will bring to life in the process. No hardship lasts forever. There is always an end. - Author: Babar Ahmad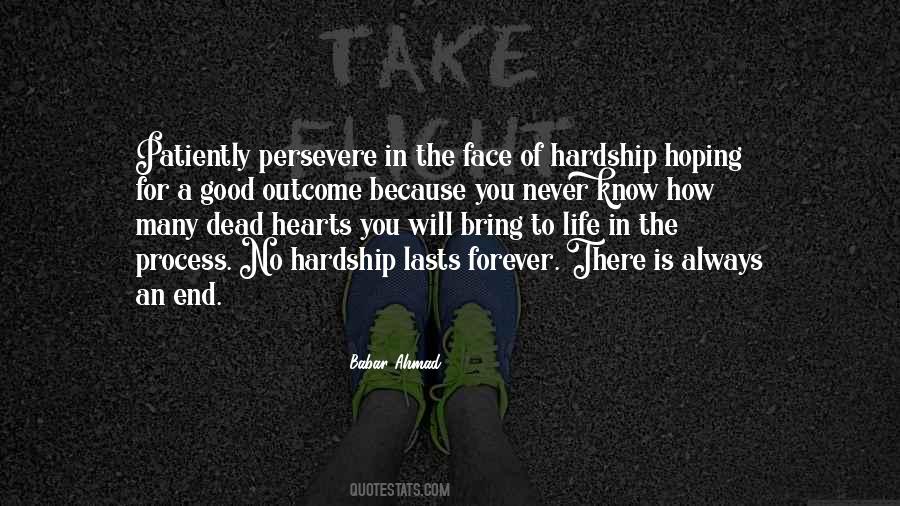 #18. The great virtue in life is real courage that knows how to face facts and live beyond them. - Author: D.H. Lawrence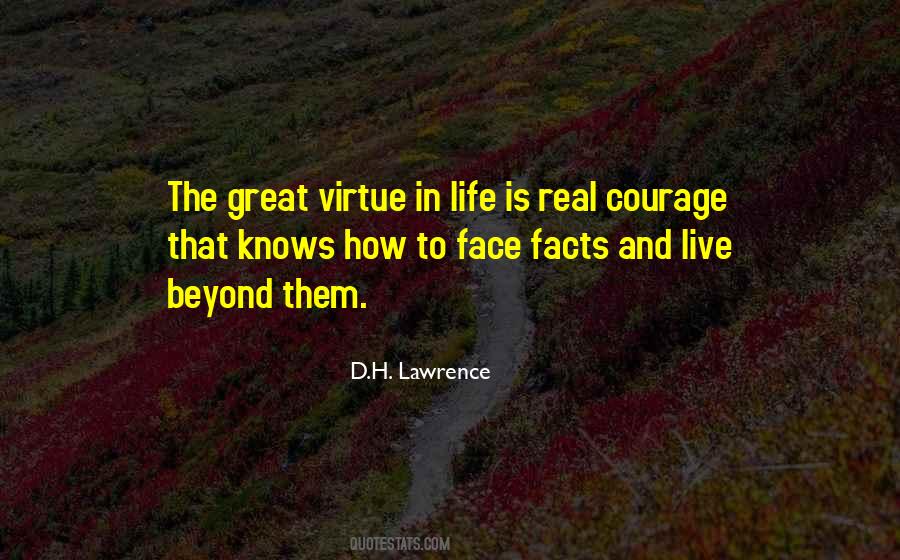 #19. The meaning that i am trying to render through my work is a verification of how it is still possible to desire and face a path of knowledge, to be able finally to distinguish the precise identity of man, things, life, from the image of man, things and life. - Author: Luigi Ghirri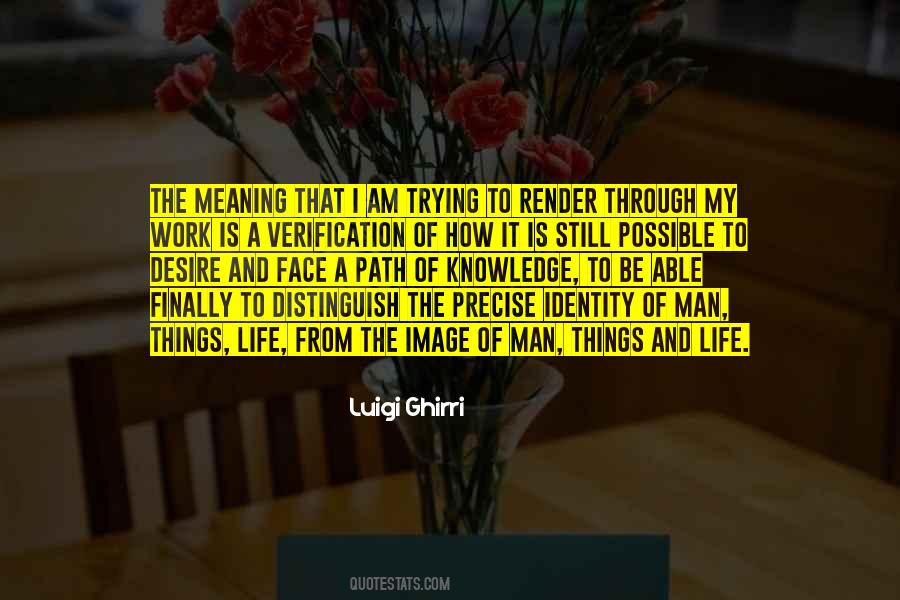 #20. How many of us have a love so true it spans eternity? A purity of need so clear it can remain strong in the face of all that the world throws at us? This
is Karen Ann McNeil, the woman who fell to Earth, the woman for whom the people in her life never gave up waiting. - Author: Douglas Coupland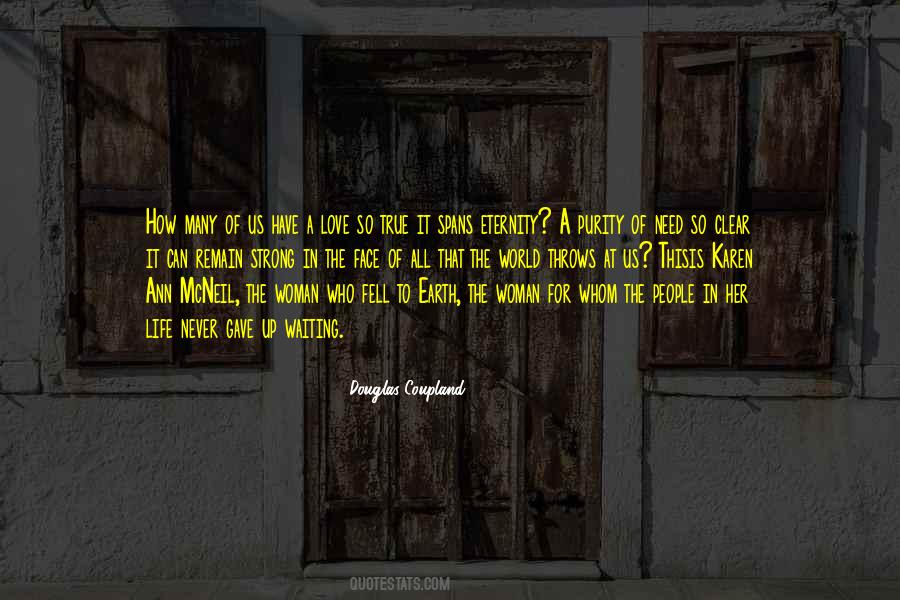 #21. Marry the person who makes you feel like you can face life together. Because that's what it's about. It's about facing life together. - Author: C. JoyBell C.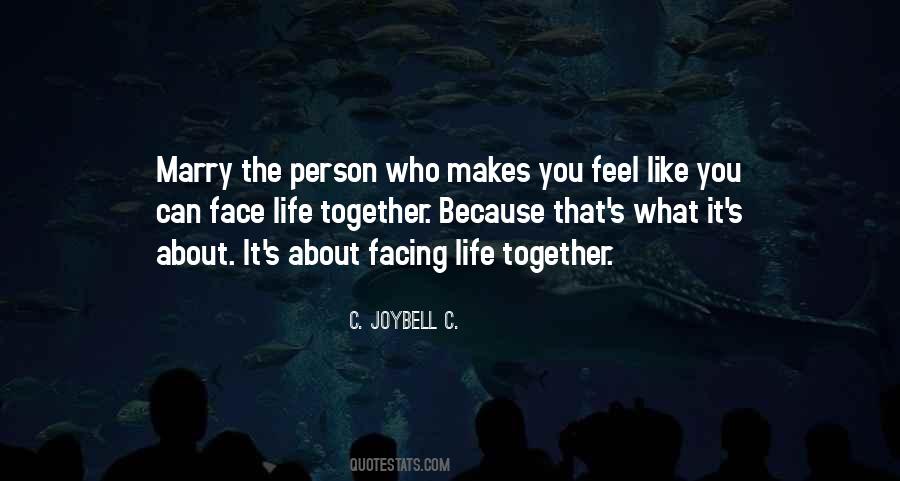 #22. Life and death matters, yes. And the question of how to behave in this world, how to go in the face of everything. Time is short and the water is rising. - Author: Raymond Carver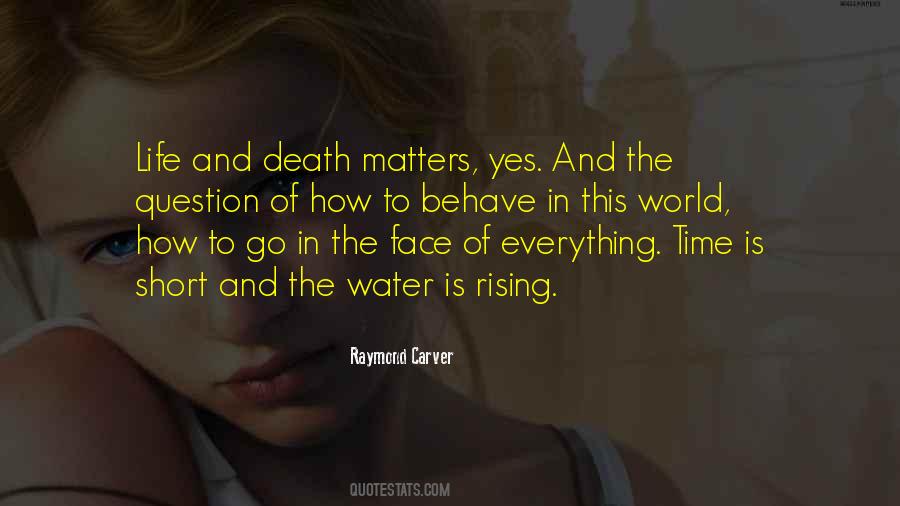 #23. Life can hit you very hard; if he does, you hit him back very hard, bang in the face! And how can you do this? By continuing to travel to your dreams with even more determination! - Author: Mehmet Murat Ildan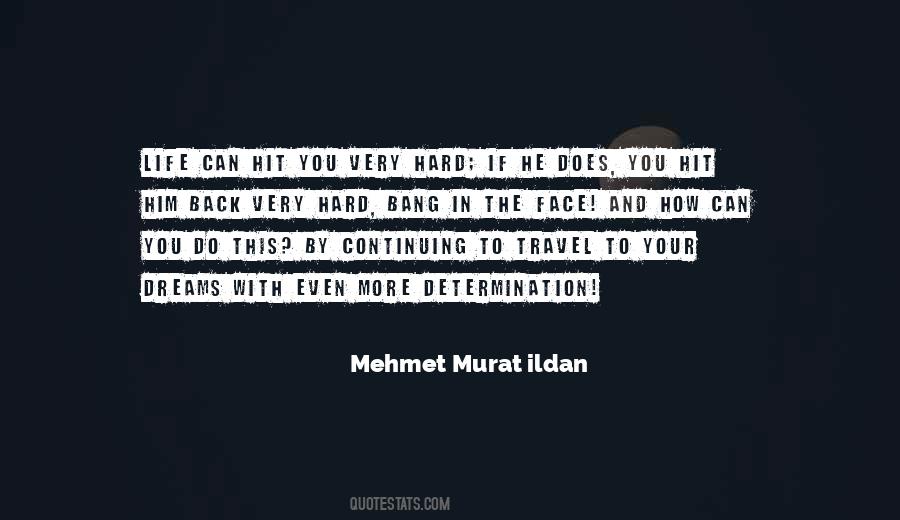 #24. Learn to commit every situation to God, and trust Him for the outcome. God's love for you never changes, no matter what problems you face or how unsettled life becomes. - Author: Billy Graham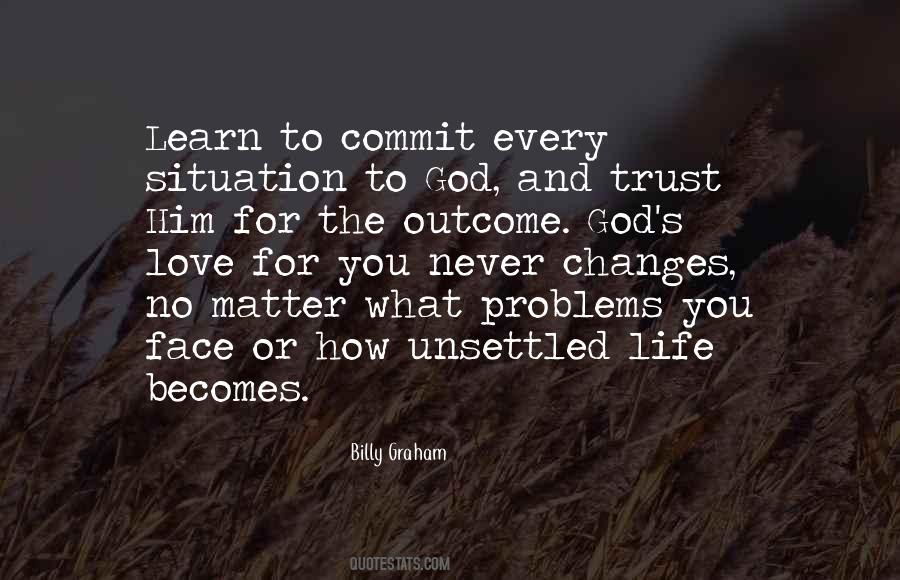 #25. I started visiting schools and talking to kids about bullying and what to do and how to deal with it. I don't think that there is one person who has lived life without being bullied. Everybody gets bullied - whether it's cyber-bullying or to your face or behind your back. - Author: Sammi Hanratty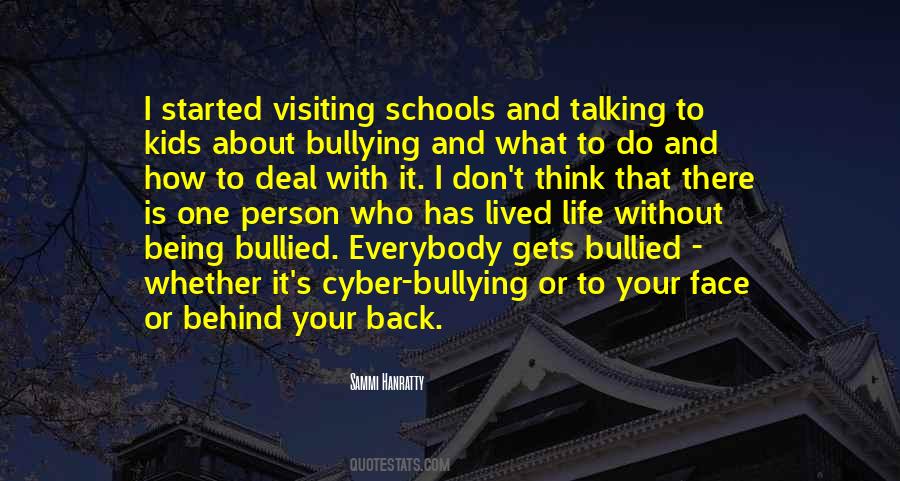 #26. It is easy to recollect the good things of life, the times when one's heart rejoices and expands, when everything is enfolded in kindness and love; it is easy to recollect the fineness of life-how noble one was, how generous one felt, what courage one showed in the face of adversity. - Author: Oliver Sacks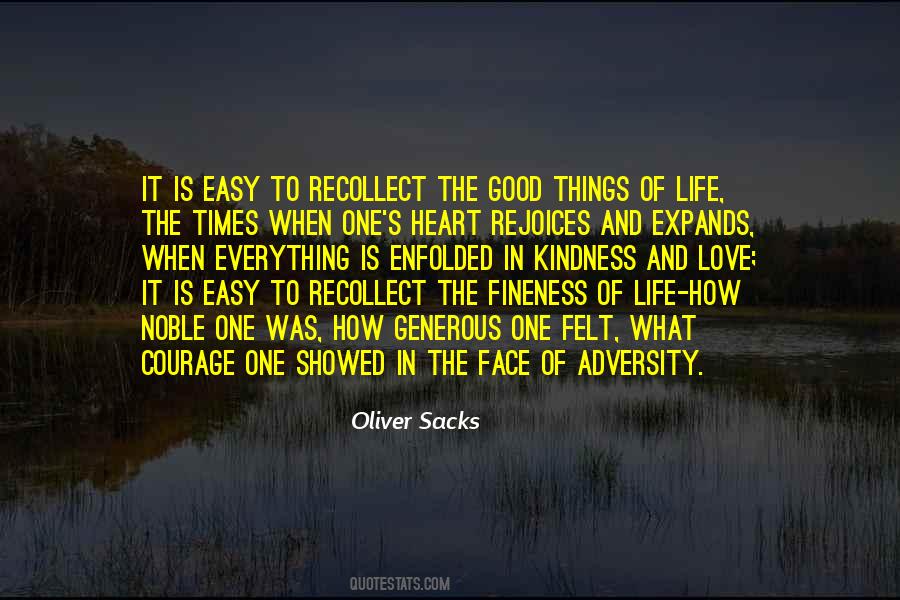 #27. No one will help you when you are left with problems. so plan how to face the crucial situations alone. God doesn't give a problem which you cant solve. - Author: Mohd Riyaz Ali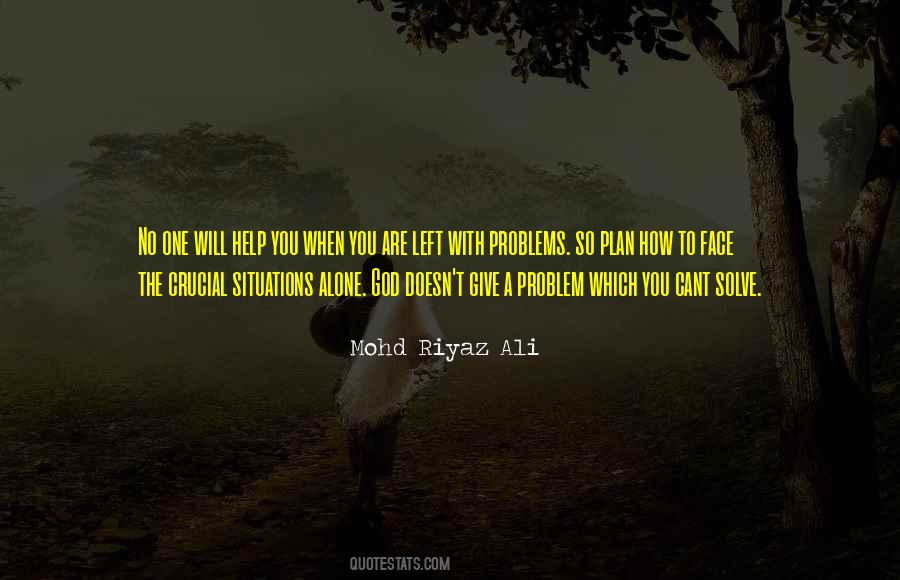 #28. I began going to juvenile prisons. And some of these kids face some very, very tough lives. How do they handle these lives? Do they even know that if their life is bad, that they're still OK? Do they know that? Do they know that someone is thinking the same way that they're thinking? - Author: Walter Dean Myers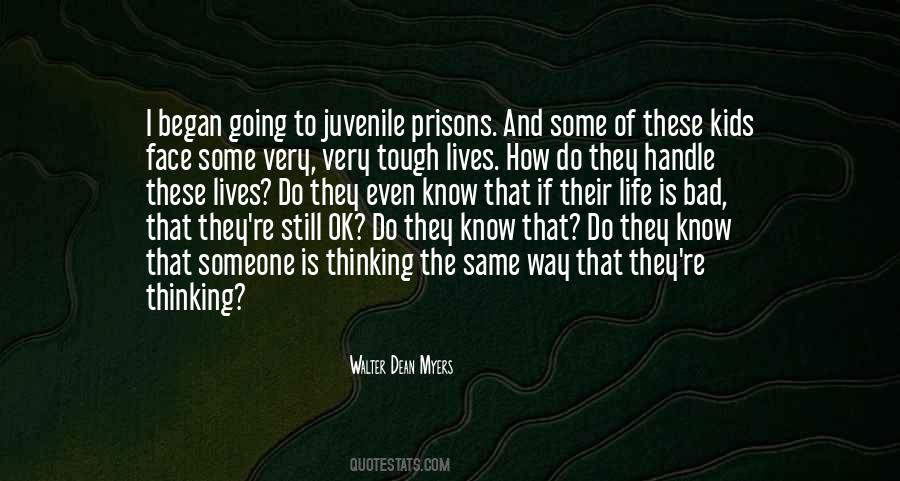 #29. I know it hurts, honey." Mom flipped off the gas stove and wiped her hands on her apron, turning to face me fully. "And it's okay to hurt. Hurting is just as much a part of life as joy, maybe even more important. Falling down teaches you how to stand up." I - Author: Penny Reid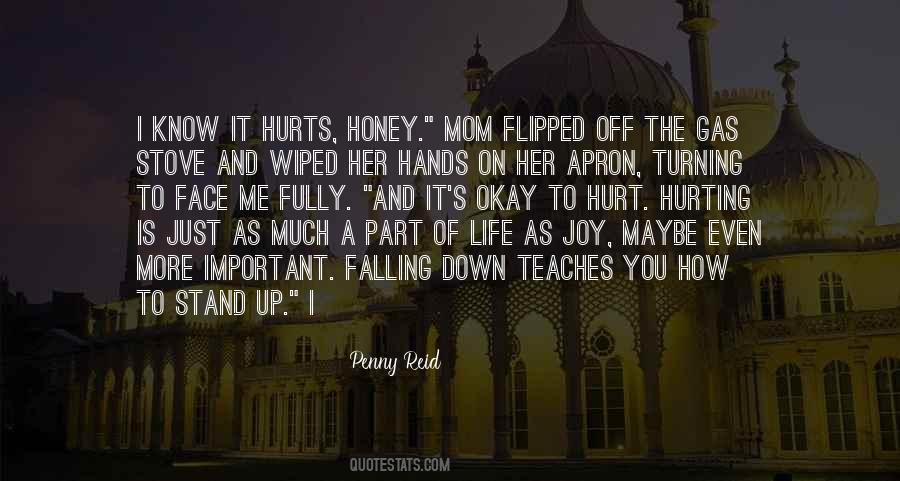 #30. Such is life. Sometimes we do not even want to know how much pain we cause others, for fear of spoiling our own petty pleasures. And when the time comes to face the consequences, it is too late to be sorry. - Author: Menelaos Stephanides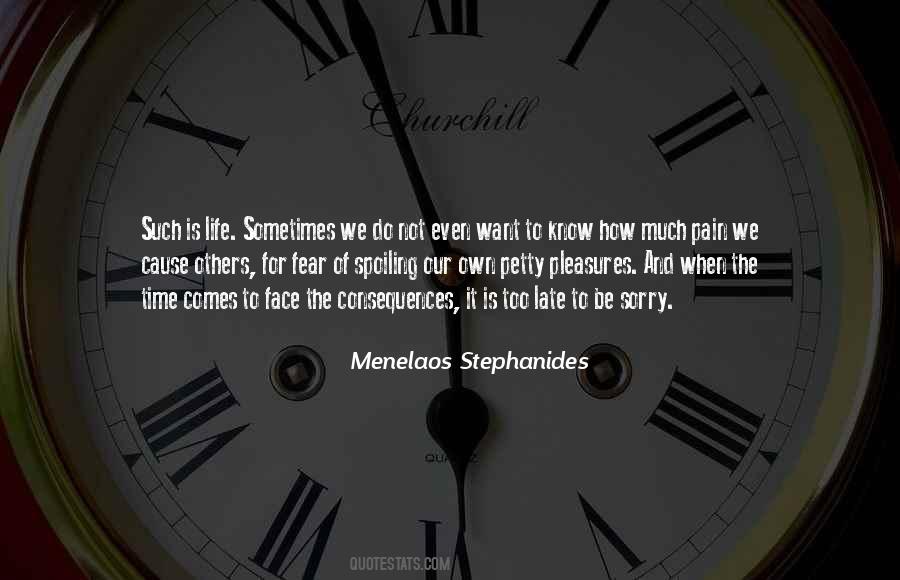 #31. When I returned to partial life my face was wet with tears. How long that state of insensibility had lasted I cannot say. I had no means now of taking account of time. Never was solitude equal to this, never had any living being been so utterly forsaken. - Author: Jules Verne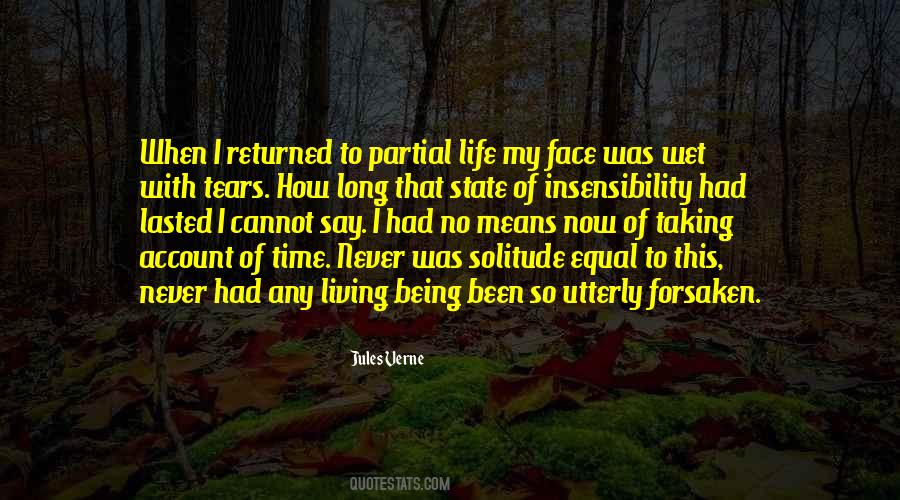 #32. Let's show up to life. Let's prove how beautiful it can really be. Let's face the conflict, redeem it, conquer it, and allow it to mold our
character. Let's participate in what God is doing in the world. - Author: Donald Miller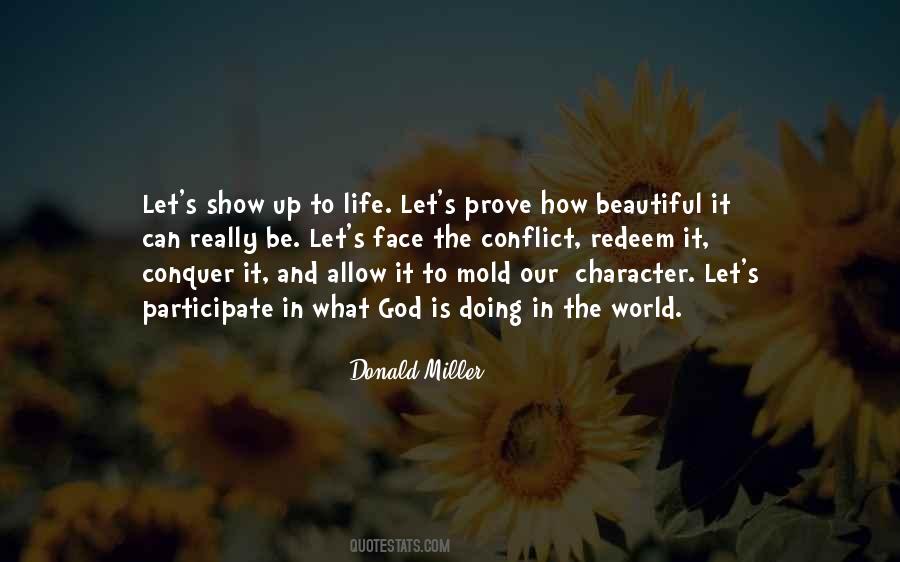 #33. Fallon rolled her eyes. "How am I going to deal with the rest of my life? I'm pretty damn sure if I don't get laid soon, I'm gonna hump his face! - Author: Toni Aleo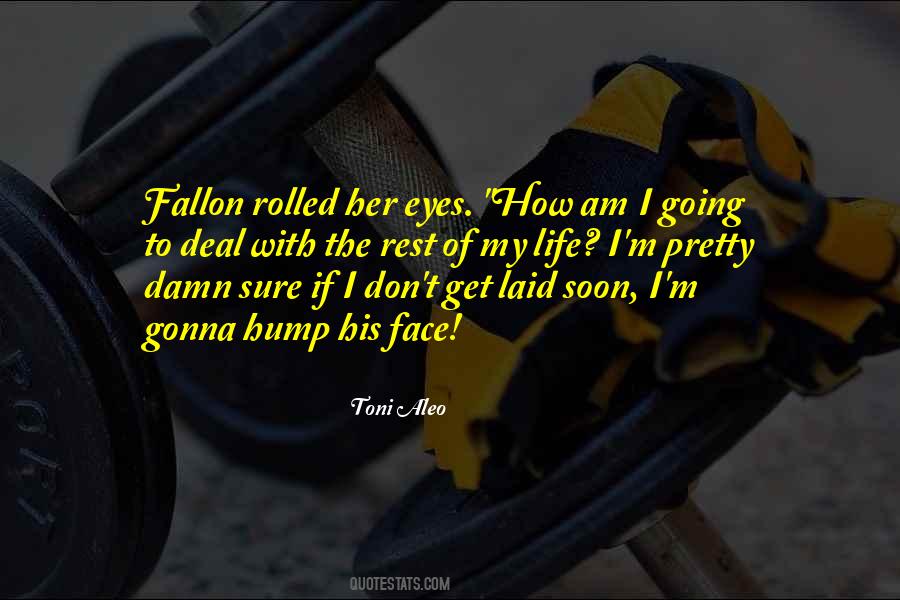 #34. Reminding me how fragile this life is and how easily it can be lost. Compelling me to live and to live well, while I still can.
Because sooner or later, we must all face eternity. - Author: Jessica Khoury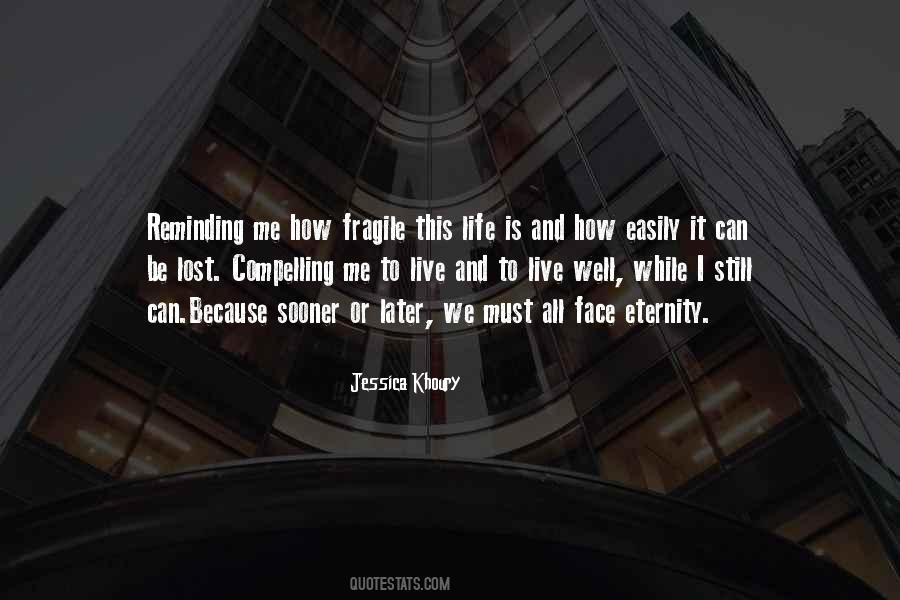 #35. millions are awake enough for physical labor; but only one in a million is awake enough for effective intellectual exertion, only one in a hundred millions to a poetic or divine life. To be awake is to be alive. I have never yet met a man who was quite awake. How could I have looked him in the face? - Author: Henry David Thoreau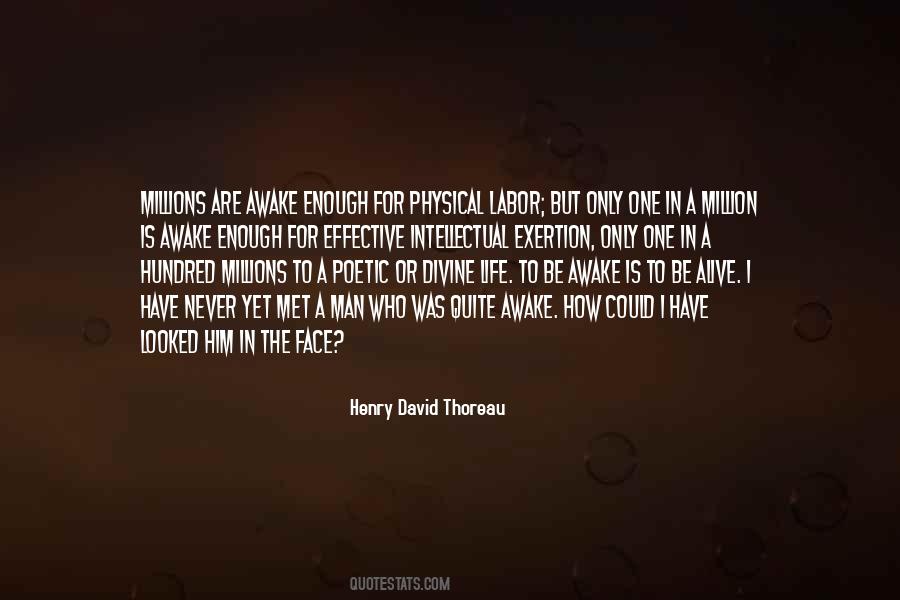 #36. I do believe that when we face challenges in life that are far beyond our own power, it's an opportunity to build on our faith, inner strength, and courage. I've learned that how we face challenges plays a big role in the outcome of them. - Author: Sasha Azevedo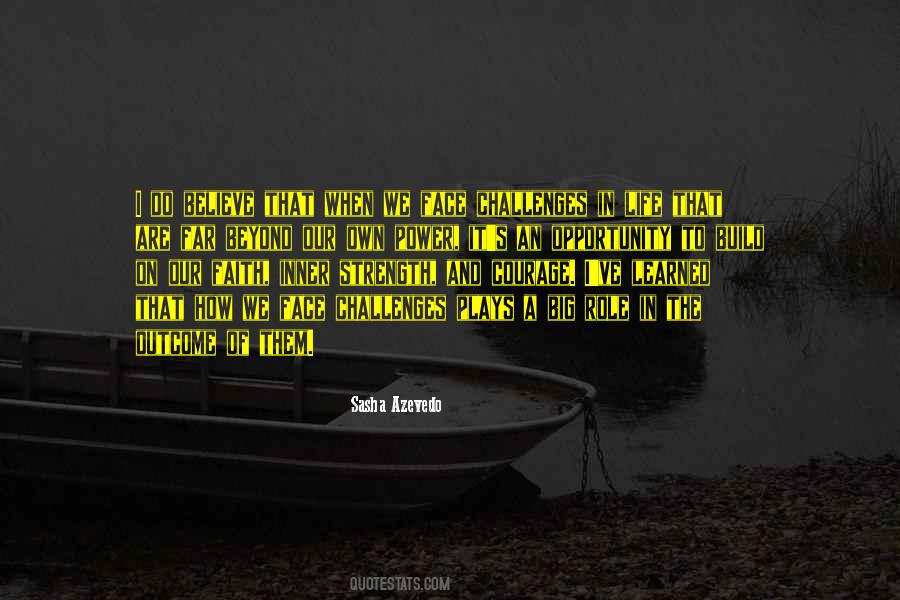 #37. I love you because I don't know how to not love you. Becuase I can't imagine my world without you, and I don't ever want to have to face that again. Because you are sweetness and light and life, and you see me as the man I could be not as the man I am. - Author: Catherine Gayle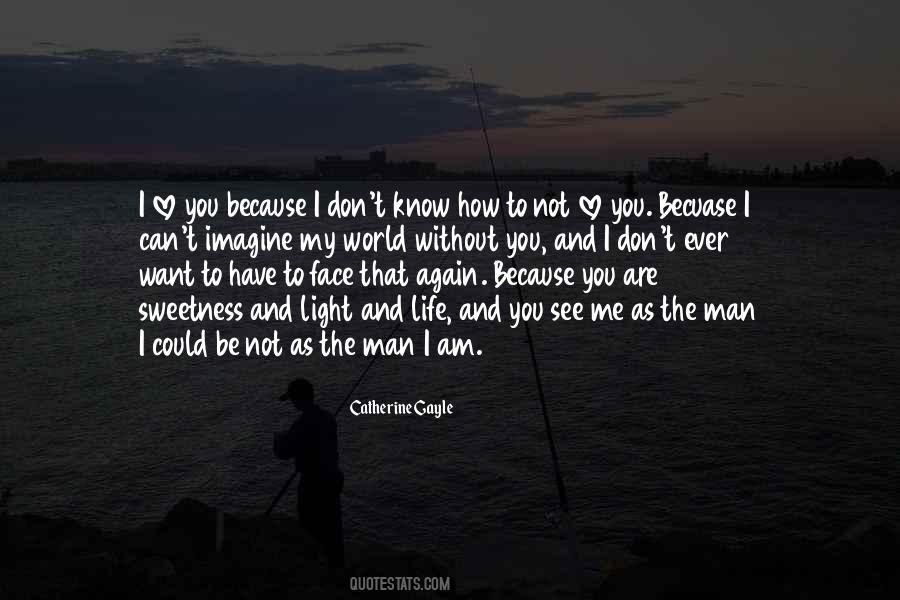 #38. Life gets easier when you are ready to face the stress and storms of life. - Author: Debasish Mridha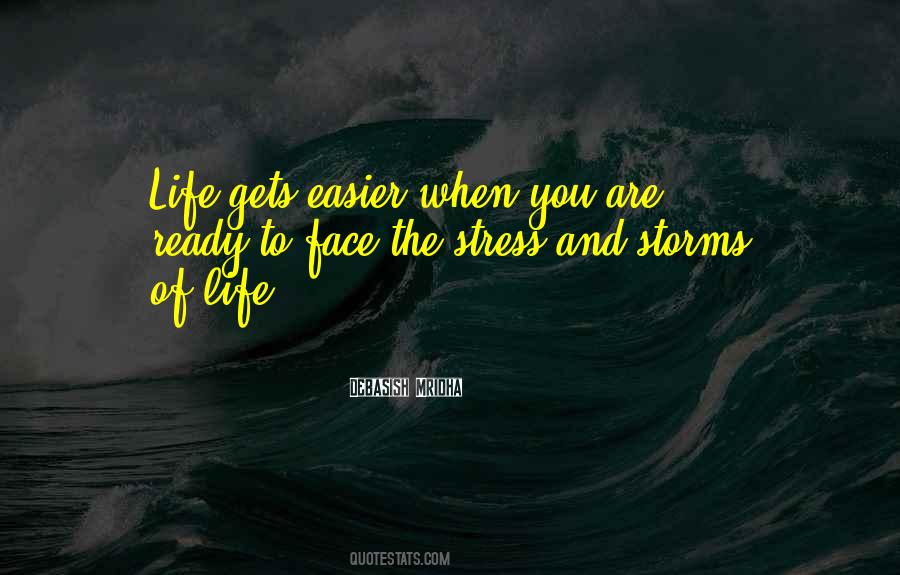 #39. How many wives have been forced by the death of well-intentioned but too protective husbands to face reality late in life, bewildered and frightened because they were strangers to it! - Author: Hortense Odlum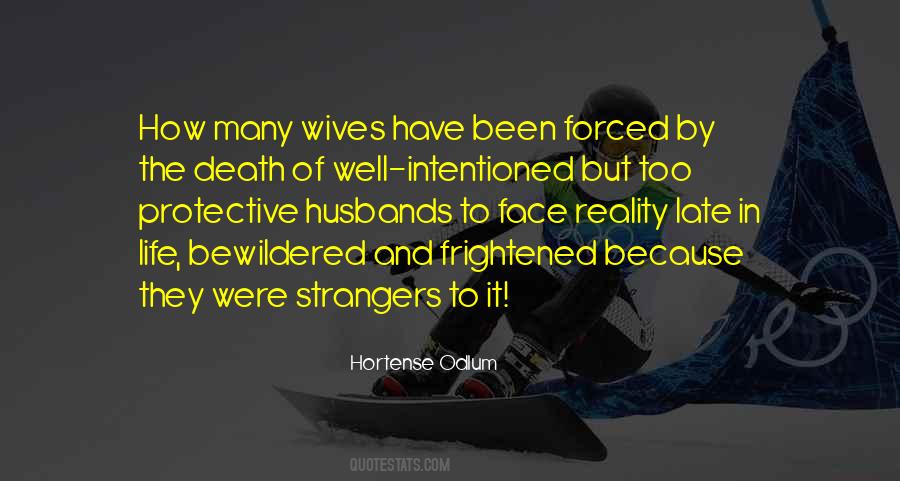 #40. The thing about being catapulted into a whole new life
or at least, shoved up so hard against someone else's life that you might as well have your face pressed against their window
is that it forces you to rethink your idea of who you are. Or how you might seem to other people. - Author: Jojo Moyes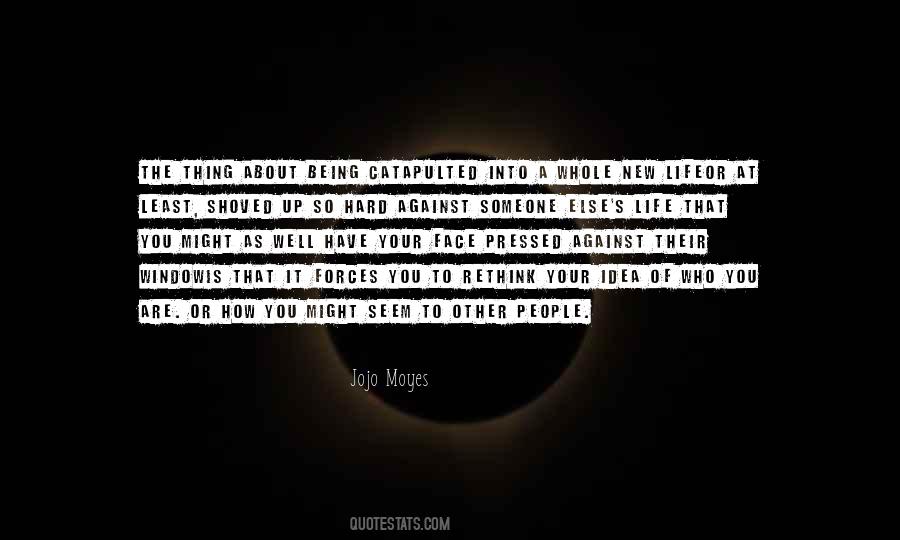 #41. Oh, middle age, how awful. He was used to having to look for his lost beauty in his face, but not in his body that had been so tall and strong all his life. - Author: Lauren Groff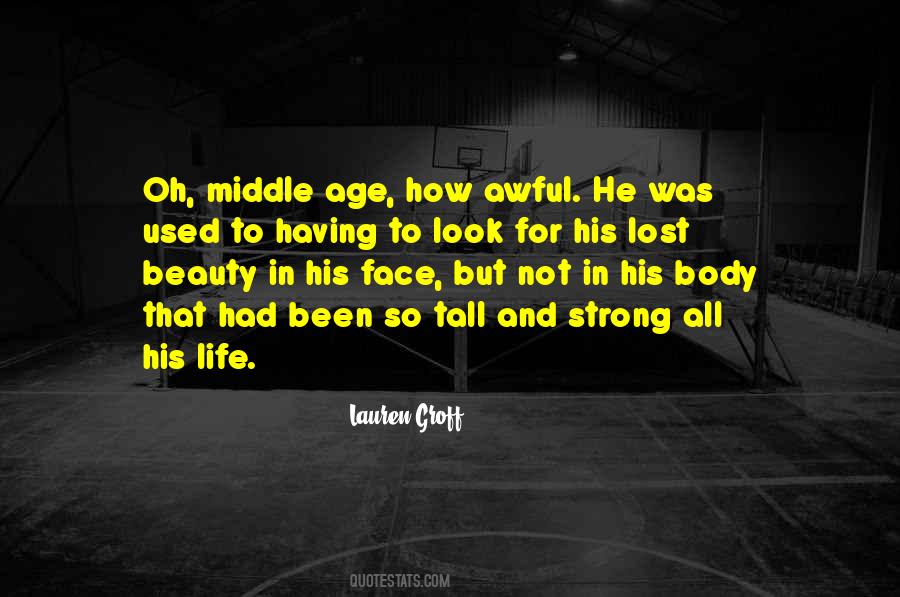 #42. Of course, music is still a passion for me, and my new sort of career doing radio is also a passion, but definitely to be able to put a smile on someone's face. Or just waking up every day, trying to figure out how I can change a person's life for the better. - Author: Raheem Devaughn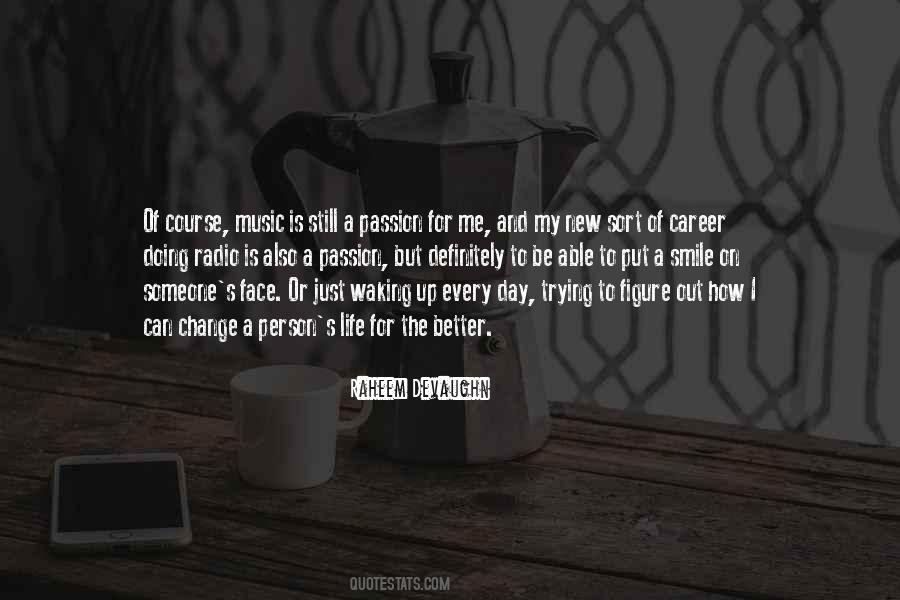 #43. Paul turned her to face him. I see a breathtaking woman scared to death to see how beautiful she actually is, a woman refusing to live because she has spent her entire life feeling inadequate in her appearance, a woman who has nothing to be ashamed of. - Author: Abby Niles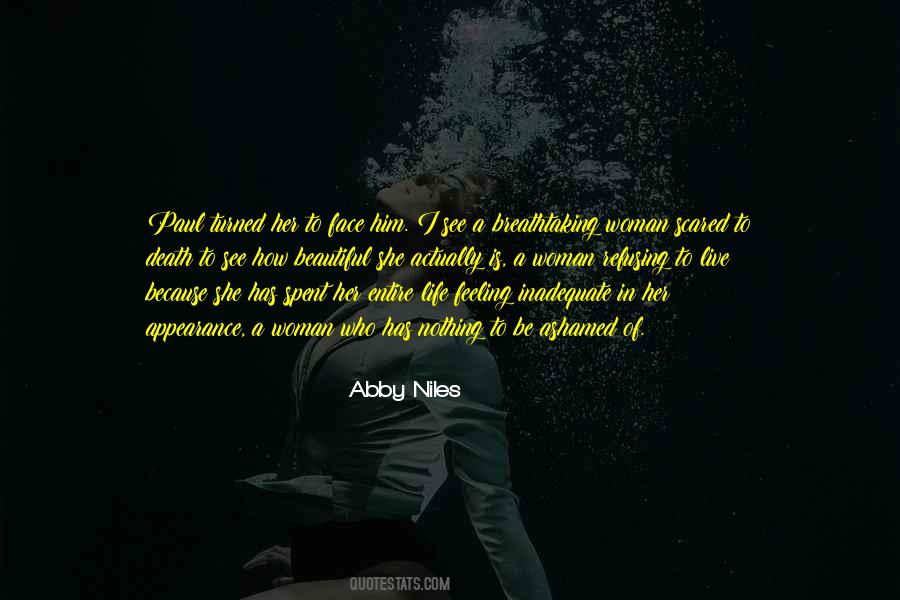 #44. Life is a series of problem-solving opportunities. The problems you face will either defeat you or develop you depending on how you respond to them. - Author: Rick Warren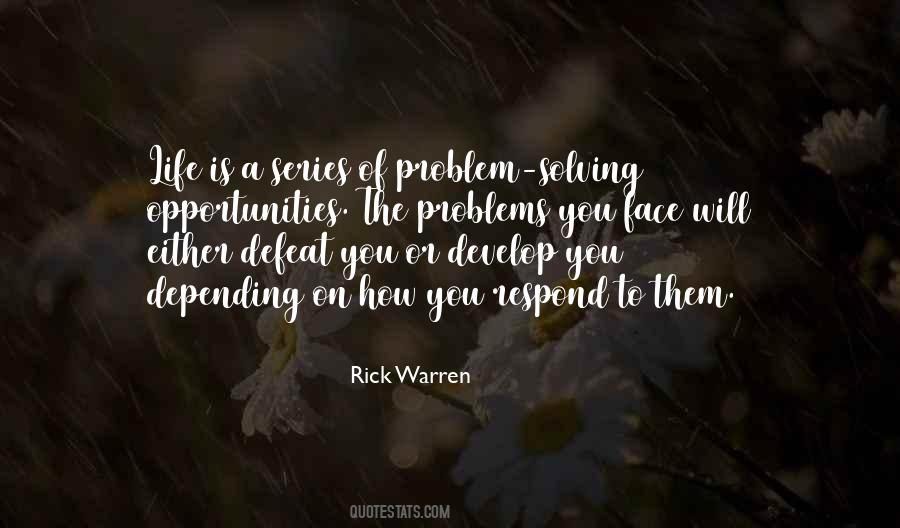 #45. If you knew you were
going to lose your memory
but you could choose five things
you'd never forget, what would they be -
a certain face, a taste, a scent,
a touch; how deep
in this, the middle
of your life? - Author: Kristen Henderson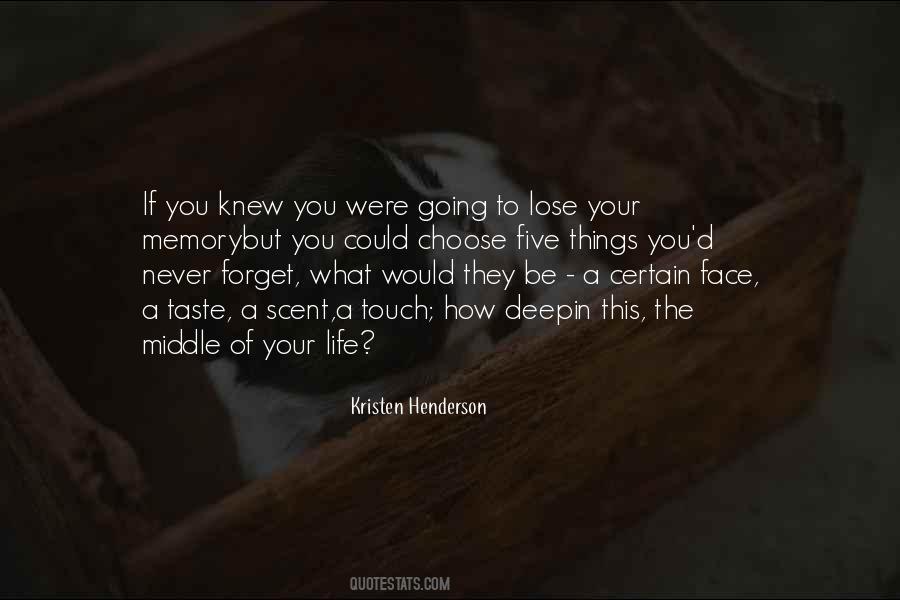 #46. Christianity is not about how to escape from the difficulties of life - it is about how to face the difficulties of life. - Author: Alistair Begg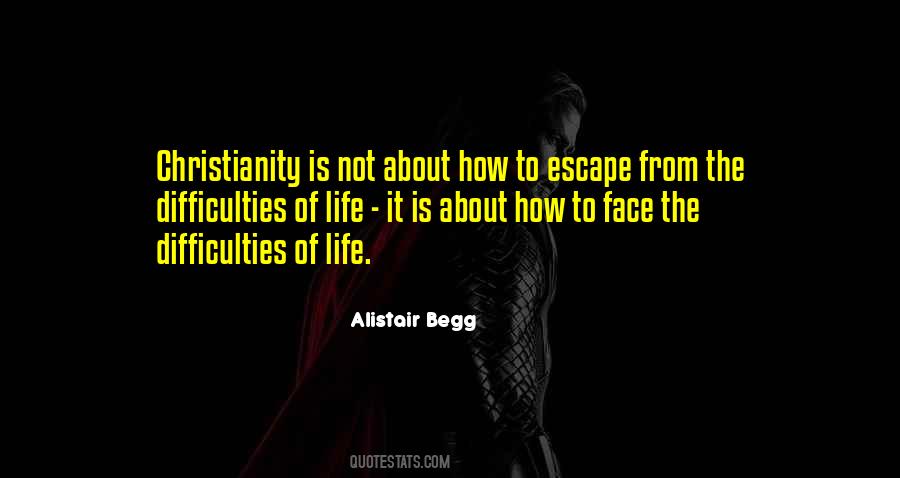 #47. Too many choices, that's the problem. Sometimes you get to a point, you know?"
She looked at his face. His eyes seemed distant. "What do you mean?"
He shook his head. "You wake up one day and nothing's the same. It's like you're in the wrong life or something. I don't know how to explain it. - Author: Elizabeth Brundage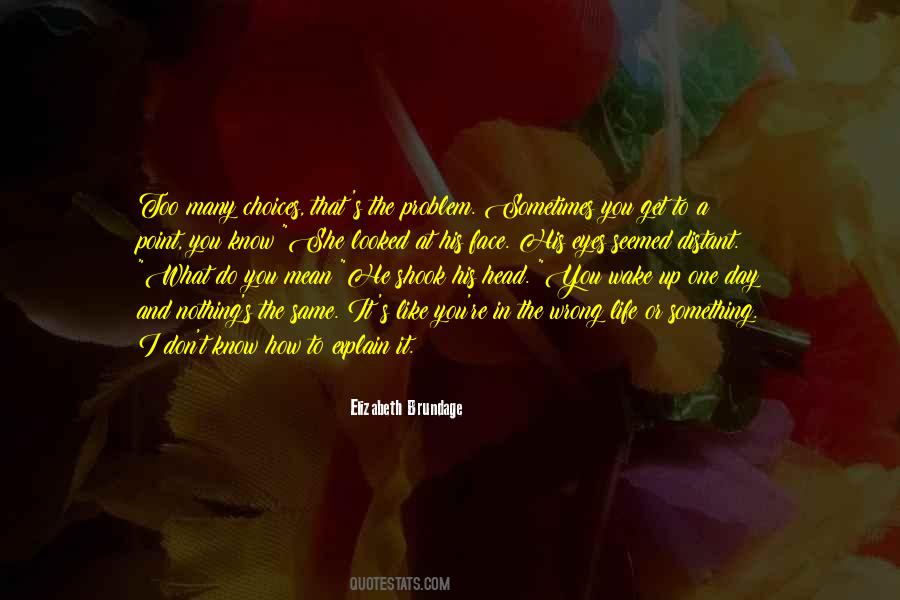 #48. I still don't know how to live my life except on my haunches at the feet of Jesus, eyes fixed on his face. Nothing else "works." No formula, no method makes me feel so fully human and alive as the radical act of living loved. - Author: Sarah Bessey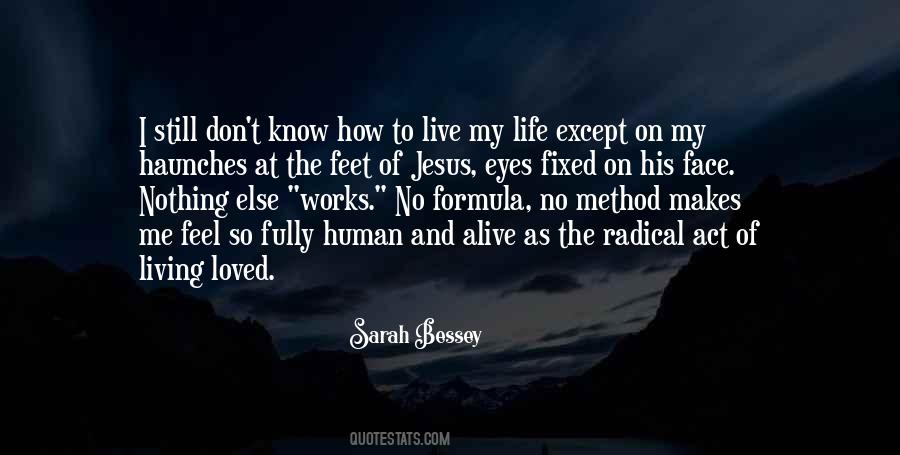 #49. With so much unknown in this life, how little it takes for a face, a grove of trees, an outcropping of stone to become familiar. - Author: Larry Watson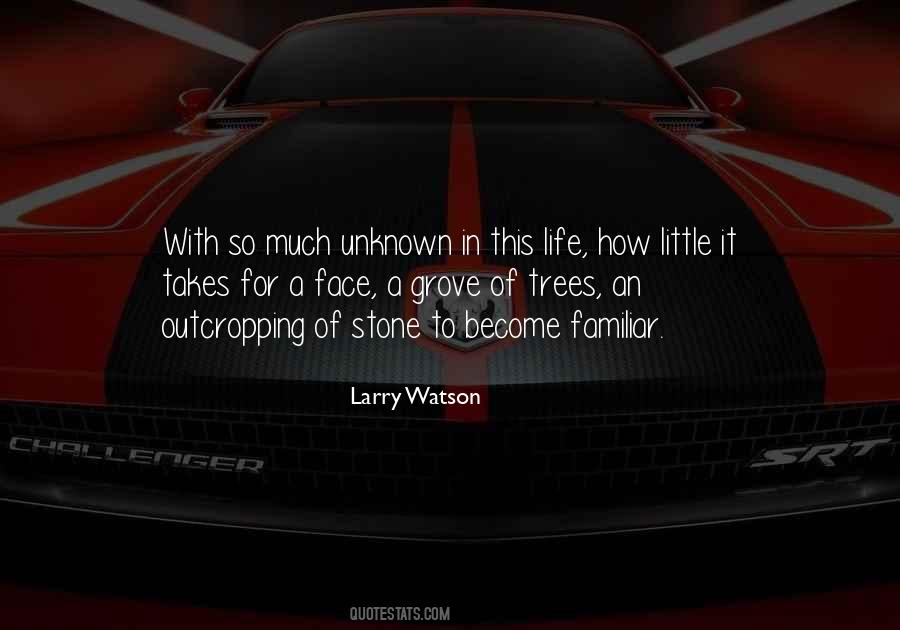 #50. I've demonstrated an impressive resilience in the face of valuable life lessons, and the main thing I seem to have learned from this one is that I am capable of learning nothing from almost any experience, no matter how profound. - Author: Tim Kreider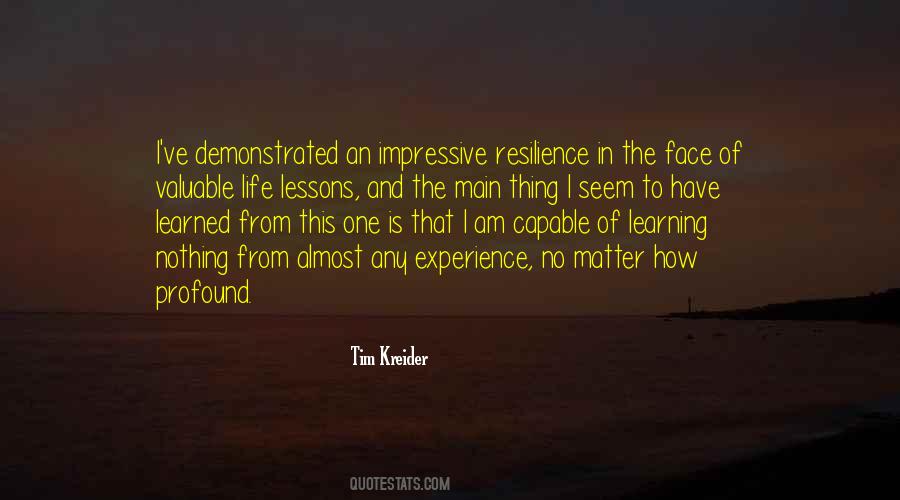 #51. Life is about challenges and how we face up to them and the attitude we take into every day life so hopefully we'll be able to motivate people to do more with their life. - Author: Martina Navratilova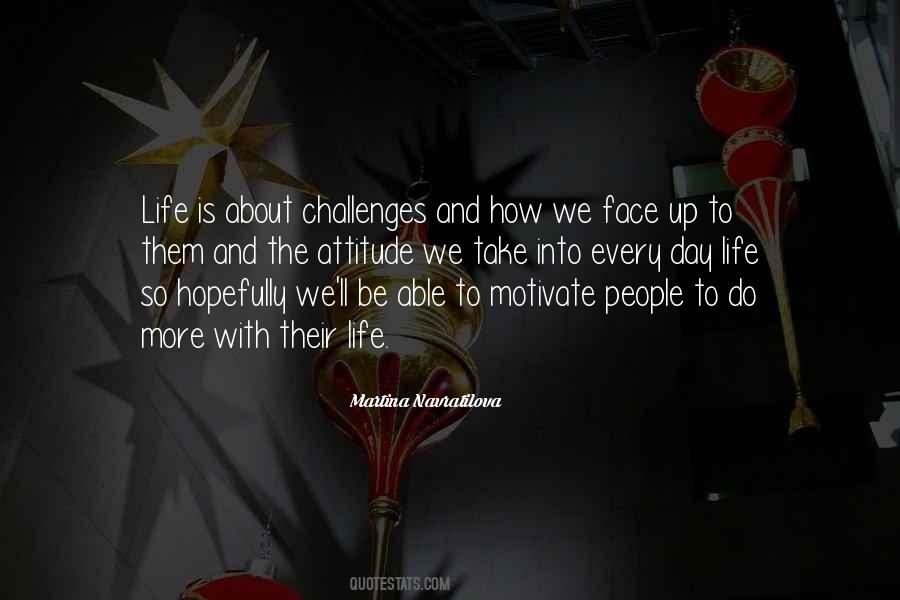 #52. I am young now and can look upon my body and soul with pride. But it will be mangled soon, and later it will begin to disintegrate, and then I shall die, and die conclusively. How can we face such a fact, and not live in fear? - Author: Jack Kerouac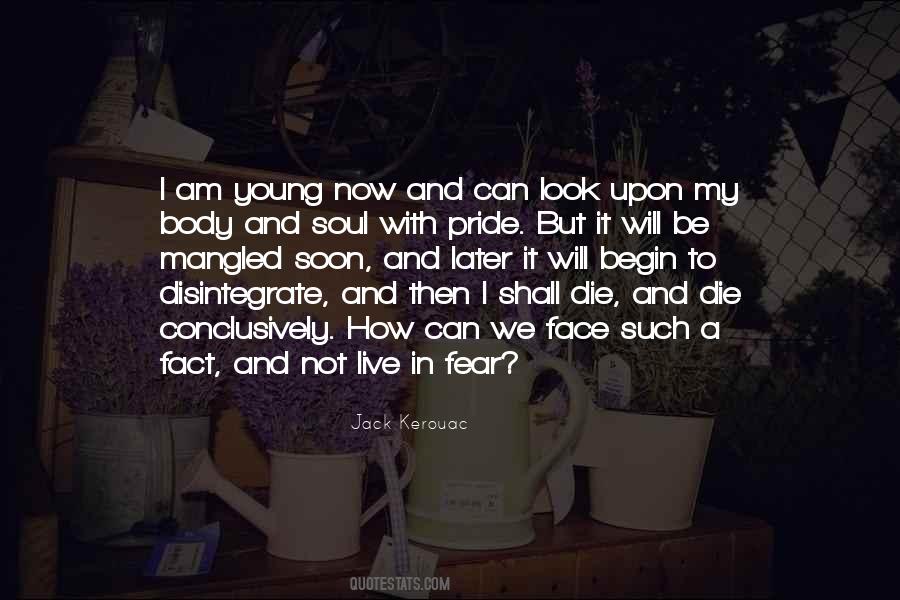 #53. Thank God it's not, or your father would never have been conceived." "Ew! Grandma, ew! Don't say things like that! How can you say things like that with your face? Your actual grandma face? You're supposed to be all innocent and baking cookies and forgetting that sex was ever a part of your life. - Author: Seanan McGuire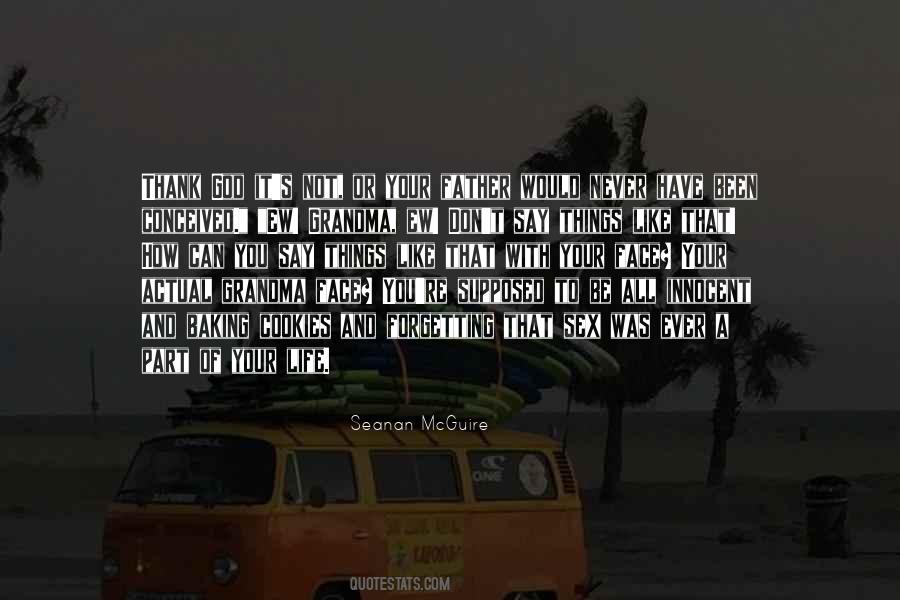 #54. Nobody likes these things life hands us. But part of becoming a man is understanding how to face them head on instead of running all the time. It's time you learned how to do that. - Author: Mira Jacob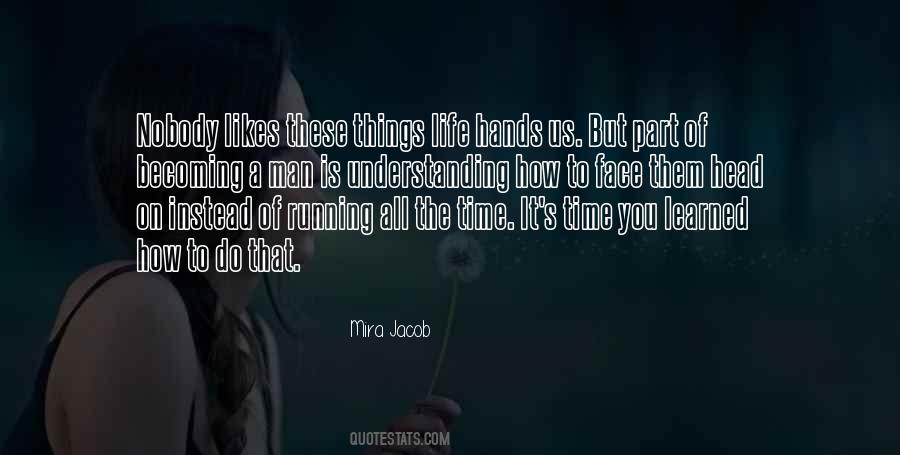 #55. She was forced to face how cold and unlike her fantasy her own marriage was? Or did she suddenly just get tired of living this long-ass life? Joella - Author: Dennis Lehane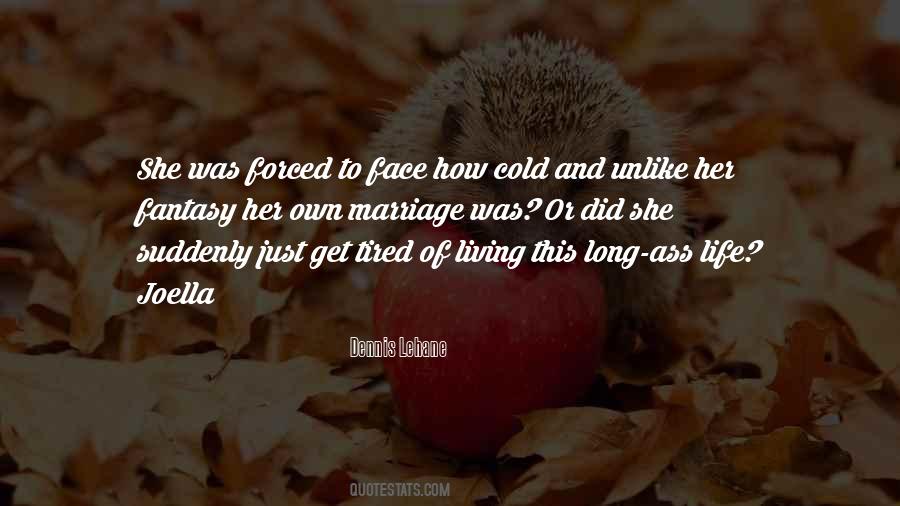 #56. One cannot choose how one's life begins but one can choose to face the end with courage - Author: Jet Li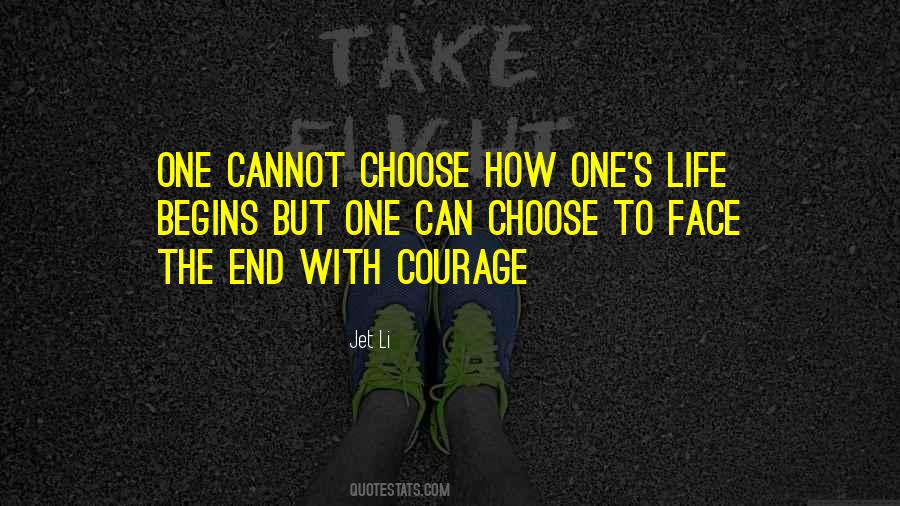 #57. It is not where you start out in life that counts the most, it is how you choose to face it. - Author: Angelina Jolie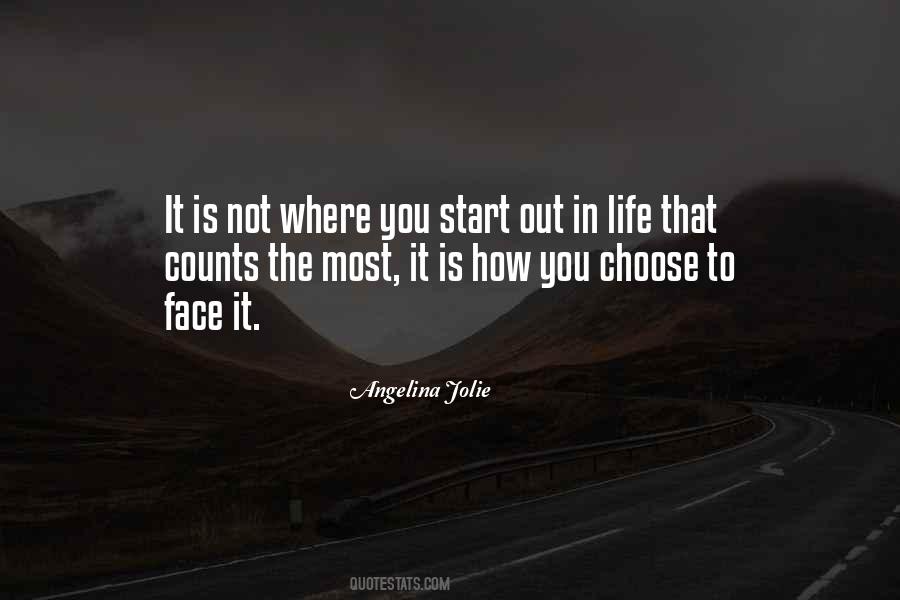 #58. Even under normal conditions, how we can distinguish various events, various experiences, and be able to reproduce it later is, of course, a very interesting question and, I think, one that we face in day to day life. - Author: Susumu Tonegawa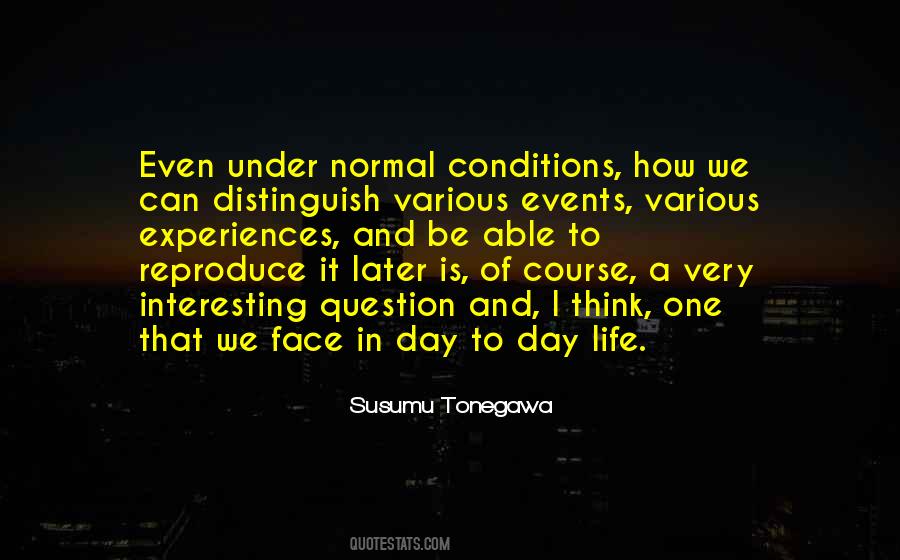 #59. It is never too late to begin rebuilding, Though all into ruins your life seems hurled; For see! how the light of the New Year is gilding The wan, worn face of the bruised old world. - Author: Ella Wheeler Wilcox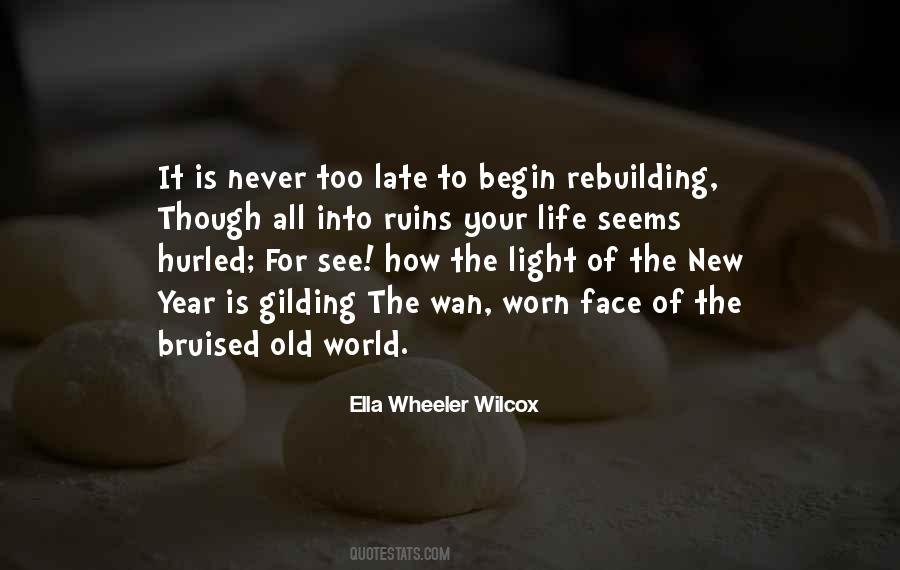 #60. When we face our fear of death and slow down our busy lives, we come to realize our relationships are precious, a part of life's foundation. Knowing this fact helps us to understand that death's true purpose is to teach us how to live. - Author: Molly Friedenfeld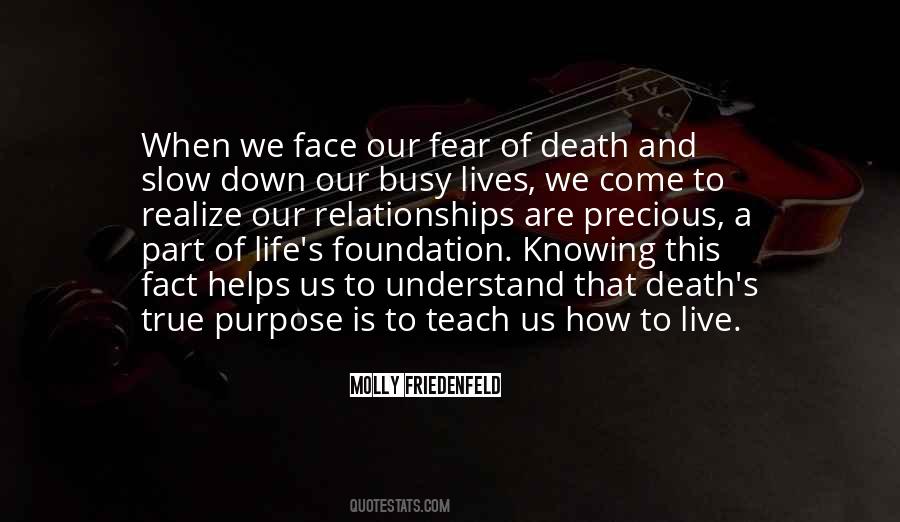 #61. You have no reason to be scared. I would protect you with my soul." He cups my face. His hands are warm despite the cold. "You remind me of how precious life is. - Author: Allison Van Diepen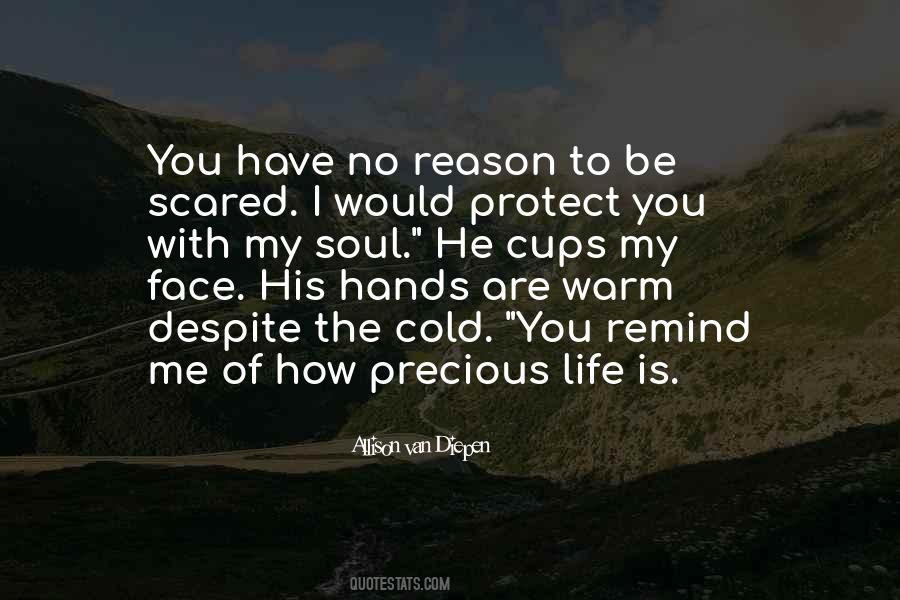 #62. The problem isn't that you haven't run far or fast enough. The problem is that you run at all. You must stop, amore, and face your demons. It is time for you to take your life into your own control and put these things down for good. That is how you will be free. - Author: Ashly L. Evans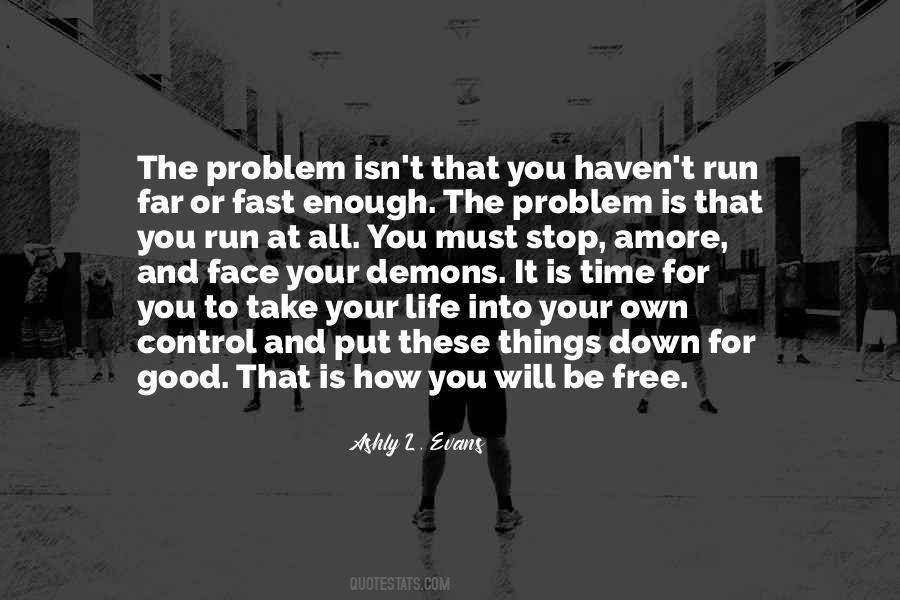 #63. Being an immigrant and staring life over, you learn to be a survivor and how to face your challenges and basically overcome them. And that has been a great skill set that I've developed and has helped me in my career. - Author: Anousheh Ansari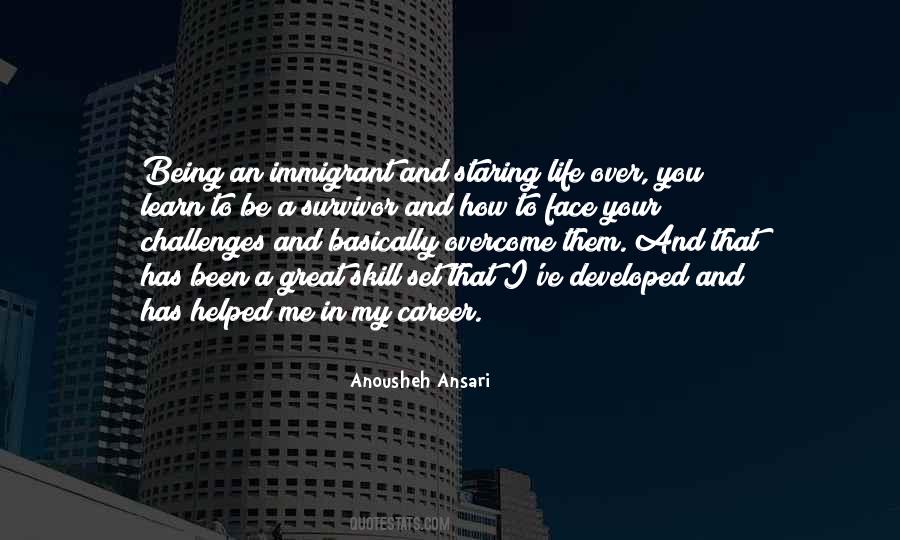 #64. Struggle and pain aren't something to fear. We will all face trials while here on earth. What matters is how we're dealing with the challenges that come our way. Do we let them mold us into stronger, better people, or do we grouse and complain about our lot in life? - Author: Colleen Coble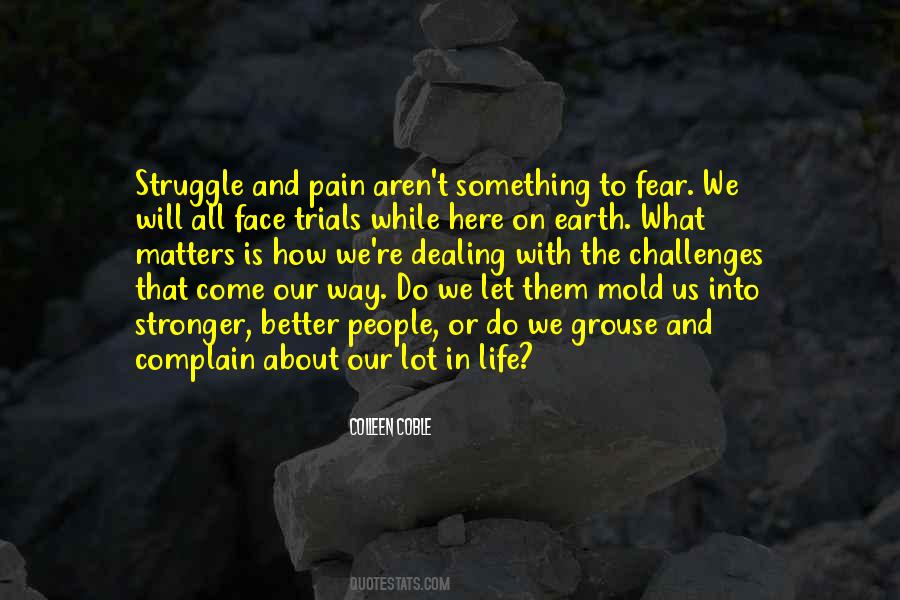 #65. Ain't it funny how a moment could just change your life, and you don't want to face what's wrong or right. Ain't it strange how fate can play a part, in the story of your heart. - Author: Jennifer Lopez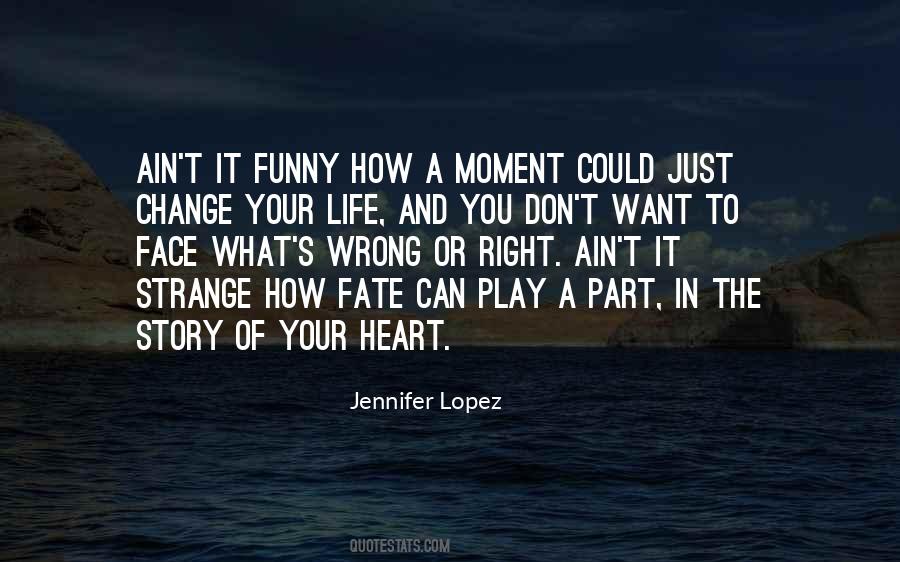 #66. We need to live in the now of life, it can't be about how much we suffered yesterday or what we might face tomorrow. It's about today. And today was good"

Willow in To Dance With Dolphins - Author: Bonnie Leon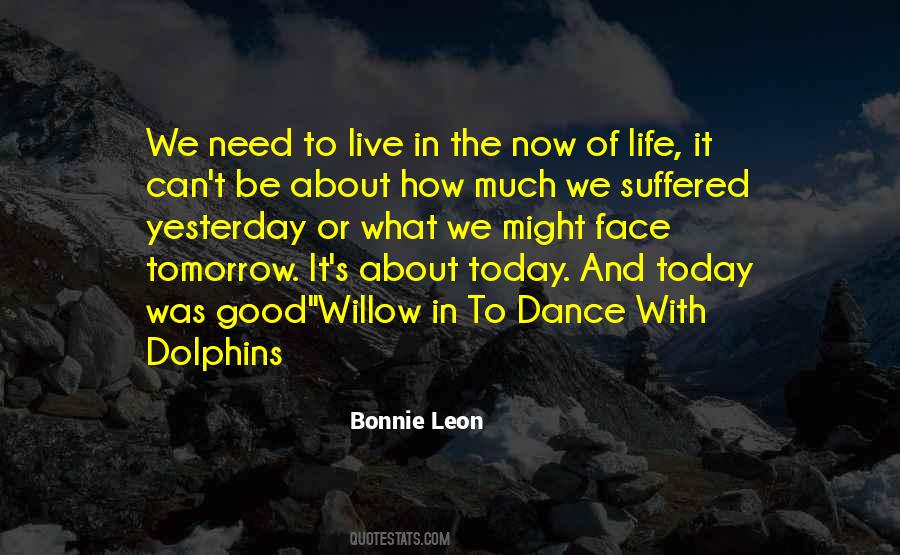 #67. Jiu-Jitsu is like a philosophy. It helps me learn how to face life. - Author: Helio Gracie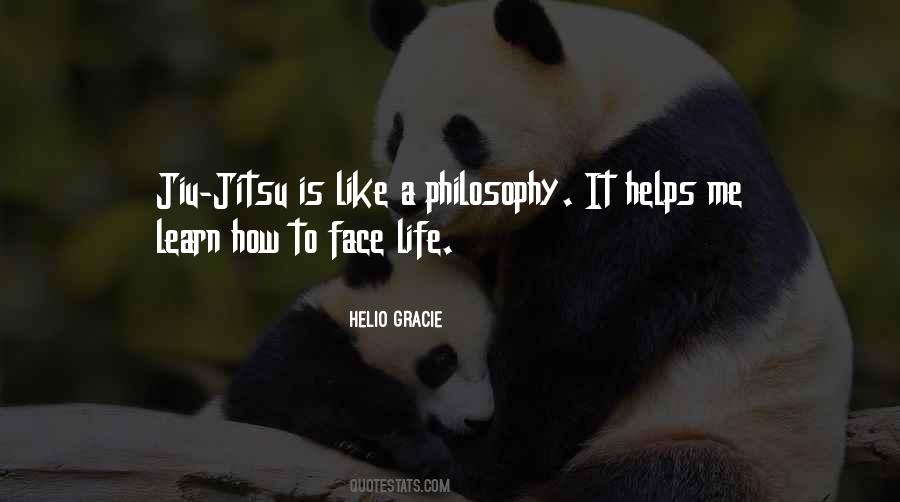 #68. I let ya in - into my life ... my death ... my heart." He reached up like he was going to touch my face. "And now I don't know how to get ya out. - Author: Janae Mitchell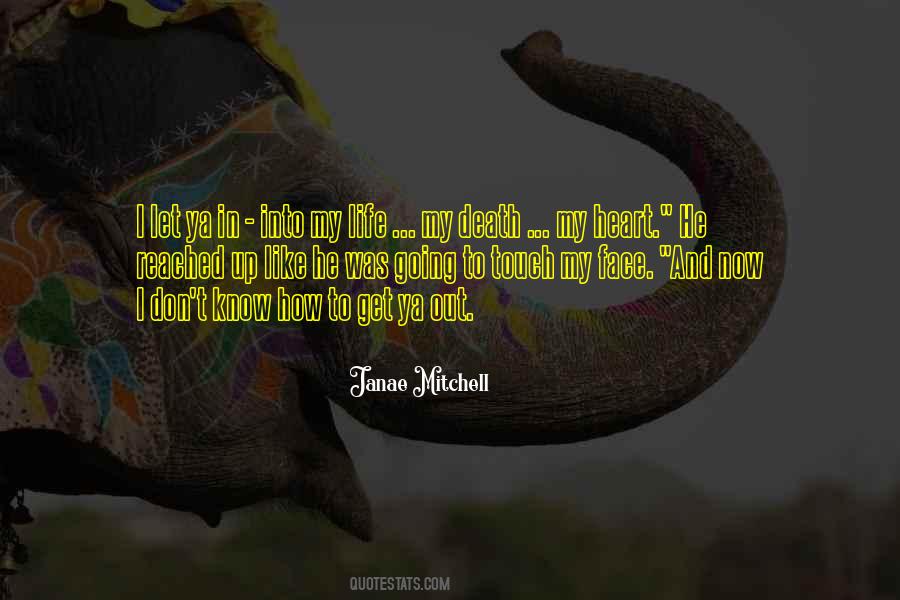 Famous Authors
Popular Topics