How Do You Feel Famous Quotes & Sayings
List of top 100 famous quotes and sayings about how do you feel to read and share with friends on your Facebook, Twitter, blogs.
Top 100 Quotes About How Do You Feel
#1. I placed my hand on his chest. "You don't need to worry about Reece."
"I know, I know. He's nothing compared to my magnificence." His fingers stroked mine and his eyes softened. "But just out of curiosity, how do you feel about getting my name tattooed on your forehead? - Author: Kylie Scott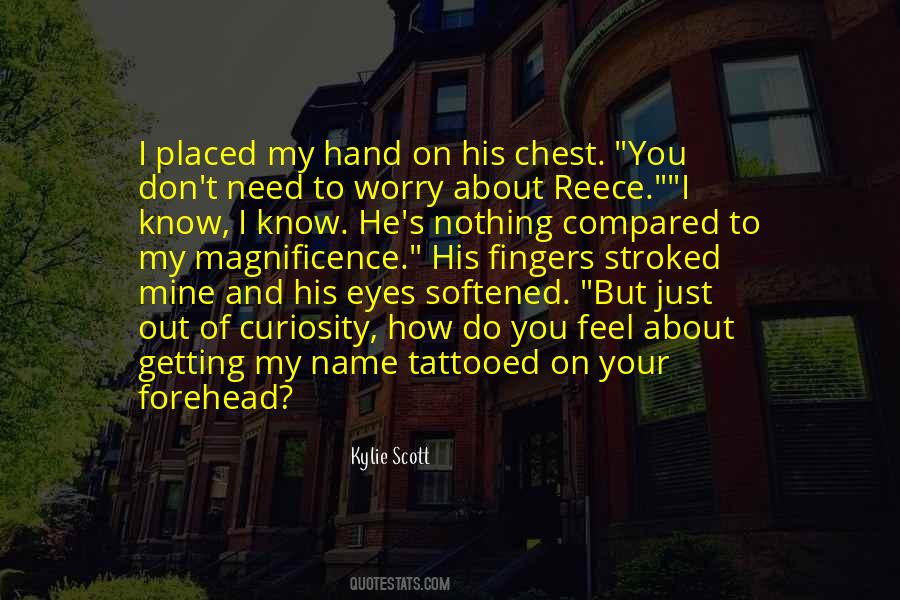 #2. How do you know what a rock star feels like, Ada May? Have you ever been a rock star? I don't think so,' Beth Ann said.
'I was just guessing.'
'Well, not me. I'm not saying I feel like something when I don't have any idea what that feels like and neither do you. - Author: Jodi Thomas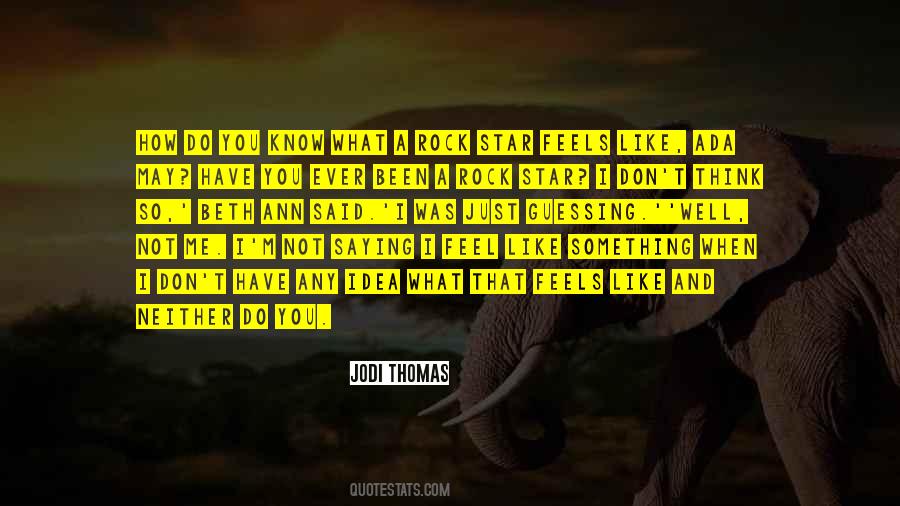 #3. I always feel in a funny place when I'm really asked to inform people, so I just try to take the more absurdist route - like, "this is how you could do it, but it's actually turning into a cat now. This might happen at home I guess, but it probably won't." - Author: Thu Tran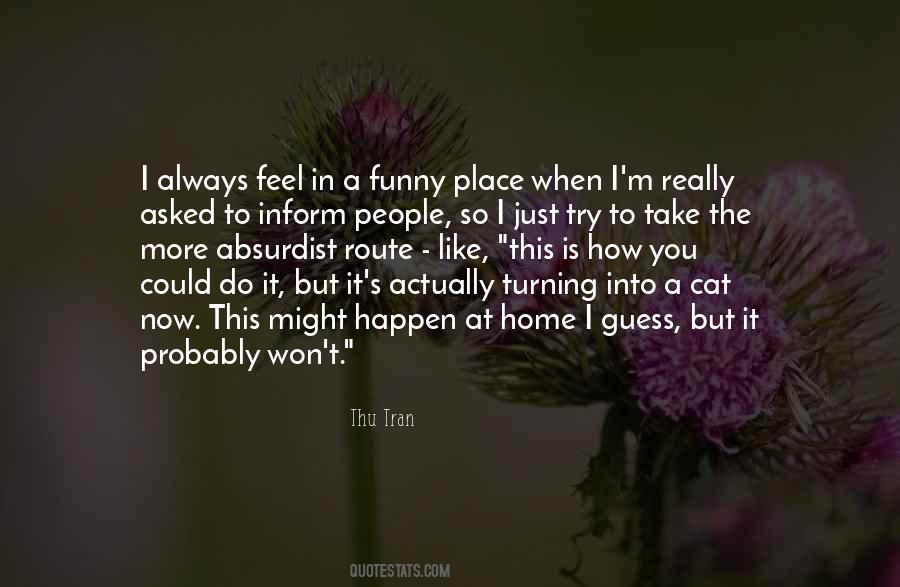 #4. How do you feel about vaporizing or slow,
agonizing radiation sickness?"
"I usually don't think in those terms. - Author: Cynthia Joyce Clay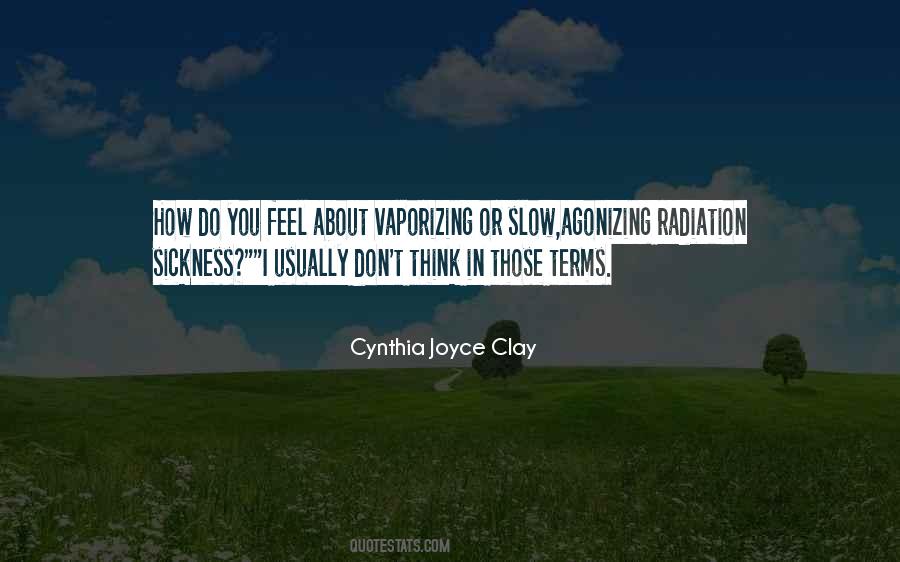 #5. I think I've finally worked out how to feel good about life. Every time you see someone's bright-and-shiny, remember: They have their own crappy truths too. Of course they do. - Author: Sophie Kinsella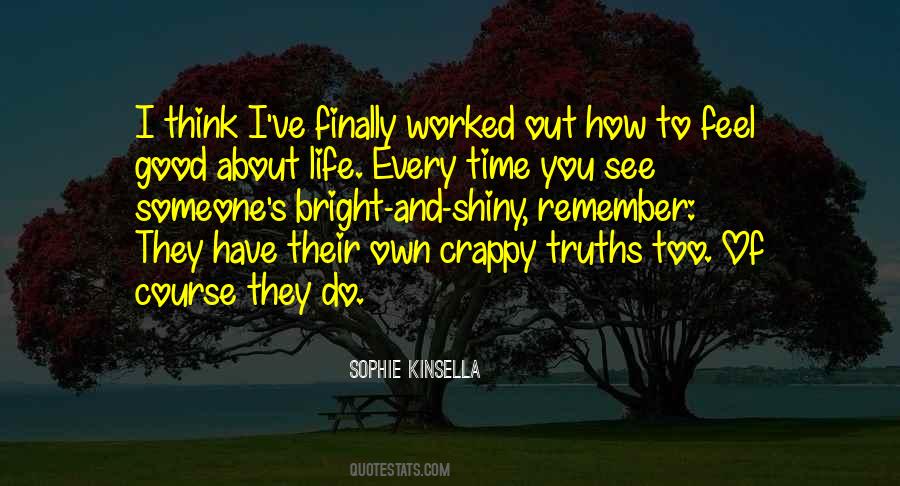 #6. How do you find happiness in a body like yours ... like mine? How do you find courage to follow anything anywhere if you don't feel like you fit in the world? - Author: Jennifer Weiner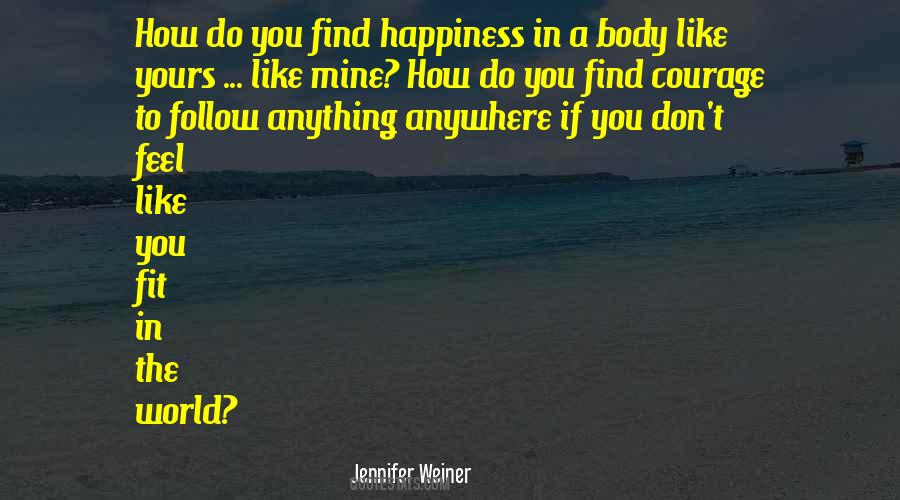 #7. It really helps you to go through difficult situations by just thinking about it as being a big amount of work which you have to solve how to do. For example, I don't feel very inspired when I act, I just act. That's it. - Author: Isabelle Huppert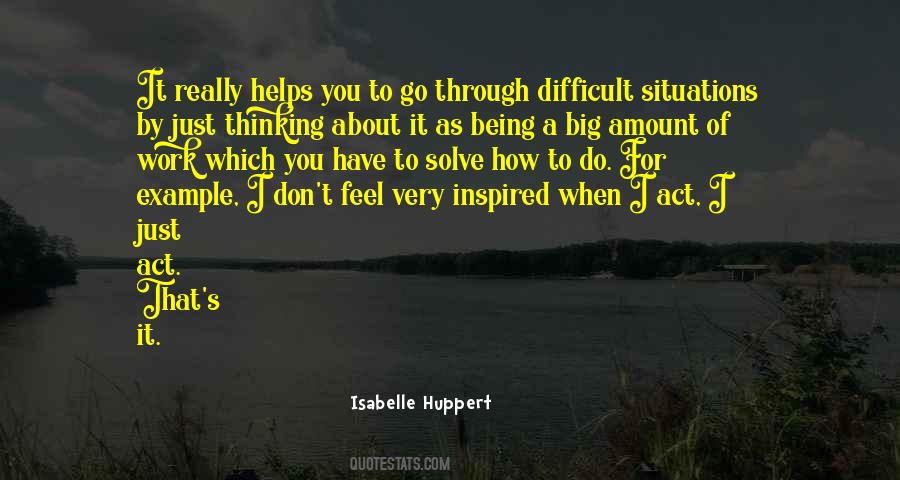 #8. People will not remember what you say. People will not remember what you do. They will always remember how you made them feel.
Maya Angelou... - Author: Mollie Bickle Cardwell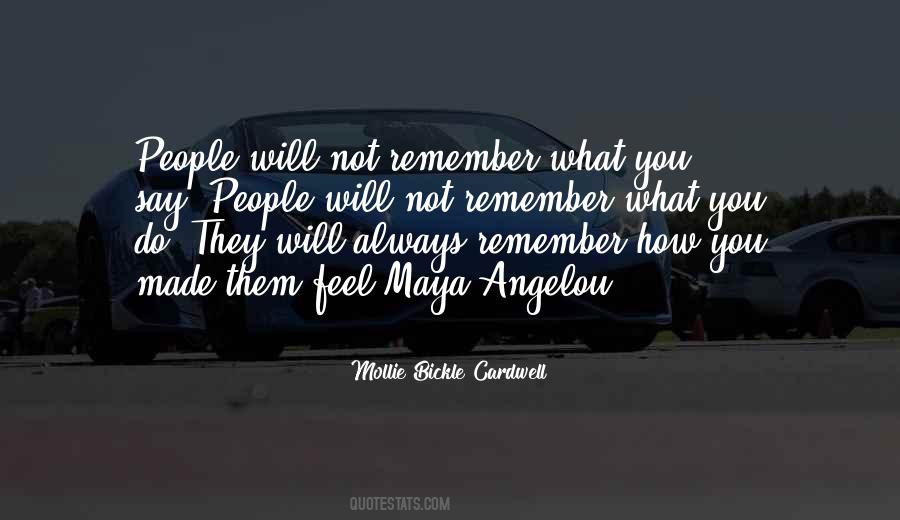 #9. When you have a major loss in your life, the first thing you need to do is tell God exactly how you feel. - Author: Rick Warren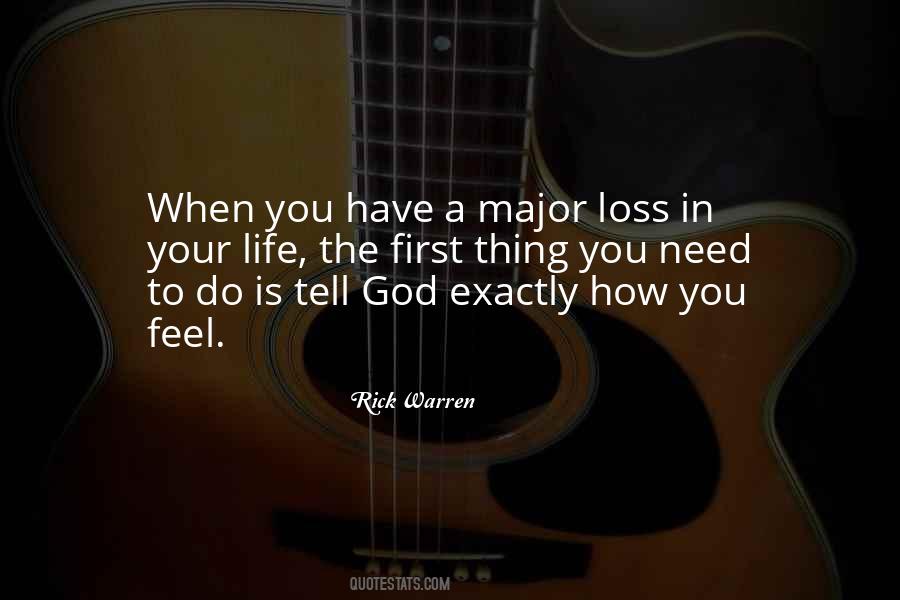 #10. A completely disrespectful photographer was asked to stop taking photographs, and then said, 'I've got what I want. What are you going to do about it?' How would you feel if somebody walked up and started taking your photograph? I don't think you'd be very happy. - Author: Gabriel Byrne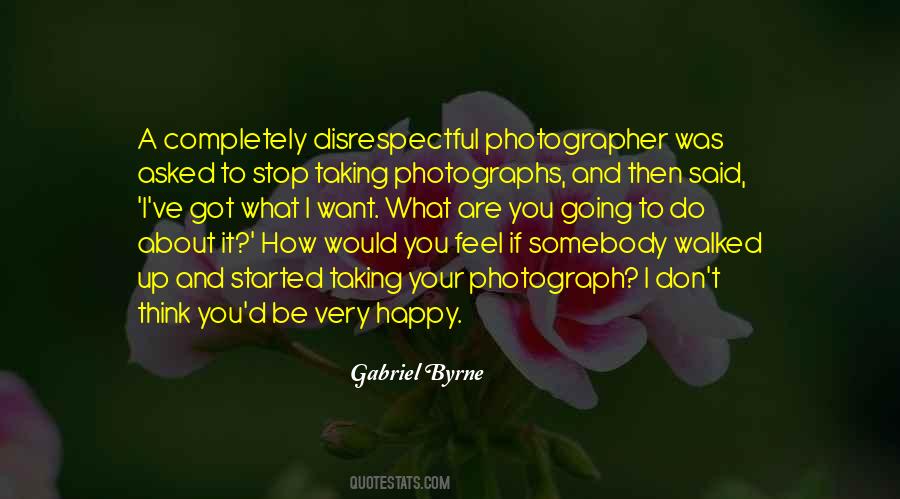 #11. Time flies, though, huh? But I feel young. And do you know how I stay feeling young, ladies and gentlemen? I'll share my secret with you: I live in a senior citizen retirement community. - Author: Carol Leifer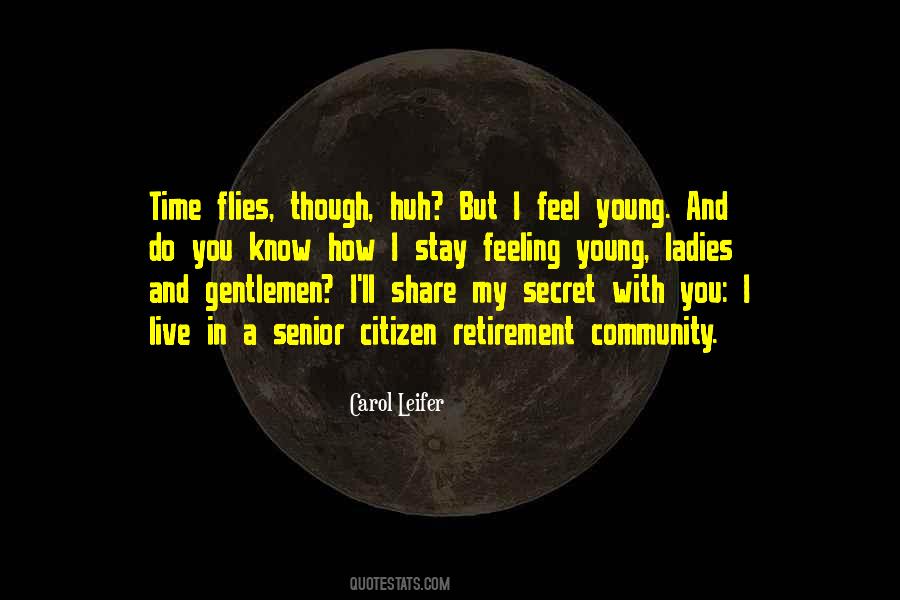 #12. I think part of a beauty routine is how you feel and checking in with your inner self, and so I made that commitment to myself to do that. - Author: Gwyneth Paltrow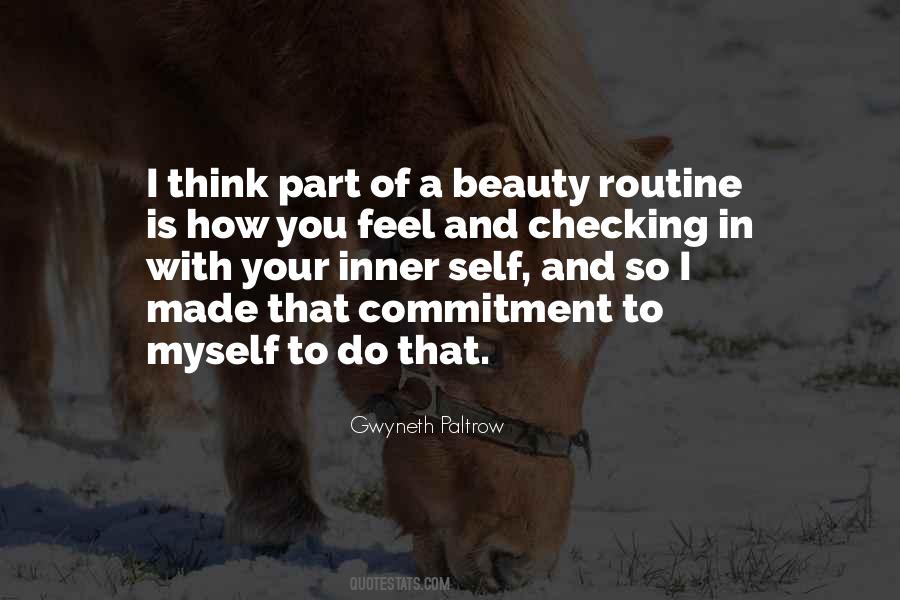 #13. Do you know what that's like?" Asher choked out, forcing himself to keep his feelings in check. "To be with someone who shines so brightly he's all you can see? That's how I feel when I'm with your brother. To me he's ... everything. - Author: Cardeno C.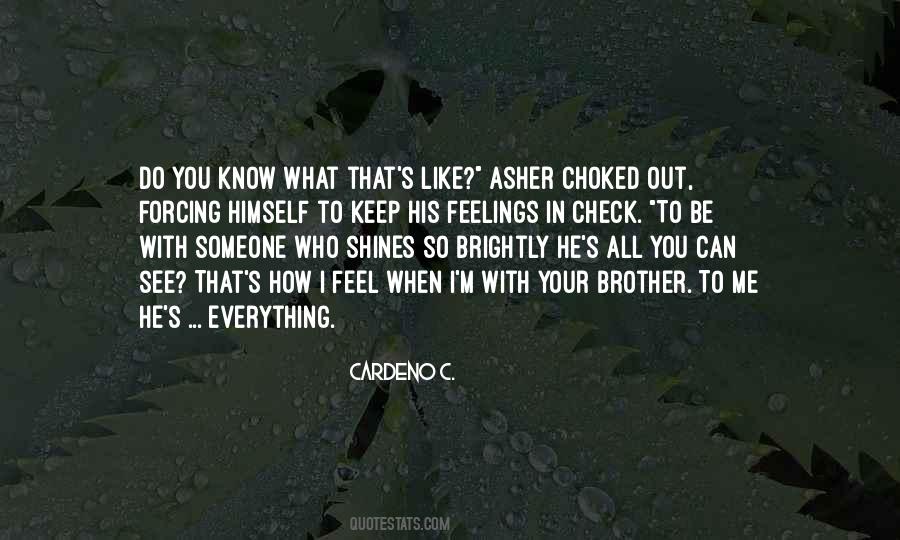 #14. How would you feel about sharing your bed?" she asked.
Tristan blinked. "Excuse me?"
"He'd love to!" Gary said.
Tristan shot him a look,
"Good," said Ivy, failing to notice Gary's wink. "Ella can be a pillow hog, but all you have to do is roll over her. - Author: Elizabeth Chandler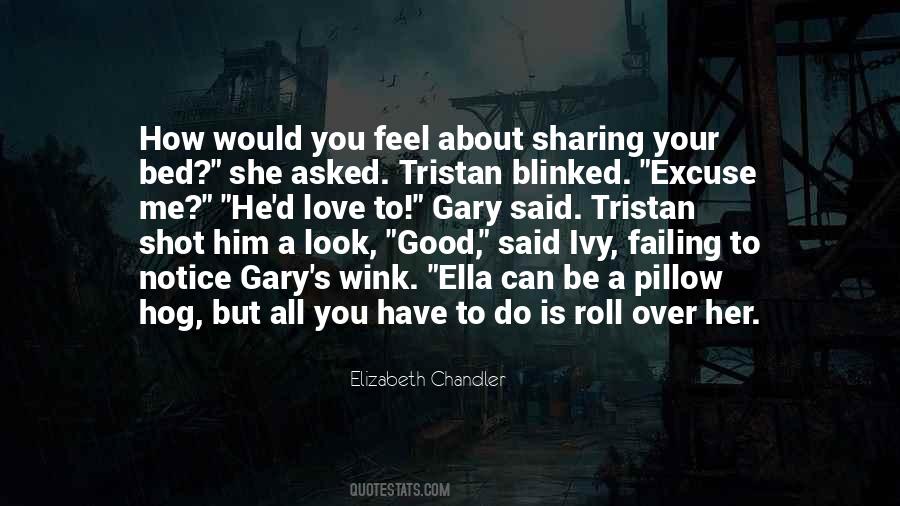 #15. Self-love has very little to do with how you feel about your outer self. It's about accepting all of yourself. - Author: Tyra Banks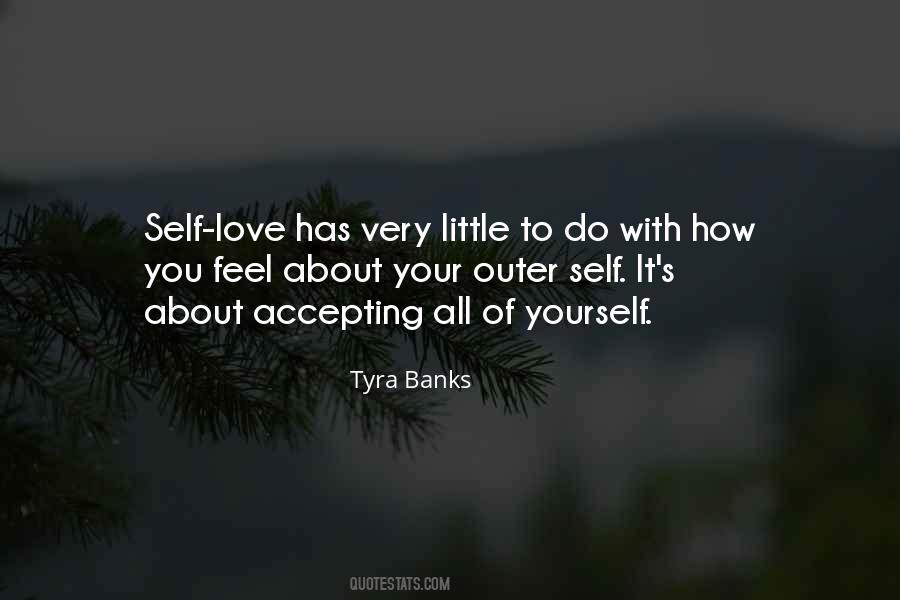 #16. I hate and I love. And if you ask me how, I do not know: I only feel it, and I am torn in two. - Author: Catullus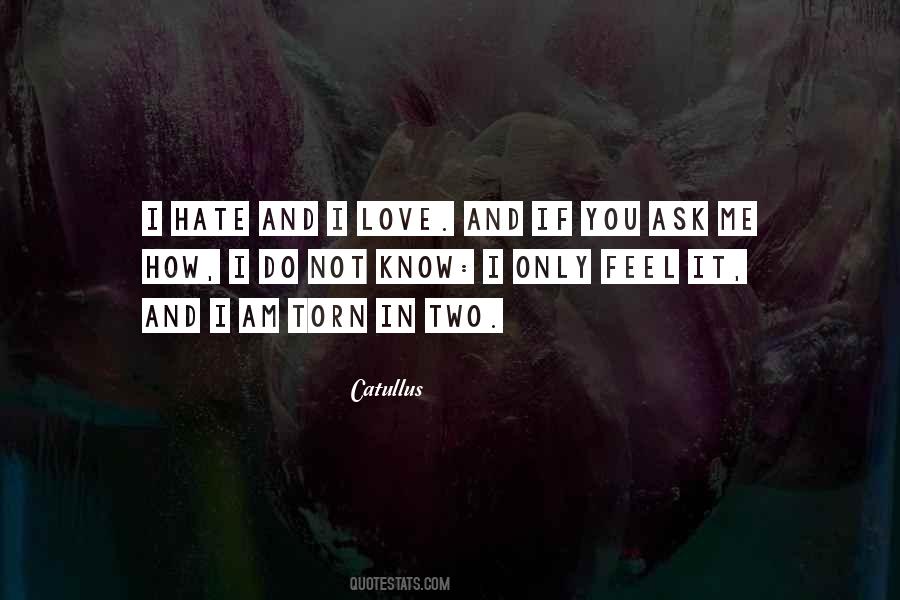 #17. I was going to France to do my masters and my Ph.D., but I didn't know how to say, 'bonjour.' You really feel like a baby, starting everything from scratch. - Author: Zeresenay Alemseged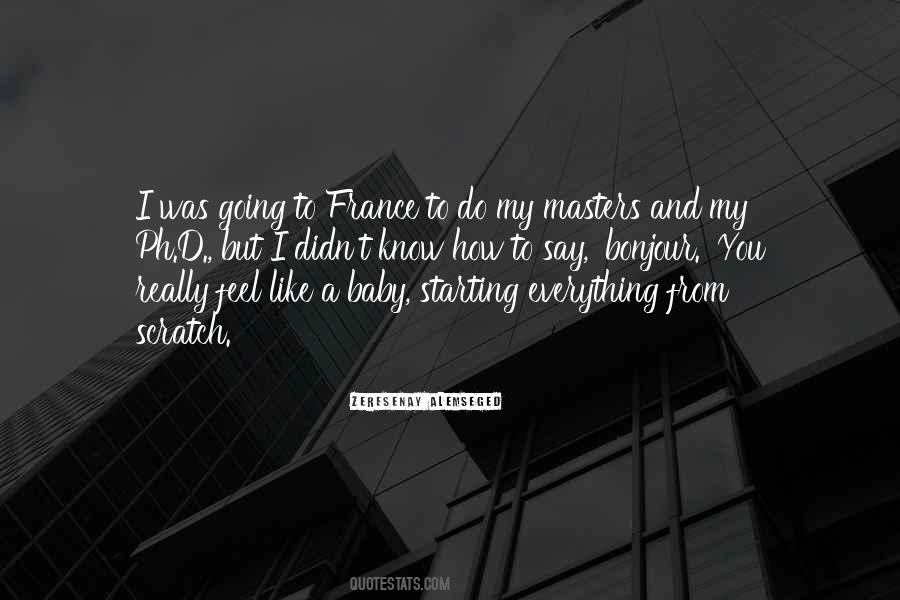 #18. I found out that when someone loves you, like really loves you, no matter what you do, no matter how many stupid mistakes you make or shitty things you say, it sets you free. I feel like I can fly now. Like nothing is holding me back anymore, - Author: Elle Casey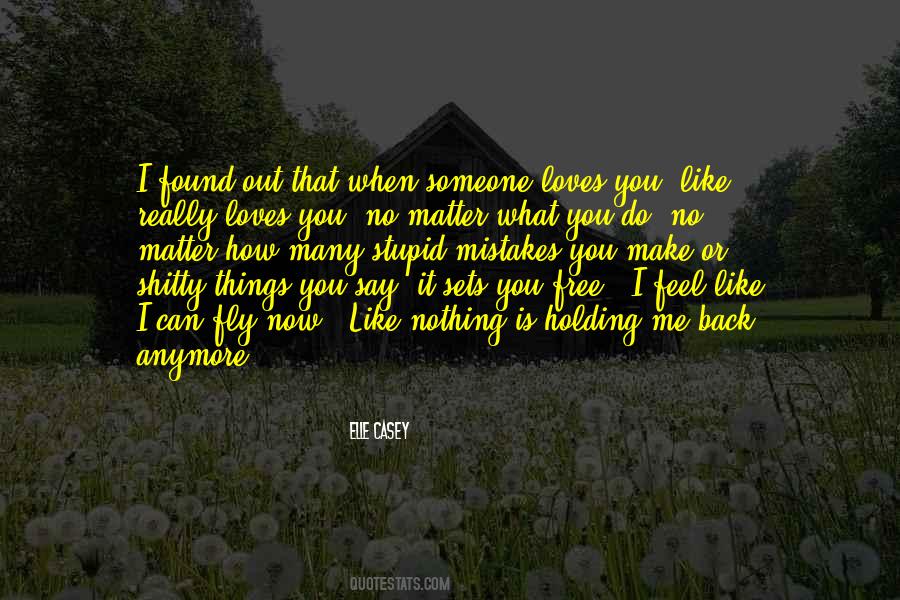 #19. How do you tell your mother that you feel you're getting ... old? If I'm ... old, then what is she? - Author: Gail Parent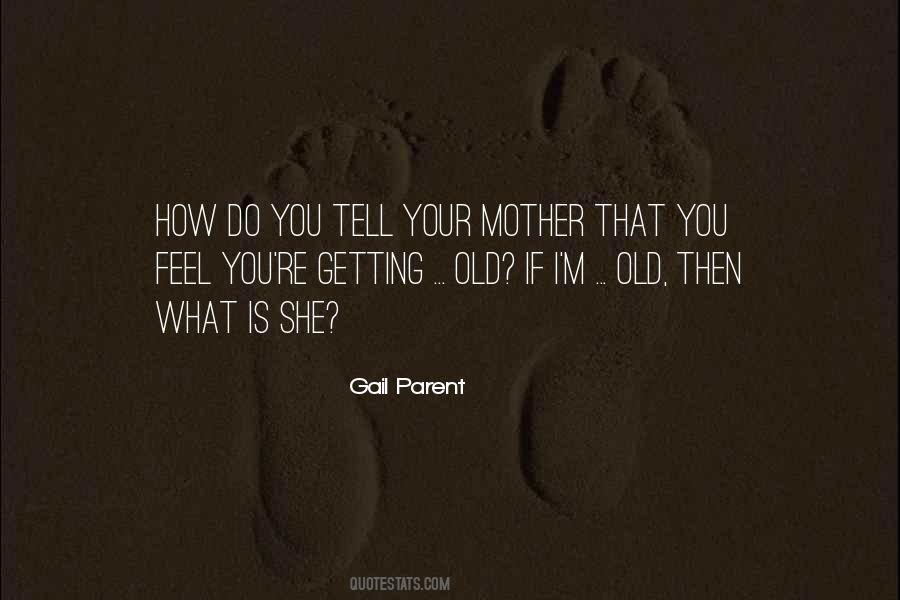 #20. It was the moment I realized what music can do to people, how it can make you hurt and feel so good all at once. - Author: Nina LaCour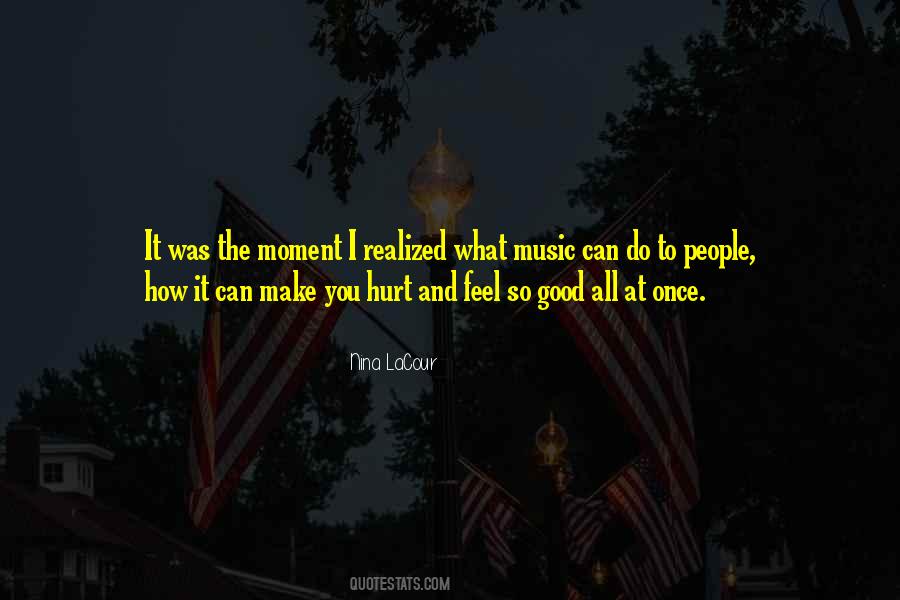 #21. When you have worked with them, when you have lived with them, you do not have to wonder how they feel, because you feel it yourself. - Author: Doris Kearns Goodwin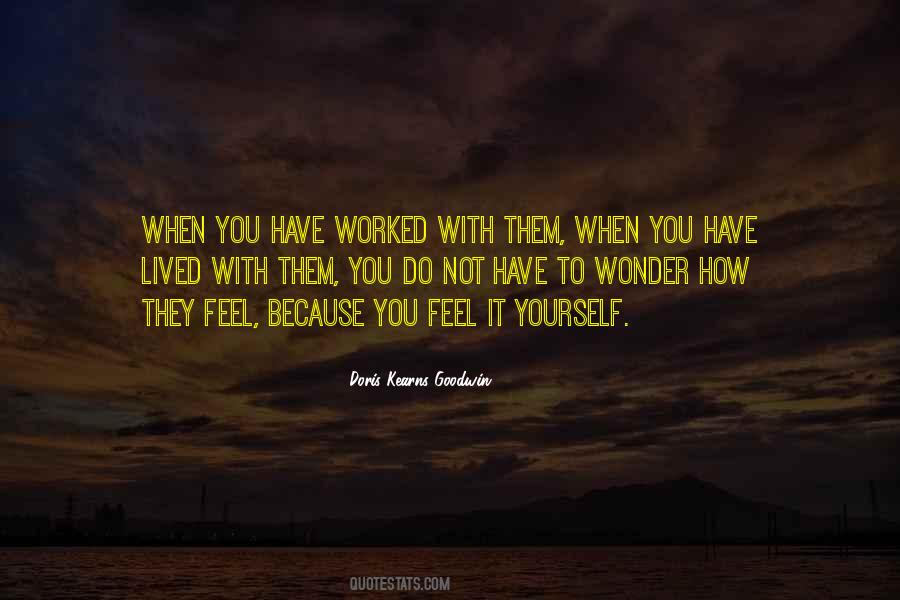 #22. They don't teach you just how to be in school. There's no class on that. There's no multiple choice test for Why Do I Feel This Way? - Author: Heather Matarazzo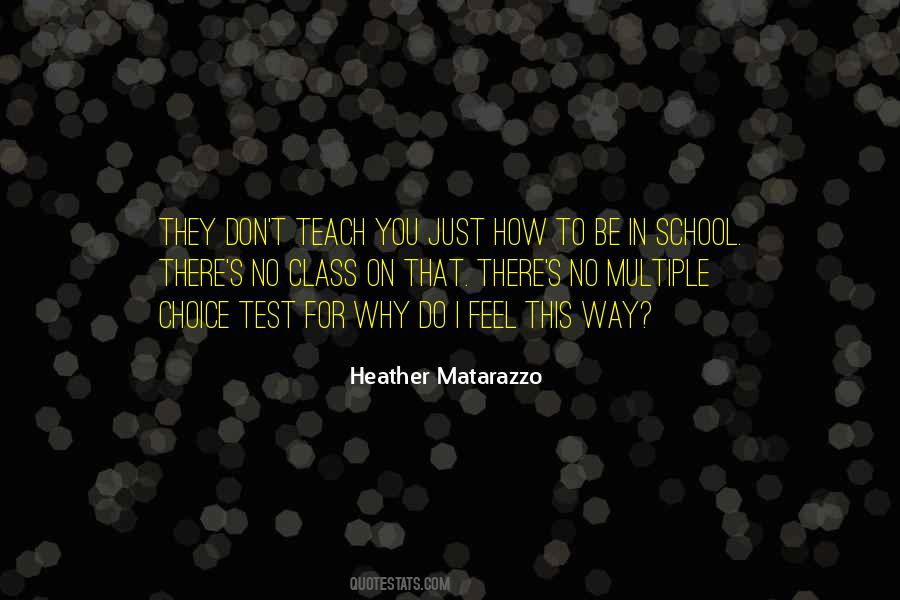 #23. It's a little dense, don't you think, to antagonize the strongest vampire in the house?'
Emmett threw his head back and snorted. 'PLEASE!'
[ ... ]
I took a deep breath. 'Emmett, how do you feel about a little bet?'
He was on his feet at once. 'Awesome. Bring it. - Author: Stephenie Meyer
#24. Now think deeply.
What have you done with your life over the past year?
How do you feel inside? - Author: Sean Covey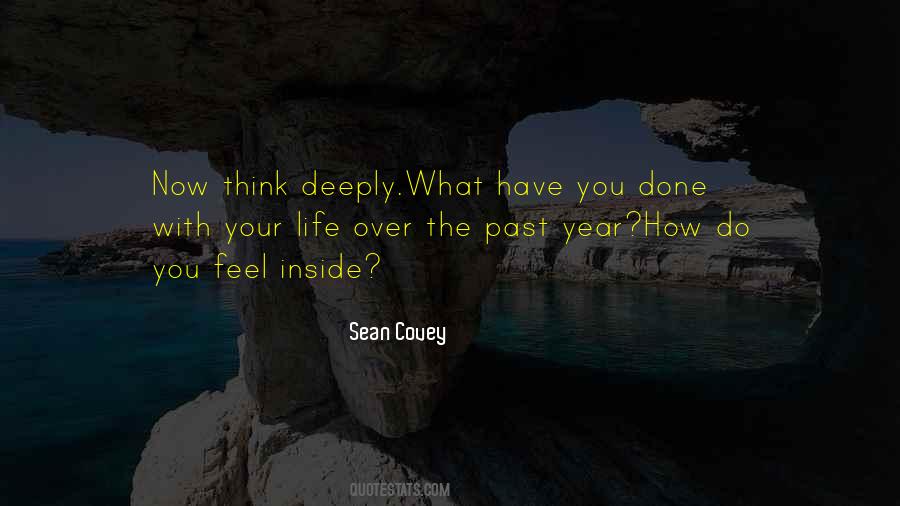 #25. Everytime I write, it's a catharsis. Even if I never got paid for it, I'd feel compelled to do it. And that's what makes a true writer. It's not how many readers you have or how many publishing contracts. Do you love to write? Then you're an author. No one can take that away from you. - Author: Piper Vaughn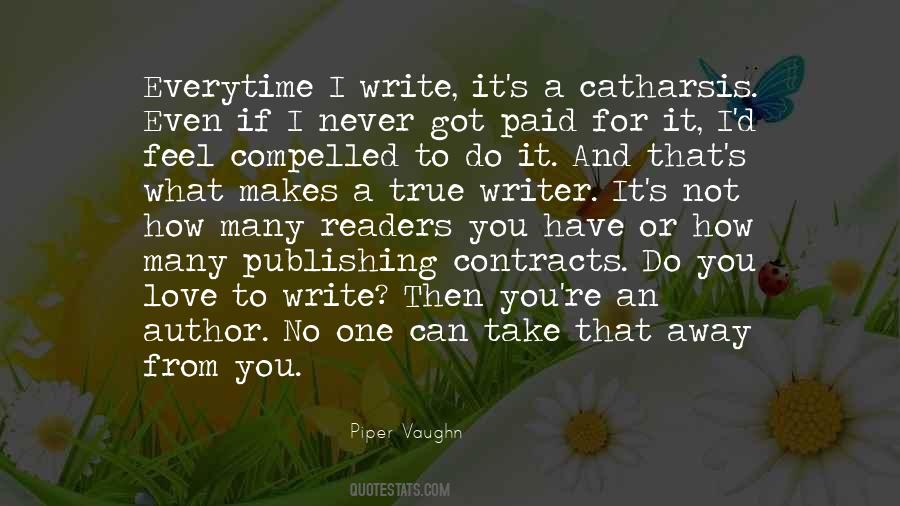 #26. How you feel is entirely in your mind. Your mind has nothing to do with your environment. It has nothing to do with anyone around you. It is entirely your decision. - Author: Ronda Rousey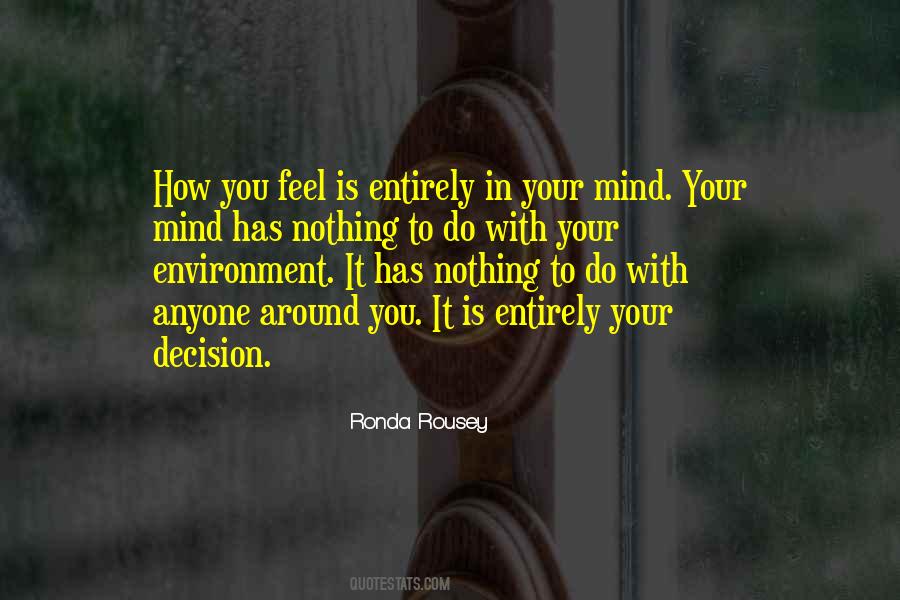 #27. I skate a lot with my shirt off, so working out has always been important to me. I almost have as much fun working out as I do skating. And seeing your body change, and seeing yourself get bigger and more toned and cut, makes a big difference in how you feel about yourself. - Author: Ryan Sheckler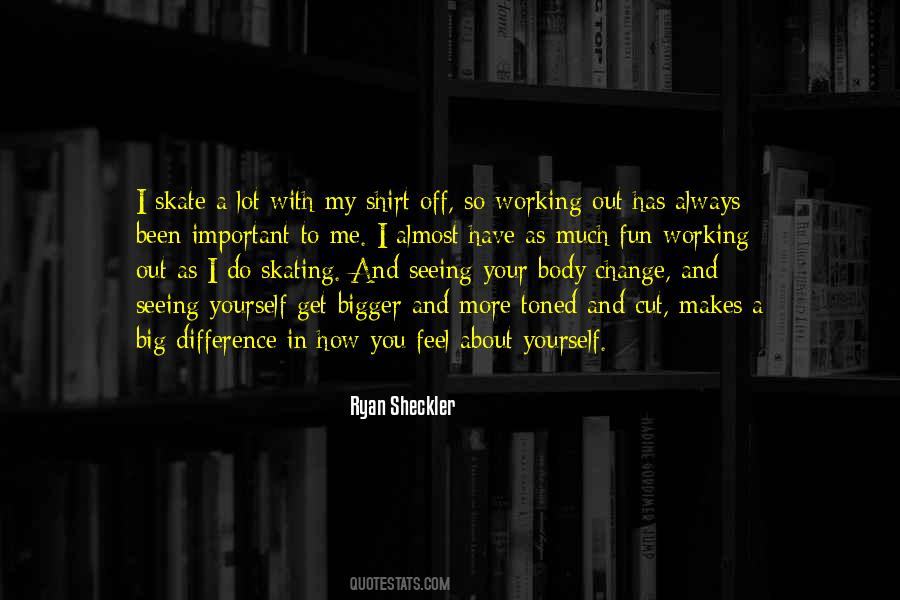 #28. Whatever people do, feel, think, or say, don't take it personally. If they tell you how wonderful you are, they are not saying that because of you. You know you are wonderful. It is not necessary to believe other people who tell you that you are wonderful. Don't take anything personally. - Author: Miguel Ruiz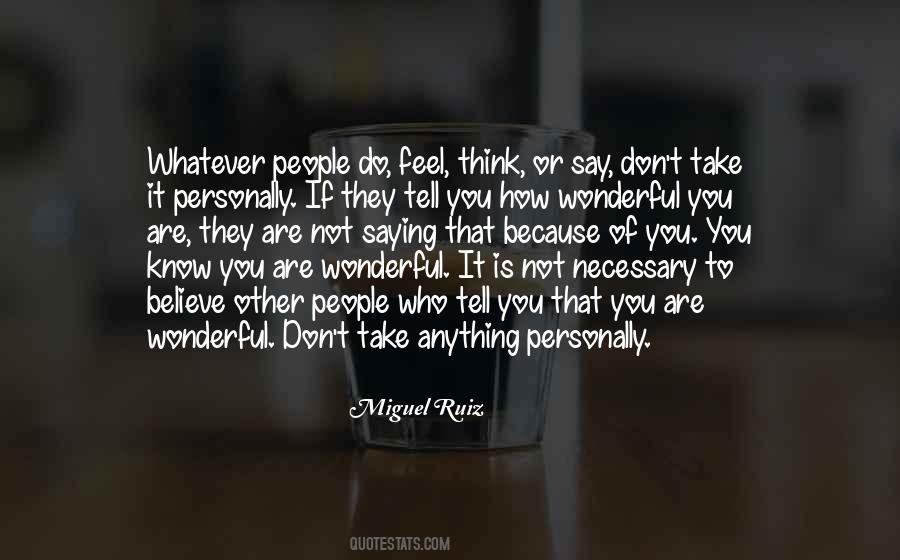 #29. My hope is that the work is in some way counter-pinup. A pinup asks you to suspend interest in who the person is and occupy yourself entirely with looking at the body and fantasizing about what you could do with that body, completely ignoring how the person might feel about it. - Author: Jock Sturges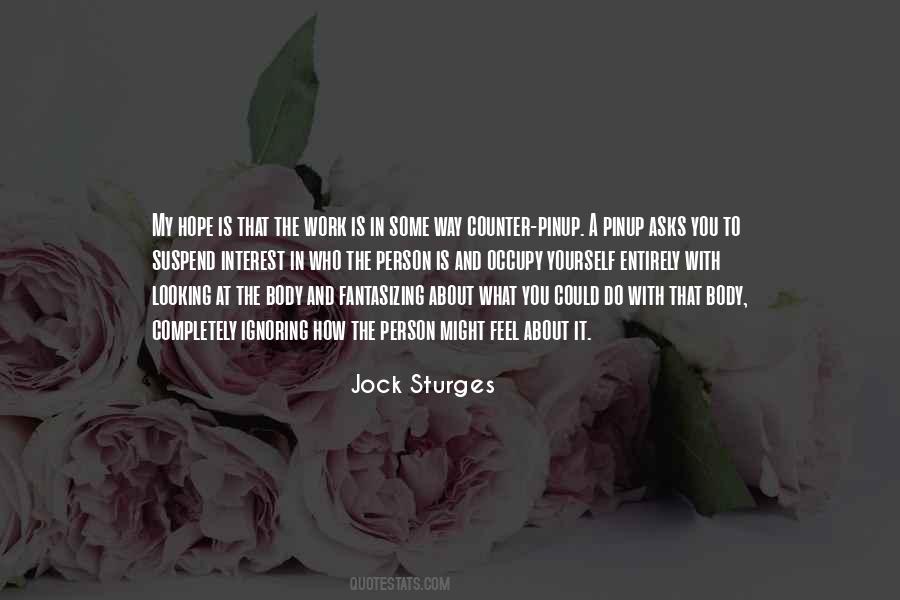 #30. Nora: "How do you feel?"
Nick: "Terrible. I must've gone to bed sober. - Author: Dashiell Hammett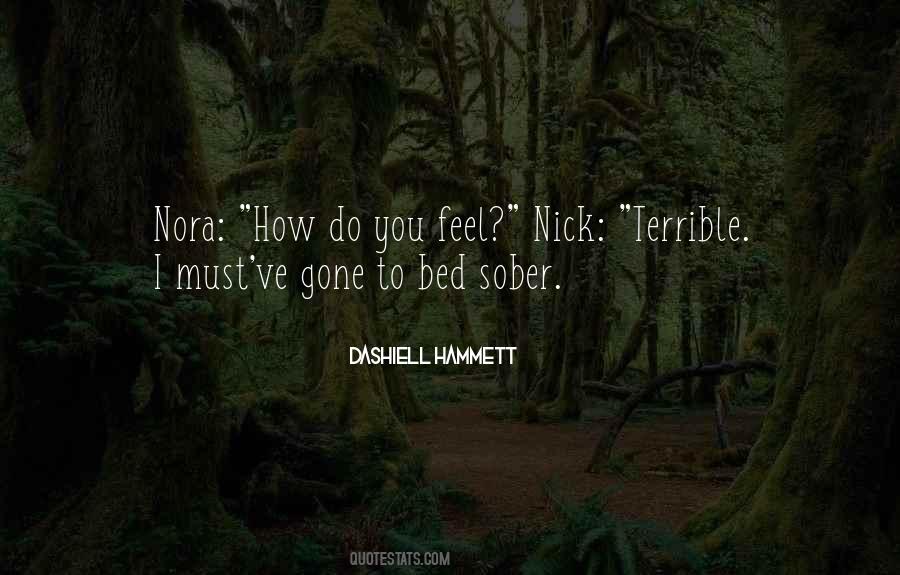 #31. You can't escape the world, and you're not responsible for how you look, if you look beauticious or butt ugly. you're not responsible for how you feel or what you say or how you act or anything you do. it's all out of your hands. - Author: Chuck Palahniuk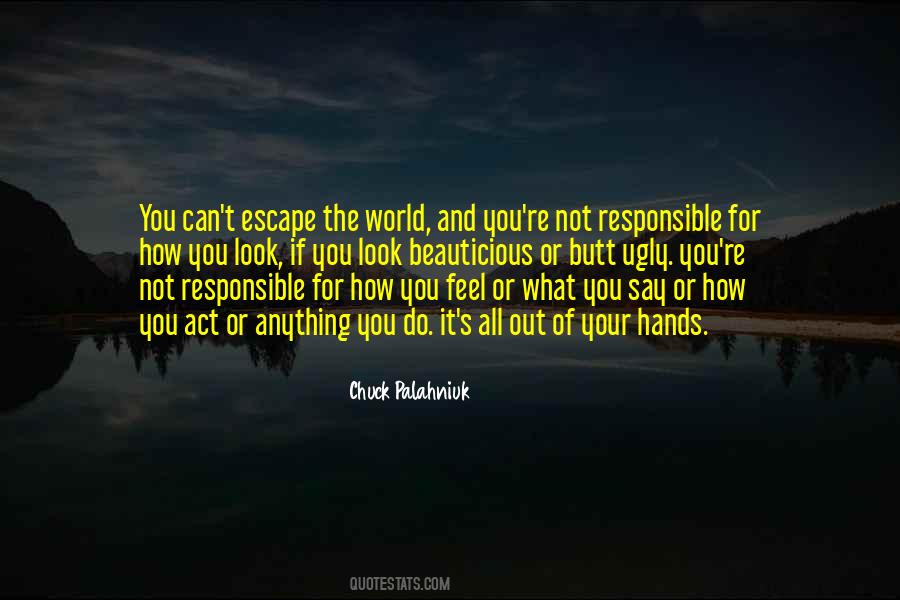 #32. Forget what I said. None of that matters, you know why? Because it's still a choice. Everyone gets hurt. It's what you do with it that matters.'
'Can you change how you feel?'
'No. But you can change how you act. - Author: Kristen Heitzmann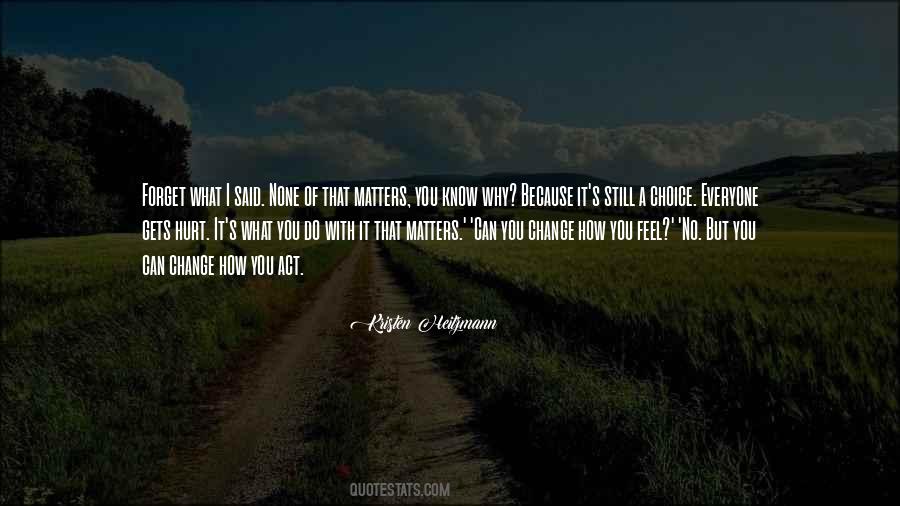 #33. How do you feel about helicopters?"
There was a long pause. "How do you mean? Ethically?"
"As a mode of transportation."
"Faster than camels, but less sustainable. - Author: Maggie Stiefvater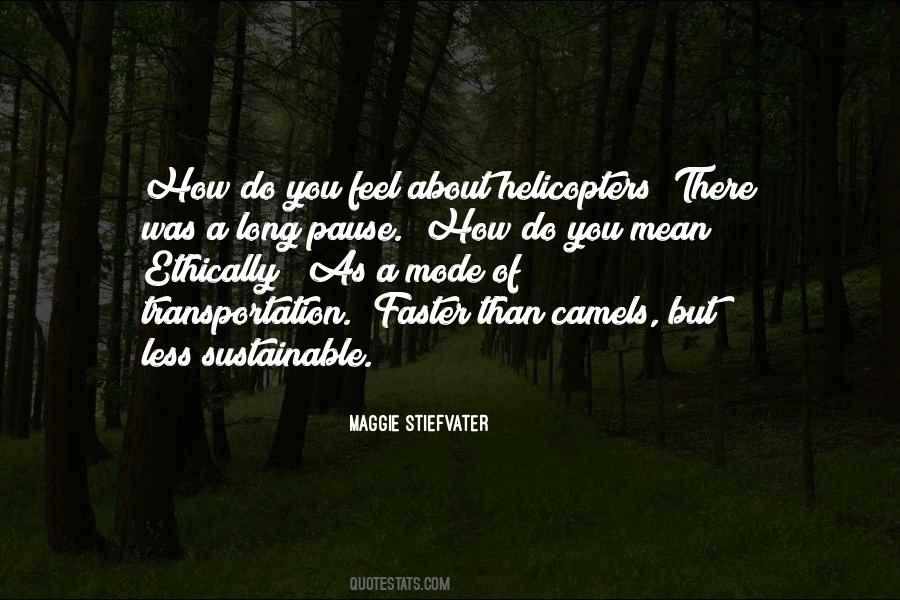 #34. My body has become
another country
and I feel like an unemployed
illegal alien
how will I survive
where I do not belong
I belong with you - Author: Patrick Califia-Rice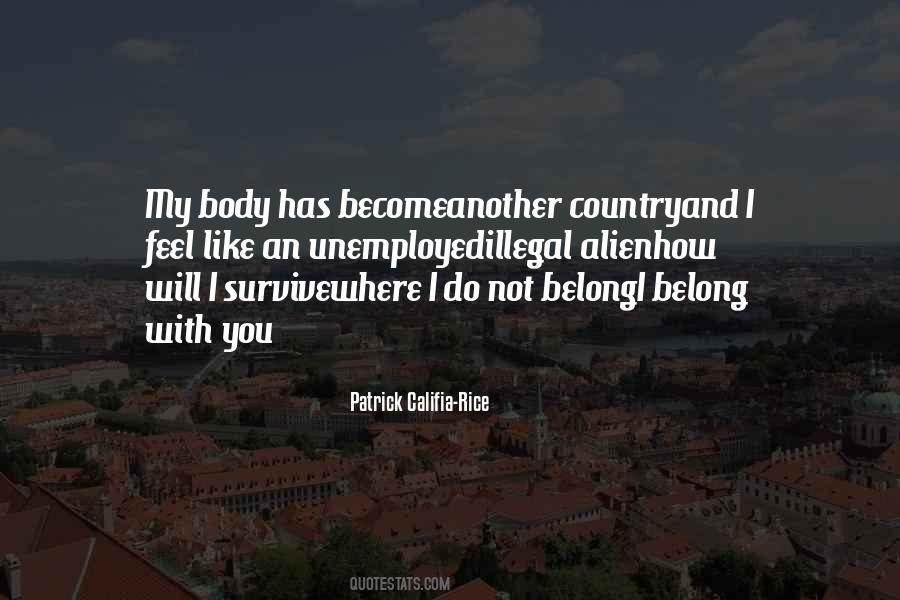 #35. You may feel overwhelmed by your own poverty and the labors of the day. But if you decide not to wait until you have more strength and more money, and if you pray for the Holy Spirit as you go, you will, when you arrive, know what to do and how to help someone even poorer than you are. - Author: Henry B. Eyring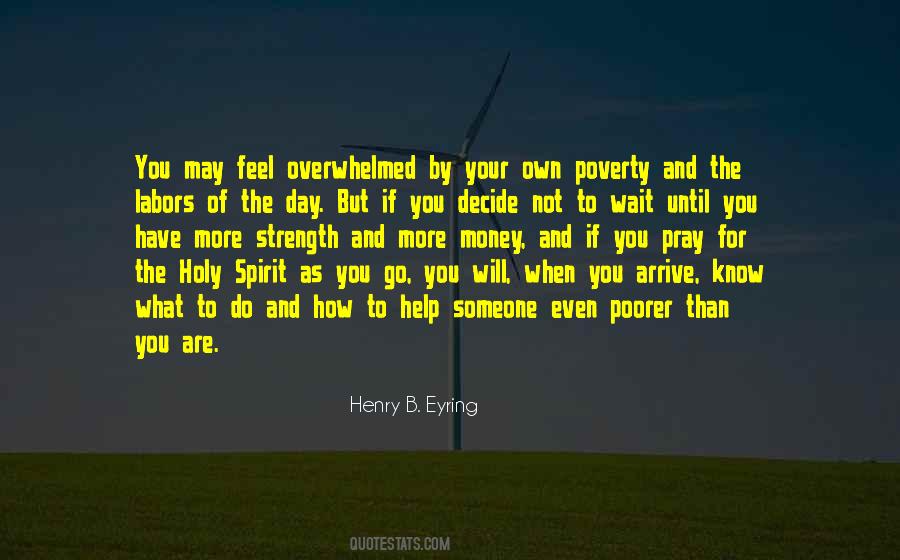 #36. Do you know how there are moments when the world moves so slowly you can feel your bones shifting, your mind tumbling? When you think that no matter what happens to you for the rest of your life, you will remember every last detail of that one minute forever? - Author: Jodi Picoult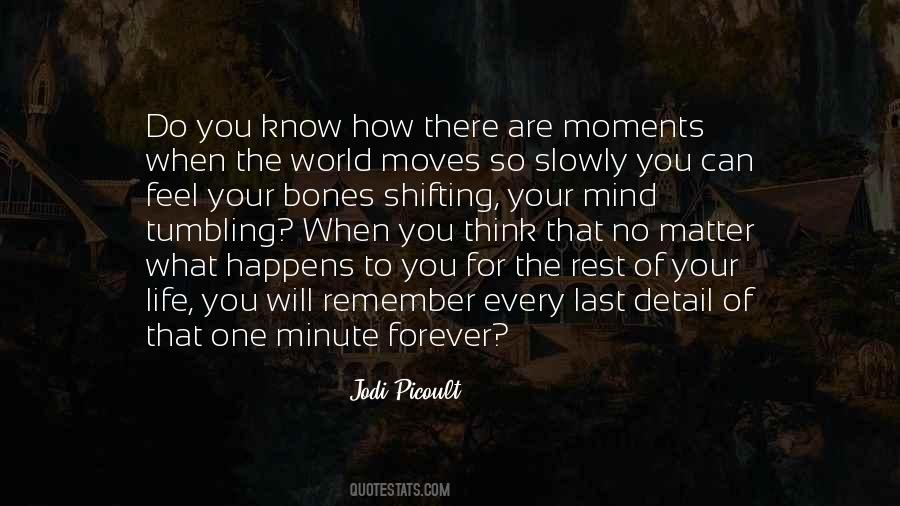 #37. Lacy truly believed that when you asked a patient How do you feel?, what was wrong wasn't nearly as
important as what was right. - Author: Jodi Picoult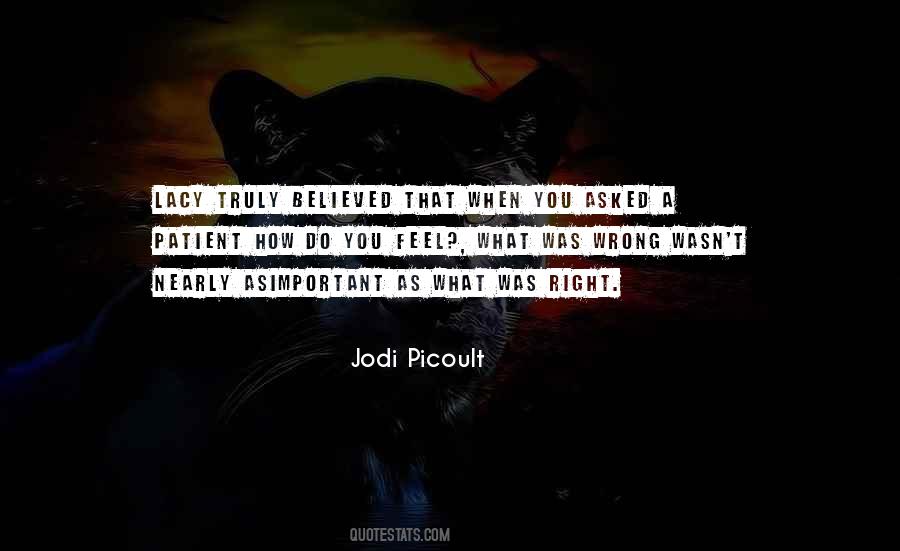 #38. Beyonce was just always full-out. She's like a beast. So you learn that no matter how you feel, just do it. Just like Nike: 'Just Do It.' - Author: Heather Morris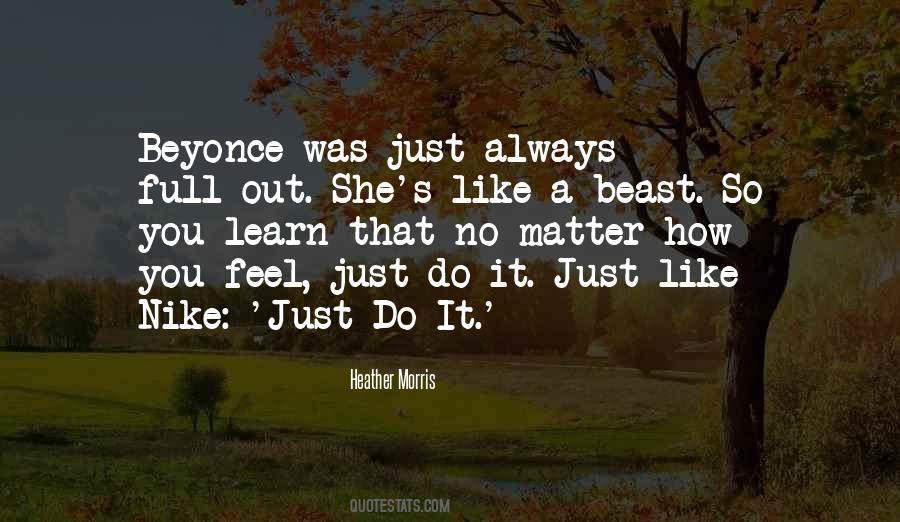 #39. I've always thought stability was suffocating and deadly. Like, when I read that the kids I went to law school with have stayed at the same firm, I feel like I'm reading an obituary. How much money do you need? Six million, seven million? Put that in the bank and do something else. Get out! - Author: Glenn Greenwald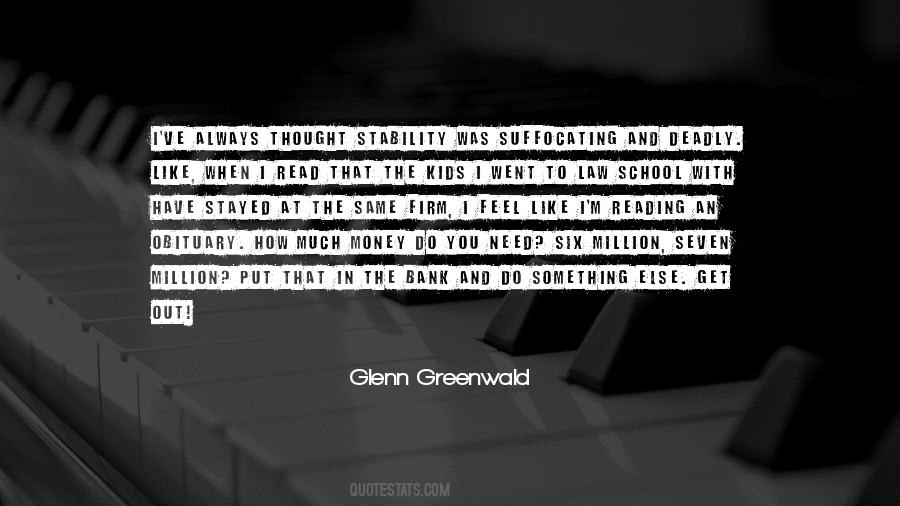 #40. You know life is weird. There are times I feel so grown up and like I know everything I need to know, but then I think about the future and realize how little I do. - Author: Jillian Dodd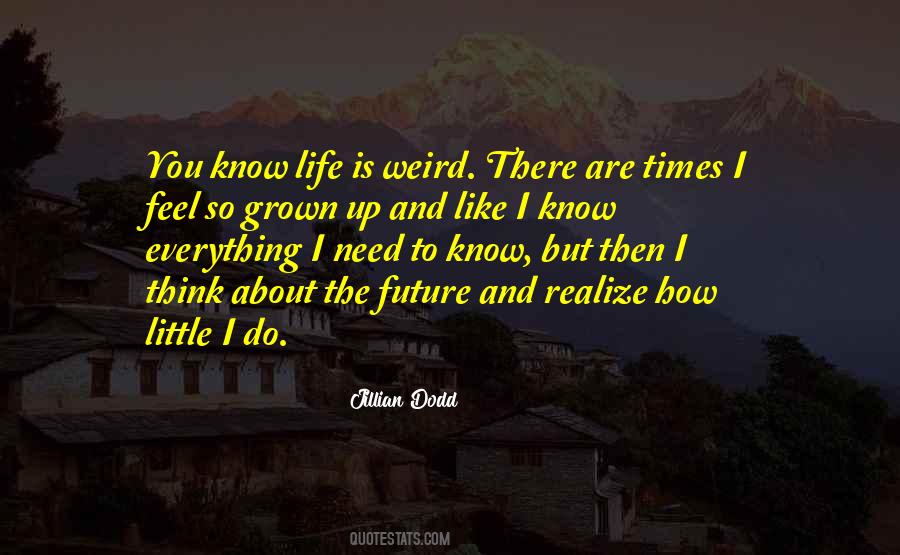 #41. As a software engineer, how do you feel if your code was running in the production environment being used by millions of customers 30 minutes after you commit it to source control? - Author: Paul Swartout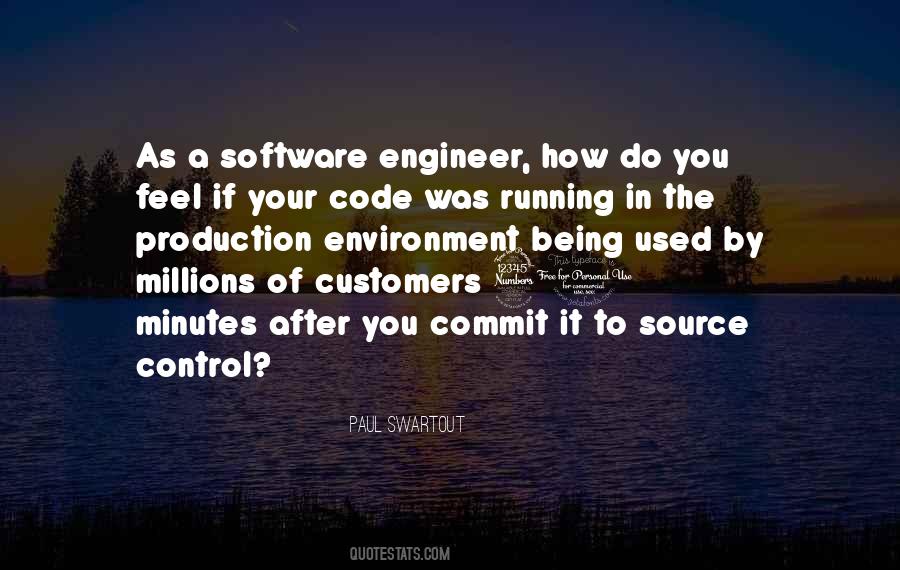 #42. Ana Iris once asked me if I loved him and I told her about the lights in my old home in the capital, how they flickered and you never knew if they would go out or not. You put down your things and you waited and couldn't do anything really until the lights decided. This, I told her, is how I feel. - Author: Junot Diaz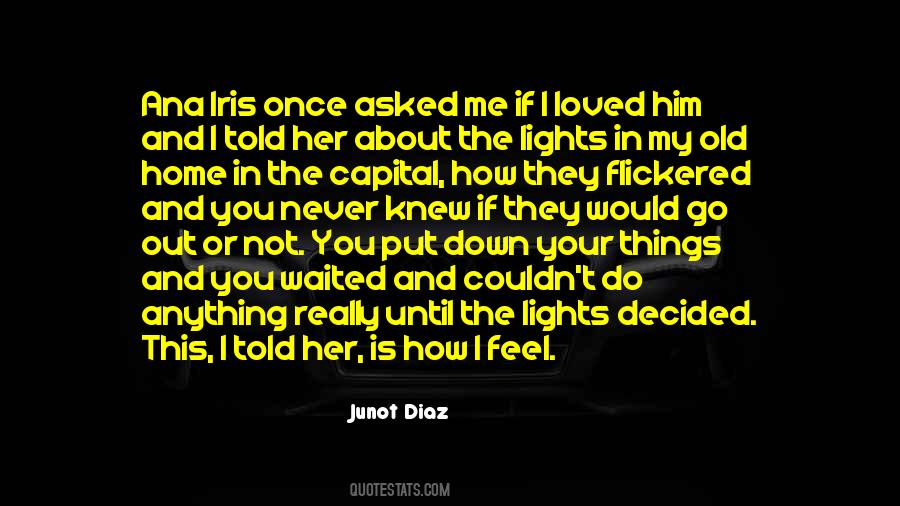 #43. And what am I to do?"
"Well, that depends. Do you like the girl?"
"Like her? I don't know. How do you know if ... ?"
"It's very simple. Do you look at her furtively and feel like biting her?"
"Biting her?"
"On her backside, for example. - Author: Carlos Ruiz Zafon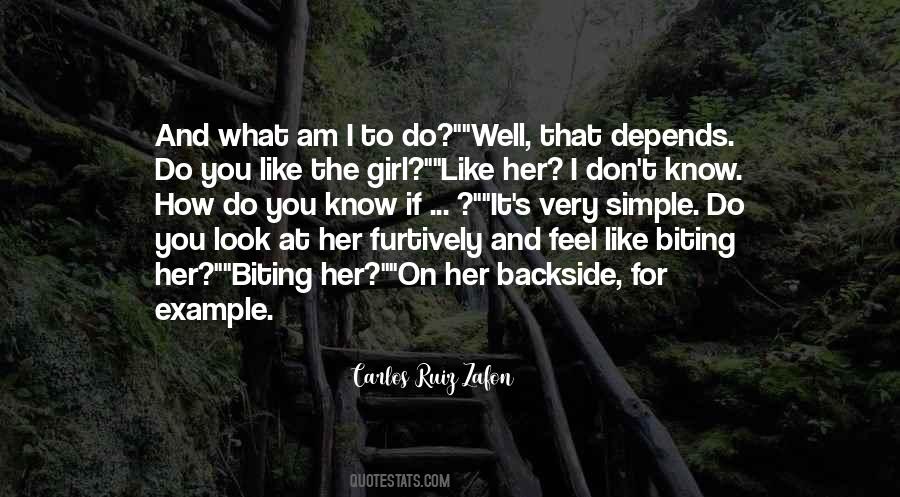 #44. I'm a practicing Christian - and I'm going to keep practicing till I get it right - but I don't feel everyone has to practice the same religion that I do. You have a right to worship who you choose and how you choose to. - Author: Jane Elliot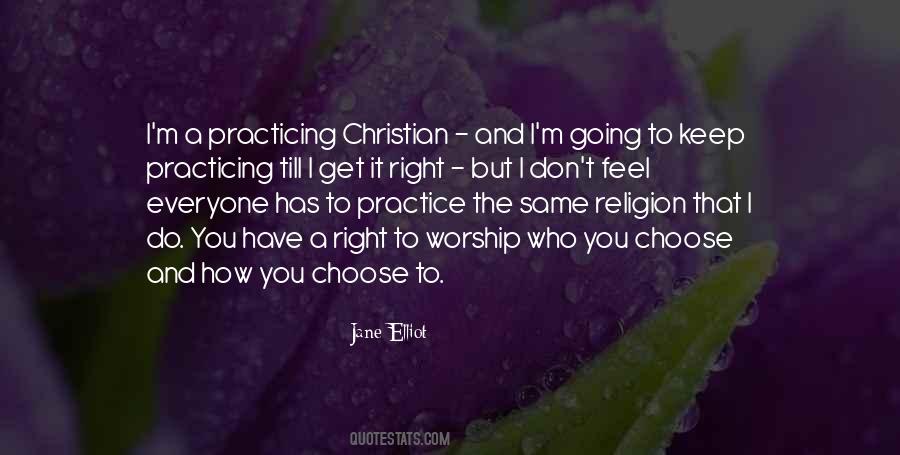 #45. Love isn't how you feel. It's what you do. I've never had a feeling in my life. As a matter of fact, I matter only with earth people. - Author: Madeleine L'Engle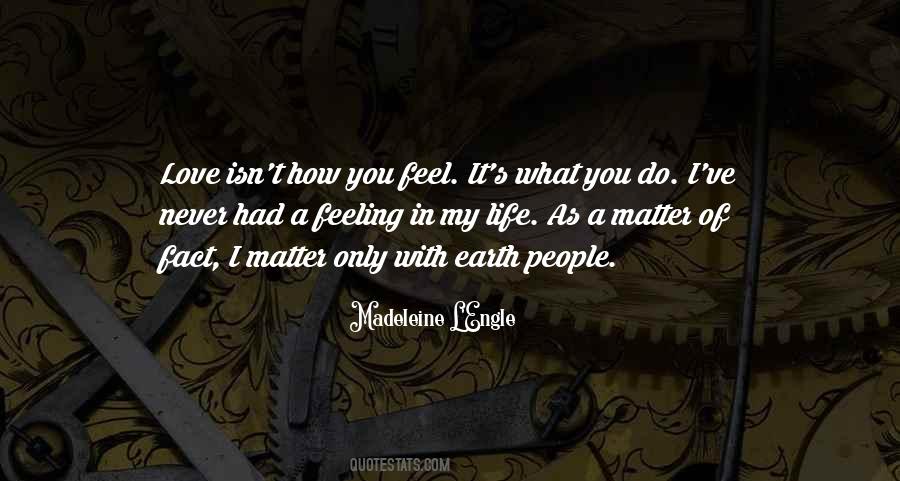 #46. How do you feel," said a friend to me, "when you are hooted and jeered on the street on account of your color?" "I feel as if an ass had kicked, but had hit nobody," was my answer. - Author: Frederick Douglass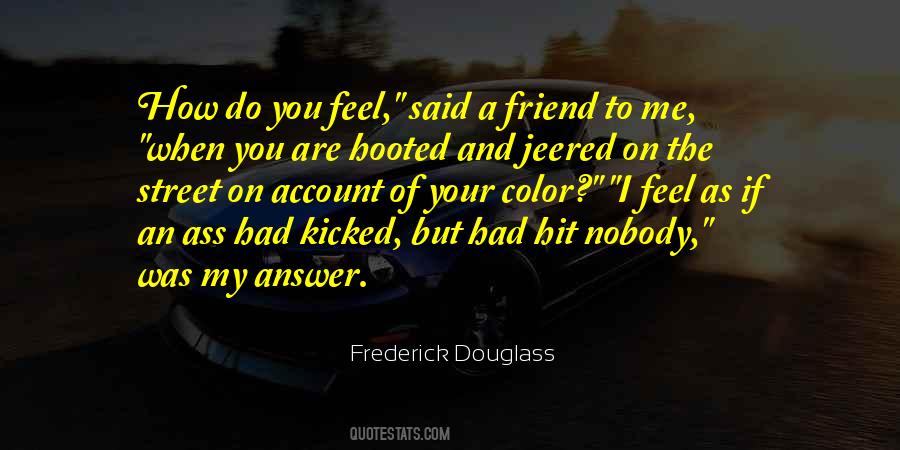 #47. I find that when I'm struggling to think of how a six-year-old would feel about something, I just have to go right down to the common denominator, find the simplest way that you can look at an object or a problem, and not muck it up with all of the stuff that adults do and over-analyze. - Author: Barbara Park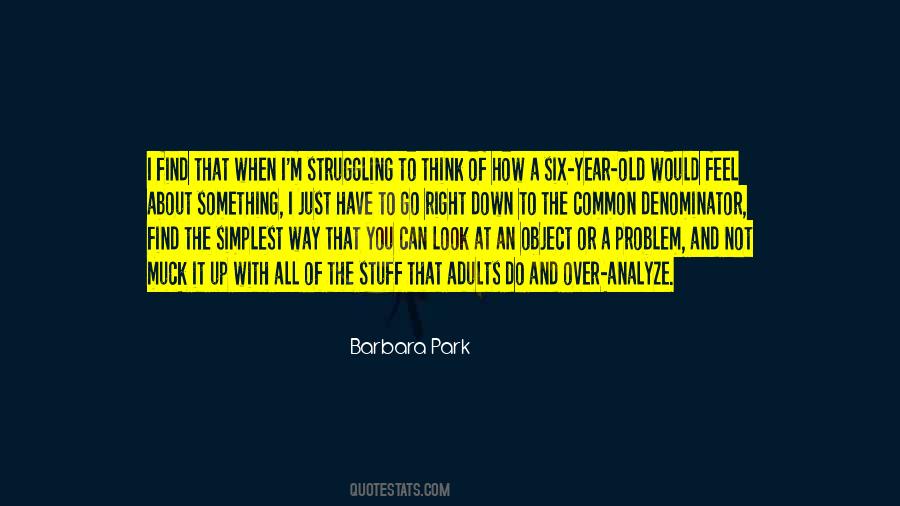 #48. Do you know how writers often say the characters take over ... But that is more or less what it always feels like to me, too. Even though that's just a way of describing how your brain is working, it's still what you tend to feel. - Author: Wes Anderson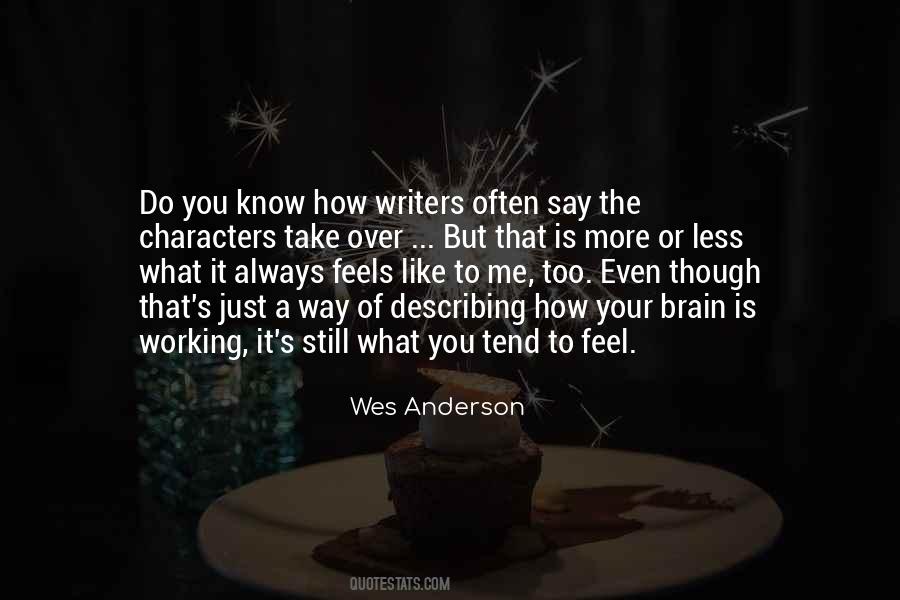 #49. All these people keep waxing sentimental about how fabulously well I am doing as a mother, how competent I am, but I feel inside like when you're first learning to put nail polish on your right hand with your left. You can do it, but it doesn't look all that great around the cuticles. - Author: Anne Lamott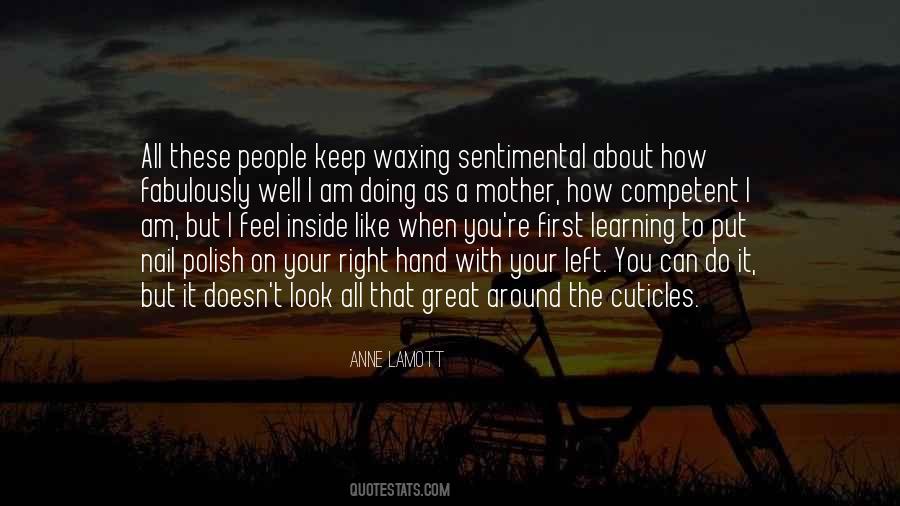 #50. When we put the pen to paper, we articulate things in our life that we may have felt vague about. Before you write about something, somebody says, 'How do you feel?' and you say, 'Oh, I feel okay.' Then you write about it, and you discover you don't feel okay. - Author: Julia Cameron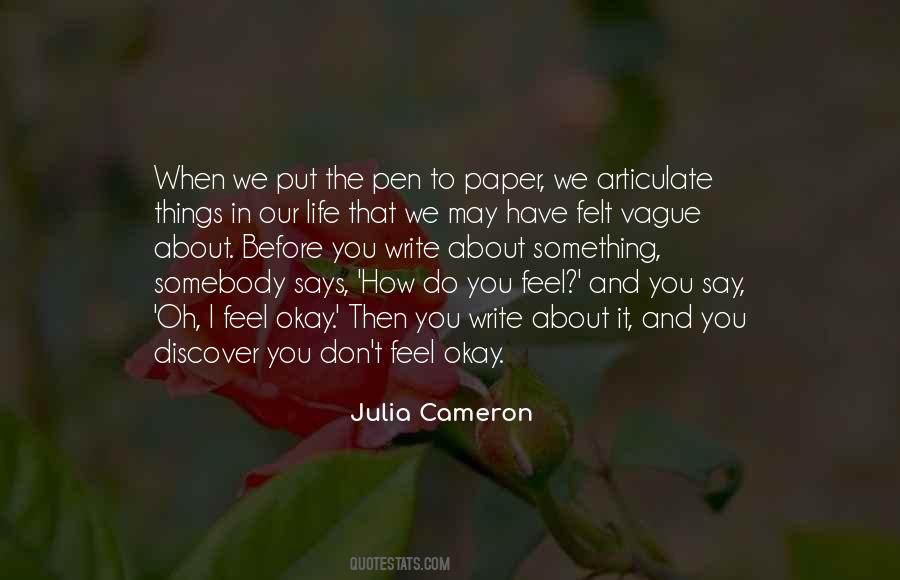 #51. Everyone today is like, 'Shailene, you're getting so much buzz. How does the feel?' It's the most odd question because it's like asking a kid who got into Cornell how it feels to be the top of your class at one of the Ivy League schools. How do you answer that? You just go, 'I don't know.' - Author: Shailene Woodley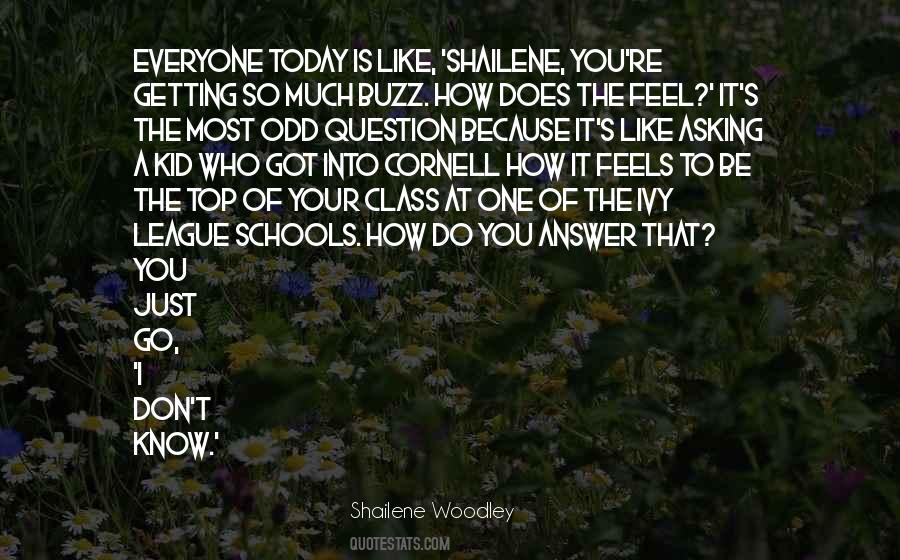 #52. Do people look the same when they go to heaven, mommy?"
"I don't know. I don't think so."
"Then how do people recognize each other?"
"I don't know, sweetie. They just feel it. You don't need your eyes to love, right? - Author: R.J. Palacio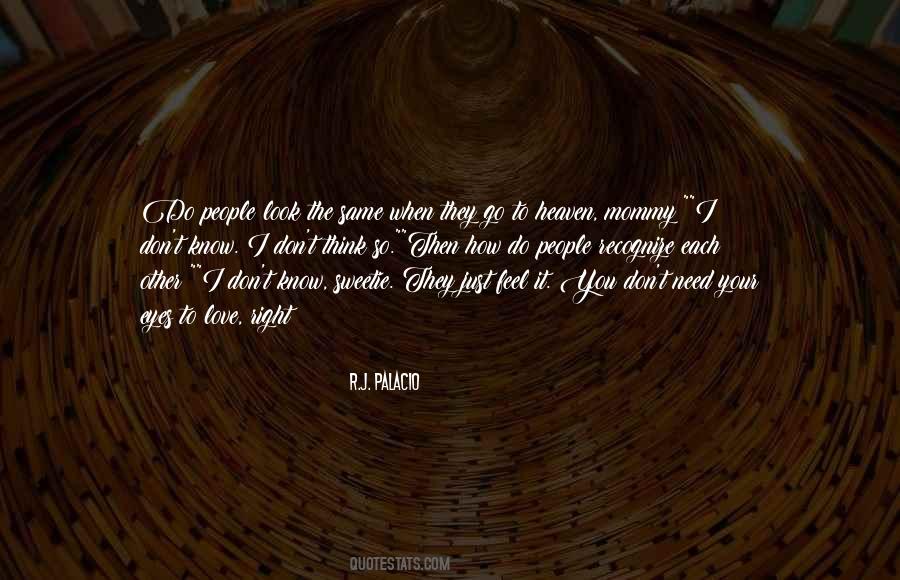 #53. And you, you make me feel like I could do the stupidest thing in the world, and you'd still like me how I am. - Author: Kiera Cass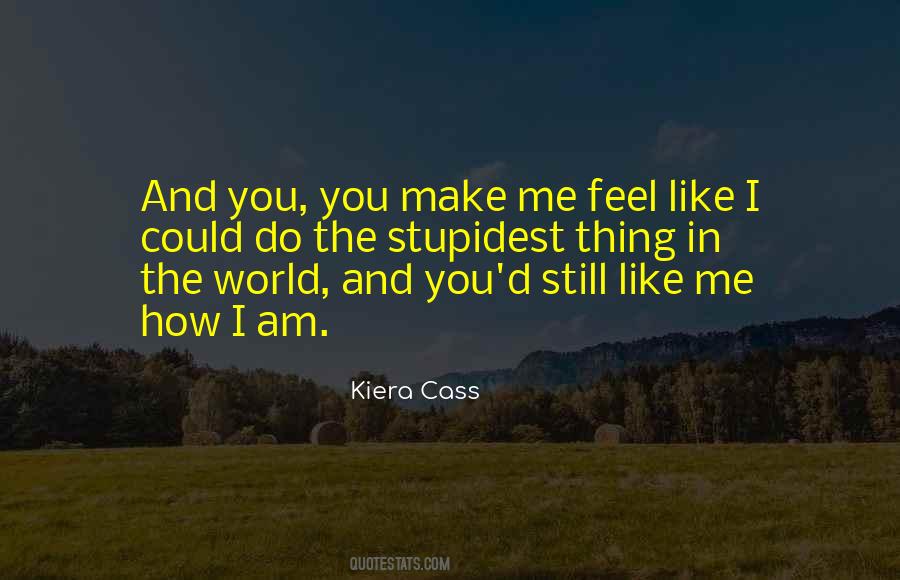 #54. The issue is: how do you engage the audience? And one of the things I talk to our communicators about is: The outline is great; the stories are great. But how do you engage them? How do you make it feel like we are on a journey, not you are just up there giving me information. - Author: Andy Stanley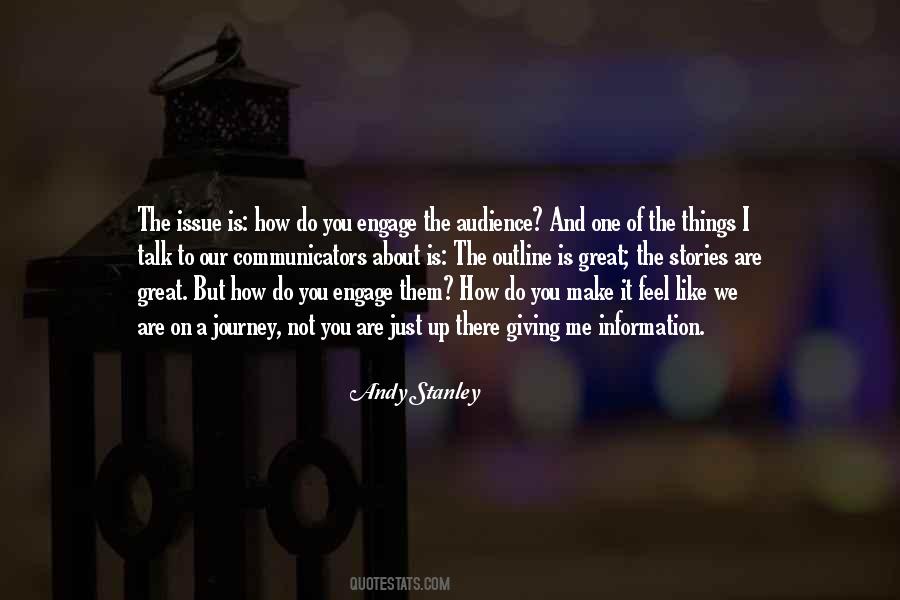 #55. It's not what you do, it's how you feel while doing it. - Author: Ralph Smart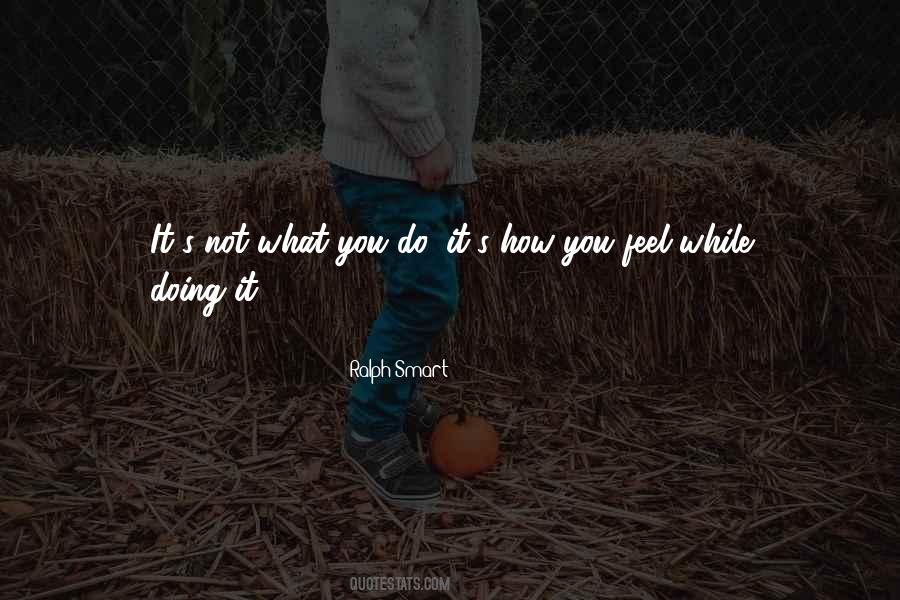 #56. Body image has nothing to do with scale numbers, it's how you feel inside. - Author: Elisabeth Hasselbeck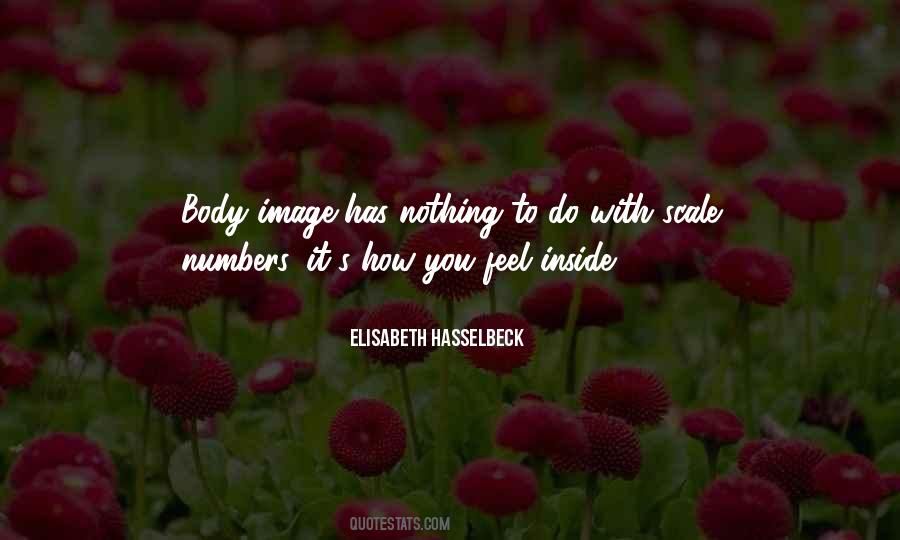 #57. I wanted it for how it made me feel, regardless of how little it cared for me. Do whatever you want -- just give me the bliss. - Author: C.M. McKenna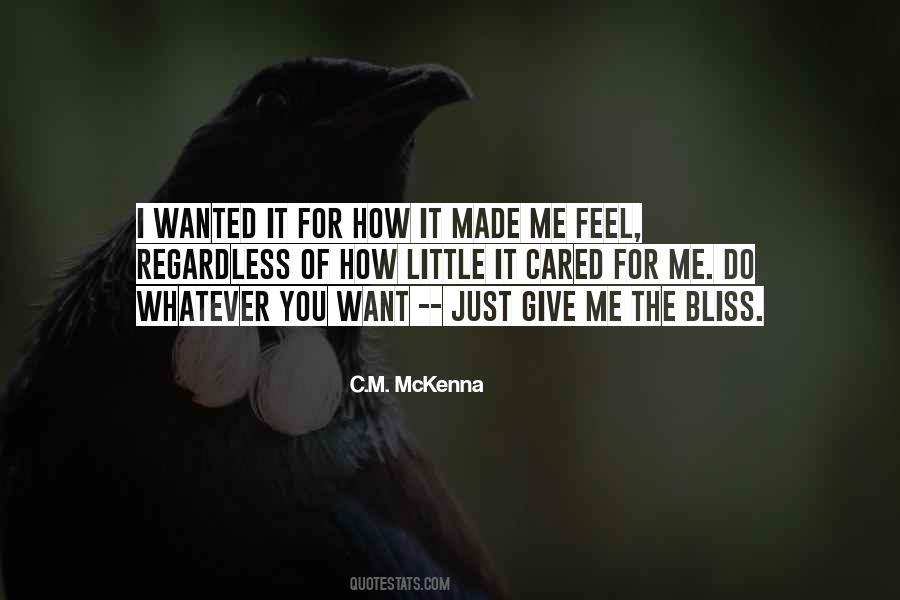 #58. Nobody wants to know how you feel, yet, they want you to do what they feel. - Author: Michael Bassey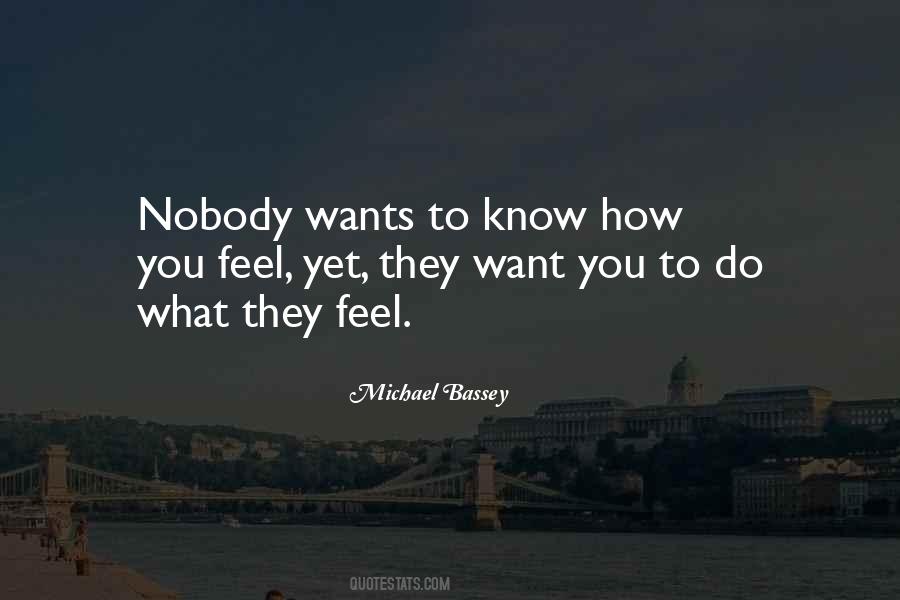 #59. My name is Herbert Badgery. I am a hundred and thirty-nine years old and something of a celebrity. They come and look at me and wonder how I do it. There are weeks when I wonder the same, whole stretches of terrible time. It is hard to believe you can feel so bad and still not die. - Author: Peter Carey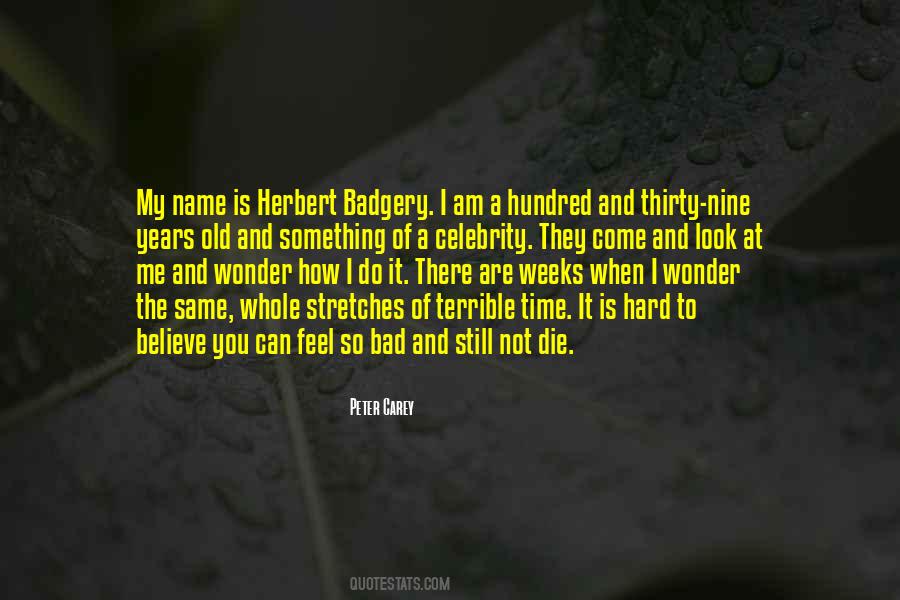 #60. So, what's up with you and Damian?" Helena asks.
"What do you mean?" I can feel the hear of a blush coloring on my cheeks. I can't ever seem to not show how I feel. It's becoming pretty annoying. - Author: Lisa Ann Sandell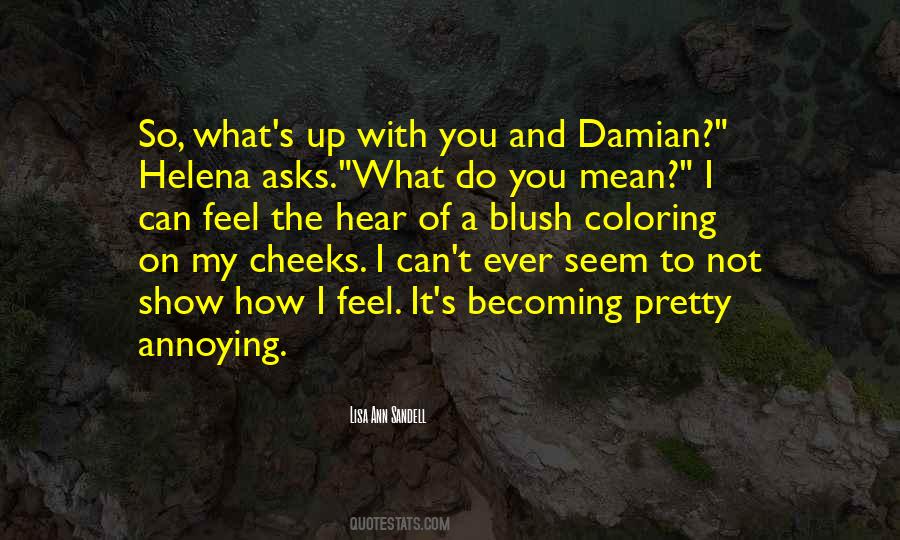 #61. I think we really feel like Crowdrise could be something that, 20 years from now, people take for granted because that's just how you do it, like if you're going to raise money for something, that's how you do it. - Author: Edward Norton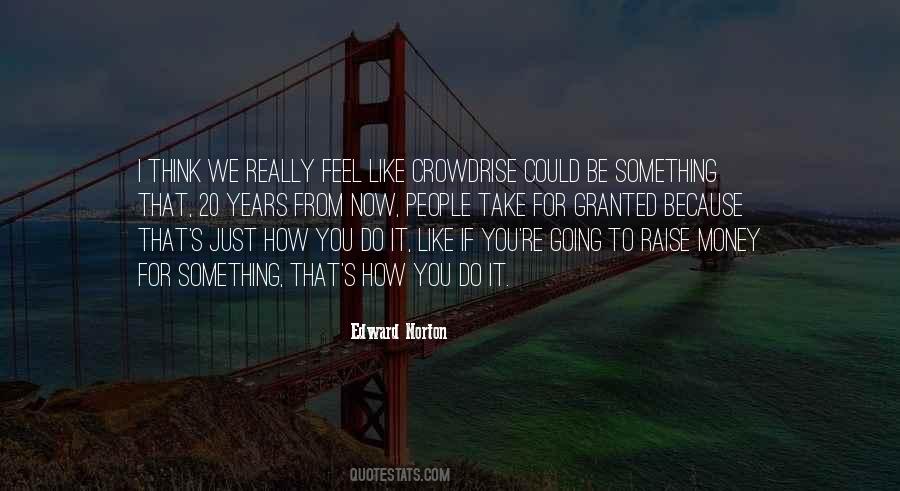 #62. Are you calling me your gift?"
"Yes." She smiled. "How do you feel about that?"
"Like it's my turn to be unwrapped."
He nibbled at her mouth. "Do it slow. - Author: Nalini Singh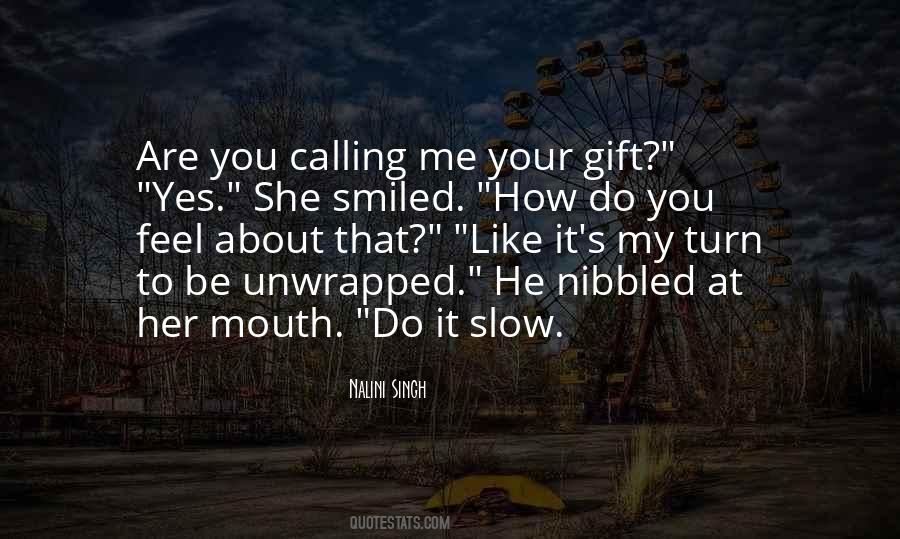 #63. Ella, just stay here. Stay safe."
"Safe," Ella repeated. "Ella likes being safe. Safety in numbers. Safety deposit boxes. Ella will go with Tyson."
"What?" Percy said. "Oh ... fine, whatever. Just don't get hurt. And Mrs. O'Leary - "
"ROOOF."
"How do you feel about pulling a chariot? - Author: Rick Riordan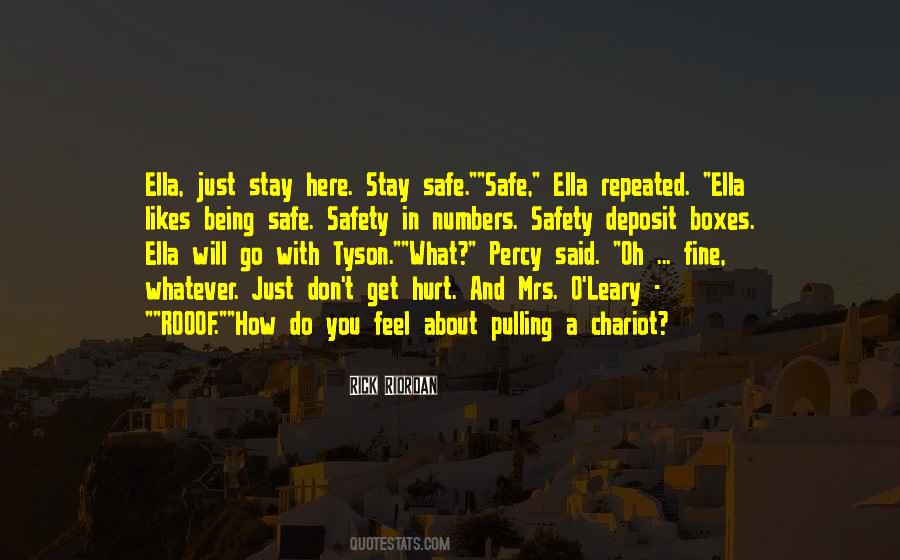 #64. I could feel my body temperature - I knew I was bright red. It was so humiliating, I was so upset, and it was nothing I had planned to do. It was just one of those beautiful moments, the alchemy of acting that is so mysterious, where you sort of go, "How did that come out of me?" - Author: Sarah Paulson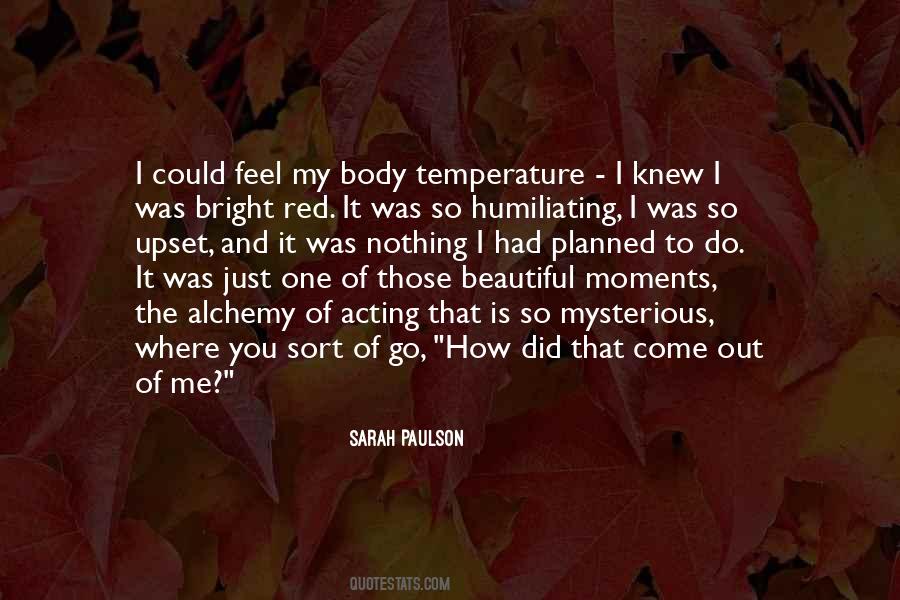 #65. It was a time before Facebook and Instagram and texting. I imagine it must be easier now, for college students. Home must not feel so far away anymore. But how do you cut the apron strings if the strings are virtual? - Author: Kirstie Collins Brote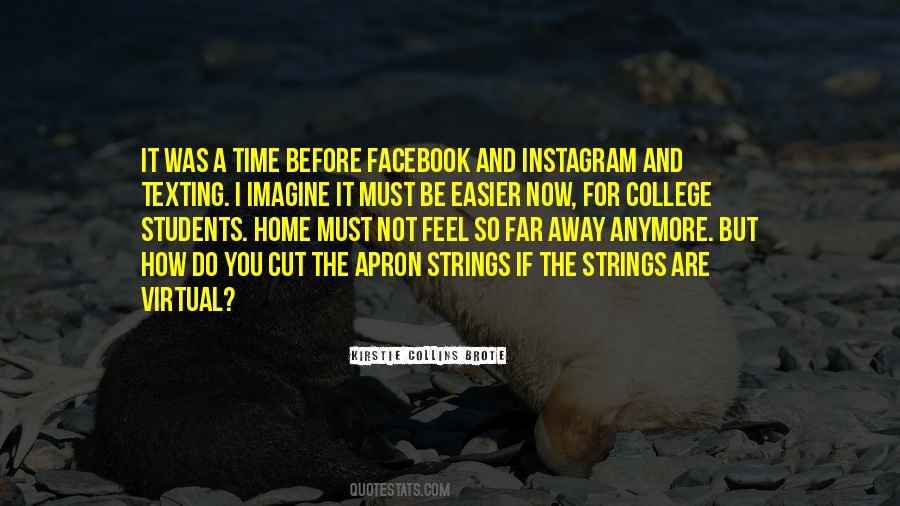 #66. You see, things being good has nothing to do with how you feel outside, it is all to do with how you are inside. - Author: Helen Fielding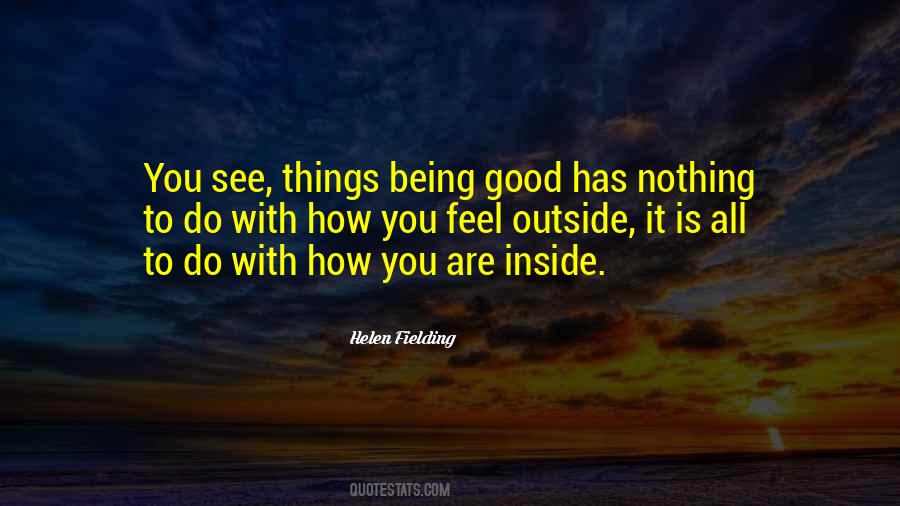 #67. When I feel like I'm stuck, I do something - not like I'm Mother Teresa or anything, but there's someone that's forgotten about in your life, all the time. Someone that could use an 'Attaboy' or a 'How you doin' out there. - Author: Bill Murray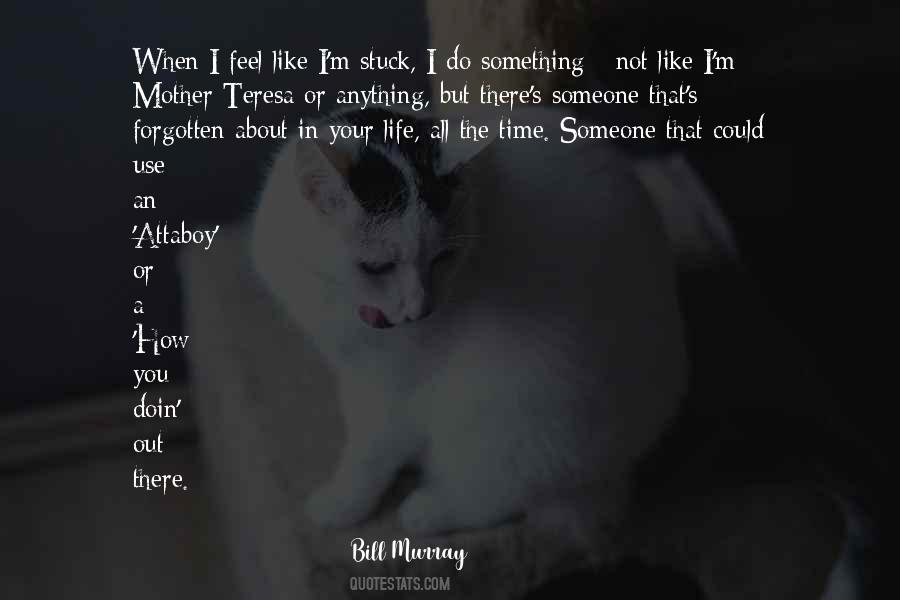 #68. I learned very quickly that if you just go out and make something and maybe fail at it or you just learn how to edit it yourself. I edited my last films. You just do it yourself. You feel so creatively empowered and you're controlling your own destiny as artists. - Author: Daryl Wein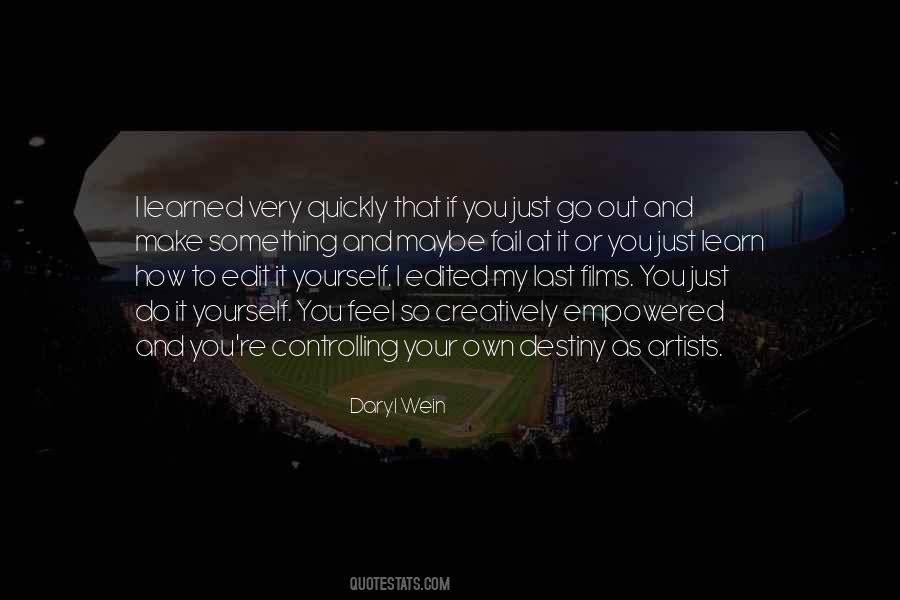 #69. Don't patronize me, Caro", he said, sounding even angrier. "You think I don't know what it means to make this commitment but I do ... Don't dismiss how I feel just because ... just because I'm younger than you. - Author: Jane Harvey-Berrick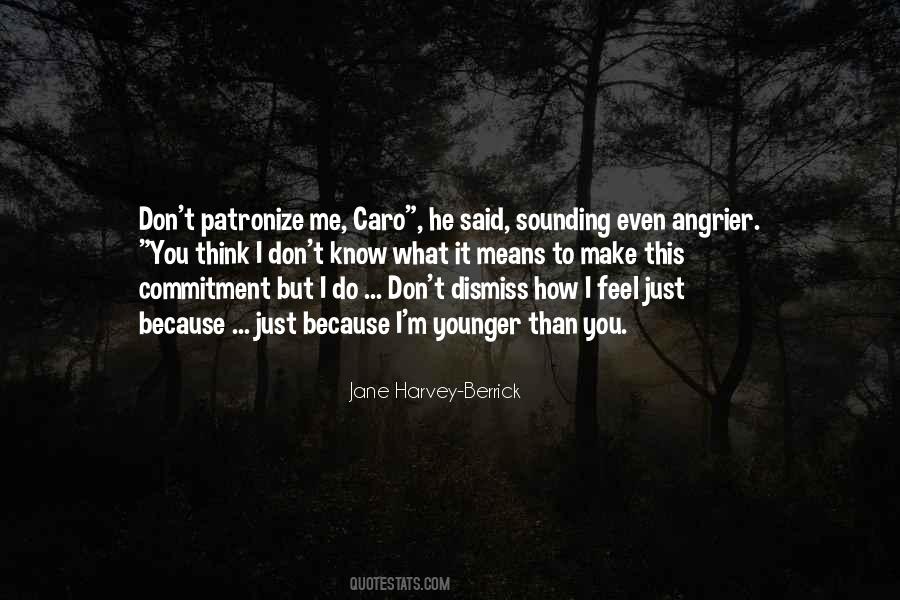 #70. Do you feel bored and stuck in a rut? Is work drudgery? If so, you are spending far too much time bemoaning your fate and how the universe is not cooperating with your desires. Be present with and in your current situation. - Author: Srikumar Rao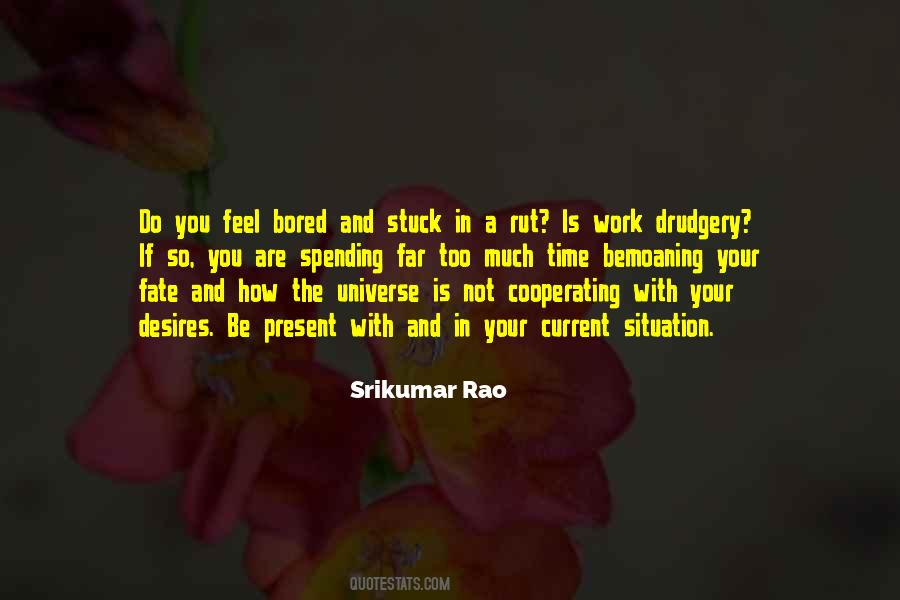 #71. Feel my heart beat. Can you feel it?"
"Yes."
"Feel how steady it is?"
"It's fast."
"Yes, well, that has nothing to do with the box. - Author: Veronica Roth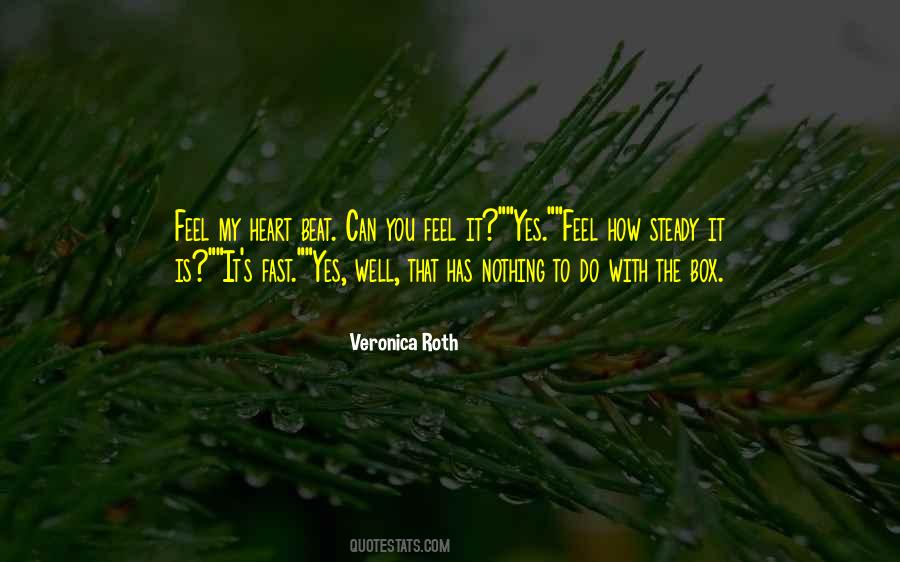 #72. Be what you are. Do what you love. Speak what you feel. Don't hide
your humanity. Celebrate it. Embrace it.
That is how you change the world. - Author: Vironika Tugaleva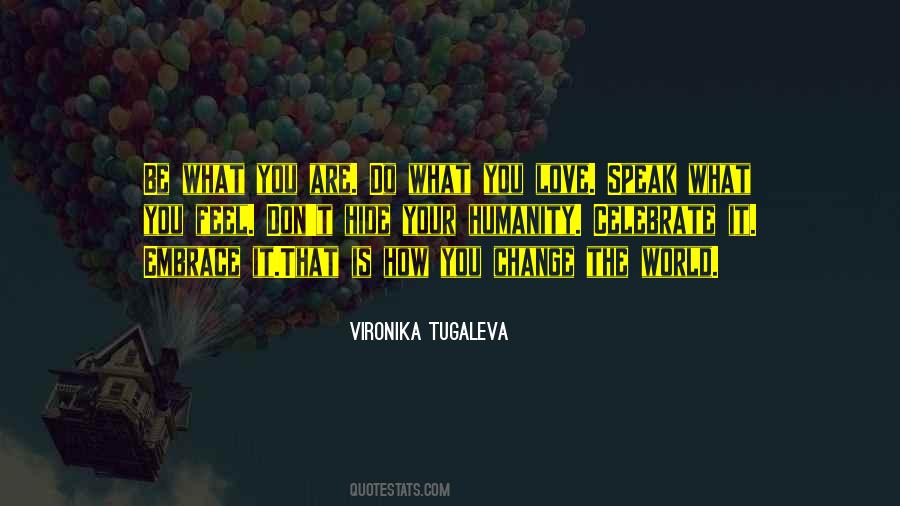 #73. Yeah, right. I don't believe that one for a minute. What do you think? I fell off a turnip truck? (Simone)
Honestly? All I was thinking about was how beautiful you are. How much I wanted to feel your skin against mine and how I've never been this attracted to a woman before. (Xypher) - Author: Sherrilyn Kenyon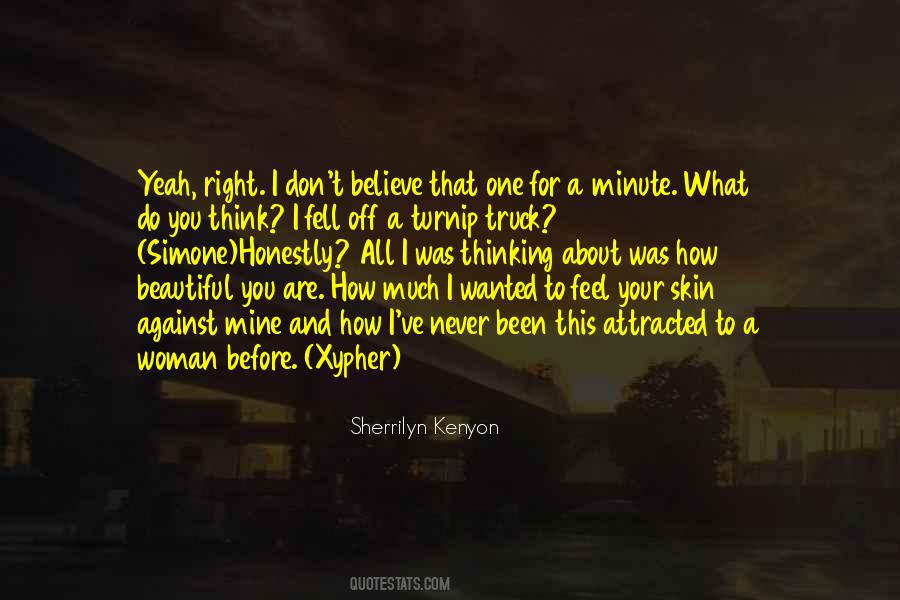 #74. The problem with looking in the mirror is that you never know how you will feel about what you see. Sometimes, when my hormones are out of sync, I have no interest in the mirror, and if I do look I think everything is all wrong. Other times, I am quite pleased with what I see. - Author: Chimamanda Ngozi Adichie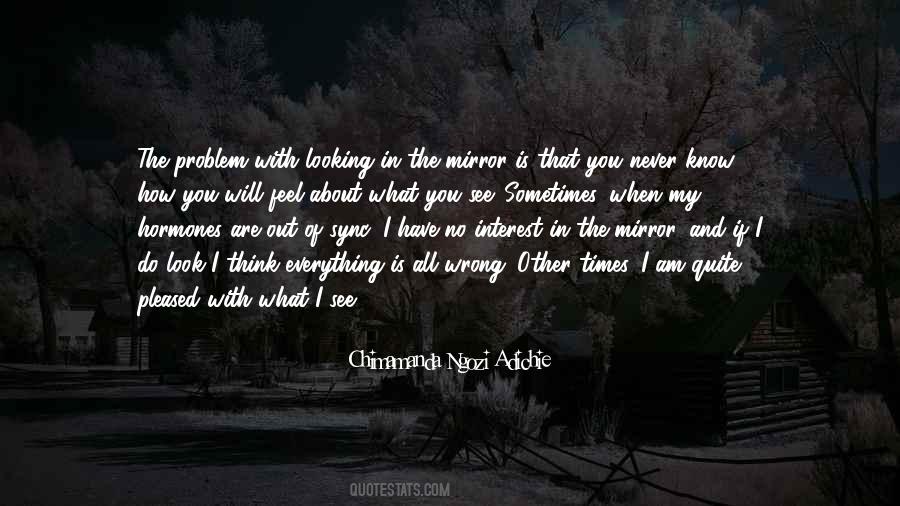 #75. How do you know that? (Stryker)
I know everything. I feel every heartbeat in the universe. Hear every scream for mercy and feel every tear of pain. (Jared) - Author: Sherrilyn Kenyon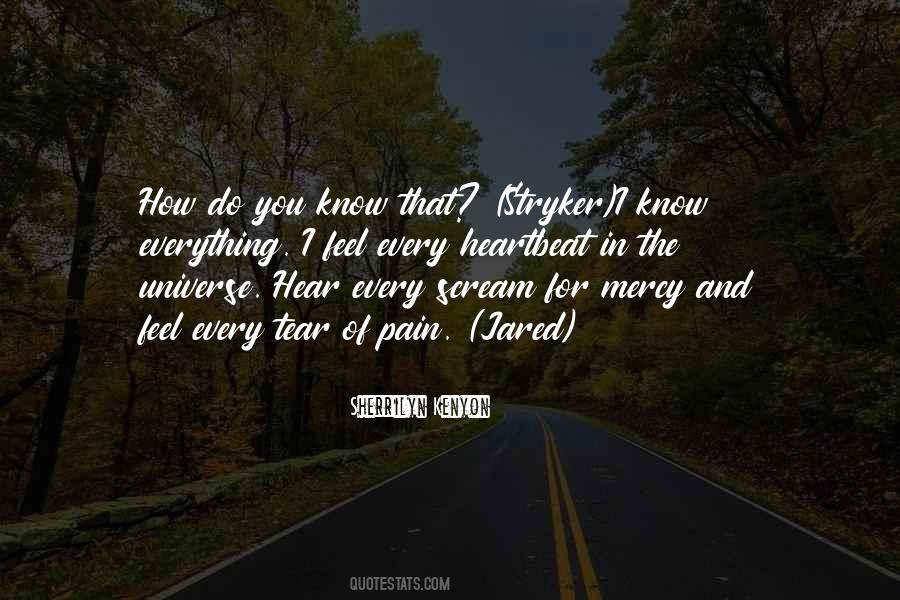 #76. The best-case scenario is that the glass shatters in my face! How do you think that makes me feel? - Author: Adam Savage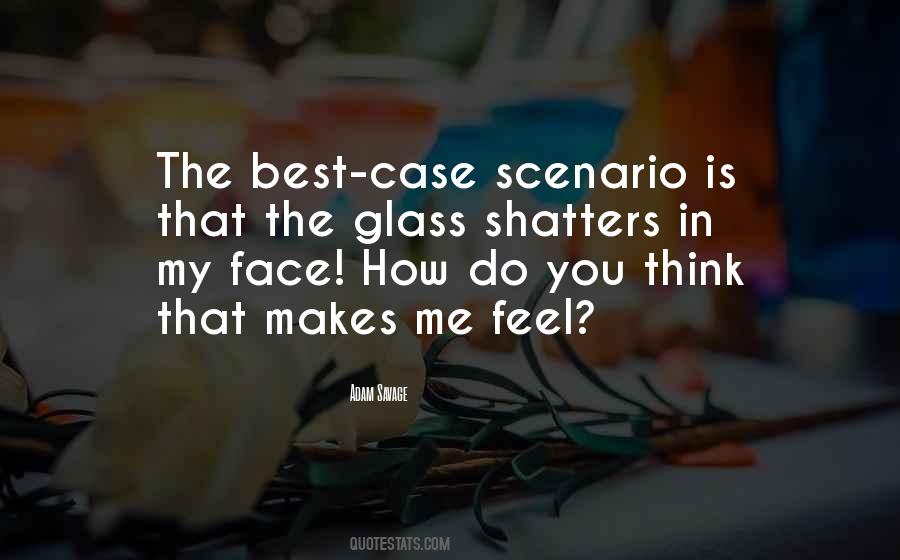 #77. I feel like politics have always informed what I do. If you know anything about my music, you know I've never been shy about stating how I vote. - Author: Mary Chapin Carpenter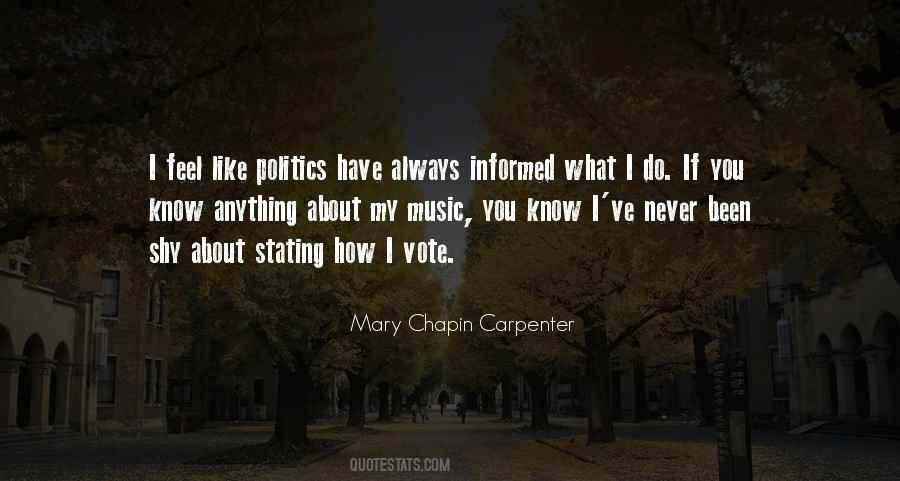 #78. Live your life like the novels that you love to read. Only do the things that when you look back, you are proud of what you accomplished, feel good about how you treated others and didn't regret not doing to trying something. Every day is a new chapter, write something. - Author: Taylor Berke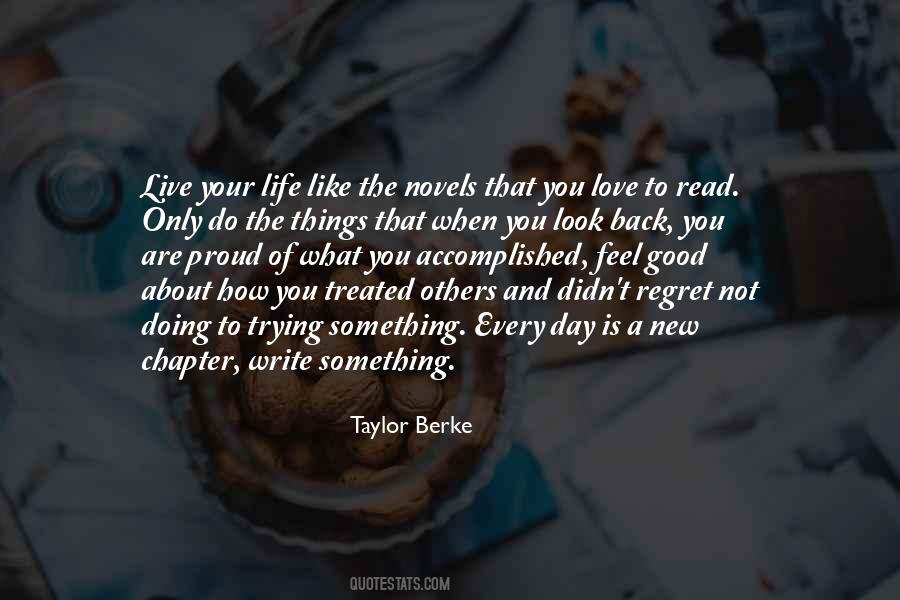 #79. I don't know if I even believe in that anymore. The right guy. The perfect guy. The one. I've lost faith in "the".
How do you feel about "a" and "an"?
Indifferent.
So you're considering a life without articles? - Author: Rainbow Rowell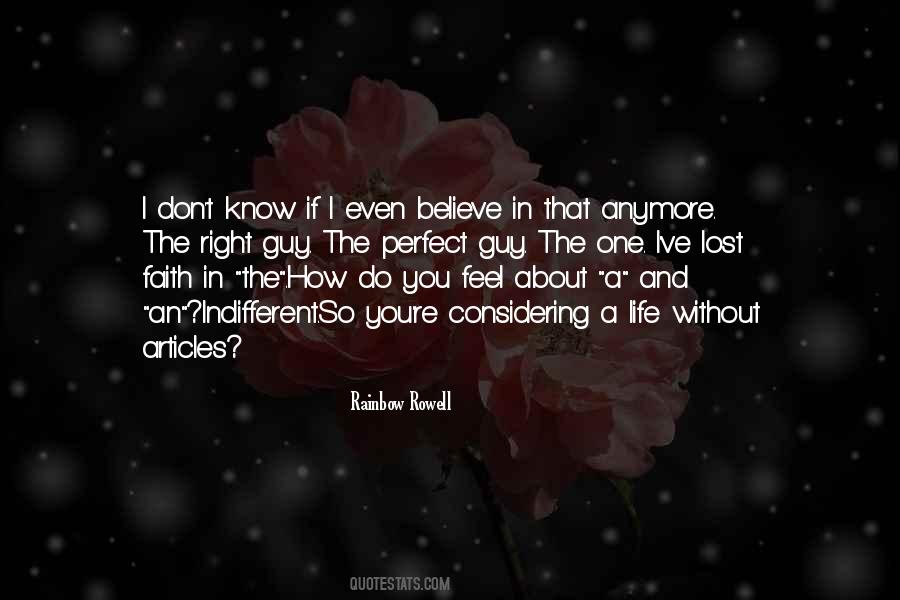 #80. Fact is fact. Truth is Truth. It does not matter how you feel. We do not listen to our feelings. We believe the truth of God's word. - Author: Eric Ludy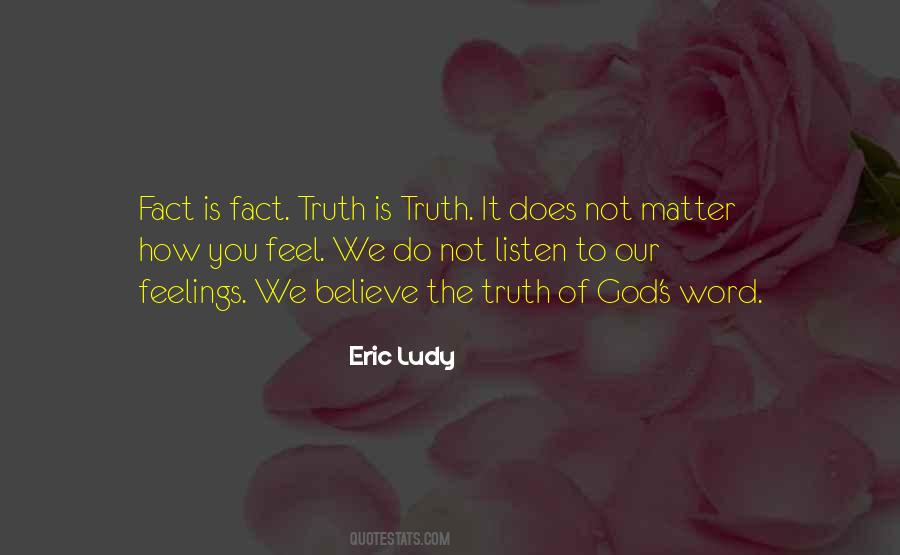 #81. God. No wonder it was so easy. He's been bleeding since he was a baby. He just never told anyone. How do you even know it hurts after all that time? Because you loved me, and I knew what it meant to feel. - Author: Amy Lane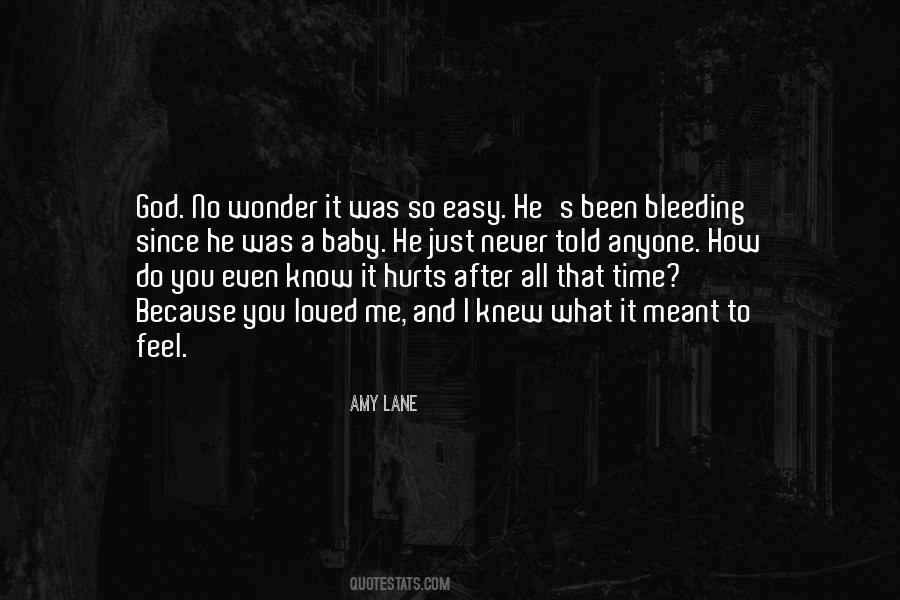 #82. Once you've found something you know how to do, it makes you feel you don't have to be intimidated by someone. - Author: Mira Sorvino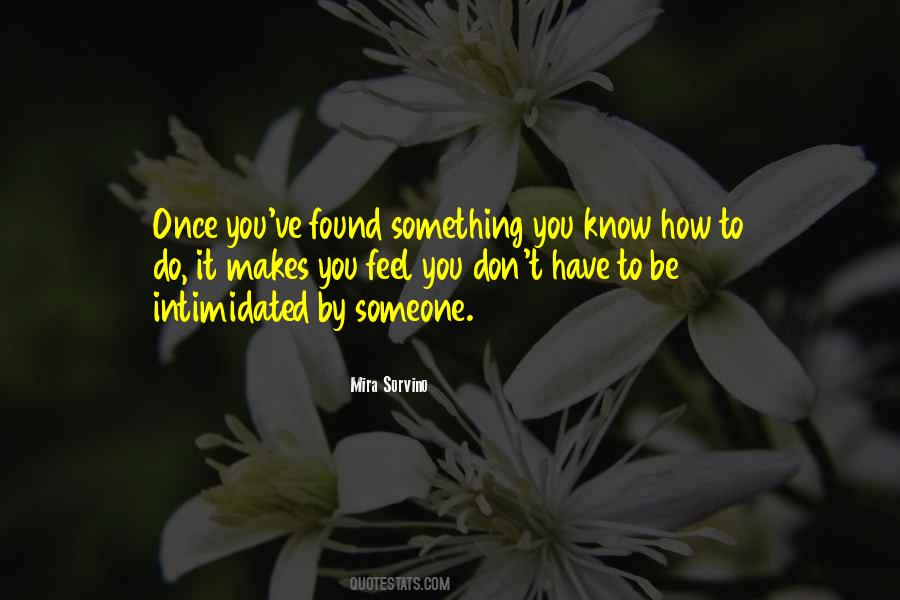 #83. Do you know how it feels to be fire wrapped in a woman's skin, but always feel like you're drowning? - Author: Cole McCade
#84. Kane: So, what should I do?
Helen: Are you looking for another slap on the head? Hook up that wonderful connection you now have with your mate. Go find her, explain how you feel and then have some great make-up sex! - Author: Nicky Charles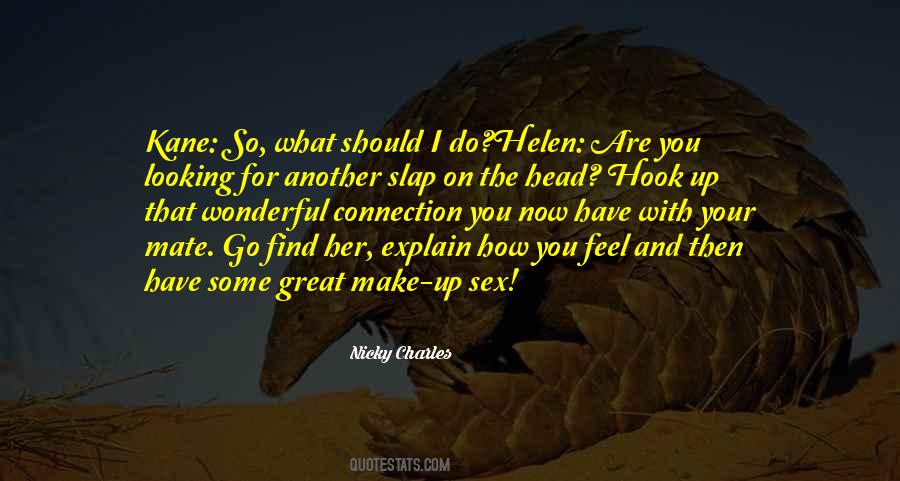 #85. Digger stood and ambled toward the balcony. "This explains so much. I feel like I've just finished a crossword puzzle."
"How do you know what that feels like?" Kelly asked - Author: Abigail Roux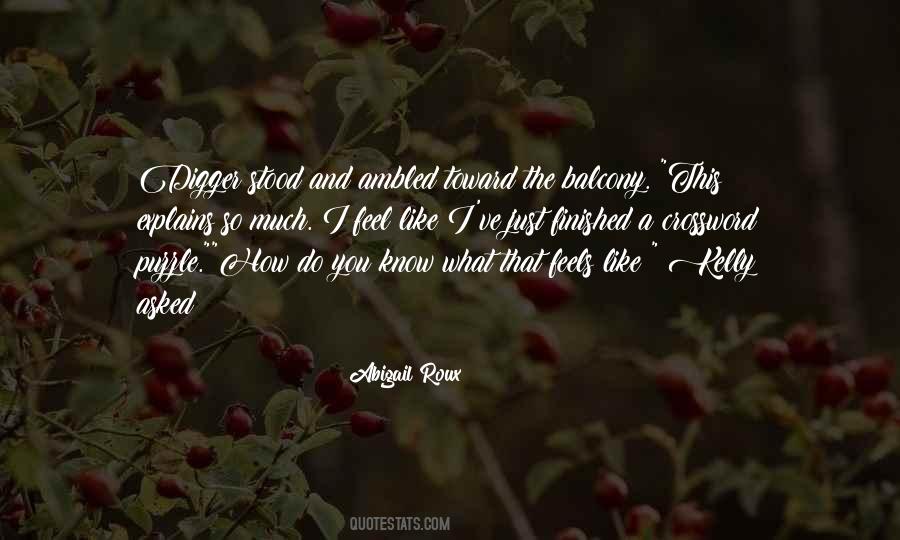 #86. Tell me," he said when he was at her back, "what do you see when you look out at the water?"
"Endless possibilites."
His lips were ghosting over the shell of her ear, and she could feel the smile pulling at them, making goosebumps break out all over her arms. "That's how I see us. - Author: London Miller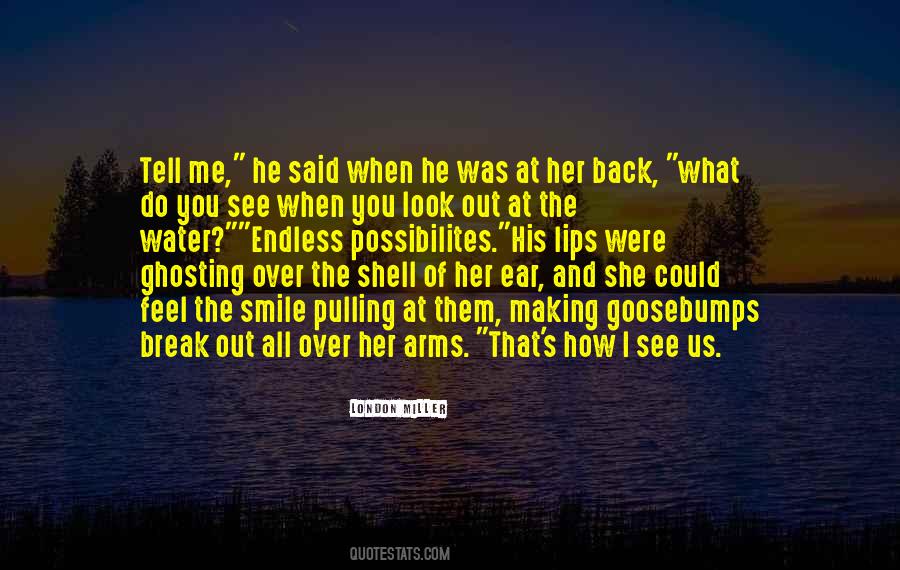 #87. Do you think I'll ever get better at this? That my heart might someday stop trying to jump out of my chest whenever you touch me? - Author: Stephenie Meyer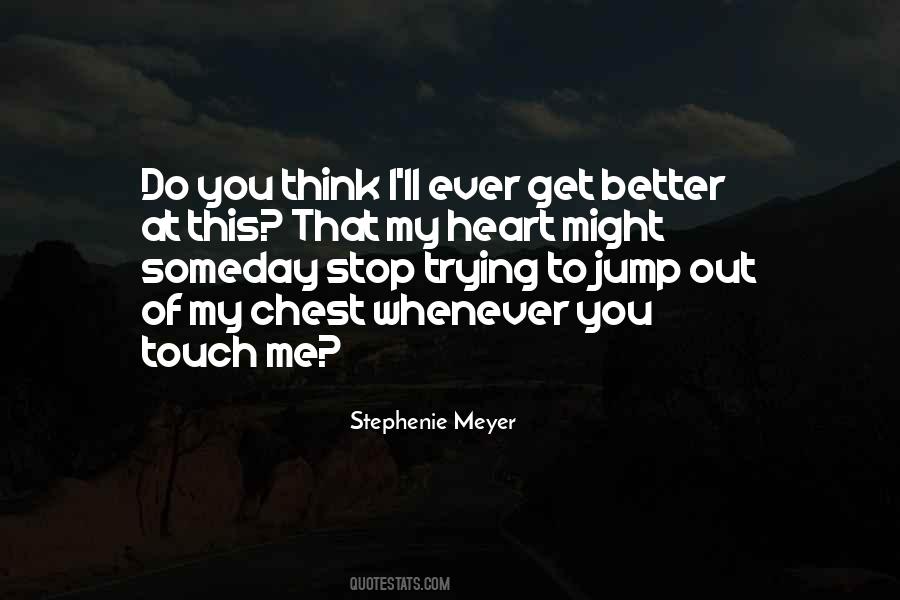 #88. I wonder how biology can explain the physical pain you feel in your chest when all you want to do is be with someone. - Author: Dan Howell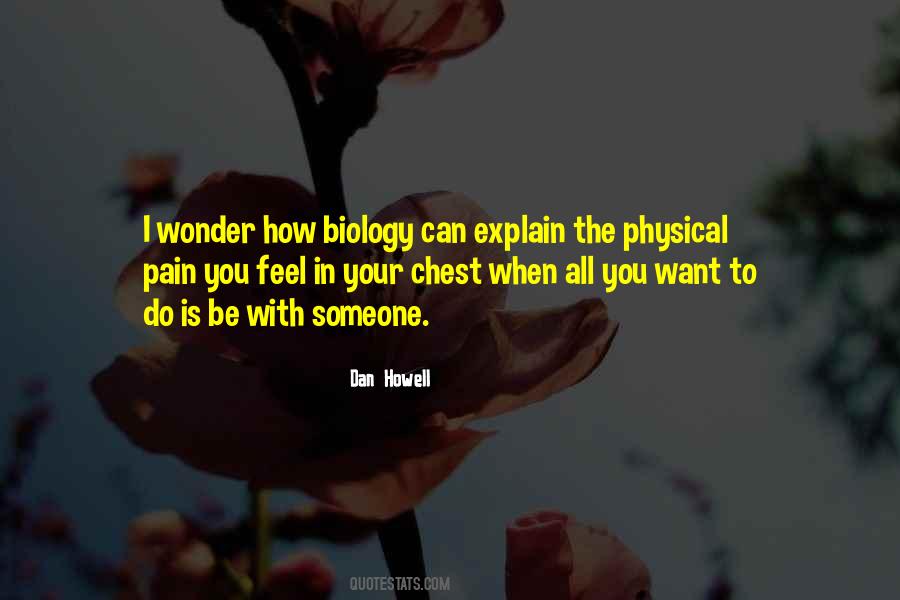 #89. Why do we go to all this trouble' Parker asked. 'Men don't notice anyway.'
'Because what we wear affects how we feel, how we act, how we move. And that they do notice. Especially the move. Get dressed, smoke the eyes. You'll know you look good so you'll feel good. You'll have a better time. - Author: Nora Roberts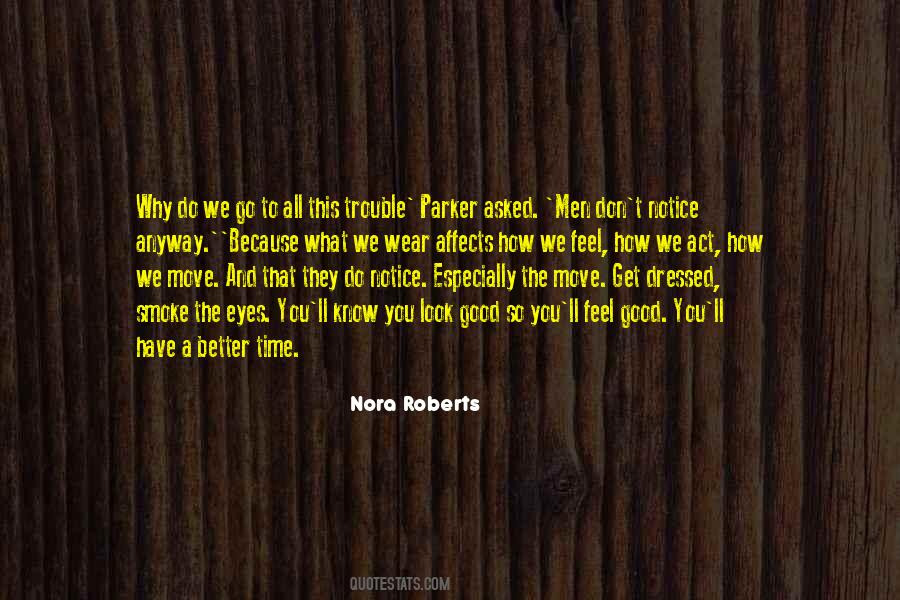 #90. My main question that I ask of my characters is, 'What does it feel like to be you? And how do you get through the day? Where do you find the hope and faith to endure getting through the days, and what are your days like?' - Author: Stewart O'Nan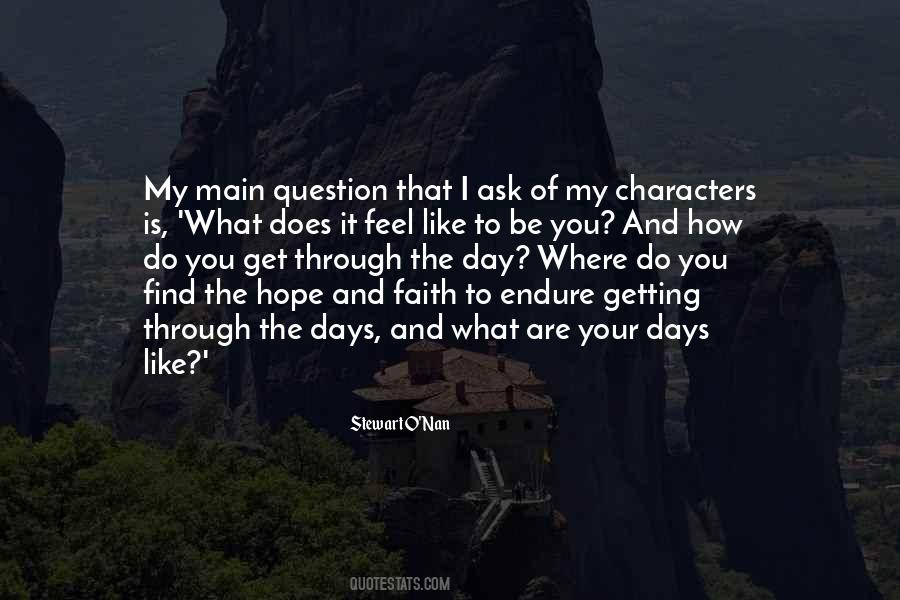 #91. When I'm with you, I don't feel self-conscious or like I'm crippled or ugly. I don't know how you do that, but it's nice. - Author: Sue Grafton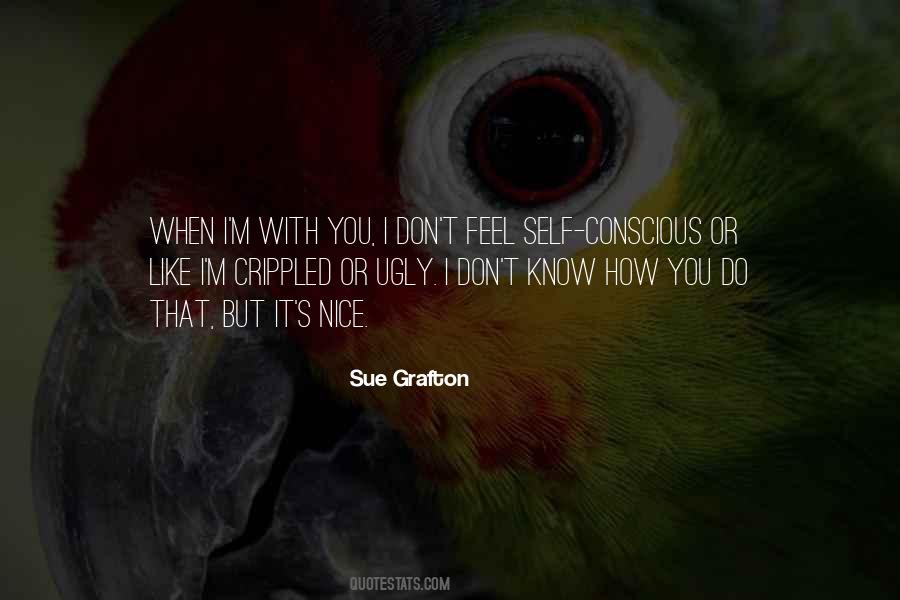 #92. God does not send the problem; genetics, chance, and bad luck do that. And God cannot make the problem go away, no matter how many prayers and good deeds we offer. What God does is promise us, I will be with you; you will feel burdened but you will never feel abandoned. In - Author: Harold S. Kushner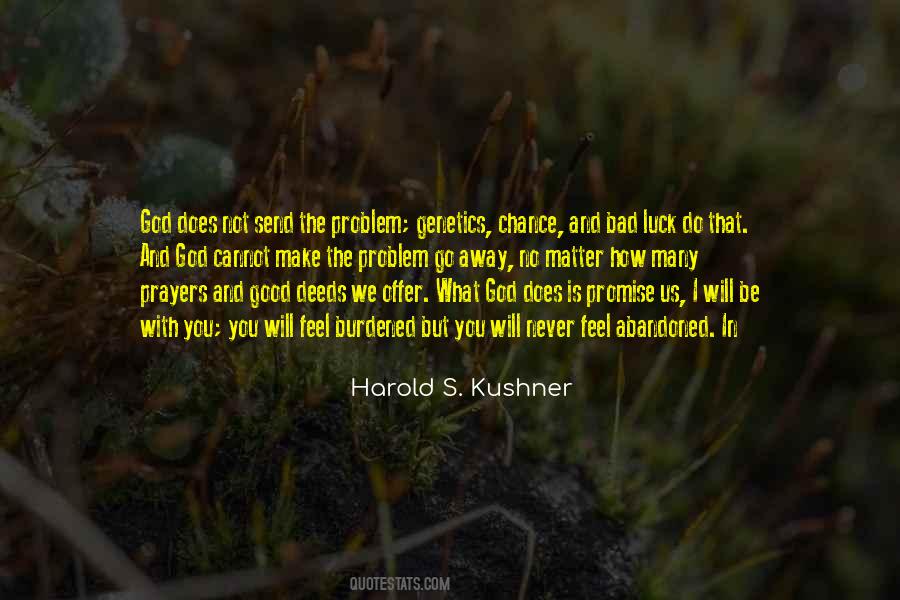 #93. To love what you do and feel like it matters, how could anything be more fun? - Author: Katherine Graham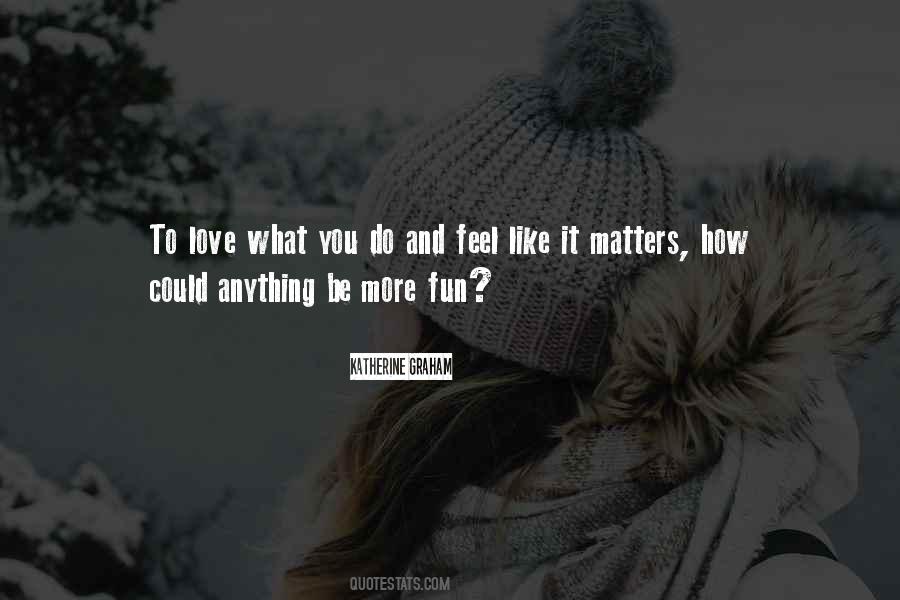 #94. Your love is as stable as you are: It's not about how good a person makes you feel, but rather what good you can do for them. - Author: Criss Jami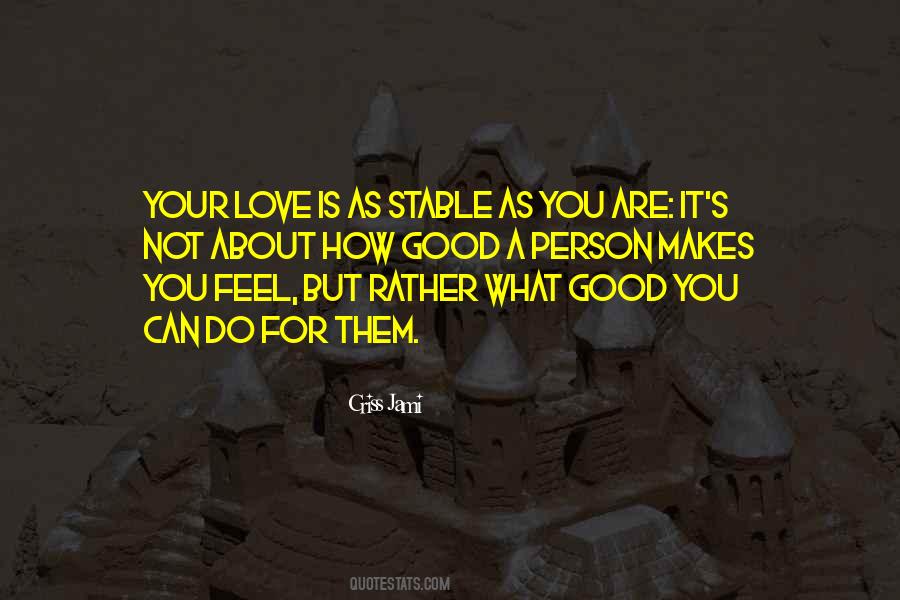 #95. You don't feel the need to talk all the time, do you," she said.
He smiled. "No."
"Most people don't know how to appreciate silence. They can't help talking."
"I talk, I just want to have something to say first. - Author: Nicholas Sparks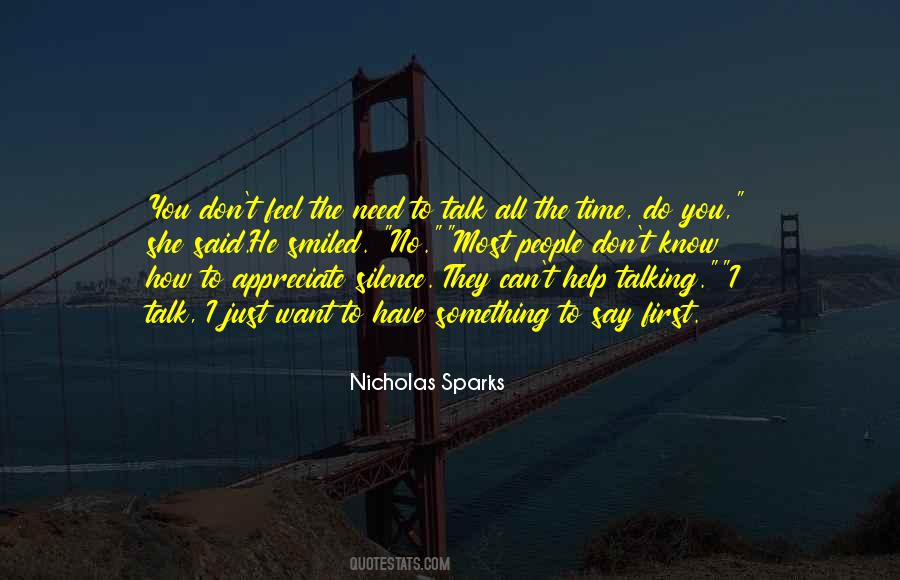 #96. It's funny - when I first started as an actor, obviously there were long periods of being idle and all you want to do is work. So if I ever get the compulsion to feel like I should complain or feel like I want to take a break, I just remember how I was before and be very grateful for it. - Author: Neil Jackson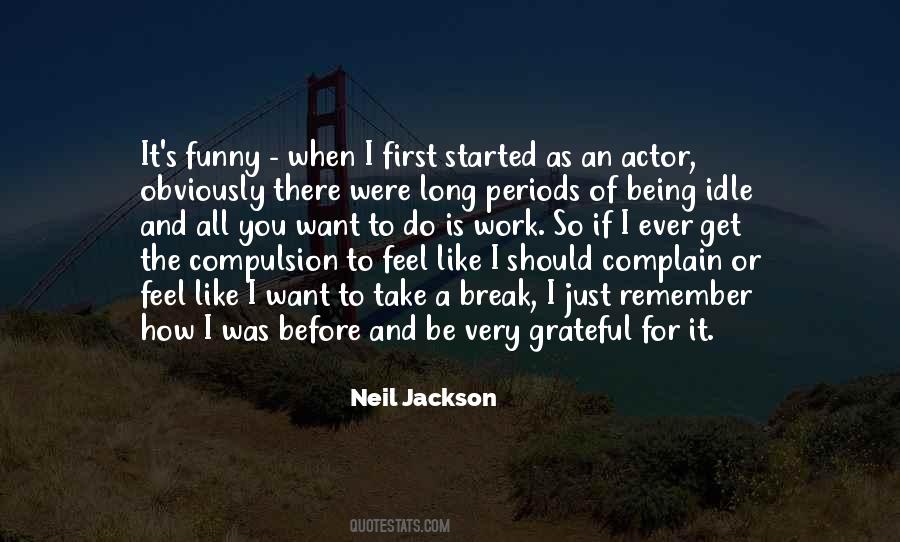 #97. The key is, how do you feel with the one asshole? They cannot be talked to. That's why they are assholes. - Author: Steven Soderbergh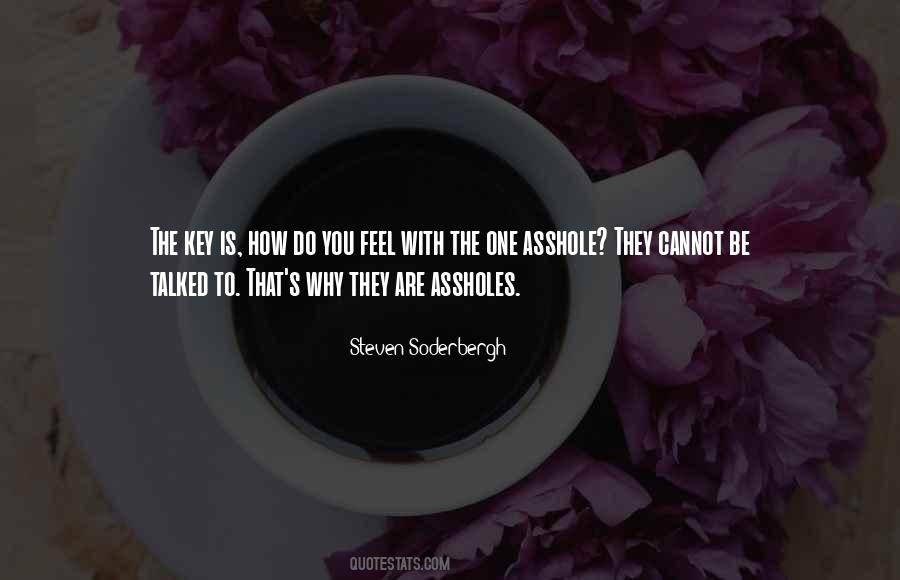 #98. The real question is, Why do you feel as though that's emasculating? A man can't have a conflict? When you try to do art, it's how it lands on people, and hopefully some people will see it the way that I saw it, which is all of these awful choices come from the place of a man who's damaged. - Author: Wendell Pierce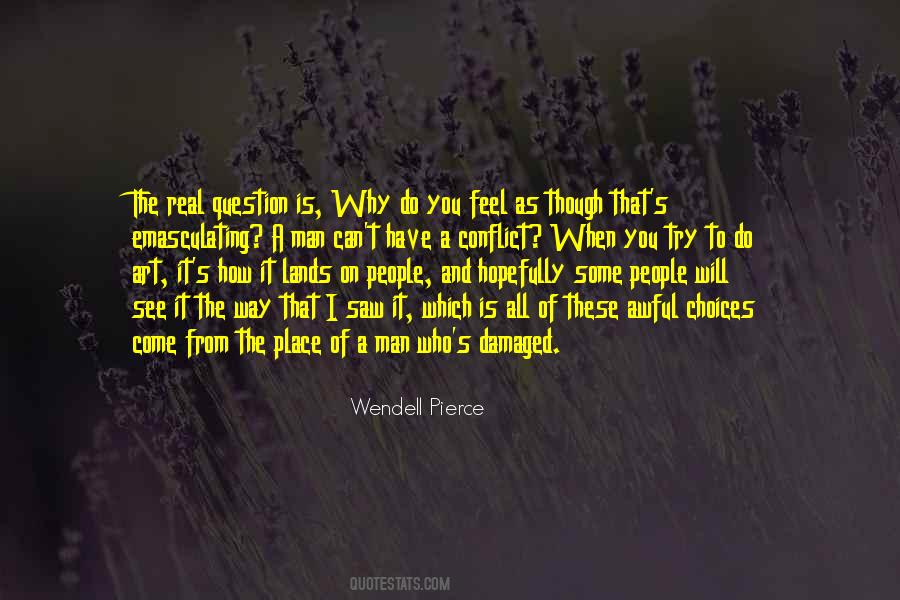 #99. It's an incredible thing, how you can feel so taken care of by someone and yet feel, also, like you would die or do anything just for the chance to protect him back. - Author: Lauren Oliver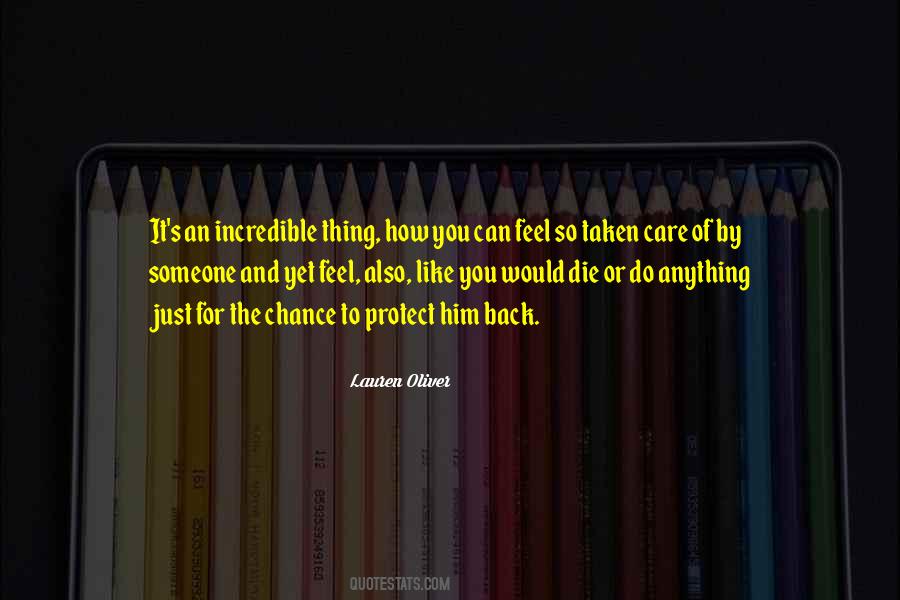 #100. Idea that you cannot control what happens to you, but you can control how you feel about it. Or, as Jean-Paul Sartre put it, Freedom is what you do with what's been done to you. - Author: Eula Biss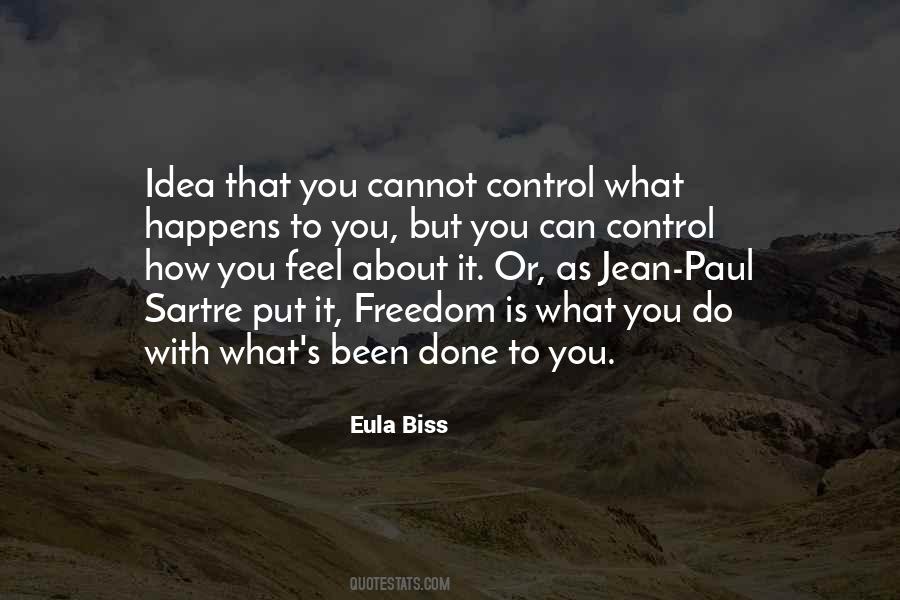 Famous Authors
Popular Topics