Historical Place Famous Quotes & Sayings
List of top 55 famous quotes and sayings about historical place to read and share with friends on your Facebook, Twitter, blogs.
Top 55 Quotes About Historical Place
#1. It is impossible to avoid the suspicion that historical Jesus research is a very safe place to do theology and call it history, to do autobiography and call it biography. - Author: John Dominic Crossan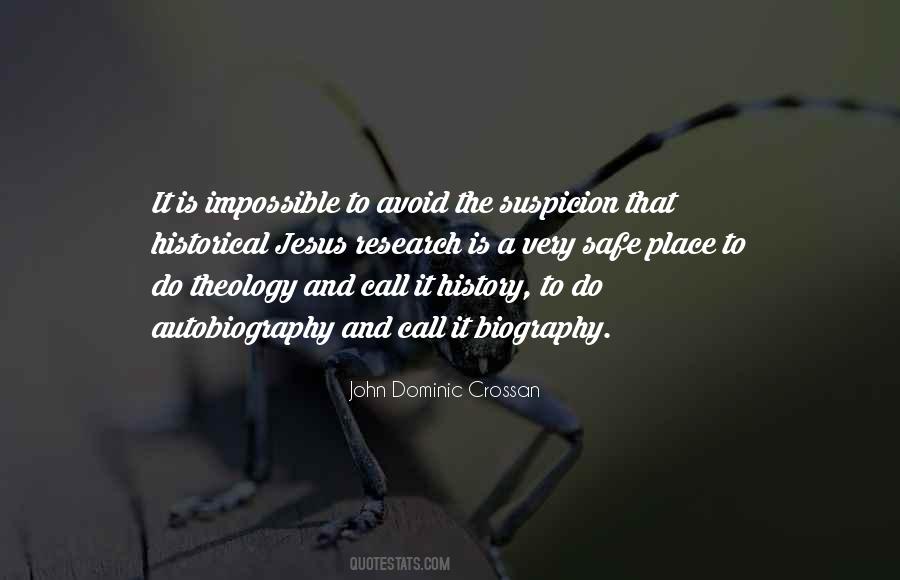 #2. It is this conception of the unity of the human career which is perhaps the greatest achievement of historical study, since it gained a place analogous to that of natural science. - Author: James Henry Breasted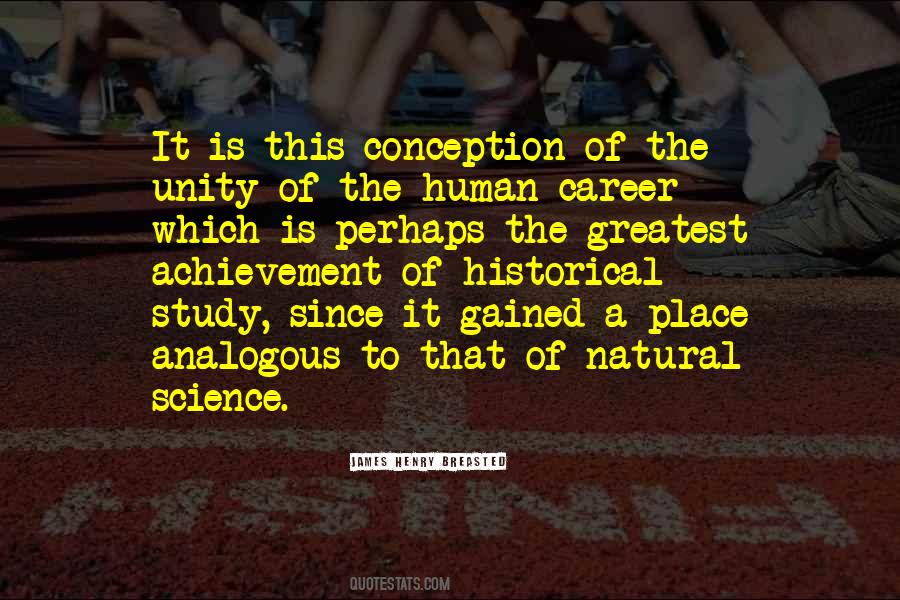 #3. No one ever tells you that: that there's no method. Writing's a lawless place. - Author: Naomi Wood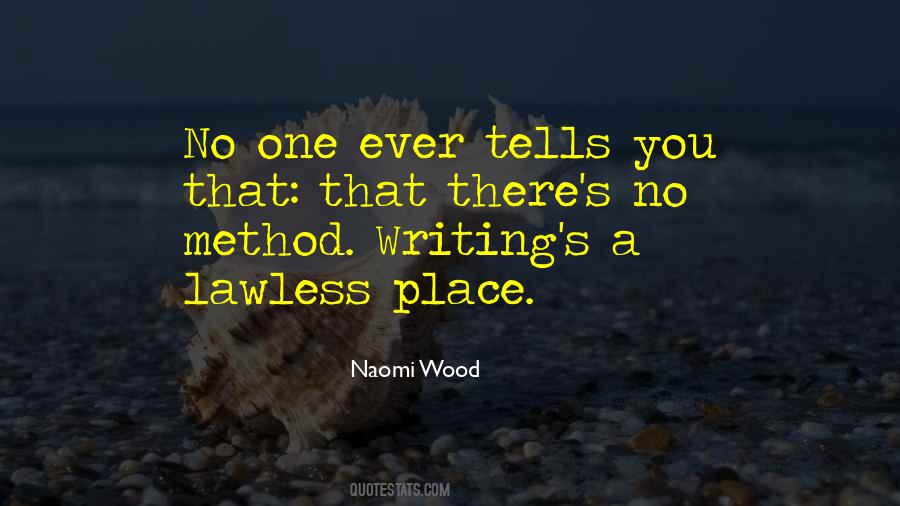 #4. The Lowcountry traditionally is a logical place where the big ships stopped and brought new things in from the ocean, and the islands have a mystical tradition. It is such a visual place, too, with these iconic villages with the Spanish moss and the village and historical homes and the coast. - Author: Margaret Stohl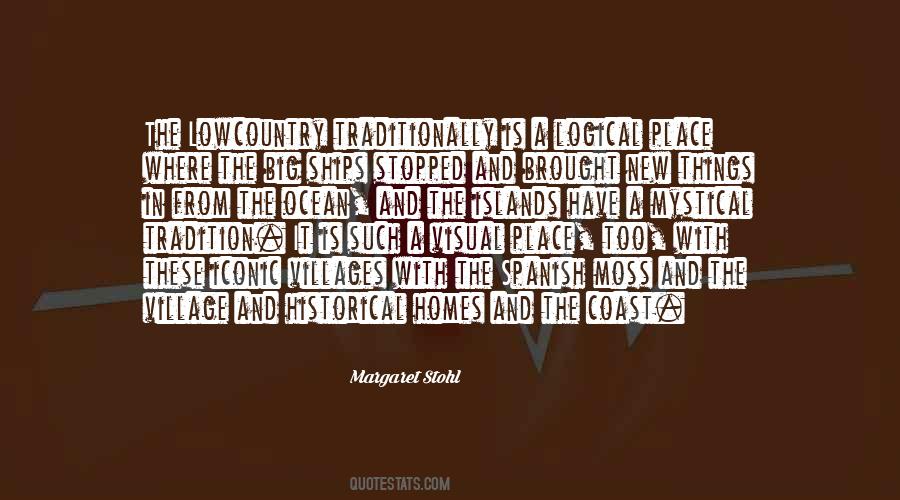 #5. During the days of segregation, there was not a place of higher learning for African Americans. They were simply not welcome in many of the traditional schools. And from this backward policy grew the network of historical black colleges and universities. - Author: Michael N. Castle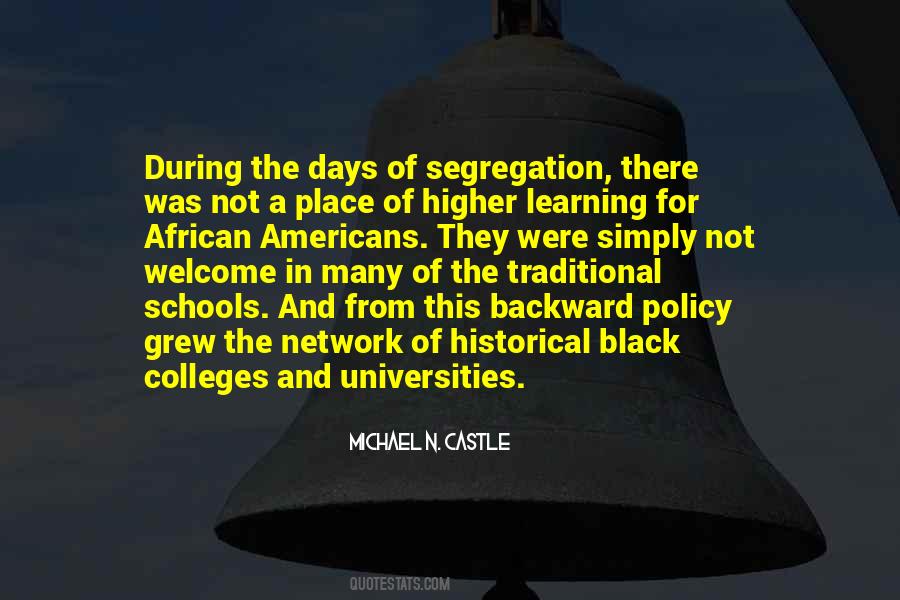 #6. If you write a book set in the past about something that happened east of the Mississippi, it's a 'historical novel.' If you write about something that took place west of the Mississippi, it's a 'Western'- and somehow regarded as a lesser work. I write historical novels about the frontier. - Author: Louis L'Amour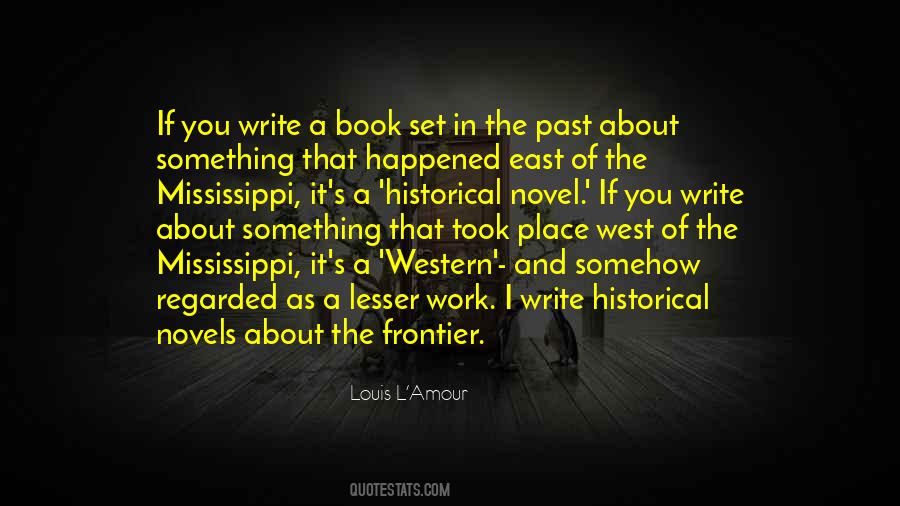 #7. I was living in Paris, which is a very beautiful, very wonderful place, but a tight place as a city, a tight place culturally. Its people are very brilliant, thoughtful, the place functions, but it's a historical place in some ways, like a big museum. - Author: Nicolas Berggruen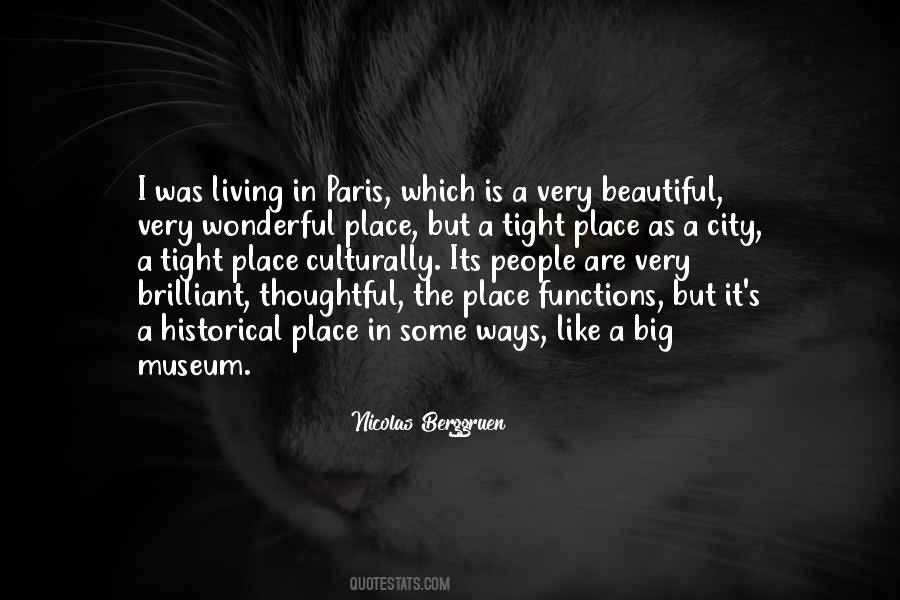 #8. Turkish." Vocabulary was deleted, new words added. Place-names all over the country were Turkified (for example, "Smyrna" became "Izmir"), which only added confusion and another obfuscating layer to the buildup of historical sediment. - Author: Eric Bogosian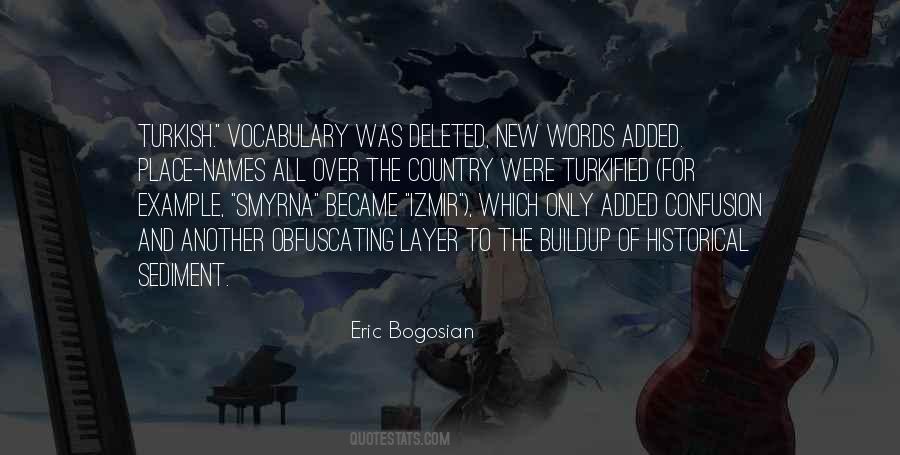 #9. One never really knows how much one has been touched by a place until one has left it. - Author: Thomas Jefferson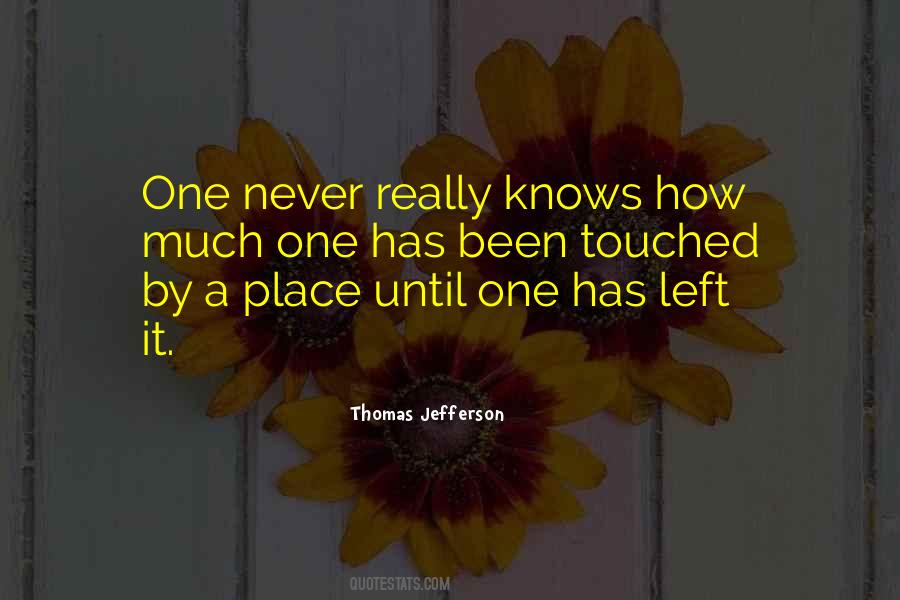 #10. Everything has its place and time. We men of the nineteen-forties can smile at the mistakes of the nineteen-thirties, and, in turn, the men of the nineteen-fifties will laugh at the mistakes of the nineteen-forties. It is this historical perspective that shall save us. - Author: Lin Yutang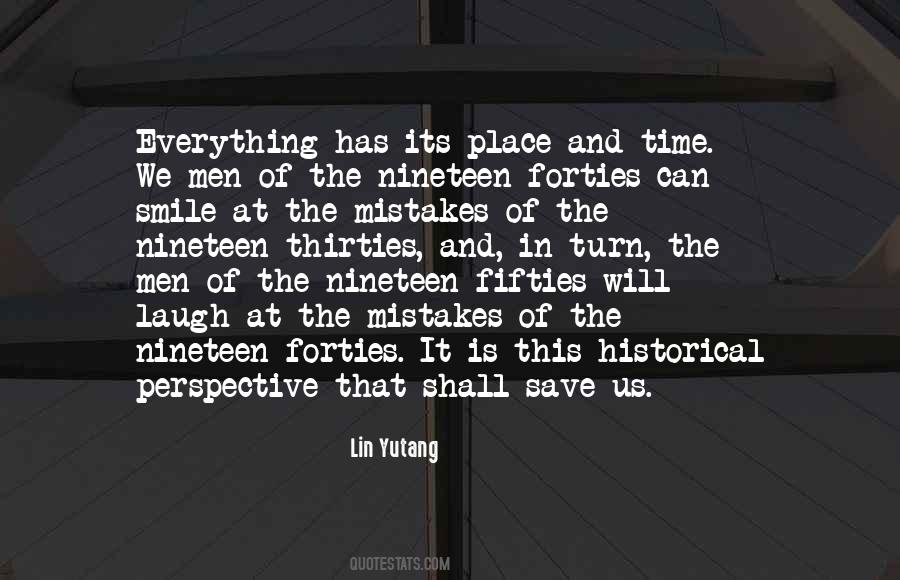 #11. Some of our greatest historical and artistic treasures we place with curators in museums; others we take for walks. - Author: Roger A. Caras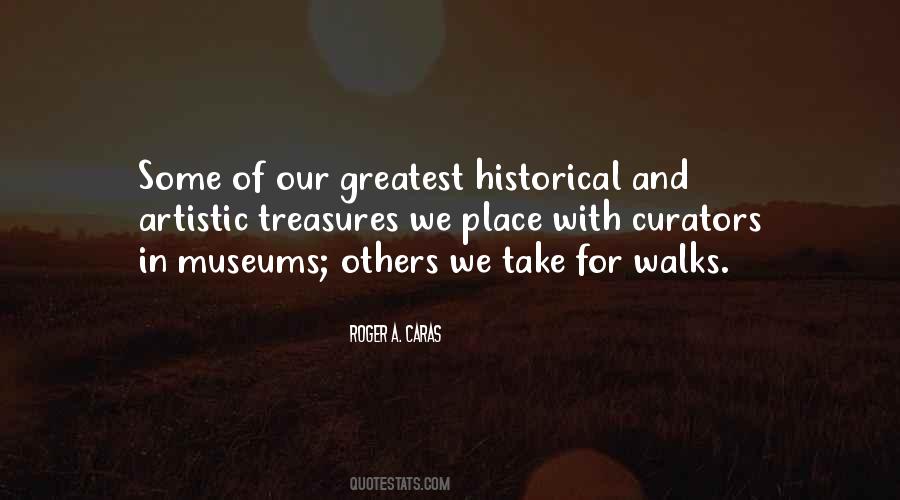 #12. The main thing going on in the 20th century is a dissolving of boundaries, all the boundaries that historical civilization put in place. - Author: Terence McKenna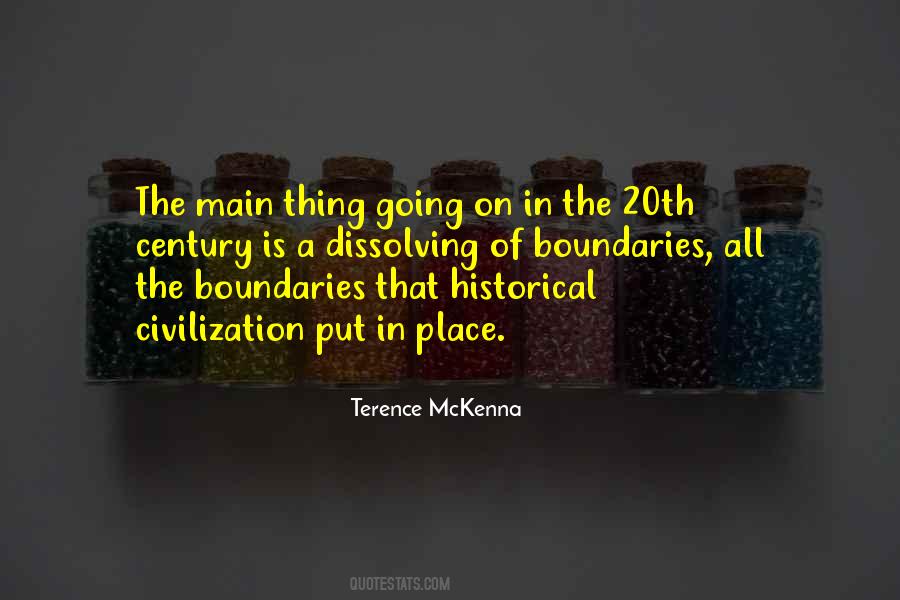 #13. I feel like we are reintroducing historical figures, with the explorer Marco Polo and the grandson of Genghis Khan, Kublai Khan, the ruler of the Mongol empire, the trading place that everybody wanted to get involved in. - Author: Benedict Wong
#14. For Africa to me ... is more than a glamorous fact. It is a historical truth. No man can know where he is going unless he knows exactly where he has been and exactly how he arrived at his present place. - Author: Maya Angelou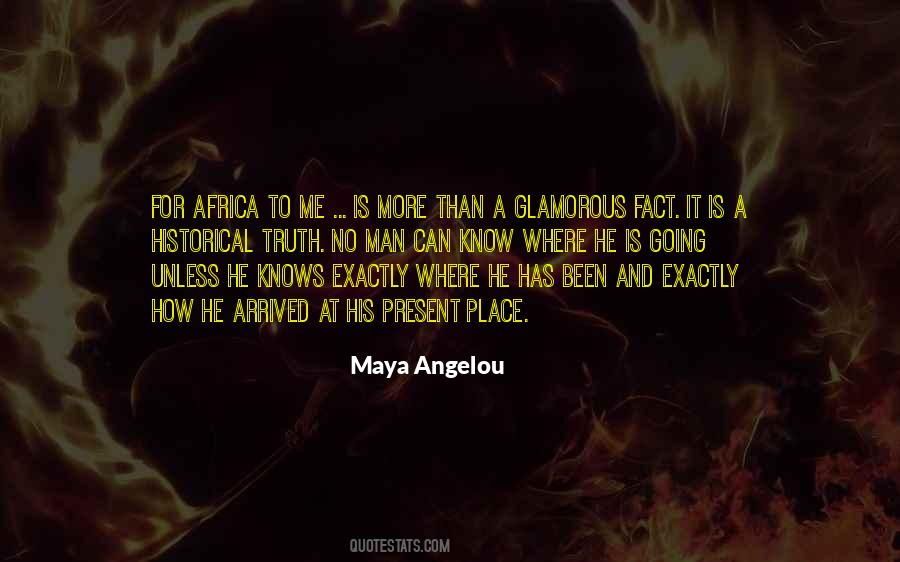 #15. I can relate to historical characters or imaginary ones. It doesn't matter if a story takes place in the future or in the present, as long as the story is compelling. - Author: Eric Stoltz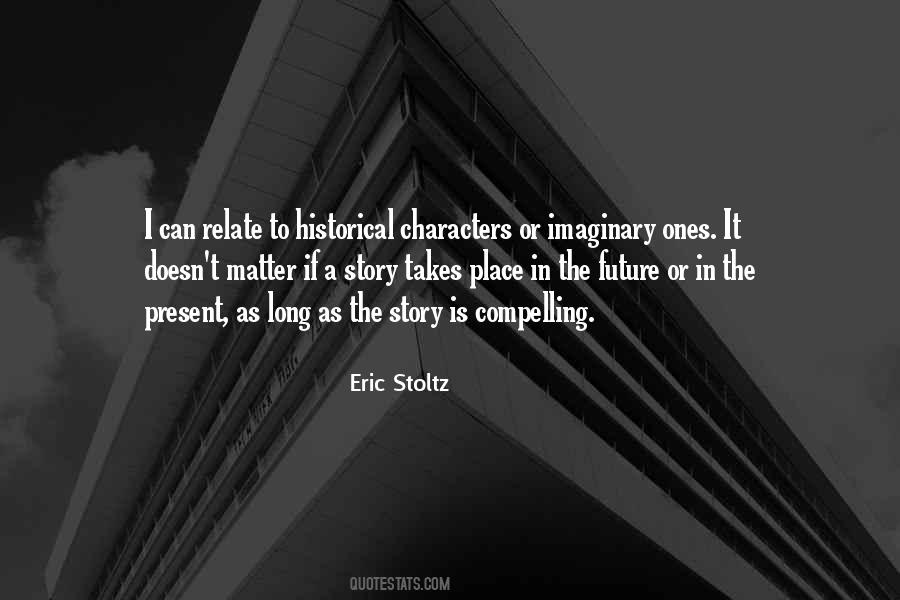 #16. Even as regards Earth we are more committed to history than to geography, more committed to time than to space. History is endless. Place is limited. - Author: Thomas Berry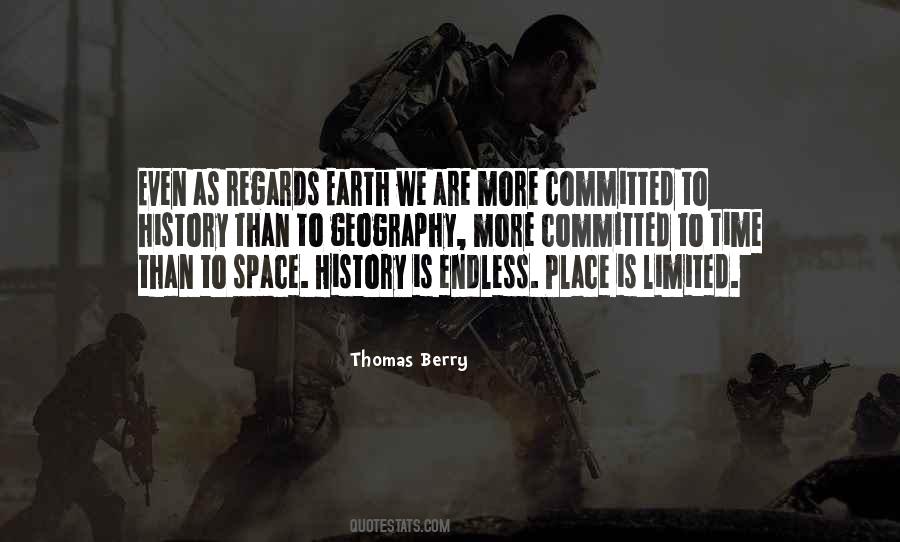 #17. A judgment pronounced in accordance with the facts can therefore assign to it an historical place only within that movement of reformation which was brought to a victorious issue by King Josiah. - Author: Julius Wellhausen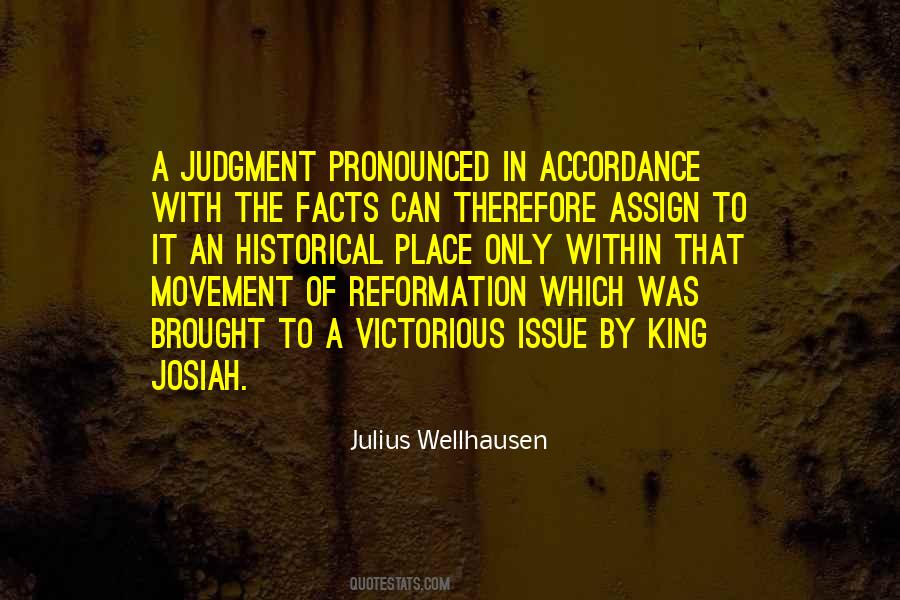 #18. Yeah, you can cook better than your wife, read historical romance, and, oh wait, I'm sorry. Do you even remember where you left your balls? Or did you even have them in the first place. - Author: Rachel Van Dyken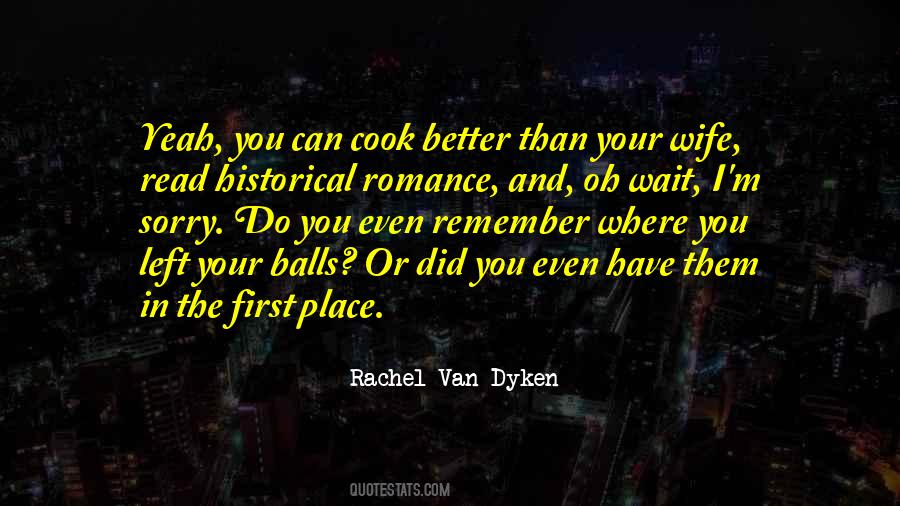 #19. One of the questions I face when working on a book about a historical event is whether I should visit the actual place that I'm writing about. No matter how scrupulously maintained a historic house or battlefield may be, it is nothing like it was in the long-ago past. - Author: Nathaniel Philbrick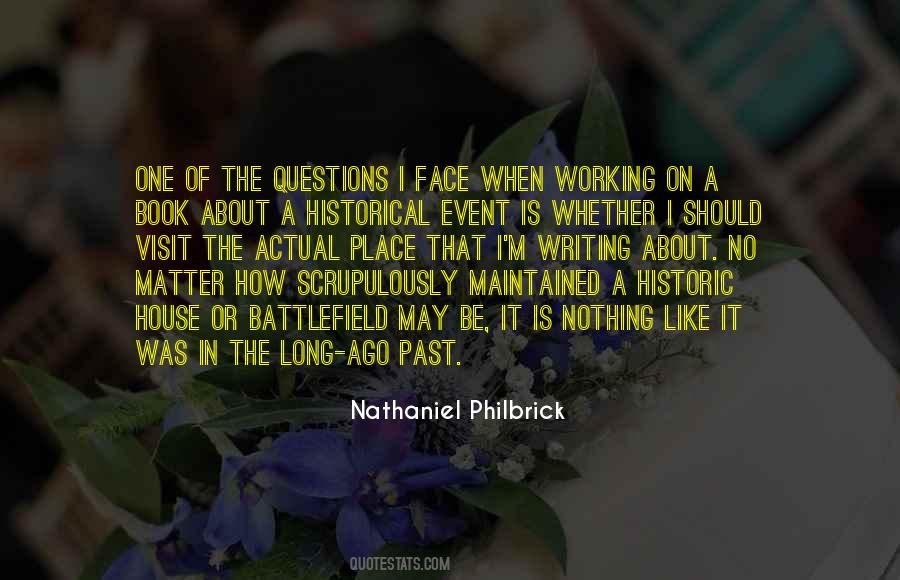 #20. Concentrate your narrative energy on the point of change. This is especially important for historical fiction. When your character is new to a place, or things alter around them, that's the point to step back and fill in the details of their world. - Author: Hilary Mantel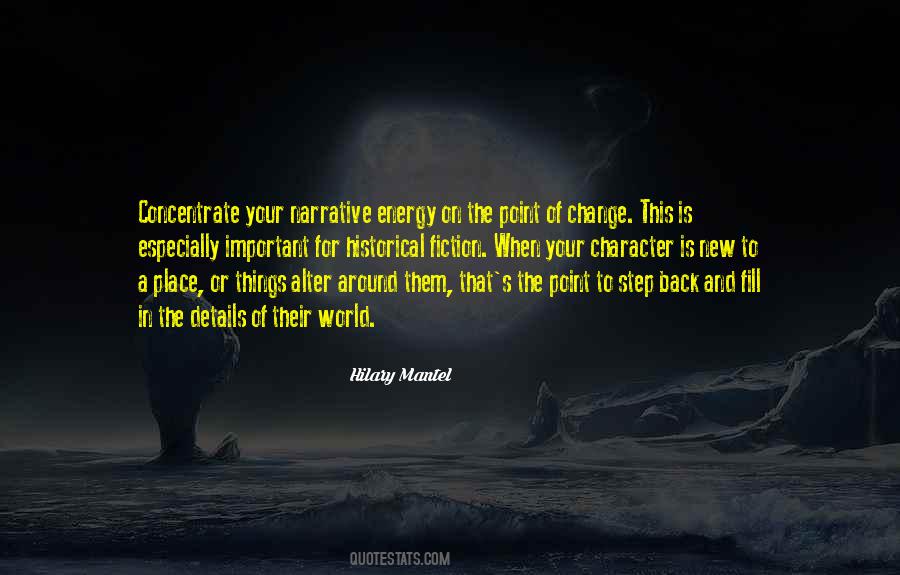 #21. When you travel, take many photographs of the place to have a historical memories of the place. - Author: Lailah Gifty Akita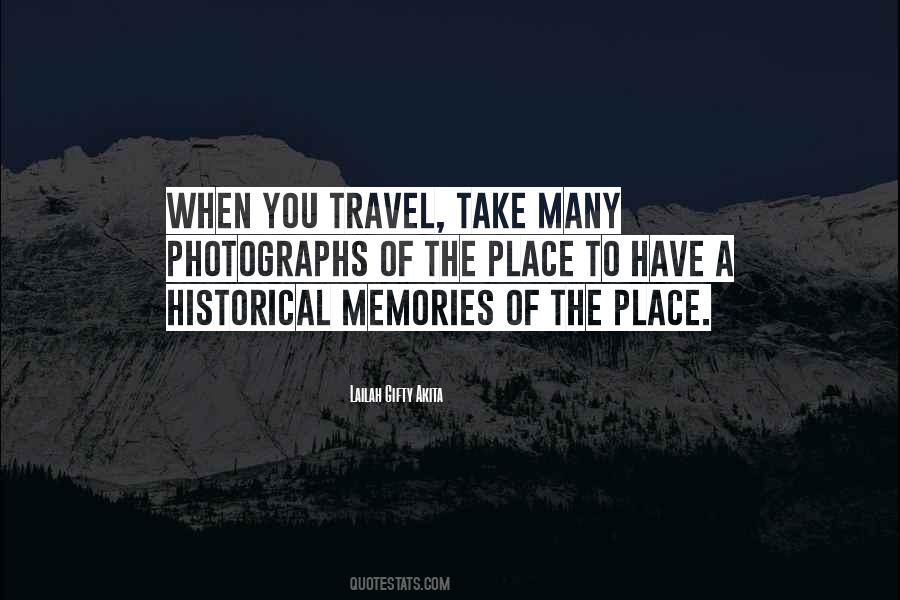 #22. We see in essence not with two eyes but with three: with the two eyes of the body and with the eye of the mind that is behind them. And it is in this eye of the mind in which the cultural-historical progressive development of the color sense takes place. - Author: Guy Deutscher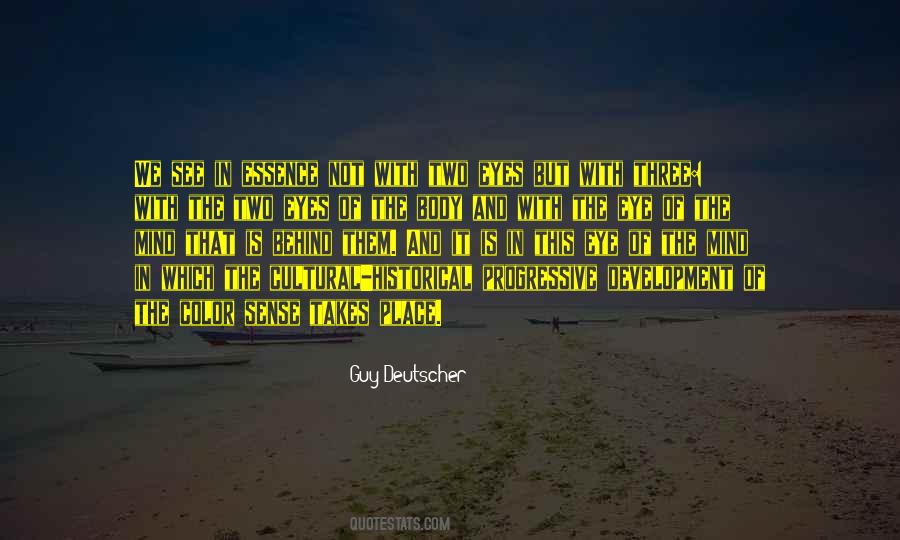 #23. Many novelists take well-defined, precise characters, whose stories are sometimes of mediocre interest, and place them in an important historical context, which remains secondary in spite of everything. - Author: Raymond Queneau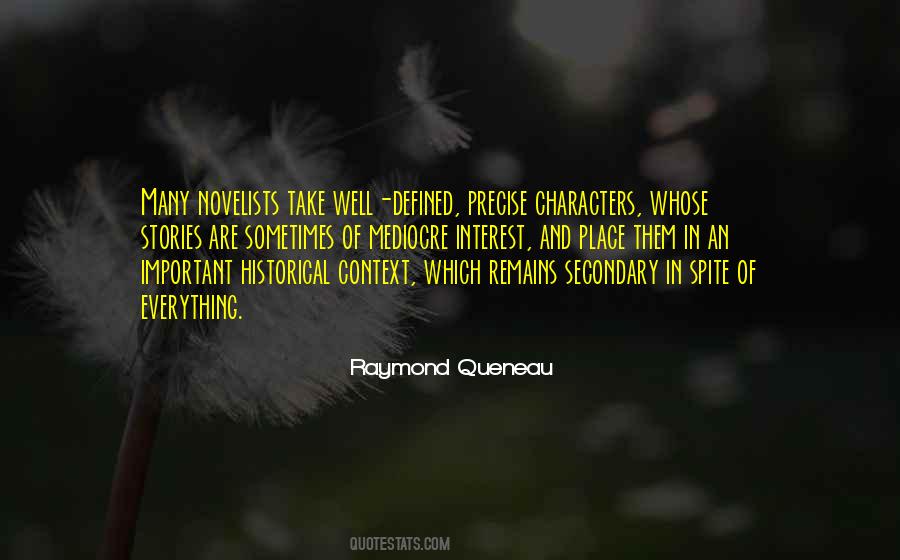 #24. For all those who are interested in the spiritual, emotional, intellectual, esthetic, historical or any other aspects of our dance art ... It is high time that our universities had faculties for dance, giving the art its due place in the academic world. - Author: Padma Subrahmanyam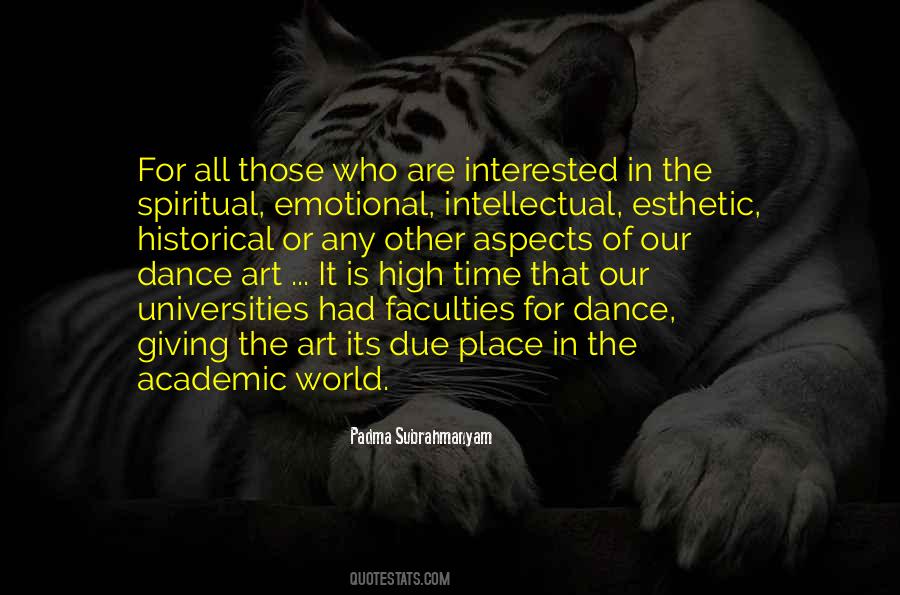 #25. The distance between one historical period and another is a very small step in comparison to the huge metaphysical gap we must leap to understand the perspective of another person in any time or place. - Author: E.D. Hirsch Jr.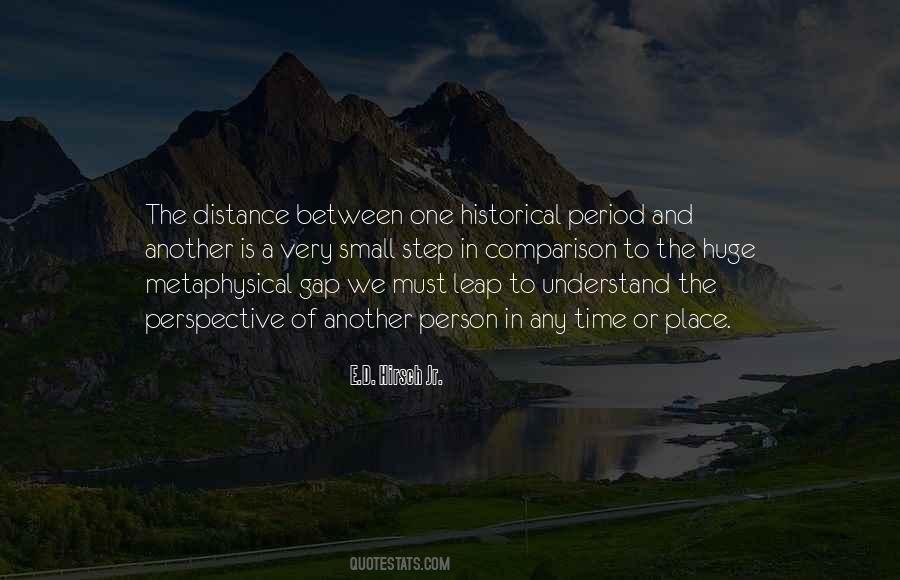 #26. I understand Los Angeles as a space where "real and imagined narratives overlap" in ways that disrupt both either/or dichotomies (Spanish or Indian, Mexican or American, Brown or White) and "linear historical understandings of this place and its people."22 - Author: David Samuel Torres-Rouff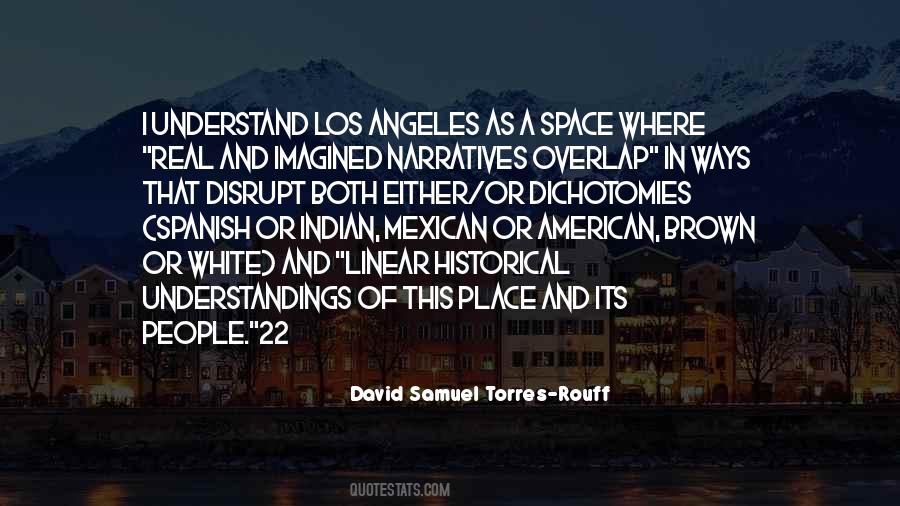 #27. Back in my 20s, when I wrote 'A Place of Greater Safety,' the French Revolution novel, I thought, 'I'll always have to write historical novels because I can't do plots.' But in the six years of writing that novel, I actually learned to write, to invent things. - Author: Hilary Mantel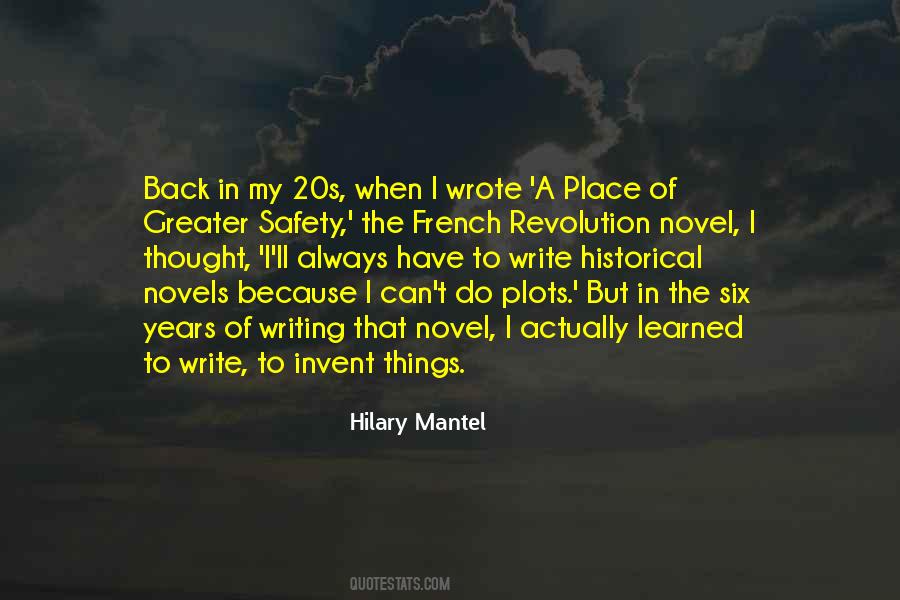 #28. When you are inhabiting a self that is fixed and set in place, you may think that you have attained something positive. As people say, "Now I know who I am." What they really know is an imitation of a real self, a collection of habits, labels, and preferences that is entirely historical. - Author: Deepak Chopra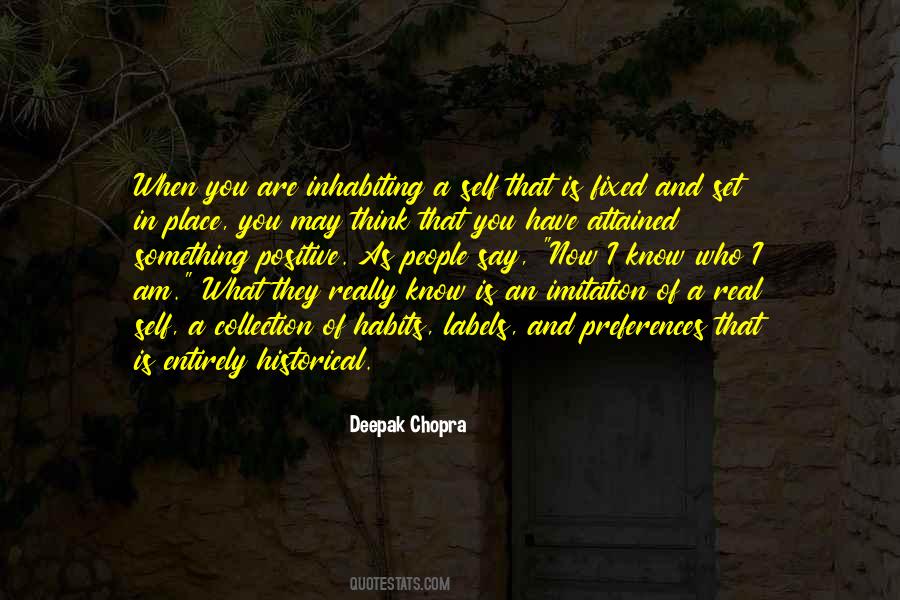 #29. I think if you place Jesus firmly in the historical context ... you can make very educated hypotheses and guesses about how he lived. - Author: Reza Aslan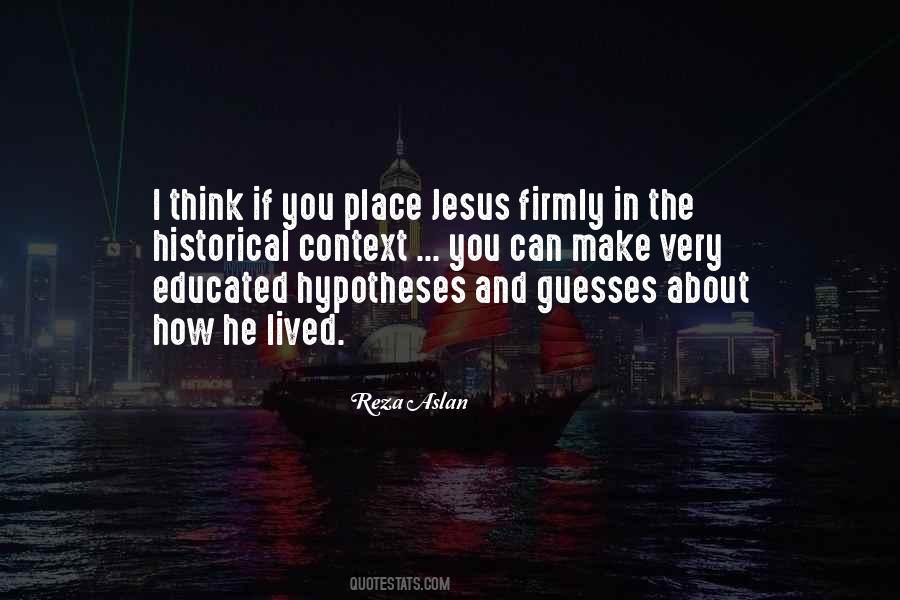 #30. We cannot address the place we find ourselves because we will not acknowledge the road that brought us here. Our failure to confront the historical truth about how African Americans finally won their freedom presents a major obstacle to genuine racial reconciliation. - Author: Timothy B. Tyson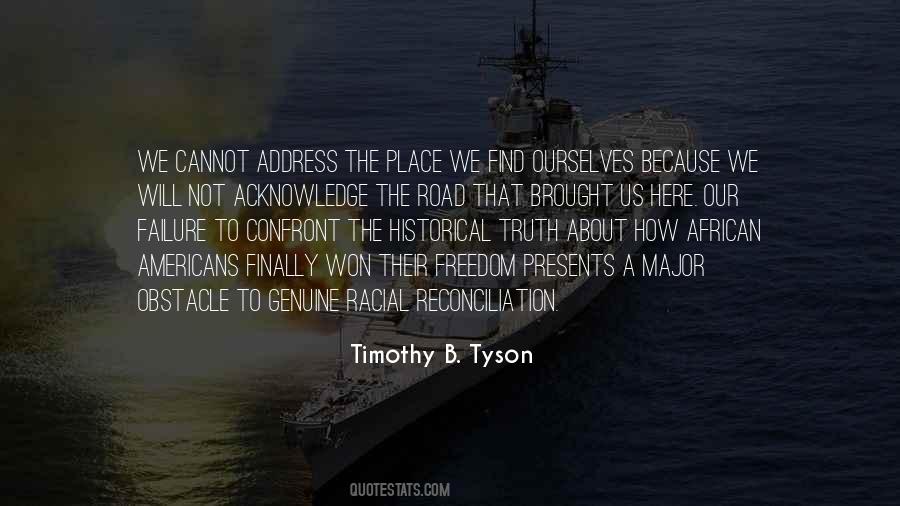 #31. A novel takes place over time. It's a historical narrative, and it needs to have a series of peaks and valleys and the move through. You can't just start at the highest pitch and stay there, but you can in a lyric poem. - Author: Edward Hirsch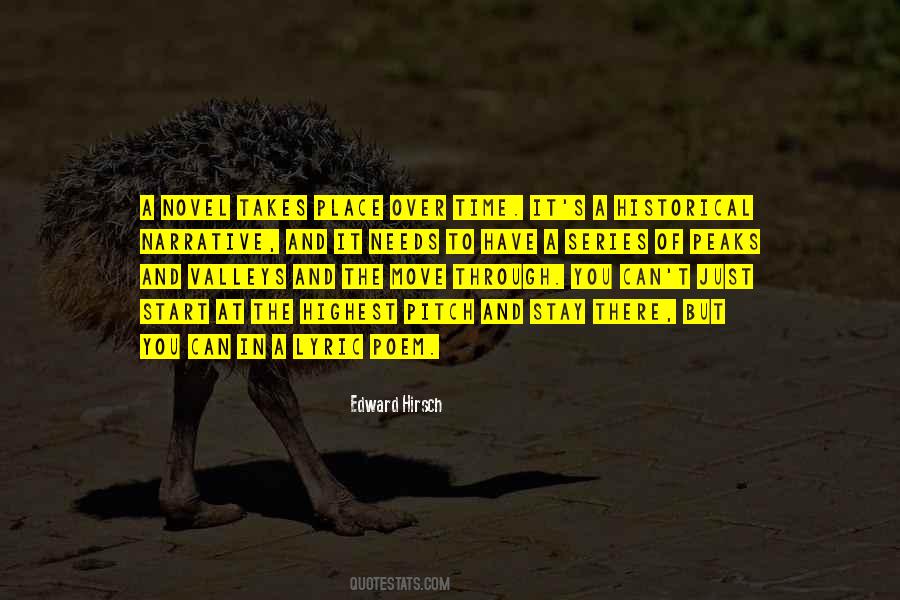 #32. Whatever cosmic attraction had drawn [Jess & Addie] to one another in the first place was beginning to fill in with the chinks and mortar of very real, very likeable human traits. - Author: Bailey Bristol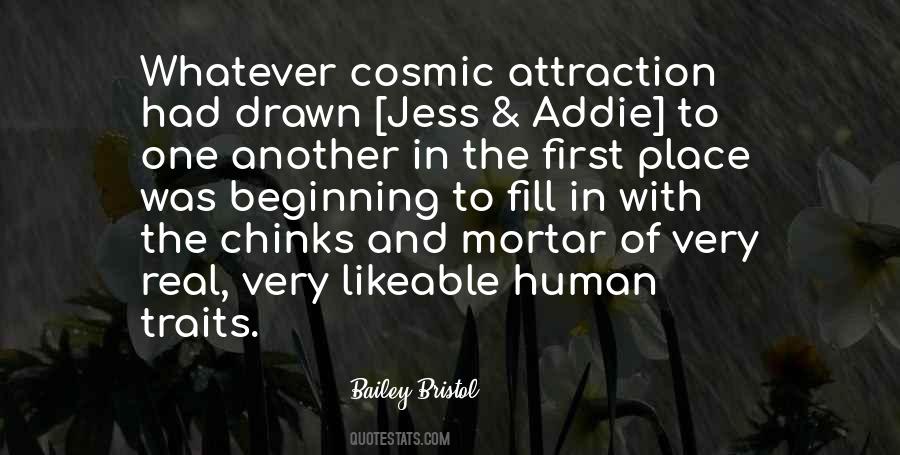 #33. The historical religions have the tendency to become ends in themselves, and, as it were, to put themselves in God's place, and, in fact, there is nothing that is so apt to obscure God's face as a religion. - Author: Martin Buber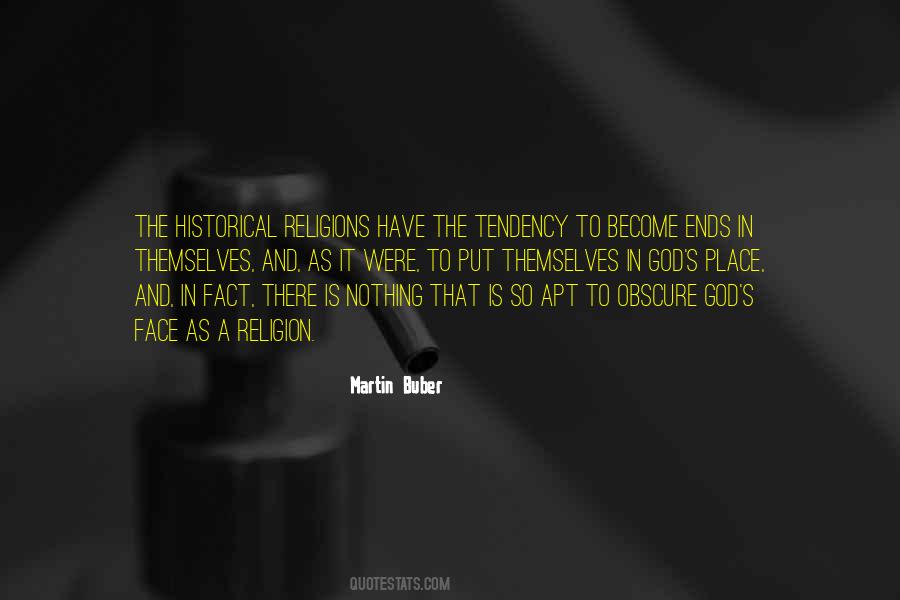 #34. We need a type of theatre which not only releases the feelings, insights and impulses possible within the particular historical field of human relations in which the action takes place, but employs and encourages those thoughts and feelings which help transform the field itself. - Author: Bertolt Brecht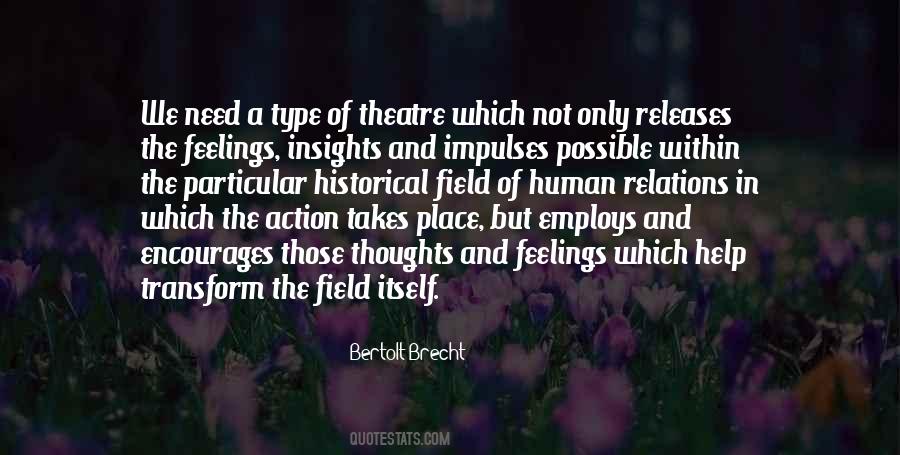 #35. The Oberlin/Cleveland area is where the underground railroad came out, so it's an interesting historical place. I love Ohio and really loved Oberlin. - Author: Isabel Gillies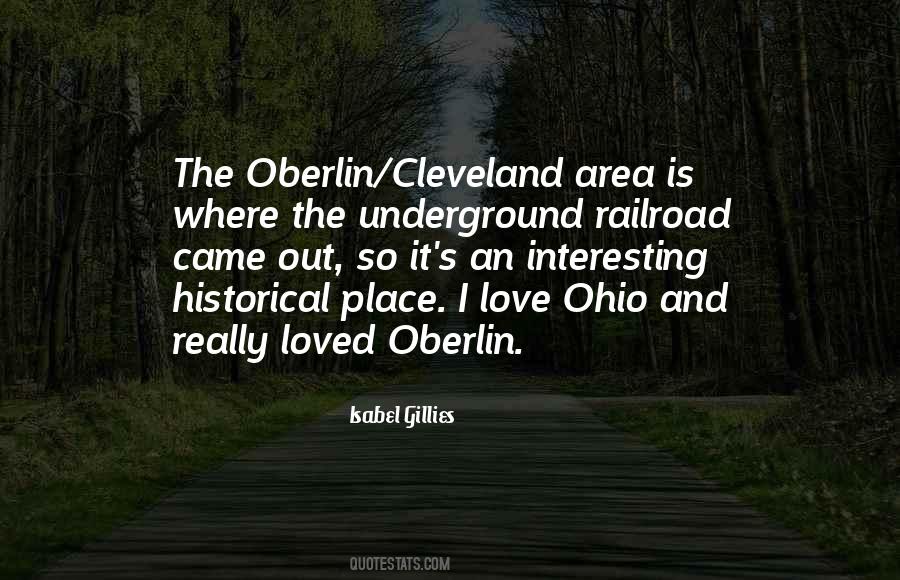 #36. Apparently, the Athena Parthenos had wanted them to visit a place with educational value, because she'd landed right next to a historical marker that read MASSACRE OF BUFORD, on a gravel layby at the intersection of Nowhere and Nothing. - Author: Rick Riordan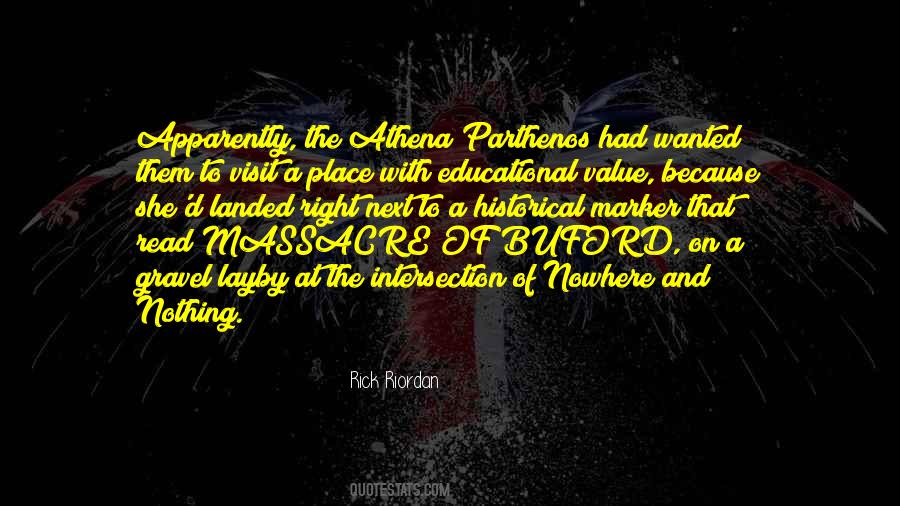 #37. When you travel, buy a historical book about the place, read to increase your knowledge on the beautiful places of the world. - Author: Lailah Gifty Akita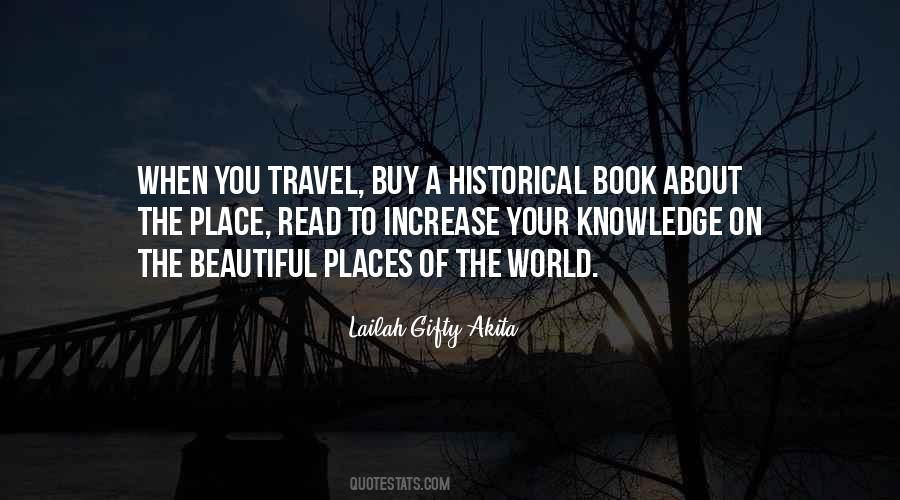 #38. I don't write fantasy; I write historical novels about an imaginary place. - Author: Raymond E. Feist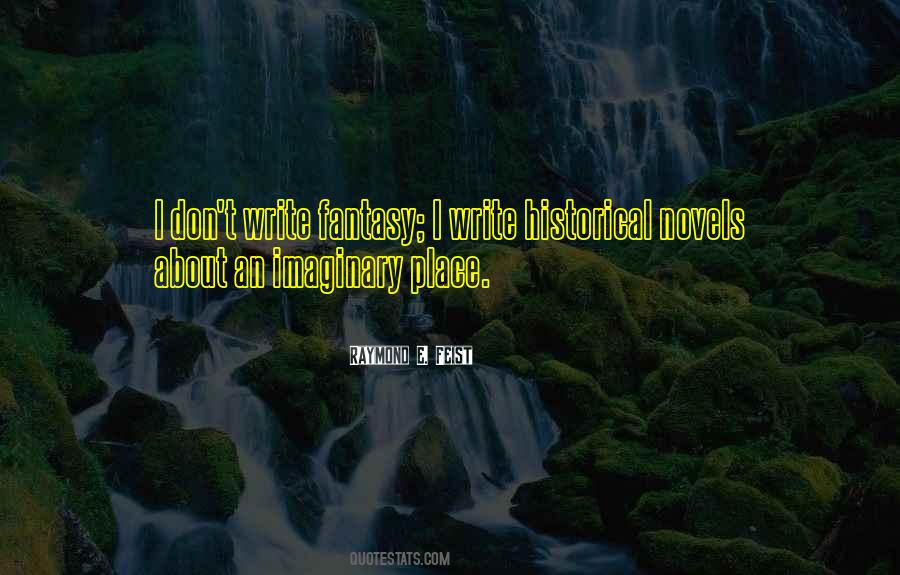 #39. The course of human history is determined, not by what happens in the skies, but what takes place in our hearts. - Author: Arthur Keith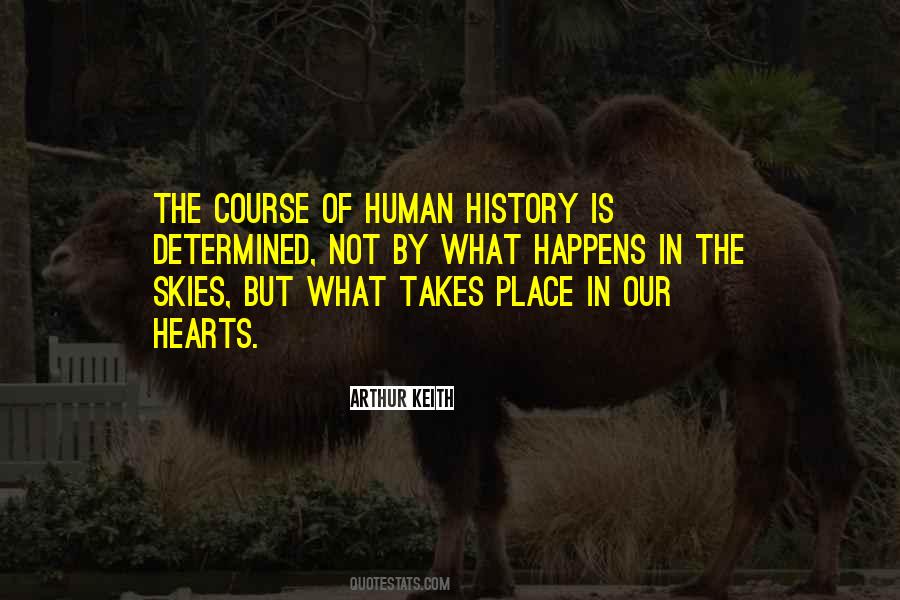 #40. There's a historical milestone in the fact that our Apollo 11 landing on the moon took place a mere 66 years after the Wright Brothers' first flight. - Author: Buzz Aldrin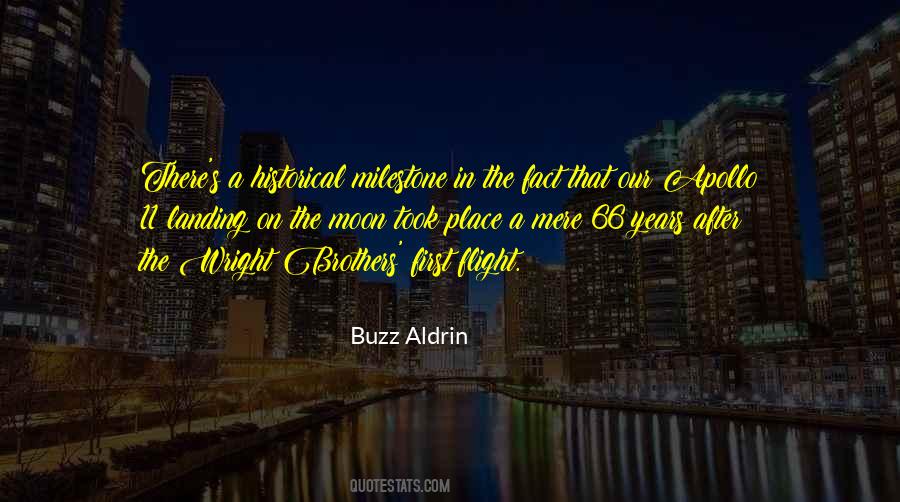 #41. No, It's not fair. But I was thinking more along the lines of the Pentagon and Washington itself. Sometimes I suspect that those who are running things might grow addicted to power. Secrecy's essential in wartime, but once in place, will it ever be removed? - Author: Marge Piercy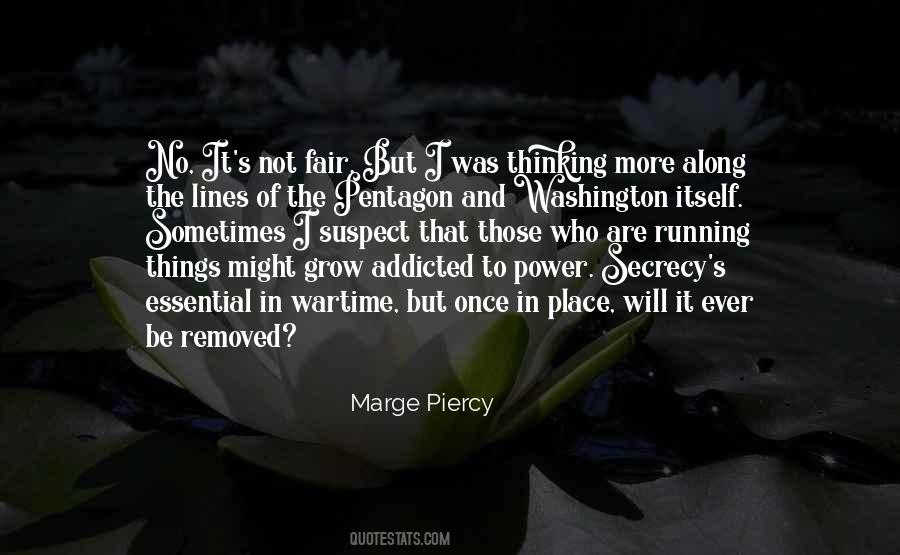 #42. Usually when I go to a place for the first time, unless there's something historical or spectacular that nature has to offer, the first thing I like to do is see what's on the minds of the people. - Author: Patti Smith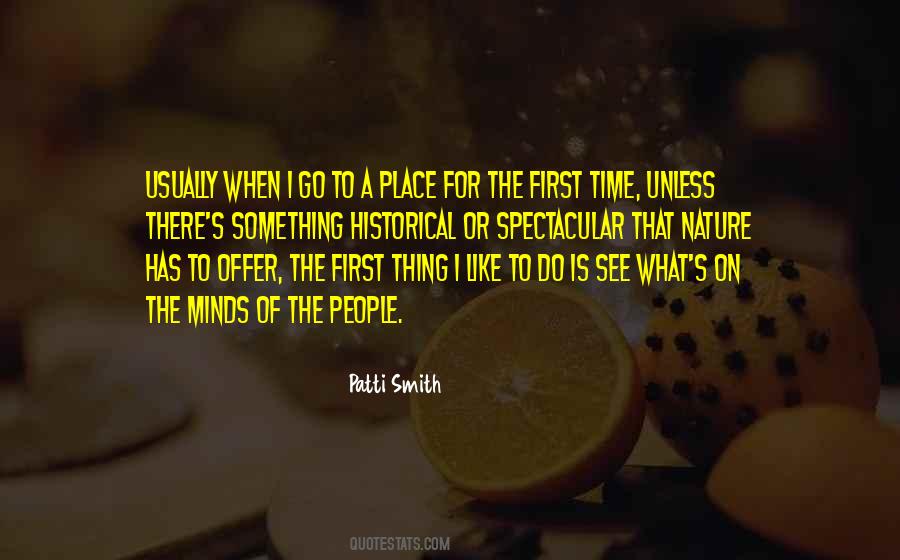 #43. The alienation effect in German epic theater is achieved not only through the actors, but also through music (chorus and song) andsets (transparencies, film strips, etc.). Its main purpose is to place the staged events in their historical context. - Author: Bertolt Brecht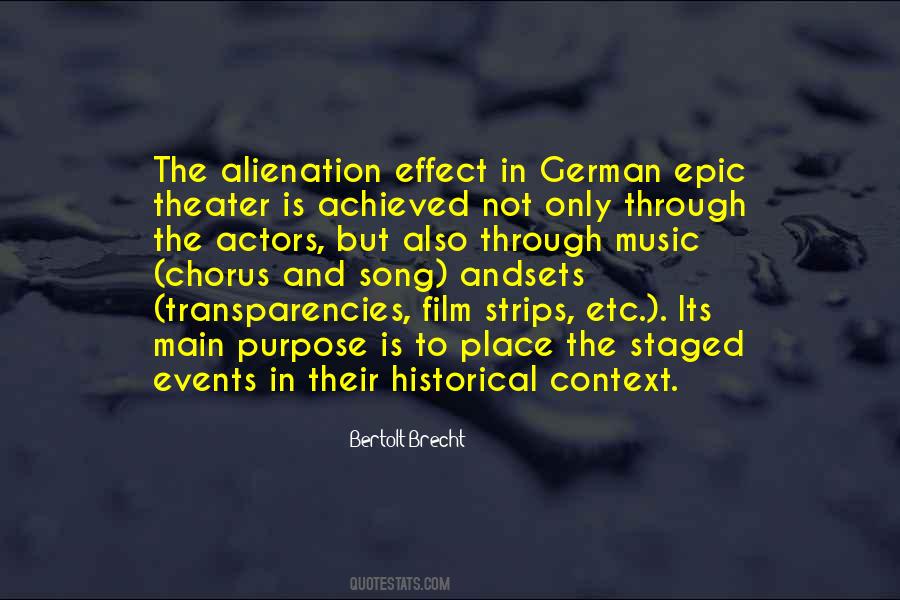 #44. And what she does not know, what nobody else knows but you, is that I have a special place where I go to be with her; my first, my only love. - Author: Anne Rouen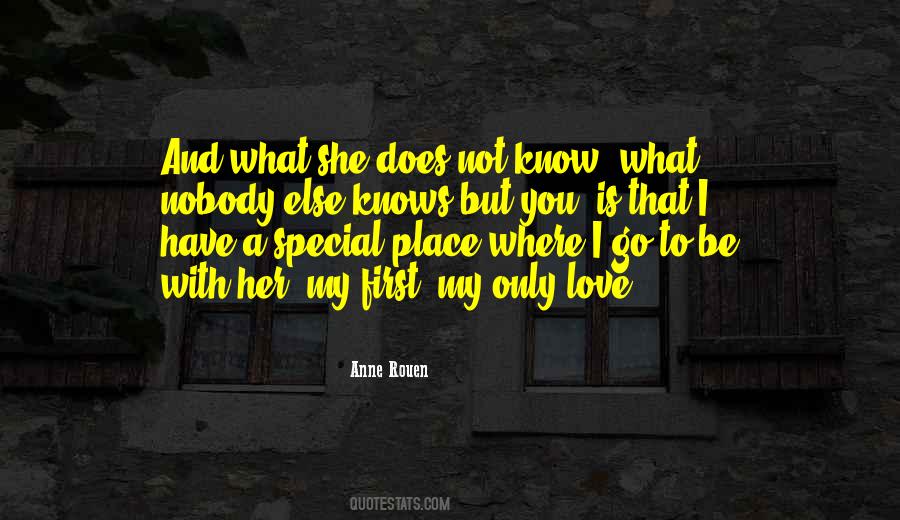 #45. The banks run the place. - Author: Collin Peterson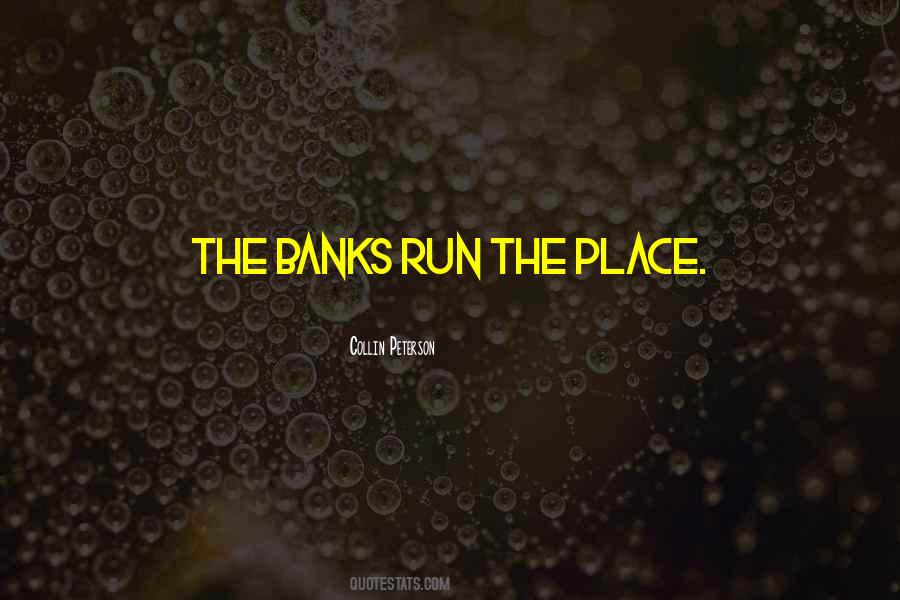 #46. I have come to think that's where Heaven is, a place in the memories of other where our best selves live - Author: Christina Baker Kline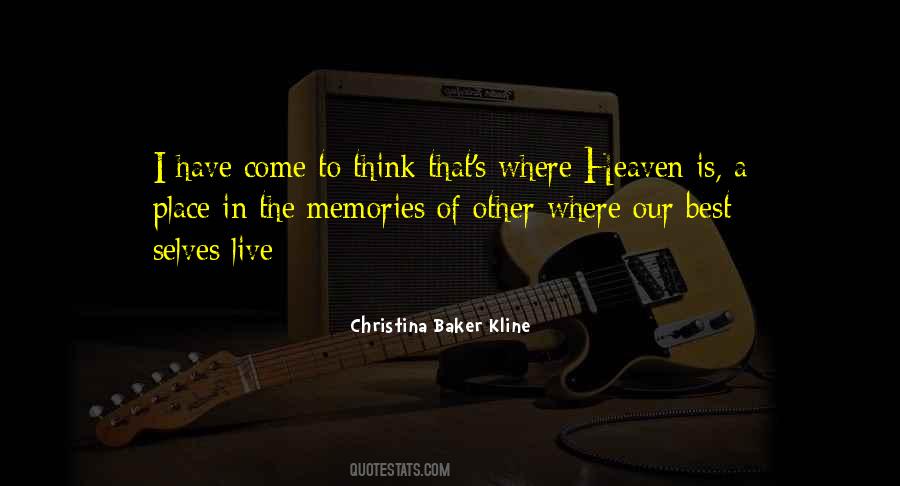 #47. It is no accident that the rise of so many democracies took place in a time when the world's most influential nation was itself a democracy. - Author: George W. Bush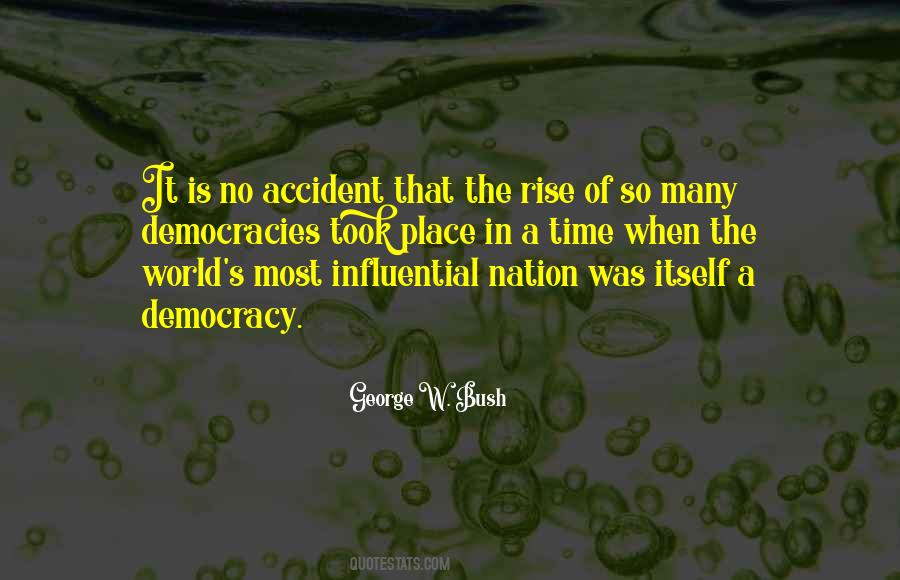 #48. Brick walls towered over her. Decrepit staircases crowded about her. Nothing had changed. The line there, the lessons there, the rape there. Shouldn't the place be crimson with blood and black with shame? - Author: Sarah Sundin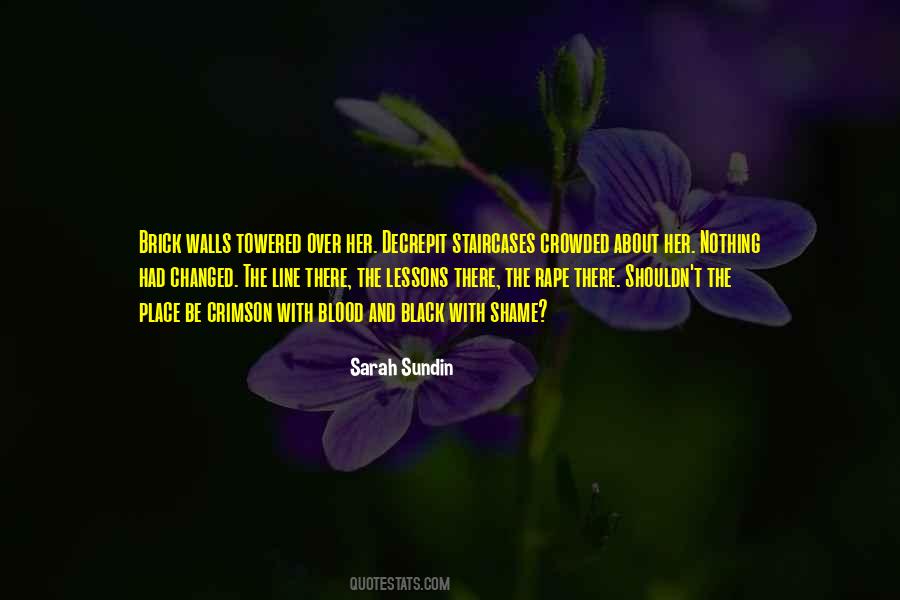 #49. Another historical peculiarity of the place was the fact that its large mansions, those relics of another time, had not been reconstructed to serve as nursing homes for that vast population of comatose and the dying who were kept alive, unconscionably, through trailblazing medical invention. - Author: John Cheever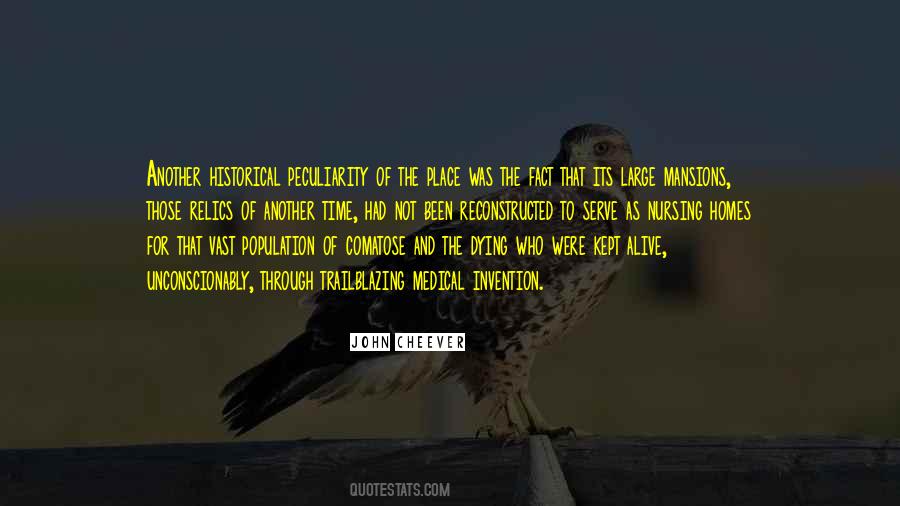 #50. We must fortify African democracy and peace by launching Radio Democracy for Africa, supporting the transition to democracy now beginning to take place in Nigeria. - Author: William J. Clinton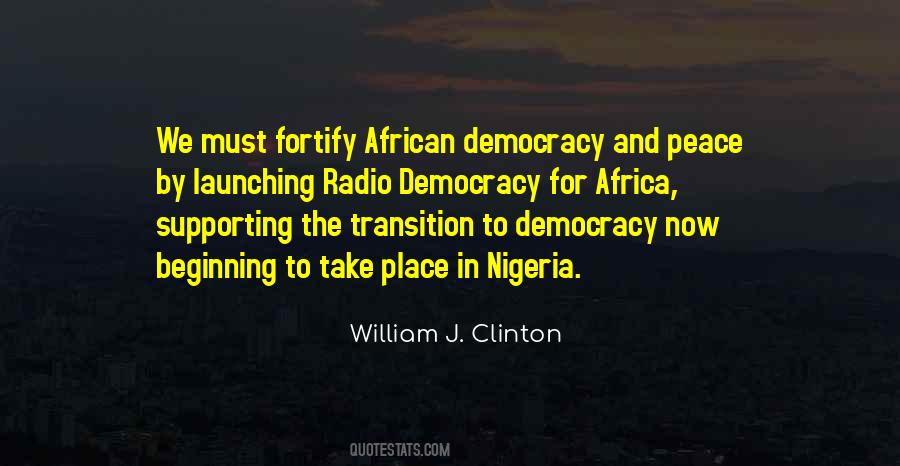 #51. When I was working on a Victorian-era novel, to get in the mood, I read several historical novels set in approximately the same period and place, and really enjoyed the detective novels of John Dickson Carr. - Author: Tim Pratt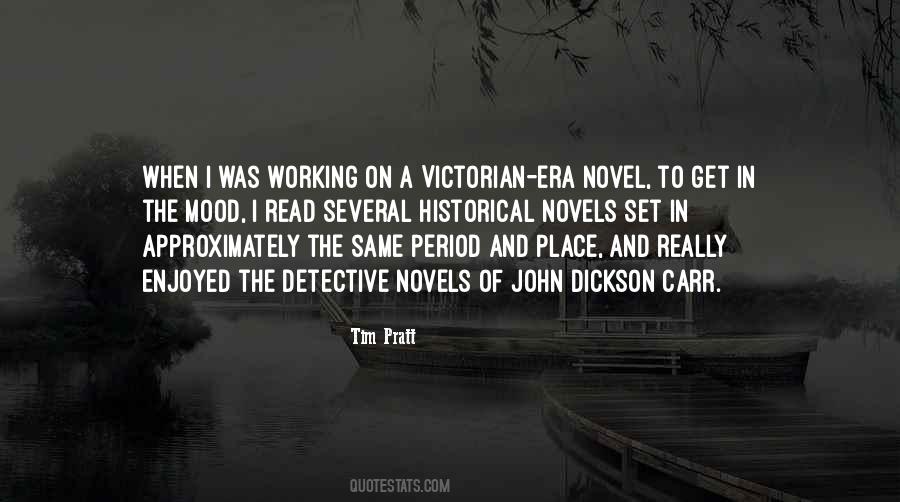 #52. I like historical fiction. I fell in love with New Orleans the first time I visited it. And I wanted to place a story in New Orleans. - Author: Isabel Allende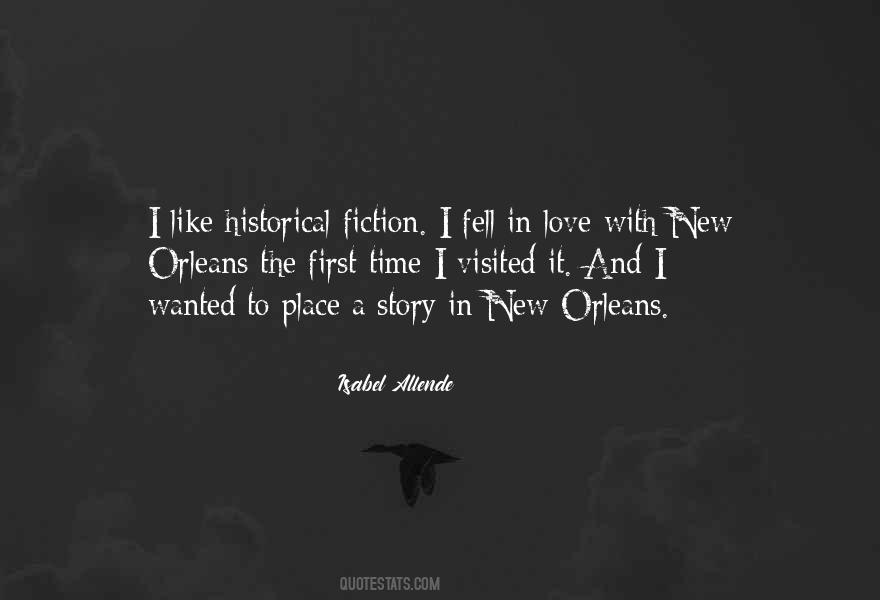 #53. Am I Dead?"

Had she fallen to her doom and this was all an elaborate fantasy? Was this the place between life and death? Her eyes welled up with tears and she ran towards the man that wasn't there, wanting to cling to him, to find something to save her from this torture. - Author: M. Keep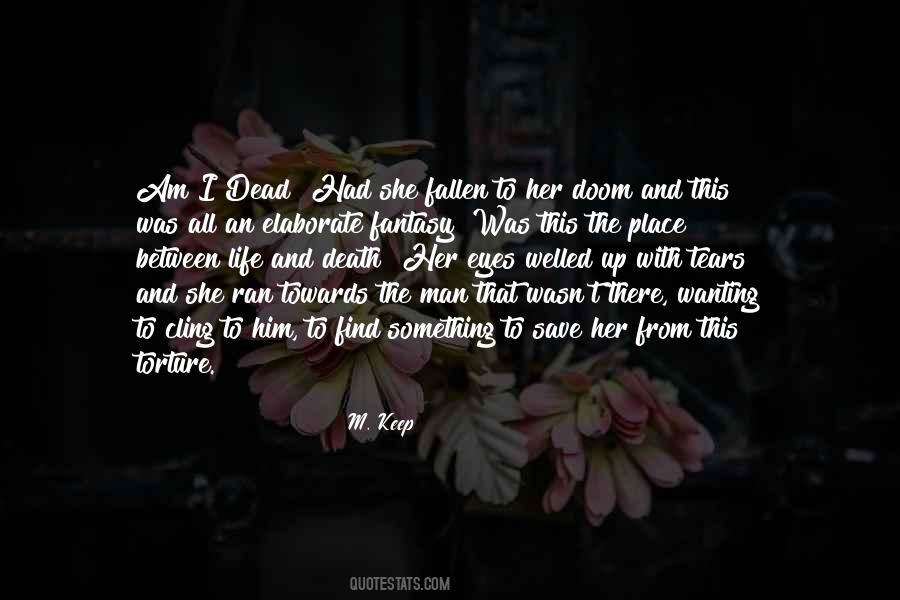 #54. The larger the pile of rubble you leave behind, the larger your place in the historical record! - Author: James C. Scott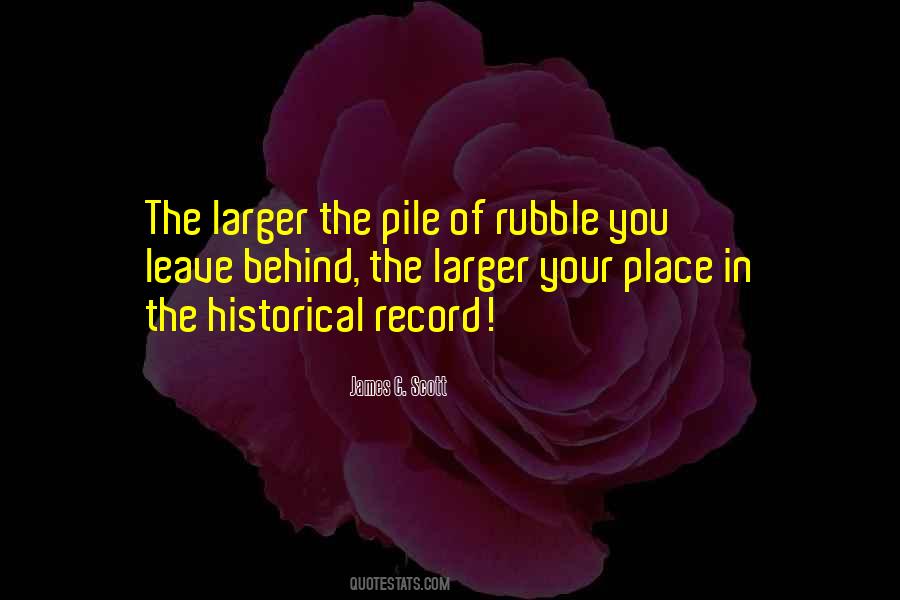 #55. Why do I write historical fiction? Johnny Tremain, The Witch of Blackbird Pond, Island of the Blue Dolphins-that's why. I'll never forget how it felt to read those books. I want to write books with the same power to transport readers into another time and place. - Author: Jennifer Armstrong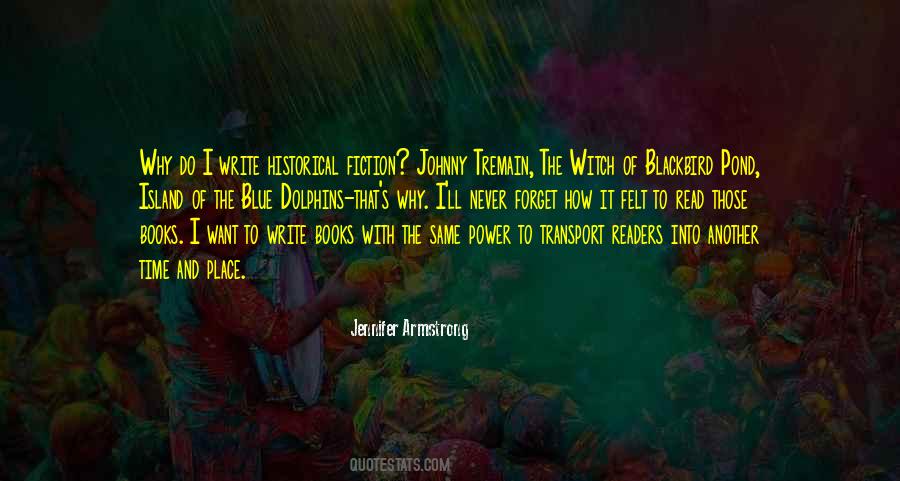 Famous Authors
Popular Topics