Help From God Famous Quotes & Sayings
List of top 100 famous quotes and sayings about help from god to read and share with friends on your Facebook, Twitter, blogs.
Top 100 Quotes About Help From God
#1. One of two things must be done. Either surrender because you admit your inability and require a higher power to help you, or investigate the cause of misery by going to the source and merging into the Self. Either way you will be free from misery. God never forsakes one who has surrendered. - Author: Ramana Maharshi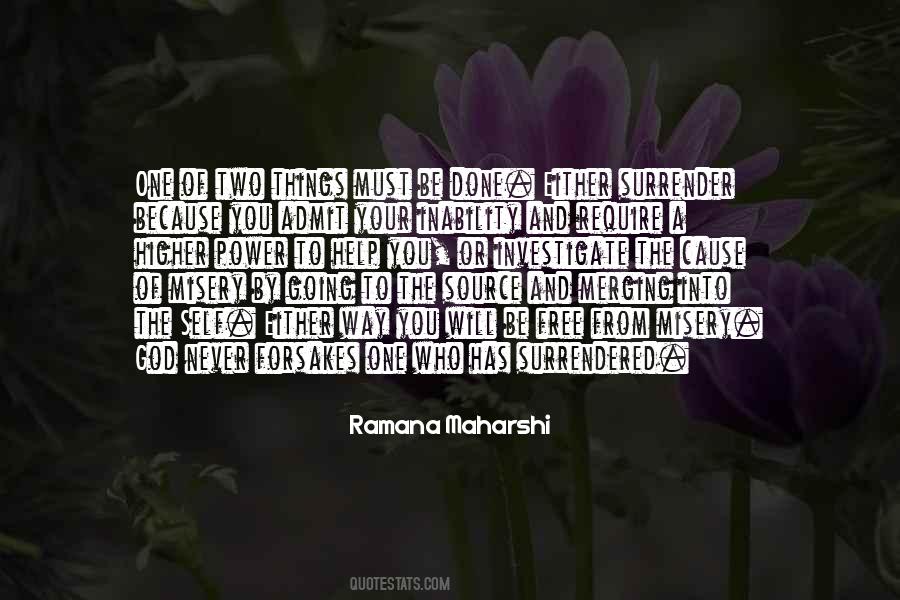 #2. There is no evidence that God ever interfered in the affairs of man. The hand of earth is stretched uselessly towards heaven. From the clouds there comes no help. - Author: Robert Green Ingersoll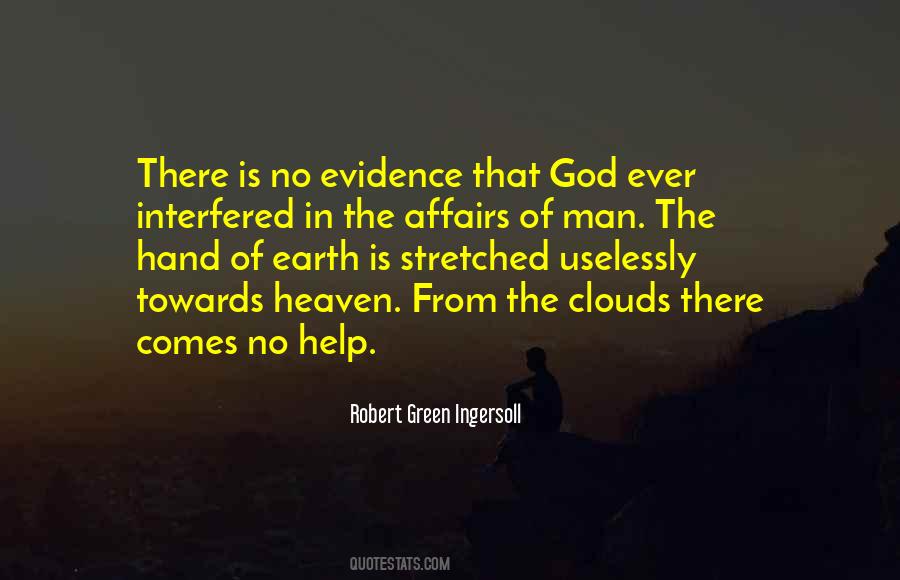 #3. In God's eyes, all creatures have value whether we find them cuddly, affectionate, beautiful or otherwise. Our own perspective-in a way-is neither here nor there. Theology, at its best, can help to liberate us from our own anthropocentric limitations. - Author: Andrew Linzey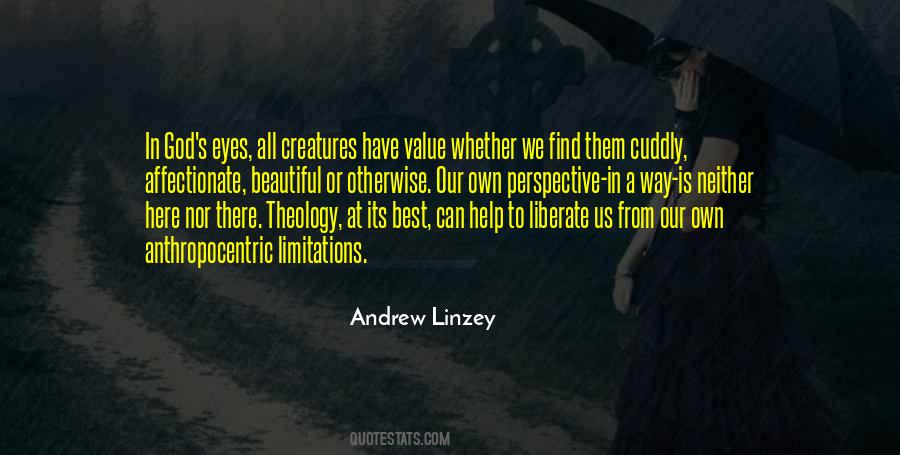 #4. God help me, I do care about you. Gently hugging her against his chest, he tenderly moved her hair away from her angelic face. Seeing her sleep, peaceful and trusting, his thoughts of waking
her for his desires were quickly replaced. - Author: Aleatha Romig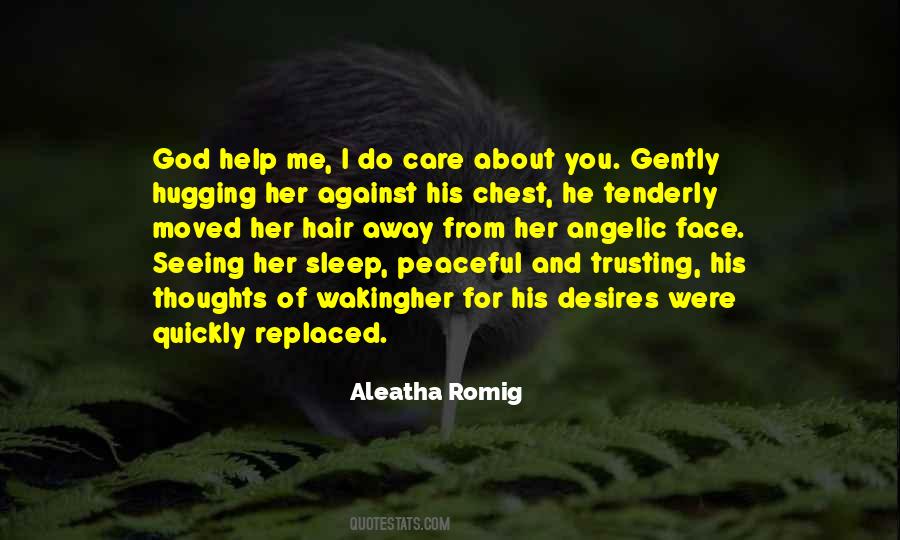 #5. Most people who desire God look for the God state too far from home, but the seed of spiritual greatness is in the heart of all. The spiritual exercises help one find a comfortable relationship with the Eck, the Holy Spirit - and with all life. - Author: Harold Klemp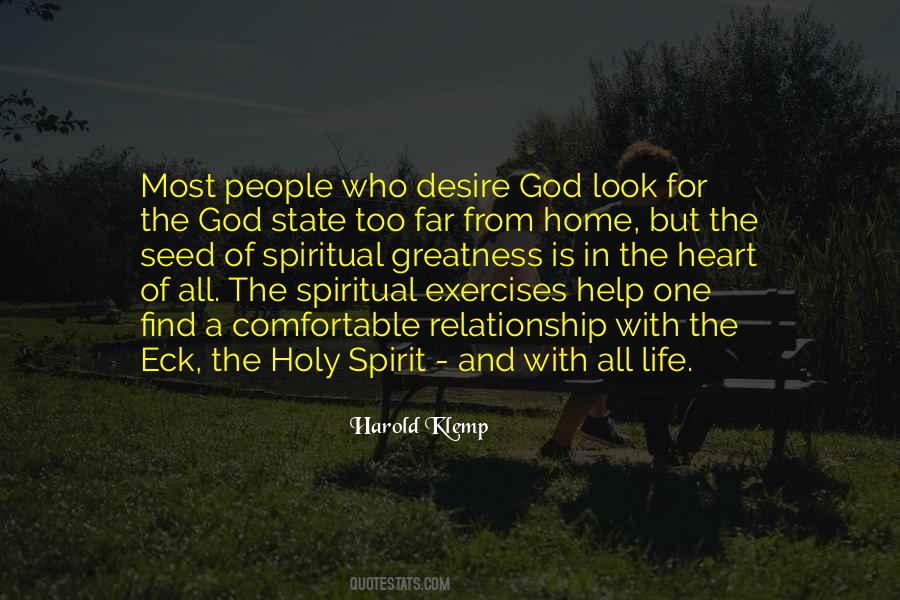 #6. Looking at your day from a "golden day" perspective helps you prioritize. - Author: Elizabeth George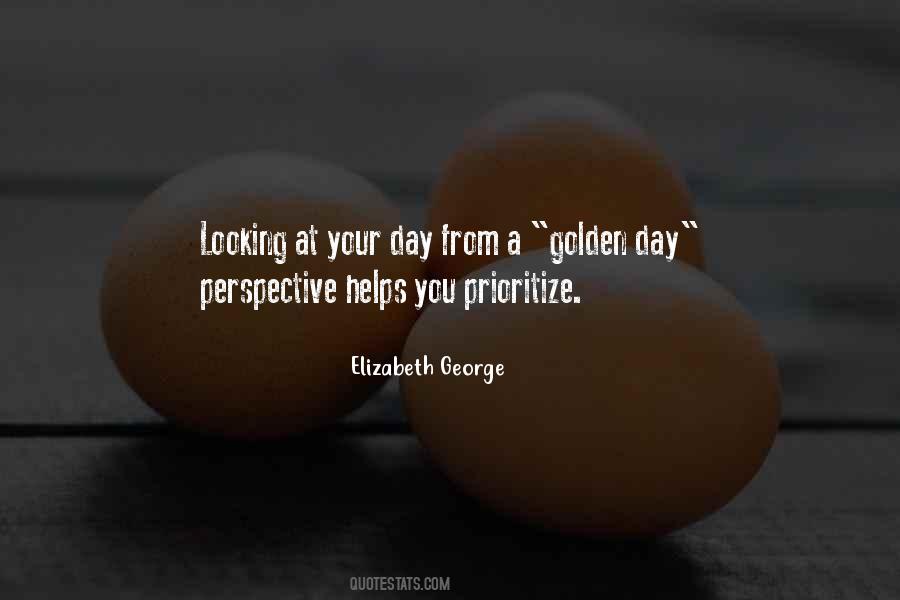 #7. Grace dispensers give out of their own bounty, in gratitude (a word with the same root as grace) for what we have received from God. We serve others not with some hidden scheme of making converts, rather to contribute to the common good, to help humans flourish as God intended. - Author: Philip Yancey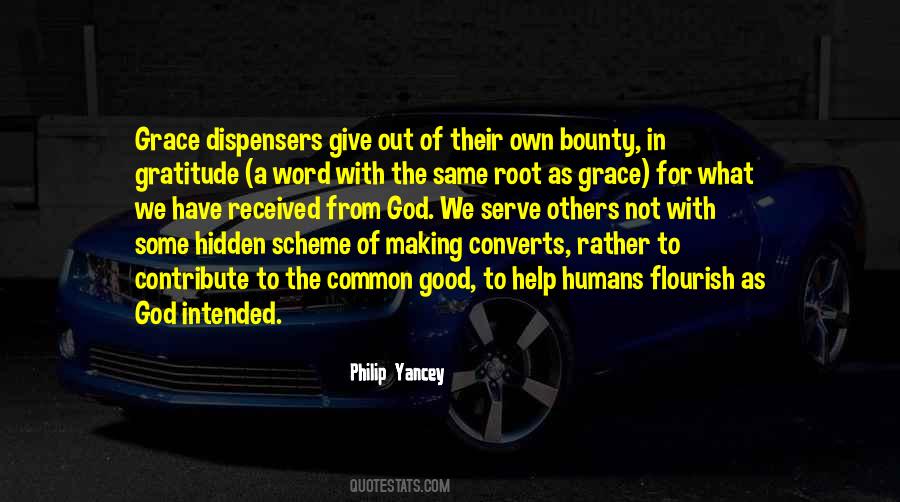 #8. I was in my thirteenth year when I heard a voice from God to help me govern my conduct. And the first time I was very much afraid. - Author: Joan Of Arc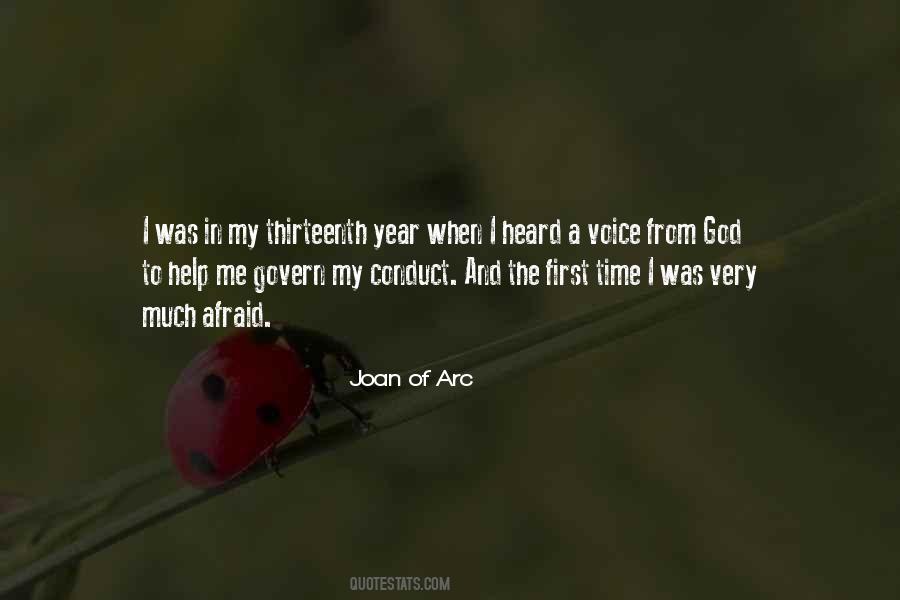 #9. Those who work at a thing heart and soul not only achieve success in it but through their absorption in that they also realize the supreme truth-Brahman. Those who work at a thing with their whole heart receive help from God. - Author: Swami Vivekananda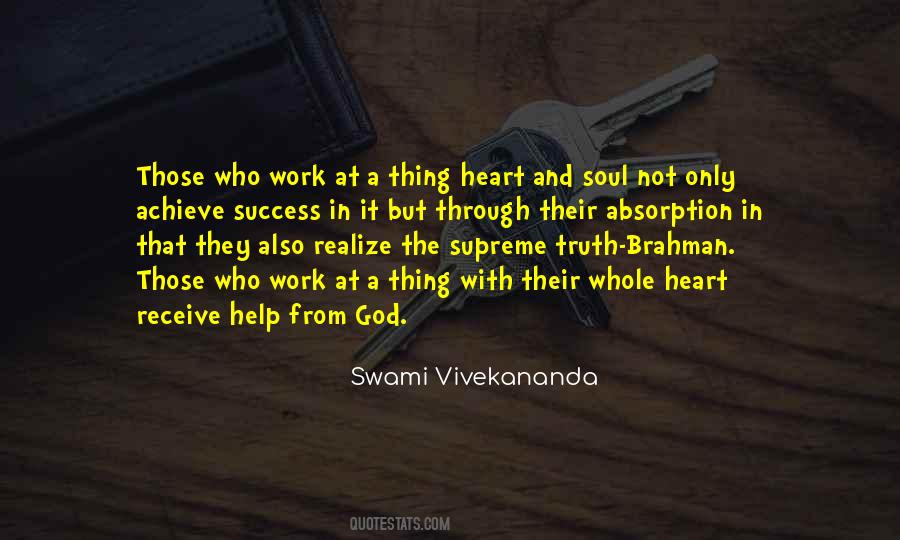 #10. When God shook Israel awake from her violent slumber, He said, "Now this was the sin of your sister Sodom: She and her daughters were arrogant, overfed and unconcerned; they did not help the poor and needy" (Ezekiel 16:49, emphasis added). - Author: Jen Hatmaker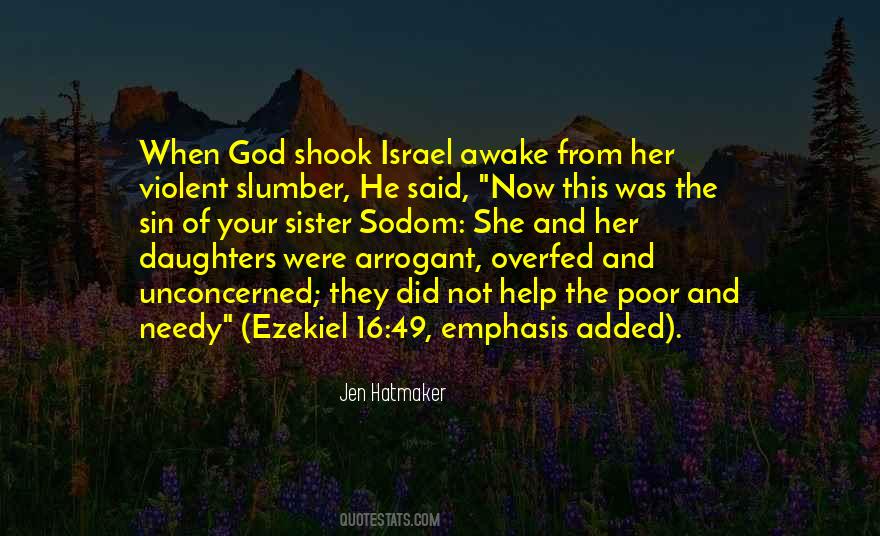 #11. Proverbs tells us, "The one who blesses others is abundantly blessed; those who help others are helped."12 Those who pass along insights get more from God. - Author: Rick Warren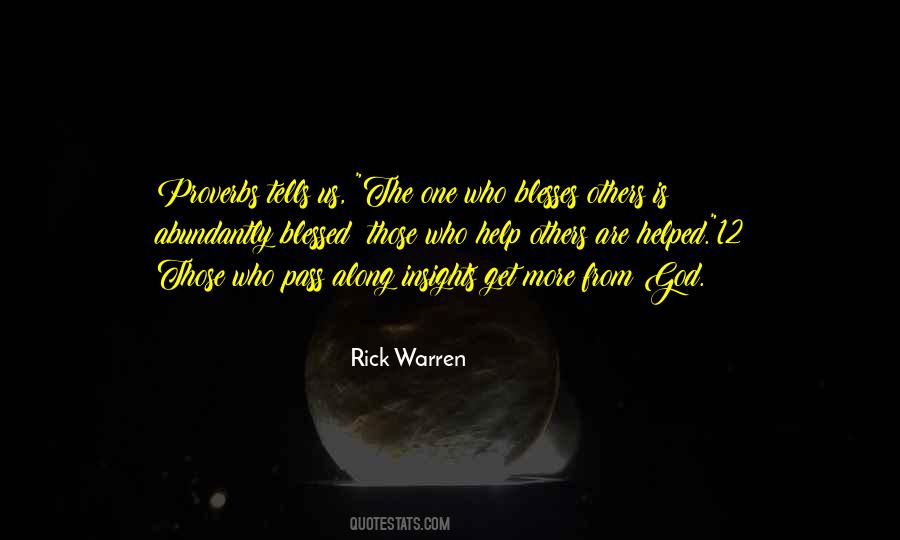 #12. 17For I cried out to him for help, praising him as I spoke. 18If I had not confessed the sin in my heart, the Lord would not have listened. 19But God did listen! He paid attention to my prayer. 20Praise God, who did not ignore my prayer or withdraw his unfailing love from me. - Author: Anonymous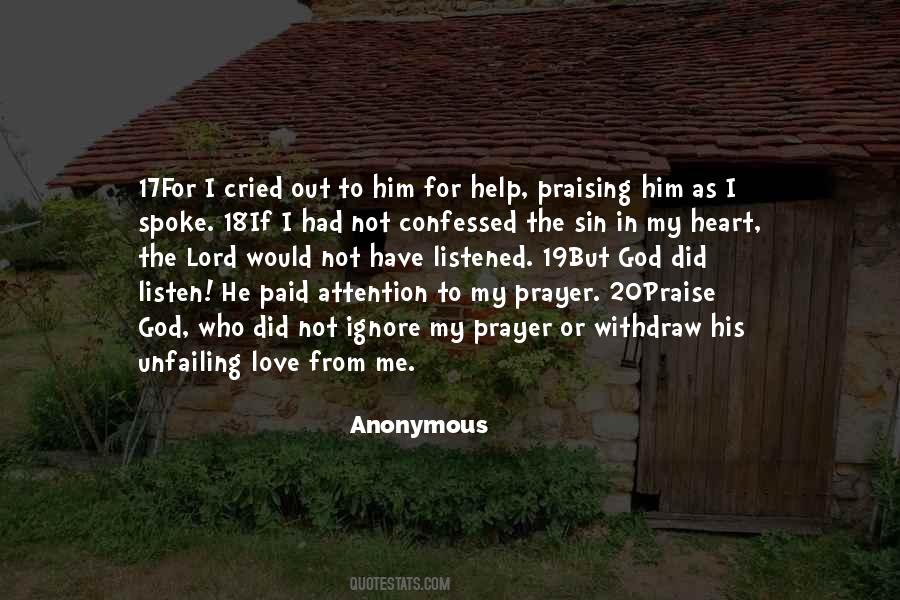 #13. Either blasphemy is a victimless crime or its victim is powerful enough to take care of himself without any help from you. - Author: Richard Dawkins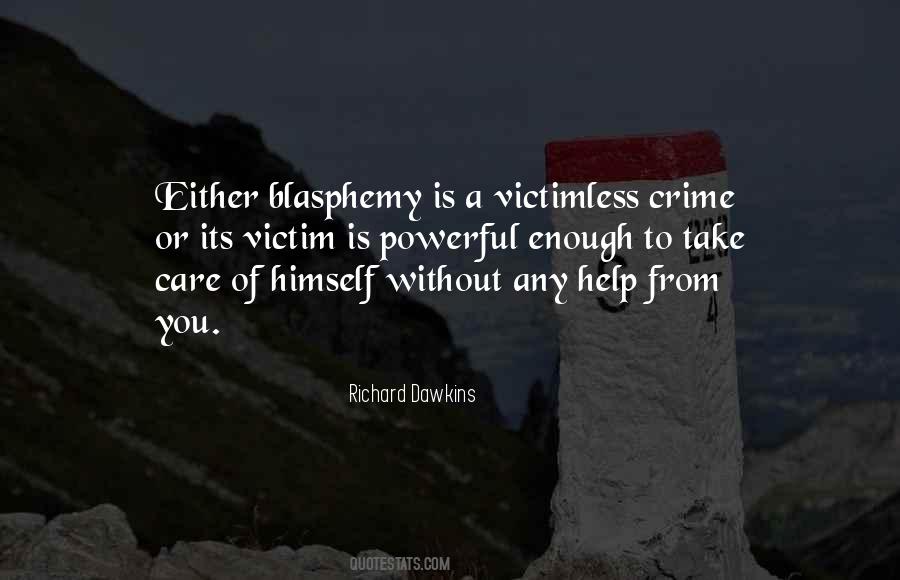 #14. Did you notice the phrase by his power in that last Bible verse? This is what makes The Daniel Plan different from other approaches. It is built on trusting in God's power to help you change, not merely your own willpower. - Author: Rick Warren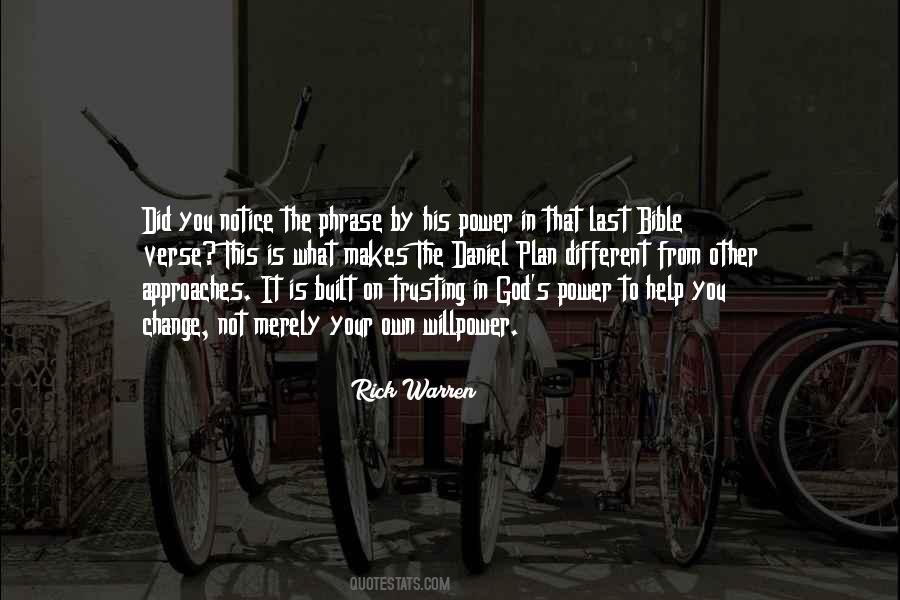 #15. It is my fondest wish that the gift of song that God has given me will flow from my soul to yours and help ease any burden that might weigh upon you. - Author: Bobby Womack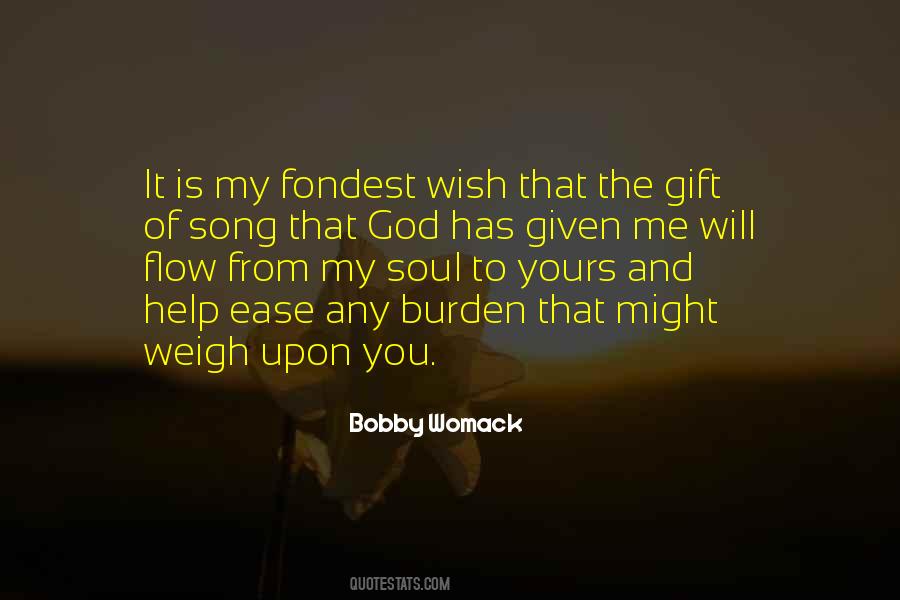 #16. God gave me this great book to preach from, and if He has put anything in it you think is not fit, go and complain to Him, not to me. I am simply his servant, and if His errand that I am to tell is objectionable, I cannot help it. - Author: Charles Spurgeon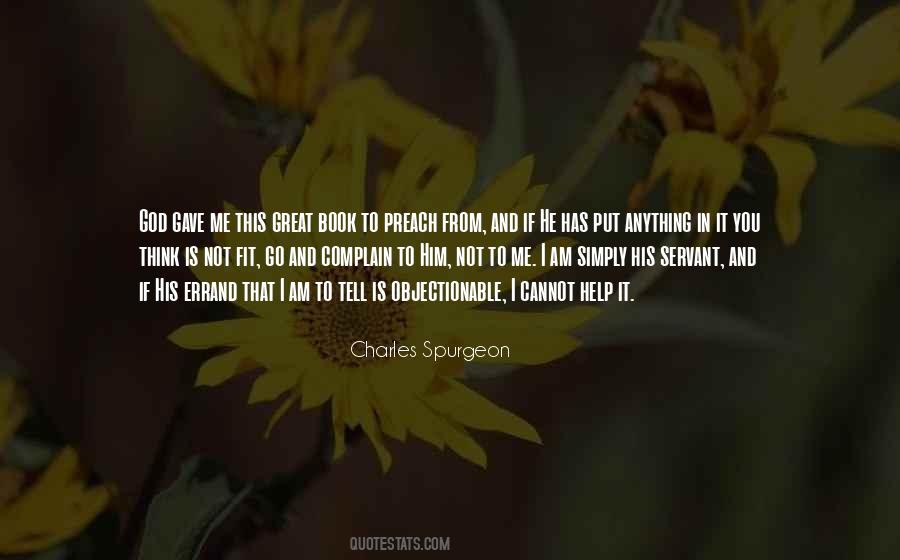 #17. The smile that teased her lips transformed her face from beautiful to breathtakingly beautiful in a matter of seconds. He was damn thankful that she didn't know the effect that had on him or she'd do it to bring him to his knees and god help him, but he'd love every fucking second of it. - Author: R.L. Mathewson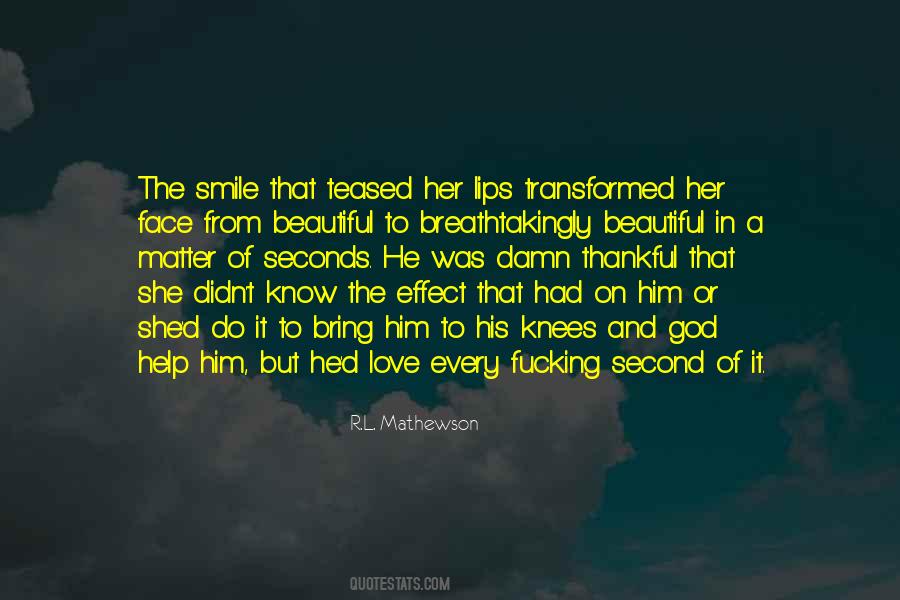 #18. Your help comes from the Lord God who made heaven, earth and you! Grab your mission; that's your father's assignment for you! No one can stop you from attaining success with the assignment your father gave you to do! - Author: Israelmore Ayivor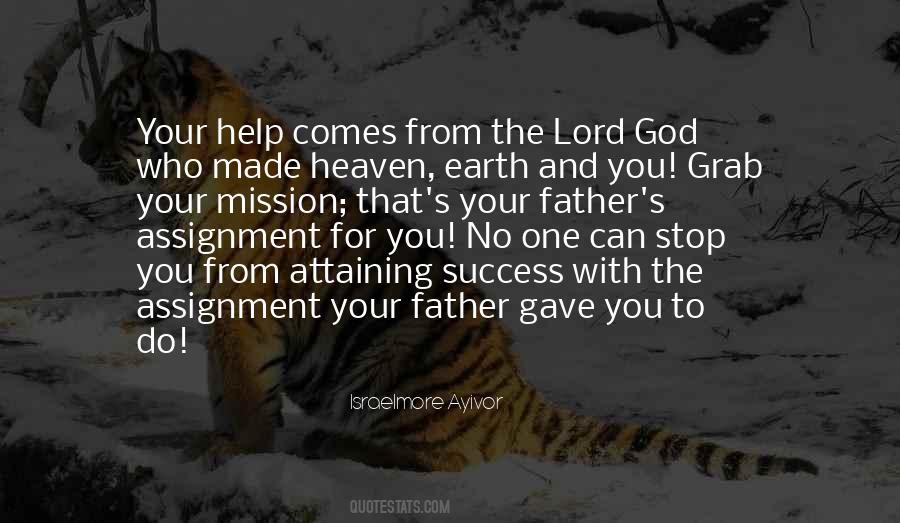 #19. The Word will help you get free from bad thoughts, if you meditate on it and let it fill your heart. The Word of God will help you to make clear division between your soul and spirit. - Author: Sunday Adelaja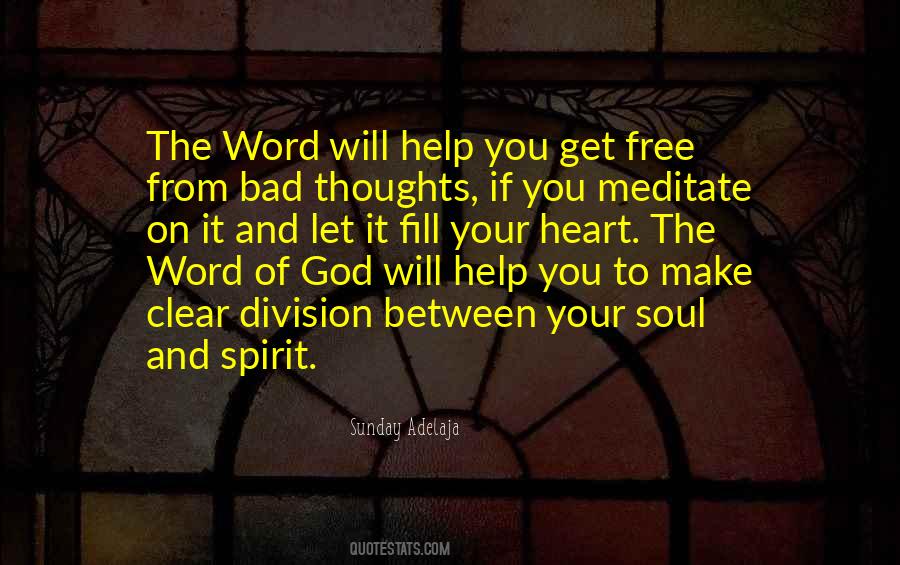 #20. So help me God it gets more and more preposterous, it corresponds less and less to what I remember and what I expect as if the force of live were centrifugal and threw one further and further away from one's purest memories and ambitions ... - Author: John Cheever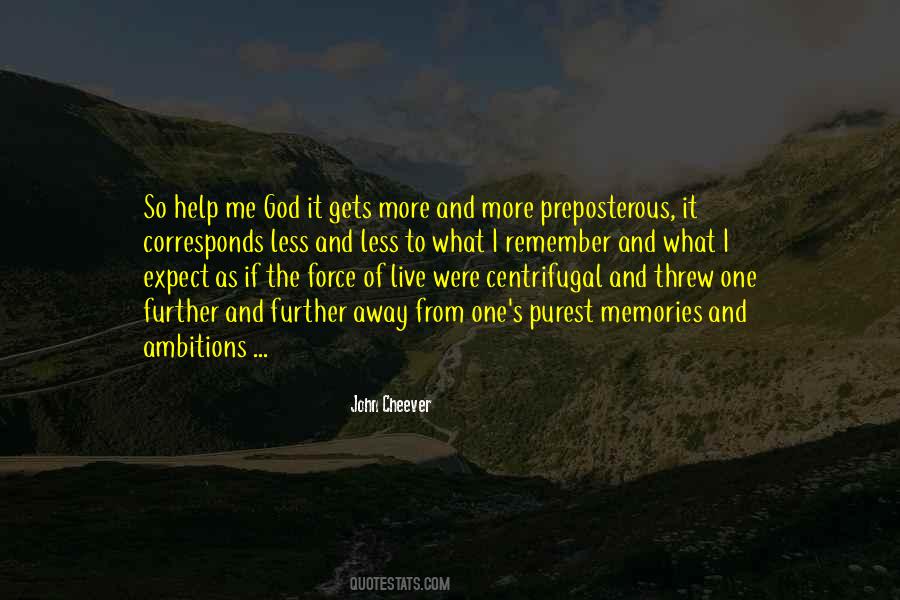 #21. Only one thing is necessary in your anguish: bear everything with resignation to the Divine Will; for this will help you to attain your eternal salvation. Hope with a lively faith and you will receive everything from Almighty God. - Author: Gerard Majella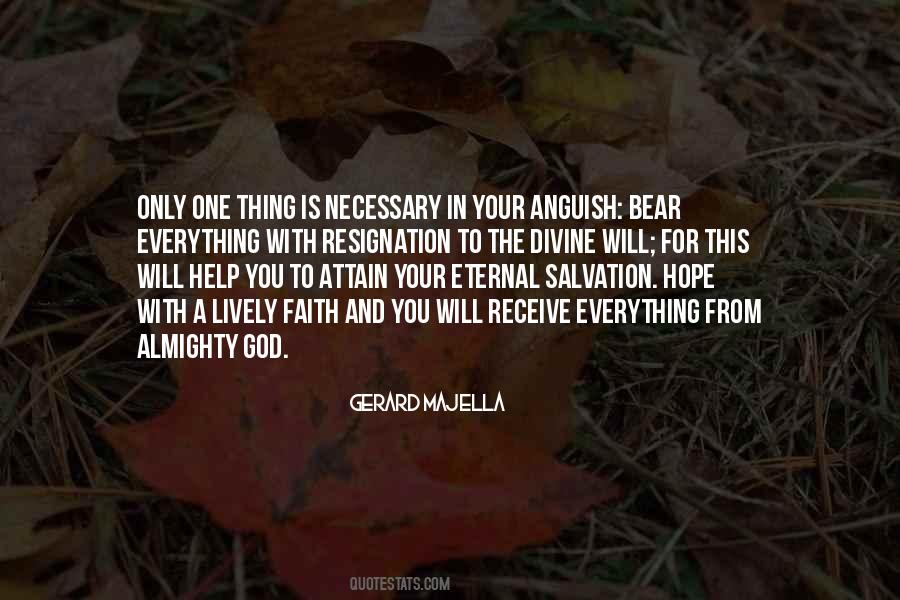 #22. I often had to run very quickly to be on time, and from being a fleet runner was generally successful; but when in doubt I prayed earnestly to God to help me, and I well remember that I attributed my success to the prayers and not to my quick running, and marvelled how generally I was aided. - Author: Charles Darwin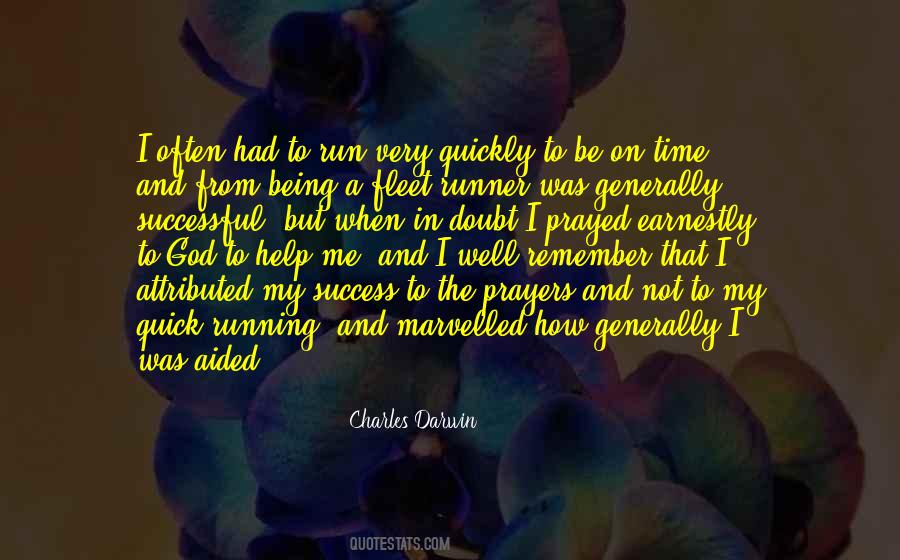 #23. We need help from above if we are to make progress in our journeys. - Author: Anasazi Foundation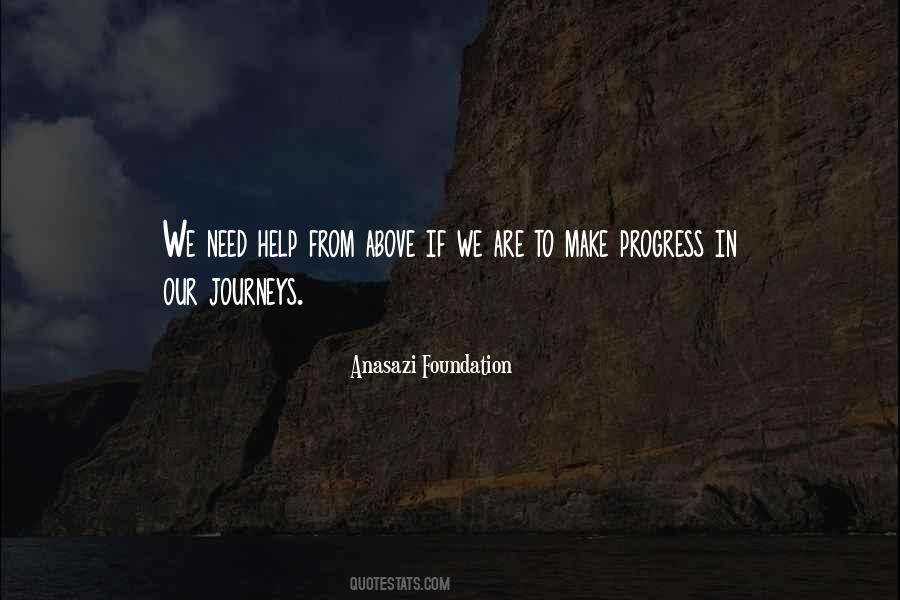 #24. May God deliver you from every darkness to the glorious light. - Author: Lailah Gifty Akita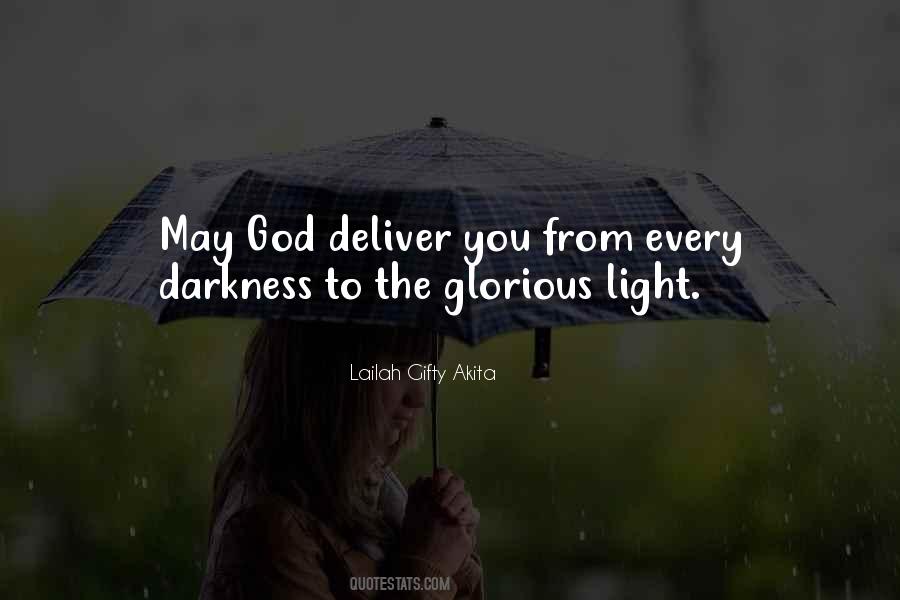 #25. God is love. Wraith is how His love appears to us when we sin or rebel or run away from Him. The very light that is meant to help us appears to us as our enemy when we seek the darkness. - Author: Peter Kreeft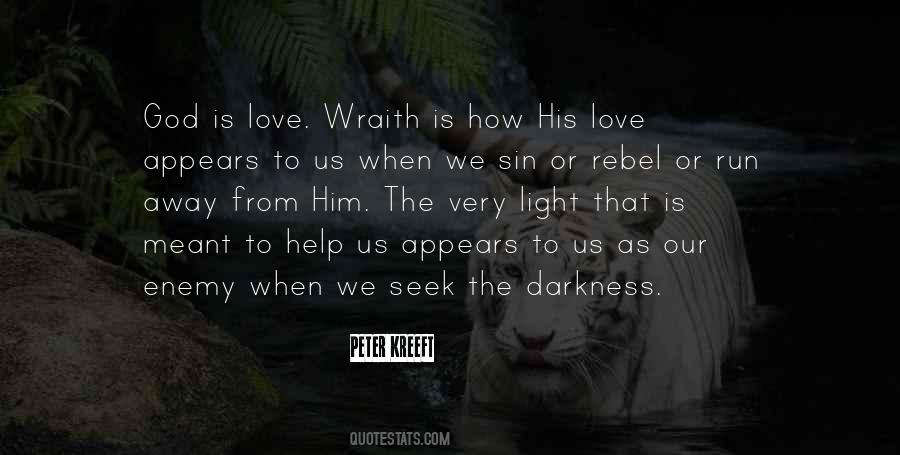 #26. I know that I received so much help from God to become that kind of person that I wanted to be. That's honestly the message that I think is in a lot of my songs. - Author: Lindsey Stirling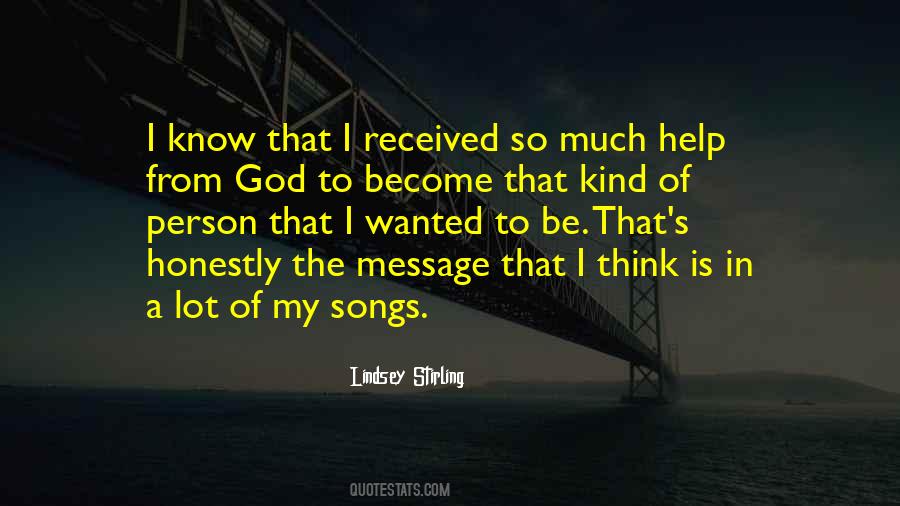 #27. God asks us to help each other & be a cheerful giver from your heart to others in need but not to be a fool. Don't ever be a fool - Author: Timothy Pina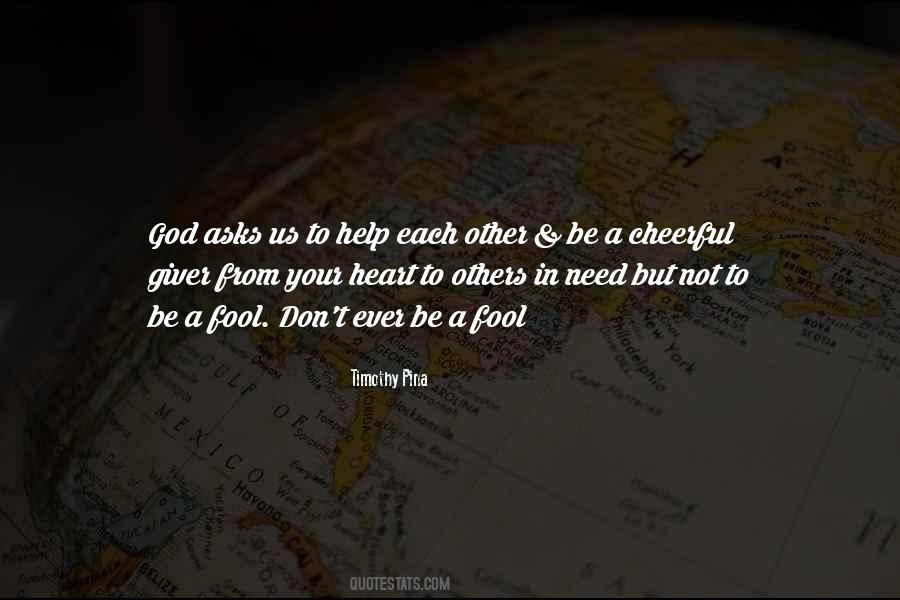 #28. Never walk away from someone who deserves help; your hand is God's hand for that person. - Author: Eugene H. Peterson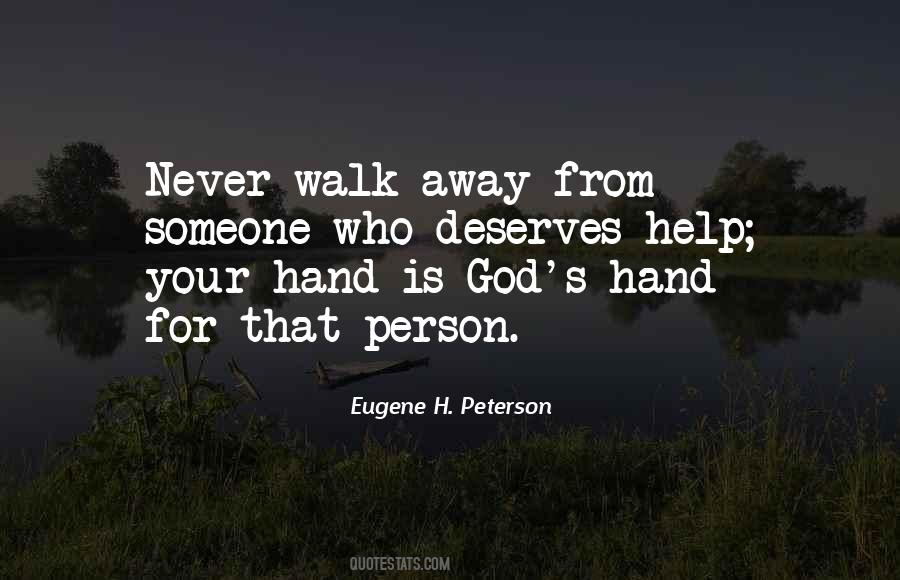 #29. To look away from the world, or to stare at it, does not help a man to reach God; but he who sees the world in Him stands in His presence. - Author: Martin Buber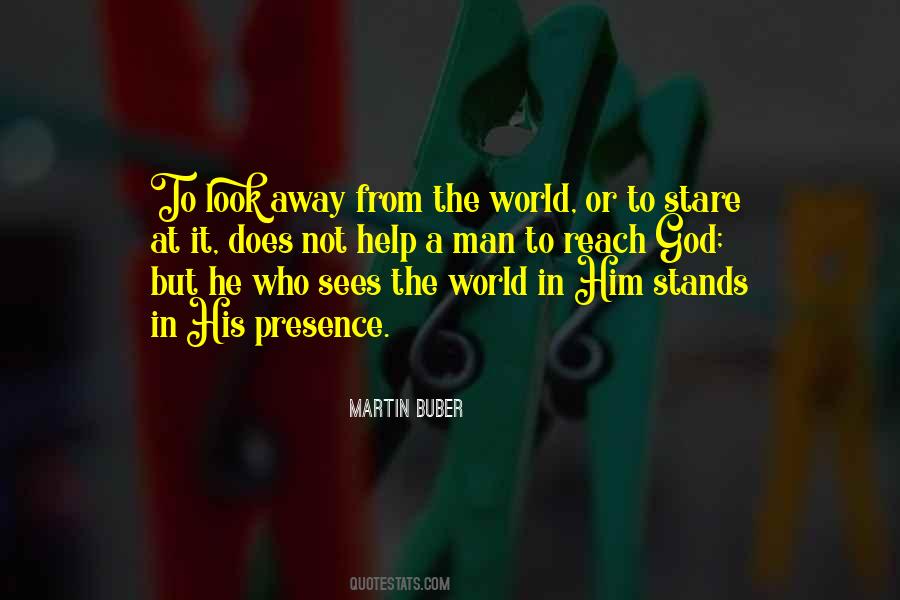 #30. Only let us love God, and then nature will compass us about like a cloud of Divine witnesses; and all influences from the earth, and things on the earth, will be ministers of God to do us good. Only let there be God within us, and then every thing outside us will become a godlike help. - Author: William Mountford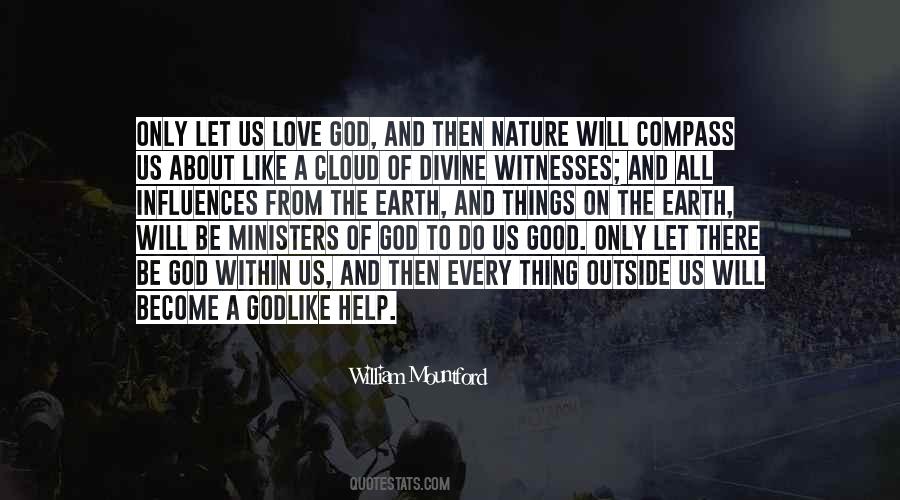 #31. Learn from your disappointments and failures and with God's help seek to overcome them. Ask yourself, could I have done anything to prevent this? Were my hopes and dreams unrealistic, or were my motives wrong?
Is there a new path God wants me to explore? - Author: Billy Graham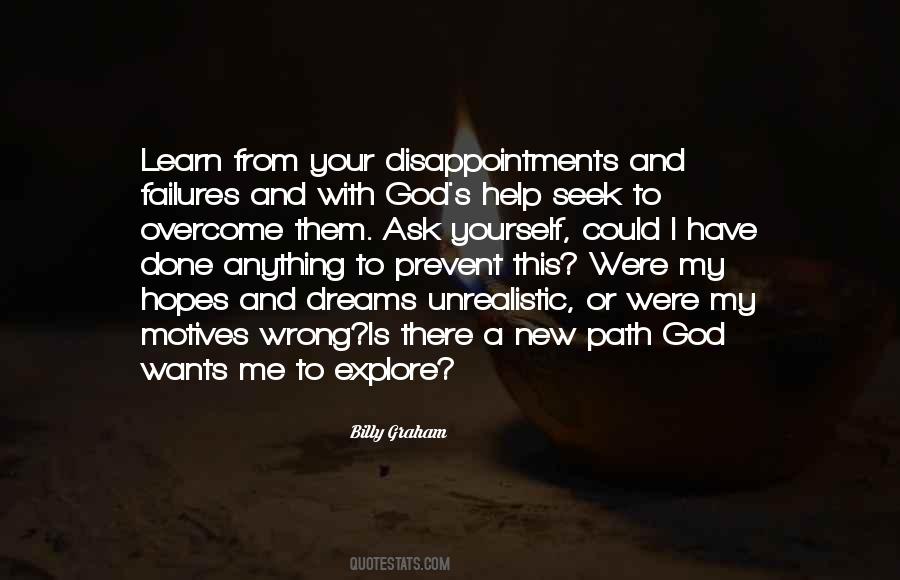 #32. A bit o' bread's what I like from one year's end to the other; but men's stomachs are made so comical, they want a change
they do, I know, God help 'em. - Author: George Eliot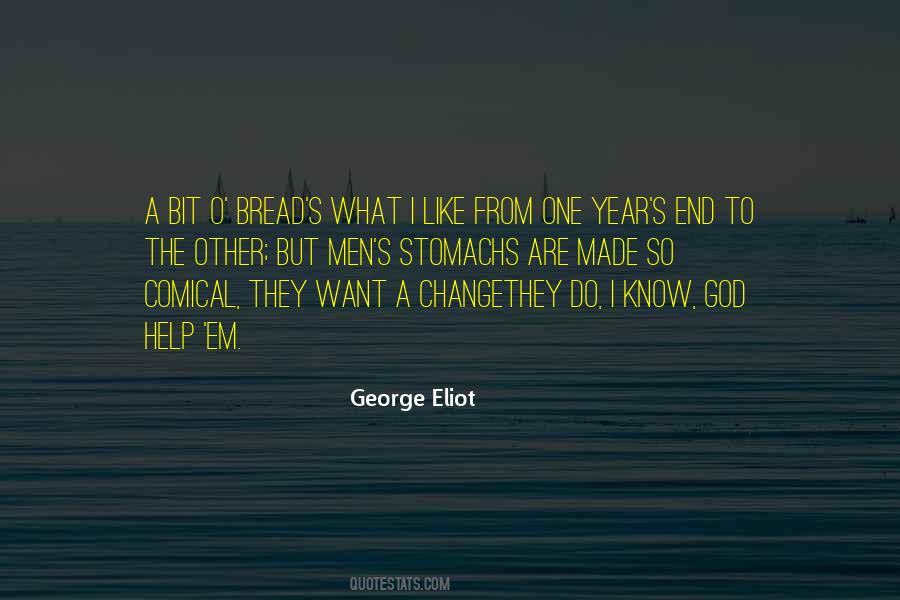 #33. The angels are thoughts of love sent from God. Since God is continuously expressing loving thoughts, there are an infinite number of angels. They are very real messengers, sent by God, to help us feel peace and joy. - Author: Doreen Virtue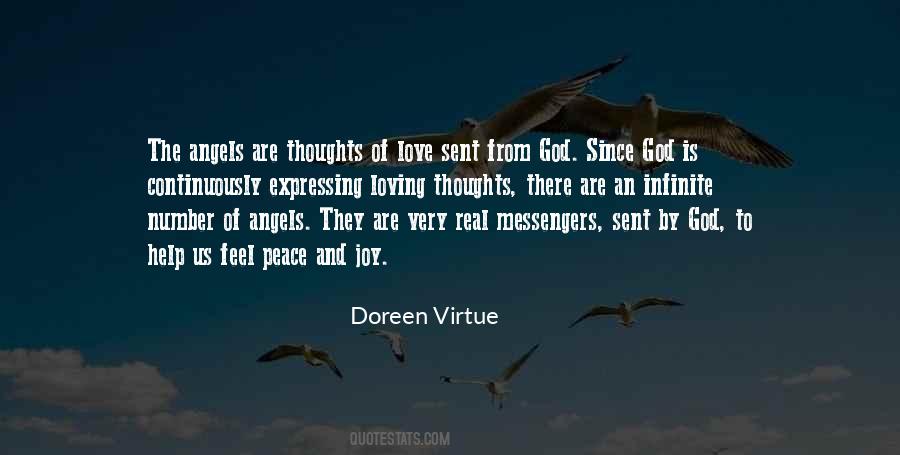 #34. Have faith that God has you right where you need to be, though all around seems bewildering. Have faith that He sent you help when you needed it, that He will guide you on from this moment too. One step at a time. You don't have to figure it all out now." She wanted - Author: Lori Benton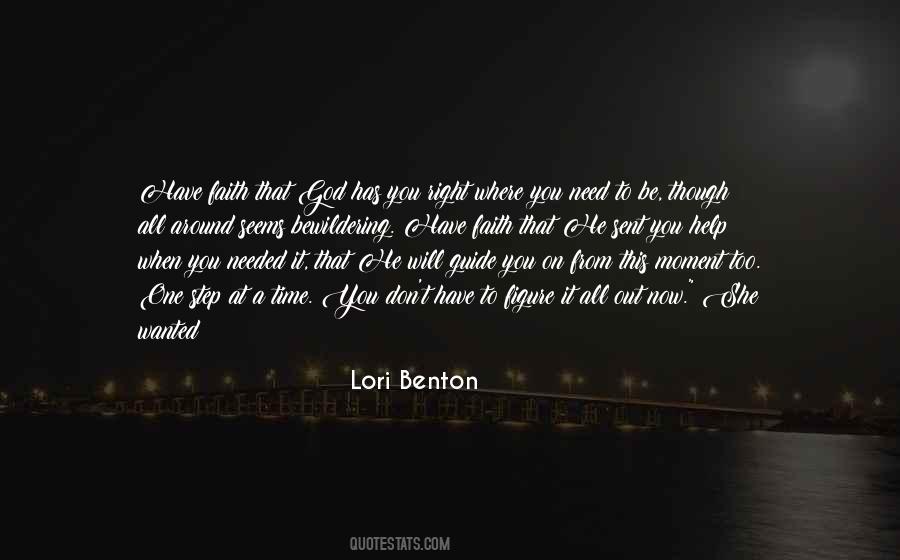 #35. I'm going to look the way God intends me to look ... with a little help from Manolo Blahnik. - Author: Jamie Lee Curtis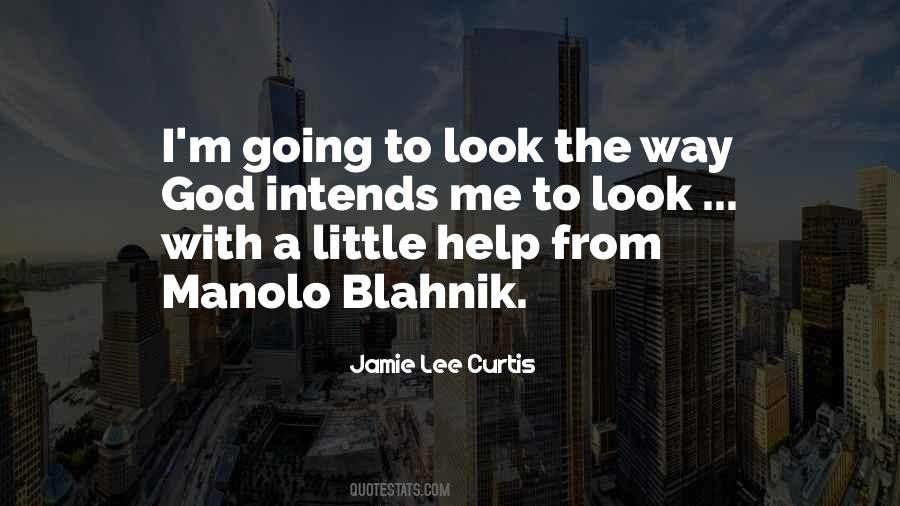 #36. We relinquished our freedom that day, and we were more than happy to see it go. From that moment on we lived in true freedom, the freedom to point to someone else and say "They told me to do it! It's their fault, not mine." The freedom, God help us, to say "I was only following orders."-World War Z - Author: Max Brooks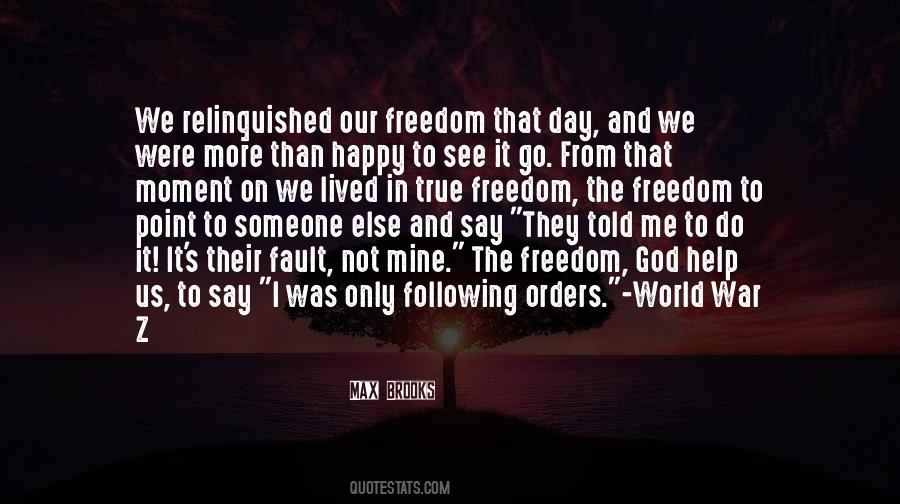 #37. Thus the Stoics arrive at their main thesis. Virtue alone is admirable, virtue is absolutely self-sufficient; the good man needs no help from circumstances, neither sickness nor adversity can harm him; he is a king, a god among men. - Author: Marcus Aurelius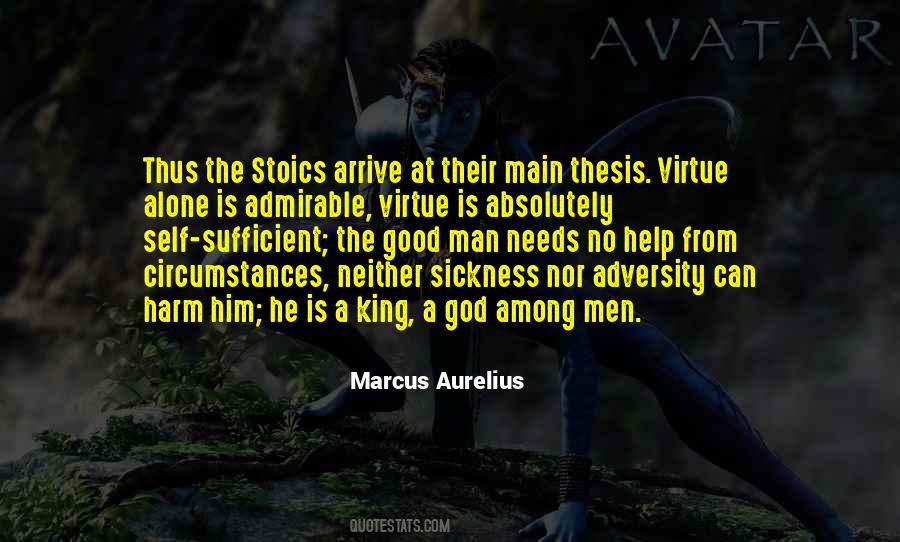 #38. Every man has a mission from God to help his fellow beings. - Author: James Gibbons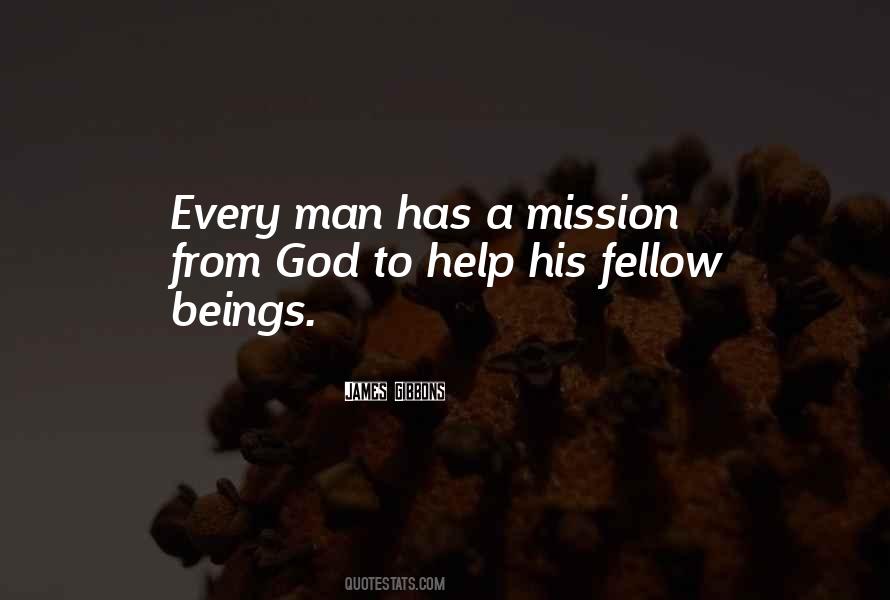 #39. But this became the first plan of his life to fail. God told him - apparently with the help of human hands - to depart from his ribcage. - Author: Aleksandr Solzhenitsyn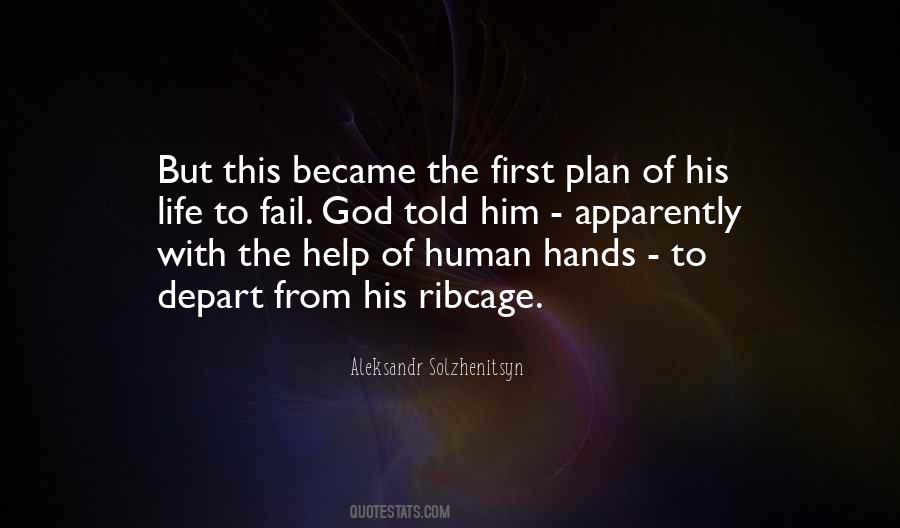 #40. Our God, our help in ages past,Our hope for years to come,Our shelter from the stormy blast,And our eternal home. - Author: Isaac Watts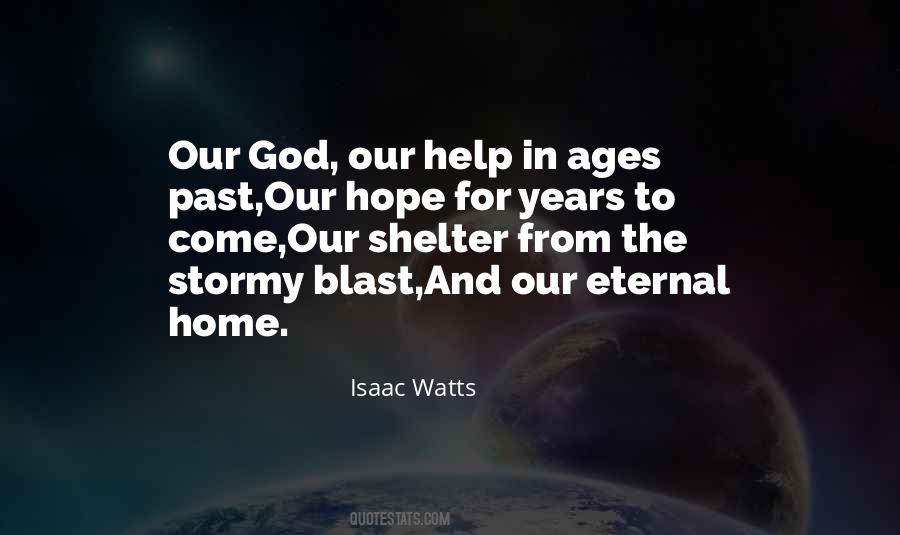 #41. Tens of thousands of God's saints and sufferers through the ages have found their dark nights lightened and tortured souls strengthened because they found help from the Spirit in the Word of God. - Author: Billy Graham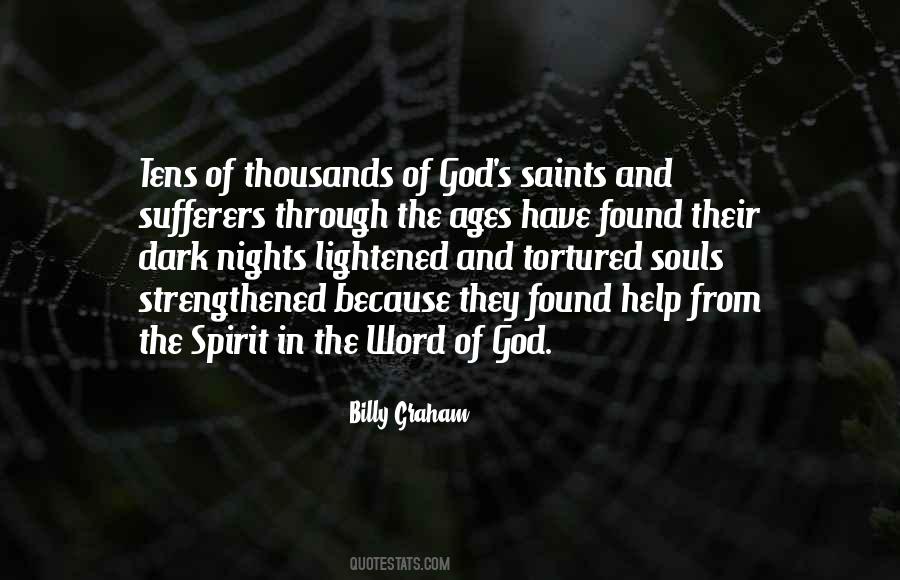 #42. I'm not so sure reading Scripture will keep us from having to face trouble as much as it will focus our attention on our Help in those times. The Bible's full of stories about good folks with troubles. Good folks. God-fearin' folks. - Author: Mona Hodgson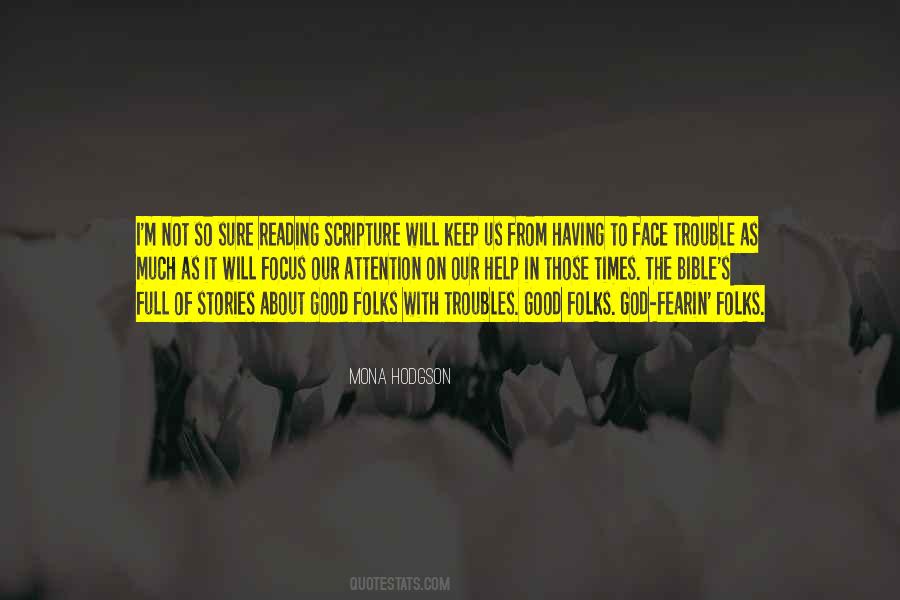 #43. Those who are believers in God find strength from their faith in the face of suffering. They are compelled to give sacrificially to help those in need. And they have the hope that comes from knowing that, with God by their side, the tragedy they are facing is never the final word. - Author: Adam Hamilton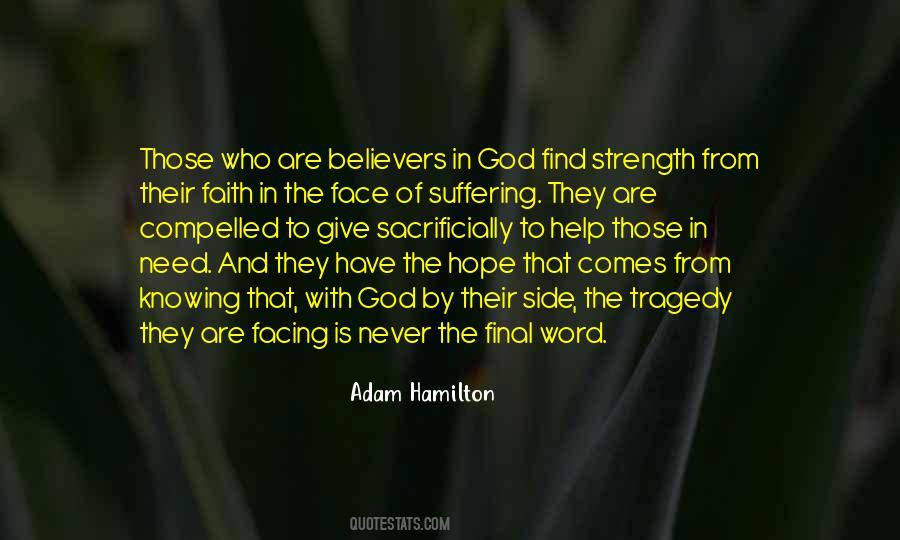 #44. If God takes away from us the old, wrinkled, beat-up dollar bill we have clutched so desperately, it is only because He wants to exchange it for the whole Federal mint, the entire treasury! He is saying to us, 'I have in store for you all the resources of heaven. Help yourself.' - Author: Aiden Wilson Tozer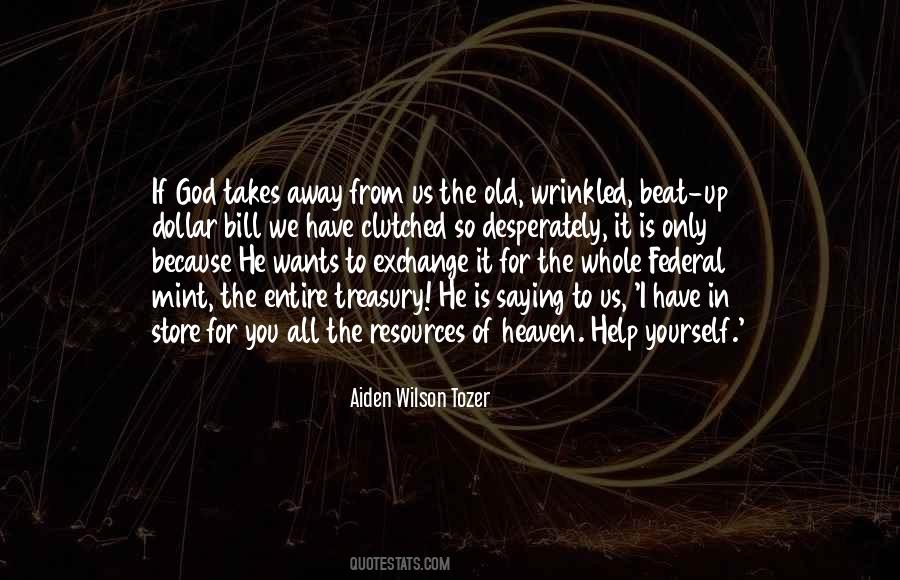 #45. Let us each day search from the scriptures and from the prophets ... . The scriptures that are never read will never help us. If read, the words of God will nourish our souls and carry us to great heights in our endeavors. - Author: L. Tom Perry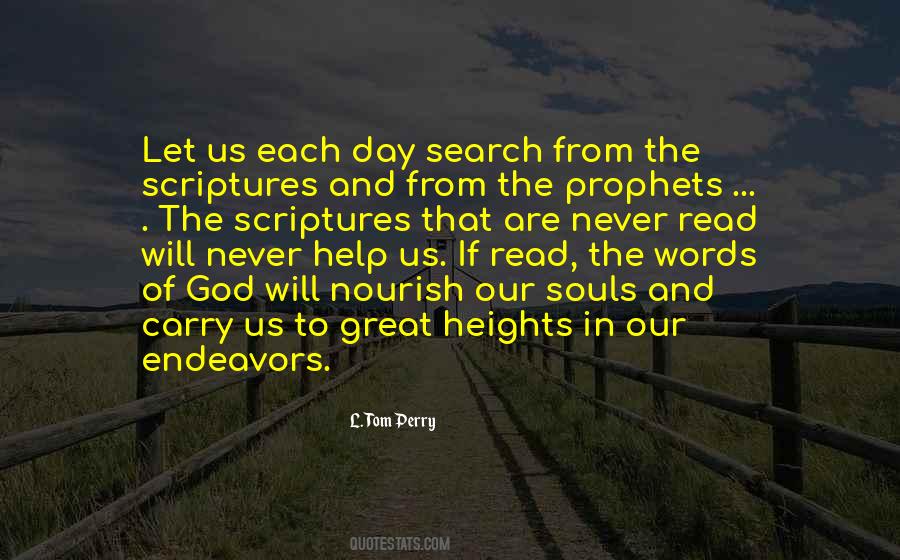 #46. Seek help from God. - Author: Lailah Gifty Akita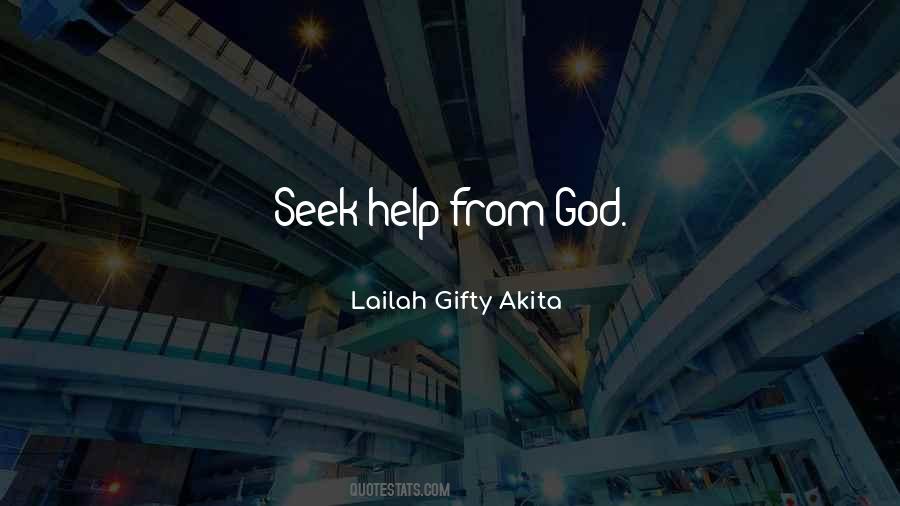 #47. Power Thought: My thoughts are not hidden from God. I know I can change with His help. - Author: Joyce Meyer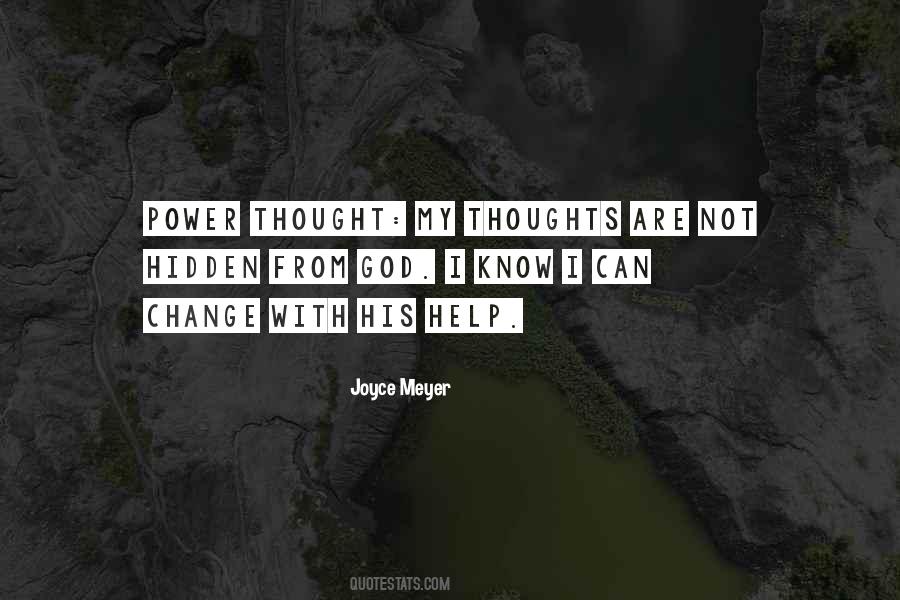 #48. Instead of us to rely on the strength and ability God has given us we hope for favor and help from God and people then do nothing. - Author: Sunday Adelaja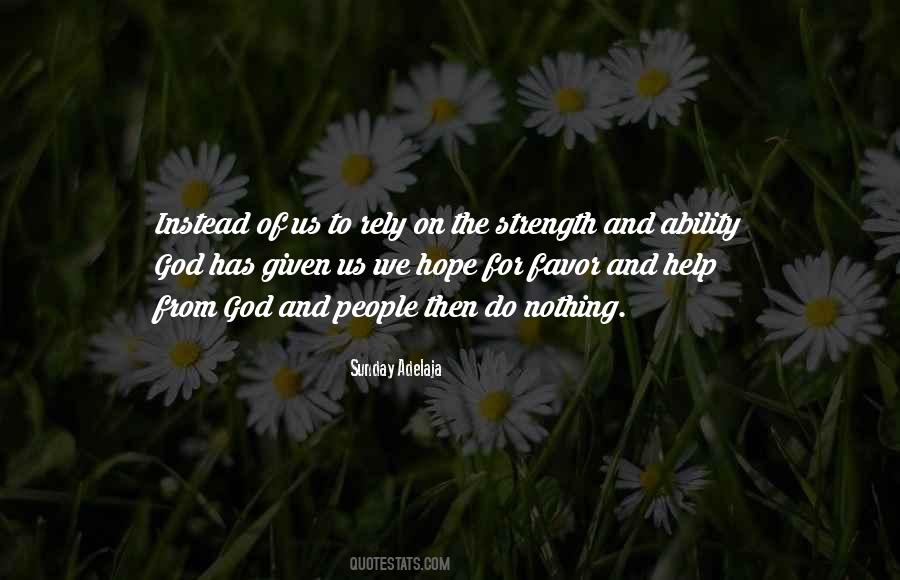 #49. I've always believed in God. I also think that's the sort of thing that either comes as part of the equipment, the capacity to believe, or at some point in your life, when you're in a position where you actually need help from a power greater than yourself, you simply make an agreement. - Author: Stephen King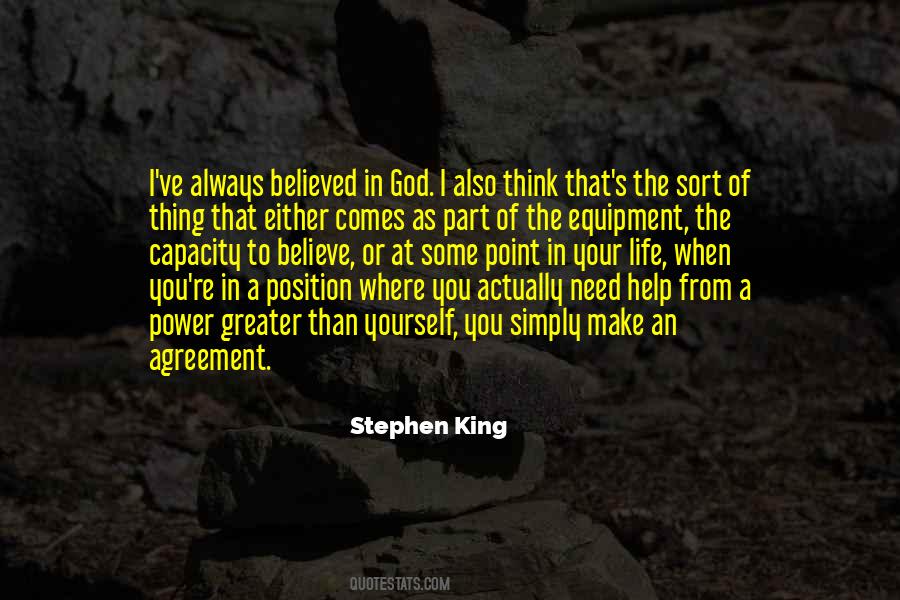 #50. Books have formed the soul of me. I know that spiritual formation is of God, but I also know - mainly because I learned it from books - that there are other kinds of formation, too, everyday gifts, and that God uses the things of this earth to teach us and shape us, and to help us find truth - Author: Karen Swallow Prior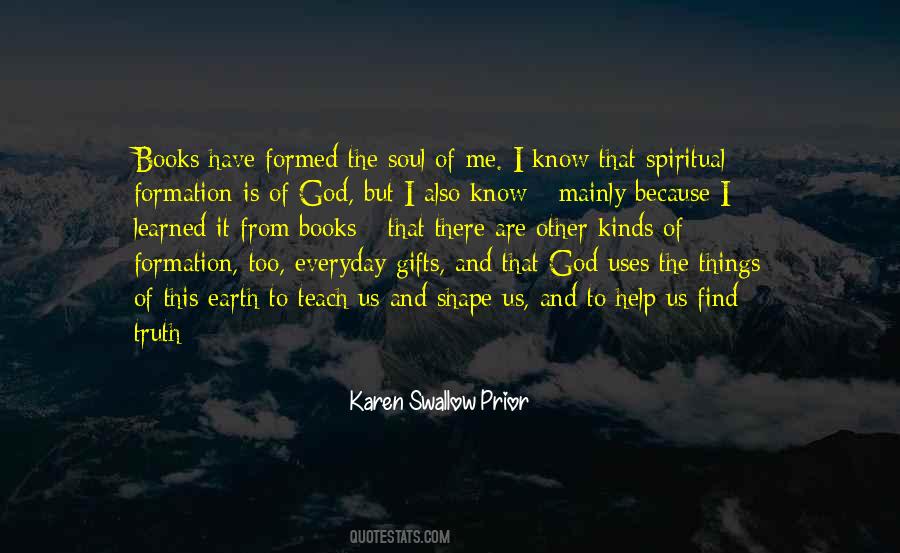 #51. God help us and keep us from receiving what we deserve - Author: Patricia Briggs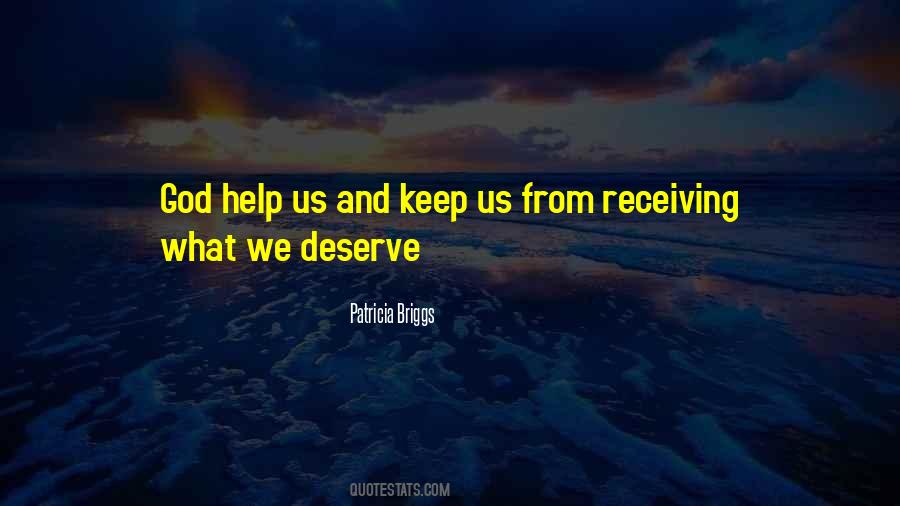 #52. The great secret of getting what you want from life is to know whay you want and believe you can have it. Always do something for others, then ask God to help you get at it. - Author: Norman Vincent Peale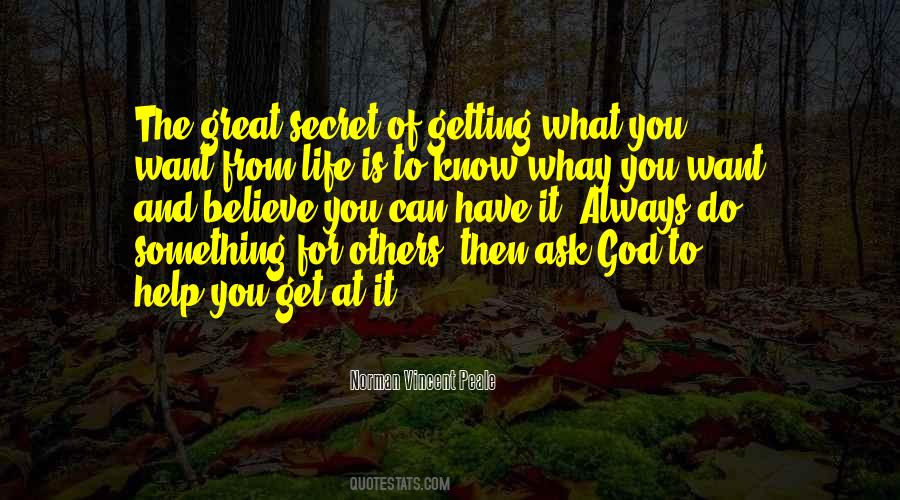 #53. God help us from those who believe that they are the sole possessors of truth. How we manage at times to agree willingly to become prisoners within our own minds and souls of beliefs and ideas on which we can never be flexible. - Author: King Hussein I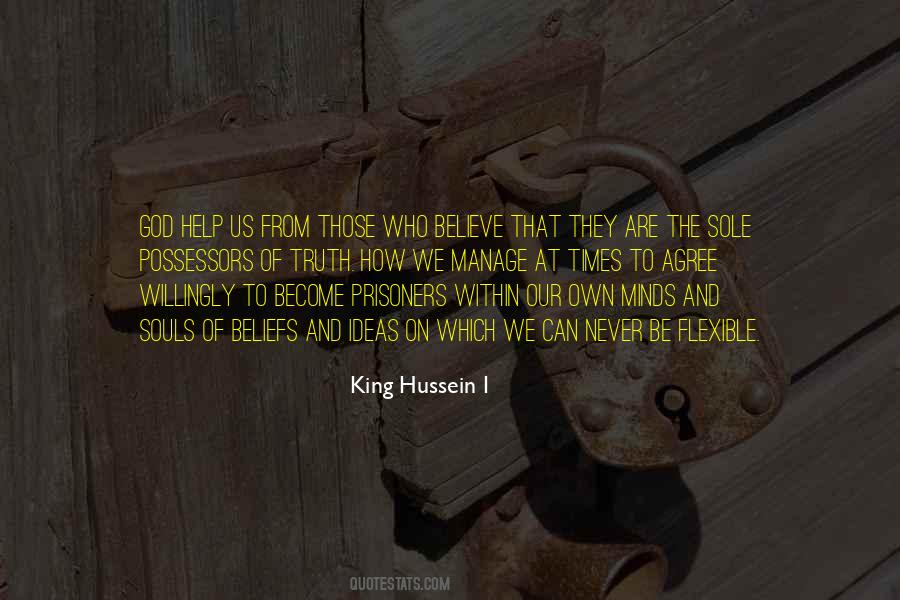 #54. Each child comes to us with a message from God and it is our job to help them deliver that message. - Author: Jim Kern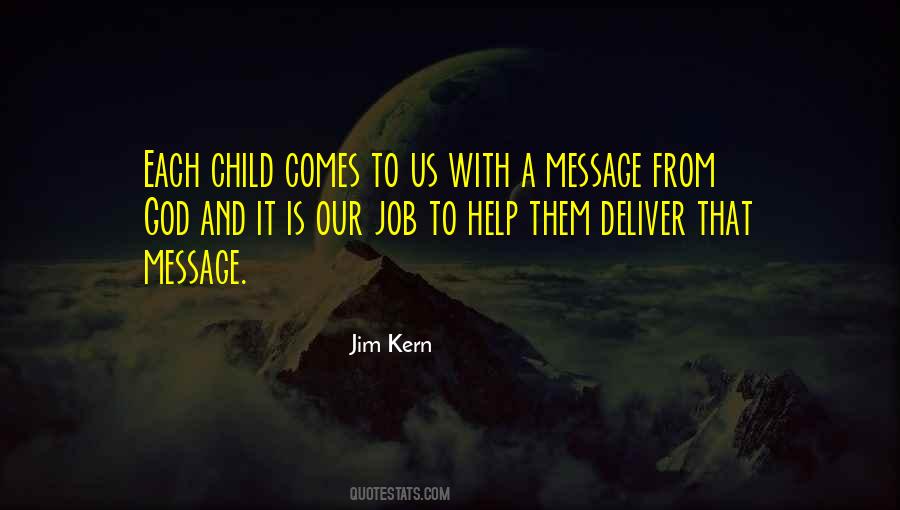 #55. Dreams are memories.
Memories are dreams.
But my time with you hasn't become a dream just yet.
Because the sensation of your kisses
keep me from sleep.
I'm in love,
God help me, I'm in love. - Author: F.K. Preston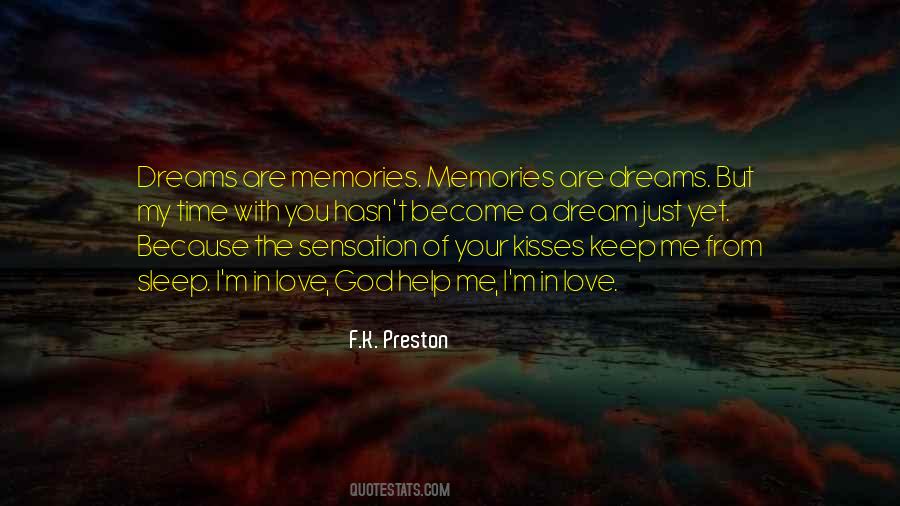 #56. From Bill Murray in the movie Groundhog Day Maybe God isn't omnipotent. Maybe he's just been around so long, he knows everything. - Author: Phil Connors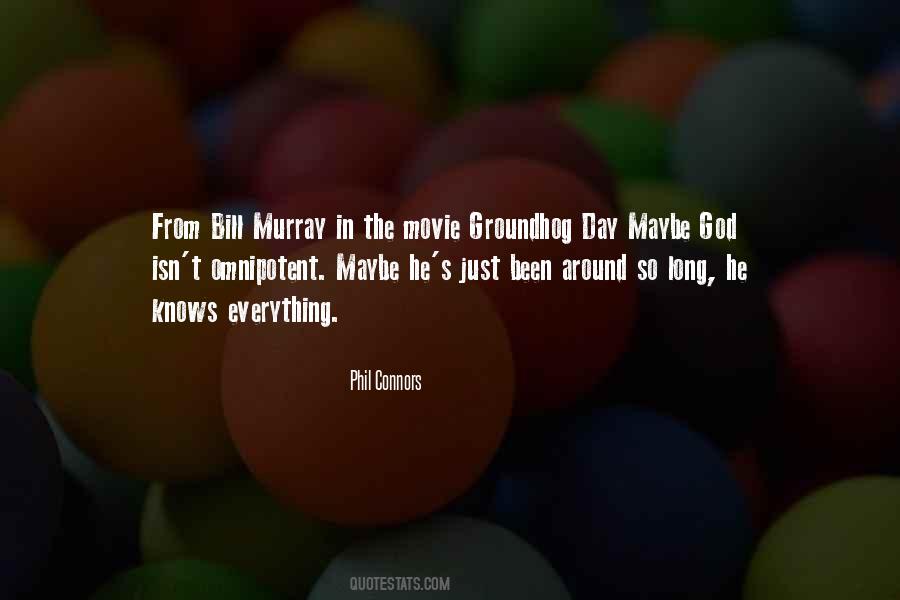 #57. When we transform our old life and give our spirit a new image, we find it hard and tiring to turn back from the darkness of earthly passions to the serene calm of the divine light. We thus ask God to help us that a complete conversion may be brought about in us. - Author: Augustine Of Hippo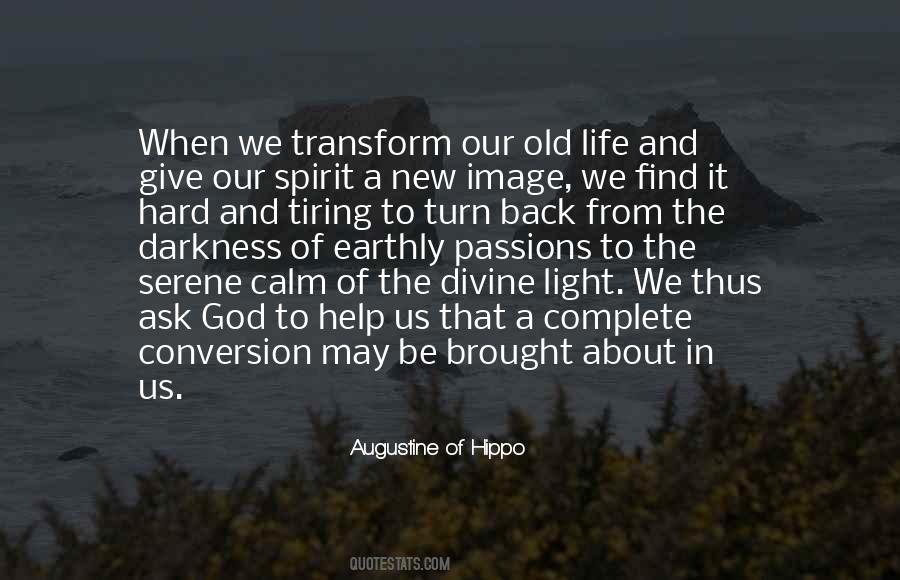 #58. In our culture it is seen as a sign of weakness to actually seek help from someone else. And yet, as Christians, God designed us to need each other - He designed us to lean upon the body of Christ for support, prayer, wisdom, and even practical help. - Author: Leslie Ludy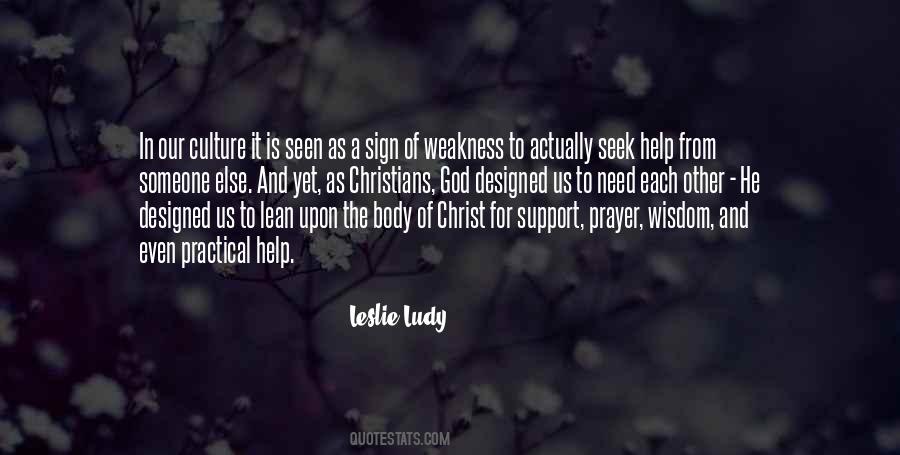 #59. God will not come from Heaven to help us, but He'll use the people around us for that - Author: Sunday Adelaja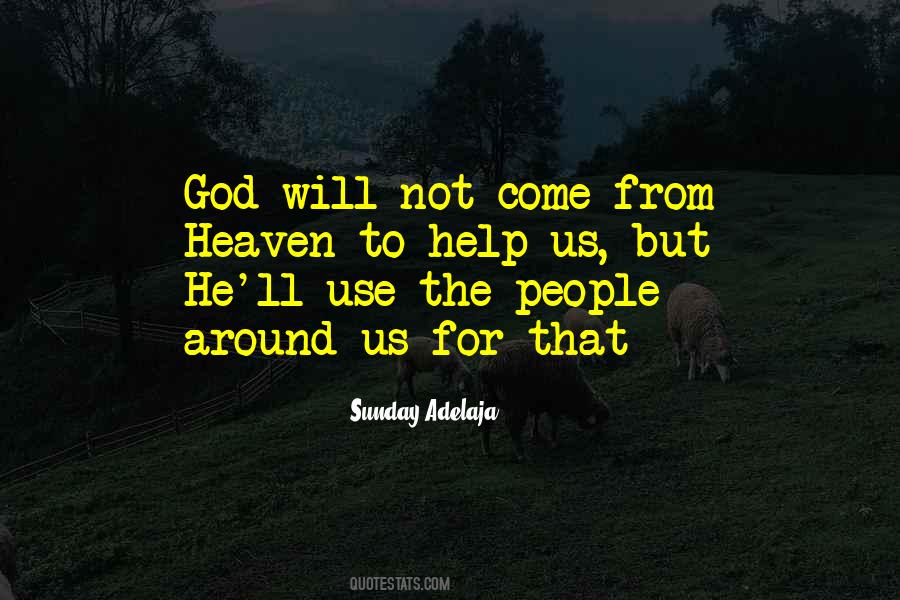 #60. Joseph goes to the Social Service Department. "Can I help you?" the secretary inquires. Joseph answers: "Yes, I am God. I've come to see about a release from the hospital. - Author: Milton Rokeach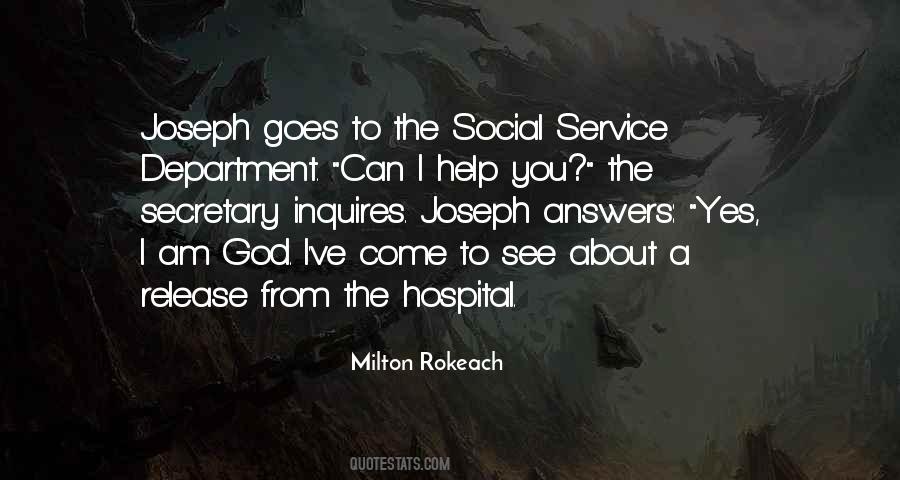 #61. I am still far from being what I want to be, but with God's help I shall succeed. - Author: Vincent Van Gogh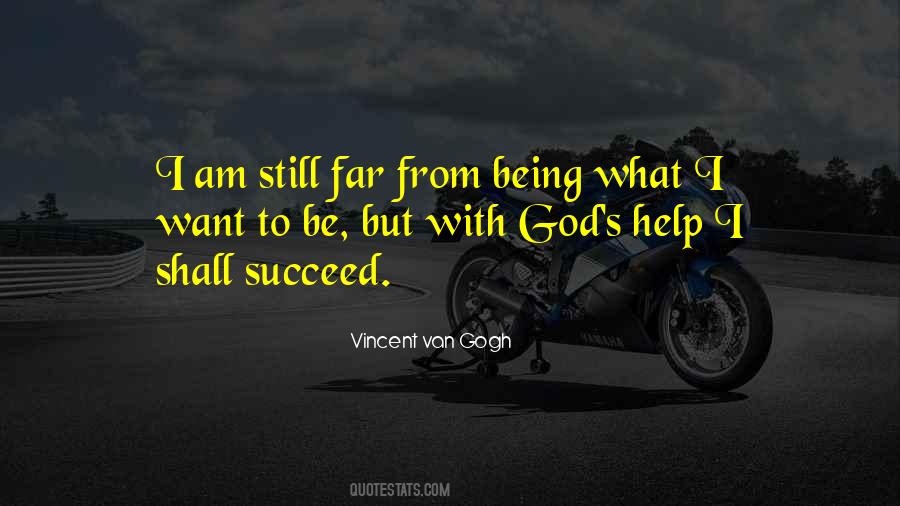 #62. And god help you if you are an ugly girl course too pretty is also your doom cause everyone harbors a secret hatred for the prettiest girl in the room and god help you if you are a pheonix and you dare to rise up from the ash a thousand eyes will smolder with jealousy while you are just flying back - Author: Ani DiFranco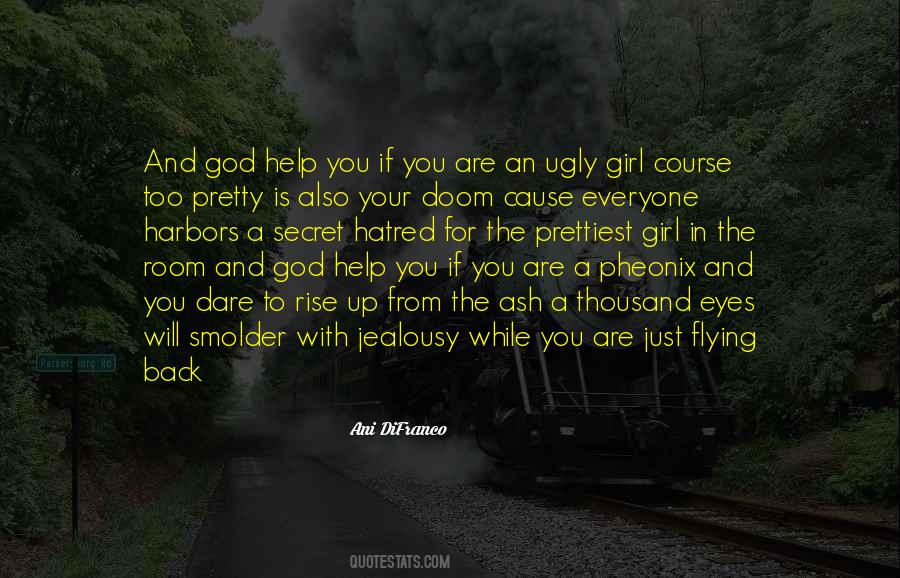 #63. Amazingly, if God calls us to do something, He will help us accomplish it. We may doubt or we may simply believe. God chooses us for a particular reason. He is STRETCHING us from the inside out ... to reach the lost, to provide hope, to be like Jesus on earth. - Author: Dana Arcuri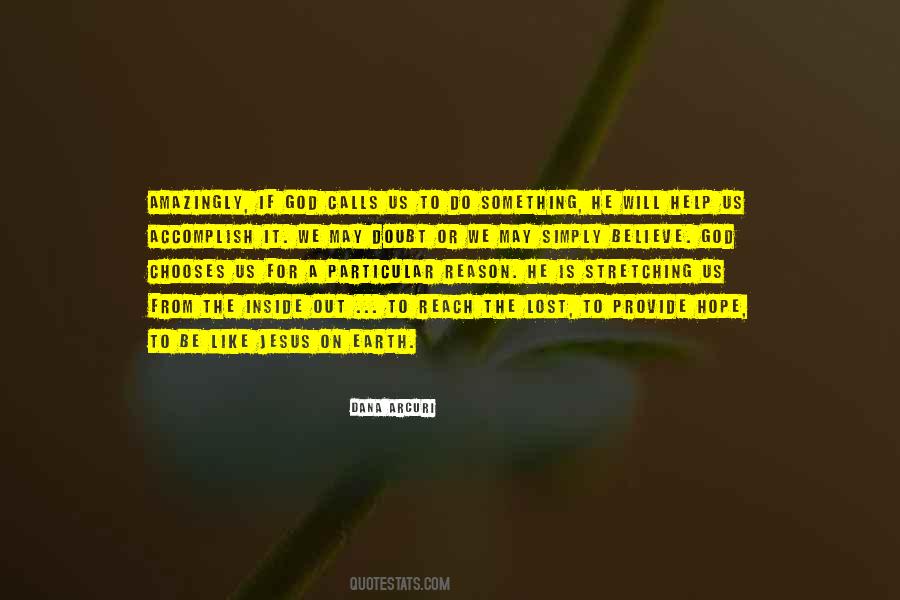 #64. God doesn't promise to remove the stones from the path, but He does promise to make them stepping-stones and not stumbling blocks. He promises to help us climb higher because of the difficulties of life. - Author: Warren W. Wiersbe
#65. Therefore it is highly necessary that God's children earnestly pray and learn to know this false structure, and depart from it in spirit, and not help to build it up... - Author: Jakob Bohme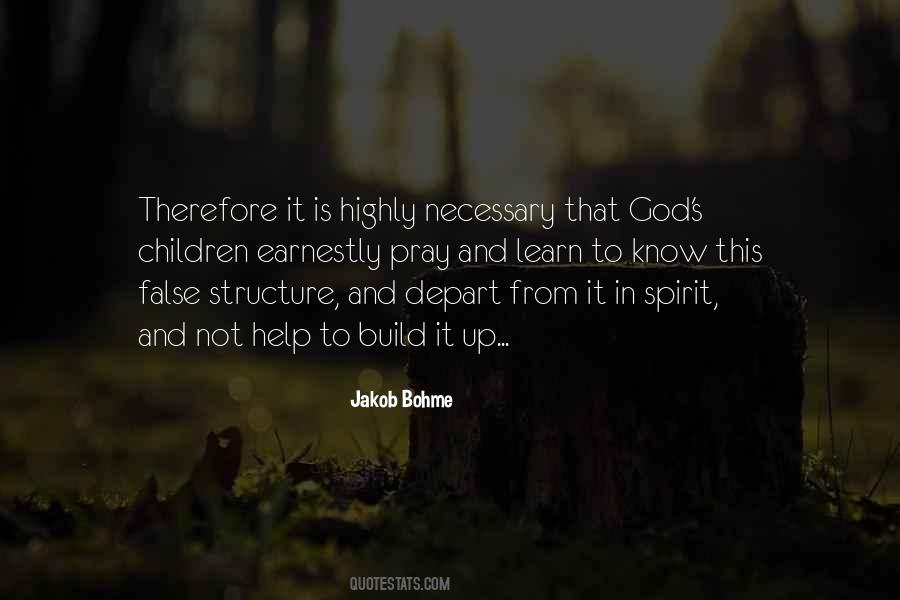 #66. Sometimes we need help from a god. - Author: Tina Turner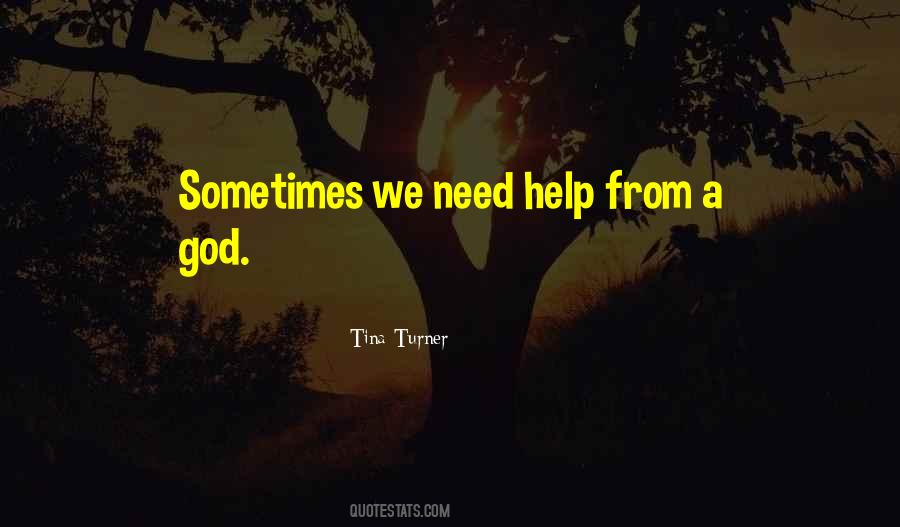 #67. Republicans are all about Old Glory and school prayer and the sanctity of marriage and the Fatherhood of God but when it comes to actually needing help from them, you shouldn't get your hopes up. They might send an ambulance or they might just send a Get Well card. - Author: Garrison Keillor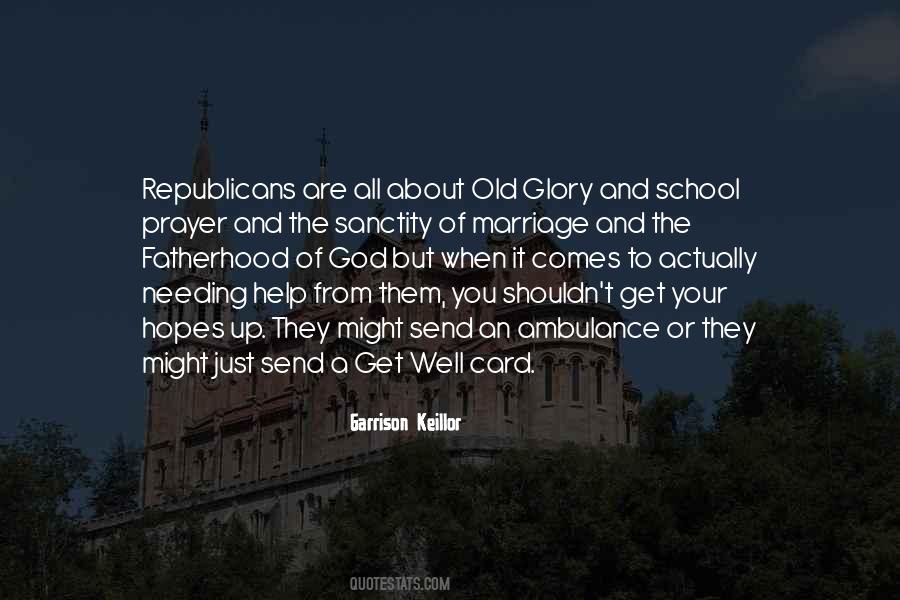 #68. If you have become entangled in sin from poor choices, please decide to come back now. You know how to begin. Do it now. We love you. We need you. God will help you. - Author: Richard G. Scott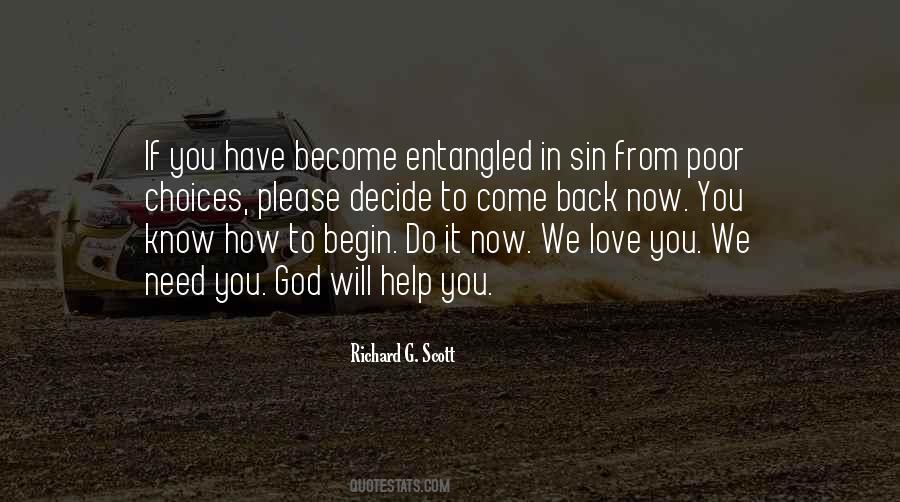 #69. Someone told me much later that you always know the people who are going to make a difference in your life, from the very first time you set eyes on them, even if you do not like them at all. And I had noticed him, as he had me. God help us. - Author: Sarah Dunant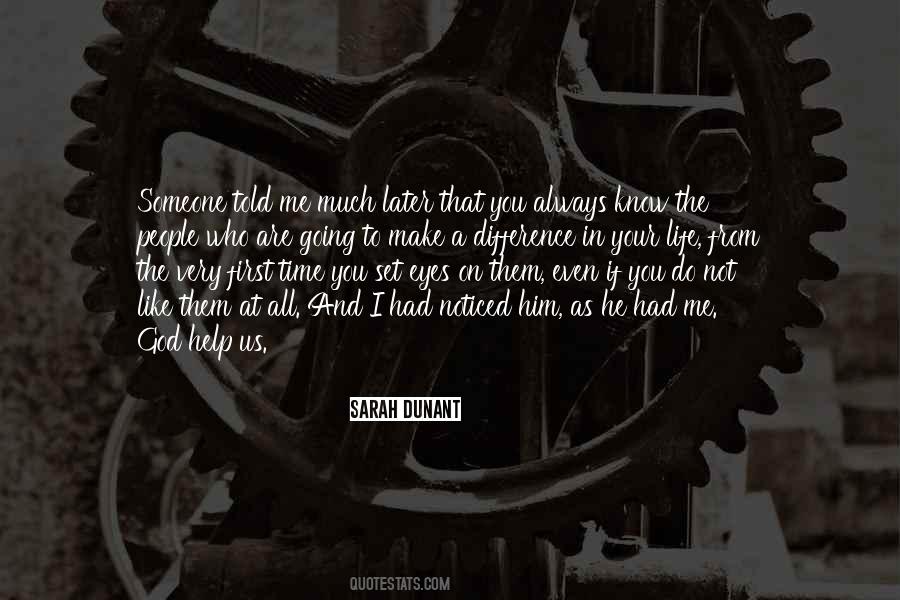 #70. One of the most paralyzing mistakes we make is thinking that our problems somehow disqualify us from being used by God. Let me just say it like it is: If you don't have any problems, you don't have any potential. Here's why. Your ability to help others heal is limited to where you've been wounded. - Author: Mark Batterson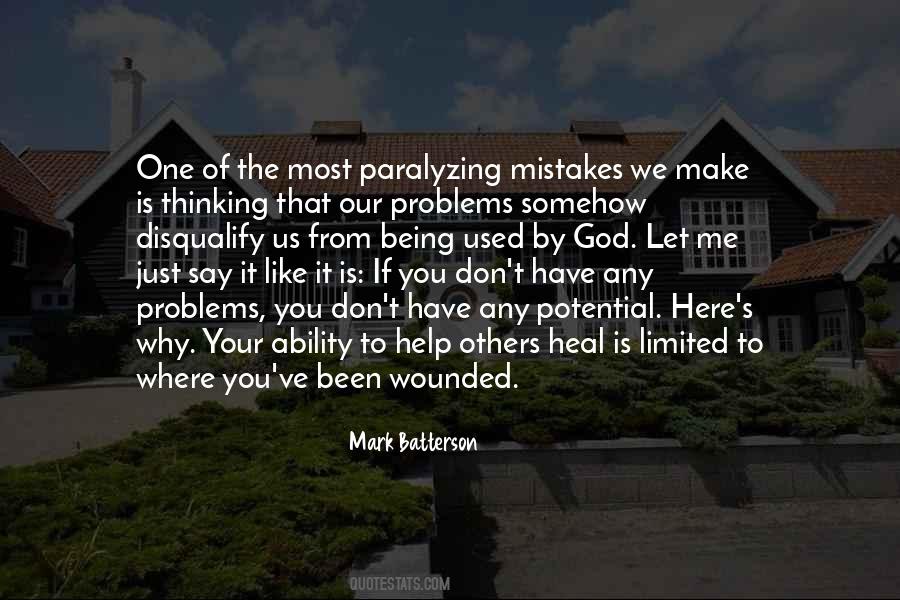 #71. In honor of the marriage that worked, I include in this collection a sickeningly slick love story from The Ladies' Home Journal, God help us, entitled by them "The Long Walk to Forever." The title I gave it, I think, was "Hell to Get Along With. - Author: Kurt Vonnegut Jr.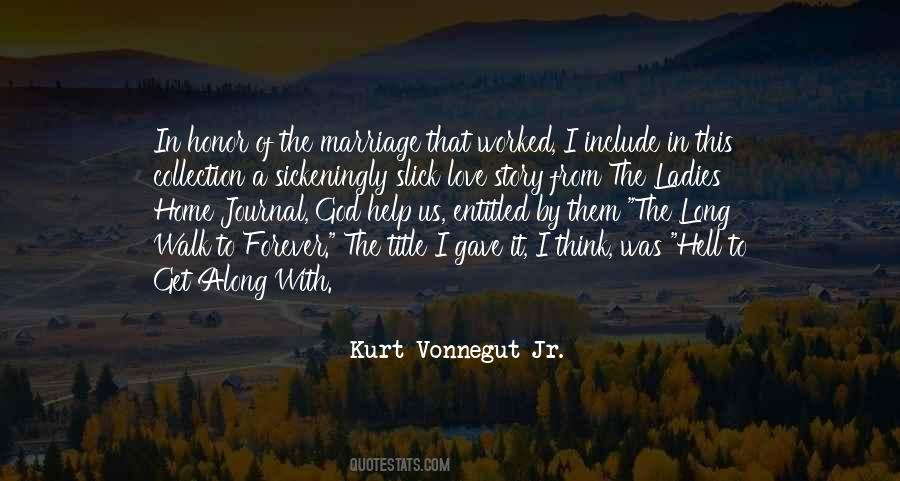 #72. From now on, in any place, if any nation or any group confronts the Zionist regime, we will endorse and we will help. We have no fear expressing this ... The Zionist regime is a cancerous tumor that must be removed, and God willing it will be. - Author: Ali Khamenei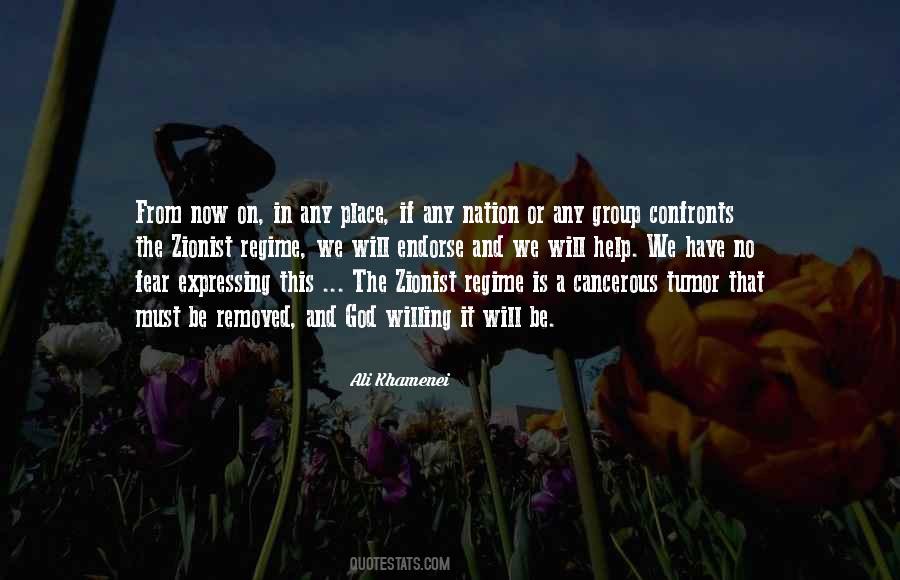 #73. Only in a state of solitude, when you willingly stay face to face with God, can He help you to open yourself, and show the impurities preventing you from moving forward and help you to identify your unique gift, life mission and destination - Author: Sunday Adelaja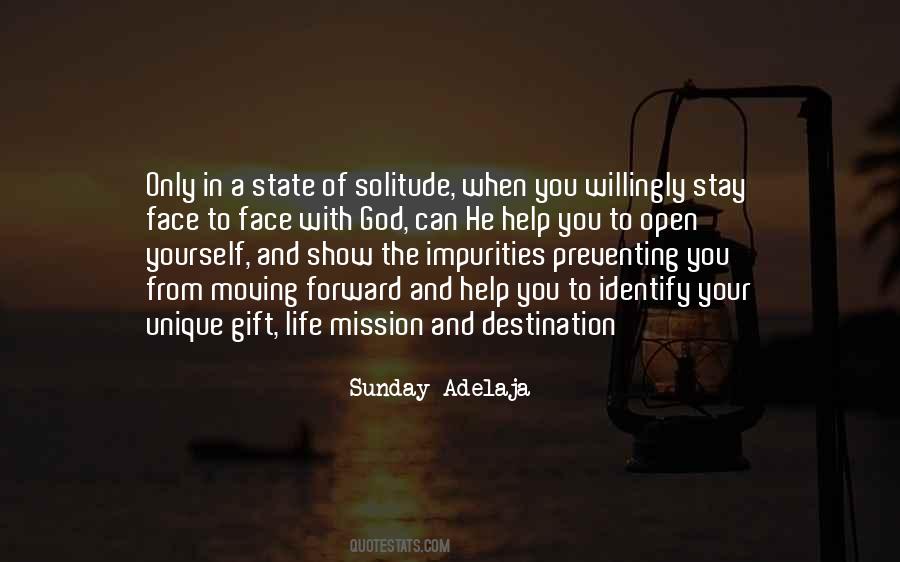 #74. God makes all chosen souls pass through a fearful time of poverty, misery, and nothingness. He desires to destroy in them gradually all the help and confidence they derive from themselves so that He may be their sole source of support, their confidence, their hope, their only resource. - Author: Jean-Pierre De Caussade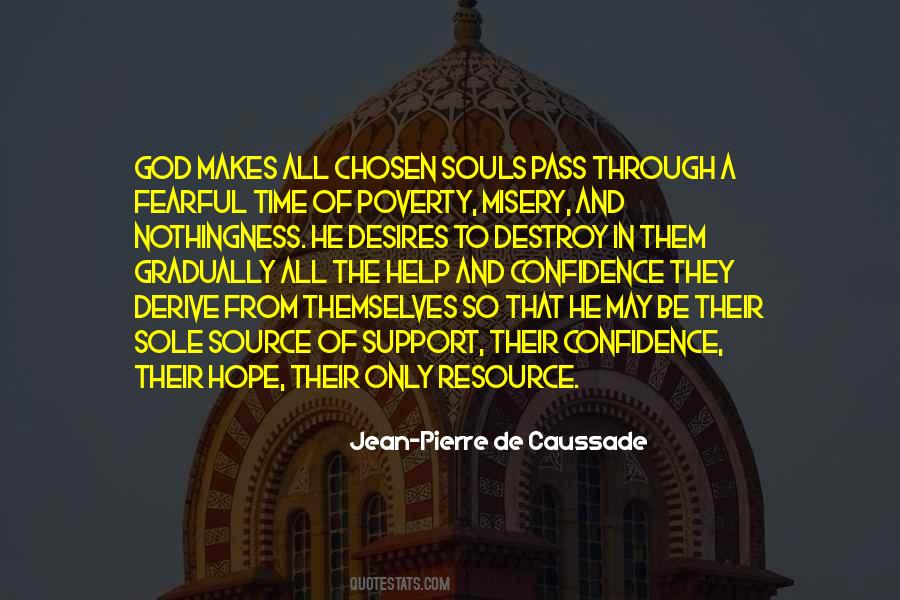 #75. You're looking for help from God, you say he couldn't be found. Looking up to the sky and searchin' beneath the ground. - Author: Matisyahu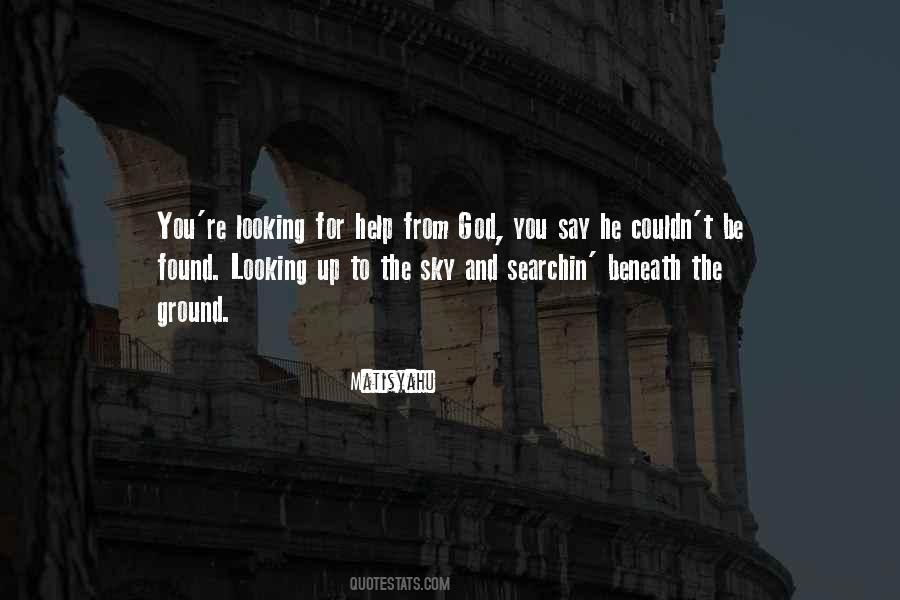 #76. We have done with Hope and Honour, we are lost to Love and Truth,
We are dropping down the ladder rung by rung,
And the measure of our torment is the measure of our youth.
God help us, for we knew the worst too young!
from Gentleman Rankers - Author: Rudyard Kipling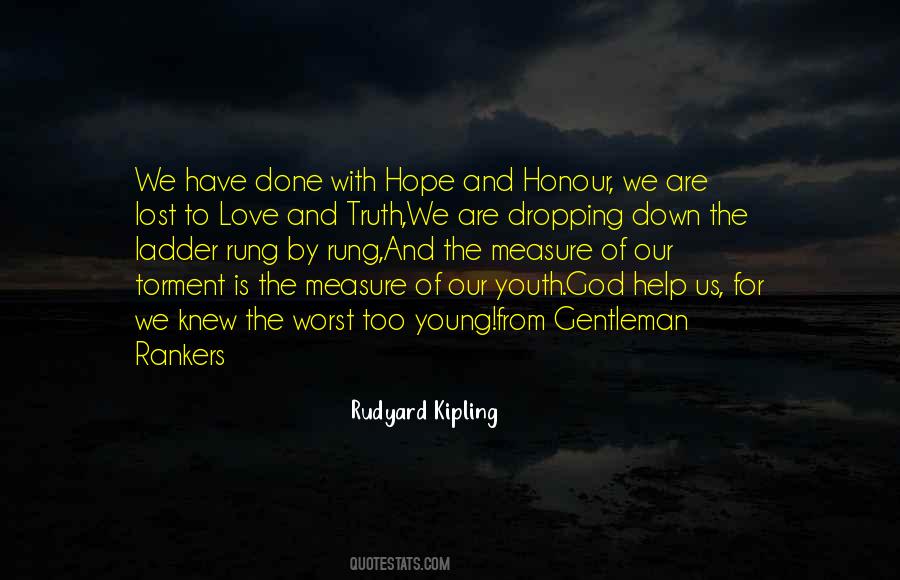 #77. Oh, the remembrance of my great sins, of my great temptations, and of my great fears of perishing forever! They bring afresh into my mind the remembrance of my great help, my great support from Heaven, and the great grace that God extended to such a wretch as I. - Author: John Bunyan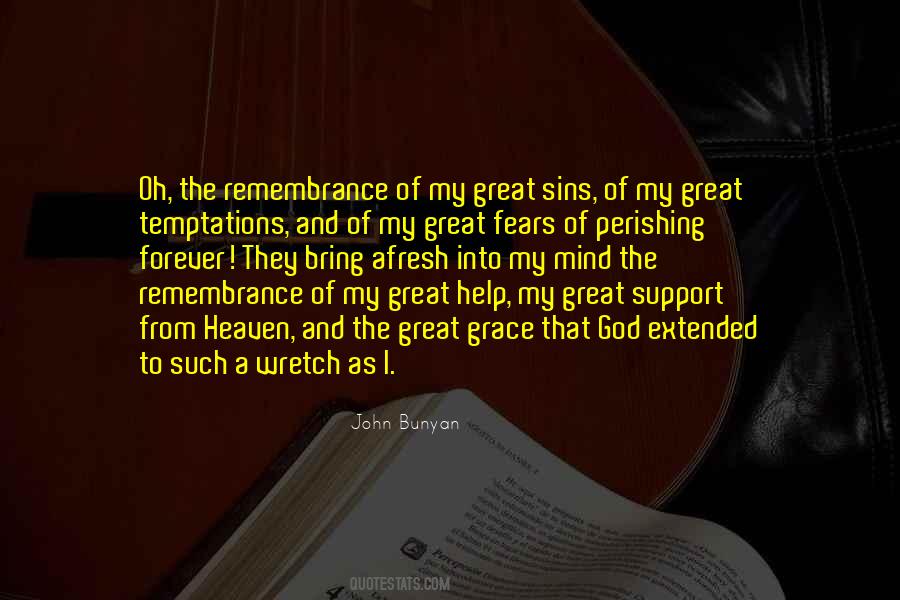 #78. Joy, humor, and laughter should be part of everyone's spiritual life. They are gifts from God and help us enjoy creation. - Author: James Martin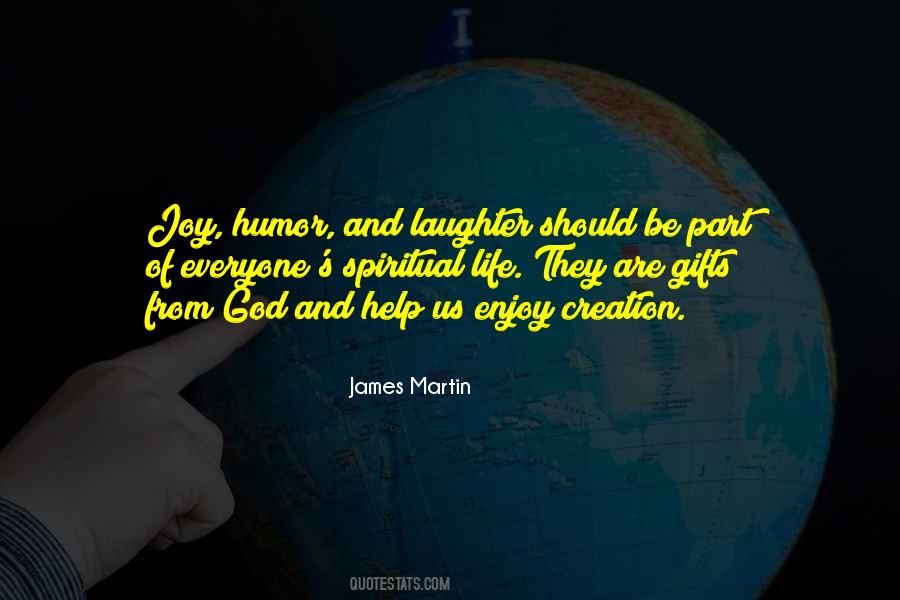 #79. Therefore, the church is not absolutely necessary as an object of faith, not even for us today, for then Abraham and the other prophets would not have given assent to those things which were revealed to them from God without any intervening help of the church. - Author: William Ames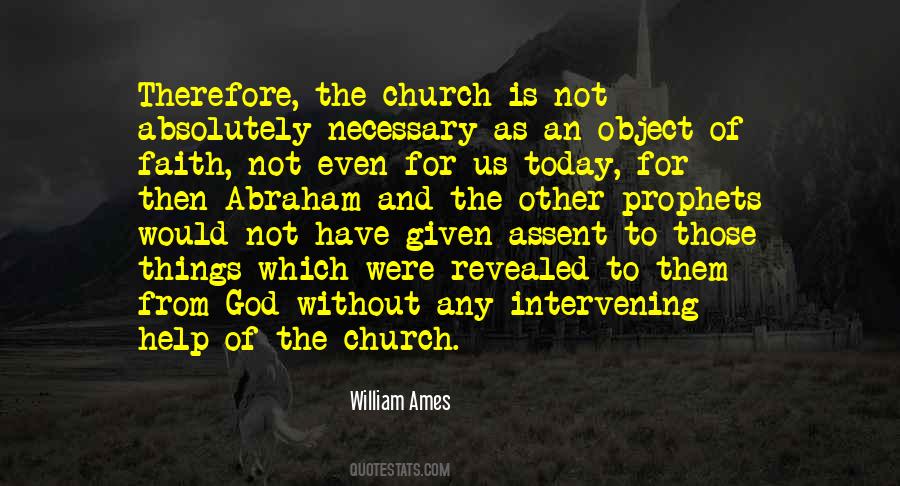 #80. The dearest idol I have known,
Whate'er that idol be,
Help me to tear it from thy throne,
And worship only thee.
So shall my walk be close with God,
Calm and serene my frame;
So purer light shall mark the road
That leads me to the Lamb. - Author: William Cowper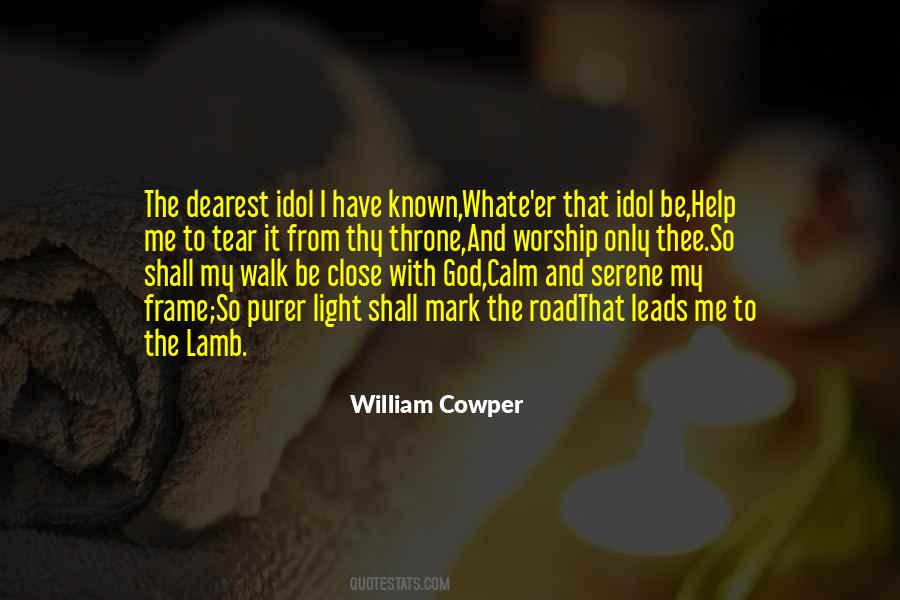 #81. God wants you to face the reasons why you separate yourself from Him. He will show you what you fear, what you need, and what you desire. He will inventory your beliefs and values, and help you line them up with His truth. - Author: Michael Barbarulo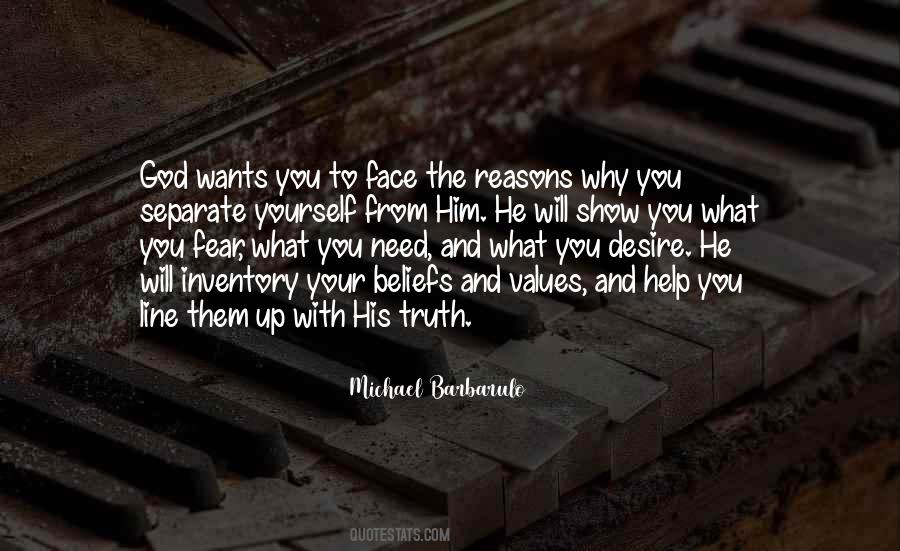 #82. I did what human beings do instinctively when they are driven to utter extremity - looked for aid to one higher than man: the words "God help me!" burst involuntarily from my lips. - Author: Charlotte Bronte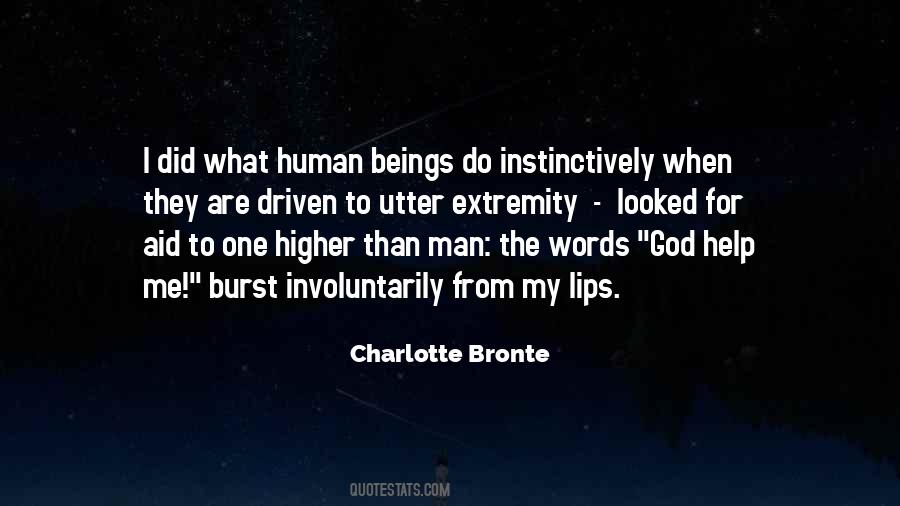 #83. Know that whatever God prays to
He asked it to help Him make something of worth.
He woke from His dreams scraped the soil form the spaces inside Himself made you and was happy.
You make the Lord happy. - Author: Anis Mojgani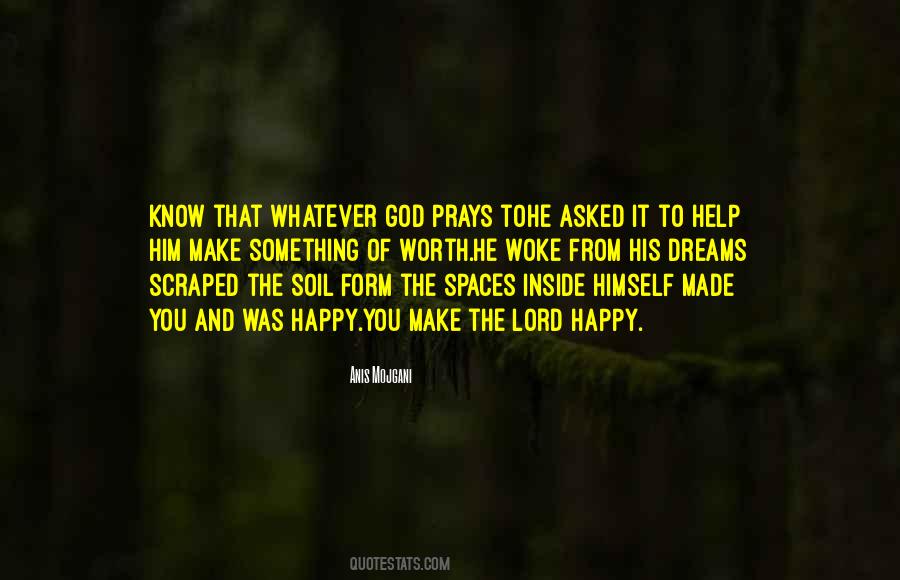 #84. I watched the guy that hits a home run, and he comes across the plate and he points skyward, like thanking for the help from the Almighty to hit the home run. And as he does that, I say to myself, 'God screwed the pitcher.' And I don't know how else you look at it. - Author: Bobby Knight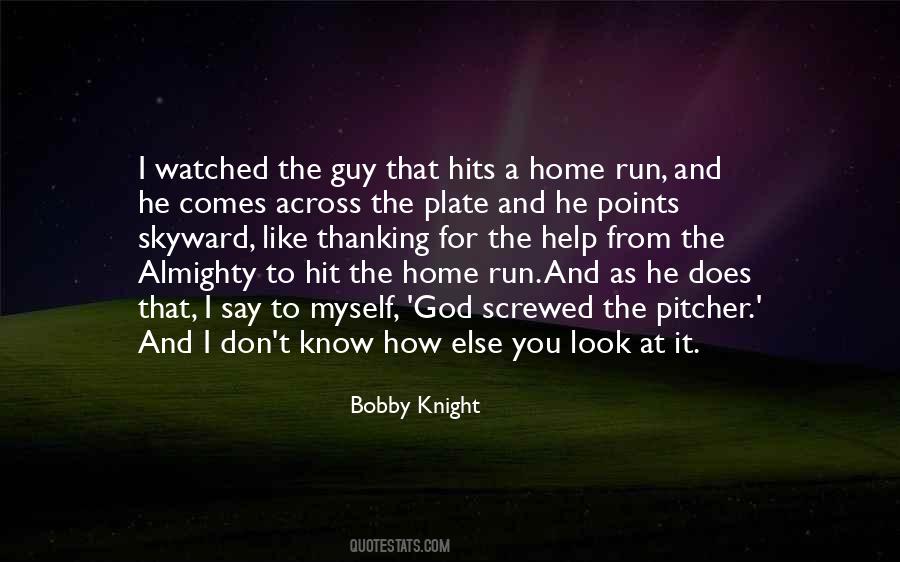 #85. God help us both if this is summer.
The sun shines all day and all night
but it has no warmth, no light, no colour. - Author: Simon Armitage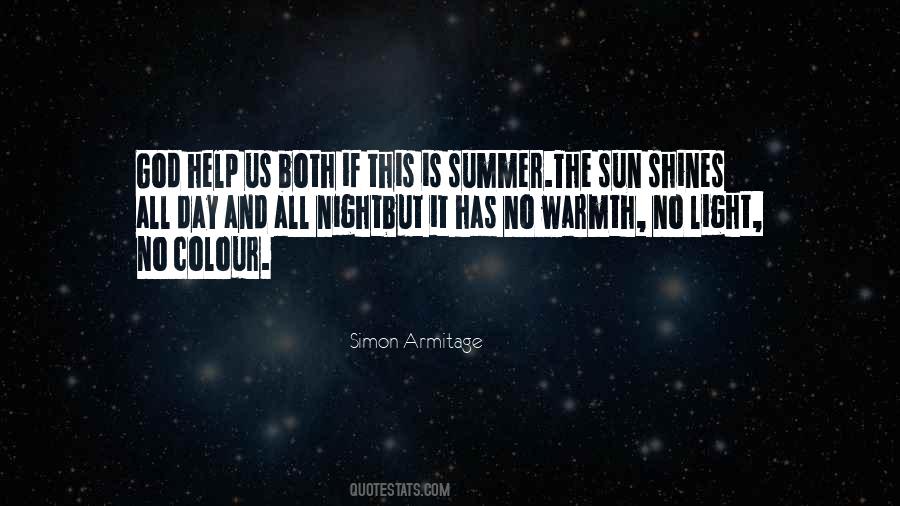 #86. Love is a gift from God, and as we obey His laws and genuinely learn to serve others, we develop God's love in our lives. Love of God is the means of unlocking divine powers which help us to live worthily and to overcome the world ... - Author: David B. Haight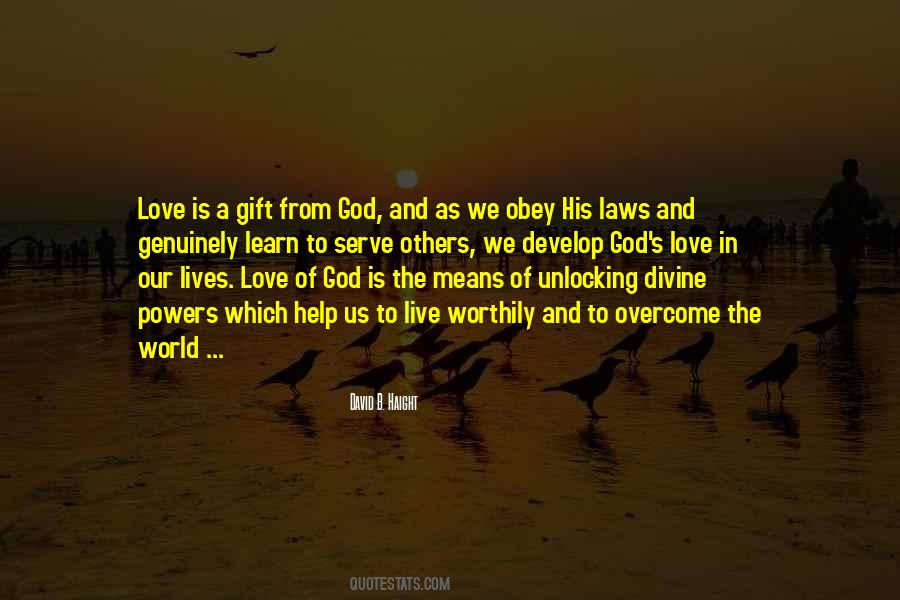 #87. Oh that God would help me waken in you a single passion for a single great reality that would unleash you, and set you free from small dreams, and send you, for the glory of Christ, into all the spheres of secular life and to all the peoples of the earth. - Author: John Piper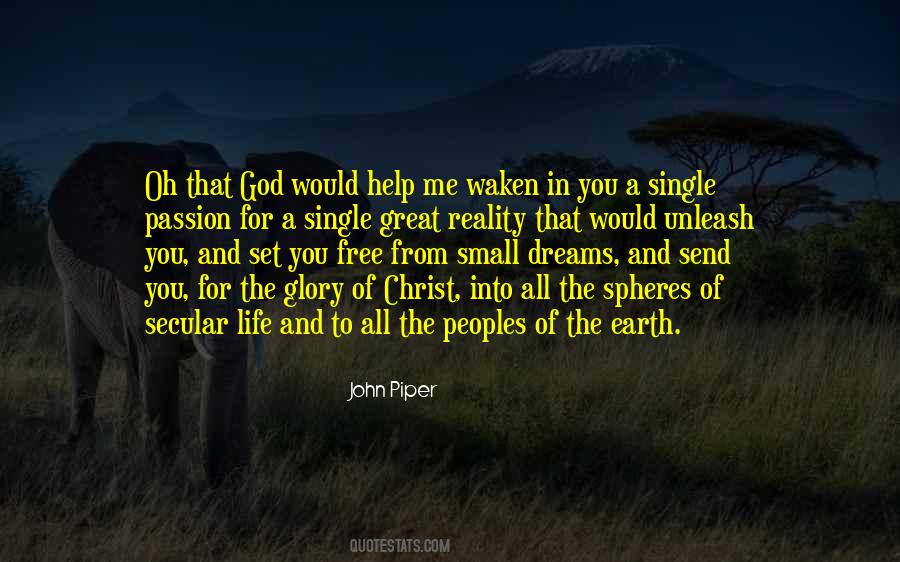 #88. the Holy City shall not be moved from its place because God dwells in it and is always ready to bring it help. - Author: John Calvin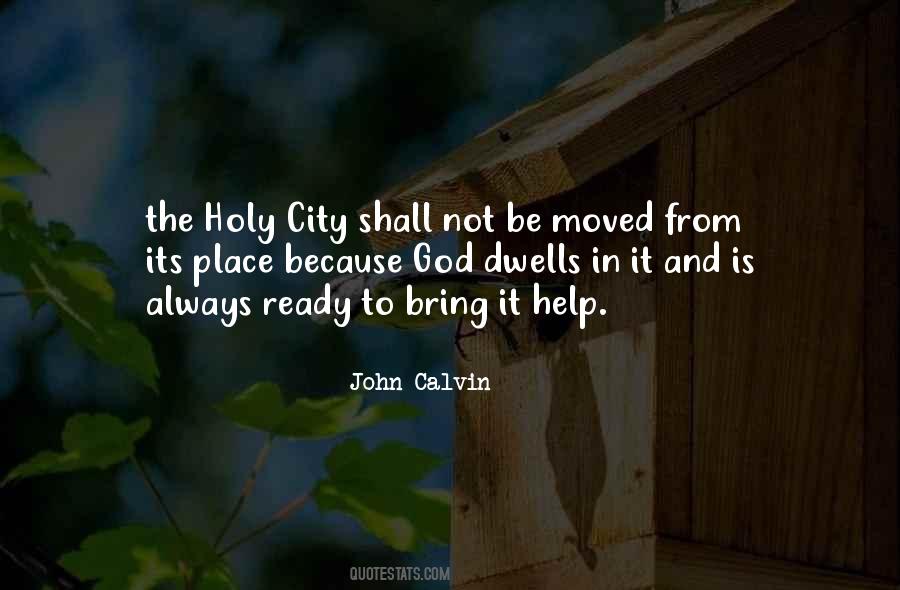 #89. From an Islamic point of view, women are as responsible as men to help people finding their way to God (S.W.T), and to guide society in the right path with all the power they have. - Author: Mohammad Hussein Fadlallah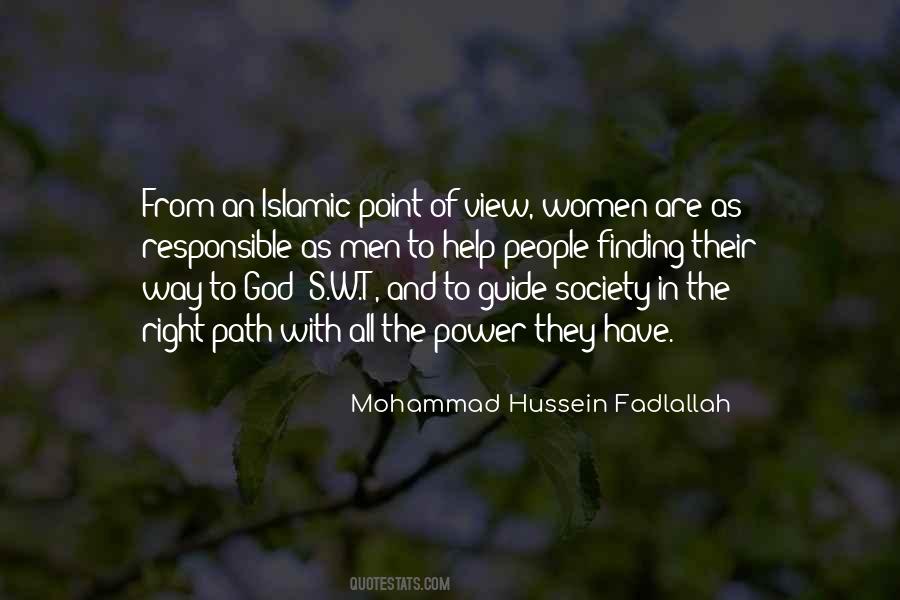 #90. Ask God to give you a greater hunger for Himself and a deeper desire for His fellowship. Then be honest about whatever is keeping you from prayer, and ask God to help you deal with it. - Author: Billy Graham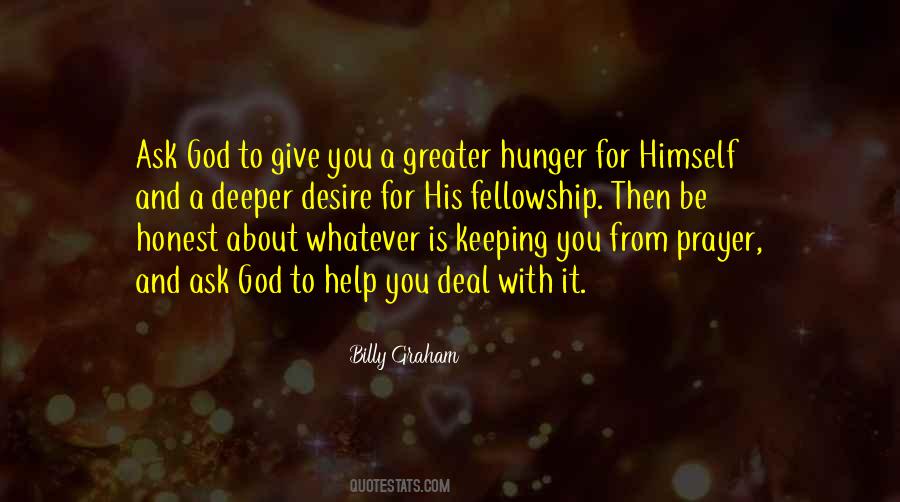 #91. God does not delight in our sufferings. He brings only that which is necessary, but He does not shrink from that which will help us grow. - Author: Jerry Bridges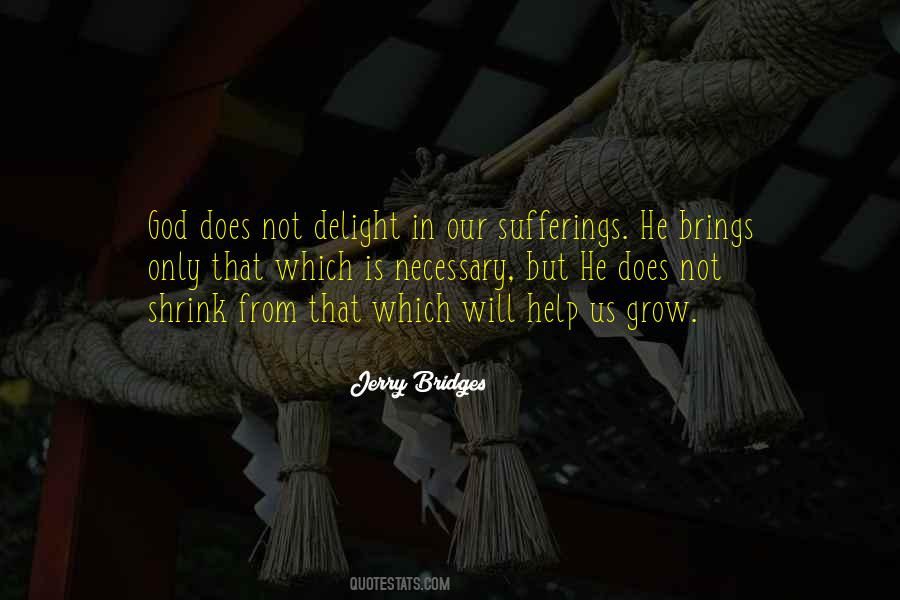 #92. Prayer, in essence, is conversation with God. You can talk to Him about anything and everything - He loves to hear from His children. Praise Him for His incredible love, tell Him why you love your favorite song, ask Him for help with problems at home, work or school and thank Him for His responses. - Author: Teresa Santoski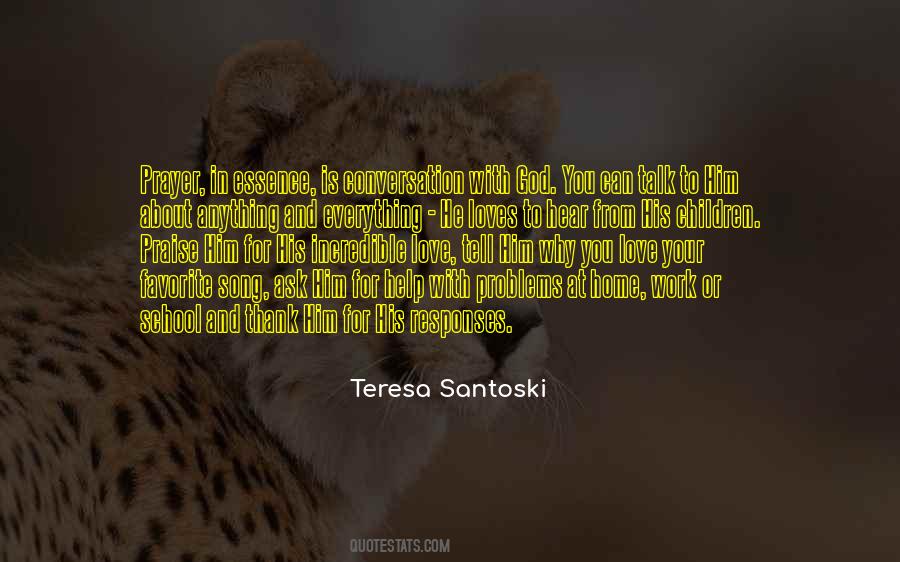 #93. No matter where we are, God is as close as a prayer. He is our support and our strength. He will help us make our way up again from whatever depths we have fallen. - Author: Billy Graham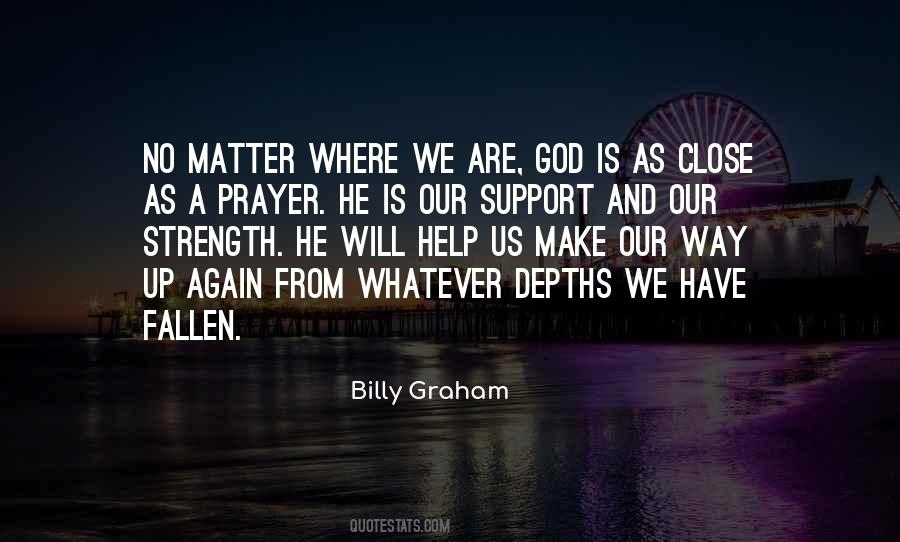 #94. Between the city walls, you build a reservoir for water from the old pool. But all your feverish plans are to no avail because you never ask God for help. He is the one who planned this long ago (Isaiah 22:11 NLT). - Author: Henry Cloud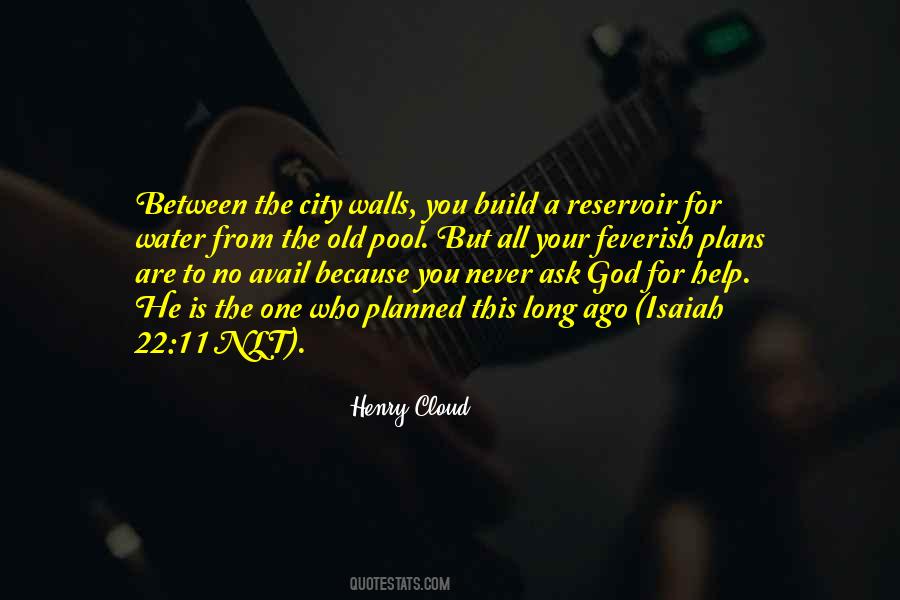 #95. Can you feel the rush? Listen quietly. It's there. It's the sound of a life and spirit being set free. God, help me set myself free from ridiculous and unnecessary expectations. - Author: Melody Beattie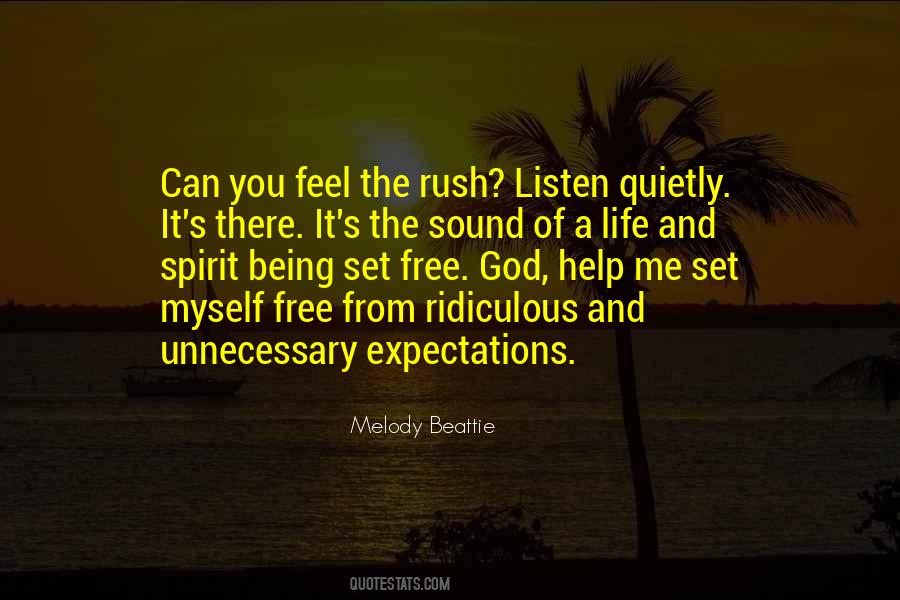 #96. I don't want to control anybody's mind or anybody's heart
I just want to help free people from the concert of sex as evil instead of a gift from God. - Author: Mary Calderone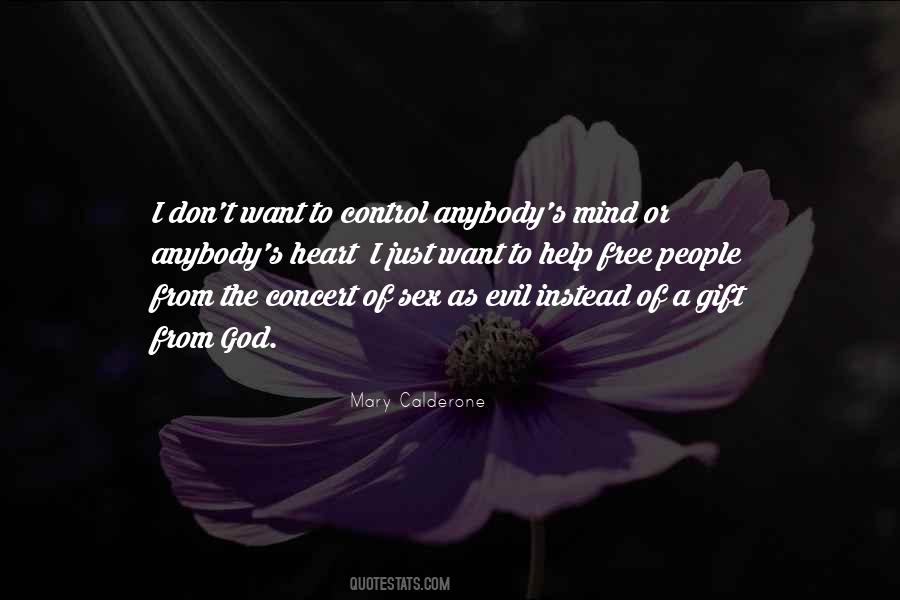 #97. You stay away from her. Do you hear me? Back the fuck off. Blaire loves me; she's just confused and hurt. She's also very vulnerable. So help me God, if you even think you're going to take advantage of her current state I will beat the shit out of you. - Author: Abbi Glines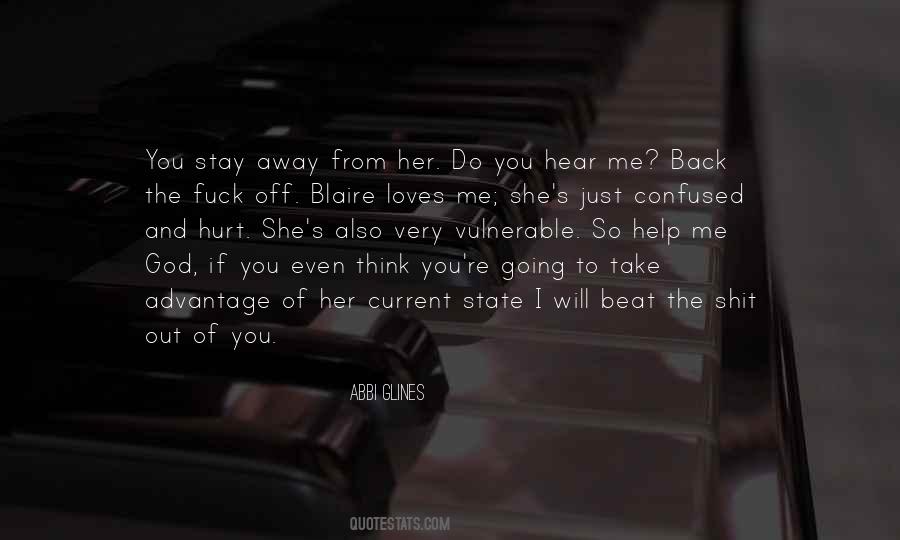 #98. "How can you see Christ in people?" And we only say: It is an act of faith, constantly repeated. It is an act of love, resulting from an act of faith. It is an act of hope, that we can awaken these same acts in their hearts, too, with the help of God ... - Author: Dorothy Day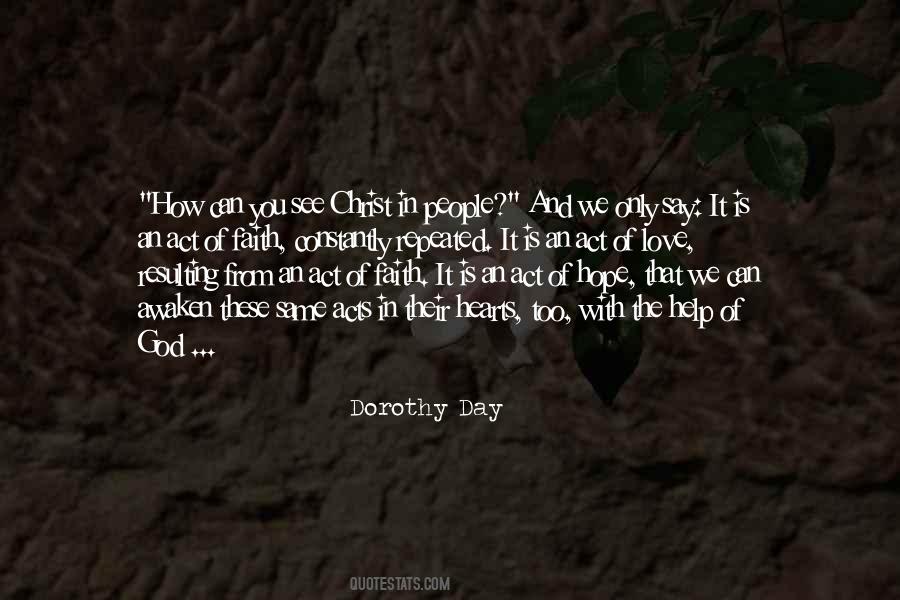 #99. Prayer is the open admission that without Christ we can do nothing. And prayer is the turning away from ourselves to God in the confidence that He will provide the help we need. Prayer humbles us as needy and exalts God as wealthy - Author: John Piper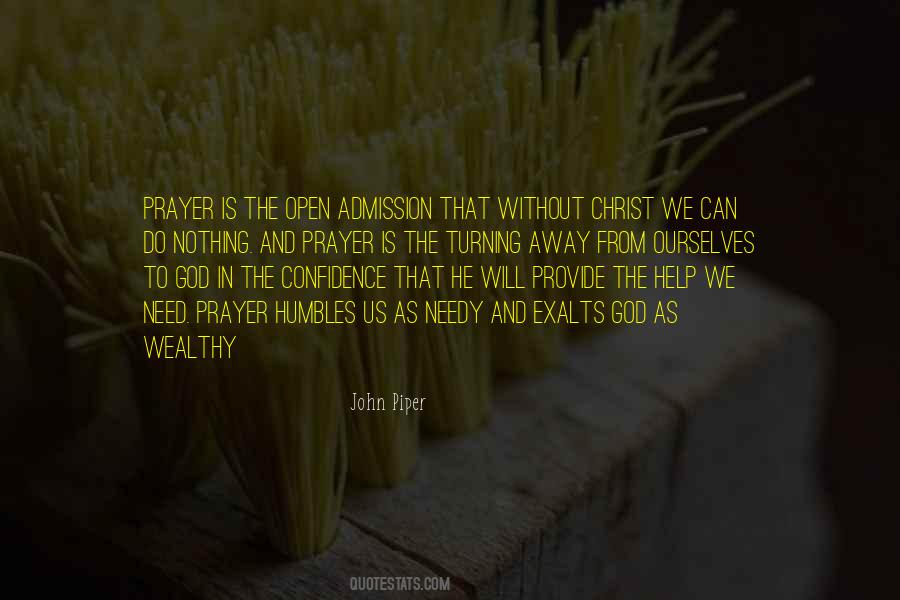 #100. The bad thing is that thinking about thought doesn't help at all; one has to have it from nature so that the good ideas appear before us like free children of God calling to us: Here we are. - Author: Johann Wolfgang Von Goethe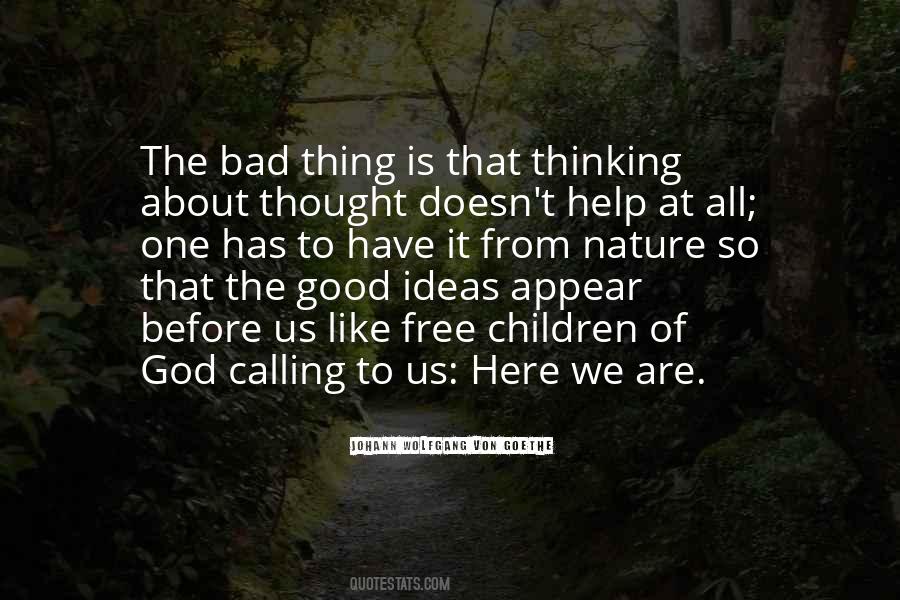 Famous Authors
Popular Topics