Grace And Faith Famous Quotes & Sayings
List of top 100 famous quotes and sayings about grace and faith to read and share with friends on your Facebook, Twitter, blogs.
Top 100 Quotes About Grace And Faith
#1. While men define themselves by deeds, women simply "are" beauty, grace, faith and goodness. Men tend to be rational and objective, women subjective, intuitive and emotional. - Author: Henry Makow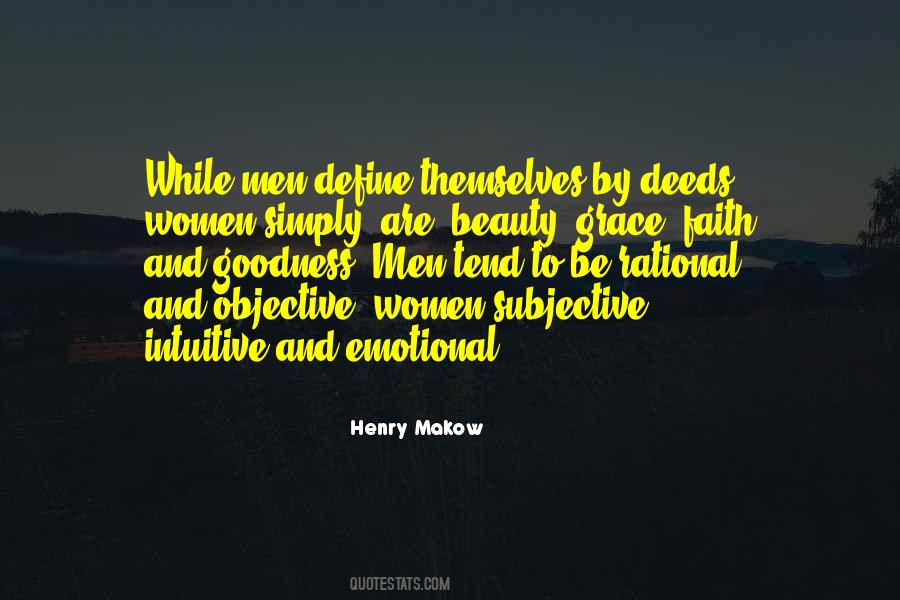 #2. Where God leads, He provides. - Author: Lailah Gifty Akita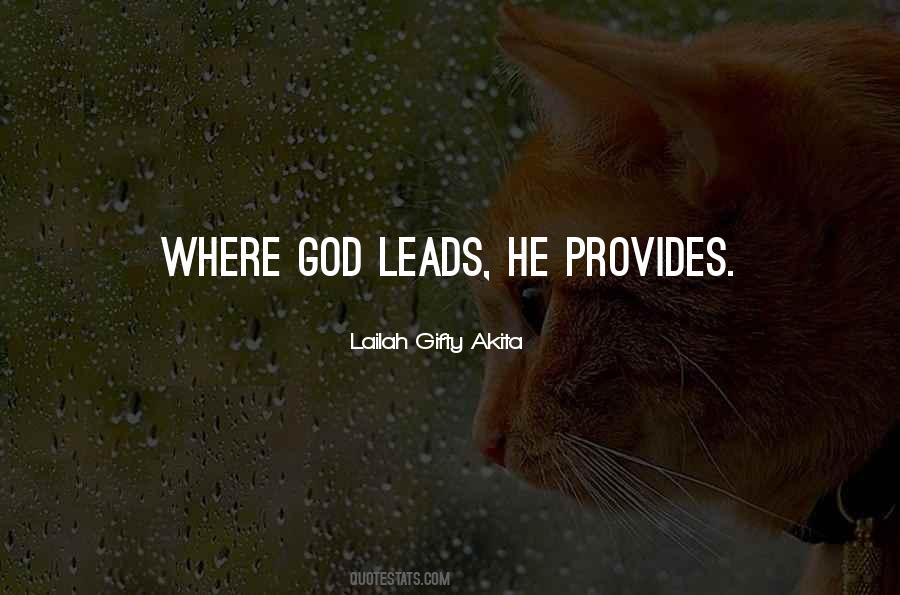 #3. What a way to learn great theology! That's what comes to mind whenever I sing one of those old hymns. "And Can It Be" is like putting the doctrine of salvation to music. "Come Thou Fount of Every Blessing" is a melodic lesson in grace. No wonder good hymns make for strong faith! - Author: Joni Eareckson Tada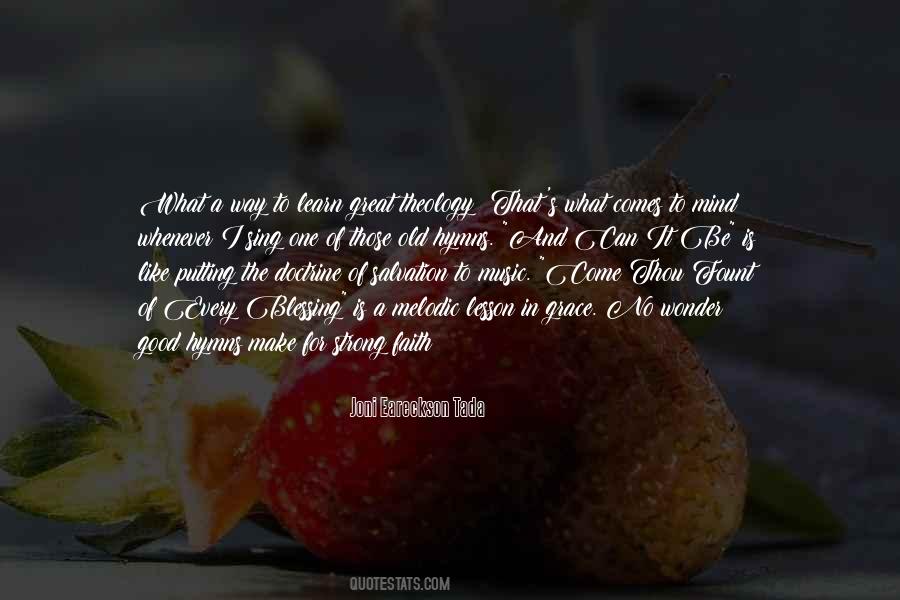 #4. We know for certain that we are not made right with God by our good works. We are saved only by grace through faith. And while we're not saved by good works, we are saved for good works. - Author: Craig Groeschel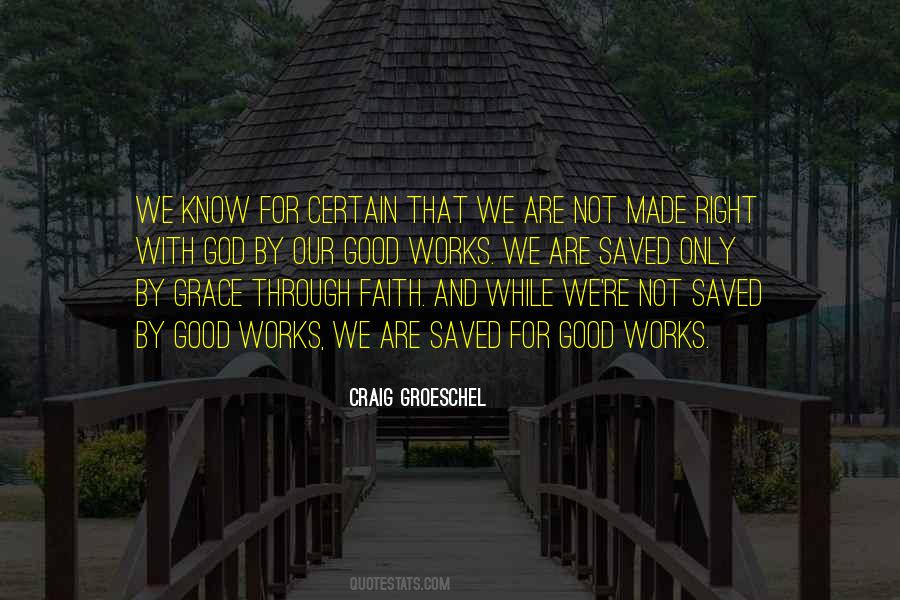 #5. God wastes nothing - not even sin. The soul that has struggled and come through is enriched by it's experiences, and Grace does not merely blot out the evil past but in the most literal sense "makes it good." - Author: Dorothy L. Sayers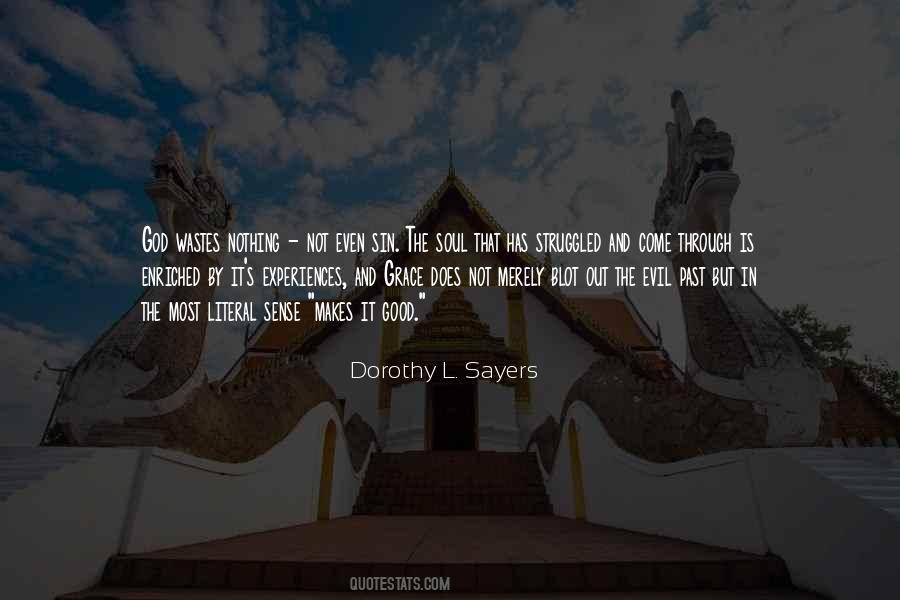 #6. Creation of mankind, the power of God. - Author: Lailah Gifty Akita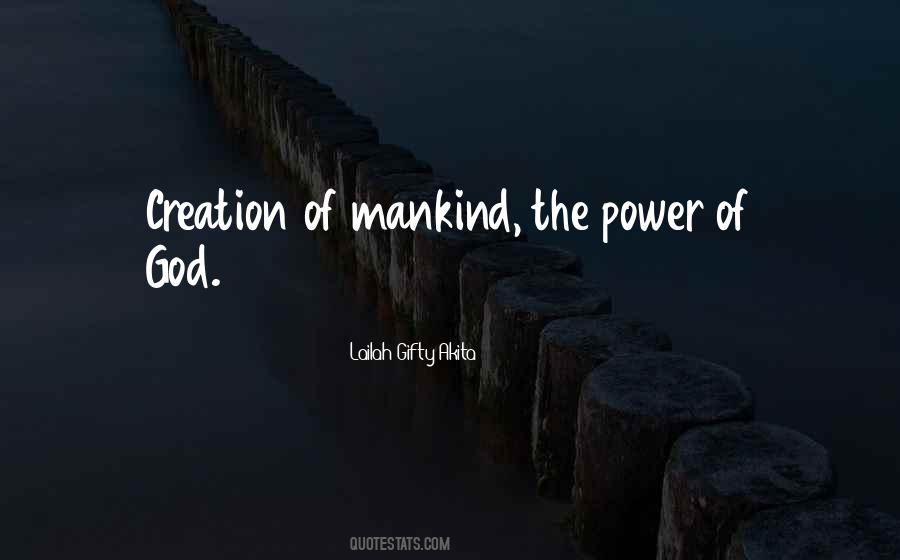 #7. What really holds their marriage together are mutual respect of an awesome depth, a shared sense of humor, faith that they were brought together by a force greater than themselves, and a love so unwavering and pure that it is sacred. - Author: Dean Koontz
#8. A marriage filled with unconditional love experiences the depth of grace and mercy. - Author: Elizabeth George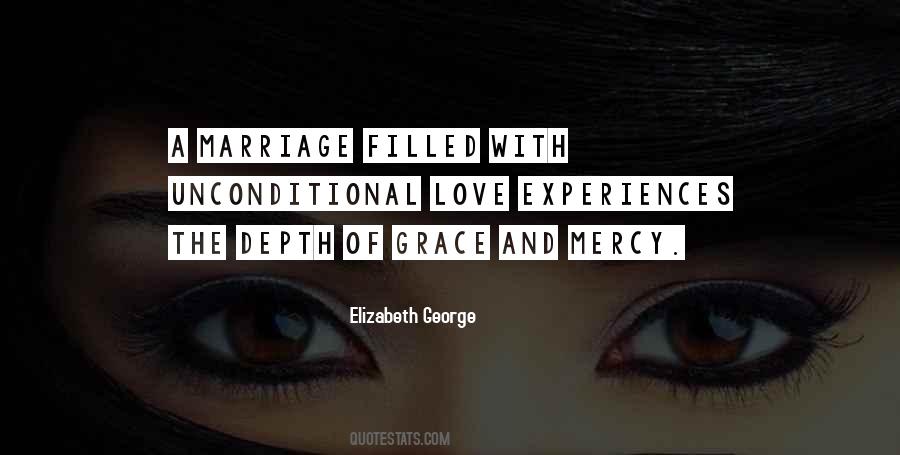 #9. Don't forget what people intend to use for harm, God can use for His greater good. Let offenses slide today, and watch how God works! - Author: Alisa Hope Wagner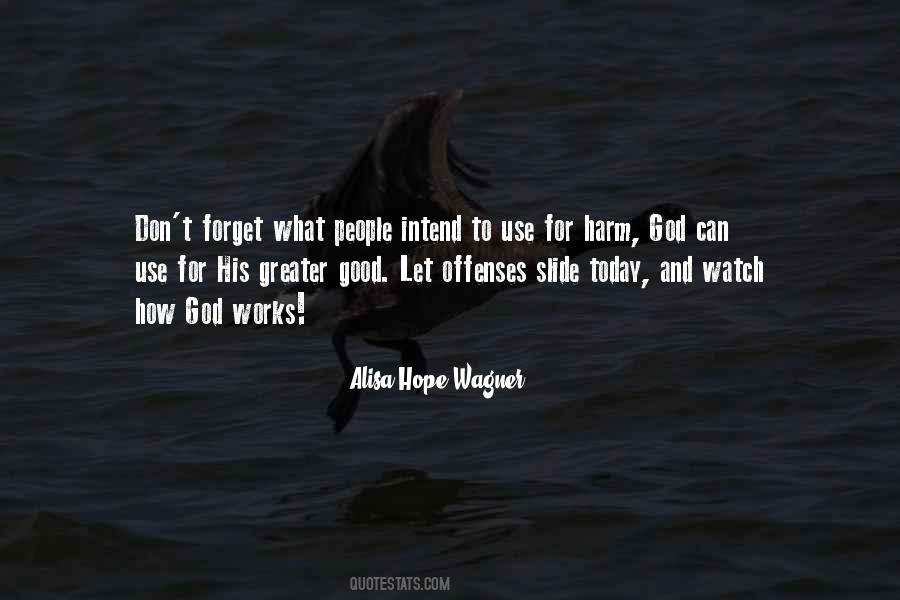 #10. You have given it all to me. To you, Lord, I return it. Everything is yours; do with it what you will. Give me only your love and grace. That is enough for me. - Author: Ignatius Of Loyola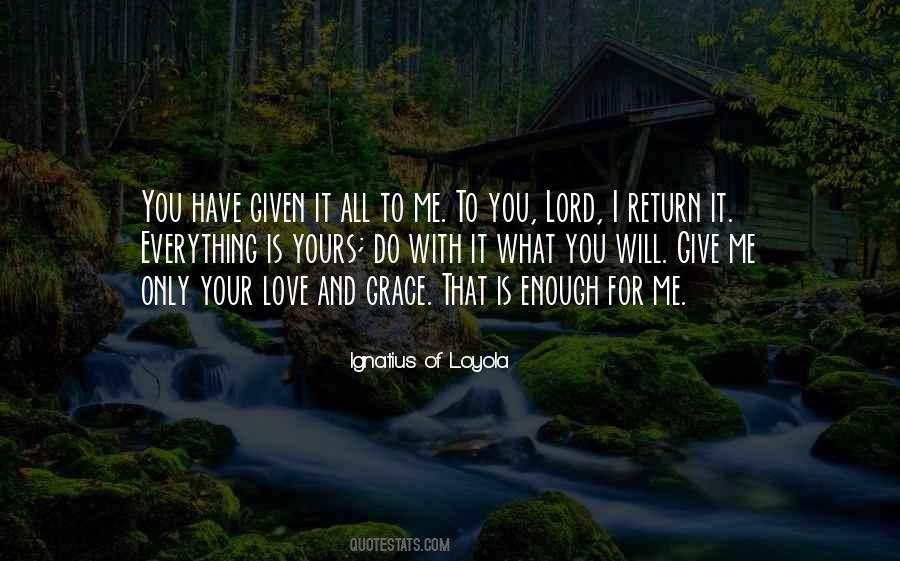 #11. Jesus is the light of the world. His light shines through all darkness. His love heals all hatred. His grace and mercy forgives all sins. The anointing of his blood heals the sick and the lame. His guarding angels will forever protect you and his word will forever guide you. - Author: Colishia S. Benjamin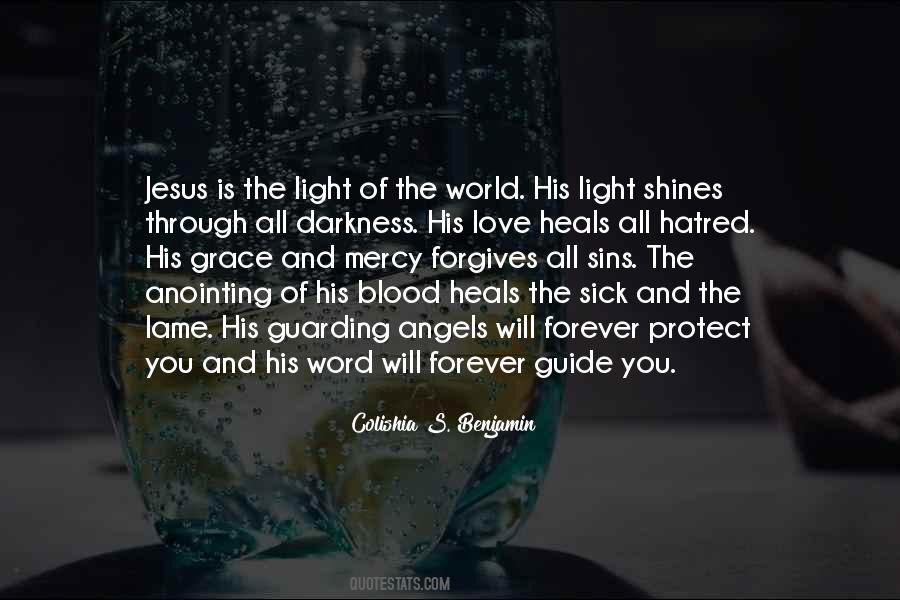 #12. But by faith you look in the mirror and see a robed prodigal bearing the ring of grace on your finger and the kiss of your Father on your face. - Author: Max Lucado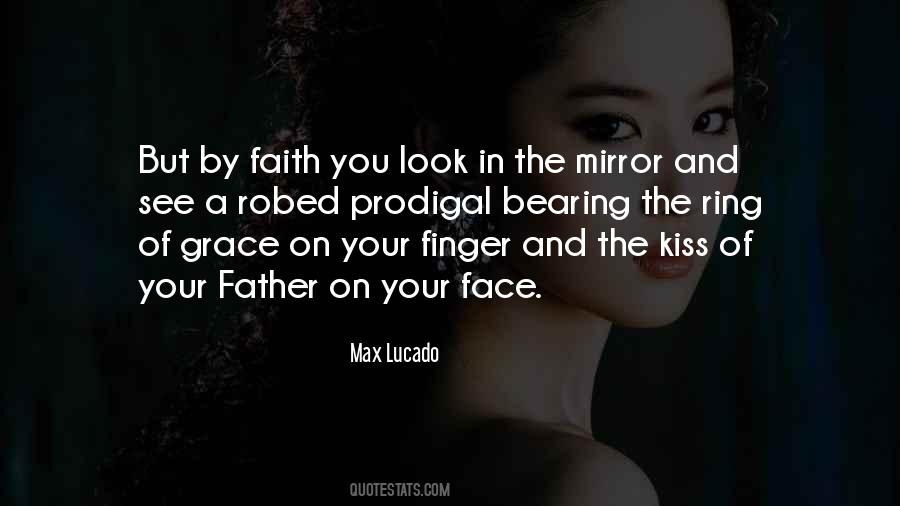 #13. We humble ourselves under the mighty grace of the Creator. He will deliver us from every chain and oppression. - Author: Lailah Gifty Akita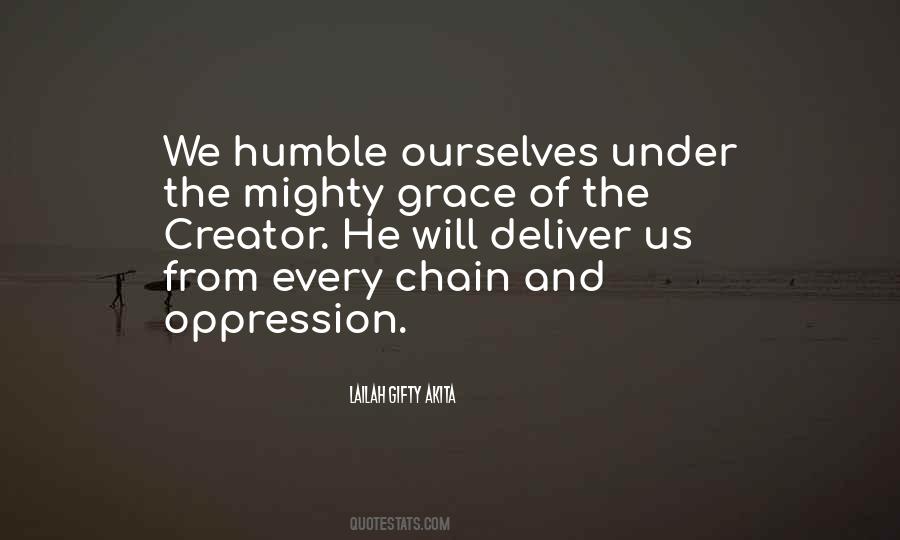 #14. We are usually angered when someone insults us, until Divine Grace comes upon us. When we receive Grace, we no longer feel hurt when others insult us but remain quiet and peaceful, as though the insult was not directed at us at all. - Author: Thaddeus Of Vitovnica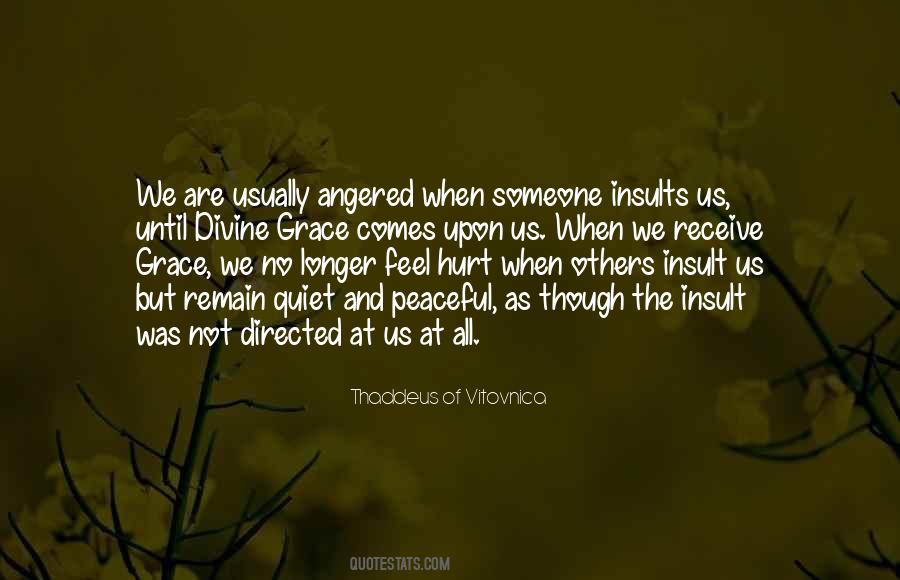 #15. The adult age begins with the blessed single strand of a grey hair. - Author: Lailah Gifty Akita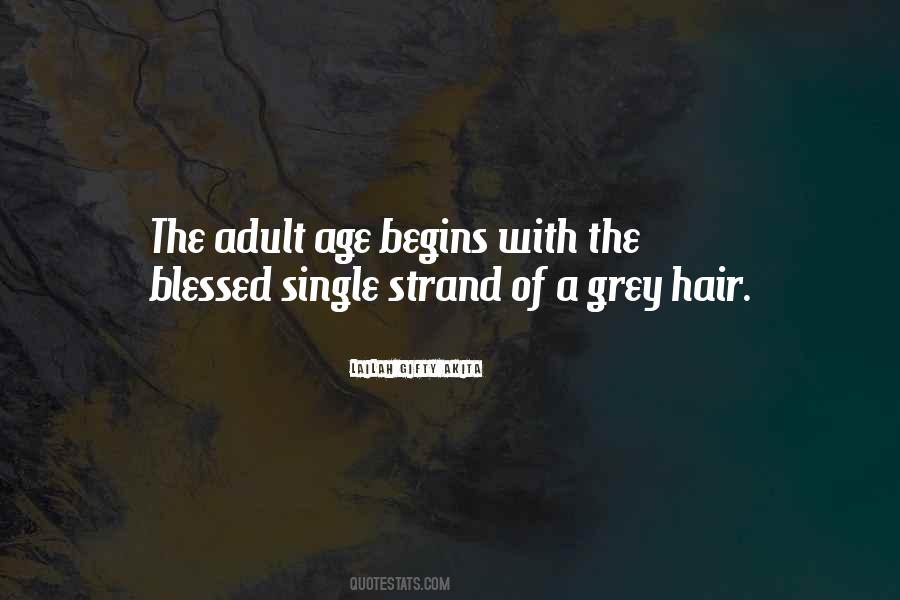 #16. Dear God, I don't want to have invented my faith to satisfy my weakness. I don't want to have created God to my own image as they're so fond of saying. Please give me the necessary grace, oh Lord, and please don't let it be as hard to get as Kafka made it. - Author: Flannery O'Connor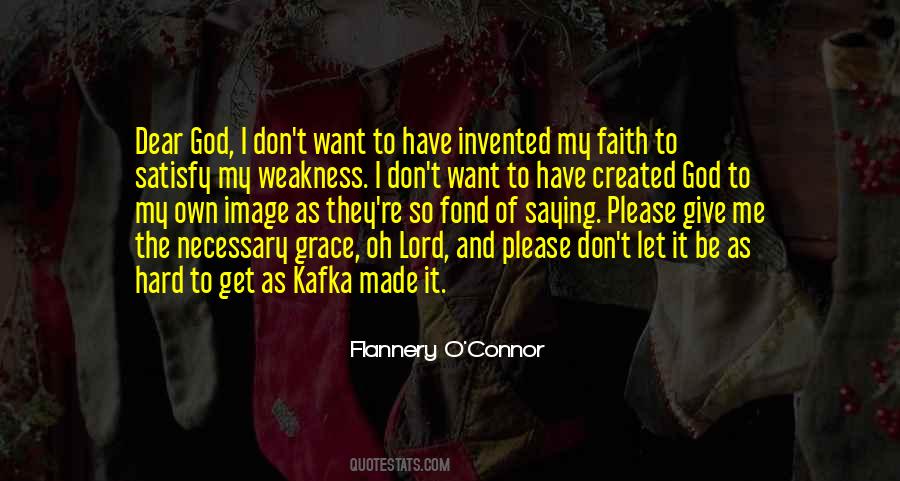 #17. You only need grace to allow the light and good spirit of your sacred-self to exist. - Author: Lailah Gifty Akita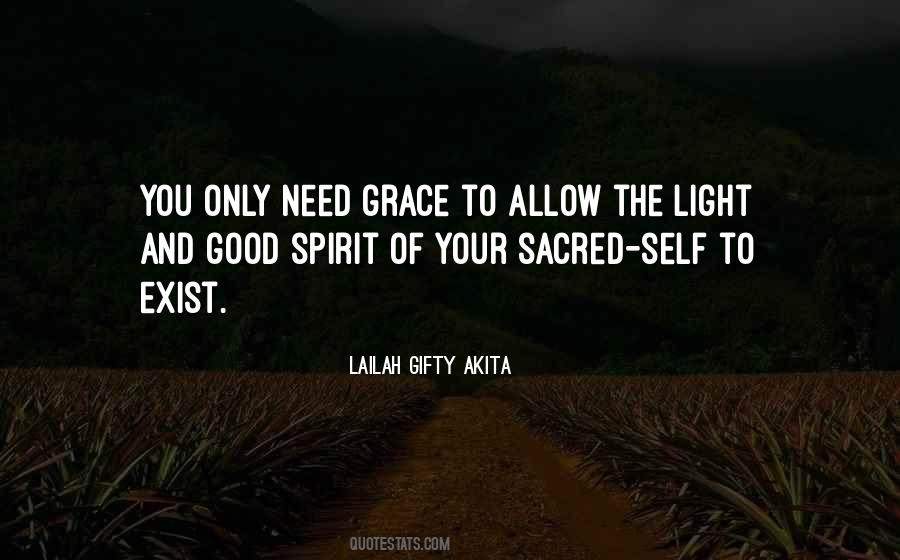 #18. I want us to enter into the laughter of the God that is before, during and after the experience of being human, to swim in grace, to revel in messiness, to find joy in the suffering and love in the chaos. - Author: Tobin Wilson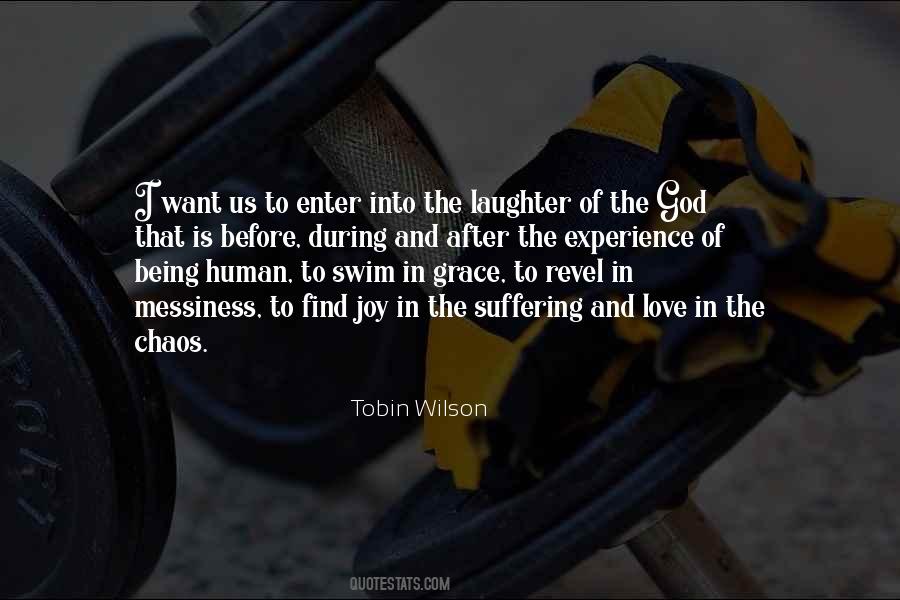 #19. We are puzzled and bewildered whenever we see suffering in this world because we have become accustomed to the mercy and the long-suffering of God. Amazing grace is no longer amazing to us. - Author: R.C. Sproul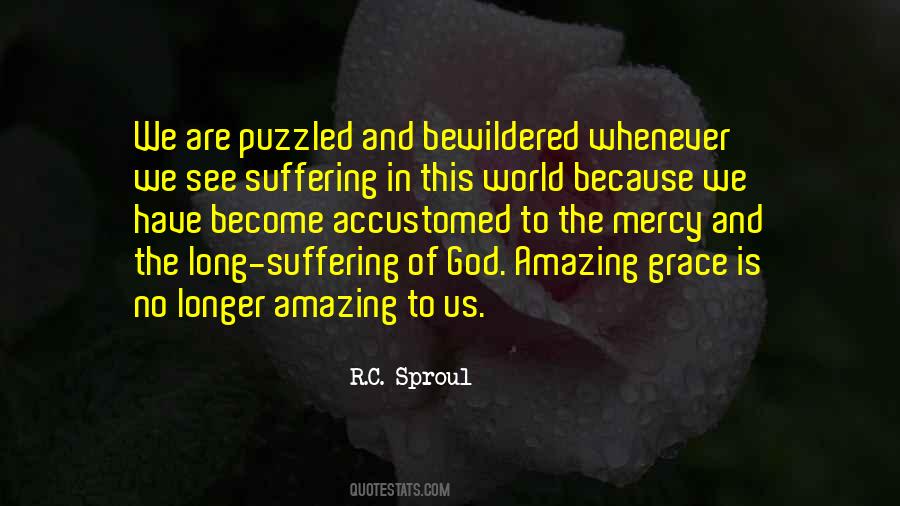 #20. I believe that Christians believe in salvation by grace through faith in Jesus Christ, not by works. And we believe that if you're saved, Jesus becomes your savior. He makes a promise to you. You can trust his promises. You can bank on that word. - Author: Robert H. Schuller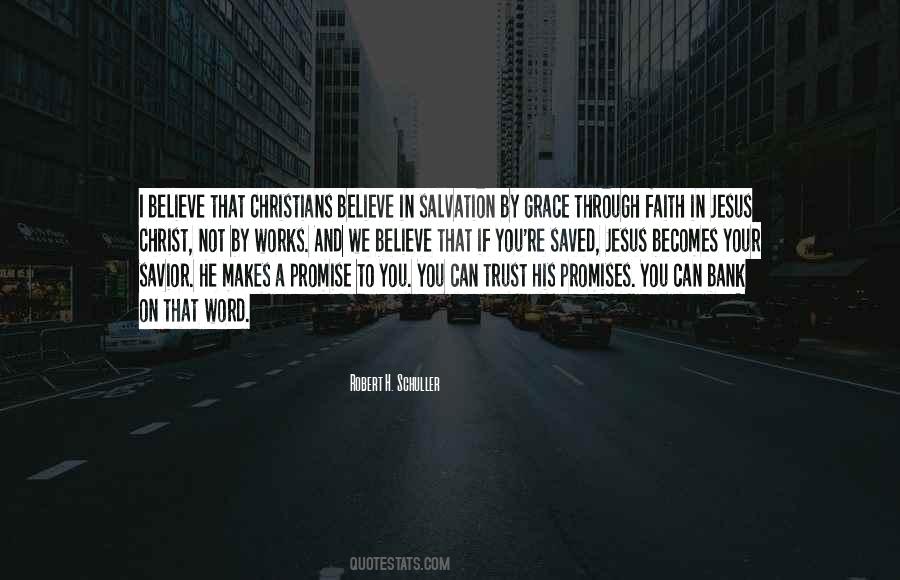 #21. those that have received Christ must by faith live upon him, and not receive his grace in vain. - Author: Matthew Henry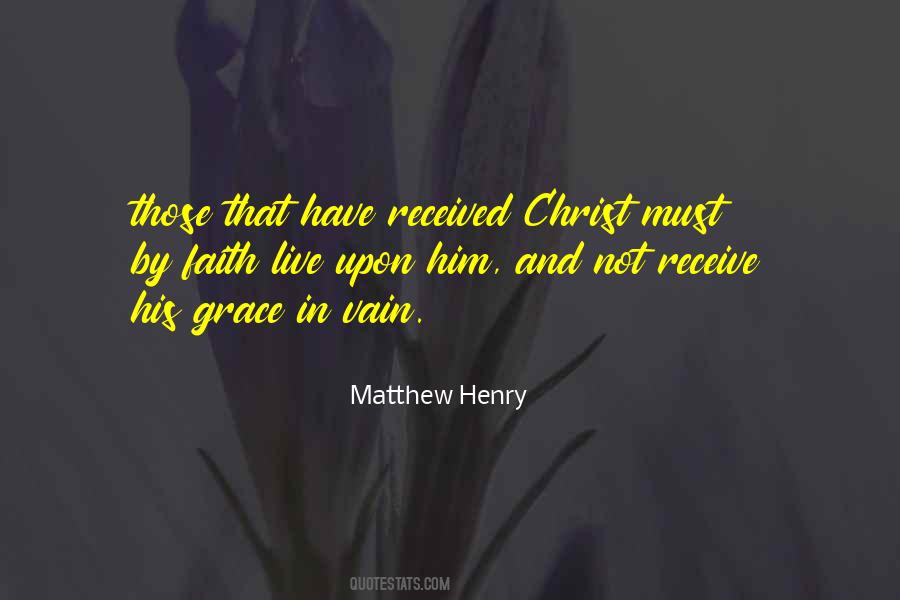 #22. Our requests are necessary expressly to strengthen our faith, through which alone we can be saved. 'By grace are we saved through faith' (Eph. 2:8). 'O woman, great is your faith' (Mt. 15:28). For this reason the Lord made the woman pray earnestly, in order to awaken her faith and to strengthen it. - Author: John Of Kronstadt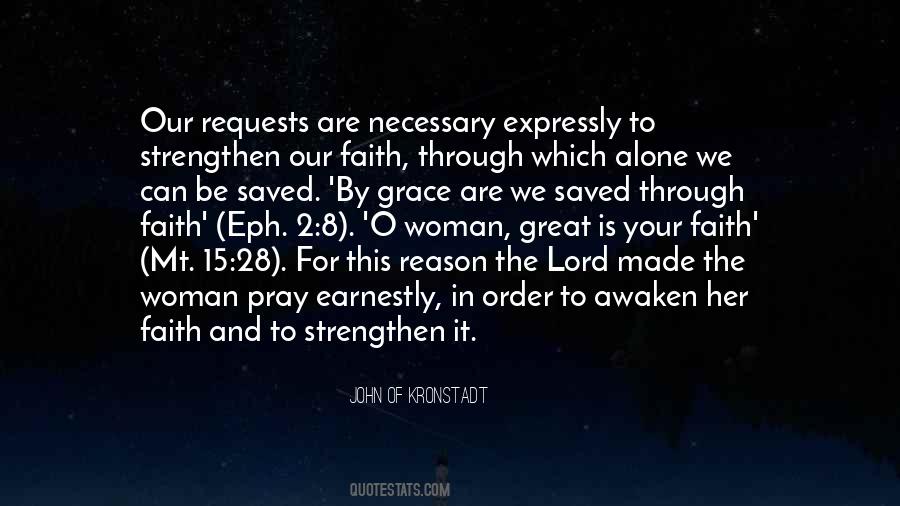 #23. People who've been hit with the gospel respond naturally with radically changed lives and hearts. The church and the ministries of the church are gospel centered when they flow from hearts that are afire with wonder at the glory and grace of God, revealed in the person of Jesus. - Author: Daniel Montgomery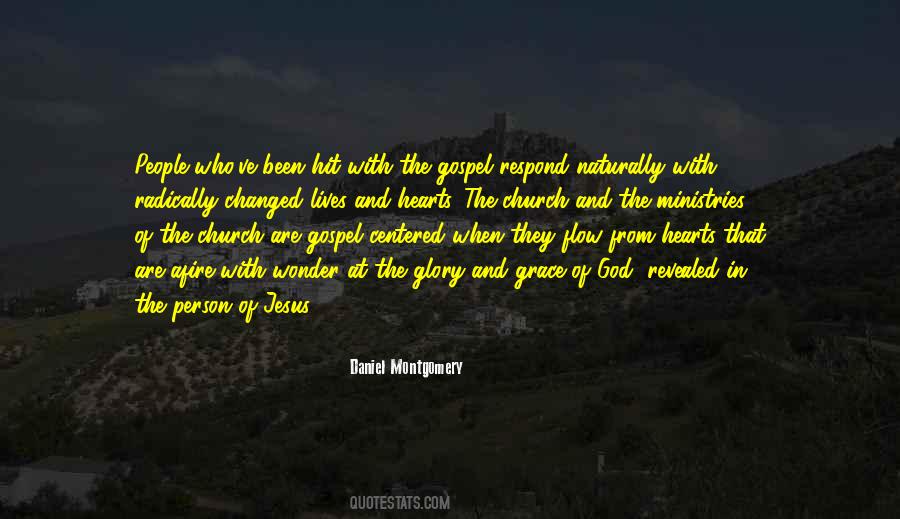 #24. You can only do righteous acts and good deed by grace. - Author: Lailah Gifty Akita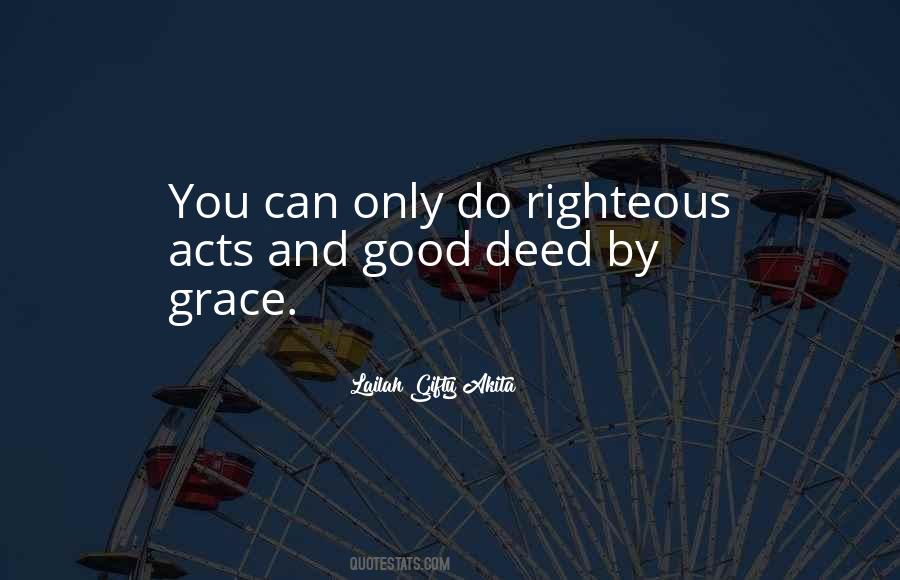 #25. I think faith is incredibly important because you will become overwhelmed with what's happening and you will have waves of grief, but when you turn to your faith, I believe God will give you waves of grace to get through it. - Author: Joel Osteen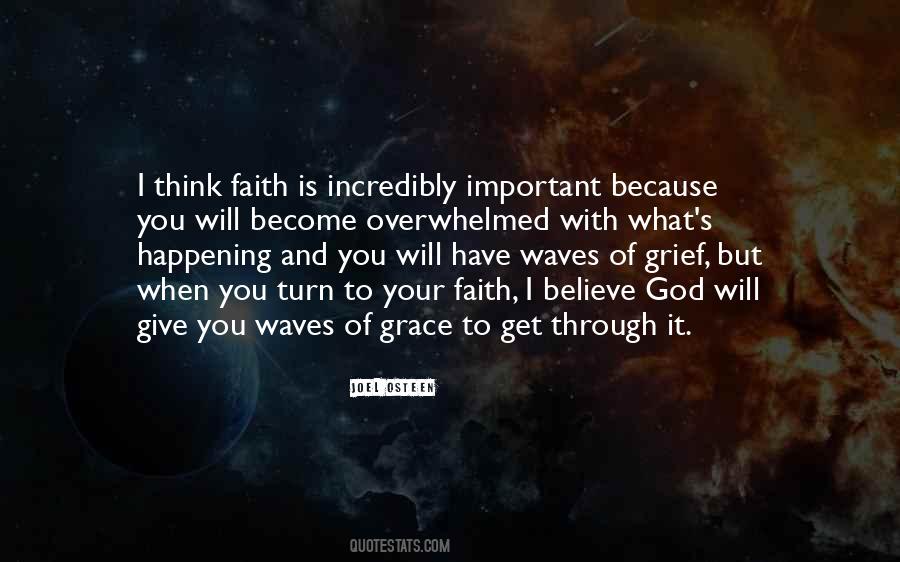 #26. May God open our mind and hearts to the gospel of salvation. - Author: Lailah Gifty Akita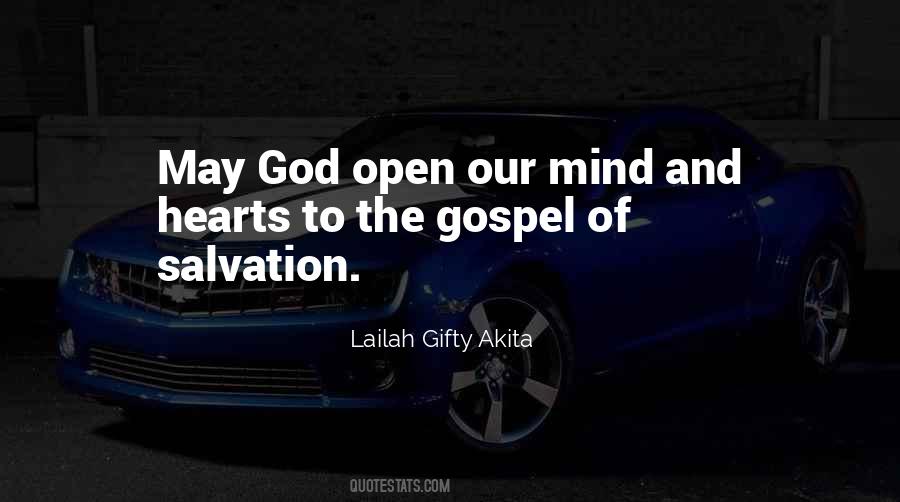 #27. I love that there's no cutoff where we get labeled and sent off to a home for hopeless, cranky, depressives. Every day is a new chance to listen longer and be braver and love more. We get to try again and again and again. - Author: Anna White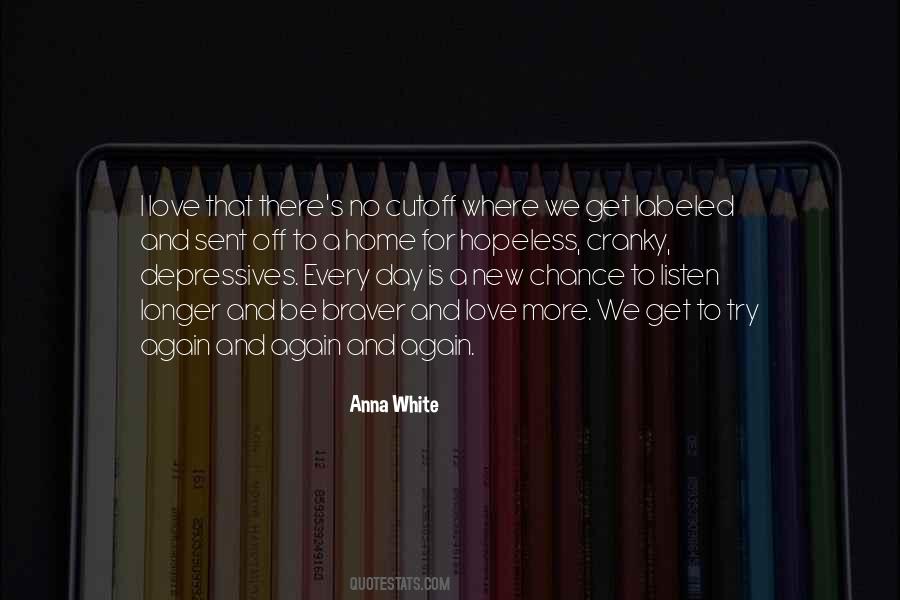 #28. Live simply and without thinking too much, like a child with his father. Faith without too much thinking works wonders. The logical mind hinders the Grace of God and miracles. Practice patience without judging with the logical mind. - Author: Elder Paisios Of Mount Athos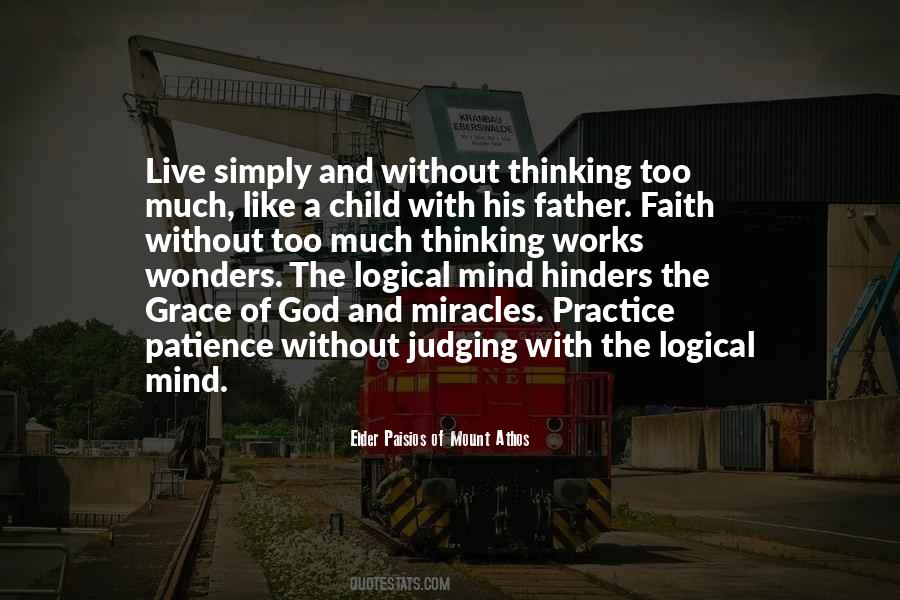 #29. Of all the thousands of gifts I received in my eight years in the White House, few were more welcome and needed than these twelve intangible gifts of discernment, peace, compassion, faith, fellowship, vision, forgiveness, grace, wisdom, love, joy and courage. - Author: Hillary Rodham Clinton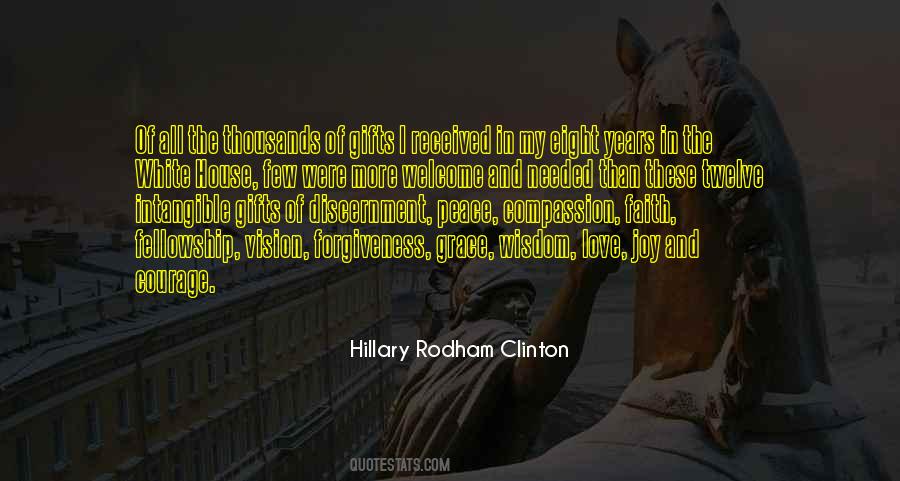 #30. God is Holy.
God is pure.
God is faithful.
God is gracious.
God is merciful. - Author: Lailah Gifty Akita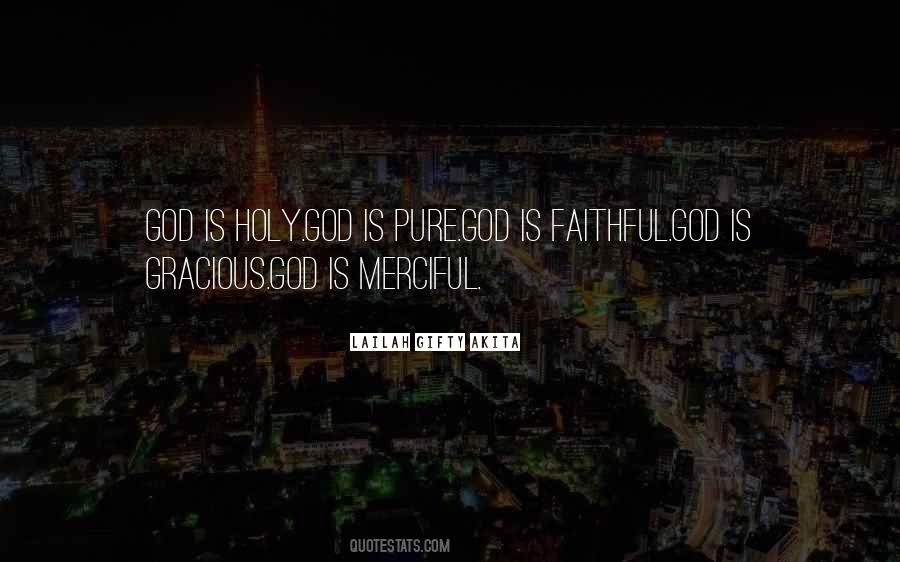 #31. For Paul, the centre of the Christian faith was that we can never earn or deserve the favour of God, nor do we need to. The whole matter is one of grace, and all that we can do is to accept in wondering love and gratitude and trust what God has done for us. - Author: William Barclay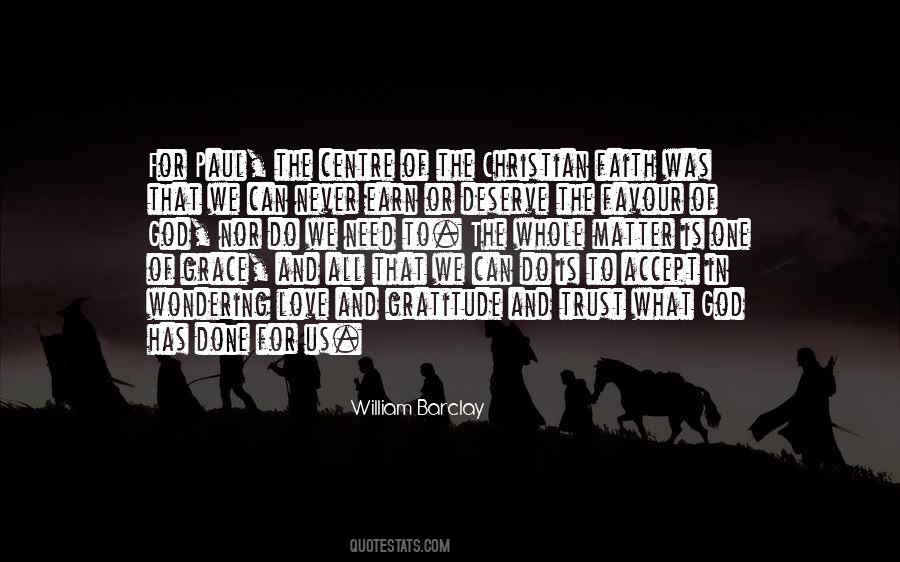 #32. Willing is superfluous for Me. For grace is ever available to devotees who have steady love and faith. Since I move freely with them, talking and singing, even intellectuals are unable to grasp My Truth, My power, My glory or My real task as Avatar. - Author: Sathya Sai Baba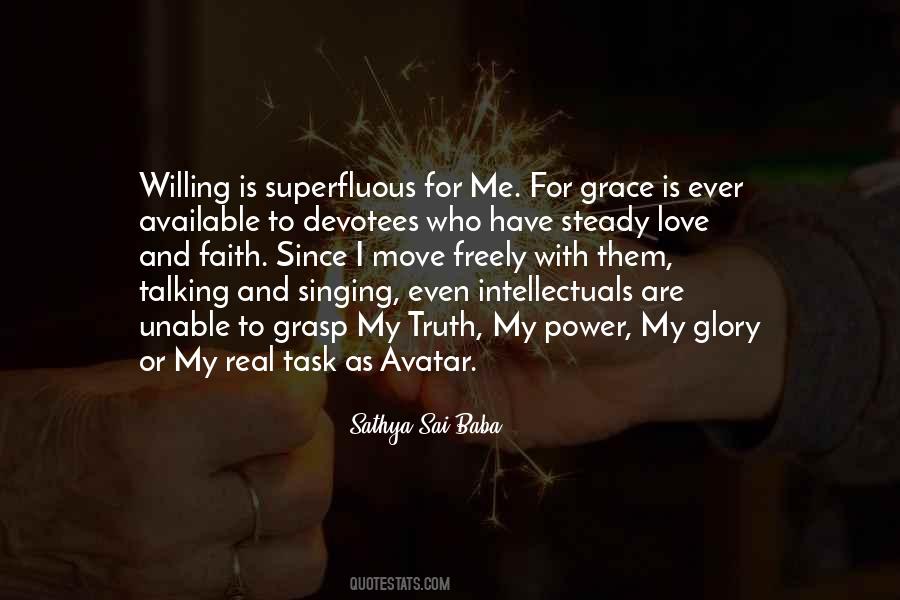 #33. I find it most true that the greatest temptation outside of hell is to live without temptations; if water stands, it rots; faith is the better for the sharp winter storm in its face and grace withers without adversity. The devil is but God's master fencer to teach us to handle our weapons. - Author: Samuel Rutherford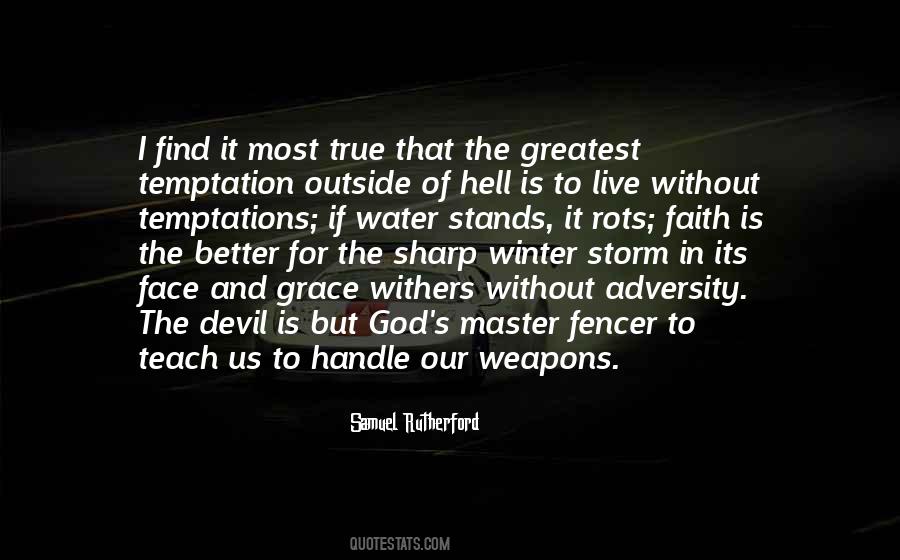 #34. Love is faith's flower, hope is its stem. Grace comes into us by faith, like water through the roots of a tree. It rises in us by hope, like sap rising through the trunk of a tree. And it matures in us by [love] as fruit matures on a tree's branches, fruit for the neighbor's eating. - Author: Peter Kreeft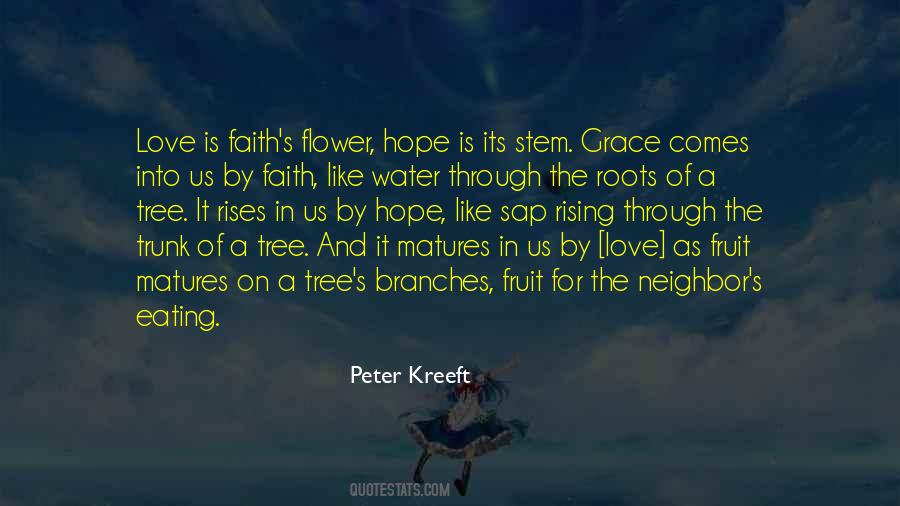 #35. Trust and confidence in Christ and a ready reliance on His merits, mercy, and grace lead to hope, through His Atonement, in the Resurrection and eternal life. Such faith and hope invite into our lives the sweet peace of conscience for which we all yearn. - Author: David A. Bednar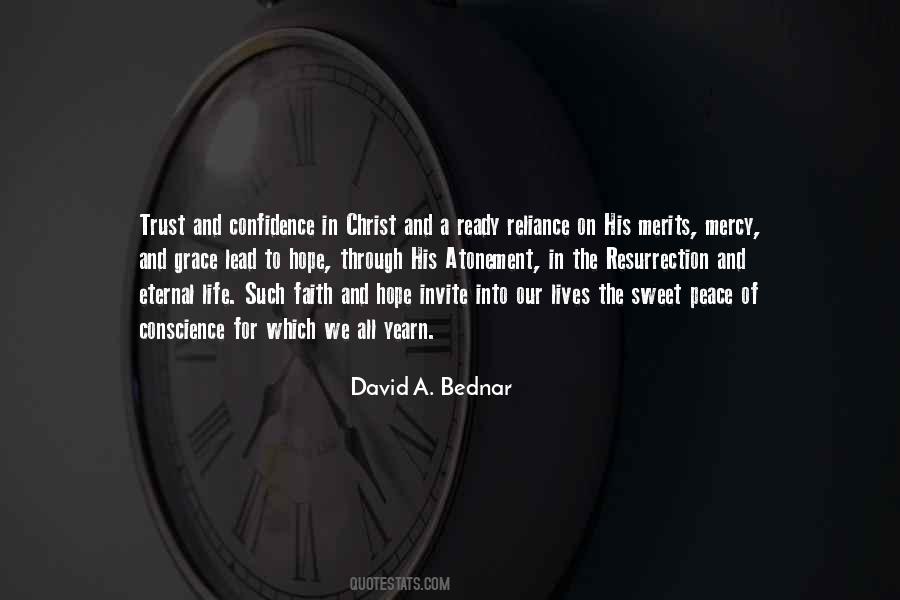 #36. I will have faith that, though I might not understand why adversity happens, by my conscious choice I can find strength, compassion, and grace through my trials. - Author: Joe Tye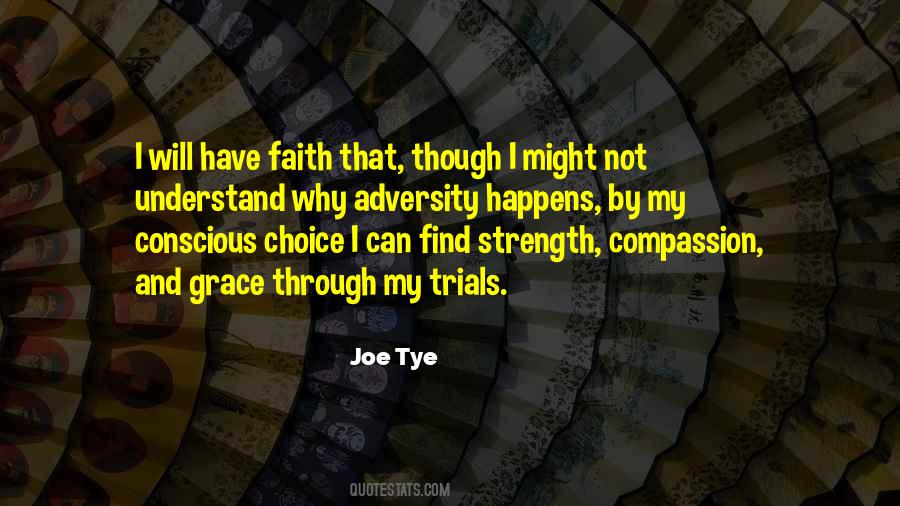 #37. God's grace, mighty deeds. - Author: Lailah Gifty Akita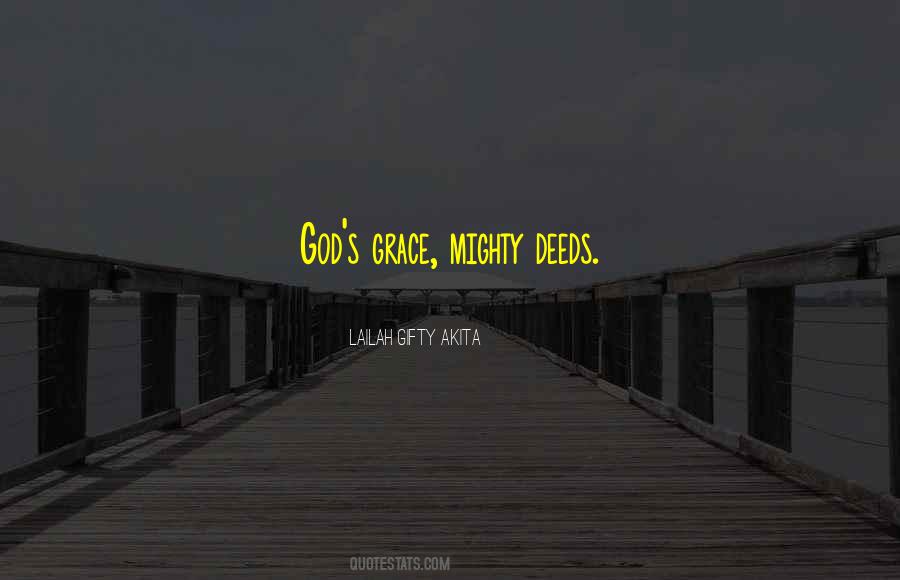 #38. Faith is ultimately a firm and certain knowledge of God's benevolence toward us, founded upon the truth of the freely given promise in Christ, both revealed to our minds and sealed upon our hearts by the Holy Spirit - Author: John Calvin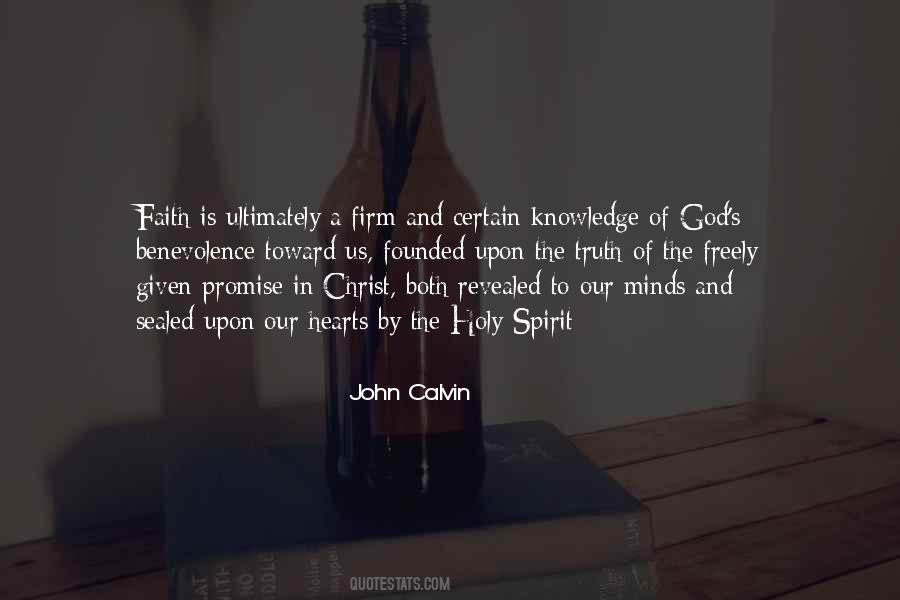 #39. May you find the grace and willpower to fulfil your dream. - Author: Lailah Gifty Akita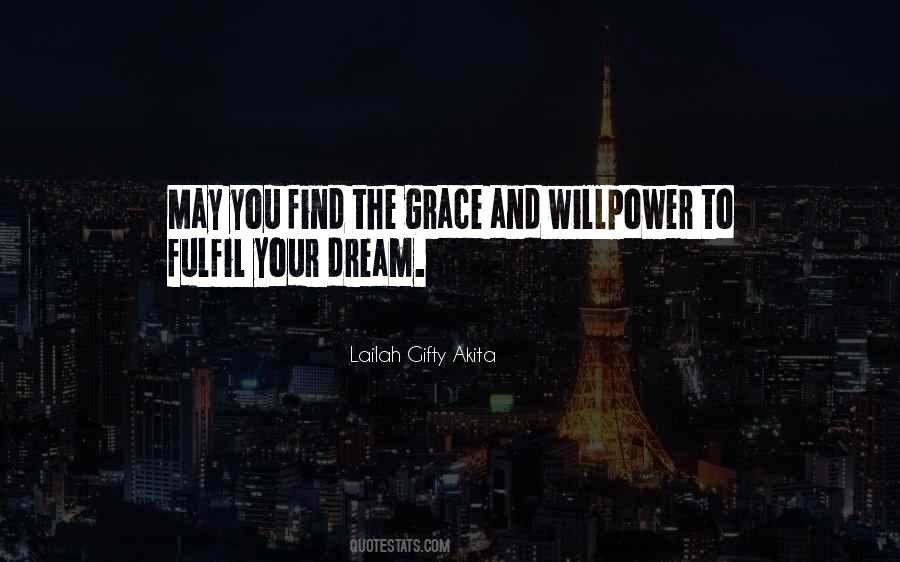 #40. Paul presents the Good News: Salvation is available to all, regardless of a person's identity, sin, or heritage. We are saved by grace (unearned, undeserved favor from God) through faith (complete trust) in Christ and his finished work. Through him we can stand before God justified, not guilty - Author: Anonymous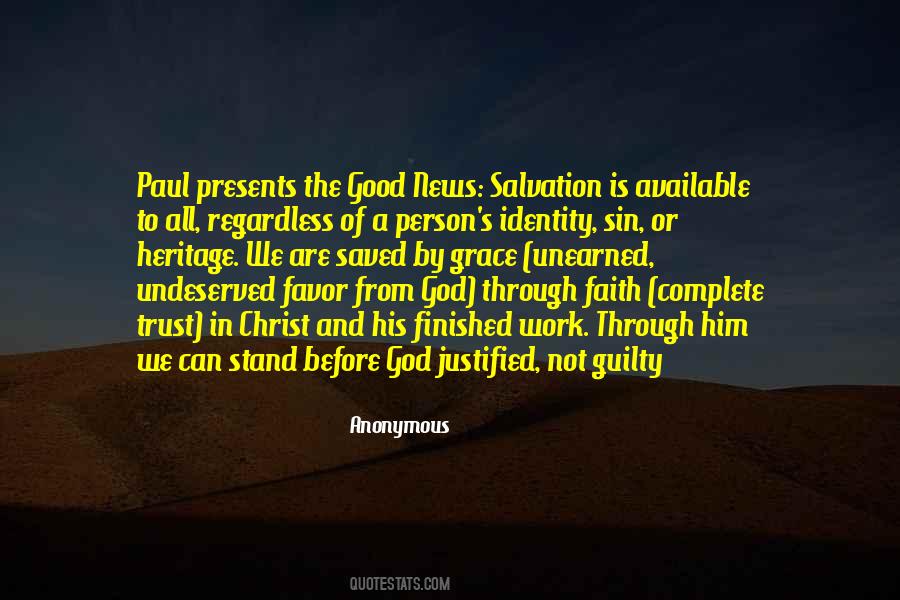 #41. If you read the Scriptures, you know thy Creator and thy soul. - Author: Lailah Gifty Akita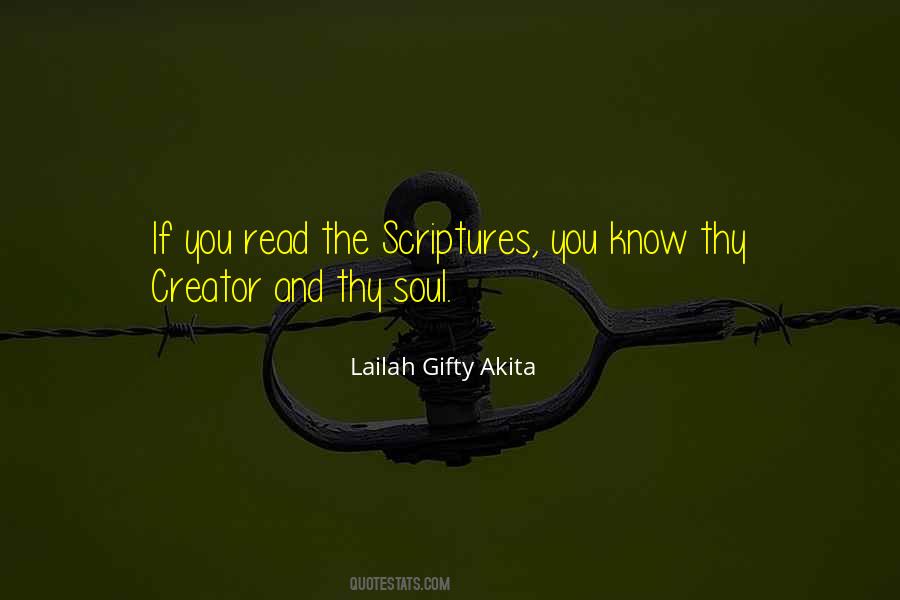 #42. The Great Commission is a devotion to study of Scriptures, preaching and teaching of the gospel of salvation. - Author: Lailah Gifty Akita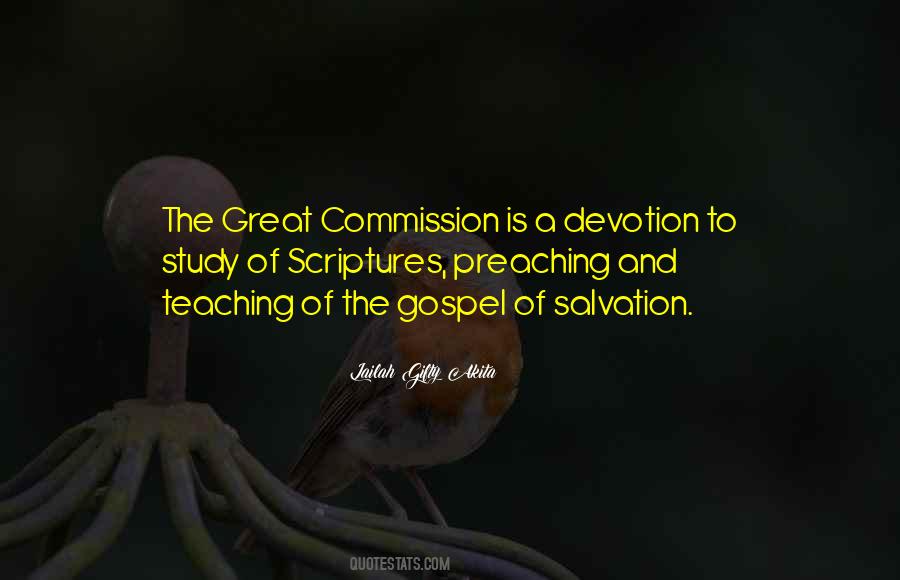 #43. I need not torment myself with the fear that my faith may fail; as grace led me to faith in the first place, so grace will keep me believing to the end. Faith, both in its origin and continuance, is a gift of grace (Phil 1:29). - Author: J.I. Packer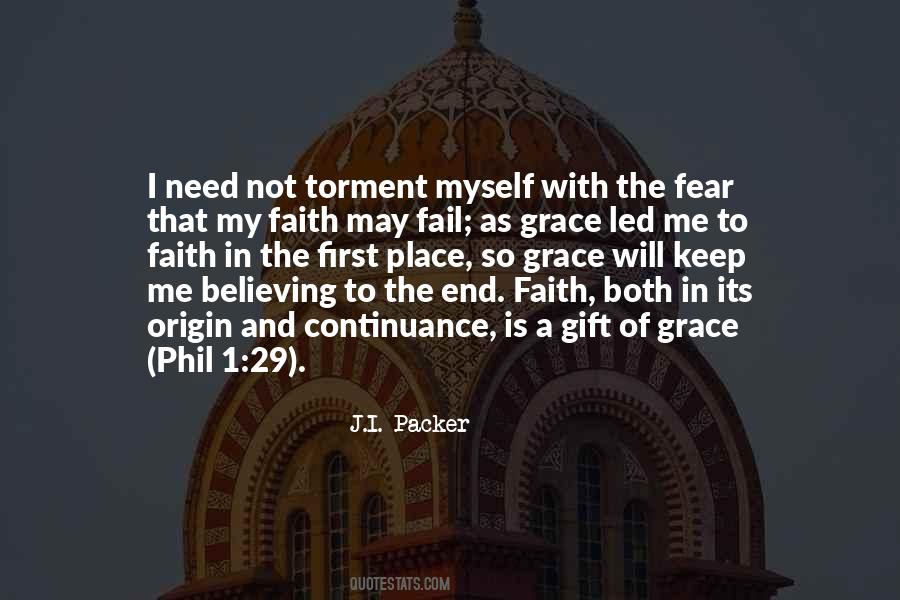 #44. The righteousness of God in His election means, then, that as a righteous Judge God perceives and estimates as such the lost cause of the creature, and that in spite of its opposition He gives sentence in its favour, fashioning for it His own righteousness. - Author: Karl Barth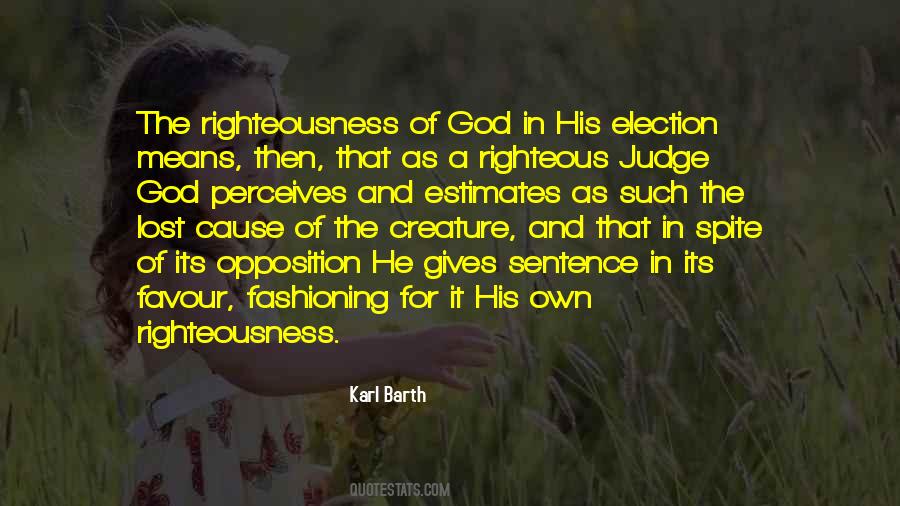 #45. Christ did not suffer and die to offer cheap grace. Jesus did not willingly go to the cross so we could have an easy life or offer a faith built on easy-believism. As someone said, "Salvation is free, but not cheap." It cost Jesus His life. - Author: Billy Graham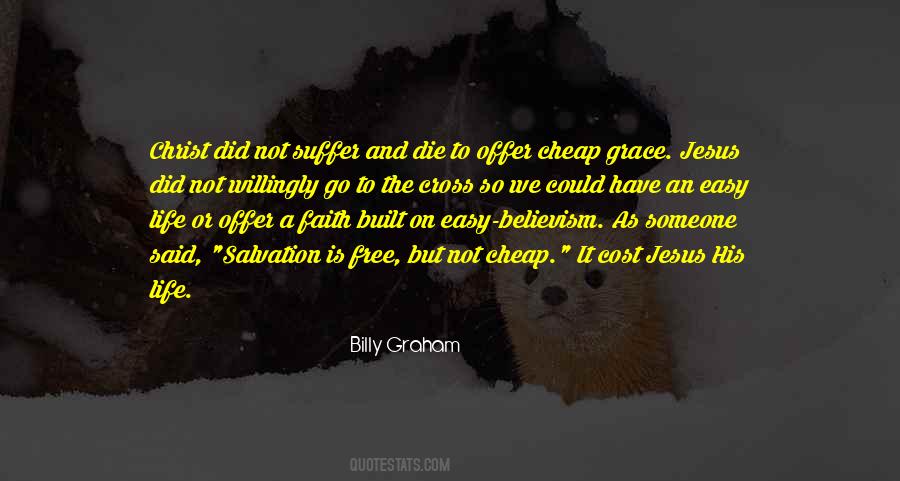 #46. Grace is an empowerment to be above and beyond reproach, to live your life at a standard that pleases God. - Author: Bidemi Mark-Mordi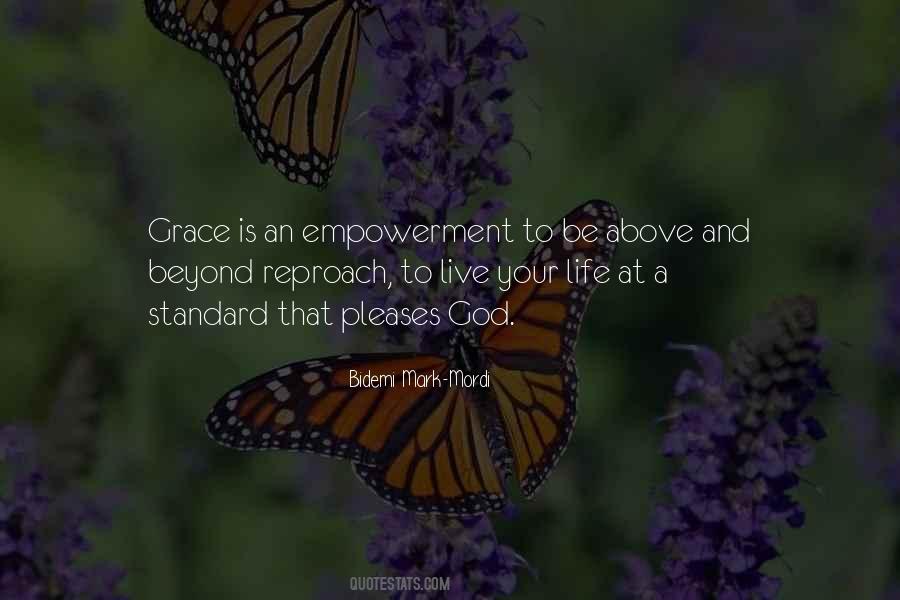 #47. A relax soul is a sacred-being. - Author: Lailah Gifty Akita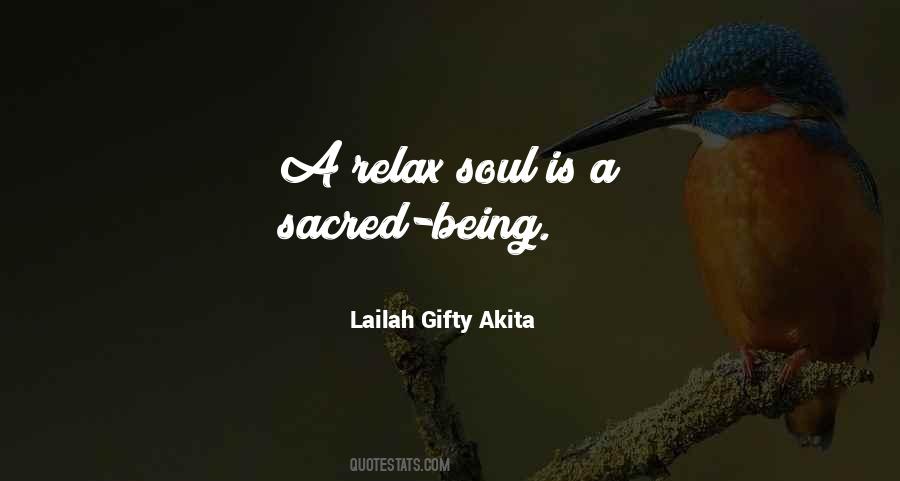 #48. I am discontented because I have not these things which God never yet promised me, and therefore I sin much against the Gospel, and against the grace of faith. - Author: Jeremiah Burroughs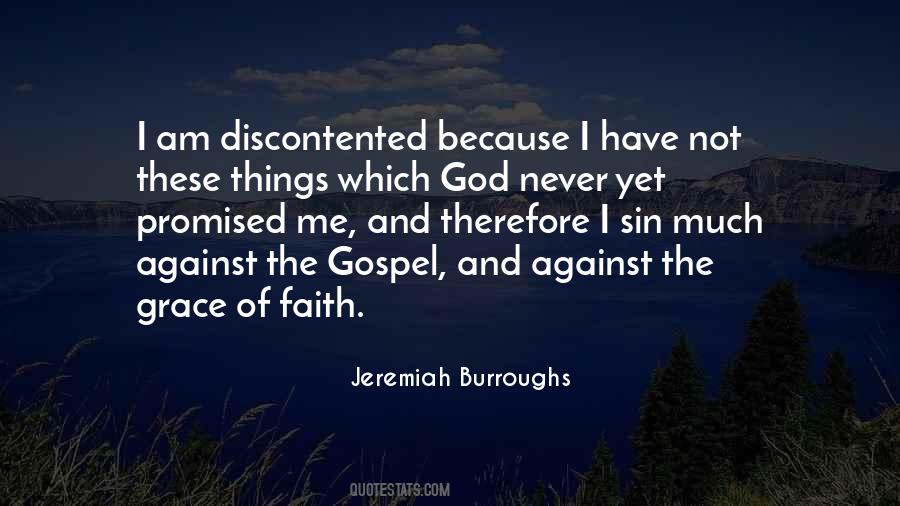 #49. The faith of the gospel is called the knowledge of God's grace; for no one has ever tasted of the gospel but the man that knew himself to be reconciled to God, and took hold of the salvation that is held forth in Christ. - Author: John Calvin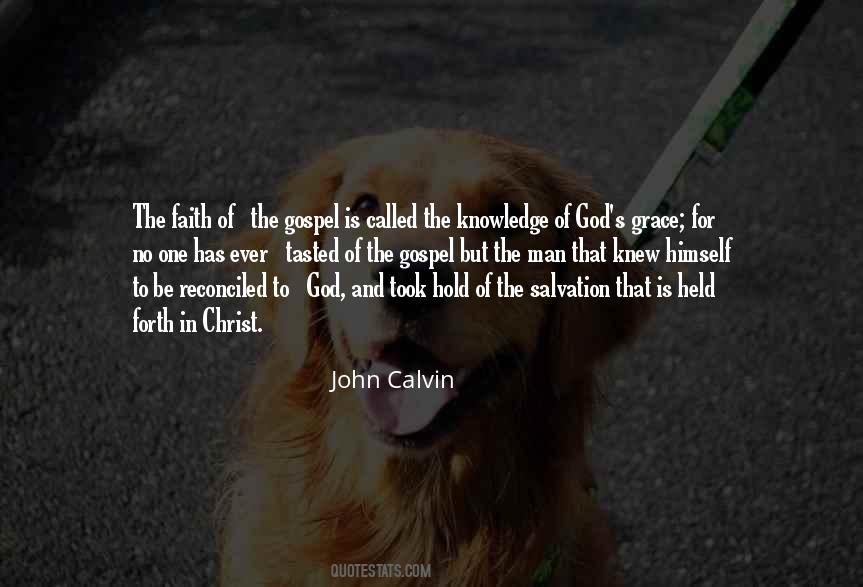 #50. God grant me courage and hope for everyday, faith to guide me along my way, understanding and wisdom, too, and grace to accept what life gives me to do. - Author: Helen Steiner Rice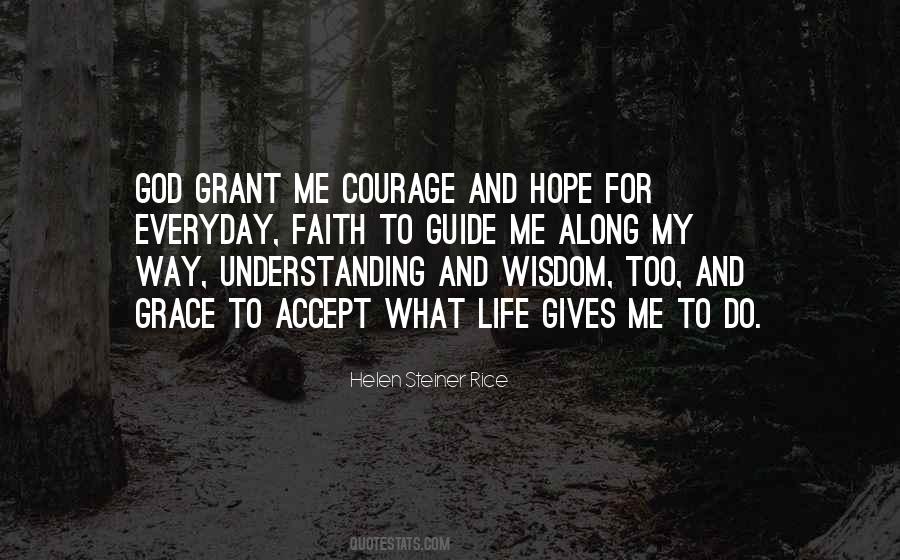 #51. A praying mother symbolizes grace, strength and wisdom; she is an icon of productivity and ingenuity. - Author: Jaachynma N.E. Agu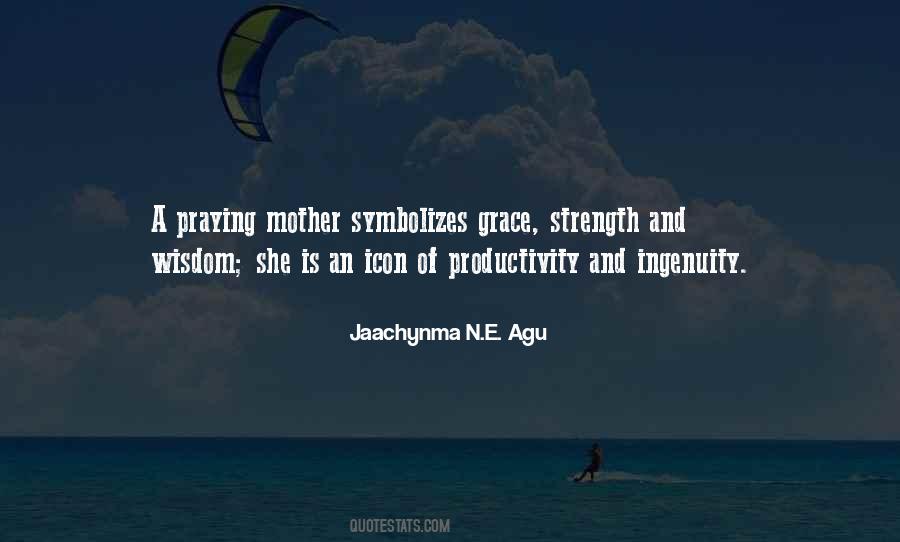 #52. The sovereign electing grace of God chooses us to repentance, to faith, and afterwards to holiness of living, to Christian service, to zeal, and to devotion. - Author: Charles Spurgeon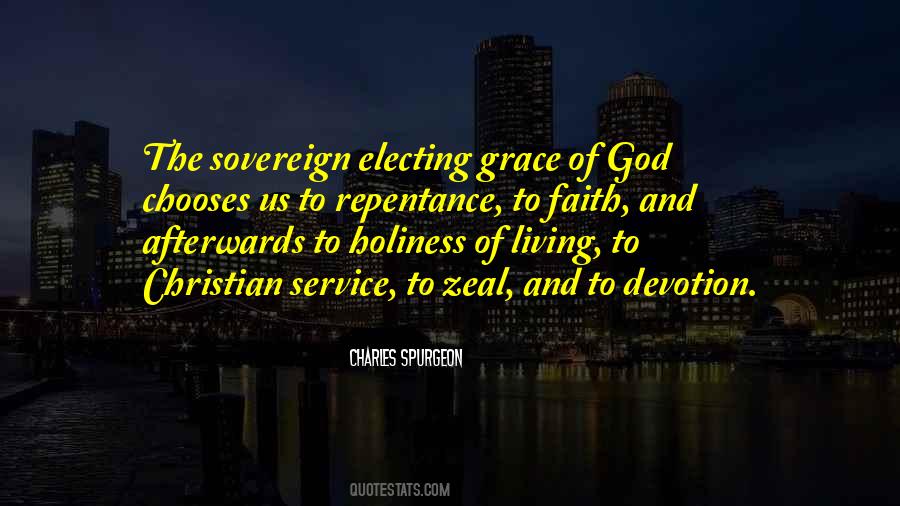 #53. We ought to know the Lord and fullness of His great grace. - Author: Lailah Gifty Akita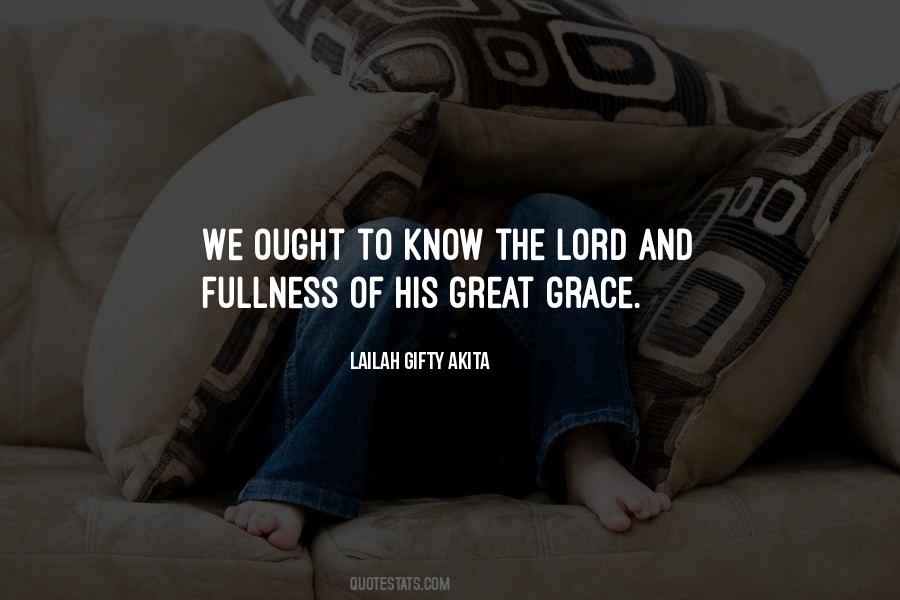 #54. I hope, by God's grace, that I am truly a Christian, not deviating from the faith, and that I would rather suffer the penalty of a terrible death than wish to affirm anything outside of the faith or transgress the commandments of our Lord Jesus Christ. - Author: Jan Hus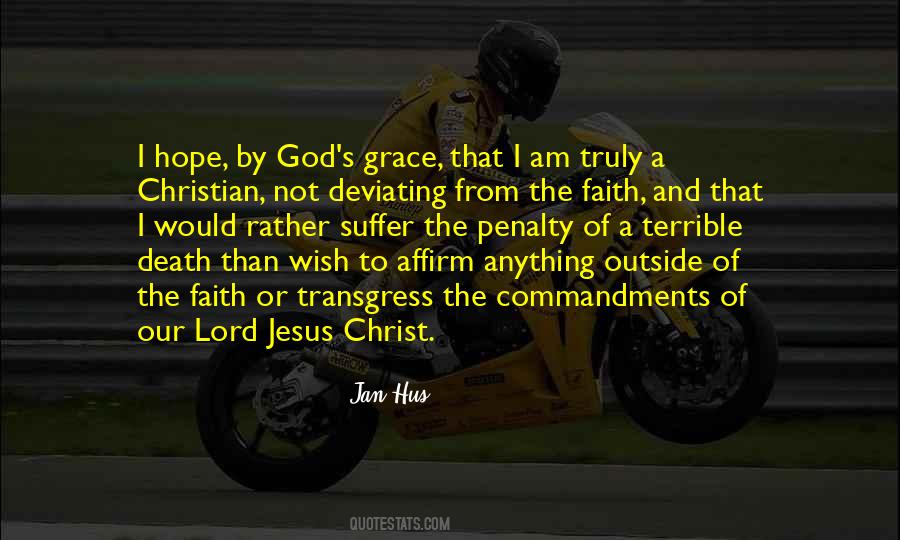 #55. Certainly we should be very active in seeking God, and Jesus himself called us to 'ask, seek, knock' in order to find him. Yet those who enter a relationship with God inevitably look back and recognize that God's grace had sought them out, breaking them open to new realities. - Author: Timothy Keller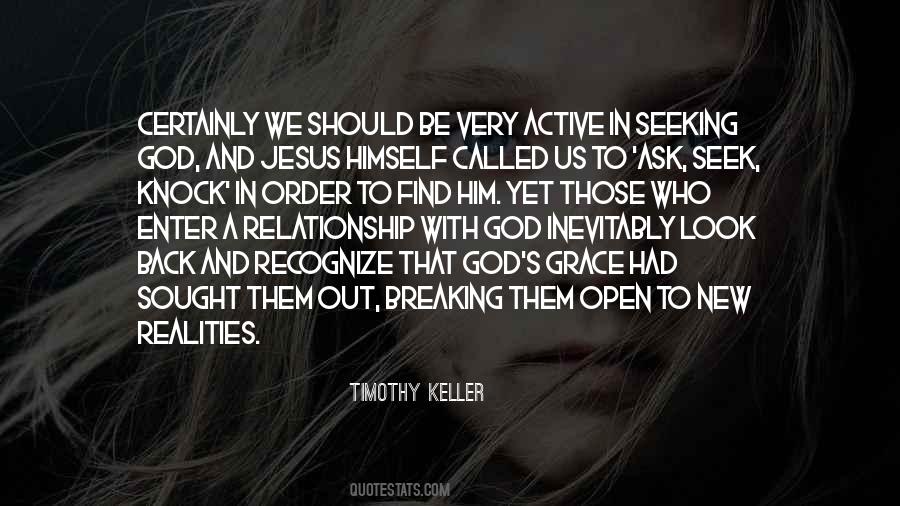 #56. Bring wings to the weak and bring grace to the strong
May all evil stumble as it flies in the world
All the tribes comes and the mighty will crumble
We must brave this night and have faith in love - Author: Janelle Monae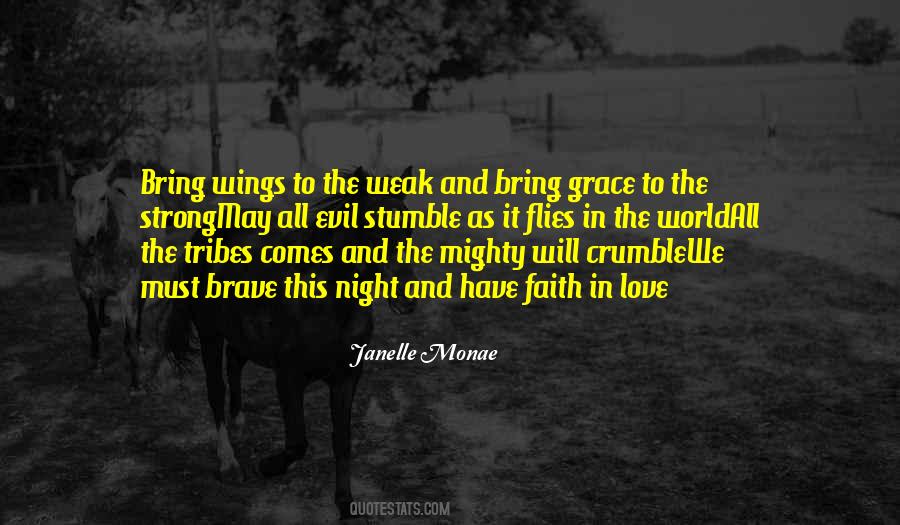 #57. Before there could be any permanent reformation the people must be led to feel their utter inability in themselves to render obedience to God. - Author: Ellen G. White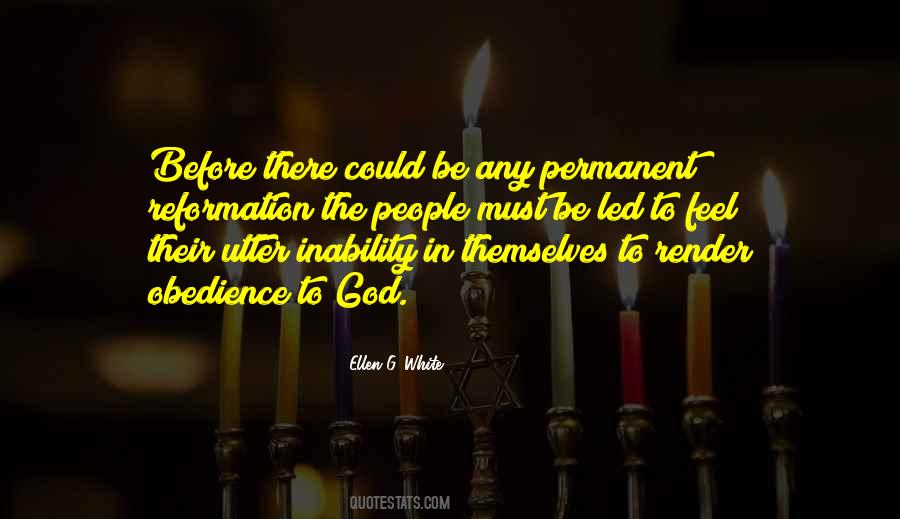 #58. Paul faced each stage of his illness with grace - not with bravado or a misguided faith that he would "overcome" or "beat" cancer but with an authenticity that allowed him to grieve the loss of the future he had planned and forge a new one. - Author: Paul Kalanithi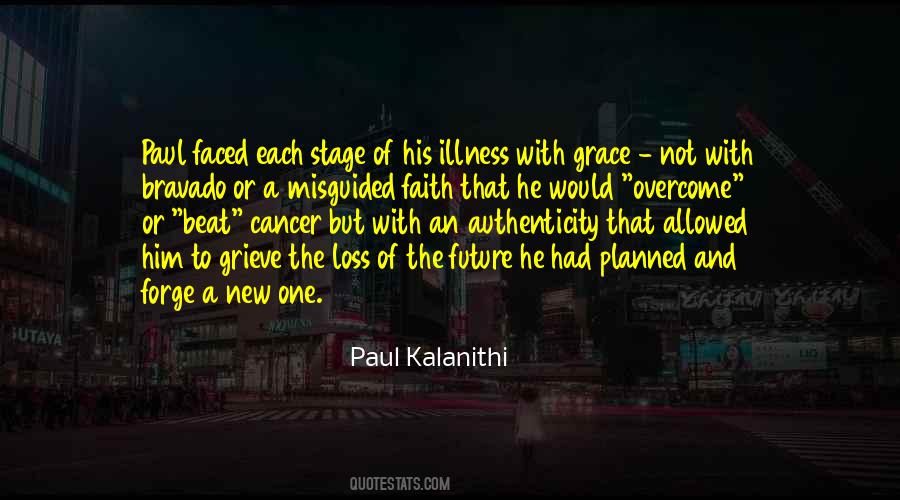 #59. The gospel is life giving, because it generates changes that are received only by grace through faith. This foundational truth, however, gets bypassed, obscured, and forgotten, because, as Martin Luther noted, religion forms the default mode of the human heart. - Author: J.D. Greear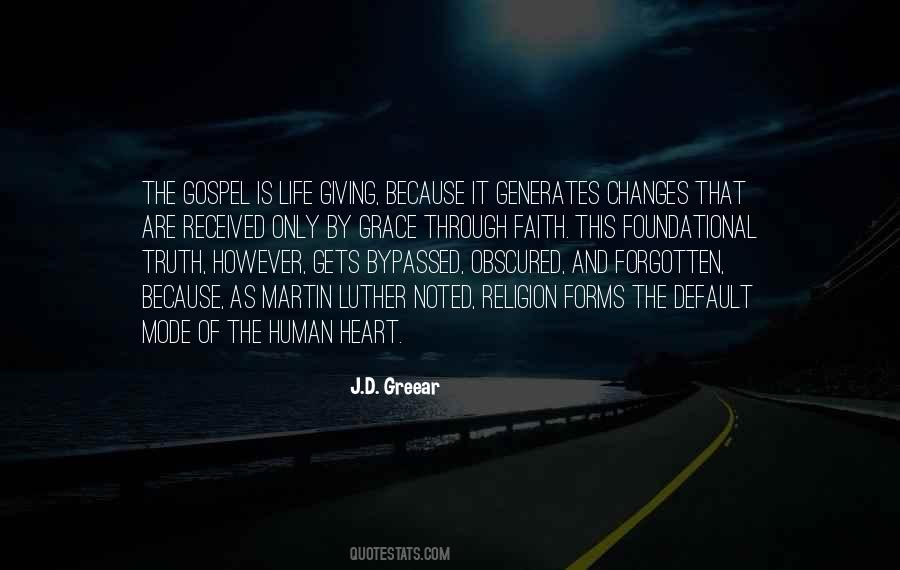 #60. God's love is his holiness reaching out to sinners; grace is but the price that his love pays to his holiness; the cross is but its victory over sin and death; and faith is but the way in which we bring our worship to him who is holy. - Author: David F. Wells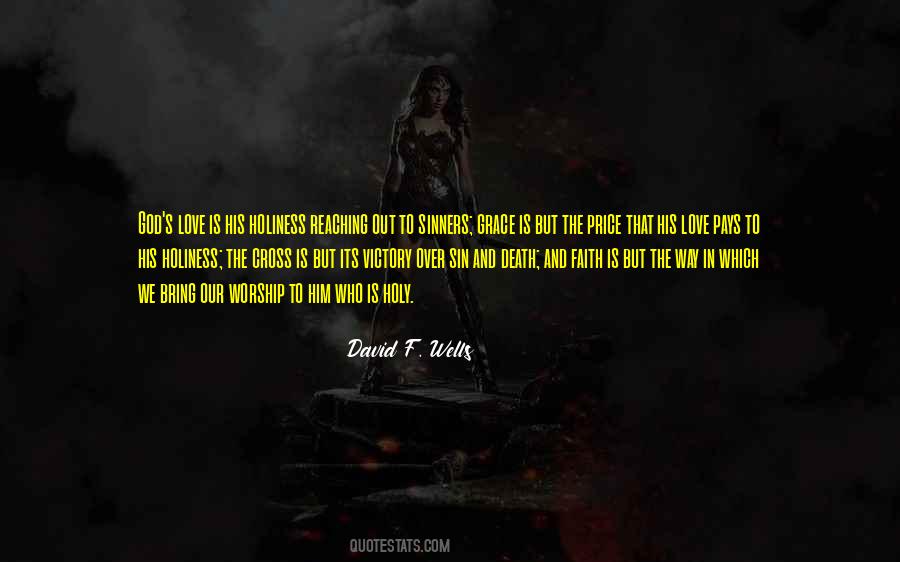 #61. By faith we receive the saving grace of God that delivers us from guilt and sin. In love we participate in the victorious struggle of God against the principalities and powers of evil. - Author: Gabriel Fackre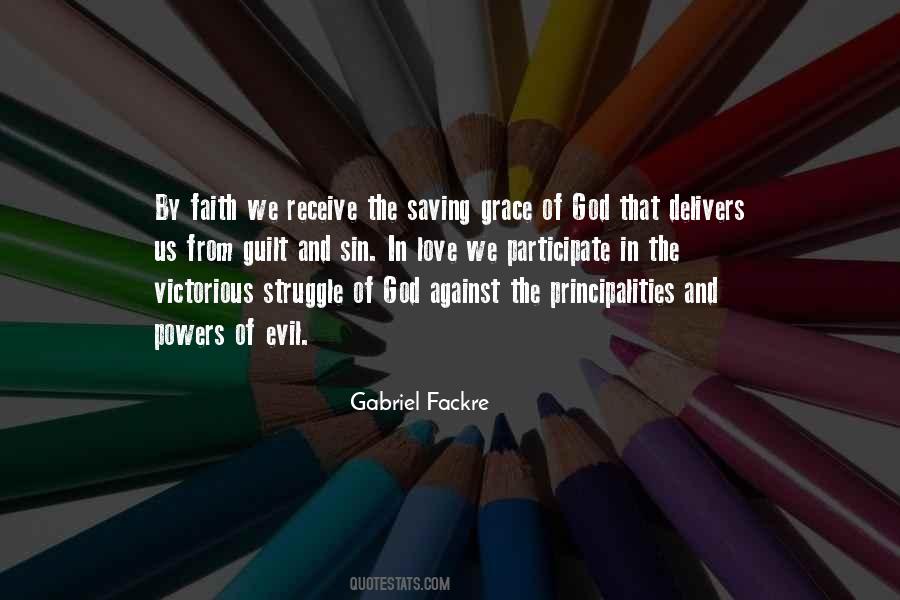 #62. You would never have possessed the precious faith which now supports you if the trial of your faith had not been like unto fire. You are a tree that never would have rooted so well if the wind had not rocked you to and fro, and made you take firm hold upon the precious truths of the covenant grace. - Author: Charles Haddon Spurgeon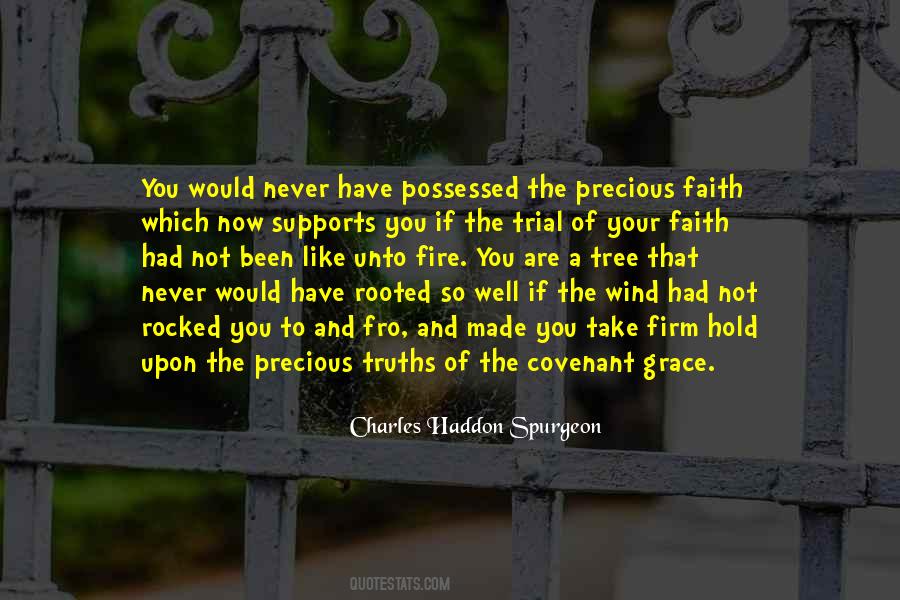 #63. If Christians always seemed to be the most intelligent and the most righteous of men, I'd be a skeptic. - Author: Criss Jami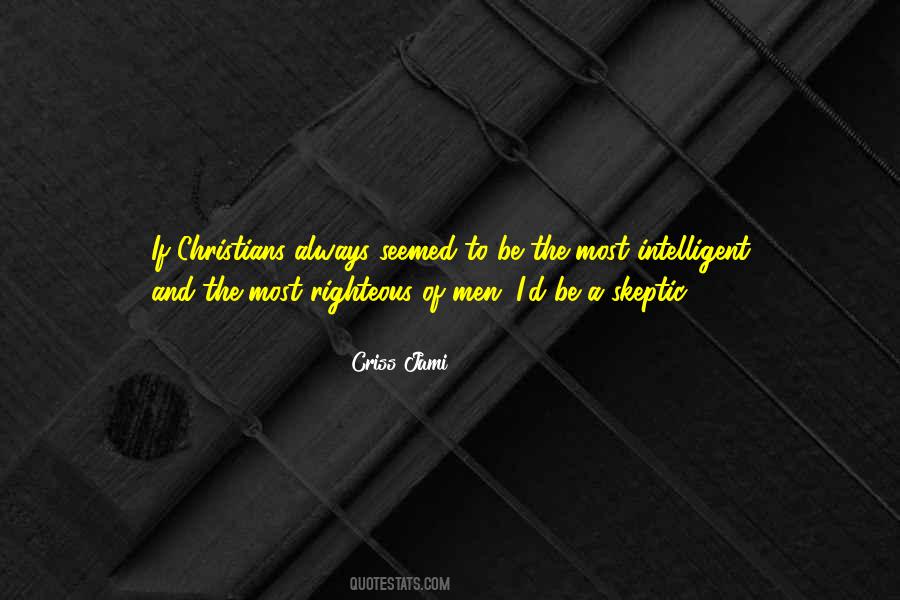 #64. We are justified by faith and saved by grace. - Author: Lailah Gifty Akita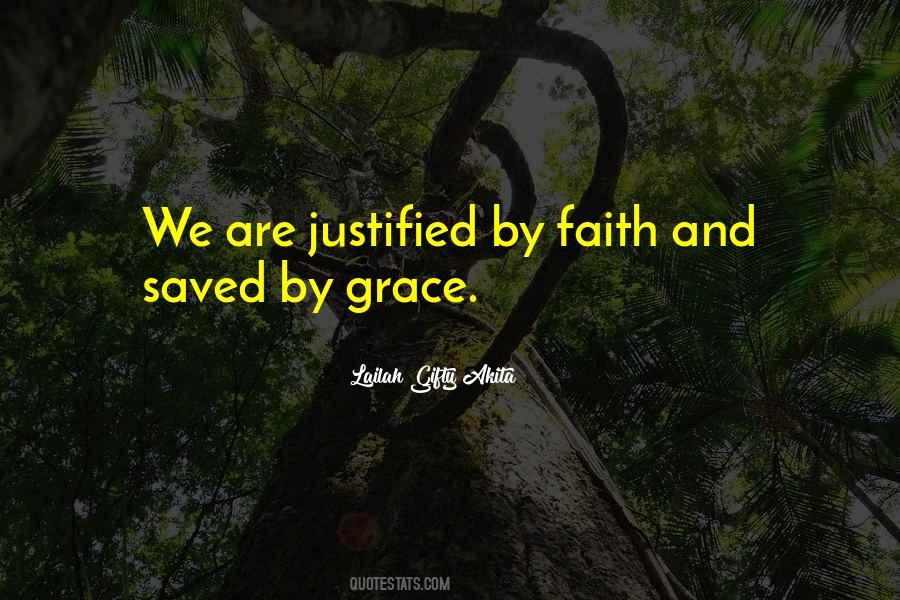 #65. Belief is no adequate substitute for inner experience, and where this is absent even a strong faith which came miraculously as a gift of grace may depart equally miraculously. People - Author: C. G. Jung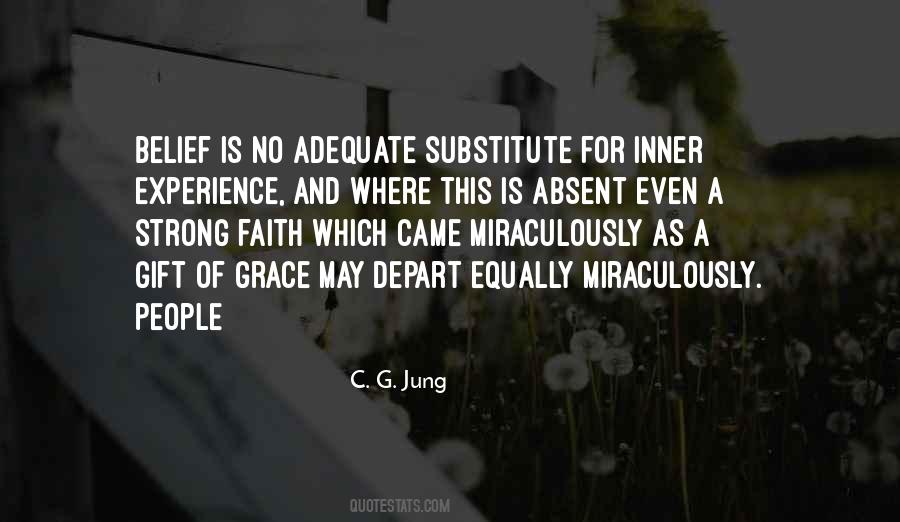 #66. In art, either as creators or participators, we are helped to remember some of the glorious things we have forgotten, and some of the terrible things we were asked to endure ... - Author: Madeleine L'Engle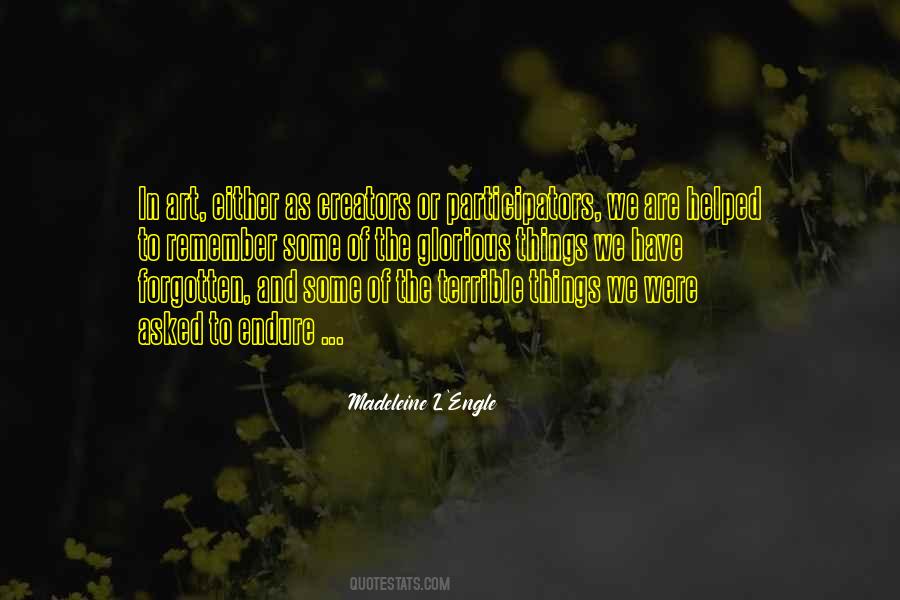 #67. You know, Monsieur, that, although the contemplative life is more perfect than the active life, it is not, however, more so than one which embraces at the same time contemplation and action, as does yours, by God's grace. - Author: Vincent De Paul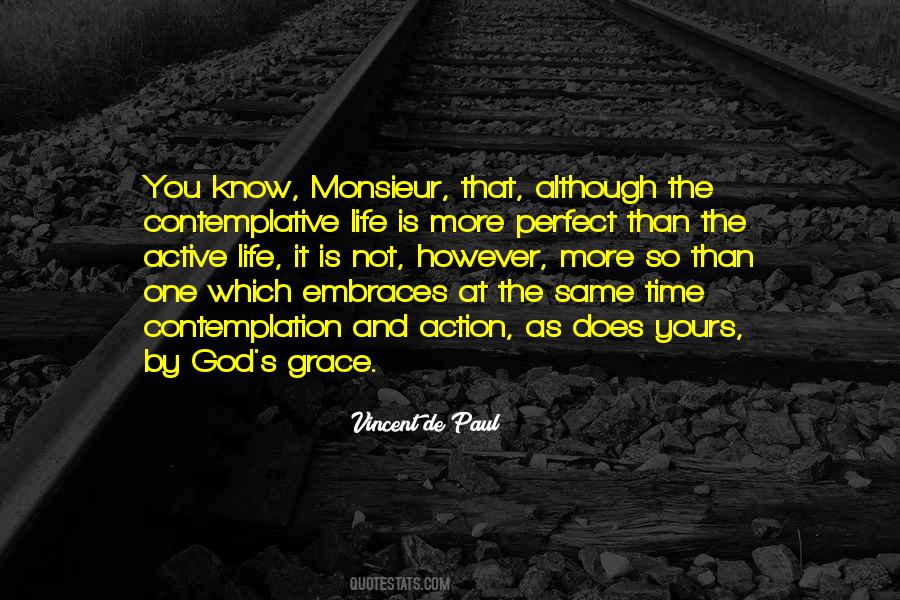 #68. May power of the Holy Spirit, renew your thoughts and attitudes. - Author: Lailah Gifty Akita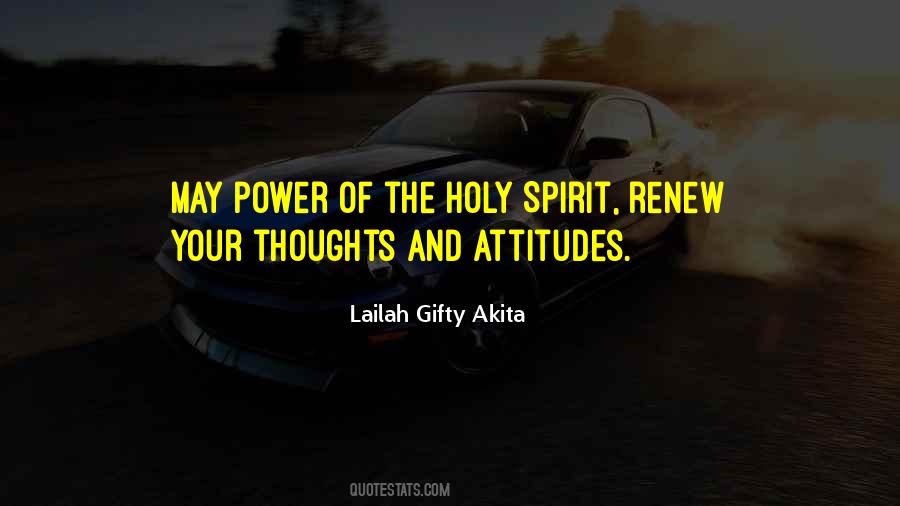 #69. To mend our own relationship with God, regaining God's favor after having once lost it, is beyond the power of any one of us. And one must see and bow to this before one can share the biblical faith in God's grace. - Author: J.I. Packer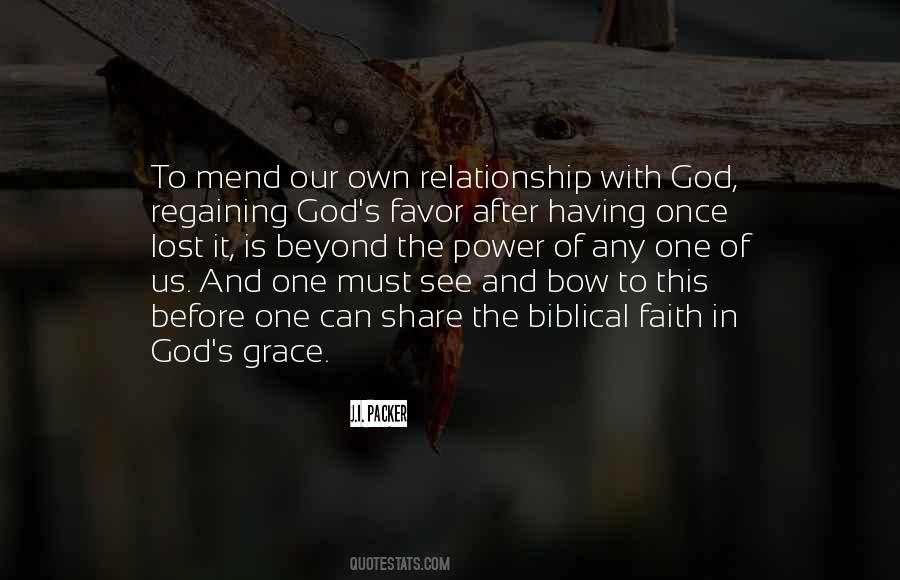 #70. For where grace is, there is a remitting, and where remitting is, there is no punishment. Punishment then being removed, and righteousness succeeding from faith, there is no obstacle to our becoming heirs of the promise. - Author: Philip Schaff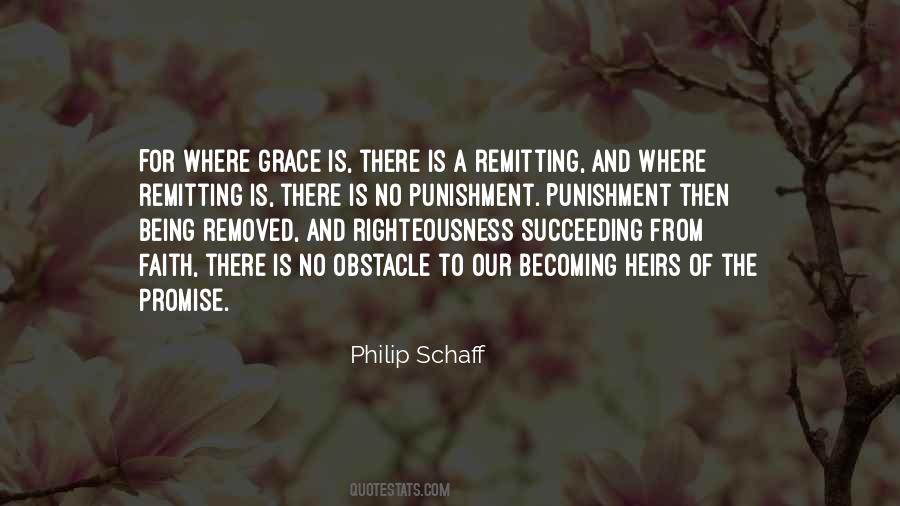 #71. When life tries to define you with its hardship, you gotta push back, look it straight in the eye and say, 'No matter what life throws at me, I'm going to keep telling myself that I will overcome.' And every time you own that truth, you write your own life script. - Author: Nikki Rosen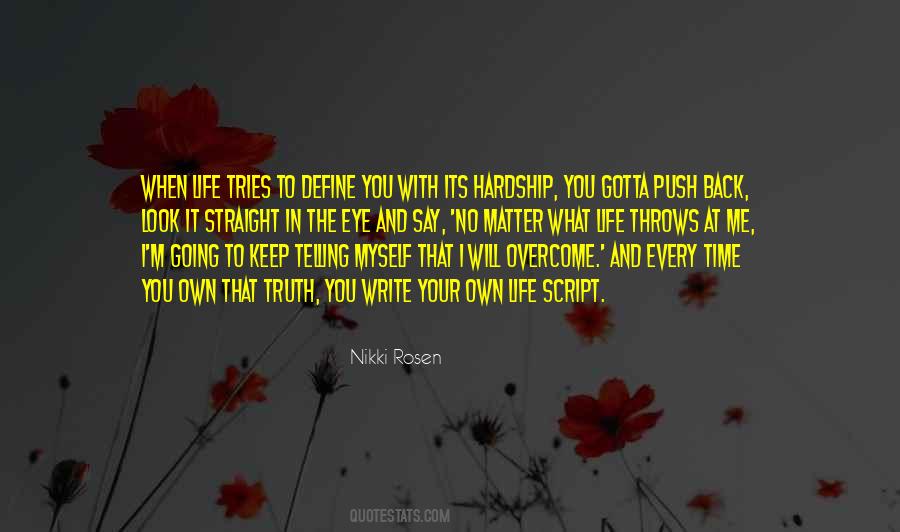 #72. Prayer is the breath of life. - Author: Lailah Gifty Akita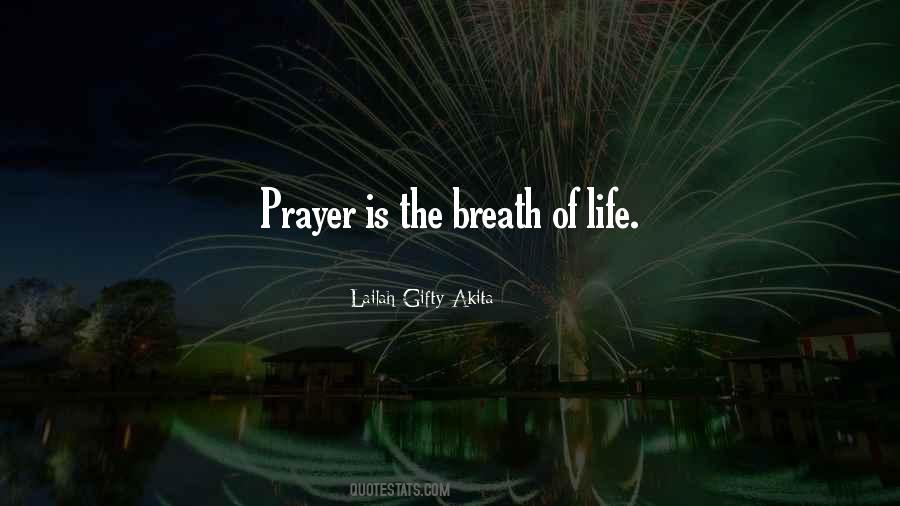 #73. Abundant grace, amazing life. - Author: Lailah Gifty Akita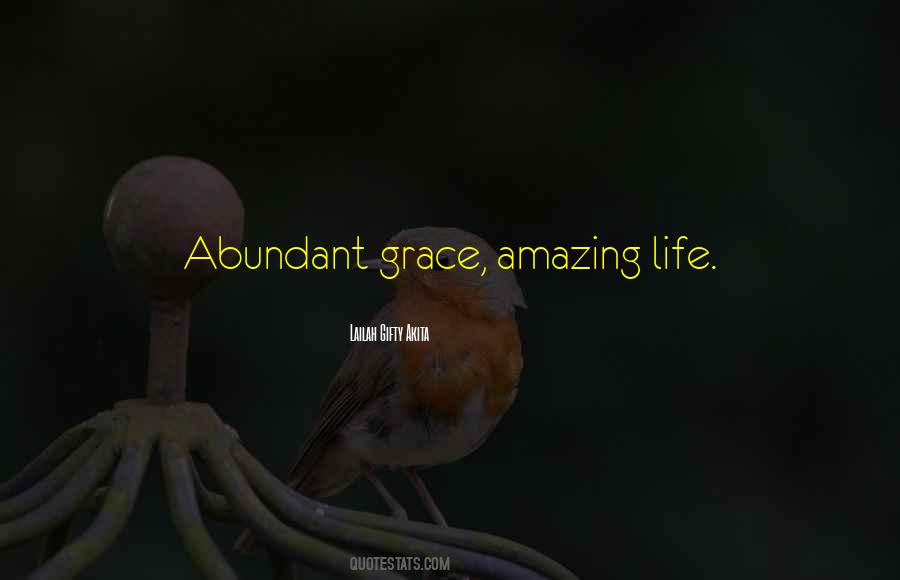 #74. Judge tenderly, if you must. There is usually a side you have not heard, a story you know nothing about, and a battle waged that you are not having to fight. - Author: Traci Lea LaRussa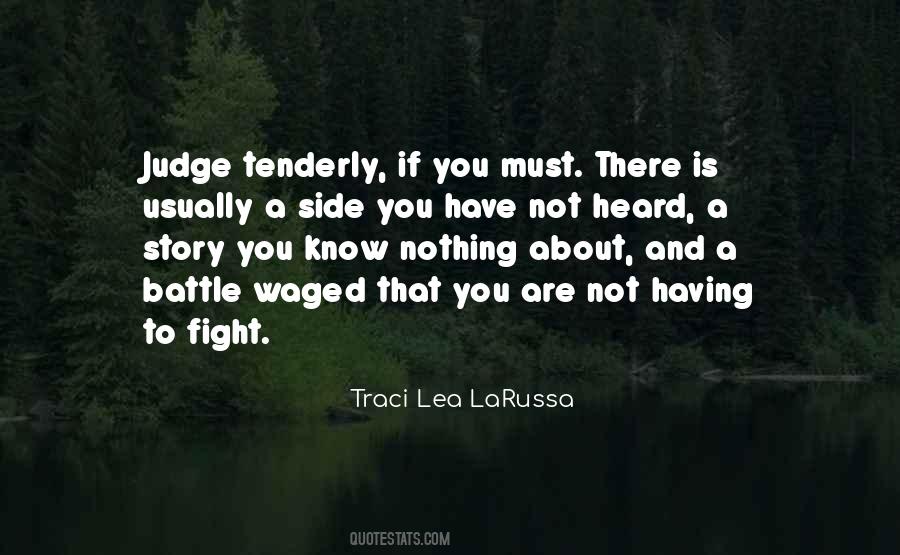 #75. As we trust the Lord, we start "emptying" ourselves with things that tie us or entangle us in order to be filled by God's grace and the fullness of Him who fills everything in every way. - Author: Yilda B. Rivera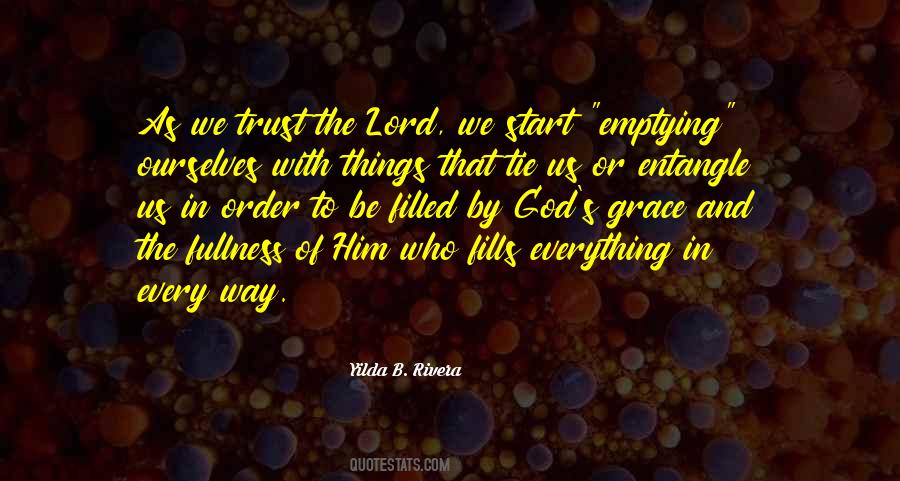 #76. Hope is the supernatural grace of God for
survival of hard times. - Author: Lailah Gifty Akita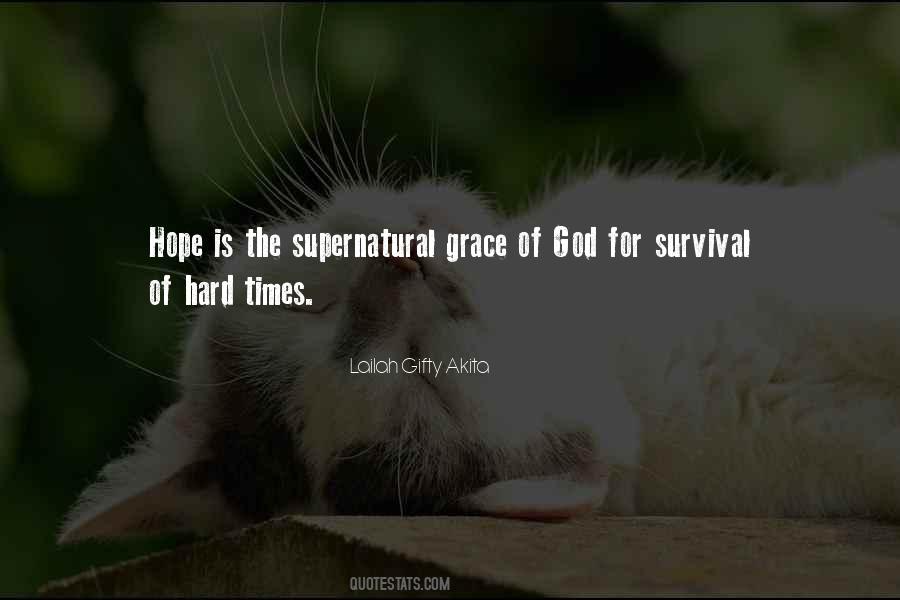 #77. But what I have come to see is that God is big enough to receive us with all our mixture. We do not have to be bright, or pure, or filled with faith, or anything. That is what grace means, and not only are we saved by grace, we live by it as well. And we pray by it. - Author: Richard J. Foster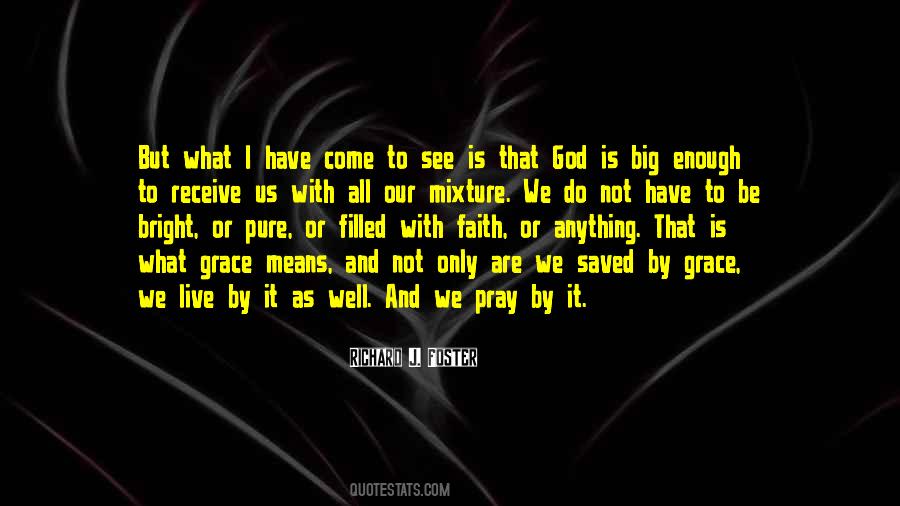 #78. I am blessed and highly favoured. - Author: Lailah Gifty Akita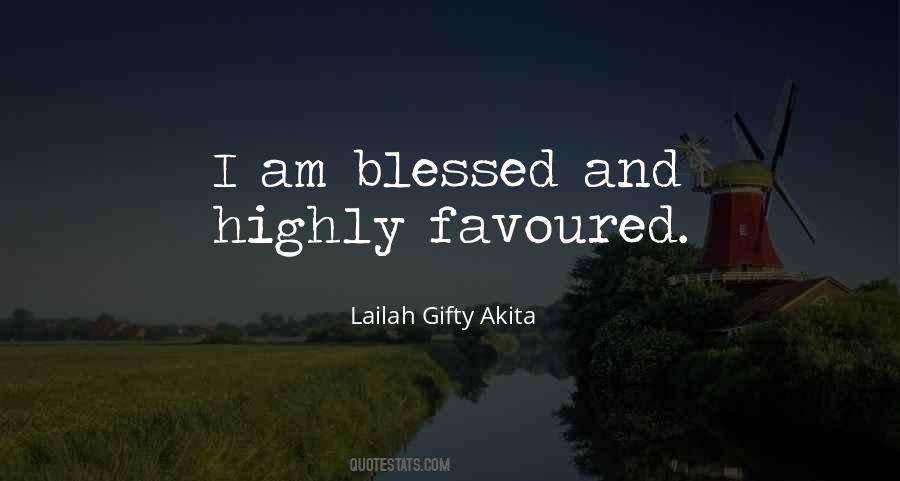 #79. Of all faults the greatest is the excess of impious terror, dishonoring divine grace. He who despairs wants love, wants faith; for faith, hope, and love are three torches which blend their light together, nor does the one shine without the other. - Author: Pietro Metastasio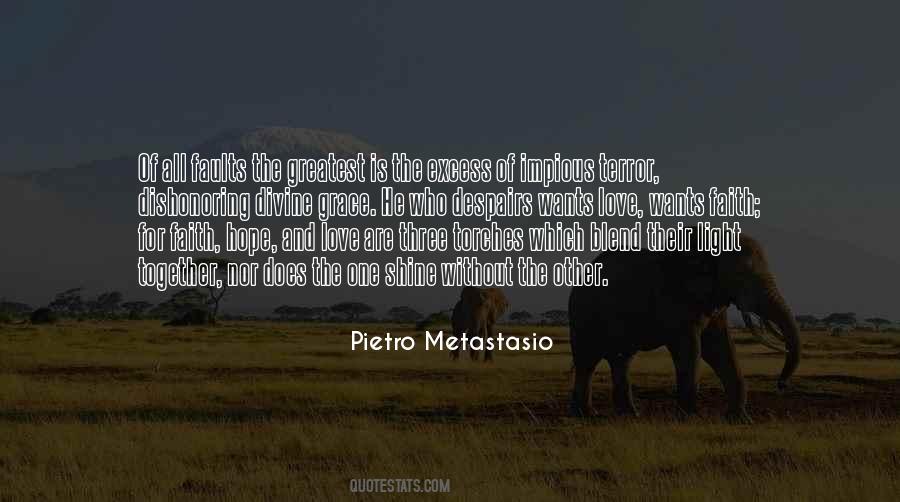 #80. Catholics have always held that the soul is immeasurably more important than the body. Therefore, one who destroys the faith and grace that are the life of the soul is more guilty than one who merely kills the body. For this reasonable attitude there is surely no reason to apologize. - Author: Diane Moczar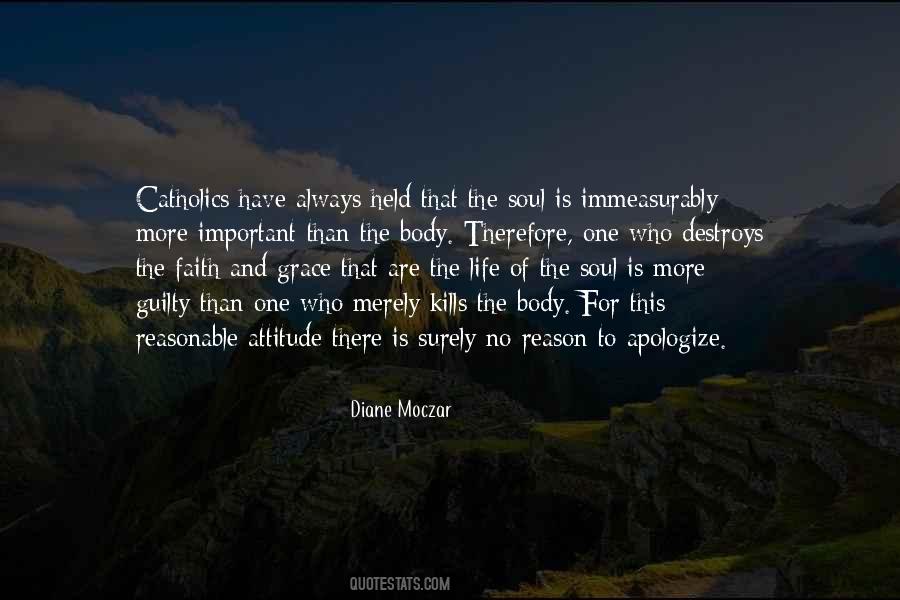 #81. Fear forces you to attend to matters with the utmost grace and concentration. - Author: P.A. Minyard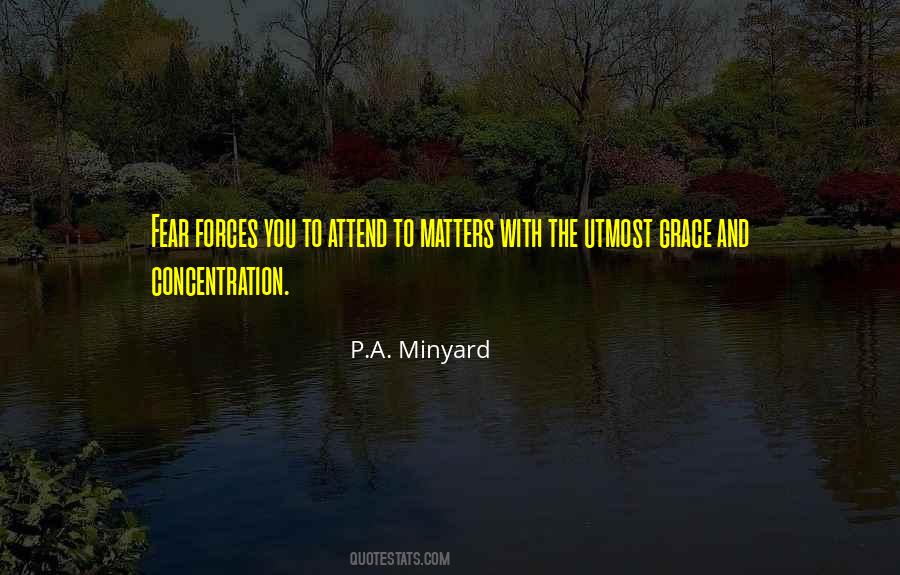 #82. Kaethe Schwehn's poignant memoir explores longing, both spiritual and physical, community and faith, in prose that is calm, lovely, and filled with clear-eyed honesty and grace. Tailings is simply an exquisite book. - Author: Dinty W. Moore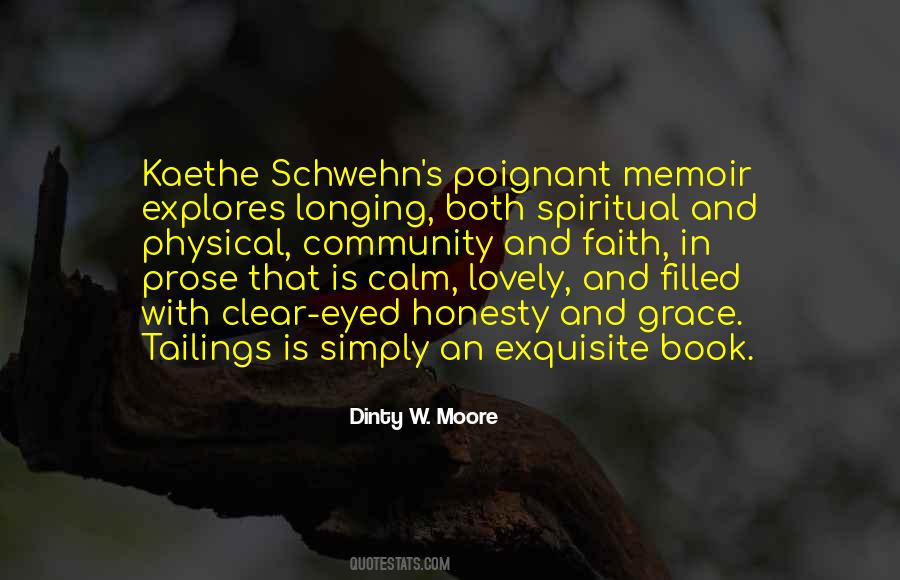 #83. All my life I have preserved in the depths of my heart a live faith in my Creator, the Defender of the World, in His Sanctifying Grace and in the expiatory sacrifice of Christ our Saviour, but never have I agreed that true religion demands outward manifestations. - Author: Valery Bryusov
#84. The truth is in Jesus and it leads to the fullness of truth about God, man, creation, history, sin, righteousness, grace, faith, salvation, life, death, purpose, meaning, relationships, heaven, hell, judgement, eternity, and everything else of ultimate consequence. - Author: John F. MacArthur Jr.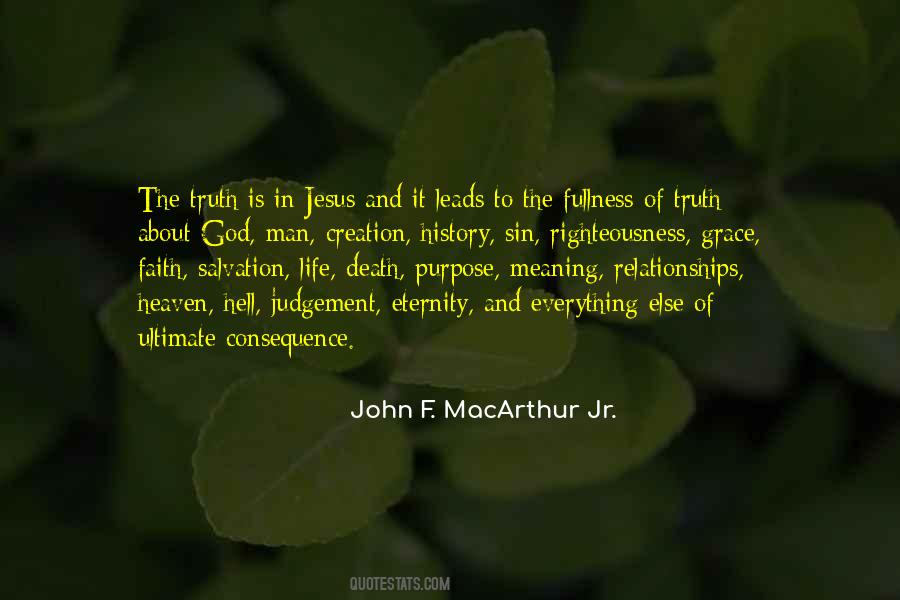 #85. My fear of being real, of being seen, paralyzes me into silence. I crave the touch and the connection, but I'm not always brave enough to open my hand and reach out. This is the great challenge: to be seen, accepted, and loved, I must first reveal, offer, and surrender. - Author: Anna White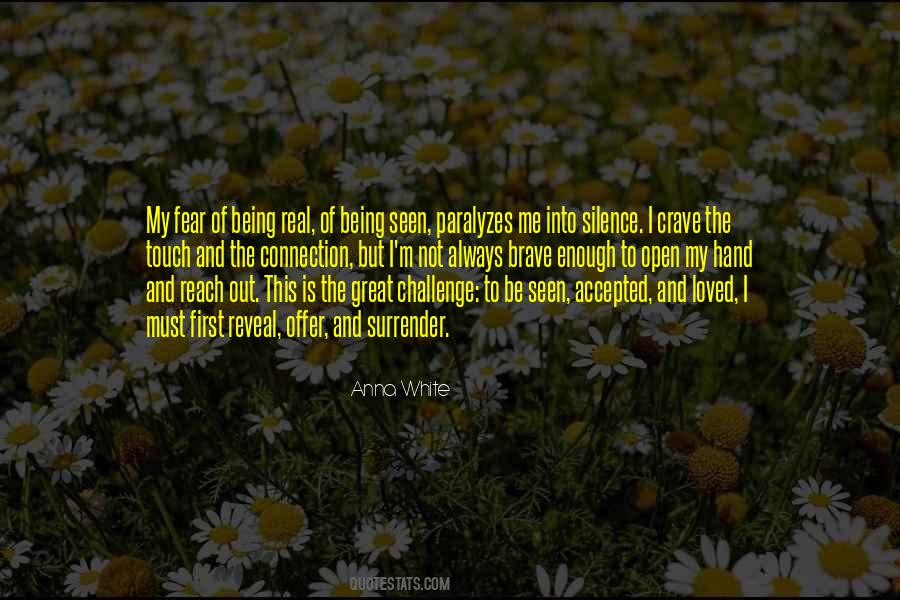 #86. ... The Lord through His grace appeared to man, gave him the Gospel or eternal plan whereby he might rise above the carnal and selfish things of life and obtain spiritual perfection. But he must rise by his own efforts and he must walk by faith. - Author: David O. McKay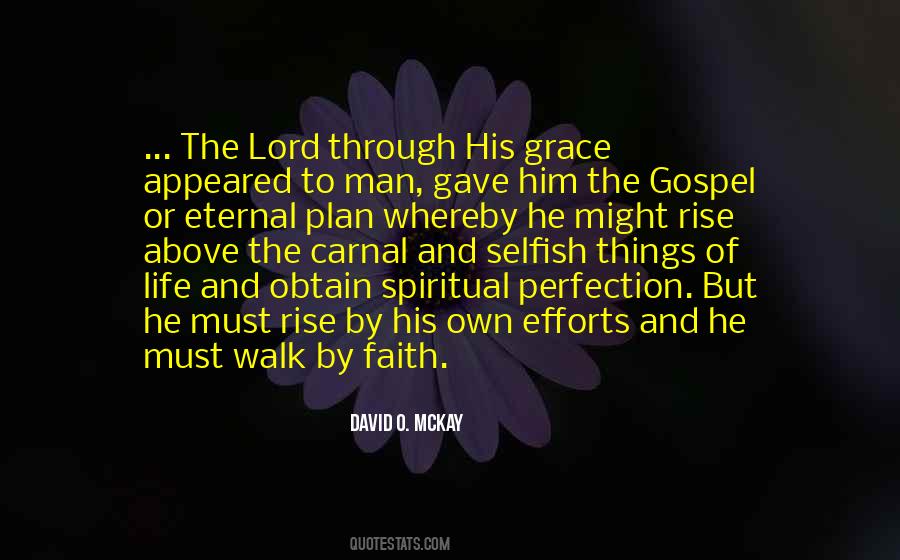 #87. And without delay, turn to the Lord. Exercise all of the faith you have in Him. Let Him share your burden. Allow His grace to lighten your load. - Author: Donald L. Hallstrom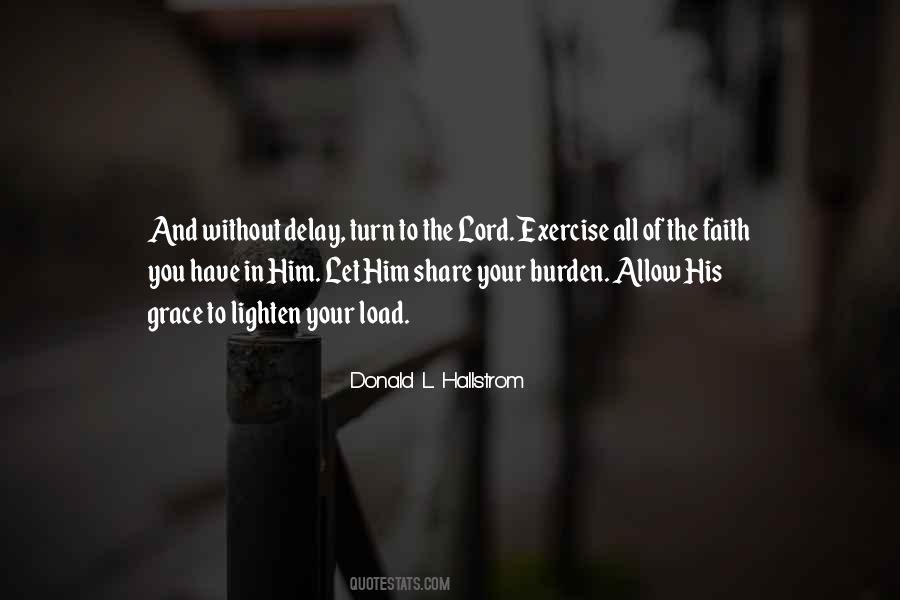 #88. So two things, on our part, are required to receive God's saving grace: repentance from sin and faith in God Who saves us (by grace, in Christ). Both are free choices, and both are necessary to allow grace to enter our souls. - Author: Peter Kreeft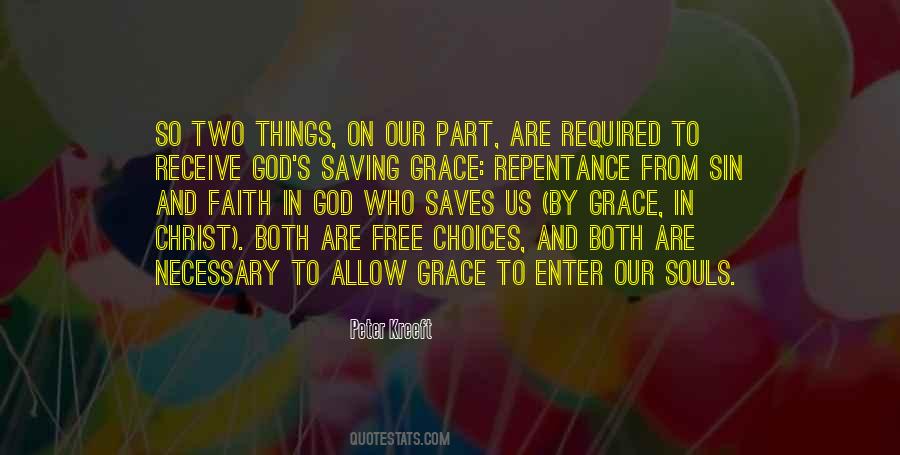 #89. The sun penetrates crystal and makes it more dazzling. In the same way, the sanctifying Spirit indwells in souls and makes them more radiant. They become like so many powerhouses beaming grace and love around them. - Author: Saint Basil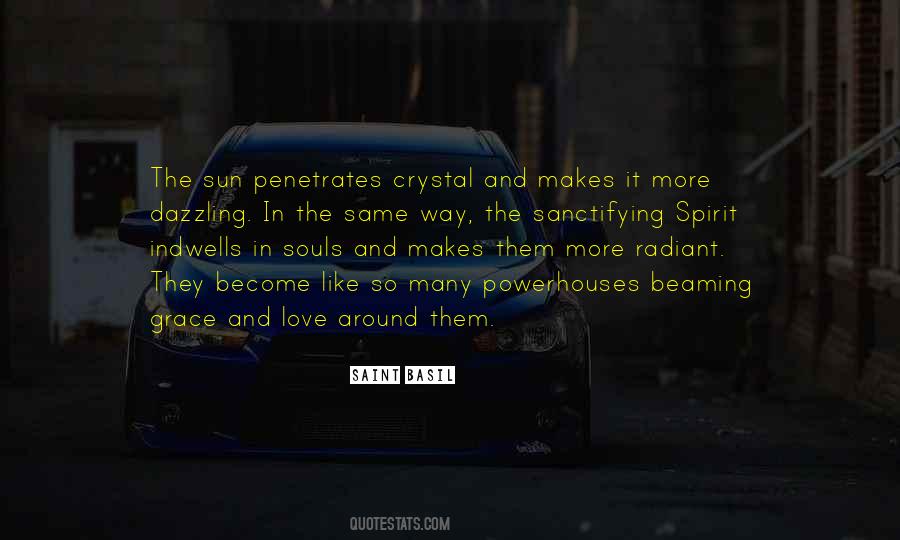 #90. What do you have that the Lord didn't provide?
What do you need that the Lord can't provide? - Author: Lailah Gifty Akita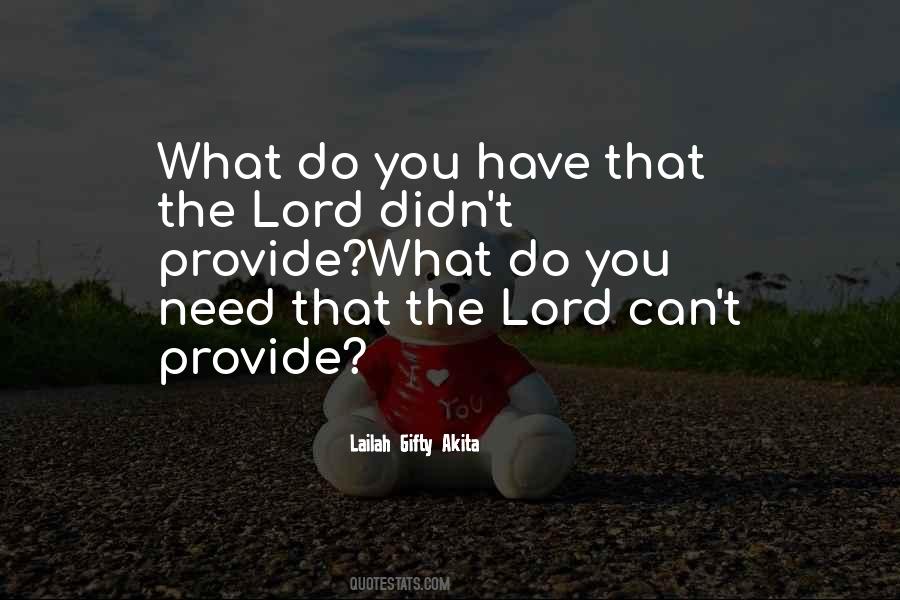 #91. With every new day come the Lord's great love, grace and mercies. - Author: Lailah Gifty Akita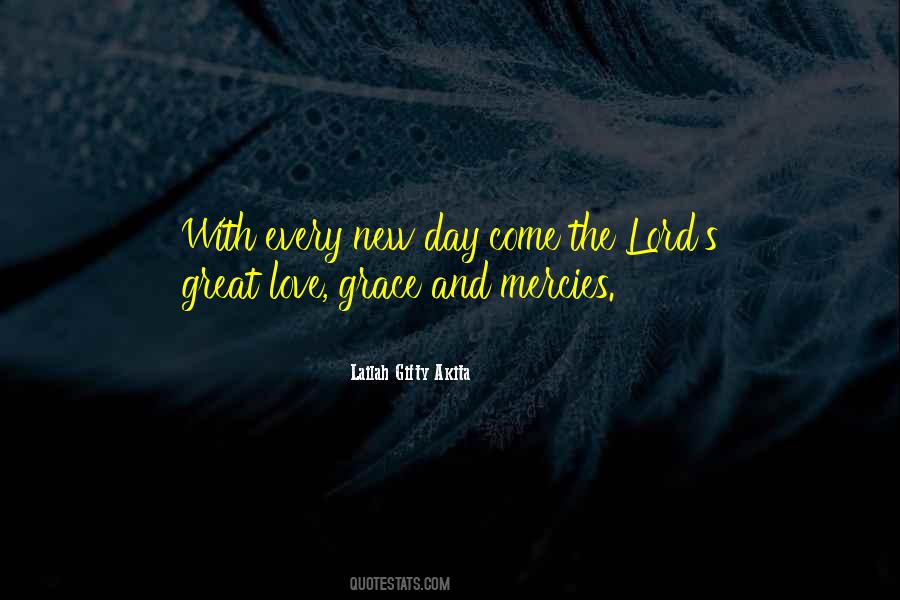 #92. Pray always for grace and strength. - Author: Lailah Gifty Akita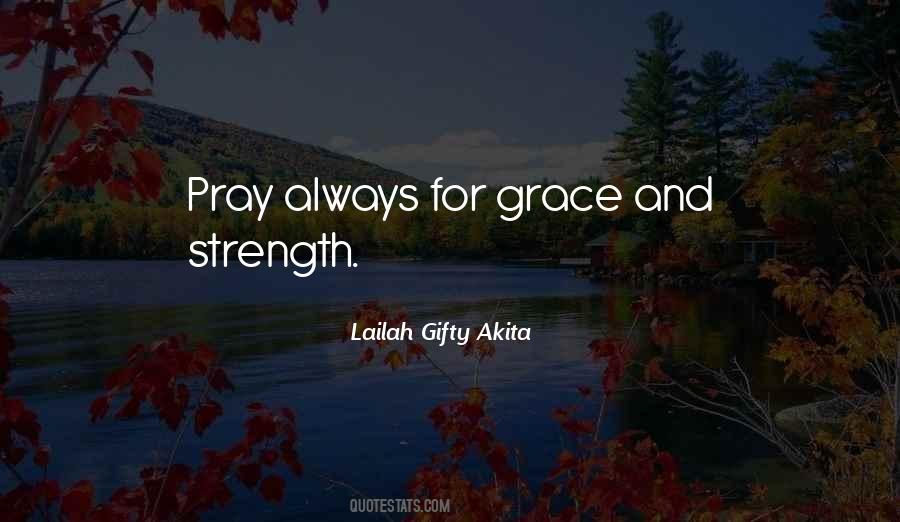 #93. What God requires of us he himself works in us, or it is not done. He that commands faith, holiness, and love, creates them by the power of his grace going along with his word, that he may have all the praise. - Author: Matthew Henry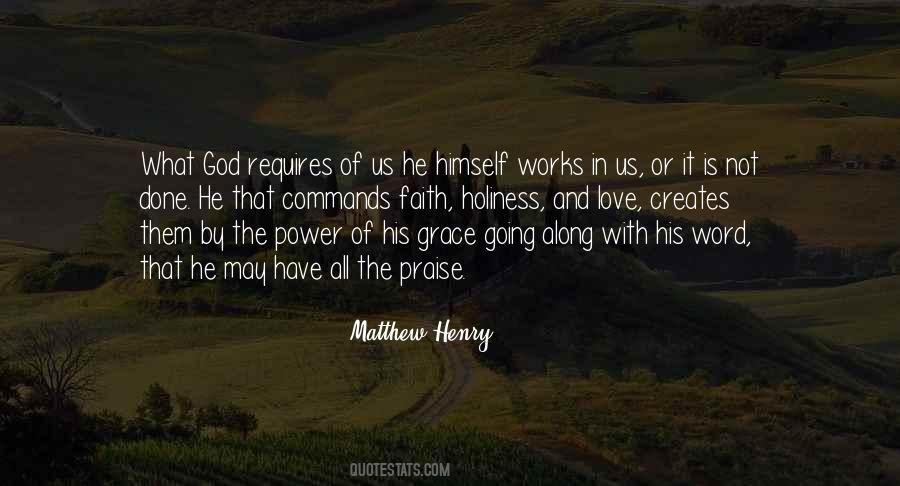 #94. Every Hebrew should look upon his Faith as a temple extending over every land to prove the immutability of God and the unity of His purposes. - Author: Grace Aguilar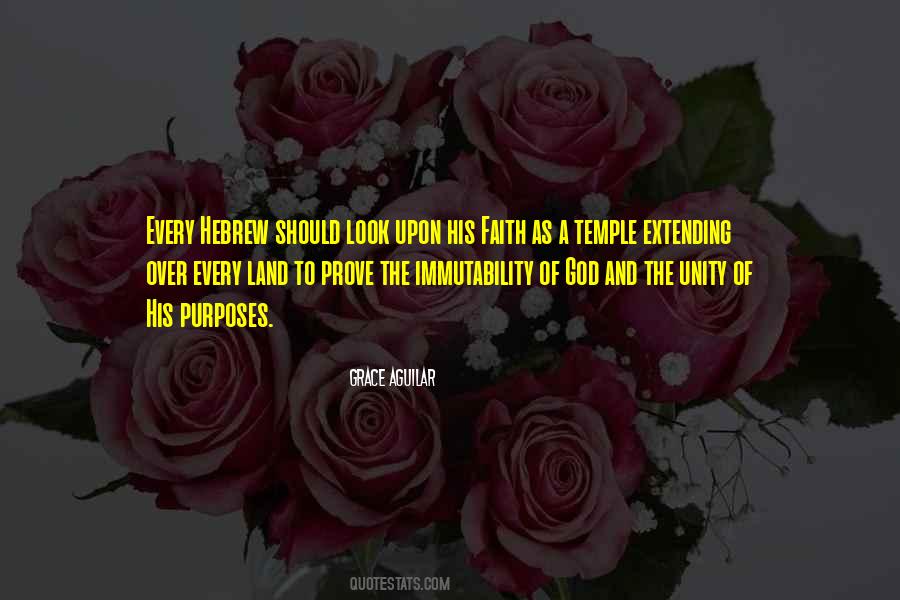 #95. Human sin and God's grace are the two poles of Lutheran spirituality. To be sure, these are intrinsic to all of Christianity, but in Lutheranism they are both heightened. They are resolved in the principle by which, it is said, the church stands or falls: justification by grace through faith. - Author: Gene Edward Veith Jr.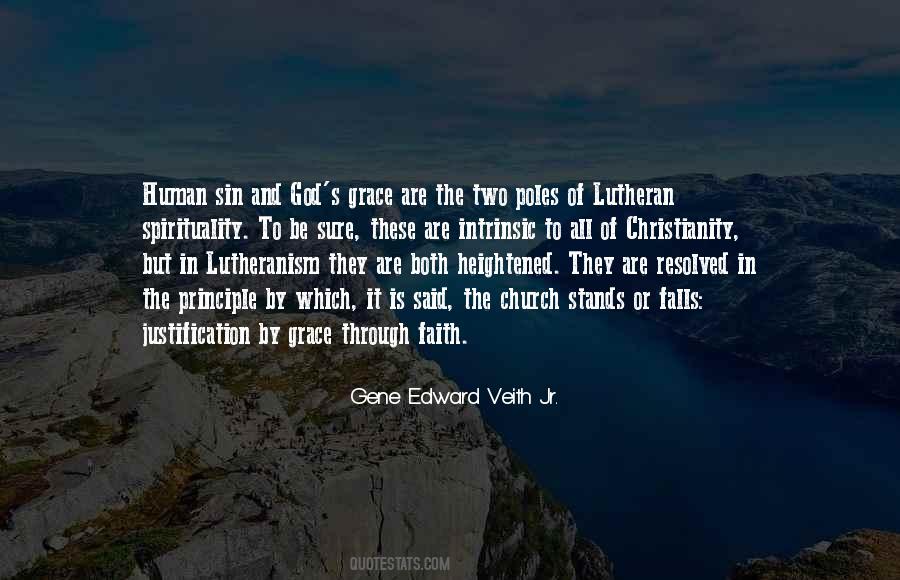 #96. Happy!" He leaned over the rail and tried to hold her eyes. But that is hard to do, for eyes are born dodgers and know a whole circumference of ways out of a bad spot.

"Faith in the Afternoon - Author: Grace Paley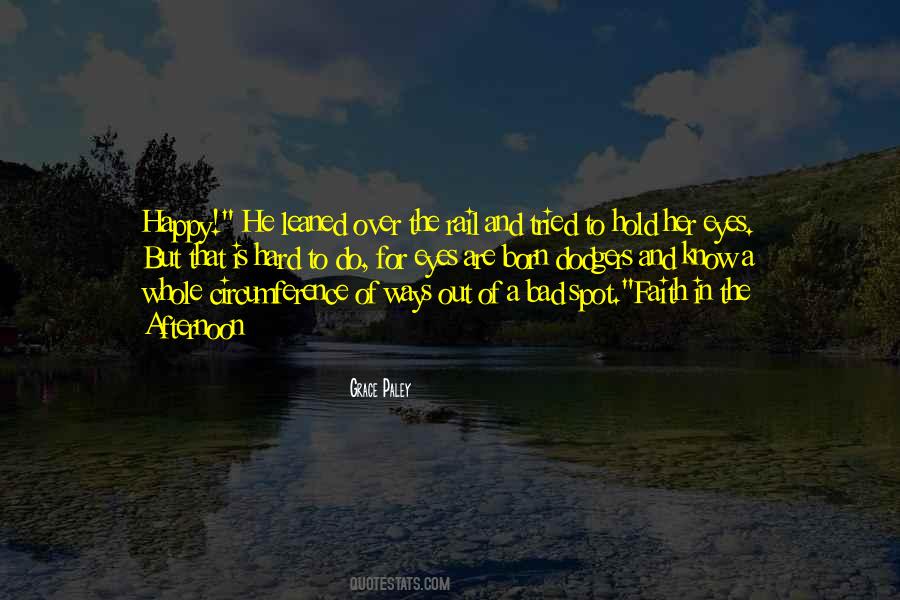 #97. Few souls understand what God would effect in them if they should give themselves entirely into his hands and allow his grace to act. - Author: Ignatius Of Loyola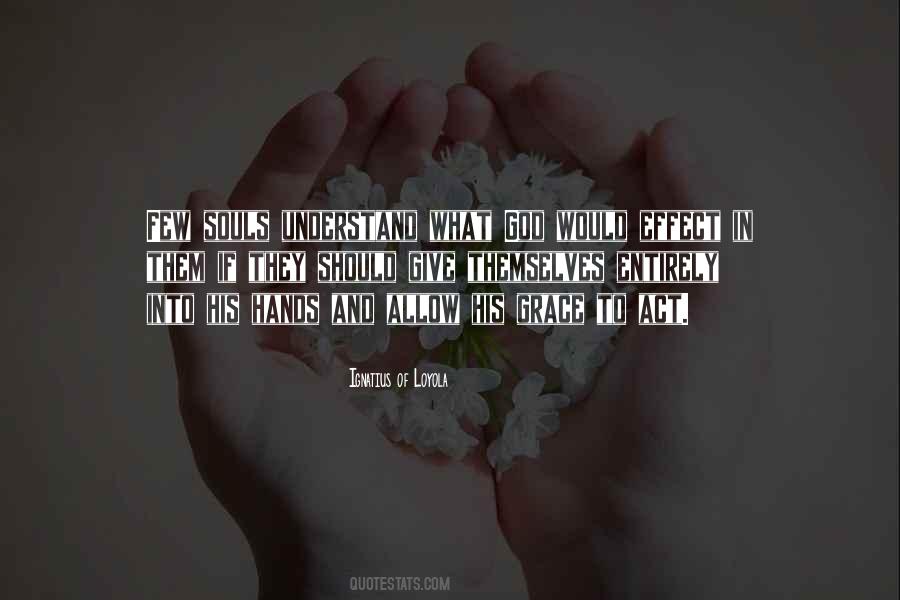 #98. With much prayer comes great grace from God. - Author: Lailah Gifty Akita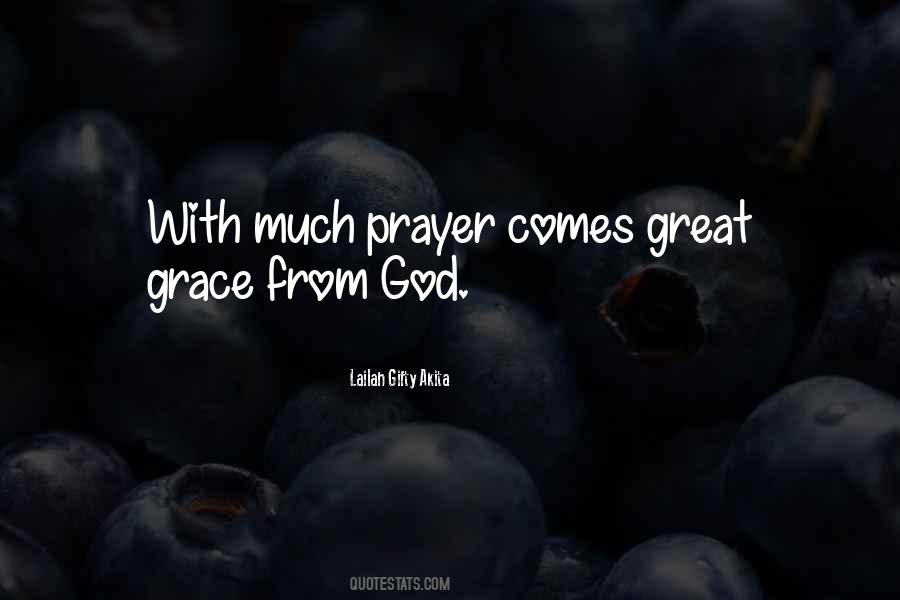 #99. We are saved by grace, through faith in Christ alone! And since there is no room for human merit there can be no grounds for human boasting! - Author: Steve Camp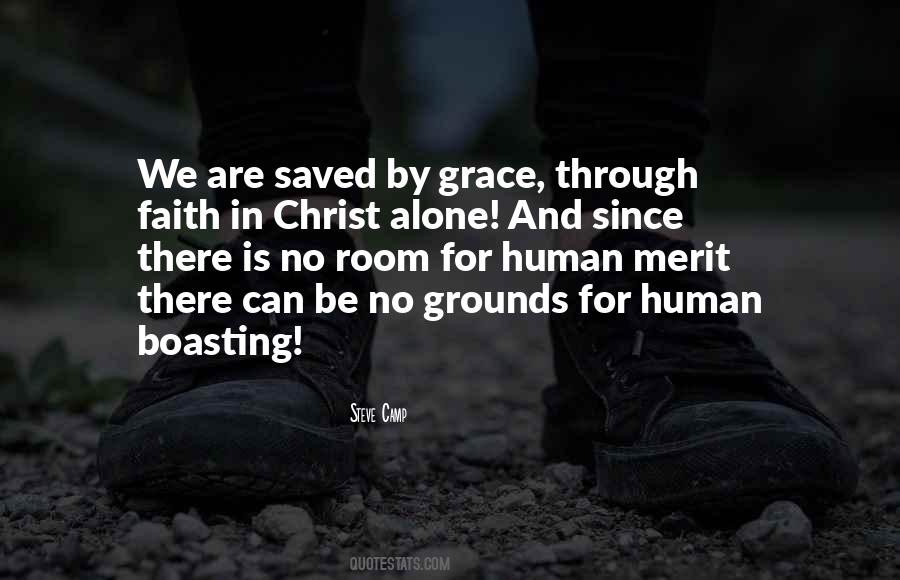 #100. There was no way to abandon guilt, no decent way to disown it. All the tangles and knots of bitterness and desperation and fear had to be pitied. No, better, grace had to fall over them. - Author: Marilynne Robinson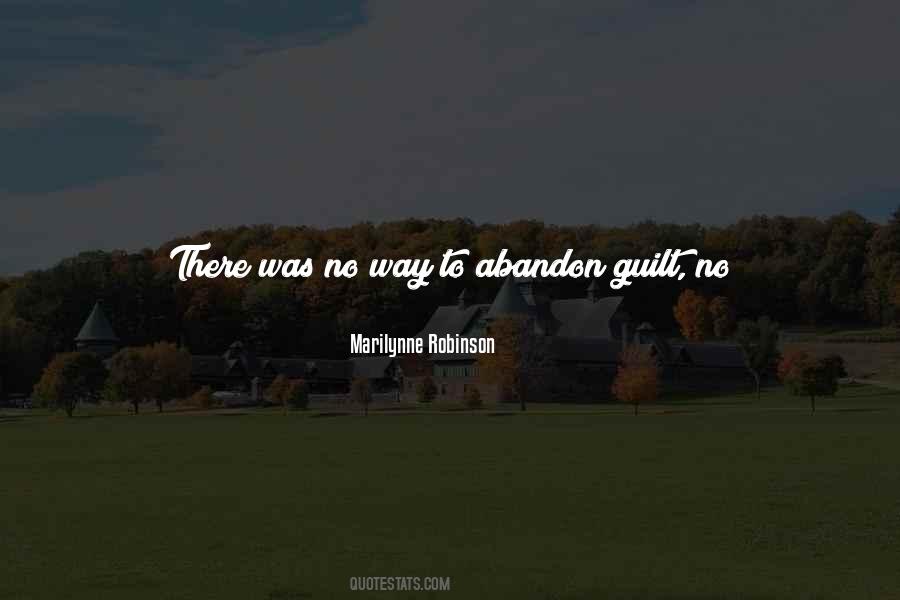 Famous Authors
Popular Topics