Gospel Famous Quotes & Sayings
List of top 100 famous quotes and sayings about gospel to read and share with friends on your Facebook, Twitter, blogs.
Top 100 Quotes About Gospel
#1. For years we have heard the phrase "every member a missionary." That is not a choice. It is a fact of our membership. Our choice is to speak to others about the gospel or not. - Author: Henry B. Eyring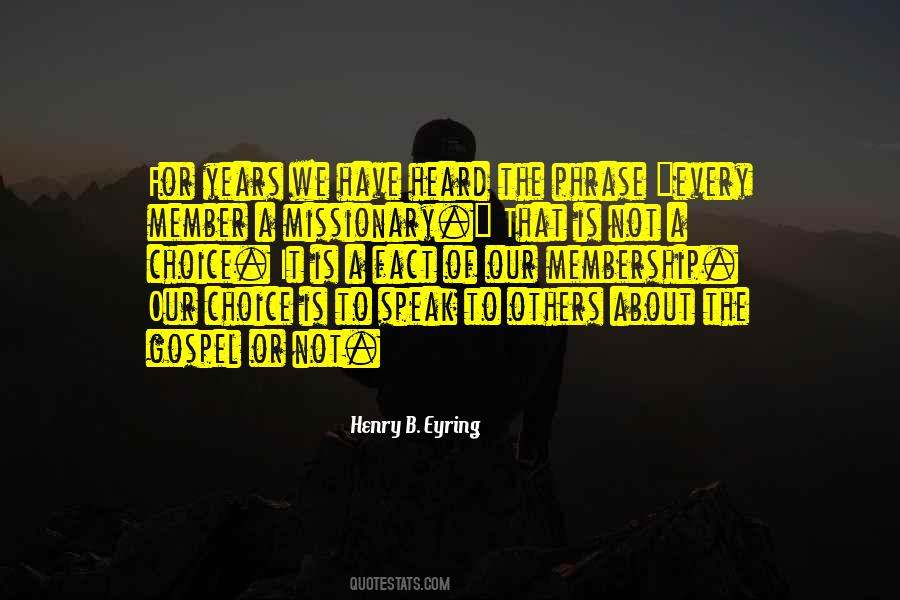 #2. The intensity of our desire to share the gospel is a great indicator of the extent of our personal conversion. - Author: Dallin H. Oaks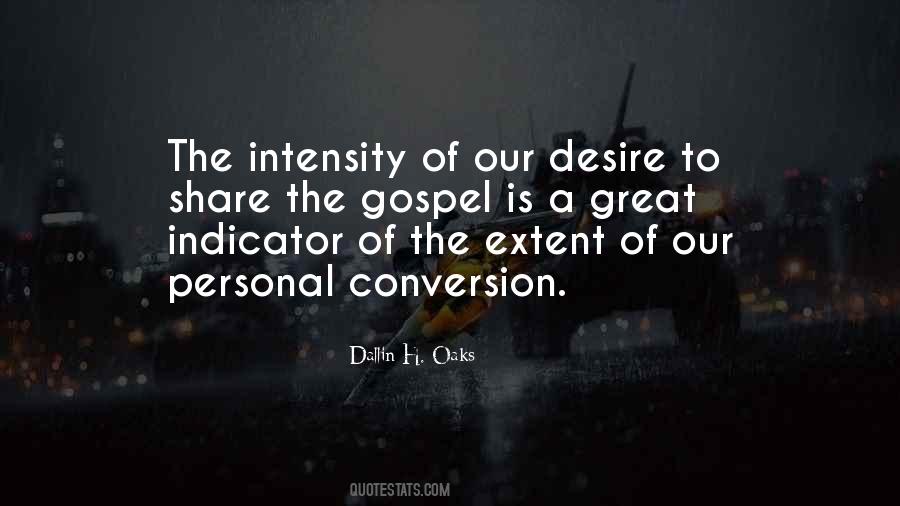 #3. Do not try to make the gospel tasteful to carnal minds. Do not hide the offense of the cross, lest you make it of no effect. - Author: Charles Spurgeon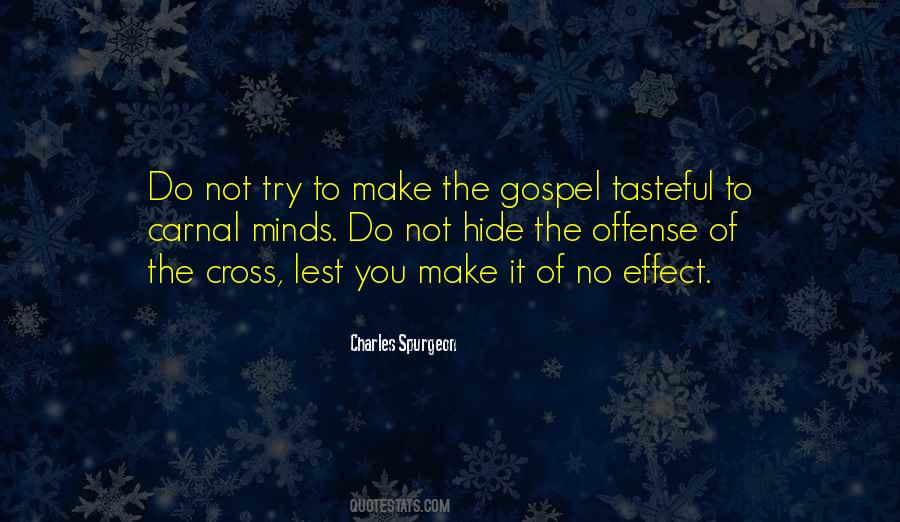 #4. The Trinity is the basis of the gospel, and the gospel is a declaration of the Trinity in action. - Author: J.I. Packer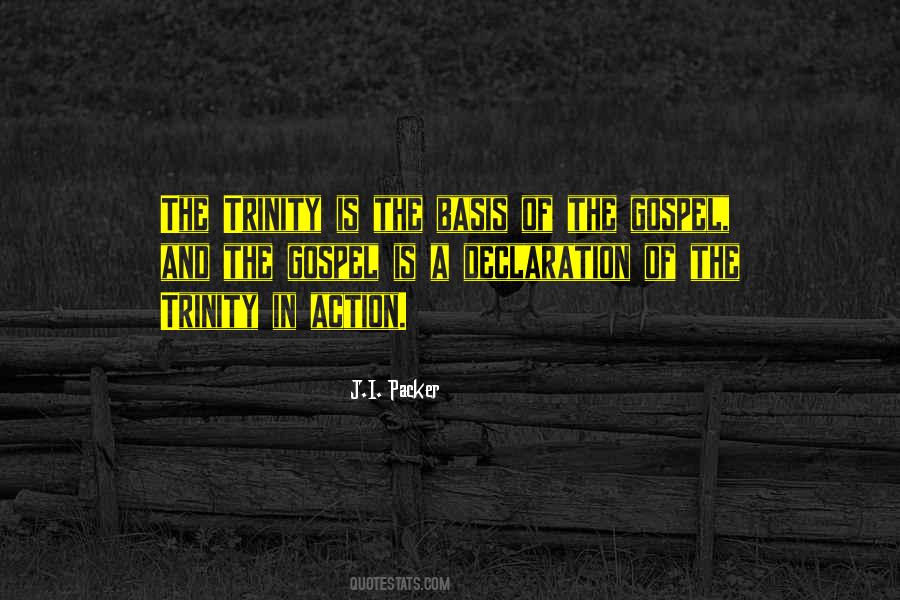 #5. I think she has more gospel style than I do. I think I'm more, umm, you know mainstream I guess. I don't know if we split the vote. That could be possible but I don't think we are the same at all. - Author: LaToya London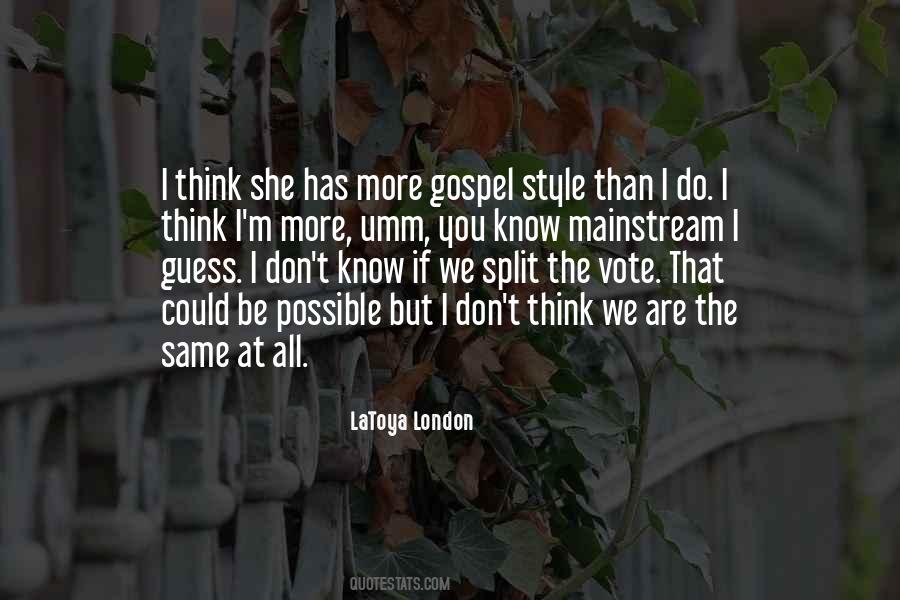 #6. Even if I make a gospel album, my gospel songs are going to get you dancing and crunk. - Author: Chingy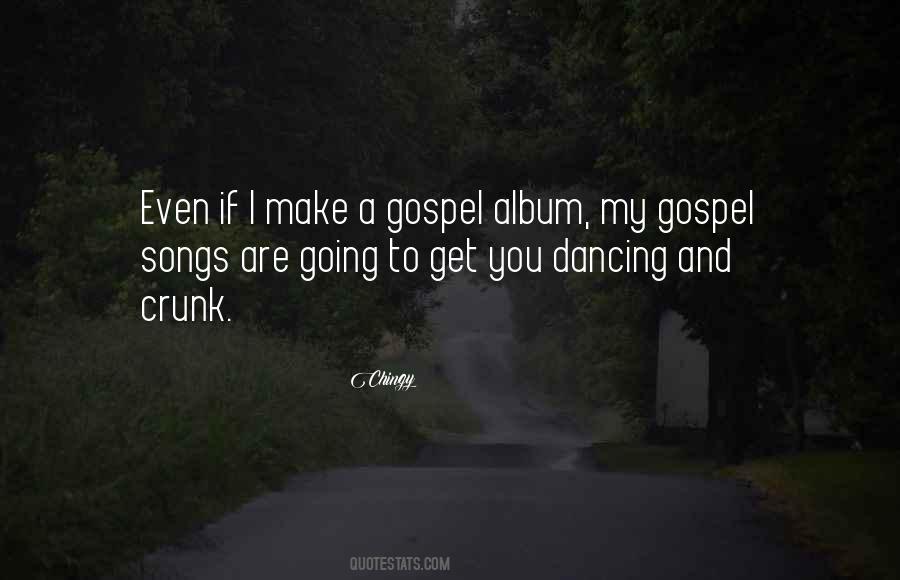 #7. When you share the gospel, you're not calling people to a better way of life, you're proclaiming to them eternal life. - Author: Kevin DeYoung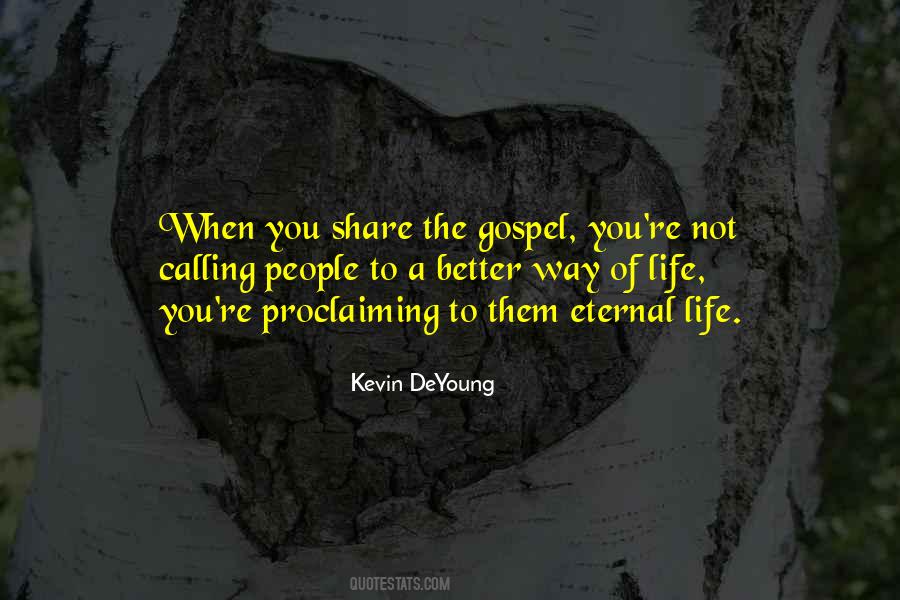 #8. If he have faith, the believer cannot be restrained. He betrays himself. He breaks out. He confesses and teaches this gospel to the people at the risk of life itself. - Author: Martin Luther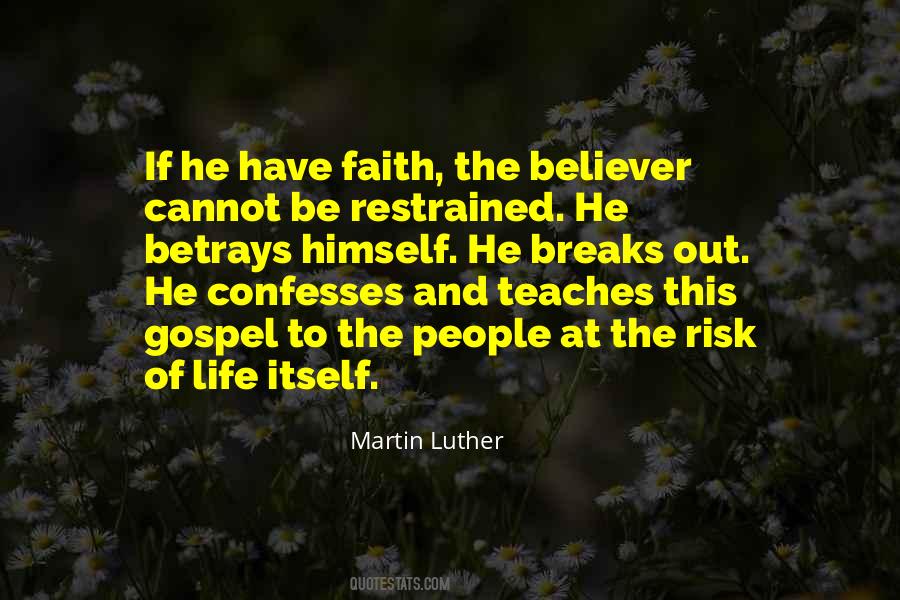 #9. I was raised Christian after age 5, but I didn't really understand it until high school. A friend of mine invited me to his youth group. There I heard the gospel, understood it, and accepted it. - Author: Francis Chan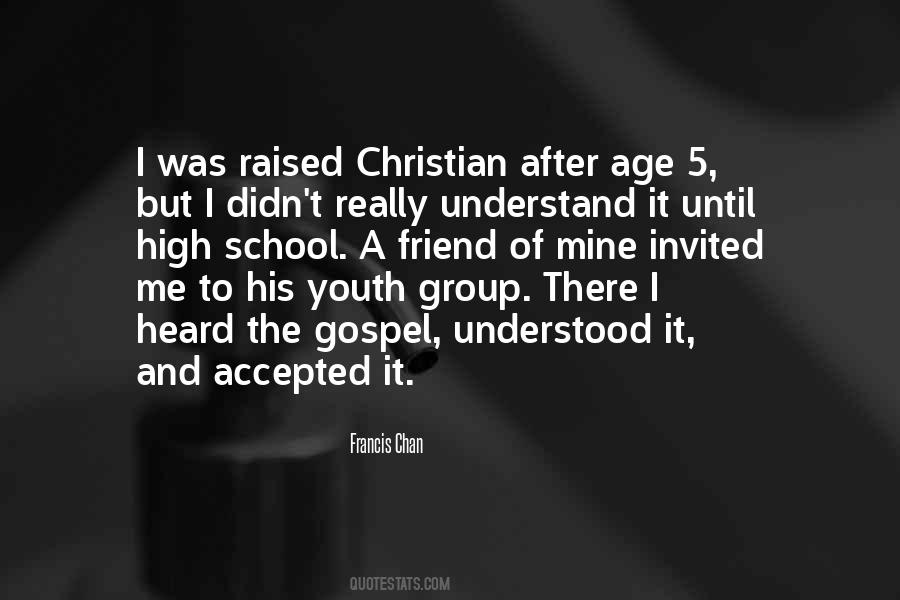 #10. Preach the Gospel with your life - without compromise! - Author: Catherine Doherty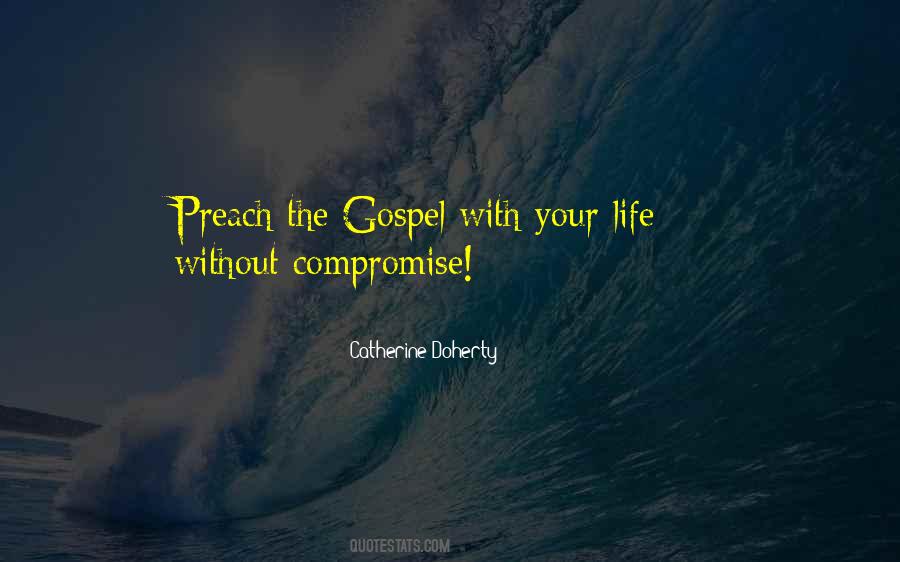 #11. It is possible, it seems, to affirm everything the creed says - especially Jesus's "divine" status and his bodily resurrection - but to know nothing of what the gospel writers were trying to say. Something is seriously wrong here. - Author: N. T. Wright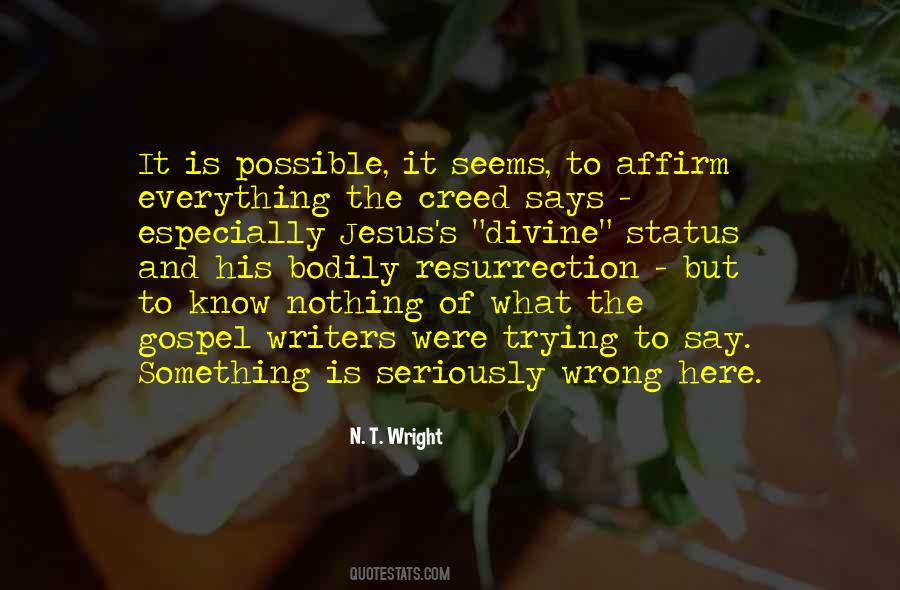 #12. The incarnation (becoming flesh) of God is at the very center of the gospel event by which God restores the true relationship between himself and the human race. - Author: Graeme Goldsworthy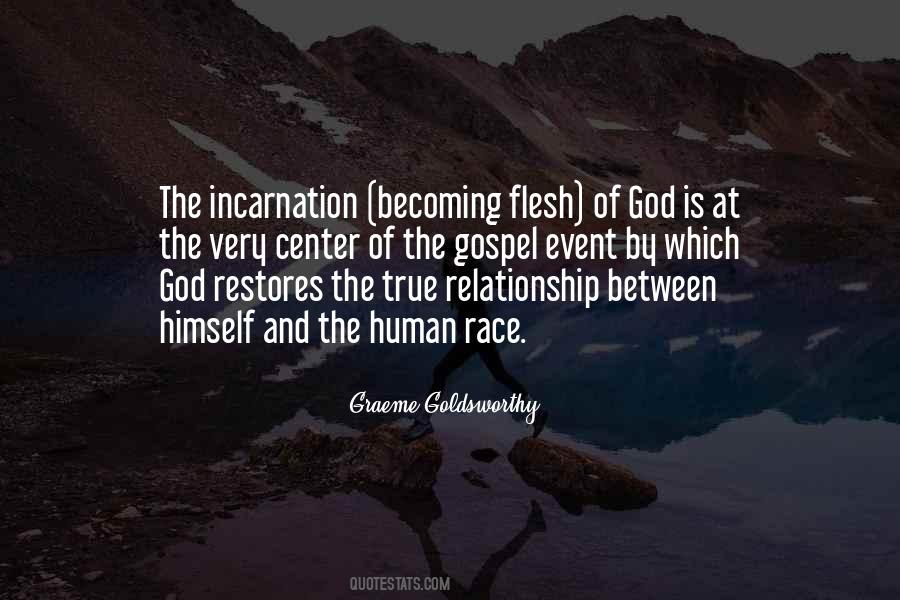 #13. Preachers who talk about everything but the reality of Hell, are likeable betrayers of the Gospel. - Author: Ray Comfort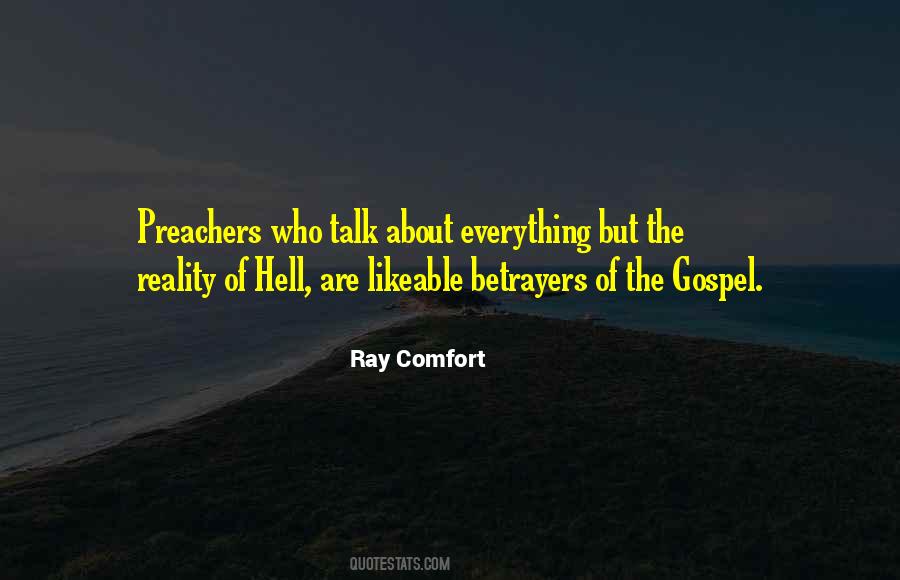 #14. We don't like death. We'd rather produce seeds another way. But death to ourselves, our agendas, our expectations, our hopes is necessary to find deep joy that comes when we fully relinquish ourselves to the gospel. - Author: Mary E. DeMuth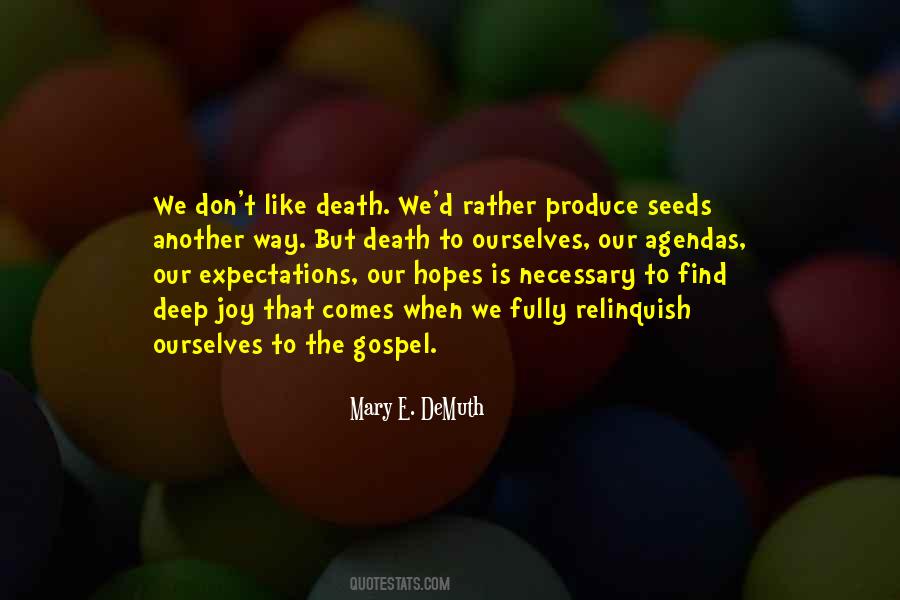 #15. Some parents place undue priority on temporal and material possessions. Some are far less diligent in their efforts to immerse their children in the gospel of Jesus Christ. Remember that having religious observance in the home is as important as providing food, clothing and shelter. - Author: Quentin L. Cook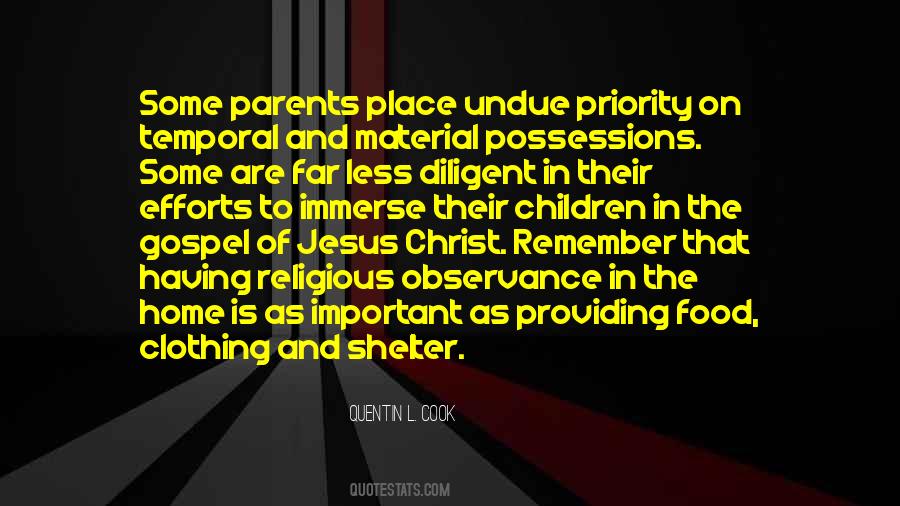 #16. I enjoy bluegrass, folk, gospel, and classical. I don't listen to music when I write. I sometimes listen to music just before I sit down to write. - Author: Kent Haruf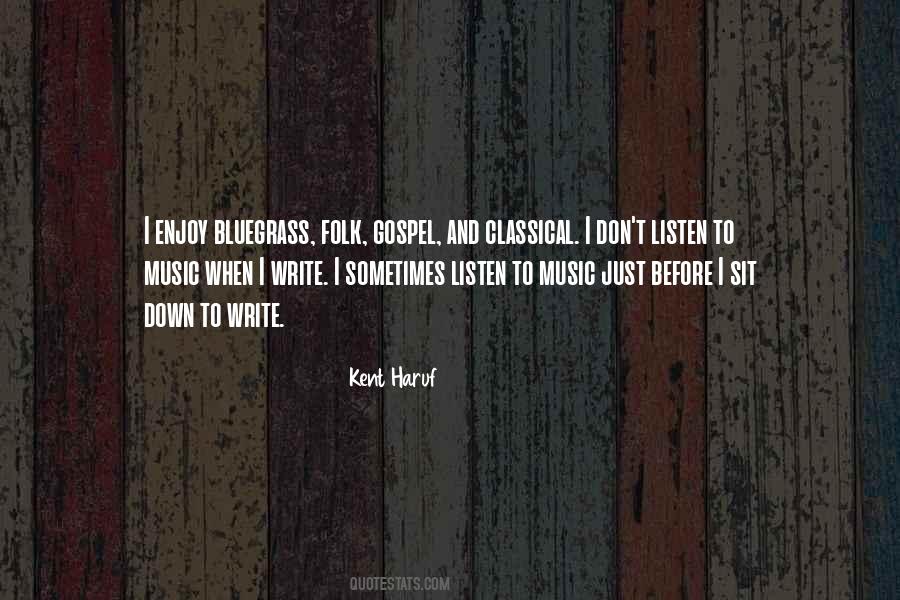 #17. Gospel music was the thing that inspired me as a child growing up on a cotton farm, where work was drudgery and it was so hard that when I was in the field I sang all the time. Usually gospel songs because they lifted me up above that black dirt. - Author: Johnny Cash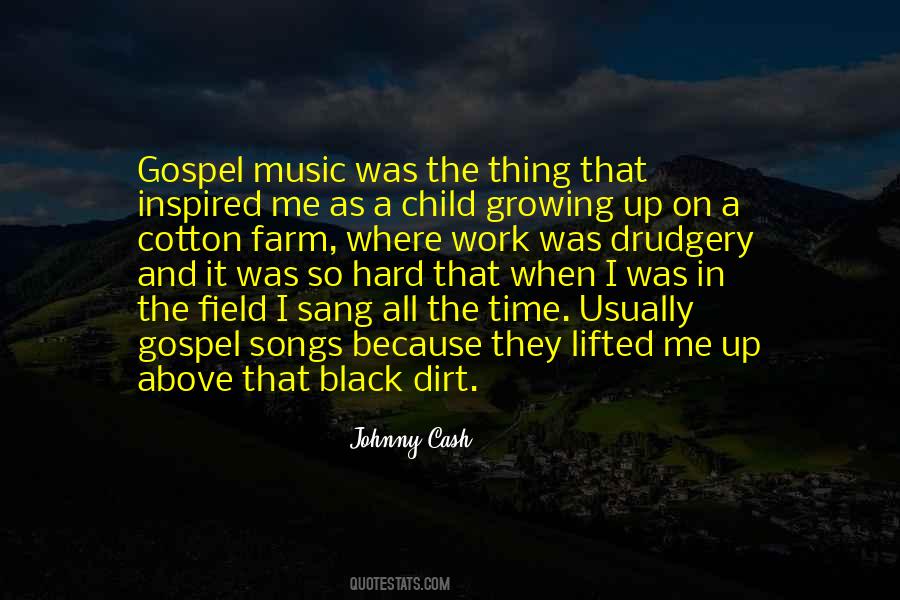 #18. But the word of the Gospel is not as the word of an earthly prince. - Author: John Jewel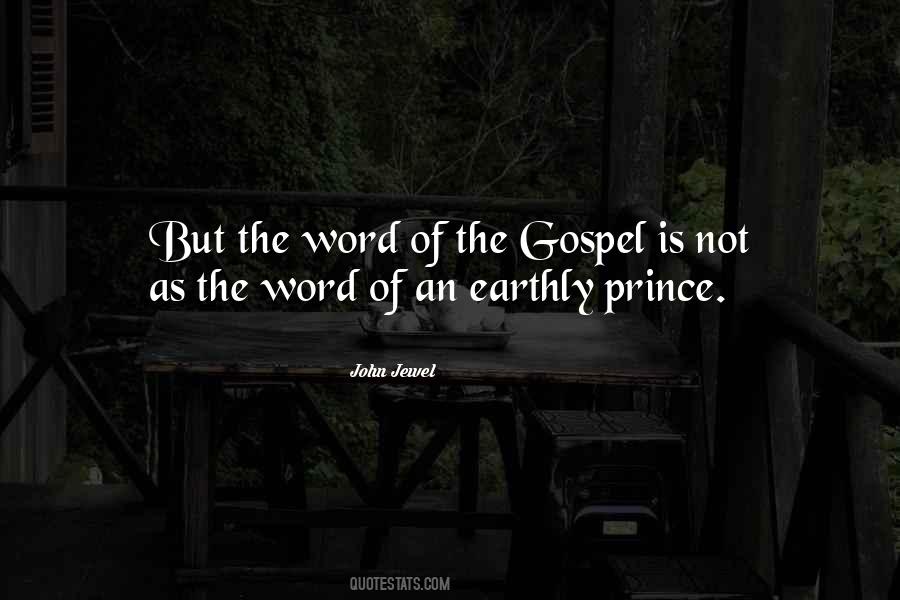 #19. Christianity is a Gospel of crisis. It proclaims unmistakably that this world's days are numbered. - Author: Billy Graham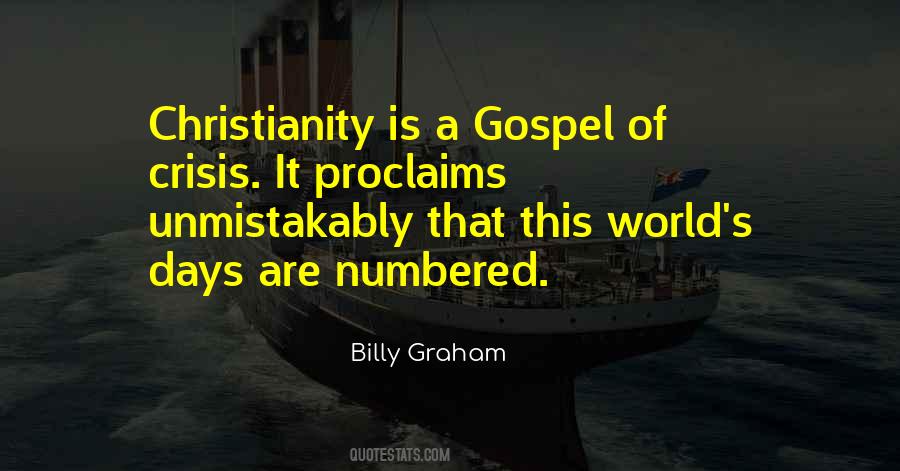 #20. All ages serve and worship the same God, gather under the same gospel and add to the collective song that praises the faithfulness of God as each generation shares in his promises to us. - Author: Keith Getty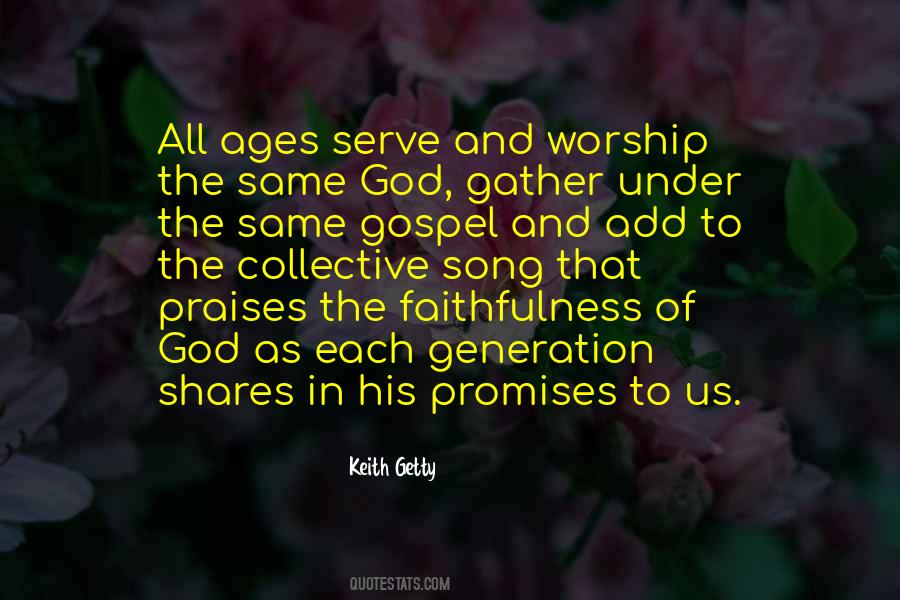 #21. And thus I aspire to preach the gospel, not where Christ was already named so that I would not build on another man's foundation. - Author: Paul The Apostle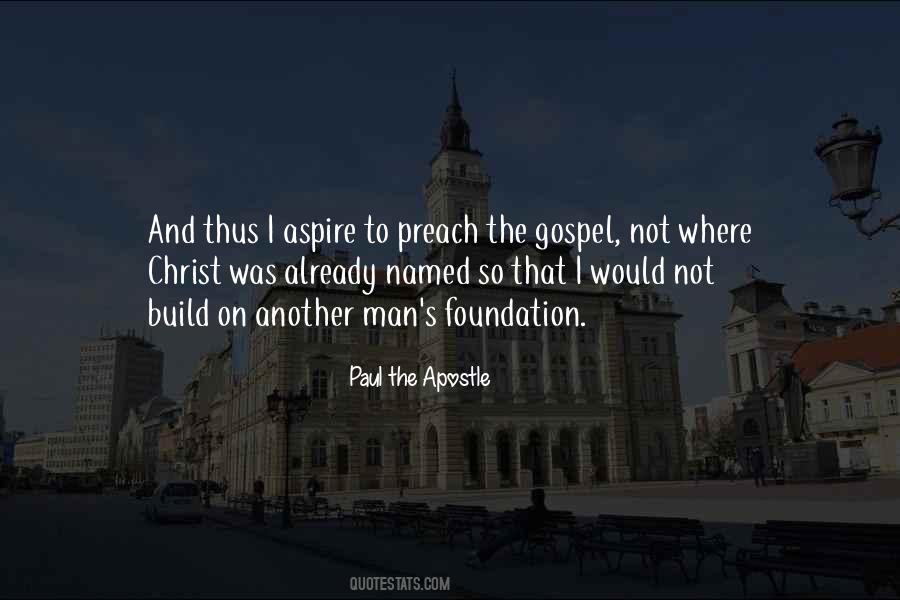 #22. While the goal of the American dream is to make much of us, the goal of the gospel is to make much of God. - Author: David Platt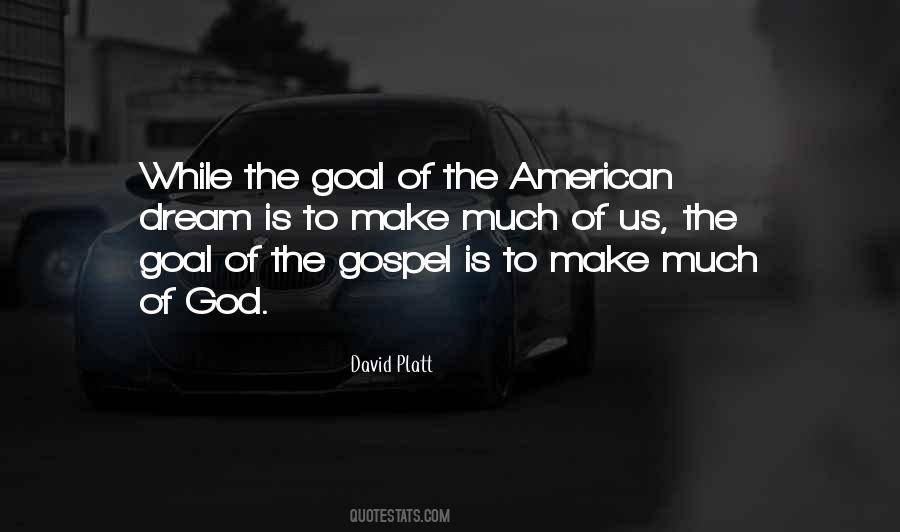 #23. The true disciple should aim to live for the gospel, rather than to die for it. - Author: Saadi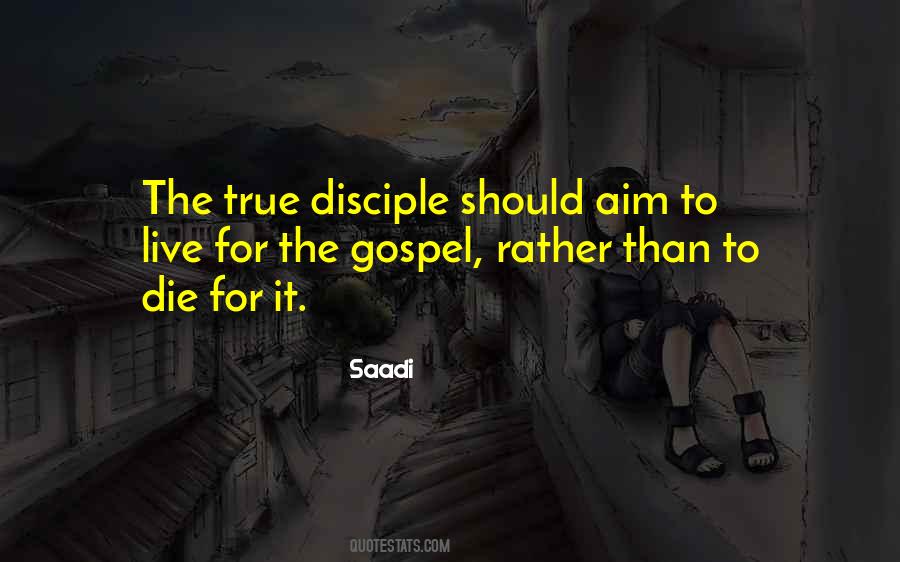 #24. The message of biblical Christianity is 'God loves me so that I might make him- his ways, his salvation, his glory, and his greatness- known among all nations.' Now God is the object of our faith, and Christianity centers around him. We are not the end of the gospel; God is' - Author: David Platt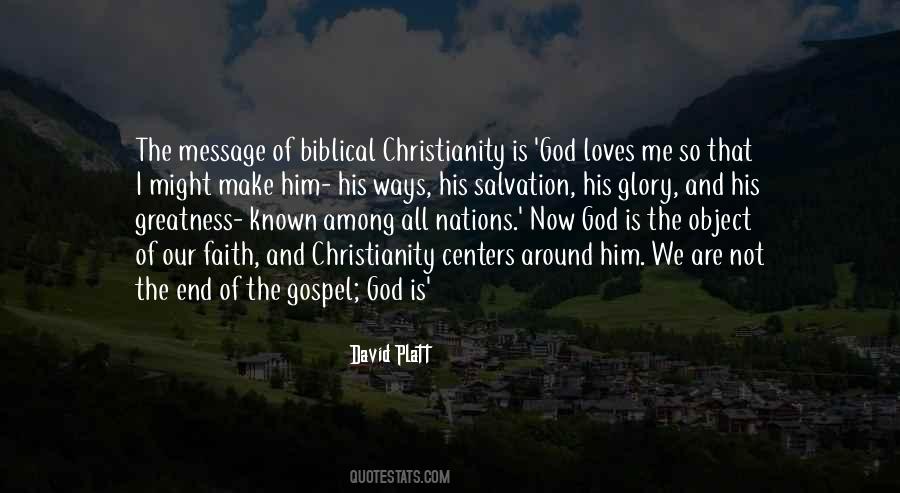 #25. People with tattoos are like evangelicals, ever eager to spread their gospel. - Reagan - Author: Emery Lord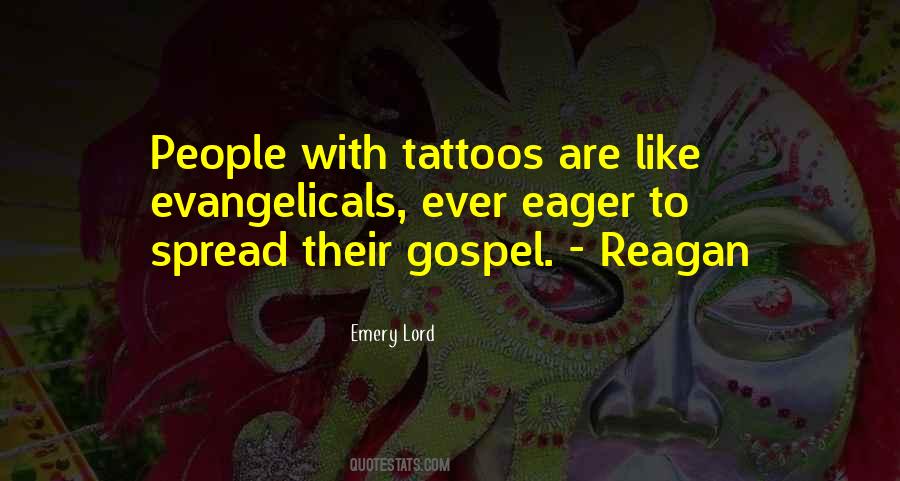 #26. The gospel is this: We are more sinful and flawed in ourselves than we ever dared believe, yet at the very same time we are more loved and accepted in Jesus Christ than we ever dared hope. - Author: Timothy Keller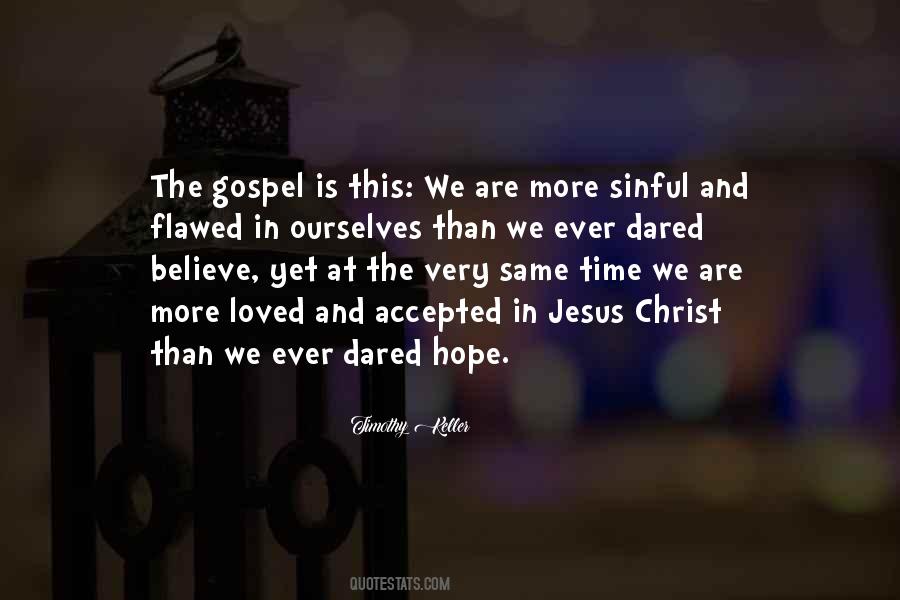 #27. Whether we "spiritualize" our life or "secularize" our religion, whether we invite men to a spiritual banquet or simply join them at the secular one, the real life of the world, for which we are told God gave his only begotten Son, remains hopelessly beyond our religious grasp. - Author: Alexander Schmemann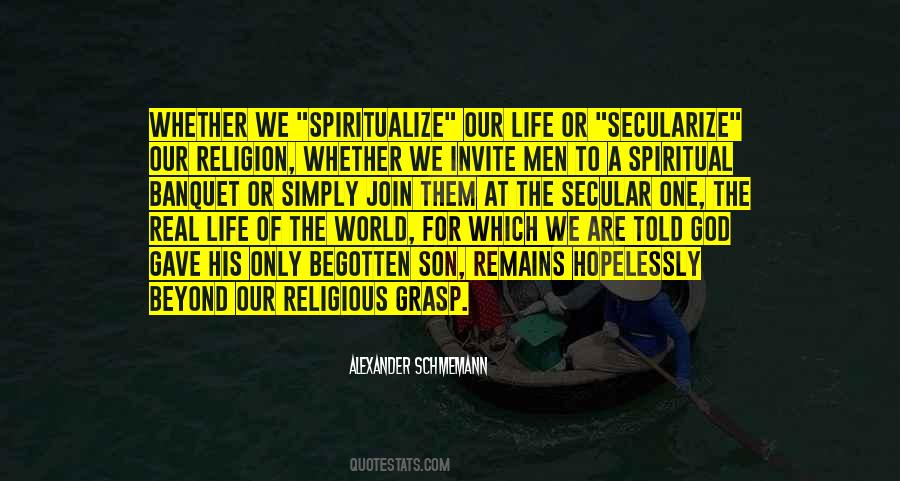 #28. The Law terrorizes the conscience. The Law reveals the wrath and judgment of God. The Gospel does not threaten. The Gospel announces that Christ is come to forgive the sins of the world. The Gospel conveys to us the inestimable treasures of God. - Author: Martin Luther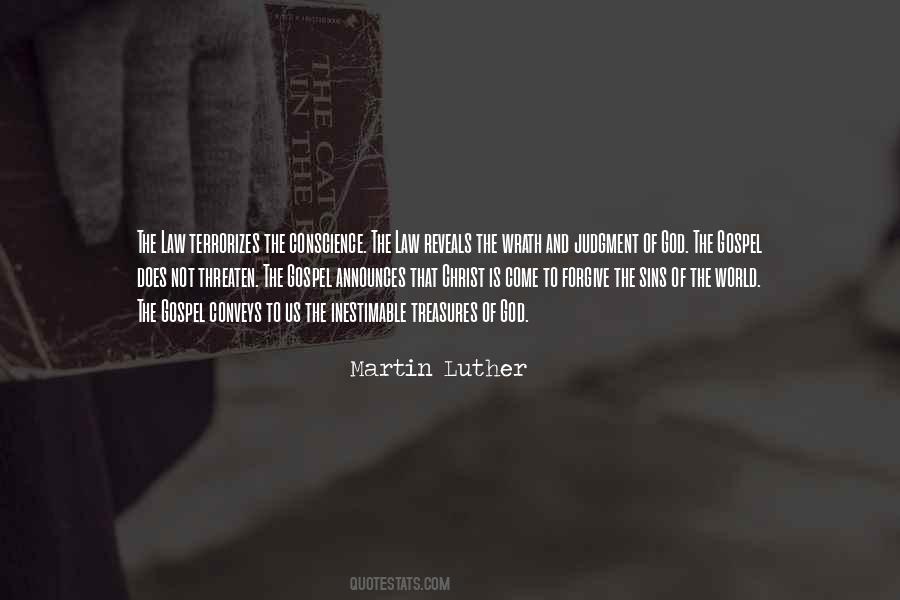 #29. Never lose heart in the power of the gospel. Do not believe that there exists any man, much less any race of men, for whom the gospel is not fitted. - Author: Charles Spurgeon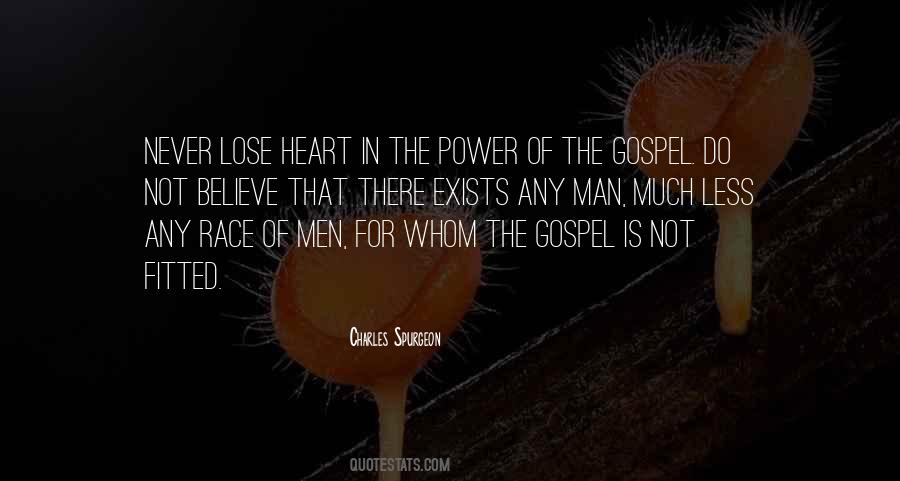 #30. Poverty alleviation occurs when the power of Christ's resurrection reconciles our key relationships through the transformation of both individual lives and local, national, and international systems. - Author: Brian Fikkert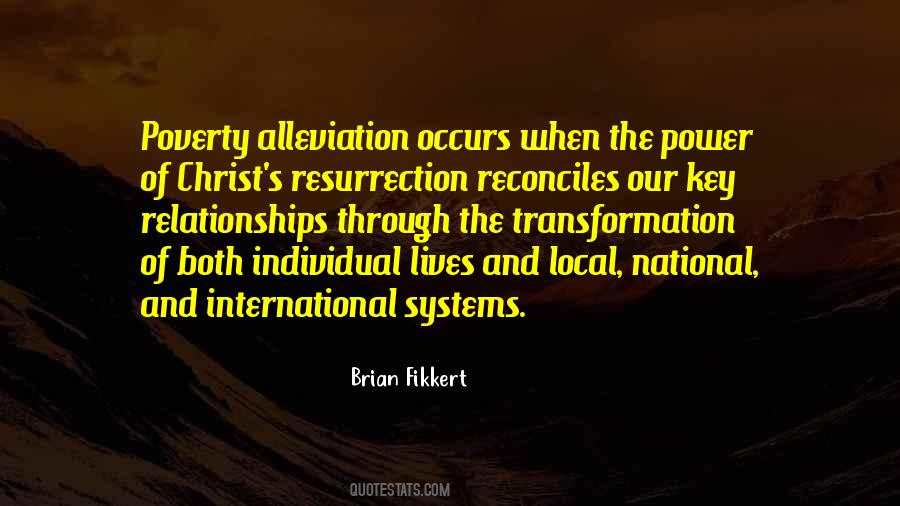 #31. We shall understand why a Christian observes laws: For the peace of the world, out of gratitude to God, and for a good example that others may be attracted to the Gospel. - Author: Martin Luther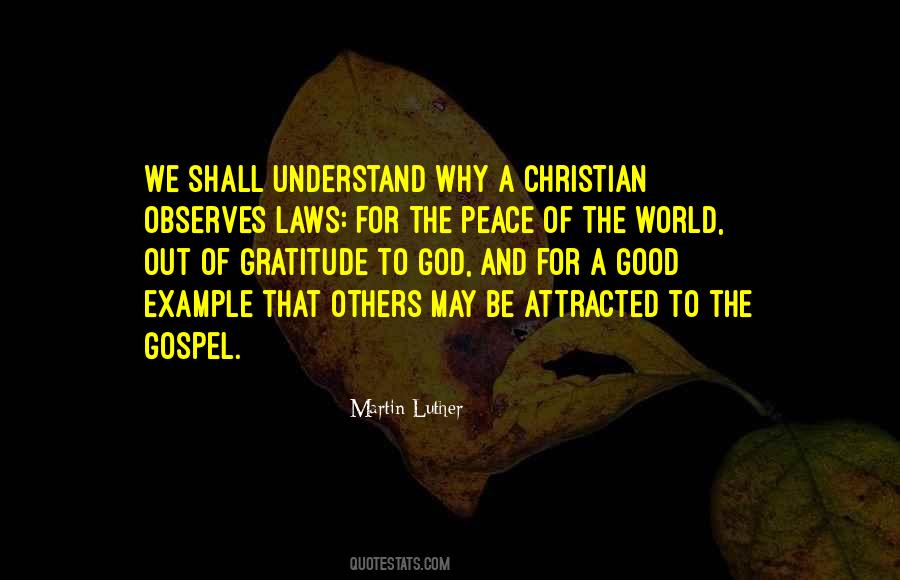 #32. Marriage is not mainly about being or staying in love. It's mainly about telling the truth with our lives. It's about portraying something true about Jesus Christ and the way He relates to his people. It is about showing in real life the glory of the gospel. - Author: John Piper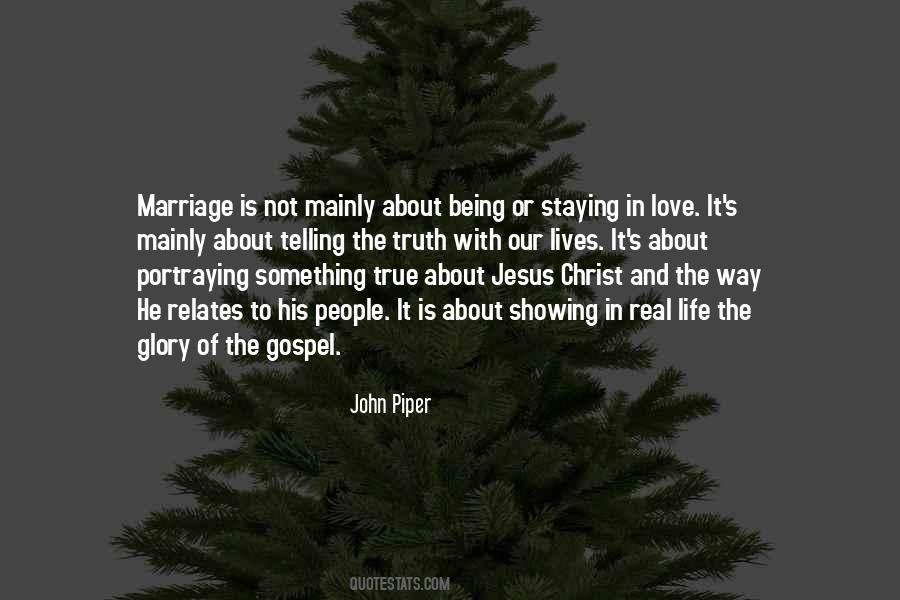 #33. Men may not read the gospel in sealskin, or the gospel in morocco, or the gospel in cloth covers, but they can't get away from the gospel in shoe leather. - Author: Donald Barnhouse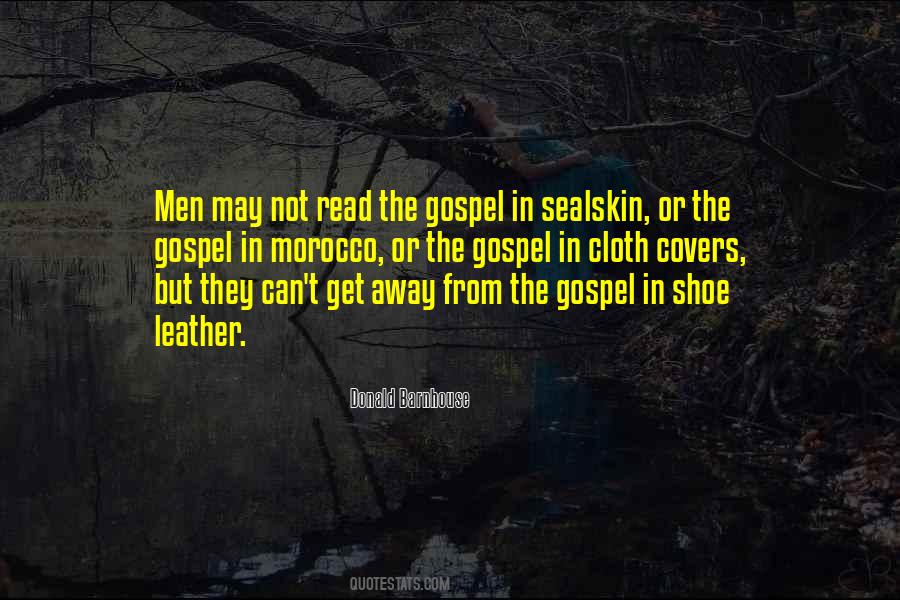 #34. The gospel creates a new reality that deepens our understanding of the world and our place in it. - Author: Matt Chandler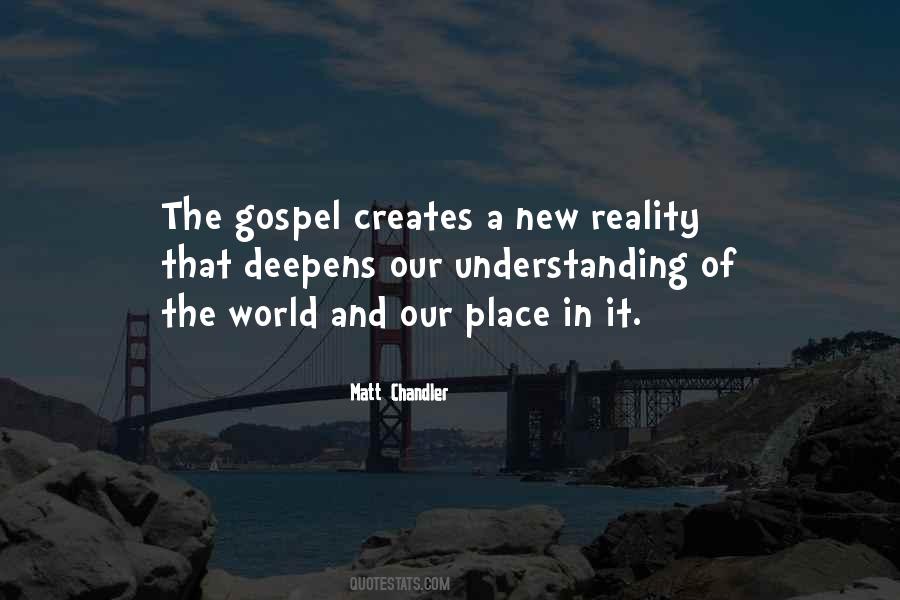 #35. The gospel doesn't make bad people good; it makes dead people alive. - Author: Tullian Tchividjian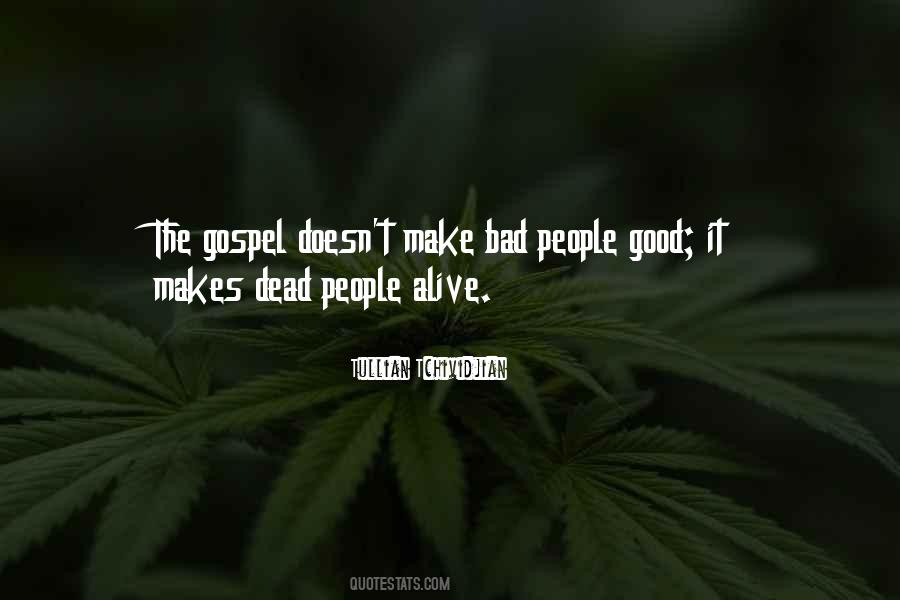 #36. Jesus said when you pray say "Our Father which art in heaven." He did not say "Our Judge which art in heaven". #grace #gospel - Author: John Paul Warren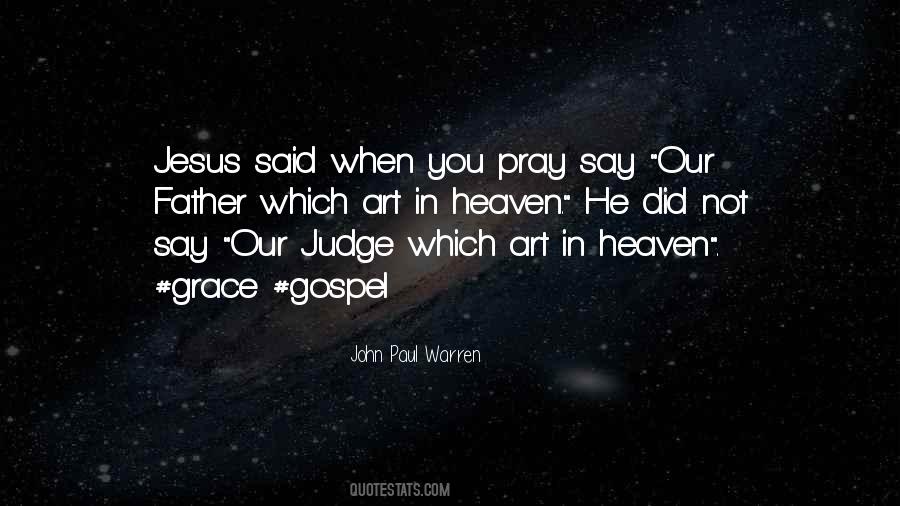 #37. The Gospel lives in conversation with culture, and if the Church holds back from the culture, the Gospel itself falls silent. Therefore, we must be fearless in crossing the threshold of the communication and information revolution now taking place. - Author: Pope John Paul II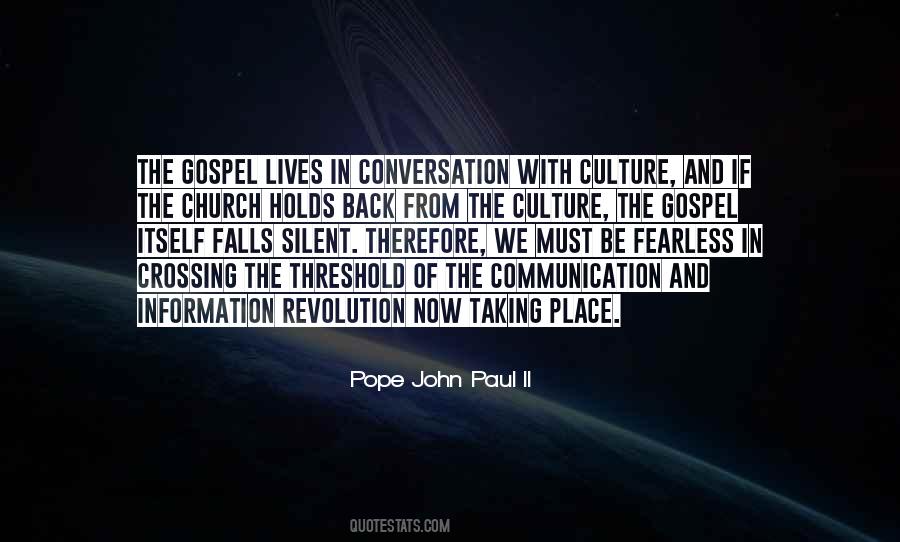 #38. Listening to gospel messages does not mean you are serving God - Author: Sunday Adelaja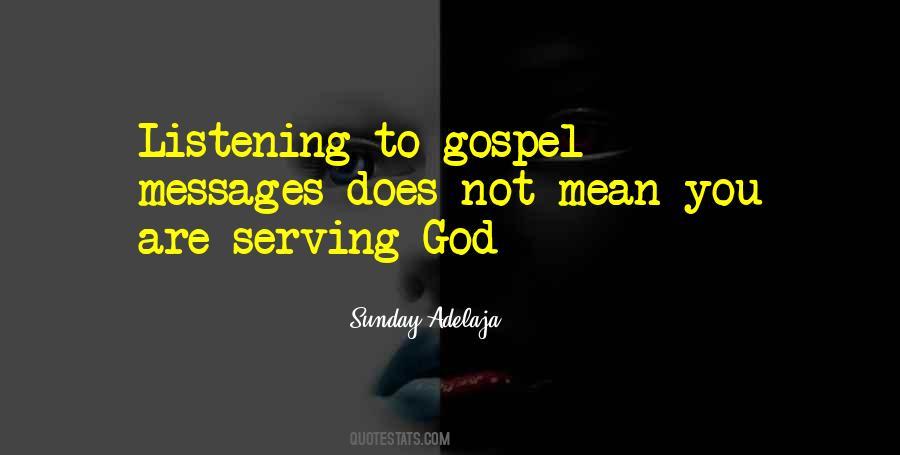 #39. Finally, a principal reason for the lack of attention to "unclean spirits" and Jesus' "acts of power" in the Gospel stories is surely the modern "scientific" frame of mind that developed in the wake of the Enlightenment reduction of reality to what was natural and comprehensible by reason. - Author: Richard A. Horsley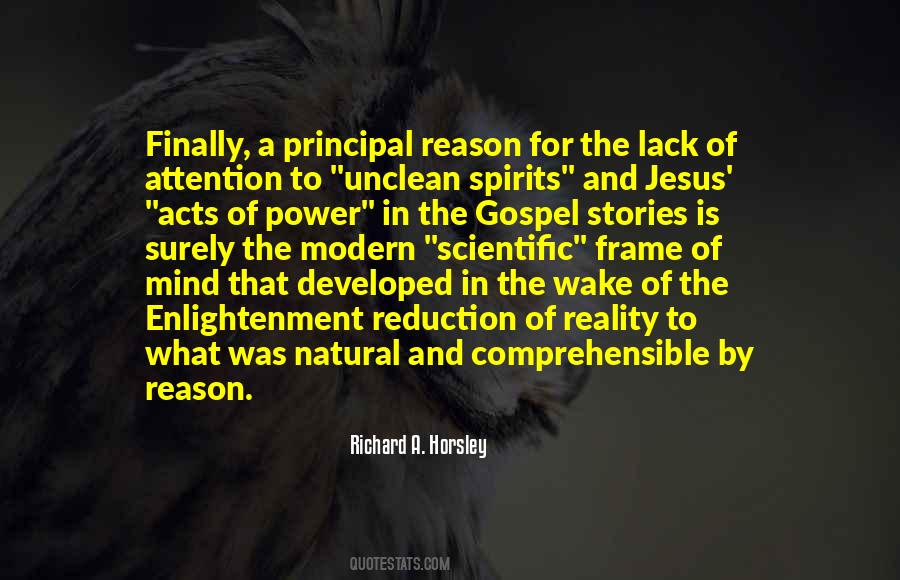 #40. No matter in what land we may dwell the Gospel of the Lord Jesus Christ makes us brothers and sisters, interested in each other, eager to understand and know each other. - Author: Heber J. Grant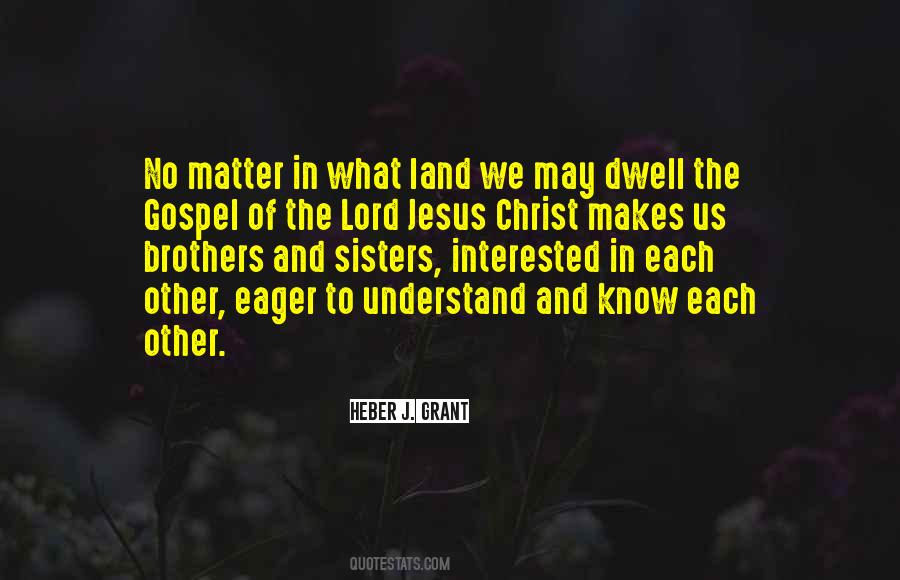 #41. Nowhere in Mark 16:15 - "Go ye into all the world, and preach the gospel to every creature" [KJV] - nor in any similar Scripture did Christ command us to go only into the Western or capitalist world. Nowhere did He say to exclude the Communist world. - Author: Billy Graham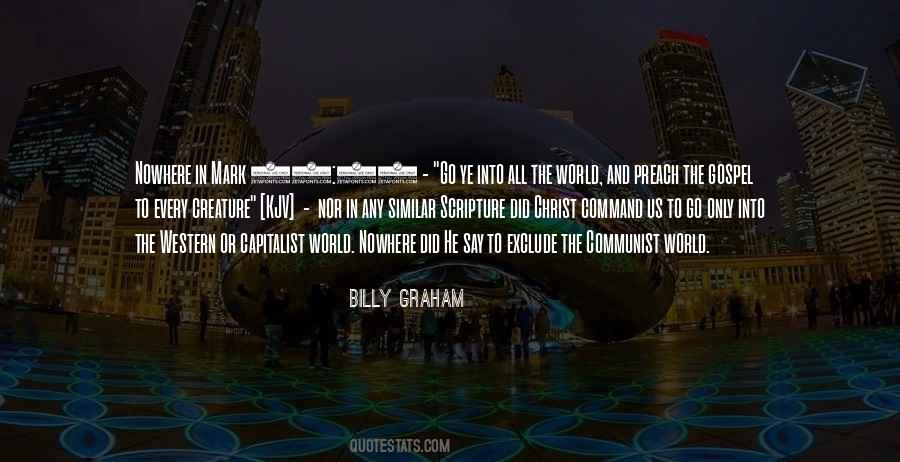 #42. Lord, we need a generation of believers who are not ashamed of the gospel. We need an army of believers who hate to be lukewarm and will stand on Your Word above all else. Raise 'em up, Lord. Raise them up. - Author: Chris Fabry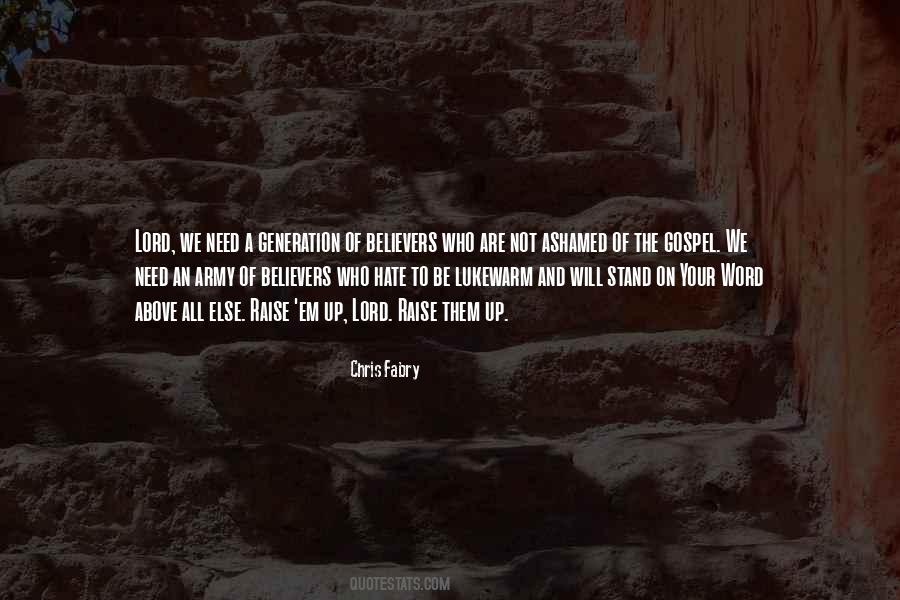 #43. If you believe what you like in the Gospel, and reject what you don't like, it is not the Gospel you believe, but yourself. - Author: Augustine Of Hippo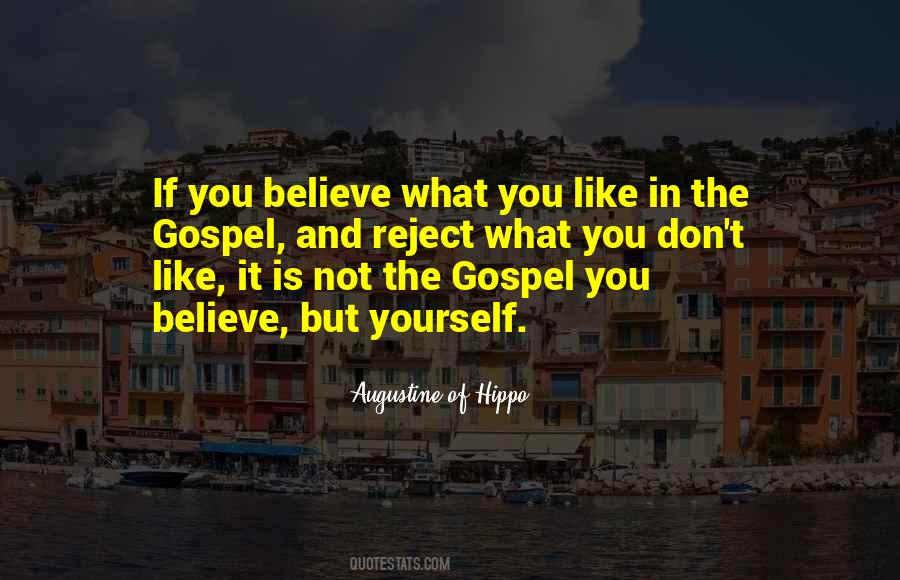 #44. What the situation will be like in the world before the Lord returns, namely, Christ will be despised, and the preachers of the Gospel will be regarded as fools. - Author: Martin Luther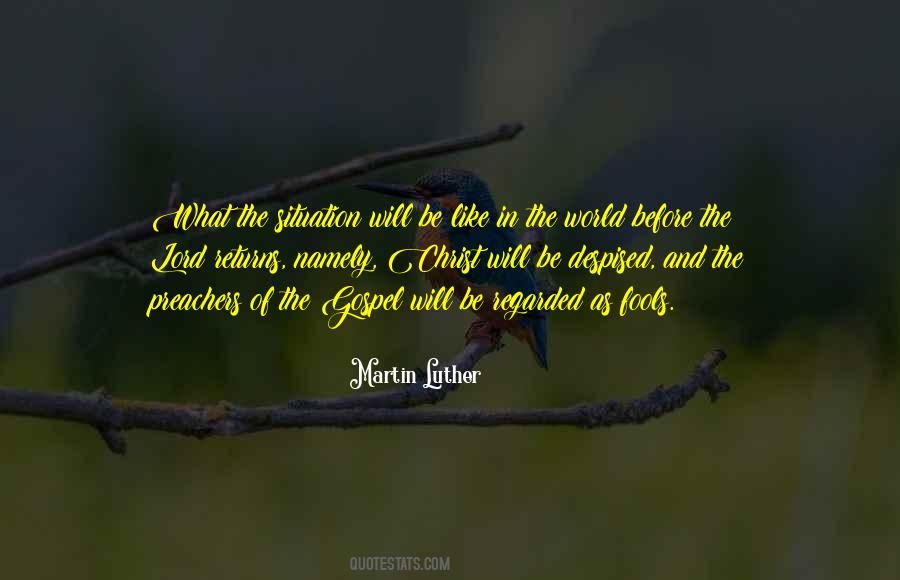 #45. We only grasp the gospel when we understand, as Paul did, that we are the worst sinner we know (1 Timothy 1:15) - and that if Jesus came to die for us, there is no one that he would not die for. - Author: Timothy Keller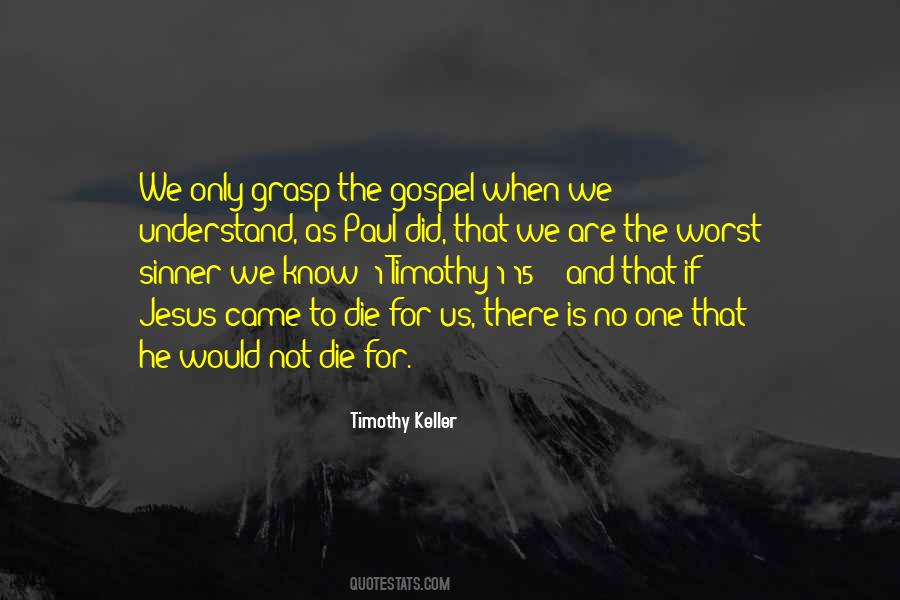 #46. God writes the gospel not in the Bible alone, but on trees and flowers and clouds and stars. - Author: Martin Luther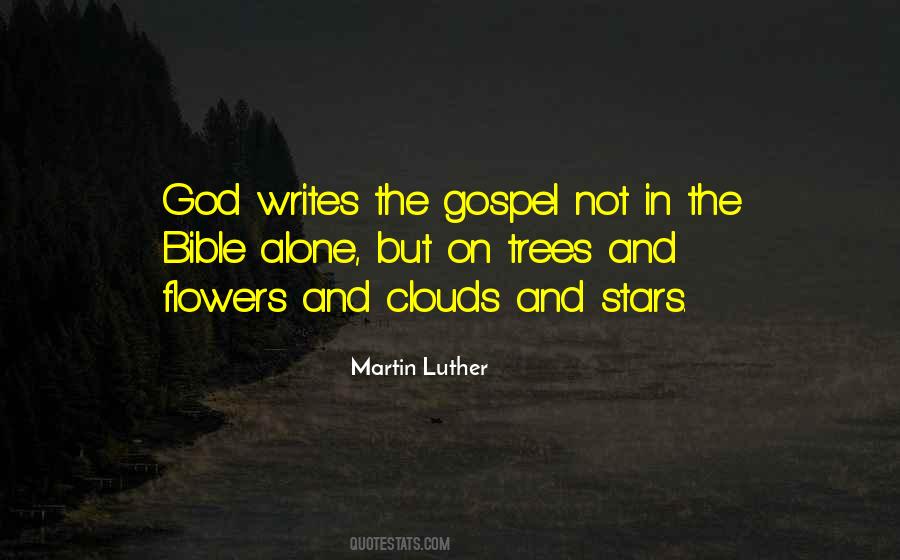 #47. To begin with, with the possible exception of the gospel of Luke, none of the gospels we have were written by the person after whom they are named. - Author: Reza Aslan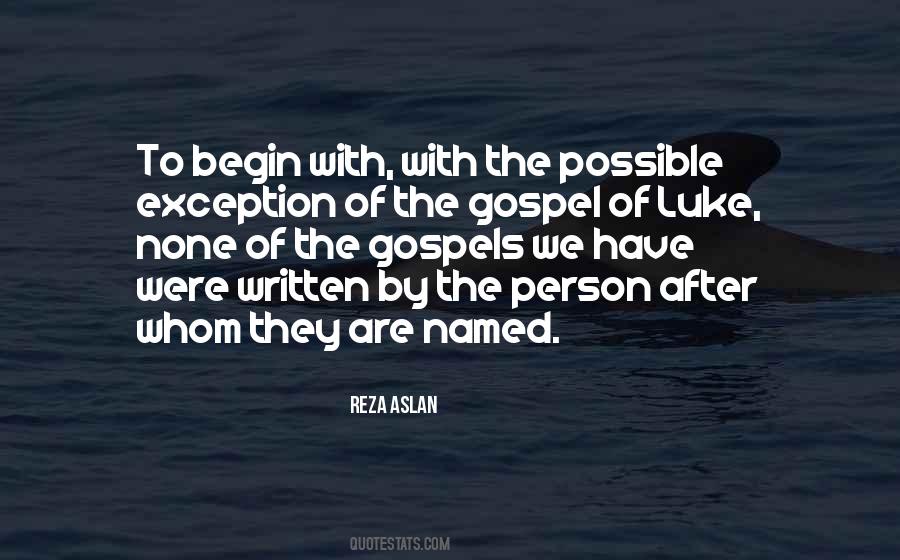 #48. The Gospel is this: You're more sinful, evil and weak than you'd ever believe. But you're more valued, accepted and loved than you dared hope. - Author: Timothy Keller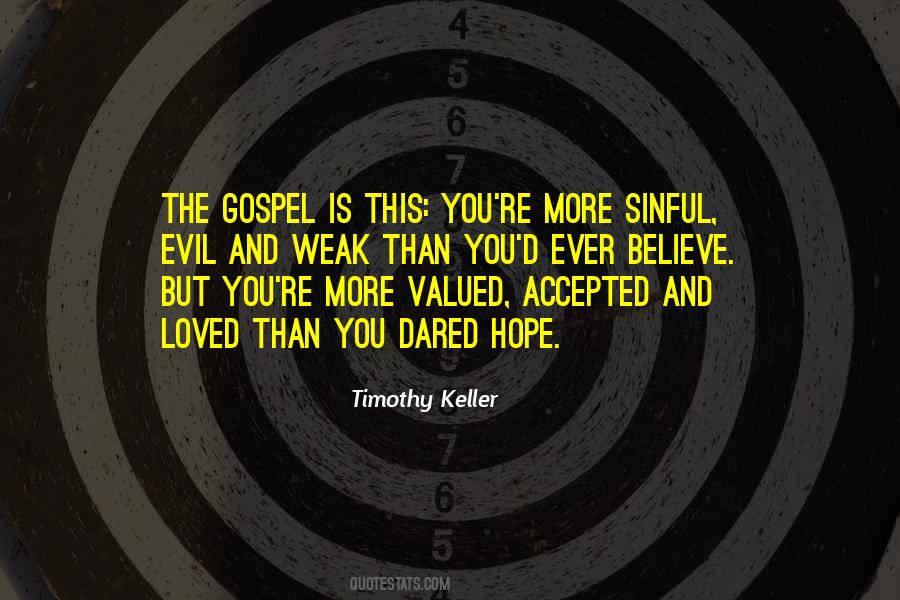 #49. There is no such thing as a harmless addition to the gospel. - Author: Erwin W. Lutzer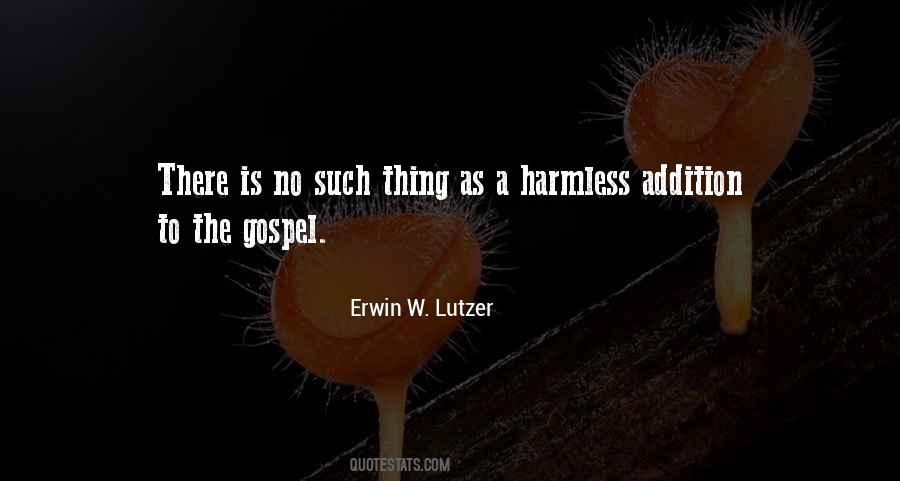 #50. Discipleship and spiritual formation are less about erecting an edifice of knowledge than they are a matter of developing a Christian know-how that intuitively understands the world in light of the Gospel. - Author: James K.A. Smith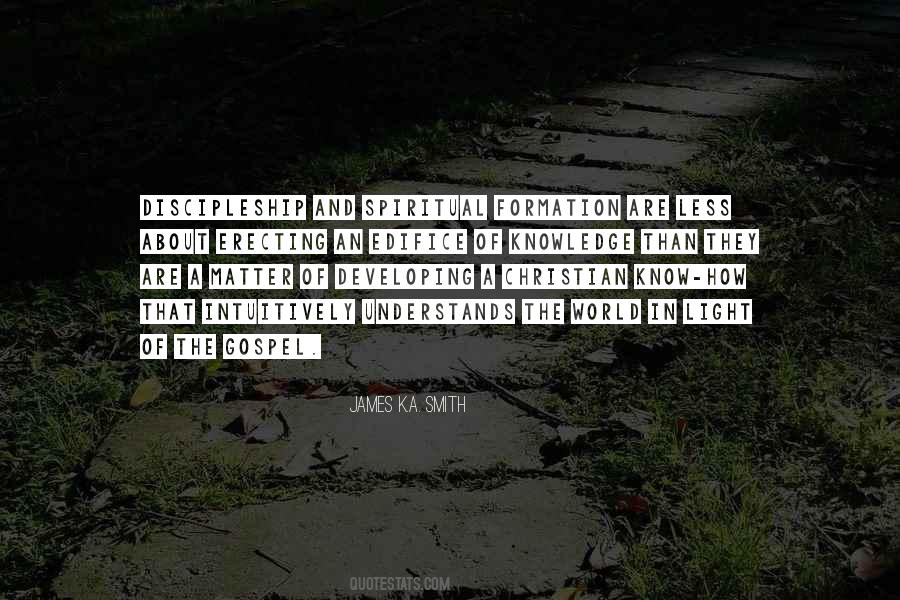 #51. I owe my life and hope to the gospel. - Author: John Piper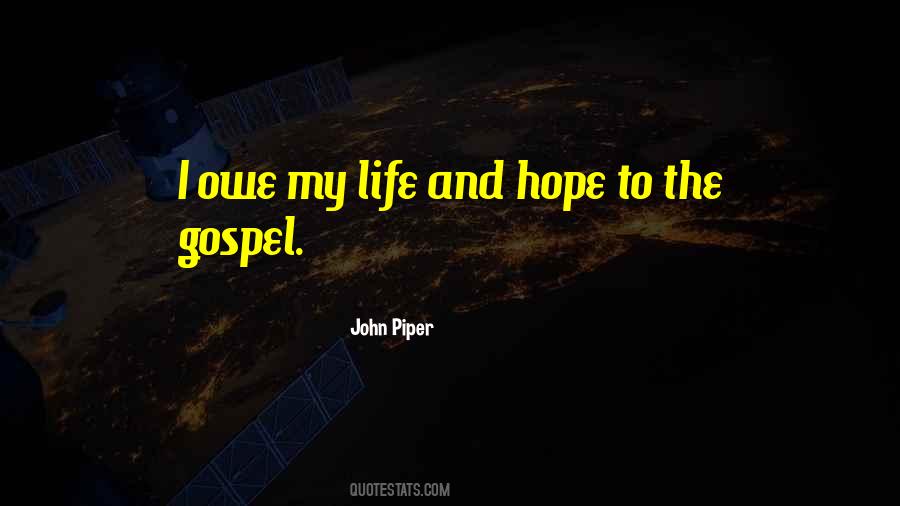 #52. It is only a matter of time till the reality of the rest of the world comes home. And all the while we are called by Christ to go to them, love them, sacrifice for them, bring the gospel to them. The Great Commission is not child's play. It is costly. Very costly. - Author: John Piper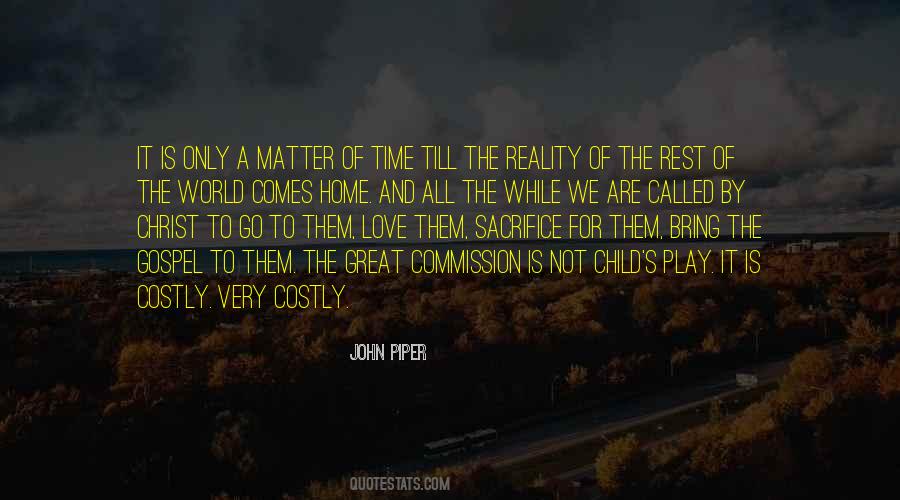 #53. The gospel is so valuable that no risk is unreasonable. Life is gained by laying it down for the gospel. If I live, I win and get to keep on preaching Christ. If I die, I win bigger by going directly to be with Christ... - Author: David Sitton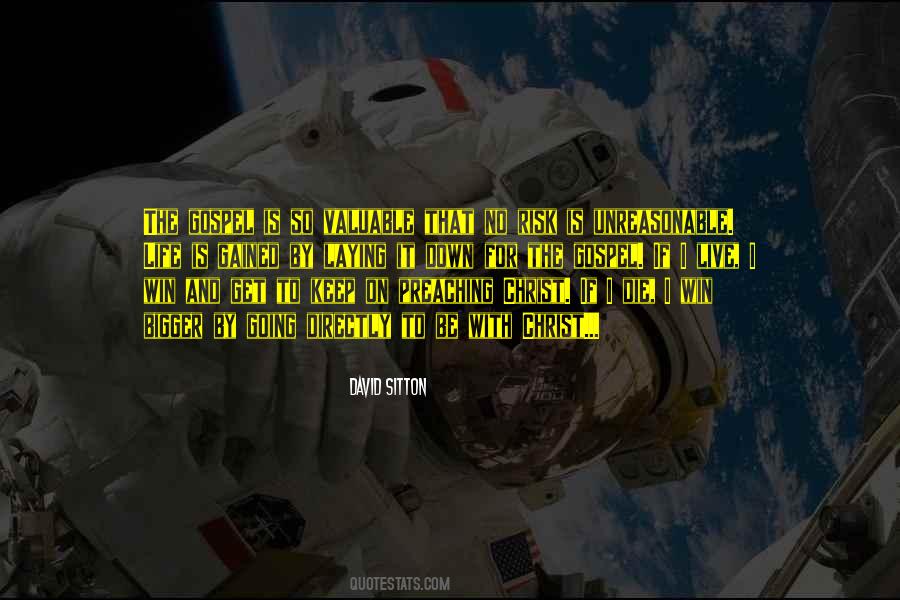 #54. That's the fantasy dream project, to collaborate with someone who preaches the gospel of art through music. - Author: Frances Stark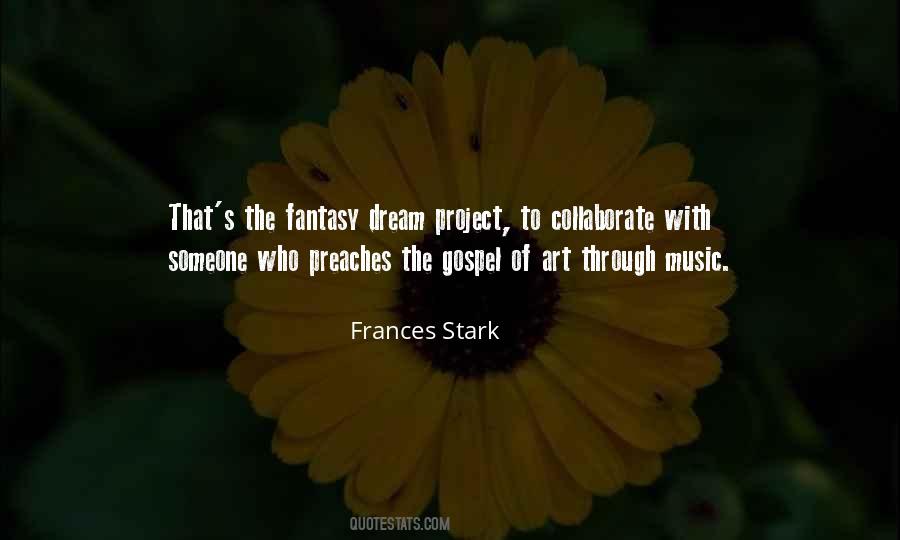 #55. The gospel is meant to control and govern everything in our lives. - Author: David Lloyd-Jones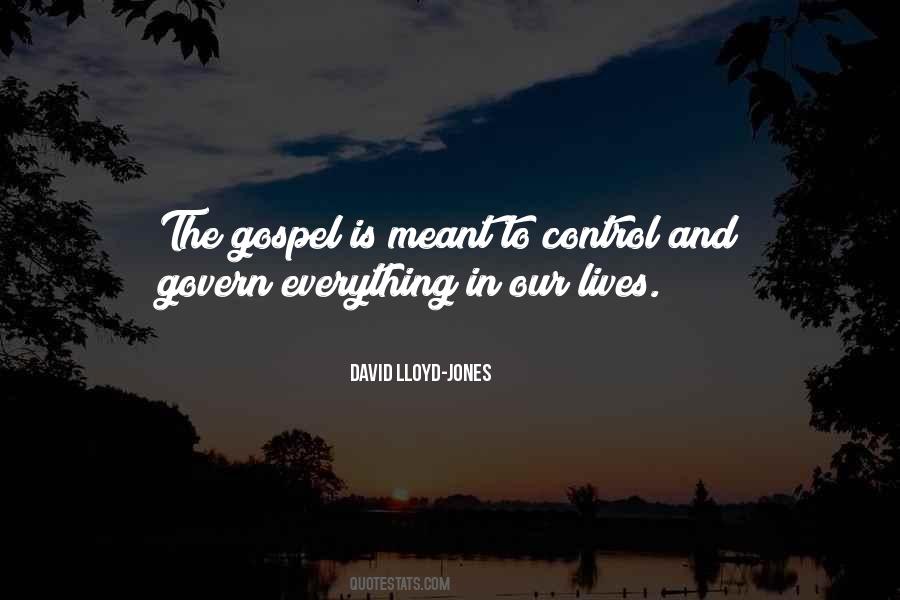 #56. The gospel of Jesus Christ is for everyone. We are all significant parts of the whole. I never think of myself as single; I think of myself as Sheri, a member of the Lord's Church. - Author: Sheri L. Dew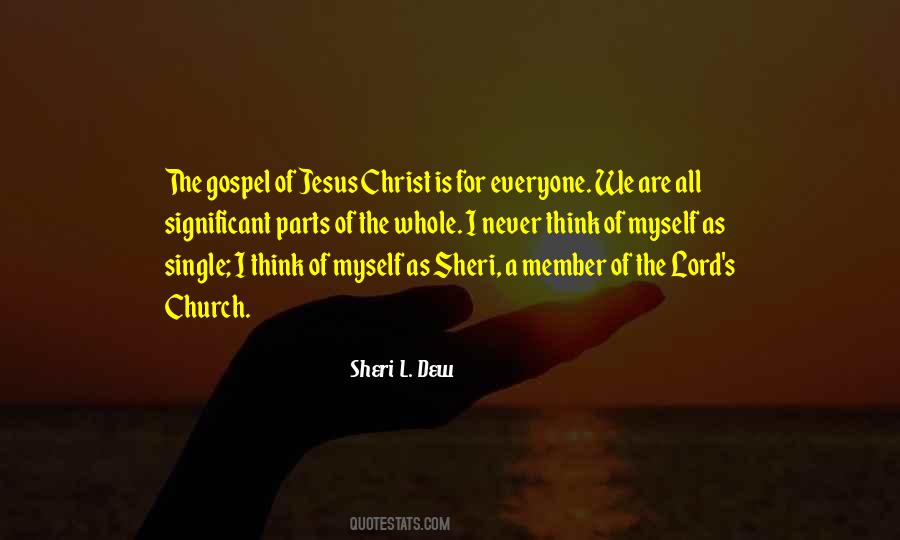 #57. When we preach Christ crucified, we have no reason to stammer, or stutter, or hesitate, or apologize; there is nothing in the gospel of which we have any cause to be ashamed. - Author: Charles Spurgeon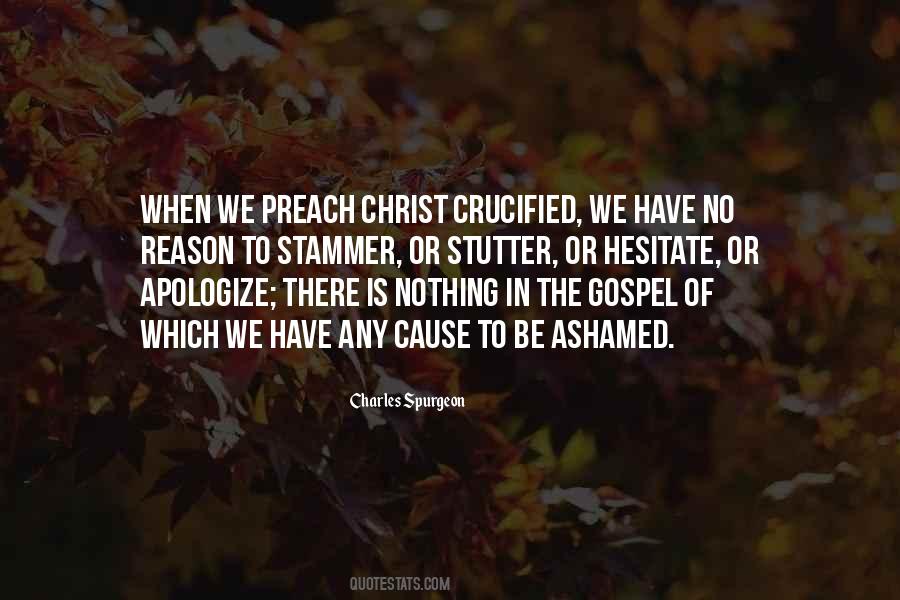 #58. Our job in gospel is not going away. It's a sustainable genre. It sells - without question. - Author: Marvin Sapp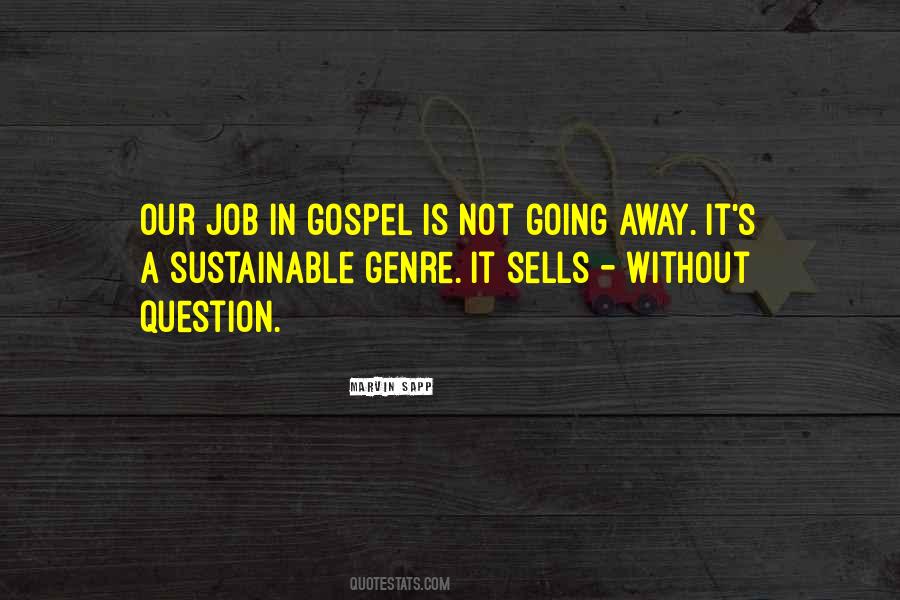 #59. Bible prophecy helps us to better understand the future and realize the urgent need to spread the Gospel. It motivates us to personal purity and gives us hope in a hopeless age. - Author: Tim LaHaye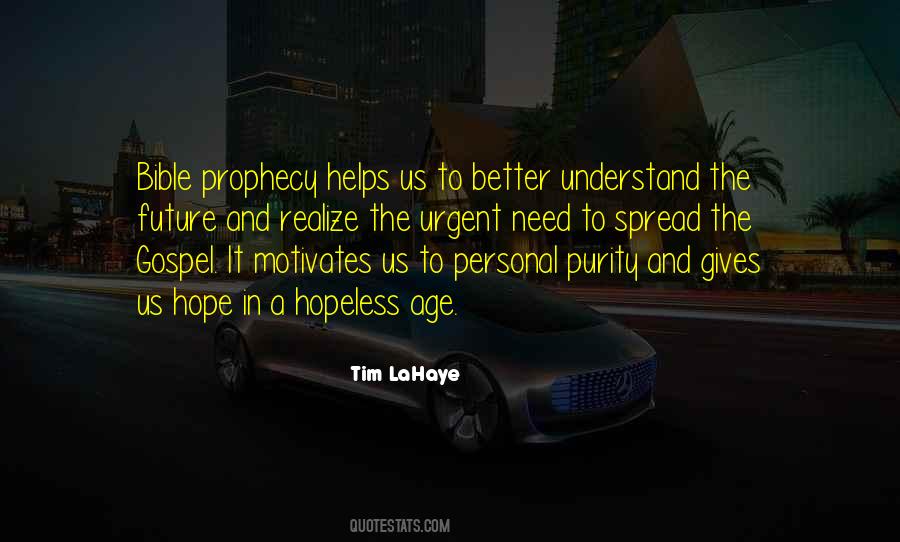 #60. Can we overcome our anger, instead of constantly being overcome by it? Yes - with God's help. Peter's anger was channeled into boldness for Christ. Paul's anger against Christians was replaced with a burning passion to spread the Gospel. Is this your goal? - Author: Billy Graham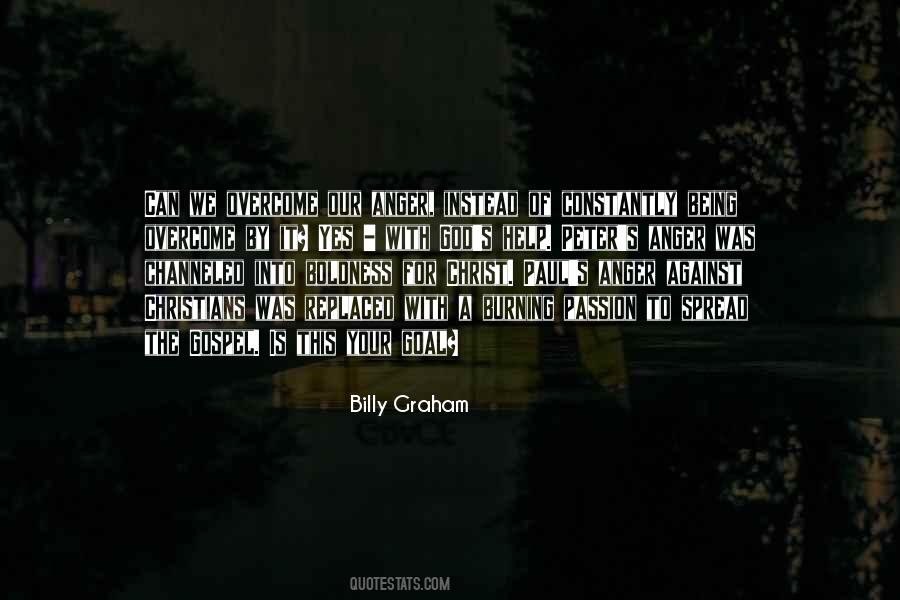 #61. Do your part to help reap a harvest, and trust God to do His part. - Author: Katy Kauffman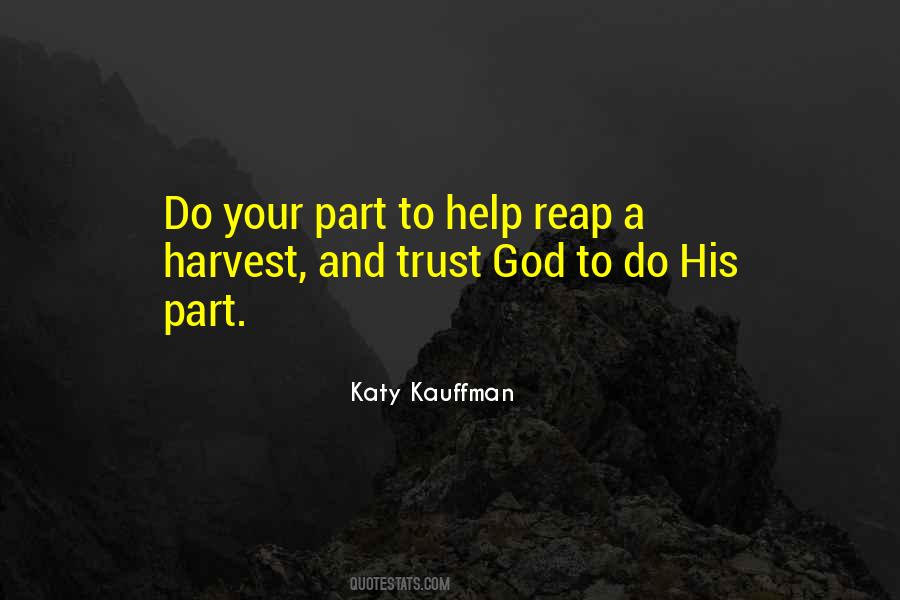 #62. I still enjoy watching a batter successfully cross home plate, but nothing thrills me more than seeing the Holy Spirit at work in hearts as the Gospel is carried into stadiums, across the airwaves, and around the world. - Author: Billy Graham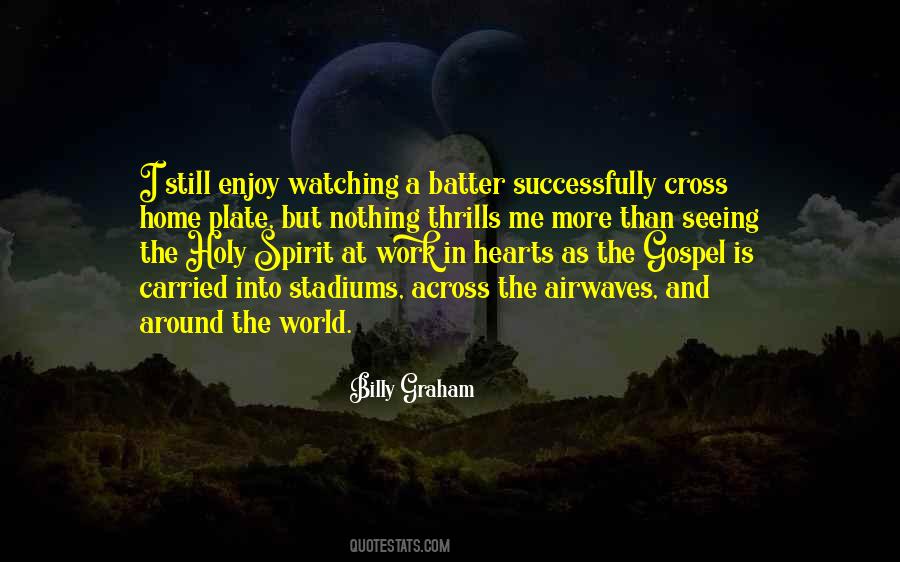 #63. A clear picture of that which God wants for us is rarely clearly articulated".

~R. Alan Woods [2012] - Author: R. Alan Woods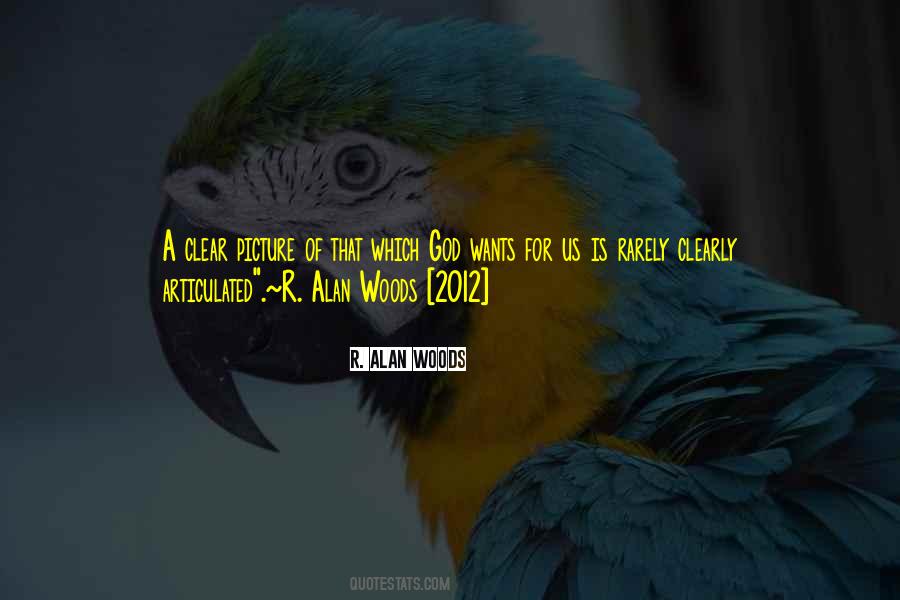 #64. There is a still small voice telling us what is right, and if we listen to that still small voice we shall grow and increase in strength and power, in testimony and in ability not only to live the gospel but to inspire others to do so. - Author: Heber J. Grant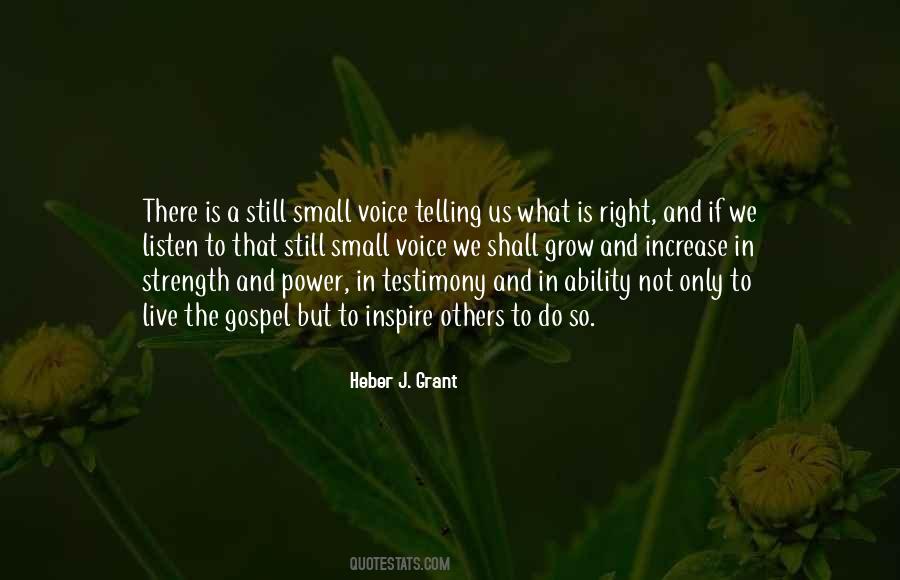 #65. Miracles centered gospel makes our people to be superficial and light. - Author: Sunday Adelaja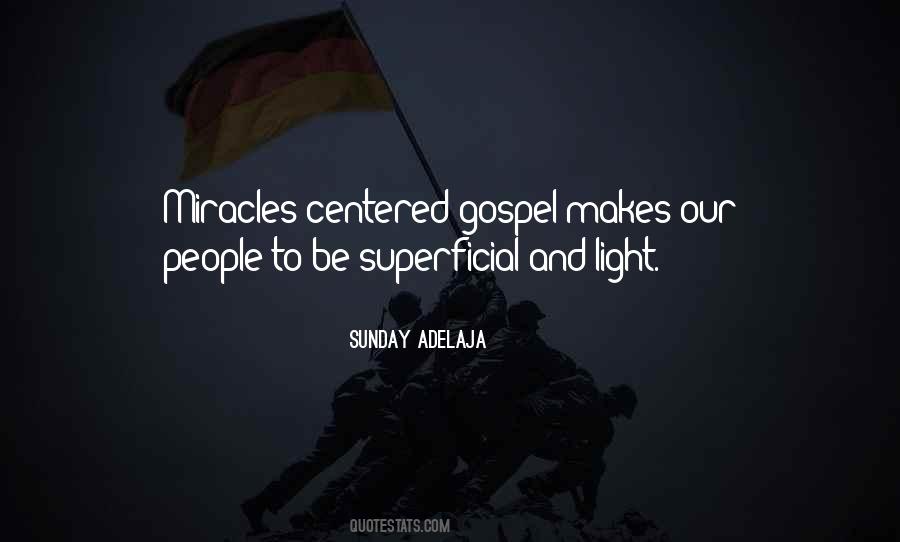 #66. We enjoyed the fact that we were called to the folk festivals and we got to know Joan Baez, Dylan. We were singing strictly gospel, but then after we started hearing songs that they would sing, we saw that those songs were very fitting for us because they were singing the truth, and truth is gospel. - Author: Mavis Staples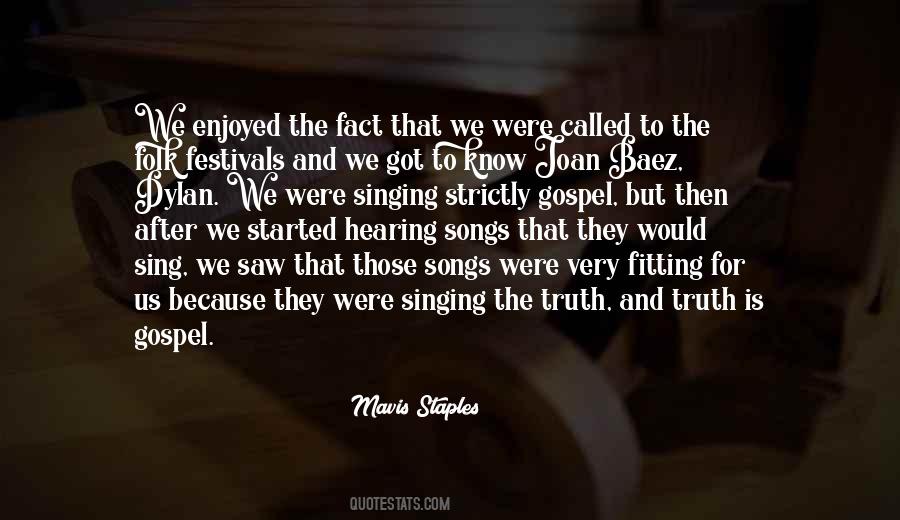 #67. Their primary loyalty is not to America but to the expansion of the gospel among the nations to advance the kingdom of God. - Author: Nabeel T. Jabbour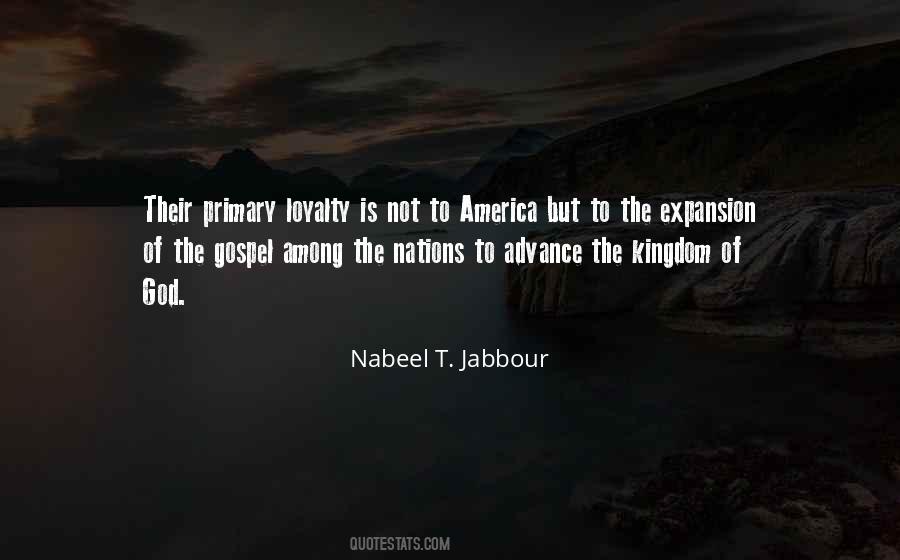 #68. The irony is that if we make every imperative into a command to believe the gospel more fully, we turn the gospel into one more thing we have to get right, and faith becomes the one thing we need to be better at. - Author: Kevin DeYoung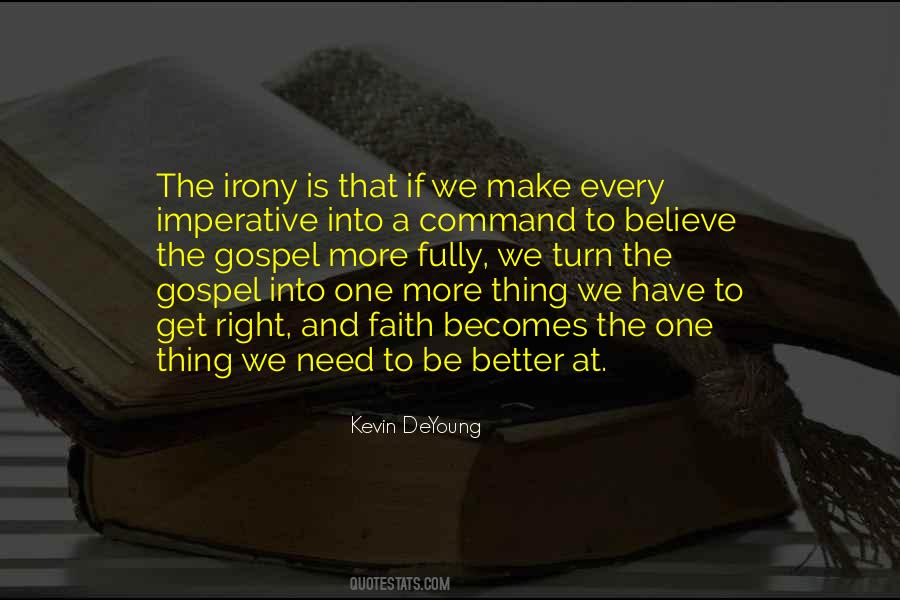 #69. I'm into hip-hop, rap, country, blues, gospel, old school, new school ... whatever ... pop. If it's really good, I like it. I don't have to be told what to listen to. If I like it and it's good, I'll listen to it. - Author: Toby Keith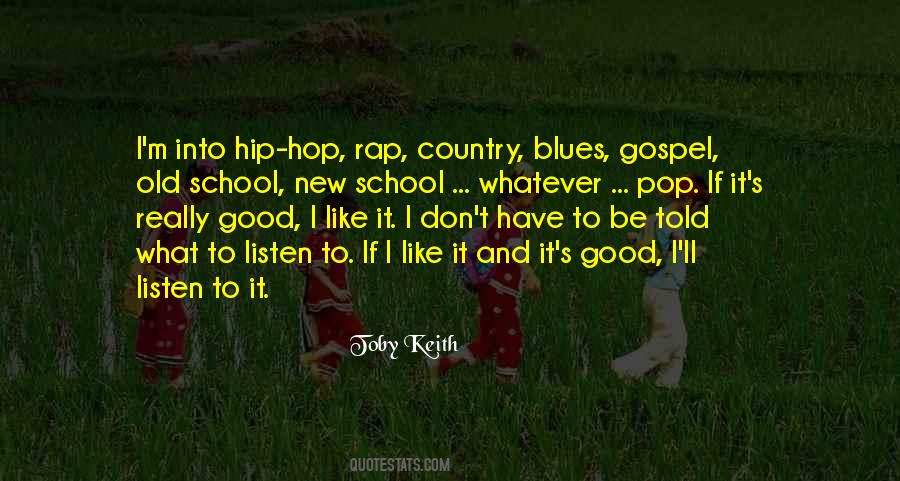 #70. The big message of gospel is that you don't have to keep fighting the universe; you can stop, and the universe is quite good to you. There is a loss of ego. - Author: Brian Eno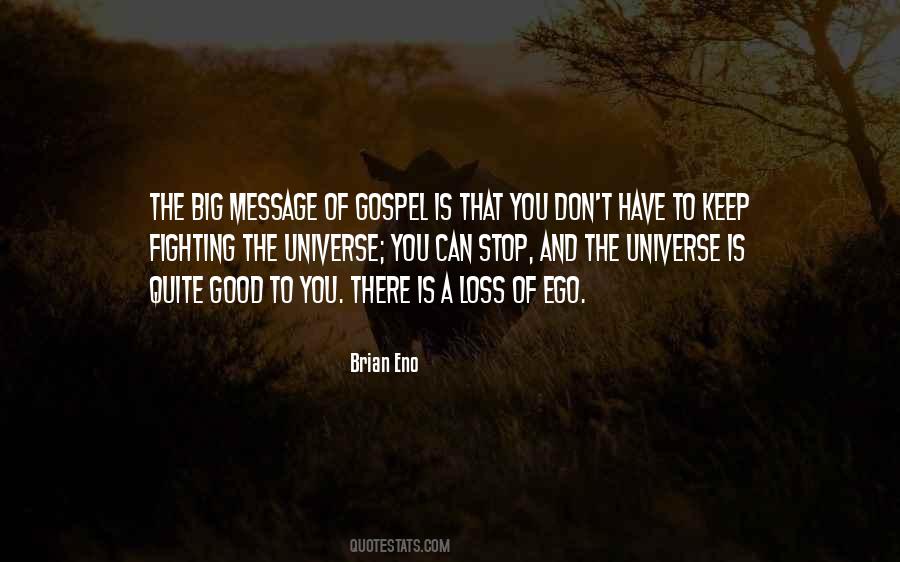 #71. Modern scientific findings harmonize with revelation through the ages. No conflict exists between the gospel and any truth ... All true principles are a part of the gospel of Jesus Christ. There is no principle that we need to fear. - Author: Spencer W. Kimball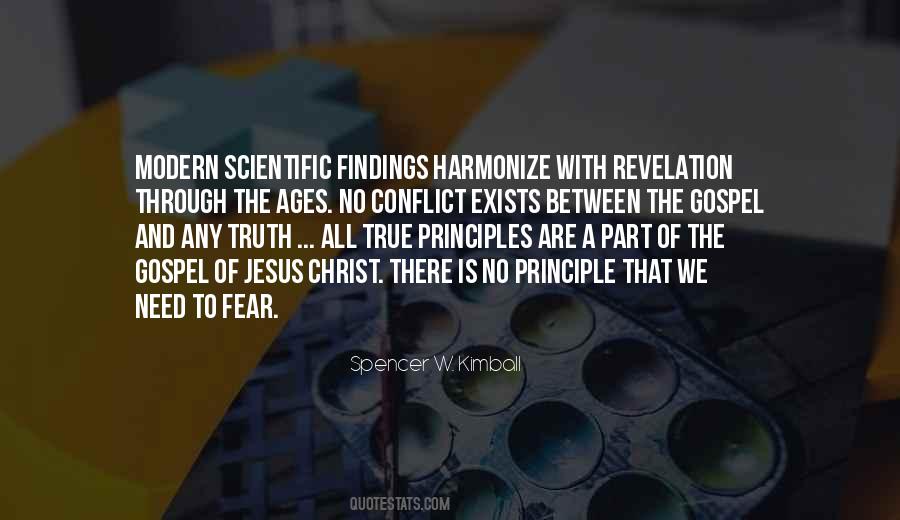 #72. You know the truth and you have to pass it to others, you have been sent to bring many nations to repentance - Author: Sunday Adelaja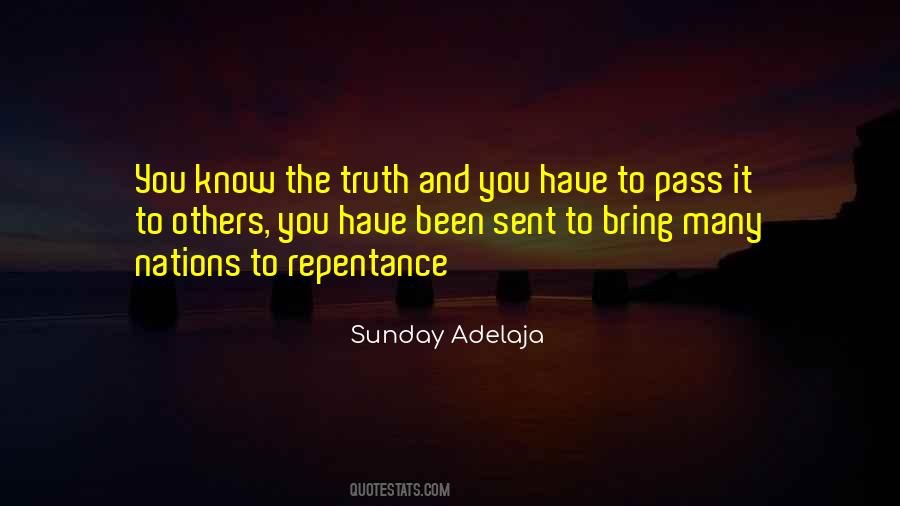 #73. Any stupid remark, quoted often enough, becomes gospel. - Author: Leslie Charteris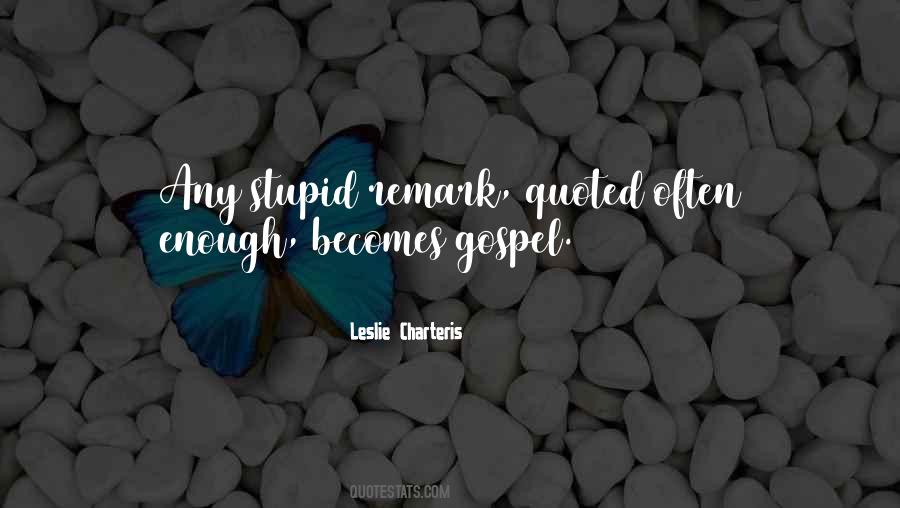 #74. Disciple making is not a call for others to come to us to hear the gospel but a command for us to go to others to share the gospel. - Author: David Platt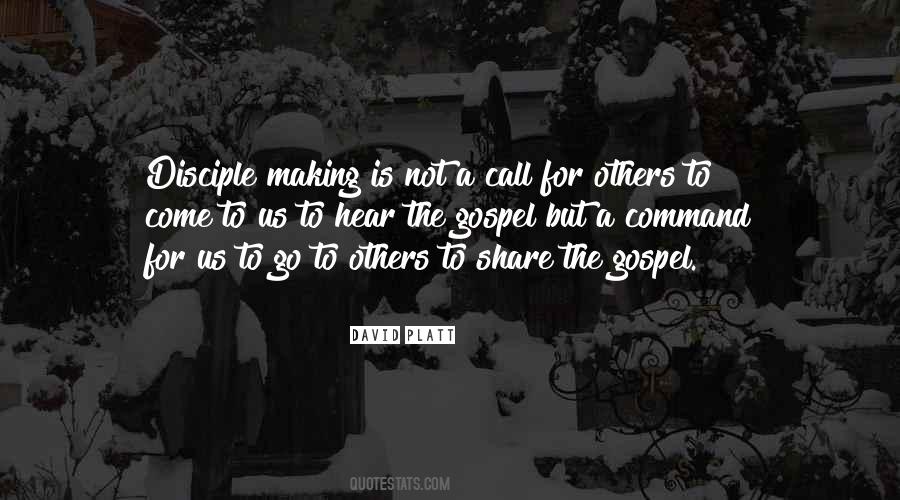 #75. The maxims of Christian life, which should draw upon the truths of the Gospel, are always partially symbolic of the mind and temperament of those who teach them to us. The former, by their natural sweetness, show us the quality of God's mercy; the latter, by their harshness, show us God's justice. - Author: Madeleine De Souvre, Marquise De ...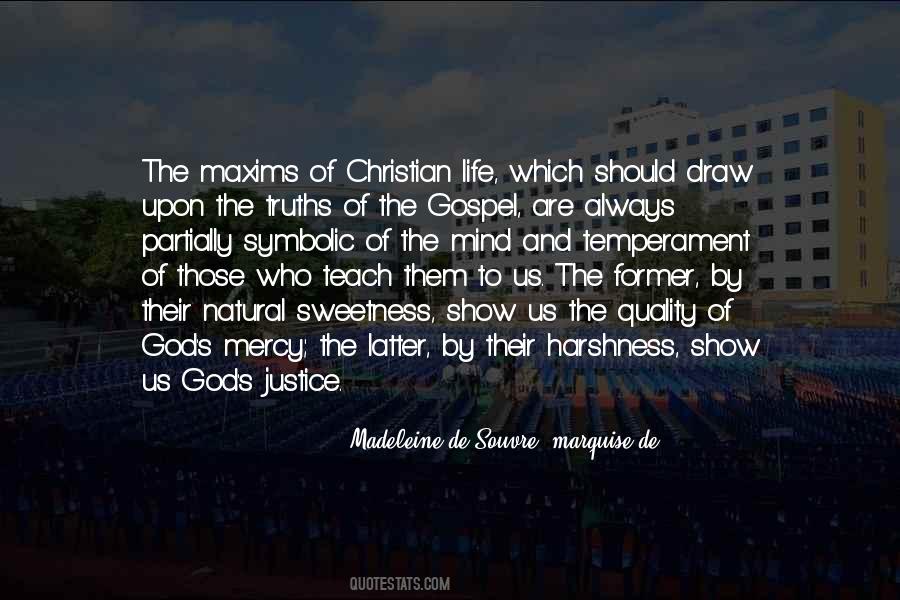 #76. Gospel (good news) must be represented through the media - Author: Sunday Adelaja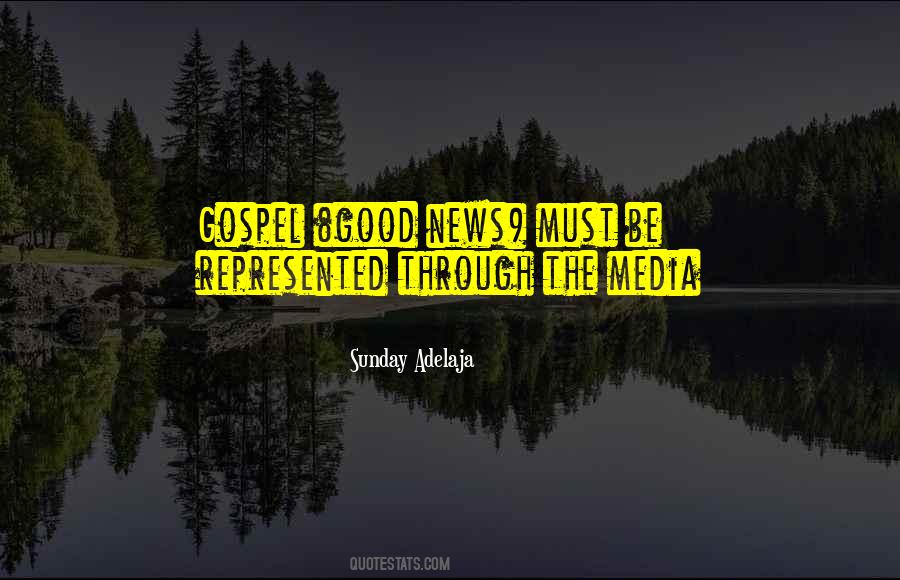 #77. In their poverty, the mentally handicapped reveal God to us and hold us close to the gospel. - Author: Henri Nouwen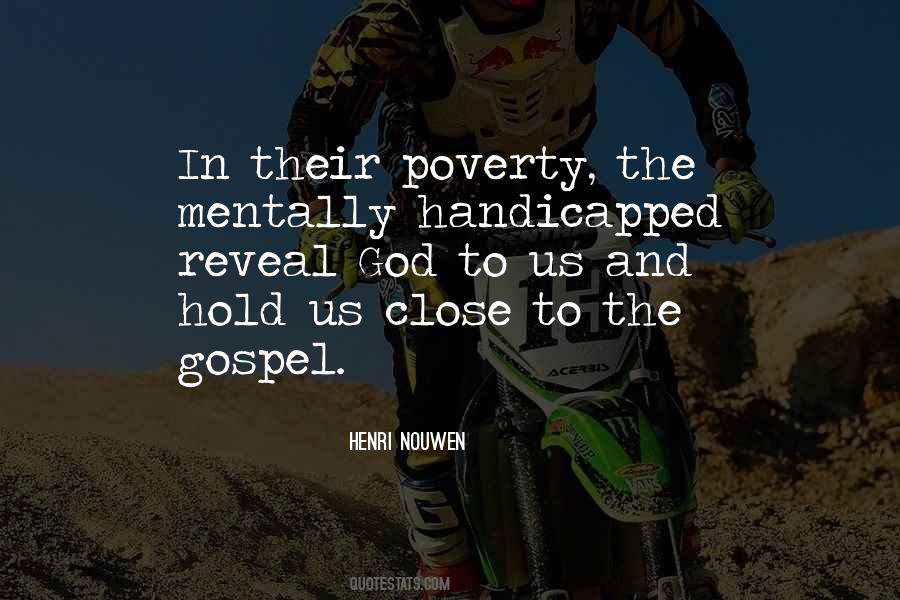 #78. O that we would so love the gospel and have so much compassion for lost people that tribulation and distress and persecution and famine and nakedness and danger and sword and gun and terrorist would turn us not into fearful complainers, but bold heralds of good news. - Author: John Piper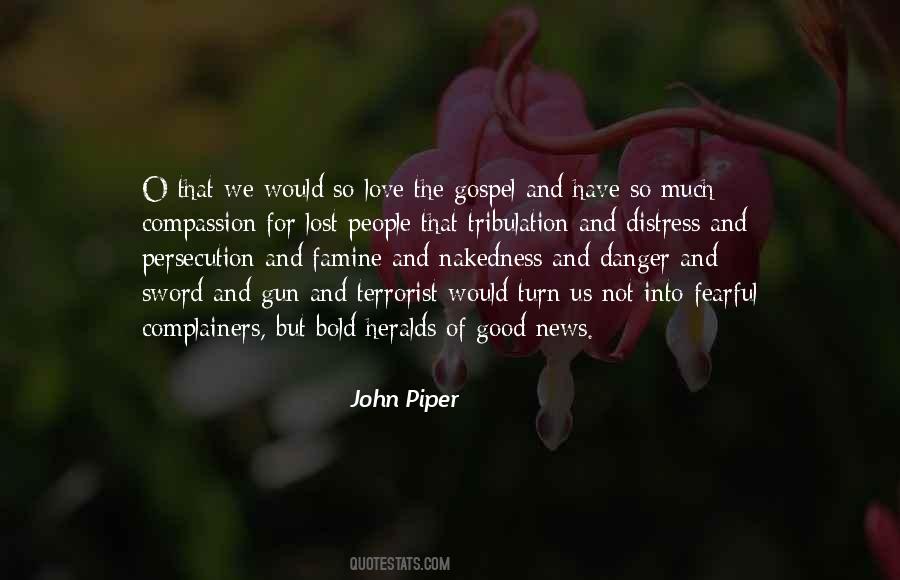 #79. Simon Gathercole argues that both Paul and the Gospel writers considered the good news to have three basic elements: the identity of Jesus as Son of God and Messiah, the death of Jesus for sin and justification, and the establishment of the reign of God and the new creation.12 - Author: Timothy Keller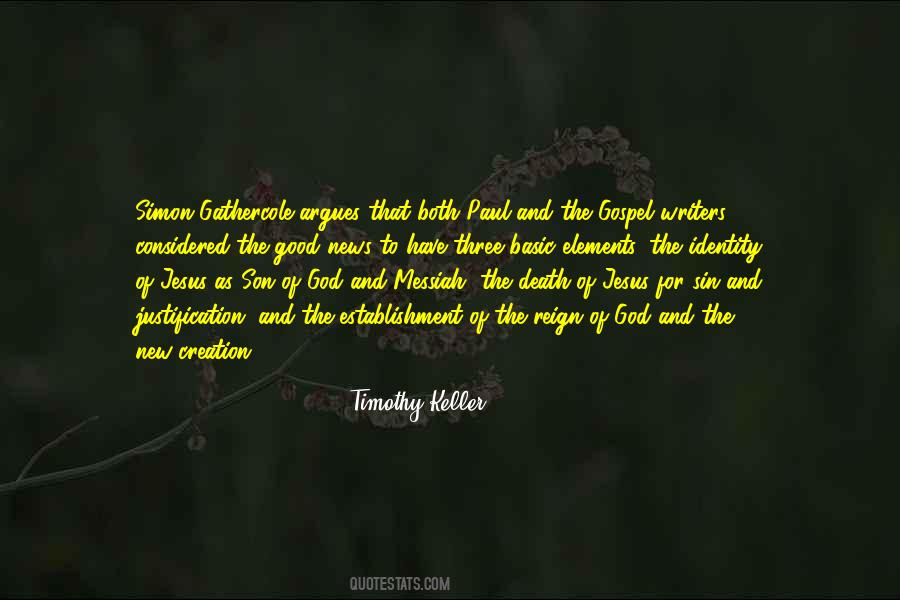 #80. Well, God does not mean for us to be passive. He means for us to fight the fight of faith - the fight for joy. And the central strategy is to preach the gospel to yourself. This is war. Satan is preaching for sure. If we remain passive, we surrender the field to him. - Author: John Piper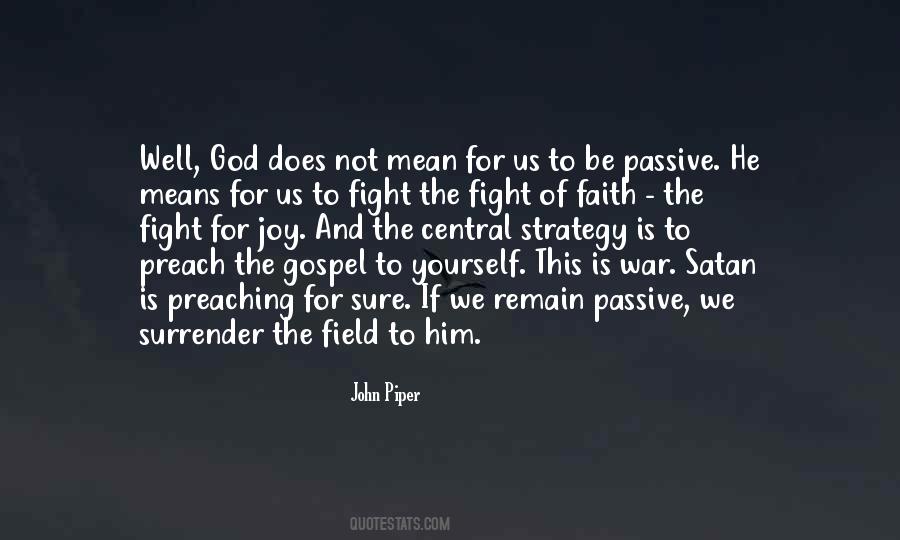 #81. Go into all the world and preach the gospel.' " Martha nodded slowly. "So the challenge is to do that without getting in the way of the message." Alban added, "He must increase. I must decrease. - Author: Davis Bunn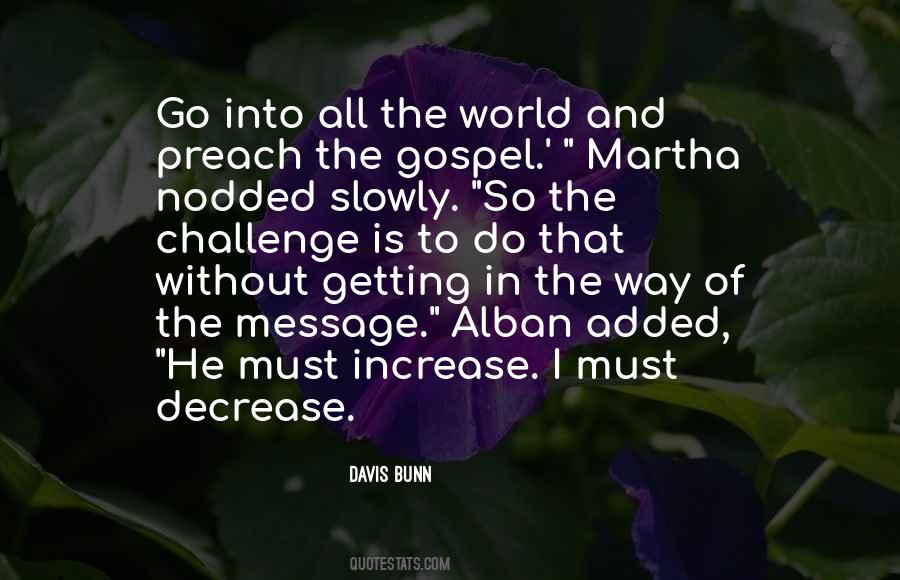 #82. The throne of grace is the gospel of salvation. - Author: Lailah Gifty Akita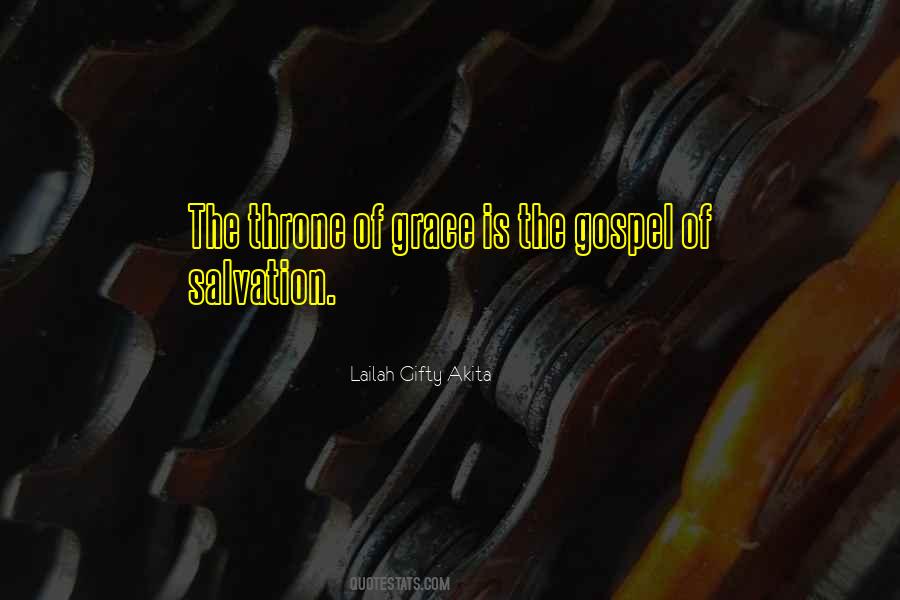 #83. To be faithful, to be creative, we need to be able to change. To change! And why must I change? So that I can adapt to the situations in which I must proclaim the Gospel. To stay close to God, we need to know how to set out; we must not be afraid to set out. - Author: Pope Francis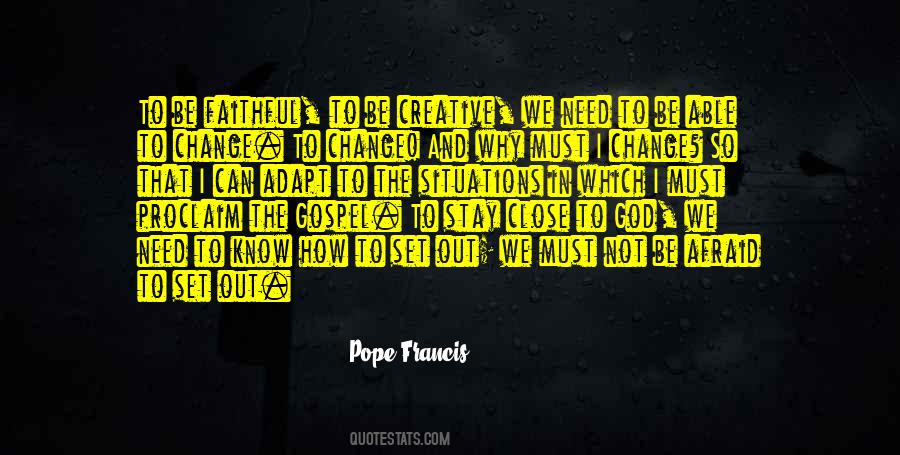 #84. The nation suffers as a result of the miracle centered gospel. - Author: Sunday Adelaja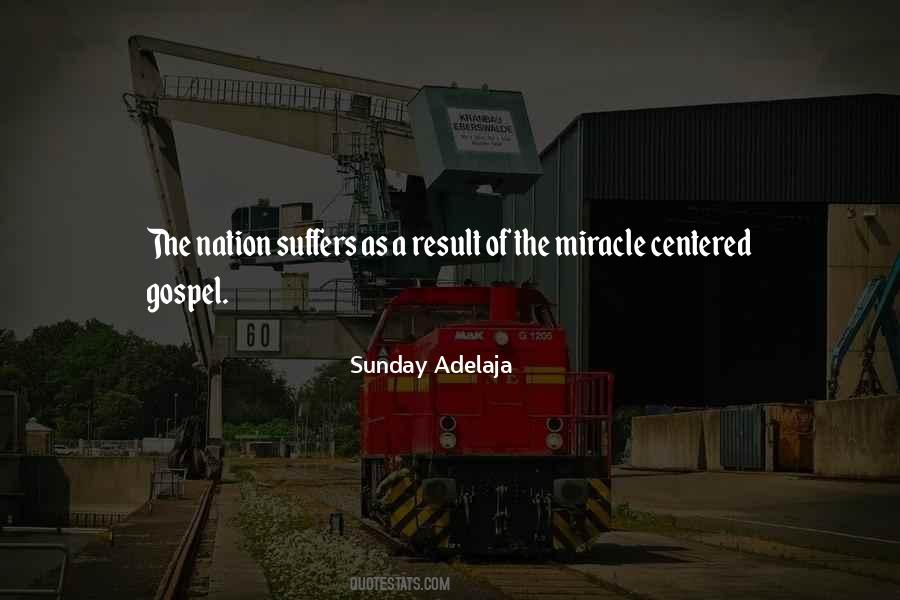 #85. The Church must be a place of mercy freely given, where everyone can feel welcomed, loved, forgiven, and encouraged to live the good life of the Gospel. - Author: Pope Francis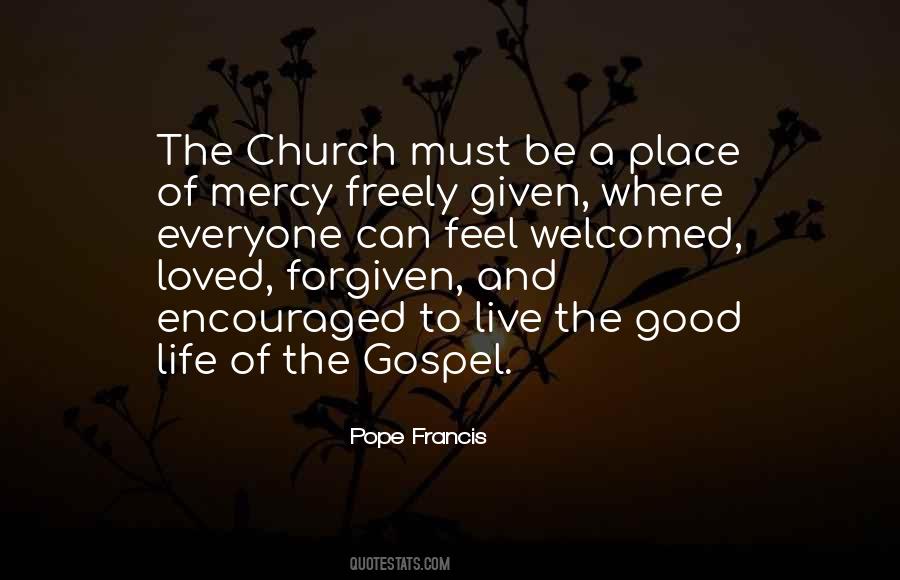 #86. What difference does it make if the Gospel is mostly a lie? It's an engrossing story and the words of its hero are excellent words to live by, even today. - Author: Tom Robbins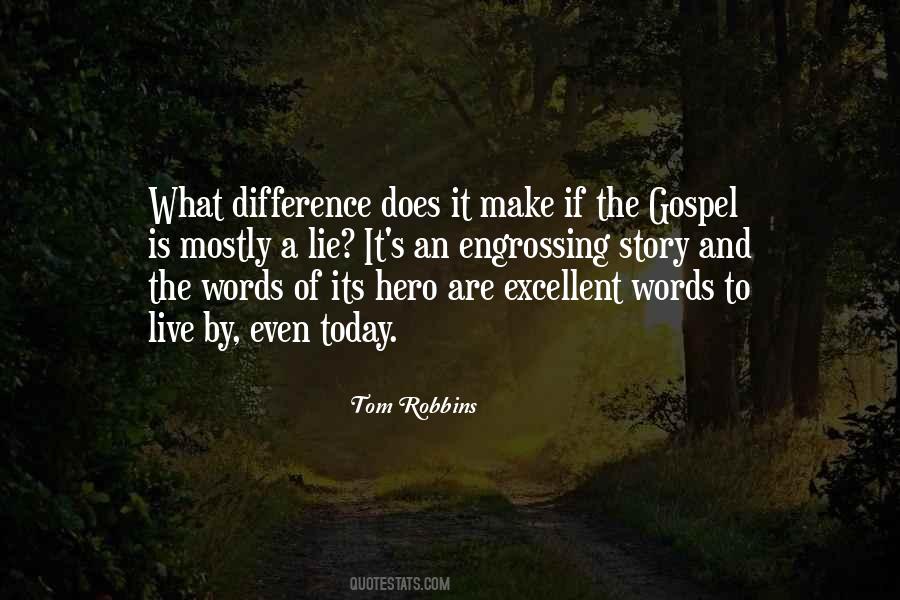 #87. The church arises only from the gospel. And a distorted church usually coincides with a distorted gospel. - Author: Mark Dever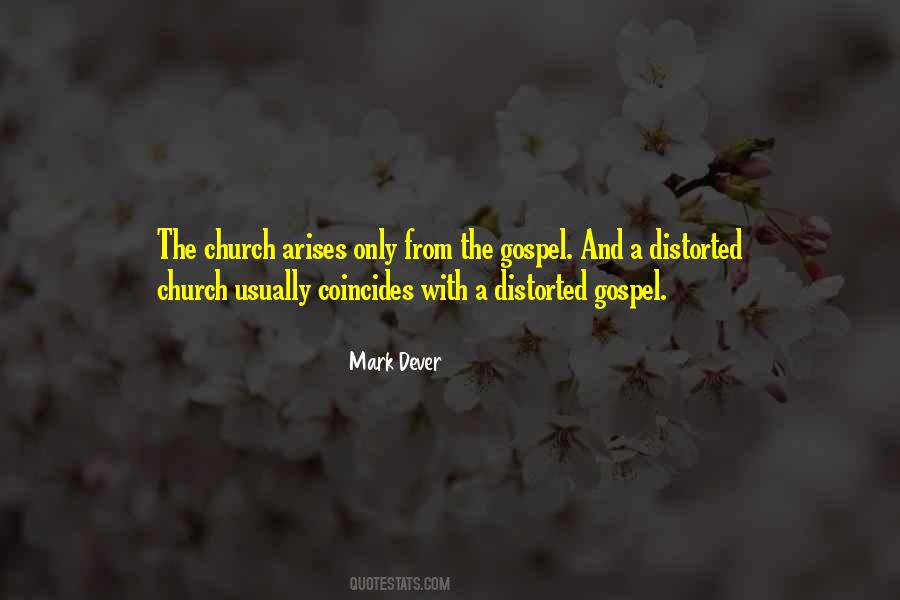 #88. Blessed be His name that He has arranged that one Person of the Sacred Trinity should undertake this office of Comforter, for no man could ever perform its duties. We might as well hope to be the Savior as to be the Comforter of the heartbroken! - Author: Charles Haddon Spurgeon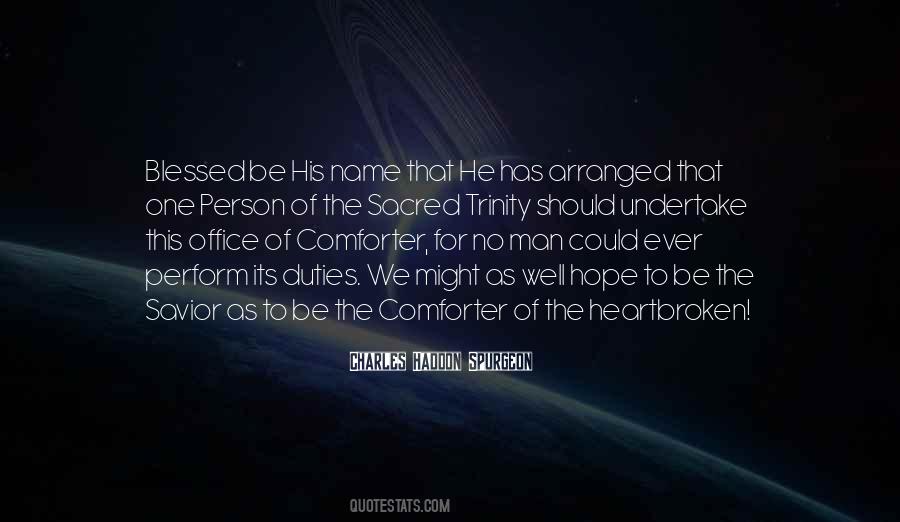 #89. Wearing your feelings on your sleeve will end up being a chip on your shoulder. - Author: John Paul Warren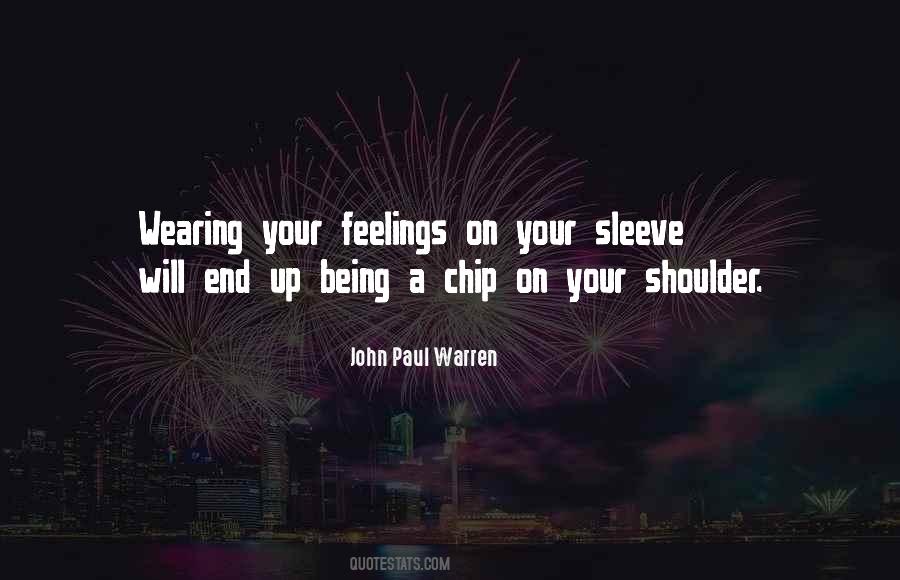 #90. I am relentlessly determine to be occupied with Jesus Christ and His Glorious Gospel and nothing else. - Author: John Paul Warren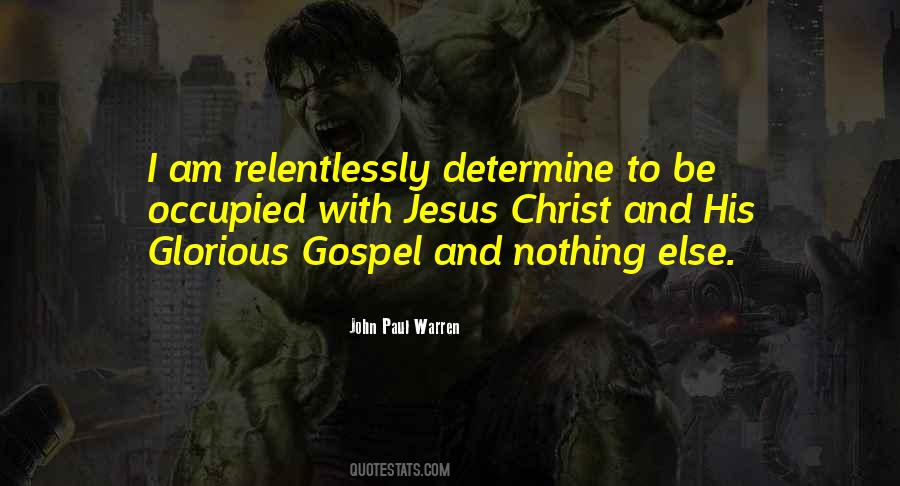 #91. We must not forget that the gospel of Christ is holy. It never excuses sin: it pardons it, but only through an atonement. If - Author: Charles Haddon Spurgeon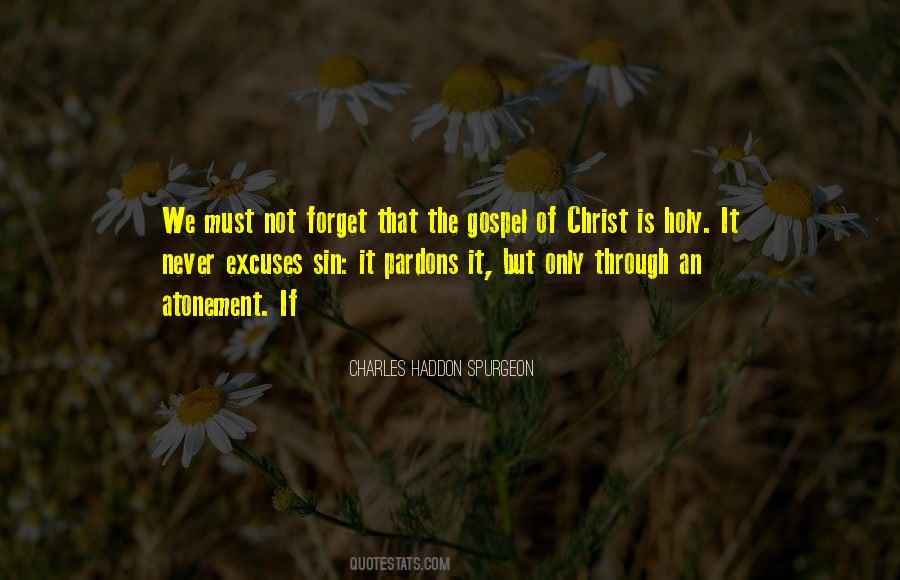 #92. Trust is to human relationships what faith is to gospel living. It is the beginning place, the foundation upon which more can be built. Where trust is, love can flourish. - Author: Barbara Smith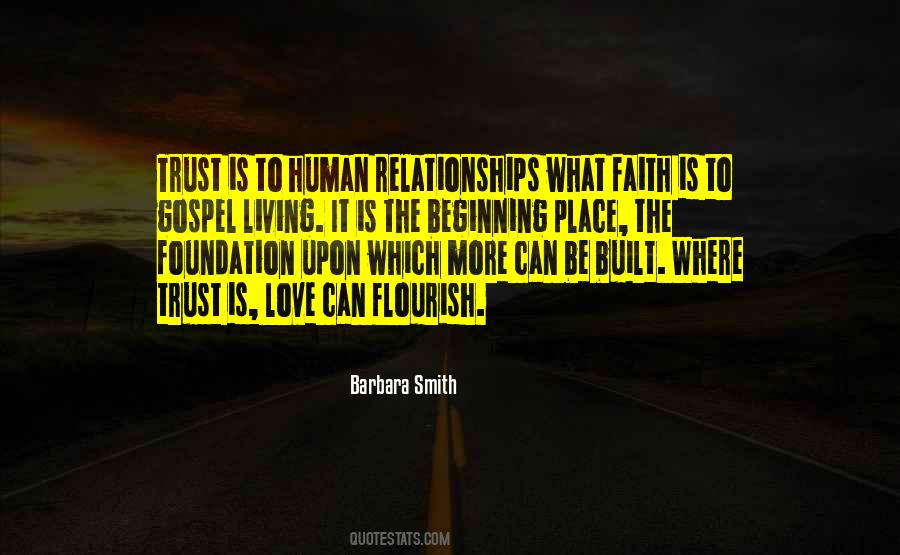 #93. On Pilgrim's Progress: I could not have believed beforehand that Calvinism could be painted in such exquisitely delightful colors. - Author: Samuel Taylor Coleridge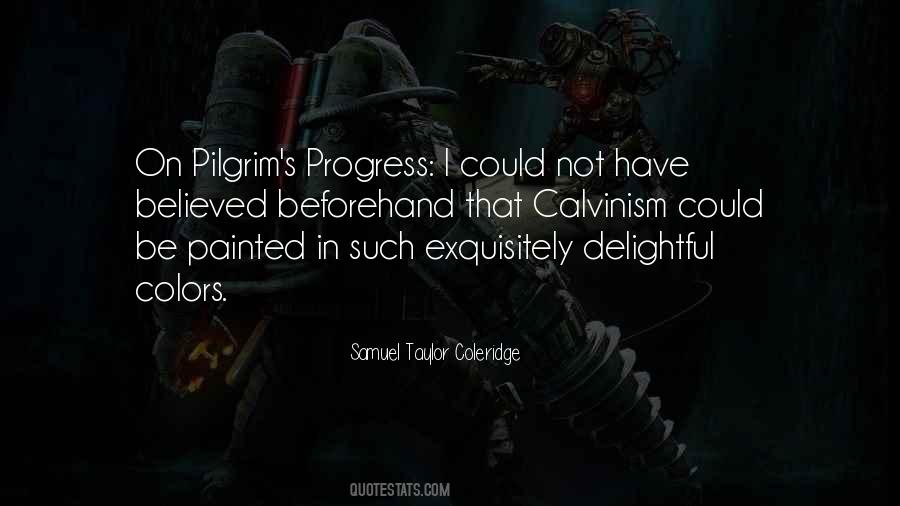 #94. Wisdom is the knowledge of the gospel truth. - Author: Lailah Gifty Akita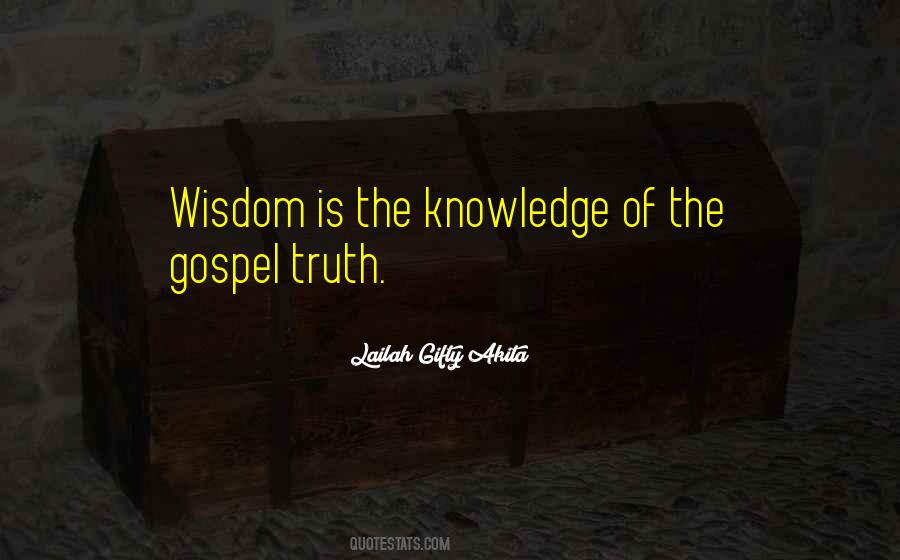 #95. The heavens will not be filled with those who never made mistakes but with those who recognized that they were off course and who corrected their ways to get back in the light of gospel truth. - Author: Dieter F. Uchtdorf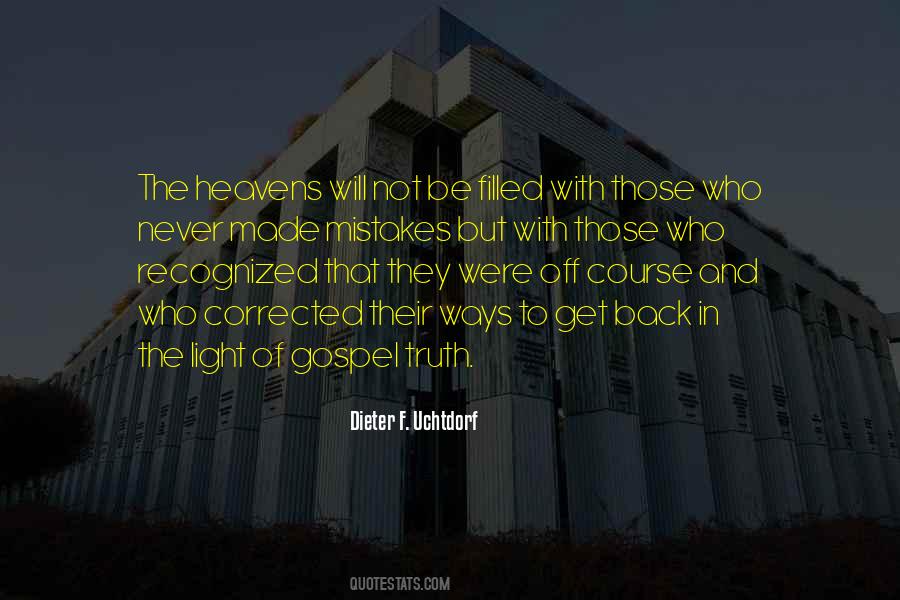 #96. That is the gospel invitation: come into Christ, escape from judgement and enjoy great blessing. - Author: Steve Timmis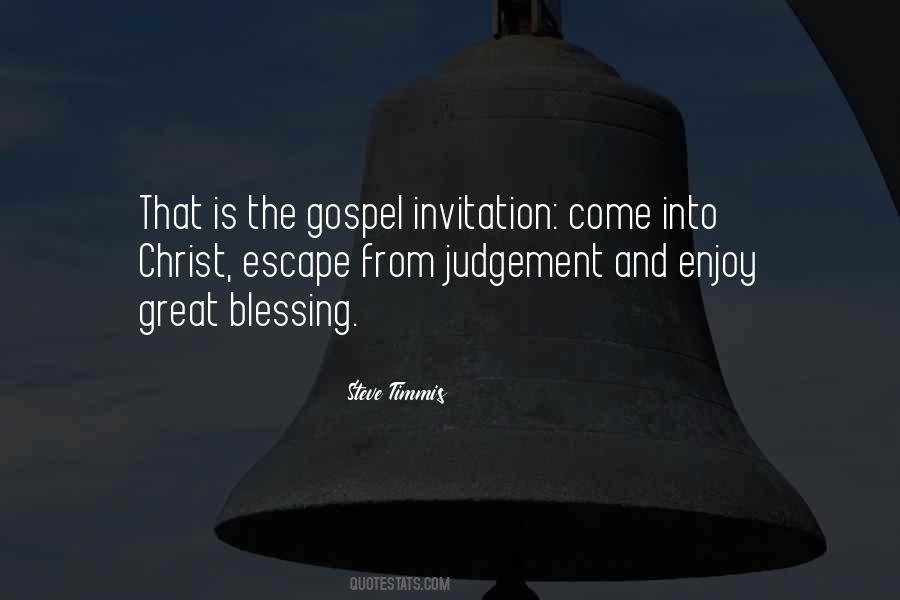 #97. The power to walk by faith in obedience is sourced in the grace of the gospel. - Author: Matt Chandler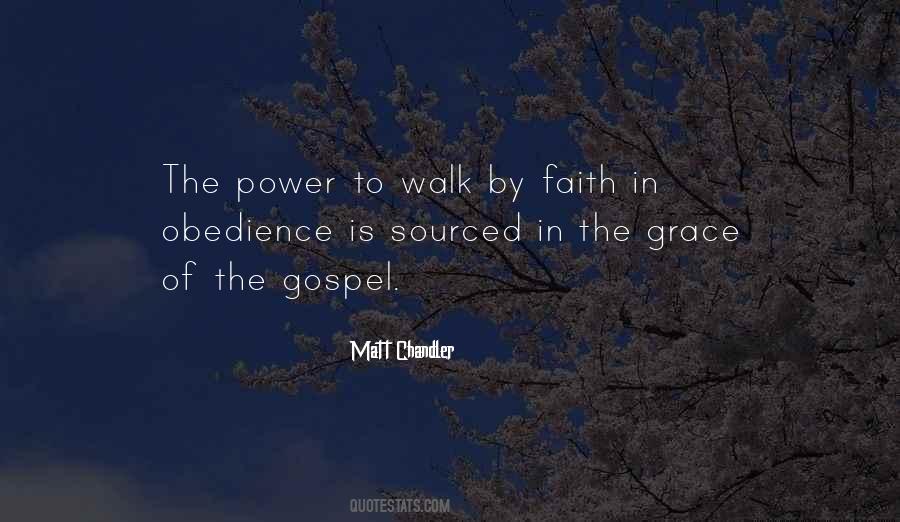 #98. Men and women do make decisions wherever the Gospel is proclaimed; whether publicly or privately, some say yes, some say no, and some procrastinate. No one ever hears the Gospel proclaimed without making some kind of decision! - Author: Billy Graham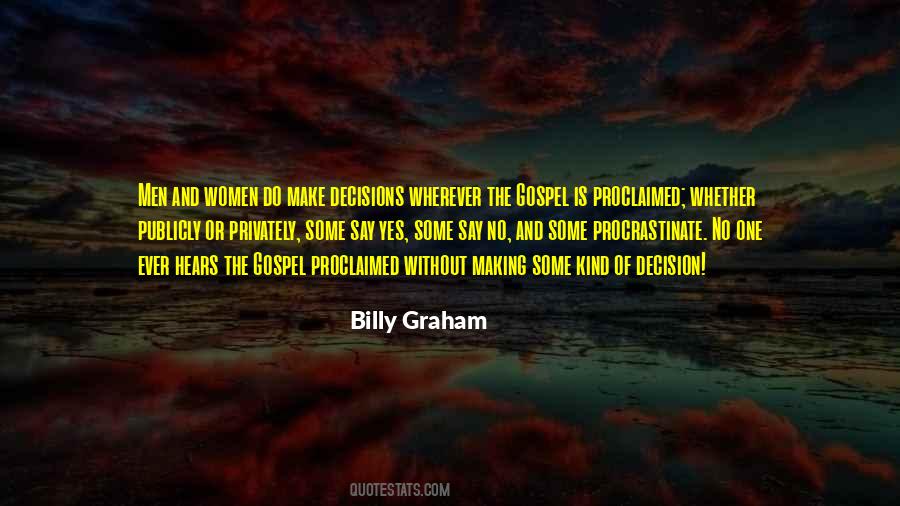 #99. The Bible is not God. The Bible is simply the cradle that holds Christ. Anything in the Bible that does not hold up to the Gospel of Jesus Christ simply does not have the same authority. - Author: Nadia Bolz-Weber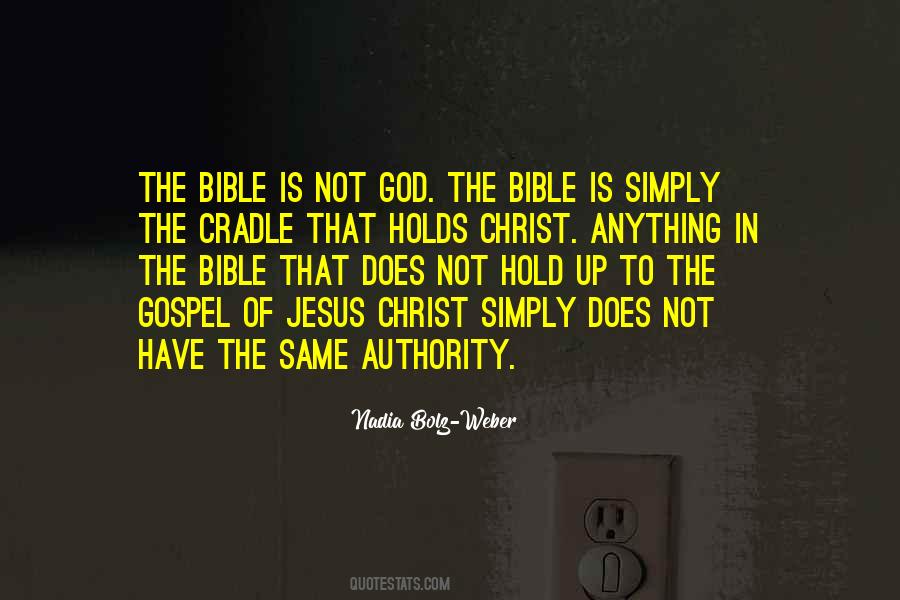 #100. Visit those who are sick, or who are in trouble, especially those whom God has made needy by age, or by other sickness, as the feeble, the blind, and the lame who are in poverty. These you shall relieve with your goods after your power and after their need, for thus biddeth the Gospel. - Author: John Wycliffe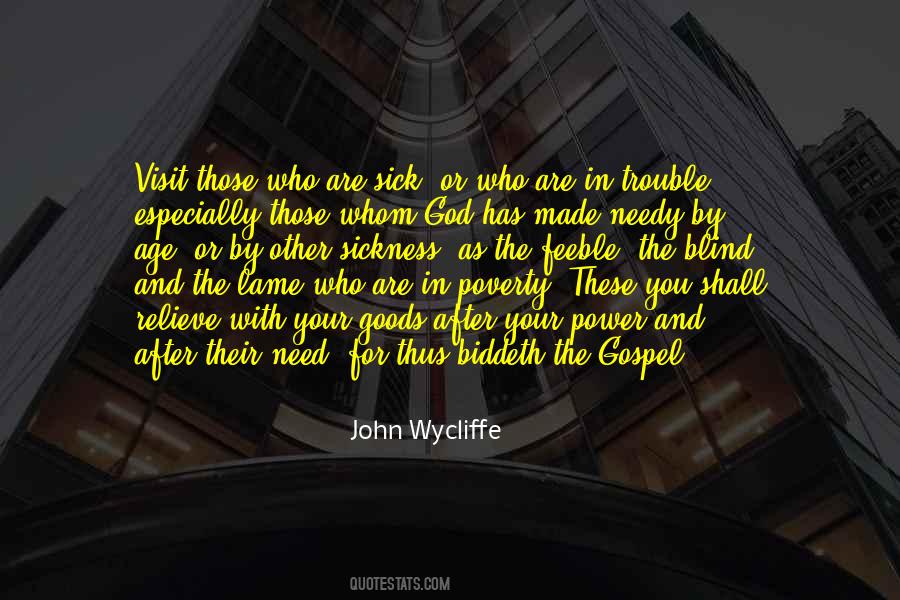 Famous Authors
Popular Topics