Gorgeous Eyes Famous Quotes & Sayings
List of top 44 famous quotes and sayings about gorgeous eyes to read and share with friends on your Facebook, Twitter, blogs.
Top 44 Quotes About Gorgeous Eyes
#1. He was the tallest, thinnest, weariest boy I had ever seen in my life. He was brilliant. He had gorgeous brown eyes, and he had only two suits. He was completely unhappy, and I didn't know why. - Author: J.D. Salinger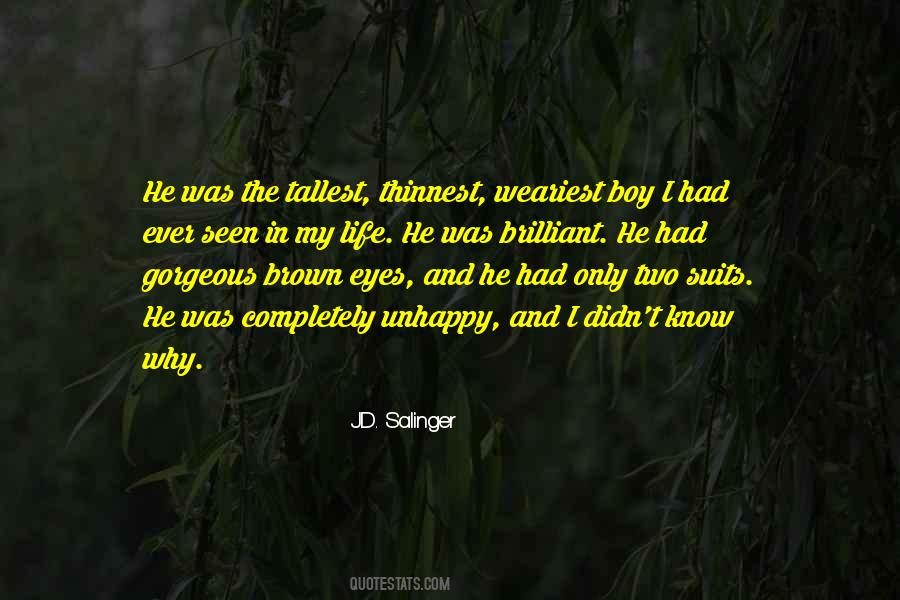 #2. And when Tatiana lifted her glistening eyes to him, Alexander was looking down at her with his I'll-get-on-the-bus-for-you-anytime face. - Author: Paullina Simons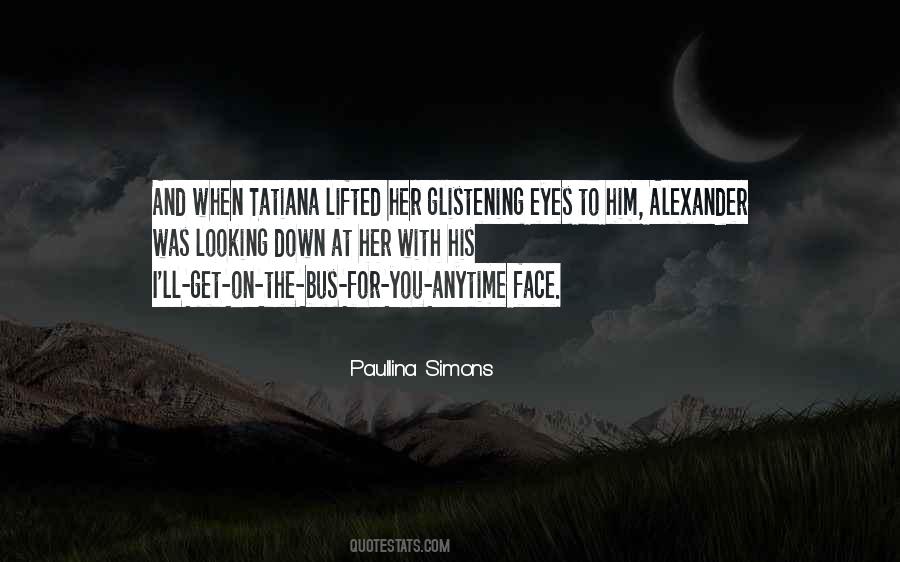 #3. Where are you off to in such a hurry?" His stunning green eyes bore through me. "A corpse
convention?" Even sweaty, Trevor was gorgeous.
"What are you running away from?" I retorted. "Your mirror? - Author: Ellen Schreiber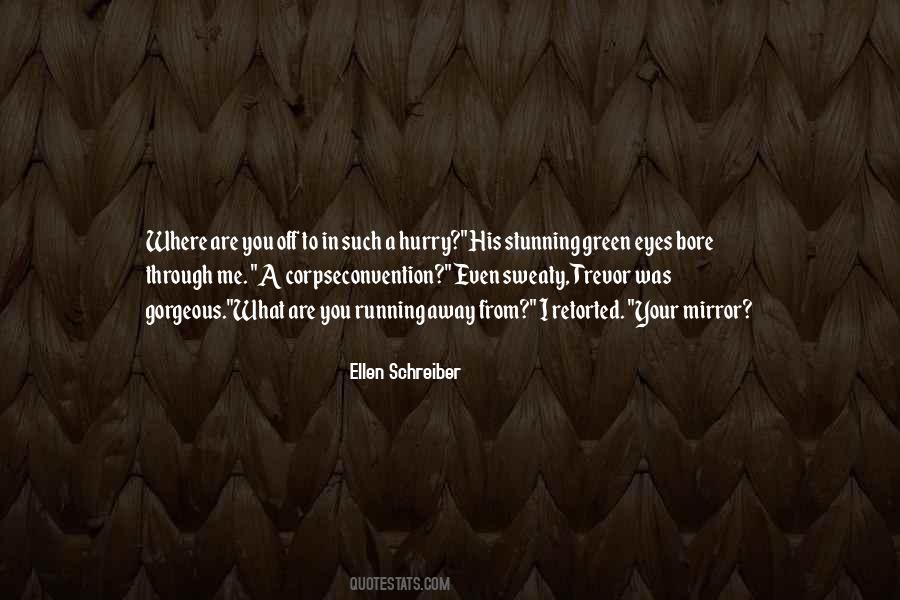 #4. His arms are tatted up, half sleeves to his elbows. His eyebrow is missing a ring they must've confiscated. Dark blue eyes dark brown hair sharp jawline strong lean frame. Gorgeous Dangerous. Terrifying. Horrible. - Author: Tahereh Mafi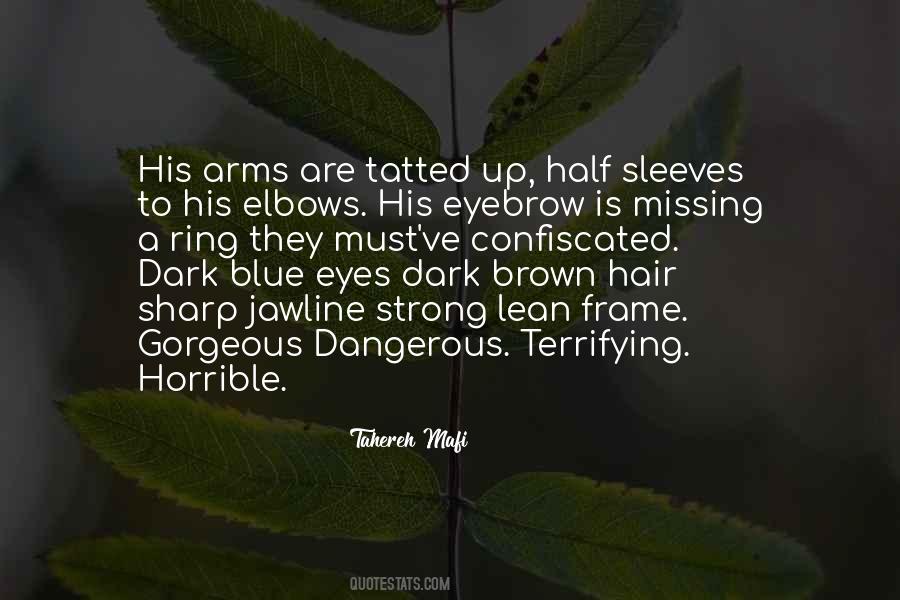 #5. The rich rock-star Lothario bullshit drops with a thud, and an air of truth fills the empty space between us. He pins me with those gorgeous emerald eyes. "I dig you, Letty. - Author: Kendall Grey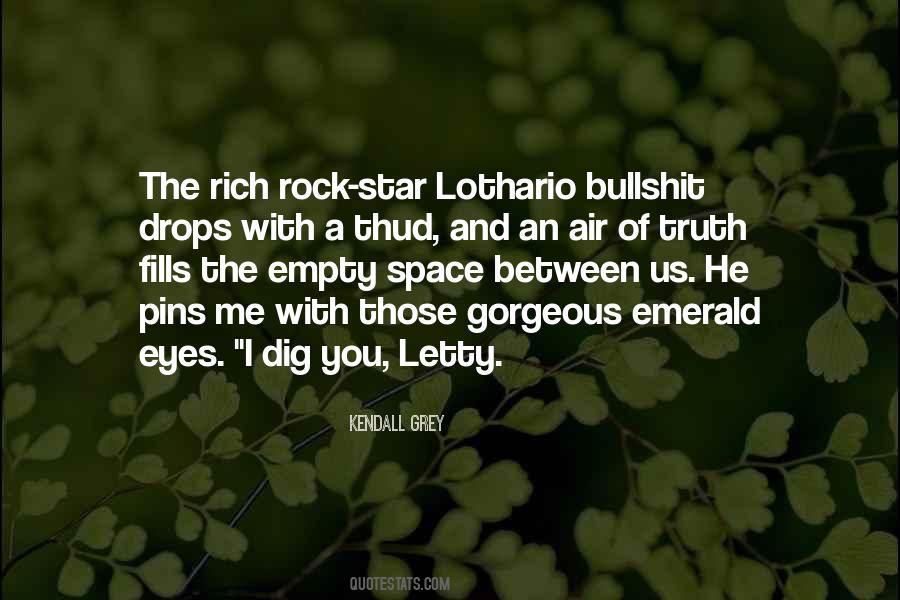 #6. Since the second her eyes met those gorgeous blue ones, each look from him had made every cell of her body feel like it might explode. She'd never wanted another man as much as she wanted Brandon James in that moment. And there was no shame in that. - Author: Aria Kane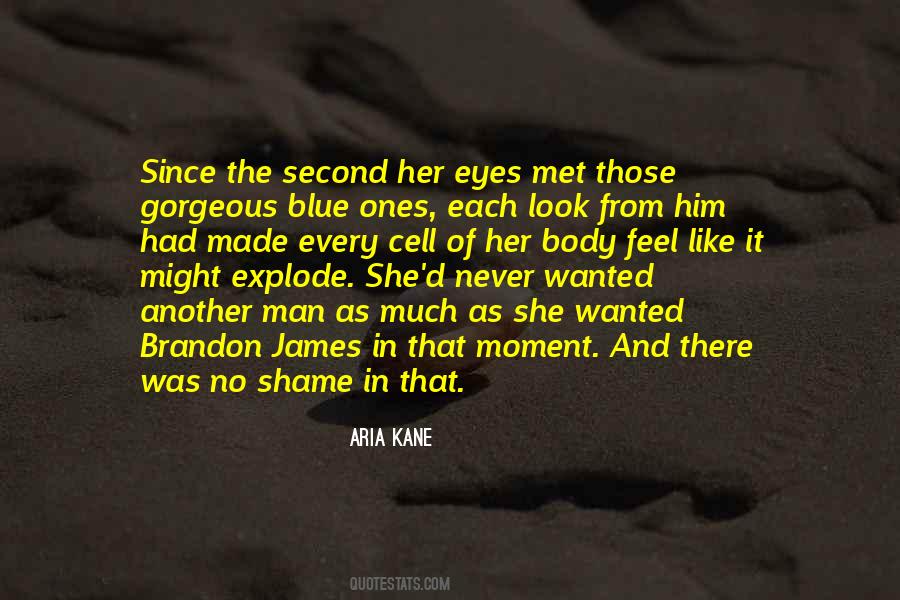 #7. No, there was only one reason I was so fucking distracted that even a halfway decent blowjob was doing nothing for me. And that reason was wrapped up in a gorgeous 6'2 package of hard muscle, a lazy, killer smile and the most intense blue eyes I'd ever seen. That - Author: Sloane Kennedy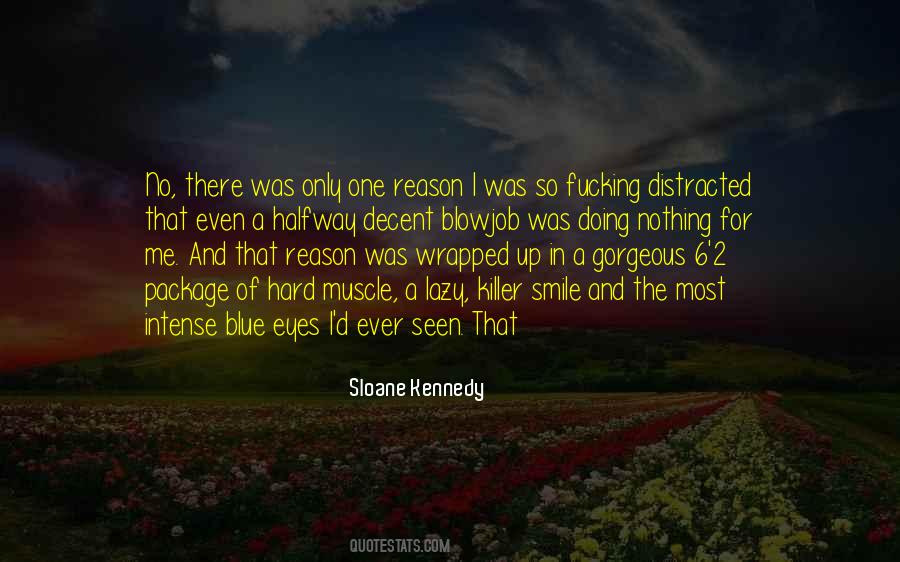 #8. That memory made a lump form in my throat as I remembered his face, serious and gorgeous, those brown eyes intense and passionate as he spoke up for me and convinced the others of my value. - Author: Richelle Mead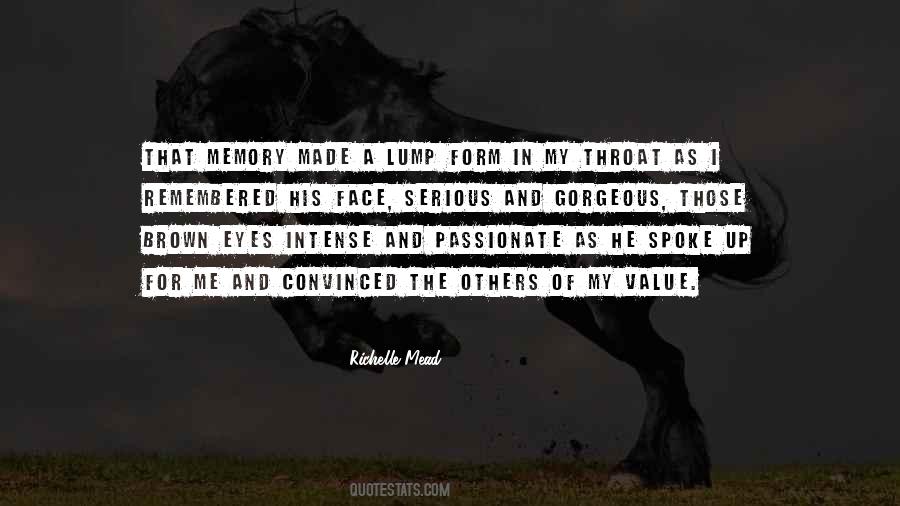 #9. I am inspired by anything beautiful. Sometime it's a pair of eyes or flowing gorgeous hair, other times it's the sky or a sunset. I've been inspired by supple skin or the texture of a soft shirt. - Author: Nadine Velazquez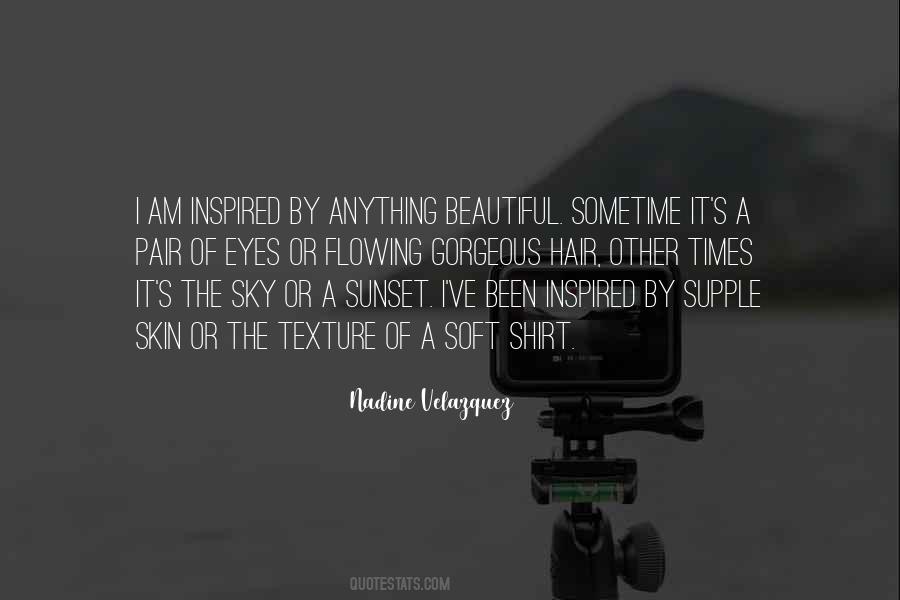 #10. The spider literally looks into my eyes and sends me spider telepathy. He says, I'm going to have shiny, gorgeous hair when I kill you. - Author: Jillian Dodd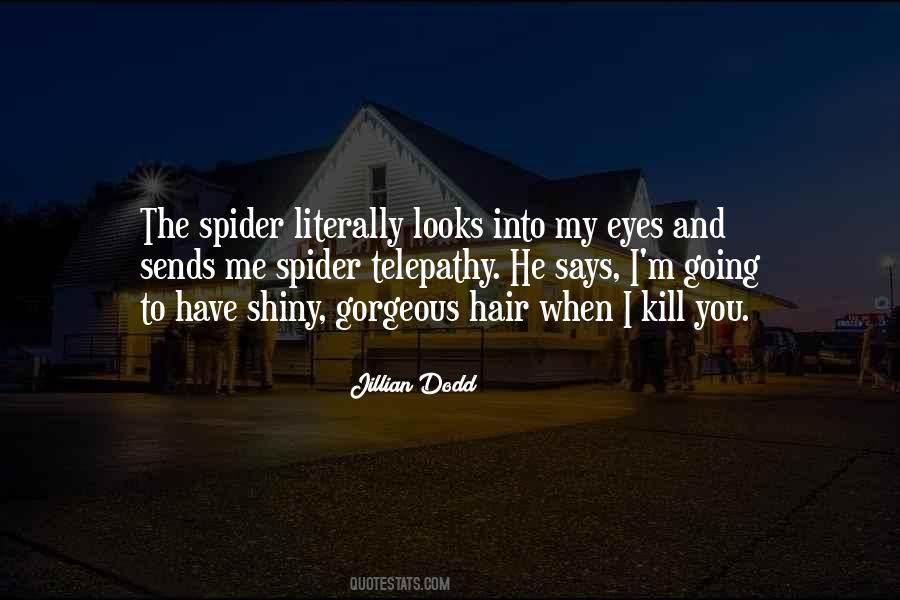 #11. It's gorgeous. I didn't figure it would be so fucking beautiful. But it's . . . rugged and captivating." Ty's eyes strayed to the pristine vista behind Zane, then back to Zane. He smiled slowly. "Kind of like someone else I know," Zane added. He raised an eyebrow. "I sense mischief brewing." Ty - Author: Abigail Roux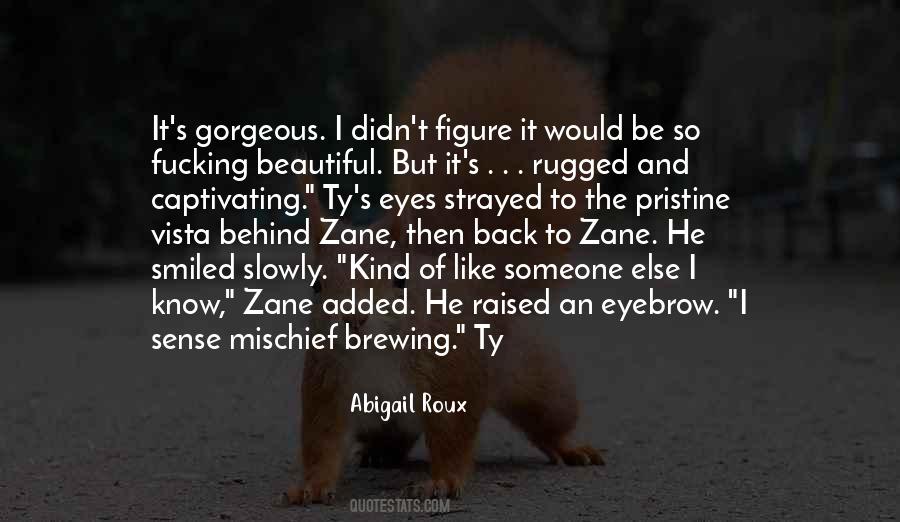 #12. You need to look hot now that you've got three guys giving you the eye.""
Three?"
"Sweet blue-eyed blond trapper ... Muscled blond trapper number two, who buys you cards ... And that gorgeous, 'Where have you been all my life' dude with the raven-black hair and dark eyes. - Author: Jana Oliver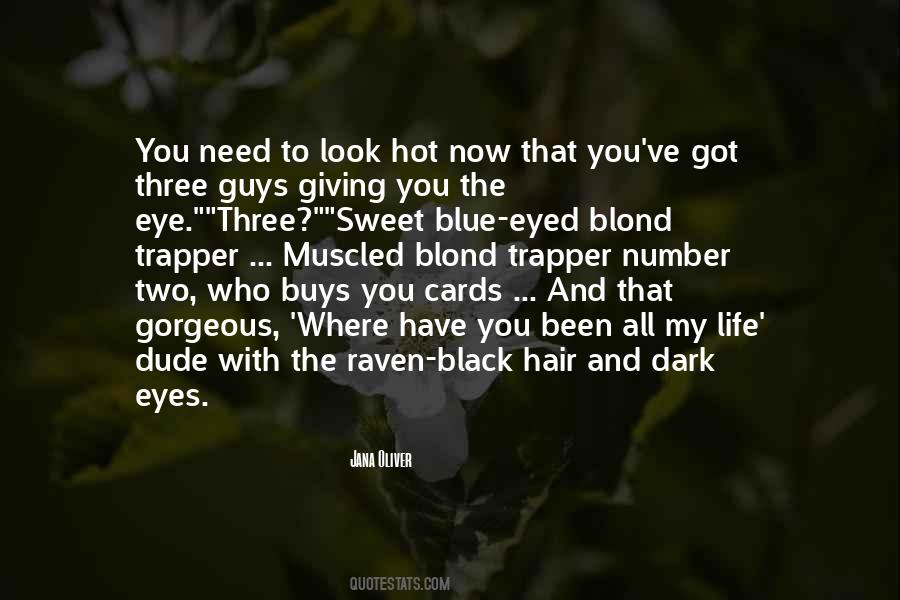 #13. Now, as a writer, the whole world is your nail polish display, and what's more, you can help yourself. A thrilling, colourful array of gorgeous human peculiarity revolves before your eyes, and you still can't quite believe it's all yours for the taking. - Author: Lynn Coady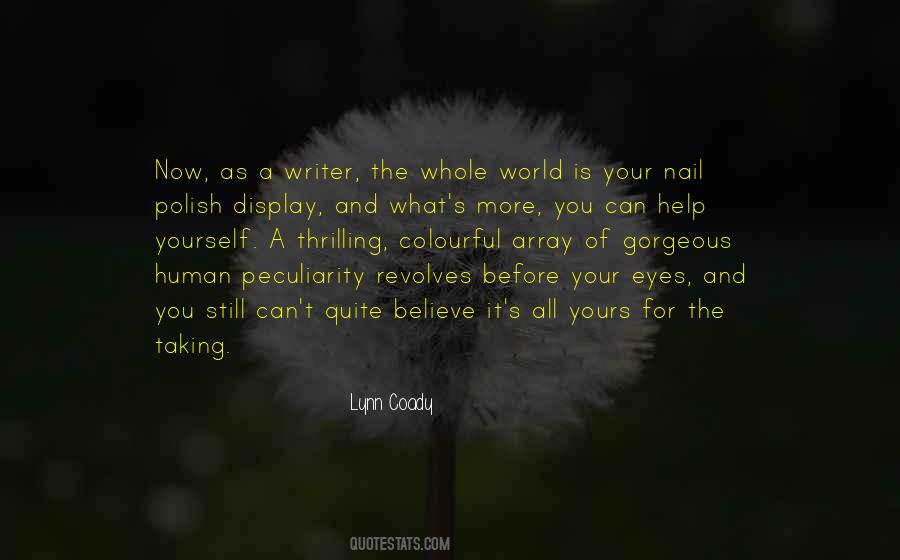 #14. The peach siding created a gorgeous contrast to the stucco walls and the dark-brown roof tiles - a fairytale house in a fairytale suburban neighborhood. She rolled her eyes. Too bad life had been anything but. - Author: Katherine McIntyre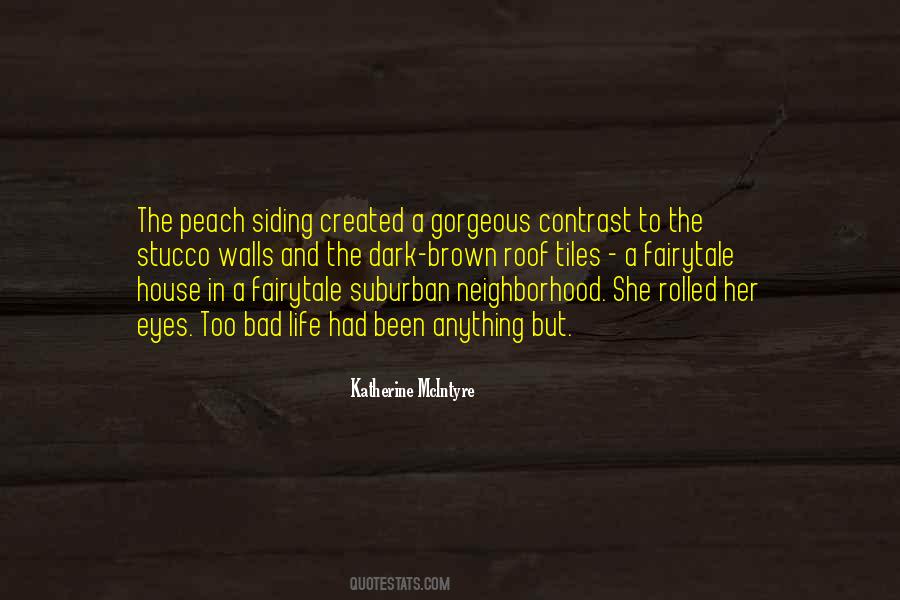 #15. Jason didn't seem to be paying any attention. Instead, he looked mouthwateringly gorgeous leaning against the wall with his heart in his eyes, and his lanky body encased in that sweetly tailored suit that showed the spread of his shoulders and the bulge of his alpha cock. Vale's - Author: Leta Blake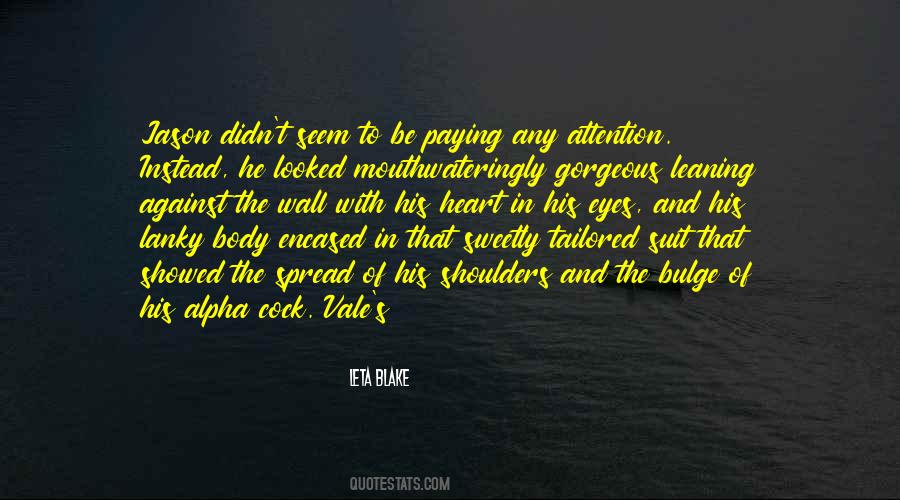 #16. How gorgeous this chess set is.' Each piece was a delicate marble fantasy of medieval warfare. The paint had long ago worn off, except for faint touches of red, in the fury of the king's eyes, on the queen's lower lip, in the bishop's robe. - Author: Eloisa James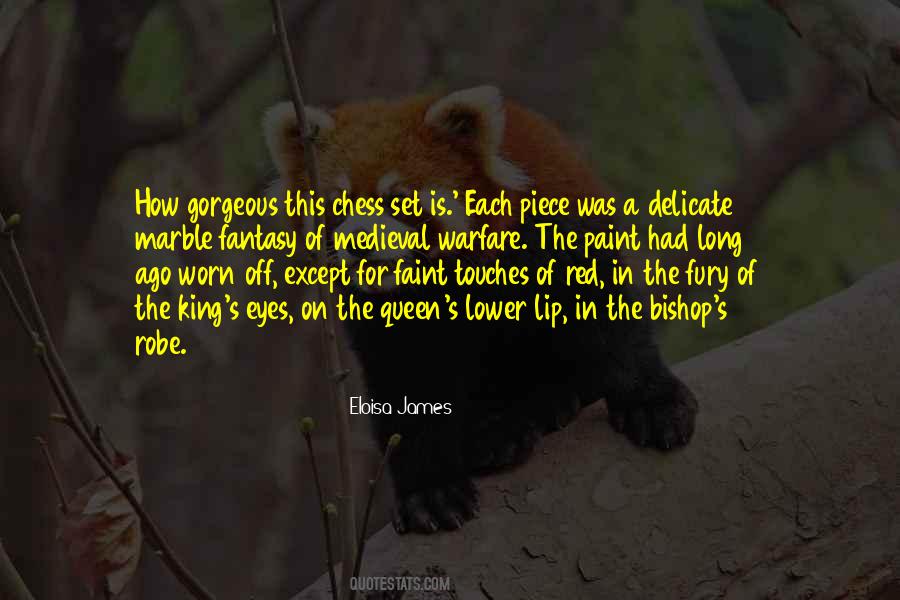 #17. Your eyes. They're gorgeous," I said, unable to tear my gaze away. "That's because they're looking at you," he intoned. - Author: Julie Olsen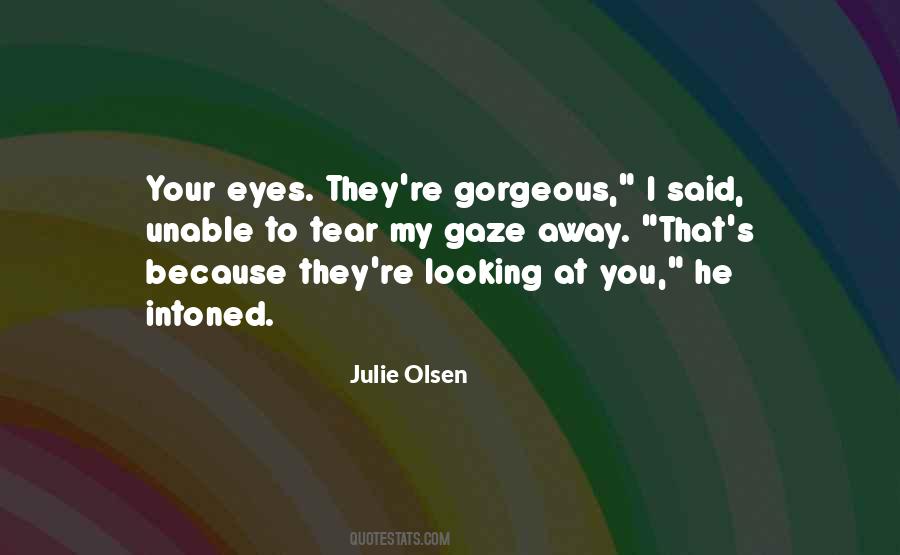 #18. Look" I narrowed my eyes at Mr. Gorgeous. "I'm kind of in the middle of a nervous breakdown and after that I plan on having a very festive pity party, table for one, so unless you are here to put me out of my misery I suggest you scurry on your way. - Author: Jennifer L. Hart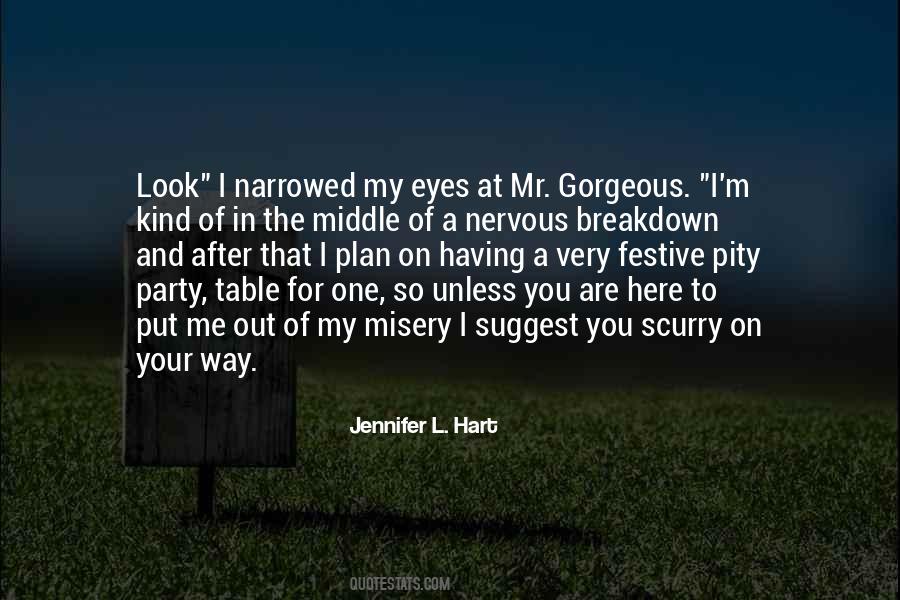 #19. When there is love in the heart, there are rainbows in the eyes, which cover every black cloud with gorgeous hues. - Author: Henry Ward Beecher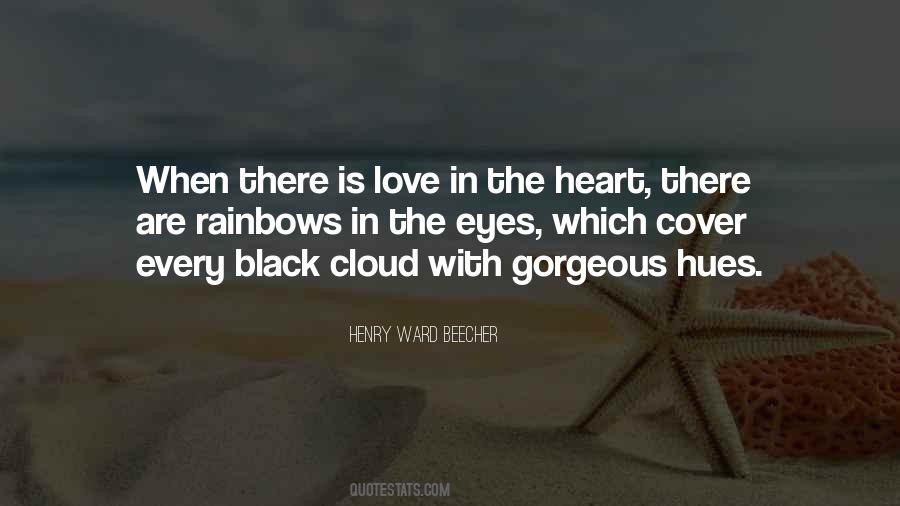 #20. As he left to answer the call, she heard him exclaiming in wonderment on the rise. Rocks, Nash. Is that a river mare out there? Do you see her? Have you ever laid eyes on a more gorgeous creature? - Author: Kristin Cashore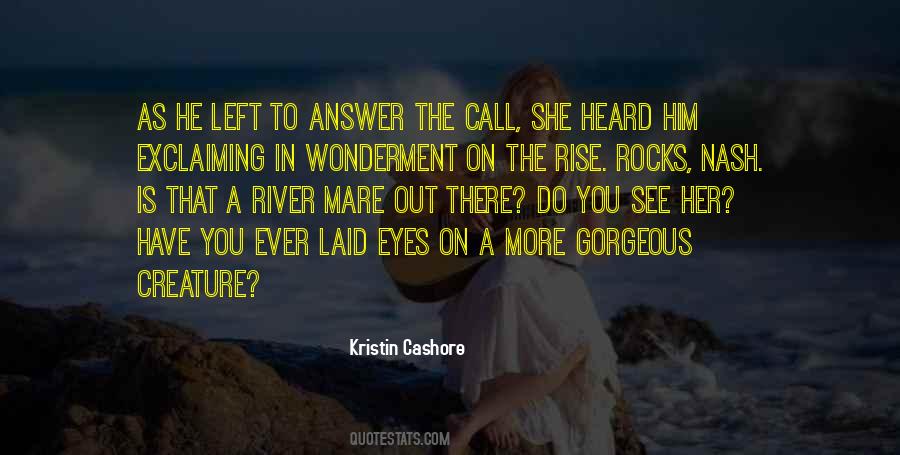 #21. A sinfully gorgeous man locked his brown eyes with mine. - Author: Nicole Gulla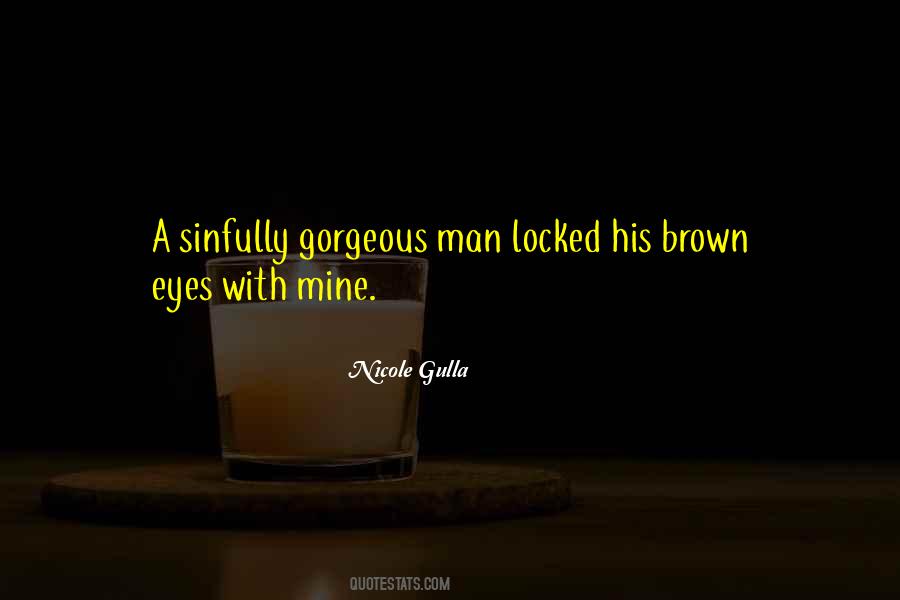 #22. You are the most gorgeous woman I've ever set eyes on. Every night I thank the stars I get to sleep next to you. And every morning I hope I get at least one more night. - Author: Cassie Mae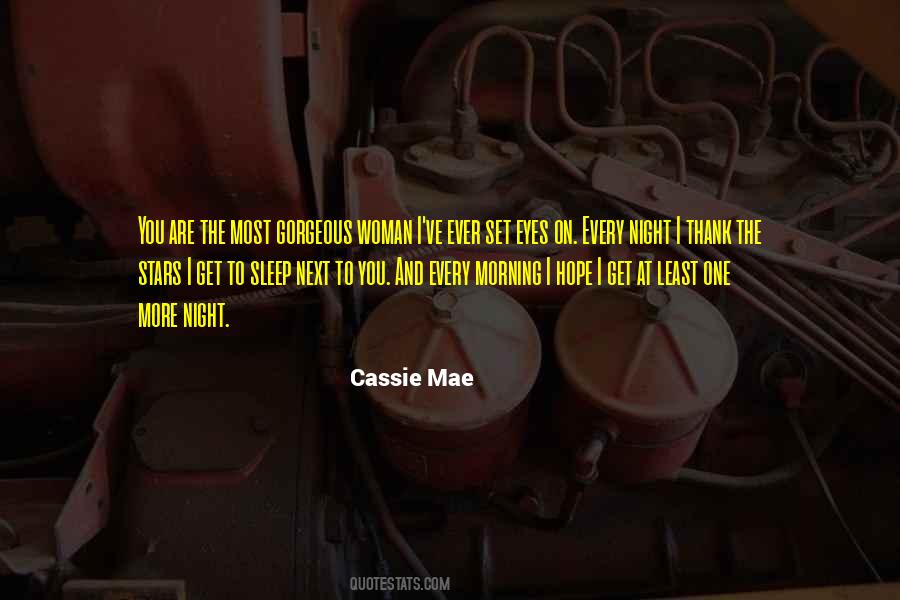 #23. The bluebird is well named, for he wears a coat of the purest, richest, and most gorgeous blue on back, wings, and tail; no North American bird better deserves the name, for no other flashes before our admiring eyes so much brilliant blue. - Author: Arthur Cleveland Bent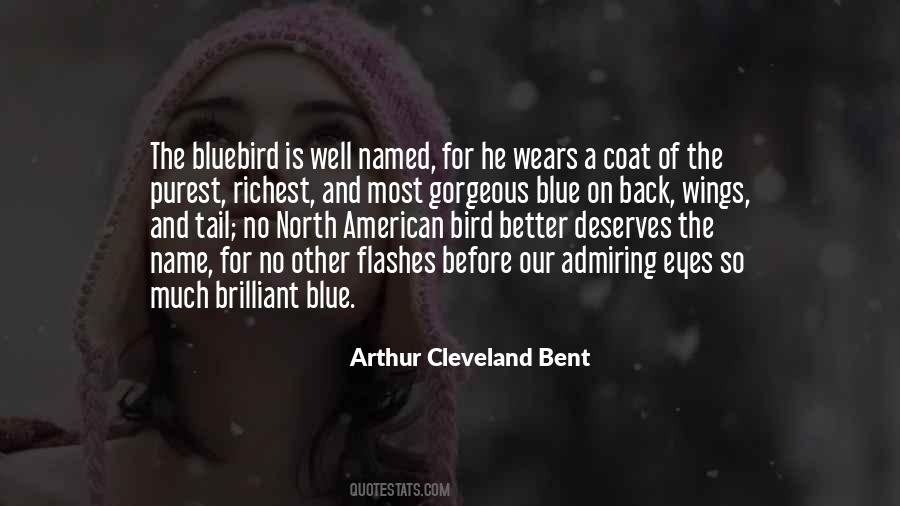 #24. His allure, as he stood there, his face, even with the red swollen eyes, everything about him was gorgeous. - Author: Maryam Schonbeck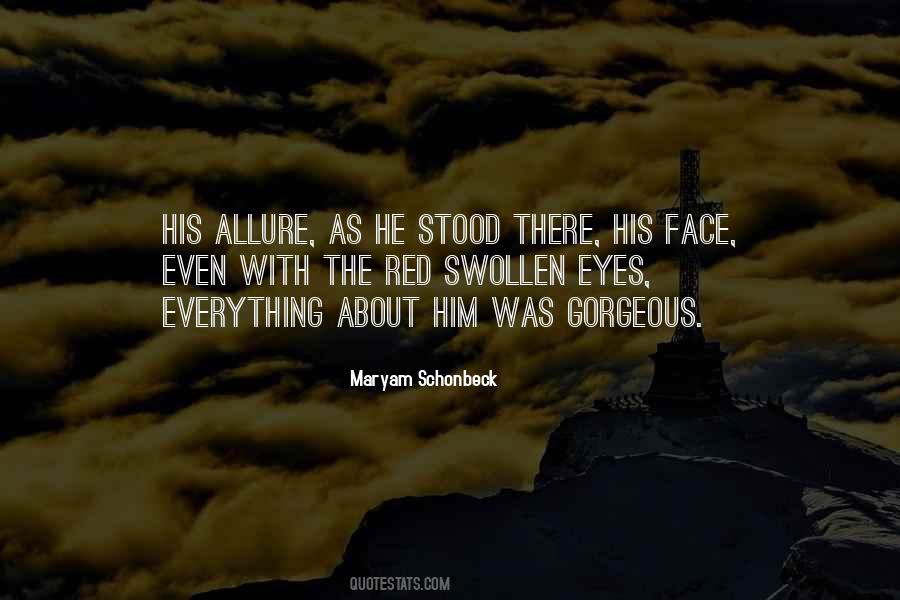 #25. Now what can I get ... you ... ? My words trailed off as my eyes met the suit's, the air leaving my lungs, suddenly sucked out by the sight that met me. The man ... he was ... gorgeous. - Author: Laurelin Paige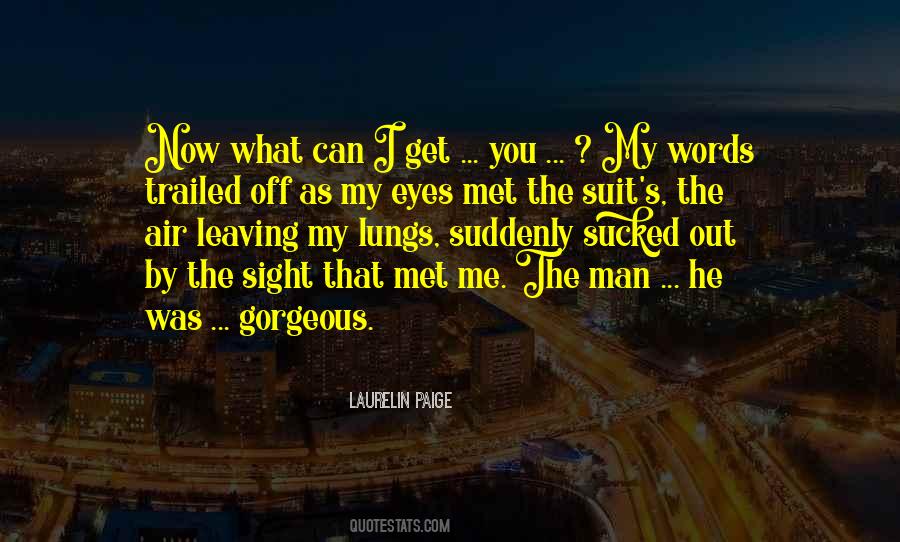 #26. Stark looked strong and healthy and totally gorgeous. I was distracting myself by wondering what exactly Scottish guys did, or didn't, wear under those kilts when he turned to face me.
His smile lit up his eyes. I can practically hear you thinking. - Author: Kristin Cast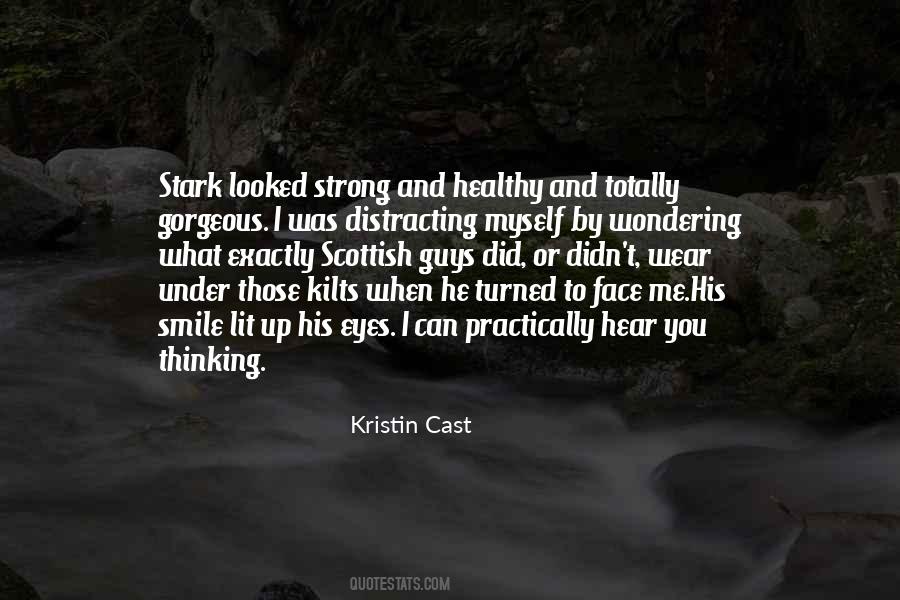 #27. You, Baylor Irene Moore, are the most gorgeous and driven and smartest woman I've ever set eyes on. You're not even gone yet, and I miss you. - Author: Toni Aleo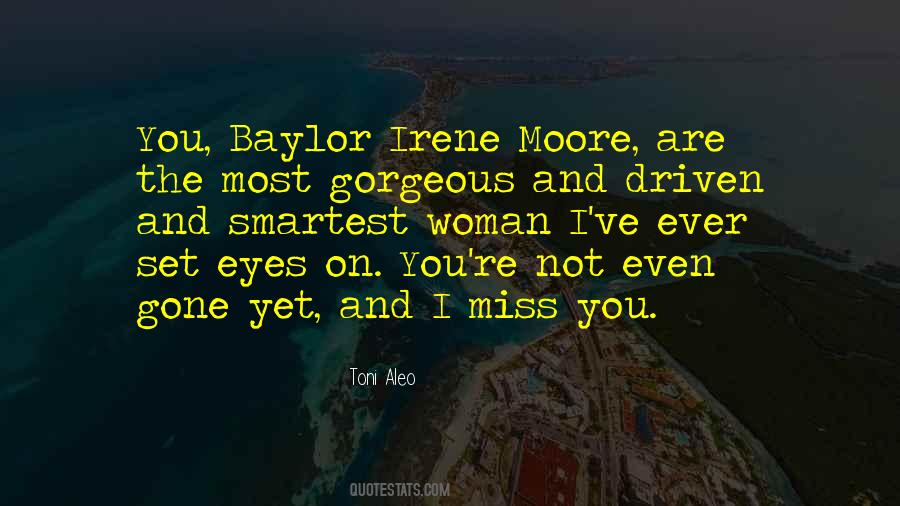 #28. I bet he has a very nice penis. I bet it's glorious, like his stupid perfect face, and gorgeous eyes, and muscled body. I bet if he entered his penis in a competition, it would win "Best in Show" and he could walk around with a giant blue ribbon stuck to his crotch. - Author: Leisa Rayven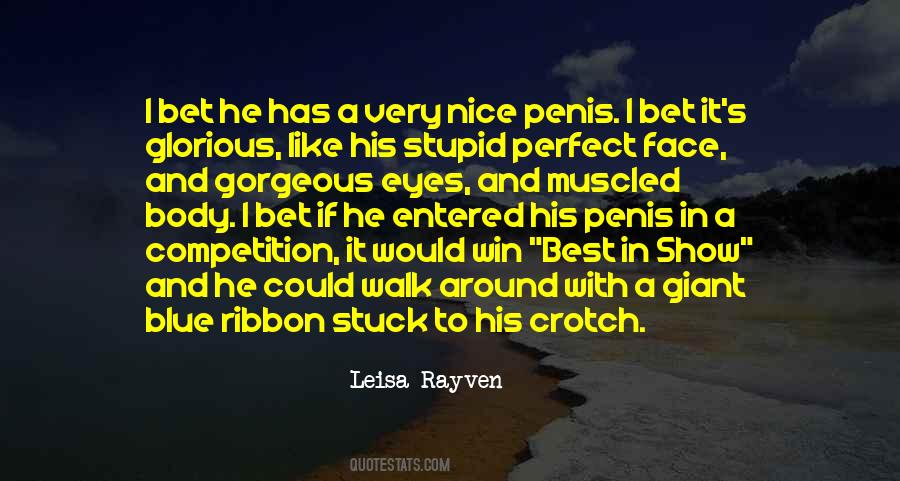 #29. Any film featuring Bradley Cooper's gorgeous blue eyes is automatically on my must-see list and they did not disappoint in 'The Words,' which is so intense and confusing that I was pretty lost by the end! - Author: Gayle King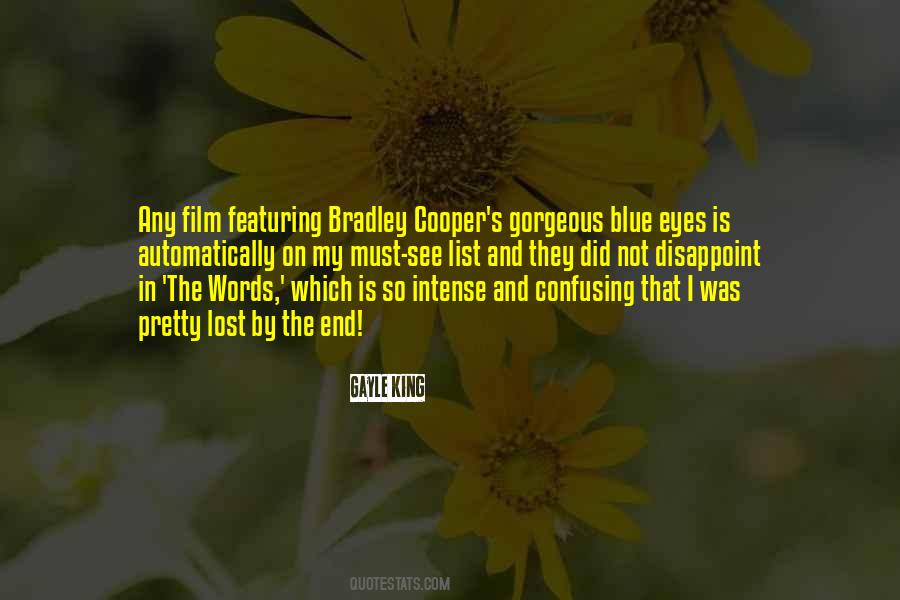 #30. The beauty in the losing is a loss finally of self-consciousness. There's a gorgeous moment that can happen in all kinds of places. It can happen with people, it can happen with nature, and it can happen with my eyes shut anywhere I am. - Author: Barbara Brown Taylor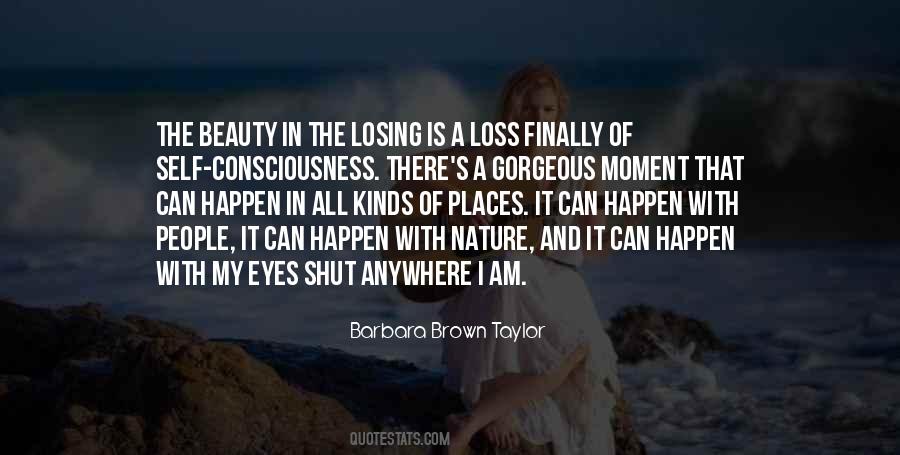 #31. Was it the infinite sadness of her eyes that drew him or the mirror of himself that he found in the gorgeous clarity of her mind? - Author: F Scott Fitzgerald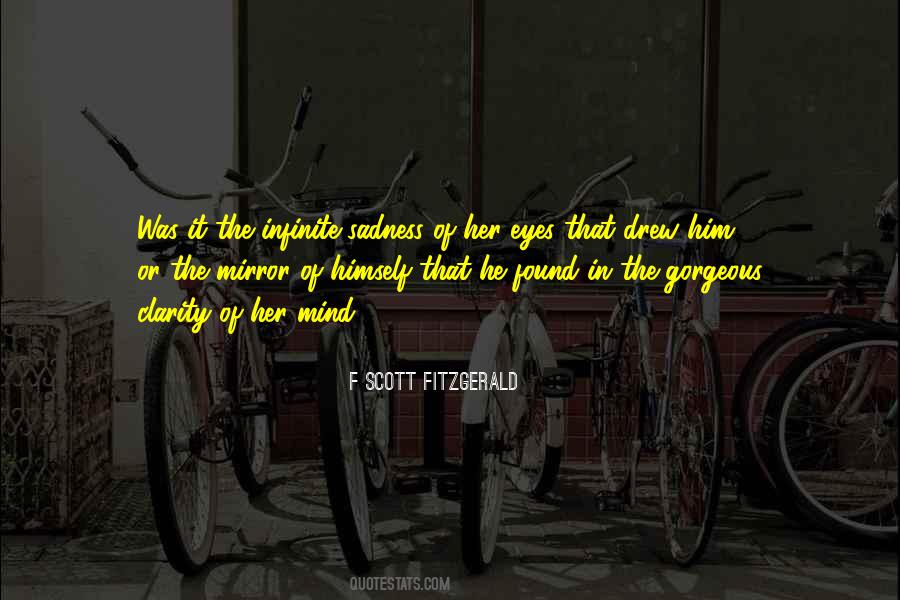 #32. Those eyes crinkled attractively at the corners as their gorgeous owner threw me a friendly, boyish smile that penetrated my anti-bad-boy force field. - Author: Samantha Young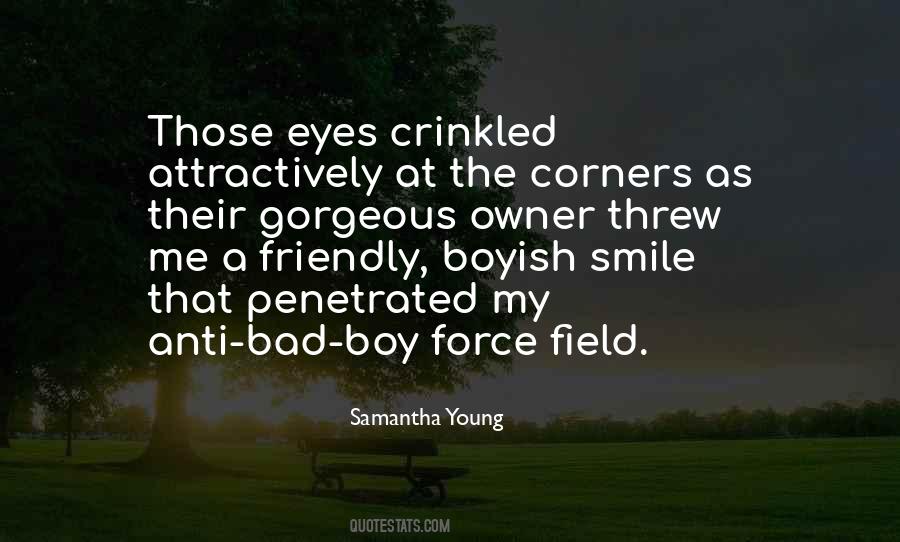 #33. Carter Reed was their obsession. He was gorgeous with wolf-like blue eyes, chiseled cheekbones, and broad shoulders that tapered to a thin waist. - Author: Tijan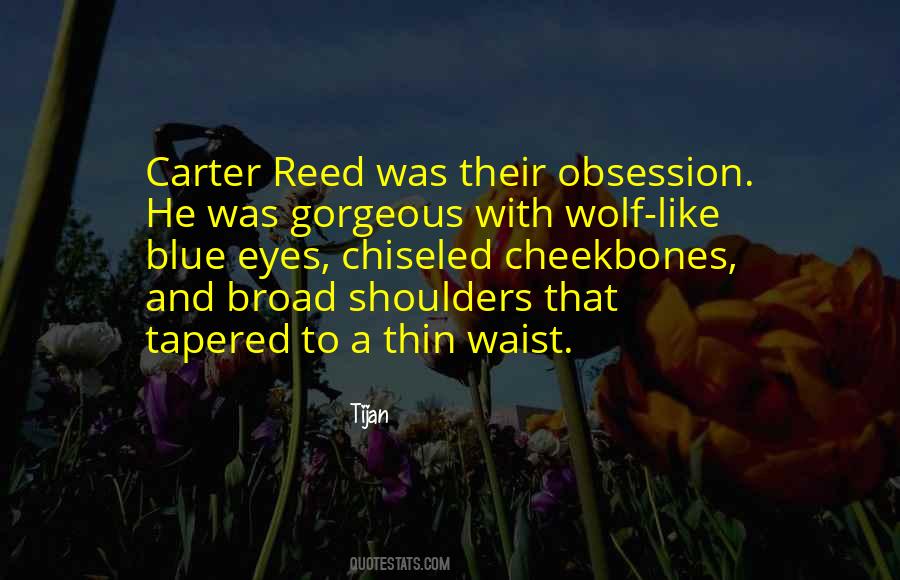 #34. Part of falling in love with someone is actually falling in love with yourself. Realizing that you're gorgeous, you're fearless and unpredictable, you're a firecracker spitting light, entrancing a hundred faces that stare up at you with starry eyes. - Author: Leah Raeder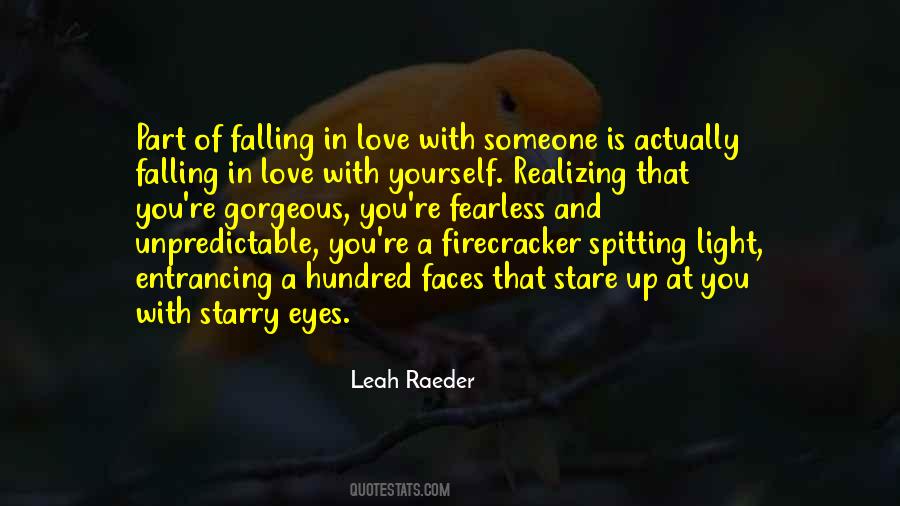 #35. I remember every good thing about you. Every sweet and perfect thing. And nothing else." He touched her chin, tipped it up to look into her wet brown eyes. Even smudged, they were gorgeous. The dawning light in them filled his heart, and healed it. "Nothing else. - Author: V.S. Carnes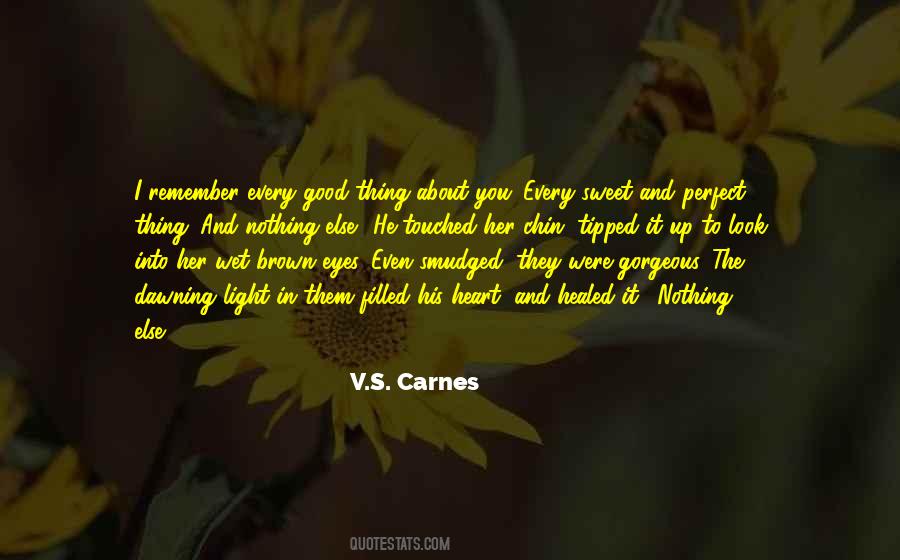 #36. She was lovely with eyes that captivated your heart, a smile that drew your mind, and a presence that captured your soul. She was everything you wanted in a girl, and so much more. - Author: Victoria Sophia A.B.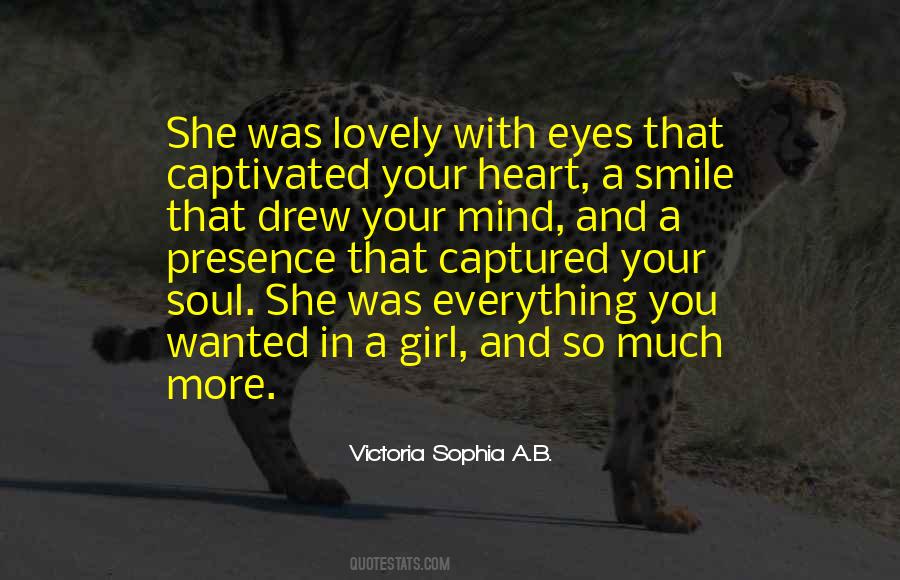 #37. She's so beautiful it hurts. Golden blond hair flows past her shoulders. Those gorgeous violet eyes shouldn't be so wide with fear. I've dreamed of being this close to her again. I ache to gather her in my arms and keep her safe from the world ... to be her protector, but I can't be that man. - Author: Katie McGarry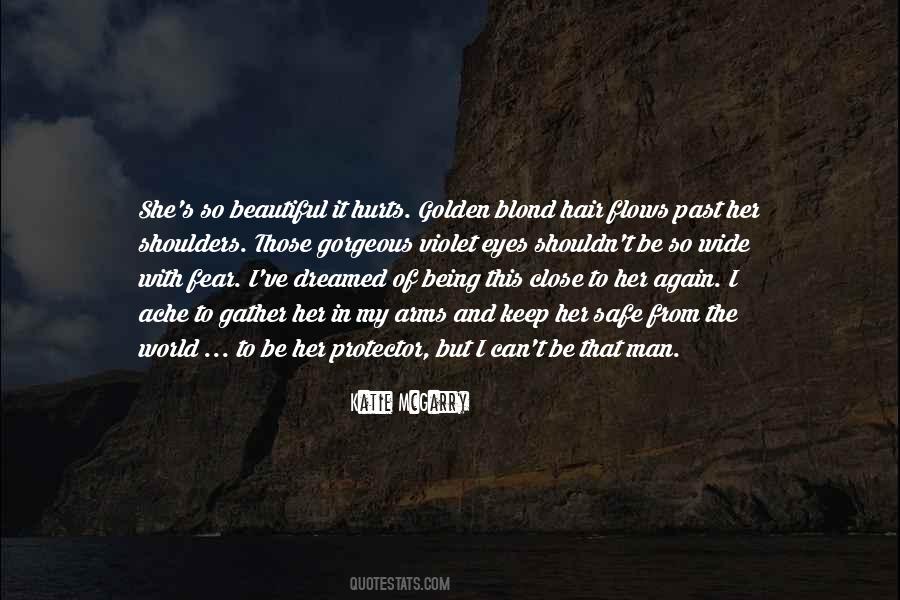 #38. Her color was high and her brown eyes were shining. Her gorgeous red hair was a thick mass of curls that fell down her back. She looked like a painting, fragile, caught in a moment she couldn't get out of. - Author: Sarah Addison Allen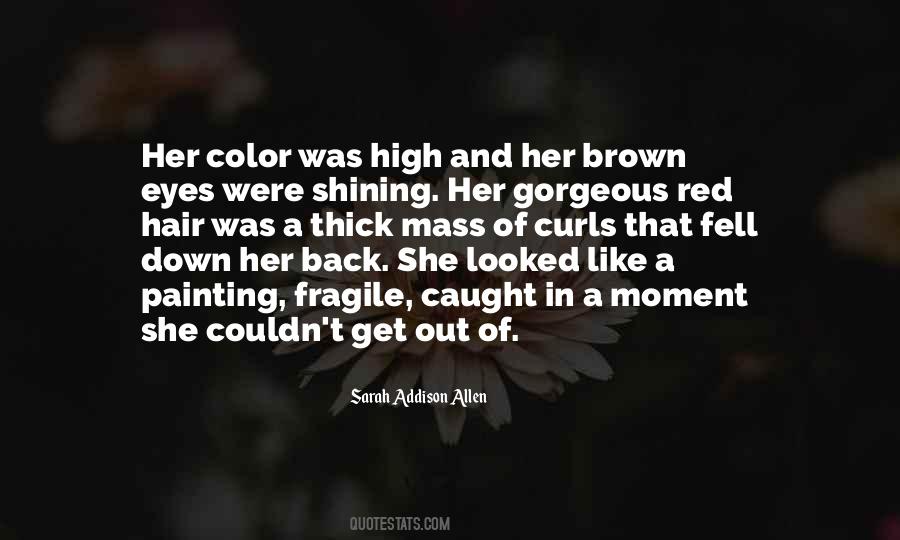 #39. She wouldn't pay attention to how wonderful he smelled. Or how gorgeous those blue eyes were when they sparkled with happiness. Nope. She wouldn't think about it. Not one little bit. - Author: Dawn M. Turner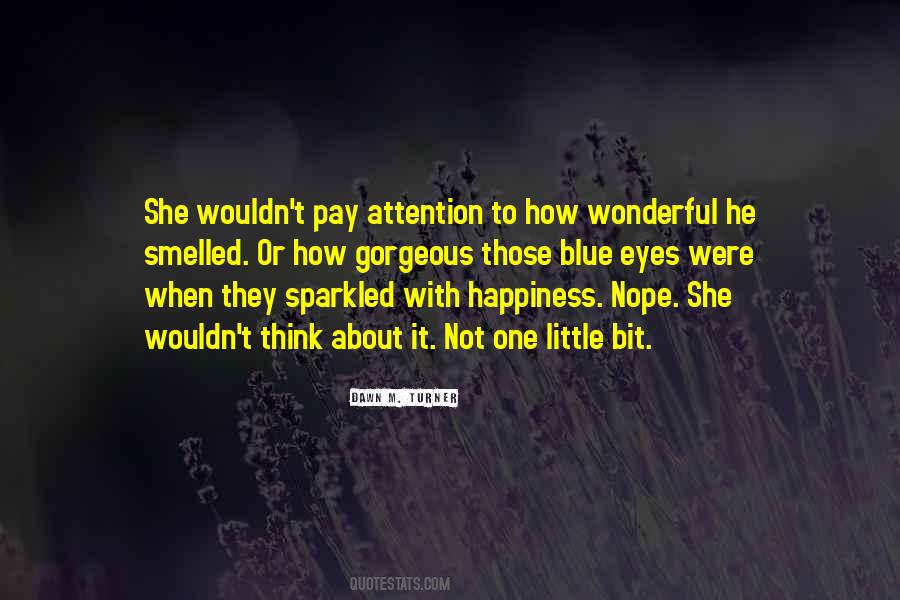 #40. I've always seen white picket fences in your eyes when you look at me. I was positive I wasn't that guy. I was wrong. One of these days, when you're ready, I'll give that dream to you. And you're going to give me a gorgeous little girl or two with your dark curly hair and smiles that slay me. - Author: Sylvia Day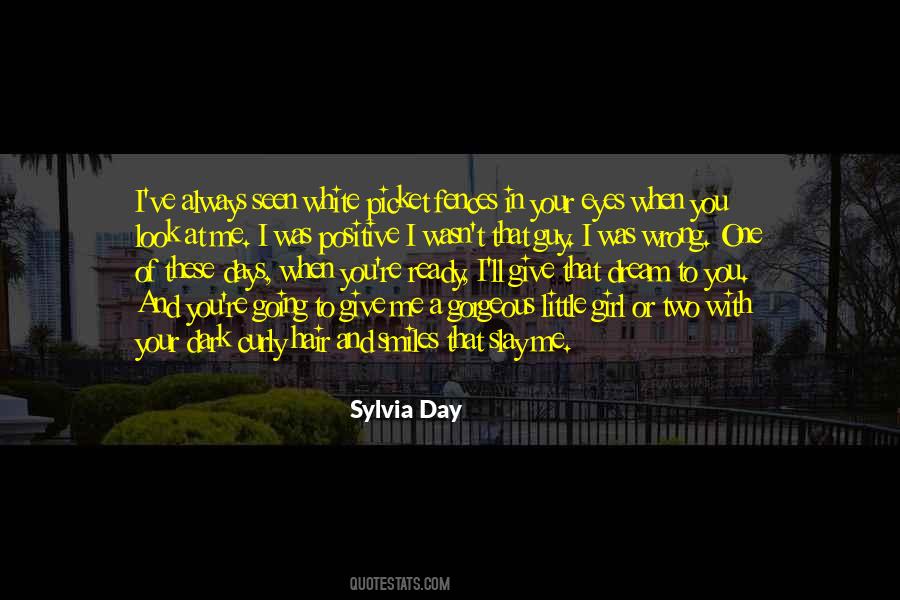 #41. She sought his eyes once again. Eyes so perfect a blue they rivaled the most gorgeous lapis lazuli stone. - Author: Grace Willows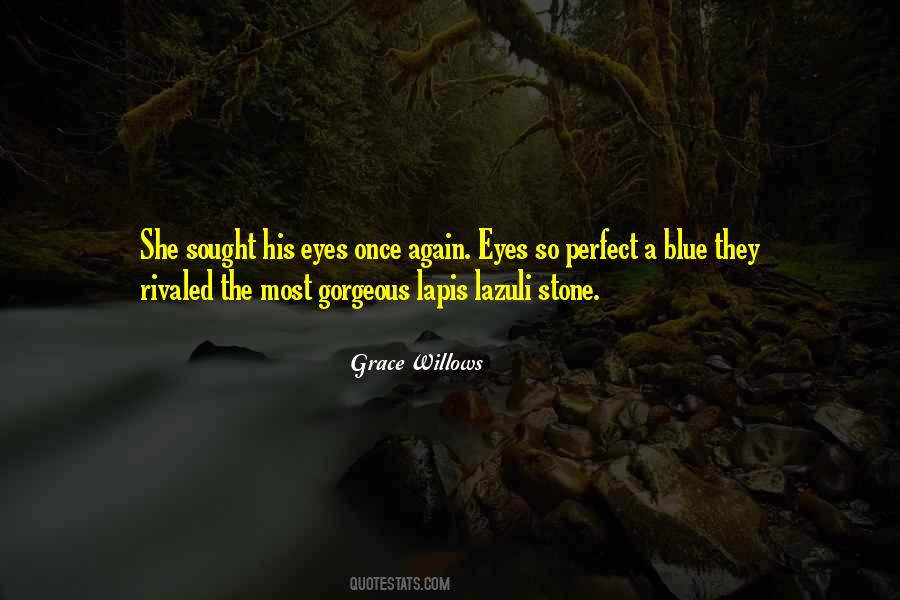 #42. I could have sworn that the man's eyes were no longer watching his daughter dying in agony, that instead the gorgeous colors of flames and the sight of a woman suffering in them were giving him joy beyond measure. - Author: Ryunosuke Akutagawa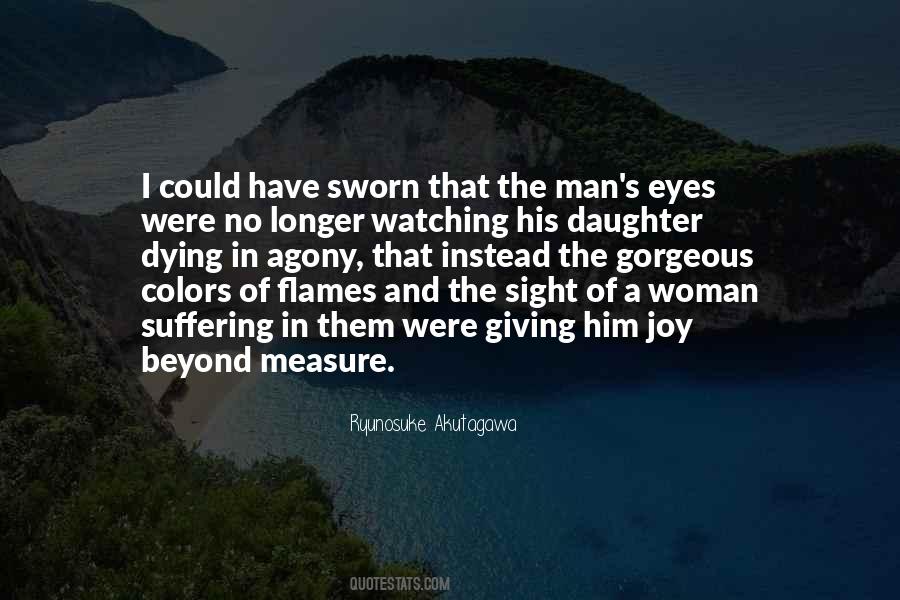 #43. Imagine a guy. He's a little taller than you, with perfect skin, skin that just screams "touch me!" and dark hair and gorgeous blue eyes and he looks so sweet and he is sweet. And then have him blush a little. - Author: Elizabeth Scott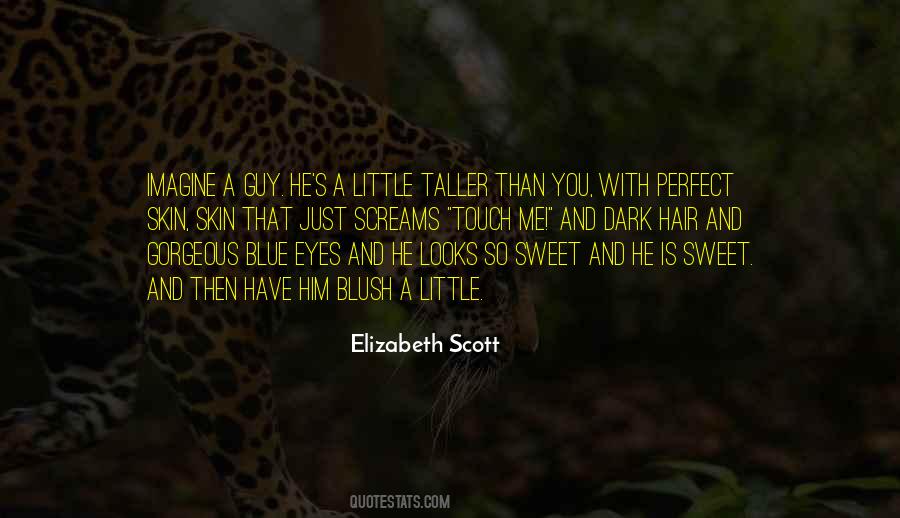 #44. She wasn't gorgeous, wasn't ugly. A sprinkle of freckles crossed the bridge of her nose. Mostly, she looked like a hundred other girls in school, except for two things, She wore no makeup, and her eyes were the biggest I had ever seen, like deer's eyes caught in headlights. - Author: Jerry Spinelli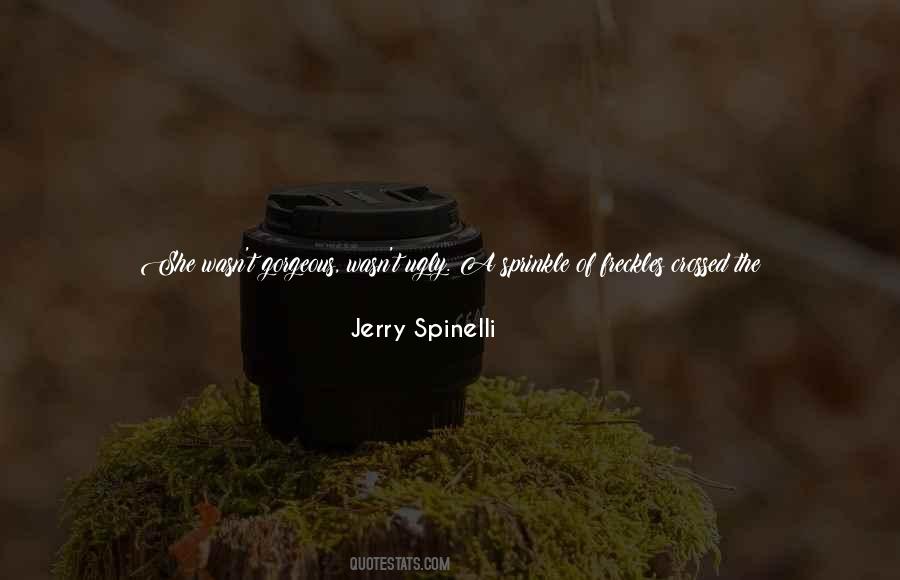 Famous Authors
Popular Topics