Good Character Famous Quotes & Sayings
List of top 100 famous quotes and sayings about good character to read and share with friends on your Facebook, Twitter, blogs.
Top 100 Quotes About Good Character
#1. If you're a good actor, then you channel enough of yourself into the character so that you do get that other thing. - Author: Henry Cavill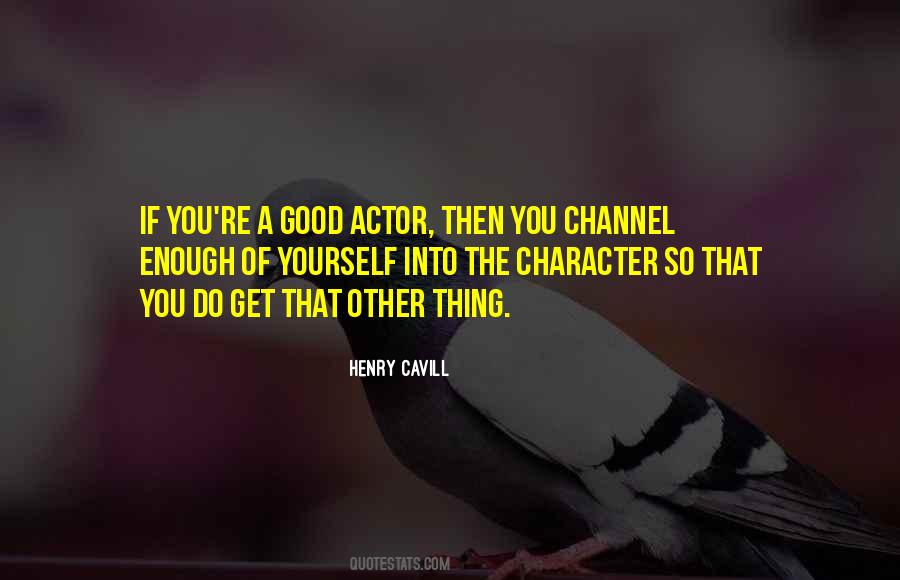 #2. Good breeding in cattle depends on physical health, but in men on a well-formed character. - Author: Democritus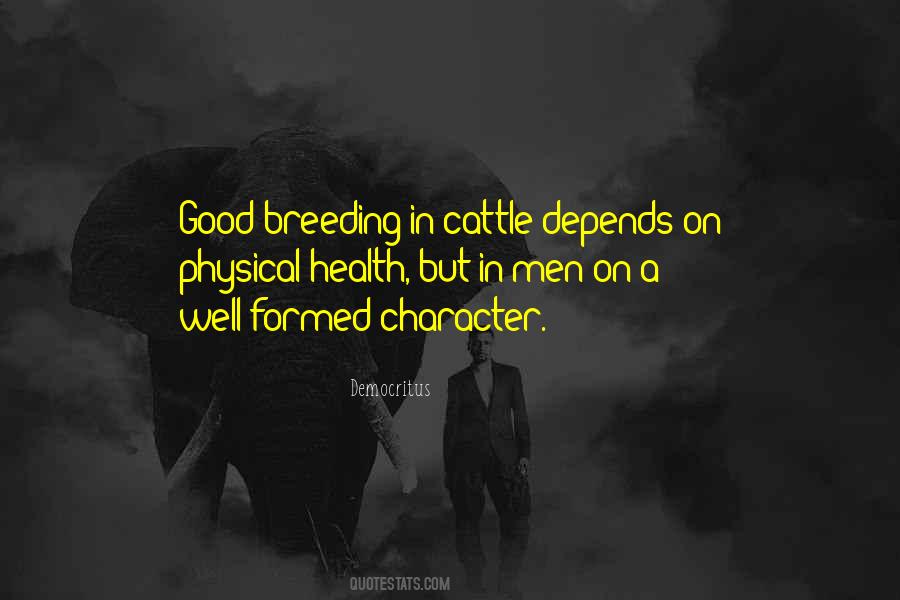 #3. A whole lot of good my IQ came when it came to judging his character. - Author: DiAnn Mills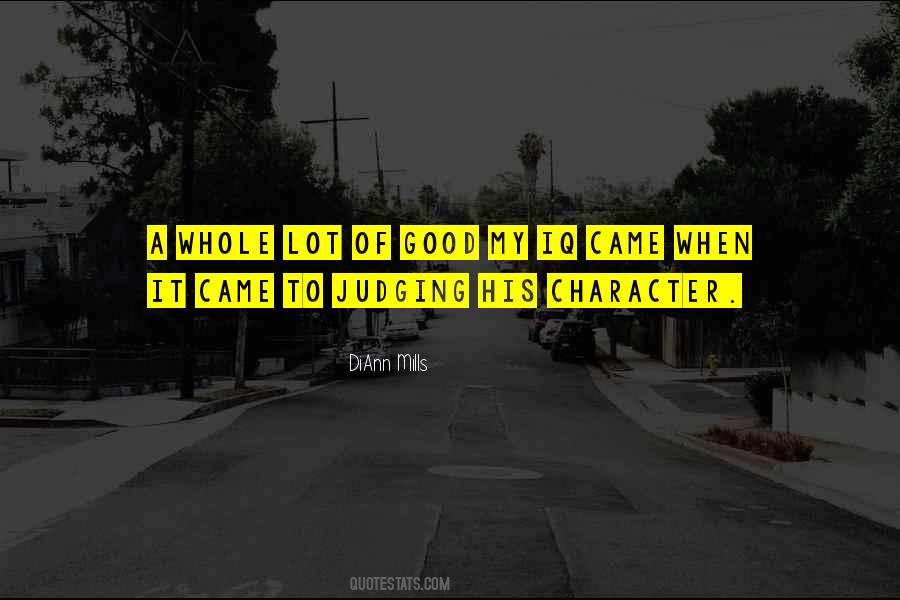 #4. Compassion for animals is intimately associated with goodness of character, and it may be confidently asserted that he who is cruel to animals cannot be a good man. - Author: Arthur Schopenhauer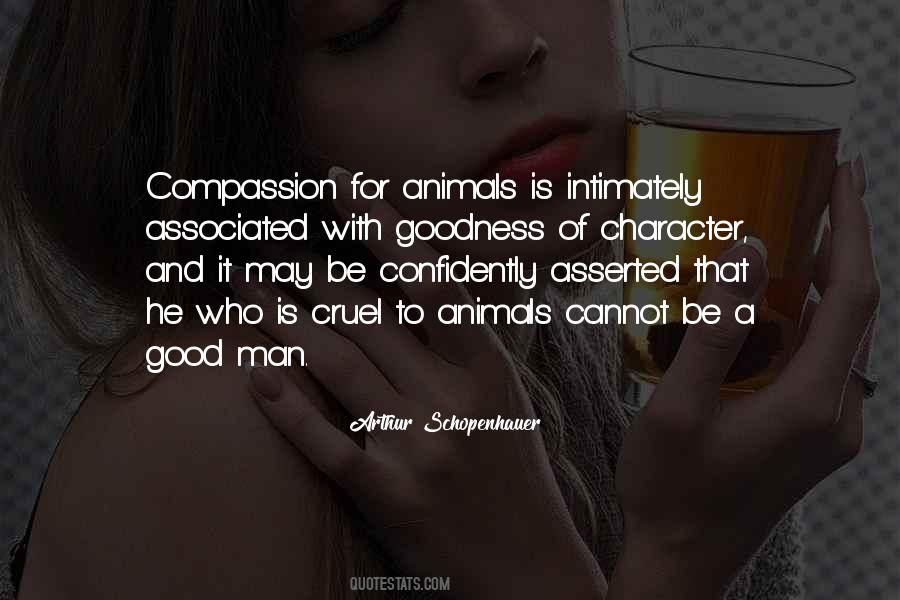 #5. That's sort of what I like about this character is that he's not the good guy, he's not truly the bad guy. - Author: Nicholas Lea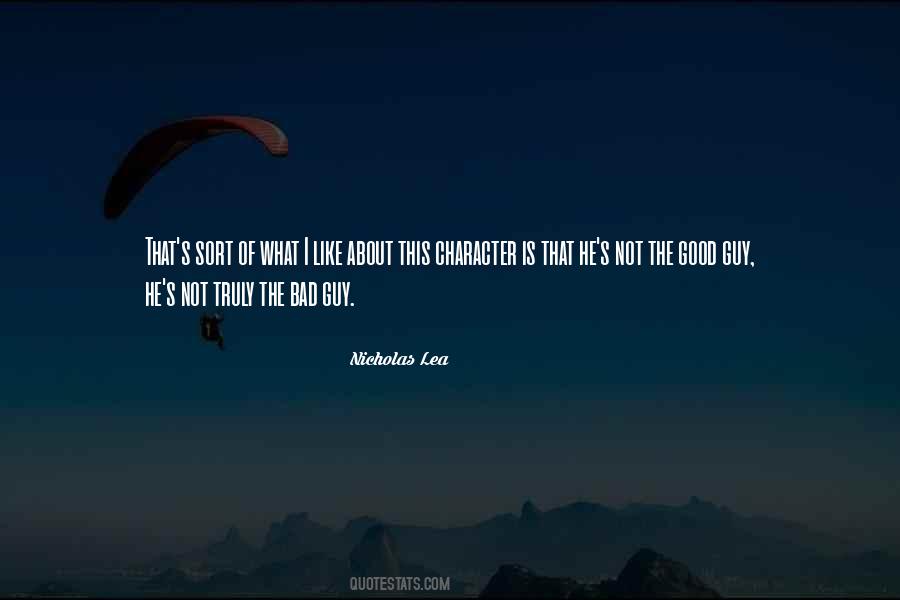 #6. I think the genre of comics sometimes overtakes the medium, and people assume that they are kind of frivolous. If you have a good, strong story teller, they can be as affecting as any character in literature. Period. - Author: Chip Kidd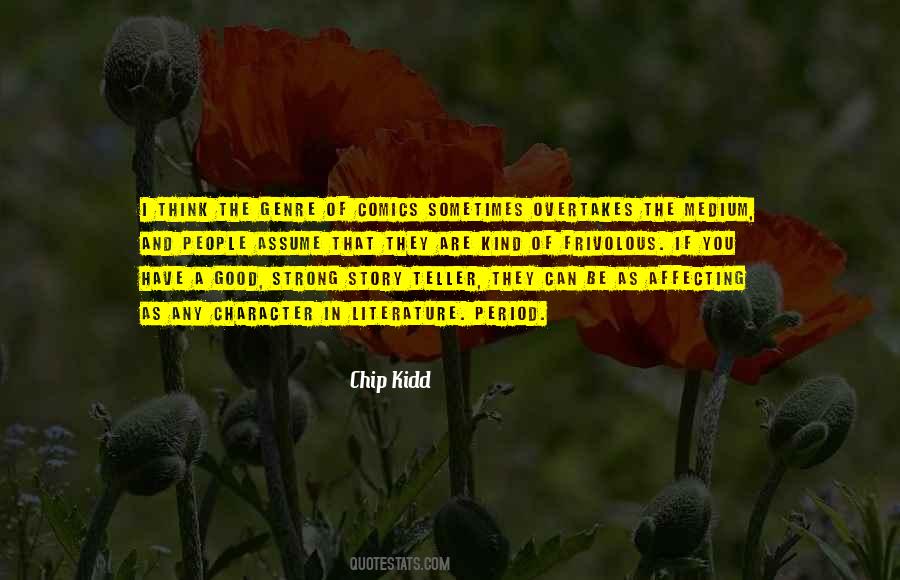 #7. Good character is more important than wealth, good looks, popularity and even education. These things do not guarantee happiness and often they become obstacles to developing good character. - Author: Michael Josephson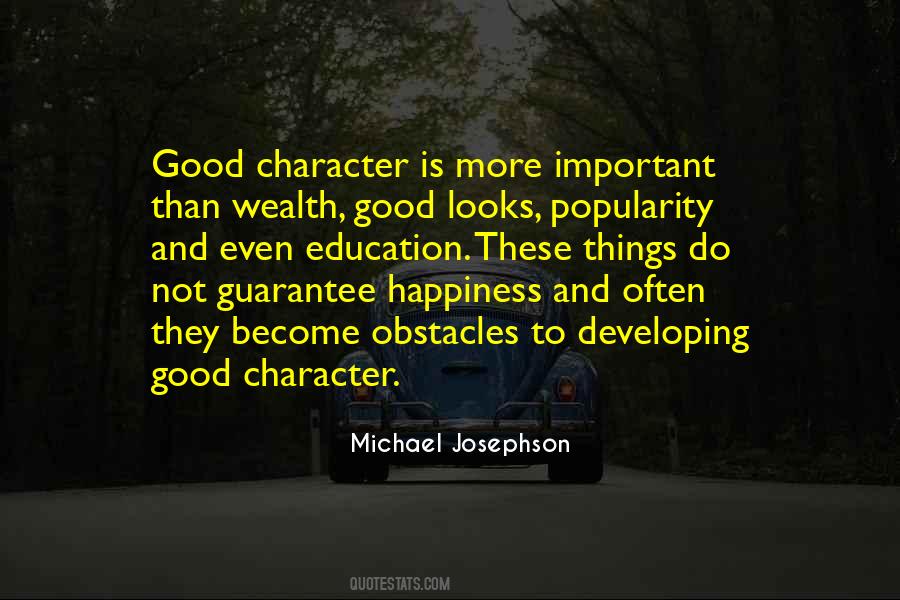 #8. In afternoon if you close eyes it's doesn't mean there is dark outside and if you avoid or do not want see your wrong deeds and wrong character it's doesn't mean all Good in you - Author: Mohammed Zaki Ansari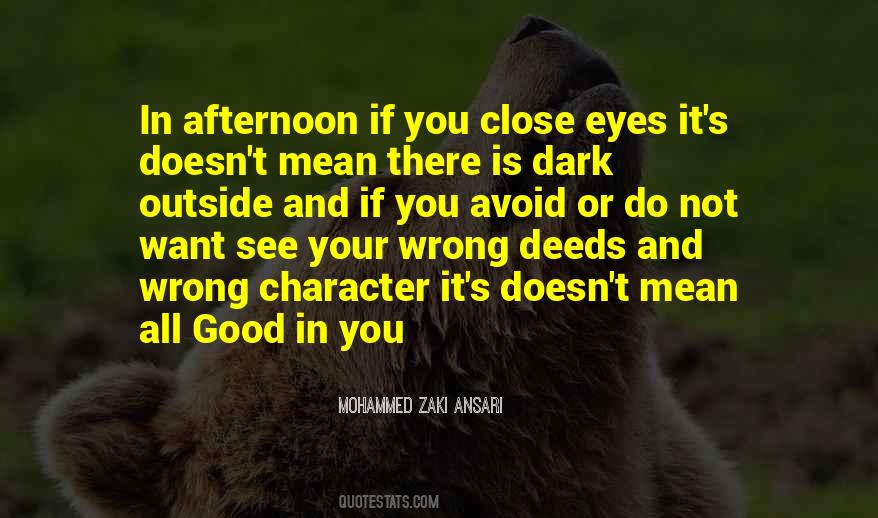 #9. You're thoughtful, Barbara, but you're not open. You're passionate, but you're hard. You're a good, decent, funny, wonderful woman, and I love you, but you're a pain in the ass. - Author: Tracy Letts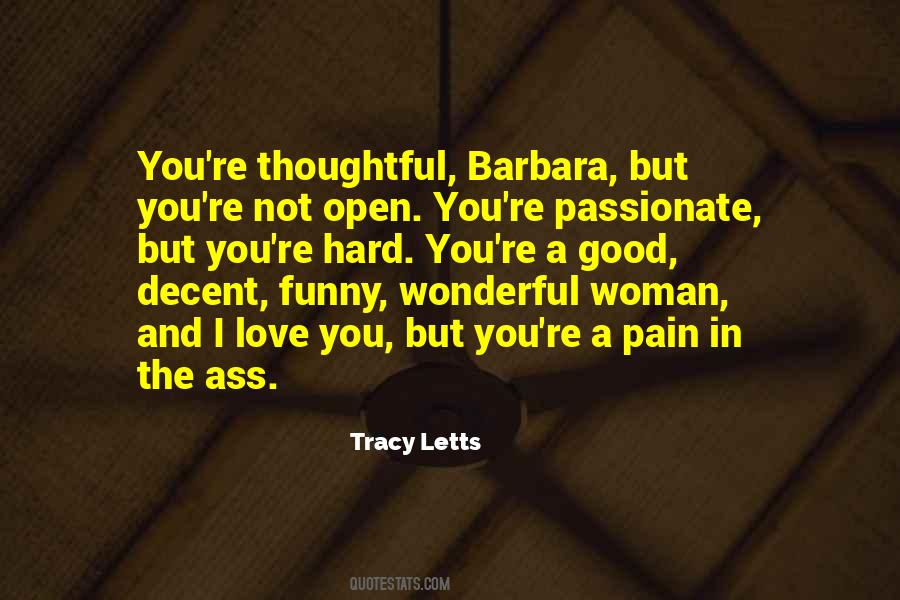 #10. My favorite roles usually have to do with the story, if it's a good story I usually enjoy doing the character. - Author: Beau Bridges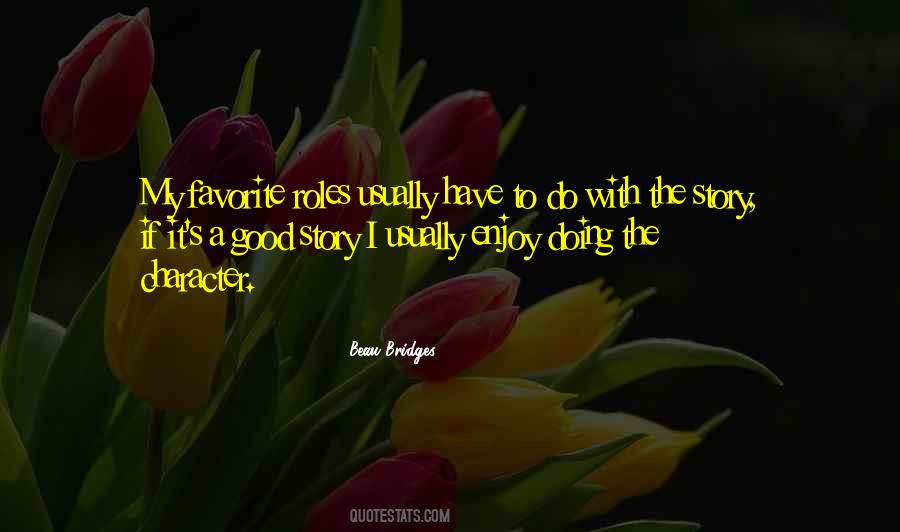 #11. All men make mistakes, but a good man yields when he knows his course is wrong, and repairs the evil. The only crime is pride. - Author: Sophocles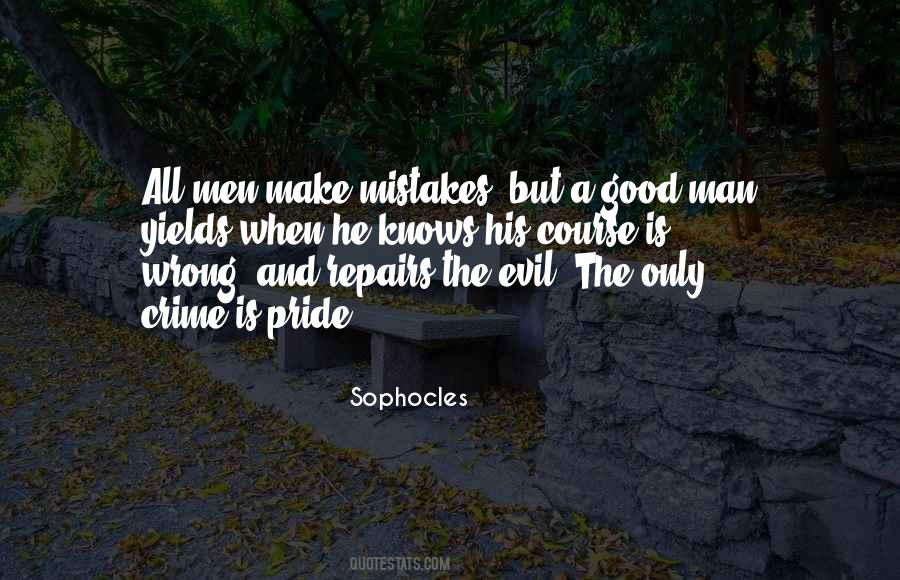 #12. God's Word is as good as He is. There is an old saying that a man is as good as his word. Well, God is as good as His Word. His character is behind what He has said. - Author: J. Vernon McGee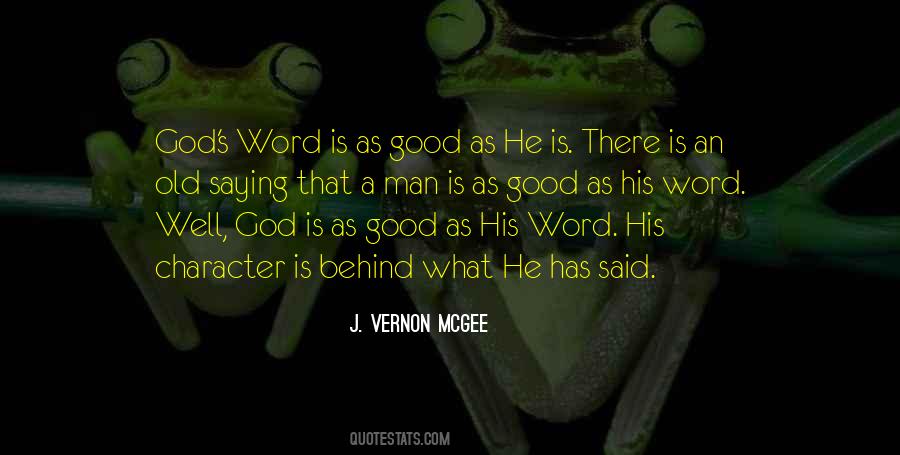 #13. I don't want to play a superhero. Drogo may not be Superman, but it is a phenomenal role. I didn't want to get typecast. Drogo is an exceptional character. Conan is iconic. Whether it does good or not, you just try to elevate it to the next level. - Author: Jason Momoa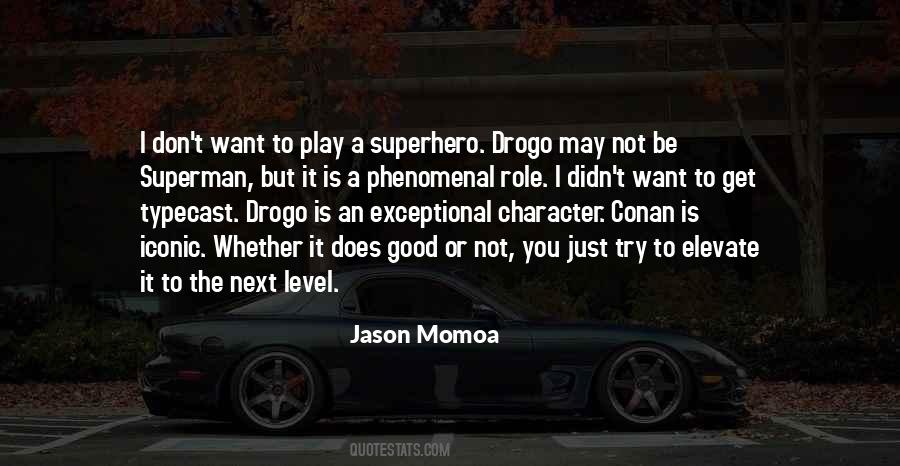 #14. Character is always my driving force. And to tell a good story and to provide an entertaining read. - Author: Monica Ali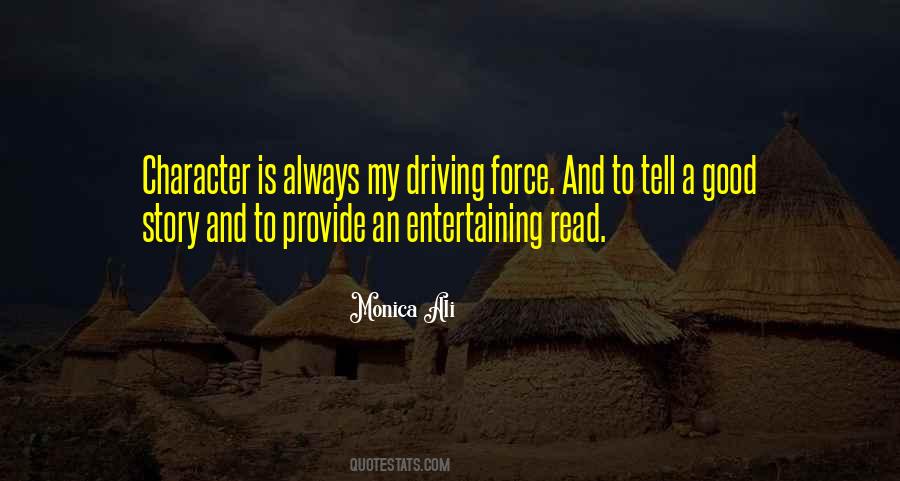 #15. The highest and best work of imagination is the marvelous transformation that it works in character. Imagine that you are one with the principal of good, and you will become truly good. - Author: Charles Fillmore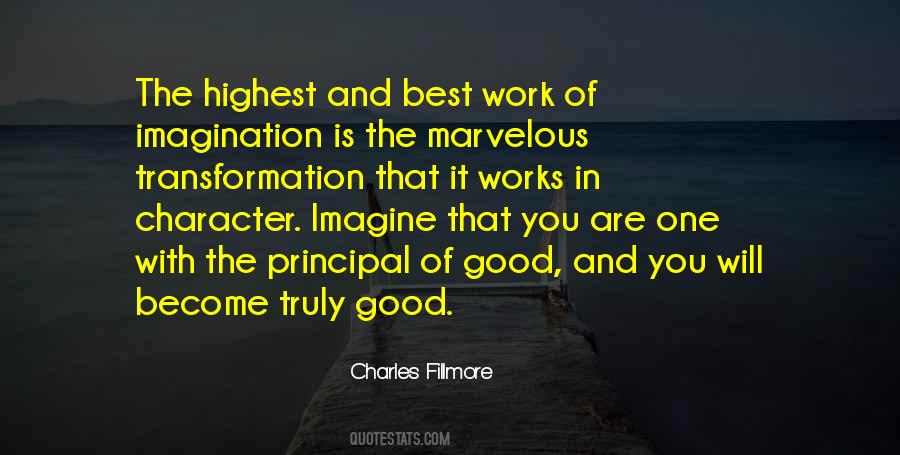 #16. lost a great innocence when I understood that I and my mind were not going to be on good terms for the rest of my life. I can't tell you how tired I am of character-building experiences. But I treasure this part of me; whoever loves me loves me with this in it. - Author: Kay Redfield Jamison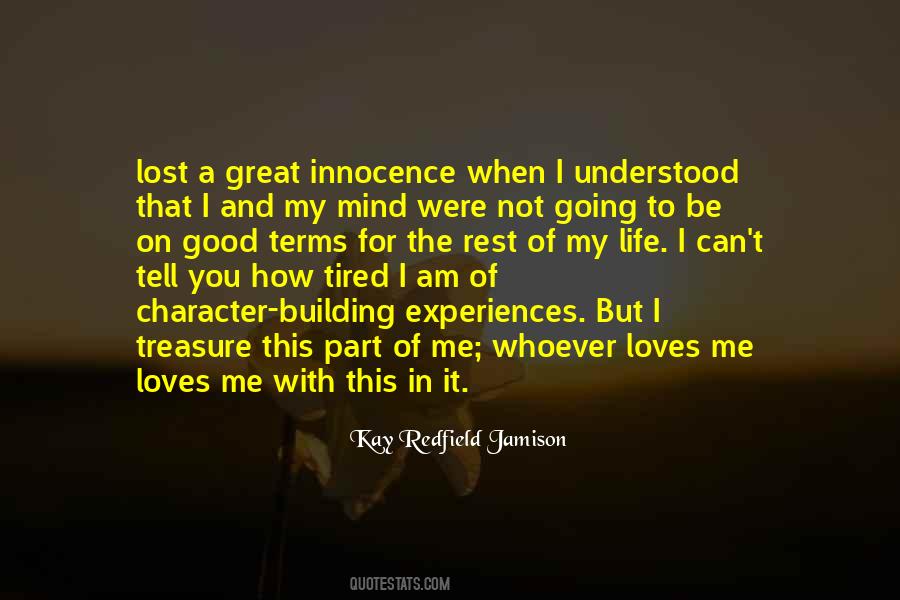 #17. It's all about story and character with me, and I don't care if the job is on daytime or prime time or the web. Hey, give me a good character and someone to listen, and I'll do my acting on a street corner. - Author: Justin Hartley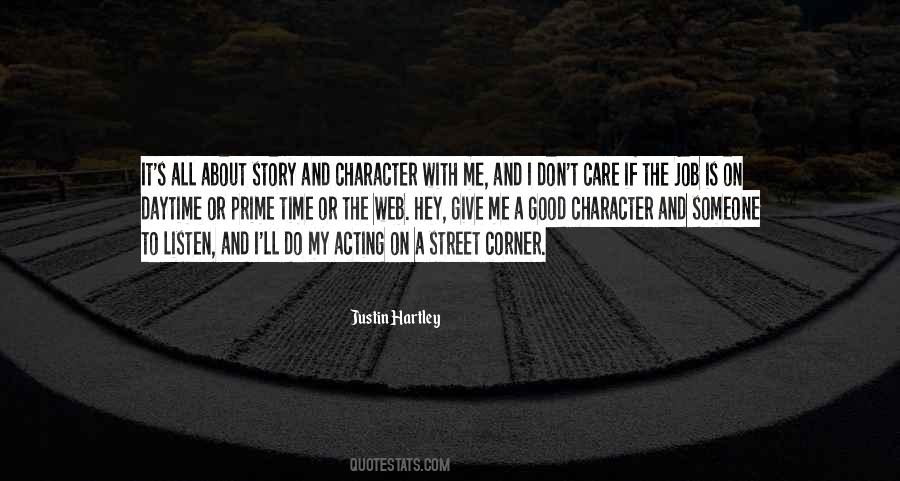 #18. I'd like to be in anything that tells a good story and has an interesting character. - Author: John Boyega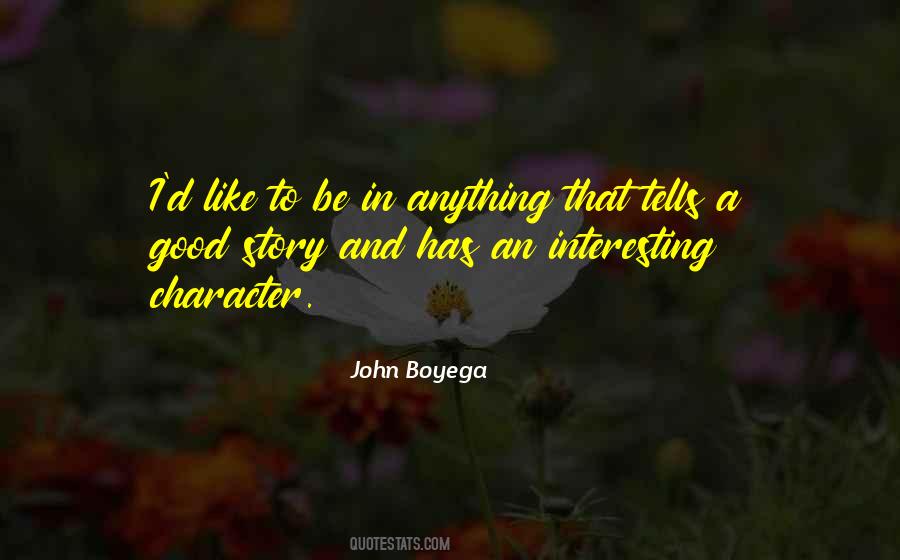 #19. I like playing a character that admires real musicianship, and real talent and hard work. I think that's a good message for everyone. - Author: Elizabeth Gillies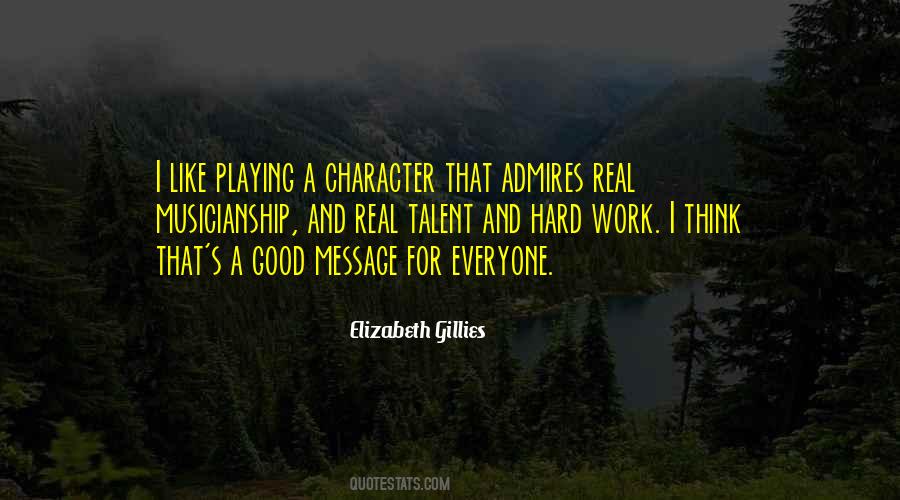 #20. I'd love to do a romantic comedy. And perhaps, if the character was right and I had a good gut instinct, a Bollywood movie. And I'd love to direct. One day. I'm learning a lot on the set of 'The Good Wife.' - Author: Archie Panjabi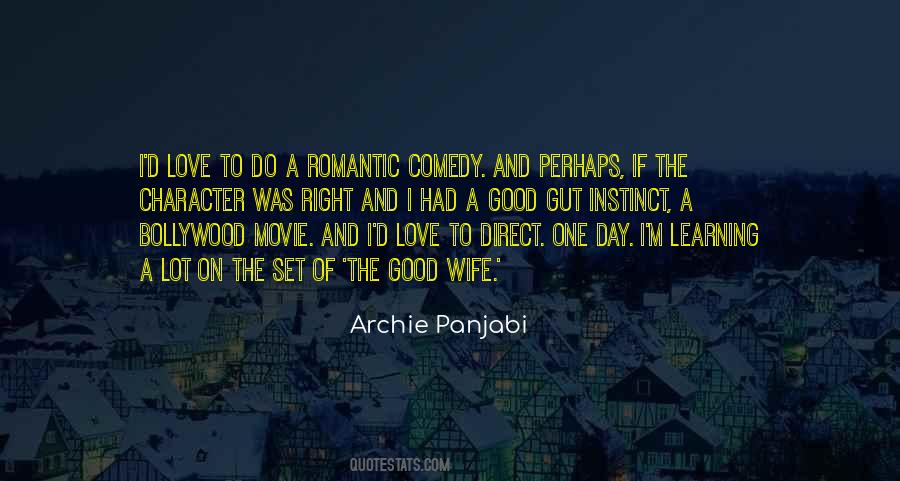 #21. There is the moral spectrum in 'Fargo,' and you see it in other Coen brothers movies, where you have a very good character on one end and a very bad character on the other. - Author: Noah Hawley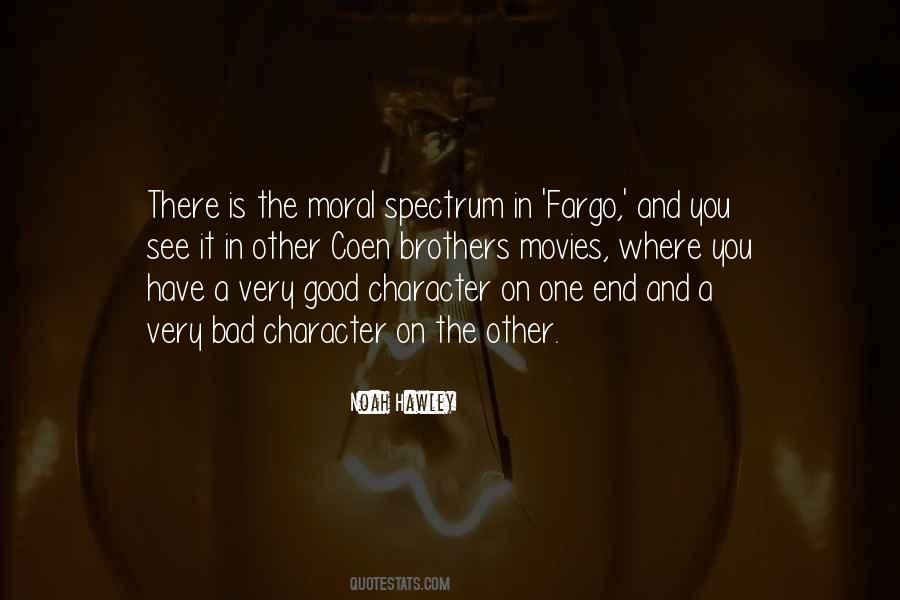 #22. Work on your character and a good life will come to you. - Author: Donald Miller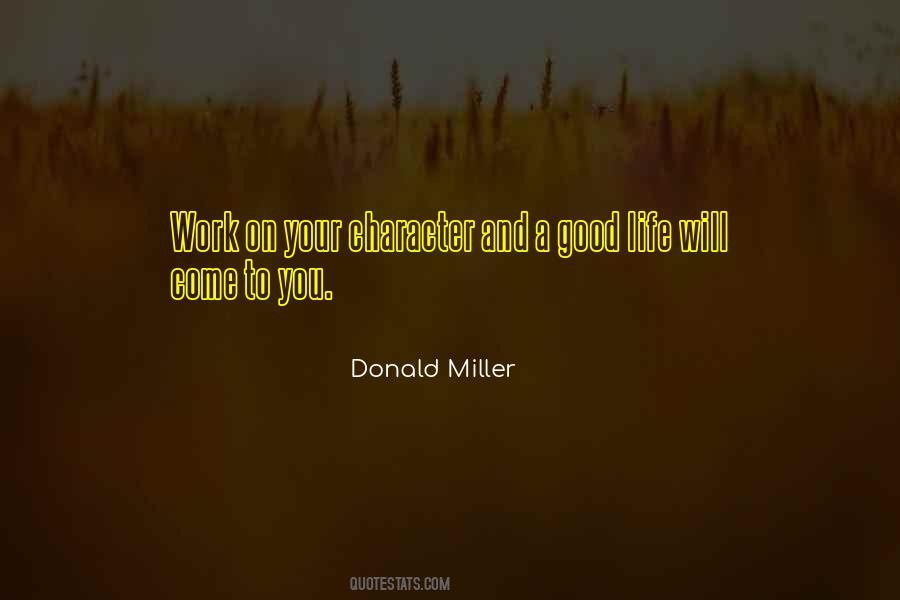 #23. I think I'm a good judge of character. - Author: Tamara Ecclestone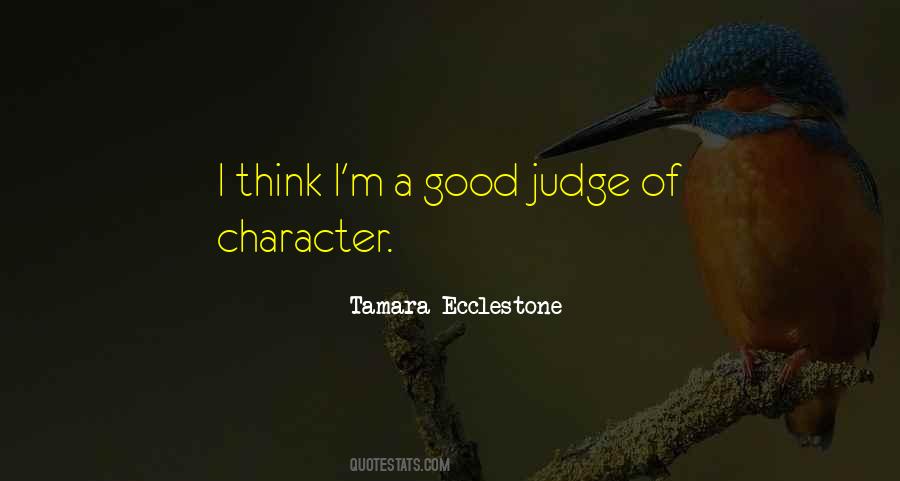 #24. I'd rather watch a character be good at something and be challenged - there's more to play in that. - Author: Melissa McCarthy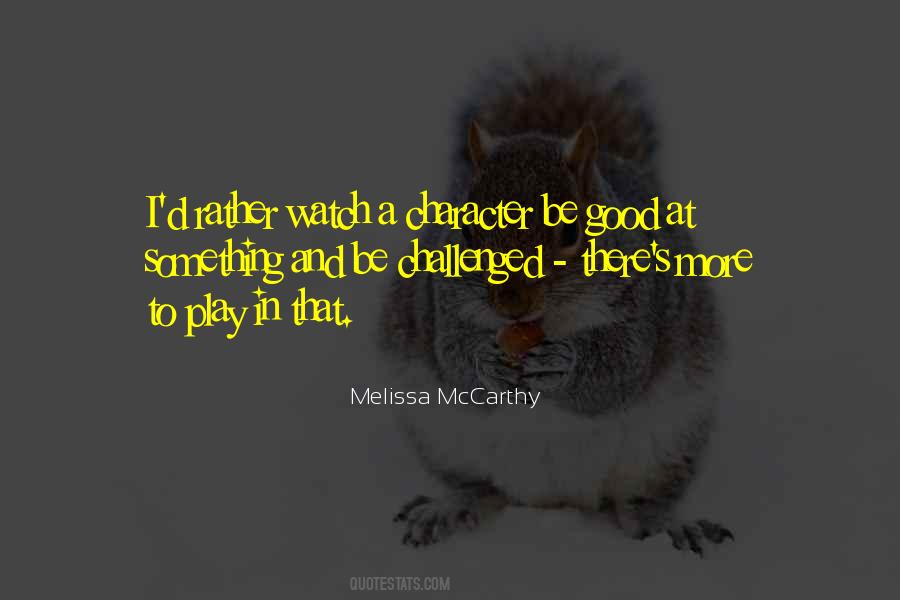 #25. Good, honest, hardheaded character is a function of the home. If the proper seed is sown there and properly nourished for a few years, it will not be easy for that plant to be uprooted. - Author: George Amos Dorsey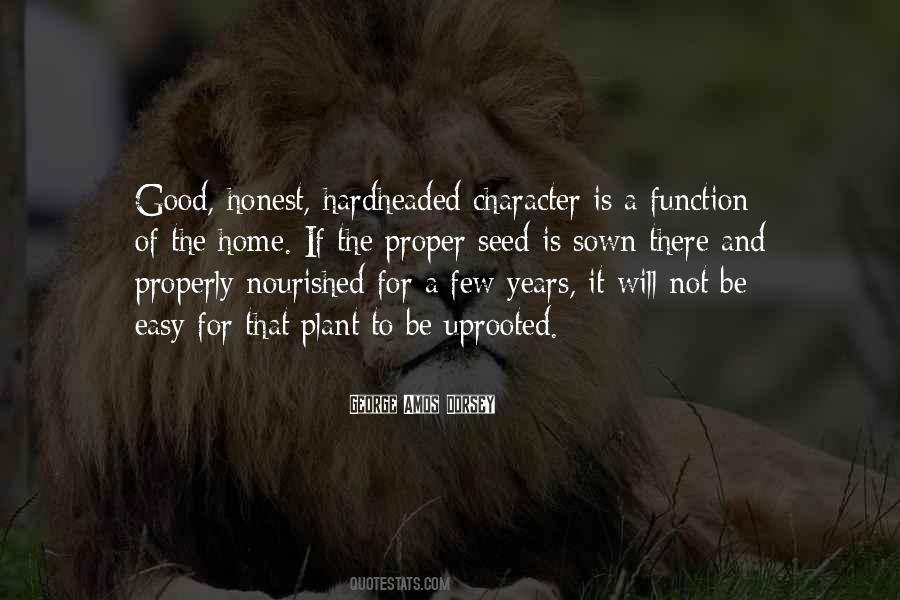 #26. I wanted it to be a wonderful combination of being able to dance a little bit, not being especially good, but also playing a character who says the line, "I love to dance". - Author: Mary Steenburgen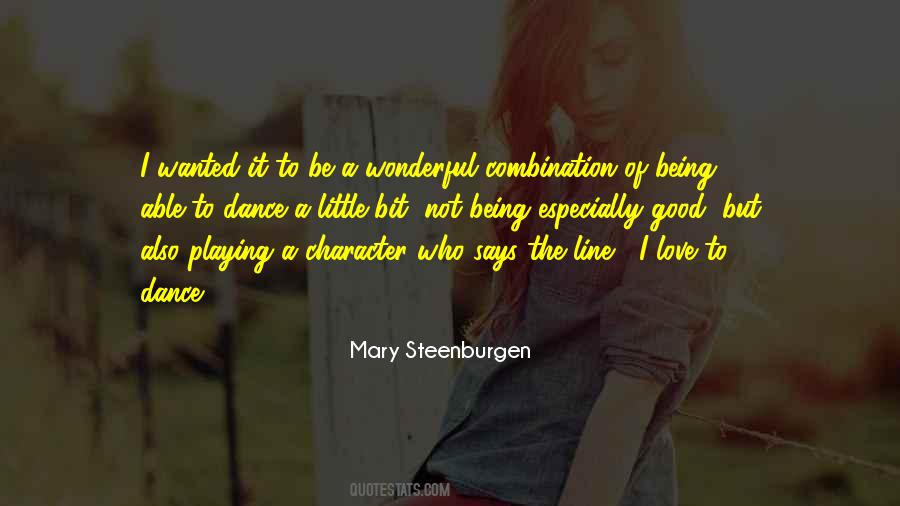 #27. 'The Cape' is a really good comic! They invented the whole character, and now they've built a book of 'The Cape' for the show. When I was a kid, I used to love Batman, and I loved Spider-Man. My favorite was this guy called Judge Dredd. I know they made a movie of that in the '90s. - Author: James Frain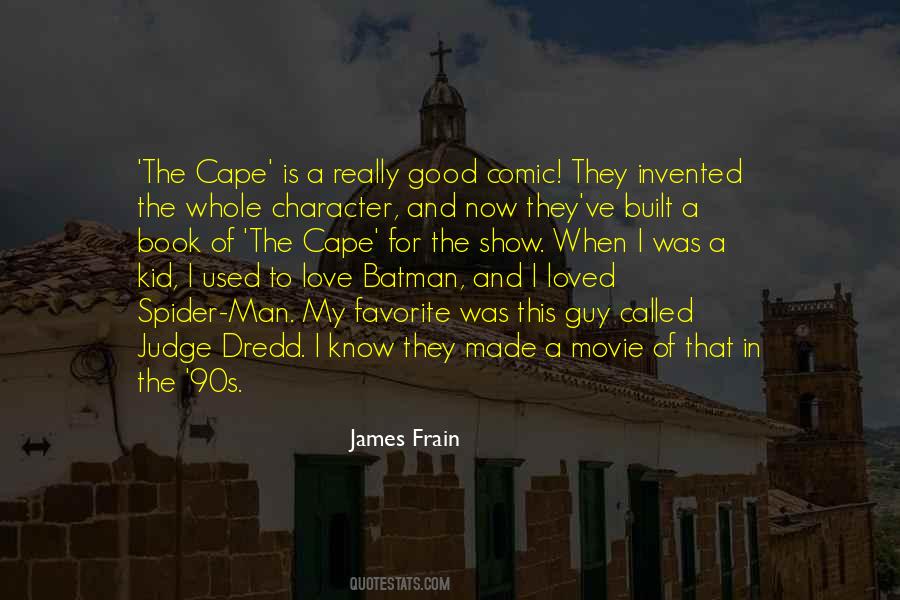 #28. I would say I have sort of a natural gift for character, and following one person's point of view at a time, and dialogue, but I'm not naturally good at strong plot. - Author: Emma Donoghue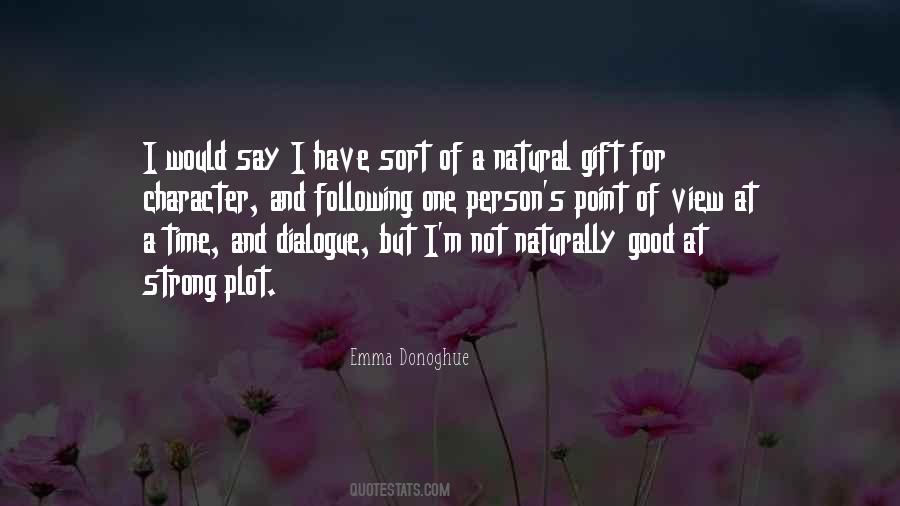 #29. The question I am most often asked is how do I find my ideas? The answer is I don't. Ideas find me. A character in history will suddenly step right out of the past and demand a book. Generally, people don't bother to speak to me unless there's a good chance that I'll take them on. - Author: Jean Fritz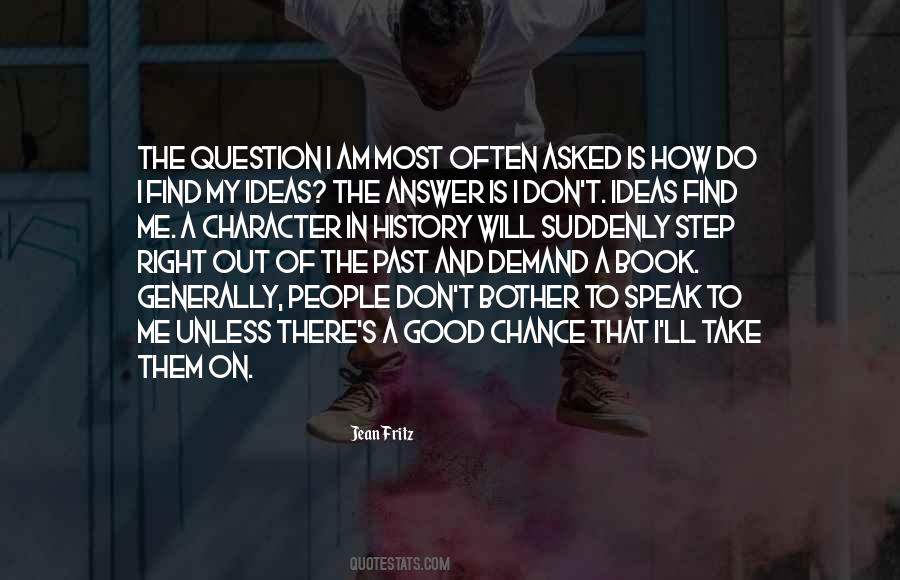 #30. I'd love to do another 'Indiana Jones.' A character that has a history and a potential, kind of a rollicking good movie ride for the audience, Steven Spielberg as a director - what's not to like? - Author: Harrison Ford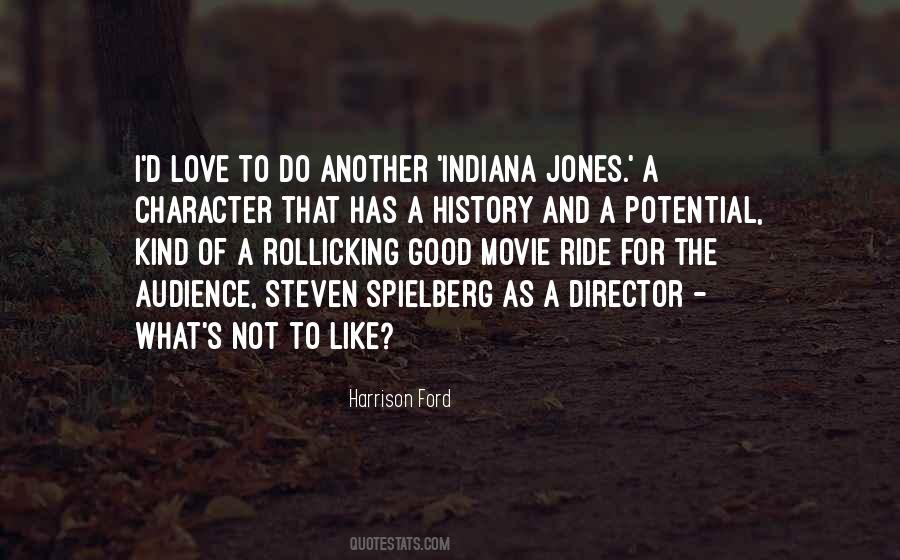 #31. It is a strength of character to acknowledge our failings and our strong points, and it is a weakness of character not to remain in harmony with both the good and the bad that is within us. - Author: Madeleine De Souvre, Marquise De ...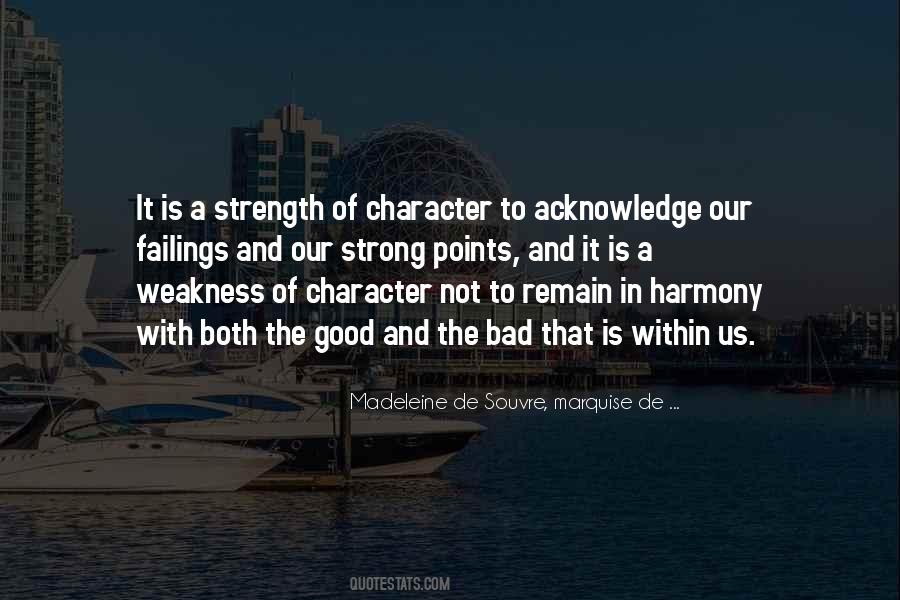 #32. I always go in with the feeling that I'm gonna have a good time in what I'm doing. I entertain myself when I perform. If I do that, then I can see the other performers enjoying my character. - Author: Seymour Cassel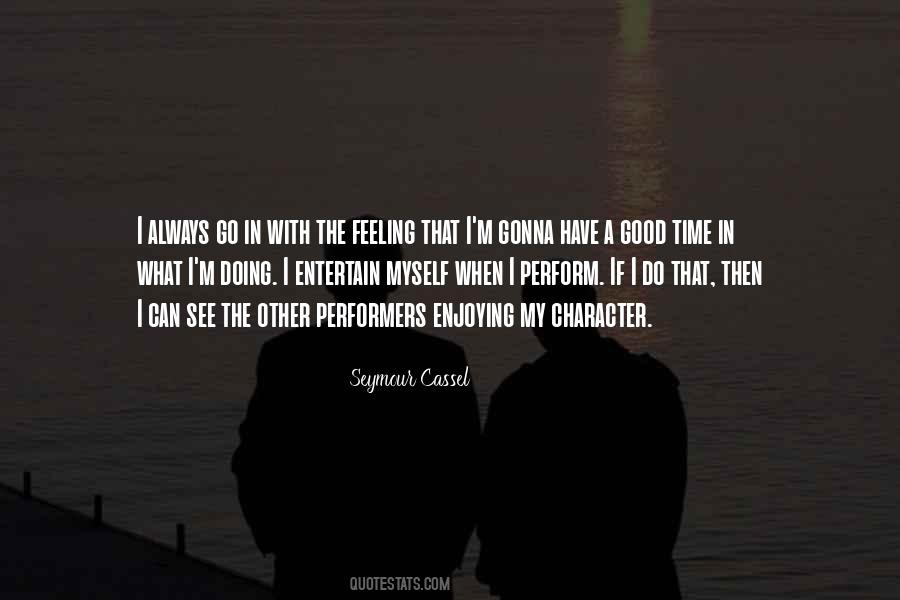 #33. When you've got good writing, you can kind of give up all the research, in a way, and start just following the emotional integrity of the journey of your character. - Author: Linus Roache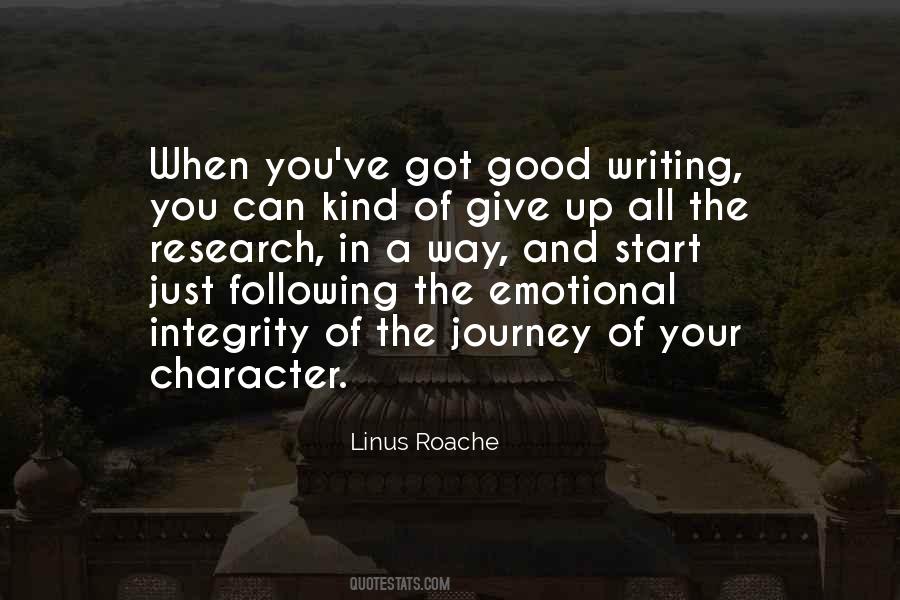 #34. [priests are] the pretenders to power and dominion, and to a superior sanctity of character, distinct from virtue and good morals. - Author: David Hume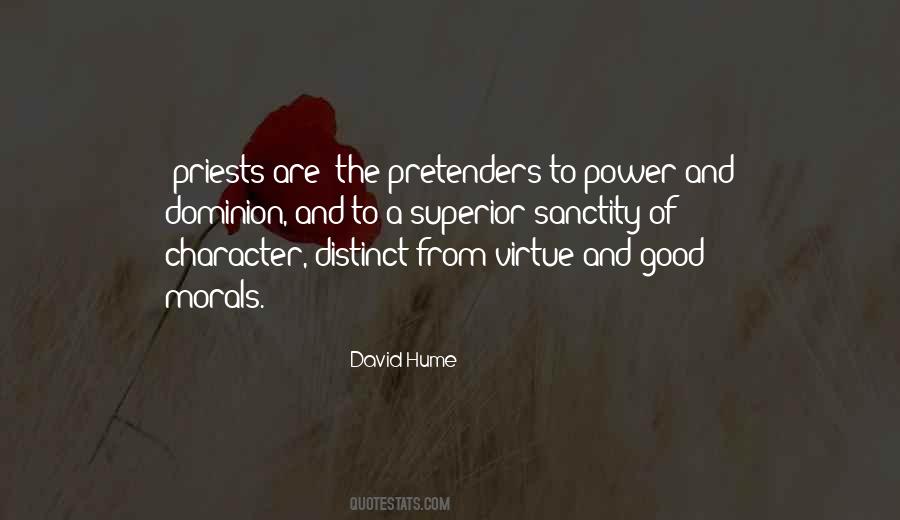 #35. The walls of that grand edifice called a good character have to be worked at during life. - Author: Robert Green Ingersoll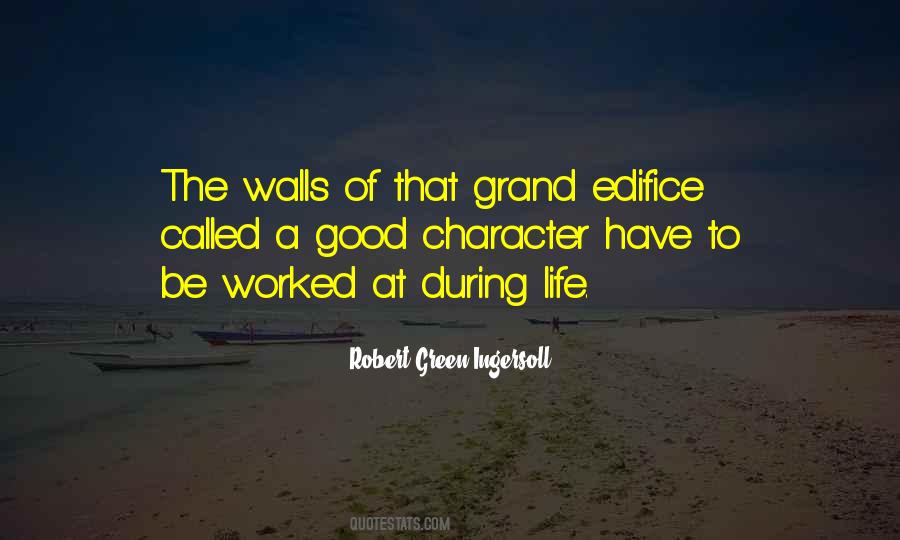 #36. You have to believe in its principles. Anything is possible, as long as it's for the good of the world. Make the exception. Live exceptionally. And if you can't do that, maybe we should consider whether you're right for the project. Think about it, then let's talk tomorrow. - Author: Amy Tan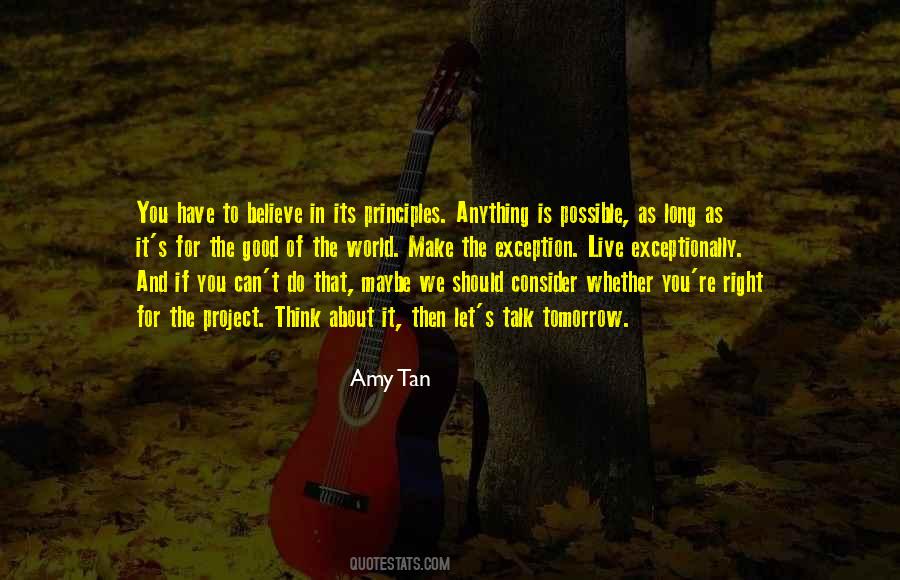 #37. I care about Bond and what happens to him. You cannot be connected with a character for this long and not have an interest. All the Bond films had their good points. - Author: Sean Connery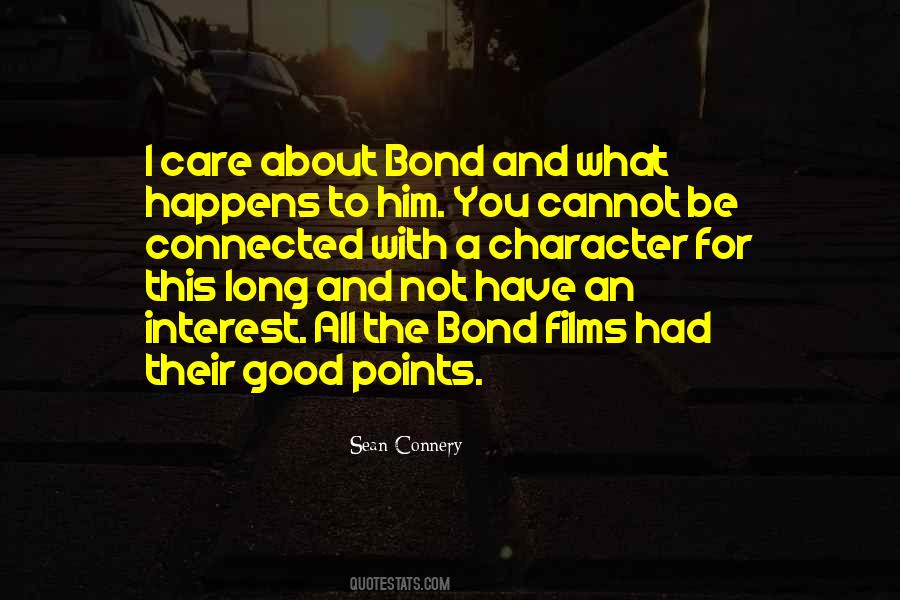 #38. Then a woman of good character will be very attracted to you, will consider you a wonderful potential husband, even if she does not show it." Avelina had to swallow the lump that rose into her throat. "She will count herself fortunate to have secured your good opinion." He - Author: Melanie Dickerson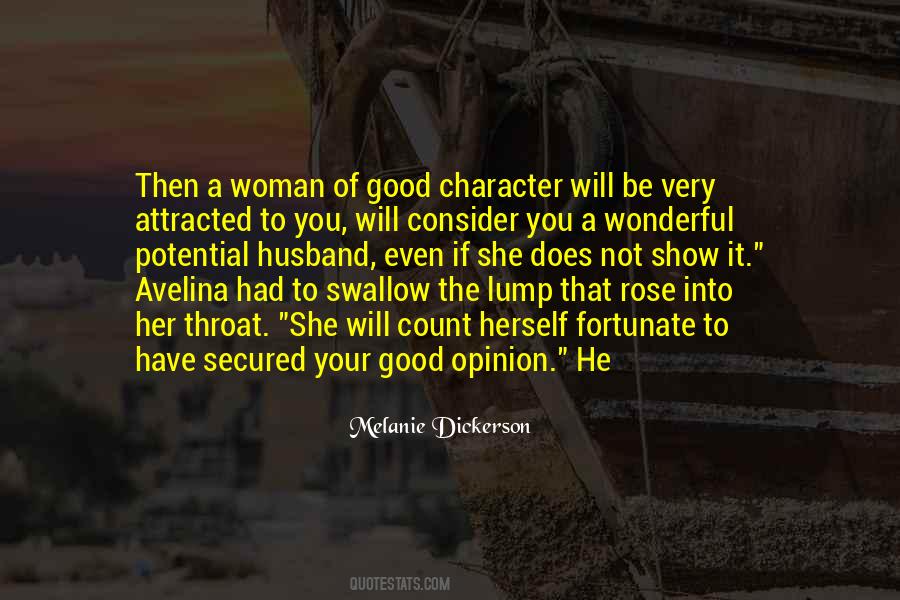 #39. It is in their 'good' characters that novelists make, unawares, the most shocking self- revelations. - Author: C.S. Lewis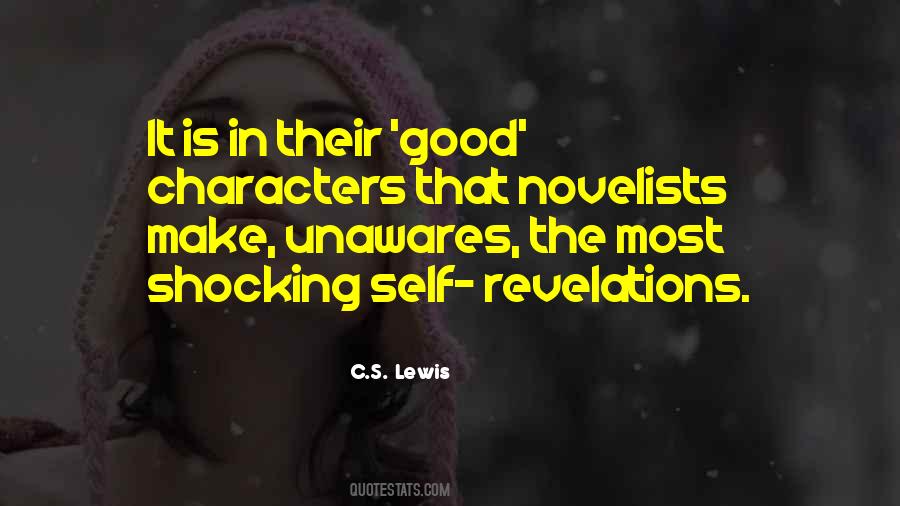 #40. But the same thing was true in the army. You slept in a barracks with all kinds of people of every nationality, every trade, every character and quality you can imagine, and that was a good experience. - Author: Shelby Foote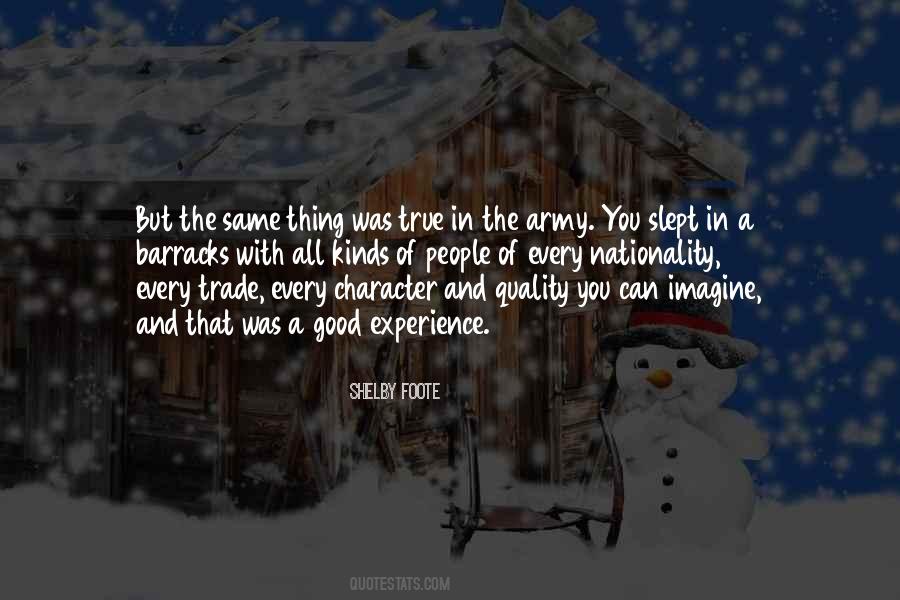 #41. I think being a character actor is exciting in that it allows you to embody completely different things, whether it's through wild accents or a crazy bad guy or a drunken good guy. - Author: Jackie Earle Haley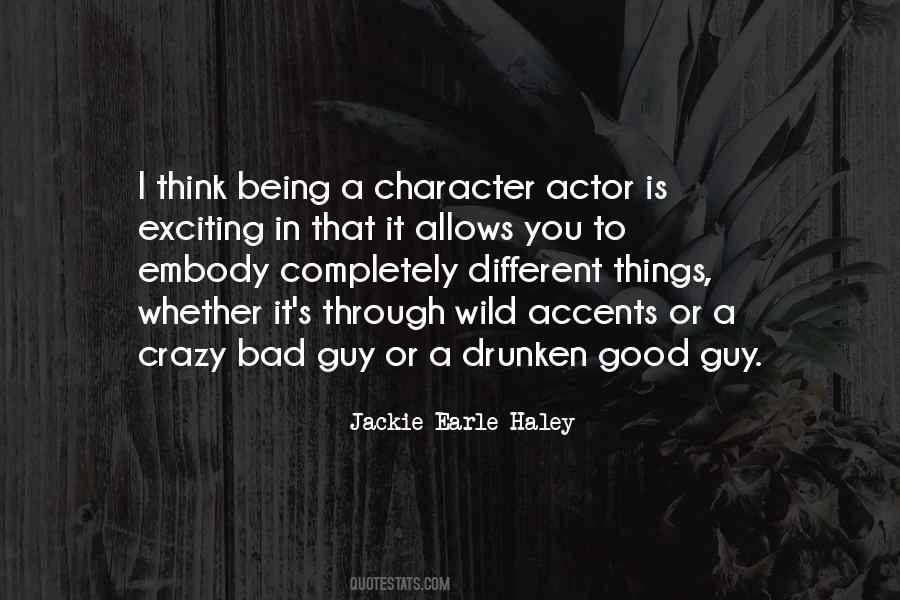 #42. To Lilo, Suleika, Constance, and Raul, thank you for coming up with some really good character names when I was in a pinch. - Author: Kayti Nika Raet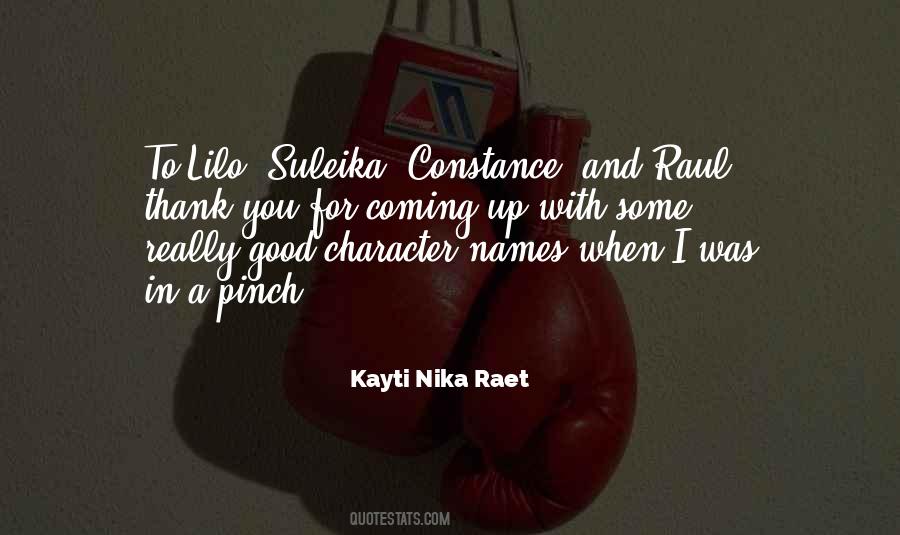 #43. I was never a leading man. I've always been in the outer concentric circles in the company, being a character actor, which is a good place to be. It gives you that diversity. - Author: Geoffrey Rush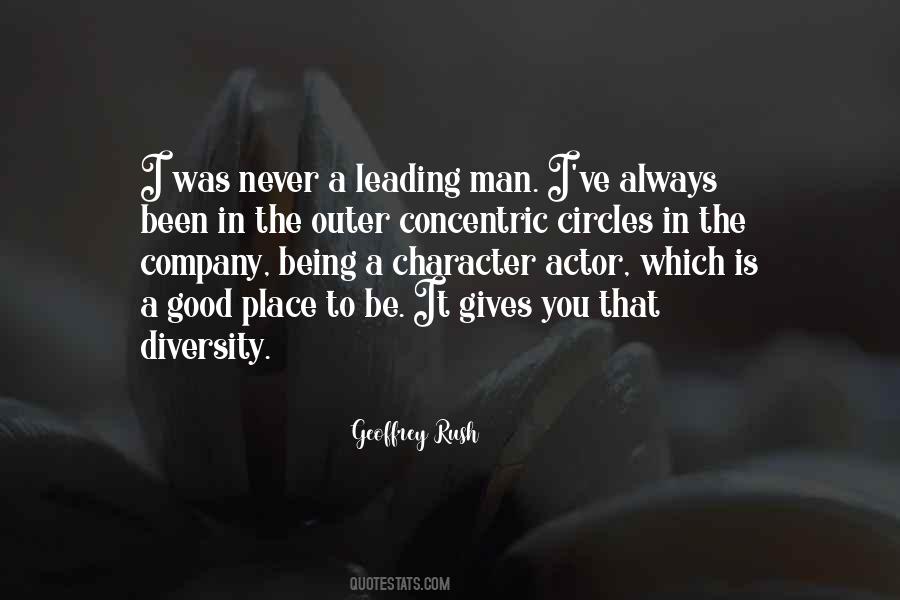 #44. First of all, I never think of my characters as good or evil. I play them as honestly as I can. When you're playing a good character, you have an idea that you're playing the hero and the good guy. - Author: Dennis Haysbert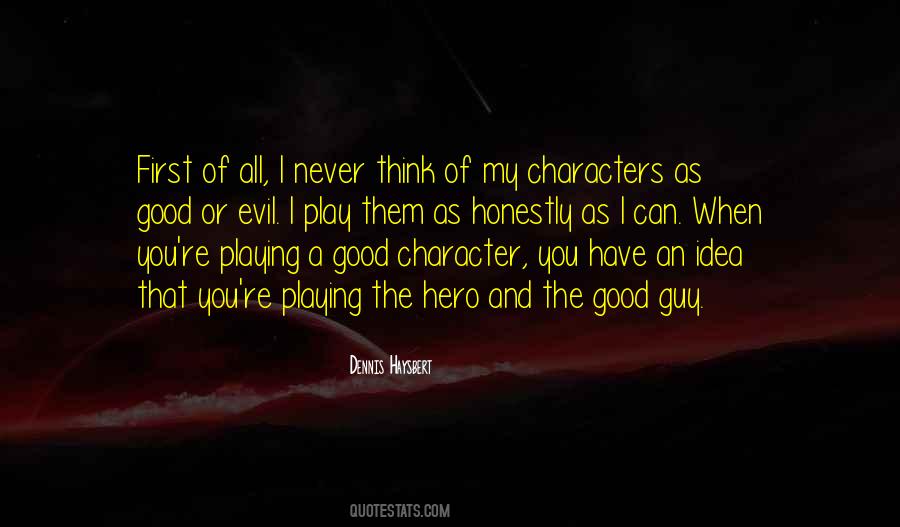 #45. A good reputation may be worth millions,
but a good character is worth all the riches of the world. - Author: Matshona Dhliwayo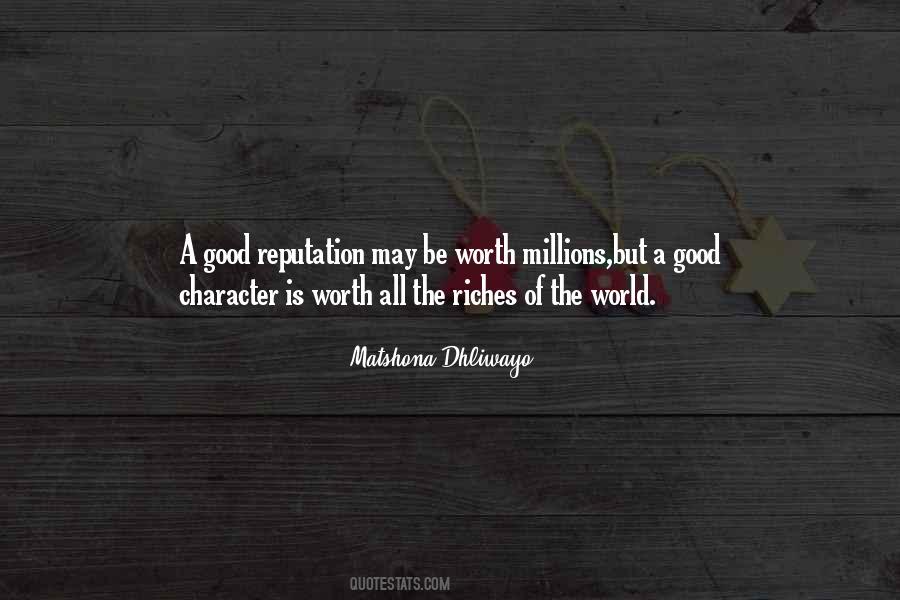 #46. If you play a real character who's famous and still alive, it makes things easier if you have the luck to have a good relationship with them. - Author: Daniel Bruhl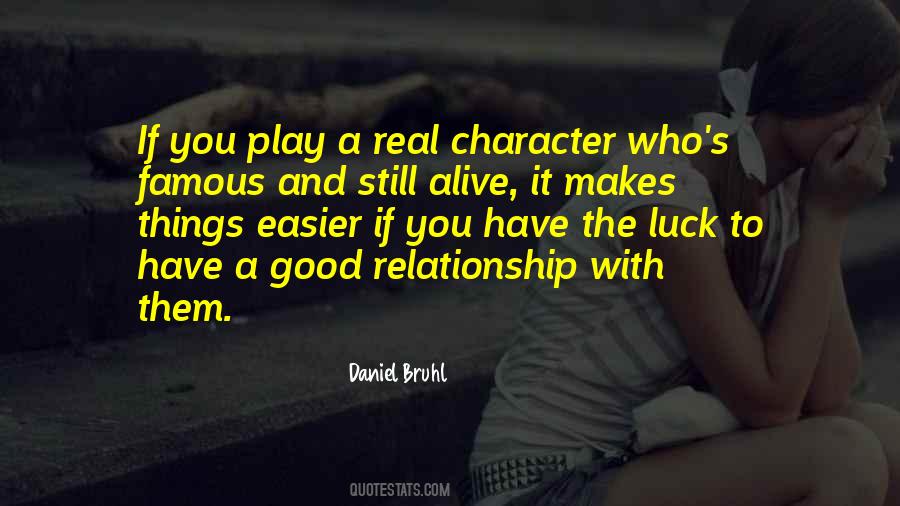 #47. I'm quite lucky in that at certain angles I look all right, and at others I don't look so good, which enables me to play some leading roles and some stranger, more 'character'-type parts. I wouldn't say I'm the conventional handsome Hollywood leading man. - Author: Tom Riley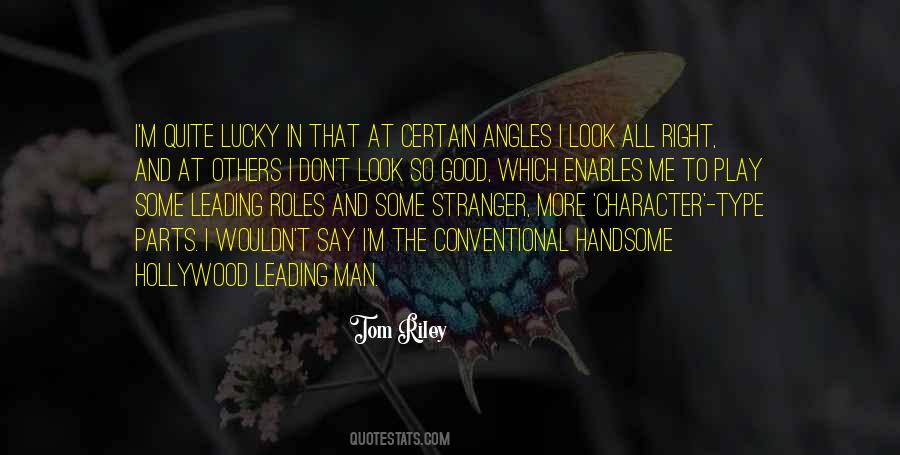 #48. A really good style comes only when a man has become as good as he can be. Style is character. A good style cannot come from a bad undisciplined character. - Author: Norman Mailer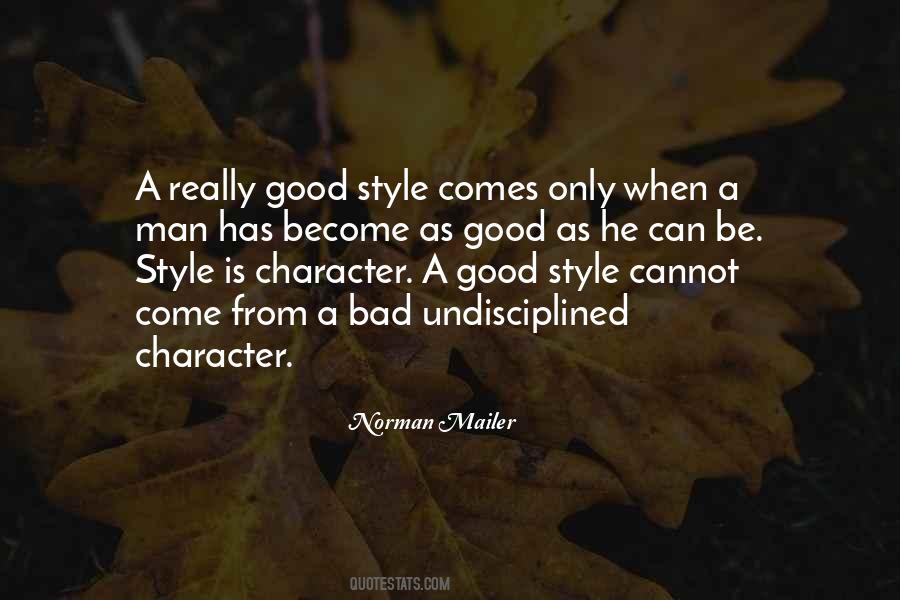 #49. Staines was not a terribly good judge of character. He loved to be enchanted, and so was very often drawn to persons whose manner was suggestive of tragedy, romance, or myth. - Author: Eleanor Catton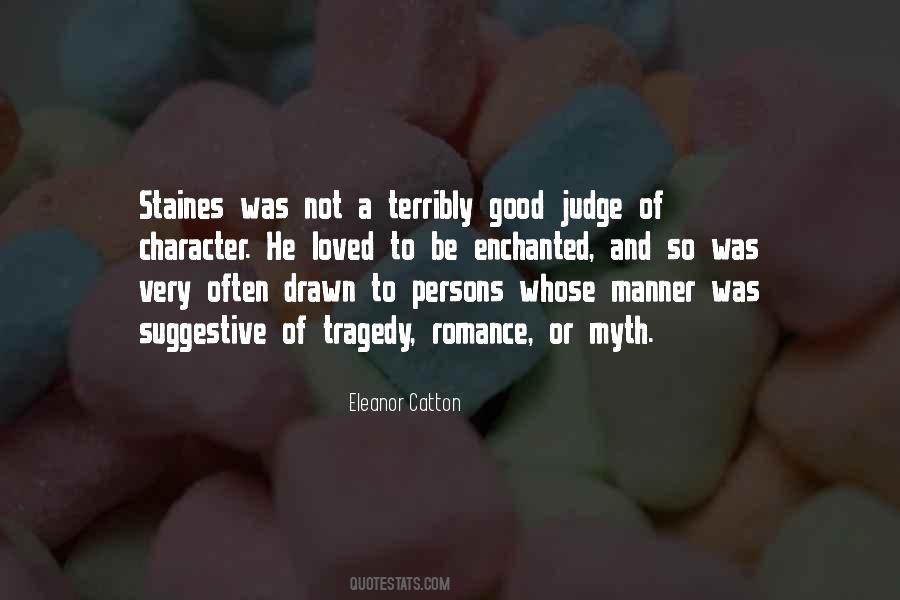 #50. To me the voice has always been the way to start any character. Once I find that, I'm good to go. - Author: Lucy Alibar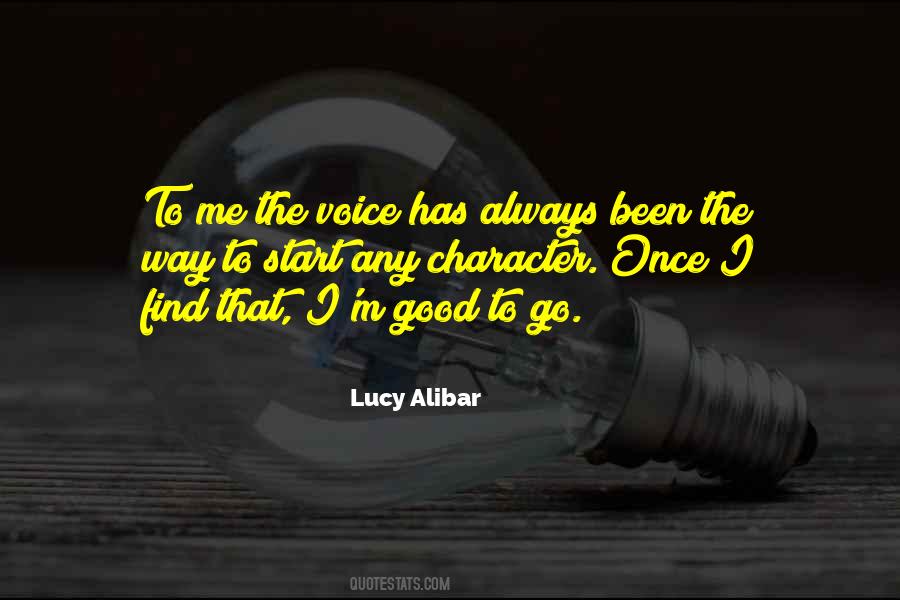 #51. Good storytelling lets the audience relive events in the present so they can understand the forces, choices, and emotions that led the character to do what he did. - Author: John Truby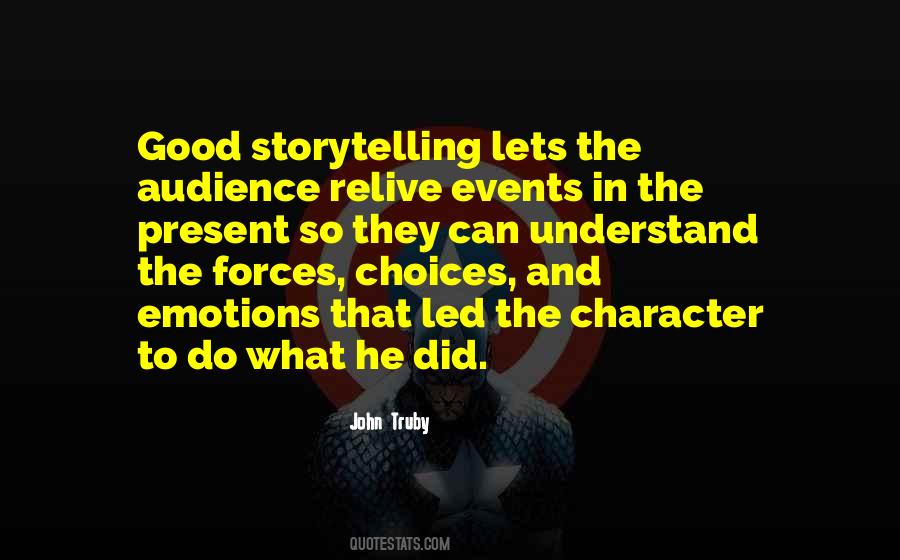 #52. In Shakespearean tragedy the main source of the convulsion which produces suffering and death is never good: good contributes to this convulsion only from its tragic implication with its opposite in one and the same character. - Author: Andrew Coyle Bradley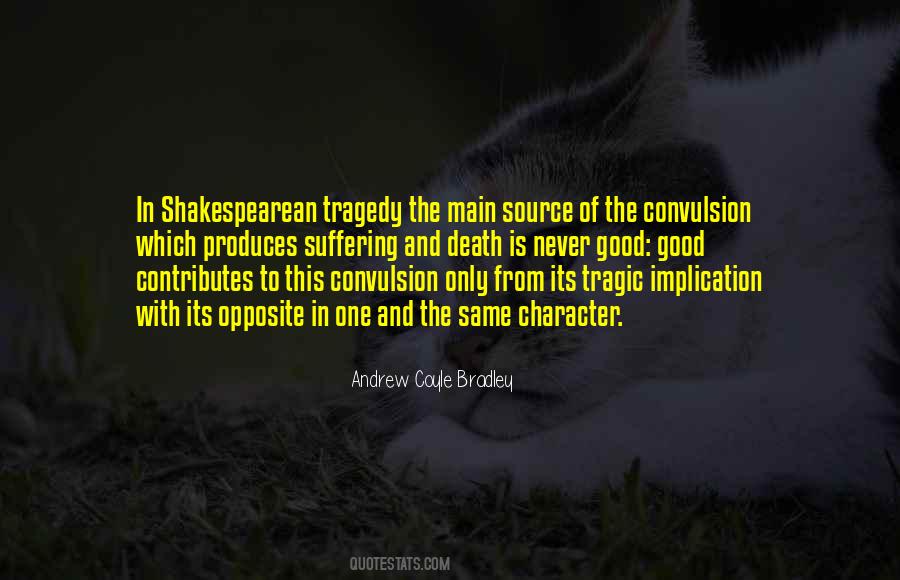 #53. For me, if the writing and - by extension - the subject matter and the characters are all good, it doesn't matter if it's film or TV. Each medium has great things going for it. - Author: Adam Croasdell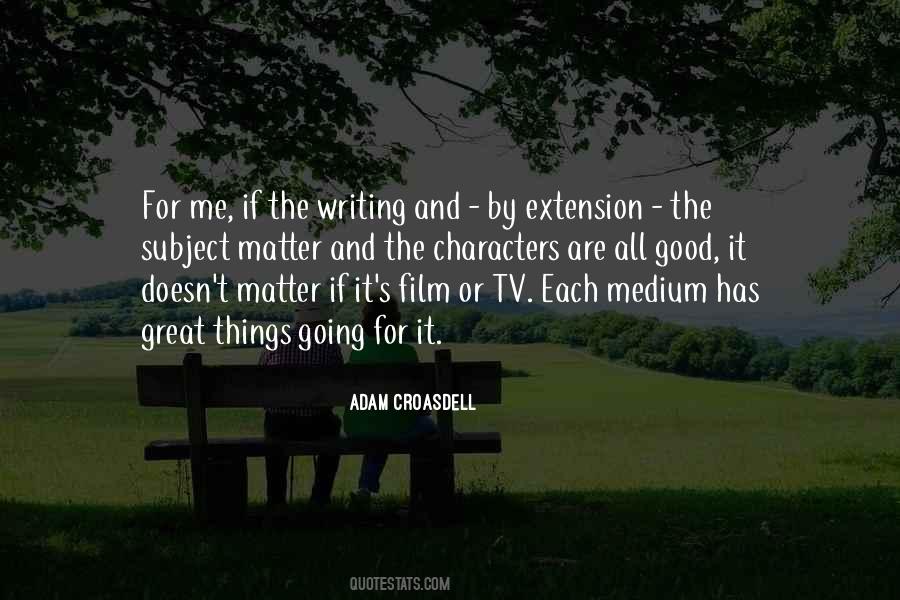 #54. Slater's a big star and he's been in the business a long time. He's always in a good mood and easygoing but he takes his character very seriously. - Author: Uwe Boll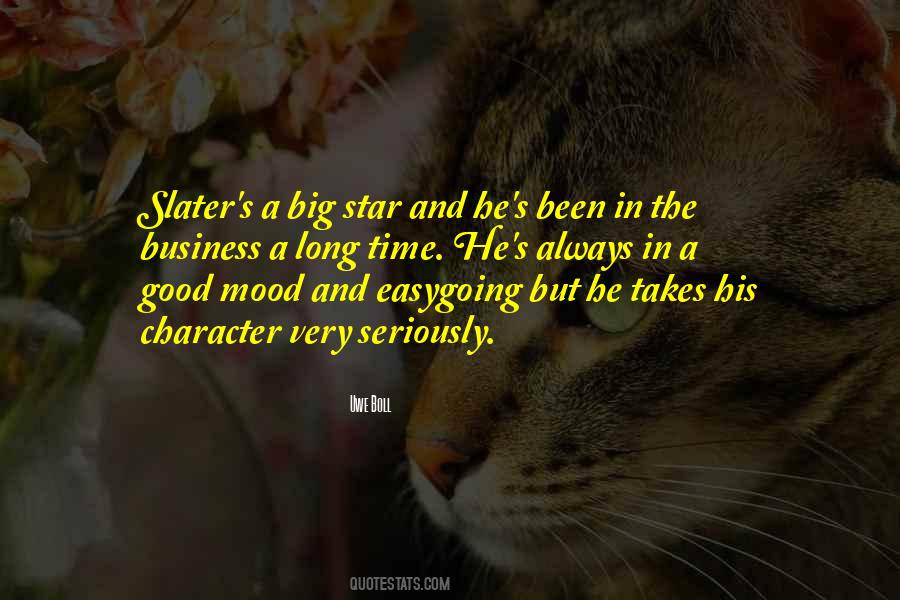 #55. A pretty face may be enough to catch a man, but it takes character and good nature to hold him. - Author: Thomas More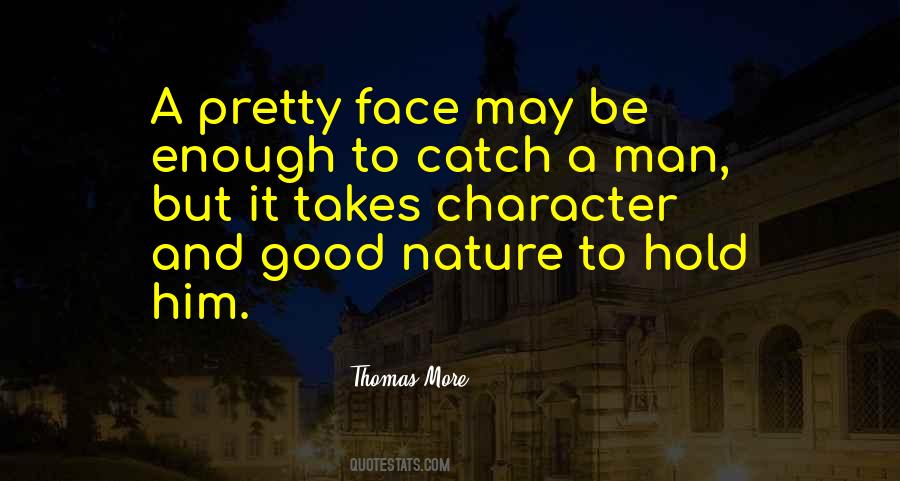 #56. In character-building and in living the Christian life, concentration is important. The [person] who has a general interest in everything usually isn't too good at anything. - Author: Billy Graham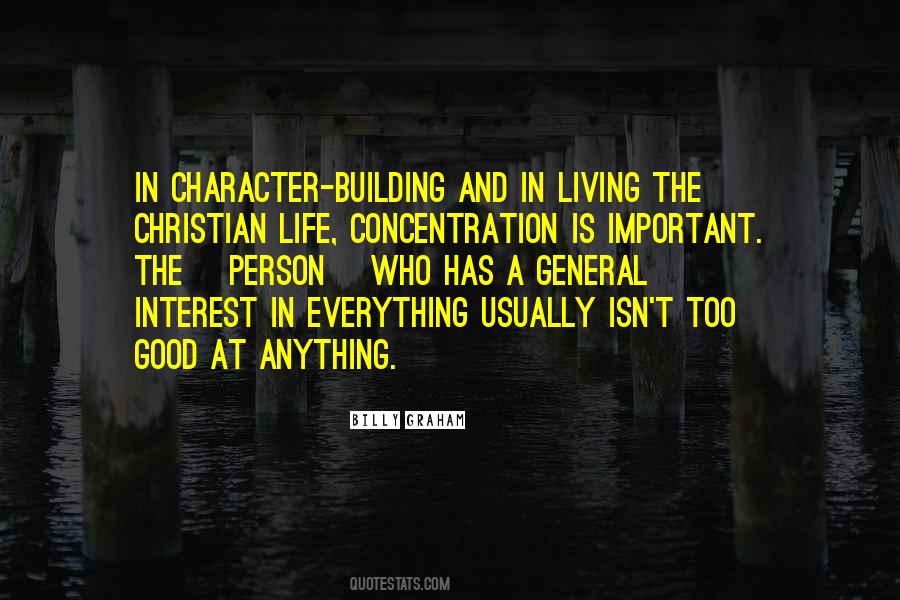 #57. I base the roles I choose depending on the characters. That's just how I'm gonna run my career. So if it's a good role I'm gonna take it whether it be fantasy, or whether it be realistic or fiction, anything. - Author: Josh Hutcherson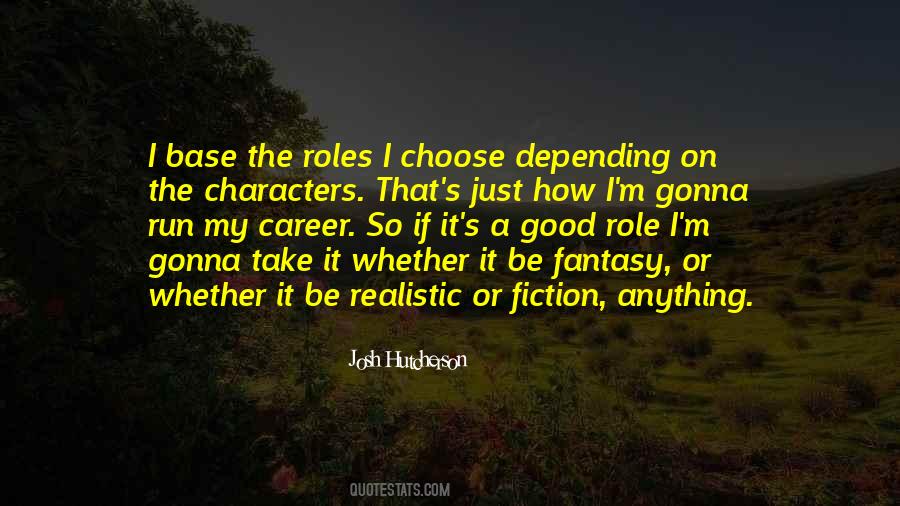 #58. It's hard to really get that excited about movies. Think about it like this: how many good comedy movies come out a year? Maybe one or two? And then, in those movies, what are the chances that there's a character that I'm the best fit to play? It's really small! - Author: Aziz Ansari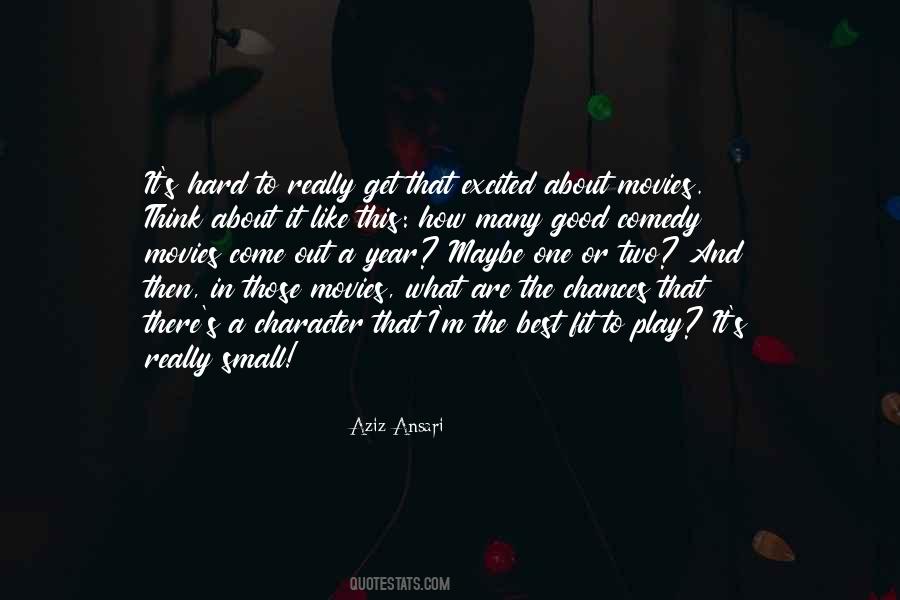 #59. When men write women, they tend to write women the way they want women to be, or the way they resent women for being. They don't really - they seldom nail it. It takes a woman to write a really good female character. I like that. - Author: Simon Pegg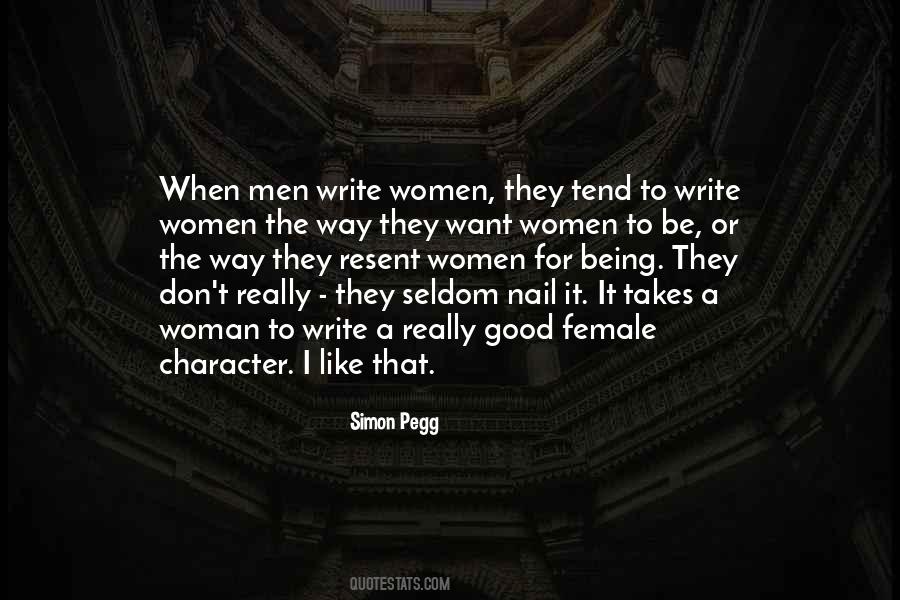 #60. My character and good name are in my own keeping. Life with disgrace is dreadful. A glorious death is to be envied. - Author: Horatio Nelson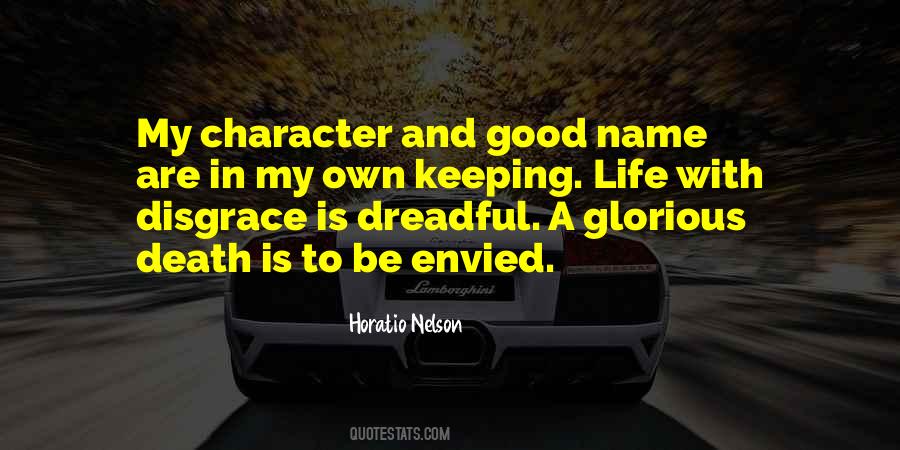 #61. One of the things that separates a good genre movie from a bad genre movie, I always think, ironically, is when you care about the people. The dime a dozen ones are where you don't have any awareness of the character. - Author: Ethan Hawke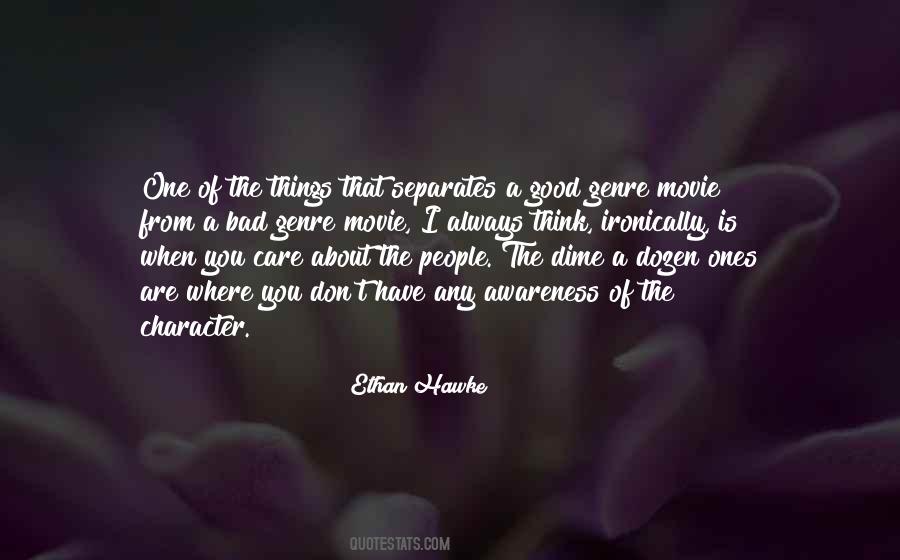 #62. What I enjoy most are those times when I get an idea and it just flows - the words coming so fast that I'm scribbling to keep up with my characters. I don't have any writing must-haves; this is a good thing, since I've done a lot of my writing in random places like the playground or the subway. - Author: Leah Cypess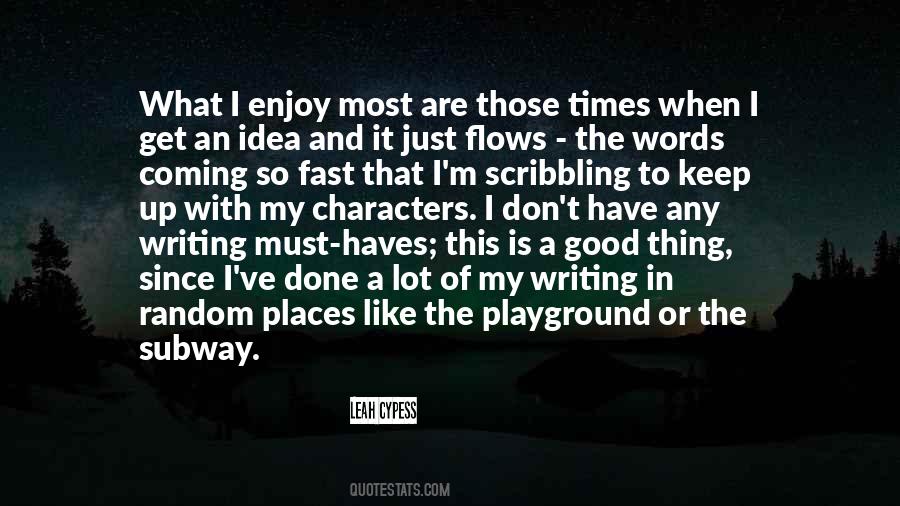 #63. I joined a radical group at the age of 16 because I'm a passionate man; the good news is that I turned myself around since then. But my character is still quite free and passionate. - Author: Maajid Nawaz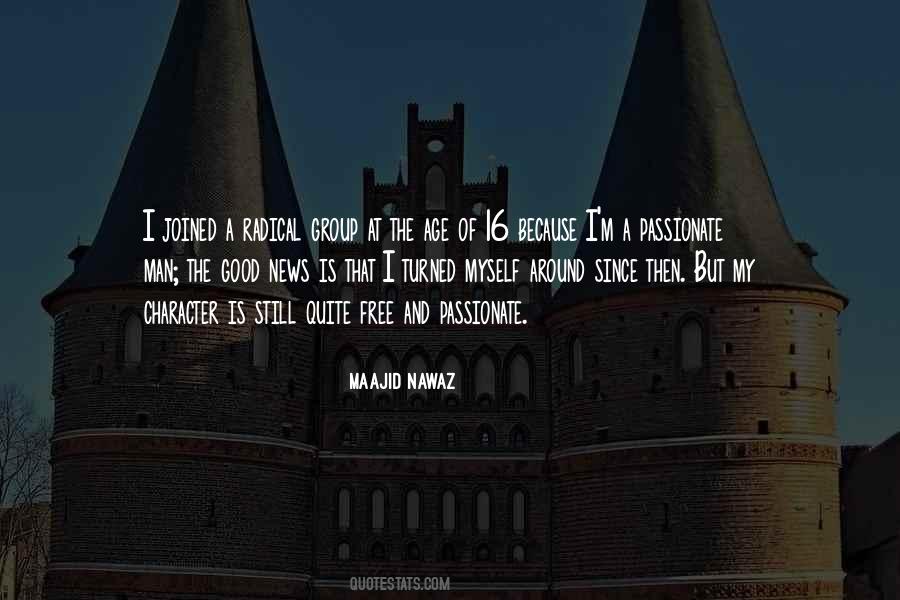 #64. Not all people are 'people', some are more and some are less. But only those who listen intently with their hearts will recognise them for what they are. - Author: Wayne Gerard Trotman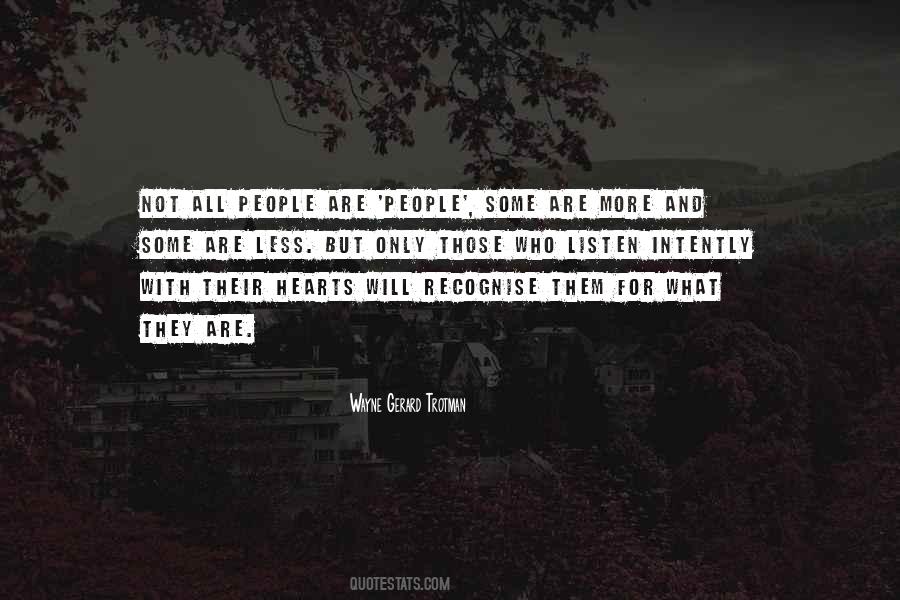 #65. I've always found that it's such an emotional experience, trying to find the good parts of a bad character or the bad parts of a good character, and in the end, most of these qualities are already there inside me. - Author: Milla Jovovich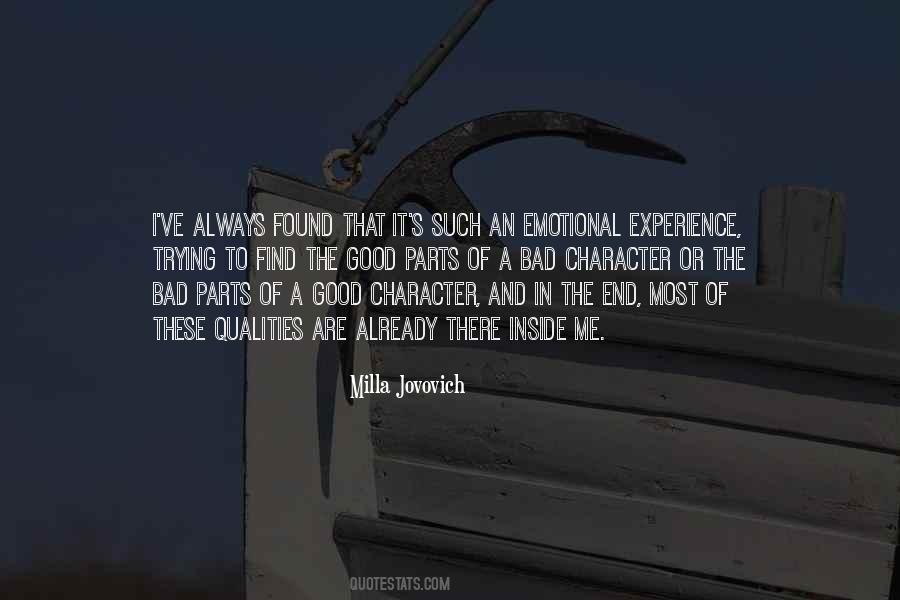 #66. It takes a good deal of character to judge a person by his future instead of his past - Author: Ralph Waldo Emerson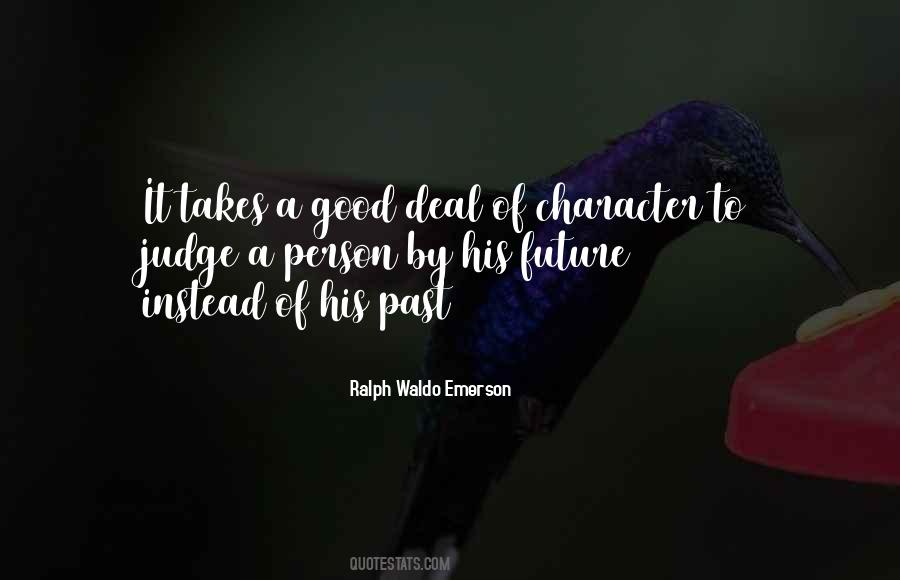 #67. There is a natural disposition with us to judge an author's personal character by the character of his works. We find it difficult to understand the common antithesis of a good writer and a bad man. - Author: Edwin Percy Whipple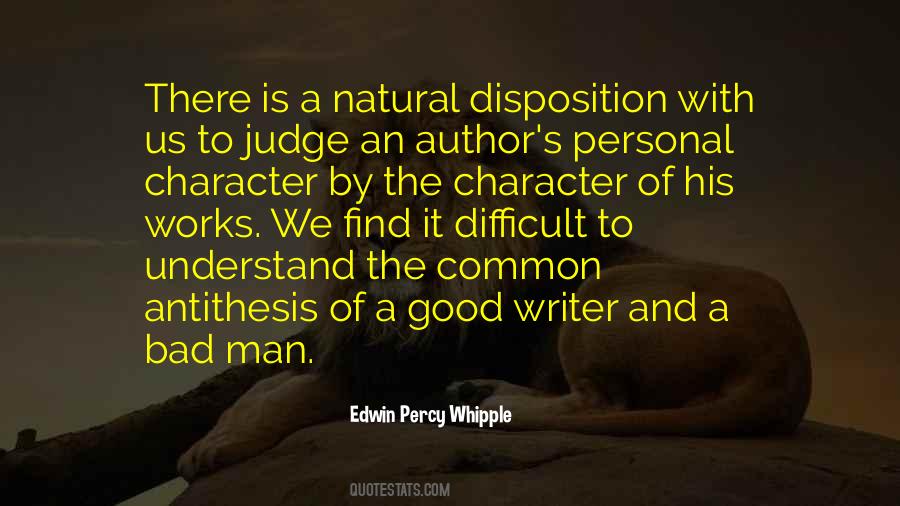 #68. God has entrusted us with his most precious treasure - people. He asks us to shepherd and mold them into strong disciples, with brave faith and good character. - Author: John Ortberg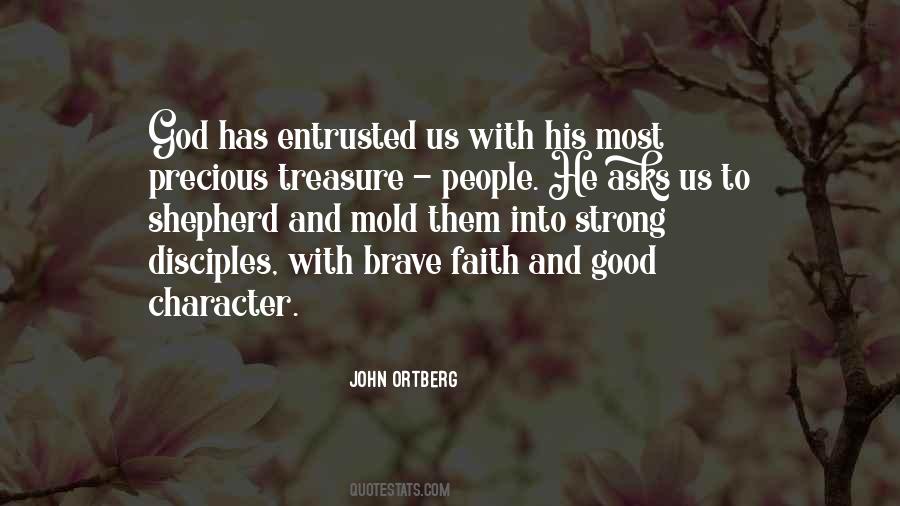 #69. I had given thought to acting, but I never really had a good enough opportunity or a character who made sense and paralleled my life a little bit. I feel like I'm one of the poster boys for a bad guy in a movie. I feel like I'm a good person to play a bad guy in a movie. I can say that. - Author: Gucci Mane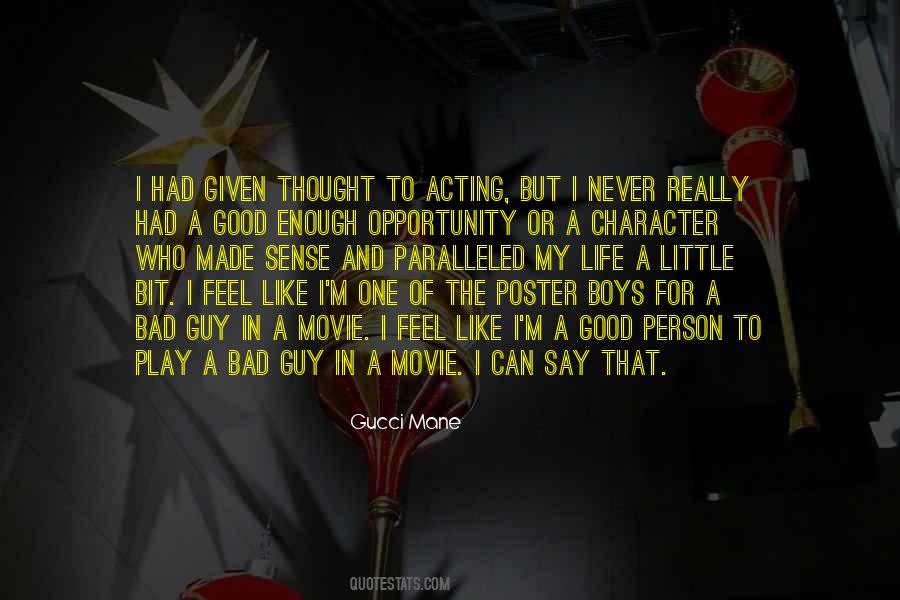 #70. When good men die, their goodness does not perish, but lives though they are gone. As for the bad, all that was theirs dies and is buried with them. - Author: Euripides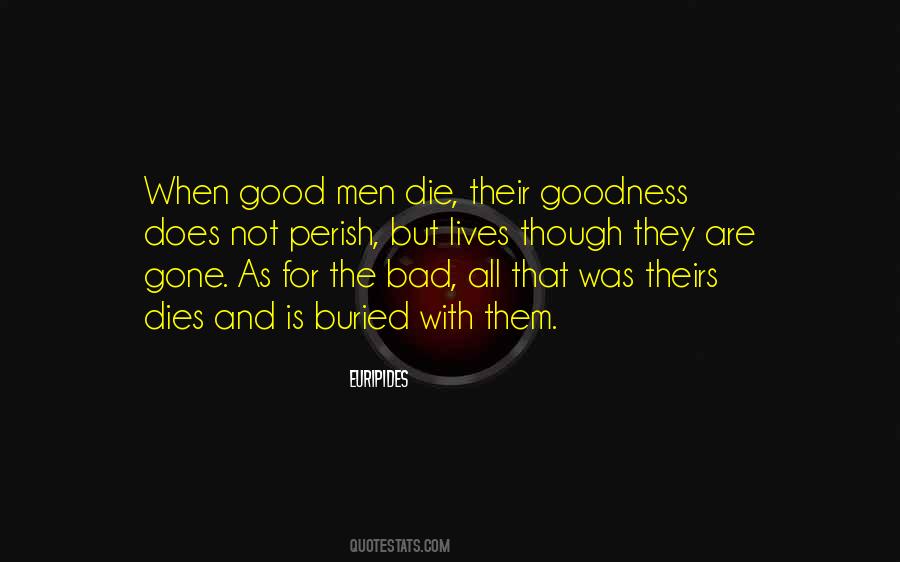 #71. Well, I think certain roles are chosen for us. The moment I read Pete Campbell I thought: I can do this, this is mine. And in Money, too. The truth is I turn down a lot of projects. If a character doesn't have some kind of internal struggle, it's no good for me. - Author: Vincent Kartheiser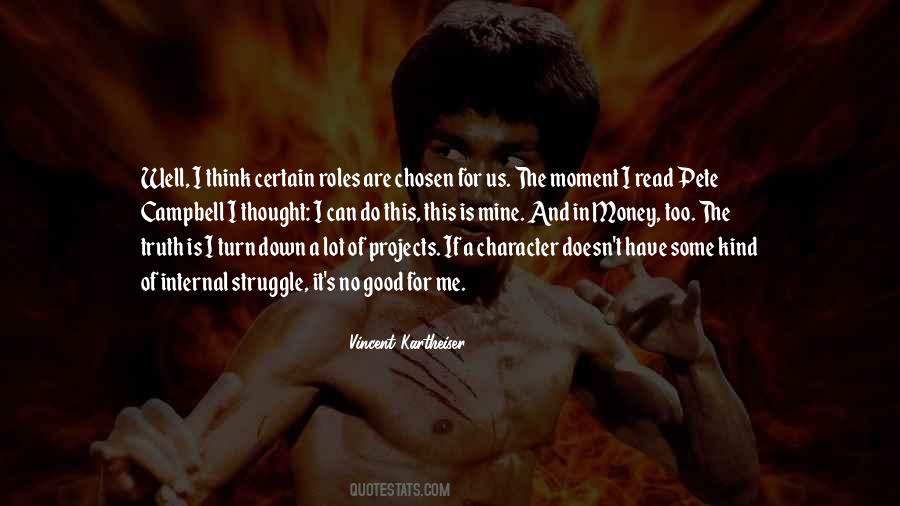 #72. My only want and wish, really, was to tell a good story. I wanted to do good work, tell a good story, and give the character a voice. Those were my only expectations. - Author: Uzo Aduba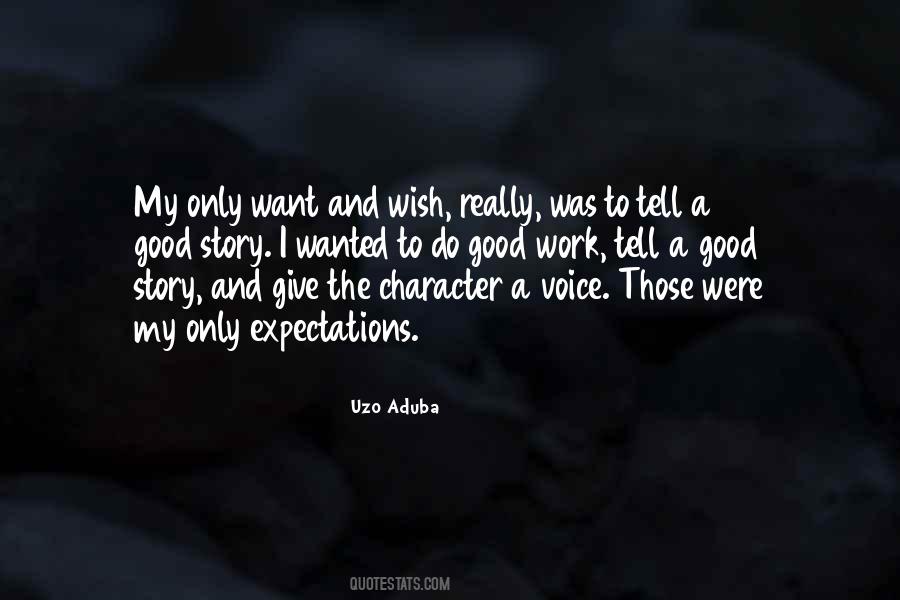 #73. Good government generally begins in the family, and if the moral character of a people once degenerate, their political character must soon follow. - Author: Elias Boudinot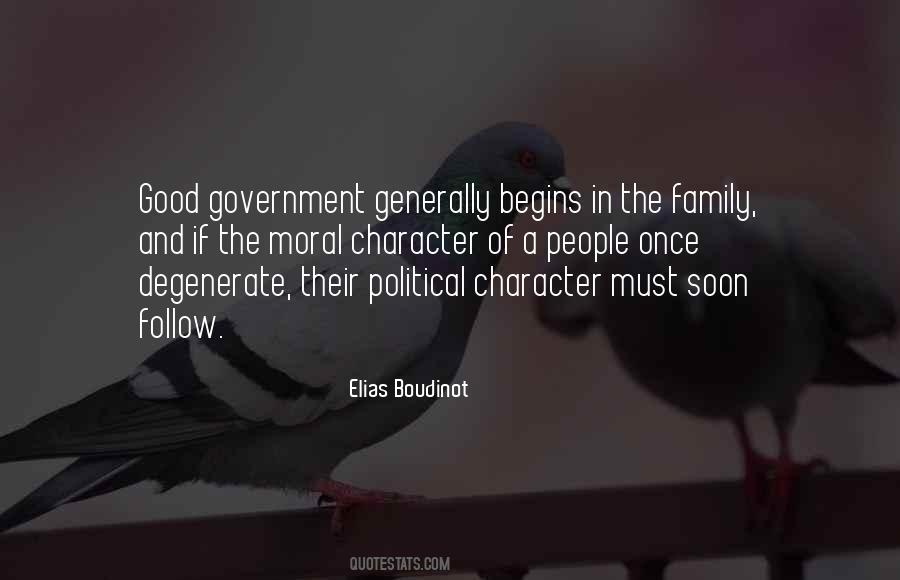 #74. The right time to show your good character is when you are pestered by someone weaker than you. - Author: Gautama Buddha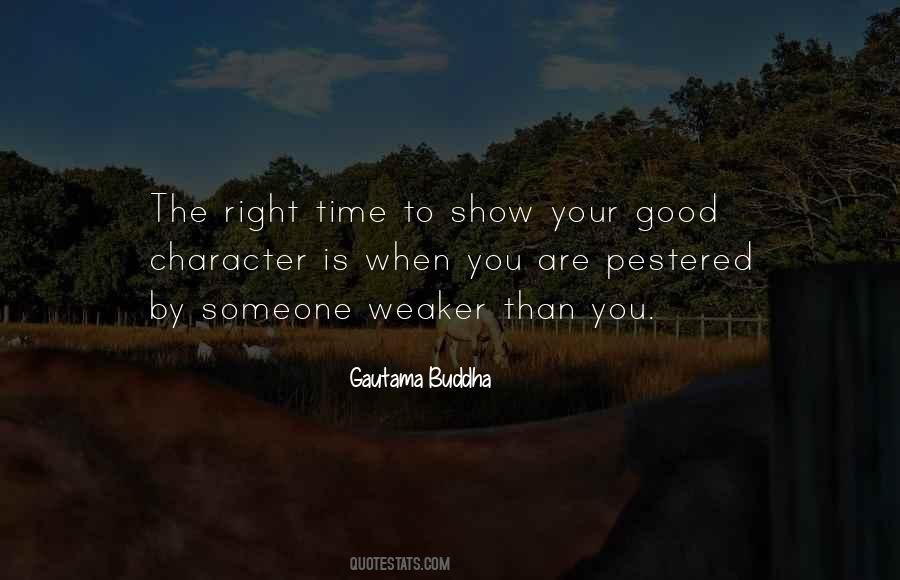 #75. When it comes to building character, wealth, good looks, athletic ability and even a high IQ are more likely to be impediments than advantages. - Author: Michael Josephson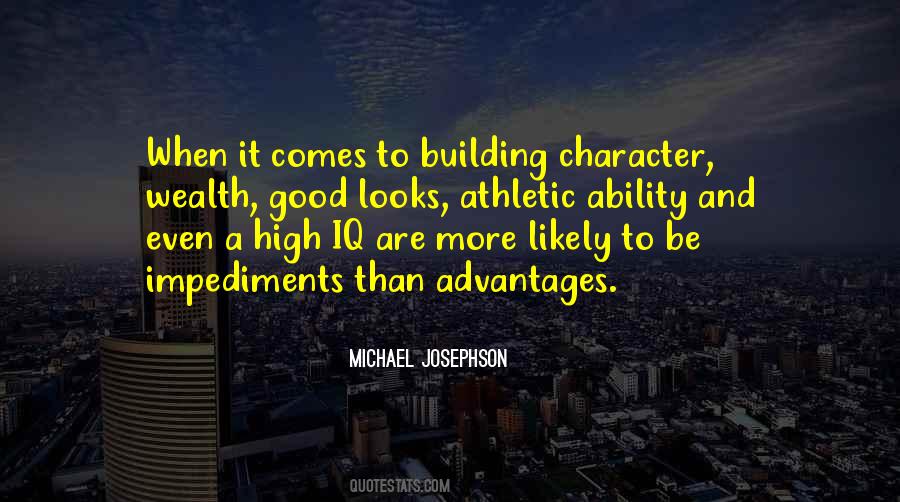 #76. Reading leads to good character development. - Author: Lailah Gifty Akita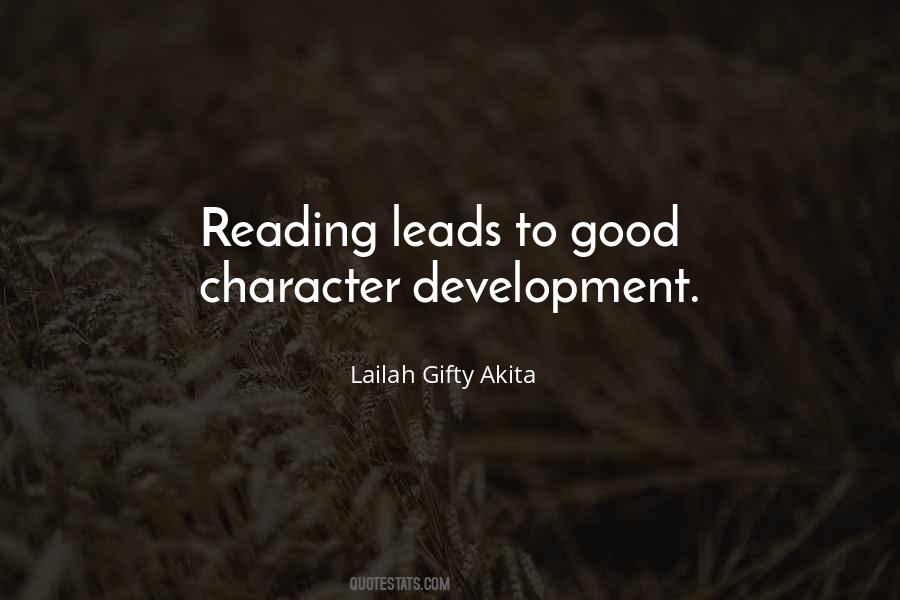 #77. No one is born with good character; it's not a hereditary trait. And it isn't determined by a single noble act. Character is established by conscientious adherence to moral values, not by lofty rhetoric or good intentions. - Author: Michael Josephson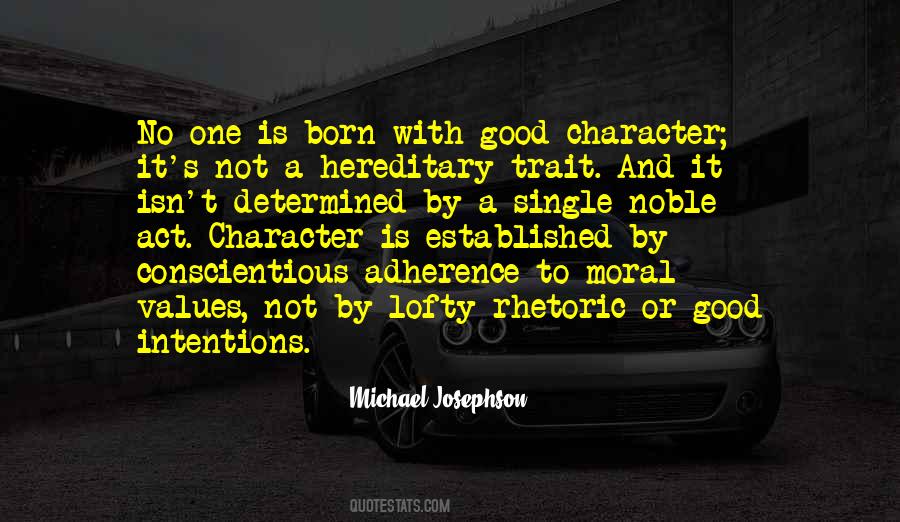 #78. Our circumstances are not an accurate reflection of God's goodness. Whether life is good or bad, God's goodness, rooted in His character, is the same. - Author: Helen Grace Lescheid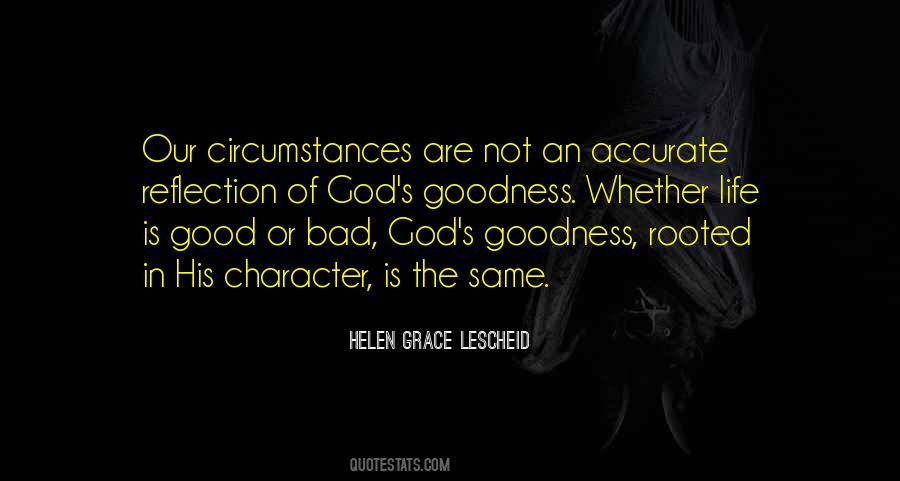 #79. It is a good plan, with a young person of a character to be much affected by ludicrous and absurd representations, to show him plainly by examples that there is nothing which may not be thus represented. He will hardly need to be told that everything is not a mere joke. - Author: Richard Whately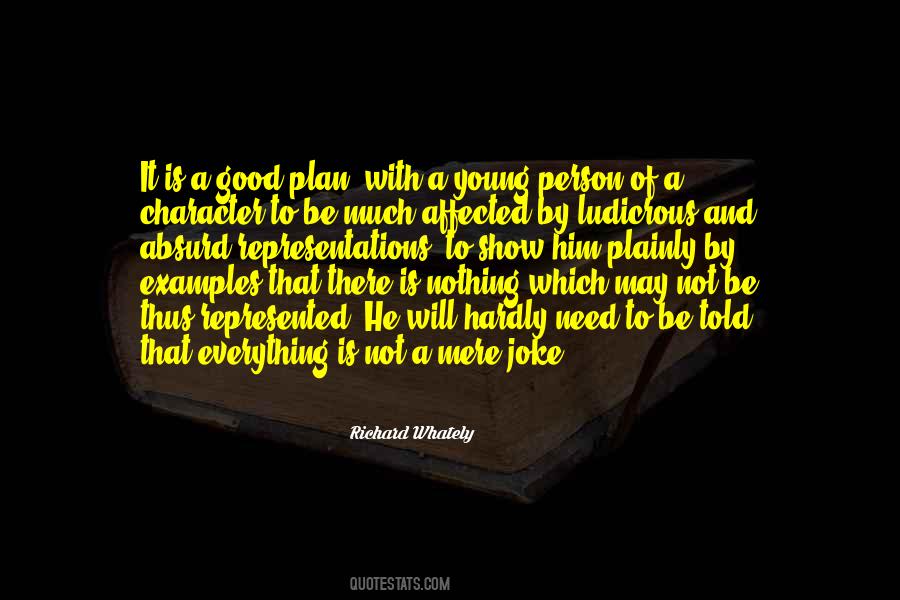 #80. I've worked out a Ninja Replacement Score for novels. It's basically the number of characters that need to be replaced by ninjas to make the book good. - Author: Janni Lee Simner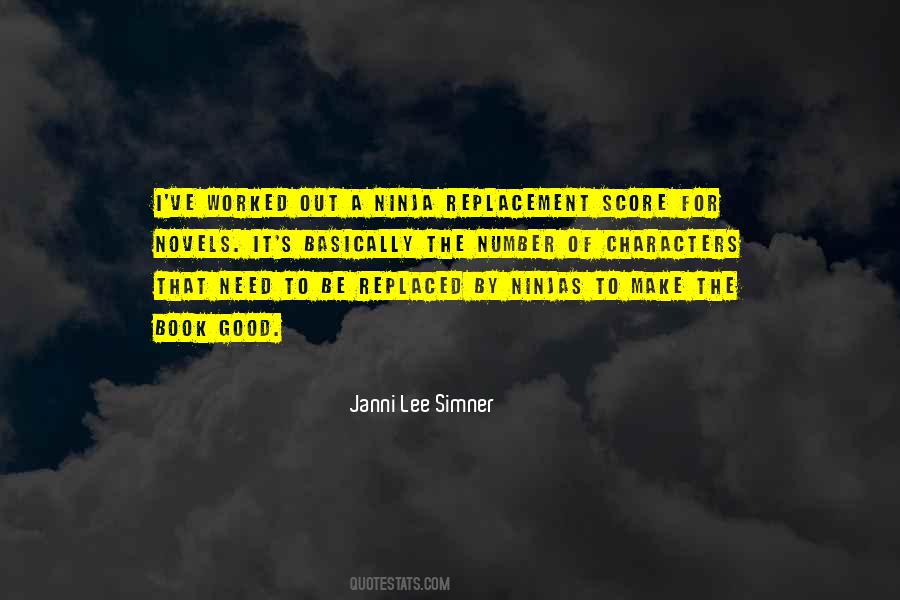 #81. Bad company corrupts good character. - Author: Menander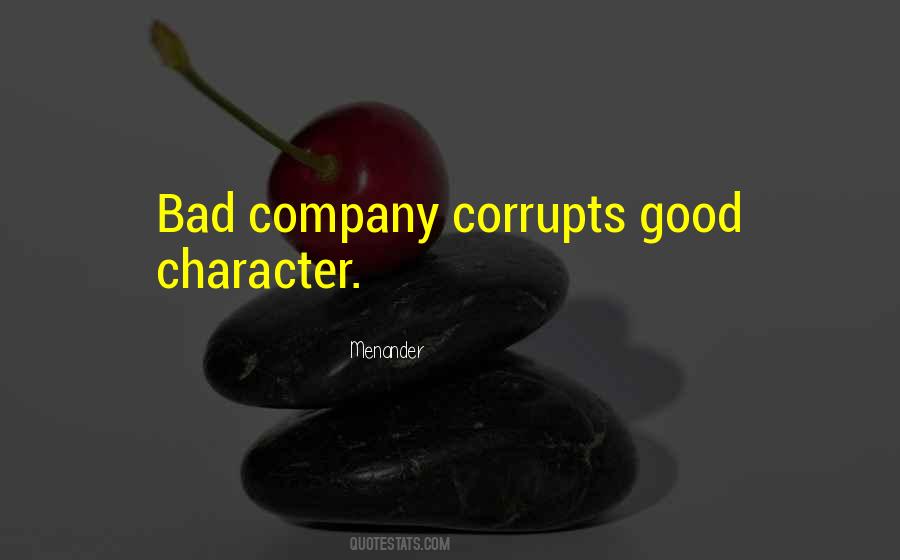 #82. A favorite film of mine is 'Office Space' and I love 'The Hangover.' That is a really good comedy from character in that film, and that is true of 'Office Space' too. - Author: Seth Gordon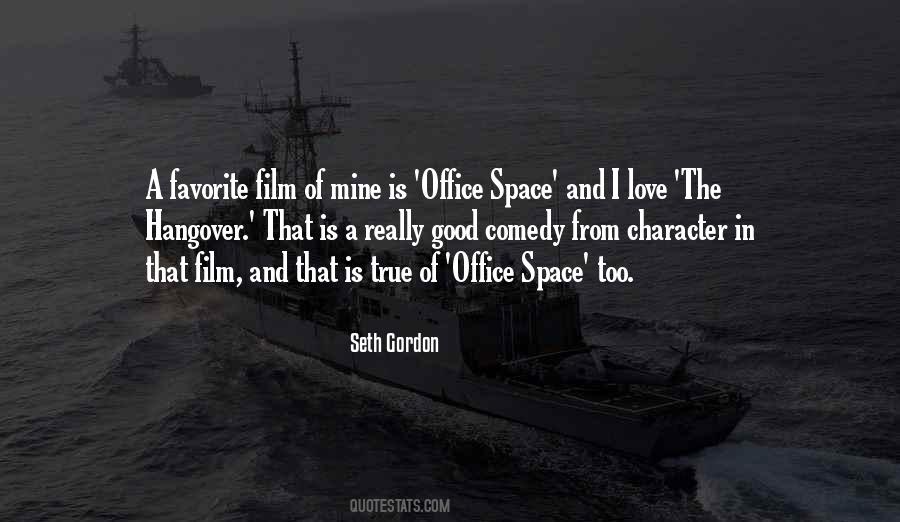 #83. Life was hard. Life was good. Most folks think this a contradiction, but I have learned that the hardest, most difficult times of my life caused the most growth in my character. - Author: Chuck Black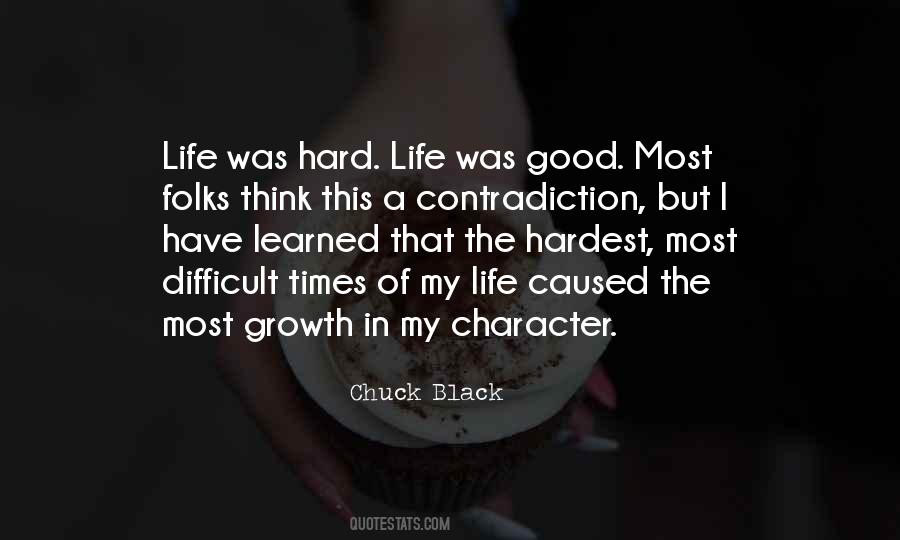 #84. Live as you like best, and your character will take care of itself. Most things are good for you; the exceptions are very rare. - Author: Henry James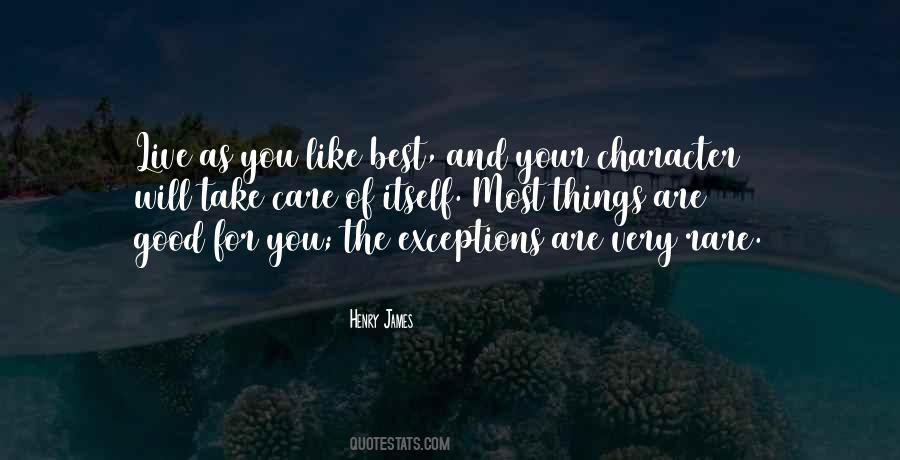 #85. It was the Prophet (saas) who said "I was sent to perfect good character"2 and "By One in whose hand there is my life: None shall enter Paradise except one who has got good conduct."3 - Author: Harun Yahya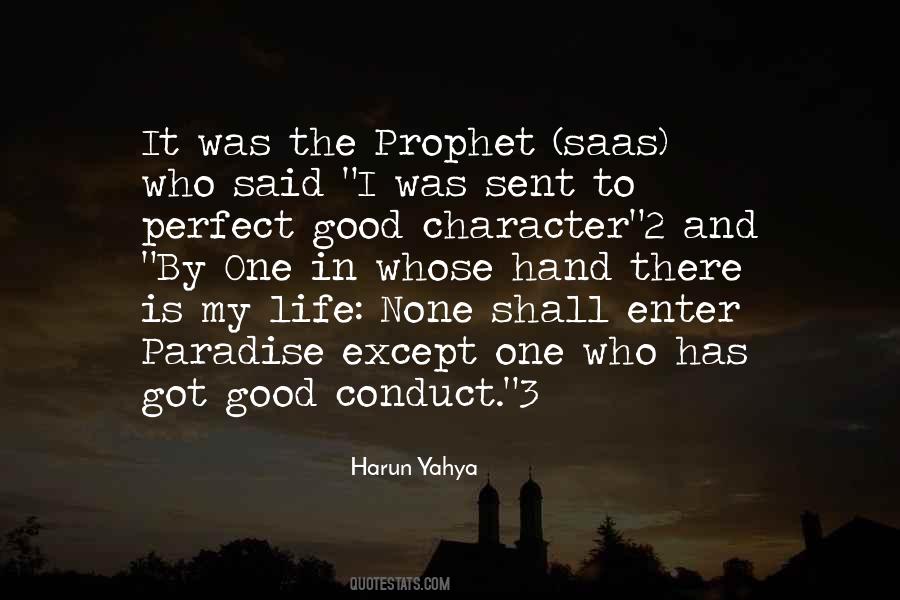 #86. Good acting comes from finding the essence of a character. - Author: John Larroquette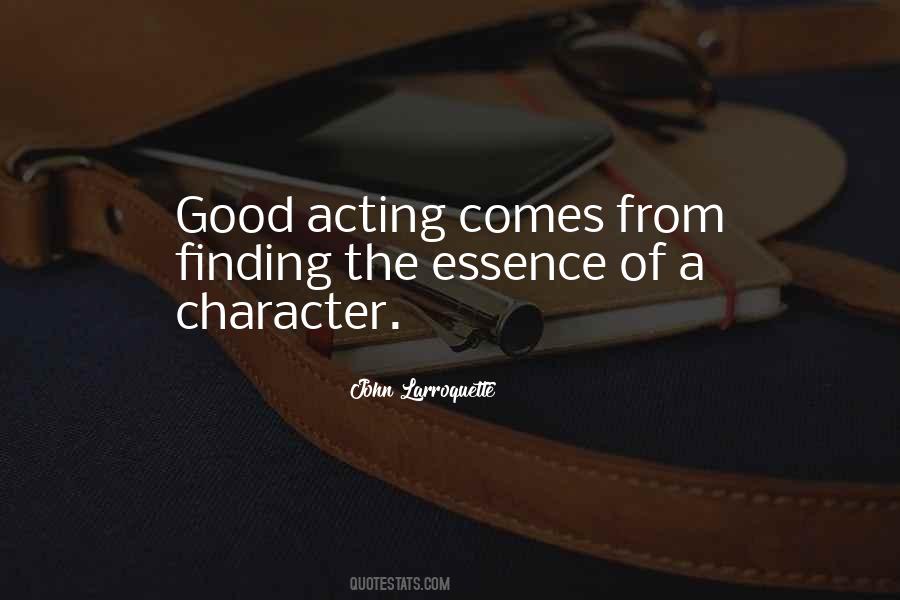 #87. People's character is their behaviour - we're all capable of good and evil. - Author: Bertie Carvel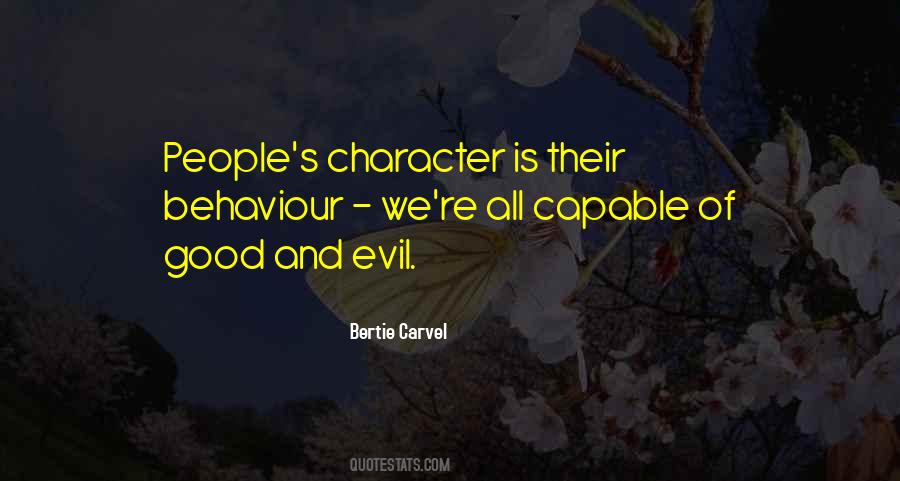 #88. Everyone has, inside himself ... what shall I call it? A piece of good news! Everyone is ... a very great, very important character. - Author: Ugo Betti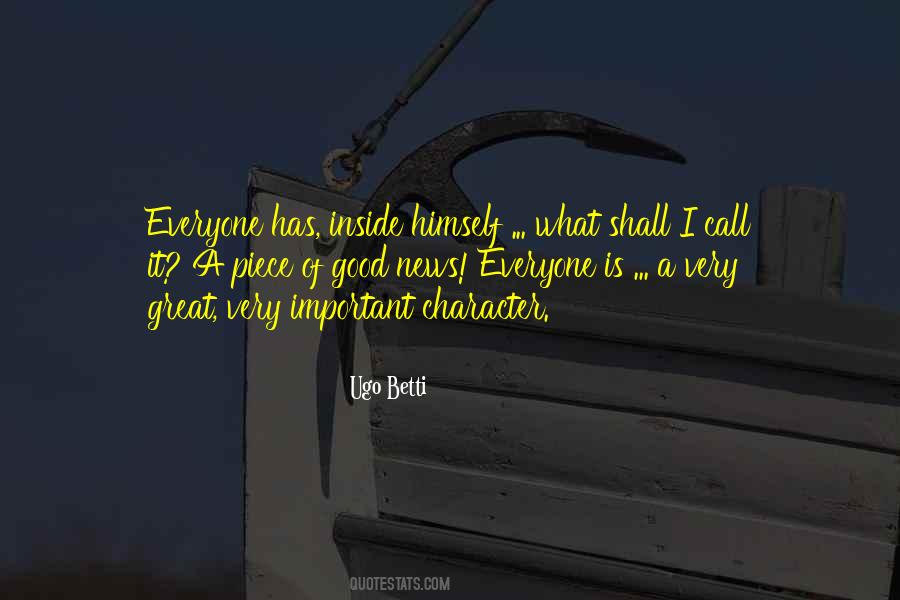 #89. He then proceeded to shout at Alpha and Beta, a sign that he was in a genuine good mood. They took it as calmly as ever, in spite of the fact that he accused them of things I'm sure no donkey has ever willingly done, especially not Beta, who possessed impeccable moral character. - Author: Patrick Rothfuss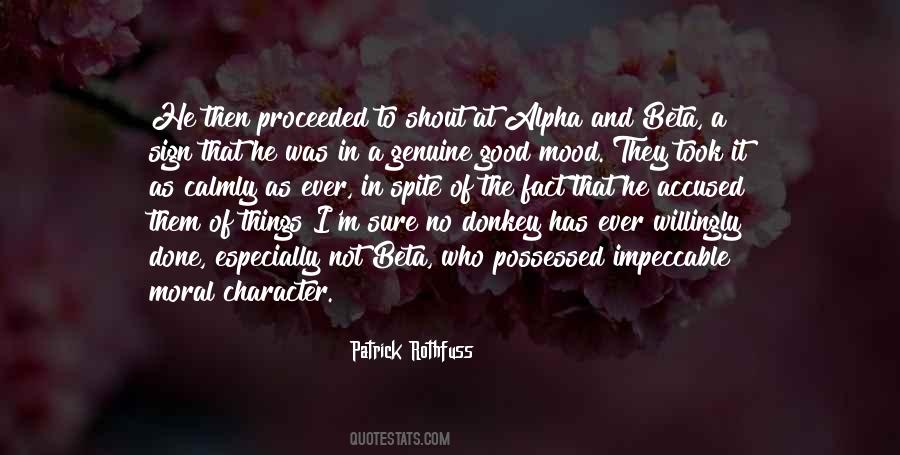 #90. I'm a huge fan of good, procedural-type shows on television ... there are a lot of roles for women. But there aren't a lot of great network television roles for girls that will let you start a character in one place and finish up with her in a totally different one. - Author: Rachael Taylor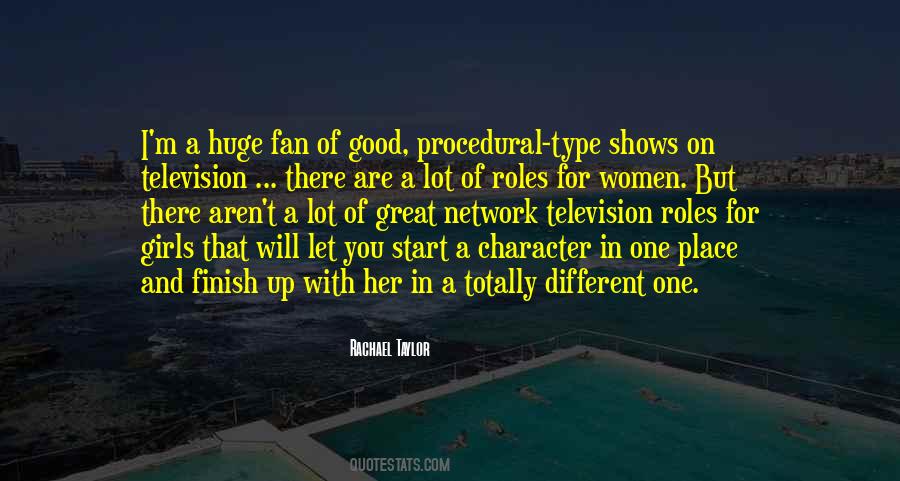 #91. A film is a living thing. The screenplay is a guideline. You really need to have a good, sound script to know that you have a dramatic structure that's going to work thematically, and to know how one scene will got through another, and to get a sense of character. - Author: Jose Padilha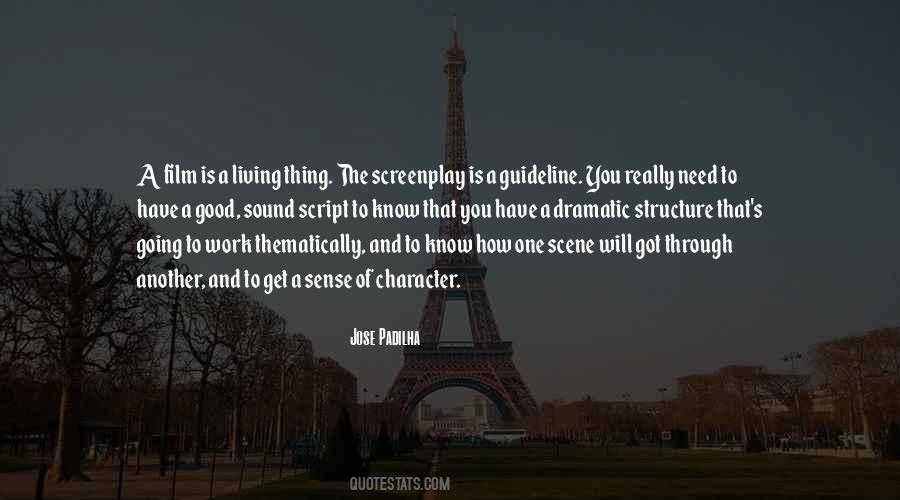 #92. We had the great good fortune and shortcomings of character that marked every generation that had never seen war. - Author: Joshua Ferris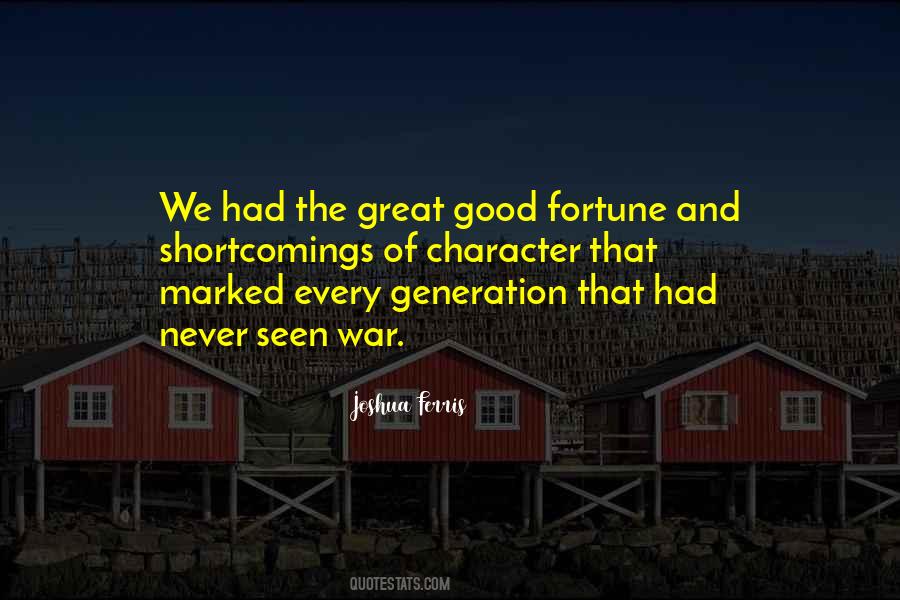 #93. Fills the heart with its unforgettable characters and small-town charm. A feel-good read as welcome as a favorite friend! - Author: Christie Ridgway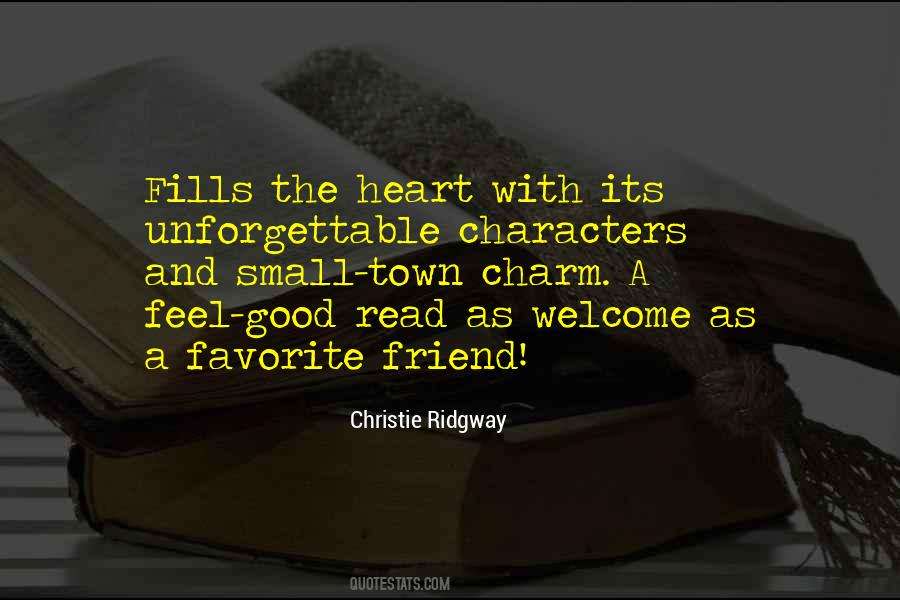 #94. Charity should be self-sustainable. That is, it should create more wealth rather than perpetuating the cycle of poverty and dependence. In this sense, the best form of charity would be providing quality education for children and more importantly, building a good character in them. - Author: Sri Sri Ravi Shankar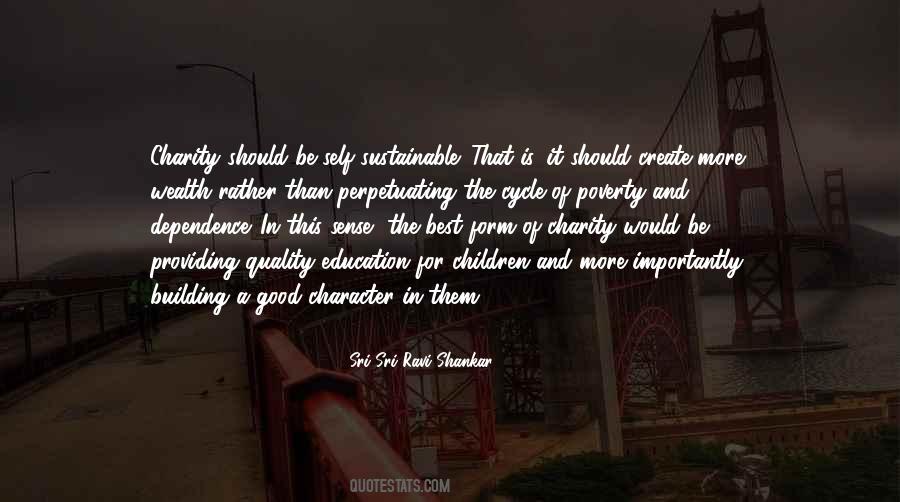 #95. Good Web design is about the character of the content, not the character of the designer. - Author: Jeffrey Zeldman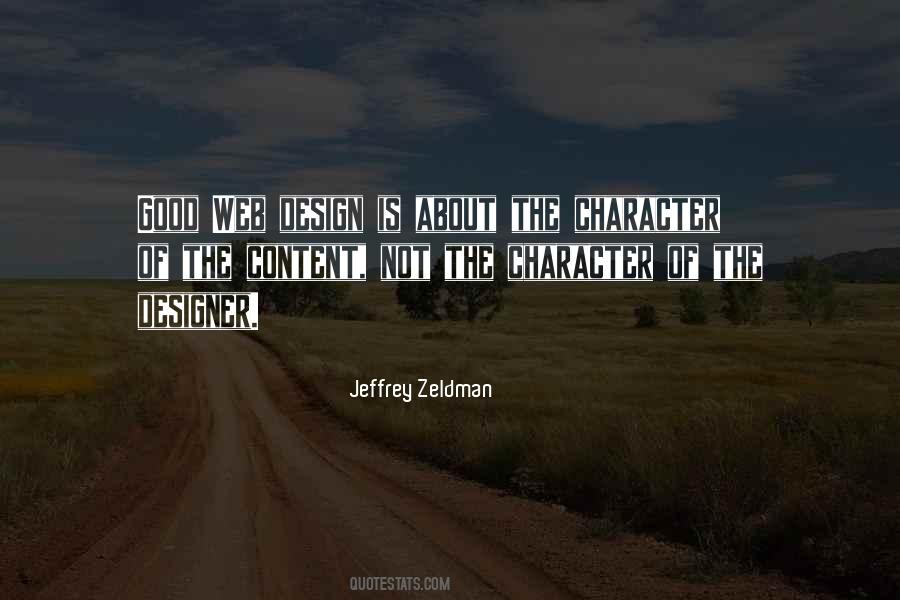 #96. Mrs. Hopewell had no bad qualities of her own but she was able to use other people's in such a constructive way that she never felt the lack. - Author: Flannery O'Connor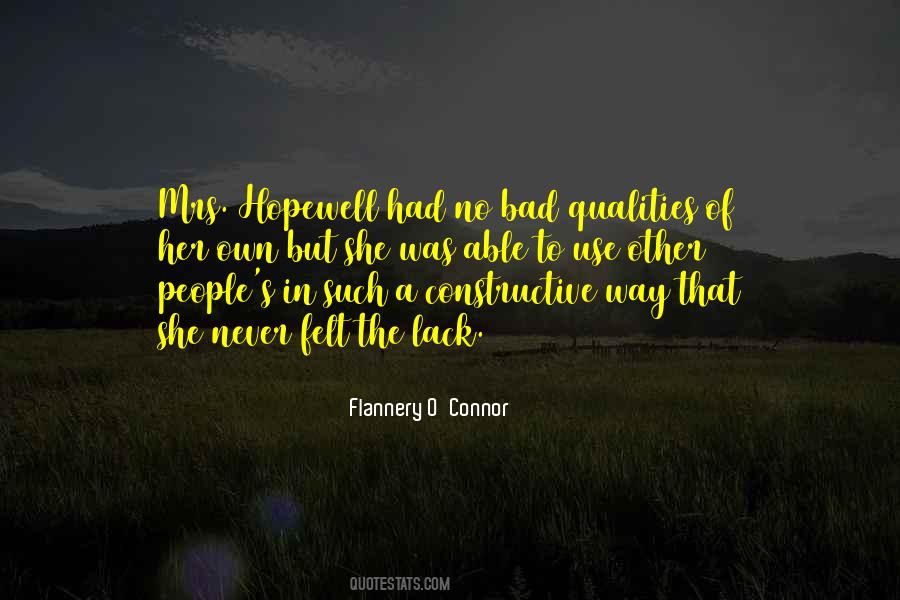 #97. Jesus wasn't just a great character, a hero figure for subsequent generations to look up to. He was announcing good news - something that was happening and has now happened, something that changes the world. And either he was right or he was wrong. - Author: N. T. Wright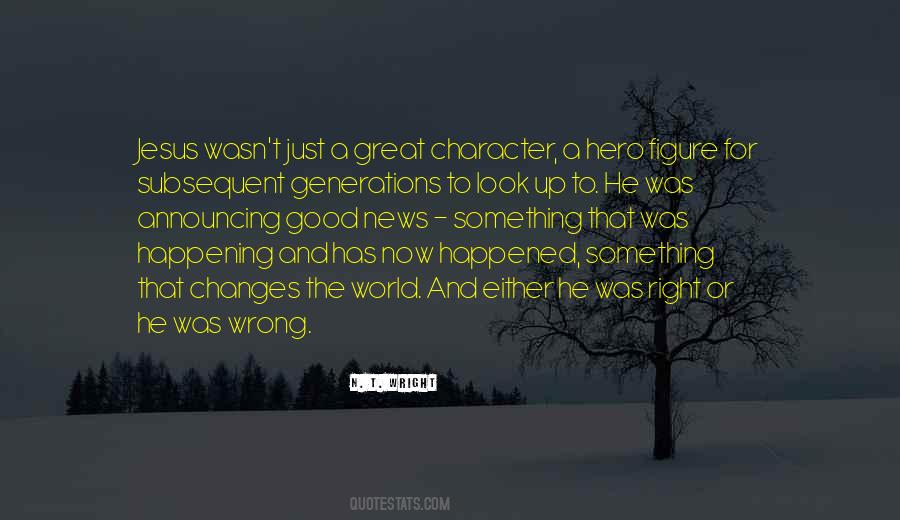 #98. I think the good stories are those where the character decides to break away and do something different. - Author: Keri Russell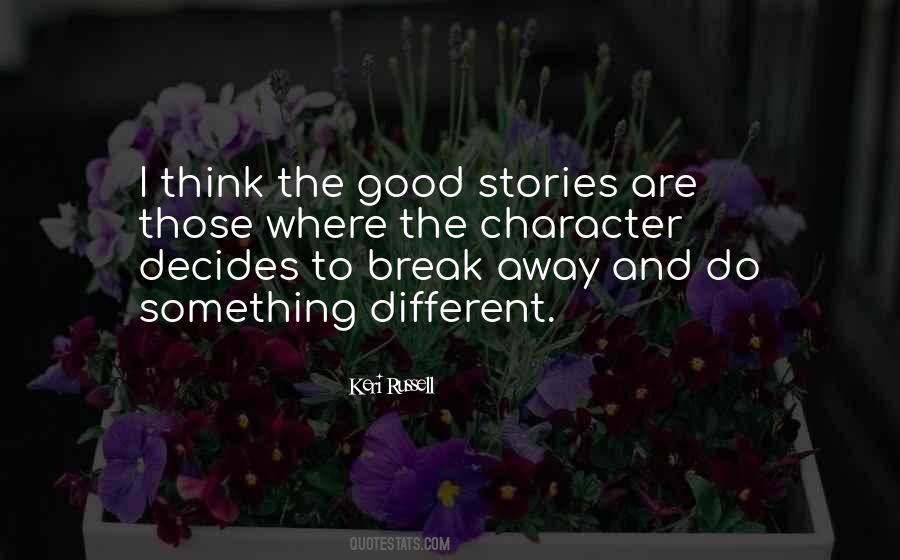 #99. The man of good character is humble before those less educated than him, compassionate to those less fortunate than him, and kind to those inferior to him. - Author: Matshona Dhliwayo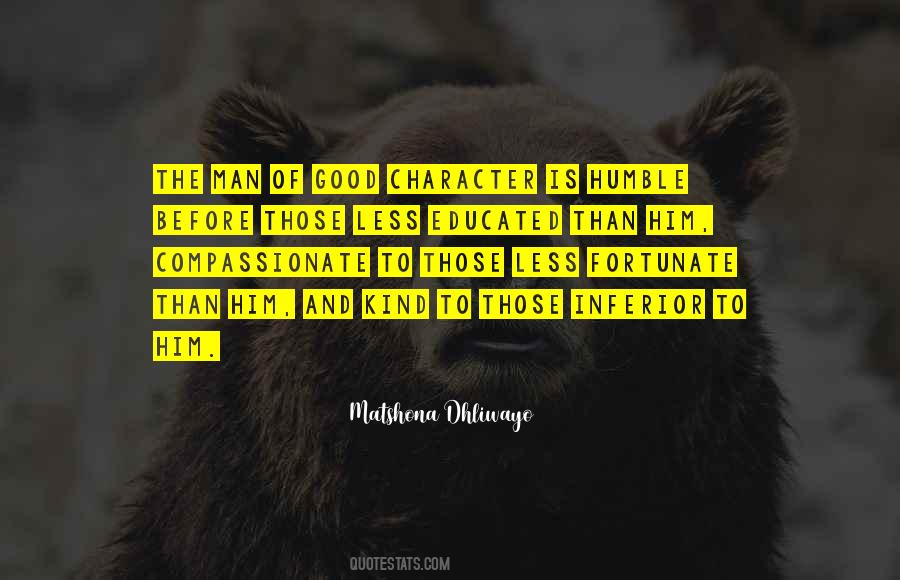 #100. I don't want to work just for the sake of working. Generally, if a good script comes in, I read it, and if it appeals to me, it appeals to me. And it doesn't have to be anything - it doesn't have to be the main character; it doesn't have to be a huge part. - Author: Alison Doody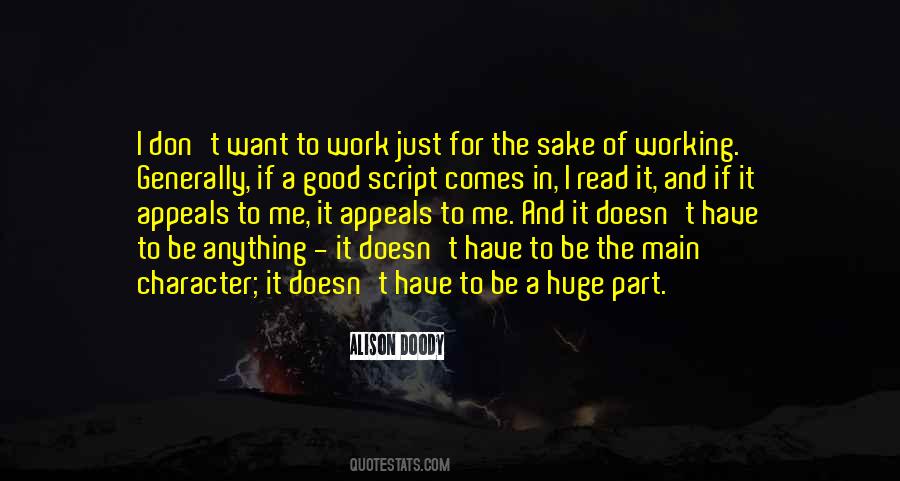 Famous Authors
Popular Topics