Going To Boarding School Famous Quotes & Sayings
List of top 46 famous quotes and sayings about going to boarding school to read and share with friends on your Facebook, Twitter, blogs.
Top 46 Quotes About Going To Boarding School
#1. Unless you have been to boarding-school when you are very young, it is absolutely impossible to appreciate the delights of living at home. - Author: Roald Dahl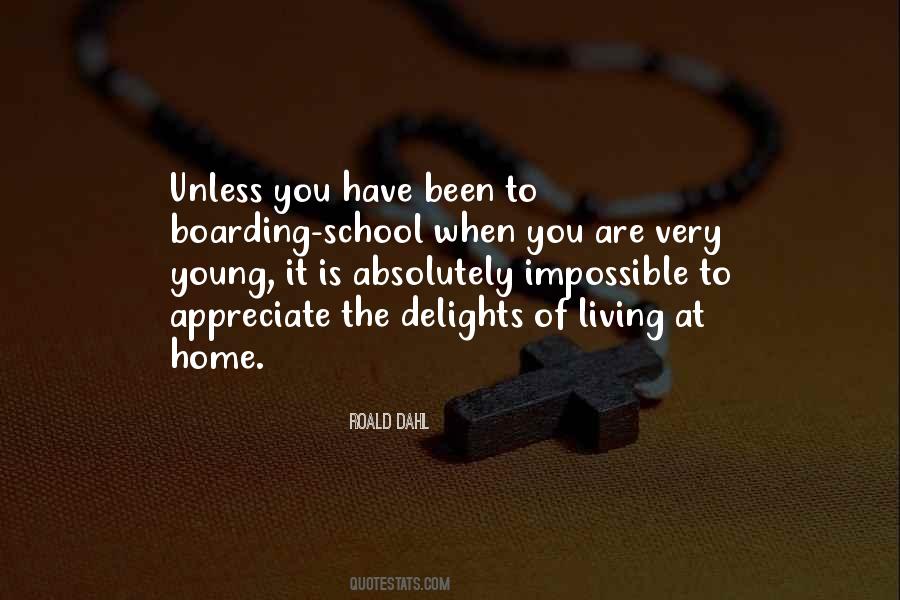 #2. I don't know if kids still read it, I just know that for me - as a boarding school kid - the book had a lot of resonance. It was a well written book. I was honored to play a part in that movie version. - Author: Parker Stevenson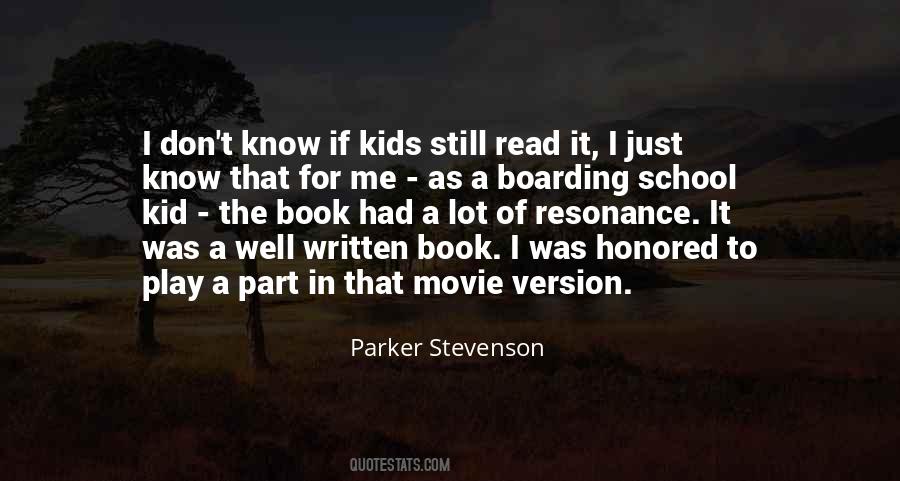 #3. Having your adolescence at an all-male boarding school is just crap. - Author: Benedict Cumberbatch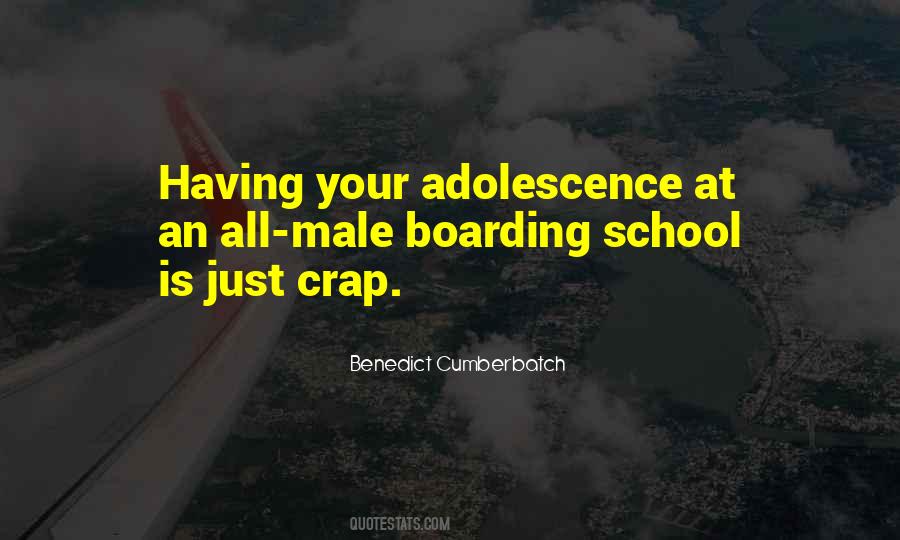 #4. At this point I was strongly advised that I was too young socially to go to college so I took a second senior year at Andover, another boarding school. - Author: William Standish Knowles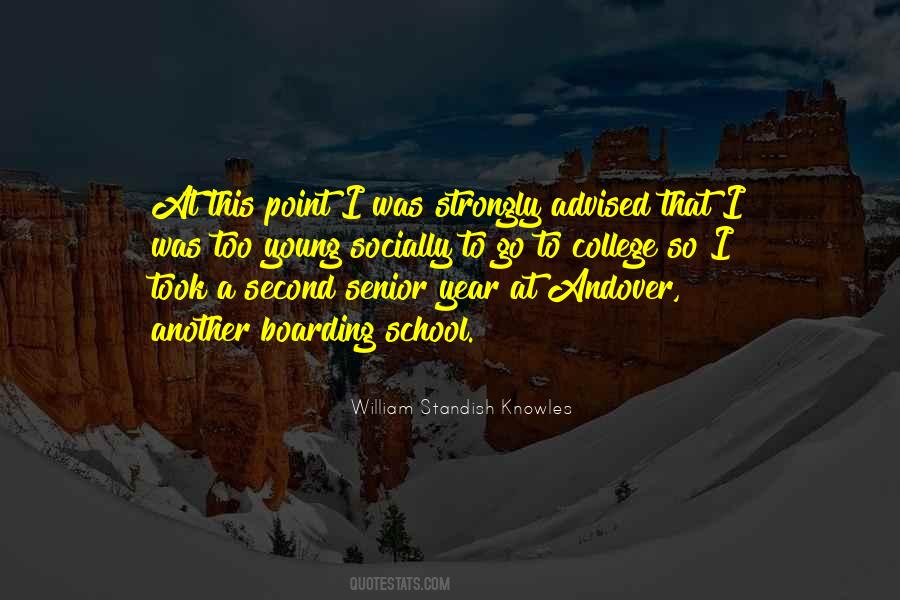 #5. I was not a classic mother. But my kids were never palmed off to boarding school. So, I didn't bake cookies. You can buy cookies, but you can't buy love. - Author: Raquel Welch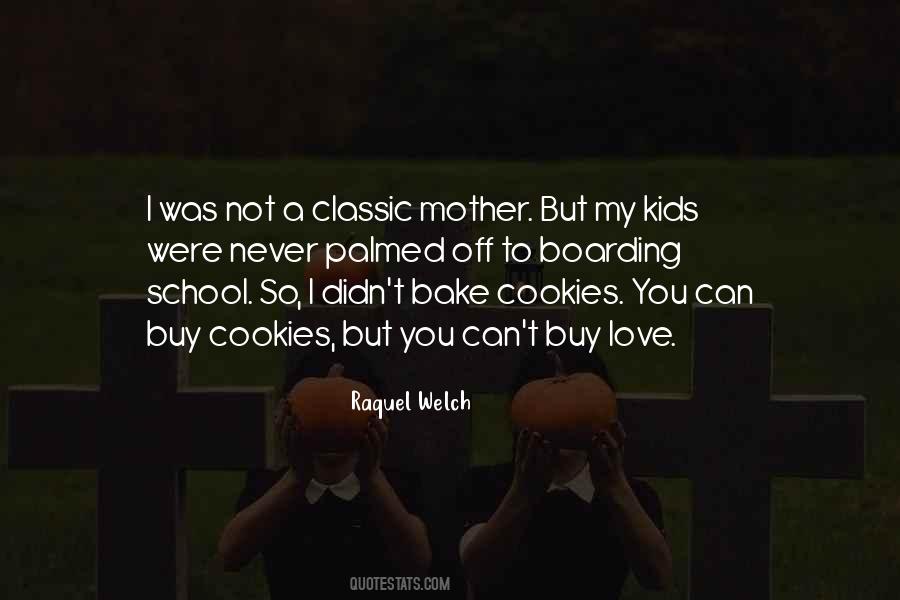 #6. It was tough going to boarding school. It was very hard work. - Author: Jasmine Guinness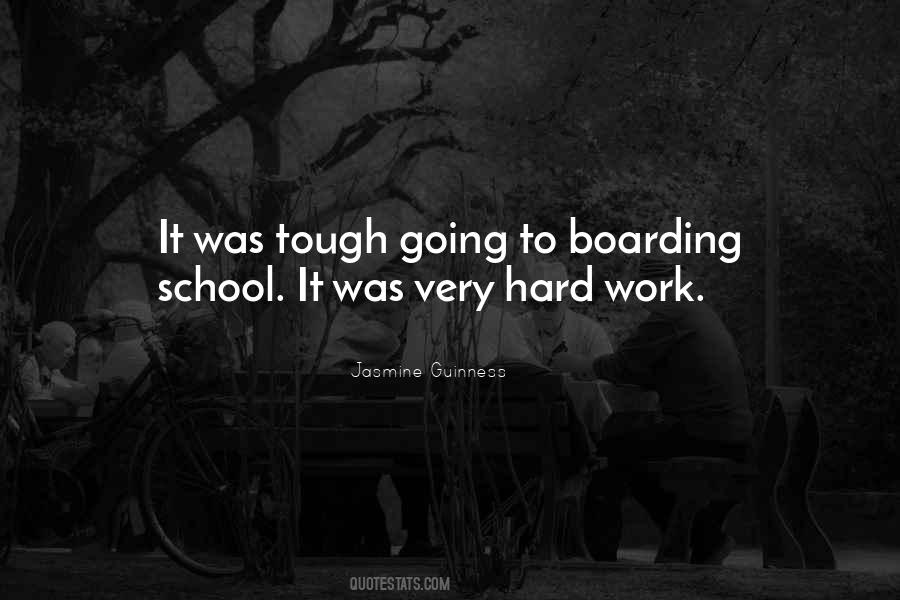 #7. She may not be the prettiest, or the smartest, or the wealthiest at the Academy, but she could be kind. Anyone could be kind. - Author: Alleece Balts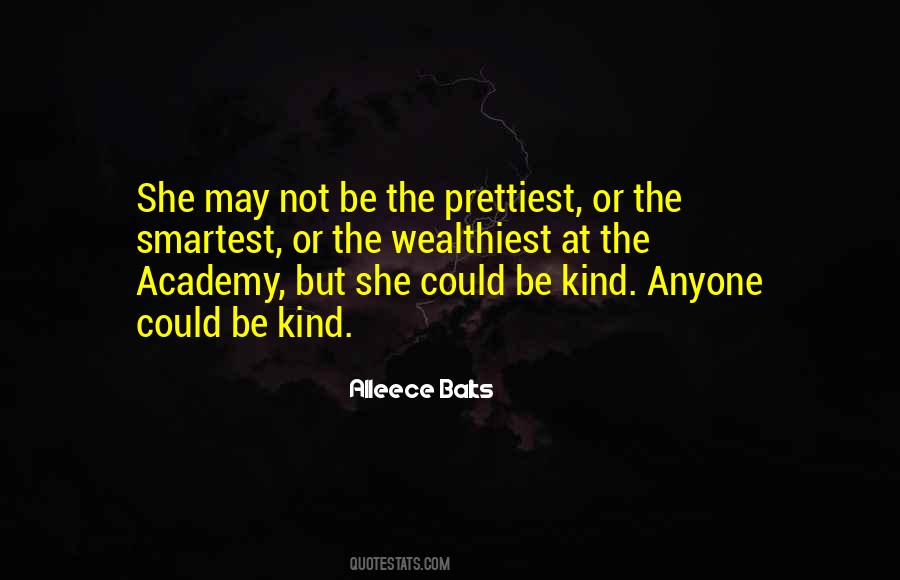 #8. I was planning to go into law or politics. I was well known for my public speaking. I went to an all-girl boarding school with uniforms. It was very posh for someone like me who came from a world where my parents showed beagles and sold dog products out of a yellow caravan. - Author: Rebel Wilson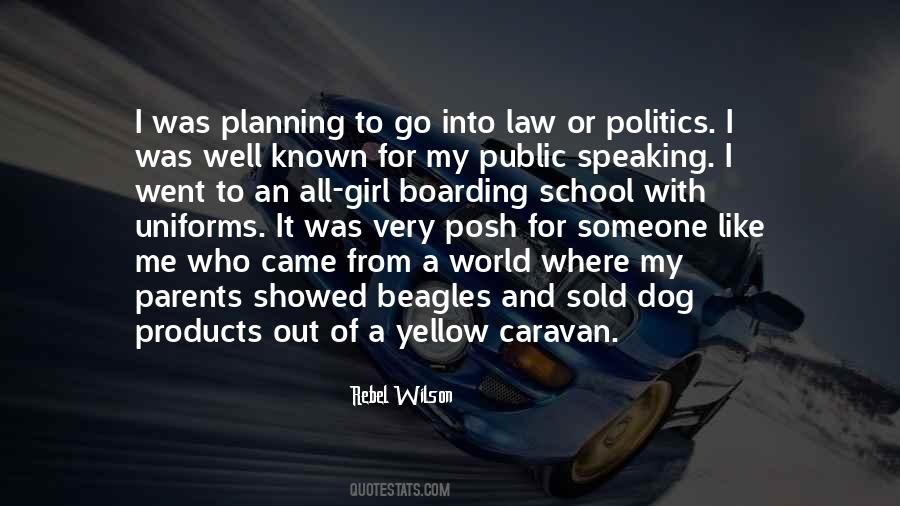 #9. I went to boarding school Southern, religious, and straight, and I left boarding school not being at all religious and not being straight. - Author: Chris Hughes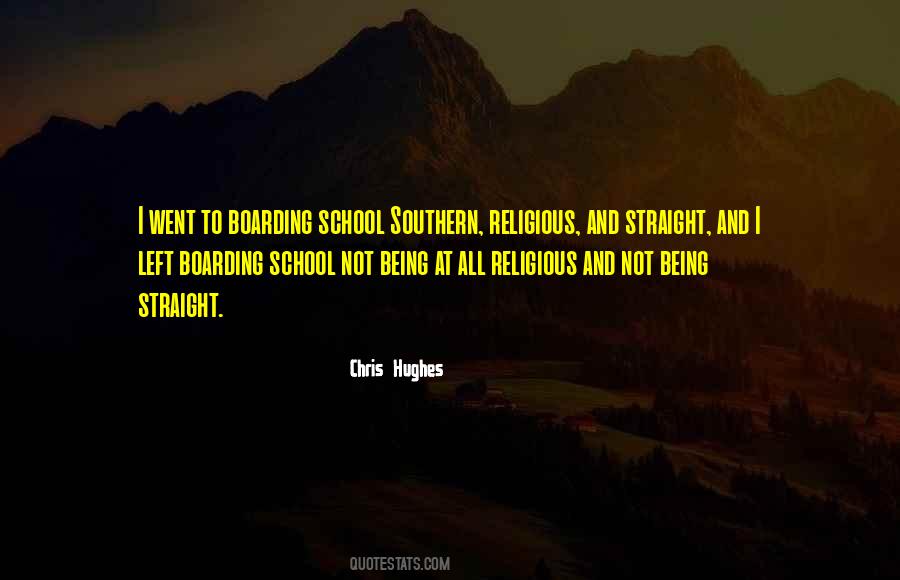 #10. You can wait as long as you like, pretty one, it won't make any difference. He will never see you as anything more than some victim he has to protect. Why he thinks it his duty to protect you from the inevitable, I do not know ... unless he knows something we do not ... - Author: Charlotte Munro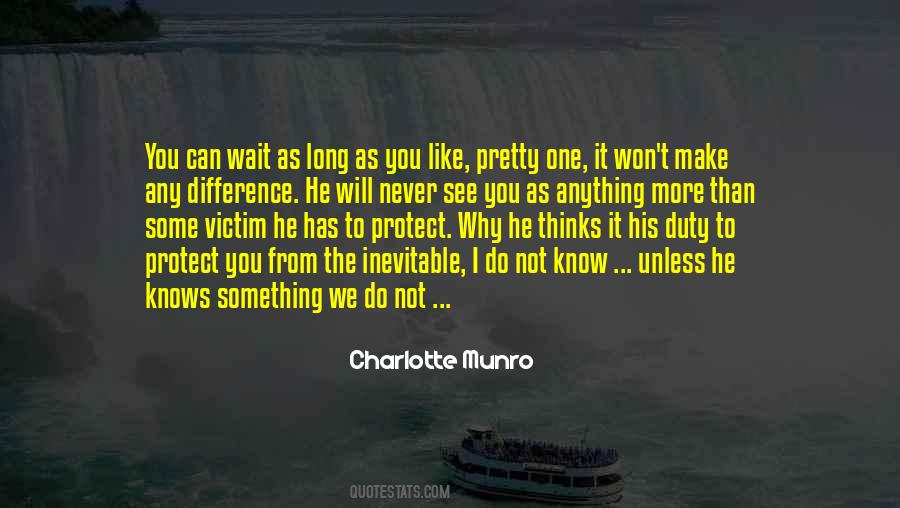 #11. Being sent away to boarding school at seven is as great an inspiration as any songwriter could have - to be taken away from one's family and locked away for 10 years. It does create an incredible intensity of emotion. - Author: James Blunt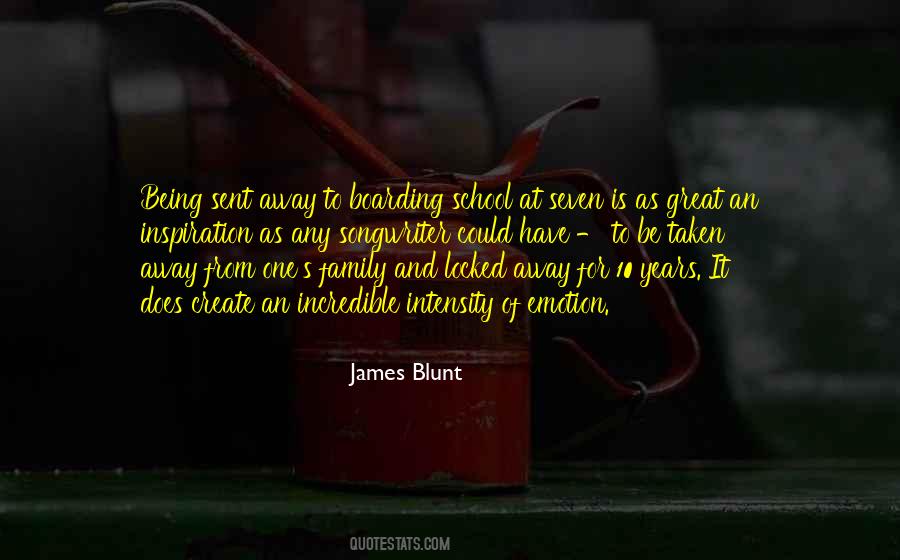 #12. After boarding school in Switzerland, at, like, 14 or 15, my life clicked, and I just realized, 'I don't want to be like anyone around me at my school. I don't think the world revolves around money.' - Author: Albert Hammond Jr.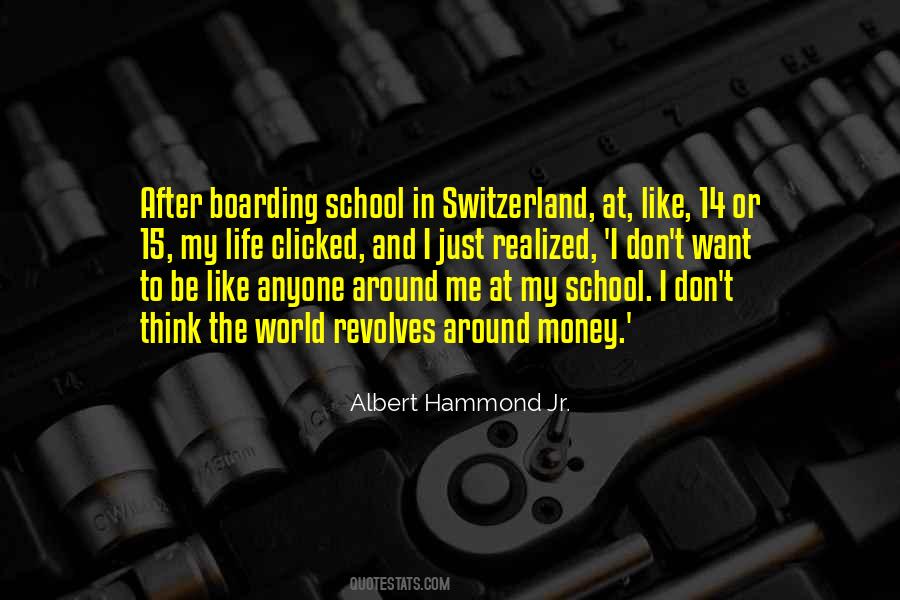 #13. I went to boarding school in Somerset and loved it so much that my teachers had to make me phone home when I first got there. Whenever I spoke to my mum, at the end of the call I would say, 'Love you, Mum', and she would say, 'Love you the most.' - Author: Ella Eyre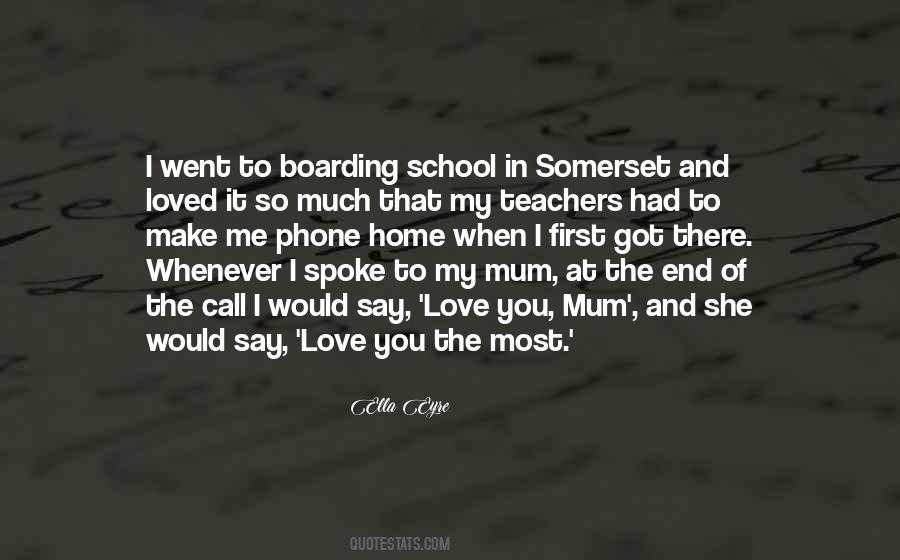 #14. My boarding school experience was the only thing I had strong enough feelings to write about for hundreds and hundreds of pages. I can still smell the formaldehyde of the fetal pigs in biology. - Author: Curtis Sittenfeld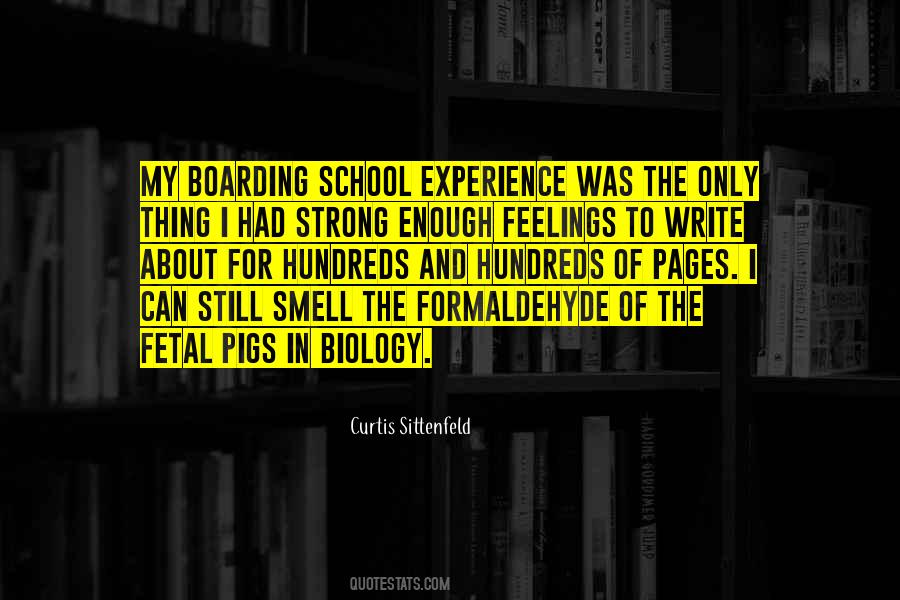 #15. My dad was in the Army. The Army's not great pay, but, you know, we moved from Army patch to Army patch wherever that was. The Army also contributed to sending me off to boarding school. - Author: James Blunt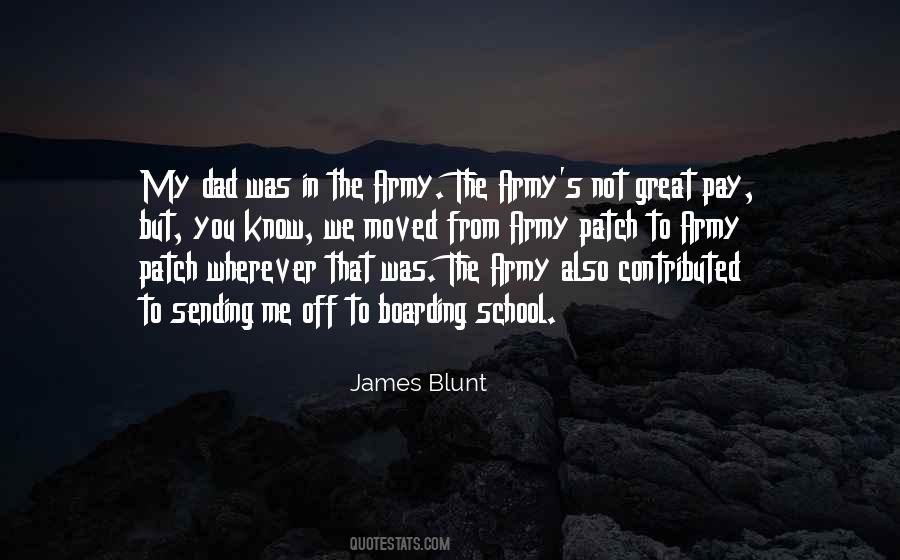 #16. The Friday before winter break, my mom packed me an overnight bag and a few deadly weapons and took me to a new boarding school. - Author: Rick Riordan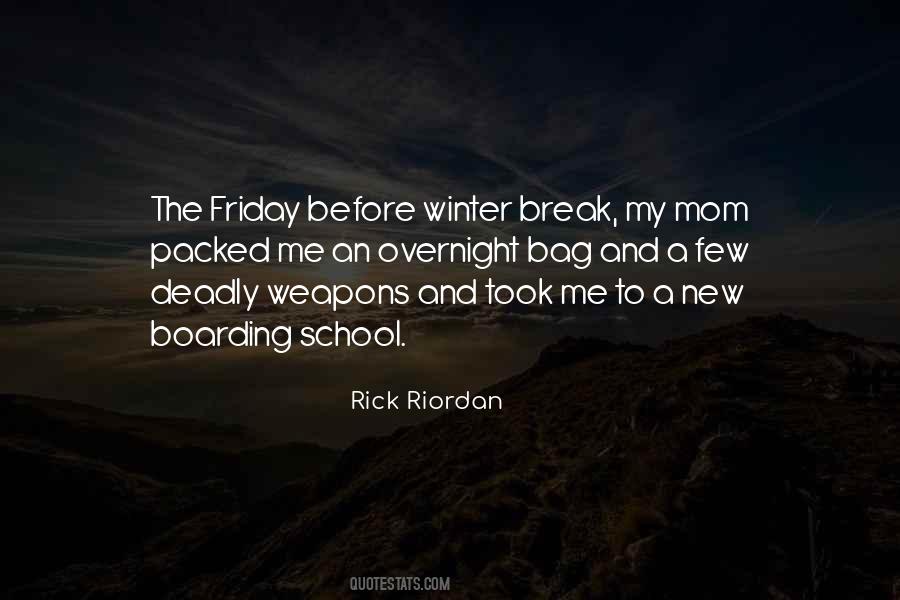 #17. I have an addictive personality. Boarding school merely sent me more quickly on the downward spiral that dominated my childhood. - Author: Marcus Brigstocke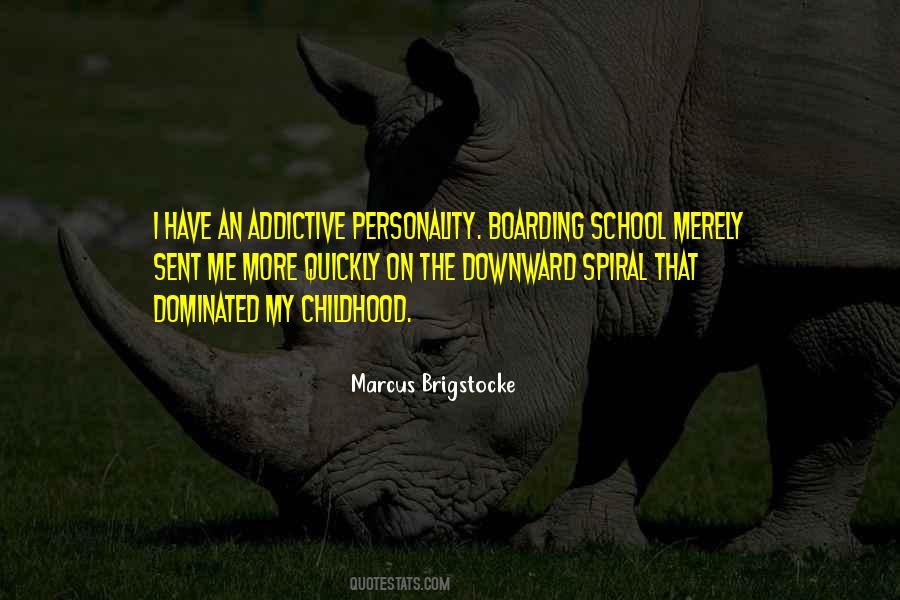 #18. Sheep. I'm stuck in a boarding school filled with sheep. - Author: Libba Bray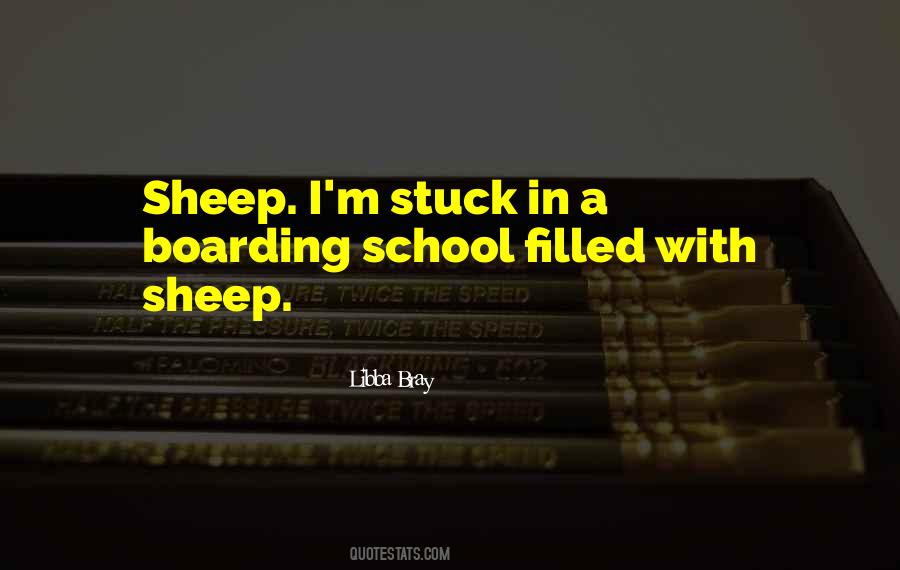 #19. We know about your brother. He called and told us himself. Said to imagine Faerieland like an exclusive boarding school in Switzerland. I told him it was more like an exclusive boarding school in hell. - Author: Holly Black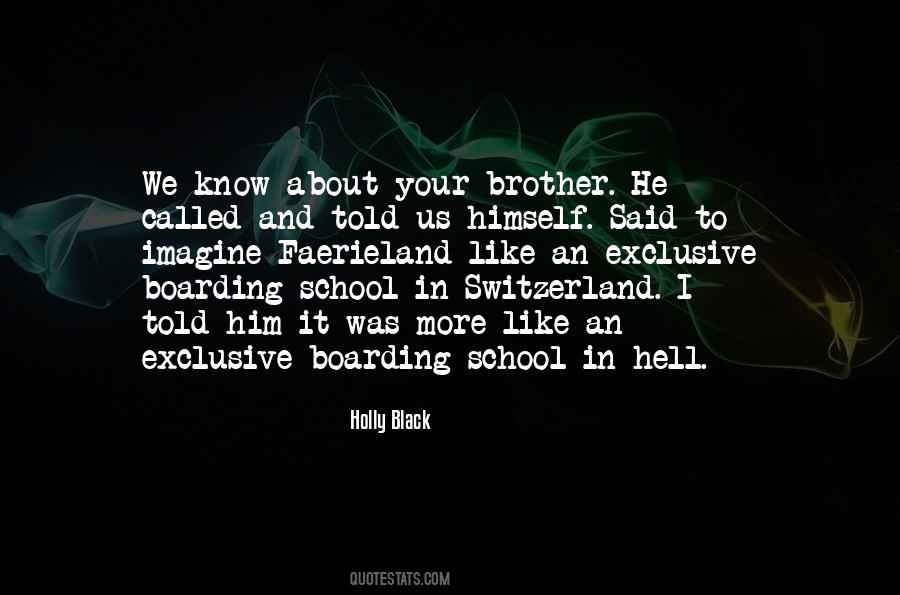 #20. But that's the beauty of boarding school. I make all my own decisions, small and medium, while the big ones are left up to the Prefect Academy - and as far as boys go, to the only expert I know - Suzanne Santry - Author: Adriana Trigiani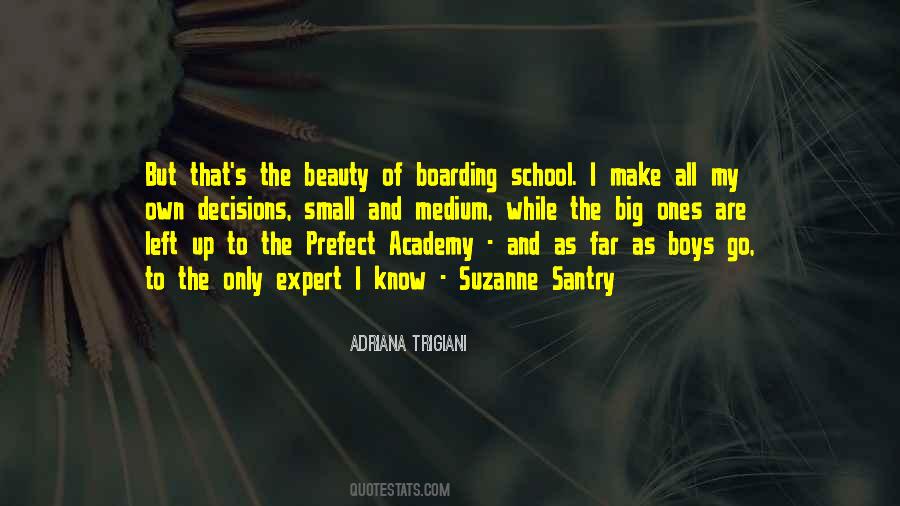 #21. When I was a kid, a pickleball hit me in the back of the head, and I had memory problems. I was in a boarding school and the nuns gave me poems to remember to try and get the memory going again. - Author: C. C. H. Pounder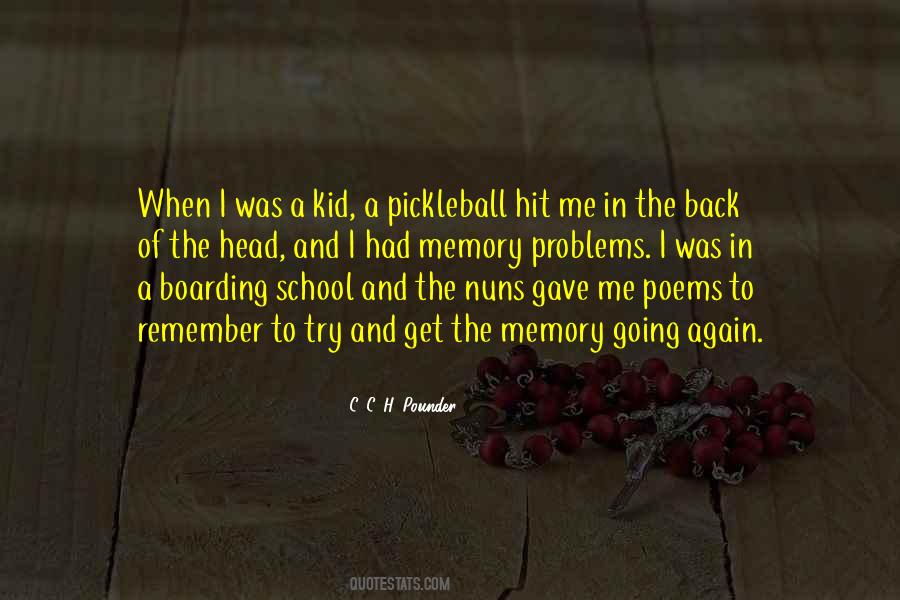 #22. My parents divorced when I was seven. Because divorce is messy, for good or ill, they sent me to boarding school. - Author: Jack Davenport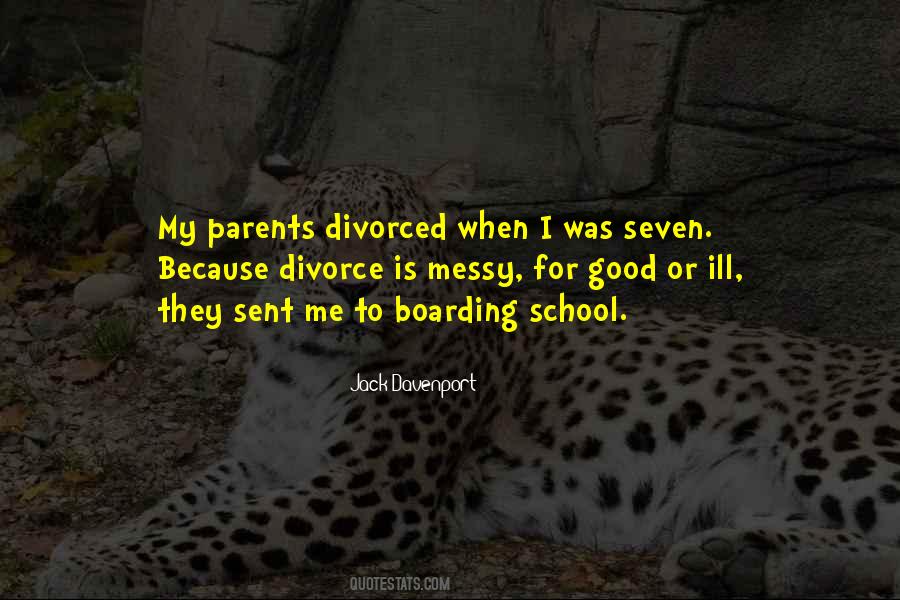 #23. Geoff Muldaur was and is one of my musical heroes. When I listen to him sing and play, I can hear the coal mine, the cotton field, and last, but certainly foremost, the boy's boarding school. - Author: Loudon Wainwright III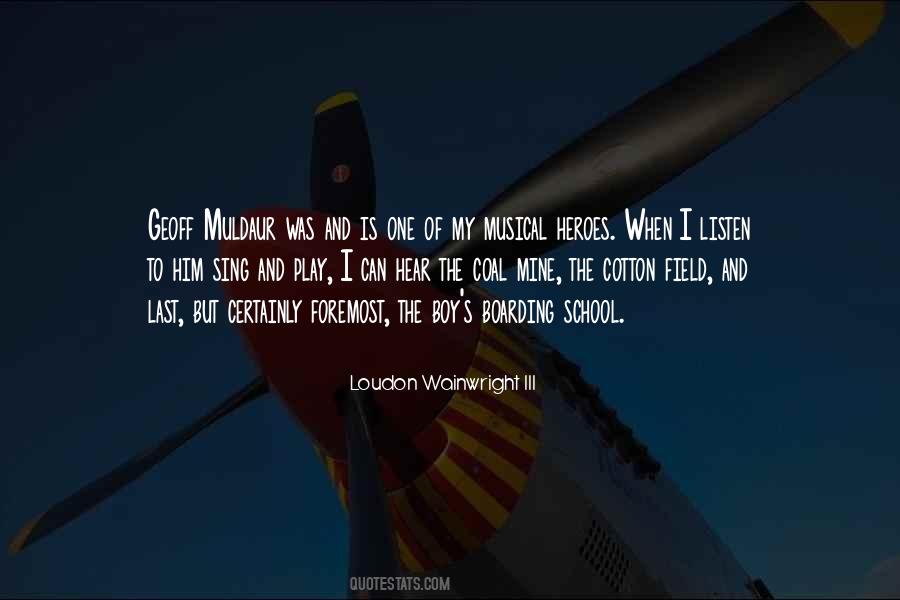 #24. My friend who I went to boarding school with was interested in photography. He insisted that I buy a camera and marched me downtown. - Author: William Eggleston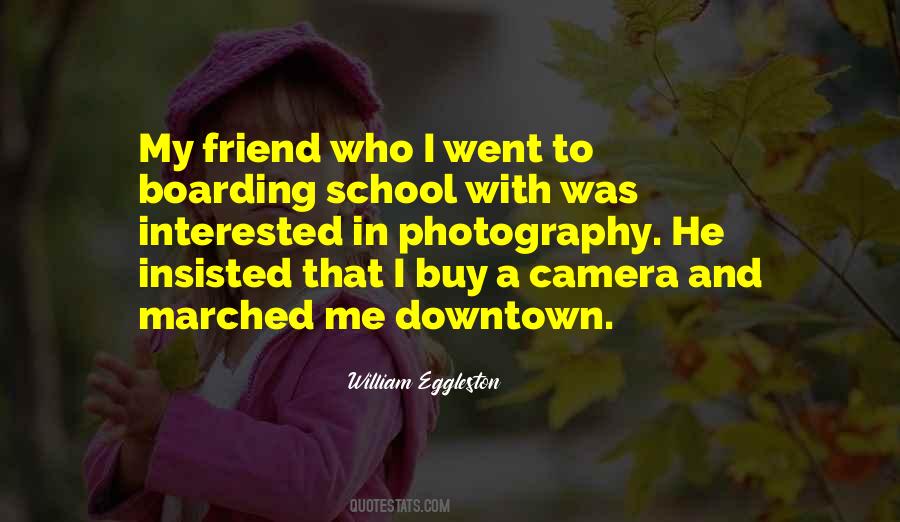 #25. I went through a period at boarding school when my coaches wanted me to switch to snowboarding because they thought I was no good at skiing. I was too skinny. I had terrible technique. They were saying I should be a snowboarder, and luckily, I resisted. - Author: Bode Miller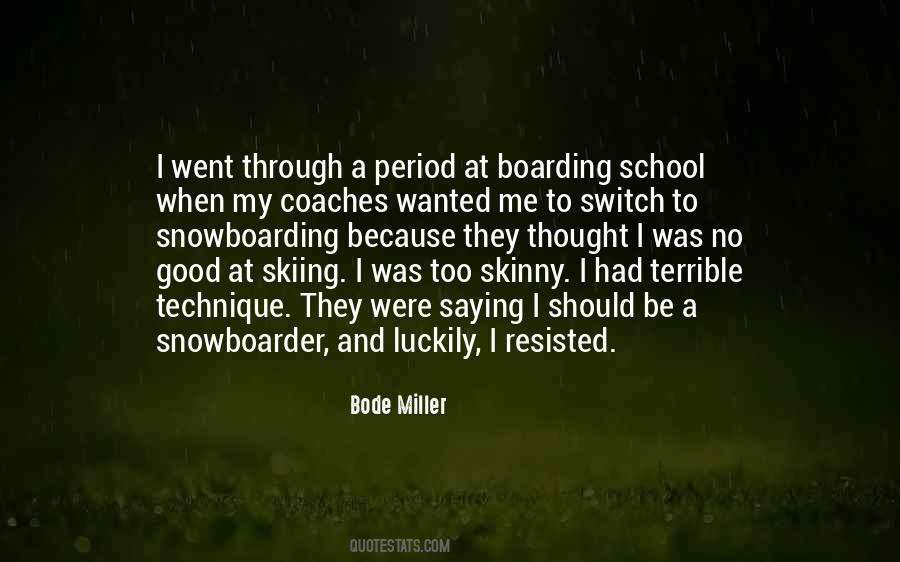 #26. You create a world away from home and make new rooms for yourself. But when you arrive back home in your old rooms, the world you've made for yourself ceases to be real. Everything seems to crumble. Anyone who's been sent away to boarding school can understand that. - Author: Colm Toibin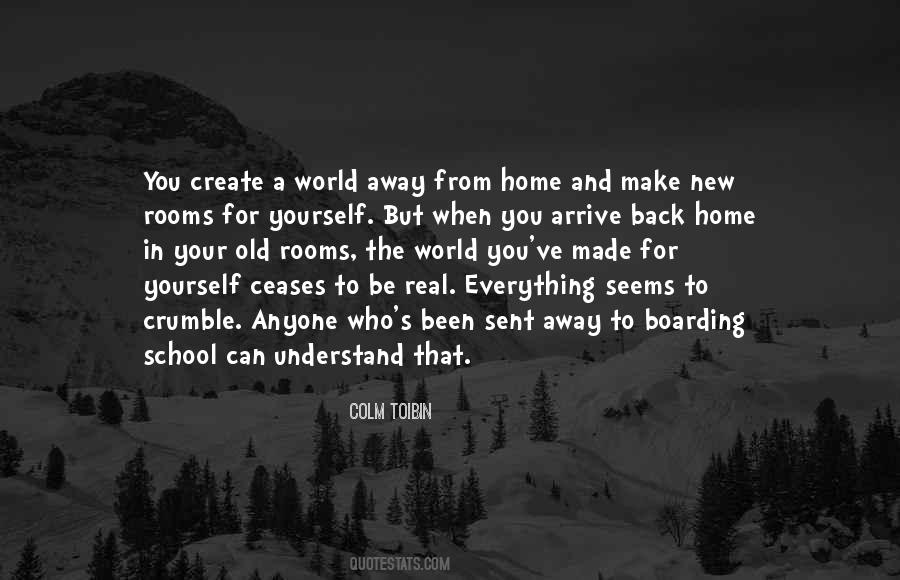 #27. I studied with a blind teacher from about 5 until I was 16, at two different schools. From the age of 12 until 16, I was in a boarding school-which, I believe, at that time was compulsory for blind children. - Author: George Shearing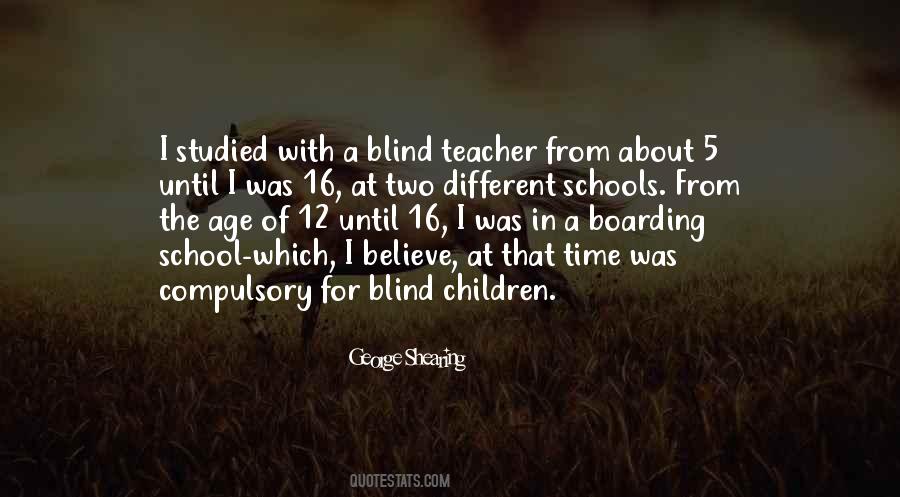 #28. I love 'Call the Midwife'; it's an absolute gem of a programme. Filming the Christmas special and then the second series felt like going back to a boarding school that you really love and is full of friends. - Author: Helen George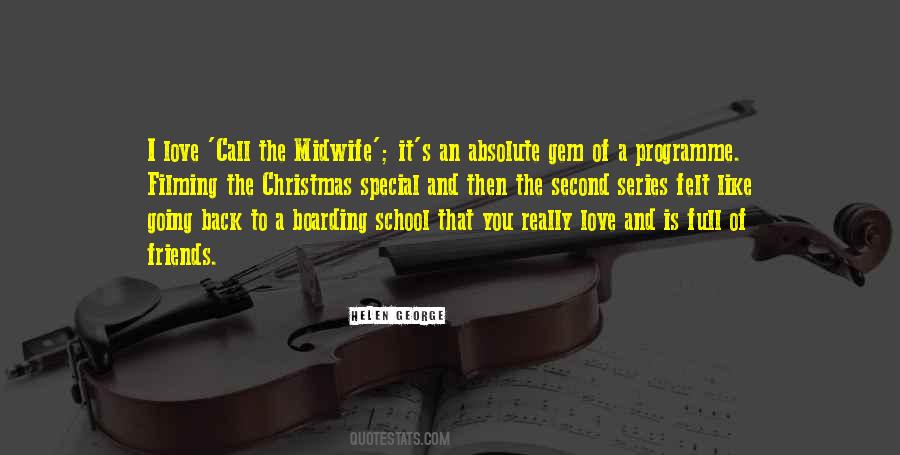 #29. Older boys were allowed to beat younger ones at my 15th-century English boarding school, and every boy had to run a five-mile annual steeplechase through the sludge and rain of an October day, as horses do. We wrote poems in dead languages and recited the Lord's Prayer in Latin every Sunday night. - Author: Pico Iyer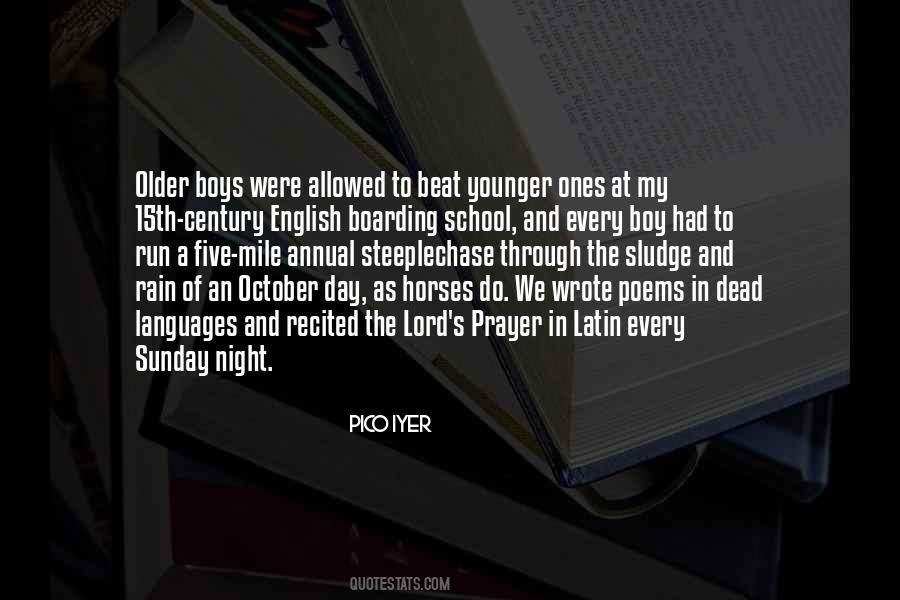 #30. I went to boarding school at seven and cried and cried. - Author: Rupert Everett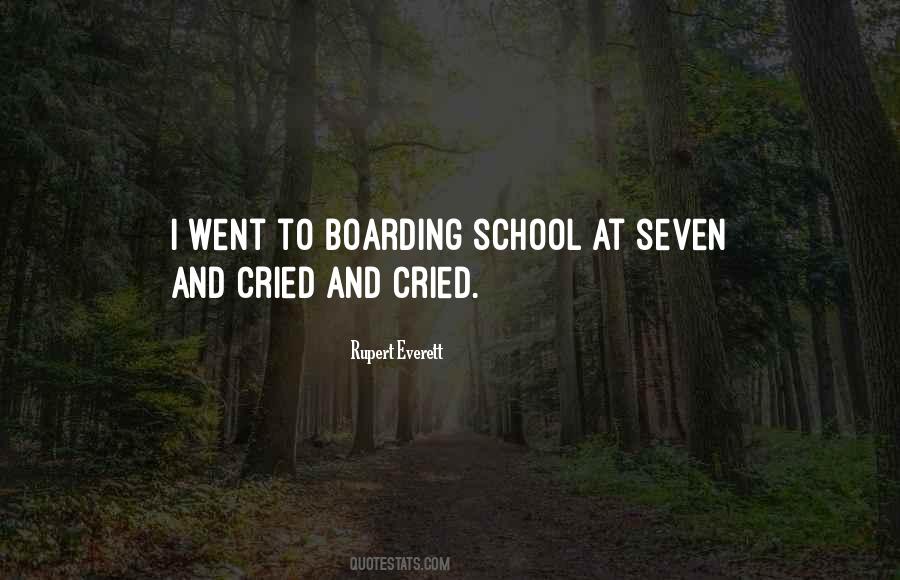 #31. It's an ironic thing about being an immigrant kid, growing up - 'cause I grew up in the UK and went to a British boarding school and we would go to chapel every Sunday morning. And we'd actually have religious studies and religious studies means Christian studies where you study the Bible. - Author: Aasif Mandvi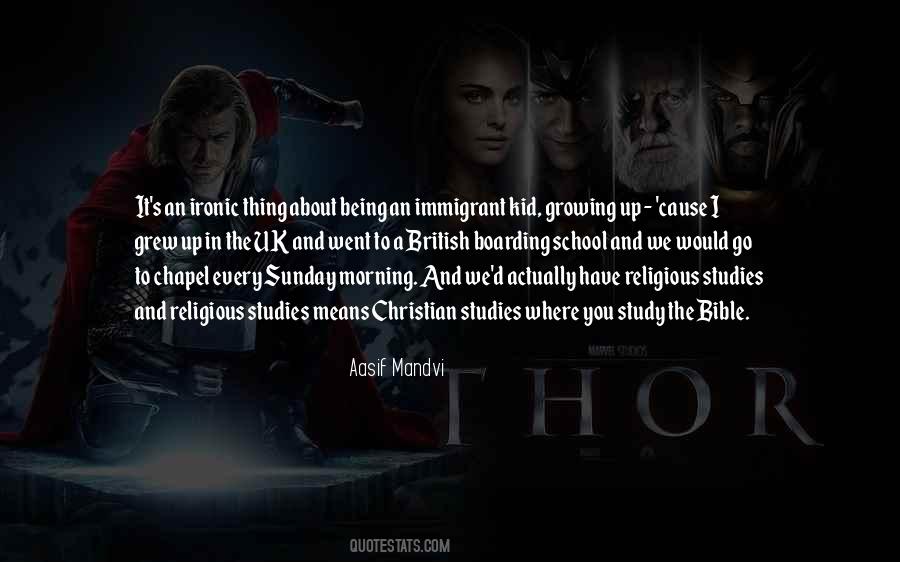 #32. Growing up, I was your classic Catholic Irish kid. I went to mass every Sunday. Then in secondary school I went to boarding school, and there was mass seven days a week before breakfast - it may have put me off! - Author: Deirdre O'Kane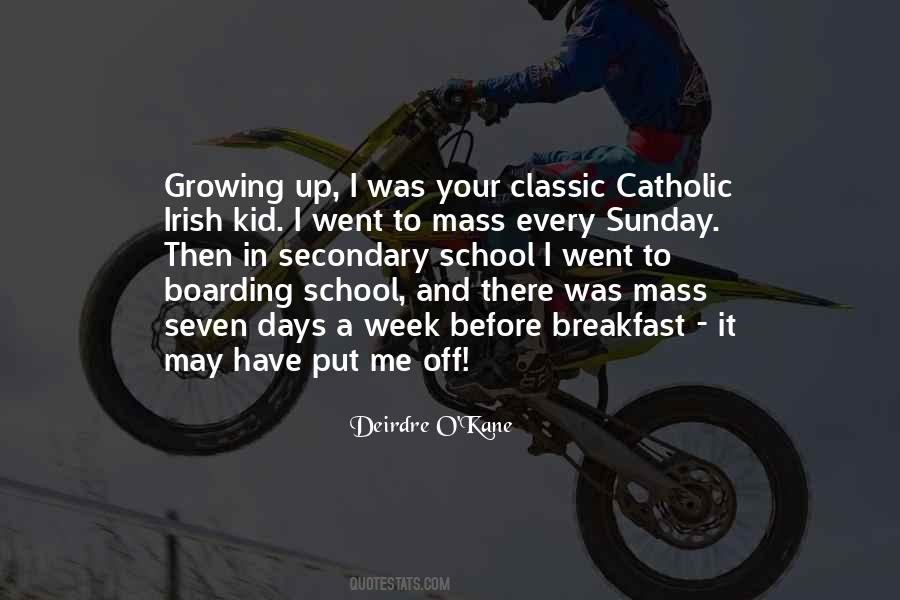 #33. I can't remember a time when I didn't love fashion. As a child, I was always particular about what I'd wear. I remember feeling most aggrieved that I had to put on a dull uniform to go to boarding school. - Author: Trinny Woodall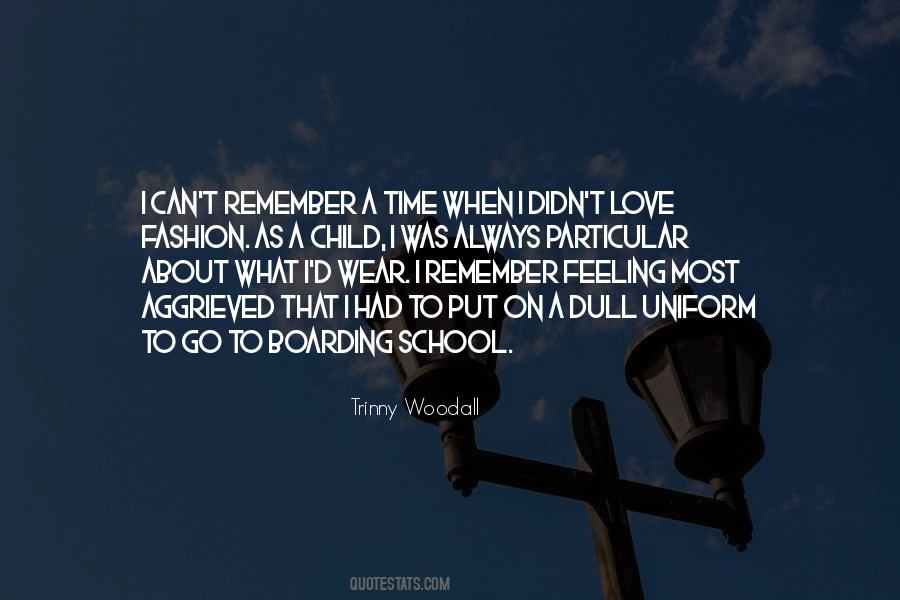 #34. How come you got to start making the bed the minute your feet hit the floor? You need to lighten up, girl. Live a little!' Then she'd laugh, delighted with herself and at my inability to be angry with her. - Author: Lorene Cary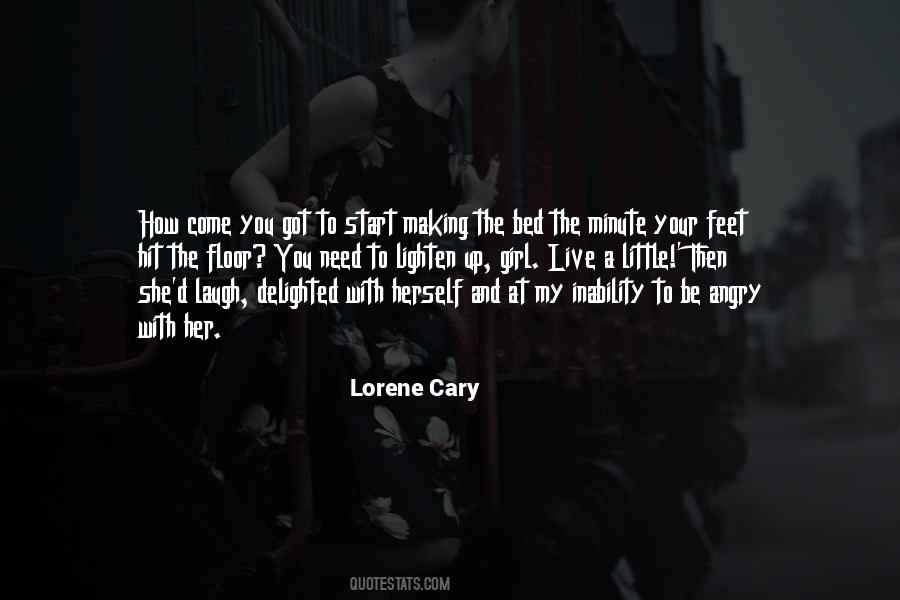 #35. If my dad was alive, I wouldn't have gone to boarding school, and I wouldn't have had the success I've had. - Author: Jason Day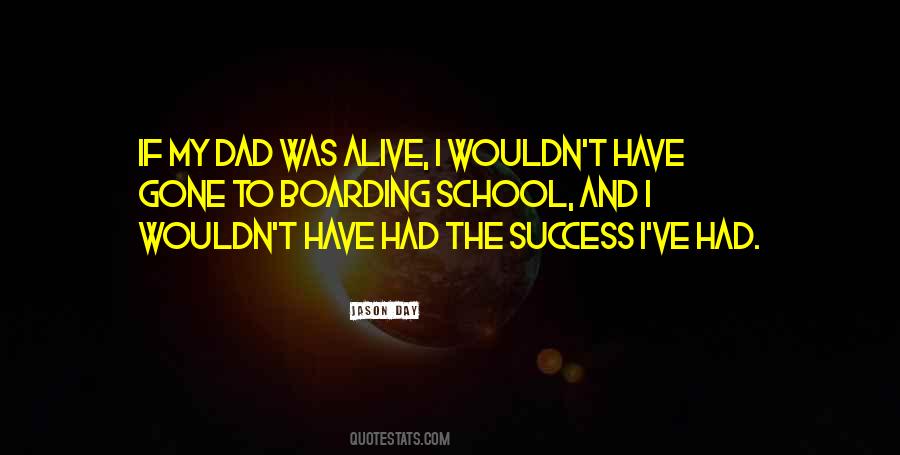 #36. At age 10 or 12 he's going to boarding school in the Isle of Wight. The Isle of Wight is, of course, down at the bottom of England just off South Hampton. - Author: Jeremy Irons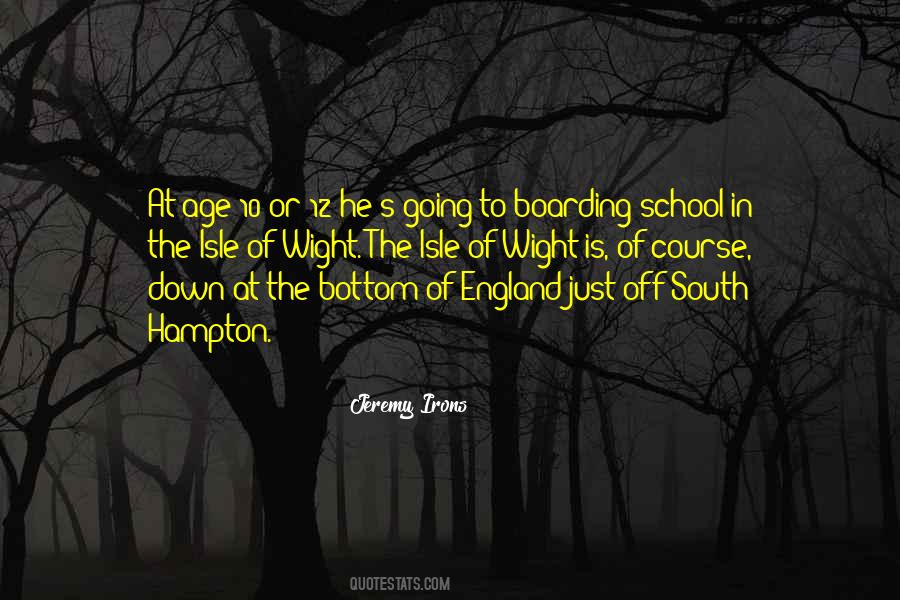 #37. I moved to Seattle when I was two or three years old. Had my early education there, and would spend summers on the farm in Maryland. Then I went to boarding school in New Hampshire, to St. Paul's School. From there, I moved to London. - Author: Alexis Denisof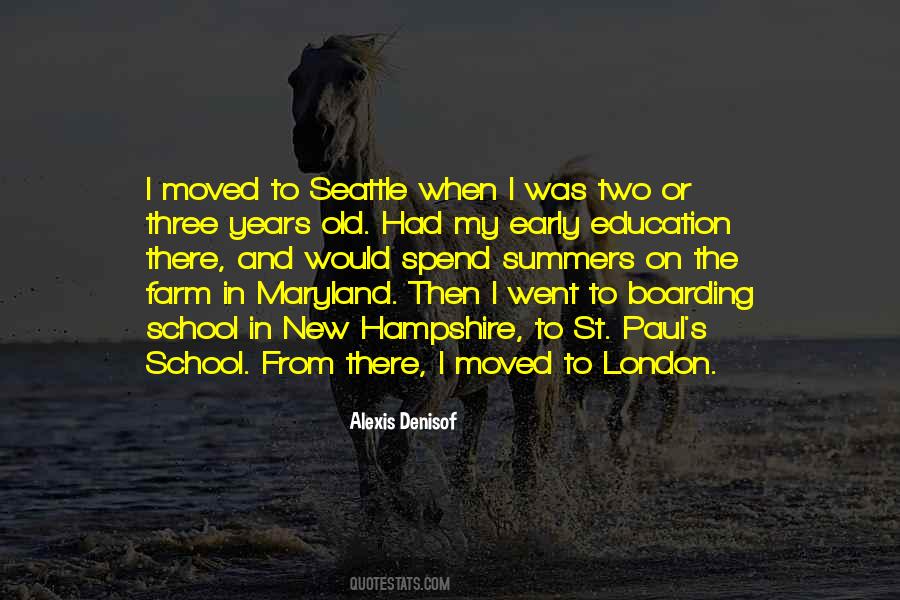 #38. At boarding school you had to wear your name across your chest and your back, and obviously I had a pretty funny name. It wasn't Brown or Smith or Hughes. - Author: Diane Cilento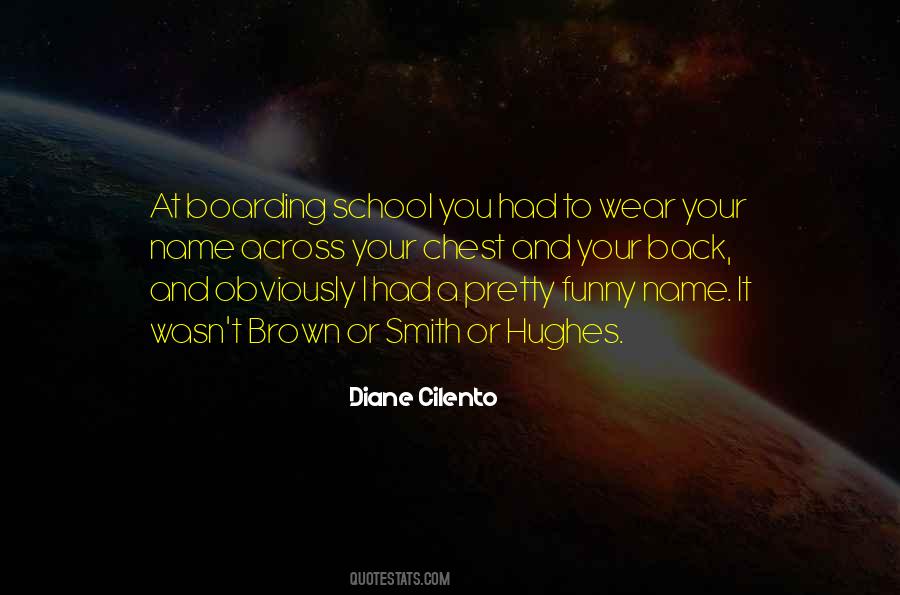 #39. Not only was Miss Cribbe bearded, and always trying to get chummy with us like we we're her real children or something, but she had a disgusting incontinent springer spaniel called Misty, who was constantly sneaking in to the dorms and weeing on our duvets - Author: Tyne O'Connell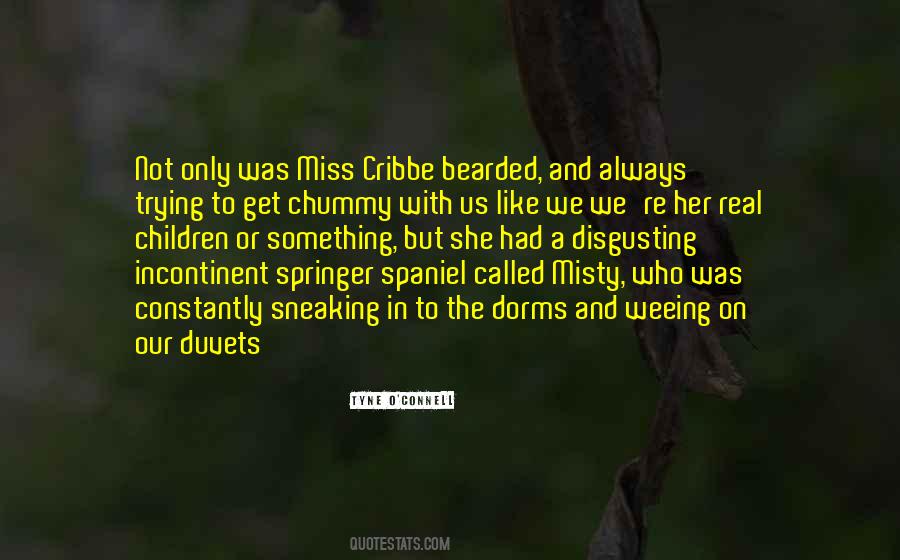 #40. My dad owned a tiny little shop and we never had any family holidays or anything like that, so I was sent to boarding school as a means of control more than anything I think. - Author: Thighpaulsandra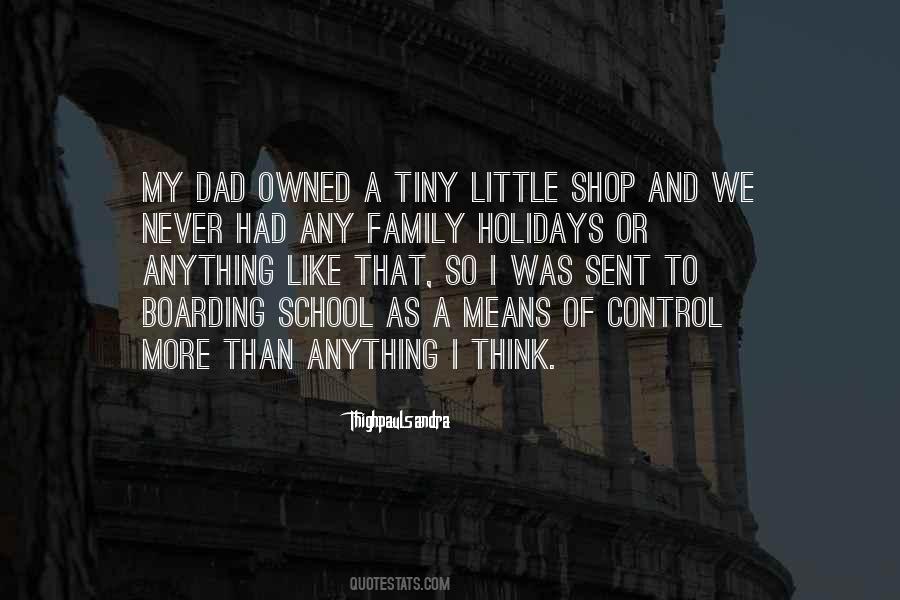 #41. Boarding school is a wicked thing. - Author: Kristin Scott Thomas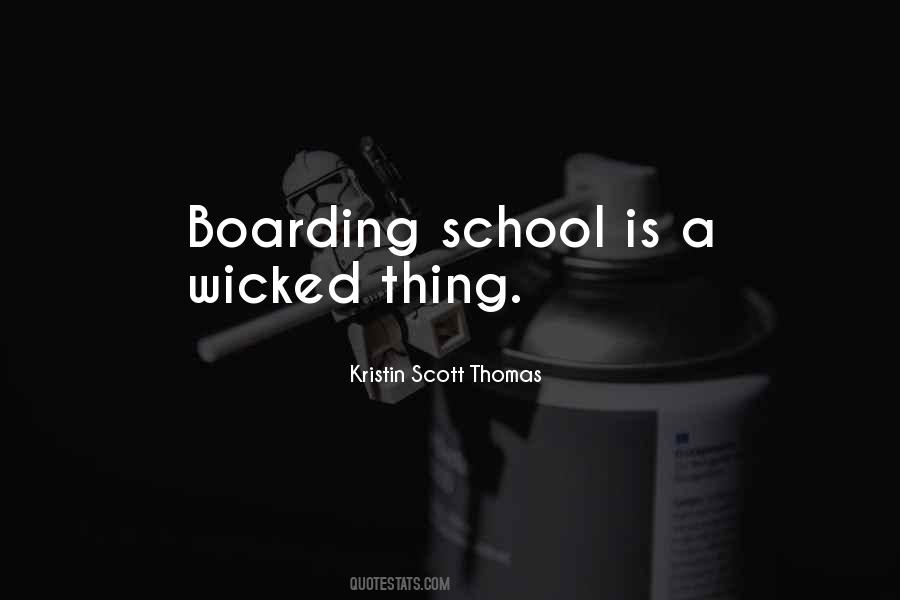 #42. At boarding school there wasn't much time for much of anything except education. - Author: Henry Cavill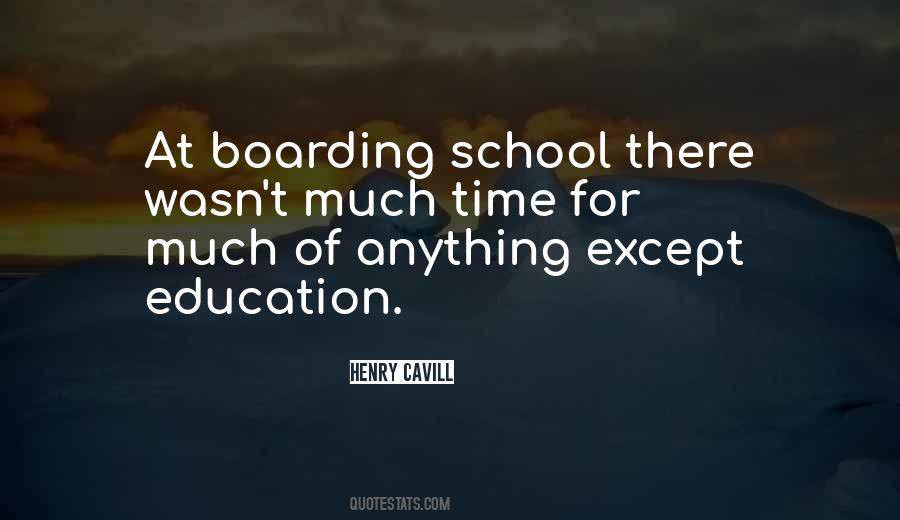 #43. I'm a war baby: I was brought up with rationing, and my parents always had to struggle. I remember when I was sent to boarding school - Prior Park College in Bath - my father was asked how he was going to pay the fees, and he replied: 'In arrears.' - Author: Cameron Mackintosh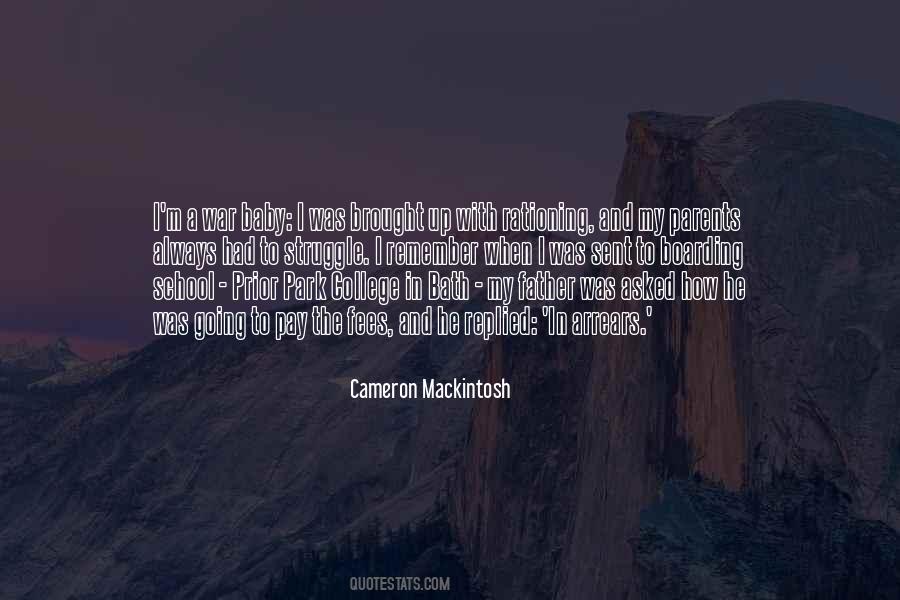 #44. The two things I was positive about in life were that I was going to be a teacher at a boarding school or an operative with the CIA posted abroad. I could write a book about all the things I was sure about. - Author: Tucker Carlson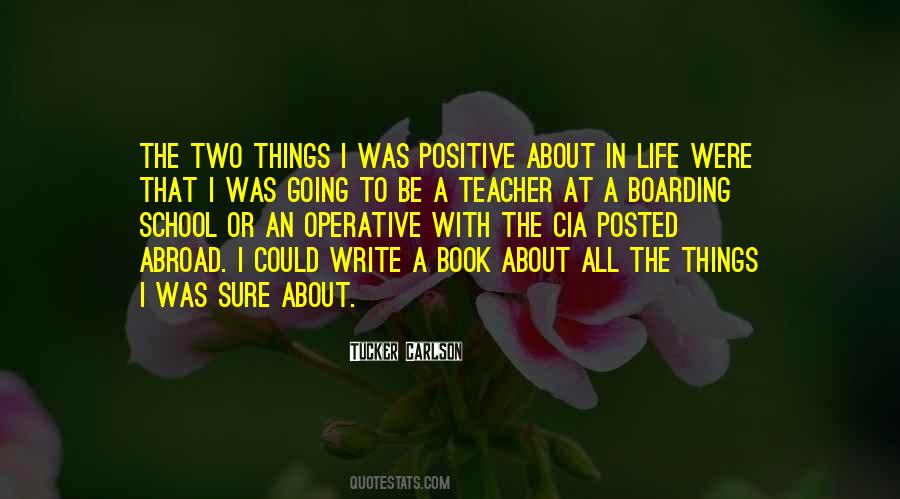 #45. I hear you're going to boarding school," she said. "Whose idea was that?"
"Mine," I said.
"I could never send Kyle to boarding school," Audrey said.
"I guess you love Kyle more than my mom loves me," I said, and played my flute as I skipped down the hall. - Author: Maria Semple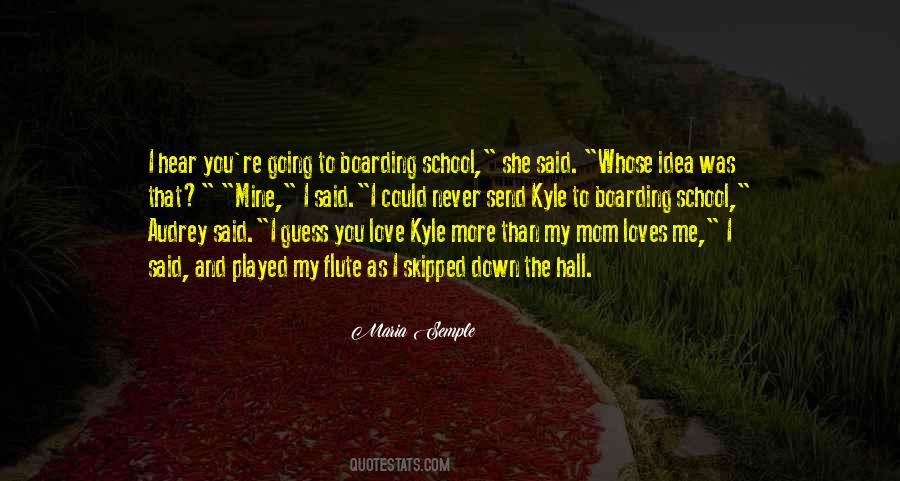 #46. I think I've got better at expressing my emotions. But going through the education system I went through - I don't think you can go to boarding school and come out without feeling a little repressed - yes, it does leave its mark on you. - Author: Julian Ovenden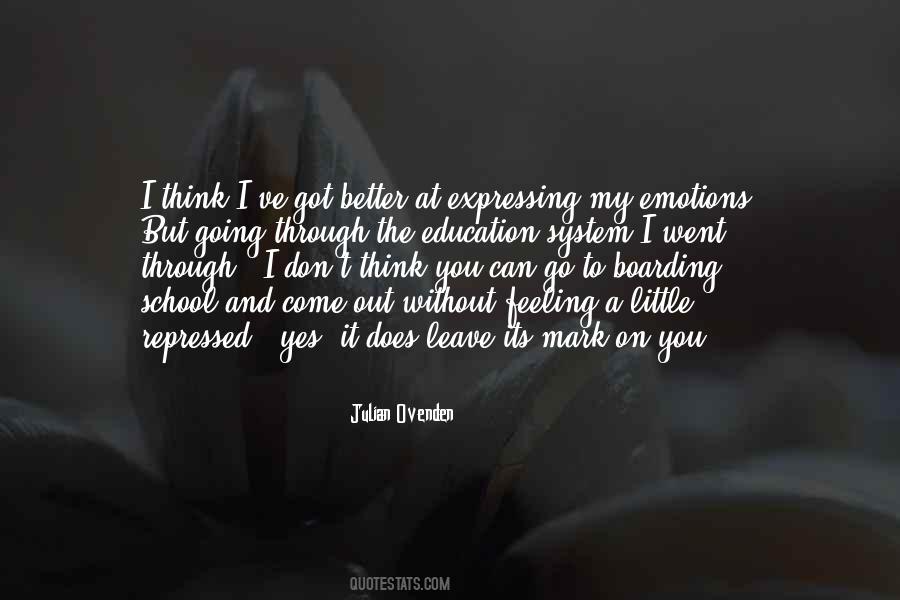 Famous Authors
Popular Topics