God Calling Us Famous Quotes & Sayings
List of top 71 famous quotes and sayings about god calling us to read and share with friends on your Facebook, Twitter, blogs.
Top 71 Quotes About God Calling Us
#1. We are what God calls us to be. Even if we're not what he's calling us to be, we are. Because he called us. - Author: Tim Hiller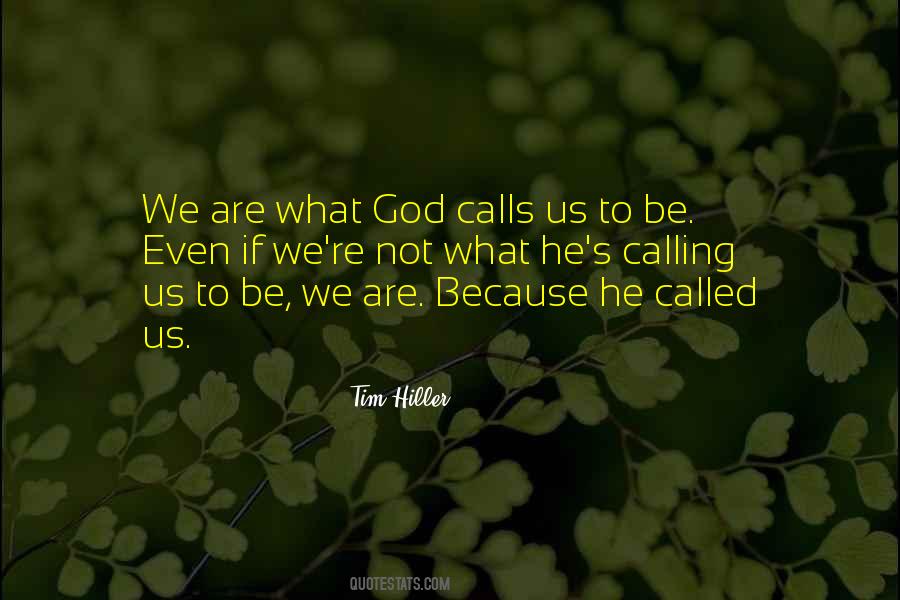 #2. We are chosen by God, it was not by coincidence. We have been accorded the dignity of kingship and we are called to take the Kingdom to the world. The destiny of millions of people depends on us. - Author: Sunday Adelaja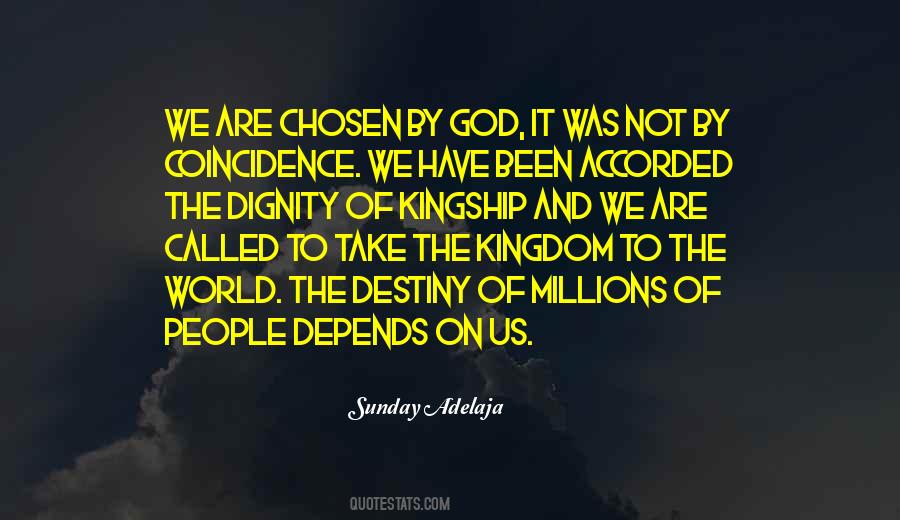 #3. God has called us out of darkness into His marvellous light. - Author: Lailah Gifty Akita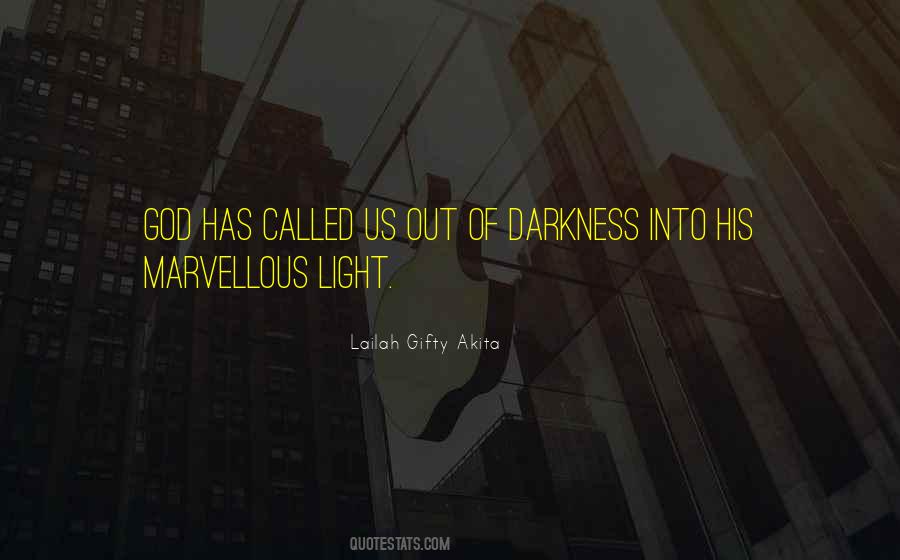 #4. God is waiting, heaven is waiting, and the heavenly army is waiting for us to move forward and accomplish the will of God - Author: Sunday Adelaja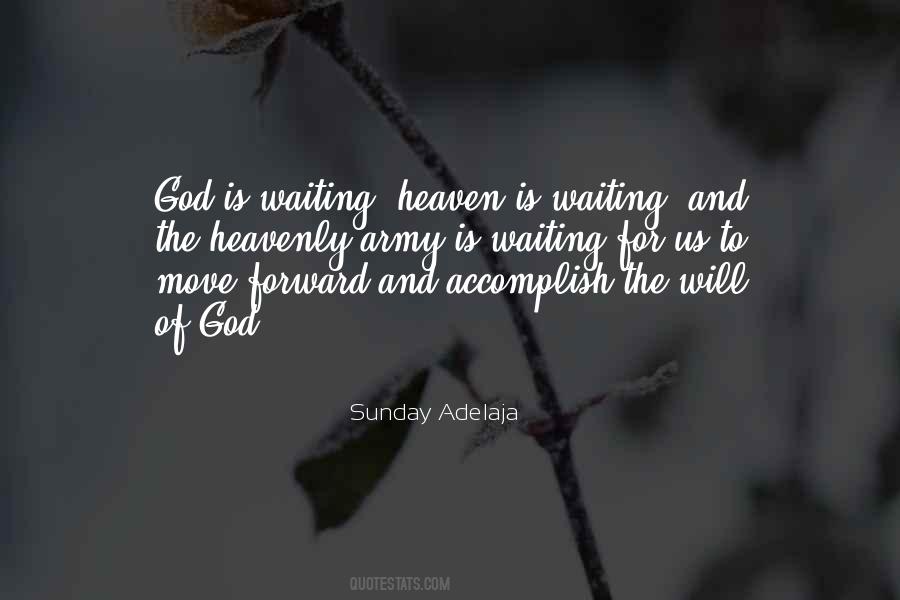 #5. We have come to this earth upon a mission ... that we may have power to go forth and warn the nations of the earth ... As elders of Israel, very few of us fully comprehend our position, our calling, our relationship to God, our responsibility, or work the Lord requires at our hands - Author: G. Homer Durham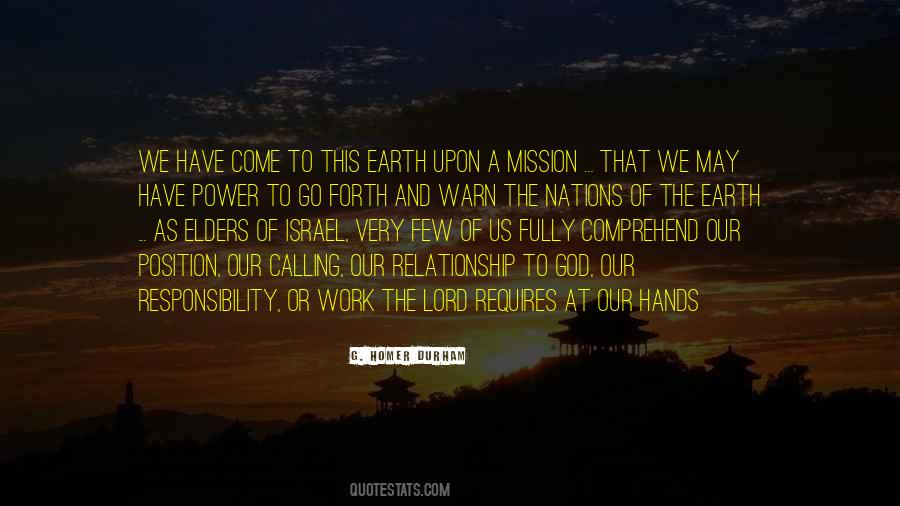 #6. My calling is to preach the love of God and the forgiveness of God and the fact that he does forgive us. - Author: Billy Graham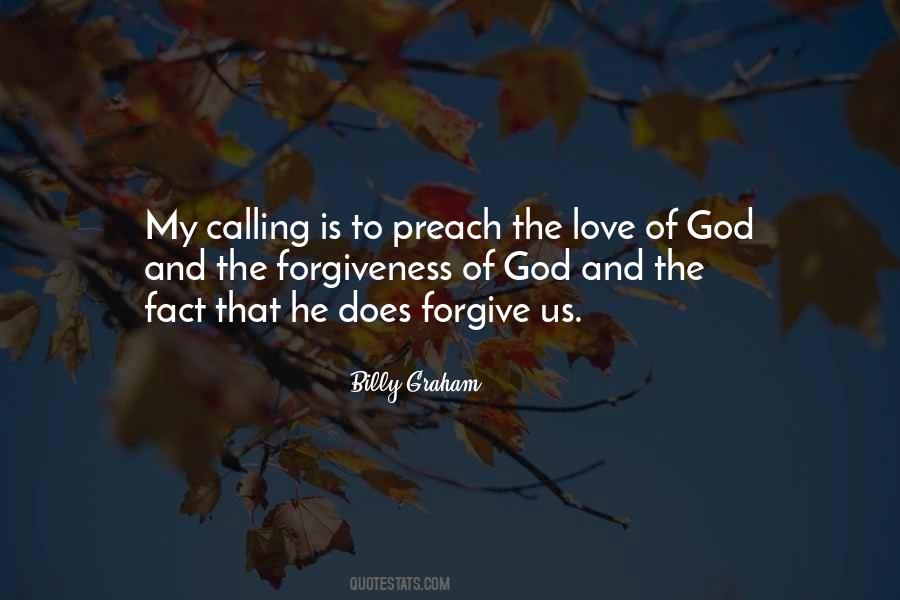 #7. God is love. Love is always present, surrounding us; guiding, growing, and teaching us. Even in the midst of total chaos, pain, and dysfunction, love is calling us to a higher experience and expression. - Author: Iyanla Vanzant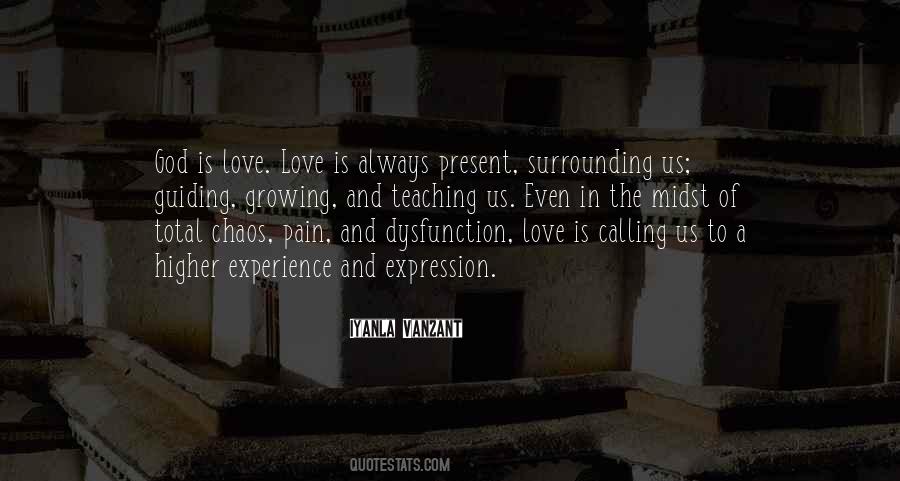 #8. Jesus often calls us to risk. He asks us to be vulnerable, to be authentic, so others can see Him in and through us. - Author: Mary E. DeMuth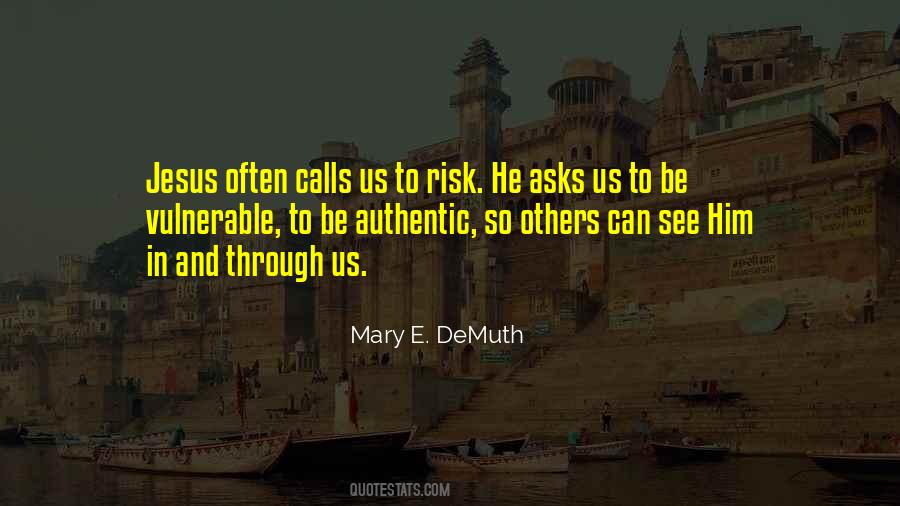 #9. We cannot save ourselves. Only God has the power to save us. - Author: Lailah Gifty Akita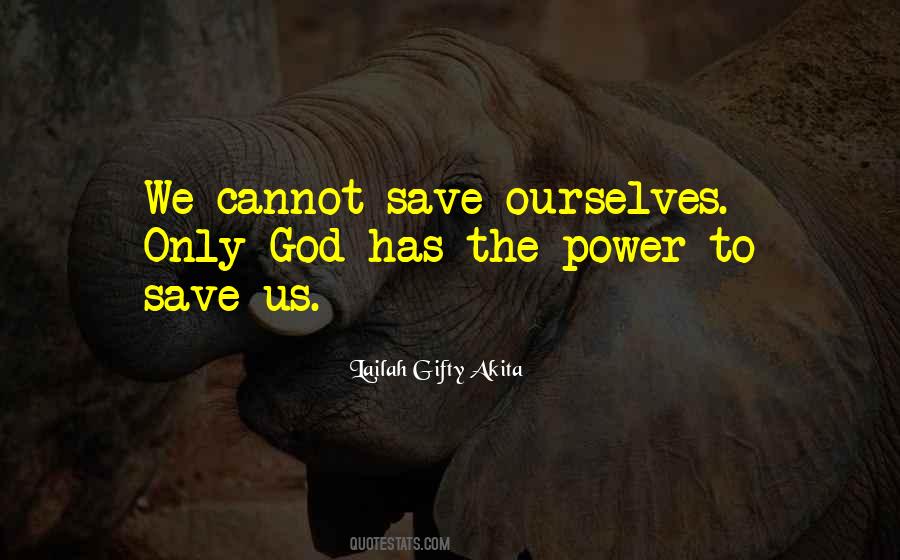 #10. John the Baptist was supposed to point the way to the Christ. He was just the voice, not the Messiah. So everybody's calling has dignity to it and God seems to know better than we do what is in us that needs to be called forth. - Author: James Green Somerville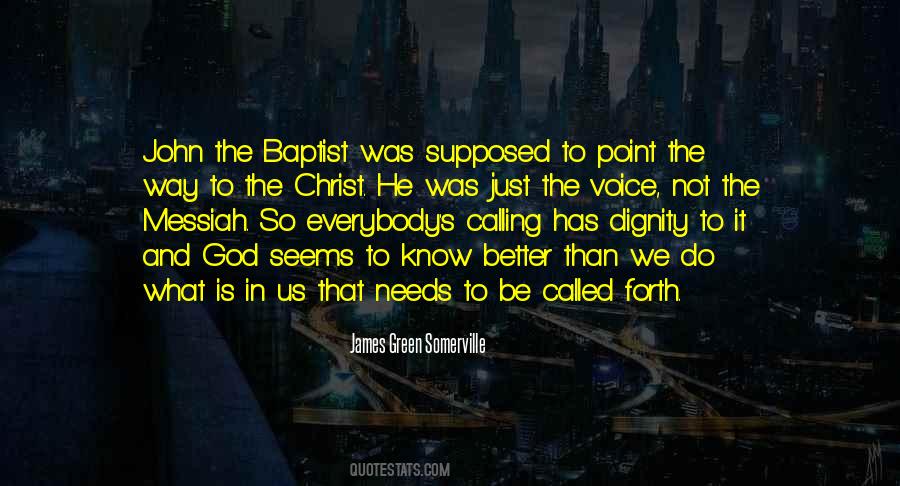 #11. We must lift our hands to God in prayer, crying out to Him to help us fulfill what He has called us for, to fulfill His will - Author: Sunday Adelaja
#12. What is a personal calling? It is God's blessing, it is the path that God chose for you here on Earth. Whenever we do something that fills us with enthusiasm, we are following our legend. However, we don't all have the courage to confront our own dream. - Author: Paulo Coelho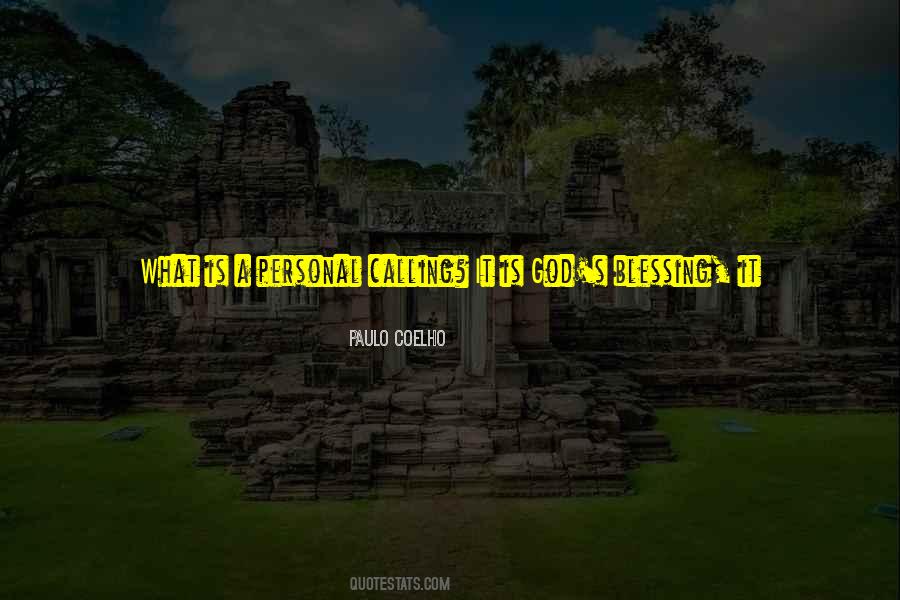 #13. God is calling you a mighty warrior. This study is about God's teaching us to live like the mighty warriors we can be in Him. Are you sick of deceit and ready to learn how to live like a mighty warrior? - Author: Beth Moore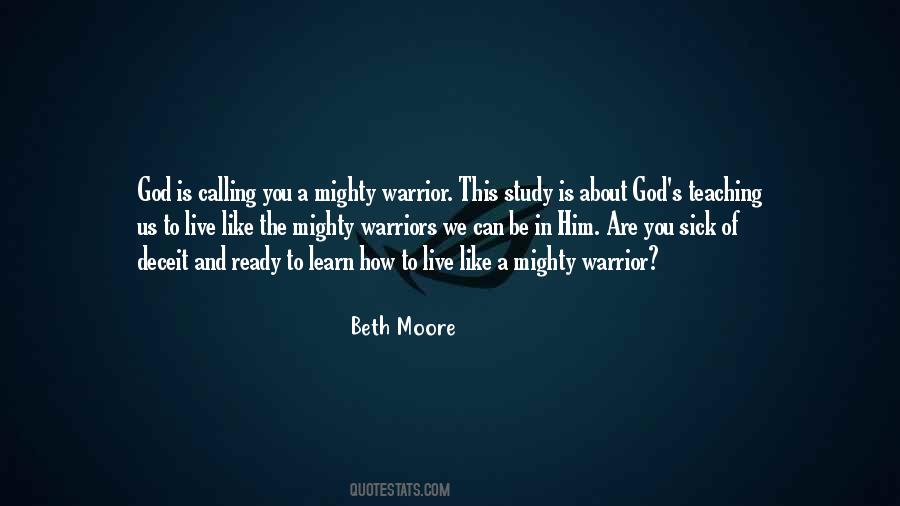 #14. We have to be diligent in serving God and in fulfilling the task set before us by Him - Author: Sunday Adelaja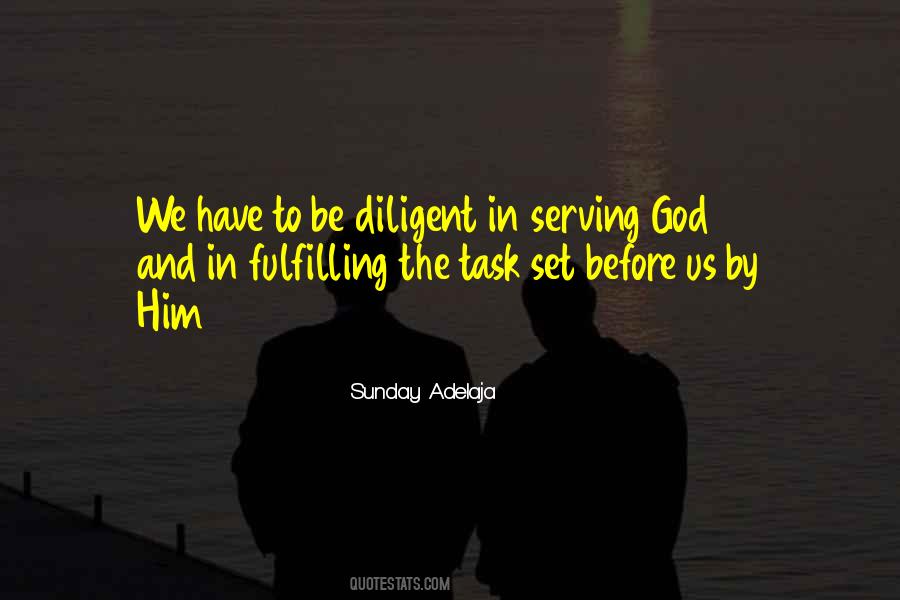 #15. We do not make friends with God; God makes friends with us, bringing us to know him by making his love known to us ... The word know, when used of God in this way, is a sovereign-grace word, pointing to God's initiative in loving, choosing, redeeming, calling and preserving. - Author: J.I. Packer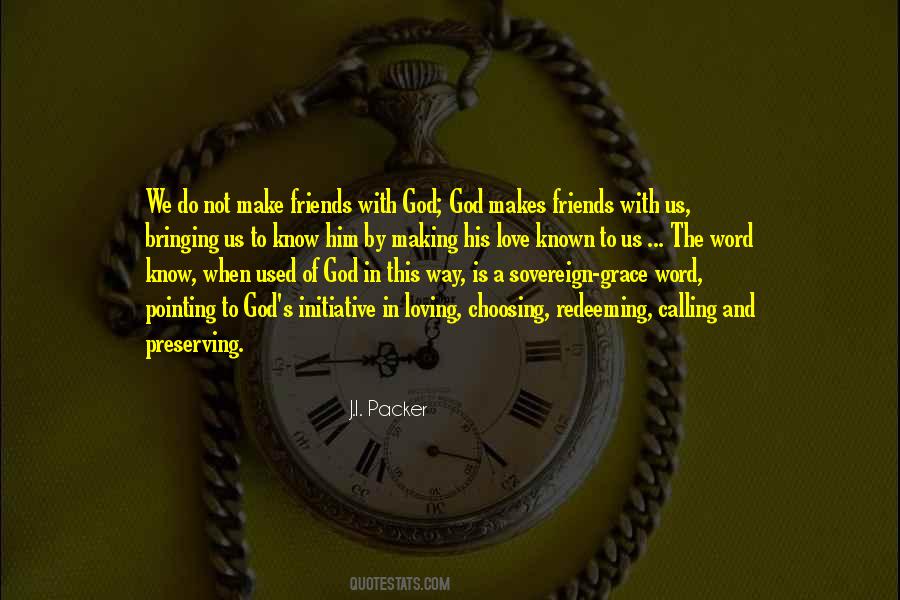 #16. Answering the call of God is not something we do after details have been laid out. Nor is it something we do because others want us to do it. It's something we do because we know it's right. Because we love Him. - Author: Sondra Kraak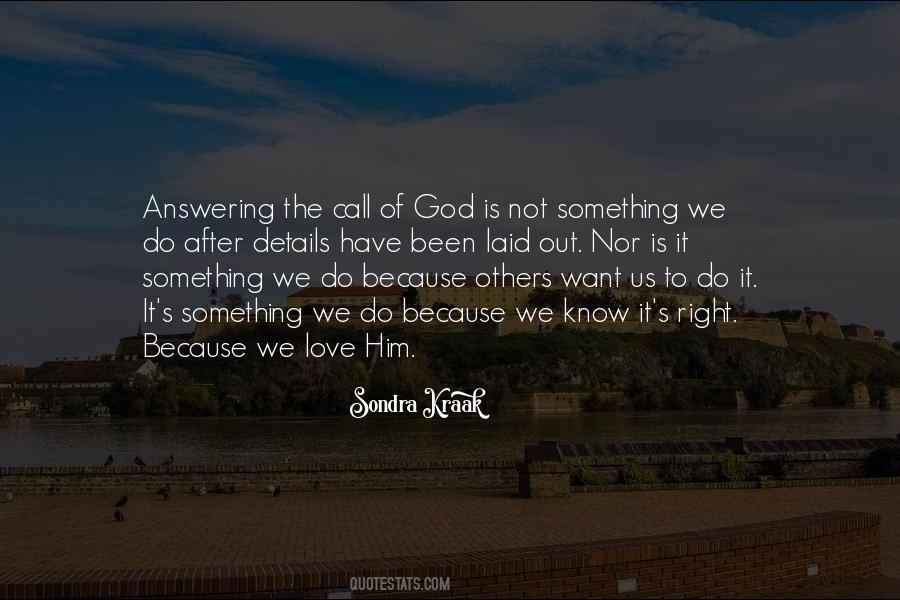 #17. We have one hundred percent chance of achieving what God has called us to, even if we are starting from scratch - Author: Sunday Adelaja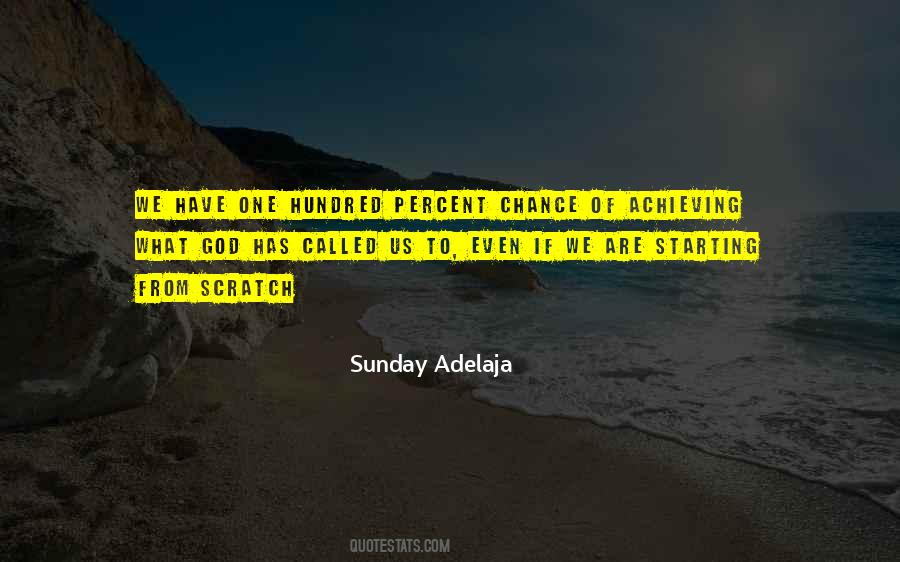 #18. How much did we do in life that was the result of what others around us demanded? Rather than what God was calling us to do? - Author: Lisa Tawn Bergren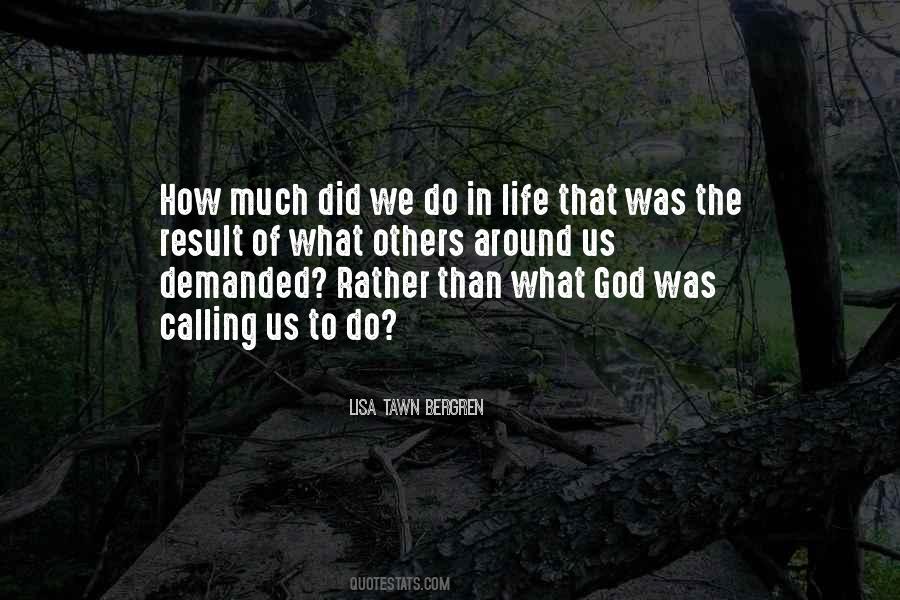 #19. Life was given to us for an assignment - Author: Sunday Adelaja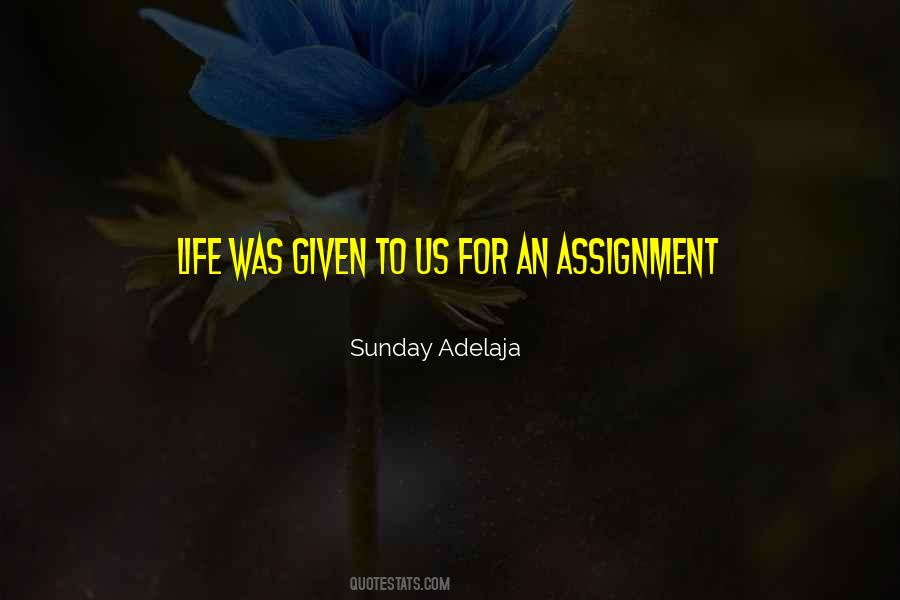 #20. God is good. He is way more interested in developing our characters to match our calling than in manipulating our circumstances to make us happy. - Author: Lysa TerKeurst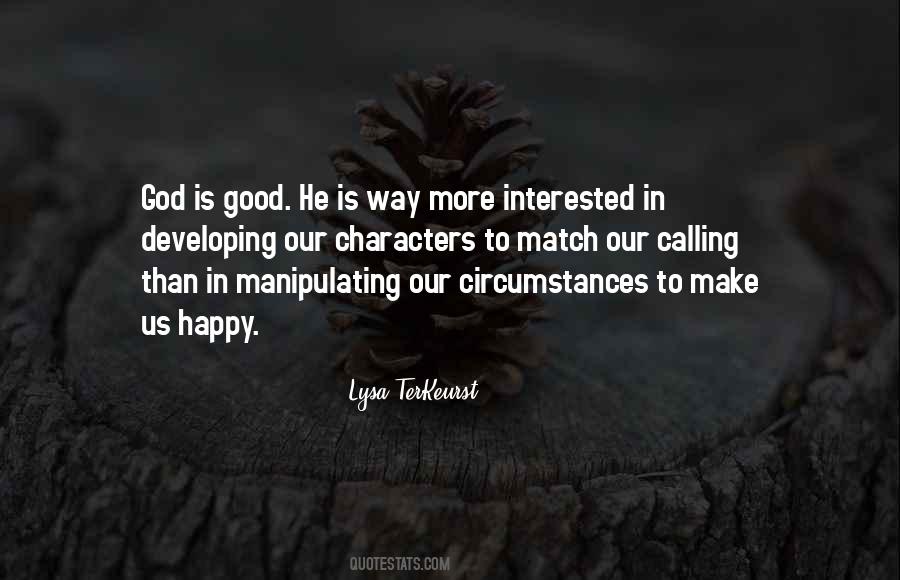 #21. The bad thing is that thinking about thought doesn't help at all; one has to have it from nature so that the good ideas appear before us like free children of God calling to us: Here we are. - Author: Johann Wolfgang Von Goethe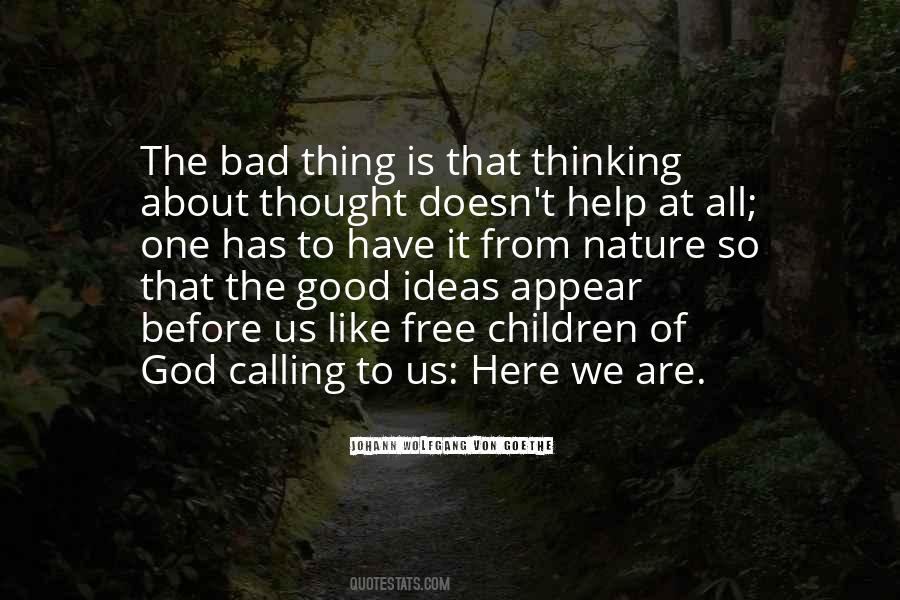 #22. God has graciously called us; now we must live up to that calling. That cannot mean less than that we should become increasingly holy, self-denying, loving, full of integrity, steeped in the knowledge of God and his Word, delighted to trust and obey our heavenly Father. - Author: D. A. Carson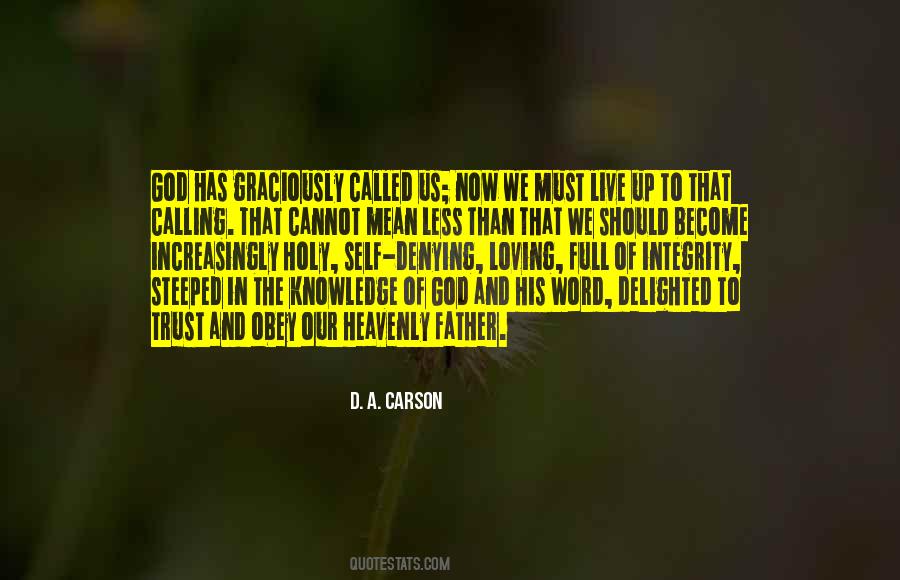 #23. God is the greatest thing that exists, ever has existed or ever will ... for us to glory in anything else, would be sin, as there is nothing greater than God, there is no calling greater than praising God. - Author: John Piper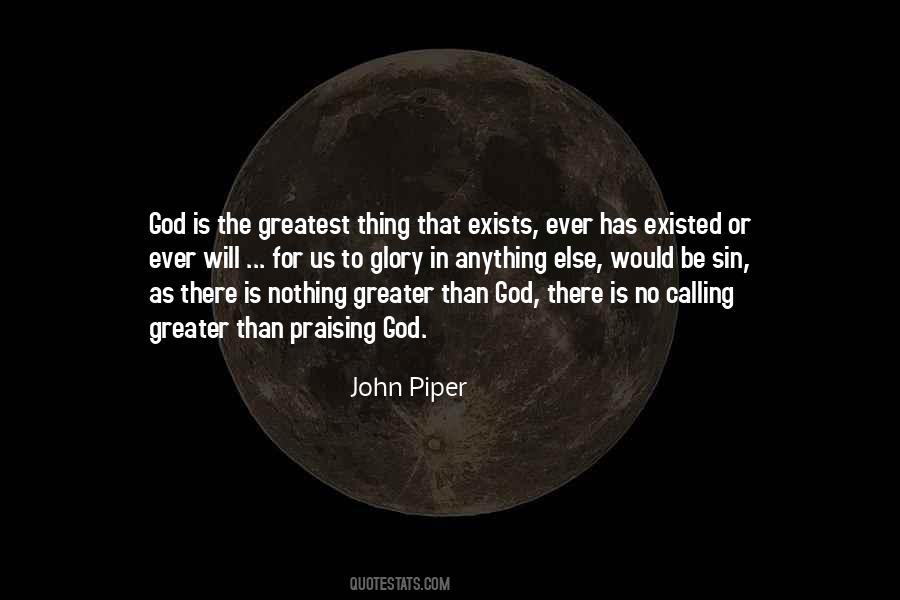 #24. We have to be braver than we think we can be, because God is constantly calling us to be more than we are. - Author: Madeleine L'Engle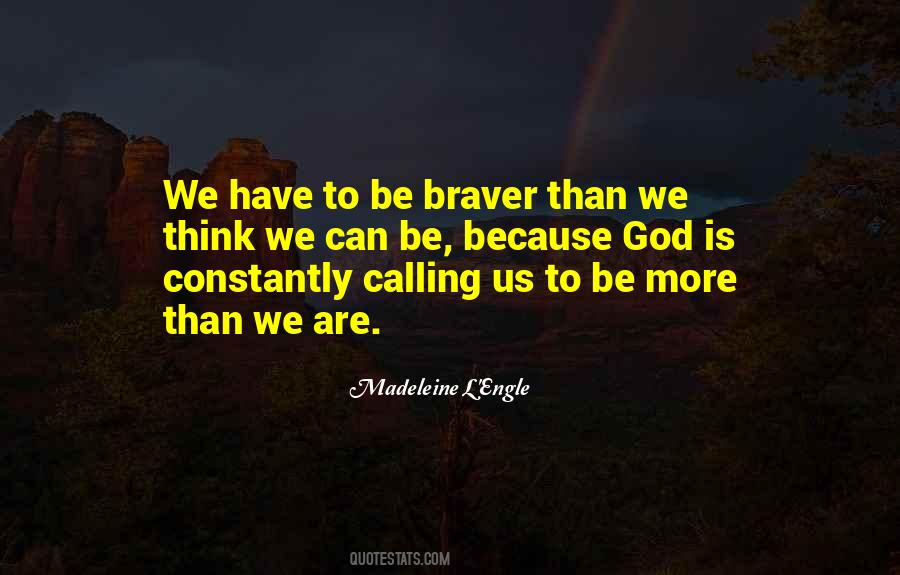 #25. May every soul reconnect to the Creator. - Author: Lailah Gifty Akita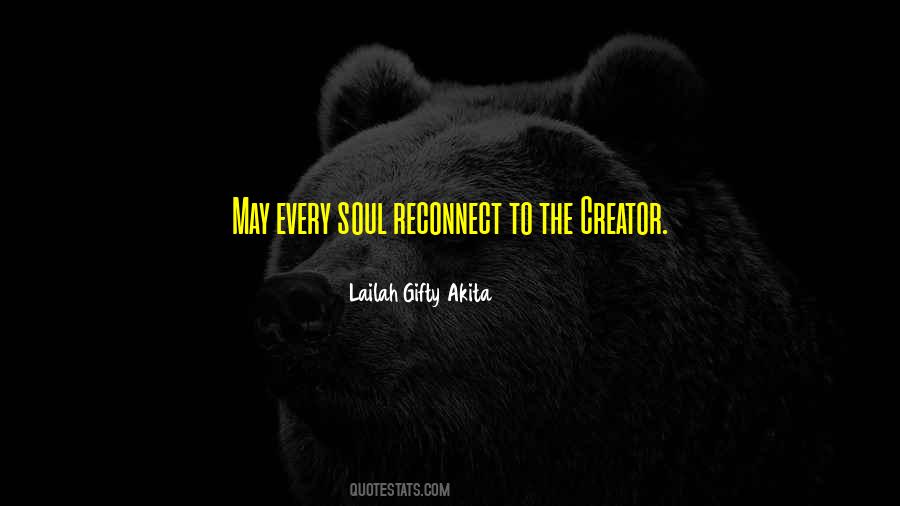 #26. God will witness about every one of us - Author: Sunday Adelaja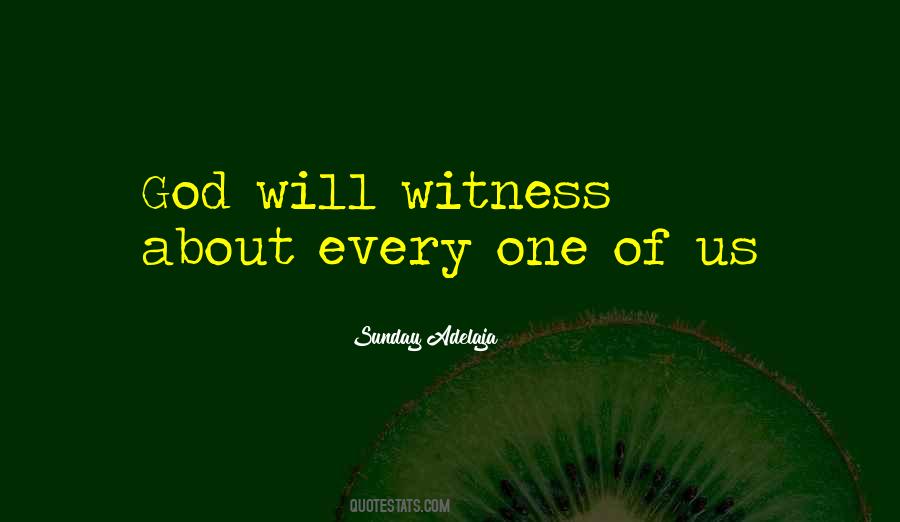 #27. God cares about even the least part of us - Author: Sunday Adelaja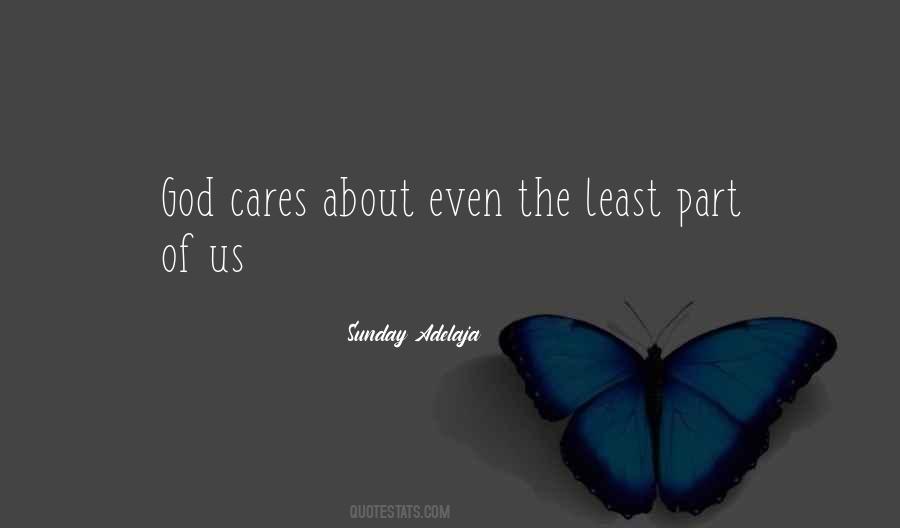 #28. There's a duality of a guy calling on God: 'Where are you when I need you?' and then, at the same time, 'God helps those who help themselves.' I think that contradiction does exist in all of us, those of faith and those who profess to have no faith. - Author: Joe Carnahan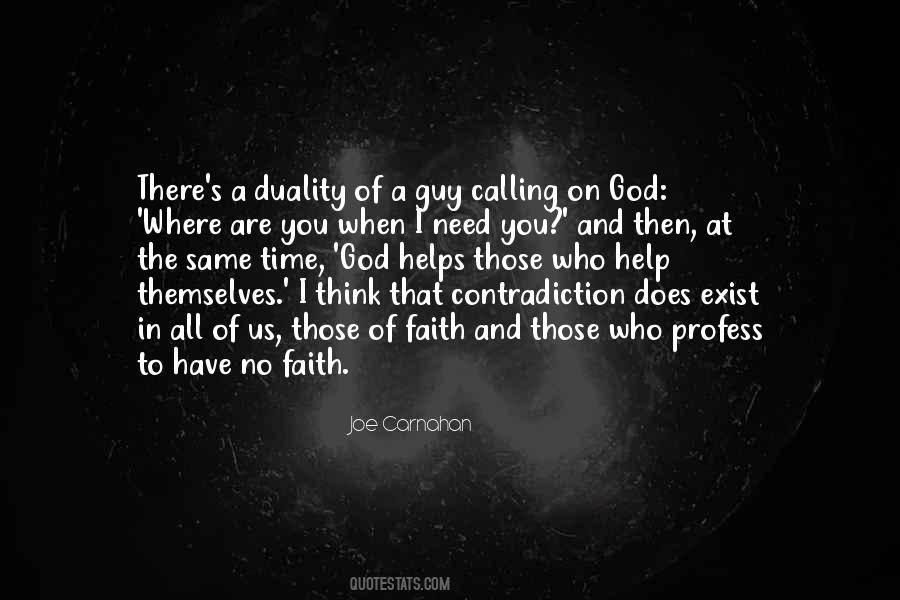 #29. God created us to be great in our calling - Author: Sunday Adelaja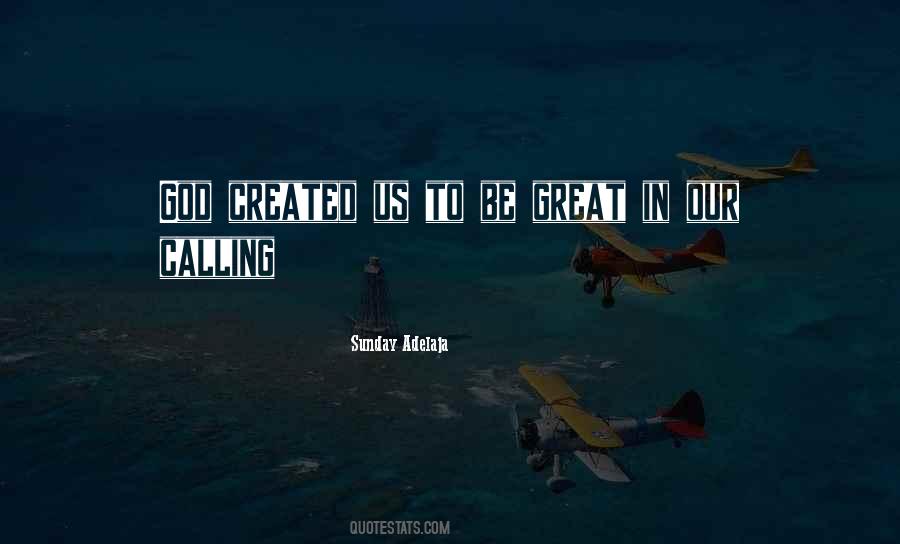 #30. When we are calling to God to turn the eye of His favor towards us He is calling to us to turn the eye of our obedience towards Him. - Author: Matthew Henry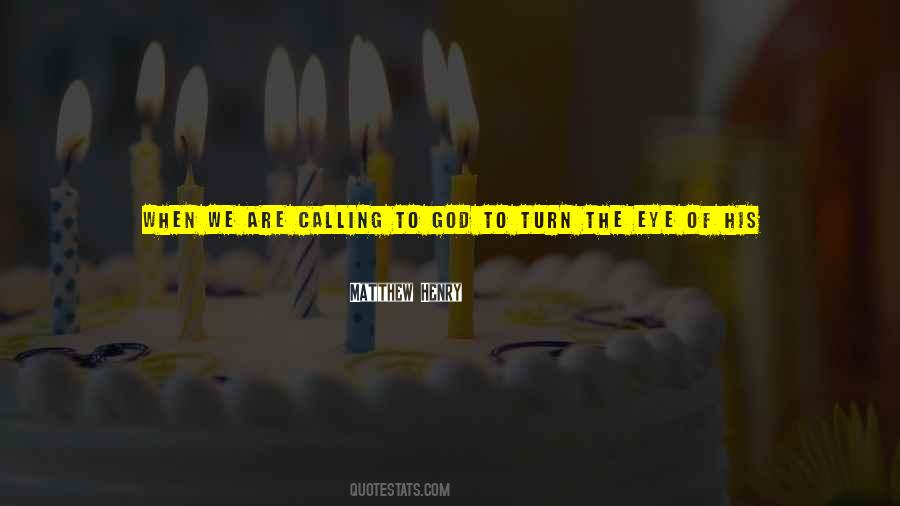 #31. I hope that we will learn from each other, but most of all that we would learn from God's Word, which equips us for every good work, including our calling to suffer for the glory of God and for the building of His kingdom. - Author: R.C. Sproul Jr.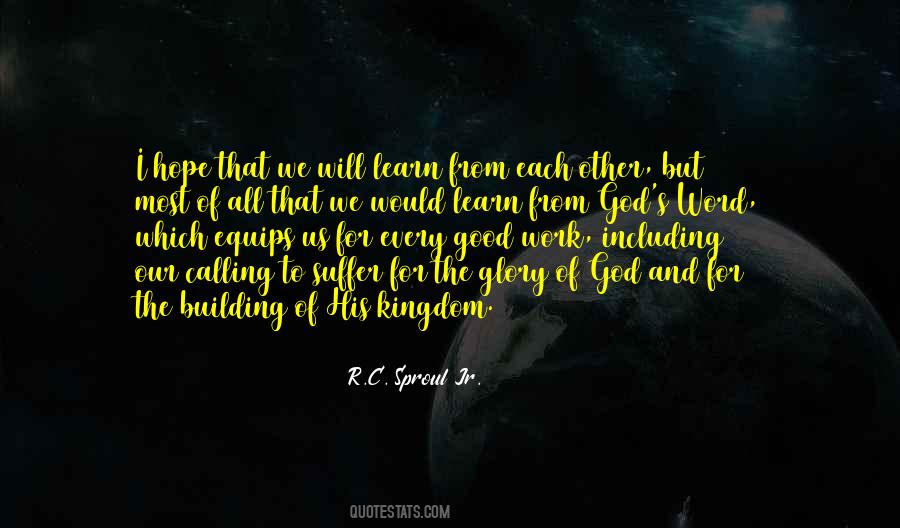 #32. I think we've overstated that God is the God who wants us to obey. Obedience is not the end game. Obedience is only our calling so that we can step into our freedom. - Author: Erwin McManus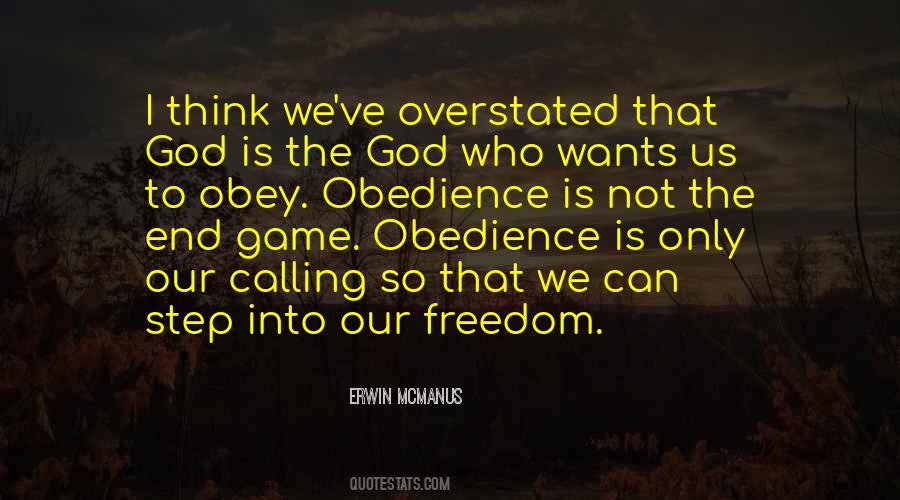 #33. To avoid the cost incurred in pursuing great things we opt for ease and blithely abandon great things. The sheer recklessness of such a pathetically apathetic trade-off will eventually cost us a life squandered, which in the end is the greatest cost of all. - Author: Craig D. Lounsbrough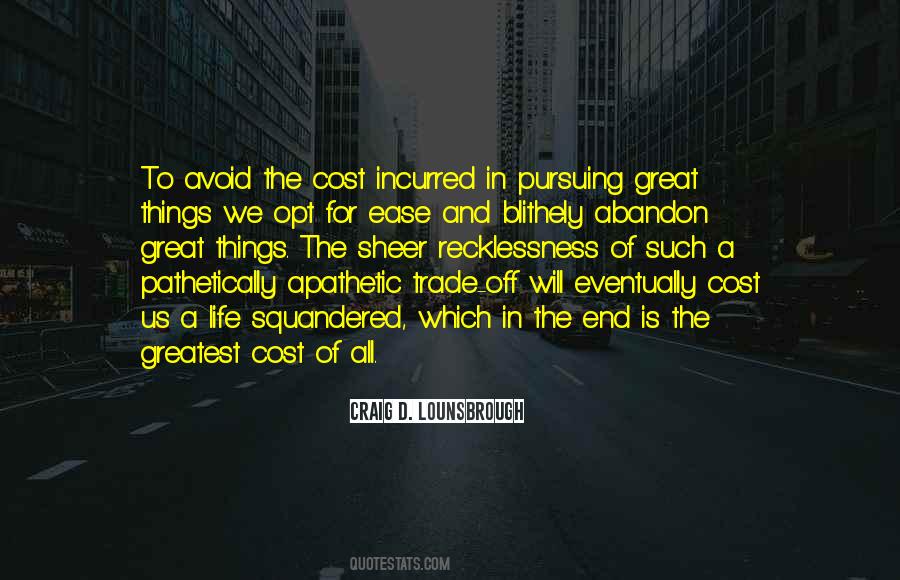 #34. God's will doesn't have to be big, elaborate or life-changing. It's there in the small and seemingly unimportant choices we face every day. God's calling us to be faithful in the little things so that we will be prepared when He calls us for something bigger. - Author: Tony Yang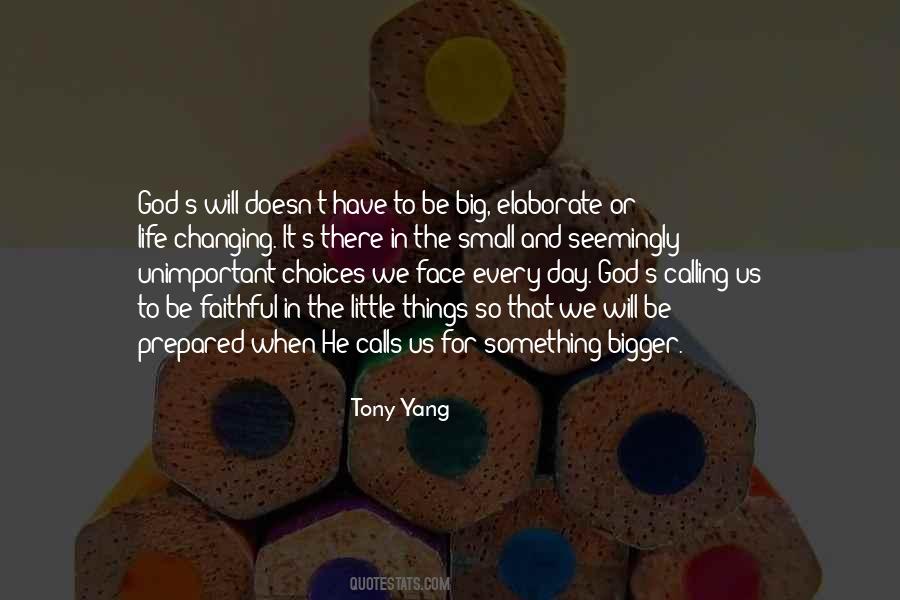 #35. God wants to accomplish the calling of winners, he wants us to establish His victory on earth - Author: Sunday Adelaja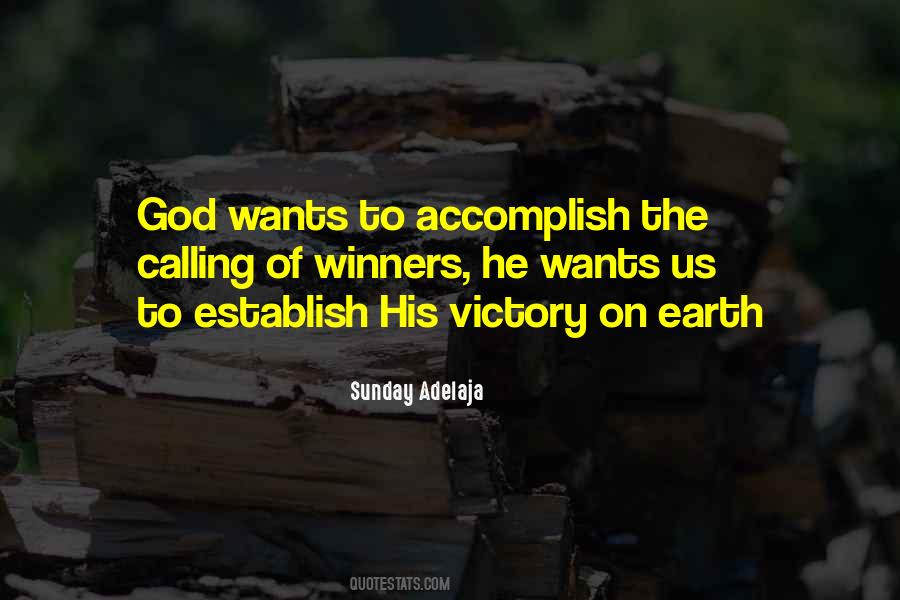 #36. May God be a pillar of shield for us. - Author: Lailah Gifty Akita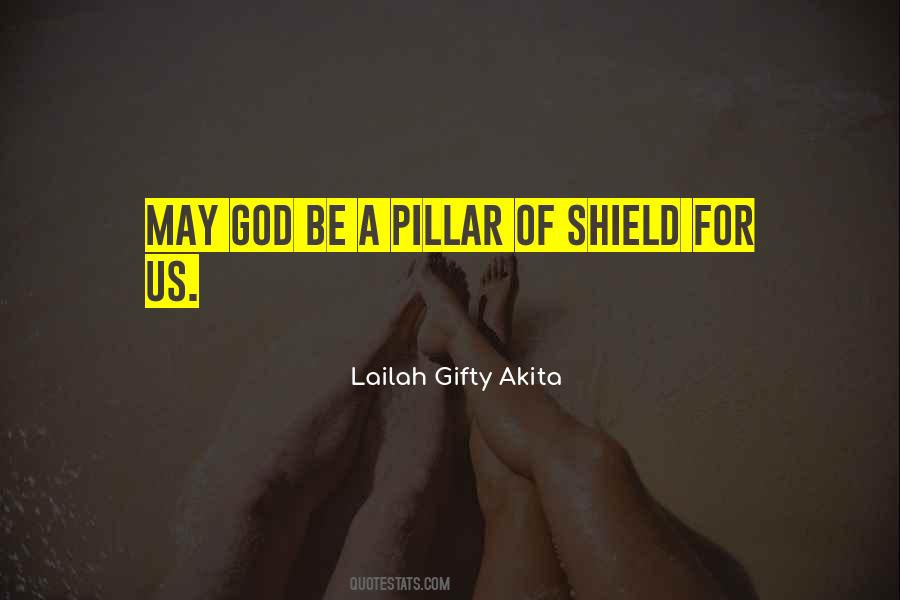 #37. God is not calling us to go to church; he is calling us to be his church, the hope of the world. - Author: Craig Groeschel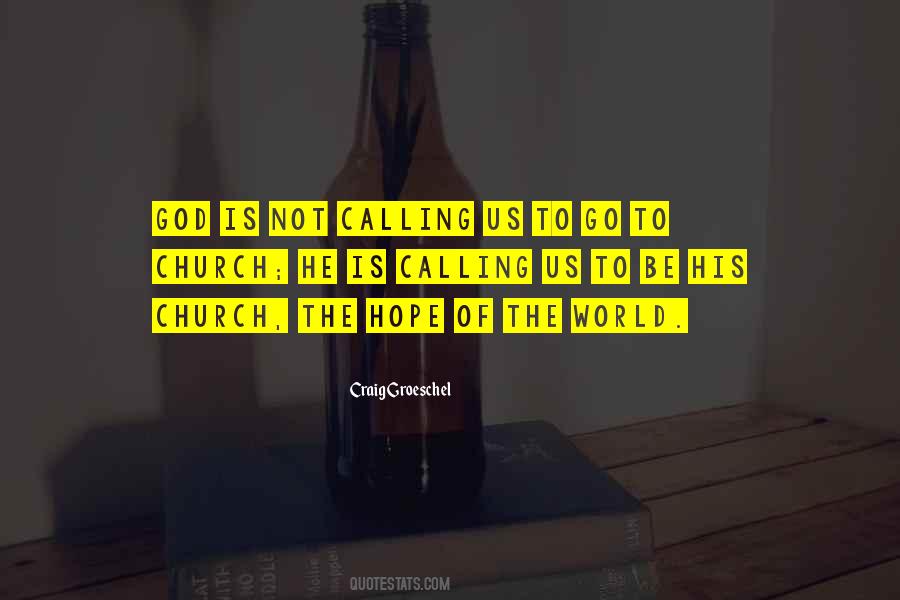 #38. The past must not hold us from fulfilling God's purpose for our lives - Author: Sunday Adelaja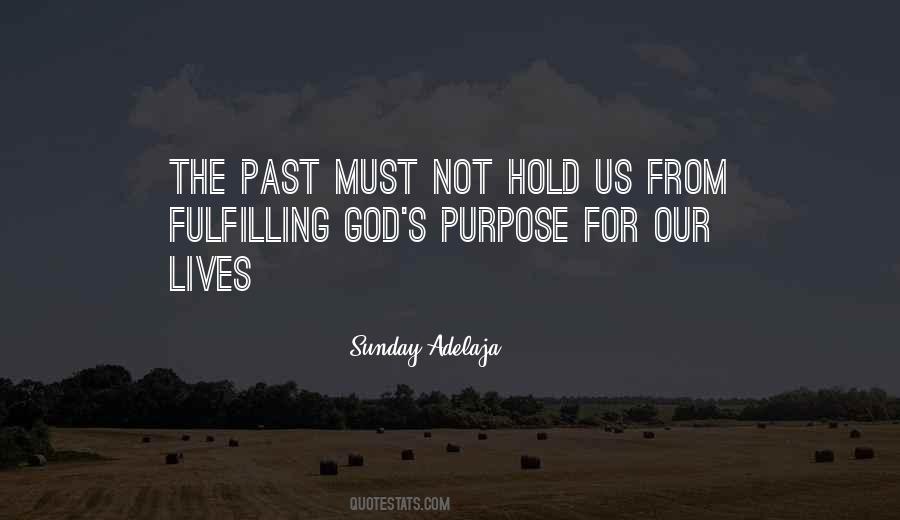 #39. After all, the living book of God's creation lies open for all to see; it points constantly to the divine calling for which we were placed in nature. Nature is a continual admonition to us, for nowhere has God's creation departed so far from its origin and primeval purpose as in the human race. - Author: Eberhard Arnold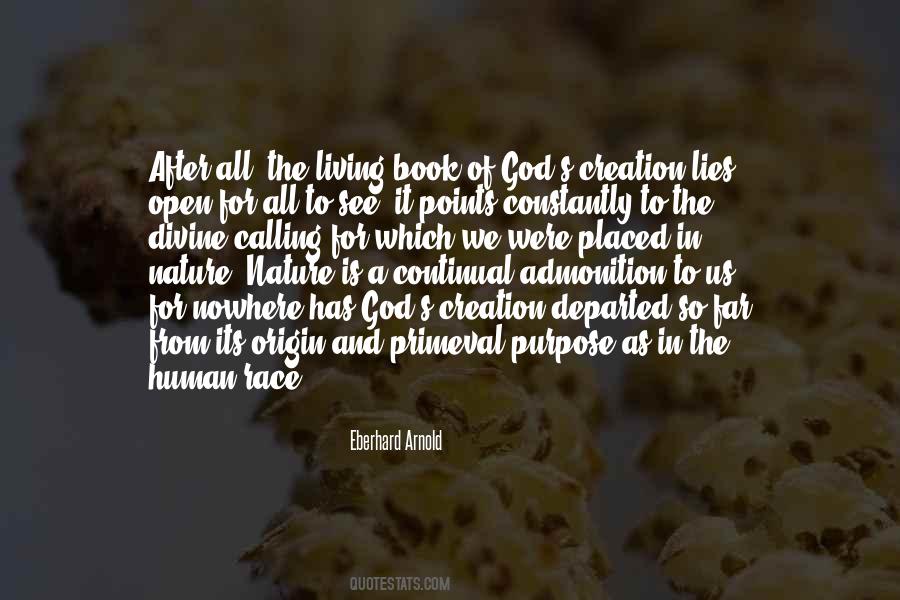 #40. When God requires us to surrender one dream, it's because He wants to hand us a bigger and better one. - Author: Mandy Hale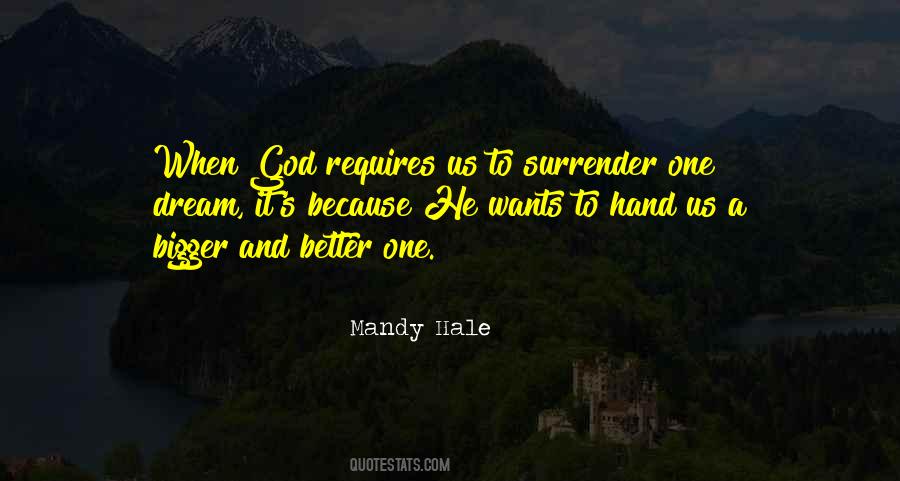 #41. Questions are disturbing, especially those which may threaten our traditions, our institutions, our security. But questions never threaten the living God, who is constantly calling us, and who affirms for us that love is stronger than hate, blessings stronger than cursing. - Author: Madeleine L'Engle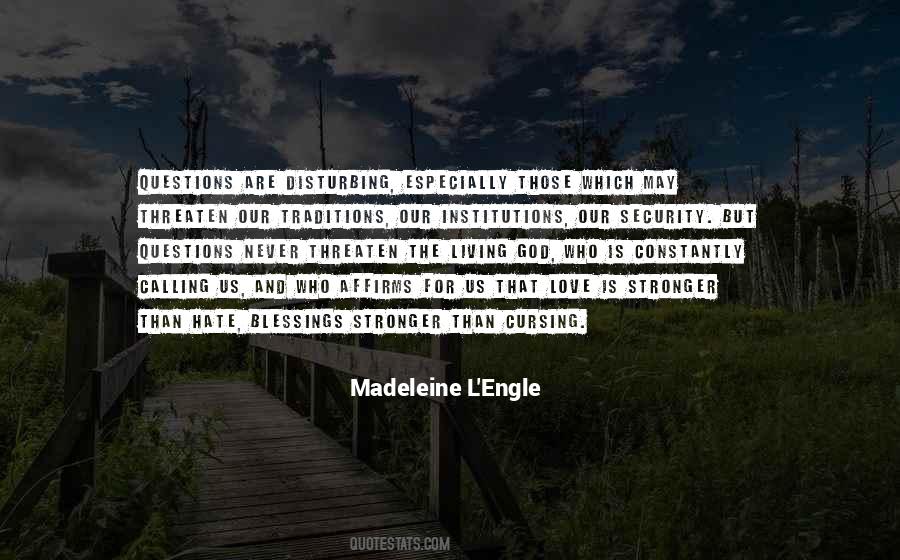 #42. A willing heart is the first step in finding God's will in our lives. We cannot expect God to force us or to plead with us about the calling in our lives. - Author: David Jeremiah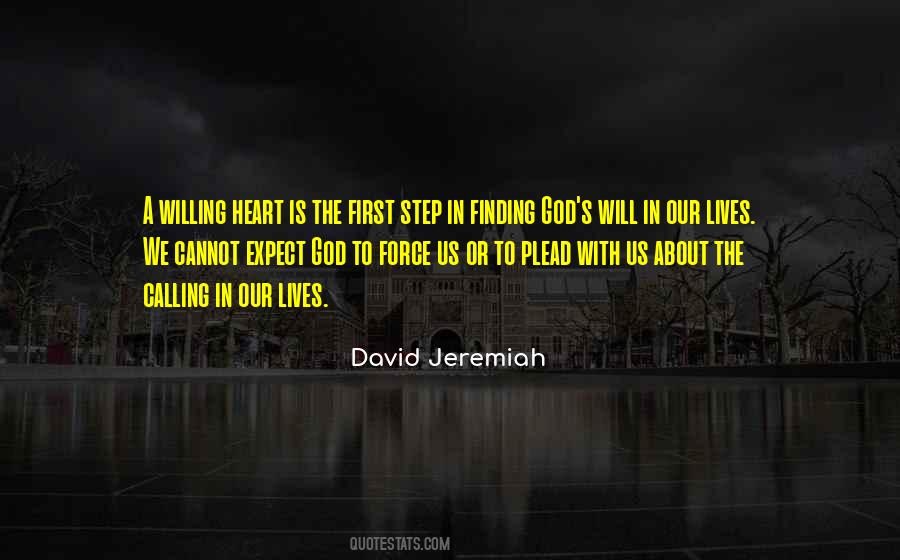 #43. God has a plan and a predetermined place on earth and in the Kingdom of God for every one of us - Author: Sunday Adelaja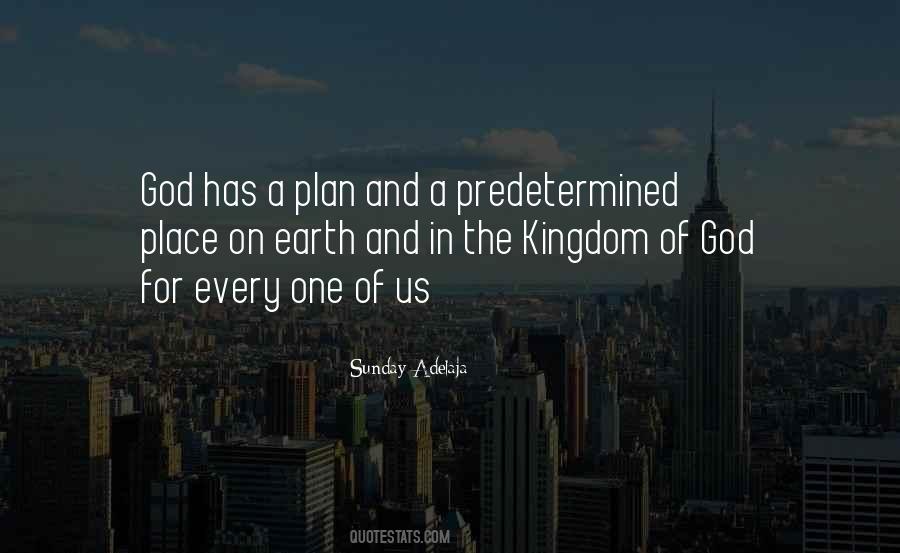 #44. No man is excluded from calling upon God, the gate of salvation is set open unto all men: neither is there any other thing which keepeth us back from entering in, save only our own unbelief. - Author: John Calvin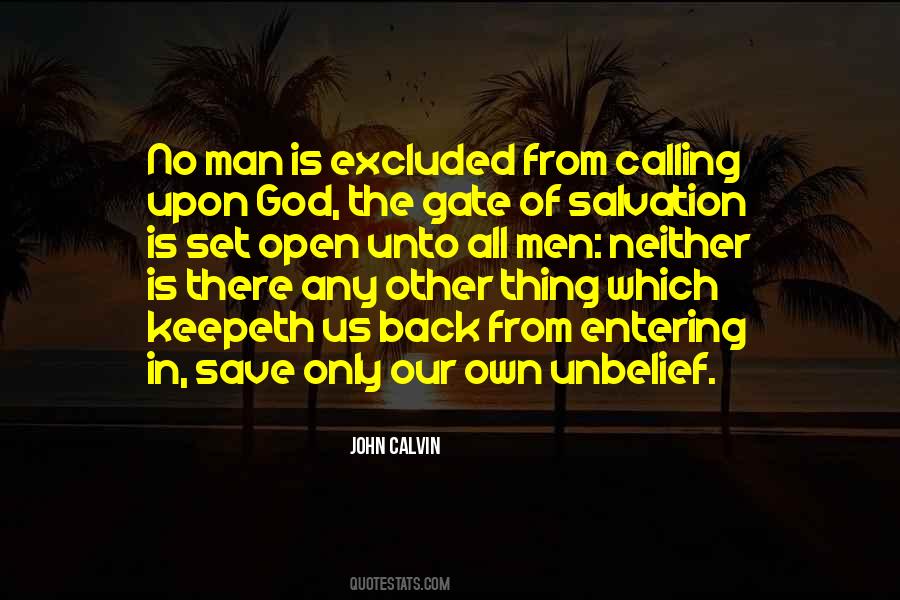 #45. ...we have a high calling etched into our bones and written on our hearts. God wants to engage us...and deliver us into a life He has dreamed for us... We were made to explore. - Author: Richard Foth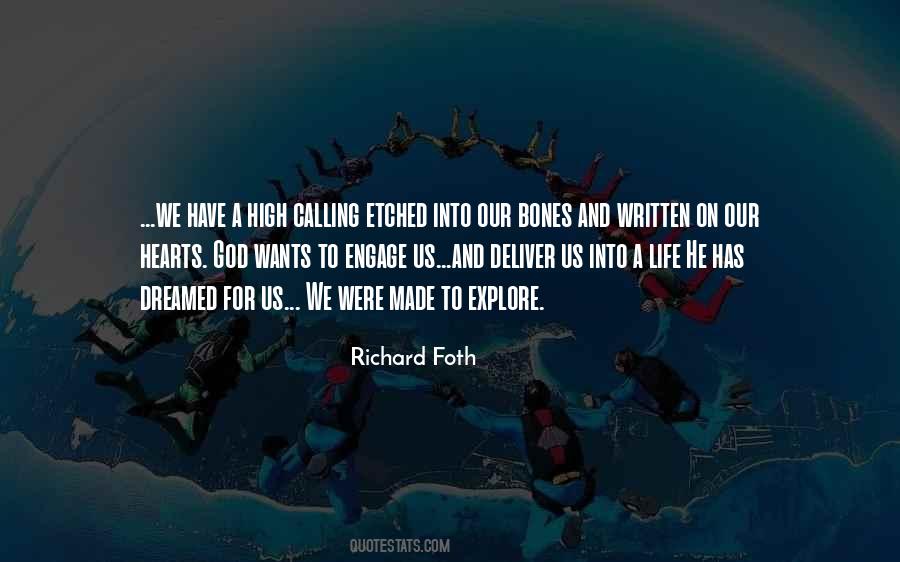 #46. God opens heavenly doors for us when we are rejected by people - Author: Sunday Adelaja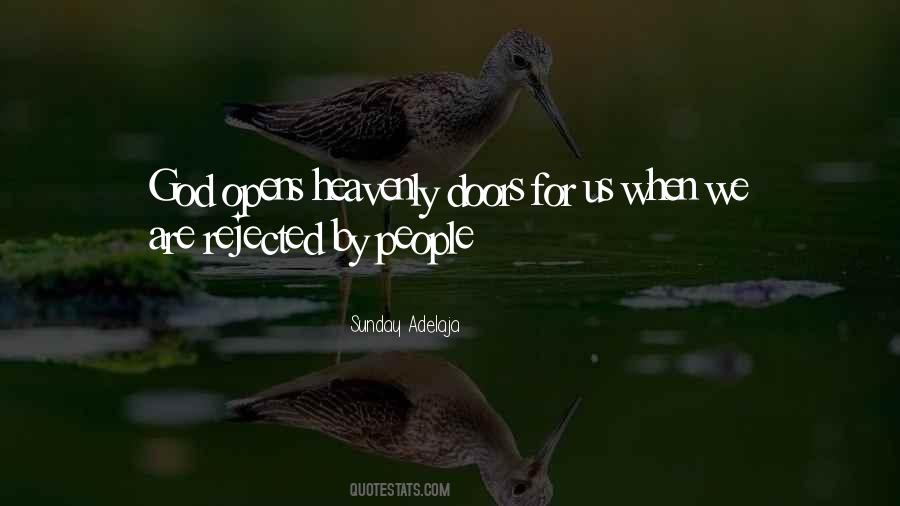 #47. Let us weigh up the gain and the loss involved in calling heads that God exists. Let us assess the two cases: if you win you win everything, if you lose you lose nothing. Do not hesitate then; wager that he does exist. - Author: Blaise Pascal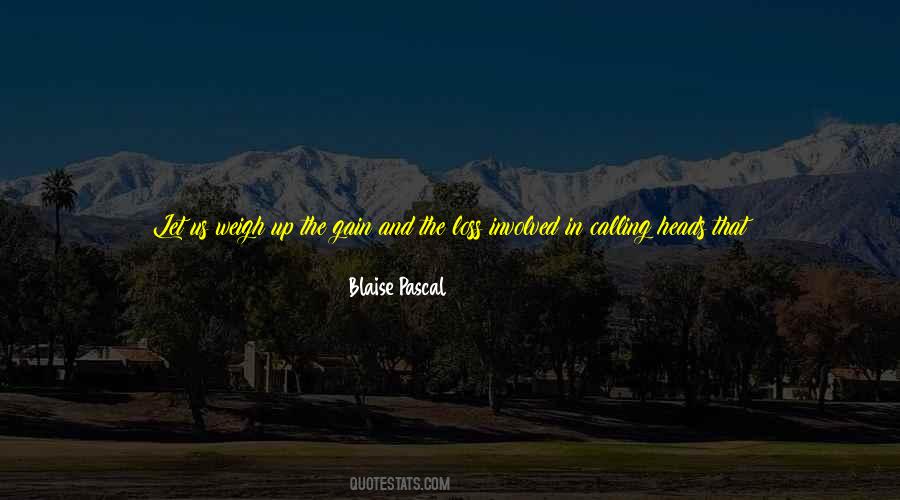 #48. God did not direct His call to Isaiah - Isaiah overheard God saying, " ... who will go for Us?" The call of God is not just for a select few but for everyone. Whether I hear God's call or not depends on the condition of my ears, and exactly what I hear depends upon my spiritual attitude. - Author: Oswald Chambers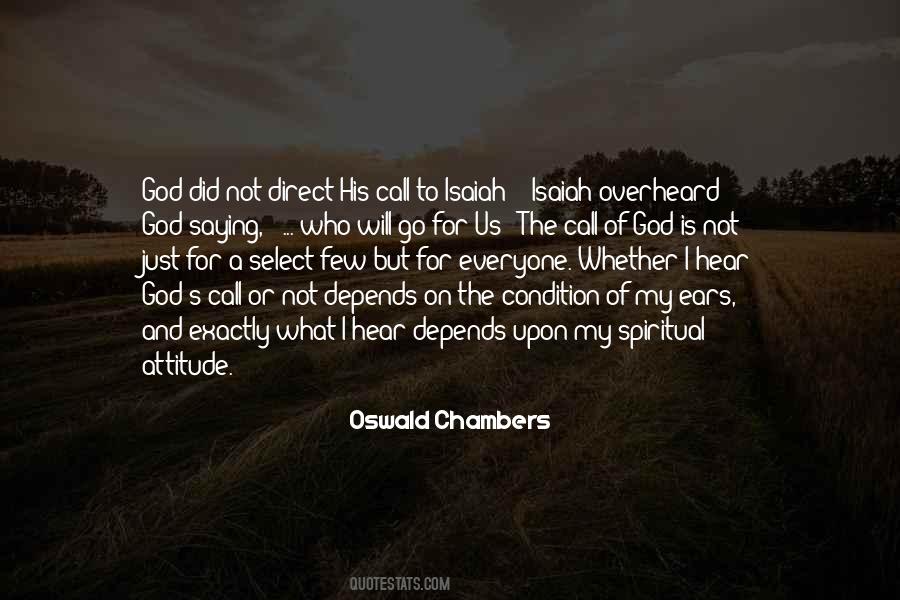 #49. The gospel of salvation, the divine truth, set us free. - Author: Lailah Gifty Akita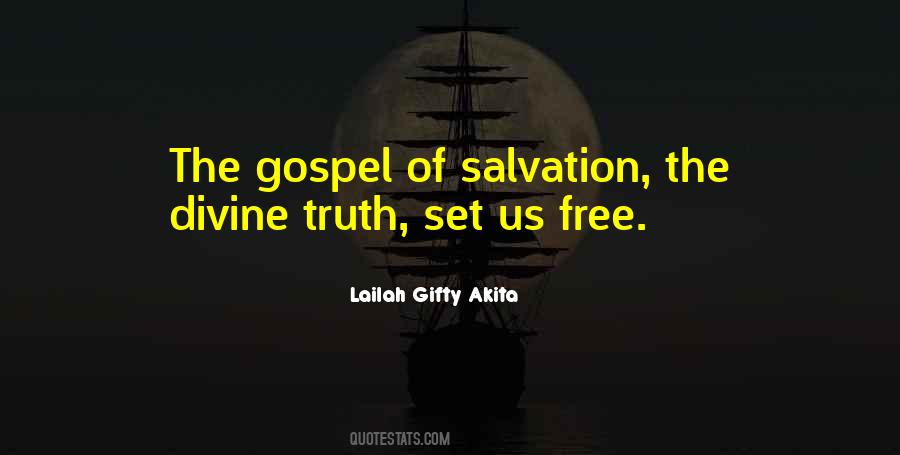 #50. God, who created us, has a pre-determined destiny for everyone - Author: Sunday Adelaja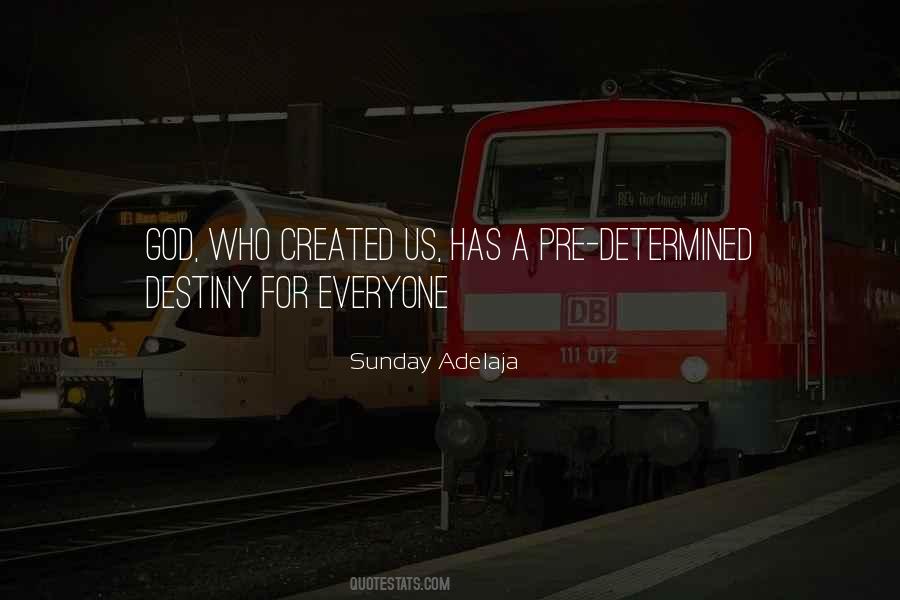 #51. I'm calling my book series the 'with God series.' And this next 'with God' book is Friendship with God, which comes out in November. This books challenges us to bring about the end of 'better' on this planet. - Author: Neale Donald Walsch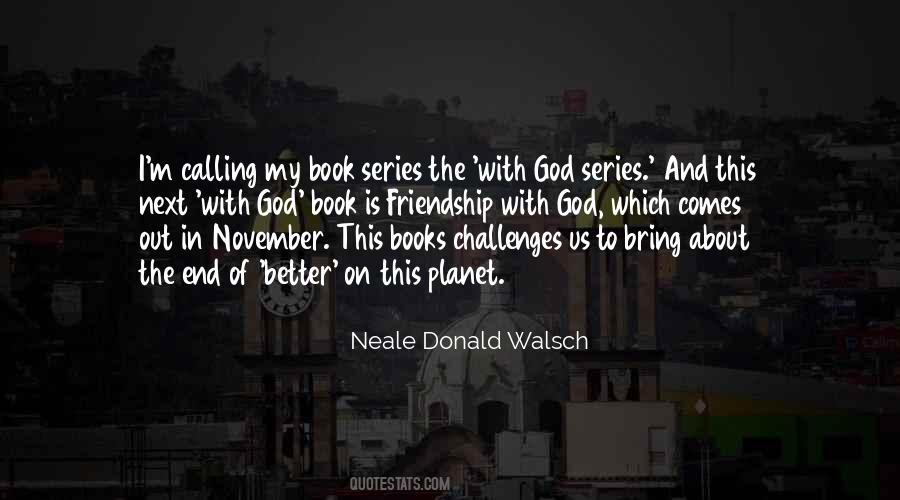 #52. It's important to understand that at every point of opposition to who we are or to what God has called us to do, we are presented with the options of either conforming and giving in, or standing our ground and becoming stronger in who God has made us to be - Author: Gabriel Wilson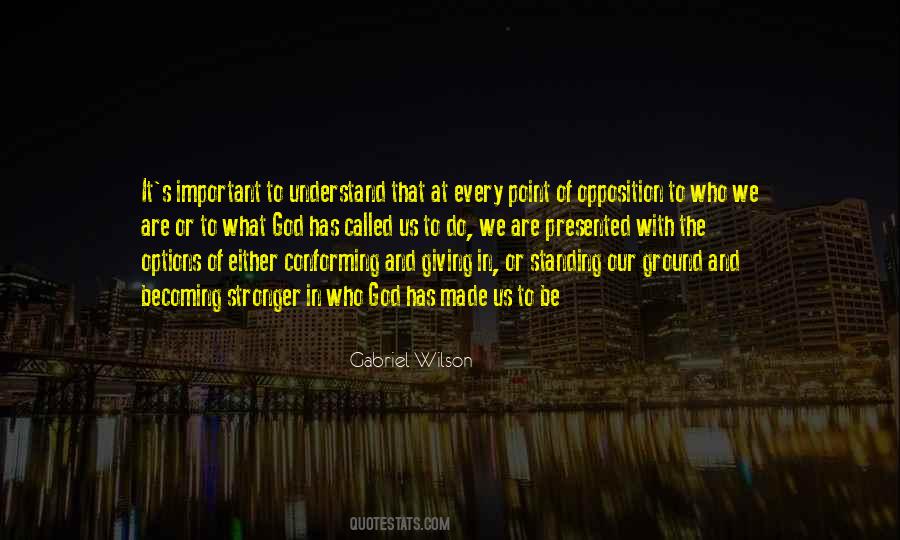 #53. We must do all that depends on us to advance the kingdom of God - Author: Sunday Adelaja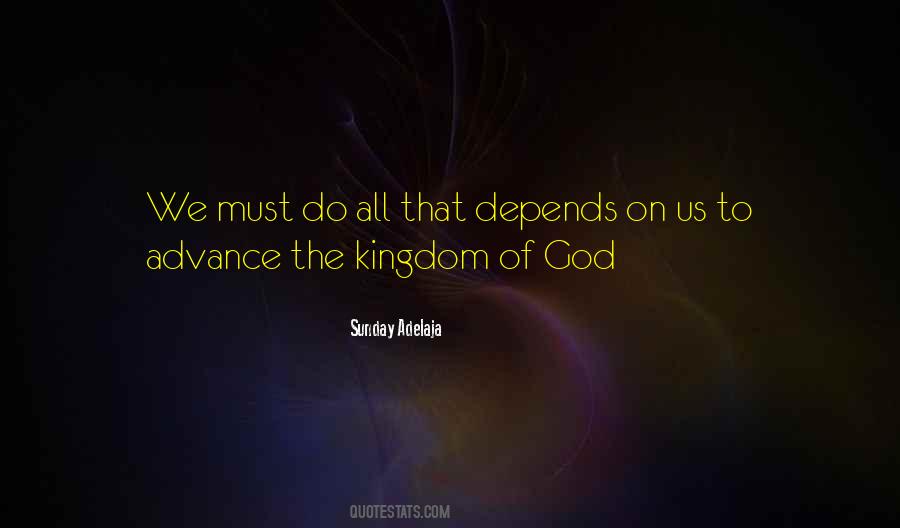 #54. We all need to be aware of our personal calling. What is a personal calling? It is God's blessing, it is the path that God chose for you here on Earth. Whenever we do something that fills us with enthusiasm, we are following our legend. - Author: Paulo Coelho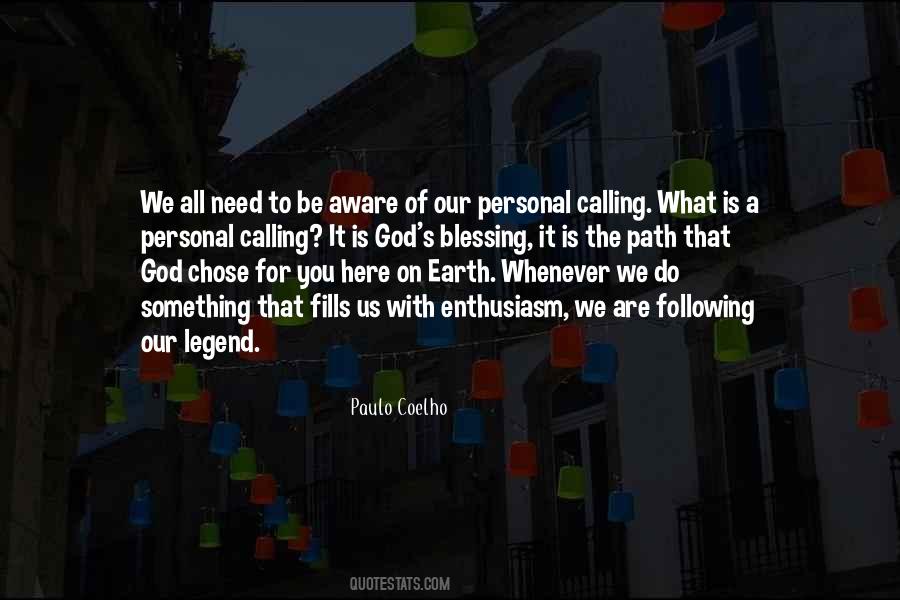 #55. God is not calling us to work for Him. He is calling us to walk with Him. - Author: Phil Vischer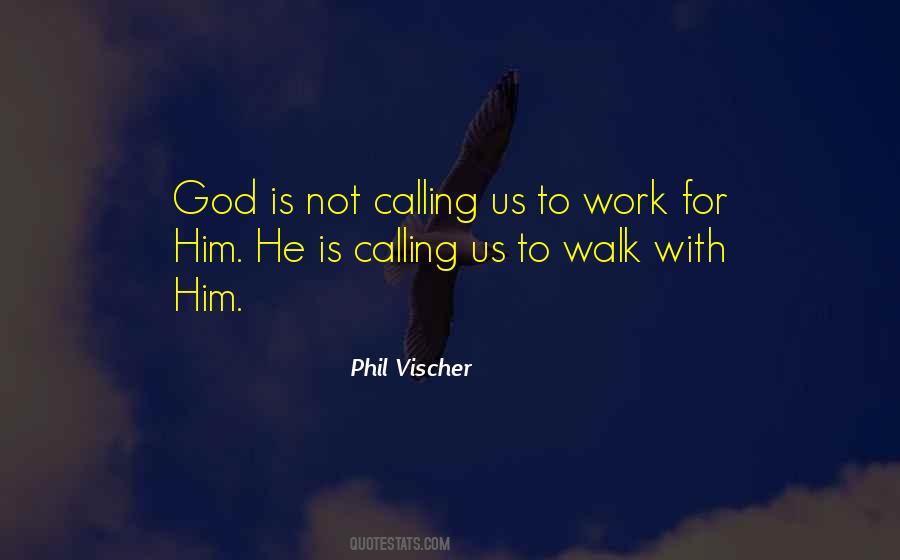 #56. When God breathed life into us, He put His will in us - Author: Sunday Adelaja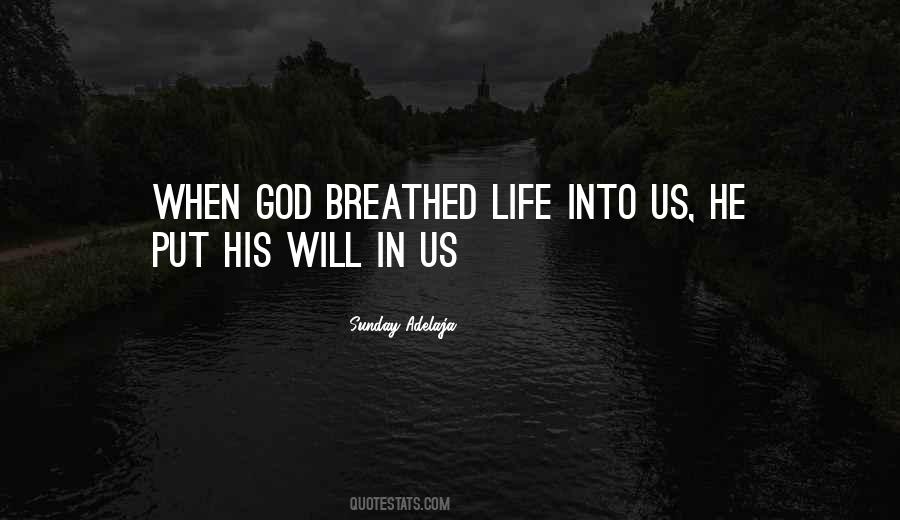 #57. When God created us, He breathed in us the Spirit of Life and put all that we need to make us great on this earth in us - Author: Sunday Adelaja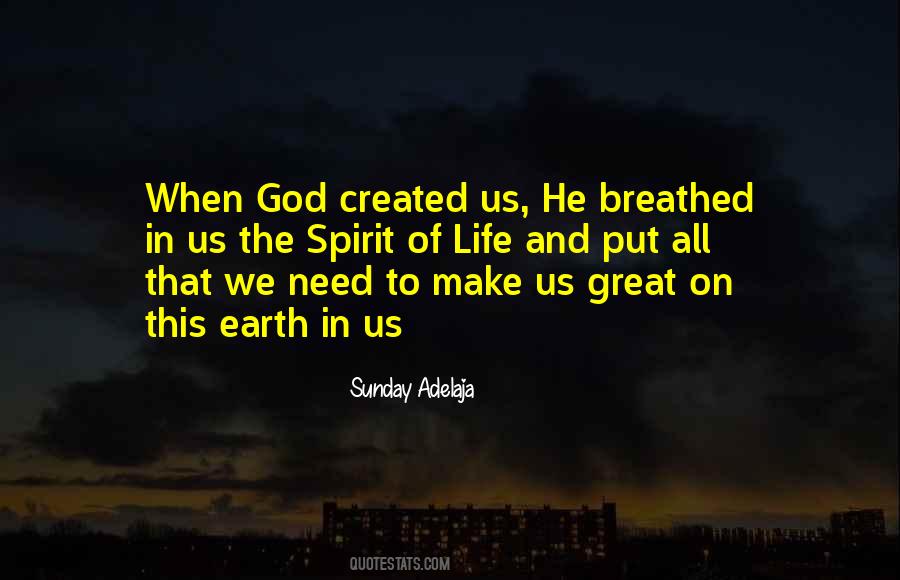 #58. We live in a world now where everything is tweeted and Instagrammed and tagged and now, God help us, Vined. Calling out grievances over Twitter has become an industry norm. - Author: Rachel Sklar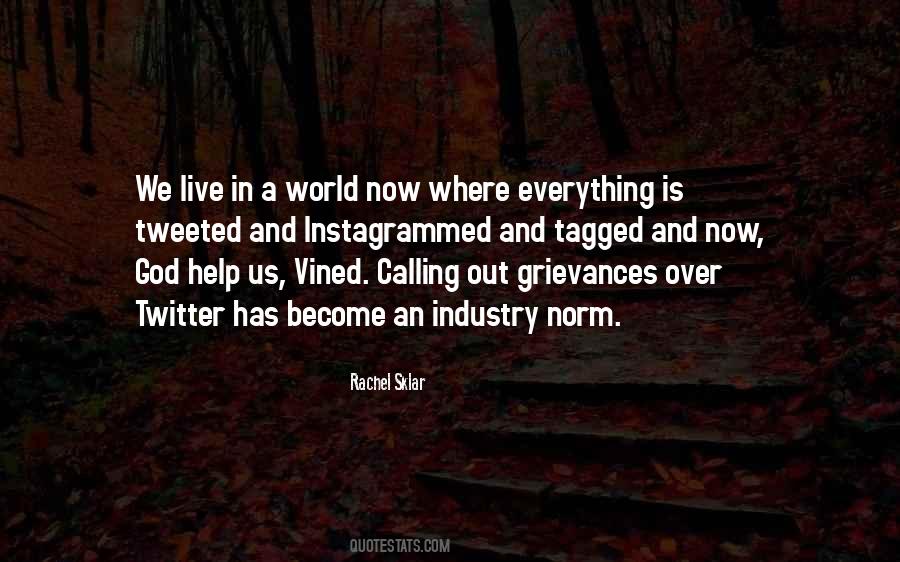 #59. Calling is the truth that God calls us to himself so decisively that everything we are, everything we do, and everything we have is invested with a special devotion and dynamism lived out as a response to his summons and service. - Author: Os Guinness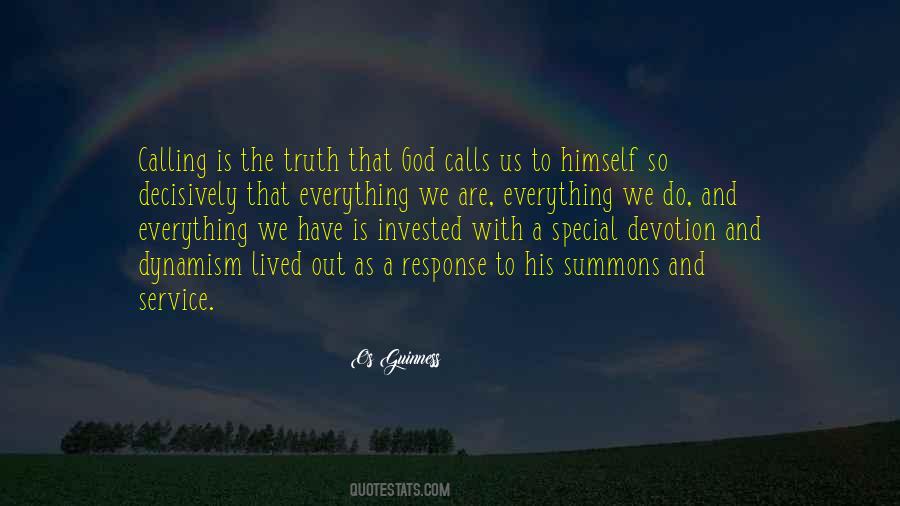 #60. Every day is important for us because it is a day ordained by God. If we are bored with life there is something wrong with our concept of God and His involvement in our daily lives. Even the most dull and tedious days of our lives are ordained by God and ought to be used by us to glorify Him. - Author: Jerry Bridges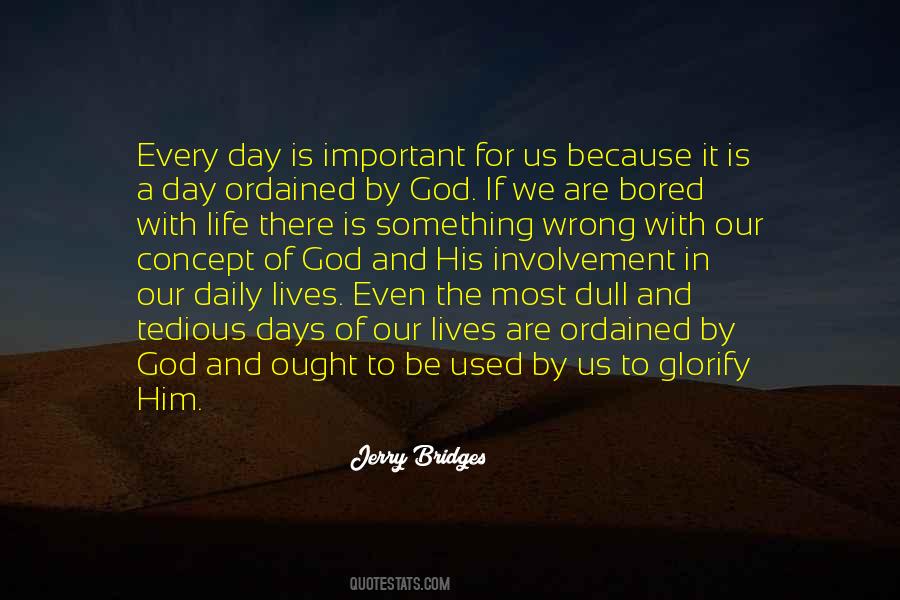 #61. We must be focused on the goal that God has revealed to us - Author: Sunday Adelaja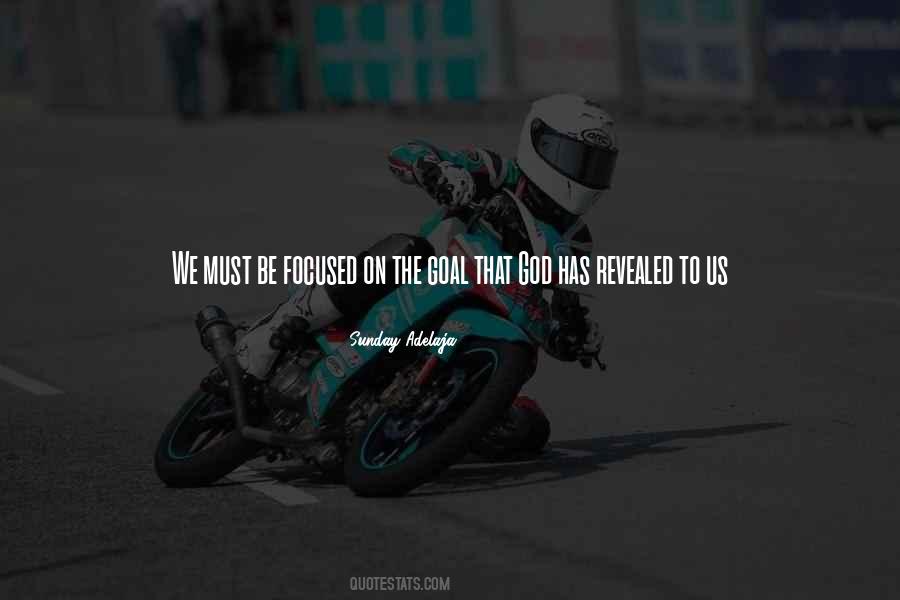 #62. the whole of the Bible is the love story of God calling us into relationship with himself. - Author: Mike Pilavachi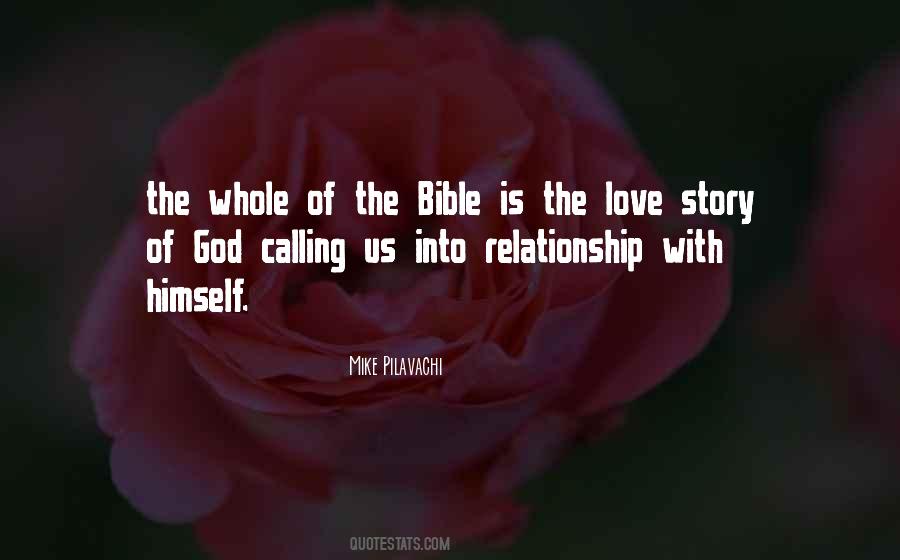 #63. We are our stories - dozens, hundreds, thousands of them - sprayed across our memories, embedded in our identity. Calling them up for others or for ourselves or for God, can enlighten, crush, amuse, trap, or free us, depending on how we pay attention. - Author: Emma Lou Warner Thayne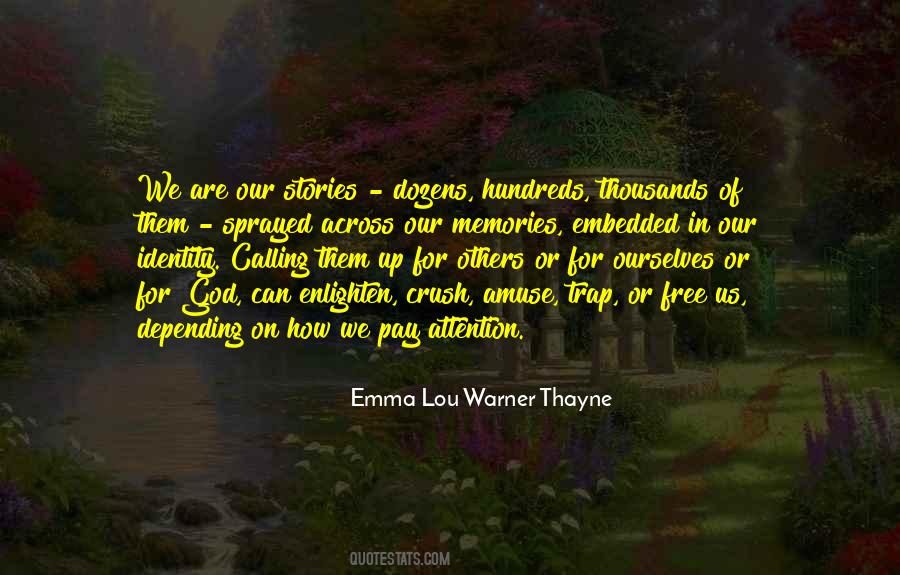 #64. Our vocation and professional work is not a second class activity, something we do just to put food on the table. It is the high calling for which we were originally created. The way we serve a Creator God is by being creative with the talents and gifts He has given us. - Author: Nancy Pearcey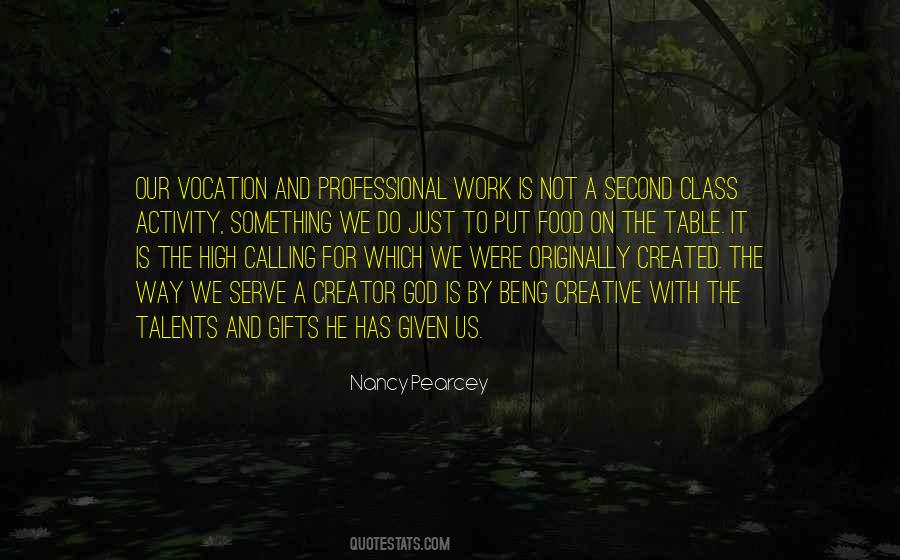 #65. Some people say that suicide is a sin, but I have never believed that. I say it's God's way of calling certain folks home early. It's much nicer than an awful accident, where the rest of us are left wondering if the person really wanted to go. - Author: Faith Sullivan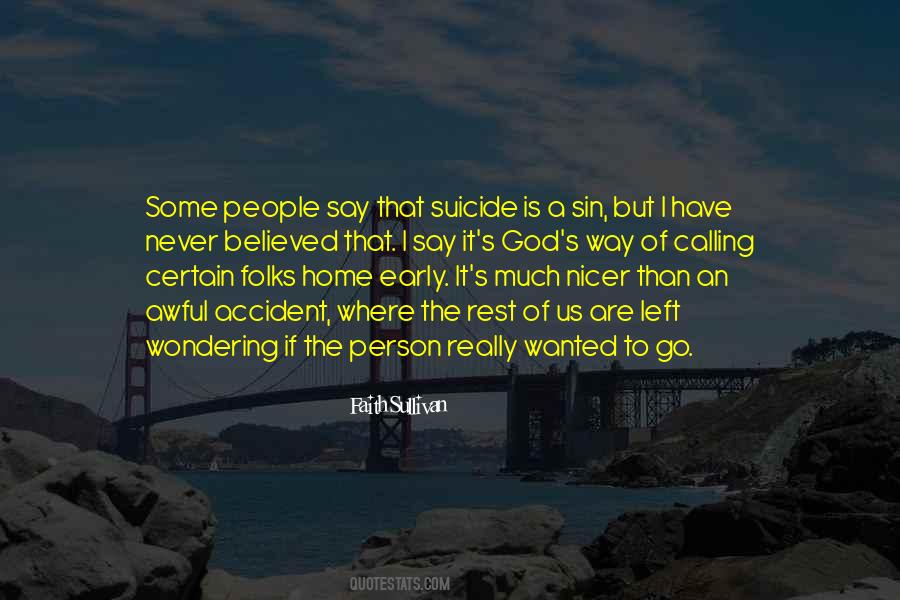 #66. Our calling is to exalt the name of the Lord above every other name. God has translated us into His Kingdom and revealed to us the way to greatness so that we can glorify Him. - Author: Sunday Adelaja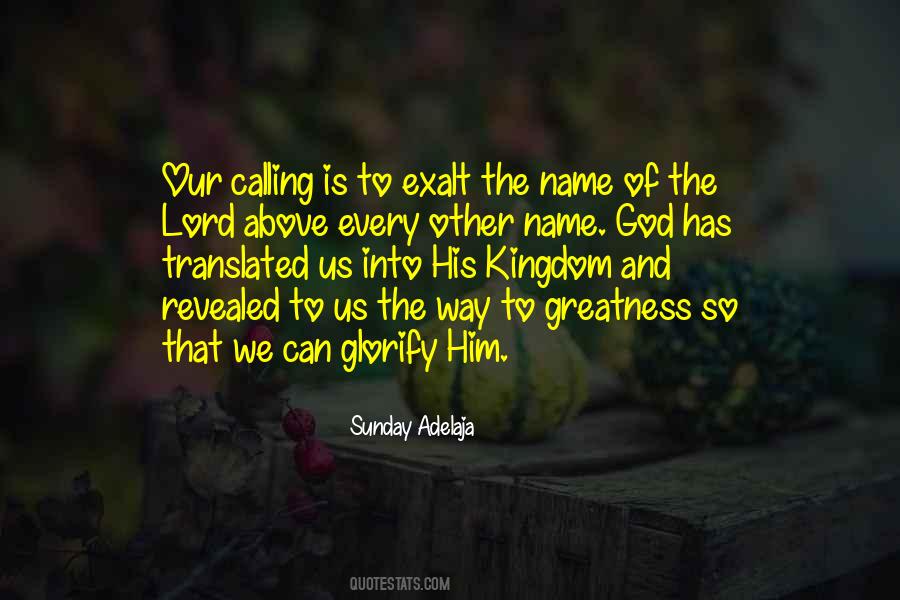 #67. (Phillipians 3:14) No Lots wife here. No looking back at Sodom and Gomorrah here. Paul knows it is out there in the future, up ahead wherever heaven is taking us, that we will win "the prize" of the high calling of God in Christ Jesus. - Author: Jeffrey R. Holland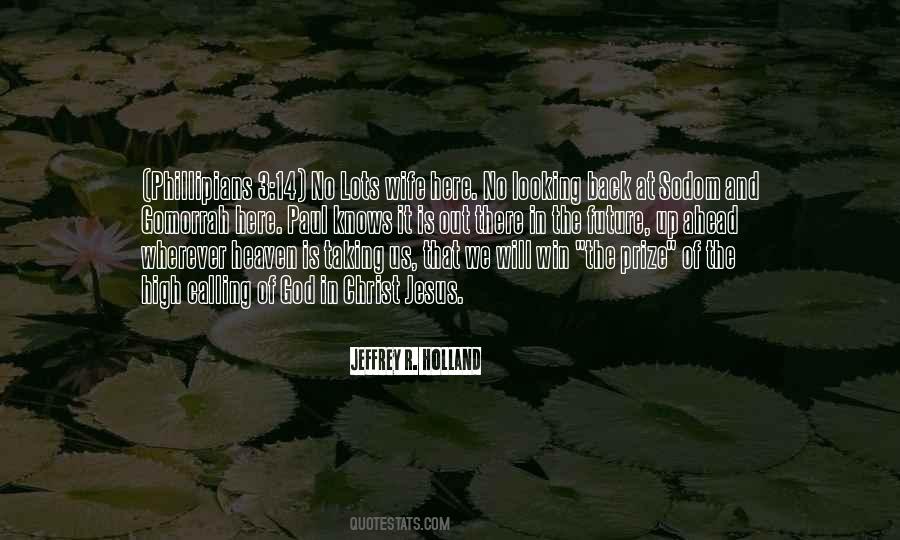 #68. Grace equals ability. God gives us grace to match our call. When we do our own thing, we do it on our own. When we follow His leading, He always supplies the grace and the energy to do what He's calling us to do. - Author: Joyce Meyer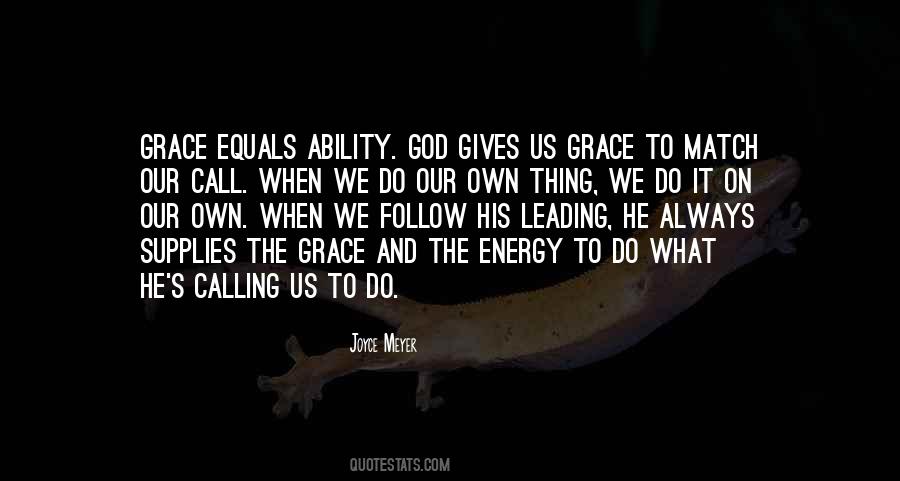 #69. Serving God brings us to a place of great honour. Putting people in ministry is helping them to find their calling and their place in the body of Christ. - Author: Sunday Adelaja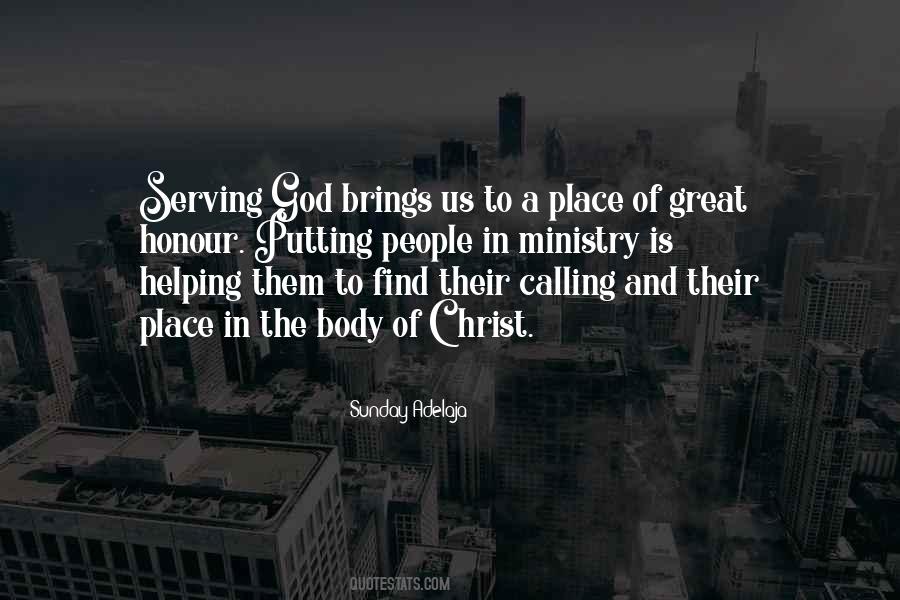 #70. When we hear our talents calling us forth, we hear the voice of God inviting us to fully participate in the adventure of salvation. - Author: Matthew Kelly
#71. God has a calling for us to embrace right now, today. - Author: Kasey Van Norman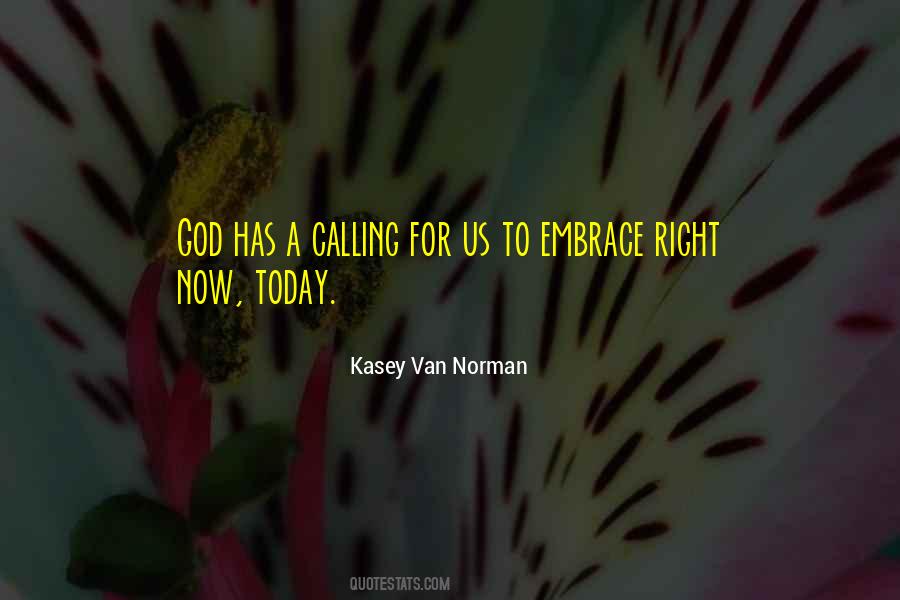 Famous Authors
Popular Topics