God And Inner Peace Famous Quotes & Sayings
List of top 50 famous quotes and sayings about god and inner peace to read and share with friends on your Facebook, Twitter, blogs.
Top 50 Quotes About God And Inner Peace
#1. Anxiety and worry work in opposition to inner peace. When you are worried or anxious about something, even something that must be faced and embraced as a process, you leave little room for God's peace. As - Author: Brian Houston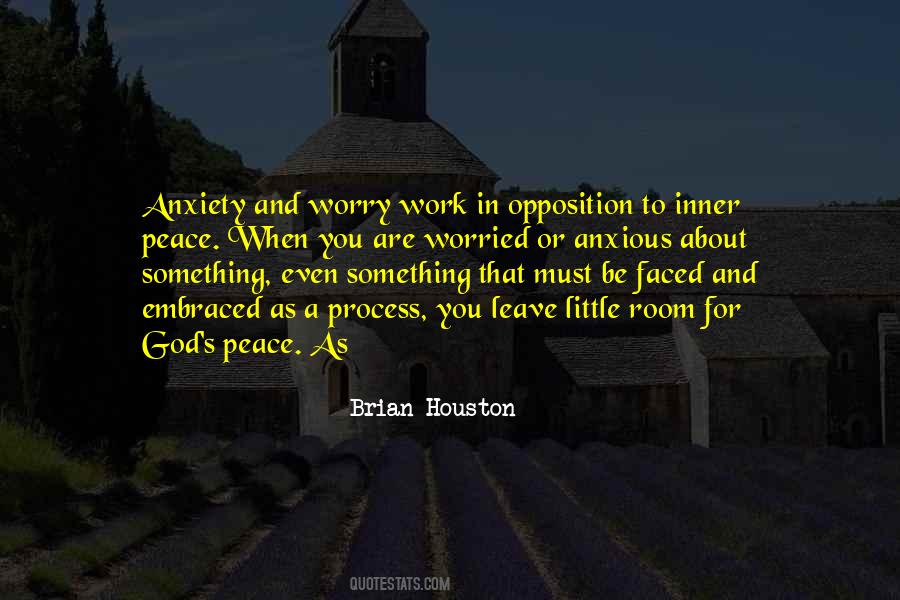 #2. Act with God's compassion, mercy and forgiveness in mind and you will always be right. Act with revenge in your heart and you will always be wrong. - Author: Shannon L. Alder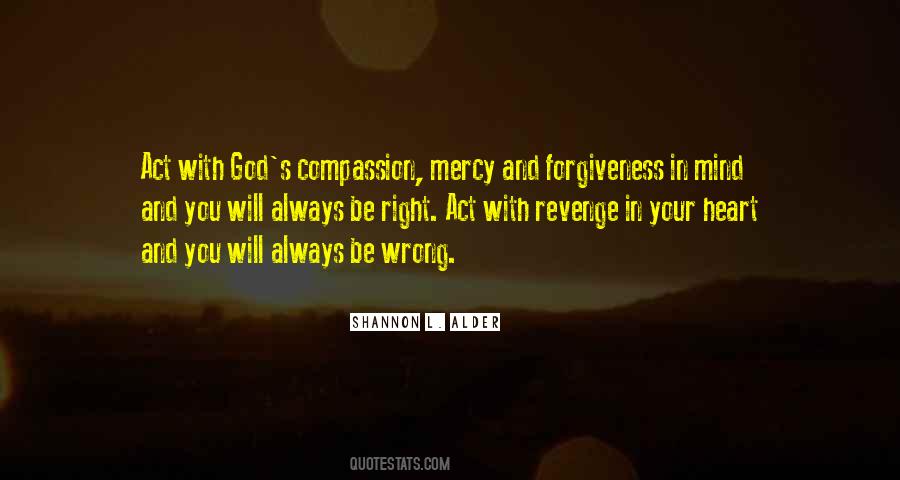 #3. There's many ways to be wealthy, and there's many wealthy people that are very poor. Success is not about money, it's happiness, inner peace, and loving yourself. Happiness and inner peace can come from your faith in God, and loving yourself is part of His plan. - Author: Ron Baratono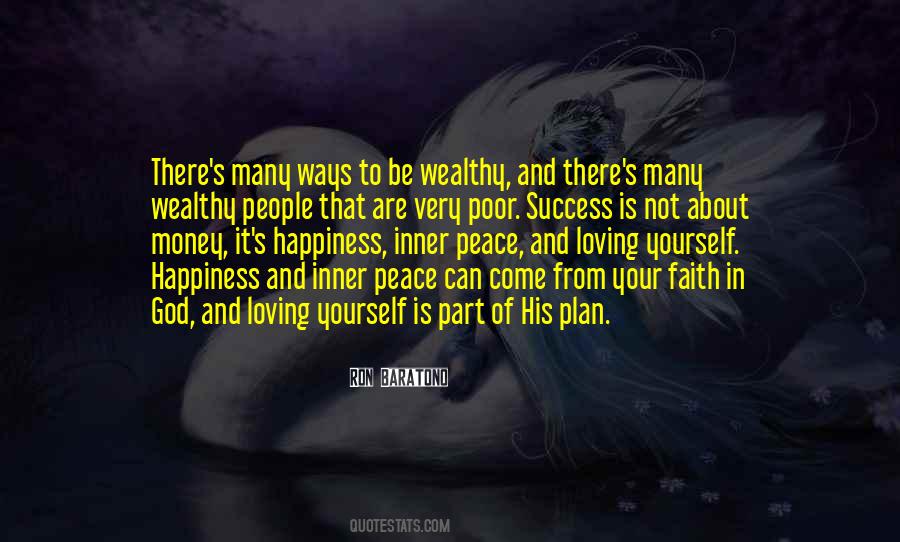 #4. Religion of Blue Circle
To bring and give a lesson,
is to leave the last lesson not pronounced.
Amen, Petra Cecilia Maria Hermans
August 29, 2016
Amen
God - Author: Petra Hermans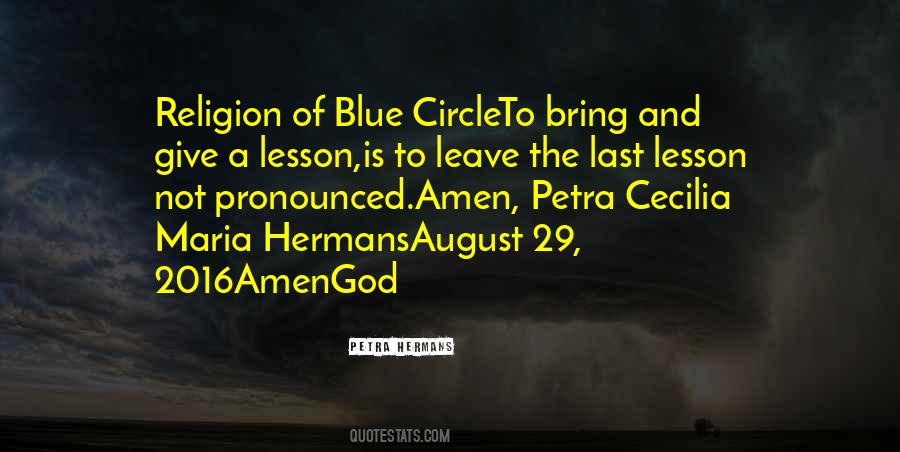 #5. And what more transcendent aim can there be than to recall the way, the truth and the life, and to remember God? - Author: Foundation For Inner Peace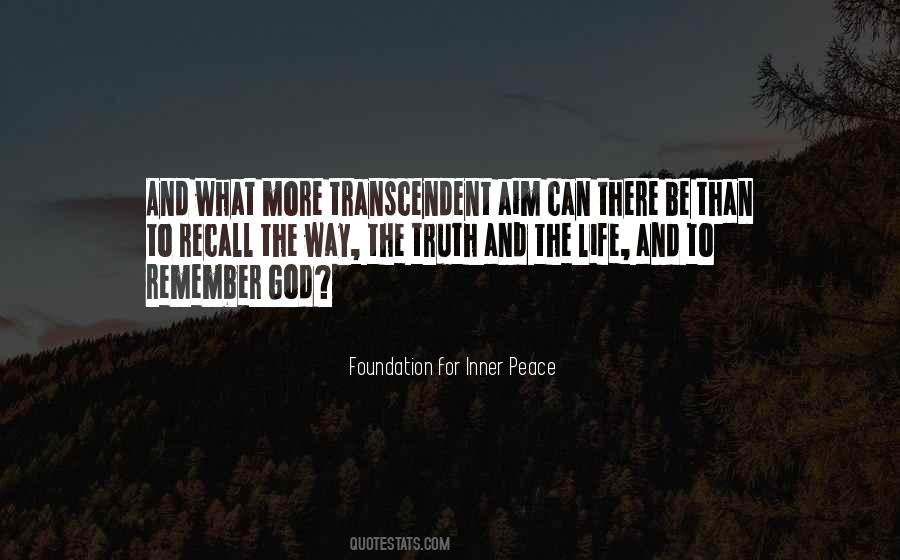 #6. You are the work of God, and His work is wholly lovable and wholly loving. This is how a man must think of himself in his heart, because this is what he is. - Author: Foundation For Inner Peace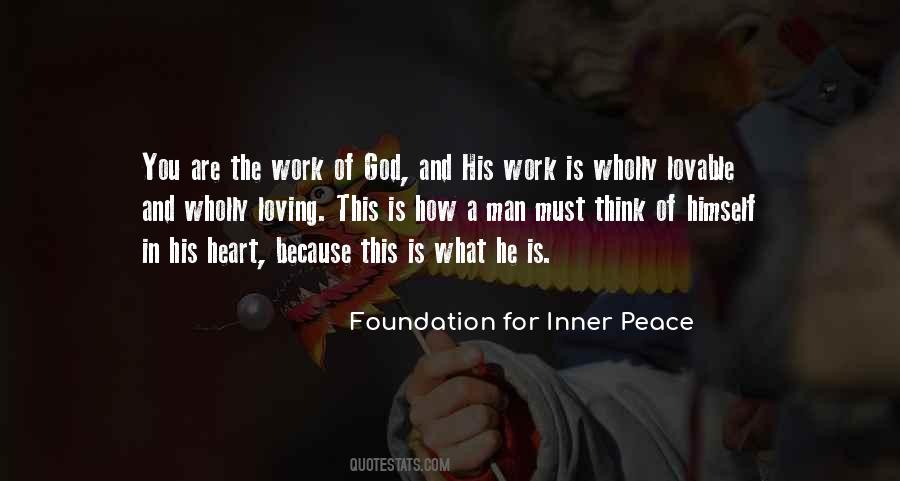 #7. If our emotional stability is based on what other people do or do not do, then we have no stability. If our emotional stability is based on love that is changeless and unalterable, then we attain the stability of God. - Author: Marianne Williamson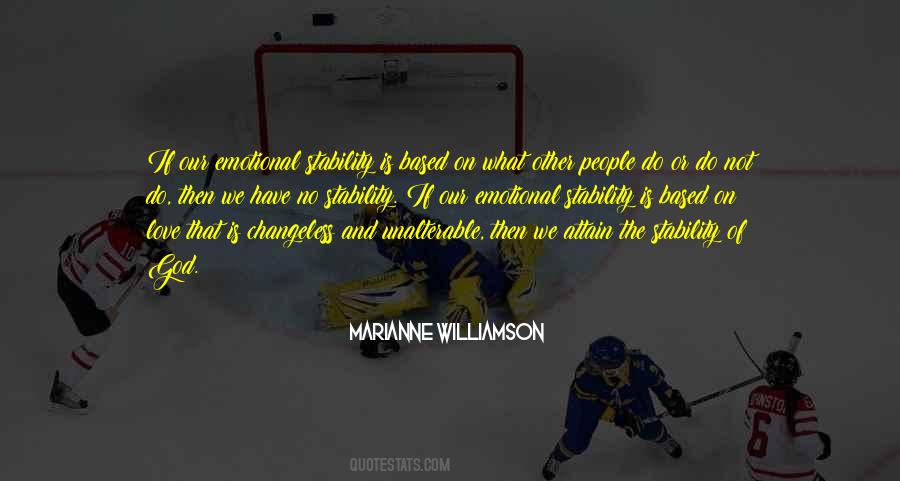 #8. God is working on your behalf, for your happiness and inner peace. So move forward in faith, believing that He is with you and for you because He is. - Author: Toni Sorenson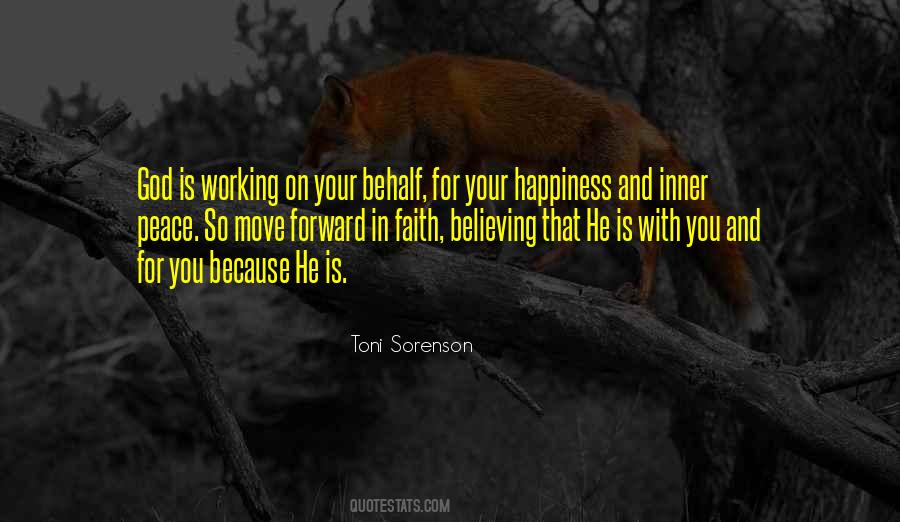 #9. We are all poor in the face of God's majesty. Not all of us realise it. - Author: Radhe Maa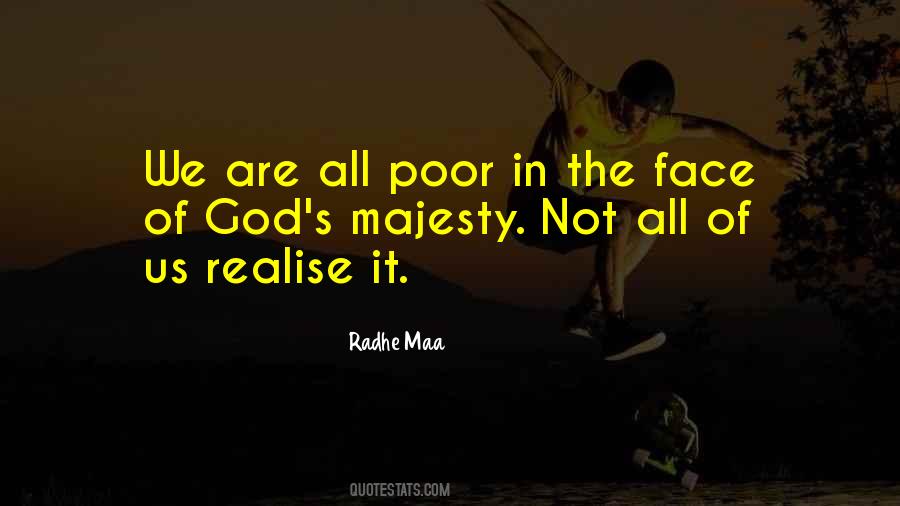 #10. As difficult as it can be to find genuine inner calm, it is the key to creating peace in the world as we know it. The world will not change until we do, and there is nothing the world can deliver to us that will give us the peace we crave. Peace comes not from the world, but from God. - Author: Marianne Williamson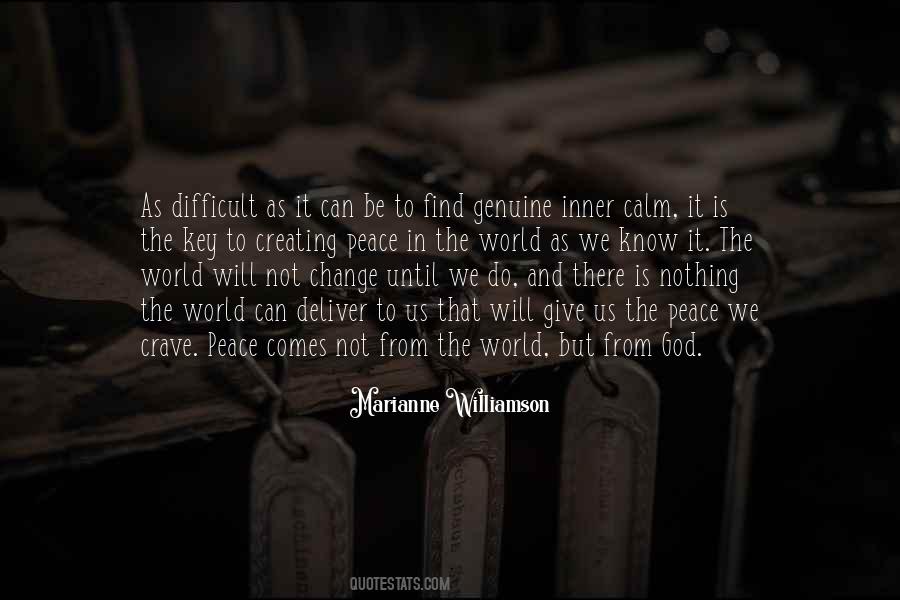 #11. The "with God" life is not a life of more religious activities or devotions or trying to be good. It is a life of inner peace and contentment for your soul with the maker and manager of the universe. The "without God" life is the opposite. It is death. It will kill your soul. - Author: John Ortberg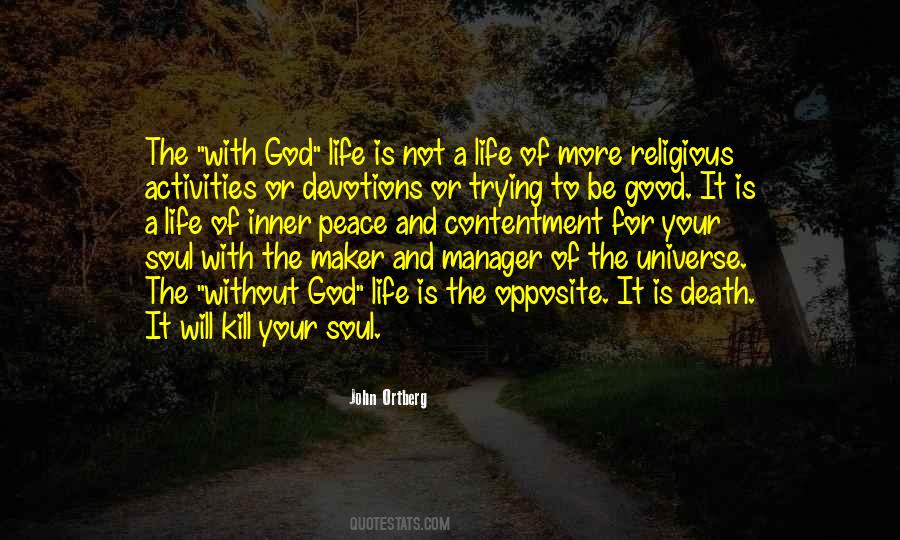 #12. God and devotee are bound for ever in ropes of love - Author: Radhe Maa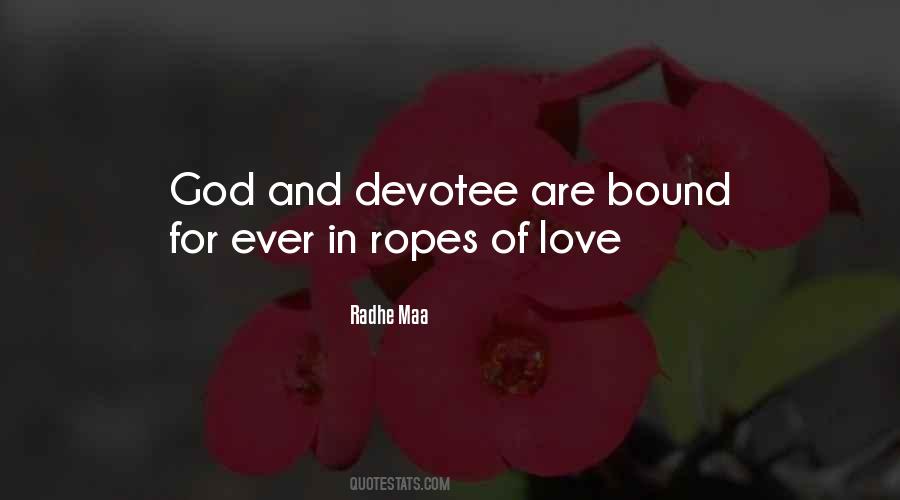 #13. When we disrespect a person, we disrespect God - Author: Radhe Maa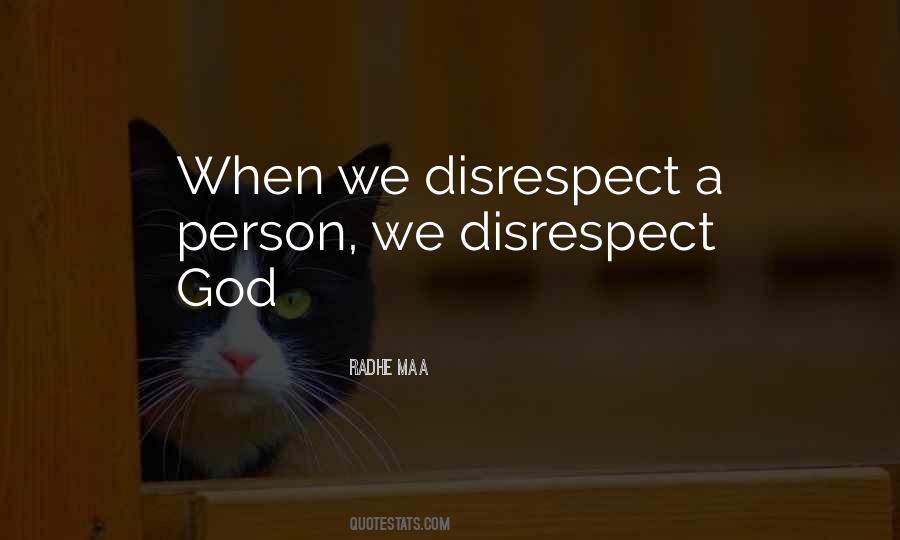 #14. God will shout during your storms, whisper during your sunshine and sing during the rarest rainbows you will encounter. - Author: Shannon L. Alder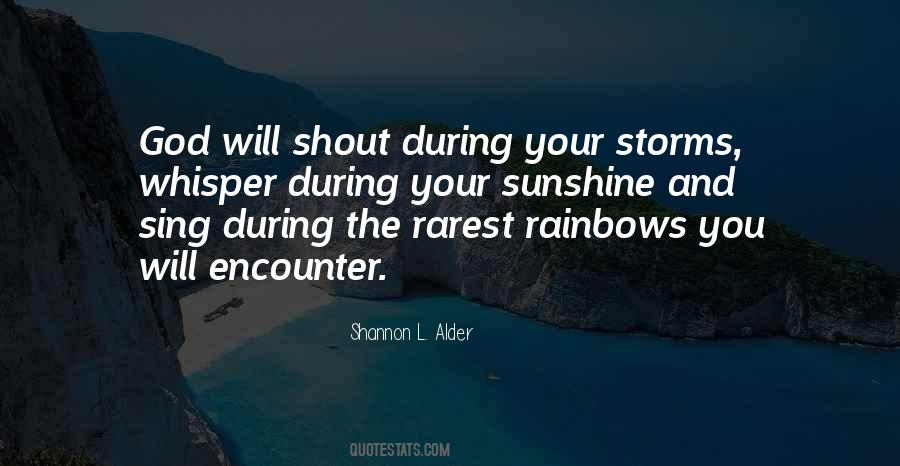 #15. There are 2 versions of Self Image. Inner and Outer.
Get in touch with the inner self image and dispose of any concept of the outer world. Feel the energy that comes from this image and start being true from source of this energy. The source of god. - Author: Matthew Donnelly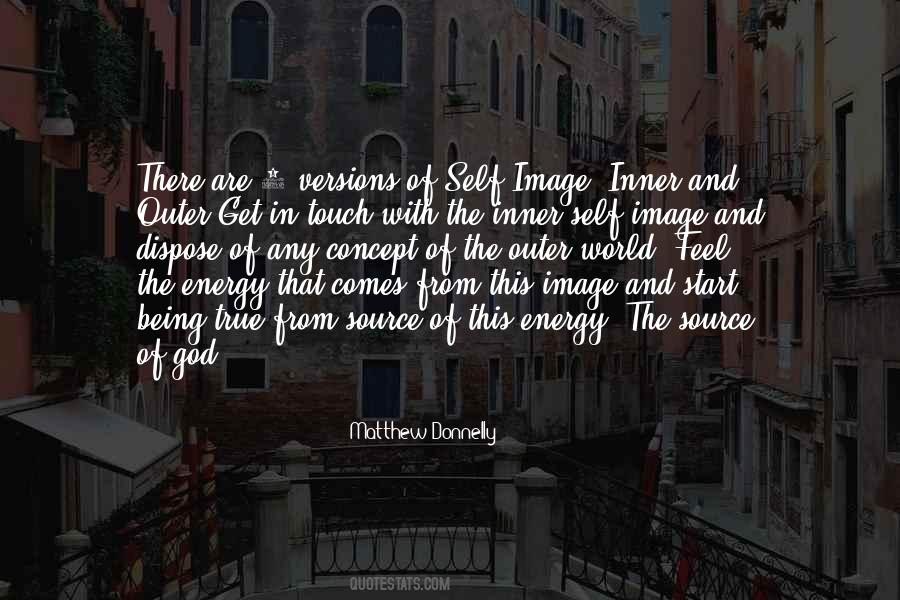 #16. The beauty of the soul; inner peace and joy. - Author: Lailah Gifty Akita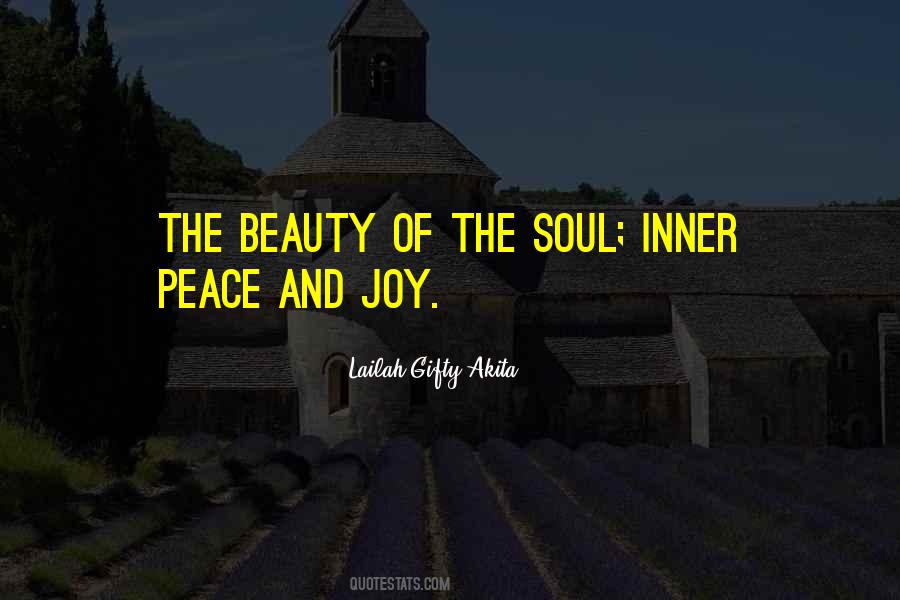 #17. Look up and see His Word among the stars, where He has set your Name along with His. Look up and find your certain destiny the world would hide but God would have you see. C-ep.4. Let us wait here in silence, and kneel - Author: Foundation For Inner Peace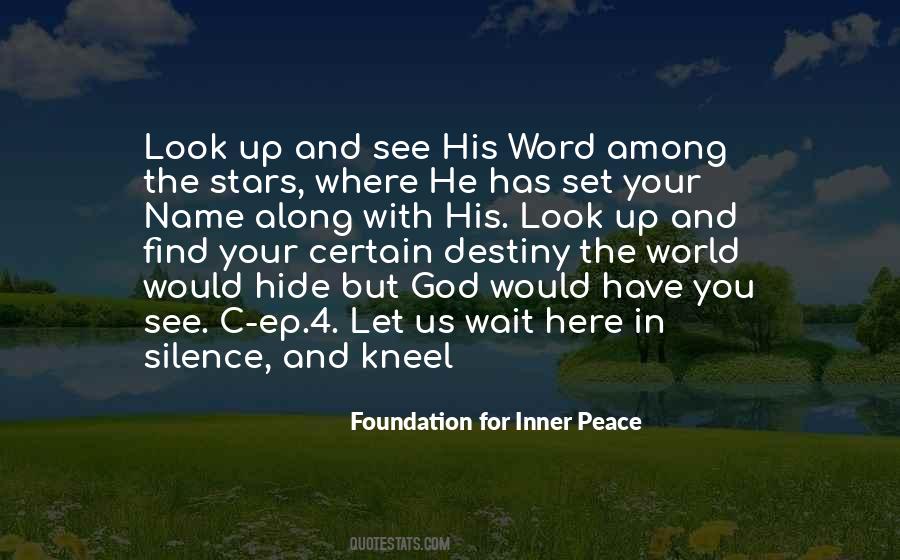 #18. Dear God, I give this time of quiet to You. Please dissolve my thoughts of stress and fear And deliver me to the inner place Where all is peace and love. Amen. - Author: Marianne Williamson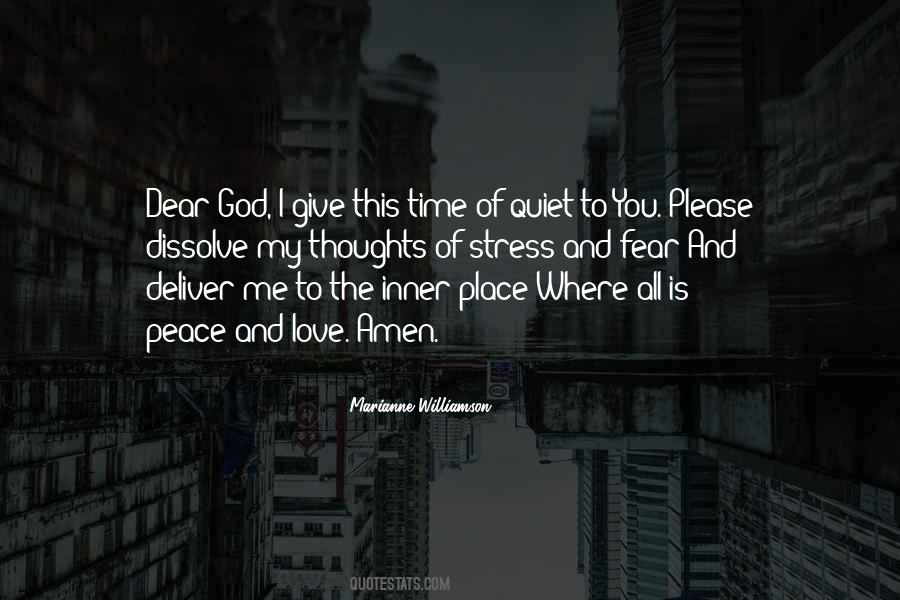 #19. when we talk about the peace of God, don't think of singing and swaying and holding hands in a circle. The peace of God is strong, intense, palpable, real. You can sense its stable presence giving you inner security despite insecure circumstances. - Author: Priscilla Shirer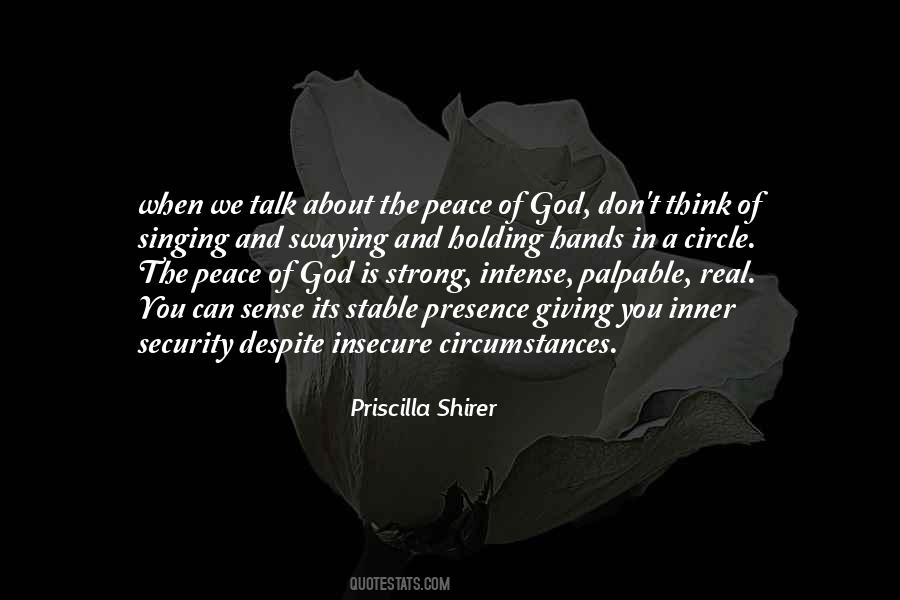 #20. Your physical well being and thus your mental state, is God-given responsibility to you. Tending to them and get a clear sense of what your life is about before ashes and dust and you'll be having inner peace with your life - Author: Daniel Gottlieb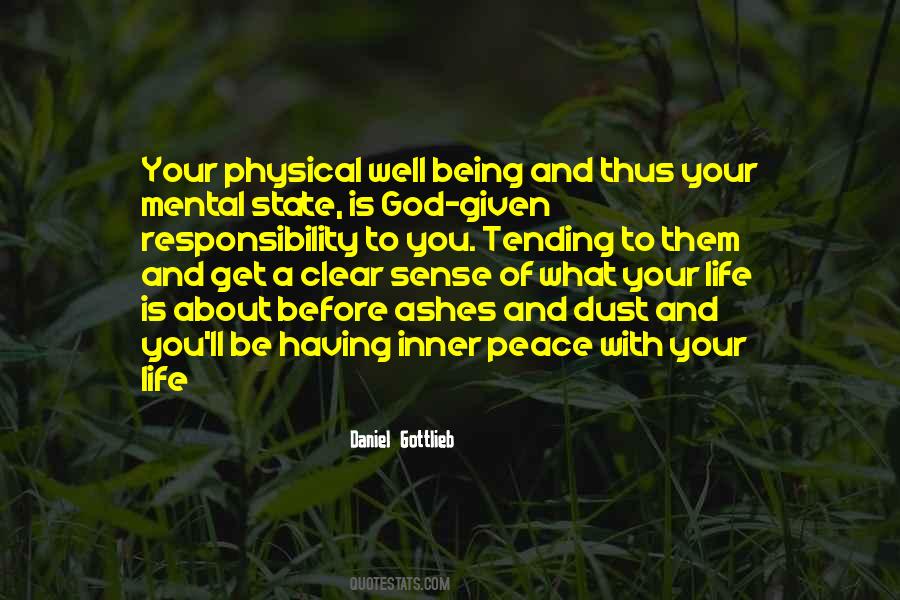 #21. Peace is our inner wealth. This inner wealth we can bring to the fore only when we expect nothing from the outer world and everything from the Supreme Pilot within us, at God's Choice Hour - Author: Sri Chinmoy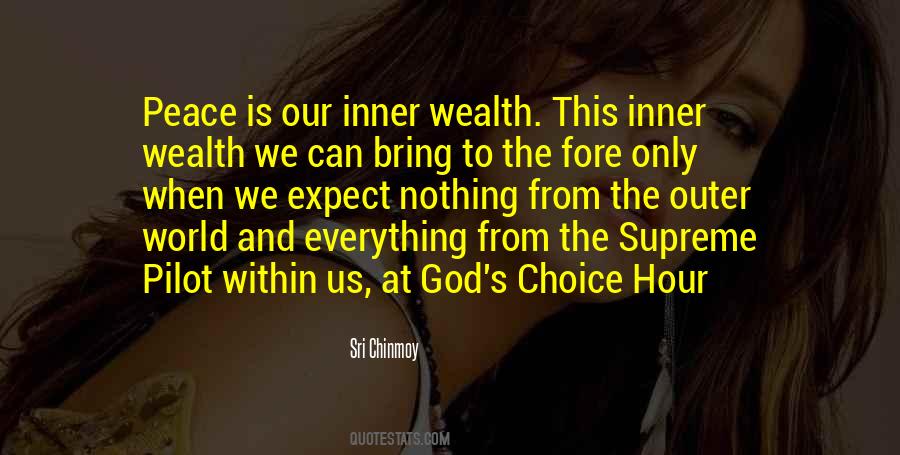 #22. God gives us opportunity to serve him by serving humanity. - Author: Radhe Maa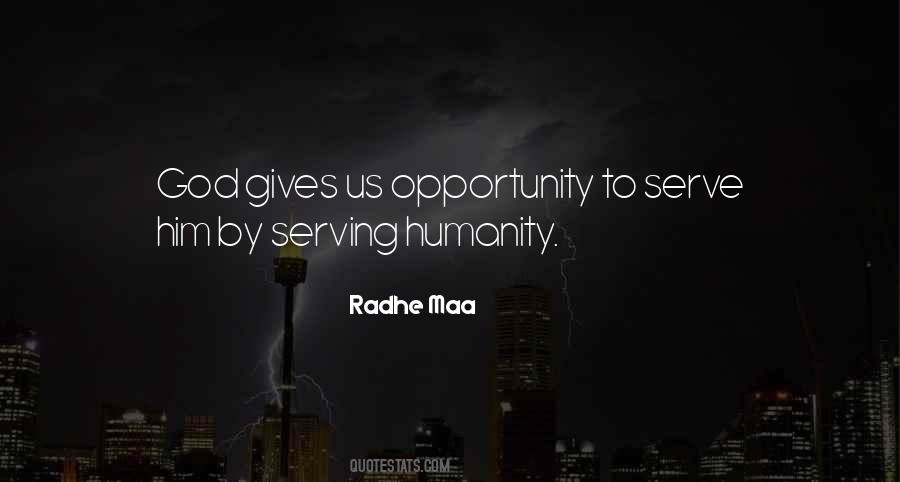 #23. Your will is still in you because God placed it in your mind, and although you can keep it asleep you cannot obliterate it. - Author: Foundation For Inner Peace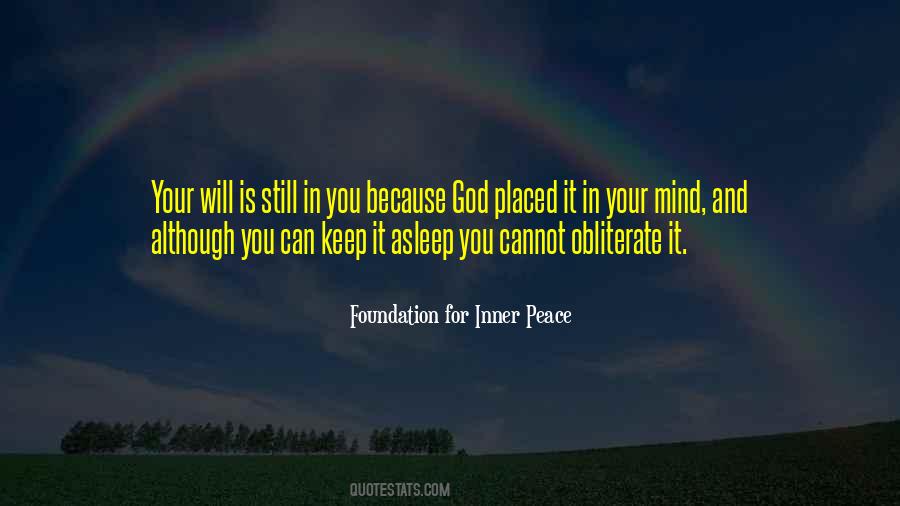 #24. It is in that inner peace and stillness that things begin to happen, and it was in that peace and stillness that I began to hear God's voice. - Author: Eileen Caddy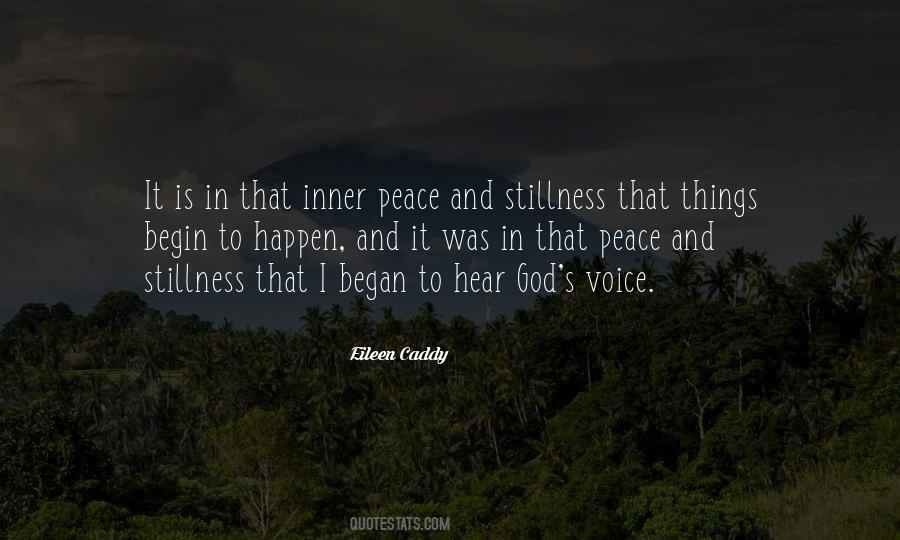 #25. Spirituality is not to be learned by flight from the world, or by running away from things, or by turning solitary and going apart from the world. Rather, we must learn an inner solitude wherever or with whomsoever we may be. We must learn to penetrate things and find God there. - Author: Meister Eckhart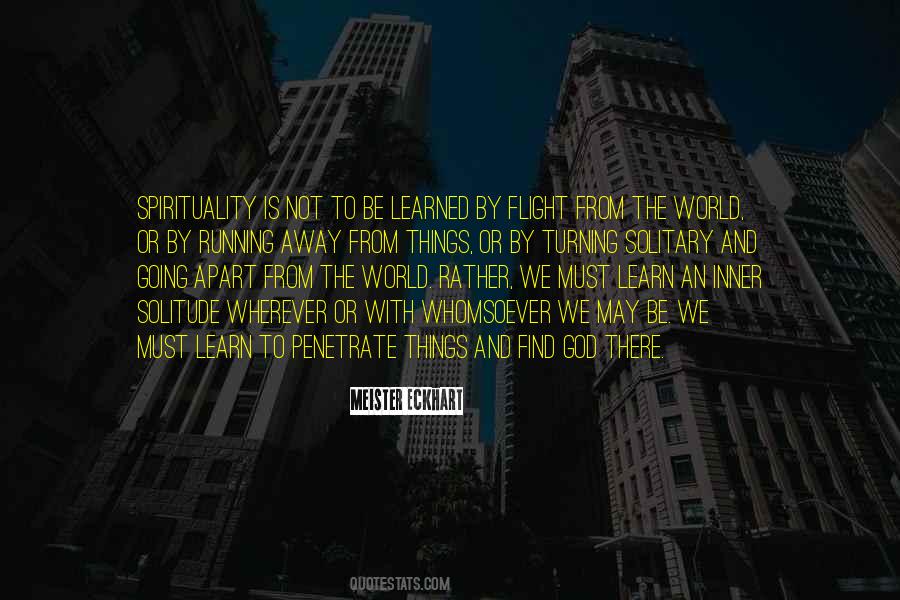 #26. I believe God, through His Spirit, grants us love, joy, and peace no matter what is happening in our lives. As Christians, we shouldn't expect our joy to always feel like happiness, but instead recognize joy as inner security
a safeness in our life with Christ. - Author: Jill Briscoe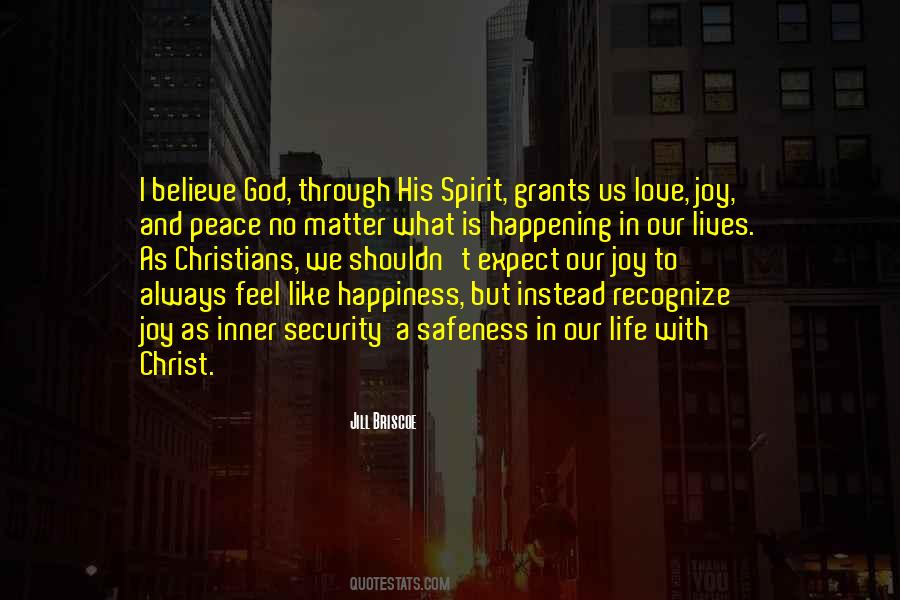 #27. The word "inevitable" is fearful to the ego, but joyous to the spirit. God is inevitable, and you cannot avoid Him any more than He can avoid you. - Author: Foundation For Inner Peace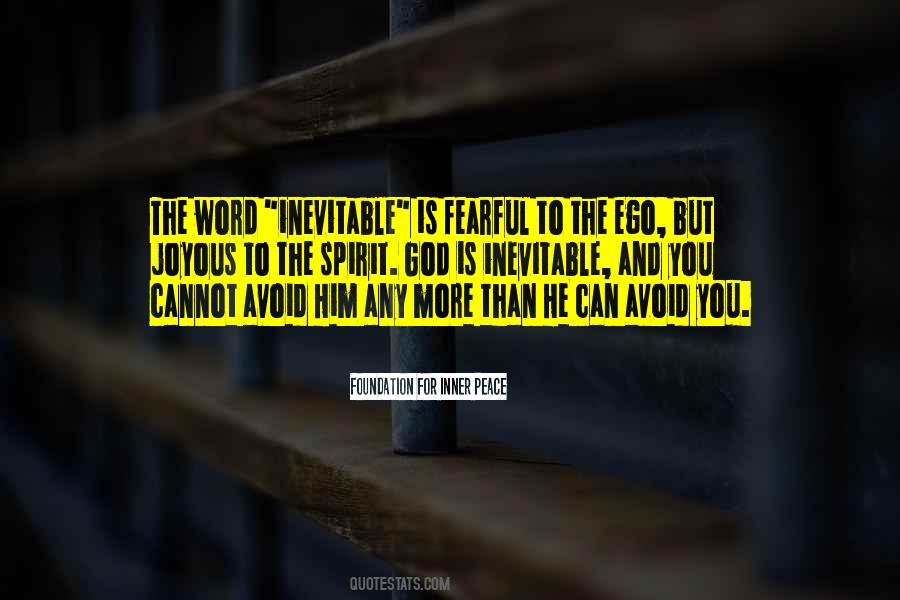 #28. Inner joy and peace are from the Holy Spirit (Galatians 5:22). If I'm disappointed in my human husband, it is because I have dis - as in wrongly - appointed him to God's position in my mind. That's just all kinds of wrong. - Author: Megan Tippy-Clansen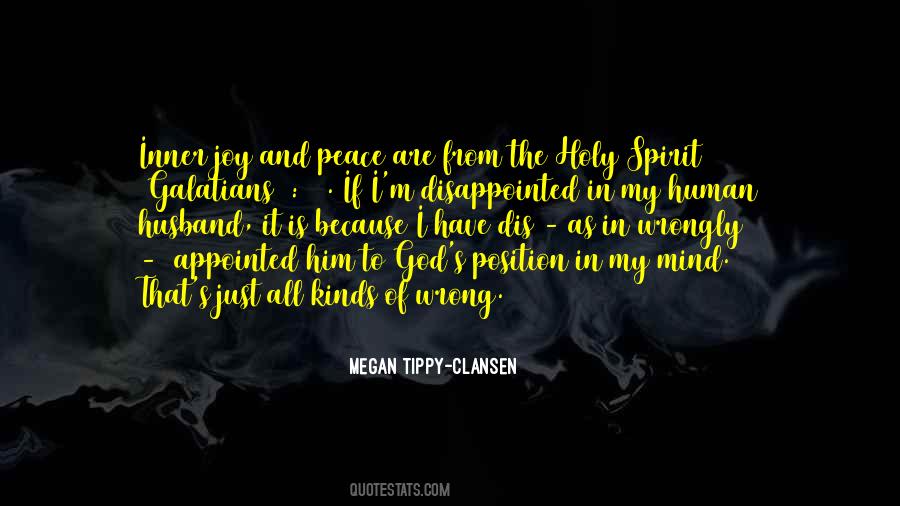 #29. Do not lose your inner peace for anything whatsoever, not even if your whole world seems upset. If you find that you have wandered away from the shelter of God, lead your heart back to Him quietly and simply. - Author: Francis De Sales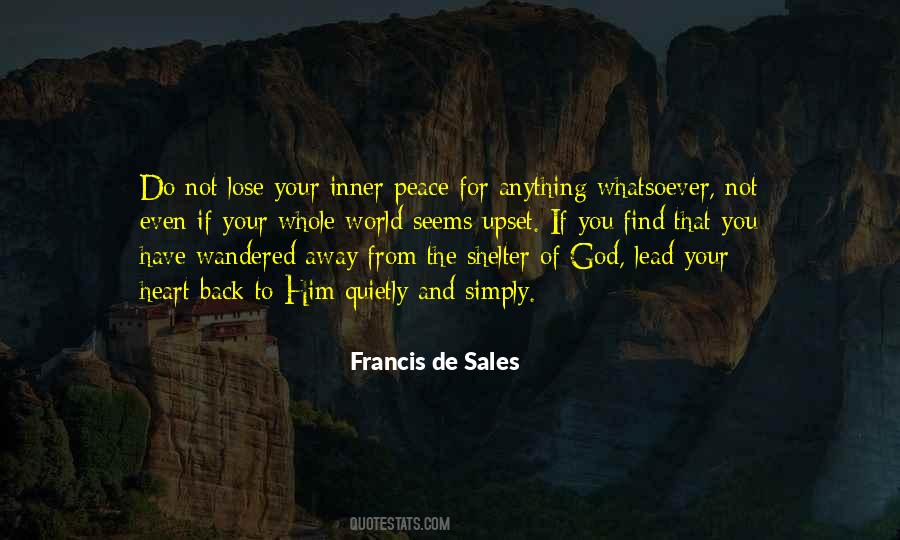 #30. Joy is uncaused and arises from within as the joy of Being. It is an essential part of the inner state of peace, the state that has been called the peace of God. It is your natural state, not something that you need to work hard for or struggle to attain. - Author: Eckhart Tolle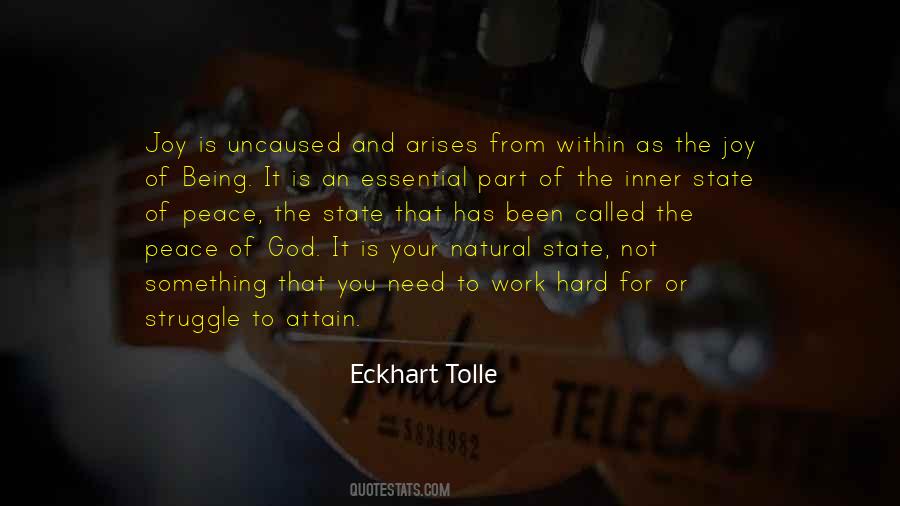 #31. It is the devotee's job to chant God's name. It is God's business to keep count. - Author: Radhe Maa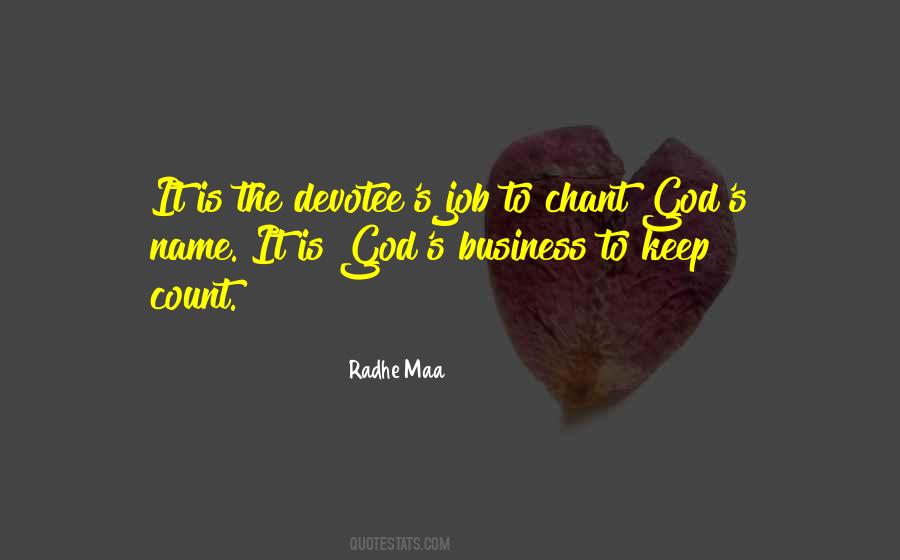 #32. Admitting the weighty problems and staggering disappointments, Christianity affirms that God is able to give us the power to meet them. He is able to give us inner equilibrium to stand tall amid the trials and burdens of life. He is able to provide inner peace amid our outer storms. - Author: Martin Luther King Jr.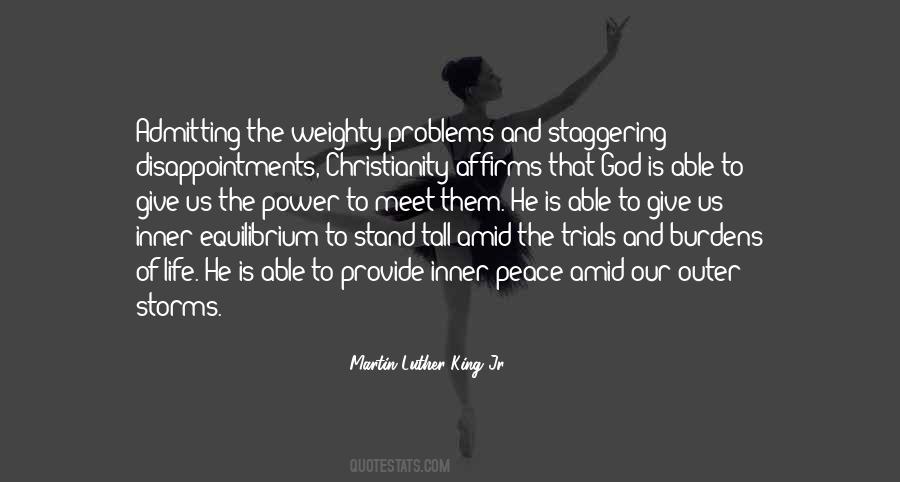 #33. Remember that no one is where he is by accident, and chance plays no part in God's plan. - Author: Foundation For Inner Peace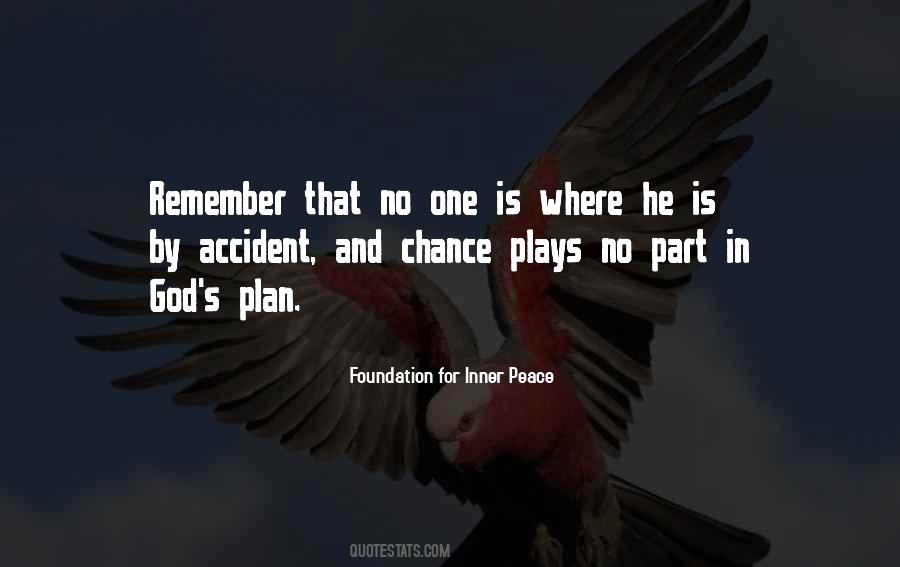 #34. The secret of true happiness lies within unwavering devotion to God - Author: Radhe Maa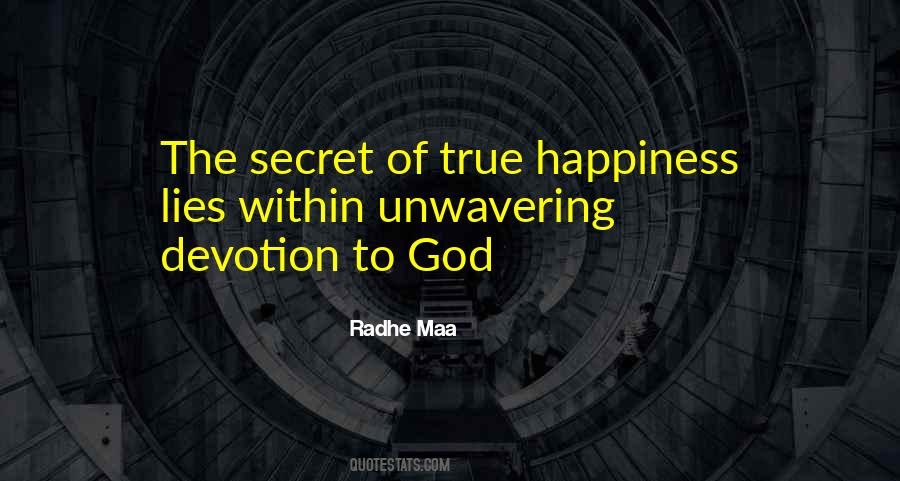 #35. Love is God, and the one that believes in love, believes in God. - Author: Radhe Maa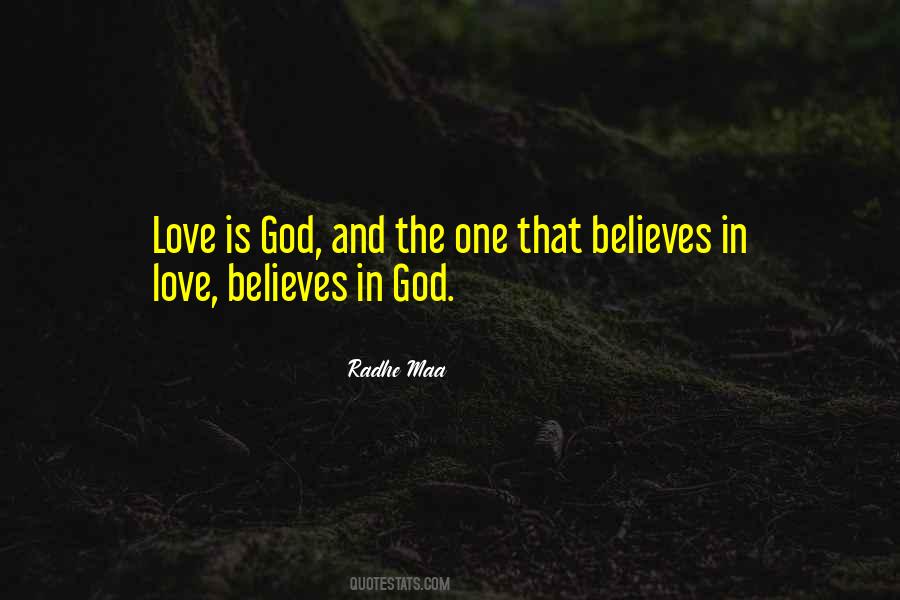 #36. What can you give God but bhakti bhava? He owns it all anyway. - Author: Radhe Maa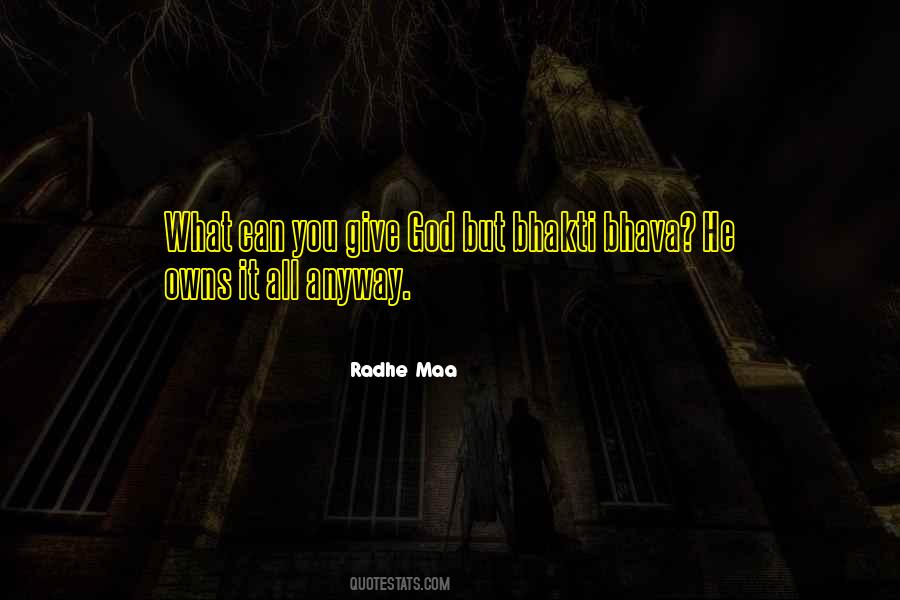 #37. Under all the senseless thoughts and mad ideas with which you have cluttered up your mind are the thoughts that you thought with God in the beginning. - Author: Foundation For Inner Peace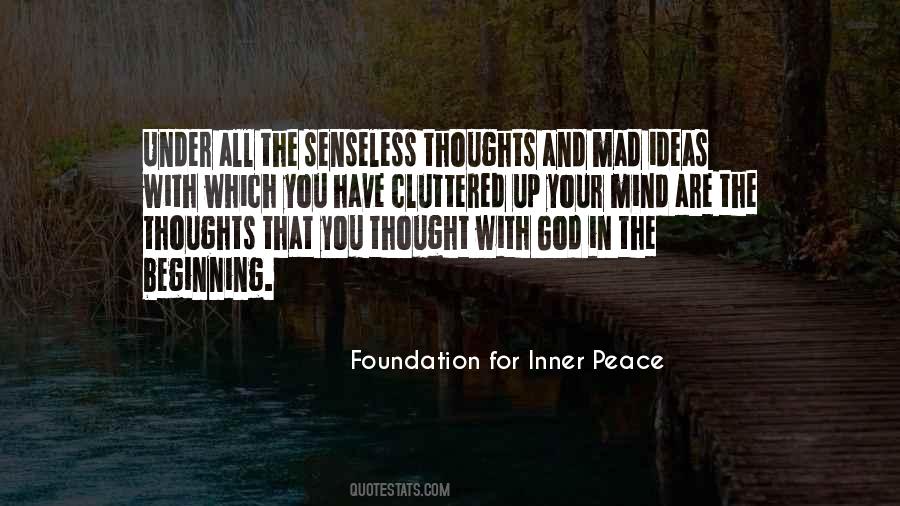 #38. For me, it is essential to have the inner peace and serenity of prayer in order to listen to the silence of God, which speaks to us, in our personal life and the history of our times, of the power of love. - Author: Adolfo Perez Esquivel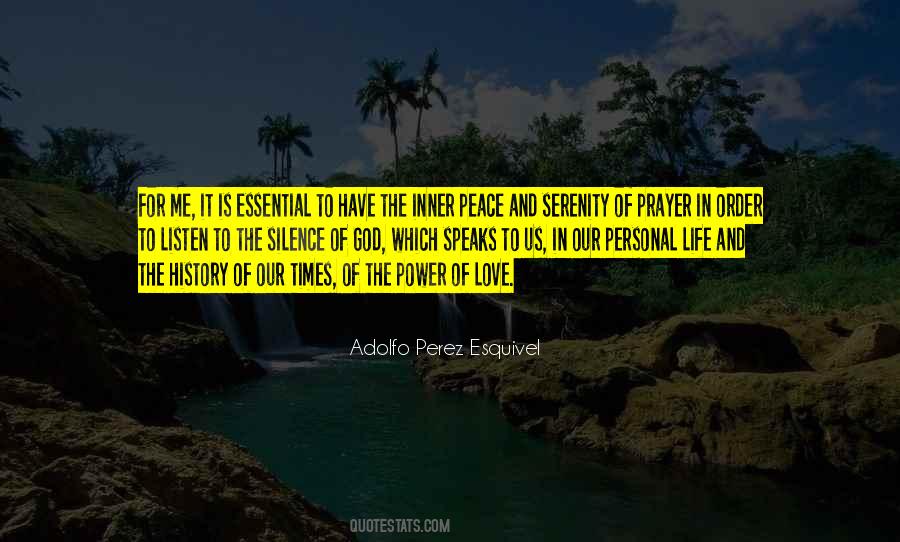 #39. Be contented with the things of the world. Develop greed for God. - Author: Radhe Maa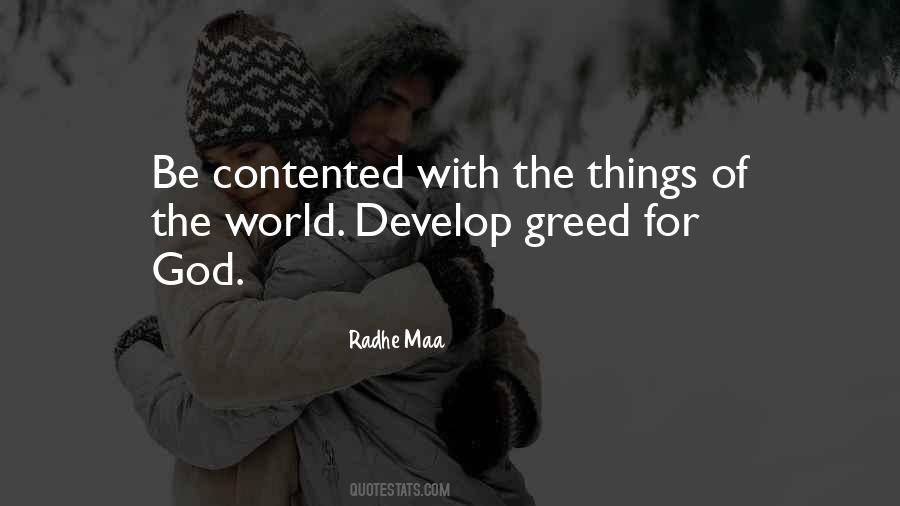 #40. The least among the sadhus, saints and monks and other people of God is worthier than you. Never speak ill of them - Author: Radhe Maa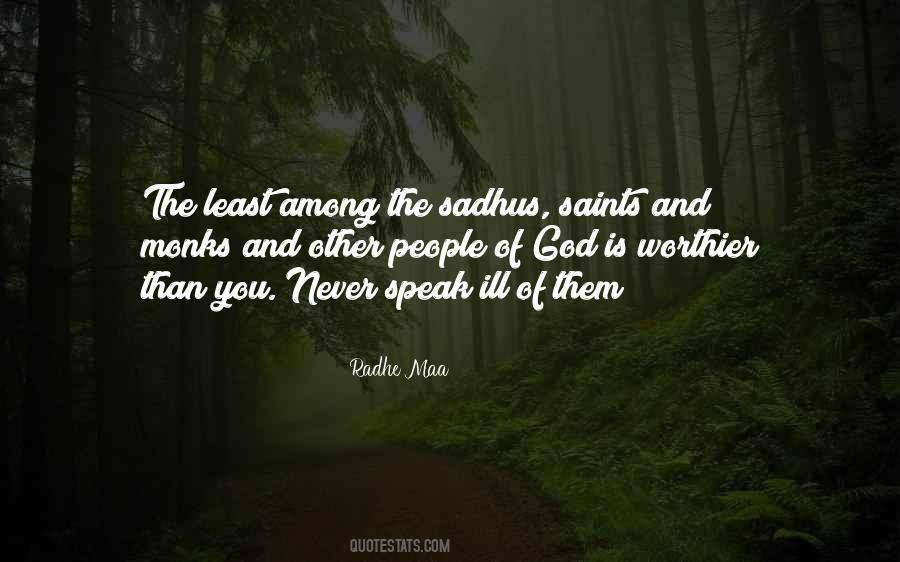 #41. In the scriptures, 'peace' means either freedom from strife, contention, conflict, or war, or an inner calm and comfort born of the Spirit that is a gift of God to all of his children, an assurance and serenity within a person's heart. - Author: Joseph B. Wirthlin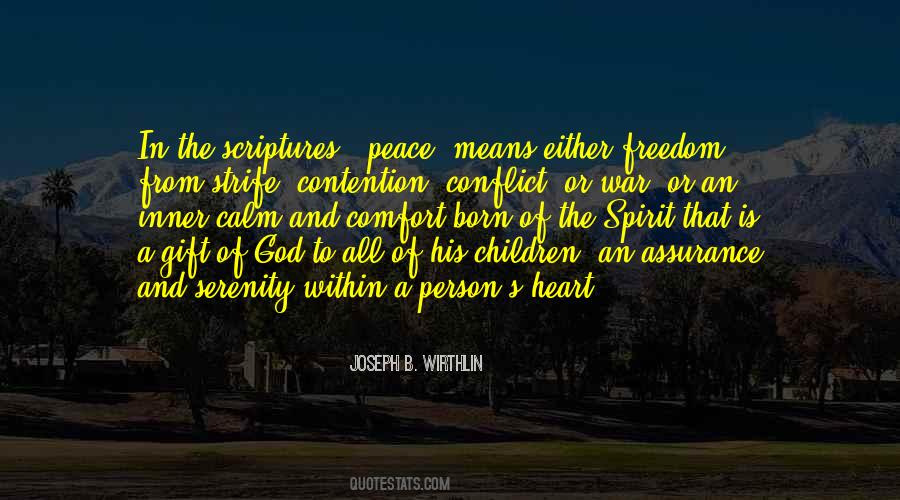 #42. Money comes to those who act intelligently, and God to those who hunger for his grace - Author: Radhe Maa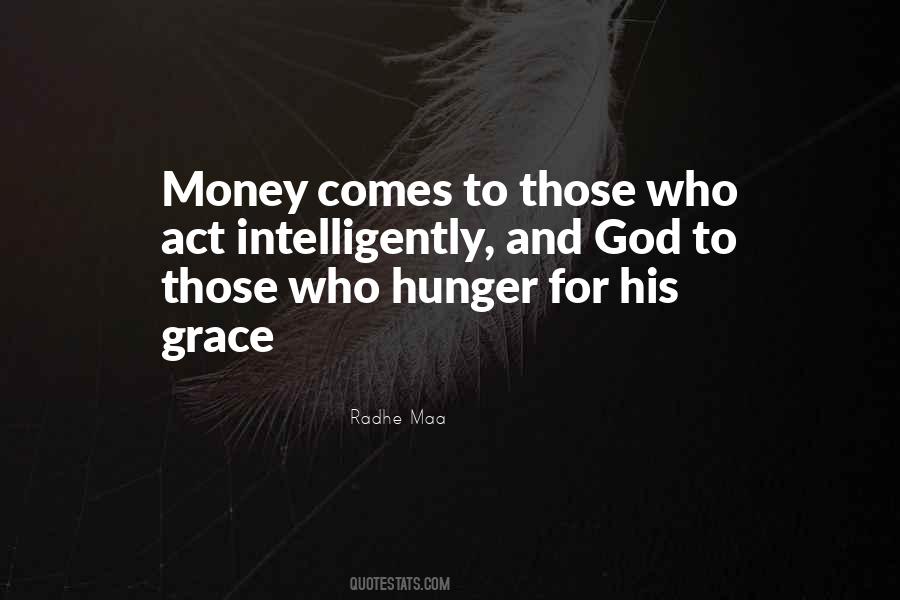 #43. Perfect love casts out fear. If fear exists, Then there is not perfect love. But: Only perfect love exists. If there is fear, It produces a state that does not exist. Believe this and you will be free. Only God can establish this solution, and this faith is His gift. - Author: Foundation For Inner Peace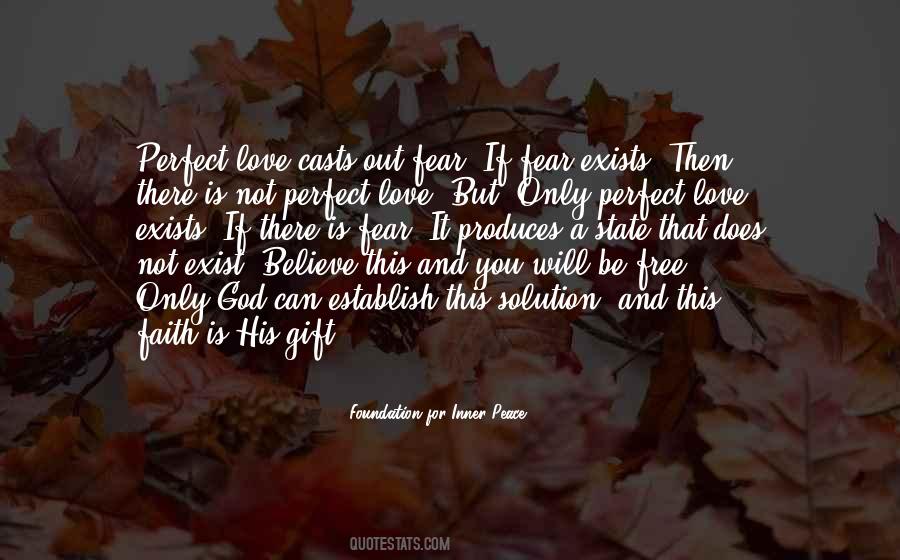 #44. The awareness of God's greatness gives joy and inner peace. - Author: Lailah Gifty Akita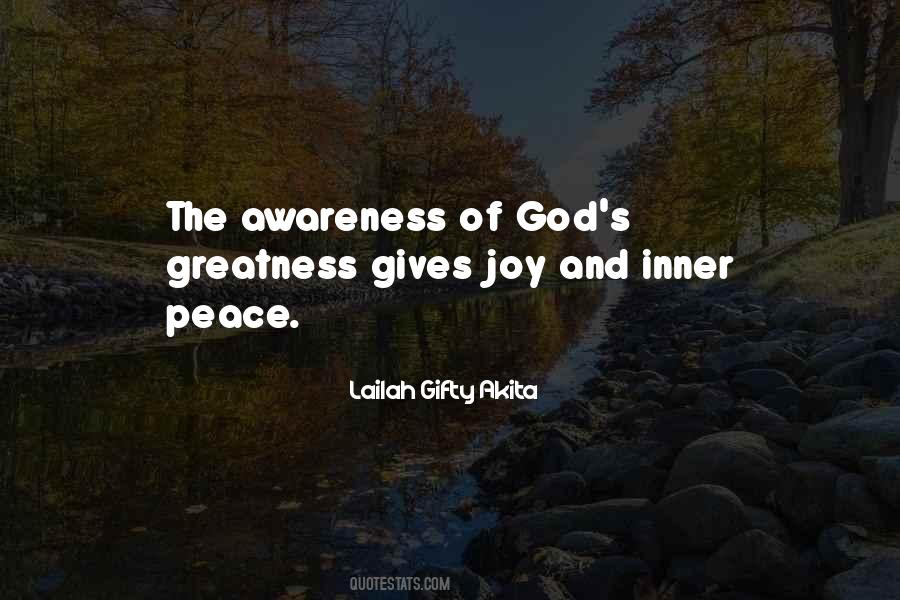 #45. Be content, Be grateful, Be loving, Be happy, and this lifestyle will not only change YOUR life, it will change OUR world. I finally grasped the true meaning of let go- let God. (An excerpt from Finding Inner Peace) - Author: Alice Hocker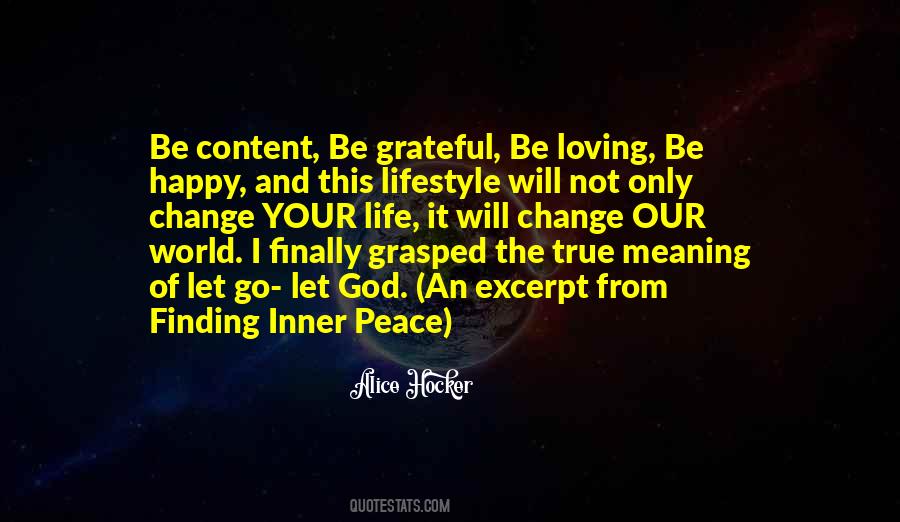 #46. In the realm of knowledge no thoughts exist apart from God, because God and His Creation share one Will. - Author: Foundation For Inner Peace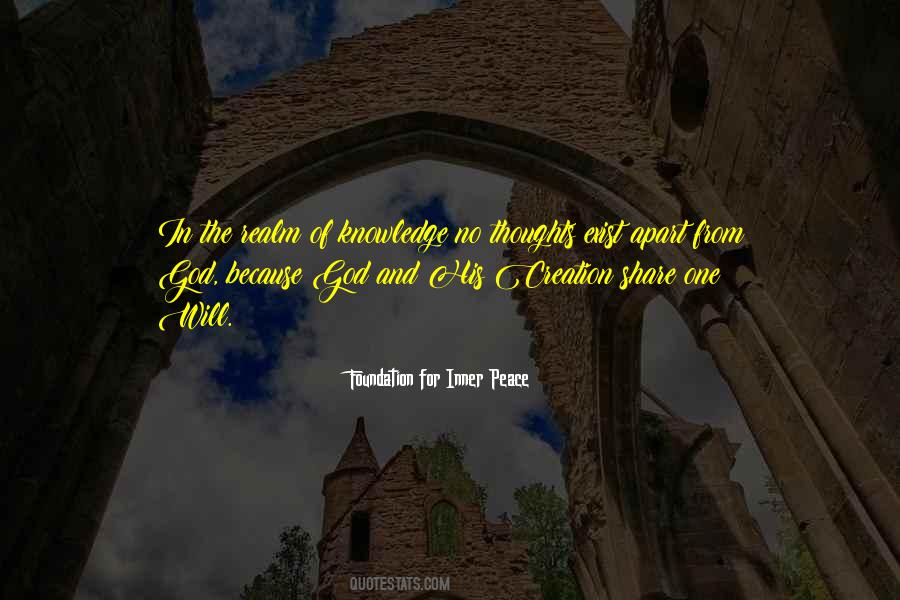 #47. God's presence in our lives gives us peace and joy. - Author: Lailah Gifty Akita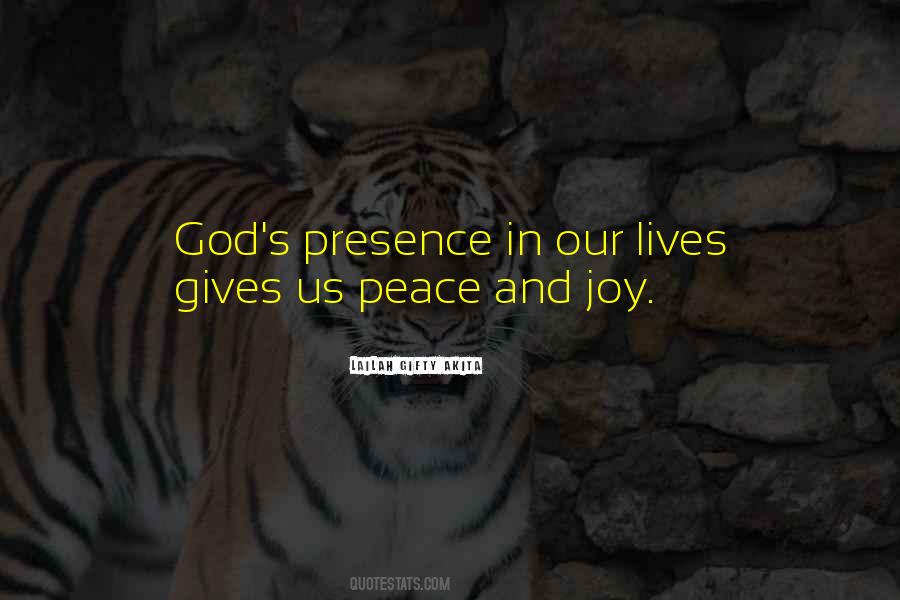 #48. When the inner garden is under cultivation and God's Spirit is present, harvests are regular events. The fruits? Things like courage, hope, love, endurance, joy, and lots of peace. - Author: Gordon MacDonald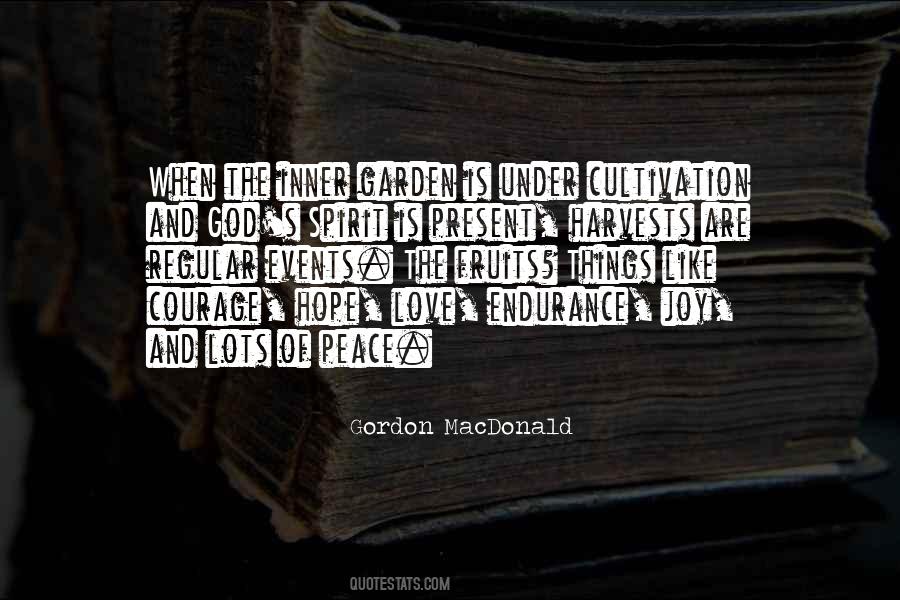 #49. The closer we are to God, the richer we are - Author: Radhe Maa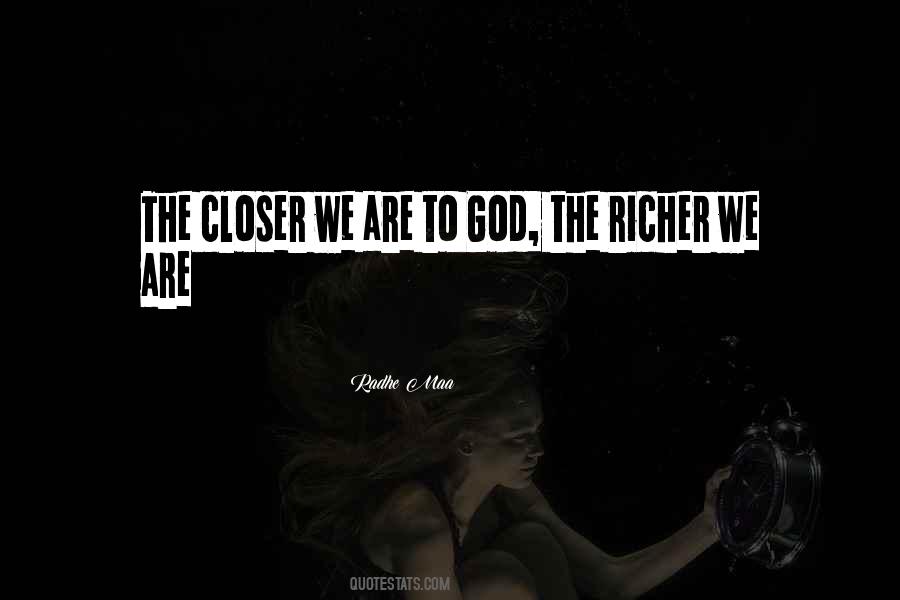 #50. Know that success and inner peace are your birthright, that you are a child of God and as such that you're entitled to a life filled with joy, love and happiness. - Author: Wayne Dyer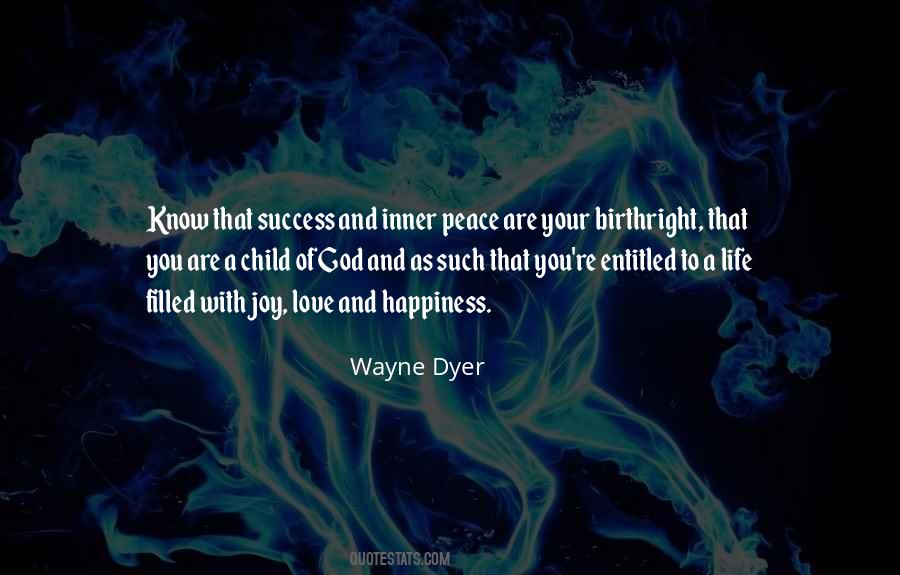 Famous Authors
Popular Topics