God And Flowers Famous Quotes & Sayings
List of top 71 famous quotes and sayings about god and flowers to read and share with friends on your Facebook, Twitter, blogs.
Top 71 Quotes About God And Flowers
#1. I look at everything. God gave me eyes and I look at women and men and subway excavations and moving pictures and the little flowers of the field. I casually inspect the universe. - Author: Irwin Shaw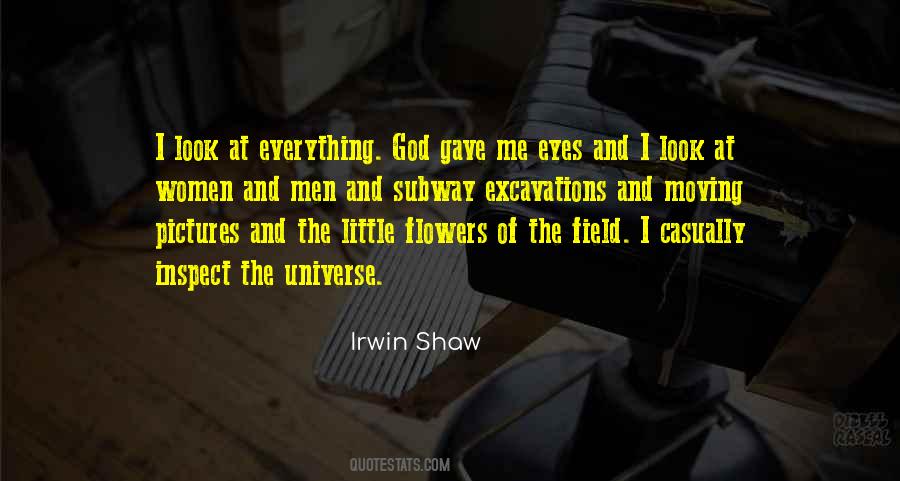 #2. Look at us, said the violets blooming at her feet, all last winter we slept in the seeming death but at the right time God awakened us, and here we are to comfort you. - Author: E.P. Roe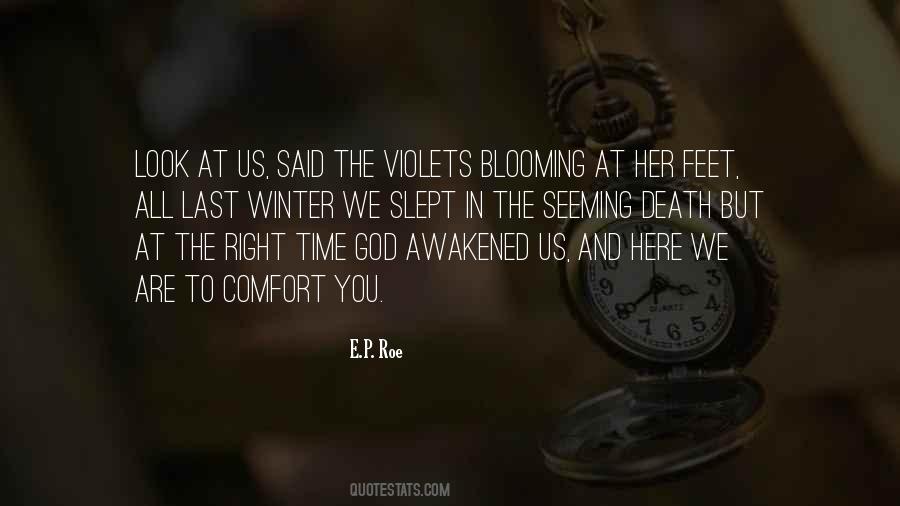 #3. God writes the gospel not in the Bible alone, but on trees and flowers and clouds and stars. - Author: Martin Luther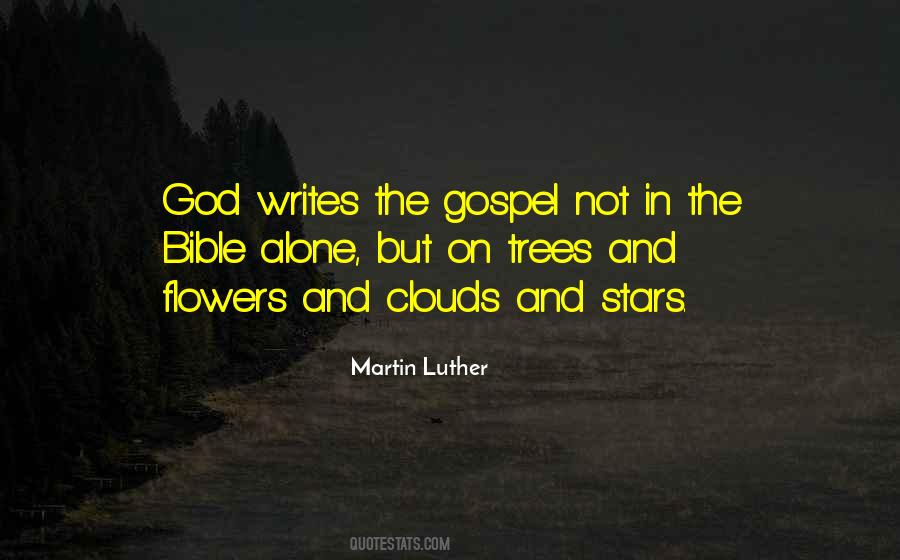 #4. We made our choice, he said. We hunted for them, we guarded their brats. God knows, we helped them make a civilization, didn't we? And why?
I said I didn't know; it was beyond me. Because, he said, we thought they knew how to take care of things. How to keep the world full of meat and flowers. - Author: Clive Barker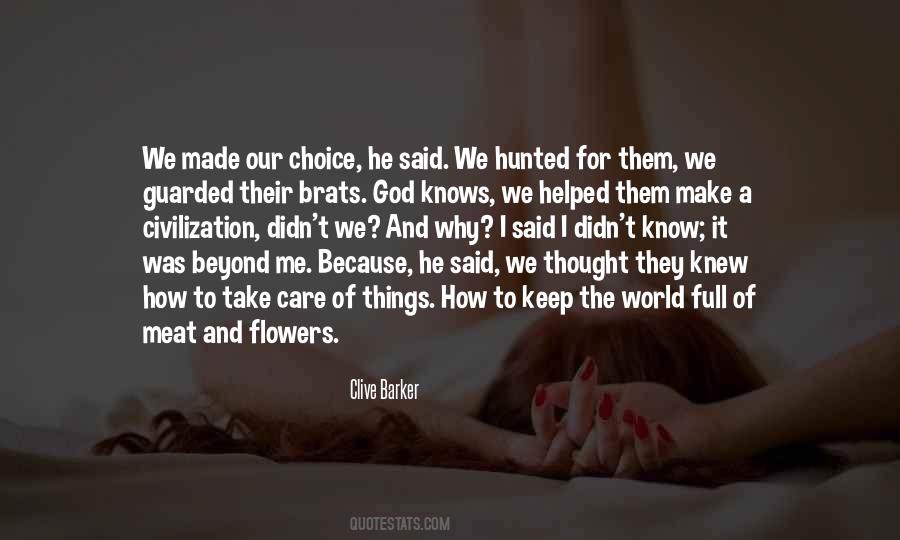 #5. Nature is also God's way of communicating with us. Jesus himself used nature to teach us about God. He used birds and flowers, the weather, precious stones ... Looking at nature, we can come to understand God himself. - Author: Adelina St. Clair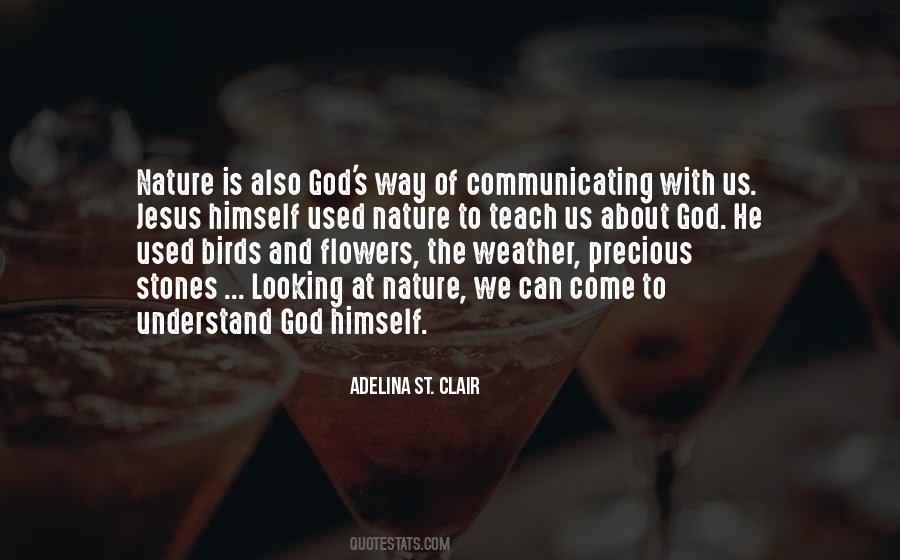 #6. God is not an ascetic, otherwise there would be no flowers, there would be no green trees, only deserts. God is not an ascetic, otherwise there would be no song in life, no dance in life - only cemeteries and cemeteries. God is not an ascetic; God enjoys life. - Author: Osho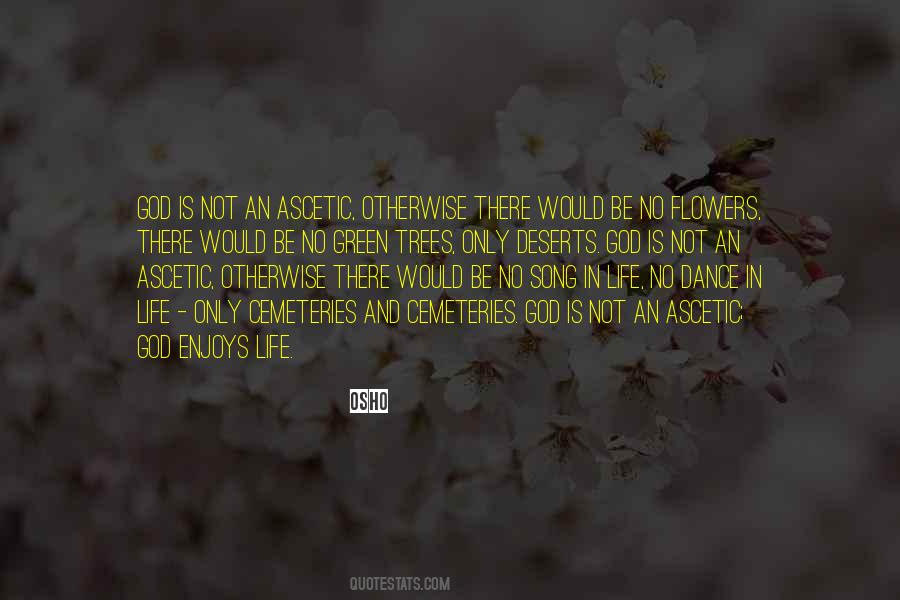 #7. The vows of God are on me. I may not stay to play with shadows or pluck earthly flowers till I my work have done and rendered up account. - Author: Amy Carmichael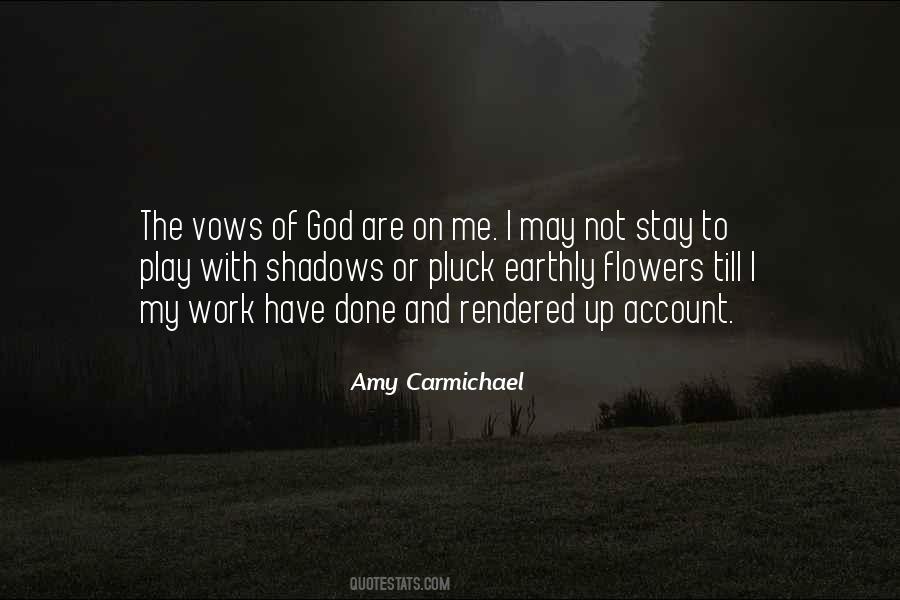 #8. Friends and flowers are two of God's most extravagant blessings. Nurture both. - Mimi Greenwood Knight - - Author: Gary Chapman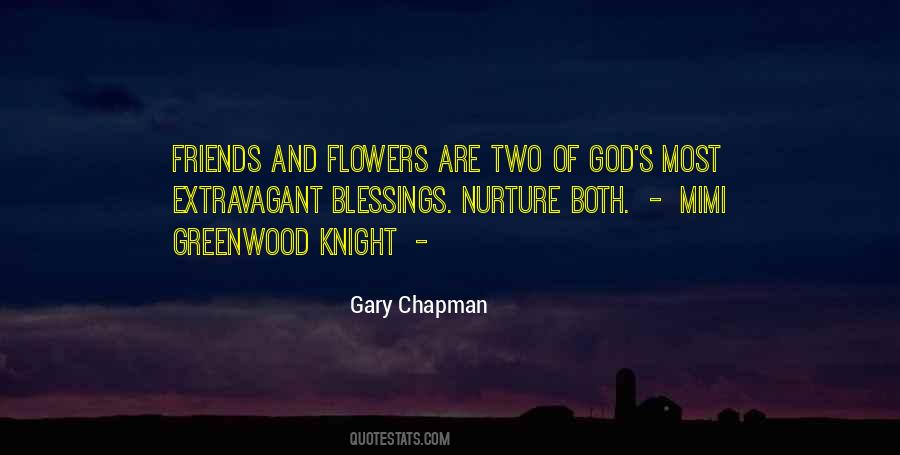 #9. The nature is my god and flowers are my angels. They taught me how to love unconditionally and how to appreciate beauty. - Author: Debasish Mridha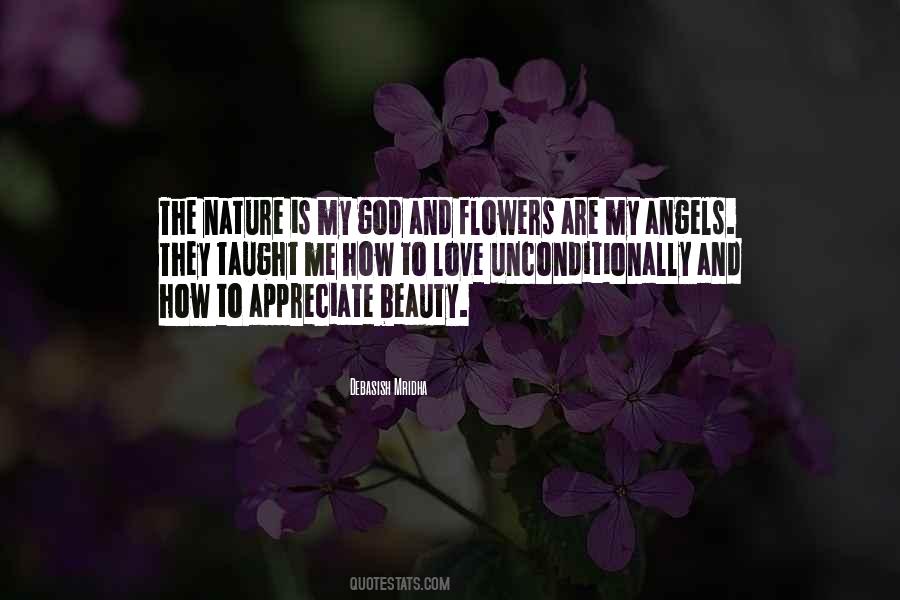 #10. Flowers belong to Fairyland: the flowers and the birds and the butterflies are all that the world has kept of its golden age
the only perfectly beautiful things on earth
joyous, innocent, half divine
useless, say they who are wiser than God. - Author: Ouida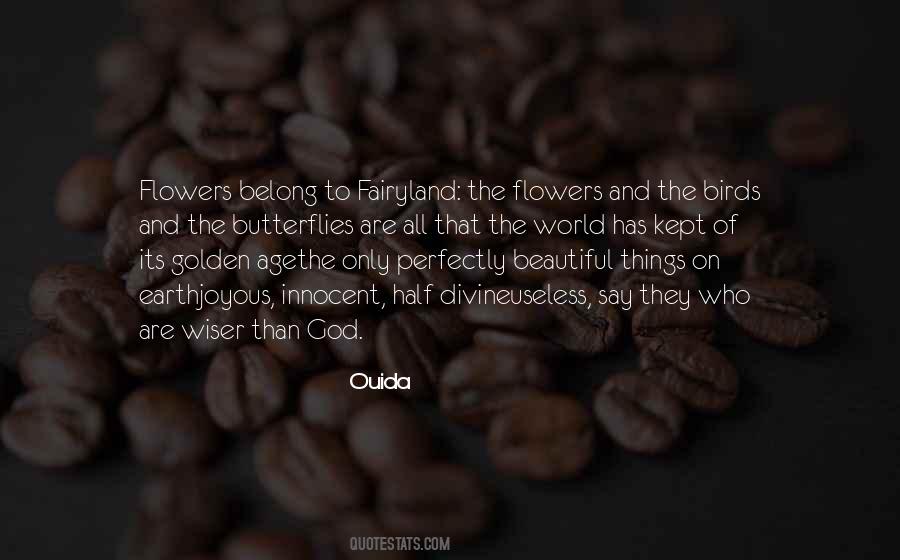 #11. Listen to the sermon preached to you by the flowers, the trees, the shrubs, the sky, and the whole world. Notice how they preach to you a sermon full of love, of praise of God, and how they invite you to glorify the sublimity of that sovereign Artist who has given them being. - Author: Paul Of The Cross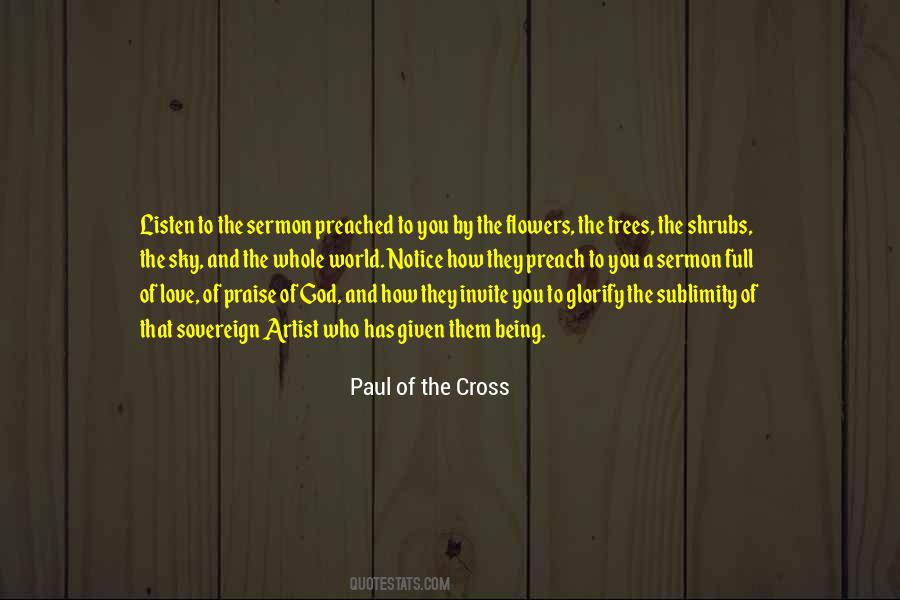 #12. Right! There are plots.
Your beauty! Oh, ten thousand curses on 't!
How long have I beheld the devil in crystal!
Thou hast led me, like an heathen sacrifice,
With music, and with fatal yokes of flowers,
To my eternal ruin. Woman to man
Is either a god, or a wolf. - Author: John Webster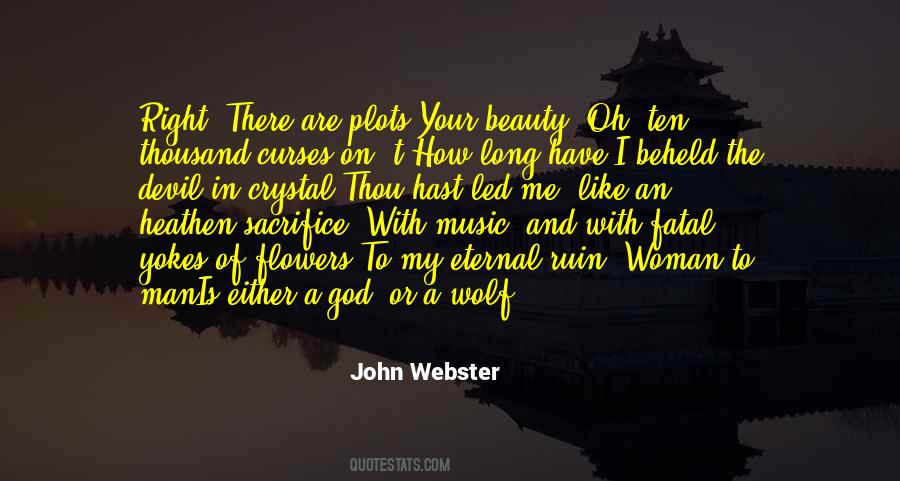 #13. When I had asked Mrs. Flowers how she held up in the face of all the death and violence within her neighborhood, she had given me a simple answer: This family talks to God. - Author: Jonathan Kozol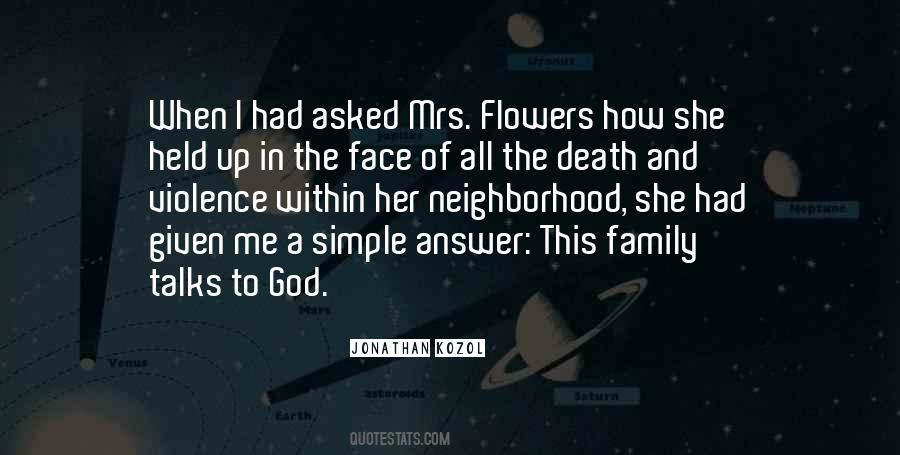 #14. But if God is the flowers and the trees
And the hills and the sun and the moonlight,
Then I believe in him,
Then I believe in him all the time,
And my whole life is an oration and a mass,
And a communion with my eyes and through my ears. - Author: Alberto Caeiro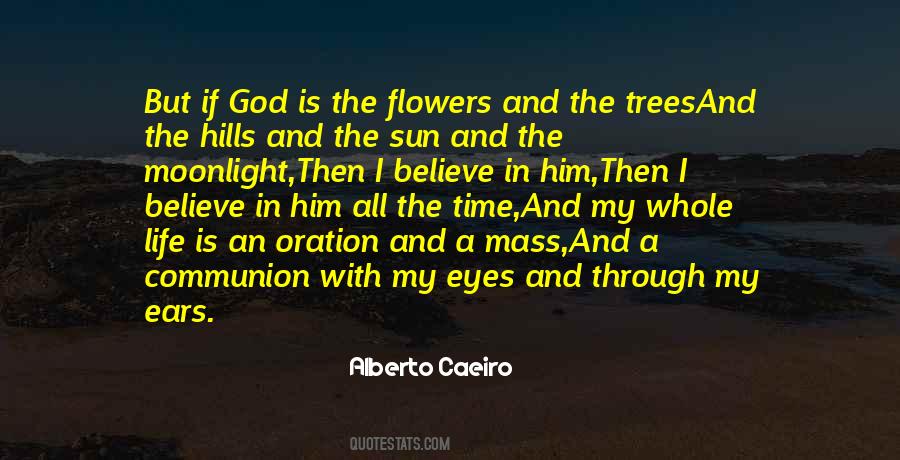 #15. His only theatre is the free show that god provides, the sky and the stars, flowers and children, mankind who's sufferings he shares and the created world in which he is trying his wings - Author: Victor Hugo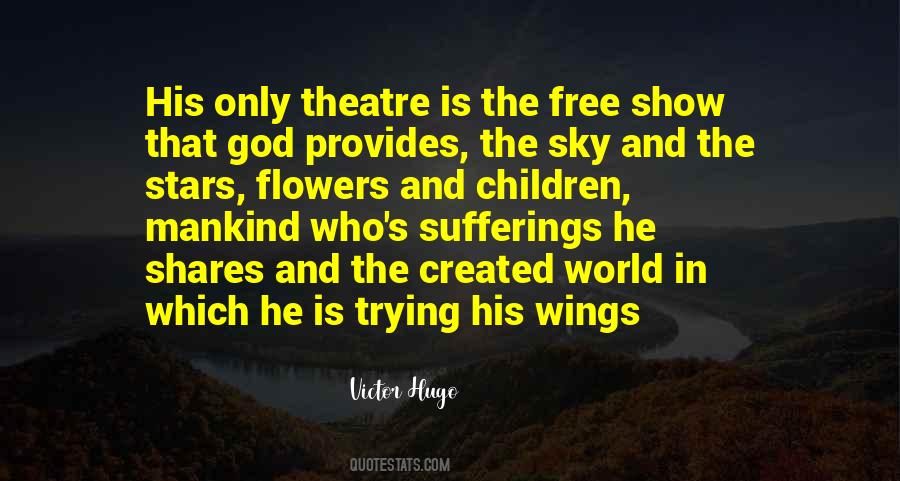 #16. No, but we are all children of the earth, all of us, the trees and flowers and each soul born, all known, all beloved, all part of God's great plan. Everything happens for a purpose, lady. Life is a great gift, but it is for you to choose how you shall use it. - Author: Elizabeth English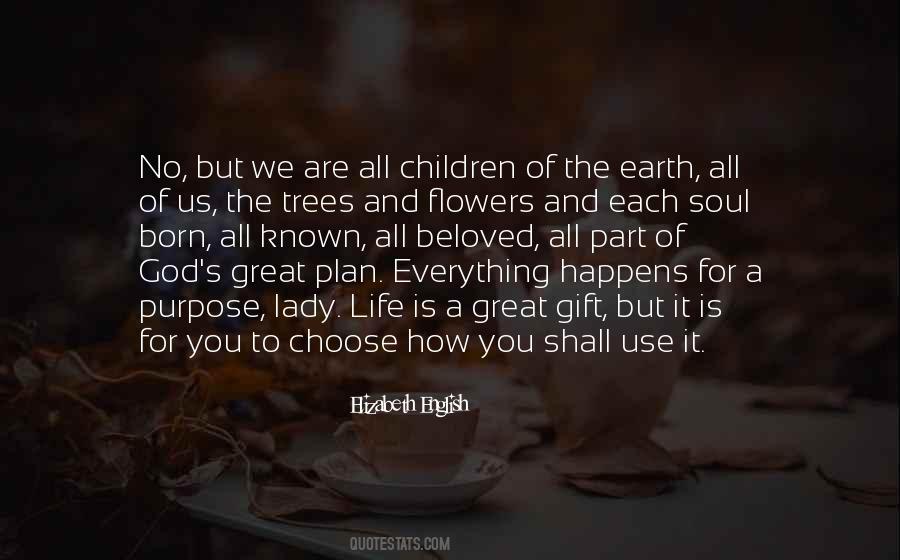 #17. We are beginning to regain a knowledge of Creation, a knowledge forfeited by the fall of Adam. By God's mercy we can begin to recognize His Wonderful works and wonders also in flowers when we ponder his might and goodness. Therefore we laud, magnify and thank Him. - Author: Martin Luther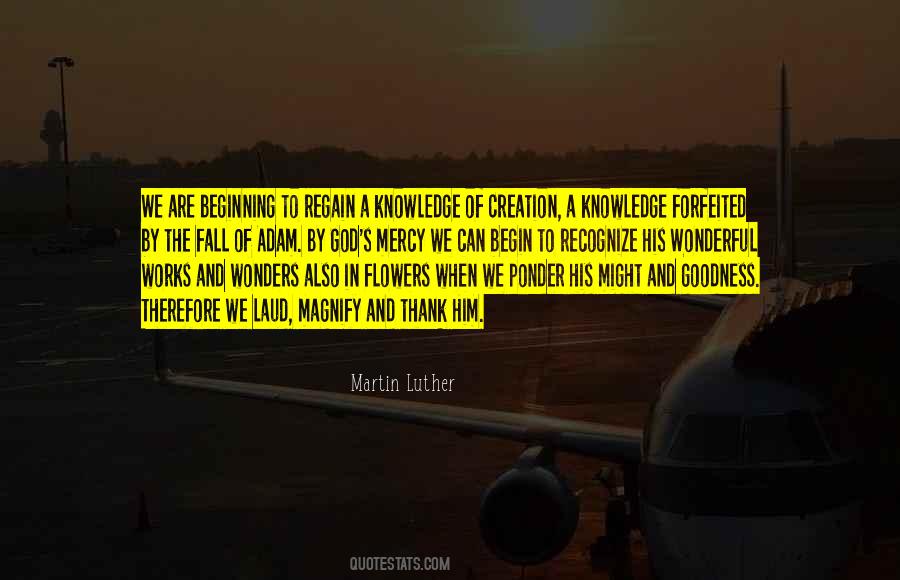 #18. She was carrying these revolting, disturbing yellow flowers. God knows what they're called, but for some reason they're the first to appear in Moscow. And these flowers stood out very distinctly from her black spring coat. She was carrying yellow flowers! - Author: Mikhail Bulgakov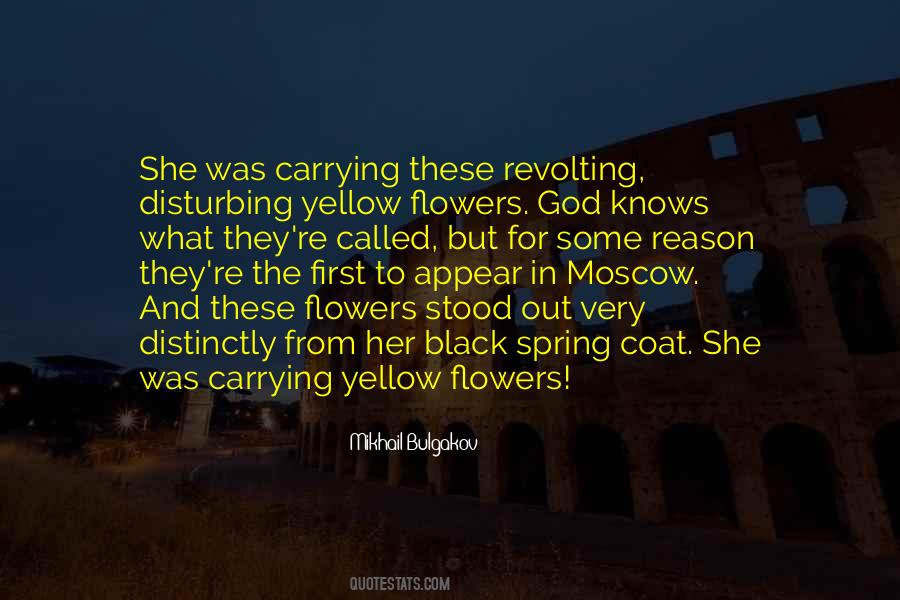 #19. Flowers remind us to put away fear, to stop our rushing and running and worrying about this and that, and for a moment have a piece of paradise right here on earth. God offers healing through flowers and brings us closer to Him. - Author: Jane Kirkpatrick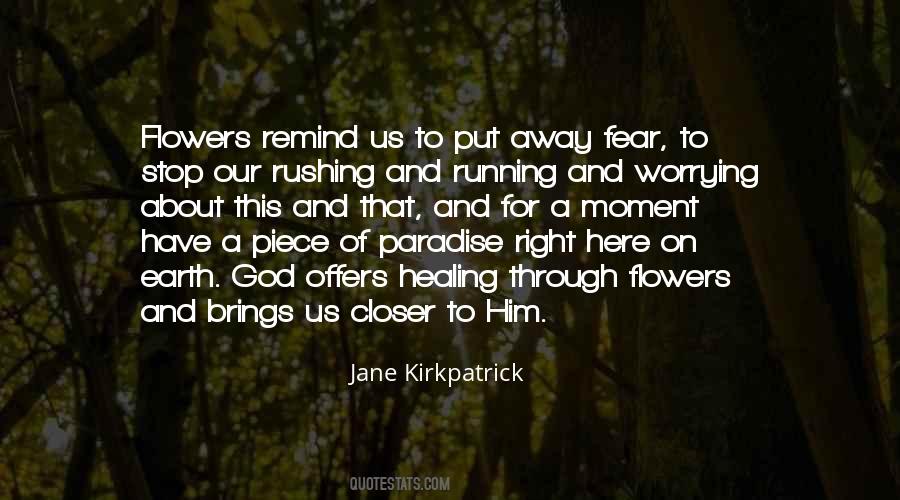 #20. Flowers that are so pathetic in their beauty, frail as the clouds, and in their coloring as gorgeous as the heavens, had through thousands of years been the heritage of children - honored as the jewelry of God ... - Author: Thomas De Quincey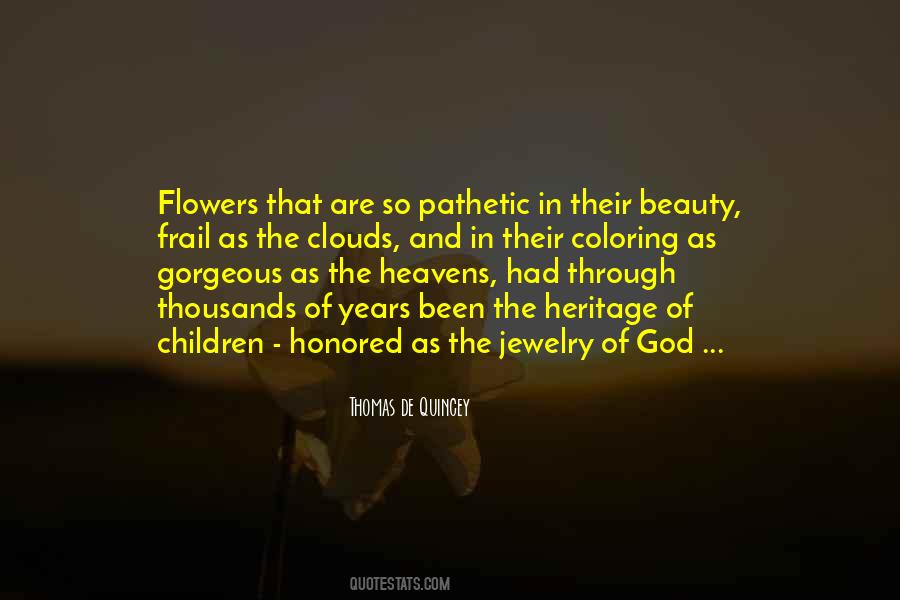 #21. God sometimes sends flowers -but I like it best when he darkens the sky and lights up an infinitude of worlds ... - Author: John Geddes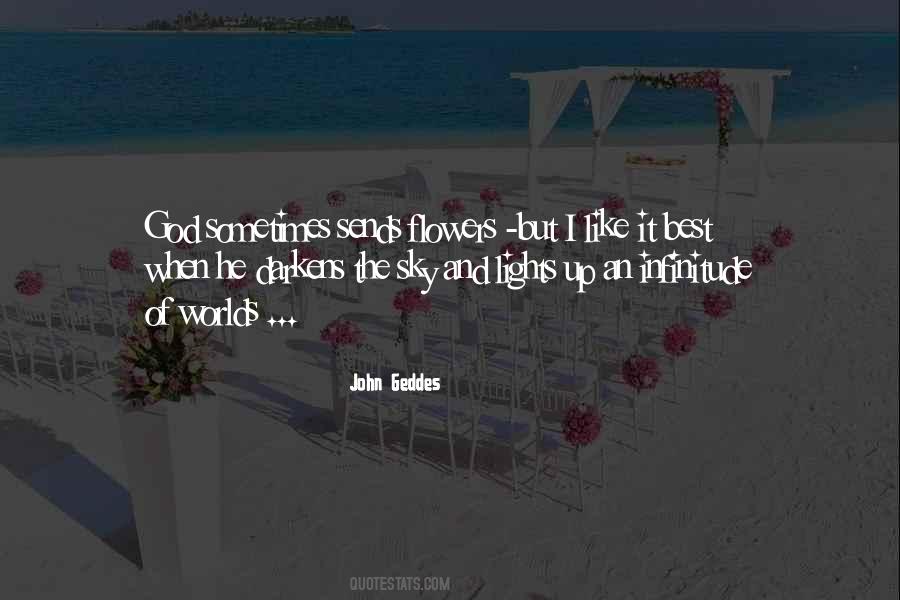 #22. You were planting a seed and a butterfly was standing on a flower afar, just watching you ... Do you know what it has in mind? It is just saying, "go ahead and plant ... I will help you with pollination". God will never leave you. He will make your flowers bear fruits if only you GO AHEAD - Author: Israelmore Ayivor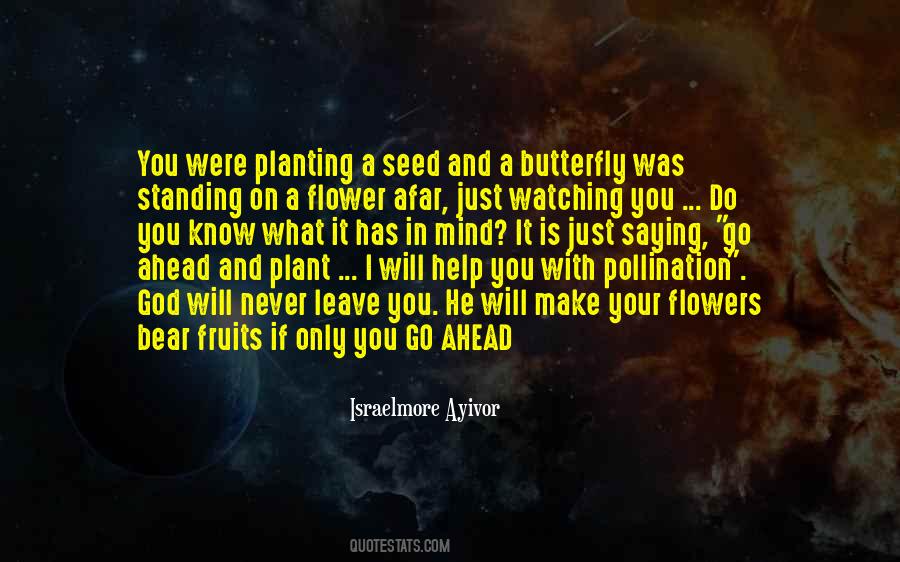 #23. The best things are nearest: breath in your nostrils, light in your eyes, flowers at your feet, duties at your hand, the path of God just before you. Then do not grasp at the stars, but do life's plain common work as it comes certain that daily duties and daily bread are the sweetest things of life. - Author: Robert Louis Stevenson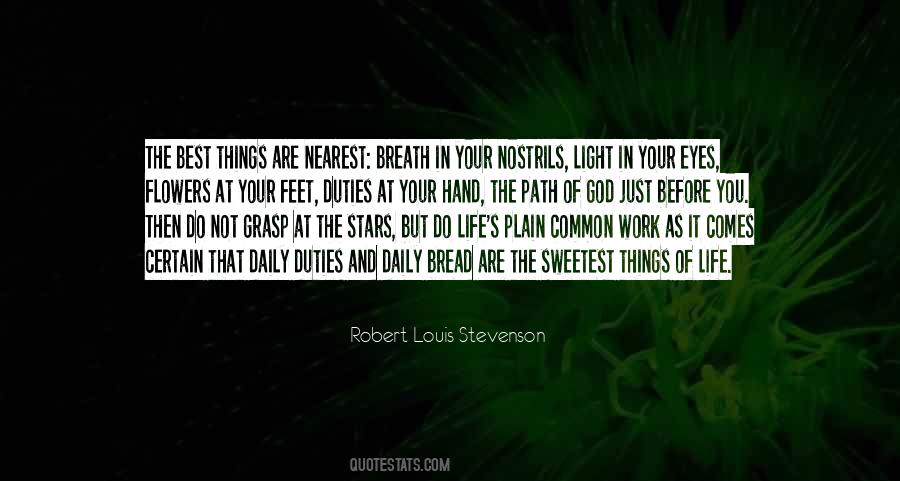 #24. The voice of the Great Spirit is heard in the twittering of birds, the rippling of mighty waters, and the sweet breathing of flowers ... - Author: Zitkala-Sa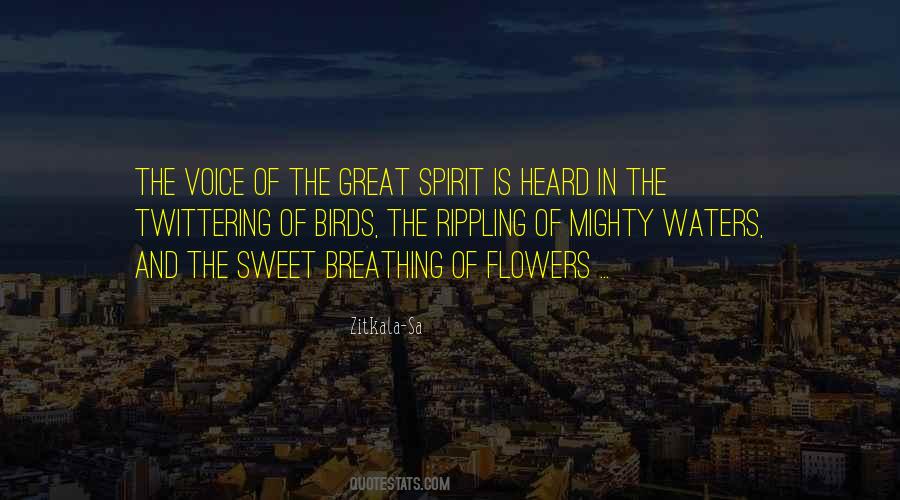 #25. What a joy it is to look at loved ones, flowers, trees, the sky, bird, mountains, babies, and sunsets, to mention a very few things, and know how special they really are. What a joy it is to see the hand of God around you constantly, even in a troubled world. - Author: Van Harden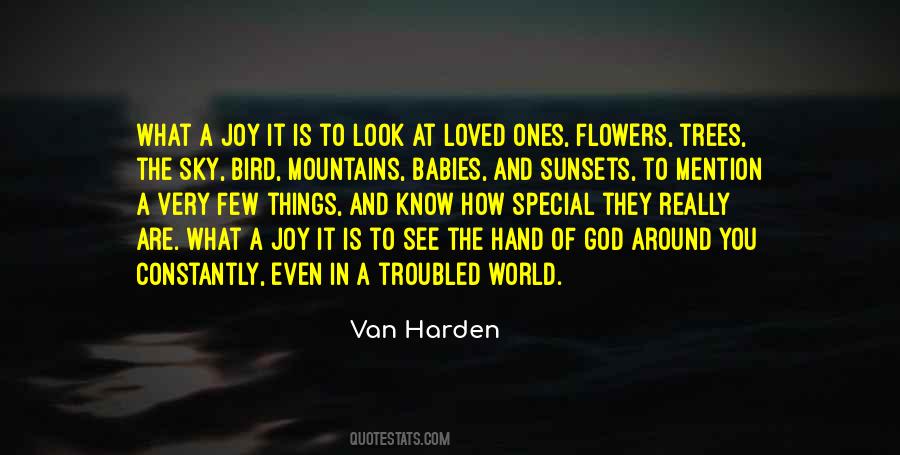 #26. And if God cares so wonderfully for flowers that are here today and thrown into the fire tomorrow, he will certainly care for you. Why do you have so little faith? - Luke 12:28 - Author: Gary Chapman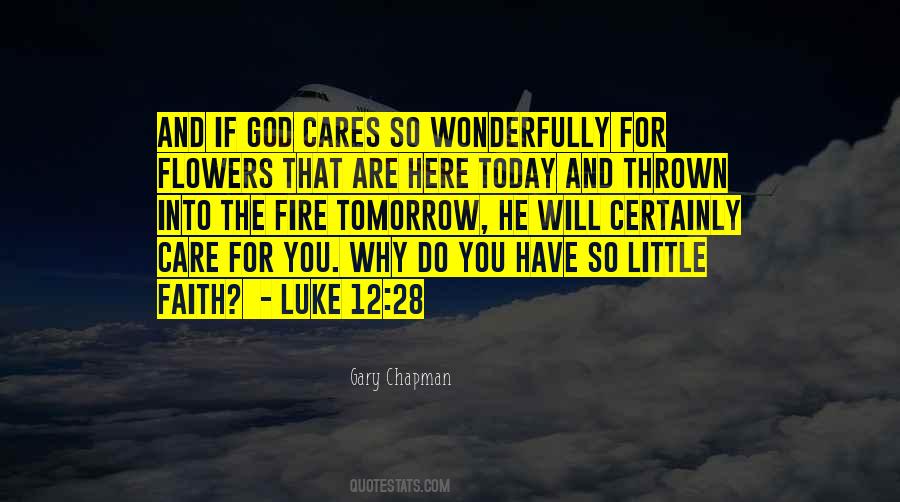 #27. Flowers may beckon todwards us, but they speak todward heaven and God. - Author: Henry Ward Beecher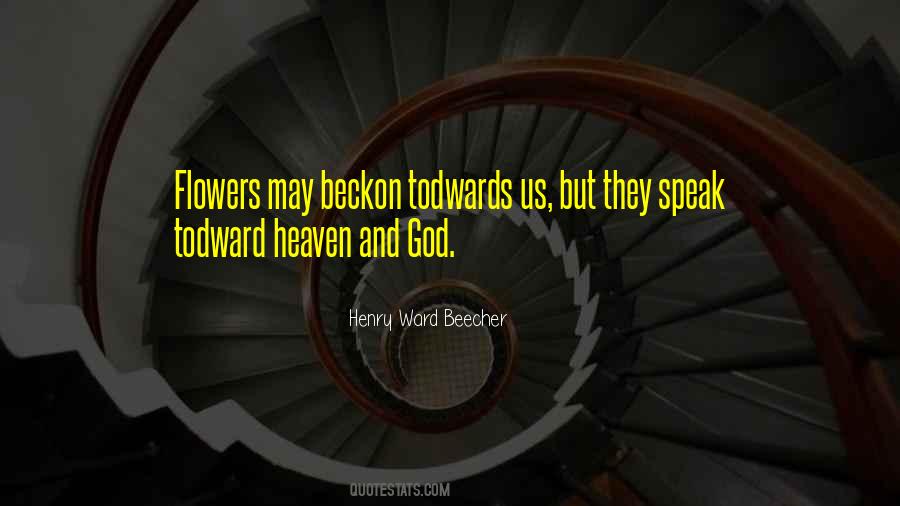 #28. If we wish to have the light, we must keep the sun; if we wish to keep our forests we must keep our trees; if we wish to keep our perfumes, we must keep our flowers- and if we wish to keep our rights, then we must keep our God. - Author: Fulton J. Sheen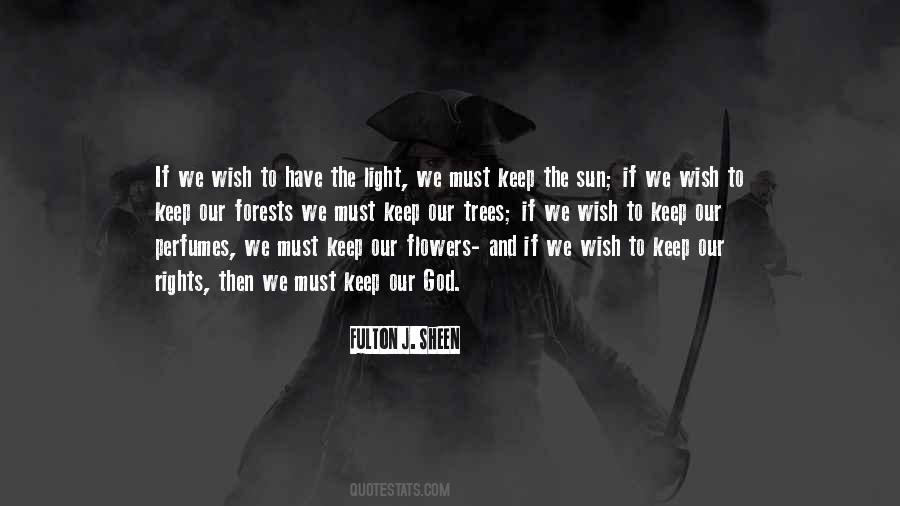 #29. You rave about the Holy Place (Masjid al-Haram) and say you've visited God's garden but where is your bunch of flowers? There is some merit in the suffering you have endured but what a pity you have not discovered the Makkah thats inside - Author: Rumi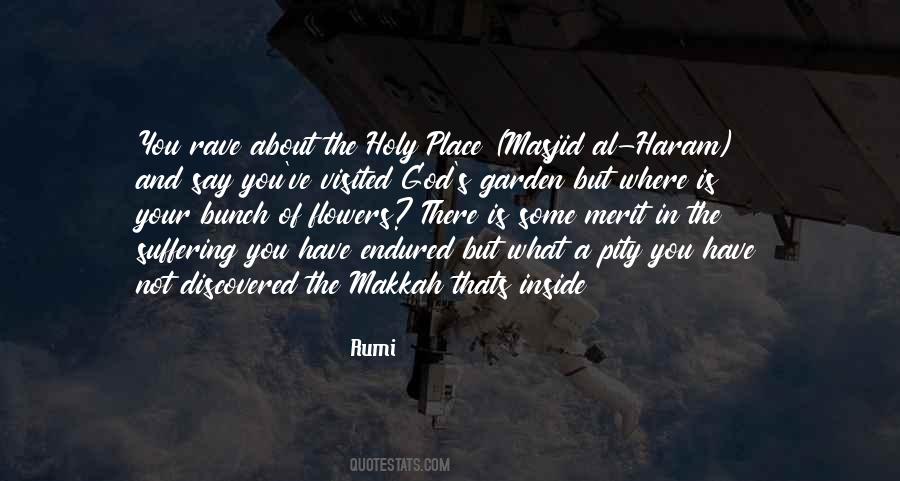 #30. Our children that die young are like those spring bulbs which have their flowers prepared beforehand, and leave nothing to do but to break ground, and blossom, and pass away. Thank God for spring flowers among men, as well as among the grasses of the field. - Author: Henry Ward Beecher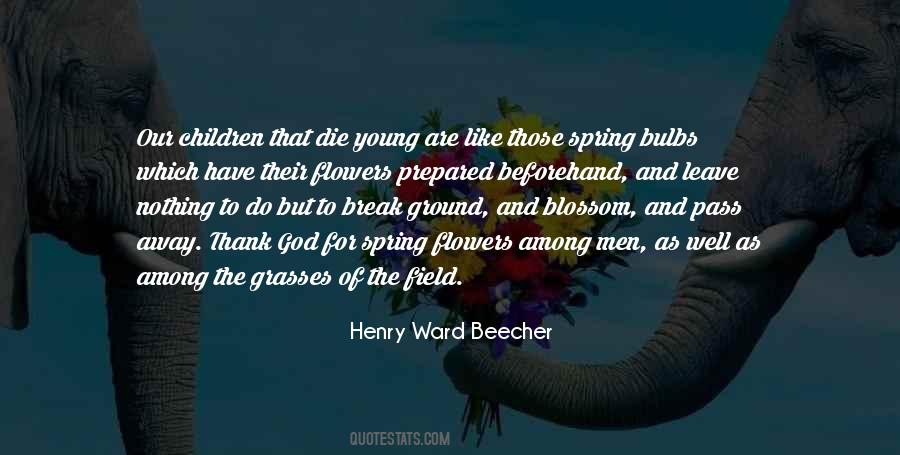 #31. But flowers feed our soul in a different way. They remind us of a God who creates beautiful things and takes notice of the tiniest detail - Author: Tricia Goyer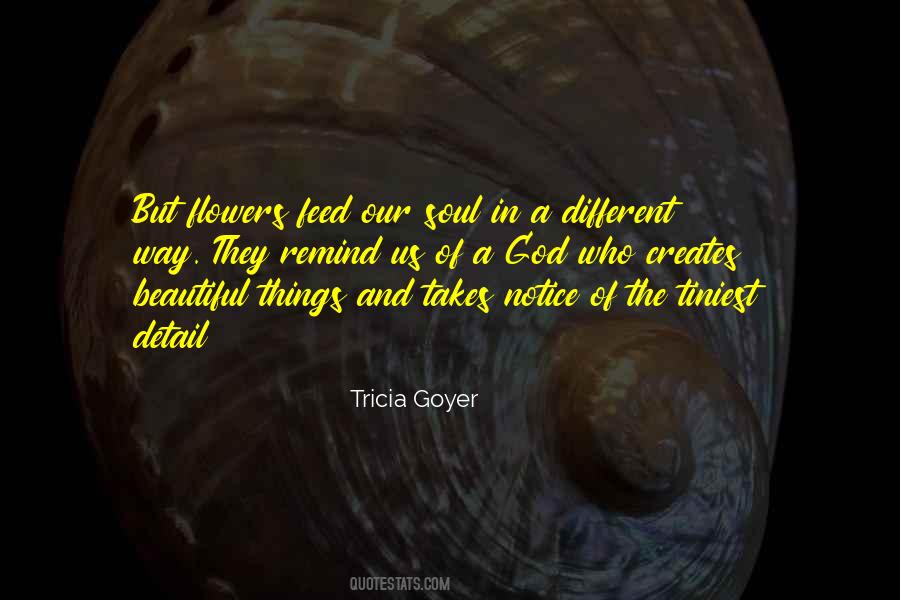 #32. Life is what we are alive to. It is not length, but breadth. To be alive only to appetite, pleasure, pride, money-making, and not to goodness and kindness, purity and love, history, poetry, music, flowers, stars, God and eternal hopes, it is to be all but dead. - Author: Maltbie Davenport Babcock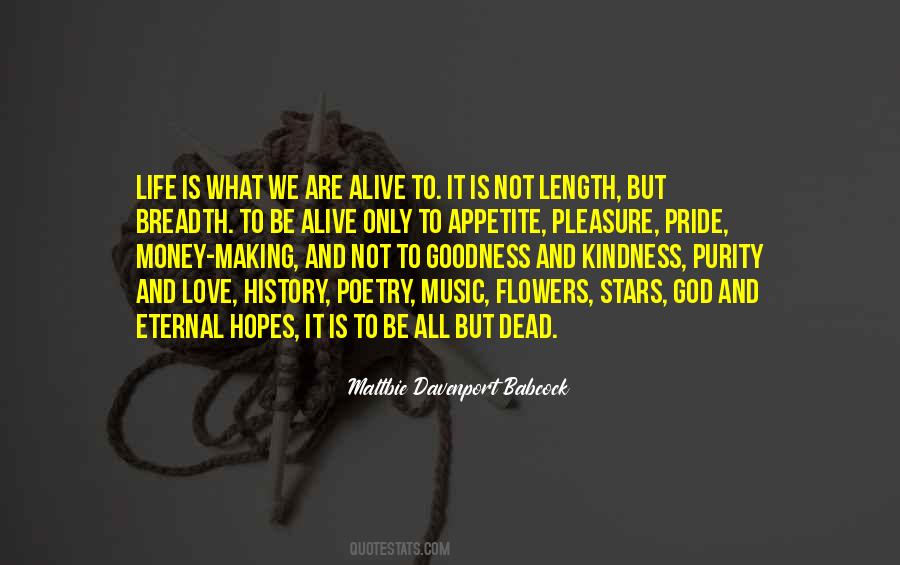 #33. Did God who gave us flowers and trees, Also provide the allergies? - Author: Yip Harburg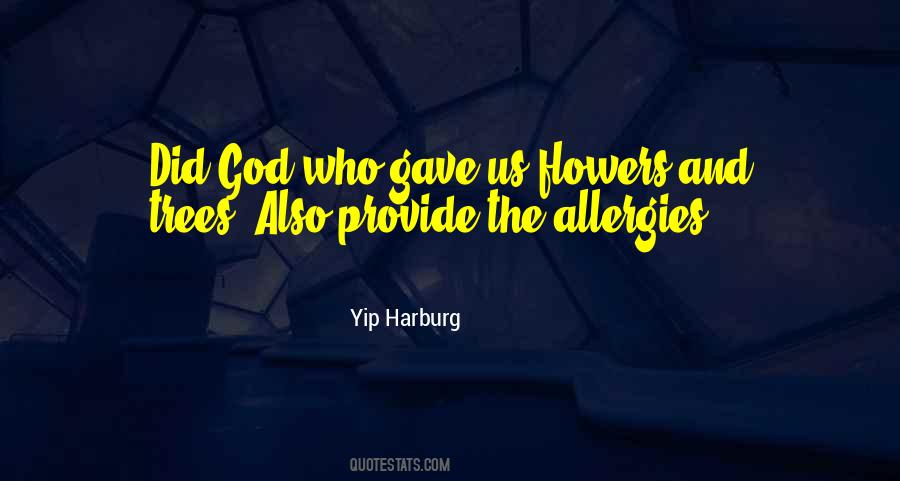 #34. I believe in roses. Oh God, yes! I do believe in roses! And I believe in lots and lots and lots of them, too! - Author: C. JoyBell C.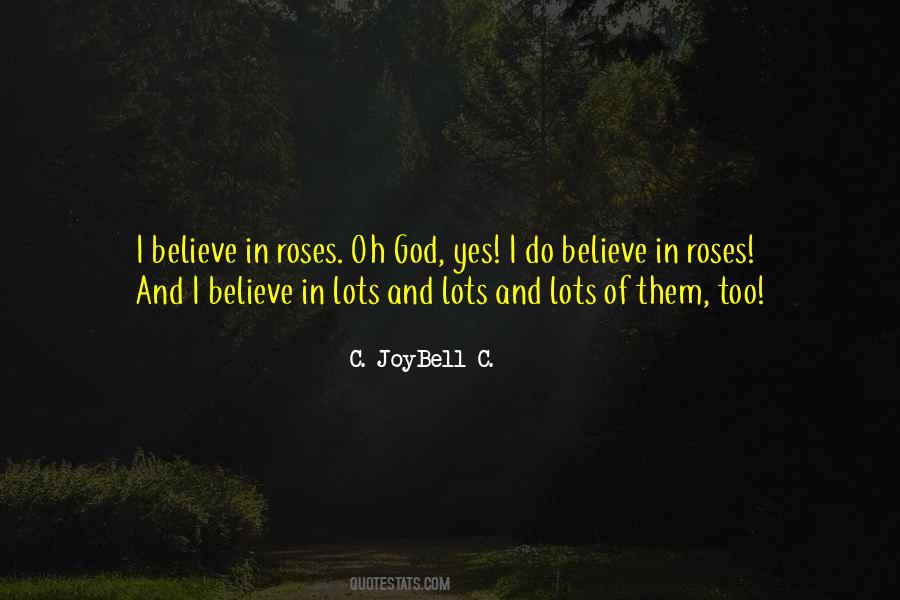 #35. he was going to go to Jane's house and pull some romantic shit. He wasn't sure what, maybe like flowers or something. Well, flowers and him installing that security system. 'Cause nothing said lovin' like a shitload of motion detectors. God, - Author: J.R. Ward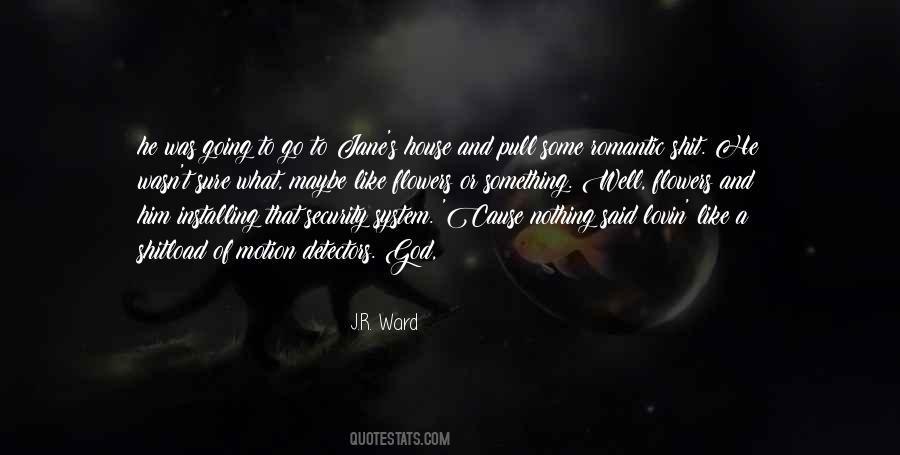 #36. Love is sacred. Beauty is sacred. Flowers are sacred. Birds are sacred. And sacredness brings the perfume of love and compassion. Therefore love and compassion is the perfume of sacredness. It sounds rather poetic, but ... God IS poetry. - Author: Vasant Lad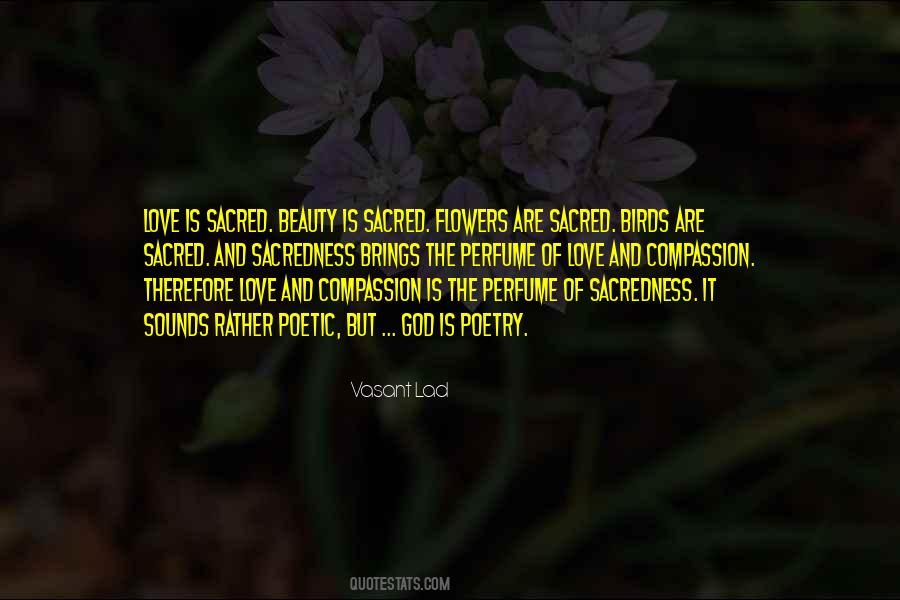 #37. Things that influence me are my kids, their happiness, colorfulness, and vitality. My husband - he comes up with some great quotes and ideas. God - He is the Ultimate artist. And what I see around me - flowers, leaves, trees, birds, fruit, vegetables. - Author: Mary Engelbreit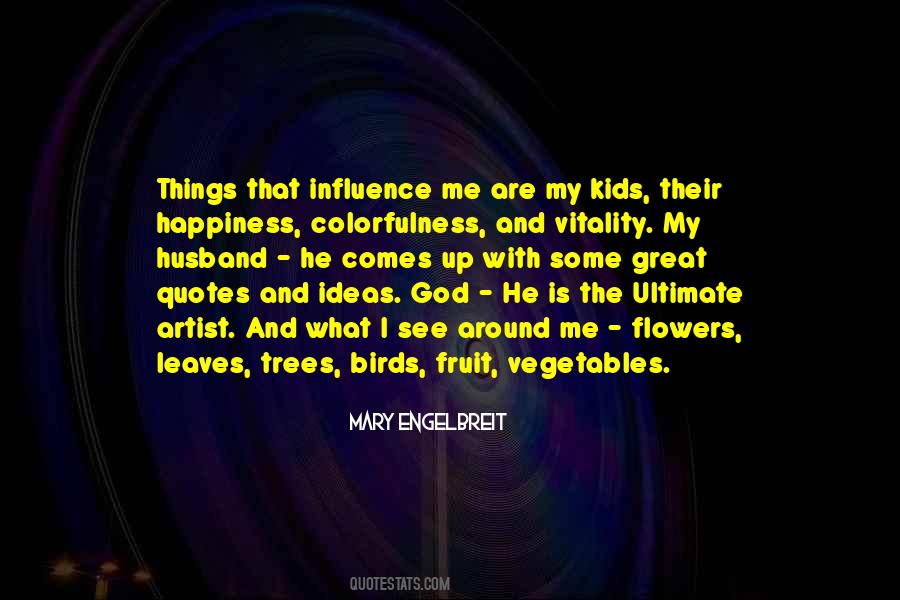 #38. Having been created in the image and likeness of God, unlike trees or flowers or fire or the moon, we are most fully human when we love, forgive and work toward peace. To be violent, vengeful or selfish is to be un-human! - Author: Daniel Horan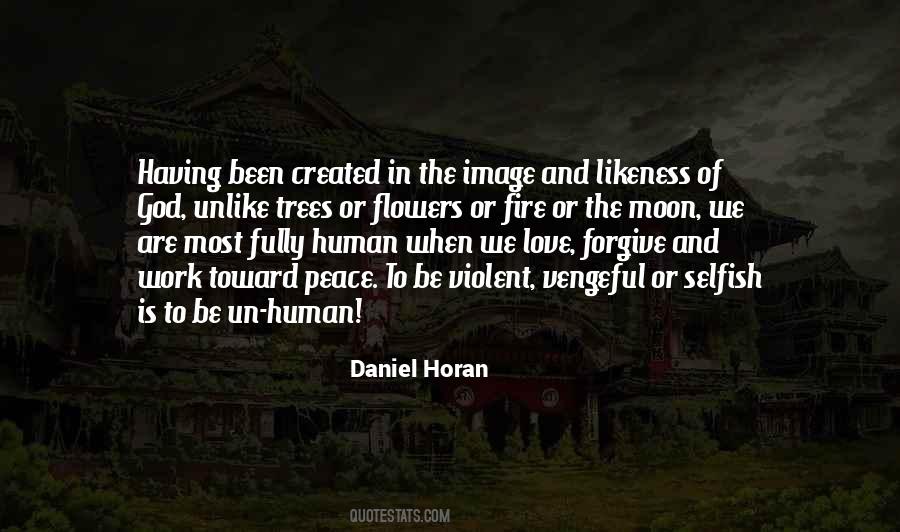 #39. Flowers are sent to do God's work in unrevealed paths, and to diffuse influence by channels that we hardly suspect. - Author: Henry Ward Beecher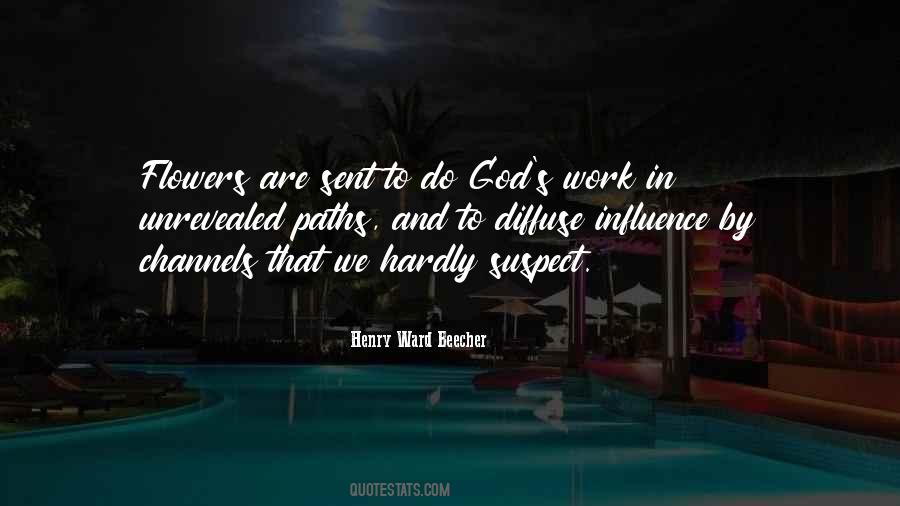 #40. God is within you. God is a nice feeling. He's the flowers and smells and the nice things in life. - Author: Ozzy Osbourne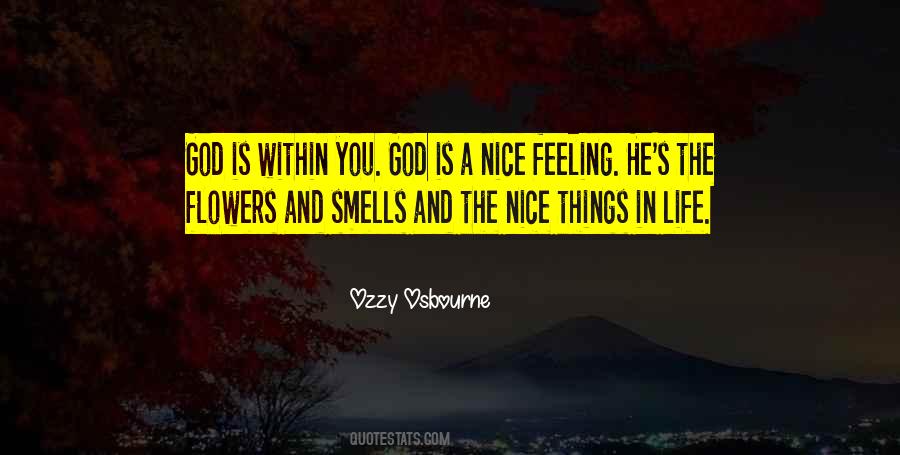 #41. Take me. I'm an ordinary player in the key of C.
And my will was broken by my pride and my vanity.
Who's gonna love you when you're looks are gone?
God will. Like he waters the flowers on your window sill. - Author: Paul Simon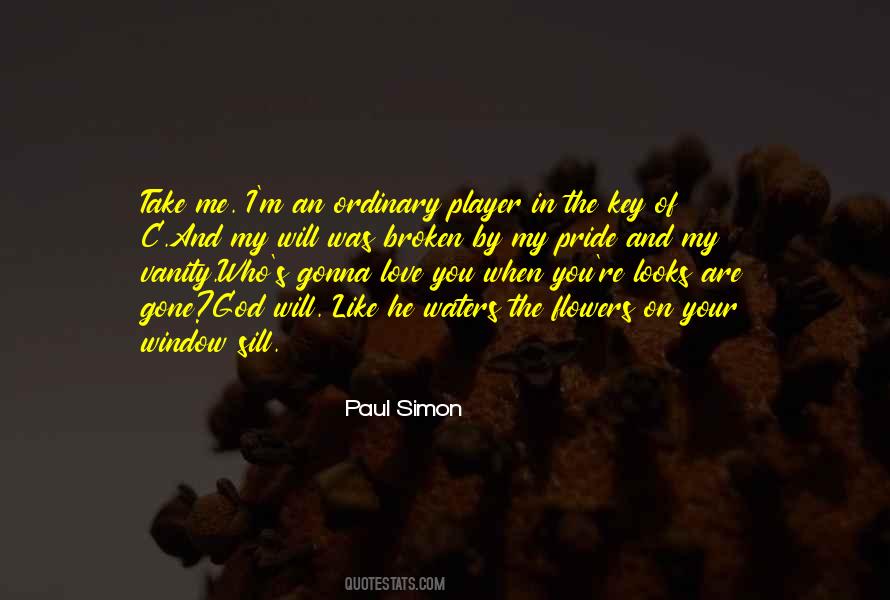 #42. So you must learn to follow your destiny, whatever it may be, with joy. As flowers grow, they show off their beauty and are appreciated by all; then, after they die, they leave their seeds so that others may continue God's work. - Author: Paulo Coelho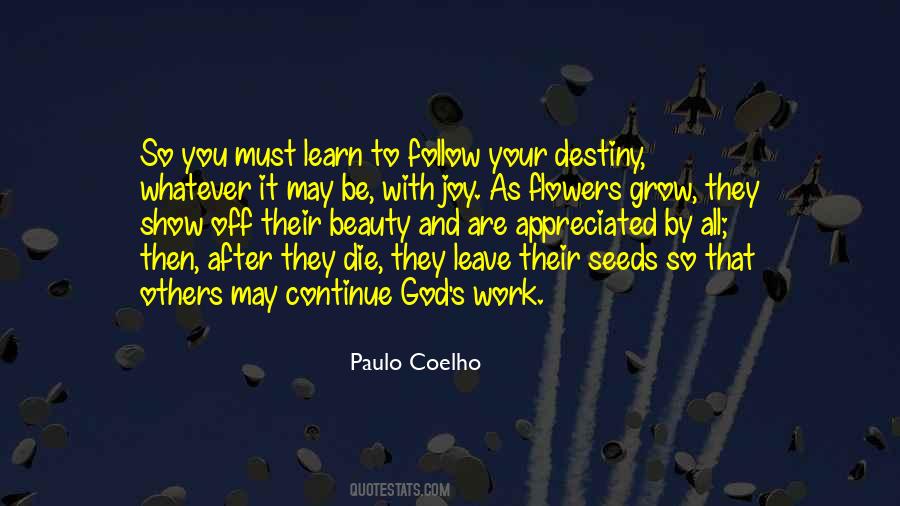 #43. In Creation it appears that God sleeps in the minerals, dreams in the flowers, awakens in the animals, and in man knows that He is awake. - Author: Paramhansa Yogananda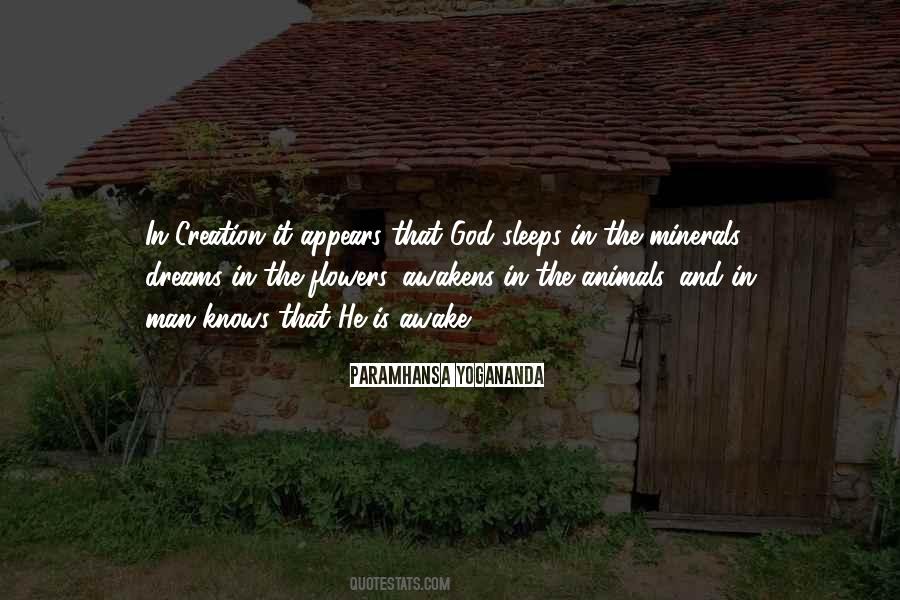 #44. Our hearts are the shrine; that is where God should be installed. Our good thoughts are the flowers to worship Him. Good deeds form the worship, good words form the hymns and love forms the offering. - Author: Mata Amritanandamayi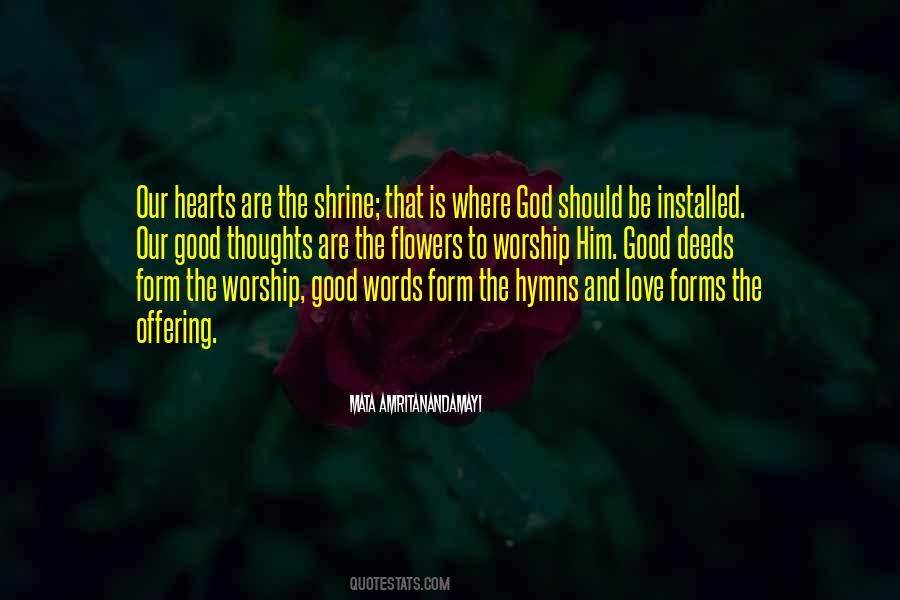 #45. God scatters beauty as he scatters flowers O'er the wide earth, and tells us all are ours. A hundred lights in every temple burn, And at each shrine I bend my knee in turn. - Author: Walter Savage Landor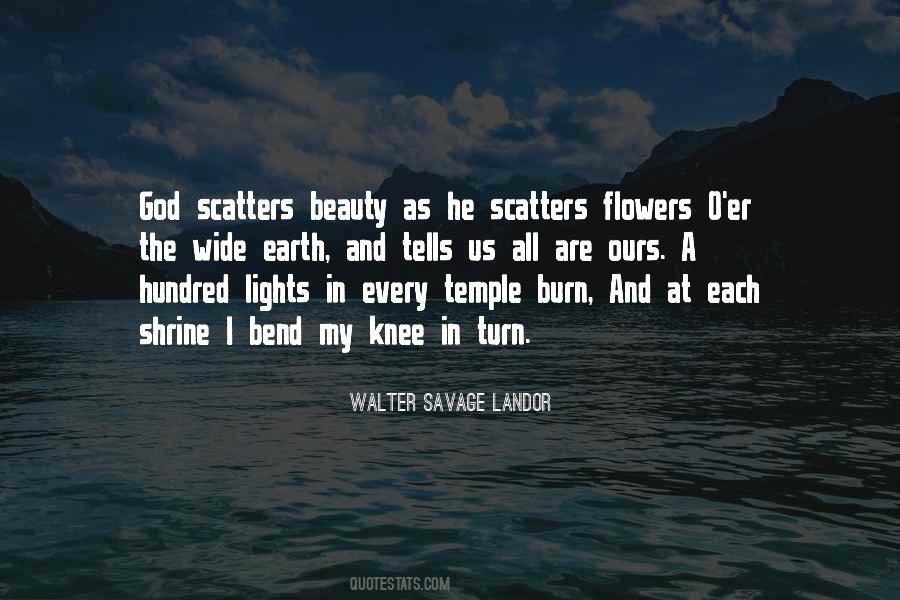 #46. Flowers are the sweetest things God ever made and forgot to put a soul into. - Author: Henry Ward Beecher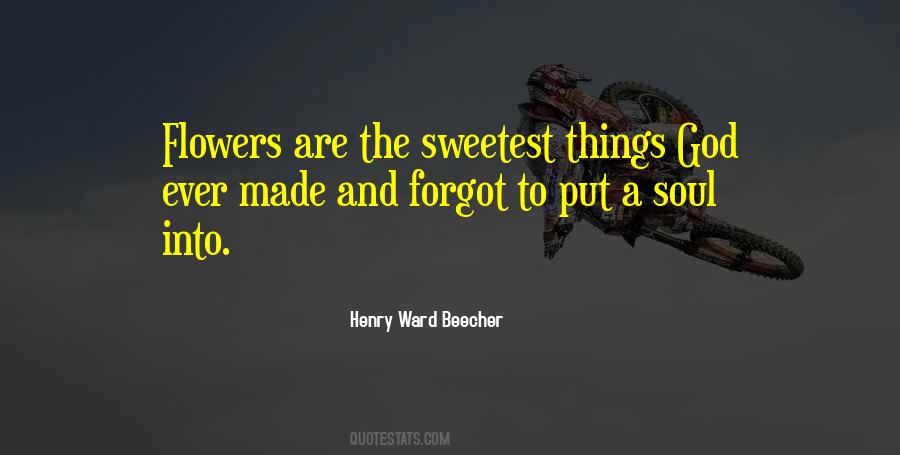 #47. Some people think black is the color of heaven, and that the more they can make their faces look like midnight, the more evidence they have of grace. But God, who made the sun and the flowers, never sent me to proclaim to you such a lie as that. - Author: Henry Ward Beecher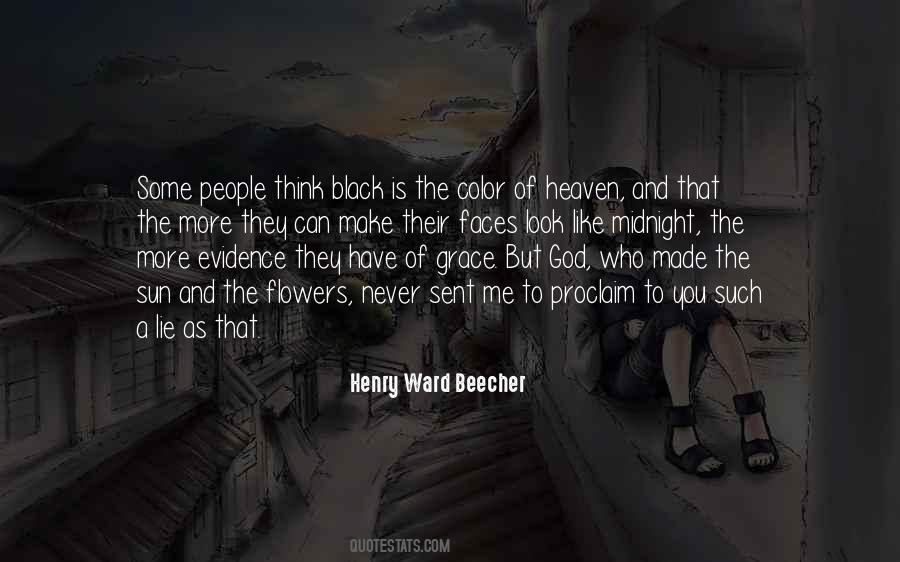 #48. The free animal
has its dying always behind it
and God in front of it, and its way
is the eternal way, as the spring flowing.
Never, not for a moment, do we have
pure space before us, where the flowers
endlessly open. - Author: Rainer Maria Rilke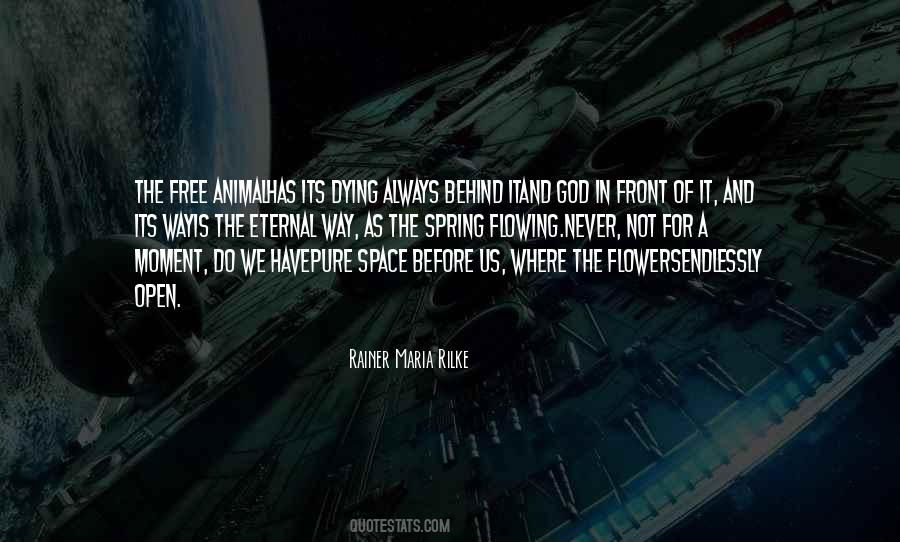 #49. Girls want flowers and candy, they go for the nice business men. They want a good solid fucking that can make them see the face of god, they come to men like me. I make no apologies about being who I am. - Author: Jessica Gadziala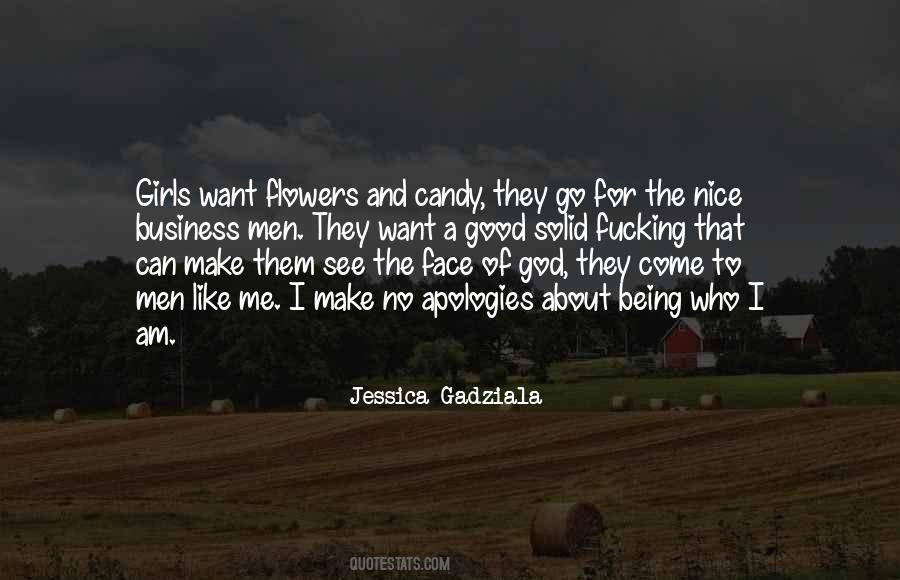 #50. When Spring unlocks the flowers To paint the laughing soil; When summer's balmy breezes Refresh the mower's toil; When winter holds in frosty chains The fallow and the flood; In God the earth rejoices still, And owns her Maker good. - Author: Reginald Heber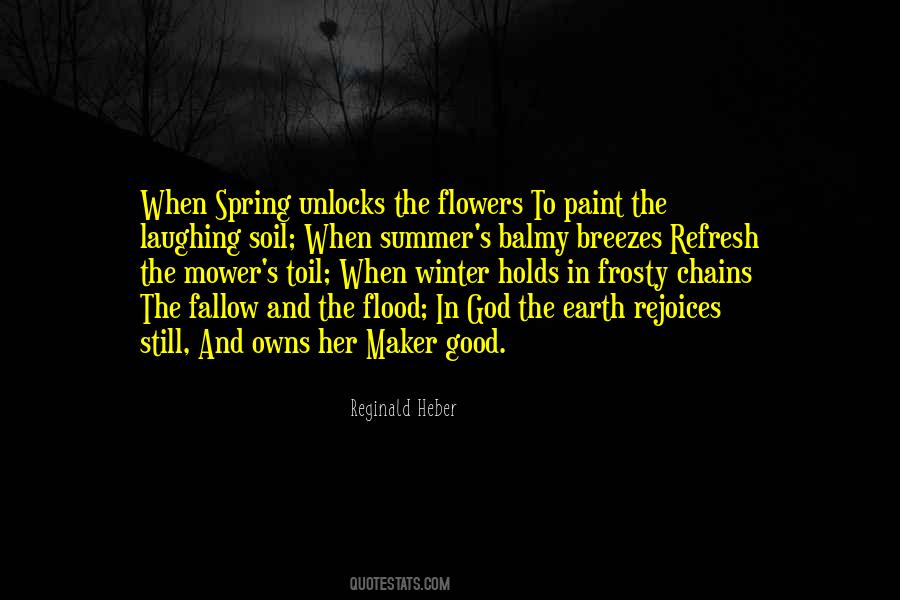 #51. God is fond of you. If He had a wallet, your photo would be in it. If He had a refrigerator, your picture would be on it. He sends you flowers every spring and a sunrise every morning. Face it, friend, He's crazy about you. - Author: Max Lucado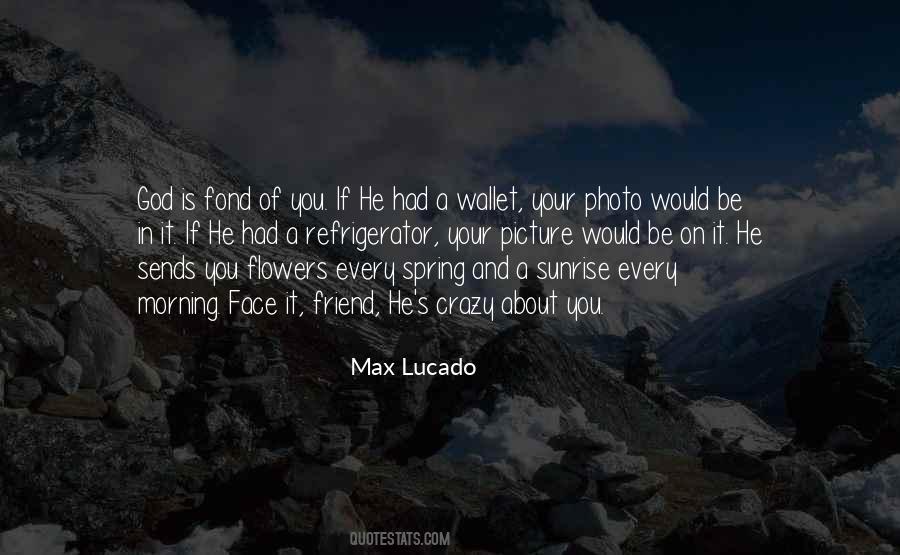 #52. Just as the sun shines on all the trees and flowers as if each were the only one on earth, so does God care for all souls in a special manner. - Author: Therese De Lisieux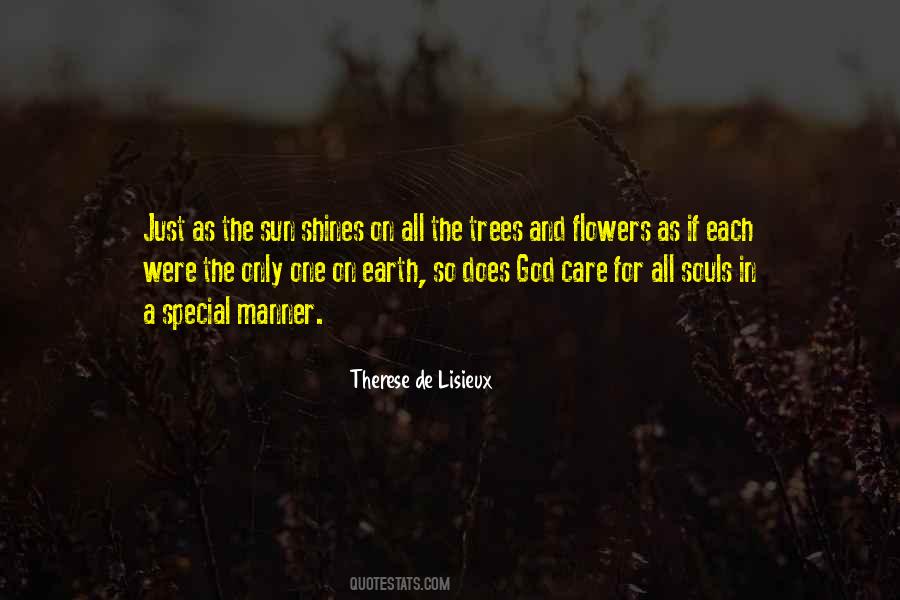 #53. 28And if God cares so wonderfully for flowers that are here today and thrown into the fire tomorrow, he will certainly care for you. Why do you have so little faith? - Author: Anonymous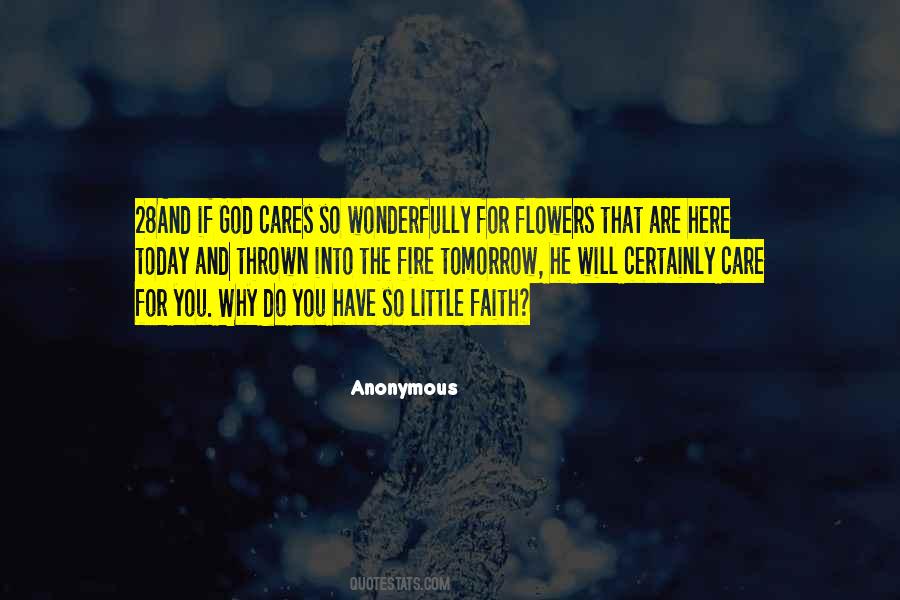 #54. If God were to make a million lovely flowers in your image and plant them in a garden with you among them, I would still know you by your scent and by the feel of your petals and by the crazy way you lean towards my light whenever I draw near. - Author: Richelle E. Goodrich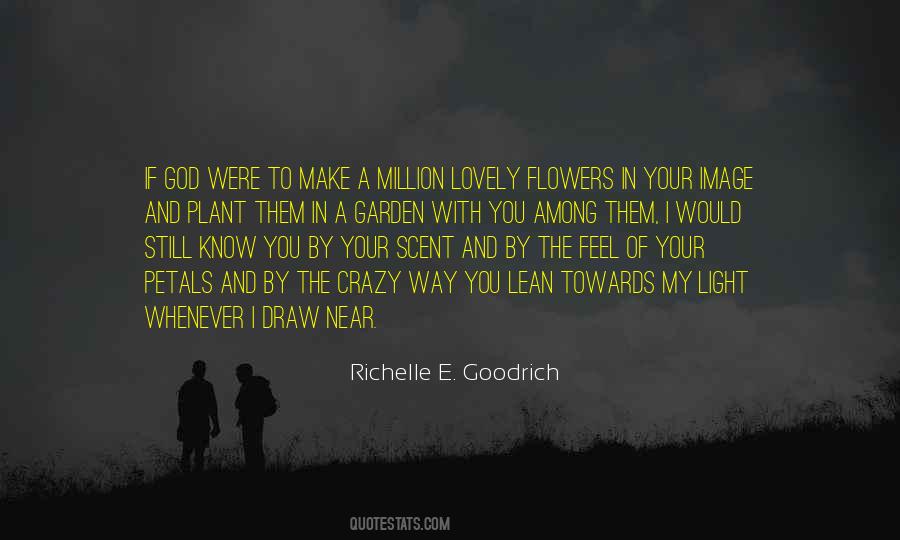 #55. If God had a refrigerator, your picture would be on it. If He had a wallet, your photo would be in it. He sends you flowers every spring and a sunrise every morning ... Face it, friend. He is crazy about you! - Author: Max Lucado
#56. He who does not love flowers has lost all love and fear of God. - Author: Johann Ludwig Tieck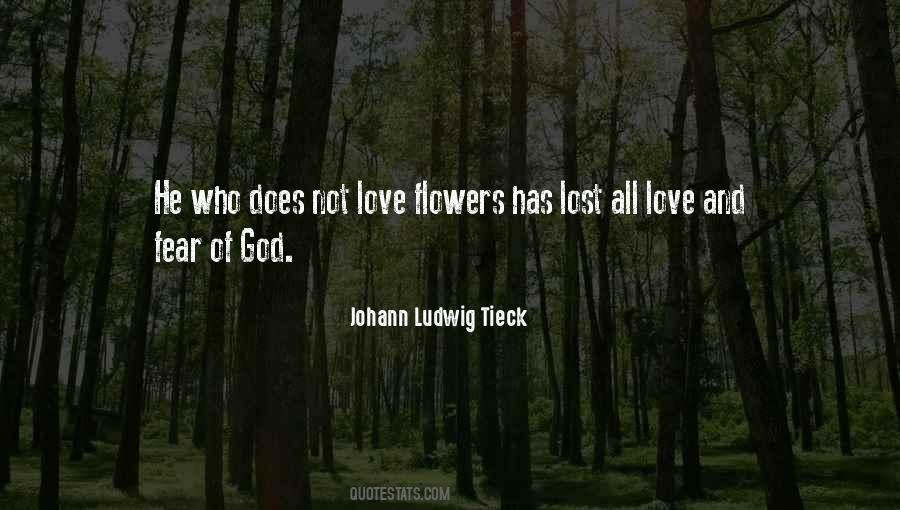 #57. Do not judge God's world from your own. Trim your own hedge as you wish and plant your flowers in the patterns you can understand, but do not judge the garden of nature from your little window box. - Author: Georg C. Lichtenberg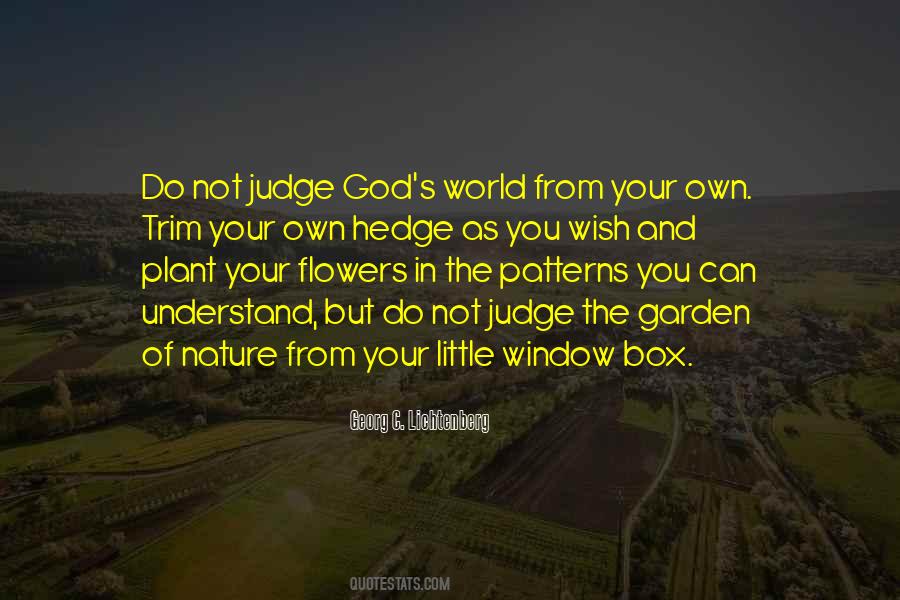 #58. Do not wonder that I am so religious. An artist who is not could not produce anything like this. I like praying there at the window when I look out on the green and at the sky. I study with the birds, flowers, God and myself. - Author: Antonin Dvorak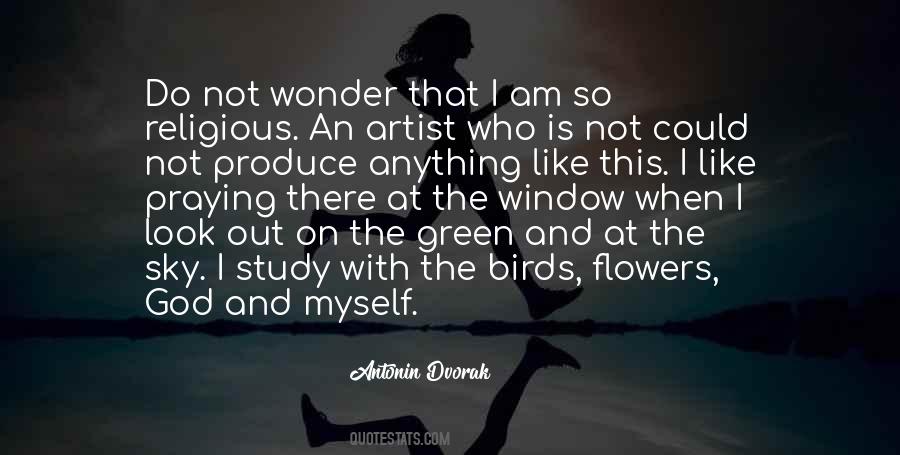 #59. I believe in God. It's a big part of my life. You can bring it up and talk about it without being 'Christian Rocker.' - Author: Brandon Flowers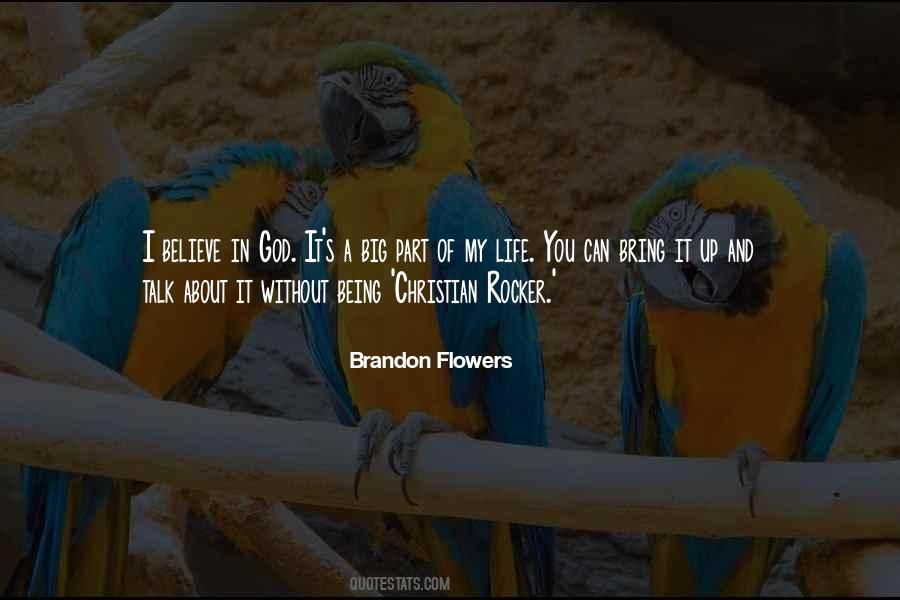 #60. The angel plucks a large handful of flowers, and they carry it with them up to God, where the flowers bloom more brightly than they ever did on earth. - Author: Hans Christian Andersen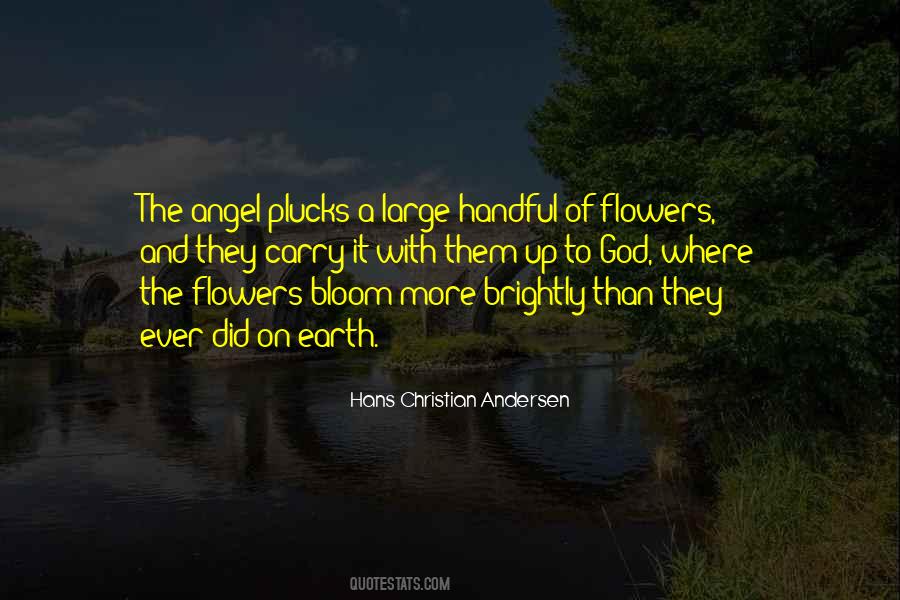 #61. We can choose to gather to our hearts the thorns of disappointment, failure, loneliness, and dismay in our present situation. Or we can gather the flowers of God's grace, boundless love, abiding presence, and unmatched joy. I choose to gather the flowers. - Author: Barbara Johnson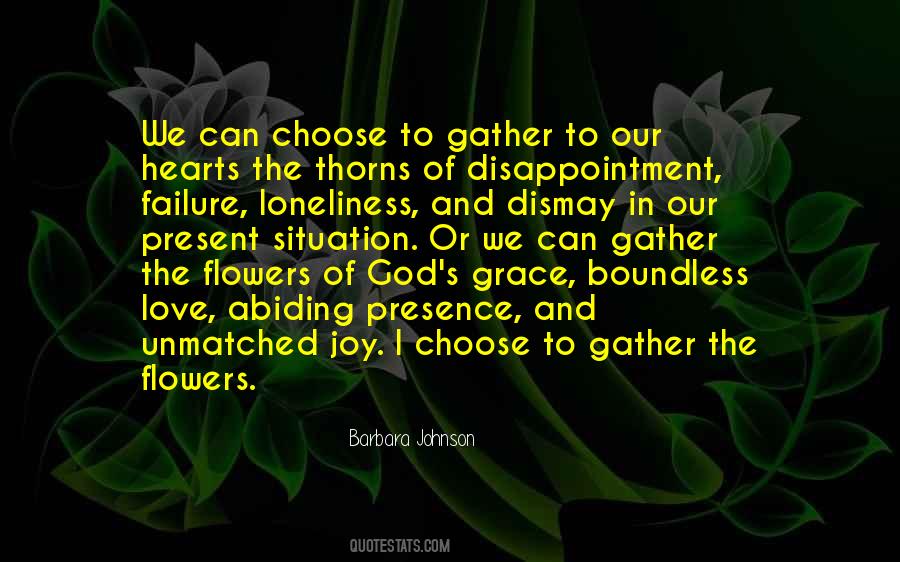 #62. We need to find God, and he cannot be found in noise and restlessness. God is the friend of silence. See how nature - trees, flowers, grass- grows in silence; see the stars, the moon and the sun, how they move in silence ... We need silence to be able to touch souls. - Author: Mother Teresa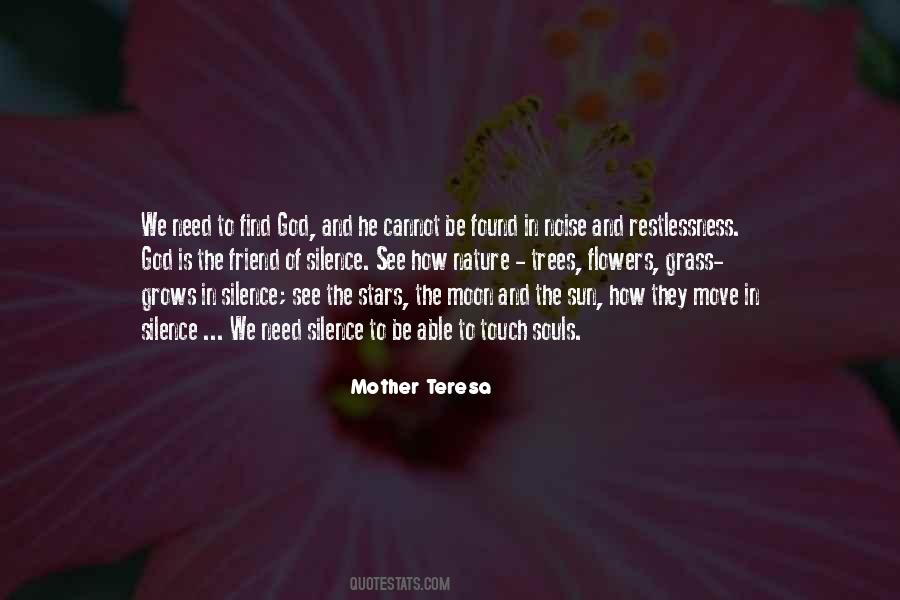 #63. For three things I thank God every day of my life: thanks that he has vouchsafed me knowledge of his works; deep thanks that he has set in my darkness the lamp of faith; deep, deepest thanks that I have another life to look forward to
a life joyous with light and flowers and heavenly song. - Author: Helen Keller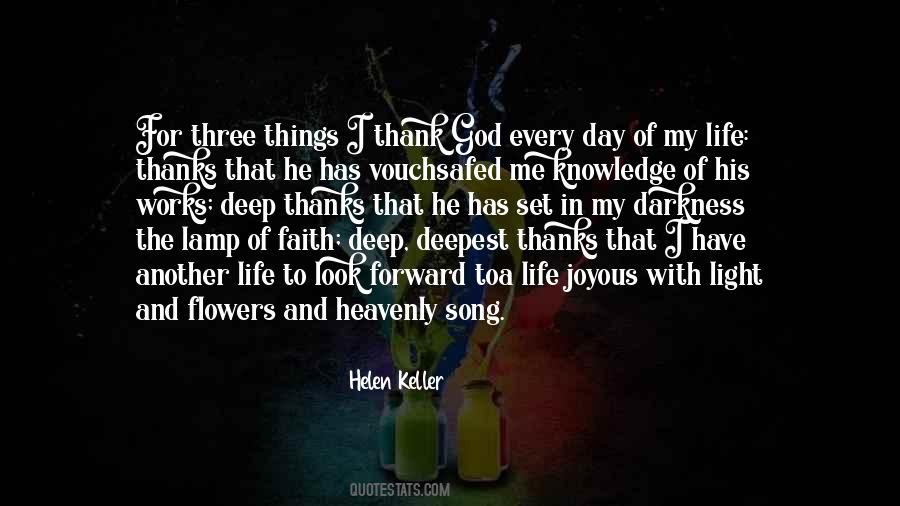 #64. If God is Mother, then we need only gather together with people and adore her through rituals intended to satisfy the female soul, ritual involving dance, fire, water, air, earth, songs, music, flowers, and beauty. - Author: Paulo Coelho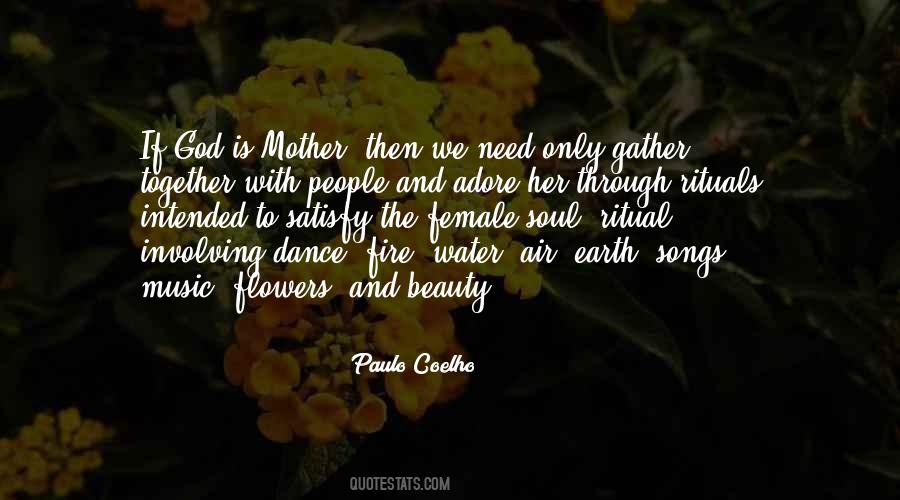 #65. We are the flowers that make up the Creator's vast and beautiful garden. - Author: Suzy Kassem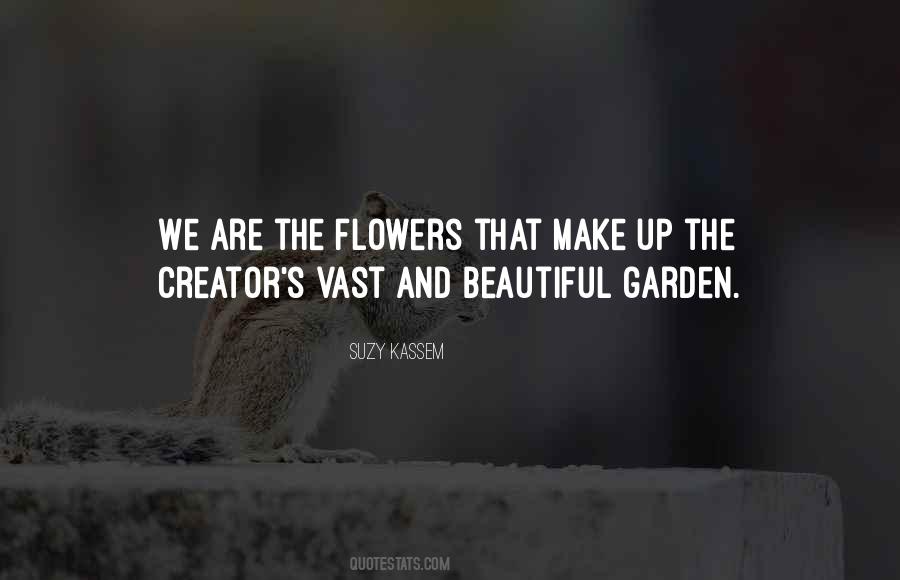 #66. If you ask, flowers and plants will tell you many stories. God can talk through them, and if you ask them, they will raise their hands if they know they can help you with an illness. - Author: Mabel Katz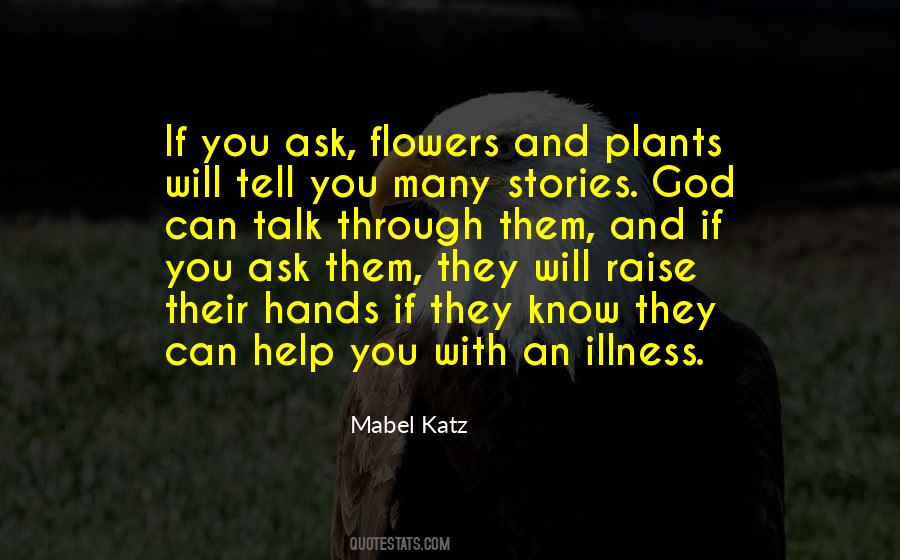 #67. Pure love' means that it never increases or decreases. If it does not decrease when you curse him and it does not increase when you give him garlands of flowers; it is 'Pure Love'. 'Pure love' is considered Paramatma prem (Love of God). That is indeed true religion. - Author: Dada Bhagwan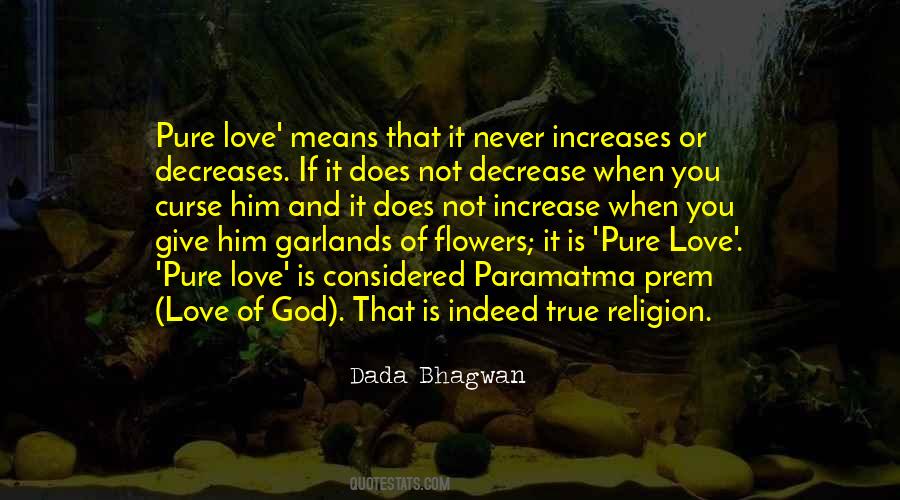 #68. God in tender indulgence to our different dispositions; has strewed the Bible with flowers, dignified it with wonders, and enriched it with delight. - Author: James Hervey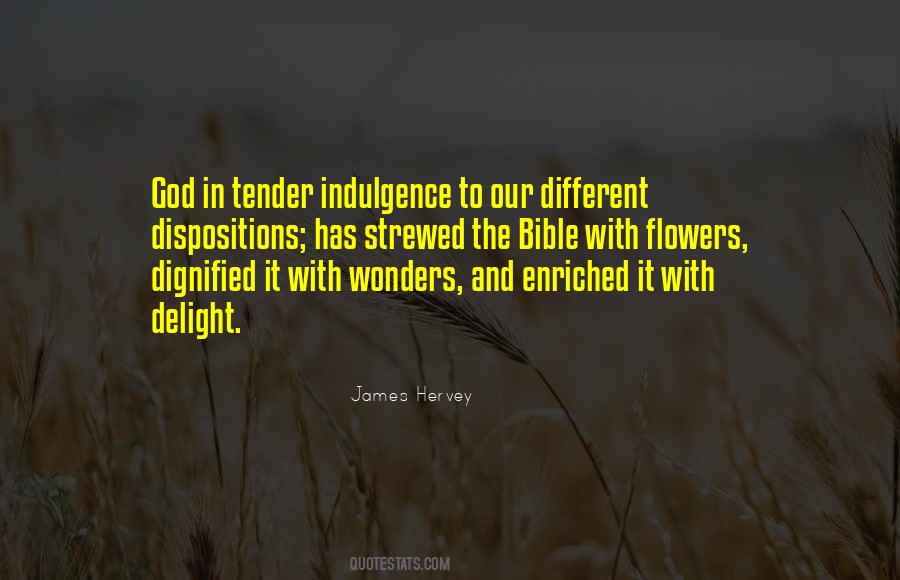 #69. Perhaps God does with His heavenly garden as we do with our own. He may chiefly stock it from nurseries, and select for transplanting what is yet in its young and tender age
flowers before they have bloomed and trees ere they begin to bear. - Author: Thomas Guthrie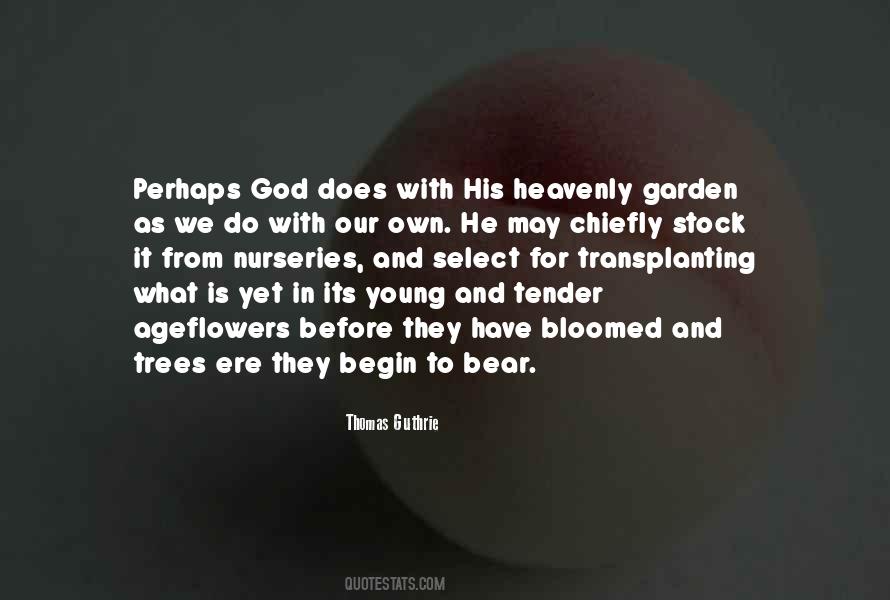 #70. All the flowers of the field, and many of the beasts of the plain, and now the very orbs of heaven, are turned into metaphors and symbols by which the glory of Jesus may be manifested to us. Where God takes such pains to teach, we ought to be at pains to learn. - Author: Charles Haddon Spurgeon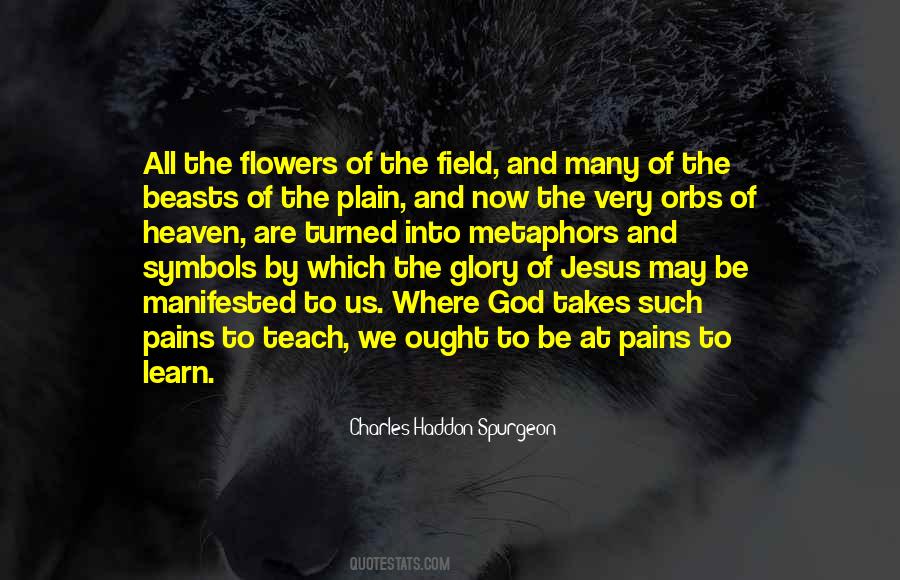 #71. He's taught me everything.
He taught me how to look at things.
He shows me everything there is in flowers.
He shows me how stones are pleasing
When you hold them in your hand
And look at them for a while. - Author: Alberto Caeiro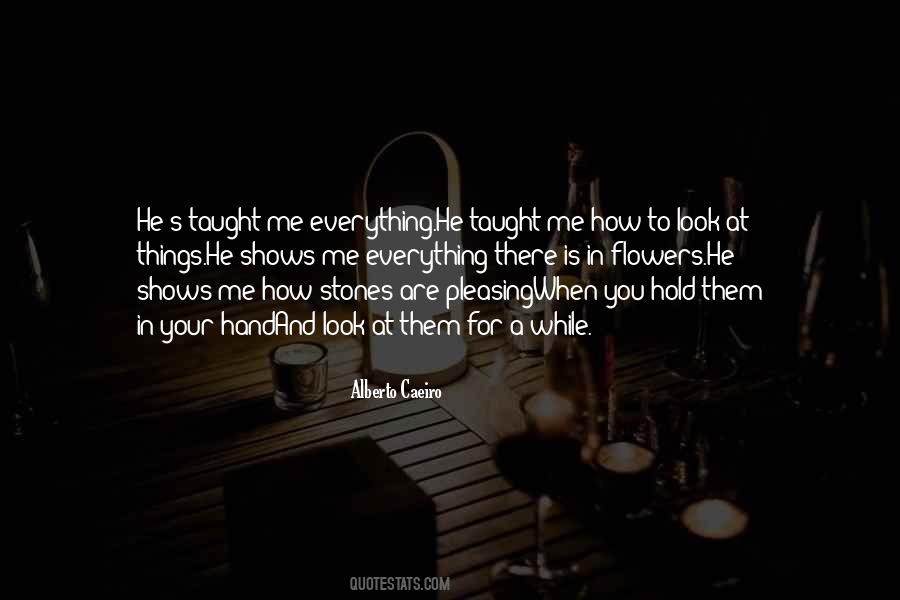 Famous Authors
Popular Topics