Generation Change Famous Quotes & Sayings
List of top 100 famous quotes and sayings about generation change to read and share with friends on your Facebook, Twitter, blogs.
Top 100 Quotes About Generation Change
#1. Brothers and sisters no genuine change can ever take place in a generation or epoch without first slaying the dragon of religion. - Author: Sunday Adelaja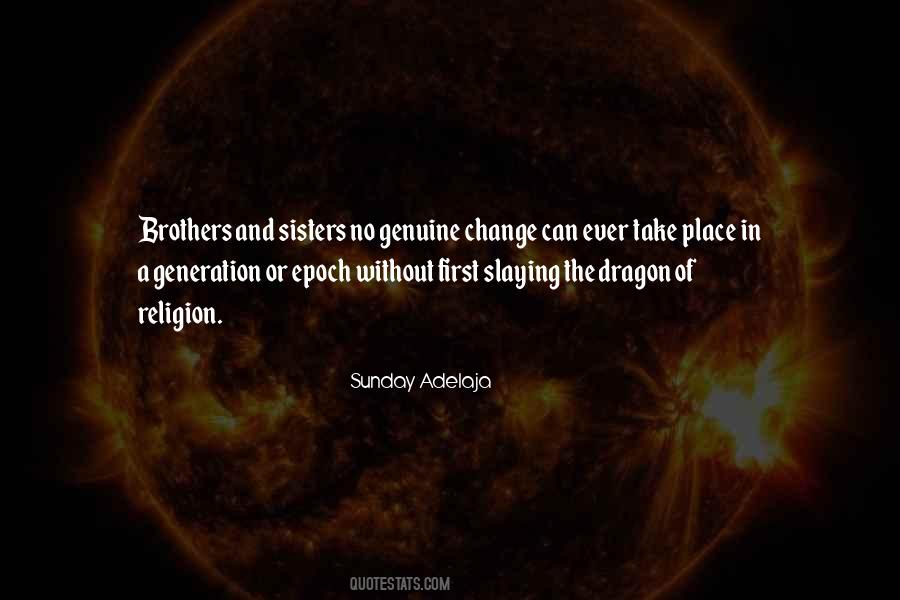 #2. The Millennials, a generation born digital, will have a much stronger impact on social behaviour than we currently assume. Global climate change and resource security will influence our lives in substantial ways. - Author: Klaus Schwab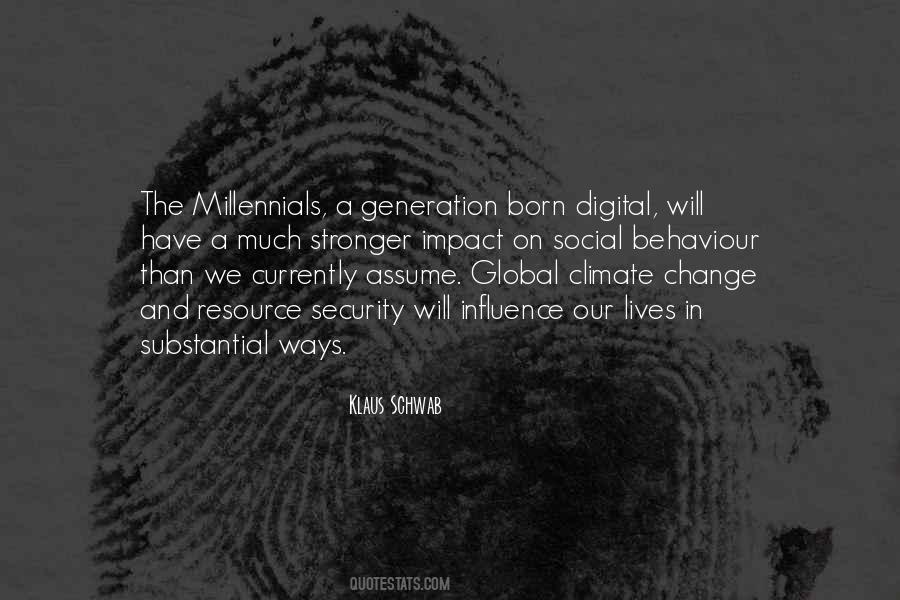 #3. The biggest untapped source of energy today is our youth. I am from an age of consumerism, but my two daughters are young enough to change the way their generation thinks. - Author: Mike Horn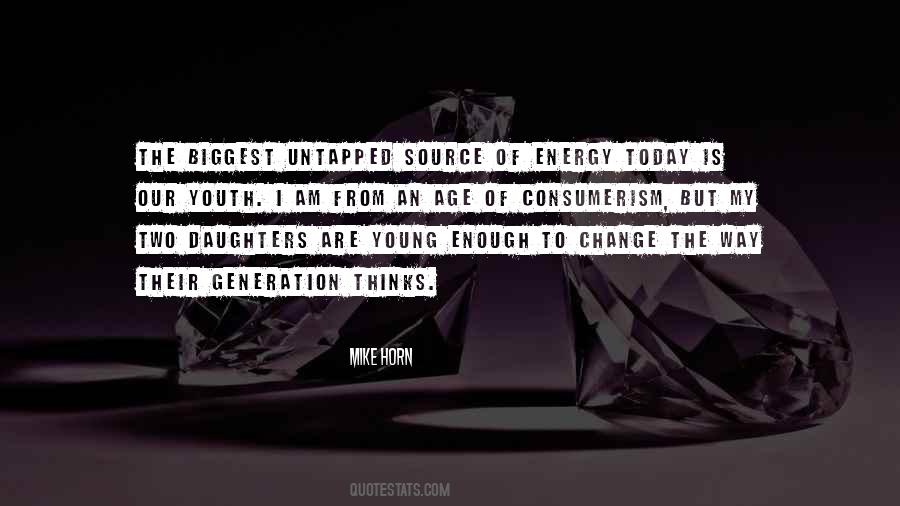 #4. I want something completely new and different to happen, and lots of it. Stuff that makes us change the way we think about a market or the world. Something that inspires a new generation of crazy startups doing crazy things. - Author: Michael Arrington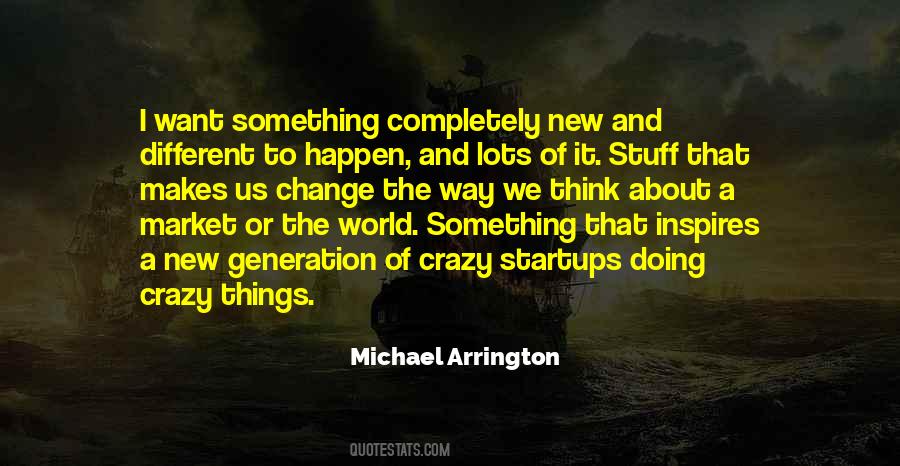 #5. An entrepreneur is a leader of excellence, trailblazer and pioneer who constantly brings change to their generation. - Author: Onyi Anyado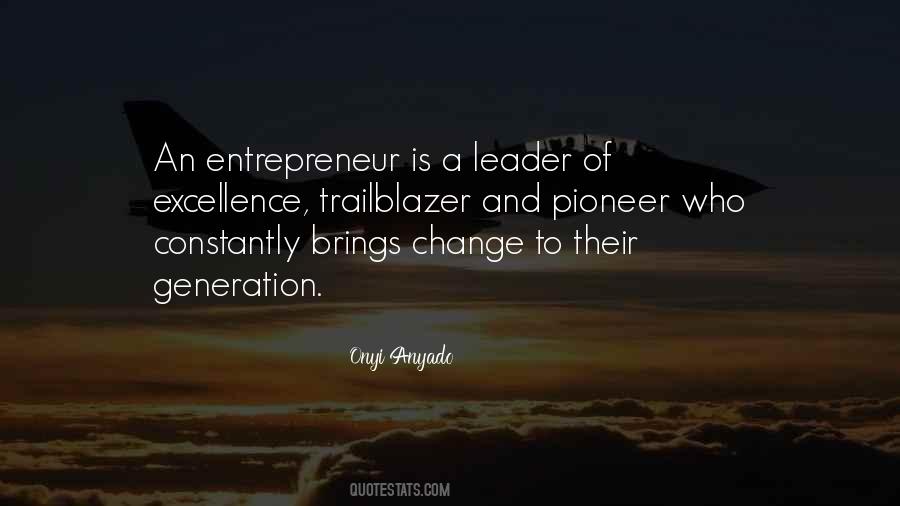 #6. Every generation has their challenge. And things change rapidly, and life gets better in an instant. - Author: Jon Stewart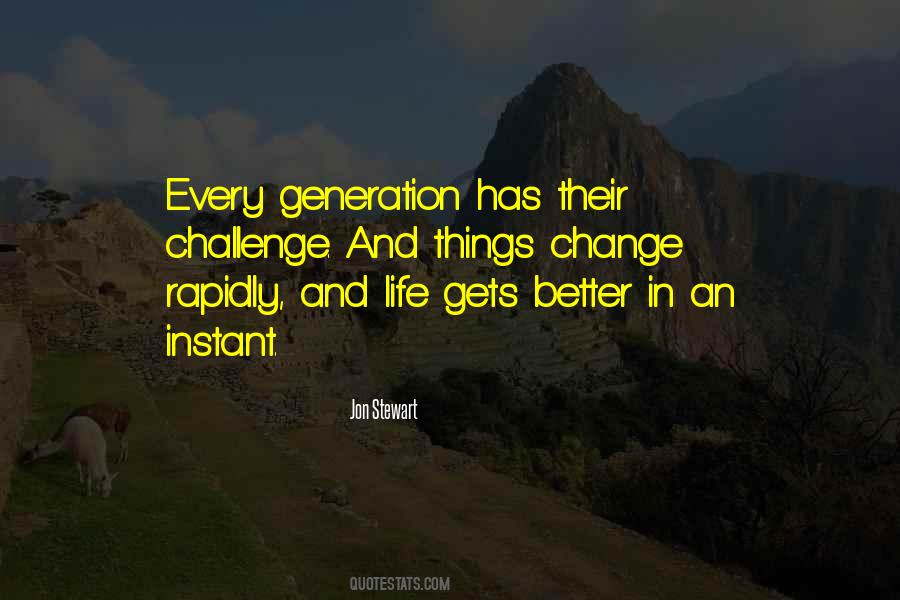 #7. Each and every time, a new generation has risen up and done what's needed to be done. Today we are called once more - and it is time for our generation to answer that call. For that is our unyielding faith - that in the face of impossible odds, people who love their country can change it. - Author: Barack Obama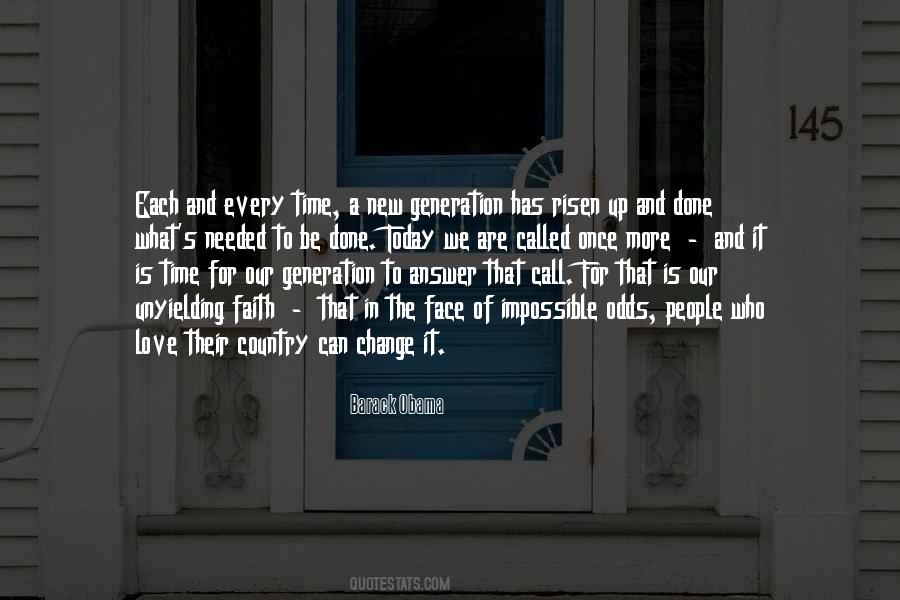 #8. Kids growing up in today's generation are constantly documenting their experience. It's different - how does that change their sense of self when everything becomes a story that you are telling? - Author: Hal Niedzviecki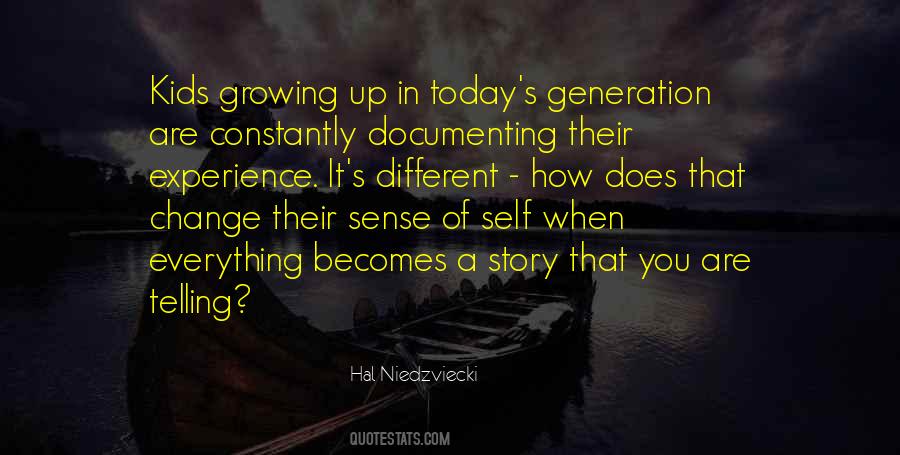 #9. We are the last generation with a real opportunity to save the world. - Author: Laurence Overmire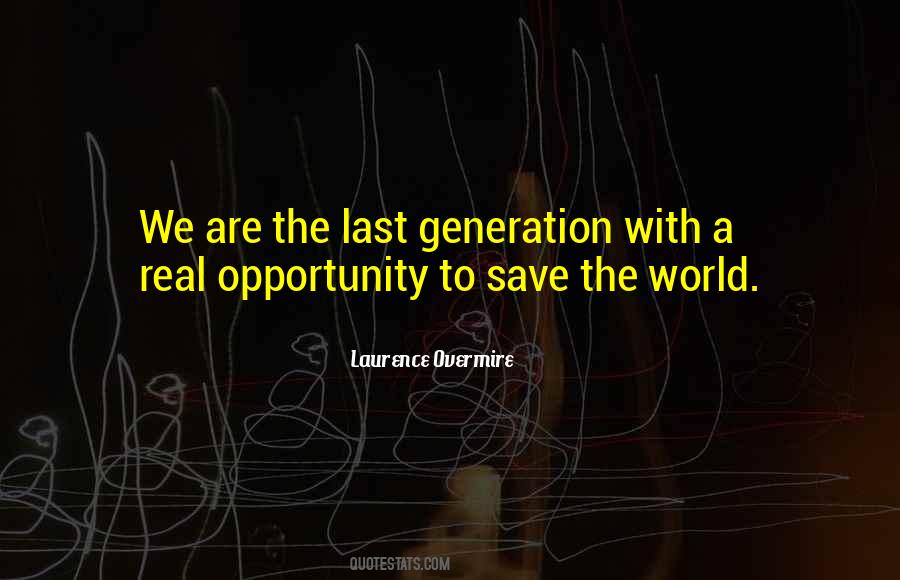 #10. Next generation leaders are those who would rather challenge what needs to change and pay the price than remain silent and die on the inside. - Author: Andy Stanley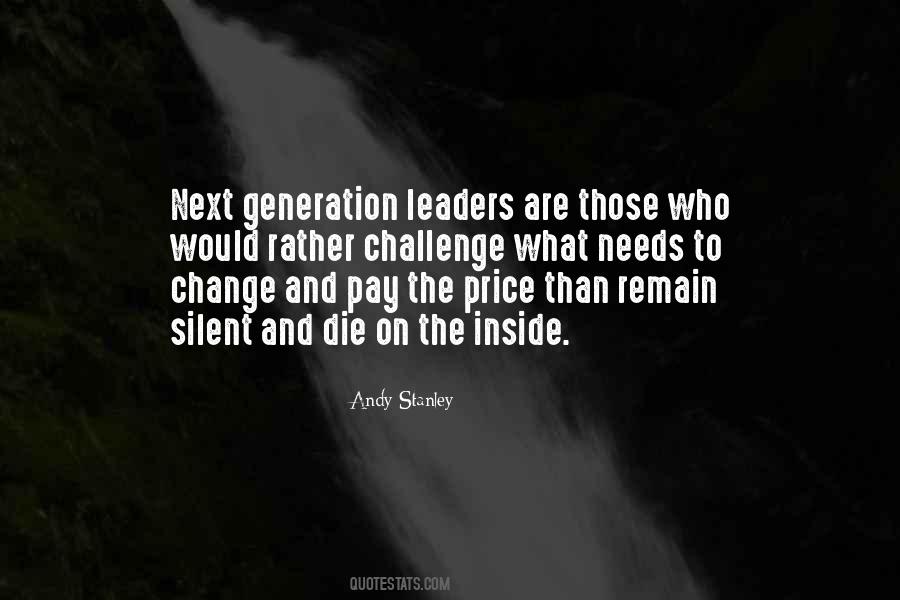 #11. At the same time the folk boom was happening, the civil rights movement was happening, the anti-war movement was happening, the ban the bomb movement was happening, the environmental movement was happening. There was suddenly a generation ready to change the course of history. - Author: Arlo Guthrie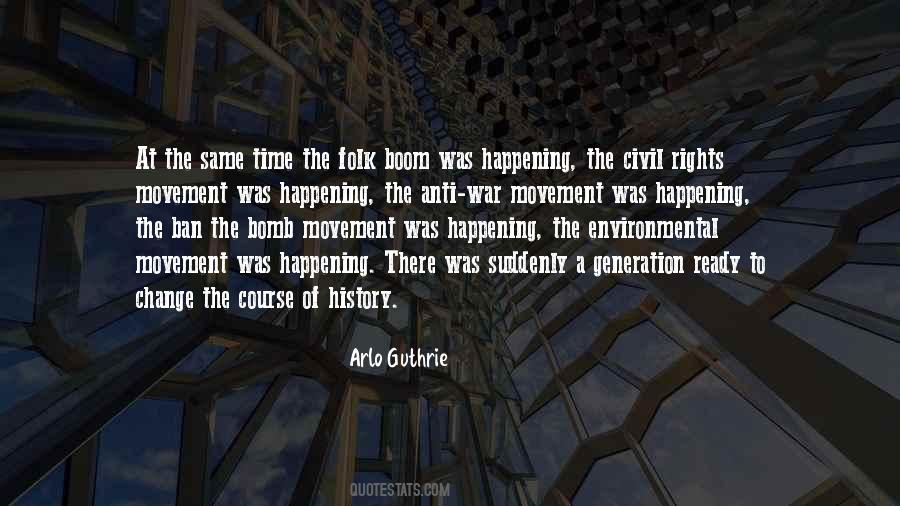 #12. The preoccupations of seventeen-year-old girls
their looks, their clothes, their social life
do not change very much from generation to generation. But in every generation there seem to be a few who make other choices. Amy was one of the few. - Author: Elisabeth Elliot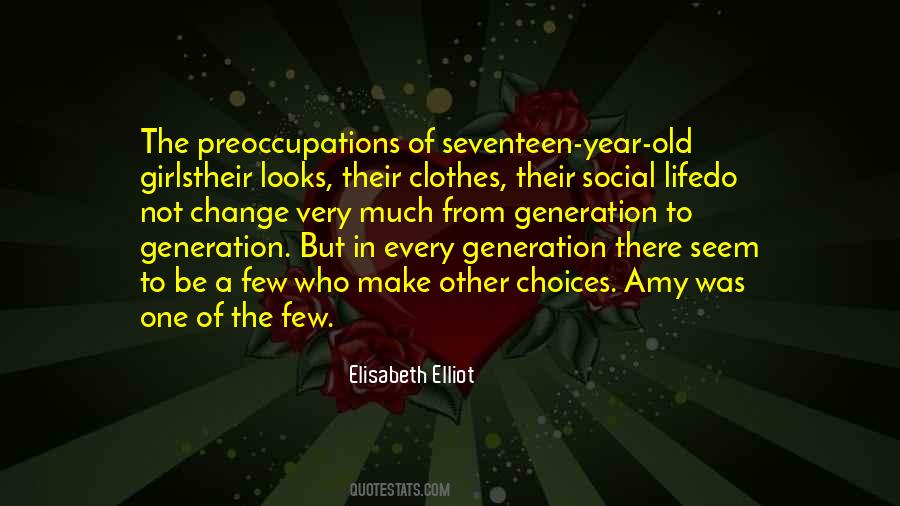 #13. I don't want to speak too disparagingly of my generation (actually I do, we had a chance to change the world but opted for the Home Shopping Network Instead) ... - Author: Stephen King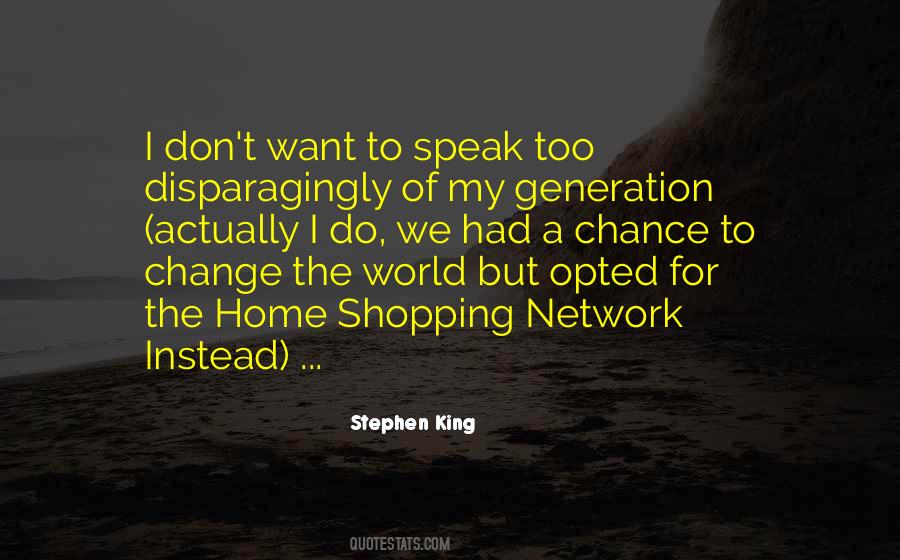 #14. Change comes not from men and women changing their minds, but from the change from one generation to the next. - Author: John Kenneth Galbraith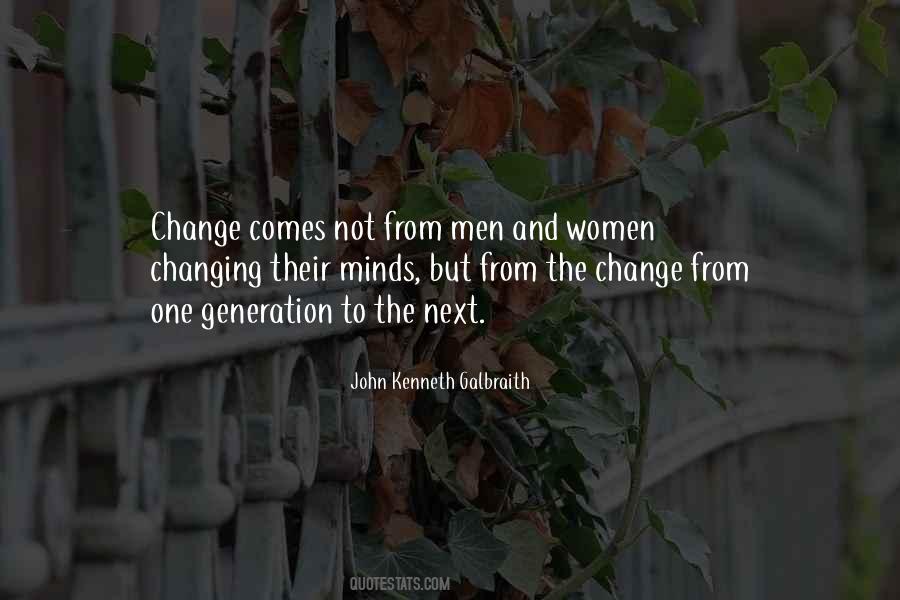 #15. The time is not there for us to act any more, the time we waited for is here right now for us to act brightly and create a bright future, for the future coming generations. - Author: Auliq Ice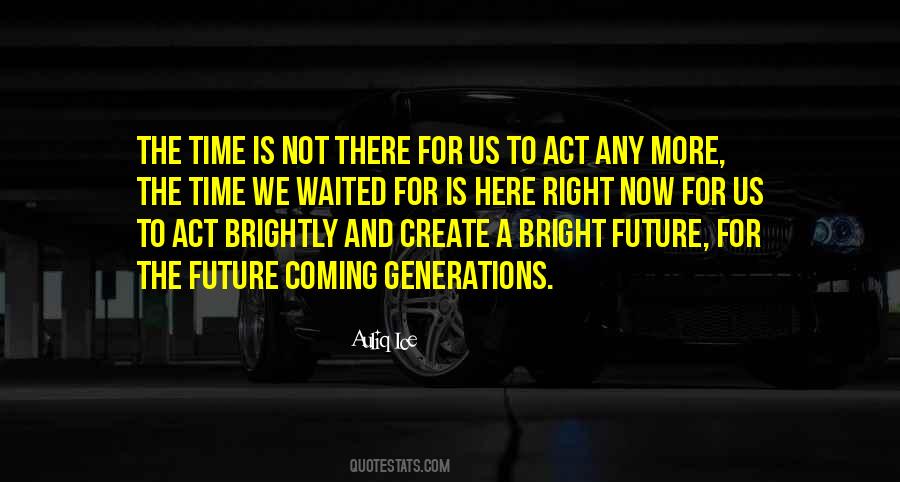 #16. You are part of the first generation of officers to begin your service in a world where the effects of climate change are so clearly upon us. Climate change will shape how every one of our services plan, operate, train, equip, and protect their infrastructure, today and for the long-term. - Author: Barack Obama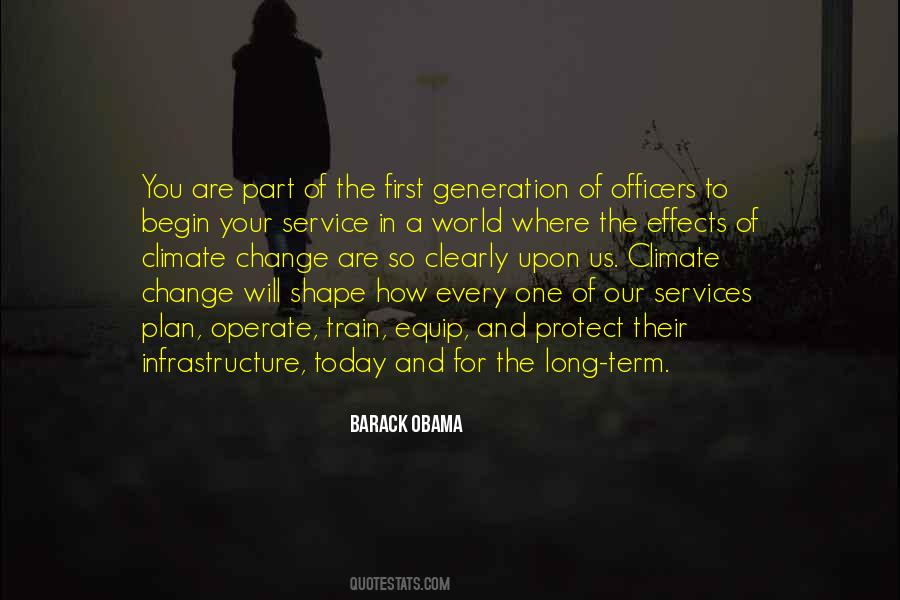 #17. Every generation gets a chance to change the world Pity the nation that won't listen to your boys and girls Cos the sweetest melody is the one we haven't heard - Author: Alvin Toffler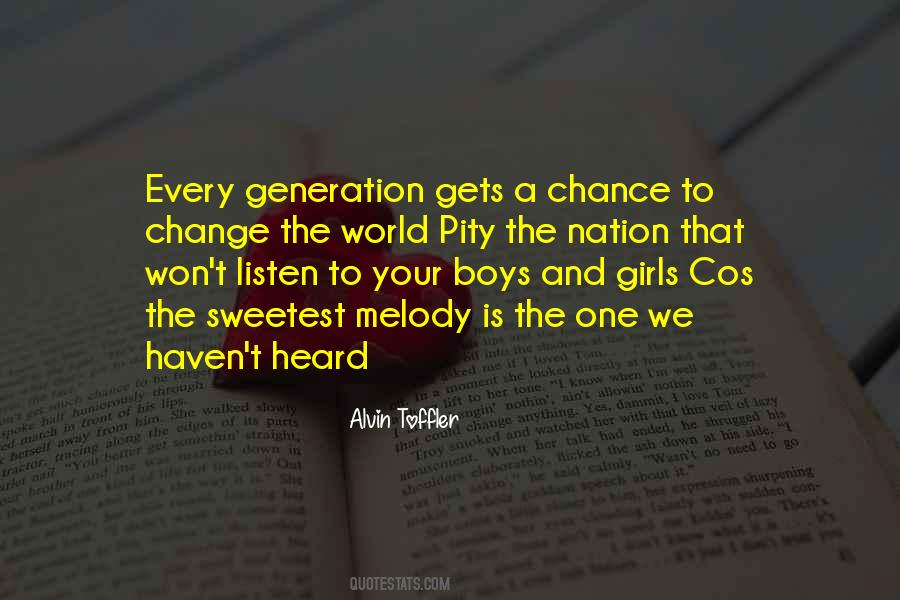 #18. Every generation faces a challenge. In the 1930s, it was the creation of Social Security. In the 1960s, it was putting a man on the moon. In the 1980s, it was ending the Cold War. Our generation's challenge will be addressing global climate change while sustaining a growing global economy - Author: Eileen Claussen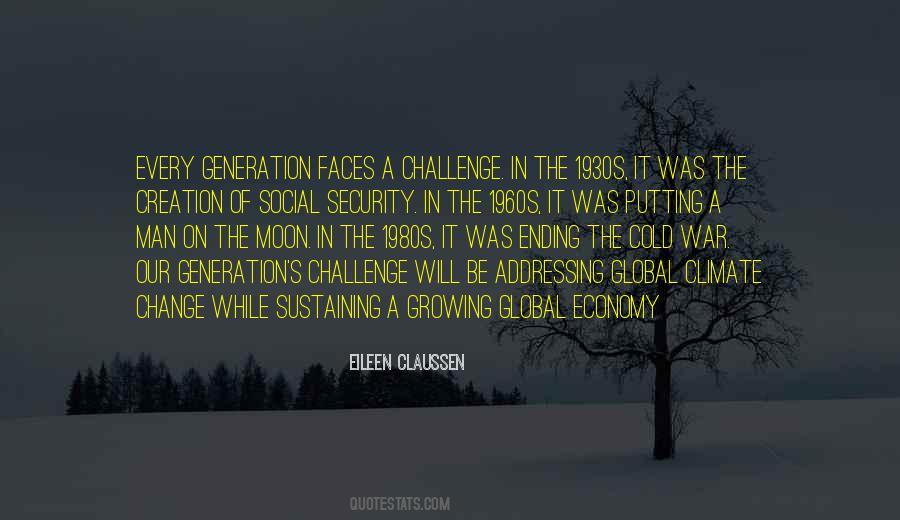 #19. We want to change the identity of Delhi from Generator Capital to Power Generation Capital. - Author: Narendra Modi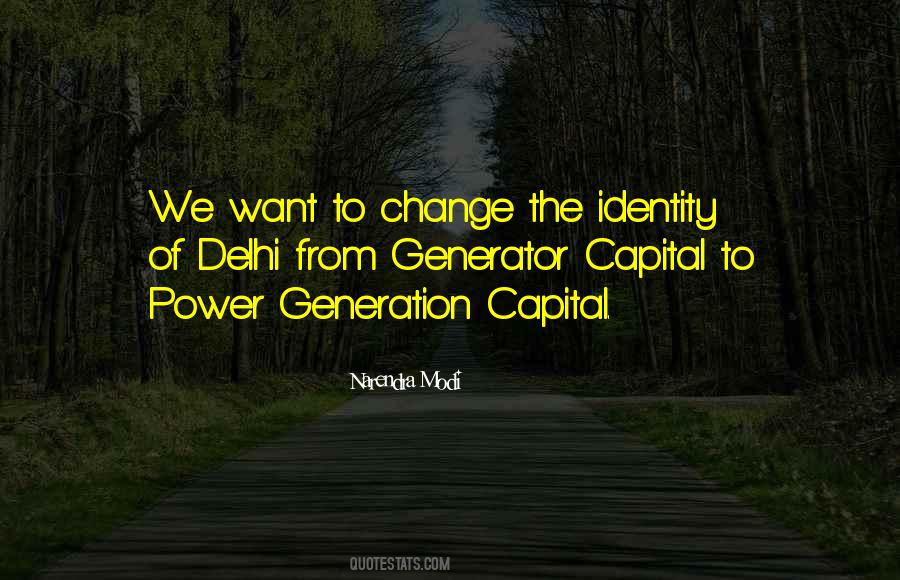 #20. For every generation, there is a destiny. For some, history decides. For this generation, the choice must be our own. [ ... ] Our destiny in the midst of change will rest on the unchanged
character of our people, and on their faith. - Author: Lyndon B. Johnson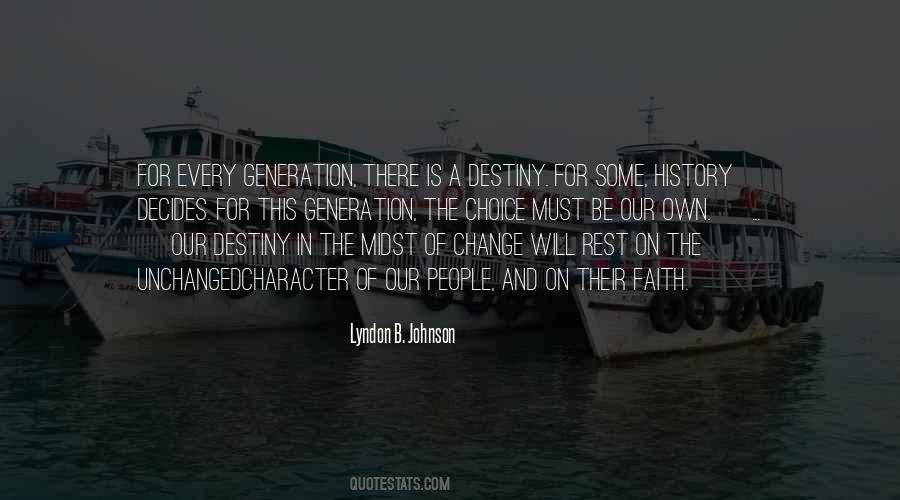 #21. If a Christian is not willing to rise early and work late, to expend greater effort in diligent study and faithful work, that person will not change a generation. Fatigue is the price of leadership. Mediocrity is the result of never getting tired. - Author: J. Oswald Sanders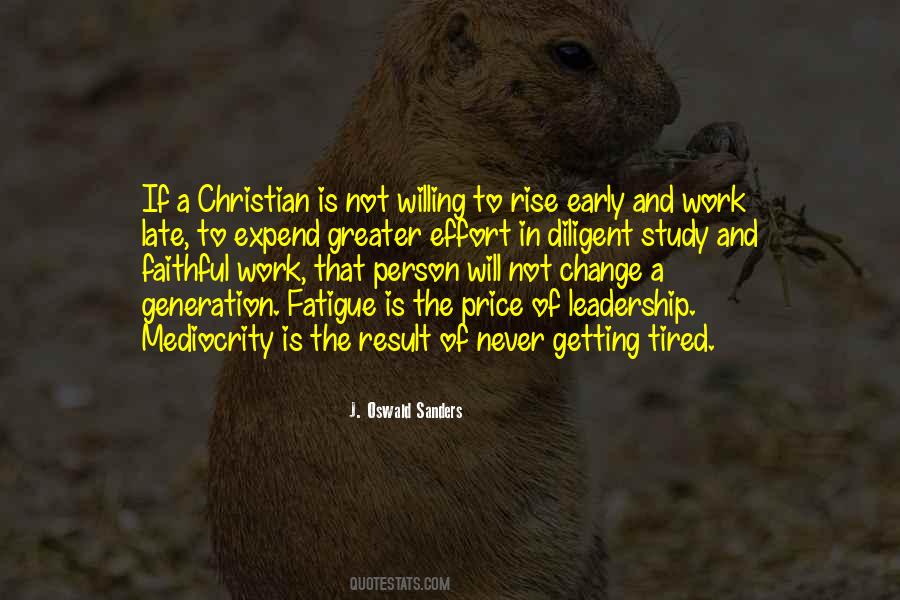 #22. At the end of the Middle Ages, nobody would ever have expected the monasteries to vanish from the scene within a generation - yet they did. Change does happen. - Author: Rowan Williams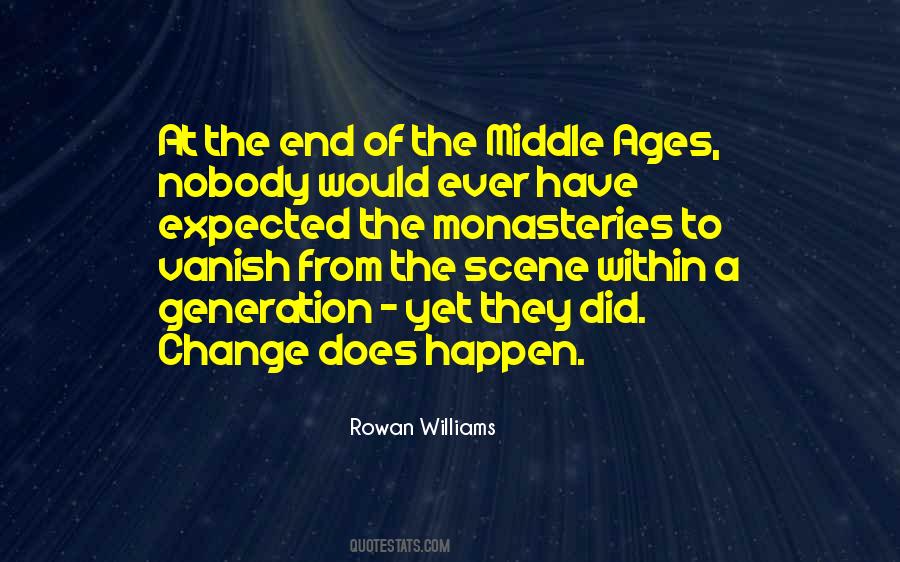 #23. Let the message go out - a new generation has taken charge of Labour which is optimistic about our country, optimistic about our world, optimistic about the power of politics. We are optimistic and together we will change Britain. - Author: Ed Miliband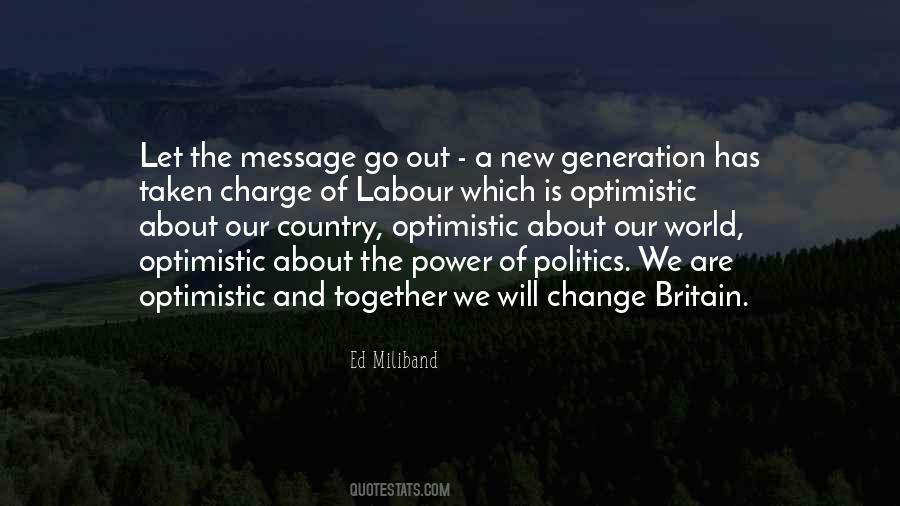 #24. We have the potential for making massive change ... and the bottom line is that we can't be the generation responsible for wiping out three-fourths of life forms on the Earth. - Author: Anthony D. Barnosky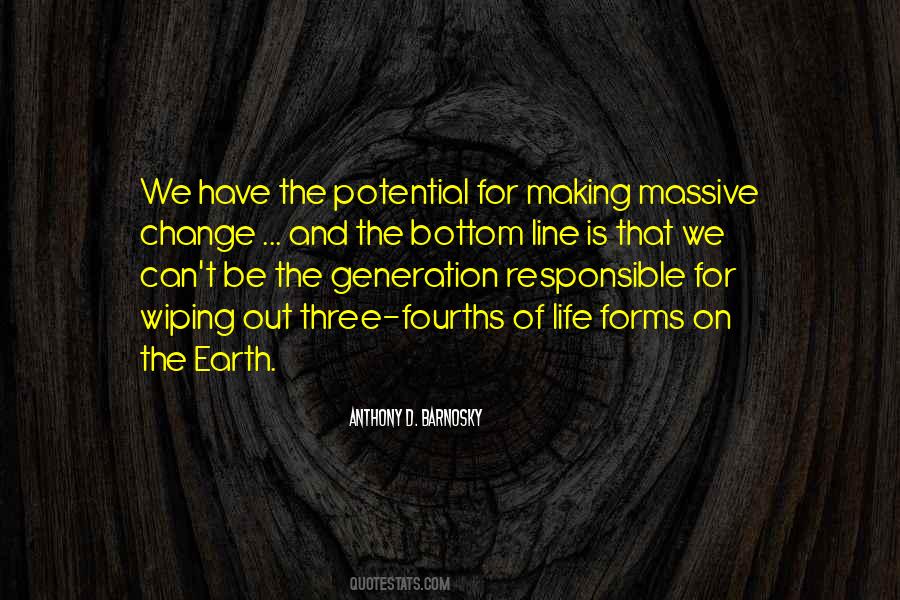 #25. To make one think is to change a generation, to build one thought is to grow a better world - Author: Yolanda De Iuliis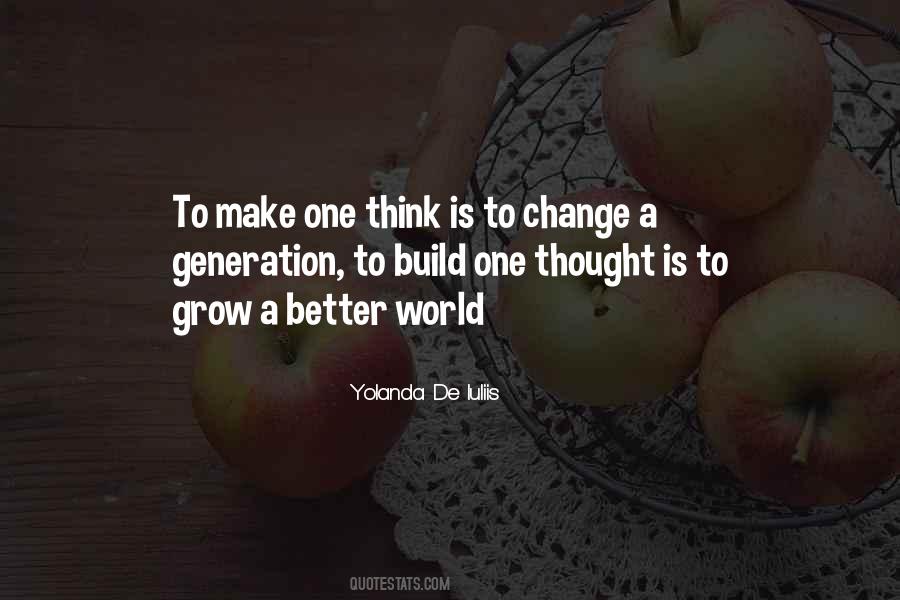 #26. They've never known a time when people drank rain water because it was pure, or could eat snow, or swim in any river or brook. The last time I drove to Washington the traffic was so bad that I could have made better time with a horse. - Author: Madeleine L'Engle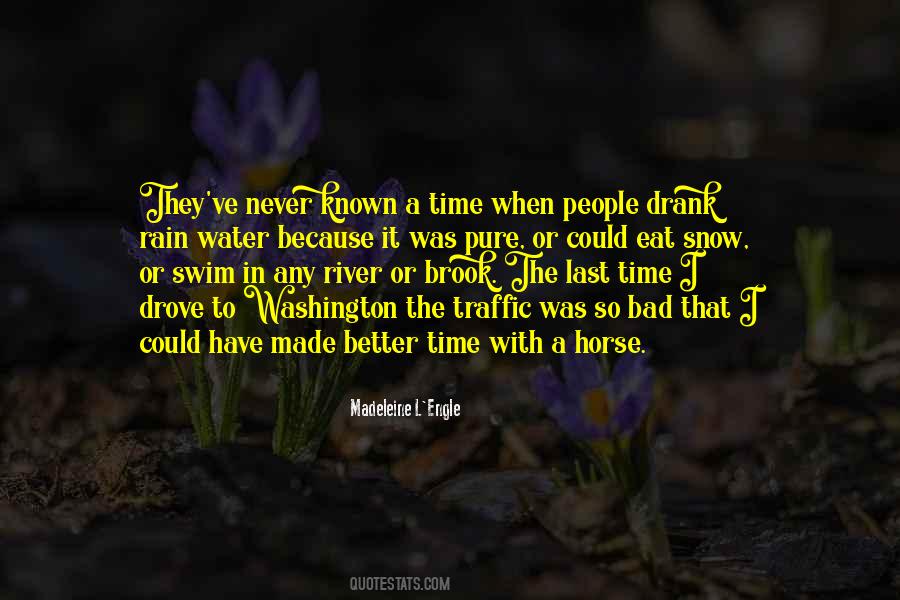 #27. With each change of definition in art, something considered non-art or bad art by a previous generation is suddenly acceptable. - Author: Thomas Hoving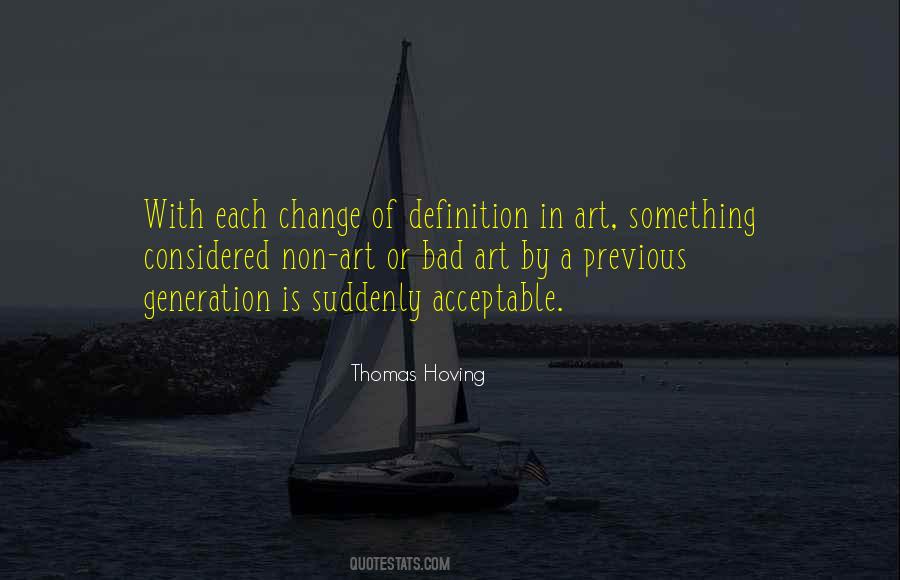 #28. Gen Y's work best in groups, collaboratively, transparently, interactively and entrepreneurially - and have already created positive change in many local communities and around the world. - Author: Charlie Caruso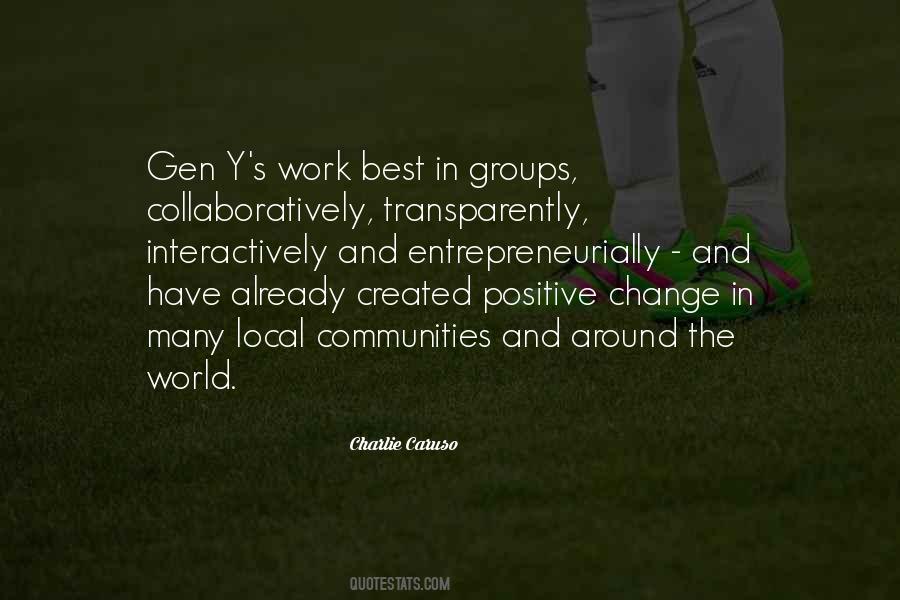 #29. We need to awaken the next generation to understand that we are all change-makers. The nation is not as strong as its government but its next generation - Author: Nick Vujicic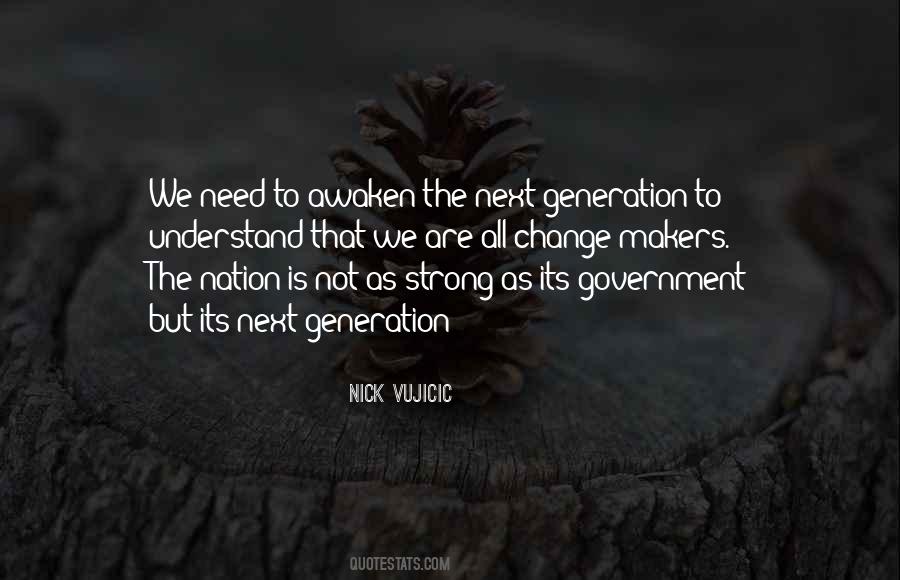 #30. We, the present generation, have the responsibility to act as a trustee of the rich natural wealth for the future generations. The issue is not merely about climate change; it is about climate justice. - Author: Narendra Modi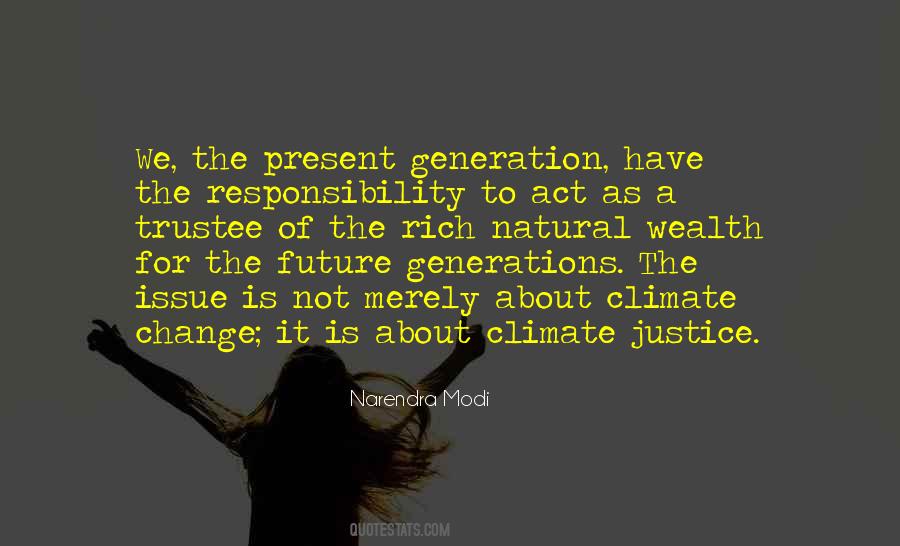 #31. Both EarthEcho and Seventh Generation understand that young people have the power to change the world - one home, one school and one community at a time. - Author: Philippe Cousteau Jr.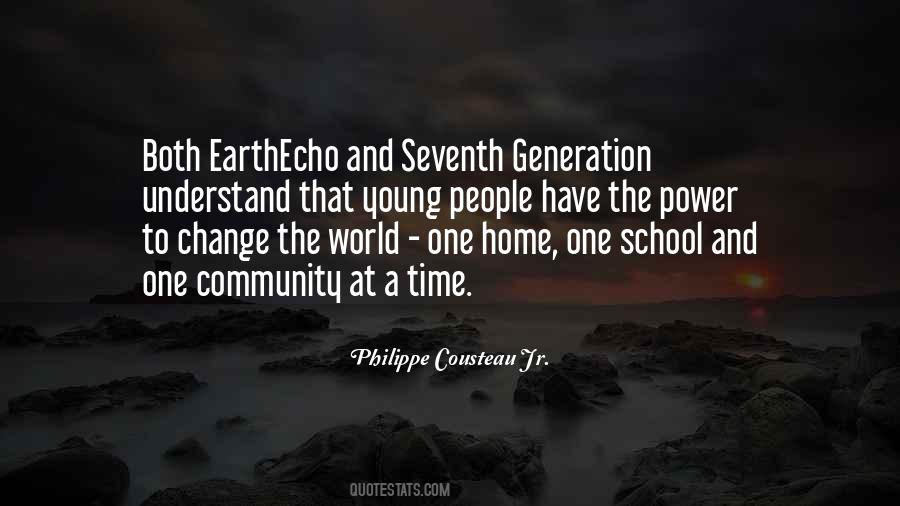 #32. Responding to the challenge of climate change is the ultimate political test for our generation ... Our package not only responds to this challenge, but ... is an opportunity that should create thousands of new businesses and millions of jobs in Europe. - Author: Jose Manuel Barroso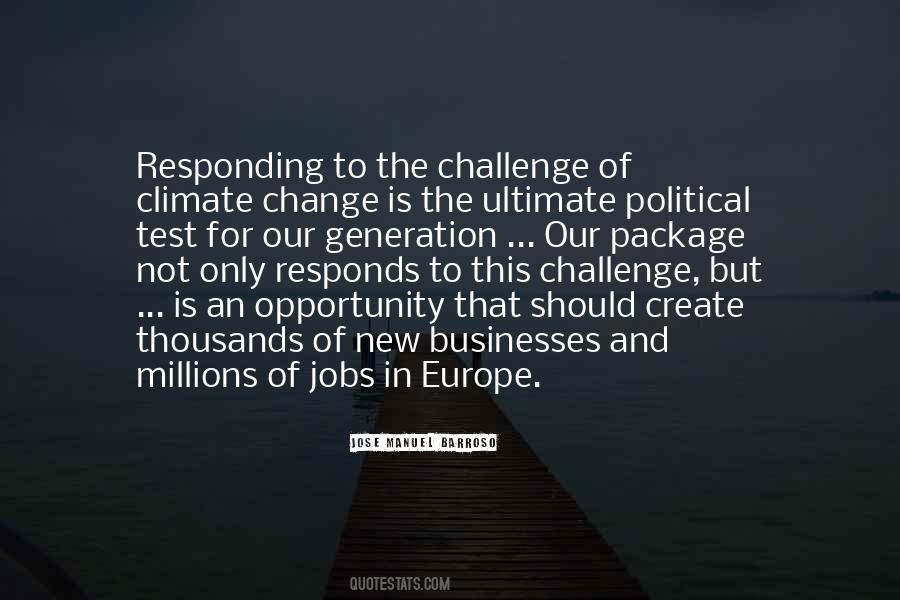 #33. Because as tough as things have been, I am convinced you are tougher. I've seen your passion and I've seen your service ... I've seen a generation eager - impatient even - to step into the rushing waters of history and change its course. - Author: Barack Obama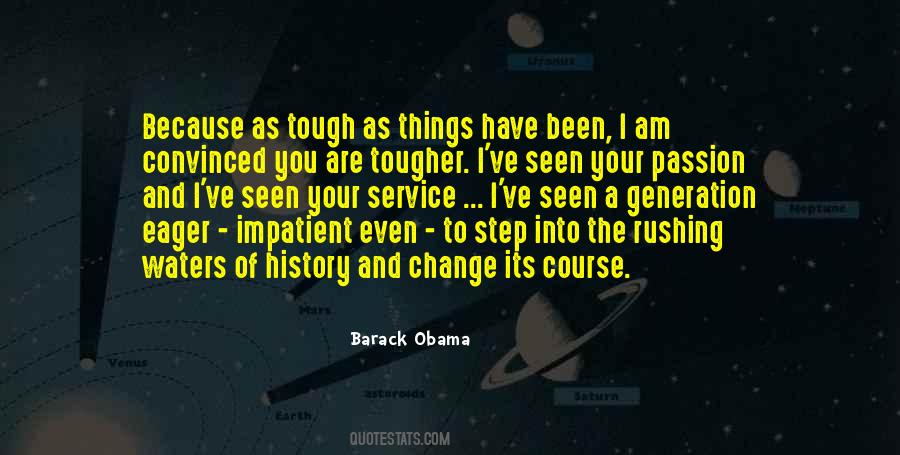 #34. My generation has the opportunity to change the world, - Author: Zendaya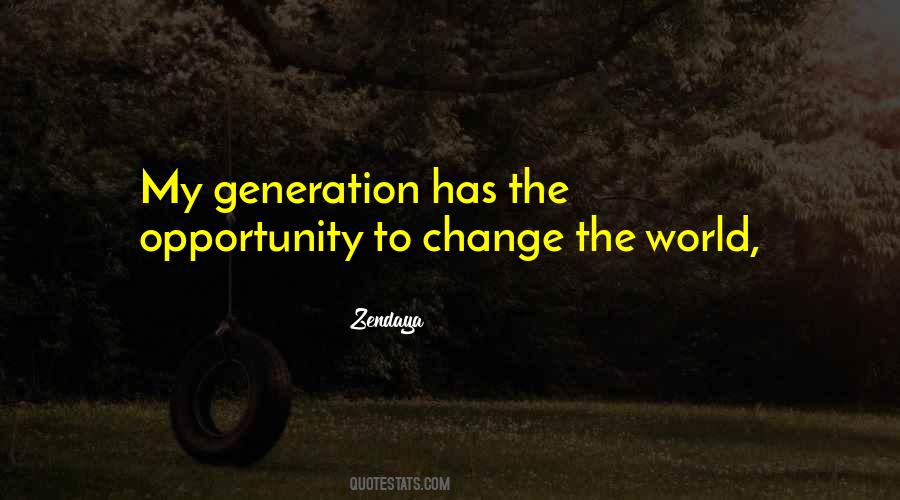 #35. The sport is definitely growing, and has become much more competitive. When I started, you were either a former swimmer or runner who took up triathlons. Now, you have a generation of triathletes coming up that started competing at a young age - these are the people that will change the game. - Author: Timothy O'Donnell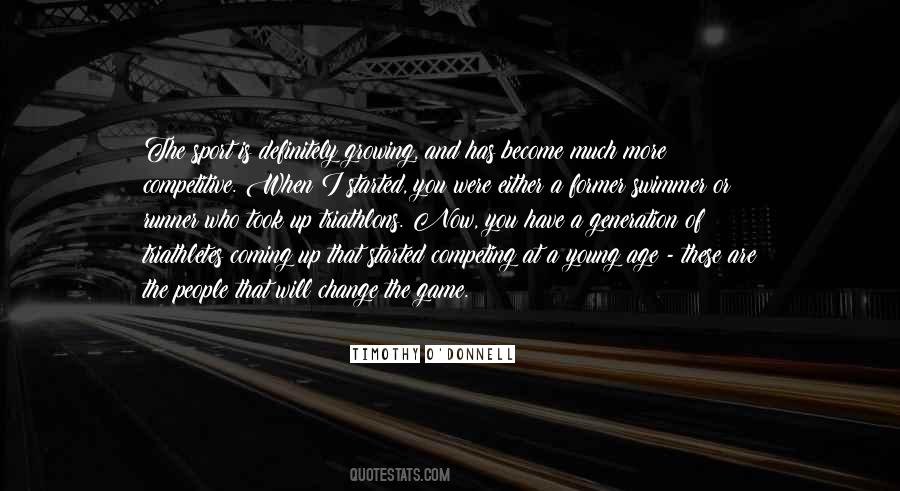 #36. God is raising up a new standard, a new banner if you will, that's going to radically change the expression, the understanding of Christianity in our generation ... - Author: Paul Cain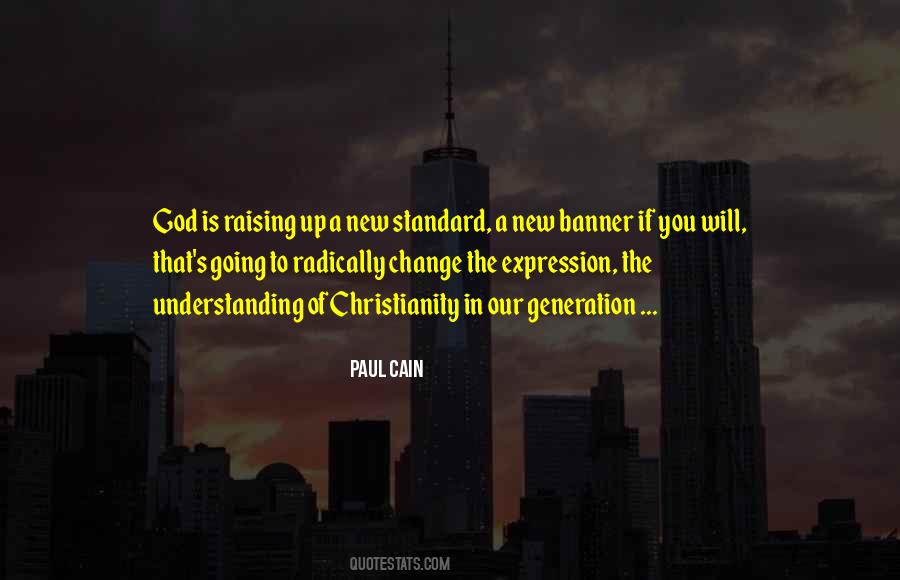 #37. Like every thoughtful parent in every age of history, Neil consoled himself, My generation failed, but this new one is going to change the entire world, and go piously to the polls even on rainy election-days, and never drink more than one cocktail, and end all war. - Author: Sinclair Lewis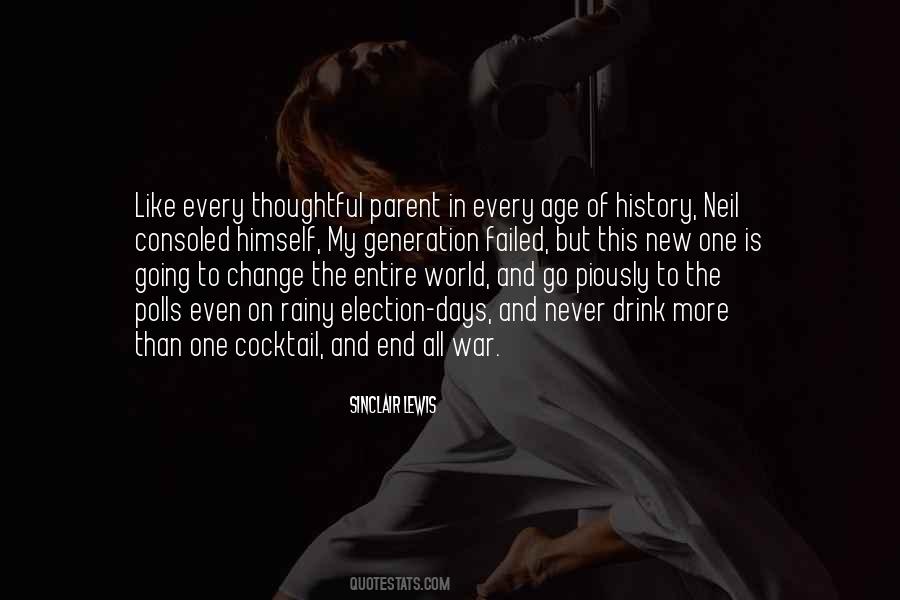 #38. Each of us can work to change a small portion of events. And it's in the total of all those acts that the history of this generation will be written. - Author: Jacqueline Novogratz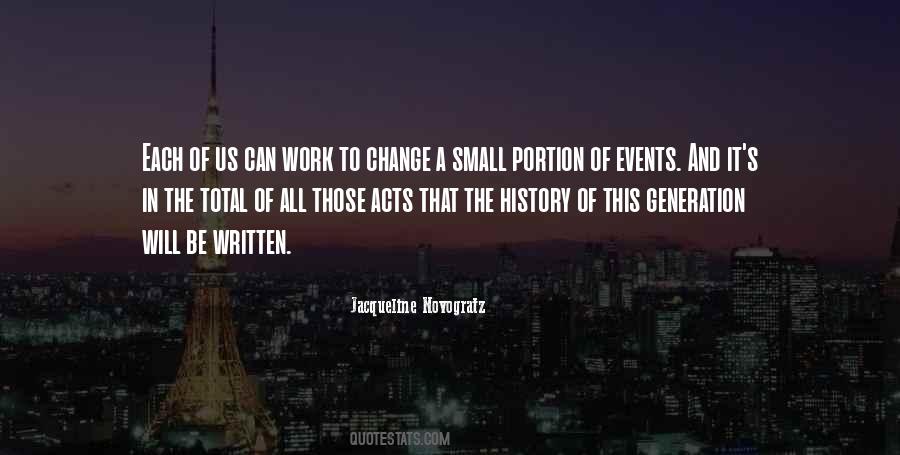 #39. What really distinguishes this generation in all countries from earlier generations ... is its determination to act, its joy in action, the assurance of being able to change things by one's own efforts. - Author: Hannah Arendt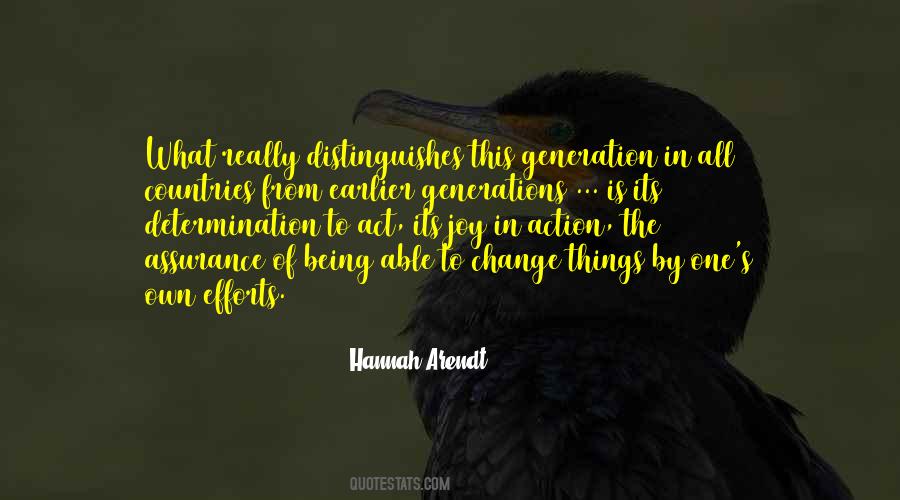 #40. The oncoming trouble I speak of is climate change. It's going to affect all of you in the same way the Second World War consumed people of my parent's generation. - Author: Bill Nye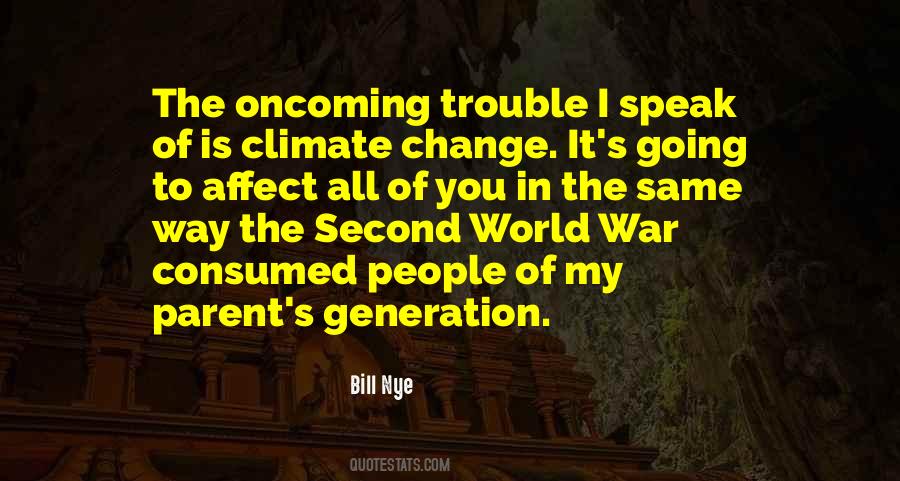 #41. By looking at climate change as a clean energy generation problem, we're setting ourselves up not to solve it. - Author: Alex Steffen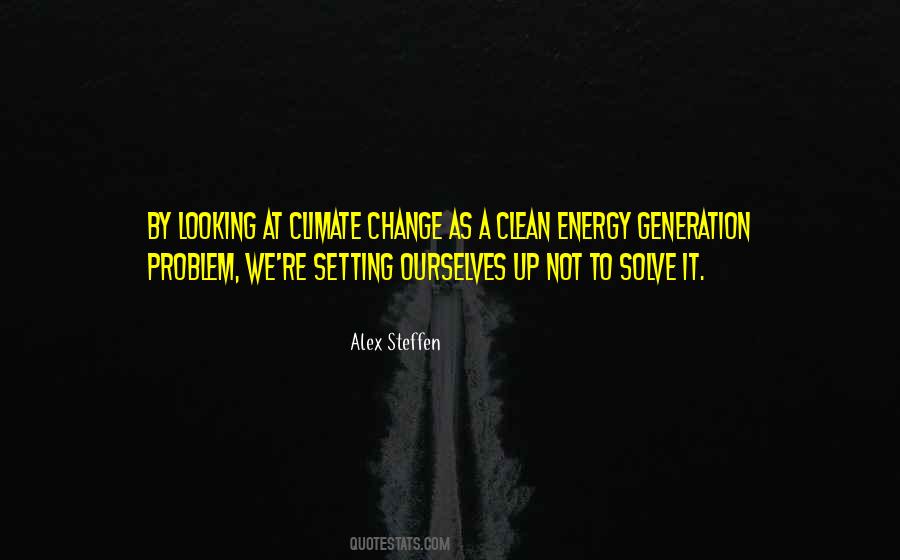 #42. That which is true must always remain true, though the applications may change greatly from generation to generation. It is the absence of such fundamental certainties, no doubt, that leads men into continual search for a satisfying religion, or that drives them away from their old religion. - Author: John Andreas Widtsoe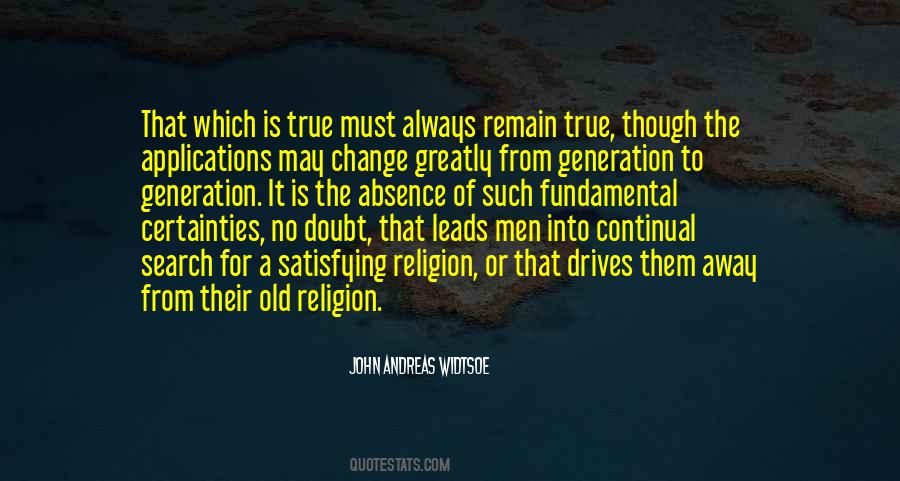 #43. My generation had to be taken seriously because we were stopping things and burning things. We were able to initiate change, because we had such vast numbers. We were part of the baby boom, and when we moved, everything moved with us. - Author: John Hughes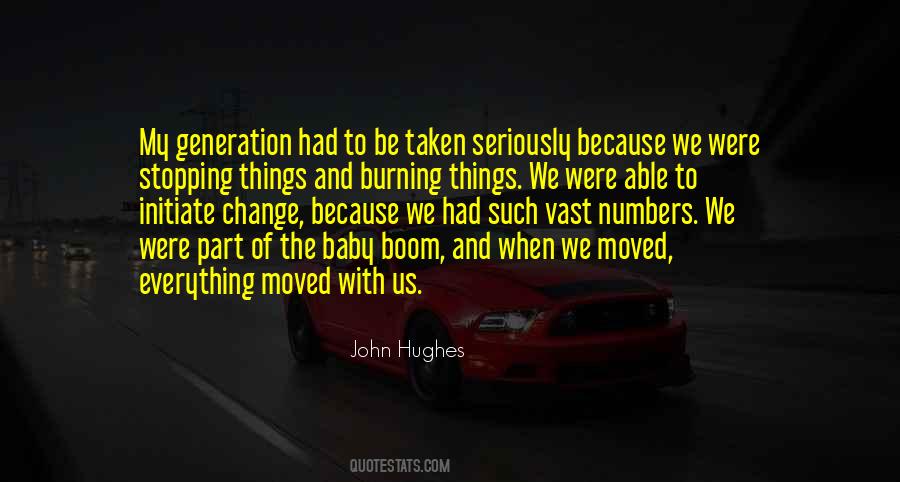 #44. If one generation does not see how to absolutely solve things that are wrong today, another generation shall surely come to suffer from the same wrong things tomorrow! - Author: Ernest Agyemang Yeboah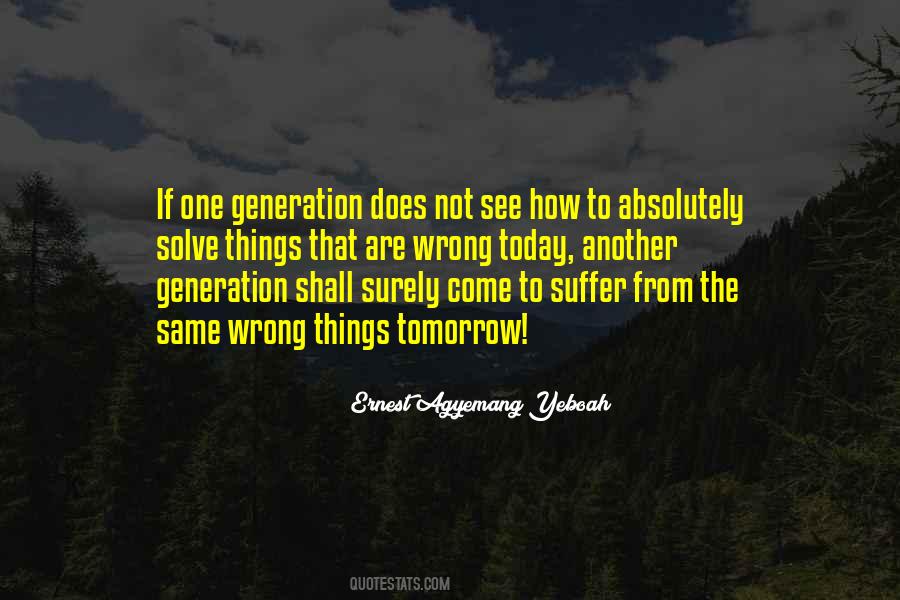 #45. I realize that at a certain point if we're going to change our food system, it's going to be the next generation that's going to be critical. This generation is very interested in food issues, very concerned about things like animal welfare and the impact of the food system on the environment. - Author: Michael Pollan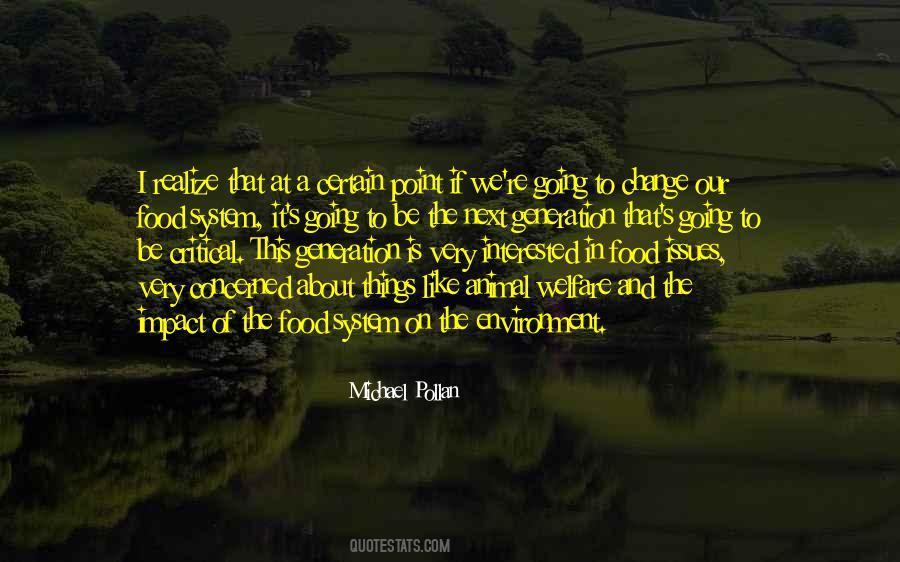 #46. History has to be rewritten in every generation, because although the past does not change, the present does; each generation asks new questions of the past and finds new areas of sympathy as it re-lives different aspects of the experiences of its predecessors. - Author: Christopher Hill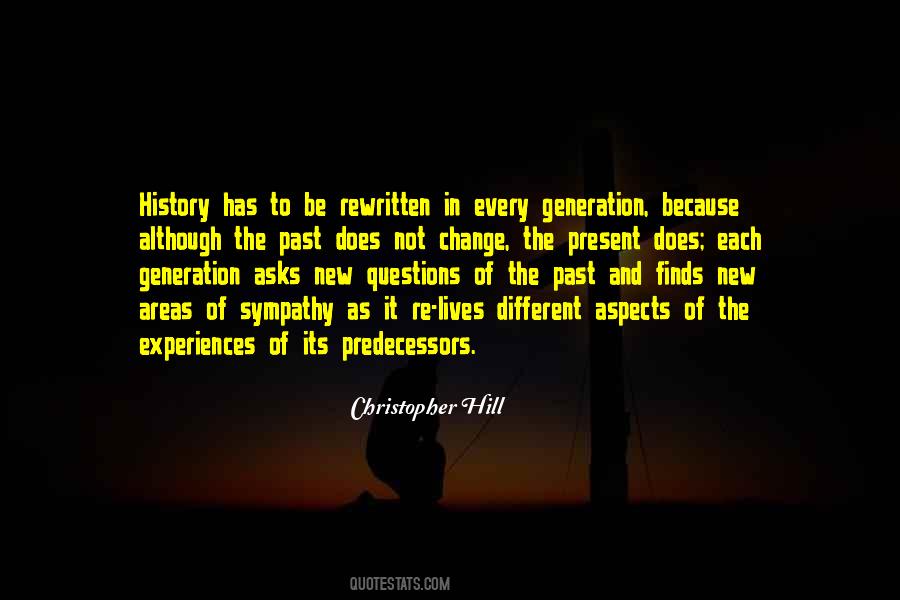 #47. The ethic behind songs of conscience doesn't change, even though the issues are altered from generation to generation. - Author: Peter Yarrow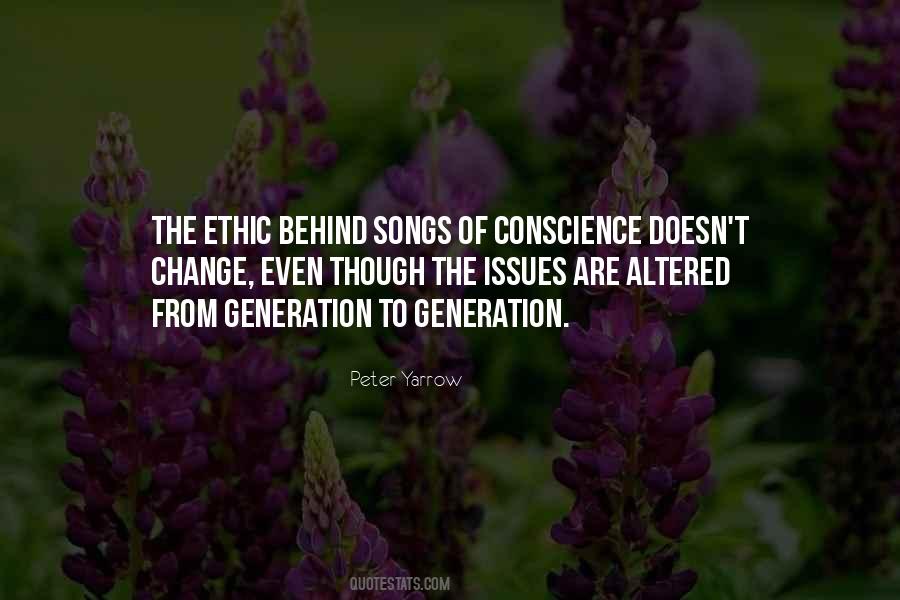 #48. We need leaders, we need political leaders and we need business leaders, and my hope for this book is that it helps create that next generation of business leaders that will lead us into the future. - Author: James White Fellow Of INSTAAR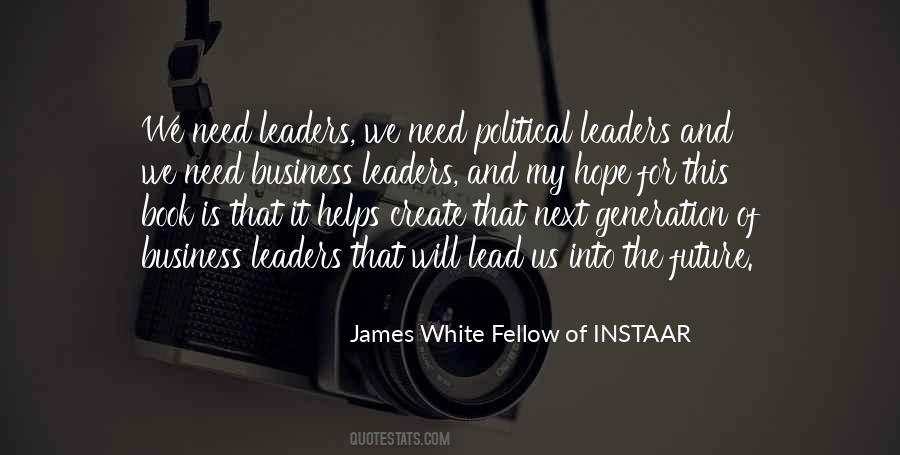 #49. Making systems work is the great task of my generation of physicians and scientists. But I would go further and say that making systems work - whether in healthcare, education, climate change, making a pathway out of poverty - is the great task of our generation as a whole. - Author: Atul Gawande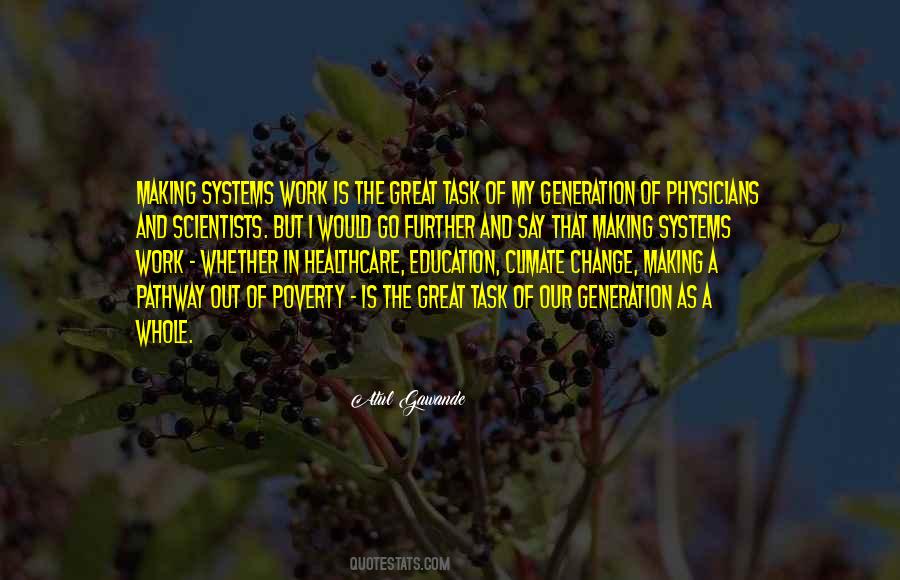 #50. The preoccupations of young women-their looks, their clothes, their social life-don't seem to change much from generation to generation. But in every generation there are a few that make others choices. - Author: Elisabeth Elliot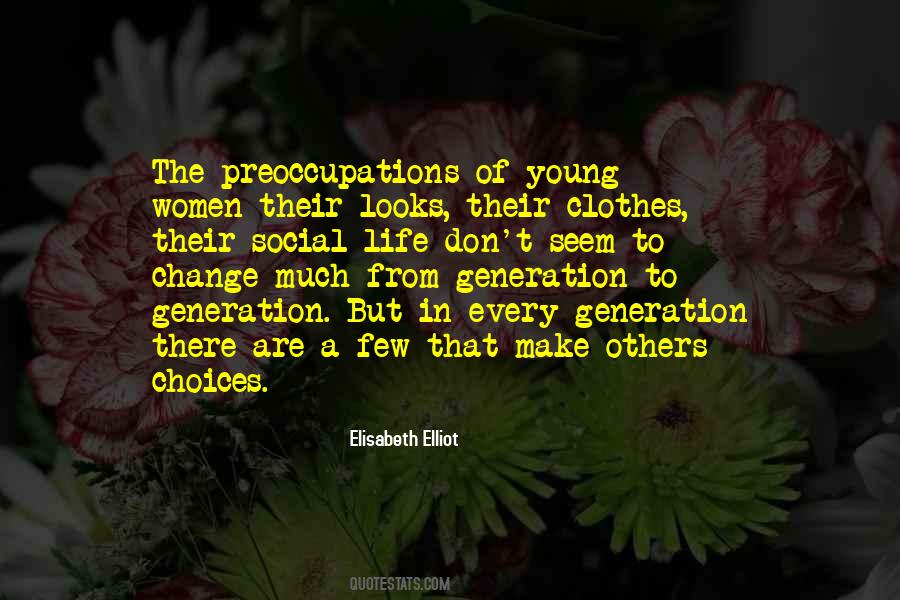 #51. If R. Akiva was perhaps overly generous in judging his generation, it can perhaps be ascribed to the belief, based on his own experience, that everyone is capable of a dramatic life change. - Author: Meir Soloveichik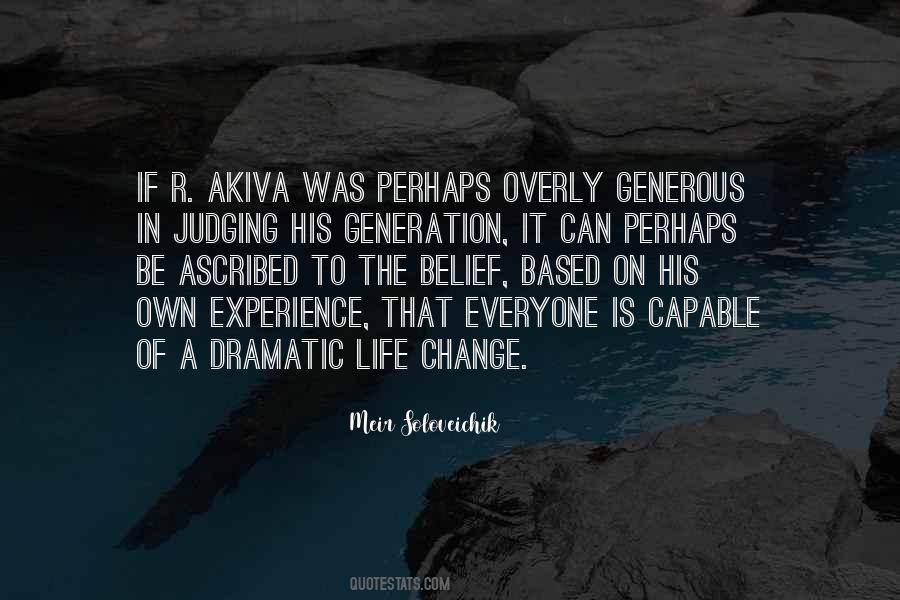 #52. Cooking with your kids and engaging them in hands-on activities are two ways to begin to educate children about the healthy eating, and kick start the important task to help change how the younger generation looks at food and nutrition. - Author: Marcus Samuelsson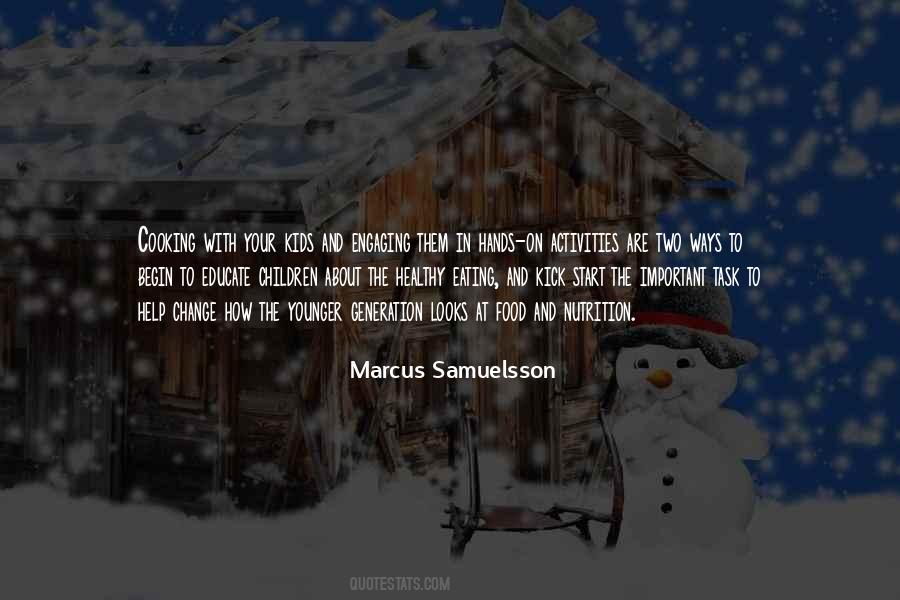 #53. The last remaining thing that must be communicated to the next generation is an aging figure that still continues to change. - Author: Hideo Kojima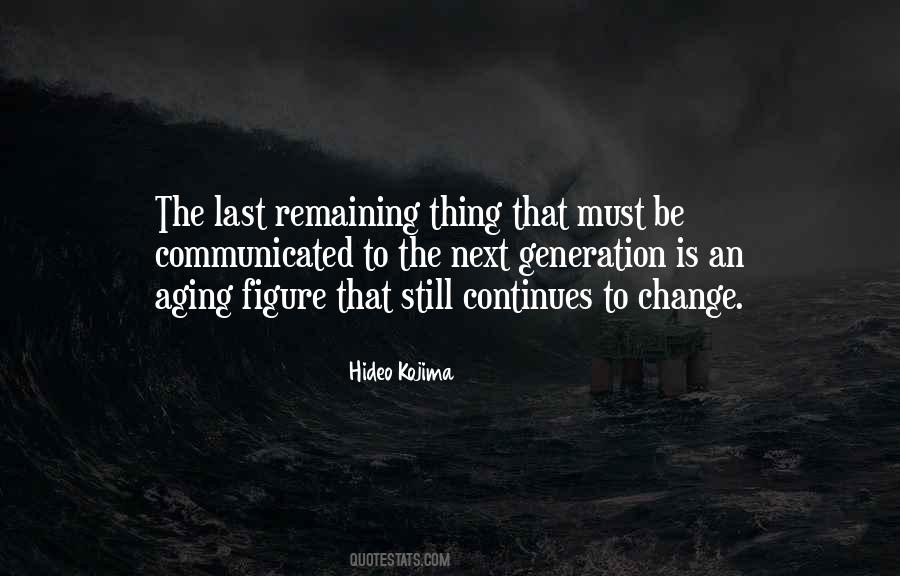 #54. If you look at the requirements for just one piece, like art, from one generation of games to the next, it will change radically. You need people who are adaptable because the thing that makes you the best in the world in one generation of games is going to be totally useless in the next. - Author: Gabe Newell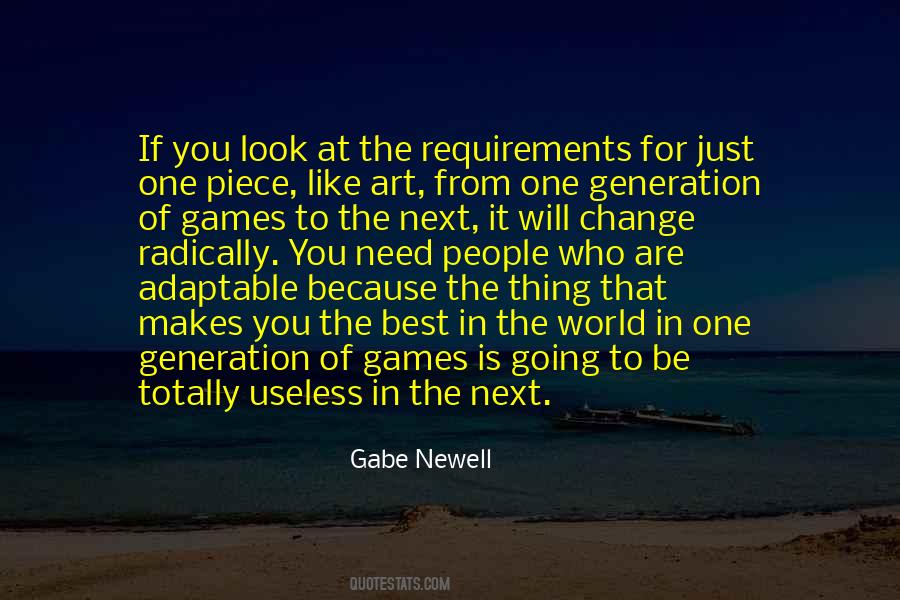 #55. Our mothers' generation fought so hard to change things and we're the first generation to benefit. And now you get girls in their twenties who say they're not feminists. - Author: Kristin Davis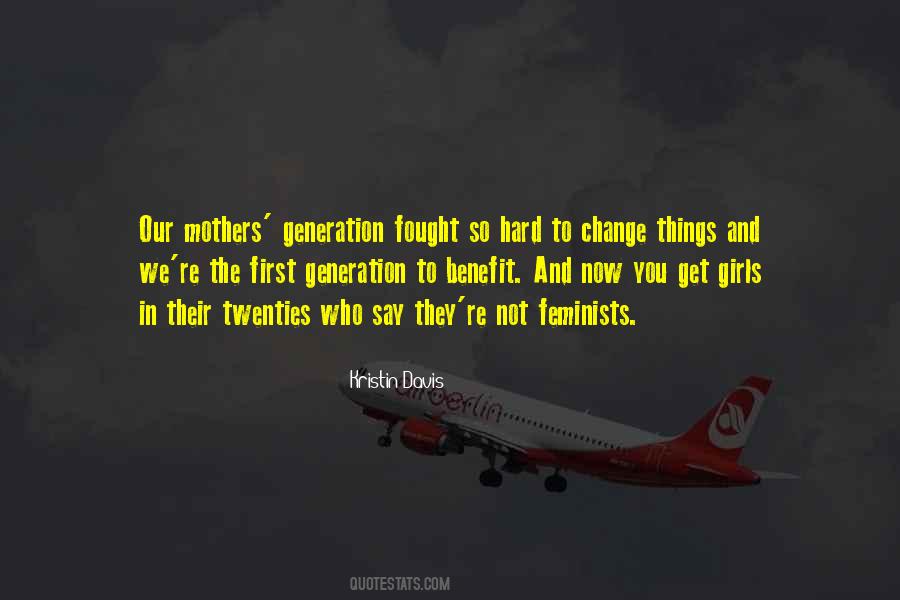 #56. Politicians would be well advised not to hold their breath for youth to engage in politics any time soon. Today's youth are the first generation to have realized for real change to occur, it must happen on an individual level rather than at an administrative level. - Author: James Morcan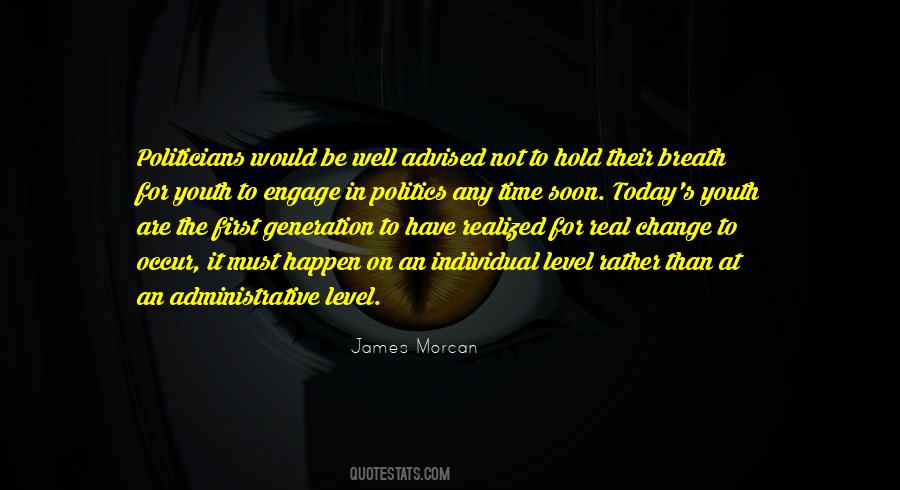 #57. Thrilled to be part of this new project Generation Nature and just encouraging kids to change the world. - Author: Bindi Irwin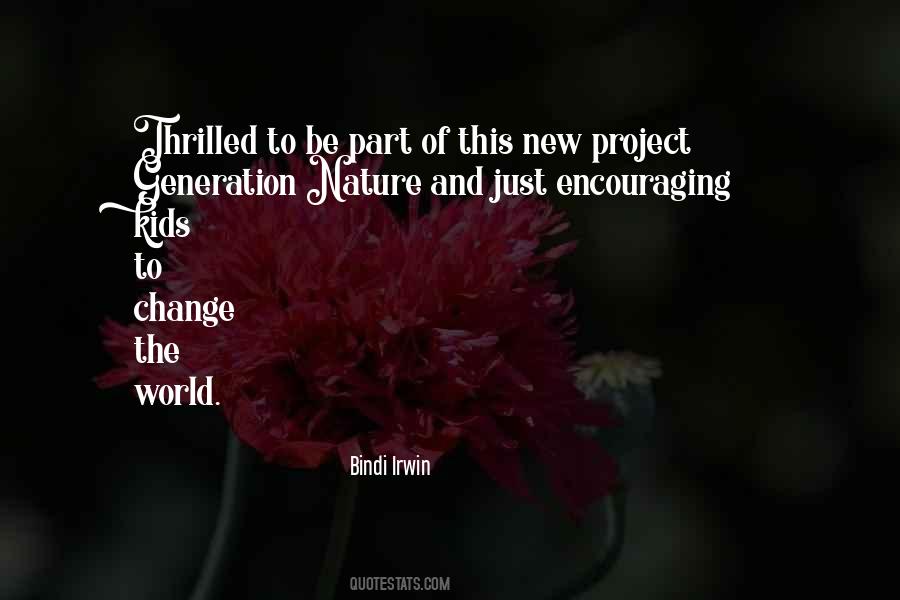 #58. Justice is based on values. And those change every generation. - Author: Eiichiro Oda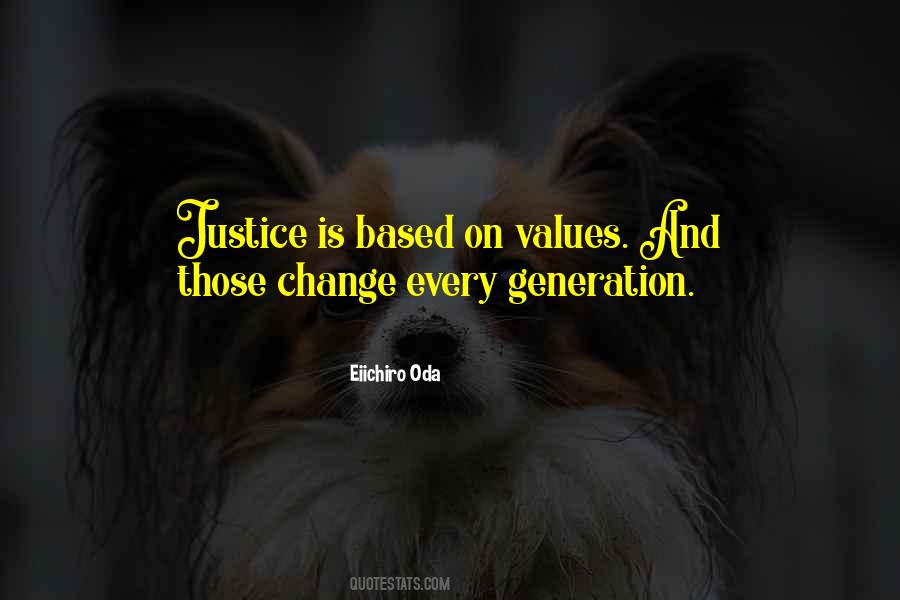 #59. It can only benefit the city to have endless waves of exceptionally capable, even brilliant, folk unfettered by class and family connections. They change the world once a generation. That is certainly worth something. - Author: Catherynne M Valente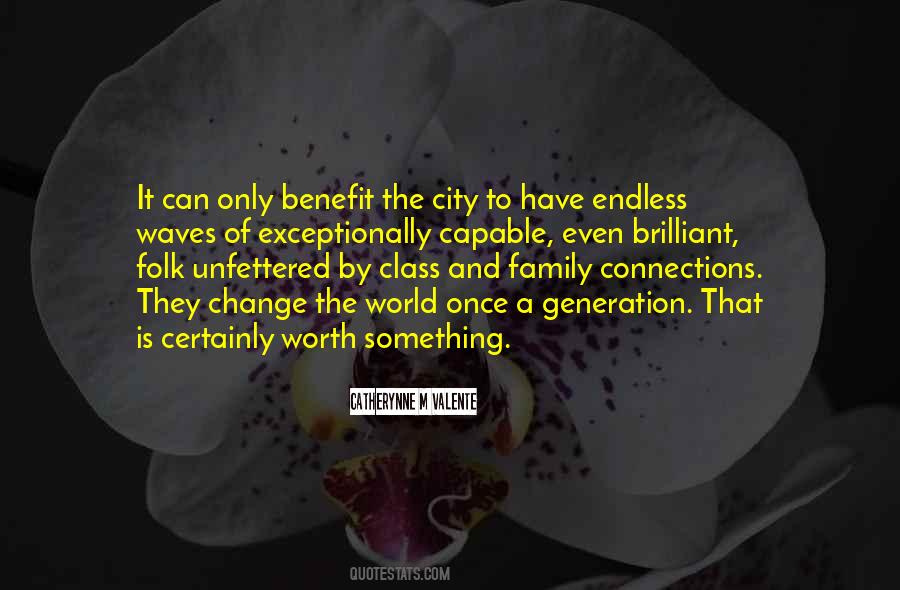 #60. If this generation doesn't end ...
then change towards a better one will be delayed. - Author: Toba Beta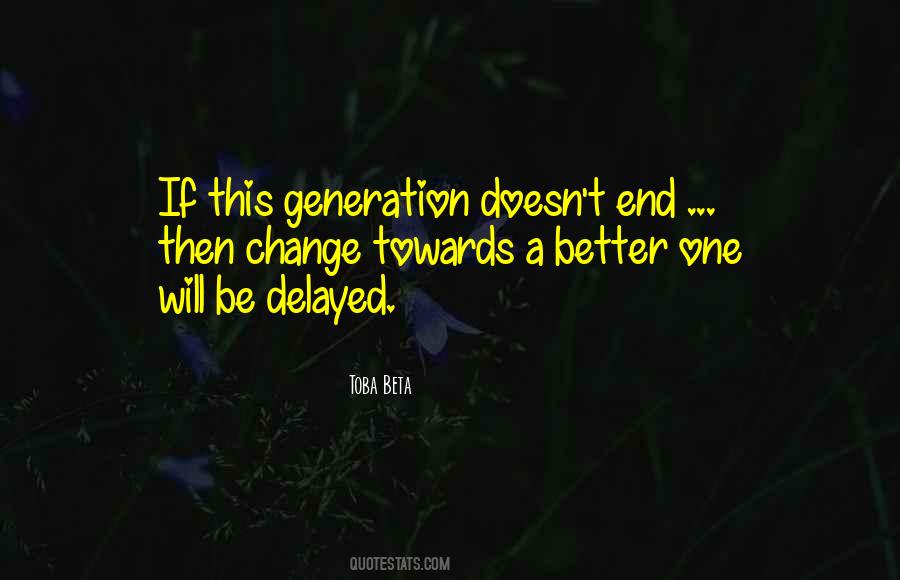 #61. But shame is not a pleasant feeling, and some Japanese politicians are always trying to change our children's history textbooks so that these genocides and tortures are not taught to the next generation. By changing our history and our memory, they try to erase all our shame. - Author: Ruth Ozeki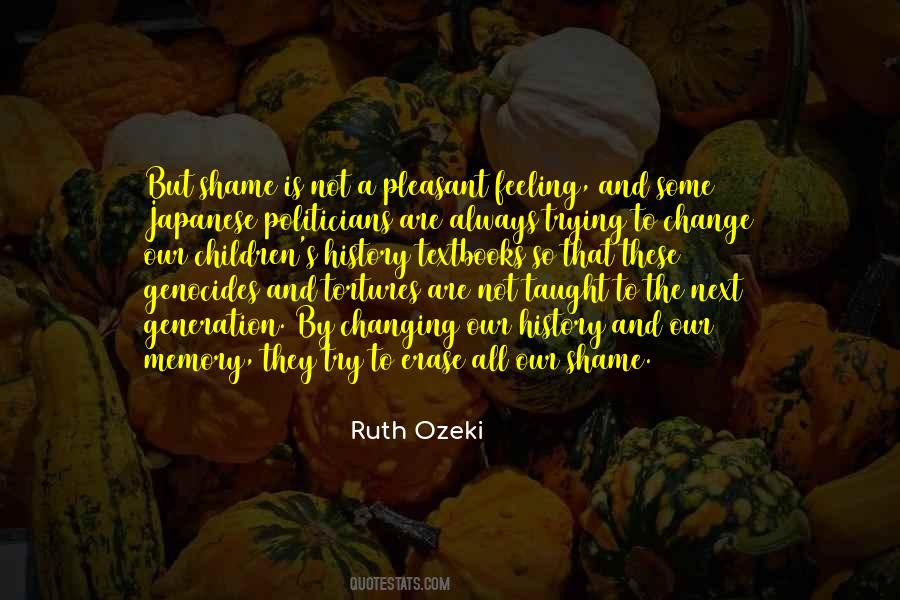 #62. It may well be that we will have to repent in this generation. Not merely for the vitriolic words and the violent actions of the bad people, but for the appalling silence and indifference of the good people who sit around and say, Wait on time. - Author: Martin Luther King Jr.
#63. If you're raised with a poverty mentality, nothing is going to change it. I do know some really stingy billionaires. I come from such a generation of hand-to-mouthers. - Author: Robert Downey Jr.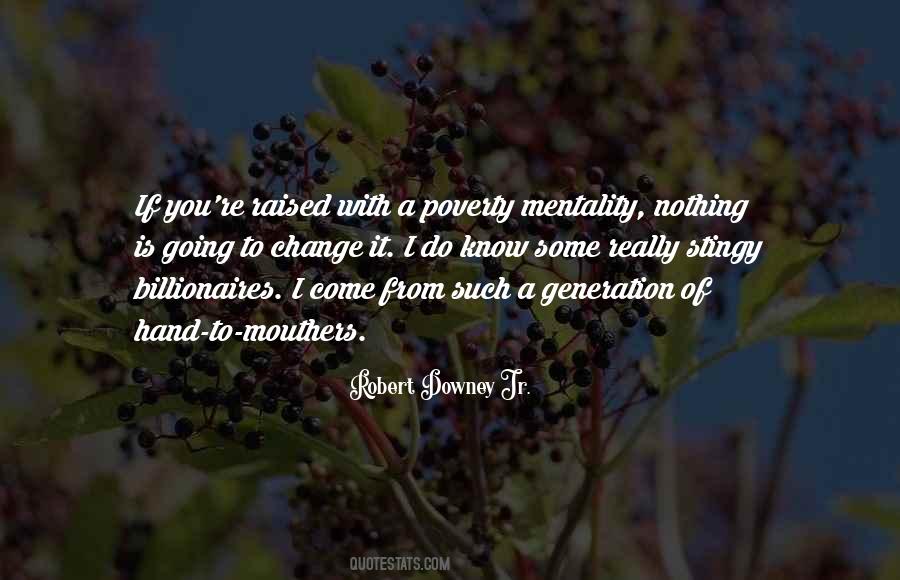 #64. All change, all production and generation are effected through the word. - Author: Bill Vaughan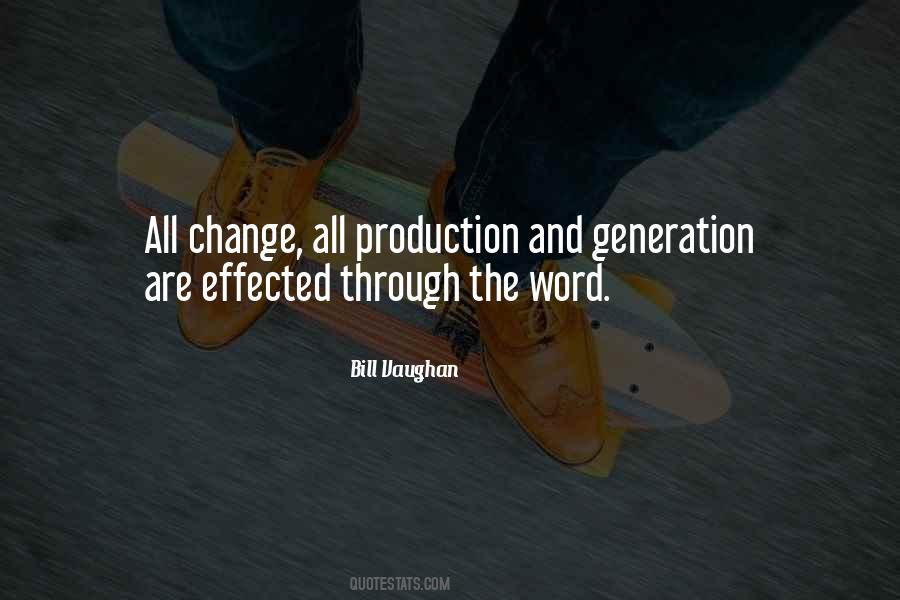 #65. We are acting as if we were the last generation on the planet. Without a radical change in heart, in mind, in vision, the earth will end up like Venus, charred and dead. - Author: Sogyal Rinpoche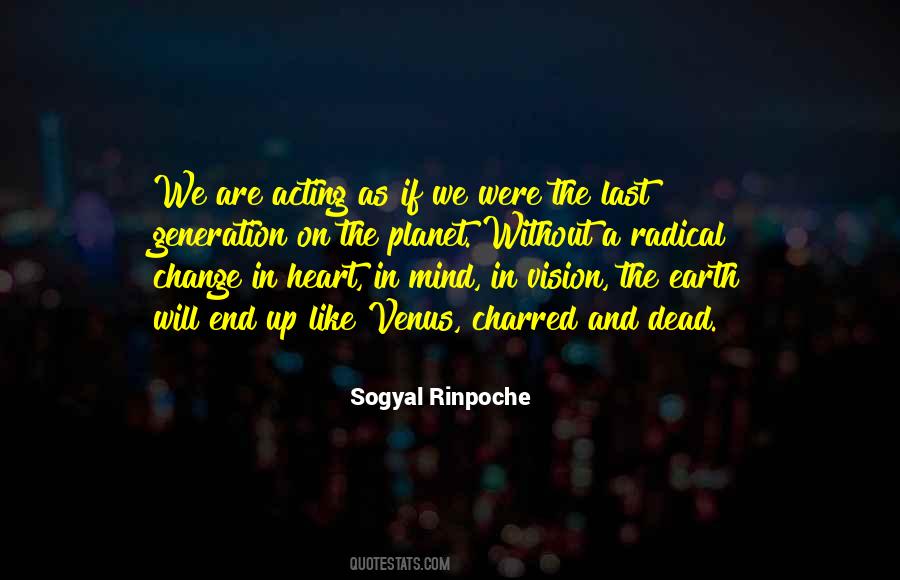 #66. Then we change our possy and lie down again to play cards. We know how to do that: to play cards, to swear, and to fight. Not much for twenty years;
and yet too much for twenty years. - Author: Erich Maria Remarque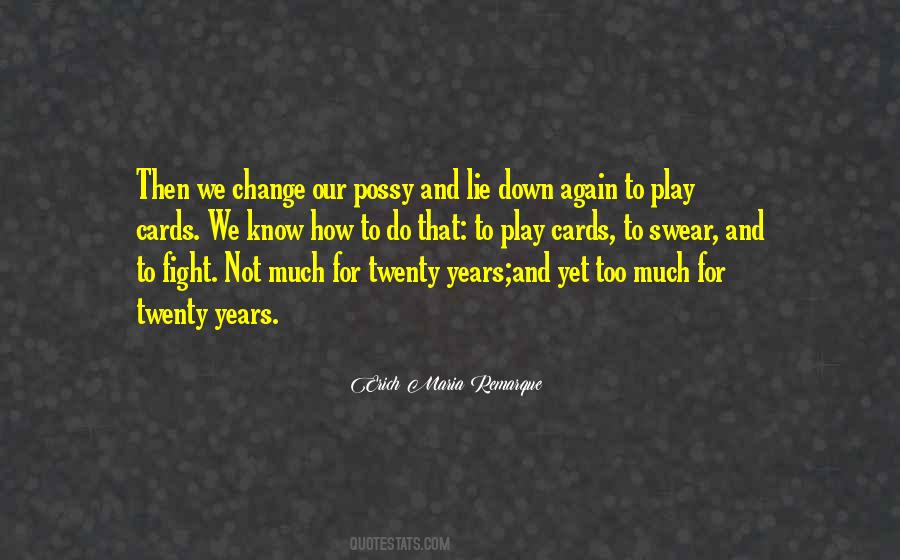 #67. Man steps on an ant when he can't catch the fly. - Author: Bill Gaede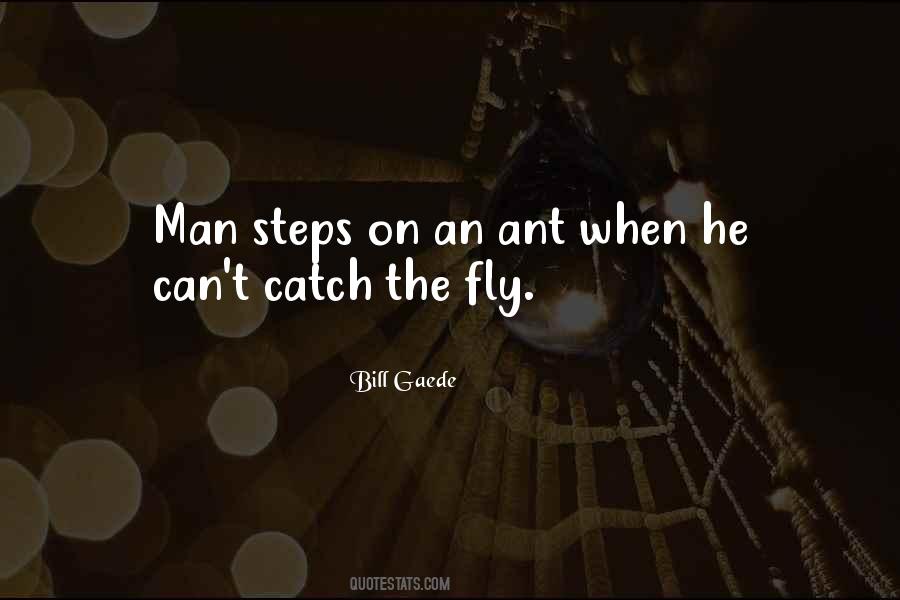 #68. We think it is complicated to change the world. Change comes little by little. Nothing worthwhile can happen in one generation. - Author: Andrew Young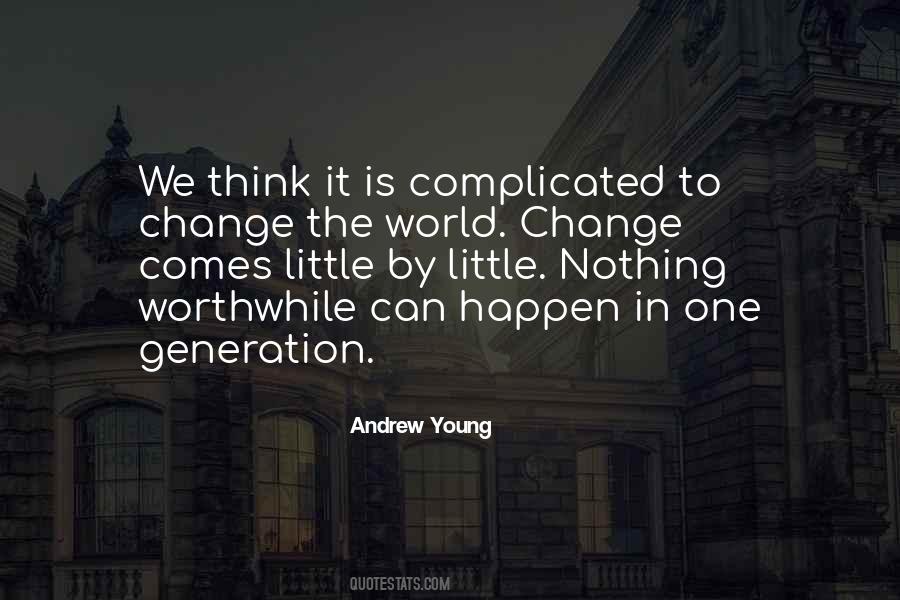 #69. There are no electromagnetic field (EMF) book millionaires yet, but that may change with the roll out of the fifth generation (5G) wireless networks. - Author: Steven Magee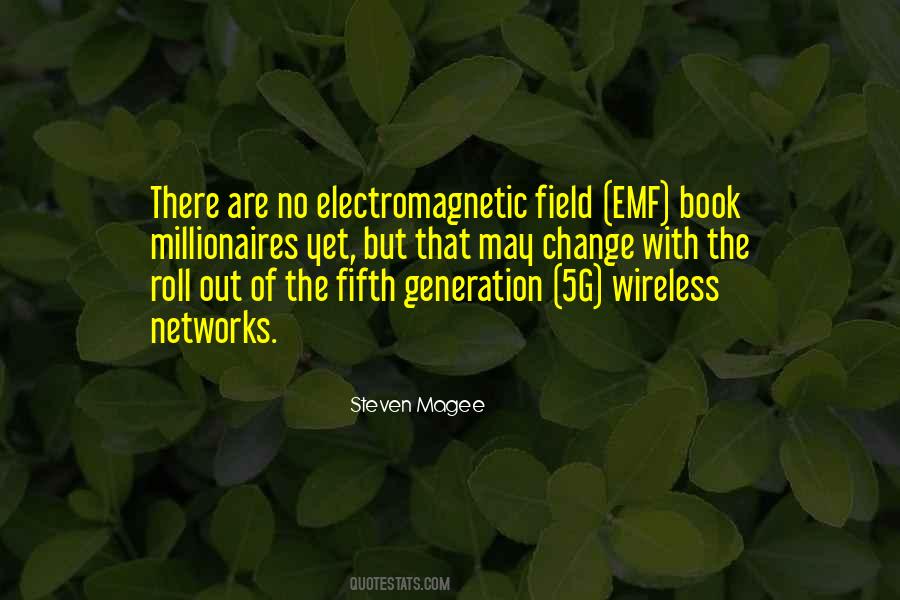 #70. Really, each era has its own false nostalgia. We all put a picket fence up around something. For my generation it was the '50s, and for other generations it will be something else. Change is scary for everyone, as is complexity, contradiction, and an uncertain future. - Author: Gary Ross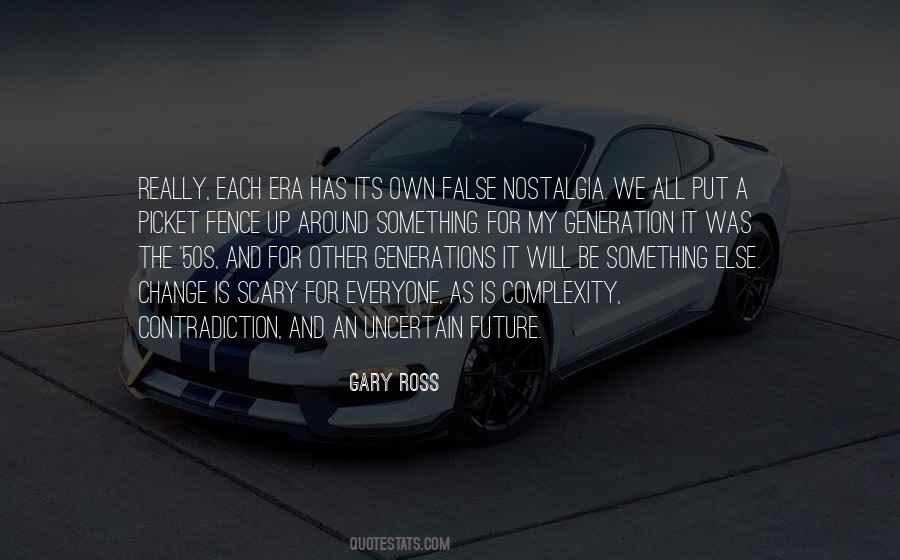 #71. Very often we support change, and then are swept away by the change. I think that ... you just make your own response to your own generation. A response adequate to your time. - Author: Nadine Gordimer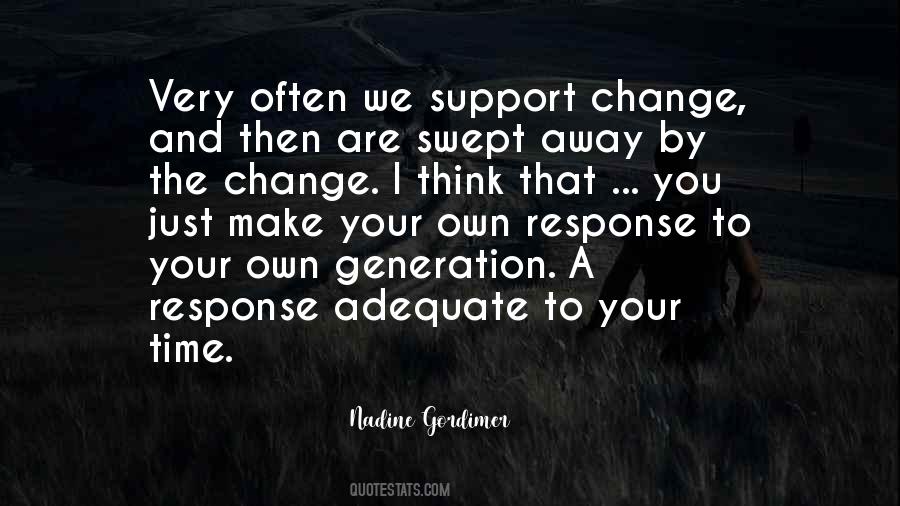 #72. We were the generation psychoanalysts tried to change. - Author: Larry Kramer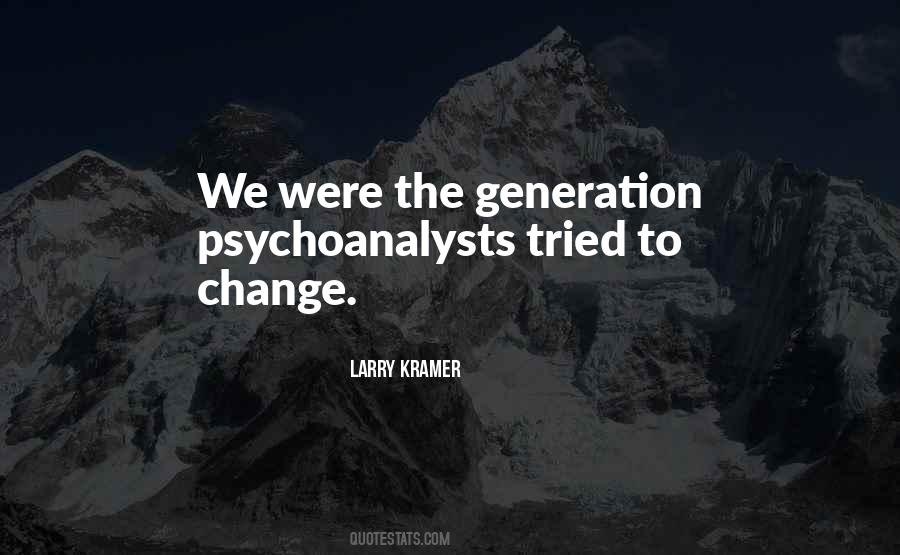 #73. I think there's a gigantic generation gap in terms of how people understand the Internet and how much they think technology is an important factor in social change. - Author: Alex Steffen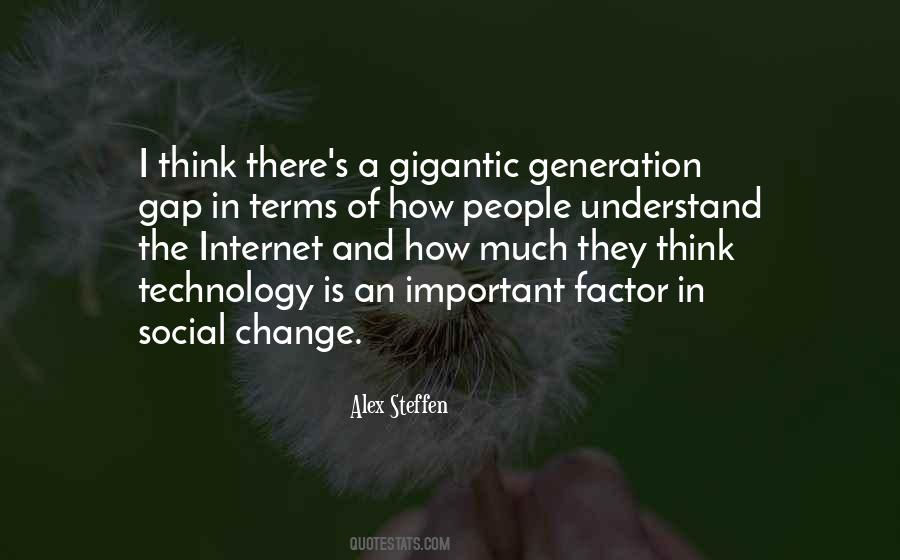 #74. As times change, so do the way each generation see the world. It is rather like the way our generation came to see our grandparents' views on the Empire and colonies as outdated. - Author: Douglas Alexander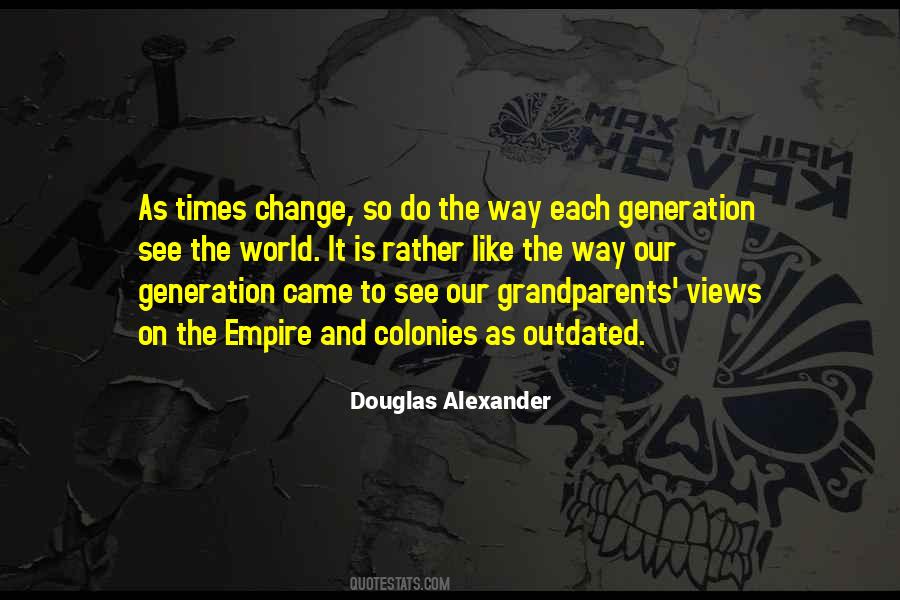 #75. There was no question of generation change or saying goodbye to the past or modernizing sloganising. - Author: Geoffrey Howe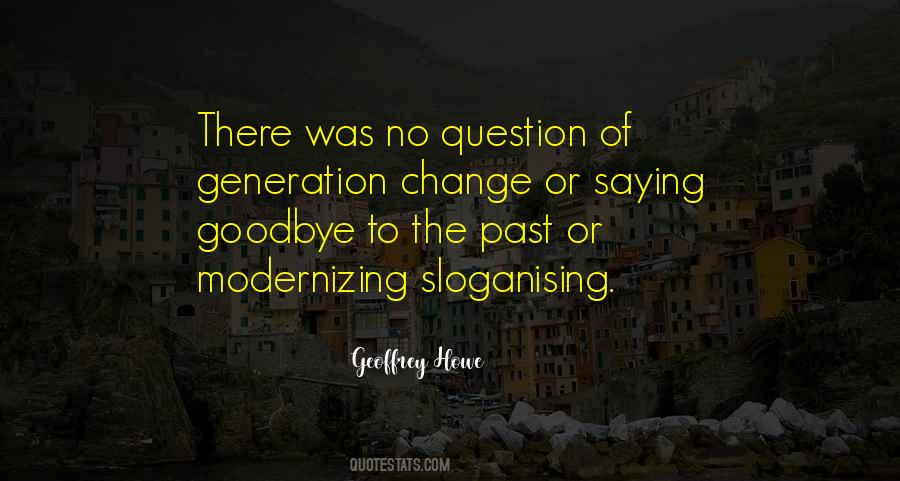 #76. Ending the lawlessness at the border? I don't believe a fourth-generation Hispanic thinks that's evil. I don't think an African American thinks there's anything wrong with protecting their jobs for a change. - Author: Jeff Sessions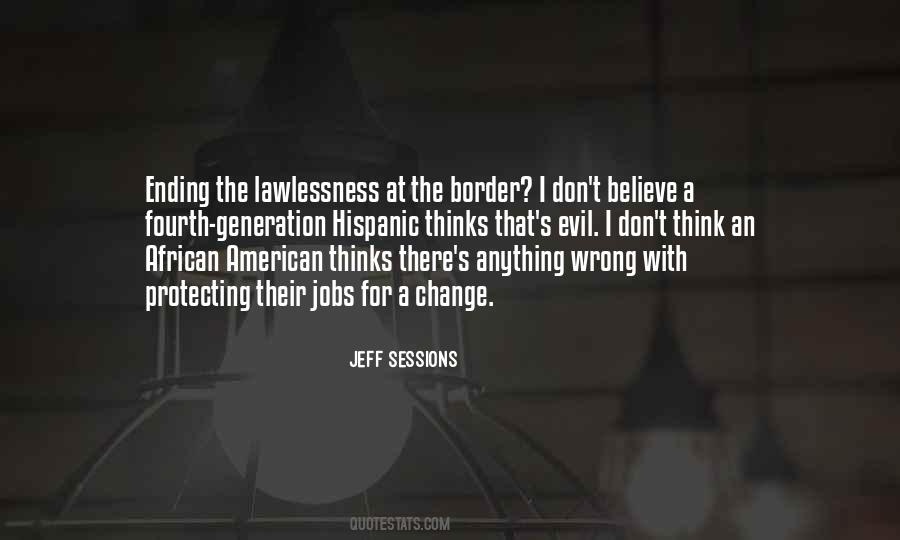 #77. This generation is earnestly waiting for you, for a change - Author: Sunday Adelaja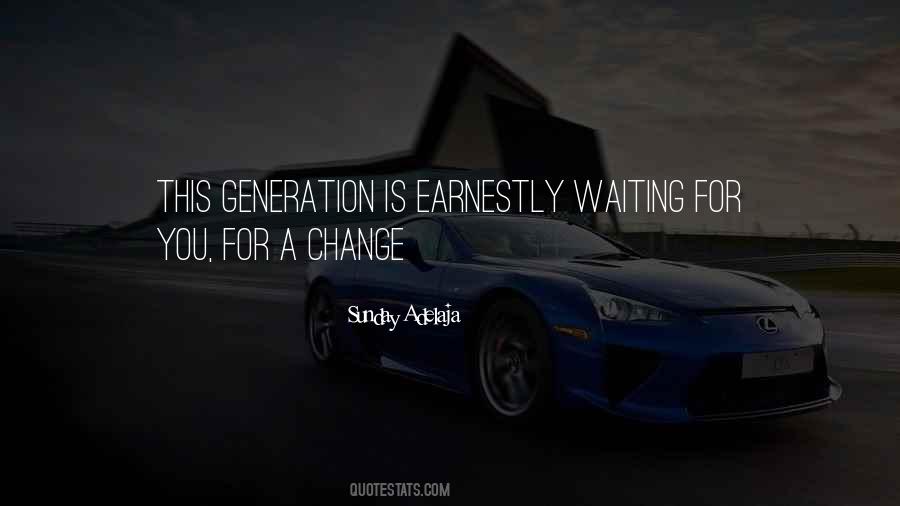 #78. Peter Joseph is asking the questions and proposing the possible solutions that we should be demanding from the elected leaders of this crazy world.
His brilliant analysis of this ridiculous system we're operating under is one of the most important voices for change in this generation. - Author: Joe Rogan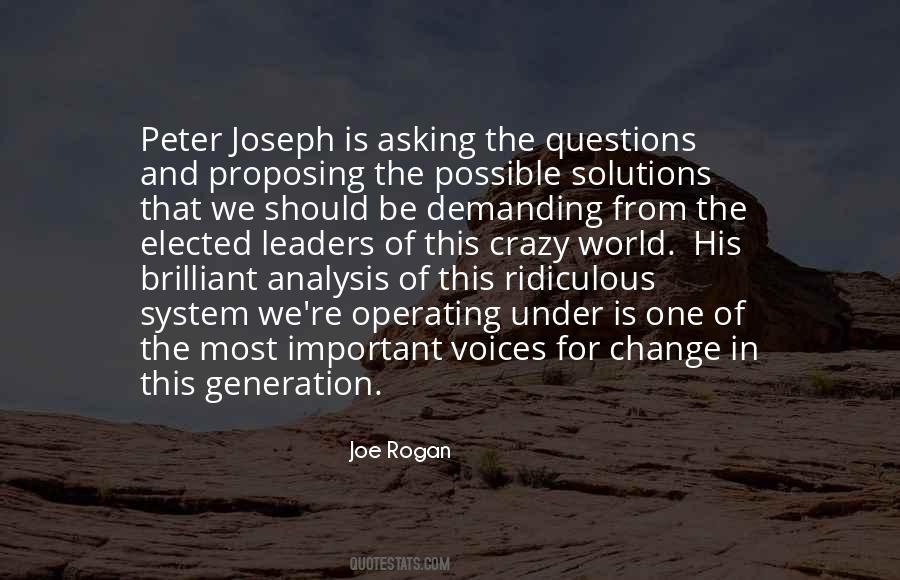 #79. Two of the greatest hungers in our world today are the hunger for spirituality and the hunger for social change. The connection between the two is the one the world is waiting for, especially the new generation. And the first hunger will empower the second. - Author: Jim Wallis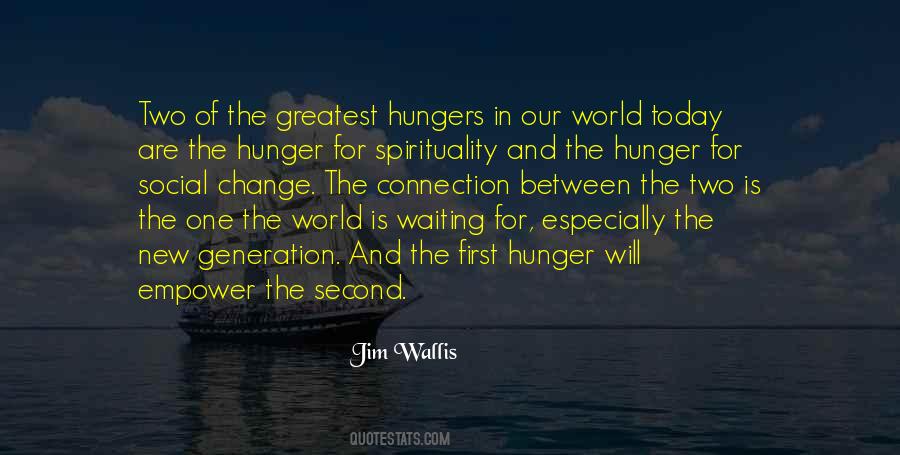 #80. The forces that are in play on climate change essentially revolve around the generation of power, the transportation of goods and services and people, and the sorts of materials that we use to fuel the whole of our civilisation. - Author: Peter Garrett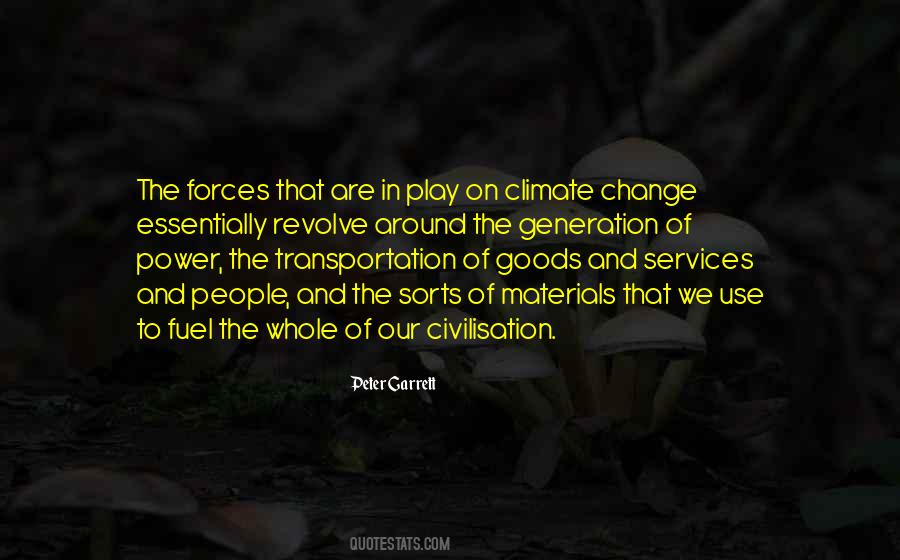 #81. To the naked eye, our oceans are beautiful. But scientists tell us that all of the world's fisheries will collapse by 2048, unless we change how we manage them. Help protect our oceans so the next generation can also enjoy their bounty. - Author: Ted Danson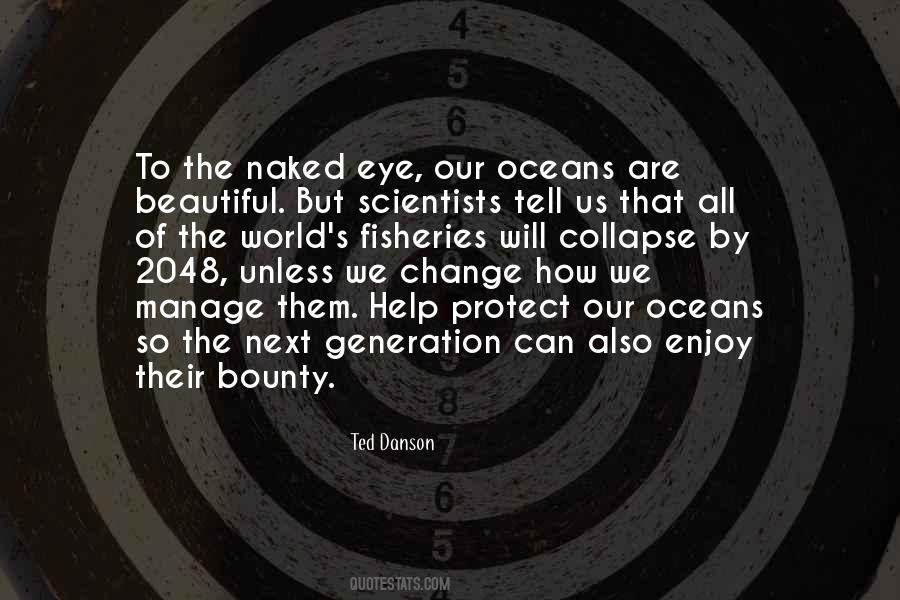 #82. My father's generation's crisis was fighting fascism. Ours is fighting climate change. It is much harder because you can't see it, it is not an obvious threat. But the solution is in our hands. - Author: Nicholas Stern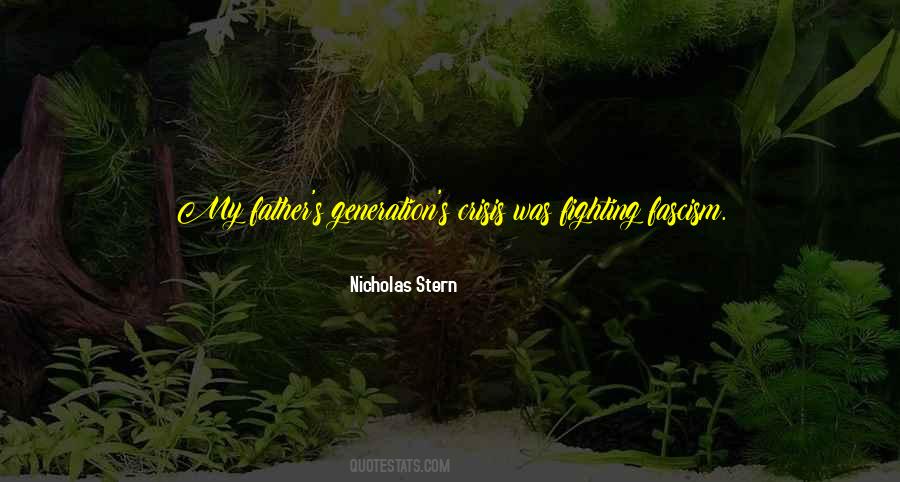 #83. Rural places have hemorrhaged their best and brightest children, their intellectuals, thinkers, organizers, leaders, and artists-those who would create change and who would parent another generation of thinkers. All gone.
Our seeds are disappearing. - Author: Janisse Ray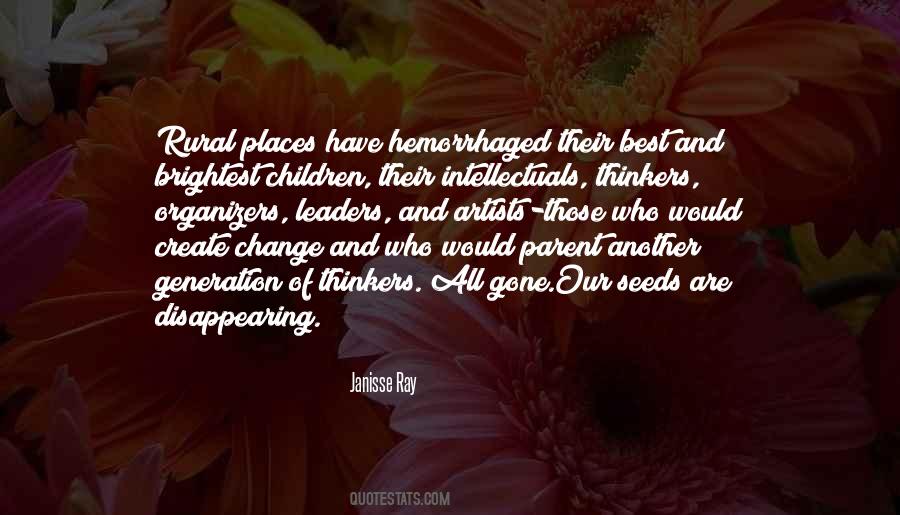 #84. I refuse to condemn your generation and future generations to a planet that's beyond fixing. - Author: Barack Obama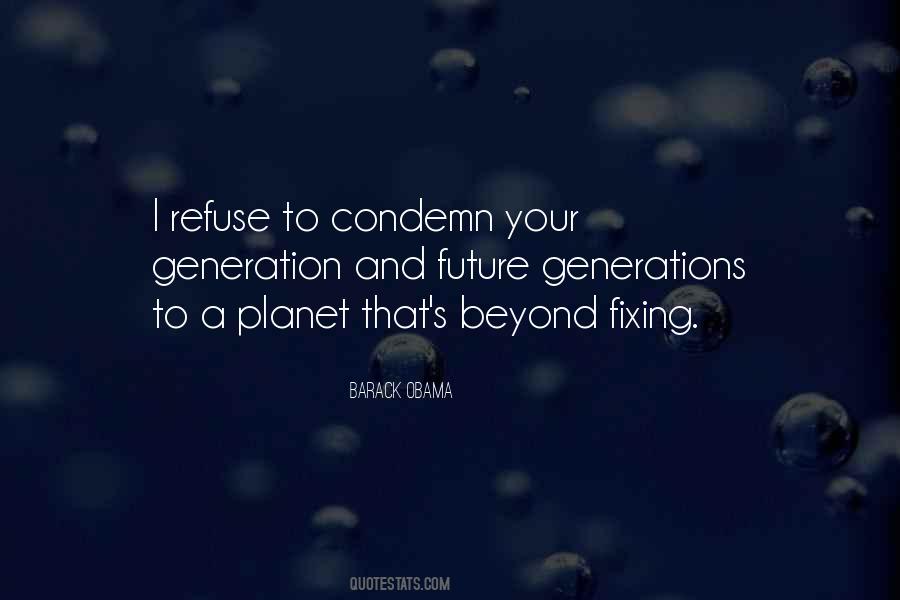 #85. The surest way to ensure career extinction is to resist change and adaptation. - Author: Miles Anthony Smith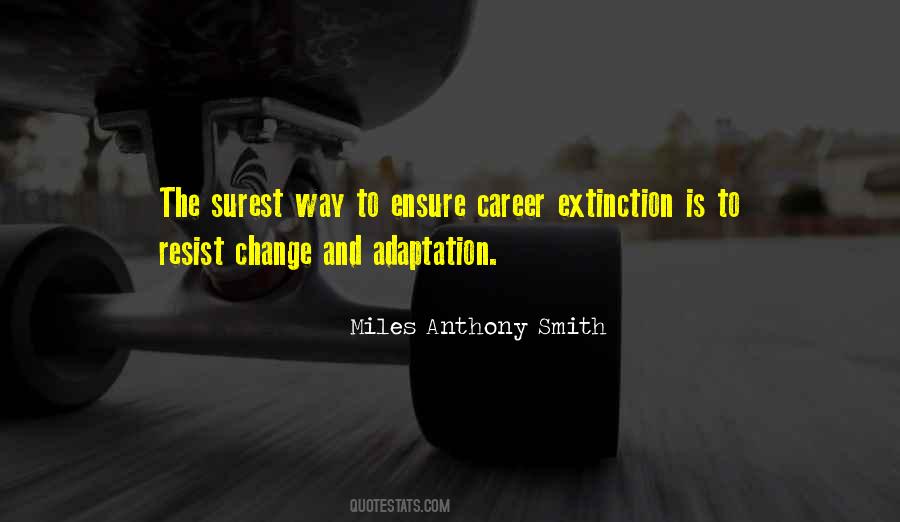 #86. Many young activists tend to resist spirituality, thinking that religion has nothing to do with social change and is, in fact, part of the problem. - Author: Adam Bucko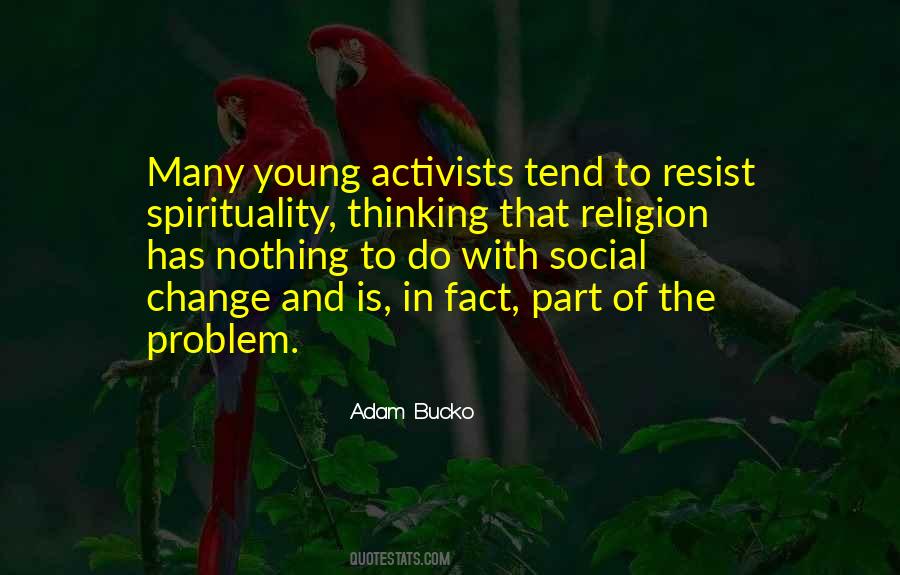 #87. For my generation, coming of age at the height of the Cold War, fear of nuclear winter seemed the leading existential threat on the horizon. But the danger posed by war to all humanity-and to our planet-is at least matched by climate change. - Author: Ban Ki-moon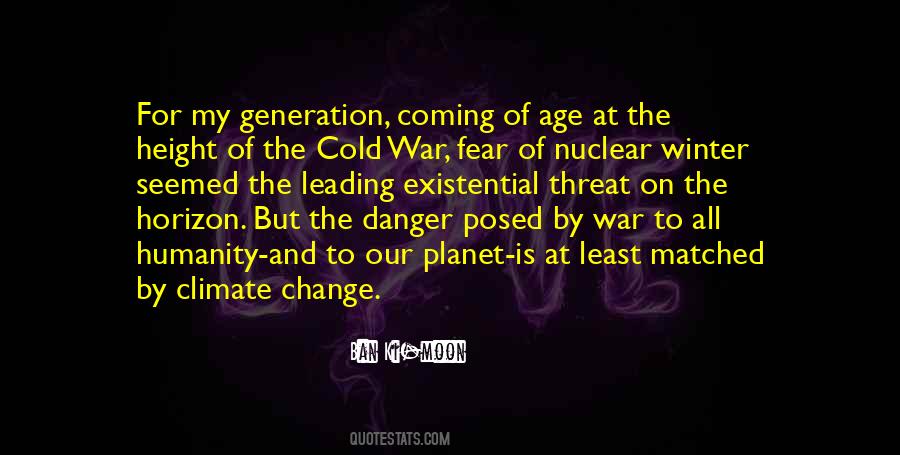 #88. Do we want to be remembered as the generation that saved the banks and let the biosphere collapse? - Author: George Monbiot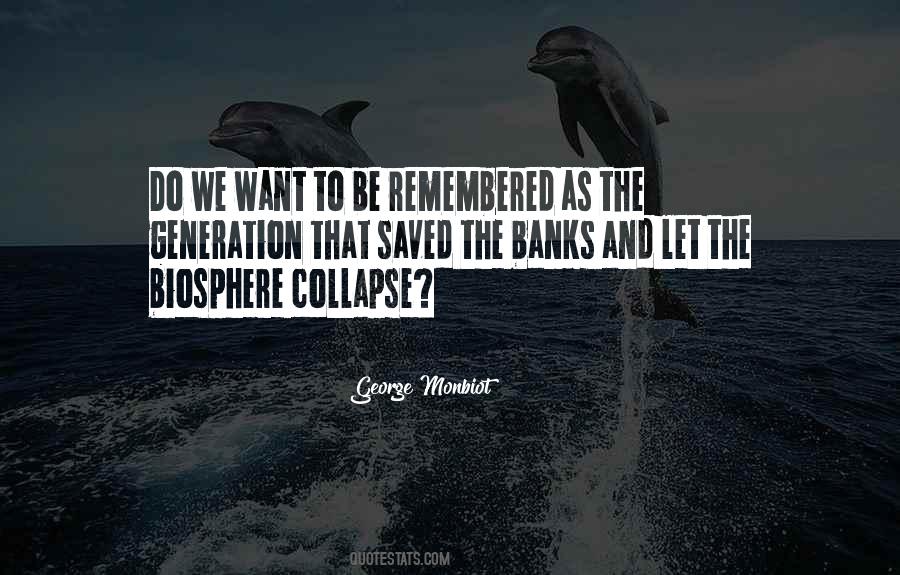 #89. The stranglehold of the departed was much resented by the new generation of aspiring authors. Which is why it is who did make the breakthrough were so admired. - Author: Andrew Pettegree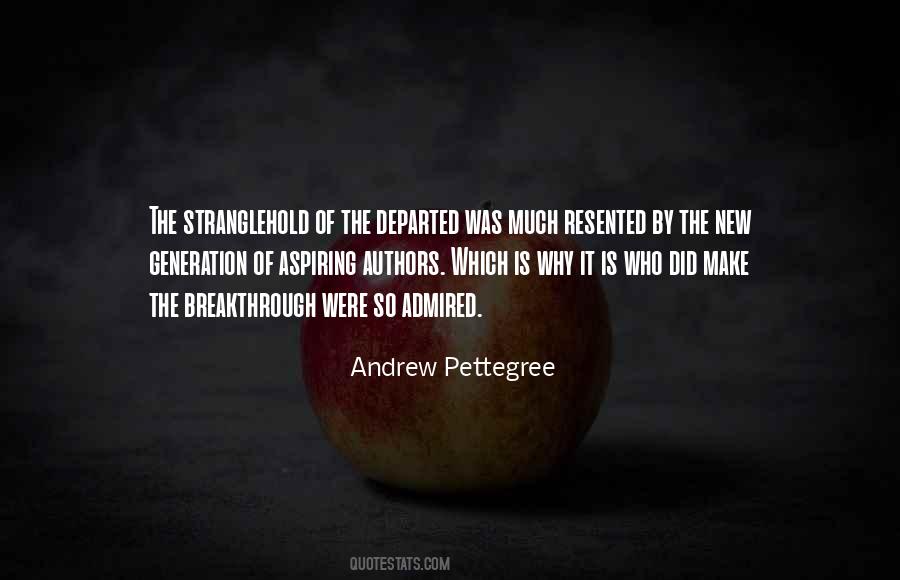 #90. The middle class in America is at a tipping point. It will not last another generation if we don't boldly change course now. - Author: Bernie Sanders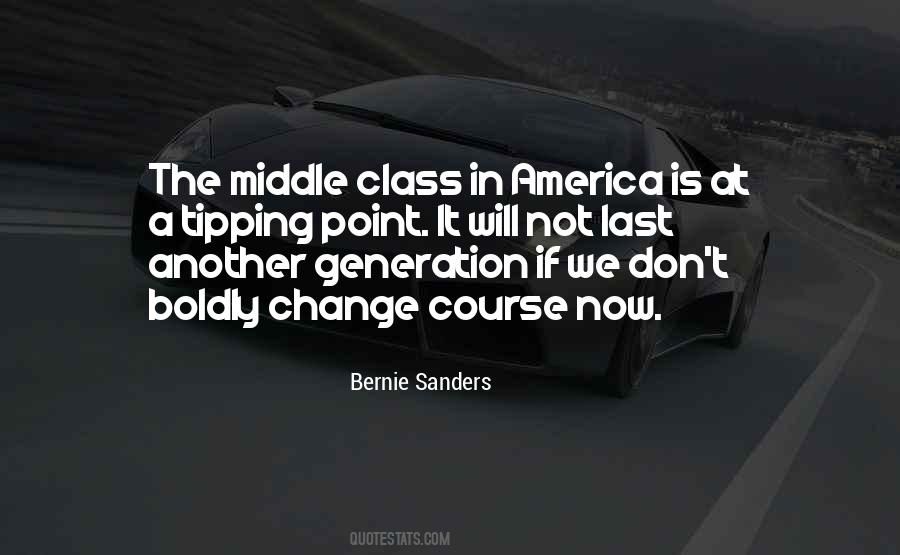 #91. She kept repeating that if she had dedicated herself assiduously to every child in the neighborhood, in a generation everything would change, there would no longer be the smart and the incompetent, the good and the bad. Then she looked at her son and again burst out crying. - Author: Elena Ferrante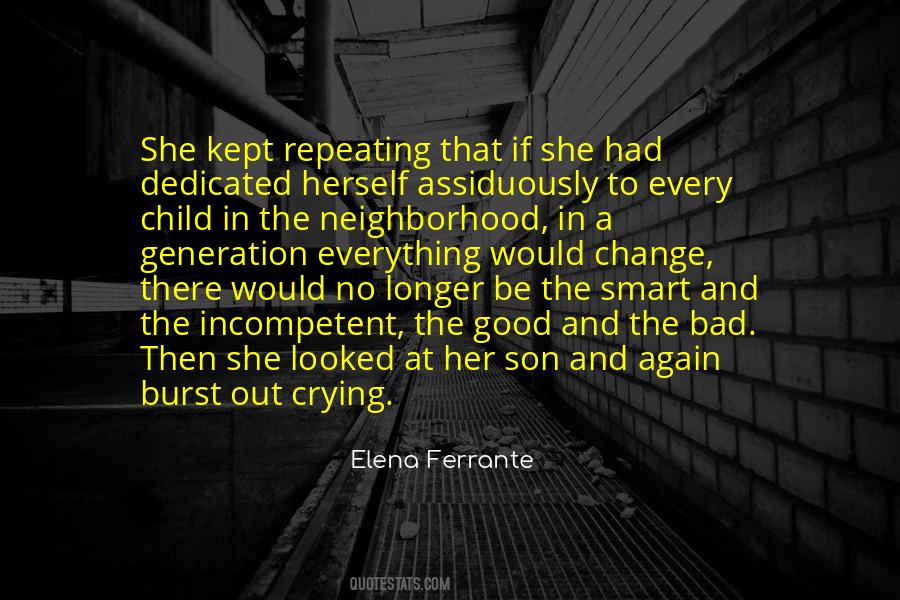 #92. If we are ever to cope with climate change in any fundamental way, radical solutions on the social side are where we must focus, though. The relative efficiency of the next generation of solar cells is trivial by comparison. - Author: Naomi Klein
#93. The soil is actually the greatest technology we have for adapting to climate change. And I feel it's our generation's duty to build it back up. - Author: Jason Mraz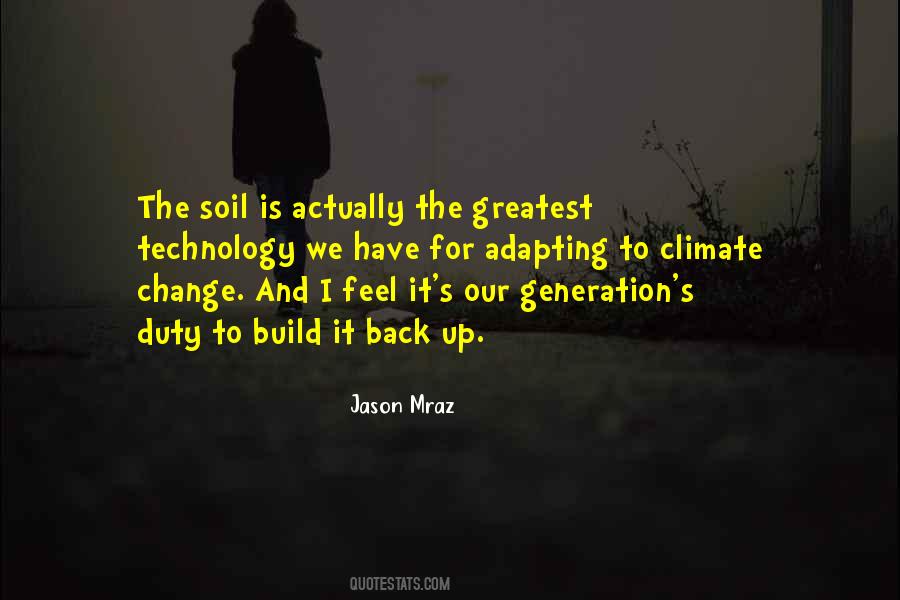 #94. I have thought about that very often - how the times change, and the same words that carry a good many people into the howling wilderness in one generation are irksome or meaningless in the next. - Author: Marilynne Robinson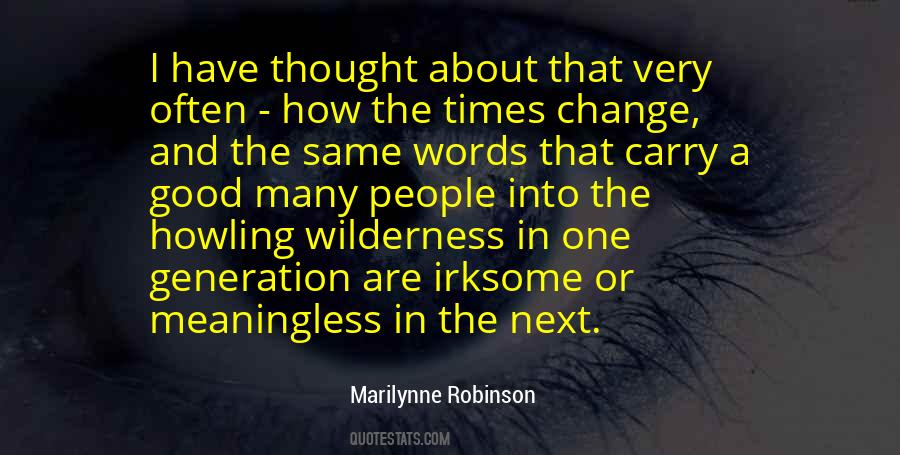 #95. Broken-hearted leaders change things that go beyond their generation. - Author: Andy Stanley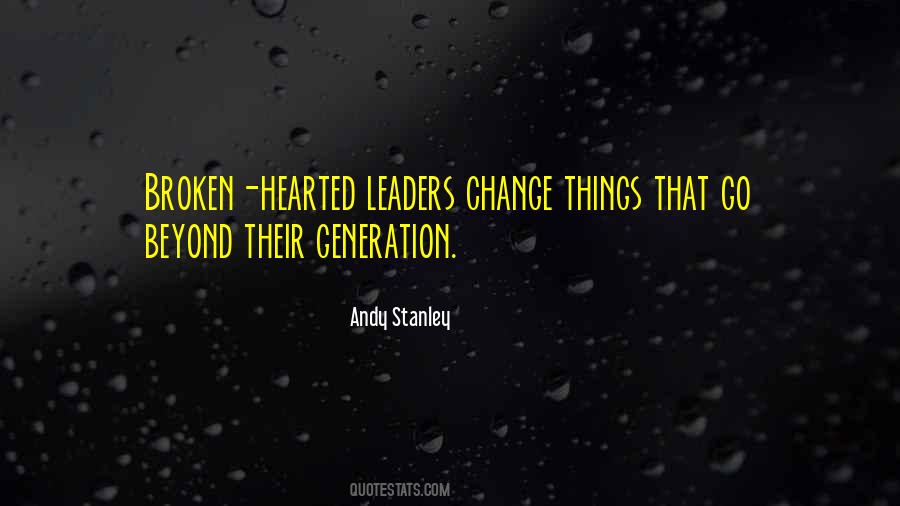 #96. I think there is a generation gap. I personally look forward to, as our generation becomes the leaders, you are gonna see a change, and I think hopefully gay marriage will be a part of that country. - Author: Vanessa Kerry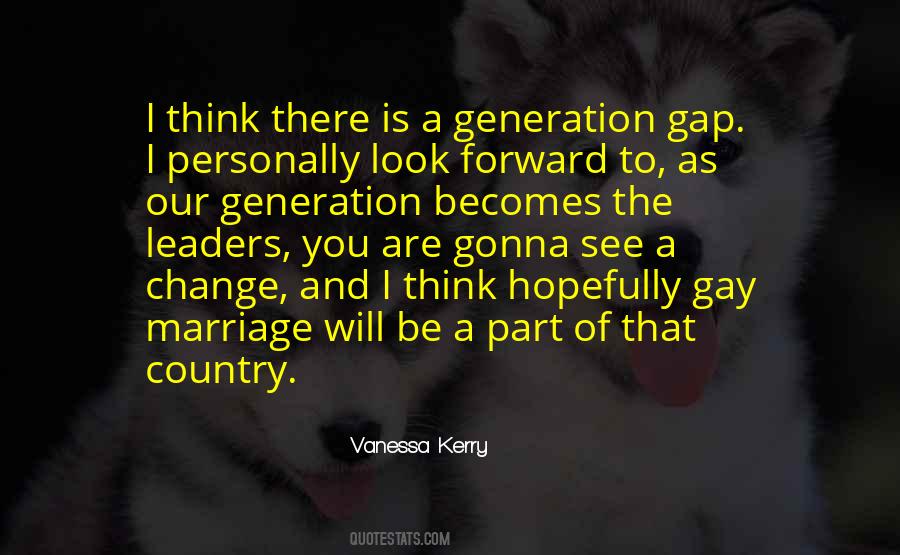 #97. I'm determined to take ground and win big for the kingdom of God. I'm unapologetic about my mission to change the world for the glory of Jesus. I want to be a Joshua in my generation. - Author: Steven Furtick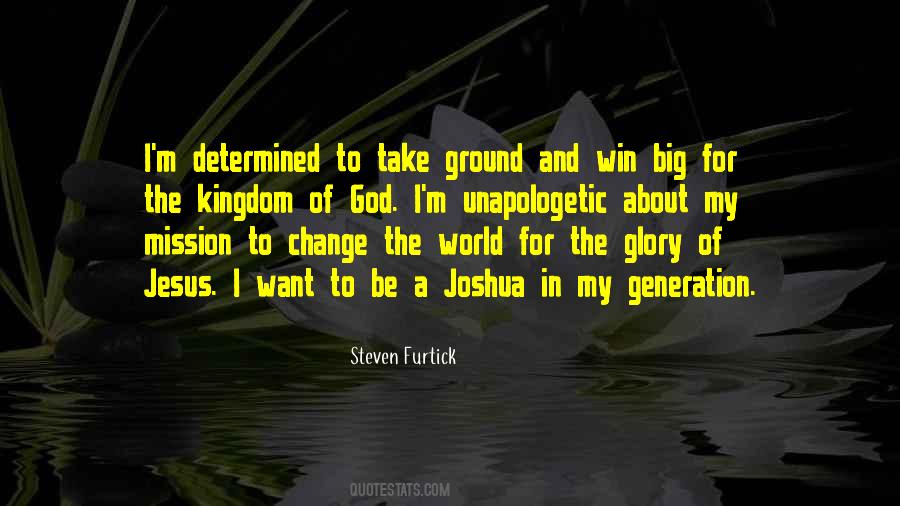 #98. In a generation everything can change. - Author: Hilary Mantel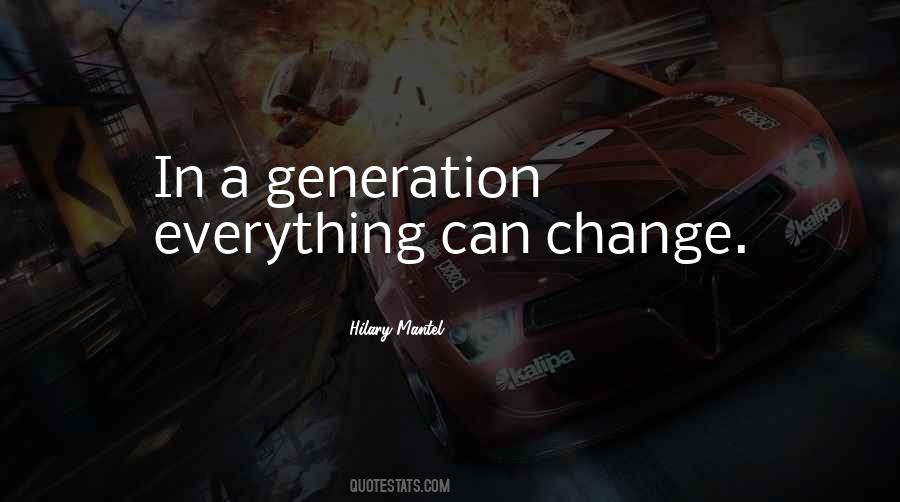 #99. It's 2009, things change. I'm a creature of habit, so in the beginning I wanted it to be as much like the original as possible, but that's not reality. And reality is, this is a new generation, and people want to see 'Witch Mountain' again. - Author: Kim Richards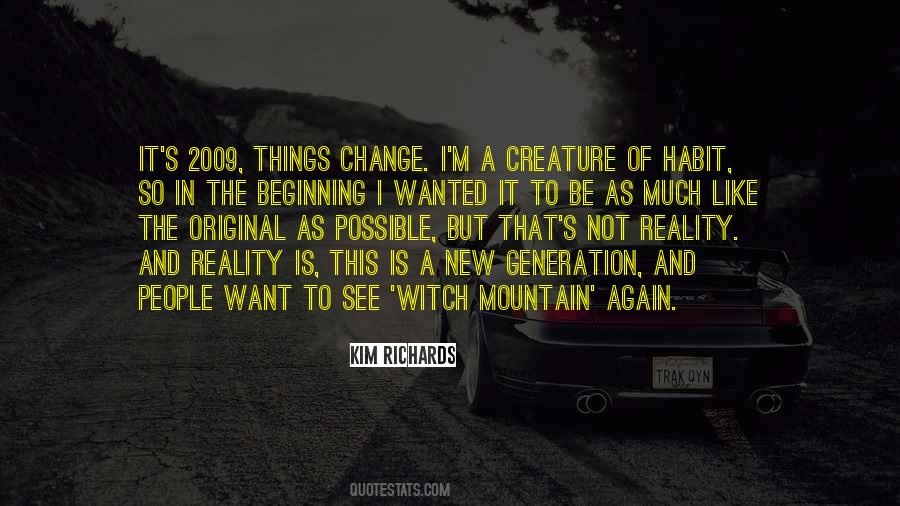 #100. Our generation does not want its epitaph to read, 'We kept charity overhead low.' We want it to read that we changed the world. - Author: Dan Pallotta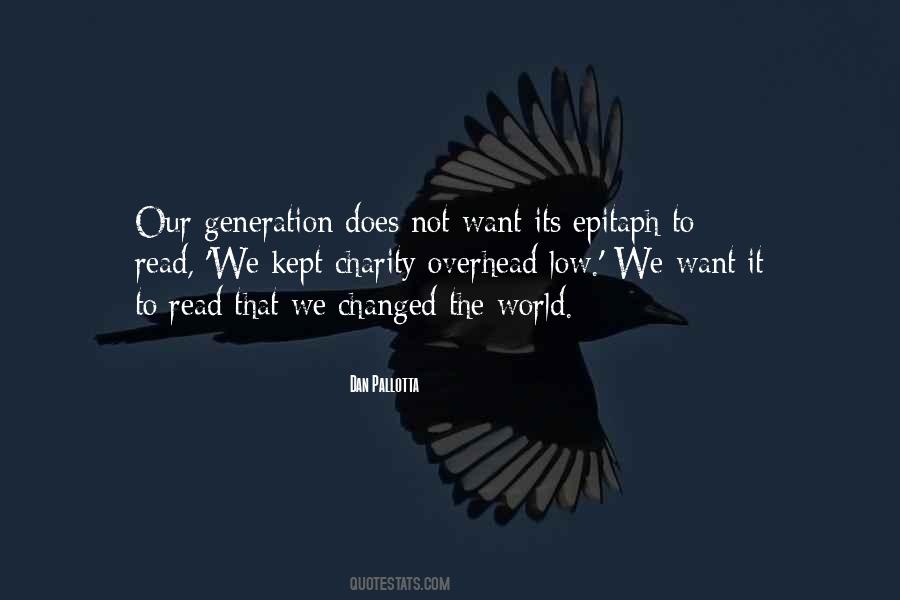 Famous Authors
Popular Topics