Freshman In College Famous Quotes & Sayings
List of top 33 famous quotes and sayings about freshman in college to read and share with friends on your Facebook, Twitter, blogs.
Top 33 Quotes About Freshman In College
#1. A president, like a college freshman, can't know in advance which questions he'll have to answer or what topics he'll have to master. He has to be flexible, supple, and responsive. He has to be comfortable with multiple-choice. - Author: Walter Kirn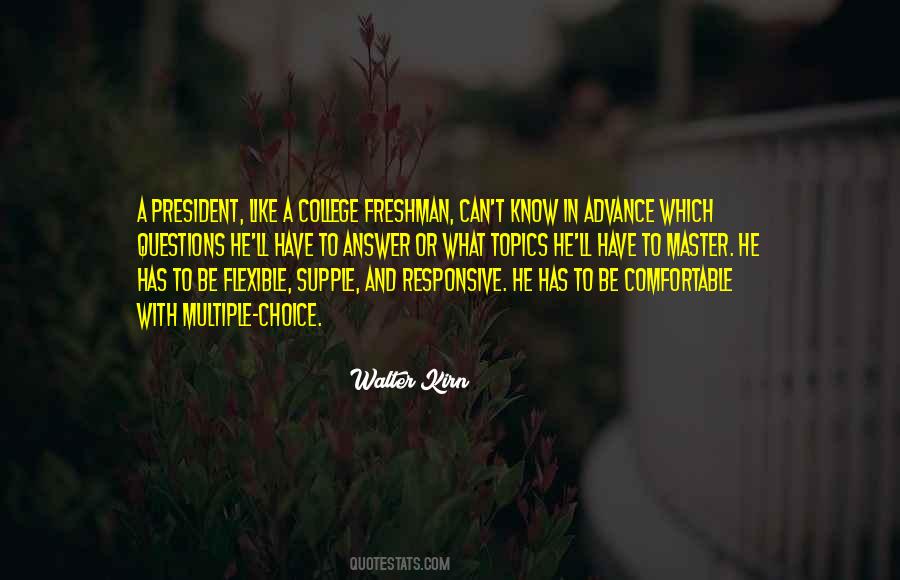 #2. I'd say, for my freshman year in college, I was doing everything in my power to hide the fact that I had ever had any association with the Paul Green School of Rock Music because it was like this bruise. It was such a sore subject. - Author: Madi Diaz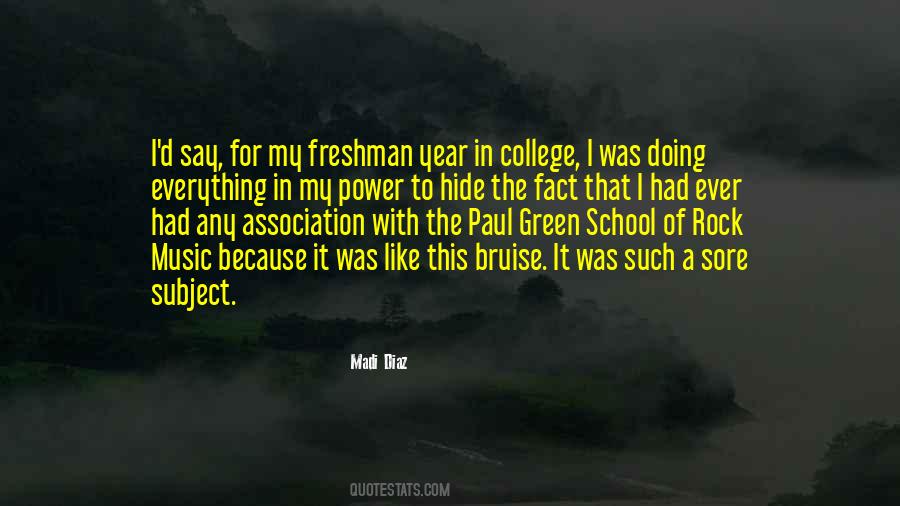 #3. I'm a 27-year-old freshman, and returning to college after a seven-year break from high school was by far the hardest thing I've ever done in my life. - Author: Hannah Kearney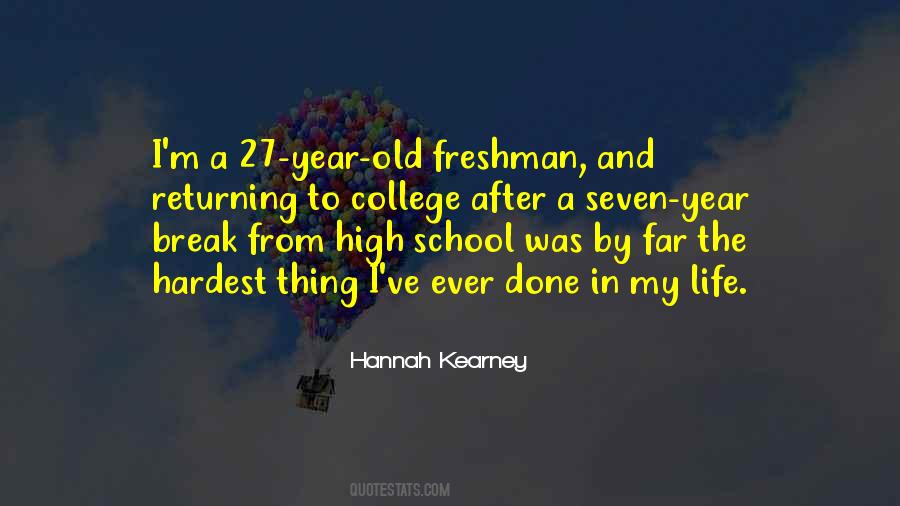 #4. My daughter is a freshman in college and my son is - well, our daughter and our son - is a sophomore in college. So they come home on selected weekends, they come home on vacations and they're home in the summer, although they have jobs. - Author: Erika Slezak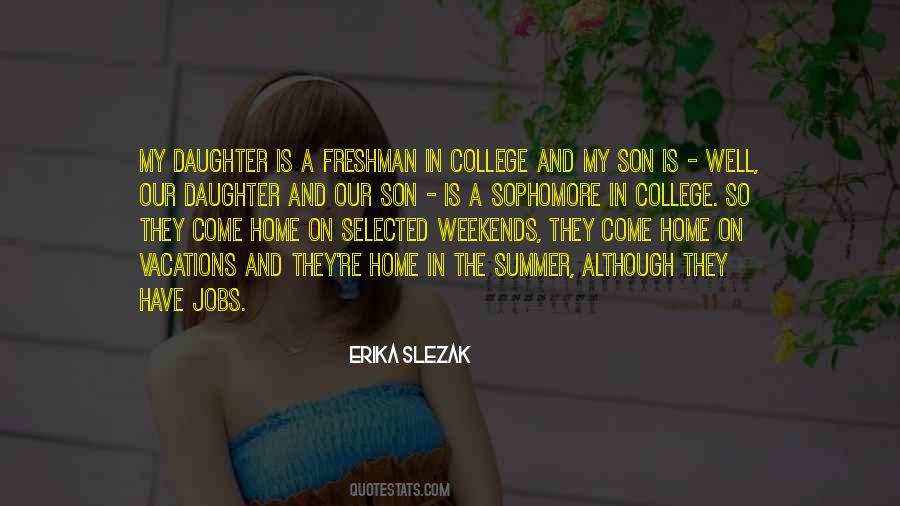 #5. Read at a time when everything feels intense, seminal, and like you're the first person to discover it, freshman year of college, Carol Gilligan's 'In a Different Voice' made my hair stand on end with awe. - Author: Emma McLaughlin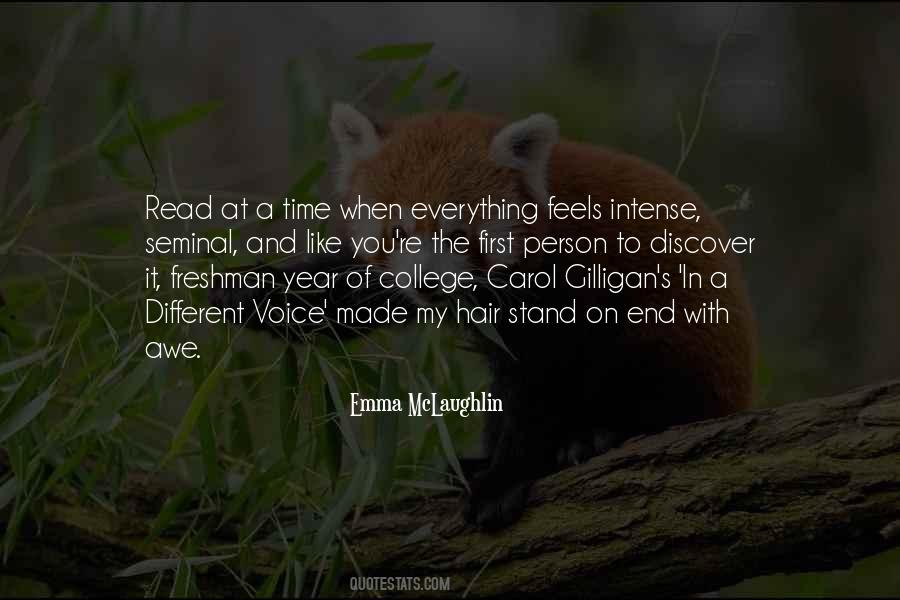 #6. I really wanted to be a doctor, until my freshman year of college when I realized that while I was good at chemistry and biology, I really wasn't feeling challenged by it. - Author: Marissa Mayer
#7. When I was in my freshman year at college I took some acting classes and found that I fell in love with it again. - Author: Mary-Kate Olsen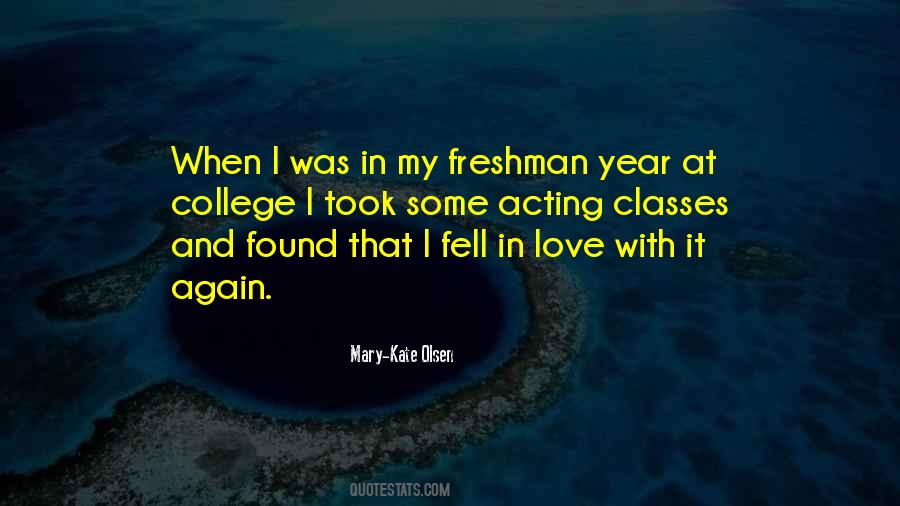 #8. Sure, he had a wife and fifty-four kids, but he looked like a college freshman. A yummy college freshman majoring in Oh-my-god-I-gotta-get-me-some-of-that. - Author: Kim Harrison
#9. Twenty years ago, as I was completing my freshman year in college, I was a full-blown neoconservative. Except I didn't know it. Having concluded that I was not a leftist, I simply decided by process of elimination that I must be a Rush Limbaughian. - Author: Thomas E. Woods Jr.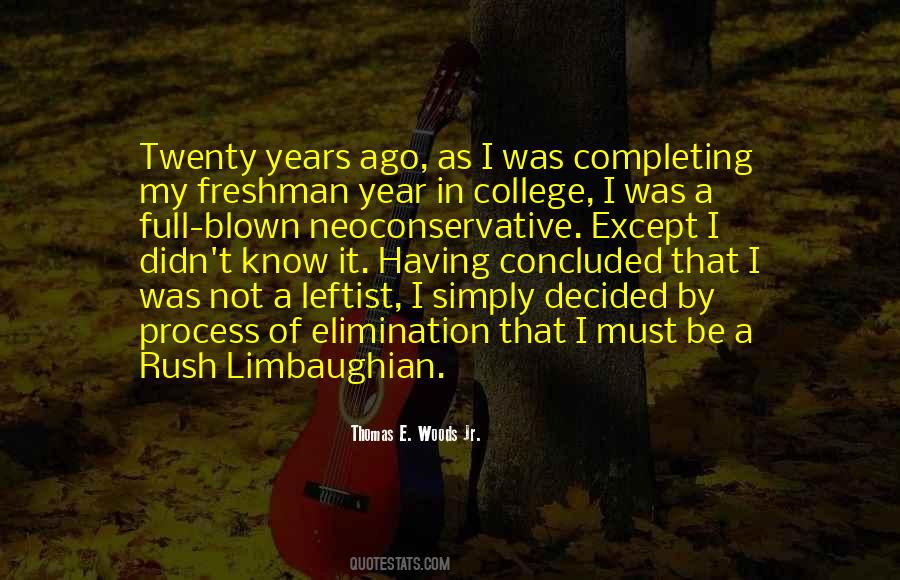 #10. Months are different in college, especially freshman year. Too much happens. Every freshman month equals six regular months - they're like dog months. - Author: Rainbow Rowell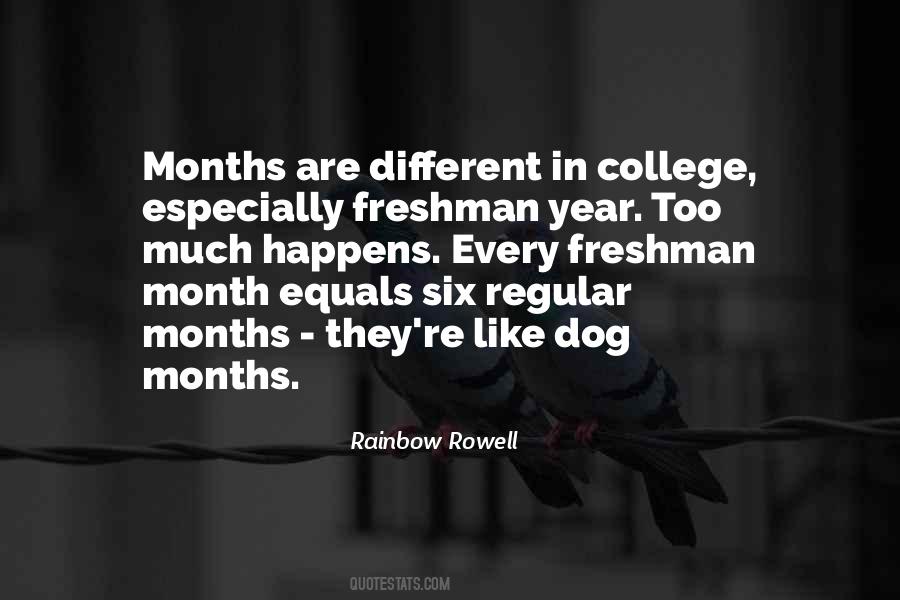 #11. I guess that would have been 1968. I was a freshman in college and I wasn't writing good poems, but I was at least trying to write poems then. - Author: Edward Hirsch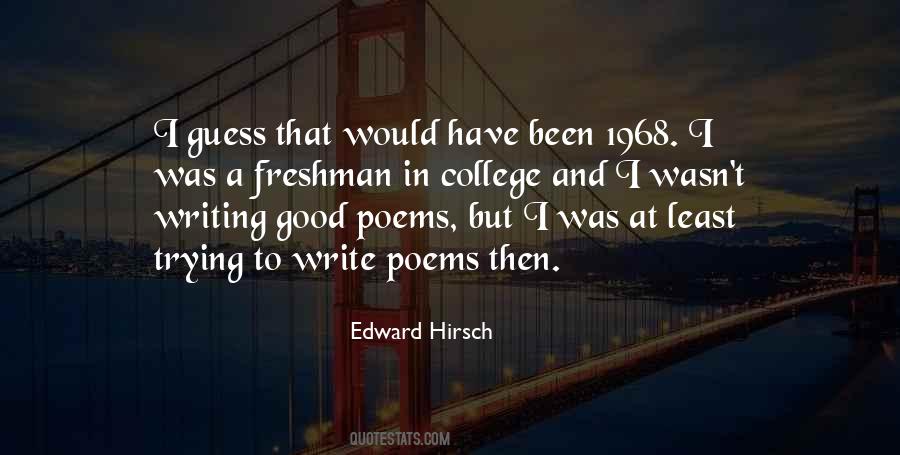 #12. I've been a Mac guy for almost my entire adult life. I wrote my first college papers on a typewriter, but by the end of my freshman year - almost 20 years ago - I was on an IBM PC. Then, in 1984, I found the Mac, and I never looked back. - Author: John Battelle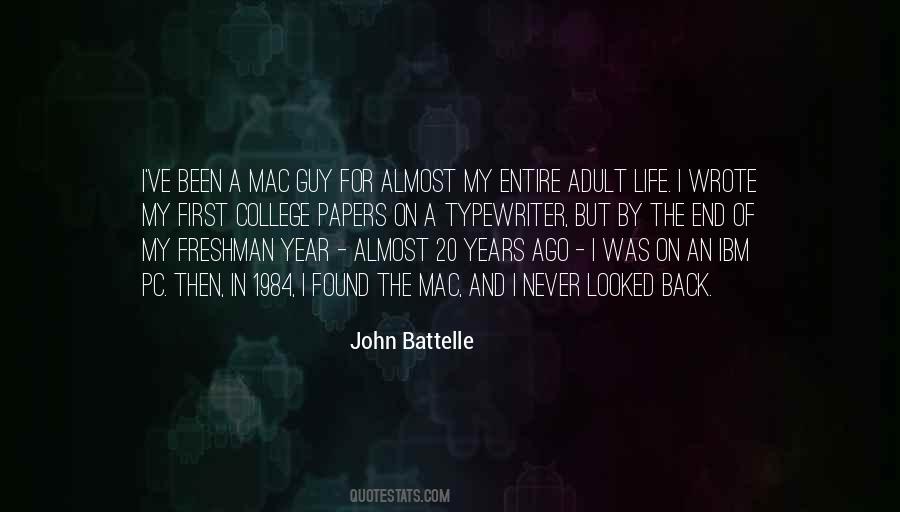 #13. I discovered Orson Welles in college; my freshman English professor screened 'Citizen Kane' for us, and I wound up writing a 20-page term paper on it. - Author: Claire Danes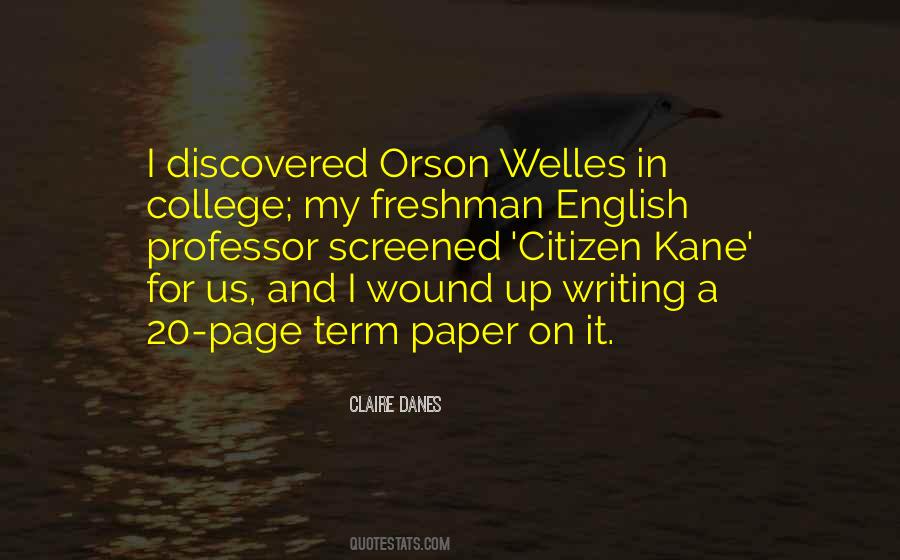 #14. By the time I arrived for my freshman year at Swarthmore College in 1979, I had already had many seizures, although my family, friends and I did not know it. - Author: Kurt Eichenwald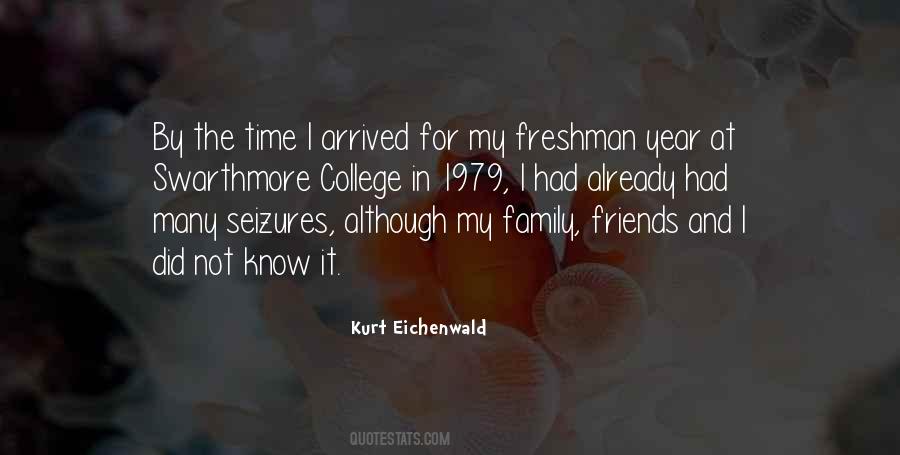 #15. If you believe you have a just cause, an important message, or a key contribution to make, you will be just as innovative as a college freshman desperate to see his girlfriend six hundred miles away. You will get there any way you can. - Author: Laurie Beth Jones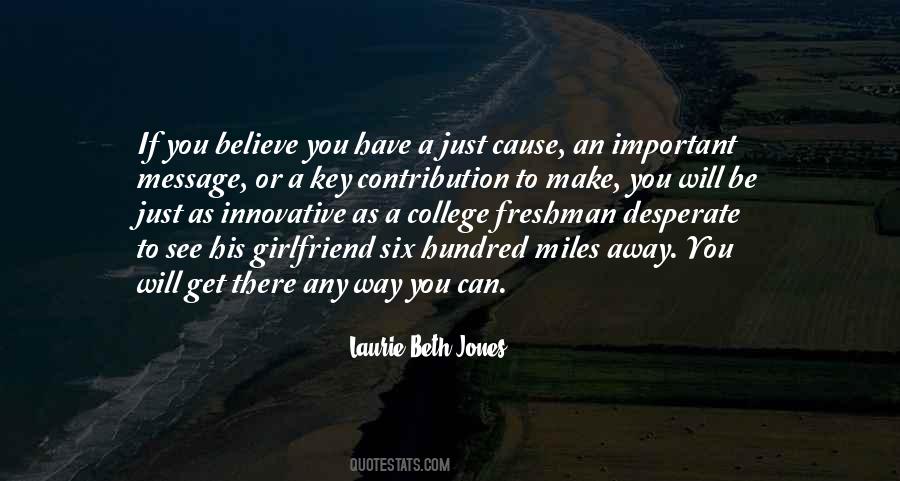 #16. I believe each incoming freshman [in college] must be started at once on his own research project if we are to preserve his secret dream of greatness and make it come true. - Author: Edwin Land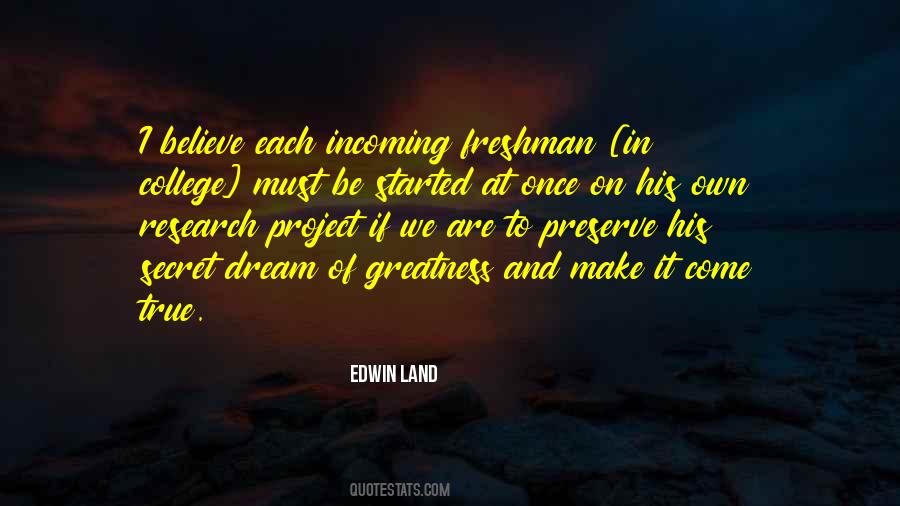 #17. I had never dreamed about the NBA like some guys did. I was a non-scholarship player at an NAIA college. I played on the Boys and Girls Club team in my freshman and sophomore years of high school before I made the high school team. I was our backup center in college. - Author: Terry Porter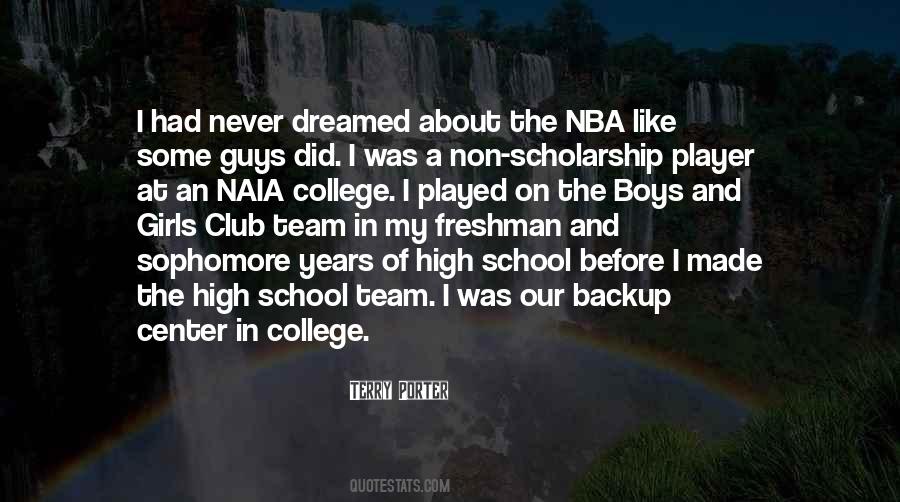 #18. This advice from a college freshman carrying a cane?"

"It's a walking stick, I'll have you know."

"Same difference."

"Hardly. It's fashion. - Author: Danika Stone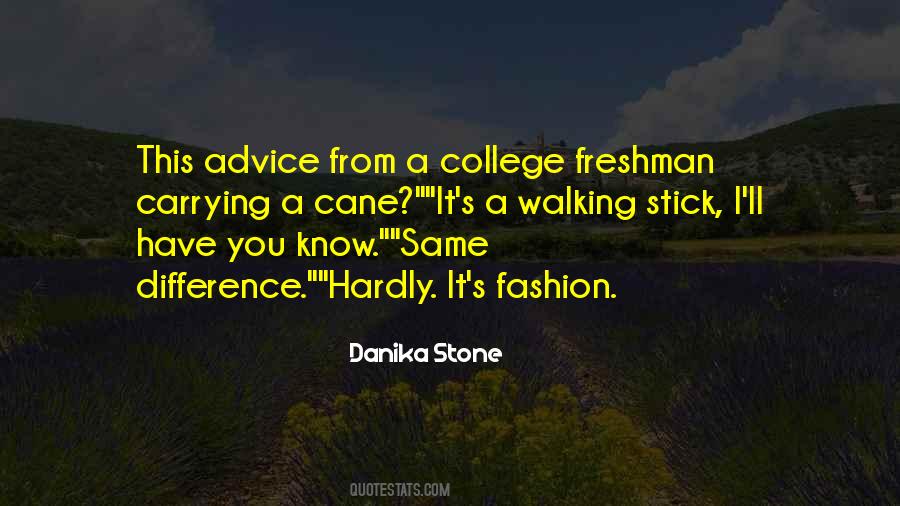 #19. It is one thing to take as a given that approximately 70 percent of an entering high school freshman class will not attend college, but to assign a particular child to a curriculum designed for that 70 percent closes off for that child the opportunity to attend college. - Author: James S. Coleman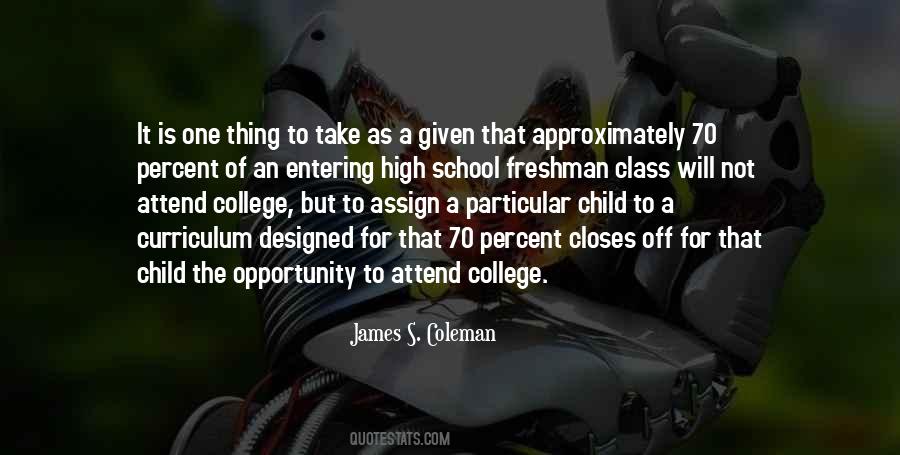 #20. I was about 17 or 18 when I first started performing in public. I had a teacher when I was a freshman in college and she came up to me afterwards and said she had been crying while I had been singing, and it really shocked me. - Author: Antony Hegarty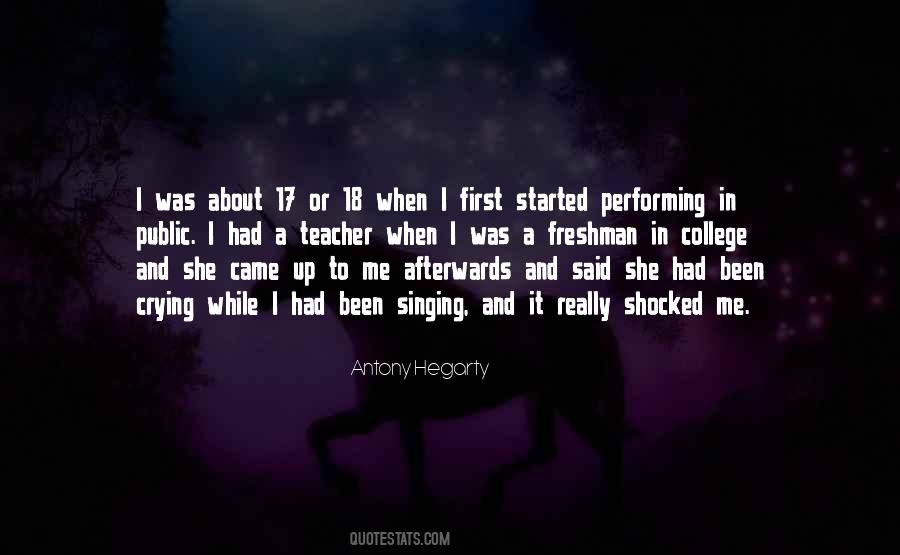 #21. You sound like a college freshman taking his first philosophy class way too seriously, but that's good. - Author: Michael Grant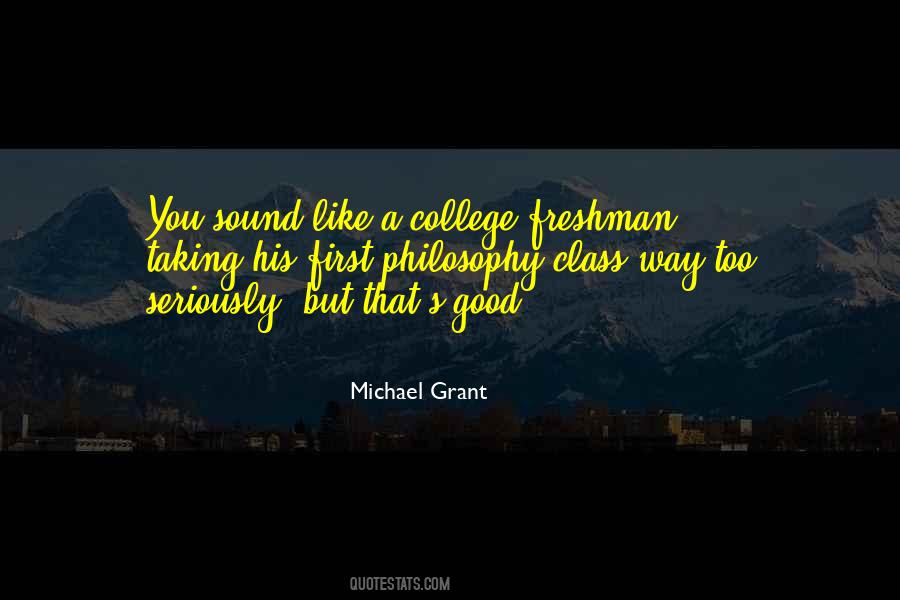 #22. I guess as long as people think of me for different ages, I'll trust their opinion. I remember noticing one year that Michelle Monaghan played 34 and 19, so I've kind of clung to that as my justification that I can be Jake Gyllenhaal's wife and a freshman in college in the same year. - Author: Anna Kendrick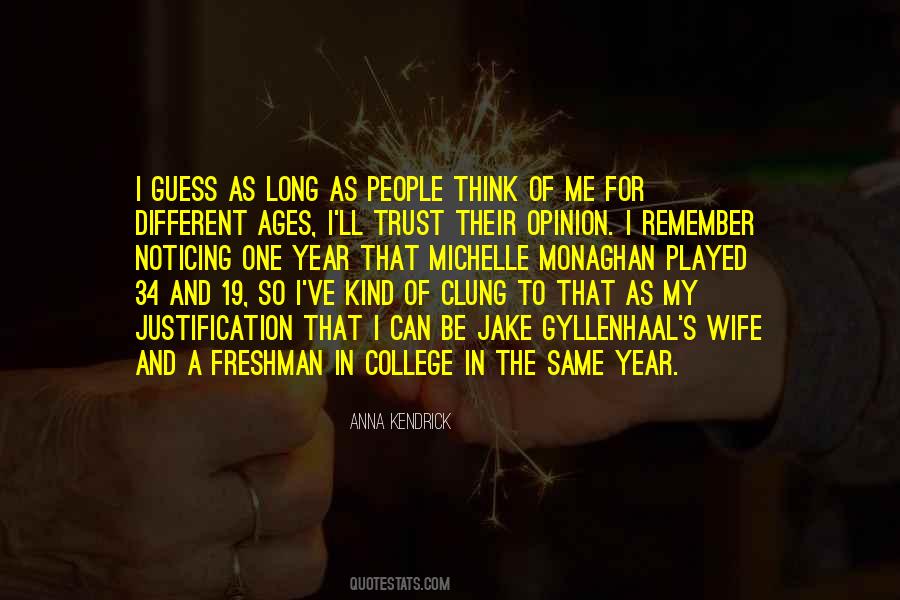 #23. My baseball career ended in college.I played on the freshman team, but was becoming more drawn to intellectualism than athleticism, and so I gave up baseball, and it was perfect timing because baseball was going to give up me very soon. - Author: Donald Trump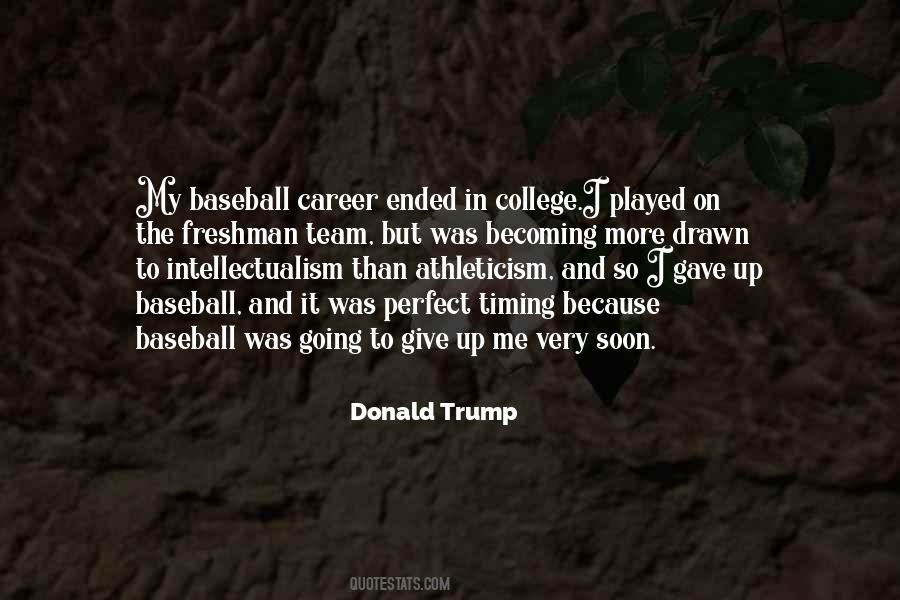 #24. Stop Dieting...Start Eating CUte - Author: Alexandra Catalano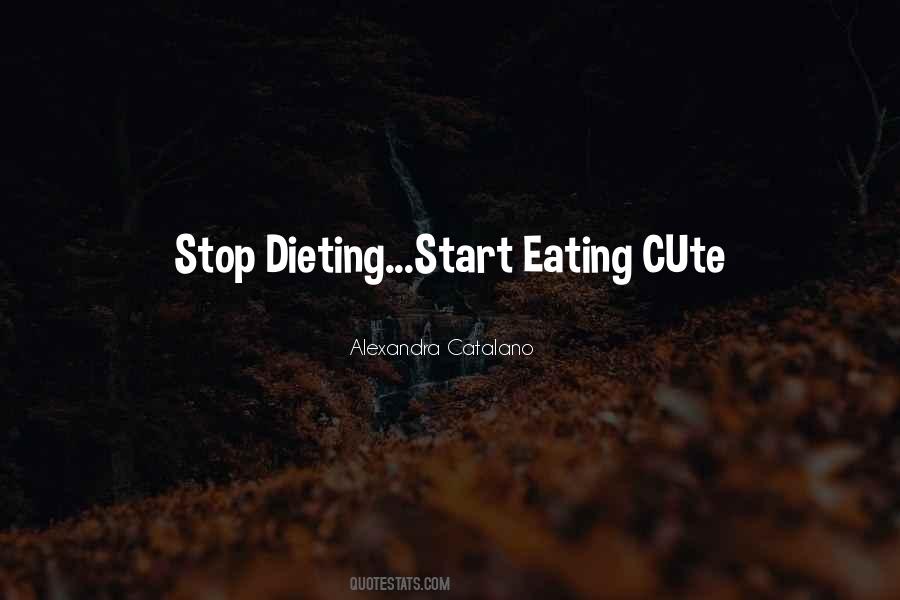 #25. I remember when I was a freshman in college, I was still somewhat bothered by ... worried ... about religion. I remember going to this professor of philosophy and telling him that I had lost my faith. - Author: B.F. Skinner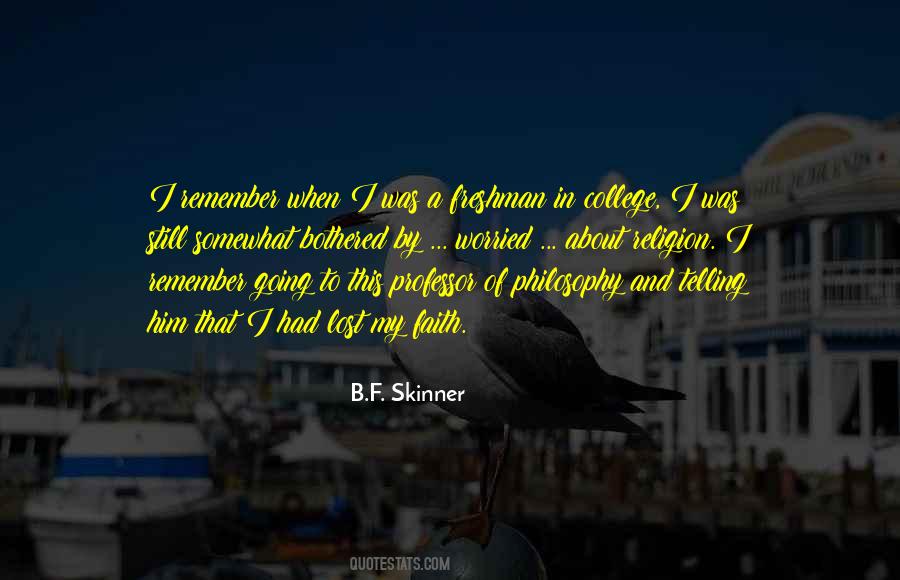 #26. When I was a freshman in college I went to Grinnell College in Iowa. I brought my poems to my freshman humanities teacher whose name was Carol Parsinan, a wonderful teacher. And Carol did a really great thing for me. She taught me more than anyone. - Author: Edward Hirsch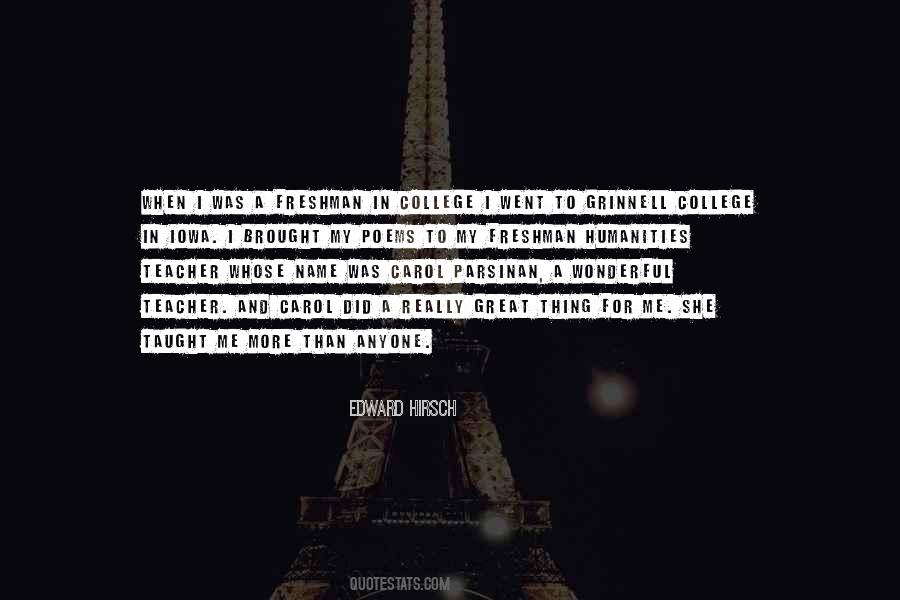 #27. He reminded me of Gerald Roma from grade school, who used to burn ants with a magnifying glass. He was never quite right. It was weird that he spontaneously combusted during finals week our freshman year in college. Payback was a bitch. - Author: Darynda Jones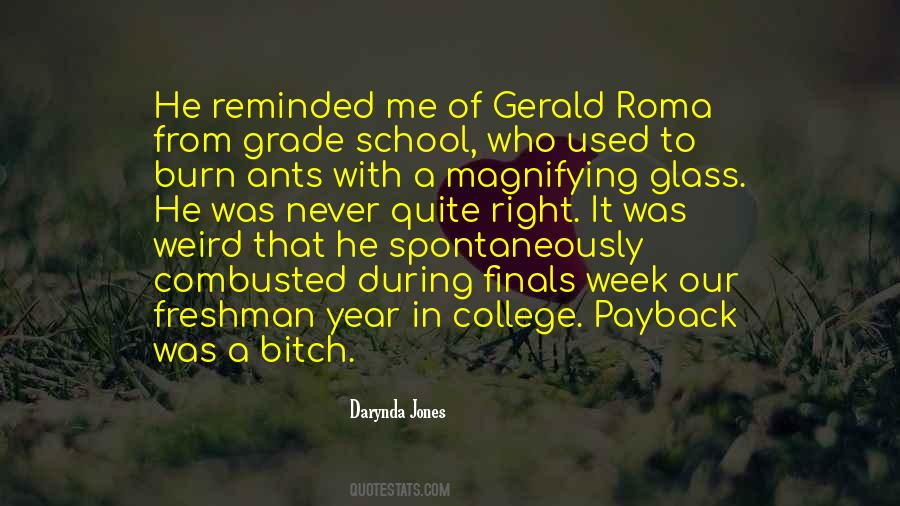 #28. I didn't have any writer friends in college. I was a computer science major, but I was writing a lot, probably more than anybody I knew. I started to submit novels to New York when I was a freshman in college. - Author: Watt Key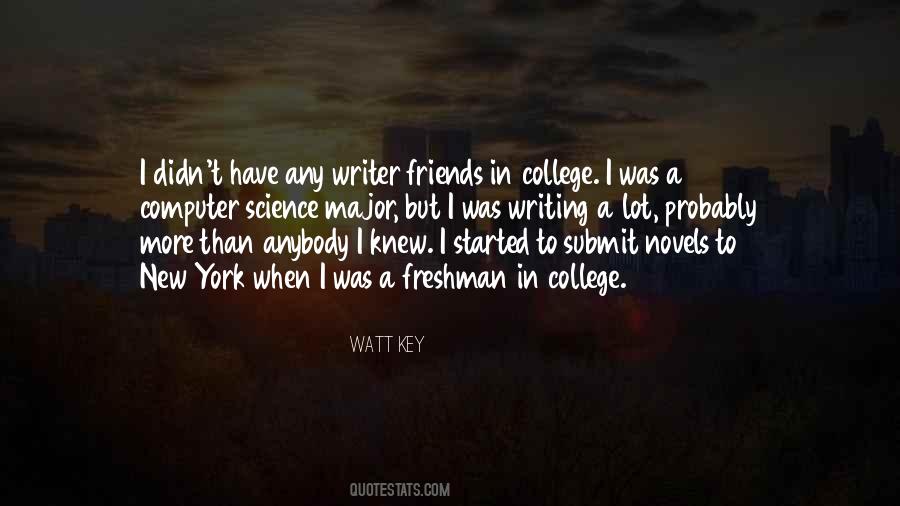 #29. I attended the University of Louisville my freshman year, transferred to what was then Western Kentucky State Teachers College for my sophomore and junior years, and then graduated from the University of Louisville in the summer of 1961. - Author: Sue Grafton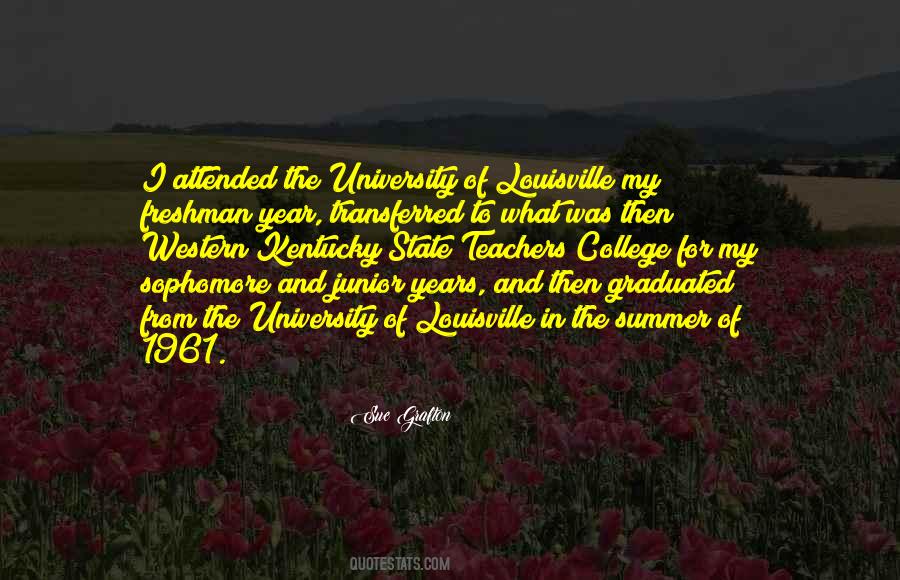 #30. I've been an actor now since freshman year of college, so it's 11 or 12 years. - Author: Gabriel Luna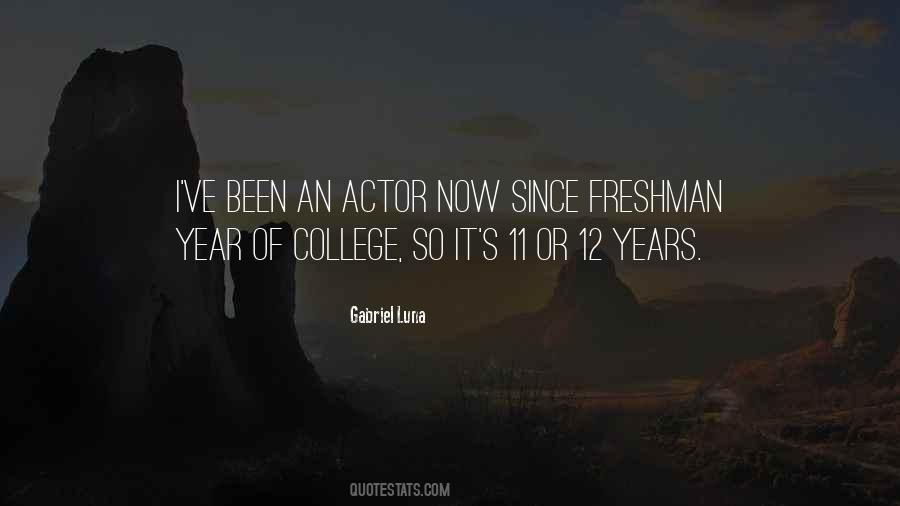 #31. I was a freshman in college in 1980, the year that Reagan was elected, and I went around badgering people to vote for him. - Author: Woody Harrelson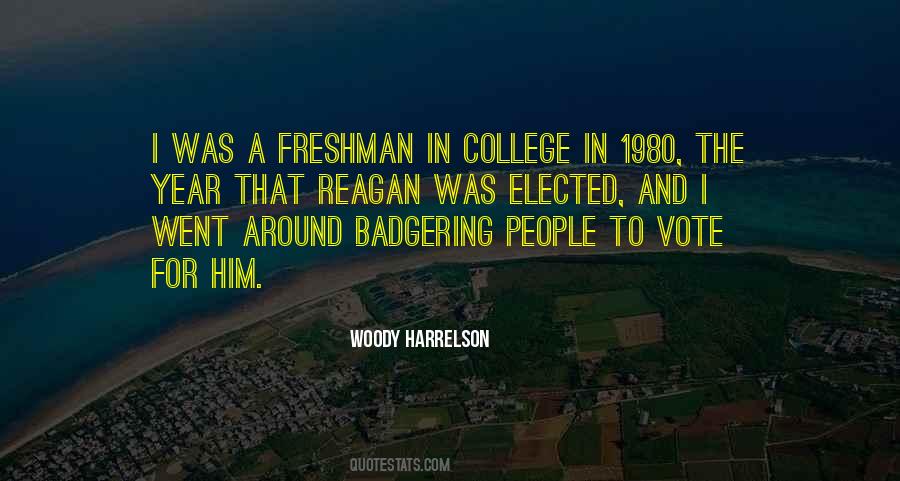 #32. In high school, a teacher's friend in the police department asked me to go into a bar and flash a fake ID saying I was 21 even though I wasn't. They were assuming the bar wasn't carding people. Anyway, she forgot to ask for it back. I used it all freshman year in college. - Author: Betsy Brandt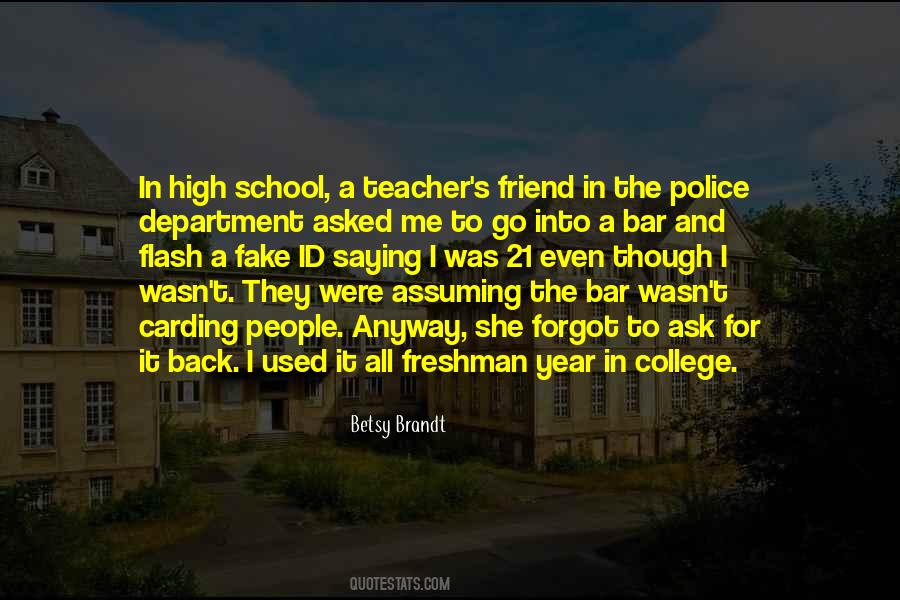 #33. Heard my girl Avery stomped you so hard in a game of pool that Grayson had to take pity on you before every college freshman at UVU saw just how small your junk is. - Author: Kelly Oram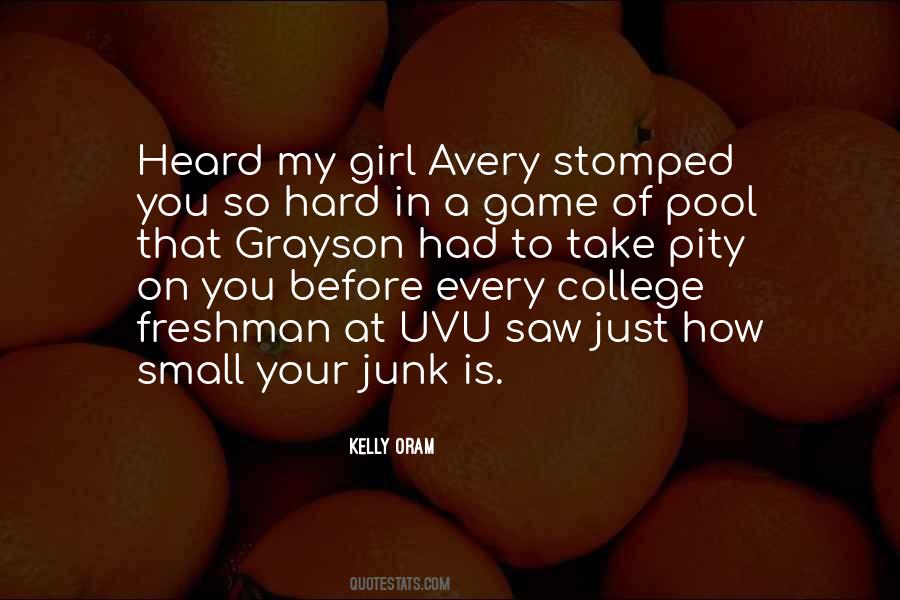 Famous Authors
Popular Topics