Freedom To Create Famous Quotes & Sayings
List of top 100 famous quotes and sayings about freedom to create to read and share with friends on your Facebook, Twitter, blogs.
Top 100 Quotes About Freedom To Create
#1. If you lack technique you lose the freedom to create. - Author: Paco De Lucia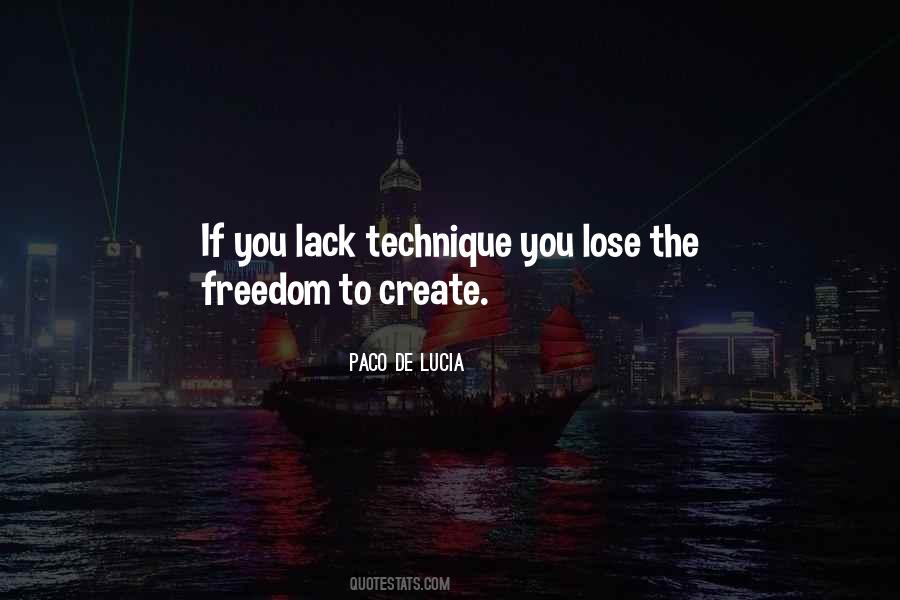 #2. There are no categories in contemporary art. There are no rules. Artists are given the freedom to make and create whatever they please and call it whatever they please. I identify with that system, or lack of system, much more than I do the landscape of contemporary publishing. - Author: James Frey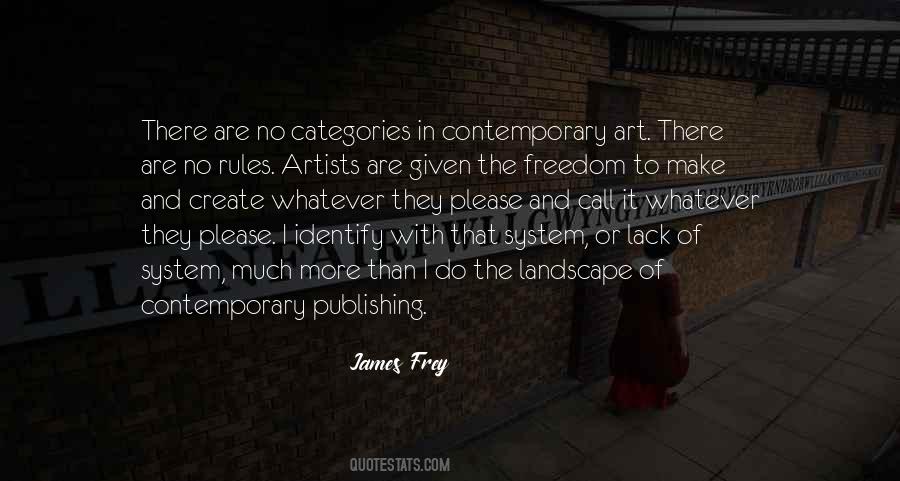 #3. I declare that The Beatles are mutants. Prototypes of evolutionary agents sent by God, endowed with a mysterious power to create a new human species, a young race of laughing freemen. - Author: Timothy Leary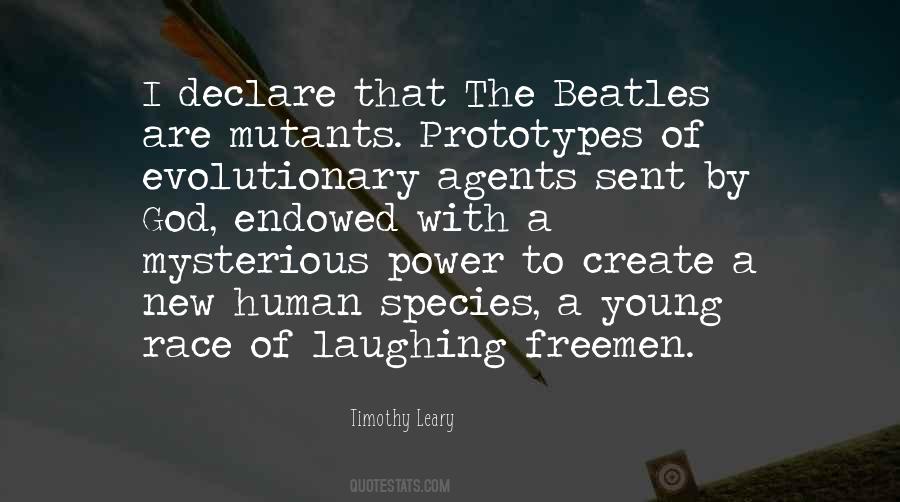 #4. Words to invoke peace & awareness. Words to create freedom and fairness. Words to plant sacred seeds. and sing us back into balance. - Author: Jay Woodman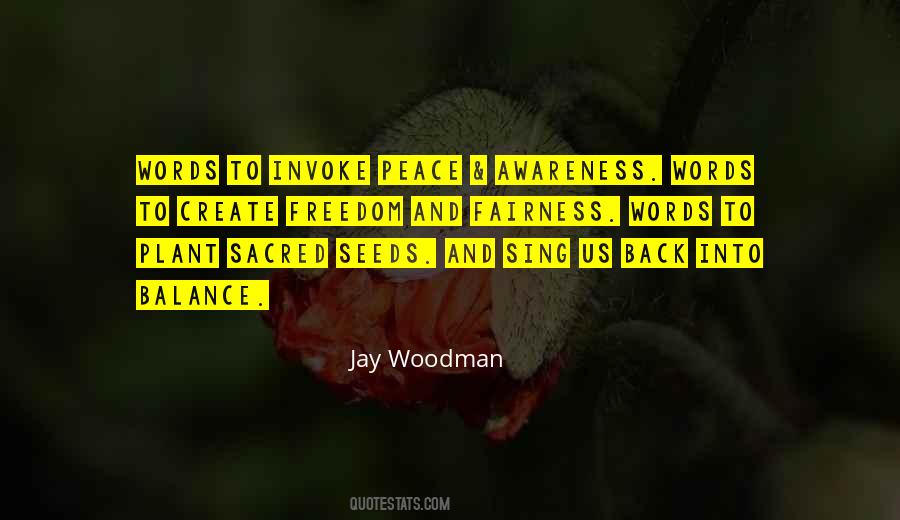 #5. I don't do commissions and I like the freedom to create what my heart or mind tells me to. - Author: Richard MacDonald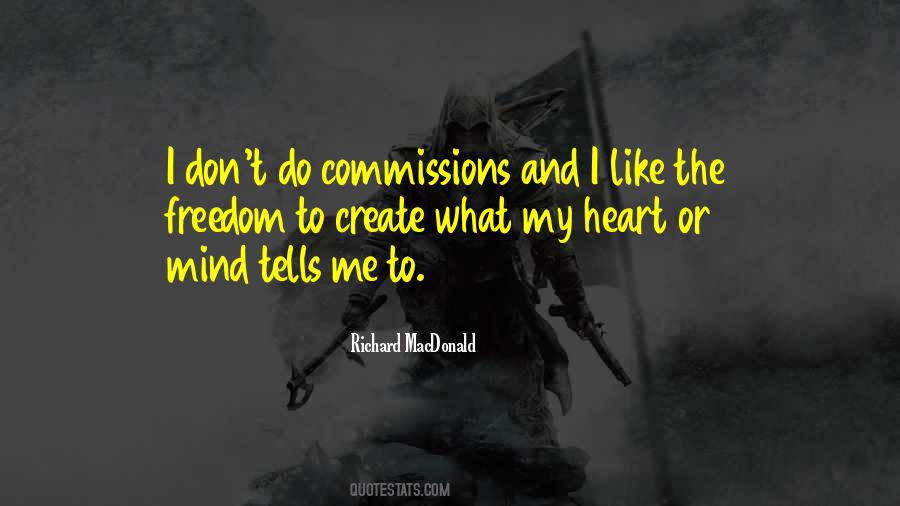 #6. Your economic security does not lie in your job; it lies in your own power to produce- to think, to learn, to create, to adapt. That's true financial independence. It's not having wealth; it's having the power to produce wealth. It's intrinsic. - Author: Stephen R. Covey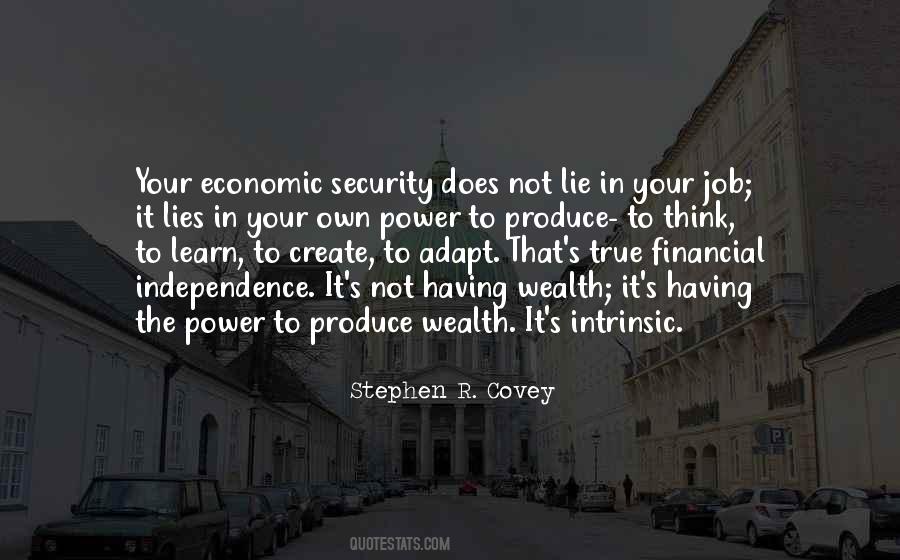 #7. It must be possible to solve the task of controlling nature and yet simultaneously create a new freedom. - Author: Ludwig Mies Van Der Rohe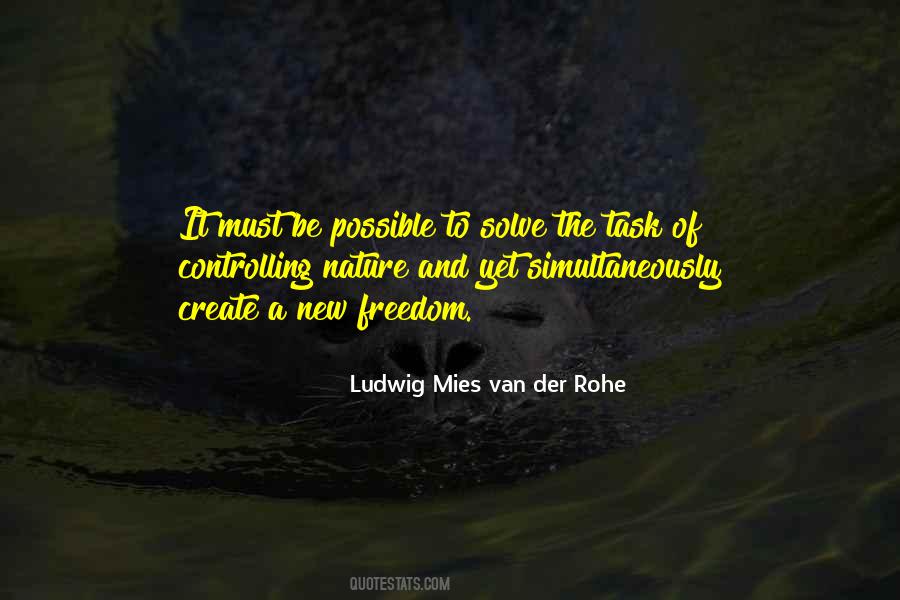 #8. I'm not making a movie about the real people. I'm making a movie about what they did, and what happened to them. But I will create characters so that I can have the freedom to make them say and do what I want. The real-life journalists were fine with that. - Author: Richard Shepard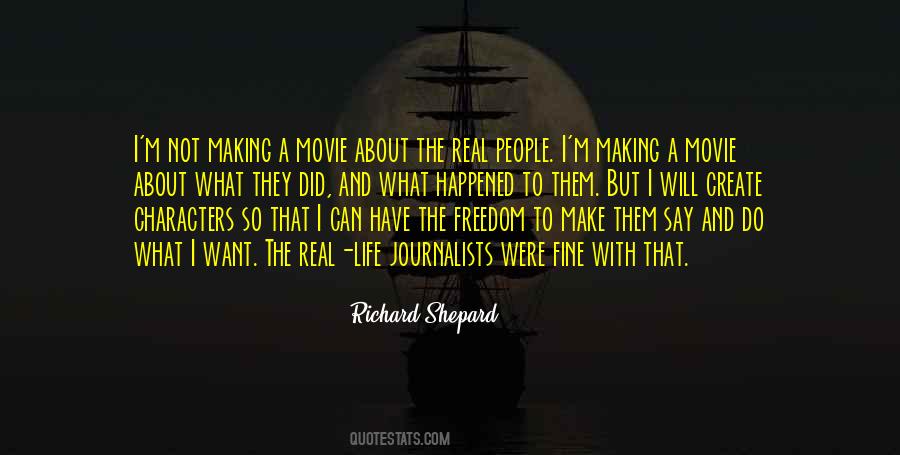 #9. Money won't create success, the freedom to make it will. - Author: Nelson Mandela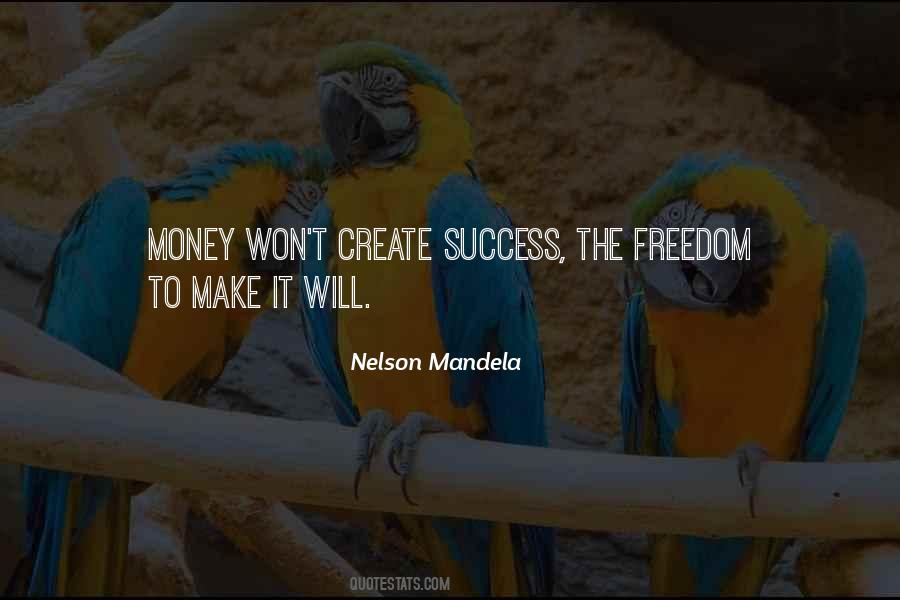 #10. Another world is possible!' ... Another world is also necessary, for this one is unjust, unsustainable, and unsafe. It's up to us to envision, fight for, and create that world, a world of freedom, real justice, balance, and shared abundance, a world woven in a new design. - Author: Starhawk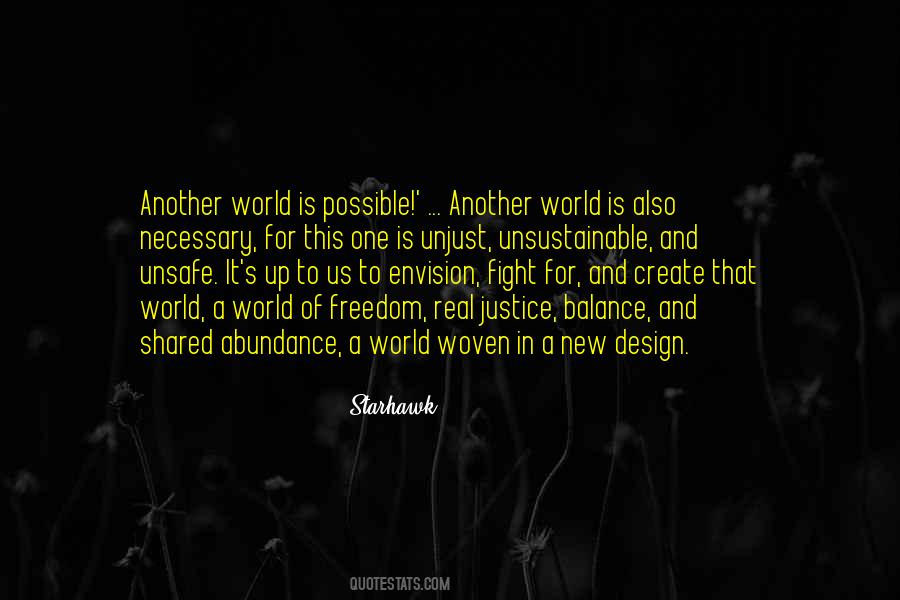 #11. In my experience, directors who are the most comfortable with themselves and confident in their work give you and everybody on the crew the freedom and the space to create. It's the people who are more insecure who feel the need to control and micromanage. - Author: Sarah Gadon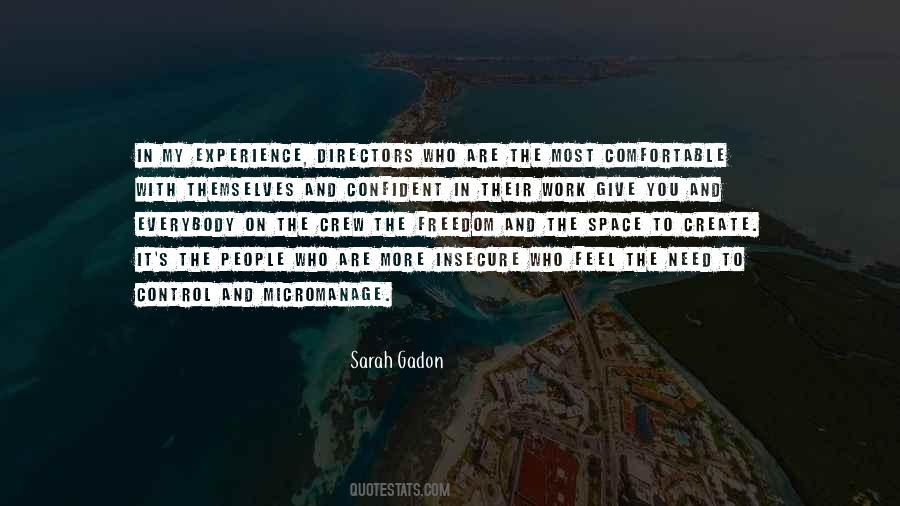 #12. With fame, I'm able to create more. With every success, you have more freedom to create. - Author: Cyndi Lauper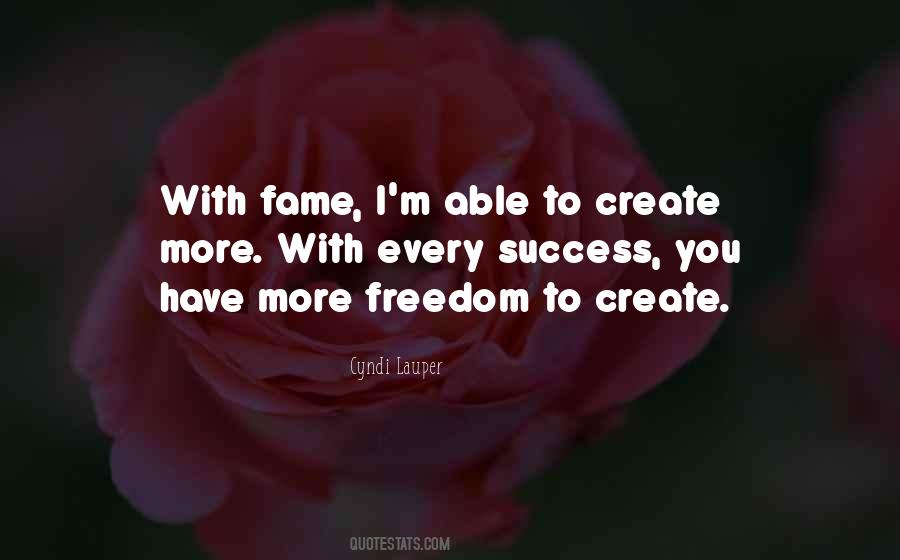 #13. Foisting an identity on people rather than allowing them the freedom and space to create their own is shady. - Author: Raquel Cepeda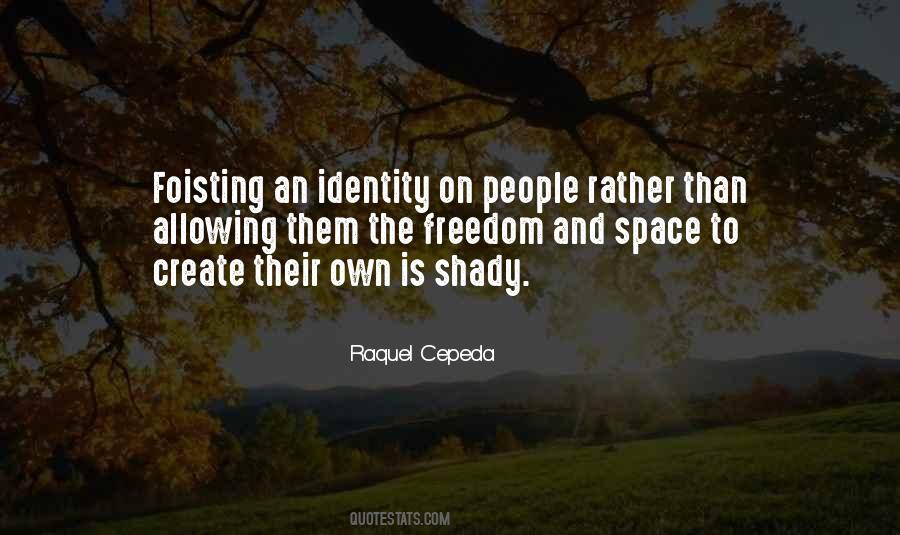 #14. Human freedom involves our capacity to pause between the stimulus and response and, in that pause, to choose the one response toward which we wish to throw our weight. The capacity to create ourselves, based upon this freedom, is inseparable from consciousness or self-awareness. (p. 100) - Author: Rollo May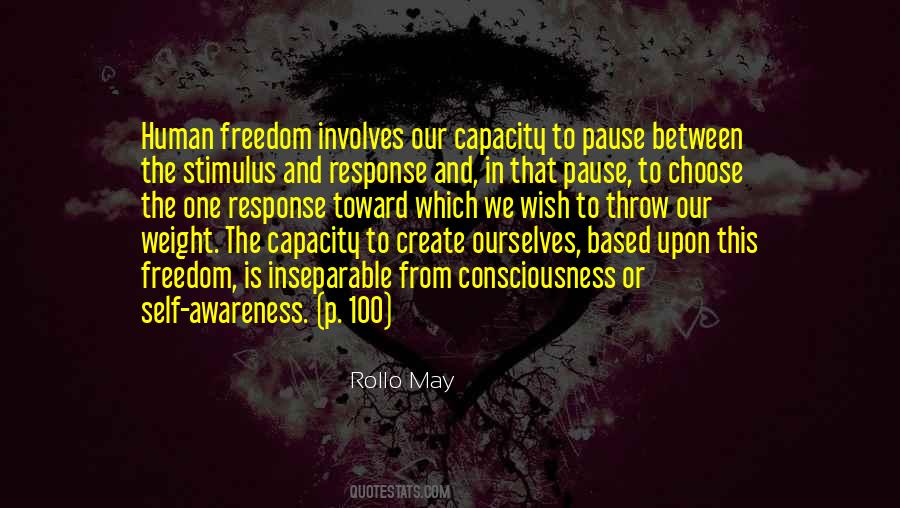 #15. The great thing, as a screenwriter, is that you are always proud of what ends up on the screen, you are able to create something in isolation and you have a lot of freedom. - Author: Jamie Linden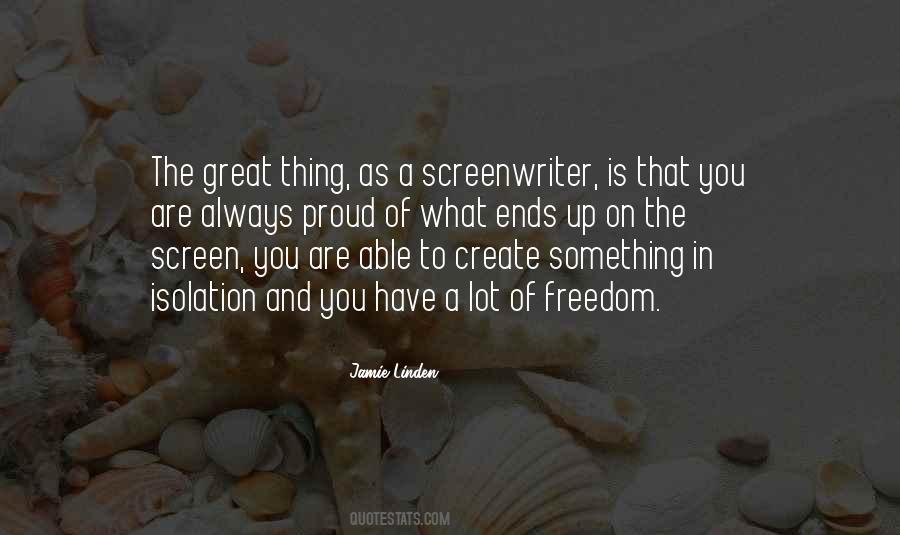 #16. Bird of the sky
still bound to the earth,
soaring to unimaginable heights
yet returning to perch in the willow.
Death is near, always near
and so...is life
even in the ashes.
Rise Up Phoenix.
Live. Fly. Create! - Author: Michele Jennae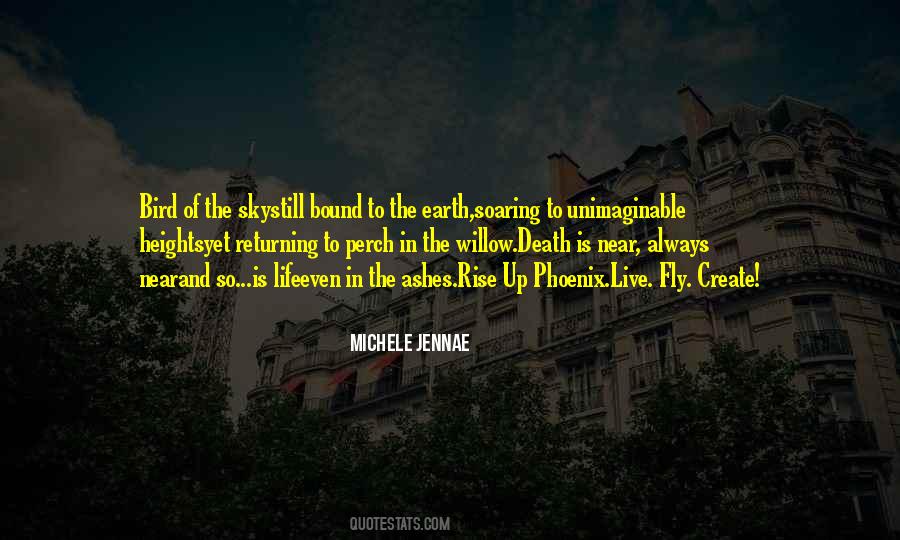 #17. The dean of the American Film Institute has written that I'm one of the very few auteurs in America. I've had freedom for 40 years to create art that is totally personal and is what I believe in. - Author: Lloyd Kaufman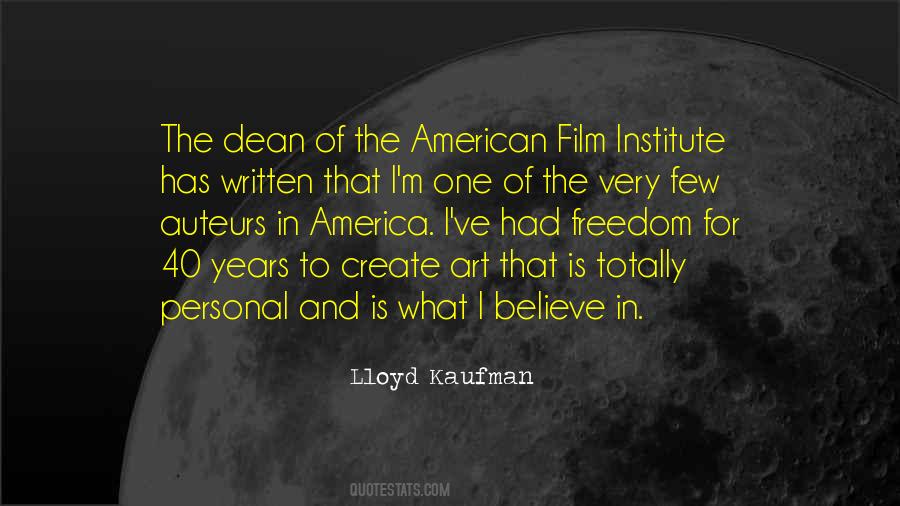 #18. By choosing to hang on to your corner of freedom in even the worst situations, you can process your world with the energy of appreciation and beauty, and create an opportunity to transcend your circumstances. - Author: Wayne Dyer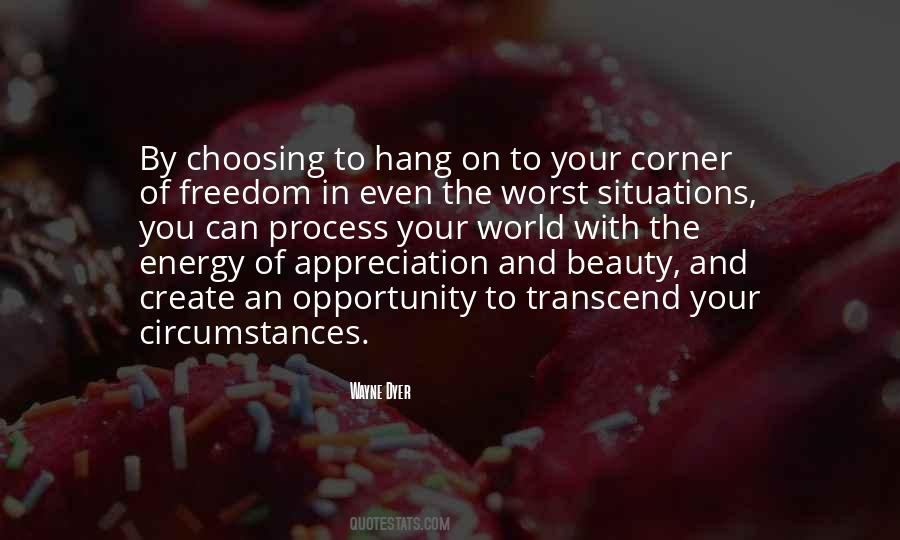 #19. Made from divinity must mean mindstate to create is intrinsic - no fiction. Stop playin' with your power, your inner 'G', and build on purpose - accordingly. Being free is for free, so force the issue. - Author: T.F. Hodge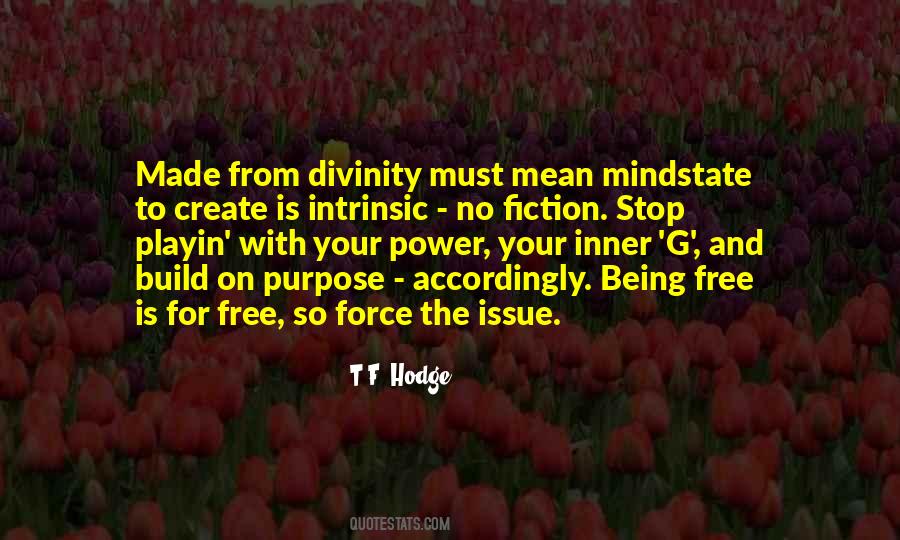 #20. The freedom to be single, to create a path through life that does not look like everyone else's, can be unsettling to people who feel more secure with fewer choices. - Author: Bella DePaulo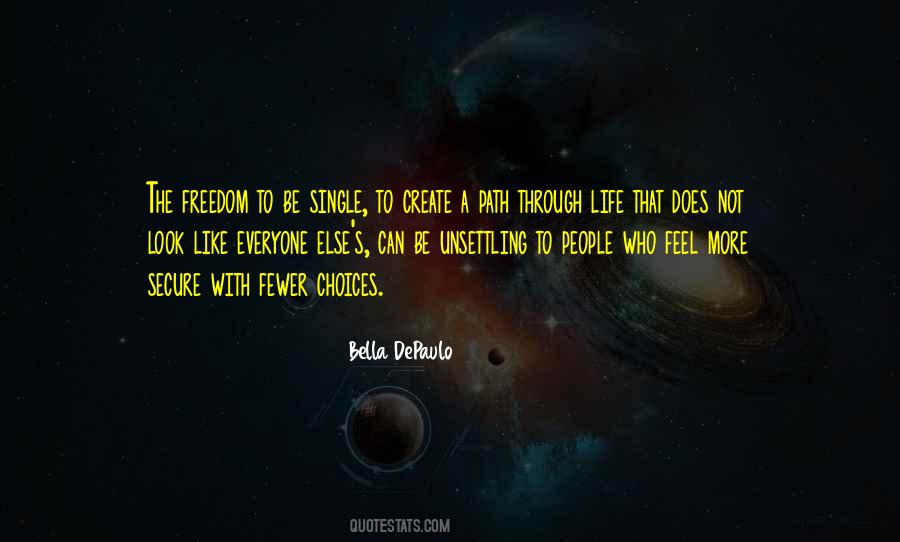 #21. It was God's brilliant idea to create man, to create woman, and join them in marriage - this unique union that begins with a look and quickly escalates into shouts of joy, nakedness, uninhibited freedom, and a closeness so magical it's described as becoming one flesh. - Author: Justin Buzzard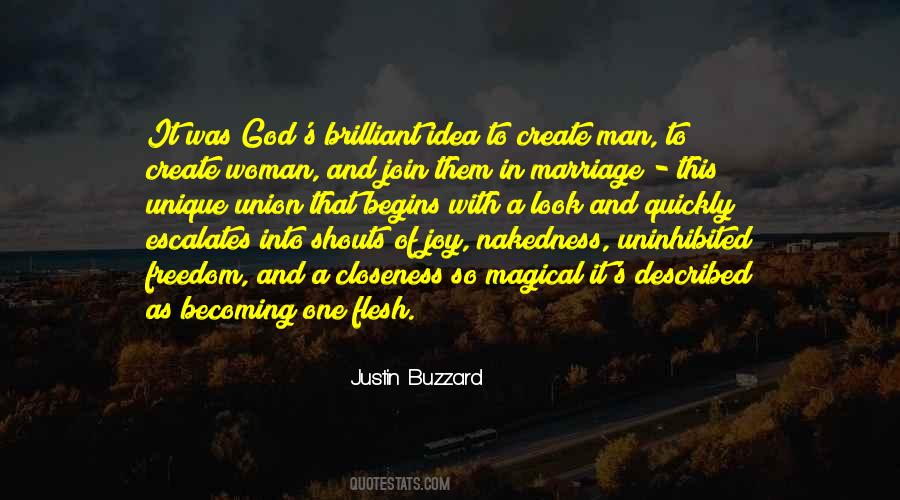 #22. It is very easy to make clear what you want a film to say, but I did not wish to engage in overt propaganda, even for the right cause. I wanted to create an experience through the films, something where people could have the freedom of their own response to them. - Author: Godfrey Reggio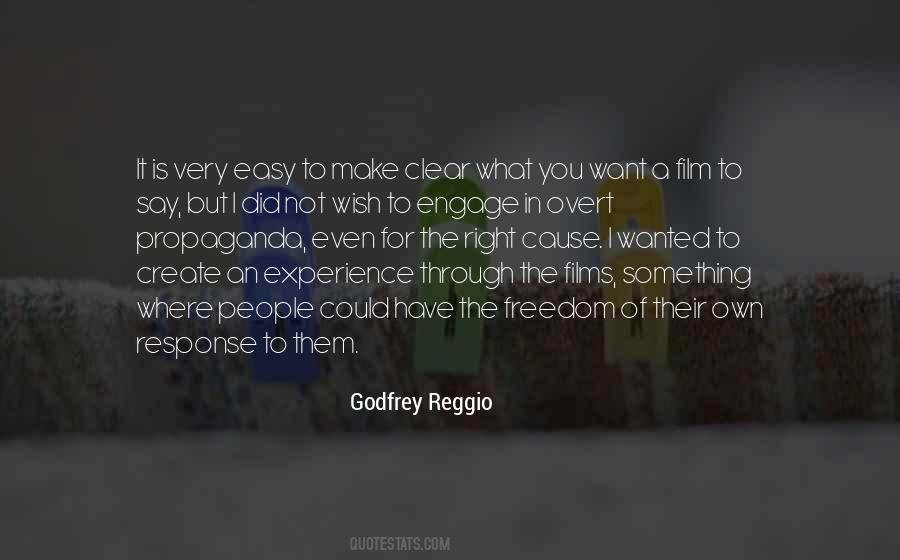 #23. So many idealistic political movements for a better world have ended in mass-murdering dictatorships. Giving leaders enough power to create 'social justice' is giving them enough power to destroy all justice, all freedom, and all human dignity. - Author: Thomas Sowell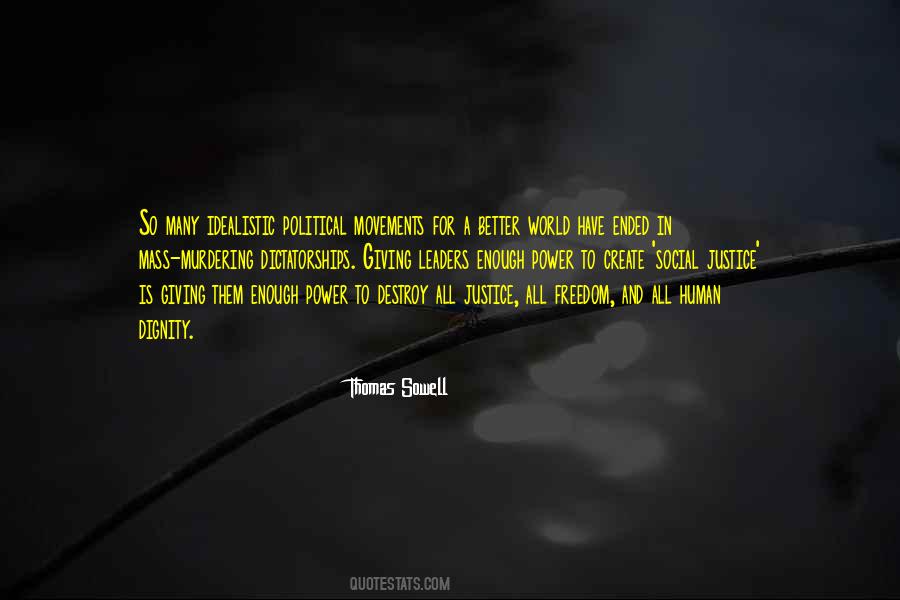 #24. How can we keep the government we create from becoming a Frankenstein that will destroy the very freedom we establish it to protect? Freedom is a rare and delicate plan. - Author: Milton Friedman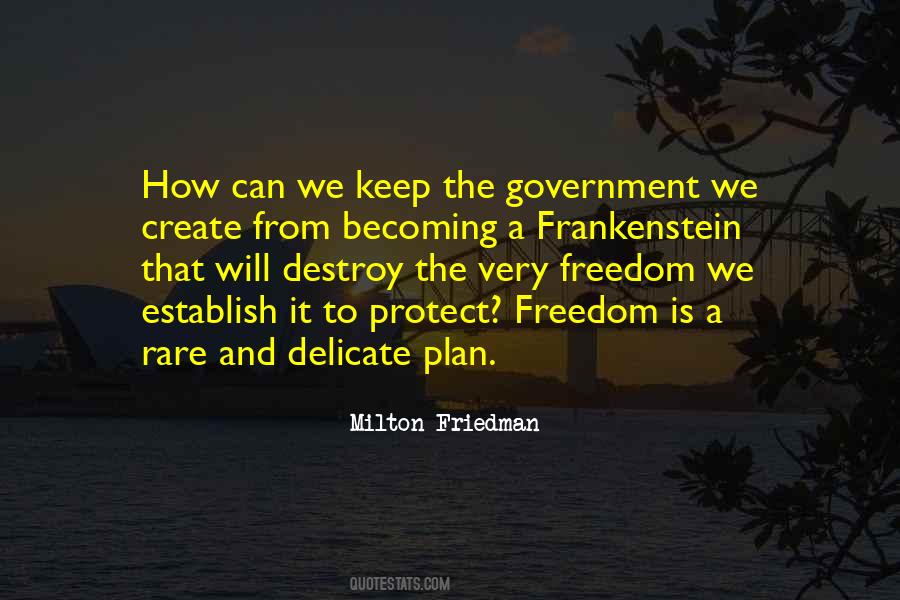 #25. My father has never once asked me a question, any question. There's a freedom that came from that. It allowed me to create my own way of thinking. - Author: Douglas Coupland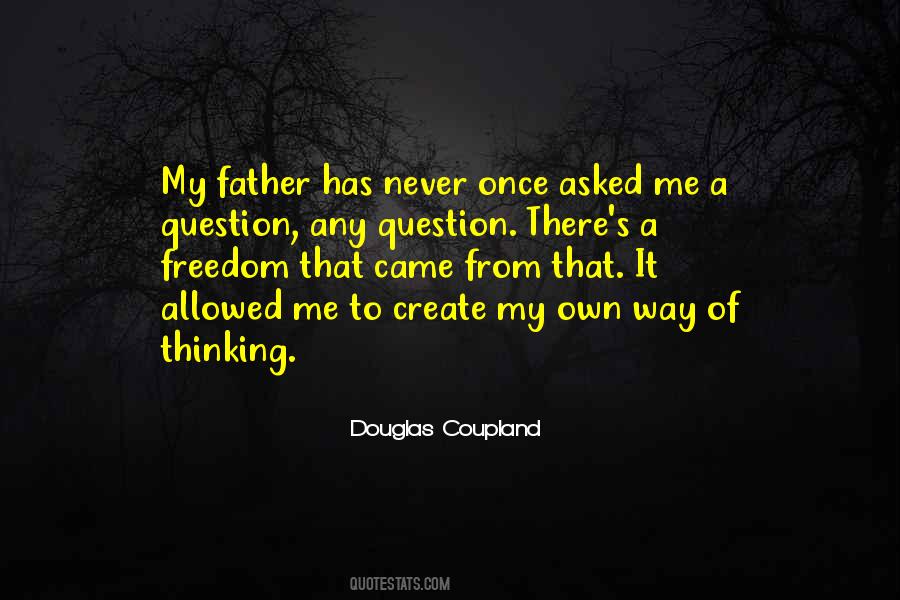 #26. When we choose to live authentically we chip away at others prisons of pretend and create an opportunity for them to walk out of darkness into freedom. - Author: Anthony Venn-Brown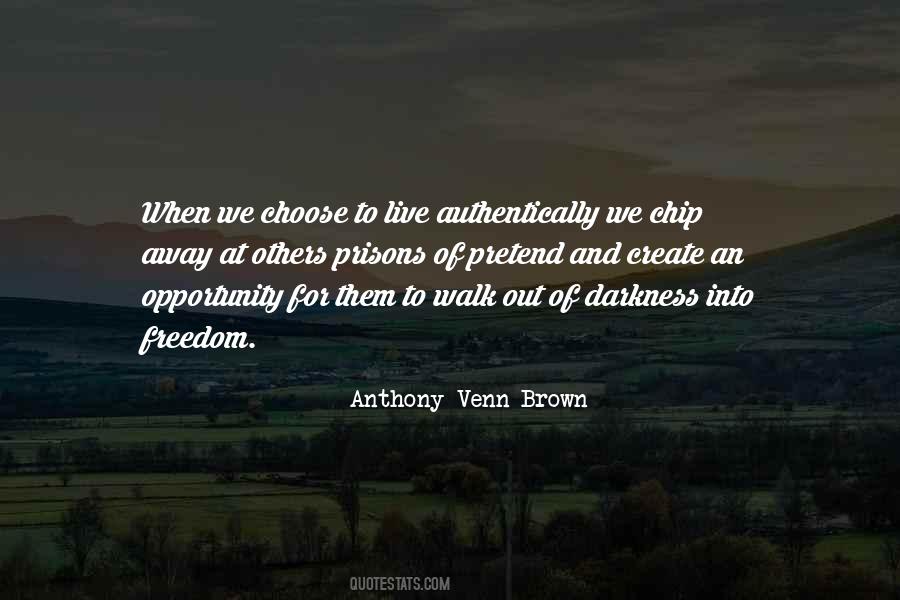 #27. The fact is that we cannot drill our way to independence. We cannot drill our way to freedom, and we cannot drill our way to create jobs in this country. - Author: Jay Inslee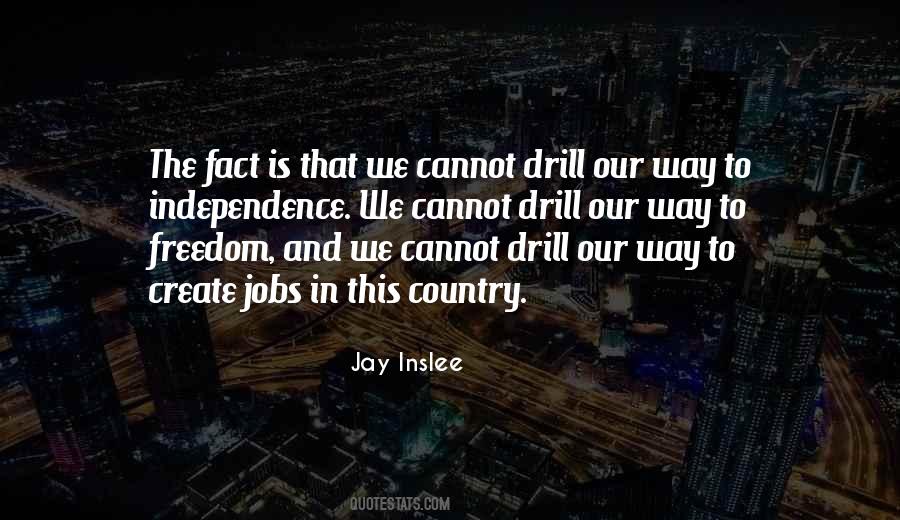 #28. By choosing to hang on to one's corner of freedom even in the worst situations, we can process our world with the energy of appreciation and beauty, and create an opportunity to transcend our circumstances. - Author: Wayne W. Dyer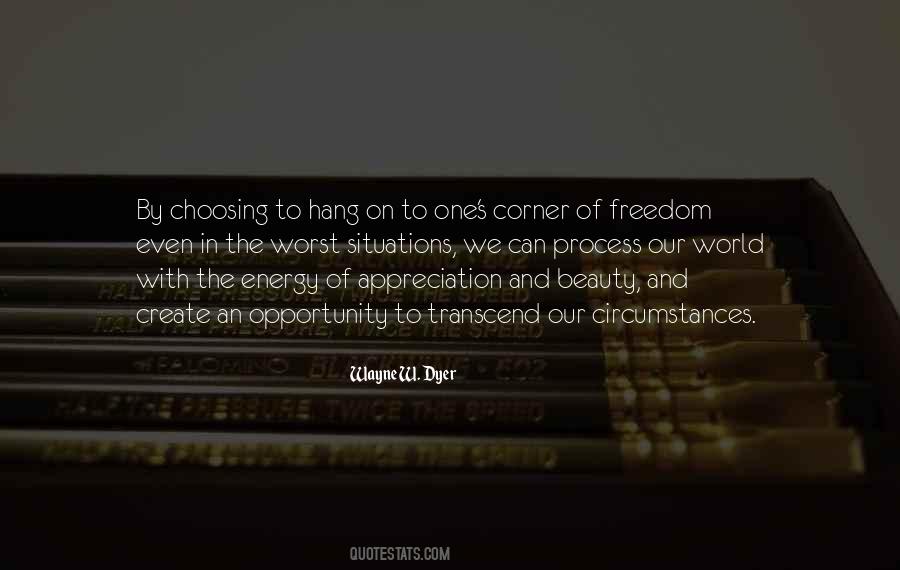 #29. Find freedom in knowing that your human creativity is an echo intended to inspire worship of your Creator.
And then, create freely to your heart's delight. - Author: Jen Wilkin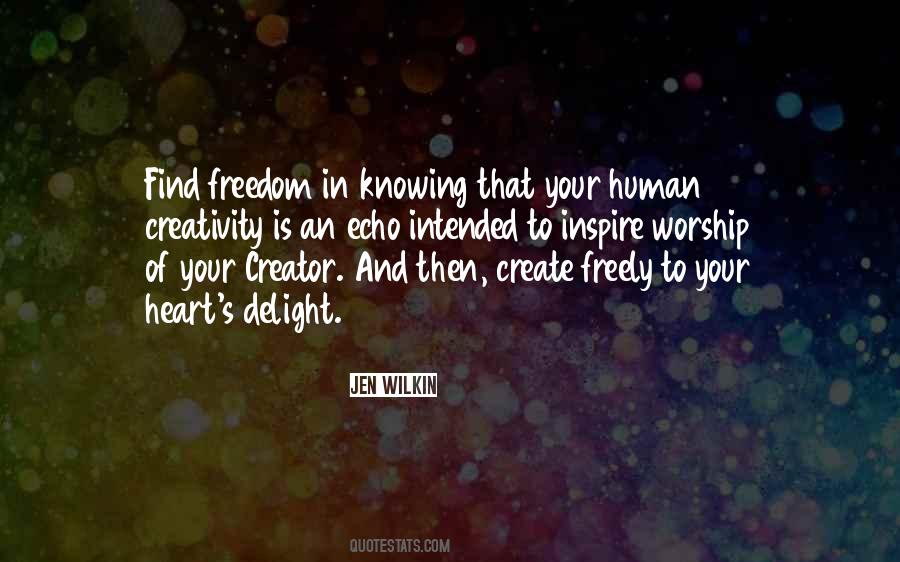 #30. I don't make any pretence of knowing about the existence of a Supreme Entity, neither do I make any attempt to create any friction among religions. If anything, I have spared myself no pains in my endeavor to smoothen the ongoing friction among all religions of the world. - Author: Abhijit Naskar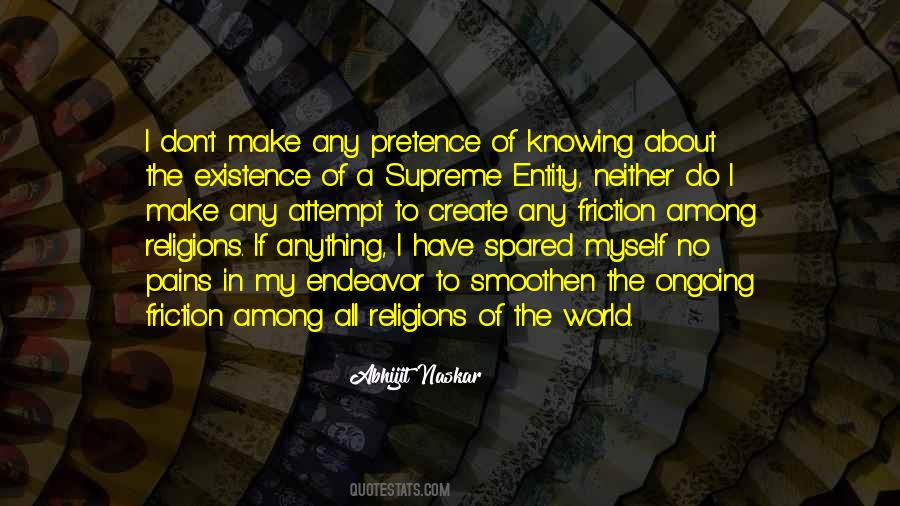 #31. You see, my buddies had a freedom I no longer had. All I wanted was to do something normal and skateboard with the guys, but i knew that if I went downstairs to join them it would create total chaos. - Author: Justin Bieber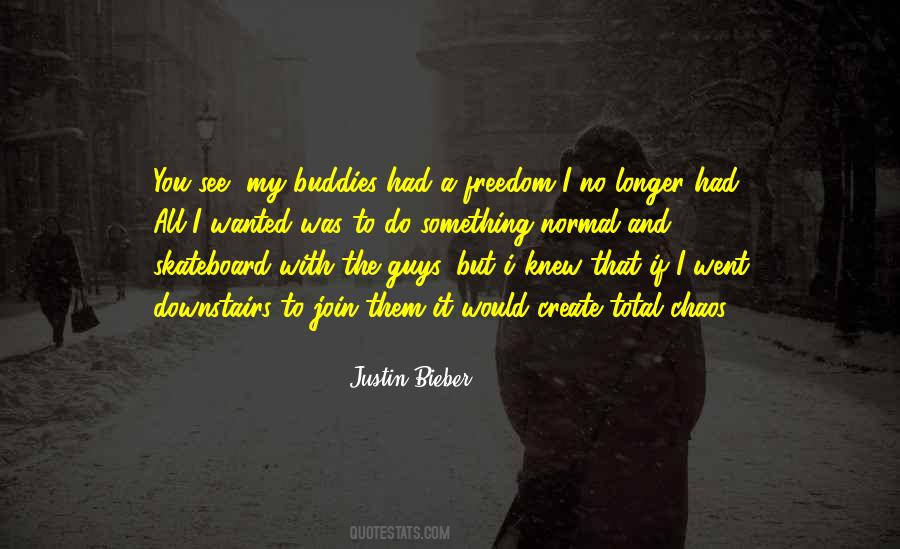 #32. As free as you allow others to be, such freedom you create for yourself. - Author: Bryant McGill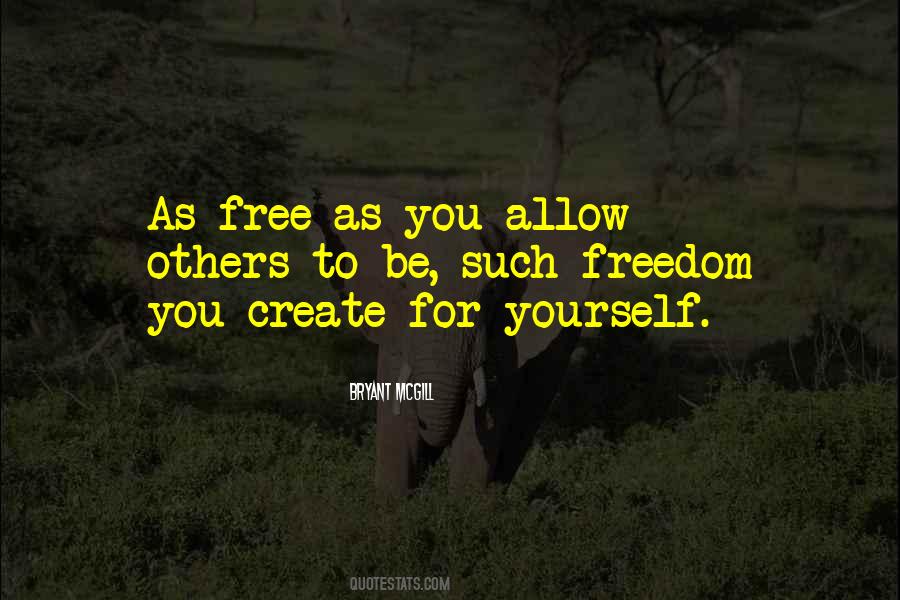 #33. We're allowed as adults to create a life that we like. Kids don't have that freedom. - Author: Rebecca Stead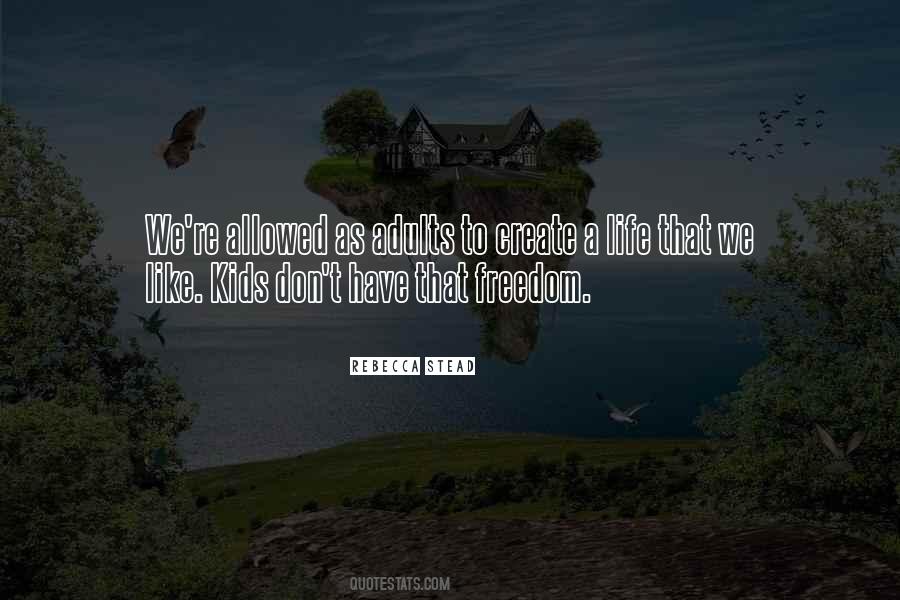 #34. Artists shouldn't wait until they are told what their art should be, they shouldn't follow trends or allow other people to influence their work, an artist should only create from the strongest emotions within their heart - Author: Andrew James Pritchard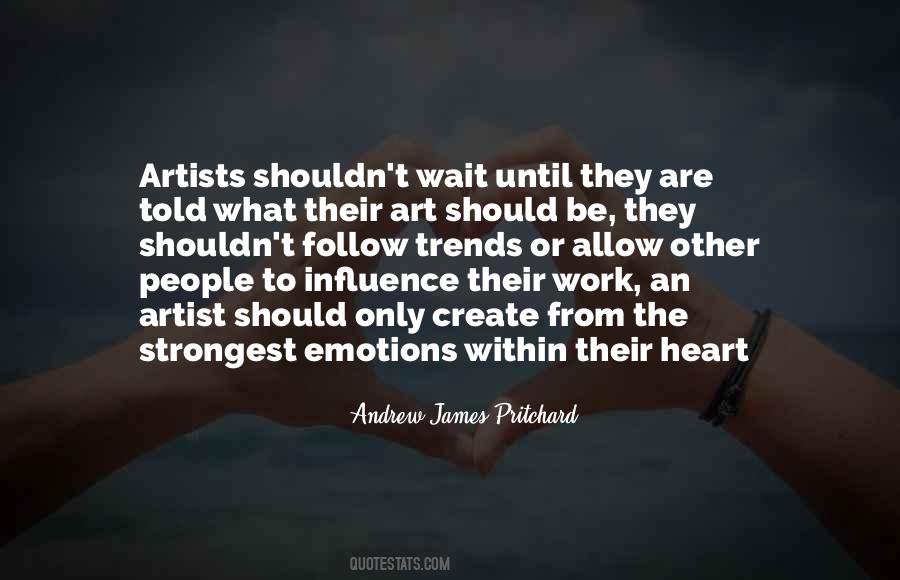 #35. To create an organization that's adaptable and innovative, people need the freedom to challenge precedent, to 'waste' time, to go outside of channels, to experiment, to take risks and to follow their passions. - Author: Gary Hamel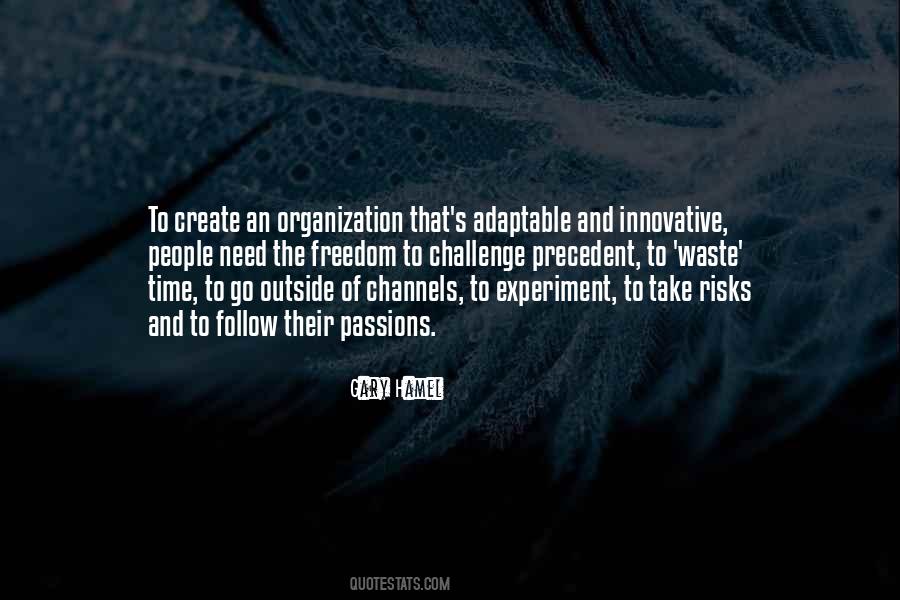 #36. In their pursuit to make us choose the "right" option, politicians and media pundits create a new holy entity called freedom of expression. It becomes another sacred, holy, untouchable "cow." Another religious concept which if you're "killed" promoting, you become a "martyr. - Author: Anonymous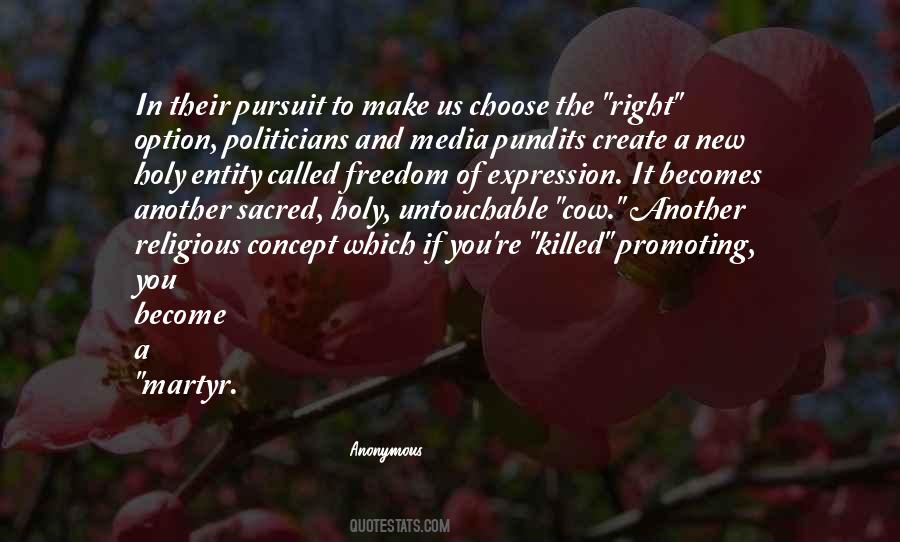 #37. Freedom to me is a luxury of being able to follow the path of the heart, to keep the magic in your life. Freedom is necessary for me in order to create, and if I cannot create I don't feel alive. - Author: Joni Mitchell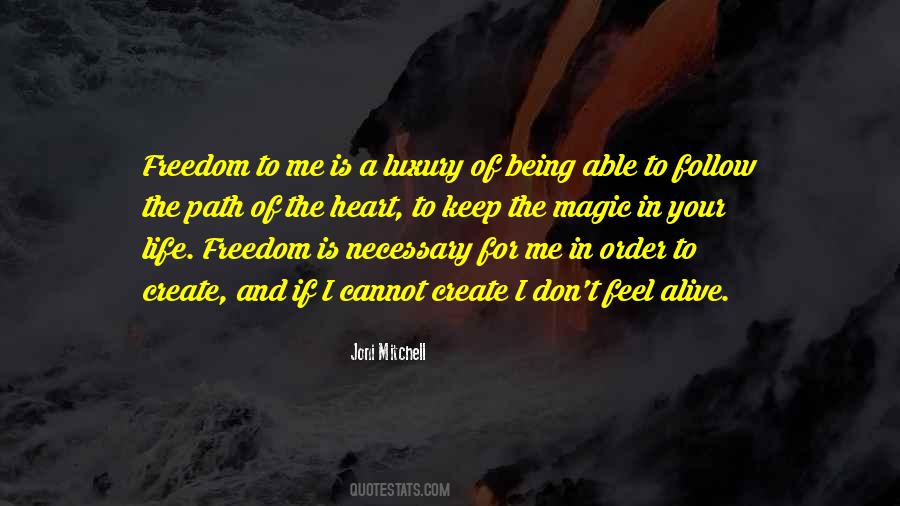 #38. Positive assumptions are needed only when you have negative assumptions that you're trying to overcome. But when you drop your assumptions altogether, your soul stands naked in the open fields of possibility. And what you choose to create from that space is up to you. - Author: T.K. Coleman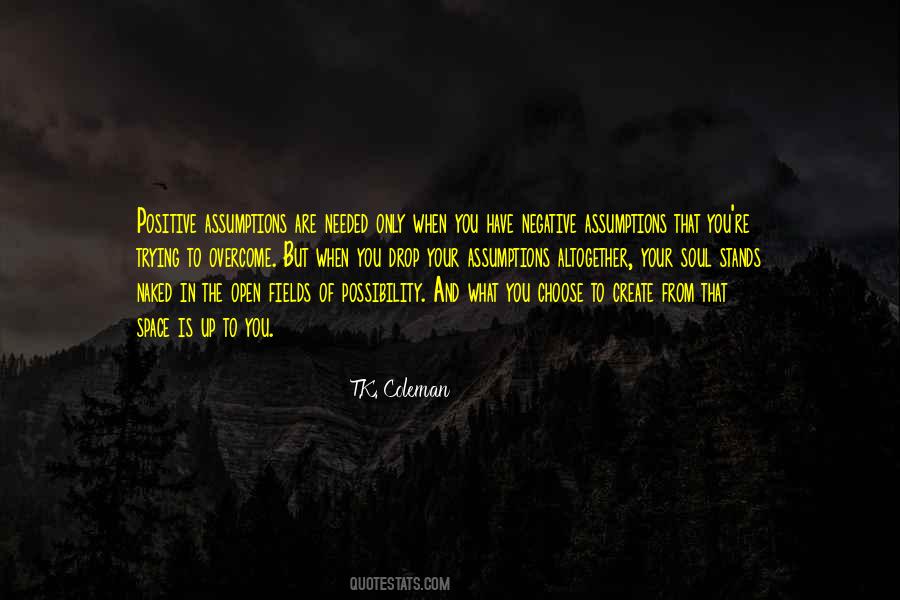 #39. Preparing citizens to act thoughtfully to create a more just, open, and creative society gives form, substance and meaning to often abstract concepts of freedom and democracy. - Author: Gregory S. Prince Jr.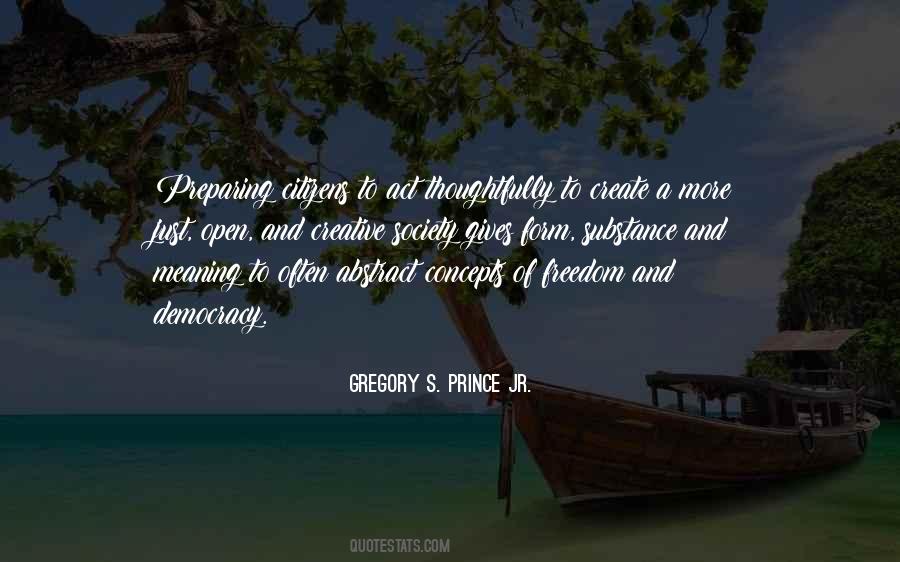 #40. You have more creative freedom with writing, in certain ways, because you can create everything that happens. But, as an actor you also have creative freedom because you don't so much focus on what has to move the story along, and only on how your character is reacting to situations. - Author: John Francis Daley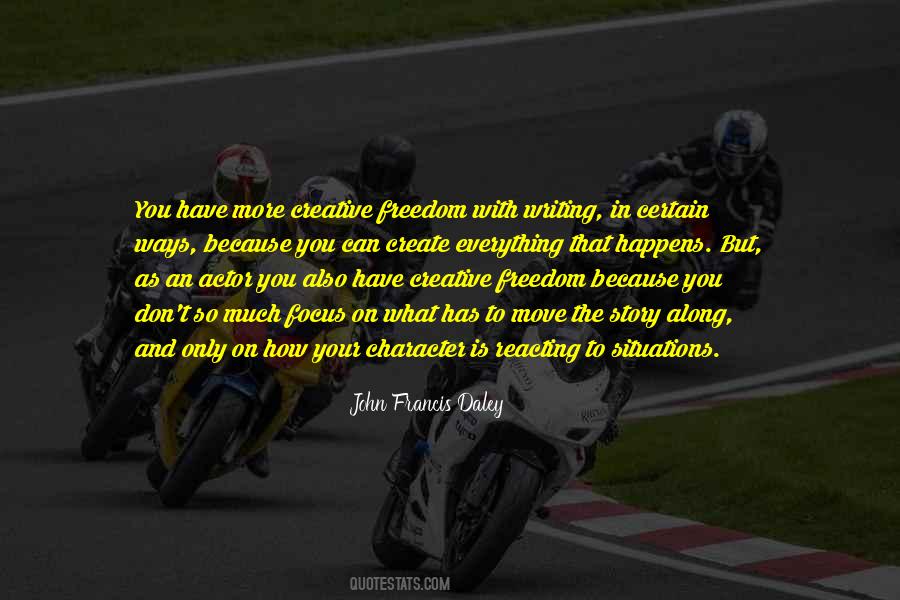 #41. Sebald, Naipaul, and Joyce are three of my biggest influences, all of them for their formal freedom and their ability to create mood. So those comparisons are immensely flattering and, of course, unearned. - Author: Teju Cole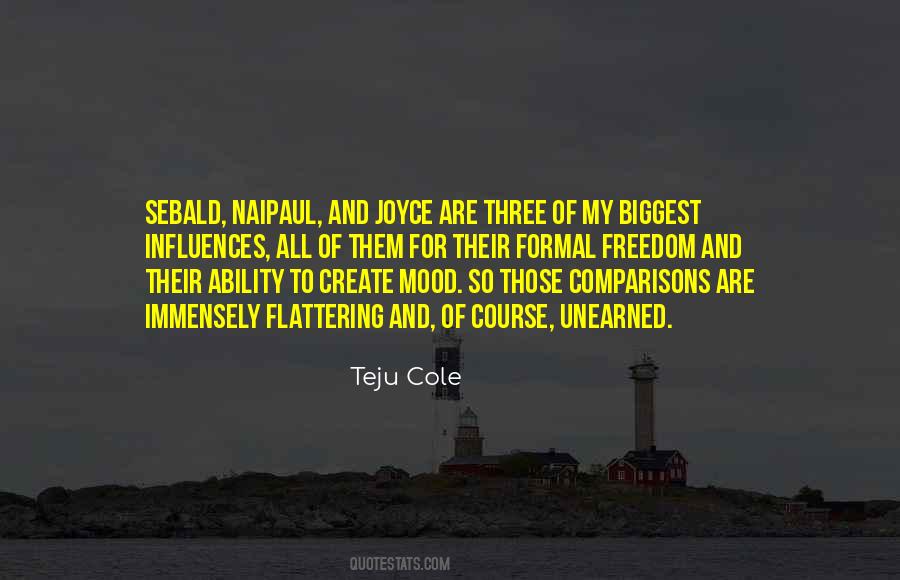 #42. To me, punk rock is the freedom to create, freedom to be successful, freedom to not be successful, freedom to be who you are. It's freedom. - Author: Patti Smith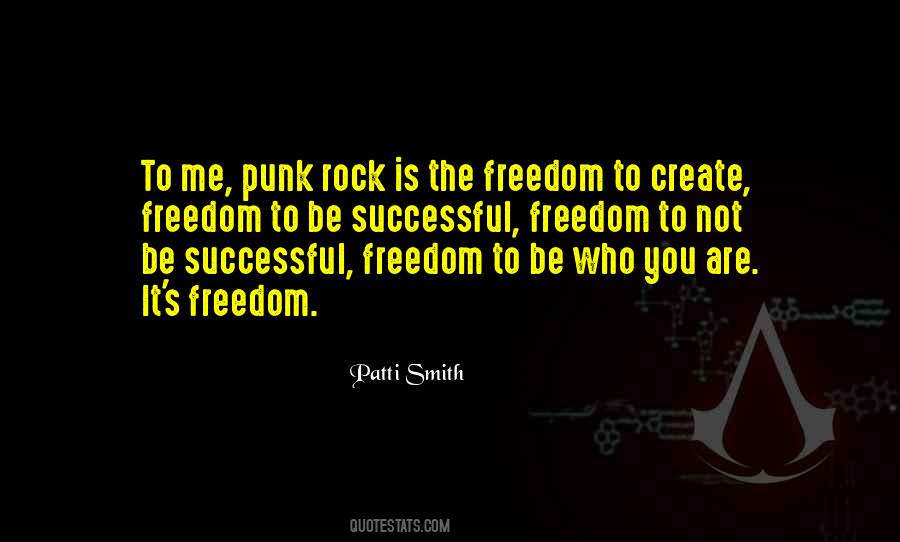 #43. America has been the New World in all tongues, to all peoples, not because this continent was a new-found land, but because all those who came here believed they could create upon this continent a new life
a life that should be new in freedom. - Author: Franklin D. Roosevelt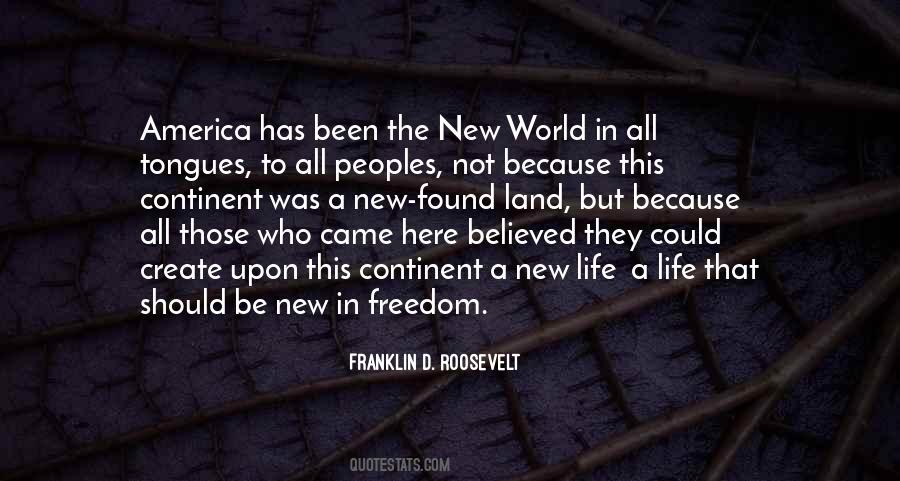 #44. The liberation of the earth, the liberation of women, the liberation of all humanity is the next step of freedom we need to work for, and it's the next step of peace that we need to create. - Author: Vandana Shiva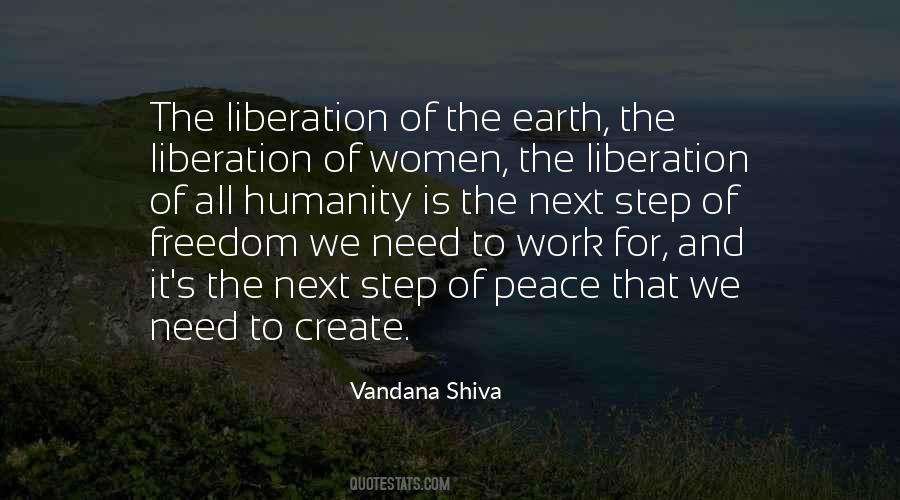 #45. I'm really very concerned with helping to create an attitude of freedom and daring toward the craft of photography. - Author: Jerry Uelsmann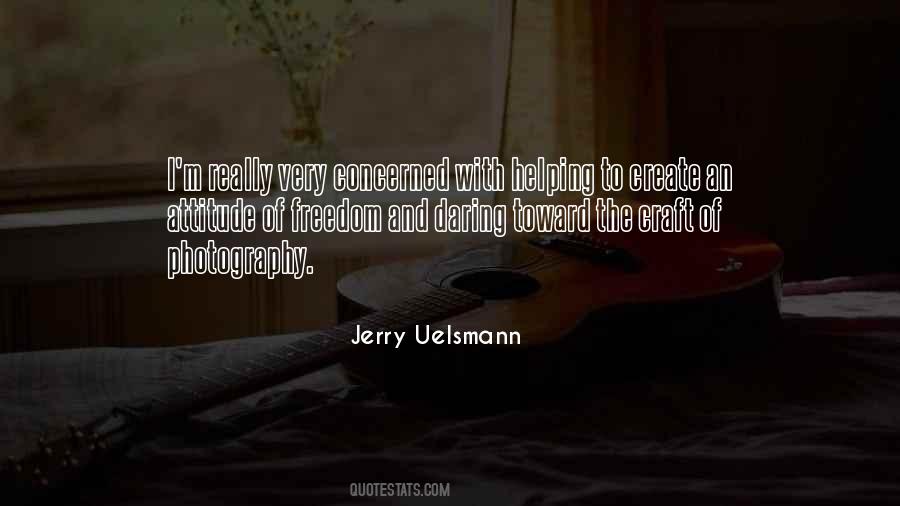 #46. Open relationships can give you the freedom to create unique relationships, explore yourself and your sexuality, and challenge society's expectations. - Author: Tristan Taormino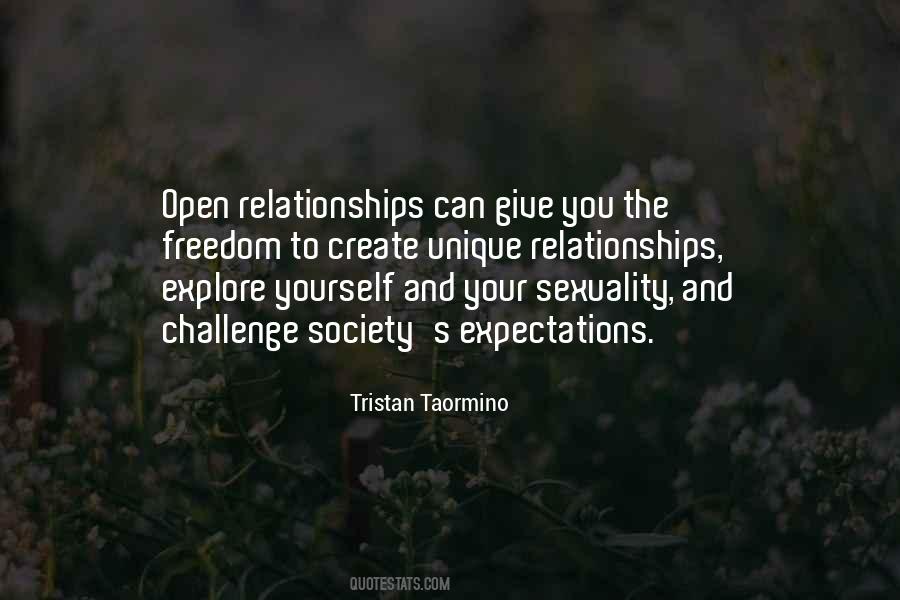 #47. Thoughts are free and subject to no rule. On them rests the freedom of man, and they tower above the light of nature ... create a new heaven, a new firmament, a new source of energy from which new arts flow. - Author: Paracelsus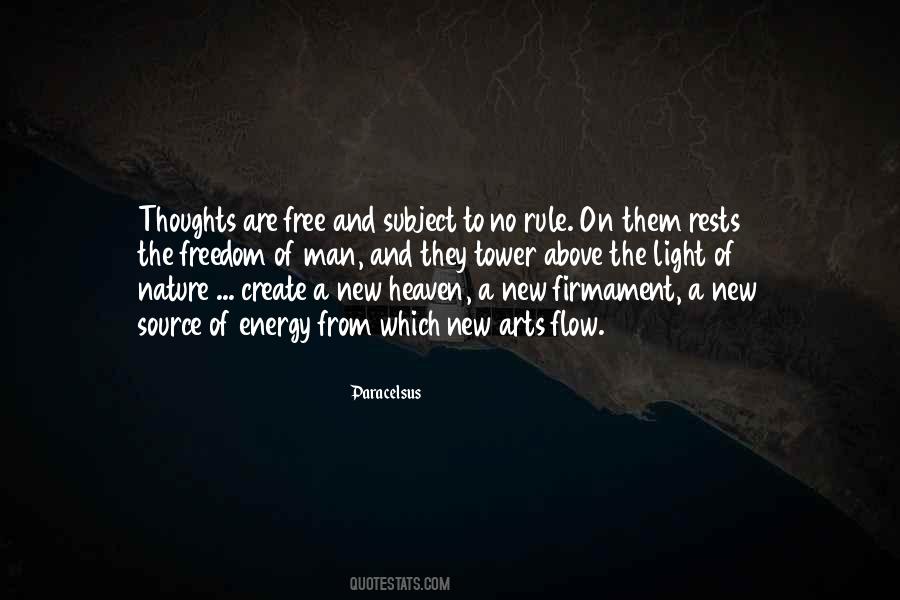 #48. That is really the freedom that allows you to create something that is exciting because who knows what's true? - Author: Eva Green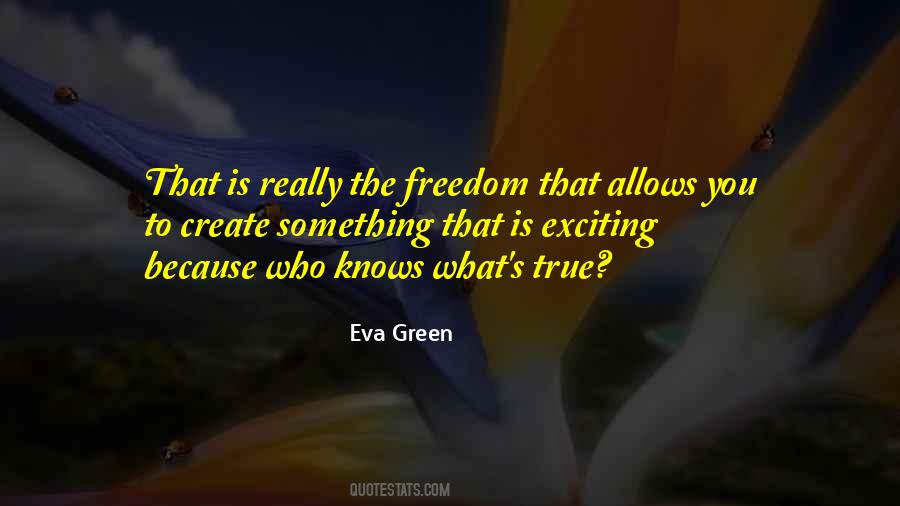 #49. No man has the right to dictate what other men should perceive, create or produce, but all should be encouraged to reveal themselves, their perceptions and emotions, and to build confidence in the creative spirit. - Author: Ansel Adams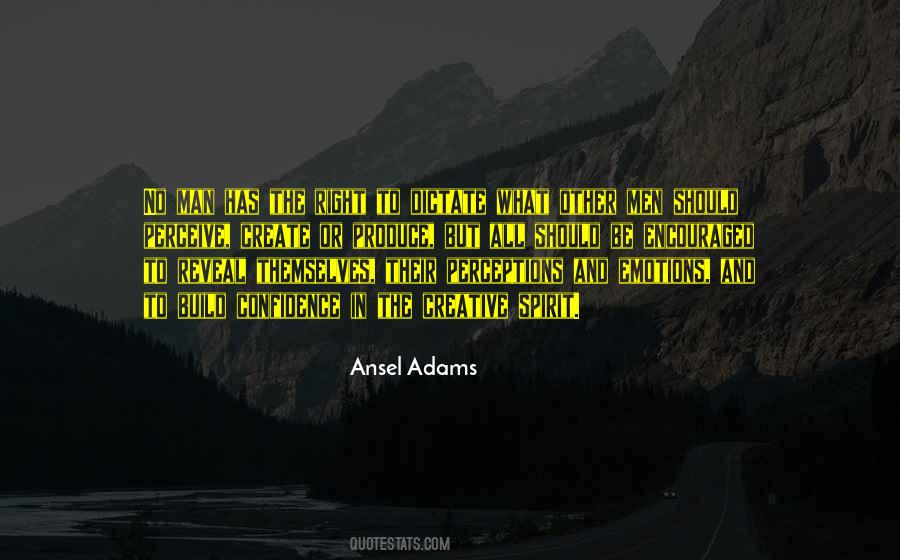 #50. Human freedom increasingly depends on who controls what we know and, therefore, how we understand our world. It depends on what information we are able to create and disseminate: what we can share, how we can share it, and with whom we can share it. - Author: Rebecca MacKinnon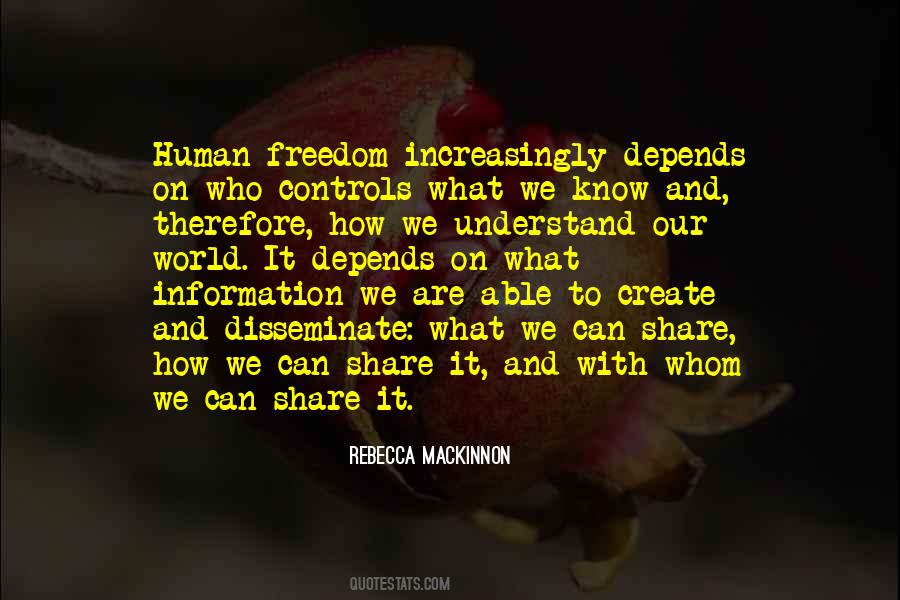 #51. People had gone west leaving behind all sorts of trouble; what they found in California was the space and freedom to create new trouble. - Author: Tracy Chevalier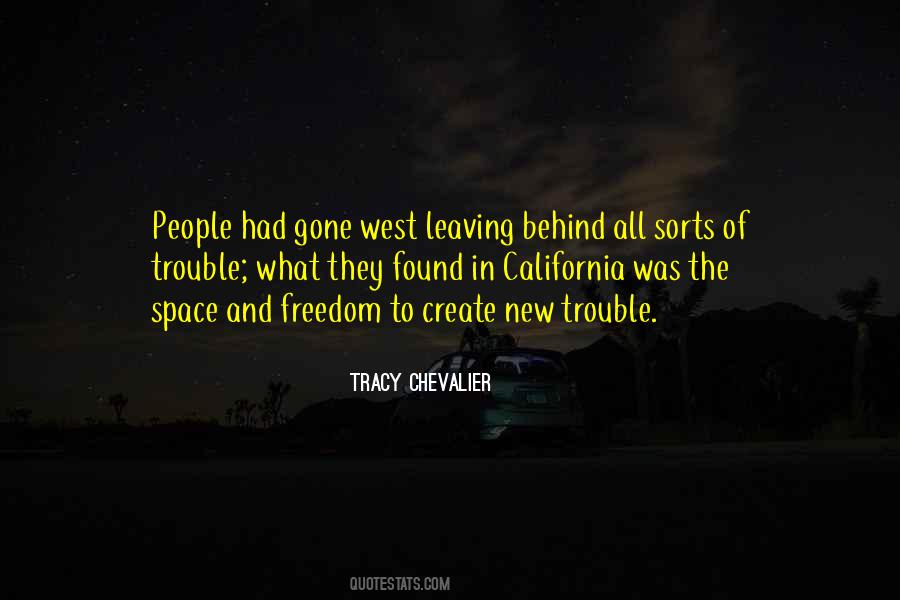 #52. I am proud that my humble attempts to predict Tuesday's prices on Monday are an indispensable component of our society. By buying low and selling high, I create harmony and freedom. - Author: Victor Niederhoffer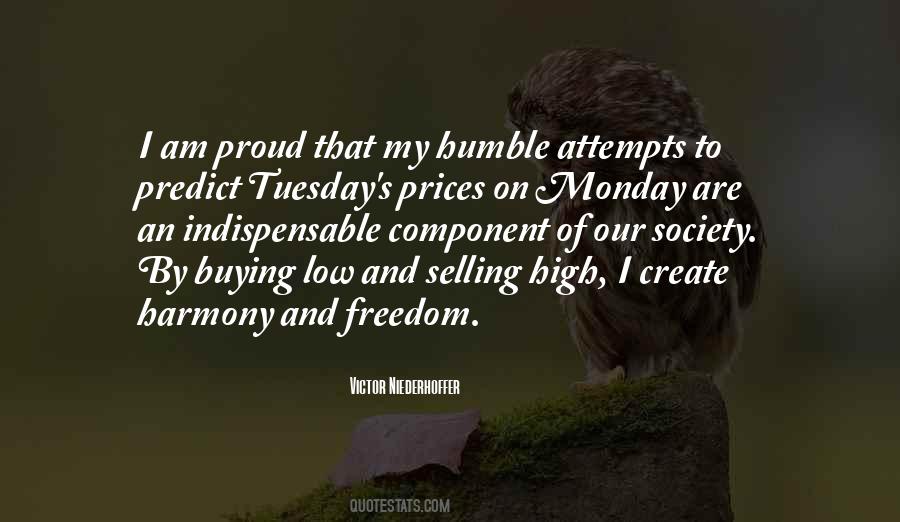 #53. What is freedom? Freedom is the right to choose: the right to create for oneself the alternatives of choice. Without the possibility of choice a man is not a man but a member, an instrument, a thing. - Author: Archibald MacLeish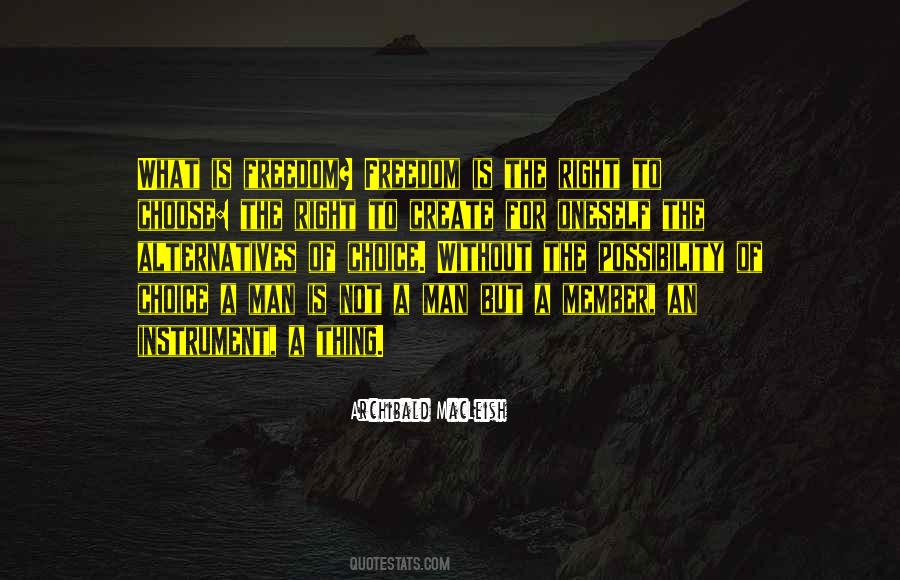 #54. A millionaire is a person who is free, who does what she loves, who has unlimited materials, her choice of tools, abundance, inspiration, freedom and an inflated sense of entitlement to have, create and get more. - Author: Sara Genn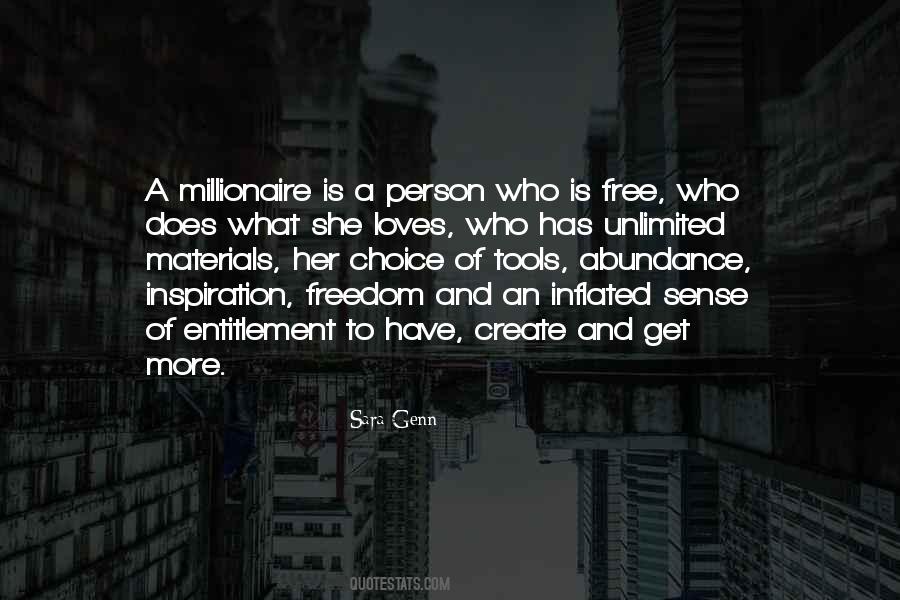 #55. Sure all life's highways at some point must end,
so I plan to ride it in style and plummet in a swan dive
when the pavement runs out ...
And hopefully leave behind artistically
that which may make other roads
an even better ride ... - Author: Tom Althouse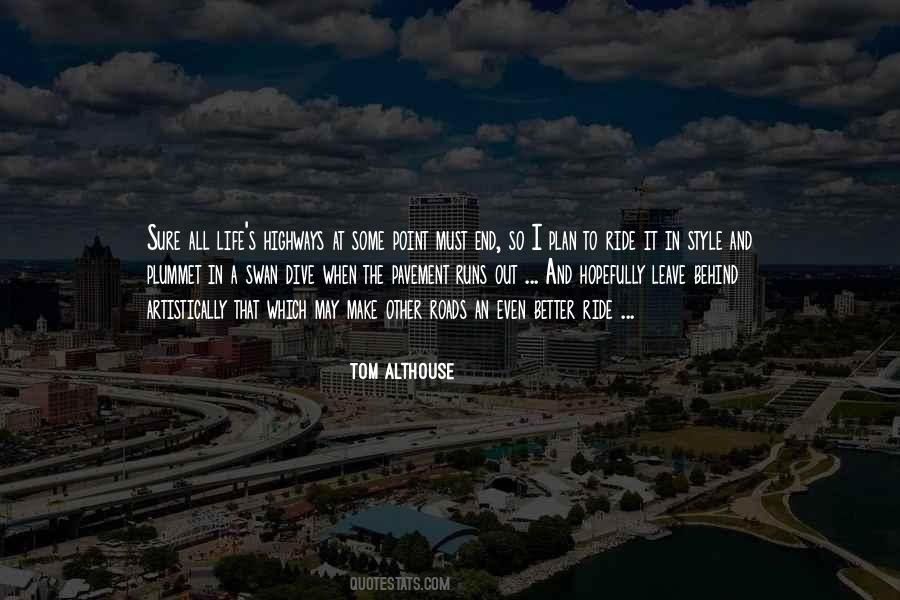 #56. He who builds walls to create exclusion for others builds walls across his own freedom; - Author: Anonymous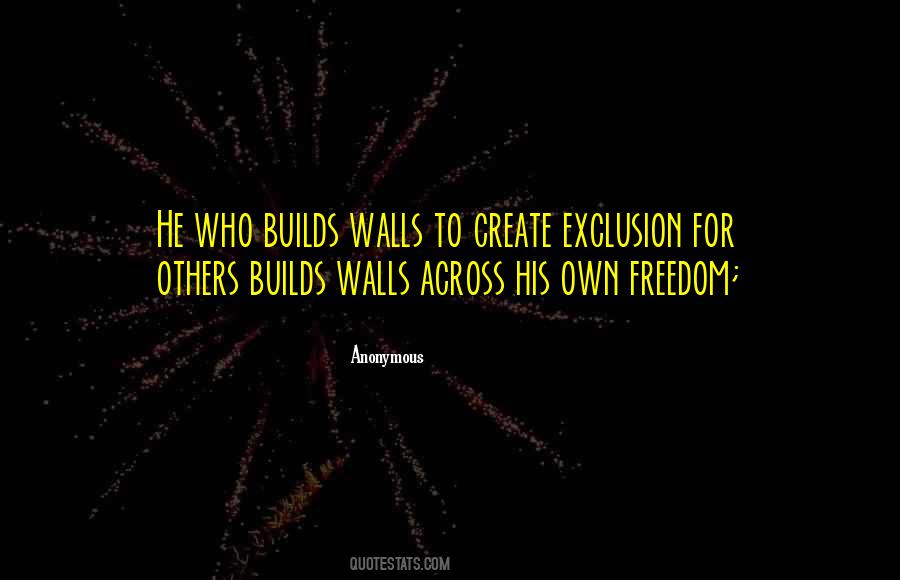 #57. True freedom is the choice to create the desires one believes in. - Author: Steven Redhead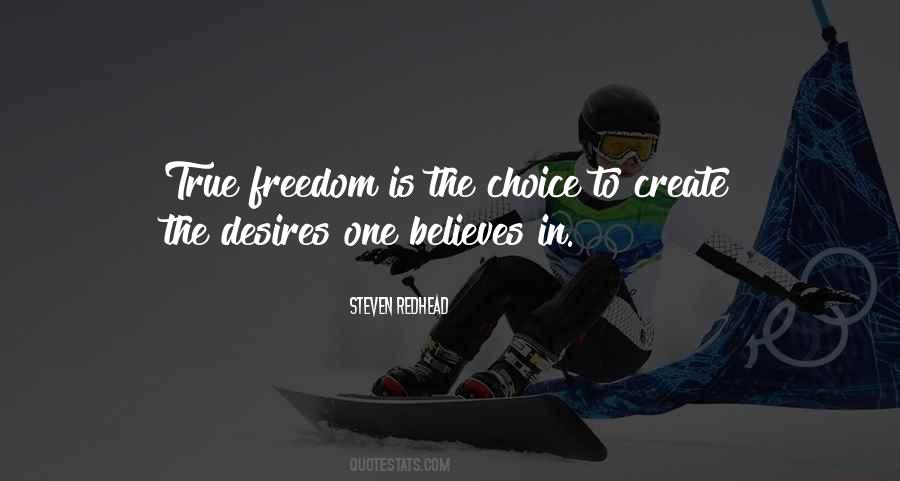 #58. Freedom is the process of allowing myself to acknowledge the nature of my soul and to embrace my humanity. It is when I acknowledge how much power I have to create, shape, and change my life. - Author: Cynthia Belmer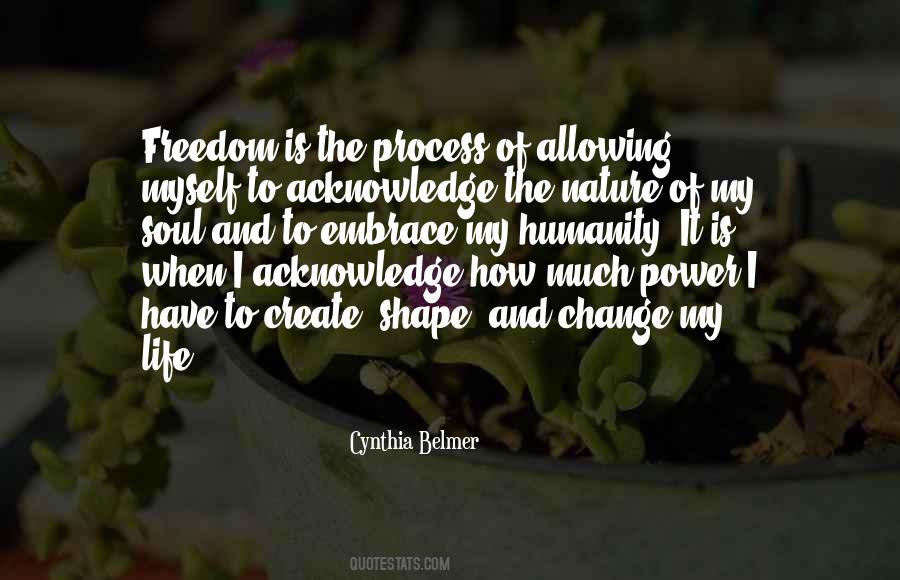 #59. The freedom of a government does not depend on the quality of its laws, but upon the power that has the right to create them. - Author: Thaddeus Stevens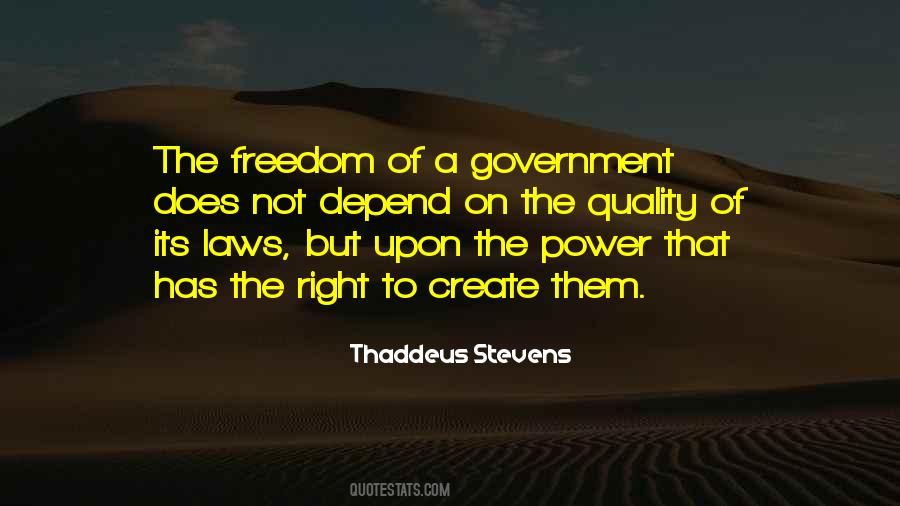 #60. I had absolute freedom to create things on my own and in silence. No rush, the artificial rush by media. Certainly no rush to grow up. We had plenty of boyhood, plenty of girlhood. - Author: Barry Hannah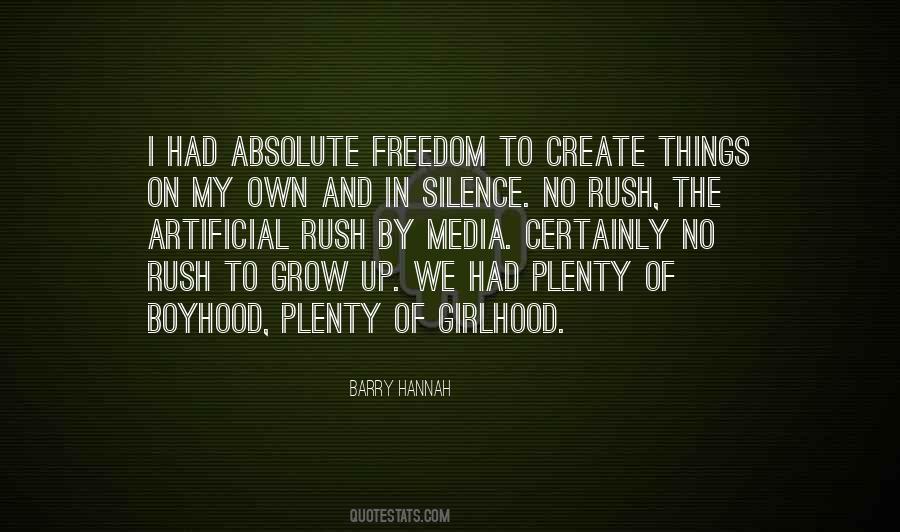 #61. Bigger-budgeted films have more restrictions and less freedom to create. Because of this, I try to find freedom in the people I work with. I often work in ways I don't want to. It's more about controlling the situation. Lower-budget films are freer. - Author: Takashi Miike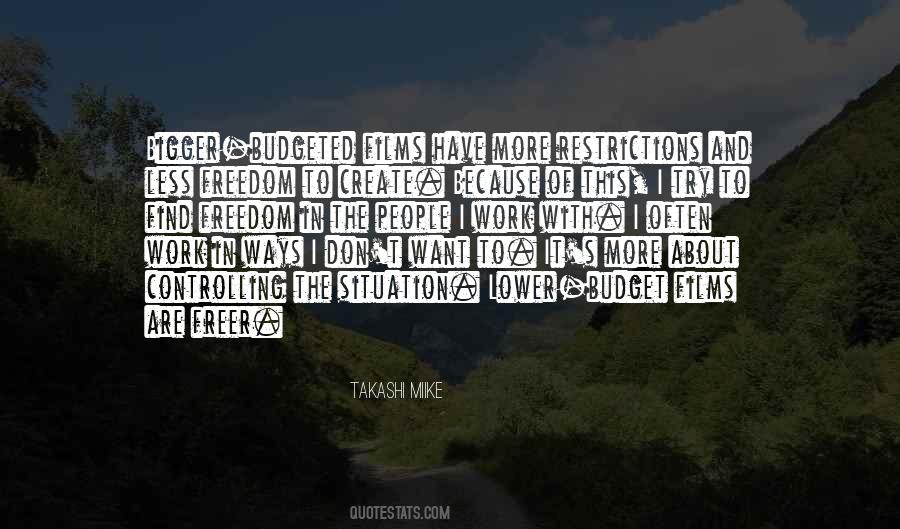 #62. We cannot change the world alone. To heal ourselves, to restore the earth to life, to create the situations in which freedom can flourish, we must work together in groups. - Author: Starhawk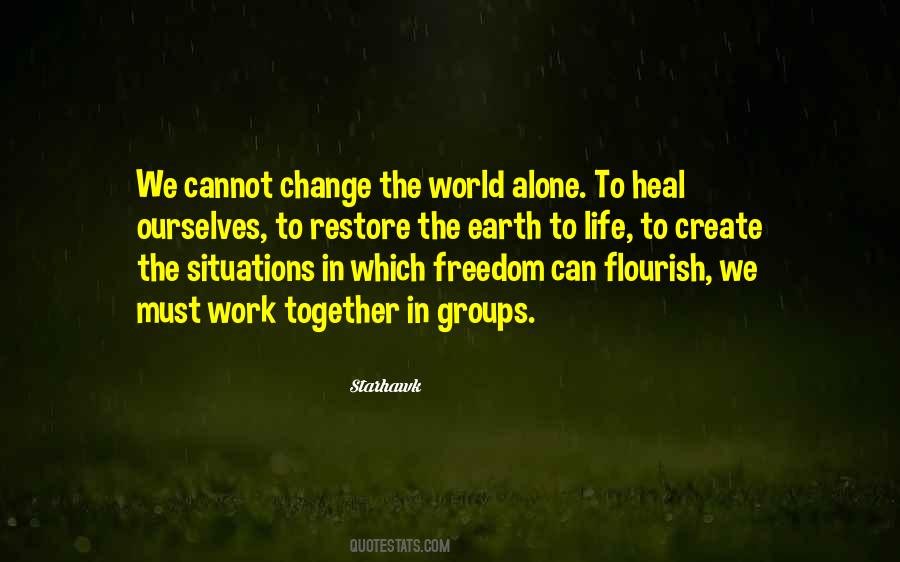 #63. I am very grateful for the success, because it has given me the freedom to write without pressure, in my own way, and has enabled me to maintain my family and educate my children and grandchildren, as well as to create a Foundation to empower women and girls. - Author: Isabel Allende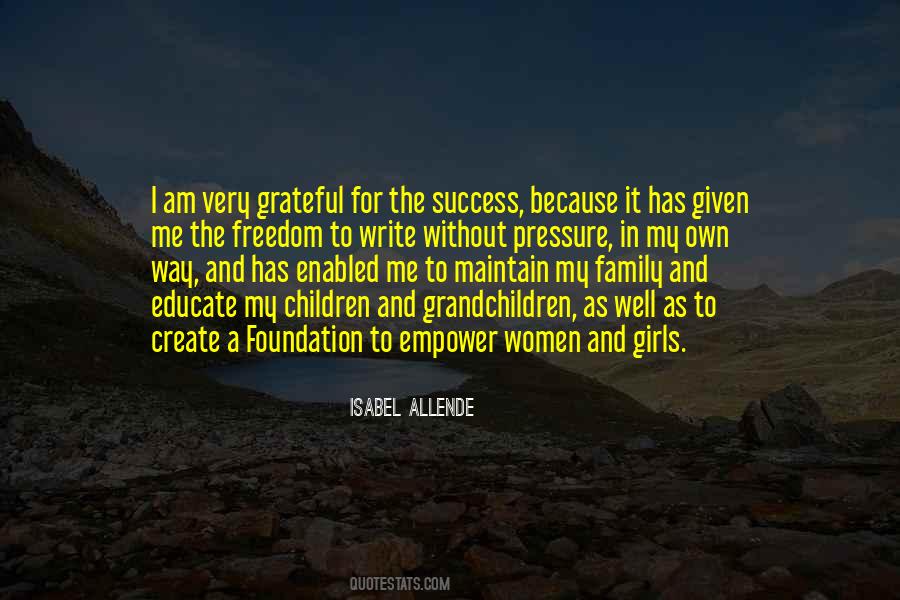 #64. The freedom to create is somehow linked with facility of access to those obscure regions below the conscious mind. - Author: Loren Eiseley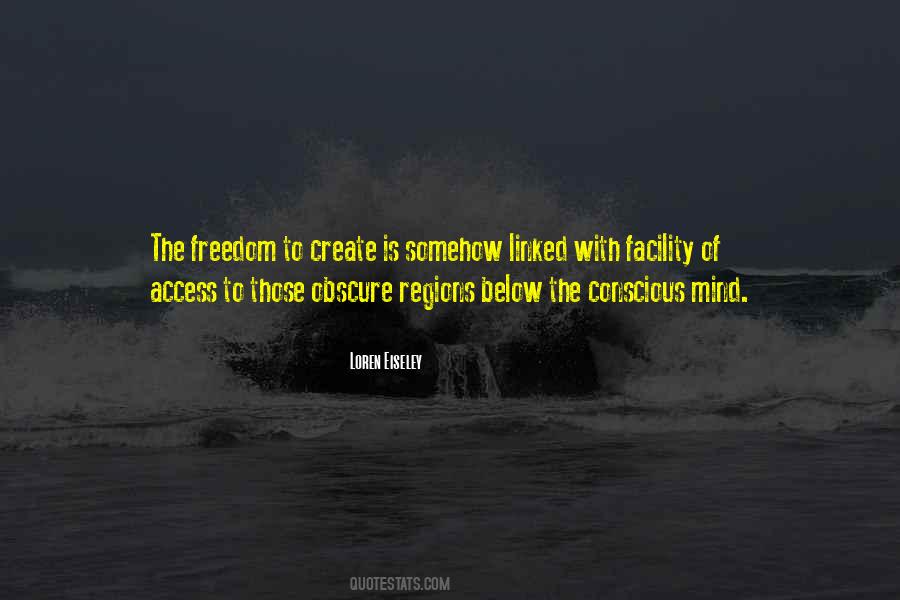 #65. I tried to exploit such freedom to create those drawings like if I was a boy. I tried to draw with that freedom and that love that I remember from being a child and spending a day drawing without worrying about whether what I'm drawing is real or strange. - Author: Alex Abreu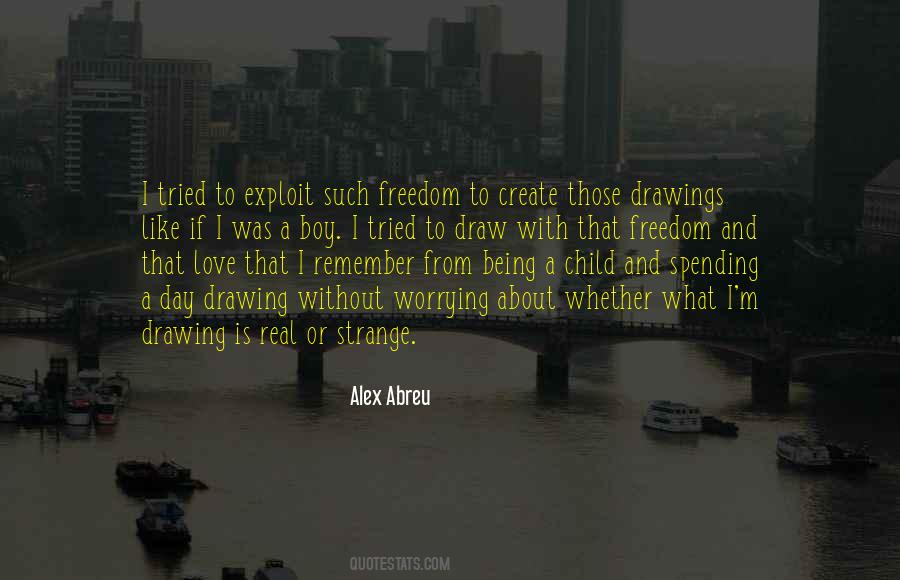 #66. Freedom is the power to create out of nothing, the power of the spirit to create out of itself. - Author: Nikolai Berdyaev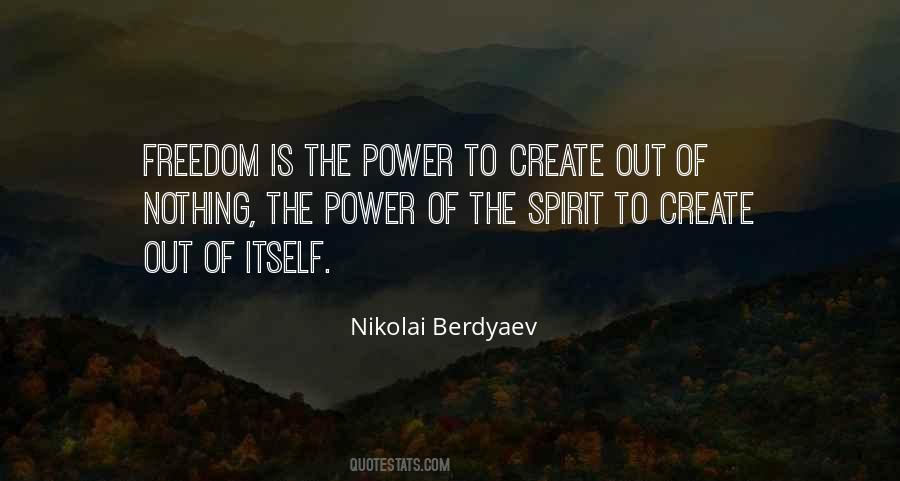 #67. I really enjoy the writing process because I can do it from my house. I can create these characters and take them in the different directions that I want to take them. You have a lot of freedom as a writer. - Author: Ricky Schroder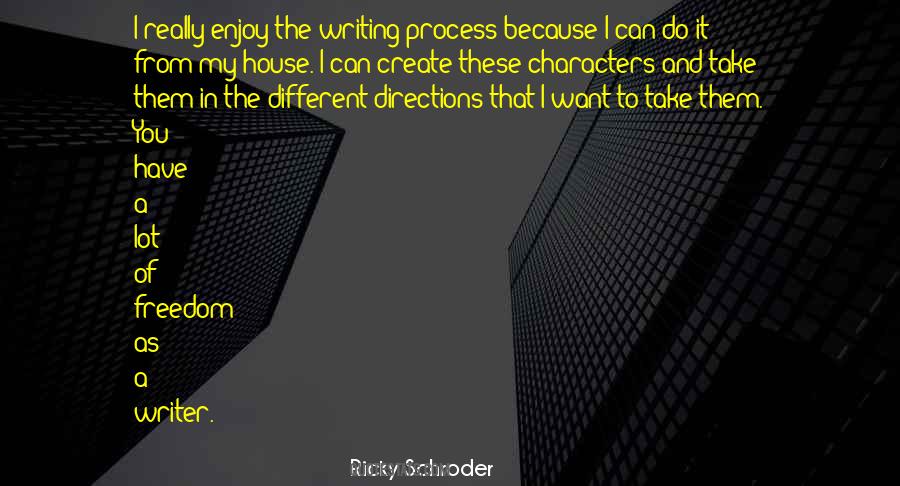 #68. To create, we need both technique and freedom of technique - Author: Stephen Nachmanovitch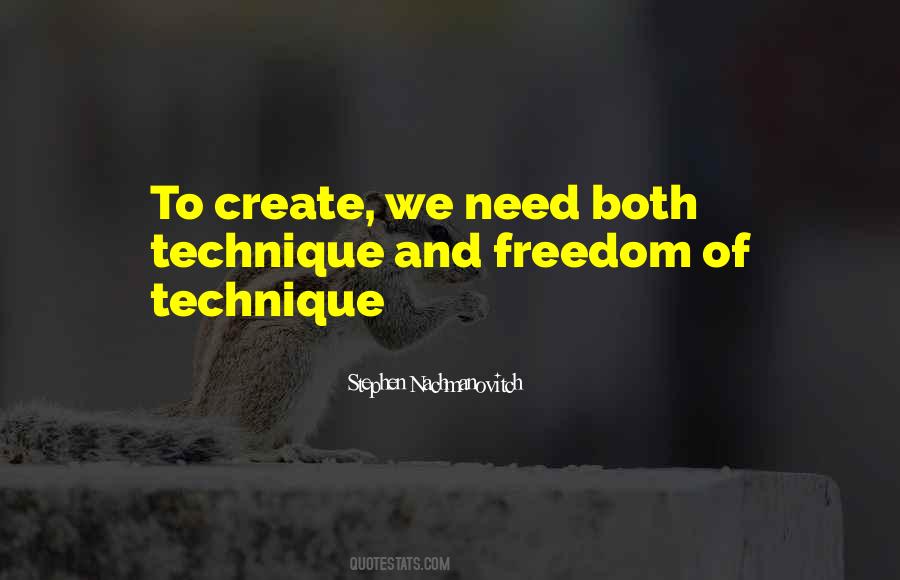 #69. Especially when you are advertising a product, I talk to the photographer and we create a character - it always gives you more freedom because it makes it less about yourself. - Author: Penelope Cruz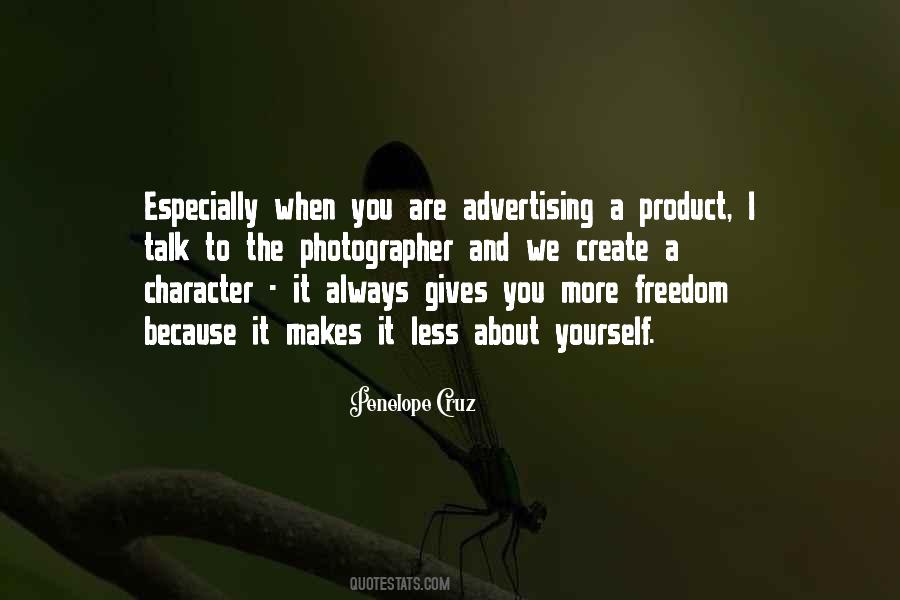 #70. I am prepared to accept from others their own version of reality. I think it is a basic freedom really, to create one's own reality from whatever truths are available. - Author: Josephine Hart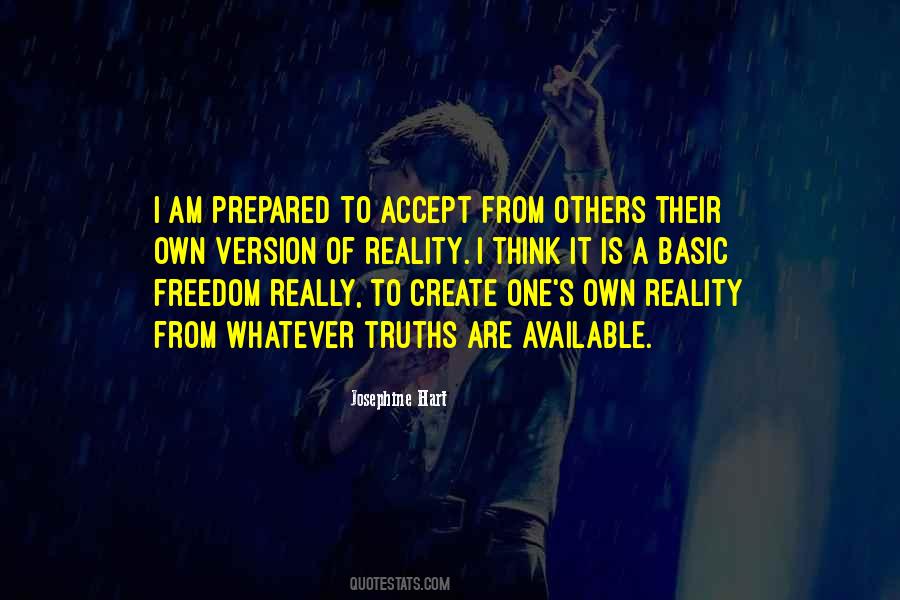 #71. We are called to be strong companions and clear mirrors to one another, to seek those who reflect with compassion and a keen eye how we are doing, whether we seem centered or off course ... we need the nourishing company of others to create the circle needed for growth, freedom and healing. - Author: Wayne Muller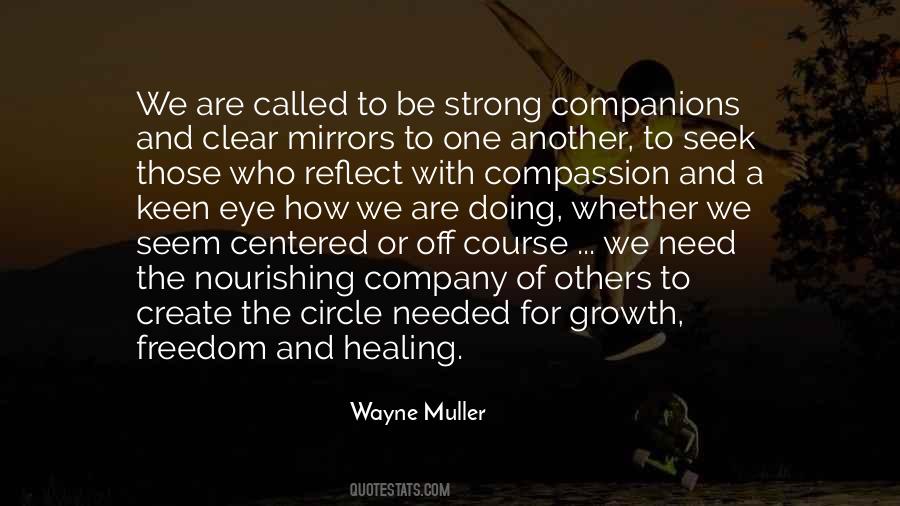 #72. Until you're willing to accept what already is - the things of your past that you can't change - there's no space for you to create what you want. Acceptance is the key to unlocking the door to true peace, happiness, and freedom. - Author: Hal Elrod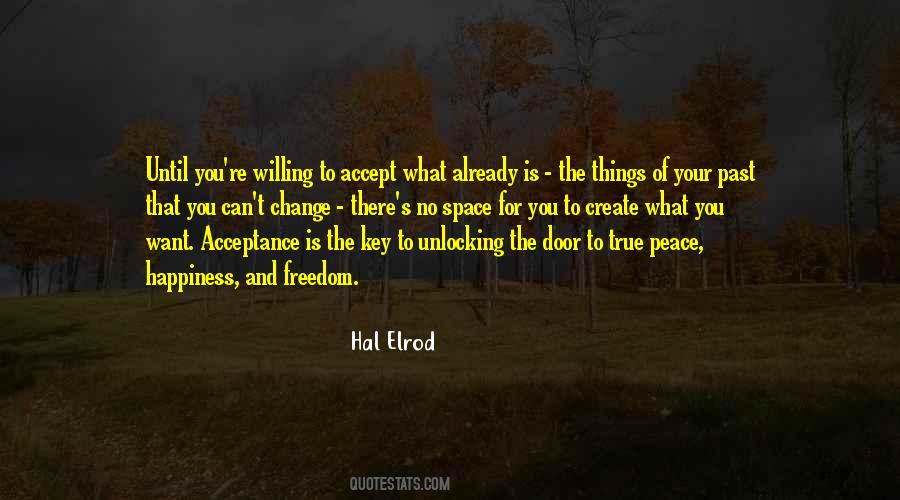 #73. Don't hold on too long;to which does not belong,
Don't shed a tear; for all the pain that's gone,
Create a new;from the wisdom of the past,
Open your heart wider, as storms do not last. - Author: Nikki Rowe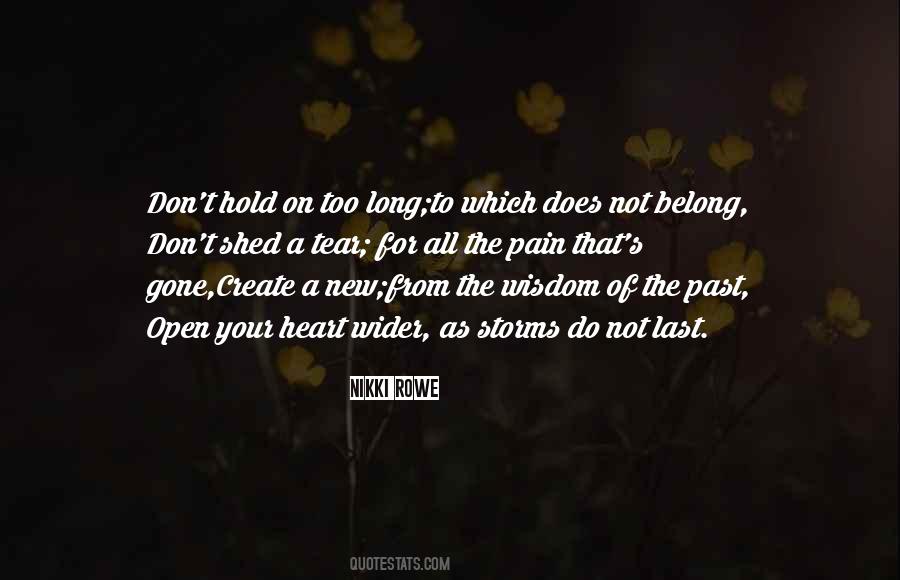 #74. To assume you know someone well enough that you can and do predict their behavior and mental perspective is a gross and often tragic mistake, for it eliminates that person's freedom to create his or her own opinion and drastically affects the emerging picture of the relationship. - Author: Meredith L. Young-Sowers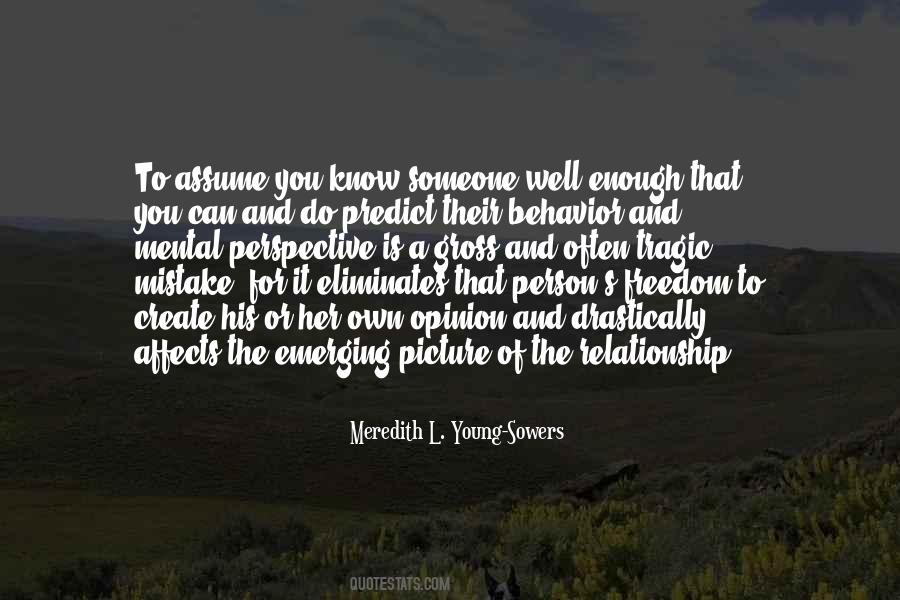 #75. More riveting to me in the end than the politics of Berlin was the vast social experiment its division had become... it was possible to have freedom and plenty in the West and craft an empty life; it was possible to "have nothing" in the East and create a life of intimacy and dignity and beauty. - Author: Krista Tippett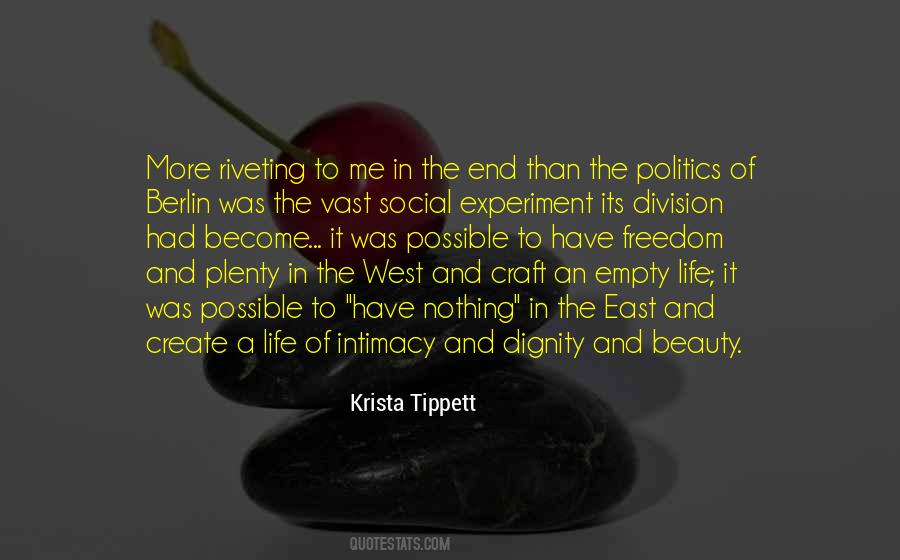 #76. You learn that you either are going to have a police state where you don't have any freedom left, or you're going to build a world that doesn't create terrorists - and that means a whole different way of 'getting along.' - Author: John Shelby Spong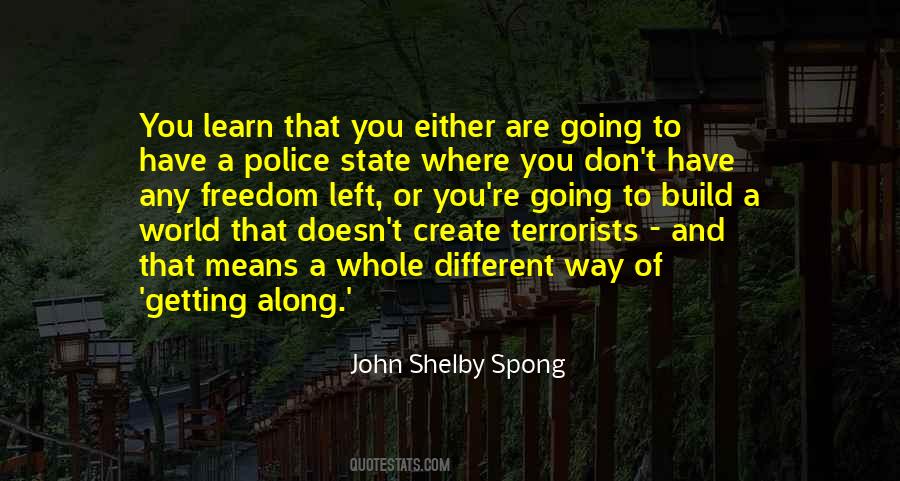 #77. The threat [of the U.S. bills SOPA and PIPA] is the inversion of the burden of proof, where we suddenly are all treated like thieves at every moment we're given the freedom to create, to produce or to share. - Author: Clay Shirky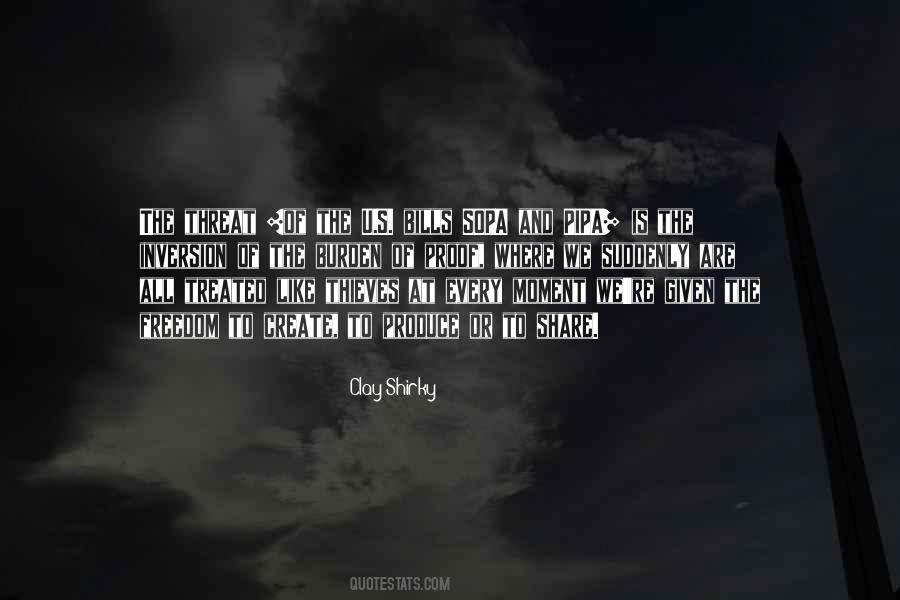 #78. Once I was free; there was no cage that could bind me, and I had yet to create my box of numbness within my mind to be my silent protector. - Author: J.D. Stroube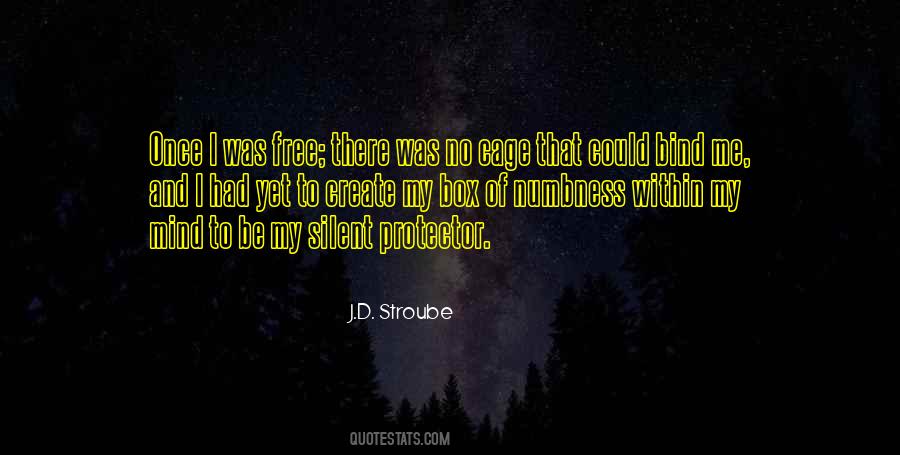 #79. Freedom, to me, is imagination, the power of imagination to create what we want and be who we want to be. - Author: Lizzie West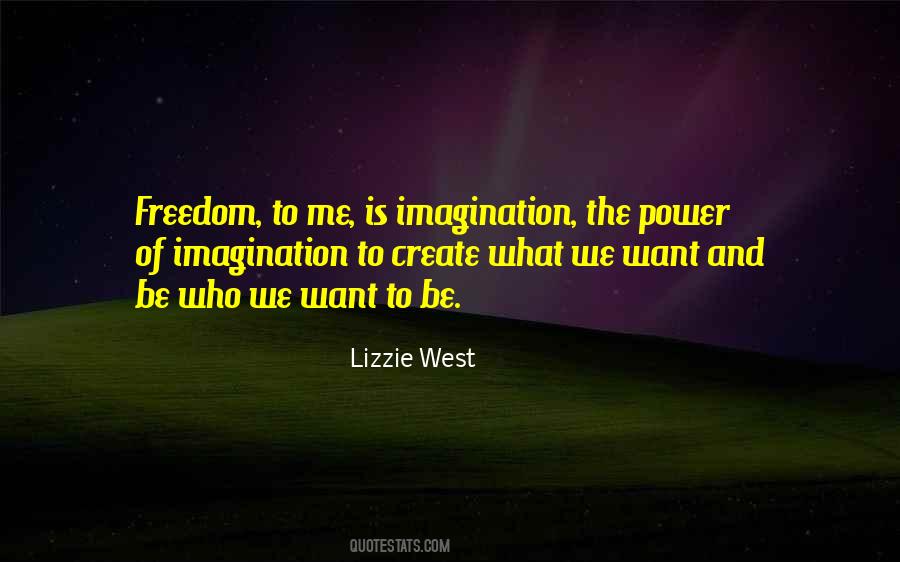 #80. I want to be part of the happiness team - let's create the happiness team - from love, not greed, love of life & our planet, true & free. - Author: Jay Woodman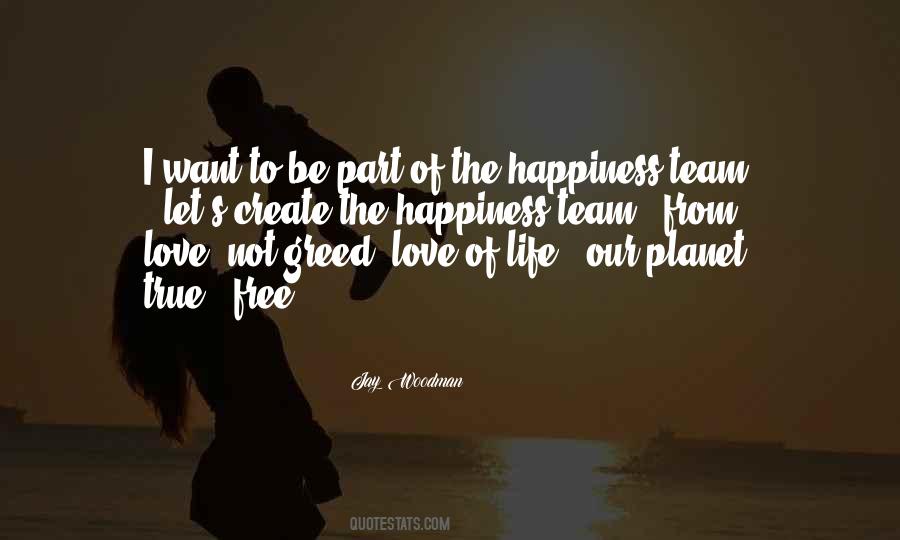 #81. You are free to create your own paradigms instead of simply accepting those presented to you by others. - Author: Russell Eric Dobda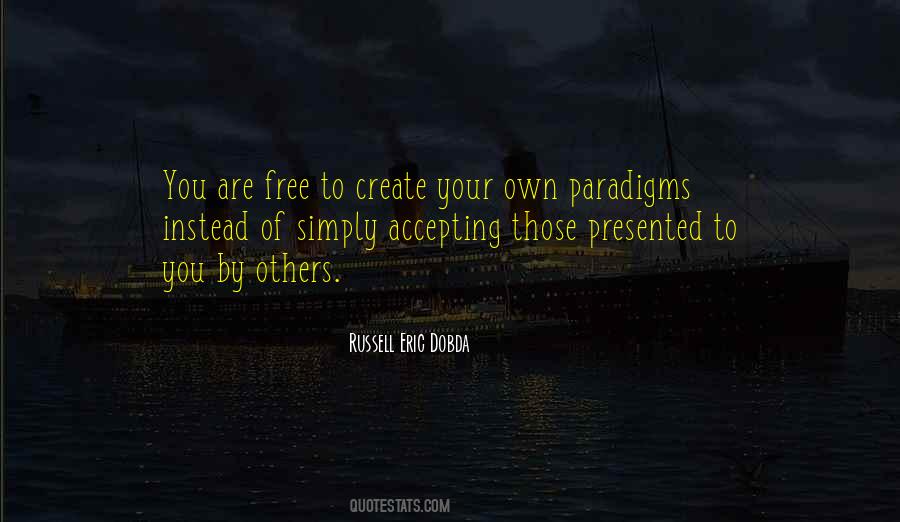 #82. I create a home that is a safe and nurturing place for me, where I am free to gather myself. - Author: Maureen Brady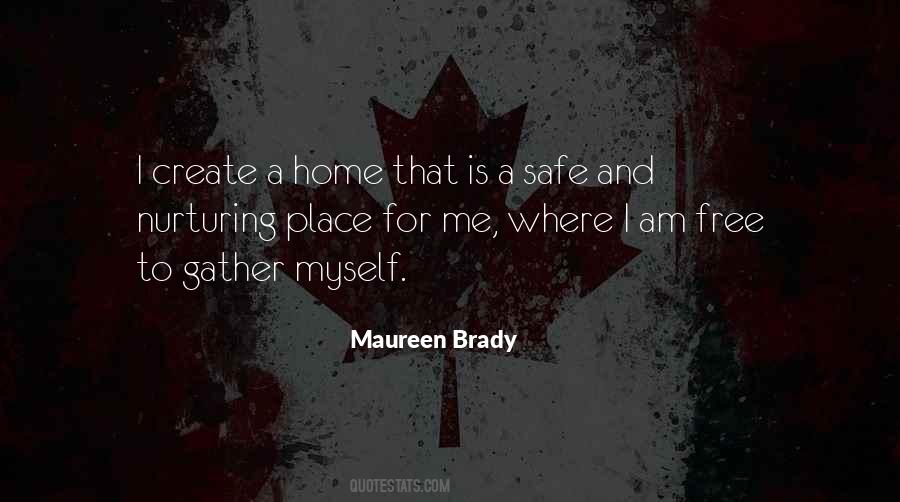 #83. Even the absolute universality of the law of causality does not necessarily limit a person's freedom, because the law of causality not only enables him to explain the past and predict the future, but also encourages him to use his intelligence to create new causes and attain new results. - Author: Hu Shih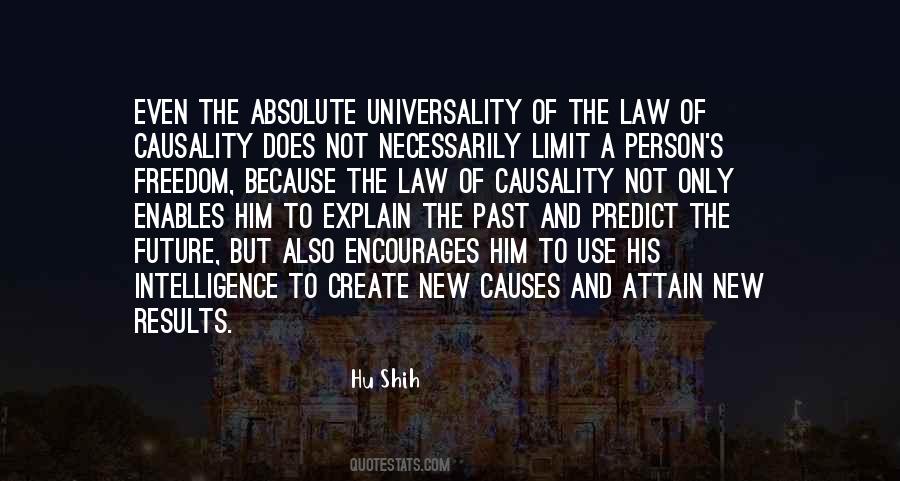 #84. I would like to appeal to all those in whose hands the future of mankind lies, to use their power not to destroy or kill, nor to create suffering in a grasping search for selfish objectives, but to help alleviate the plight of the needy; to aim at justice and freedom for the individual. - Author: Poul Hartling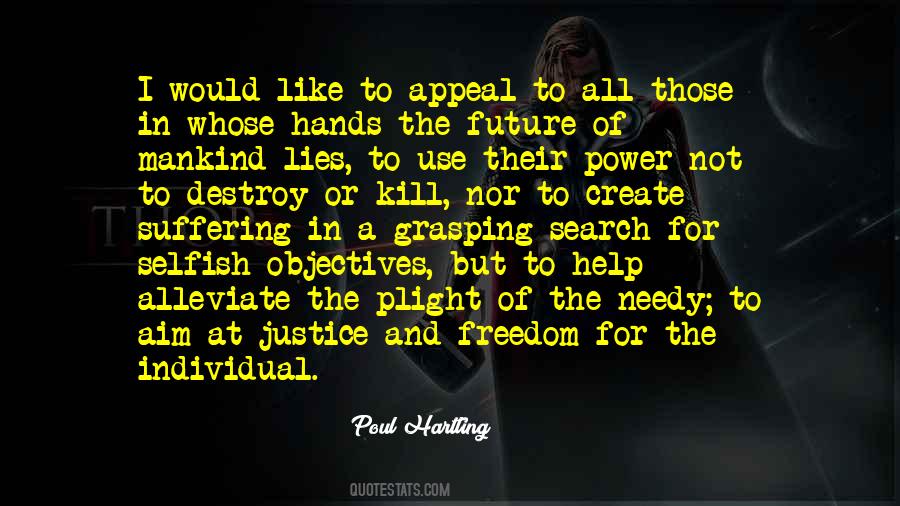 #85. Food trucks give creative entrepreneurs the ability to cook with freedom and make what they love, meaning that they can create highly specialized meals without having the high overhead costs of running a restaurant. - Author: Homaro Cantu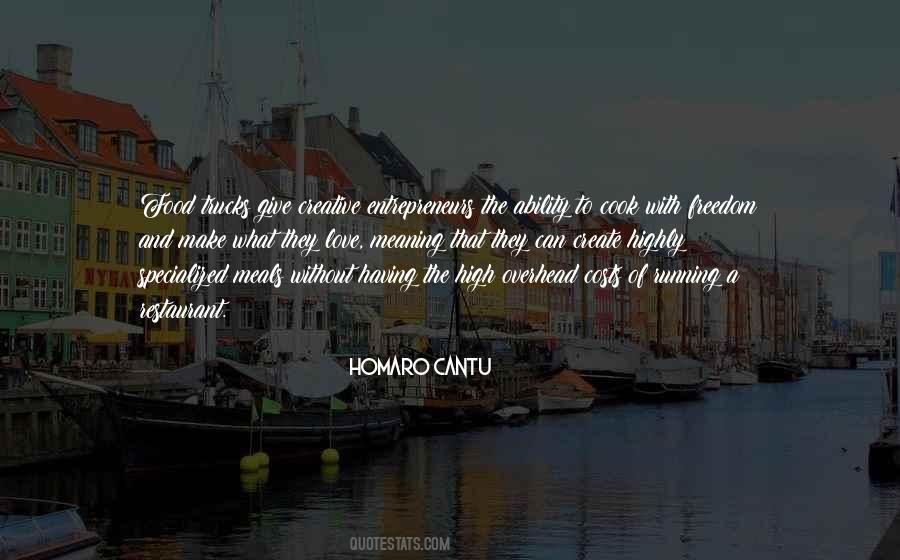 #86. The real purpose of est was to create space for people to participate in life - to experience true space and freedom in life. - Author: Werner Erhard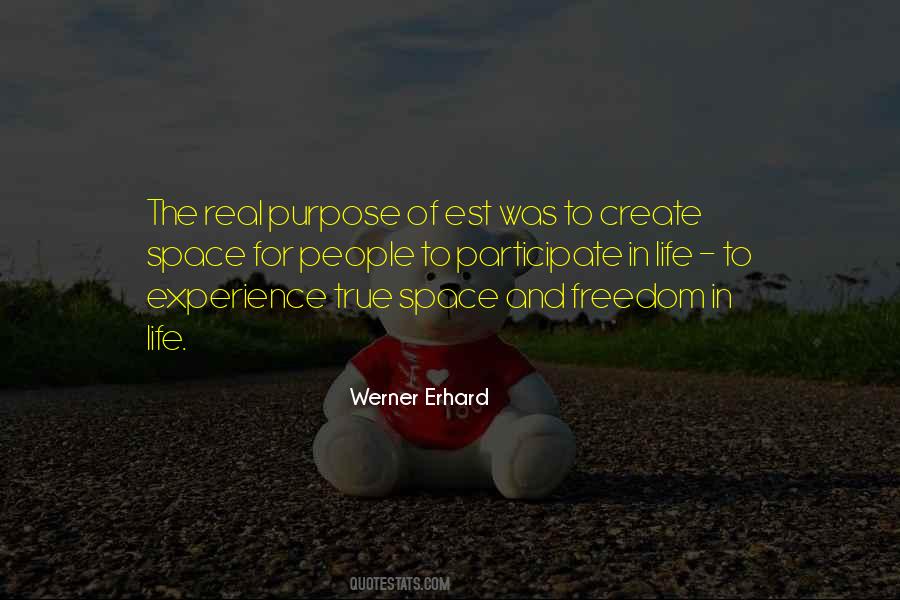 #87. The goal of parenting is to create self-sufficient virtues in children. Applying external pressure and punishments tends to teach them fear-based compliance rather than the internalization of moral standards. - Author: Stefan Molyneux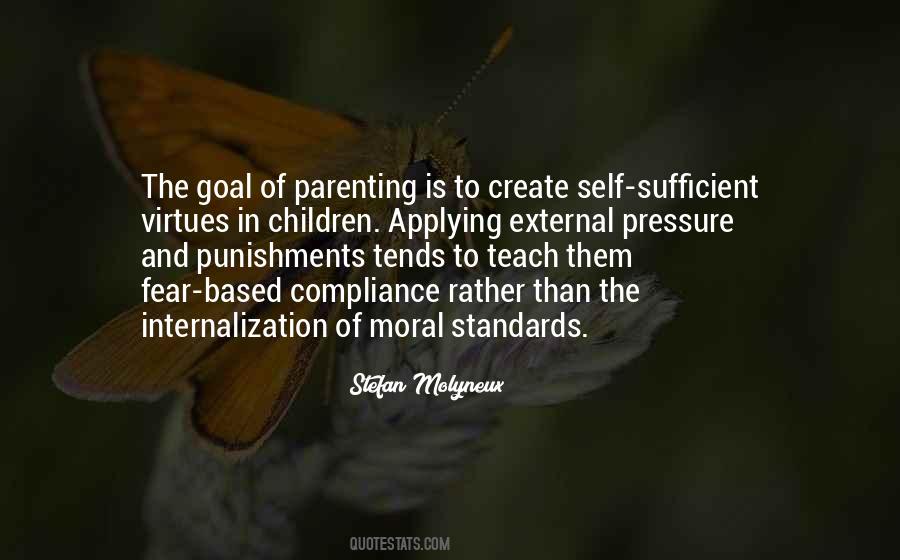 #88. We are a nation of immigrants, a quilt of many colors, and we've managed over more than two centuries to create a way of life that allows for a reasonable degree of upward mobility, that prizes individual liberty, promotes freedom of religion and genuinely values equal rights for all citizens. - Author: Jay Parini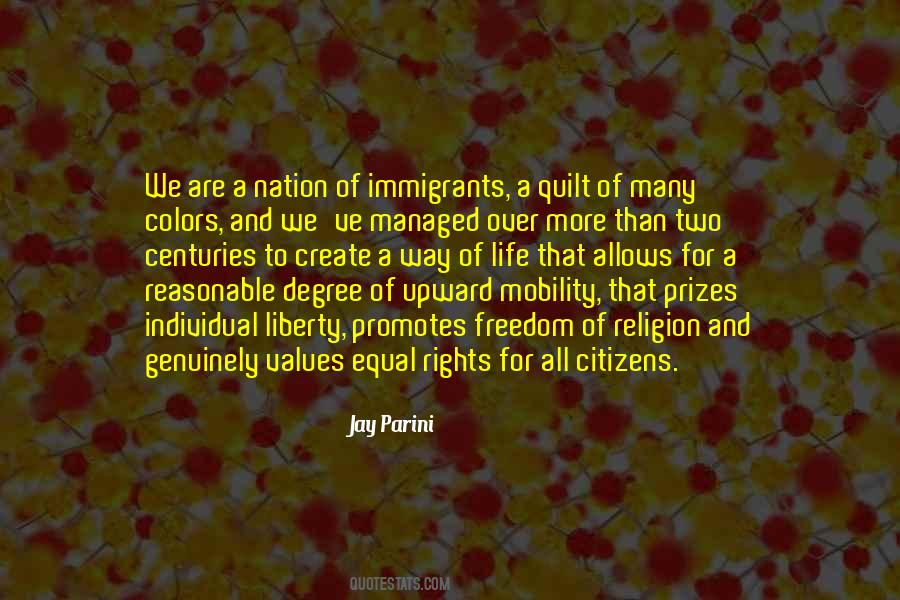 #89. She decided to free herself, dance into the wind, create a new language. And birds fluttered around her, writing "yes" in the sky. - Author: Monique Duval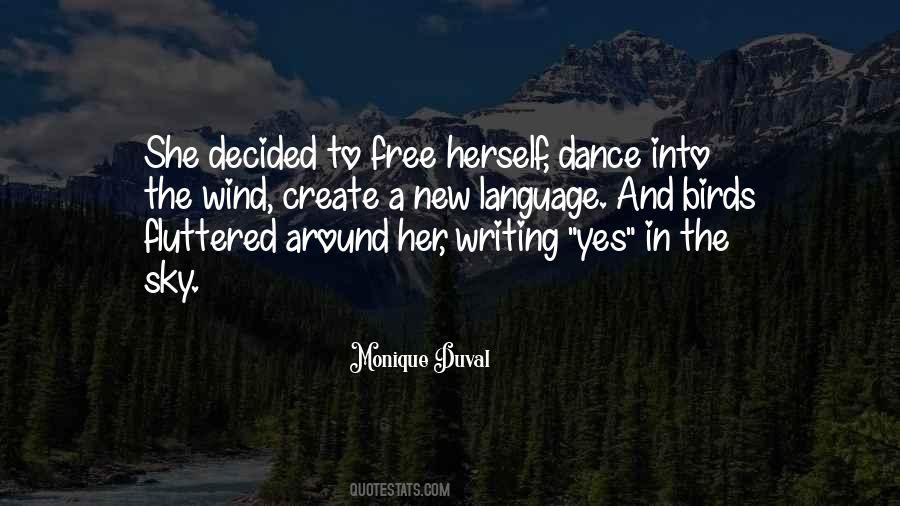 #90. The trickster's function is to break taboos, create mischief, stir things up. In the end, the trickster gives people what they really want, some sort of freedom. - Author: Tom Robbins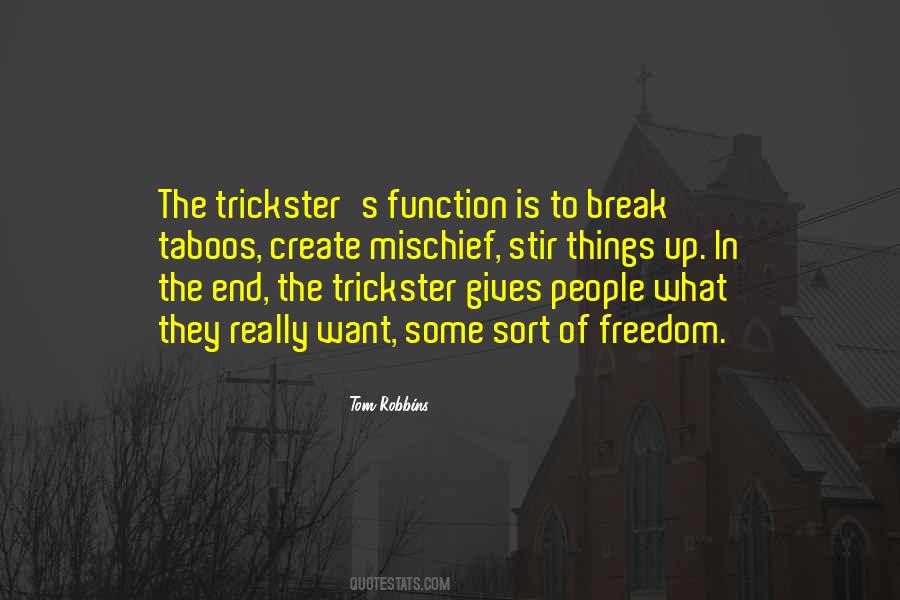 #91. The genius of the American Founders was to create an intricate system of balanced powers both within the state and between state and society - a system that has fostered unprecedented political, social, and intellectual freedom. - Author: Nancy Pearcey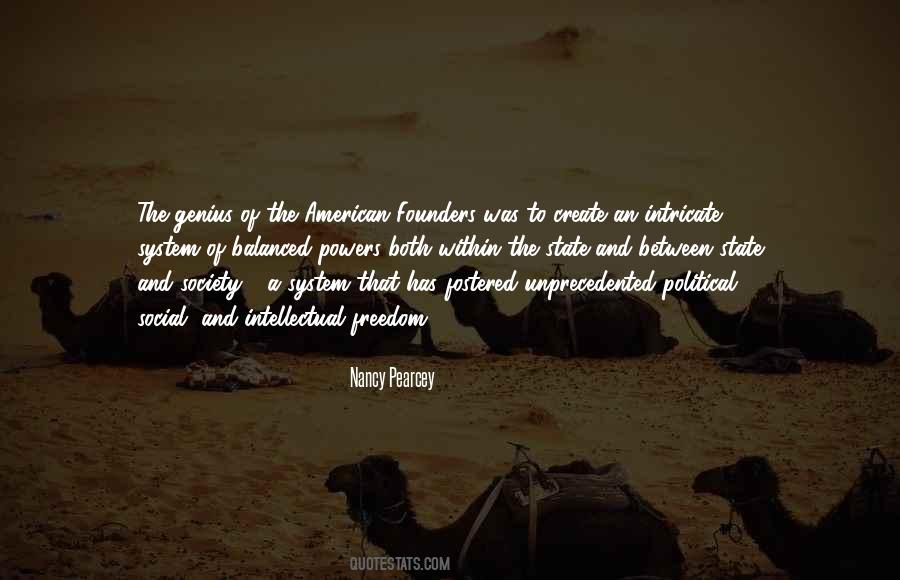 #92. Using coercion to drive charity is like using kidnapping to create love. - Author: Stefan Molyneux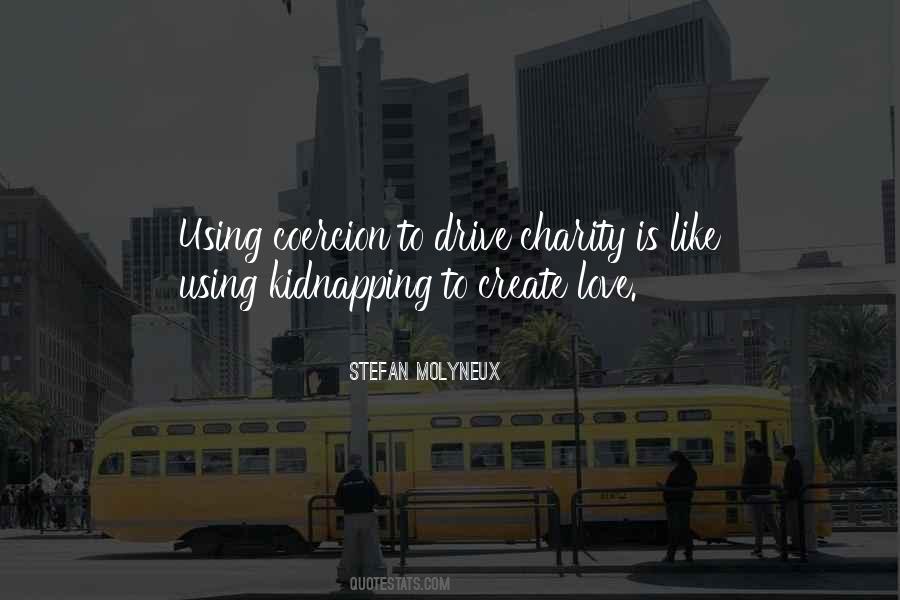 #93. A being who can create a race of men devoid of real freedom and inevitably foredoomed to be sinners, and then punish them for being what he has made them, may be omnipotent and various other things, but he is not what the English language has always intended by the adjective holy. - Author: John Stuart Mill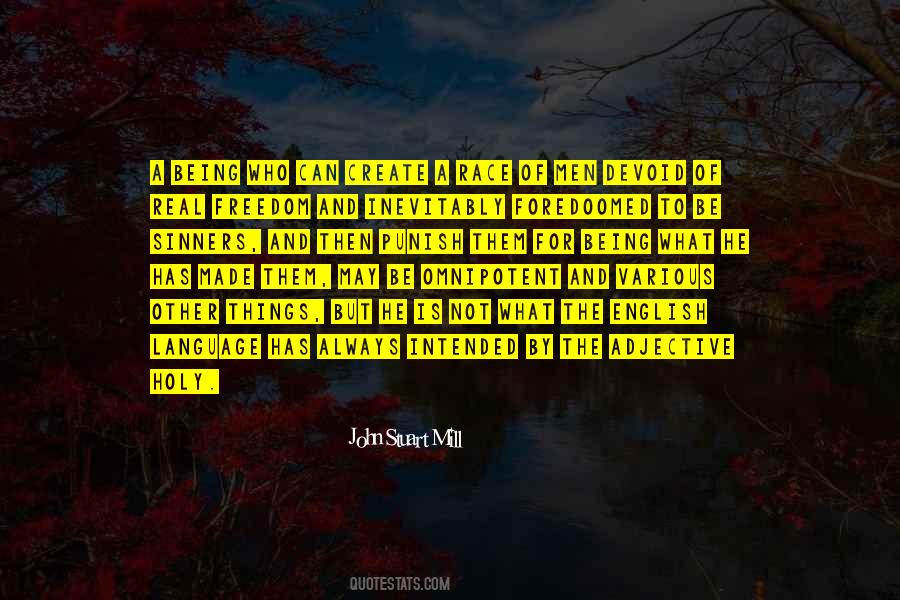 #94. All those things you hear about networks trying to stifle creativity - CW lets creators create and gives us freedom. - Author: Rachel Bloom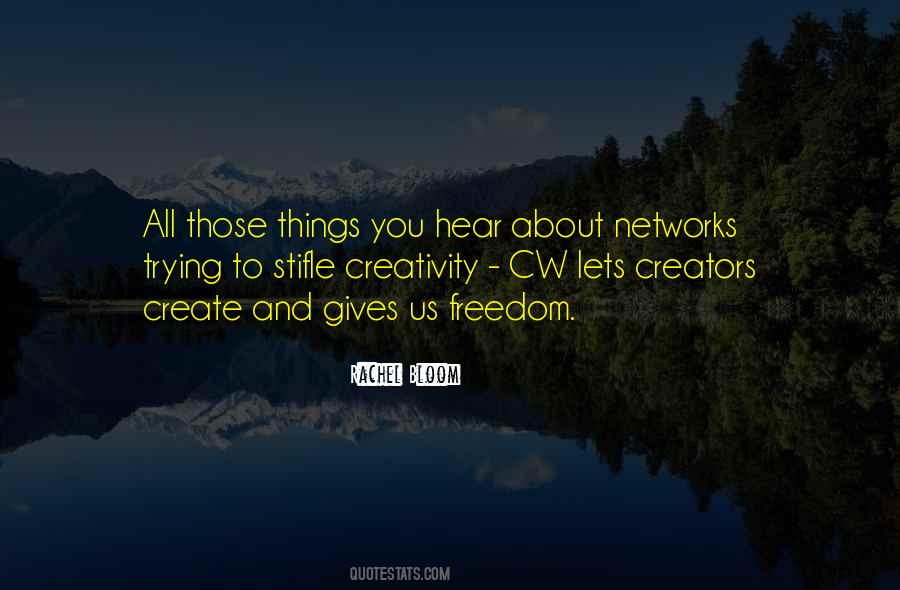 #95. Most sound people don't get the assignment to create worlds of sound and get freedom to try a lot of things and then get the scrutiny and support of the team over a long period of time. - Author: Ben Burtt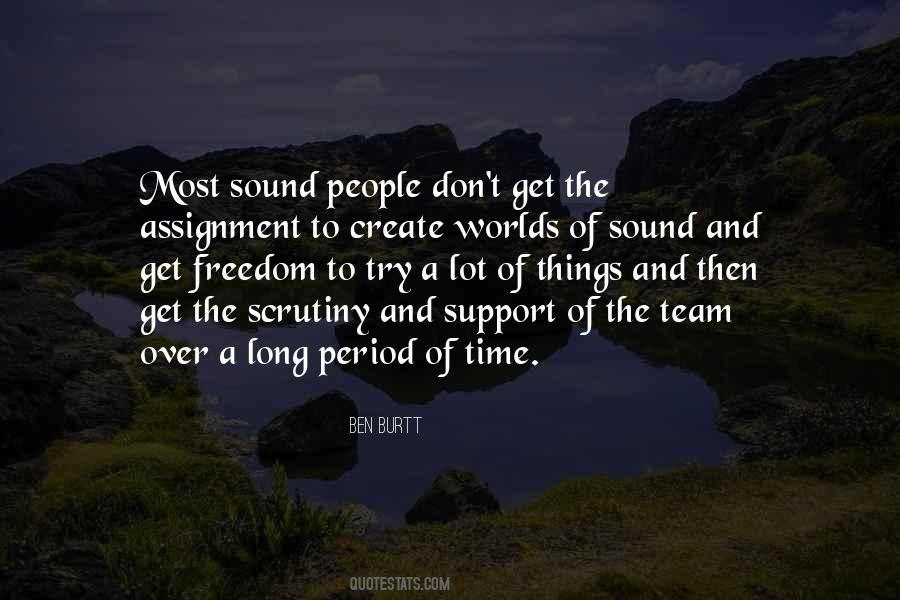 #96. We create our destiny by dreaming bigger than most people would think reasonable, by believing in ourselves more than most people would think sensible, by making decisions that most people would think illogical and continuing to act way beyond the point that most people would have given up. - Author: Andrew Jobling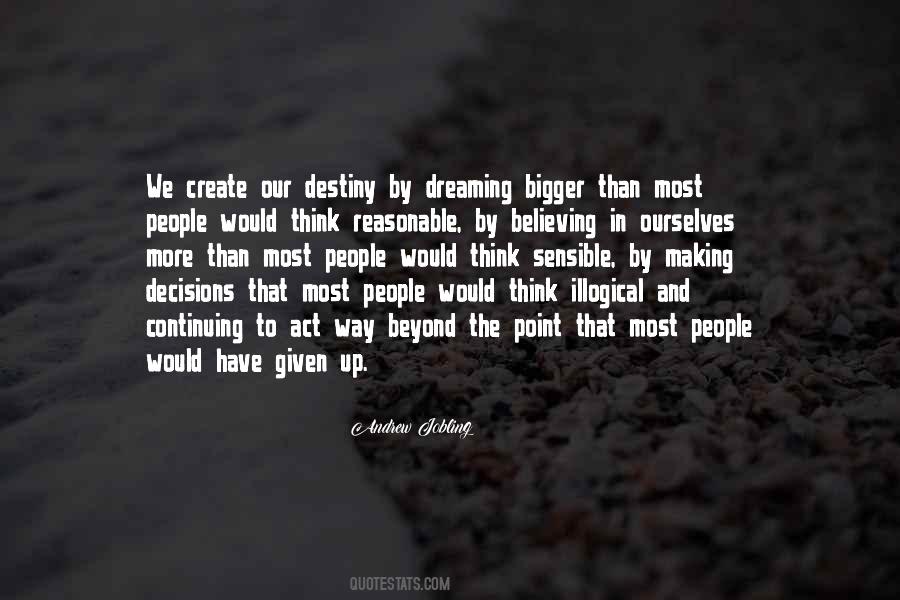 #97. God gives us the freedom to do great evil, if we choose. Then he uses his own freedom to create goodness out of that evil, for that is what he chooses. - Author: Orson Scott Card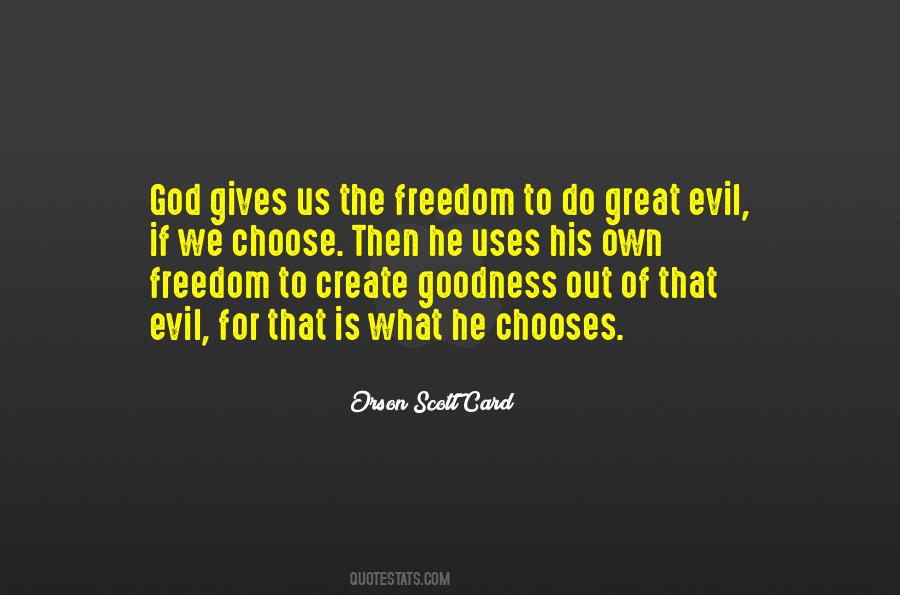 #98. He only has freedom who ideally loves freedom himself and is glad to extend it to others. He who cares to have slaves must chain himself to them. He who builds walls to create exclusion for others builds walls across his own freedom. He who distrusts freedom in others loses his moral right to it. - Author: Rabindranath Tagore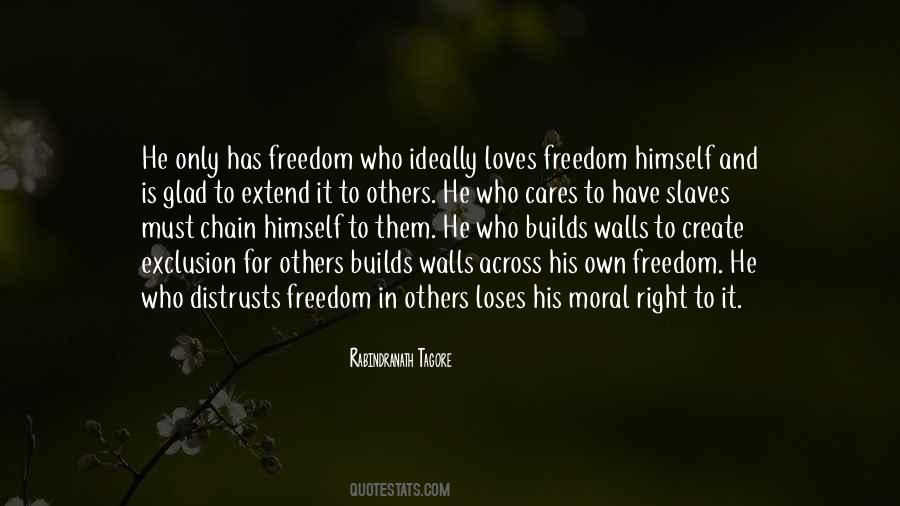 #99. This wolf-woman Self must have freedom to move, to speak, to be angry, and to create. - Author: Clarissa Pinkola Estes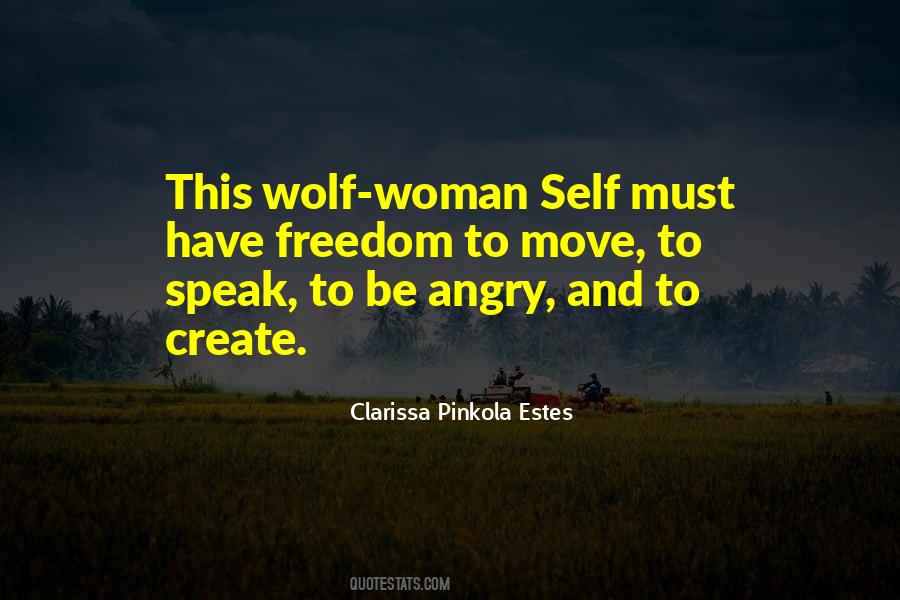 #100. The purpose of freedom is to create it for others. Prison desk calendar, written on Robben Island, June 2, 1979 - Author: Nelson Mandela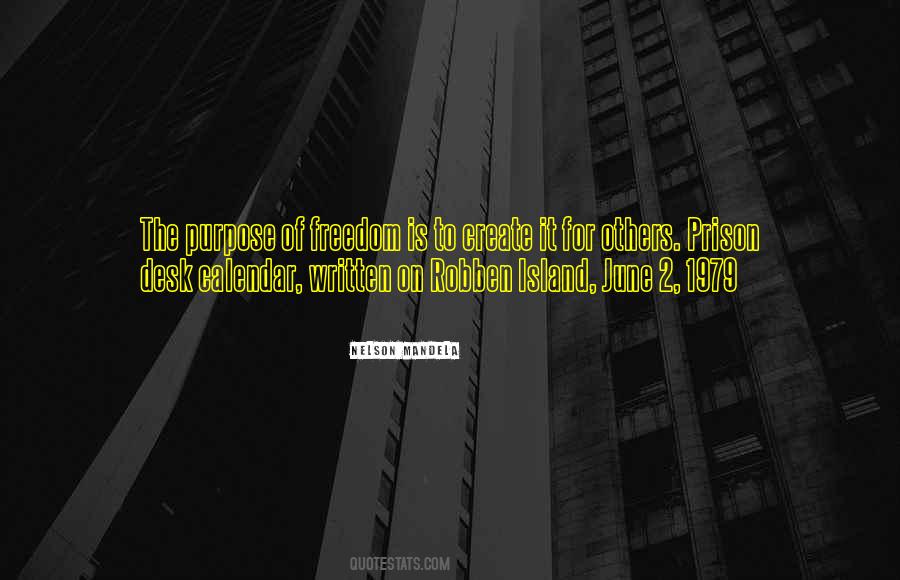 Famous Authors
Popular Topics