Forgetting Everything Famous Quotes & Sayings
List of top 35 famous quotes and sayings about forgetting everything to read and share with friends on your Facebook, Twitter, blogs.
Top 35 Quotes About Forgetting Everything
#1. The trick to forgetting the big picture is to look at everything close-up. - Author: Chuck Palahniuk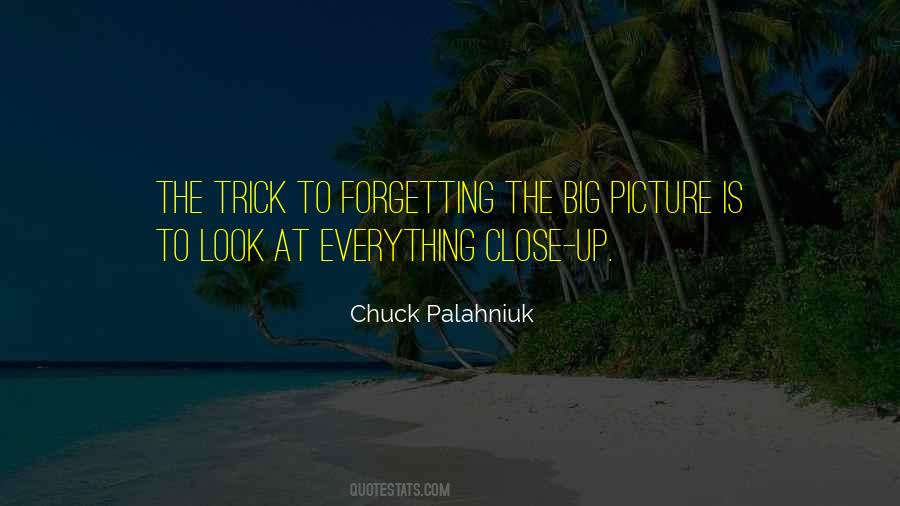 #2. Forgetting is like a great alchemy free of secrets, limpid, transforming everything to the present. In the end it makes our lives into this visible and tangible thing we hold in our hands, with no folds left hidden in the past. - Author: Cesar Aira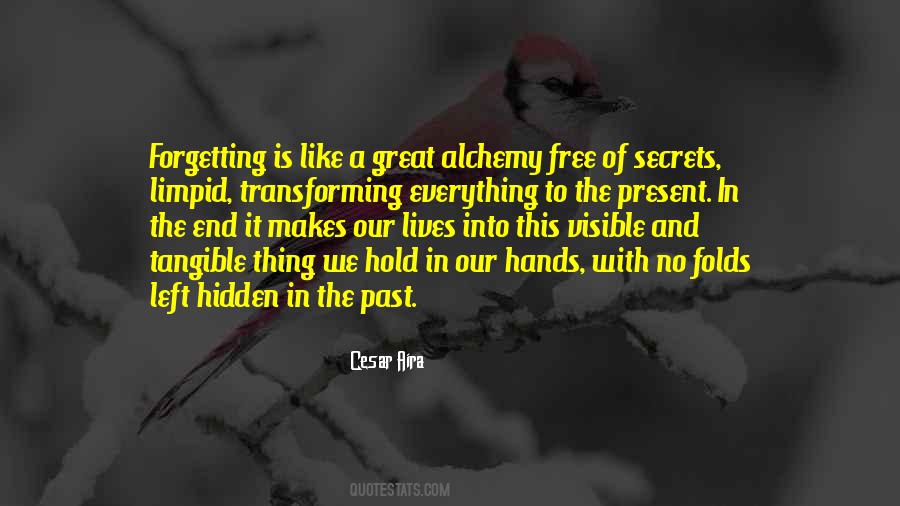 #3. There is consequence of our forgetting who we are. Forgetting that we're able to create our environment, from our health to economy to war. Something can be done about everything we perceive as bad, if we so choose. If we are aware of the concept of compassion. - Author: Alanis Morissette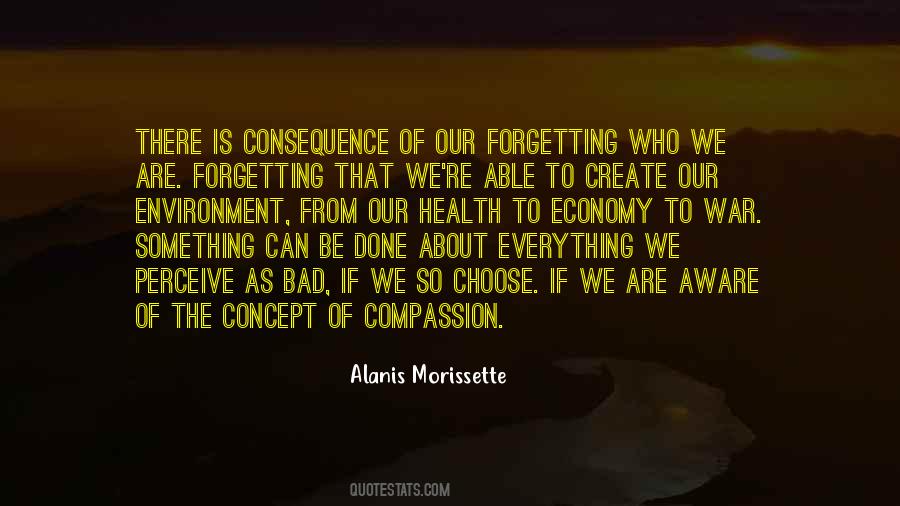 #4. Somewhere inside we do know everything about ourselves. There is no real forgetting. Perhaps we know somewhere, too, about all there is to come. - Author: Jane Gardam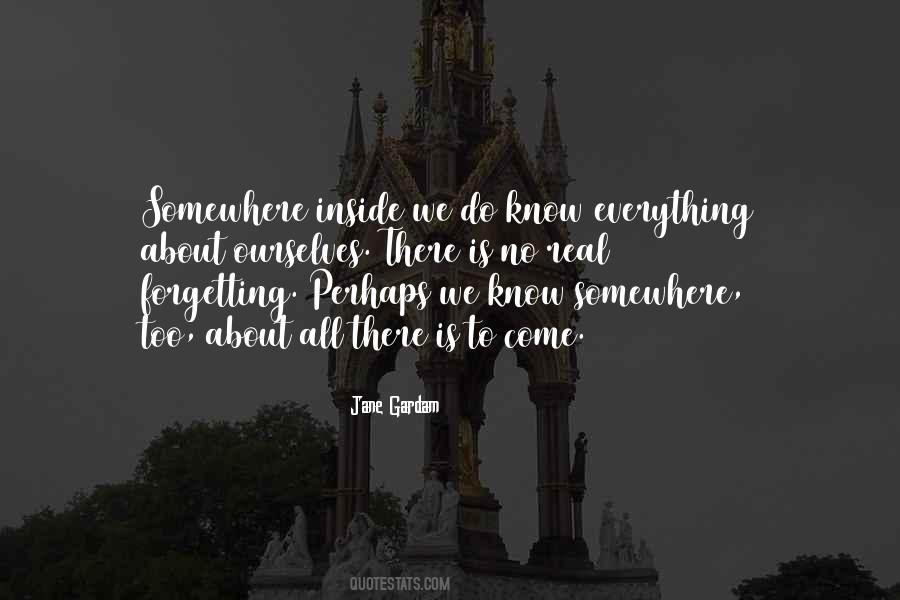 #5. Right now a moment of time is fleeting by! Capture its reality in paint! To do that we must put all else out of our minds. We must become that moment, make ourselves a sensitive recording plate ... Give the image of what we actually see, forgetting everything that has been seen before our time. - Author: Paul Cezanne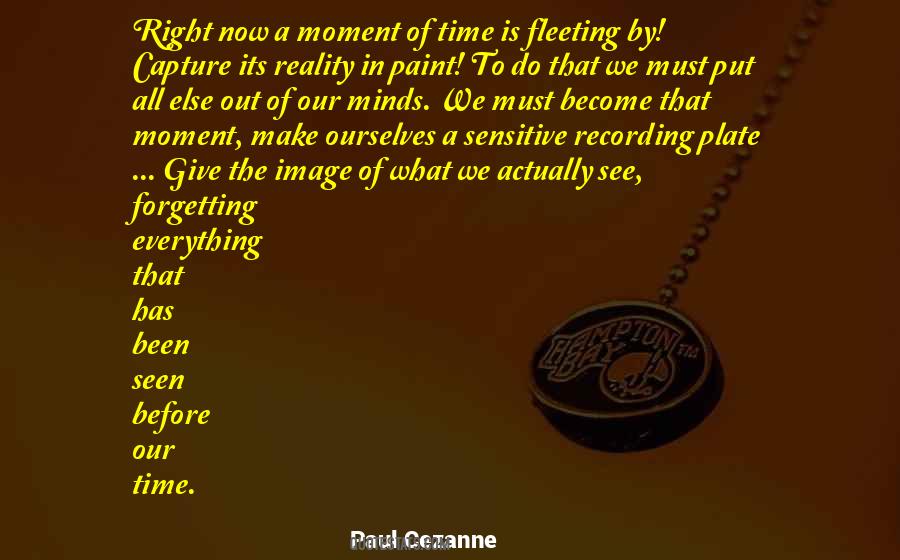 #6. To change, it takes a decision based on faith, faith takes forgetting everything you thought you knew. - Author: Shannon Leto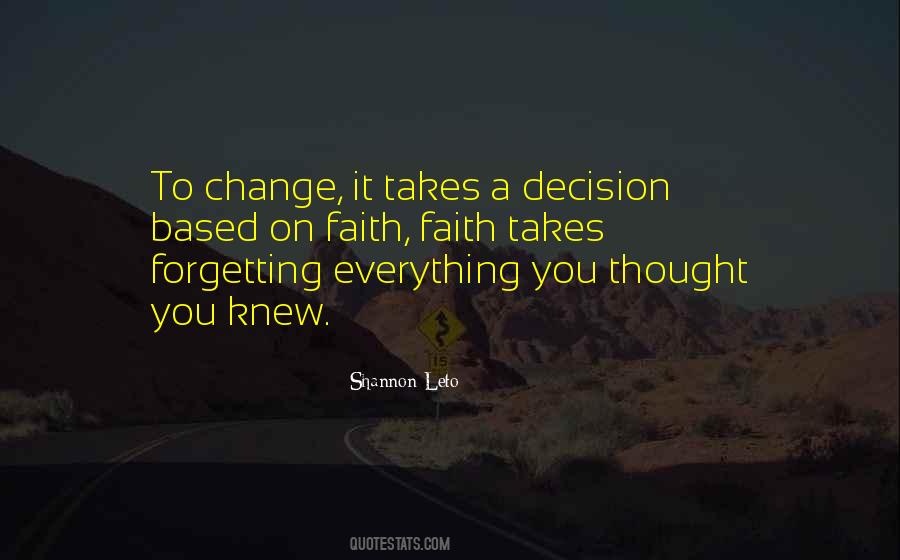 #7. I stopped and asked him if he was all right, and he said he was tired of remembering everything he wanted to forget and forgetting everything he wanted to remember. - Author: Kevin Brockmeier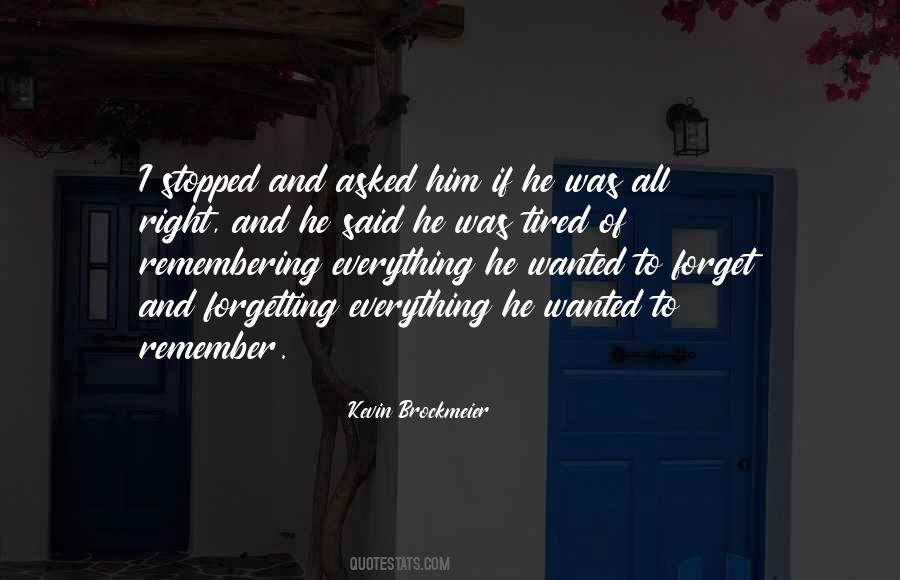 #8. If you want to forget something or someone, never hate it, or never hate him/her. Everything and everyone that you hate is engraved upon your heart; if you want to let go of something, if you want to forget, you cannot hate. - Author: C. JoyBell C.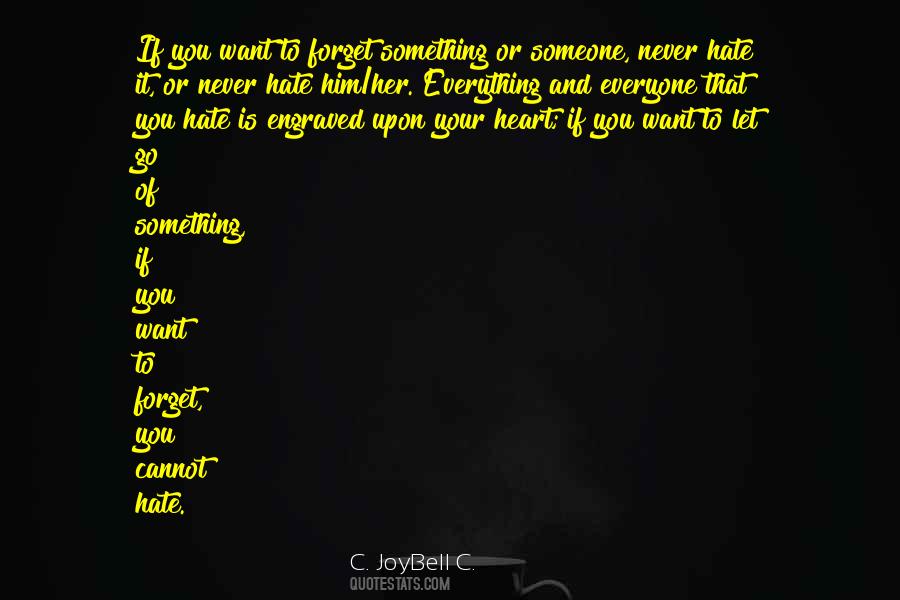 #9. The pain, or the memory of pain, that here was literally sucked away by something nameless until only a void was left. The knowledge that this question was possible: pain that turns finally into emptiness. The knowledge that the same equation applied to everything, more or less. - Author: Roberto Bolano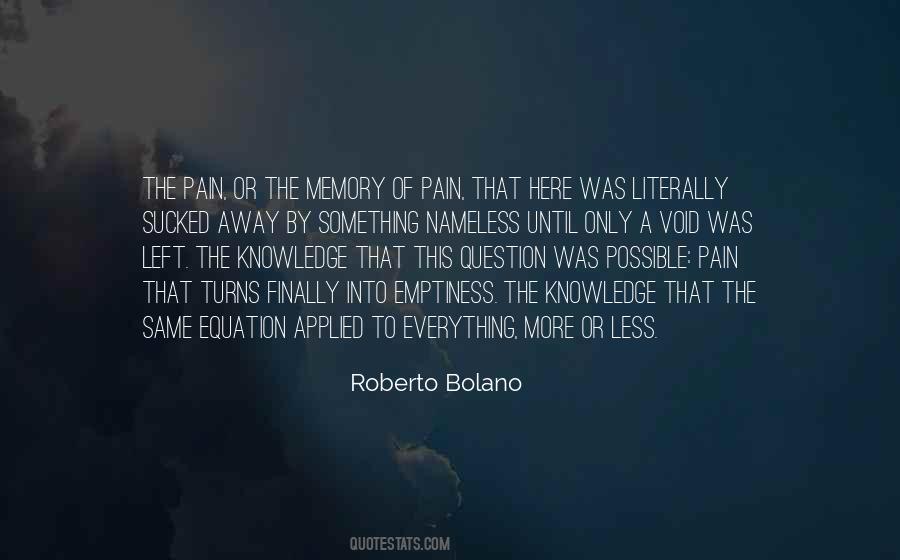 #10. The easiest way to get rid of bitterness is to spit it out. The easiest way to forget something noxious is to flush it. The easiest way to move on is to erase everything, and I do mean everything. - Author: Donna Lynn Hope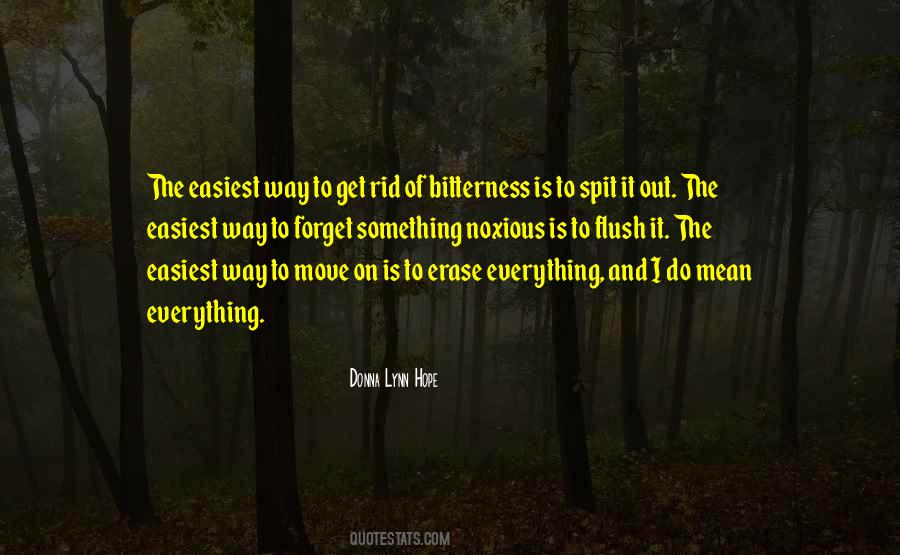 #11. We had to survive to remember. Otherwise everything we were would disappear. Those people we loved would fade as though we'd never loved them, as if they'd never walked and talked and burned, forgetting them was the real evil. That was the hole of darkness. - Author: Alice Hoffman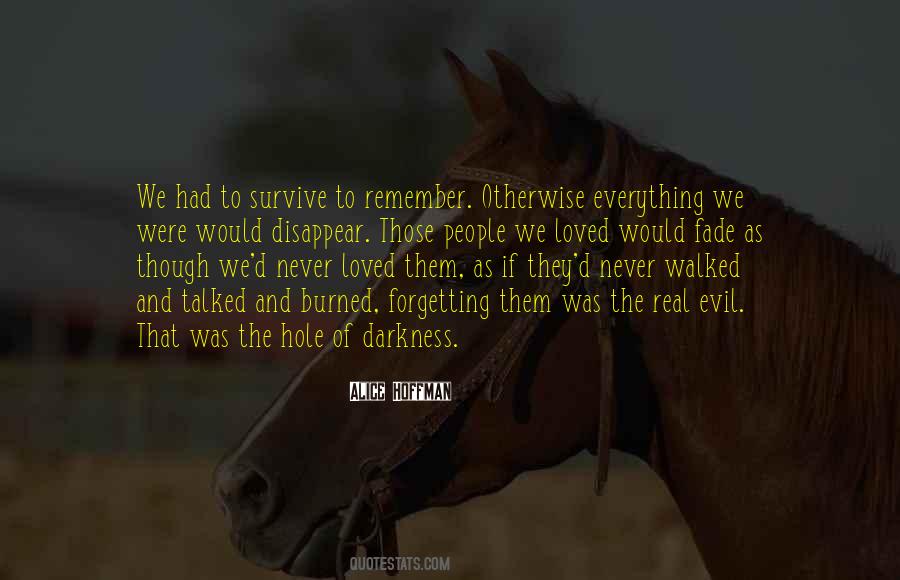 #12. How do you remember all those lines? By forgetting everything else. - Author: Gary Oldman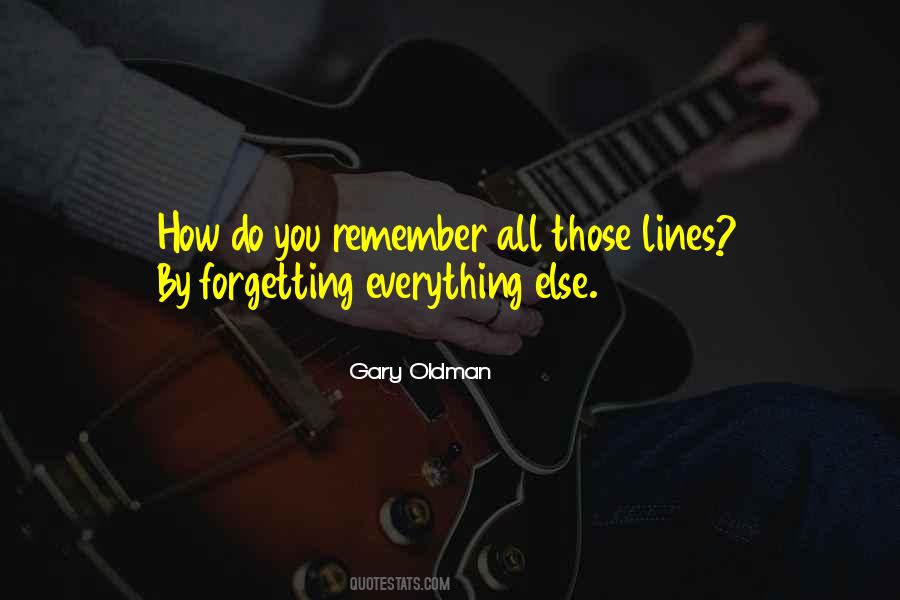 #13. Marco knows he does not have the time to push her away, so he pulls her close, burying his face in her hair, his bowler hat torn from his head by the wind ... "Trust me," Celia whispers in his ear, and he stops fighting it, forgetting everything but her. - Author: Erin Morgenstern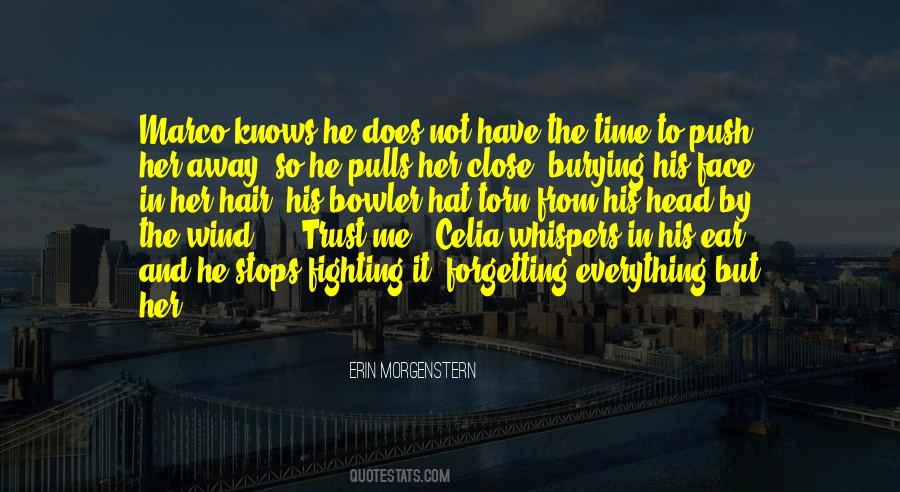 #14. Come get me! It's all fading.... I'm forgetting everything but you. - Author: James Dashner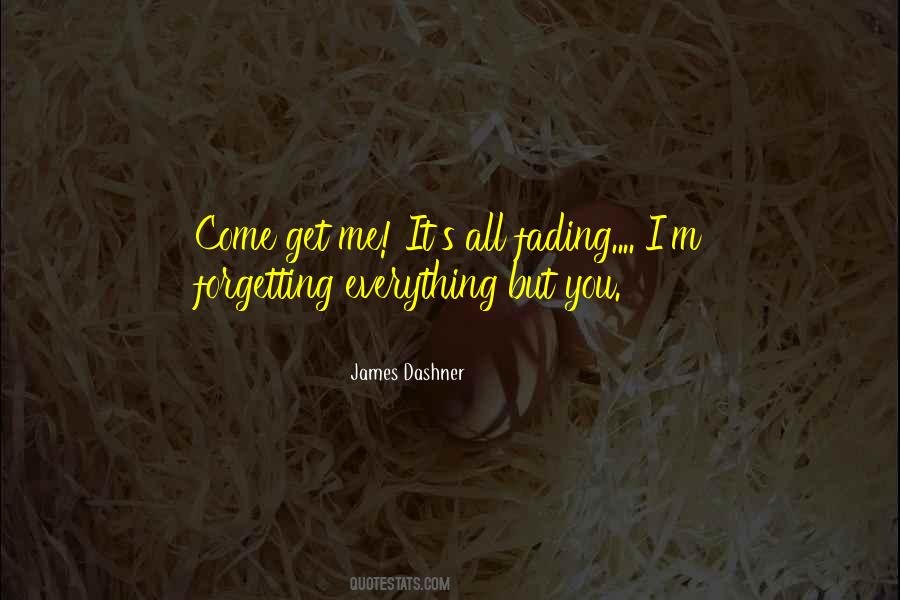 #15. I have never done you injustice. Please remember me," said Dorothea, repressing a rising sob.
"Why should you say that?" said Will, with irritation. "As if I were not in danger of forgetting everything else. - Author: George Eliot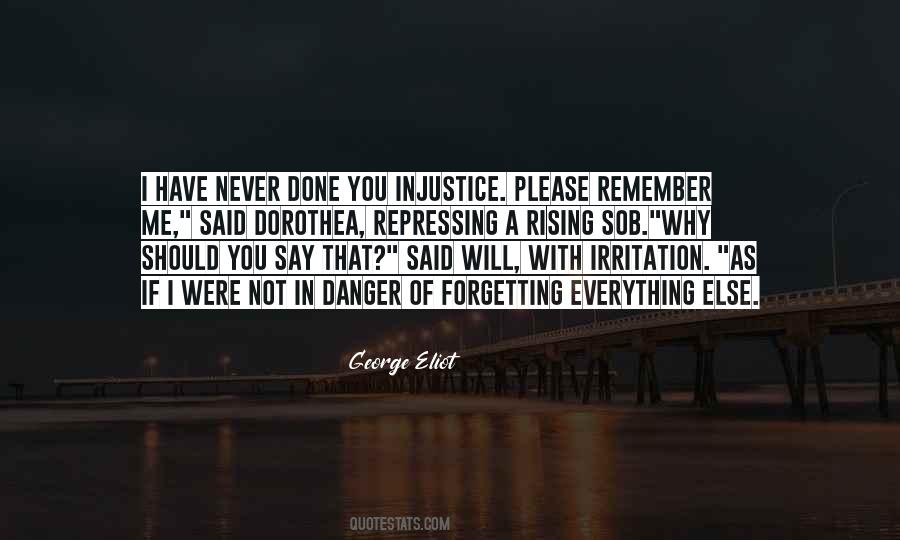 #16. The art is not one of forgetting but letting go. And when everything else is gone, you can be rich in loss. - Author: Rebecca Solnit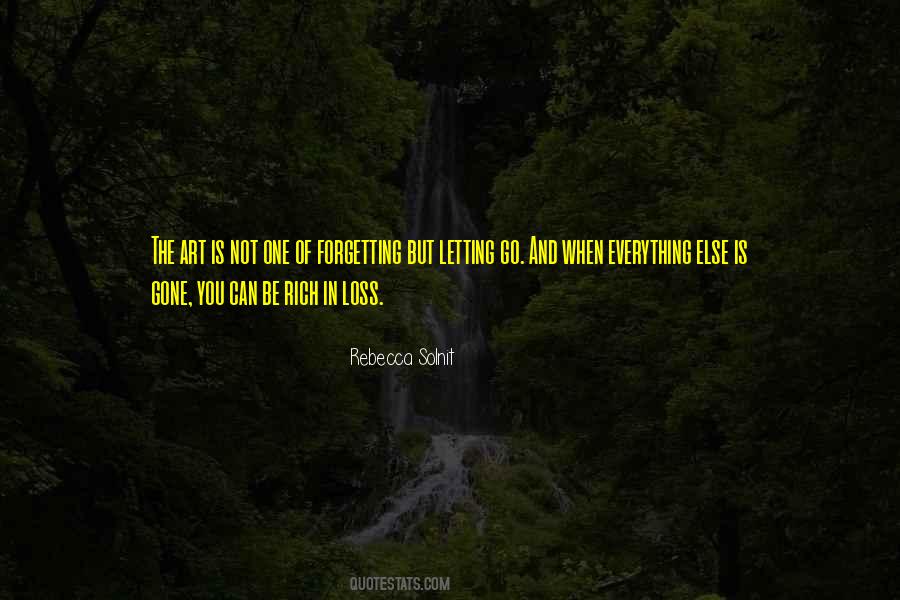 #17. When you first heard him talking about it, you'd figure he was batshit crazy, but really, he was just trying to fill up his days so he didn't have to think about what a fucking mess he had made of everything. It's the same for most of us; forgetting our lives might be the best we'll ever do. - Author: Donald Ray Pollock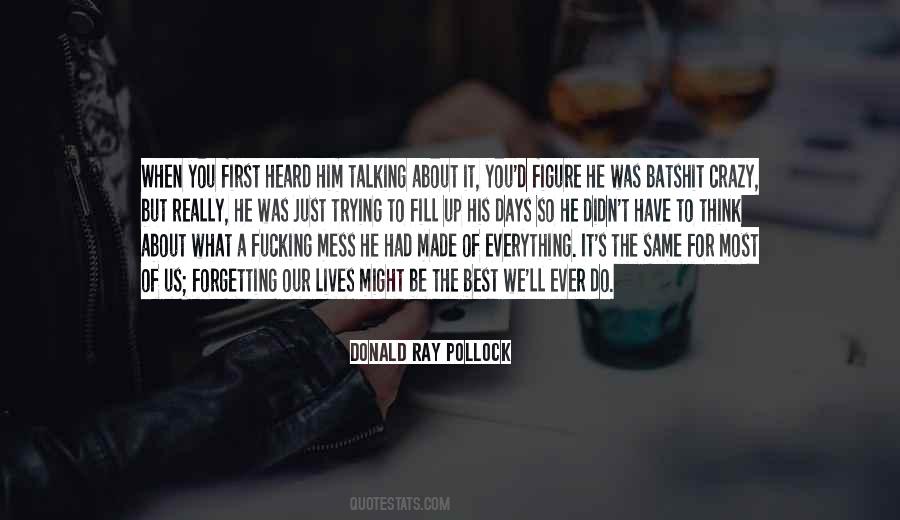 #18. A good poem brims with reflected beauty and even a bracing, beautiful ugliness. At the center of our lives, in the midst of the busyness and the forgetting, is a story that makes sense when everything extraneous has been taken away. - Author: David Whyte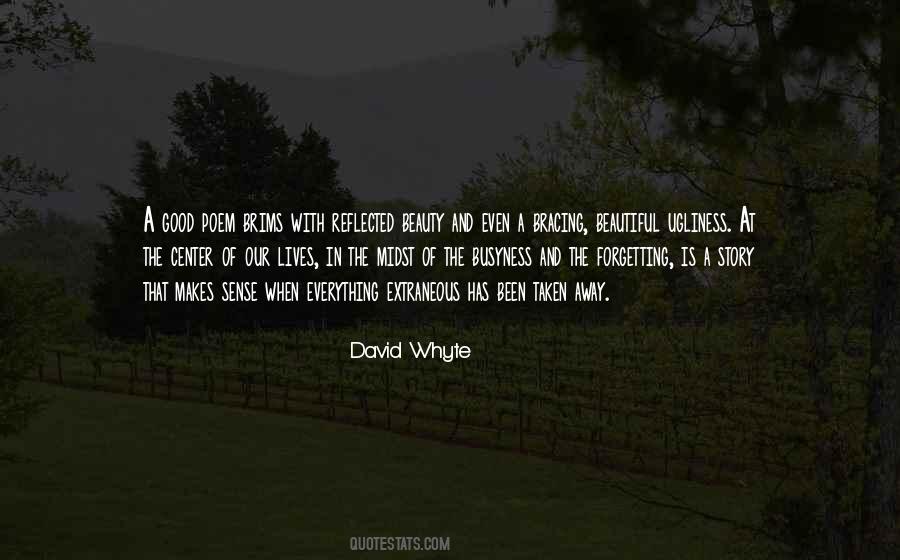 #19. come with me?' the doctor asked. 'I'd like to stay,' Troy said. He felt a bizarre calmness. All the pain had been ripped away. This was more forceful than forgetting. He remembered everything. His soul had been cut free. - Author: Hugh Howey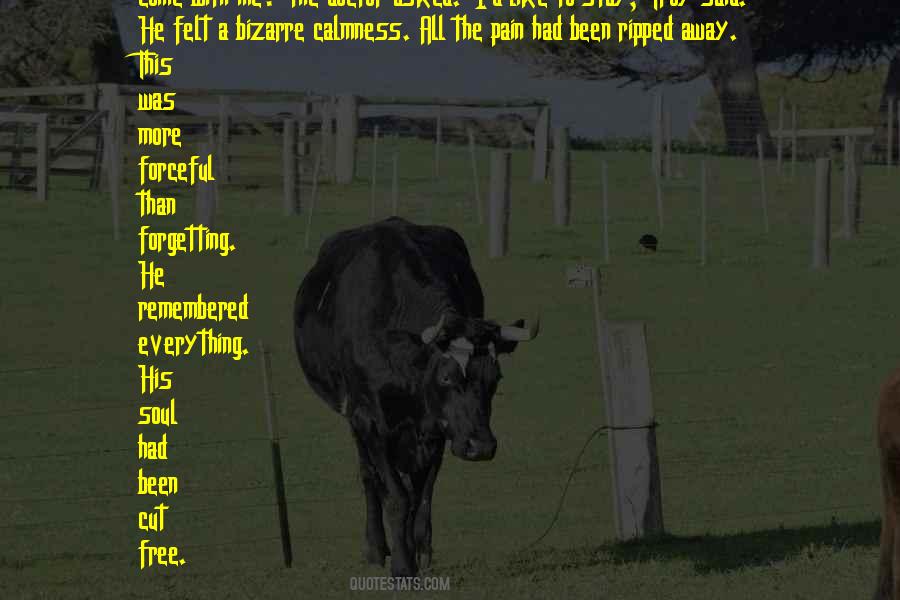 #20. I hate the stress of leaving. Even though I have everything I need, I always feel like I'm forgetting something. - Author: Eric Halvorsen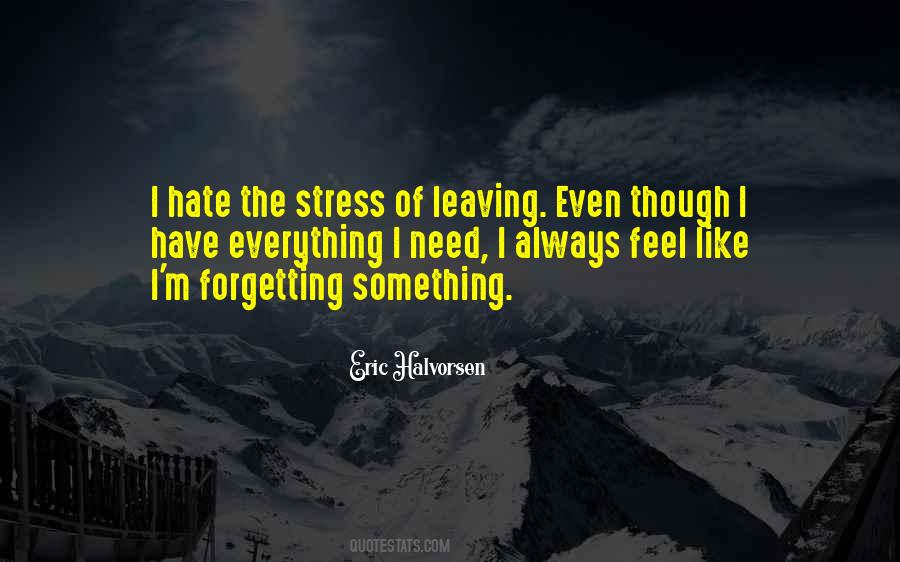 #21. Everything started as nothing. - Author: Auliq Ice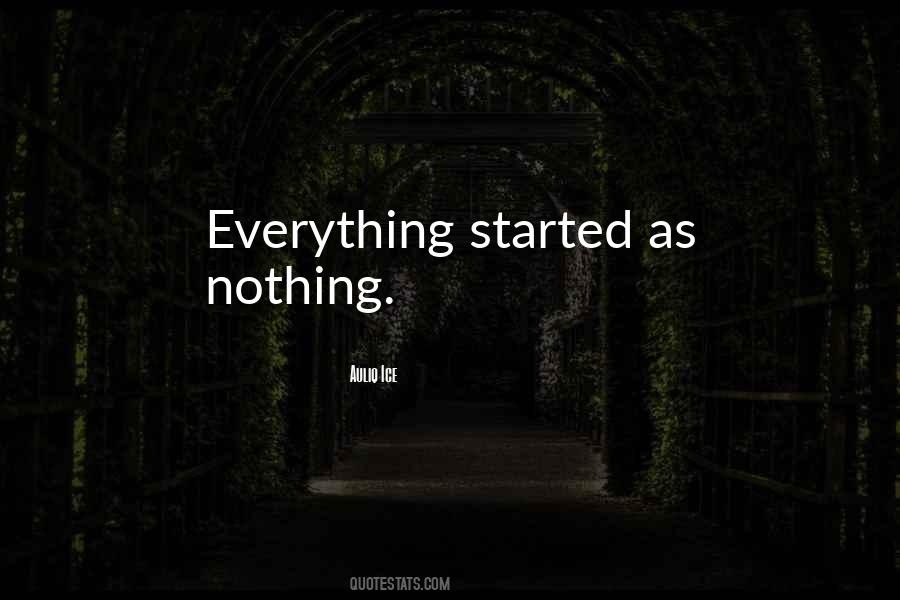 #22. I've dreamed a lot. I'm tired now from dreaming but not tired of dreaming. No one tires of dreaming, because to dream is to forget, and forgetting does not weigh on us, it is a dreamless sleep throughout which we remain awake. In dreams I have achieved everything. - Author: Fernando Pessoa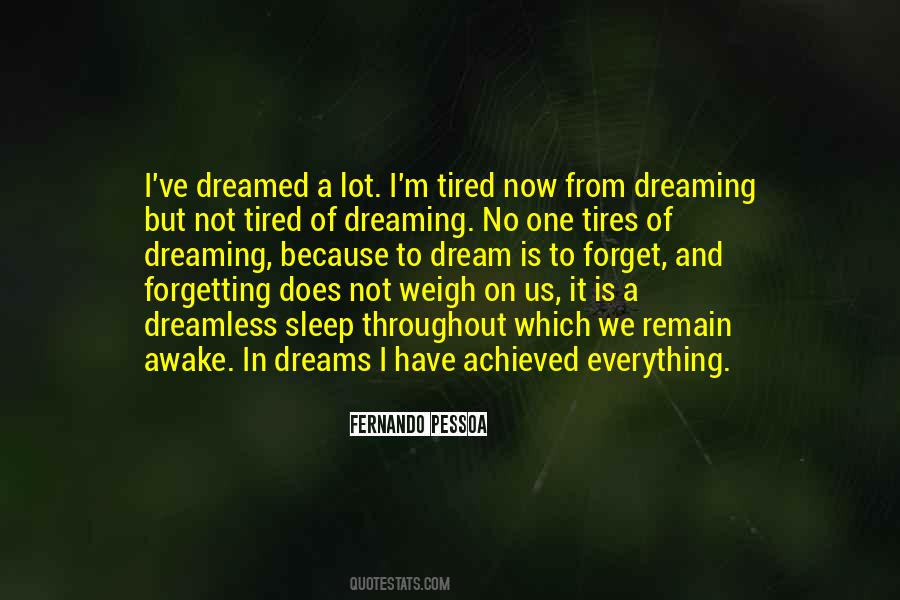 #23. Jewish Alzheimer's is forgetting everything except a grudge. - Author: Maureen Lipman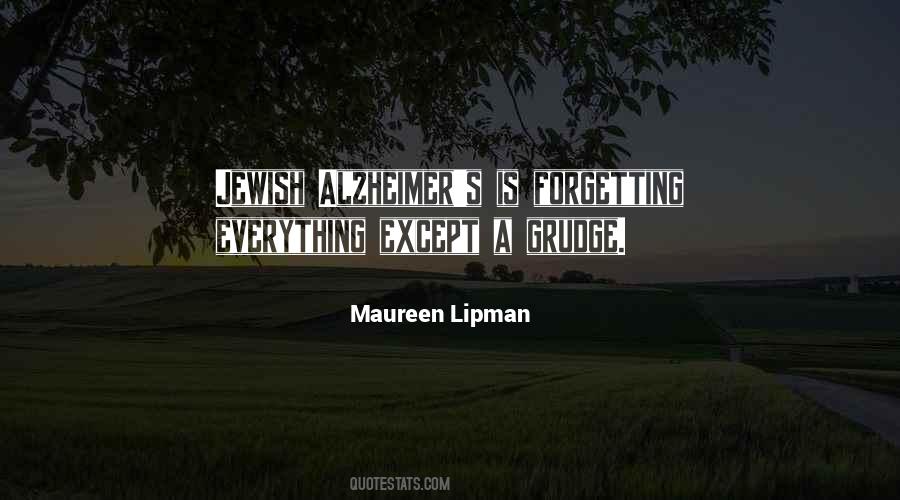 #24. I'm losing friendships over forgetting to get back to people. But you can't keep up with everything. I've got a 13-year-old, a nine-year-old and a baby. - Author: Reese Witherspoon
#25. I was staring to learn how to forget the things that made me sad. It was like a charm you followed step-by-step, collecting and blending the ingredients, placing everything in its proper place, reciting the incantation. It was the magic of forgetting. - Author: Francesca Lia Block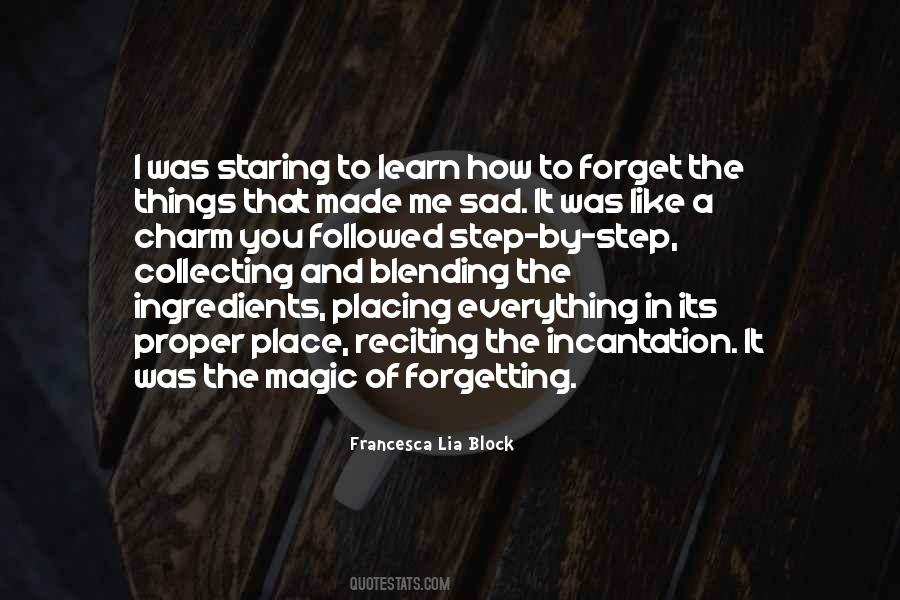 #26. Stress is basically a disconnection from the earth, a forgetting of the breath. Stress is an ignorant state. It believes that everything is an emergency. Nothing is that important. Just lie down. - Author: Natalie Goldberg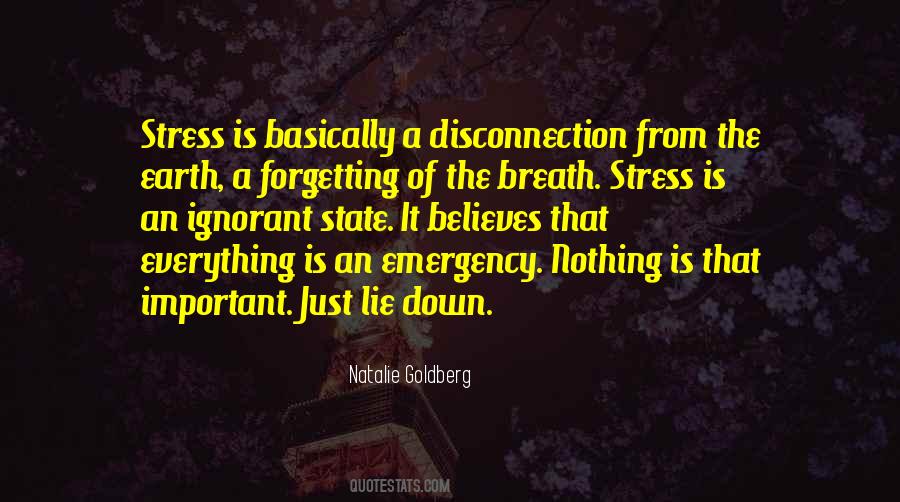 #27. When we think of fear as an acronym meant to support us, we find that fear itself has genius, magic and power in it. We can use any fear that we feel to our advantage in the moment by remembering what FEAR really is: Forgetting Everything is All Right. - Author: Lori Cash Richards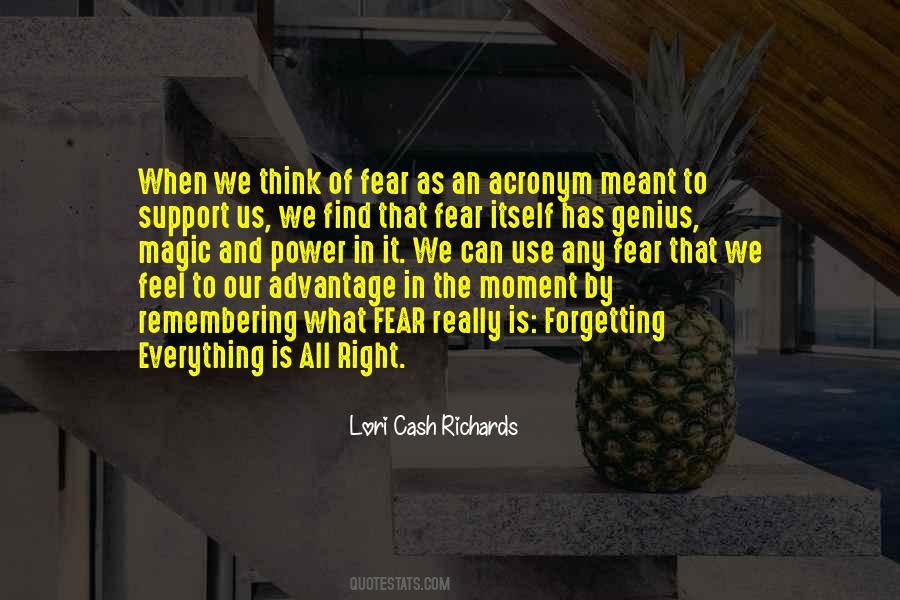 #28. When the fever is gone, you forget about it. The same should be true of everything else. - Author: Marty Rubin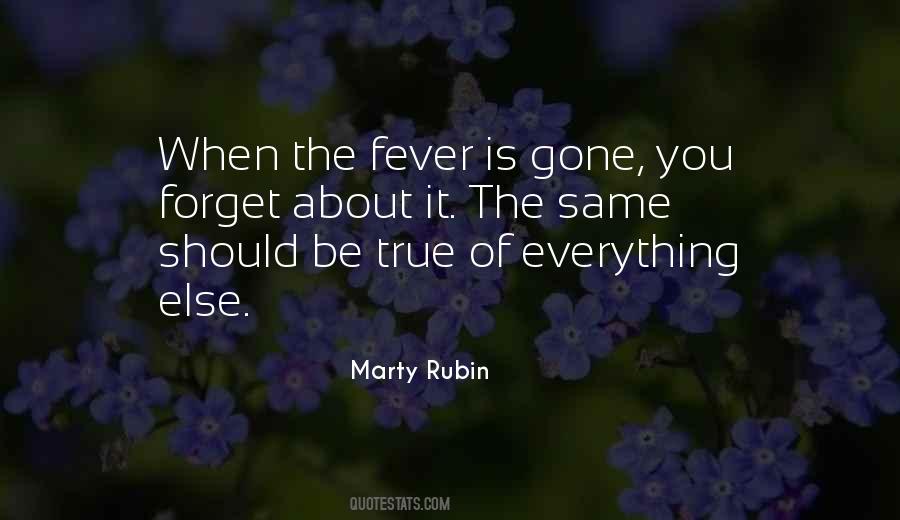 #29. There's nothing better than going to the movies and going into another world, and forgetting about everything that's happening outside. - Author: Warwick Davis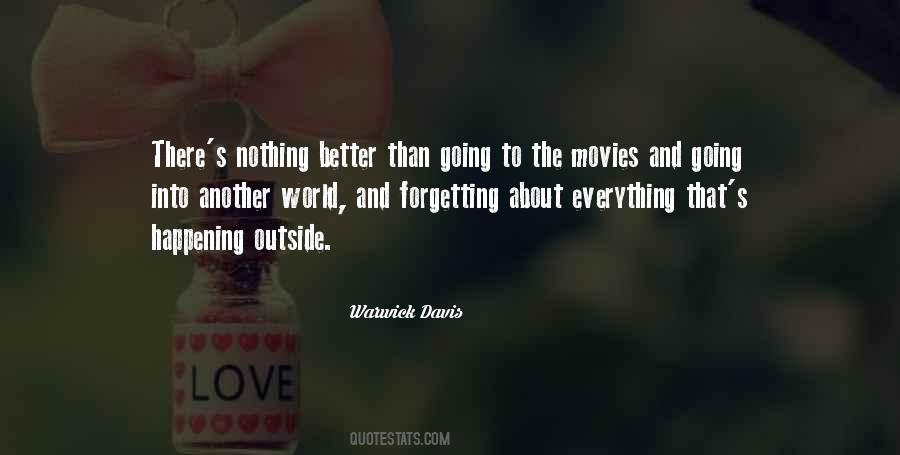 #30. But I feel as if I have said everything of importance that I need to say, I feel as if I'm losing my memory and forgetting who I am. - Author: Paulo Coelho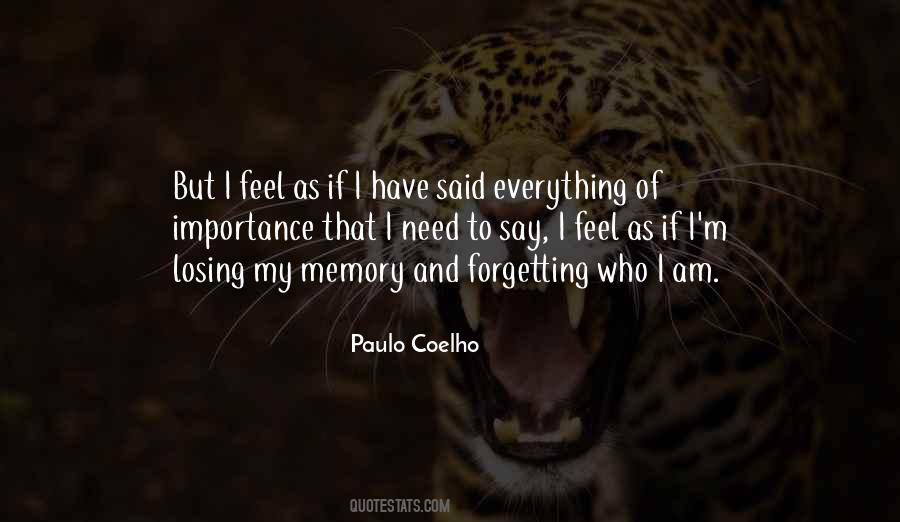 #31. Forgetfulness heals everything and song is the most beautiful manner of forgetting, for in song man feels only what he loves. - Author: Ivo Andric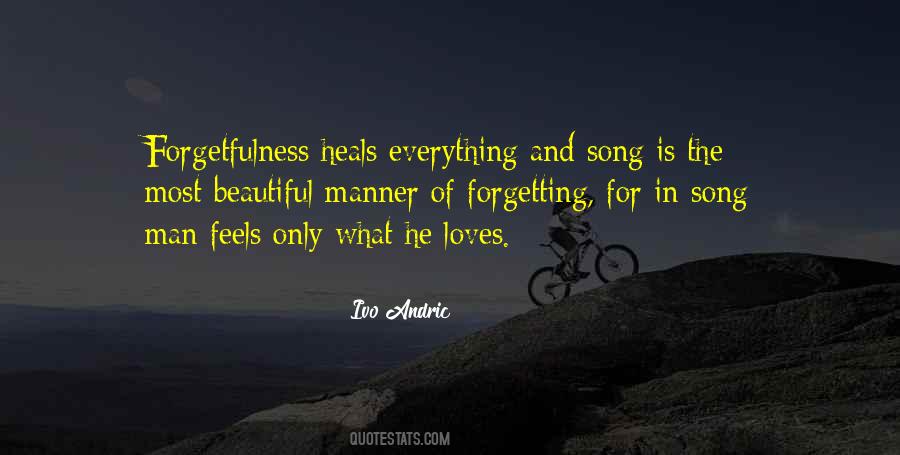 #32. I was starting to learn how to forget the things that made me sad. It was like a charm you followed step-by-step, collecting and blending the ingredients, placing everything in its proper place. It was the magic of forgetting. - Author: Francesca Lia Block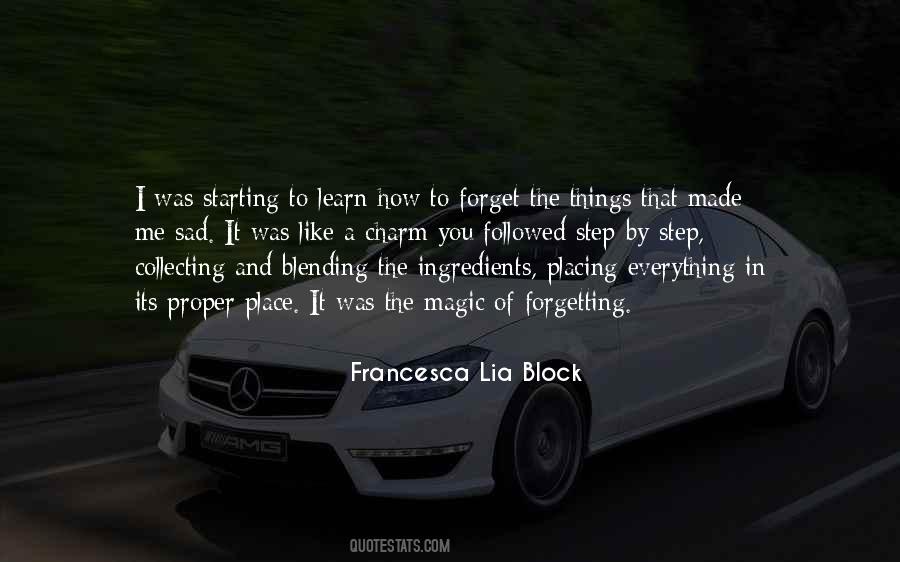 #33. Today's young people want to know everything about everyone. They think talking about a problem will solve it. I come from a quieter generation. We understand the value of forgetting, the lure of reinvention. - Author: Kristin Hannah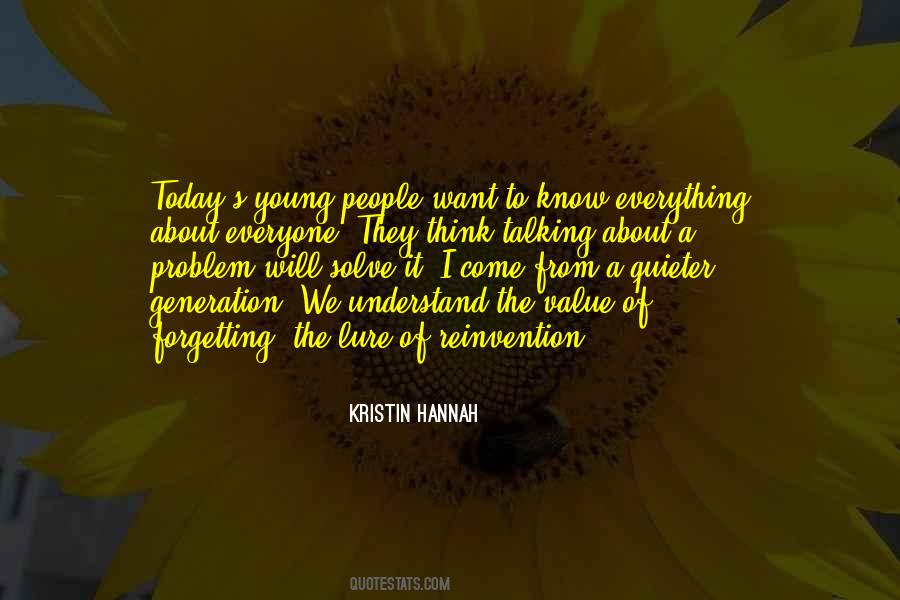 #34. I stroll along serenely, with my eyes, my shoes,
my rage, forgetting everything,
I walk by, going through office buildings and orthopedic
shops,
and courtyards with washing hanging from the line:
underwear, towels and shirts from which slow
dirty tears are falling. - Author: Pablo Neruda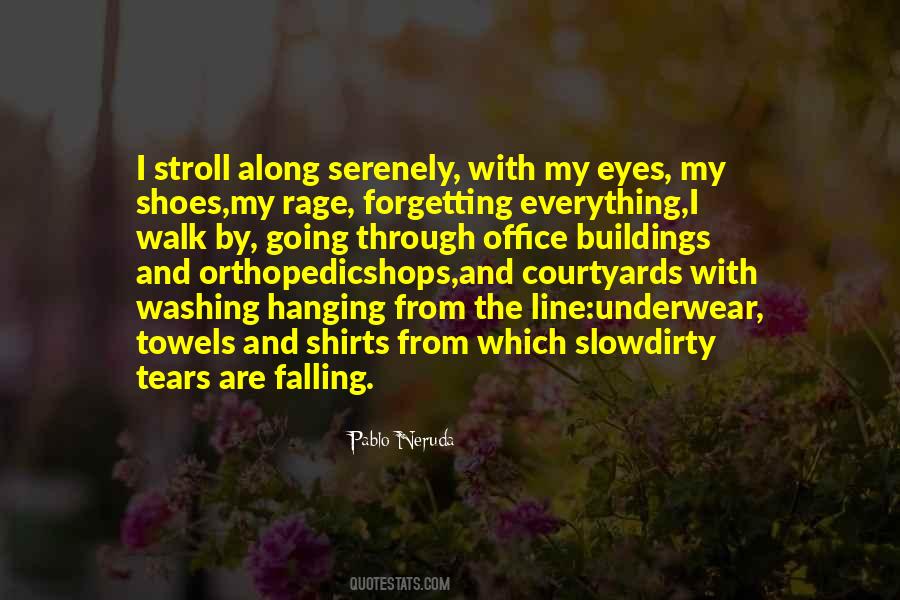 #35. Forgetting everything else, the journey, the compound, escape, the dying man, the many troubles he left behind, the new troubles ahead, his mind wiped itself clean of thought, and the nerves of his body screamed out for input. He was now the predator, and they were his prey. - Author: Steve R. Yeager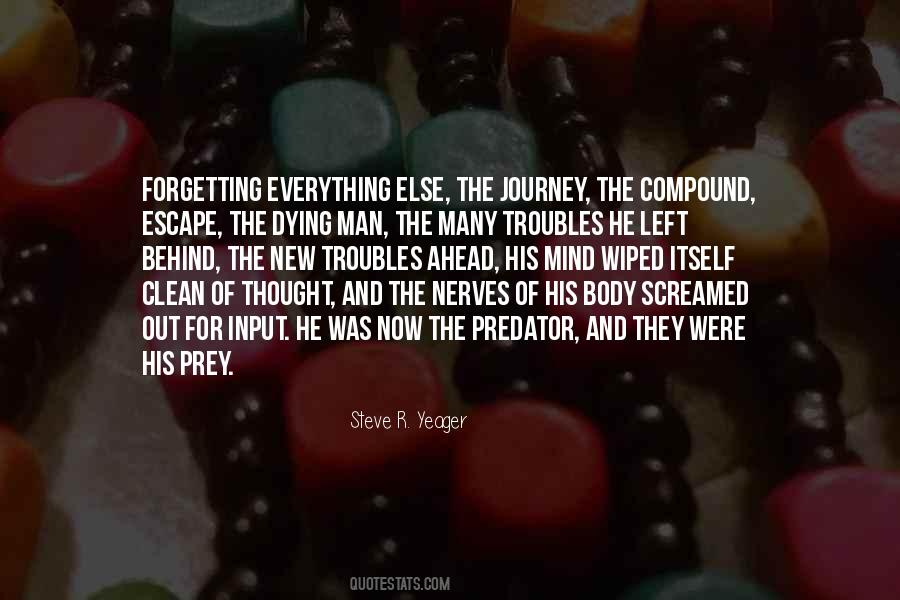 Famous Authors
Popular Topics