Family Dysfunction Famous Quotes & Sayings
List of top 30 famous quotes and sayings about family dysfunction to read and share with friends on your Facebook, Twitter, blogs.
Top 30 Quotes About Family Dysfunction
#1. My family traditions are alcoholism and dysfunction," Jennifer said. "Oh, and anything you can make from government cheese. - Author: Libba Bray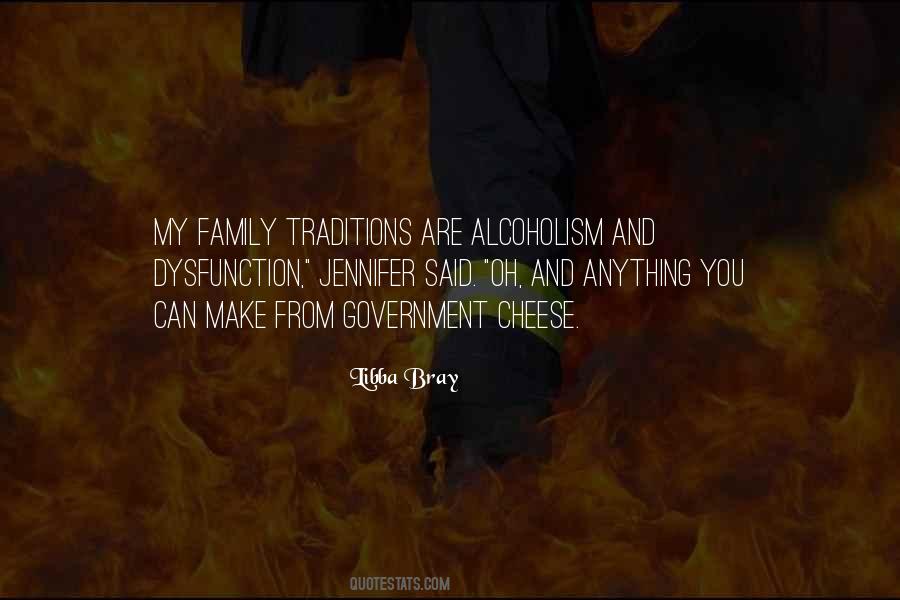 #2. Everyone stumbles through it all the same; the main difference lies not in the lack of dysfunction but in the desire to be dishonest about it. Every family has problems, but only some let you see them. The rest just keep their chaos behind closed doors and out of conversation. - Author: Kevin Breel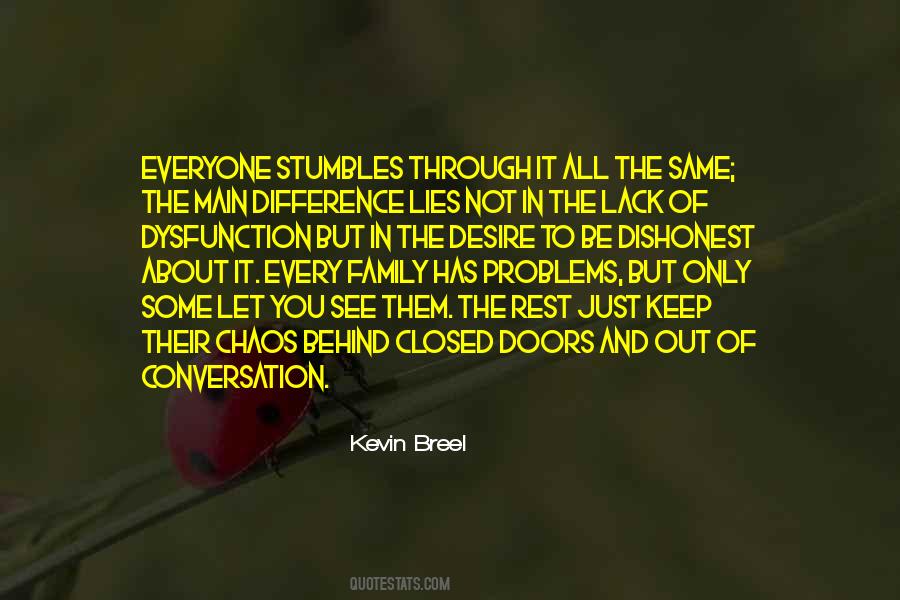 #3. Low-income Americans' potential for mobility is often impaired by family breakdown, cultural dysfunction, and the polarization of norms - Author: Yuval Levin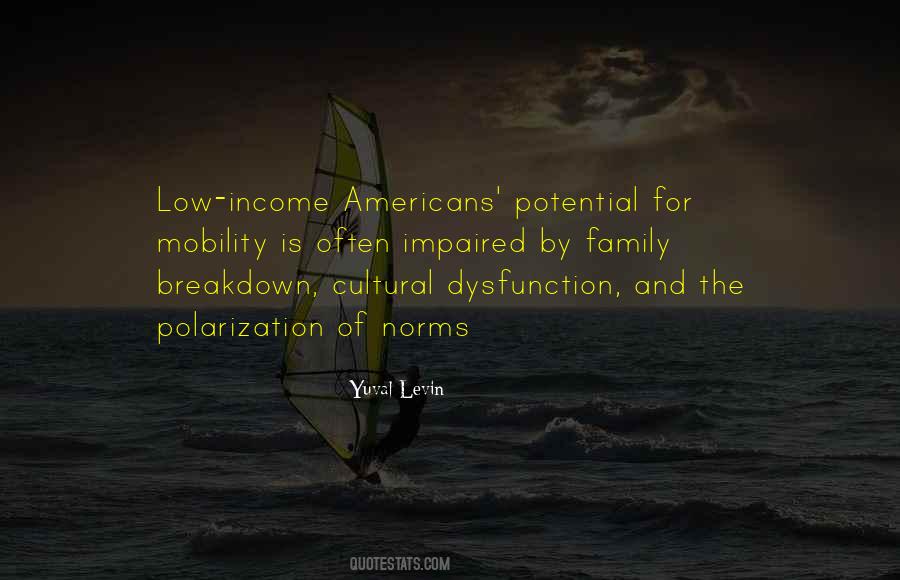 #4. We can have a large impact on the prevention and amelioration of abuse, drug problems, violence, mental health problems, and dysfunction in families. - Author: Steven C. Hayes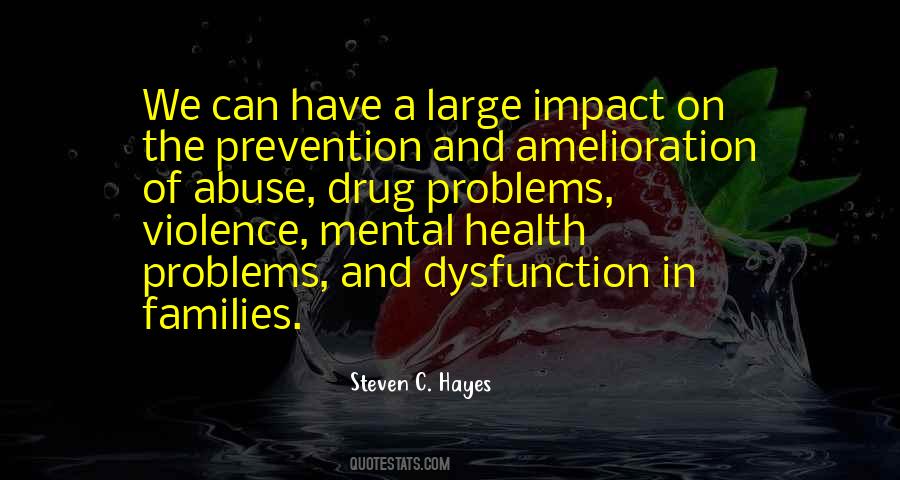 #5. Boundaries represent awareness, knowing what the limits are and then respecting those limits. - Author: David W. Earle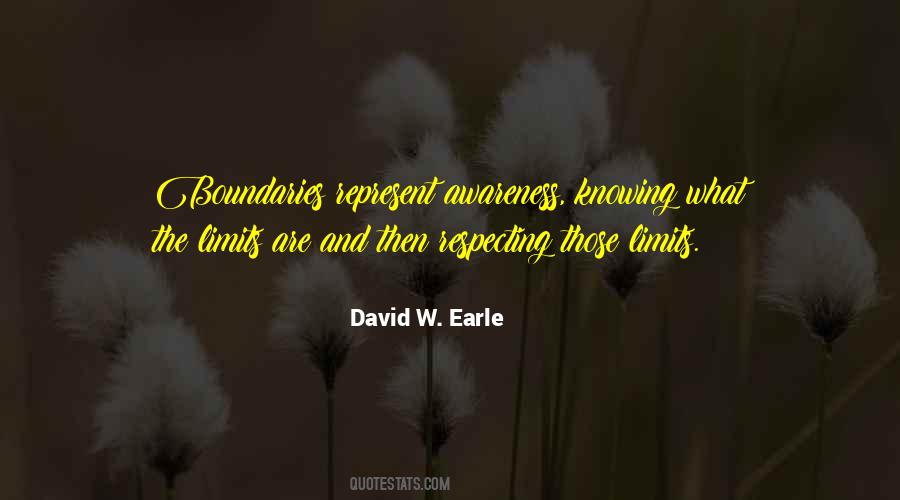 #6. Which makes Archer and Nick-"
"Cousins," Archer filled in, still stirring his soup. "Nearly murdered by my own relative. That has to win some kind of medal for dysfunction." Then his expression darkened. "Or maybe it's just family tradition. - Author: Rachel Hawkins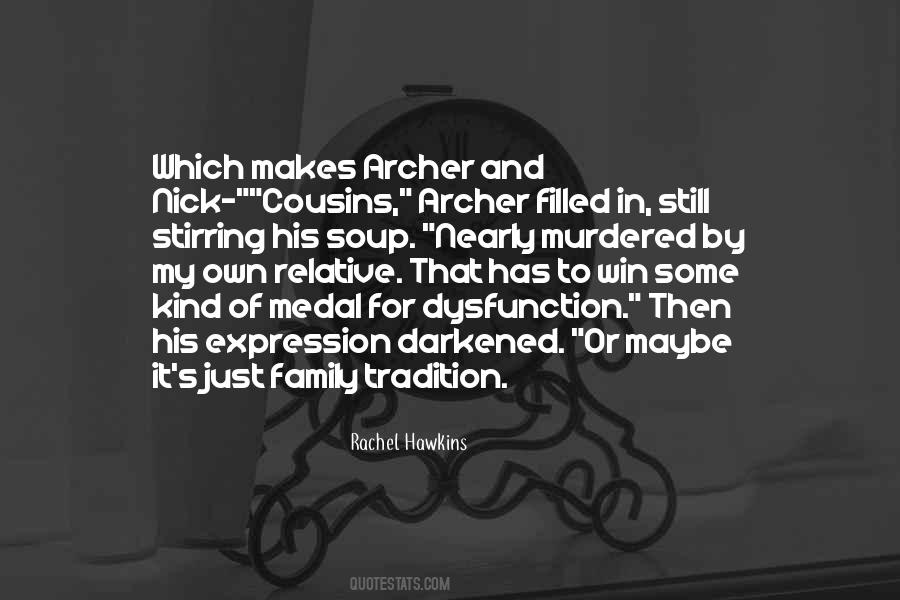 #7. Teenagers can spot hypocrisy a mile away and here I was telling them how to cope when they witnessed the shambles of my own life and how I was living. - Author: David W. Earle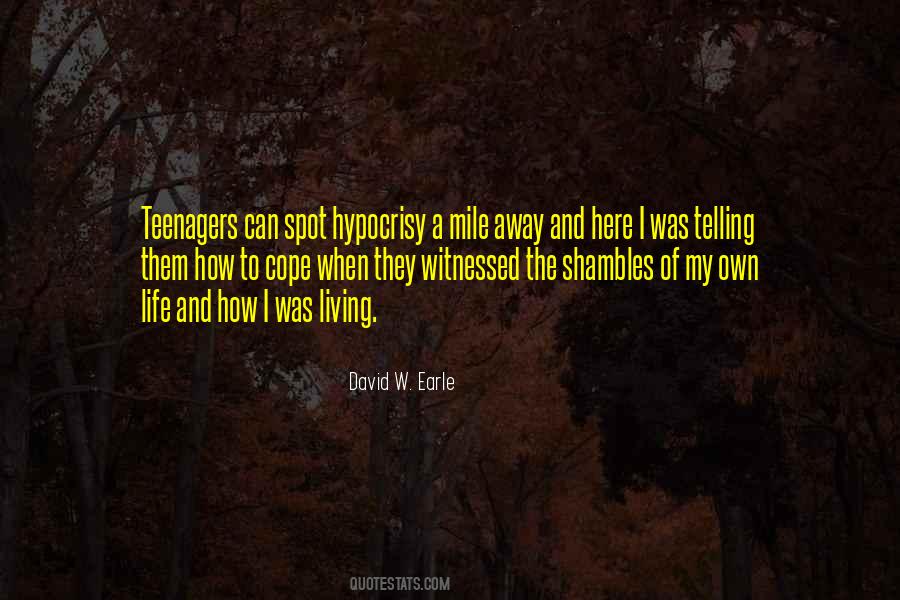 #8. A theatrical spectacle is inherent whenever family members congregate and reacquaint themselves with powerful universal themes educed from homecomings including hugs, food, drink, conversation, politics, games, music, conflict, terror, mercy, smiles, tears, prayers, misfortune, and self-discovery. - Author: Kilroy J. Oldster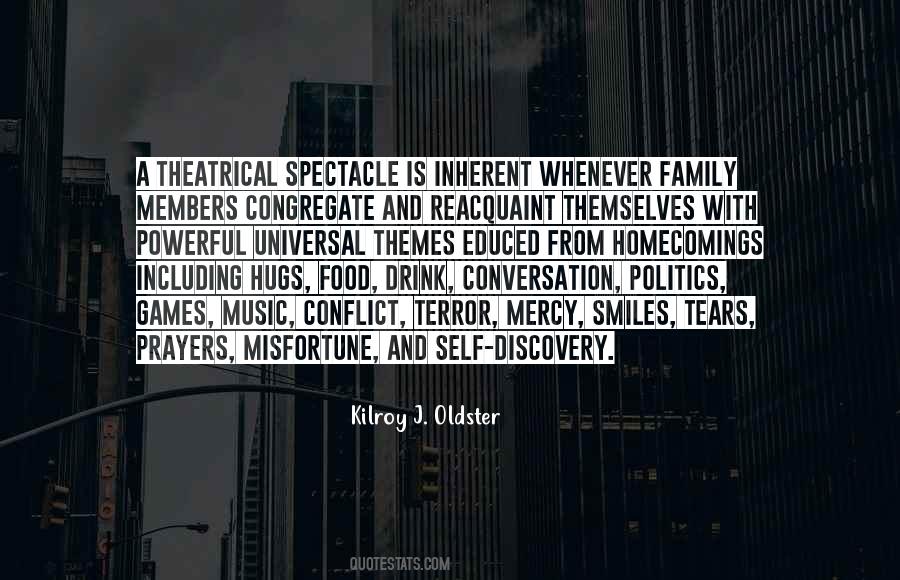 #9. Pick a dysfunction and it's a family problem. - Author: Robert Downey Jr.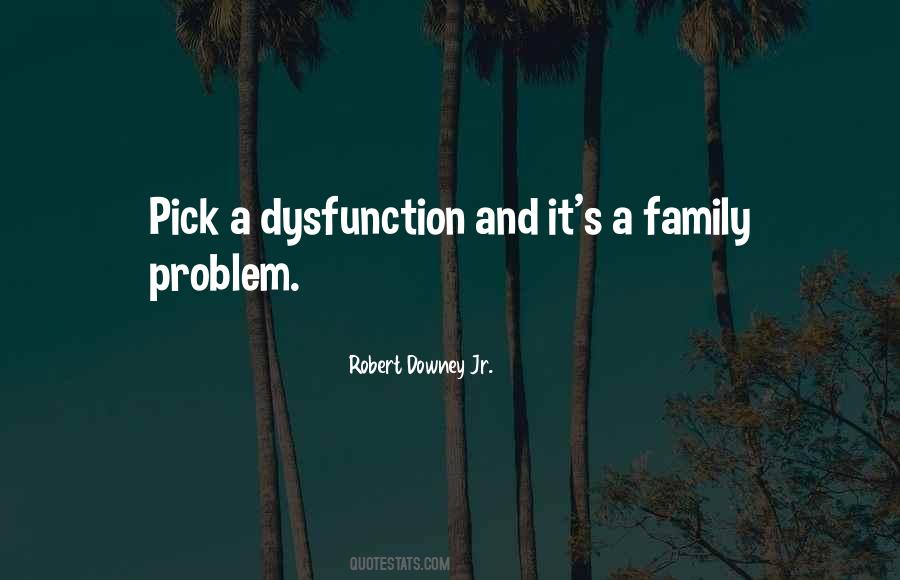 #10. If dysfunction means that a family doesn't work, then every family ambles into some arena in which that happens, where relationships get strained or even break down entirely. We fail each other or disappoint each other. That goes for parents, siblings, kids, marriage partners - the whole enchilada. - Author: Mary Karr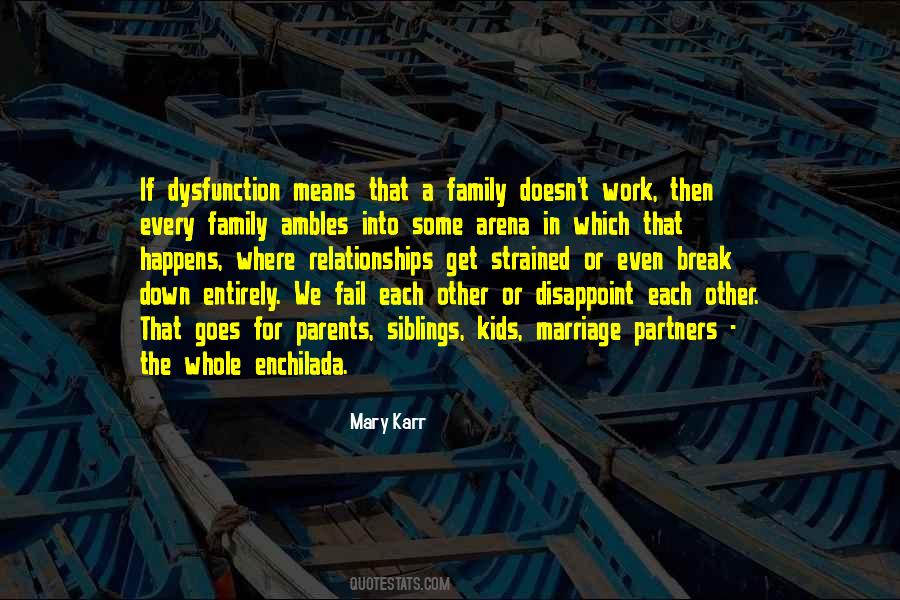 #11. There may be a hundred reasons that a husband is not fulfilling his role as the head of the home. But a wife who rebels against her head is only introducing a new element of spiritual sickness and dysfunction into the family. - Author: Tony Evans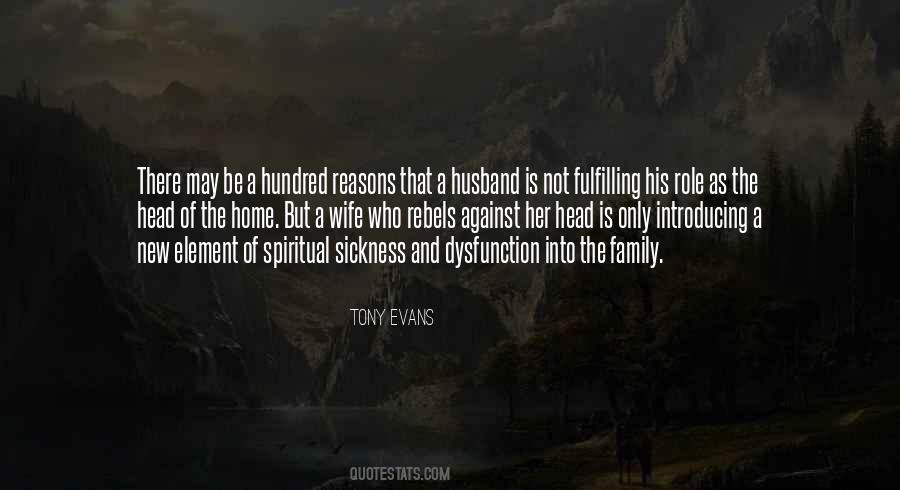 #12. My family may be dysfunctional, but I think it's pretty functional in its dysfunction. - Author: Amanda Torrey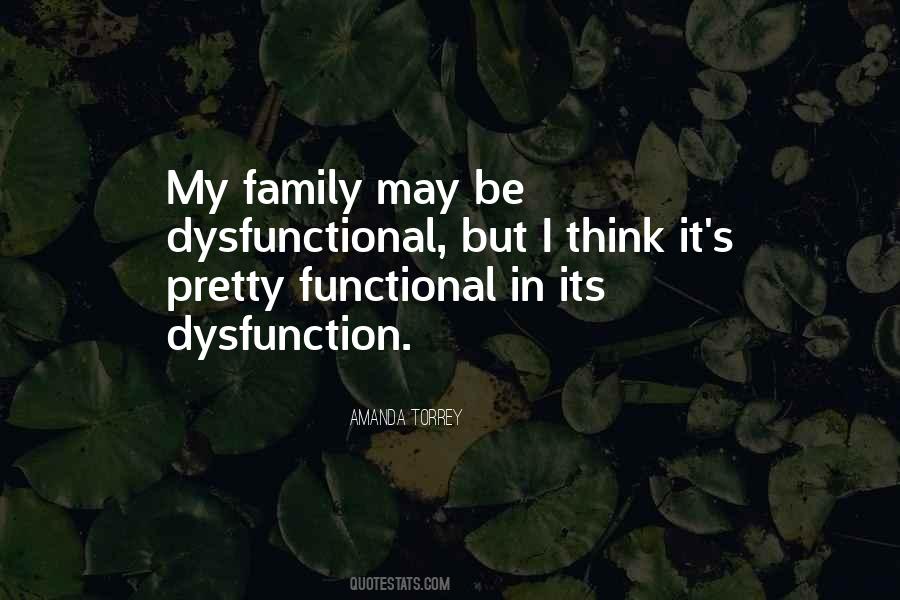 #13. I think that in any family - black, white, Chinese, Spanish, whatever - family is family. You know that there's dysfunction, and that there's this cousin who doesn't like this auntie. But, at the end of the day, like I say, love brings everybody together. - Author: Lauren London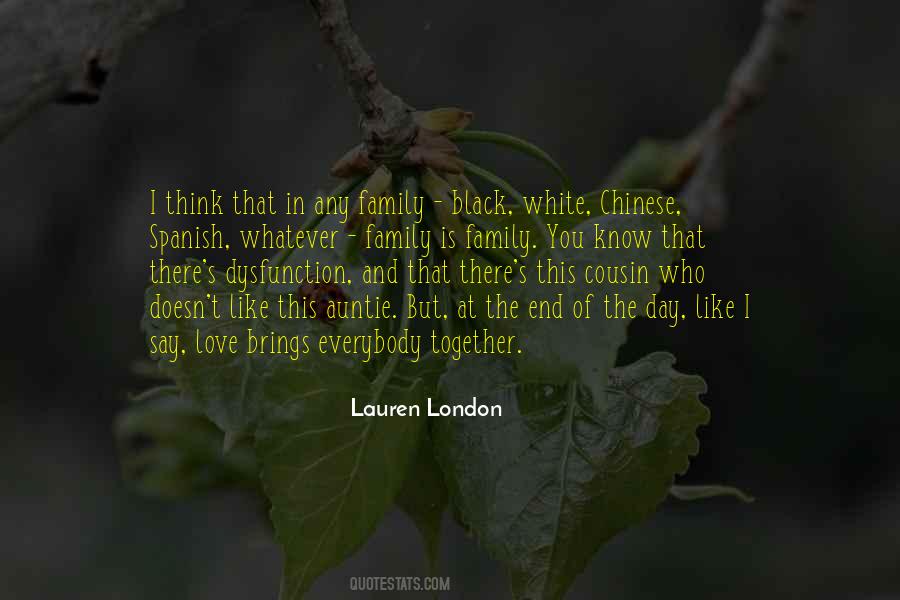 #14. You know the definition of a dysfunctional family, don't you? It's any family with more than one member in it. - Author: Sarah Pekkanen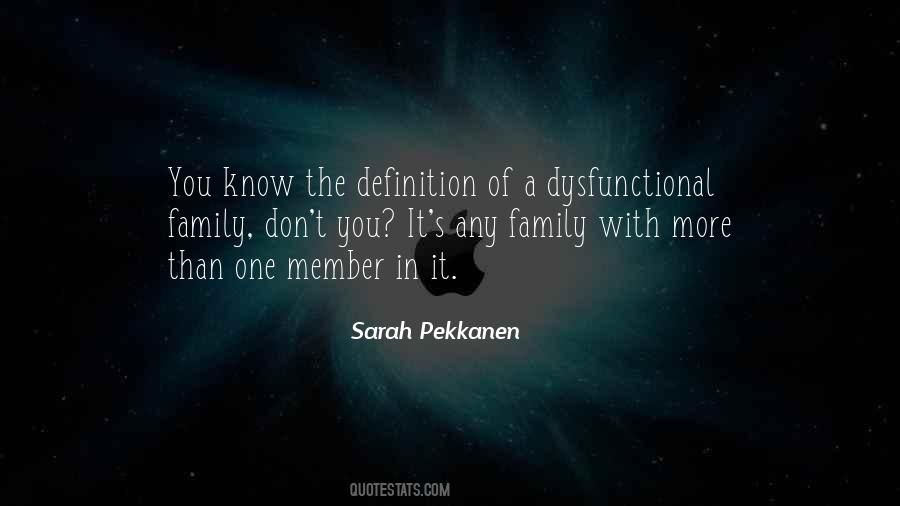 #15. I've never had siblings, I didn't grow up in a big family; it was just me and my single mom. And hectic family dysfunction was actually something that I craved. - Author: Emmy Rossum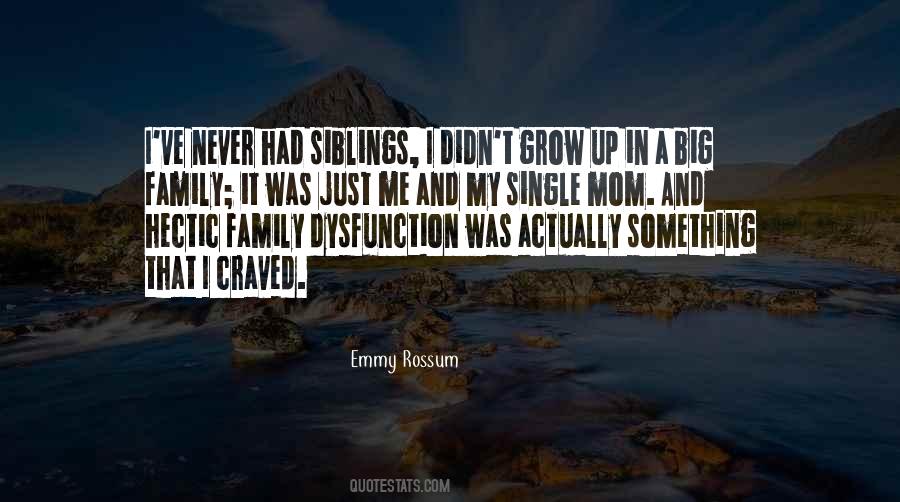 #16. If you should choose to look at those files, you will have to live with the consequences of your choices while, at the same time, being mindful that these choices will not only effect you, but will also infect, sorry, I intended to say effect, our entire family. - Author: Donna K. Childree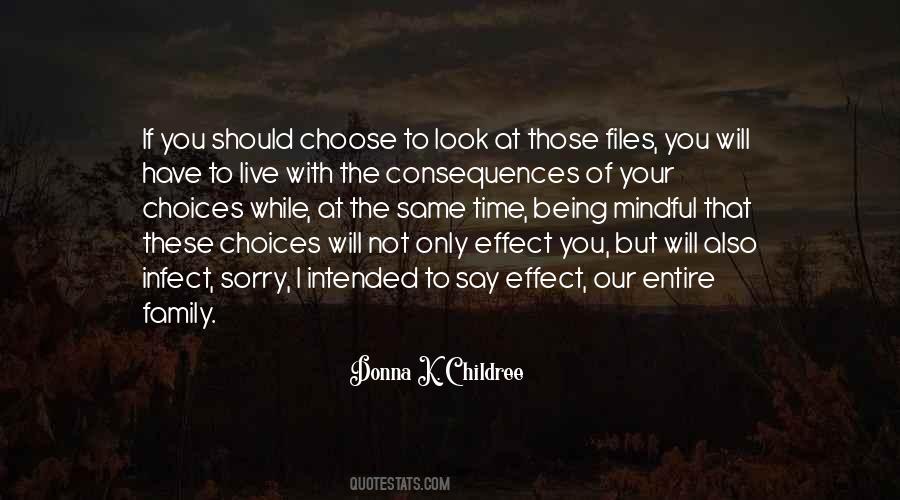 #17. We all have family dysfunction. It's why we're successful, to fill that hole. - Author: Eli Attie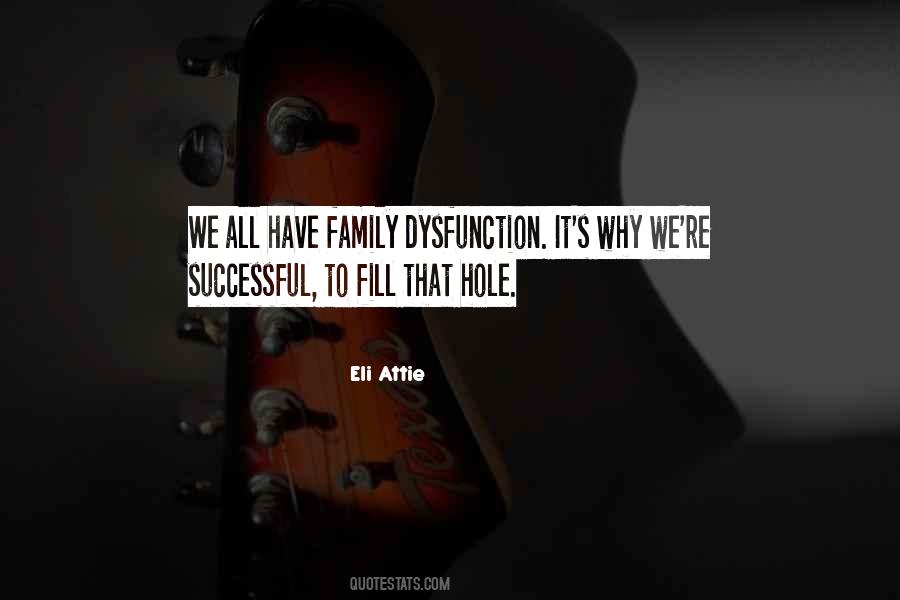 #18. Sara knew that behind its locked front door no home was routine. Not the house of her childhood, not the apartment of her husband's. not the world they were building together with Willow and Patrick. All households had their mysteries, their particular forms of dysfunction. - Author: Chris Bohjalian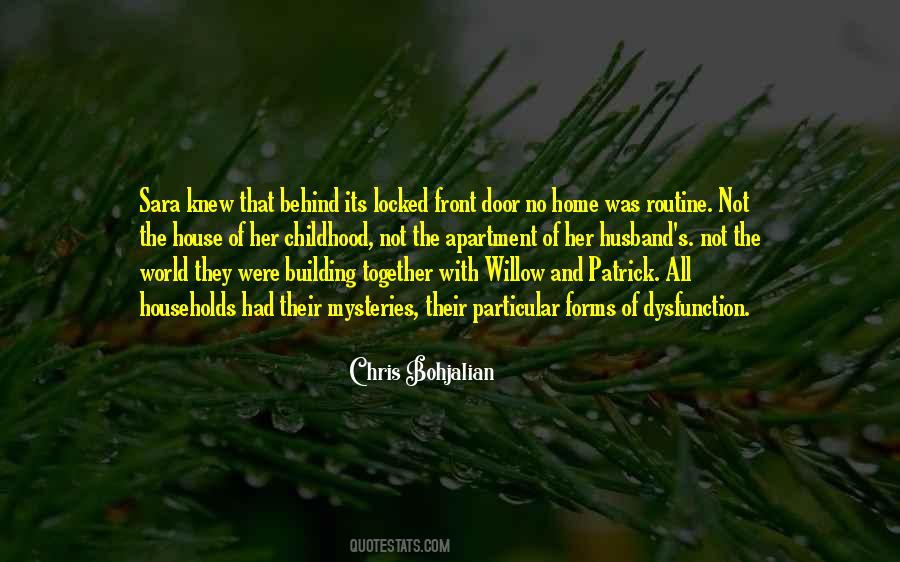 #19. Swirling in a squirrel cage of perpetual motion, the head-committee meets, argues, votes out the guidance available from emotions, and successfully keeps serenity at bay and chaos close at hand. - Author: David W. Earle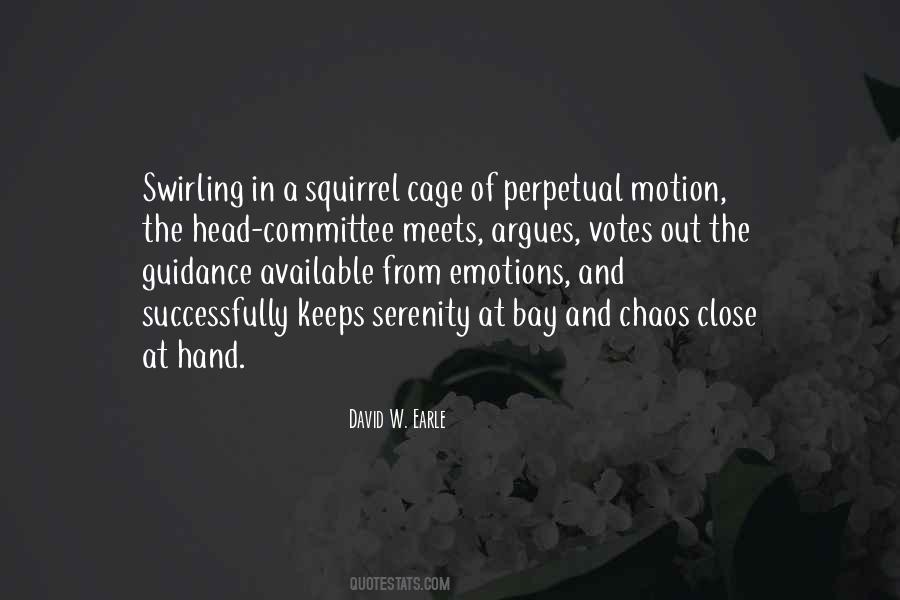 #20. Family and dysfunction went together like peanut butter and jelly. Family sagas. Everything would be okay. But how? - Author: Diana Y. Paul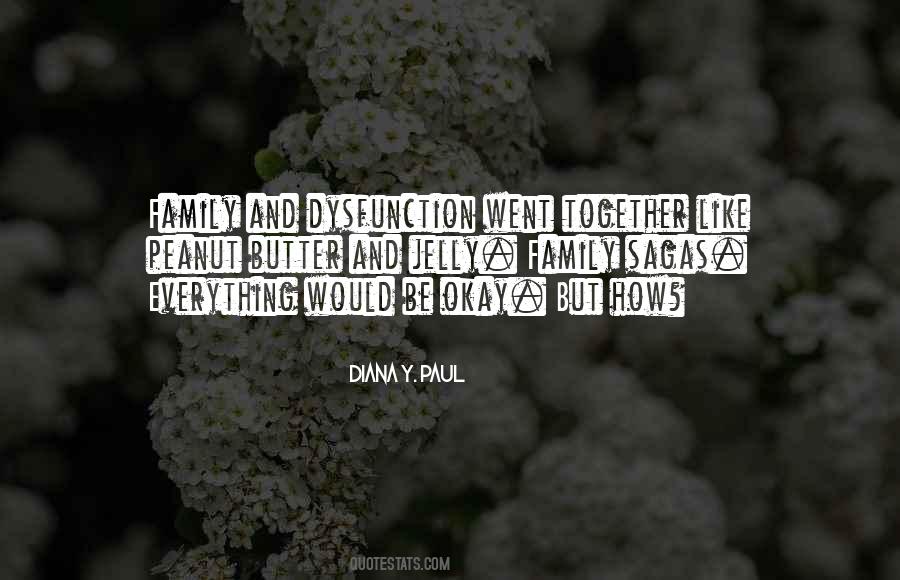 #21. So much of great American drama has been about a certain kind of dysfunctional family, and maybe my interests are in the kind of strange dysfunction that exists even among deeply functional families. - Author: Stephen Karam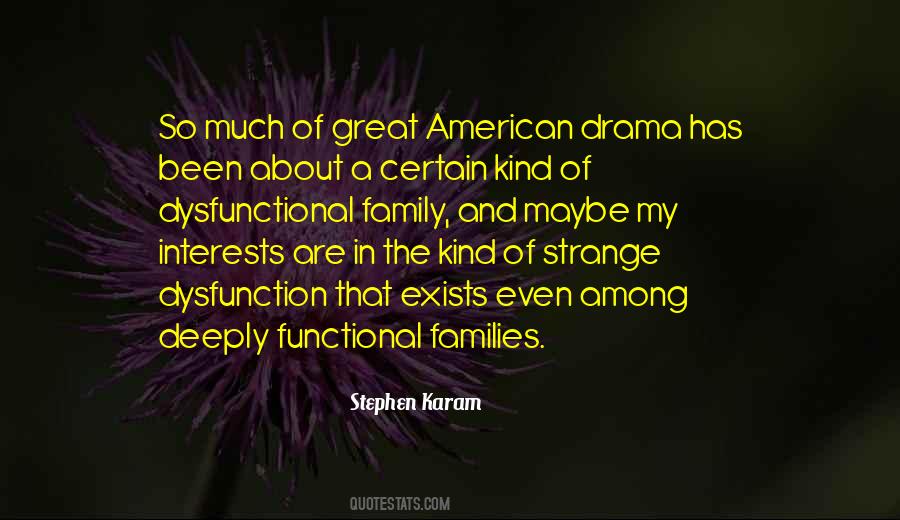 #22. Families living in dysfunction seldom have healthy boundaries. Dysfunctional families have trouble knowing where they stop and others begin. - Author: David W. Earle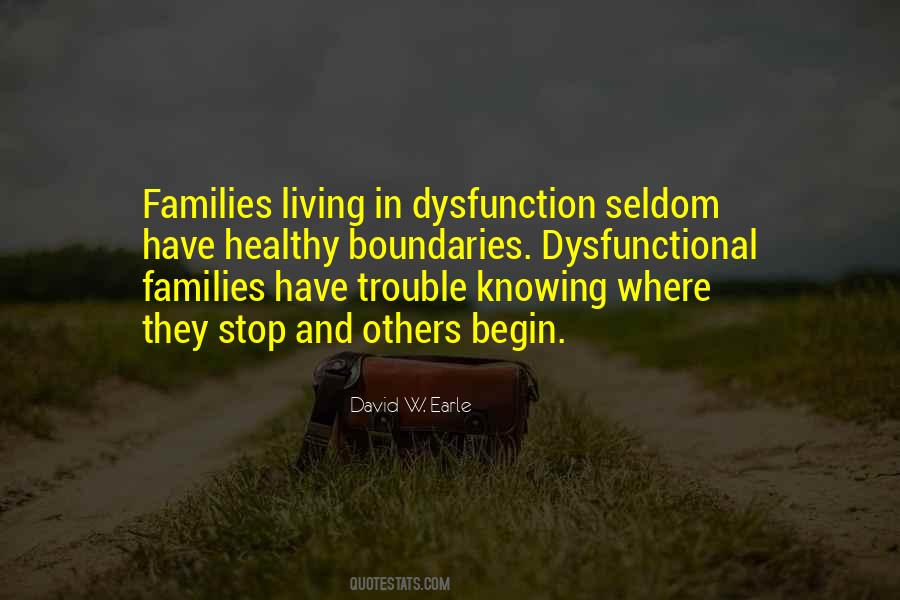 #23. I think as a child you know when it's time for your parents to split. You realise they love each other, but they're not in love with each other. And I think as a child it's much better for your parents to split than for them to stay and have dysfunction within the family. - Author: Abbie Cornish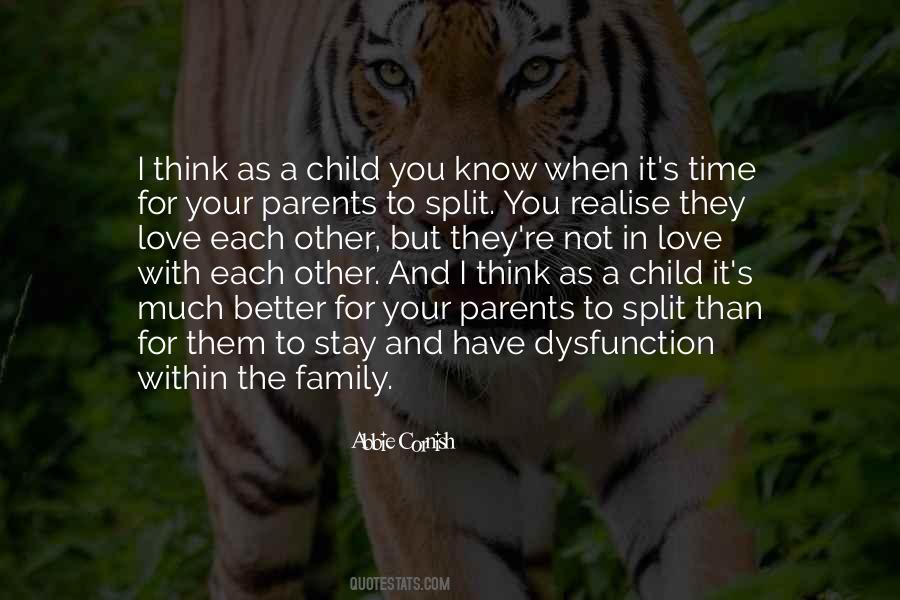 #24. You didn't wind up on a pole without a lot of help from your family. - Author: Lisa Unger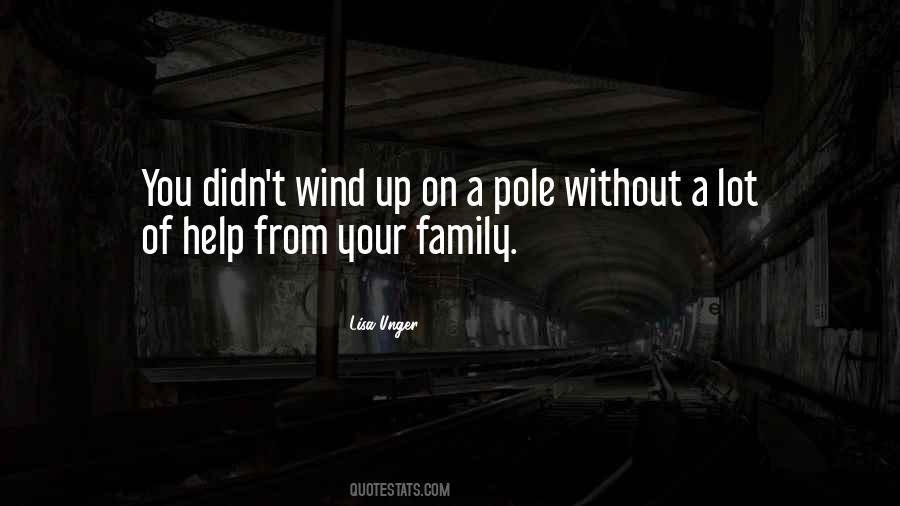 #25. As a parent who raised his children in dysfunction, I know the parental wounds my children received were not intentional; often they were my best expression of love, sometimes coming out sideways, not as I intended. - Author: David W. Earle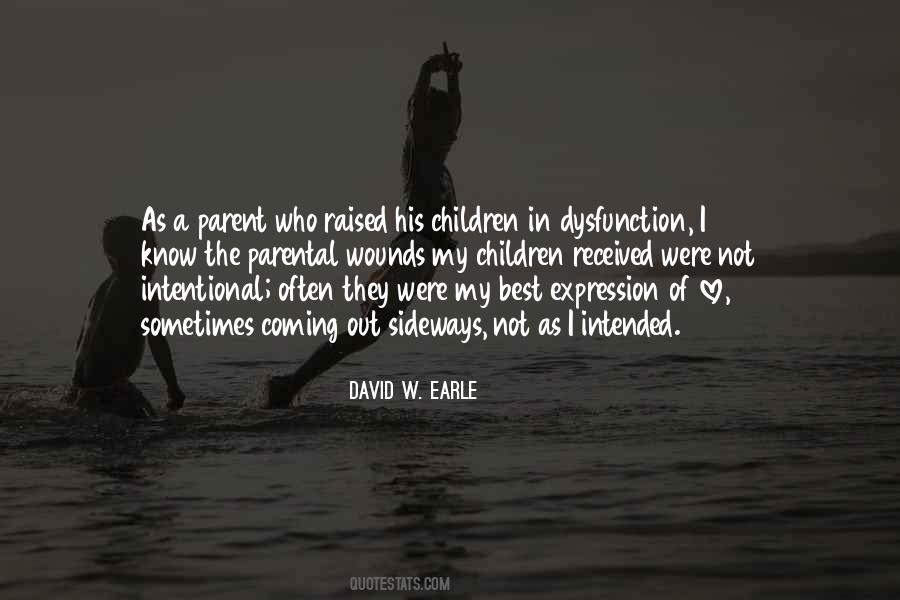 #26. There was plenty of dysfunction in my family and I went to Catholic School with these psychotic nuns. I would always try to be funny to lighten the mood. - Author: Julie Brown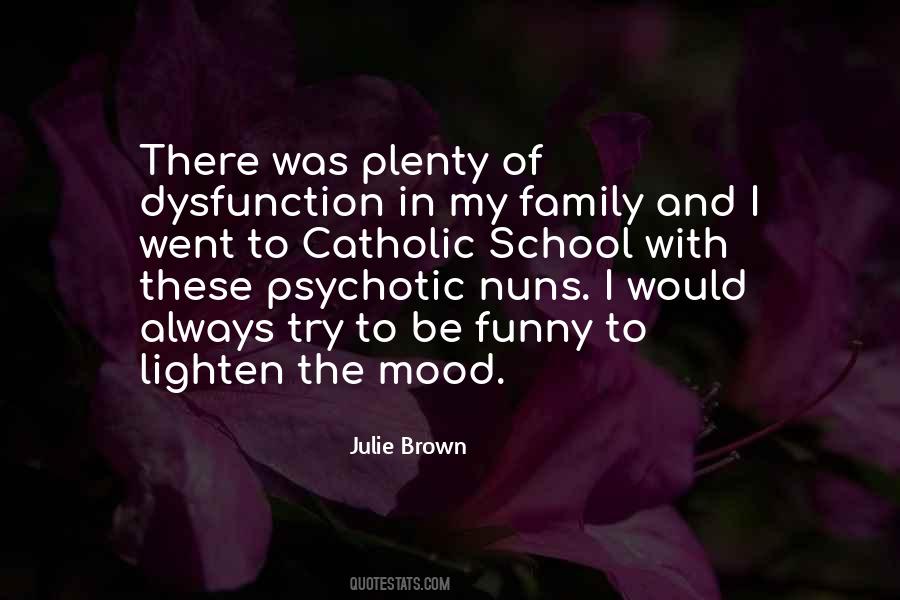 #27. Chaos limits the free-flow of love and becomes a roadblock to what family members want most and sadly, it becomes the normal for the family. - Author: David W. Earle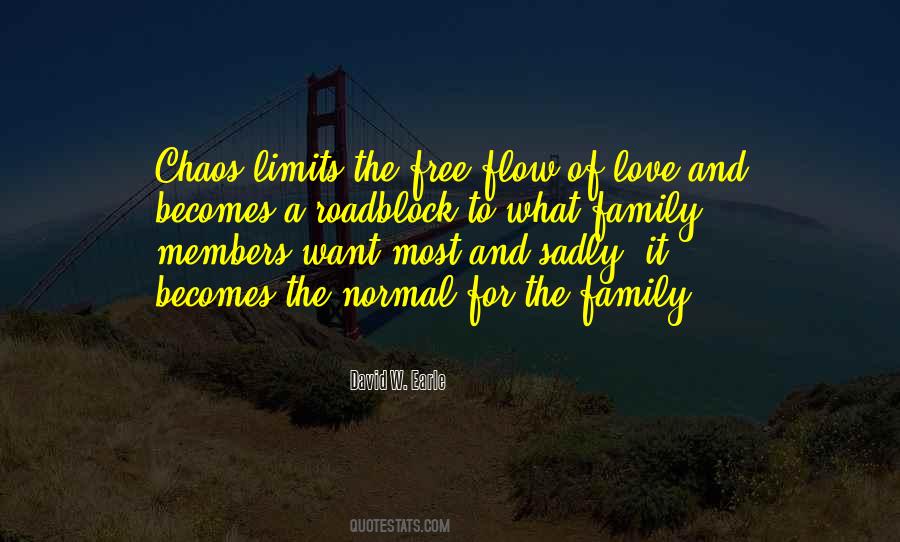 #28. A woman who wants to be the head of her home invites the Devil to take over her family. And the Devil has taken over many homes because the wife has refused to submit to the legitimate, biblical authority of her husband. The result is spiritual sickness and dysfunction. - Author: Tony Evans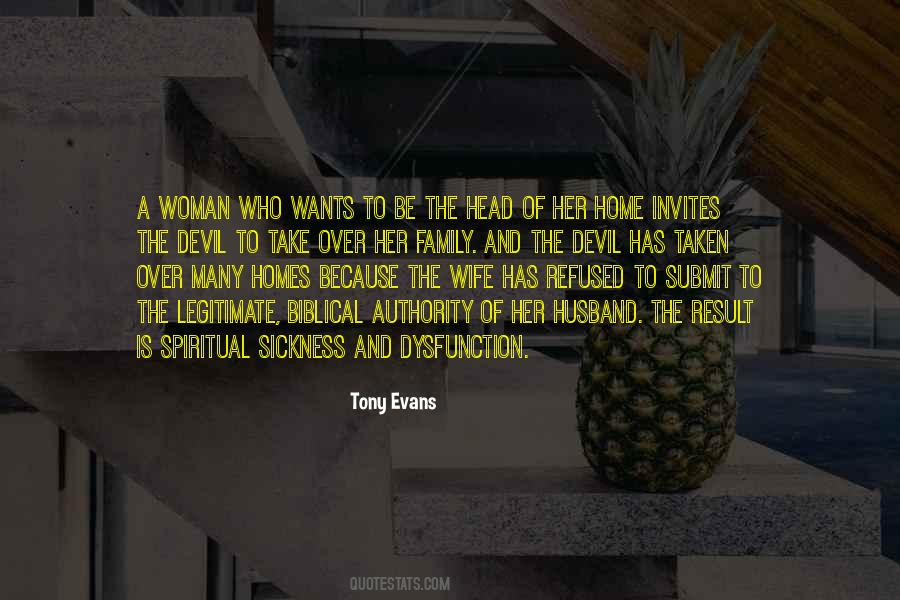 #29. The more severe the dysfunction you experienced growing up, the more difficult boundaries are for you. - Author: David W. Earle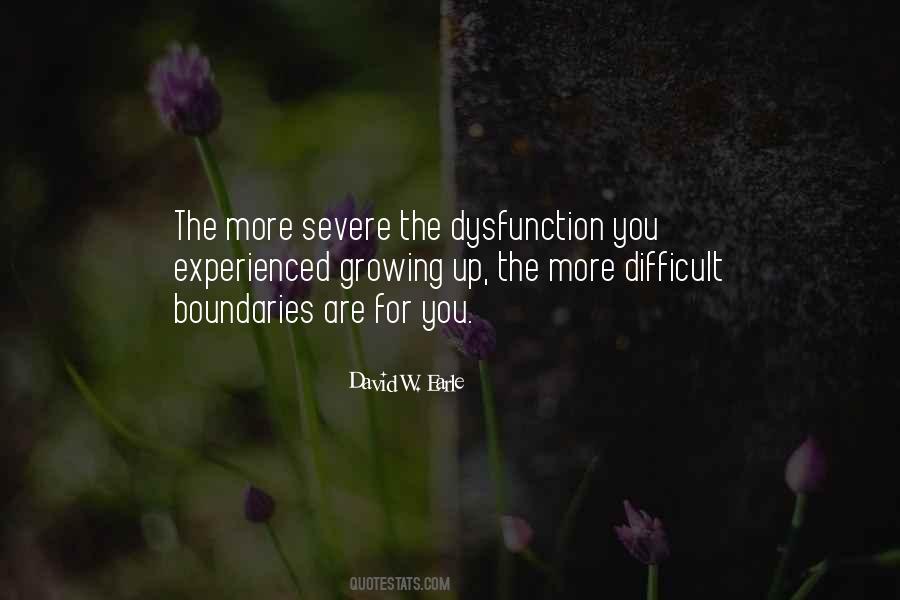 #30. The dysfunction was not the character of one person, it was the split of family by divorce, with the ripples felt for eternity by bloodline. - Author: Amber Garibay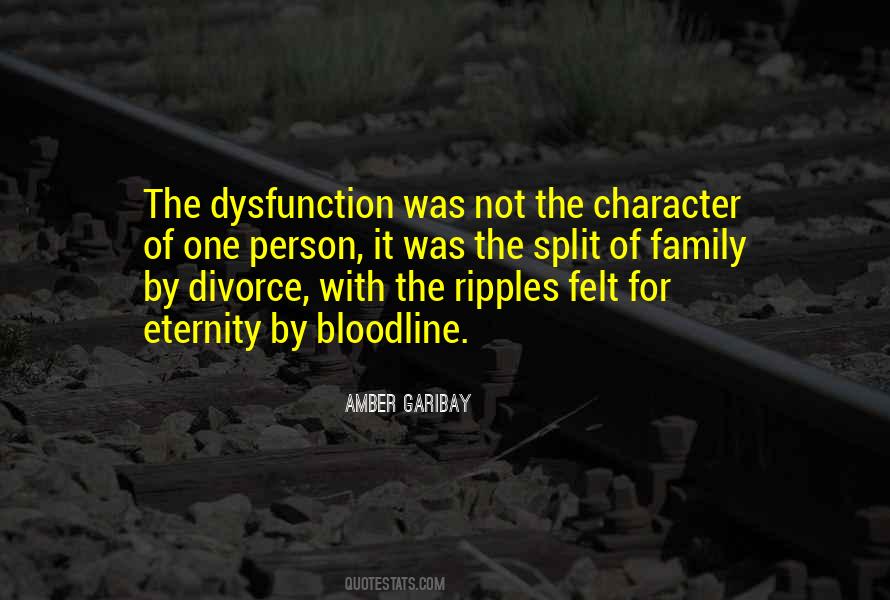 Famous Authors
Popular Topics