Envy People Famous Quotes & Sayings
List of top 100 famous quotes and sayings about envy people to read and share with friends on your Facebook, Twitter, blogs.
Top 100 Quotes About Envy People
#1. I almost envy people who say whatever they want. - Author: Kate Bosworth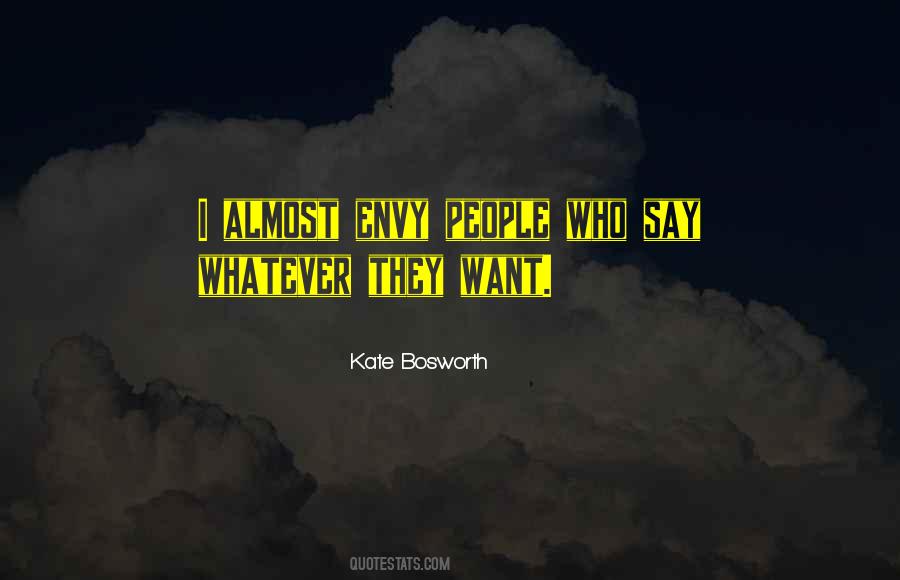 #2. I envy people who write easily. I enjoy the process, but it's not easeful for me. - Author: Charles Krauthammer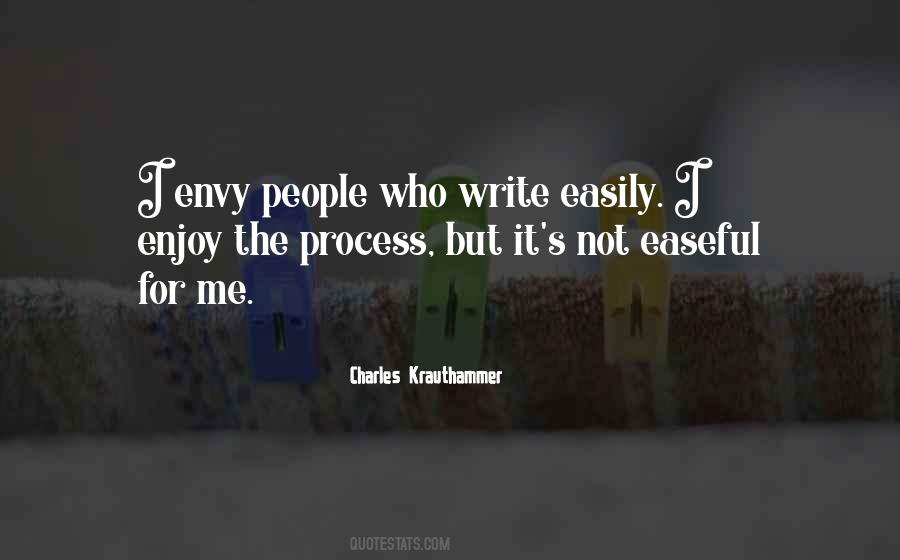 #3. A renewed commitment to the freedom and opportunity of our people is the touchstone of our time. In this new century, where tests are many and challenges change with the shifting of the wind, we must hold fast to the principles that have made our nation the envy of the world. - Author: Bill Owens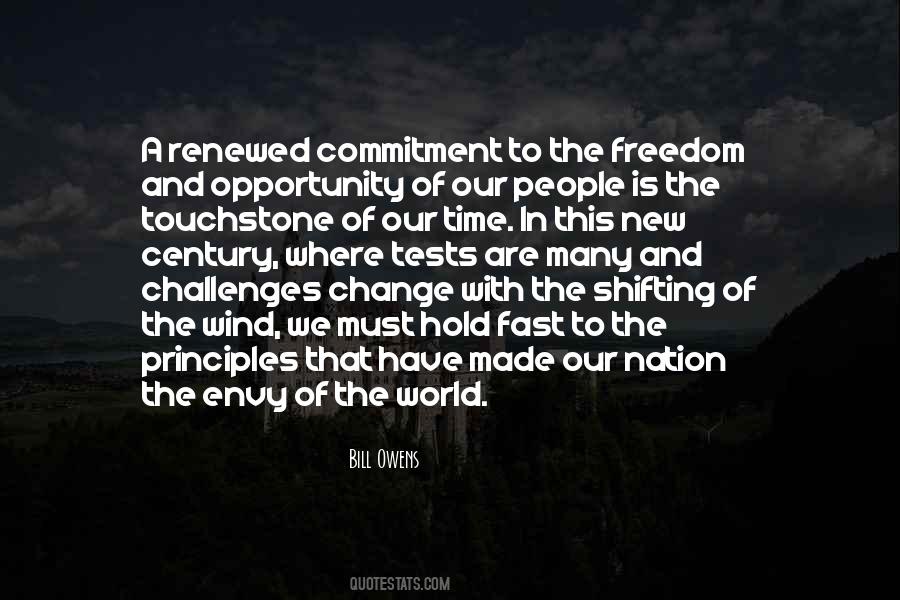 #4. I envy the people who say, 'oh, well, I've got my name in the golden book and I'm going to be entered into the pearly gates.' - Author: William Shatner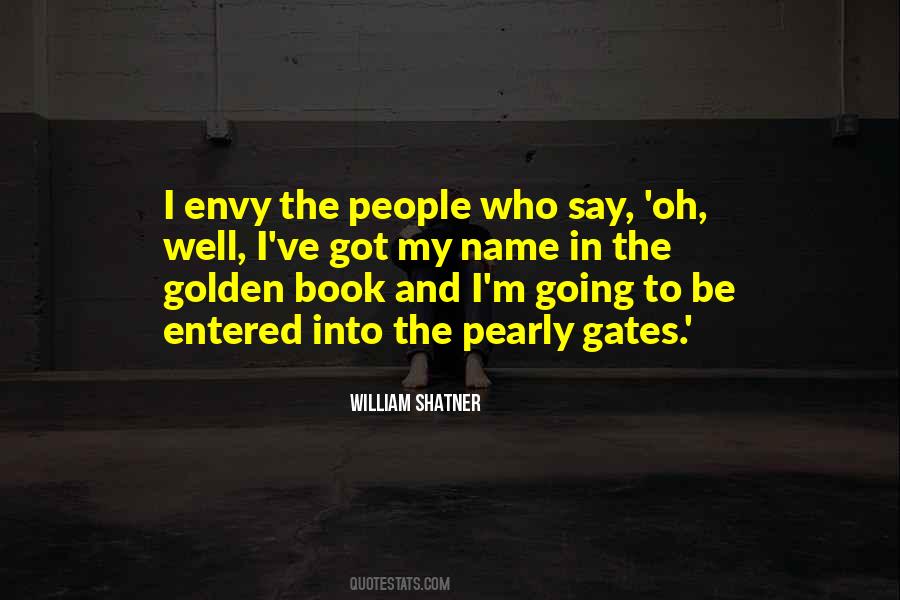 #5. On the one hand, people think they own kids; they feel that they have the right to tell the kids what to do. On the other hand, people envy kids. We'd like to be kids our whole lives. Kids get to do what they do. They live on their instincts. - Author: David Duchovny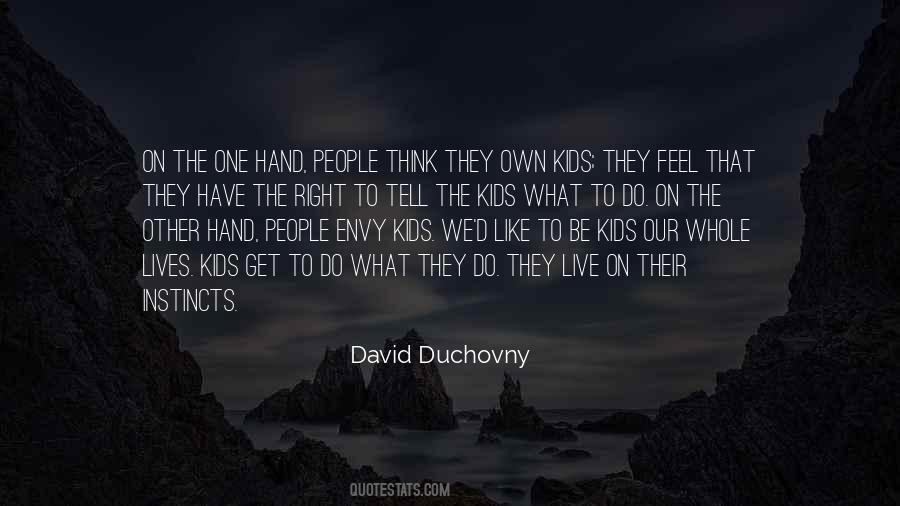 #6. I think it's very painful, and that it's better not to have any doubts. I envy those who don't have any; I envy them a lot. They are happy people. - Author: Nathalie Sarraute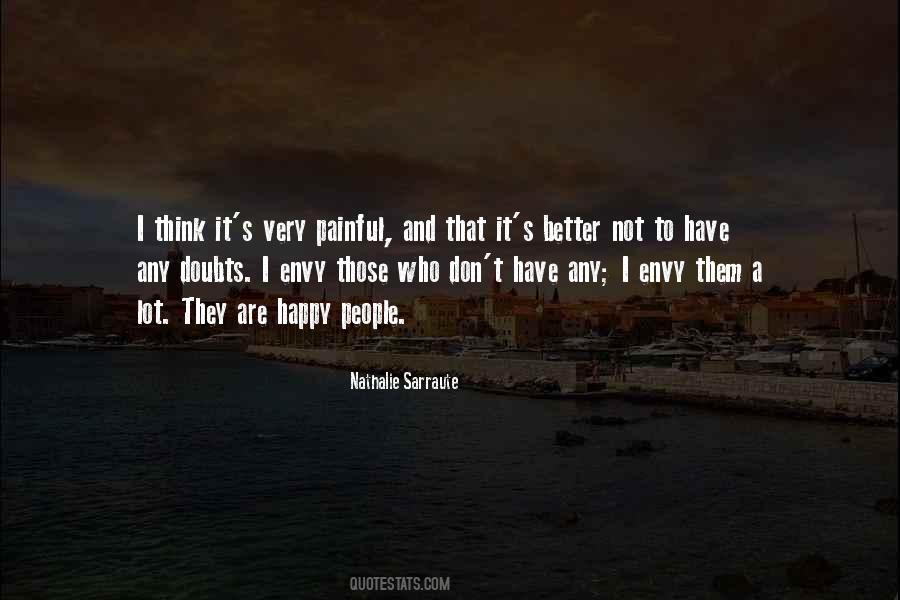 #7. People are so unnecessarily negative about envy. It really ought to be struck off the list of deadly sins. - Author: David Lagercrantz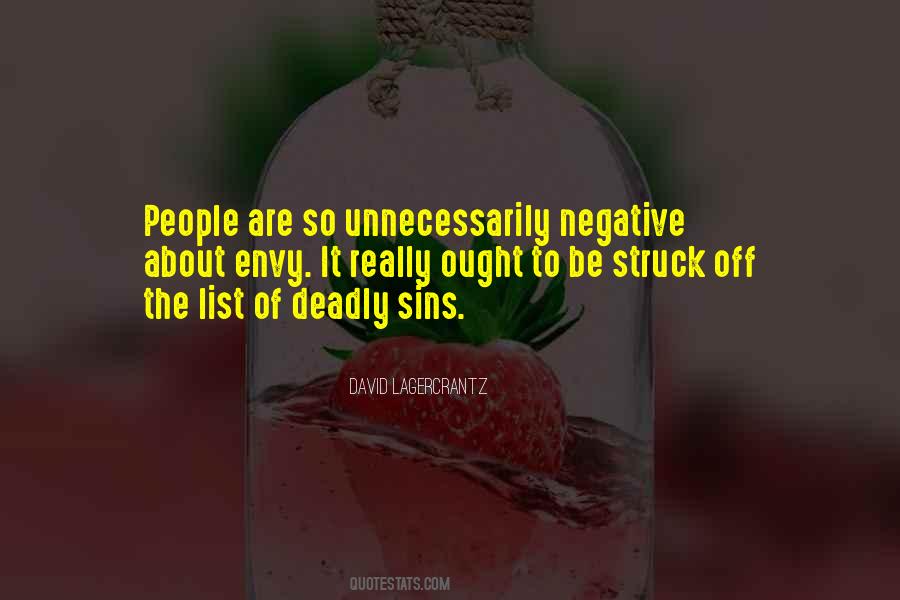 #8. I missed Breaking Bad and people just go on and on about it until you're blue in the face with envy and you've got to watch it. - Author: Rhys Darby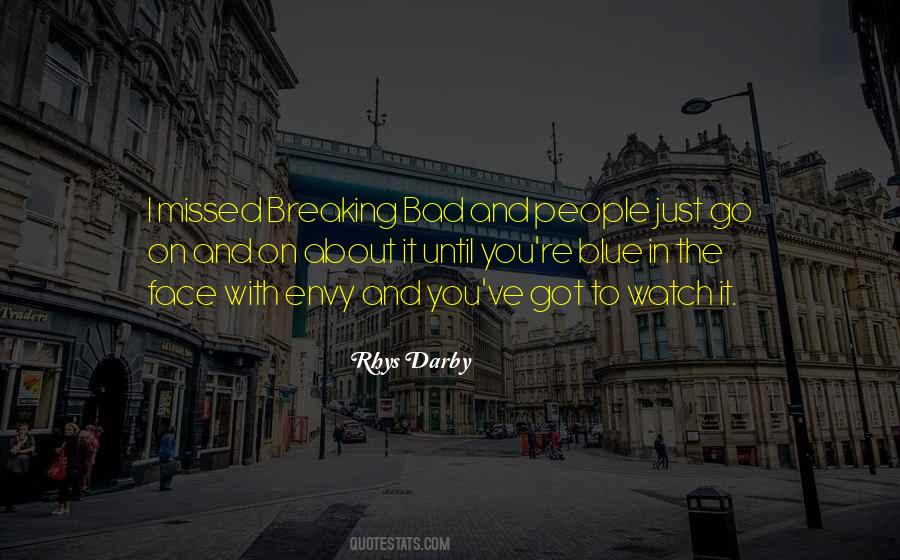 #9. I'm emotionless, yet I breathe jealousy and envy
People kill for me or die to defend me - Author: Kirk Jones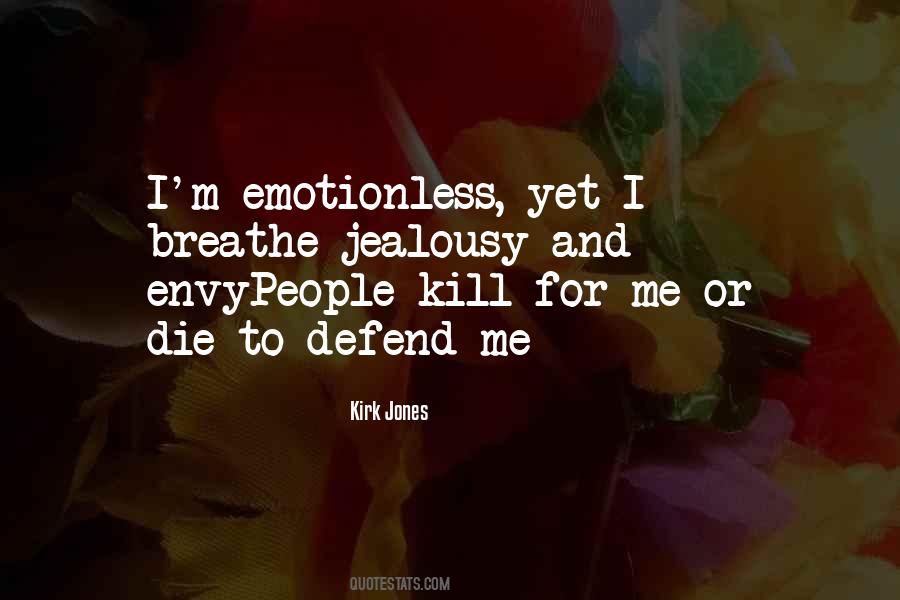 #10. Blessings come in packages of two. With every blessing is a test. So don't ever envy people who seem to have more than you. The more blessings, the more tests. And the greater the blessing, the harder the test. - Author: Yasmin Mogahed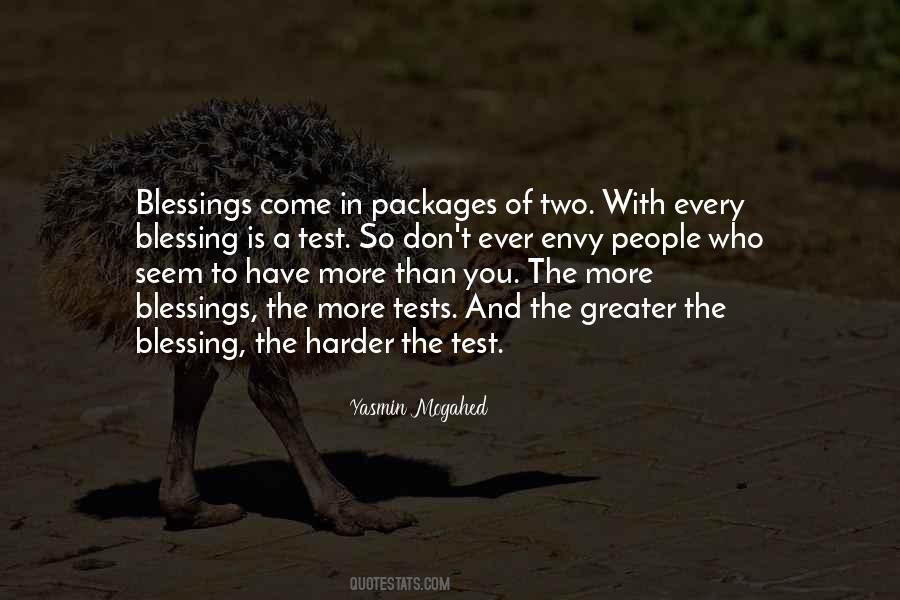 #11. What a lovely place this world would be if only people would feel affection for everyone else, and all the ugliness of the human heart were to vanish - our envy of those better off than ourselves and our scorn for those worse off. - Author: Sayo Masuda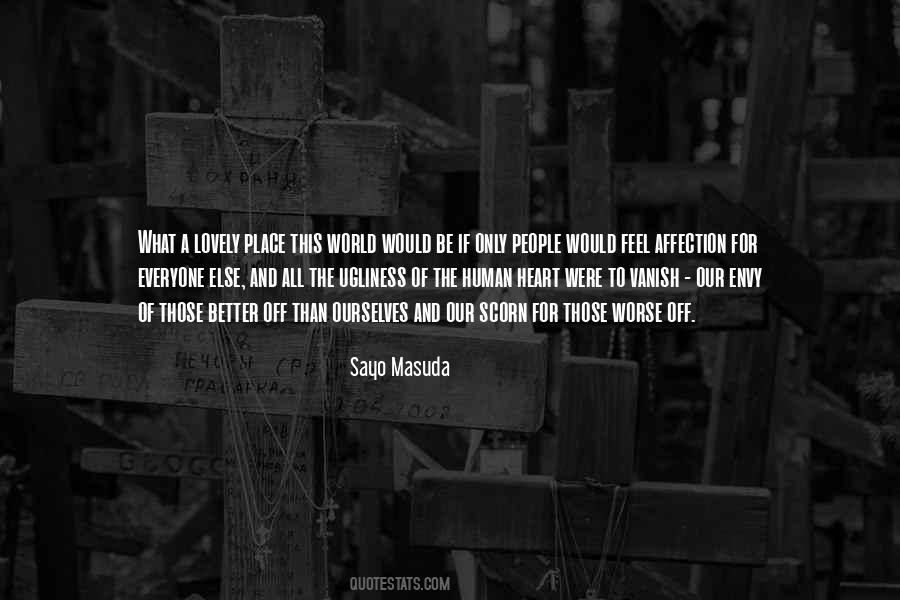 #12. see, when I'm not paying attention to my barriers, I can glimpse other people's thoughts. I catch them like lingering aftertastes or smells they leave in their wake: bitter envy, coppery anger, sour regret, the foul miasma of malice and cruelty. - Author: Jason Heller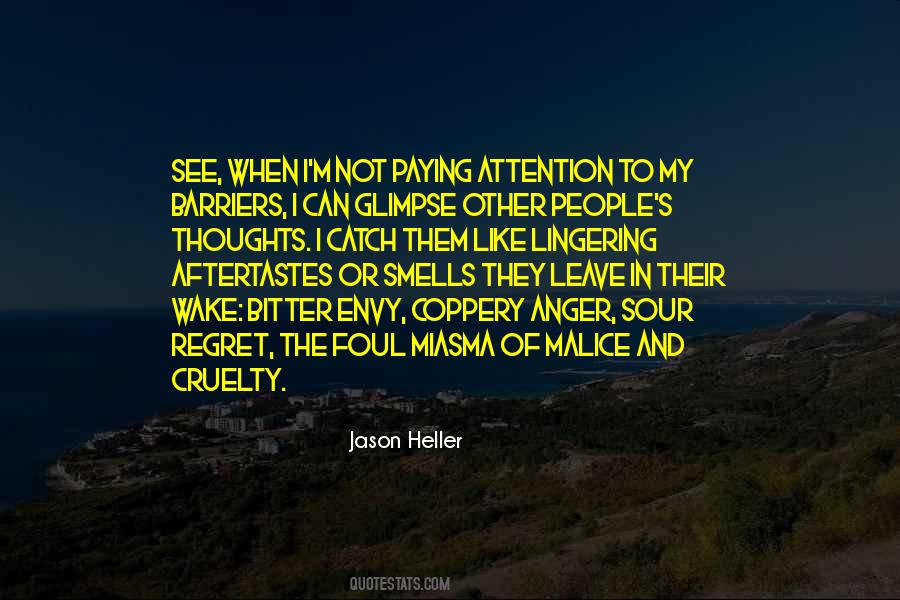 #13. Often change yourself, when you see that people envy you : they will start to change themselves too, but at that time YOU will not envy them ... - Author: Alen Sargsyan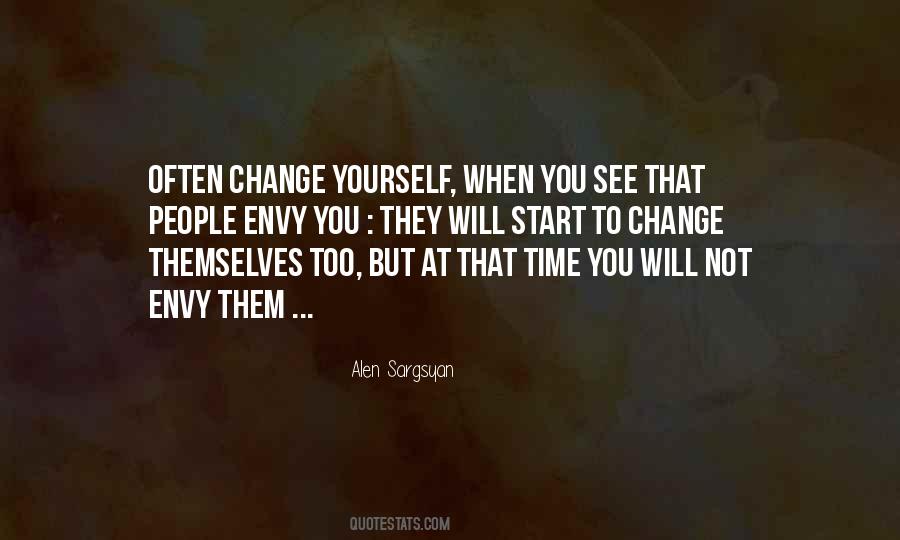 #14. What I envy is not their skin but their insouciance. I envy the freedom to sin with only a little bit of consequence, to commit one selfish act and not have it mean the downfall of my entire people. Where indecency and mischief do not mean annihilation. - Author: Kaitlyn Greenidge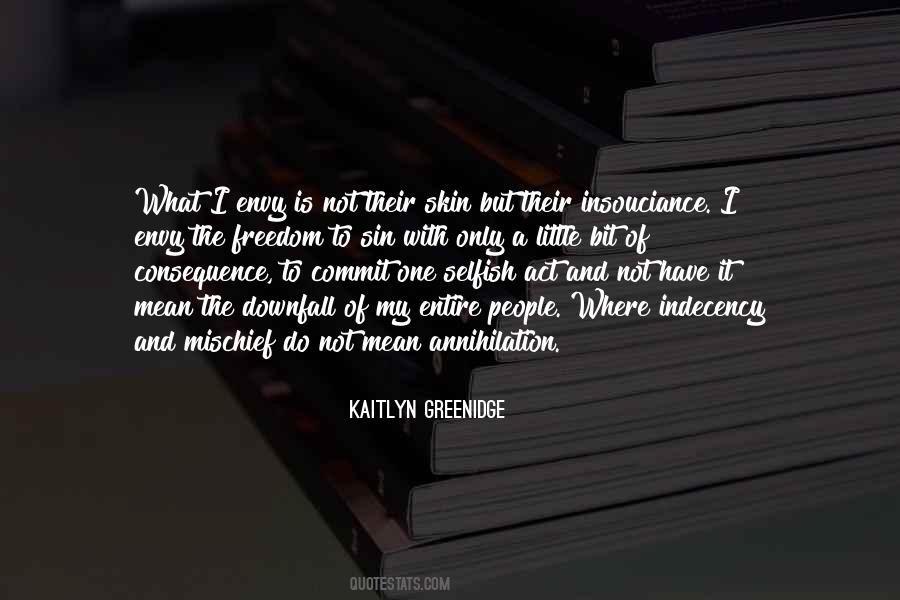 #15. It's madness to envy other people's happiness. Happiness doesn't come of the peg, it has to be made to measure. - Author: Andre Gide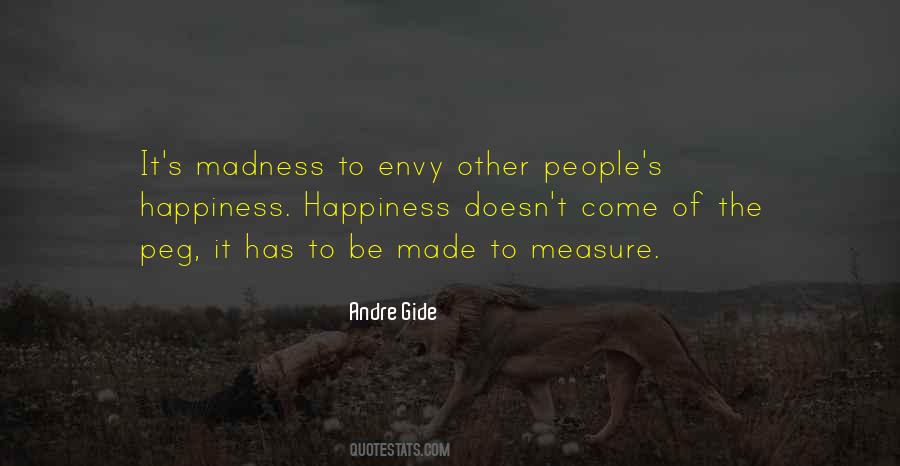 #16. How I envy you creative people - creativity is a gift from the gods - Author: Kurt Vonnegut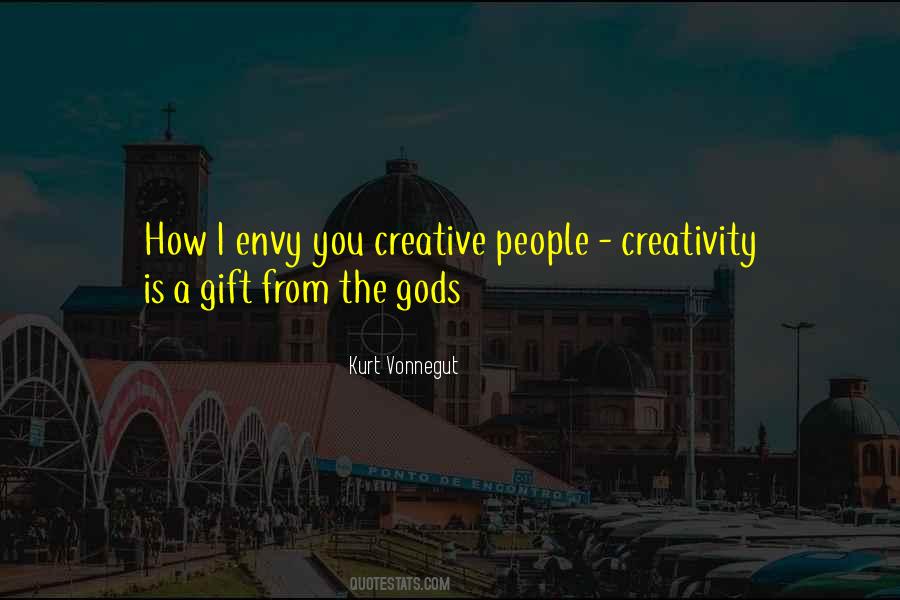 #17. Envy comes from people's ignorance of, or lack of belief, in their own gifts. - Author: Jean Vanier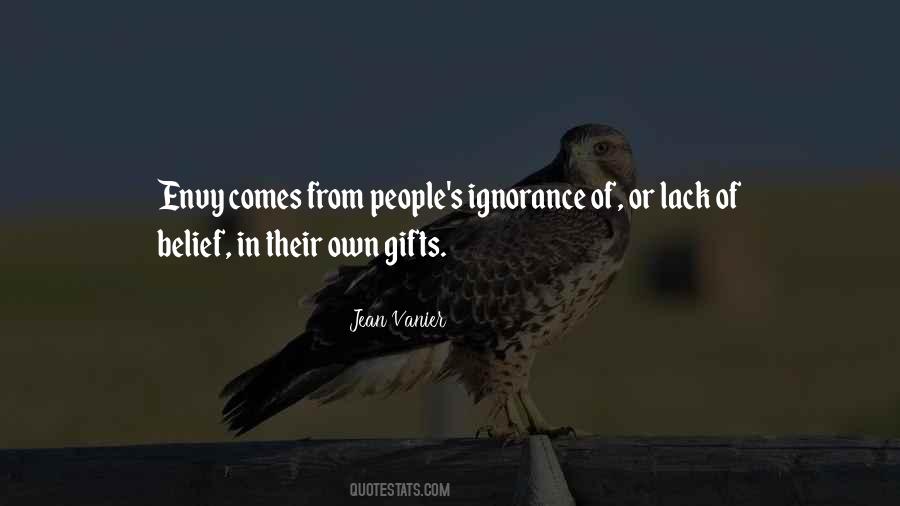 #18. People will envy you to the extent that you start out with a group of people and you rise up the organization faster than them. Get over what your peers are thinking about you because your peers are also your competitors. - Author: Jeffrey Pfeffer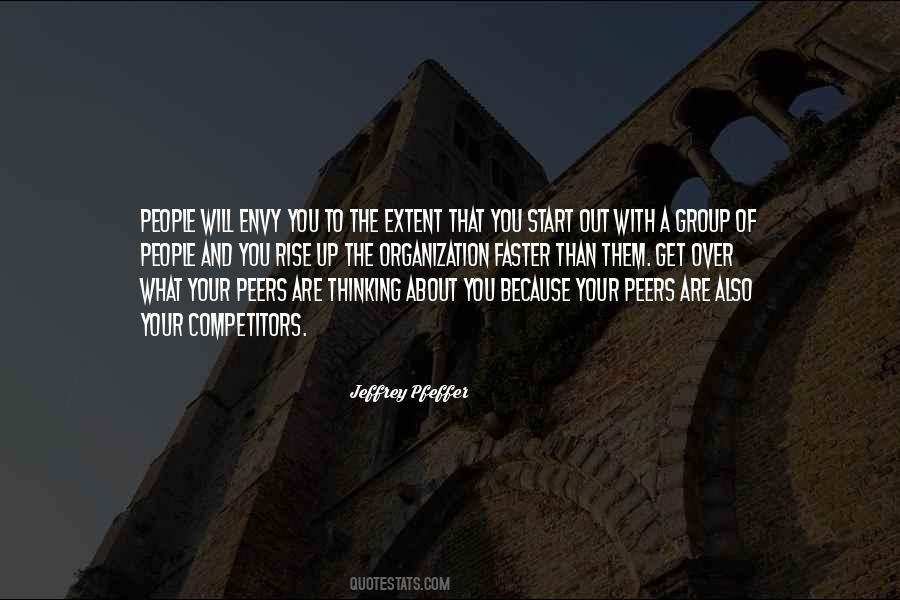 #19. Envy is when you resent God's goodness in other people's lives and ignore God's goodness in your own life. - Author: Craig Groeschel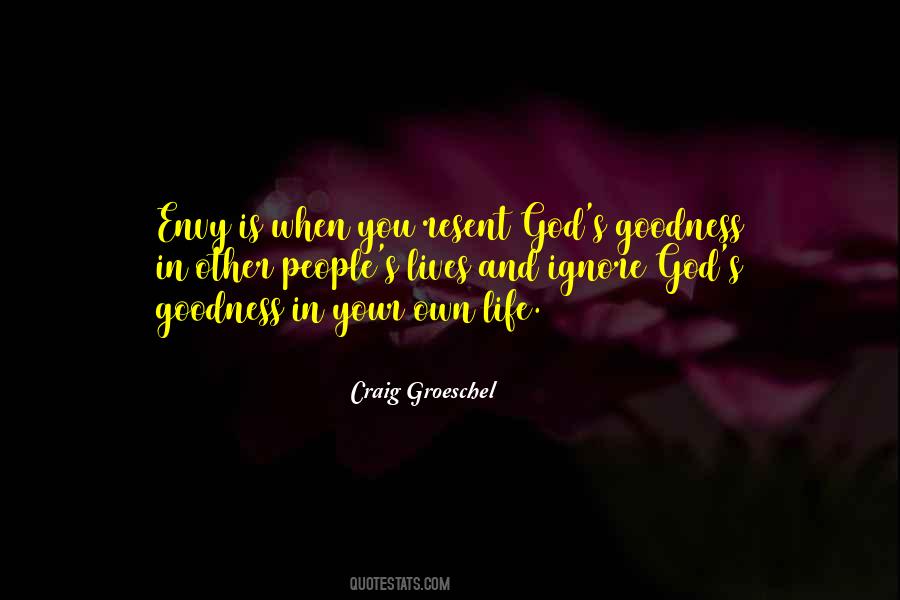 #20. Deep rooted envy is the main cause why people put you down, blame, shame, misjudge, maltreat and malign you; abusing your goodness and generosity. from the book, Odyssey of a Heart, Home of a Soul - Author: Angelica Hopes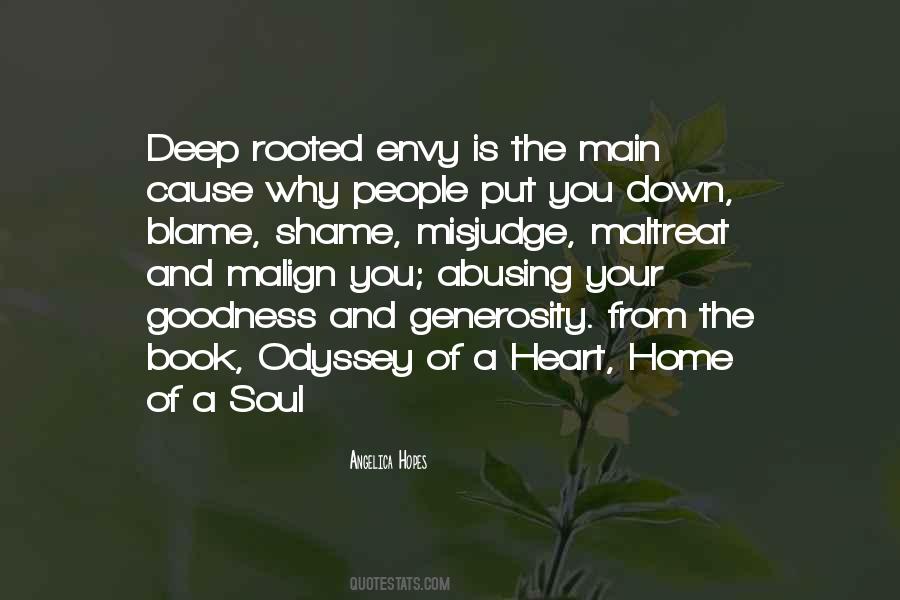 #21. Birds have wings; they're free; they can fly where they want when they want. They have the kind of mobility many people envy. - Author: Roger Tory Peterson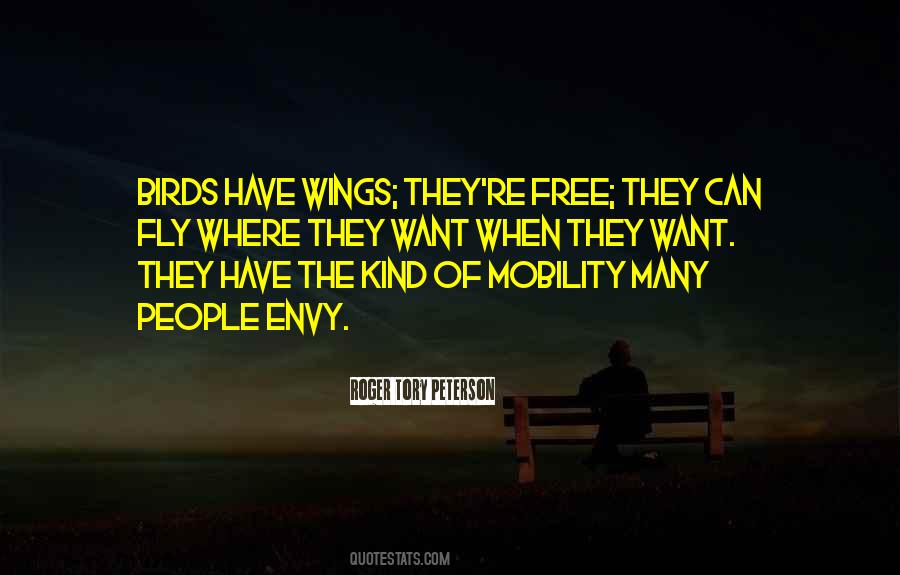 #22. I'm not confident around compliments or being celebrated, and I'm not comfortable with the thought of envy, which some people thrive on. - Author: Rachel Weisz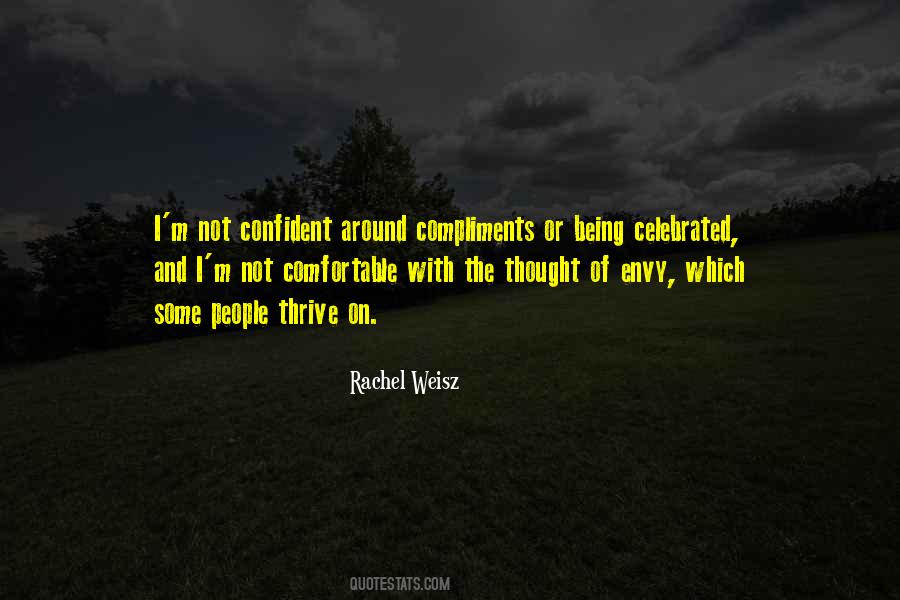 #23. People you've known, seemingly forever, may claim to have love for you, but when gossip's tainted tongue whips you - they don't show enough love to weigh your history against false witness. Be that as it may, press forward as the dust settles. Your purpose is much bigger than their paltriness. - Author: T.F. Hodge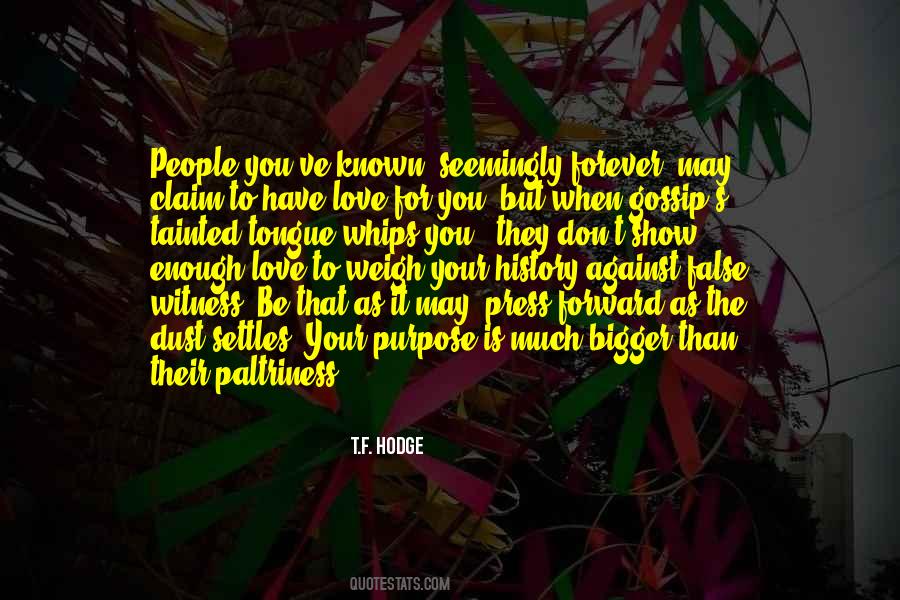 #24. We envy people we love for being always in their own loved company ... - Author: Nan Fairbrother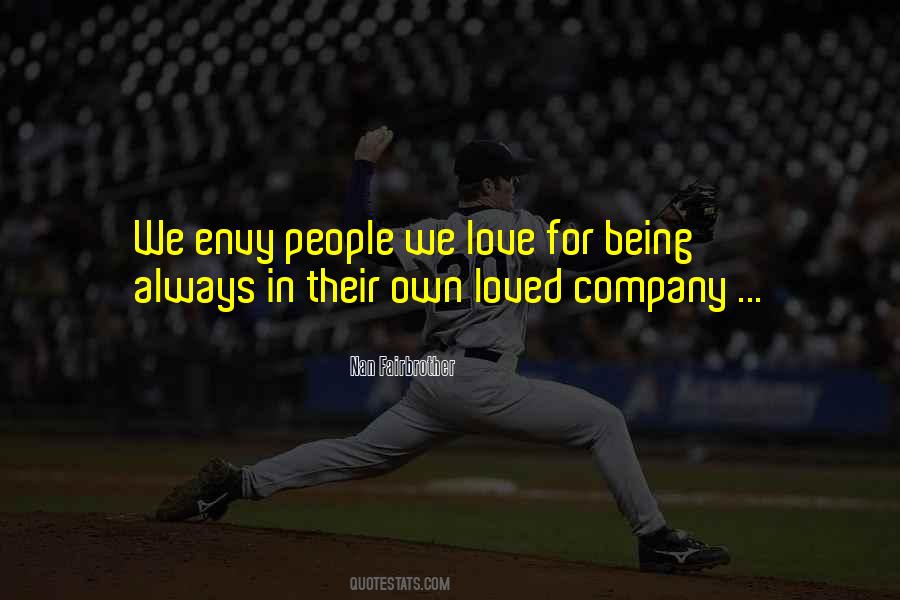 #25. We've never been people that go around and confront people that have been financially successful and say, 'We hate you. We envy you because of how well you're doing.' - Author: Marco Rubio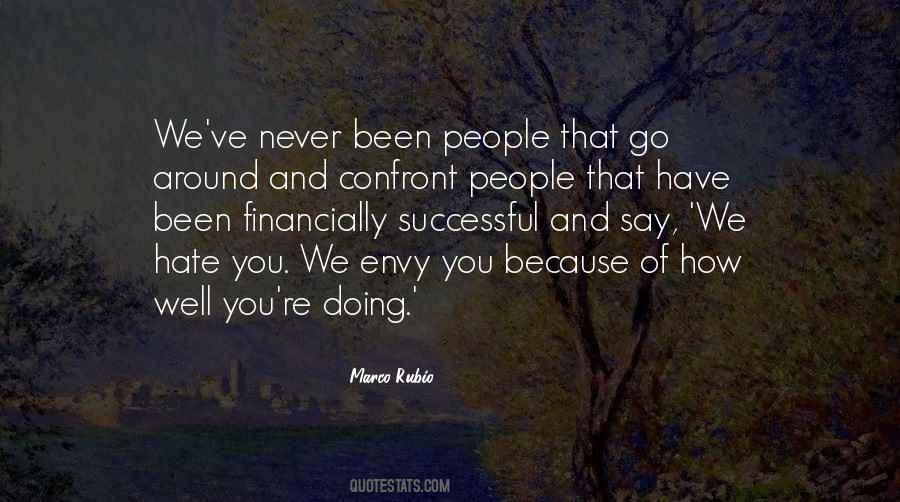 #26. I envy people who could just have one drink and not go look for cocaine afterwards. - Author: Felipe Esparza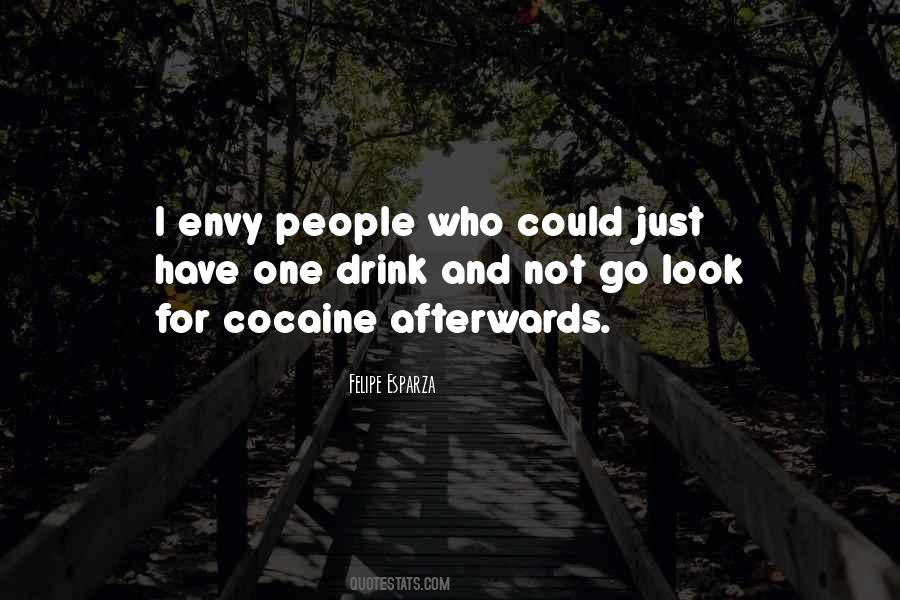 #27. I envy paranoids; they actually feel people are paying attention to them. - Author: Susan Sontag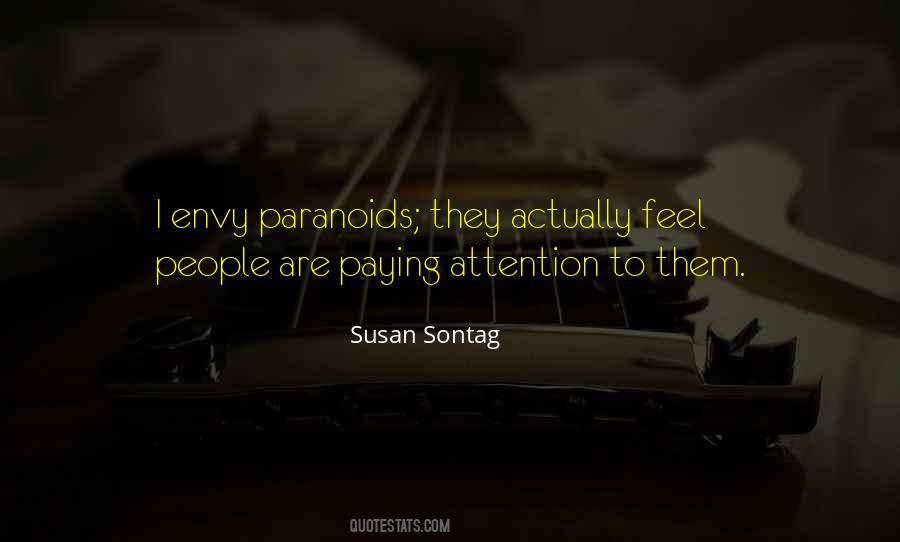 #28. I envy people who can just look at a sunset. I wonder how you can shoot it. There is nothing more grotesque to me than a vacation. - Author: Dustin Hoffman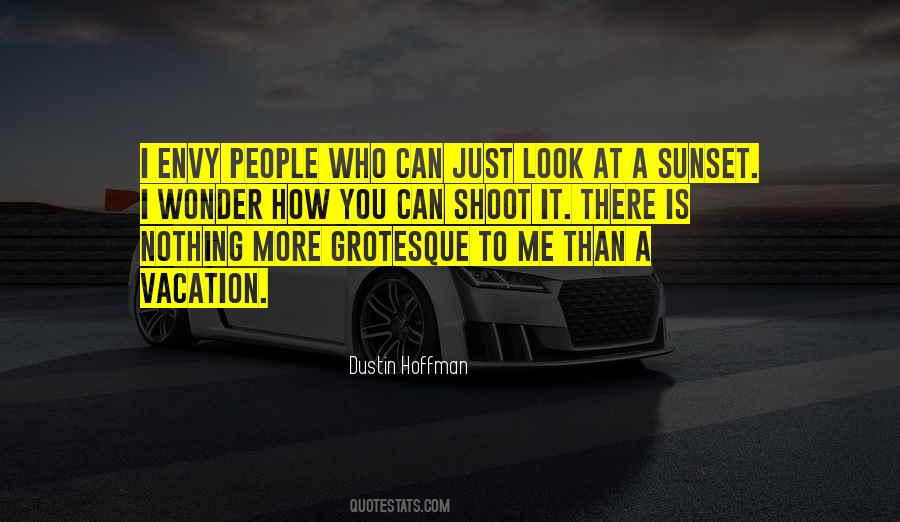 #29. Do what you do because Jesus is watching, not so you'll end up on some top 100 church list or be the envy of the next pastors gathering. That stuff doesn't matter. Be innovative because you believe people matter and you want to please Jesus. - Author: Tim Stevens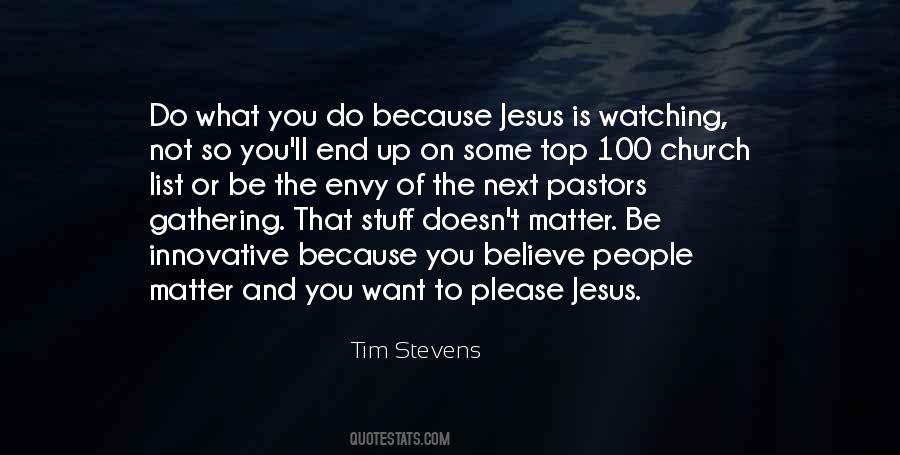 #30. People may show jealousy, but hide their envy. - Author: Mason Cooley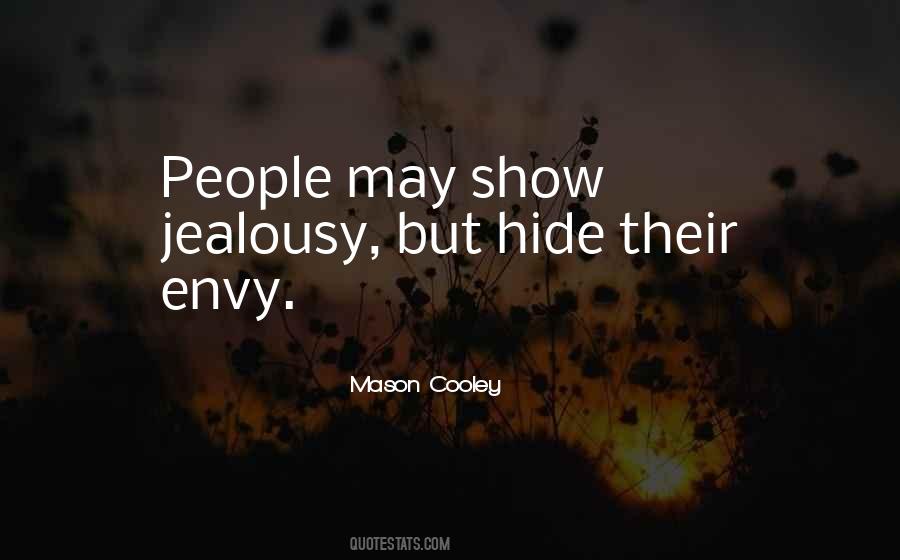 #31. the two biggest hindrances to living the life God designed you to live: Wanting to be like others (envy), and wanting to be liked by others (people-pleasing.) These traps are subtle, but they distract and detour millions of people from the purposes they were created to fulfill. - Author: Rick Warren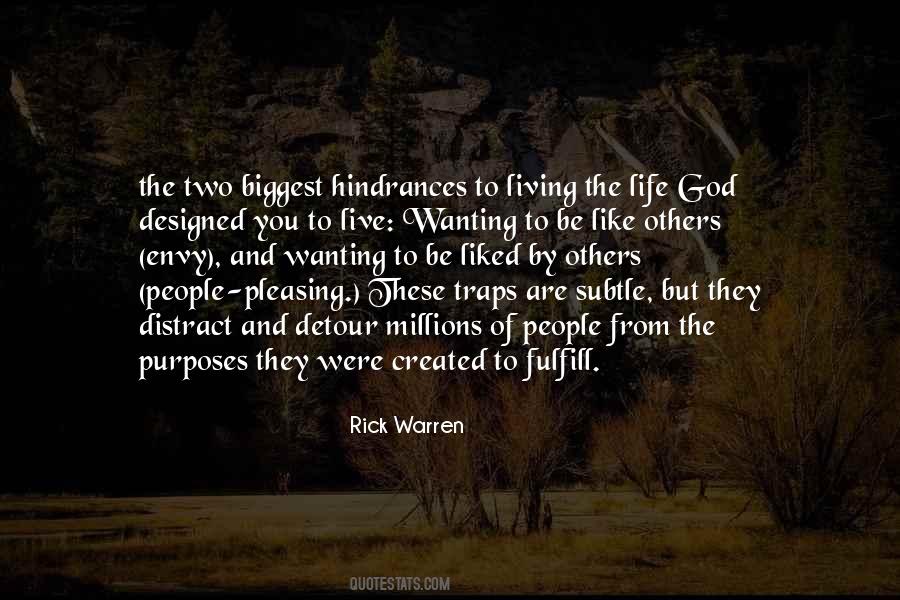 #32. Let's face it: There are people who won't be happy when you get too blessed. There are people who feel threatened by your success. There are people who, out of envy, will just not like you anymore. - Author: Bo Sanchez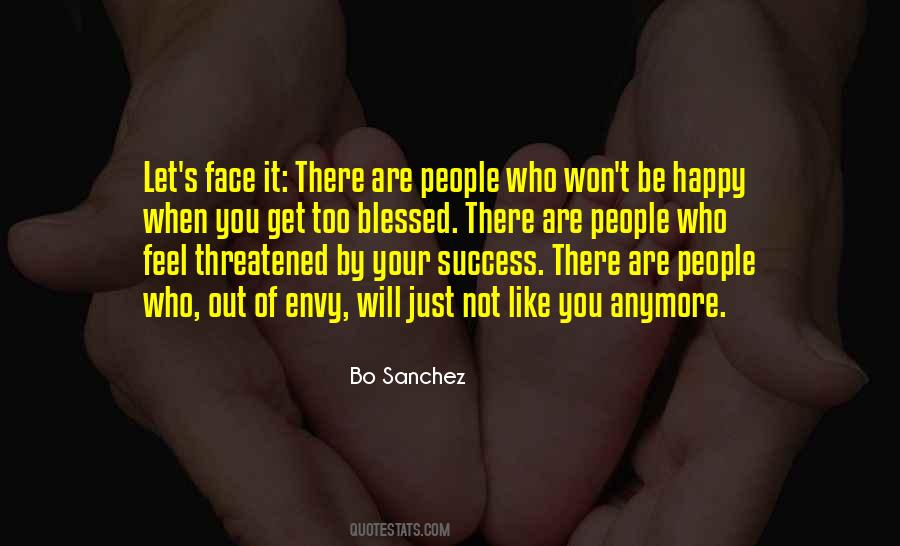 #33. Great people will always be mocked by those who feel smaller than them. - Author: Suzy Kassem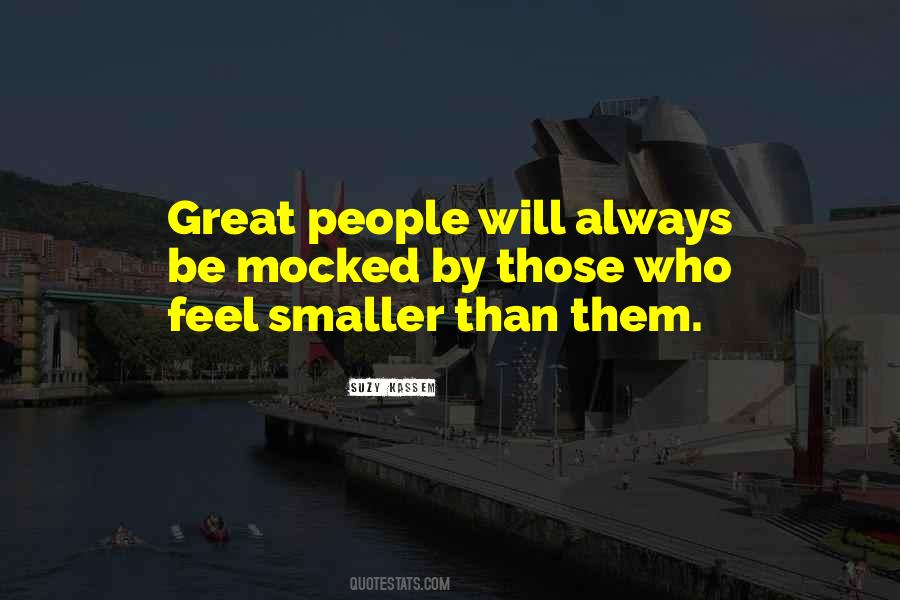 #34. people will envy you, for not envying them. - Author: Amir Nasaar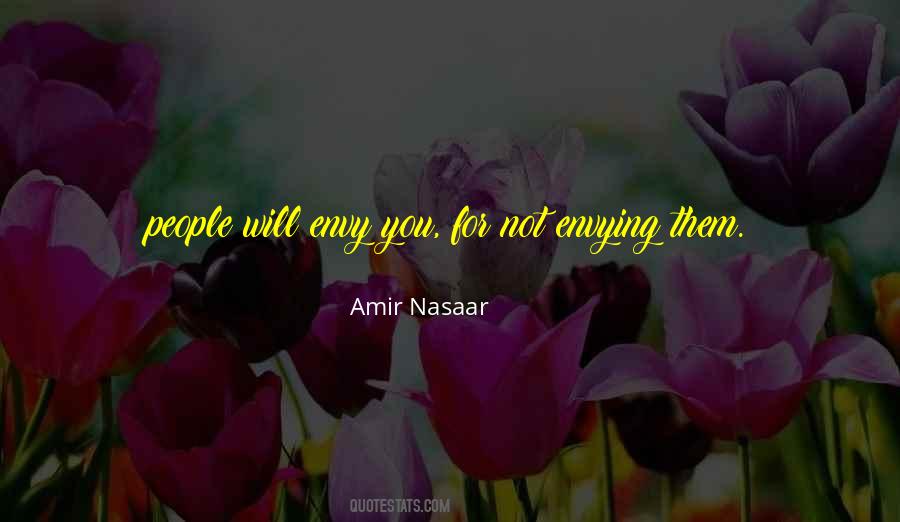 #35. Envy is everywhere. Who is without envy? And most people Are unaware or unashamed of being envious. - Author: T. S. Eliot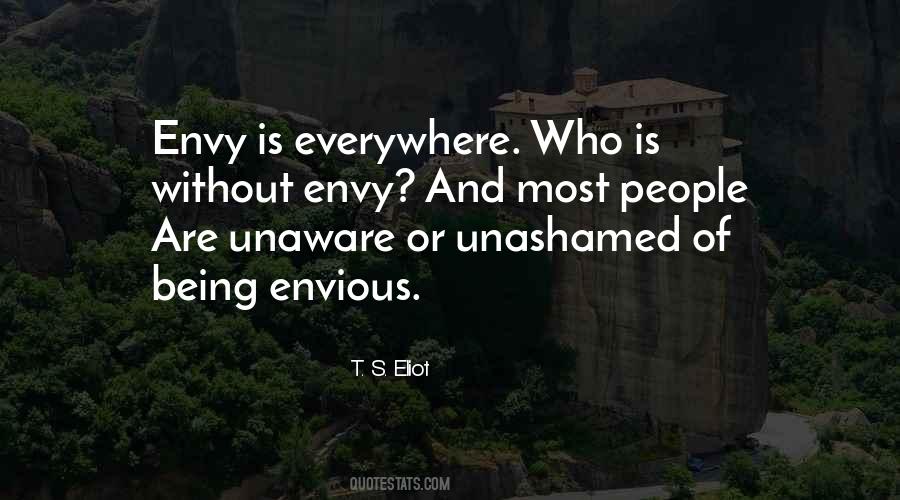 #36. If you're trying to show off for people at the top, forget it. They will look down on you anyhow. And if you're trying to show off for people at the bottom, forget it. They will only envy you. Status will get you nowhere. Only an open heart will allow you to float equally between everyone. - Author: Mitch Albom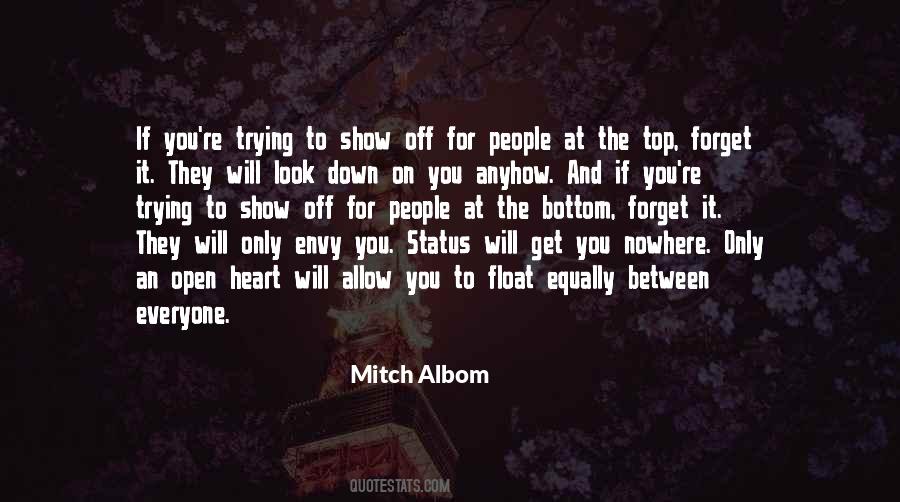 #37. Lasting peace is sought, it is essential to adopt international measures to improve the lot of the masses. The welfare of the entire human race must replace hunger and oppression. People of the world must be taught to give up envy, avarice and rancour. - Author: Mustafa Kemal Ataturk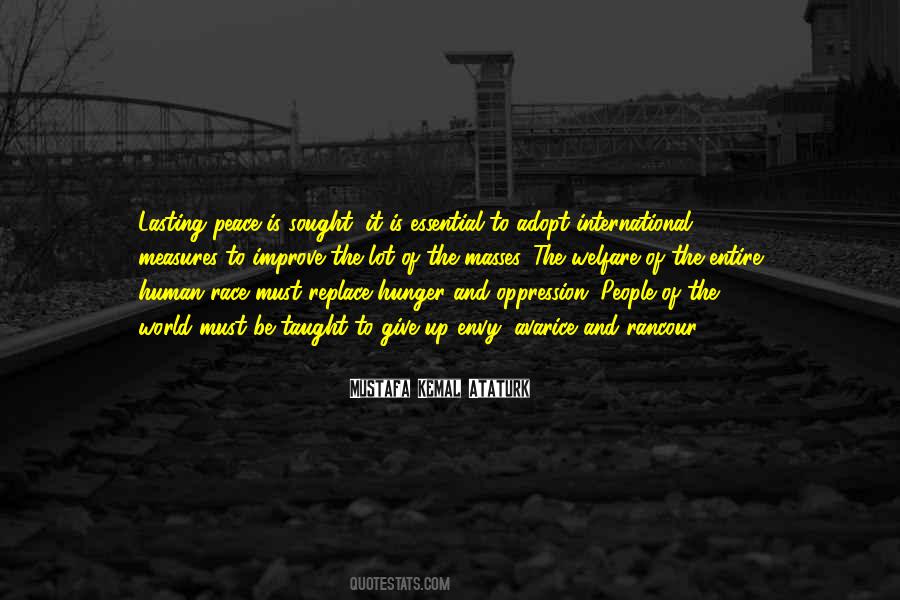 #38. Envy ought to have no place allowed it in the hearts of people; for the goods of this present world are so vile and low that they are beneath it; and those of the future world are so vast and exalted that they are above it. - Author: Charles Caleb Colton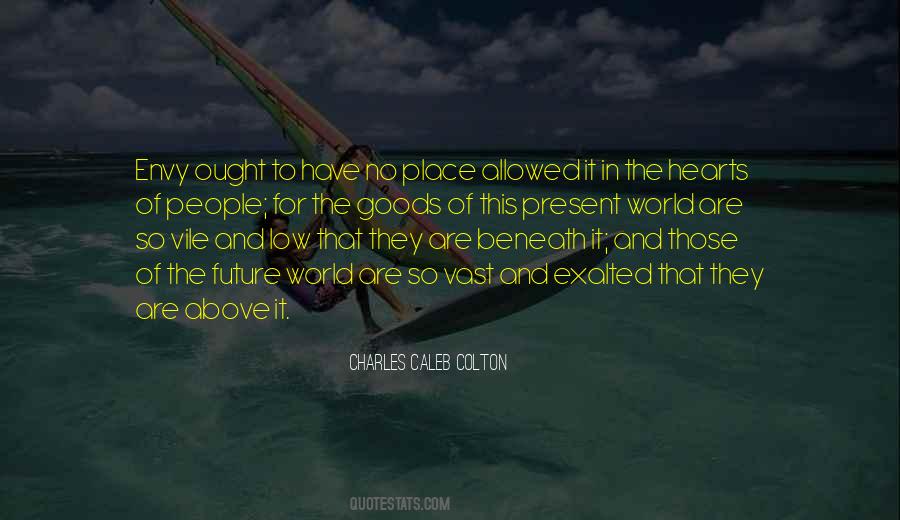 #39. There is nothing that exasperates people more than a display of superior ability or brilliance in conversation. They seem pleased at the time, but their envy makes them curse the conversationalist in their heart. - Author: Lyndon B. Johnson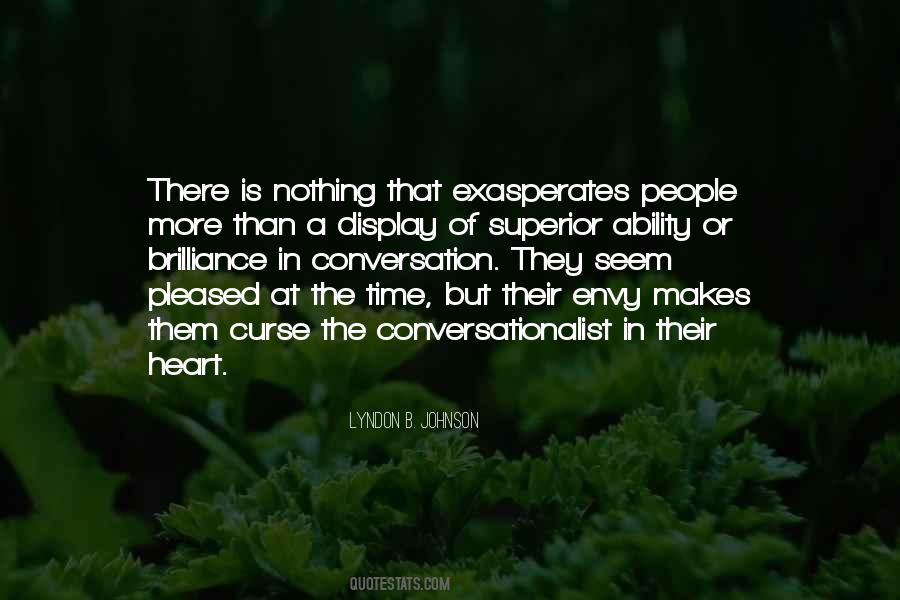 #40. Old and sick, more than one hundred years Face haggard, hair white, I'm happy to still live in the mountains A cloth covered phantom watching the years flow by Why envy people with clever ways of living? - Author: Hanshan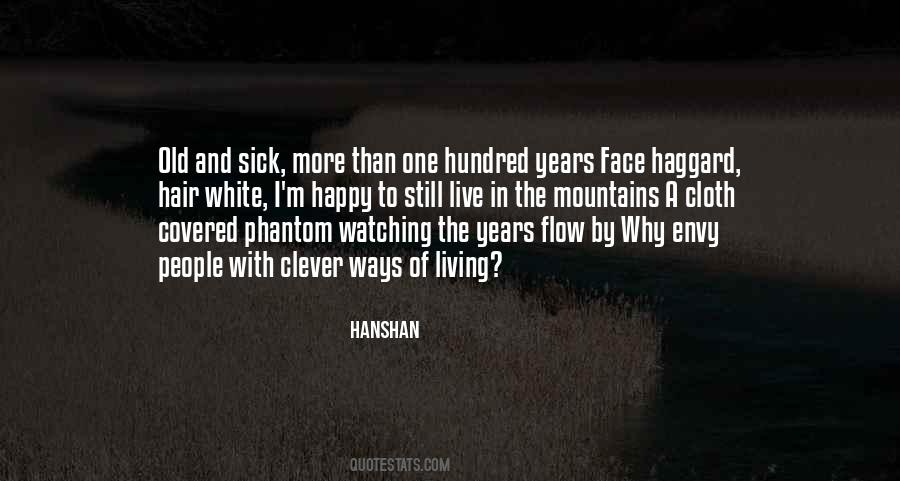 #41. If there is a gratification which I envy any people in this world it is to your country [Italy] its music. This is the favorite passion of my soul, and fortune has cast my lot in a country where it is in a state of deplorable barbarism. - Author: Thomas Jefferson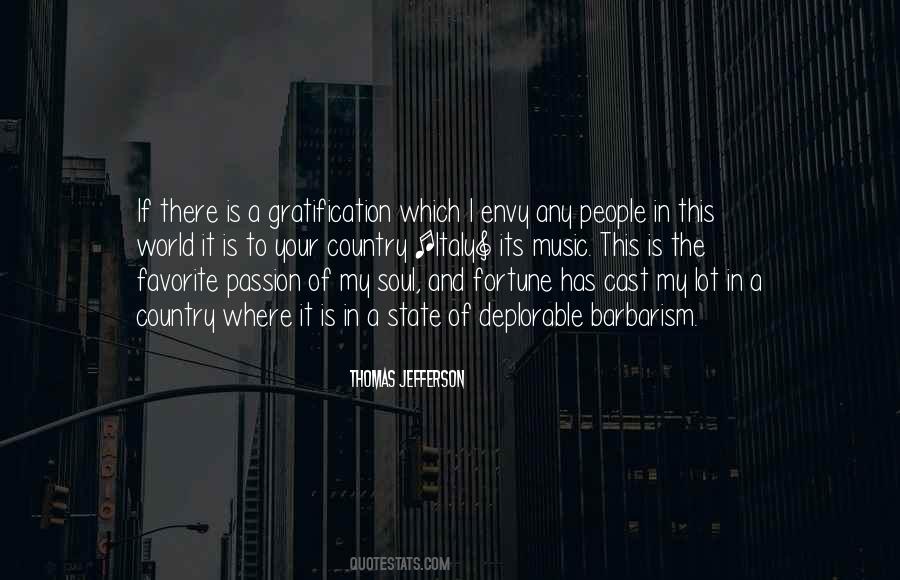 #42. There will always be haters. And the more you grow the more they hate; the more they hate the more you grow. - Author: Anthony Liccione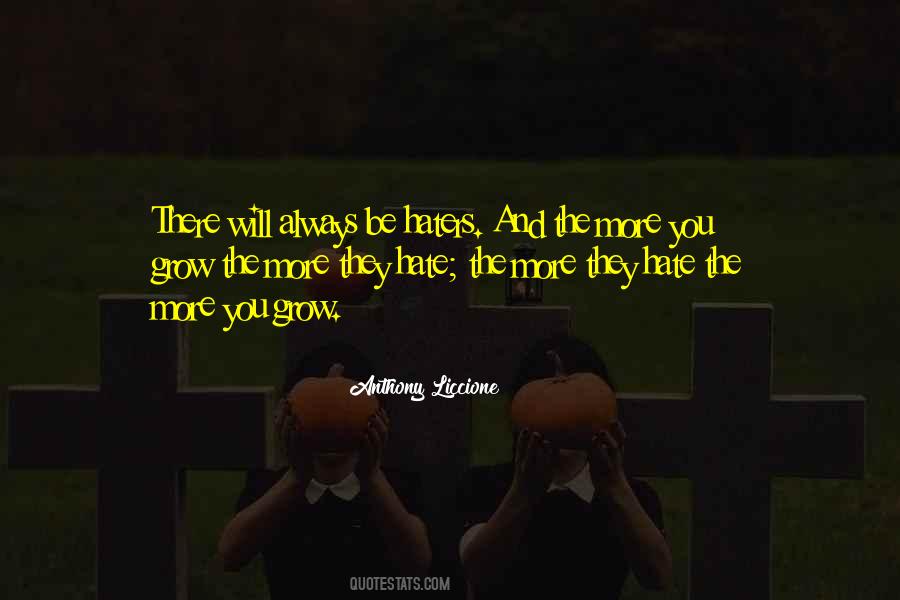 #43. Since I am wise, some people envy me,
some think I'm idle, some the opposite,
and some feel threatened. Yet I'm not all that wise. - Author: Euripides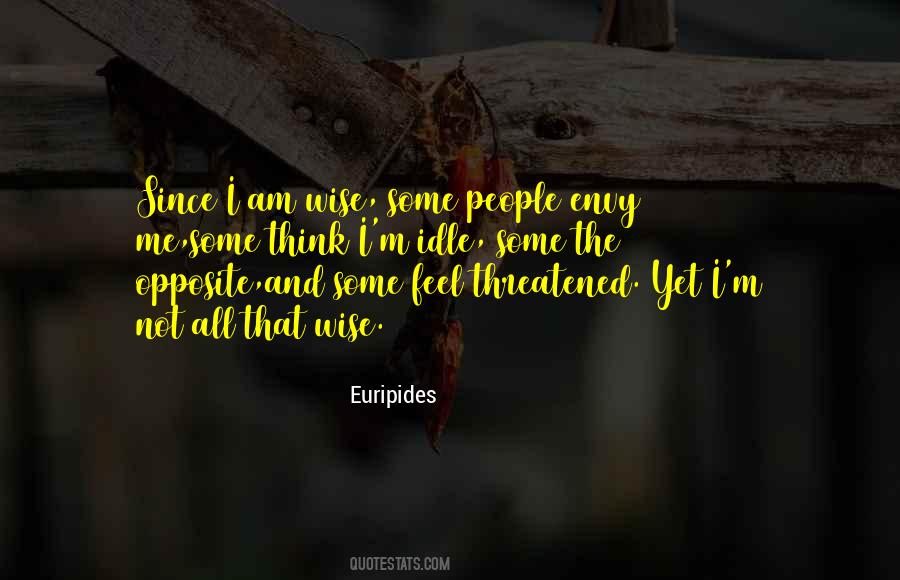 #44. She was wearing her fuzzy pink hat and she was happy, which was so obnoxious. She'd become one of those people who waltzed through life without so much as a split end, and I was still one of those people who changed diapers for free but still got treated like a rented mule. - Author: Lorraine Zago Rosenthal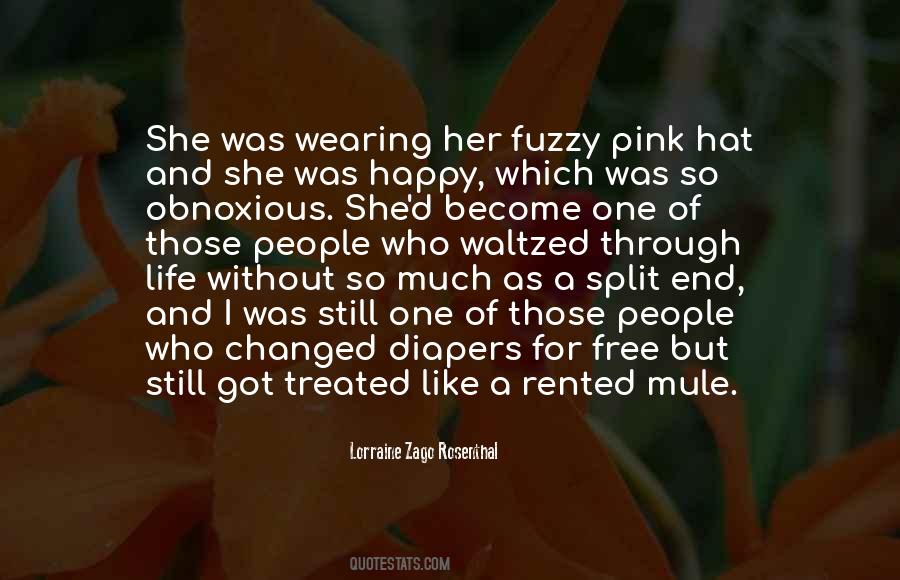 #45. People who copy you will always be one step behind. - Author: Wayne Gerard Trotman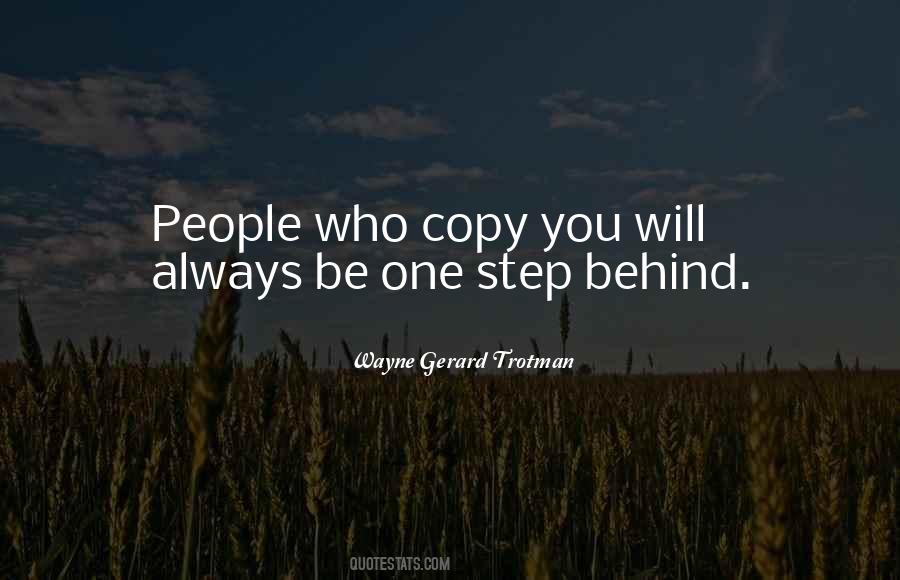 #46. Freedom consists of being insulated from the envy and ignorance of the unimportant people who temporarily surround her. - Author: Ann-Marie MacDonald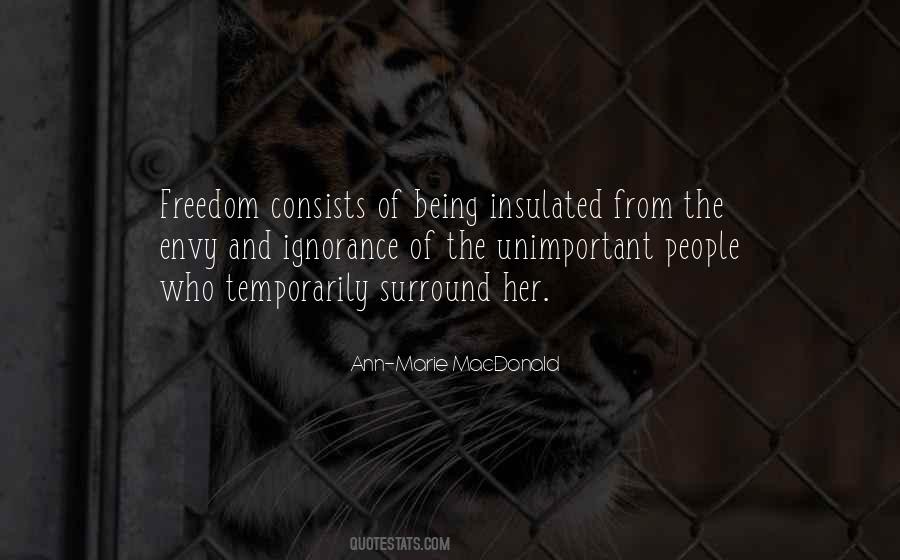 #47. I don't envy the job of people who have to watch five movies a day - that's insane. - Author: James Gray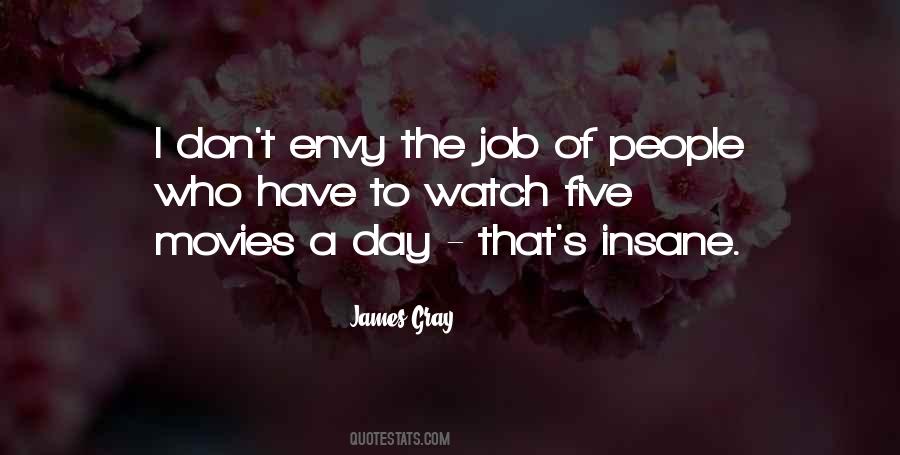 #48. Honor isn't about other people, it's about what you want to be," Louise said. "A hero does the good and noble thing. The villain allows fear or envy or selfishness to let him ignore what is right. - Author: Wen Spencer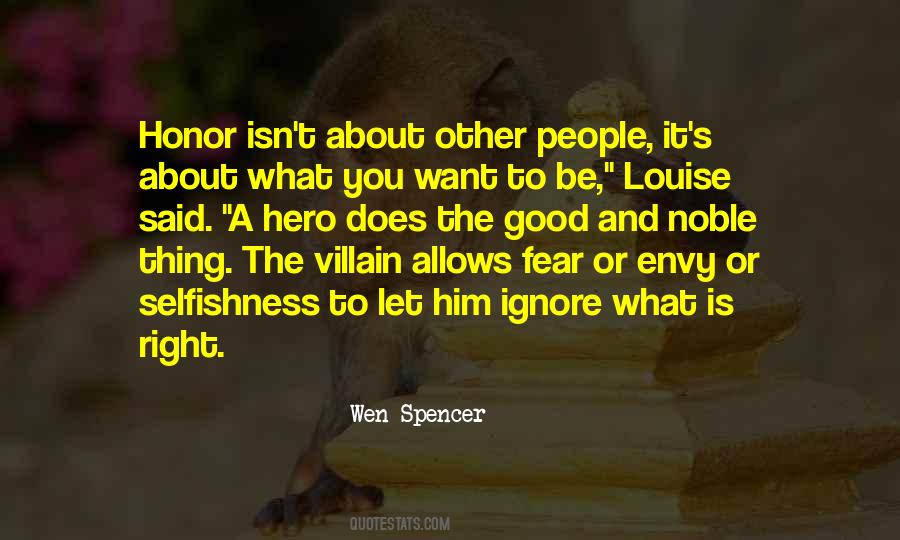 #49. Insecure people put others down to raise themselves up. - Author: Habeeb Akande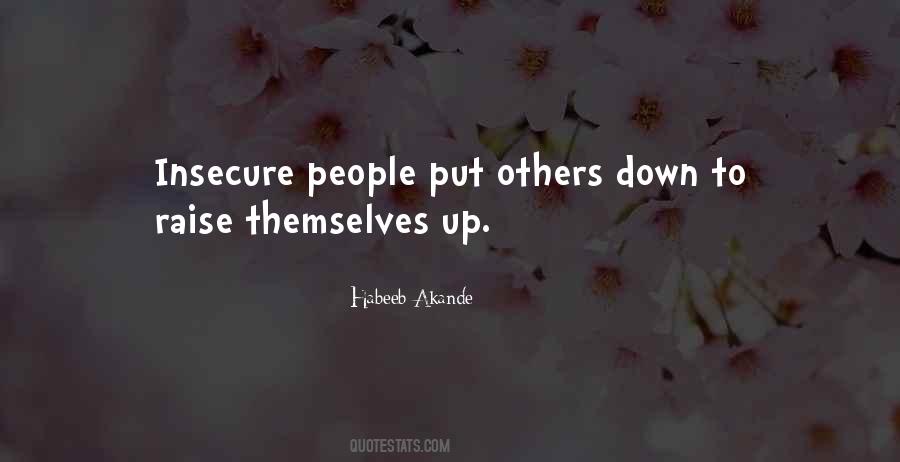 #50. INSECURITY breeds JEALOUSY / JEALOUSY creates ENVY / ENVY causes self-destruction / a hater is made up of all three. Just remember you are an opportunity away from being hated on yourself! - Author: Carlos Wallace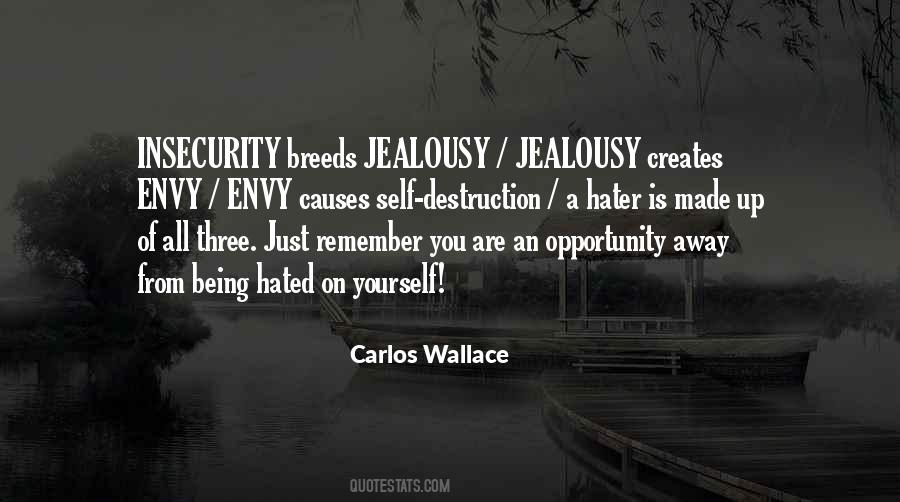 #51. The company of certain people may excite our generosity and sensitivity, while that of others awakens our competitiveness and envy. - Author: Alain De Botton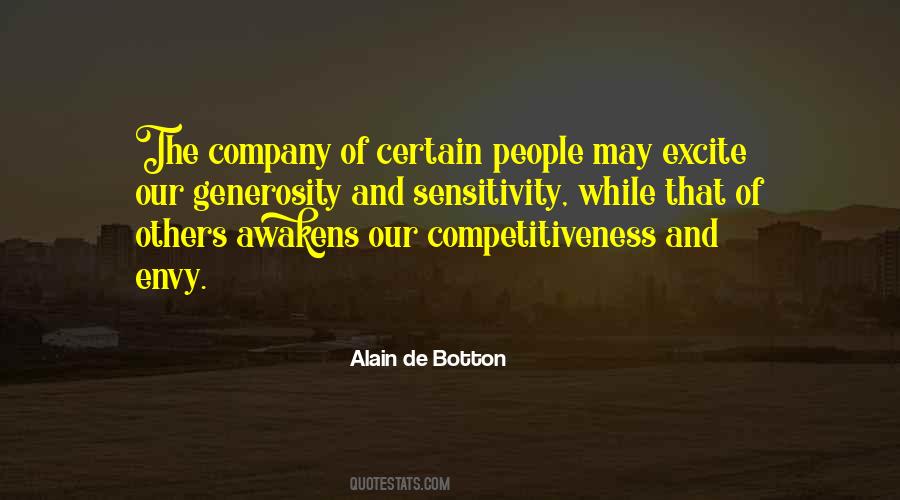 #52. Thiel concluded that "greed is far preferable to envy: It is less destructive (I'd rather live in a society where people don't share than in one where they try to take what belongs to everybody else) and it is more honest. - Author: George Packer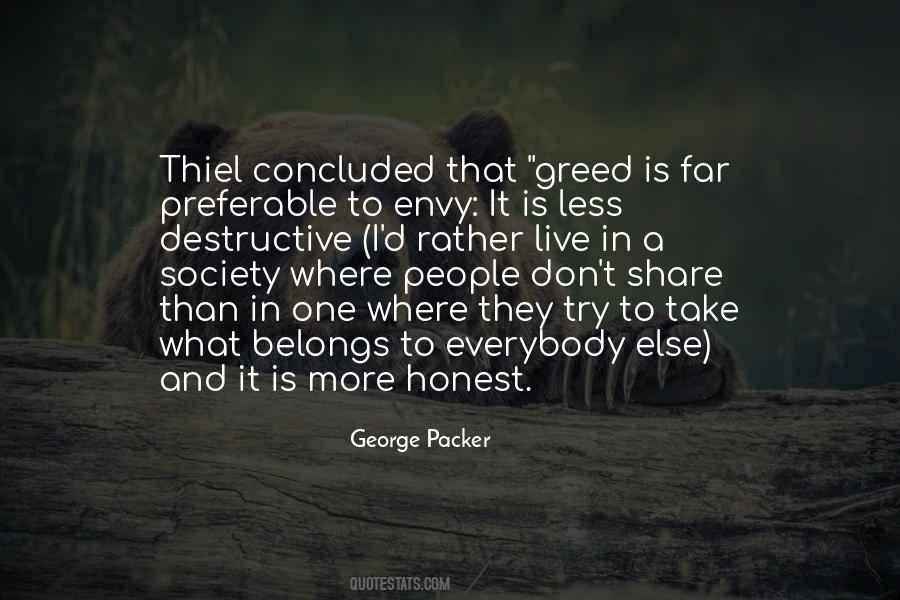 #53. I envy people who can think, 'No, I'm not going to work today' when they have a huge pile of deadlines stacking up. - Author: Julian Fellowes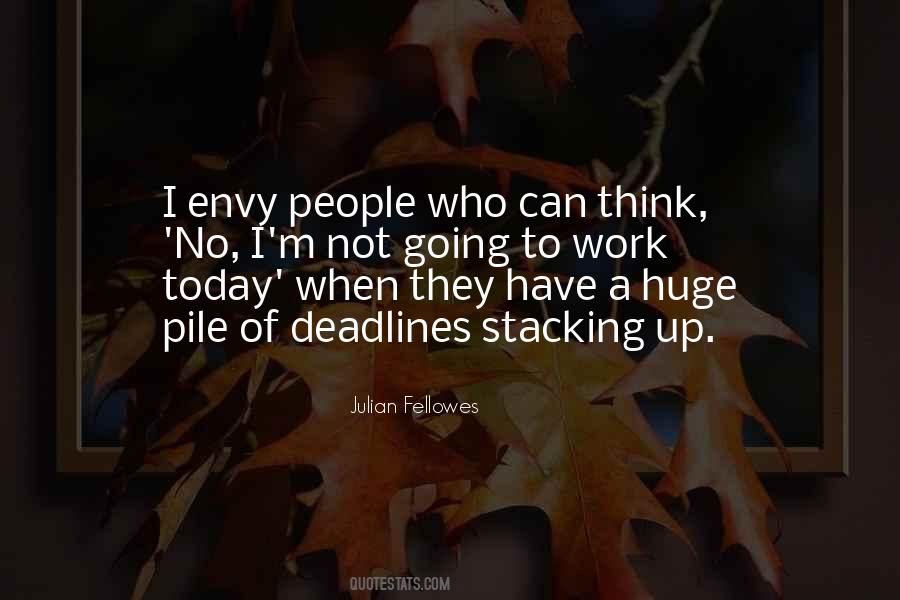 #54. We are all here now and we have to solve our differences and live together as Australians ... I will use the title you have honoured me with to bring the Australian people together ... Together we can build a remarkable country, the envy of the rest of the world. - Author: Lowitja O'Donoghue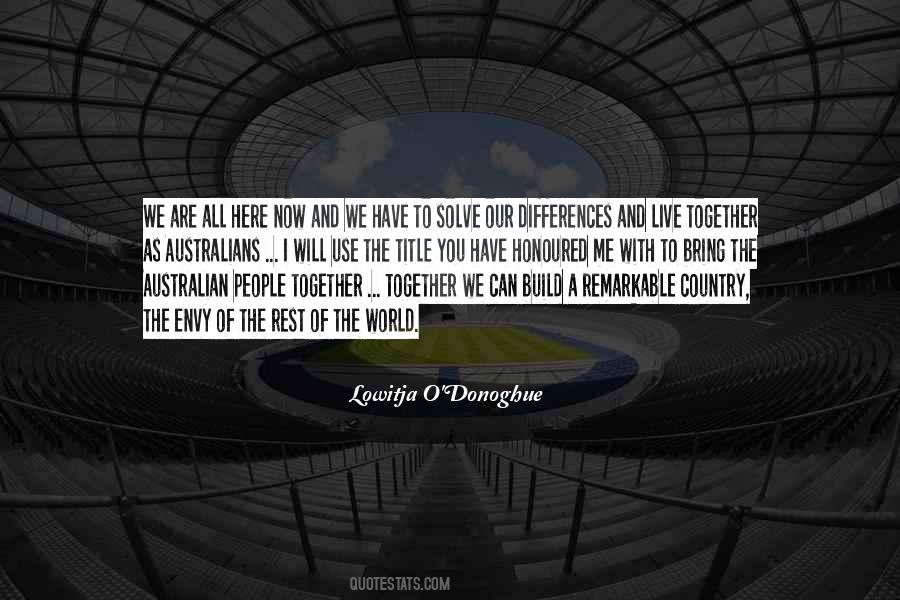 #55. The reason I'm in San Diego is not because I want distance from South Africa but because I want proximity to the people I love. But I don't envy growing up in America. As ugly as aspects of it were, my biggest blessing was to be born a South African. - Author: Athol Fugard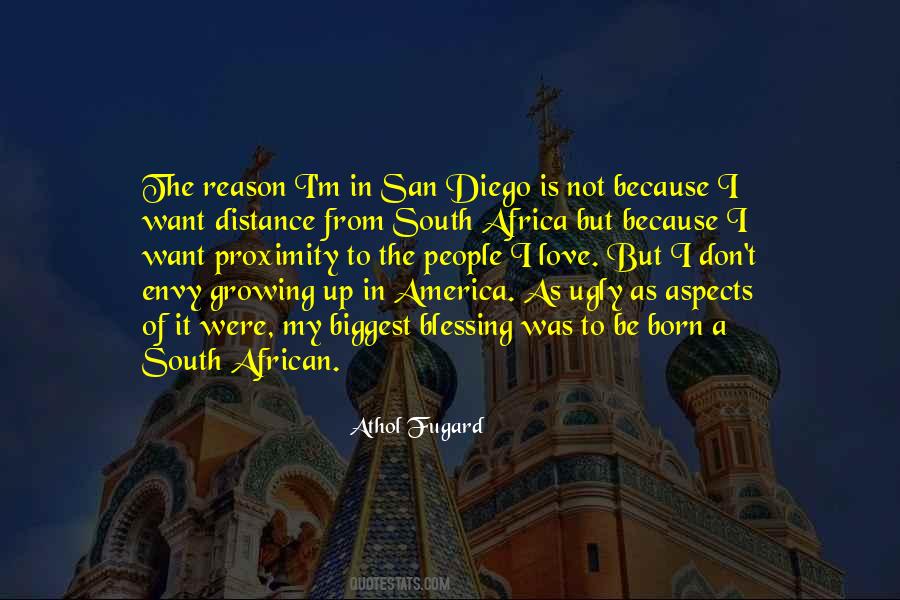 #56. O Hathor," Cleo began, "why bless me with an abundance of gorgeousness and then deprive me of people to envy it? Especially on a Saturday night? - Author: Lisi Harrison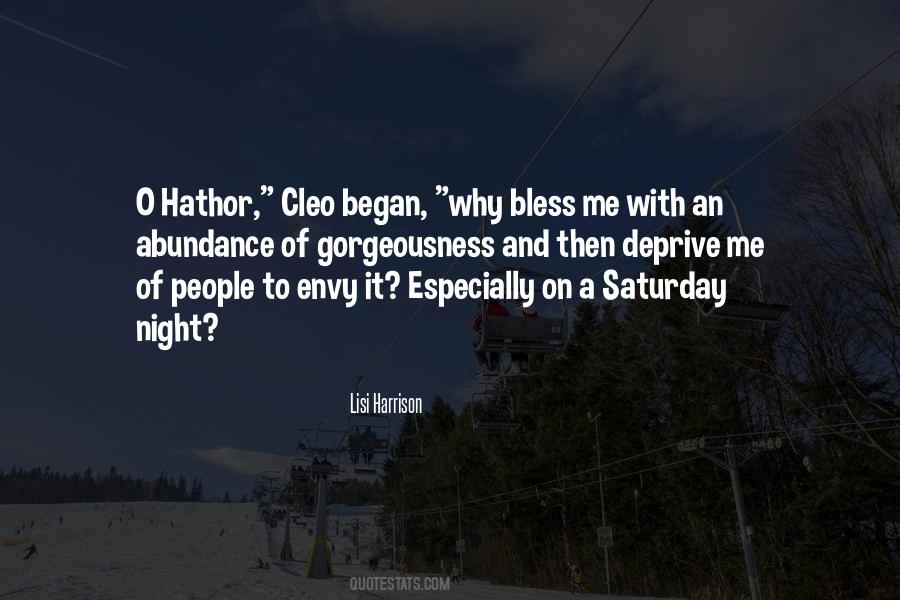 #57. A hopeful life is a successful life. People who bury their hopes and crave for someone's success never know that their diamond is hidden as they envy other's silver! - Author: Israelmore Ayivor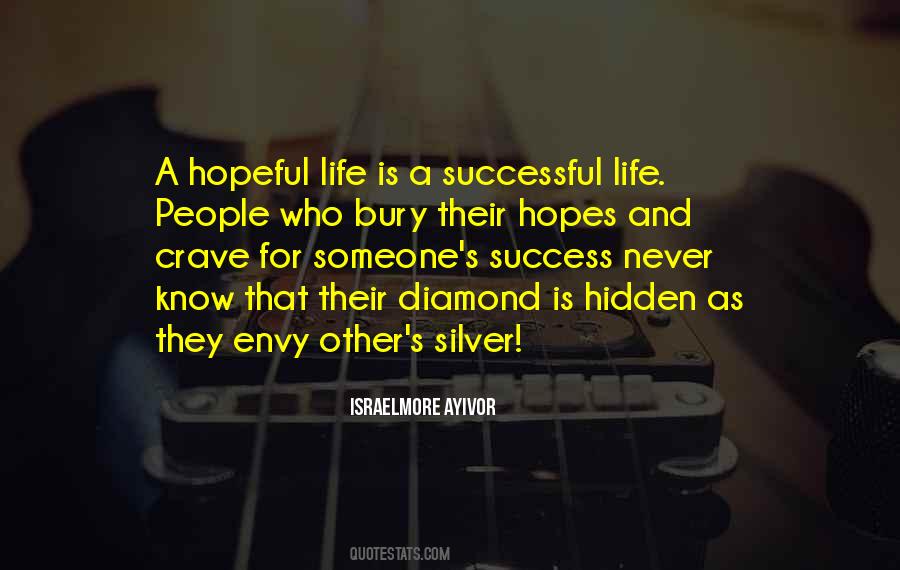 #58. Just think! Garden, garden, garden, garden, garden, two happy people, and it could have gone on forever! They knew, they'd been told, but they ate it anyway, and from there on out, 'family!' Shame, fear, jobs, mortality, envy, murder ... "
"Well," William said brightly, "and sex. - Author: Deborah Eisenberg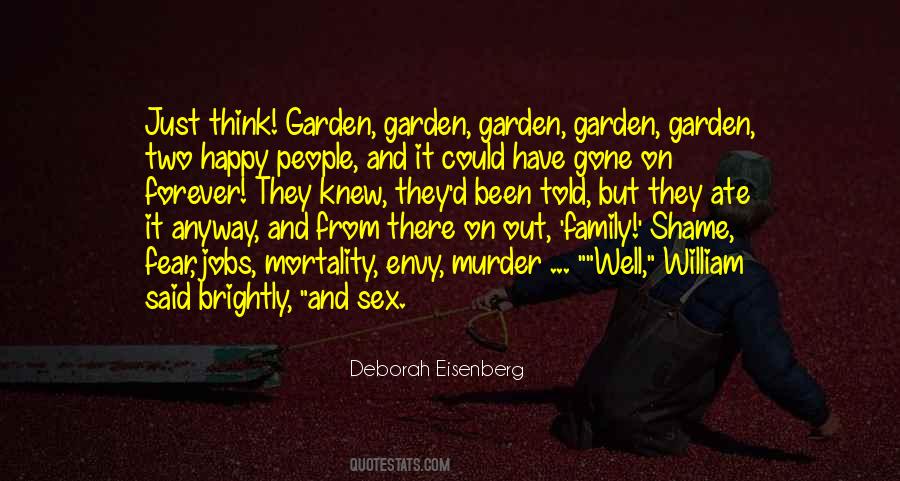 #59. Nonetheless, do I have respect for people who believe in the hereafter? Of course I do. I might add, perhaps even a touch of envy too, because of the solace. - Author: Studs Terkel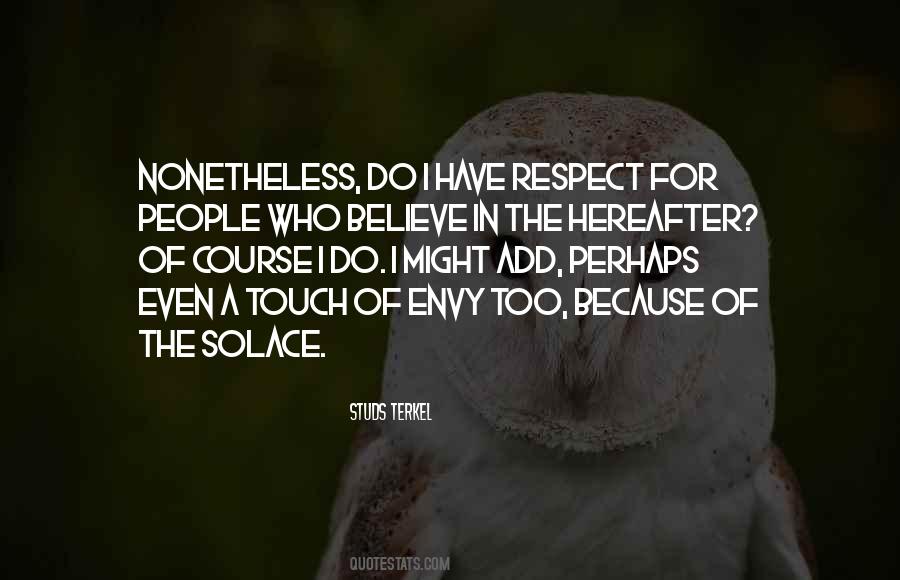 #60. People used to envy me my inspiration. I hate inspiration. It takes you over completely. I could never wait until it passed and I got rid of it. - Author: Henry Miller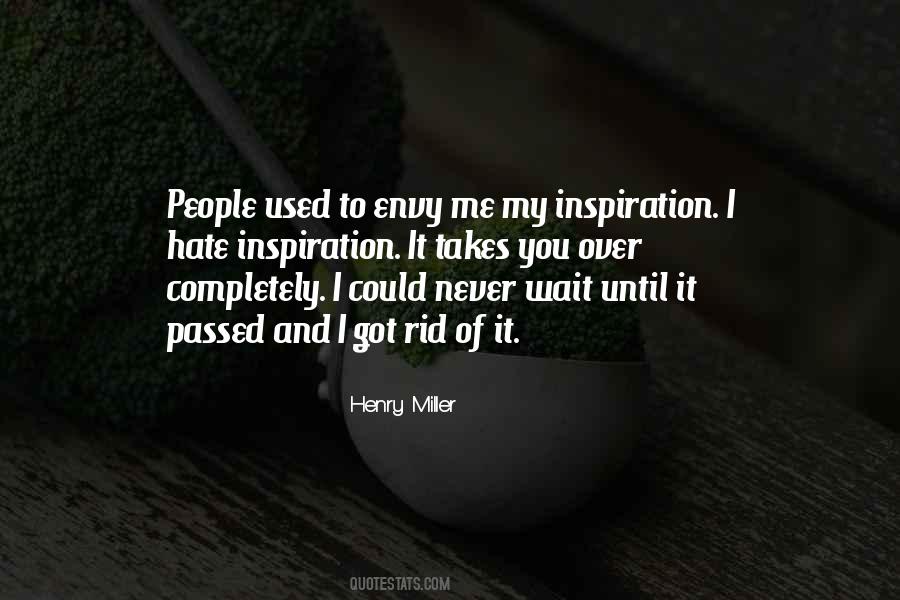 #61. It is in the character of very few people to honour a prosperous friend without envy, and these very few people tend to become best friends. - Author: Ruwayda Mustafah Rabar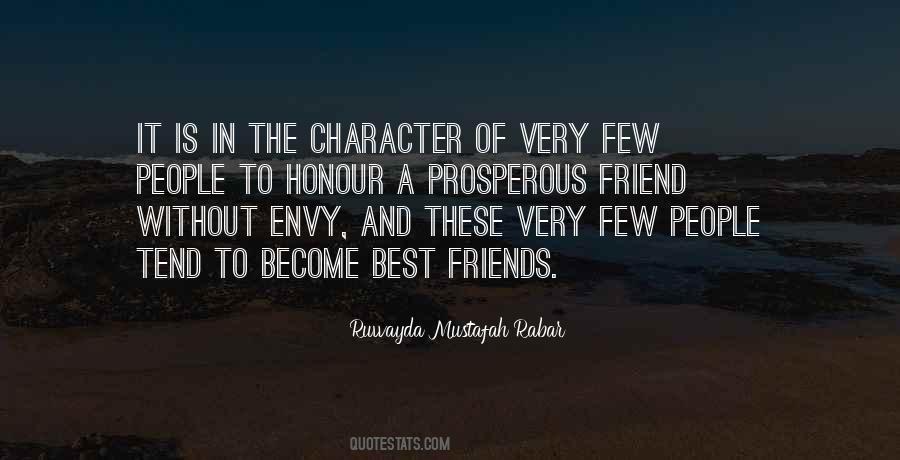 #62. Equality was not freedom, it had only been the mistaken yearning to become like the people of the town. And who wanted to become like the very ones feared and hated? Envy was not freedom. - Author: Nadine Gordimer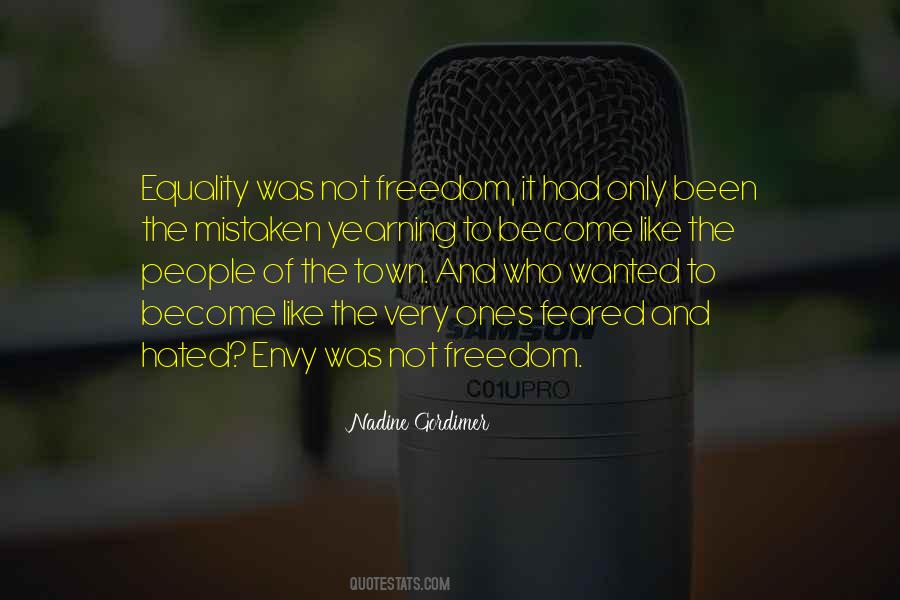 #63. Envy is a spirit of dissatisfaction or opposition to the prosperity or happiness of other people. - Author: Jonathan Edwards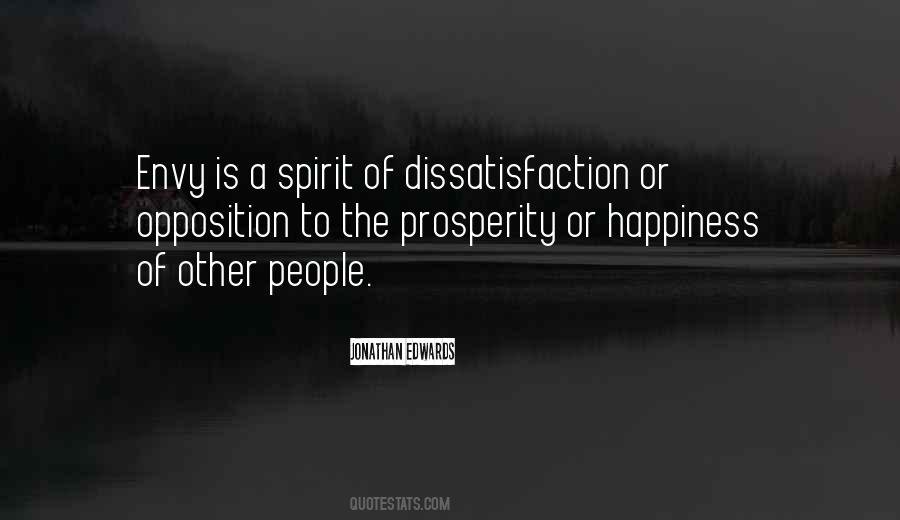 #64. Blessings are just curses that other people envy. - Author: Jonathan Safran Foer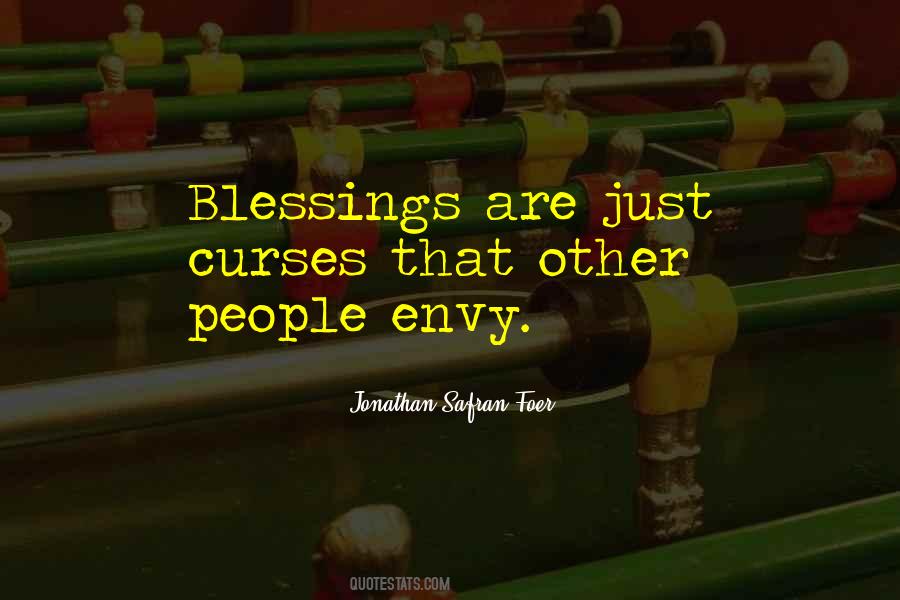 #65. What's wrong with people is people. There's no cure for that. - Author: Marty Rubin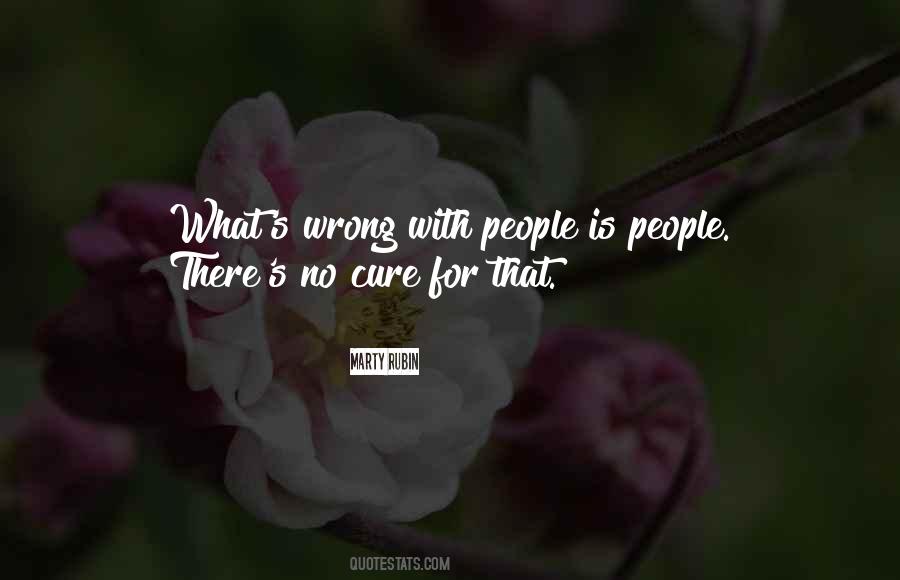 #66. I do not envy people who think they have a complete explanation of the world, for the simple reason that they are obviously wrong. - Author: Salman Rushdie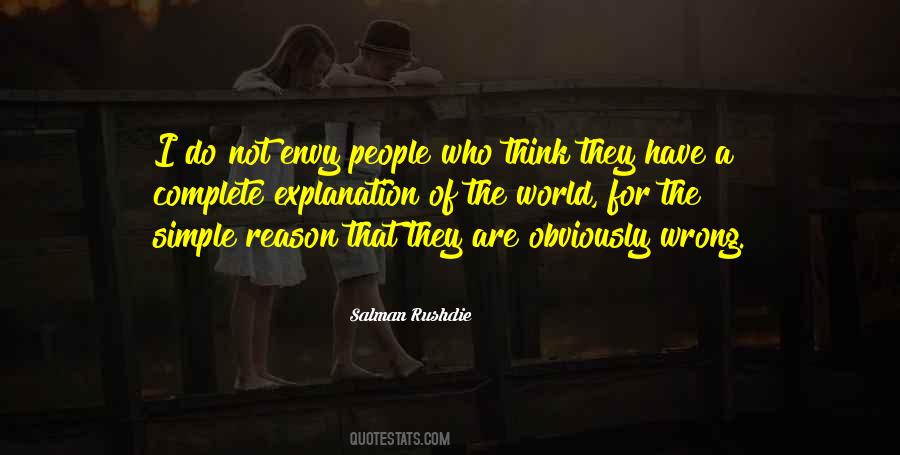 #67. It is my greatest wish to enable our people to live with nothing to envy at the earliest possible date, and it is my greatest pleasure to work energetically, sharing my joys and sorrows with our people, on the road of translating my wish into reality. - Author: Kim Jong Il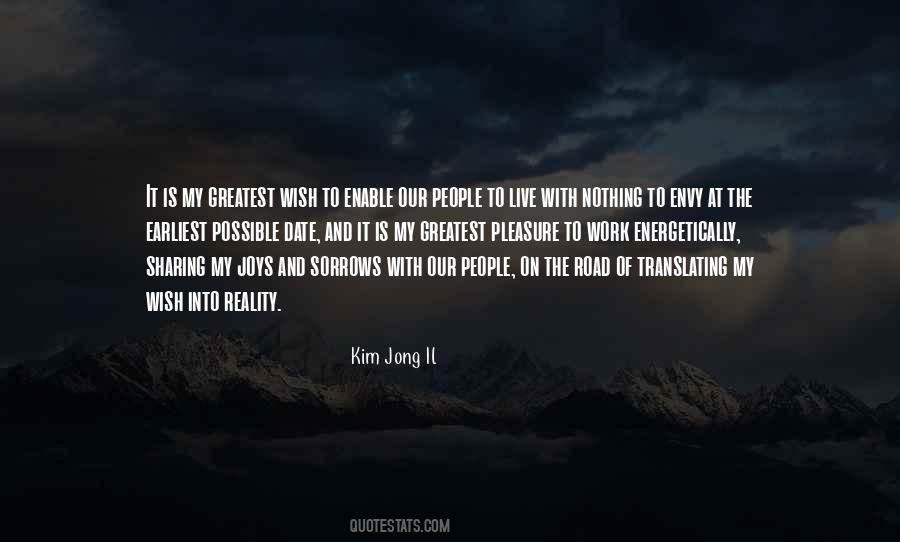 #68. Exploiting people's emotions of fear, envy and anxiety is not hope, it's not change, it's partisanship. We don't need partisanship. We don't need demagoguery, we need solutions. - Author: Paul Ryan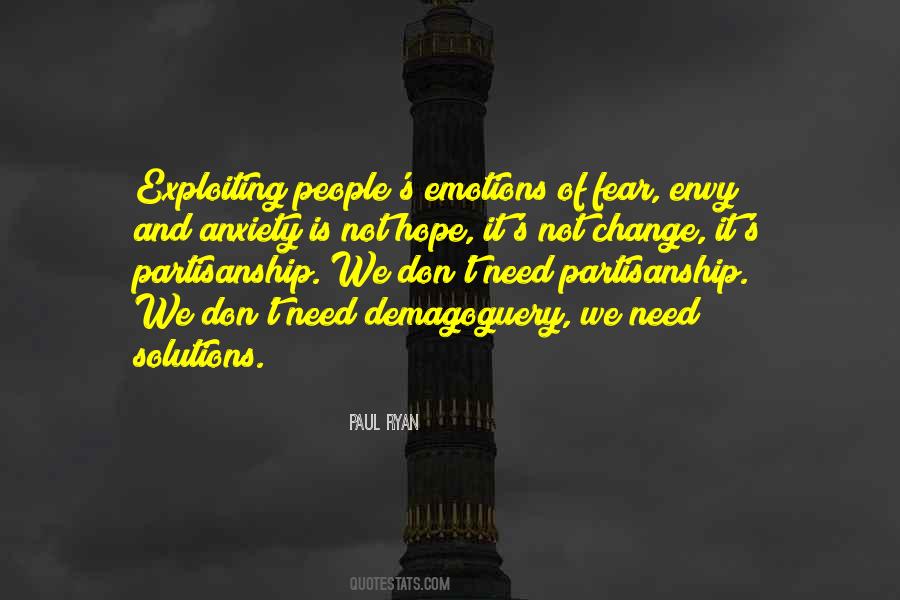 #69. When I was young they used to say people only threw stones at the tree that was loaded with fruit. - Author: Rachel Field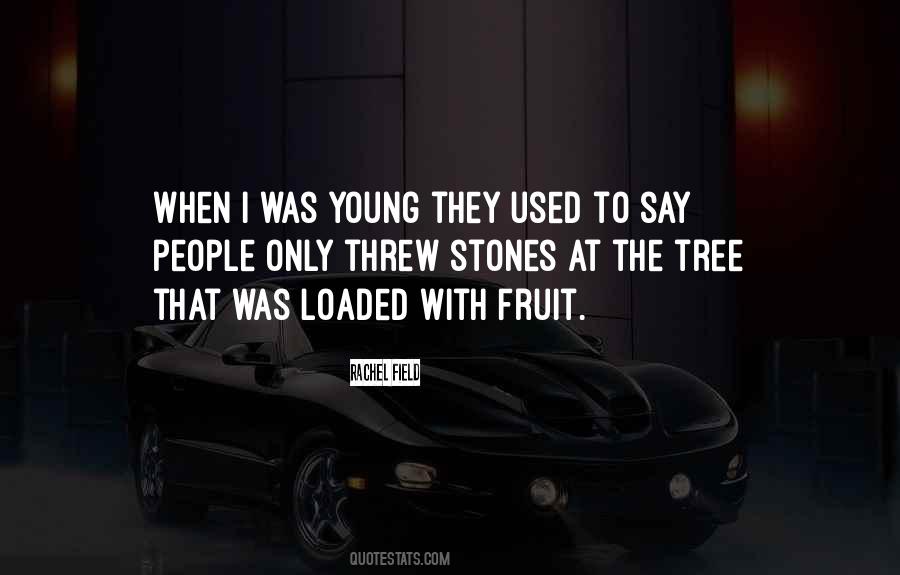 #70. Walter Scott has no business to write novels, especially good ones. - It is not fair. - He has fame and profit enough as a poet, and should not be taking the bread out of other people's mouths. - I do not like him, and do not mean to like Waverley if I can help it - but fear I must. - Author: Jane Austen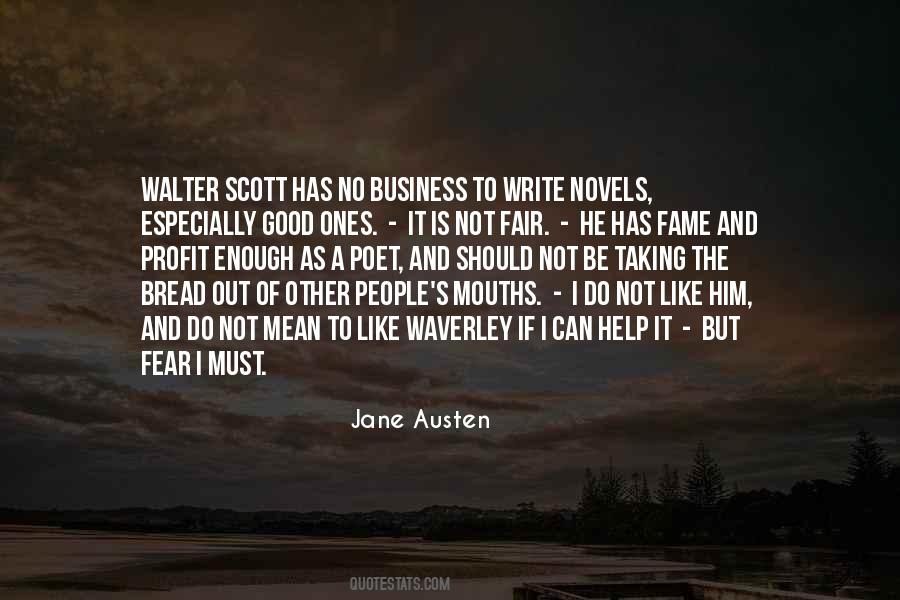 #71. There is nothing by which a man exasperates most people more, than displaying a superior ability of briliancy in conversation. They seem pleased at the time; but their envy makes them curse him at their hearts. - Author: Samuel Johnson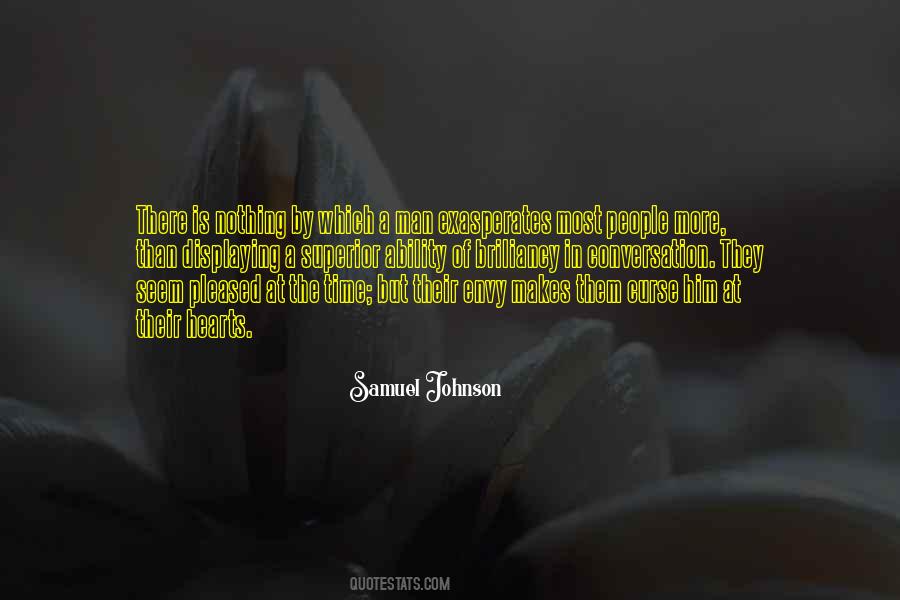 #72. I Have Learned Why People Work So Hard To Succeed: It Is Because They Envy The Things Their Neighbors Have. But It Is Useless. It Is Like Chasing The Wind ... It Is Better To Have Only A Little, With Peace Of Mind, Than Be Busy All The Time With Both Hands, Trying To Catch The Wind - Author: Anonymous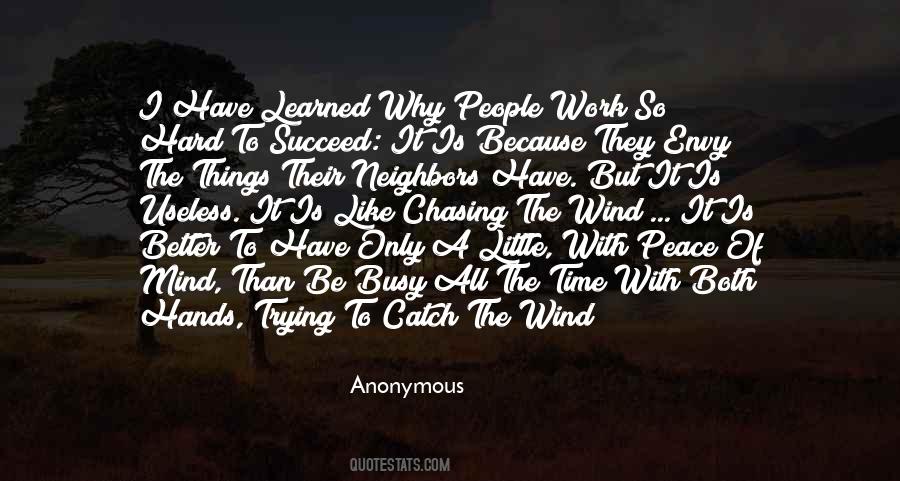 #73. I envy my dad and his faith. I envy all people who have someone to beseech, who know where they're going, who sleep under the fluffy white comforter of belief. - Author: Kelly Corrigan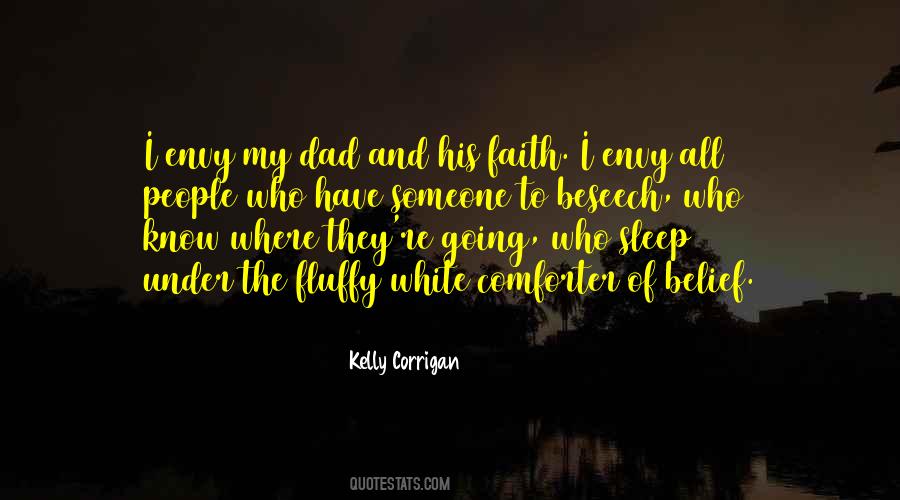 #74. People who hate you because of a mere jealousy over your success hurt themselves in disguise. This is because you carry an image of who they wish they had become. Don't hate them back because they may also become like you one day and it will mean hurting that image you carry! - Author: Israelmore Ayivor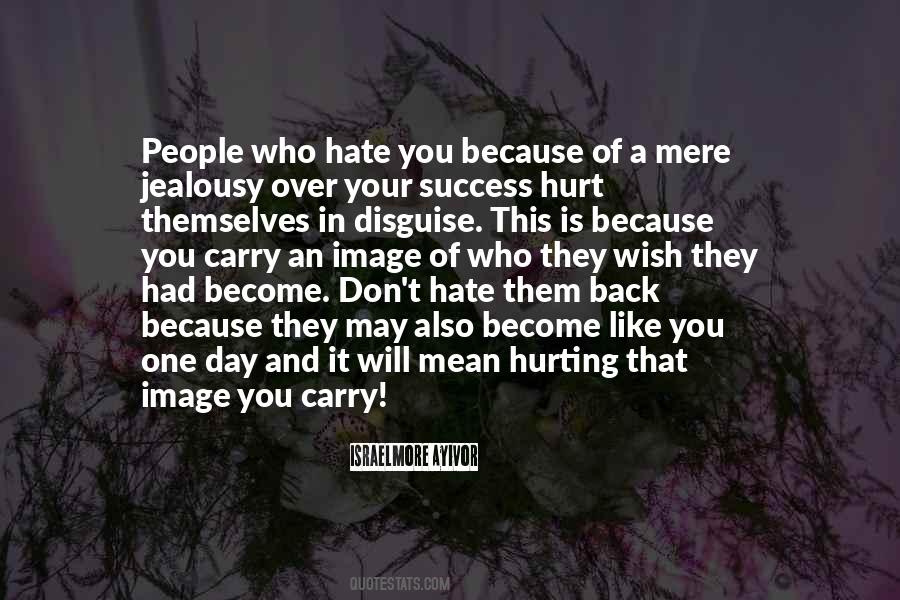 #75. I have never been given to envy - save for the envy I feel toward those people who have the ability to make a marriage work and endure happily. - Author: J. Paul Getty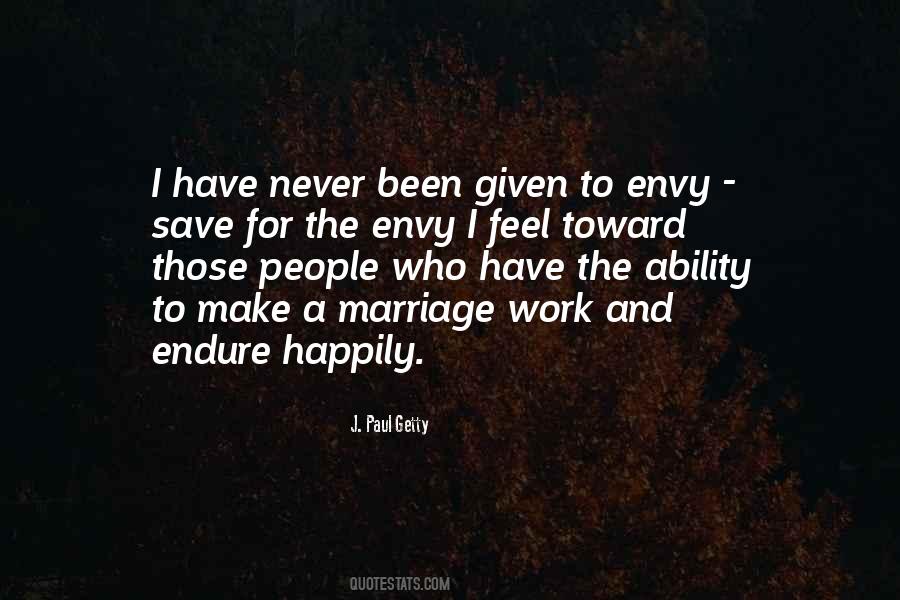 #76. If you are stealing people's thunder just by being around and standing there; you really can't expect people to like you. People want their own thunder to be heard loud and wide, not yours! Swans should never despair over ducks not liking them. - Author: C. JoyBell C.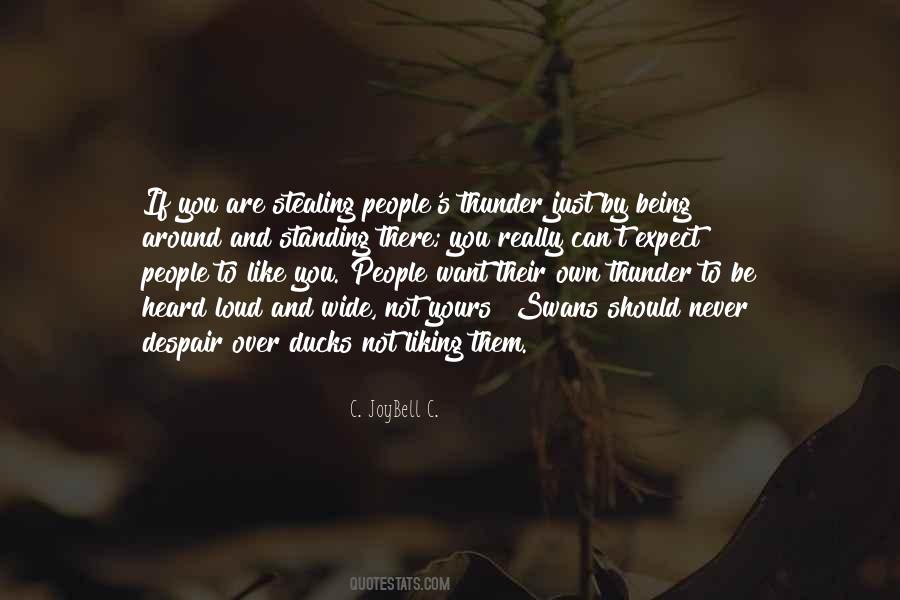 #77. Envy is one of the great enemies of active spirituality. It keeps us from loving our neighbours, from functioning with others in community, and from affirming people's unique worth. It also steals contentment from the heart. Is there anything or anyone you are envious of? - Author: Charles R. Swindoll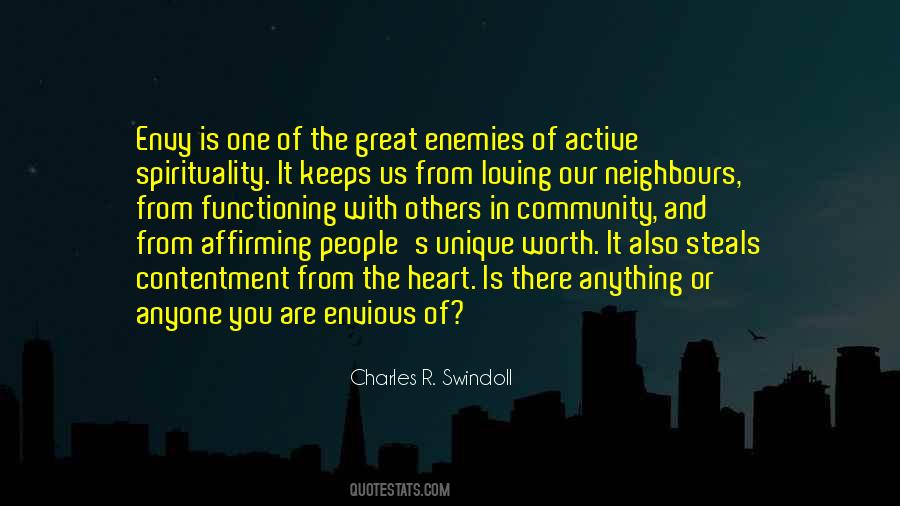 #78. Part of me wanted to be like the other guys at school. I wanted to be simple. People who do less thinking tend to be happier ... I wanted to be like the other guys because they were having more fun. But I couldn't be like them because I hated everything they stood for. - Author: J. Matthew Nespoli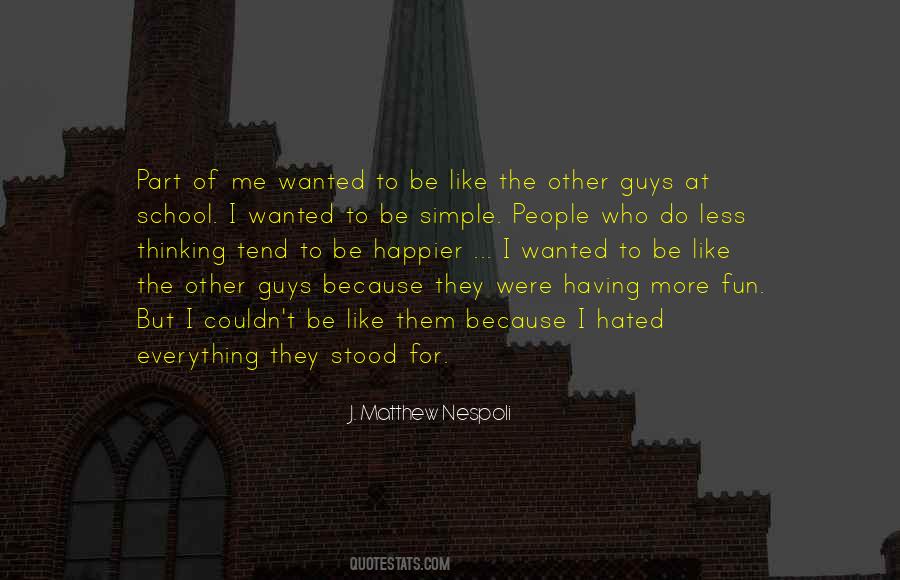 #79. What was beauty unless you intended to use it, like a hammer, or a key? It was just something for other people to use and admire, or envy, despise. To nail their dreams onto like a picture hanger on a blank wall. And so many girls saying, use me, dream me. - Author: Janet Fitch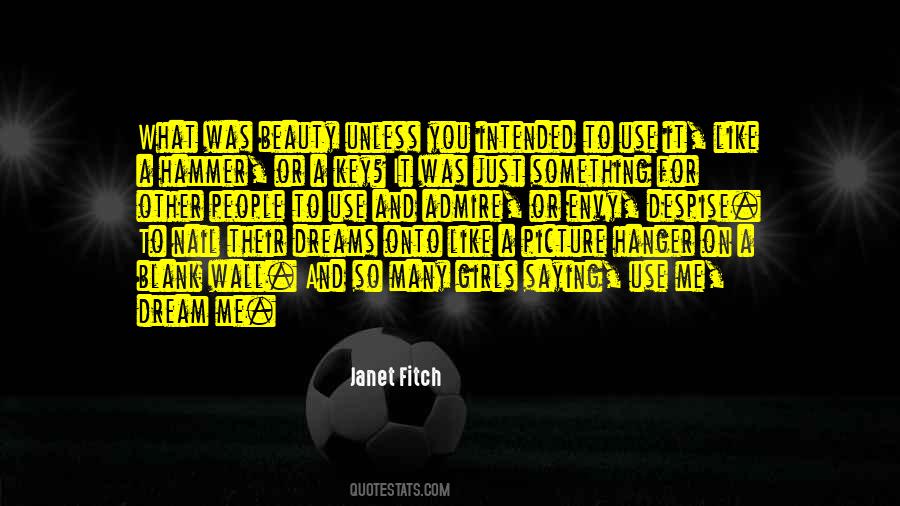 #80. Creative people are often found either disagreeable or intimidating by mediocrities. - Author: Criss Jami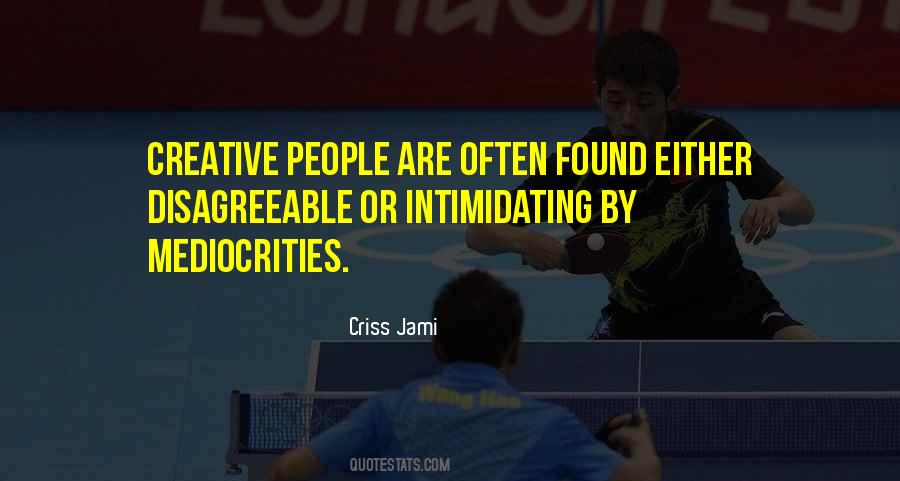 #81. That's what is was to be young - to be enthusiastic rather than envious about the good work other people could do. - Author: Kurt Vonnegut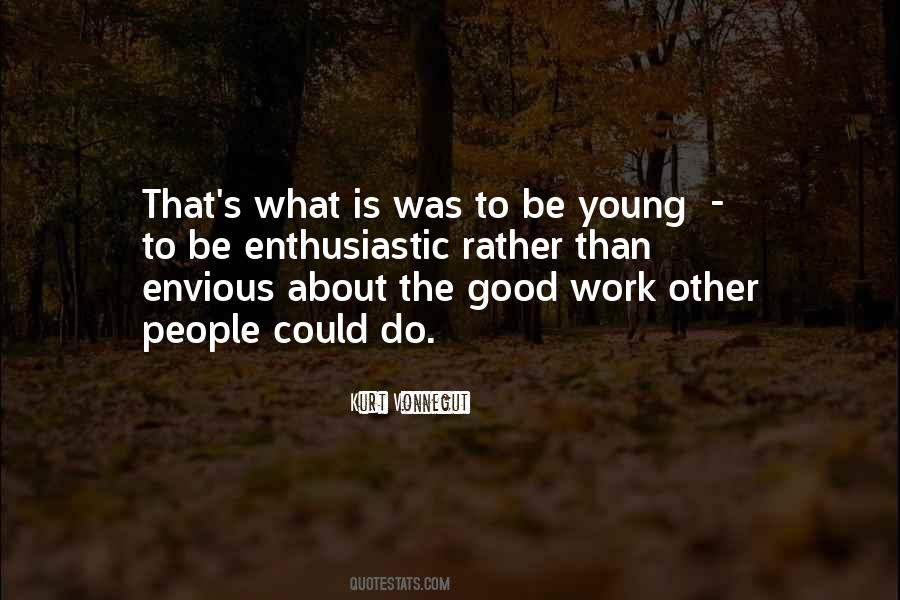 #82. Enemies." "What Christian resignation!" "As for hating you, of all people! Why ... I consider you adorable. I envy Leandre every day of my life. I have seriously thought of setting him to play Scaramouche, and playing lovers myself. - Author: Rafael Sabatini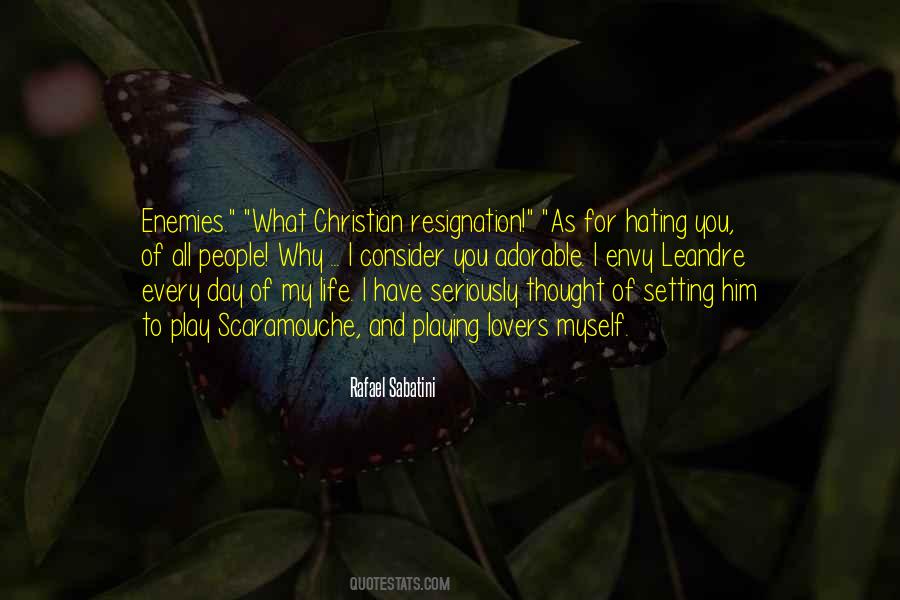 #83. Merry hearts are vulnerable to death, don't be over-joyed to the state of oblivion, lest the enemy poison your meal. - Author: Michael Bassey Johnson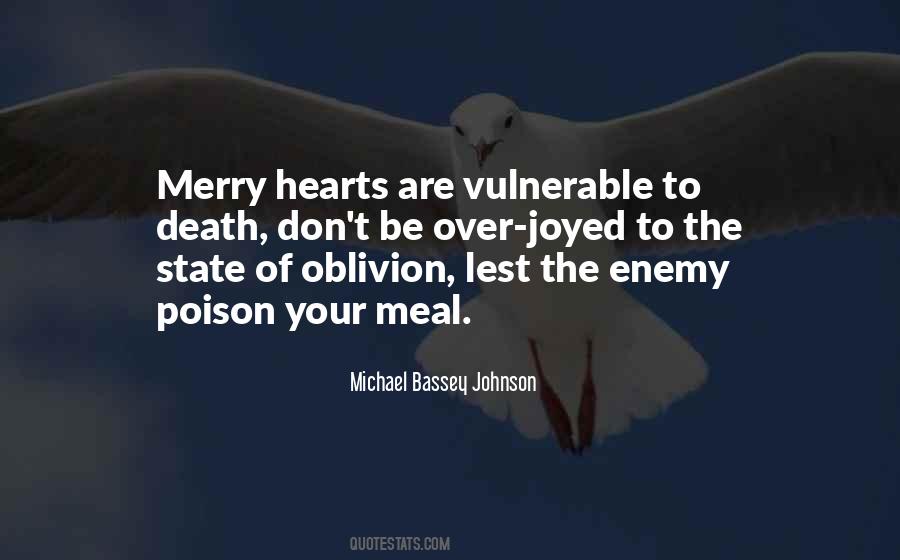 #84. People often speak of hell, not wanting to go there, avoiding it..etc. I never had that problem because hell is a state of mind. Look around you; rape, murder, wars, hatred, envy ... my friend; you're already there!! - Author: Sandra Chami Kassis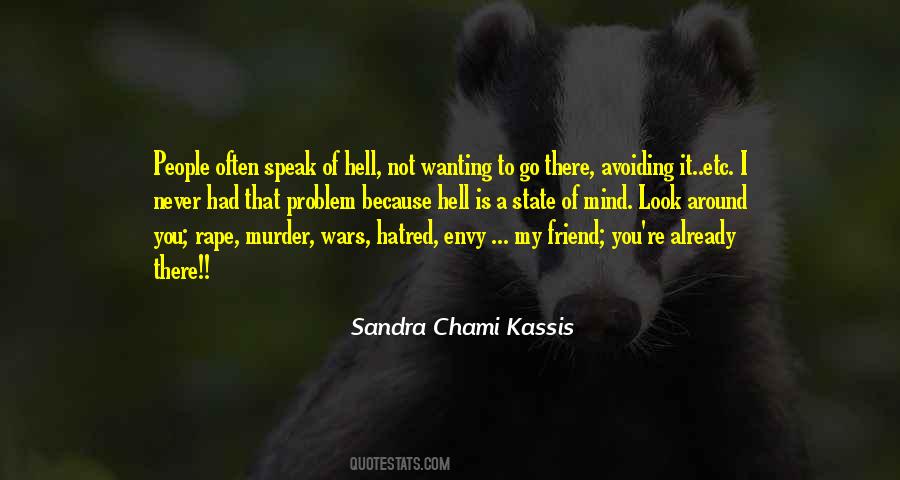 #85. People that are conceited of their own merit take pride in being unfortunate, that themselves and others may think them considerable enough to be the envy and the mark of fortune. - Author: Francois De La Rochefoucauld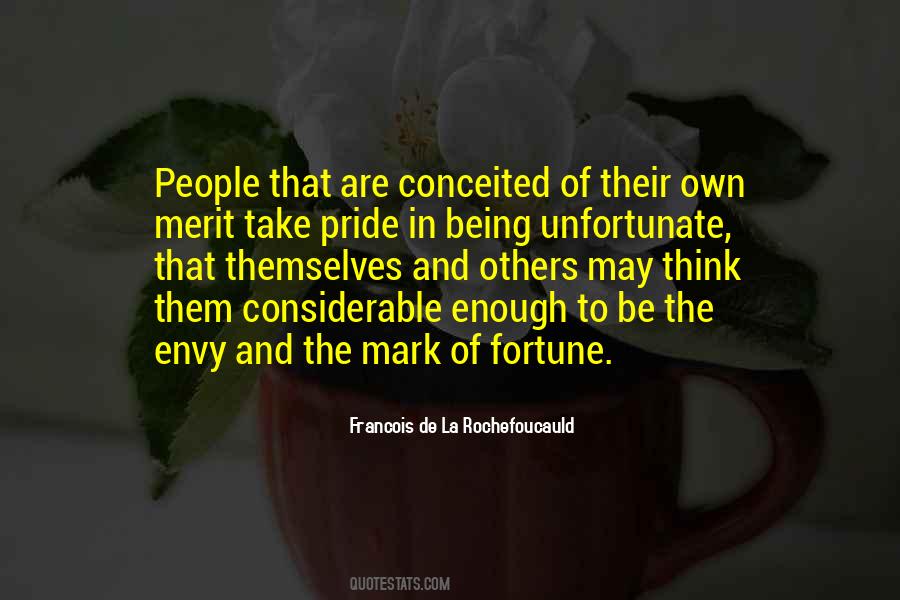 #86. Nothing is as obnoxious as other people's luck. - Author: F Scott Fitzgerald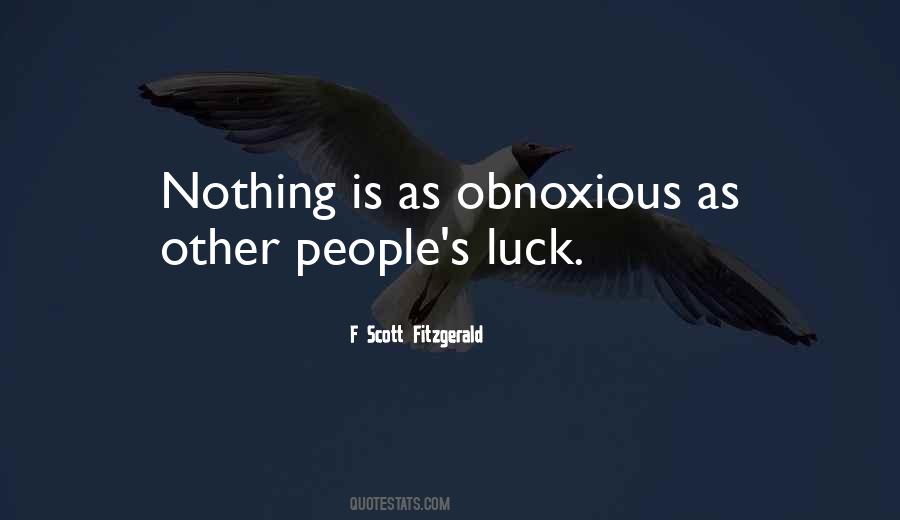 #87. I've noticed that, while I can't help but respect and sort of envy the moral nerve of people who truly do not care what others think of them, people like this also make me nervous, and I tend to do my admiring from a safe distance. - Author: David Foster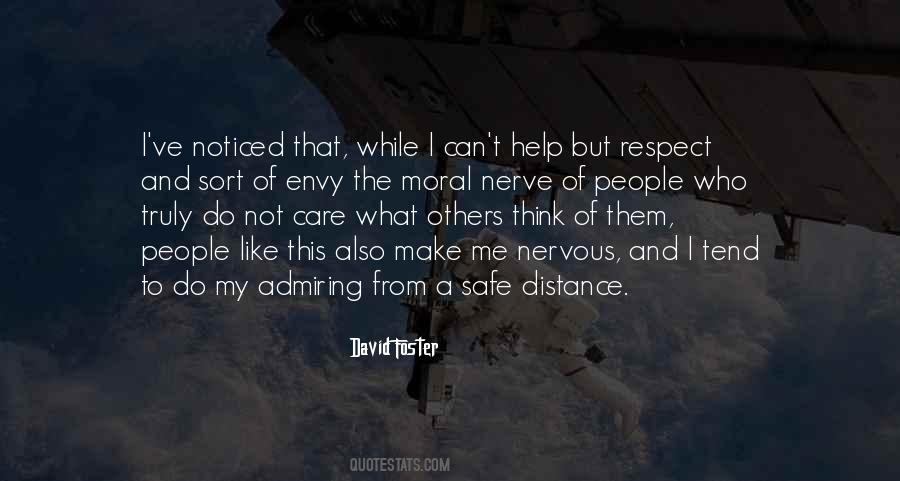 #88. I'm pretty rubbish, as we say in Britain, artwise, and I always envy people who can pick up something and even do just a little doodle of someone that looks vaguely like them. It's impressive. - Author: Freddie Highmore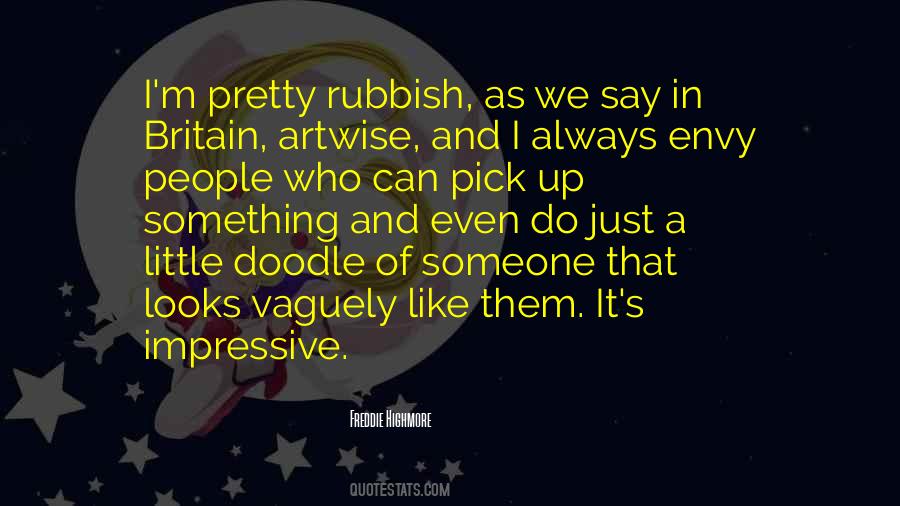 #89. I envy the people who go to Paris the first time - Author: Marc Jacobs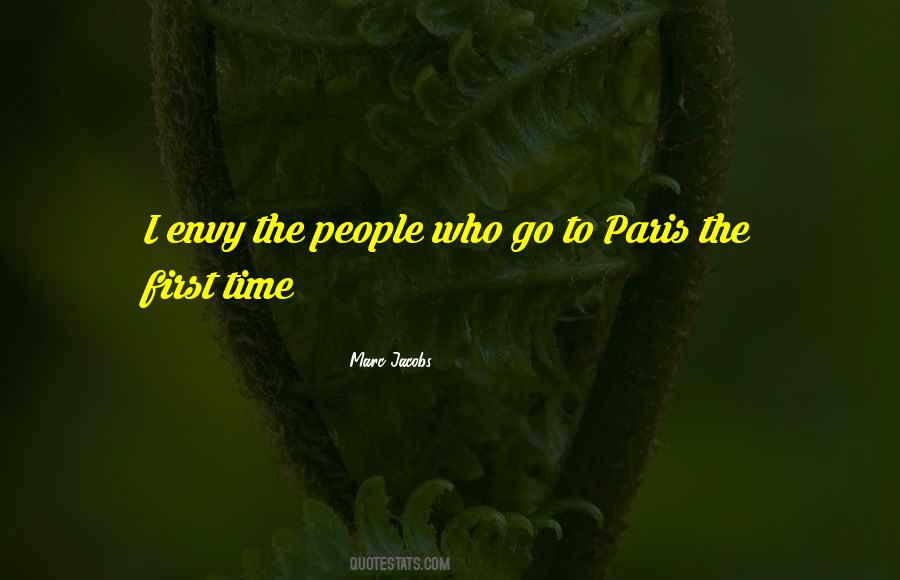 #90. Many critics are born of envy. - Author: Wayne Gerard Trotman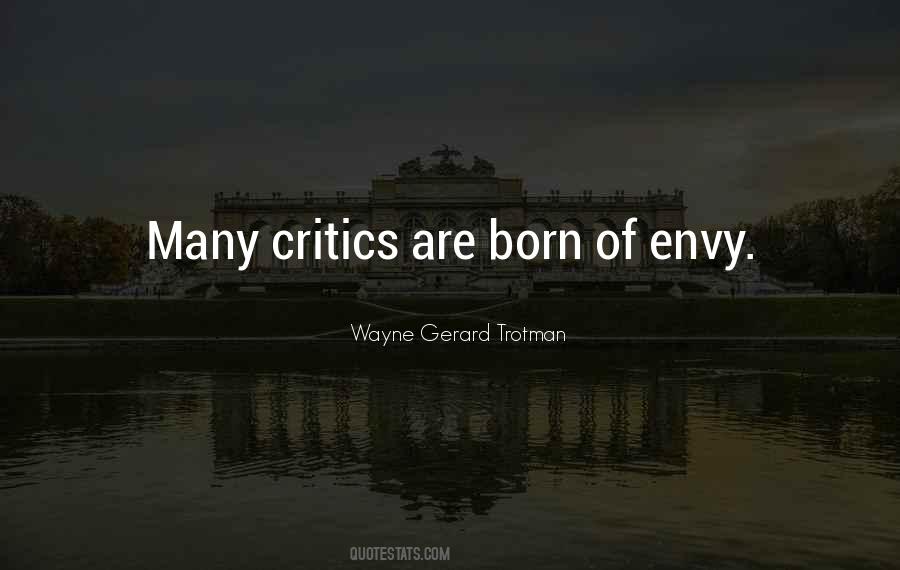 #91. All he felt now was envy. These people had expectations. Of the world, of the future, it didn't matter
expectation was such an innovative concept to him that he couldn't help but be a bit moved by what they were saying. Whatever that was. - Author: Colson Whitehead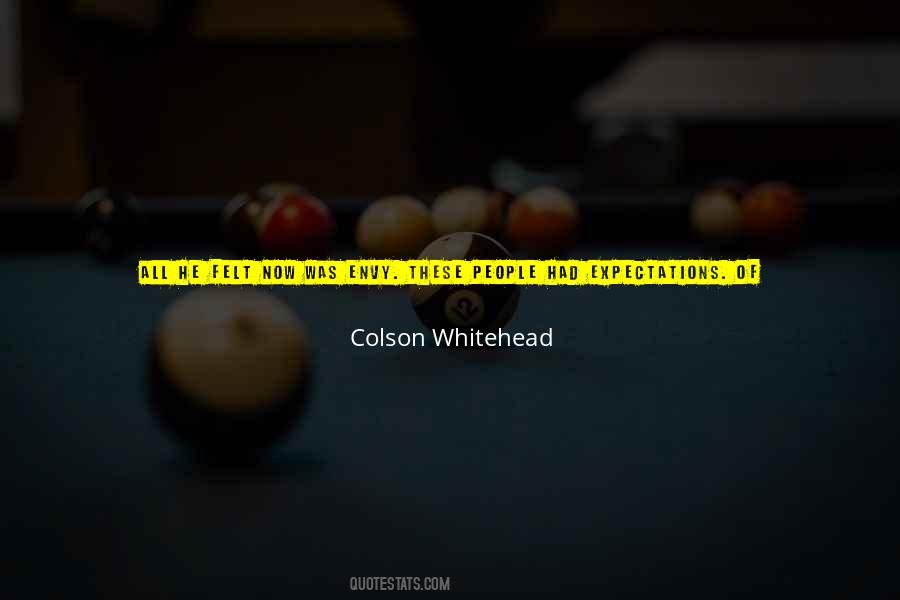 #92. Millions upon millions will attain your ceremony, but don't think all of them are in a ceremonius mood. - Author: Michael Bassey Johnson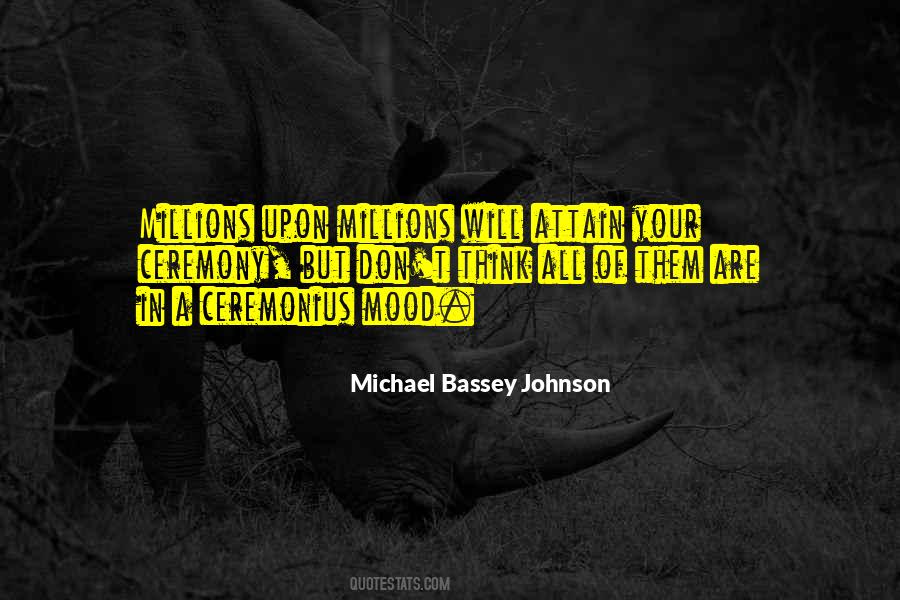 #93. You campaigned against rich people and you got enough envy whipped up in the country and you're gonna get 'em. You're gonna stick it to those rich people. But guess what? You may not get anymore revenue. You may not get anymore economic growth. But you can say, 'I stuck it to the rich people.' - Author: Rand Paul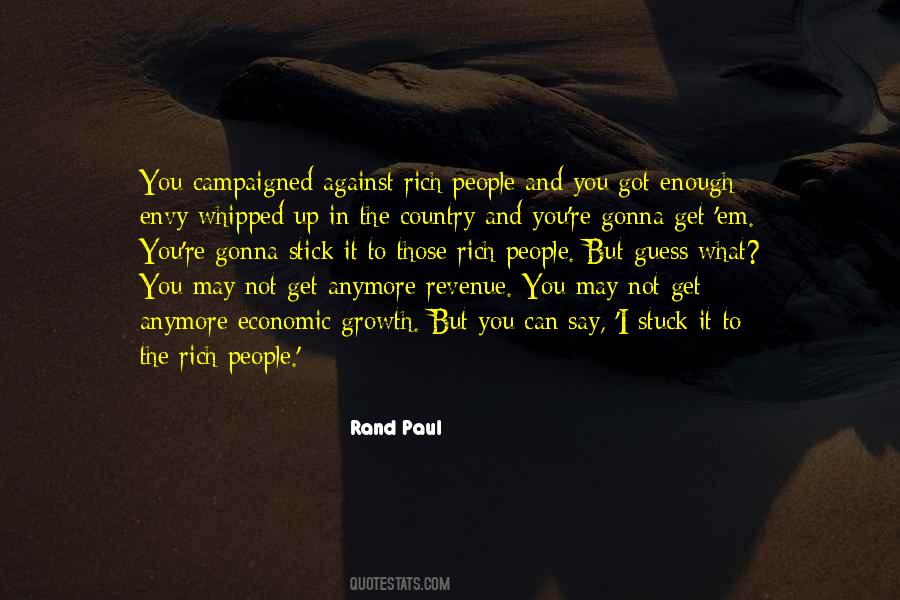 #94. My tattoo is of a cannon in Vancouver that I got in a fleeting moment of stupidity maybe 14 years ago. A lot of people have really beautiful tattoos, and I get real tattoo envy. But then other people basically just treat them like bumper stickers for their bodies. - Author: Ryan Reynolds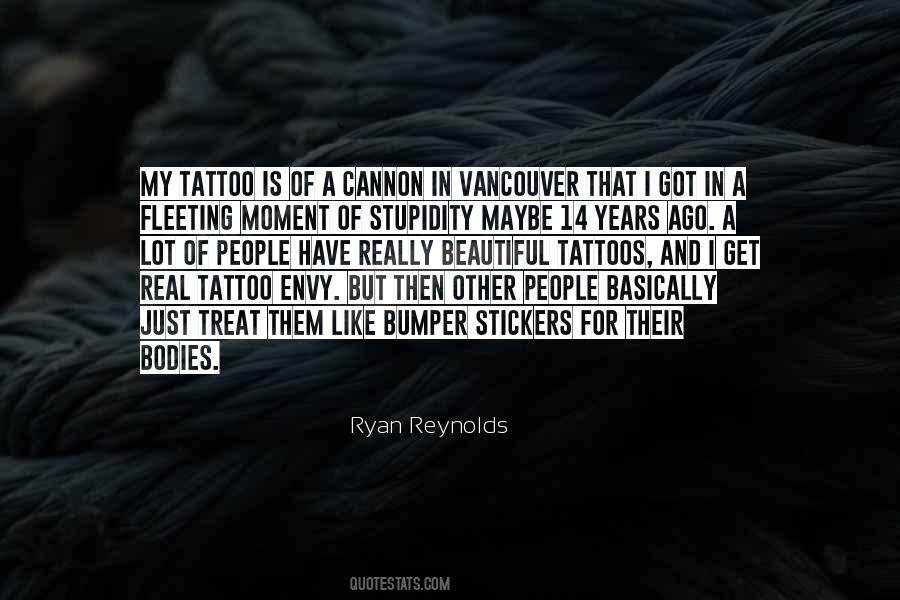 #95. A life which goes excessively against natural impulse is ... likely to involve effects of strain that may be quite as bad as indulgence in forbidden impulses would have been. People who live a life which is unnatural beyond a point are likely to be filled with envy, malice and uncharitableness. - Author: Bertrand Russell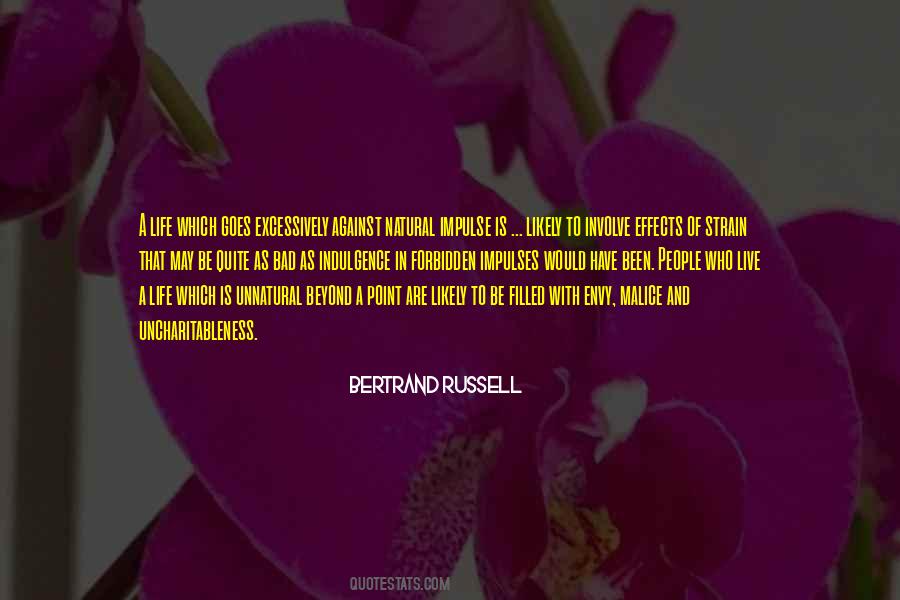 #96. You will find that women who are pregnant often don't want to be and women who aren't desperately envy those who are. Labour wards are always full of very punitive people. - Author: Fay Weldon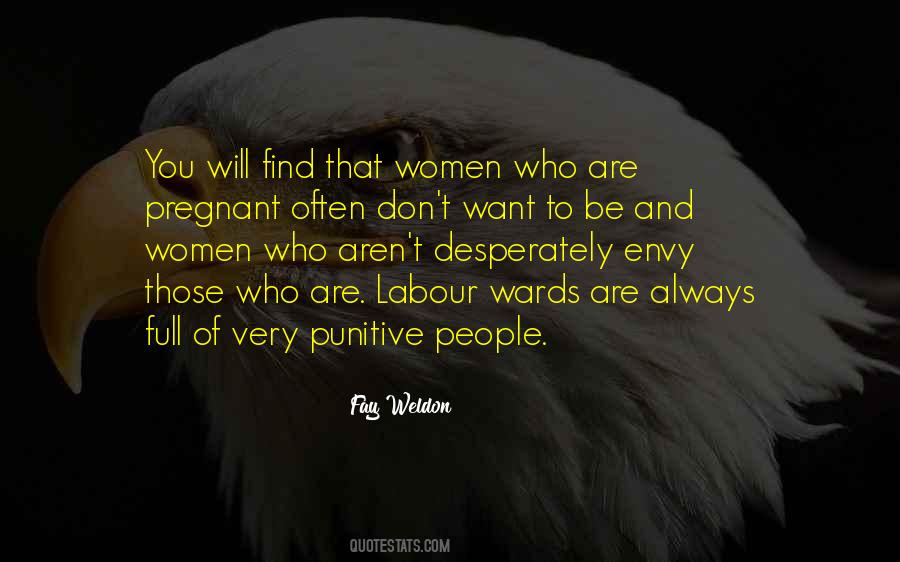 #97. Few people are logical. Most of us are prejudiced and biased. Most of us are blighted with preconceived notions, with jealousy, suspicion, fear, envy and pride. - Author: Dale Carnegie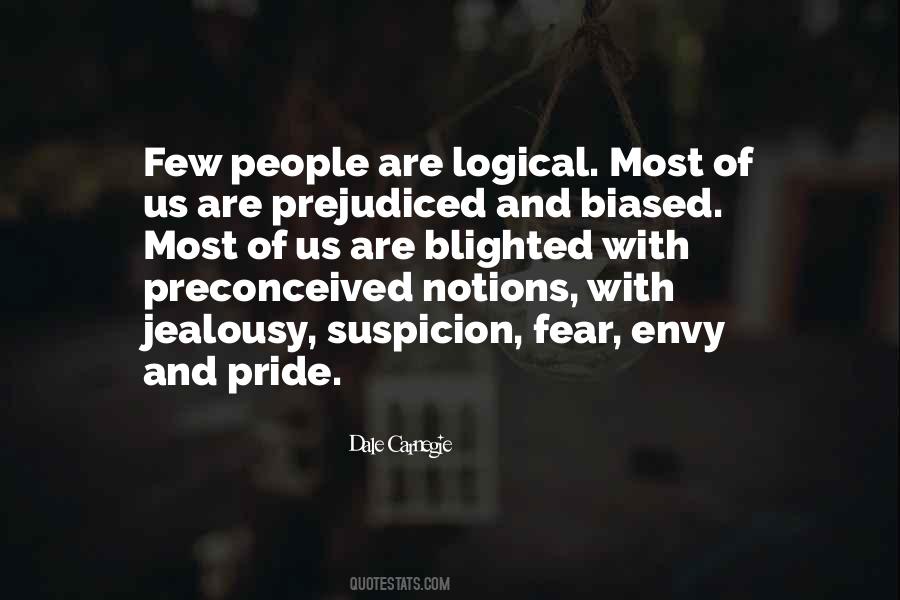 #98. I envy these people. Wide-open suffering, their messes all hanging out. Lives boiled down to raw need--a near-holiness to it. And all of us driving our cars up and down the mountain--we'll go on forever trying to fool each other. - Author: Jamie Quatro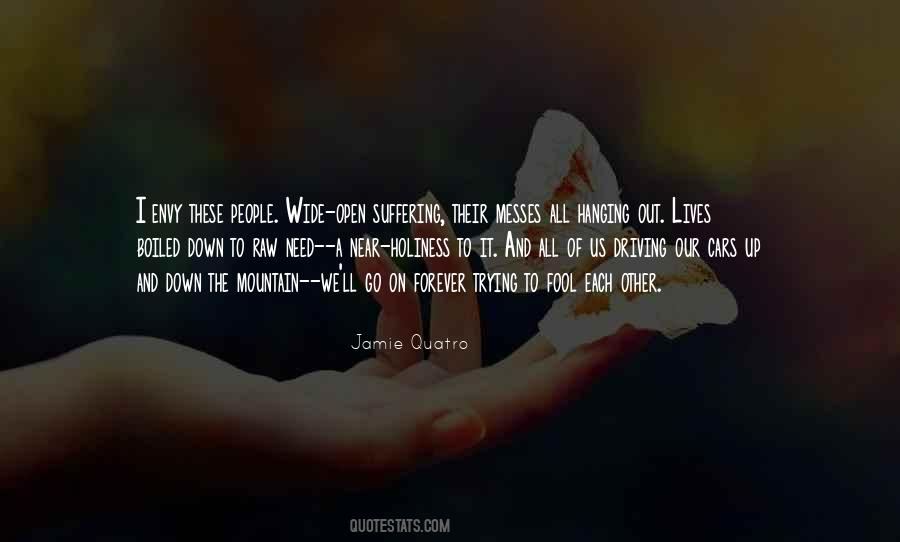 #99. Nothing is more subtly destructive than a closed circle of artists feeding on one another. Envy grows from insignificant differences between people, not from overwhelming inequalities ... it was envy that forced them to emulate each other, not esteem. - Author: Alexander Theroux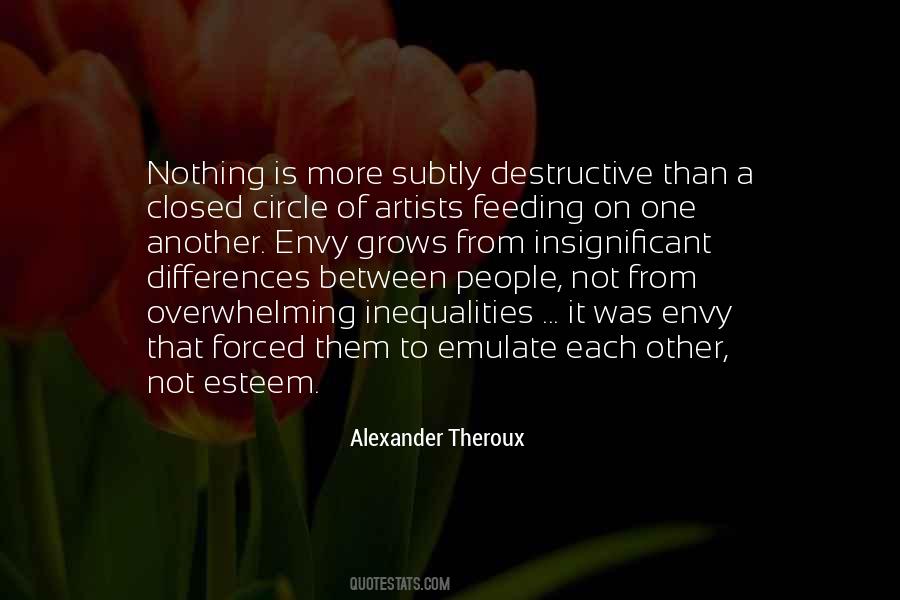 #100. There will always be people who can do it better than you, but that's a good thing! Start to see competition as inspiration - without envy. - Author: Kathryn Budig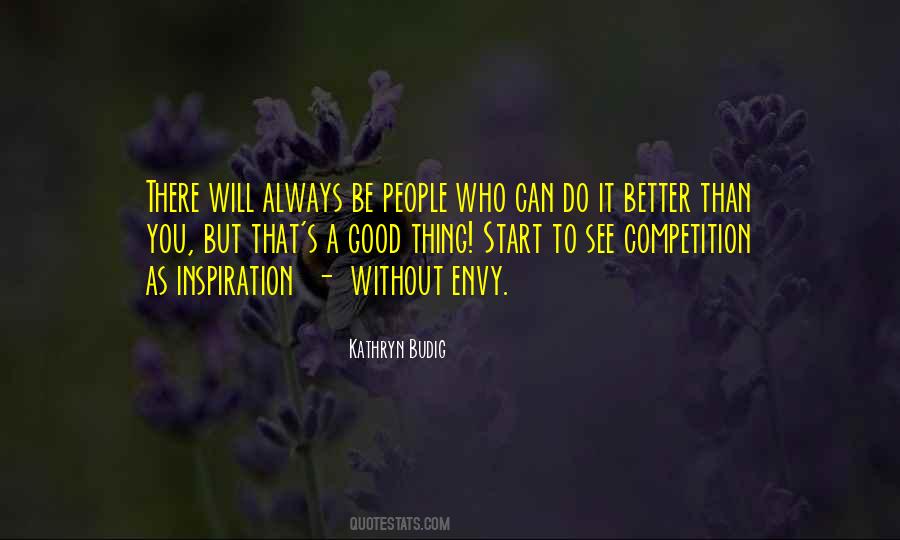 Famous Authors
Popular Topics